Part 187: Mission part 2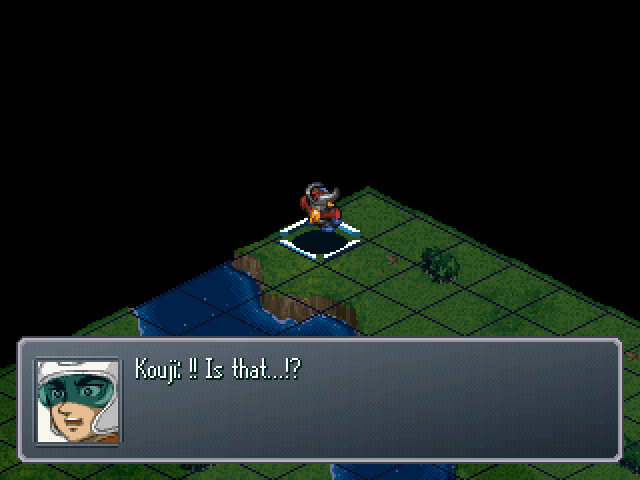 : Musashi... And Sayaka!?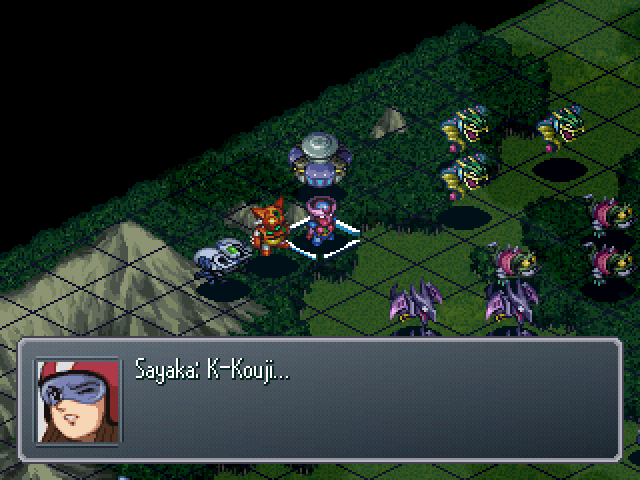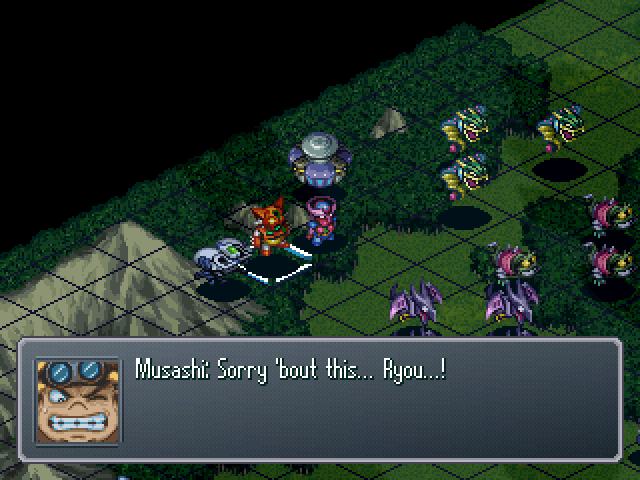 : S-Sayaka... Musashi...! So you got captured by the Dinosaur Empire...!?

: Not just them.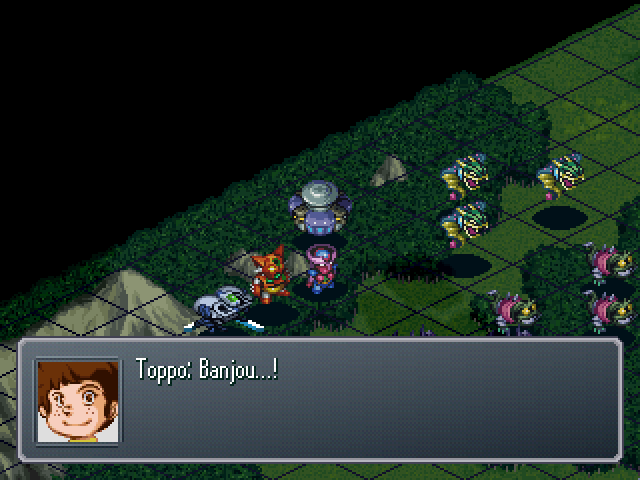 : Banjou...!

: Wh...! You caught Beauty and the others too!?

: S-sorry, guys...

: We were nothing but careless...

: They even got Dr. Anzai...!?

: How dare you pull something so cowardly!!

: If you value their lives, surrender your armaments immediately!!

: Wh-what'd you say...!?

: If you refuse, we'll attack. If you fight back, we'll kill the hostages.

: Y-you son of a...!!

: So, do you want to do this the easy way, or the hard way...? Which will it be? GWAHAHAHAHAHA!!

: .........!

: ...Banjou, what do we do?

: ..................

: Listen! Dinosaur Empire!!

: !!

: !?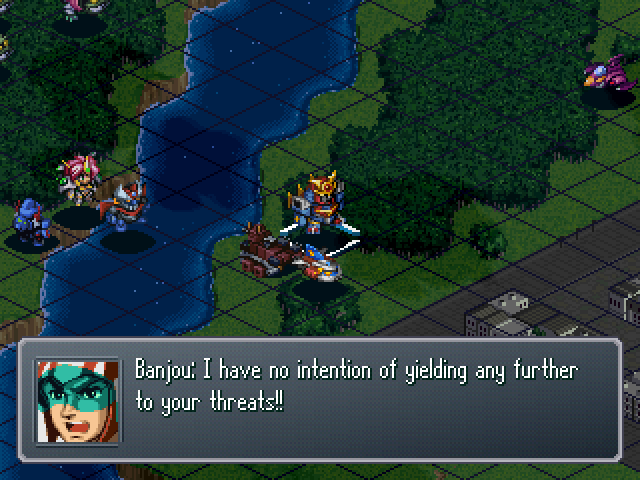 : You're full of it, Banjou Haran! You don't value the hostages' lives!?

: I don't have enough style to save everyone AND beat all of you...

: B-Banjou!?

: !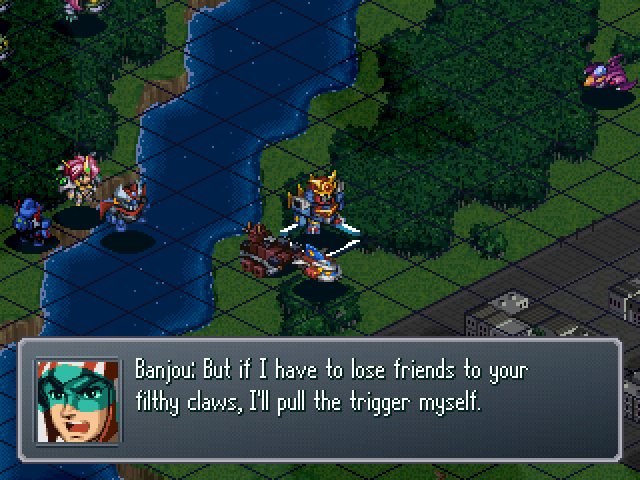 : Banjou!

: Beauty, when you die, I'll make it as quick and painless as possible.

: Fine, Banjou. I'm always prepared for the worst.

: M-me too!

: A-are you insane!? You're gonna let your friends die!?

: You're bluffing...!!

: This is no game. Gorgon! If you're gonna kill them, do it!!

: Nrgh...!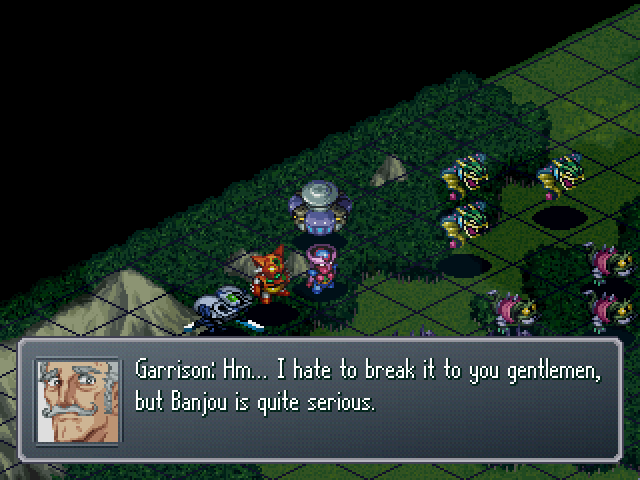 : What!?

: In an earlier situation like this, he did not hesitate in the least. Although...

: Although?

: His anger was quite fierce to behold... He disposed of the Meganoid armies alone.

: .........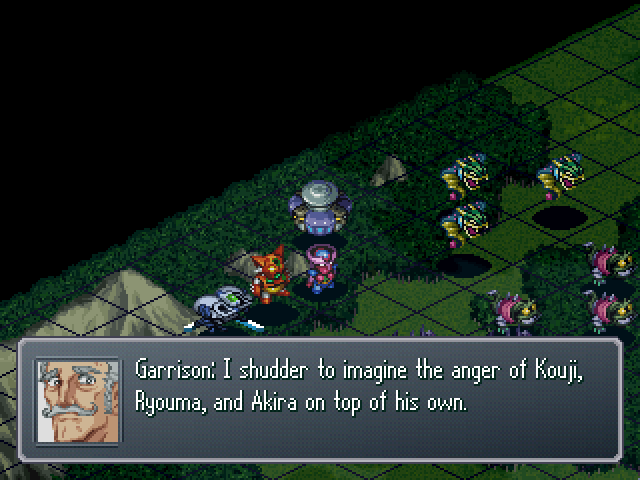 : .........

: You may be prepared to fight them all here to the finish... But there would certainly be no chance of you returning alive.

: Nnnrgh...!

: ......... You've lost here, Duke Gorgon. It would be a bad idea to kill the hostages.

: What...!?

: You're one of very few Mycenae survivors... You can't afford to die here.

: .........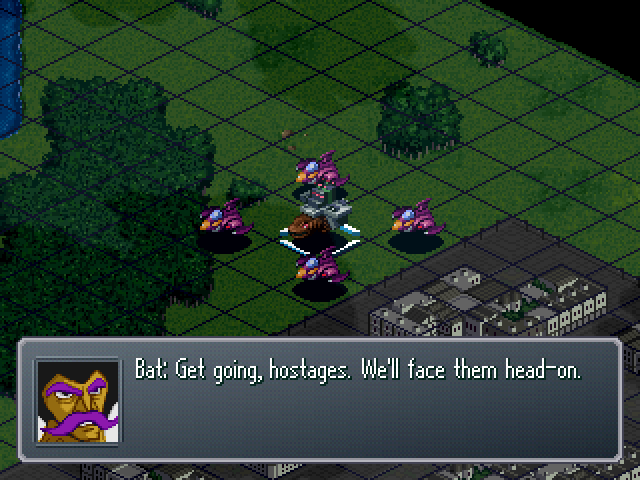 : Thank you for your consideration. Now then, everyone...
The hostages dock with the Iron Gear.

: No wonder you're called General... OK then, we'll fight fair and square!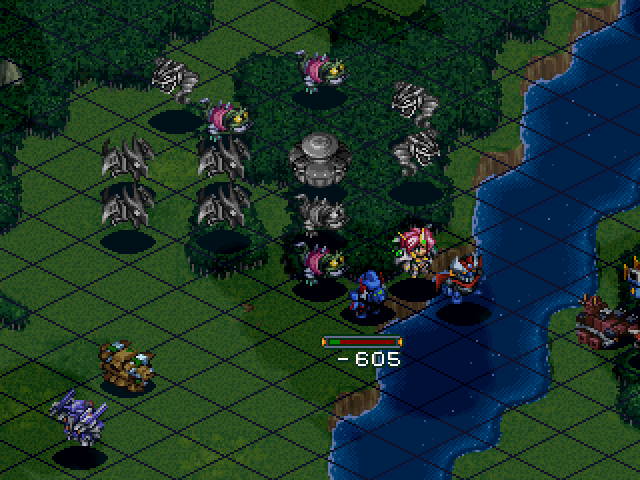 To say the least, I was rather unprepared for Gorgon's arrival.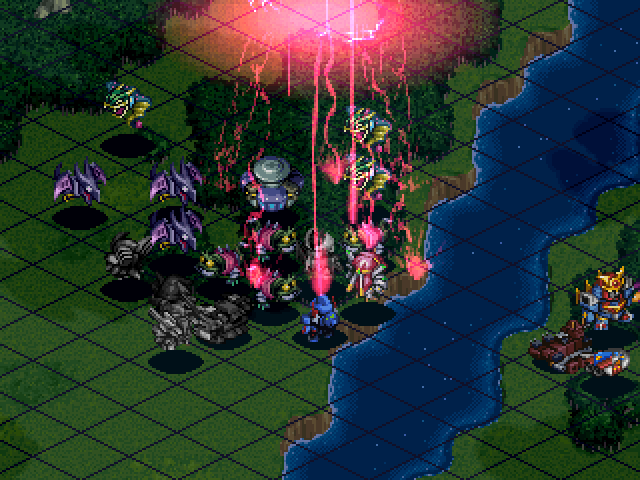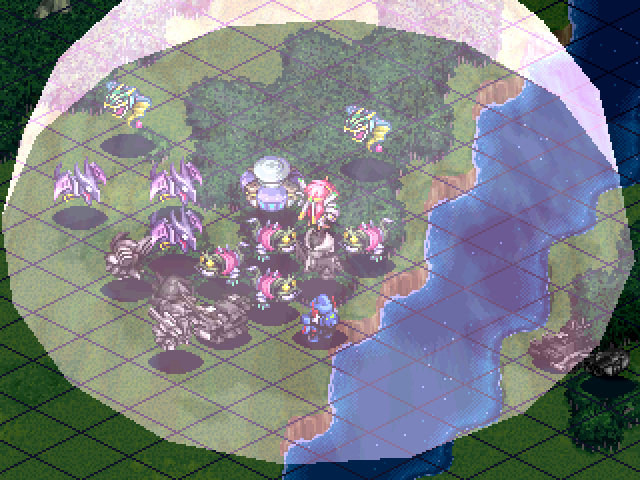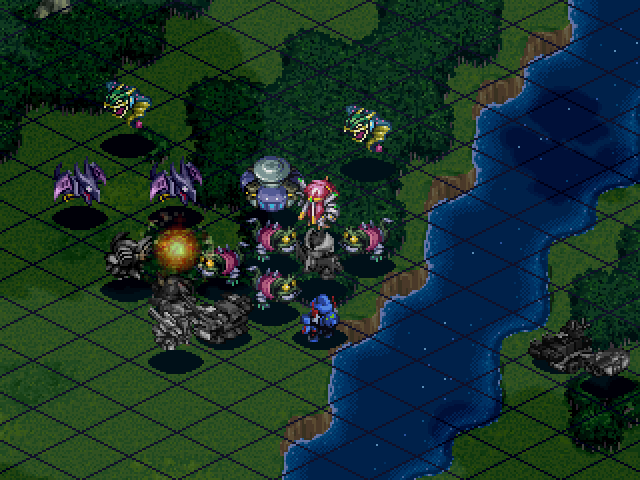 MAP attacks helped speed things along.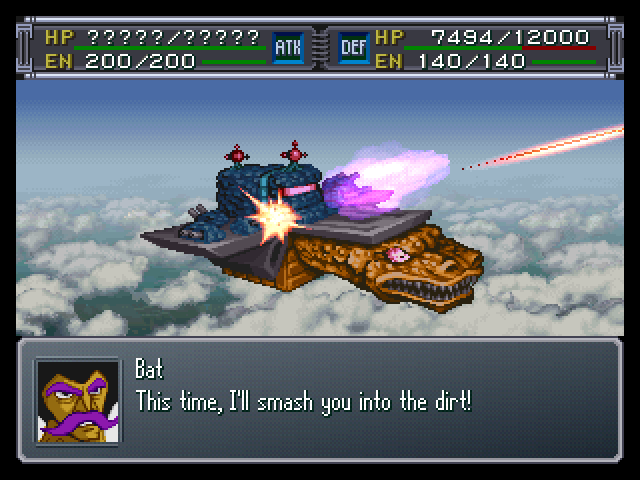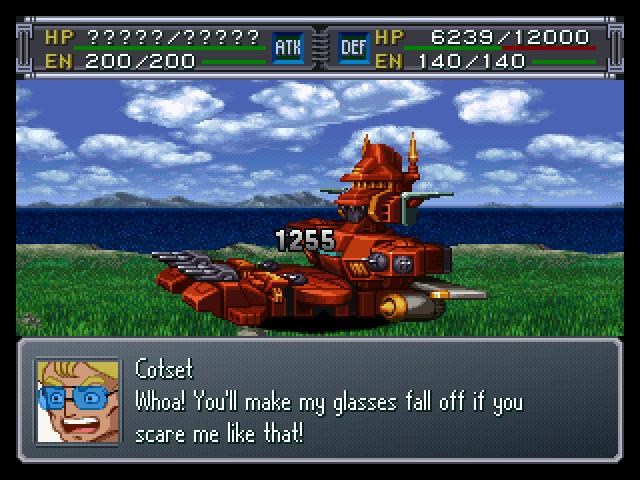 Bat, like before, will always target the Iron Gear.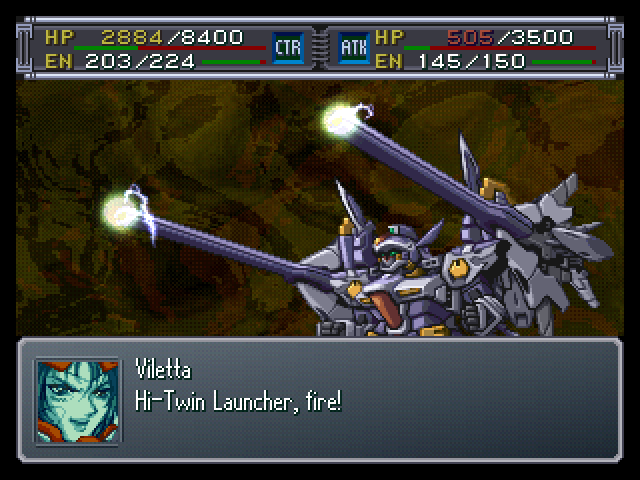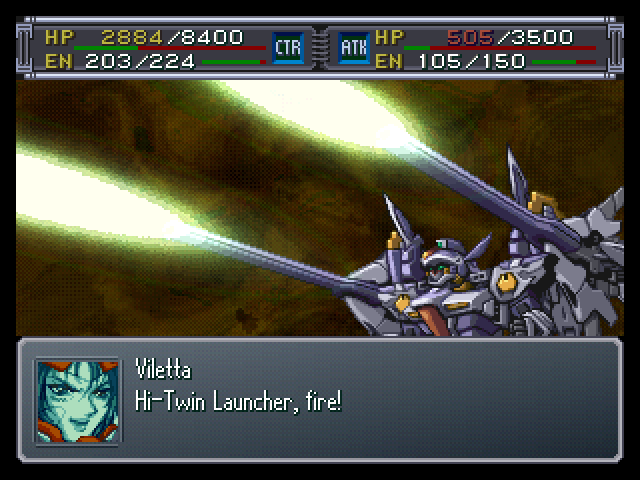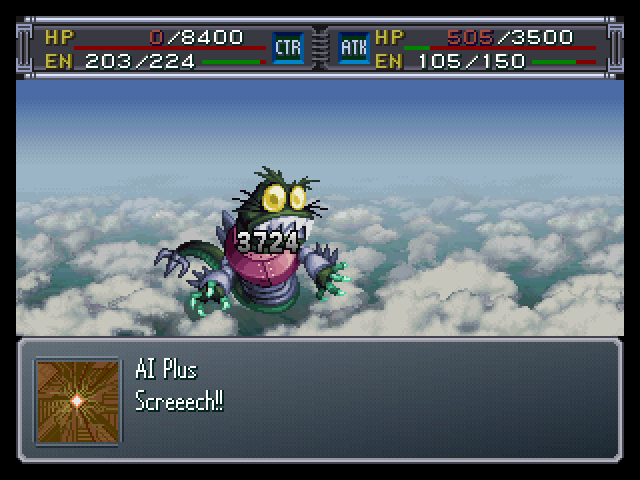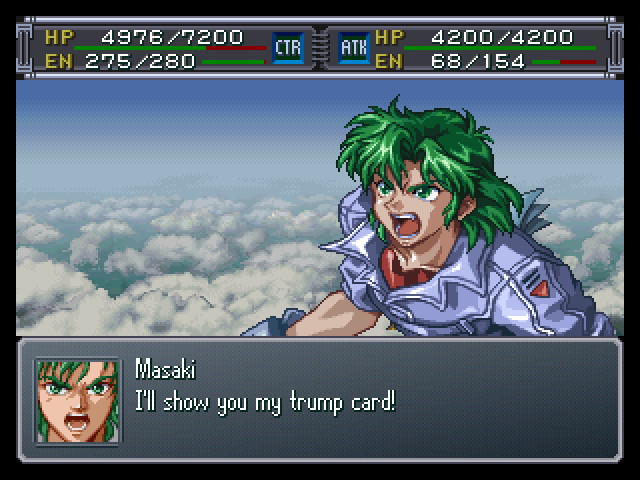 Now let's see about those new attacks for the Elemental Lords... First up is Cybuster.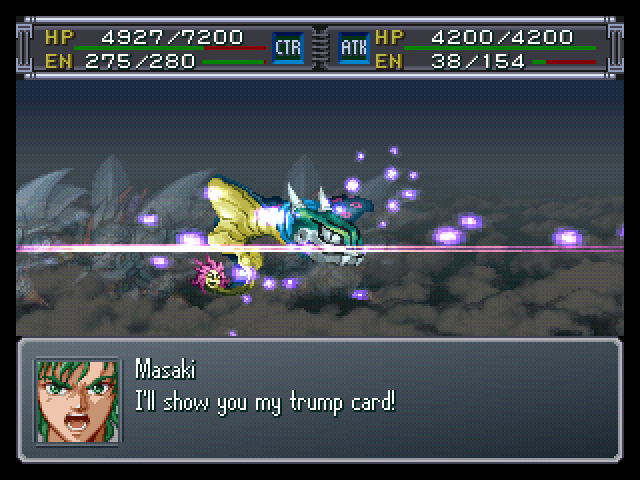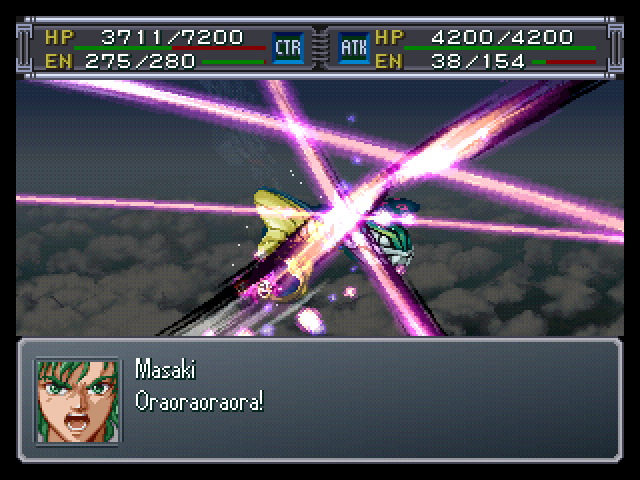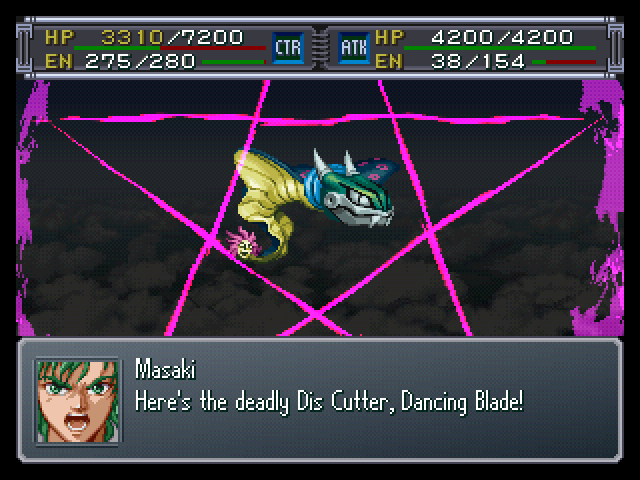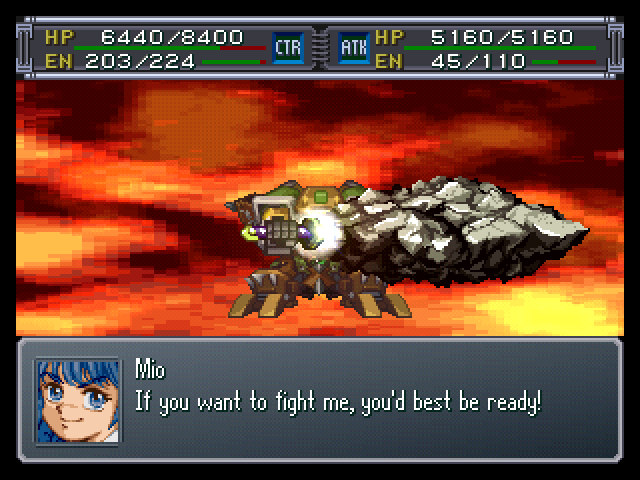 Now for the Zamzeed.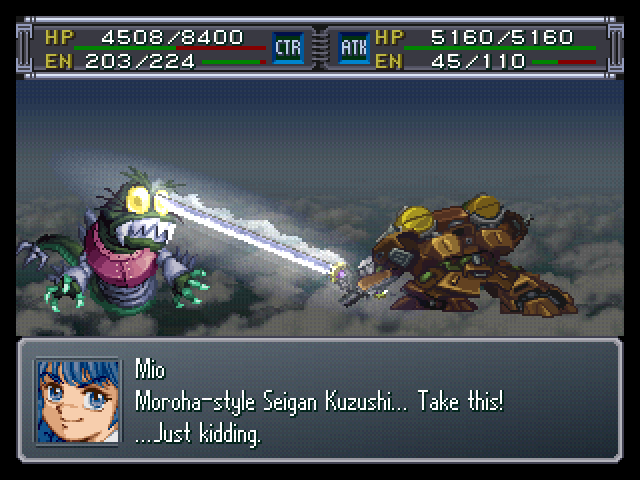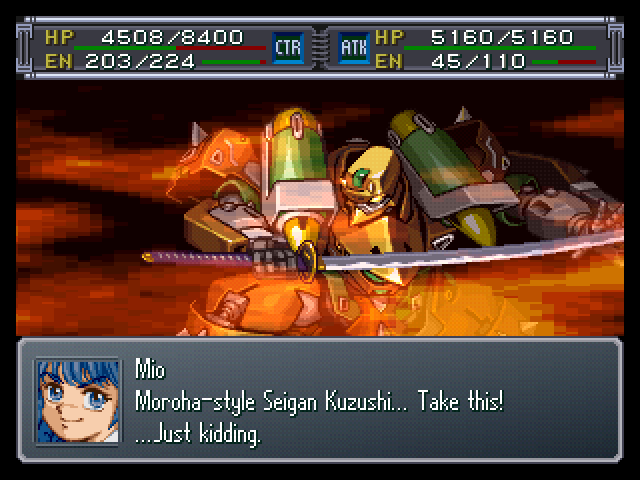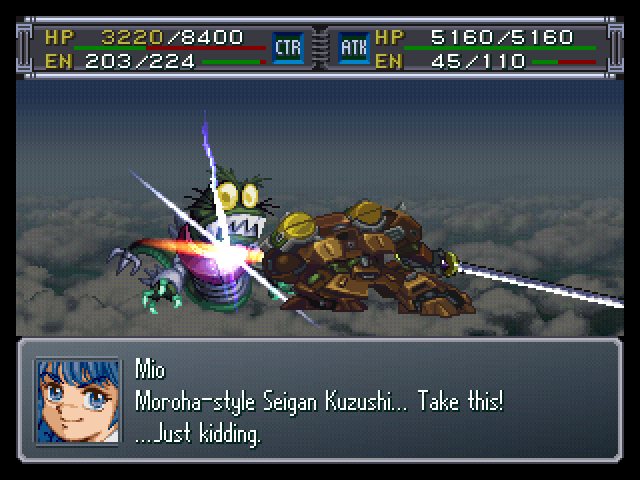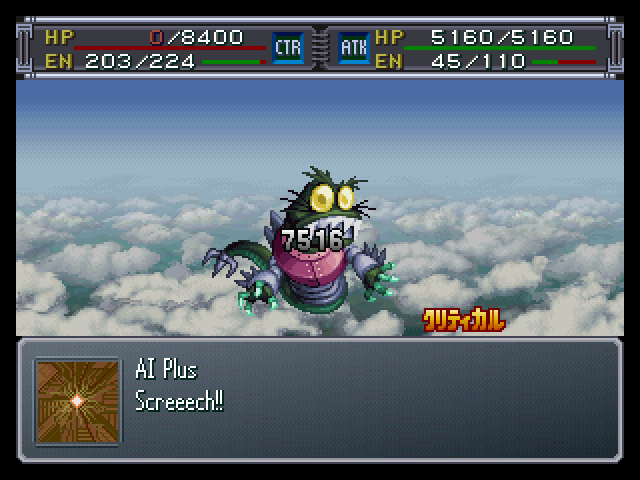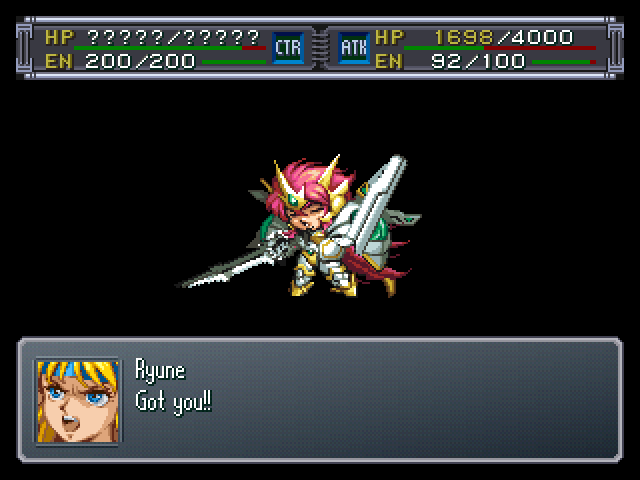 And finally the Valcione.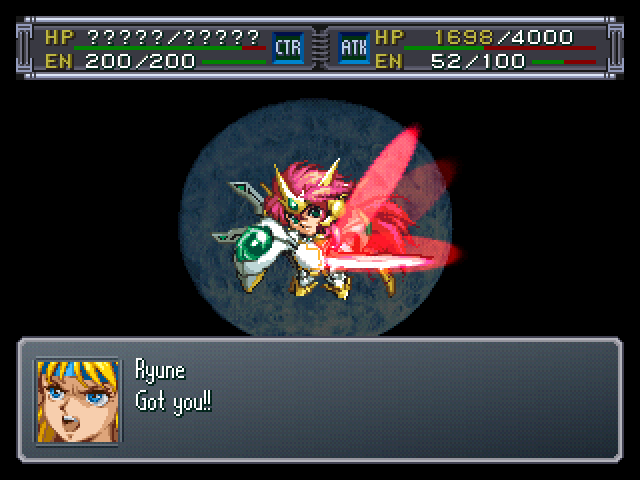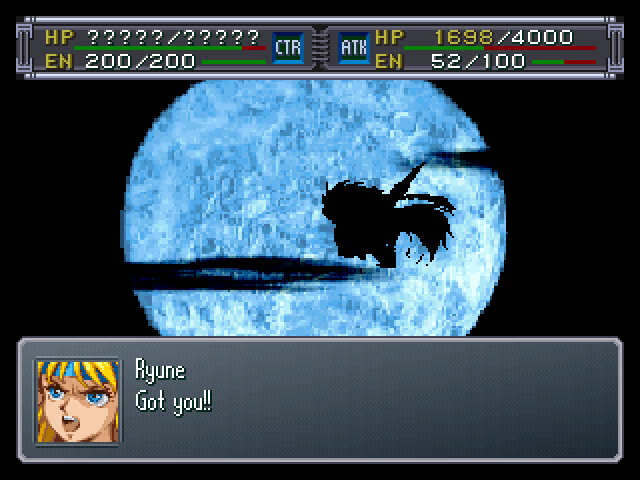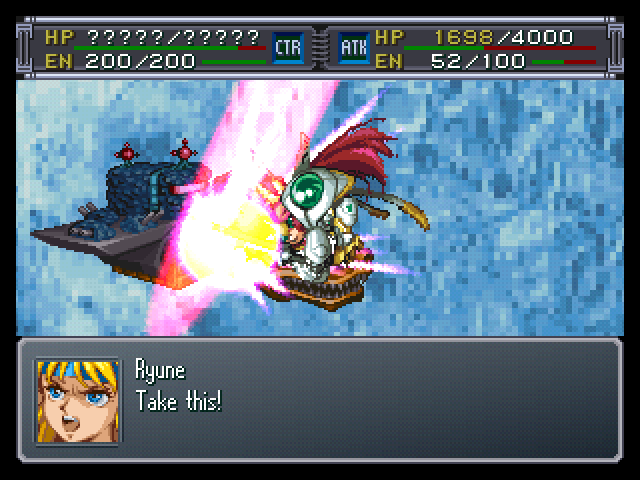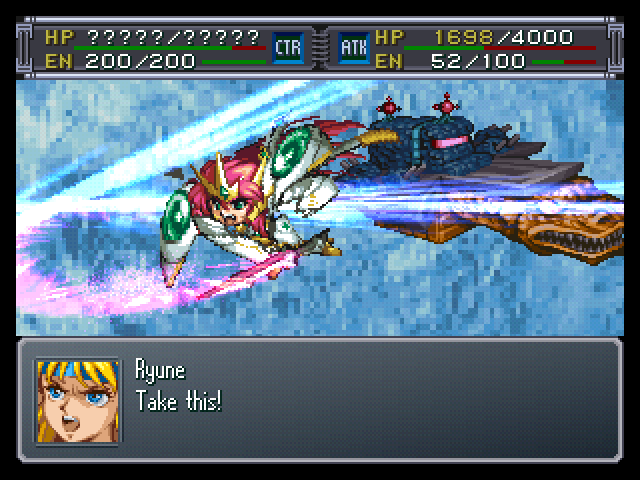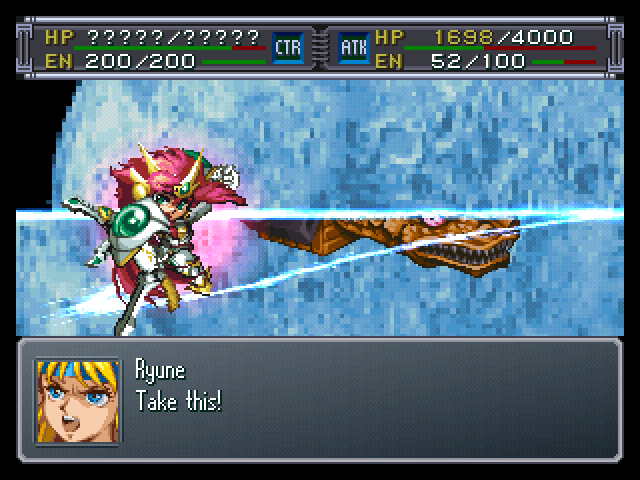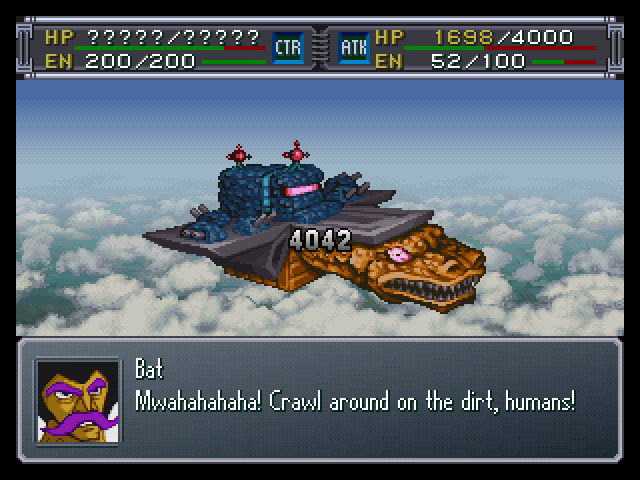 Excellent.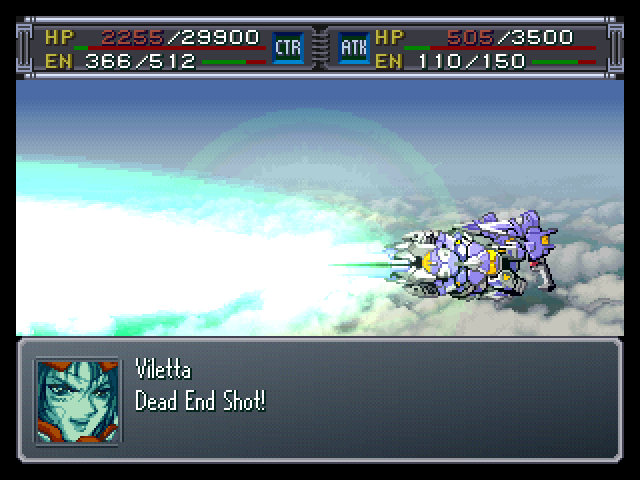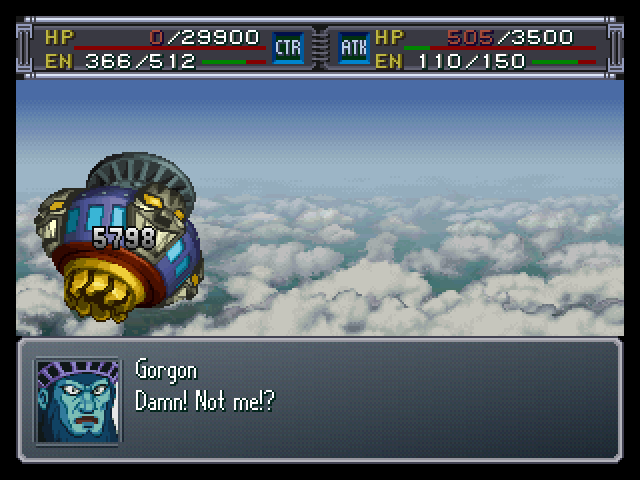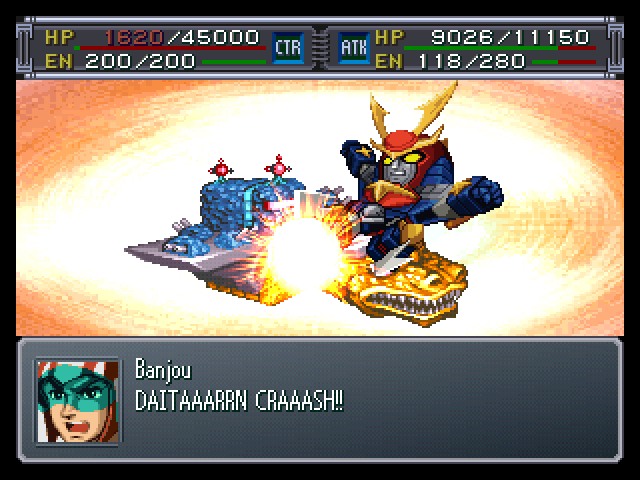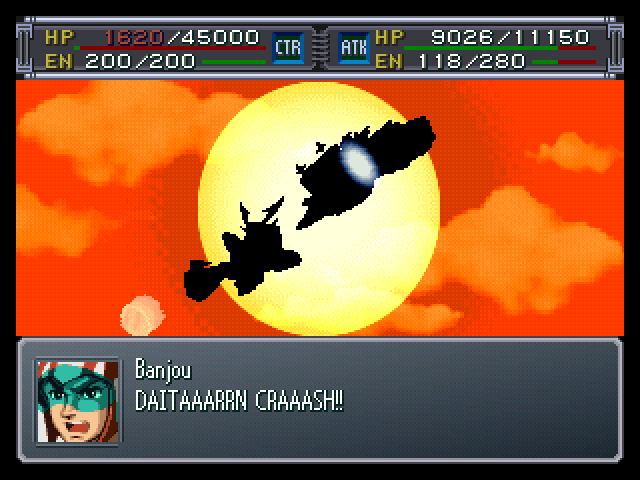 Now let's bring an end to this mission.