Part 203: Mission part 3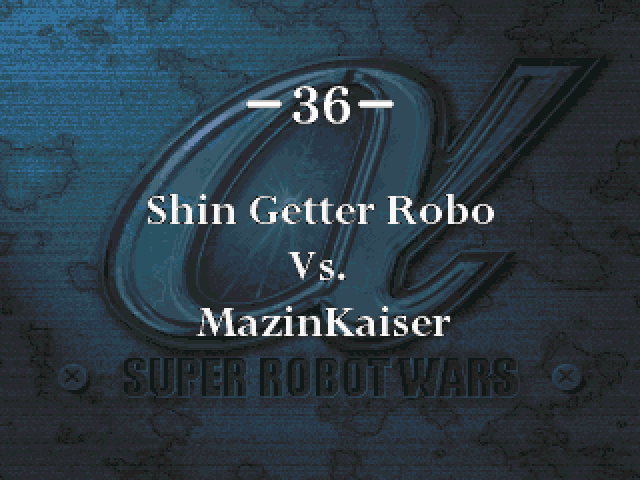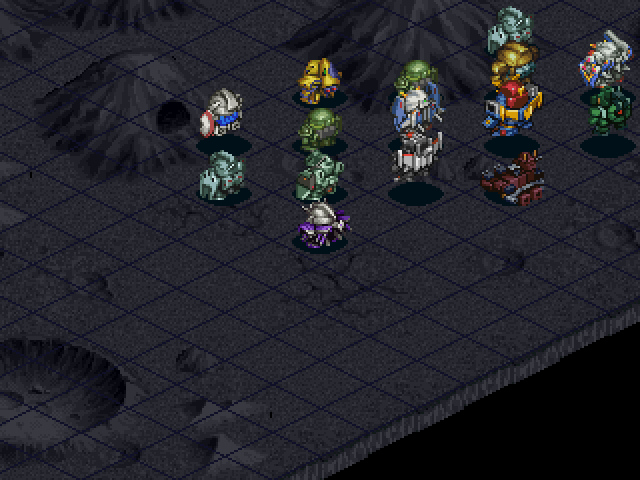 Since this is still the same mission, I use the same roster.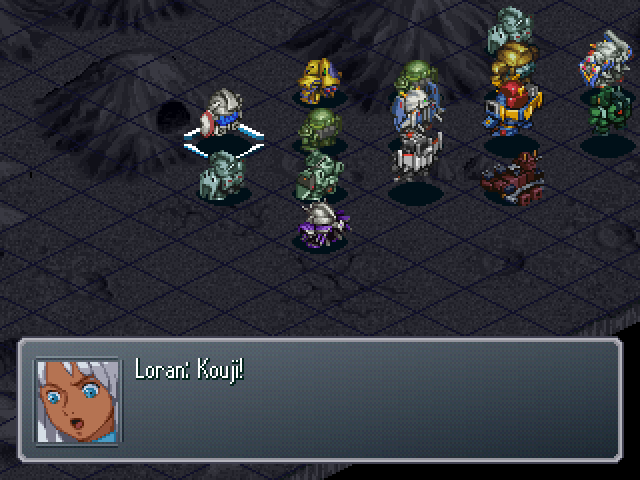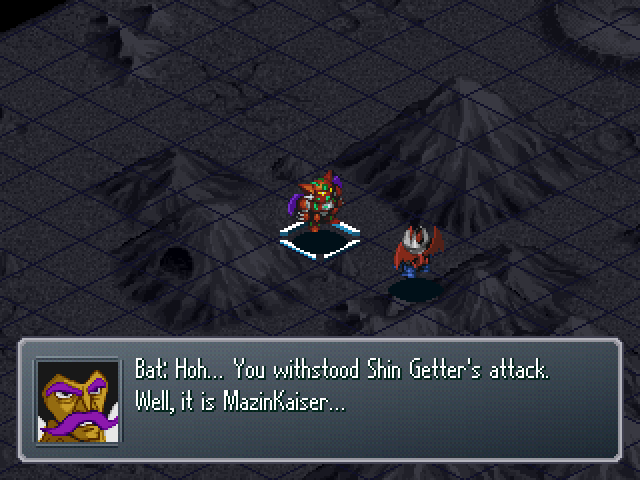 : ... I-impossible...! What are you doing in Shin Getter...!?

: Heheheh... We dug Shin Getter up before you could get the chance.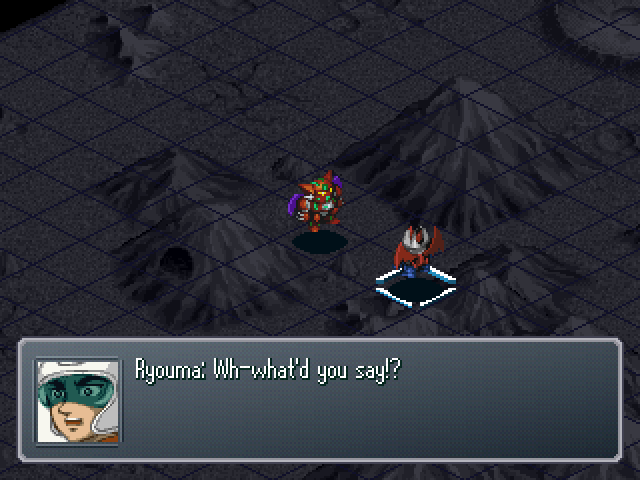 Uhh...

: This was once Japan... Of course Shin Getter would be sealed here.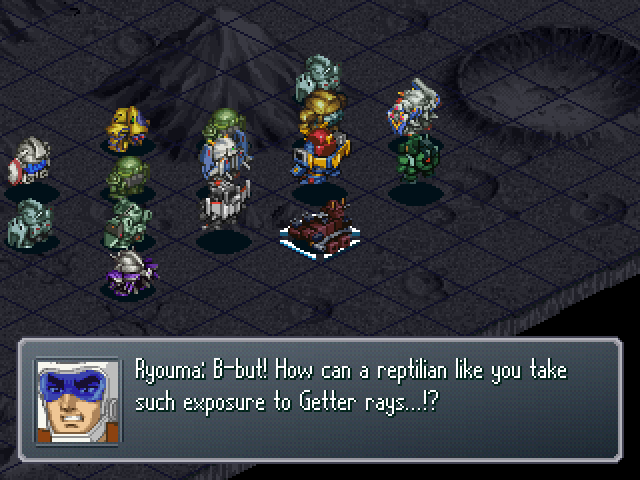 um...

: Over the years, we've done research on Getter Rays, and produced the Uran Spark... And the Anti-Getter Ray device that covers my body!!

: But that's Shin Getter you're in...! The strongest Getter of them all!

: ...True, even with this defense, the Getter Rays are seeping into my body... But to reclaim the surface... I'll beat you, even at the cost of my own life!!

: ...Y-you'd go that far...!?

: Heheheh... Like all of you, I have things to protect... Emperor Gore, and my people, who survived through tens of thousands of years!!

: ...So you'd put your own life on the line to fight us...!

: If Shin Getter is the ultimate Getter... MazinKaiser is the ultimate Mazinger... Hahaha... A fitting opponent for my final battle.

: ...Shin Getter... Great as an ally, but as an enemy, the most fearsome of all... But I, Kouji Kabuto, and the righteous Demon God MazinKaiser will stop it!!
Shin Getter moves away from MazinKaiser.

: Are you trying to run!?

: First I'll see what the Demon od Emperor can do! Come, Mechasaurus Army!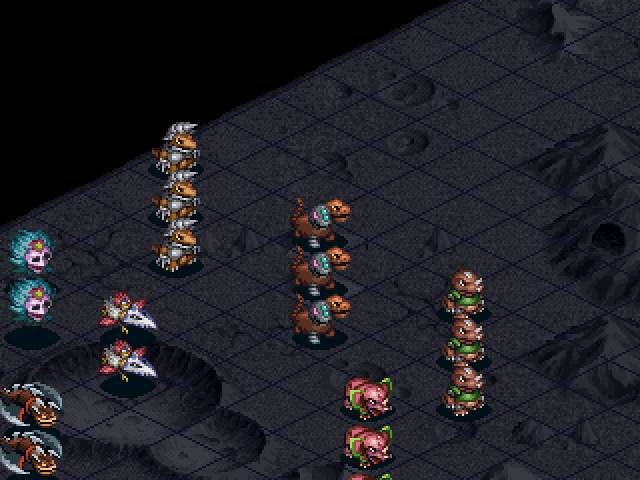 : The Dinosaur Empire... They must want to settle this right here!

: First Kaiser, then Shin Getter... This is getting a little rediculous.

: But it'll be a lot worse if we don't stop them!!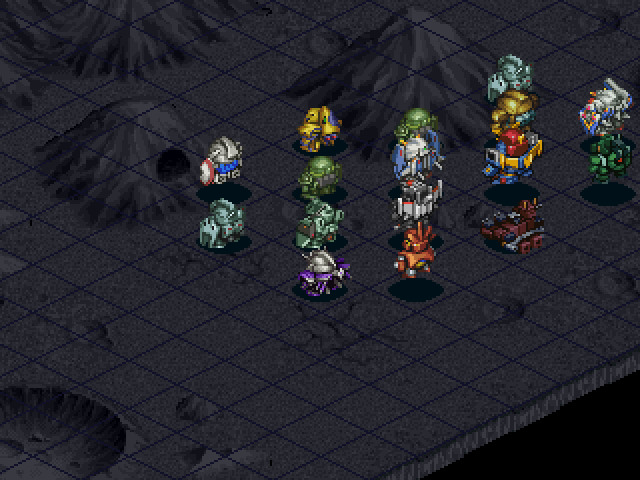 Getter Dragon finally shows up.

: Ryou!!

: Is Dragon holding up!?

: Yeah... The reactor stopped because of Shin Getter Robo's appearance.

: What'd you say...?

: Shin Getter's startup interfered with Dragon's reactor. But that's no longer an issue. We'll join the fight.

: No, let me handle this. Dragon against Shin Getter would be like...

: I won't hear any of that.

: R-Ryou...

: Even in the hands of evil, Shin Getter is a Getter Robo...

: The Getter Team should deal with any misuse of one!

: B-but look... There's a power gap a mile wide between Dragon and Shin Getter!

: Getter's strength isn't based on power alone.

: Yeah, what's most important is who's at the helm.

: It's the Getter Team that draws out Getter Robo's true power...

: General Bat! Shin Getter or not, we won't lose! The Getter Team can't afford to lose with our pride at stake!!

: Well spoken! Truly, you are my nemesis! I'll see this so-called Getter power of yours!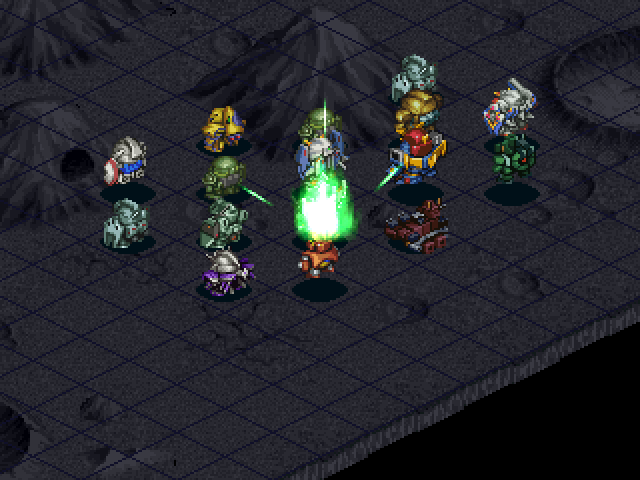 The first thing I do is get Dancouga's Will up high enough so that everyone has Ferocity activated, which increases the amount of damage they do.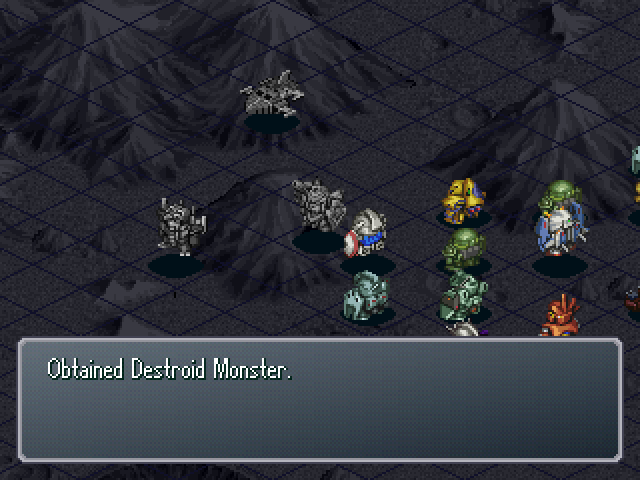 We can also grab the secret mechs now. They're the same as the ones on the Moon route.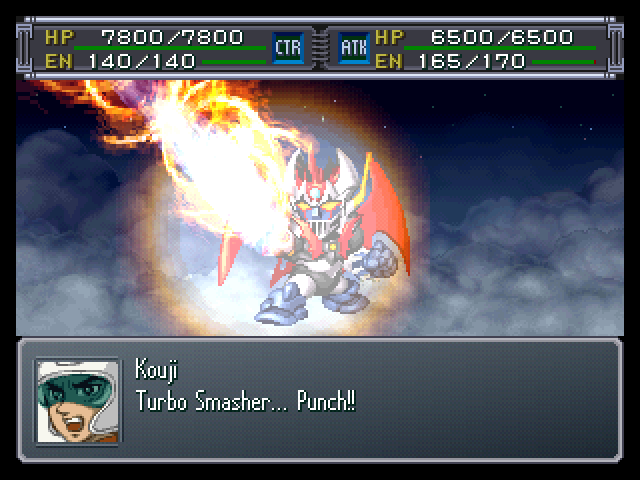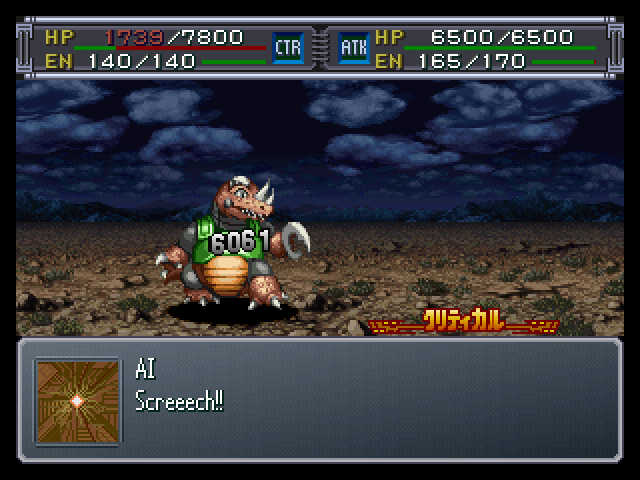 MazinKaiser was the only one who could attack, so my turn ended after this.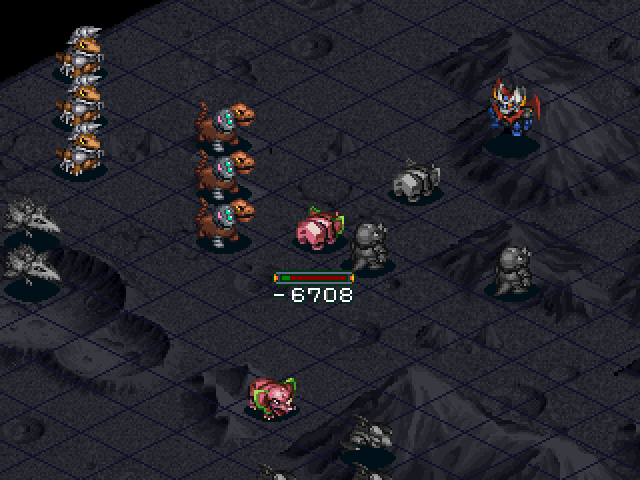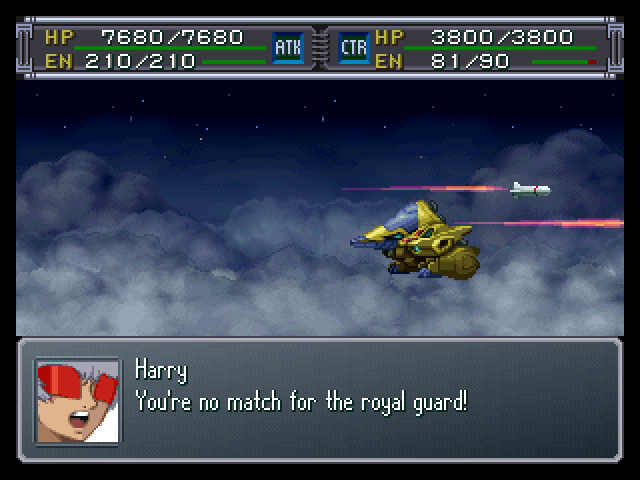 The enemies turn passed without much of note.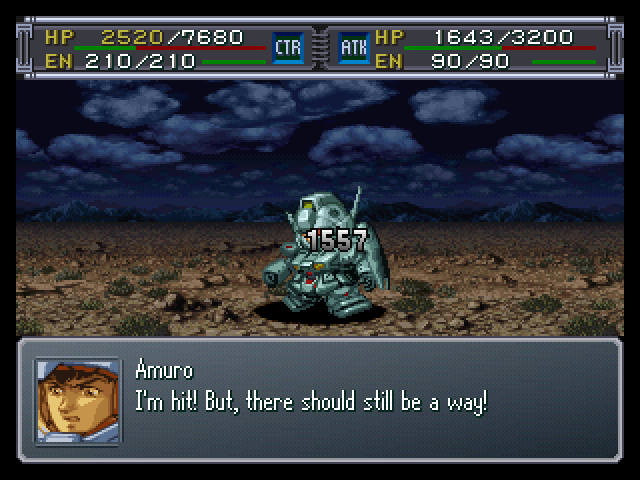 Against all odds, Amuro got hit by a counter attack.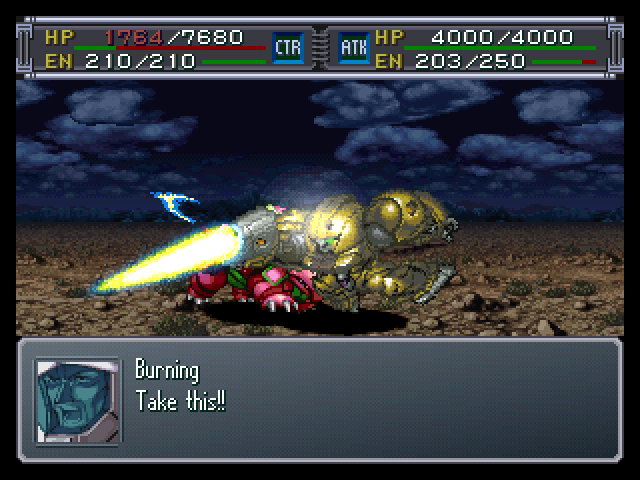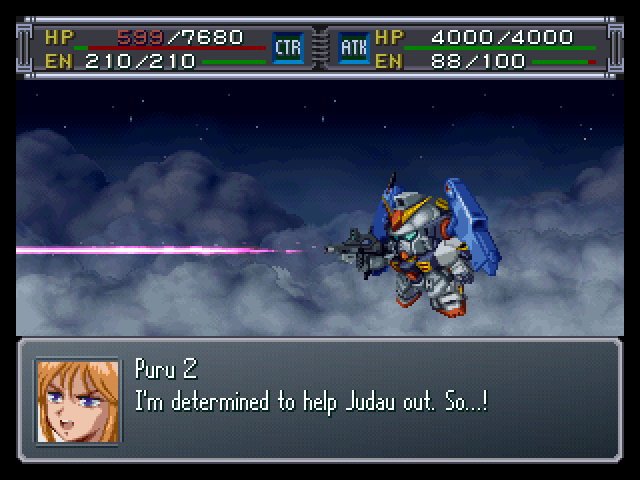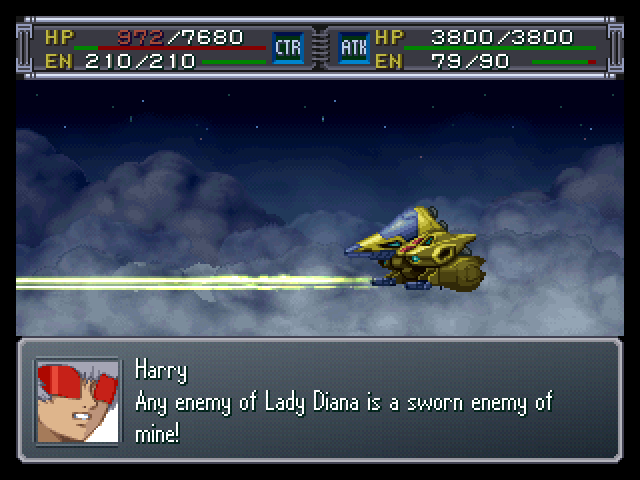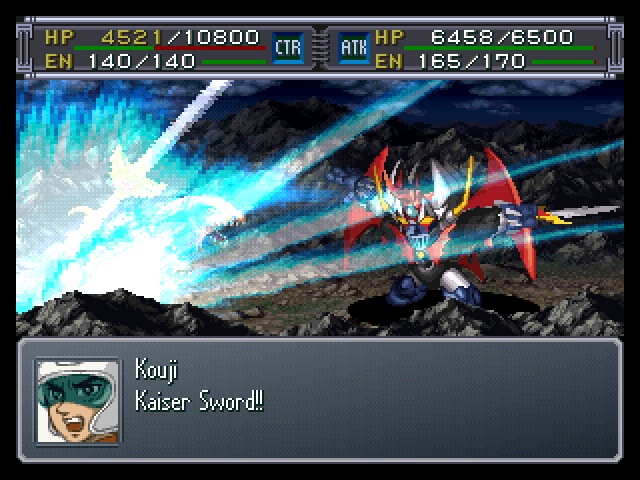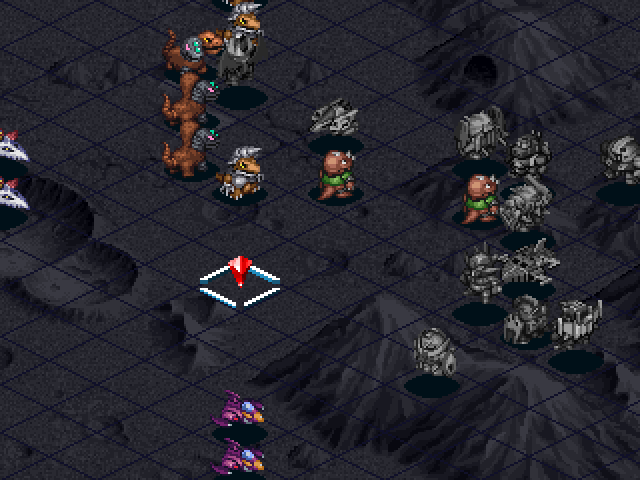 And here's how things look after my second turn.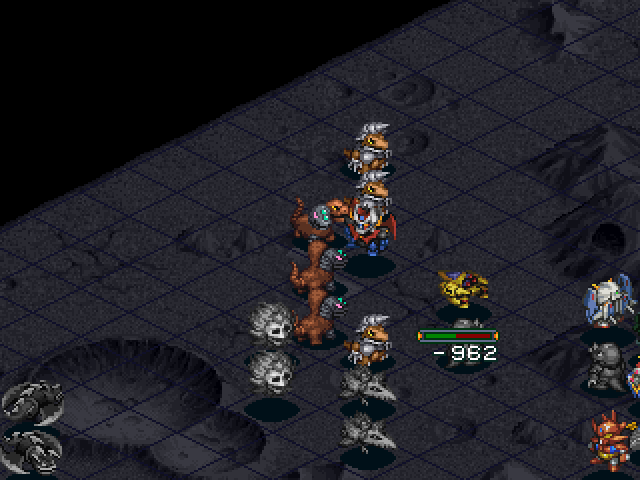 Harry took some damage.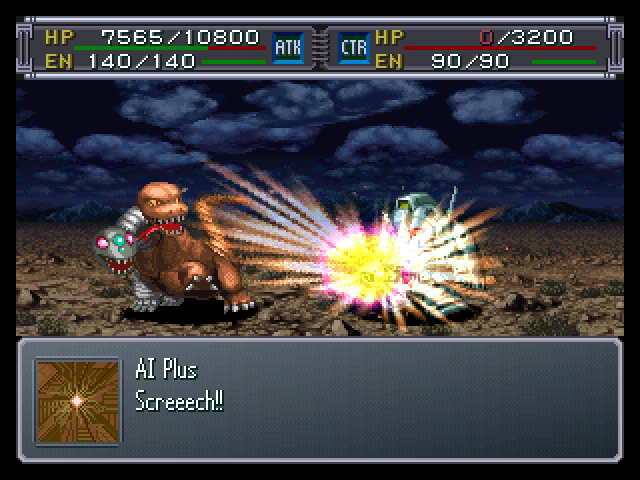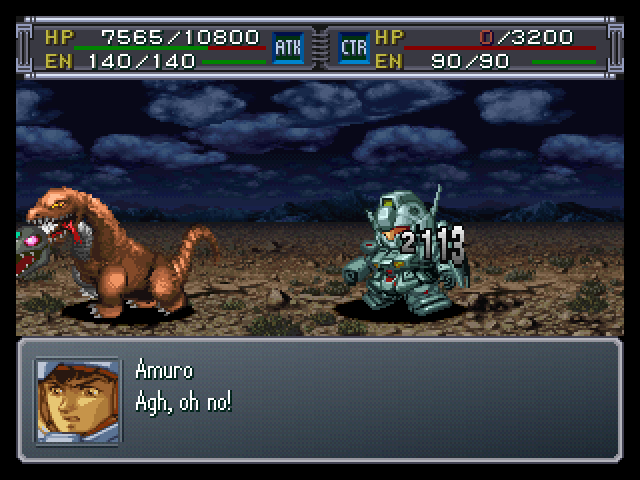 While Amuro got shot down.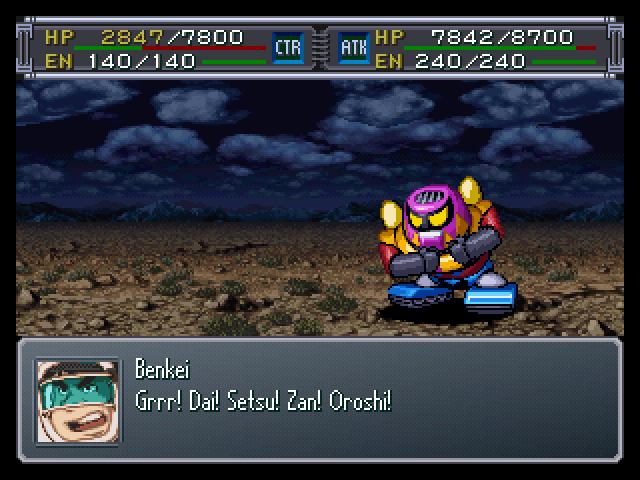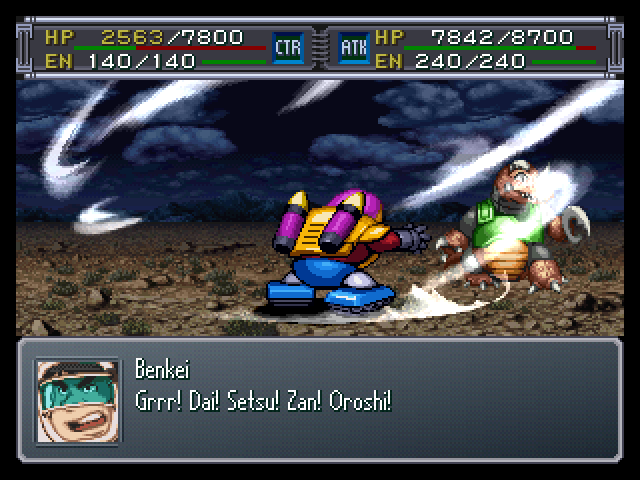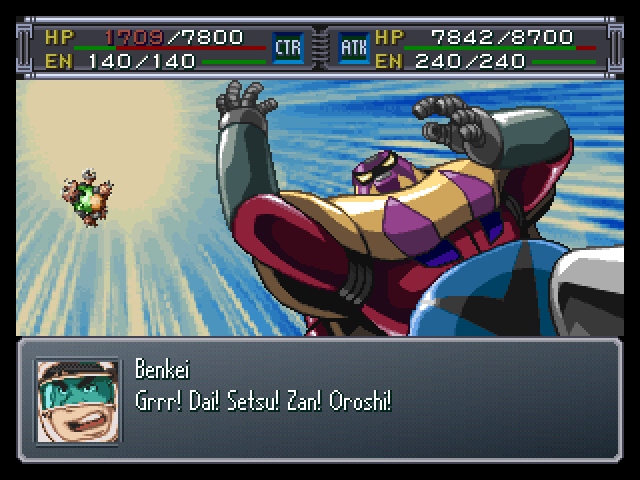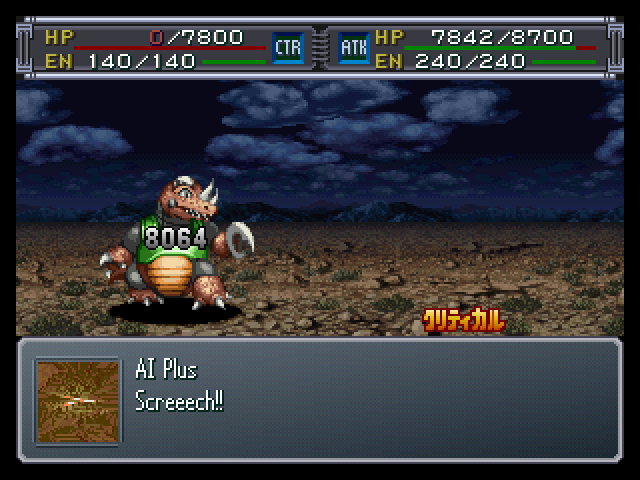 I decided to try Getter Posiedon out for a bit, just because I could.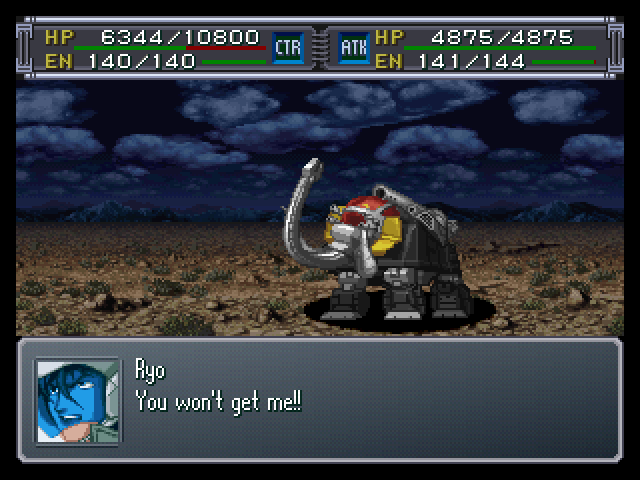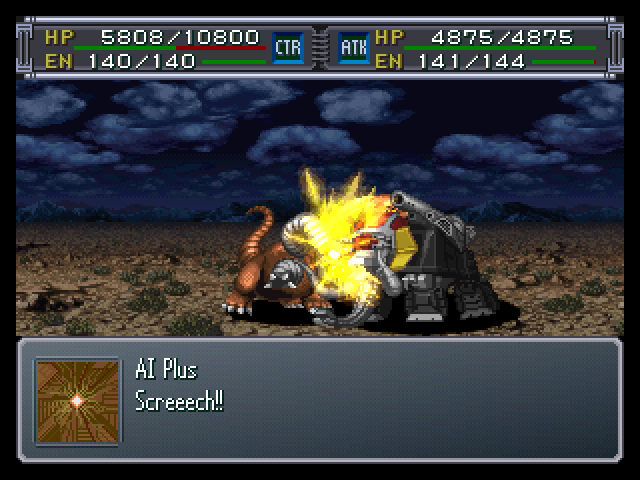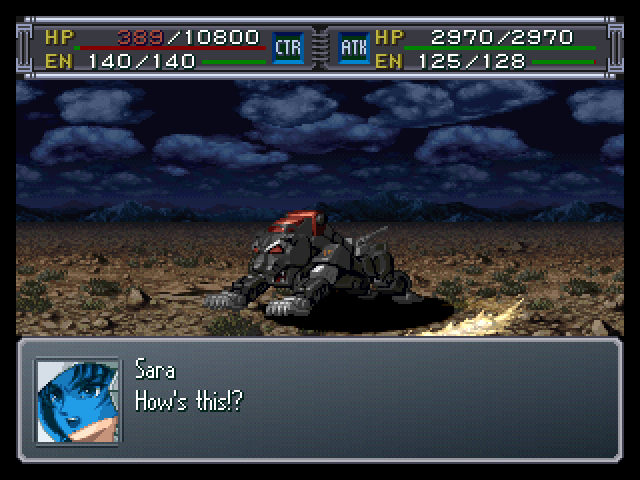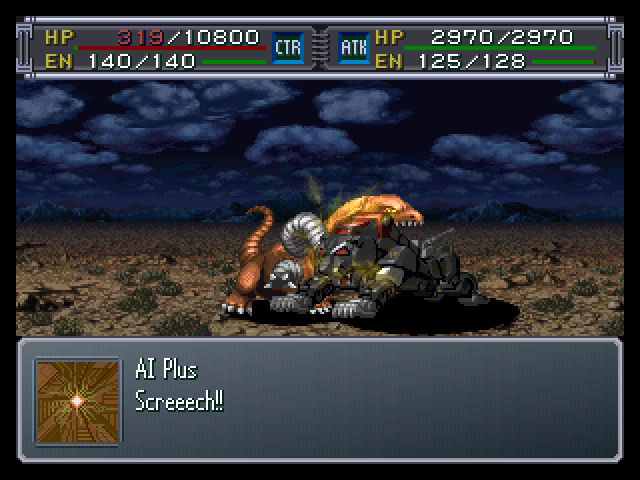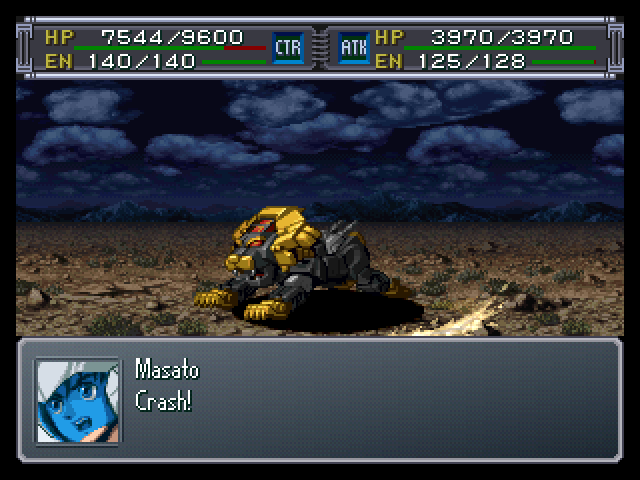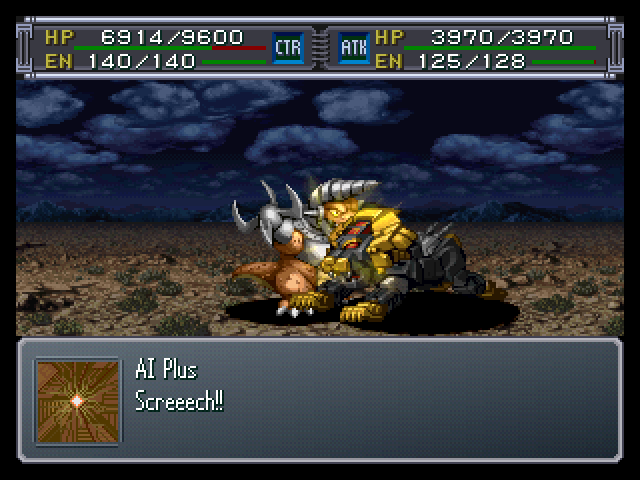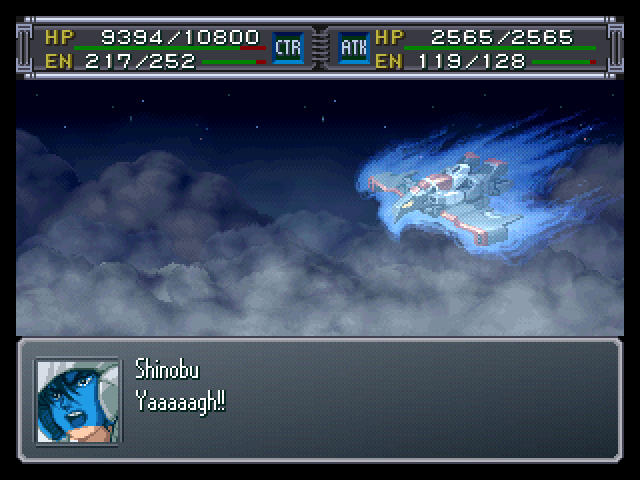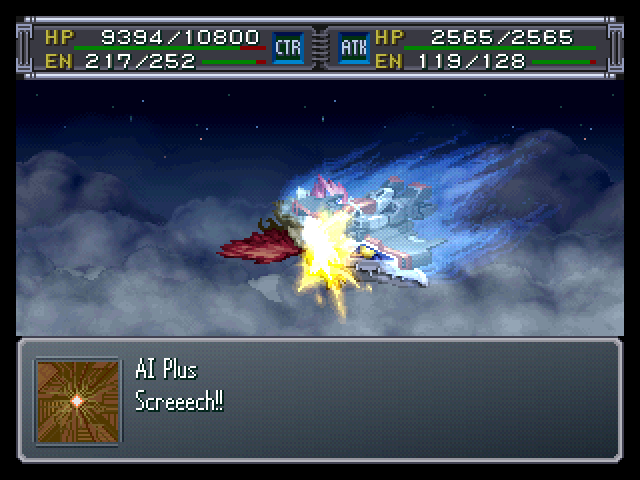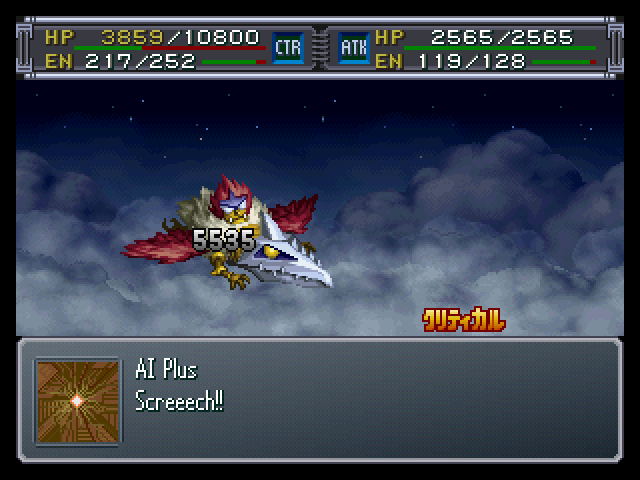 The Cyber Beast Force do some serious damage.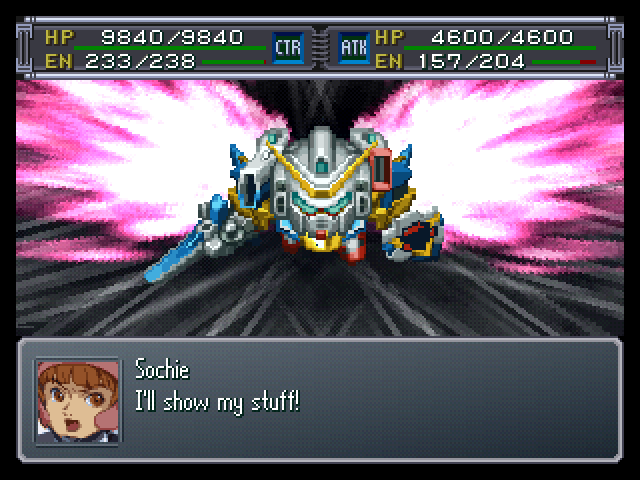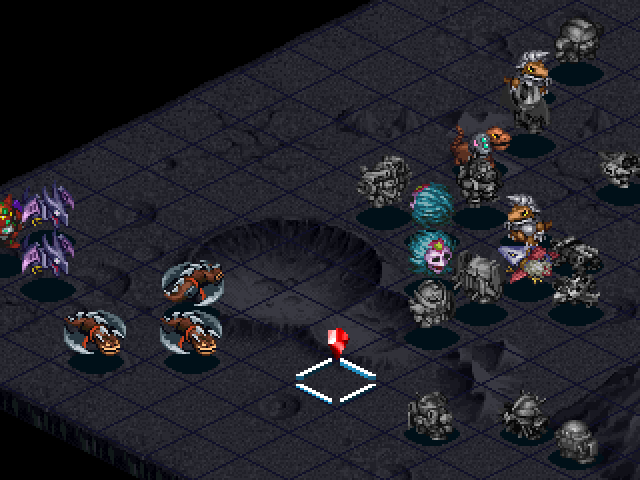 Here's how things look after the third turn.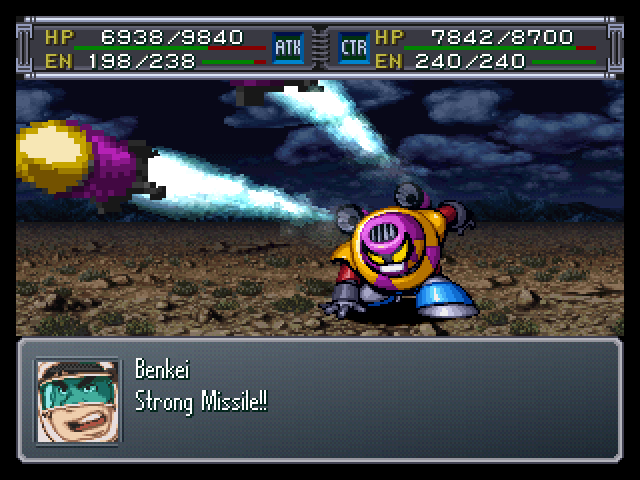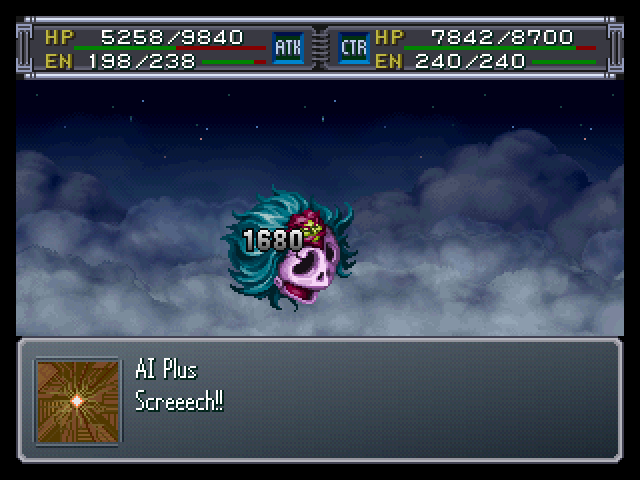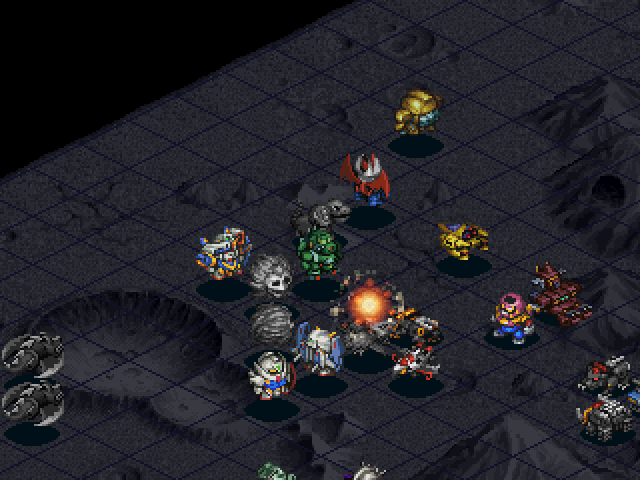 The enemy did more damage to themselves than they did to me on their turn.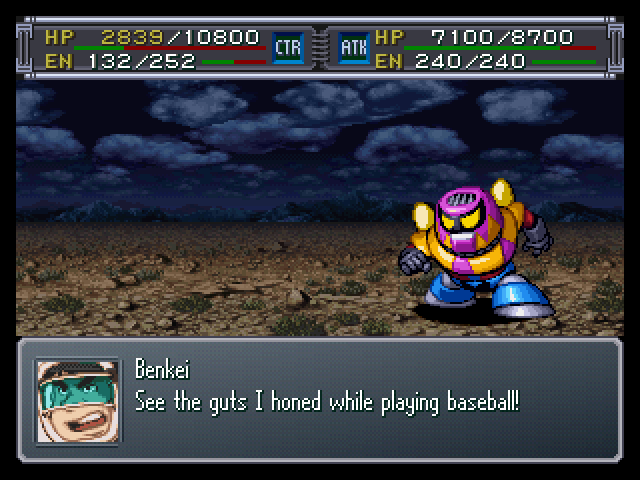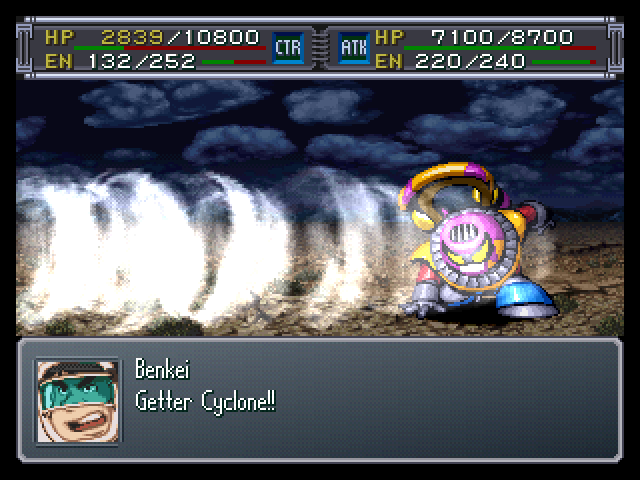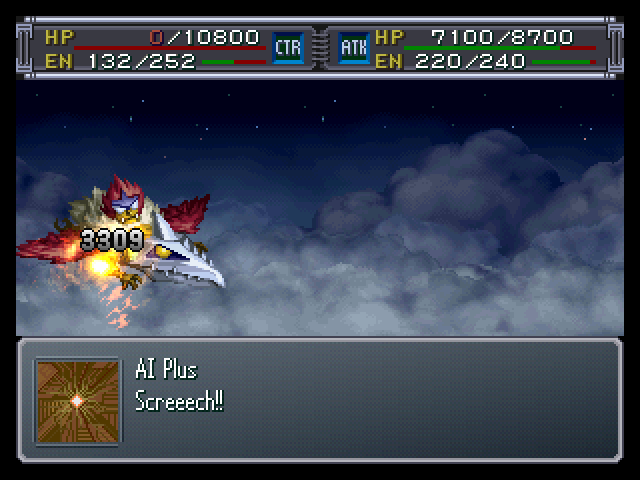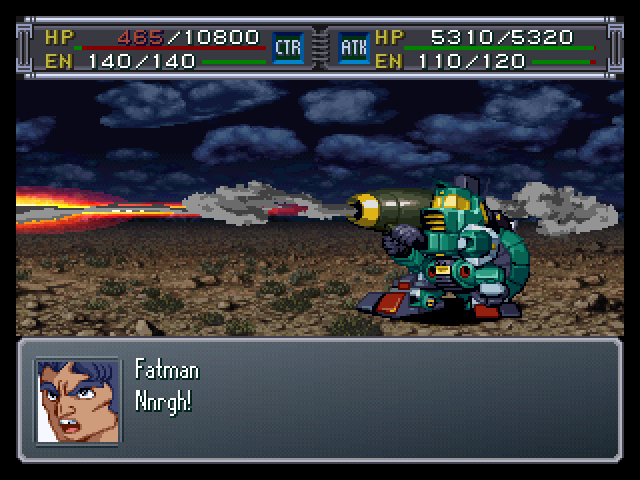 It didn't take long to eliminate most of the remaining grunts.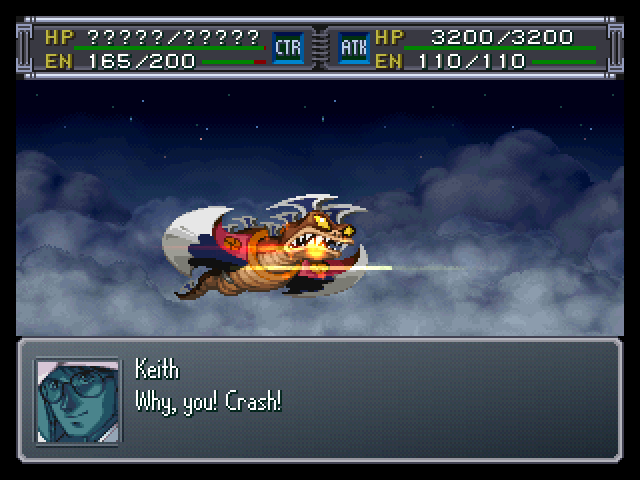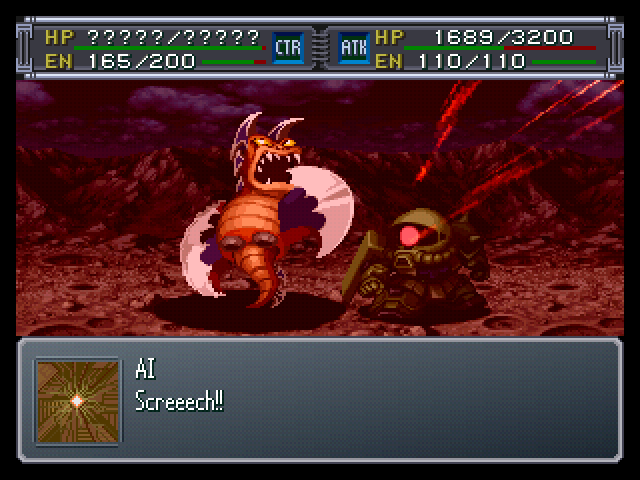 These guys continue to be a pain in my ass.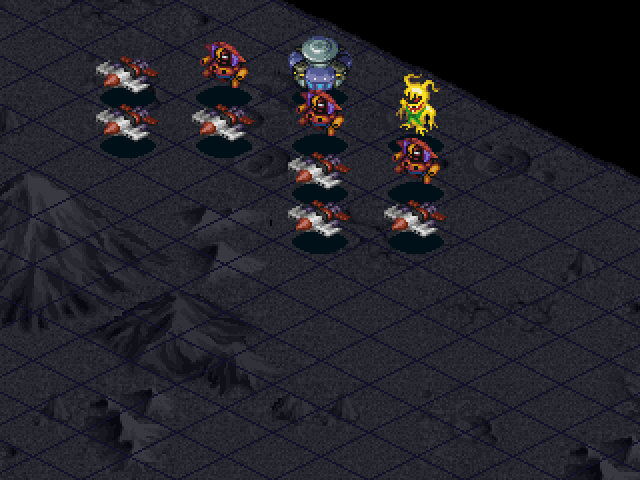 After the fourth turn, enemy reinforcements arrive.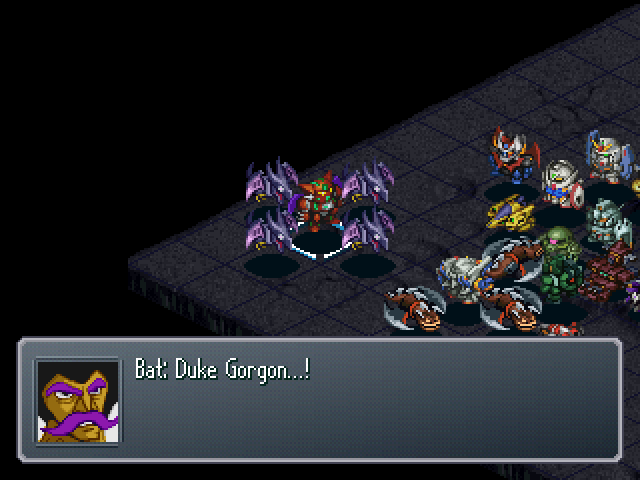 : That son of a bitch didn't run!?

: Duke Gorgon! You lost the last battle. Leave this to me and pull back!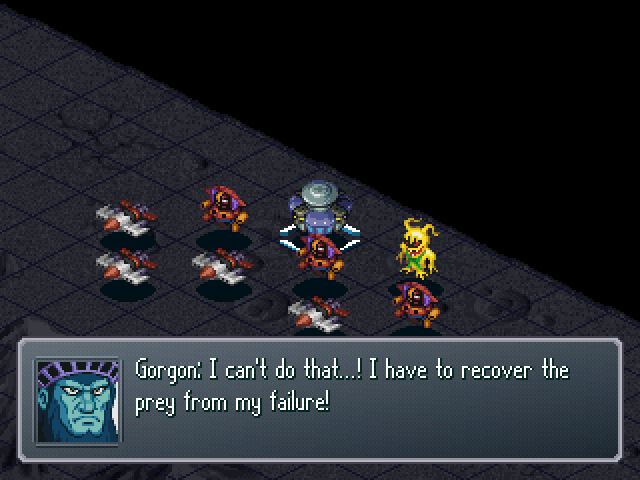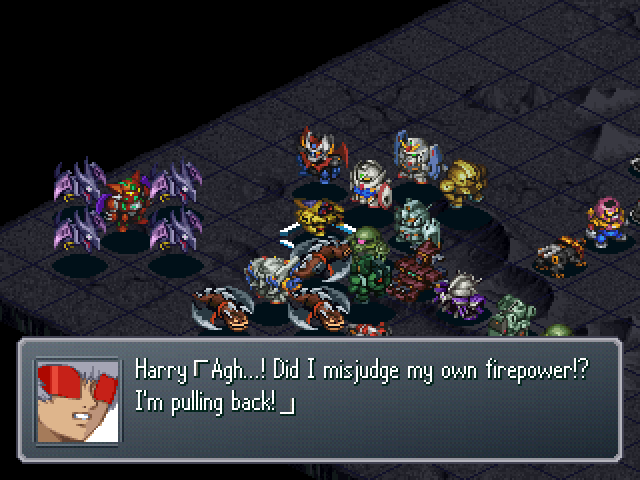 Harry got shot down here by a support attack from a Bado.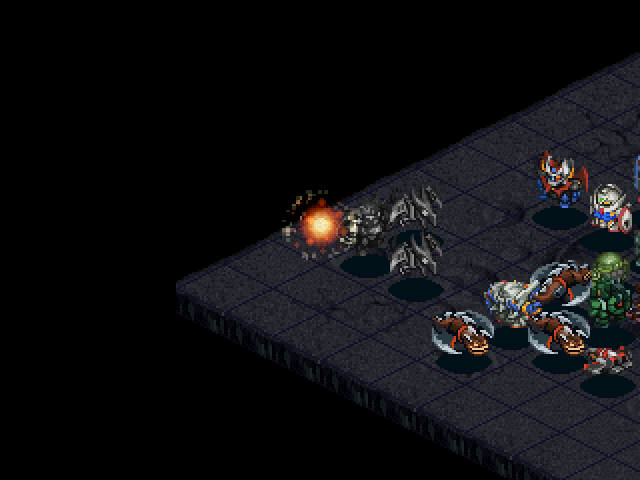 two of their own were destroyed by counter attacks from MazinKaiser.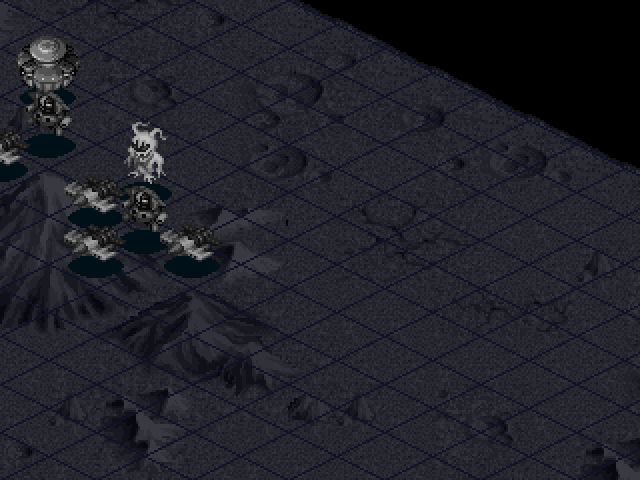 Duke Gorgon slowly makes his way towards us.

Rather than make the mission longer than it already is by destroying Gorgon, I instead concentrated on defeating Shin Getter.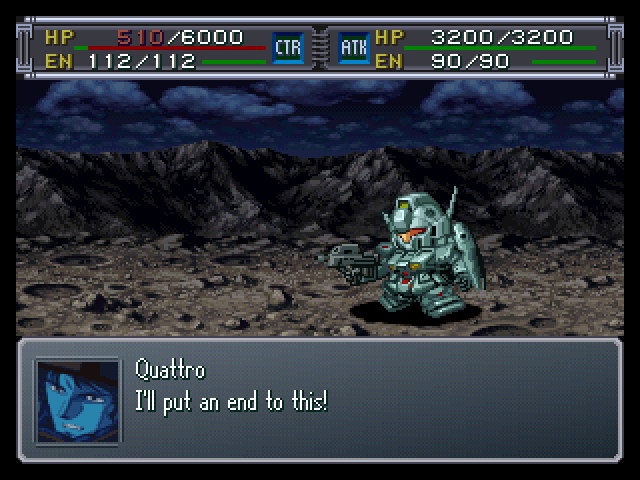 The Bado didn't take long to destroy.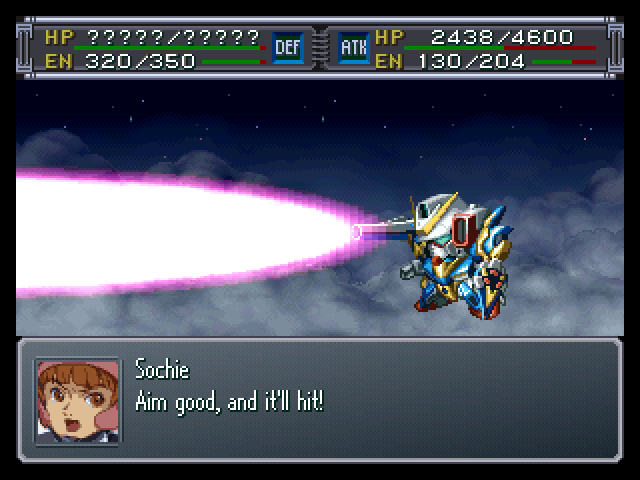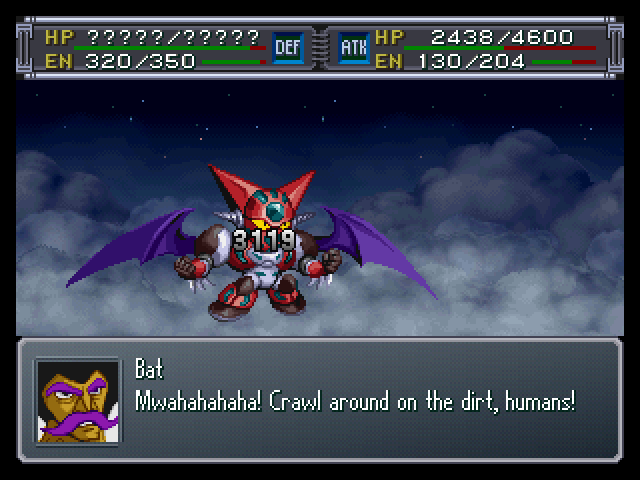 Now here is where I make a mistake. Bat will defend against every attack, and Shin Getter has Large HP regen. While I might have been able to overcome this through sheer firepower with my usual roster (Although I seriously doubt it...), having almost half of my forces being grunts made this impossible, and I ended up wasting ammo, EN and SP trying to whittle him down.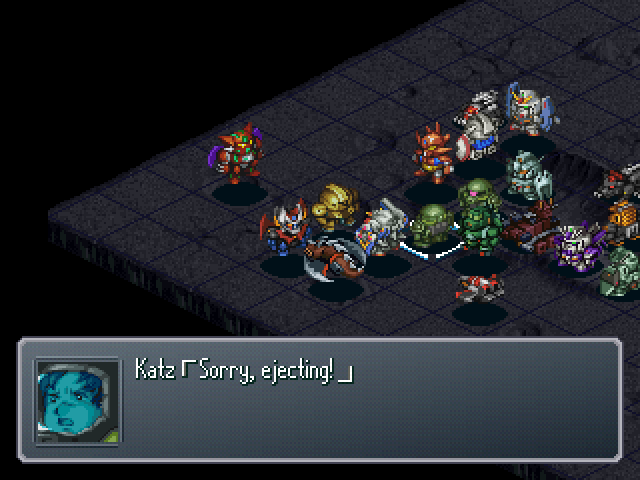 Bye Katz.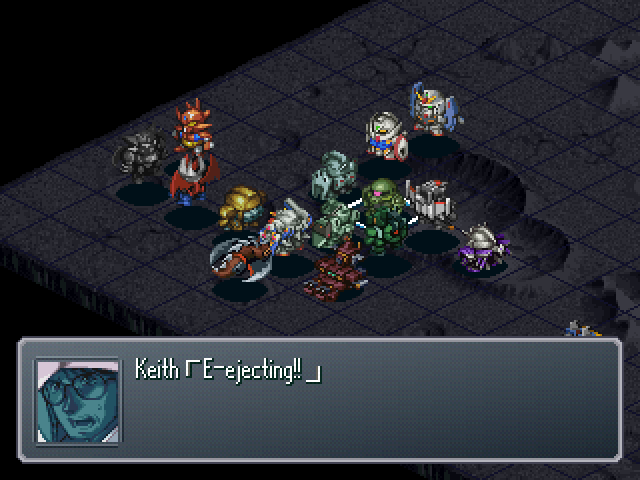 Bye Keith.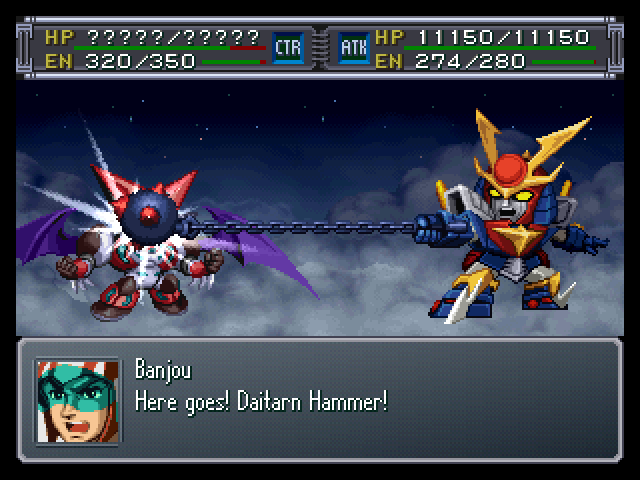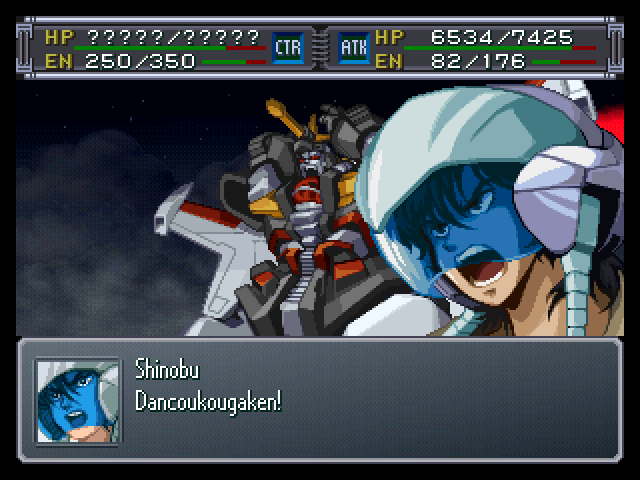 Eventually, he will stop defending and start counter attacking, so I just ended up wasting a whole bunch of resources for nothing. I eventually had to turn the Dai-tank back into Daitarn 3, and reform Dancouga.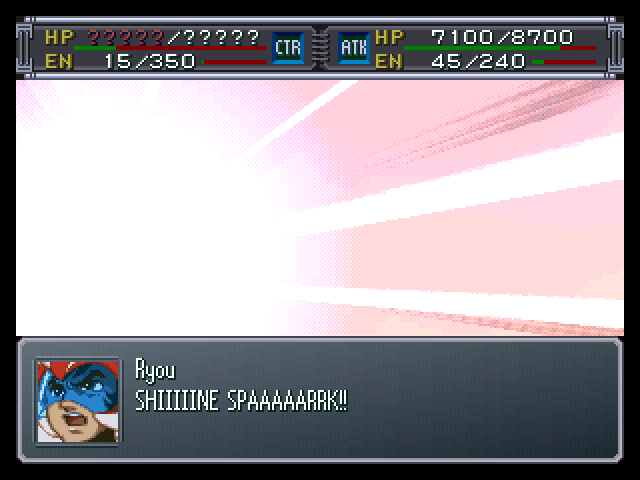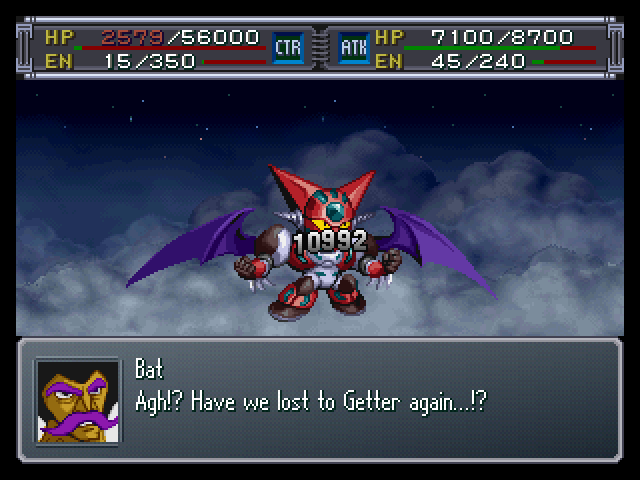 Once he stopped turtling, it didn't take long to bring him down to below 10% of his health.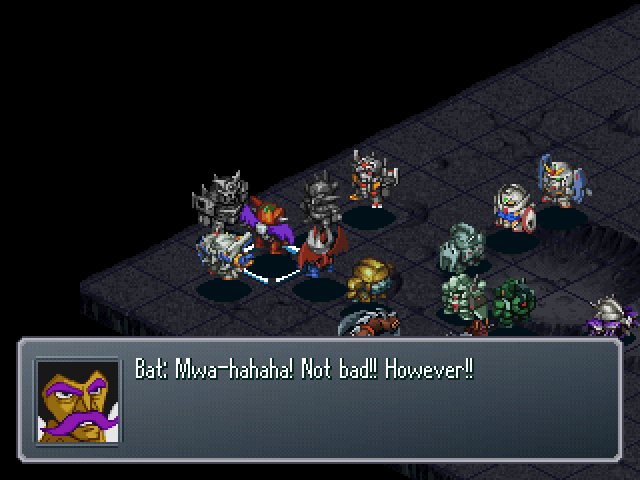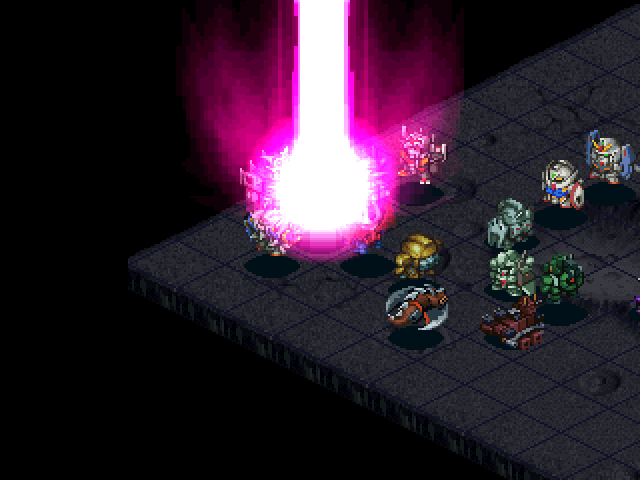 : What!? He's still alive!?

: H-heheheh... You should know the power of Shin Getter better than anyone...!

: Gh...!

: If it comes down to this, I'll have to use the last resort...!!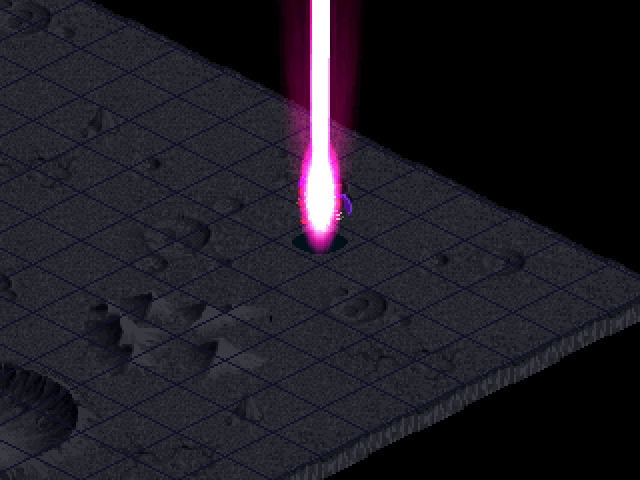 Bat flys off into another corner and lets loose even more energy.

: This is!?

: Shin Getter's started emitting major Getter Energy!!

: H-he wouldn't!!

: Is he trying to everload the Getter reactor!?

: Exactly! I'll destroy you all with out-of-control Getter Rays!!

: !! Don't tell me you're going to try firing Stoner Sunshine like that!?

: Stop, General Bat! If you do that, it means certain death for you!

: ...My life was gone from the day we were forced back into the magma... So if I can take them down with me, that's all I could hope for...!

: General Bat...!

: You withdraw. And tell Emperor Gore... That Bat fought to the very last as a general, and went out splendidly...

: ...I will grant that request!
Every enemy unit except Shin getter retreats.

: Not good! If he fires a Stoner Sunshine, it could get this whole area!!

: Y-you're serious!? (I-is Getter that dangerous of a mechanical doll!?)

: Shit! All hands, evacuate!! Get the hell away from this place!!

: HAHAHA! Squirm, you wretches! You'll go to Hell with me! MWAHAHAHAHA!!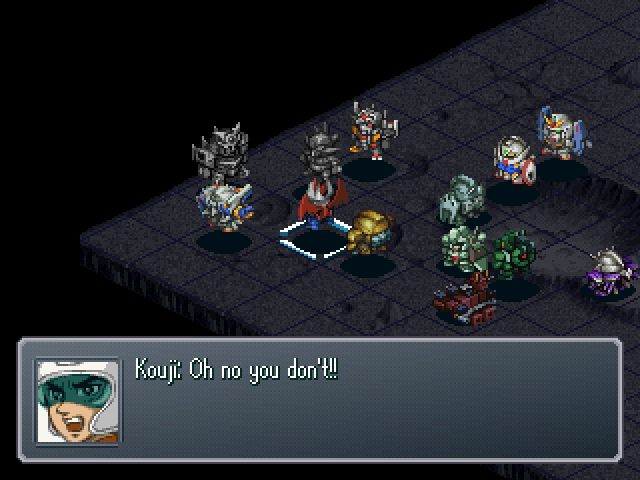 Kouji and MazinKaiser moves to face Shin Getter!

: Kouji!

: Kabuto!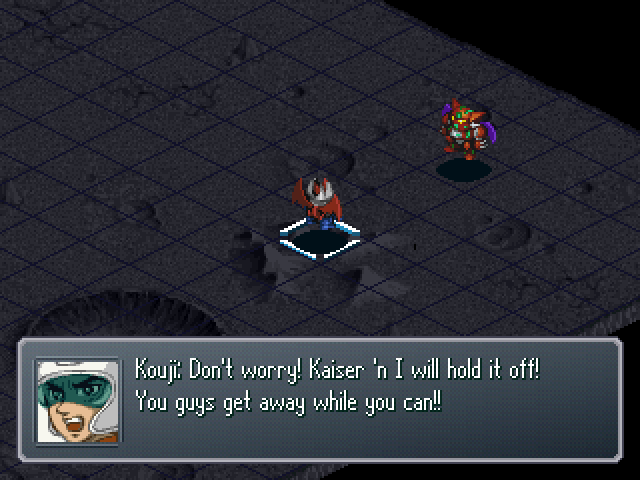 : Don't be ridiculous, Kouji!

: Even MazinKaiser couldn't stop such massive amounts of energy!

: I won't know that until I try for myself!!

: So you're come to stop me! But you're too late!!

: General Bat! Even against Shin Getter, Kaiser and I won't lose!! As long as everyone's behind me, I can't afford to lose!!

: The same goes for me! I will defeat you for the glory of the Dinosaur Empire!!

: Bring it on, General Bat! I'll show you what the Fortress of Iron can do!!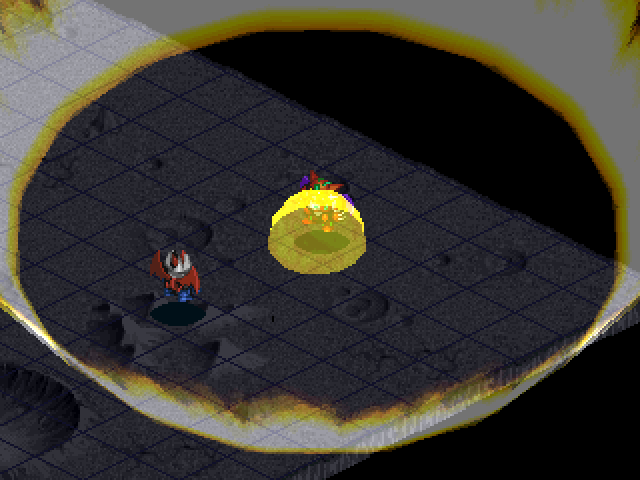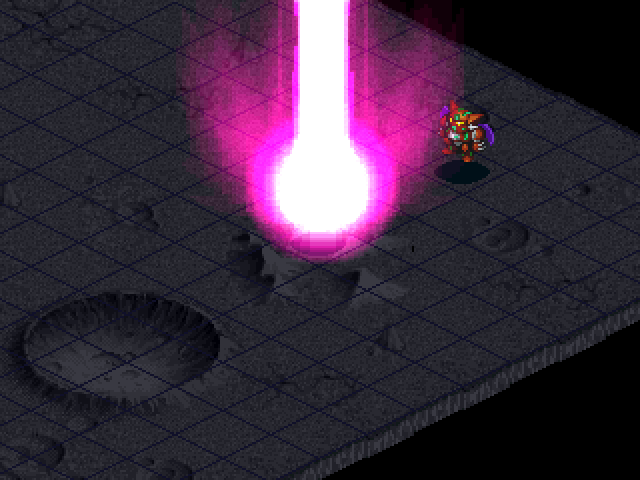 : For the future of the Dinosaur Empire!!

: For everyone who lives in this world! Muster all your strength, Kaiser!! Photonic Energy, full charge! Activate 'God' mode, full power!!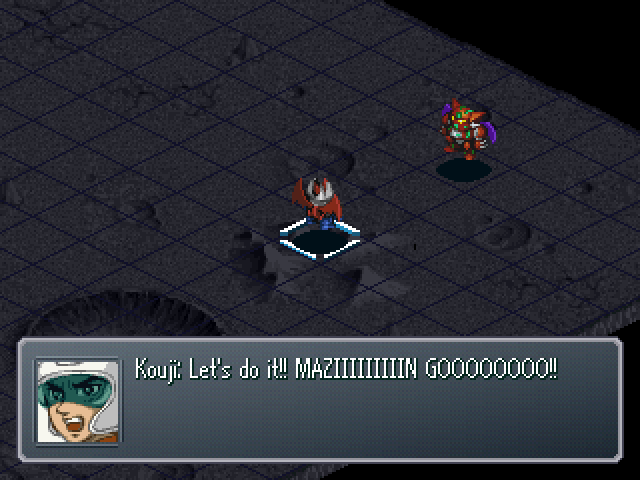 MazinKaizer vs. Shin Getter Robo!

: Aaaargh!!

: Gwaah!!

: kouji!!

: Agh... ooh... Argh...

: H... He's still alive!!

: Do Getter Rays... reject us reptilians... to the very last...? I-if it comes to this... At least you, Getter Team...!
buh? You fought Kouji, not the Getter Team :???:

: N-no good... the machine ... won't move...!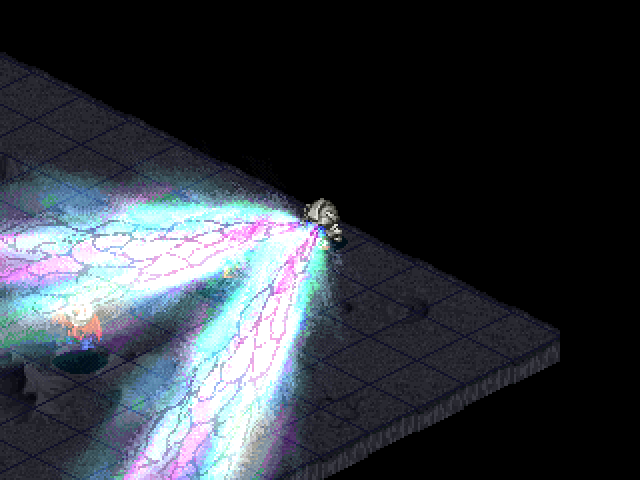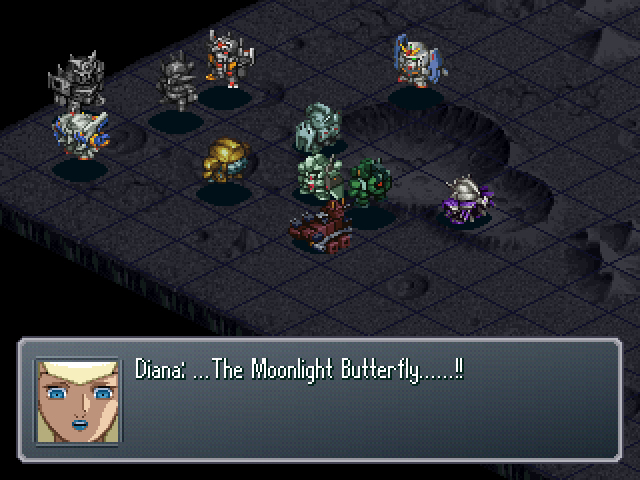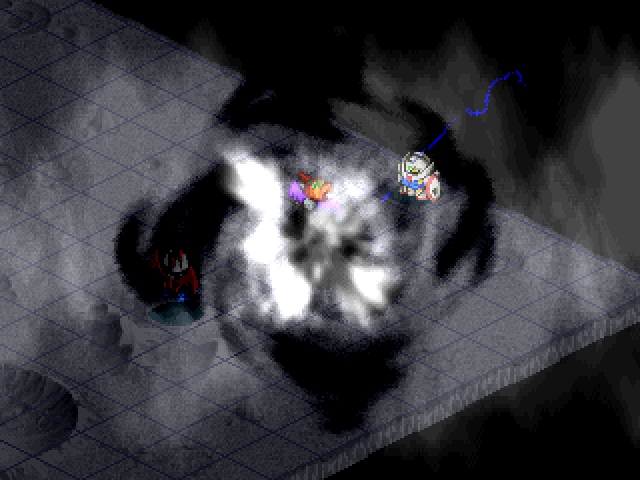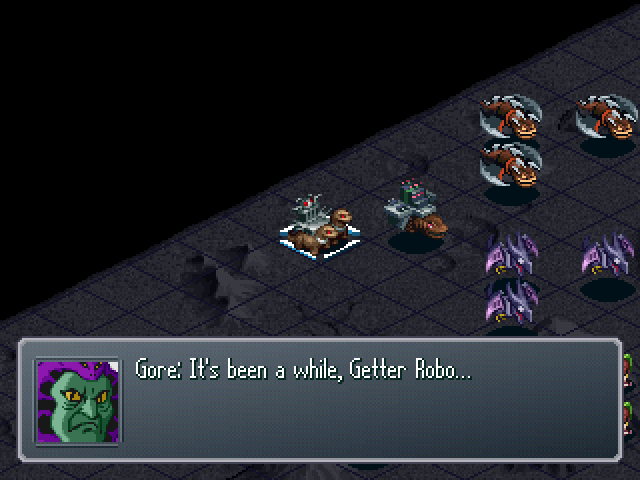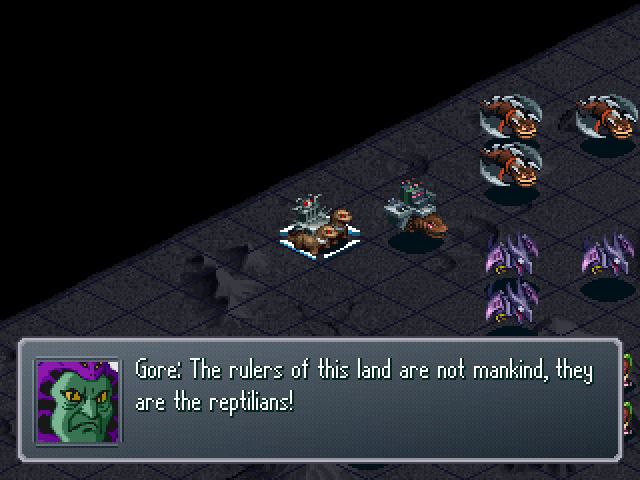 And the rest of the mission plays out the same as the one on the Moon Route.
-----------------------------------------
After this, I will be continuing from the Intermission at the end of the Moon route. If there are any major differences between that Intermission one and the one at the end of this mission, I will point them out. For the purpose of this LP though, I will be continuing the game from the end of the Moon Route.