Part 209: Post-Intermission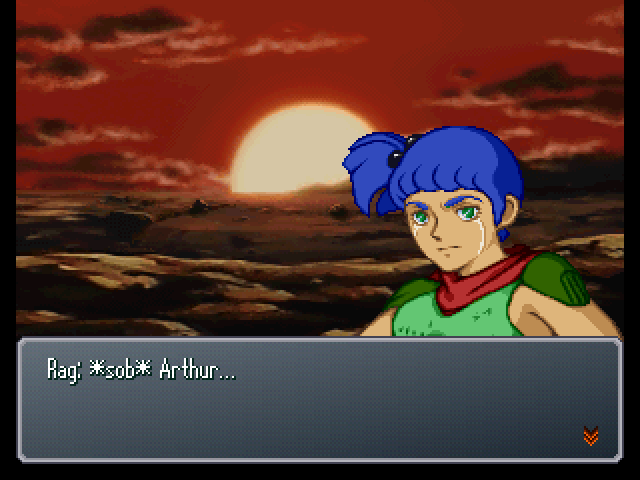 : (.........)

: (.........)

: Why... Why...? Why do people in war have their lives taken away, whether they're good or bad...!?

: Sochie...

: That's... what war's all about. It's sad to say, but...

: (.........)

: (.........)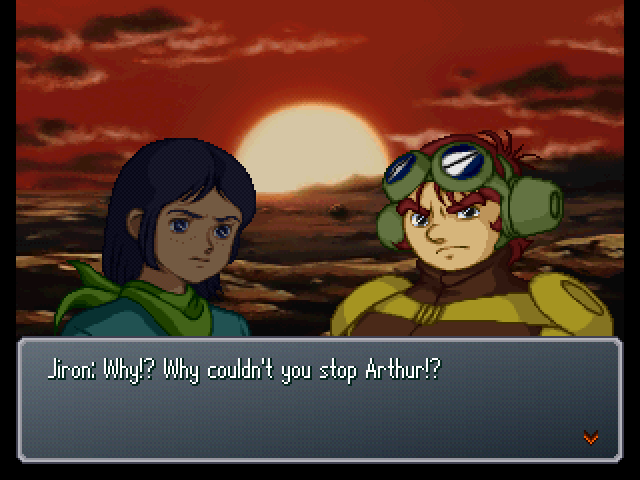 : (.........)

: (.........)

: You guys are doctors! Why'd you let this happen!?

: ...Elche's condition took a drastic turn for the worse. We didn't have time or any other options...

: ...And... Arthur Rank ordered us to perform the personality transplant...

: Are you kidding!? What ever happened to Amuro and Tifa helping out!?

: (.........)

: ...I'm sorry, Jiron. But the way things were going, Elche would've been...

: Y-you bastard!!
Jiron punches Tex.

: Agh...!

: If you're a doctor, saving people's lives should be your job! How could you... how could you!!

: ...I made my decision because I am a doctor. To use the method with the greatest likelihood of saving a life...

: You call that justification!?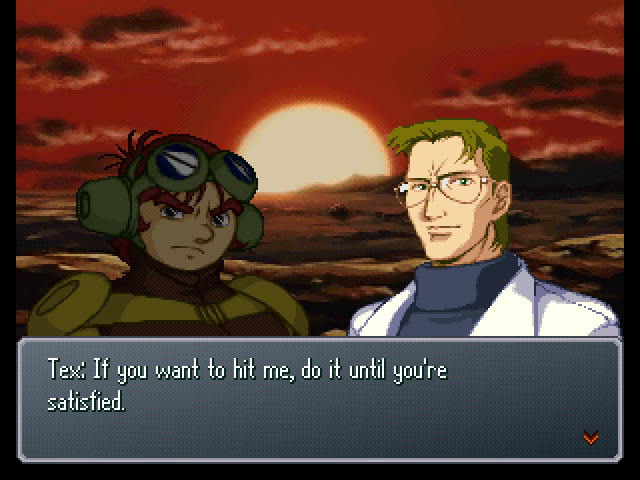 : Since the day I chose the medical profession... I've been prepared to bear lifelong grudges.

: Damn it all!!

: Stop it, Jiron!

: !!

: Fighting here won't bring back those who have died...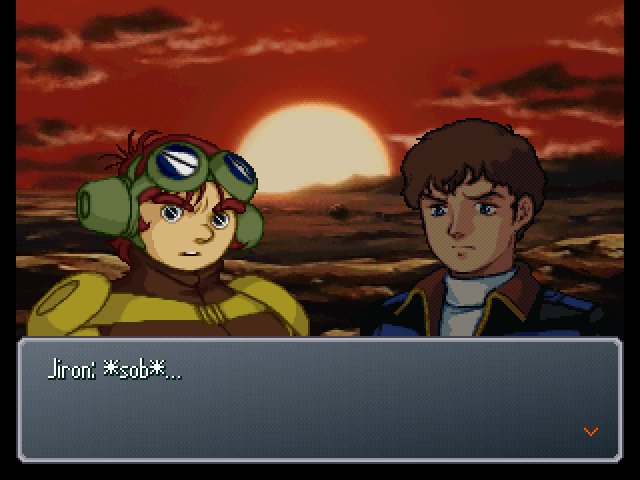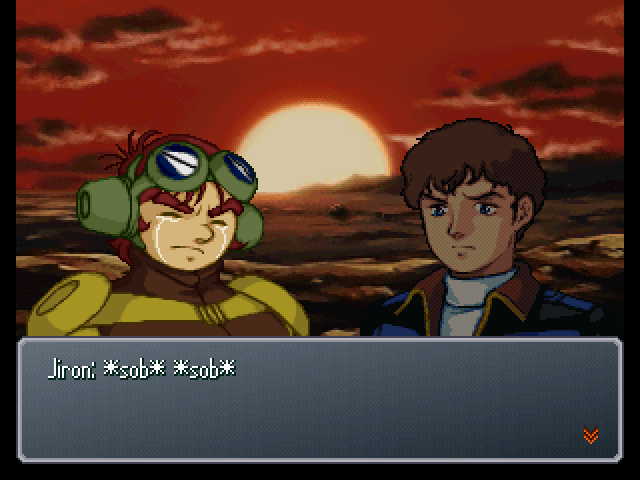 : Jiron...

: (.........)

: (.........)

: (Arthur Rank... I wasn't... fully prepared yet... I, Diana Sorrel... shall carry on your dying wish... And... I shall make certain that the day comes when the Moon and the Earth's peoples can join hands...)

: (...So long, Arthur. You weren't with us for long, but...)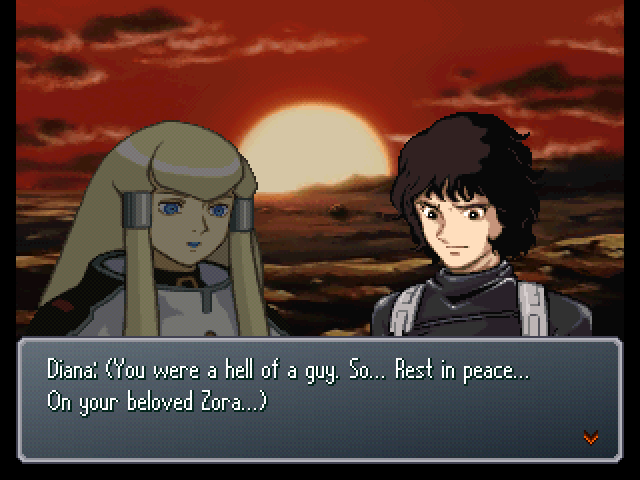 [SCENE CHANGE]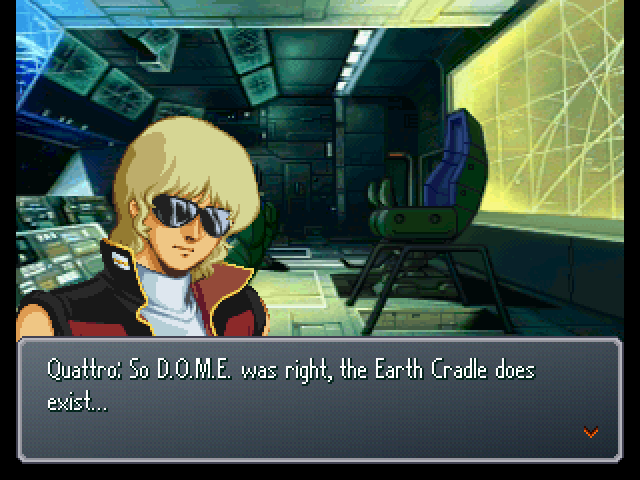 : The ones inside of it are called the Ancestors... They claimed to be supervisors for the Earth's environment. And... as Wendy and I feared, they're not on our side, either.

: ...Yes...

: They were testing us, weren't they...? To see whether or not we were suited to save the Earth...

: And they've rejected us.

: They must have given up on humans who prolong wars...

: Oh, yes... Back then, Magus said...
*INSERT MAGUS FLASHBACK HERE*

: The calamitous wind that swept across the skies would be the shockwave... Then the demons that rose from the depths... Would probably be the underground invaders, like the Dinosaur Empire, for one...

: And the ones who beat them, the guardians of the land, would be the Ancestors...

: If it's like the Moon Cradle, then it should have an artificial hibernation facility. It could be possible that they're survivors from the Space Era, our own time.

: (...Could Magus be Sophia...? Sophia Nate...?)

: (.........) Garrison... Do a new search on information related to the Earth Cradle and Project Ark, please.

: Very good, sir.

: ...Allow me to lend my assistance.

: (Oh, yeah... Dr. Anzai had a friend who joined Project Ark, didn't she...)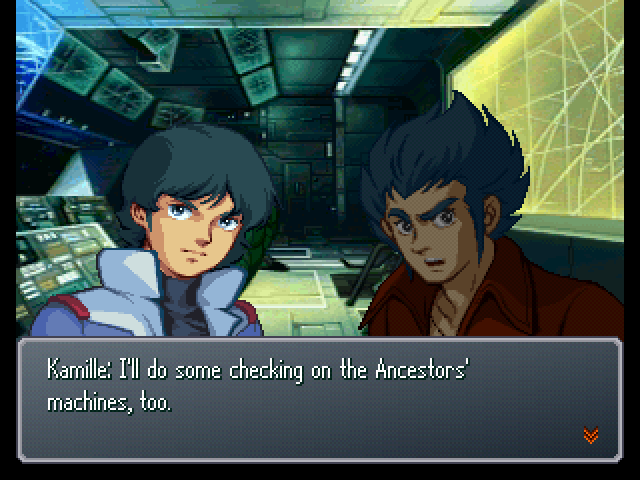 : On their machines?

: Yes... There's something bugging me about them.

: I shall assist as well, then. I saw their machines close up many times while at S-Point.

: If you could, please.

: Okay, then... The investigation's in your hands.
[SCENE CHANGE]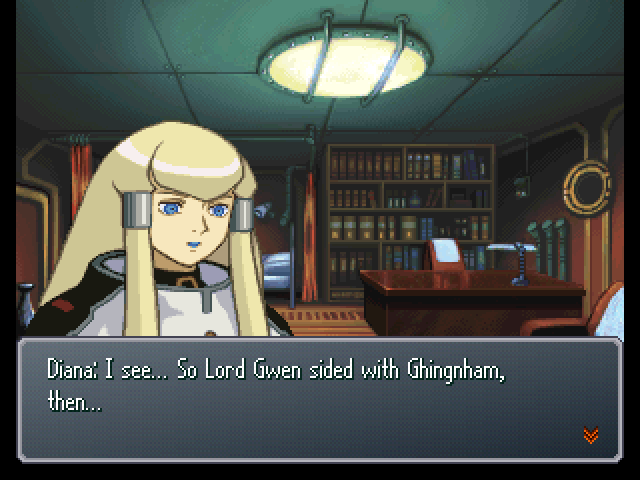 : Yes... He also took data on the Ra Cailum's mechanical dolls, including the White Doll...

: He tried to take me along as well.

: A complete betrayal! He goes running to Ghingnham without so much as a word to us!?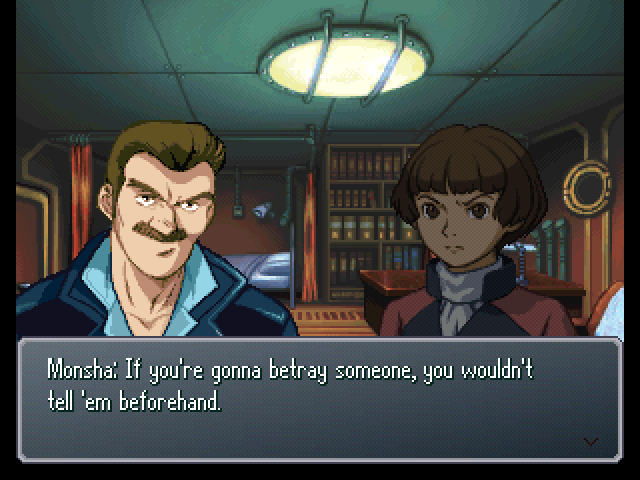 : Why would Sir Gwen do such a thing? He's normally so calm and levelheaded...

: I don't think I understand Sir Gwen anymore...

: That little lord had his eye on the moon's technology for a long while. You think he wanted that?

: If that was all he wanted, he could have just bribed someone in the Diana Counter.

: She's right. Lords think more about how to rule the masses. And Sir Gwen had been considering modernizing their industry, so there's not really a good or bad to him.

: Pfft! The whole Earth could go up in flames, and he's off having a picnic.

: (.........)

: He's makin' a friggin' mockery of Arthur Rank's dying wish!

: He probably found a new objective...

: Doesn't it make you mad to get ditched like that?

: I am a statesman's daughter. I haven't the spare time for getting worked up. More importantly... The information on your mechanical dolls got leaked. That should be your main concern.

: The Turn-A's data being handed over to Ghingnham does certainly create cause for alarm...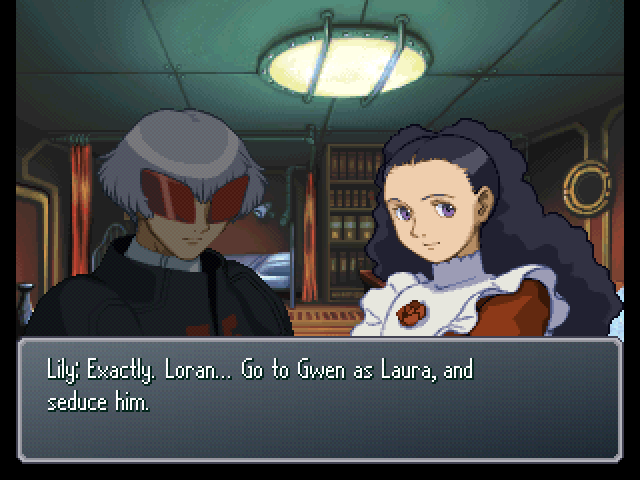 what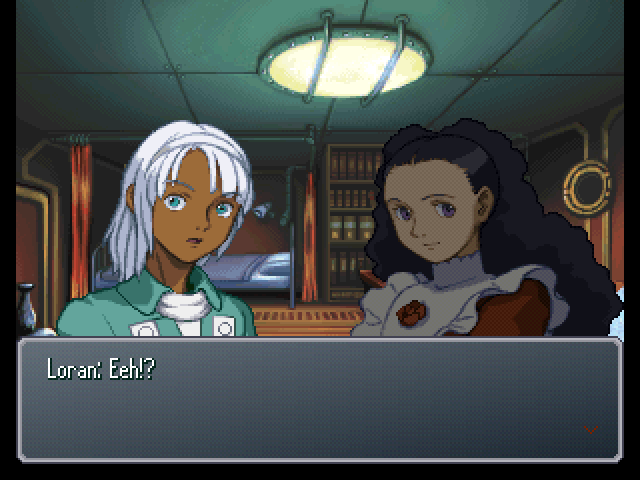 : Silly, you can use that to get back the Turn-A's data.

: I object to this!

: Y-yes, so do I! Any data he has would have already been copied.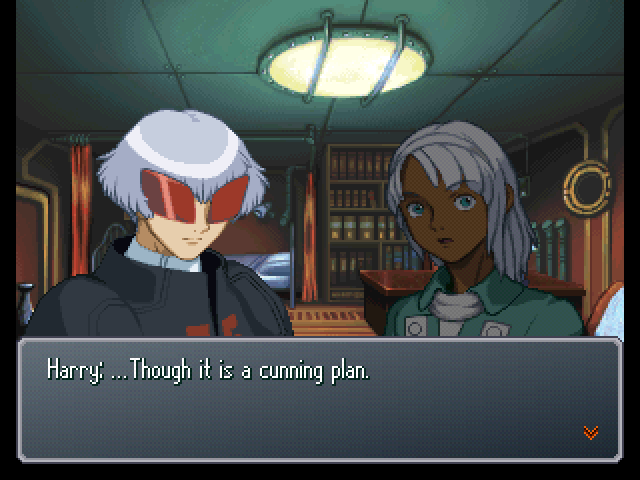 : H-Harry!

: Oh, yeah. You got seduced by Loran once, didn't you, Lieutenant Harry?

: Is that true?

: I was simply being deceived by Loran, nothing more.

: (.........)

: Lady Diana, it's approaching time.

: Understood. Then, let us go...

: Lady Diana, Harry... Where are you going?

: (.........) ...We must not let Arthur Rank's dying wish have been in vain. Lady Diana is setting out for the Soleil.

: For the Soleil!?

: Yes. I must rein in the misconduct caused by my inexperience...

: (Lady Diana......)

: If I do not, then I will never be able to face Arthur Rank...
[SCENE CHANGE]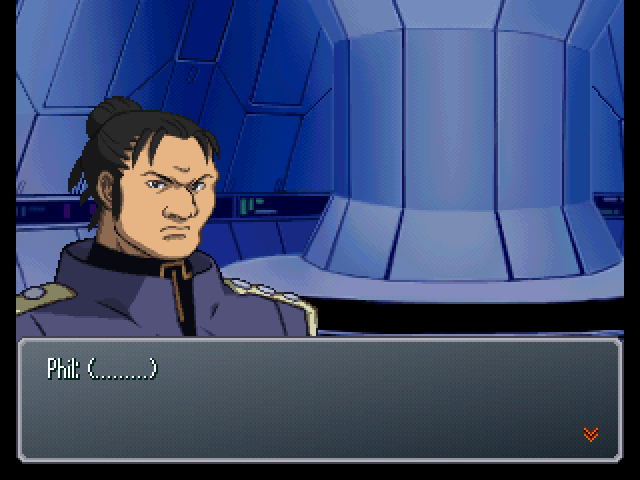 : (.........)

: Lieutenant Commander Phil, Gym Ghingnham has descended upon the Earth. This is another crime for which I am at fault. I would like your assistance in expelling him. Milan's, too.

: Y-you would... You would forgive us, Lady Diana...?

: If you acknowledge your own errors... Then devote the remainder of your life to peace between the moon and the Earth.

: Ma'am... Your Majesty, Diana Sorrel, I offer you my life...

: Will you, Lieutenant Commander Phil?

: (.........) I have heard your words, and shall treat them as a direct order from your Majesty.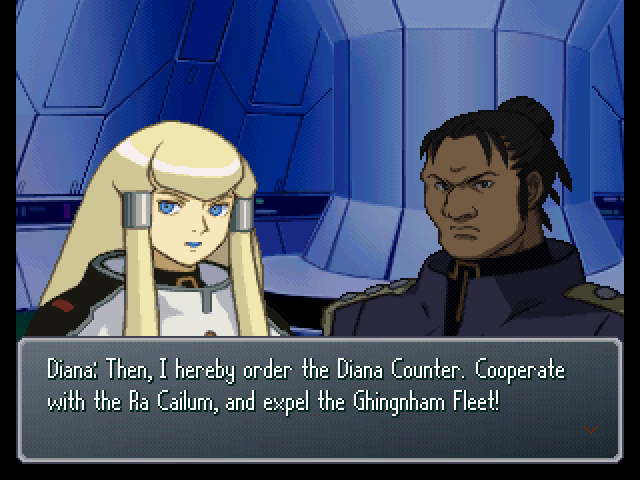 : Yes, Milady!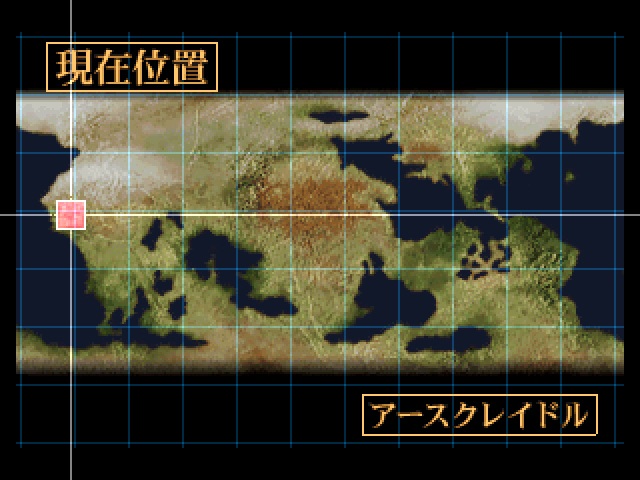 [SCENE CHANGE]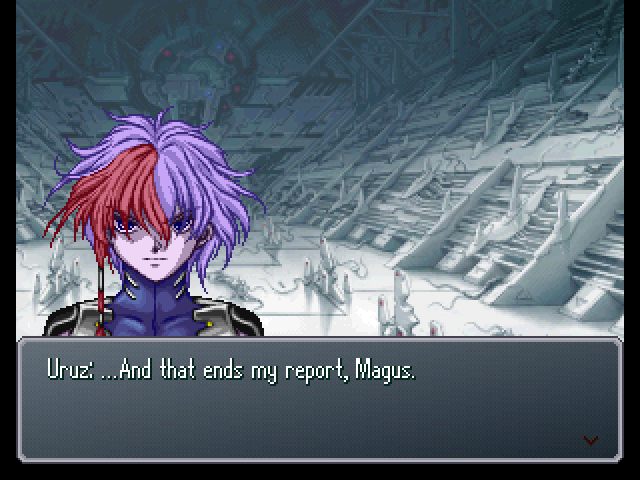 : I see... So the humans have once more tried to use nuclear weapons...

: Yes. They're trying to repeat the same mistakes as before.

: ...How foolish...

: I think... There is no further merit in protecting Man, or allowing Man to inhabit this planet.

: (.........)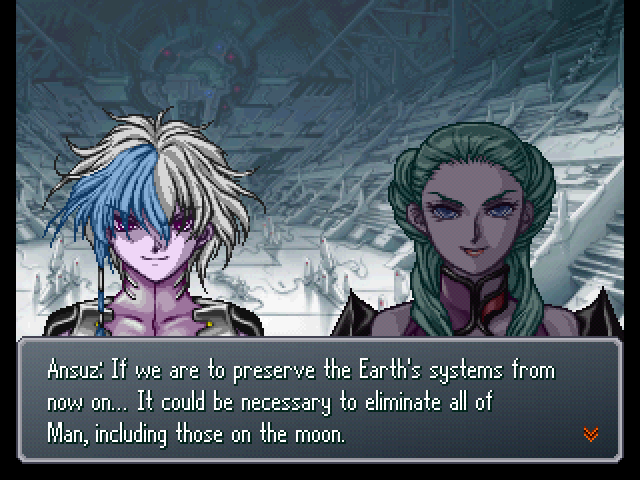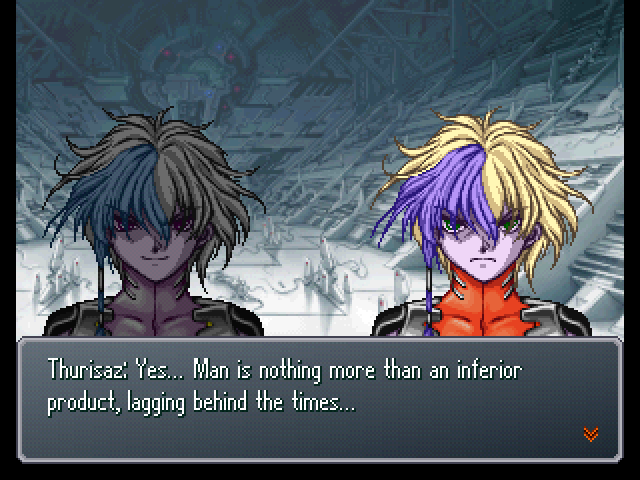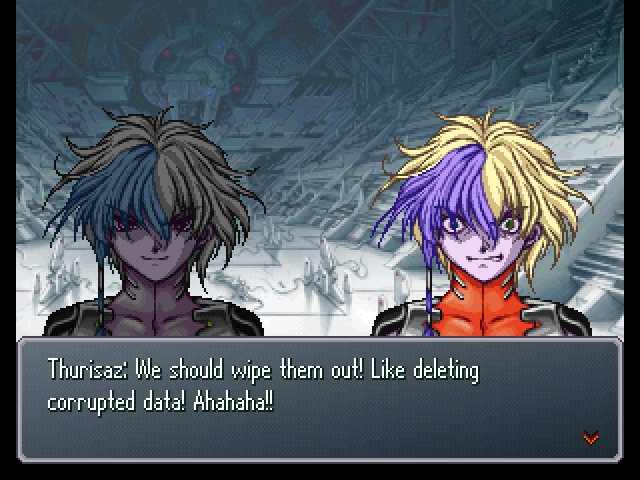 : Thurisaz, your emotion patterns have become skewed recently... If you continue in this manner, it could interfere with the carrying out of orders. You'll be given emotional adjustments.

: I beg your pardon... Returning to neutral.

: What of the Irregulars?

: They have rejected giving top priority to fighting the underground forces.

: As I supposed.

: I have judged that the removal of the underground forces will require us to act once more.

: Then the Irregulars are no longer necessary. Call Sanger here.

: Ma'am...

: Thurisaz, switch the Earth Cradle to battle mode.

: Ma'am...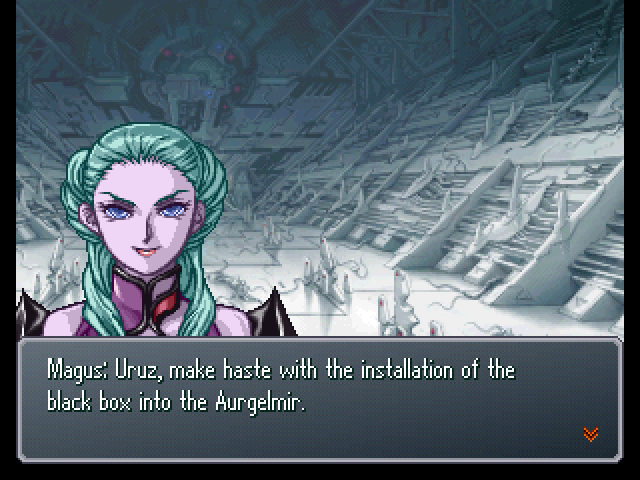 : Ma'am...

: (.........)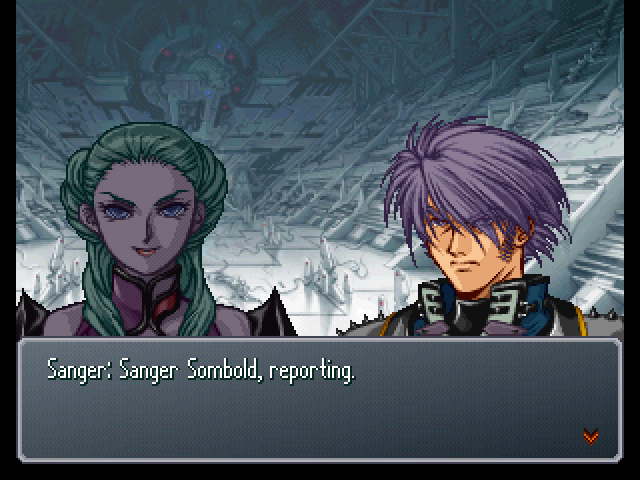 : Sanger... Move out in the Thrudgelmir, and eliminate the Irregulars.

: (.........)

: ...What's wrong? There's a deviation in your emotion pattern.

: (.........)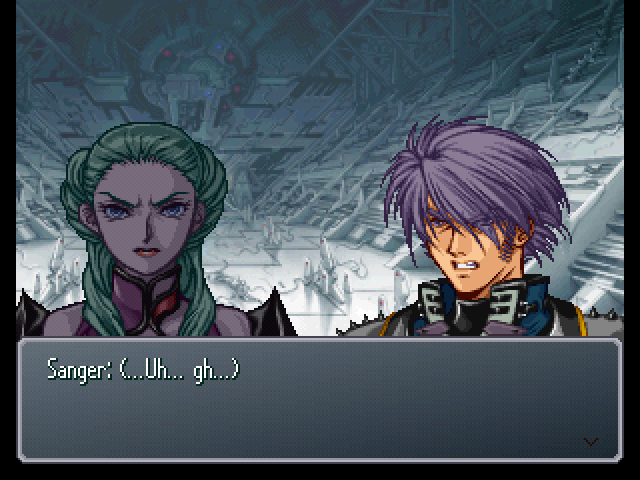 : W-will carry... out, your orders...
Sanger leaves

: (Sanger... Contact with humans must have triggered a reload of his original data...)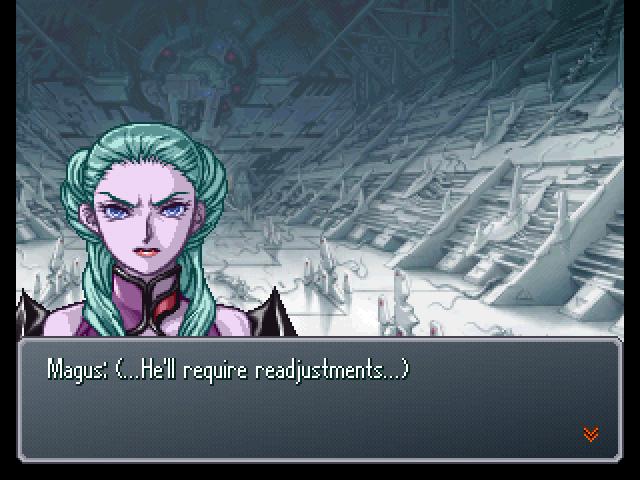 ----------------------------------
Also, A correction on my part. Corin Nander does not join during mission 32 of the Moon Route. He joins at the end of this mission since the script I'm using shows that there is a scene here where he joins the group. I will go back and correct this once I have the time.