Part 240: Mission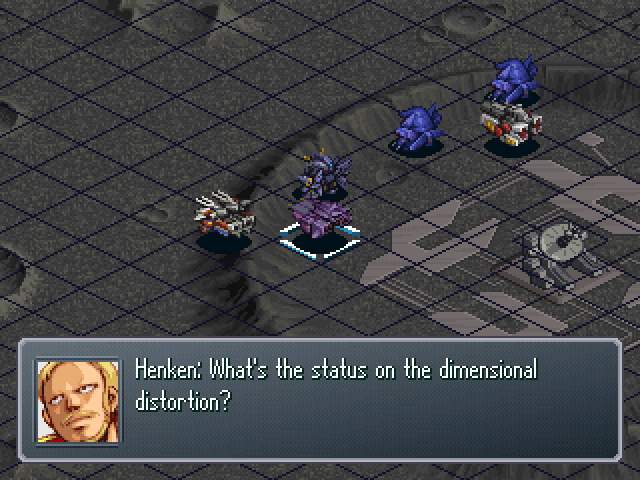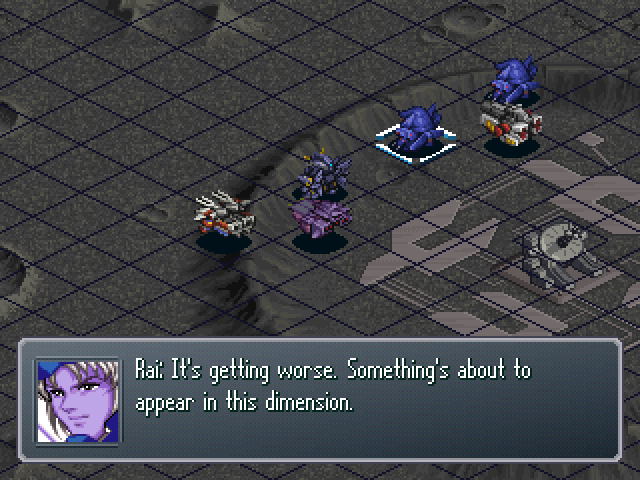 : And if that something's hostile...!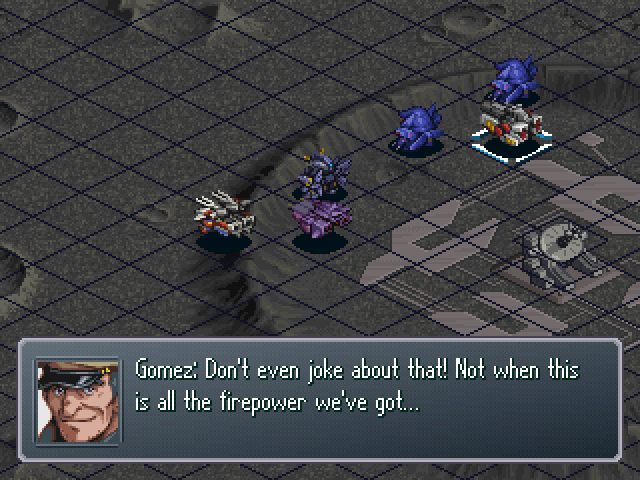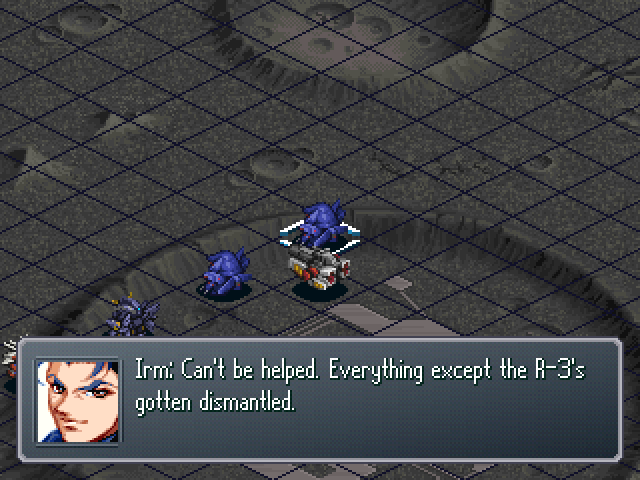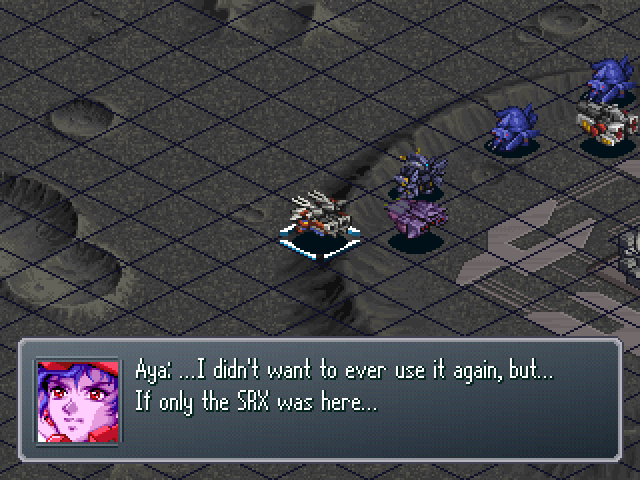 : It was a double-edged sword, Captain. It had to go.

: ...I suppose so......

: Besides... Ryusei's gone now...

: .........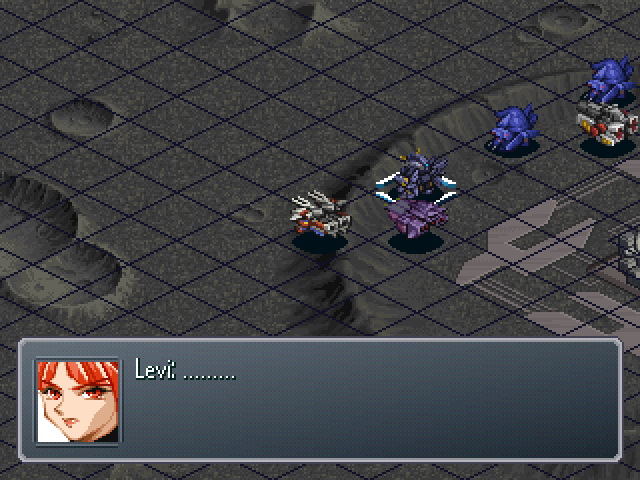 : ...I'll defend the Moon Cradle to the end, if it comes down to that.

: ...Rai......

: Hey, don't resign yourself to death so easily. We're here to make sure we can live right along with everyone else.

: Yeah, he's right. Plus... I can't let young'uns like you kids die.

: .........

: Alright then... Let's put some spirit into this, shall we!

: ...Levi, will you be alright?

: Yes... I'll do my part, and Ryusei's too...

: !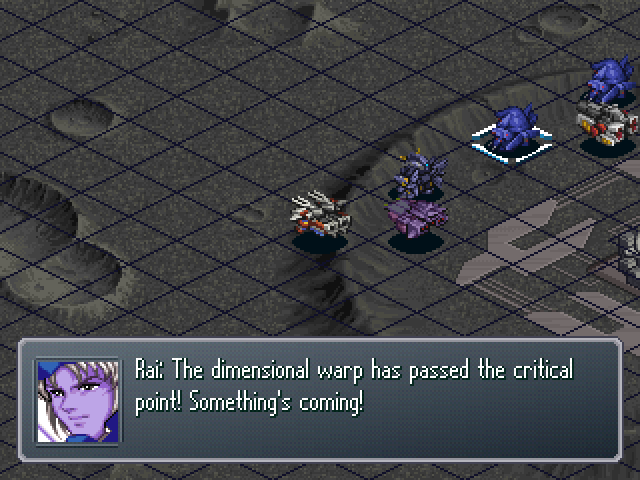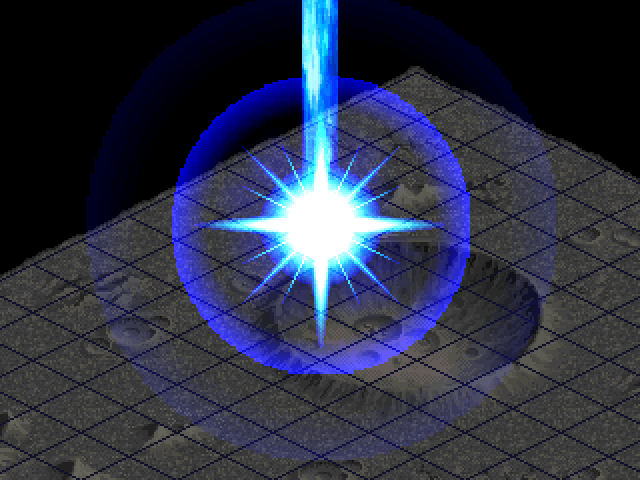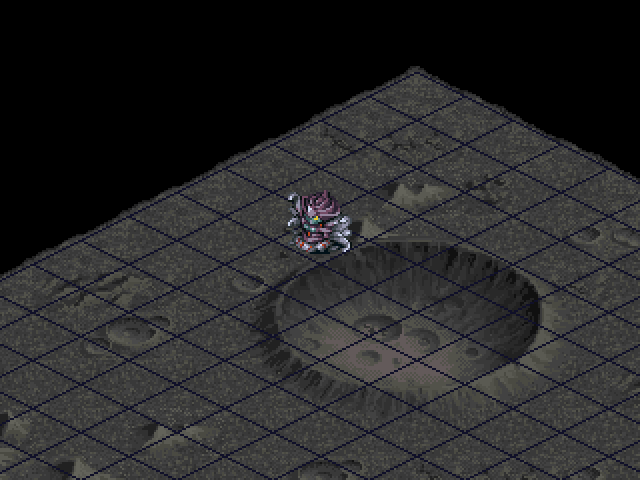 Sleep, Beneath the Soil

: Wh... What the heck!?

: A giant mobile weapon!? Could it be one of the Aerogators'...!?

: ...No, it's different...!

: ID unknown...! It's something we haven't encountered before...!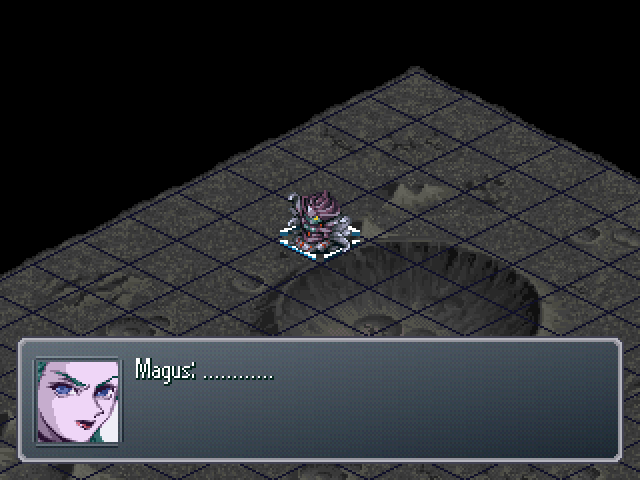 : Ha, hahaha......

: A woman!?

: It seems... I've successfully travelled through time...

: Traveled through... Time!?

: Then... I shall stop Project Aegis, and render all of mankind extinct...!

: Wh-what did you say!?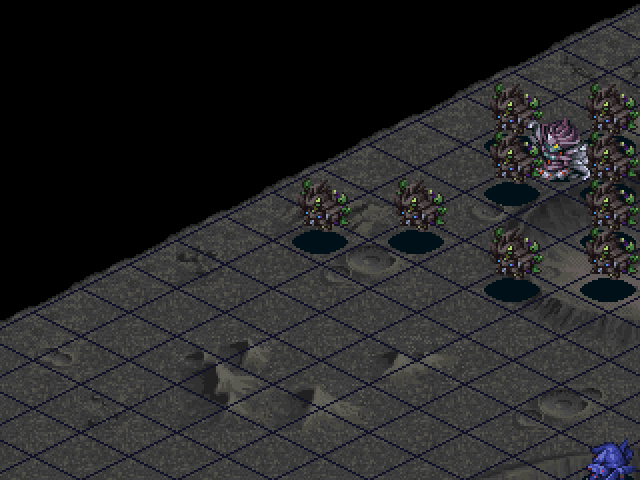 : Bergelmirs. Destroy the microwave station, and put an end to human history!

: They're after the microwave relay station!!

: No! We're way too outnumbered to stop them!!

: So this is what they call being totally screwed...! Man, this is the worst...

: I-if only... If only the Londo Bell could be here at a time like this...!

: ......... !! It, it's them...!!

: What's wrong, Levi!?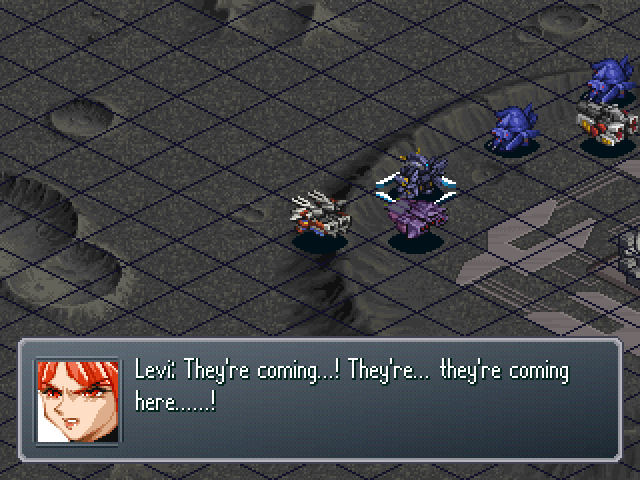 Suddenly!!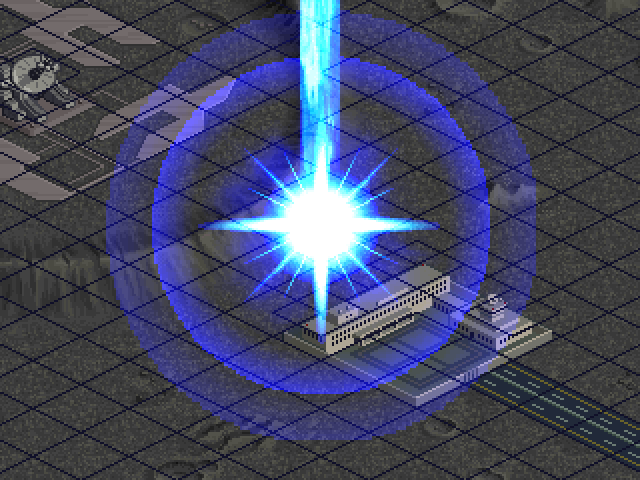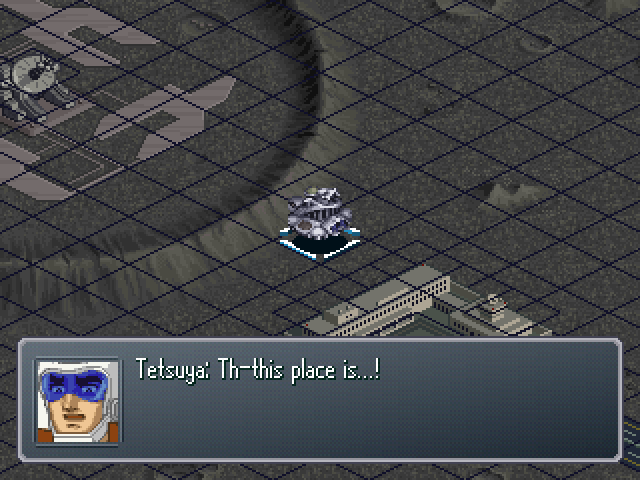 : The Moon Cradle...!

: W-we've...returned to our own era!?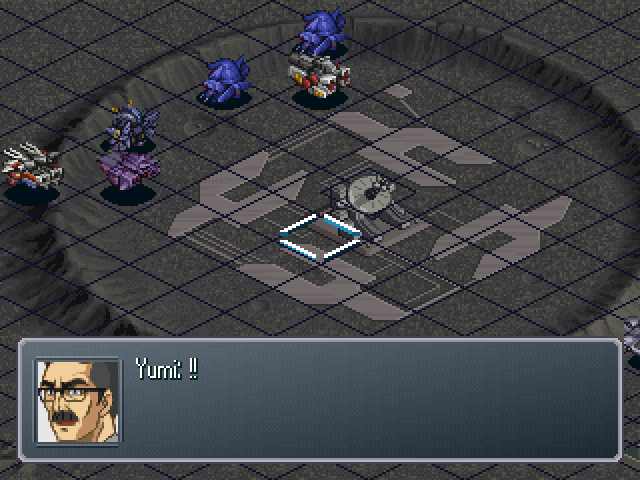 : K-kouji...!! Is that you...!?

: Professor!!

: Father!!

: Oh... Ohh... It's a miracle...!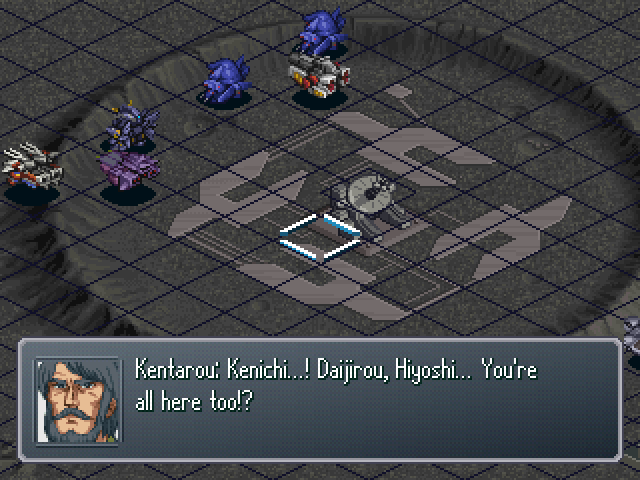 : Kenichi...! Daijirou, Hiyoshi... You're all here too!?

: F-father...!!

: Usso, boy...! You've come back...!

: Lt. Gomez...!

: W-we're... We're back...! Back in the New Western Calander...!

: Hikaru...!

: Ichijou...!

: ...There's still one thing we've gotta do before any happy reunions, guys...!

: Yes... We're not the only ones who came back to this time...

: Our target is still at full strength...!

: ......... I should have expected you to follow after me... Then I shall erase your existences along with the microwave station...

: ...Together, we should be able to put a stop to Magus's actions...

: So that people in both our times can live their lives peacefully... We must emerge victorious from this last battle, no matter what.

: Alright! We can handle that!!

: Don't forget to put on a space suit if your machine isn't airtight!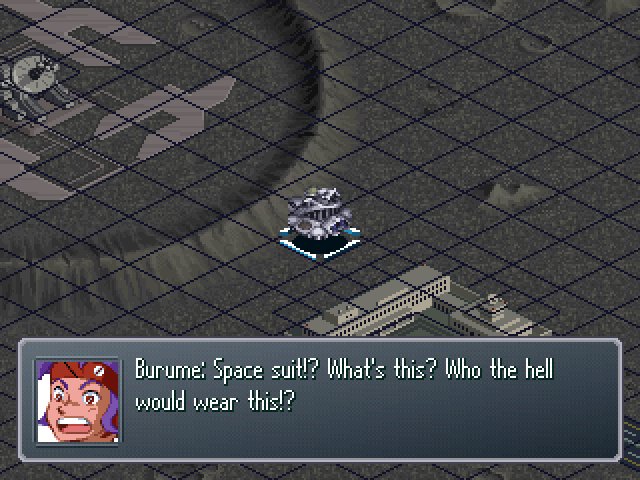 : Guys! Just hurry up and put 'em on!!

: What is this place!? My body's all light... Can we even fight like this!?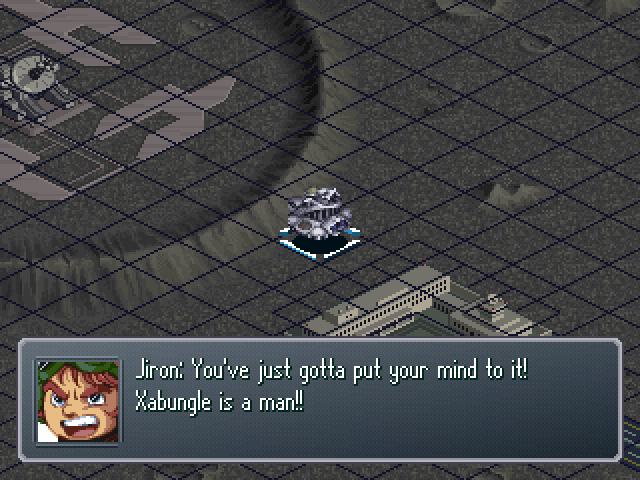 : Skull Leader to all units! These are your final orders!! Defend the Microwave relay station from the Aurgelmir... Take them out, and grasp the future in your own hands!!
Irm, Rai, and the rest fall back.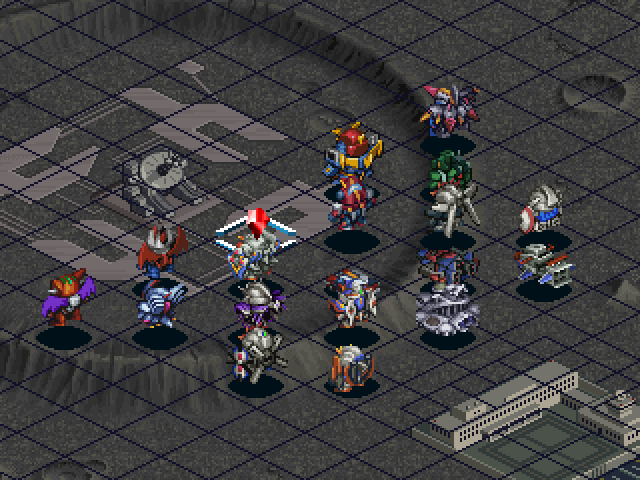 Let's do this. You can actually use Irm, Rai, Aya, and Levi for this mission, but I stick with the usual lineup.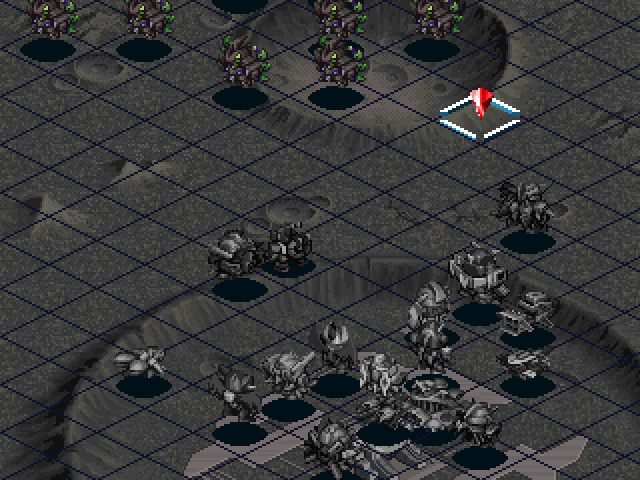 To get the FINAL SKILL POINT You must destroy the Aurgelmir within 9 turns.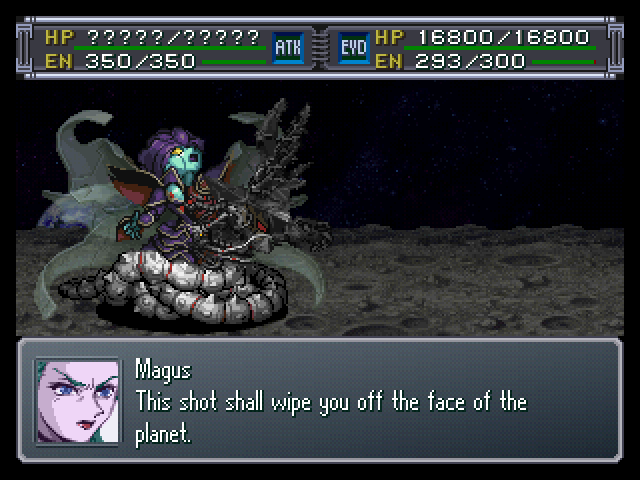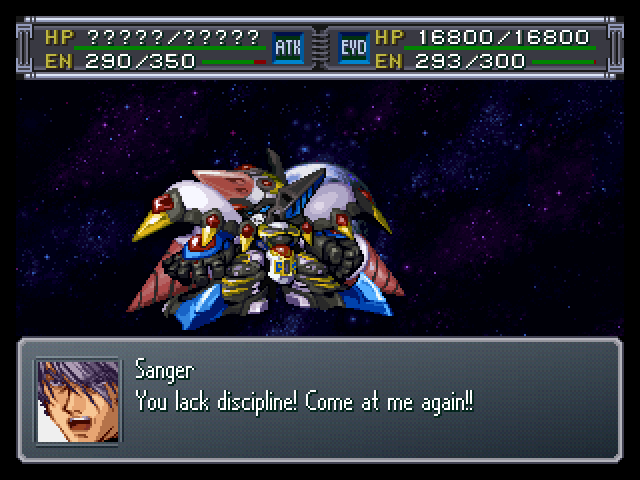 This fight is much, much easier than the last one, since, with the exception of the Aurgelmir which starts at 140, all of the enemies start with 100 Will instead of 150.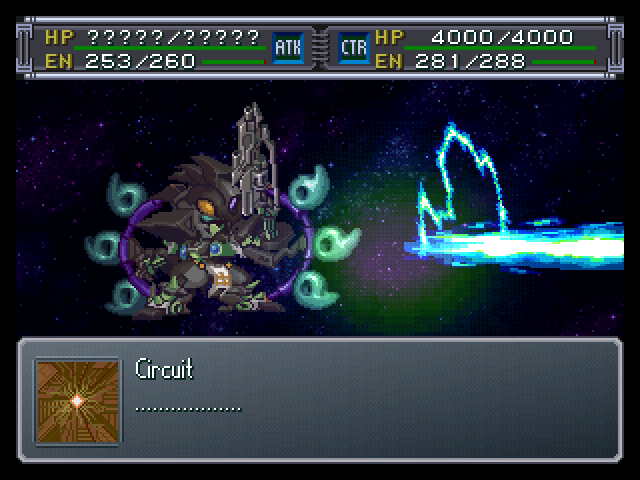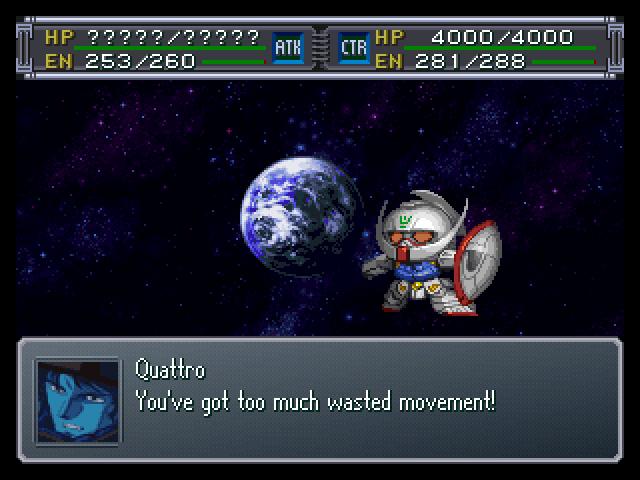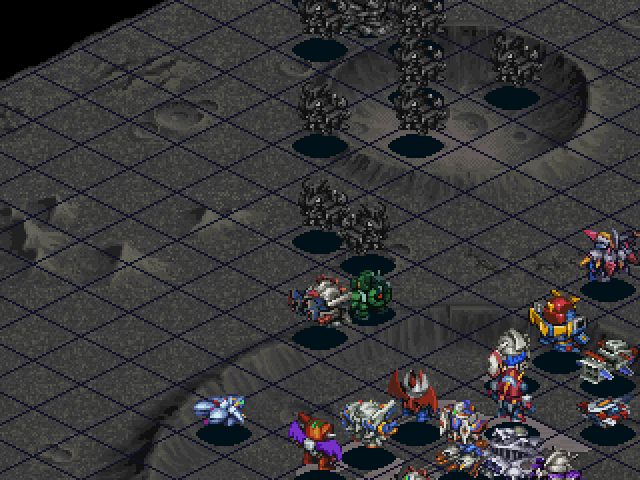 the only real obstacle for this mission is to make sure none of the enemies land on the Microwave station, which is a simple task since the Bergelmirs won't make a rush for the base, preferring to send out two units at a time.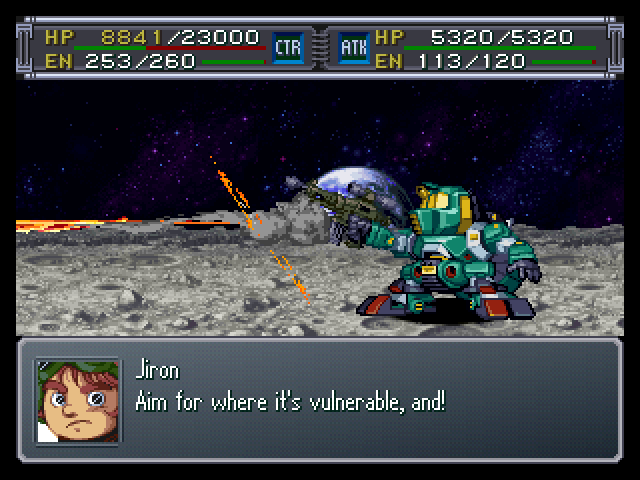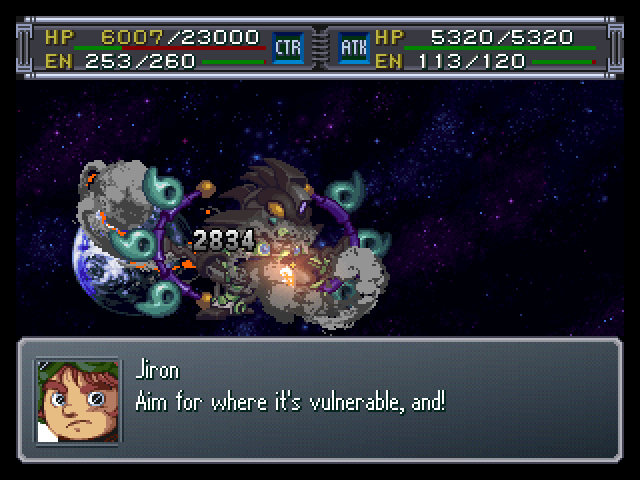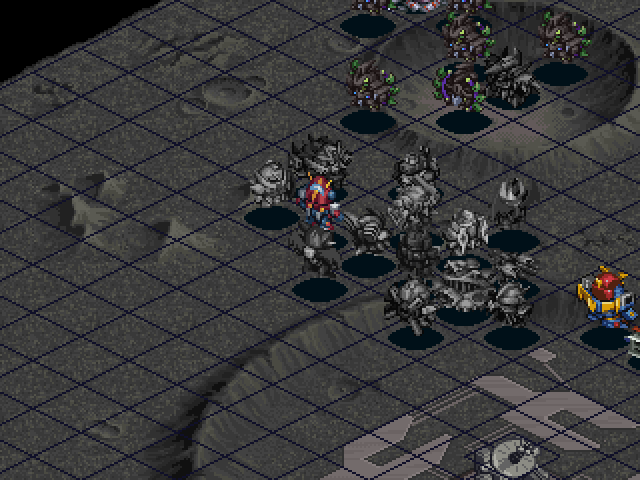 You can see how well that works out for them.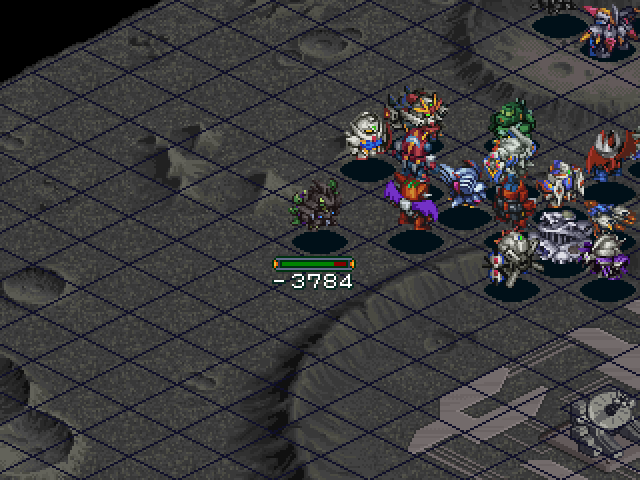 It's so cute that they think they can get past me.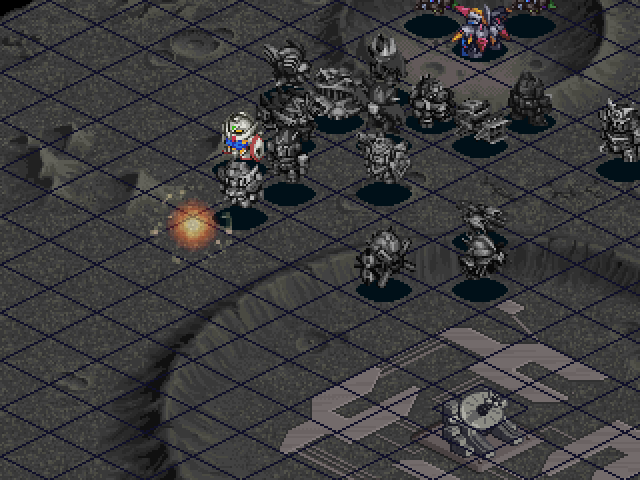 There's the second wave destroyed.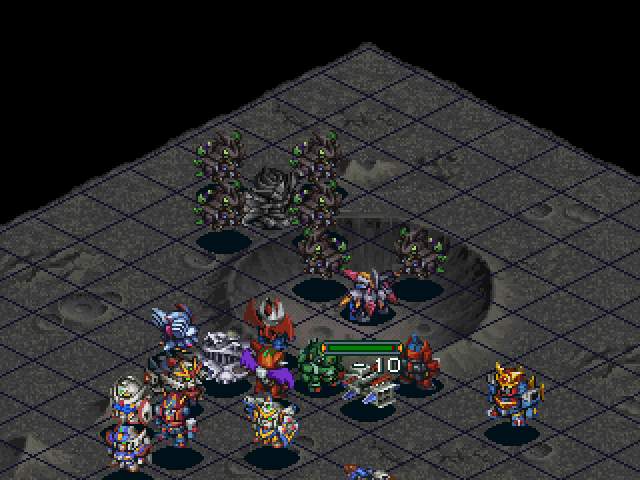 Sanger is invincible!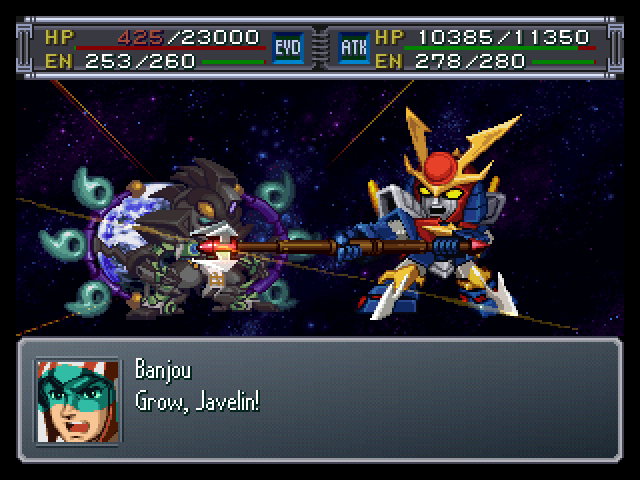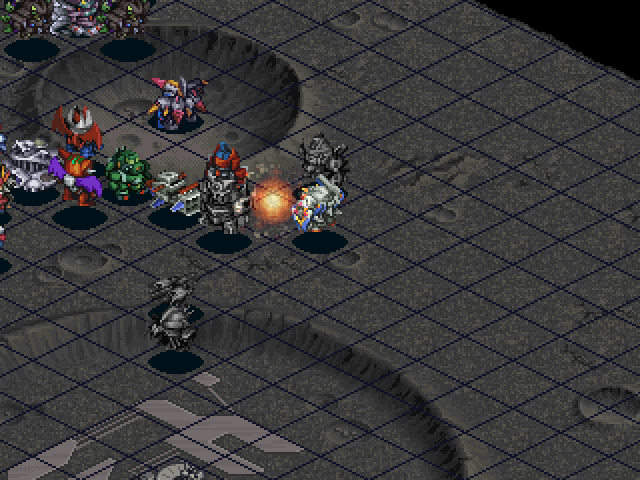 Third Wave down. Now it's just the Aurgelmir and it's fo-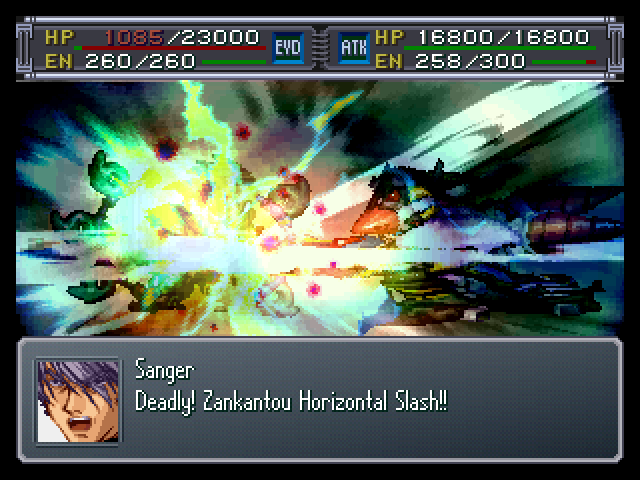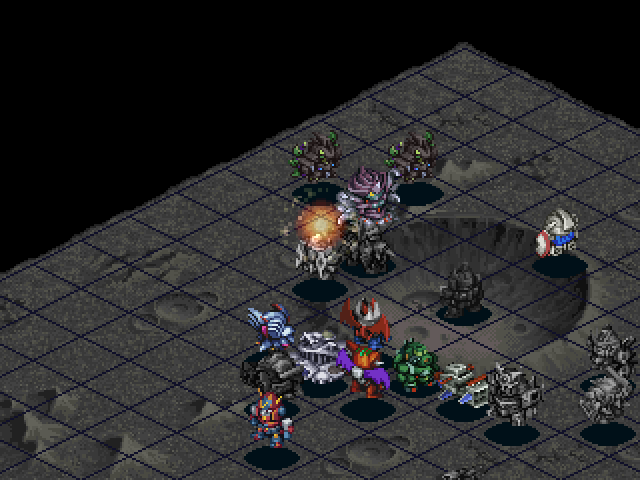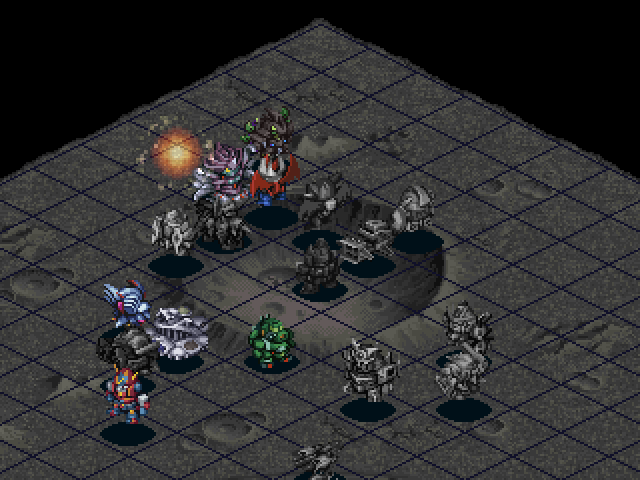 ...er, lone Bergelmir guard.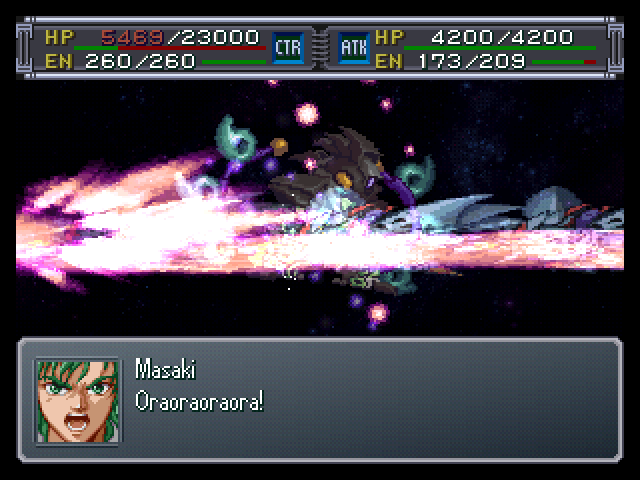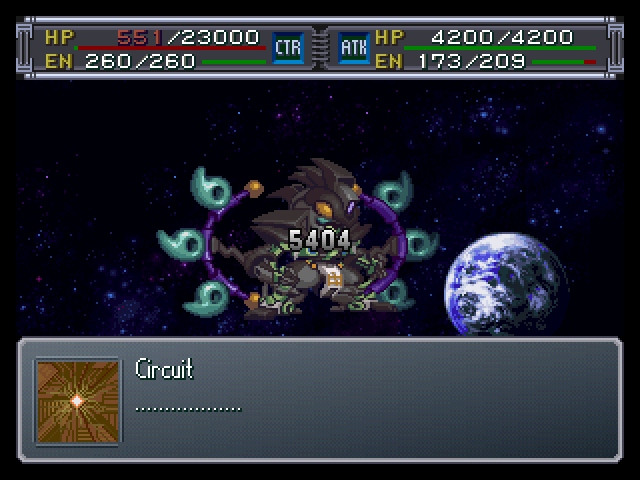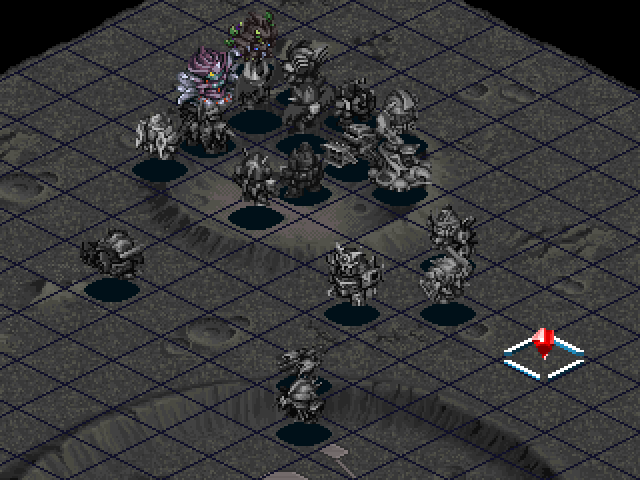 ...Though at this rate, he won't last long.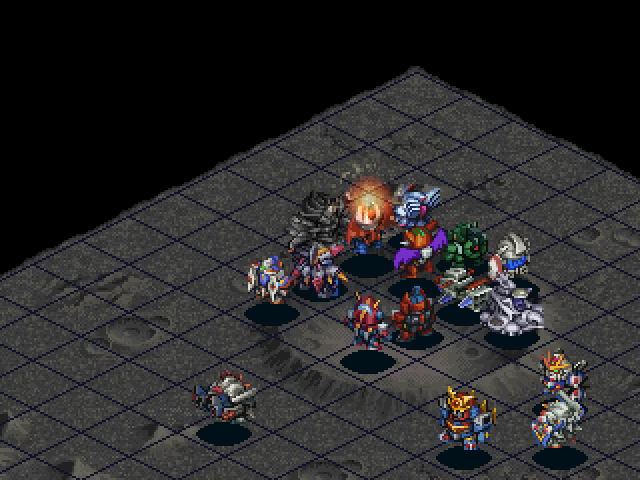 He quickly dies to a counter attack.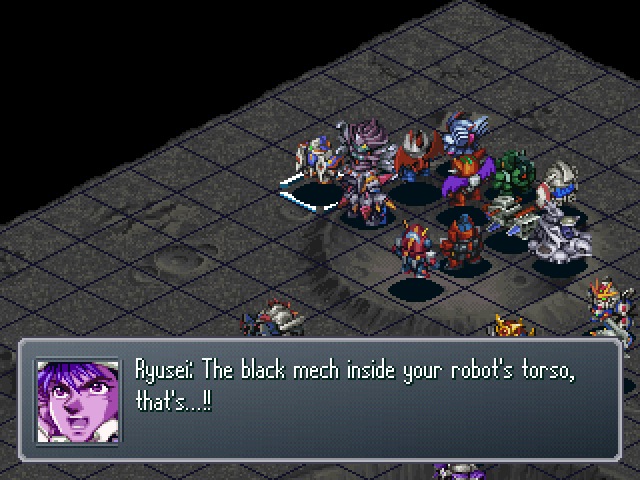 : Yes. That is the Aurgelmir's Black Box...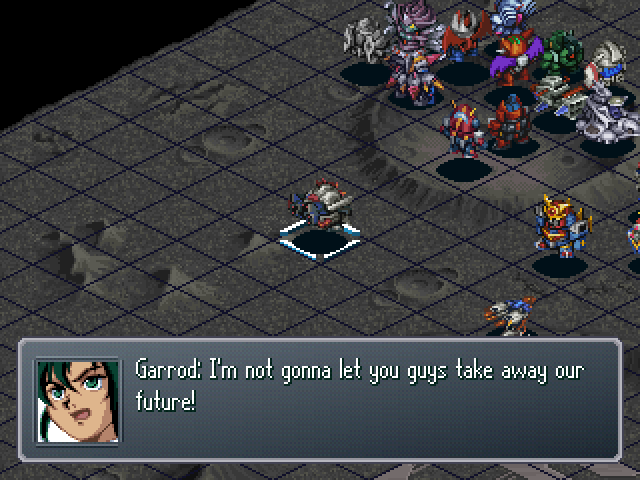 : Those who repeat the same mistakes only need death, not a future.

: We're fighting to keep people from doing just that!!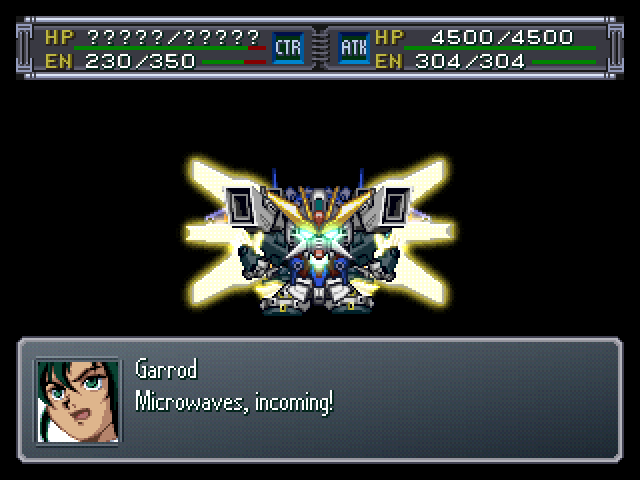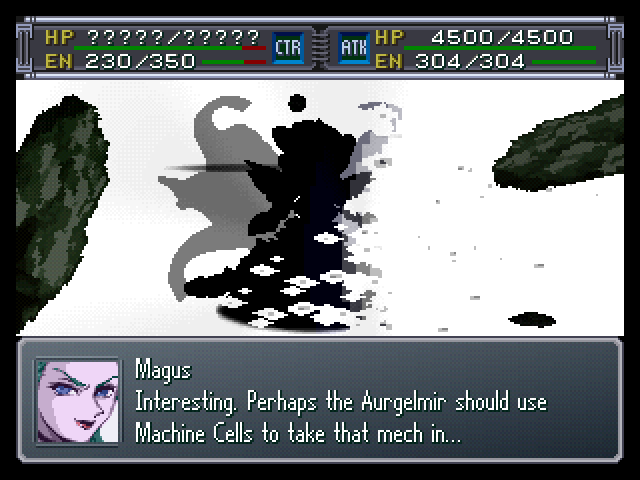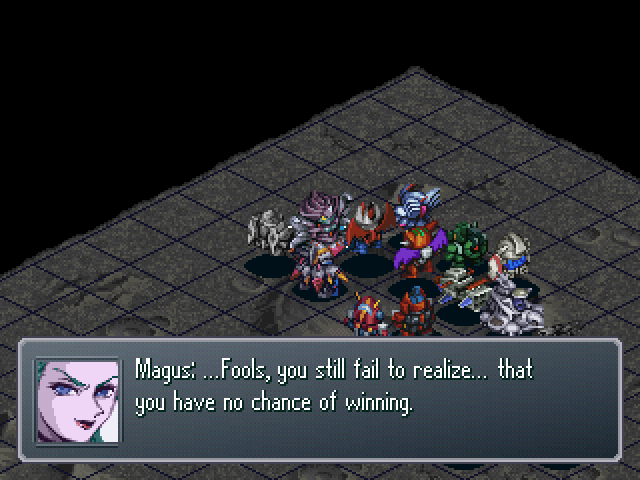 A few attacks in and she casts Alert, Strike, and Valor

: You cannot be trusted with the Earth. That is our conclusion.

: Your ego is as overinflated as the old Meganoids'...! I'm not letting you off when you can't even feel other people's pain!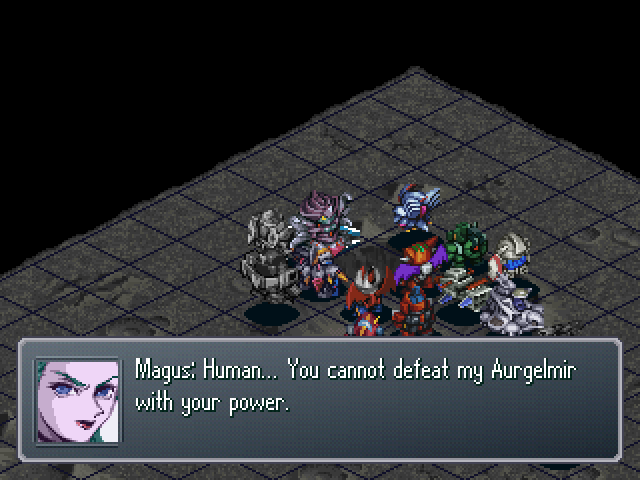 : Heh! Don't write us off when we've overcome tons of nasty enemies!

: How foolish... You think you can win?

: Damn right I do! Just like how we've protected the peace up until now!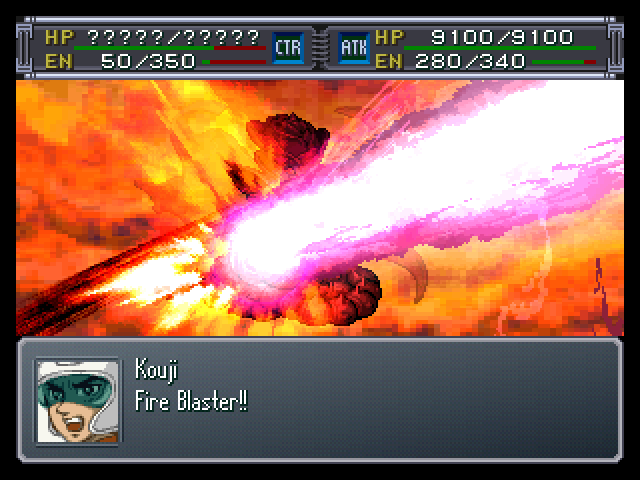 She casts Vigor, Alert, Strike, Valor, and Spirit.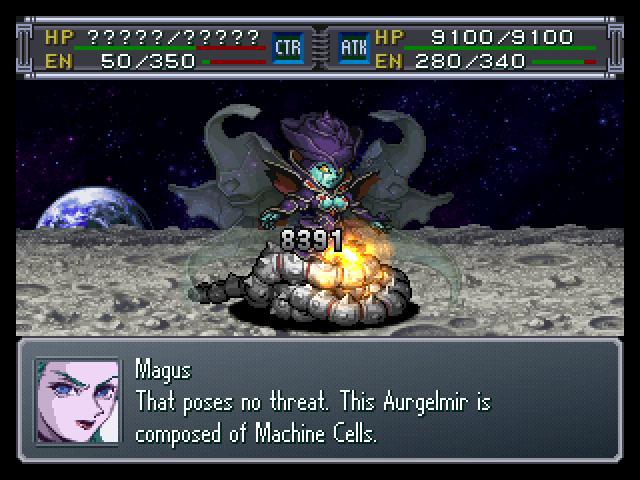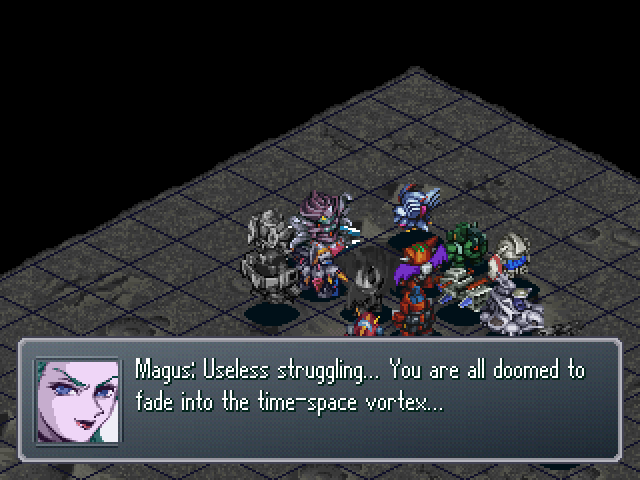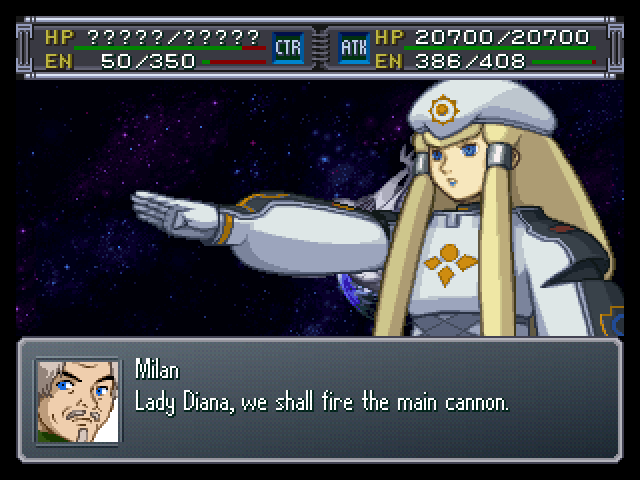 There's really not much to say for this mission. It's just more of the same from the last one. Destroy the Bergelmirs, then concentrate on the Aurgelmir.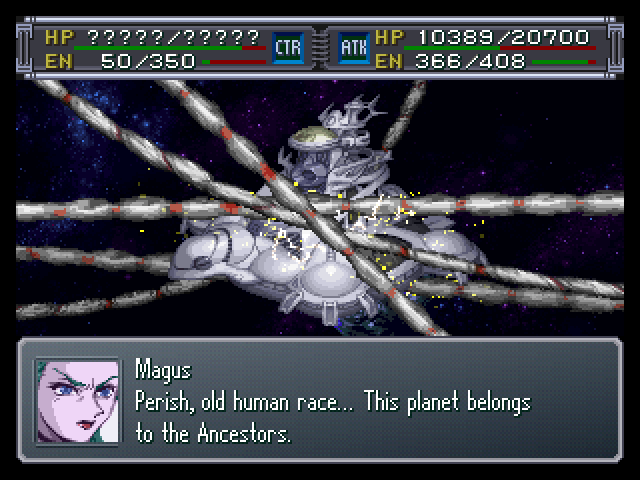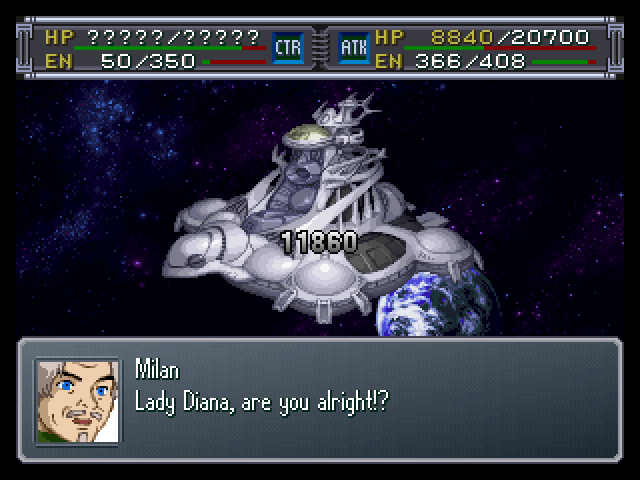 Stupidly, I had the Soleil tank the Valored attack instead of having someone use Alert to dodge it.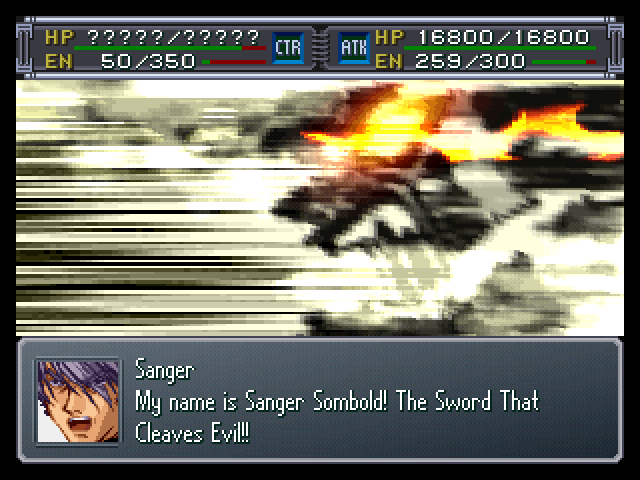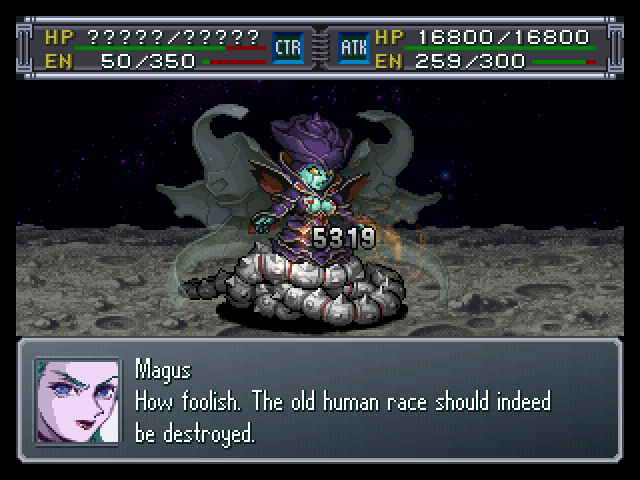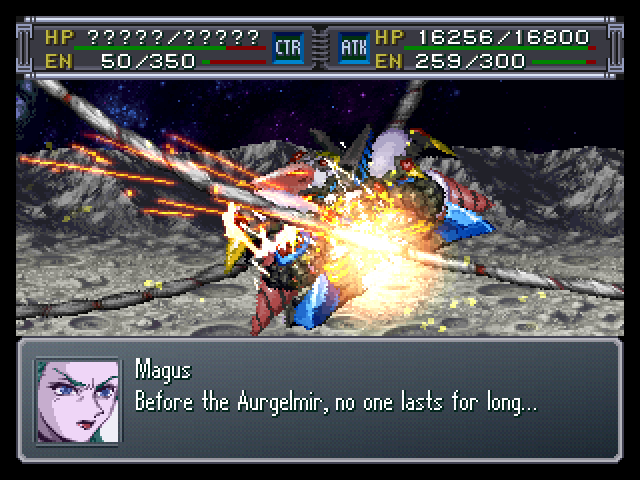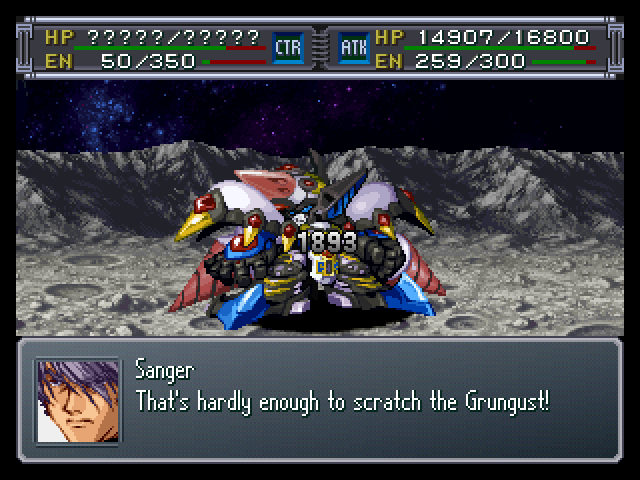 Sanger gives no fucks.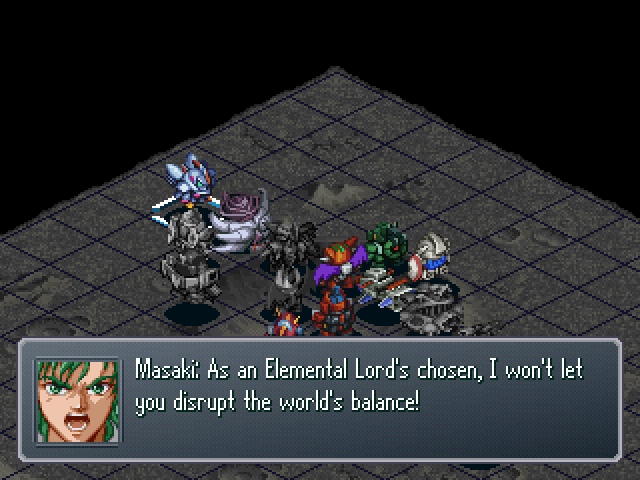 : Worry not. We will continue to protect the balance of this world.

: Who the hell would let you have free reign over it!?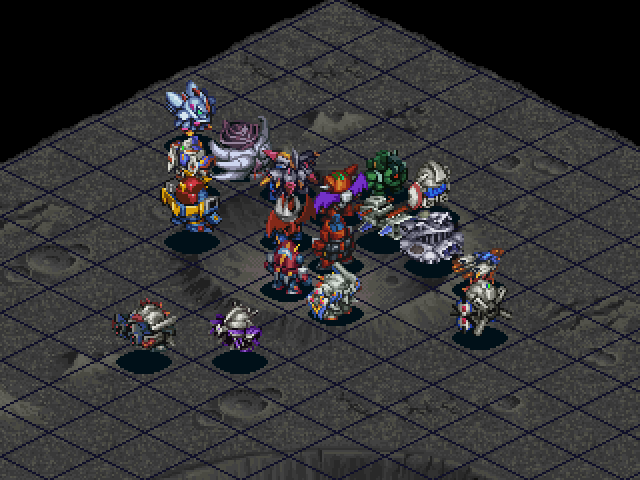 I end my turn after that, preferring to wait out the Strike buff rather than waste SP on Alert.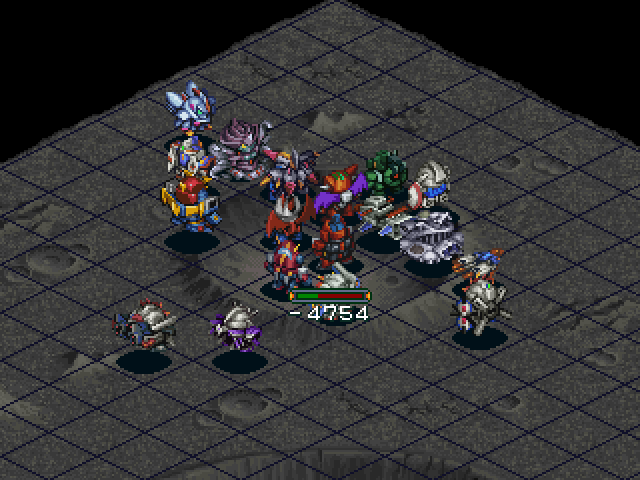 Even with the Crater's defense bonus, the Aurgelmir still hits like a truck.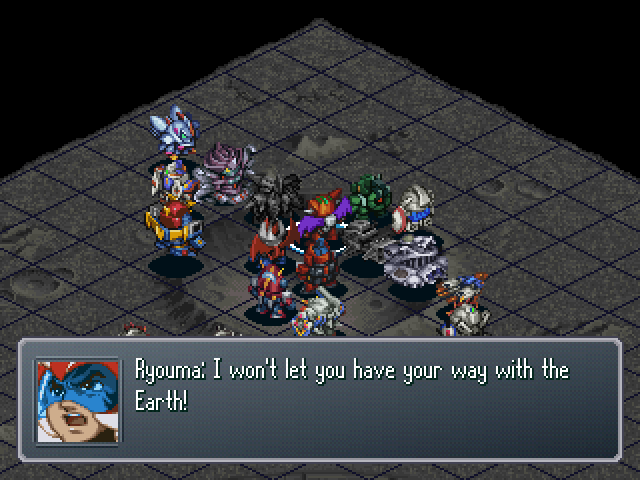 : your role is finished. Relax, and rest for all of eternity.

: heh... you're in for a rude wakeup call if you underestimate us!

: Ryou, Hayato! Let's give 'em a taste of what Getter did to the Dinosaurs!

: Right! Let's go!!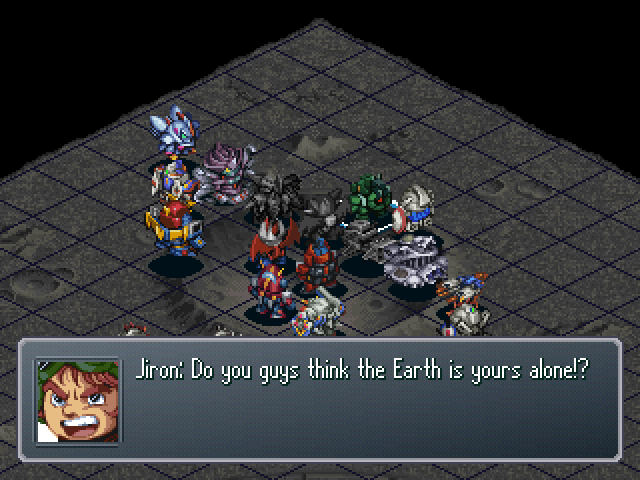 : ...We do not desire the Earth. The Earth desires us.

: Who the heck would buy that line of reasoning!?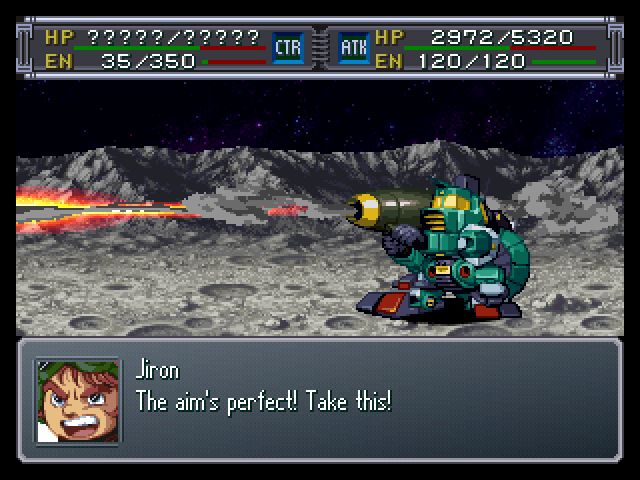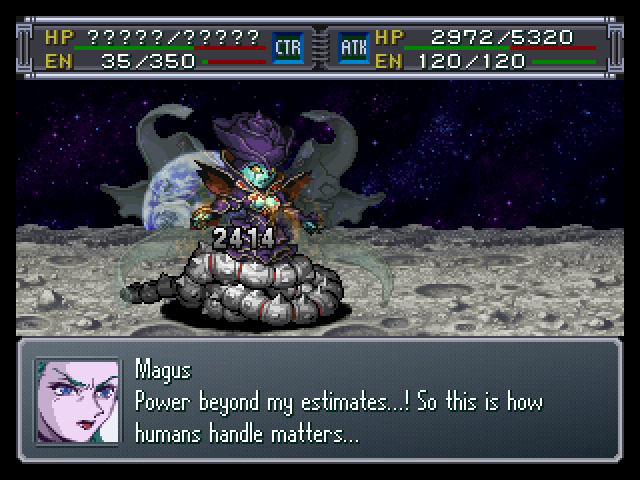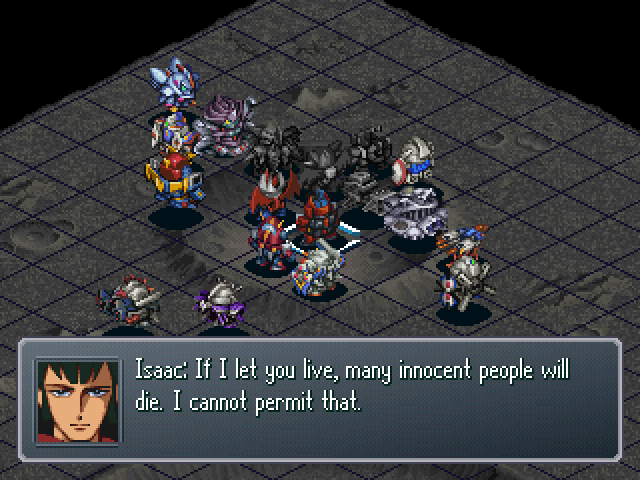 : It's an appropriate reward for the war and pollution Man has caused.

: Whoops, they didn't need to hear that.

: I just can't stand pompous, self-righteous people like that.

: You said it.

: Okay, Kid, time to give 'em a reality check!

: OK! Let's go!!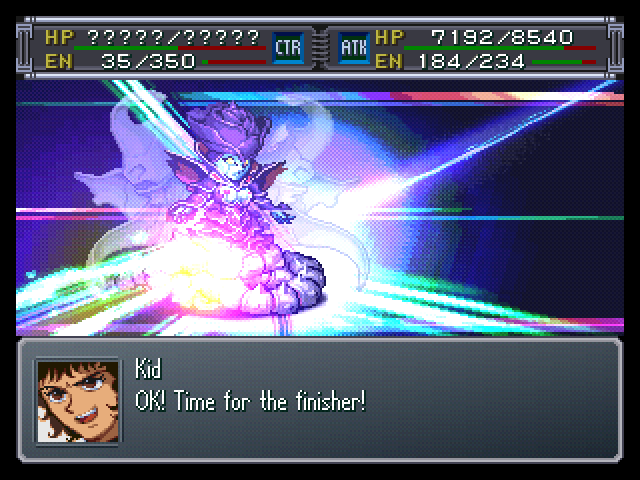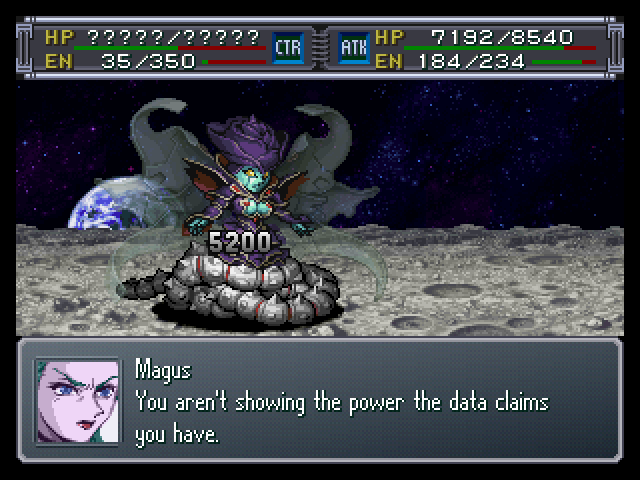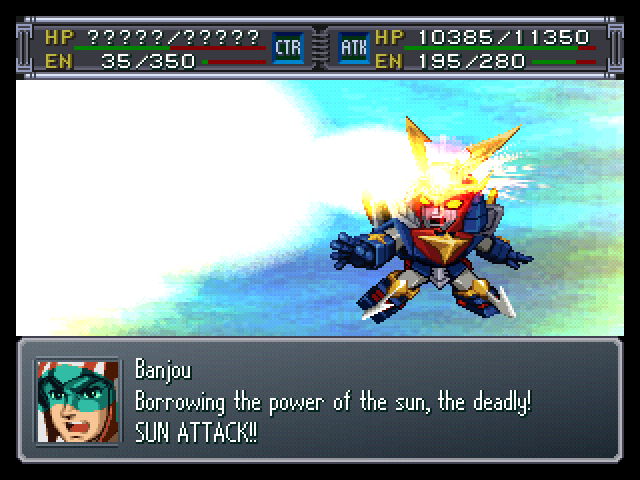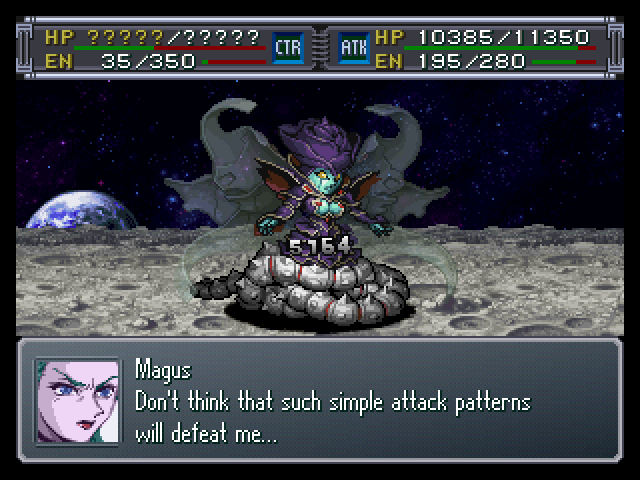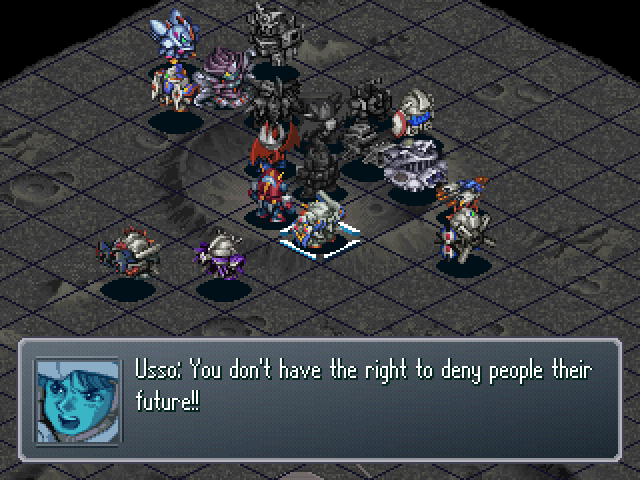 : Their future is irrelevant. It's the Earth's future which is endangered.

: I know that! But people aren't stupid enough to just let the Earth be destroyed! We can accept our past mistakes, and work to make amends!

: Then try proving that by defeating this Aurgelmir.

: I'd do that whether you told me to or not!!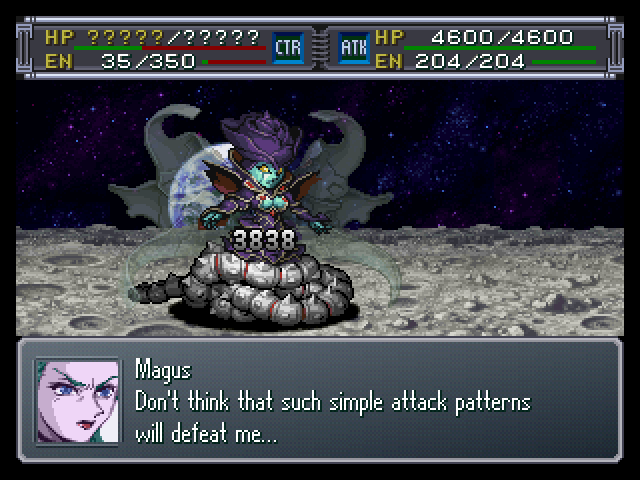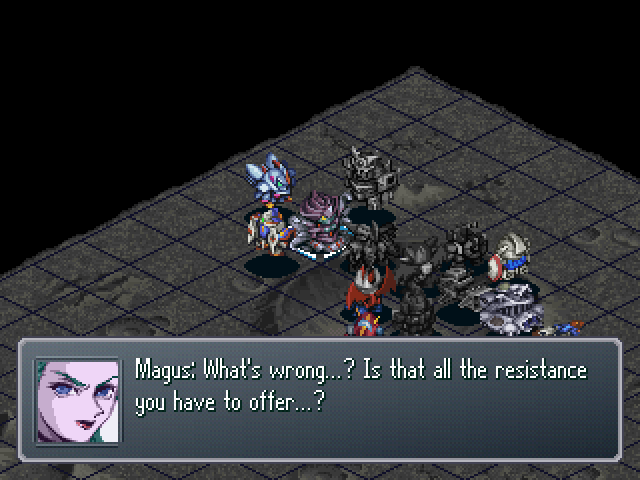 : Then I shall bestow upon you true despair...
She casts Spirit, Zeal, Focus, and Replen.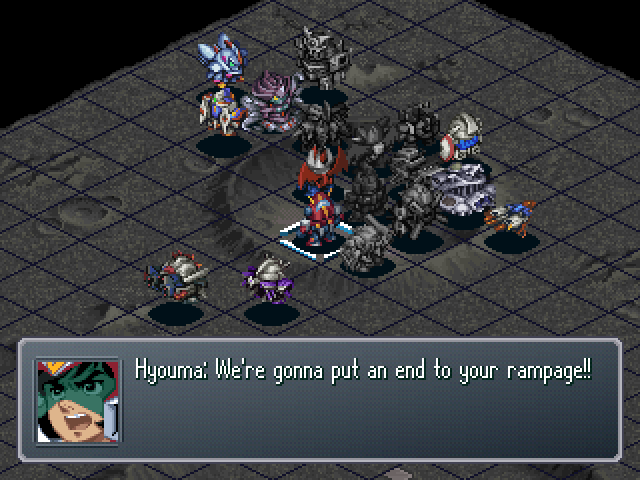 : This is no rampage... My will is the same as the Earth's will, so to speak...

: You're spouting random crap! Where'd you even come up with that!?
literally right after Combattler's attack hits...

: Hahaha... Your power is as dangerous as expected... But that will not be enough to destroy me...
She then casts Vigor, Zeal, Guard, Soul, Spirit twice, and Replen.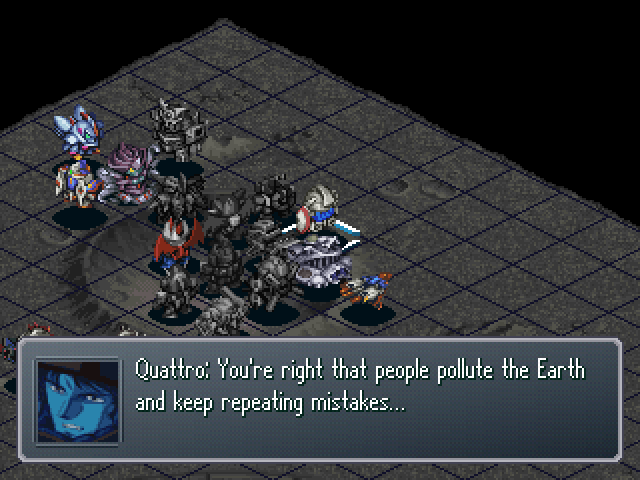 : But that's something that mankind should have to sort out on its own. It's not something an outsider should solve by killing everyone involved!

: Mankind has no hope of correcting itself...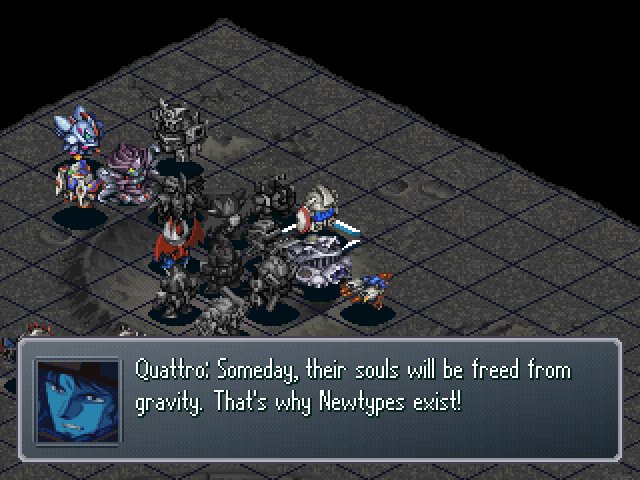 After char forces Magus to waste her Soul buff, I end the turn.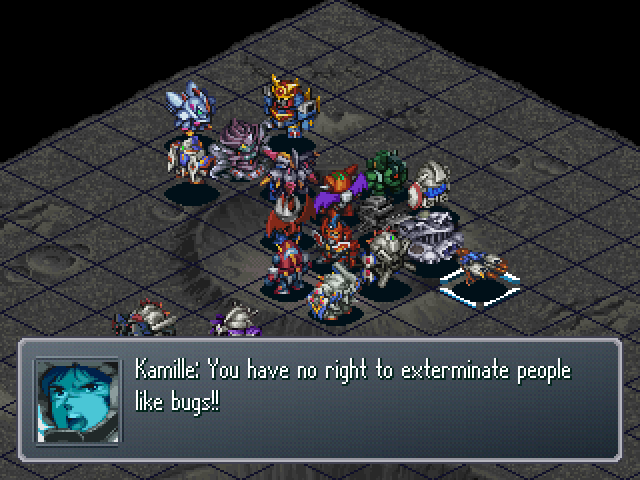 : To ensure the continuance of the Earth... Man must be eliminated.

: We'd accept that if it happened through natural selection! But your judgement is just that of an AI system built by people! Or haven't you realized that!?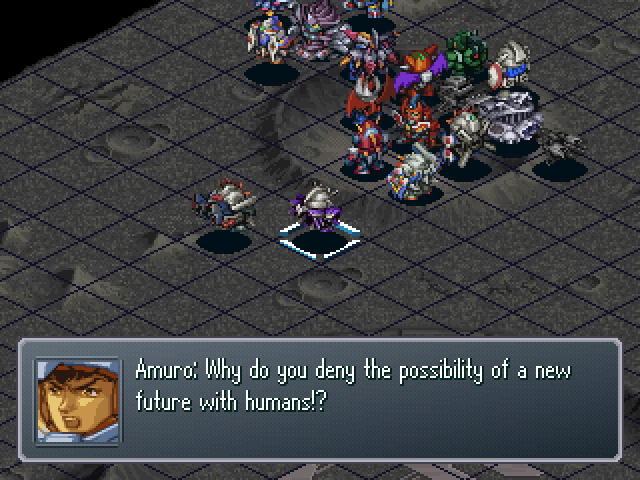 : The Black History is proof of the repeated cycle... I'll sever that Moebius ring.

: You were once human yourself!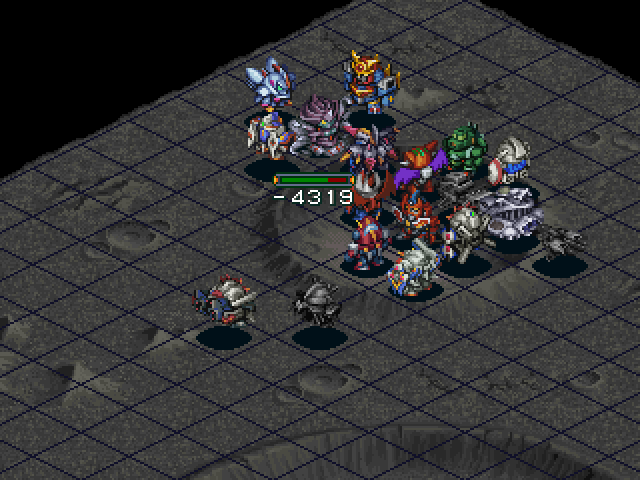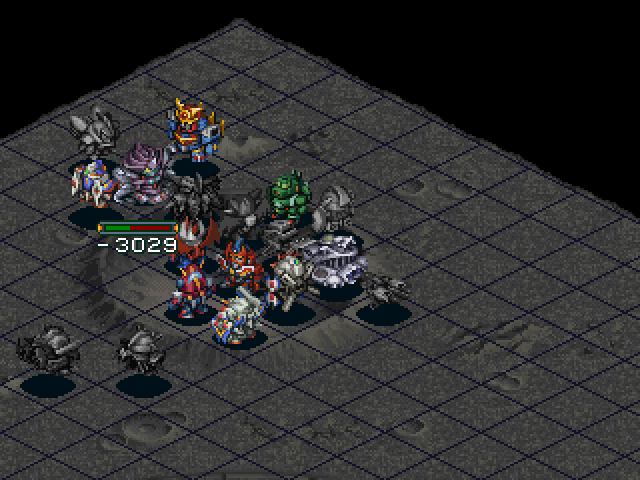 Fun Fact: Aurgelmir is another name for Ymir, from Norse mythology. Thrudgelmir is Ymir's son, and Bergelmir is Thrudgelmir's son.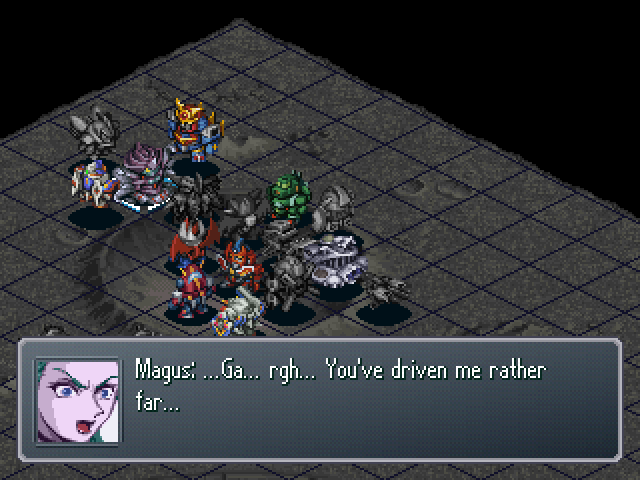 : Even if it takes all my power... I will erase your very existences...!!
She then casts Guts, Alert, Strike, Guard, Soul, Spirit twice, Zeal, and then finally Replen. This is it.

I use up her Alert and Soul buffs, and end the turn because fuck Guard.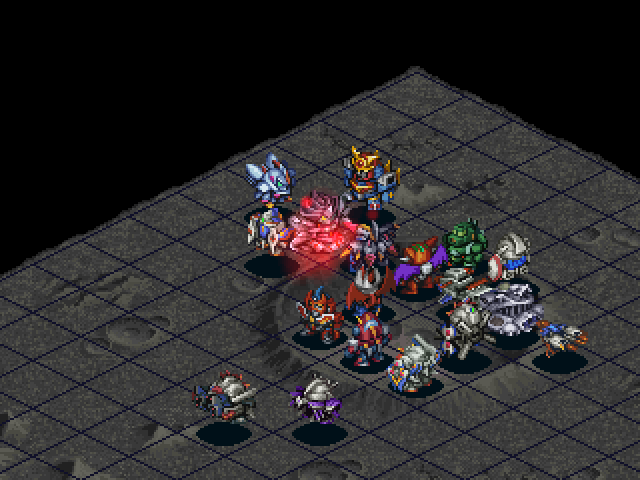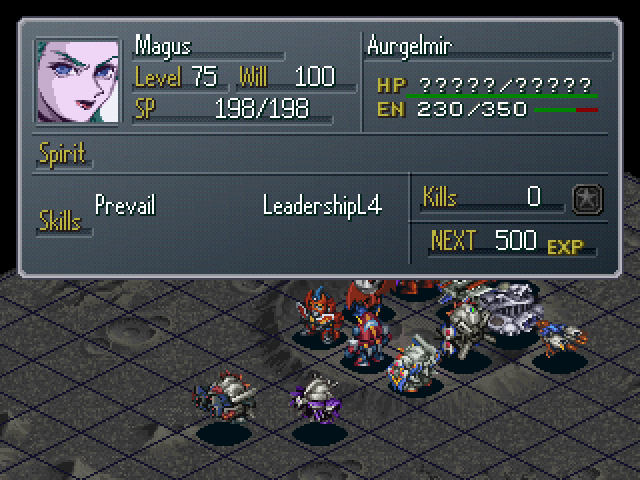 Next turn, the Daunt bomb is dropped.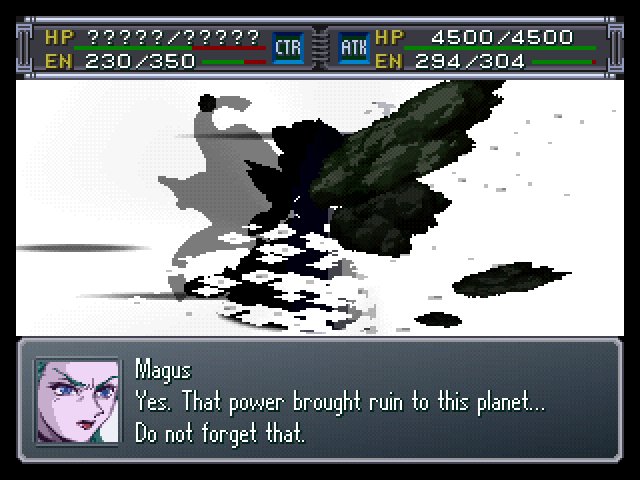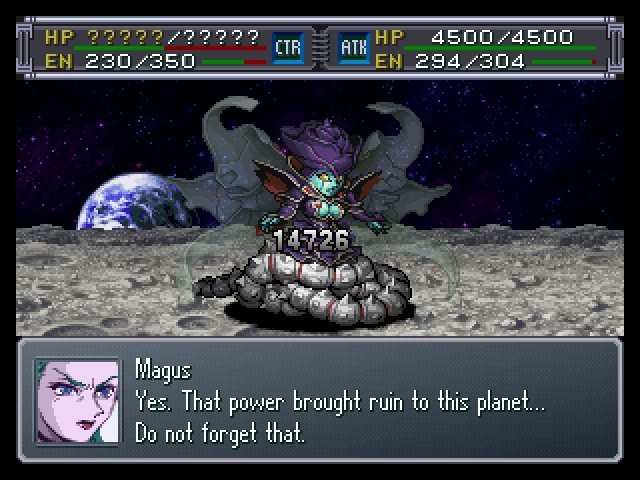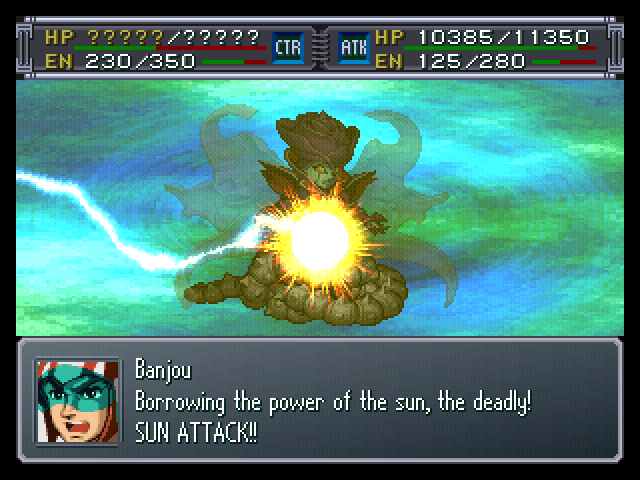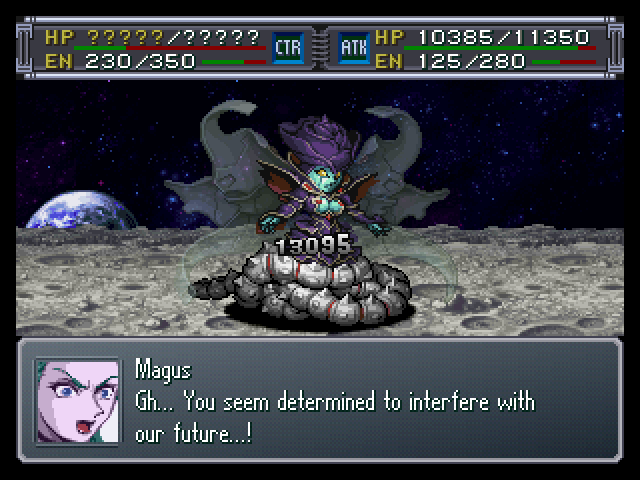 Doesn't take long to bring her health back down.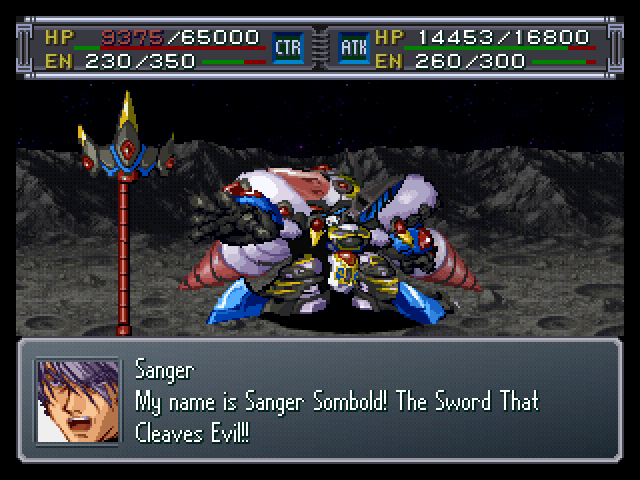 Click here to see Sanger Cleave Evil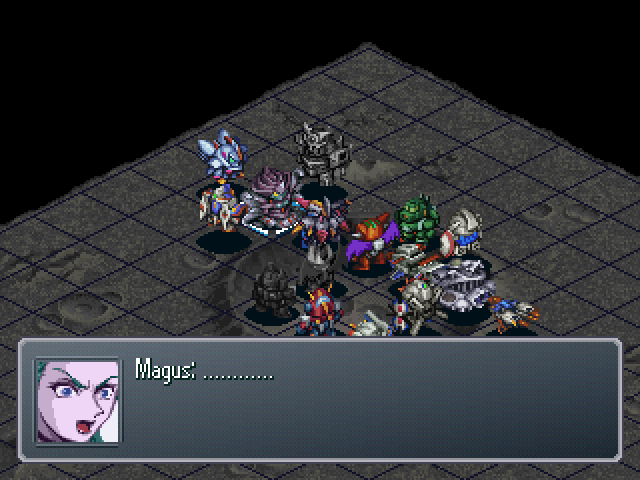 : ...Machine Cell... regeneration... cannot keep up... Impossible... H... ow... could this...

: G-gaahh...! P-power... fading... Th... the Ancestors... the... Aurgel... mir... is...!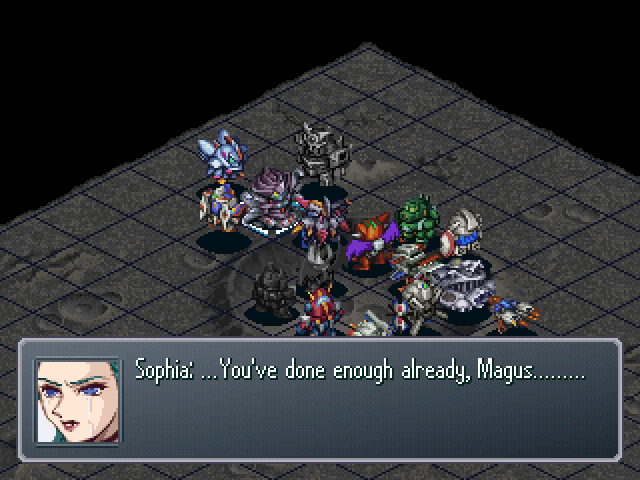 : Wh-who dares... You're...!?

: ...Your role, and the Ancestors', is over...

: Impossible... Your data... should have been... deleted... long ago......

: When survivors began to walk the land again after the disaster... That was the point when your job... or rather, our job, ended...

: Wh... What did you say...?

: Our mission... was to preserve the seeds called people... Look at those before you... Our mission has already been accomplished...

: .........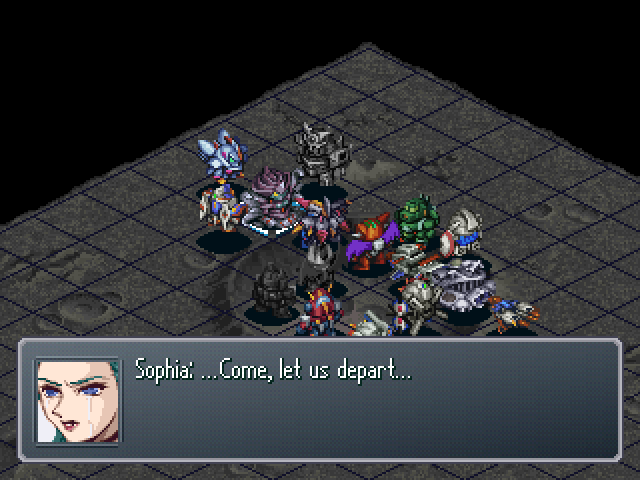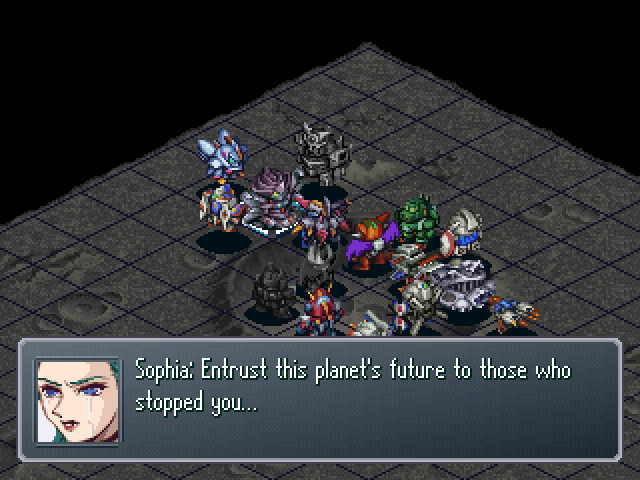 The Aurgelmir has been destroyed.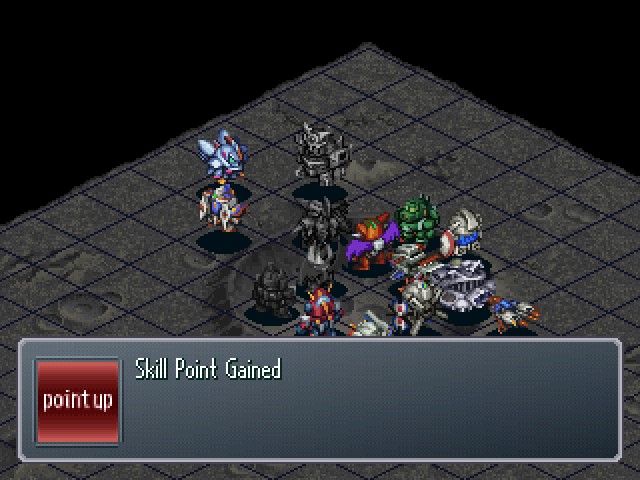 One last time. Fuck yeah.

: .........

: .........

: ...Sophia...... Were you...... Ahh... ahhh...!

: .........Did her original personality come back to her in those last moments...?

: ...It... would seem so, yes...

: .........

: So... The battle's over now, isn't it...?

: Yeah... All that's left now is to use our powers in Project Aegis...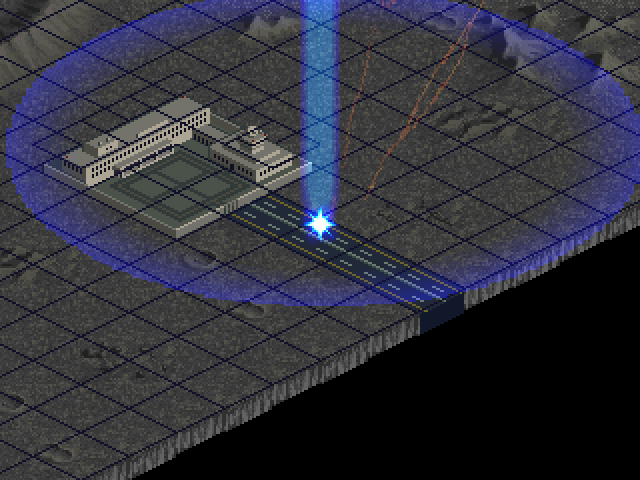 Suddenly!!!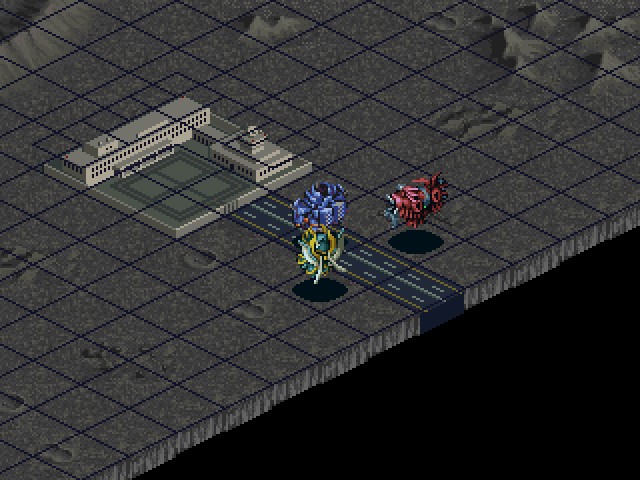 Dark Prison

: Wh-what!? That's...!!

: H-how...!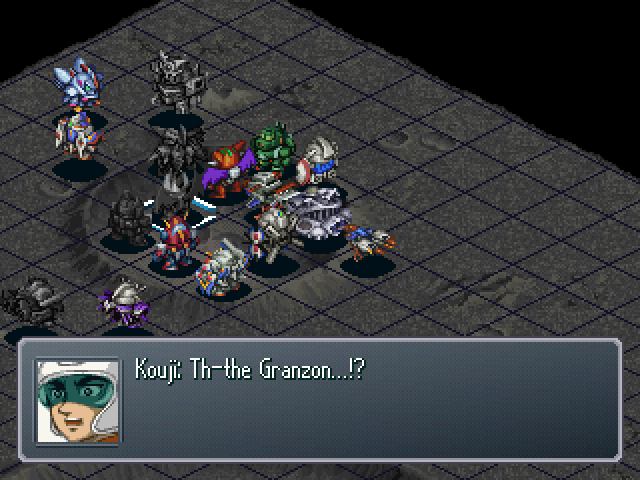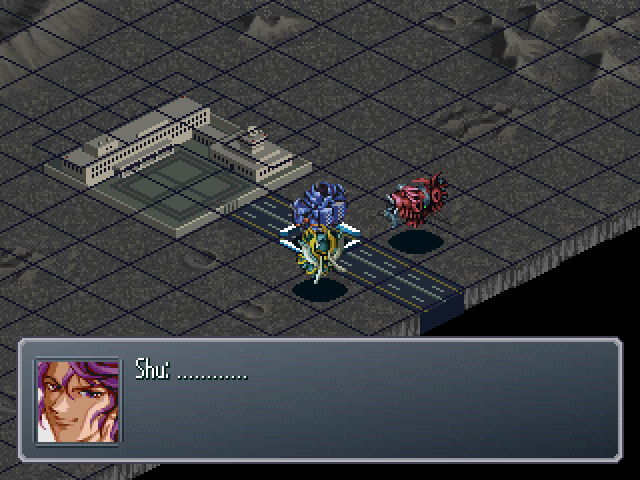 : Shu...!

: You survived!?