Part 238: Mission 60 - My Future, Your Future / My Future, Everyone's Future - Part 7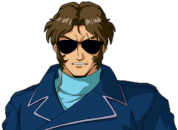 : Were you the one who told the Frost Brothers about the Destiny Plan?
: You bet! Their struggles really touched me. Looks like they hit the rest of the world pretty hard too!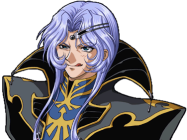 : I hope you're not blaming me. All I did was tell them the truth!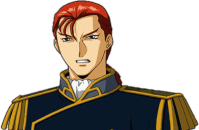 : And, so, you caused all that trouble while keeping your own hands clean!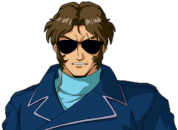 : This is not your playground! People are struggling hard to live on this world!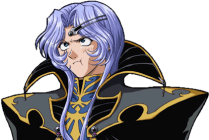 : What about 'em? I'm playing hard on this world!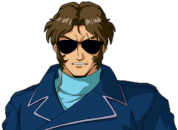 : You would repeat the mistakes of the past... but I'll stop you!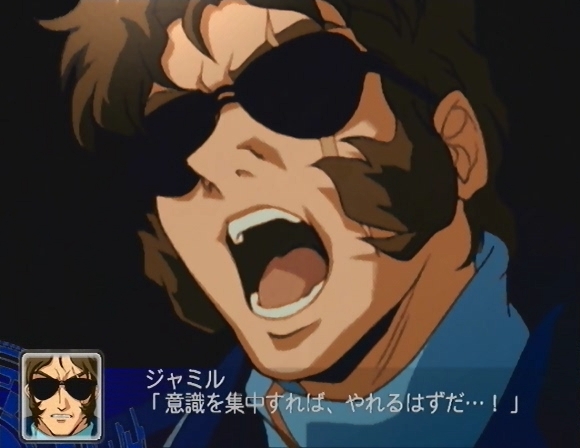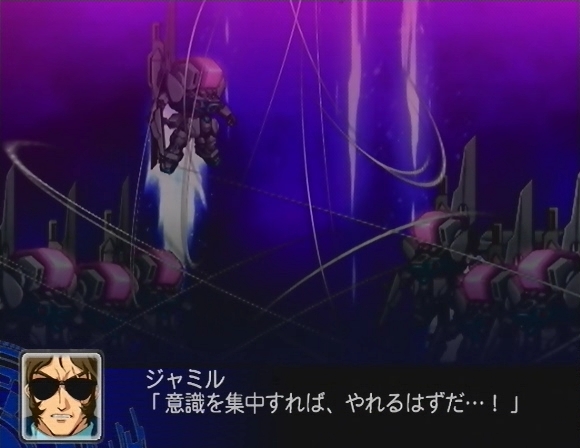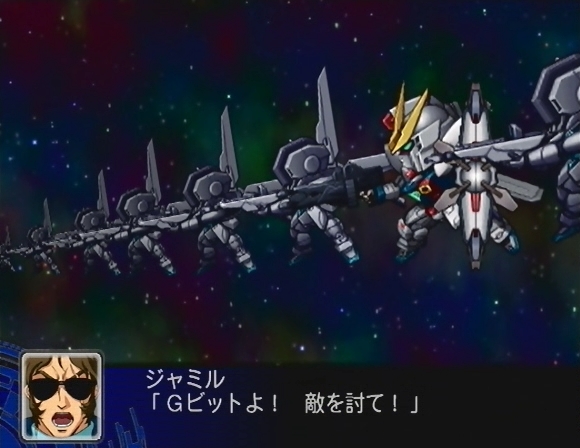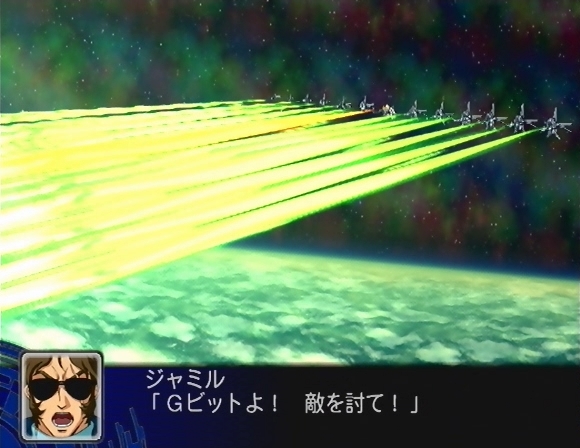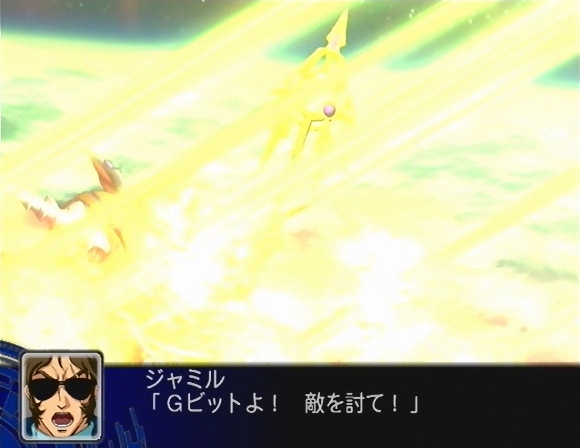 The Edel to Gundam Xs: "HAHAHA! Going moon gazing with you folks is a pretty good time!"
Gundam X units:
Jamil: "I've stolen the world's future once… even if it takes my life, I will stop you!"

Roybea: "How about I pull the plug on this world-busting game of yours?"

Lancerow: "It's a grave sin to guide the world into chaos!"
: Hats off to your guts! I see how you took down the Innocents!

: And we're gonna do the same to you!

: We're not letting a big liar like you beat us!
: How about I give you a small gift? A hard lesson that there are some things you can't beat with just guts and spirit!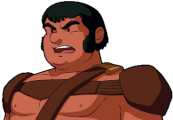 : If you think you can, do it!

: We're real sick of stuck-up jerks like you!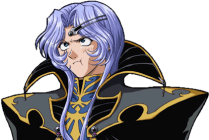 : Hey, could you act a little scared? You're making me feel stupid!

: Oh, zip it! We don't have time to deal with you, so get lost!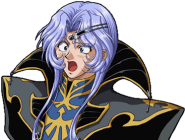 : Hey! I'm the final boss! You can't just waltz past me!

: We're not stopping here! We'll fight for as long as we're alive!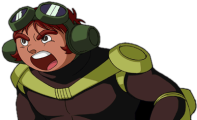 : You're just a speed bump in our life's journey and we're gonna clean you out of our way!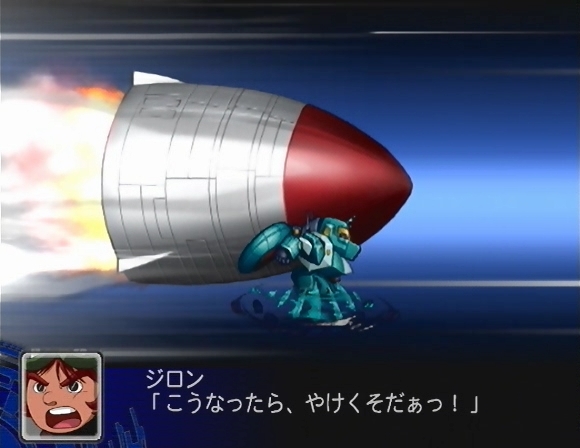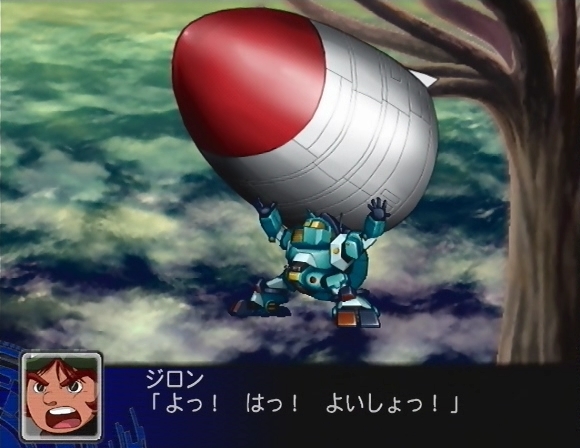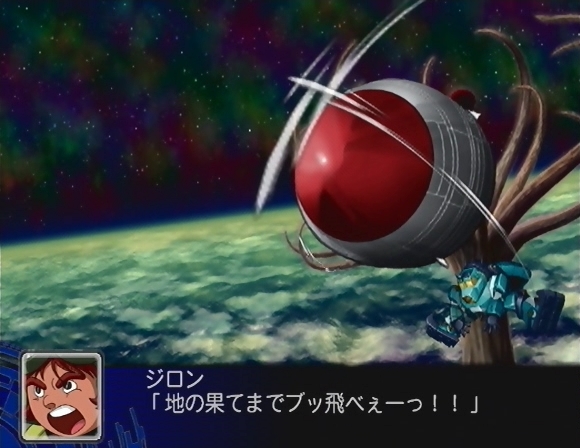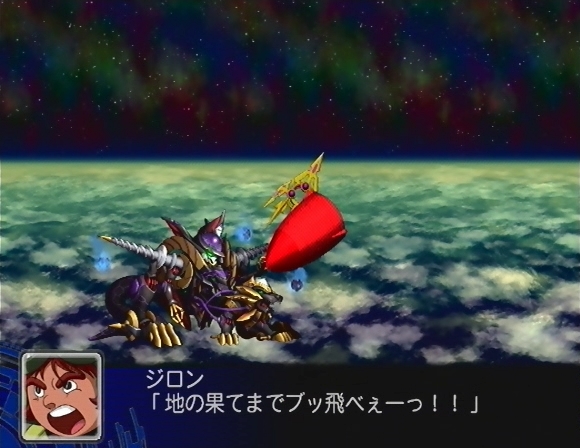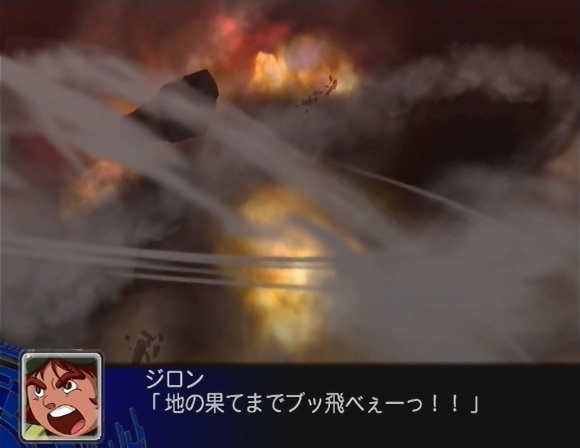 The Edel to Breakers: "My…look at that wild peppiness. It's like a comedy show!"
Jiron attacking:
"No jokes today! I'm coming in 100% serious for the finale!"

"This is it for you, The Edel!"
: They call you the Black Southern Cross, right? That's so badass.
: Can I take it?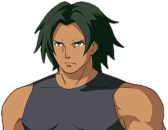 : Maybe if you beat me.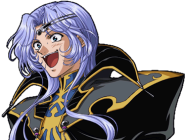 : Really? You're real nice, I like you!

: Moron! Gain said that because he's not going to lose!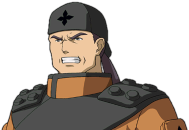 : You fiend, infecting the world with chaos! Begone to the land beyond!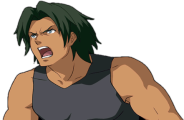 : You hear that, The Edel? Playtime's over!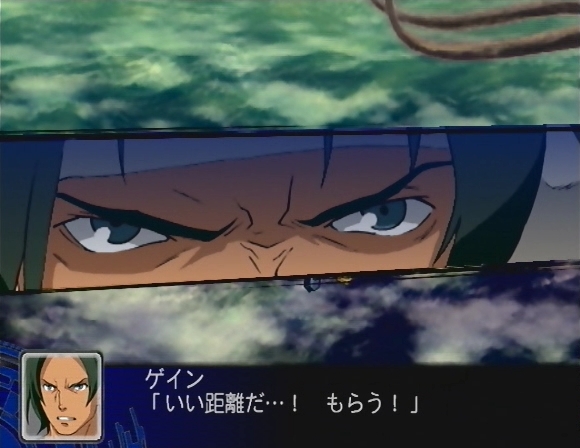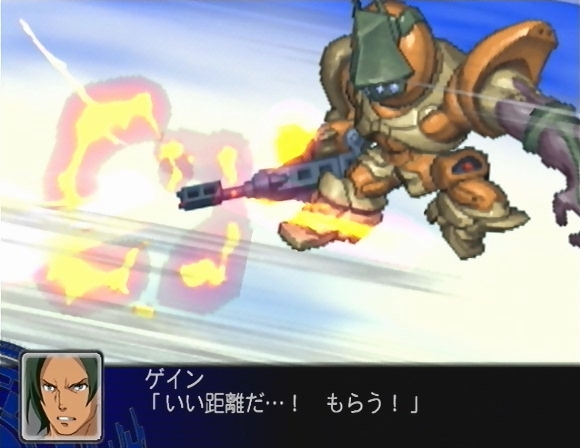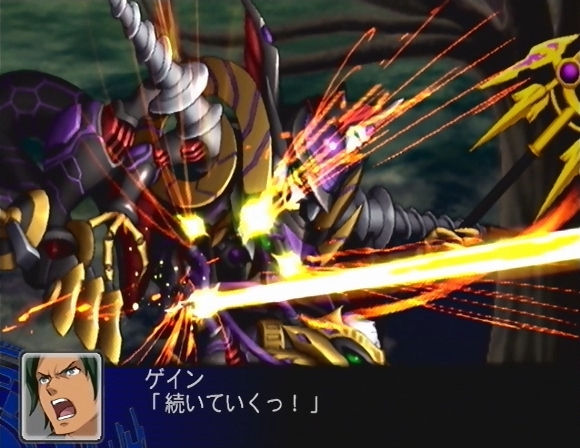 The Edel taking little damage: "Bah! If that's how you're going to be, then I should've let Lady Edel alive!"
Gain attacking:
"I refuse to play along with your insane dreams, The Edel…!"

"Hey, The Edel! You're getting the mark of the Southern Cross as well!"
: You're not supposed to die here, Char Aznable.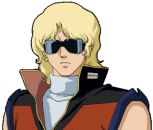 : What?
: You've got a role to play... in handing this crazy world its judgment.

: You mean the battle with Amuro at the end of the Black History?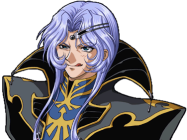 : Bingo! And I'm looking forward to watching the end of that love-hate relationship! Same goes for you, right, Haman Karn?

: …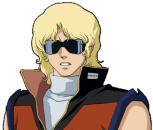 : The Edel, I am Quattro Bajeena. Nothing more, and nothing less.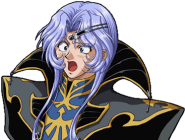 : Oh, come on, even I know who you are! Is this how a grown-up should act?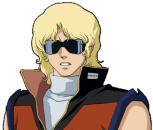 : Say what you will but I take pride in who I am right now.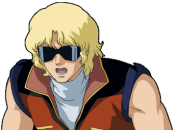 : I am no longer the Red Comet, and that's why I can't abide you. I strike you down as Quattro Bajeena!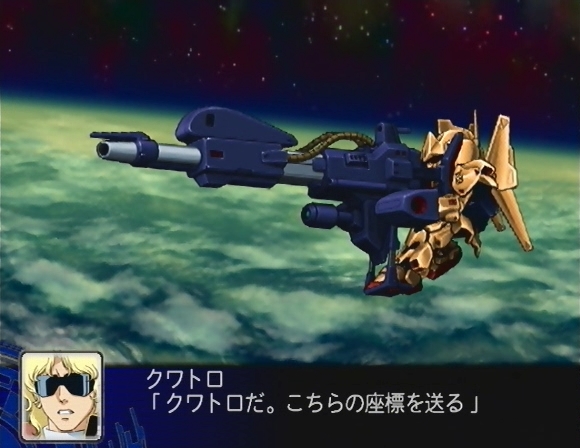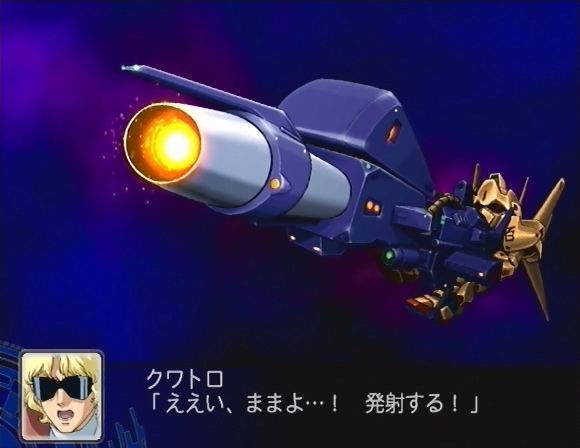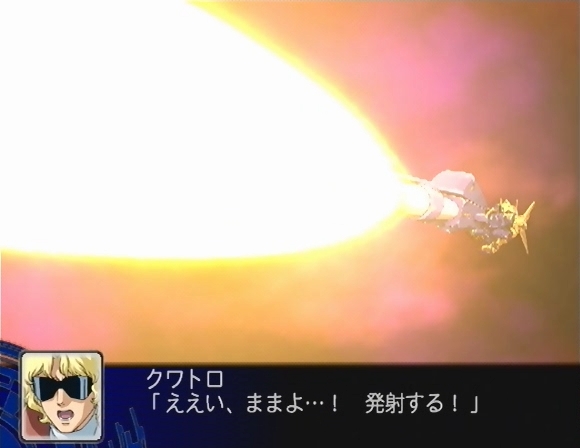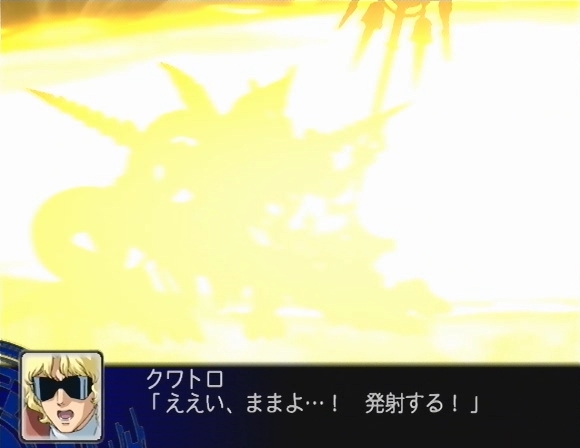 The Edel to Newtypes: "Come and read my mind, Newtype! It'll make you happy!"
Zeta units:
Quattro: "The Edel… your twisted designs would be the death of the world!"

Emma: "For the sake of ending all these battles, victory will be ours!"

Roberto: "I didn't survive this far by chance!"

Apolly: "It all comes down to this… and I'm going to survive through it!

Four: "Are you going to bring unhappiness to so many people just to indulge your egotism?!"

Katz: "There's no room for you in this world!"

Fa: "We cannot be defeated here… no matter what!"

: Everyone out there is struggling hard to survive, and you're just messing around!
: What do you mean, "just"? I mess around as hard I can, thank you very much!

: If we let him go, there will be no end to the fighting…!

: And even more people will suffer!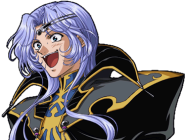 : Eh, whatever. I'm having fun, aren't I?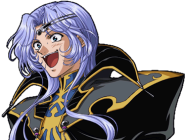 : And if I'm fine, everything's fine. That's the only law in this chaotic world.

: That's insane! Who gave you the right?!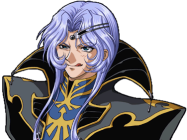 : I did, from me to myself.

: Our world is swimming in blood because of this man's games...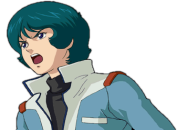 : You'll pay for this! Begone!!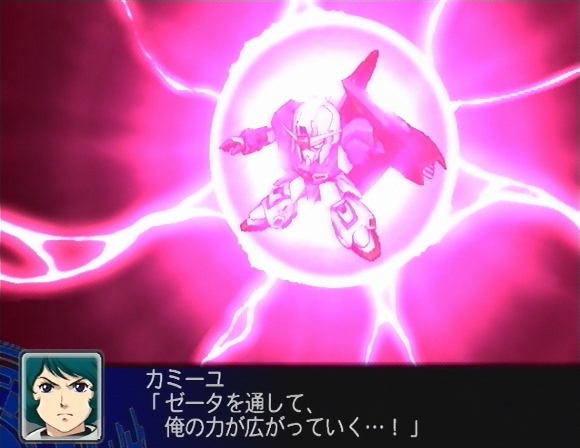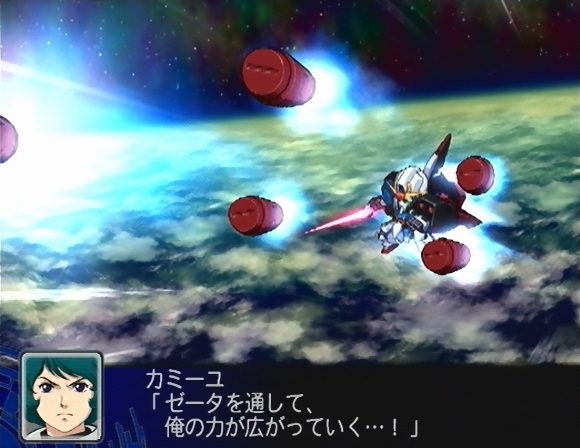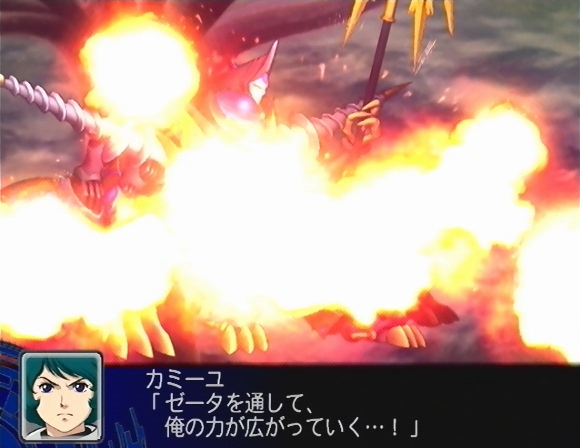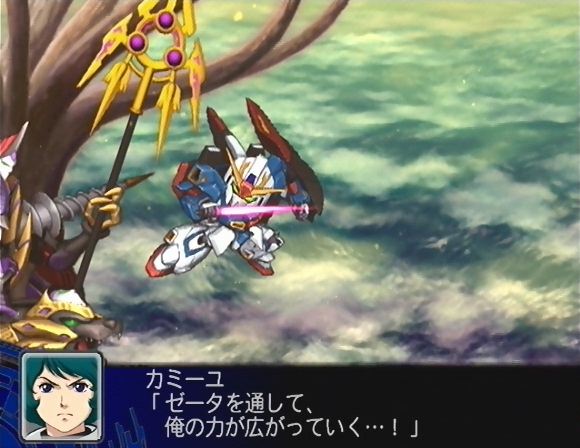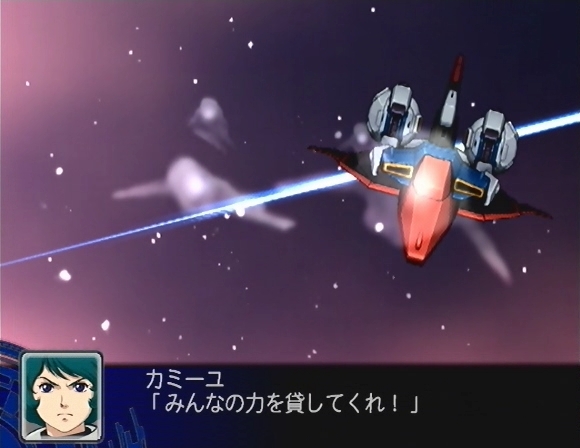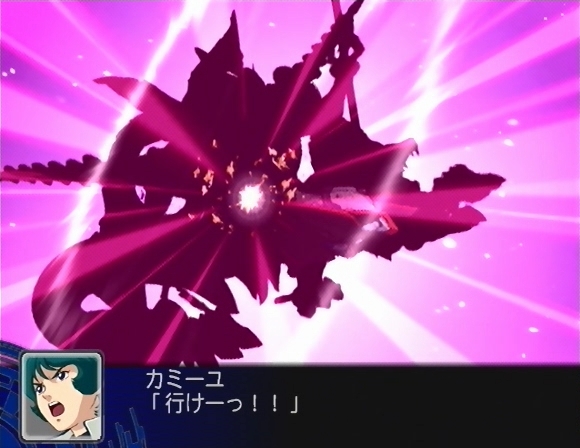 Camille attacking: "Your dark hubris will destroy the entire world and you need to understand that!"
: You know, Laura, you're starting the Black History, so I wish you'd be on my side.

: !
: Oh, my dear sweet Laura. It falls to me to apply your punishment.

: Stop calling me Laura!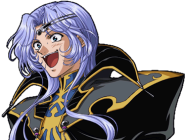 : Hahahaha! I just thought I'd remind you of your Lord!

: You tricked Lord Gwen into working for your ambitions, and now you're trying to stop the Repair!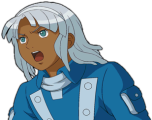 : But no more! If you don't see how precious each life is, I'll fight you in the name of everyone living their own!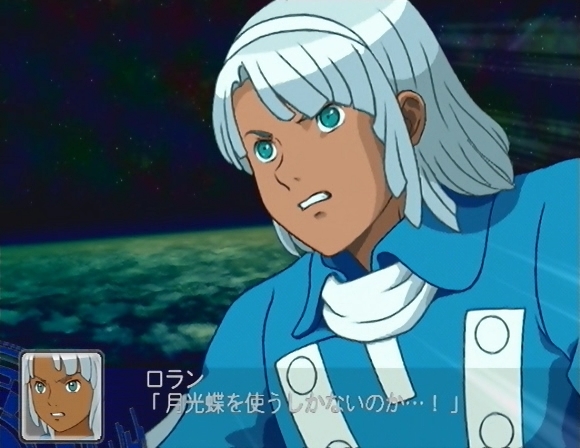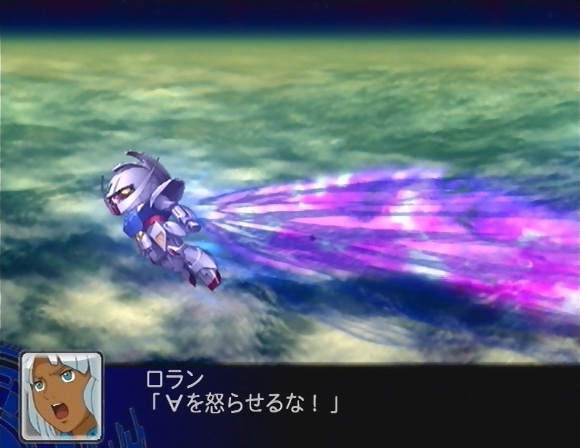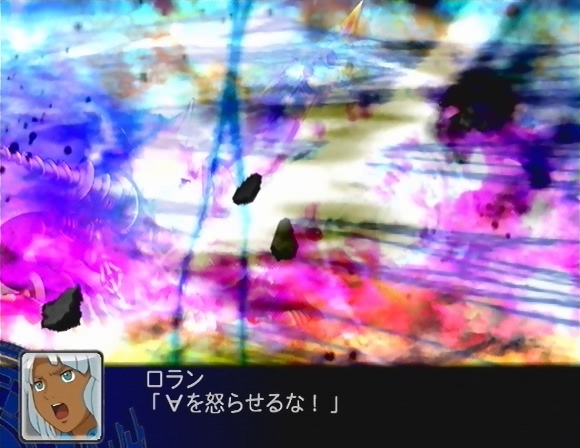 The Edel to Turn A: "OK, how about some bug hunting? Let's pluck this butterfly's wings right off!"
The Edel taking slightly more damage: "…Could you maybe put just a lil' bit more "oomph" into it…?
Loran attacking:
"In order to build a world where the people can rest easily… I have to defeat you!"

"The Edel! We're putting a stop to you!"
: You're an apostle of the great power, but you're ditching it.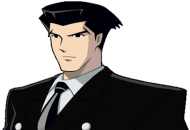 : Don't bother trying to mislead me. I have always been free, never bound to anything.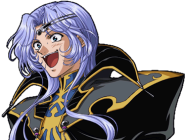 : Now there's a line! Mind if I borrow it?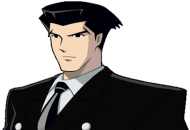 : I do. My words belong to me, and you don't deserve them at any rate.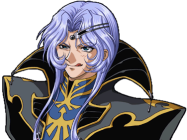 : Wow, Negotiator, points to you. I wish I had time to stay and chat.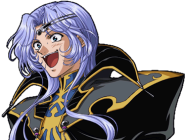 : But I guess we'll have to do this with your
other
specialty.

: That's how it always goes, hm?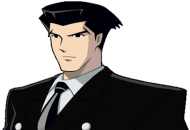 : It's certainly not my preference, but I'll follow his lead!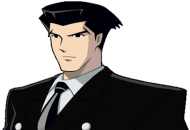 : The Edel! You will pay your due sentence face your words and deeds!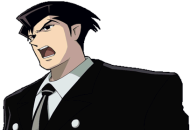 : Big O! ACTION!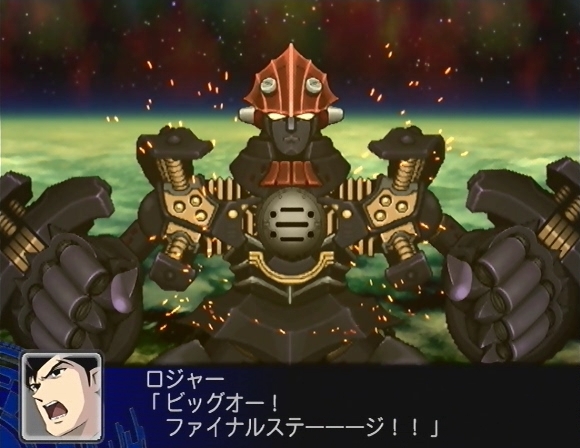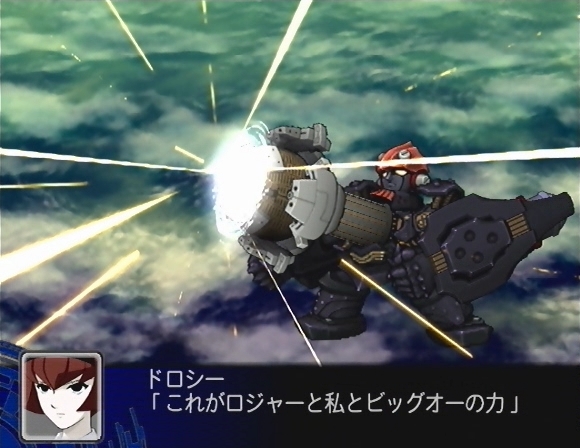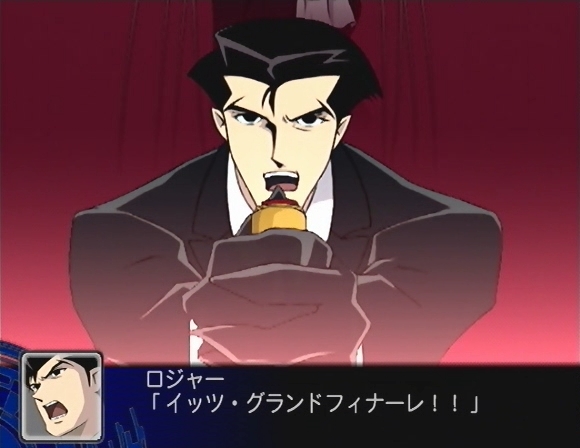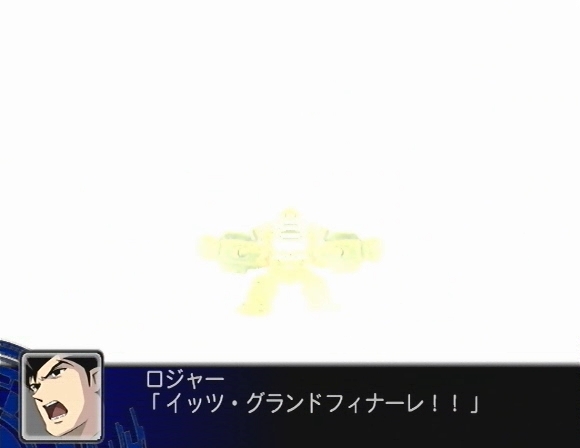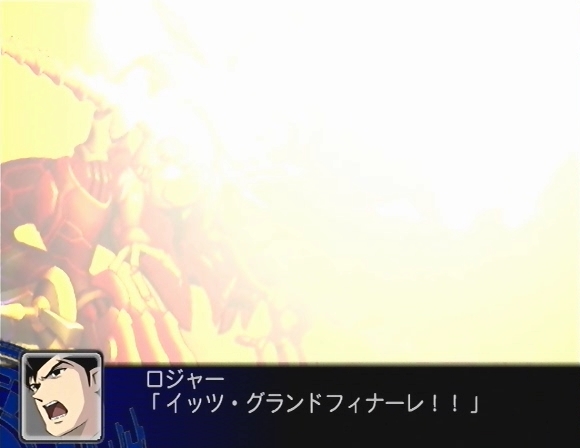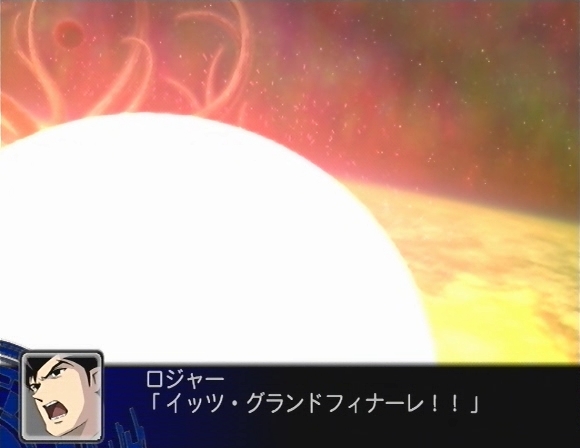 The Edel to Big O: "Now this is a shame. I wanted to have a debate with you."
Big O attacking:
Dorothy: "You…are such a louse."

Dorothy: "I don't care to see the world you'd create."

Roger: Neither I nor society have time to humor your games!

Roger: "It's time for you to exit the world's stage!"

Roger: "This is the climax of the play you devised, The Edel!" Dorothy: "Let's bring down the curtains ourselves, Roger".

Roger: "Society is not your plaything, The Edel!"
: Now, I never ever expected I'd fight you.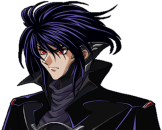 : Why shouldn't you have? We have no reason to be bound to each other.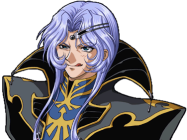 : Heh… No hard feelings, then.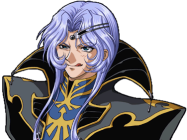 : The Chaos Lemures is basically an artificial Sphere. Can you handle it?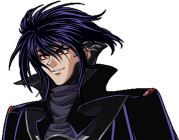 : Hmhmhm... will you join me in the prison of eternal darkness, then?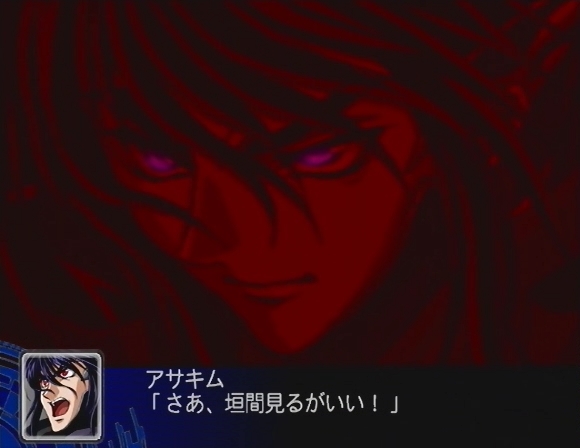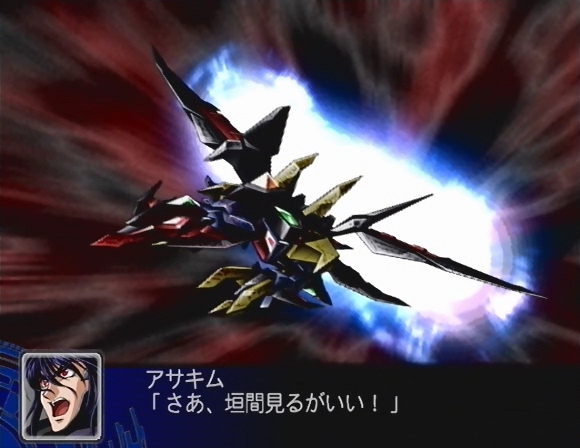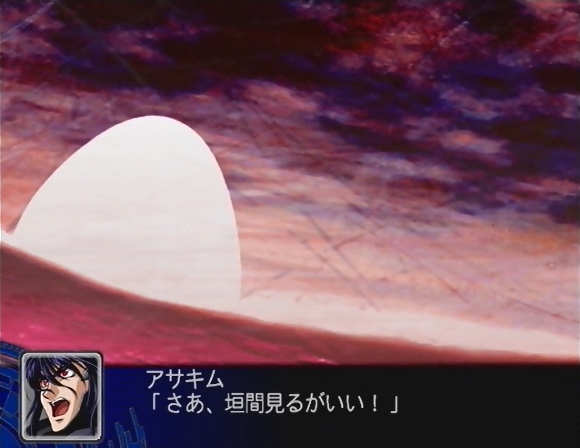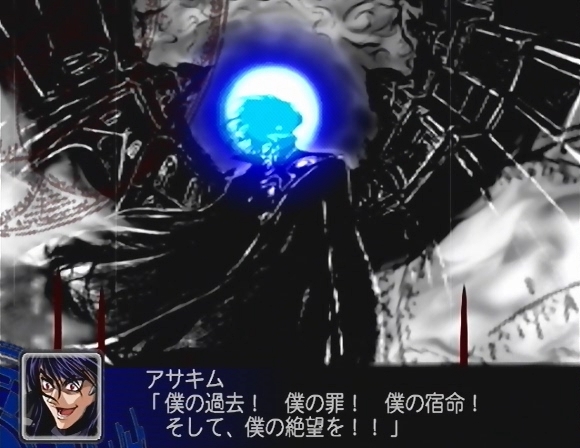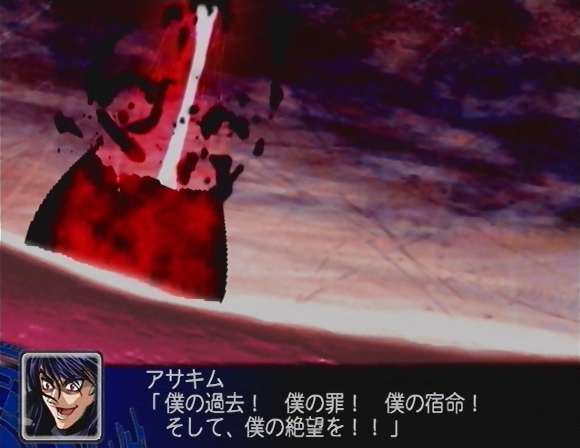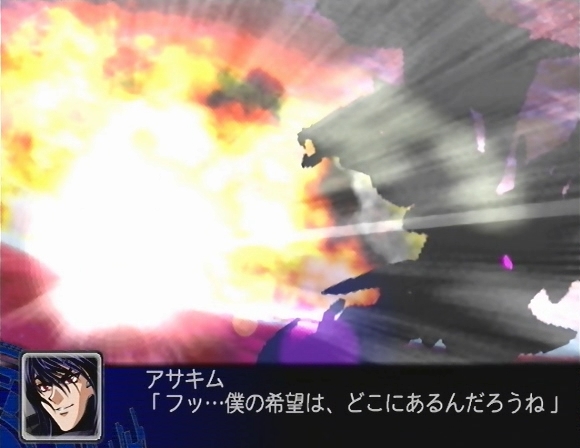 Asakim:
"I'll grant you your ultimate pleasure, The Edel."

"The Edel… the Celestial Prison awaits you."

"Your farce ends here."

Taking damage: "I will not be yours, The Edel."

Ditto: "Yes, enjoy yourself… while you still can."
: Hold on there, Lt. Amuro! I saved you from that awful Newtype Research Lab.! You can't just throw that life away!

: You were the one who destroyed that facility?!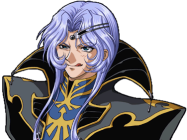 : Yup! I needed you to meet the Red Comet, for what's to come.

: My fight with Char at the end of the Black History...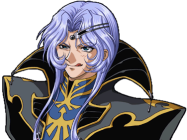 : All the flags have been tripped now. You'd better make it a good one, you old Newtype!

: This is not going to go according to your script!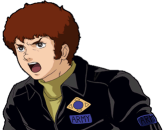 : No one egotist will have our world! Not you... and not Char!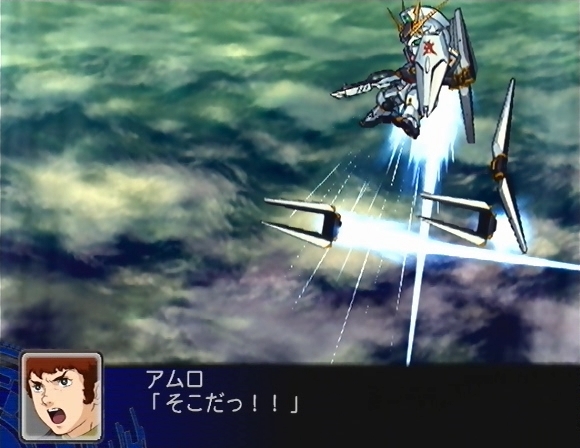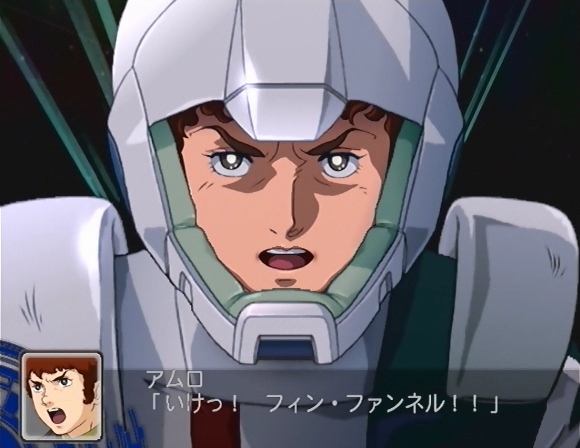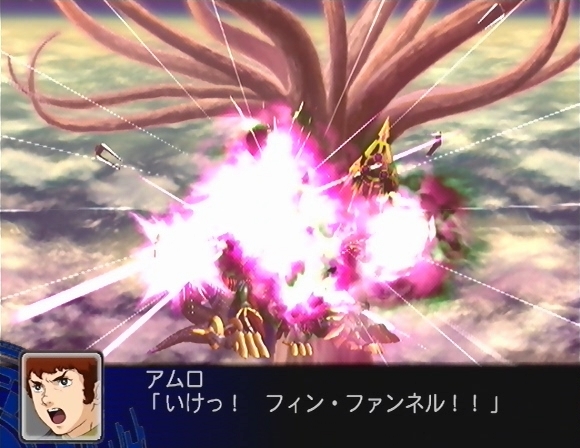 Amuro attacking:
"I'll never accept the world you desire, The Edel!"

"Disappear, The Edel, along with your disgusting ego!"
: Captain Bright, it'd be in your best interest to be taken out by me, you know.

: Excuse me?!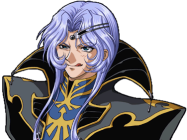 : If you survive this, you're in for the worst pain a parent can ever endure.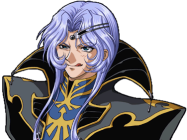 : So you might just want to let me kill you now.

: All hands, prepare to fire! Target the Chaos Lemures!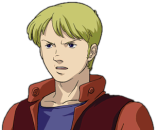 : Captain...

: Don't listen to him! Just fight our battle!

: Even if he's right, we can change the future! And the first step is winning here!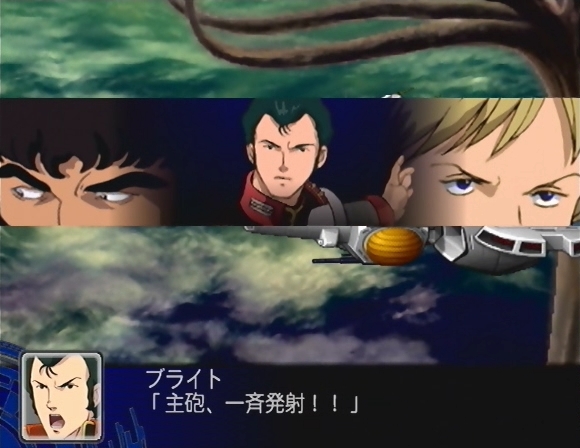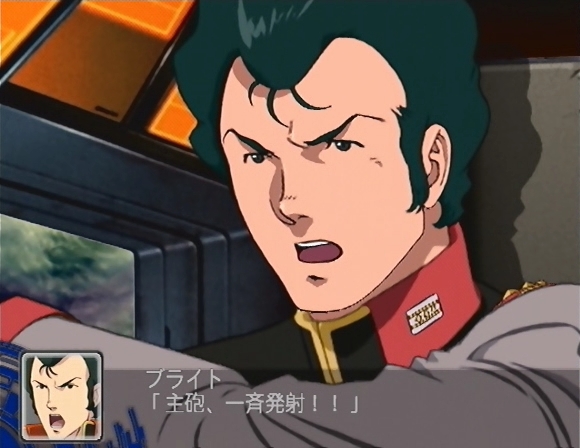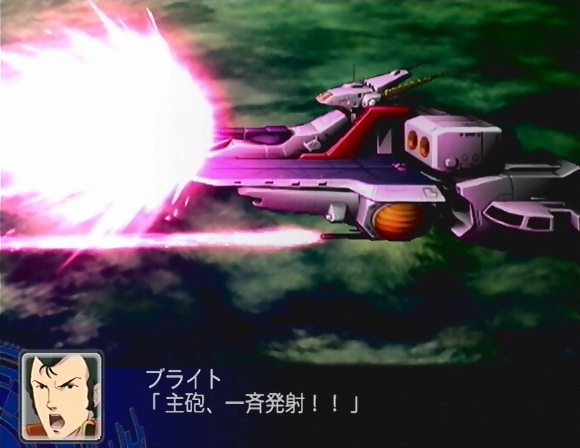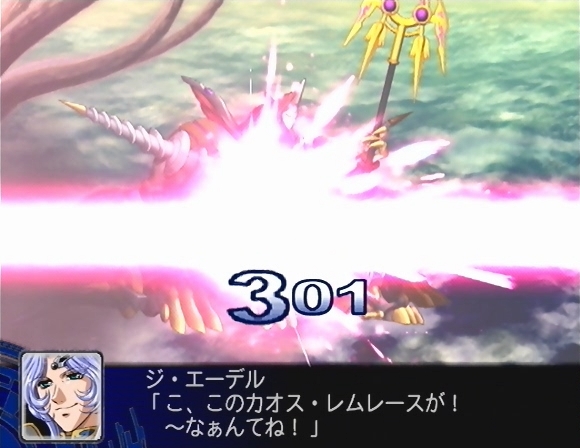 : I know who you are, Talia Gladys. You were instrumental in Chairman Durandal coming to his decision.

: ...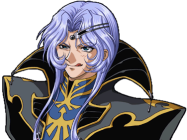 : So are you going to carry on the Destiny Plan in his name?

: That's not what he really wanted... once he found someone with the power to stop him, he entrusted them with the future!

: That's what I'm going to carry on... fighting those who'd keep the world in darkness!

: All cannons, ready to fire! The enemy's dead ahead!

: Target: Chaos Lemures! Open fire!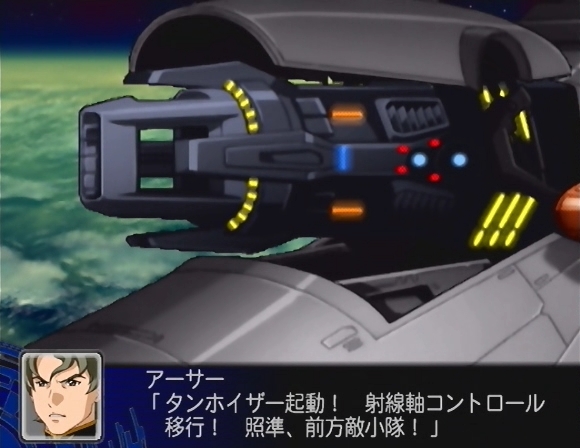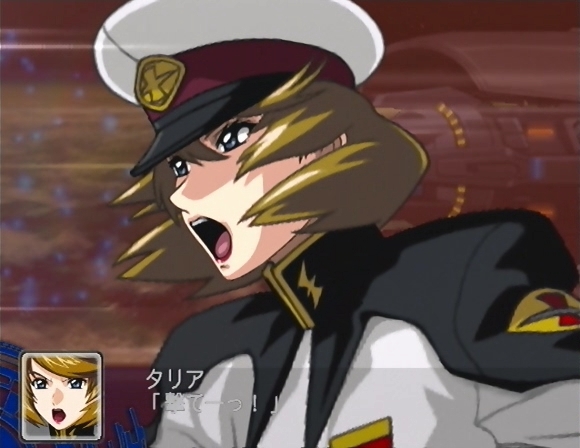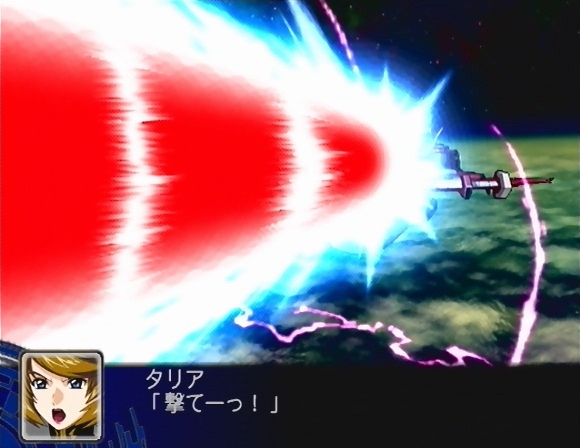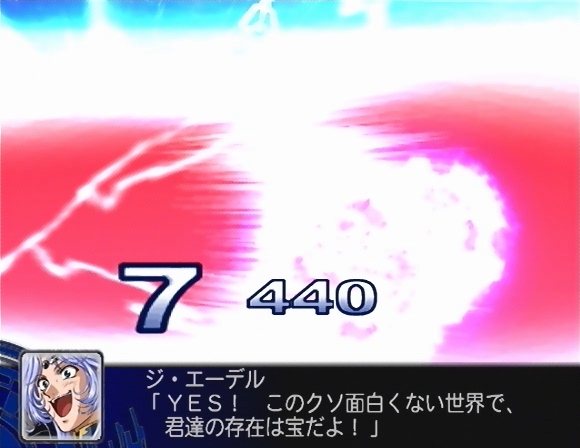 Even more damage on The Edel: "YES! You guys are a real treasure in this boring world!"
: The Archangel, after throwing the world into chaos, comes for me? Now that's a joke.

: ...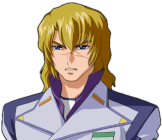 : Don't listen to him, Murrue! He's getting a kick out of watching you squirm!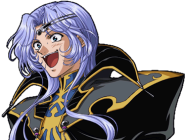 : Oh, you bet I am! That despair on your face is so lovely, Murrue Ramius!

: Is he STILL messing with us?!

: But we're not like him... whatever mistakes we've made, we're fighting with these people now!

: Archangel, full speed ahead! Our foe is The Edel Bernal!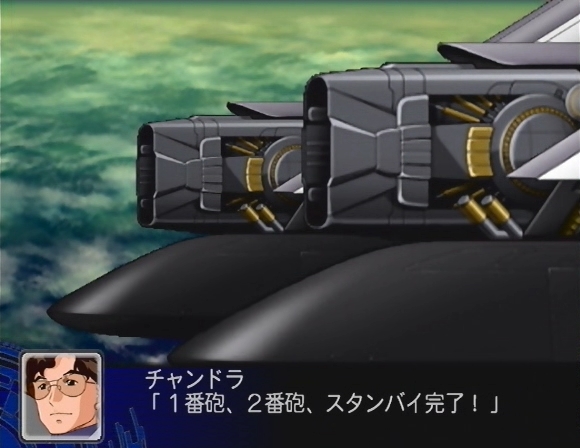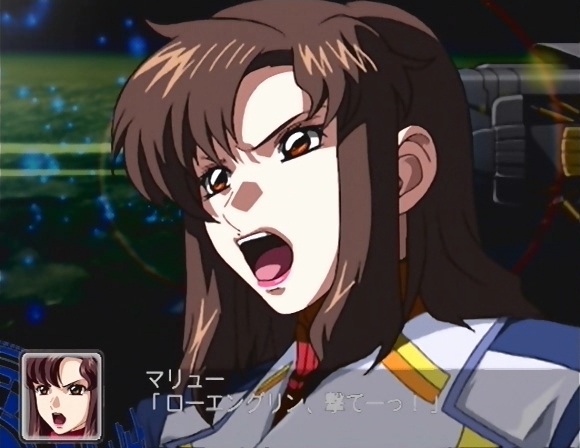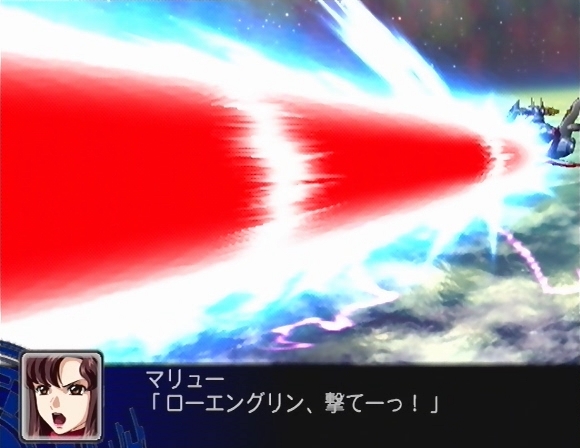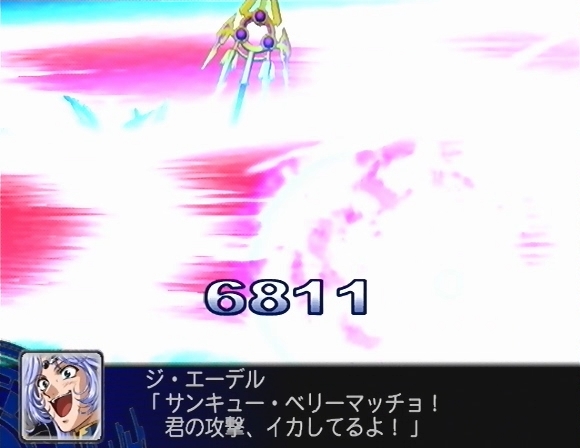 : Won't this be a shame, Gekko State. I did enjoy ray=out.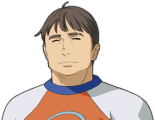 : We're happy to hear that... but if you did, you sure didn't get our message from it.

: Stoner's going to be so disappointed.

: I don't think this crazy freak had a chance of getting it anyway.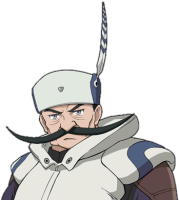 : What, then?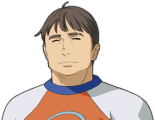 : We can't let him out of here in one piece, no matter what he thought of ray=out.

: So, we...

: We put him down, of course! He's going to make a terrible environment to raise a child!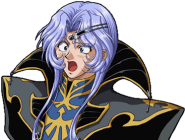 : Whoa! I forgot you don't mess with a mama bear!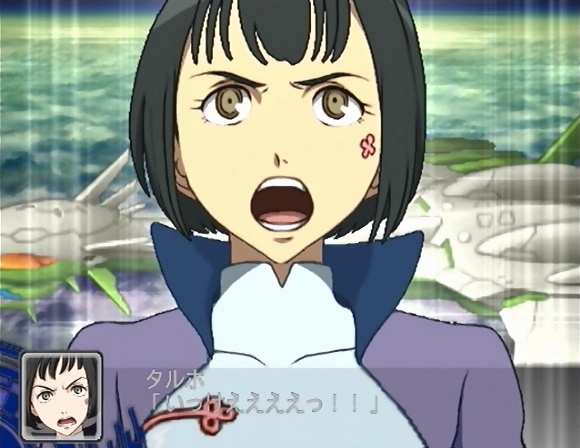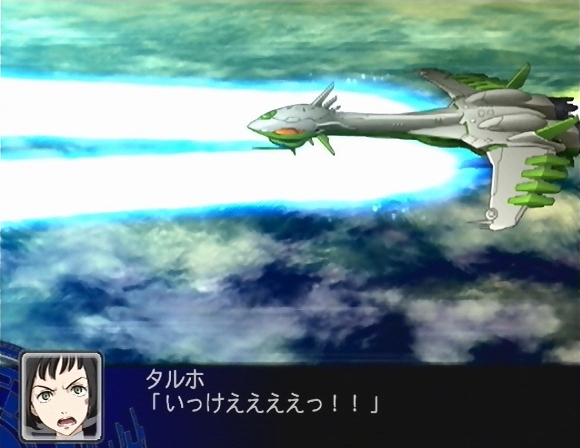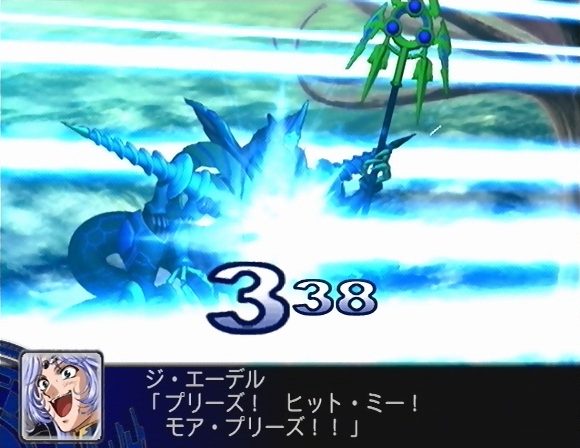 More damage: "PLEASE! HIT ME MORE, PLEASE!" (in engrish)
Gekko attacking:
Hap: "You know… In a way, this guy's quite something…" Talho: "Still, people who'd prey on others are inexcusable!"

Talho: "Keep those twisted dreams inside your head, The Edel!"
: Aw, what happened, Ziene? I thought you were my sweetie honey pie!

: Master The Edel...
: Oh, well. I did give you freedom, I guess.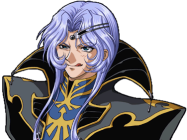 : But you know, I like to hear a feisty girl scream once in a while.

: You still live according to your desire...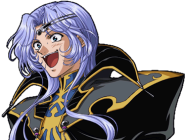 : That's what's so great about me!

: I looked up to your free-spiritedness... but it's always been too close to complacence.

: That's why I'm leaving your path! Traveling my own! All by myself!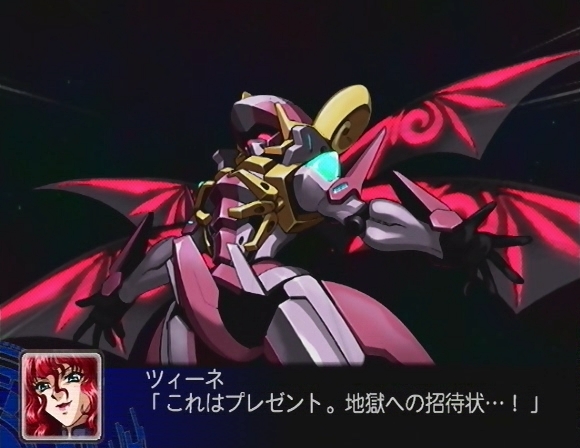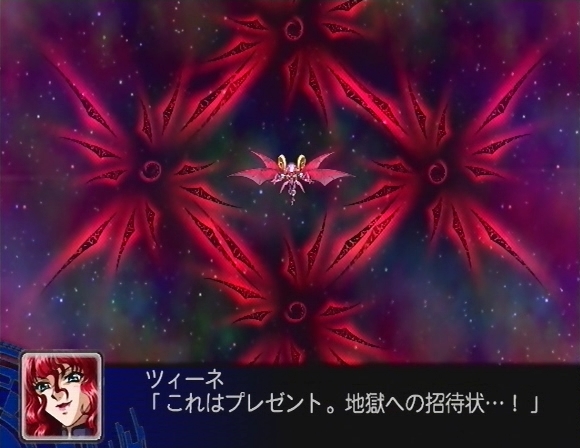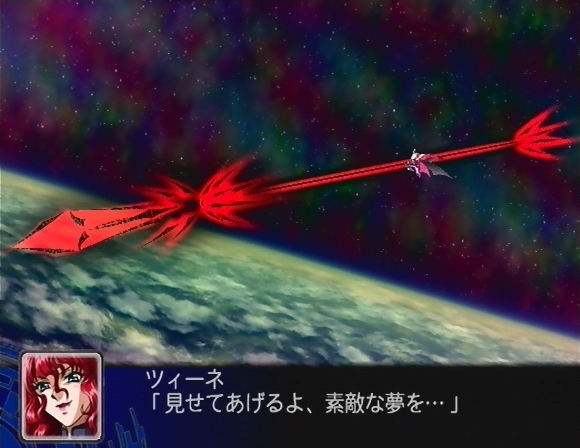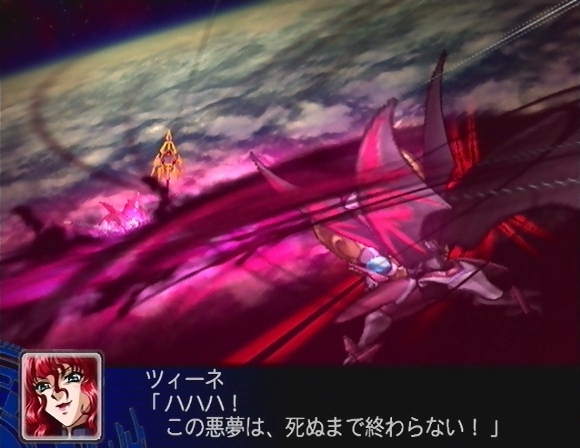 The Edel to Ziene: "Bye-bye, Zieny! I don't care one bit about toys I've thrown away!"
Ziene attacking:
"I am not your puppet, The Edel!"

"I won't be fooled anymore… the only thing you love is yourself!"
: You know, I told Durandal about the parallel universe thing before the Break the World...
: But I certainly never thought he'd try to put things in order with the Destiny Plan.

: What…?!

: You're the one who put the Chairman up to that?
: Just to be clear, all I did was tell him about the Break.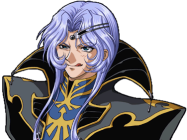 : Everything after that was all him.

: But you just watched him do it and laughed!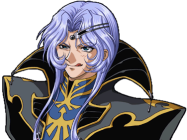 : Hey, he wouldn't have had the chance if it wasn't for me. I think I should get something out of it.

: How dare you! The Chairman may have had the wrong idea, but he was fighting to protect the world!

: Gil knew how dangerous you were! He warned us!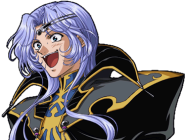 : So what, you're going to destroy me in his name?

: I'm going to destroy you, yeah! Not for anyone else but because I think it's necessary!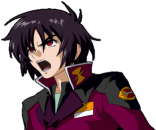 : If you want a war so bad, I'll give you some!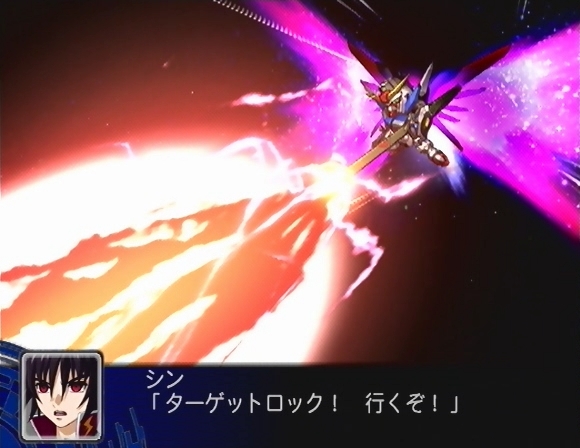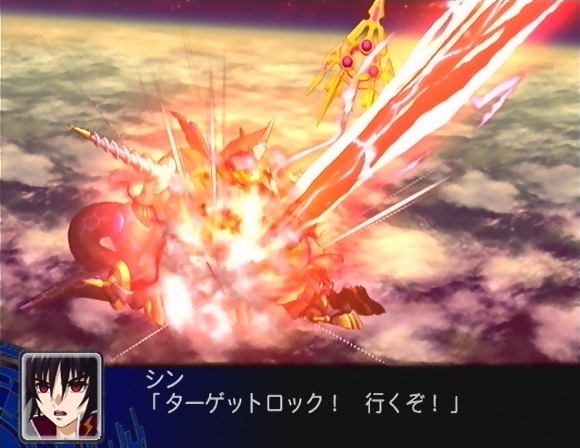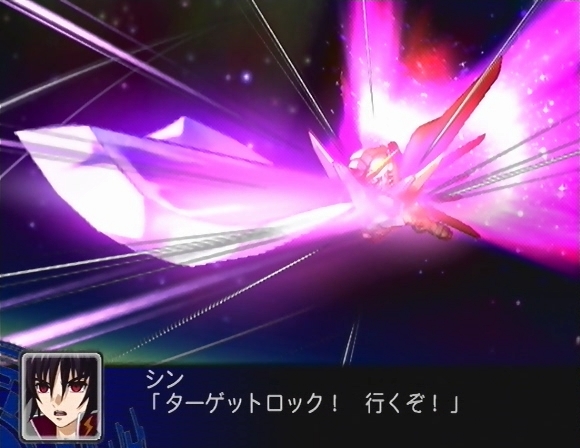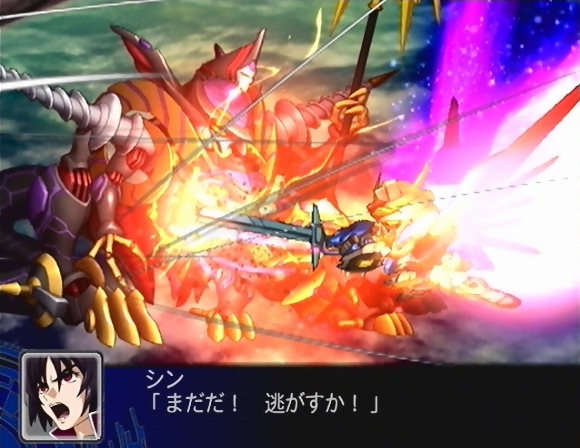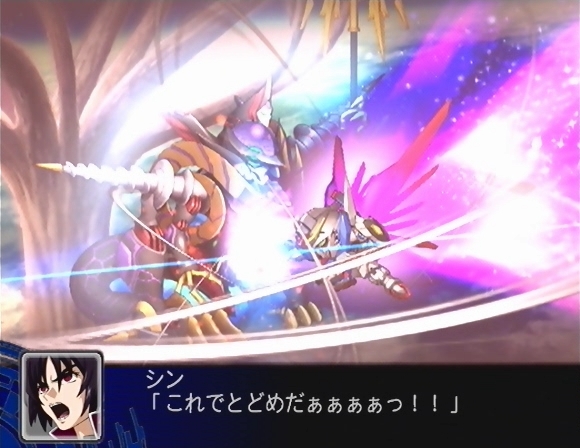 The Edel to Destiny protagonists: "Freedom, justice and destiny! These are also aaaaaall mine, mine, mine!"
Minerva team:
Shinn: "We are not tools for you to use, The Edel!" / "I'm bringing you down and putting an end to all this fighting!" / "Everyone risked their lives in battle…and you were…!!"

Rey: "I will never accept the twisted world you envision!"

Luna: "I'll crush your delusion to pieces, The Edel!"

Yzak: "The Edel! There'll be no future for the Plants unless I end you!"
: The noble Lacus Clyne sings for peace, but finds herself once again on the field of war.

: ...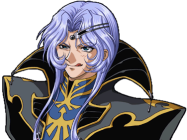 : Are you sure what you sing aren't war songs?

: Sometimes we must fight for peace...

: Miss Lacus...

: I'll spill blood if that's what's necessary.
: All hands, did you hear that? We follow Lacus!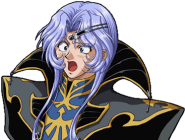 : Whaaaat? I was trying to sway you! You can't get all determined!

: But we have. We will not hesitate to fight against those who bring ruin to the world in the name of their greed.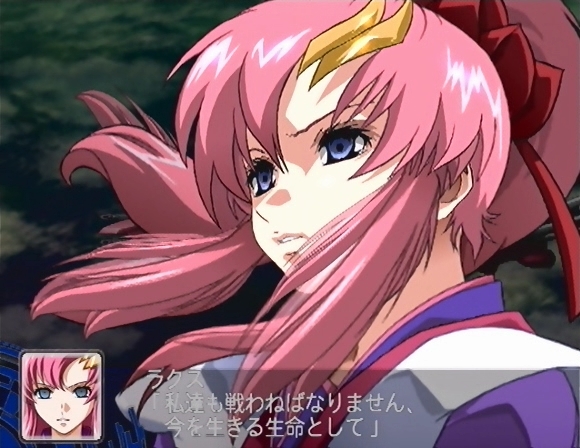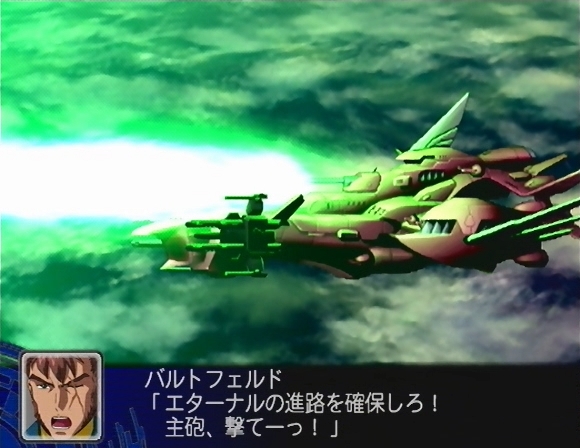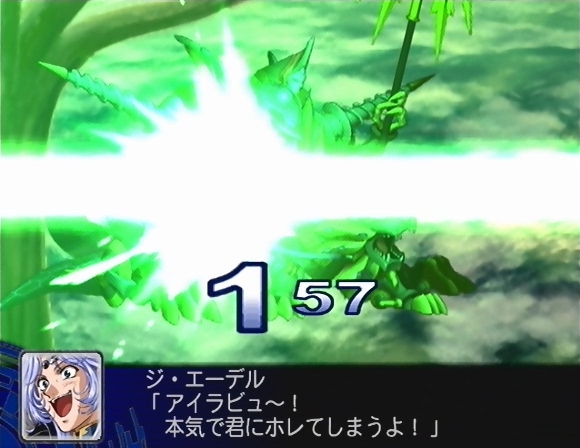 Nearing death: "I LOVE YOOUU! I seriously do!"
Eternal attacking:
Waltfeld: "We've no time for your games!" Lacus: "My friends…summon every ounce of your strength – for this world's future!"

Lacus: "The Edel Bernal… we'll uproot your evil in the name of all humans!"
: You know, Kira Yamato, we're pretty similar, you and me.

: Huh?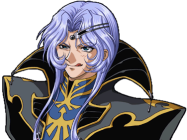 : Thanks to our power, we're cursed to see others only as extras. You get that, don't you?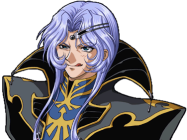 : That's why you fought the way you did, right?

: No...

: Kira...

: I... I took a long time getting here... and I hurt many people along the way...

: But I'm not like you! Whatever I've done, I've never thought I was special!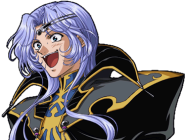 : Hahaha! I love your desperate rationalizations!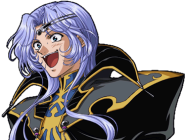 : All right, whatever. Even the Super Coordinator with his SEED powers can't stand up to me anyway!

: You can't intimidate us, The Edel!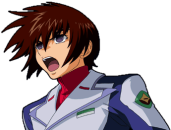 : We'll keep fighting... for those who believe in the future... and for ourselves!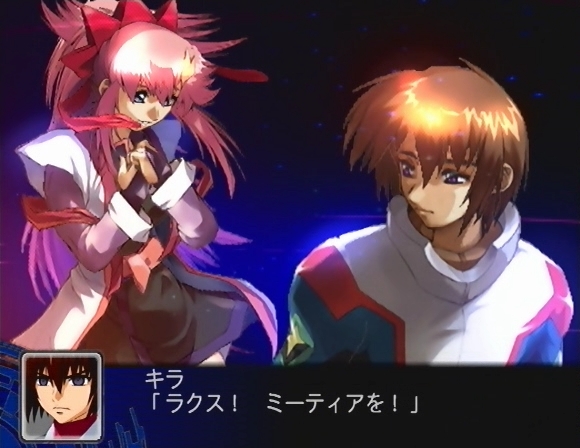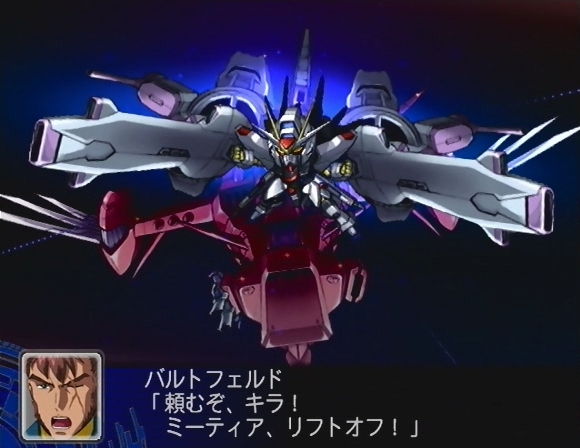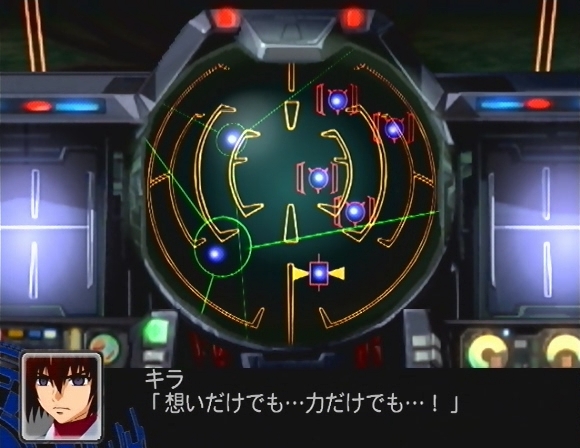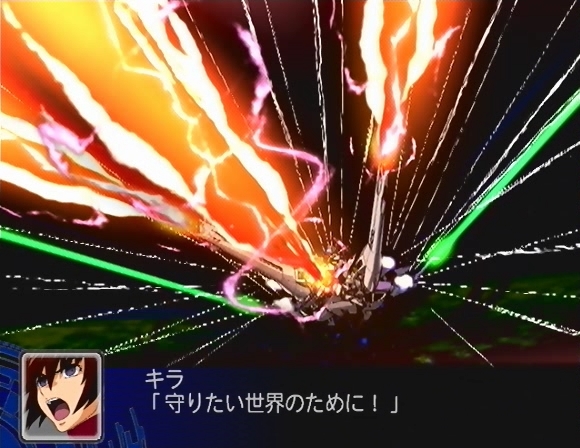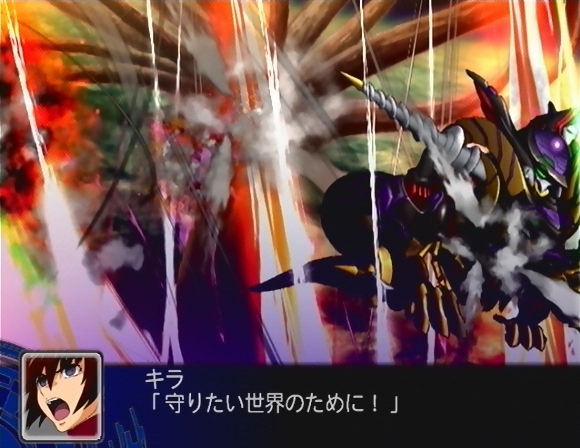 Archangel team:
Kira: "So many people died for their ideals and beliefs…and yet, you…!" / "Both the power you acquired and you, yourself, are unforgivable!"

Athrun: "How dare you throw society into chaos just for your enjoyment…!" "We'll bring the light back into our world after you're destroyed!"

Muu: "(Stella!) Auel, Sting! I'll kill this one in your stead!"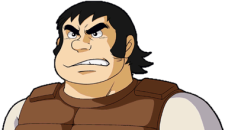 : This half-assed joker is our very last enemy?
: Aw, don't be so mean. I always play with all the ass I've got!

: This man has made so many people suffer...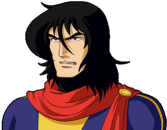 : He's a product of all the bad that's come of the destruction of the dimensional walls... a demon born of Break the World!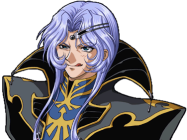 : Then I'm not trying hard enough. I want to be the Dark Lord himself!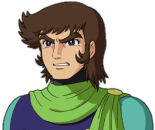 : But your evil will end... now that we're here, that's a guarantee!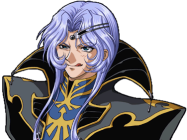 : Well, isn't that a model line! You ought to indulge your desires once in a while, Ryouma Nagare!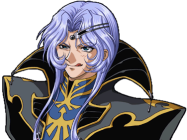 : I've seen some other yous that are way more wild and spontaneous!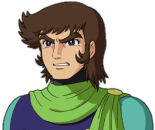 : I do what I want! And what I want is to fight for what I believe in!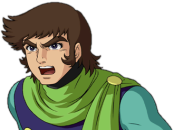 : Here I come, The Edel! Your smug smirk is about to turn into a scream of terror!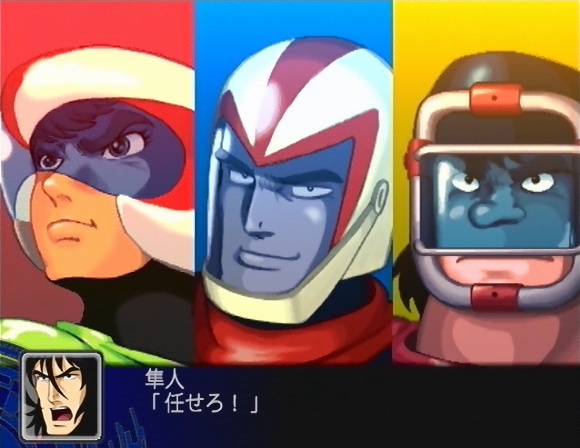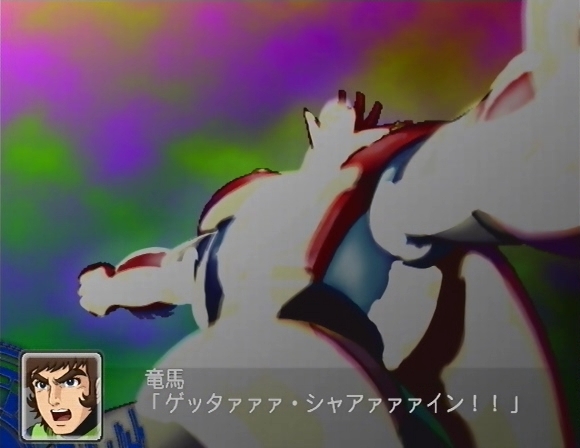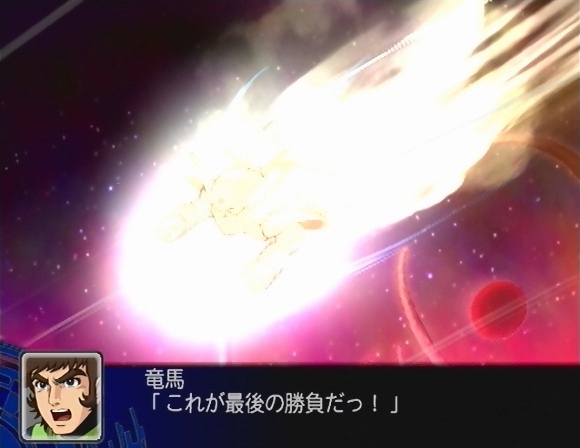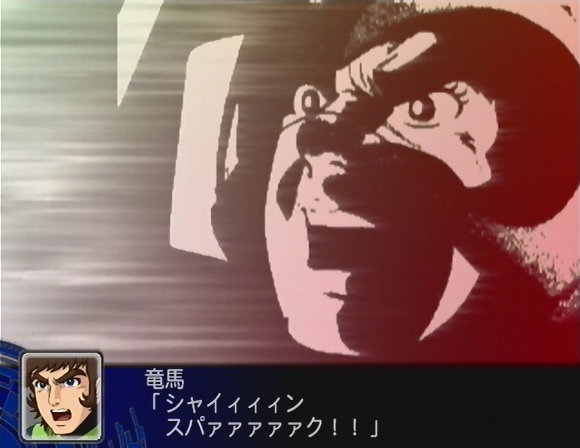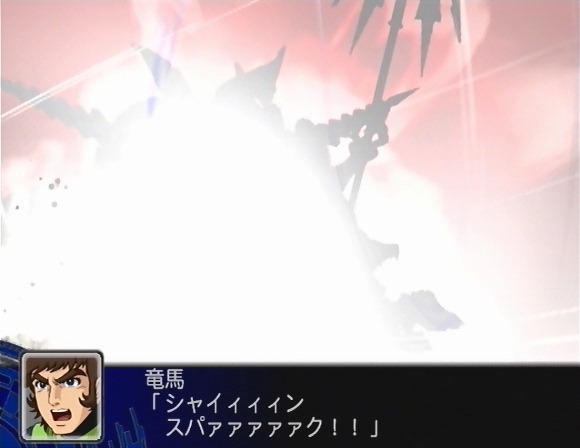 The Edel at Getter: "Unite your three hearts all you want, you're still no match for me!"
Very near death: "Oooh! I never knew I could feel like this!"
Getter attacking:
Hayato: "The Edel… keep your nonsense to yourself!"

Hayato: "I can't stand fools like you!"

Ryouma: "This is it – the final battle!"

: Garrod, be careful... he's not normal...

: Thanks for the backup, Tifa! We ain't letting him take our world!
: Now there's a cliche line. I could say I'm not letting you have
my
world.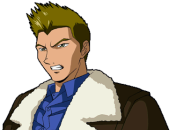 : We're not spoiled brats like you!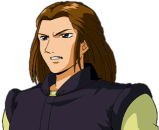 : Whatever you think, we're trying to gather as many peoples' wishes as we can!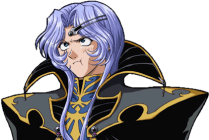 : How about my wishes, huh? My wish is not to care about anybody else's wishes!

: God, you're like a little baby!

: You don't get what freedom means!

: It's not just being able to trample on others' happiness!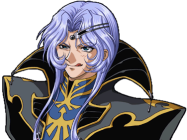 : See, I knew you'd say that. Oh well! Do whatever you want!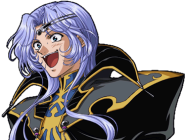 : I'll keep going my way, no matter who tries to stop me!

: Like hell you will! Your freedom to hurt others is just selfishness!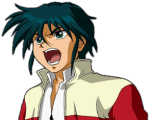 : Same with the Frost Brothers! I... we're fighting to stop people like you!
https://www.youtube.com/watch?v=Ifcg0NhgYdk
The Edel shot down: "THANK YOU VERY MUCH! THIS IS THE BEST!!"
Garrod attacking:
"Get real, ya idiot! This ain't your playground!"

"I ain't ever gonna forgive a creep like you, The Edel!"

Special Satellite Cannon lines (didn't get them…): "Time to end this, sicko!" "You're going on a trip - to the far side of the dimensions! "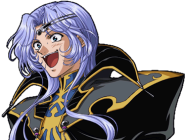 : HAHAHAHA! Pain and pleasure are the same thing to me! I LOVE YOOUU!!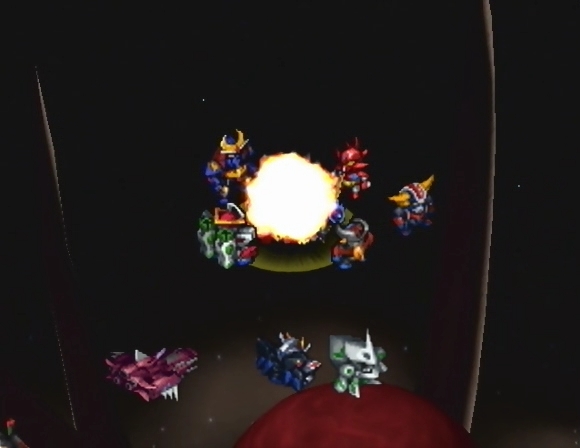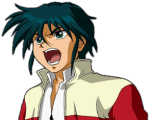 : That's one!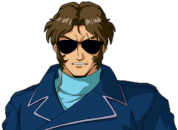 : Hurry! If they were speaking the truth, this one'll be revived by the others unless we can defeat them as well!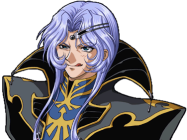 : But can you pull that off? You'll find that I get cranky when I lose one of me.

: And you'll find that we've got ya beat when it comes to being pissed!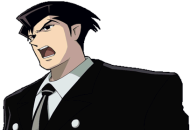 : You've misunderstood what "freedom" truly means, The Edel! We refuse to let you go on!
: If it isn't the Creation Engine. Not going to touch my Chaos Lemures, though.
: You'd better not be underestimating us, or you're going to have trouble!

: We'll give you that trouble!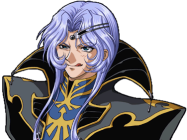 : Oh, please, cuties! I'm being so bad!

: Is he happy to be hurt?

: We'll give him more than he can handle, then!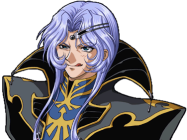 : Can you even do that? I'm a connoisseur, you know. Weak attacks are just going to turn me off.

: Seriously, how far are you taking this?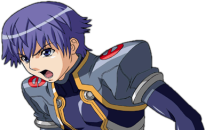 : With me, fellow knights! No matter what he says, our mission remains!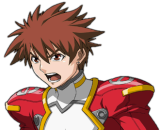 : Go, Touga! Let's show him how mad we are!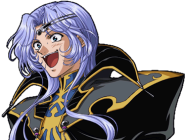 : Hahahahaha! That's what I want! Show me a good time, Gravion!
https://www.youtube.com/watch?v=UKr3A0WjBoE
I'm glad this lets us see the Chaos Lemures actual explosion – it's pretty elaborate.
Sol Gravion attacking:
Touga: "The Edel… the time for our decisive battle is now!" Eiji: "Kick his ass, Touga! Don't hold anything back against this creep!"

Touga: "We are the sun! Our light'll sweep away your darkness and illuminate our future!"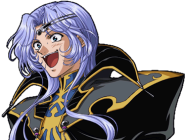 : Get to work, me! You're my last hope!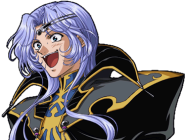 : I LOVE MEEE! Good luck!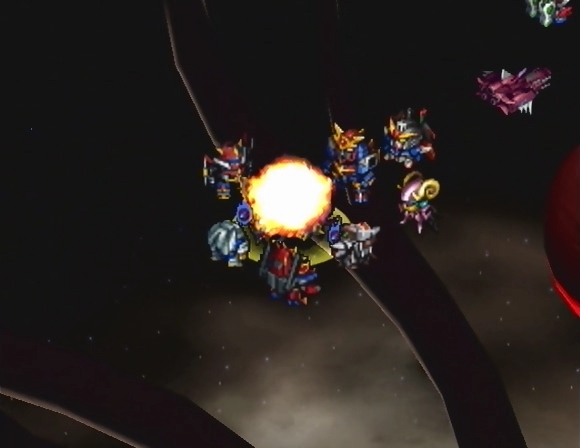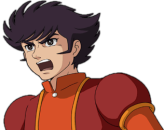 : Only one left!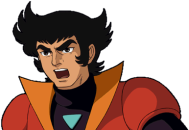 : Quickly, before he brings the others back!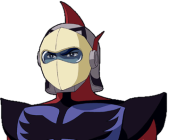 : That won't happen! We end this now!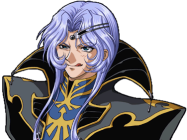 : Oopsie! Guess I better get my game face on or this'll be super-duper bad!

: And he's
still
cracking jokes?

: Just give up on trying getting him to act like a normal person!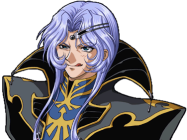 : Oh, your words fill me with pride! Let me give you a good time by way of showing my thanks!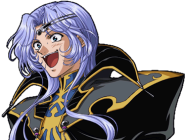 : Although, after that minute's passed, I'm afraid you'll then be having a very BAD time!
: You've done wonderfully, Setsuko, but you can stop now.

: !
: Just rest and let me take care of everything.

: You can't fool me like that...!

: I'm fighting to make sure no one can cause sorrow with their greed and violence!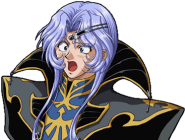 : Then you're going to be fighting forever. Will you even survive?

: I'll fight as long as my health and my pride hold out! And you're my current target!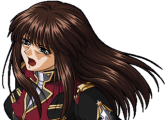 : The Edel... by the pride of the Glory Star, I will destroy you!
: You missed out, darling. If you'd just let me mess with the Gunleon, you might've stood a chance against the Chaos Lemures.

: Like we'd ever let someone like you touch the Beater Service's tools!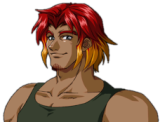 : You heard the acting chief! Now get off our case, gramps!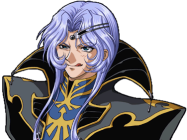 : Then how about, if I win, you hand the Gunleon over? Including Mel, obviously.

: You got it!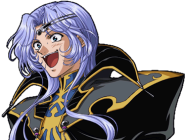 : Seriously? Whoa!

: My darling's not gonna lose, though! He'll Crush you with his HEAT!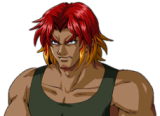 : You heard her again, The Edel! We're gonna beat you into shape the repairman way!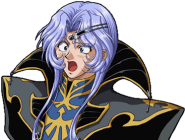 : Where the heck did you learn to repair?!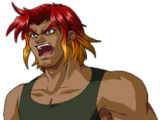 : Shaddup! I'm doing this my way! Get over here, The Edel!
https://www.youtube.com/watch?v=NYIyPtFcxjs
The Edel to Rand and Setsuko (two each):
"Goodbye, THE HEAT! I won't forget your stifling charm!"

Bring it on, The Crusher! ...Did that piss you off?"

"HAHAHA! I'll make you cry in Asakim's place!"

"Hmhmhm… oh, I so wanted to smell your ears."
Rand attacking:
Mel: "So, you think you can show up right at the end and take everything for yourself?!" Rand: "Well, that ain't gonna fly! Brace yourself, The Edel!"

"I don't hate ya, gramps, but it's curtains for you!"

"Ya don't look all that crazy but your head's a whole different story!

Rand: "Save your selfish crap for the afterlife!" Mel: "We won't hand over our world to someone like you!"
Setsuko attacking:
"The Edel! I won't accept a world that suits you alone!"

"This planet isn't your playground! It's home to all of us!"

"I am no "Champion of Justice"! I'm simply your enemy!"

The Glory Star special line: "I will not surrender this world to you!"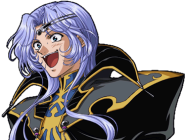 : HAHAHAHAHA! This is great! You guys are the best!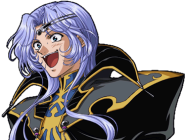 : Please! PLEASE!! Give me more pain! Take me all the way!!

: Argh, shut UP! We don't have the time to play along with your craziness!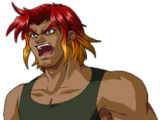 : We're ending this once and for all!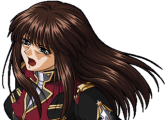 : Disappear, The Edel! None of us will allow you to go on!

: All units, open fire! Destroy the Chaos Lemures!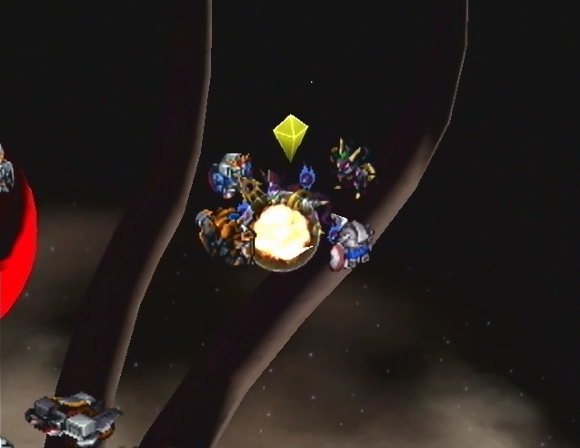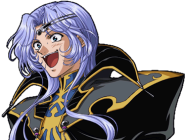 : YEEESSSS! I've never felt pleasure like this in my entire life!!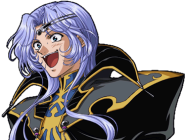 : YOU'RE AMAZING, ZEUTH! I LOVE YOU! FOREVEEEEEEEEER!!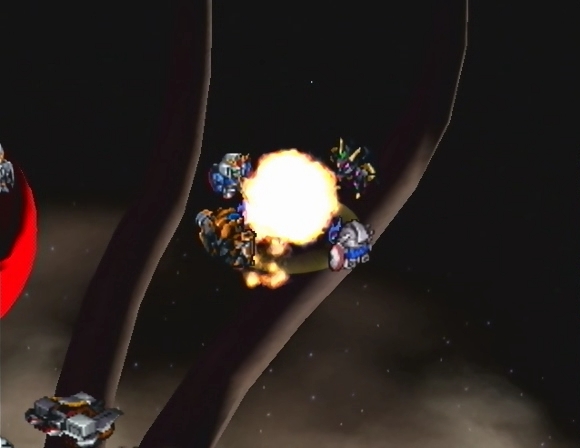 : We…we did it!

: What's the time?!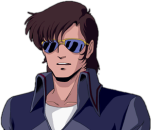 : 22:50…! In 10 minutes, we'll gather the people's wishes!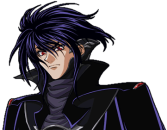 : No…!
*
Whoooosh!

: It's—!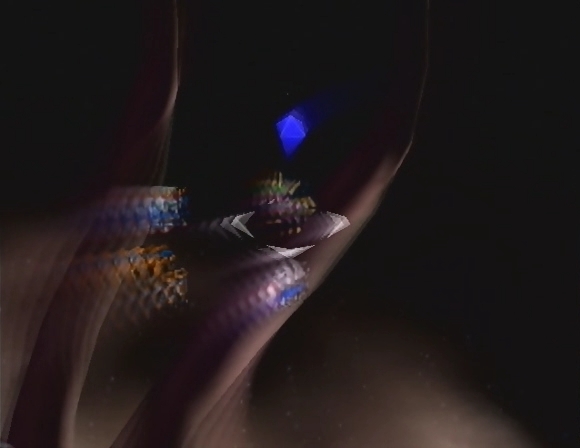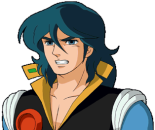 : I'm detecting a massive distortion on the dimensional walls!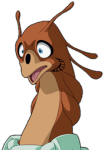 : Oh, no…! Space-time is… it's collapsing now!

: What?!

: Are the Coralians awakening because of the loss of the Command Cluster?!

: Renton!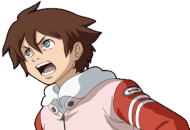 : I got it!
*
The Nirvash heads over to the Cluster.
*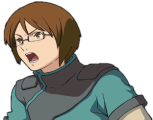 : What are you gonna do, Renton?!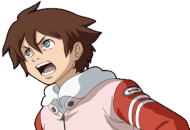 : We'll become the Command Cluster again and keep the Dimensional Collapse at bay!

: In that time, you go and save the world!

: It's too late…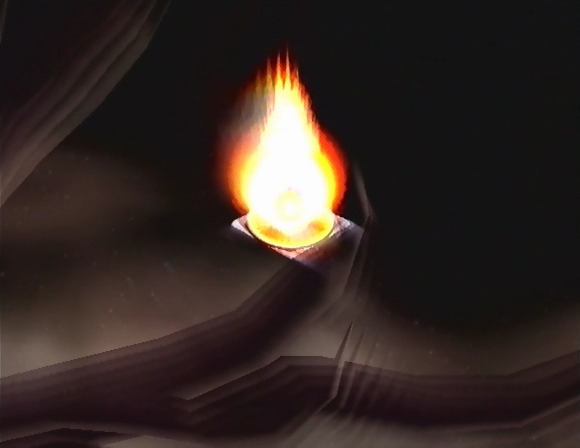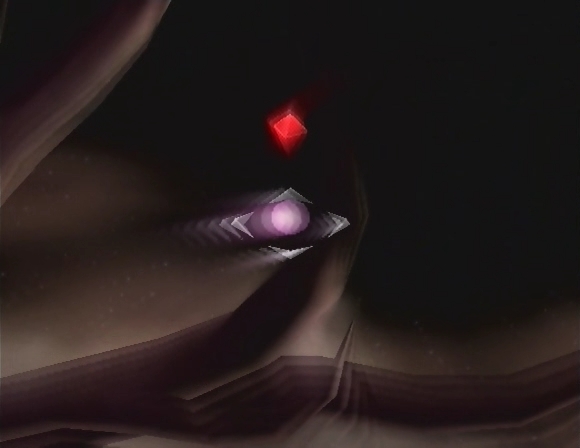 : Touma!!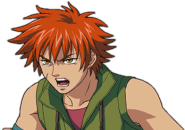 : Is that bastard going after Renton?!

: Now we end this!
*
Aquarion intercepts Touma.
*

: Wings of the Sun… the time has come for your true awakening!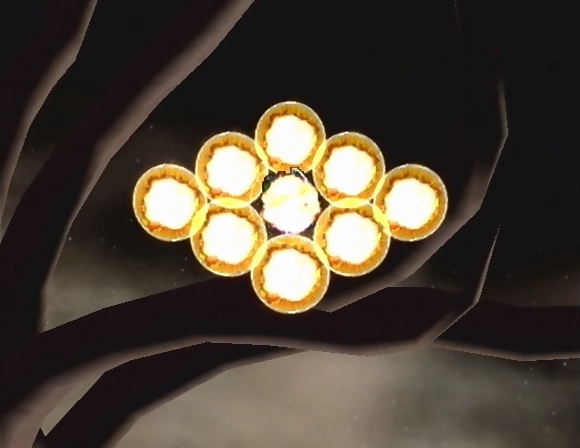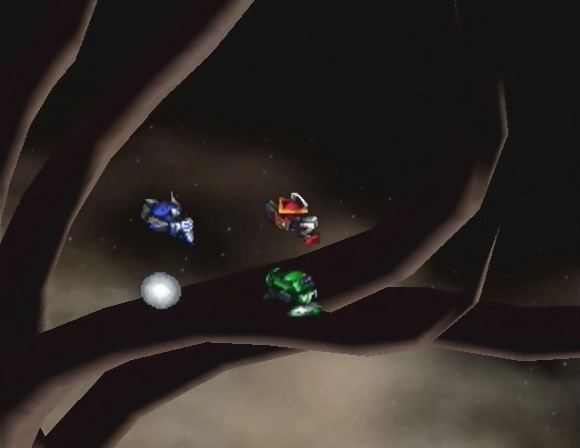 : Uwah!!

(from inside the Vector Luna): Hmhmhm… so, this is what part of Apollonius' body is like…

: That Fallen Angel jacked the Luna?!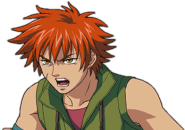 : Silvia!

: I-I'm alright! You have to get Touma out of there!!

: Indeed, Silvia!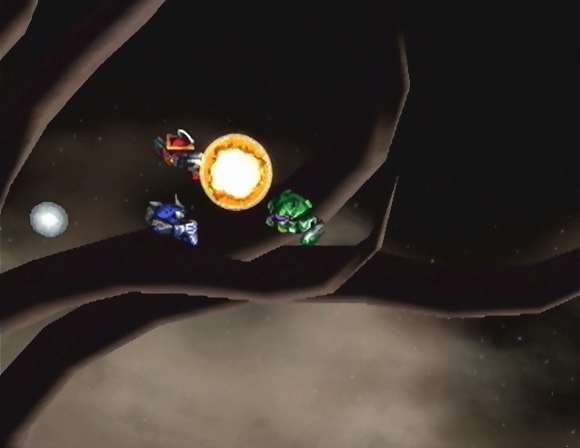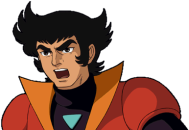 : Stop, Sirius! This isn't the time for that!

: Stop him, Apollo!

: …

: What is it, Apollo?!

: I understand now… Apollonius… The smell inside Aquarion is just like… of a Fallen Angel… it's just like Touma's…

: I got it! Apollonius was a Fallen Angel! The Aquarion's incomplete without one of them helping pilot it – without a Fallen Angel's power!

: Huh?!

: That is correct!

: Touma!

: Now, combine with me! I shall become the Wings of the Sun!

: I wish to witness the true awakening before the world meets its demise!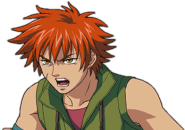 : I ain't just gonna let ya do your thing, though!

: Touma! You, of all people… I will never stop until I've claimed your head!

: What happens when two hearts who were never supposed to meet, do so…?

: Nirvash!

: Th-the Nirvash just spoke…?!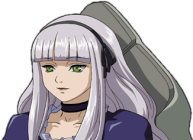 : It's not that surprising. She's the same as us.

: I have faith… in the miracle born of meetings…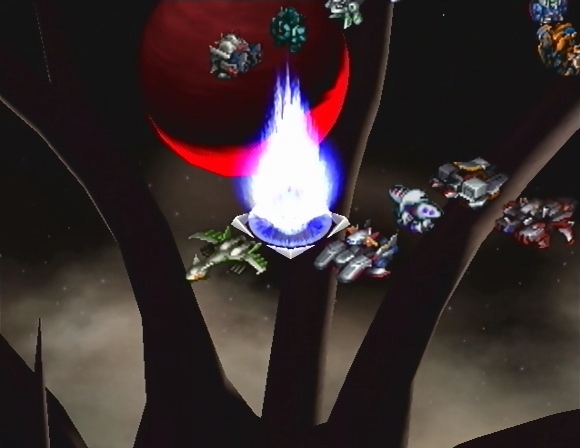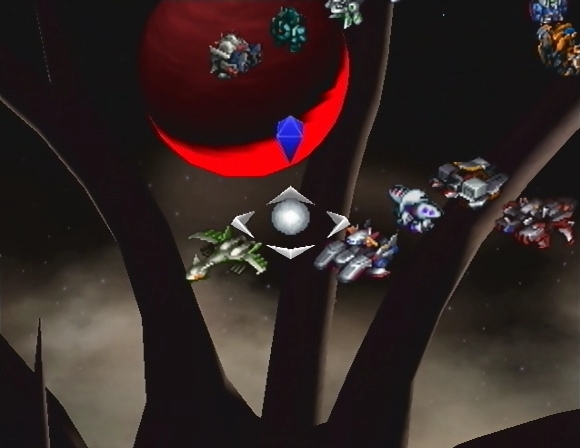 *
CLAP!
*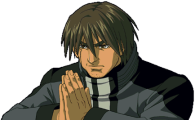 : What exists in-between two clasped hands?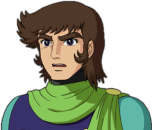 : Commander Fudou…!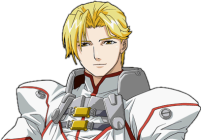 : You've come, Fudou GEN!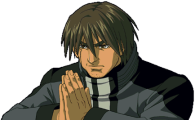 : Left hand and right hand, angels and humans, man and woman, yin and yang… what exists in-between them?!

: Left hand and right hand… there's… darkness…?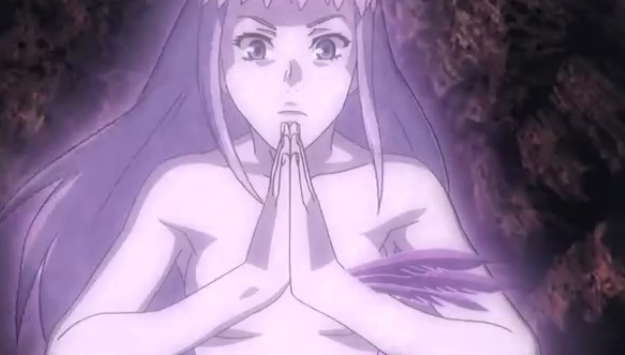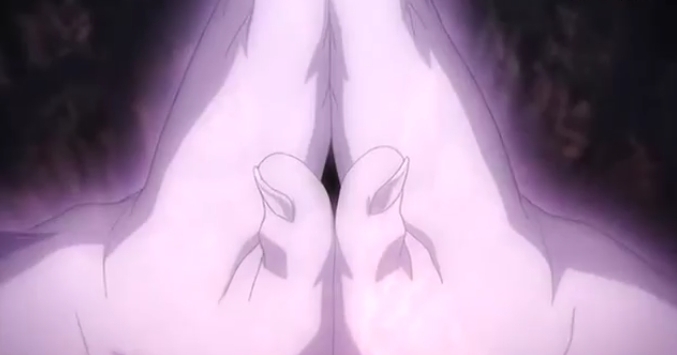 : There isn't anything between them… there's nothing and yet…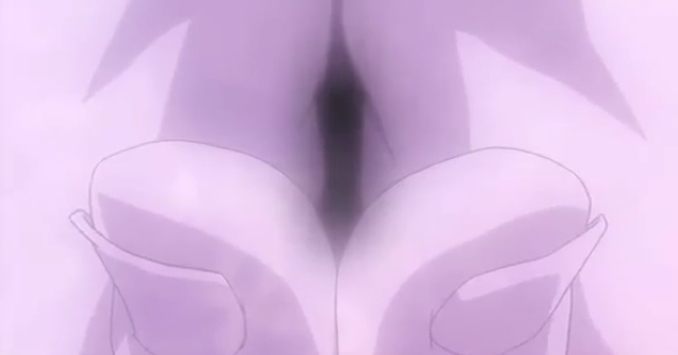 : There's warmth…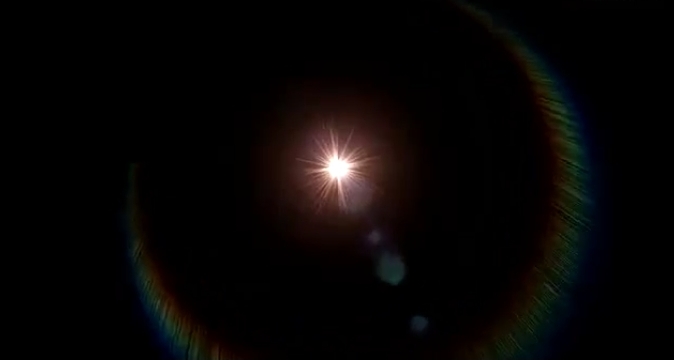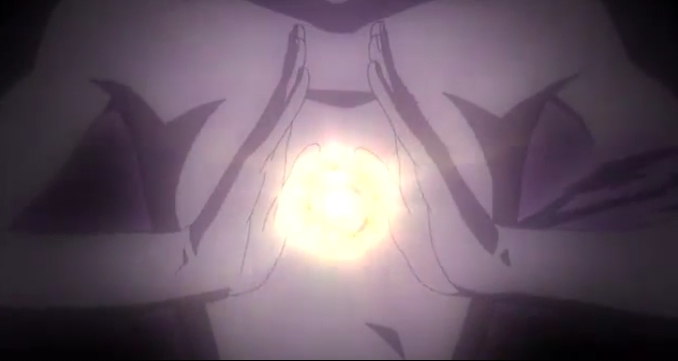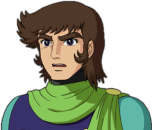 : What is born from the meeting of different things…?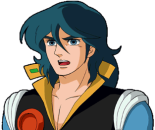 : Different people… earthlings and aliens… humans and Coralians…

: Earthnoids and Spacenoids… Naturals and Coordinators…

: My meeting with Athrun and Shinn created a bond between us…

: Just like Renton and I…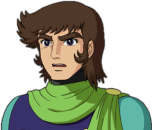 : Can the same exist between humans and Fallen Angels…?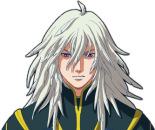 : There's nothing but battle between we and the filthy wingless…!

: You're wrong, Touma!

: Futaba!

: There are kind wingless, too! GEN, Sophia, Gerome… they were all so kind to me!

: Futaba… you've grown fond of the wingless?!

: …!
*
Silvia moves in towards Touma.
*

: What?!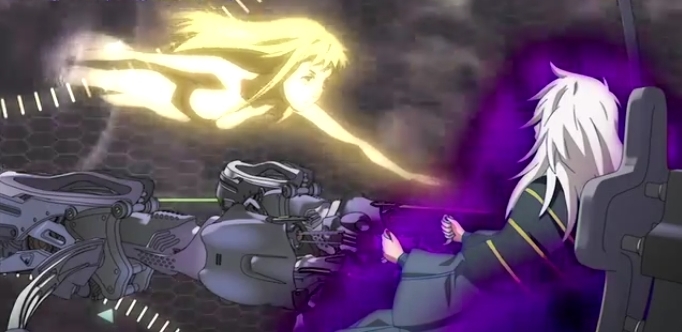 : I will never be able to forgive you… I won't, but…!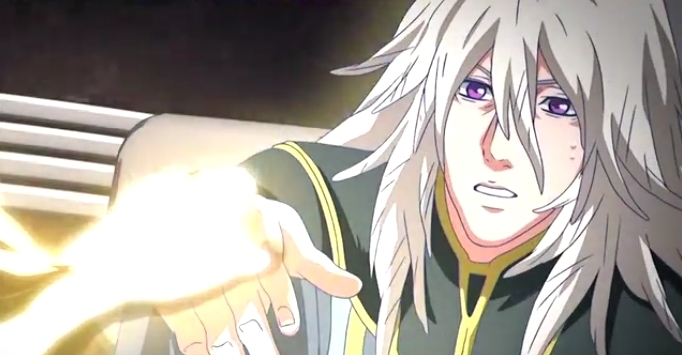 : Her aura's flowing around me…! It's…

: Warm…

: Silvia…

: Apollo… do you remember the day the world began…?

: Billions and billions of stars, billions and billions of galaxies… born, from the void, in one miraculous moment.

: Miraculous…?

: Yes… And, now, the miracle that was us meeting each other, from across an infinite number of worlds…

: The miracle that was our meeting…

: I…I understand, Silvia!

: We were all born in worlds that, by rights, should never have met with each other!

: And now, here we are, living in the same place and working together for the same goal!

: When you look at it like that, I guess the Break the World wasn't all bad!

: And I'm sure that, had I not met everyone, things would've been so much worse…

: Same. Something like my personal Exodus would've been out of my reach.

: Our clashes and mutual acceptance have led to the creation of something completely new…

: I don't mean to sound like The Edel but… this world isn't too bad!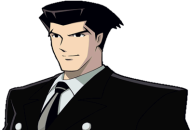 : Indeed. Though there were many separations, there were just as many meetings.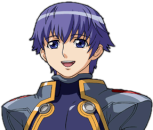 : Those meetings have given birth to new strength…

: And they'll create new paths!

: We won't allow this world to end!

: (I… only thought of rushing headlong by myself…)

: (The pain and hatred that I received… was the same pain I inflicted on Touma in the past…)

: (I never understood the wingless… their sorrow… their joy…)

: I never understood the suffering of the nigh-extinct angels…

: Or the sorrow of mother Earth…

: Or the pain of all life…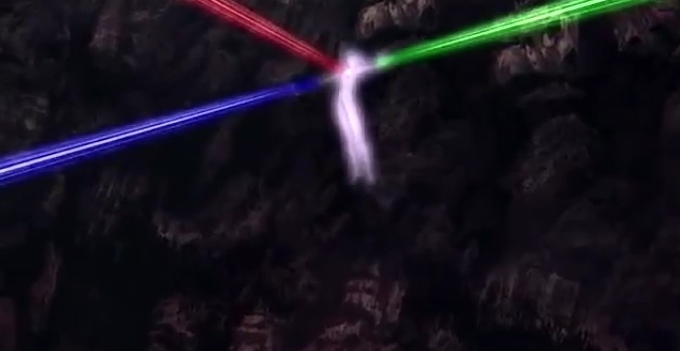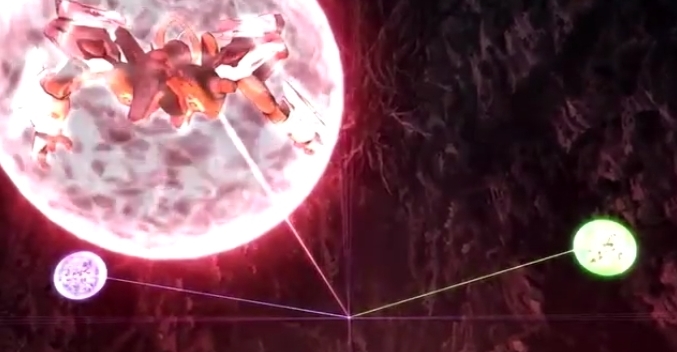 : Recite it: Genesis Combination!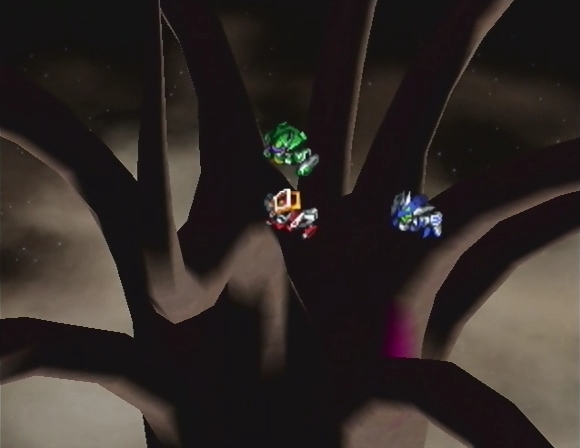 : GENESIS COMBINATION!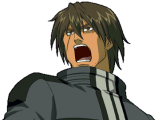 : GO!

: AQUARIOOOOON!!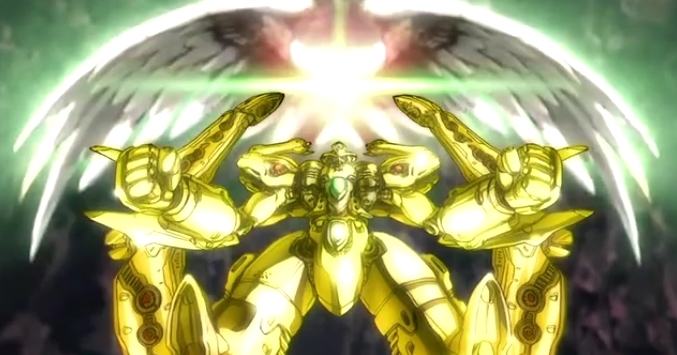 : HAAAAAAAAAAAAH!!
*
Apollo moves over by the Command Cluster.
*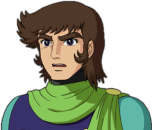 : What are you doing, Apollo?!

: We'll hold the dimensions together with the Aquarion! Y'all head to the Great Singularity!

: You can do that?!

: Yes... the True Wings of the Sun is capable of it!

: The Wings now bear the wishes of both humans and angels.

: Apollo!

: And everyone's wishes are loud and clear! Let's do this, Renton!

: Yeah!

: For the sake of our loved ones and our dear world!

: Apollo…!

: Thanks, Silvia... I'll never forget that familiar smell of yours.

: If fate plays ball… let's meet again in 12000 years…!

: Yes!

: Let's go, my friends!

: In the name of humans and angels…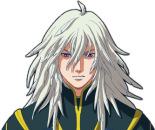 : Of this planet…

: And in the name of a new genesis! GO, ZEUTH!!
https://www.youtube.com/watch?v=diZ8jTpNtdQ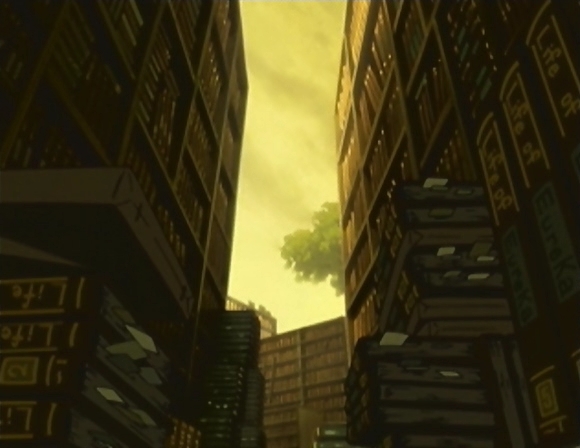 : Thank you, Renton…

: Sis…

: Not all lives within the Coral can remain on this land. We'll be leaving with half of them.

: The remaining half wishes to recover their physical form and live alongside all of you, on the same world.

: But, Renton, Eureka…

: Sakuya…

: If this world continues to evolve for the better, and two eventually become one, we'll appear before you once more…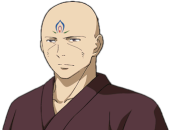 : And we believe that day will come…

: You bet!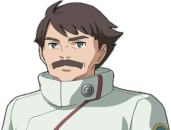 : …

: Thank you, dad… I… will go on living with Eureka.

: Renton… let's go back…

: Yeah… to our world…