Part 251: Mission 57 (Zaft Route) - Wish Upon a Star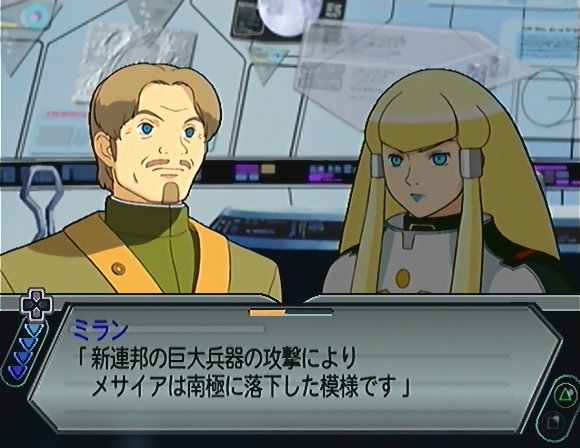 We open up aboard the Soleil and, this time, Messiah has already been dropped onto the South Pole. Good news is that the Oratorio couldn't withstand the force of its blasts and self-destructed soon after use.
Diana now sees that Dewey used the chaos of the ZEUTH/Zaft/Federation free-for-all to advance his own agenda: exterminating the Coralians. Something's going to happen in the South Pole that fits in with Dewey's plans, so she gets in touch with all ZEUTH ships and asks them to head over there ASAP.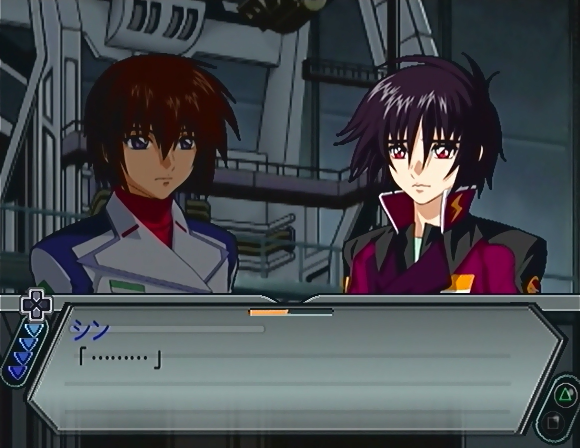 Meyrin and Luna's reunion plays out like in ZEUTH's 51 . Meanwhile, Kira finds Shinn and the first thing he does is apologize.
Athrun's told him more about the Chiram battle, including how Kira hurt (or killed) someone very dear to Shinn. Shinn, however, knows that the blame isn't just Kira's but also of war itself for making the situation happen in the first place.
Shinn also knows he's taken his own share of lives and doesn't think that his actions were righteous, either. Still, thanks all the things he himself didn't understand, he kept on clinging to what Durandal said and Luna says she's just as guilty.
But he returned to our fold, so we can all fight together again, Camille figures. "I'm not so sure… even now, I feel like I need someone to tell me how to live my life…", Shinn says.
When everyone called out to him on Messiah, he thought he wanted to return to ZEUTH but doing so feels like it'd be refusing to acknowledge everything he and Rey had done thus far. Amuro doesn't see a problem with him feeling guilty, as humans are often prone of making the same mistakes over and over.
However, when you realize that you've been wrong, then you can take steps to make amends for it. Kira agrees, now aware of all the wrongs he's made since leaving Orb, and now he's working with ZEUTH to figure out what he should do.
From there, the SEED and Zeta boys have their convo from 51 and, following that, you get Shinn's talk with Muu (with or without Stella). Regardless, both scenes end with him thinking: "(Stella,) Rey… while I'm still not sure of what's right, I do know one thing for certain: all this fighting cannot go on. So, I'll fight as part of ZEUTH… (to make sure there are no other children like you, Stella, and) to create a better future, as you wanted, Rey…"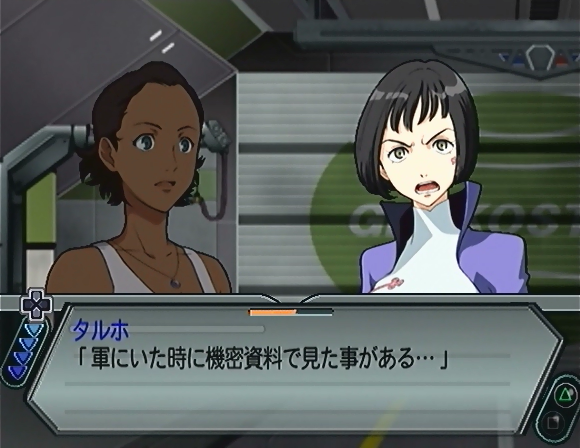 The scenes aboard the Gekko are the same as the other 57: talking about the Oratorio, Eureka's transformation and whatnot.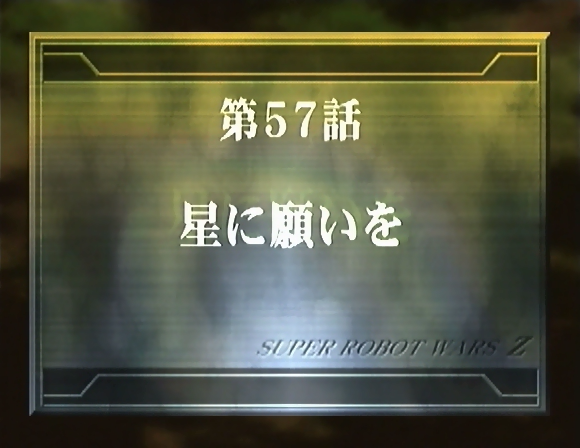 Mission 57 (Zaft Route) – Wish Upon a Star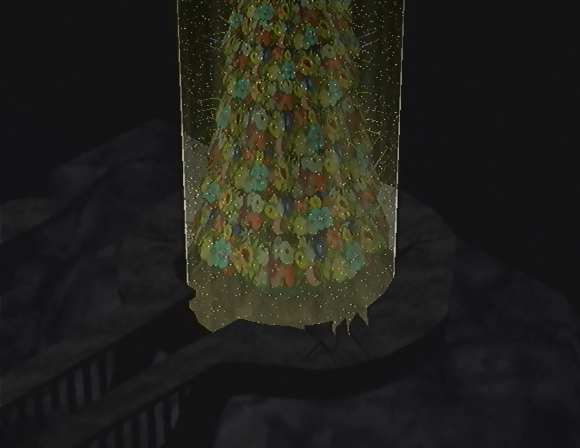 Our people arrive in Messiah's crash site and everything's all sorts of wrecked; that said, the damage seems to have been strangely limited to this area alone, despite what we would've expected. It's almost like something deliberately isolated the impact in here and shielded everywhere else from harm.
Up ahead, our folks see some tree and it's pretty much the only thing in here that's still in one piece – Apollo's getting some really bad smells coming from it. Rena says that's to be expected as that's the Fallen Angel's Tree of Life and Sirius emerges with a bevy of mooks to agree.
He's not amused that we'd dare sully Atlandia, the beautiful metropolis of the (not Fallen) Angels, with our presence. Ryouma's surprised that their HQ was in the South Pole but Hayato figures it's more like the place has emerged in here.
Julie figures that's due to the extreme instability of the dimensional walls going on in this entire region: it's possible our world's intersecting with the Fallen Angels' dimension. Sirius confirms and explains how Atlandia ended up locked away after getting curbstomped by the Great Power and whatnot.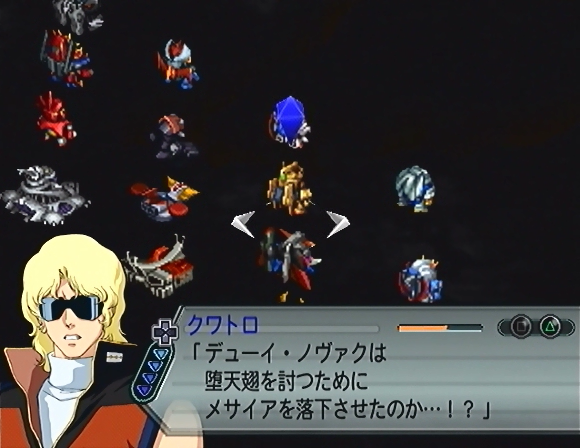 Tetsuya has to wonder why now, of all times, has Atlandia been able to cross over into Earth and Quattro wonders if Dewey dropped Messiah in here in order to destroy the Fallen Angels before they could try anything.
Hap doesn't think so, saying it'd be VERY surprising to find that Dewey cared about anything other than the Coralians, and Sirius goes on to explain how the Coralians' awakening is what helped the Angels be free. This place will be the gateway for the Coralians' emergence in our world and that's why Dewey dropped Messiah in here – to crush their core as it appeared.
That matters not to Sirius, however, as they've the Tree of Life and it is with it that the Angels will bring for their new world – via their own version of the Dimensional Repair, Kei figures. Apollo ain't having it and wants to wreck the thing before it happens but Fudou is quick to yell against harming the tree.
Either way, Sandman figures our first priority should be to defeat the Fallen Angels and Olson also expects something to happen here, if this place really is where the core of the Coralians is located. Sandman expects them to go on a rampage now that their core has been destroyed by Messiah, leading to Antibodies spawning all over the world.
That'll lead to countless deaths, far more than we alone could prevent, but Sandman sees an even bigger problem: if all the Coralians awaken, there goes the Limit of Questions and the dimensional collapse will happen. Sirius tells us not to worry as he'll end our lives before any of that happens.
Apollo's mad at how nonchalant Sirius is about all this but he figures humanity has no right to exists anyway. Yzak, meanwhile, reports that Dewey's forces by the Oratorio have started descending here and are being engaged by Dearka and co. (the rest of his convo is the same).
Diana tells the Fallen Angels that we'll stand against any force that desires the destruction of our world and orders everyone forward – we can't let this be the end if we're to safeguard our future. Apollo and Silvia are ready and Sirius calls them over to get a painful lesson of where they truly belong.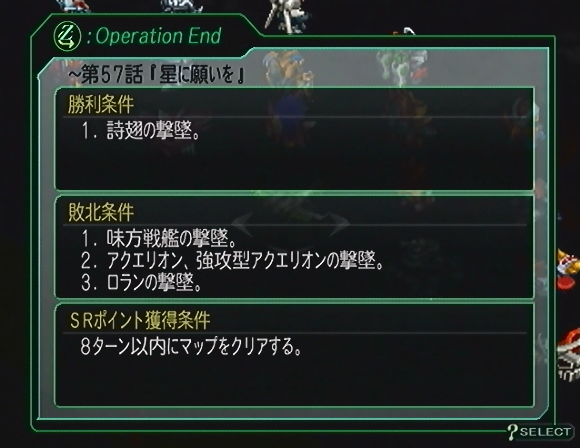 Mission Objective: Shoot down Sirius, Gym, Shagia, Olba, Anemone and Dewey (when they appear).
Mission Failure: Any allied ship, Loran, Apollo or Reika shot down.
Skill Point: Clear the map within 8 turns.
Pretty much the same mission as before, only you start off with the Fallen Angels; morale building will be a bit slower but not too much. Don't send Apollo too far ahead in order to bait Sirius in and start spreading your troops as you kill the Fallen Angels: Gym and the bros will be showing up on the SE corner while Anemone and, later,Dewey will be coming in on the NW corner.
Let Apollo handle Touma and Otoha (as before, you get one Ending Point for each of them) when they come out and kill Ziene (SW corner) if you've the units to spare. For safety, I'd recommend drawing Gym closer with Loran instead of rushing him to lessen your chances of getting Strike MAPW'd.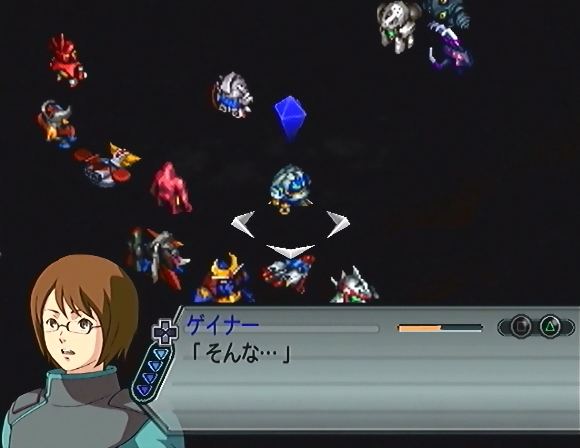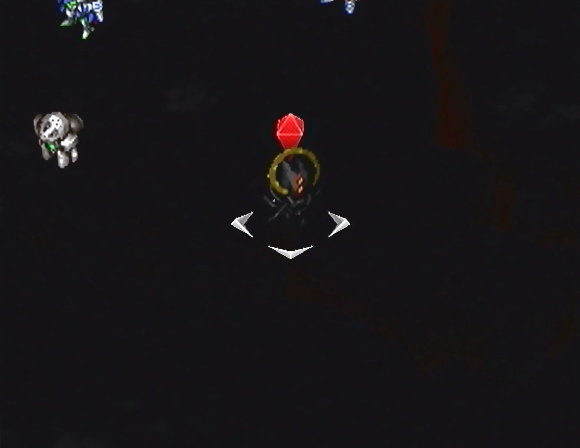 Pass enough time and Gainer and Cynthia's feel a certain something approaching… two Zaft route-exclusive OverDevils!

Looks like someone besides Kids has been digging them up (Loran has an idea) but what are they doing here? "They were beckoned by the scent of the Fallen Angels!", says the suddenly appearing Gym, with the Frost Brothers in tow.
Gym doesn't care one way or another about Earth being destroyed but, on this side, he does find the prospect of those Antibodies spawning to be appealing: their emergence will blanket the world in combat and that's precisely what he wants. Meanwhile, the Bros figure the chaos born out of Dewey's plan to destroy the Coralians will lead humanity to its end and that will be their punishment for rejecting them.
Sirius yells us at to observe these men and acknowledge the fact that humans are self-centered, foolish beings bent on destroying each other again and again but Silvia protests that not everyone out there is like that. The convo follows that of the other path (only with the OverDevils' presence further pushing us into Black History territory)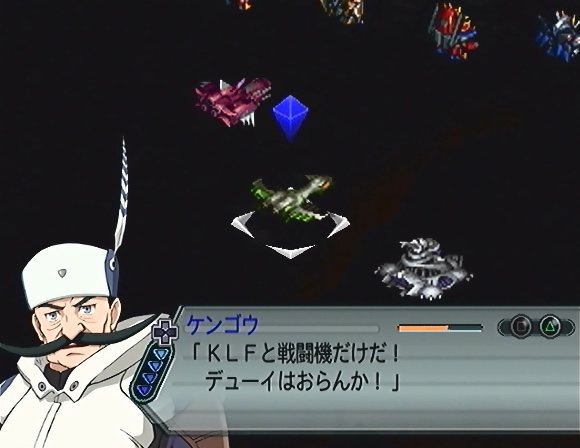 Dewey's forces finally make it over but the big man himself is nowhere to be seen. Anemone has the same inner monologue as the other side and Holland moves to bring her down in order to force Dewey to show up.
Gym is very happy that Dewey apparently wishes to partake in this combat but Holland tells him to shut his mouth: "He may be a piece of trash but he ain't nowhere as rotten as you!". Gym does not appreciate the accusation and vows to give him a display of the purity of his warrior spirit.
Anemone sees that Dominic has remained up on the atmosphere and only wishes she could see him again.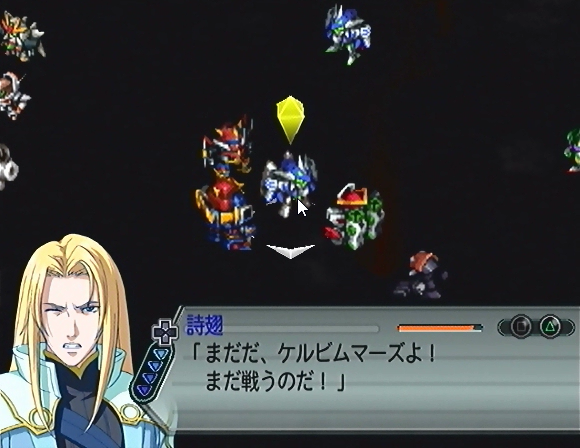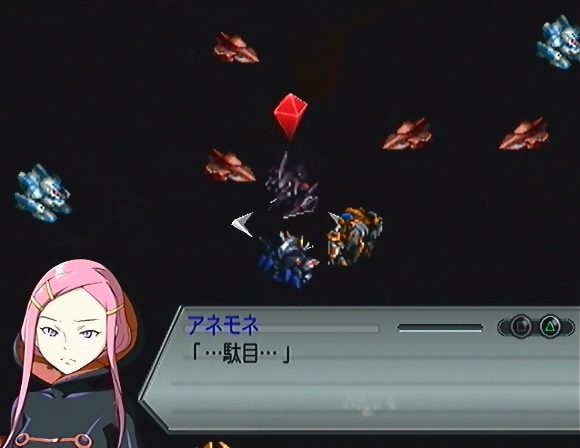 Down Sirius and things play out exactly as before. Same goes for Anemone, who knows she still has a job to do and runs off.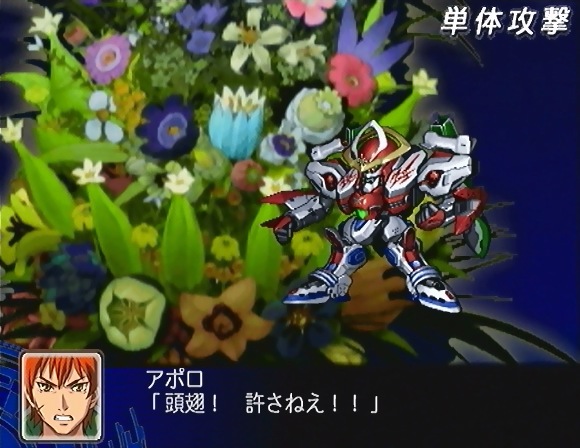 By the by, the Tree of Life provides a nice background for flying units in this stage.

And here's a list of several in-battle special dialogue that we didn't post before:
Attacking Gym:
Kei: Hey, you hard-ass Samurai! You gotta learn to relax a bit!

Camille: That MS is too much for humans to control!

Quattro: You can't possibly hope to bear that MS's karma! / Quattro dodging: That was... kind of like the Zeong.

Amuro: You won't have your way, Ghingnham! / I will never accept your hubris!

Loran: I will not allow you to revive the Black History, Ghingnham! / The Turn A will put a stop to the Turn X's Moonlight Butterfly!

Harry: Ghingnham! I'll claim your life, even if it takes my own!

Diana: Gym Ghingnham, I'll strike you down myself.

Garrod: You think I'm gonna let you make more war?! Get real! / Hey, it's cool that you've got your ideals and stuff but don't drag others into your crap!

Kira: Do you really want to fight that badly?! / I won't let you bring the Black History into this world!

Roger: Forgive me, Mr. Ghingnham, but I've no intention of subscribing to your philosophy!
Gym Attacking:
Loran: There should only be one Turn Type - the Turn X! / The Turn A has no place in our era!

Shinn: The threads of destiny won't spin themselves! I'll make it so with my own hands!

Gainer: I'll personally bring an end to this 12000-year-old battle!

Roger: The Big! My Turn X holds a deep grudge towards you!

Aquarion: My Turn X commands me to repay a 12000-year-old debt to you!

Newtypes: Not even Newtypes can bar my path! / Ultimately, Newtypes are no more than tools of war!

GX, DX: Your MS is unworthy of the "X" name!

Walker Machines, Boss Borot: That pile of junk stands no chance against ME!
https://www.youtube.com/watch?v=wIOxn9g30cs
Any excuse to hear this again!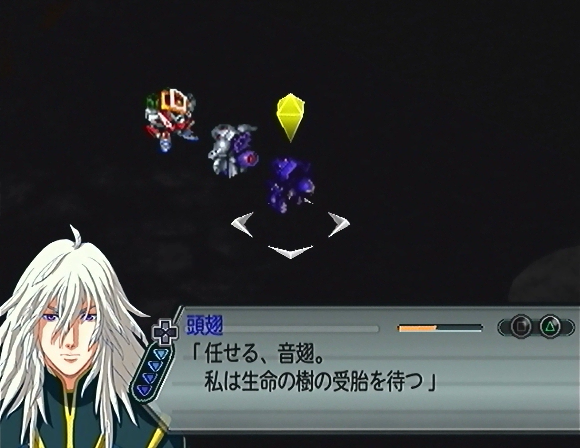 Take out Touma and Otoha will ask that he retreat and leave the rest to us. He does so, saying he'll be waiting for the pollinization of the Tree of Life to be finished.
Otoha takes Touma's place in gloating about the Tree of Life (same lines as the other version).
Gym gives the same speech as the other version and runs off, Corin freaking out that the guy is still hell-bent on bringing the Black History for another run.
That said, Harry knows that the Turn X took significant damage so it'll be a while before he's recovered; problem is, Diana says, that Gym still has the Moonlight Butterfly at his disposal and Loran knows that it'll fall on the Turn A to put a stop to him.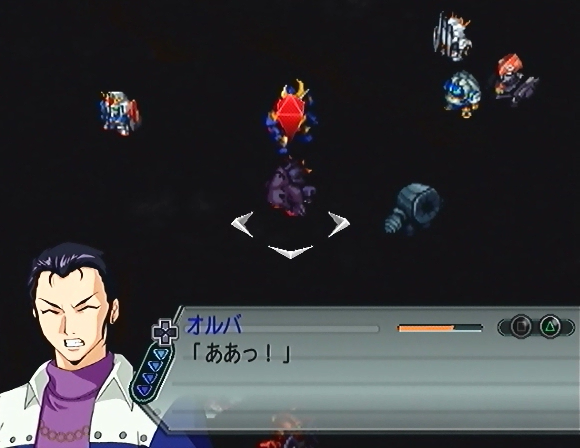 Olba gets wrecked first and while Shagia tells him to eject, he still gets blow up. Garrod tells Shagia to give up as no one has the right to condemn the world to be destroyed but Shagia throws a tantrum at not being understood and casts Guts/Invincible.
Lancerow sees in him someone who's haunted by his past and who'd burn the world in his foolishness; can't let these people who're incapable of facing onwards to bring ruin to everything, Jamil thinks.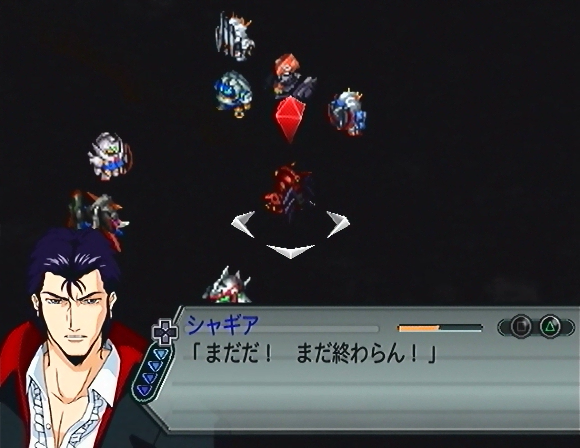 Garrod and Shagia have the same yelling contest as on the other version, only it's not punctuated by Durandal's Genesis-sized "fuck you, bros".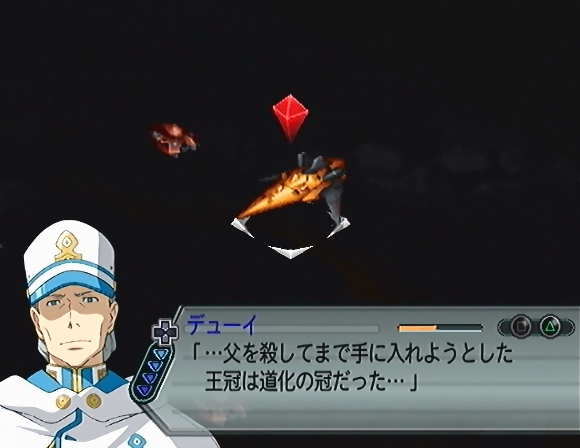 When Dewey shows up, his convo with the Ageha kiddies and ZEUTH is pretty much the same. Now that the Coralians' core is gone, all that's left is to wait for the Antibodies to start their rampage.
Our people don't get why he cares about that, especially considering how many lives will be lost before the Antibodies run out of time and crumble to dust, but Dewey merely answers that with a grin. Taking him out might not fix anything right now but Holland still wants to make him pay for everything he's done.
Dewey laughs at someone like Holland acting like that when facing the "King", Quattro objects his self-proclaimed title and the convo goes on like in the other path.
Special Dewey quotes:
Attacking Dewey:
Amuro: Dewey Novak! One person alone hasn't the power to save the world! / What you're doing would sever hope at its root...!

Garrod: Cut it out! Stop hurting Earth! / You little...! What are you wrecking Earth for?!

Renton: You can't save the world like that, Dewey Novak!

Holland: I ain't letting you trash the world, Dewey! / Let's put this to bed once and for all, Dewey!

Talho: For the future of our child...!
Dewey Attacking:
Renton: I'll now erase Adroc's heritage!

Holland: Your idiocy is quite criminal, Holland... and only death is suitable punishment! / Ah, my idiot brother... pay for your crimes!

Talho: Gekko Go... you'll oppose me to the very end...?!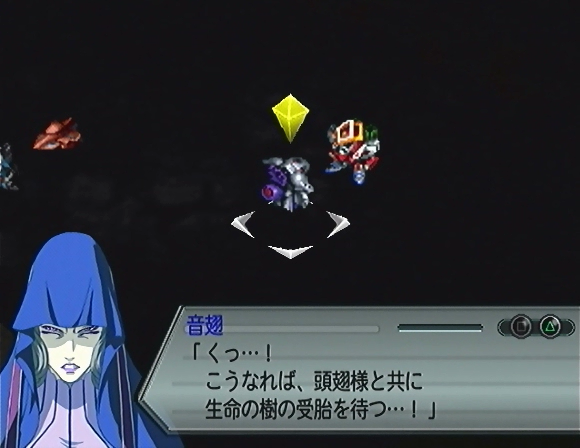 Upon defeat, Otoha runs off to join Touma. Apollo's about to go after when Ryouma tells him to focus on the problem at hand.
Silvia agrees since, as important as it is to fight the Fallen Angels, keeping our world safe is the higher priority.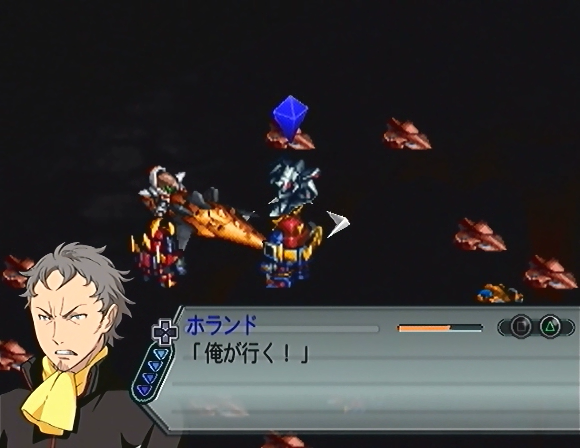 Events from here on play out pretty much exactly as on the other version, with one or two extra, throwaway lines added.
Of note, Diana first orders the Soleil to stop Gym from activating the Moonlight Butterfly but Loran charges in.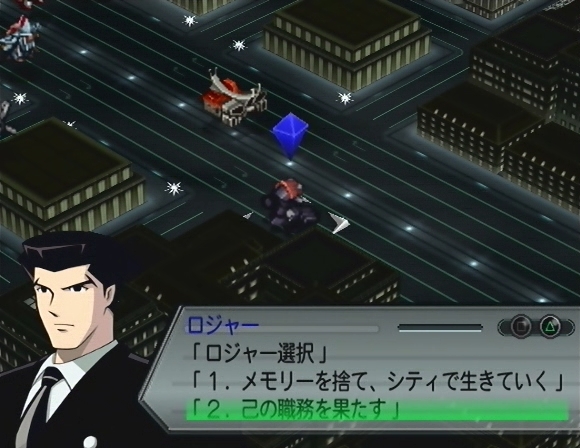 A quick tangent to mission 58: both routes have been reunited, so there's nothing different BUT if Roger chooses option nº1 (Abandon your memories and live in Paradigm City), you get this: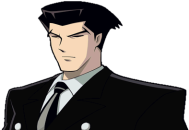 : …I
am
a citizen of Paradigm City. To return and live here would be only reasonable…

: Roger… you…!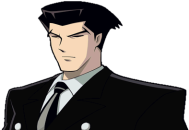 : To once again make a living as a Negotiator… that wouldn't be bad at all...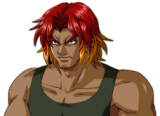 : Think, man! What was the reason why you left this city in the first place?!

: Is
that
the truth you found outside?!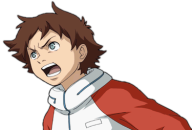 : I don't wanna forget about Eureka, Roger! No way in hell!
: Same here! Losing my memories would mean I'd forget everything about Aki, Hamamoto and the others!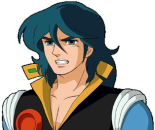 : Do you want to make everything we've done for naught?!

: I'm with them! Those painful moments, the mistakes we made, are all part of the lives we led!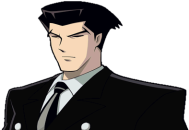 : …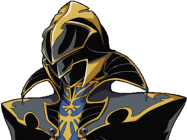 : Well, it
is
the natural decision - like raising an umbrella when you're in the rain.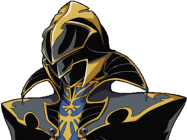 : You, too, deserve peace, ZEUTH... go, rest eternally in this city…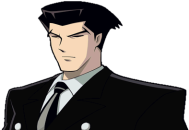 : No.
And that's it! You only get a few different lines at the start before everyone yells a collective "fuck that" and Roger agrees with them.
Only problem is that you've just lost 15 Ending Points which puts you at 6 or less, i.e., you're now locked to the crummy endings.

Join us next time when we'll take a gander at the first of those!