Part 35: Tales of The Ninja (1/2)
This delay brought to you by The World Ends With You.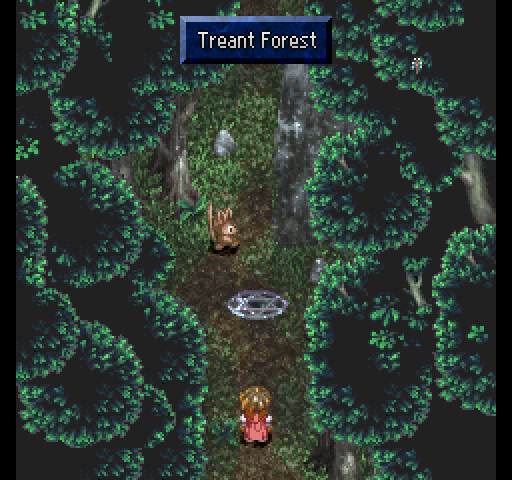 The super secret hidden Ninja Village is quite out of the way but it doesn't take much time to reach since there's no new treasures here or anything.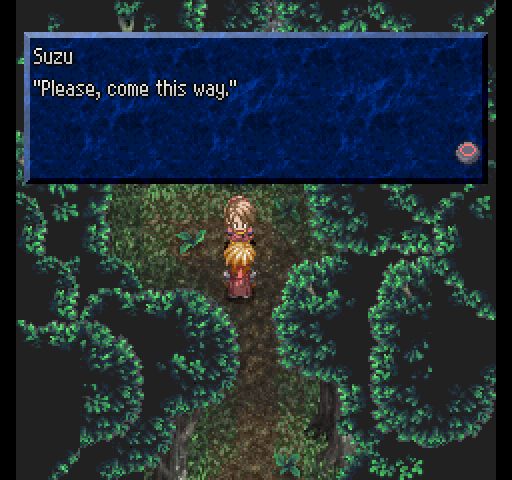 Once we're at the right spot, we can find Suzu who'll take us straight there. How nice.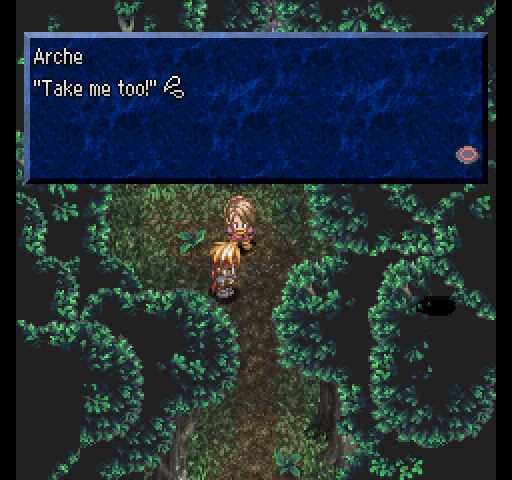 I'm not entirely sure why Arche rejoins the party here but I'm not gonna complain by any means.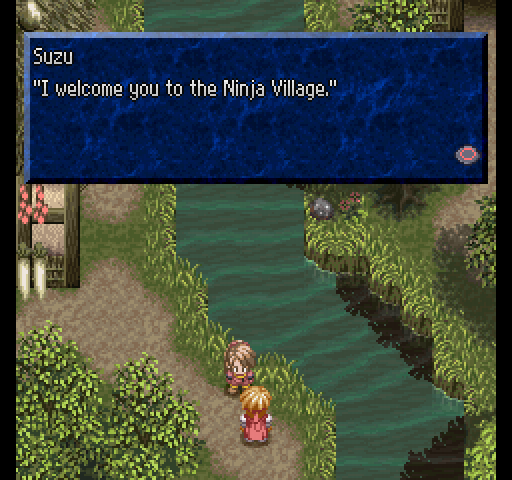 : Actually, Cless, everyone, we have a favour that we wish to ask of you. The leader of the Ninja Village, that is, my grandfather, would like to meet you.

: So this is where the leaderof the clan lives.

: I'm not sure what it is, but something about this house feels very unusual...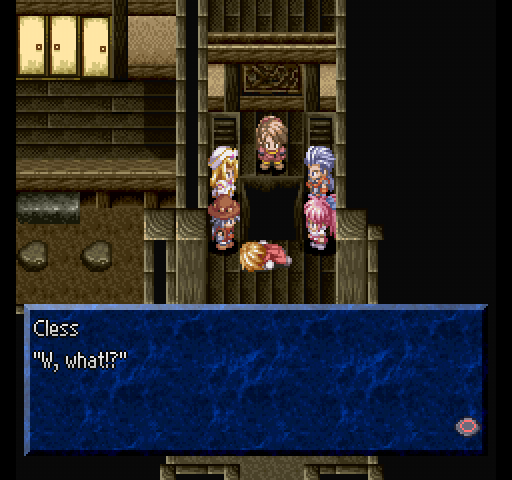 : There are bamboo spears at the bottom of this hole...

: M, my apologies.

: This house has been armed with many traps to prevent intruders.

: That's the kind of thing you should tell people up front!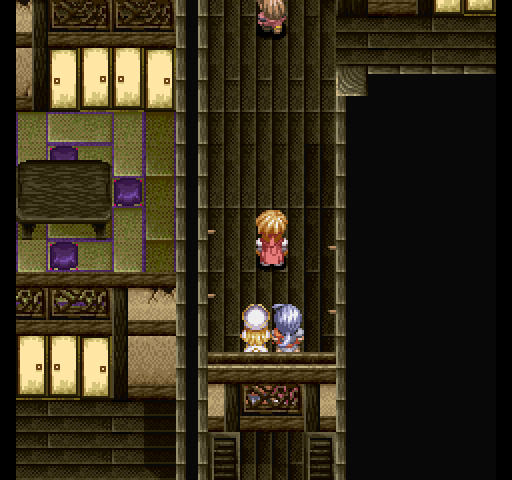 It's hard to tell from here, but those are arrows that just shot out of the walls. Perspective here is a bitch, so it looks like that one up front went straight through Cless' head. Fortunately, it didn't.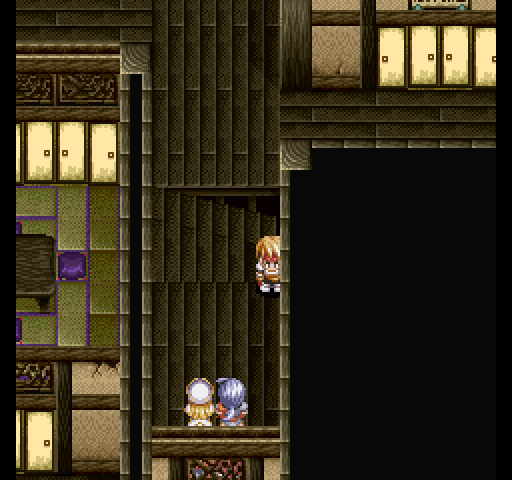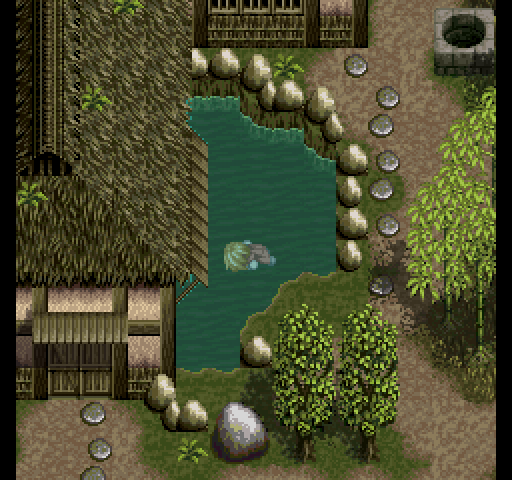 I don't think this is Cless' day for some reason.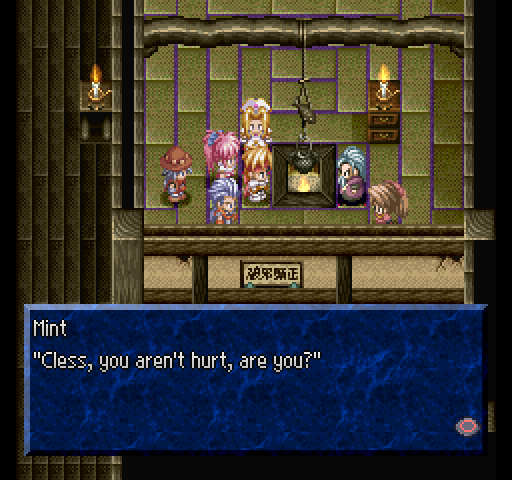 : N, no...

: I apologize for what happened. I am the leader of this village.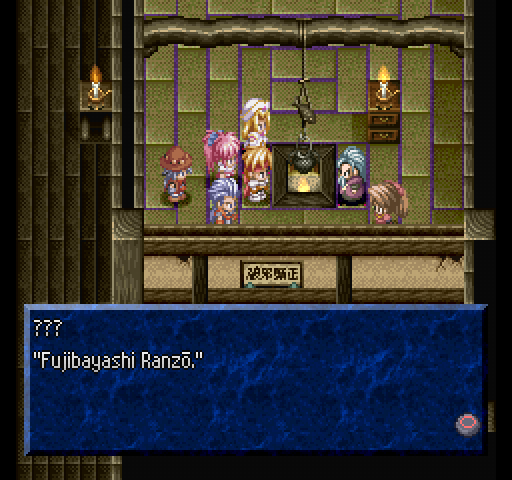 I'm no expert on this kind of thing but, uh, by all accounts this should not mean what it does mean, or at least imply. I would love to proven wrong there but from what I understand (or at least remember from seeing it on Q.I. once) the time difference is far more than enough for it to apply to our entire party as well as the entire rest of Aselia and then some.


Xander77 posted:
Err... what?


There is a character in Tales of Symphonia called Sheena Fujibayashi. Tales of Symphonia is the 4,000 year prequel to this game. The implication is that only those two (and either Suzu's father or mother) are her descendants. According to QI, everyone from Europe that is currently alive today, and will thus ever be alive, is descended directly from Charlemagne. It's been ~1,300 years since Charlemagne himself was born for reference and Europe has a lot of people (understatement, I know). Given that Aselia - the world of Tales of Phantasia - seems to have a population that is struggling to make decent triple digits at most, it is outright impossible for just Ranzo, Suzu and whichever parent makes them blood relatives to be the only descendants of Sheena.

Basically I am bad with words and should probably not be obtuse about the prequel thing any more since everyone who could have worked it out probably has already, and it's just confusing for those that haven't played Symphonia apparently. Or maybe even those that have. This entire problem is essentially Symphonia's fault.

: Suzu! I have told you countless times, when guests are coming, you must disable the traps before they arrive!

: I'm sorry.

: Don't worry about it.

: But if we leave you like that, you'll surely catch a cold. Please make use of our hot springs. We can continue our conversation after that.

: Yay! Hot springs, hot springs...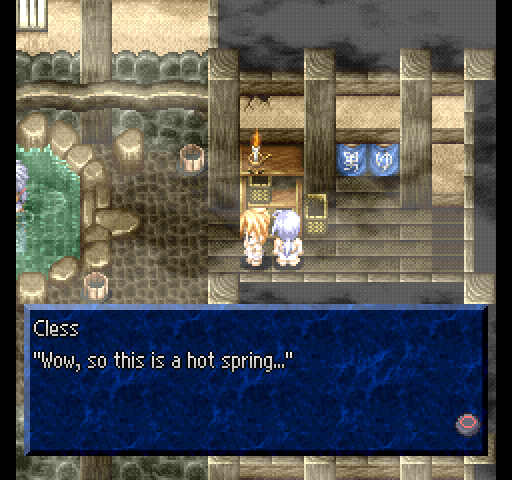 So it's time for the requisite scene that must be in every Tales of game by law or something. These things are blatant fan-service but they also have a tendency of having an extra function or two which means that I can't get angry at them for being otherwise useless. Typical...

: You can really feel the sulfur hanging in the air.

: This is great.

: Mint, hurry!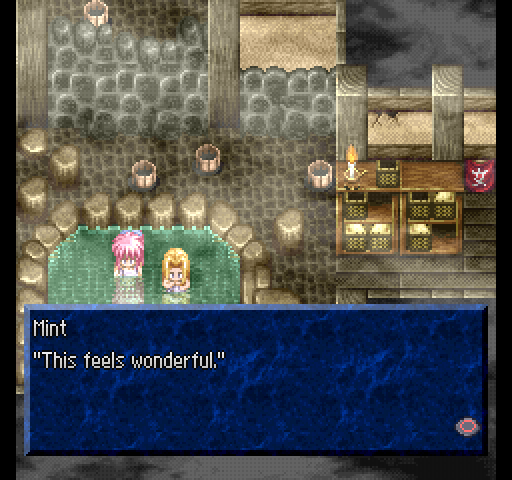 : It doesn't get any better than this. Whoa-----!!!!!

: I, is something wrong!?

: Say Mint...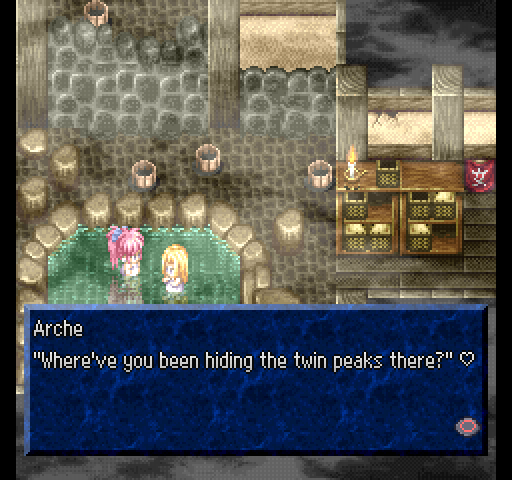 : What, I, p, please don't tease me like that.

: But come on...

: I mean, look, I'm built like a little kid...

: I'm so jealous.

: But Arche, I'm sure you're still growing, so...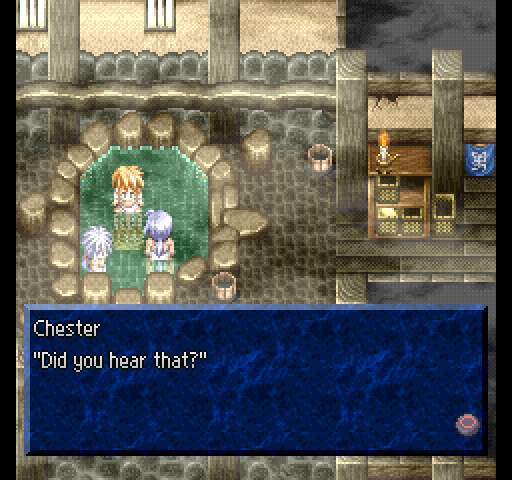 : Hm? Did I hear what?

: Come on, man! What they were just talking about over there! Maybe I'll just take a quick glance.

: H, hey! Cut it out!

: Oh, to be so young again...

: This isn't the time to reminisce!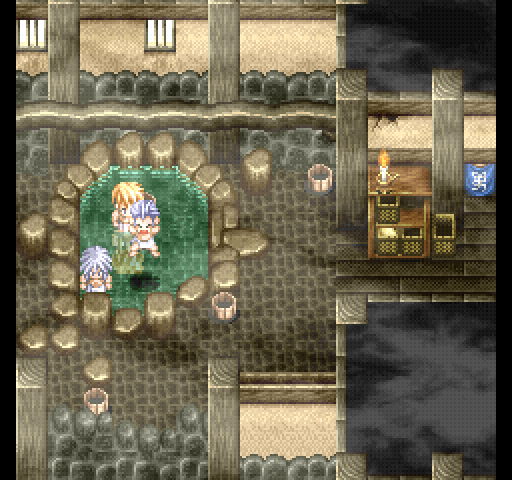 : That's why I told you to stop...
At least he got what he deserved out of it. He should be thankful they just threw a stone or something at him.





Now we're done with the hot springs just after it managed to be the wrong side of uncomfortable. We could use either of them for a full HP/TP restoration but it doesn't let us cook again and (logically) it only works if we're not running on full as is.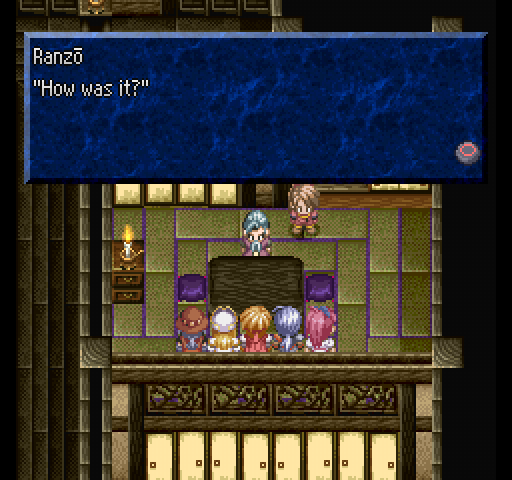 : I hope you were satisfied?

: Yes, thank you very much.

: For the heroes who saved the world and fight to save it still, this is the least we can do. We have heard many tales of your deeds, so please feel no need to be modest. Mainly, of course, your journey across time to eliminate the leader of the demons, Dhaos...

: How do you know all of that?

: We've heard that this village has almost no contact with the outside world.

: So it would appear. In regard to larger powers, our people are clan of the shadows. In order to fulfill our duty as shadows in the larger countries, it is essential that we appear to be closed off to the outside world.

: ...Shadows?

: You might be more familiar with a term like <<spies>>. Perhaps it would be best to say that we are in the business of gathering and managing information.

: So that means you've been tailing us too, right? Can't say I really like your style.

: Chester, that's enough.

: No, I agree.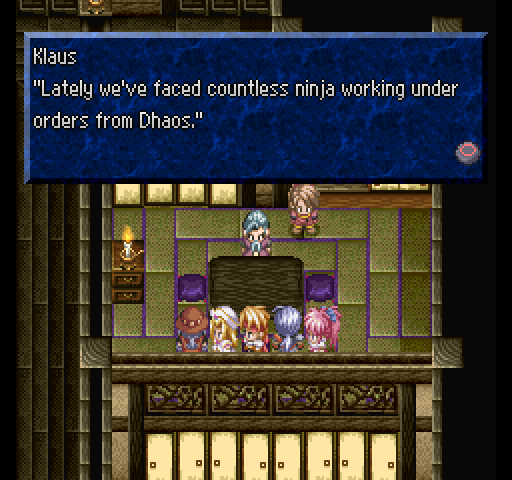 : I've never shaken the feeling that we were being followed or watched from nearby either.

: You are mistaken!

: Those people are...

: Suzu, calm yourself. Allow me to explain.

: Yes...

: Actually, that brings us straight to the request that we wish to make. Dhaos, after capturing our companions, brainwashed them into this personal army.

: Mind control, huh?

: So they weren't willingly choosing to fight us.

: That unsettling feeling that you were being watched, I have little doubt that it was them. Furthermore...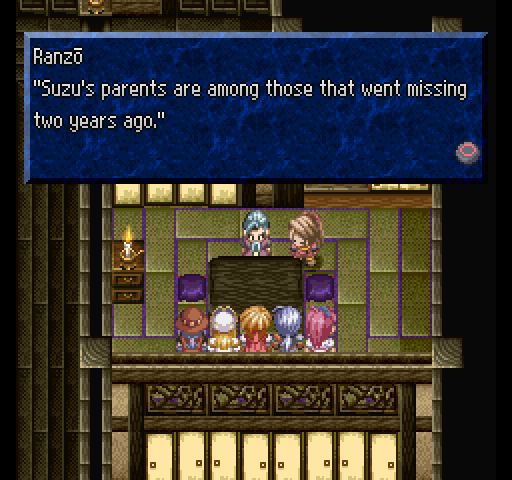 : We are fully aware that you are currently on a mission to put a stop to the injustices committed by Dhaos. Might I also ask you to search for Suzu's parents? Suzu's father was to take my place at the head of the clan. There were great expectations of him. Because of that, he grew strong. If such a man has truly become one of Dhaos' minions... The thought causes me great anguish. Please, I beg you...

: I'm not sure how much we'll be able to do, but we'll do whatever we can.

: Goodness, the soft spot Cless has for these kinds of things is so troublesome.

: No way! I love that about Cless!

: Her father's name is Dozo, her mother's is Okiyo. Our latest intelligence reported that individuals resembling them have been seen in the area around Euclid. We are counting on you. Here, let me give you this.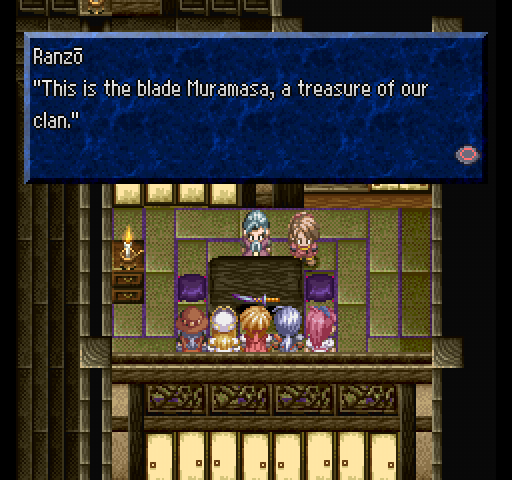 : I can't take something like this...

: Do not concern yourself with that. What good is a treasure that only collects dust?
I'm not gonna complain. We got a free sword even if it is just the Muramasa.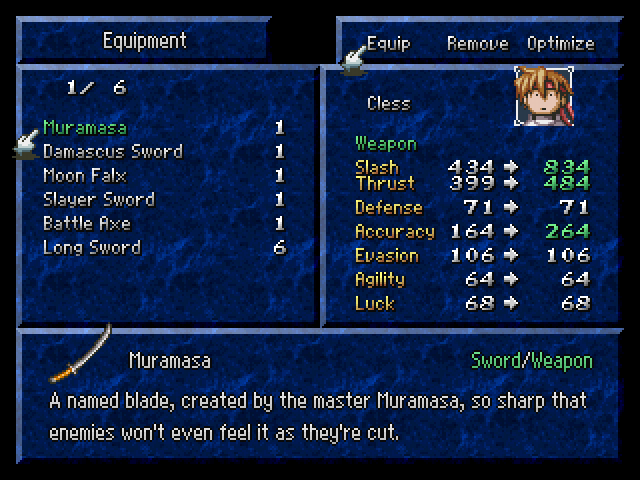 Just look at that Slash! This could almost mean something is Slash was used for anything decent. As is, the Muramasa is basically an axe that can actually hit things and +100 to Accuracy just because. It's non-elemental and the only reason you'd use it is because you have nothing better or need a non-elemental sword.

As much as I'm basically ragging on the thing, it is the best weapon we have but we could get several that massively outclass it. Some are free, others come with a hefty price tag. Even though this is basically the worst of the end-game weapons (and I'm loathe to call it that) it is all we need to go and finish the arena off at least once. Yes, the Muramasa is the first weapon you can use to consistently beat the Galf Beast but it helps to get one very specific arte first.
Skit: Pervert King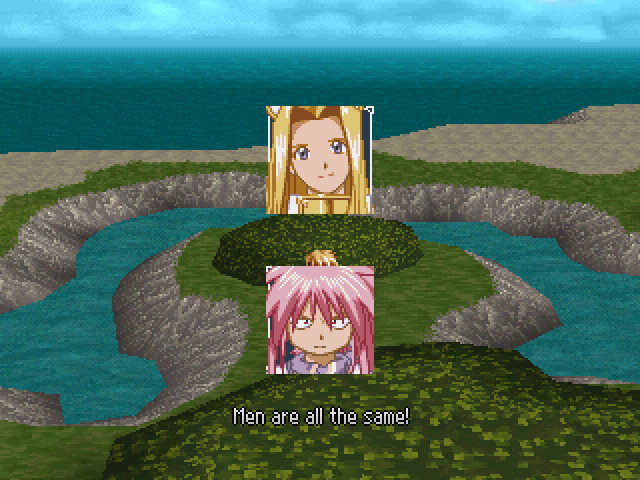 : What do you mean?

: They're all perverts. Don't be fooled by a wouldn't-hurt-a-fly face, who knwos what they're thinking!?

: Ouch... Hey! I'm going to have a lump because of you.

: Hmph! You reap what you sow, Pervert King!


: W, what does that mean!?

: From now on, you'll be known as the Pervert King.

: No!! Save me! He's enraged!

: You must be joking! Damn it! Get back here!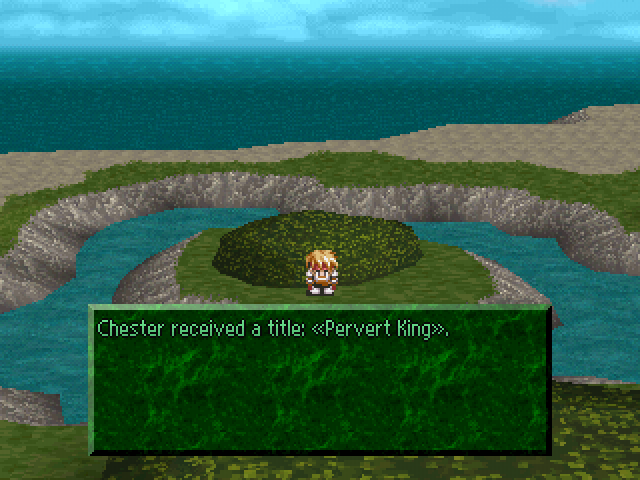 Since we're in Japon (yes that's really the village's name) we might as well loot the place.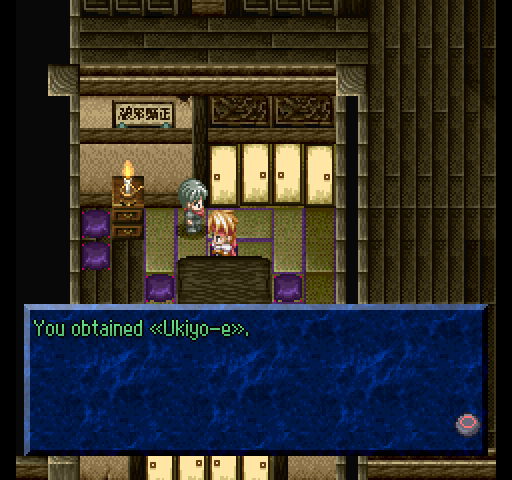 If you give this guy 30,000 Gald he'll give you his painting. You can sell it later for a massive profit but you're still paying for something that is easier to get by murdering things.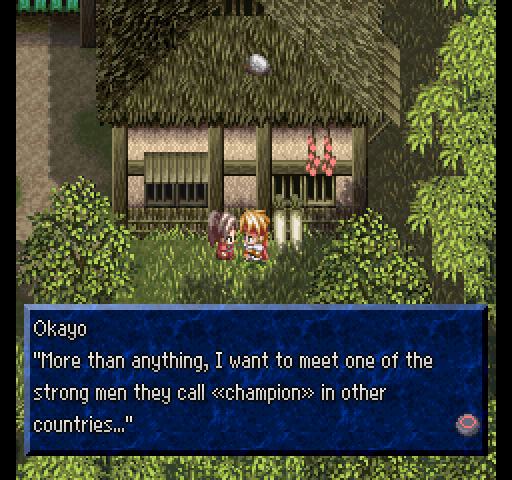 This otherwise irrelevant NPC wants us to talk to her with a specific title equipped. We don't have it yet so we have to come back later.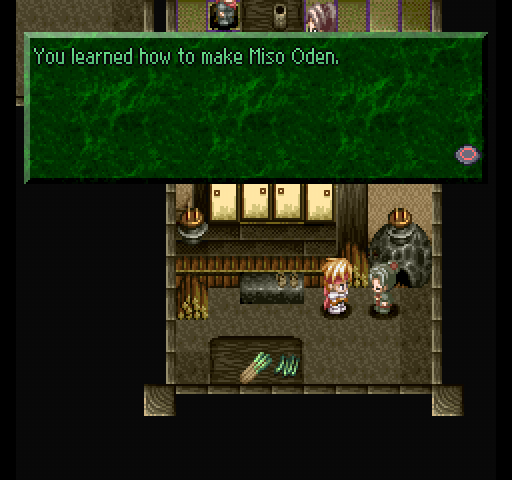 The requisite chef here teaches us the best recipe in the game. It fully restores the entire parties HP, TP and even revives people who are dead. Better still it's literally impossible to fail. The catch?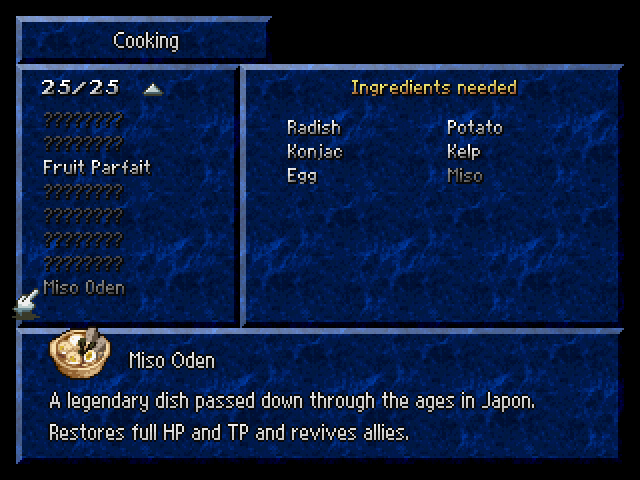 Aside from being unable to cure the common cold, it requires Miso. That doesn't sound too bad at first but you can only get Miso by buying it from the lady who teaches you the one recipe that needs it. Miso is, by far, the most expensive food to buy.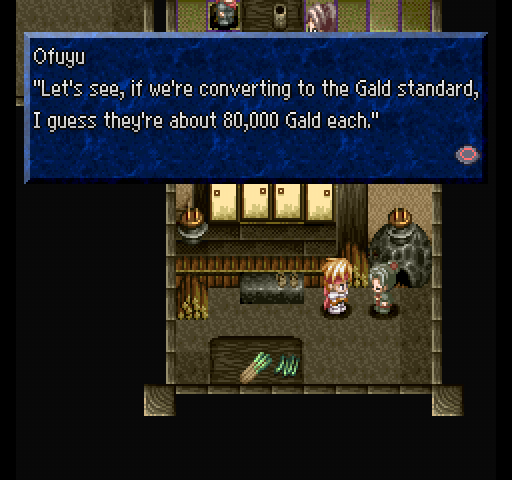 There's also something else; you can only have 1 Miso at a time. Most things that you can only have 1 of is because there's only 1 in the first place. Not Miso. Oh no, you can buy one, use it to cook the Oden and then buy another straight after. You're just not allowed to stockpile it because it's "too rare." The obvious real reason is that it would break what little difficulty there is in two with ease.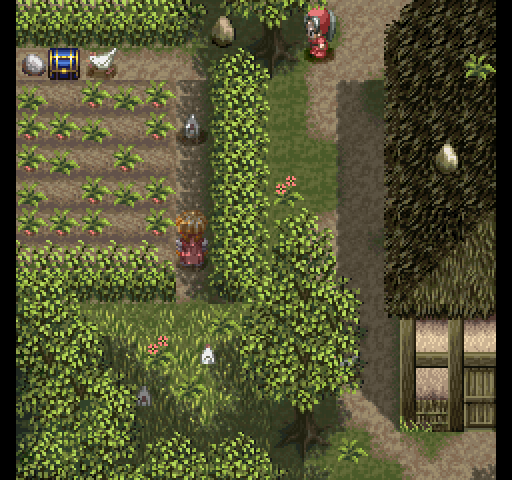 Remember that chest at the Alvanista dock I pointed out ages ago? This is basically the same deal (but with 2 chickens instead of 1 crab!); it's far easier to get but you can't skip it if you want a complete Collector's Encyclopaedia.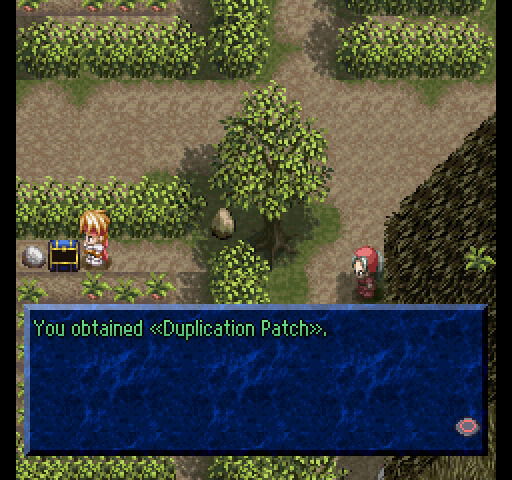 This is an accessory that's just for cosmetic purposes. It doesn't boost any stats and all it does is add after-images whenever you attack. Since Cless has those when he uses artes anyway this just adds even more and it just looks silly.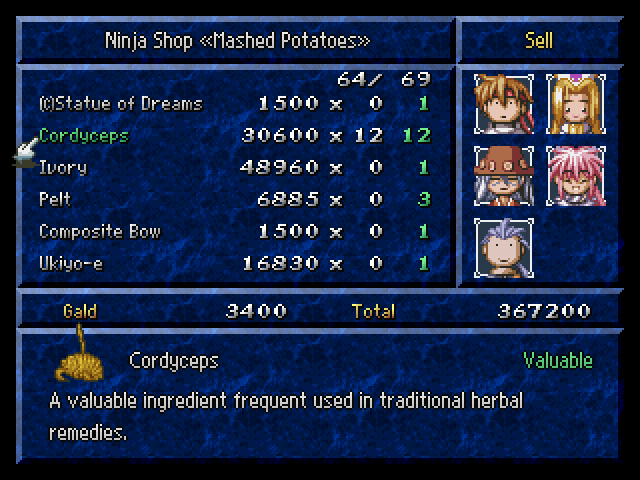 At the one shop in the village we can sell all those Cordyceps we've been stockpiling for their maximum value. This might not seem like a big deal, but let's just step outside to the left or right and fight something.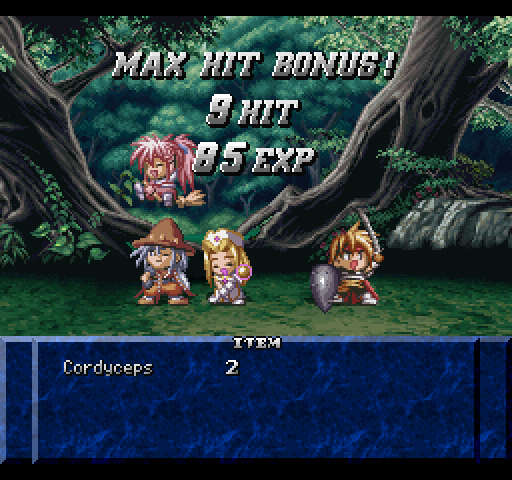 Oh 2 more? Well this is the easiest 60k I've ever gotten. Just drop farm things literally right outside the store and you can pretty much cap your money in about 20-30 minutes or so. Less if you're lucky. I don't do that though because it's dumb and I don't like wasting time in that way. I'd rather pop a Dark Bottle and run through a random dungeon for the 20-30 minutes. Better EXP that way too.

Since we're here though, let's loot the new part of the forest. It has some great things in it!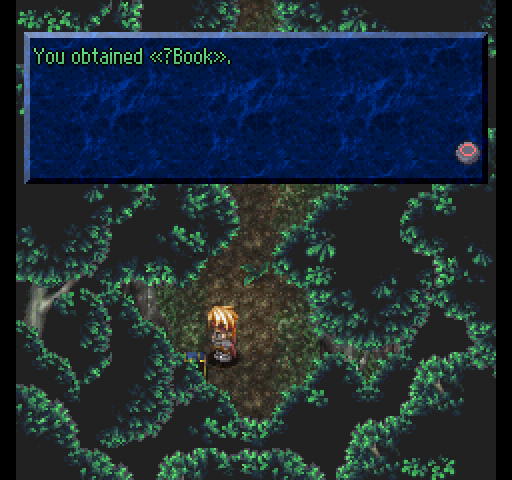 A new book for Klaus already! The old one's practically brand new still.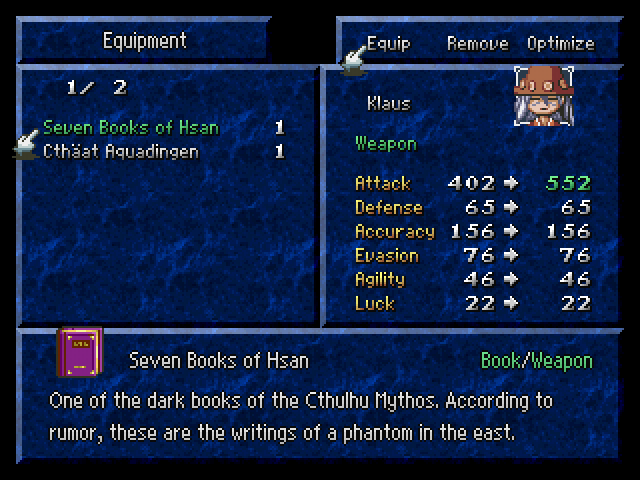 A nice upgrade over the G'harne Fragments but there's still some better stuff in this forest just waiting for us to find them.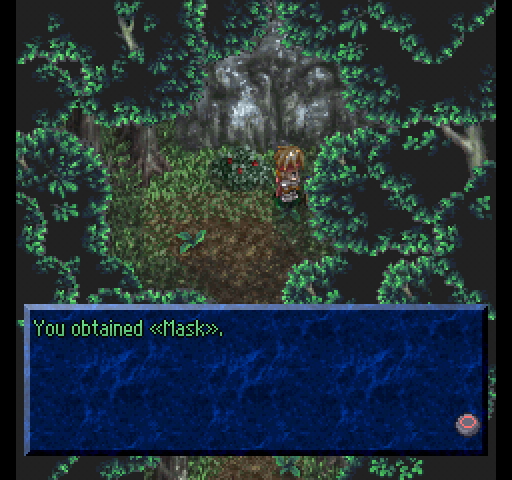 There's a helmet that no one in our party can wear,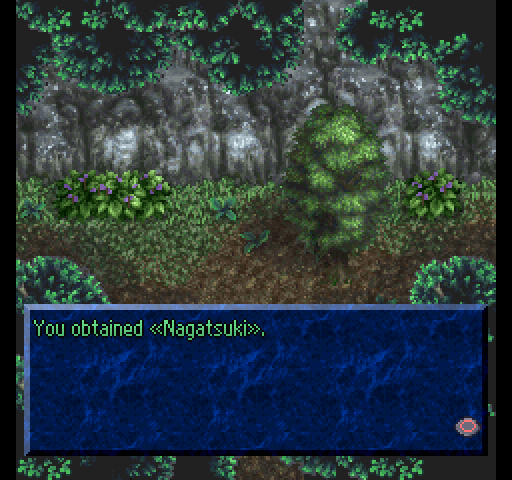 some armour that no one in our party can wear,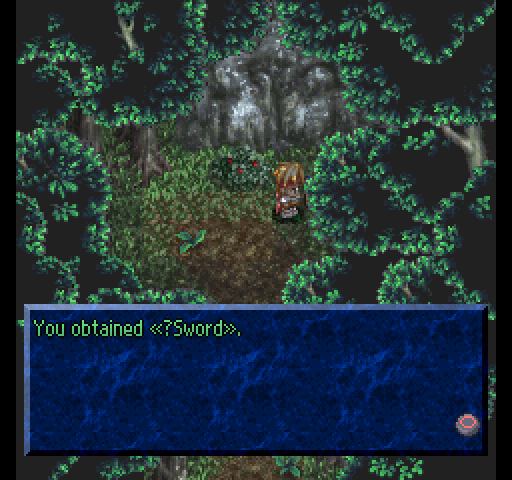 and a stupidly powerful and yet utterly useless sword that Cless can weild.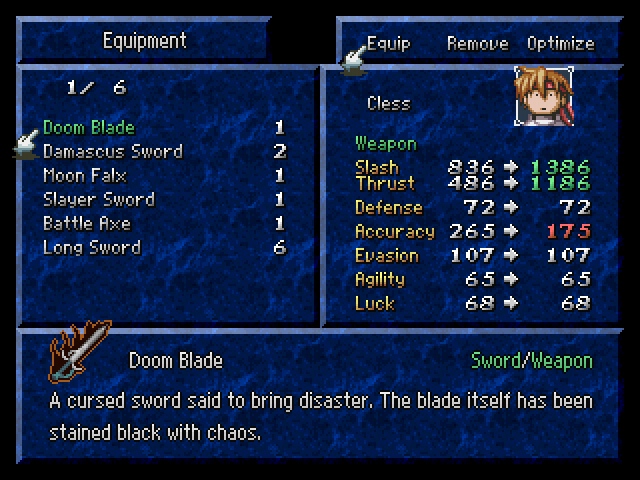 The Doom Blade is the second strongest sword in terms of raw power. This is off-set by being Dark elemental. Pretty much every enemy worth a damn either absorbs or nullifies Dark and on top of that it seems like a disproportionate number of regular encounters do so as well. Totally not worth it but it gets points for trying at least.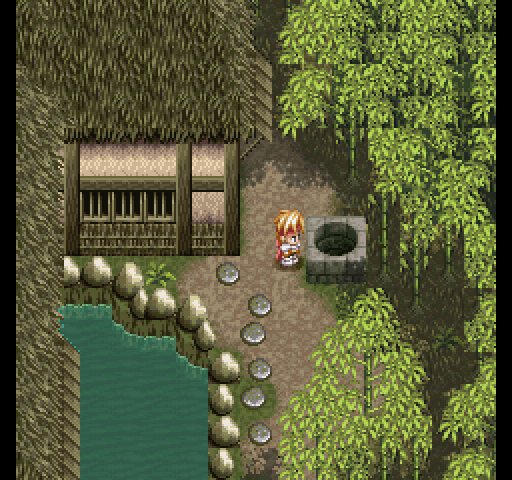 As we're passing through the village again to reach the other half of the forest, I'd like to throw out a pre-emptive "fuck this well." It contains what I'd consider easily the worst sidequest and considering what some of the others are that's saying something.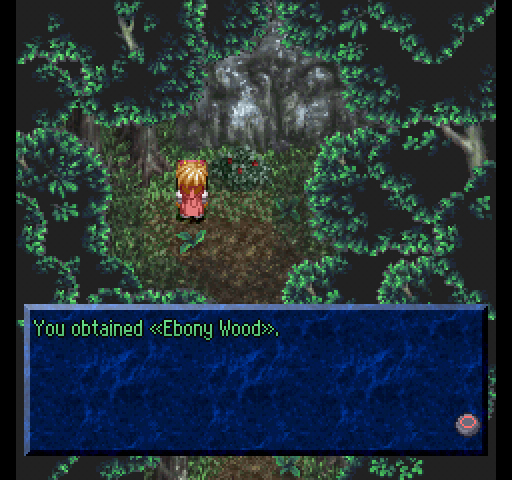 Back in the forest we can find some wood. The only thing this is good for is selling so we'll do that eventually.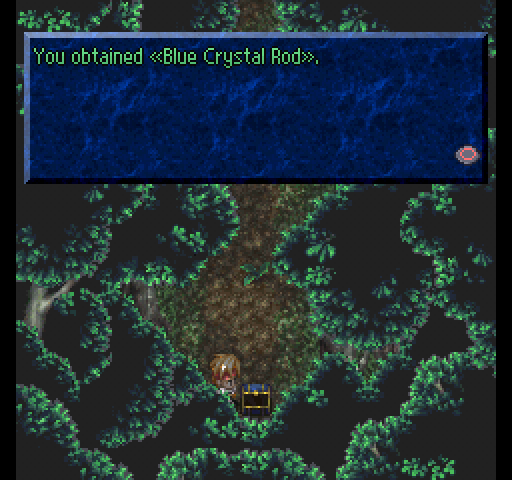 There's also Mint's strongest rod. We won't use it though because it's not as good as the Unicorn Horn unless you're expecting her AI to jump off a nearby cliff. It's also the second item from the Ishtar legend and this is one of a whole two that mention it in their descriptions.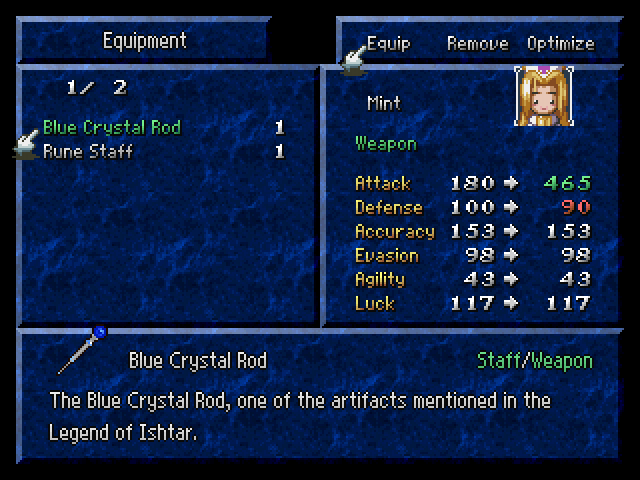 This thing is just calling out to be used by someone since it's so incredibly powerful. It doesn't have the +10 Defence that the Unicorn Horn has though so it's going to sit around until we get a second one to join it (and then sell because this thing sells for a fucking ton hell yeah gravy train).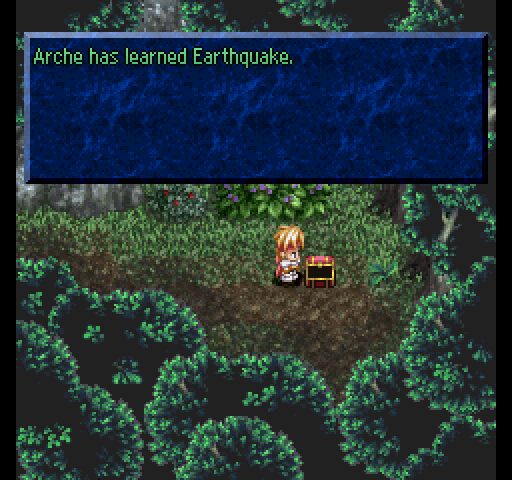 Lastly, we can find some Earth spell for Arche. It's top tier but it suffers from the issue of not hitting things if they're too high in the air. I don't know why you'd try to use it against flying things but the AI does sometimes.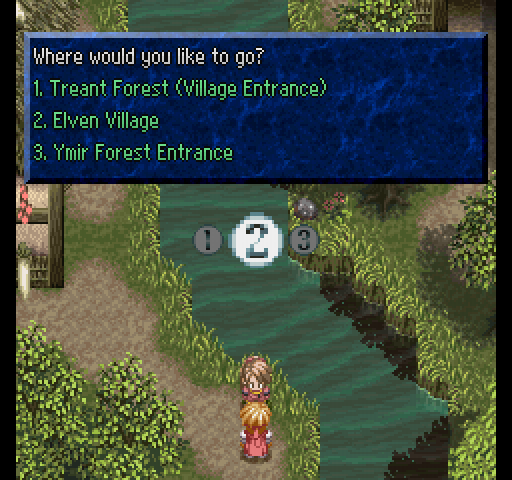 On the way out, Suzu offers to take us to anywhere in the forest worth mentioning. We've got some stuff to do in the Elven Village still so let's head there first.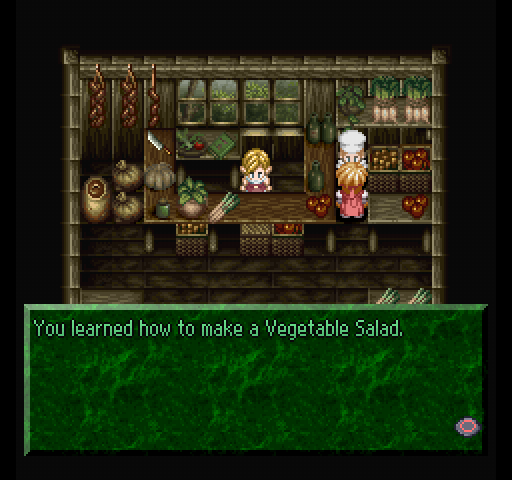 Okay now we're done here. Let's go.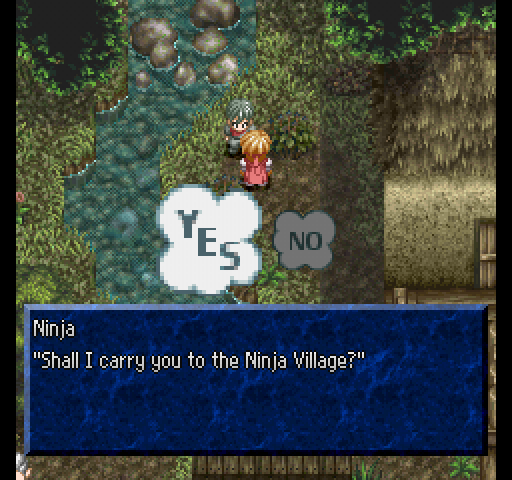 Fortunately, we can take a shortcut from the elves to the ninja village. We can them do a 180 and have Suzu take us to the forest entrance.

From there we can just walk the 5 steps it takes to leave and then fly to Euclid. We have a score to settle in that arena!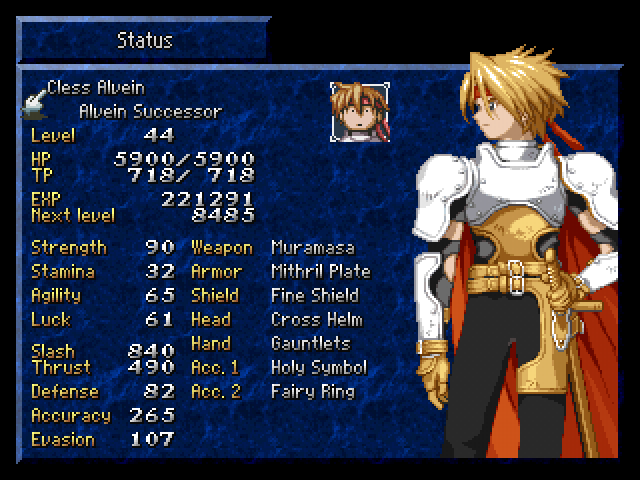 I really should go update that shield sometime. We've been using the Fine Shield for ages now. Oh well, let's do this.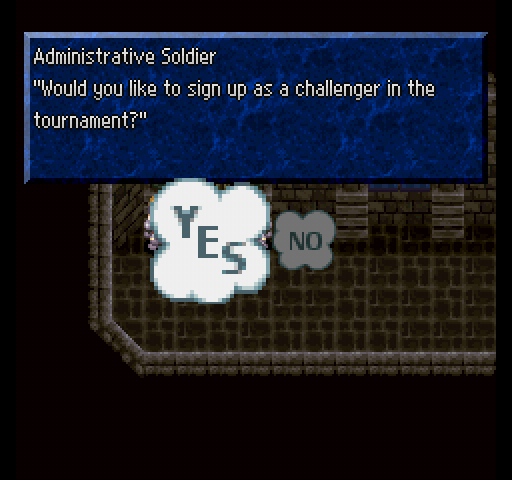 The regular arena fights are pretty simple. There's mostly things here that are new but we can run into some of them later too. Since this is our first time taking on the arena we get to face the easiest lot of them.

The Kraken is a palette-swap of a random encounter from the Corroded Grotto. It's nothing fancy but it's named after a nordic demon so it fits in the game just fine. The Mandrake has a crippling weakness to fire but likes to try and leech your HP. It also absorbs Water if you find some way to hit it with that. The Boar Boar is an enemy from the post-game dungeon but you wouldn't think it since it's just a regular Boar that pretends to hurt you. The Chevalier is a palette swap of a random encounter from Dhaos' Castle. It sometimes nullifies Light but aside from that it's simple. The Clay Golem is the first fight that actually lives up to the word "fight." It's stronger than anything else we've encountered thus far (that isn't a boss), has a pretty damn mean combo punch up its sleeve, has a decent defence and can nullify regular attacks whenever. It also has 20,000 HP and makes for a fun fight. It's successor, the Basilisk King, is essentially identical to the old Basilisk but with a different weakness (Thunder as opposed to Water and Wind). The Kraken, Chevalier, Mandrake, Clay Golem and Basilisk King are all arena excusive enemies; the Skeleton's from a dungeon a good 20-30 hours ago, and the Mighty Oak ran around the Treant Forest in the past.

More importantly, though, we didn't come here to fight these chumps. Oh no, we came here for revenge! Doubly helpful is that Cless picked up Shining Strike during these 8 fights which is a bloody amazing Light elemental attack that costs a mere 10 TP (5 with the Fairy Ring). I love the hell out of Shining Strike since it's used in pretty much every arcane arte worth a damn, with but one exception. Bring on the Galf Be-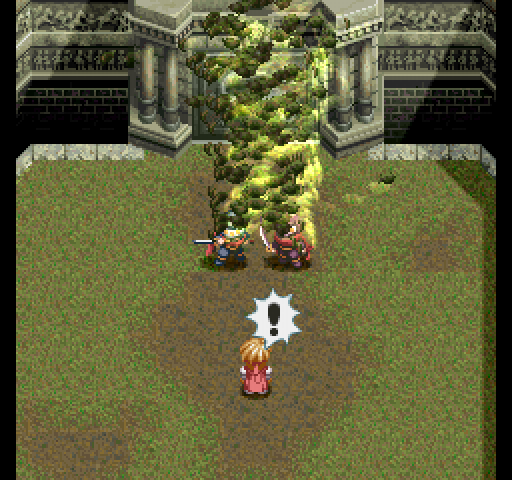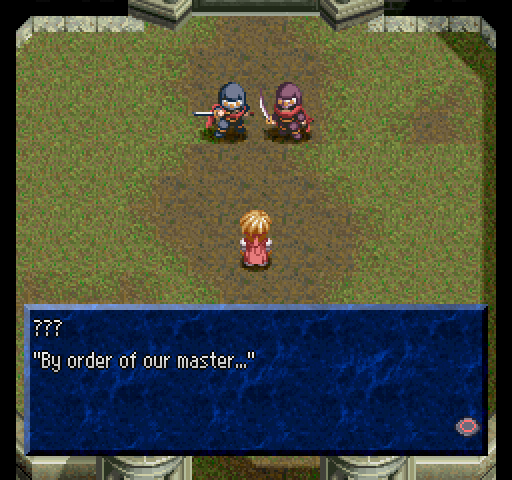 : We will now take your life!

: What!?

: Wait, if you're the ninja that have been appearing around Euclid...

: Then you must be Suzu's parents!

: Have you prepared yourself!?

: H, hold on! You're being manipulated!!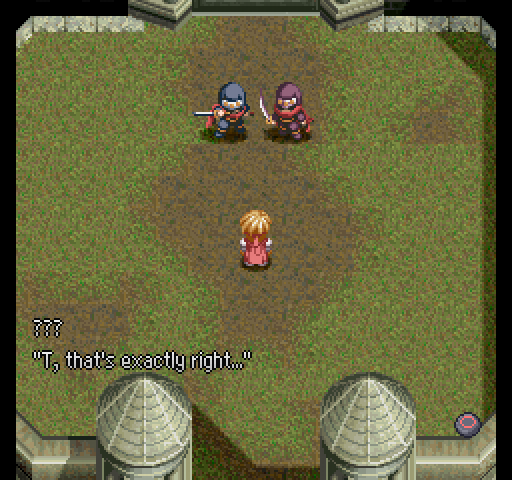 ???
: You must stop... no, you must kill us!

: (W, what was that just now!?)

: Enough talk!!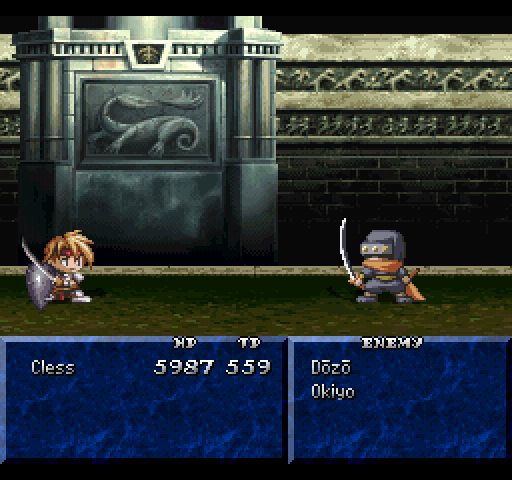 Dozo and Okiyo aren't much to write home about (also contains some of the post-battle cutscene).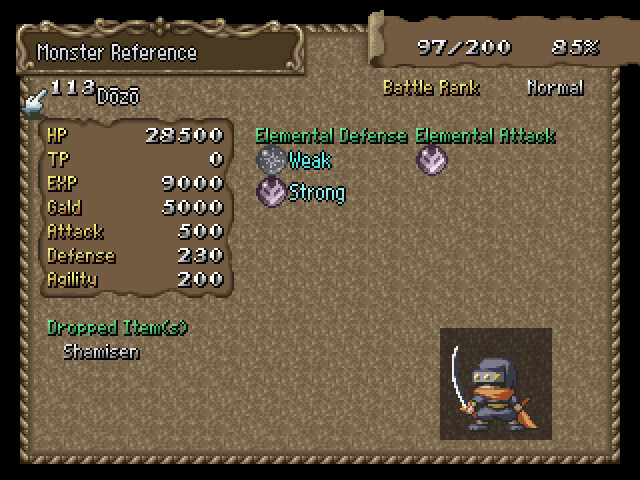 Okiyo has slightly lower stats, same elemental resistance and drops an Ukiyo-e instead.

Like the ninja at Volt's Cave, you don't have to beat these two to continue. Unlike the ninja at Volt's Cave these two do at least try to put up a fight. You can just shove 'em in a corner though and pound away; unlike pretty much every other boss this actually works since they're powerless to stop you when that happens. Sometimes they throw shurikens that might poison Cless so they have at least one trick up their sleeves. Popping a Hour/Chronoglass and then going all out on either one of them makes things a bit quicker, so I do that.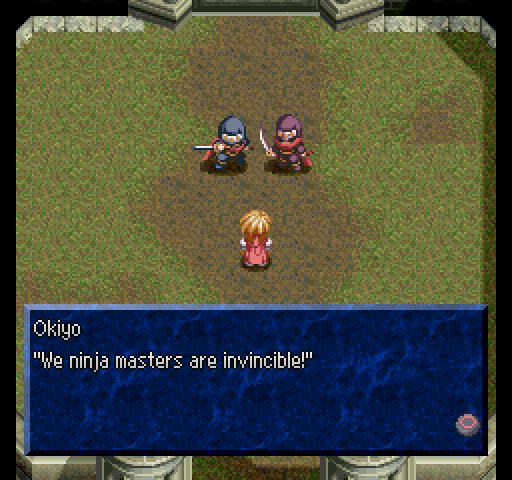 : You cannot hope to defeat us!!

: Damn, what can I do!?
???
: Please stop right there!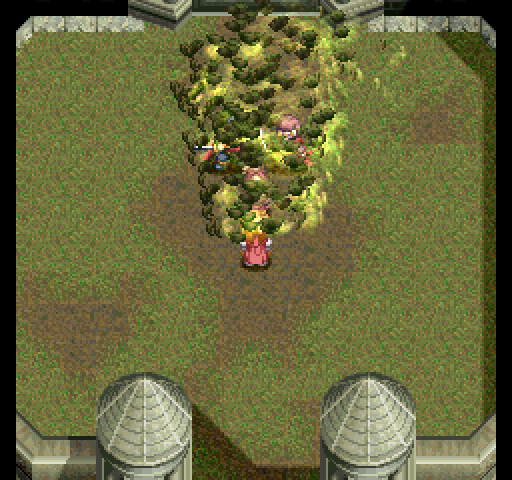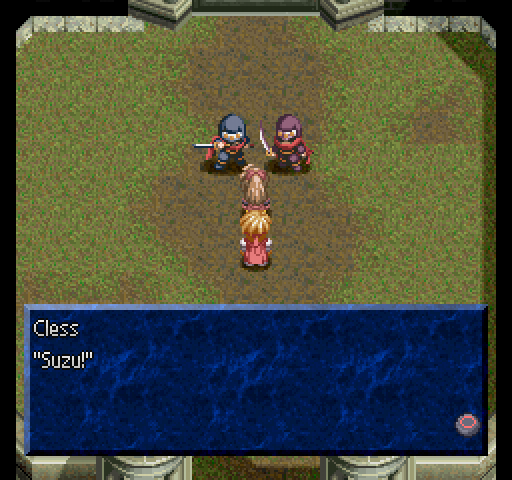 : (Suzu...)

: Father, mother, please stop these senseless murders!!

: (Suzu... Y, you must kill us!!)
???
: (S, silence!! Was my brainwashing incomplete!?)

: Father... I, I... I cannot...

: Ugh...
???
: (T, they, they're breaking my control... Gee, geeheeheeheeheehee!!))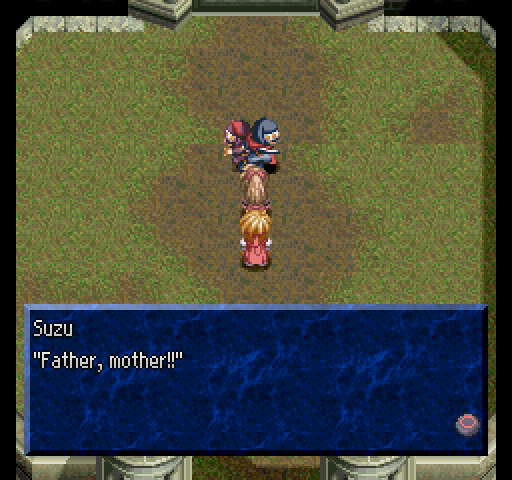 : N, no way...
???
: (H, how could this happen...)

: Father, mother!!

: Why... Why did this have to happen?

: I, it's all right... The crimes committed by our hands must be paid for by our hands... At least Suzu... did not have to stain her hands with this...

: We have never been in the least like real parents should be... Forgive us... But... in the end, you would still cry for us... Seeing that, I have no regrets...

: For us,this is it... A heart... must be hidden... We must be going... hell awaits...
Yeah, that's a lot of ellipses. I didn't cut them out for once because goddamn the over abuse of the bloody things is by no means a new invention. Plus, er, they kinda work here in a way, since those two are kinda lying there bleeding out.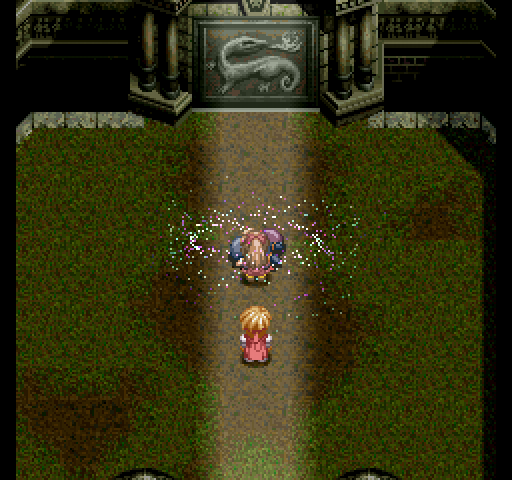 : (Father, mother... I shall never cry again. These tears shall be my last.)

: (I will become a proud ninja.)

: Suzu, I don't know what to say... I've done something that I can never hope to make right.
I assume he'd say something different here if you lost? Can't say for sure since I've somehow never managed to do that.

: Cless, there is no need for you to apologize for this. It was only thanks to you that my parents' hearts were set free.

: But, I couldn't do anything to save them...

: This too is the law of the ninja.

: Ninja... must be heartless in order to fulfill their duty.

: Our objective here is complete. I must return to the village now. If you would like, please come visit the Ninja Village again. We are truly indebted to you for all you have done. Please accept our deepest gratitude. Now, if you would please excuse me.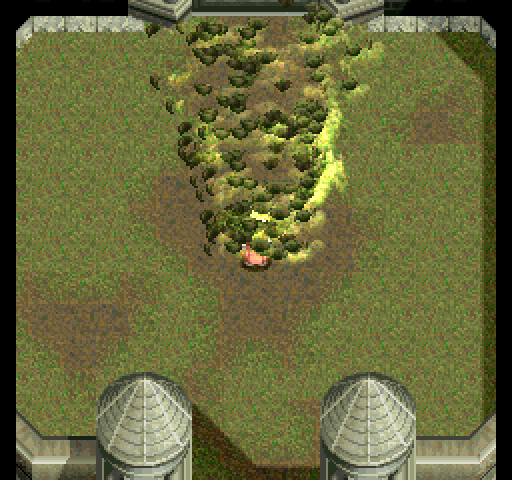 When we're done here, we'll go back to Japon to finish her sidequest but we're in Euclid and we have the Murasame. There is but one thing we must do first.

At least when the cutscene's over. Those that watched the video version get to read it in the thread from here.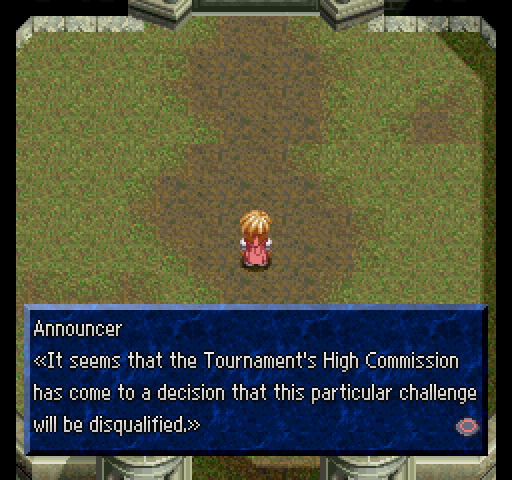 This disqualification doesn't mean much; it just means that you have to redo whatever round of the arena you just did. It'll be easier on a later run since you'll be stronger etc.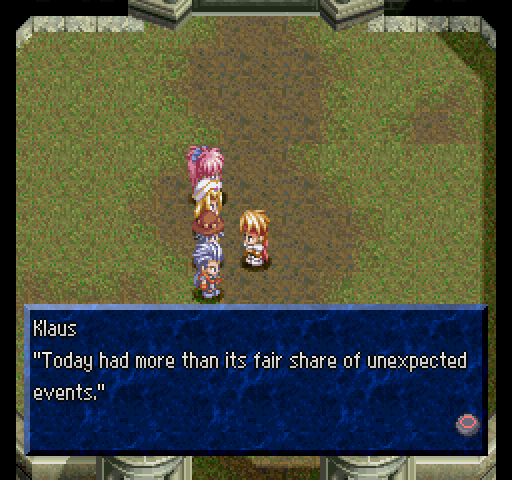 : It couldn't be helped, right? Cless did what he had to do, there wasn't any other choice.

: Yeah... But, because of me, Suzu's parents are...

: Cless, don't blame yourself for what happened.

: Well then, let's go back to the Ninja Village. We can at least apologize to Suzu.
Skit: The Strongest Man in Euclid?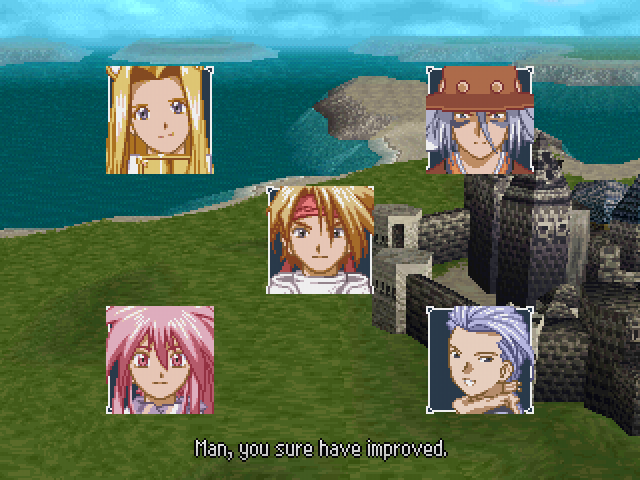 : Nothing like when you used to get chased by boars.

: Oh my, is that true?

: T, that was when we were kids!

: What about you!? Caterpillars nearly made you cry!

: So basically, he's the same as always.

: What was that!?

: Would you knock it off already!?

: Is this really the strongest man in Euclid?
Skit: The Student and The Master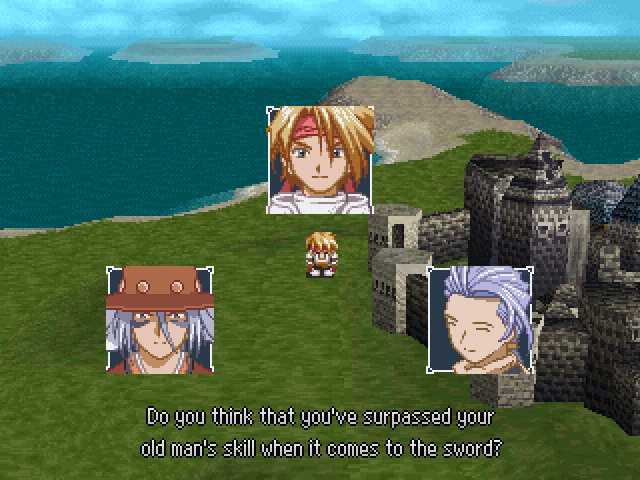 : I wonder...

: No, I think I've still got a long way to go.

: If you really have surpassed him, it would be the old <<student has become the master>> adage.

: What's that mean?

: The student, the child, will always surpass their former master, the parent.

: In other words, some day the Half-Elves will become more powerful than the Elves?

: Yeah, well... if they haven't yet, they may before long.
I think maybe it might be better to let our inevitable revenge wait just a bit longer first. We can go finish up Suzu's sidequest first since it's nearly done. Then we can double back and trounce the arena.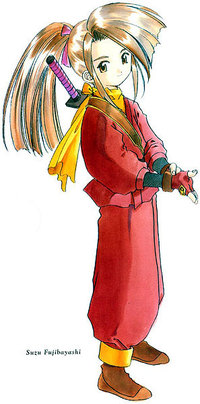 Suzu Fujibayashi, official render.