Part 13: Chapter 14
The answer is...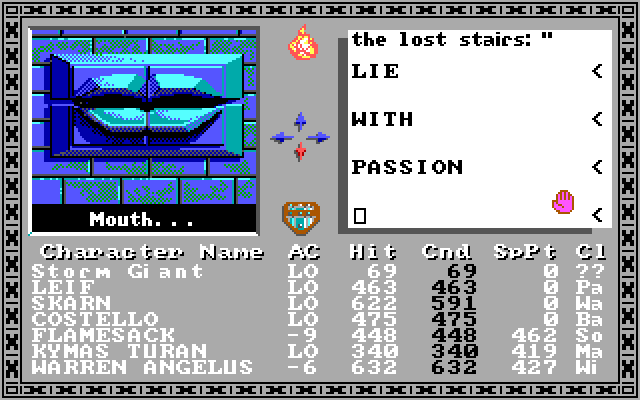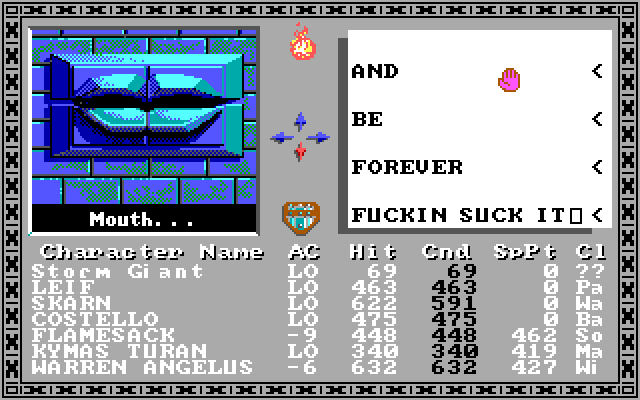 Costello:
Skarn!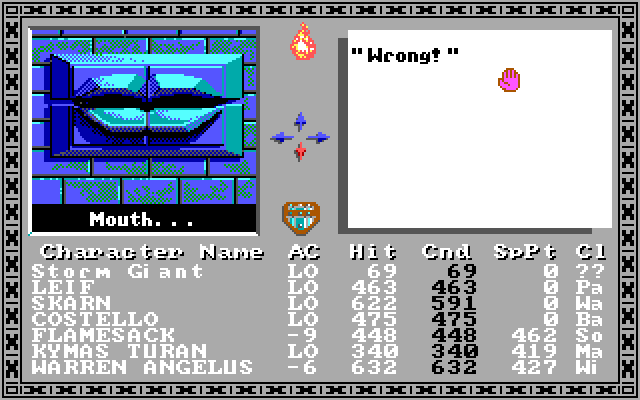 Skarn:
Heh heh... it was worth it.
Costello:
We meant "damned" for that last bit.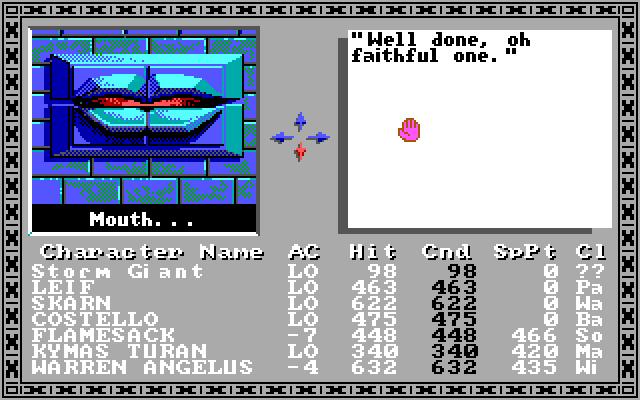 This riddle doesn't say anything else, but the staircase leading up is now accessible. You know, the staircase that you can't actually see, doesn't have instructions on how to reach, nor is it easily findable from the hallways of darkness.
I love this game so much I could stab myself in the eye.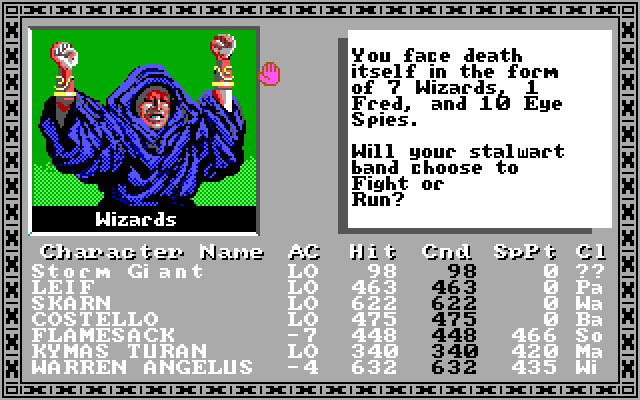 I'm not sure who or what "Fred" is, but it died from two Mind Blades.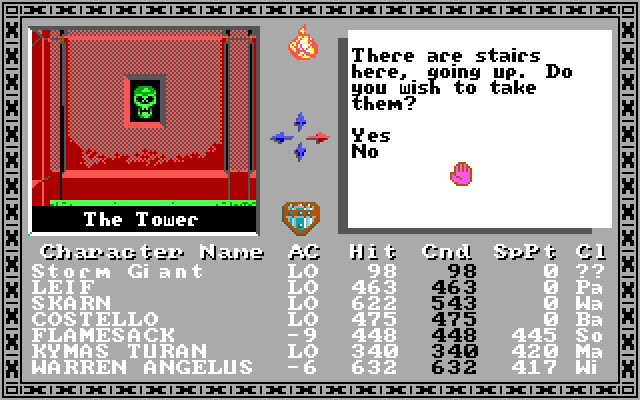 I thought you'd never ask!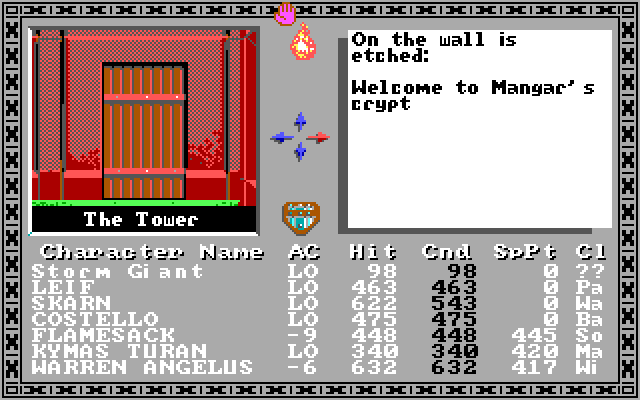 Leif:
Wait, does that mean Mangar is already dead?
Warren:
No. He just has... certain tastes.
All:
Eww...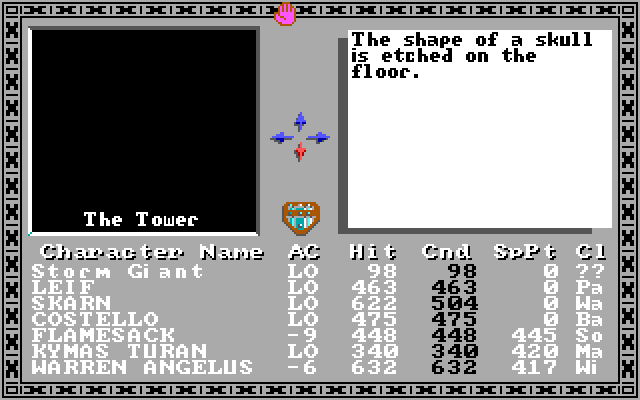 I have a good feeling about this room.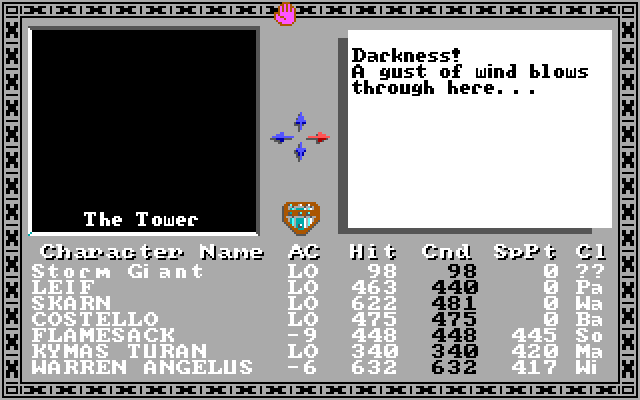 A few interconnecting halls and teleporters lead us through this level.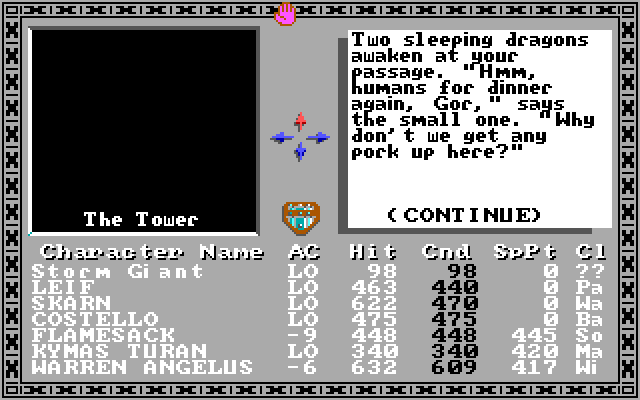 Costello:
You're... kidding...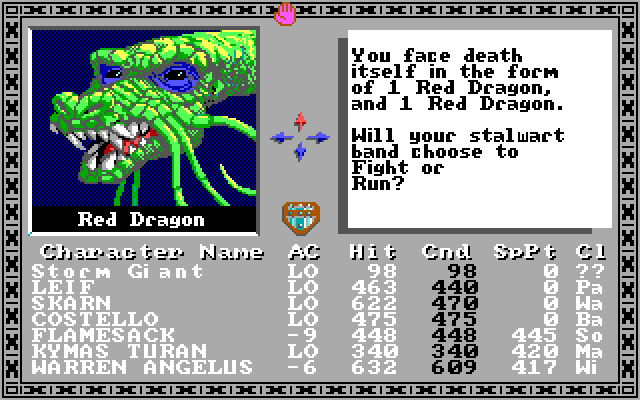 It's... a dungeon... with dragons... hmm...

(Five seconds later)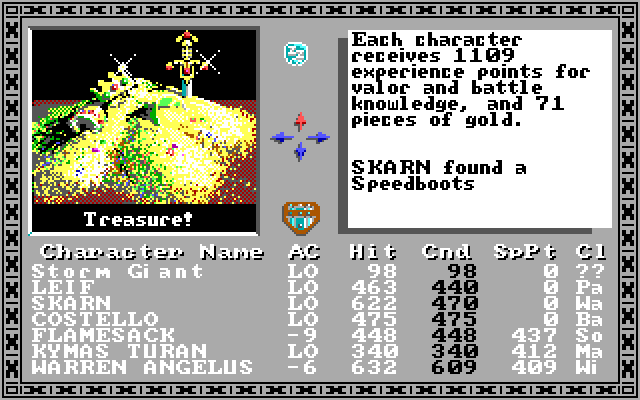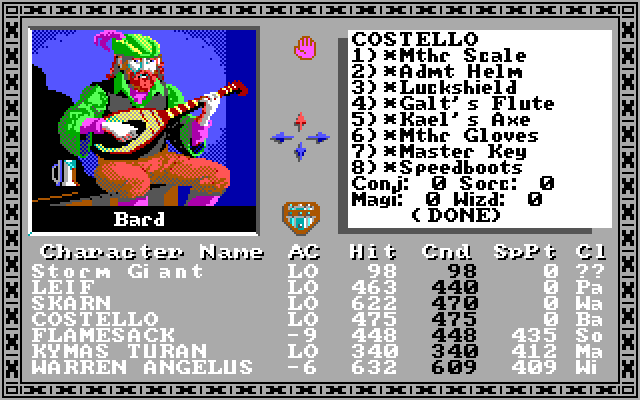 Not sure what they do, but Costello's wearing them.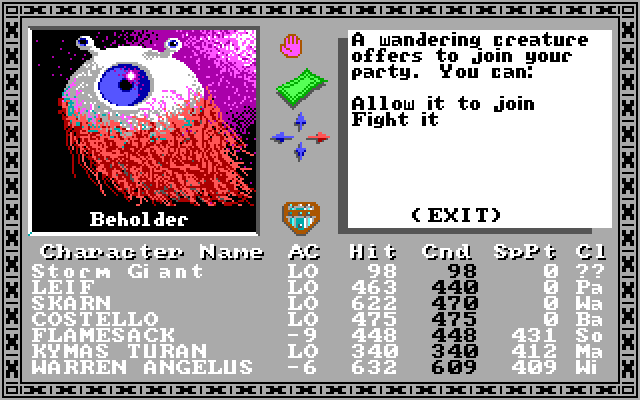 ...What? A Beholder? WHAT? YES! JOIN ME!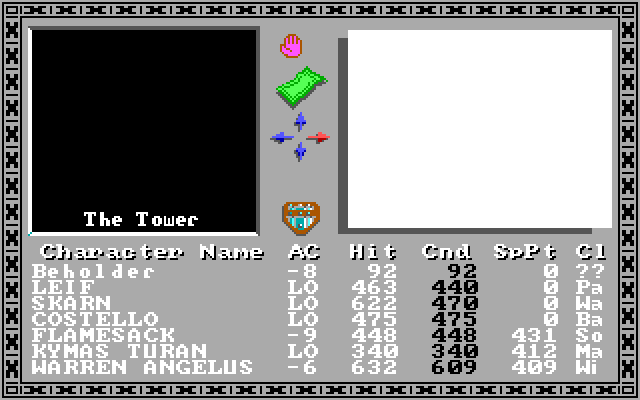 Totally best friends.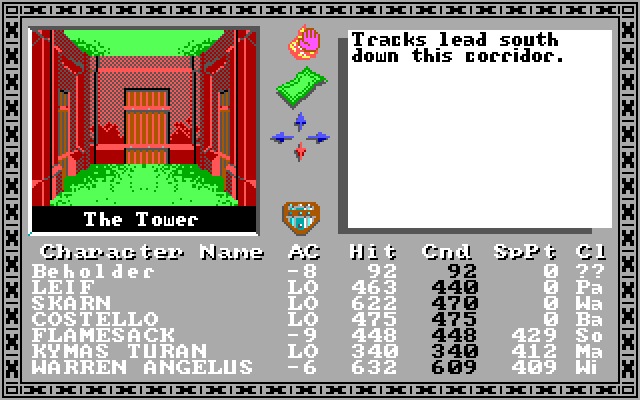 There was no easy way to capture this, since the game doesn't give you a message, but stepping on a random bit of floor switches all walls to doors, and all doors to walls. I'm... really not sure why Mangar decided on this kind of mechanism.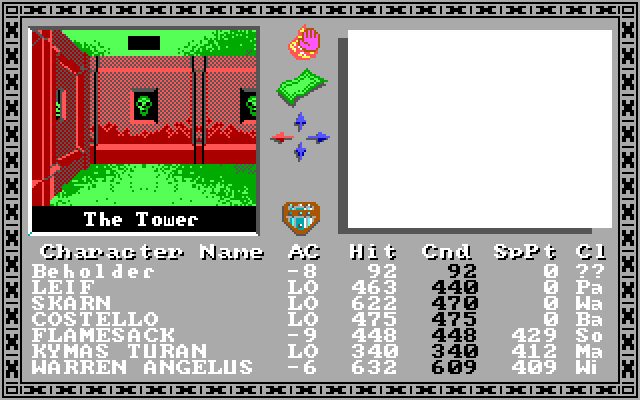 The portal up to the final floor!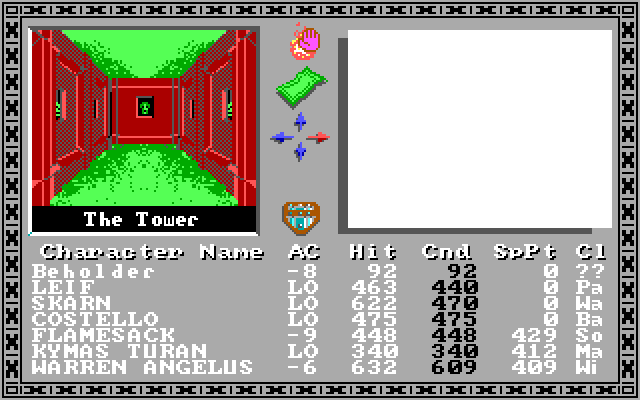 I missed a magic mouth near the beginning. "A magic mouth on the wall speaks to you, saying this: 'Death to those who would attack the Mighty One!'"
Flamesack:
So? Don't attack me.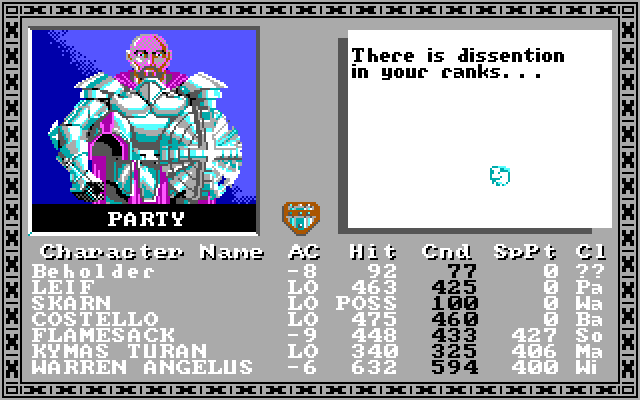 Costello:
Skarn... Uhh.... wh-what are you doing?
Kymas:
Beware, Costello! The dwarf has gone mad!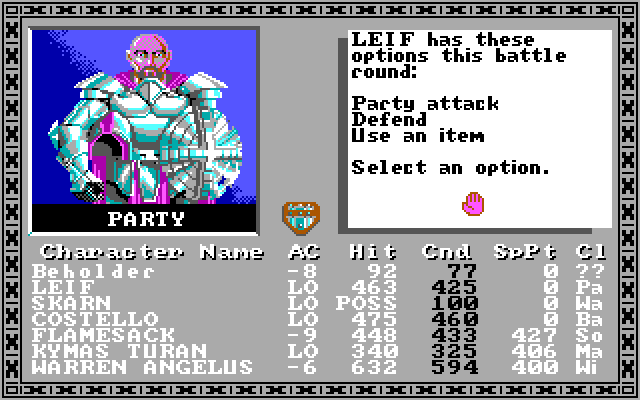 That's right. Skarn is now trying to kill the rest of the party.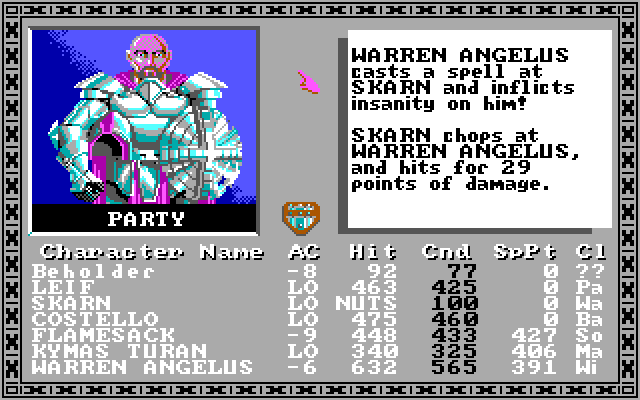 Sadly, he can attack anyone he wants since he's right in the middle of the group.
Flamesack:
Dammit, I'm not letting some drunken dwarf end us!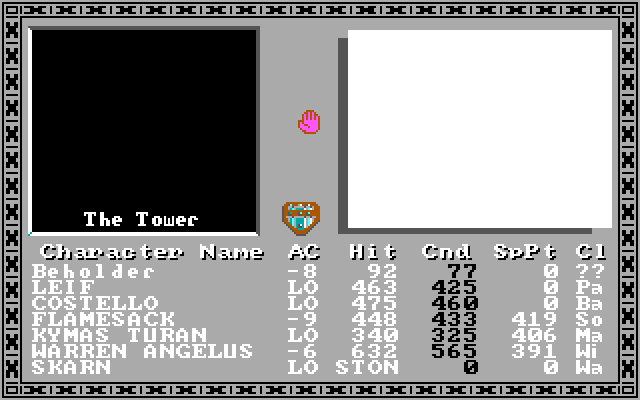 Flamesack cast Stone Touch on Skarn and that was the end of him. We're not even at Mangar and already we've lost a troop.
Leif:
Skarn... why? What happened to you?
Warren:
Blame not Skarn, good paladin. It was the insanity of Mangar's mind magic.
Leif:
By Kesh, I swear that Mangar shall fall!
Costello:
(He makes a nice lawn ornament now, at least.)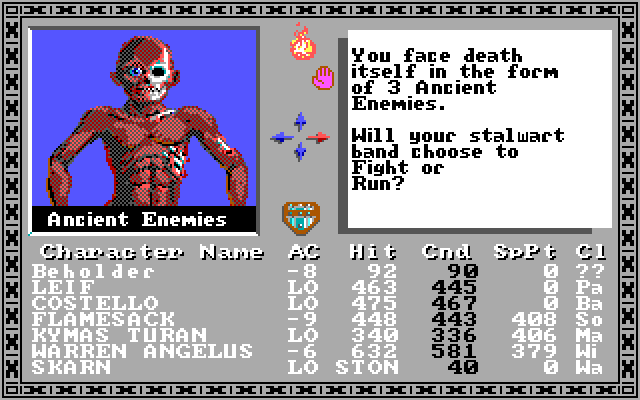 Umm... wrong door.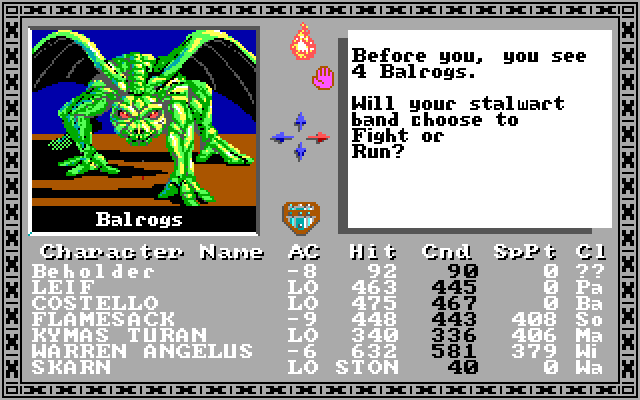 Even wronger door!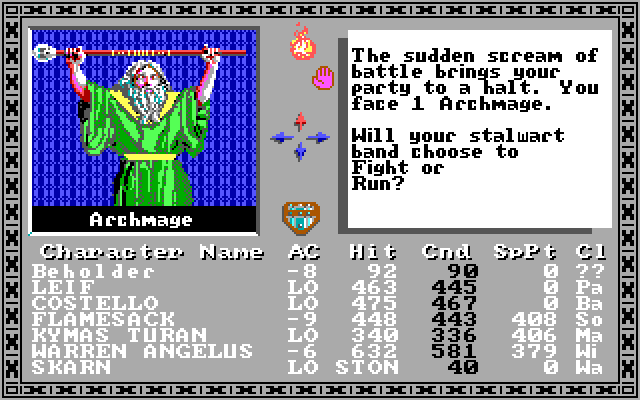 Flamesack:
Dammit, stupid monsters. I'm taking this guy down!
Warren:
No Flamesack!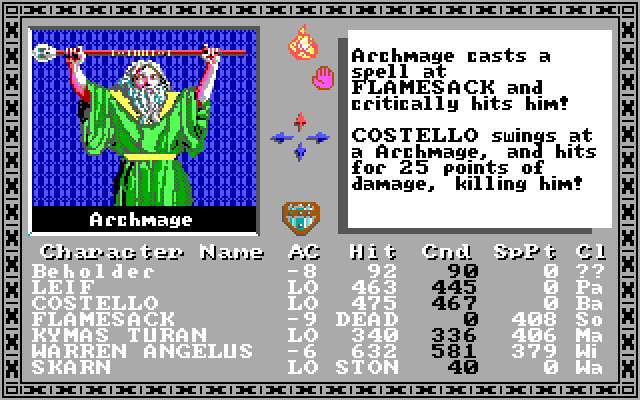 Costello:
No! Dammit, no!
And then, Flamesack was ninja'd by an archmage.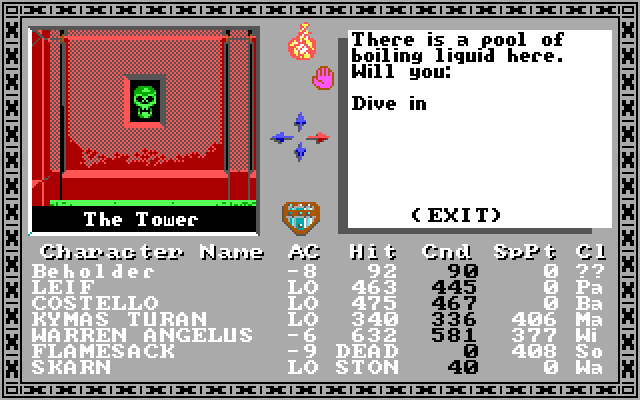 God, yes. End my misery.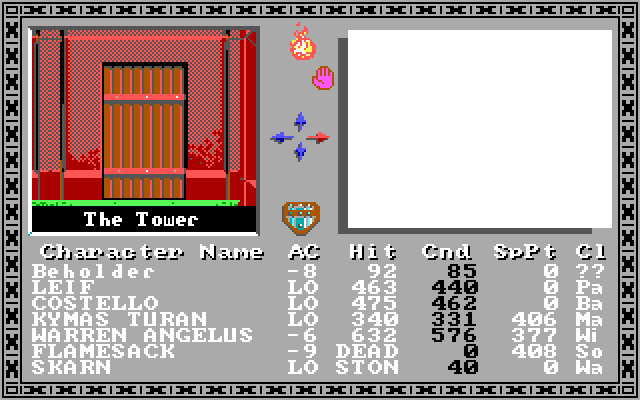 Or teleport me. You know, whatever's easiest.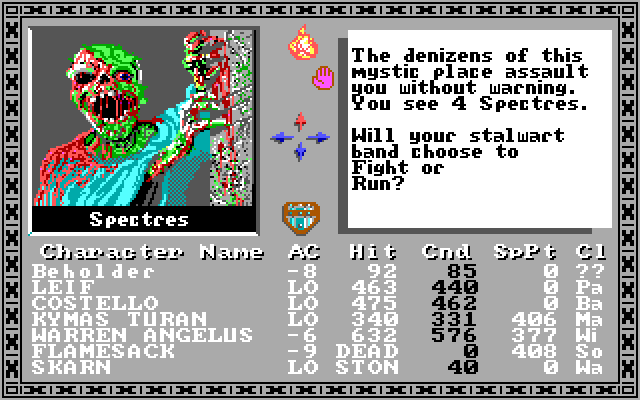 Four of our Eye-guarding buddies from the catacombs want to play. Fortunately, they're not nearly as much of a challenge this time around.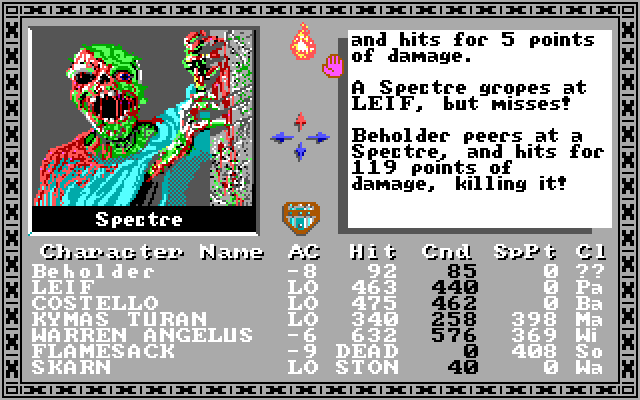 Pete the Beholder decides to unleash some eye-beams of death.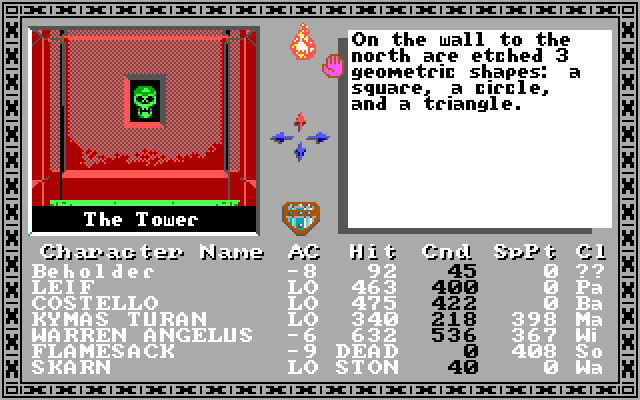 That's right. If you're missing the three Silver items,
this
is where you find out and have to turn back. Thanks, Bard's Tale. Fortunately, we've got all three handy.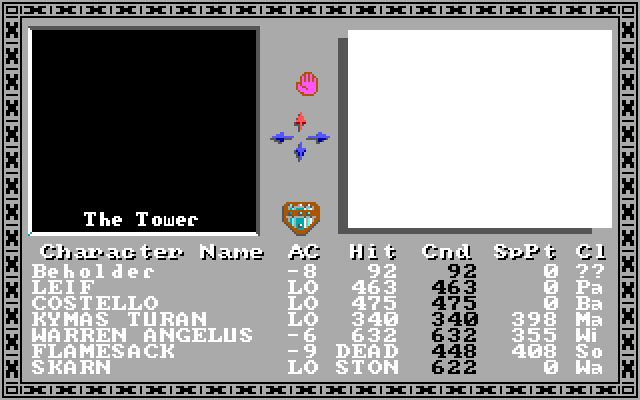 Mangar's chambers sure are dark...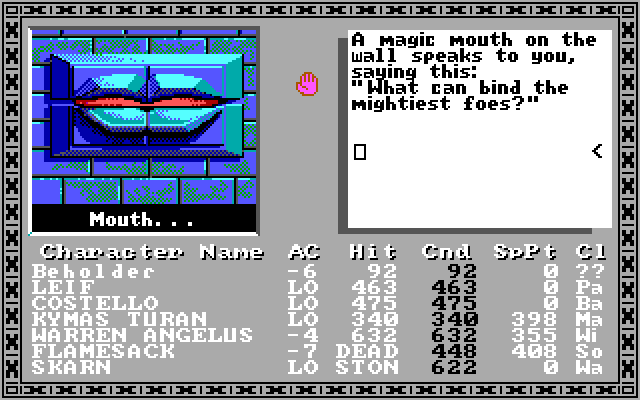 Costello:
Umm... love?
Warren:
I do not recall this... curare?
Leif:
My hands around their throat?
Kymas:
Wait, I think we heard about this before! Spectre Snare!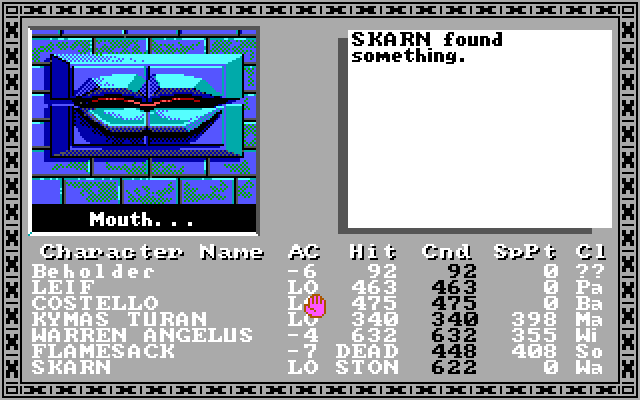 I'm... not sure how exactly, but okay.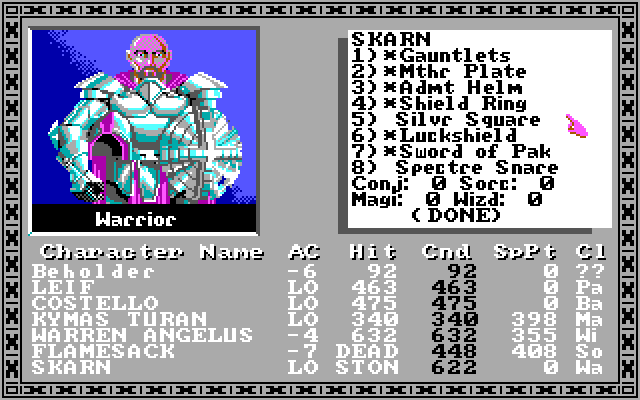 Our petrified insane dwarf warrior just found us a very useful item. Let's give it to Warren.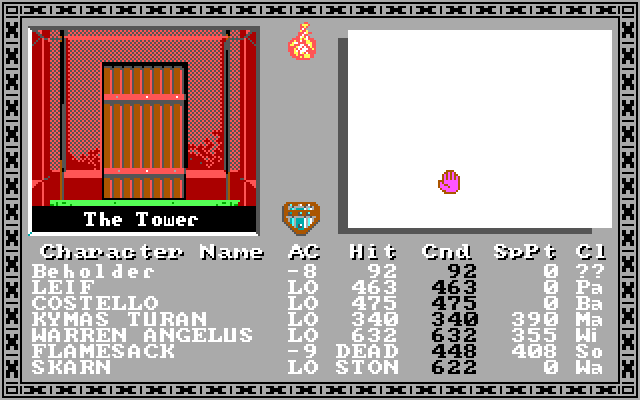 Everyone's healed up except Skarn and Flamesack. Because through this door...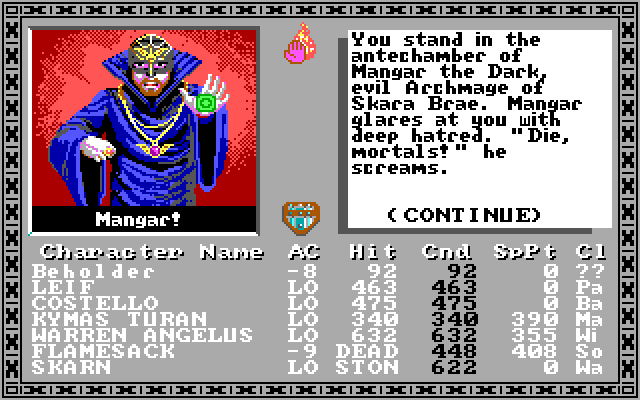 Warren:
Mangar! This insanity ends
now!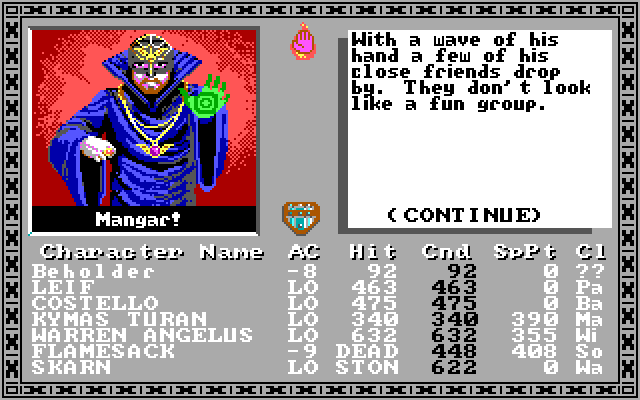 Costello:
Get ready guys, he brought some friends!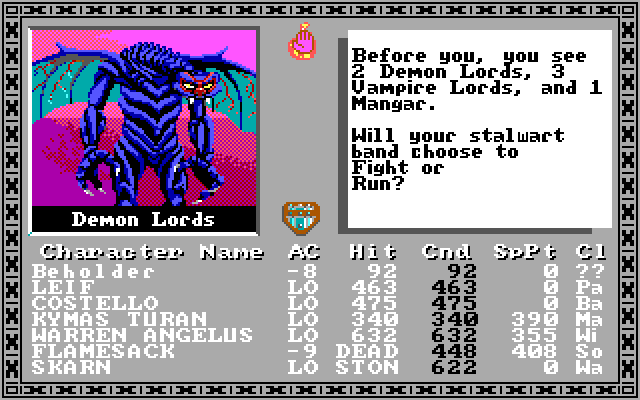 Mangar has six party members, including himself. Most likely to match the regular party roster.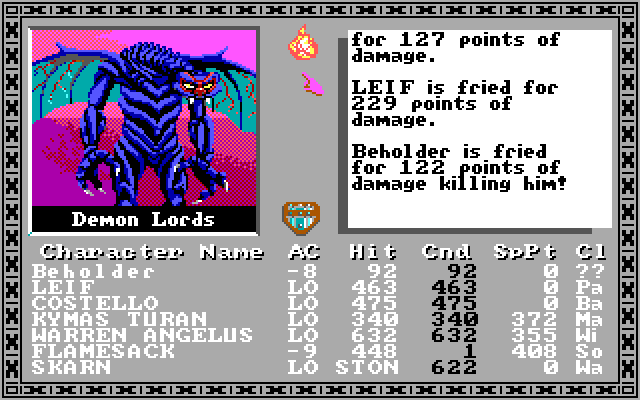 Demon Lords like to do this every turn.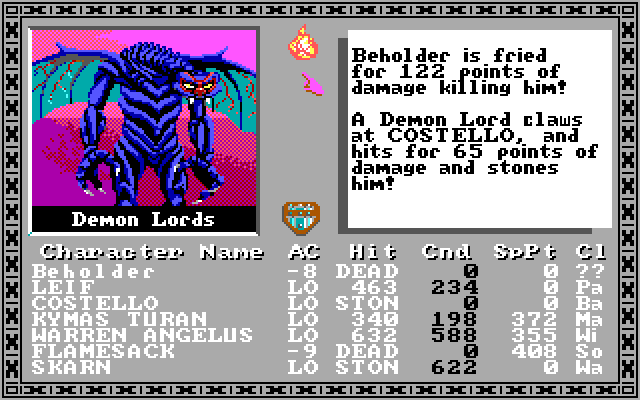 Or this. This hurts too.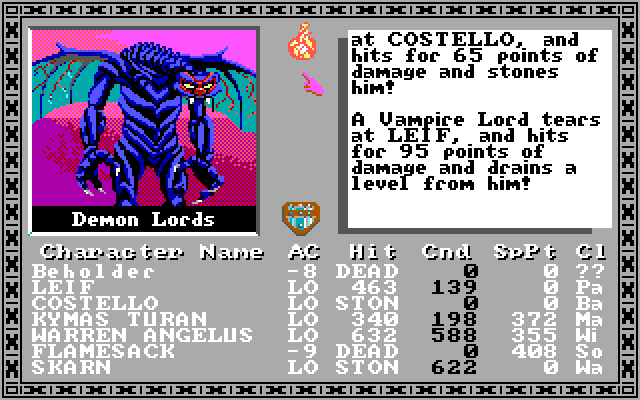 Don't forget the Vampire Lord's handy level-draining touch attack!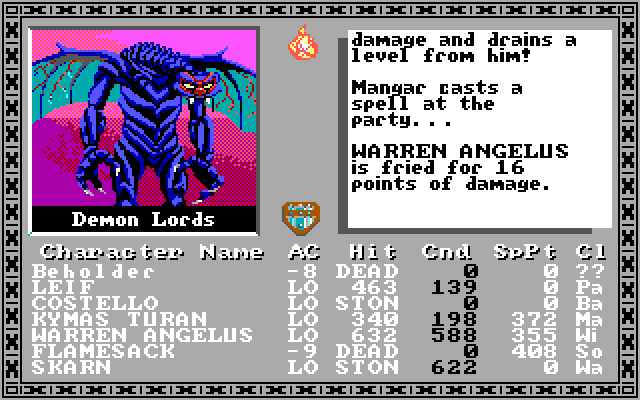 And... Mangar goes "pew-pew" and lightly pelts my party.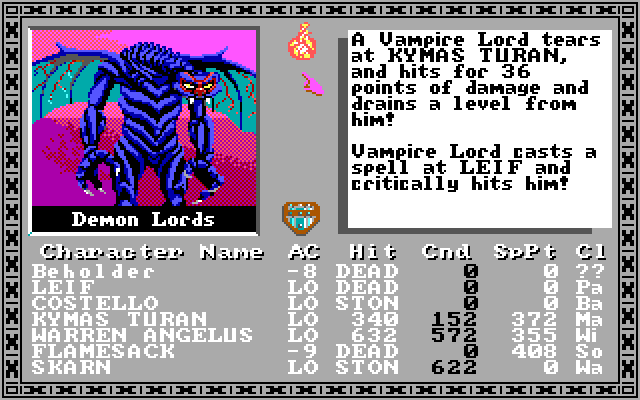 And then Leif gets ninja'd by a Vampire Lord! Costello also got turned to stone.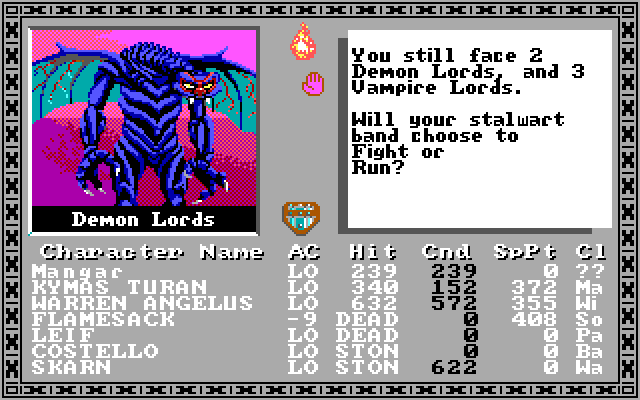 And that was all round 1. Round two is... wait, what?

WHAT???
You see, Warren used Spectre Snare in the first round. And even though he went last, its effect is... rather interesting.
Warren:
Mangar... for years I tried to redeem you, to keep you from the brink of darkness. And now I see that nothing can spare you your fate.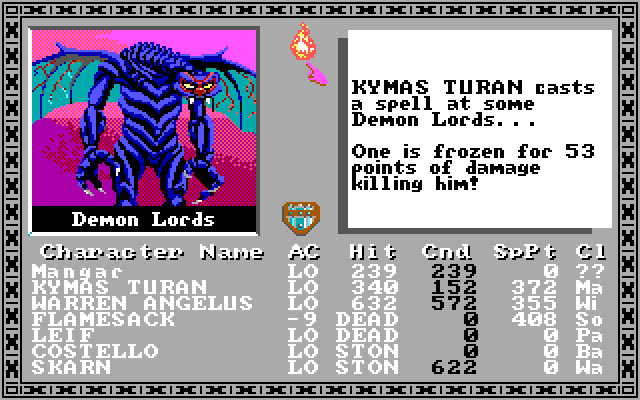 Warren:
It is time that you face your own creations... and the pain they've inflicted on the innocent.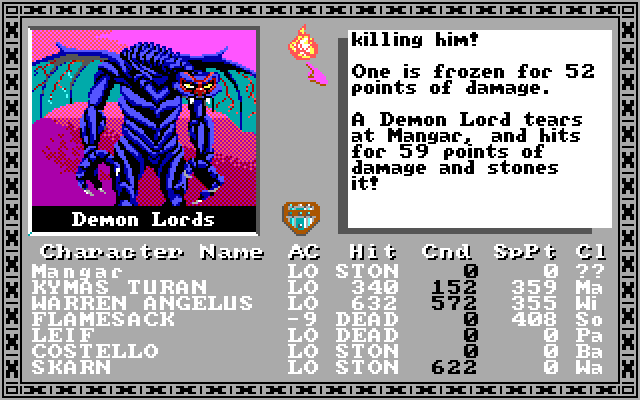 Warren:
...Goodbye, Mangar.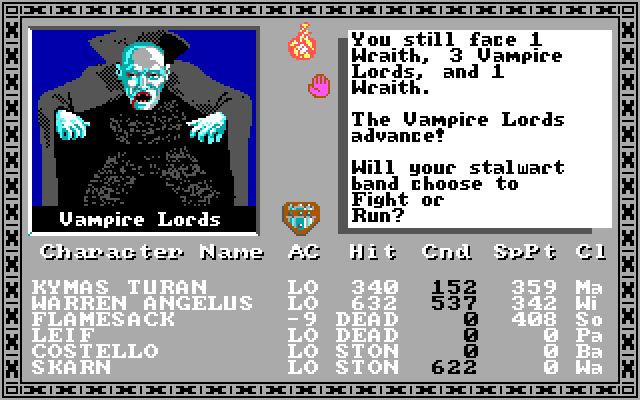 Kymas handles the Demon Lords, but there's still the Vampire Lords and the Wraiths two of them summoned.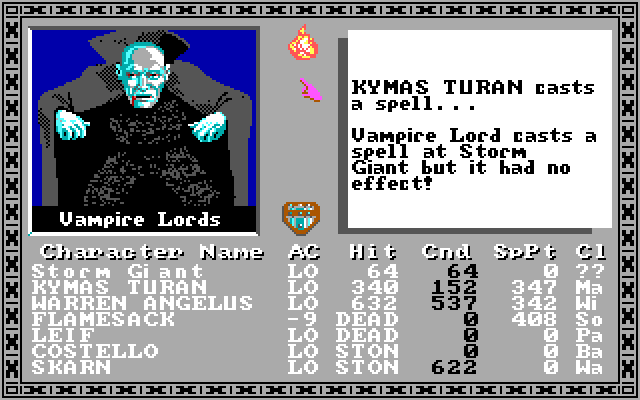 Fortunately, Kymas is quick enough to summon up our friendly neighborhood Storm Giant in the first turn.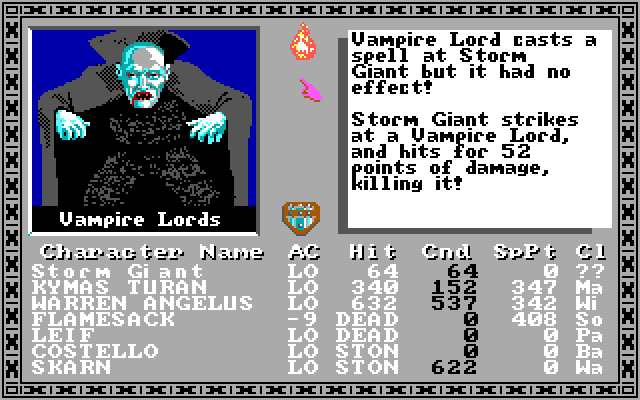 The Vampire Lords have no effect on the giant, which smashes one of them into the ground.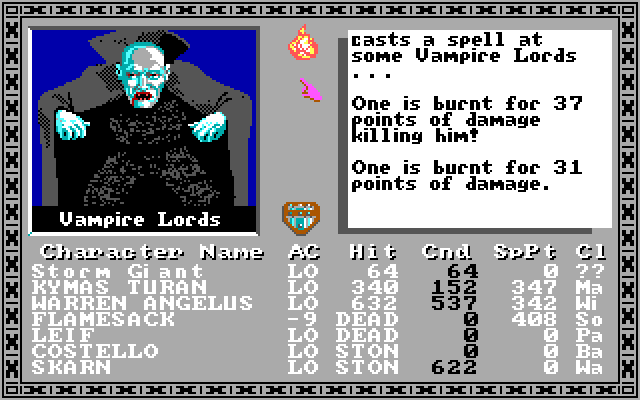 Meanwhile, Warren burns at the entire remnants with Mind Blade.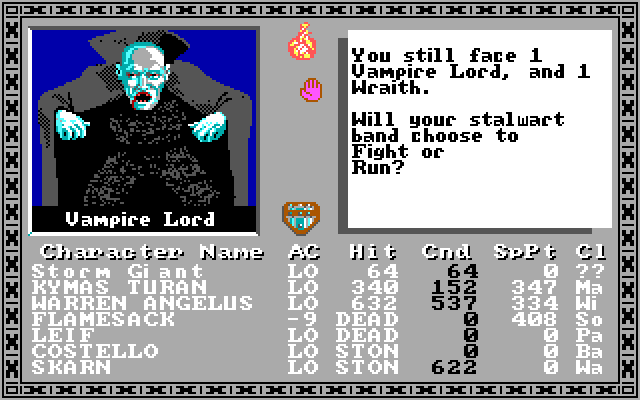 Last ones!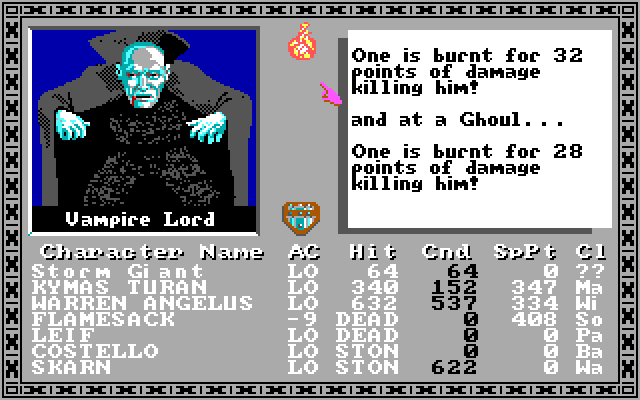 Warren and Kymas finish off the final enemies!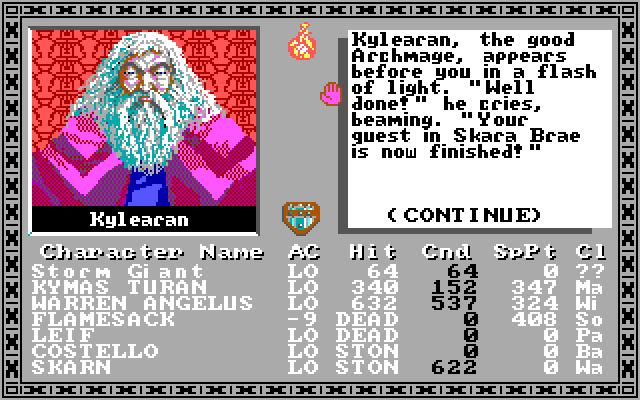 Warren:
Yes, it... finally, it's over...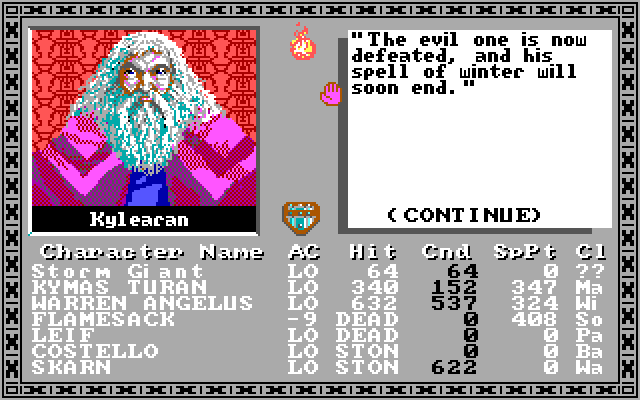 Kymas:
I can't believe it! We did it! Mangar is no more!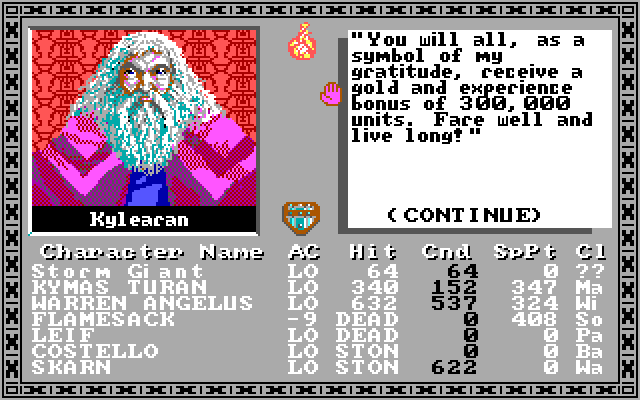 Warren:
Excellent... now we can revive our fallen comrades. We cannot let them stay in this cursed place.
Kymas:
Agreed. Thank you, Kylearan.
Kylearan vanishes.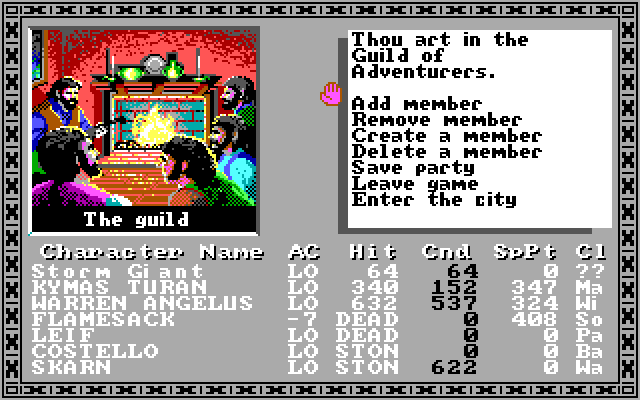 And we are teleported back to the Adventurer's Guild, where our story first began, and now ends.
I'd like to show you all something. The roster of
every character
that was used in this adventure.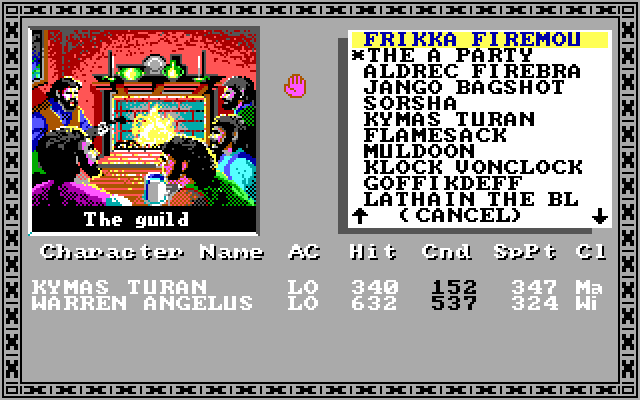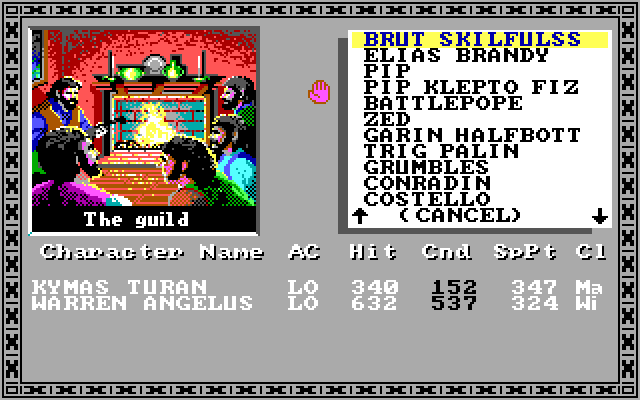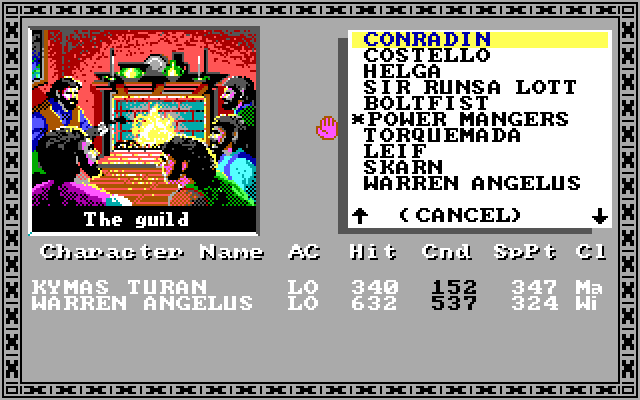 Two people. Two people out of an
army
of casualties took down Mangar. There's only one more reward for such fitting service.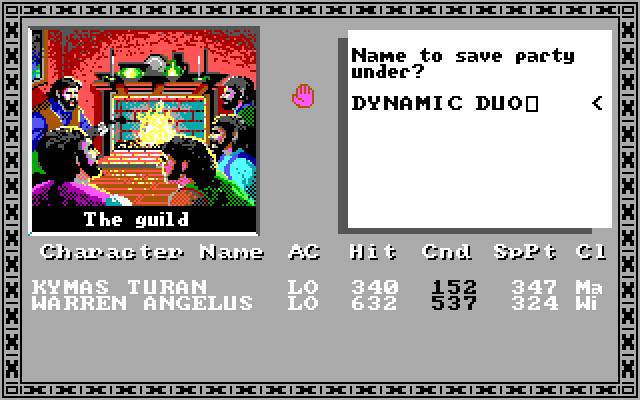 And let me tell you,

So, game. I just have a few things I want to say to you.
I... I don't know quite where to begin. I mean, there were the random spinning traps in the dark hallways with no compasses. And the halls full of health-draining tiles that kept going whether you moved or not. And the rooms full of random huge groups of enemies. And the critical hits. Yeah, those were kind of annoying.
I guess, overall, there's only one really fitting way to describe my adventures in Skara Brae: Pure. Fucking. Hell.
Michael Cranford is the mastermind behind this game. And, as far as I'm concerned, he
is
Mangar. Fucking. Evil. Michael Cranford. Michael, if you ever read this LP for any reason,
FUCK YOU.
This game took a
year
off my life. This game is so terrible and cruel that I had to send away to NASA to figure out exactly how many times I'd have to say "fucking" to describe how "annoying" it is.
(502348 in case you were wondering)
FUCK. THIS GAME. SO HARD. THAT IT BLEEDS. AND SCREAMS. AND DIES.
HATE HATE HATE HATE HATE HATE HATE HATE HATE HATE HATE HATE HATE HATE HATE HATE TAHE TAHE EHAT EATH HAET HATE ETAH HATE THIS GAME. FUCK IT ALL TO HELL! FUCK BARBARIANS! FUCK LEVEL DRAIN! FUCK DRAGONS!
FUCK BARBARIANS!
Michael Cranford? Bard's Tale? I have just one more thing I
have
to get off my chest. Because, you know, even though this horrible creation is cheap as all hell and nearly impossible to play without committing ritualistic suicide...
I STILL FUCKING BEAT THE BARD'S TALE!

Whew... I feel so incredibly relieved right now. Like Atlas taking a coffee break.
Anyone want to see extras with Kymas and Warren?