Part 14: Update XII - Sometimes There Isn't An Answer. There Is Only Fear And Despair.
Update XII - Sometimes There Isn't An Answer. There Is Only Fear And Despair.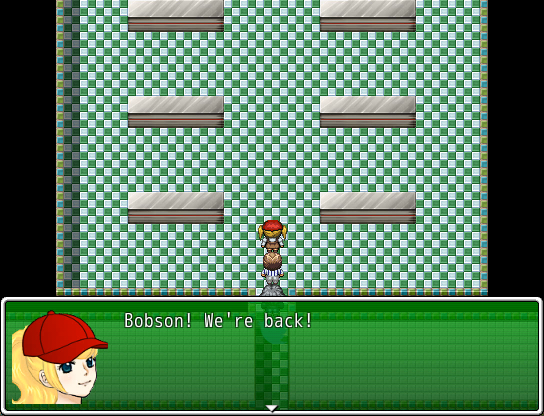 ♪ BGM: Pez Factory ♫
So, last time, we committed a crime against humanity by manifesting @Twitter in this world. Thankfully, it's still a more benign form of what it is today. This @Twitter just wants to #monetize some #brands. Anyway, we're back in the PEZ factory, ready to pick up Bobson.

I told you guys to go away! I'm not coming out until I've taken enough PEZ to fix what's wrong with me.

Your talent isn't what's wrong with you, Bobson, it's the media! And with the power of Twitter, we have fixed that! Just check your timeline!

Yes! Always check your #timeline! You never know when you might have some important #promoted tweets!

Who is that?

It's a very long story! Let us in and you'll find out!

First he's gotta check his #timeline!

Wow! Everyone is suddenly calling for me to be named the closer again!

That's right! The #narrative has changed! #progress

Now, if this is for real... Coach will have to put me back in for the ninth inning! Okay, guys, you can come on in!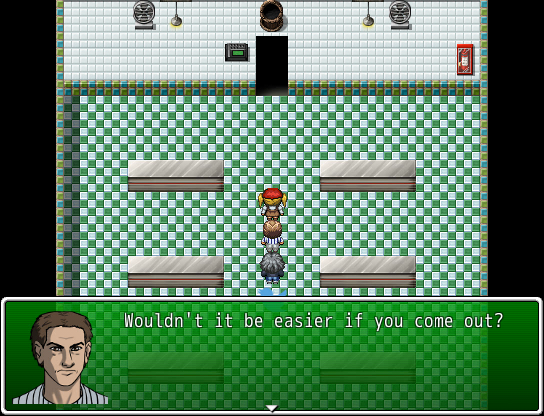 I'm... uh... Kind of trapped in here.

Of course you are.
Alright, let's head inside.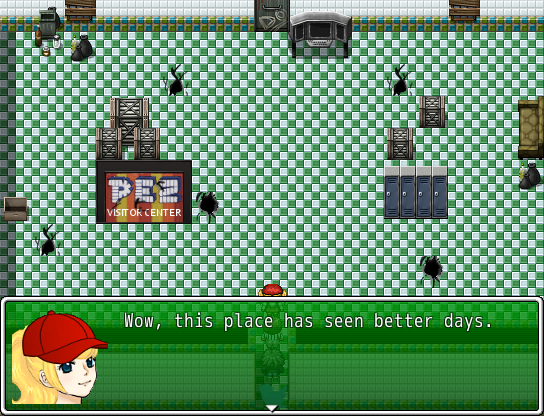 Kids don't like PEZ anymore. The novelty of the dispensers is lost on them in an era of interactive media. Right, Zizek?

...

He is being awful quiet. Moose, I'm worried.

We need to find Bobson and he's not here. What kind of trouble is he into?

Look! There is'a computer #terminal over there. We should check it out. #curious

You realize that this terminal is important?

Well, it is right next to that #door?

It's a door, not a #door! What are you?

Calm down, Zizek. Not now.
Now, let's check this place out.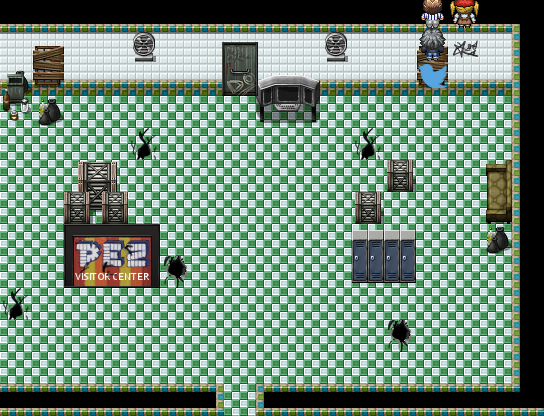 Hrm. I don't think this was intended.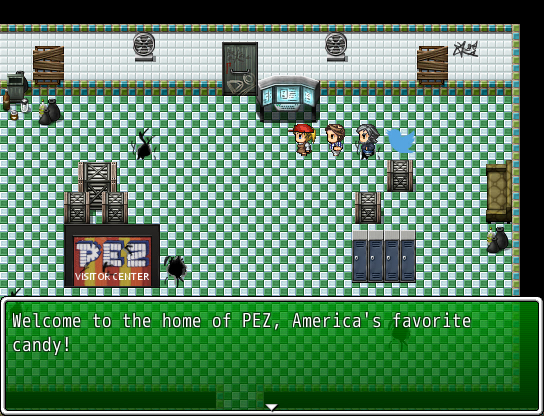 Boy, you want to talk about dubious claims...

PEZ has never even been #trending
Today, you will have the privilege of learning about the history of PEZ and the process of making the candy that has made our company famous.

Based on my #analytics, it is not the candy which made your company famous, but the dispensers. #sorrynotsorry

It's a computer program, @twitter. It can't understand you.

But I am a computer program. #confused

You're different, @twitter.

Yes... Yes you are.
The very first PEZ candies were not the sweet, fruit-flavored treats enjoyed by children around the world. No, the very first PEZ were actually breath mints! Developed in 1927 by Austrian confectioner Eduard Haas III, the very first PEZ candies were made from peppermint oil. In fact, the name PEZ derives from the german word for peppermint: "pfefferminz." After World War II, PEZ released the very first version of the now-iconic dispenser, but the target wasn't children--it was smokers!

Hmph, an Austrian company *would* skip right over World War II, wouldn't it? Right, Zizek?

Hmph.
The first PEZ dispensers were designed to look like cigarette lighters, and marketed as an anti-smoking device. But the folks at PEZ were just too forward thinking, and the smokers of the world weren't ready to quit. However. the novelty ot the dispensers appealed to a new audience-children. Fitting the dispensers with the likeness of popular cartoon characters, PEZ transformed into a cultural phenomenon. It's first licensed dispenser featured the likeness of Popeye characters, but the most popular dispensers came many years later, coinciding with the 1990s re-release of the Star Wars films.

Is this really getting us closer to finding Bobson?

I don't see any other way of opening this door.
Various Disney and comic book characters have bolstered the appeal of the iconic PEZ dispenser over the years. The rarest PEZ dispenser of all is the "soft face" Mickey Mouse, a prototype that never went to public release. And now, as we enter a new era of candy, PEZ is poised to continue its dominance of the field, with new products from the Lord of the Rings and Marvel franchises. Now that you've heard the history, are you ready to begin the tour?

Yes! God, yes!
First, there will be a quiz.

You have to be kidding me!
Are you ready?
We then answer three questions - when PEZ was founded, what the original purpose was, and what the rarest dispenser is.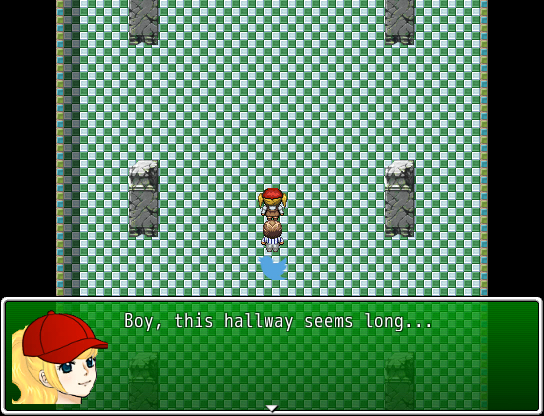 After answering them correctly, we get to move on to the next room.

This seems terribly #inefficient

Hey, Zizek, this reminds me of the hallway in your-- Zizek?

He's gone!

But he was just here. Where did he run off to?

I did not see him leave. Then again, I do not have #eyes.

He couldn't have gone far. There isn't really any place for him to go. Is this normal for him? That wouldn't really surprise me, so I want to make sure we're not worried about nothing.

I don't know. I just met Zizek last night.

Wow, it seems like you've known each other forever.

Venturing into an erotic Japanese PC game together creates a special bond.

Did someone mention erotic #games?

NO! God, no. We're done with that. Let's just keep going forward, find Bobson, then we can look for Zizek.
And in the next room...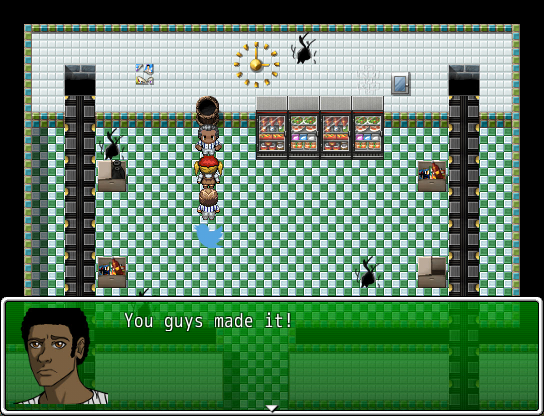 ♪ BGM: Closer's Theme ♫

I keep eating all these PEZ but they aren't doing anything. I don't feel any stronger.

I don't understand... How were you trapped in here?

To go through that door you have to answer all sorts of tricky trivia. I did it once, I'm not doing it again. I've had enough trivia for one day.

But you only had to answer the trivia to get inside!

But the door wouldn't open! Oh. Oh, now I get it.

What is so fucked up with this world that you managed to make it to adulthood?

Until I was 19 I though that Canadian Bacon was just regular bacon fried in maple syrup.

Why would you even volunteer that!?!?

Hey, where's Zizek? He'd appreciate my confusion. And what's this thing following you guys around?

I am not a thing! I am @twitter.

Really? Because you have some fucking explaining to do with some of the horrible names you've called me when I give up runs.

No, Bobson, you're thinking of the people who use twitter. This is @twitter itself.

Just a few seconds ago, you said that I wasn't making any sense.

Just go with it, kid. @twitter is the reason that all the sports networks are calling for you to stay in the closer spot now. It deleted a bunch of criticism of you from social media, so lazy journalists think that the narrative has changed.

MY USERS ARE UNCONSCIONABLE PIECES OF SHIT WHO SHOULD BE EUTHANIZED AT ALL COST. #KILLTHEMALL

Oh my... I don't know where that came from. I will sometimes have outbursts like that because my network is infested with #trolls.

Seriously, guys, where's Zizek? He wouldn't be able to explain this but he'd at least say something that seems profound.

He disappeared on the way here. We don't know where he went. #mystery

This isn't good! We need to find him!

Actually, we don't. This whole quest has been about learning another pitch and keeping you in the closer position.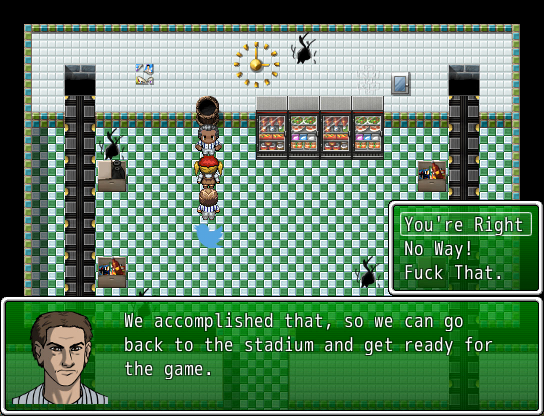 I think you can just assume what I'm deciding at this point. Or even before.

Fuck that! Zizek is part of Team Bobson! We are not leaving him behind.

Wait, we're Team Bobson now? I mean, I agree with your overall sentiment that we shouldn't just ignore Zizek's disappearance. But, c'mon, you don't just get to name the team after yourself, especially after you just fucking left us to hang out in a candy factory for several hours.

I think we're Team @twitter because everyone knows that I have the biggest #brand in the room.

What did you just say about my--

This is getting us nowhere!

I think we need to decide on a team name before we go anywhere.

Even to check on Zizek at his apartment? Like you wanted to do at the start of this conversation?

I don't know, Moose, there is nothing more important than #branding.

Okay, fine, but we are reopening this discussion once Zizek is back. I bet he'll go for Team Bobson.
Bobson re-joined the party!
Yay! Alright, time to head back again.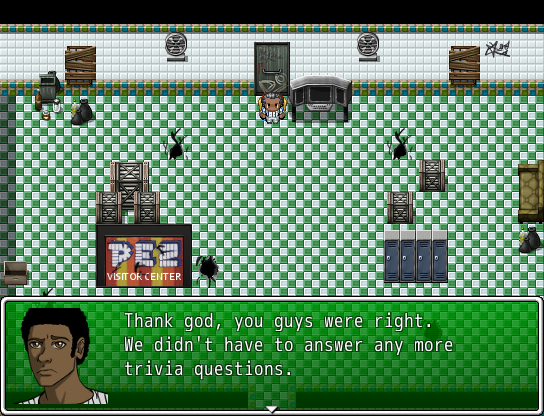 ♪ BGM: Silence ♫

I told you it was a one-way thing.

Well, you also told me that--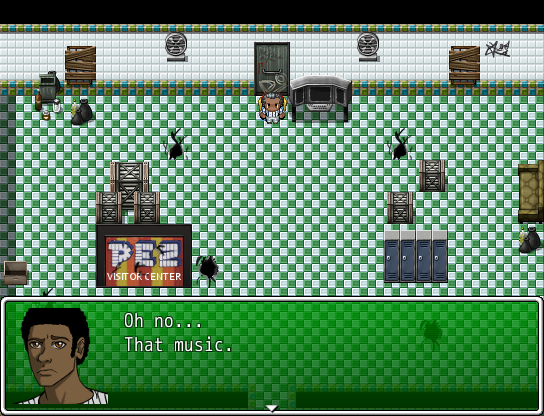 ♪ BGM: Terminate ♫

Are you kidding me? Now?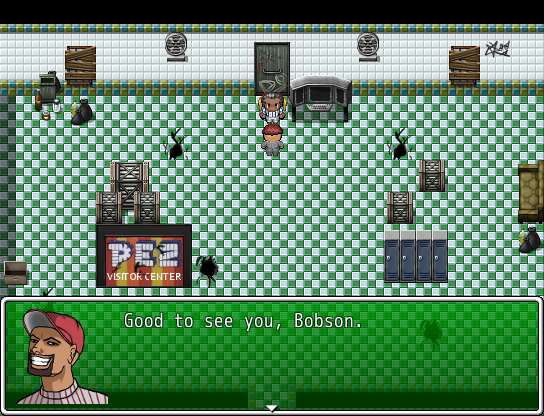 You again? Are you stalking us?

Where is your philosopher friend? Did I scare him off?

Go away, Rodriguez. This bit where you show up and harass us is getting old.

Am I getting old, Moose? Or are you?

What are you doing here?

Looks to me like Bobson is on the verge of reclaiming the closer job. Good. I can't wait to destroy you again.

Weren't you just taunting him about losing his job a few hours ago? Your motivation isn't even consistent.

Oh, but isn't it?

No, it's not! You can't just fucking flip things on their head with "oh, but isn't it" like it is deep and meaningful.

Oh, but can't I?

Argh! You are so god damn infuriating!

What are you going to do about it? You're a video game character.

#Correction, she is an #erotic video game character.

You're not helping, @twitter! I'll show you what I can do! I bet you've never even heard of Sabermagics.

Kami, this probably isn't a good--

Sabermagics, eh? Whatever you say, babe.

Babe? BABE? Oh, you're going down, you strange walk-up music playing piece of shit.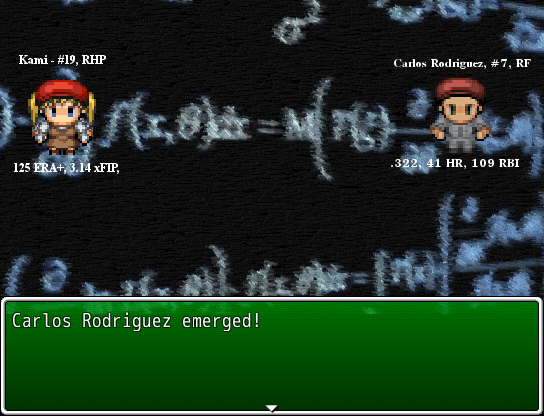 ♪ BGM: Kaminari ♫
I can't imagine this is going to go well. Also, the fuck?
TheMcD's Baseball Stuff posted:
So, for some reason, Kami is being listed as a pitcher here, when she was previously established as a shortstop. And with that come sabermetric pitching stats.

ERA+ is a part of the plus stats. A plus stat basically normalizes the number based on the league environment it is from and the ballparks it was made in, with 100 being the average. So, to compare, take Madison Bumgarner in his 2019 season so far. He currently has a 3.87 ERA. Normalized, he has a 109 ERA+, so he's a bit above average. Then, take Al Spalding in his 1874 season. He had an ERA of 1.92, which you would think is far better than Bumgarner's 3.87. However, because of the low amount of runs being scored in that year, Spalding's ERA+ is only 111, so only very slightly higher.

FIP (Fielding Independent Pitching) is an attempt to create an ERA-like stat that calculates out the defense of the pitcher's team in order to give a more accurate depiction of the pitcher's skill. Because of that, the only components that go into FIP are home runs, walks and strikeouts - the three true outcomes where the only three people involved in the play are the pitcher, the catcher, and the batter.

xFIP (Expected Fielding Independent Pitching) is an attempt to further take the pitcher's luck out of the equation by normalizing the home run component - instead of being the home runs the pitcher has given up, it takes the number of fly balls the pitcher has given up times the average rate fly balls turn into home runs.
So, uh, let's give Win Hexpectancy a shot?

Blessed Baseba'al, I am but a spoke in the great wheel, but I call upon your power to determine whether I will win this fight.

What is this nonsense?

I'm calculating Win Hexpectancy. You wouldn't understand. Okay... Two outs, bottom of the ninth, and my team has a one run lead with a base runner on second. The pitcher, a right-hander, is tiring and a league-average left handed batter is about to come to the plate.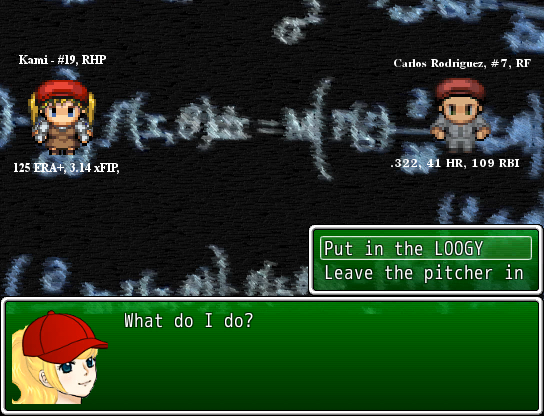 Well, you'd think this is a job for the LOOGY, right?

Clearly, this is a job for the LOOGY-- the Lefthanded One Out Guy. Bring him in to deal with the batter.

But then the manager just pulls the batter for a RH pinch hitter, and you are stuck with a guy on the mound who is only good against LH hitting.
...shit.

You... You're right! But then what was I supposed to do?

Sometimes you are faced with no-win situations... There is nothing you can do as a manager to help, and all you can do is hope it works out.

No! I refuse to believe it.
Kami lost the ability to use [Win Hexpectancy] against Carlos Rodriguez!
What happens if we try the other answer?

And now a tiring right-handed pitcher has to face a left-handed batter. Is that really the optimal match-up?
There really is no right answer between those two. So, let's try the Replacement Prayer, then.

De profundis clamavi ad te, Domine: Domine, exaudi vocem meam: Fiant aures tuae intendentes, in vocem deprecationis meae.

Oh, this is just precious.

Domine Iesu, dimitte nobis debita nostra, salva nos ab igne inferiori, perduc in caelum omnes animas, praesertim eas, quae misericordiae tuae maxime indigent.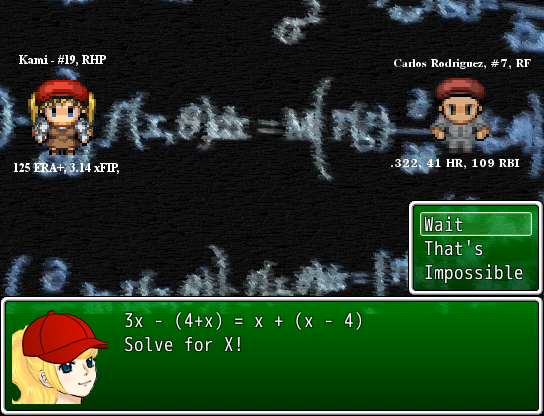 Welp.

That could be any number! There's no solution for that problem.

You seem obsessed with the idea of a solution. You need to realize that sometimes there isn't an answer. There is only fear and despair.

Oh god, you're right...
Kami lost the ability to use [Replacement Prayer] against Carlos Rodriguez! Kaminari no longer has any Sabermagics to use.

Looks like I've won.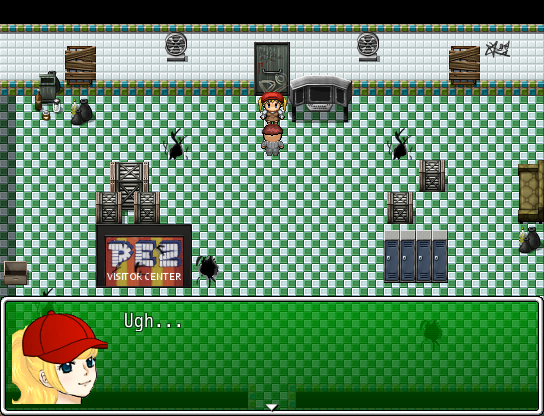 ♪ BGM: Pez Factory ♫

Just as I expected. You are like all the rest. You talk a big game, but when it comes down to it you are just another loser.

How is this possible? Sabermagics is just something we made up! How could he know how to defeat it?

I have to say, Bobson... I'm disappointed. The three of you should know by now that parlour tricks won't work on me.

THREE of us? Don't younotice that there are now four of us? #DontForgetTwitter

Wow, you guys really are just getting weirder and weirder, aren't you?

There's nothing #weird about social media. I help you follow your favorite #brands and keep up on the hot new #trends.

Have fun with this one, Bobson. And don't forget, if you're the closer again, I'll be waiting for you in the ninth inning.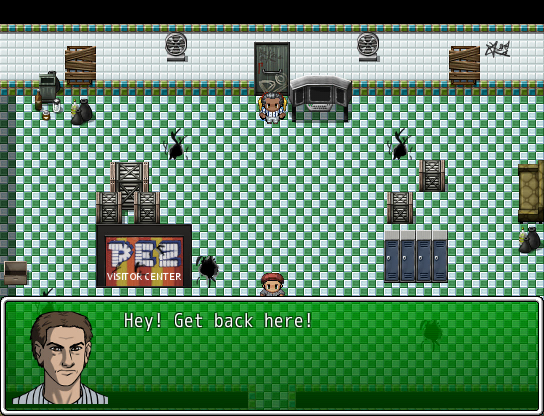 You don't know that you will actually be hitting in the ninth inning!

...and now he's gone.

How the hell does he keep showing up? It can't just be coincidence that he knows where we are all the time.

Calm down, Kami. We've all lost to him. It's like a rite of passage at this point.

I haven't lost to anyone! @twitter is still #undefeated

Eh, give it time. I'm noticing a pattern.

Guys, we need to forget Carlos Rodriguez for a bit. Zizek is still out there somewhere and he probably needs our help.

That's right! Failure is never #trending so we should aim for #success.

I... Uh... Fine, whatever.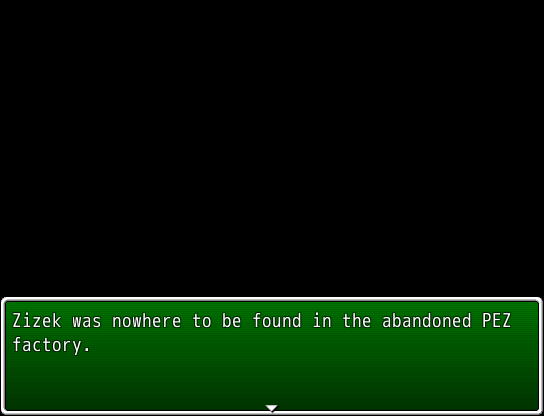 ♪ BGM: Silence ♫
He had left without telling us where he was going. Some people might have taken that as a message that he didn't want us following him.

Or that he knows you should be getting ready for the game tonight!
But we weren't going to give up that easily. The first place we checked was his apartment.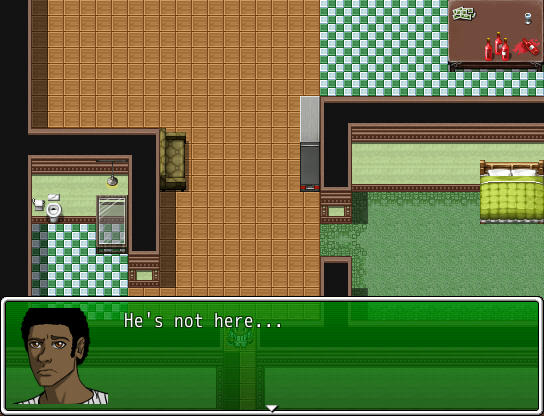 ♪ BGM: Spirits Among Us ♫

Let's have a look around! Maybe we'll find a #clue

Aren't we violating Zizek's privacy by snooping around his apartment while he's not here?

By agreeing to the terms of service, Zizek has waived the right to bring any action for infringements on his #privacy

You know that this isn't the internet, right @twitter? Your terms of service don't mean anything here.

I see you didn't read the terms of service, either. They apply everwhere, so I can safely search this apartment. #SorryNotSorry

Hey, Moose, was bringing this guy out of the internet really such a good idea?

No, but we're well past that decision now so we're going to have to get used to it.
Alright, let's look around.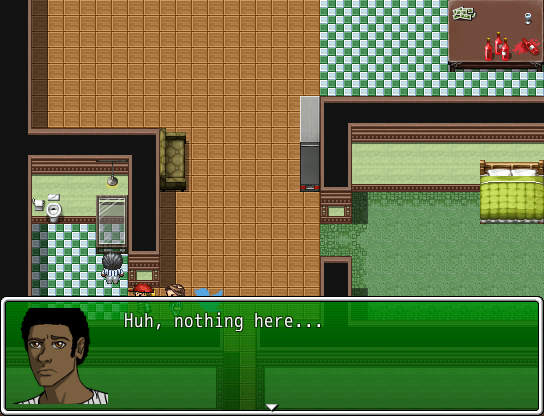 Did you really expect to find a clue in the shower?

When I was in high school sometimes I would study in the shower because it was the only place I couldn't get distracted by my phone.

That wasn't distraction, that was social media #engagement.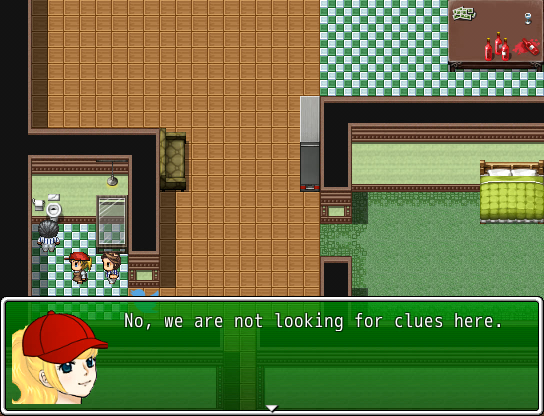 I did actually kind of expect to get some
wisdom on toilets
. And yes, I know I already linked this, but it's great.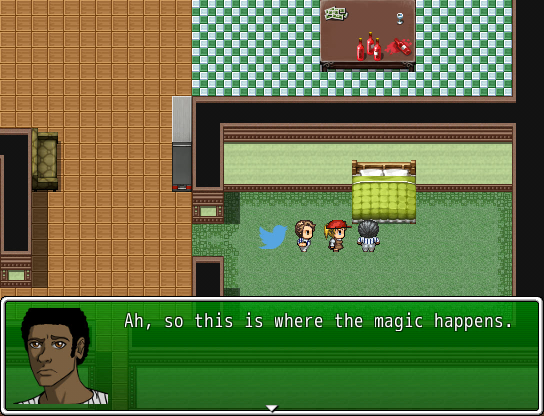 Please, PLEASE, do not put that image in my head.
Zizek fucks.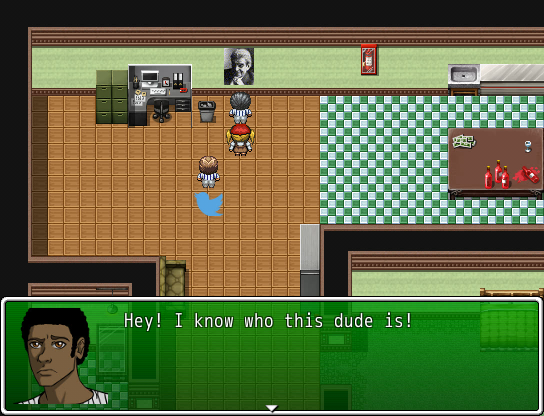 You... do?

Yeah, this is Egon from the Ghostbusters movies. He's the smart one. Like the Donatello to Bill Murray's Leonardo.

This is French philosopher Jacques Lacan.

Which one of the Ghostbusters is he? Because if he's Ray, Dan Aykroyd has not aged well.

Jacques Lacan was not a Ghostbuster! He...

He what?

Oh, I momentarily forgot Zizek wasn't here. I was giving him an opening to explain how Lacan really *was* a Ghostbuster.

Yeah, that sounds like a thing he would do. I miss him...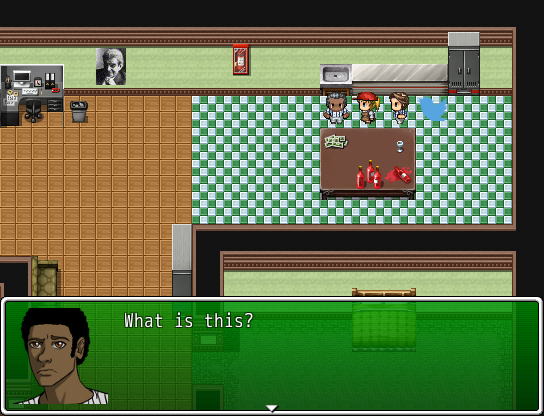 Looks like a bunch of hastily written notes covered in wine stains. Nothing too strange for the apartment of a philosopher.

These are all recent! They might give us an idea of what he's up to.

Look, this one is some sort of old contract.

It's his rental agreement for space at the All Night Bookstore. Why would he be going back to look at that?

He was paying for his study room at that bookstore? Jeez, what a nerd.

He's circled this part about damage caused to the bookstore by his philosophical experiments.

Philosophical experiments shouldn't cause damage to anything.

Anything but my attention span.

But I was brought into this world with a philosophical experiment. And everyone knows that one bad tweet can #damage a #brand.

@twitter is right! Well, not right really... But there is a point in there somewhere. Applied ontology could definitely create a lot of terrible things--things that could damage or destroy the All Night Bookstore.

You think that he's at the bookstore? Performing experiments in applied ontology?

This could go real bad...

We need to help him! Or stop him! I don't really know, this is all confusing.

If we are going to an all night bookstore I need to modify my #content viewing #settings.

It's not that kind of bookstore!
Well, I guess we have our destination now, but let's see what else we can find.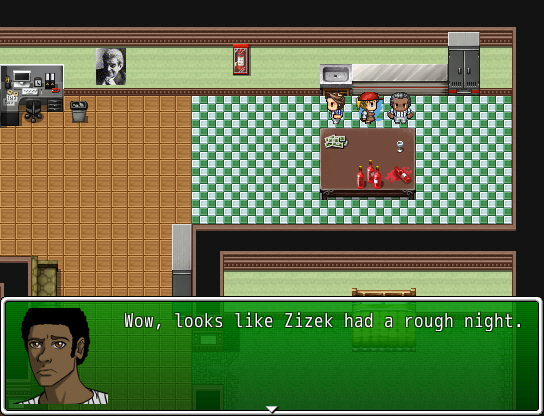 Night? He's only been gone for about an hour.

Yiiiikes.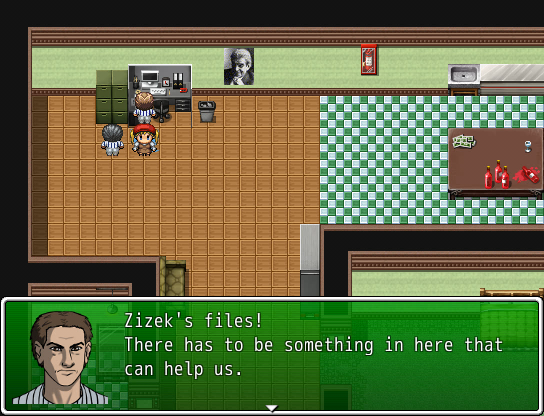 What the hell? These drawers are full of Cap'n Crunch cereal.

I'm sure Zizek has a good reason for this.

Well, Cap'n Crunch *is* delicious.

@RealCapnCrunch is one of my favorite #brands.

This is entirely unhelpful.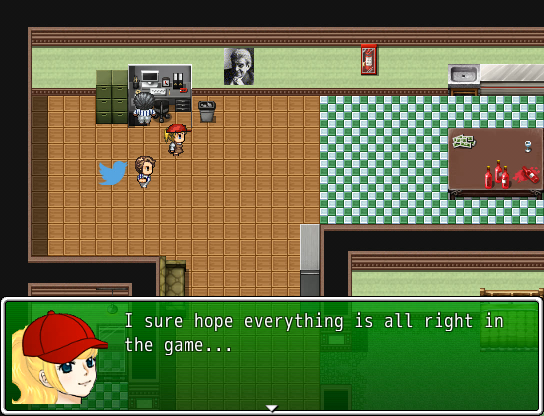 I'm sorry, Kami, this must be very disconcerting to you. Even though we disposed of Jimmy Dugan.

I feel like we should turn off the computer, but what would happen to my teammates back in Rockford?

We'd need Zizek around to even begin to answer that question.

Suddenly I'm worried about my buddies #facebook and #myspace.

I've got bad news about MySpace...

Oh no! Did Tom unfriend me? #ouch

Um, just going to let you figure this one out on your own.
Alright, that's all we can see in the apartment, time to head to the book store.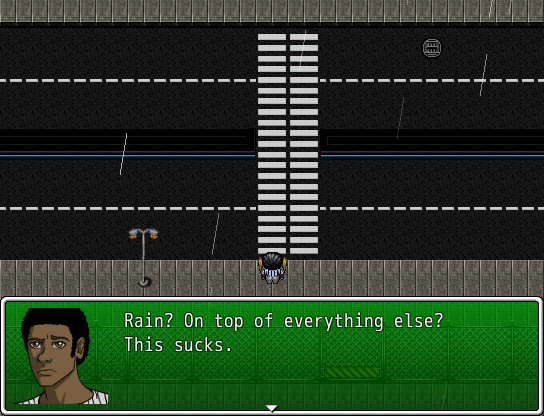 All the more reason to hurry this up. We were probably supposed to be at the stadium by now getting ready.

Isn't the game hours away?

Merely hours, you mean.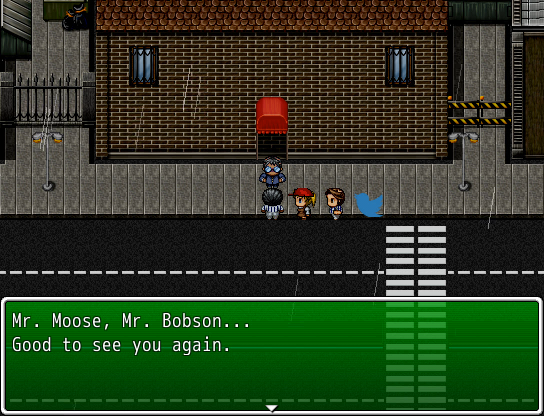 They make you stand out in the rain?

Someone has to protect the bookstore.

I mean, I guess so...

You gonna let us in this time or are we going to have to fight you?

No, you are both now full members of the All Night Bookstore. Go on ahead.

Aw man, I'm a member of a bookstore? If I was a teenager I'd shove myself into a locker for this.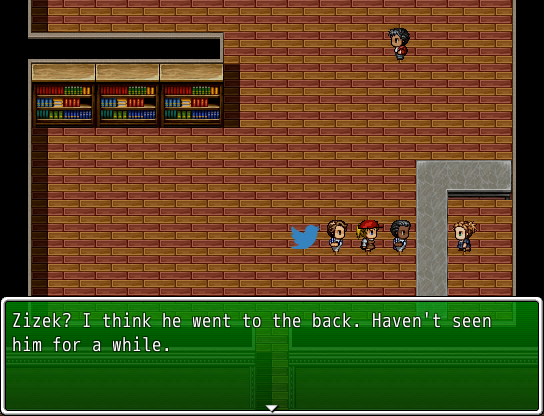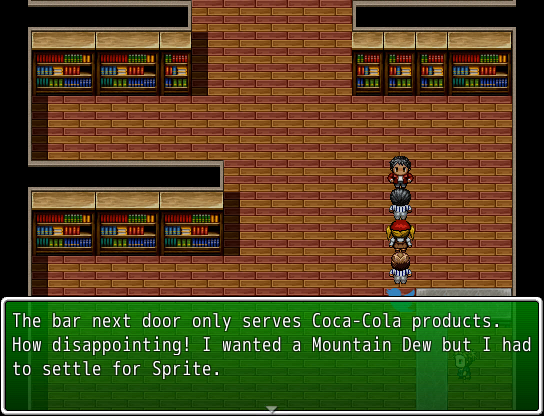 Here's the next part of our soda trading chain.

You're a lifesaver! Vodka and Sprite tastes terrible. Here, you can have my Sprite instead.
Now, to the back.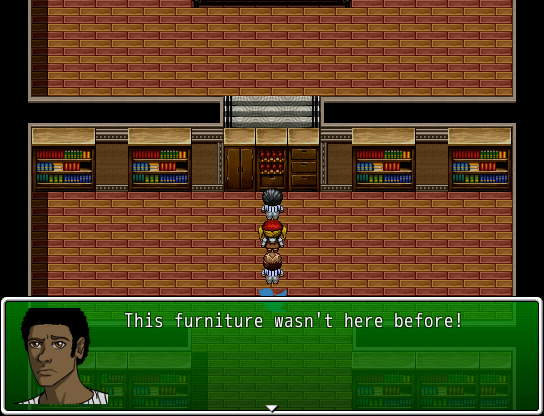 Zizek seems to have barricaded himself inside of his room at the bookstore.

This is especially bad! What do we do now?

Coach would kill me if I tried to move all of this furniture. I might hurt myself.

We can't give up now!

Looks like we are #blocked.
♪ BGM: Twitter ♫

Fortunately I know something about #blocking.

This is a little bit different from when you block someone on twitter. This involves large physical objects.

Don't worry, guys. I know exactly what to do. #dedication Please, just be #careful and stand back while I do my work. #StandBackForTwitter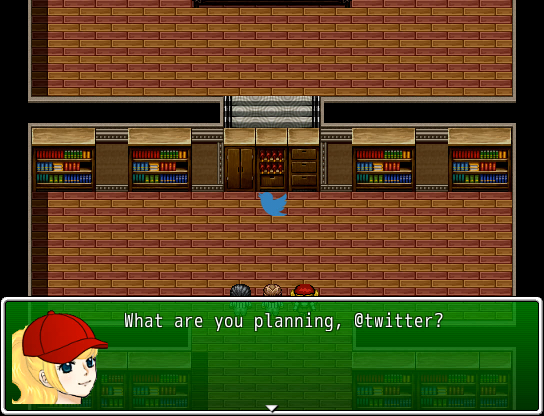 I've seen a lot of #blocking, and when someone really wants to get around a #block they just create a new #account. That won't work here, so I will just #smash my way in.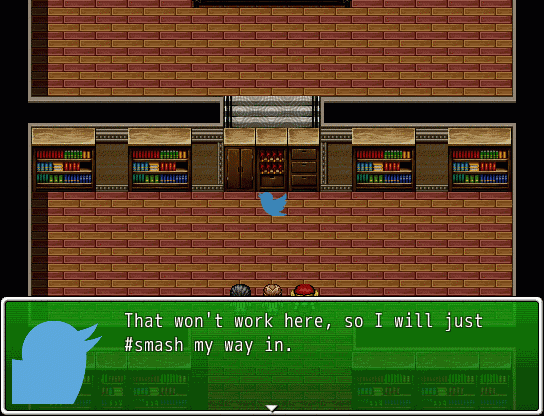 Do you even think that @twitter feels pain? Like, does it have nerves and a brain and all that?

I'm not sure @twitter can really accomplish anything here.

Let's be fair, we can only guess at how strong it really is.

That looks like some heavy furniture...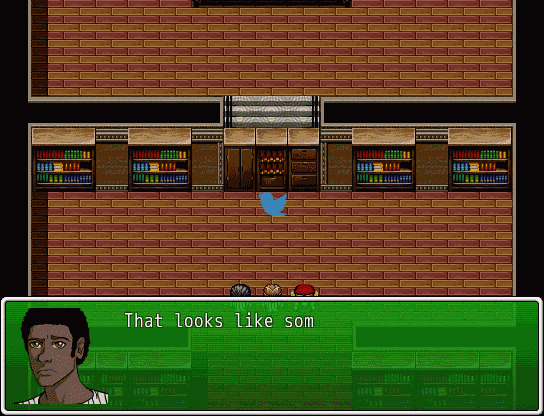 Boy, Kami, remind me not to make @twitter angry.

Look! I did it! #strong #dedication

What do you think that Zizek was hiding back there?

There's only one way to find out...
Well, time to see what Zizek has been up to.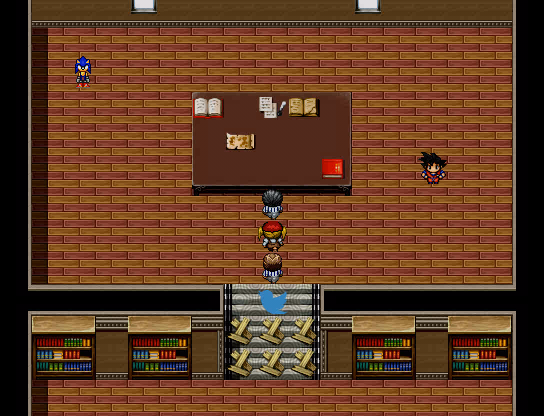 ...oh no.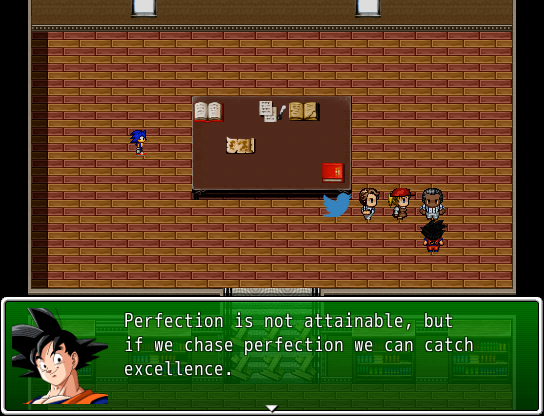 Those are great words of wisdom, Goku.

You know this strangely-dressed man?

Yeah, this is Son Goku, a member of an extraterrestrial race called the Saiyans who goes on an epic quest to find the dragon balls.

Huh, I didn't know that you were such a fan of anime, Bobson.

What are you talking about? Dragon Ball isn't anime!

...

...

...

Listen, I just arrived in this world a few hours ago and I've had literally no opportunity to learn anything about Dragon Ball... but even I know that Dragon Ball is anime.

It's not anime, it's a cartoon! They played it on Saturday mornings.

A lot of things they show on Saturday mornings is #anime.

What? No way!

The difference between a successful person and and others is not a lack of strength, not a lack of knowledge, but a lack of will.

Wise words, Goku, but we need to settle this debate. Are you anime?

No, we don't need him to settle that debate. We need him to tell us where Zizek is.

Fatigue makes cowards of us all.

That doesn't really help us.

Success demands singleness of purpose.

Wow, we're really getting nowhere with this guy.

Yeah, something sure seems off about Goku...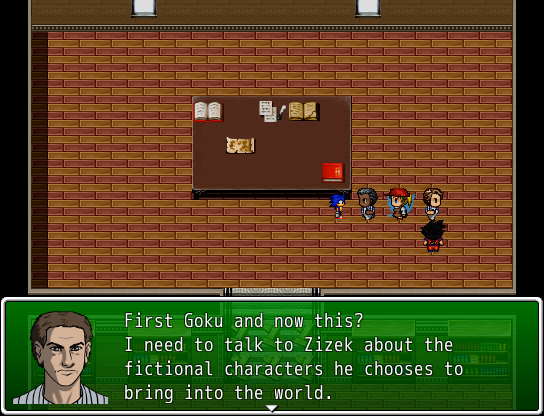 Gotta go... fast?

Sonic the Hedgehog?

This is bad. This is REAL bad.

Listen, Moose, I know that the new Sonic games get a bad rap but there are a couple of them that really aren't that bad.

That's not what I'm talking about. What is Sonic doing here in the real world?

THE PEOPLE AT SEGA OF JAPAN SHOULD HAVE THEIR ARMS RIPPED OFF BY ANGRY #MONKEYS FOR WHAT THEY HAVE DONE TO SONIC. #FEEDSEGATOMONKEYS

I am so very #apologetic, Mr. Sonic. Please believe that the views of my more hostile users do not reflect my own.

Something doesn't quite look right with this Sonic...

Please kill me.

Zizek must have used Applied Ontology to bring Sonic into the real world.

I don't think he did a very good job...

I'm not supposed to be here.

That much is clear.

The chili dogs in this world taste like cardboard, my knees ache when I run, and everyone here is just trying to hide their sadness about their own decay.

God damn it, Sonic, you're not supposed to say such depressing things aloud!

Why do I run... when my only true destination is the grave?

This is fucked up, Moose! Sonic the Hedgehog isn't supposed to be sad!

I don't know anything about Sonic the Hedgehog but this is all very disturbing. @twitter, Kami: both of you were created by Applied Ontology. Do you have any insight into this?

Why would I know anything about this weird hedgehog thing?

You are both video game characters that Zizek brought into this world.

Well, whatever he is, he's wearing shoes but not pants and it creeps me out.

We are both #blue. Perhaps that has some #HiddenMeaning

Blue is the color of sadness.

I think we should stop talking to this weird thing...

First, it needs to tell us where Zizek went.

What's a Zizek?

Pudgy, sloppy guy. Graying beard. He CREATED you.

Well, what do we know?

Zizek came here and started bringing fictional characters into the real world.

You mean he started bringing MORE fictional characters into the real world.

I am not a fictional character. I am @twitter.

I believe that Bobson was referring to me, in a passive-agressive manner that is not appreciated.

I'm just saying that all this weirdness had to start somewhere.

I am not Sonic the Hedgehog or Goku the...uh...

Saiyan. He'is a Saiyan.

It's anime.

It is not--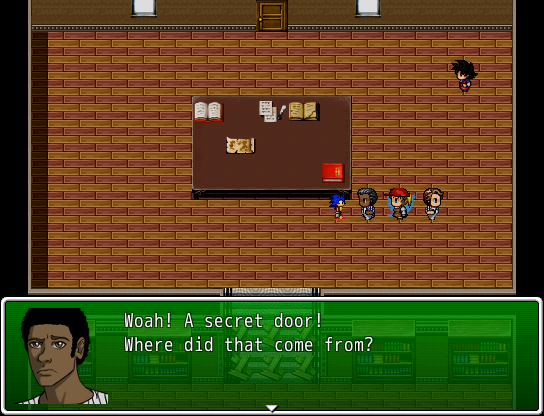 I guess that's what this button does...

Sonic! You did it! This is probably where Zizek went.

But what did I really do? Just advanced the story, advanced the steady march of time, bringing us one step closer to death.

Stop it, Sonic. You're getting me down.

I spend my life collecting gold rings, but as soon as someone touches me I lose all of them. I will forever be alone.

Let's move on, guys. #downer
Well, we've got a door. Let's see what's behind it.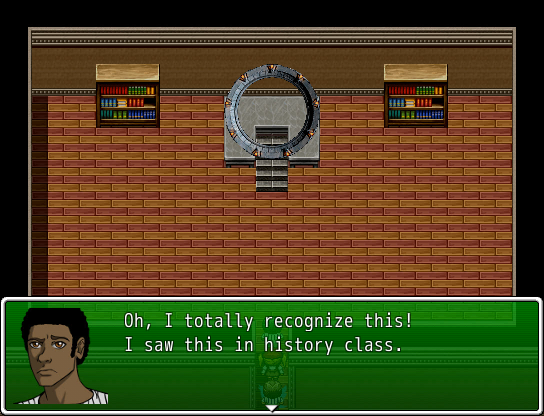 ♪ BGM: Spirits Among Us ♫

Okay, so what is it?

It's a Stargate.

Wait, you learned about stargates in history class? That doesn't even begin to make sense.

Yeah, every time we had a substitute teacher, they'd just put on a DVD of Stargate for us to watch. I guess they figured that at least it had *something* to do with history.

That's horrifying.

The movie is all about ancient Egypt!

The fact that you think that Stargate has anything to do with Ancient Egypt is exactly the problem.

Hey! Both of you are missing the point, which is that one of these stargates is right here in this room with us. From the sounds of it, this is yet another piece of fiction that Zizek has brought into the real world.

Sonic, Goku, and Stargate. Zizek and I are going to need to have a talk about the sorts of media he has chosen to consume.

This still doesn't tell us where he is. If he's not back here, where did he go?

C'mon Kami, it is #obvious. He went through the Stargate.

That does sound like the sort of thing Zizek would do. He would want to test the limits of Applied Ontology... so he would naturally want to find out whether creating a stargate would also bring into existence its destination.

So what you're saying is that we're going in after him?

No! We have a game to get to! At some point, Zizek is responsible for himself. Bringing a magical device from a Roland Emmerich movie into the world, then using it to launch him into space is that point.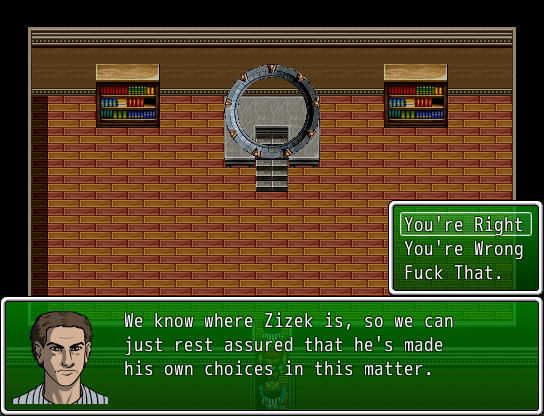 Fuck that. Wouldn't Zizek tell us that, while he might be capable of making his own choices, he is blameless for the desire which drove him to those choices? Are we just going to punish him for having feelings of depression and uncertainty that cause him to create a portal to some other world? Is that the kind of friends we are?

...We're going into the stargate, aren't we?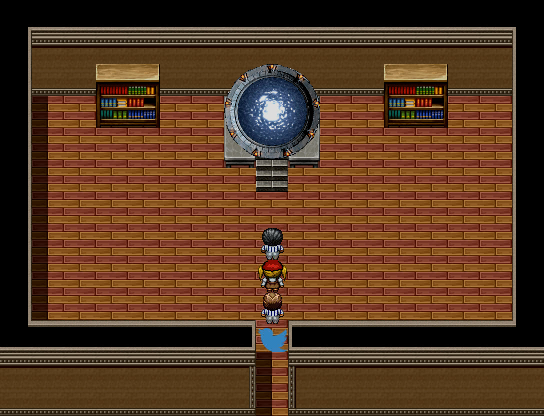 Well, here we are.
Next time, we're going into the stargate.