Part 21: Update XIX - Sorry, But Those Are The Fucking Breaks.
Update XIX - Sorry, But Those Are The Fucking Breaks.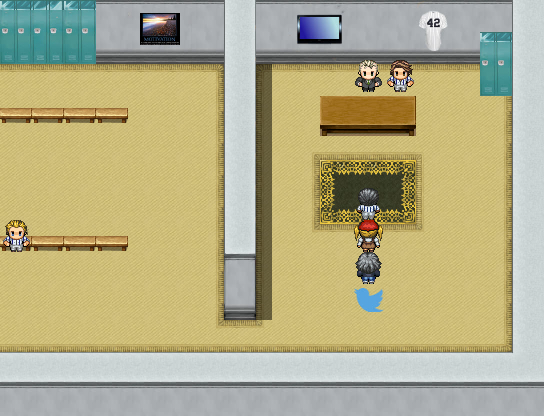 ♪ BGM: Closer's Theme ♫
So, it's pretty much time for the endgame. But before that, we have some unfinished business.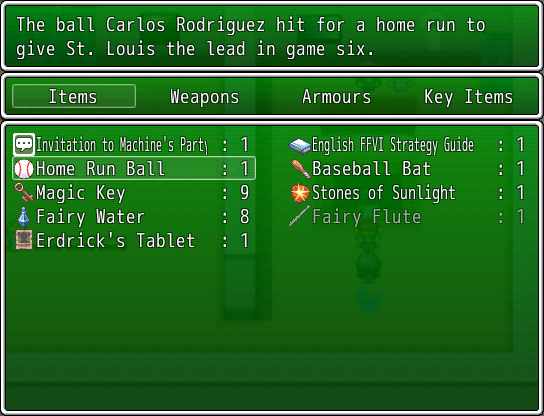 Let's use this.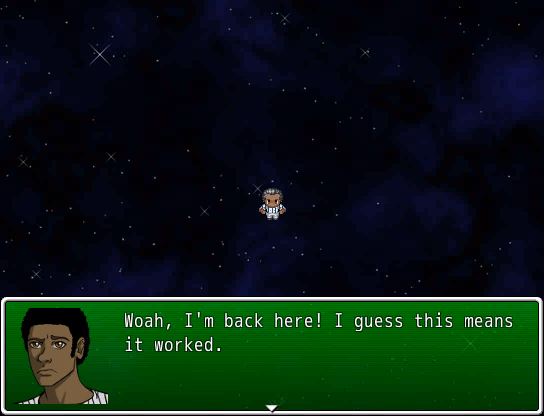 ♪ BGM: The Entrance ♫

I wonder what famous pitcher will visit me to help me re-learn my slider...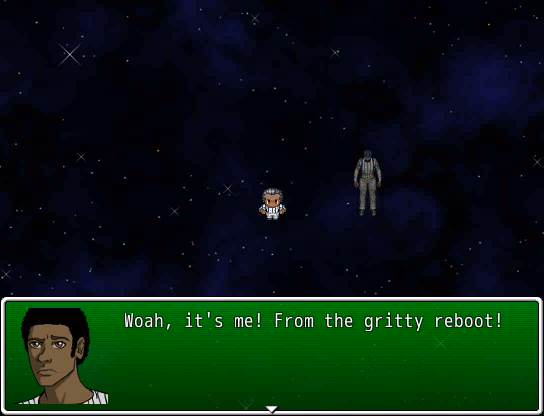 Relearning your slider was never about finding inspiration from another pitcher, but from regaining your own confidence. You've made it through the darkest of times, and now you know that you can throw your slider again, since you can mix it in with other pitches.

But Moose said it was a meatball now! The league has figured it out!

You've come a long way since then, traversing worlds to find a way to fix what you have broken. You've earned this.

But what do I do about Carlos Rodriguez? He says that the very act of facing him will bring about the end of the world.

There's always another way. You know that, deep in your heart.
Bobson has re-learned the slider!

I can feel the wisdom of pitchers past flow through my veins. Ted Seaver. David Cone. Steve Carlton. I can feel the masters of the lateral breaking pitch speaking to me through my own repertoire. I threw the pitch for months without realizing what a difficult beast it was to control, but now it all comes into focus.

Go, Bobson! Finish what you started!
TheMcD's Baseball Stuff posted:


Tom Seaver is probably the player most associated with the New York Mets and their greatest legend. He was the centerpiece of their rise from expansion team bottom dweller (the Mets joined the National League in 1962 and as such sucked in the beginning). Seaver would debut with the Mets in 1967 and instantly made an impact, establishing himself as the team's ace immediately. And he would be an integral piece of the 1969 "Miracle Mets", the Mets team that went from bottom two finishes in the ten team National League from 1962 to 1968 to winning 100 games in their next season and making the playoffs with a clutch stretch of winning in the late part of the season. Those Mets would go on to win the World Series.

Seaver would find himself traded to the Cincinnati Reds after a contract dispute went bad in 1977 at the age of 32, but he continued playing well up until his retirement after his age-41 season, though his stretch from 1969 to 1975, in which he won three Cy Young awards, stands out as a particularly great peak, and he found himself elected to the Hall of Fame on the first ballot.



David Cone was another one of those pitchers that found himself a part of the late 90s Yankees dynasty, though he did it at a later point in his career. Cone started out in 1986 with the Kansas City Royals and quickly found himself with the Mets in 1987. He pitched pretty solid, but his peak started relatively late, with his age-31 season in 1994, in which he won the Cy Young award with the Royals, and in 1995 Cone would find himself with the Yankees, where he went on to be a part of their four World Series wins from 1995 to 2000.

Cone was also notable for being a very active players' union representative, representing the entire American League during the 1994 strike, with him finding himself both lobbying politicans and bending over backwards towards player crowds at rallies to say that "the owners are trying to stick it up your ass without Vaseline. That's what this strike is about. This is about your rights, not your money." His efforts resulted in the Curt Flood Act, which allowed baseball players to bring antitrust lawsuits against owners, which had previously been impossible because of a specific exemption for baseball.



Steve Carlton, to sum it up, is the god of the slider. He pitched for 24 years and was great for most of that time, and he did it on the back of a devestating slider. But don't take my word for it, here's a video of MLB players talking about how unhittable Carlton's slider was. Carlton started decently enough from 1966 to 1968, but a far cry from dominating. During this time, which he spent with the St. Louis Cardinals, he would learn from Bob Gibson, a pitcher who at the time was the nightmare of batters all over the league.

The real shift in his career came in an exhibition game in Japan, where he faced one of the best hitters in Japanese baseball's history, Sadaharu Oh. Oh already hit two home runs off of Carlton, so he figured "what the hell" and threw Oh a slider. Oh backed away from the pitch, but it still ended up inside the strike zone. And then Carlton knew he had something with the slider.

While Carlton started with the Cardinals, his career is far more linked to the Philadelphia Phillies, the team with which he had four Cy Young seasons and won a World Series title (though he also won one with the Cardinals, he wasn't established back then). Carlton would continue pitching solidly until he was 40, and after adding two bad seasons and one very short stint in 1988, he would put a cap on his first-ballot Hall of Fame career.
With that done, let's get some more advice from our wise mentor.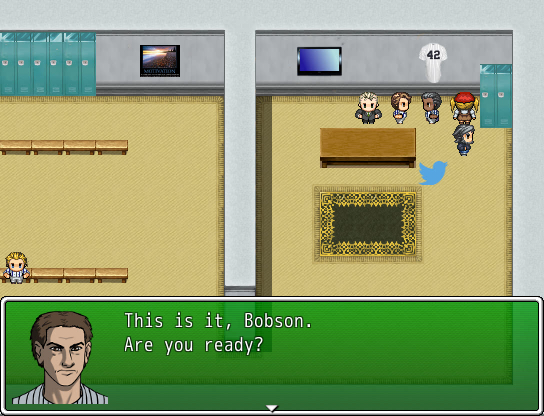 ♪ BGM: Closer's Theme ♫

Any more thoughts on what to do about Carlos Rodriguez's threat?

I thought about reporting it to homeland security but that's probably where the Illuminati do most of their work.

This is a fair assumption, though mere hours ago I would have called you a madman. I would have meant it as a compliment, but still...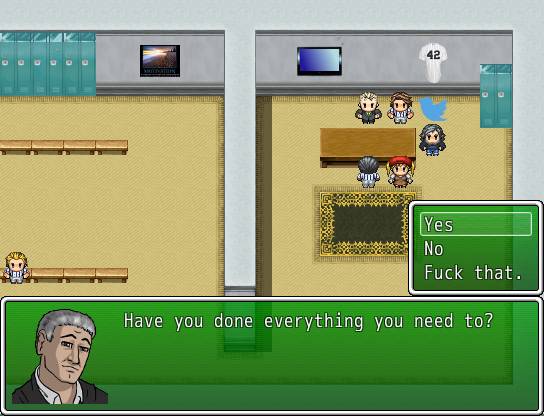 And with that, let's get to Game Seven. I've done everything.
Are you sure? If you tell the manager you're ready, you will fast forward to game seven of the World Series. Anything left undone in the world will remain undone, and this will affect the ending you receive.

Well, I already uncovered the Machine's plan to end the world... and I rescued Moose from the gritty reboot!
Fast forward to game seven?
Yep.

Unfortunately, your friends won't be able to go to the bullpen with you, but since they've been so helpful, we'll let them stay in the lockerroom to watch.

We don't even get tickets?

None left. What did you expect? This is game seven of the world series.

Capitalism, once again, finds us when we are weak and uses our bones to build boats in the desert.

I guess I should say goodbye...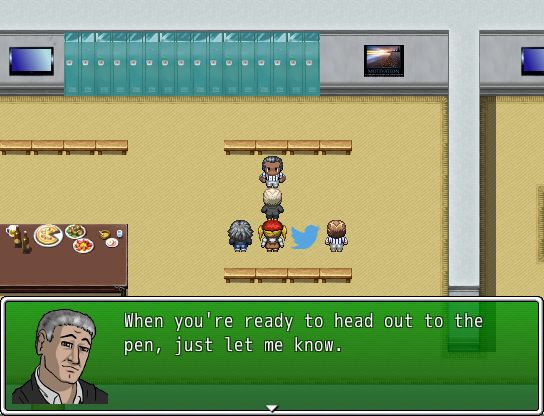 Time to have one last chat with everybody before the big game.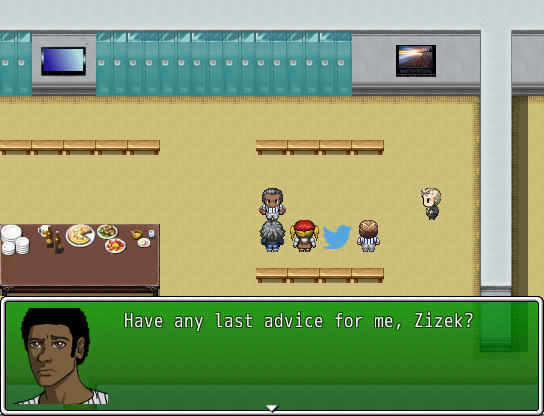 Consider, Bobson, what is your true "objet petit a", your true desire that is, alas, unobtainable?

The World Series, though I'm pretty sure that is obtainable, since we were one strike away in the last game.

No, no, no, you misinterpret, though I suspect that is not your fault. The World Series, being obtainable, cannot be the true objet petit. It is not something that you can make a part of yourself. It is by its very nature alien and unknowable, both the remnant and absence of that which is The Real and defiant of signification.

You lost me.

That is okay. Just think of the film "Ed."

That's the one with the guy from Friends and the monkey who plays baseball, right?

The very same. In "Ed", it is presumed that the primary goal of the protagonist, Deuce Cooper, is to impress his team and make the Major Leagues. Deuce, though, has an anxiety problem. He chokes in front of a crowd, which you likely can sympathize with. To help Deuce, the coach makes him take care of the team's third baseman, who happens to be a chimpanzee. Ed doesn't just help Deuce with his baseball anxiety, but also his social anxiety, helping him bond with a single mom and her daughter. Ed is sold by the greedy owners--typical capitalists--and while Deuce goes to rescue him, Ed is injured by an extended stay in a frozen banana truck. Deuce isn't sure he can still get over his anxiety without his monkey friend on the field, but overcomes it when his girlfriend shows up at the park... along with her daughter and a recovering Ed.

What does this have to do with ANYTHING?

Curing Deuce's anxiety is his objet petit a, which is understandable because any brief contemplation of The Real is a source of anxiety. He believes that the presence of the monkey resolves him of his unquenchable desire, but realizes when Ed is injured that the object can never be achieved. However, since this is the filmic world of fantasy, Deuce does find a way to resolve his quest... through, of course, the adoption of the structure of the family--his girlfriend, her daughter, and the monkey. This is typical of American filmmaking: the underlying theme that unfulfillable desire can actually be fulfilled through submission to structures. The truth, however, is that film lies to true desire is beyond structures--it is superstructural—-and to assume otherwise is to set oneself up for failure.

...and?

You must realize that the World Series will not cure you of desire, just as family, success, and a monkey could not cure Matt LeBlanc's character. Baseball is a game, and like "family" is a structure that cannot subsume your desires. So you must know your true desire... then you must accept that it is unobtainable. Then you will know what to do with the game.

Thanks, Zizek. I think.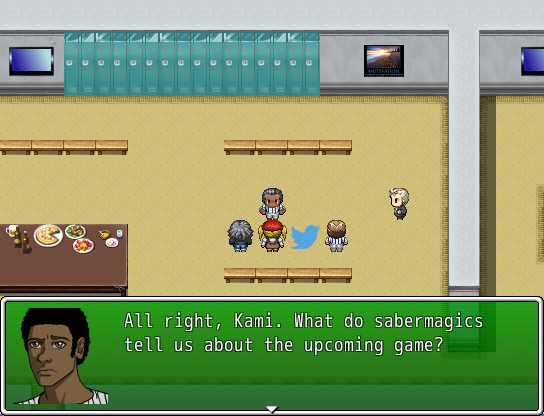 Just like any baseball game, it's mostly a toss-up.

That's not helpful!

Sorry, but those are the fucking breaks. Would you rather I say that New York has a 54% chance to win? Even though, functionally, that's meaningless?

I like those odds.

They're still not great!

Better than a 46% chance, right?

Well, yes, but a single game has so much random bullshit in it that the 54% number has no bearing on reality. It's based off the idea that there is no information we can't have, which, of course, is fucked up.

What do you mean?

How many players in the starting lineup are hungover tonight? I can't know that, and even if I didn't, I have no clue how to factor that in to my 54%. But I'm sure it affects it!

If you're drawing from a big enough pool of information from real games, doesn't that end up assuming the theory that some players are hungover?

Yeah, but the unknown rate of hungover players throughout baseball history is actually irrelevant to tonight's game. And might, in fact, make the stats less useful because this is such a unique situation - a postponed game seven of the World Series.

So you got nothing?

Throw strikes. But not too many over the middle of the plate.

And The Machine?

Try not to end the world, if you can help it.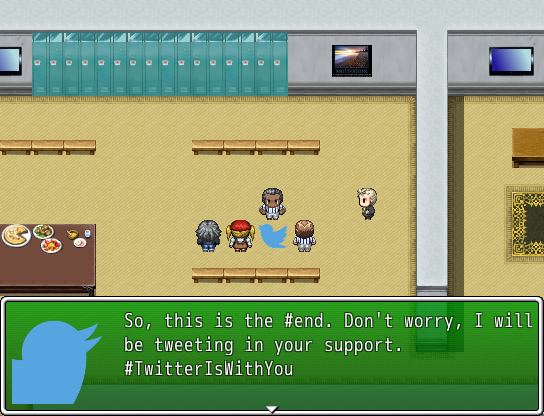 Is it okay for you to do that? To take a side?

I really shouldn't. But as you know, social media has no fondness for #rules and #regulations.

Thanks, @twitter.

YOU ARE A PIECE OF SHIT! YOU NEED TO BE CASTRATED SO THAT YOUR FAMILY LINE IS NO LONGER A STAIN ON THE EARTH.

Oh, again, I am so sorry. I swear we are taking steps to remove this influence from our servers.

Don't worry, I understand. It's just how you are, twitter.

Wow, you #understand me.

Not really, but I accept you.

This is truly #amazing.

Have any suggestions for me if I have to take the field?

A quick survey of what is #trending tells me that half of your fans want you to #StrikeOut Carlos Rodriguez, while the other half... wants you to hit him in the head with a fastball.

That is both brutal and specific.

I just say what the #metrics are telling me.

Are people really that cruel?

Buddy, you have no idea. No matter what the people say, you need to #win. And I believe you can.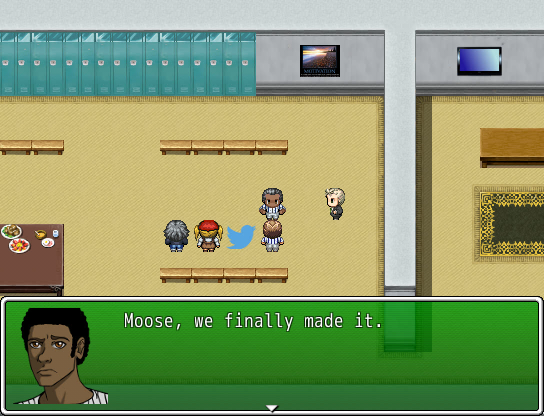 Not yet. We still need to win this game.

Any last advice?

Remember what I've taught you. Never throw a pitch the batter is looking for, and mix up your fastball with off-speed pitches. Also that knuckle-curve is basically unhittable but don't throw it to Carlos Rodriguez with two strikes. Remember, that didn't go well for me.
So the game does basically tell you here that the knuckle-curve is a god pitch.

We're gonna win you that World Series title, Moose.

Thanks. Just try and avoid ending the world, if you can. Some of us do care about sticking around to enjoy the championship.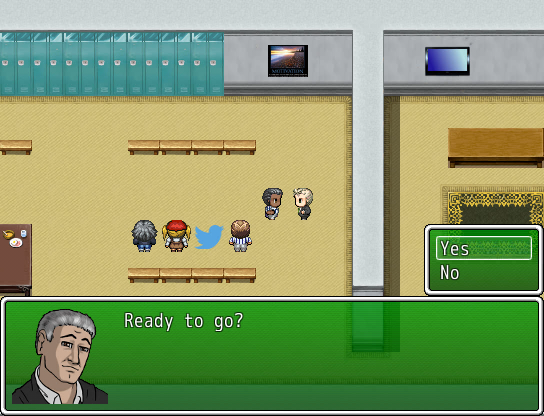 And now, it's truly time.

Ready as I'll ever be.

Don't worry, kid, I have faith in you.

You had me pulled from the closer position and only put me back because of twitter!

Wrong! I pulled you from the position because of twitter and then put you back.

That's not any better!

Just believe that I trust you now. Now get out to the pen and be ready if we need you in the ninth.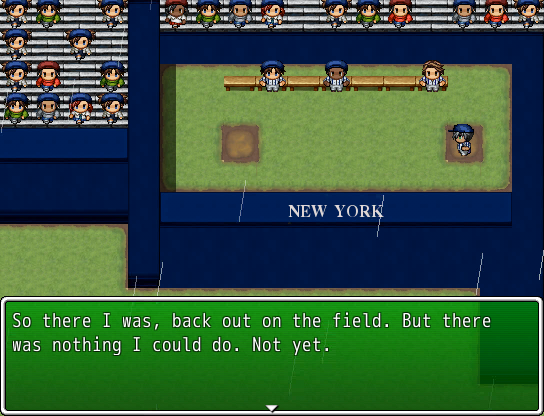 ♪ BGM: Silence ♫
That's the thing about being a bullpen pitcher. Until you are needed, you have no control over the game. I'd spent the last two days doing everything I could to prepare for one inning that may not come, and especially to be ready for an at bat against the Machine that was unlikely to happen. Despite all the work I put into getting ready for the game, I hoped that it would be a blowout and I wouldn't have to pitch. It's not that I was afraid I would blow the game again, but what if I had to face The Machine... I had the pitches to strike him out, but would I be able to forget his terrible prophecy? And should I forget it? Was there something I could do to prevent it from happening? I hoped that my teammates would come out of the gate, firing on all cylinders, and I wouldn't even need to pitch... let alone face The Machine. Of course, in the back of my head I knew I wouldn't be so lucky.
The game moved quickly, with both starting pitchers dominating through the first several innings. I don't know if it was the light rain, or the day off but the hitters just couldn't drive the ball. I wondered if the Illuminati had something to do with this, since they knew as well as I did that a high-scoring game would make it less likely that I would face The Machine. In the fourth inning, St. Louis scored a run on a sacrifice fly by The Machine after the number 2 hitter bunted a runner over to third base. It was like they knew it would be a low-scoring game. New York scored three in the fifth, but thoughts of a blowout were dashed when they stranded the bases loaded. The Machine hit a HR to lead off the seventh and St. Louis threatened to tie the game, but the setup men worked out of it. By this time, I knew what was going to happen. I could see how the lineup would shake out. Whether by fate or the will of the Illuminati...
New York would go into the top of the ninth inning with a 3-2 lead, and the top of the order up for St. Louis.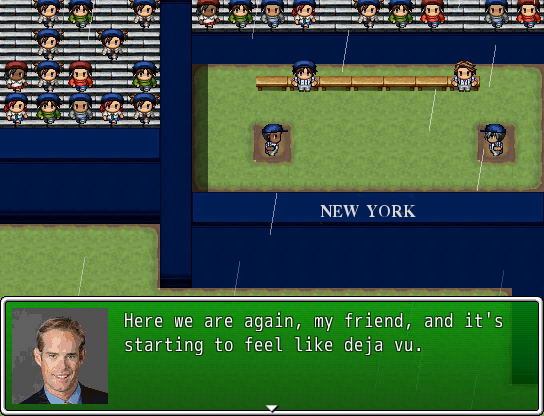 You know what causes deja vu?

Uh, no, I don't...

It's memories of past lives carried through your body by midi-chlorians.

Oh for god's sake, I thought we resolved this after game six. Fortunately, we have something more important to talk about.

That's right! Here we are again, like the fox at the hen house on an early dewey morning.

Just like in game six, it looks like the manager will turn to Bobson with a one run lead in the ninth inning.

This is as excitin' as a fresh bottle of ranch dressing on an iceberg salad.

That... That doesn't sound exciting at all. Fortunately, this game is plenty exciting no matter what kind of awful salad you're eating. Bobson will face the top of the St. Louis order. And yes, that includes Carlos Rodriguez, who has already homered in this game.

Gotta wonder what's going on in the kid's head.

He's probably replaying that pitch from game six in his head, wondering how he'll keep from throwing another one like it. At least this time he starts the inning with no one on base.

Yeah, but he's gotta get three outs instead of just three strikes.

I guess we'll see if he's up for it. Here he comes!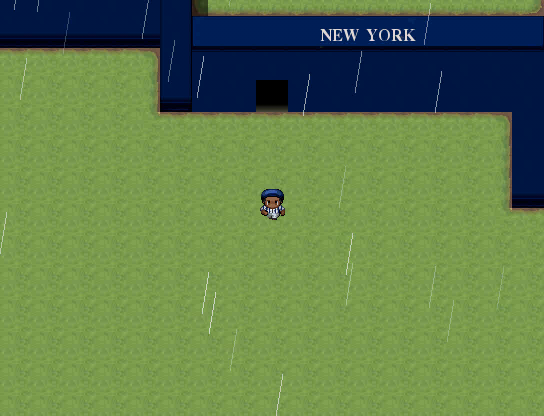 ♪ BGM: The Entrance ♫
And here we are.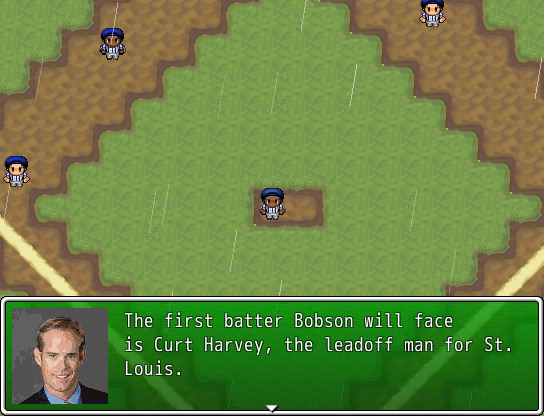 Harvey batted .306 for St. Louis, with 30 stolen bases. Not someone that New York wants to see on base, especially ahead of Carlos Rodriguez.

He runs like a horse with a gullet full of coffee.

Bobson delivers the pitch!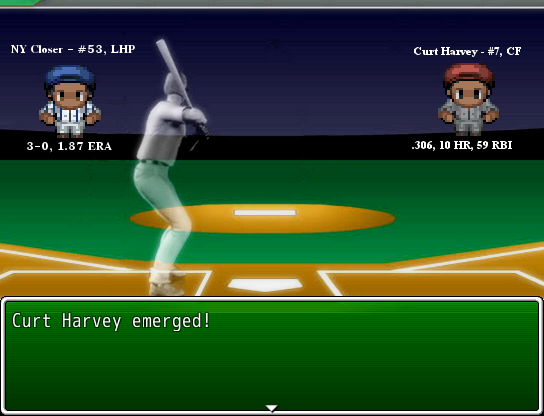 So now it's time for the final battle. This time, we need to go through three batters in a row instead of just one. Now, I could just throw cheapout knuckle-curves, but let's try to do this without abusing them. Let's go.
Bobson throws a fastball!
Strike 1! The batter swung right through the heat! The hitter is now looking for a fastball!
Thankfully, Harvey here sets us up for the other three-strike-combo. First, the change...
Bobson throws a changeup!
Strike 2! The batter got out in front of that pitch and just missed the change-up.
And here I should've just thrown a curve, but instead, I went for something different.
Bobson throws a slider!
The batter fouls off the pitch as it runs in on his hands! There are still two strikes on the batter.
I'm not sure why I wasn't going to the curve here, maybe it just felt too easy. Instead...
Bobson throws a fastball!
Strike 3! The batter swung right through the heat! Bobson struck him out!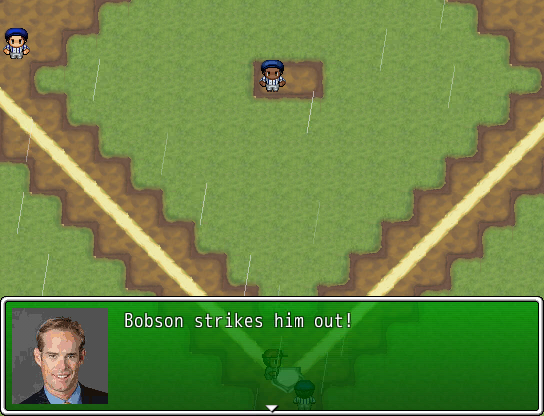 An excellent start to the inning for New York. They are now two outs away from the championship.

Harvey heads back to the dugout with nothing to show for the at bat but a handful of air.

Next up with have Stephen Miller, the second baseman for St. Louis. He's not quite Carlos Rodriguez, but he's still a threat at the plate. Let's see what Bobson has in store for the second batter of the game.

I hope he hurries up, I can't wait for him to face The Machine again.

C'mon, Miller is a good hitter in his owr right.

Listen, if Stephen Miller is the one to tie this game, we've all been scammed out of an incredible baseball moment.

We'll find out momentarily, as Bobson gets ready to deliver the pitch.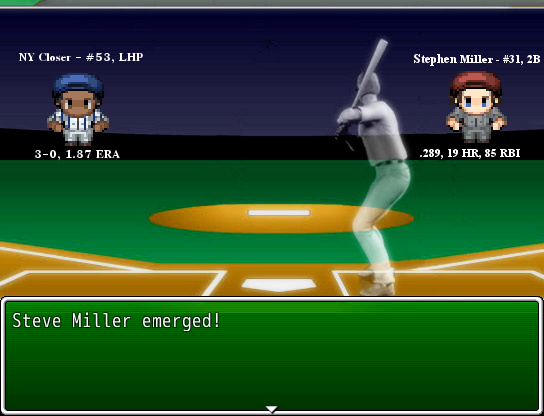 Let's see if we can get this guy too. The RNG in this game is a fickle mistress.
Bobson throws a fastball!
Ball 1! The pitch was just off the outside corner and the batter takes it for a ball!
Aw, horsecrap.
Bobson throws a fastball!
Ball 2! The pitch was just off the outside corner and the batter takes it for a ball!
Oh, fuck you.
Bobson throws a fastball!
Strike 1! The batter swung right through the heat!
OK, we can work with this.
Bobson throws a changeup!
Strike 2! The batter took that changeup on the outside corner.
Yeah! And now, to finish him off with the curve!
Bobson throws a curveball!
Ball 3! Even though there are two strikes, the batter manages to lay off the curveball in the dirt.
WHAT.
The hitter is now looking for a curveball!
Well, that doesn't help me too much, I think. I don't believe there's a killer pitch for "looking curveball", like the fastball is for "looking changeup" and vice versa. Uh, fuck it, throw some more heat, just get it in the god damn zone.
Bobson throws a fastball!
Ball 4! The pitch was just off the outside corner and the batter takes it for a ball! Bobson issued the walk. The runner reached base.
FUCK.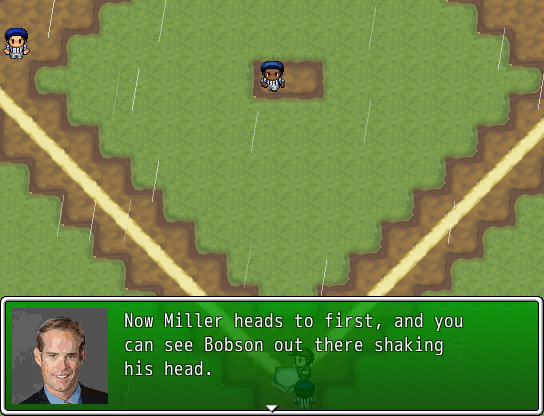 However, this does not end the game. We're still going, after all, there's just a guy on first, that's not too terrible.

That will put the tying run on base and make Carlos Rodriguez the potential winning run.

I know that's not what the kid wanted to do, but he's still in control of this game. Two more outs and its over.

Now, here it is, folks, the rematch you have been waiting for.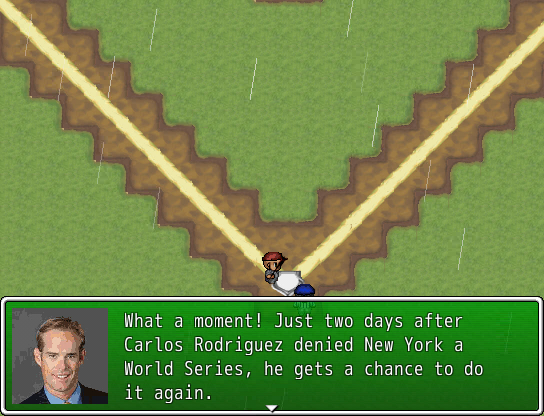 ♪ BGM: Terminate ♫

And Bobson gets the chance to redeem himself in front of the home crowd.

All right... Here goes nothing.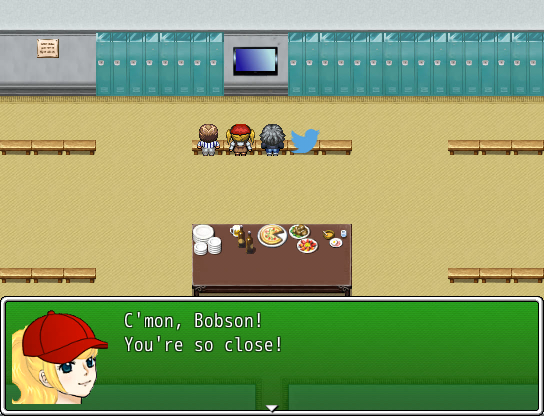 This game is, like all games, ultimately irrelevant. However I still wish for you to succeed and win this equally irrelevant championship.

The world is equally #cheering for your success and your death. Such is the nature of #SocialMedia.

C'mon, kid. Just don't end the world.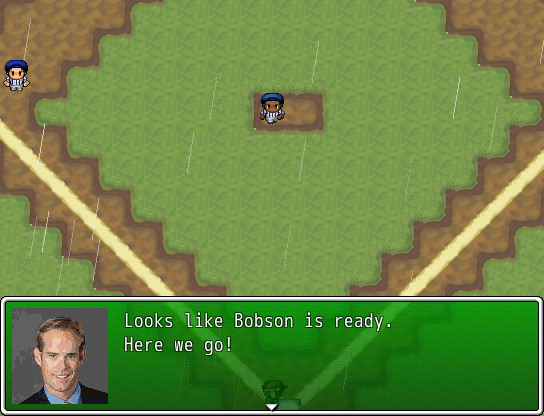 I can barely feel my left arm. You know, I might want to go to the hospital after this.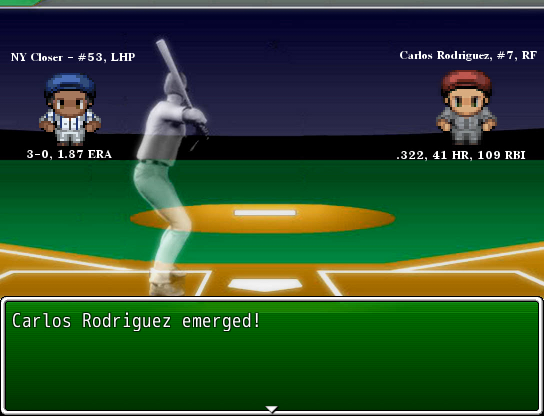 And now, it's really time for the true showdown. As is befitting of The Machine, pitching combat does not quite work the same way here. For instance, remember the spitball? You'd think it'd be great here, right? Well, here's what happens if you throw a spitball.
Bobson throws a spitball!
Rodriguez fouls off the pitch!

Wait, did you just make contact with that? That's not how the spitball works in this--

It's game seven, Bobson. No cheating allowed.
Carlos Rodriguez is now looking for the spitball!
And if you for some insane reason throw it again...
Bobson throws a spitball!

He-- He hit it again?

Carlos Rodriguez was sitting on that pitch! And even I don't know what that was! Was it some kind of pitch a cheater uses?
And then you lose. That is how fearsome The Machine is - he can hit a pitch that is literally unhittable and just magically removes a ball from the count. Let's not do that. Not that we could, since we're not cheaters. Let's just start with a fastball, as usual, since the game doesn't recognize habits that other players could recognize, like how when
Pablo Sandoval just suddenly entirely stopped swinging at the first pitch
.
Bobson throws a fastball!
Ball 1! The pitch was just off the outside corner and the batter takes it for a ball!
Fuckin' shit. Uh, more heat? We kinda need to get a strike.
Bobson throws a fastball!
Ball 2! The pitch was just off the outside corner and the batter takes it for a ball! The hitter is now looking for a fastball!
Oh god this is a disaster. Thankfully, we get a free strike now.
Bobson throws a changeup!
Strike 1! The batter got out in front of that pitch and just missed the change-up.
Now, let's try and see if we can sneak one with the slider.
Bobson throws a slider!
Strike 2! The batter took the slider for a called strike!

This is it, Bobson. Two strikes. Just like last time. What are you going to throw now?

This is it. This is the moment that the prophecy predicted. Is there anything I can do to stop it?
So, here we are. The thing is, there is something we can do to prevent the prophecy from coming true. In fact, it'll be staring at you once you enter your pitch selection. But we're not taking it. We are striking this motherfucker out. And to avenge Moose, we're going to do it with the knuckle-curve. Let's throw it. He can't possibly know it's coming.
Bobson throws a knuckle-curve!
Rodriguez fouls off the pitch! There are still two strikes.

Oh, so Moose taught you that pitch? Brave of you to throw it with two strikes, after what I did to him.
Rodriguez is now looking for the knuckle-curve.

Moose said this pitch could beat anyone, and I believe in Moose. I just have to wait for the next time he's expecting something straight.
Now, let's mix it up.
Bobson throws a changeup!
Rodriguez fouls off the pitch! There are still two strikes. Rodriguez is now looking for a changeup.
Well, we should be able to get him with the heat, now.
Bobson throws a fastball!
Rodriguez fouls off the pitch! There are still two strikes.
Carlos Rodriguez is now looking for a slider, in addition to the changeup.
This is another trick Rodriguez has. He can look for multiple pitches, and he can anticipate pitches, as opposed to other batters that just start looking for what you just threw. So after you throw a fastball, Rodriguez is expecting you to mix it up with a breaking ball or a change, and he'll punish you if you do so. So, I guess we'll go with the curve, he hasn't seen that yet.
Bobson throws a curveball!
Rodriguez fouls off the pitch! There are still two strikes.
Holy shit. This could turn into some
Brandon Belt vs. Jaime Barria
shit.
Rodriguez is now looking for a curveball.
OK, I guess we'll go back to the heat.
Bobson throws a fastball!
Rodriguez fouls off the pitch! There are still two strikes.
Rodriguez is now looking for a fastball.
Yes! There it is!
Bobson throws a knuckle-curve!
Bobson fooled Rodriguez with the knuckle-curve! Strike three!

He did it! He struck him out!
There are only a few ways you can strike out Rodriguez here.
- If he's looking slider and changeup, a fastball will get him if he's already fouled off three balls.
- If he's looking fastball and slider, a changeup will get him if he's already fouled off three balls.
- If he's looking fastball and change, a slider will get him if he's already fouled off three balls.
- If he's looking fastball and you've thrown a slider at him, but no curveballs, a curveball will get him if he's already fouled off three balls.
- Finally, if you've already thrown him a knuckle-curve and he's looking either fastball or change, the knuckle-curve will get him.
A side note - Machine will hack wildly at potential ball fours if he has strikes to spare, and will foul off basically everything at the end, as you have seen. But now, we've beaten The Machine!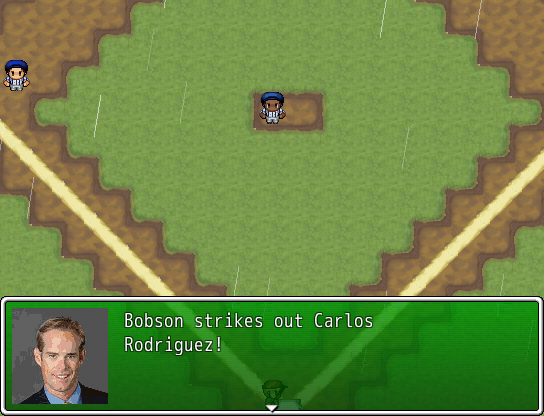 ♪ BGM: Silence ♫

What an at—bat! Bobson puts down Rodriguez when he was at his most dangerous, with men on base. There are still 1 outs to go, but you this has taken all the wind out of the sails for the visiting team.

If Bobson had put any more mustard on that last pitch, I'd be writing Subway to have him fired as a sandwich artist.

Next up is-- Hey, uh, look up at the sky and tell me that something doesn't look odd...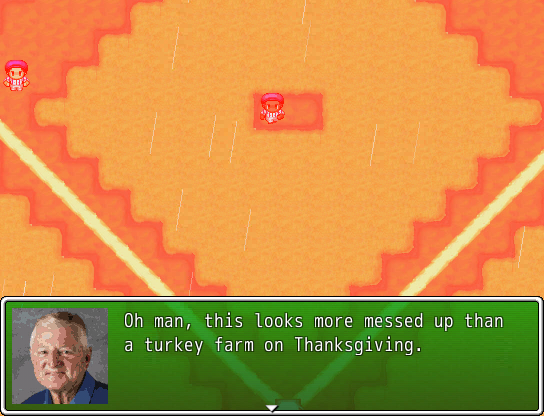 Oh. Right. Shit.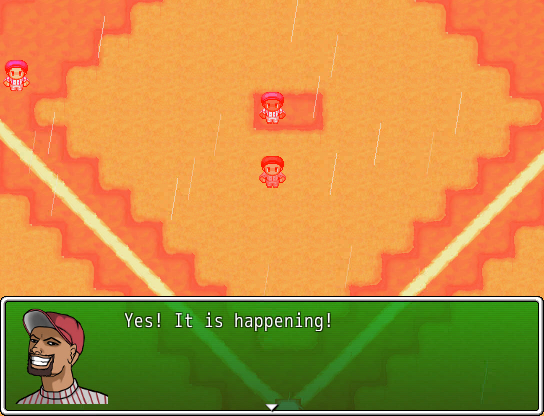 This is it, Bobson!

Oh my god. It wasn't just a mind game.

We did it! We brought about a new era of enlightenment and change!

It looks more like the sun is on fire. Well, more on fire than usual.

To begin anew, all aspects of the past must be erased.

So we're gonna die?

We are going to be reborn!
And so the world came to an end. I was unable to stop the plans of the Illuminati, even though my participation was key to their success. If only I hadn't allowed anyone on base, New York would be world champions at the close of all life on Earth. But as it is, the game will remain unfinished.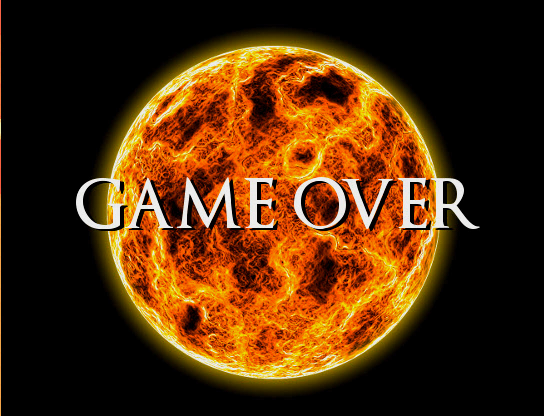 ♪ BGM: Closer's Title ♫
Welp. Next time, we'll do this right and finish the game.