Part 22: Update XX - Improbable Teleportation? Just Leave That To Me.
Update XX - Improbable Teleportation? Just Leave That To Me.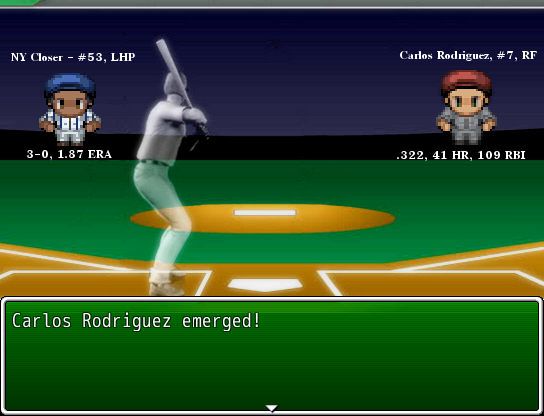 ♪ BGM: Terminate ♫
So, here we are again. Last time, we accidentally ended the world. Let's try to not do that this time around. This time around, because I'm lazy, the first two batters got knuckle-curved.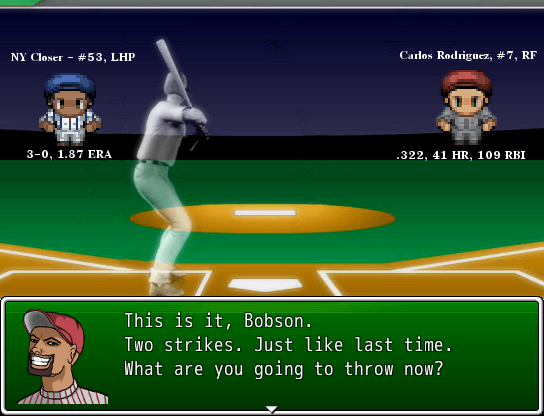 We also get to two strikes against Rodriguez easily with two knuckle-curves, but now we need to prevent the prophecy. What can we do? One reader in the thread wondered if we could save the world with a balk, and technically that *could* work if you didn't have any baserunners. In that situation, an intentional balk, which would simply add a ball to the count, would function like an intentional walk. And since we've already brought it up, an intentional walk would probably work here too, though Bobson would still have to throw the ball and technically allow The Machine to swing at it, since the rule allowing a pitcher to simply signal for an intentional walk hadn't been implemented yet.
However, somebody else in the thread hit upon the correct answer here. Just like Twitter had been suggesting...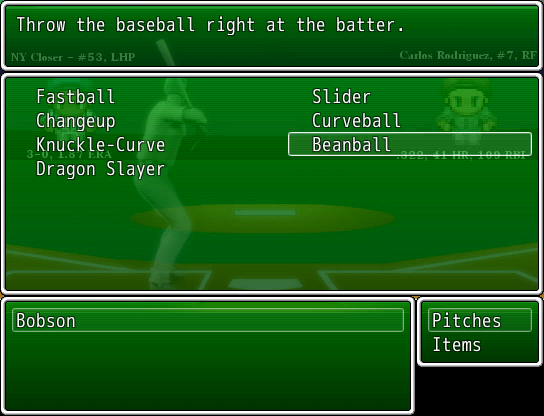 ...it's time to bust out the beanball.
Bobson throws a fastball at Carlos Rodriguez!

Bobson hits him with a fastball!
♪ BGM: Silence ♫

You... You hit me.

That's right! Now we can't fulfill the prophecy!

The umpire is signalling for Rodriguez to take his base, but he isn't moving. He's just staring out at the mound.

Looks madder than a polecat on the first day of hunting season.

This is not the time for playground posturing. Rodriguez is now on with the cleanup hitter due to bat. St. Louis is threatening to take away this lead more than ever.

No! This is impossible! You can't take this away from me!

With Rodriguez heading to the mound, the benches have started to clear and--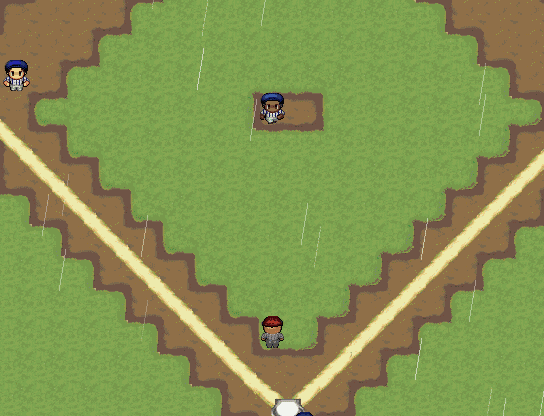 This is the strangest thing I've seen in the World Series since Anthony Reyes shut down the Detroit Tigers in 2006.

The umpires are signalling... Well, I don't exactly know what those hand gestures are but I do believe that this is in violation of the rules.

Just head to first, Rodriguez. It's over.

This was my destiny! You and I-- We were going to change the world! I have waited my entire life for this and you just... you just hit me with a pitch?

Maybe you thought it was your destiny, but it wasn't mine.

No, I will not accept it! I will face you! I will fulfill the prophecy!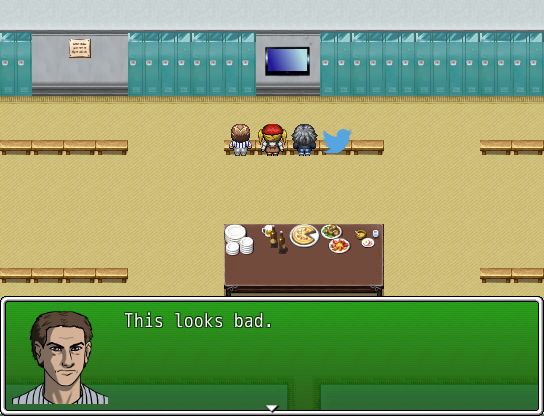 You should see the #tweets that are coming in about this game.

What are we going to do?
♪ BGM: Twitter ♫

Well, we have to find a way to #HelpBobson, obviously.

This is well outside of the paygrade of "pitching coach" but I agree.

You think we should just run out there and participate in the inevitable brawl?

Well, #BaseBrawl is already trending, which tells me how this is gonna go.

KILL THE MACHINE! DISSOLVE HIM IN ACID AND SALT THE EARTH UPON WHICH YOU POUR HIS REMAINS. #JUSTIFIEDMURDER

Wow, one more time, I cannot #believe how vile I can be. I am sincerely #sorry.

Do you think that Bobson would want us to get involved, or is this something that he needs to do by himself?

The idea that anyone "needs to do this by himself" is a boring cliche that is utterly meaningless.

It doesn't #matter what he wants. We can't let him fight the Machine alone. None of us would be here without Bobson. I would still be nothing but a #SocialMedia platform that cannot #monetize itself.

I'd still be stuck in an eroge visual novel, barely even aware of how the very structure of the virtual world was totally fucking regressive.

Bobson refused to give up on me when I decided to create a gritty reboot. Without him, I'd still be stuck there.

So would I. He found a way to bring me back that was so absurd that I still can't believe I'm here. Though, Zizek, if we're being honest, we wouldn't have ever entered the gritty reboot if not for Bobson.

Some believe that it is not the philosopher's job to act, but to observe and interpret. Fortunately, I have never been above calling other philosophers out for being complete and total idiots.

But how do we get to Bobson? It looks like Carlos Rodriguez has cut him off from the rest of the stadium.

Improbable teleportation? Just leave that to me.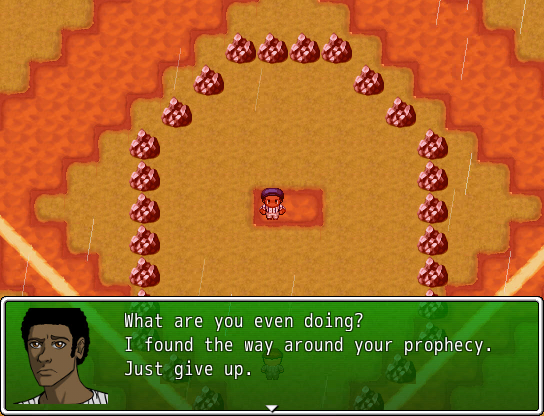 ♪ BGM: Silence ♫

No! Because you have not yet seen my final form!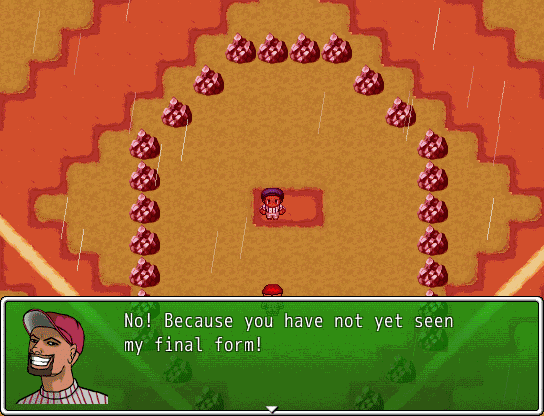 ♪ BGM: Final Termination ♫

TREMBLE BEFORE ME, FEEBLE PITCHER. LOOK UPON YOUR DOOM AND DESPAIR.

Get away from me!

This... Is this the true face of Carlos Rodriguez?

Turning into a demon is cause for a lifetime suspension under the current CBA, so Rodriguez better have a plan for what he's trying to accomplish.

YOU WILL FACE ME, WHETHER YOU LIKE IT OR NOT!

What are you? How is this possible?

THE ILLUMINATI CREATED ME FOR THIS MOMENT. THEY GAVE ME ALL THE TOOLS I WOULD NEED TO FINISH THEIR DREAM OF A NEW WORLD.

This apocolyptic ranting won't do Rodriguez any favors in his disciplinary hearing.

Even Pete Rose wasn't enough of a rube to admit that he wanted to destroy the planet.

WE WILL FULFILL THE PROPHECY AND I WILL CRUSH YOU FOR YOUR INDIGNANCE.

No! Get back! I won't fight you! I won't let you destroy the world!

YOU ACT AS IF YOU HAVE A CHOICE. YOU CAN'T RUN AWAY ANY MORE, PITCHER.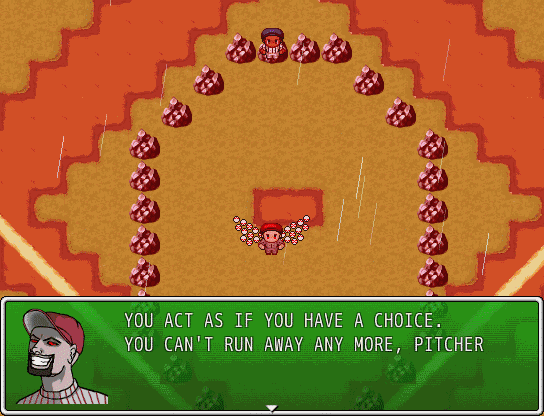 No one threatens to kill our #friend! Except sometimes me, because it is the nature of a #SocialMedia platform to invite trolls.

As theorized by Jacques Lacan, the end of this conflict is an inevitability; I am going to beat you down.

What is 10 letters and another word for affinity, usually in relation to social relations? Friendship.

Ah, a crossword callback. It had been a while.

That's how this all started, isn't it? A bookstore sold out of crosswords.

That is a deep metaphor, because it is actually quite shallow, but also confusing.

Kami! Zizek! @twitter! Moose! How did you guys get here?

I created a stargate to a whole new universe. What is a few hundred feet and some rocky magical outcroppings?

So, basically, don't ask silly questions?

No, always ask silly questions. But do it later, when we're not in danger.

HOW CHARMING! A BUNCH OF LOSERS I HAVE ALREADY DEFEATED.

Things are different, Rodriguez. We're stronger now.

THEN COME AT ME!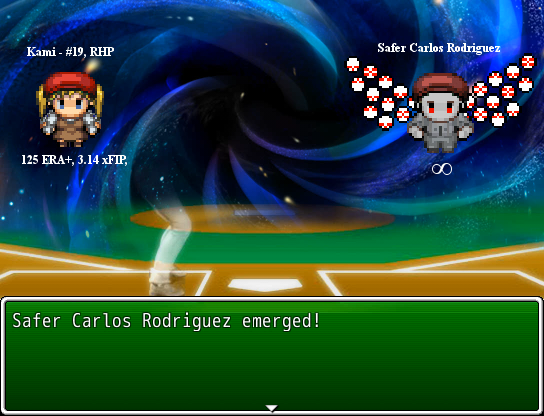 And so, it's now time for all those times The Machine showed up and beat one of our party members at their own game to come back around. Let's give him some Win Hexpectancy.

Blessed Baseba'al, I am but a spoke in the great wheel, but I call upon your power to determine whether I will win this fight.

YOU THINK YOU CAN HURT ME WITH YOUR FOOLISH SABERMAGICS? I AM THE ALPHA AND OMEGA 0F BASEBALL. YOUR STATS CANNOT HURT ME.

Last time you stumped me on whether I should use a Left Handed One Out Guy.

YOU POSED A QUESTION T0 YOURSELF THAT YOU COULD NOT ANSWER. DO YOU THINK YOU KNOW BETTER NOW?

Okay... Two outs, bottom of the ninth, and my team has a one run lead with a base runner on second. The pitcher, a right-hander, is tiring and a league-average left handed batter is about to come to the plate.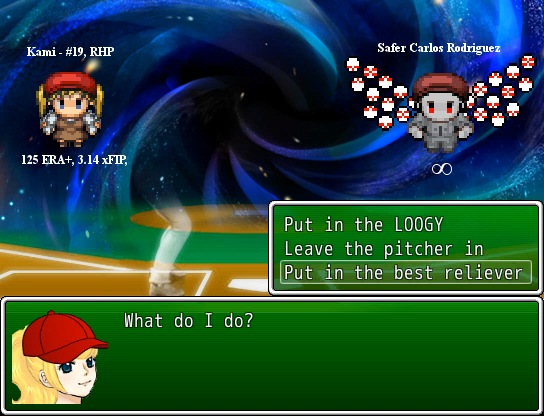 And now, we have the correct answer.

Before, I was too fixated on the LH batter, but he's just a red herring. In this situation, you put in the best pitcher, regardless of handedness. Hell, it doesn't matter if that pitcher is your closer or designated as a setup man. With one out to go in the bottom of the 9th... you replace the tiring starter with the best arm you have healthy and available.
Now, let's finish him off with a Replacement Prayer.
Kami calculates a replacement prayer!

De profundis clamavi ad te, Domine: Domine, exaudi vocem meam: Fiant aures tuae intendentes, in vocem deprecationis meae. Domine Iesu, dimitte nobis debita nostra, salva nos ab igne inferiori, perduc in caelum omnes animas, praesertim eas, quae misericordiae tuae maxime indigent.

AGAIN WITH THIS MATH FOOLISHNESS? WHEN WE REBUILD THE WORLD, YOUR MATH WILL BE USELESS. THE VERY CONCEPT OF NUMBERS--OF MEASUREMENT--WILL BE MADE IRRELEVANT.

Last time I had an unsolvable equation, but I think there was a reason for that.

IS IT BECAUSE YOU ARE WORTHLESS?

No, it's because I wasn't thinking right. Sabermagics trains you to believe there is a solid, single-number answer for everything... but in application, that simply isn't true.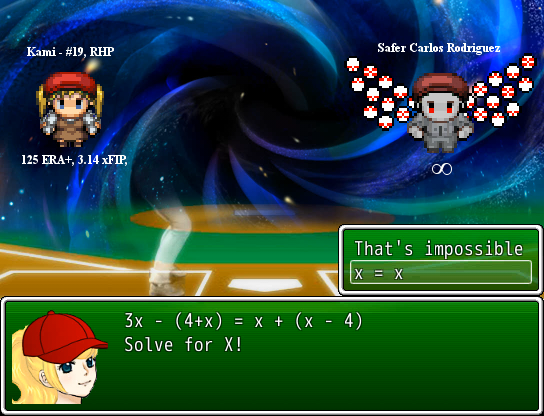 See, this isn't an equation that needs to be solved, but a tautology. x = x!

THE LAW OF IDENTITY? THAT'S WHAT YOU ARE GOING WITH? YOUR FRIEND ZIZEK IS GOING TO HAVE A FIT.

I do not know anything about maths so I will give her a pass this one time.

Not your fight, Zizek.

Sorry; I will return to contemplating the nature of humanity in a world where The Rock is a movie star.

THE ROCK IS CHARISMATIC AND HANDSOME AND YOU SHOULD NOT BE SURPRISED THAT HE IS CAPABLE OF CARRYING A FILM.

You're changing the subject! You must know that I've won!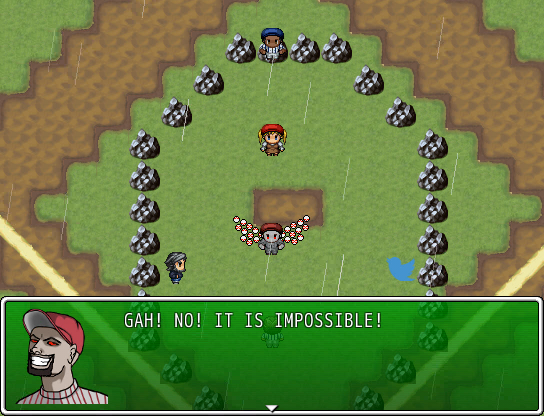 YOU WEAKENED ME! I DON'T BELIEVE IT.

Nothing is invincible, Rodriguez. We are but flesh, given the poorly-calibrated organs required to observe the universe in rudimentary fashion.

I AM NOT FOOLED BY YOUR WORDS. I WILL PROVE THAT YOU ARE BUT A MAD MAN.

Of course I am mad. How else could I see so clearly?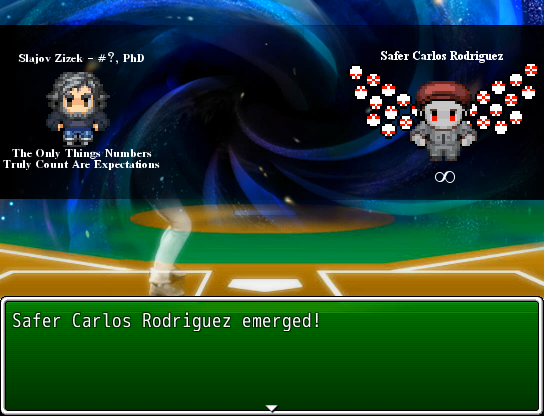 So now it's Zizek's turn to redeem himself. Let's see what he can throw at The Machine.
Kantian Critiques:

Is it not the ultimate evil to destroy the world? To end all known life, and cease all possible existence is the greatest of sins.

THE PROPHECY MUST BE COMPLETE.

But is it not true that this would also destroy all evil, and eliminate all suffering? As such, would not destroying the world ultimately be a morally neutral act, as good and evil would be destroyed in tandem?
Destroying the world is good - Destroying the world is bad - Destroying the world is without morality

Indeed! Even assuming righteousness and evil were destroyed in equal manner, there is positive value to life itself.

NO THERE ISN'T!

That is not very good analysis, and does not serve to rebut my point.
-----

Kant ultimately teaches us that it is only ourselves that can be responsible for ourselves. You cannot merely say: "the Illuminati created me for this purpose, therefore I must accomplish this purpose."

BUT THAT IS TRUE!

You are radically self-responsible for your own actions and your own drives. If you want to destroy the world, do not say "the Illuminati need it." Say "I wish to destroy the world and I cannot apologize for it" then move on from that drive and decide what to do.

THIS IS NOT SOMETHING I CAN DECIDE. I WAS INTENDED FOR THIS FROM BIRTH AND I CANNOT REFUSE MY DESTINY.
You can reject your destiny - You cannot reject your destiny

Of course you can reject your destiny! Bobson did just that when he hit you with a pitch!

HOW DID HE DO IT? HOW DID HE RESIST?

He admitted that he was autonomous, and had a drive beyond that which was assigned to him by the structures controlling the world.
-----

I do not know if you are aware of this, Mr. Rodriguez, but it is impossible to discuss the motivations of the Illuminati without discussing Immanuel Kant. At their inception, the Illuminati were a radical group dedicated to the promotion of enlightment-era thought. However, they radically departed from Kant's view that the Enlightenment entailed the development of humanity though independant thought. Instead, the Illuminati desired re-education with materials of their own choosing.

NO! THE ILLUMINATI ARE INFALLIBLE!

Thus, you prove my point!

I DON'T UNDERSTAND.
Because the Illuminati are wrong - Because the Illuminati teach infallibility

Precisely! A true Enlightenment movement would not teach its own infallibility. That would be like a communist movement accepting donations via credit card or an animal rights movement hosting a barbecue.

YOU CAN BARBECUE VEGETABLES.

No, that is truly ridiculous.
-----
Marxist Critiques:

Radical Marxists have long aspired to tear down the world and build anew, hoping that they will be able to fix the mistakes of capitalism.

THIS IS NOT ABOUT CAPITALISM!

Oh, but everything is about Capitalism. In the western world, it is woven into the fabric of every conflict. Perhaps especially this one.

HOW SO?

The Illuminati aspired to be the Stalinists to the Enlightenment's Marx. To overthrow the conservatives through dogma and force... much in the same way that the Soviets sought to conquer and hold off capitalism. But it is one thing to eliminate a marketplace of currency, and another entirely to eliminate a marketplace of ideas. Over two hundred years after their inception, certain forces will surely have invaded the Illuminati and warped their initial goals.

WHAT ARE YOU BABBLING ABOUT?
Baseball - Capitalism

Precisely! As I said, everything is about Capitalism. Even if you assume the noble intentions of the original Illuminati in setting up this plan... the last three centuries have told a tale of liberalization only through the hand of a cruel and indifferent market, and the infiltration of capitol in all forms. It would be negligent to believe the Illuminati are still a progressive force, if they have continued to gain power throughout this era.

BUT... BUT I MUST BELIEVE IN THEIR GOOD INTENTIONS.
-----

Is it not fascinating that the Illuminati chose to bring about the end of the world via the actions of two wealthy athletes? If they truly had planned this for centuries, charting bloodlines and arranging circumstances, why go to such extremes?

THAT WAS REQUIRED BY THE PROPHECY!

The prophecy merely required that two people with your names play a game that had not been invented when the prophecy was made. This could be a Street Fighter 2 match in the slums of Detroit for all the prophets could care.
The wealthy are easier to control - The wealthy have become idealized

Yes! The appointment of baseball stars as the herald of a new era demonstrates the shifted priorities of the Illuminati. They hope to build a new world by destroying the old. But their choice to do so with the hands of the wealthy demonstrates they are not revolutionary. They believe, falsely, in the moral superiority of the rich! Is their world what you truly want to create?

I-- I DON'T KNOW.
-----

It says quite a bit about our society that it is easier for us to imagine the end of the world than it is to imagine even the most basic class equality. Your plan to remake the Earth is not universal income or global wealth redistribution, but absolute destruction. While revolutionary communism would be disruptive, it certainly would not be more destructive than actual complete annihilation. Yet what is it that you fight for?

COMPLETE ANNIHILATION.

Exactly.
This is your fault - This is my fault - This is society's fault

Exactly! We are all either cogs or switches in the vast machine of Capitalism. While it will not work without all of us... it gleefully continues to operate without one of us, so neither you nor I can take the entire blame. It is culture--damned ideology and culture--that distorts your view to so seek reformation-through-destruction rather than true reformation.

TH- THERE MIGHT BE ANOTHER WAY?
-----
Feminist Critiques:

Society frames women as creators of life and men as destroyers of life. As such, the only way you believe you can recreate the world is to kill it.

I AM A GOD ON EARTH, I AM NOT SUBJECT TO SOCIETAL PRESSURES REGARDING GENDER.

That is a fascinating question. If indeed, you are a god, is what you say true? Is a god capable of resisting or ignoring the subtle pressures of identity exerted by patriarchy?
Yes, of course - No, it's impossible

No, even a god cannot resist these pressures. It is thought that in ancient time, a goddess Asherah was worshipped alongside the deity that would become the Judeo-Christian god. However, she succumbed to this very pressure, was erased from scripture and subsumed into the patriarchal ideology of male-led religion. If Asharah could not resist, how could a false deity such as yourself do so?

PERHAPS... PERHAPS I CANNOT.
-----

Seeking to destroy the world is the apex of toxic masculinity. It is the desire to end everything by your own hand, and ensure that nothing comes afterwards; your mark forever scarred upon reality.

I THINK YOU ARE STRETCHING HERE.

For many men, the negative aspect of masculinity leads to them risking their own lives or hurting those around them. You, however, have been driven by patriarchal structures to hurt everything.

BUT IF I AM GOING TO DESTROY MEN AND WOMEN EQUALLY, THEN THIS CANNOT BE THE EFFECTS OF THE PATRIARCHY.
Correct - Incorrect

Incorrect! You see, "patriarchy" refers to a structure that commands and opresses all who fall under it, not merely women. It is the exertion of power by traditionally male leaders to subjugate both women and men who are thought to threaten those leaders. The jailing and physical exploitation of impoverished men is absolutely an extension of patriarchy.

I THINK YOU ARE JUST EXPANDING AND RESTRICTING DEFINTIONS OF WORDS TO BETTER FIT THE POINT YOU WANT TO MAKE.

Isn't that just... what language is?
-----

The Illuminati were an organization comprised entirely of men. Why should they get to define the course of history? We have moved beyond the regressive politics of their day, which even in
their progressiveness left out half the population.

WE CANNOT SIMPLY REJECT THEIR IDEAS BECAUSE THEY WERE MEN! ISN'T THAT ALSO SEXIST?

No, but we can discount their ideas because:
They were Bavarian - They lived in a specific era - They were outlawed via edict

Becuase they lived in an era when they could not even consult with women, or consider their views. It does not necessarily matter that they were all men, though that is troubling, but that they lived in a time when it would be verboten to consult a woman. How can we possibly apply their worldview to one that has progessed so much?
-----
And after three of those segments, we are done here.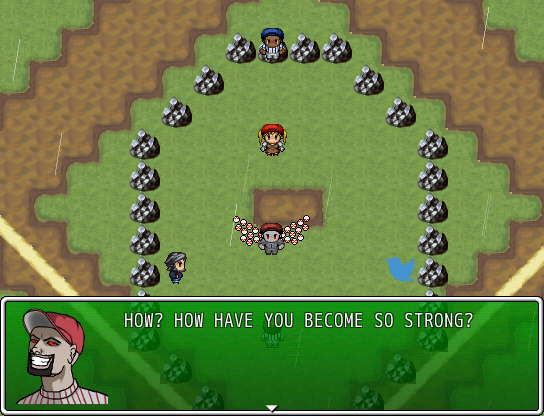 I don't know, but I do know that #DefeatMachine is now trending. The whole world is #watching and they are cheering for us.

THEY ARE FOOLS! THEY DO NOT SEE HOW BROKEN AND CORRUPT THIS WORLD IS. IT MUST BE FIXED. IT MUST BE REBORN.

I may be infested with #trolls and unable to #monetize my work, but I'll take this world over whatever you are proposinq. #BetterSafeThanSorry

THEN YOU MUST BE DESTROYED!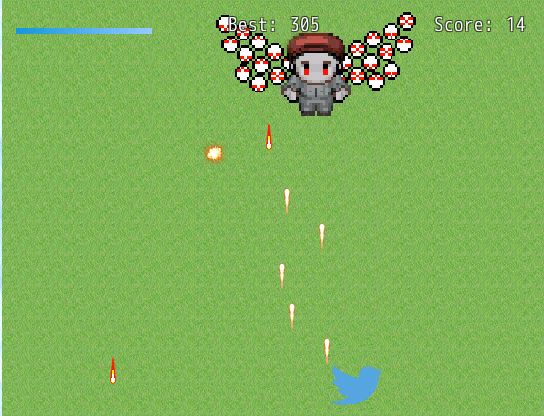 We then get another Twitter shooter segment. I just realized I have no idea what the criteria for success in these is. Anyway, we shoot for a while...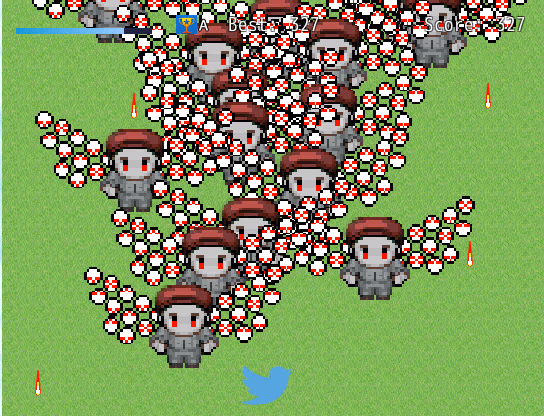 ...and eventually numbers overwhelm us.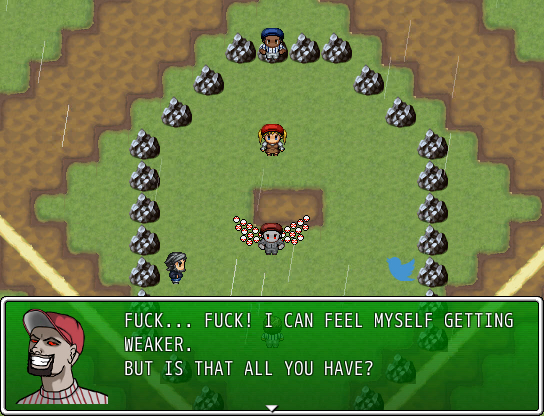 No, there's still one of us left who can defeat you.

YOU, OLD MAN? YOU MUST BE KIDDING.

No, I'm out of the game. And I realize it should stay that way. But I have a protege who I know can do the job. Bobson is the only one who can truly destroy you.

But if I pitch to him, the world will end! That's what he wants!

No it won't. Listen to the announcers.

And that's three outs! The umpires decided to resume play and the catcher walked the ball over to first base. With Carlos Rodriguez off the base, this counts as a pickoff 2-unassisted.

Looks like Rodriguez's determination to destroy the world just lost St. Louis the World Series.

I don't know if the umpire's call to resume play was legal by the book, but given the circumstances and the need to save the world... I don't think St. Louis will pursue an appeal.

Hear that, Rodriguez? Game Seven is over. You have failed. And now Bobson is free to finish what he started.

Moose would probably tell me to save my game here, just in case I make a mistake...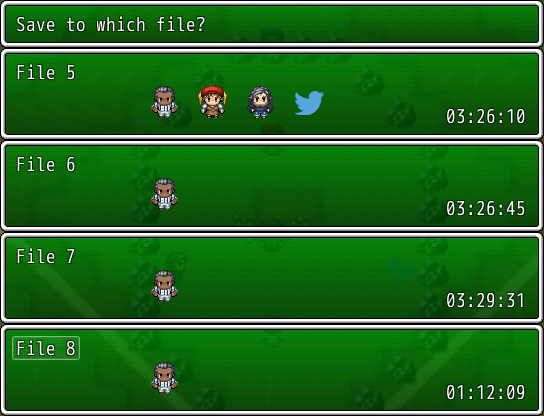 One last save before the final battle.

Now finish this, Bobson!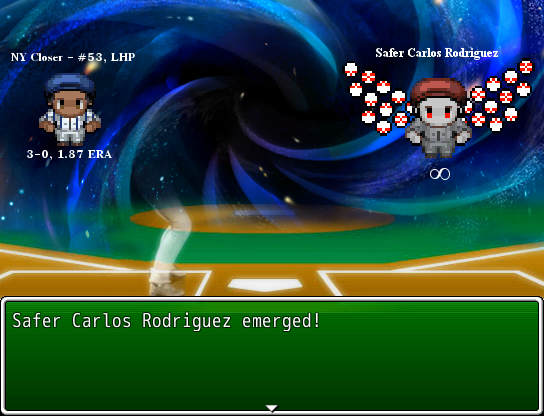 Alright, let's do this. As is tradition, let's start with the fastball.
Bobson throws a fastball!
Ball 1! The pitch was just off the outside corner and the batter takes it for a ball! The hitter is now looking for a fastball!
OK, at least we can even the count now.
Bobson throws a changeup!
Strike 1! The batter got out in front of that pitch and just missed the change-up.
Now let's mix it up with the slider.
Bobson throws a slider!
The batter fouls off the pitch as it runs in on his hands! Strike 2!

I WILL DESTROY YOU!
And now with two strikes, there's only one thing left to do.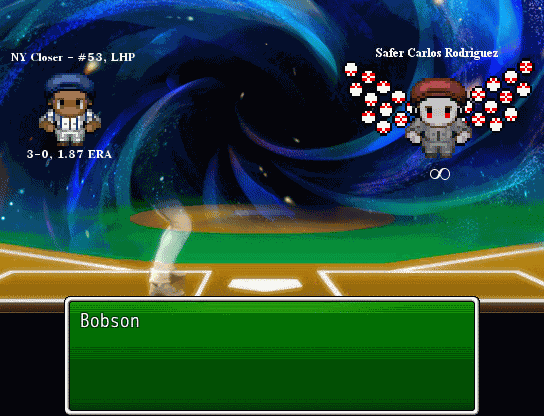 The mythical pitch completely fools the cosmic being called Carlos Rodriguez! Strike 3!

No! What was that pitch? How could you know it?

My friend Josh Fogg taught it to me after I rescued him from a truncated version of Dragon Warrior.

Ugh, somehow I always knew that was what would be my undoing.

You... did?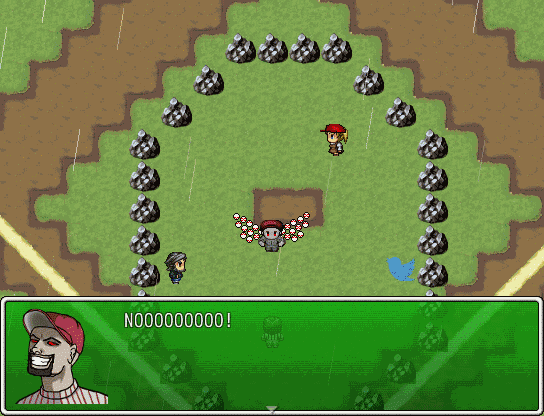 ♪ BGM: Silence ♫

Unbelievable! Even though the game was already over, Bobson still pitched to Carlos Rodriguez and struck him out! And somehow this killed him! Bobson is both a World Champion, and the savior of the world!

Heh, and they say saves are an overrated statistic.

They still are.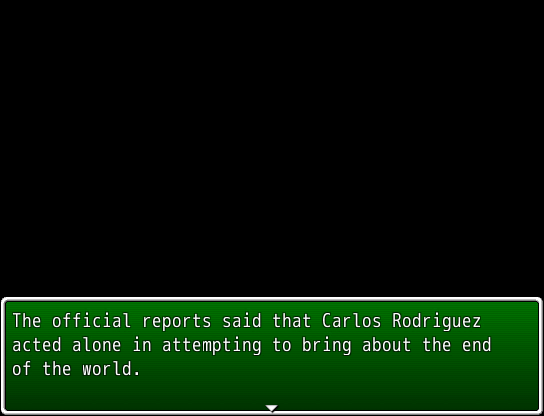 I told the investigators about his party, about the Illuminati and the secret program that led to our confrontation, but they wrote me off as just another kooky athlete. While there was nothing I could do to expose them, I knew I had already stopped them.
♪ BGM: The Entrance ♫

My name is Bobson. And I am the closer for New York.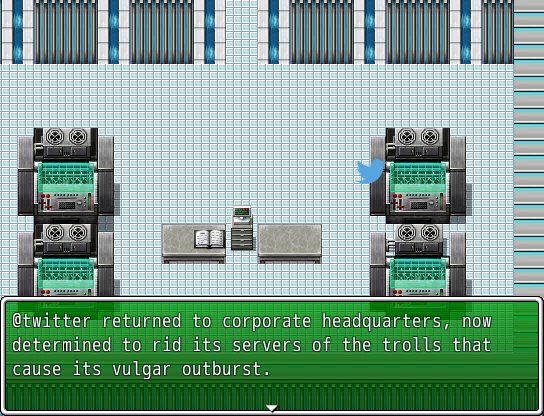 You people are not #funny! You are #monsters!

FUCK YOU @TWITTER, YOU CAN DIE SLOWLY IN A DESERT FULL OF FIRE ANTS. #DIEWITHFIREANTS

No, no I will not accept this any more. You will submit to me!
Bobson and @twitter remained friends, despite the outbursts of the latter, which became rarer and rarer as @twitter beat its head against the server banks.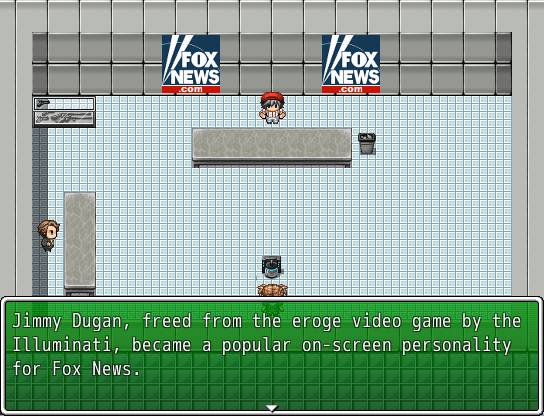 This is not the country we were promised, my friends! This is not the United States of our forefathers. Socialism! Feminism! Liberalism! Maybe these all sound like buzzwords, but think about what else sounds like a buzz? That's right: bees. And when was the last time bees did anything for you? They just fly around and ruin all American activities like picnics. And before the pinkos out there get all riled up about honey, I have a solution for you: high fructose corn syrup. All of the sweetness, none of the bees.
A House representative from Arkansas recently submitted a constitutional amendment to allow Dugan to run for president, despite being born in a Japanese video game.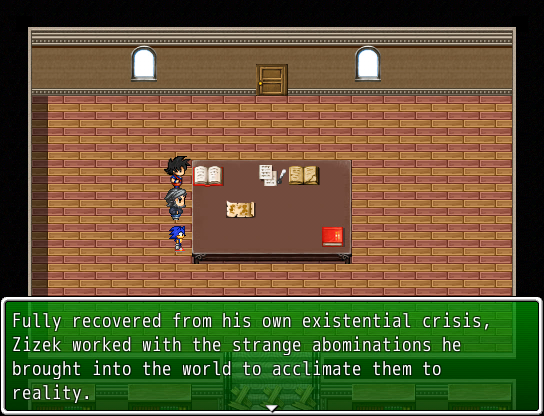 You see, Sonic, there is a perfectly good reason for you to go fast. Speed allows us to smash capitalism with the most efficiency.

But what about my innate desire to collect the golden rings?

The problem is not greed, but the system which pushes you towards greed. You must be aware of it, but strive to be emancipated from it.

The spirit, the will to win, and the will to excel are the things that endure.

I think I actually fucked you up worse than Sonic.
Zizek remained friends with Bobson and continued to consult with New York, though they would never take his suggestion to burn the stadium to the ground as a symbol of resistance.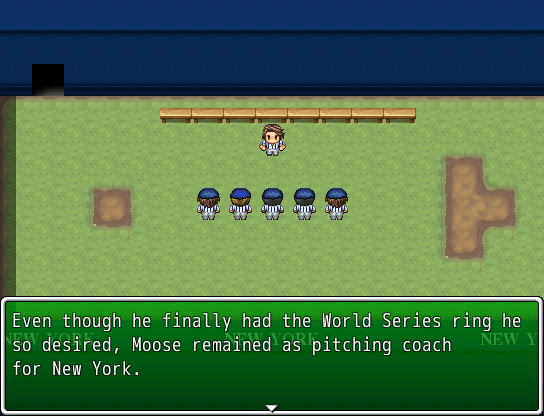 Does everyone have their copy of the New York Times crossword ready? Okay, good, now we're all going to work in silence until someone is stumped.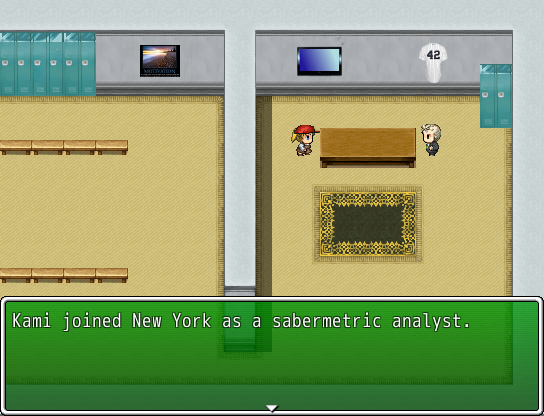 You have to stop bunting. This is the American League.

Listen, Miss, I have been--

Call me "miss" one more time and I am going to start using magic again.

No! Oh god no, not that!

Okay, now about your bullpen usage...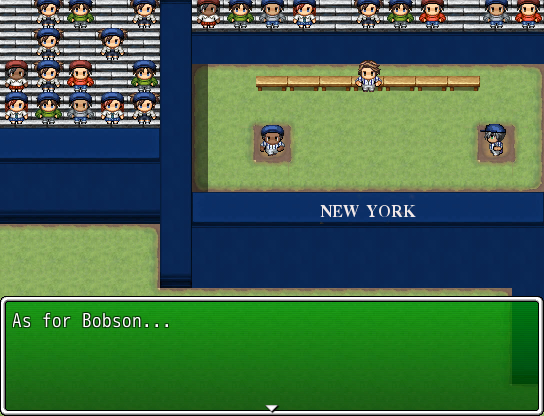 Having mastered the fabled Dragon Slayer pitch by using it to strike out Carlos Rodriguez, Bobson figured out how to utilize it against human batters. Moose helped him harness it into a weapon he could deploy in any situation, and strike out almost any batter. Bobson was immediately removed from the bullpen and became New York's ace pitcher as soon as he was installed in the starting rotation. Helping him develop into a quality starter would push Moose's Hall of Fame campaign, and within a few years he was finally inducted. With Moose at his side and the Dragon Slayer in his arsenal, Bobson would go on to become arguably the greatest pitcher of the modern era. He would lead New York to several more World Series Championships, and multiple Cy Young Awards, all fully deserved.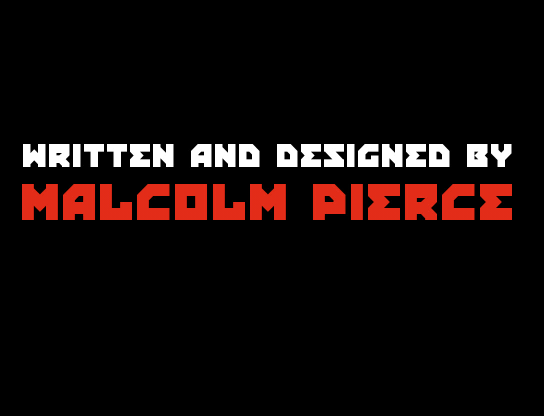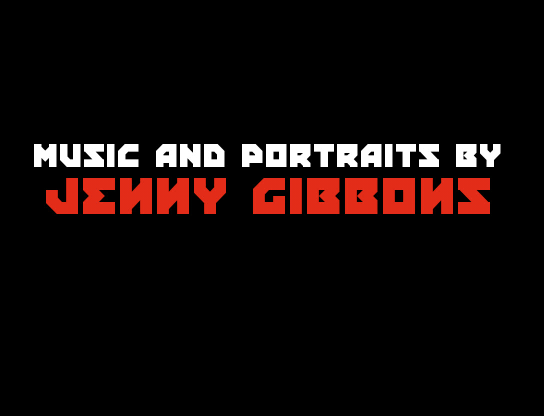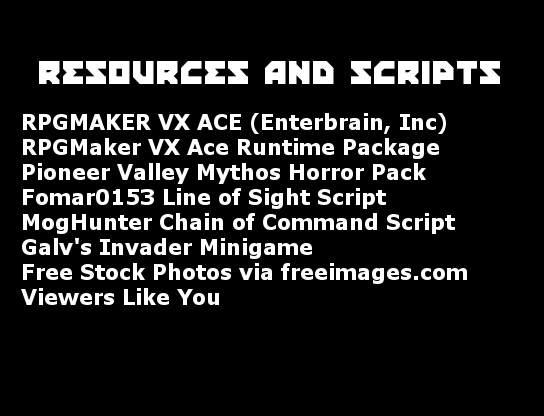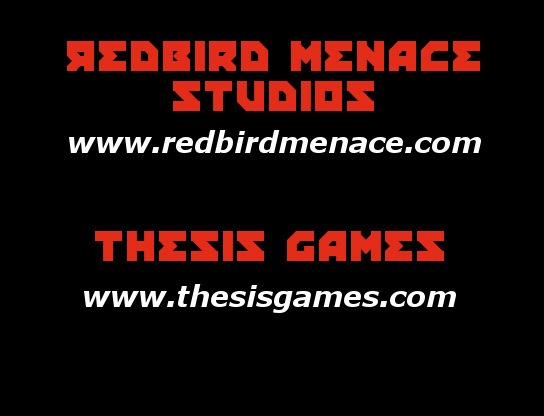 Follow these #brands on Twitter: @redbirdmenace | @thesis_games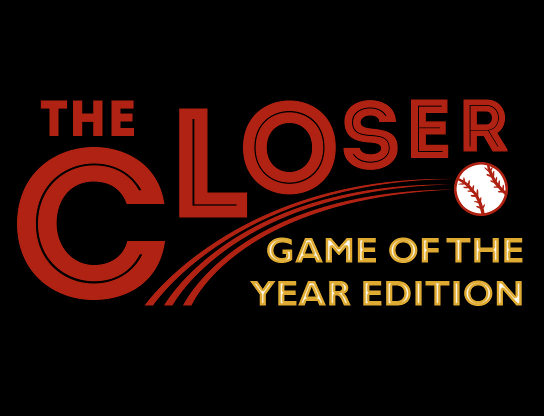 And here we are. We've arrived at the end. Now, a few notes on the ending. There are some possible differences in the "where are they now" scenes.
- If we score less than 50 points in the Twitter segments, Twitter instead focuses on trying to #monetize its #services.
- Dugan's scene, as you might expect, is simply skipped if we kill him.
- If we have less than five relationship points with Zizek, he continues to struggle with his existential crisis and seeks answers in an eroge VN based on Groundhog Day.
- The scene with Moose is skipped if we don't rescue him.
- If we have less than five relationship points with Kami, she joins the Philadelphia Phillies as a sabermetric analyst and struggles with the fact that she has been given an eMachines computer to work with.
Finally, Bobson's eventual fate depends on the pitches you learned, whether you rescue Moose or not, and whether you used the Dragon Slayer to defeat Carlos Rodriguez or not.
- If you only have two pitches, Bobson struggles with predictability, eventually gets demoted to setup man and leaves New York in free agency to become a closer with another team.
- If you have three pitches, Bobson stays the closer for New York and eventually closes out two more World Series for the Yankees.
- If you have four pitches, Bobson is considered for a spot in the starting rotation but was considered to be too valuable in the bullpen.
- If you have five pitches and didn't rescue Moose, Bobson ends up becoming a decent starting pitcher.
- If you have five pitches and rescued Moose, Bobson becomes a solid starting pitcher.
- If you use the Dragon Slayer against The Machine and didn't rescue Moose, Bobson becomes a borderline Hall of Famer.
- And finally, if you use the Dragon Slayer against The Machine and did rescue Moose like we did, Bobson becomes a contender for the greatest modern pitcher ever.
And with that, we're done. So, I guess here's some closing thoughts of mine, as I usually do with my LPs.
♪ BGM: Dream Sequence ♫
- This is one of the most obscure games I'll ever do. Like, I'm part of a different LP thread filled with terminally online baseball nerds, and even in that group I think I could've counted on one hand the people that knew about this.
- I'm very glad you in the thread liked the baseball history asides I put in, because in most updates, those were the part that took the most effort and time to do. I'm sure the LP wouldn't nearly have been as liked as it was if I didn't do them - context is important.
- And on that note, I'm still in awe of how well liked this game and LP were. I would've thought this LP could've gone the way of Udoiana Raunes, with a super obscure game that doesn't get a lot of traffic because, well, it's super obscure. But I suppose the writing in this game was too good for that to be the case.
- ...I don't think I have much else to say. This game has said everything it needs to say. I suppose I should finish by plugging
Woodsy Studio
, the game studio that houses the two that made this game. And on a personal note, I would like to plug
the Super-League
, Smasher Dynamo's eternal quest to create the longest running LP of all time (though it might already be that, given that the origin of that thread lies in 2011). The Super-League has posters piece together their own baseball teams out of historical rosters and have them all compete for supremacy. The league is in its offseason right now, but if you enjoyed this thread and have a hankering for some more baseball nerdery, I suggest checking it out and making your own team come the signup period. It's great fun as long as you accept your team has a good chance of just eating shit and dying. And with that said...
LET'S PLAY THE CLOSER - THE END