Part 10: Chapter VIII - Quit struggling and sit there like a good victim!





Quit struggling and sit there like a good victim!

- Video: Irina held captive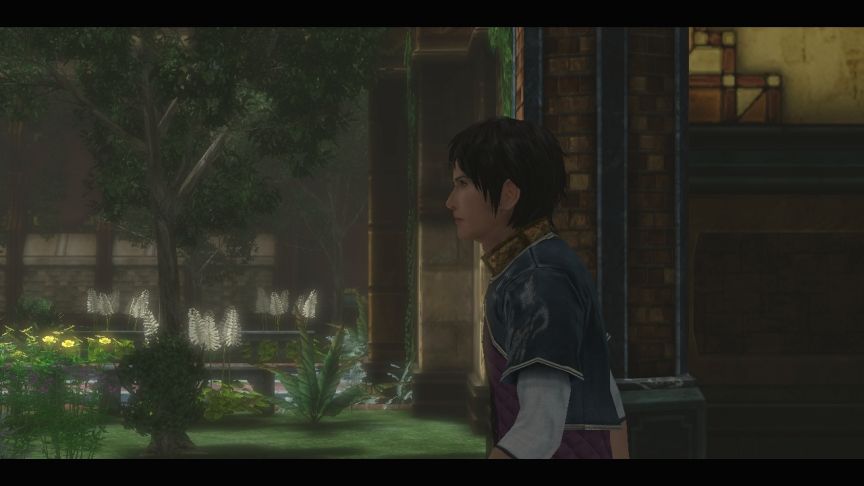 Making his way out of the palace, Rush passes through a courtyard with a well-maintained garden.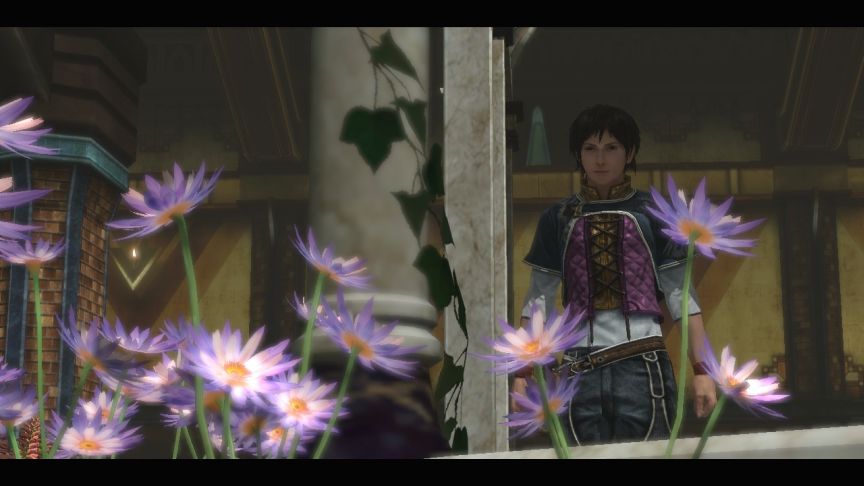 Irina…

Of course The Flowers are there. And fade out…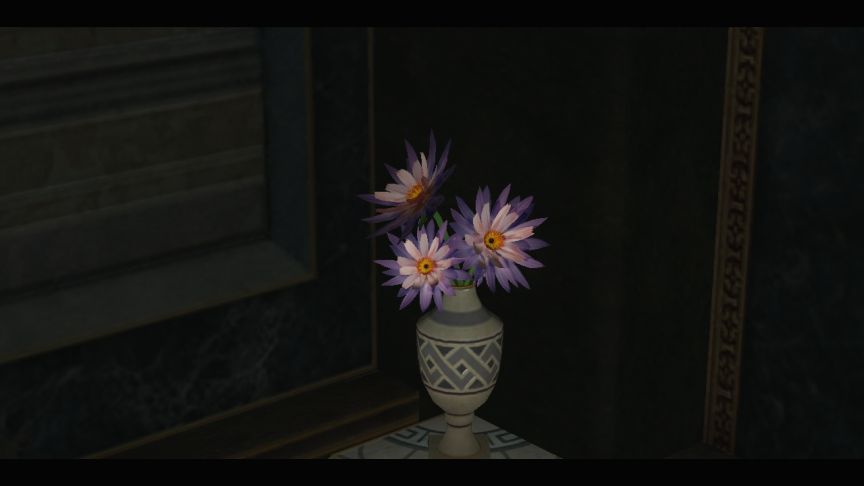 …and back in to the same flowers elsewhere. I'm not counting this vase in the Flowers count because it's a scene transition.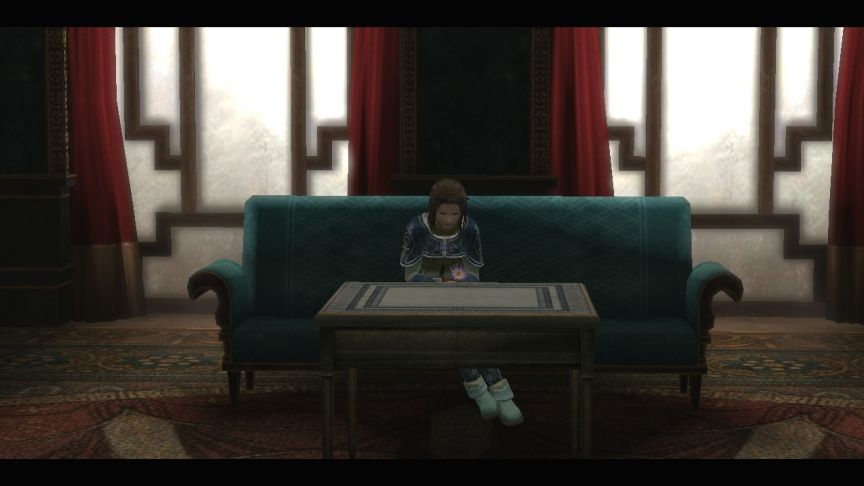 But this does count.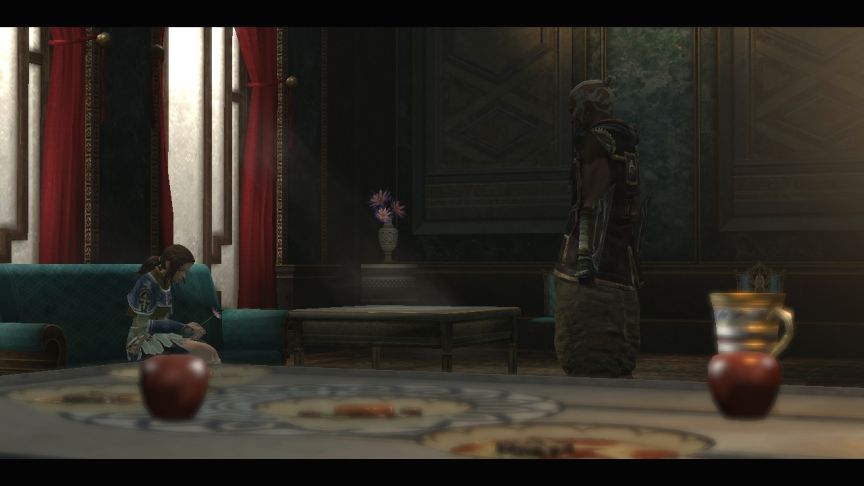 Feelin' better?

He glances over at her barely-touched meal.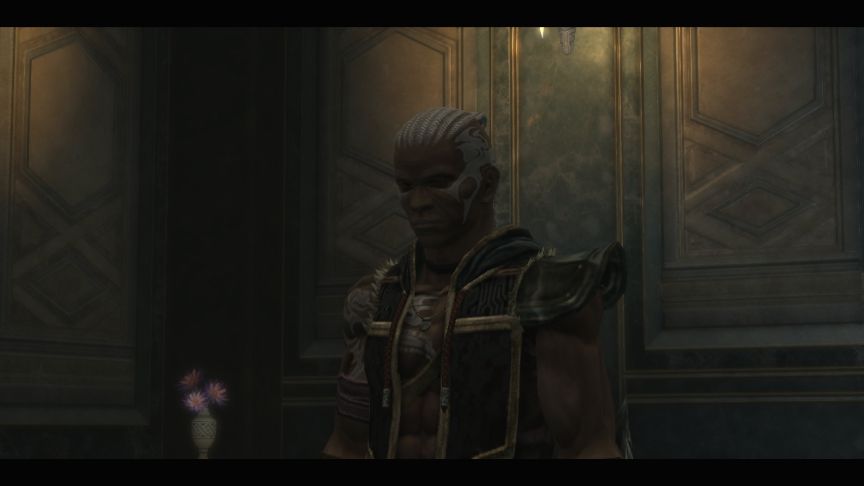 You're a picky eater, huh? Sorry the menu's not fit for a princess like you.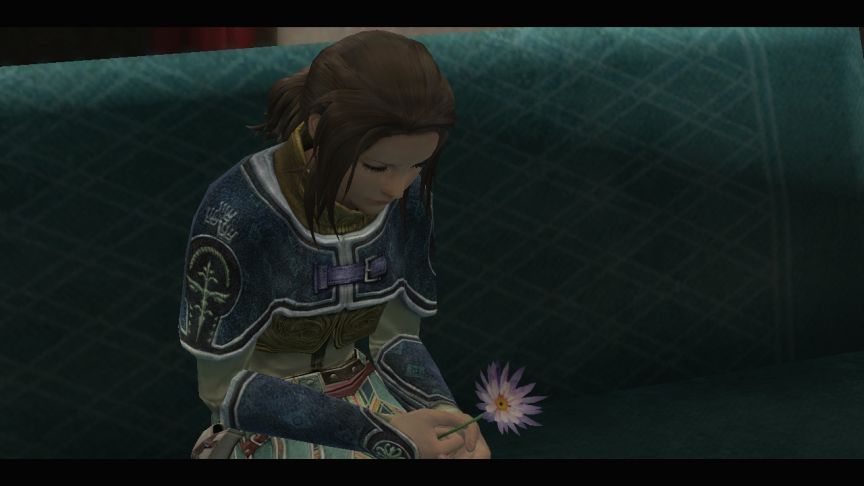 Irina continues staring down in gloom. The man's tone softens slightly.

Hey…

Rush…

Rush is dead.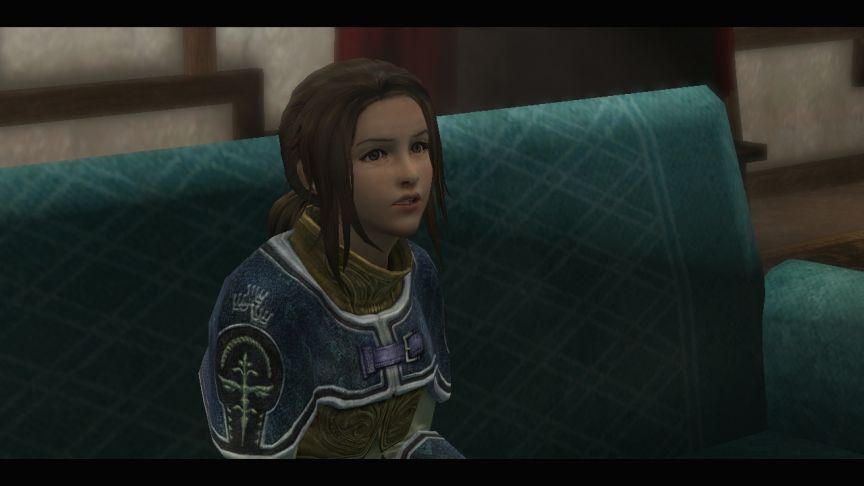 …!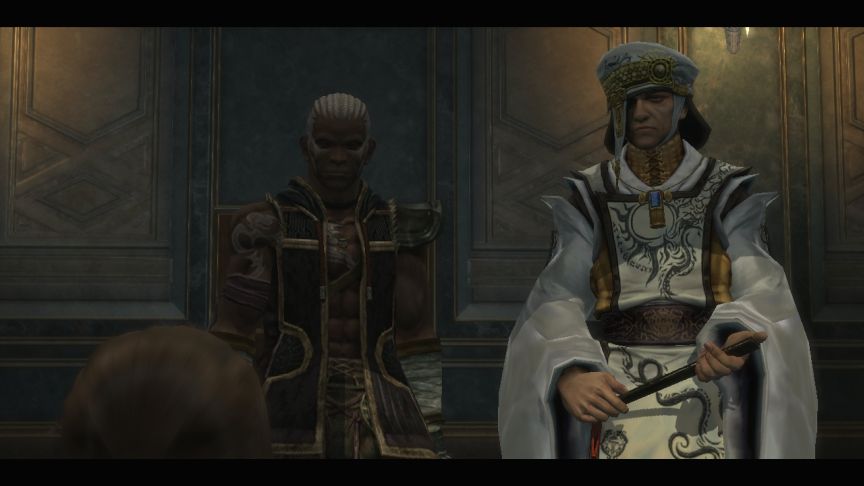 No….

Stop mourning the dead and eat your meal. You are vital to him, you should be honored.

With that, they leave.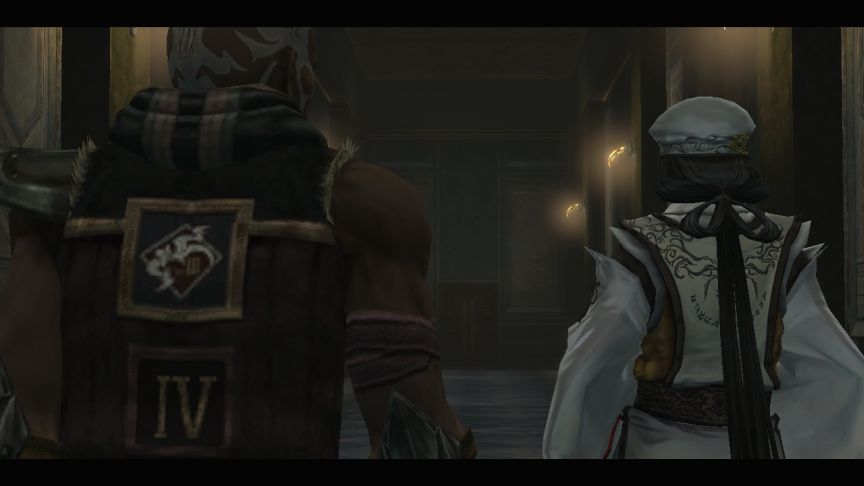 Hey, wait up.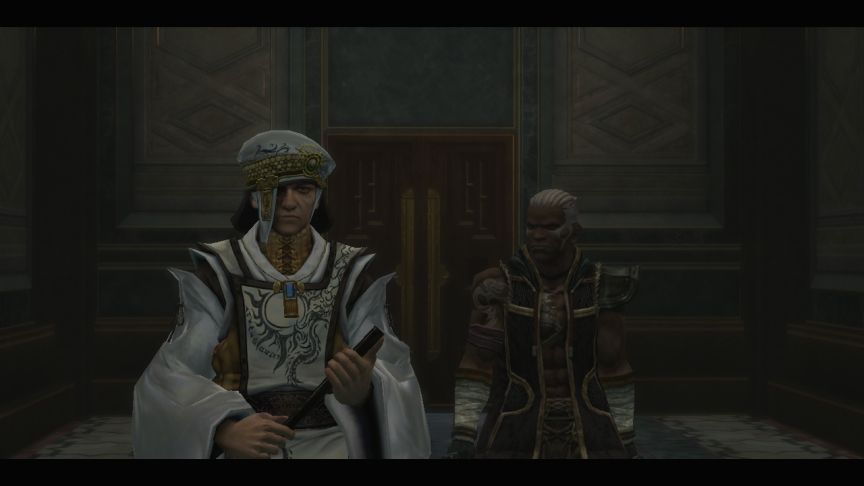 How long are we going to keep her like that? Let's just hand her over.

You pity her?

This whole deal makes me sick. She's just a kid!

I am merely following the Lord's orders - as you should follow mine.

Fine. Then give me some real orders. I'm sick of being a damn babysitter!

As you wish. Let us go forth to the next Remnant.

It seems Flying-Remnant man has some misgivings about his job.
Music: City of Heroes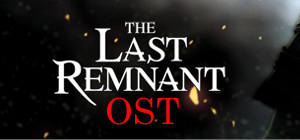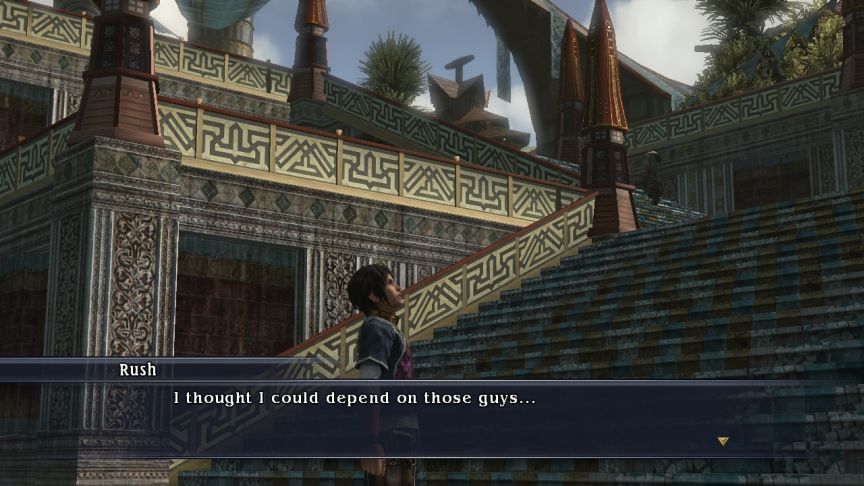 Shoulda just done it myself from the beginning.

Rush makes it about three steps before self-realization sets in.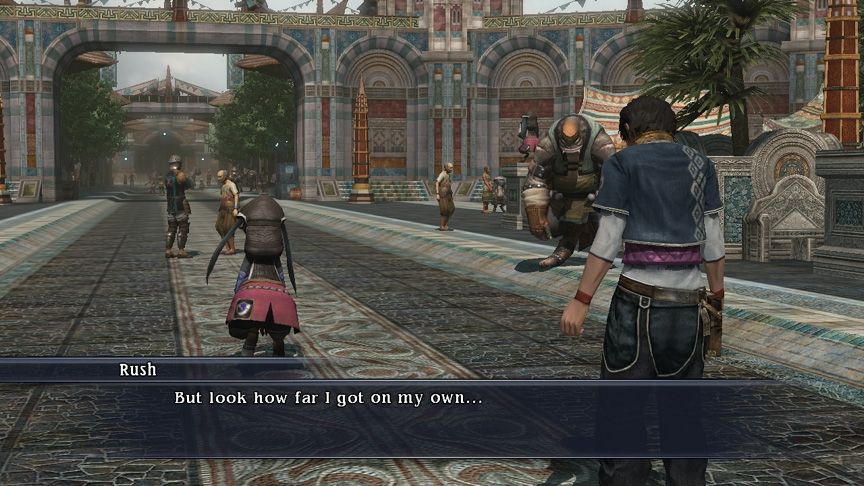 I guess… I guess I DO need other people's help…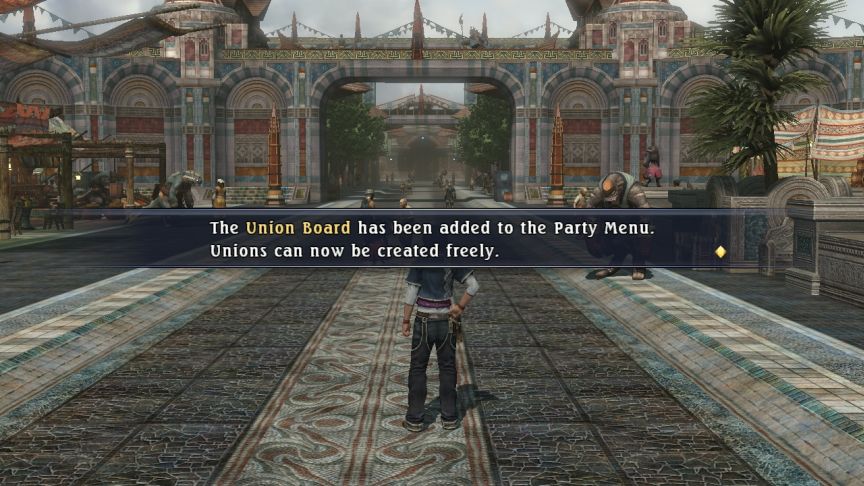 The maximum number of unions in your party is now 2. The maximum unit capacity per battle is now 3. The maximum number of units in your party is now 10.

Torgal and Emma's squads have left the party.

Maybe… maybe it's not too late to go apologize or make amends to Dave, let's go back to the castle.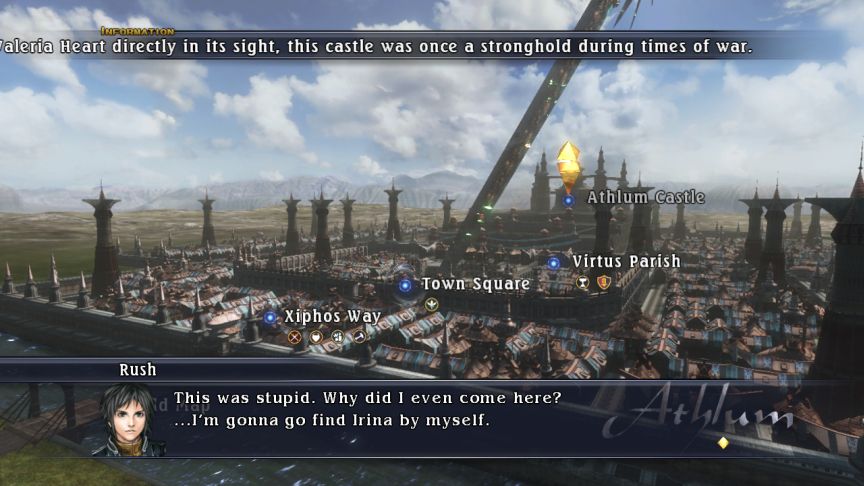 Damn it, Rush!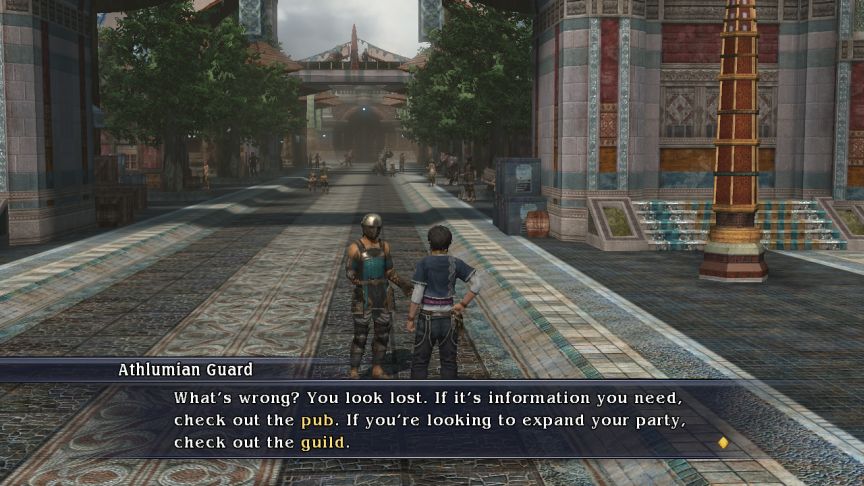 At this point, the game is telling you "okay, do YOU have any better ideas than Rush does"? And you really don't. So let's do what the guard suggested.
Music: An Open Mind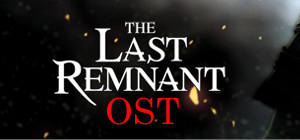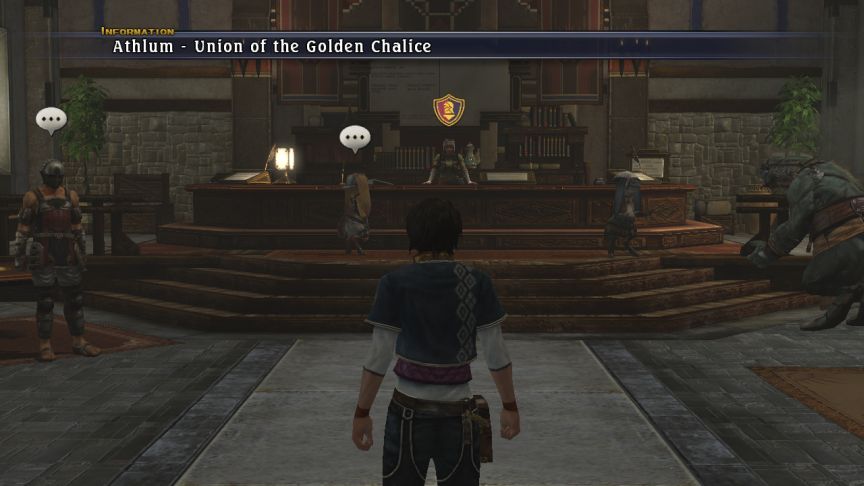 If you're looking for something to do, then the guild's the right place to be. And I'm not talking charity work. You can get a nice reward by picking up the right task.

That's neat… but is there some kind of catch?

Well, it's not like they aren't getting anything out of it.

What kind of tasks do they have?

Guild tasks? There're all types… from simple stuff to really hairy jobs. Eh, if you've got the time, then take a look, maybe take one or two, then you'll see.

Guild tasks are closer to achievements than actual sidequests. Most of them can be done through simple exploration and killing things. Others are harder to trigger. Conditions for a task appearing on the list vary. Generally speaking, they open up through the story, but some require you to reach a higher rank in the guild. That is NOT done, as you might think, by doing a certain amount of guild tasks, but by completing one specific task. You aren't told what the reward for a task is until you hand it in, so this is another case when a guide is quite necessary.

There are a few categories of tasks.
The Bloodthirsty Warrior is for killing X amount of monsters. The guild will suggest a location to look, but it doesn't matter where you kill them as long as they're that type.

The Monsterslayer is for killing a specific Rare monster. Rares are much more powerful monsters with names, which spawn in certain spots under certain conditions (which are rare). They're challenging and dangerous tasks.

The Collector is for obtaining a certain item. You just have to show that you have the item, but it isn't actually removed from your inventory. Do these before using the items in crafting.

The Weaponmaster is for finding, (or more likely, crafting) a certain weapon. Hiring a party member who has it also does the trick. This is again, just showing you have it, not handing it over. All you're told is the weapon name, not the type, so consult the guide if it is unclear.

Leader Extraordinaire is for having a party member of a specific class, or who has reached a certain stat level in their party. You might have to scan rosters and hire a generic person of that class just to get the achievement. Then you can fire them.

Battle Chains of Steel is simply for having a battle chain of a certain length. Really easy, just do a dungeon and don't let an enemy break it by touching you.

Treasure Hunt is for binding X treasure chests. Easy.

Bonus Tasks are difficult missions. They're either for defeating a bonus boss somewhere in the world (the game doesn't tell you what or where, but they're at a fixed location), killing X number of some enemy, or for obtaining a particularly rare item. Unlike all of the above, Bonus tasks are listed in a colour.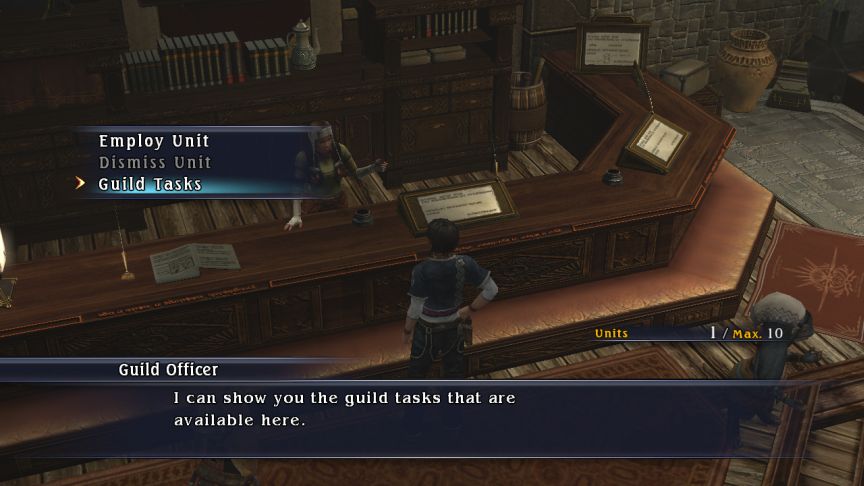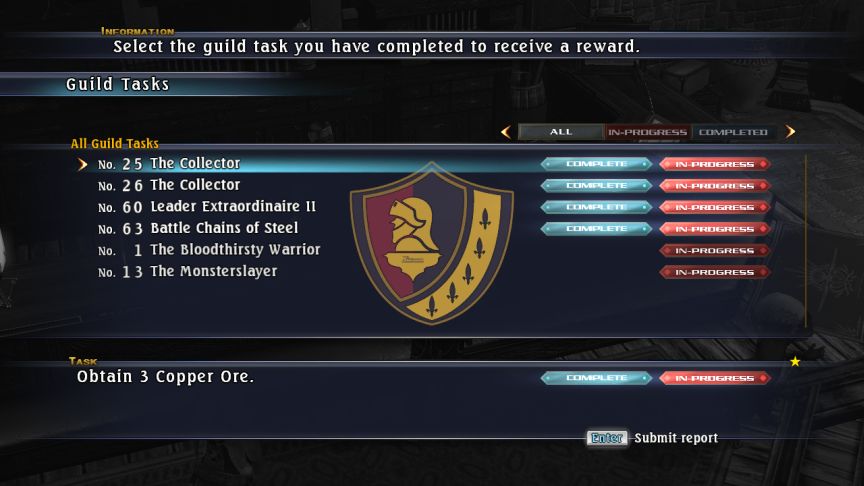 We've already done a few before setting foot in the door, this is easy! Some of these are because Collector tasks require you to have an item, and NG+ we start out with all components from our last game.

Rewards also vary: You can get a token amount of gold, equipment, blueprint components for customization, new Formation options, a rank up in the guild, additional generic soldiers are unlocked for recruiting, or Magazines (an item which lets monsters get an additional new drop).

I don't particularly care too much about doing these, since I have all the Magazines (the most important ones) because this is NG+. They're not too interesting, so I'll mostly only care about getting the ones that increase your guild rank. I can show off some of the Rare monster fights, but these will generally be done completely off-screen.

Tasks are guild-wide, any branch anywhere will have the same task list to complete and any task from that guild can be handed into any other branch.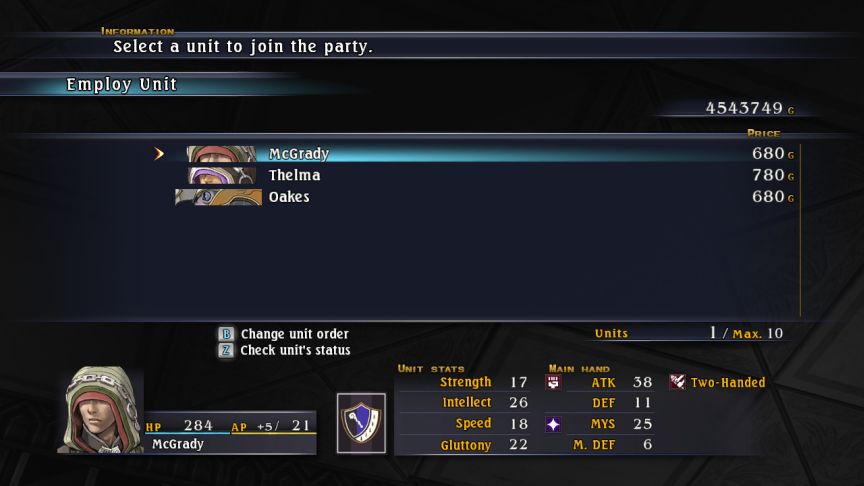 The other service guilds provide is a place to recruit new party members. The majority of our party will come from guilds. For a one-time fee, you get a unit you can use in the party. Most of them are generic units.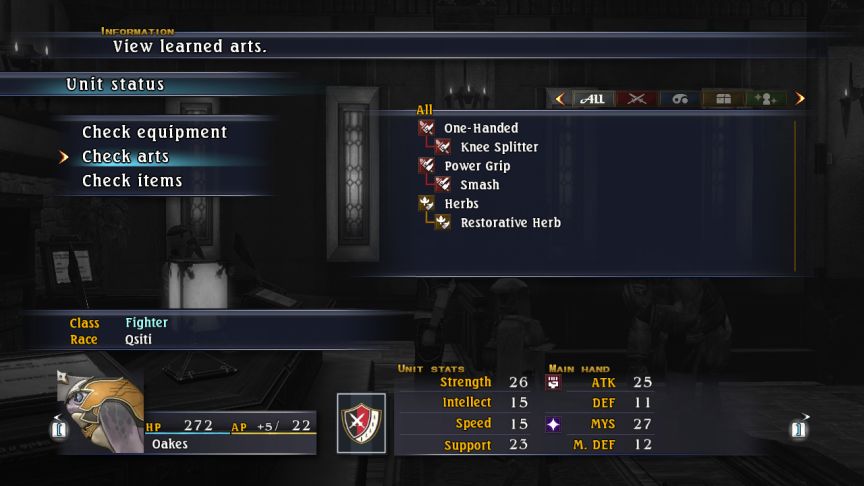 When I use them (not often), I pick generic units based on the arts they have. You can check those before hiring them. McGrady knows

Restore
,
Thelma knows

Mystic Missile
.
A key difference between generic units/soldiers and Unique Leaders is that generics start out knowing all the schools that they will ever know (not counting Combat Arts, which anyone can learn). Unique leaders will (at your discretion) learn two additional schools as your BR reaches certain levels .

I think I'm ready to go. I'll hire McGrady and Oakes and go fight right now!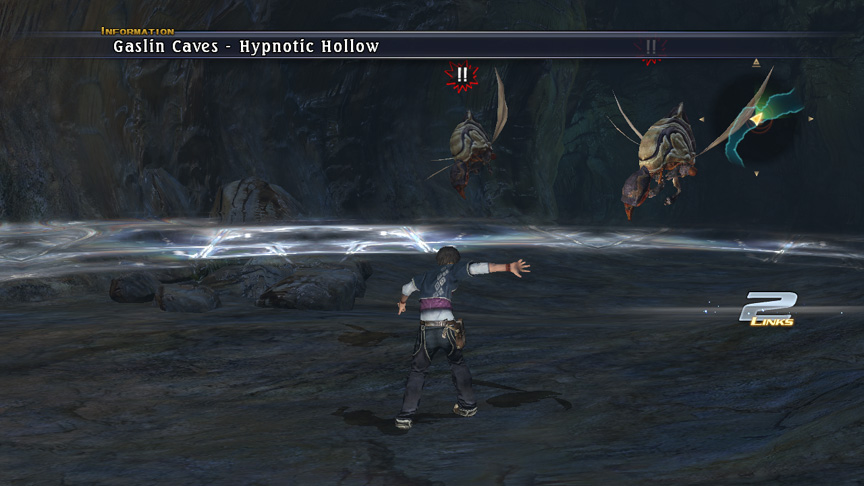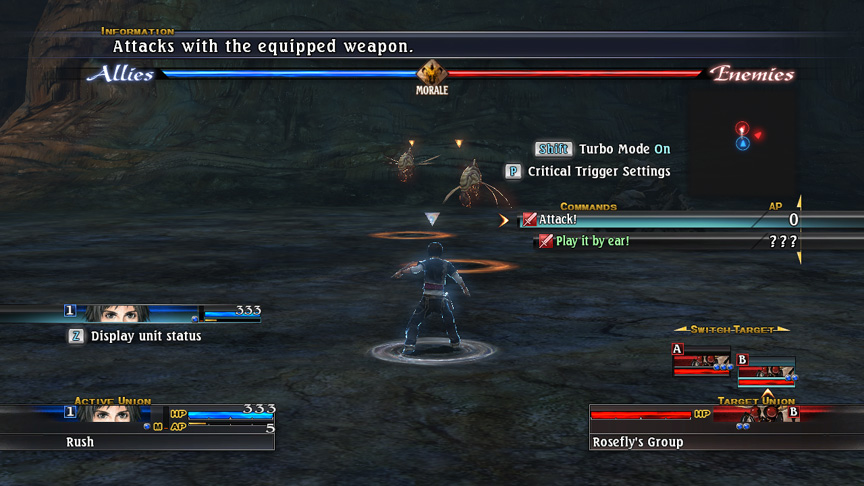 Uh, hold on, where are my guys? … shit.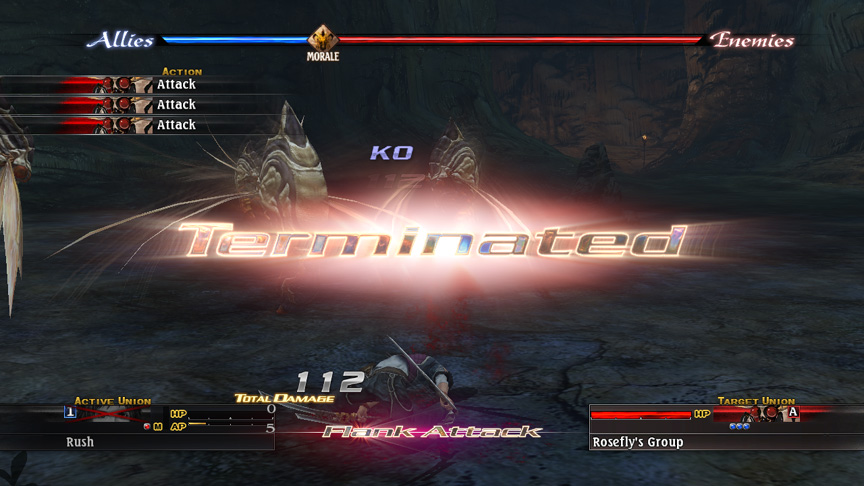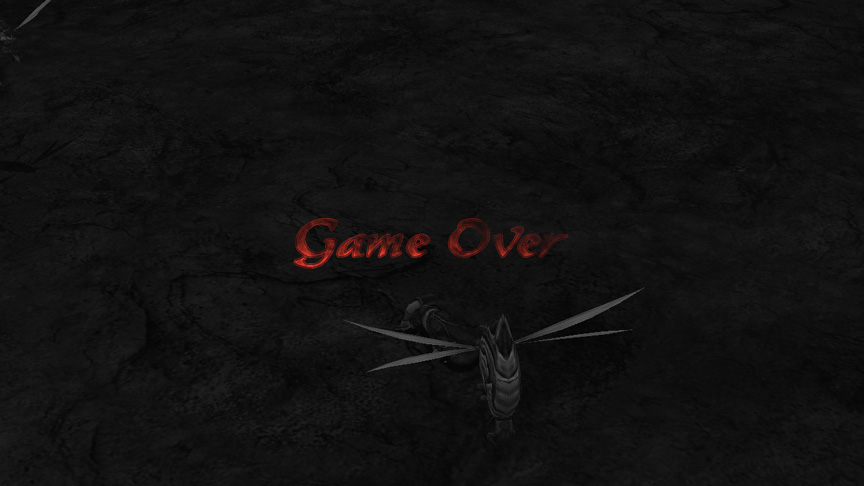 It is important to remember one thing: Actually put your shiny new units INTO a union first. The game will no longer do that for you.

Variant formation Melee Stance III unleashed!

I've hired Oakes for now. I could have hired McGrady, but I'd just fire him after one dungeon anyway so what's the point? I'll talk about formations in a little bit. We've done all we need to do for now, so let's hit the pub.
Music: A Friendly Ear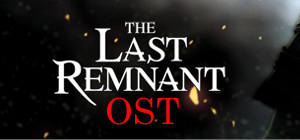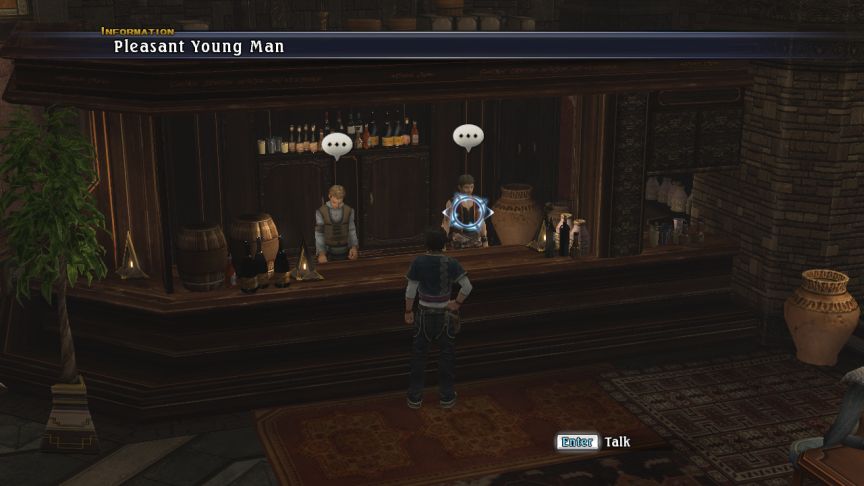 Anything interesting going on?
Pleasant Young Man
: So, apparently there's some mysterious lady looking for someone to help her with something. She seemed to have something important to ask. … That's the story, anyway.
Bartender
: I also have something to ask…
Pleasant Young Man
: What?
Bartender
: Welcome back, cutie!
Pleasant Young Man
: Some girl's been coming around here lately, all mysterious-like. She's quite a stunner, too… Can't compare to me, though!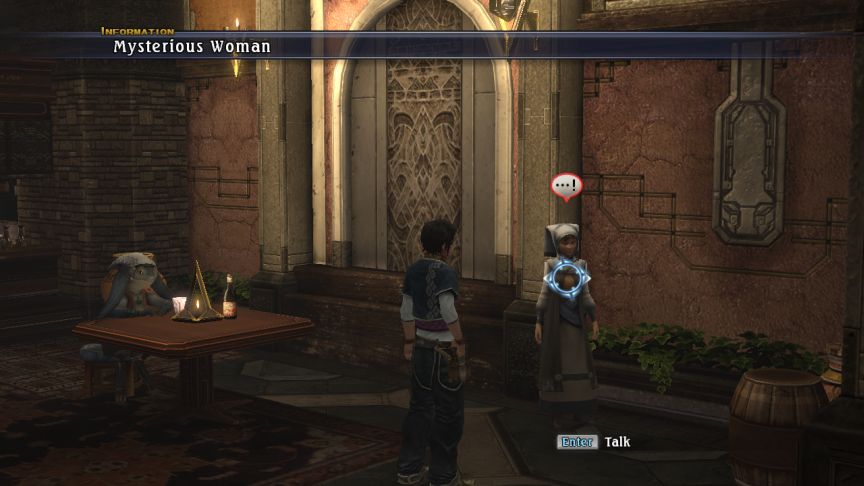 It's the Sidequests tutorial! This is mandatory, of course. Whenever someone has a red outline around their dialogue bubble, they're important.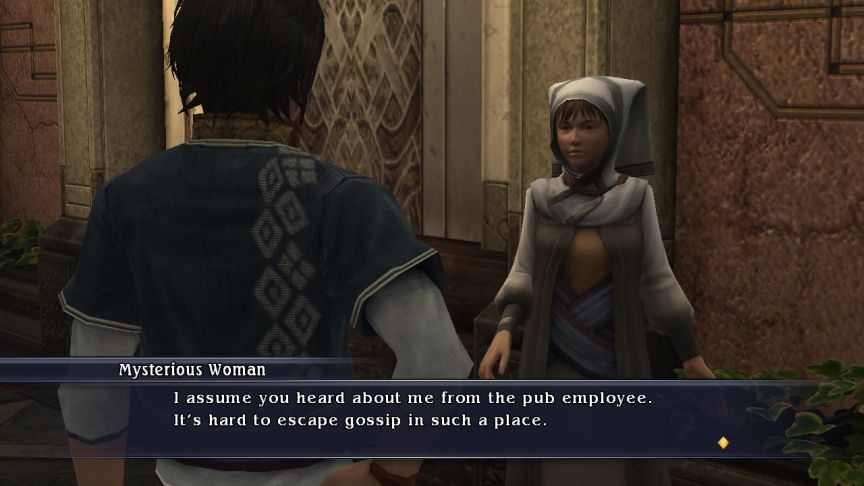 I have a dilemma. I need to deliver a letter to someone. Unfortunately, that person has gone away to a monster-infested region, leaving me behind… I would like someone to deliver this letter to him. Will you please help me?

Here we get an accept/decline choice. If you decline a sidequest, you'll just have to ask again later, it doesn't lock you out. The "decline" dialogue here isn't interesting.

Sure, I'll do it.

Thank you! I owe you so much! Here is the letter to deliver. The person I want you to give this to should be at the entrance of the
Robelia Ruins
. If you leave the
Robelia Ruins
, speak to me again. If you do not do so, the situation will change and you will lose sight of your original goal.

Obtained Letter from Home!
Accepted quest: A Day's Beginning

By selecting Quests on the Party menu, you can check your current progress.

What she means is that once you accept a sidequest, you're automatically sent to the location (Most sidequests are in dungeons, although some of them are exceptions. I'll be using location headers to announce when entering a location (but not for when returning to where you got the quest because that will be obvious. )

If you leave the location, the quest will be cancelled (not failed) and you'll have to go back to the quest-giver to get it again. This can be exploited in a couple specific instances.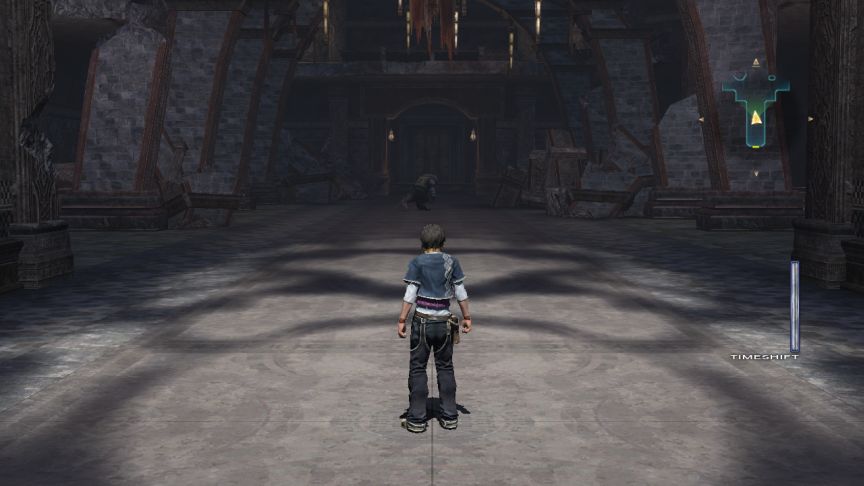 A mysterious woman handed me a letter to deliver to a yama in the Robelia Ruins. Man, I'm such a sucker for a pretty lady!

We're sent to a unique instance of Robelia Castle's entrance hall. There are no enemies here and the door at the far end won't open. Rush has journal entries written in first person for quest stages, I'll be denoting those with the special icon above.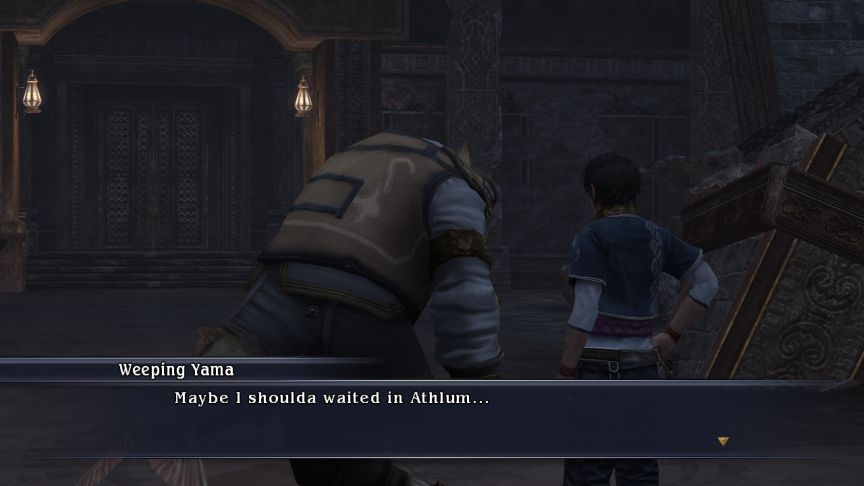 But now that I'm here…

Uh…

Huh? Who are you!? What do you want?

Are you the one who's supposed to get this letter?

That letter!

It's from a mitra woman.

What? This was handed to you by a lady mitra? I don't know any lady mitra… But thanks! I was exchanging letters with someone very dear to me, but the letters just stopped one day. I wanted to meet them so bad… I should go back to Athlum. Tell the lady mitra I said thanks!

Oddly enough, Rush becomes a 'silent' protagonist at some points, saying things only NPC's can hear, but not the player.

I like the game's efficiency with sidequests. If you accept one, you don't have to go back to the map and go to the destination, you're automatically transported there, and once a quest is completed, you are automatically taken back to where you accepted it, you don't have to backtrack out of the dungeon, go back to the city, go back to the tavern...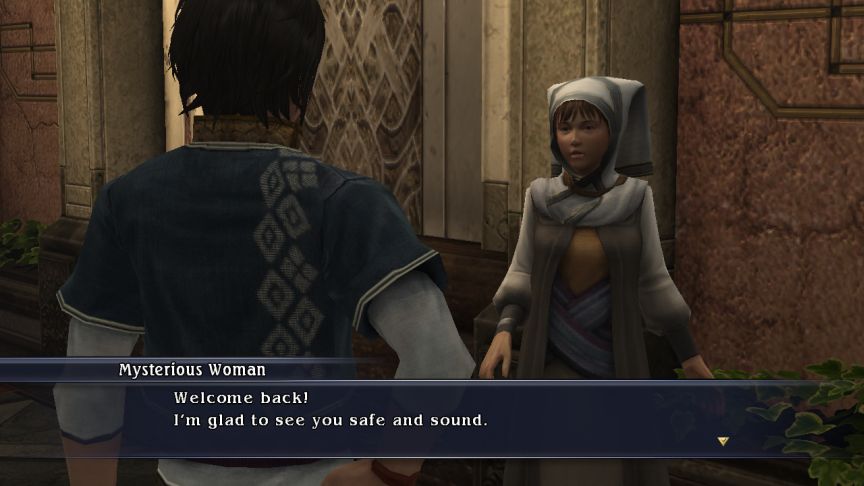 Were you able to deliver the letter?

Yeah, no problem!

Thank you so much. Here is a little something for your trouble.

Reward: 100 G.

There are so many people in need of a helping hand out there. If you come across these people, please hear them out. Helping those in need will help you, too. You will gain so much from it.

The power to strengthen your will.

Friends who will risk their lives for you.

History.

Truth.

Hope, fear, hate.

You will experience many things, both good and bad, and they will help you grow as a person. I know you will take them to heart… and thus, I know you will be able to control your fate. We shall meet here again… someday.

… What the hell was all that about?

Completed quest: A Day's Beginning

The yama got the letter. My part is done.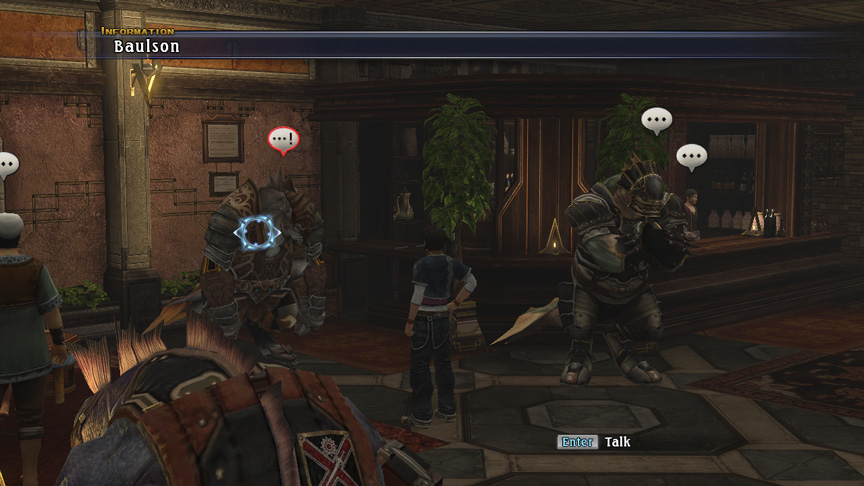 Oh, there's a new guy here now. Hey new guy!

Hello, chum, the name's Baulson. I'm a bloke what earns his keep doin' other folks's dirty jobs.

You mean you're a maid?

Guess you could say I'm a bit of a mercenary, though it don't roll of the tongue as pretty. You yourself're no stranger to a fight, eh, kiddo? I can see it in your eyes…

A few fights, yeah.

They're the eyes of a man what's peered over the edge o' death and come back to tell the tale. No doubt about it, you're a fighter, and a good one.

I dunno about good. Okay, I guess.

Lemme cut to the point: right now, I'm contracted to do a certain job for a certain aristocrat, but it's a bit of a hairy job for just one man. I was hoping to find a partner. What d'you say, you want in on the job? You know what they say about those upper-crust types, workin' for 'em guarantees a decent reward.

(Well, if I'm gonna search for Irina on my own, I'll need all the money and friends I can get.)

Sure, I'm up for it.

That's what I like to hear. I knew I saw a real man in ya! Right. So, finish up your business, and meet me at the Gaslin Caves. I'll tell you the details there.

Accepted quest: Baulson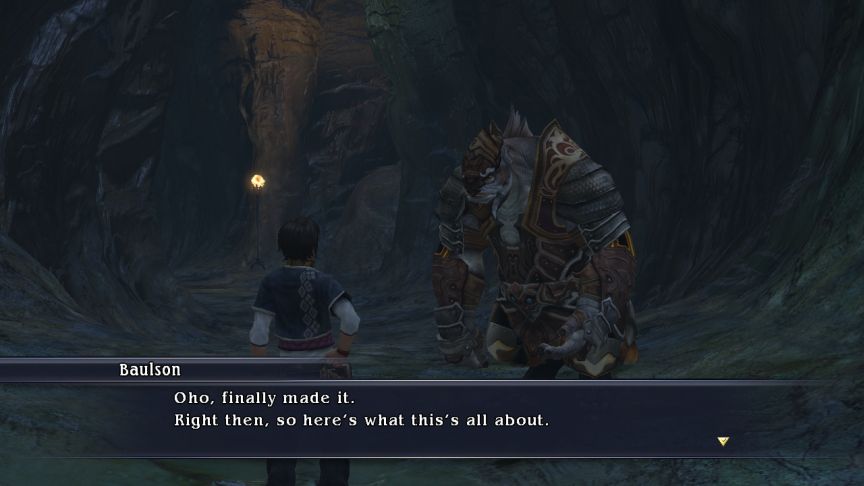 The son of a certain aristocrat – our employer, by the way – went out to play here in the caves. Problem is, he never came back. Dependin' on the time of day, these caves fill up with monsters. It's likely the kid just got trapped tryin' to hide from 'em. Either way our job is to find that kid.

Is that all?

What, you wanted somethin' more exciting? Believe it or not, there's more to this than playing nursemaid. The kid is just a wee little thing, and a bit of a weakling at that. His folks are right worried about 'im. What's more, a downright nasty bunch of bandits are rumoured to have their hideout in the caves. If we don't find the kid before they do… Well, let's just make sure that doesn't happen, savvy? Let's be off, then!

Don't sweat it. Me and Blocter were here the other day and kicked their asses!

A guest union has joined the party.

Some dude named Baulson asked me to find some rich sick kid who got lost in the Gaslin Caves.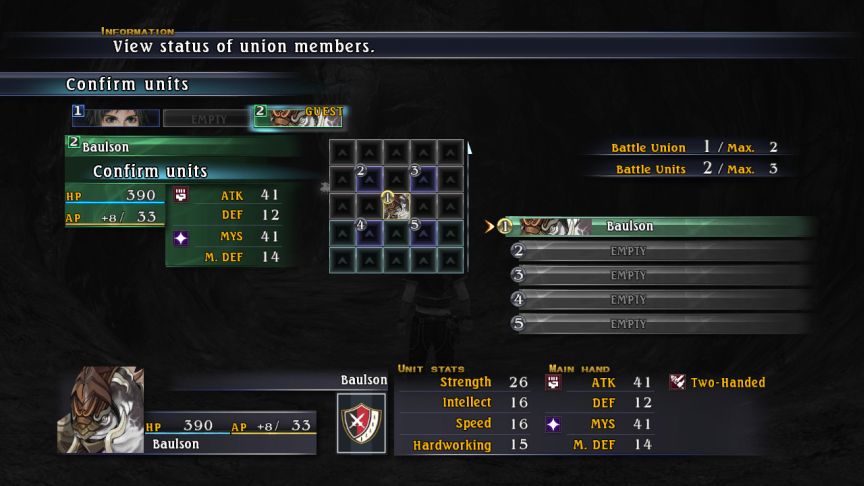 -Guest Unions-
When a guest union joins the party, you cannot assign it battle commands – it acts on its own. See if you can determine how to support your guest in battles!

Guest unions can be tricky. See, they're on your side, but they don't count as in your party, so if all your unions die, but the guest union is still alive, you get a game over. This will become a nasty problem for us shortly. They also do whatever the hell they want in battle, which can sometimes be a problem if you really were counting on them for a certain action - so don't count on them for anything.

Guest unions usually only consist of one unit, and they are almost part always Unique Leaders which can be recruited after the quest is done. Their health is boosted so they don't die (except in Baulson's case).

- BOSS Video: Baulson quest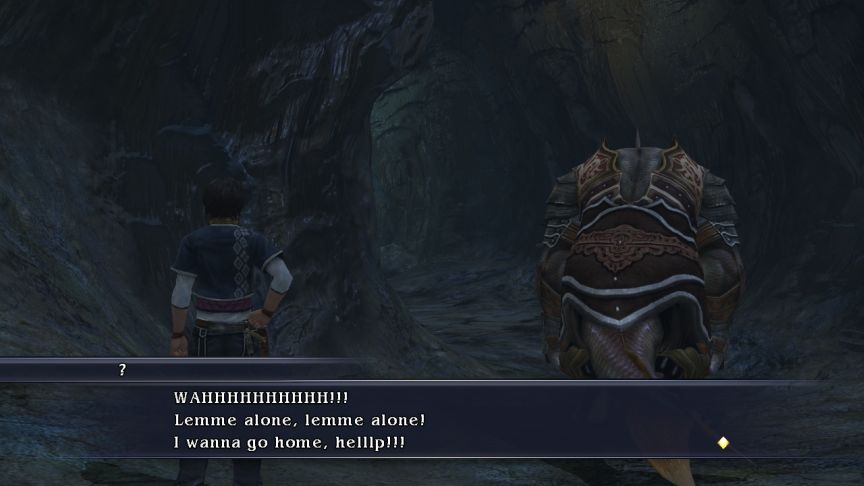 Urgh… Quiet, you!

That voice… Bloody- C'mon, Rush, we better hurry!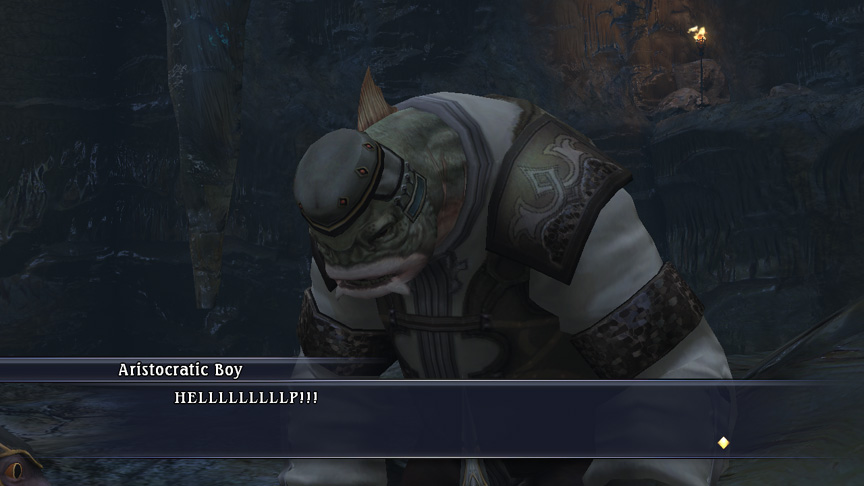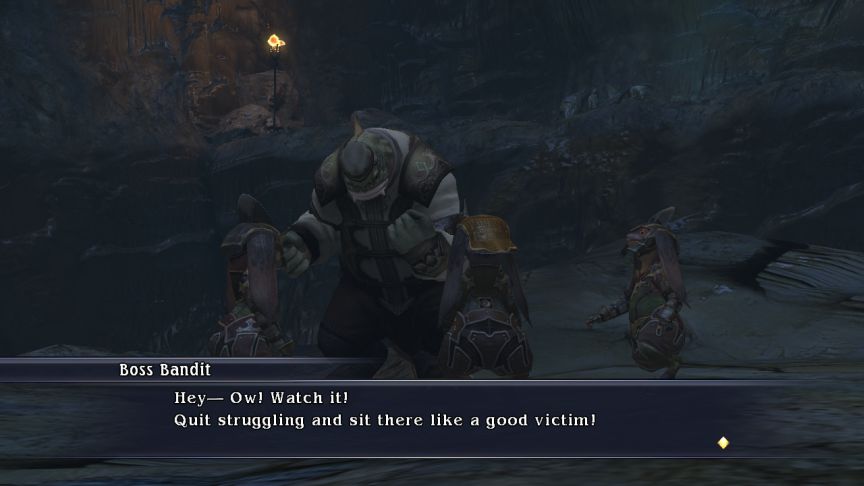 B-bro! Come on, give it up! We're supposed to be kidnapping – this's more like giantnapping!

Yeah, yeah! He can squish us without even trying! How're we supposed to ransom him when we're flat as pancakes?

Ghk – shut up, both of ya! Blurg… They said some sick, wimpy little rich kid was lost in the cave – how was I s'posed to know he'd be some giant yama doof?

Looks like trouble.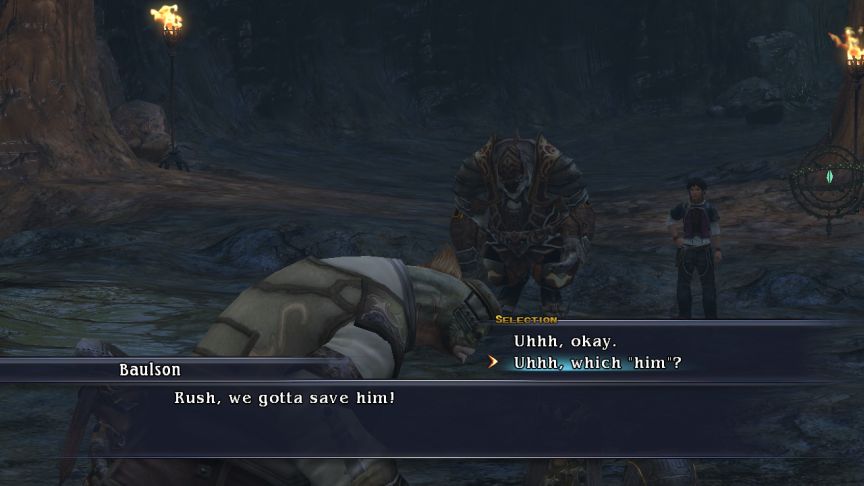 Uhhh, which "him"?

Which one do you think? The kid, o' course!

Looks pretty safe to me.

What's this tripe you're going on about? Let's bust some heads!

Mission: Defeat the bandit leader!
Music: Struggle Eternal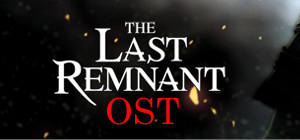 (Video) Don't do stupid things like fail to support your guest union by practicing your mystic arts when they are almost dead, and you should do fine.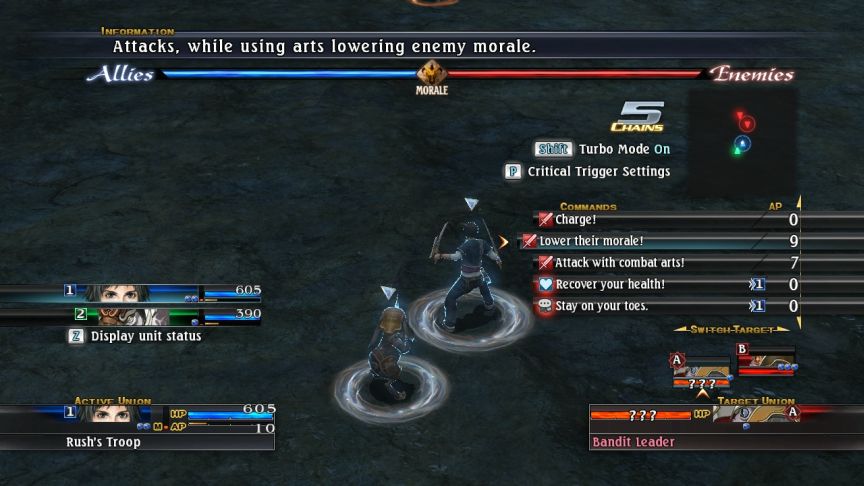 You're up against the bandit leader on his own, and a separate unit of 3 qsiti bandits. I'm practicing Bluff to try and learn another Mystic Art, but it is pretty useful on its own.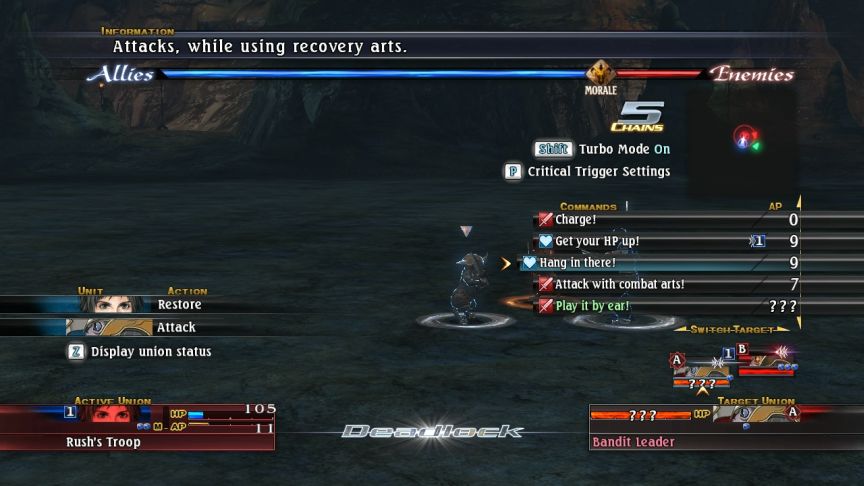 It's a little trickier than it normally is because I'm deliberately a man short.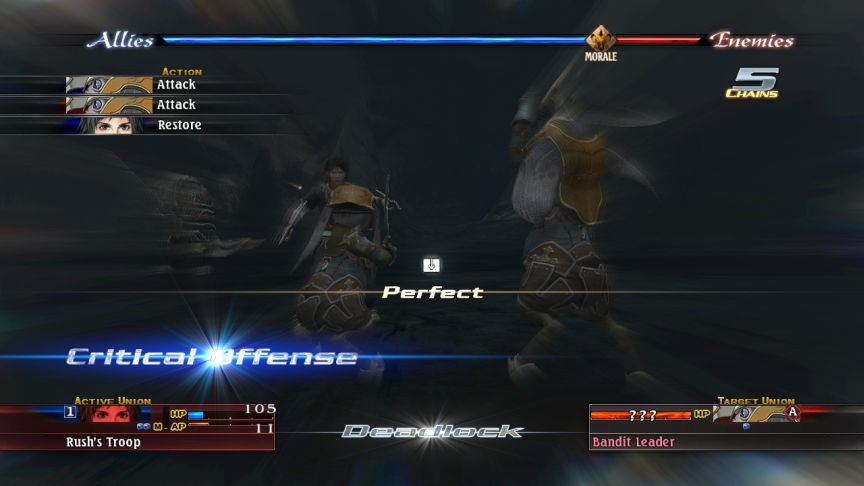 This trigger chance seemed lucky, but the chances for them increase as your morale increases (thanks, Bluff!). The bluer the bar, the more likelihood that a trigger chance will appear. If the bar is all red, you'll almost never see them (and if it stays that way for a while, when one DOES come up, it's hard not to be so surprised that you end up flubbing it).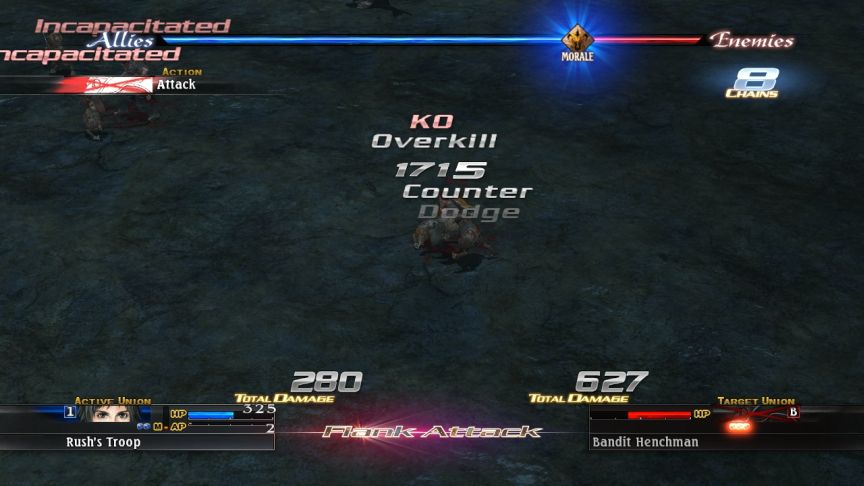 A lucky dodge trigger chance appeared, letting me counter and wipe out the boss's backup. This is the only way you can kill units flanking you (outside of AoE, of course).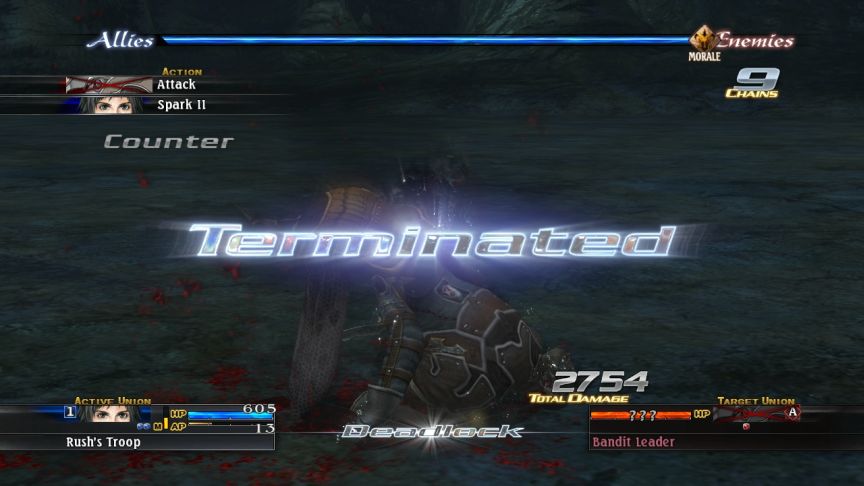 A second dodge-counter finishes off the boss.

learned

Restore II
!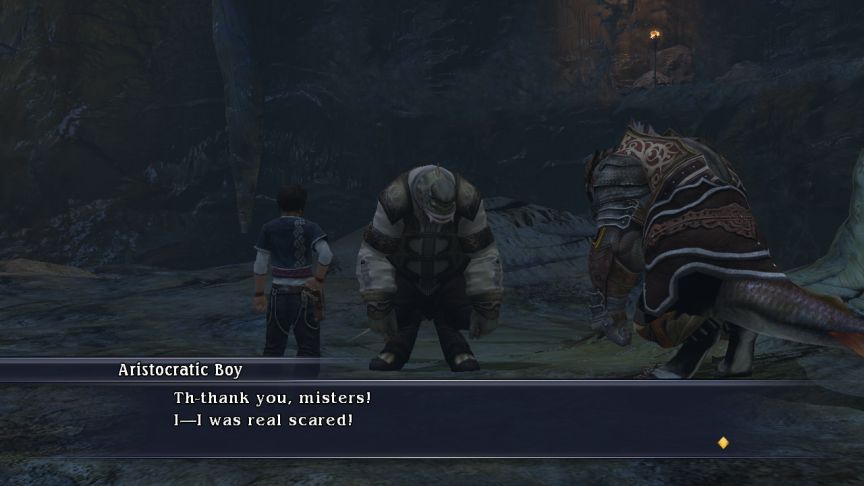 Don't worry, lad, you're alright now. Rush, I'm gonna takes this little one back home. Meet me in the Athlum pib, and I'll have your part of the reward, fair enough?

Okay.

See you 'round the bend, then.
Music: A Friendly Ear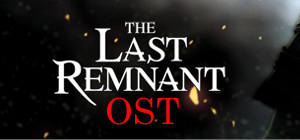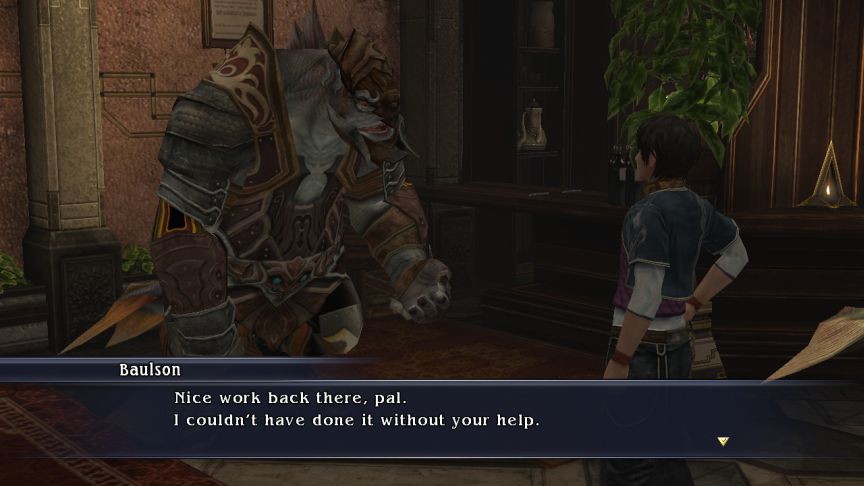 Nice work back there, pal. I couldn't have done it without your help. The kid's pa was quite thankful as well. Gave me twice the reward, he did. Here, here's your half.

Reward: 500 G

Didn't expect all this… I can get her something real nice…

Her?

Hmm? Nothing, nothing, just thinkin' out loud. Say, if you ever need a partner in a fight, pop by the guild and let me know. We're mates now, so anytime you need a hand!

Completed quest: Baulson

I helped a kid who got jumped by some thieves in a cave, and got a reward from Baulson. He said he'd help out if we needed him in the future.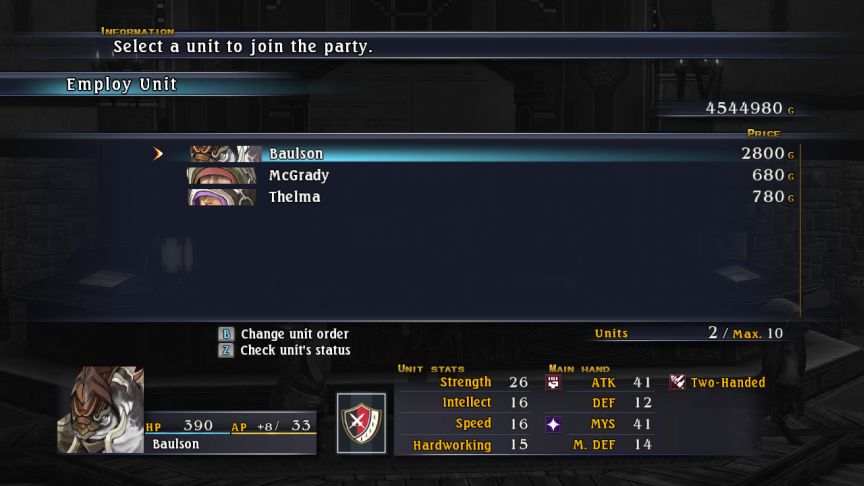 So what's a kid like you doin' guild work in Athlum for anyway?


I'm trying to save my sister, Irina. She was kidnapped.


That so? I've got a sister too, and I'd do anything in the world for her. I'd be glad to help. I'll even cut my rates a little.

Not a bad idea. You're hired, Baulson! (This is why I didn't hire McGrady, the only use was to use on Baulson's quest.) After completing a guest union's quest, they are usually available for hire immediately at a guild. The exception is if they have another quest you need to finish first. Baulson is somewhat expensive on a clean save, but not NG+!

Baulson

A mercenary based in Athlum. Cautious, and always prepared. Saving money for someone dear.
Class
:
Fighter
Initial BR:
BR 6
HP
: (390)
Str / Int
: (26 / 16)
Current Arts
Two-Handed: (Double Strike)

Herbs: (Restorative Herb)
Future Arts
Remedies @ BR 18

Potions @ BR 30
Comments
A pretty standard Yama fighter. He's tough, but doesn't get a lot of interesting arts. His skills are easily replaced by other party members later, but it'll be tougher to replace that chunk of HP. He's the first of Rush's recruits, which means he'll spend a lot of time gaining stats before you can find enough unique leaders to consider swapping him out, making it tempting to keep him in the active party. He doesn't get any unique skills, nor is he required for any quests past the one you need to recruit him. Like Blocter, he can fall into becoming a Scout, but I can't turn Herbs off on everyone, because they're critical to surviving.
Tags
: Combat, Healer, Outclassed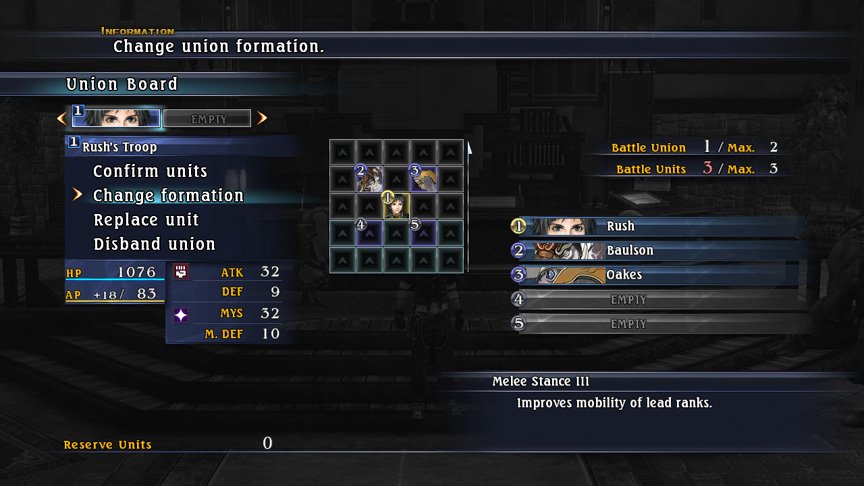 *sigh* All right, let's do this. (The higher health/stats is because this image was taken from later on.)

Position units on the Union Board. The topmost unit is named the leader, and must be determined. The rest can be skipped.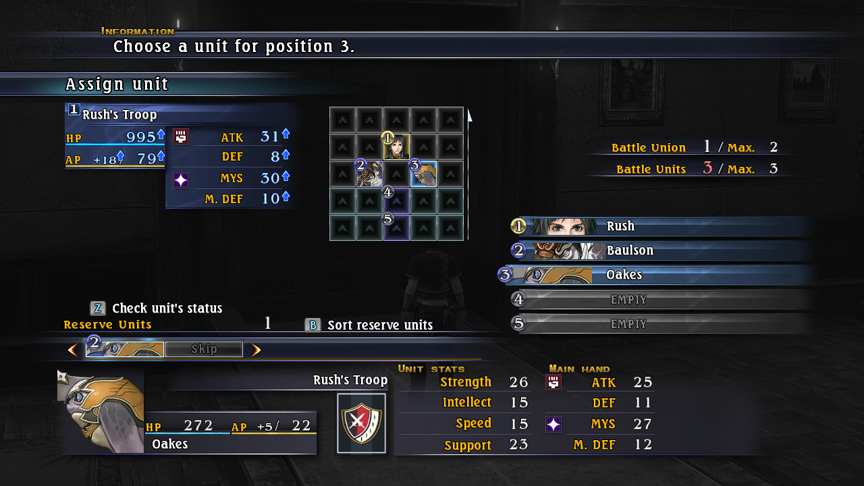 The Union Board has areas for lead ranks and back ranks. Generally, the front three rows are for the lead ranks, while the rear two are for back ranks. The lead ranks are best at dealing and defending against physical damage, while the back ranks are good for mystic attacks and defense.

This tip IMPLIES that you should put two physical and two mystic guys in each union. Maybe that's what you're supposed to do, but for me personally: that is pretty crappy advice.

You only get 5 Battle Commands per union/per target. Mixing mystic and physical units muddies the commands, and at best, you'll have half your units doing a basic attack. It also slows art and stat growth. Don't mix mystic and physical attackers, mystic attackers should be in their own union, and you probably only need one mystic union. This advice only really is useful if you have only three units in the union – that's not an entirely bad idea, too bad that you can't have 6 unions, then you could go 3/3/3/3/3/3.

A formation's strength depends on the members of the union performing it. Some characters are particularly effective in certain formations. Try different combinations and see what happens!

No! That's way too fucking complicated! Here's all you REALLY need to worry about when it comes to formations: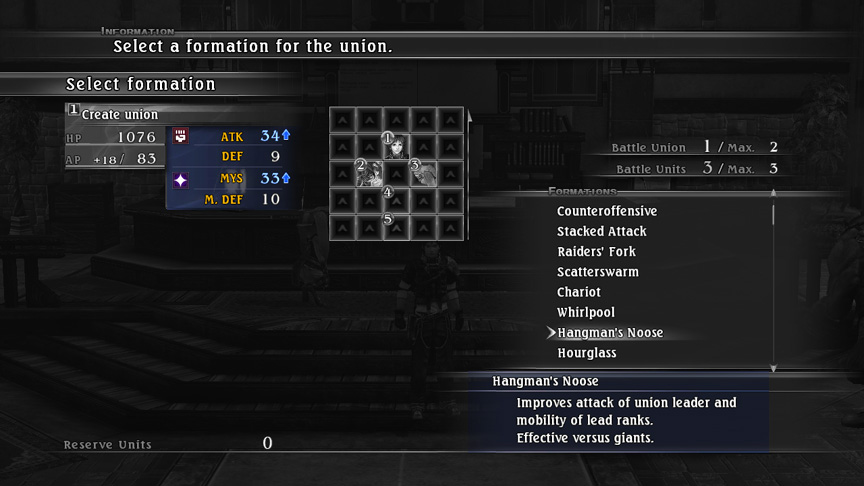 That's all: How it changes the unions' stats, and the bonuses it says in the text box. Anything else requires a guide to figure out, and it's completely fine to ignore them. There will be a larger post on formations later on, mostly contributed by
Stelas
.
I've put my units into the Hangman's Noose formation because it increased the stats of my union, without reducing their mobility (and making it more likely to be intercepted).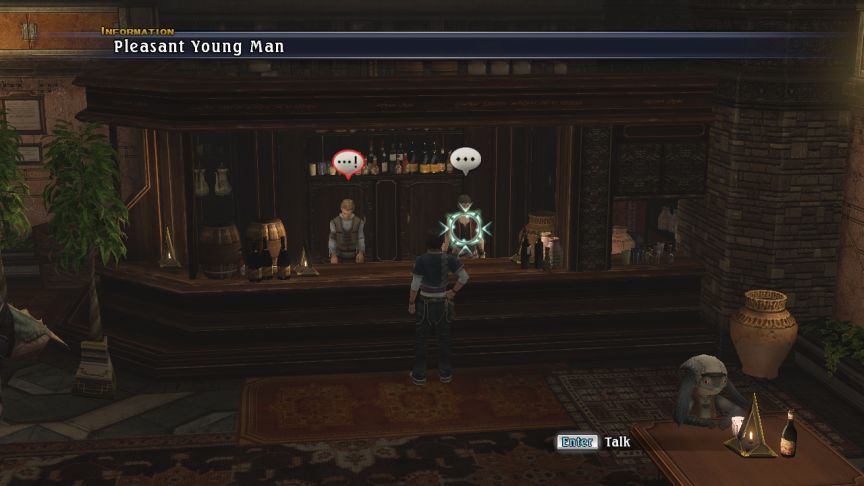 So no one has heard anything about a flying creature?
Bartender
:
No one in Athlum, hon. Maybe you might want to check elsewhere?


Elsewhere?
Bartender
: Say, you know
Celapaleis
, right? They're Athlum's sovereign state. They're to the northwest, on the tip of the continent. I head over to Celapaleis from time to time to check out their new accessories. You should definitely visit, hon. You'd love it.
Pleasant Young Man
: Some strange – thing has been terrorizing Celapaleis. It's totally freaking out the people there. …That's the story, anyway.
Bartender
: Oh, I'm sure the poor thing is just lonely. It just needs a friend, and maybe a big hug.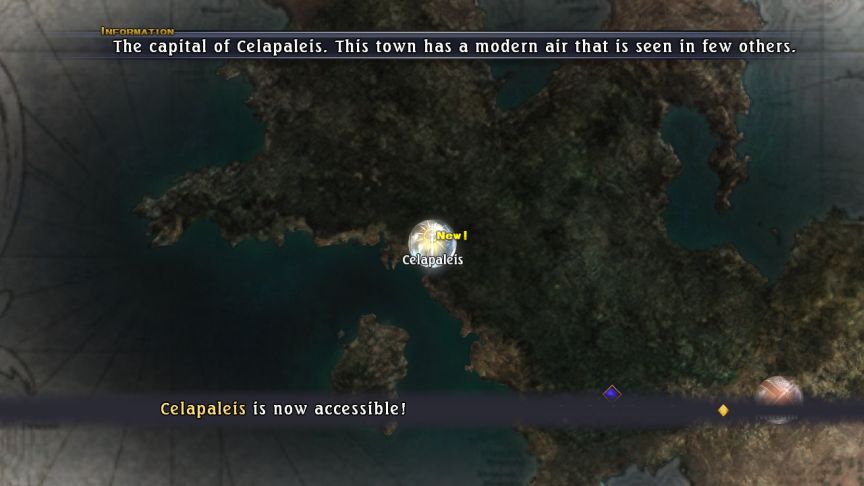 Since Athlum is dry of leads, lets move on to bigger and better places.

New Arts Summary

learned

Restore II
!

Video: Irina held captive
BOSS Video: Baulson quest
BLOOPER Video: Baulson quest boss
Flowers Count: 4
"Irina" Count: 5
"Rush" count: 3
Next Time
: I think I'm allergic