Part 49: Chapter XLII - Urg, I gotta do the tie-break again?





Urg, I gotta do the tie-break again?
Previously:


Chapter XXVIII: I hope that next time you wash your hands, at least.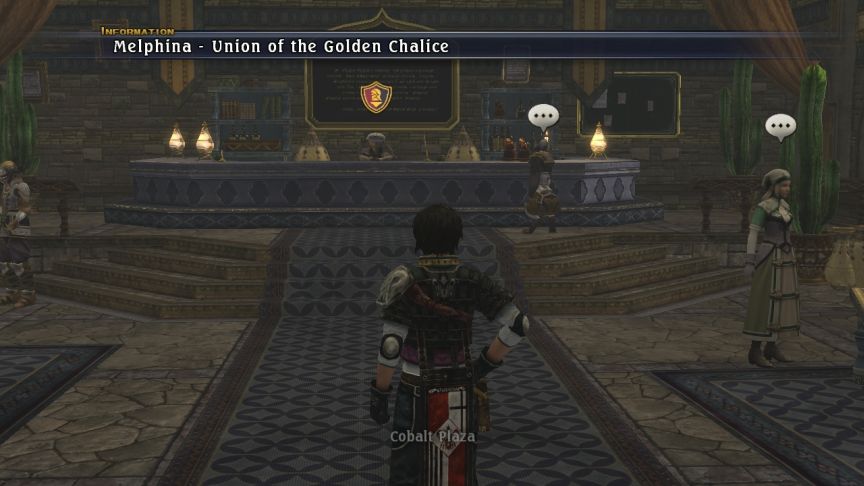 Dreaming Girl:
Do you remember the bog you passed on your way here? That's Crookfen, the place where we Forest Maidens perform rituals of prayer for the
Last Leaf
. The Order of Melphina protects us from monster attacks while we pray. It's all so romantic.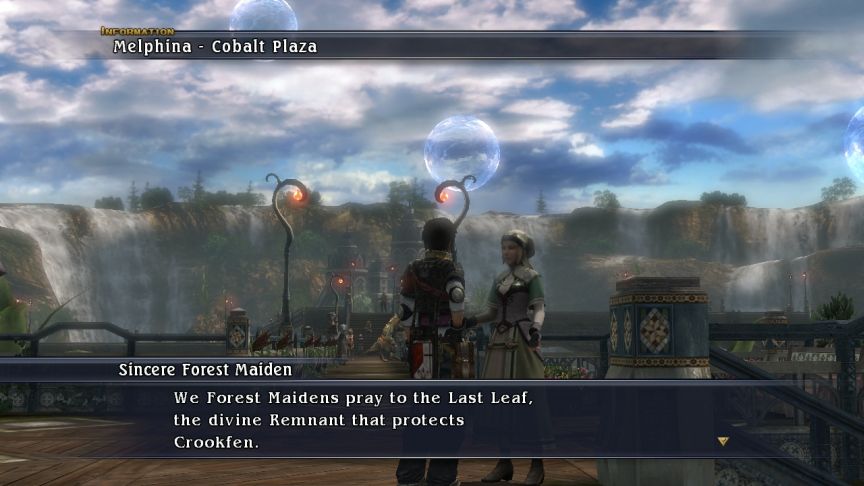 Sincere Forest Maiden:
A routine ritual of prayer strengthens the seal of protection, but the seal seems to have weakened of late. There are many organizations that want to get their hands on this Remnant, but we've got nothing to worry about. The Order of Melphina is on our side!
Chapter XL: Melphina's oh-so-important knightly order is done for.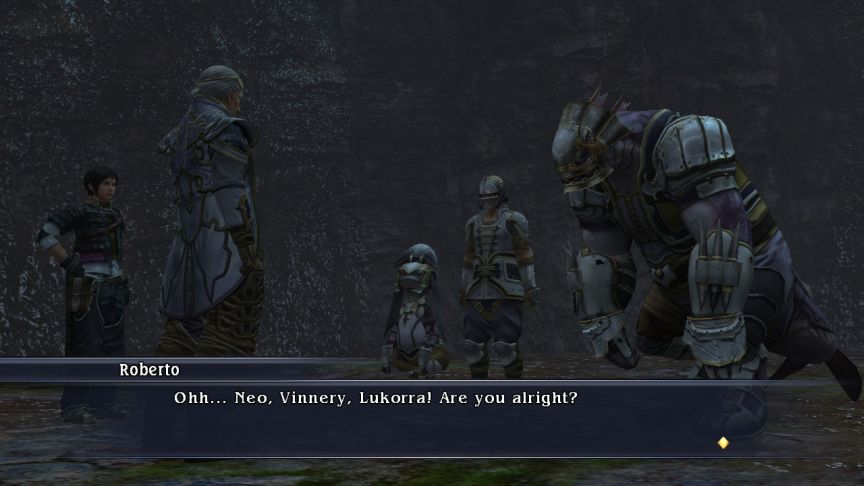 (Neo)
Commander Roberto! It's the commander!

(Vinnery)
Are we saved?

(Lukorra)
Boss! I was getting real scared!

Commander… On the way to the broken seal, some men dressed in black assaulted us. When we woke up, we were down here…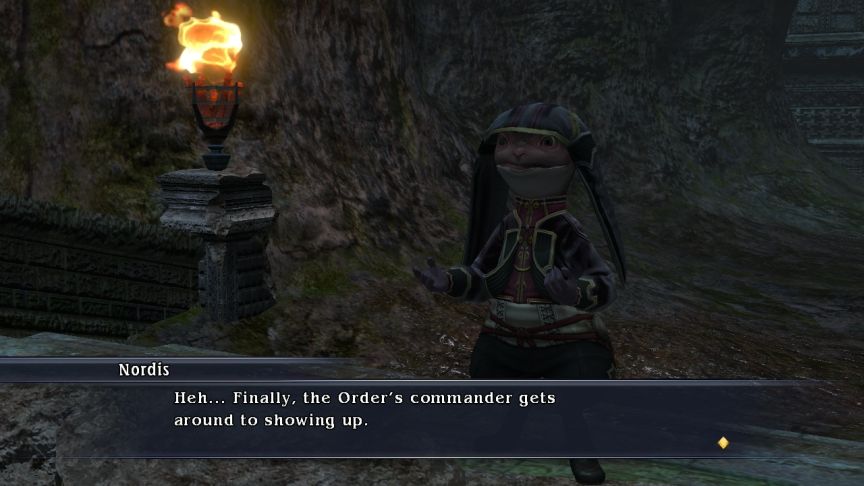 Ah –him! That's one of the men in black who trapped us in here!

(Nordis)
Melphina's oh-so-important knightly order is done for.

I believe these men in black are just the face of a much larger evil – an organization with command over many powerful Remnants. The henchmen we have dealt with are far from the fiends controlling all this.



All right, let's head for Nagapur!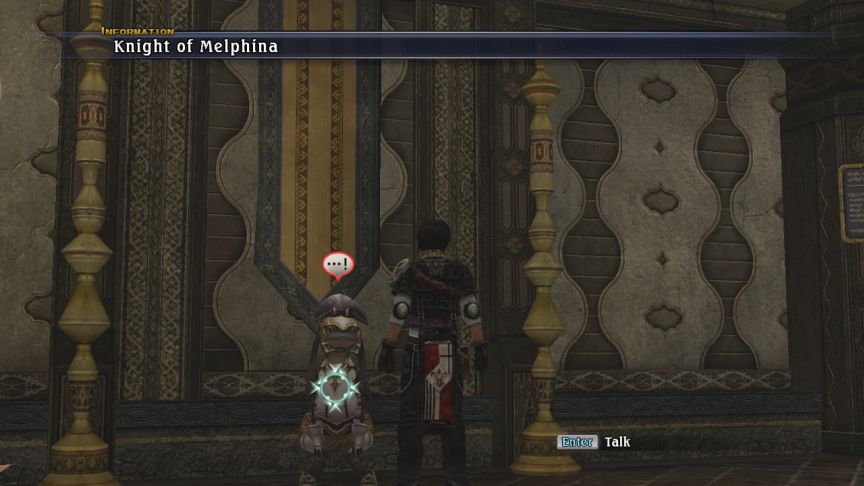 Sir Rush! Good heavens, we've a disaster of the greatest proportions… Once again, your help would be much appreciated!

Well, I guess our work is never done…

Commander Roberto was looking for you, so if you would come to the palace, we should all be much obliged!

Have you noticed the pattern with these optional cities? Each of the optional cities is faced with a major crisis.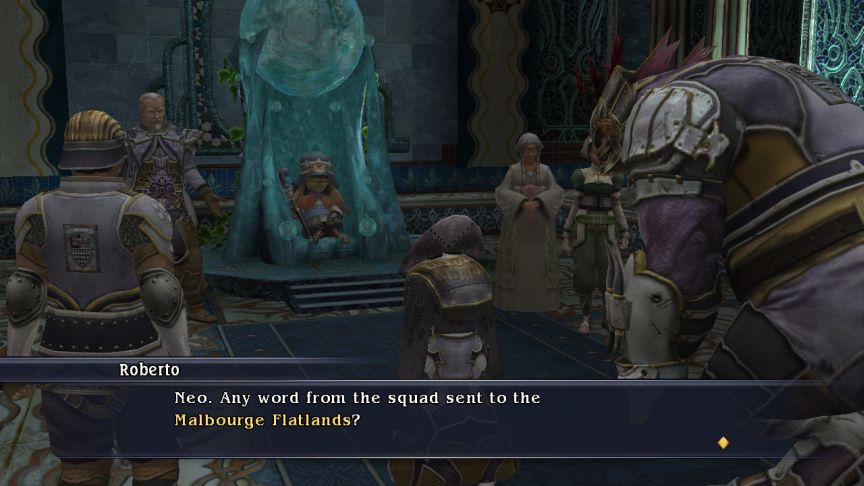 (Neo)
Our advance squadron is locked in fierce fighting. The number of monsters coming from Crookfen is far higher than we'd imagined.

(Lukorra)
The monster forces are on their way here to Melphina!

(Vinnery)
It's only a matter of time before the vanguard falls. We must prepare for battle ourselves, while we still can!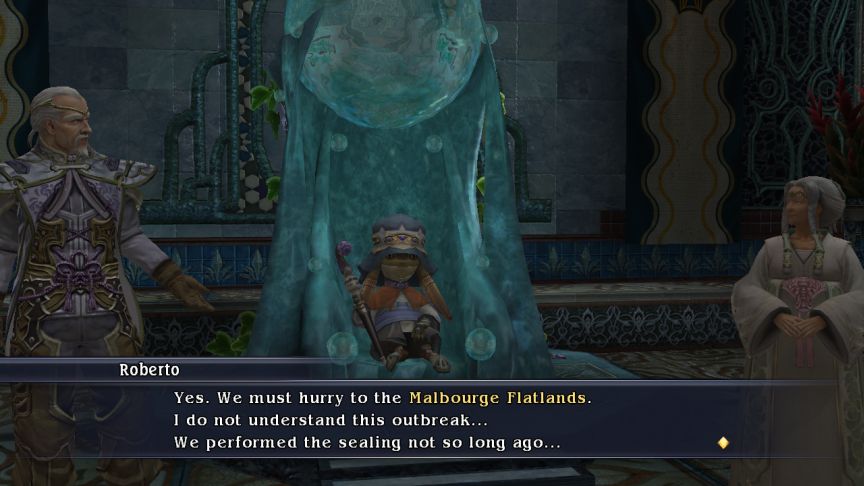 I fear that the sealing Remnant has been overpowered by someone who wishes to destroy the seal. Meister Olebeag, Sir Roberto, allow me to go as well. If the Remnant's power is out of control, I must repair the seal as soon as possible.

Roberto, Marsha, men of the Order… Go with grace to your tasks.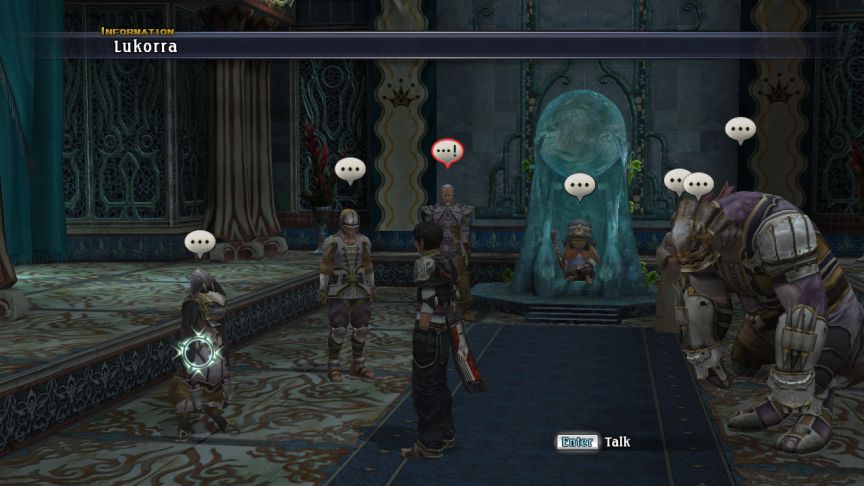 For the seal to just up and break like that? That's never happened before…

As Mistress Marsha says, someone must be breaking the seal. I wonder, are the culprits related to the men who kidnapped us?

It seems likely, yes.

They're marching on Melphina as we speak. If we don't strike soon…
Leticia:
Neo, Mistress Marsha, everyone of the Order… Please, be well!

Thank you, Meister Olebeag. If the Remnant loses control, someone must seal it!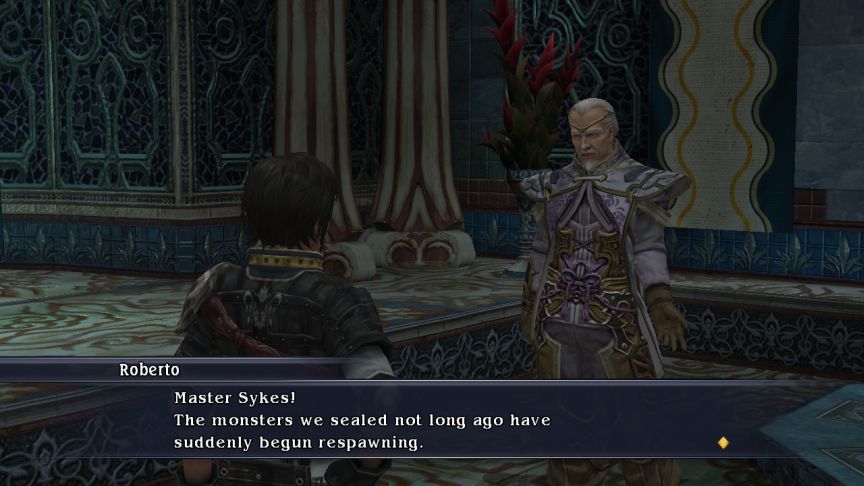 Yeah, I heard.

They have organized a march on Melphina. Their numbers are too vast to even compare with before. Currently, I prepare to lead the Order to the
Malbourge Flatlands
to stop the wave of beasts. If we can do nothing else, the beasts must not be allowed to destroy Melphina. Master Sykes… I am shamed to ask this of you so directly, but this is my final request. Please, would you help me protect Melphina?

Of course I'll help!

Master Sykes, you… I swear to you, I shall repay this debt!

Cool.

Then make haste in your preparations, and let us march!

I'm ready – let's roll!

Then, we, the brave men of the Order of Melphina, depart for the
Malbourge Flatlands
!

Accepted quest: The Reviving Legend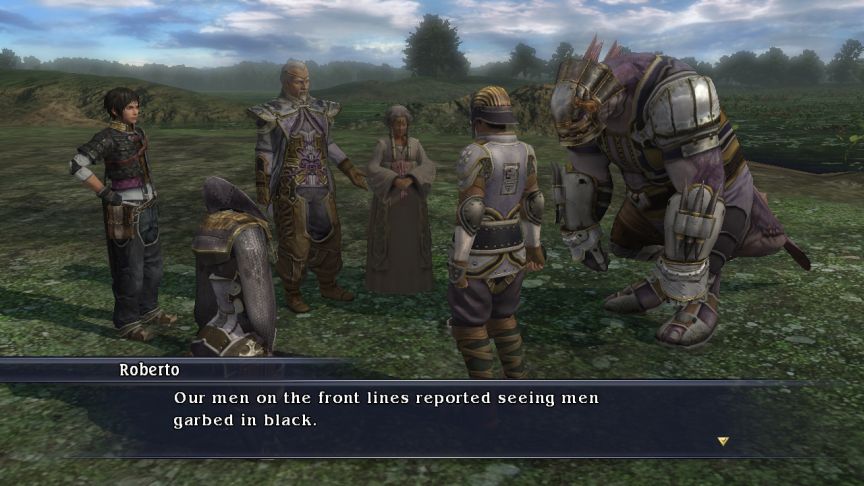 I can think of no other explanation but that the men who abducted my knights were the ones who destroyed the seal in Crookfen.

Everyone, I shall restore the seal now. Until it is complete, monsters will continue to spawn… I leave them to you. Fight well, knights.

Mistress Marsha… we depend on you. This is where it ends… where we, the Order of Melphina, stake our reputation and our lives to defend out sworn homeland, no matter the cost. For Melphina!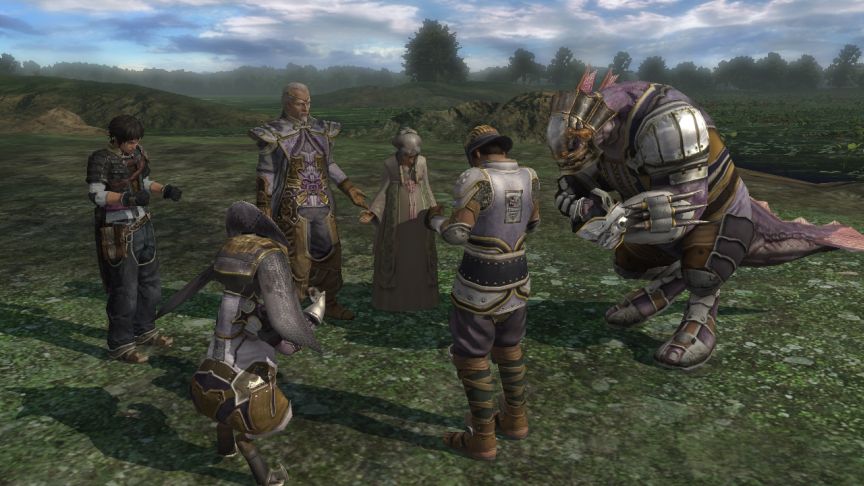 A guest union has joined the party.

Mission: Defeat the enemy!

Roberto joins once again, accompanied by Neo, Lukorra and Vinnery this time.

- Battle Video: "The Reviving Legend"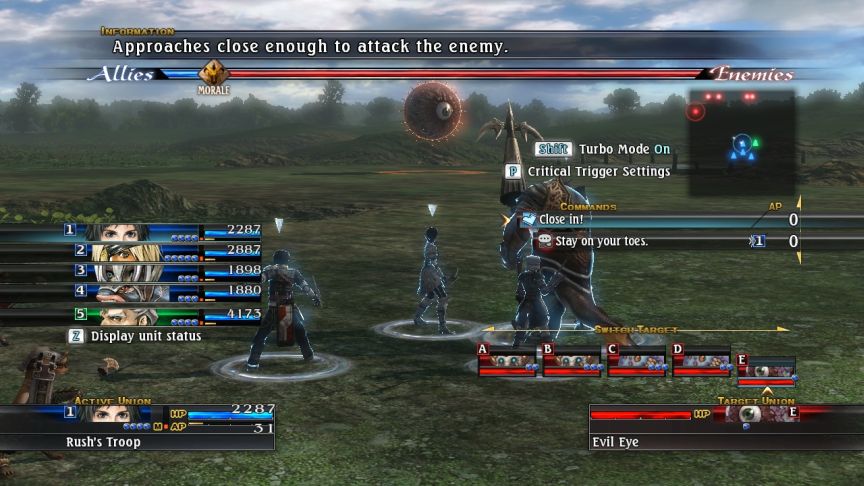 This is basically a Battlefield in the style of Crookfen. Nothing much to do on Turn 1 except close in.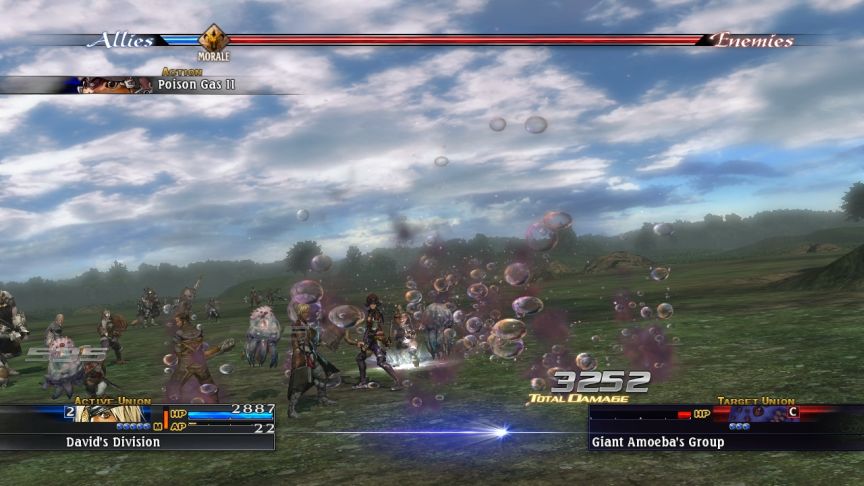 Loki and Maddox team up with poison gas.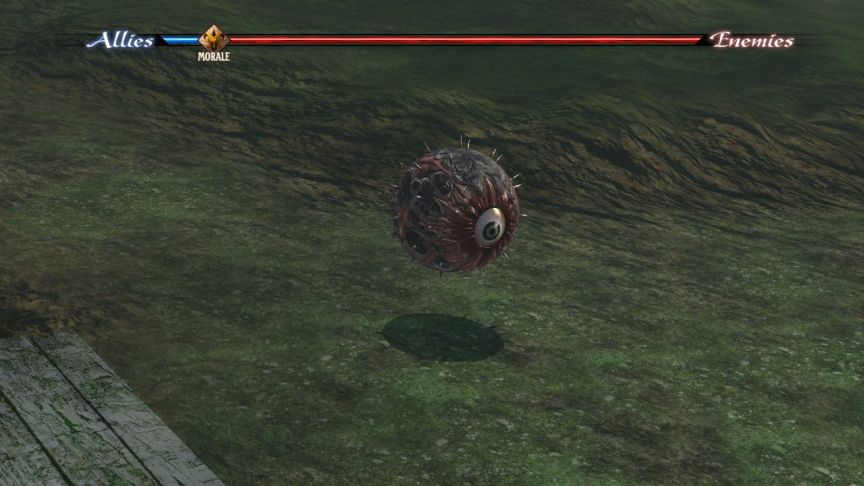 Everywhere we go, slime like you are creeping around!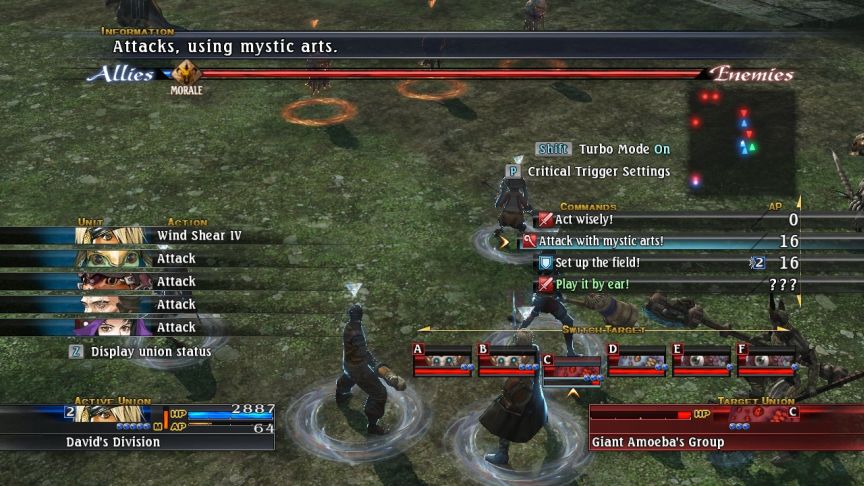 These foes won't be an easy fight!

Rush is off on his own, everyone else is more or less in the same area.



Give no quarter!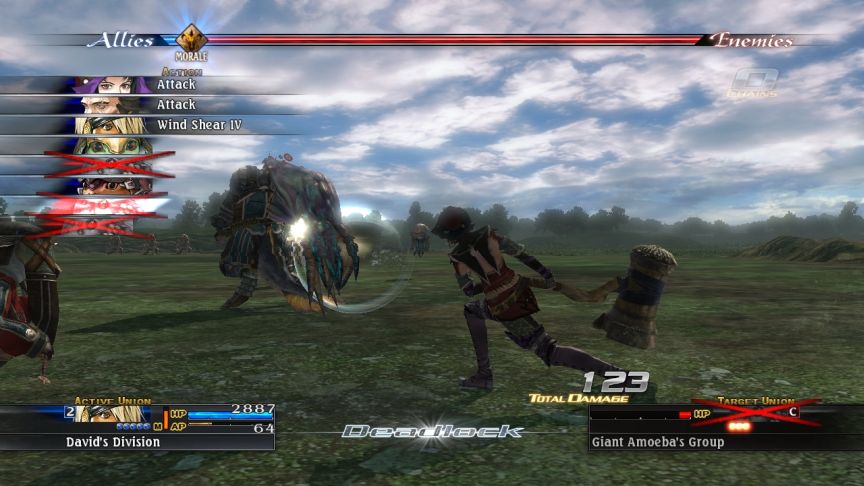 I'll crush you!

Very nice!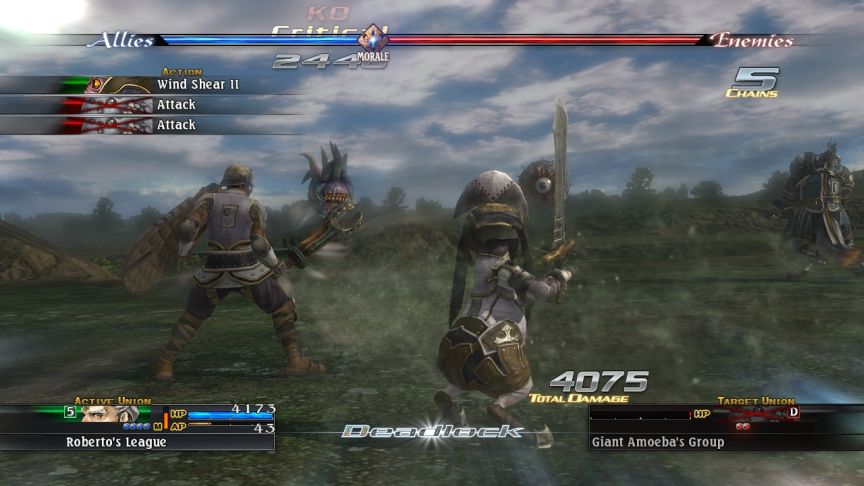 The Order of Melphina gets a kill.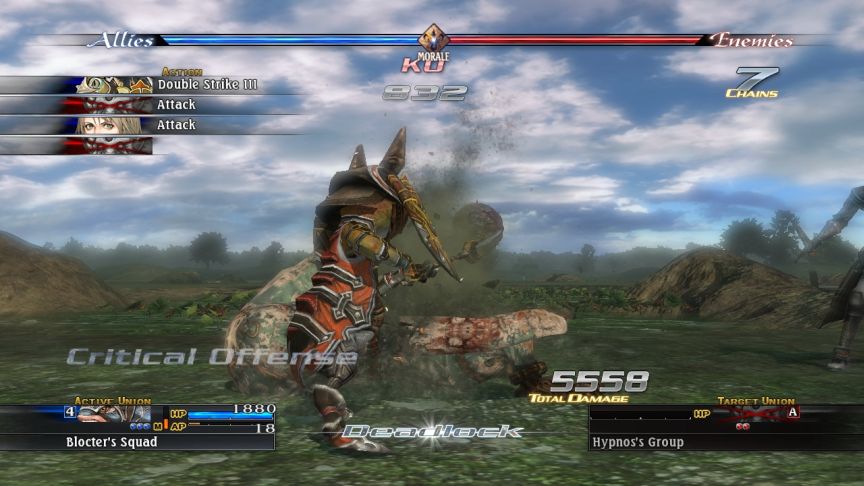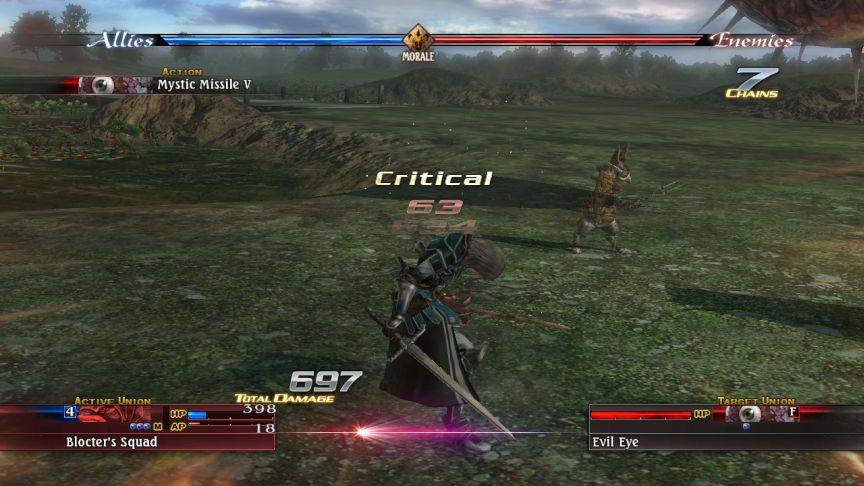 Blocter's Squad is taking a lot of heat.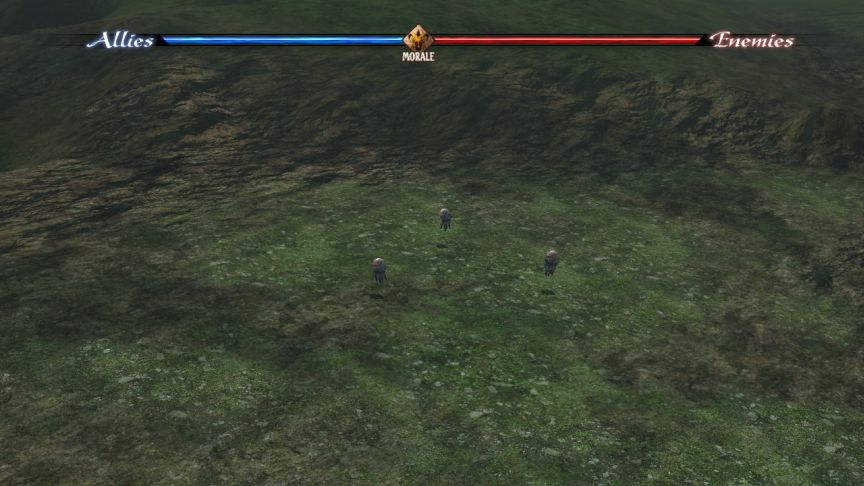 Monsters continue to trickle in from Crookfen.



Evil Eyes are Large type enemies, which means multi-deadlocks and lots of HP.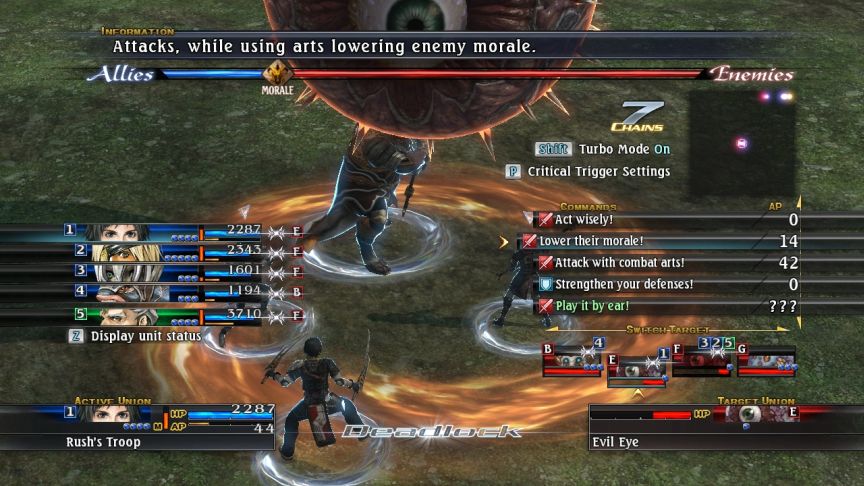 Moving the morale is almost always good. Roberto, Caedmon and David's unions are all deadlocked with one Evil Eye, so I order Caedmon's Team to break deadlock and attack the Giant Amoeba's group to prevent it flanking us.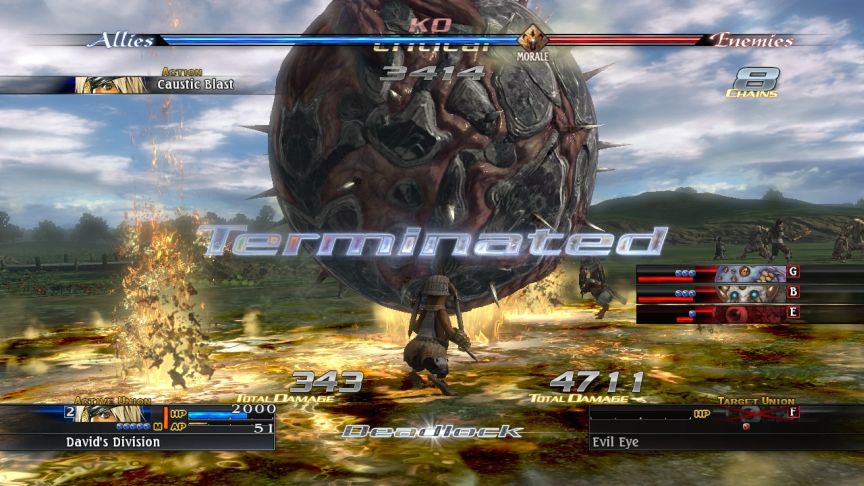 Hurry and circle beside them!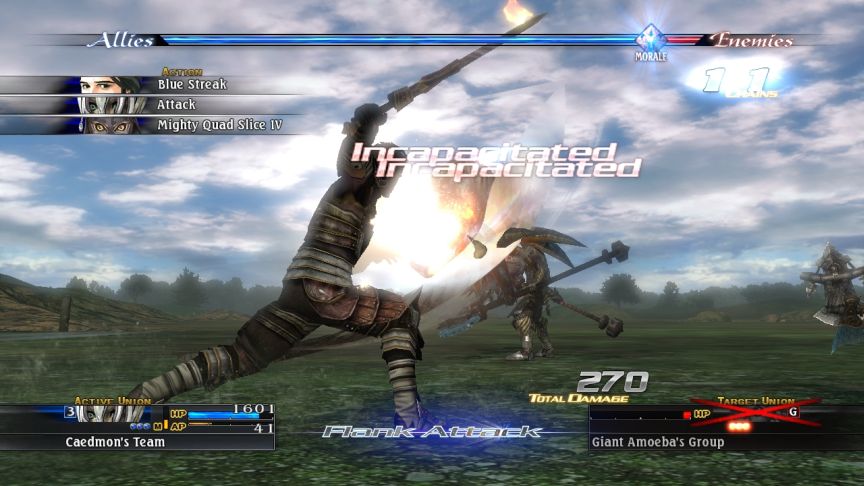 Roberto did most of the job here.
Music: Reversal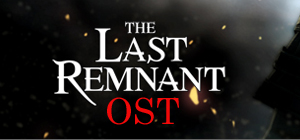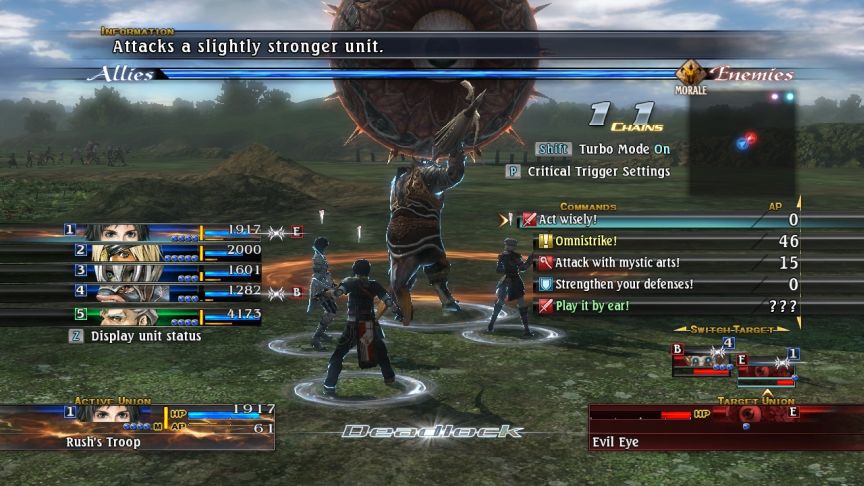 Sure, why not.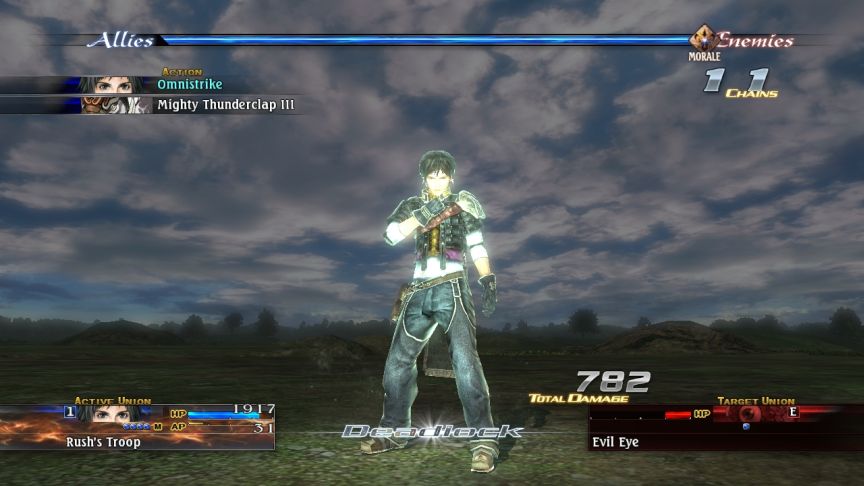 This one's gonna knock you into next week!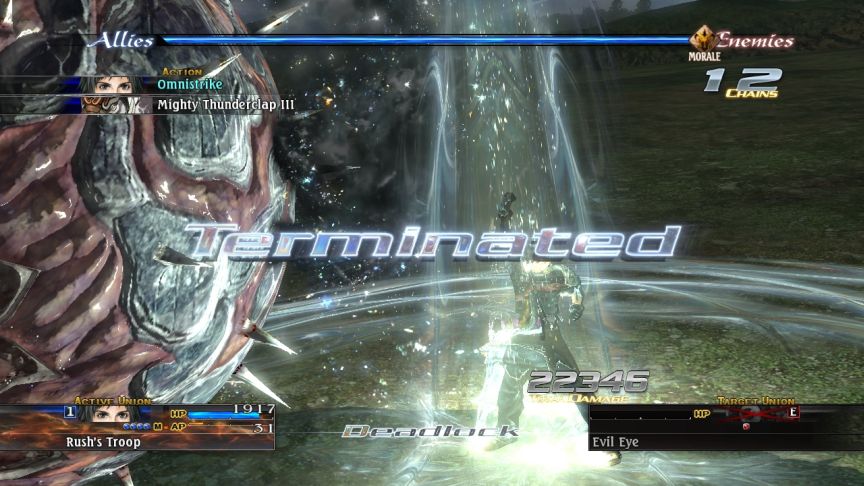 Some people complain that I am not putting the battles onto Turbo and just fast-forwarding through them. Well, honestly, I really like hitting the Critical Trigger prompts myself. I like the sound, I like the animation slowdown, I like the interaction, and if I put it onto Turbo mode, I wouldn't be able to do that.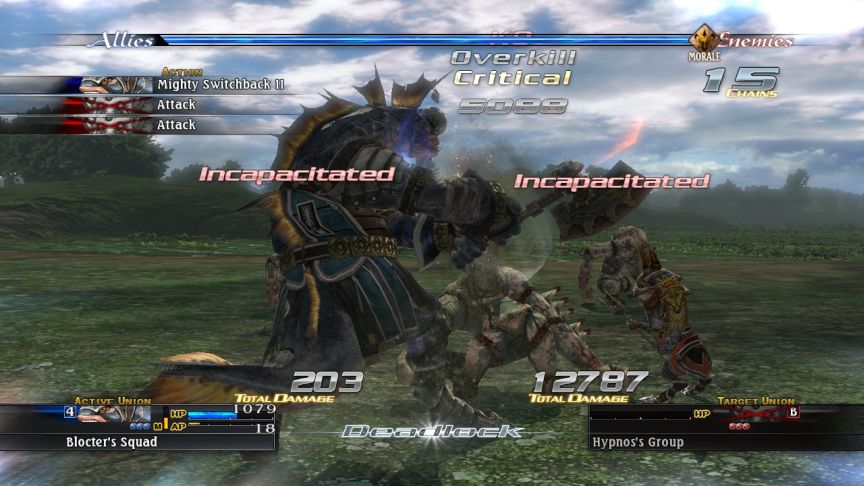 Looks like that hurt!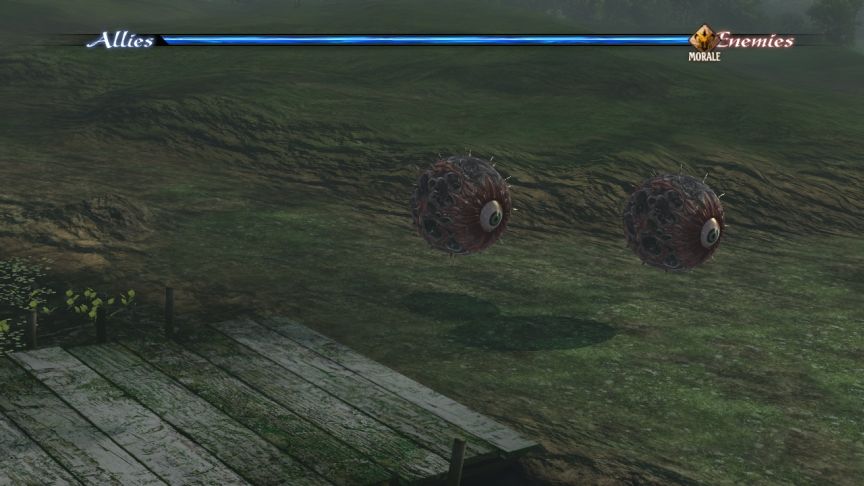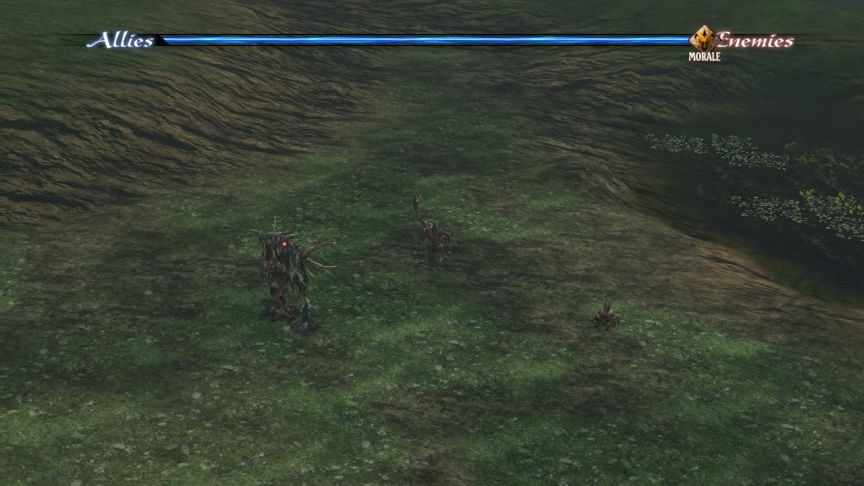 The final wave. The mini-bosses from the first quest to seal the Last Leaf have returned. They're about as tough as they were last time.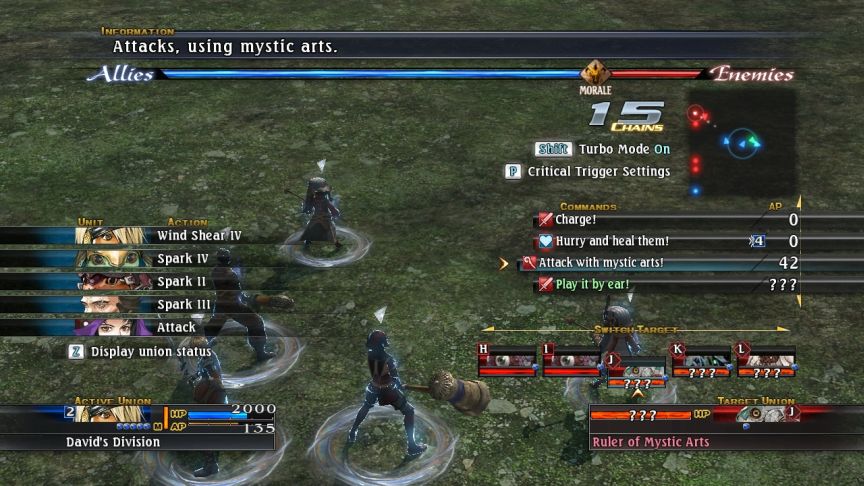 You should know what this combo means by now.



Give no quarter!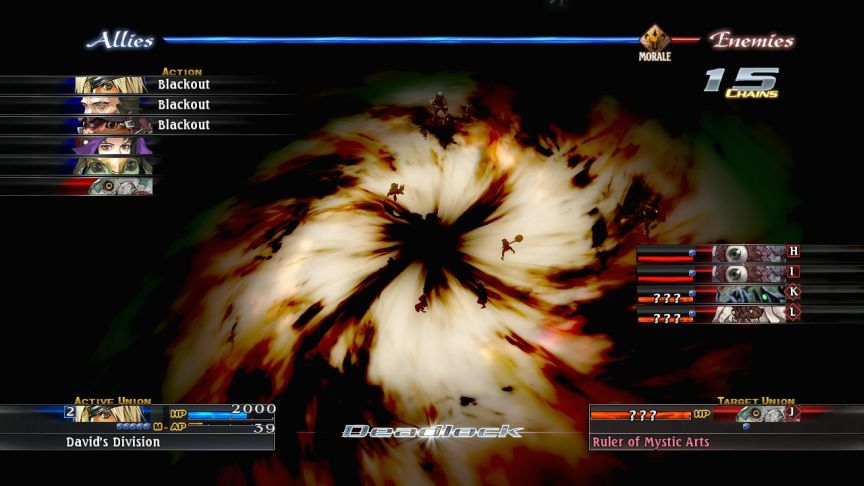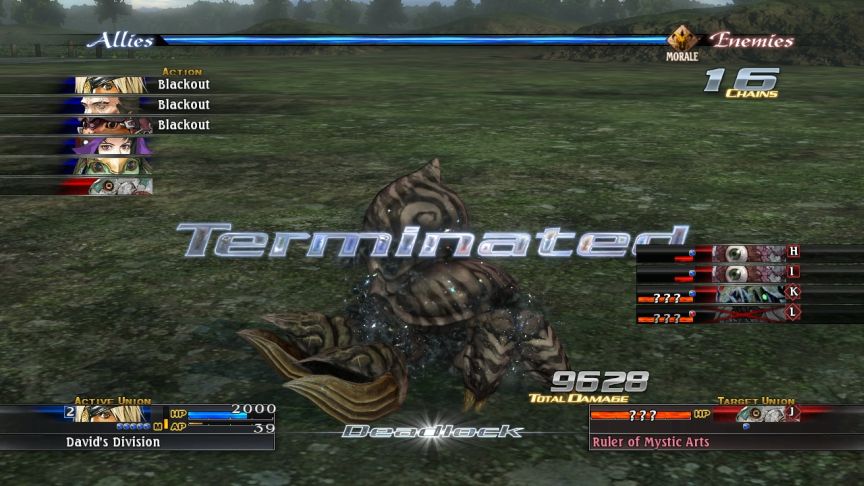 But while the Ruler's stayed about the same, we've gotten stronger.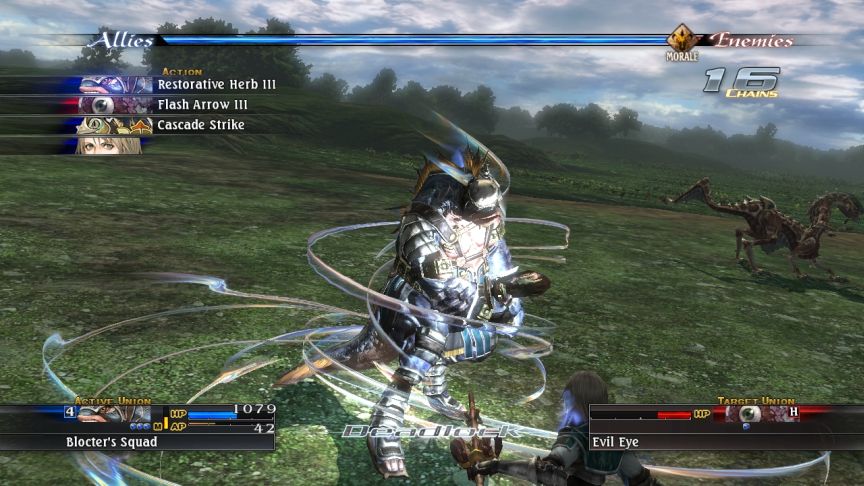 Ooh! Here it is!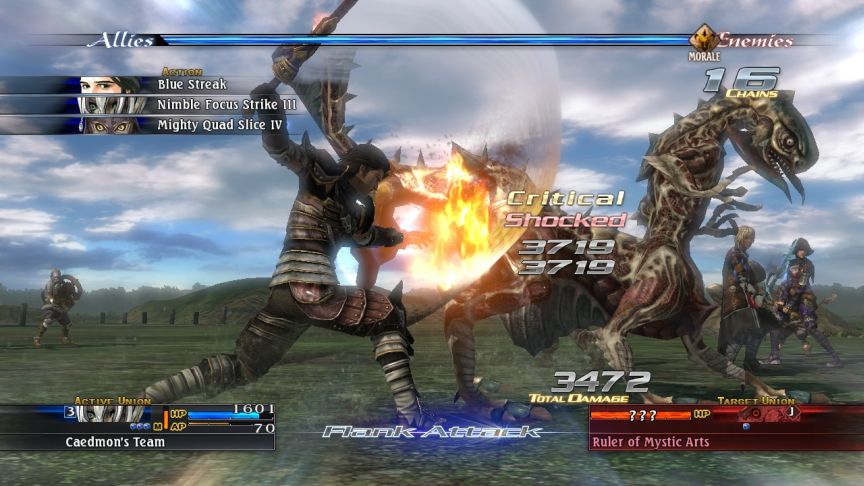 Watch this!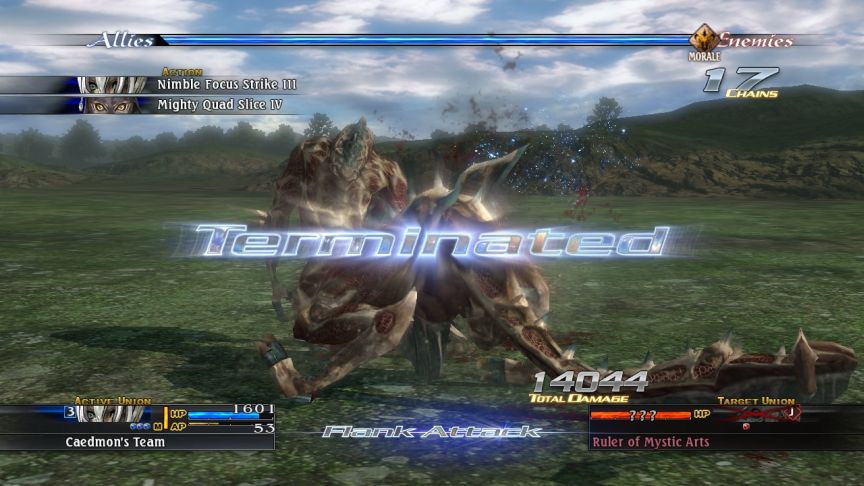 Good riddance, because Surefire is probably the only thing that could kill one of my units at this point. The Ruler of Weapons uses Life Spring to recover 20069 HP, but we can easily match that damage.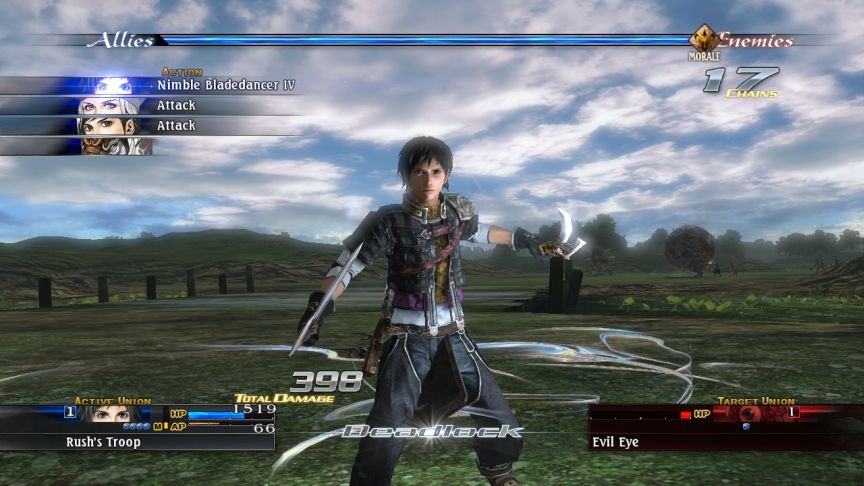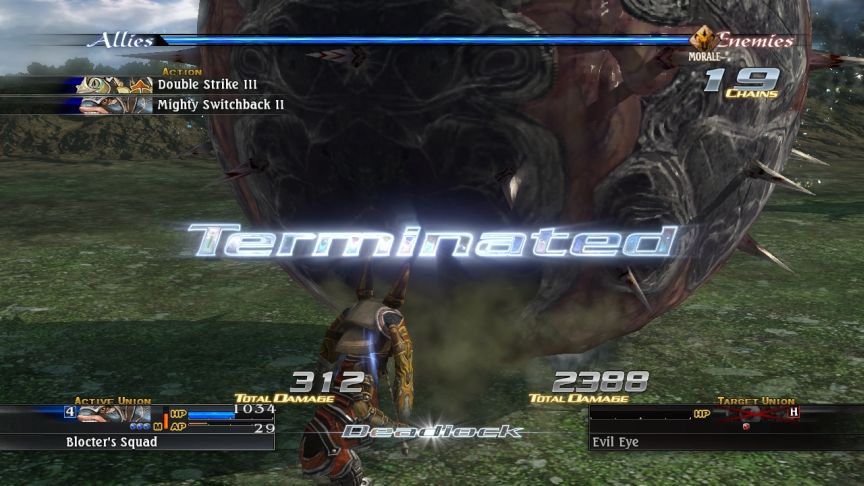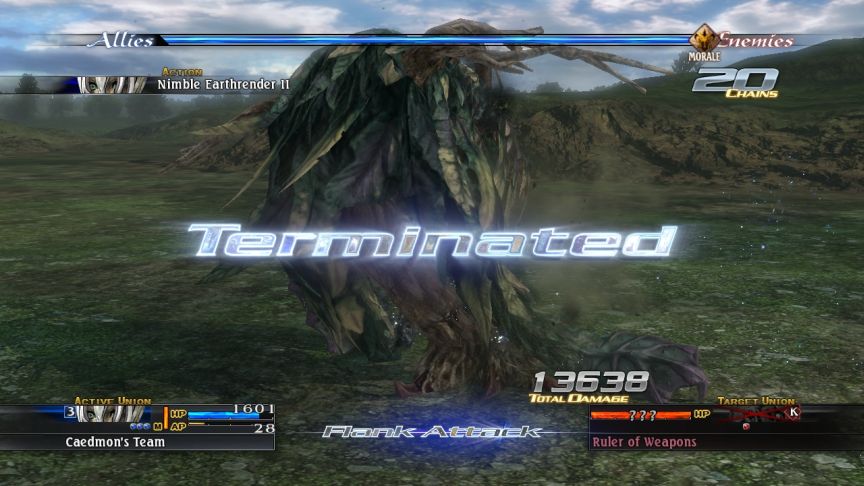 And that does it! This gets us up to BR 30.

learned:
Nimble Bladedancer IV!

Orphic Ward III!

learned

Permafrost
!

learned

Revitalize II
!

learned

Spark IV
!

learned

Restorative Herb III!

Rush upgraded a Ward even though I have those disabled. Permafrost is another really powerful Invocation. We also picked up several components for party members.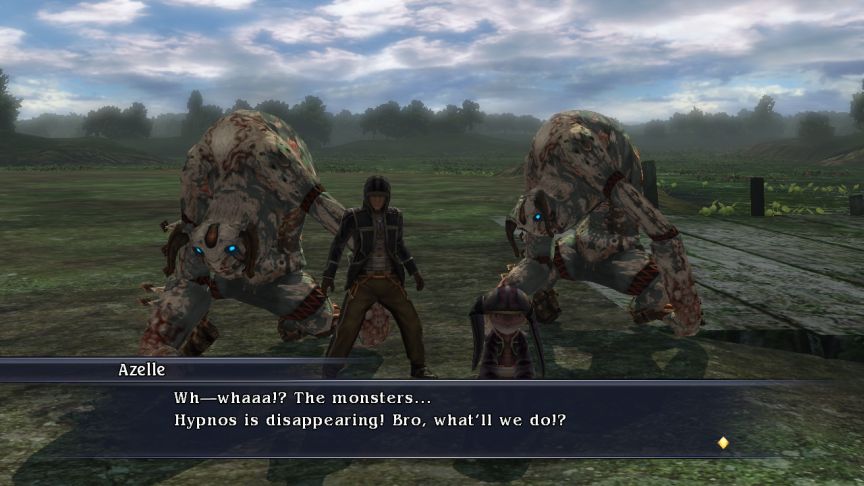 (Nordis)
This power… So this is the true strength of the bond between the Order and the Forest Maidens?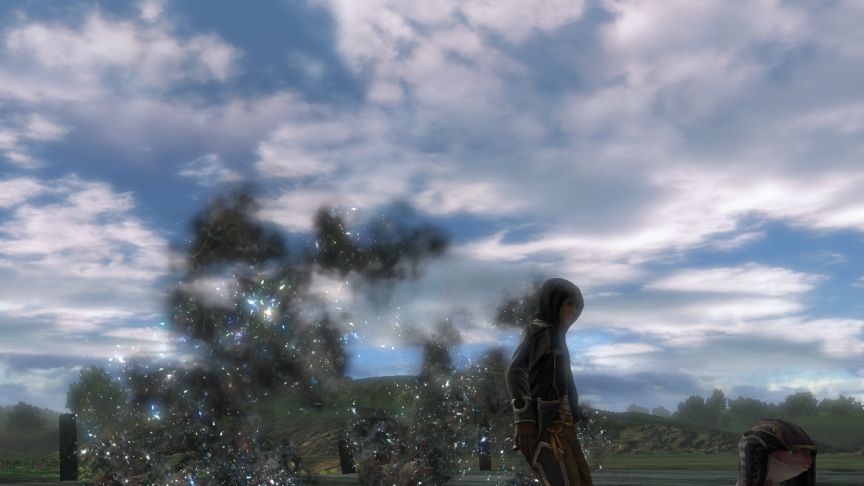 We're out of options, and Melphina still won't submit… They're made of sterner stuff than we thought. They… they've got something we just don't.

But, Bro… If we go home with a report like that to the big man, we're gonna –

Right… we won't be living to say much else. He hates failure more than anything…

Yeah… Hey – forget this. How 'bout we just get outta here? Maybe if we run back home, the association's assassins won't catch up!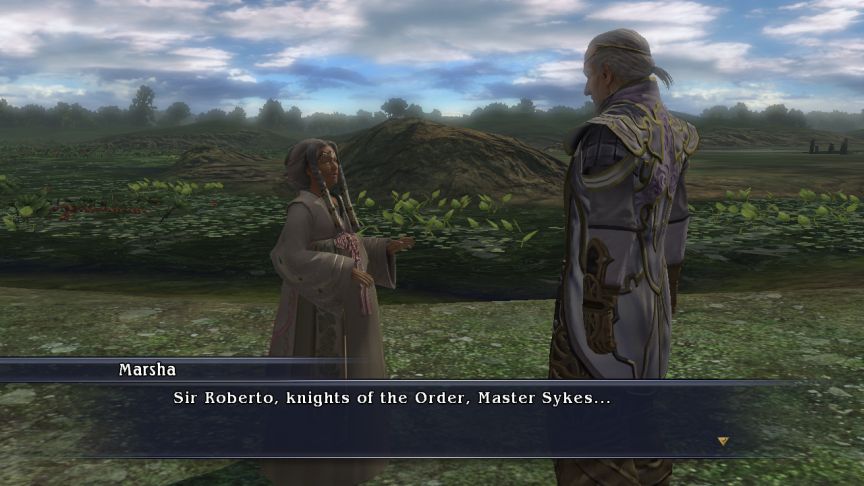 Sir Roberto, knights of the Order, Master Sykes… Your devotion and dedication to our beloved country is what allowed my prayers to be received by the heavens.

It is all thanks to you we still stand, Mistress Marsha.

I must say the same for you, Sir Roberto…

Do you two wanna be alone or something?

Ah-ahh. Come, all, let us return to Melphina.

The guest union has left the party.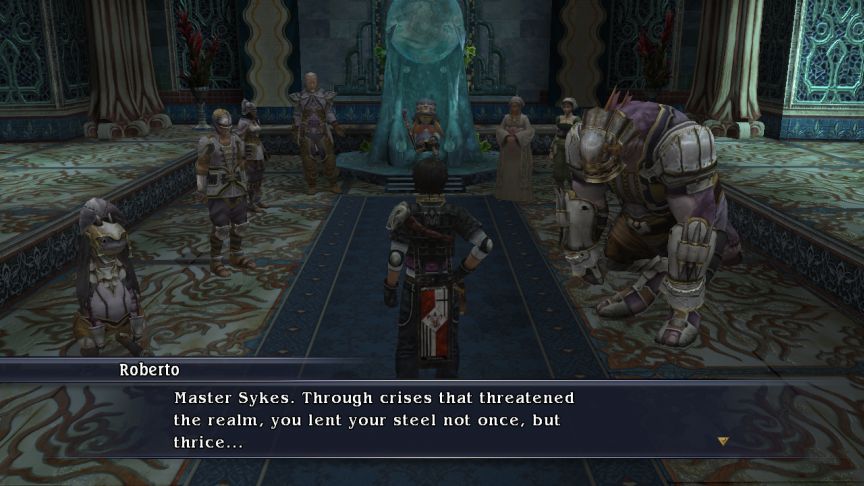 I'll not forget this debt in my lifetime.

Young Sykes. There is an old tale passed down from ruler to successor of this country for ages.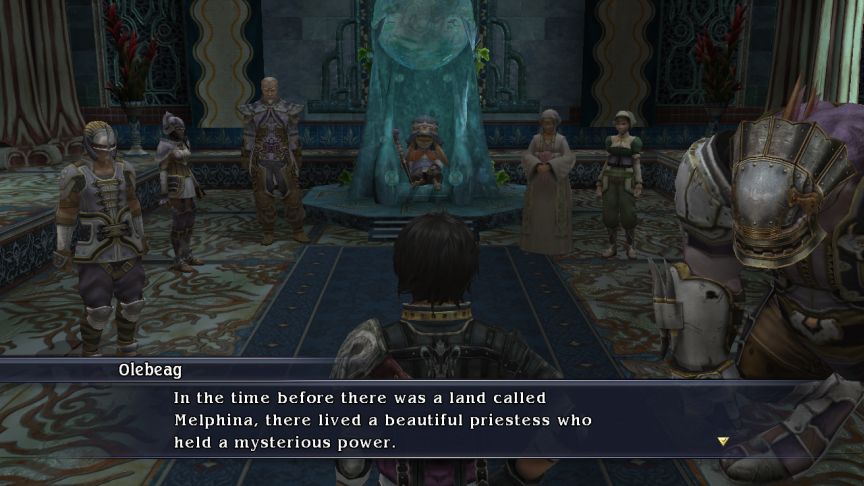 Stunned by her beauty, the God Emperor desired her for his own. But the priestess had already promised her heart to a certain knight. Bitterly angry, the emperor placed a curse upon Crookfen. From that moment, many demons appeared in Crookfen. The area became known as a forbidden place.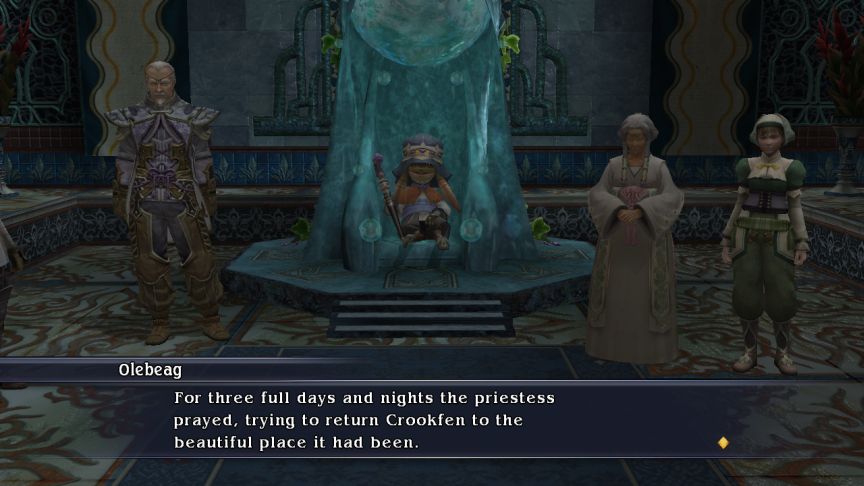 To protect the priestess as she prayed, the knight sworn to her stood guard, slaying any monster who dared assault her. When the pair found themselves at the limit of their strength, a dazzling light appeared, enveloping the demons. A Remnant with the power to seal evil had awakened. The earnest prayers of the strongly bound pair had been enough to transcend time and space and reach the Remnant. What happened today, I believe, brought me a taste of that legend. Young Sykes, you are our country's hero.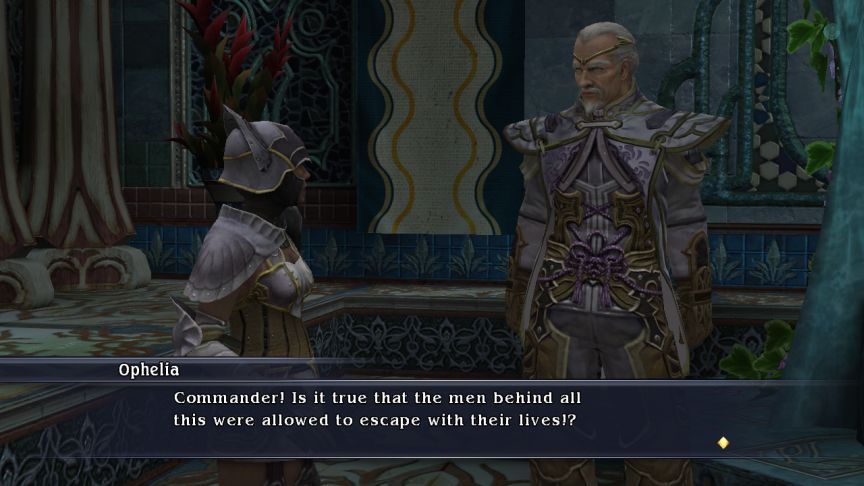 It is. However, once Marsha's prayers sealed the monsters, the fear in their eyes was clear. Those men will not threaten this land again.

Commander, you are too soft! Think of the losses the Order has suffered due to those outlaws! Crime cannot go unpunished. For the honor of the Order, the cowards must be found and their evils redressed.

Ophelia. To strike down those who flee, accepting their defeat – does that not tarnish the honor of the Order more than aught else?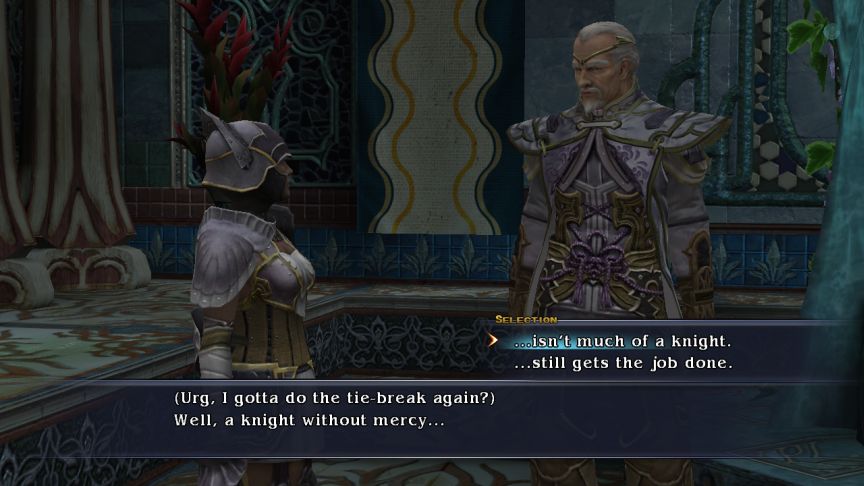 Well, a knight without mercy… isn't much of a knight.

Ophelia. Your pride in the Order rivals only my own, and your strong sense of justice is one of the reasons I wanted you in this position. None can question your might with steel. All that is left is your heart… A true knight thinks of others before himself, and showing mercy is not an effort, but second nature.

Commander…

Roberto. Let us not get ahead of ourselves. For now, let us show our gratitude for young Sykes's assistance in defending Melphina.

Oh, yes! Master Sykes, take this as a token of our gratitude.

Reward: 20000 G!

Obtained Melphina Certificate of Gratitude!

If you agreed with Roberto all three times, you get 20000 G and he and his fellow knights (not Ophelia) become recruitable party members. You get less if you disagree with him once or twice. If you agree with Ophelia all three times, you get an extra quest. It's actually more of a punishment than a reward. I'll show it off later.

Master Sykes, forgive me; this parley has stretched long. Yet I wish to repay my debt to you to the extent of my ability. If in your future travels, the road head becomes rough, please call upon me. No matter the trouble, I shall provide my counsel and my steel without hesitation.

Young Sykes. You truly have become a hero to our land.

Completed quest: The Reviving Legend

Melphina was attacked by a buttload of monsters, but we took care of 'em. We saved the seal!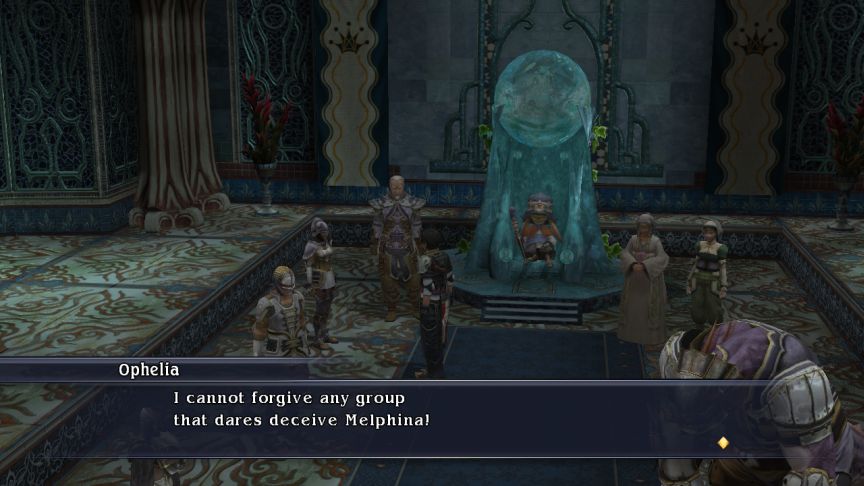 Everyone has returned… We are truly blessed…
Leticia:
You've brought my Neo home safely once again. Thank you so, so much!

Your sense of honor is immeasurable… I…I am deeply moved!

You've already done so much for us… We won't forget it.

Hey, Rush, you're coming with us, too? That's so awesome!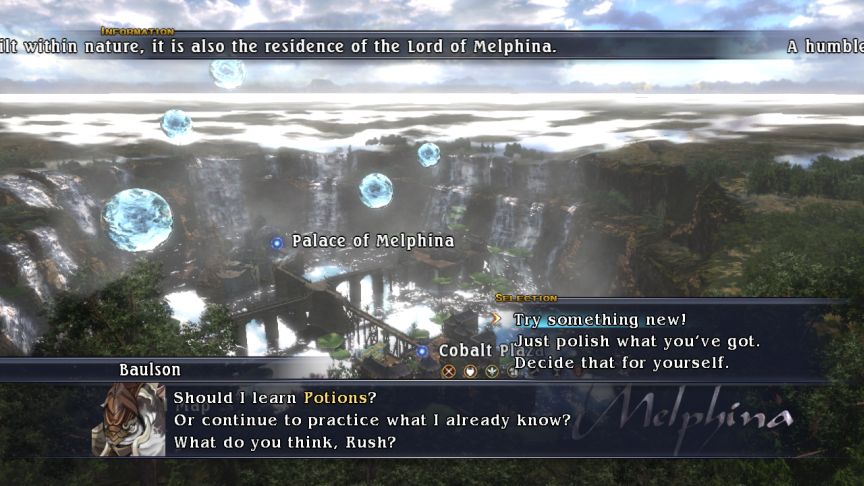 Try something new!

Alright, then. The more you know, eh?

I'm turning these off.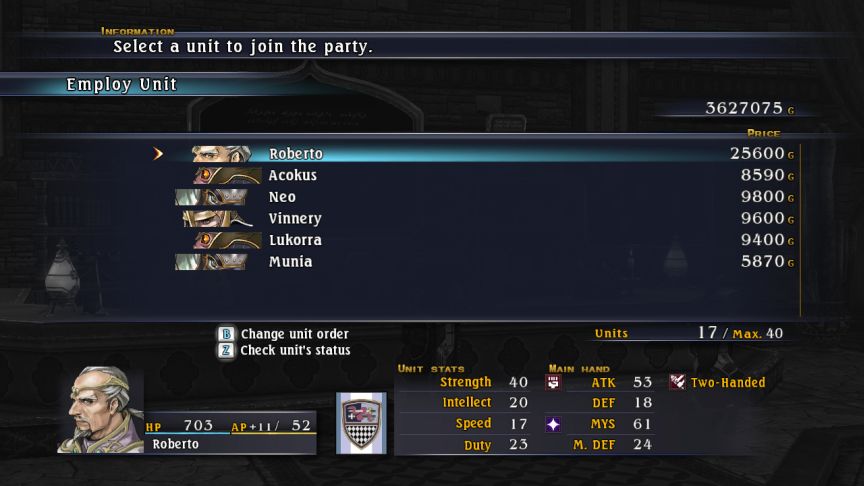 Not only does Roberto become available for hire, but so do Lukorra, Vinnery and Neo. They are still considered generic soldiers, but they do get little bio's as well:
Neo

Knight in the Order of Melphina. Brave youth who trusts Roberto implicitly. Sworn to Leticia.

He knows One Handed and Power grip arts, as well as a bunch of Herbs.
Vinnery

Knight in the Order of Melphina. Graduate of Melphina's Law Academy. Smart and Gentle.

He knows One Handed and Power grip arts, as well as a couple Lotions.
Lukorra

Knight in the Order of Melphina. Friendly and outgoing, but easily spooked.

He knows quite a few Invocations and a few Hexes. But we aren't picking up any of them, only Roberto.

Roberto

Captain of the Order of Melphina. Chivalrous, honorable, and dedicated. Sworn to Marsha, Forest Maiden leader.
Class
: Master
Monk
Initial BR:
BR 33
HP
: (703)
Str / Int
: (40 / 20)
Current Arts
Power Grip: (Smash III, Crosbreak II, Switchback)

Potions: (Red Potion III, Blue Potion II, Yellow Potion)
Future Arts
Invocations @ BR 46

Explosives @ BR 57
Comments
Roberto starts out with substantial health for his BR, and good strength, but relatively little Intellect. His Arts are underwhelming as well, although at least he starts out with three potions learned. He later gets a unique item that he can use. He's recruitable after completing three quests, but only if you agree with his side each time.
I'll be putting him in the party for now (and taking Maddox out), but I'm not sure he'll stay. There's a lot of competition, and it'll be a while before his unique thing appears.
Tags
: Combat, Outclassed

New Arts Summary

learned:
Nimble Bladedancer IV!

Orphic Ward III!

learned

Permafrost
!

learned

Revitalize II
!

learned

Spark IV
!

learned

Restorative Herb III
!

learned

Red Potion
!

Battle: "The Reviving Legend"
This is the last sidequest in "Disc 1". Six sidequests open up at the start of "Disc 2" – you can even do them before starting up the main quest… BUT if you do just a little of the main quest, you can unlock the final party size upgrade. The downside is that if I wait for the upgrade, four-five more sidequests will unlock, meaning we'll have 10-11 to do before the next main plot stuff. But given what the next main plot beats are, I see little choice.
Also, I'd like a new page before the next update. Only a few posts are needed, though.
Next Time
: We cannot allow her power to be abused!