Part 50: Episode 49: I Fought the Law(And the Law Won)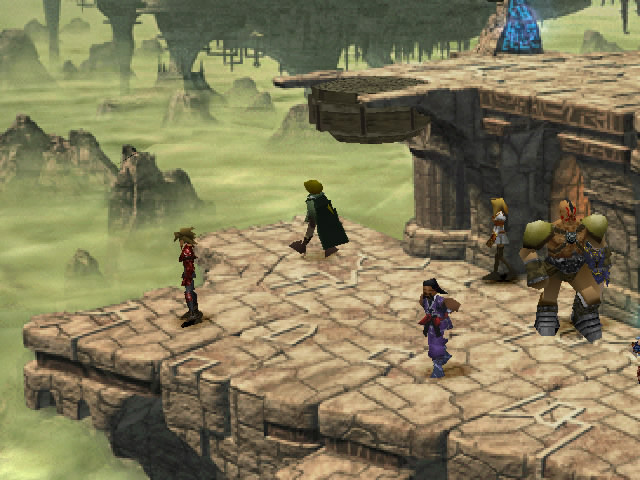 Oh, it's Zenebatos. Land of laws and bureaucracy!

This area is actually pretty small but incredibly annoying. At least hiding under the brown and haze it's actually a pretty neat looking area. You can see a whole bunch of hanging towers on the chunk of city in the background.
Dart: "So this is the Law City Zenebatos."
Rose: "It is the city where the legislation and administration of the world of the ancient Winglies were carried out."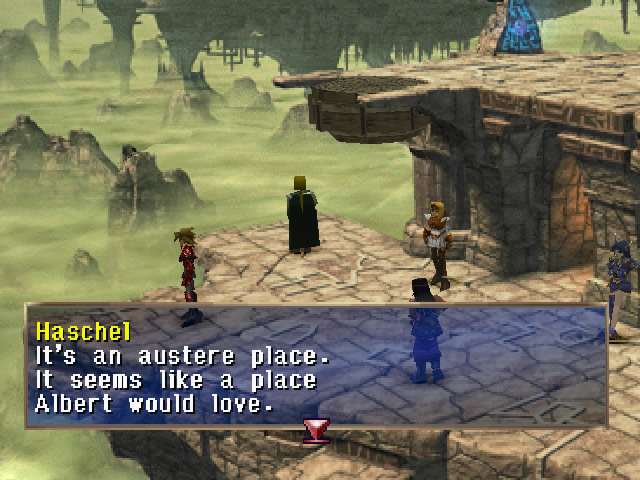 I'm not entirely sure if Haschel is being a smart ass or serious here.
Albert: "Yes, I have a great interest in the way in which they managed their nations. However, I don't think I can learn anything from such a mess."
Miranda: "It fell more than 10,000 years ago."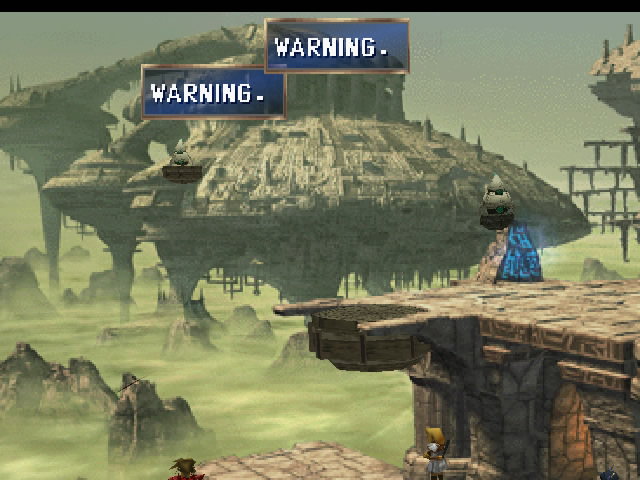 Oh fun. It's our good buddy, the first cockblocking lawyer robot vomiting out warnings at us.
Guard Lapto 11: "ZENEBATOS IS UNDER MARTIAL LAW. LEAVE THE CITY AT ONCE."
Rose: "Good for you Albert. It seems that Zenebatos is still alive."
And thankfully we have no doubt if Rose is a smart ass.
Guard Lapto 11: "WARNING. INVADED BY HUMANS. TAKE SHELTER IN KADESSA PROMPTLY. WARNING. WARNING. WARNING. WARNING."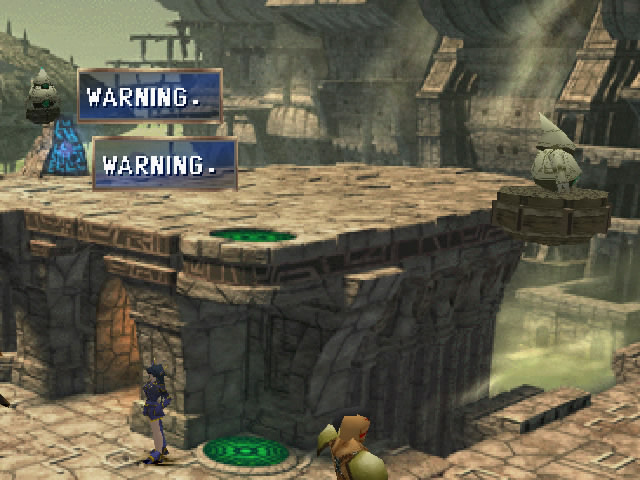 And then the cockblocking robot gracefully vanishes into the horizon having said its peace.
Albert: "However, unfortunately it doesn't seem to be functioning."
Dart: "Are those generated by magic too?"
Meru: "It seems like it. But it's different from Buckle. There is no heart in it."
Rose: "It is just like Zieg now."
Meru: "Hey guys! There is something coming this way!"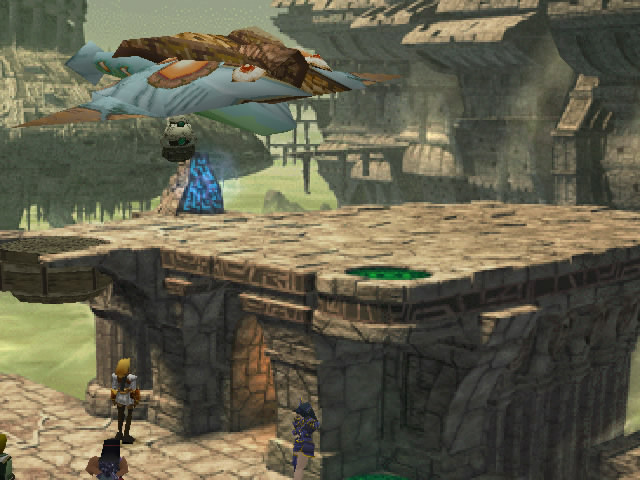 Dart: "Wh, What's this?"
Somebody heard its been at least 10 minutes since we've seen a really weird monster design.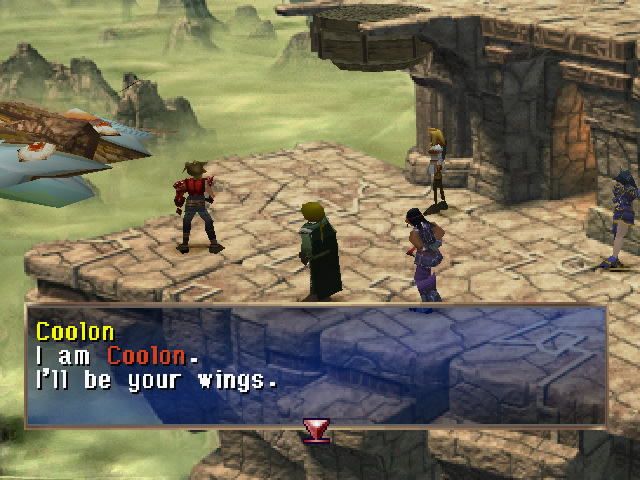 Rose: "Savan was talking about it in his last moments. 'Wings that can fly the skies will be given'. It was about you."
Coolon: "Rose and people who are carrying the world. Although Savan couldn't accomplish his objectives, he fulfilled his role at the expense of his life. Now, everything is on you."
Dart: "I know. I will stop my father. And fulfill Savan's will."
Coolon: "I'll be here waiting for you. Whenever you would like to go back to the world, I'll be your wings."
A glint of good news between our dead allies and the hell that is Zenebatos! We have finally picked up our airship equivalent. We can't be awesome and zoom around the planet though. We just get a cursor that we move to selected cities. While on the overworld map we can hit square and magically Coolon picks us up. For now we'll just keep on chugging through Zenebatos.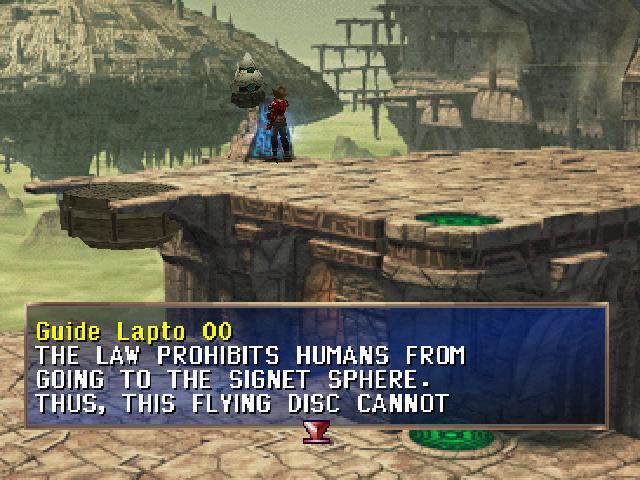 Guide Lapto 00: "THUS, THIS FLYING DISC CANNOT BE USED."
Hooray. Once again we get told to get stuffed.
Dart: "So, is the Signet Sphere ahead?"
Guide Lapto 00: "WINGLY CODE ARTICLE 703: THE LAW PROHIBITS NON-WINGLIES FROM GOING TO THE SIGNET SPHERE."
Meru: "I'm a Wingly!"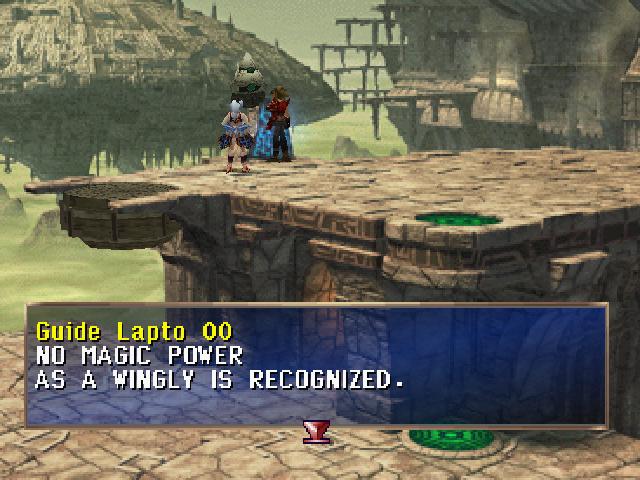 Meru: "Hey! What do you mean!?"
Dart: "Wait. It means that my father cannot pass here either."
Meru: "Yeah! That's right!"
Dart: "It means we still have time left."
Thank god cause we'll be here for a while.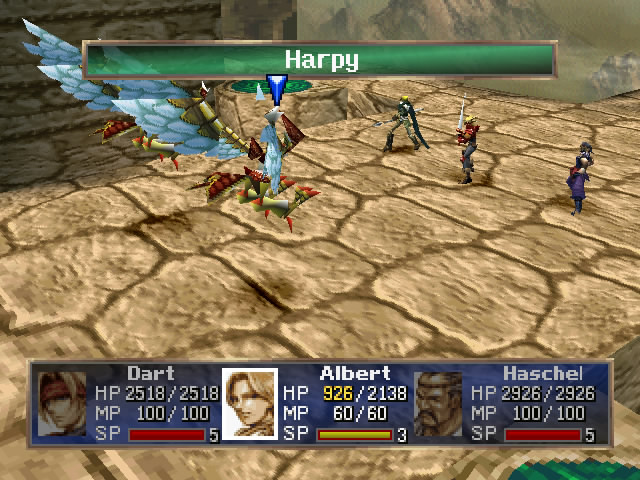 Hey let's have one of our random enemies here! Harpies are wind based enemies that have high evasion and can use all or single target wind magic.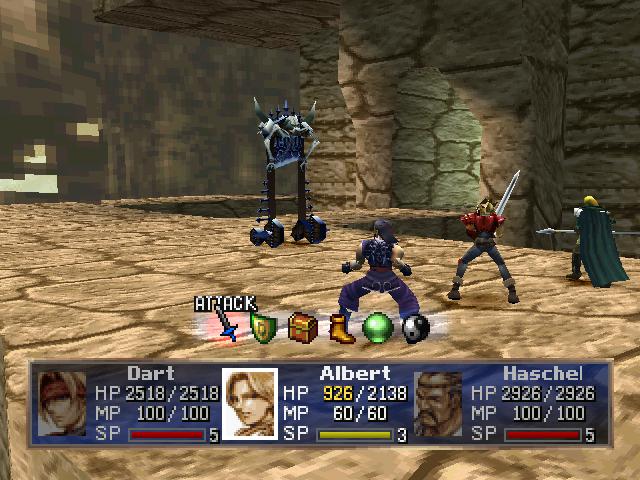 Sentient guillotines! Robot harpies were way too normal. These guys are mainly annoying because they can cast fear on your guys. Which is my least favorite status effect after charm.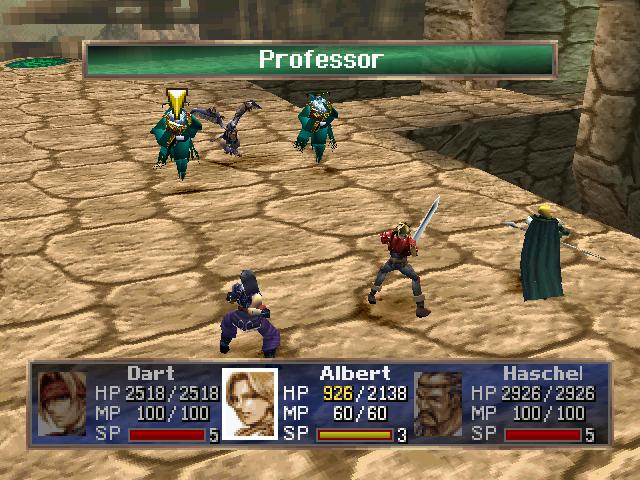 Professors are really god damn annoying. They don't do much damage, but they are loaded with status effects. They whip out their books and make boring, amusing, and exciting lectures! He can dispirit, charm, or outright fucking kill your dudes with the sheer power of his education. Also notable because they have a 2% chance drop Sage's Cloaks(20% evade all) which are totally awesome. I think I lucked out and got one from these guys.
Sky Chasers are way less exciting and can either try to stun you or charge for an all out attack.
There are also slight reskins of the death guys from the ghost ship that can also kill you. In summation: Zenebatos hates you and wants you to die.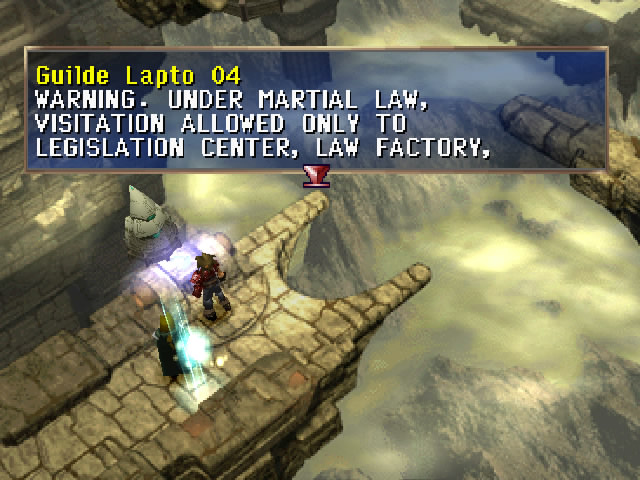 Guilde Lapto 04: "AND LAW LAUNCHER. GREAT COURT, RESIDENCTIAL AREA, POWER ROOM ARE OFF-LIMITS."
Dart: "Can't we go to the place where the Signet Sphere is?"
GUILDE LAPTO 04: "IMPOSSIBLE. THE LAW PROHIBITS HUMANS FROM GOING TO THE SIGNET SPHERE. IMPOSSIBLE THE LAW PROHIBITS HUMANS FROM GOING TO THE SIGNET SPHERE."
Albert: "It seems it is a waste of time to talk to them. Let's focus on how we can proceed."
Dart: "Okay."
Albert: "It seems we can decide the destination with this operation counter?"
Guide Lapto 04: "DETERMINE THE DESTINATION."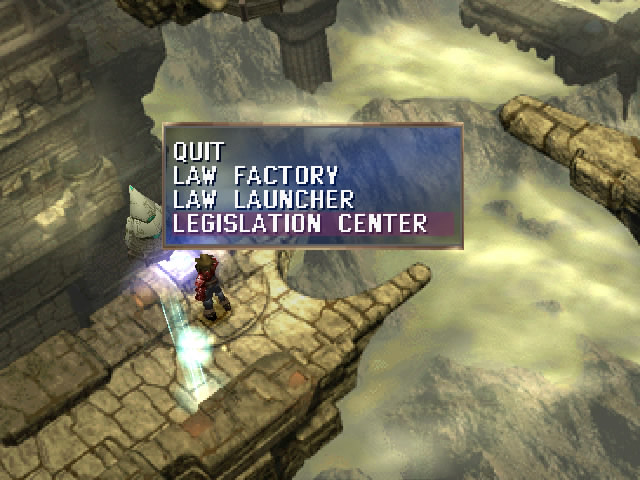 Well, it's been a long, long journey from the Capitol City. So let's get started.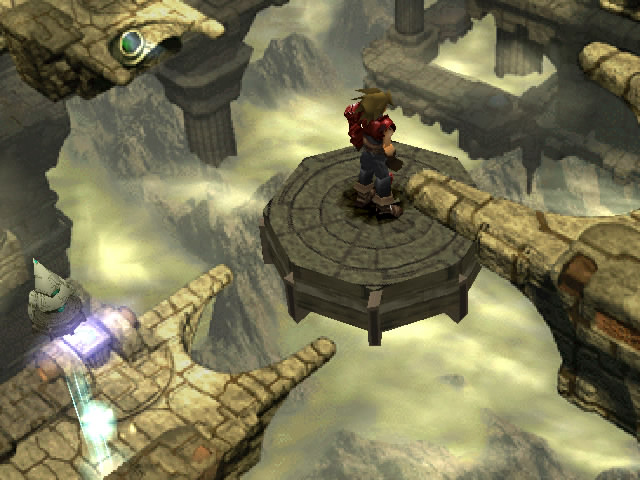 And it won't get any faster riding this stupid hover rock to all my destinations.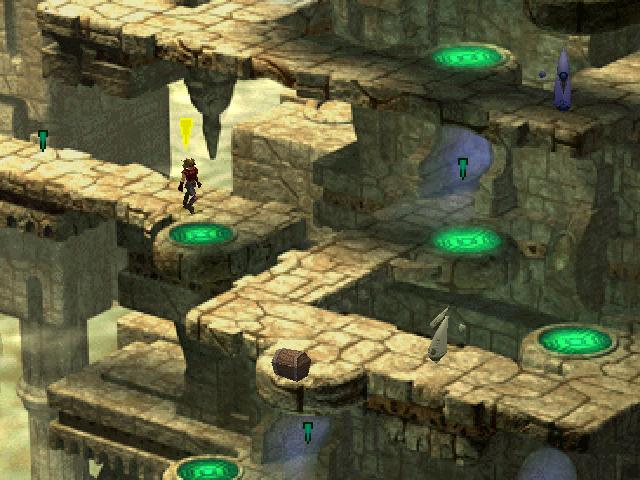 Oh, hey. Enemies on the map. I bet this is one of those areas without random enc--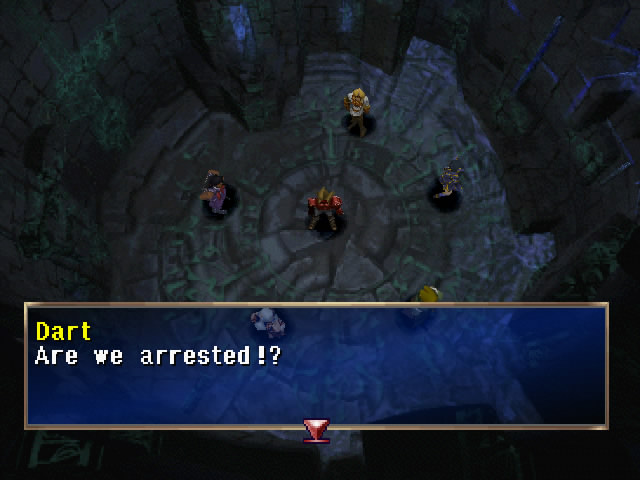 FUCK. Apparently they are actually robo cops and we are summarily teleported to...well, wherever here is.
Dart: "Darn!! What timing!"
Miranda: "Everbody's feeling the same way."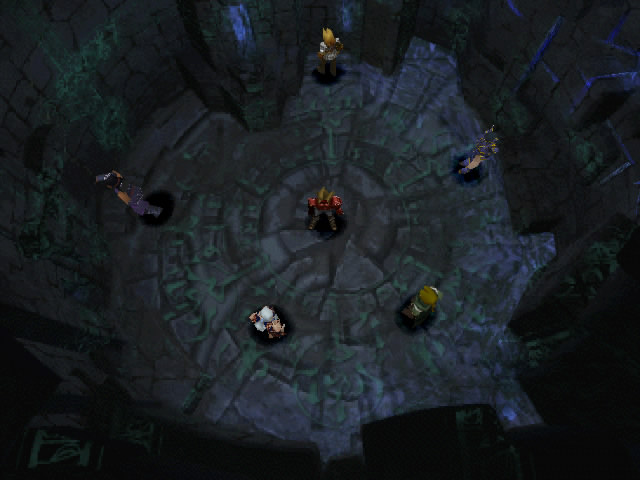 The whole party checks the outside, Haschel gives a part of the wall a good knock and it moves a bit but apparently not enough to think we'll be free through it. Never mind he punched down a whole goddamn stone barrier in disc 2.
Haschel: "We have to focus on how to get out of here."
Dart: "It seems they arrest people and send them here."

Congratulations on the obvious, Dart.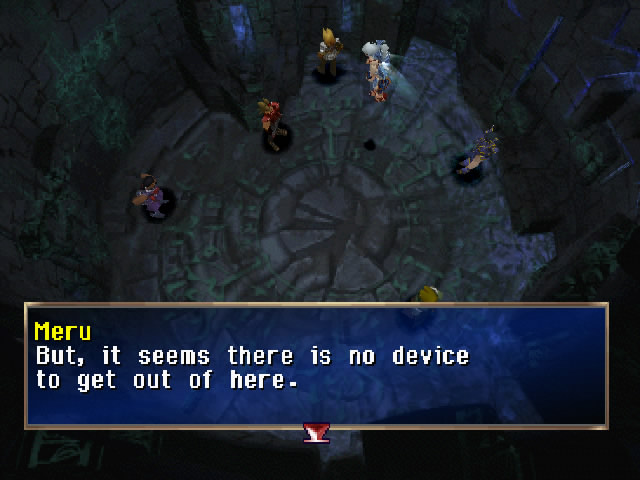 Meru: "Maybe...no exit?"
Albert: "I don't want to think about a room without an exit."
Dart: "Wait a minute, didn't we forget somebody?"
Damn it! It do seem to be missing 800 pounds of double ugly and asskicking. Where the hell did he end up at...Probably wouldn't have noticed if they hadn't pointed it out.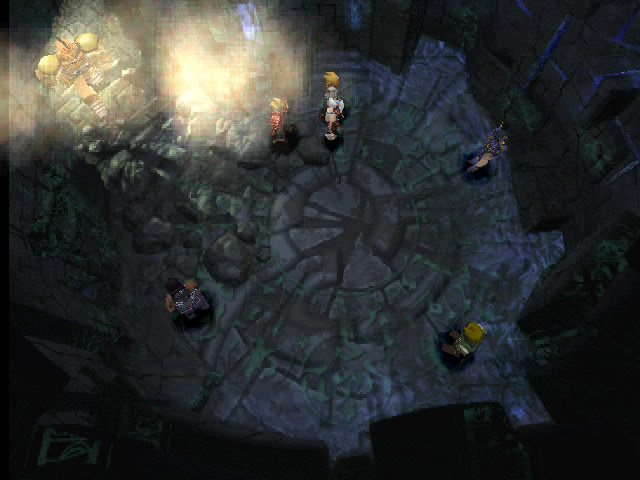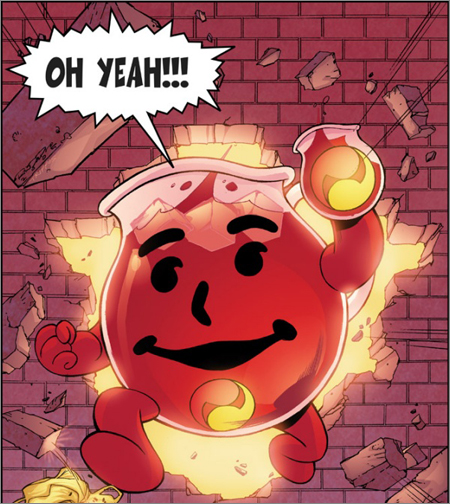 Kongol: "Sorry Kongol is late."
Dart: "Kongol!"
Meru: "Why!? Why was only Kongol outside!?"
Kongol: "Kongol don't know."
The better question may be how he found us in this place. You can't even take a floating rock from the station here!
Rose: "It's simple. He was too heavy to teleport."
Dart: "Now, we can get out!"
If you are playing I hope you like seeing this screen. Because getting busted is honestly the quickest way to get back from most of the areas so you don't mess about with dodging the stupid security bots.
I think I'm going to to call my congressman. And you know what he'll say? "They're ought to be a law against this." Maybe we can ban sliding block puzzles and escort missions at the same time.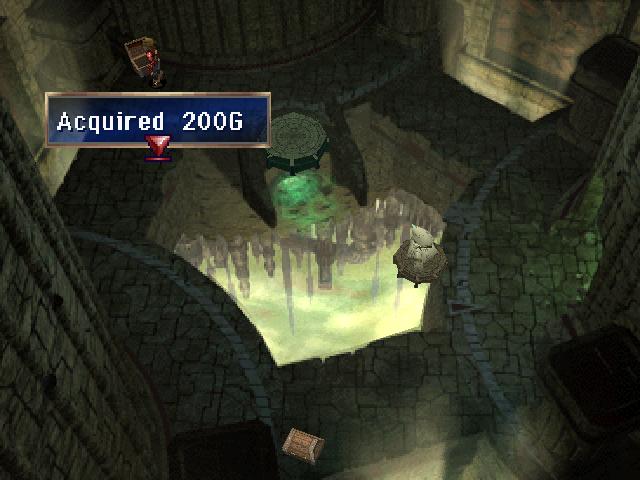 Any way, the prison exit randomly has 200g and a Flash Hall. More attack items to be overshadowed!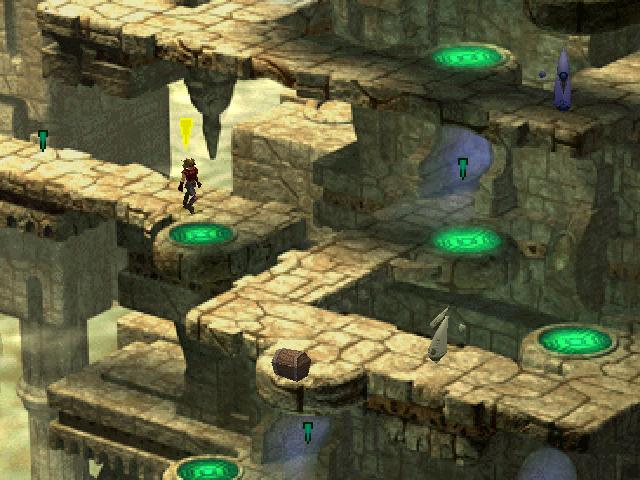 Ok, let's try this again. Guard Bots come in two flavors: White ones run at wherever you are. If you go in a teleport circle or any other little nook they go blind and return to their back and forth walk.
Black bots will run at the direction you came from and won't stop until they hit an end. They are both pretty easy to avoid other than a few spots where I kept getting caught because it was a weird angle with my d-pad because my analog doesn't run right in the emulator.
While playing tag with the bots we can pick up a Frozen Jet and Burning Wave. More shit to throw at enemies!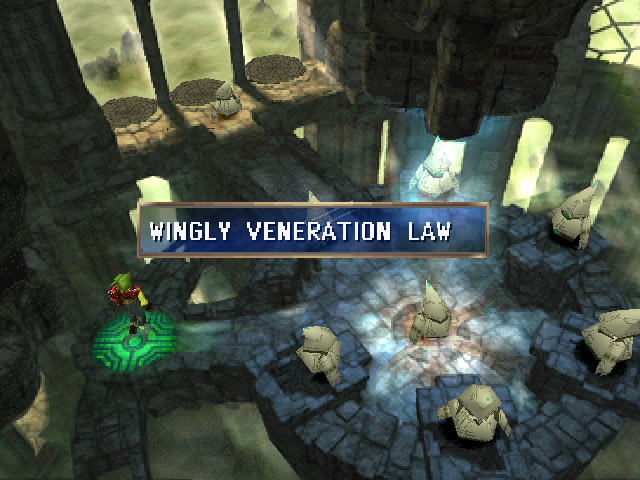 Apparently the winglies being dead hasn't slowed down the progress of making and ammending laws in Zenebatos. Laptos keep streaming into the room where they submit do nothing laws the guys around them always approve. Someone must have broke their no function.
I hope you remember that random 3 digit number from the start of the update! Because to go on we need that to mess the law to get us through.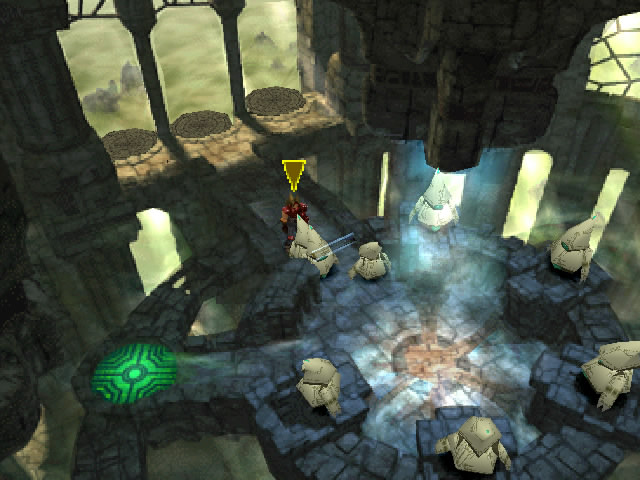 But first it's a long, long wait while I'm sitting in committee. That's right. You need to wait in the stupid freaking line oh god I'm going to murder you Zenebatos. If you cut in front the robot tells you off and orders you to wait your turn.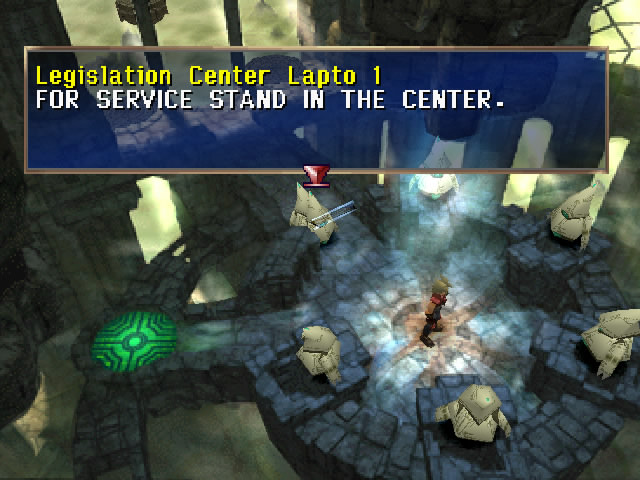 Oh thank god, finally. Our Lapto friend asks if we are making or amending a law, in this case we tell the Conrad-bot we are amending Article 703.
I hope they decide to report on this favourably, otherwise we may die!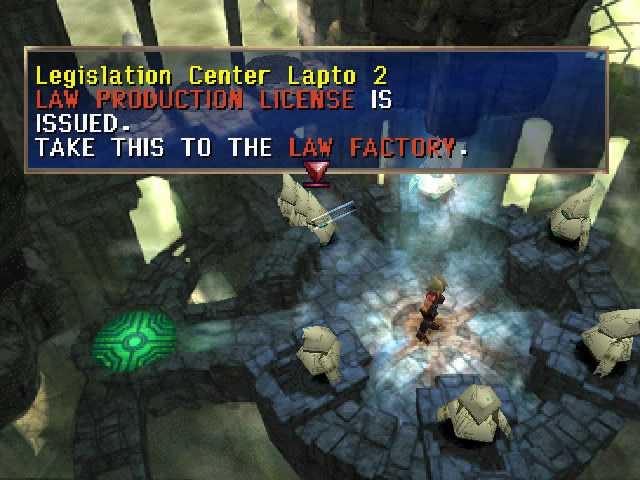 Wait, what. Take this license to the law factory. Nooooooo! Oh no, says Dart. Oh yes, says Lapto #2. Then I'll go to the Law Factory and the whole thing starts all over again I bet.
Once we finish this whole law sequence we actually have a few more we could pass. We could turn off the shop(Don't do this), turn off the guards, don't have to wait in line at the Legislation center, and get rid of all the enemies(but only after we beat the boss). But I'd rather slam my dick in a door then do this more than necessary.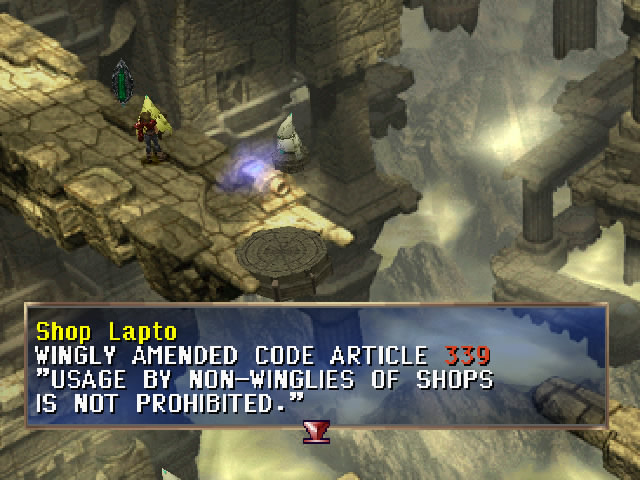 To the law factory! Actually, to the robot that is surprisingly friendly and sells us awesome and relevant gear!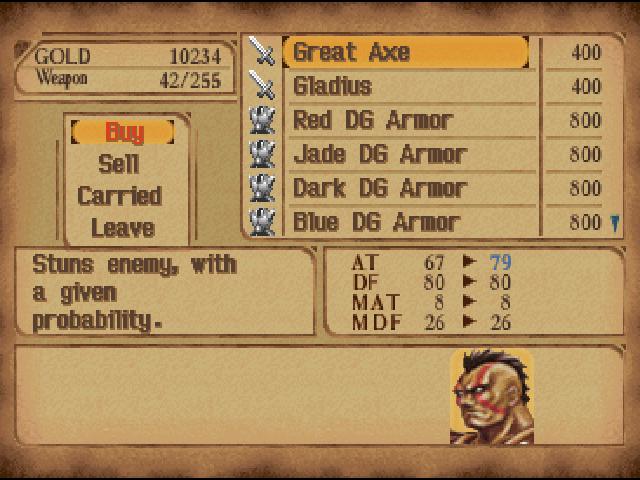 Kongol picks up a shiny new axe for whenever we use him next. Because he didn't hit hard enough. We already have the Gladius for Rose from the Death Frontier. The big deal here is the Dragoon armors.
Each character has an armor unique to them matching their color with solid defensive stats and nulls their element. We can only pick up the four on screen here though. The rest will be acquired through other means. We 100% want the Dark DG Armor right now for an upcoming boss fight, the rest you should grab too because you'd have to be dirt poor not to afford them.
Shop also sells some anti-status accessories but we already have more than we could ever need.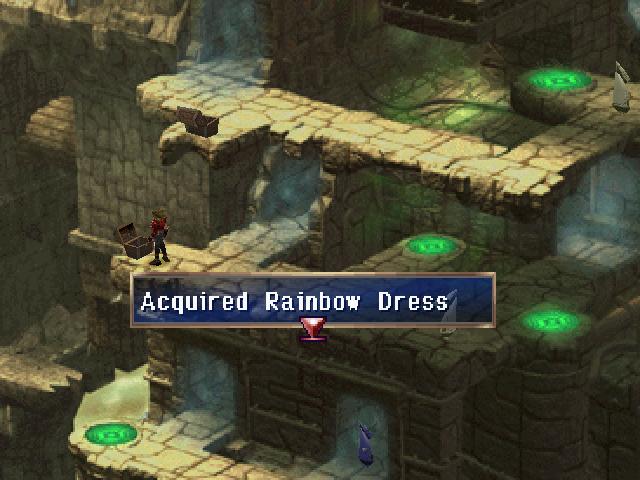 We get a few more attack items in this guard maze and pick up a Rainbow Dress for our ladies. Mediocre physical defense, best magical defense on the body slot in the game, and protects from Poison, Stun, and Arm-blocking.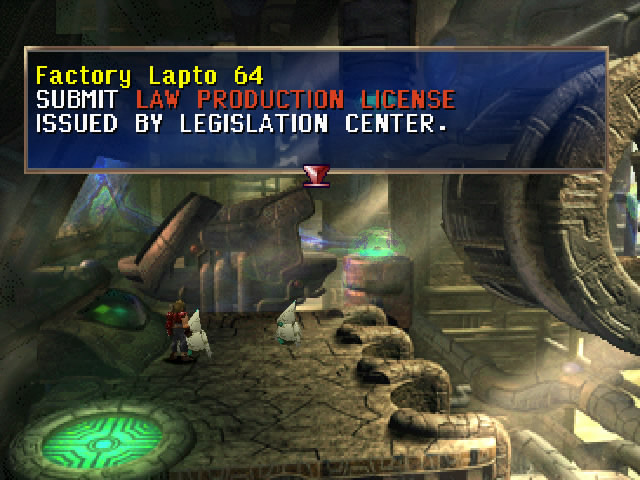 With surprisingly little fuss Lapto 64 hands over a, uh, Law Launching License? Do Winglies fire laws out of cannons at those who would dare oppose the might of their legislation?
Factory Lapto 64: "LAW LAUNCHING LICENSE IS ISSUED. TAKE THIS TO THE LAW LAUNCHER."
I'm pretty sure before this mess is over I'm somehow going to be heading off to the Wingly White House. Where I'll wait in a line with a lot of other Law Intubating Quantum Licenses. For the president/emperor/god king to sign. Which may involve a time machine since Melbu Frahma is kind of impaled somewhere in a ruin. But then, if he signs that Quantum License, we will have changed a law.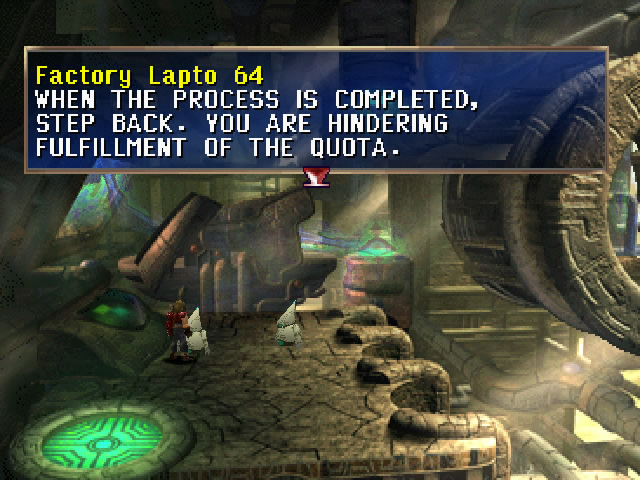 As soon as I pass my law, Lapto 64, I will return and murder you in your sleep, or uh, scheduled maintenance period?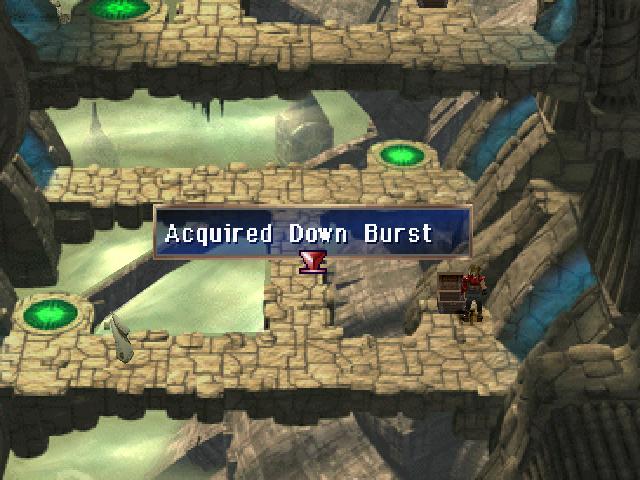 To the law launcher! Once again we have two attack items to pick up, and this time a Spirit Cloak for some magic evasion. I already have the Sage's Cloak though, soooo, kind of disappointing. Also this is the most annoying set of robo guards if only because if they are on the wrong point of the path it takes half of forever to maneuver them right.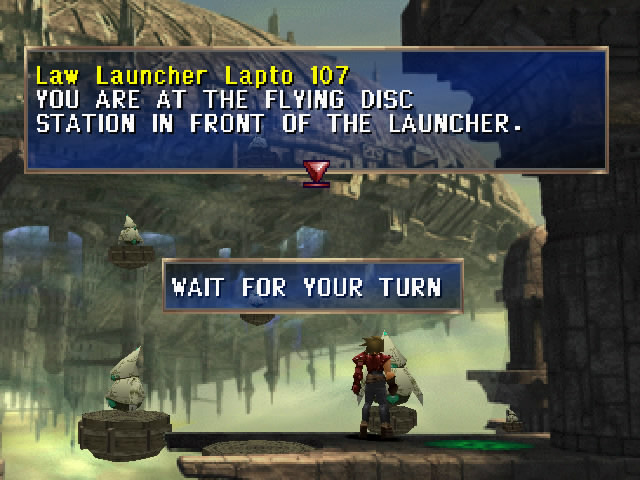 Yeah, yeah. wait for your turn, mind your manners, shine a Winglies boot today.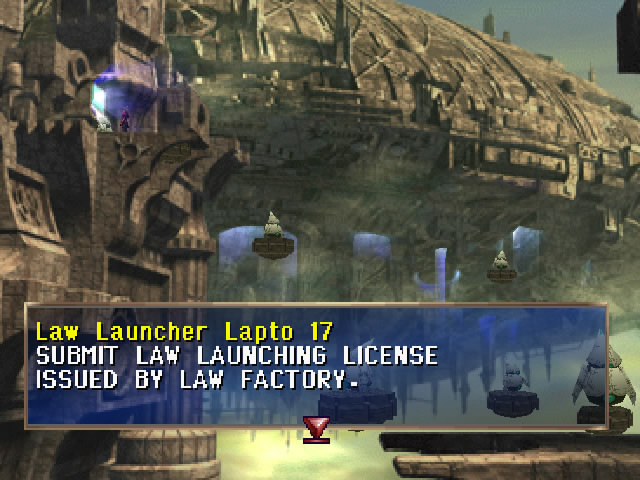 He is tiny, but Dart is up at that glowing blue/purple terminal.
Law Launcher Lapto 17: "WHEN THE PROCESS IS COMPLETED, STEP BACK. YOU ARE HINDERING FULFILLMENT OF THE QUOTA."
In a moment of wonder and hope Lapto 17 does not hand me any more stupid pieces of law gobbledegook. Now hopefully there is no one left in this process to veto me. I'm looking at you, Zieg! I'd have to go back to the Legislation Center, and they'd vote on me again, and by that time Dart is so old Zieg will have destroyed the world.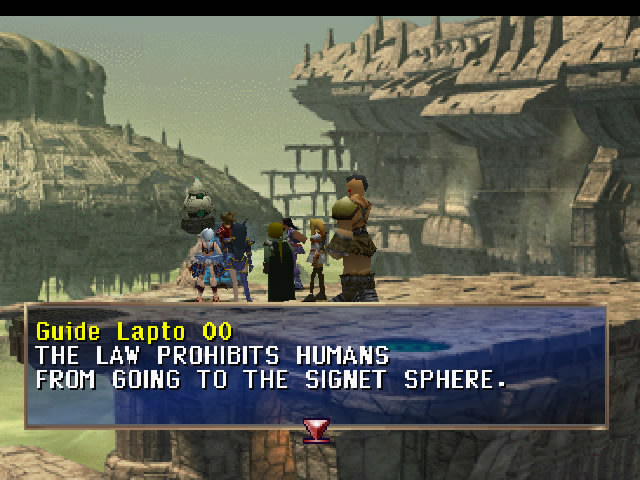 It's around this time everyone remembers that we can fly. And if anger is any part of the solution of transforming into a Dragoon I think the party is ready to go. First we will suck Lapto 00 into a parallel dimension, then fly to the signet.
Dart: "I know that. But it should be revised now."
Guide Lapto 00: "NO REVISION HAS BEEN RECEIVED."
Meru: "Hey you, can't you be more flexible? Maybe my spell is not that strong, but I'm here, why don't you let us go."
Guide Lapto 00: "THE LAW PROHIBITS HUMANS FROM GOING TO THE SIGNET SPHERE."
Haschel: "A world crisis is near at hand!!"
Guide Lapto 00: "NO INTEREST IN 'World Crisis'. INTEREST ONLY IN COMPLIANCE WITH THE LAW."
I'm going to comply a law right up your --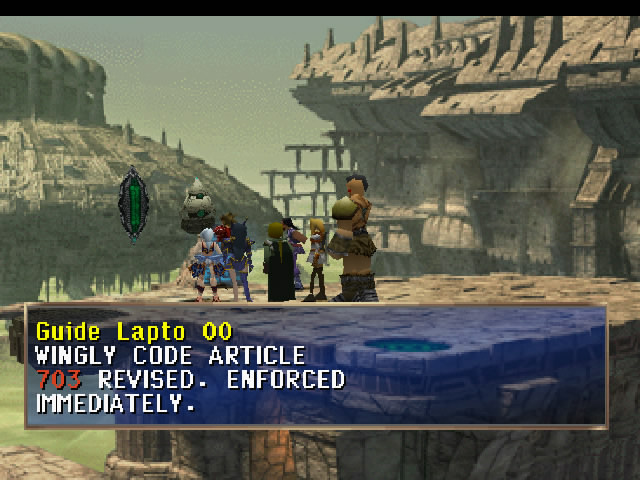 Thankfully at that moment this, uh, launched law? Comes flying out of nowhere and wireless updates the lapto on the shit we have been through.
Guide Lapto 00: "WINGLY CODE ARTICLE 703 REVISED. ENFORCED IMMEDIATELY. THE LAW DOES NOT PROHIBIT NON-WINGLIES FROM GOING TO THE SIGNET SPHERE."
Meru: "It says 'DOES NOT PROHIBIT'!"
Albert: "It seems the produced law is launched, arrives and then is enforced."
Miranda: "They are treating laws as if they are commodities."
Rose: "That's all it was anyway. The law was a mere tool to judge other creatures for them...the Winglies."
Dart: "We spent too much time with that tool. We gotta get to the Signet Sphere before my father."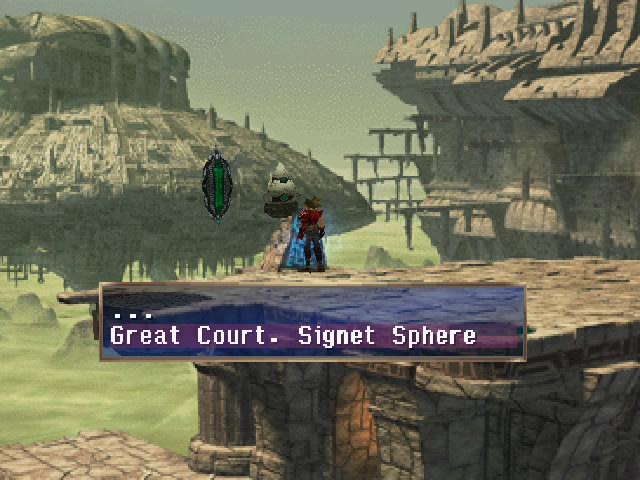 And that's how a bill becomes a law.
Bonus art! Since we can now fly anywhere and pretty much seen what there is to see, have the map of Endiness.