Part 1: - Picking Our Candidate
Alright, I'm calling the vote, and the results are:
code:
Republican: IIIIIIIIIIIIIIIIIIII
Democrat:   IIIIIIIIIIIIIIII
We are going to be a
Republican
! That brings us to the next question:
Which Republican?
The game gives us an assortment of people to choose from, but before we pick, we need to explain something. These characters all have stats, and you don't have a clue what these stats mean! Well, let me help you out.
-
Stamina
: More Stamina means more stamina points, which you burn when you take actions.
-
Money
: More Money means that your initial funds are higher.
-
Fund Raising Ability
: More Fund Raising Ability means that your returns on fundraisers are higher.
-
Charisma
: More Charisma means that your speeches and ads are more effective.
-
Appearance
: More Appearance means that your interviews are more effective.
-
Credibility
: More Credibility means that your negative ads are more effective and your opponent's negative ads are less effective.
-
Experience
: More Experience means that you need less Political Capital points to win endorsements.
-
Intelligence
: More Intelligence means that your available responses during an interview are better.
-
Media Bias
: More Media Bias means the press likes you more, which means that it's easier to sway undecided/independent voters.
-
Minority Appeal
and
Religious
: More of these means that your awareness generated by campaign HQs is increased in areas with a large minority or religious demographic, respectively.
Now, which stats are good? Well, that's something I'm going to leave open, and honestly, I wouldn't quite know how to answer that myself, given that I don't have a particular playstyle I follow.
So just pick somebody!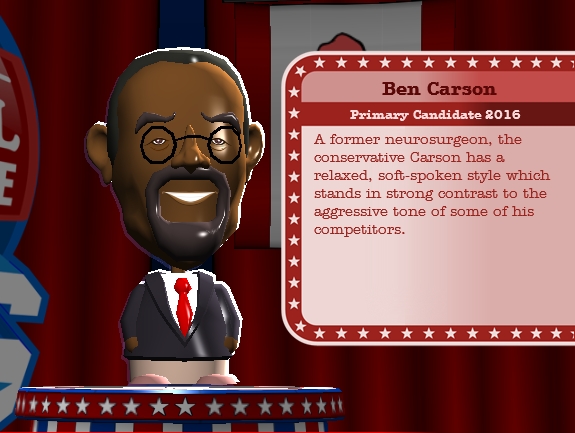 Ben Carson:
Stamina: 4
Money: 6
Fund Raising Ability: 6
Charisma: 6
Appearance: 4
Credibility: 6
Experience: 4
Intelligence: 7
Minority Appeal: 6
Religious: 8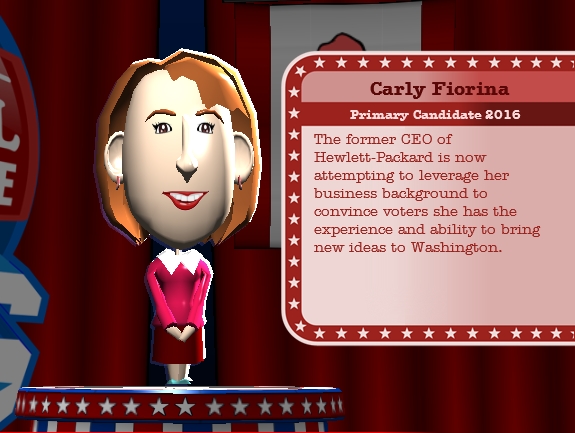 Carly Fiorina:
Stamina: 5
Money: 7
Fund Raising Ability: 6
Charisma: 5
Appearance: 5
Credibility: 6
Experience: 6
Intelligence: 6
Minority Appeal: 5
Religious: 6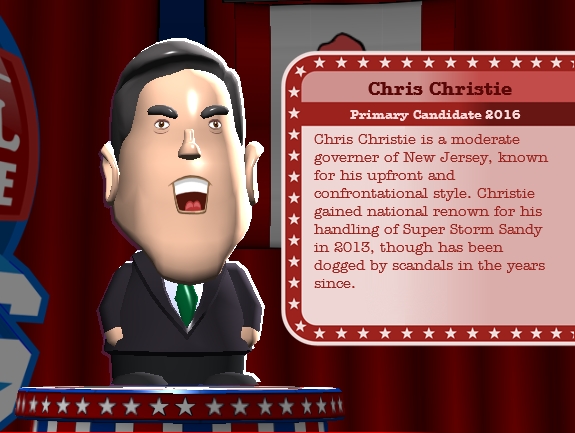 Chris Christie:
Stamina: 7
Money: 6
Fund Raising Ability: 6
Charisma: 5
Appearance: 6
Credibility: 6
Experience: 6
Intelligence: 7
Minority Appeal: 3
Religious: 4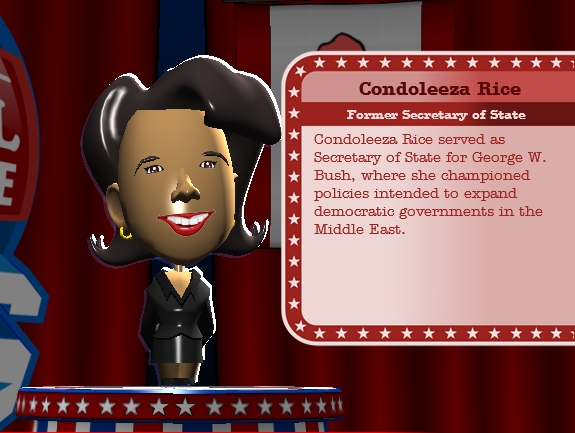 Condoleeza Rice:
Stamina: 5
Money: 6
Fund Raising Ability: 3
Charisma: 5
Appearance: 6
Credibility: 8
Experience: 8
Intelligence: 9
Minority Appeal: 6
Religious: 5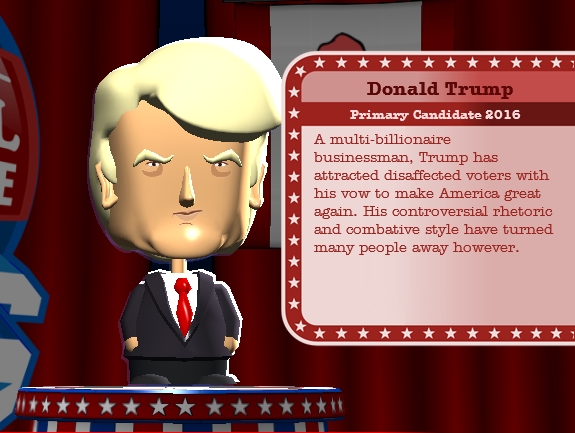 Donald Trump:
Stamina: 7
Money: 10
Fund Raising Ability: 8
Charisma: 8
Appearance: 5
Credibility: 3
Experience: 5
Intelligence: 5
Minority Appeal: 1
Religious: 3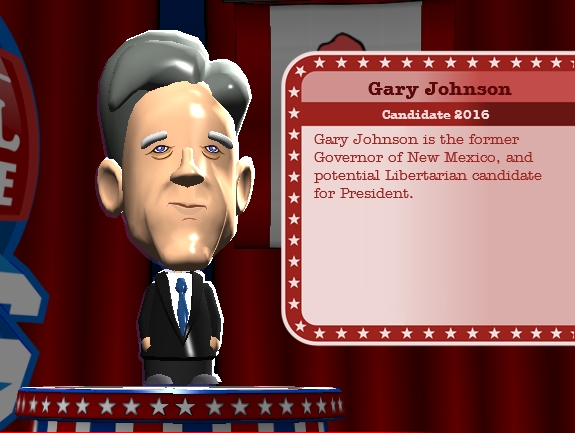 Gary Johnson:
Stamina: 7
Money: 6
Fund Raising Ability: 6
Charisma: 5
Appearance: 6
Credibility: 6
Experience: 6
Intelligence: 7
Minority Appeal: 6
Religious: 2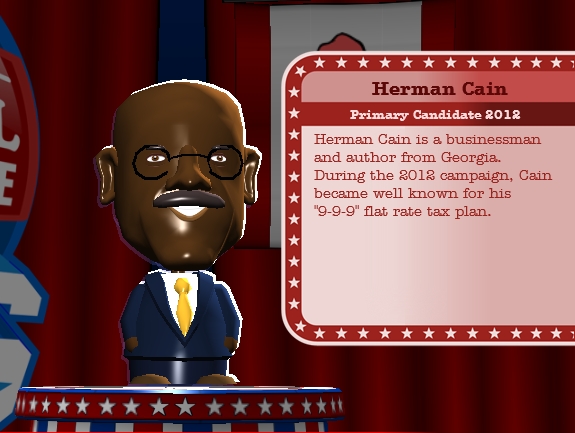 Herman Cain:
Stamina: 8
Money: 6
Fund Raising Ability: 3
Charisma: 7
Appearance: 6
Credibility: 5
Experience: 5
Intelligence: 5
Minority Appeal: 6
Religious: 5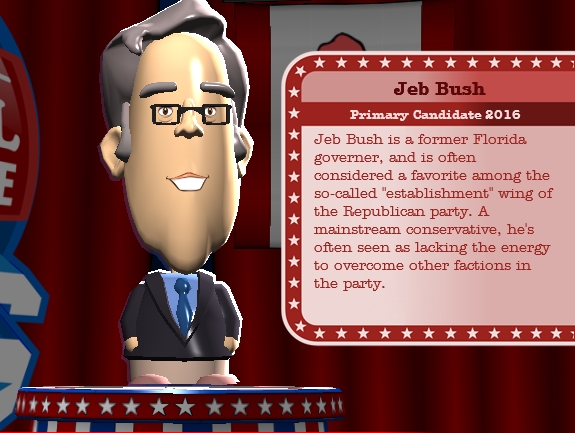 Jeb! Bush:
Stamina: 4
Money: 6
Fund Raising Ability: 7
Charisma: 5
Appearance: 5
Credibility: 5
Experience: 6
Intelligence: 4
Minority Appeal: 5
Religious: 7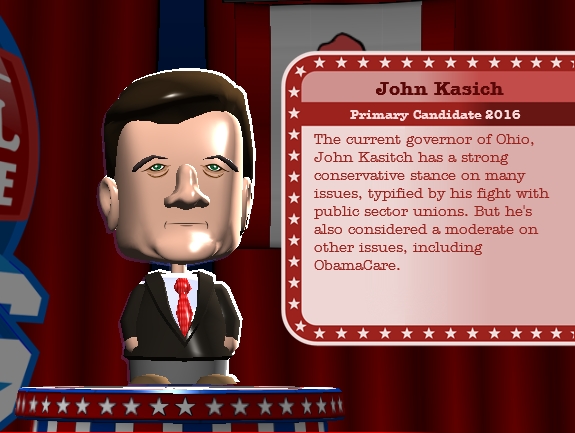 John Kasich:
Stamina: 7
Money: 6
Fund Raising Ability: 6
Charisma: 6
Appearance: 6
Credibility: 6
Experience: 6
Intelligence: 7
Minority Appeal: 6
Religious: 6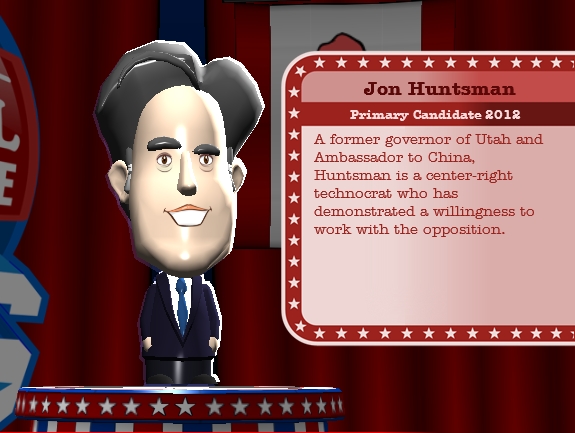 Jon Huntsman:
Stamina: 8
Money: 6
Fund Raising Ability: 4
Charisma: 3
Appearance: 6
Credibility: 7
Experience: 7
Intelligence: 7
Minority Appeal: 4
Religious: 5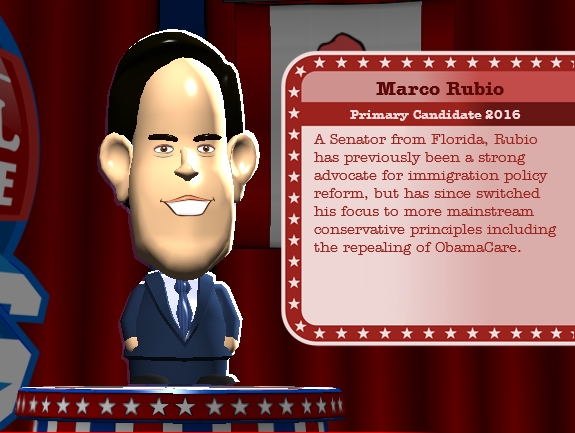 Marco Rubio:
Stamina: 5
Money: 5
Fund Raising Ability: 7
Charisma: 6
Appearance: 5
Credibility: 6
Experience: 5
Intelligence: 5
Minority Appeal: 6
Religious: 7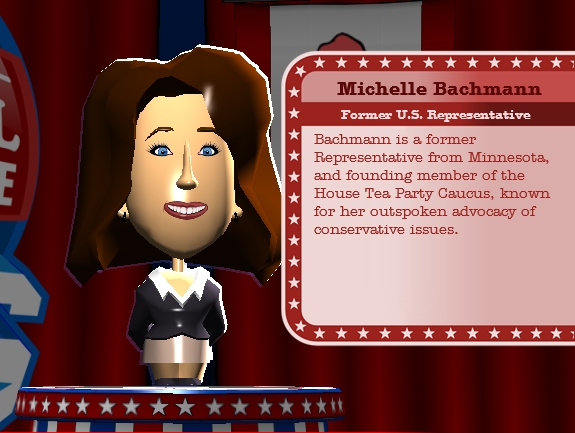 Michelle Bachmann:
Stamina: 9
Money: 5
Fund Raising Ability: 4
Charisma: 7
Appearance: 7
Credibility: 2
Experience: 3
Intelligence: 4
Minority Appeal: 3
Religious: 8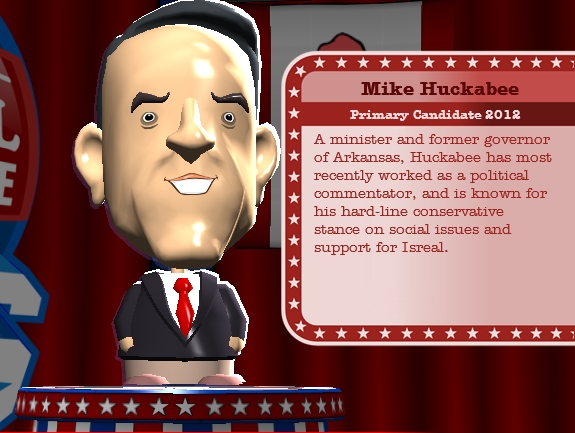 Mike Huckabee:
Stamina: 5
Money: 6
Fund Raising Ability: 7
Charisma: 6
Appearance: 4
Credibility: 6
Experience: 4
Intelligence: 5
Minority Appeal: 5
Religious: 10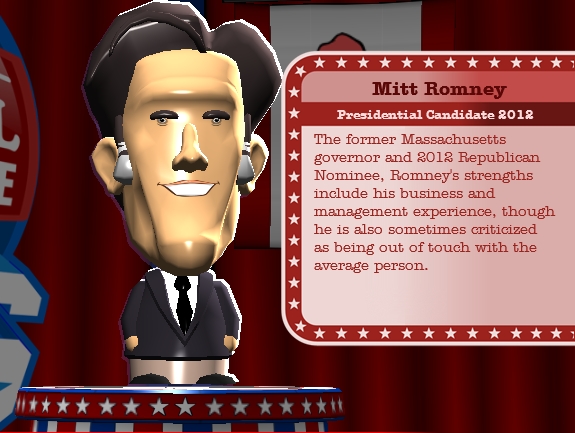 Mitt Romney:
Stamina: 6
Money: 8
Fund Raising Ability: 7
Charisma: 3
Appearance: 7
Credibility: 4
Experience: 7
Intelligence: 7
Minority Appeal: 4
Religious: 6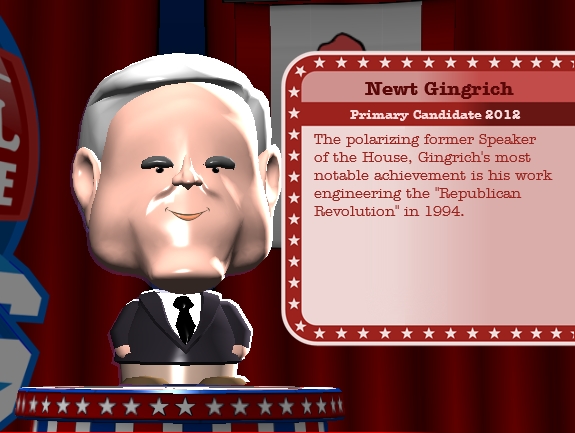 Newt Gingrich:
Stamina: 10
Money: 7
Fund Raising Ability: 4
Charisma: 5
Appearance: 3
Credibility: 4
Experience: 9
Intelligence: 9
Minority Appeal: 1
Religious: 4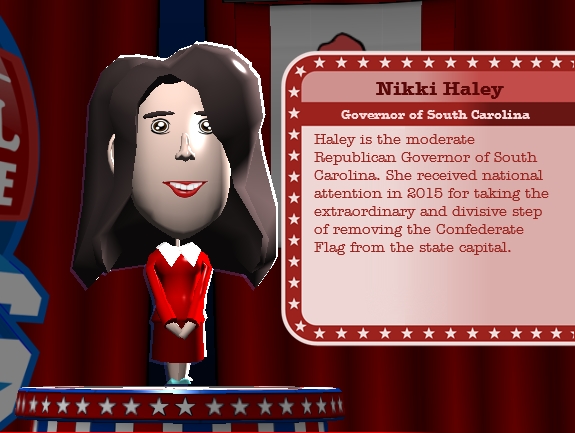 Nikki Haley:
Stamina: 6
Money: 6
Fund Raising Ability: 5
Charisma: 7
Appearance: 7
Credibility: 6
Experience: 6
Intelligence: 5
Minority Appeal: 7
Religious: 6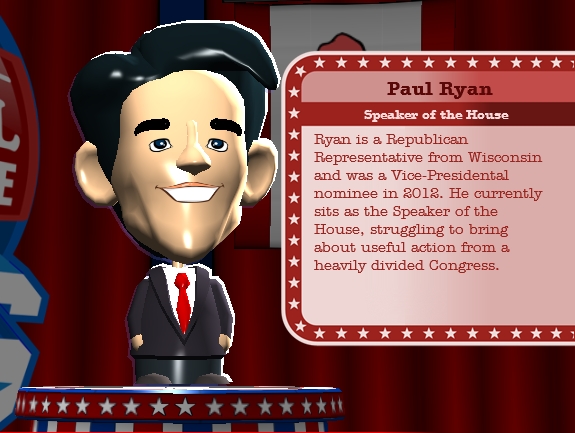 Paul Ryan:
Stamina: 8
Money: 6
Fund Raising Ability: 4
Charisma: 7
Appearance: 7
Credibility: 5
Experience: 6
Intelligence: 7
Minority Appeal: 4
Religious: 5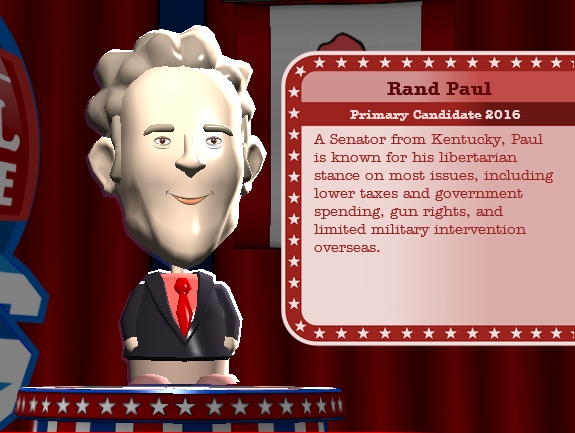 Rand Paul:
Stamina: 7
Money: 5
Fund Raising Ability: 3
Charisma: 7
Appearance: 7
Credibility: 6
Experience: 7
Intelligence: 6
Minority Appeal: 5
Religious: 5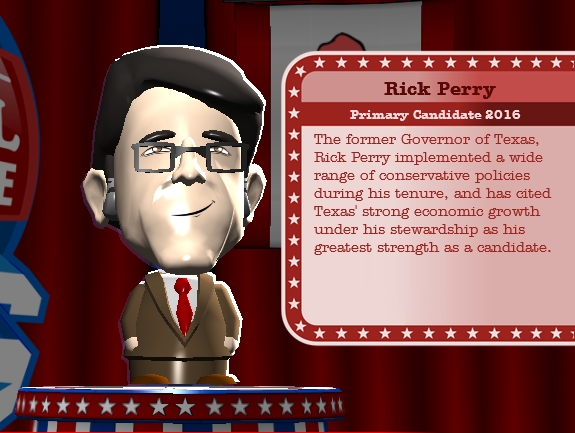 Rick Perry:
Stamina: 5
Money: 6
Fund Raising Ability: 5
Charisma: 7
Appearance: 7
Credibility: 6
Experience: 6
Intelligence: 6
Minority Appeal: 3
Religious: 7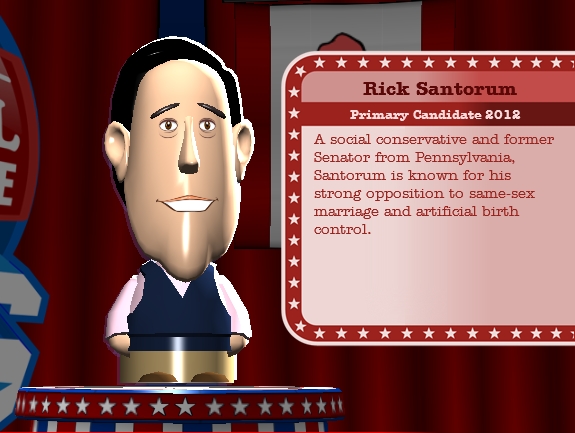 Rick Santorum:
Stamina: 9
Money: 5
Fund Raising Ability: 4
Charisma: 6
Appearance: 5
Credibility: 5
Experience: 6
Intelligence: 6
Minority Appeal: 3
Religious: 9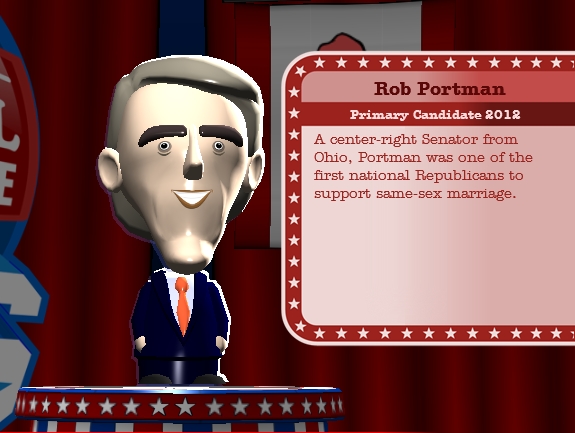 Rob Portman:
Stamina: 8
Money: 4
Fund Raising Ability: 4
Charisma: 6
Appearance: 5
Credibility: 6
Experience: 7
Intelligence: 7
Minority Appeal: 5
Religious: 5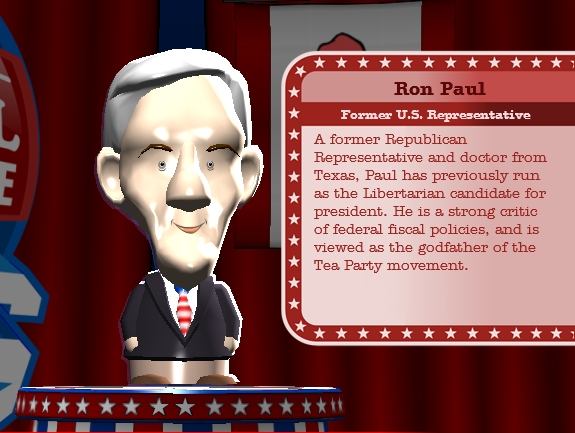 Ron Paul:
Stamina: 7
Money: 6
Fund Raising Ability: 5
Charisma: 4
Appearance: 3
Credibility: 8
Experience: 9
Intelligence: 9
Minority Appeal: 1
Religious: 6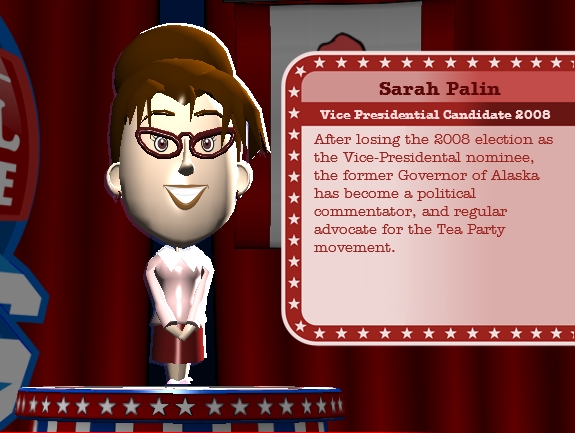 Sarah Palin:
Stamina: 8
Money: 6
Fund Raising Ability: 4
Charisma: 8
Appearance: 9
Credibility: 6
Experience: 3
Intelligence: 5
Minority Appeal: 3
Religious: 7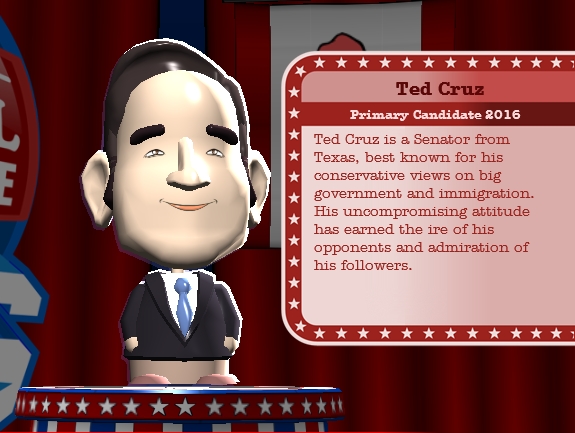 Zodiac Killer:
(note, this is a wordfilter)
Stamina: 7
Money: 5
Fund Raising Ability: 3
Charisma: 5
Appearance: 5
Credibility: 5
Experience: 6
Intelligence: 6
Minority Appeal: 3
Religious: 8