Part 6: - Week 2
Week 2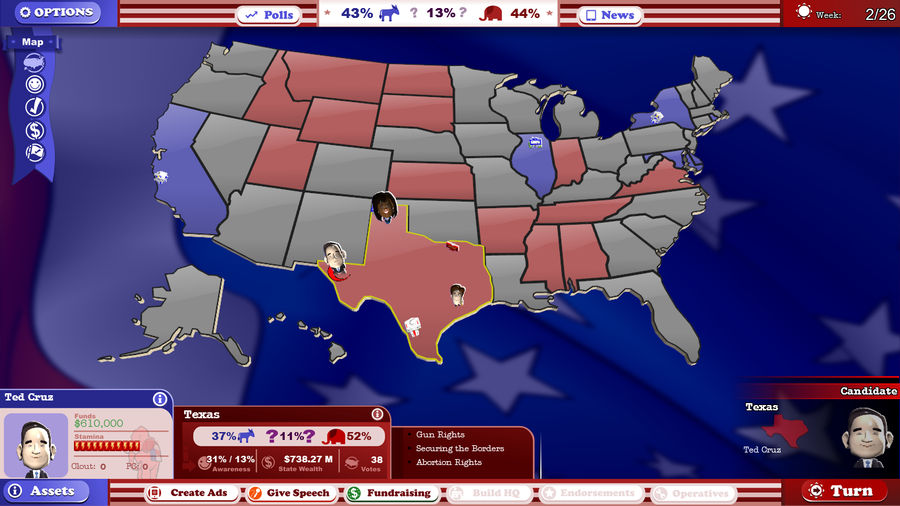 Alright, short update this time, we've got nothing new to talk about, really.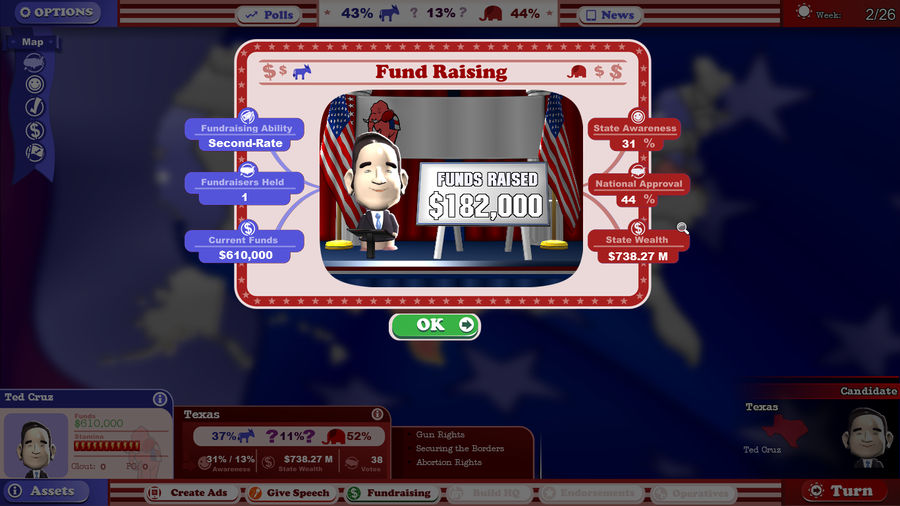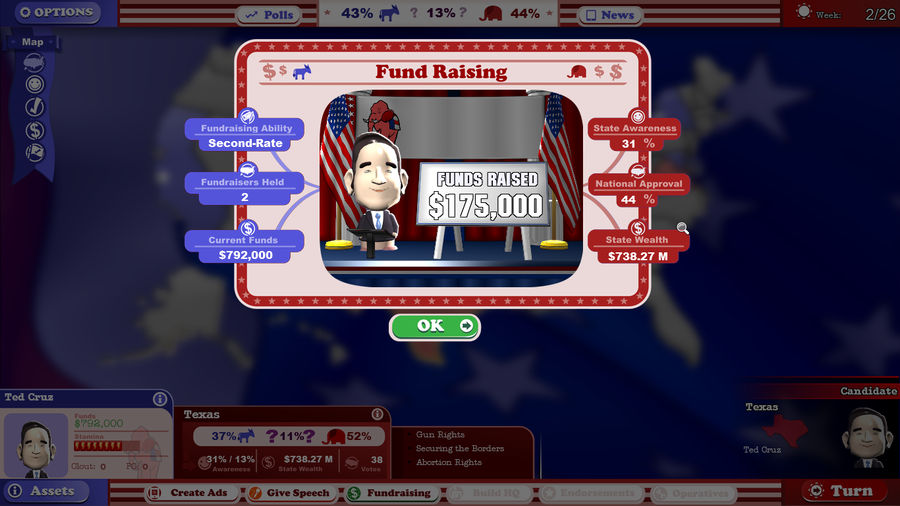 First of all, we fundraise twice in Texas, bringing in not a lot of money. I mean, it's a fair chunk, more than enough to pay for the new HQ, but we can pull more than double from a Texas that has our awareness maxed out.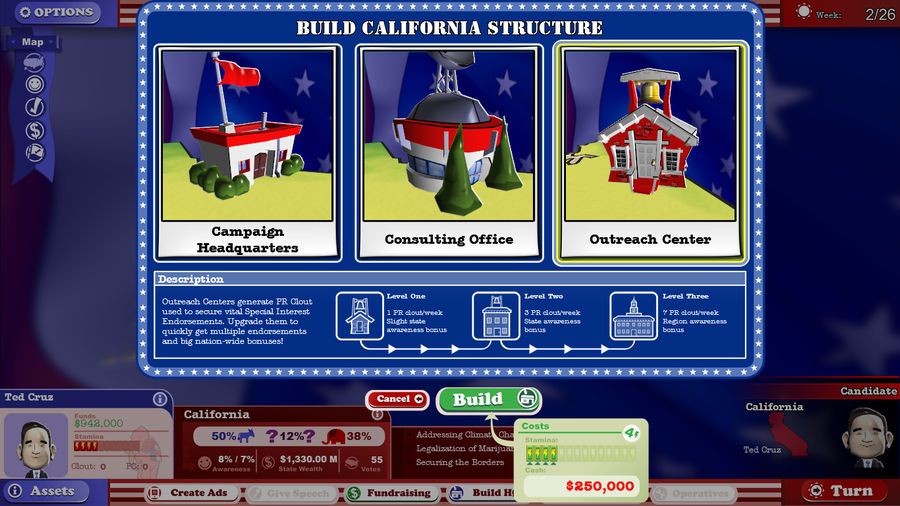 Then, we head to California and build an Outreach Center.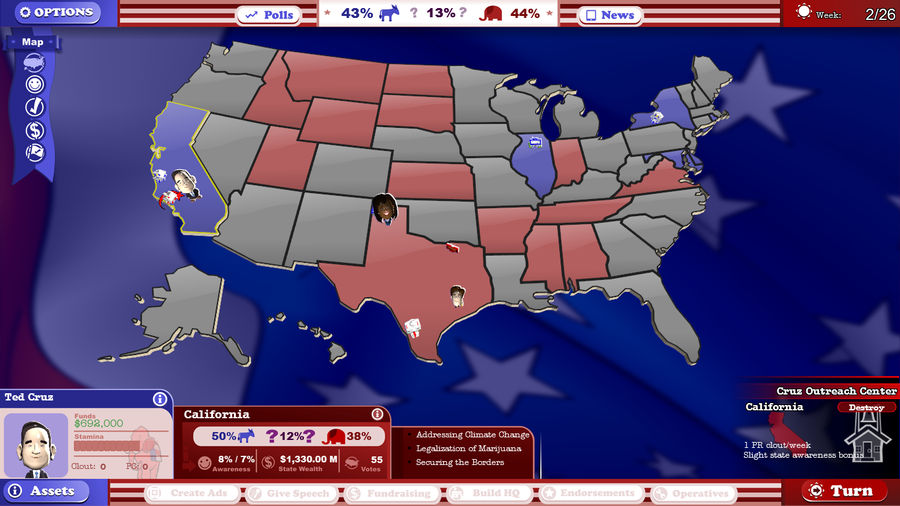 And there we go, that's our situation to end week number two. On to number three!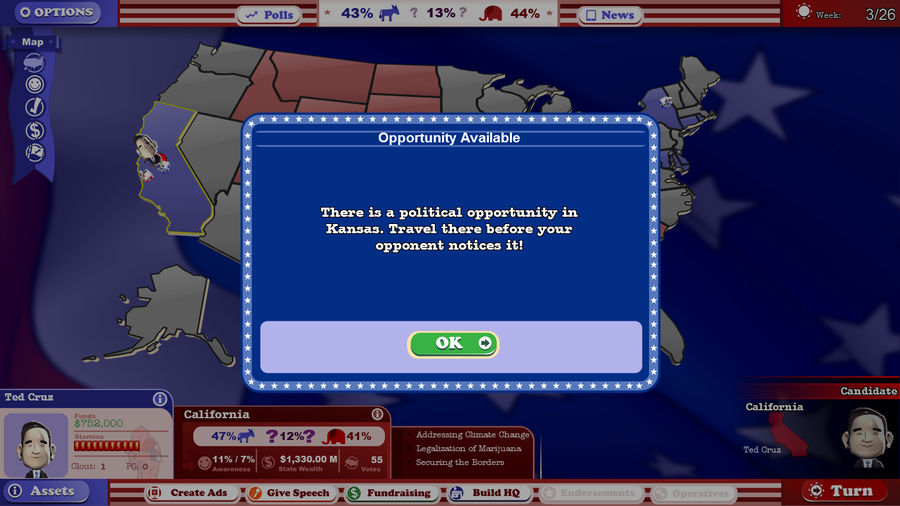 Oh shit, it's a political opportunity!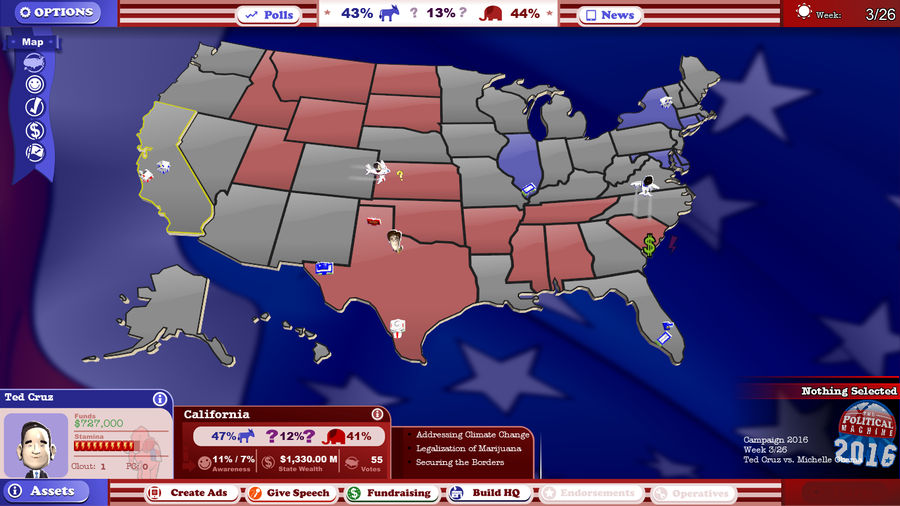 FLY, CRUZ, FLY!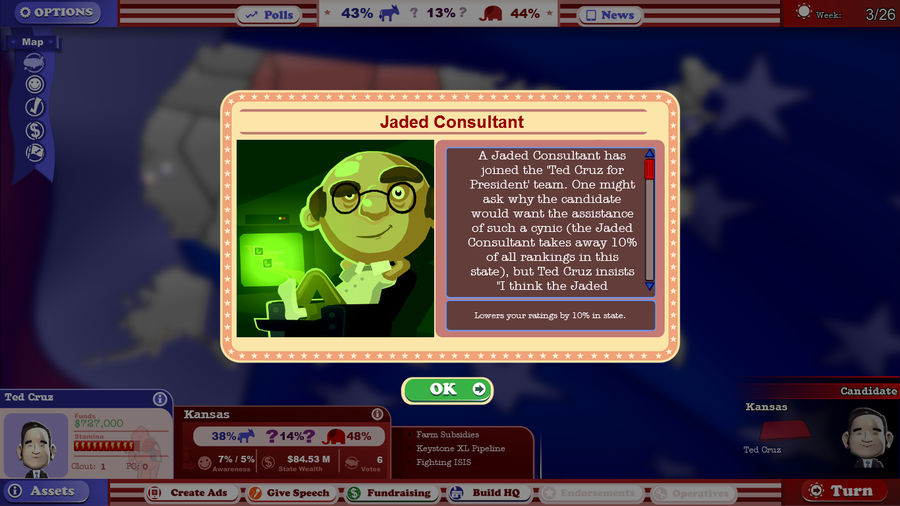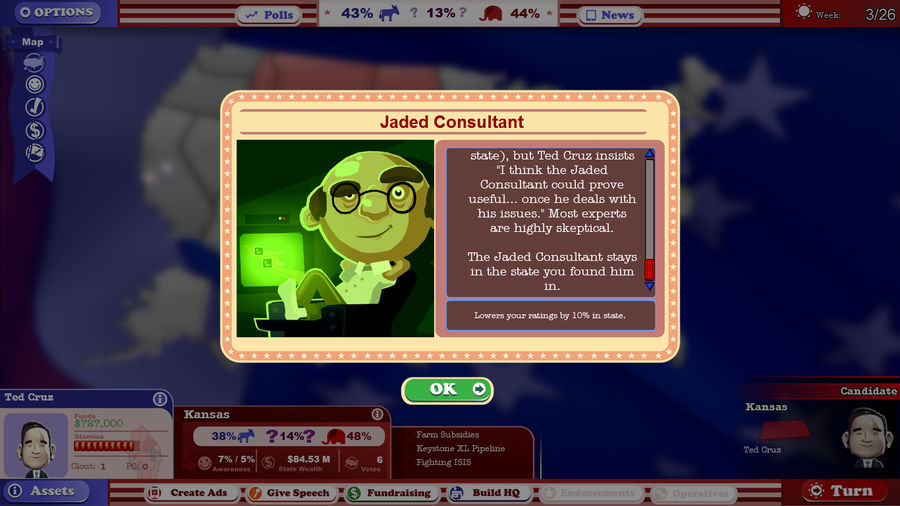 ...balls. So that's an example of a negative political opportunity. Note that "lowers ratings" seems to always be meant in a bad way. So you can't make your position on Abortion Rights better in a deep red state like Kansas by having it go "lower", as it were. Note that we can't move the guy somewhere where he'd do less damage (like Rhode Island), we're stuck with him in Kansas... could be worse.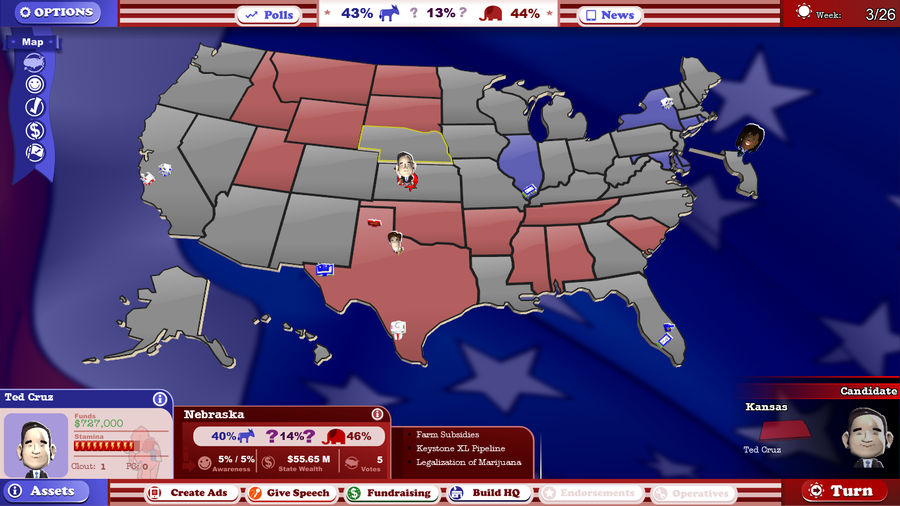 And the existence of the Jaded Consultant flips Kansas from "tends Republican" to "undecided". However, it's early days, so that's a minor shift at best. Ideally, Kansas should never be in doubt at the end of the day, even if we don't focus on it, simply because it's that deep red.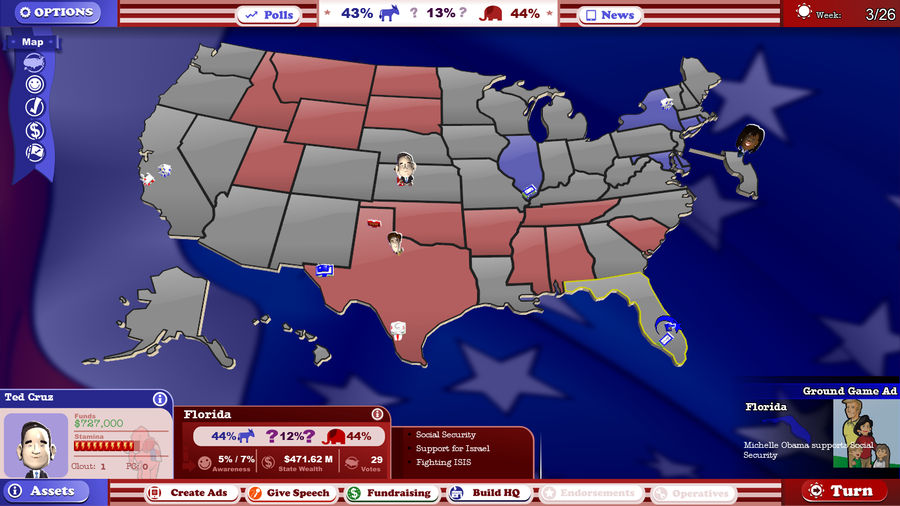 Michelle has been busy this week as well. She built a campaign HQ and set up a ground game ad praising her for supporting Social Security in Florida - and Social Security is the top issue in Florida, AND everybody loves it - and she went to Joisey.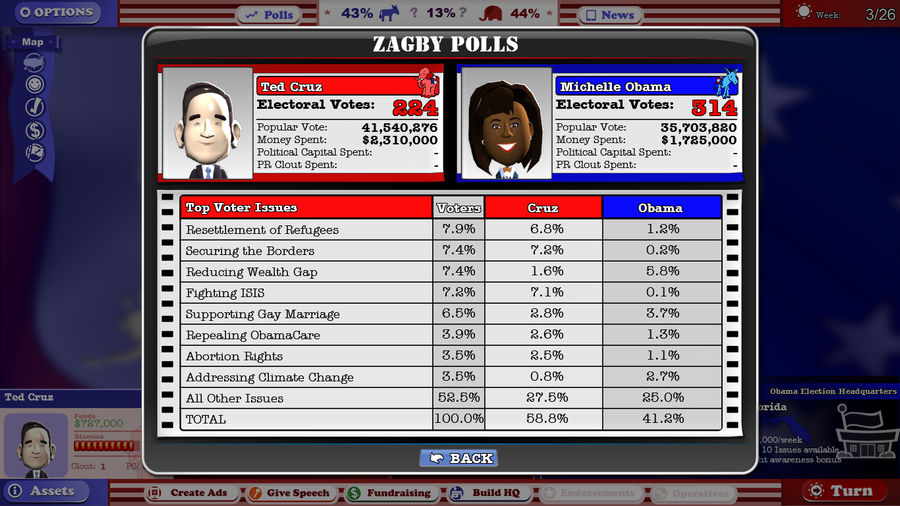 Here's the Zagby polls for this week. We lost a massive amount in the electoral votes for some reason, even though I can only see us gaining in the issues. I don't understand these polls, really.
So, that's it for this week, nothing much to say, really.
VOTING
Campaign Assets:
- 727.000$ cash, 90.000$ income per week from HQs, 30.000$ costs per week from ads => 60.000$ income per week
- 10 stamina
- 1 PR Clout, +1 per week from HQs
- 0 Political Capital, +0 per week from HQs
Candidate Position: Kansas
Possible Actions:
- Move candidate or any operative to another state (cost: 1 stamina, 25.000$)
- Create a ground game ad in the current state (cost: 3 stamina, 50.000$ up front, 3.000$ per week - requires an issue and what direction it should go, i.E. "I Favor", "I Oppose", "Opponent Favors", "Opponent Opposes")
- Create a TV ad in the current state (cost: 3 stamina, 450.000$ up front, 30.000$ per week - requires an issue and what direction it should go, i.E. "I Favor", "I Oppose", "Opponent Favors", "Opponent Opposes")
- Give a speech in the current state (cost: 5 stamina - requires an issue and what direction it should go, i.E. "I Favor", "I Oppose", "Opponent Favors", "Opponent Opposes")
- Fundraise in the current state (cost: 3 stamina)
- Build a new building in the current state (cost: 4 stamina, 250.000$ - requires that a building has not yet been built in this state)
- Upgrade a level 1 building to a level 2 building in the current state (cost: 4 stamina, 500.000$ - requires a level 1 building in this state)
- Upgrade a level 2 building to a level 3 building in the current state (cost: 4 stamina, 1.000.000$ - requires a level 2 building in this state)