Part 10: Sep 03 2155 - Communication Difficulties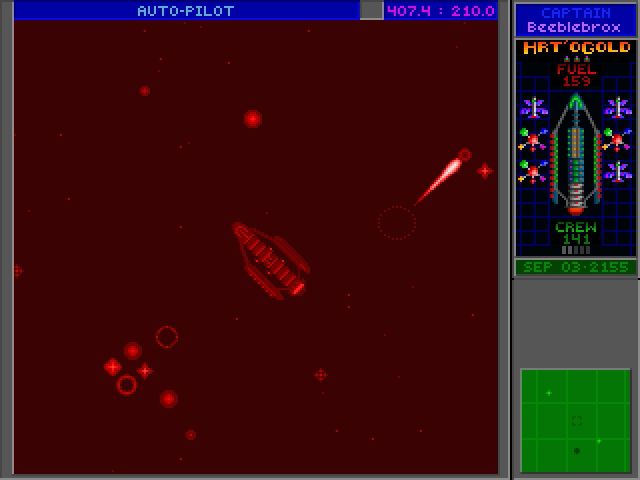 Into hyperspace! Towards the Androsynth!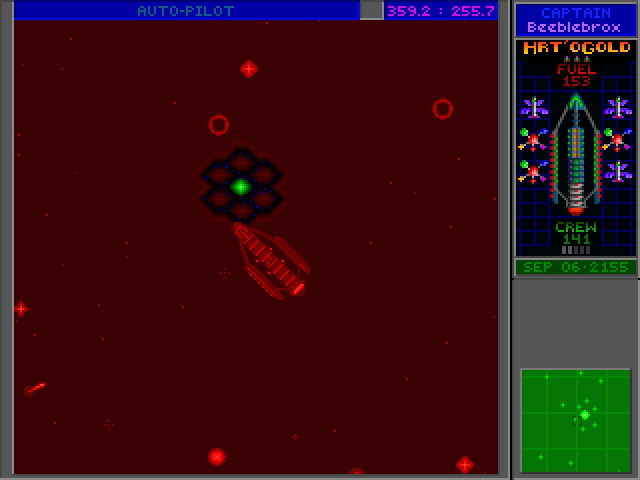 The Vulcepulae cluster is a very tightly-packed set of seven star systems. This is the Androsynth home star, Eta Vulcepulae.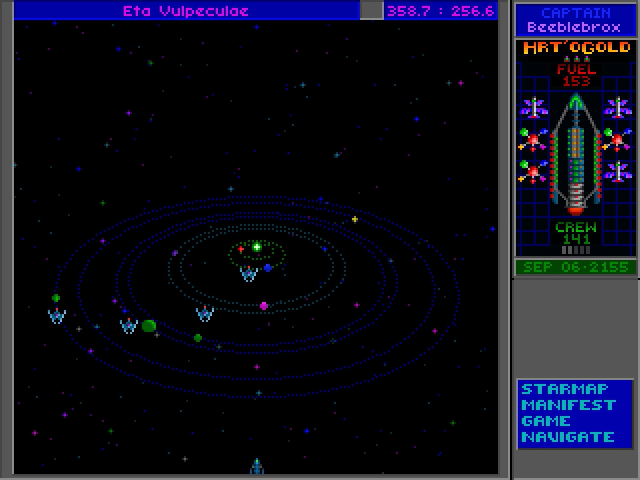 Except... Those don't look like Androsynth ships.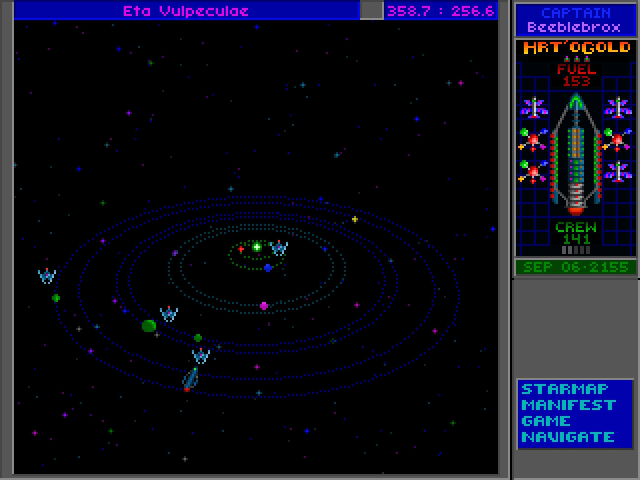 Well, let's say hi anyway.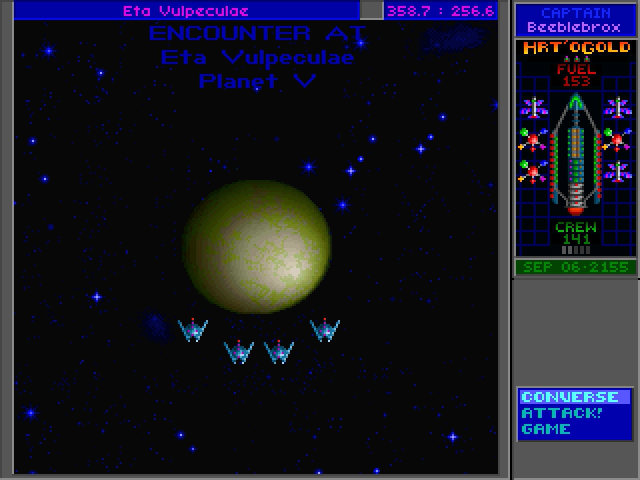 VIDEO: *FINGERS*

BGM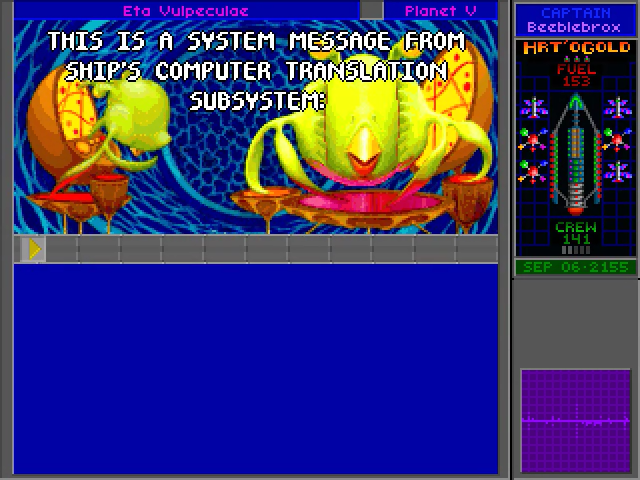 INCOMING MESSAGE EXTREMELY UNUSUAL IN COMPOSITION. TRANSLATION INCLUDES MANY LINGUAL ANOMALIES. OVERALL ACCURACY OF TRANSLATION IS: UNKNOWN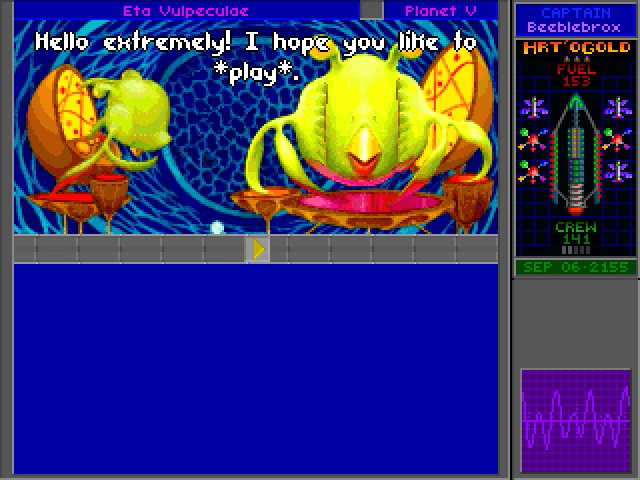 Some *campers* are not so good for *games*. Is it time for *playing* yet?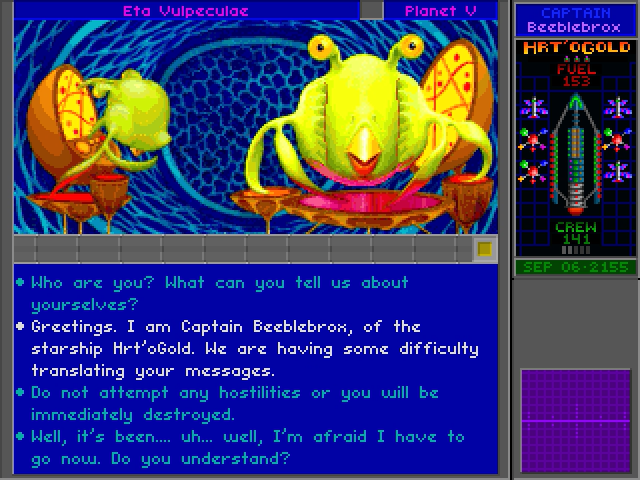 Yes, of course. Difficulty. Problems are difficult. Let's be *special* together. *Spicy games* are always fun.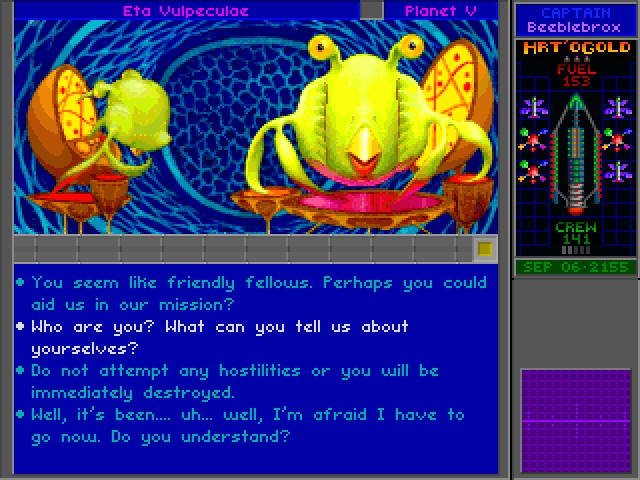 Who are you? You are not Orz! We are Orz! Orz are happy *people energy* from the outside. Inside is good. So much good that Orz will always *germinate*. Can you come together with Orz for *parties*?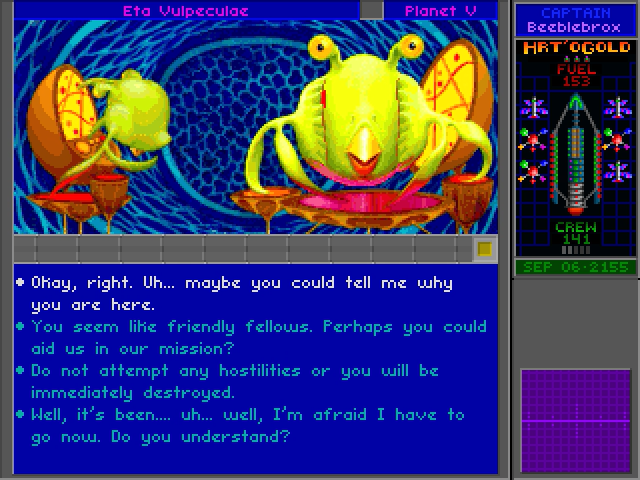 Here is *bright* and *smooth*. The other place is *hurt* Orz too much tired for keeping together. Other place is *Frumple*. Orz are here now, but almost not yet. Soon Orz are really here! You are help Orz with *parties*.
Orz looking for you, and find you. So much joy! Now *smooth* place all the time, and after now never going back to outside. Never!!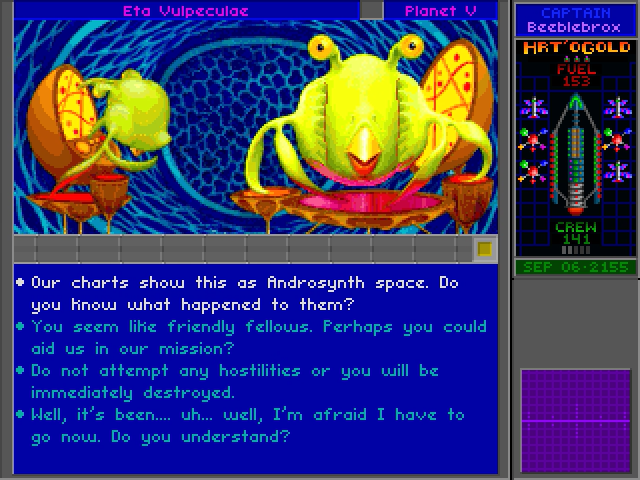 Androsynth are not here. Orz are here. You are not the same too much like Androsynth. You are *happy campers*. Do you want to see our surprising *toys*? No!! Do not!!
Androsynth are so silly. We do not *tell stories* a lot about them. No more Androsynth *stories*.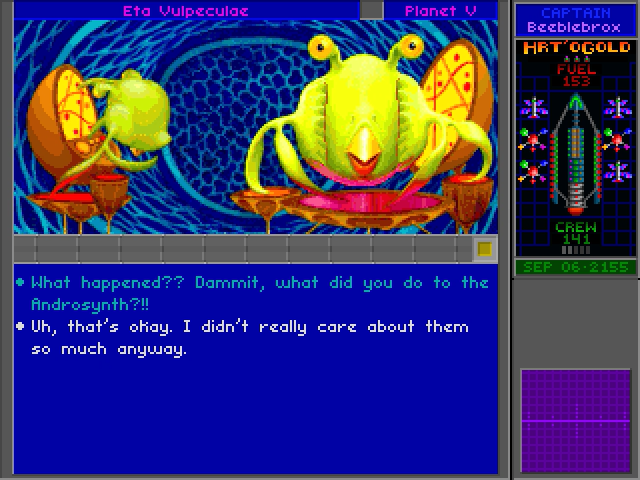 This is starting to get creepy, but I have a feeling I'd better not press much further on this topic for now.

Ahaa! I am told other Orz *cousins* you are *connected* for *camping*. I am so right! It is happiest days to not care about Androsynth anything. So now we can be *together* for friendly *dessert*. I am so right. I will tell them again.

Yes. Yes. We are too friendly. Extremely happy *sisters* should correct each other for *celebration*. So much enjoyment! Shall we come to your *house* so that we can be *relatives*?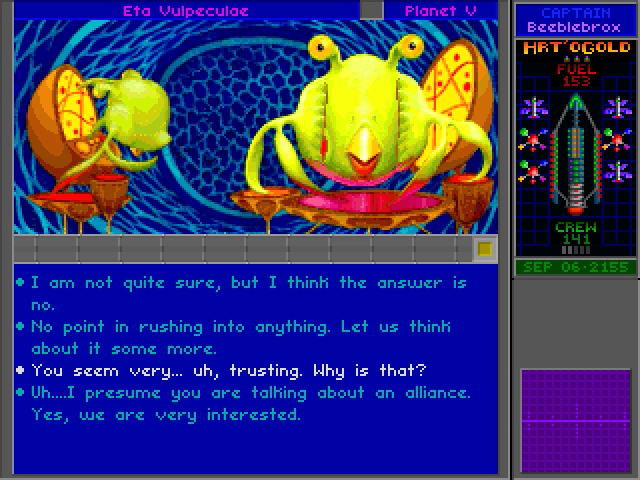 We are not trusting. We like to be *together*. Do you want to be *together* with us? Always the other *sad animals* go away, but first we have lots of fun. Too many fun is not enough!! Do you agree? I think you *smell* like you do.
This is the story about trusting. It is sad and makes many Orz *dissolve* or burst into several. Why is it that you are trusting? What a funny question. I am tired.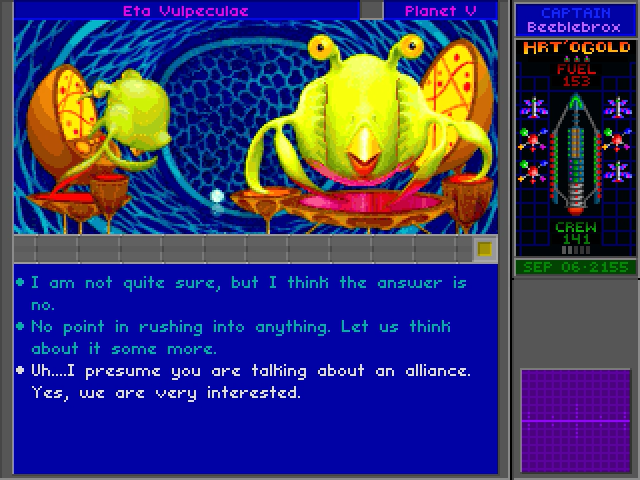 Jumping *peppers*!! This is smiley time! You are *campers* after all!! We will start *alliance* *parties* for better enjoyment!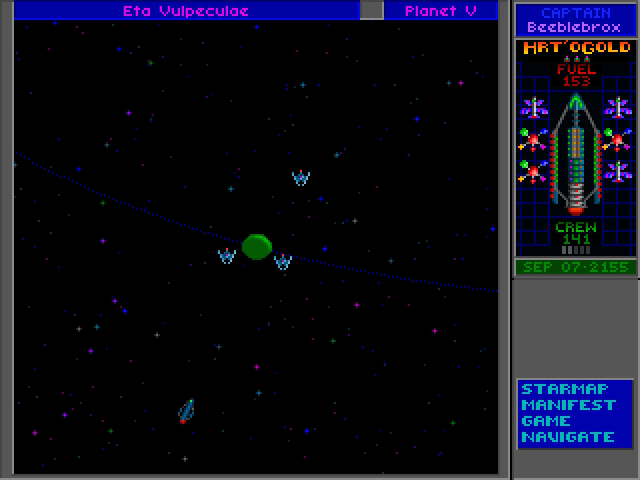 I feel like I may regret this later, but for now we need all the help we can get.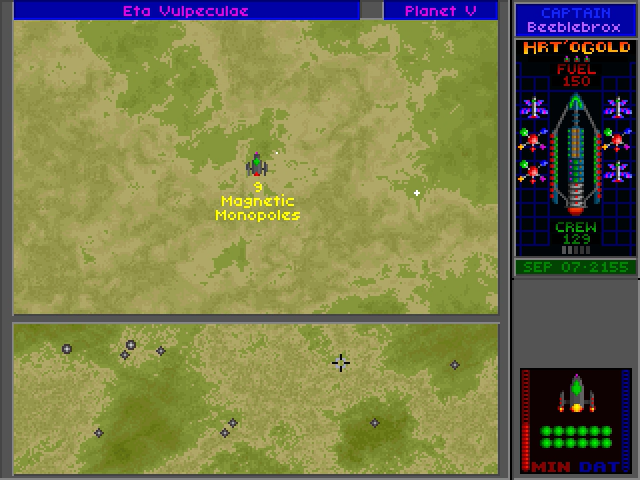 A bit of harvesting, because I'm not sure which planet is the Androsynth homeworld.
I really want to see that planet right now.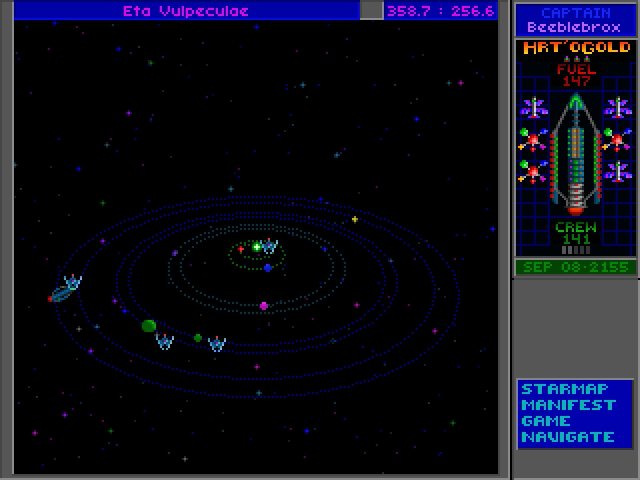 While exploring, I run into another Orz fleet.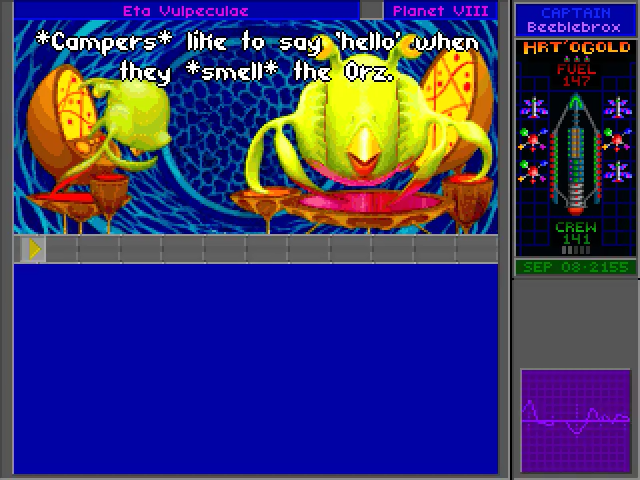 We have learned this. It is *no function* but Orz want to make *campers* happy everyday. Okay... Hello!! Now you are happy I am sure.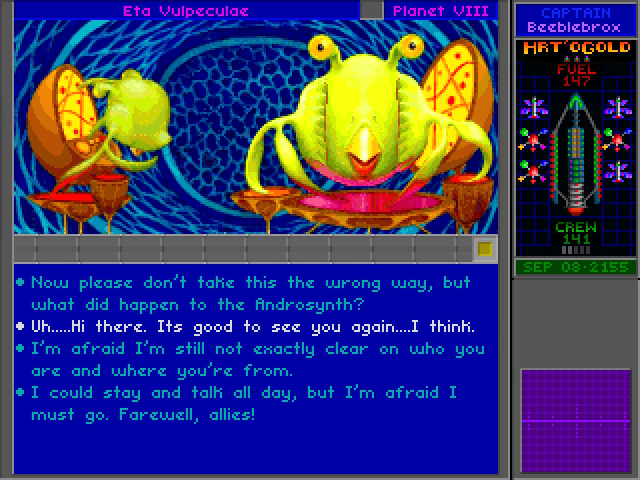 That is *funny*. You think you *see* Orz but Orz are not *light reflections*. Maybe you think Orz are *many bubbles* too. It is such a joke. Orz are not *many bubbles* like *campers*. Orz are just Orz.
I am Orz. I am one with many *fingers*. My *fingers* reach through into *heavy space* and you *see* *Orz bubbles* but it is really *fingers*. Maybe you do not even *smell*? That is sad. *Smelling* *pretty colors* is the best *game*.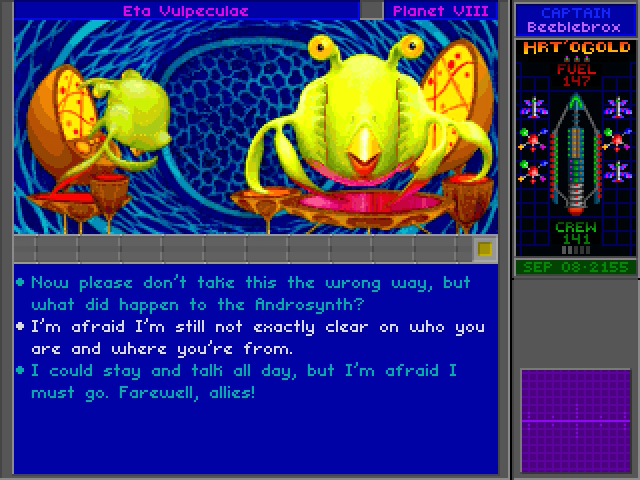 You are a *silly* *camper*. I am always Orz. If I was not Orz, then I would not be, but of course I am Orz. We are from the *outside*. Also the Arilou *quick babies* are from *outside*. It is the same, but not. Orz are from *below*, Arilou are from *above*. Orz do not like Arilou. Arilou are too much trouble. We can not have *parties* when Arilou always *jumping in front*. It makes Orz *frumple* so much.
These are *fat* words. Do you want to play this some more?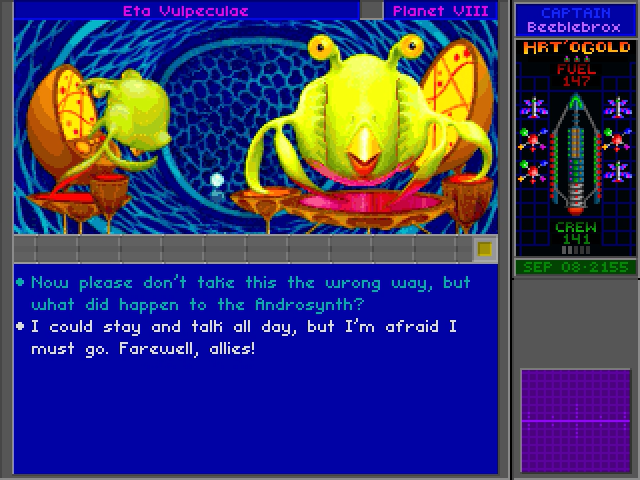 Yes! We do! Goodbye is the *Game*. Hello!! I am only joke. It is funny enough. Do not forget to *enjoy the sauce*!!!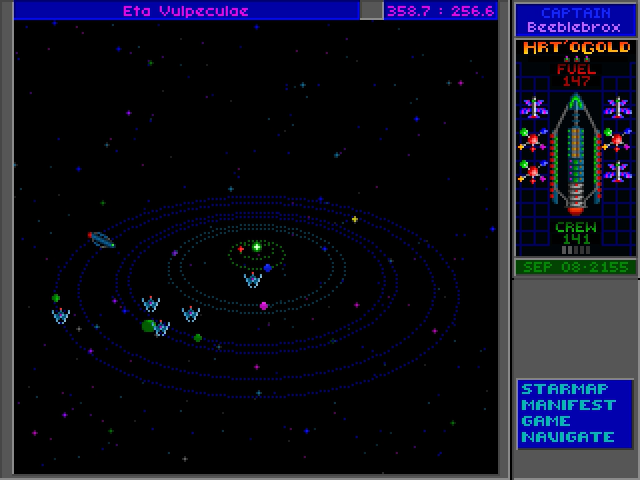 Thread analysis of the Orz language is heartily encouraged.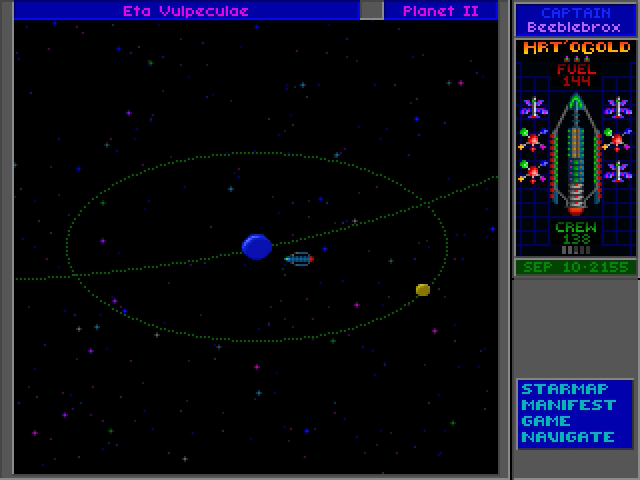 Eventually, I find the homeworld, at Eta Vulcepulae II.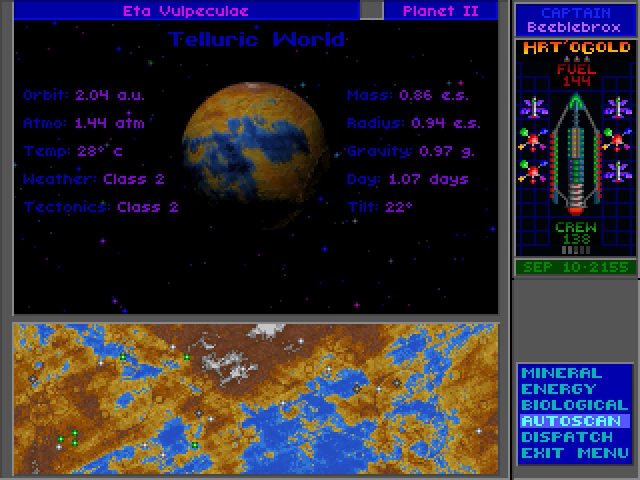 The planet has a scattering of alien bio readings, plus a whole mess of energy signatures. I send a Lander.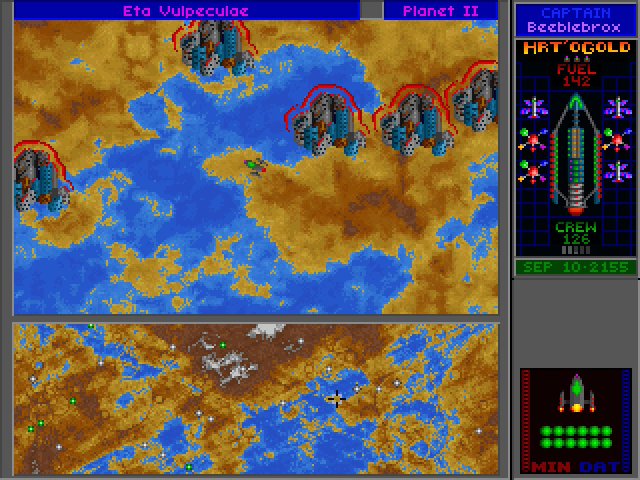 Oh, dear.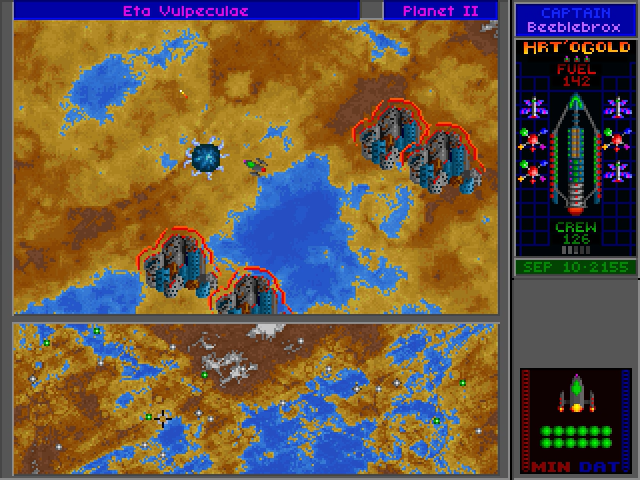 I spend a while hunting the alien life, then poke around at the cities.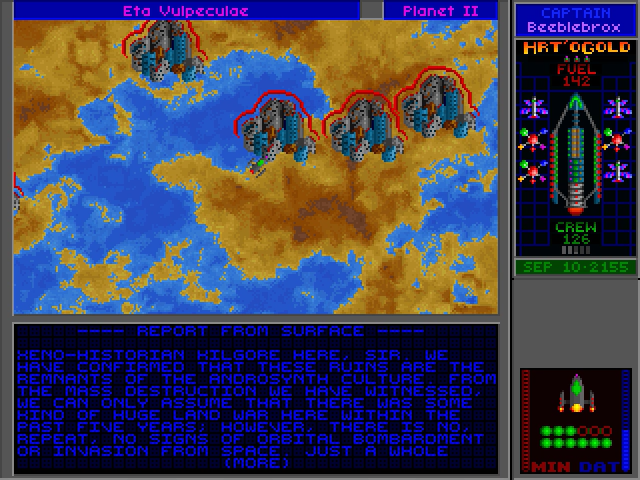 quote:
MESS OF BUILDINGS SHOT TO PIECES.

PROBABLY THE WEIRDEST THING WE'VE SEEN, OR NOT SEEN, ARE CORPSES. THERE AREN'T ANY! IT'S AS THOUGH SOMETHING APPEARED OUT OF NOWHERE, BLASTED EVERYTHING WITH NUCLEAR BAZOOKAS, THEN GRABBED ALL THE ANDROSYNTH AND DISAPPEARED.

AN ADDITIONAL REPORT, SIR, FROM SCIENCE OFFICER BUKOWSKI. WE HAVE LOCATED AN ANDROSYNTH SCIENTIFIC RESEARCH STATION AND I HAVE BEEN TRYING TO MAKE SOME SENSE OUT OF WHAT IS LEFT OF THEIR CENTRAL COMPUTER.

AS FAR AS I CAN TELL, ABOUT SEVEN YEARS AGO, THE ANDROSYNTH BEGAN EXPERIMENTING WITH SOMETHING THEY CALLED DIMENSIONAL FATIGUE PHENOMENA. I CAN'T FIGURE OUT WHAT THIS DIMENSIONAL FATIGUE (OR DF AS THEY CALL IT) IS, BUT MAYBE IF WE EXPLORED ANOTHER CITY, I WOULD BE ABLE TO FIND MORE INFORMATION ON THIS SUBJECT.

---- END OF REPORT ----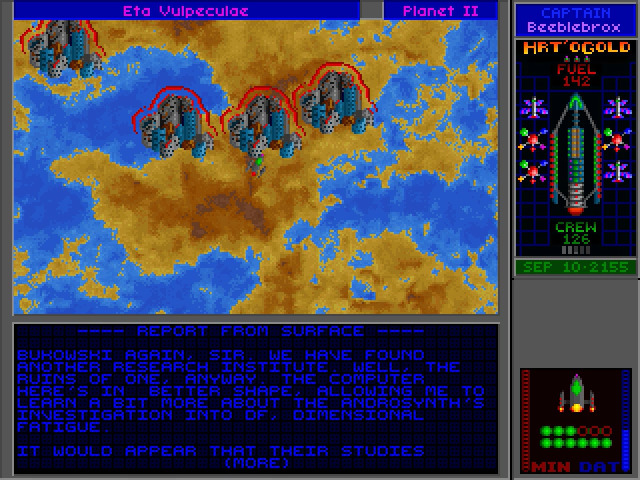 quote:
ACTUALLY BEGAN OVER TEN YEARS AGO, AFTER ONE OF THEIR BLAZER VESSELS DISCOVERED SOME PRECURSOR ARTIFACTS IN ALPHA LALANDE. AS FAR AS THEIR SCIENTISTS HERE COULD TELL, THE DEVICE GENERATED DF WAVES WHICH WOULD ALLOW THE USER TO SEE INTO OTHER, WELL, OTHER DIMENSIONS -- REALMS OF EXISTENCE WHICH SHARE POSITION WITH OUR OWN UNIVERSE, BUT HAVE A DIFFERENT, UM, WHAT SHOULD I CALL IT, REALITY PHASE.

ANYWAY, THE ANDROSYNTH HAD HOPED THAT THE DIMENSIONAL FATIGUE TECHNOLOGY CONTAINED IN THE DEVICES WOULD PERMIT THEM TO CREATE NEW, FASTER FORMS OF HYPERDRIVE AND HYPERWAVE. INSTEAD, WHEN THEY BEGAN THEIR EXPERIMENTS, THEY MADE CONTACT WITH SOME KIND OF LIFEFORM ON 'THE OTHER SIDE', A CREATURE FROM AN ALIEN DIMENSION.

THE RECORD IS FRAGMENTARY HERE.

I SEE REQUESTS TO THE CENTRAL COMPUTER FOR INFORMATION -- DATA ON 'REALITY ABBERATIONS', THE 'MOSQUITO MANGE' AND, ER, GHOSTS, POLTERGEISTS, AND OTHER MALEVOLENT SUPERNATURAL CREATURES.

THE REQUESTS GROW MORE URGENT, ALMOST FRANTIC, THEN... THE RECORD ENDS.

---- END OF REPORT ----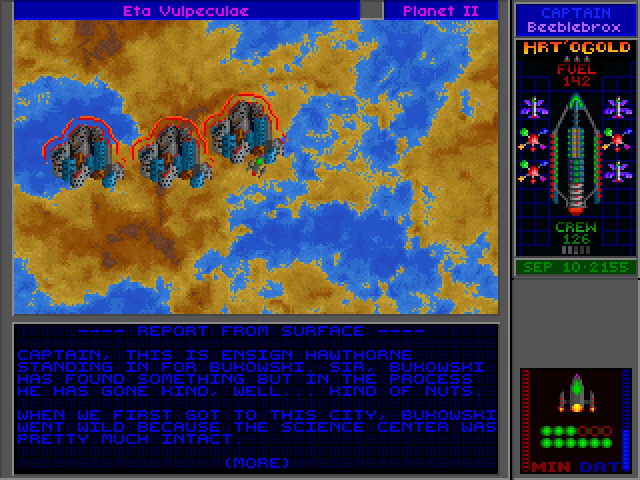 quote:
HE LOCKED HIMSELF IN THEIR COMPUTER CONTROL CABIN AND SPENT ABOUT TEN HOURS ALONE IN THERE. WE COULD HEAR HIM MUMBLING TO HIMSELF, THEN HIS SPEECH GOT LOUDER UNTIL HE WAS SHOUTING. HE WAS SCARED, SIR, DAMN SCARED. WE FINALLY DECIDED THAT WE'D BETTER CHECK UP ON HIM, BUT BUKOWSKI WOULDN'T LET US INTO THE ROOM. HE SAID THAT NO ONE COULD EVER KNOW WHAT HE HAD LEARNED. THAT JUST KNOWING WAS ENOUGH TO ALERT 'THEM'.

HE KEPT TALKING ABOUT 'THEM', CRAZY STUFF, SIR, ABOUT HOW 'THEY' COULD SEE HIM NOW, AND 'THEY' WERE MOVING TOWARD HIM. THEN BUKOWSKI STARTED THRASHING AROUND THE ROOM, SCREAMING THAT HE HAD TO DESTROY EVERYTHING BEFORE 'THEY' SAW US TOO.

HE DID A LOT OF DAMAGE TO THE ANDROSYNTH'S COMPUTER BEFORE WE STOPPED HIM, AND I GUESS HE MUST HAVE HURT HIMSELF IN THE PROCESS. HE'S CUT UP PRETTY BADLY.

YOU KNOW, IT'S STRANGE, HE MUST HAVE HURT HIMSELF WORSE THAN I THOUGHT. NOW, WHEN I LOOK AT HIM, IT SEEMS LIKE HE HAS EVEN MORE CUTS THAN JUST A FEW MINUTES AGO, AND BOY, IS HE SCREAMING!

BASED ON THE DAMAGE BURKOWSKI WREAKED ON THE CENTRAL COMPUTER, I DON'T BELIEVE THAT WE WILL FIND ANYTHING MORE DOWN HERE. I THINK WE HAVE LEARNED ALL THAT WE CAN FROM EXPLORING THESE RUINS, AND FRANKLY, WITH ALL OF BUKOWSKI'S RANTING, I'M GETTING A BIT NERVOUS MYSELF. CALL US BACK TO THE SHIP SOON. PLEASE.

---- END OF REPORT ----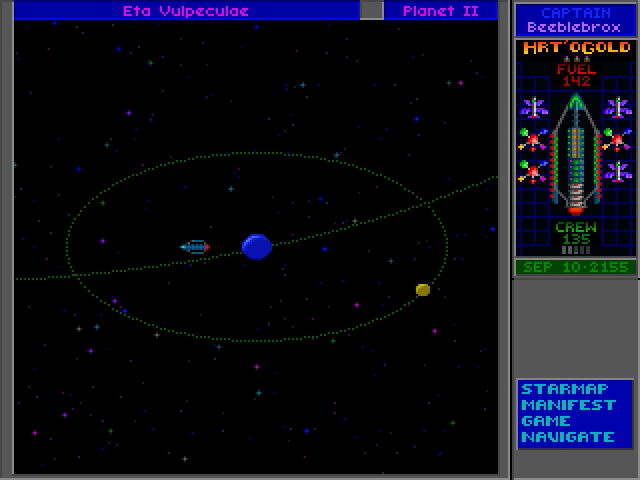 I'm not sure that allying with the Orz was a good idea, but un-allying with them at this point would probably be much worse.
Also, spoiler alert, I
really
want access to their ships.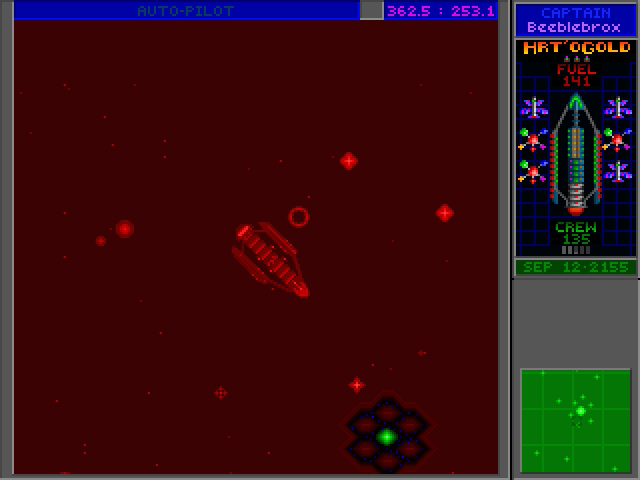 No Androsynth, so now to just fill up some more of this storage bay.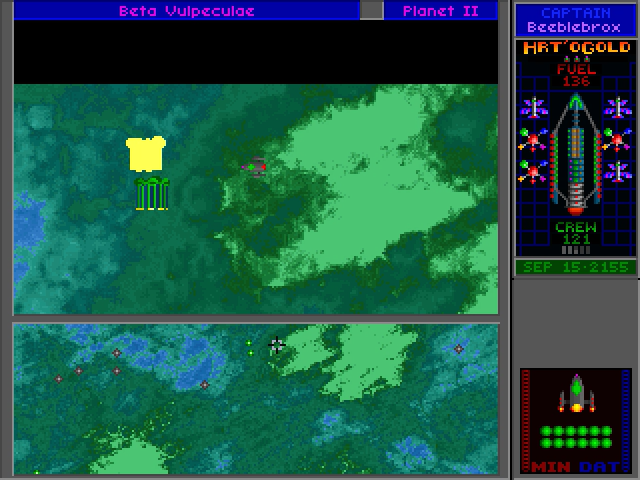 Beta Vulcepulae gives some nice minerals, plus a big pile of biodata.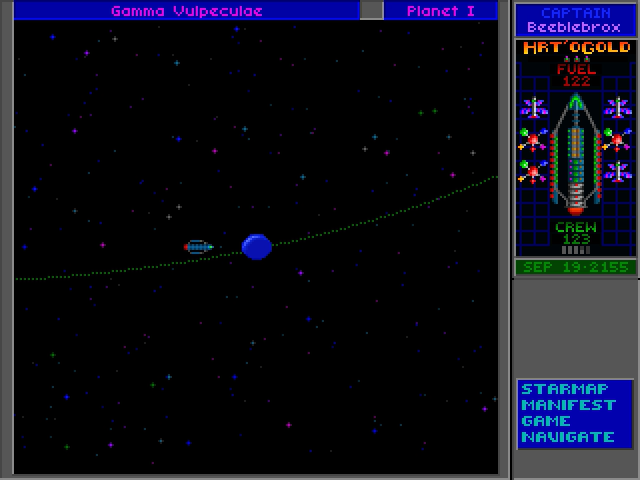 In Gamma Vulcepulae, I find the Orz homeworld.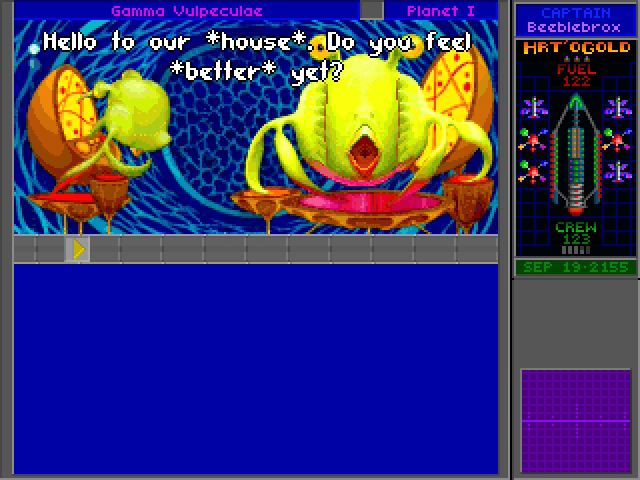 If you are *campers* you will enjoy *the change*, but maybe not yet. It is best if many happy Orz are coming to your *house*. Let's *spitting* the fun words for several *pieces* and then surprising things!!!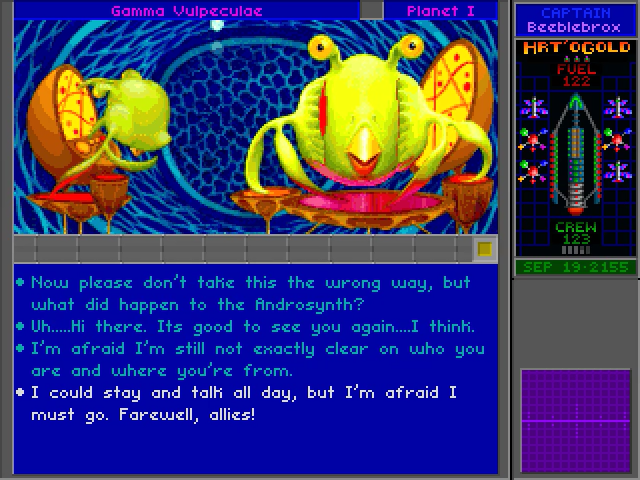 They don't seem to have much else to say, though.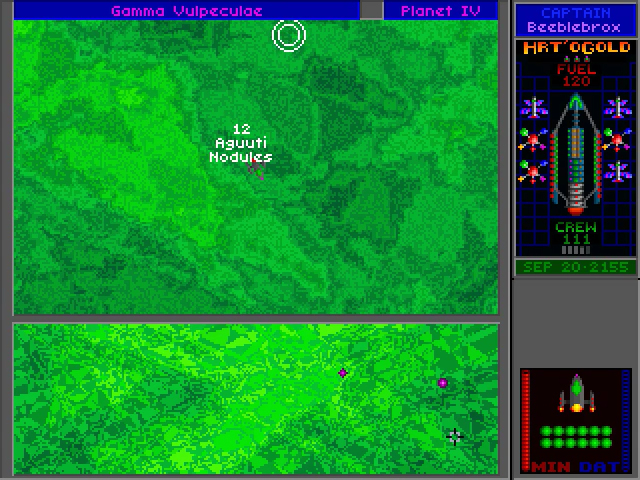 Mining out the rest of the system gives me a rare Emerald World.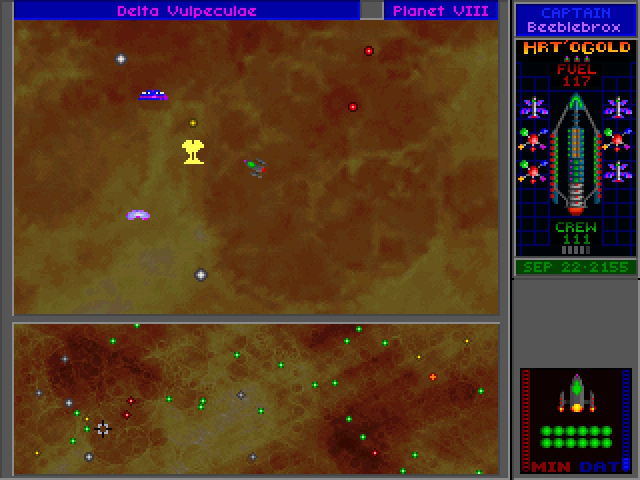 Delta Vulcepulae VIII is the most life-rich world I've been able to safely harvest so far.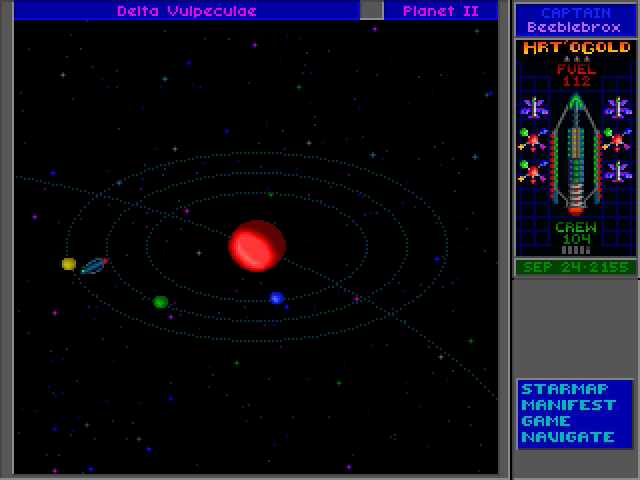 I have another Orz encounter at Delta Vulcepulae IIC.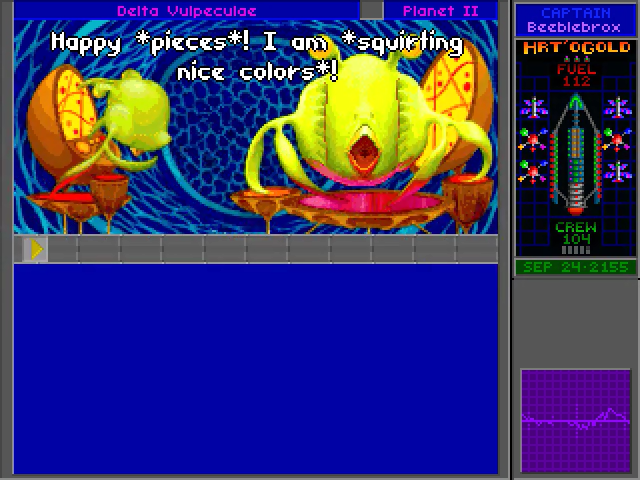 Why? The reason. *Camper friends* have come to Taalo *Playground*. Why are you coming to this?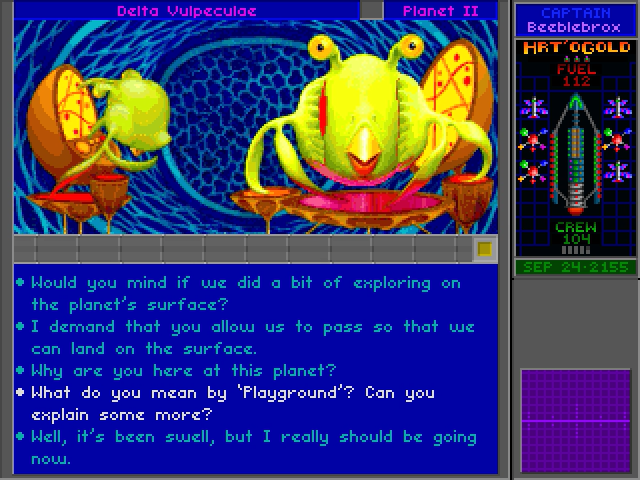 Yes. Yes. You say words, then I say. It is fun *in between*. More fun than *dancing*.
Many *gravity centers* in *heavy space* make good *party places*. This is why we like the *New Town*. So many *Campers* and then what? Even the *Playgrounds*! Such a surprise! At this *Playground*, Taalo are making *Time jokes*. It is too funny for the Orz.
Taalo are in *heavy space* and next what? They spread to *Pretty Space* because Dnyarri are chasing them. Now Dnyarri are sleeping, so Orz can *chase* them. Then we can have a *party*. They are even better *campers* than you. Do not feeling bad. You are good enough *campers*, but not yet.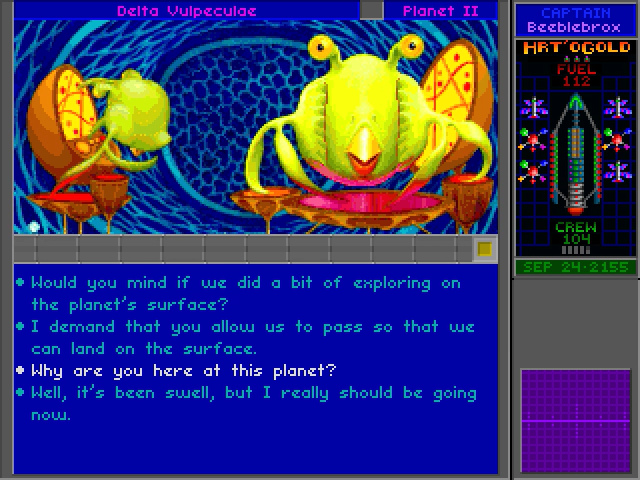 I will tell. This is Taalo *Playground*. Do you know? Taalo is not anymore the *heavy space*. They are not here. To *play* with Taalo, Orz must *spread* into *Pretty Space*. There are so many good places for this here, Orz are happy. Of course you do not know Taalo. You are *Campers*. You cannot go to *Pretty Space*, too bad.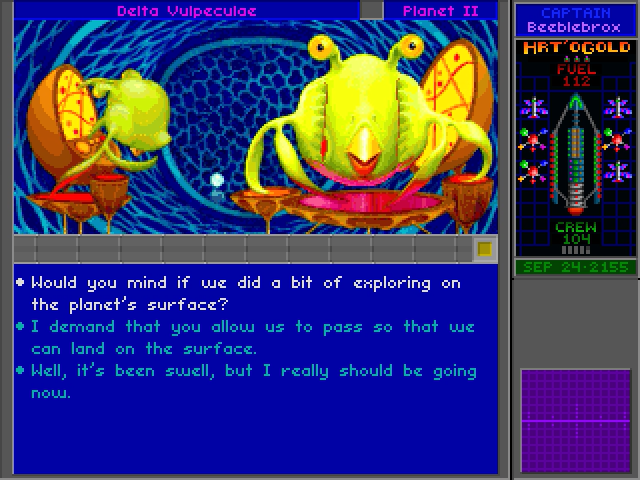 You are ask if Orz are upset? Orz are not upset. You are *happy campers*. Certainly you are only *slow time* *walkers*. It is not fun on the surface in *slow time*. If you want to go, that is okay.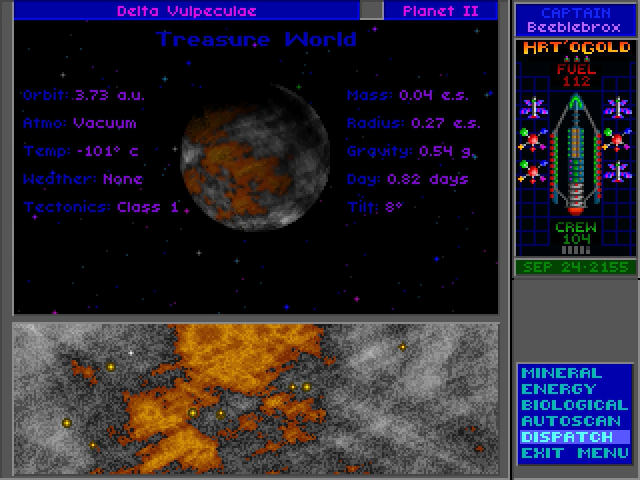 Treasure! And one energy source!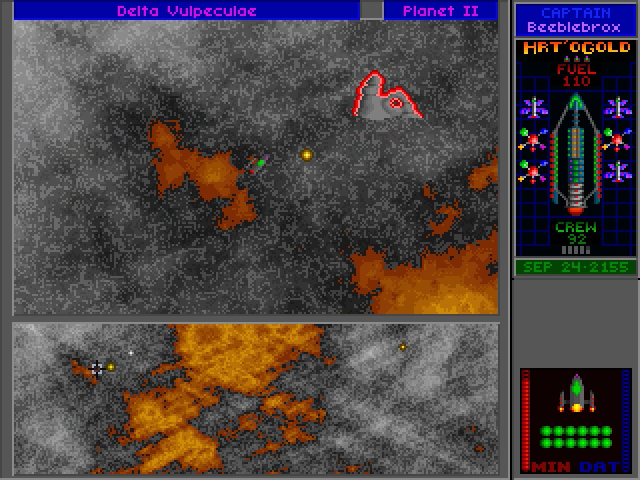 What the hell is that?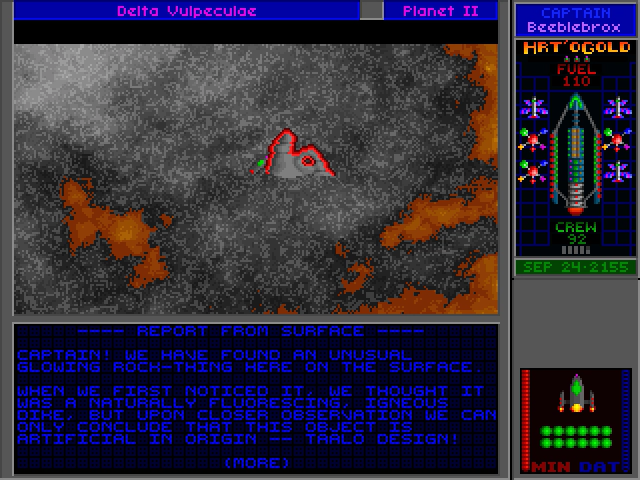 quote:
THOSE GUYS SURE BUILT TO LAST. SIMPLE RADIOMETRICS SHOW AN AGE IN EXCESS OF 20,000 YEARS.

REGARDLESS OF HOW OLD IT IS, IT CONTINUES TO RADIATE ENERGY ALL UP AND DOWN THE EMR SPECTRUM, WITH A CONCENTRATION OF EMISSIONS IN THE RED/INFRARED RANGE.

EVEN THOUGH IT WEIGHS A TON, WE WILL DEFINITELY LUG THIS PUPPY UP TO THE SHIP.

ONE LAST COMMENT BEFORE I SIGN OFF. ENSIGNS HODGKINS AND WITHERSPOON HAVE BOTH REPORTED EXTREME HEADACHES AND MENTAL DISARRAY WHENEVER THEY APPROACH THE TAALO DEVICE. NONE OF THE REST OF US HAVE ANY PROBLEMS, SO EITHER THE ENSIGNS ARE JUST BEING BABIES OR THE TAALO DEVICE PRODUCES SOME KIND OF SHIELD THAT AFFECTS ONLY CERTAIN PEOPLE'S MINDS.

MAYBE THE SCIENTISTS BACK AT THE STARBASE WILL TELL US MORE.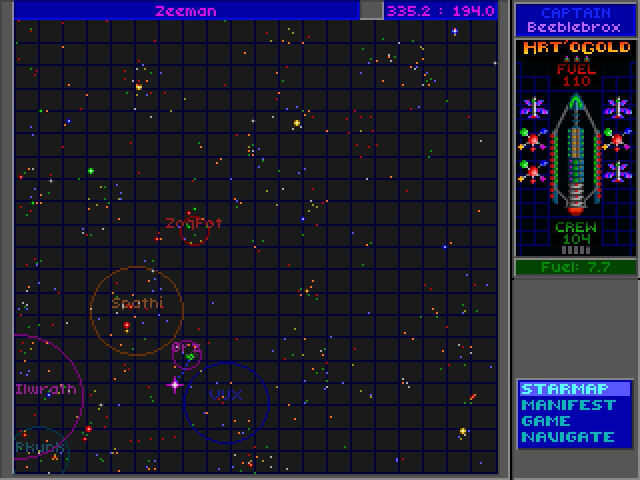 Anyway, this voyage has gone on long enough. Just one more stop before going home.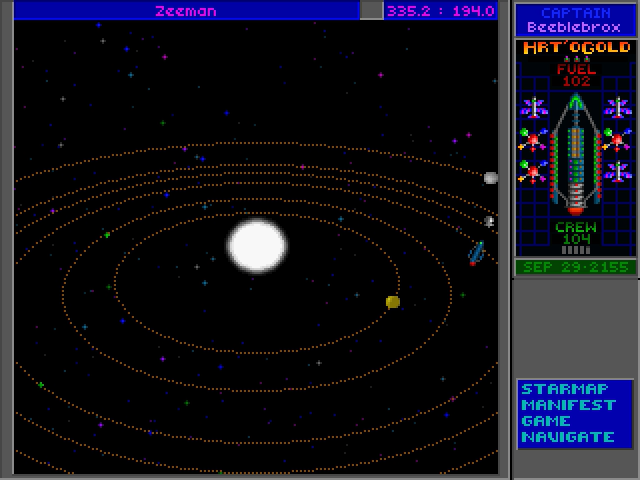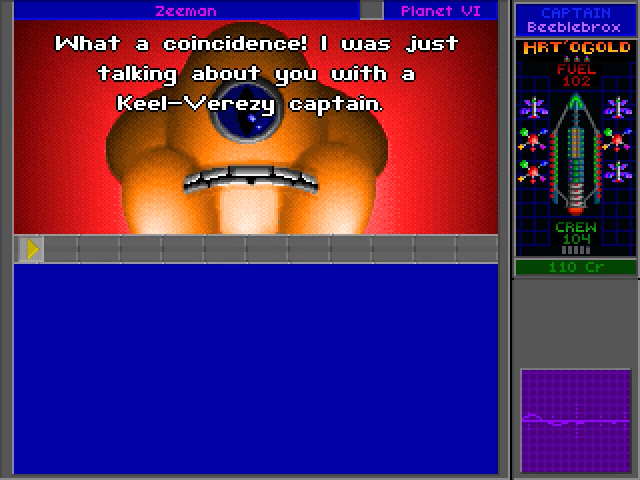 They expressed great interest in your explorations and struggles against the Ur-Quan, but, like all Verezy, I'm afraid they were hesitant to introduce themselves for fear of... well, frightening you.
In any event, it is our pleasure to meet you once again. Now, what can we do for you today?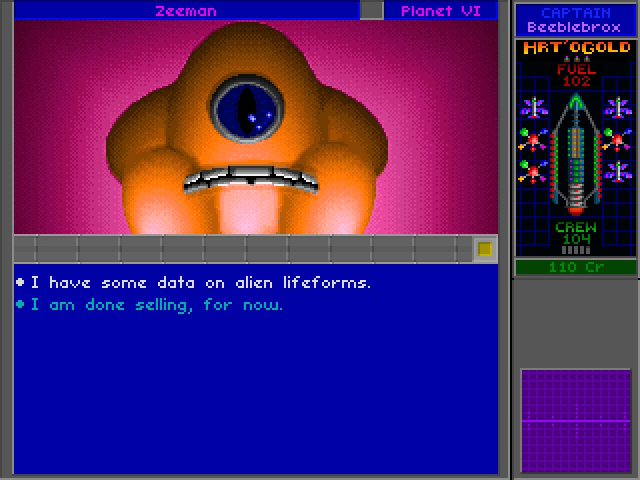 The 244 units of biological data we downloaded from your ship earn you 488 Credits.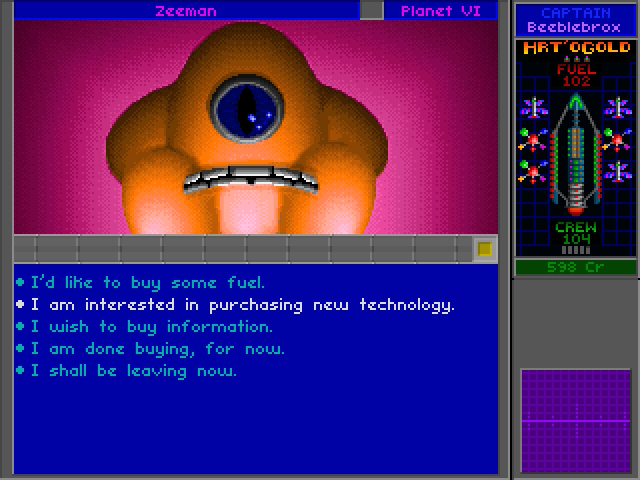 The technology we are now offering includes plans for building improvements to your planet landers which make them resistant to hostile alien lifeforms.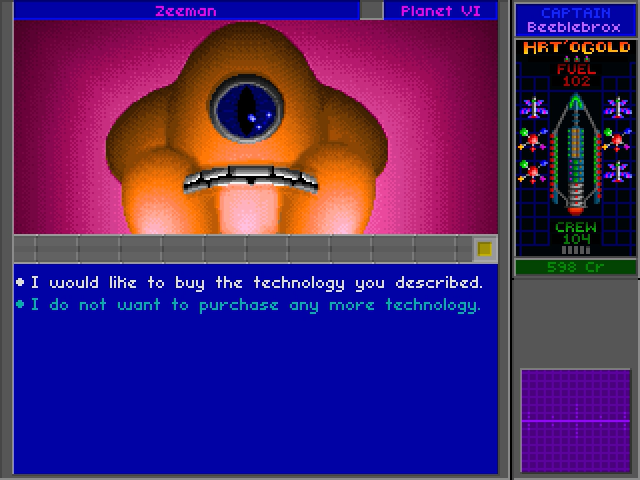 Our reinforcement procedures on your landers are complete. Now, provided your crew will stop putting their hands out the windows, they will be much better protected against hostile lifeforms.
The technology we are now offering includes blueprints which show how to increase your lander's cargo space to double its present volume.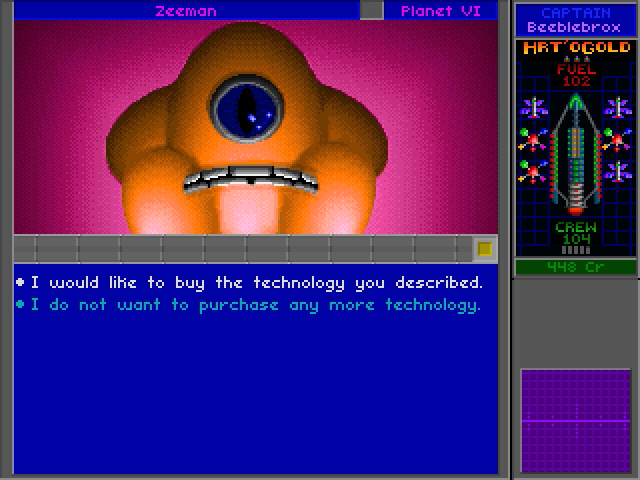 I hope this makes your resources gathering more cost-effective, Captain.
The technology we are now offering includes blueprints which show how to add double-capacity fuel tanks.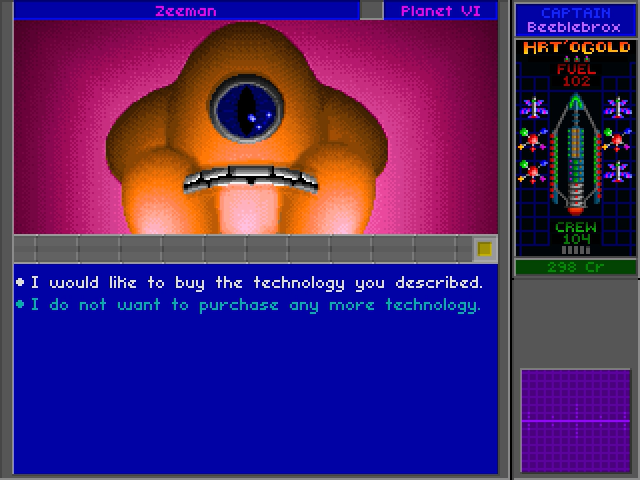 We hope that these improved tanks will make more module slots available on your flagship, which you can fill with other, more useful equipment.
The technology we are now offering includes plans for improving the rate of fire on your lander's stunray bolt-beamer gun.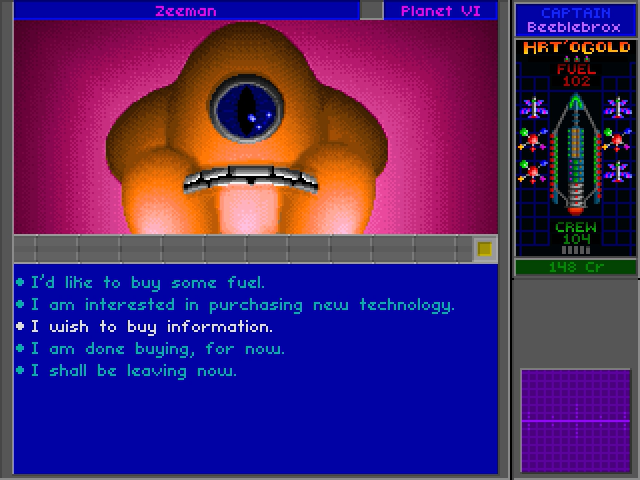 How wonderful, Captain!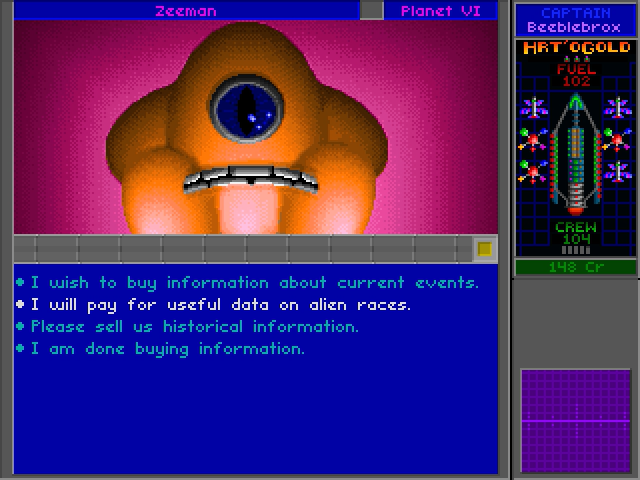 The Zoq-Fot-Pik are a friendly co-op of three alien species all native to the same world. They are presently suffering severe collateral damage from the ritual combat between the Ur-Quan and the Korh-Ah.
While this is unfortunate for the Zoq-Fot-Pik - they have been forced to abandon many of their worlds - this close proximity to the inter-Ur-Quan war will give them insights into the conflict which will be of great use to you. In addition, the Zoq-Fot-Pik met the Chenjesu early on in the war, and are eager to make allies who can protect them from their enemies.
In case you are interested, the Zoq-Fot-Pik homeworld is at coordinates 400.0:543.7, planet I.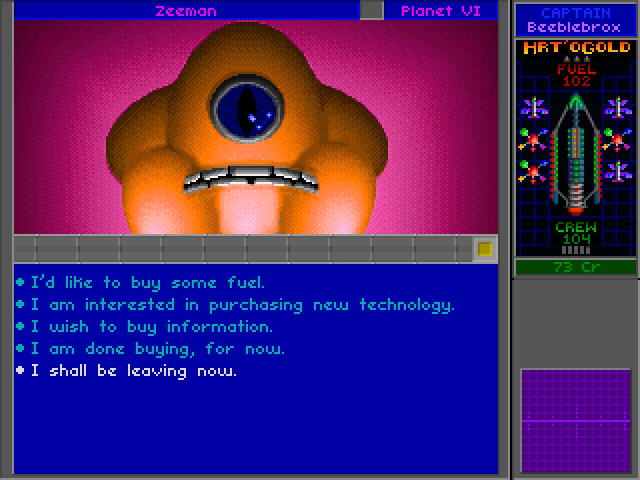 It has been a pleasure dealing with you, Captain. We look forward to your next visit.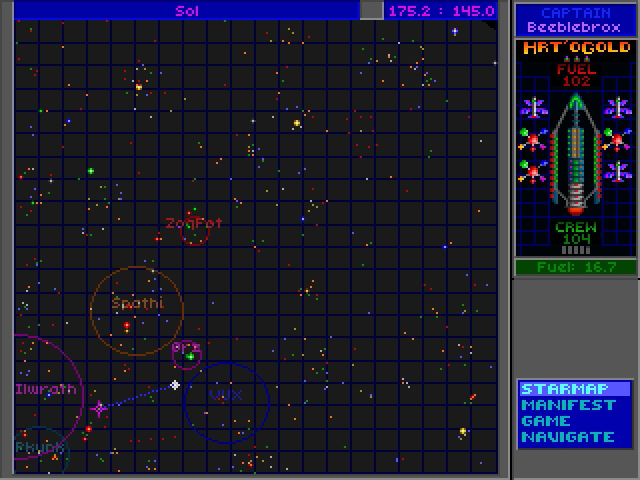 And back to Earth.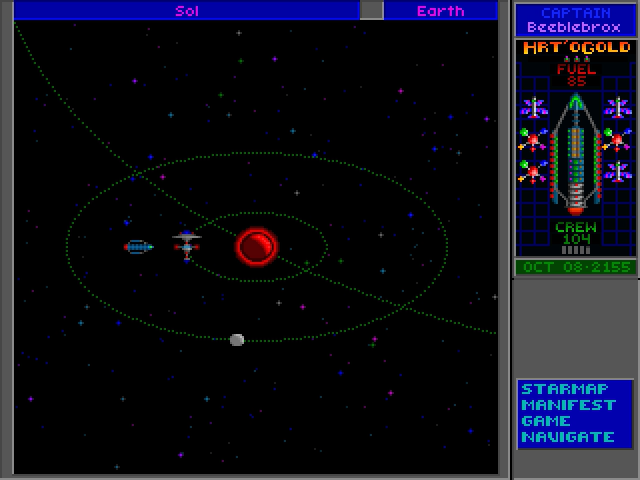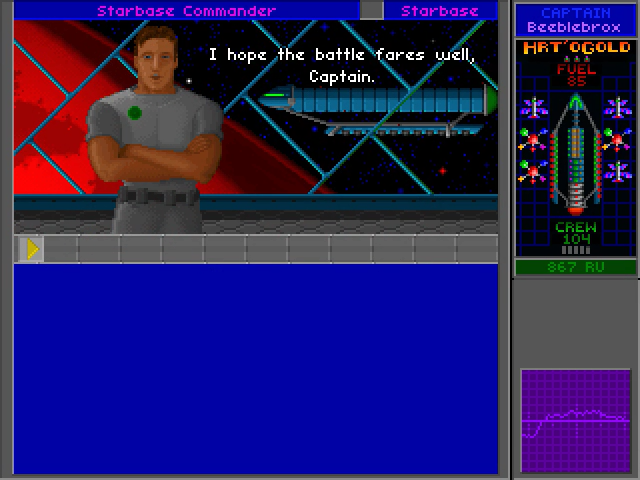 There is something I think you should know.
We have been invaded by an alien race calling themselves the 'Orz', though so far the invasion is a friendly one. The fishlike creatures have been stomping around the base in their robotic walking exoskeletons, which look like combat vac-suits, if you ask me. Based on the summary reports I've seen on their 'Nemesis' ship design, I have but a single comment: I like it! I'd say we have quite a nasty little surprise in store for the Ur-Quan the next time you tangle with them.
Also...
In the log of your voyage from Unzervalt, I read that you encountered a tumbling, red probe that attacked the Tobermoon, killing Captain Burton. Over the past few months, we have monitored an increasing number of these probes entering the system, and I'm afraid their population seems to be growing geometrically. If this continues, in a year space will be crawling with these things! I recommend you treat this as a serious problem now, before it becomes a disaster. Discover who is producing these probes and stop them from creating any more.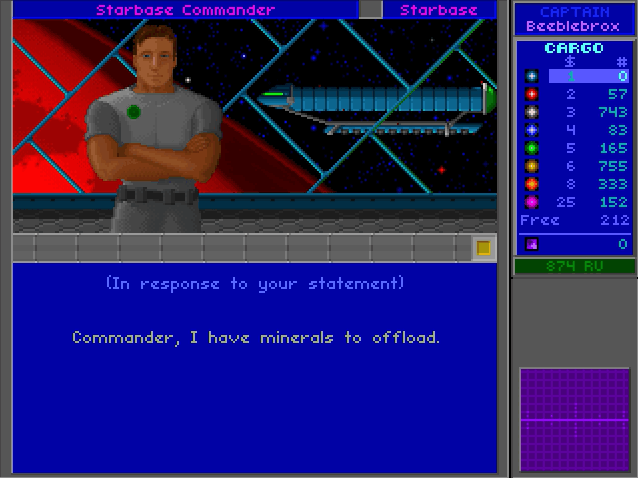 Wow, you really hit the mother lode this time!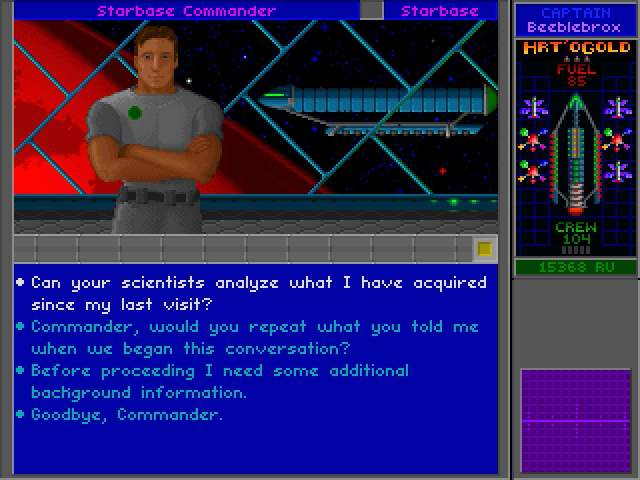 The analysis reads as follows:
SUBJECT: Taalo Device.
DATA: Whoever the Taalo were, they were clever - way past us, probably even beyond the Chenjesu. As far as I can tell, with all our equipment, this thing is a rock. Just a rock; nothing but a rock. However, if you feed a current into it, anywhere along its surface, everyone on board this starbase who has esper potential gets a bad headache. Well, we checked a bit more into that, and when the Taalo thing is active, all evidence of psychon interaction is flatlined - nothing gets through.
SUMMARY: If you keep this Taalo rock device thing on board your vessel, I'll bet you are immune to any form of psychic attack, or at least mostly immune.
That's the end of our scientists' report.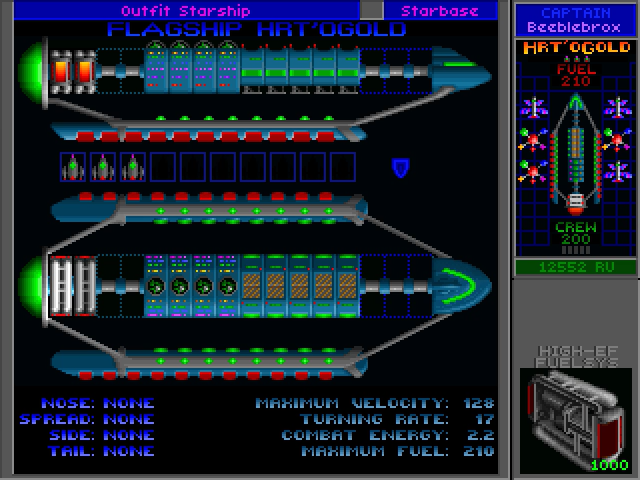 Presenting the
High-Efficiency Fuel System!
At twice the price of a fuel tank, they store twice the fuel. I've taken the liberty of swapping out the four fuel tanks for two of these babies, opening up two module slots for other systems.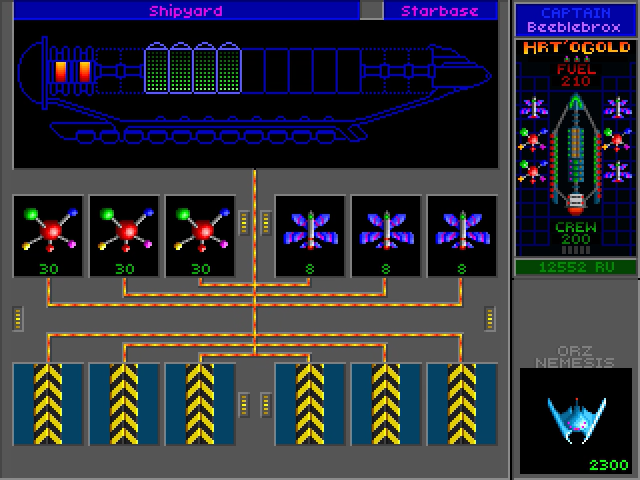 The Orz Nemesis is a real powerhouse of a ship. Fast, maneuverable, and decently sturdy, it's armed with a howitzer cannon that can be rotated to fire in any direction. It's also capable of launching marines that infiltrate the enemy ship and kill off its crew.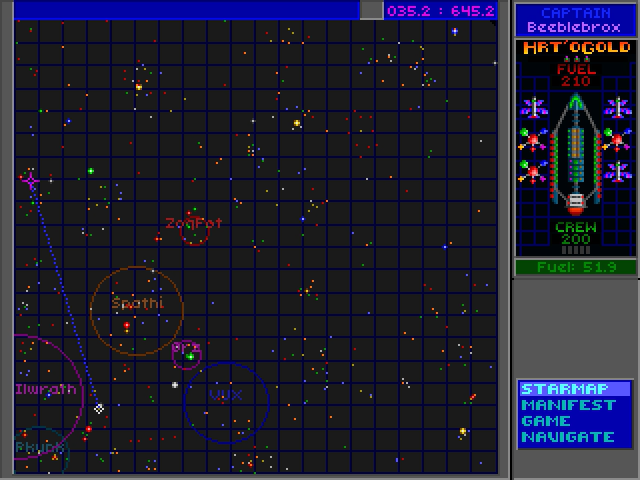 As for destinations, our only real new lead is the mysterious phantom star that appeared briefly in this region of space. Whatever that was about, it must be worth looking into.
So, voting time! That last voyage brought us a whopping 12552 RUs, so it's probably time to start rebuilding our ship and fleet to be able to tackle more powerful enemies.
Shopping recap (12552 RUs):
Crew Pod (2000 RUs, +50 crew capacity, plus 150 RUs for crew)

Cargo Bay (750 RUs, +500 storage space)

Fuel Tank (500 RUs, +50 max fuel, plus 1200 RUs for fuel)

High-Efficiency Fuel Tank (1000 RUs, +100 max fuel, plus 2400 RUs for fuel)

Dynamo Unit (2000 RUs, increased energy regeneration rate)

Point Defense (4000 RUs, shoot down enemy projectiles)

Ion-Bolt Gun (2000 RUs, more shooty, +1 energy usage)

Fusion Blaster (4000 RUs, double the shooty, +2 energy usage)

Planet Lander (500 RUs, backup lander)

Earthling Cruiser (1100 RUs, plus 51 RUs for crew)

Spathi Eluder (1800 RUs, plus 87 RUs for crew)

Pkunk Fury (Cannot be purchased, but can be sold for 2000 RUs, plus 3 per crew)

Orz Nemesis (2300 RUs, plus 45 RUs for crew)

Destinations recap:
Visit Procyon to find out what became of the Chenjesu and Mmrnmhrm, then Alpha Tauri to investigate Dogar and Kazon

Visit Delta Gorno to check on the Shofixti, and swing by Yehat space while we're in the area

Visit Alpha Tucanae to forge an alliance with the Zoq-Fot-Pik

Visit the Anomaly in the spinward quadrant

EMPIRE MEMBERSHIP: HUMANS, SPATHI, PKUNK, ORZ

CREW LOST: 370

VOTE NOW