Part 12: Nov 20 2155 - Too Many Slave Shields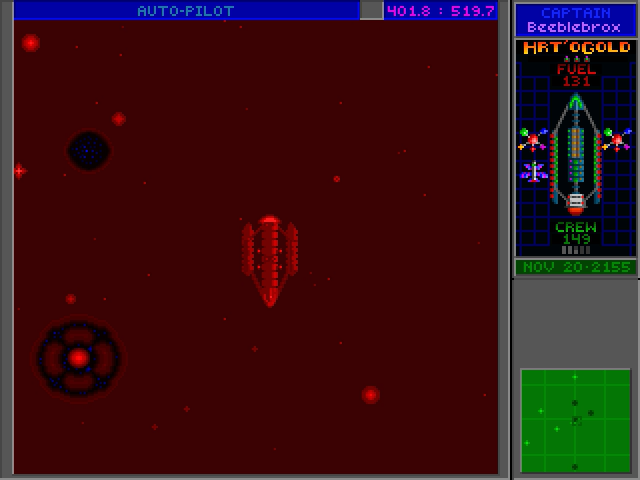 So, first objective: Get the hell out of Kohr-Ah space.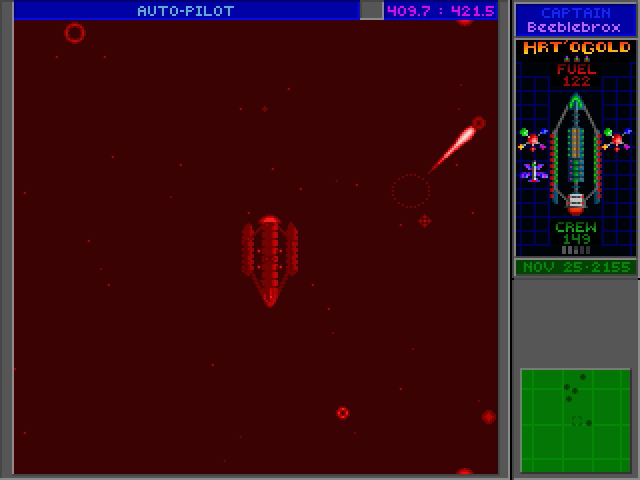 I actually had to break Auto-Pilot for a bit to dodge some of these enemy fleets. Fortunately, they can't keep up with me at full speed.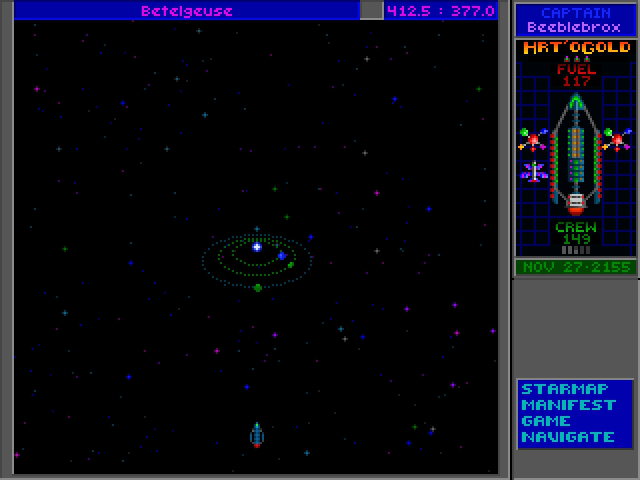 And I'm safe!
Betelgeuse is a pretty small system.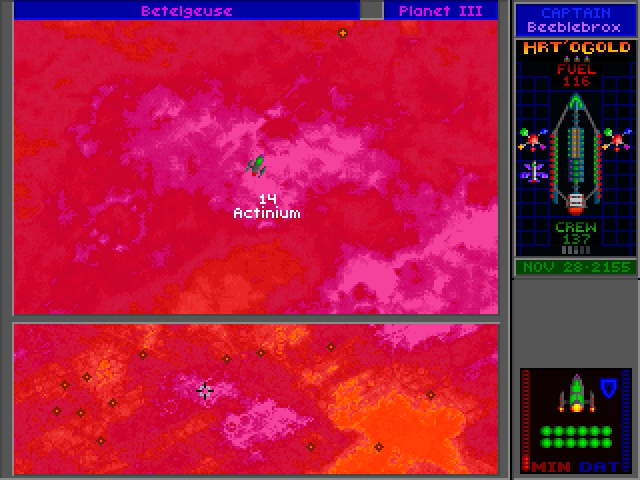 More mining.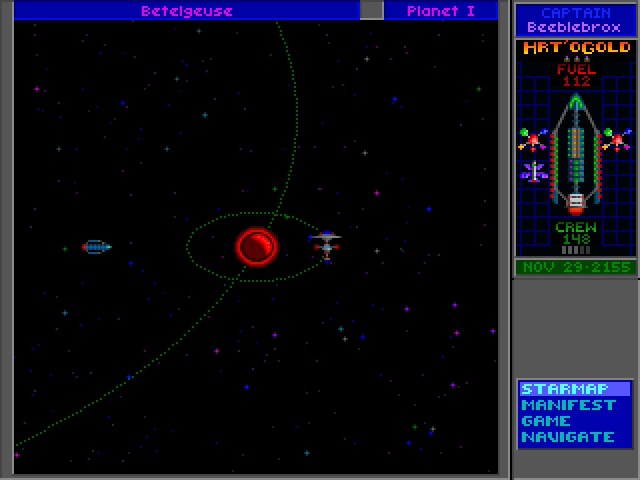 At the first planet... is that another starbase?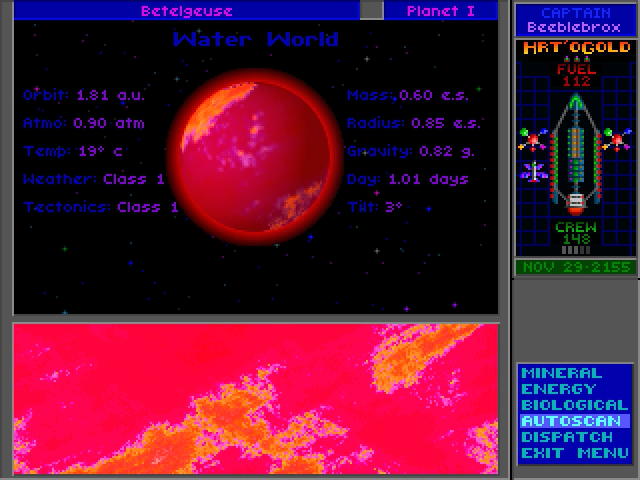 Is this another human colony, or something else?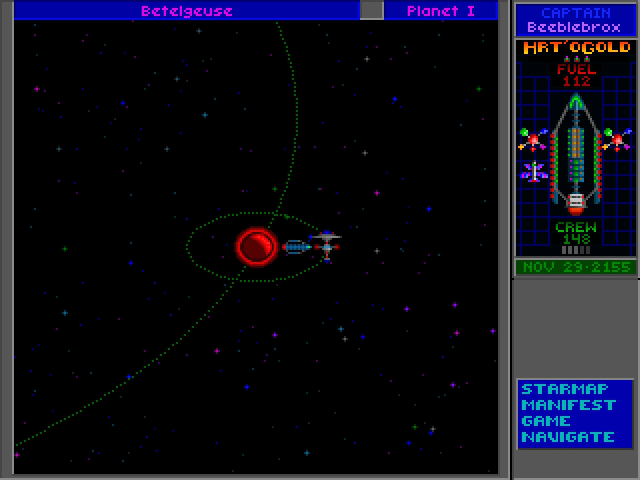 VIDEO: ETHICS POLICE
BGM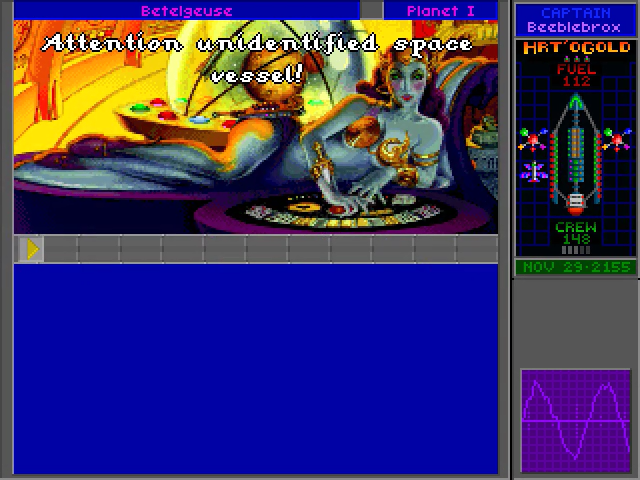 Be warned! This slave world and its inhabitants belong to the Ur-Quan. I am Starbase Commander Talana of the slave planet Gaia. Your ship is not responding to standard Hierarchy identification sequences. You are therefore classed as Independent, and... WHAT?!
Is my monitor display correct?! Is that a human commanding that vessel? Who are
you?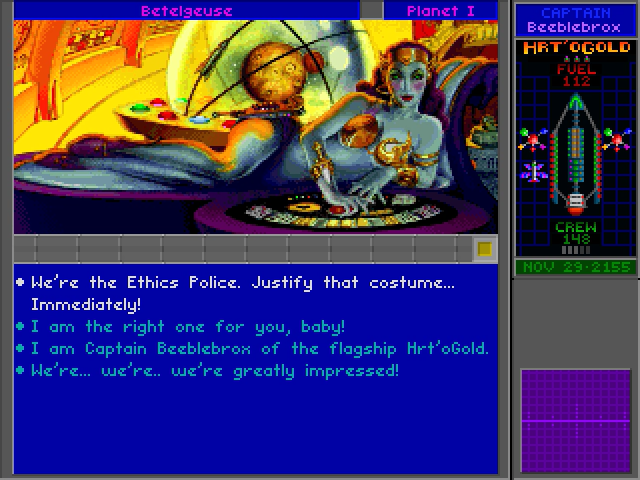 Huh? What ARE you talking about? This is the uniform of a Syreen Commander. The climate aboard this starbase is maintained at a constant 22 degrees C. What are we supposed to wear in here... parkas?
But you haven't answered my question fully. Why are you here? Where are you from? Has the slave shield been lifted from Earth? Simply put, Captain... what do you want from us?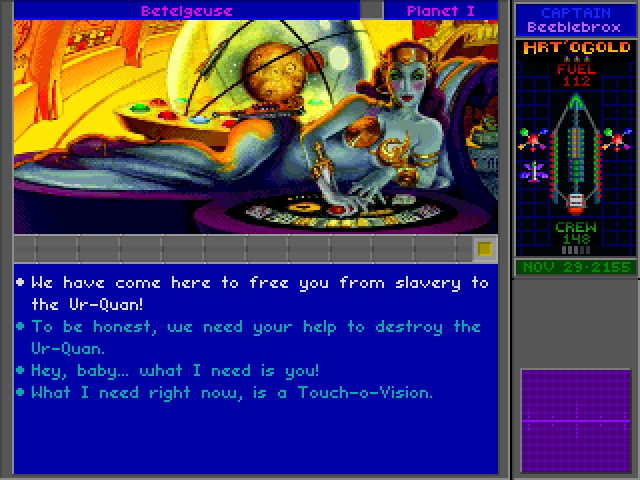 Look, friend, I appreciate your offer, but we don't want your help. Why? I'll tell you why: Because we're not going to do anything to antagonize the Ur-Quan. That's why. We may not like slavery, but it's a damn slight better than our alternatives.
Below us we have a beautiful world... maybe it's not Syra, but at least it's a home. That's a lot more than we had before the War... before the Ur-Quan became our masters.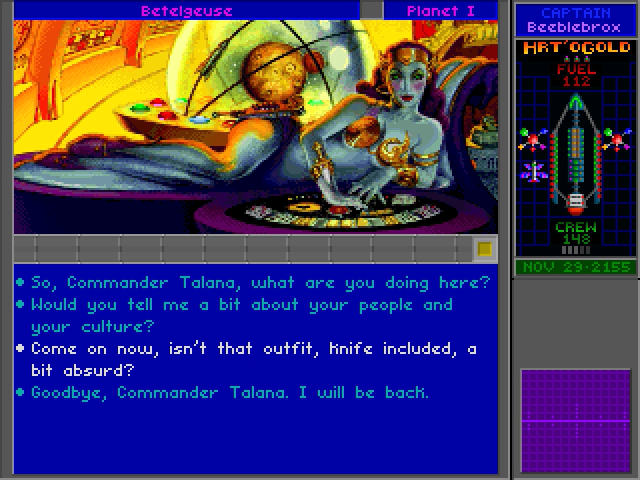 Maybe some other time, Captain, I can show you the hidden functionality of my uniform... knife included.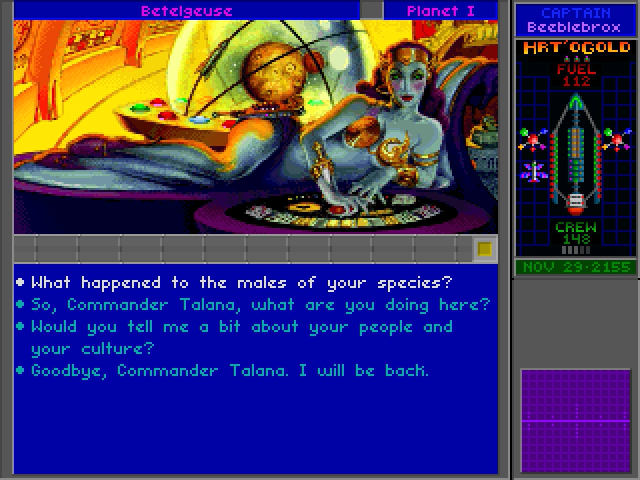 When Syra was destroyed, the only people who survived were in orbit, and most of them were members of our newly established, mostly female, Space Patrol. From their ships, their orbital platforms and their lunar outposts, they watched Syra die. Within three days after the cataclysm began, the surface temperature of Syra had risen by almost 75 degrees, to above the boiling point of water. It became clear that Syra, our paradise, our Eden, was gone.
The survivors spend years in orbit. They made a few missions to the surface, and actually found a handful of survivors, but their main activity was to make preparations for departure. The Space Patrol fitted makeshift drive units to anything that could hold air: Orbital factories, research pods, even hotels. When the fleet was ready, they left orbit and never looked back.
The final population of our species was less than ten thousand - with only five hundred males - but they were the best and brightest. For the next seventy-five years, our people wandered at sub-light speed through the stars, looking for a new home.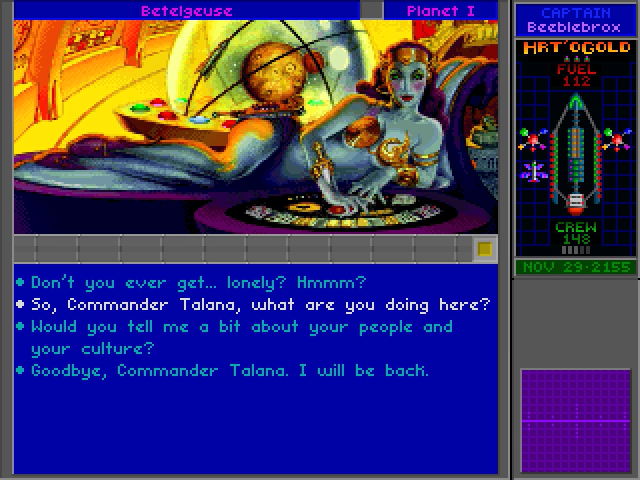 When the Ur-Quan conquered us, over twenty years ago, I was only a young girl living in Habitat Thirty-One. My older sister, Diani, was a starship officer in the Space Patrol... she was part of the final defense at Raynet... she didn't make it back.
When the Ur-Quan caught us in open space, we all thought we were going to die. But then, instead of killing us, the Ur-Quan offered us a choice: We could join the ranks of their combat thralls, or we could be slave-shielded in our homeworld. Like the people of Earth, we chose peace. We became fallow slaves. When the Ur-Quan told us to return to our homeworld, we explained that we had none. Ur-Quan Master Nine explained that they had encountered this situation before, and if we would provide them with a list of our requirements, they would use their extensive astronomical datastores to find a planet for us!
So we told them about Syra... about the color of its sky... about the abundant lifeforms, about the fertility of the soil and the seas. Less than an hour later, we received a terse message from Master Nine; we were to proceed to these coordinates and disembark. This was to be our new home. But our new world, Gaia, was everything we described. We'd been searching for a home planet for seventy-five years, and in the end, it was our enemies who gave one to us.
I grew up on a small island off the main continent, and like all of my people, we lived each day under the sick, red glow of the slave shield. When the Ur-Quan arrived seven years ago to refurbish and recrew this starbase, I was selected as the new commander.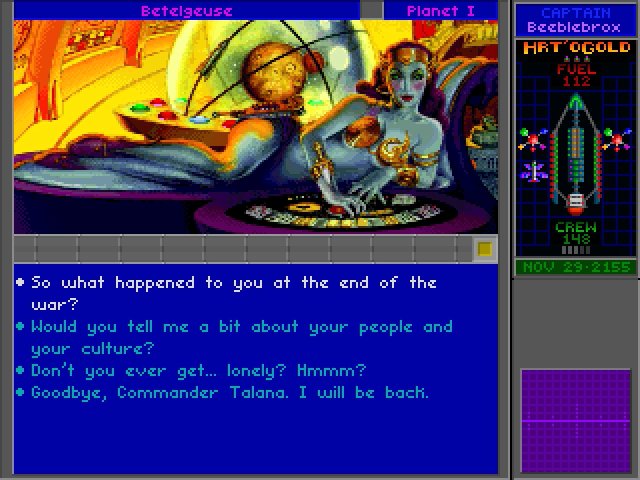 When we first met your people, we'd been wandering through the stars for almost seventy-five years, ever since the death of Syra, our home planet. We joined your Alliance, and I use the word 'joined' loosely, because we had no other choice. The VUX were raiding our slow Habitate columns, and we had nowhere else to go. We fought for survival, Captain. Nothing more.
When your people on Earth were defeated, wthe Alliance just plain fell apart. The Yehat and Shofixti retreated to their native stars and didn't want us to follow. The Arilou, those creepy little weasels, just plain bugged out - vanished - leaving us alone, with nowhere to go, smack in the path of the oncoming Ur-Quan Armada. What were we supposed to do? Fight? Two-thirds of our Habitate fleet was unarmed! Many aren't even super-luminal. We were going to be annihilated if we resisted, and we knew it. When the Ur-Quan surrounded us and started giving orders that all ended with 'Or Die!', we took them at face value. We obeyed. In exchange, they gave us Gaia, the planet below. It's a beautiful world, Captain. I wish I could show it to you.
So don't misunderstand me. We love our freedom as much as anybody else, but we've got a good life here, and we don't want to lose it.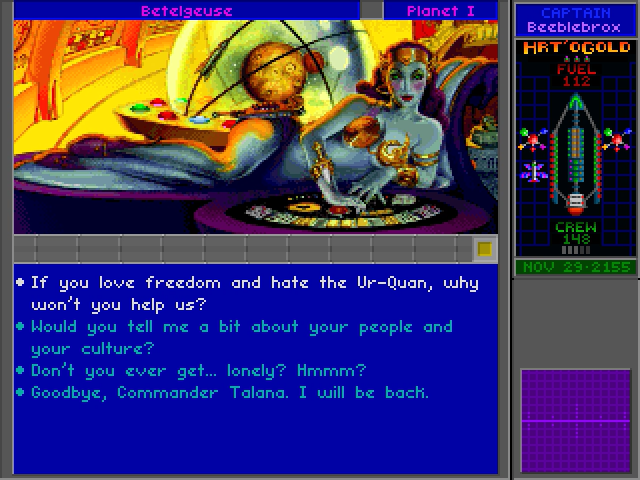 Like I said before, Captain, we would like to help, but we are unwilling to risk losing Gaia. Unless you can find a much more compelling reason for us to get involved, you are on your own.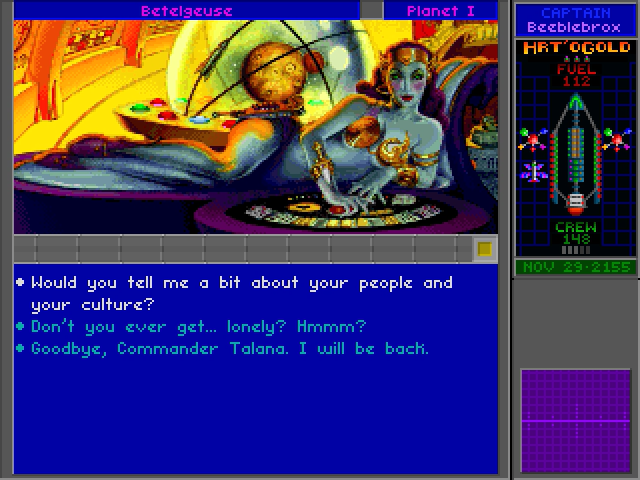 Our species are almost identical, almost too close a match to be just a coincidence. Our bodies are very similar, Captain. Ha ha! Except for... certain parts...
Our cultural development is also mostly parallel. Like you Earthlings, we evolved a society from primitive tribes whose main function were to protect themselves from the large reptiles native to our old world. The main difference between our two sets of cultures - the split in the paths of our development - occurred in what would have been your prehistory, say, 5000 BCE.
In your world, the agricultural communities were conquered by the more primitive but also more aggressive, migratory herding peoples. This led to a particular kind of sexual and political dominance structure which prevaded almost all of your Earth Cultures until the early twenty-first century. On Syra, our only primitive migratory tribes were confined to our mountainous regions. Their herd beasts, the Yma, did not do well in the agricultural basins and plains. The two cultures were isolated until much later, when the technological superiority of the farmers curtailed any major conflict.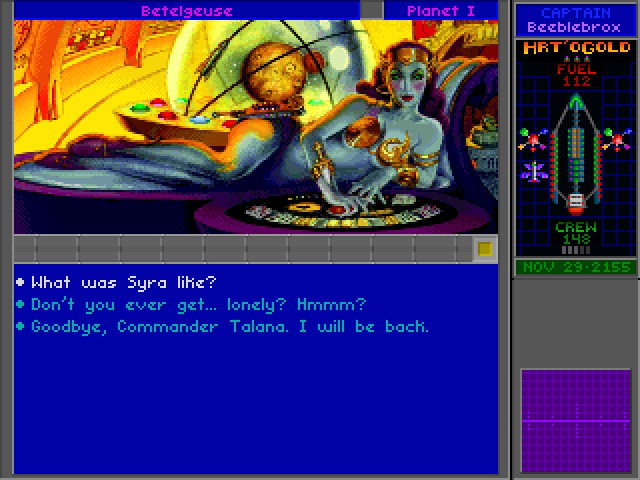 It was our paradise, Captain, our Eden. Earth is the only world we know of whose variety and richness of life even comes close to Syra. Again, like so many other things about our two species, our worlds were so very much the same, at least before you began encasing yours in concrete and plastic.
Syra's gravity was a bit lighter than Earth's, and its day was fifty percent longer. Our diurna cycle is therefore different from yours. We spend twenty hours awake, followed by ten hours... horizontal.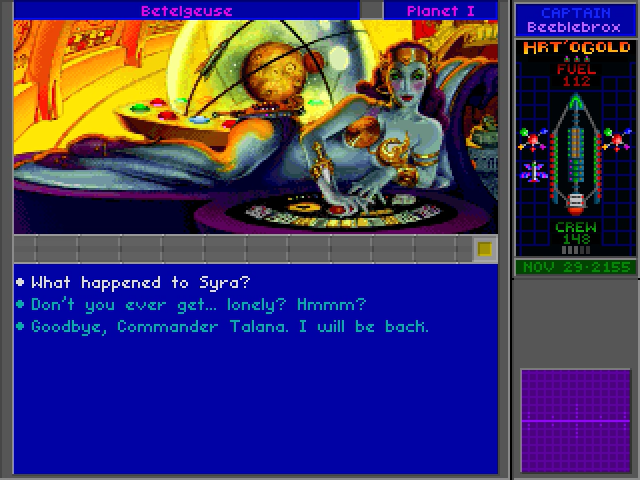 This subject is very difficult for us, Captain, but I will try to recount those sad days. Like your solar system, ours had a large population of comets and asteroids. Large meteor impacts, though rare, were not unheard of on our planet. So it was not a total shock when an asteroid penetrated our atmopshere and hit the surface.
What was odd was that unlike most other meteors, this one was not pulverized upon impact. It penetrated the crust, and indeed went all the way to the mantle, causing a 'super volcano'. The magma pumped out of the caldera wreaked significant damage on the nearby terrain, but within a few weeks, it had cooled, forming a solid rock bandage over the wound.
Within a few months we had cleaned up the mess, the caldera was calming down nicely. Then, just over a year after the impact, all hell broke loose on the surface of Syra. Huge calderas were opening all over... not just around the meteor impact, but everywhere! The scope of the disaster is impossible to imagine... entire cities sliding into oceans of molten lava... kilometer-wide sections of land pulverized by a cataclysmic explosion... and clouds of poison gas and superheated steam created a death shroud around Syra.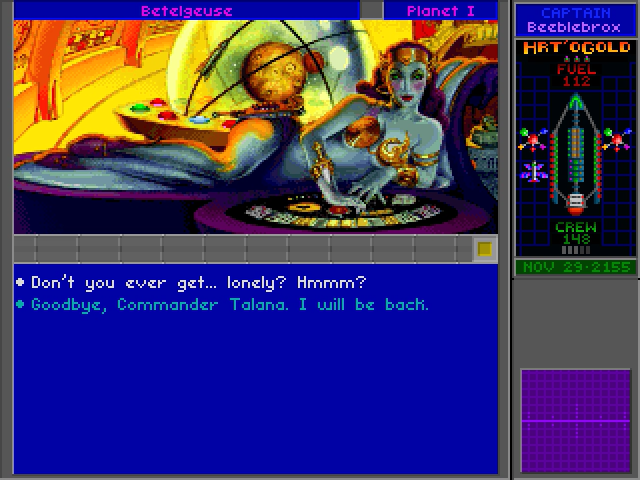 Ha ha ha! Don't worry about us, Captain! We make out all right.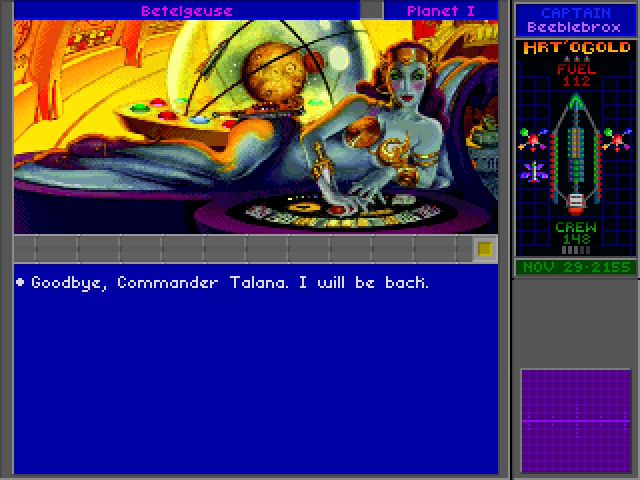 Until then, Earthling.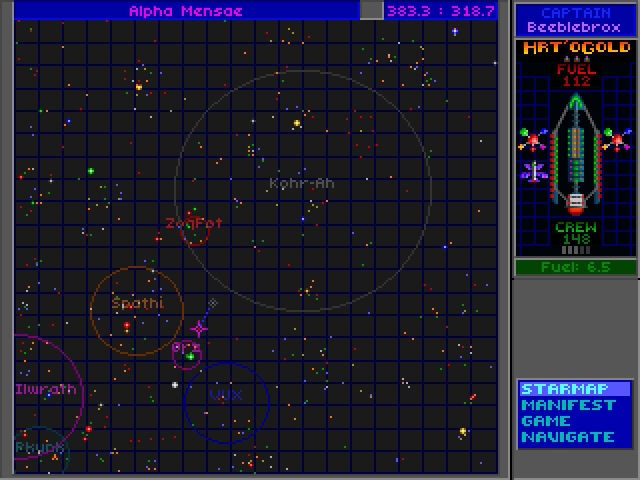 Seems like I can't get them on board with the Empire just yet. Time to start heading back home.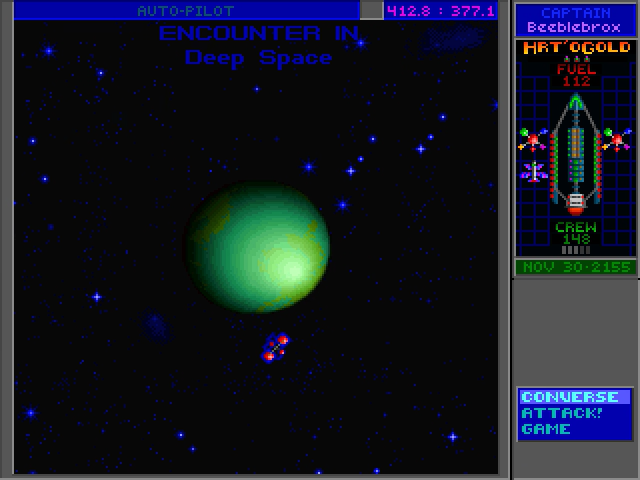 Please stop.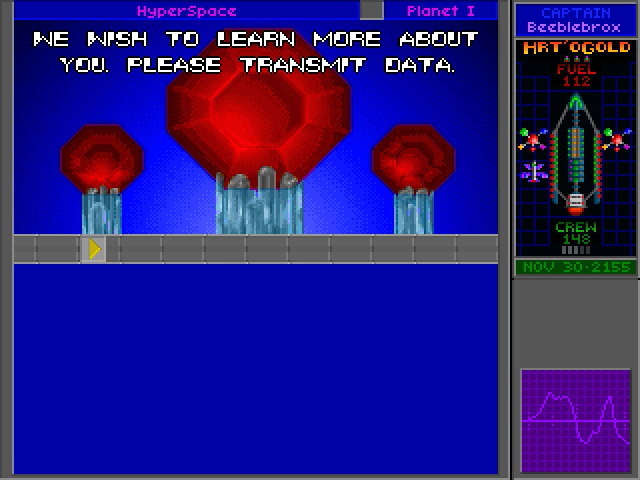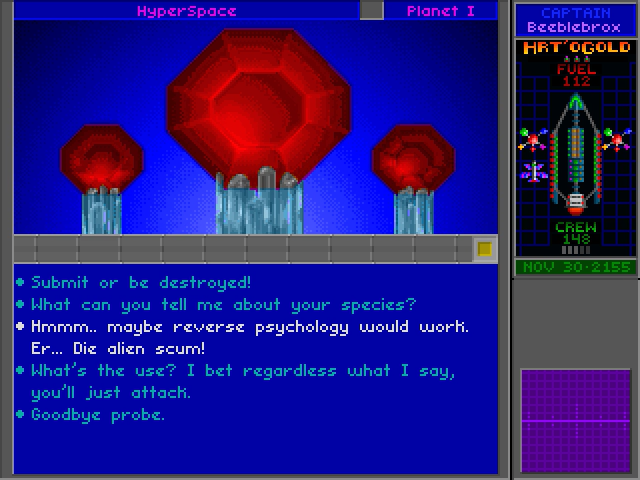 THIS IS PROBE 2418-B. WE REPLICATE SO THAT WE MAY EXPAND THE SCOPE OF MISSION.
PRIORITY OVER-RIDE. NEW BEHAVIOR DICTATED. MUST BREAK TARGET INTO COMPONENT MATERIALS.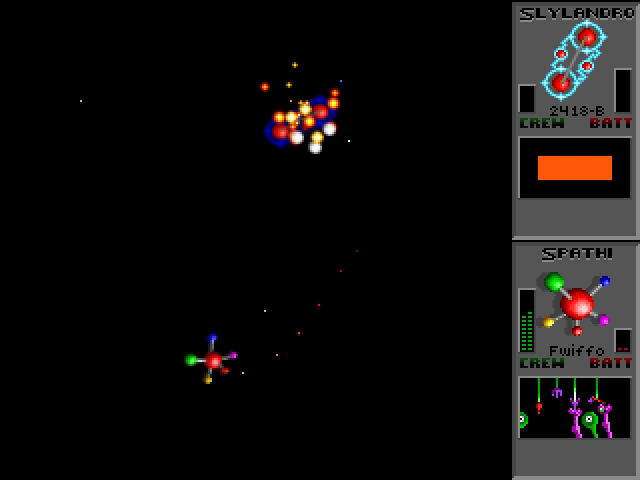 Fwiffo blows up another probe.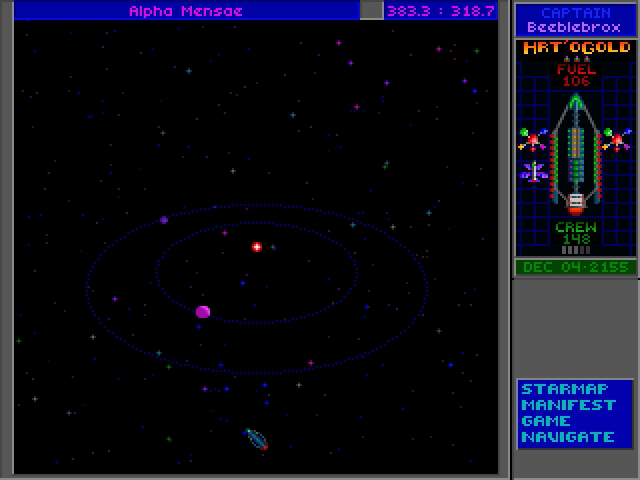 Alpha Mensae!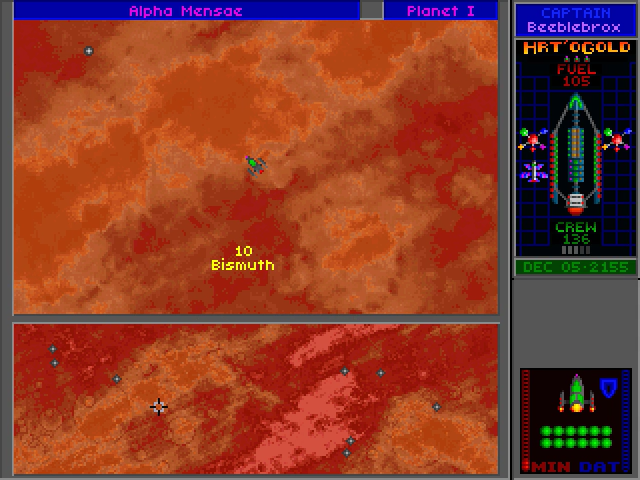 Disappointing mining!
I think we're about good to go back to Sol now.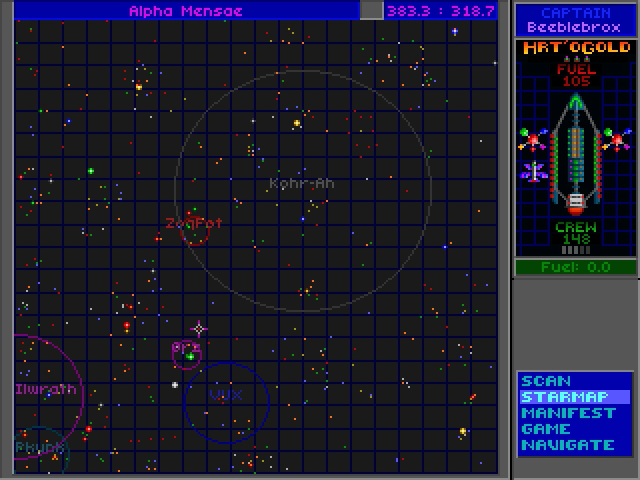 Wait a minute.
Something's wrong with this map.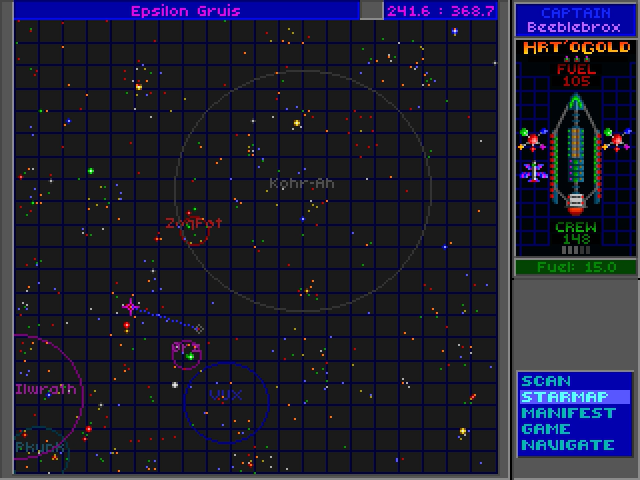 What the hell just happened to the Spathi?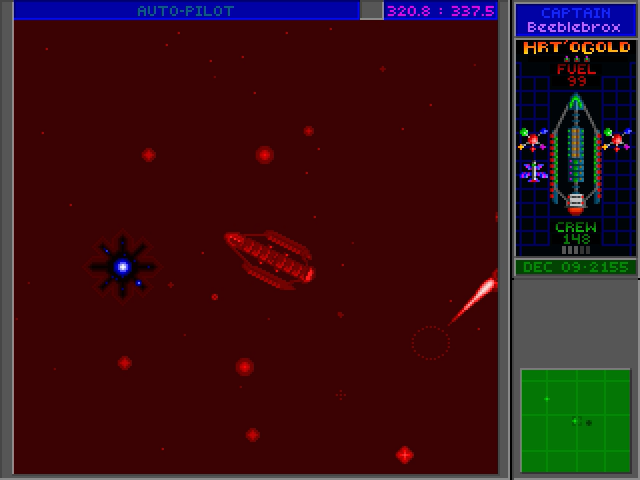 Change of plans. We're flying to Spathiwa!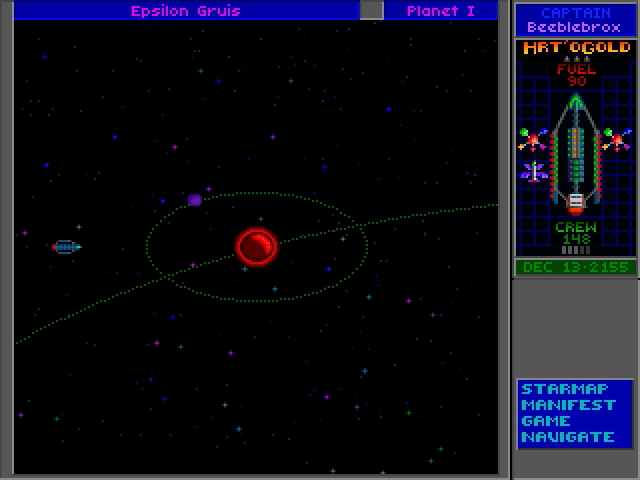 What the hell?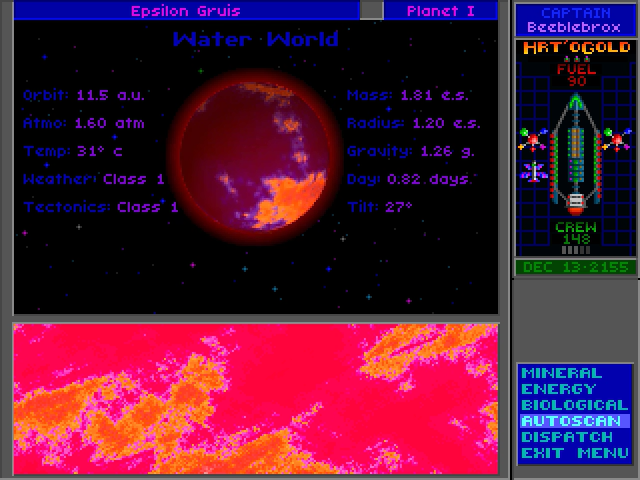 This doesn't make any sense! The Spathi were fighting slaves! Why would they get slave shielded?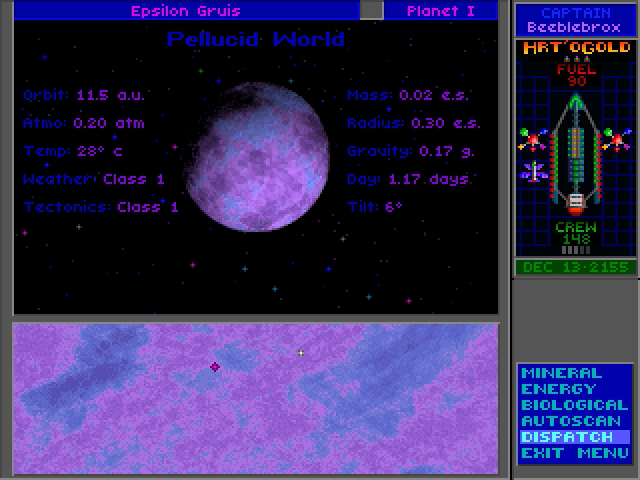 Spathiwa's moon appears to have been abandoned. There's a single energy signature on the surface.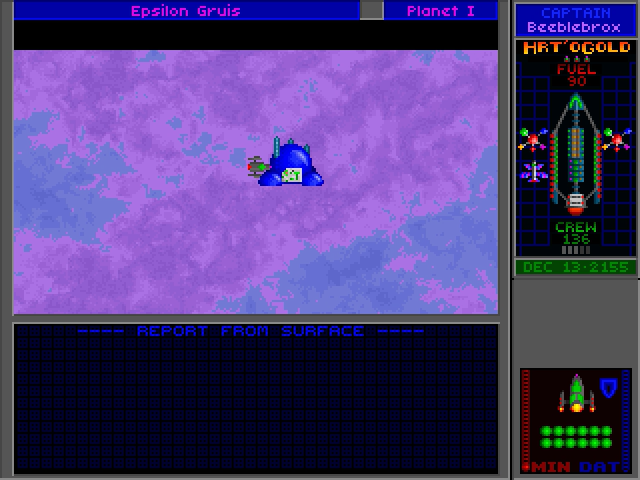 quote:
CAPTAIN, THIS IS LIEUTENANT ROBINSON, SIR. WE HAVE LOCATED AN ALIEN ARTIFACT DOWN HERE. PERHAPS MORE IMPORTANTLY, WE HAVE FOUND SOMETHING WHICH I THINK MAY EXPLAIN WHAT HAPPENED TO THE SPATHI... AND I DON'T THINK YOU ARE GOING TO LIKE IT. WE WERE INVESTIGATING A LARGE BLUE MACHINE WHEN OFFICER TALBOT DISCOVERED A MESSAGE GLUED TO THE SIDE OF THE DEVICE. SIR, IT'S A NOTE FROM THE SPATHI HIGH COUNCIL. I'LL READ IT TO YOU...

DEAR HUNAMS,

HOW ARE YOU? WE ARE FINE. HOWEVER CAN WE THANK YOU FOR LETTING US STUDY YOUR PLANET EARTH'S SLAVE SHIELD?

ADMITTEDLY, IT TOOK US SOME TIME TO REPLICATE THE TECHNOLOGY OURSELVES, BUT WE ARE SIMPLY DELIGHTED WITH THE RESULTS!

YESSIREE, WE SURE LOVE THE IDEA OF PUTTING AN IMPENETRABLE SHIELD AROUND OUR PLANET! NOW ALL THOSE EVIL MONSTERS THAT WERE JUST ABOUT TO ATTACK WON'T BE ABLE TO EAT US - THANKS!

I GUESS THIS MEANS WE WON'T BE ABLE TO SEND YOU ANY MORE STARSHIP CAPTAINS - SORRY! WELL, THEY WANT TO TURN ON THE SHIELD ABOUT NOW, SO WE'VE GOT TO GET GOING. I'M SURE WE'LL NEVER EVER TALK WITH YOU AGAIN, SO GOODBYE AND THANKS AGAIN!

YOUR FRIENDS,
THE SPATHI RULING COUNCIL

P.S. THIS MACHINE IS THE SUPER-POWERFUL HYPERWAVE CASTER THAT THE UMGAH USED TO TRICK US INTO BELIEVING THAT THE 'GRAND MASTER PLANET EATERS' WERE COMING TO DESTROY SPATHIWA. WE THOUGHT MAYBE YOU'D LIKE TO HAVE IT.

---- END OF TRANSMISSION ----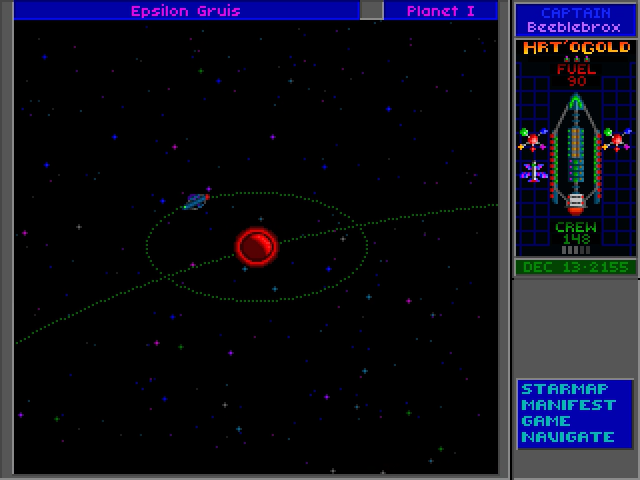 We sure just got played.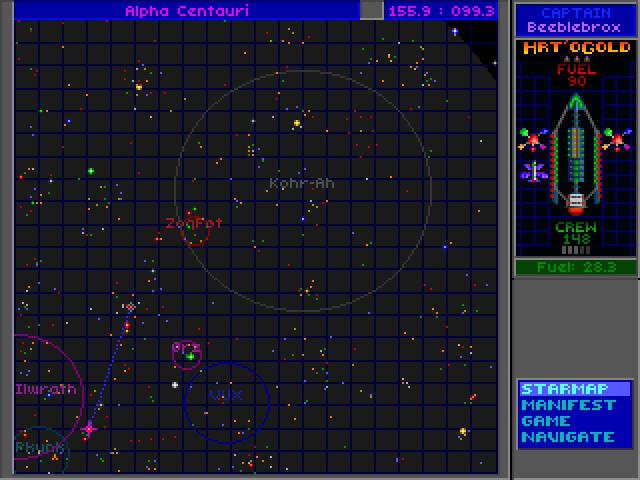 Well, time to wrap up this voyage.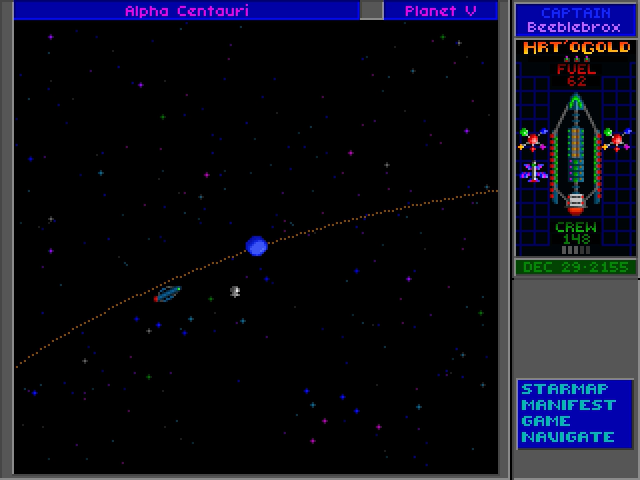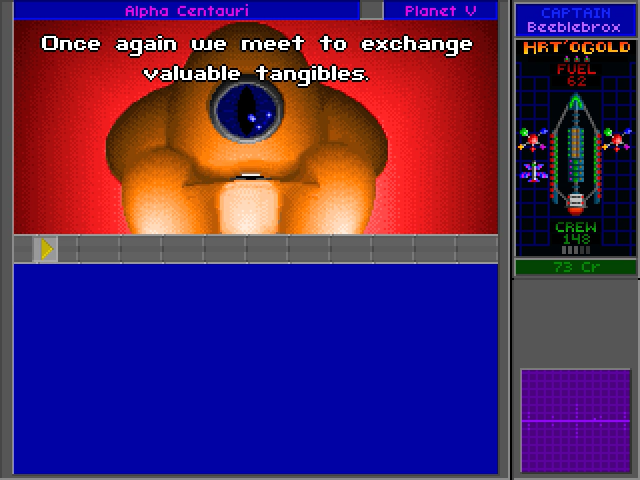 Isn't this fun? Now, what can we do for you today?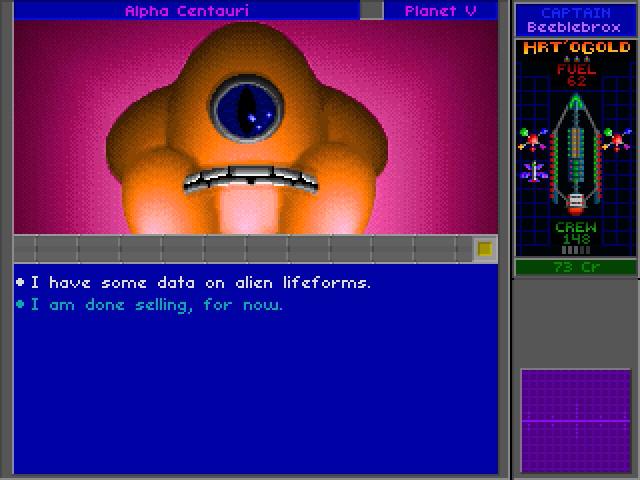 The 160 units of biological data we downloaded from your ship earn you 320 Credits.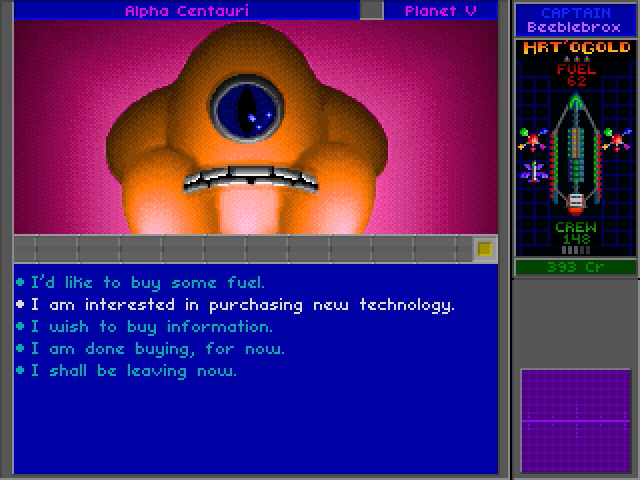 The technology we are now offering includes plans for improving the rate of fire of your lander's stunray bolt-beamer gun.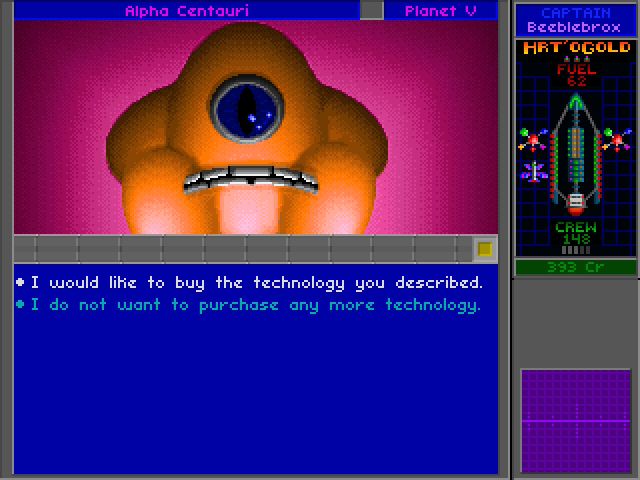 After some wild game, hmmm? Well, the changes we made should really make a difference! Unless of course that wiring went in backwards, in which case you won't be able to shoot at all, or take off for that matter. Don't worry, Captain. We stand behind our work. If something goes wrong, just bring it back to us, and we'll fix it pronto!
The technology we are now offering includes details for building modifications to your planet landers which make them resistant to earthquakes.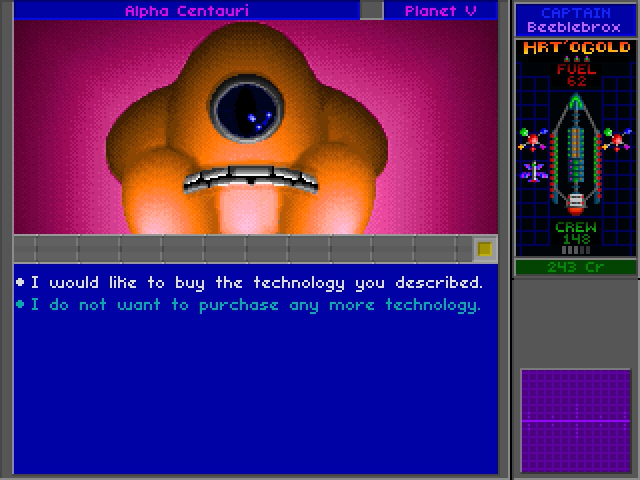 With the addition of these safety belts and heavy-duty shock absorbers, your lander occupants should be much safer when an untimely earthquake strikes. The job is complete. Your landers are ready.
The technology we are now offering includes plans for adding auto-tracking modules which improve the aim of all your weapons.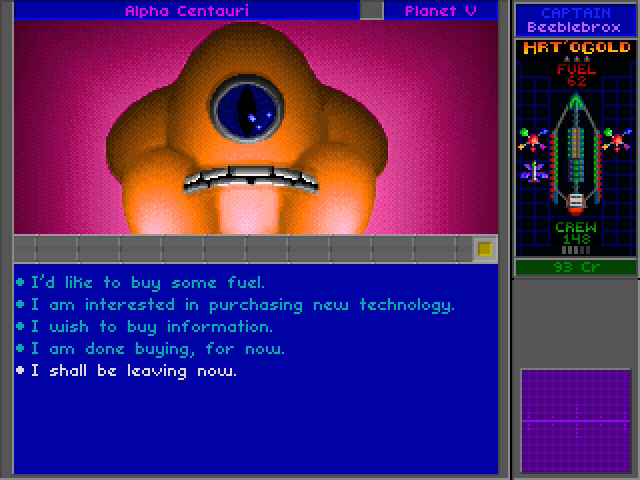 It has been a pleasure dealing with you, Captain. We look forward to your next visit.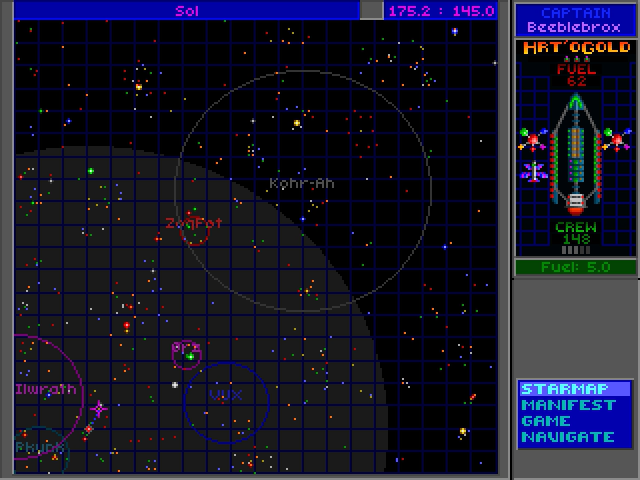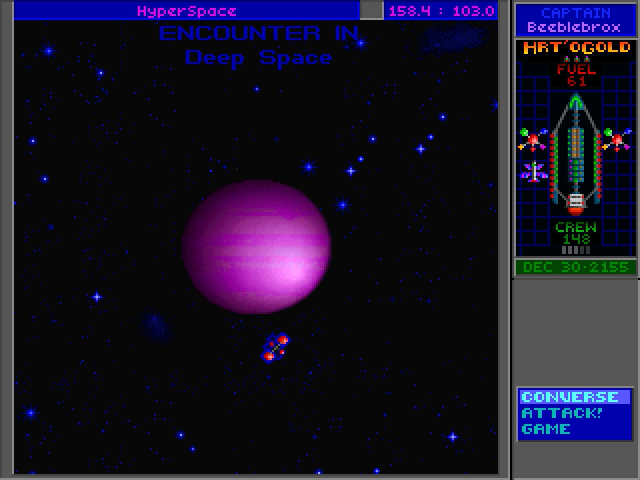 Please stop.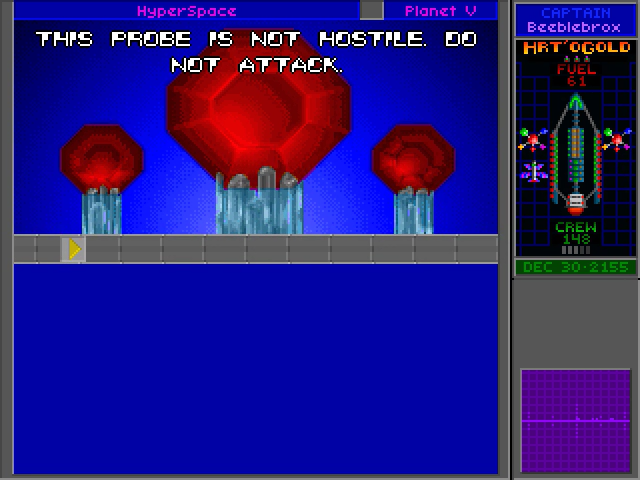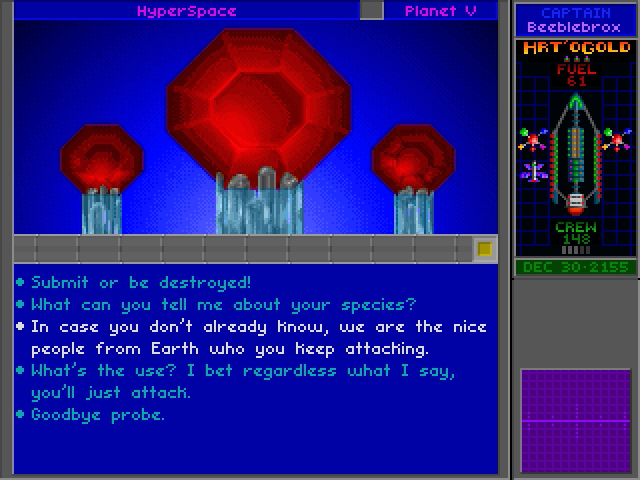 THIS IS PROBE 2418-B. COORDINATES ARE: +878.2,+125.1.
PRIORITY OVER-RIDE. NEW BEHAVIOR DICTATED. MUST BREAK TARGET INTO COMPONENT MATERIALS.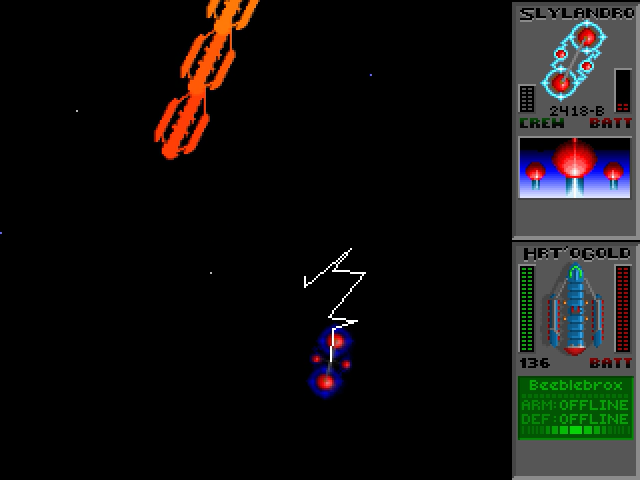 My fleet is in terrible shape, so I just run away.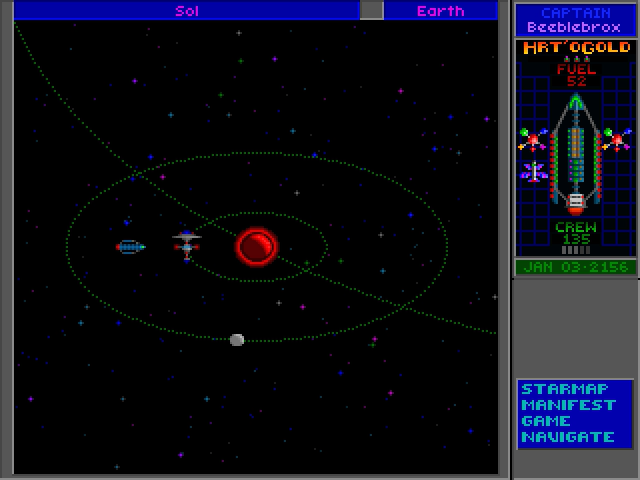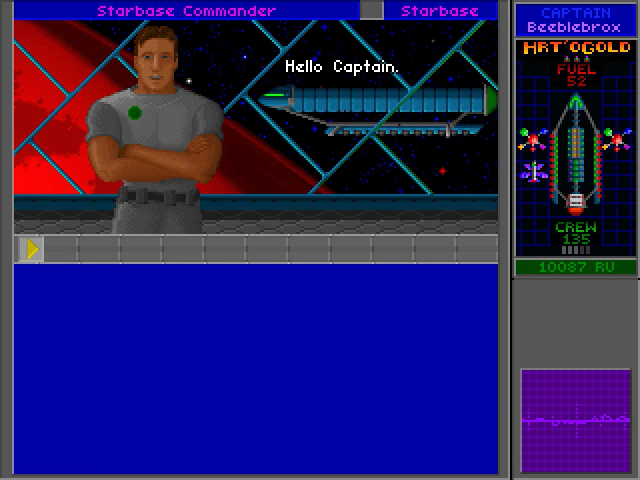 By the way, I thought you should know...
It would appear that your diplomatic efforts have struck gold, Captain. We have been contacted by a race called the Zoq-Fot-Pik, who wish to fulfill their part in 'the Unification' - something you have arranged with them, I gather. They have sent us specifications for their Stinger-class attack vessels, as well as a large number of Zoq-Fot-Pik commanding officers. You're doing a fine job, Captain.
Also...
We have a major situation, Captain! As of a few days ago, all Spathi starship captains have vanished from our starbase. We don't know how or why, but until we receive replacements from Spathiwa, you will be unable to commission any additional Spathi Eluders for your fleet.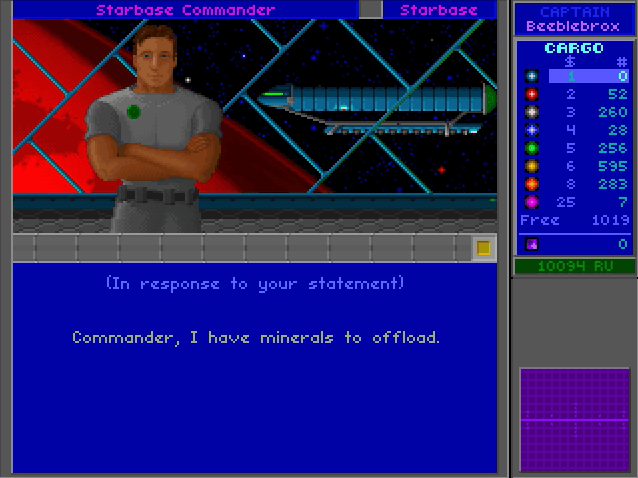 If you can keep this up, we'll turn that flagship of yours into a genuine Dreadnought-Killer.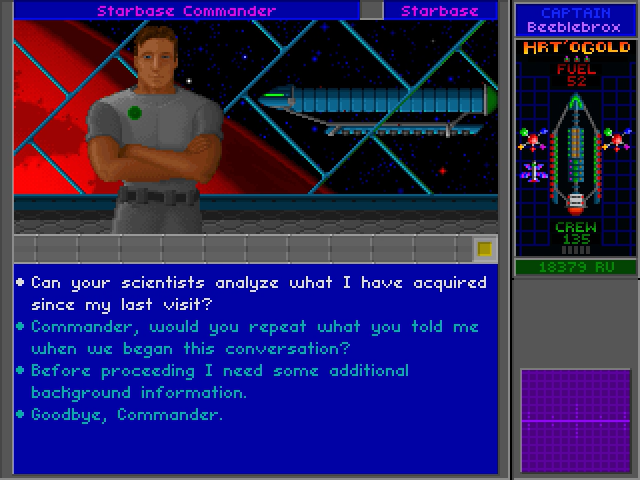 The analysis reads as follows:
SUBJECT: HyperWave Broadcaster - Umgah Design.
DATA: This unit is capable of generating extremely intense HyperWave transmissions, though it is otherwise similar to our own 'Casters.
SUMMARY: This thing would be great for practical jokes. You could scream 'Boo!' from an Oort Cloud, and scare the pants, or whatever, off everyone in the system. If you used it in HyperSpace, there's no telling who might hear you and come running.
That's the end of our scientists' report.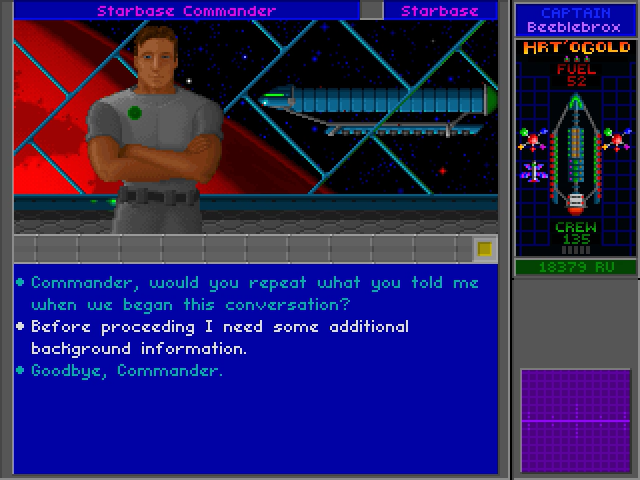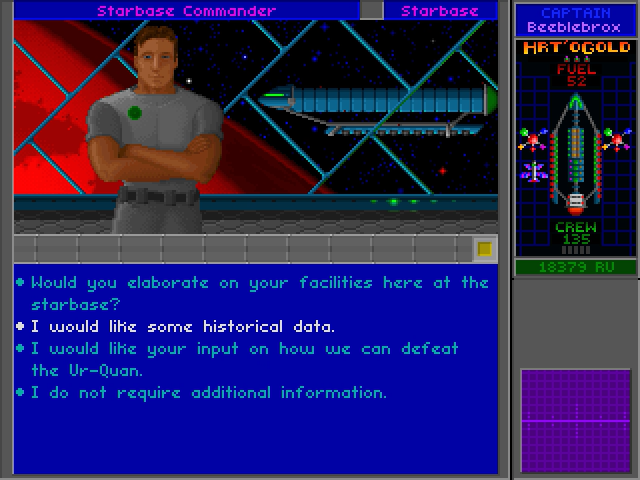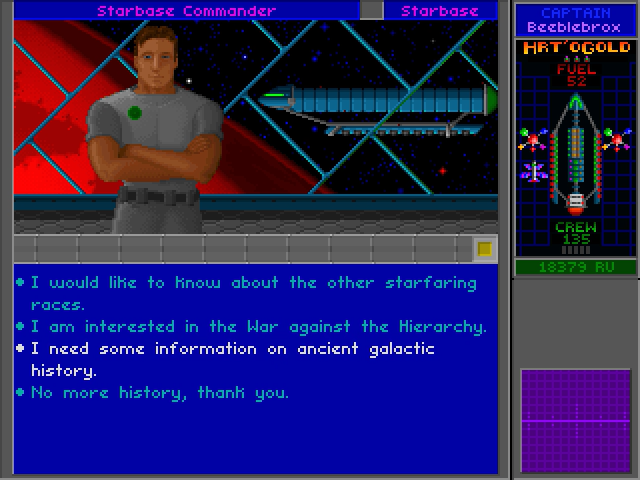 We have some data on this subject. What do you want to know about?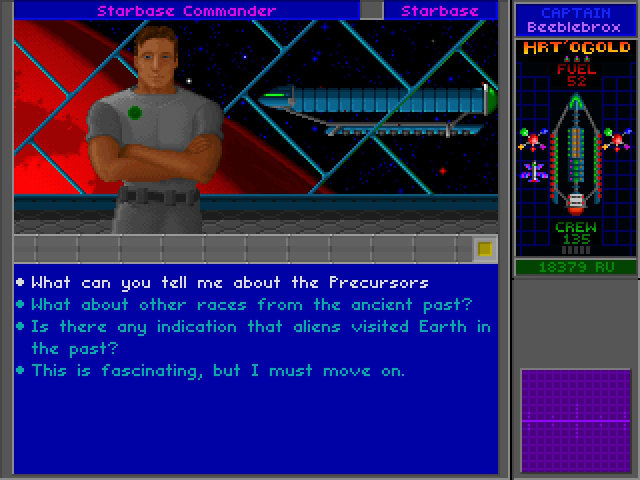 Hell, you probably know more about them than I do, but here goes... about 200,000 years ago, when our great-to-the-nth grandparents were just starting to play with stone knives and bearskins, a starfaring species suddenly appeared on the galactic scene and spread like wildfire. We've found evidence of their presence just about everywhere, from an orbital platform in Alpha Centauri, to a stack of DataPlates in a cave on Pluto, to some nameless widget found in a voodoo shop in New Orleans.
Though we've never found a Precursor body, or even a picture of one, we can conjecture what they looked like by examining the scale and layout of their equipment. Such an analysis indicates they were giants, say 5 to 8 meters tall, and twice as wide. I don't know if they looked more like a brontosaur or an elephant.
Anyway, about three thousand years after the Precursors made their dramatic appearance, they vanished, poof! As far as we can tell, it took less than a decade for it to happen.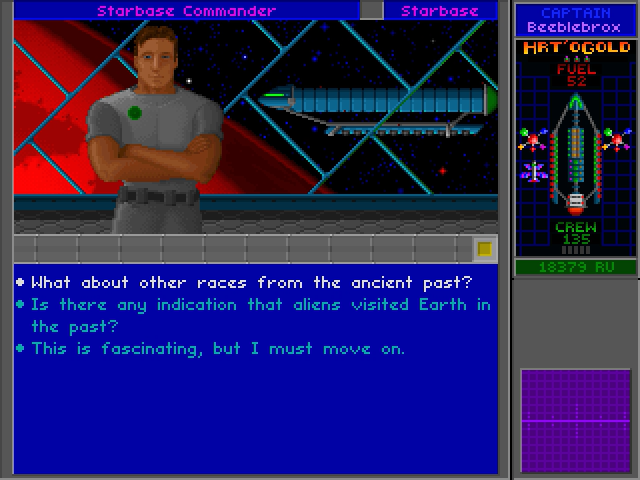 You mean besides the Precursors? Well, the only information we have is second-hand, based on some research by a Chenjesu historian that I read at the Academy. Tzzz-Tzer-Tzak, the historian, found some evidence that there was a group of alien races who formed an insterstellar empire not too far from here about 22,000 years ago. The only species in this empire who actually lived in this region of space was a race of rocklike creatures who lived in the Vulpeculae constellation. The presence of the hostile Androsynth in that part of space severely limited Tzzz Tzer-Tzak's research. We never even found out the race's name.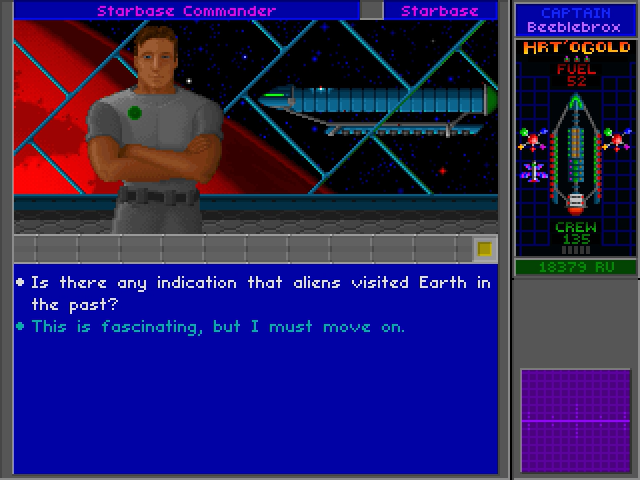 I'm guessing those alien space rocks were the Taalo.

Yes, there is. Aside from the Precursor relics we have found on Earth - often in museums, mislabeled as 'modern art' - we have discovered disturbing evidence of much more recent visitations.
Perhaps you are already aware that during the mid-to-late 20th century, there were uncountable UFO sightings, as well as dozens of reported 'encounters' with alien life forms. Although we can discount many of the reports as wishful fabrication or traumatic-translation, the military authorities of that time kept a secret record of the 'incidents' which were legitimate. In each such case, the aliens are almost identical in appearance. They have white skin and minimal facial features, except for huge, almond-shaped eyes, which are often described as 'glowing' or 'luminescent'. The description fits, almost perfectly, the Ariloulaleelay.
In most of the legitimate encounters, the people involved being physically examined or modified by the aliens. In some cases, unusual pregnancies occurred, and in almost every instance, there were repeat visitations, as though the Ariloulaleelay were doing 'check-ups' on their subjects. We never got the chance to confront the Ariloulaleelay about what they did to us and why. I wonder if we ever will?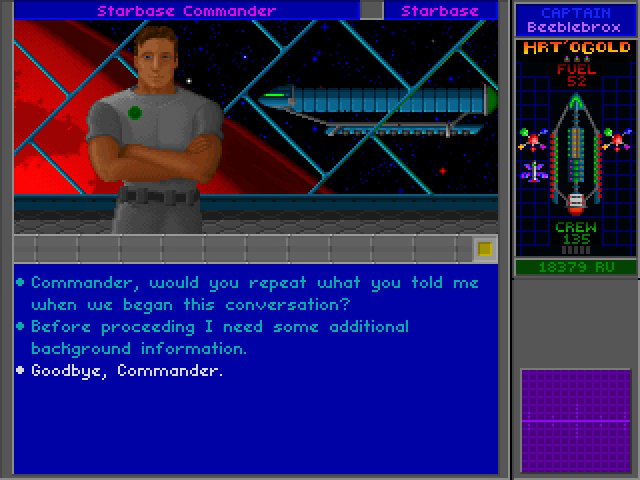 Bring back lots of minerals, Captain.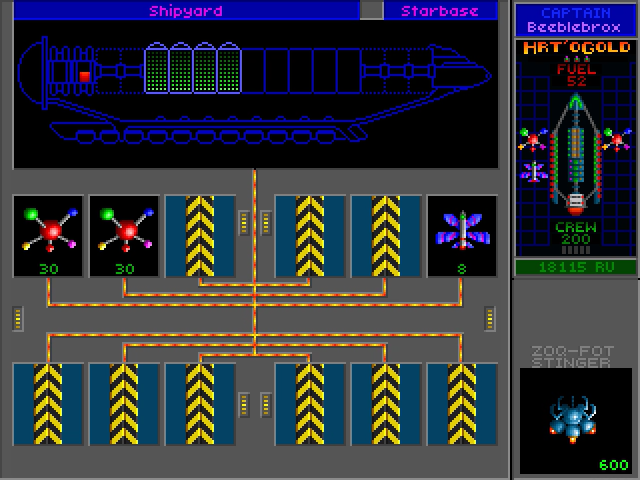 As we limp across the finish line, we have some updates to the Shipyard! Eluders are no longer available for construction, but instead we have the Zoq-Fot Stinger. It's not a very powerful ship, but it's speedy enough to pick apart slower enemies, like we've been doing with the Eluder. It has a medium-range anti-matter particle spray for its primary weapon, and can also use its plasma tongue to inflict enormous damage at point blank range. At 600 RUs, it's a perfectly viable addition to our fleet.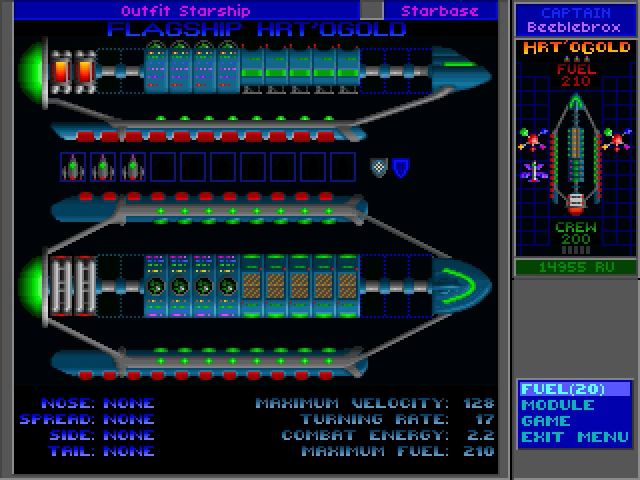 If this last encounter has taught us anything, it's that no amount of alien ships in our fleet will be enough to take on the Ur-Quan directly. So, it's time to talk about weaponry.
We have two available primary weapon modules - Ion-Bolt Guns, which do 2 damage, and Fusion Blasters, which do 4 damage. There are four module slots where guns can be placed. The first slot will fire one bolt straight ahead. The second slot will fire two bolts at slight angles to the left and right - so, filling the first two slots will fire a three-shot spread. The third slot fires two bolts directly to the left and right. The last slot will fire one bolt straight backwards.
We also can add Point-Defense Laser modules. This secondary weapon fires rapidly, but only at short range, making it more suited to shooting down projectiles. Adding more point defense lasers only increases the amount of damage dealt to enemy ships - 1 point per module.
Next: energy management. It costs 1 energy to fire our weapons, plus 2 for each Ion Bolt fired and 4 for each Fusion Blast fired. Weapons in the second and third slot do cost double energy, since they fire two shots. Point Defense Lasers cost 1 energy per module to fire. As-is, the Heart of Gold will recover 1 energy every 10 frames, but each Dynamo Unit reduces the wait by 2, to a minimum of 1 energy every 4 frames at 3 dynamos.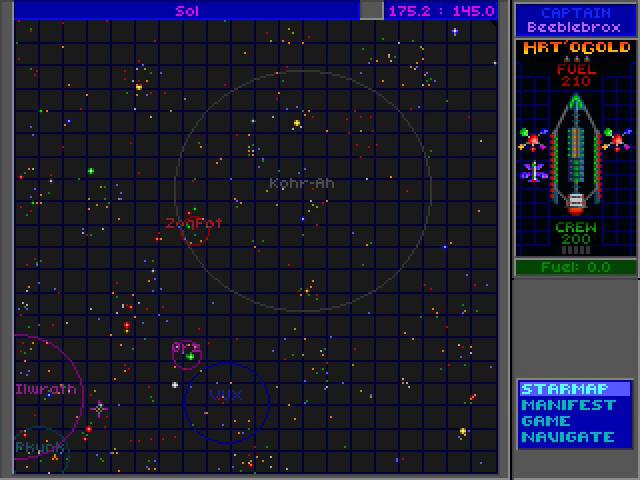 The galaxy has changed since our last expedition started. We found the Syreen and the Kohr-Ah, and the Spathi have vanished into their new slave shield. We learned a little more about the hyperspace anomaly in the spinward quadrant. But, there's one more thing.
The last Slylandro Probe we fought gave its coordinates as +878.2,+125.1. If we cross-reference those values as a Y and X coordinate distance from the place where we encountered it, we can identify where it came from: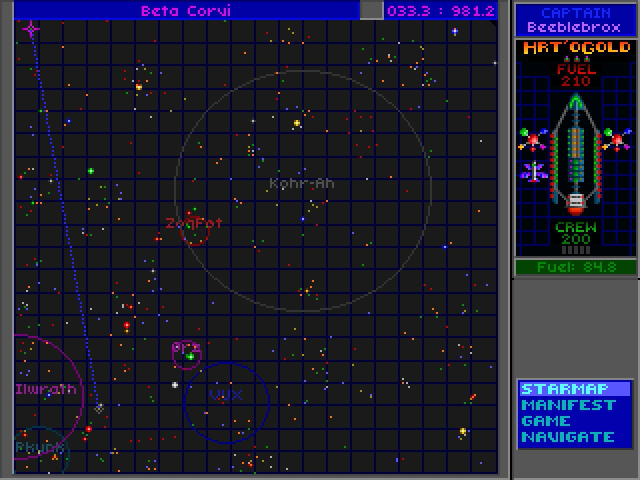 Beta Corvi. The source of the probes. Unfortunately, it's about a 170-fuel round trip - such a journey would take months, and have little margin for spending fuel mining or running away from fights.
So, it's time to vote.
Shopping recap (14955 RUs):
Crew Pod (2000 RUs, +50 crew capacity, plus 150 RUs for crew)

Cargo Bay (750 RUs, +500 storage space)

Fuel Tank (500 RUs, +50 max fuel, plus 1200 RUs for fuel)

High-Efficiency Fuel Tank (1000 RUs, +100 max fuel, plus 2400 RUs for fuel)

Dynamo Unit (2000 RUs, increased energy regeneration rate)

Point Defense (4000 RUs, shoot down enemy projectiles)

Ion-Bolt Gun (2000 RUs, more shooty, +1 energy usage)

Fusion Blaster (4000 RUs, double the shooty, +2 energy usage)

Planet Lander (500 RUs, backup lander)

Earthling Cruiser (1100 RUs, plus 51 RUs for crew)

Spathi Eluder (1800 RUs, plus 87 RUs for crew)

Pkunk Fury (Cannot be purchased, but can be sold for 2000 RUs, plus 3 per crew)

Orz Nemesis (2300 RUs, plus 45 RUs for crew)

Zoq-Fot-Pik Stinger (600 RUs, plus 27 RUs for crew)

Destinations recap:
Visit Procyon to find out what became of the Chenjesu and Mmrnmhrm, then Alpha Tauri to investigate Dogar and Kazon

Visit Delta Gorno to check on the Shofixti, and swing by Yehat space while we're in the area

Visit the Orionis Cluster to talk to the Umgah

Return to VUX Space and try to apologize harder

Visit the Anomaly in the spinward quadrant

EMPIRE MEMBERSHIP: HUMANS, SPATHI, PKUNK, ORZ, ZOQ-FOT-PIK

CREW LOST: 536

VOTE NOW