Part 13: Jan 09 2156 - Divine Impersonation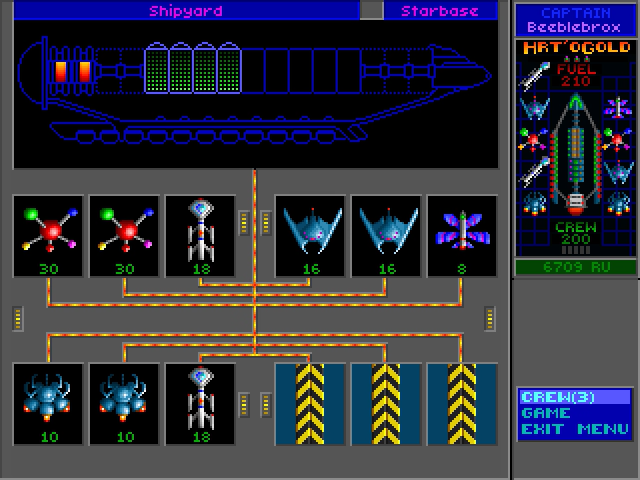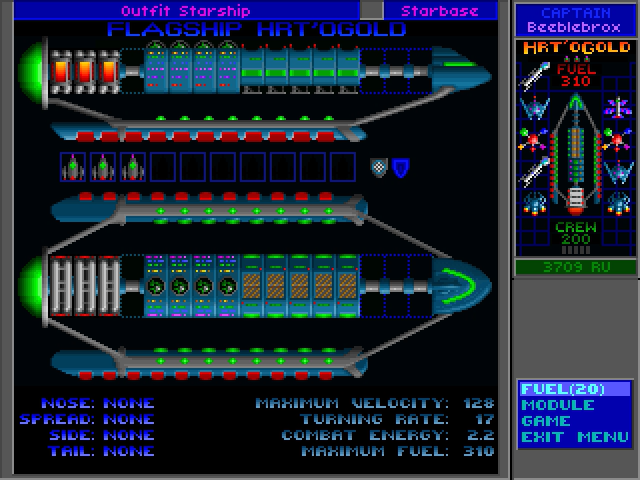 Still holding off on weaponizing the Heart of Gold! I've increased its fuel capacity to 310, then added 2 Stingers, 2 Nemeses, and 2 Cruisers to my combat fleet.
So, here's the plan.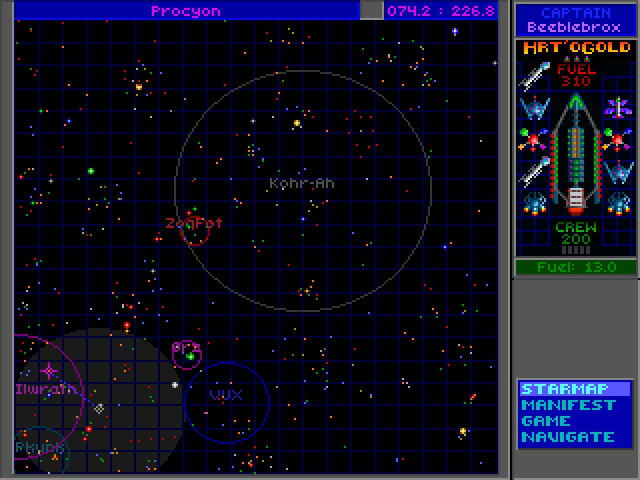 First: Procyon, to see what's become of the Chenjesu.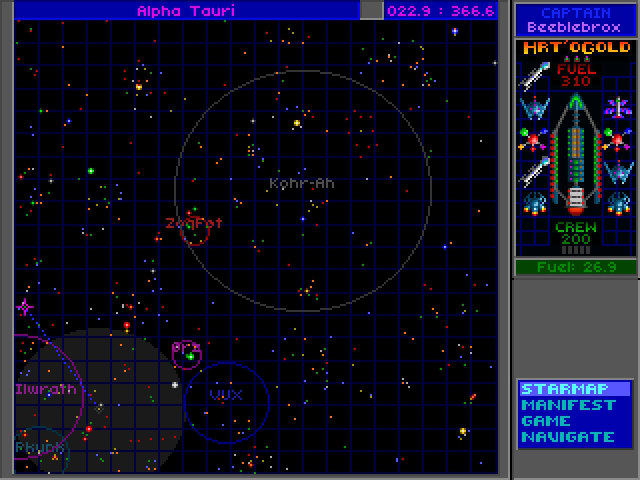 Then: Alpha Tauri, to do something about the Ilwrath.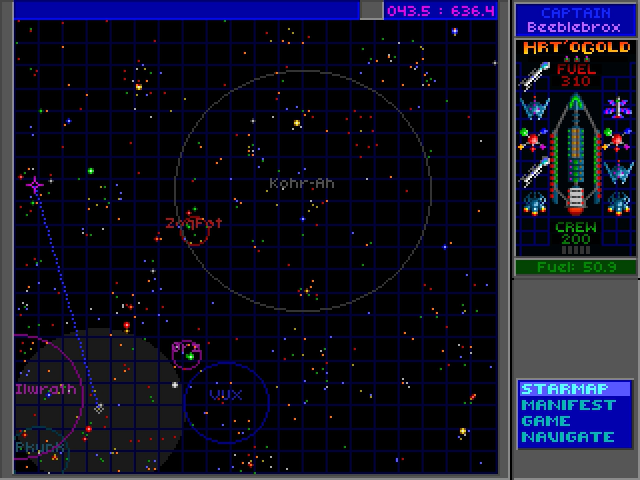 Finally: The unknown space anomaly, which I suspect will have returned by then.
So, for now, deep into Ilwrath space!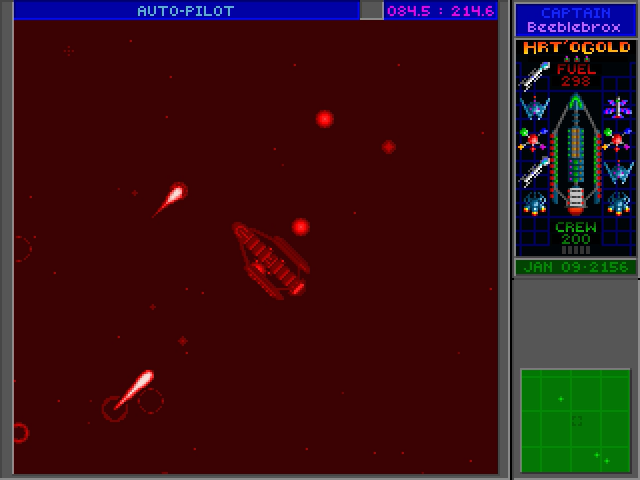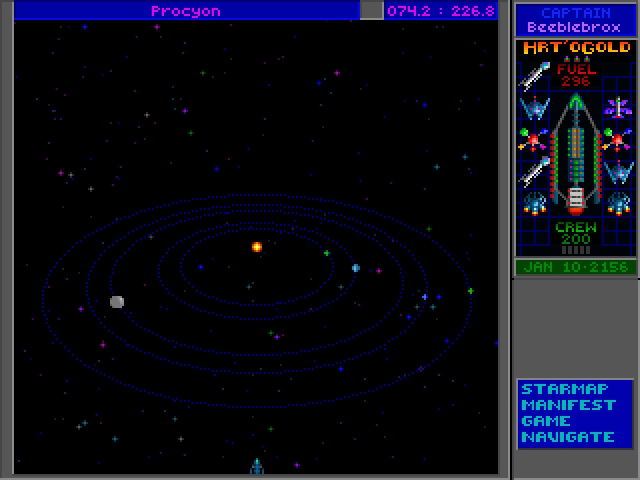 Procyon looks like a quiet system. No sign of Ilwrath vessels.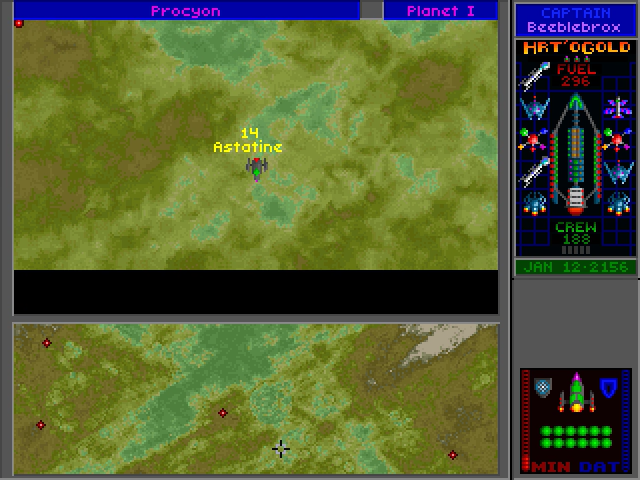 Mining.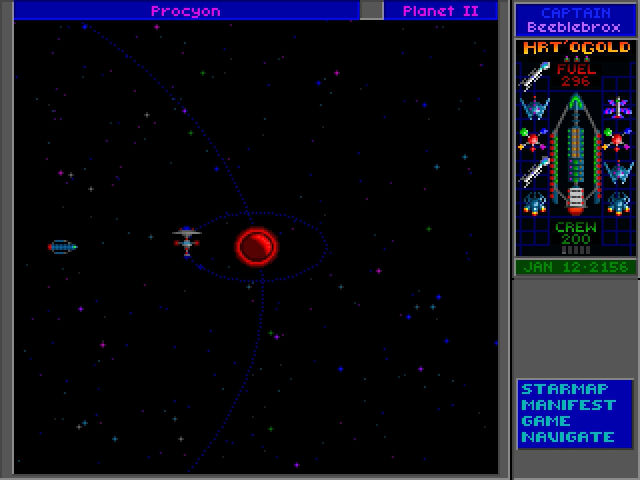 Ah.
This must be the Chenjesu homeworld.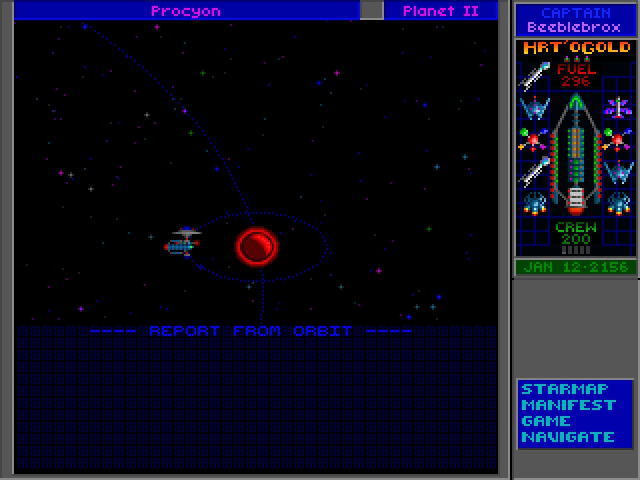 quote:
WE HAVE EXPLORED THE INTERIOR OF THE STARBASE AND FOUND IT ABANDONED.

COMPUTER RECORDS SHOW THAT THE UR-QUAN PUT THE STARBASE IN ORBIT AROUND THIS WORLD AFTER DEFEATING THE CHENJESU AND MMRNMHRM. FROM WHAT WE CAN DETERMINE, THE CHENJESU AND MMRNMHRM WHO WERE ASSIGNED TO THIS BASE SET UP MINDLESS ROBOTS TO RUN THE STATION, AND THEN SOMEHOW RETURNED TO THE SURFACE OF THEIR PLANET, PENETRATING THE SLAVE SHIELD!

FURTHER ANALYSIS OF THE STARBASE'S DATABANKS SHOW THAT THE CHENJESU AND MMRNMHRM WERE EXPLORING SYNTHESIS SCHEMES TO CREATE A HYBRID RACE, HALF MMRNMHRM AND HALF CHENJESU.

THE ROBOTS WHO RUN THIS STARBASE ARE ARMED AND WILL NOT PERMIT US TO SCAVENGE MATERIALS, SO WE ARE RETURNING TO THE SHIP.

---- END OF TRANSMISSION ----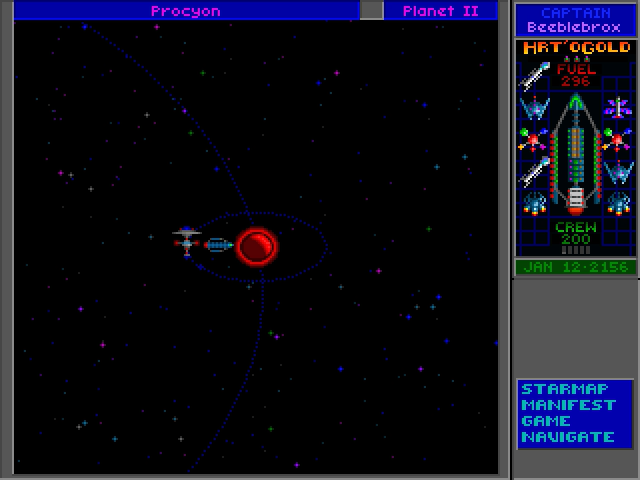 Well that raises a lot of questions.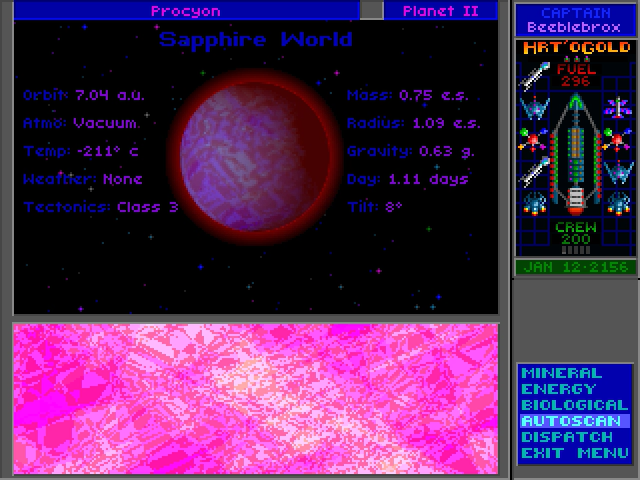 I can't scan the planet due to the Slave Shield, but you know what?
We have a way to bypass that now.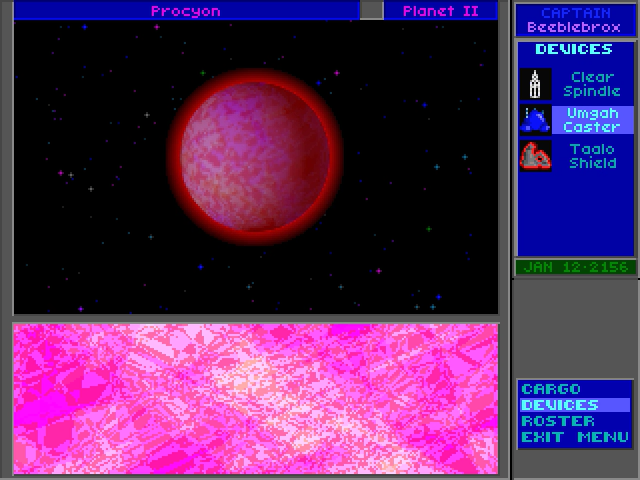 VIDEO: THE PROCESS
BGM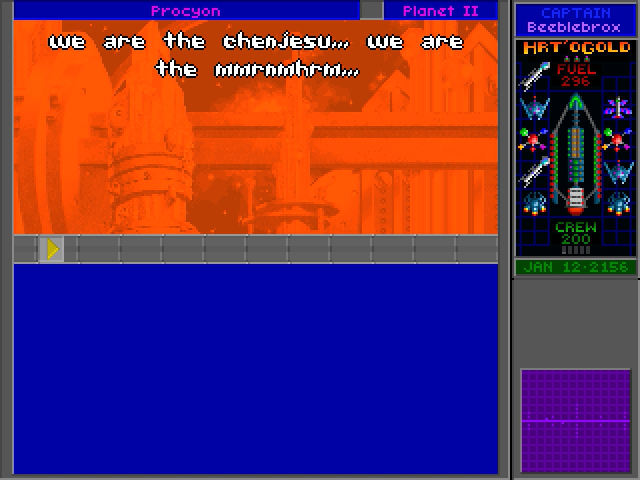 we do not understand how you have penetrated the slave shield or why, but in doing so you have interrupted the process... explain this intrusion.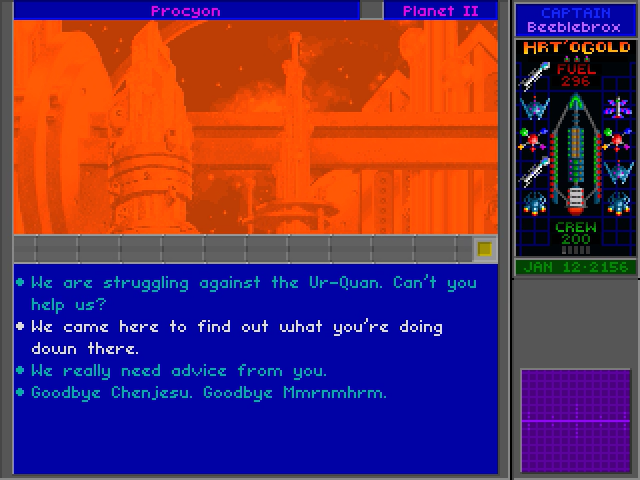 though your ship's design is unfamiliar to us, we now understand that you are of human origin and so we will share with you our reasons for accepting the status of ur-quan slave...
in 2135, our great alliance burned within the crucible of sentience... though our fleets of armed starships held back the hierarchy's grotesque armada for many years, in the end, the ur-quan unleashed a power upon us that was so overwhelming, we knew we would be annihilated if we did not submit... this unstoppable power, this ultimate weapon was a huge starship, an unstoppable battle platform build by the precursors in the ancient past... your vessel shares some similarities in design to the ur-quan's battle platform, which they call 'sa-matra', meaning 'great trophy'...
the sa-matra was many times larger than your ship, and bore weapons and defensive systems that made it invulnerable to all of our technologies... it remains a mystery to us why the ur-quan fought us for so long without using the sa-matra, but when they finall brought the ship into combat, the sa-matra incinerated our finest broodhome vessels from ten times our own ships' weapon range. we had no choices beyond submission or devastation...
before the ur-quan arrived to accept our surrender, we sent one last message to your people... a message suggesting that your species do as we chenjesu and mmrnmhrm planned to do... we would accept the ur-quan's demands and become slaves until such a time as we found a way to destroy or neutralize the sa-matra.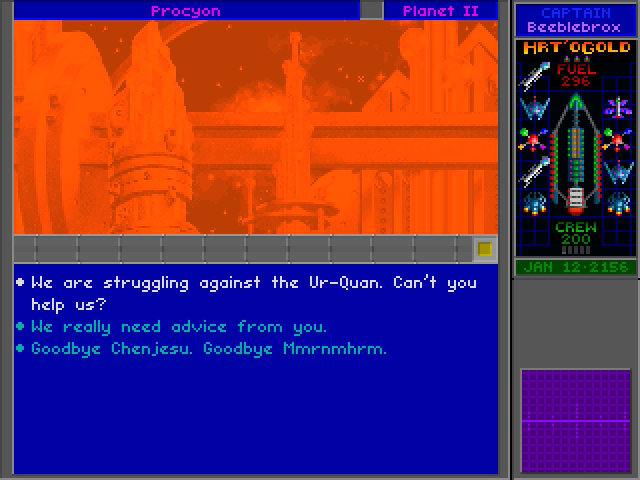 we cannot be of any assistance now... we are in the middle of the process.
i will explain... after we chenjesu and mmrnmhrm were defeated by the ur-quan, we chose to be encased in a single slaved shield on this world... as soon as the ur-quan departed, we began the process... we initiated a synthesis of our two species, our two cultures, one crystalline, the other purely mechanical... this process, fueled only by the radiant energy of our sun, will eventually produce a new hybrid race, and when the process is complete, we will crack the ur-quan slave shield, and emerge from our chrysalis like a winged insect unleased from its cocoon... then we will be ready and capable to deal with the ur-quan, their battle thralls, and their dreaded sa-matra.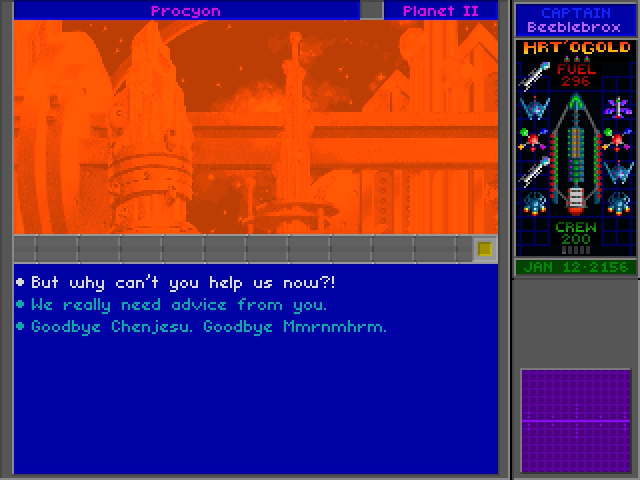 the complete synthetic hybridization of the chenjesu and the mmrnmhrm species will require approximately thirty-five of your earth years... this extended duration is necessary because our synthesis mechanisms are dependent exclusively on the light of our sun for energy.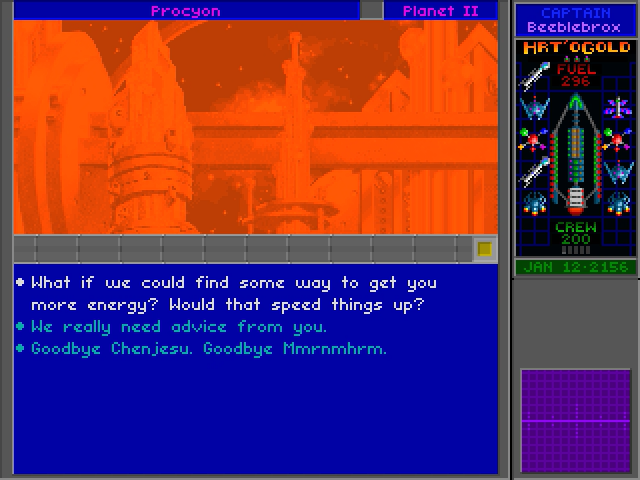 what you describe is theoretically possible, but it would pose a great danger to us... the process must be executed as planned... or it may fail catastrophically... we would be destroyed.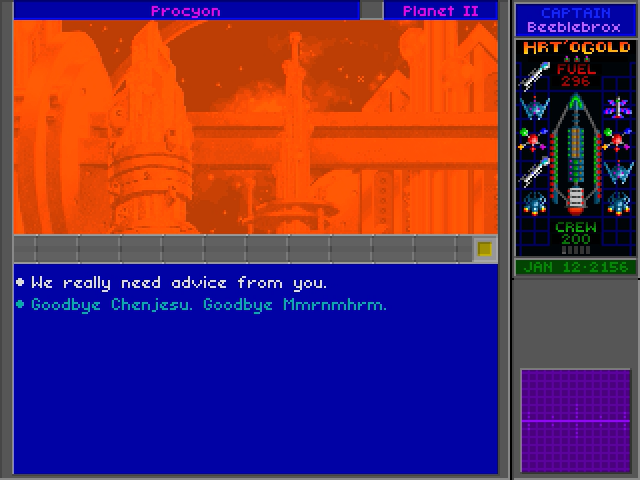 our wisdom is available... detail your need.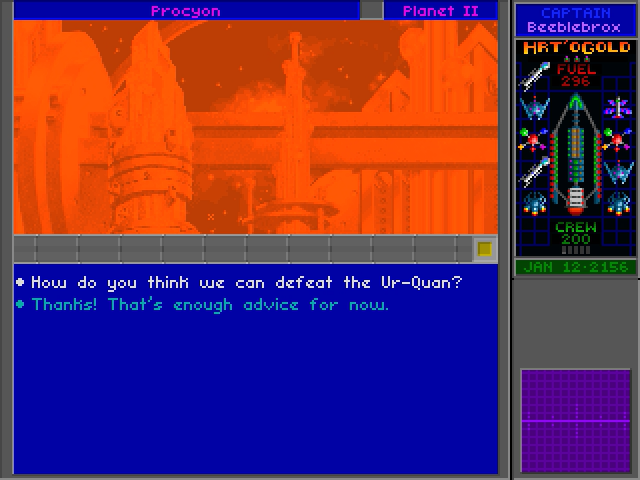 you must find some way to destroy the sa-matra... to do this you will need a powerful weapon capable of destroying an entire planet... but that is not all... you will also require some way to distract the ur-quan to give you the opportunity to use the weapon.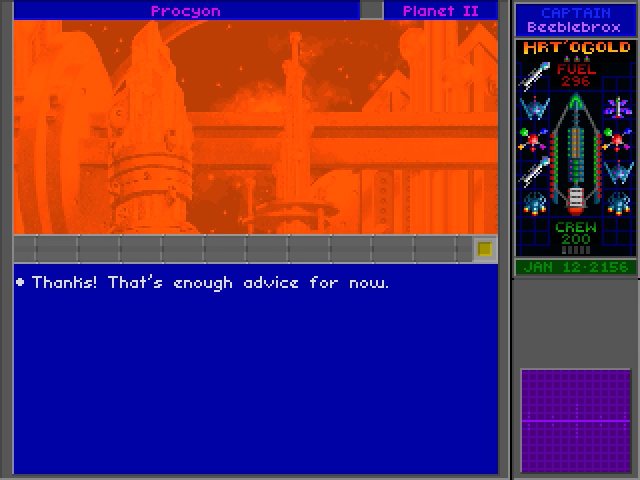 though your presence here is a painful intrusion, we will always provide advice whenever you request it, captain.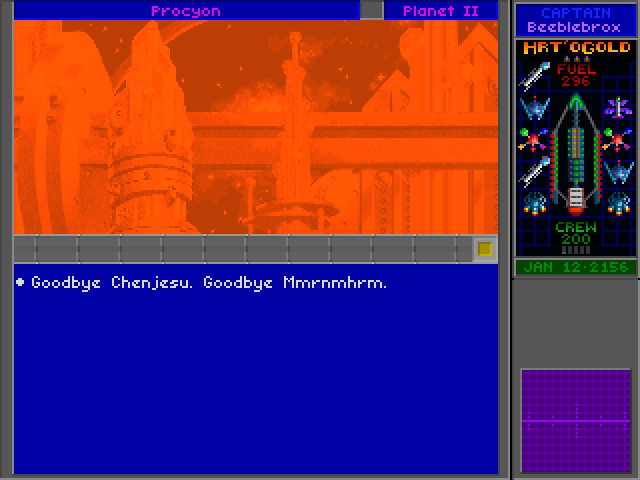 goodbye once and future ally, human... when the process is complete and we emerge from our chrysalis, i shall tell your grandchildren of our conversation this day.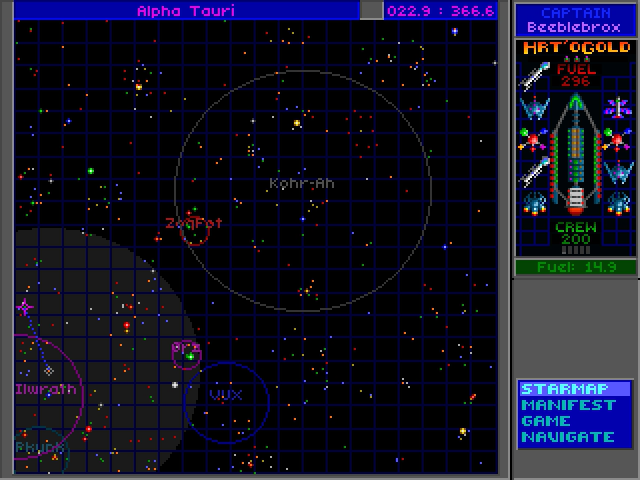 Since I know someone will ask it: For whatever reason, no other Slave Shielded planet will respond to the Caster. So, we can't use it to shout at the Spathi.
On to the infernal realm of Dogar and Kazon!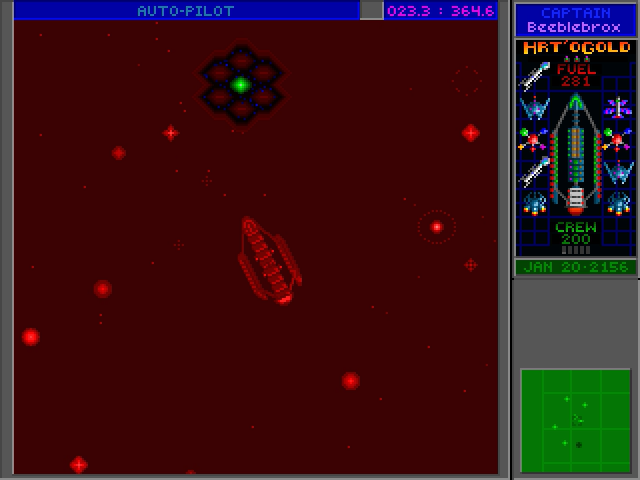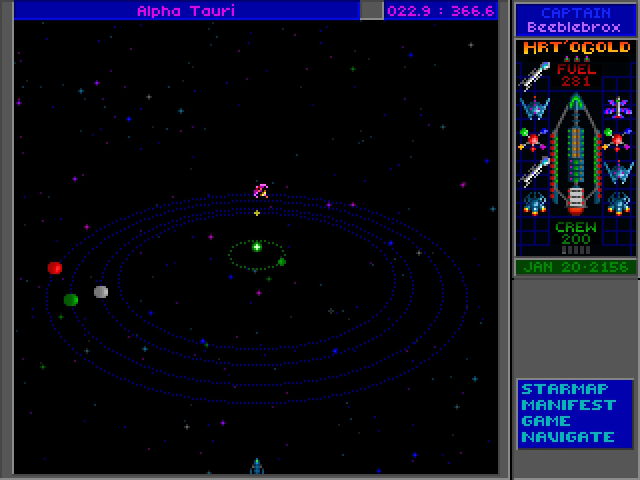 Unsurprisingly, there are Ilwrath around.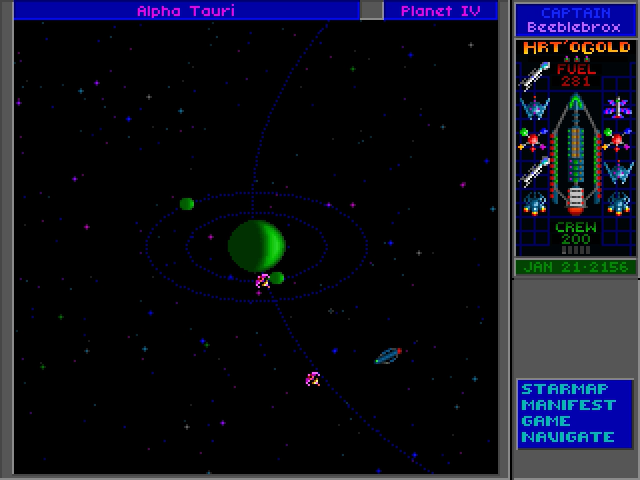 I think I'll say hi!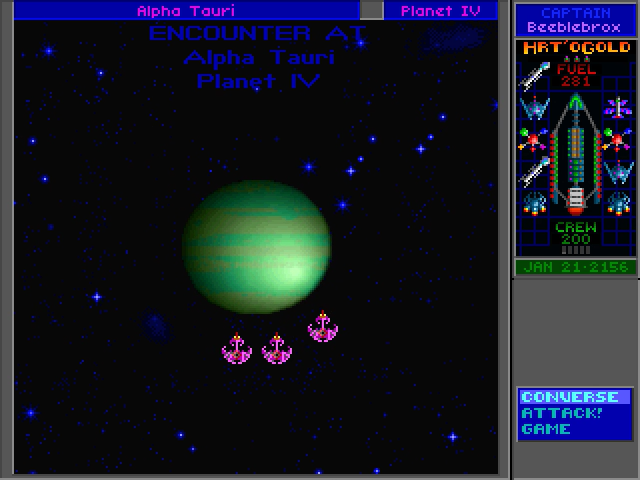 The Hu-Man Must Prepare: It Must Perform A Complete Depilation, Then Anoint Its Surface With The Larval Paste Of Our Stillborn Offspring. At The Altar Of The Duo Of Darkness We Suck The Bony Strength From The Fleshy Weakness, While The Hu-Man Squeals For Either Dogar Or Kazon! Hu-Man, Listen Closely To These Words: Favor Neither God With Your Screams, Let You Tragically Taint The Consumption!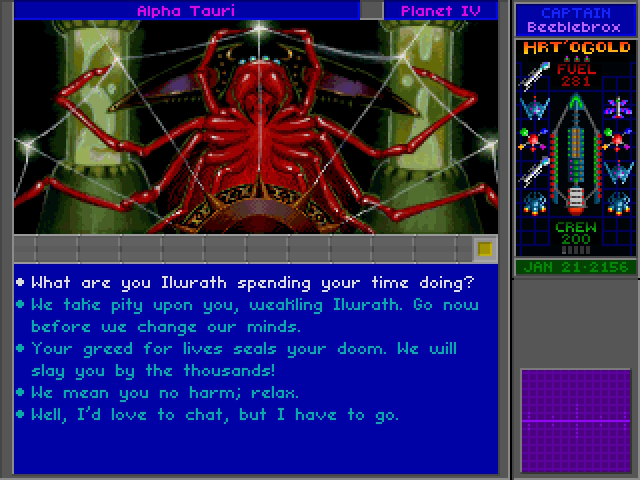 In The Brief Golden Moment - During The War With The Alliance - We Ilwrath Enjoyred Unequaled Merriment And Festivities. So Much Blood And Lymph Fluid! Then, After The Ur-Quan Made Your Kind Fallow Slaves, We Were Forced To Use Species Indigenous To Our Planet For Amusement. We Lived A Pleasant Existence Until A Scandal Rocked The Ilwrath! The Grah - Our Favorite Species To Torment, Which We Carefully Maintained At The Brink Of Extinction, Had Been Completely Consumed! A Bureaucratic Error Was To Blame. Quality Death Became Rare. Our Highly Advanced Civilization Began To Show Signs Of Degeneracy.
In Our Moment Of Need, We Prayed To The Mighty Duo For Direction, And They Answered. 'Go Forth. Seek The Bird Beings. Pluck Them Slowly. Eviscerate Their Gasping Husks. Let Dogar And Kazon Drink Their Death And Pain!' We Went Forth And We Found The Pkunk, But Hu-Man, Now We Are Supremely Joyful... Because You Die So Much Better!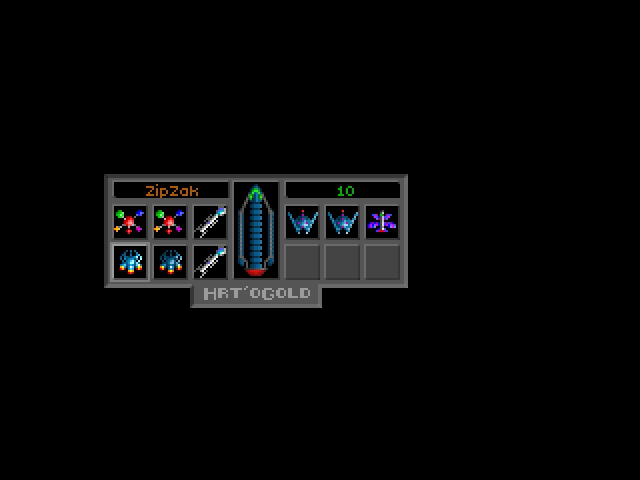 To battle. Let's try out these new ships!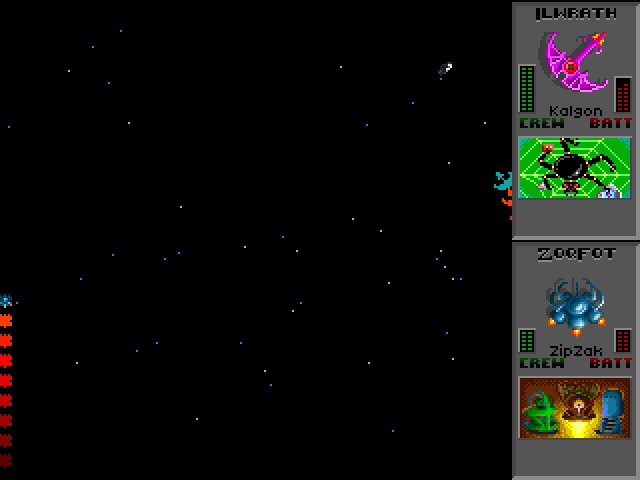 So, the Stinger is--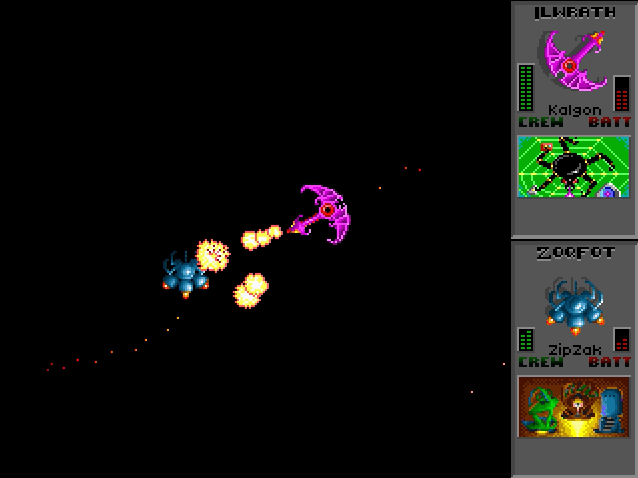 WHOOPS
Let's try that again.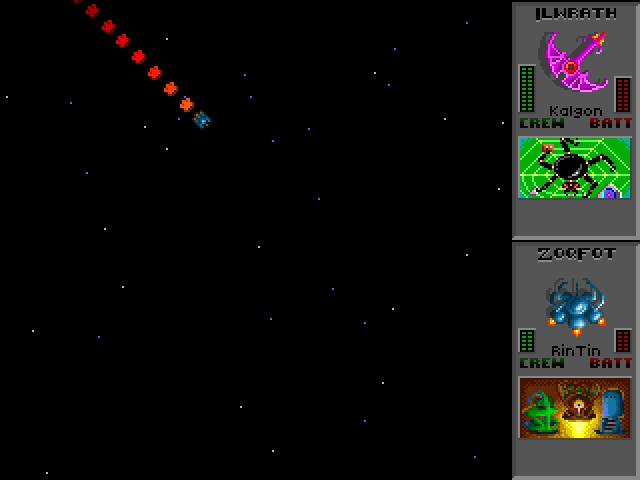 AS I WAS SAYING, as long as you don't let your guard down, the Stinger should be able to kill an almost unlimited number of Avengers.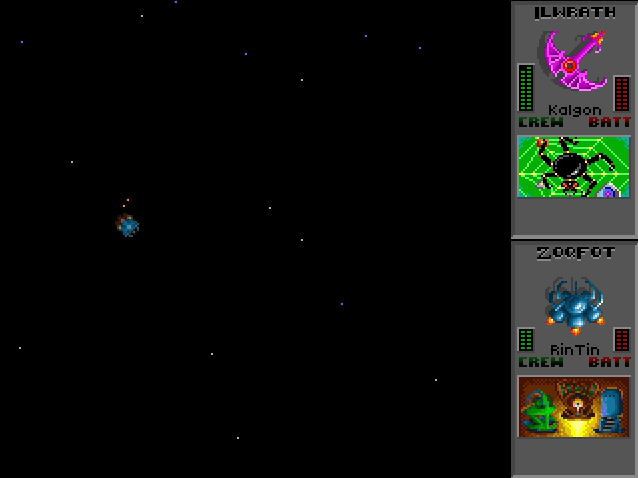 It handily outpaces and outranges the Avenger, so all that's left is a long, arduous game of patience and caution. Match pace with the enemy ship as best you can, then spray antimatter bullets to figure out where it is.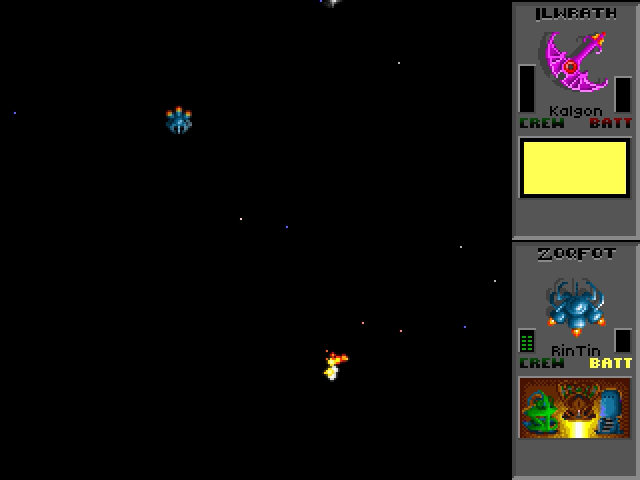 It takes forever, but RinTin destroy all three Avengers with minimal losses.
RIP ZipZak.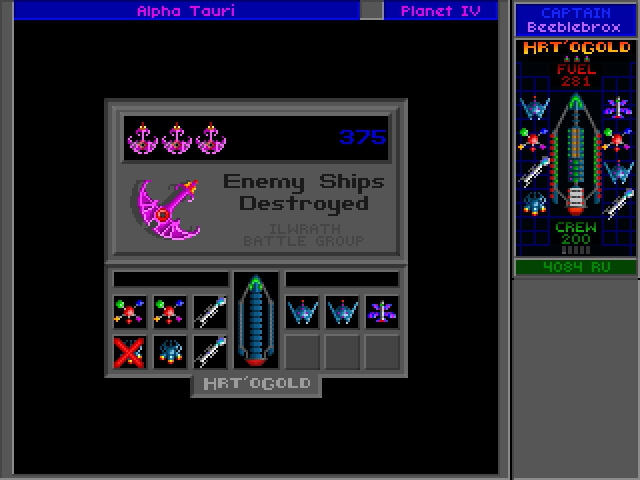 Well, that was a waste of time.
Now, for what we really came here to do!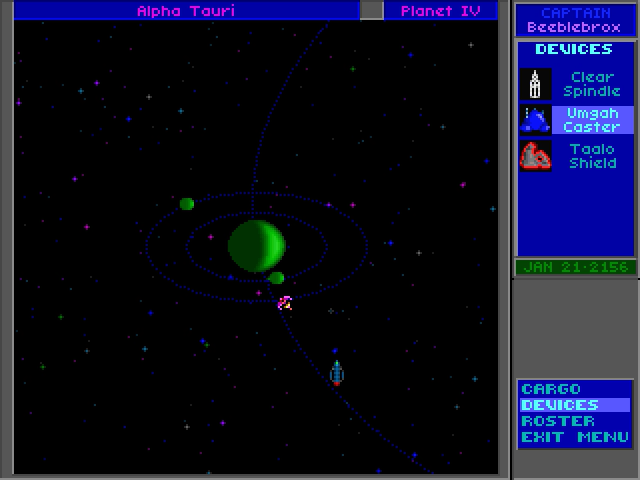 VIDEO: THE FETID DARKNESS

BGM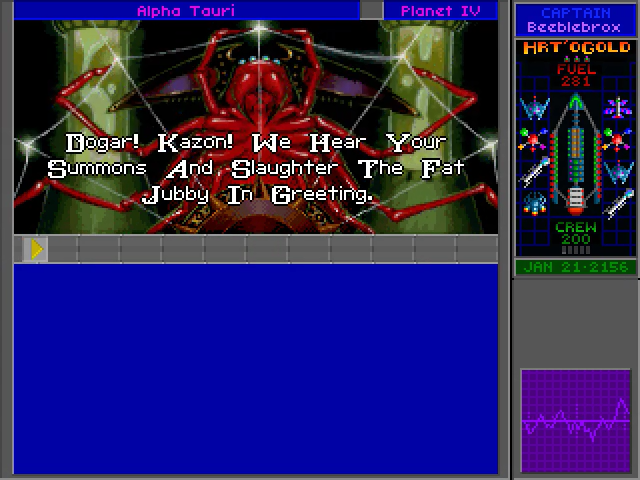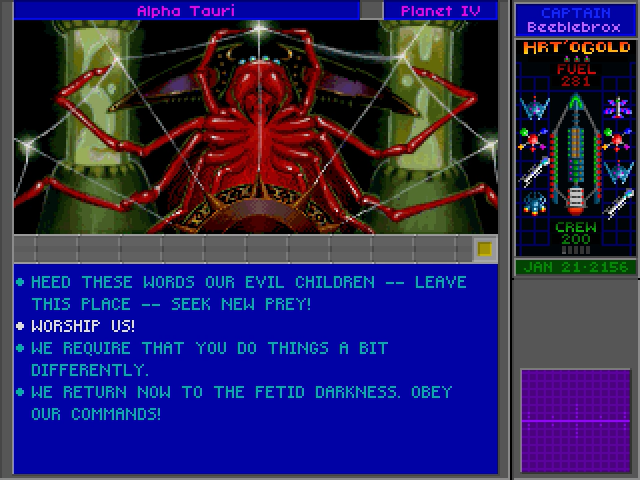 From The Chambers Of Pain We Hear Your Words, Cruel And Evil Lords Of Darkness. And As Your Voice Crackles Out Of The Speaker Boxes, It Sends Thrills Across Our Carapaces. Our Hairy Quills All Stand Erect And We Pant And Wheeze With Holy Fervor! Oh Mighty Gods! You Are The Definition Of All That Is Evil And Hideous In This Universe! You Are The Inspiration For All Cruelty, Deception And Pain. For This We Thank You!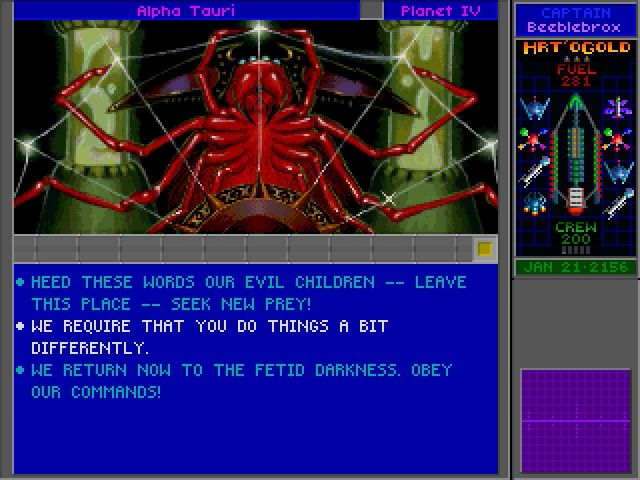 Your Will Is Our Inspiration. What Shall We Do?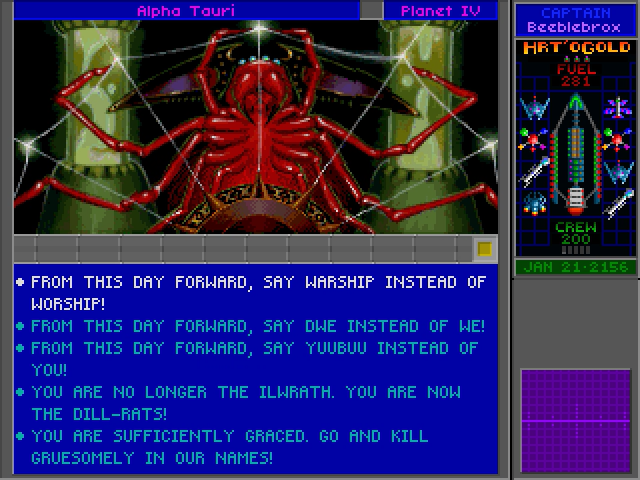 As You Wish, Glorious, Unmerciful Destructors! In All Future Warship We Will Honor You In This Way!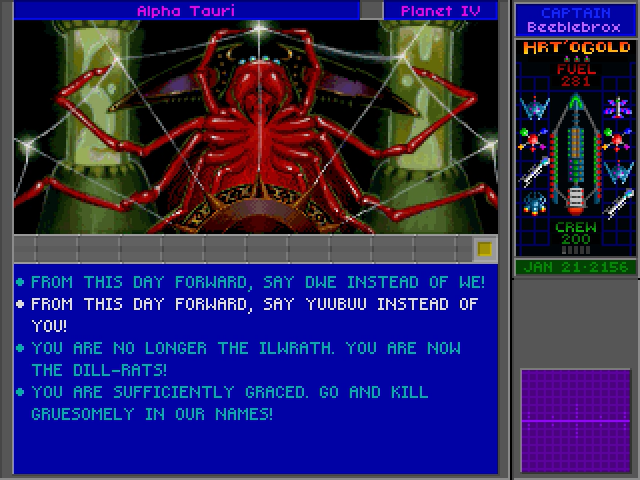 It Shall Be So, Great Ones. Yuubuu Are Mighty! Yuubuu Are The Most Hideous And Deceitful! We Ilwrath Are Too Fortunate To Have Yuubuu To Worship!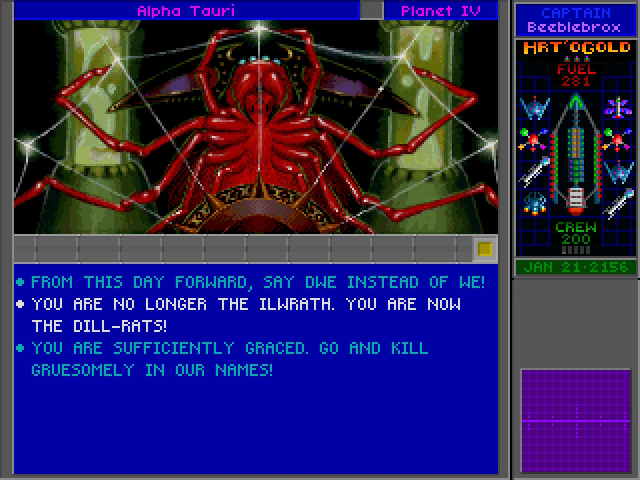 We, The Dill-Rats, Bow And Scrape Off Our Appendages In Your Honor, Mighty Dogar And Kazon!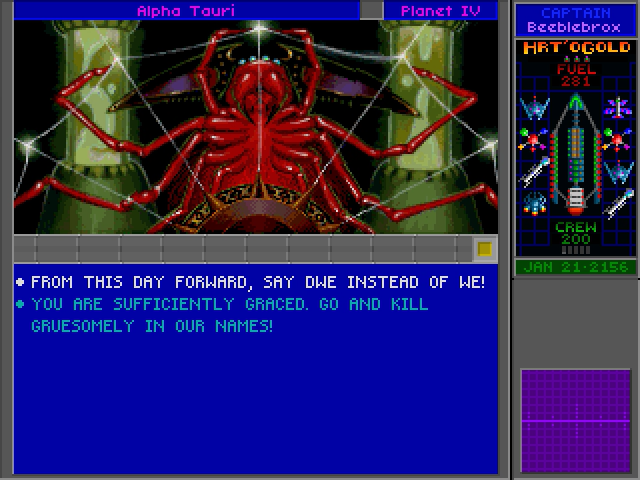 Yes, Great Dogar! Yes Mighty Kazon! Dwe Certainly Will, Dwe Certainly Will!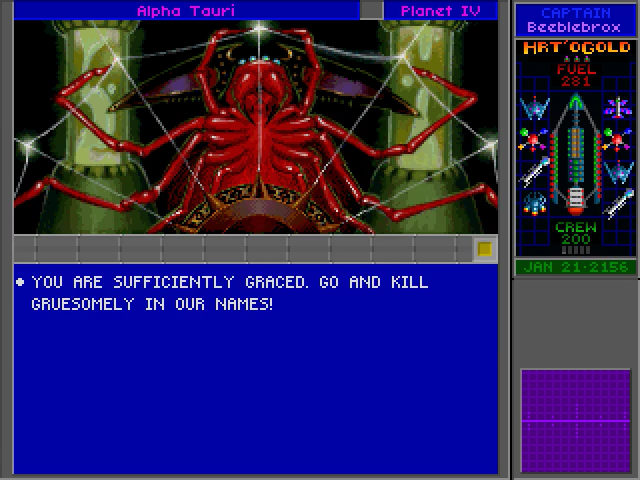 We Can Never Receive Sufficient Direction From You, Great Masters! We Eagerly Await Your Next Vile Commandments.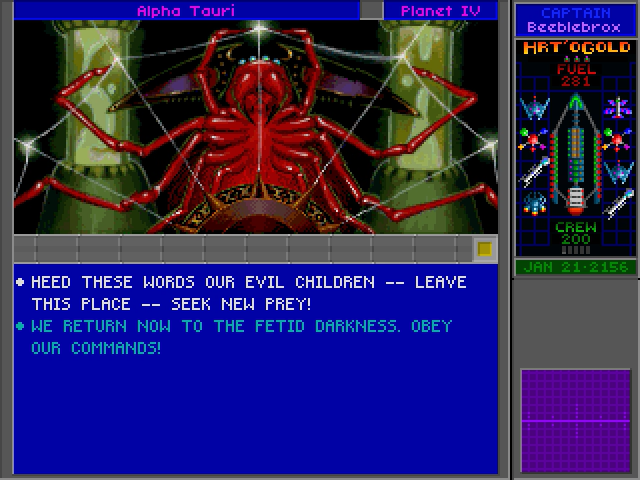 Oh Mighty Dogar! Your Devoted Servants Hear Your Words And Obey Your Divine And Cruel Insights. The Pkunk Are Unfit For OUR Sacramental Tortures! We Relish The Prospect Of Killing More Worthy Prey! We Will Leave Immediately So That We Can Begin Our Glorious, Evil Devotions... But Who Shall We Prey Upon Next? Who Shall Suffer Our Inspired Torment?
Hmm. Didn't Those Loathsome Umgah Once Mention A Race Near Their Region Of Space? Hmm... YES! I Have It! The THRADDASH! We Will Go NOW, And Kill All Of Them!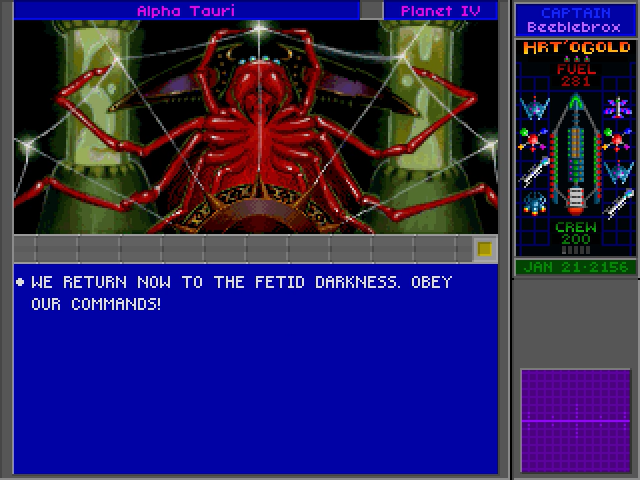 Farewell Dogar And Kazon. We Are Awed By Your Malevolent Presence, And Swear Unto You To Commit Even More Vile And Treacherous Deeds Tomorrow Than We Did Today!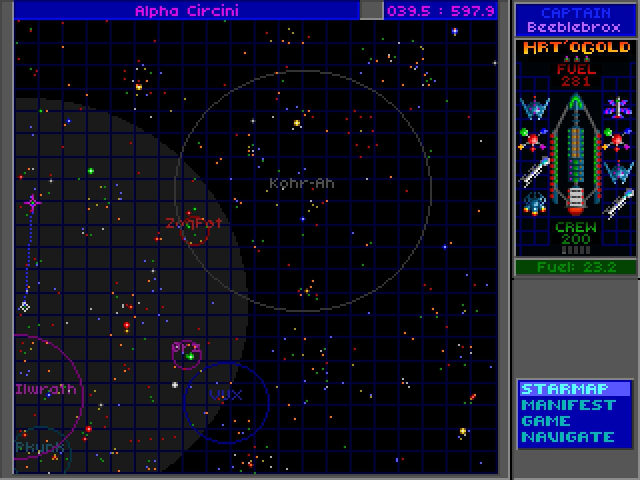 That was probably fine. I can't imagine this having any more consequences.
The fuel radius has been flipping out ever since I hit 310 fuel. Maybe it has trouble with values over 255.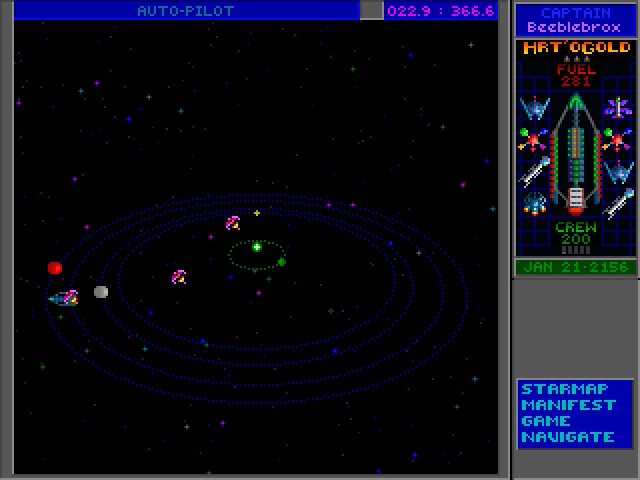 On the way out, I run into another Ilwrath fleet!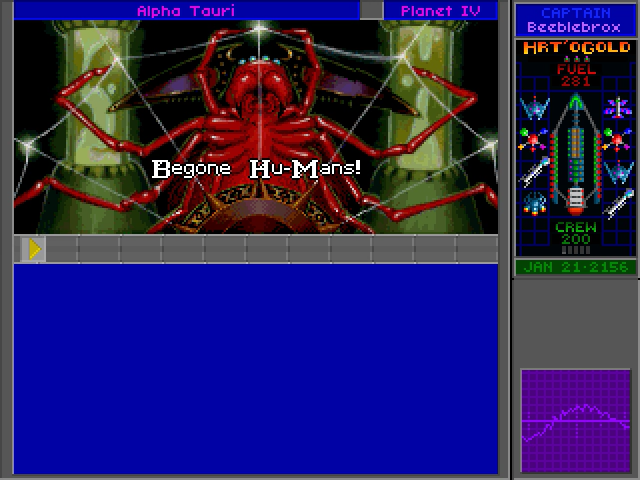 We Would Very Much Like To Tear Off All Your Digits, And Be Entertained Fitting Them Into Your Orifices, But We Are On An Evil Jihad And Cannot Be Bothered Killing You At This Time. Perhaps Later.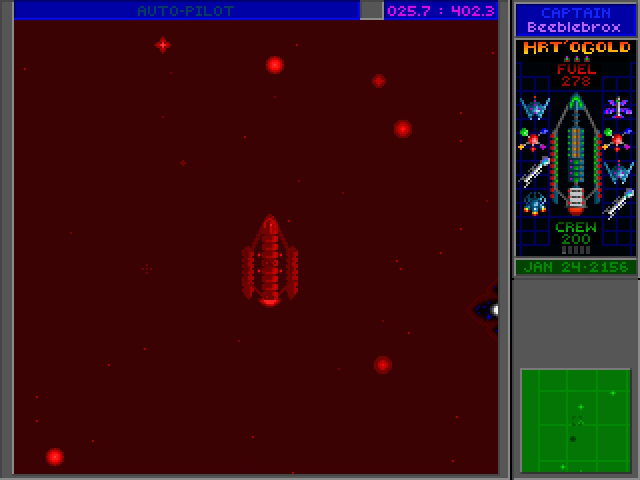 Now that the Ilwrath are on the hunt, they're actually non-hostile to me. Sort of.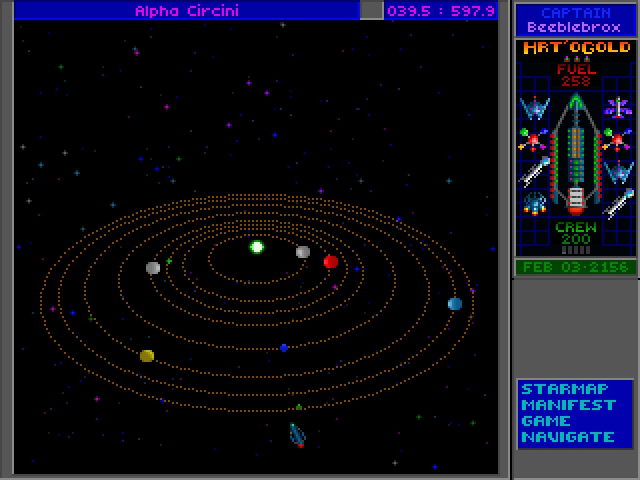 Since the Anomaly hasn't yet appeared, I have some time to kill. I'll spend it mining!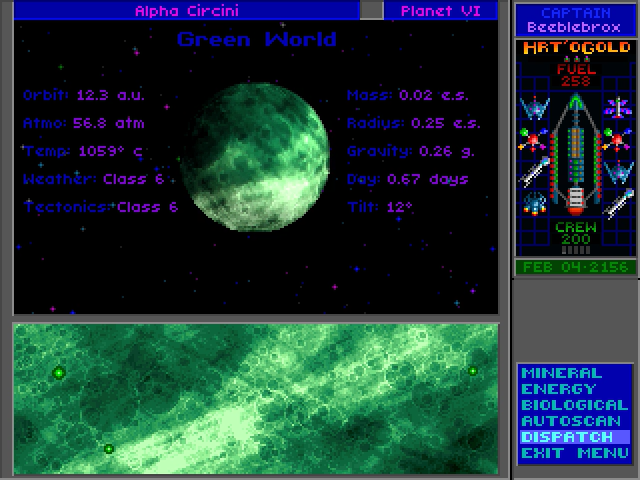 But maybe somewhere where the planets don't have 1000+ degree surface temperature.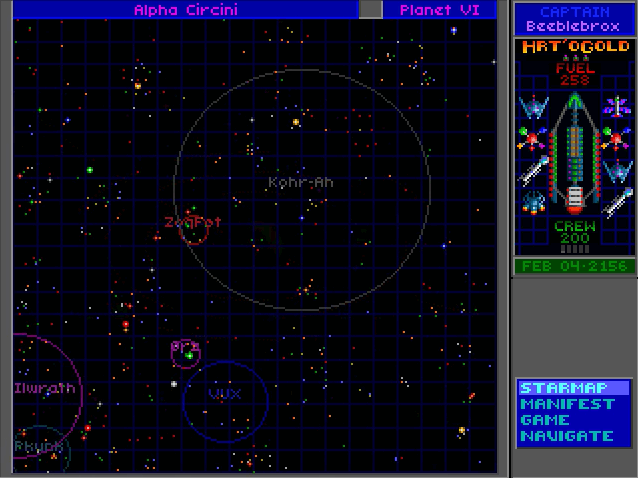 So, I'll go to... oh, shit.
Not only is the entire Ilwrath fleet on the move, but the Pkunk have started going somewhere, too. What's that all about?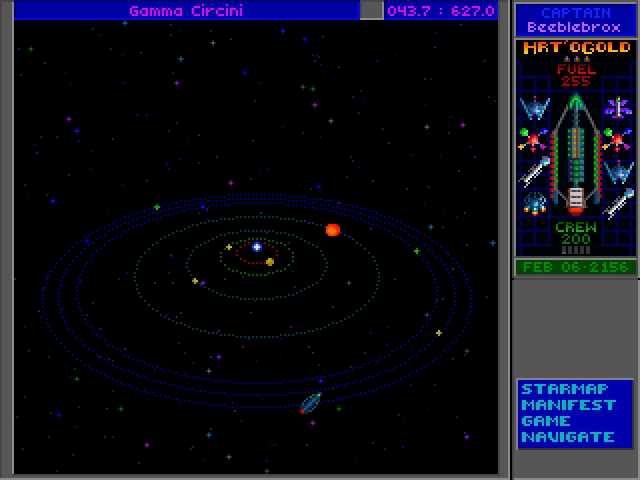 Anyway, Gamma Circini.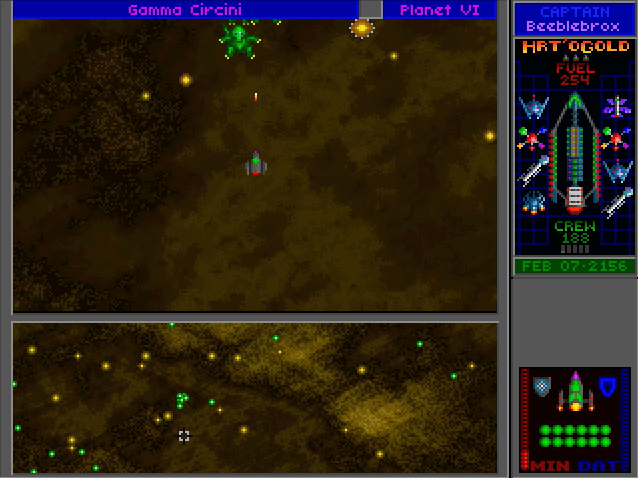 My upgraded Lander is moving at double speed, firing at double speed, and resistant to earthquakes and alien lifeforms. I'm losing a LOT less people during these escapades now.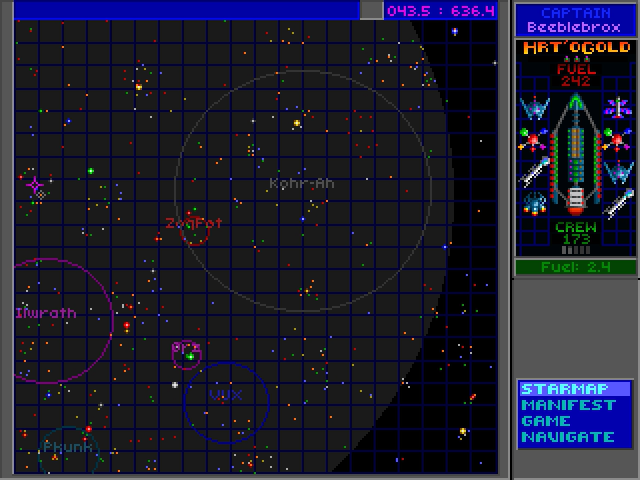 Two star systems later, I head out to where I saw the anomaly last time.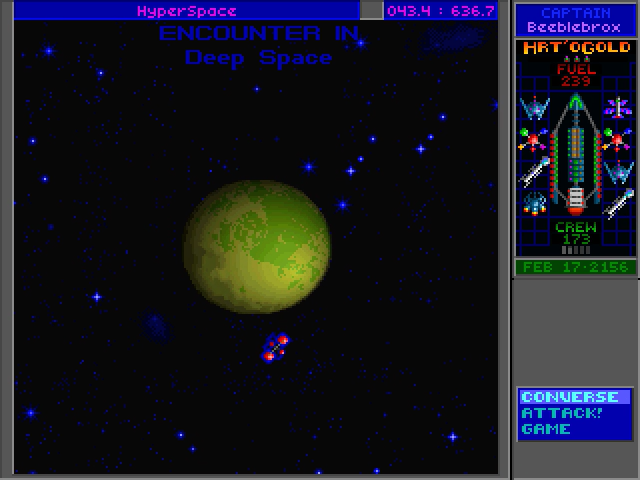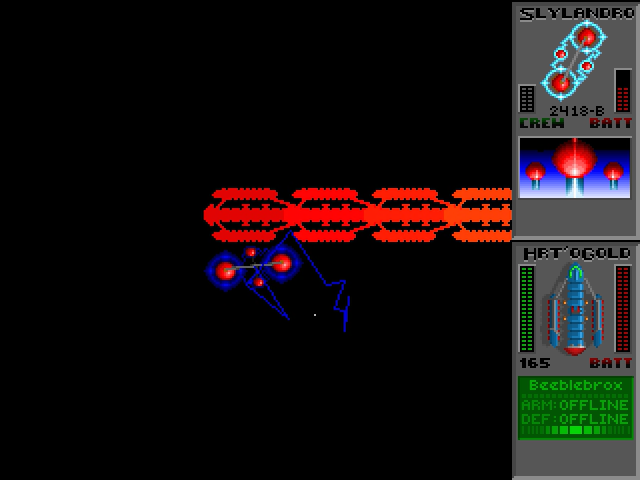 I DON'T HAVE TIME FOR THIS RIGHT NOW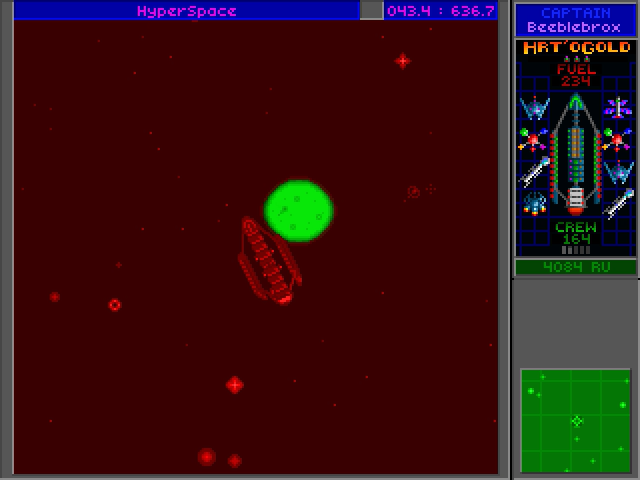 Anyway, here I am! And...
What the hell is that?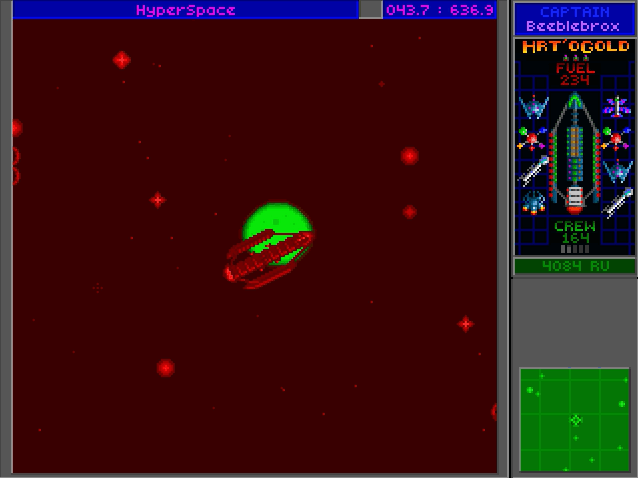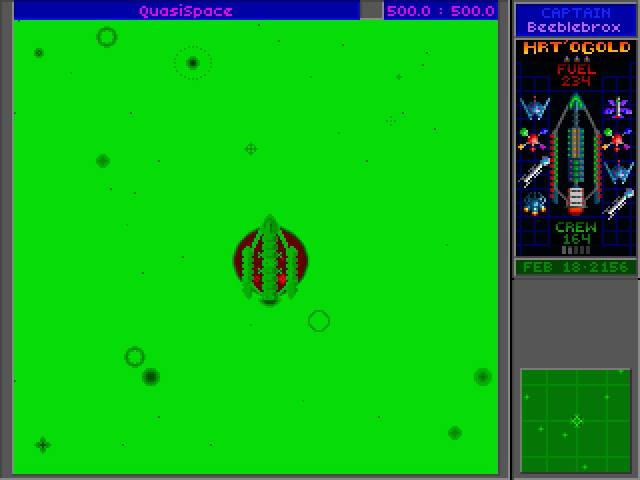 Next: Whatever the hell this place is.