Part 14: Feb 25 2156 - Another Dimension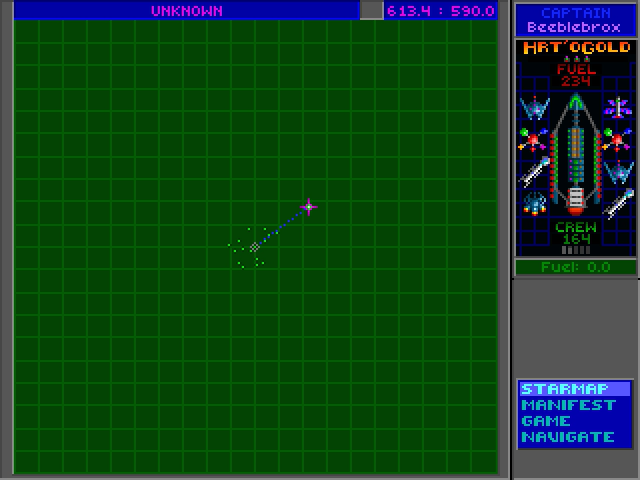 BGM
or
BGM
So, I seem to have been warped to some kind of strange, unknown dimension.
This star(?) stands out from the others, so it's my first target.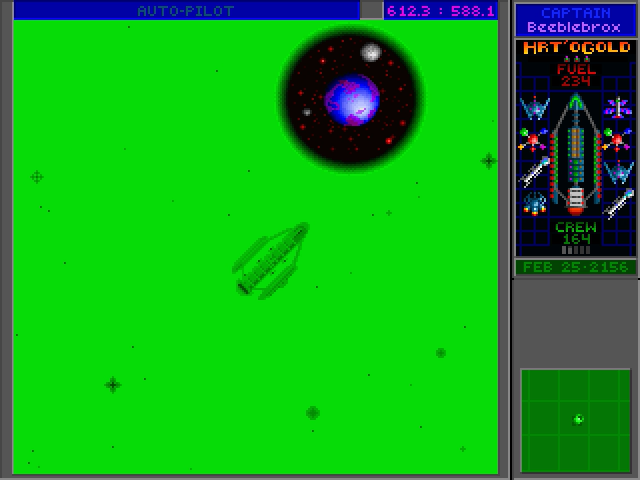 VIDEO: CLEVER CHILD

BGM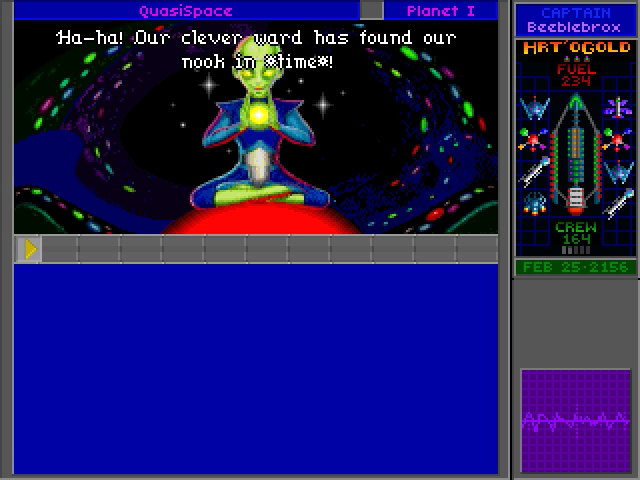 You are the first, brave human! No others have made the trip. This is our homeworld, Falayalaralfali, nestled safe in this TrueSpace eddy. The portal you passed through is a rarity, a natural point of interdimentional fatigue. We use these phenomena to speed our transit through the realities.
We are wondering, have you met with the Umgah recently? We entrusted an injured Talking Pet into their care, and we are curious about its progress.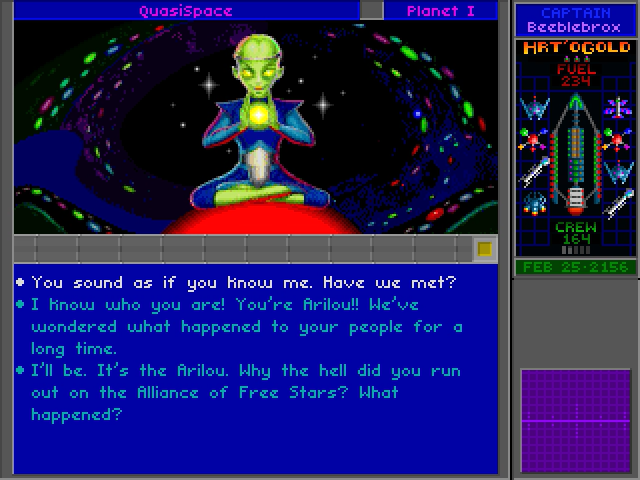 I forget myself. Of course you don't know me. You are from Unzervalt, not Earth. We are, however, how shall I say, related. It has been many years since I have been to our planet Earth.
We are known among your kind by many names... some of them flattering, some of them not. The one we use most often was given to us by the children of the Celts. A wonderful culture! They called us the Arilou... the Arilou Lalee'lay. More recently we were part of the Alliance of Free Stars, along with your kind, until we decided to return to our own... oh, how would you say... reality, when it became clear that your people would be safe enough under the Ur-Quan slave shield.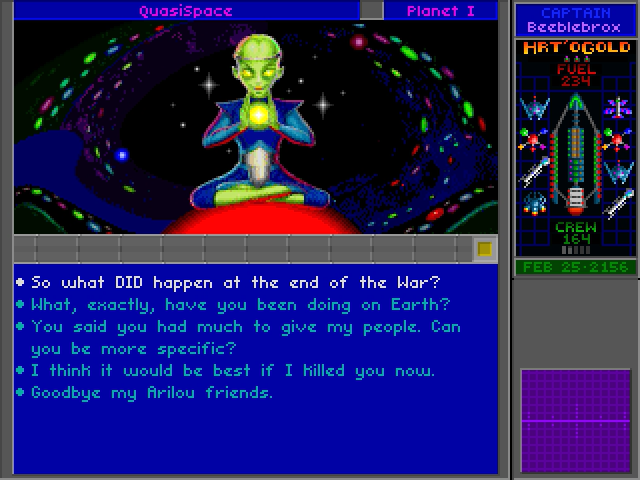 Forgive us if we forget the importance you attach to such events as this. Our... context is infinitely broader than yours in scope, both in space and *time*. Nevertheless, to please you I shall try to recall. Yes, now I remember. Here is the sequence:
The Ur-Quan fleets have moved through your solar system and you are defeated. Your people make the choice not to fight with and for the Ur-Quan. A shield is cast about your world. Your people are now safe. This makes us happy. The Armada departs your star system and moves towards the remaining Alliance members... ourselves, the Syreen, the Yehat and their adopted Shofixti. The Yehat and Shofixti withdraw to Delta Gorno, but they do not permit the Syreen to follow. We are content with the flow of events and leave the area to return here. From our perspective, this sequence of events ends here.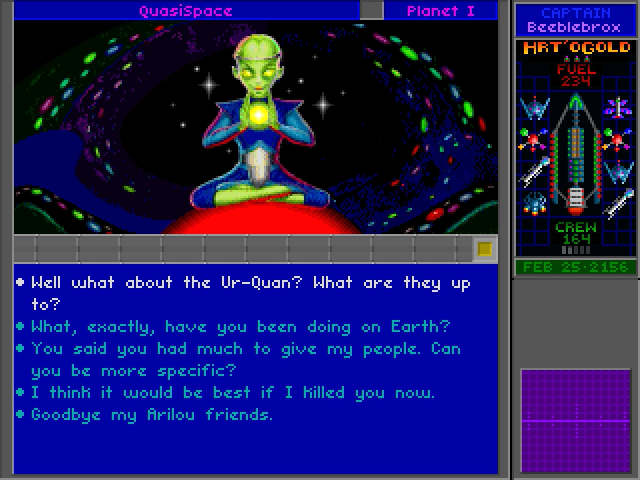 Soon after the Ur-Quan defeated the Yehat and imprisoned the Syreen in Betelgeuse, their siblings arrived to initiate the Doctrinal Conflict. This battle continues as we speak.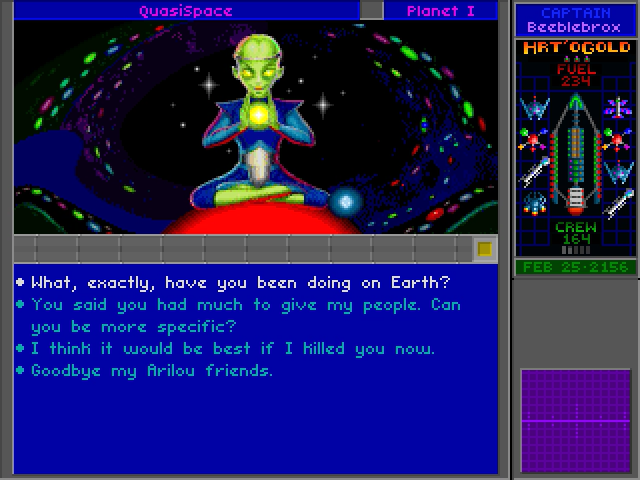 You desire honesty. It is given. We have visited your world for many thousands of years into your species' past. We have changed things... made modifications.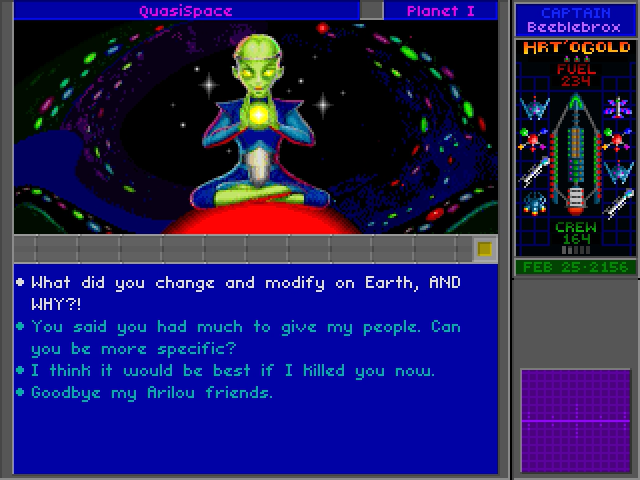 Our motives are multiple, our desires complex. Part of what we do on Earth is for your own protection. There are parasites. Creatures who dwell Beyond. They have names, but you do not know them. They would like to find you, but they are blind to your presence... unless you show yourselves.
The Androsynth showed themselves, and something noticed them. There are no more Androsynth now. Only Orz.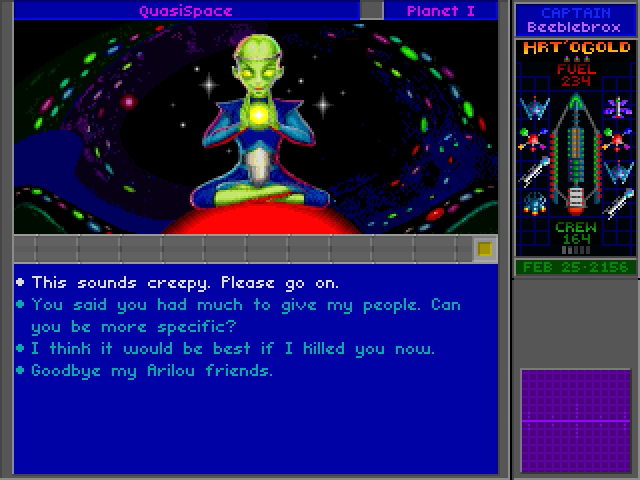 No. In a way, ignorance is your armor, your best protection. They cannot see you now. They cannot smell you. Much of our work with your people involved making you invisible... changing your smell. If I tell you more, you will look where you could never look before, and while you are looking, you can and will be seen. You do not want to be seen.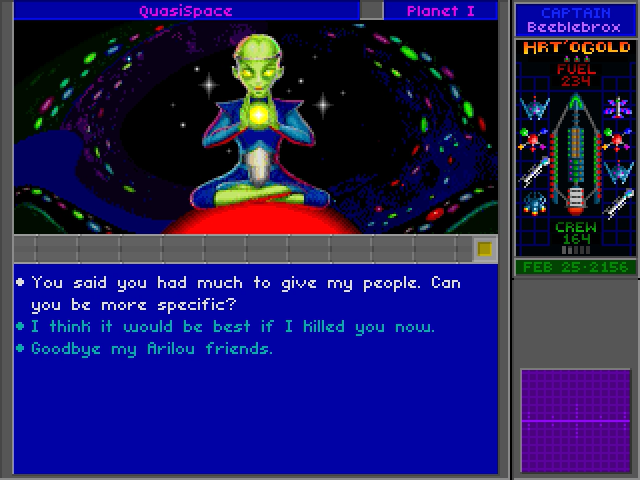 As you know, we live in a dimension adjacent to HyperSpace, which we call QuasiSpace. Our ships move between these dimensions through weaknesses in the inter-dimensional fabric. Although many such weaknesses, or Portals, exist which lead from our dimension, QuasiSpace, to various locations in HyperSpace, there is only one naturally occurring Portal which will transport a ship from HyperSpace to QuasiSpace. We therefore find it convenient to generate our own Portals artificially with focused dimensional fatigue rays.
As a sign of our long-standing relationship with your species, we would happily fit your vessel with a Portal Spawner of its own, but your ship is so massive, our units would be ineffective. However, we suspect you may find a sufficiently powerful warp pod, the key element in a Portal Spawner, in the wreck of the Ur-Quan Dreadnought on the seventh world at Alpha Pavonis. Bring that warp pod back here, and we will prepare a Portal Spawner for your vessel.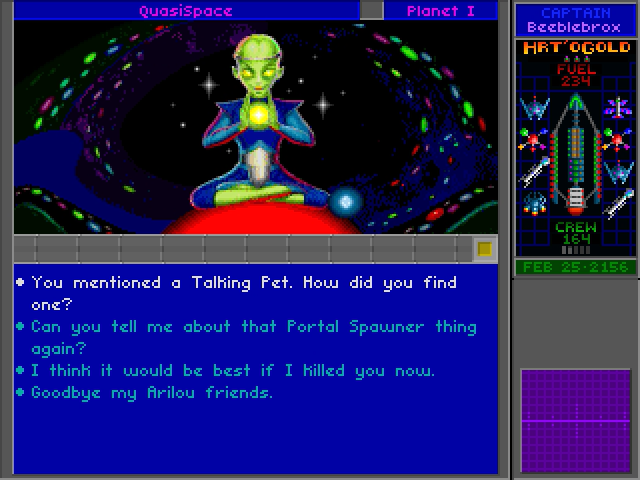 We are an endlessly curious species, and we spend much of our time on, how should I say, reconnaissance missions. During one such trip, we witnessed the crash landing of an Ur-Quan Dreadnought on the surface of Alpha Pavonis VII. Normally, when an Ur-Quan vessel is disabled, it automatically engages self-annihilation circuits to prevent other species from learning the Ur-Quan's technological secrets. In this case, however, these circuits must have failed. The Dreadnought did not disintegrate on impact. We landed to explore the wreckage, and were amazed to find a survivor... a Talking Pet!
As you may know, the Ur-Quan use these non-sentient creatures for the task of inter-species translation, a task the Ur-Quan find ultimately demeaning. The Talking Pet was severely injured, and we did what we could for the poor creature, but it grew clear that without superior measures, the Talking Pet would die. We turned to the Umgah, whom we have known for many centuries. Their bioscience skills are far superior to our own.
The Umgah promised to do what they could, and let us know how the Pet fared. We have not heard from the Umgah since. Perhaps, if you are travelling through their stars, you can ask them for us.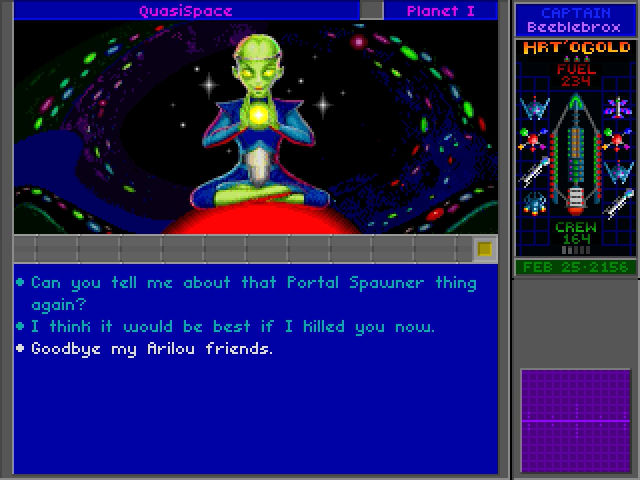 Goodbye, clever child.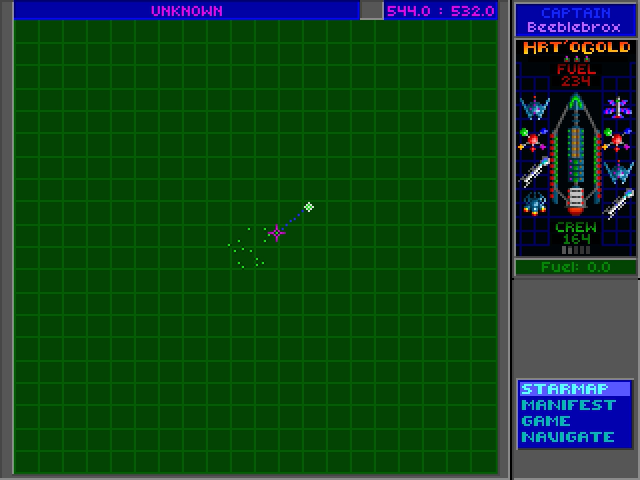 So, each of the other dots on the QuasiSpace map is a portal leading back to a different point in HyperSpace. I'll be operating as if I already know which one leads where, so as to skip a bunch of trial and error.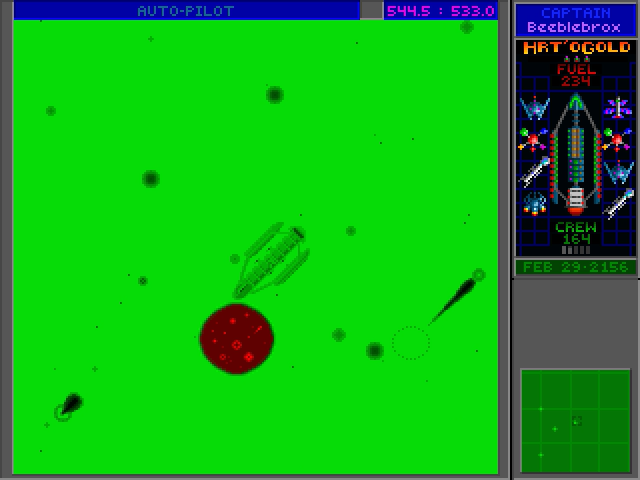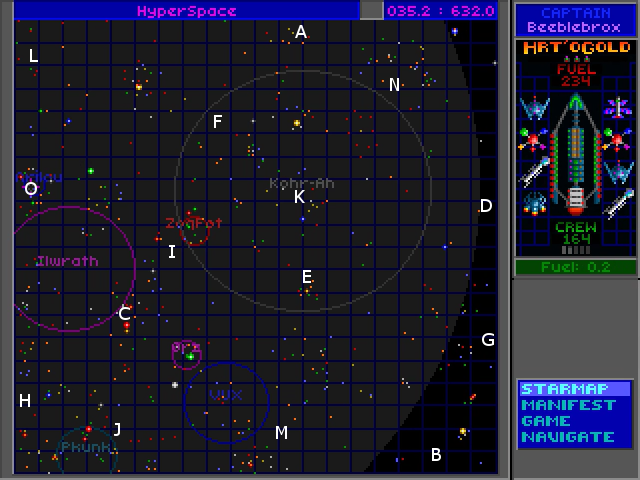 Here's a map of the approximate QuasiSpace portal output locations, labeled roughly as they appear left to right in QuasiSpace. I took Portal O, the closest one to the natural portal and also the closest to...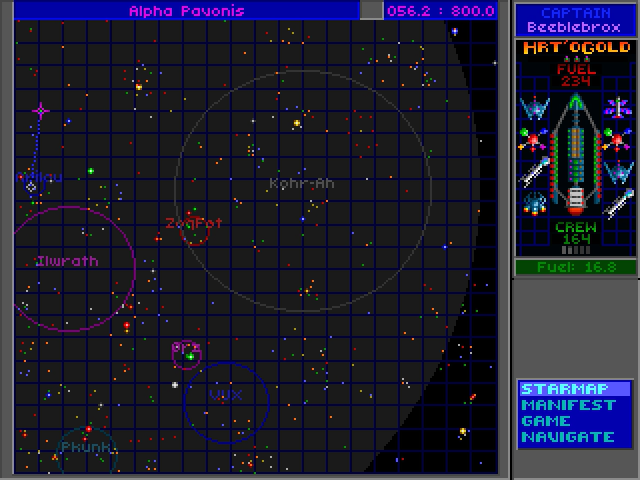 The Pavonis cluster!
I have to hurry. We're on a very tight schedule here.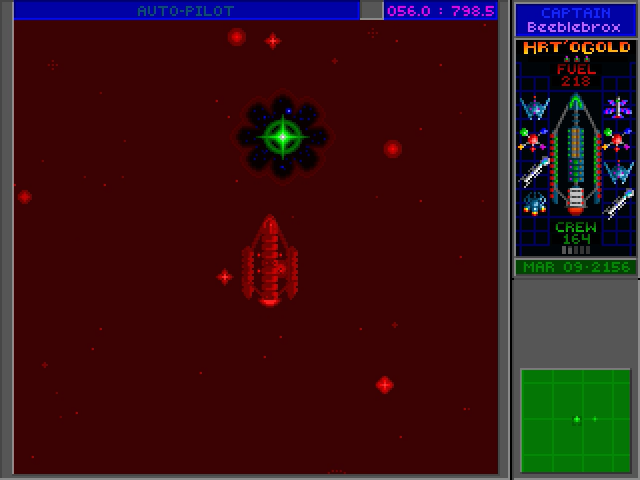 When I arrive at Alpha Pavonis, it's March 9th. The natural portal will re-open on March 17th.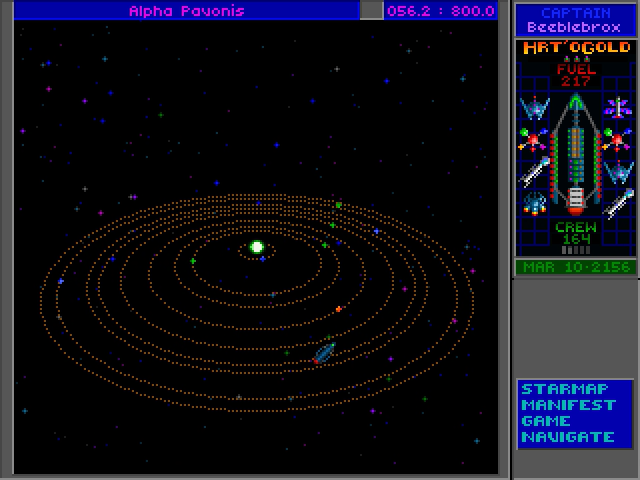 So, no time to mine. I'm heading straight to Alpha Pavonis VII!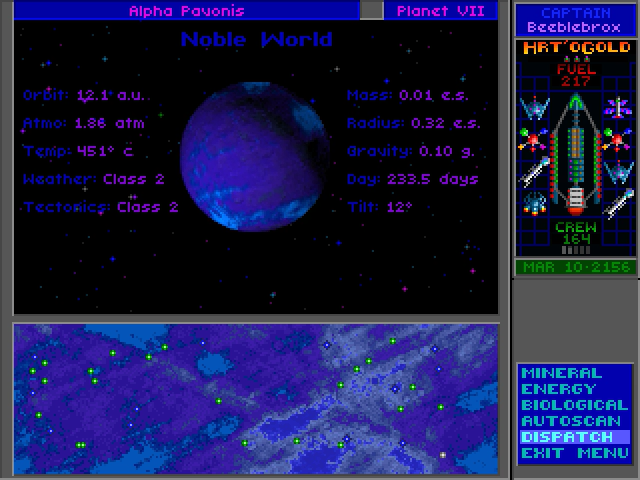 The planet is teeming with life and noble gases, but it's also very hot, and my Lander isn't protected against hotspots. I'm just going to land, grab the energy signature, then take back off.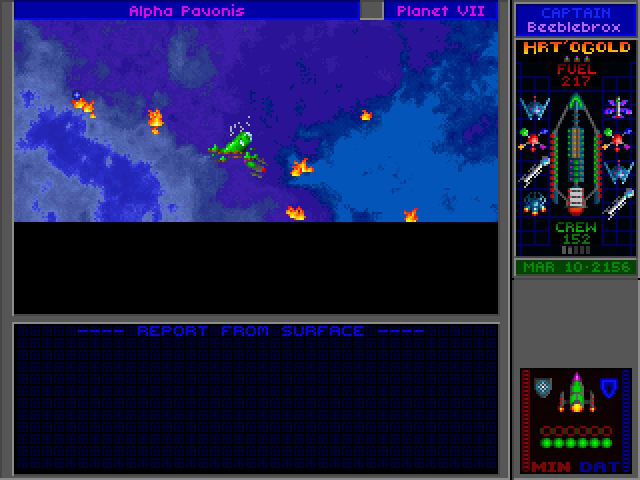 quote:
CAPTAIN, WE HAVE LOCATED THE WRECK OF AN UR-QUAN DREADNOUGHT.

THE FACT THAT THERE IS ANYTHING BUT A HOLE IN THE GROUND INDICATES THAT THE VEHICLE HAD SOME ENGINE POWER LEFT TO SOFTEN ITS CRASH.

MOST OF THE DREADNOUGHT IS JUST SO MUCH ALIEN JUNK. WE HAVE MADE HOLOS OF EVERYTHING, BUT I DON'T THINK IT WILL BE MUCH USE TO ANYONE BUT THOSE EGGHEAD XENOTECHS BACK AT THE BASE.

WE HAVE FOUND ONE PIECE OF EQUIPMENT WHICH IS RELATIVELY INTACT. IT IS A HUGE HYPERSPACE WARP POD, THE STARBOARD UNIT, I THINK. WE WILL BRING IT ABOARD.

---- END OF REPORT ----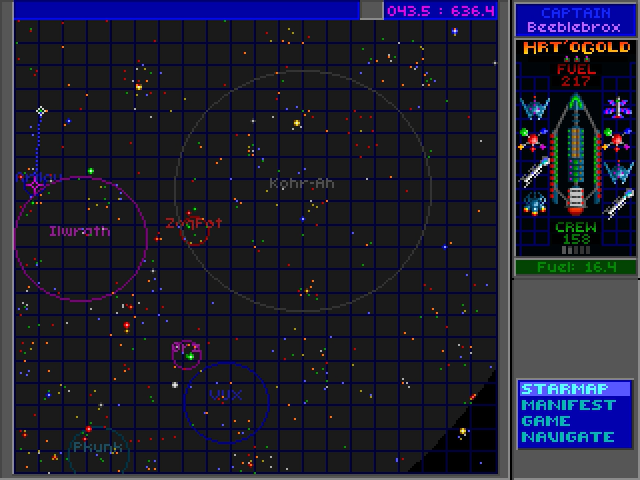 The Spathi mentioned watching the 'star' for three days before it disappeared.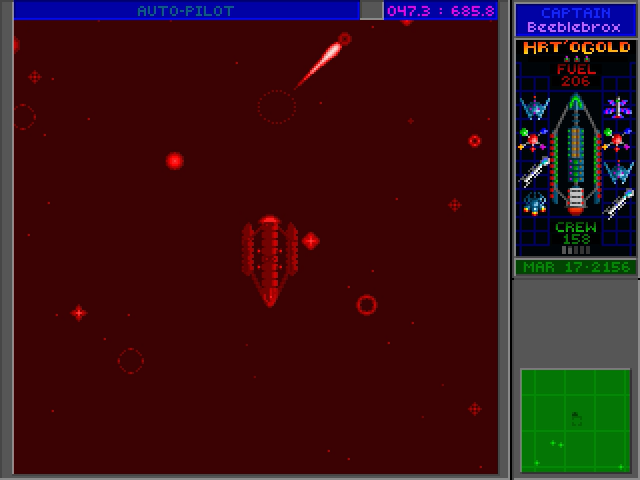 So, I have to reach it by March 19th, or I'll be stuck out here for another month.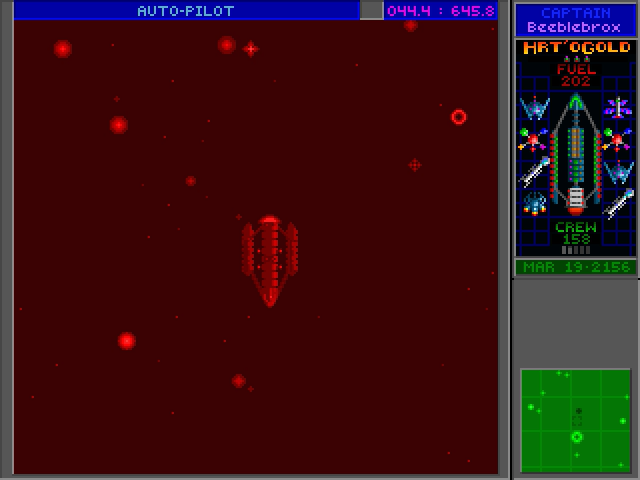 It could close at any second!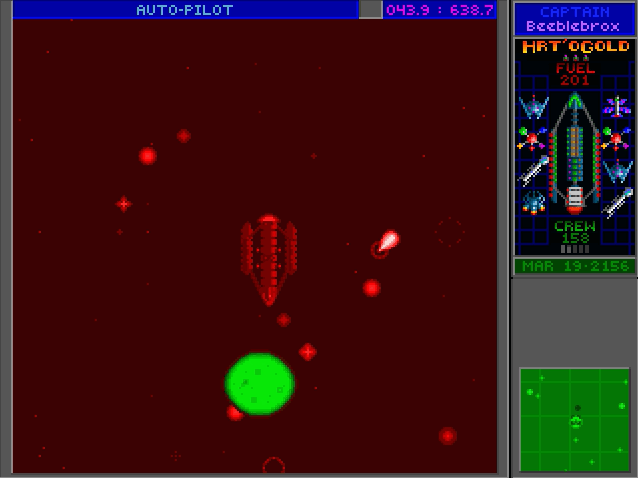 Holy crap, that was close.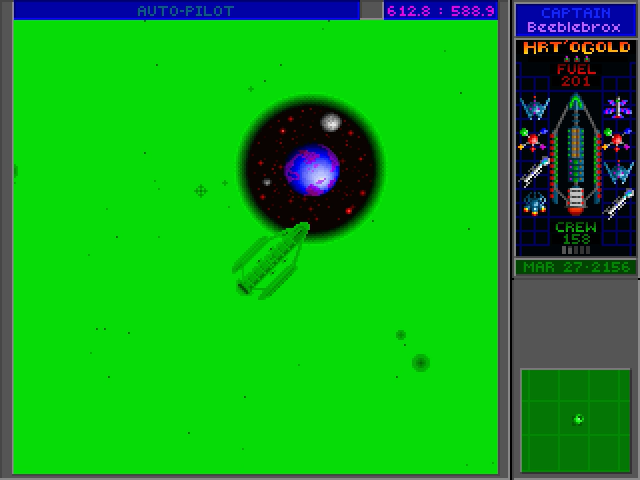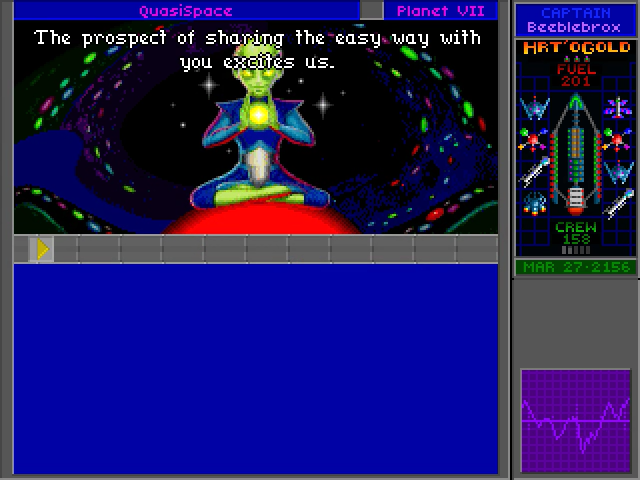 If you have found the Ur-Quan Warp Pod, this prospect can be made a reality.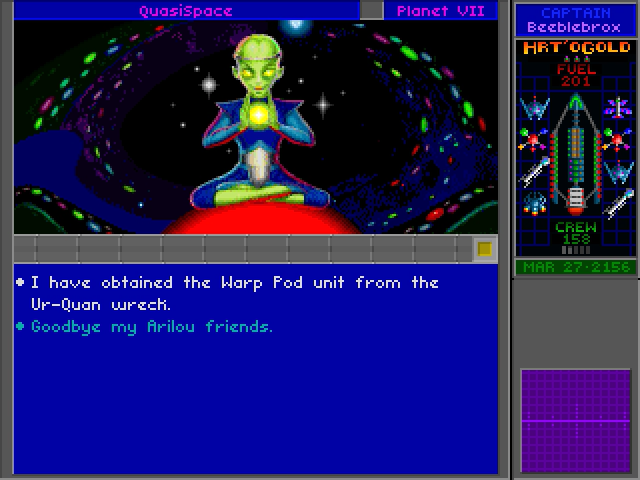 What a surprise! As we have always said Humans are a MOST resourceful and clever species. We are so proud of you! But don't worry that you shall have to wait. We are prepared... Even now our technical personnel are equipping your ship with a custom version of our Portal Spawner device.
The device is useable only in HyperSpace. Whenever it is activated, the Spawner will focus several inter-dimensional fatigue beams adjacent to your vessel, opening a temporary hole into QuasiSpace. Move quickly through the Portal! After your ship has passed into QuasiSpace, you can choose any of the nearby Portals which lead back to HyperSpace, thus saving you needless transit time.
Be keenly aware of this fact! The Spawner requires a great deal of energy to function. We estimate that each time you use the device, it will consume ten of your fuel units.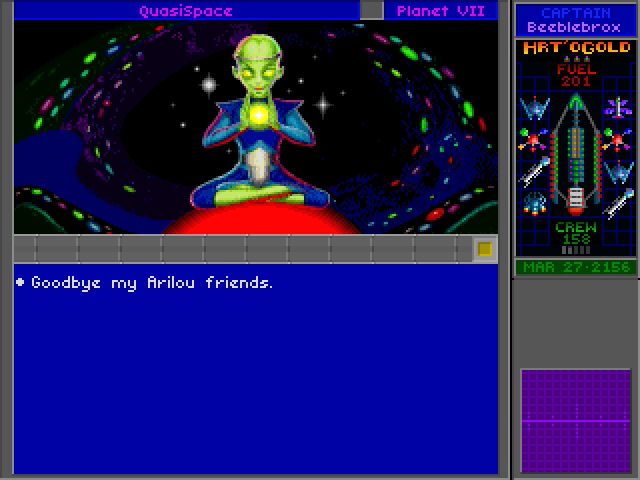 Goodbye, clever child.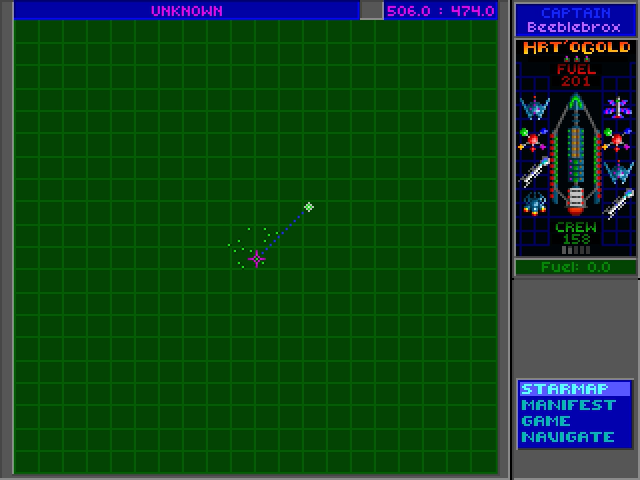 Welcome to the second act. The entire galactic sector has just been opened up to us.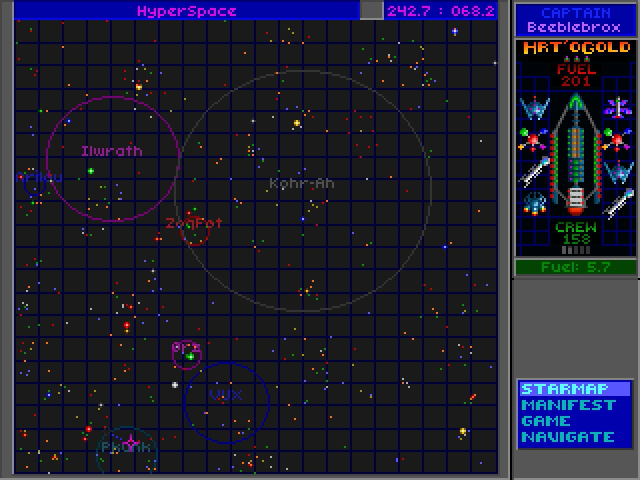 Portal J is the one that takes me closest to Sol, but that's not why I'm here - I have no real reason to return to Earth yet. For now, I gotta chat with the Pkunk.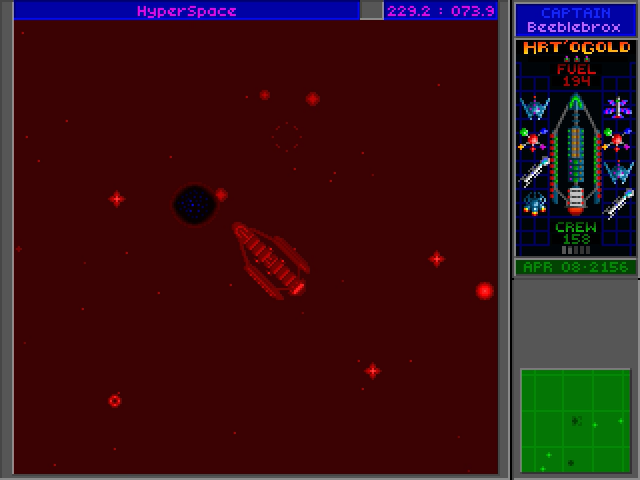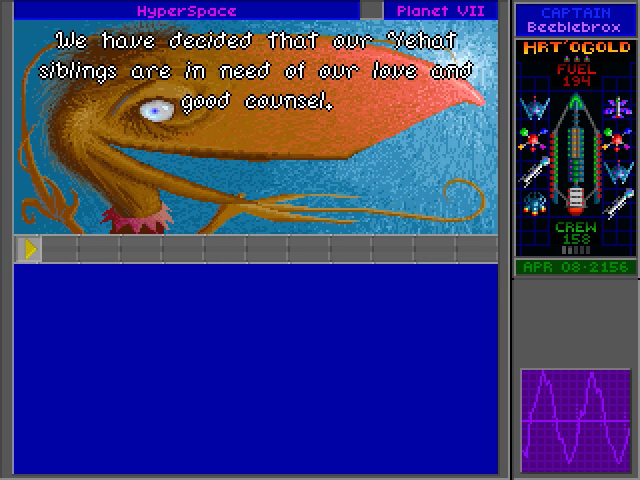 We have waited for too long to return home and heal the wound that has kept our race apart these many centuries. When we arrive in the Serpentis constellation, we will greet our Yehat brethren with warm hugs of affection, which I am sure shall be returned in kind.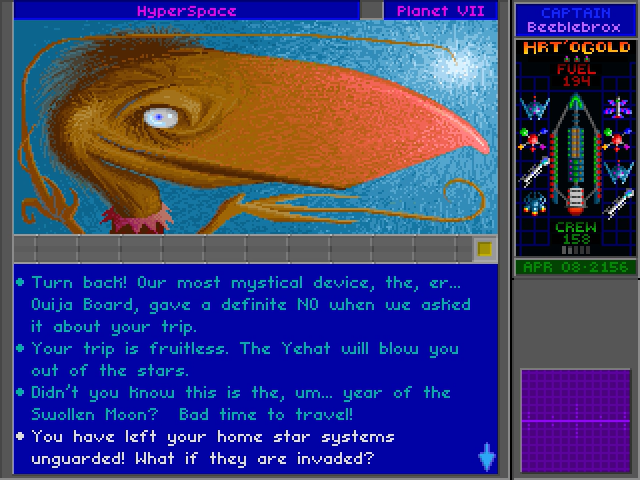 Nothing but material possessions, Captain. We Pkunk, having risen to the ninty-ninth psychic plane, plus a tad, are far beyond trapping our spiritual needs with crude matter.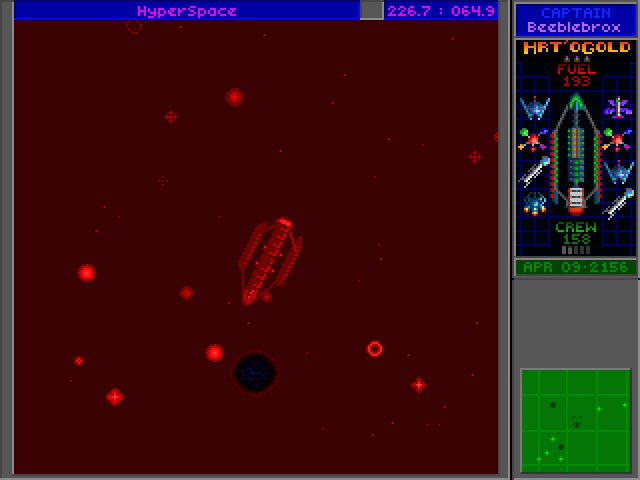 Let's try a different approach.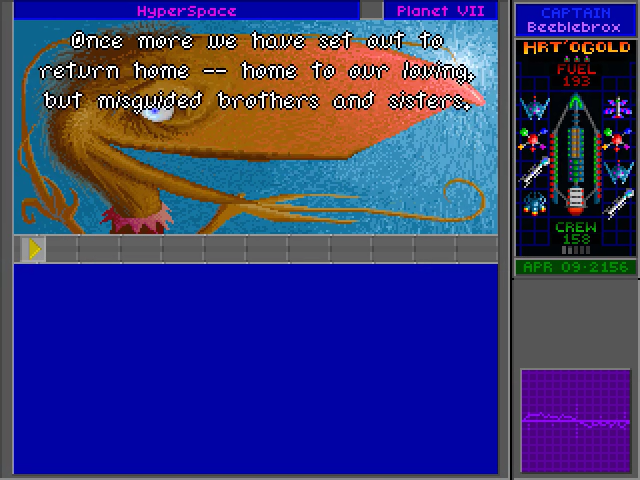 Please do not try to stop us this time. We are firm in our resolve.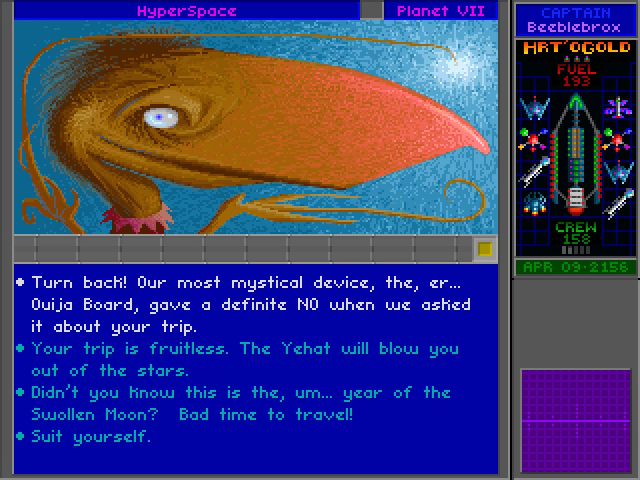 Hmm... this is an ominous portent. We must consult our spirit guides before proceeding. Unfortunately, we will have to return home to do this properly. Thank you for your concern.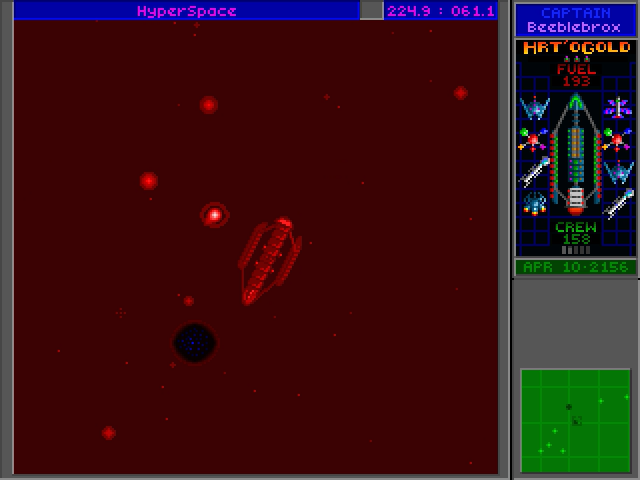 Let's chat with one more Pkunk fleet, just to make sure...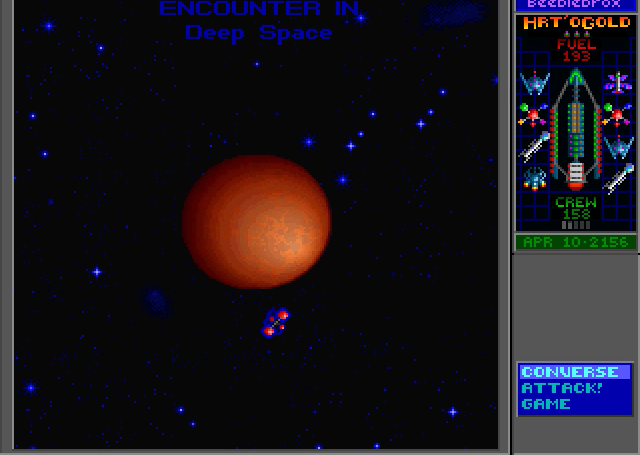 ARGH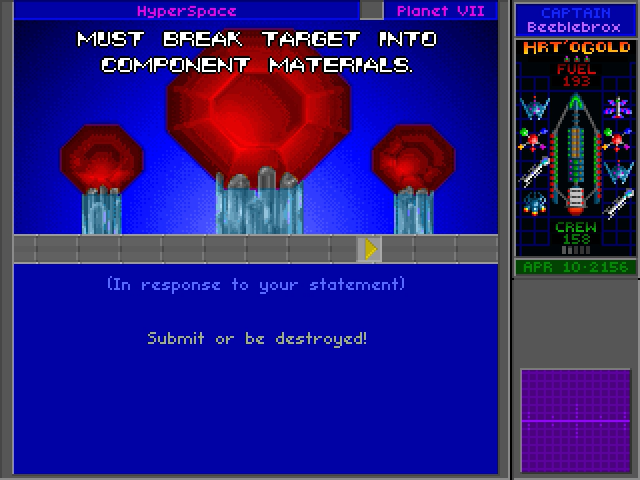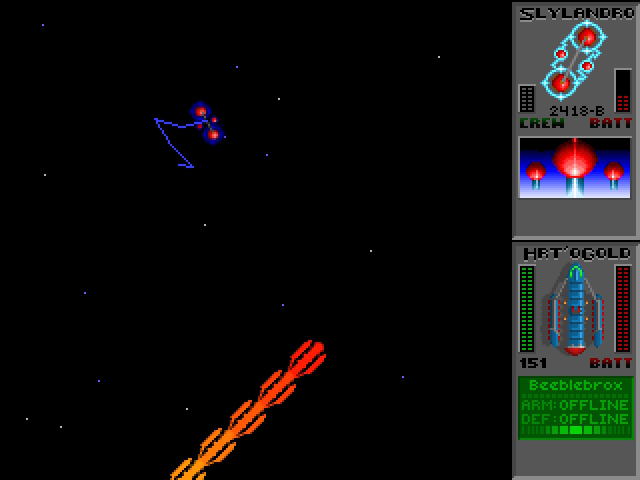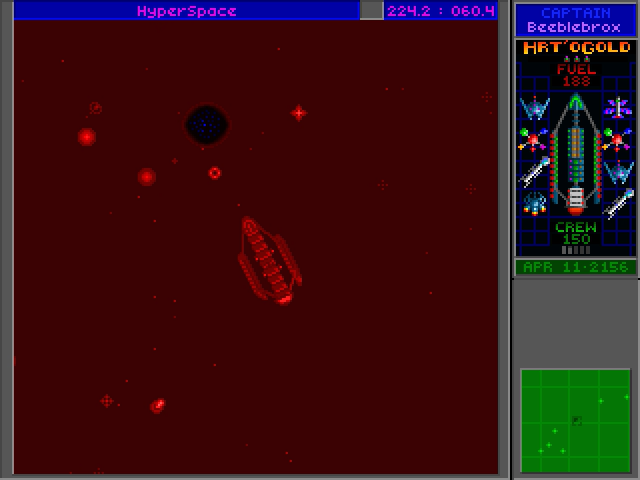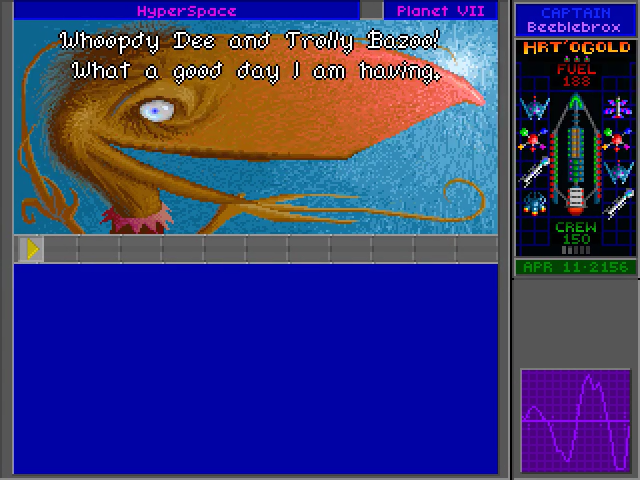 First, my nest mate surprises me with extra fat and spicy grubs for earlymeal. Then I am complimented on my fine display of ceremonial tongs. To top it off, I encounter the human friend, loved by all Pkunk. Can things get any better?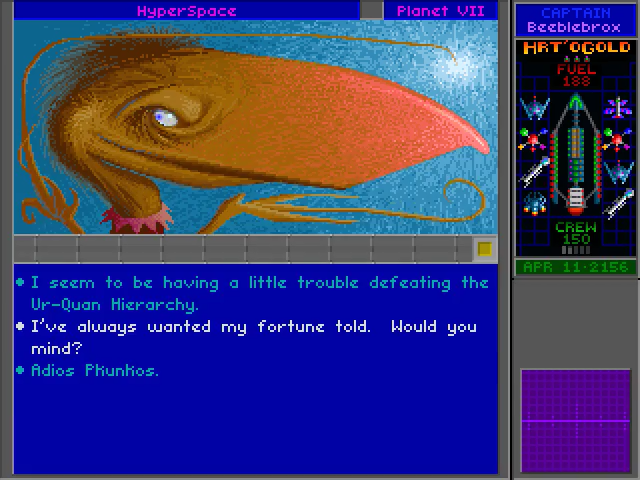 Not at all. You are an open book to me. Ahhh, how quaint your little life is. So refreshing.
Anyway, I see in your future, that you will be jumping across the galaxy through dimensional doorways which are at your beck and call. This ability you shall receive from a mysterious, and yet somehow I sense, lovably alien race called the ArilouLaleelay, or LalilouArilay, or LoopylooHappyday, or something like that. Also I sense that you will have 14 children, and die at an early age.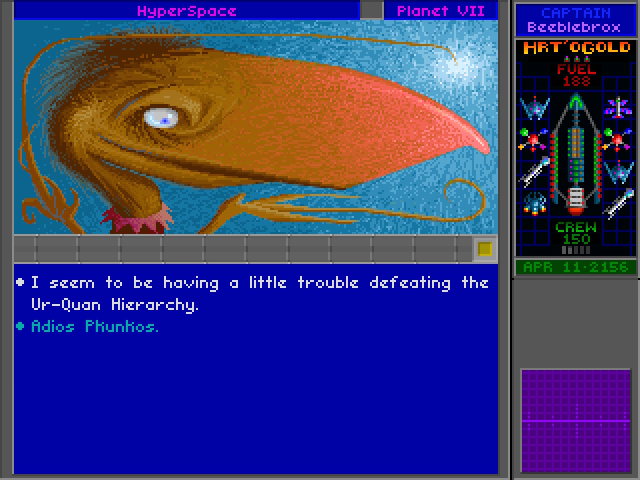 Well, not advice, exactly, but I can offer you plenty of moral support. Also, I can tell you about another dream. Yes, perhaps I will tell you about my dream.
In this dream there was a small creature, fragile and weak. About it loomed a much larger creature, dark and foreboding. The large creature was preparing to take the smaller one into its slavering jaws, when the little one looked up and said, 'Hold! Why do you do this! What you are doing is wrong!' This made the large creature pause, while it pondered the question.
Then I woke up, and I'm not sure if the little creature got eaten or not. Come to think fo it, it really wasn't much of a dream. I would have much preferred Awkky Birdy's dream. Anyway, I thought I would tell you about that.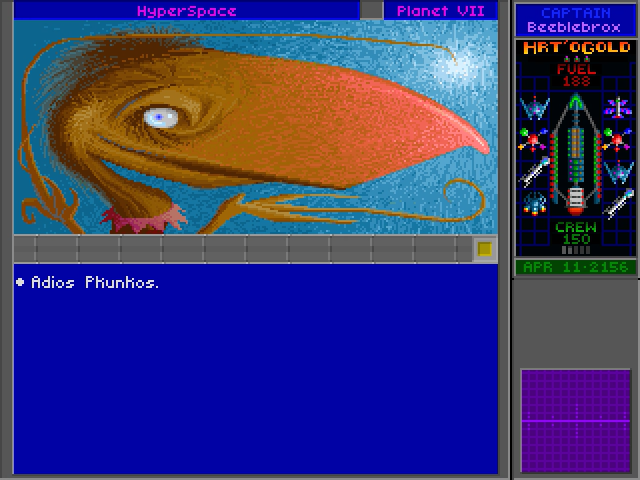 Goodbye, Captain. When the crystal spheres once more rotate into harmonic union, we shall meet again.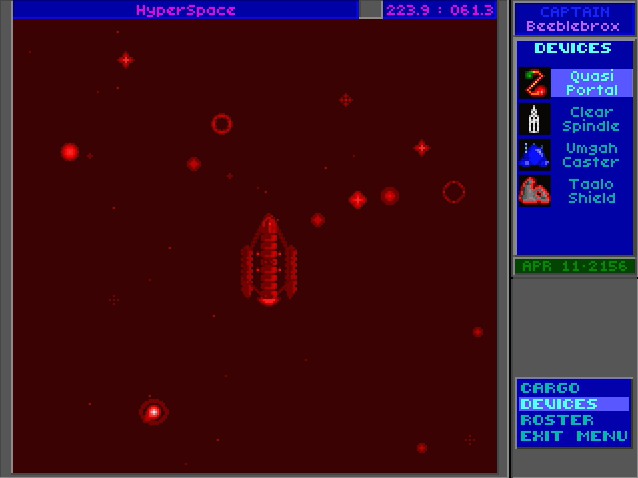 Well, it seems like the Pkunk are no longer in immediate danger of getting blown to pieces by the Yehat.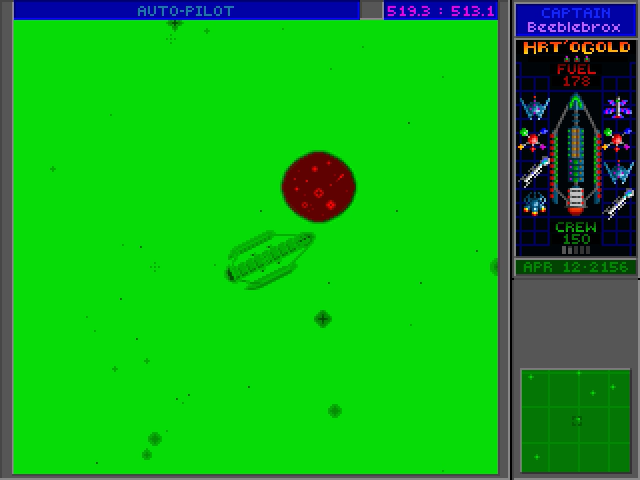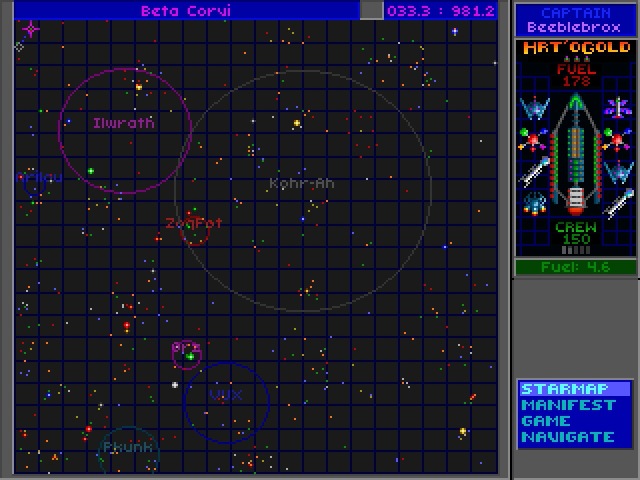 Next: Putting an end to these damn probes.