Part 20: Oct 31 2156 - Big Game Hunting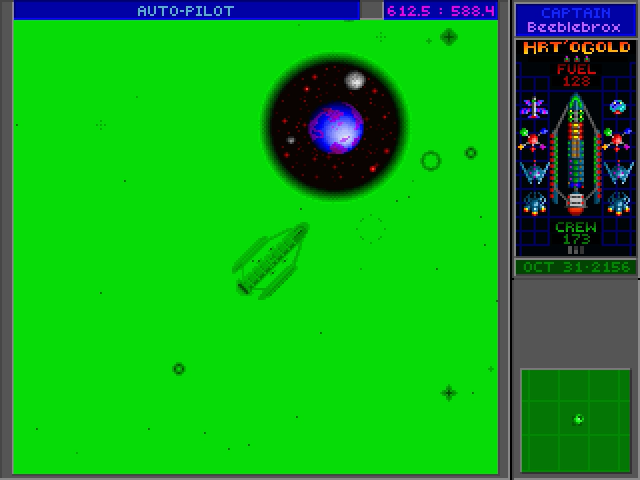 Before finishing any further quests, I'd better report back to the Arilou.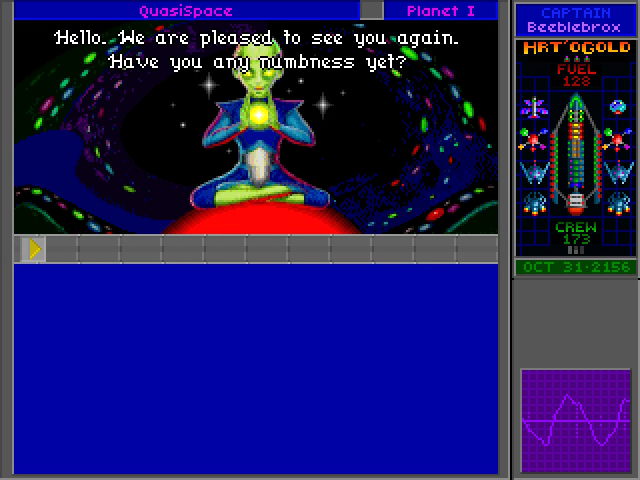 Good. It should be too soon for that. Too soon by far.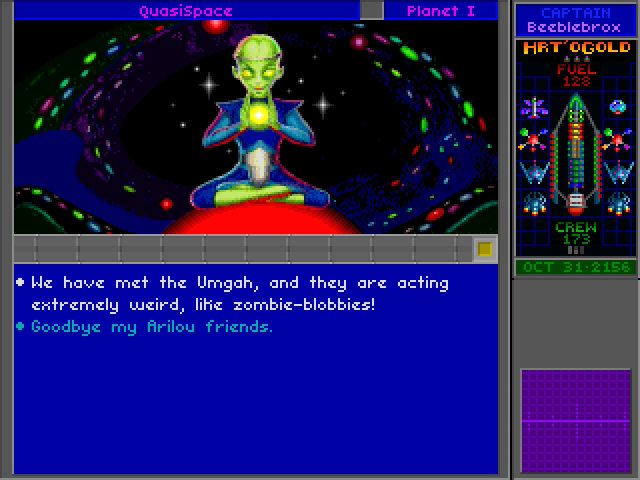 Hmmm... this is disturbing news. They are normally rambunctious to an extreme. We will send ships to Umgah space to investigate. We should have some answers in a few days time.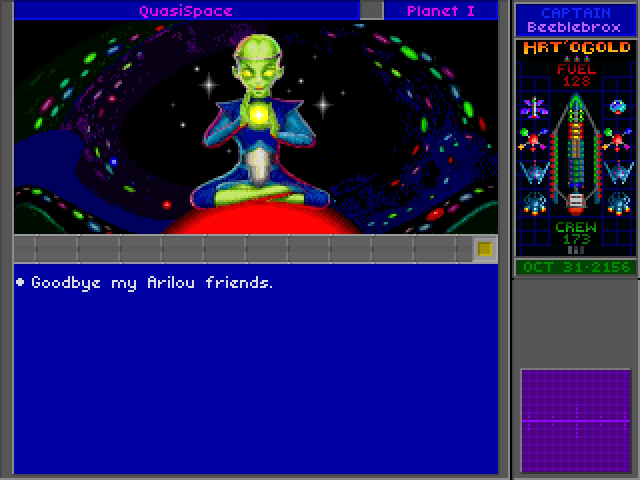 Goodbye, clever child.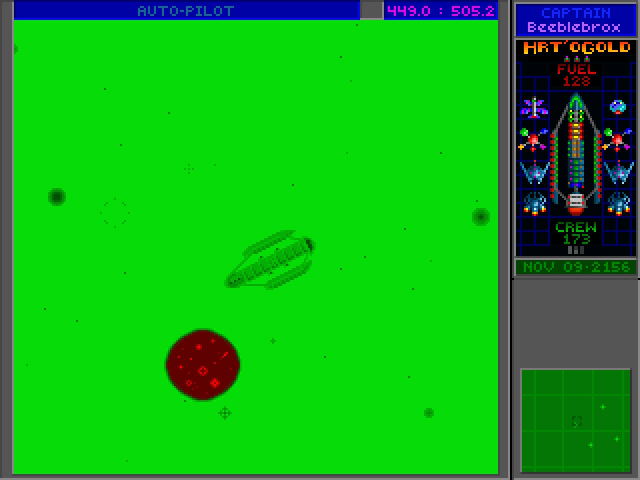 Now: Into unexplored space!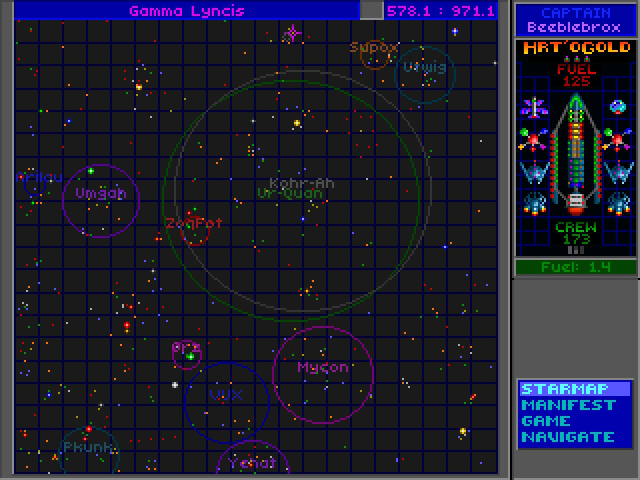 So, Admiral ZEX's description of the location of his creature said that it was in a constellation that resembles a beast swallowed by a long, thin creature. Many astute readers noticed that the Lyncis cluster is shaped like a hat - or possibly like an elephant, swallowed by a snake.
There are two yellow stars in this constellation, so I'll check them both. First: Gamma Lyncis!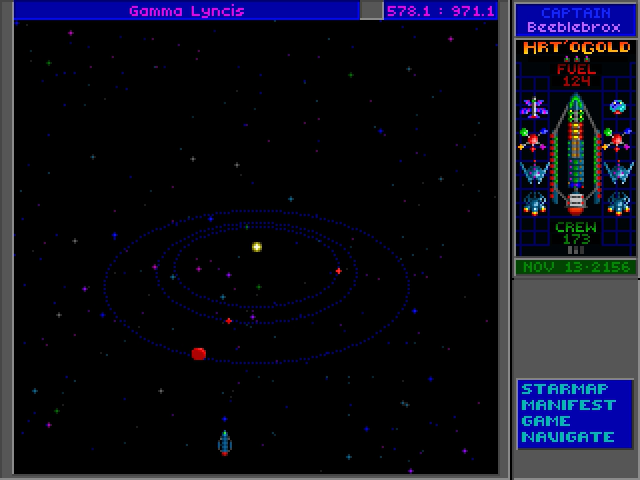 A small, weak star, surrounded by several disappointing planets. No signs of life.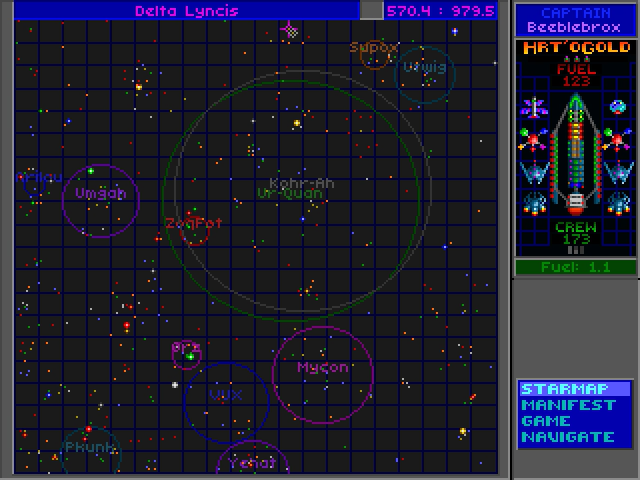 So, next target: Delta Lyncis!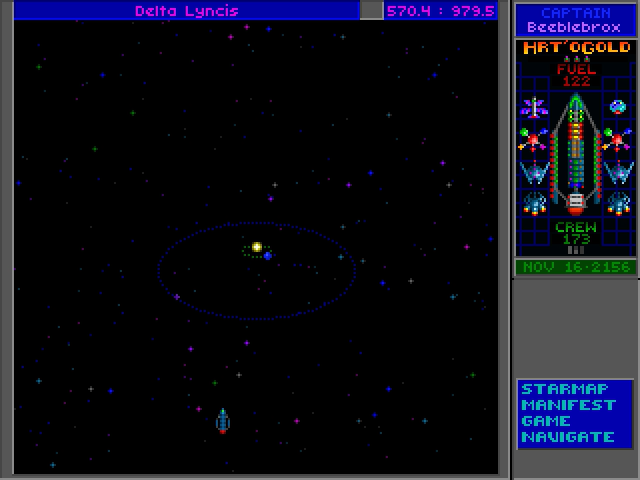 Another small star, this one with only two planets in it.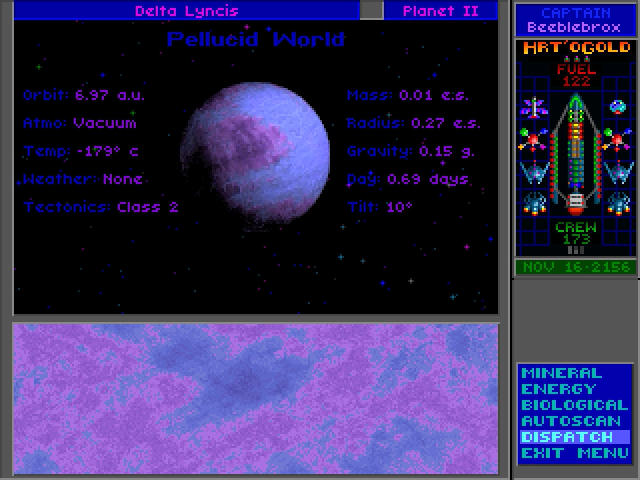 Delta Lyncis II: Uninhabited, no hazards, no minerals.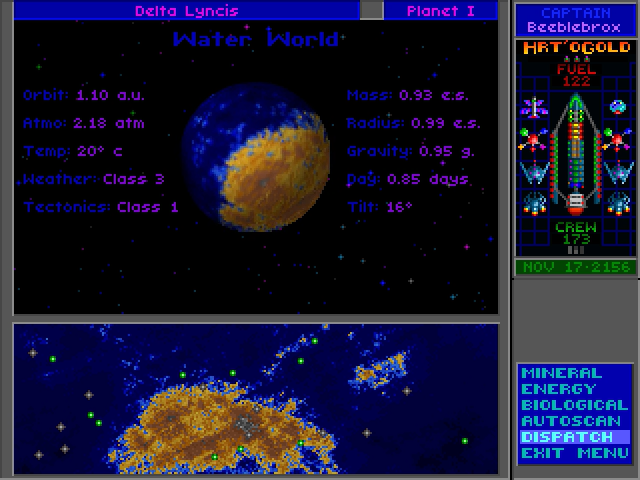 Delta Lyncis I: Inhabited!
I send down the lander.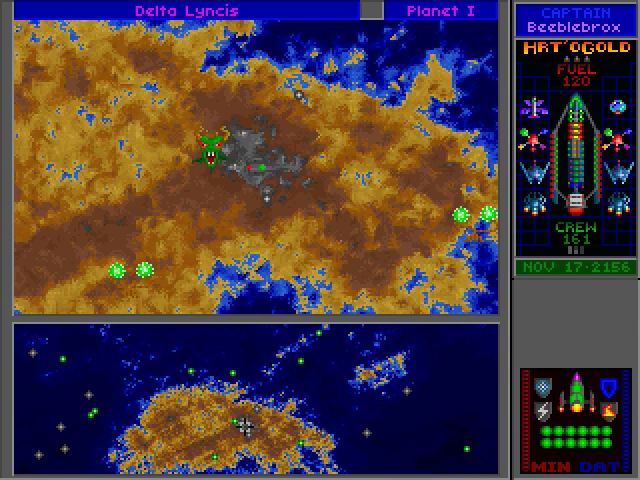 Holy cow! I think we found it.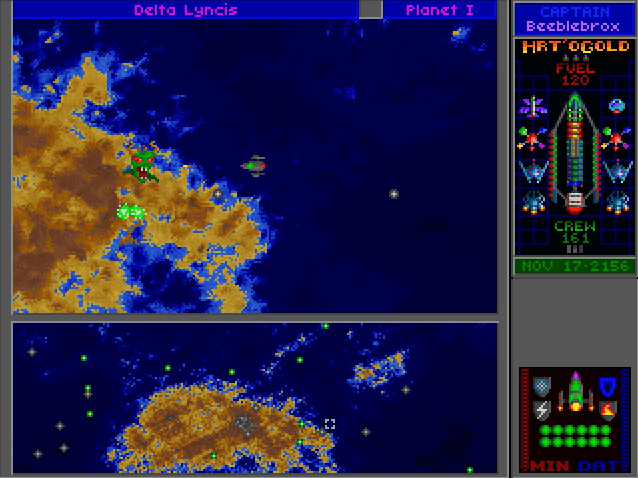 This thing is easily the most deadly alien lifeform in the game - however, with full lander upgrades, it's still a joke to take out.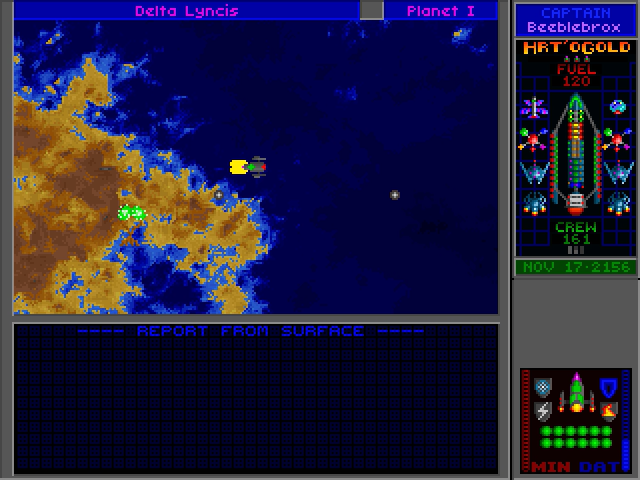 quote:
WE HAVE FINALLY TRAPPED THE HIDEOUS BEAST WHICH HAS BEEN SO HARD TO CAPTURE THESE PAST FEW DAYS.

I SWEAR, WE EMPTIED OUR STUN BATTERIES INTO THAT THING OVER A DOZEN TIMES BEFORE IT EVEN SLOWED DOWN. A FEW MORE SHOTS TO ITS BARBED HEAD, AND IT WENT DOWN, BUT WE HAD ONLY A FEW SECONDS TO GET IT INTO THE MAGNETIC RESTRAINTS BEFORE IT STARTED THRASHING AROUND AGAIN.

EVEN AS I MAKE THIS REPORT, THAT DAMN MONSTER IS SHRIEKING LIKE A STEAM ENGINE AND TRYING TO TEAR ITS WAY FREE.

I HOPE WE KNOW WHAT WE ARE DOING, BRINGING THAT THING ABOARD. IF IT GETS FREE INSIDE THE SHIP, CAPTAIN, WELL... I JUST DON'T WANT TO THINK ABOUT IT.

RETURNING TO SHIP.

---- END OF REPORT ----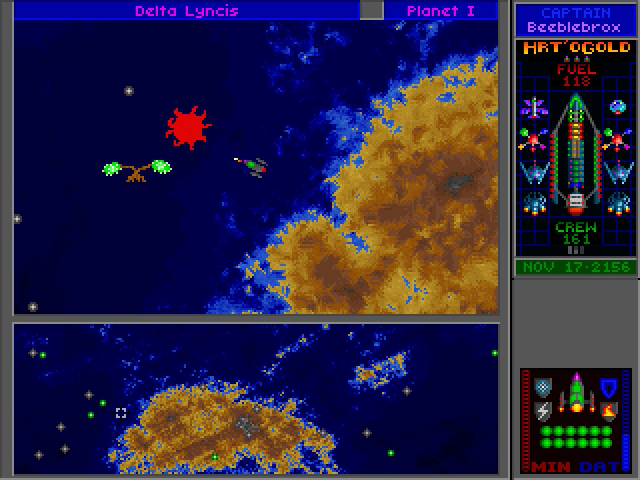 I get the rest of the planet mined out while I'm in the area.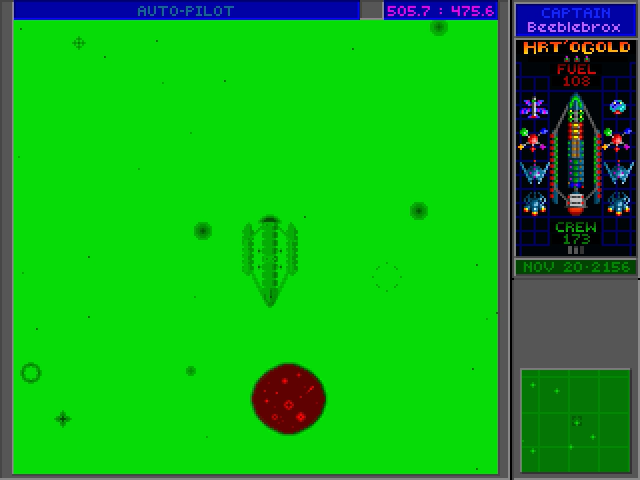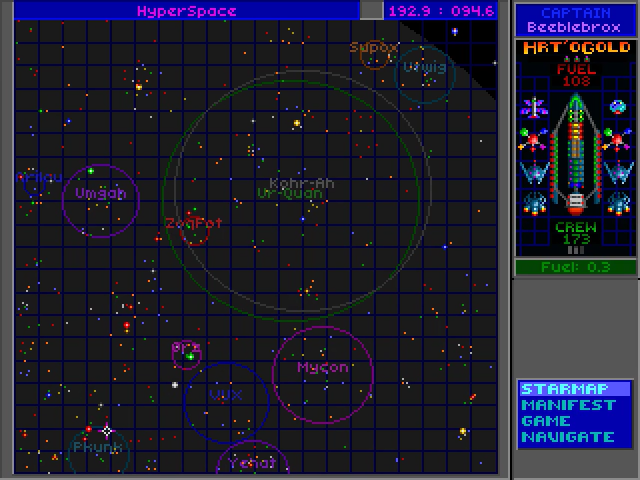 Next stop: The Pkunk! They're still making steady process towards their brothers and sisters, who are prepared to atomize them on sight.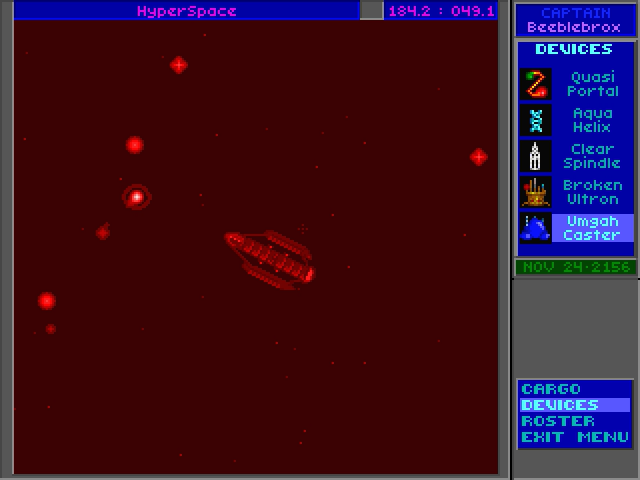 While I'm waiting for a Pkunk fleet to show up in hyperspace, I send out a call with the caster...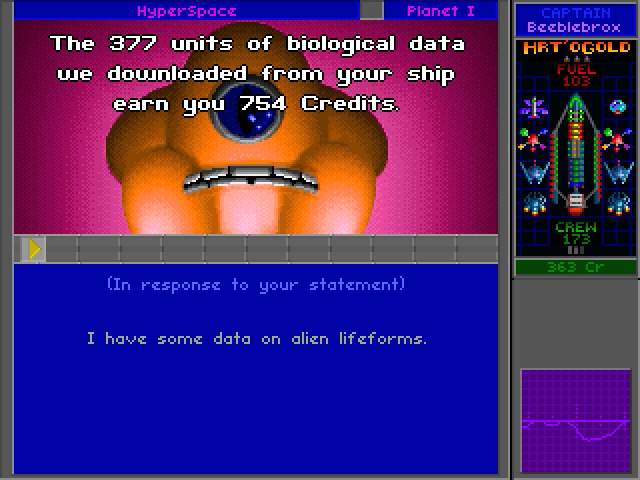 ...and top off my fuel.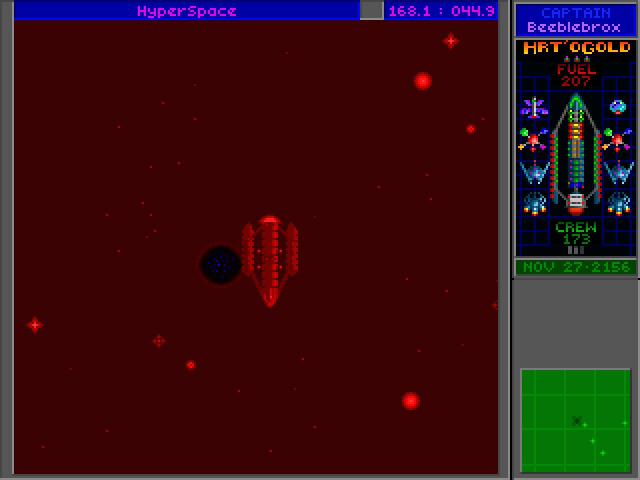 Here's one.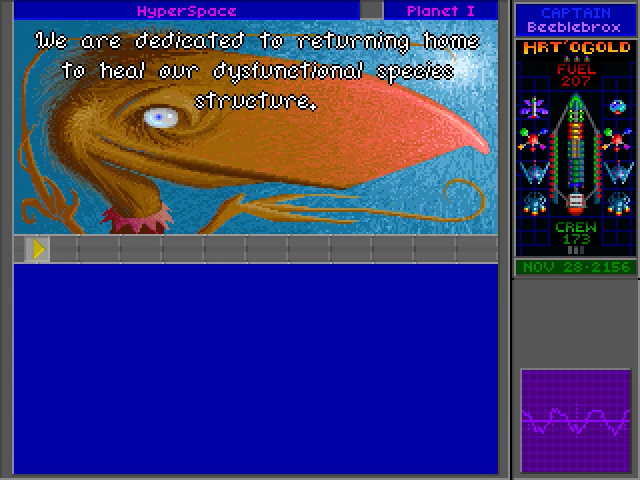 We understand that you mean well, but there is nothing you can do to dissuade us this time.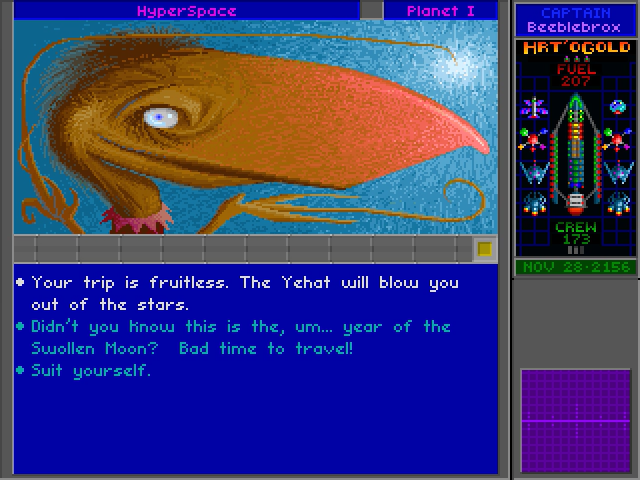 No, we are certain that our Yehat siblings are spiritually prepared for our reunion. We shall proceed.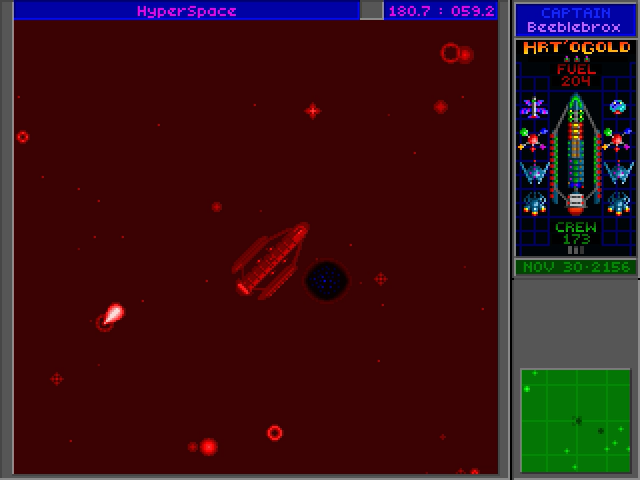 We're running out of arguments to make to these dorks.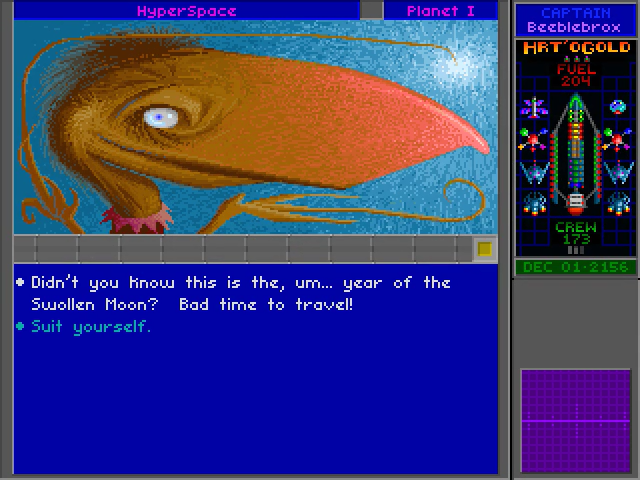 It IS?! We are so glad you warned us! No time to lose! We'll see you back in our home star systems. Bye!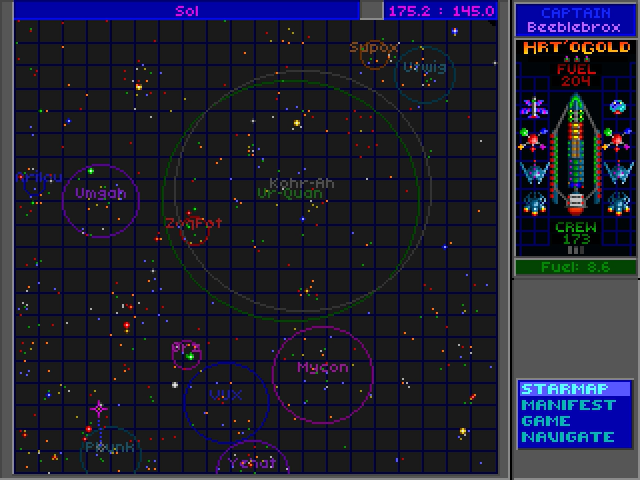 I'm not sure I'll be able to stop them if they make a third trip.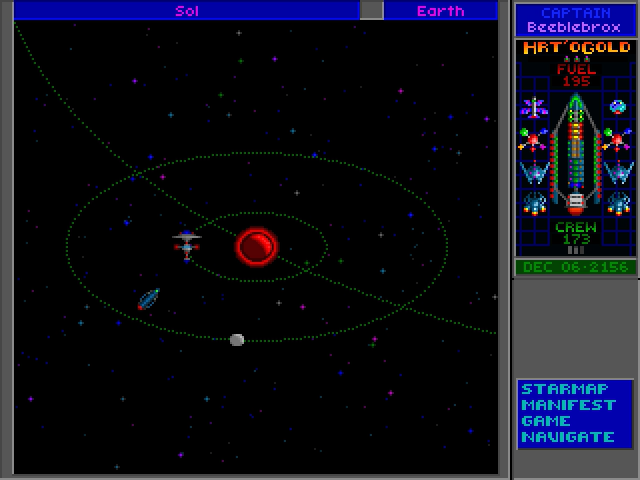 As long as I'm in the area...

VIDEO: PRESENTING HAWKINS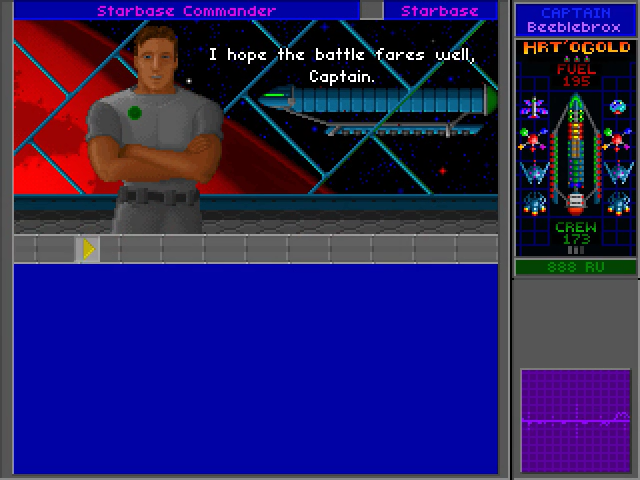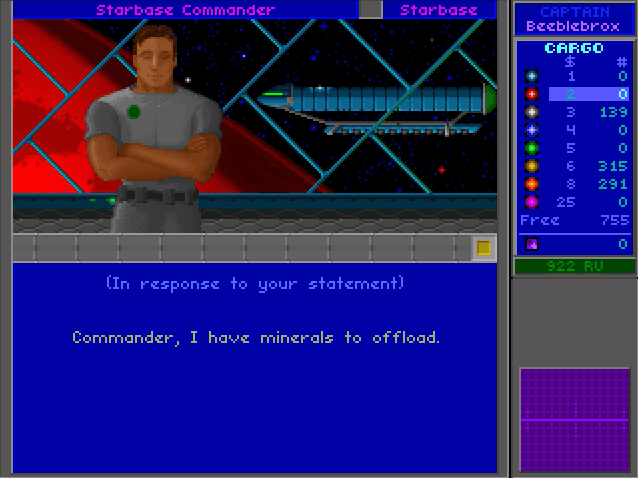 More fuel for the fire, eh, Captain? That last load should keep it blazing!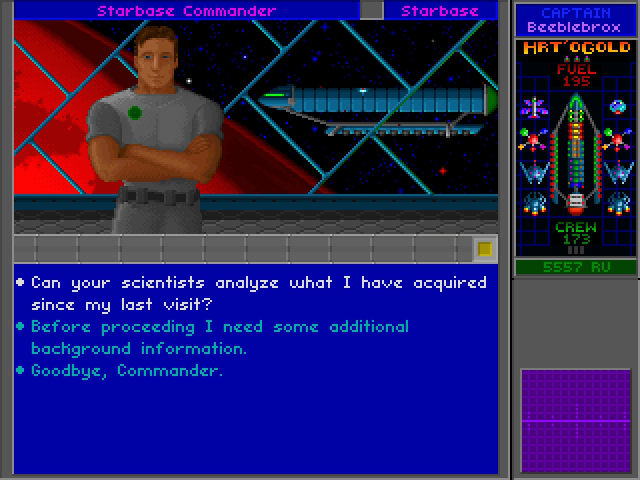 The analysis reads as follows:
SUBJECT: Ultron Device.
We put this thing through every test we've got, and came up with the same results as if we'd used a fork: Nothing, zero, zip. If this thing ever functioned -- which we doubt -- it certainly won't now. Age and physical stress have long since robbed it of whatever 'mystical powers' it might have once had.
SUMMARY: In the future, please don't waste our valuable time on junk like this so-called 'Ultron.'
SUBJECT: Hostile Alien Creature.
DATA: This is newly-promoted, junior scientist Hawkins reporting. Dr. Chu -- y'know, he's the leader of this section -- he's still in sick bay. He's been there ever since that thing took a swipe at him and he got too close to the cage. I guess it's got like, triple-jointed arms or something... with spikes and razor-plates all over. Uh... data? Oh yeah, right, right. Subject is a Xenoteratomorph -- a big honkin' one, I might add. It eats everything -- plants, animal tissue, wood, ceramics, plastics, asbestos fibers, several types of metal chairs, a desk and about half of everything a security officer wears. What is doesn't eat, it chews, and what it doesn't chew, well, it breaks up into tiny little pieces. What... summary? Oh, oh yeah,
SUMMARY: The sooner you get that thing off this starbase, the less likely it is that that thing will get loose and kill us all. Uh... I, uh, I guess that's it.
That's the end of our scientists' report.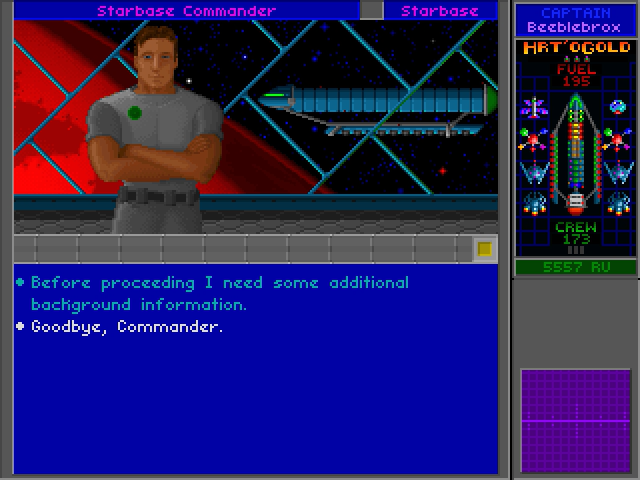 We shall await your return, Captain.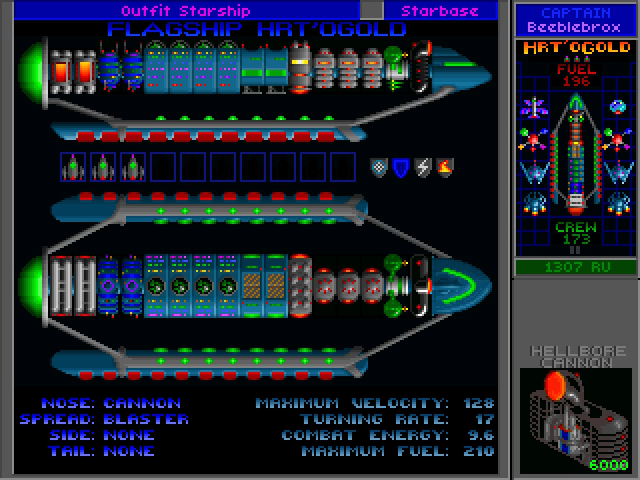 A brief aside about energy management.
The Melnorme described the Shiva Furnace as twice as effective as the Dynamo Unit - this is not true. They do very different things! The Dynamo Unit decreases the delay between instances of energy regen, from 10 frames at 0 Dynamos to 4 frames at 3 Dynamos. Shiva Furnaces, on the other hand, increase the
volume
of energy per recovery by 1 - so, if you have 2 Dynamos and 2 Shivas, you'll recover 3 energy every 6 frames.
People with more spare time than I have done the math, so this is what it comes down to: If you're using 3 or less slots for energy management, use all Shiva Furnaces. If you're using 4 or more, use 3 Dynamo Units, and fill the other slots with Shiva Furnaces.
Anyway, I got a second tracking module and swapped out the front Fusion Blaster for a Hellbore Cannon.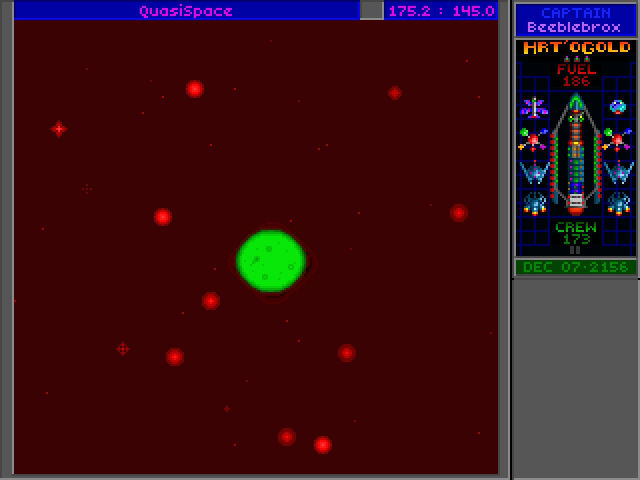 Next: More unexplored regions!