Part 16: Hard Time Update 5: Free At Last
Hard Time Update 5: Free At Last
Welcome back. Last time, we had the usual goofy shenanigans before a sudden dose of

.
The phone rings again.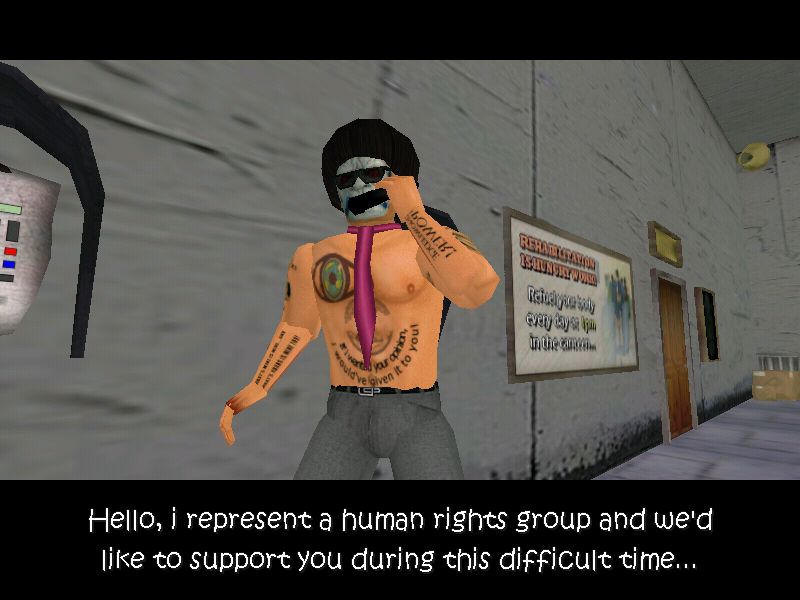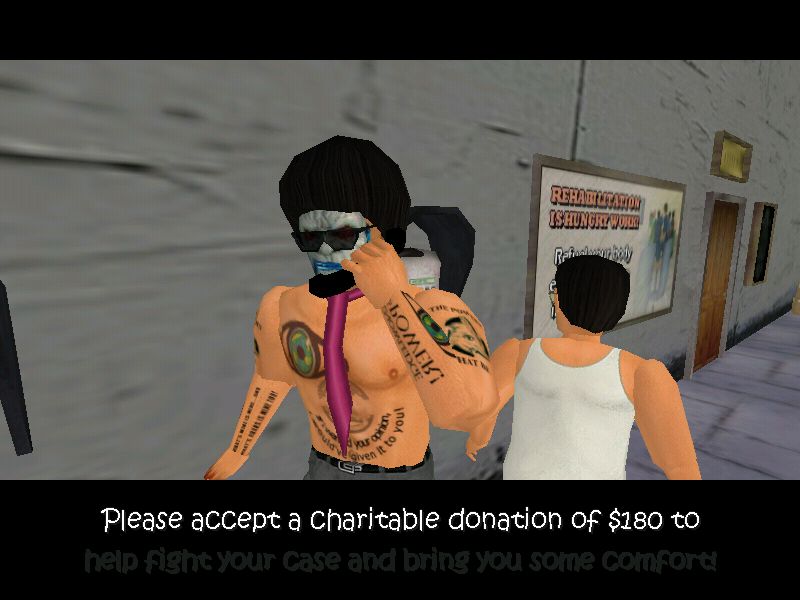 Awesome! Why aren't there more telemarketers who give you money for picking up the phone?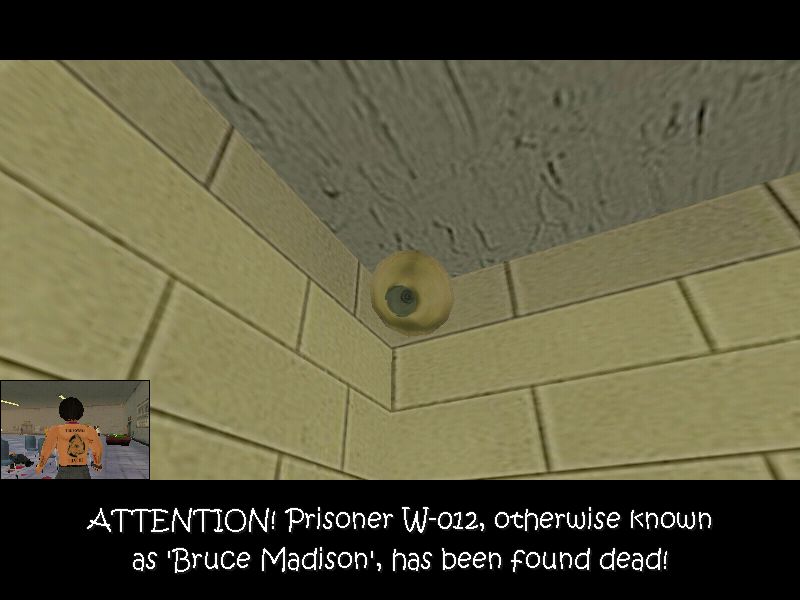 Gee, wonder how that happened.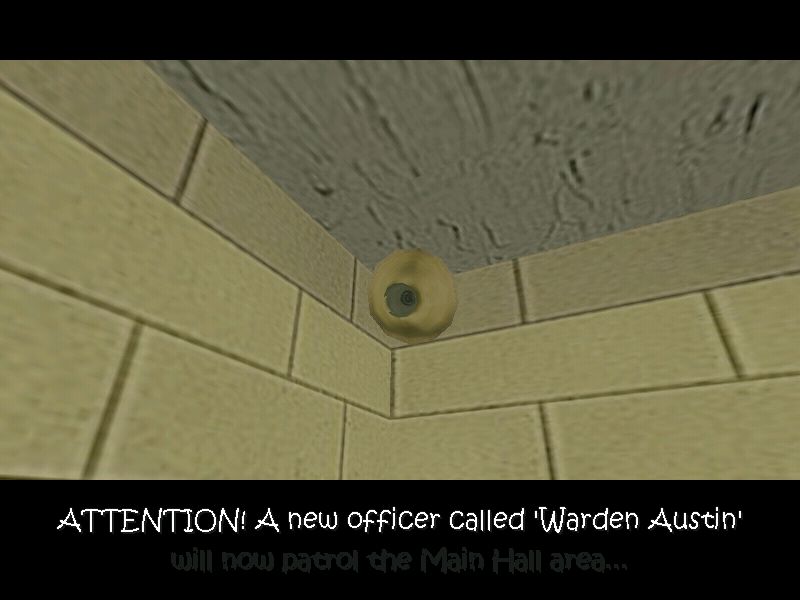 Another new guard. They must get their wardens the same place the Imperial Guard gets their recruits.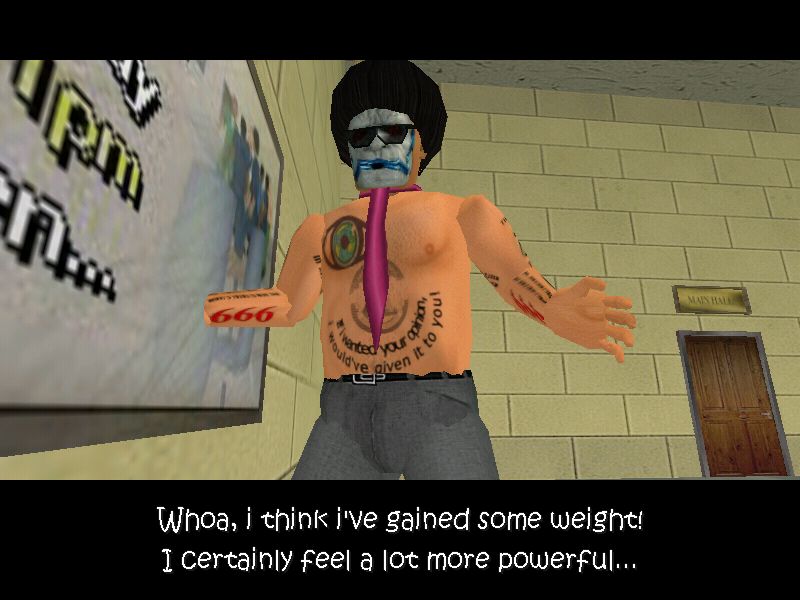 Yep, since we haven't really exercised at all since we got to prison, we are sadly no longer ripped. We get an increase in strength from being fat but a decrease in agility. Which I cheat back up anyways.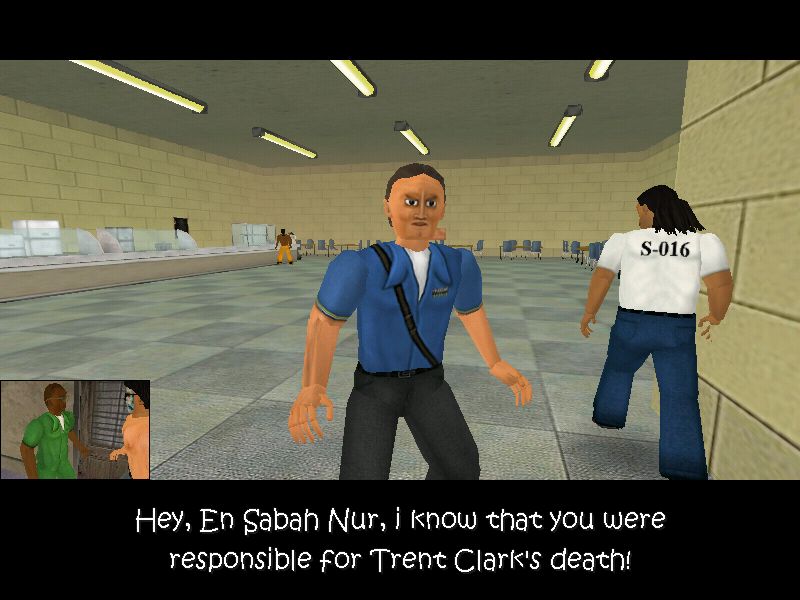 I should really just get a shirt saying "Yes, I killed that guy."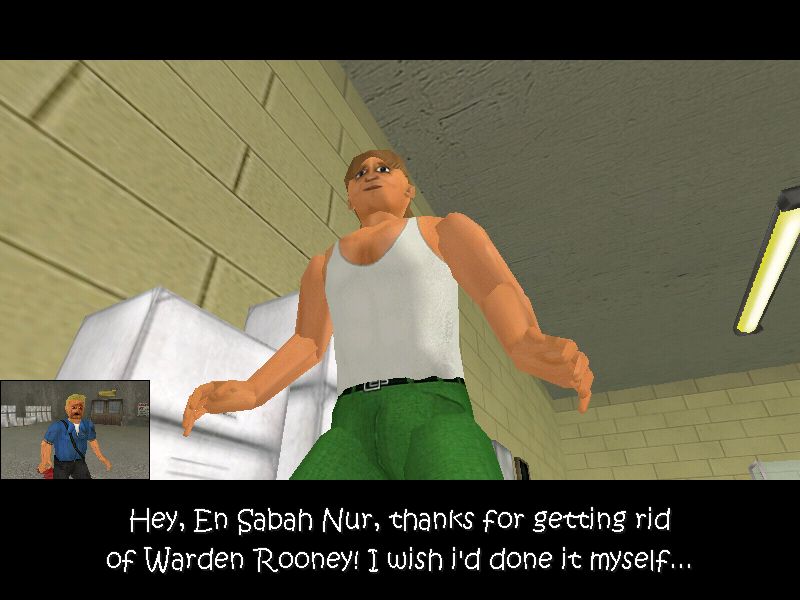 Still getting respect from murdering guards, though.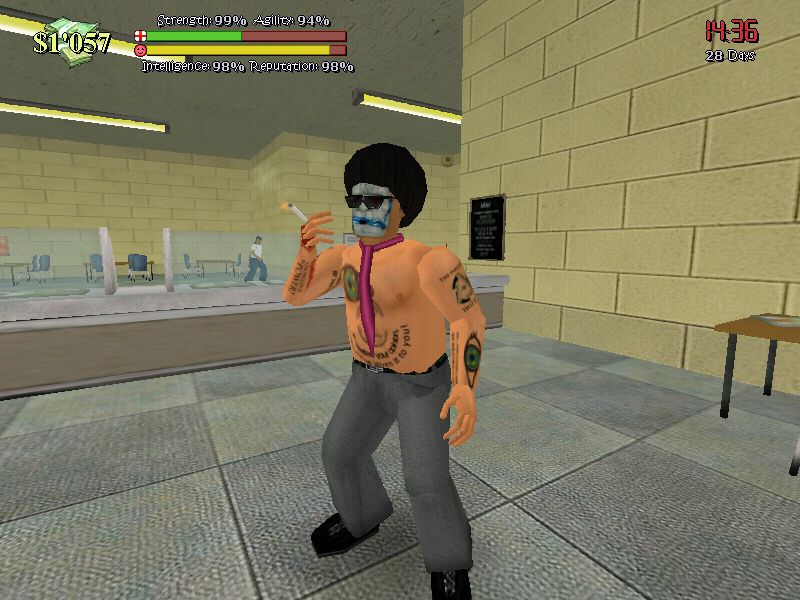 God DAMN I'm cool.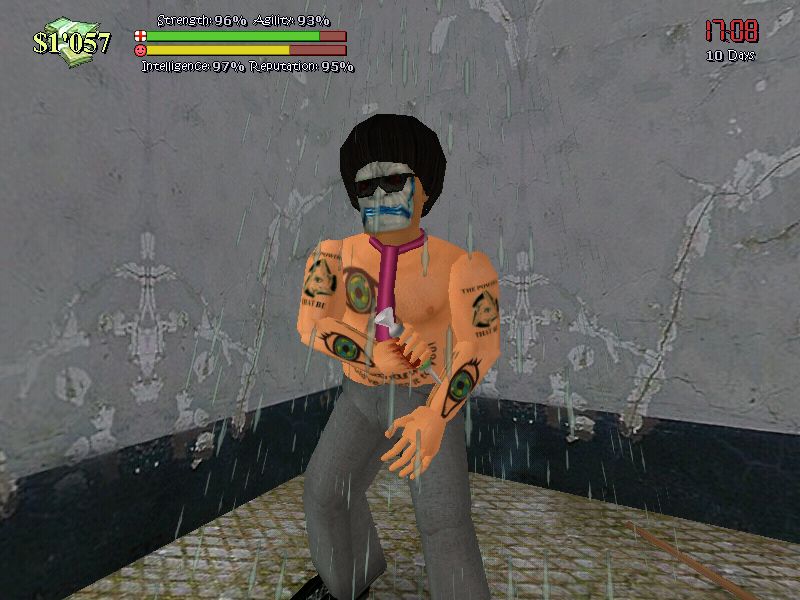 It's a long, sad road from shower beer to shower heroin.
Snidely confronts us with evidence of murder. We kill him. This means we also have to kill the guard in the room with him with our trusty push broom.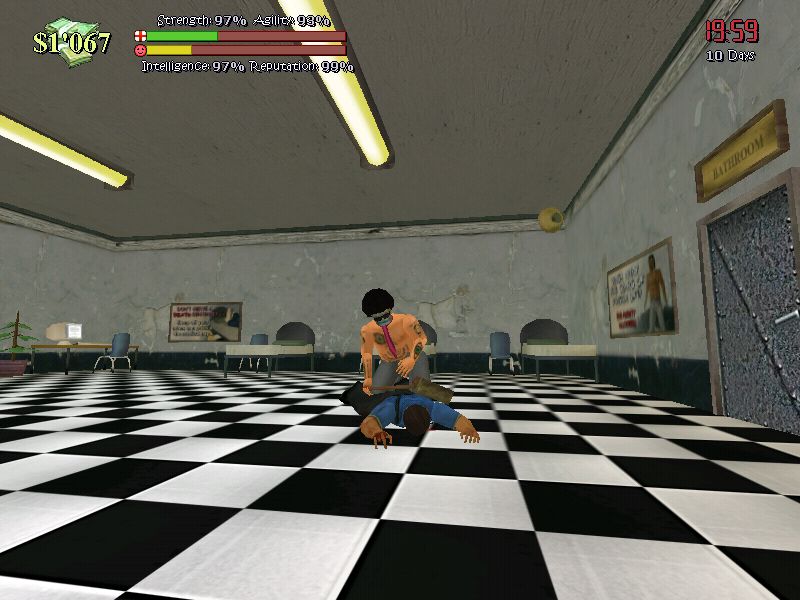 I guess the force of my attack...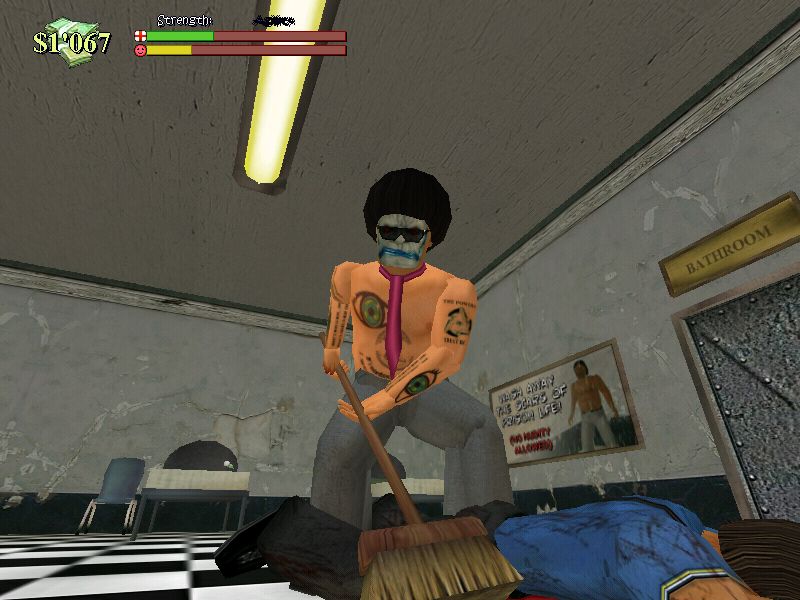 swept
him off his feet.
YEAAAAAAAAAAAAAAAAAAAAAAAAAAAAAAAAA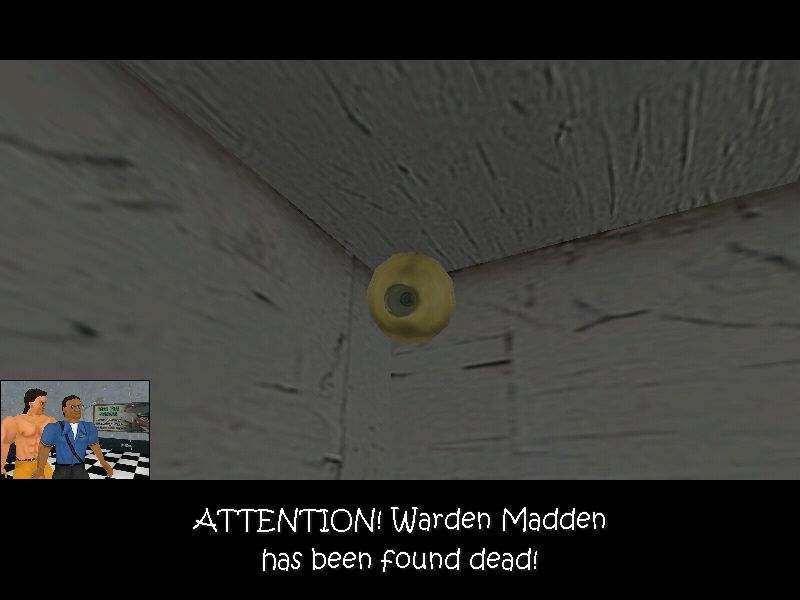 Damn, that was fast.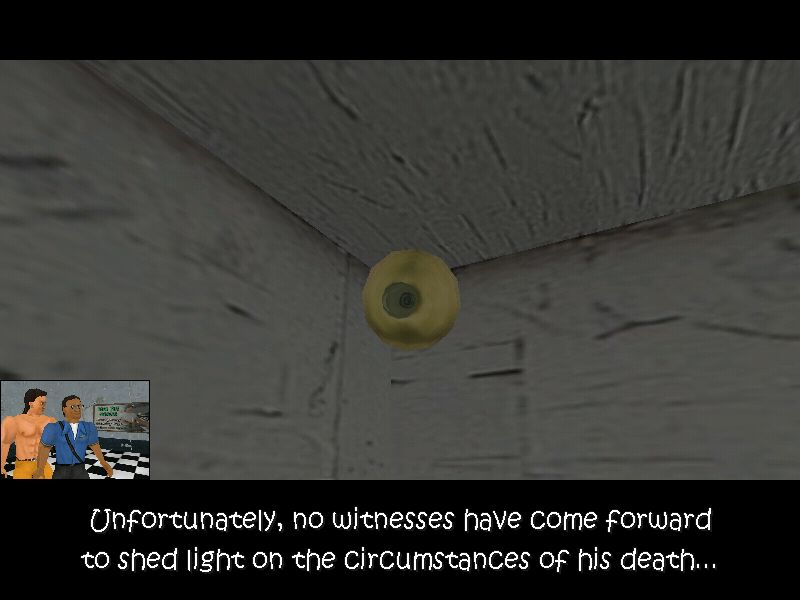 Try asking Muscles von Murder in the picture with him. Y'know, cause I totally didn't murder all the witnesses again.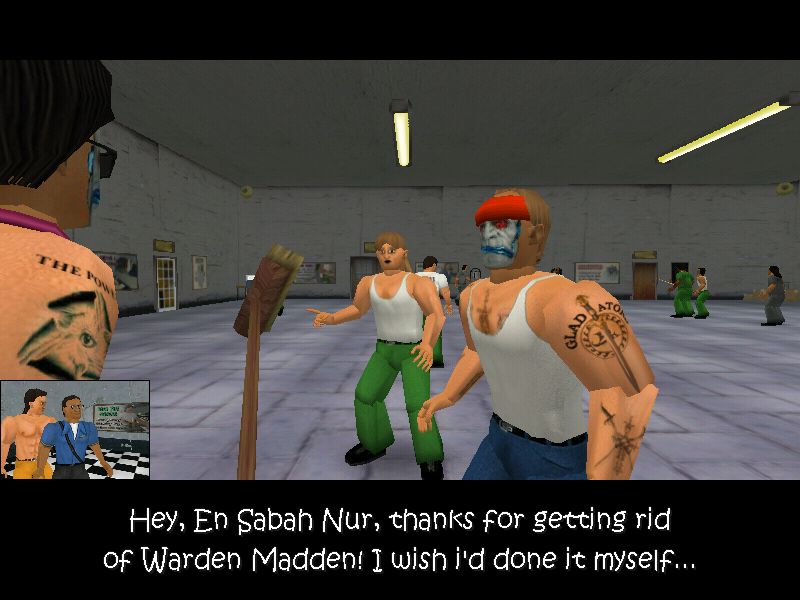 SORCERY! HE STOLE MY FACE!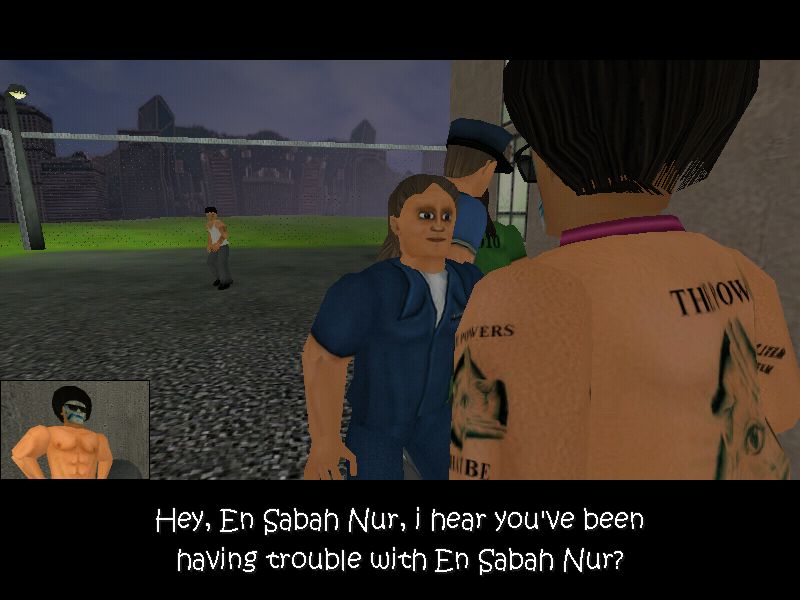 Um. What?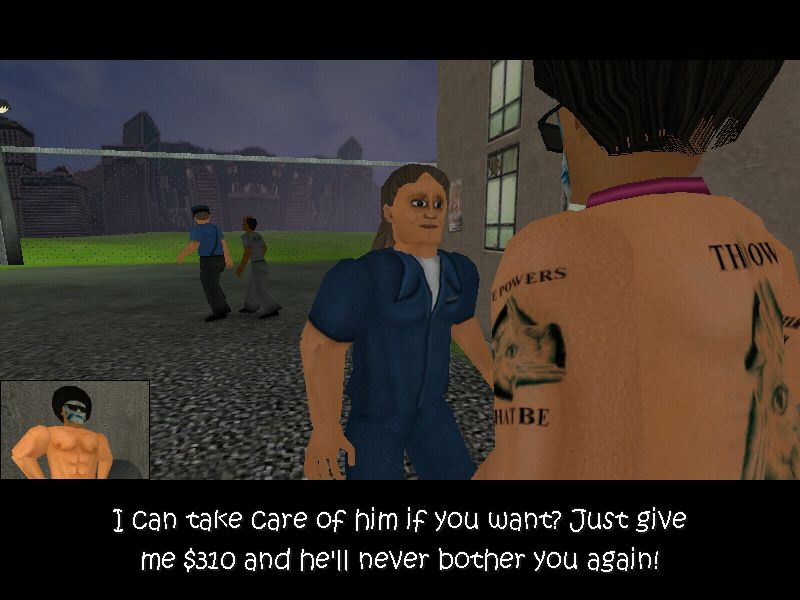 What is this, Fight Club? Have I really been Edward Norton all this time? I'm not paying you to beat me!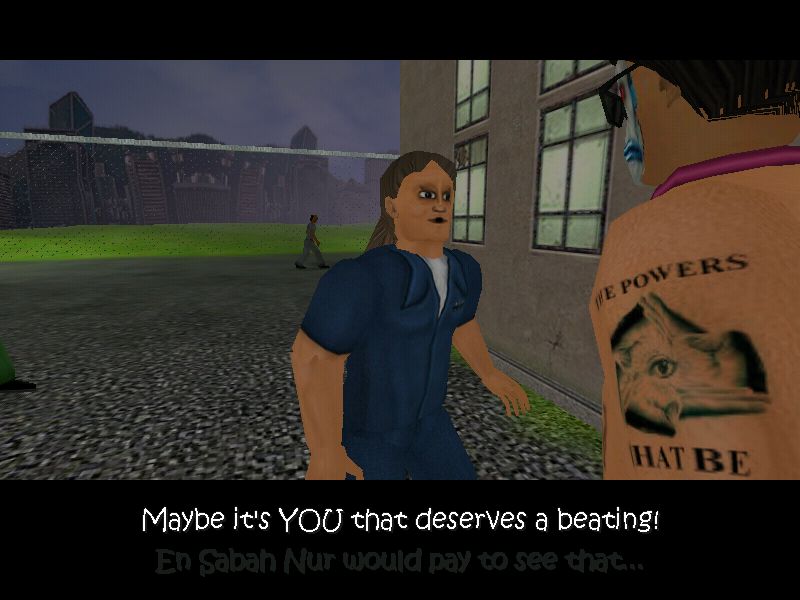 No I wouldn't!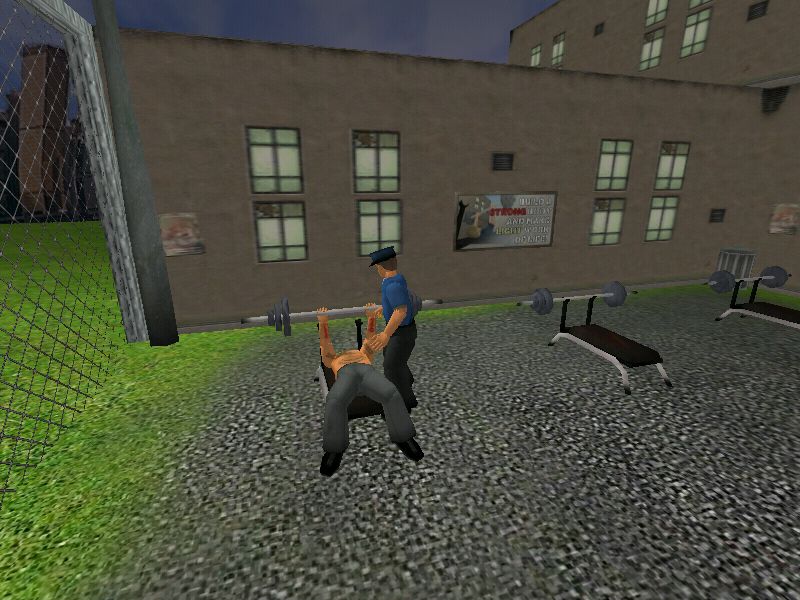 I try to pump some iron to get my muscles back, but nothing happens.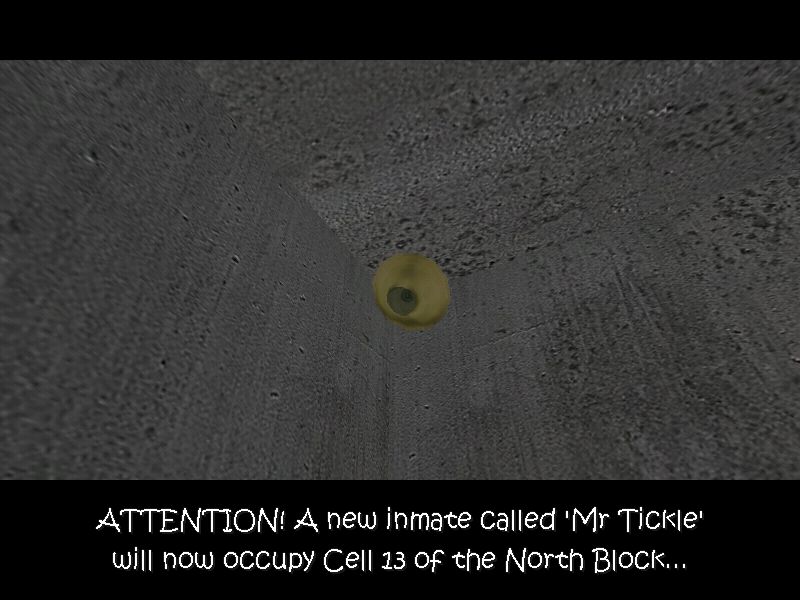 Wow. He's never going to live that name down.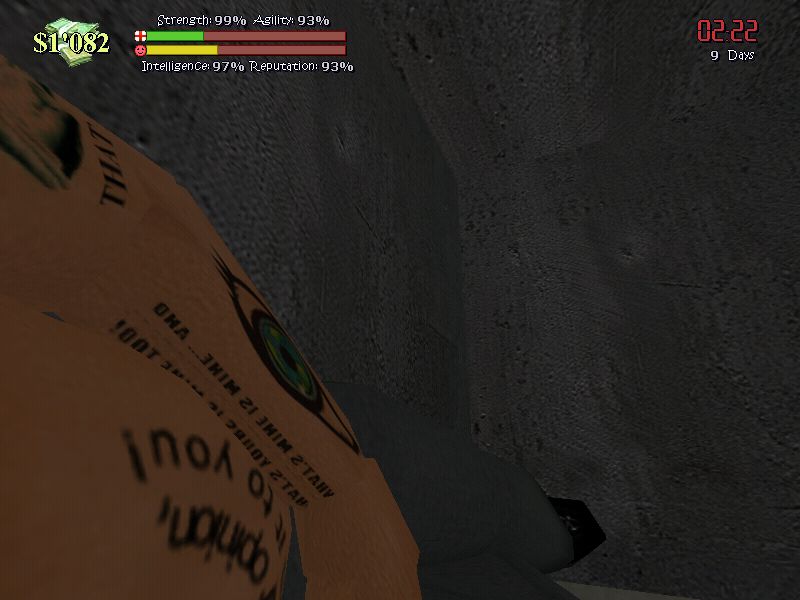 Oh yeah, MDickie mirrored the textures on each arm.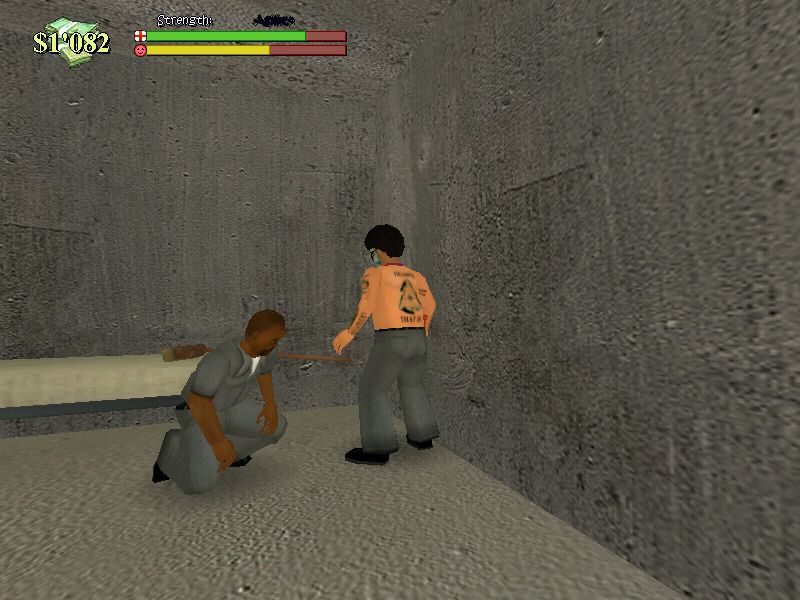 It's time to beat the crap out of the ex-warden who shot me way back when.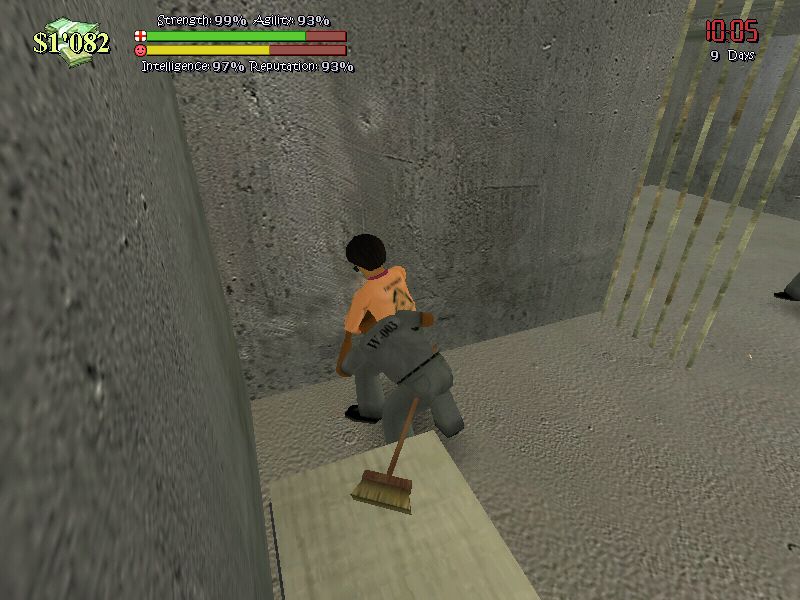 Slamming his head repeatedly into the wall is immensely entertaining.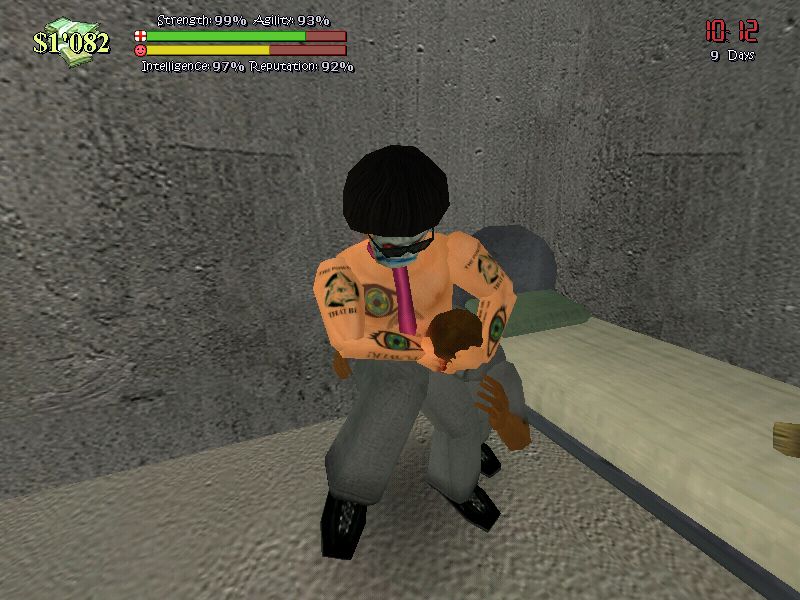 As is kneeing his nose out the back of his head.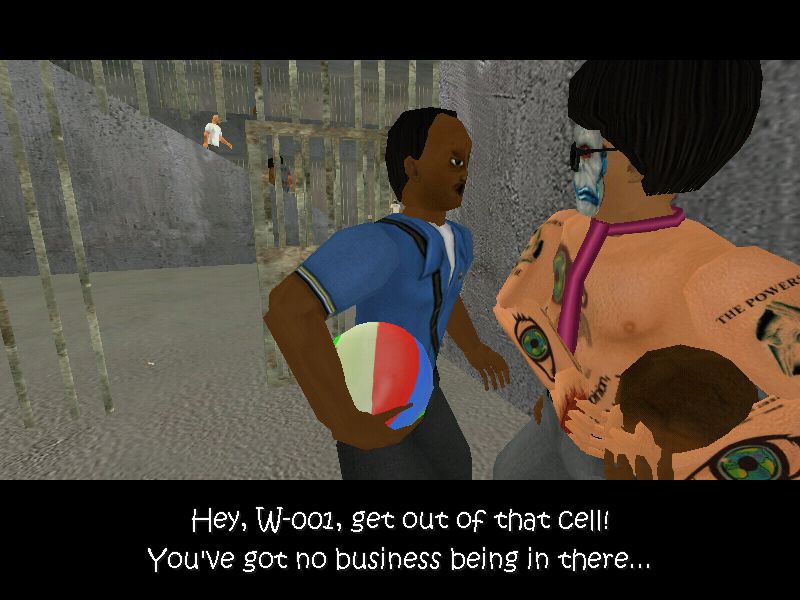 I...why the fuck do you have a beach ball?
We murder the ex-warden and move on.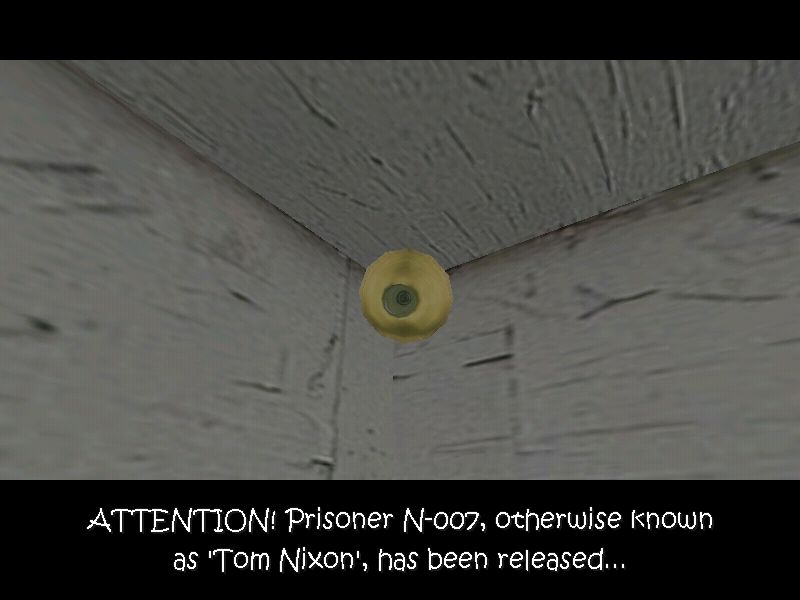 Oh wow, this is a rarity. Someone survived their sentence!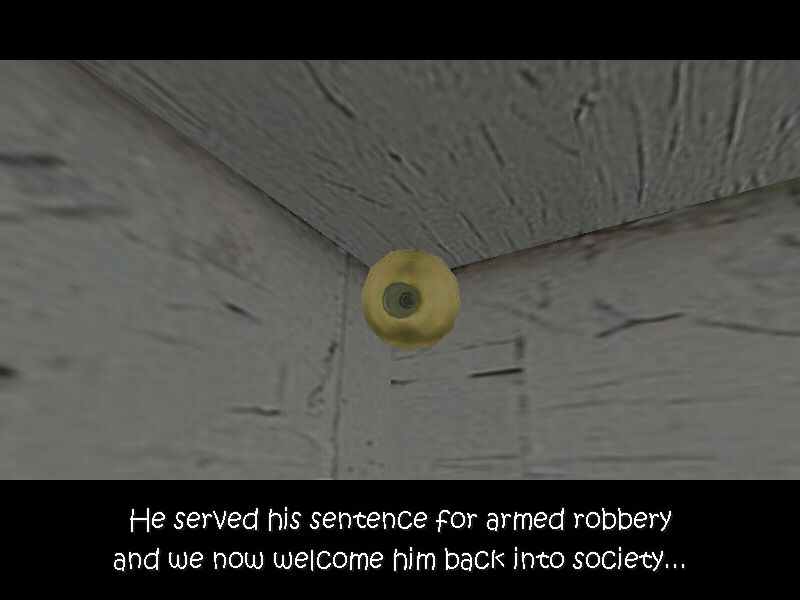 Oh, no wonder. At least he wasn't in for Vandalism, or he'd be in until he was old and gray.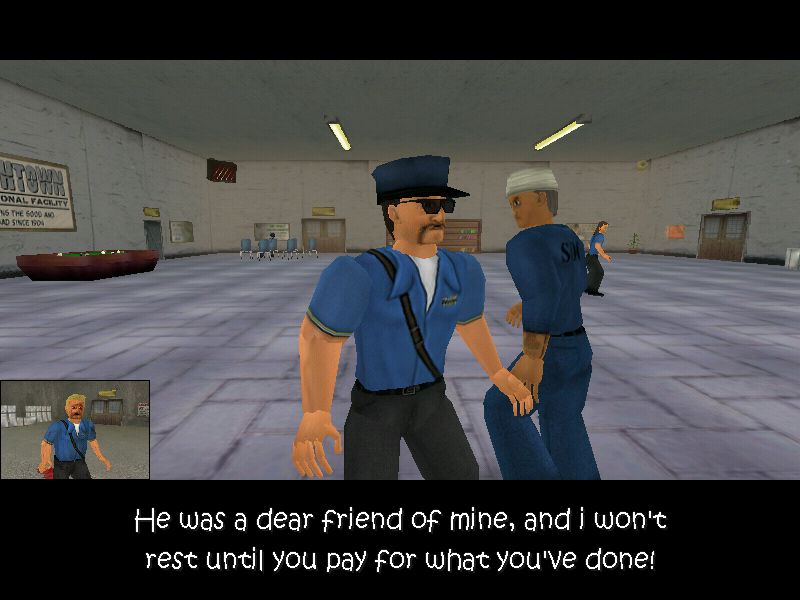 A warden chews us out yet again for murder, while one of the Muslim gang members skulks. Yes, that's supposed to be a turban.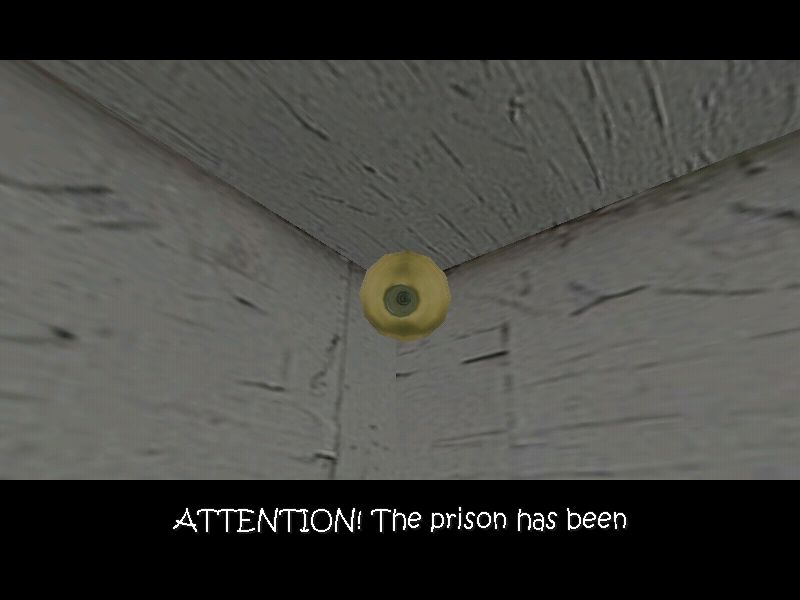 for a terrorist attack! All inmates should find a safe place to hide until the threat has been removed...
Hell yes! I was wondering when this was gonna happen! Why they're targeting a prison? Who knows? All I know is it means EXPLOSIONS.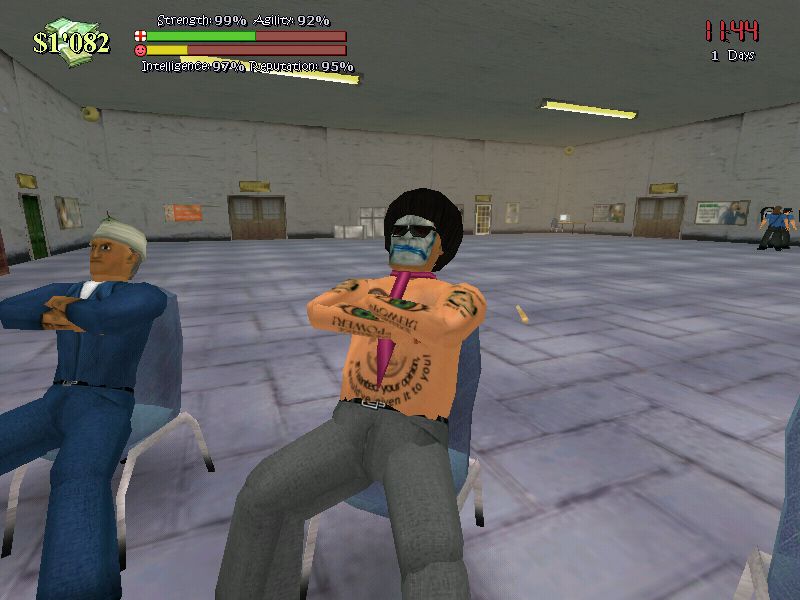 Man, even when I'm fat I don't give a fuck.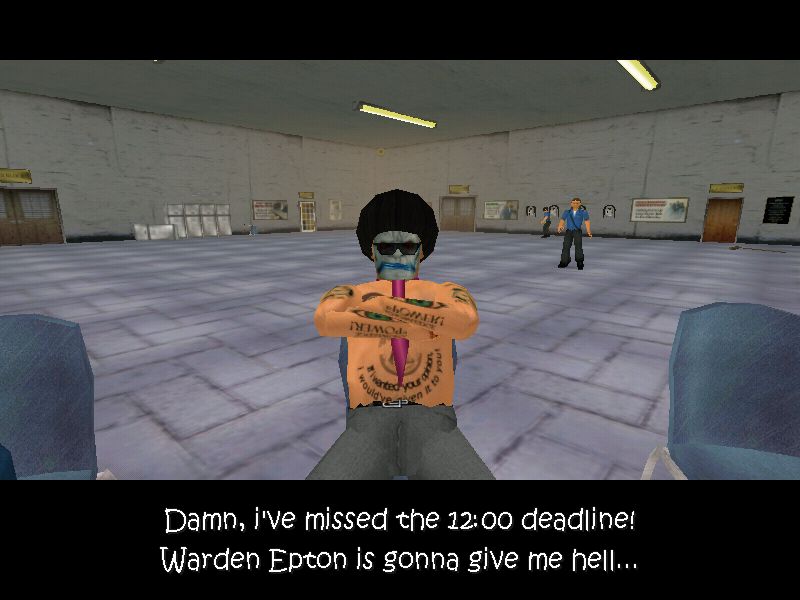 Uh oh. Because I don't like mullets, the Warden in the background is coming for us.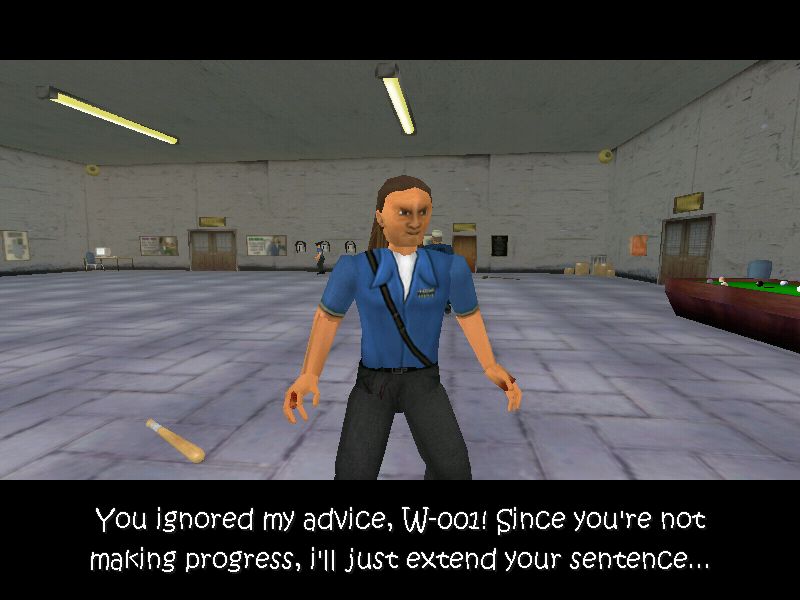 What's that? You're reducing my sentence? I get out tomorrow? Why thank you!
Suddenly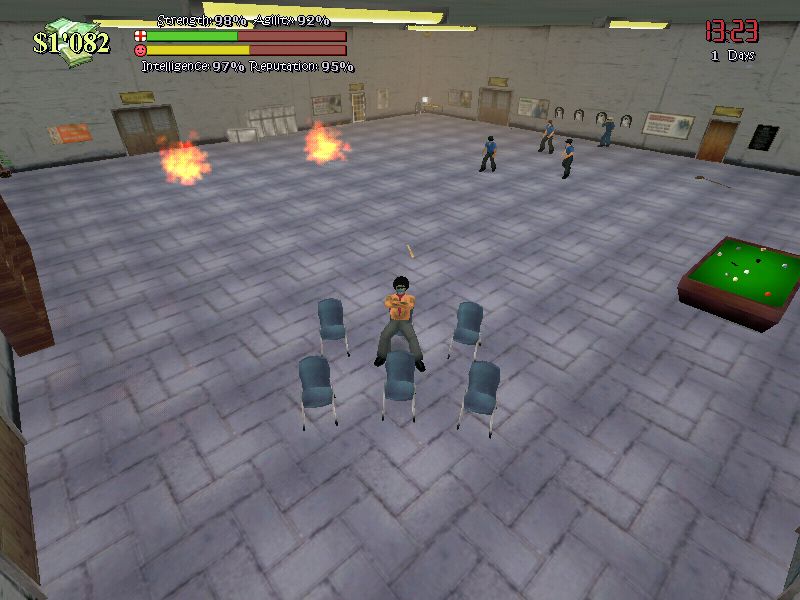 MOTHERFUCKING EXPLOSIONS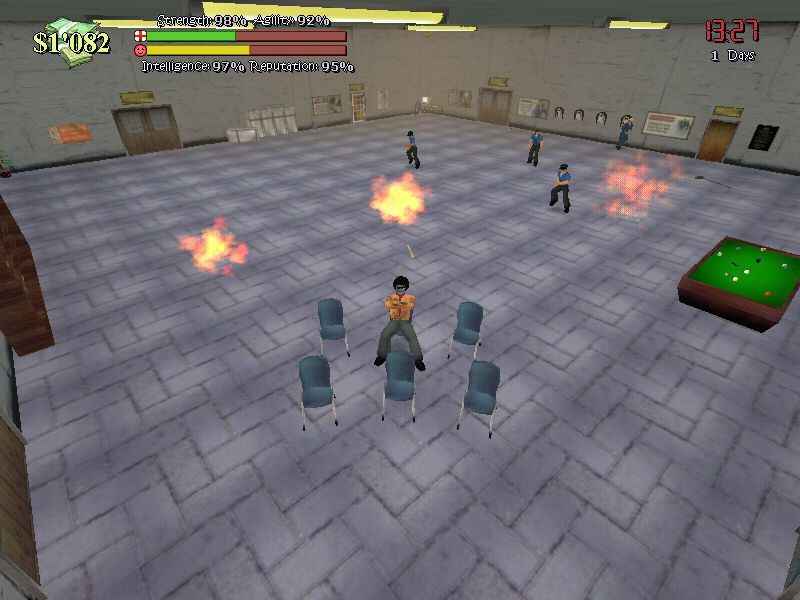 PEOPLE RUNNING AROUND SCREAMING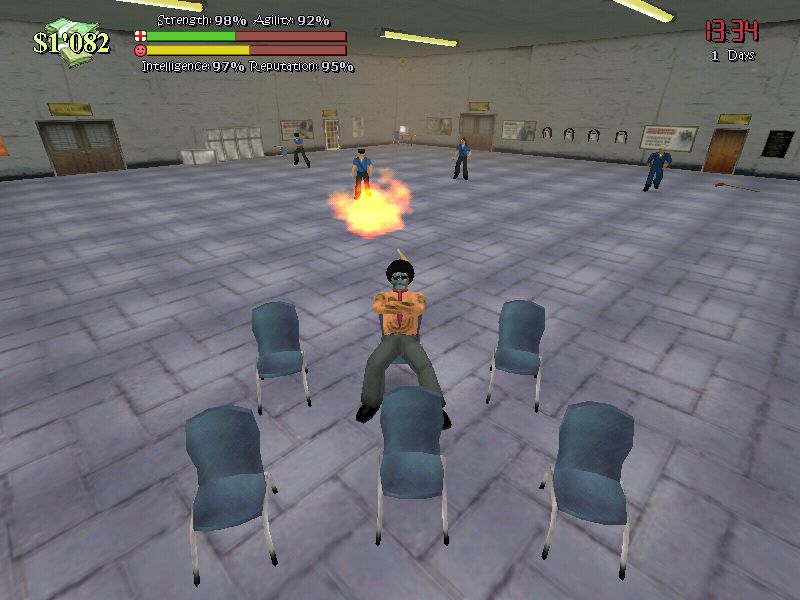 FEET BEING BLOWN OFF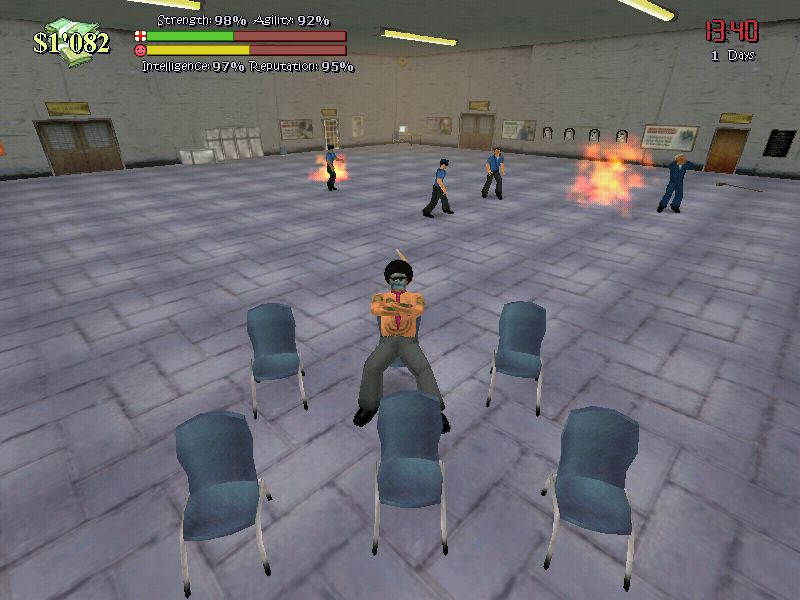 EN SABAH NUR NOT GIVING A FUCK
And as suddenly as it started, the attack stops. That's it.
As we get up, we're suddenly apprehended for no reason.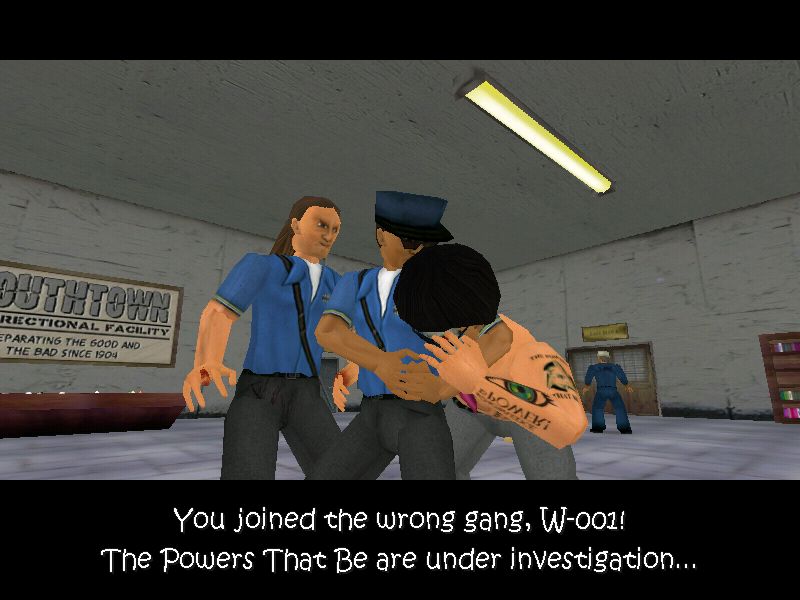 Oh bullshit!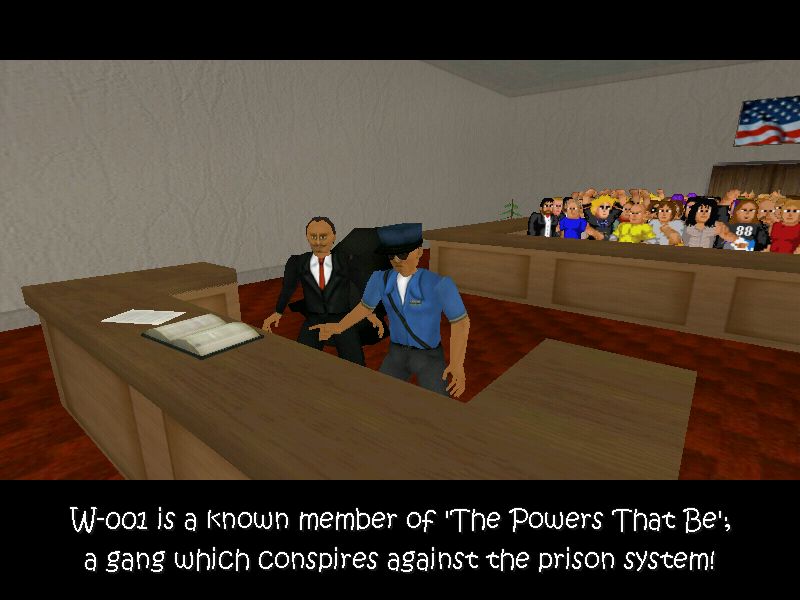 HE HAS SNIDELY AS THE PROSECUTOR!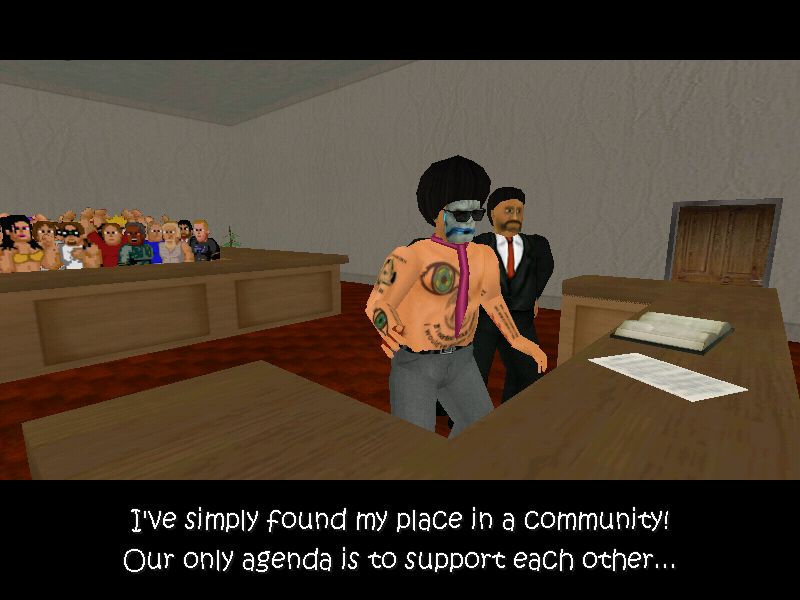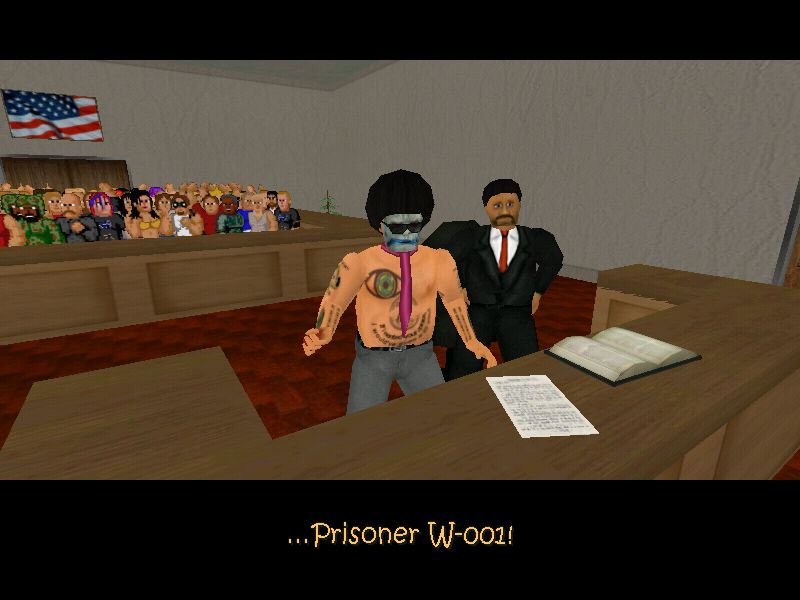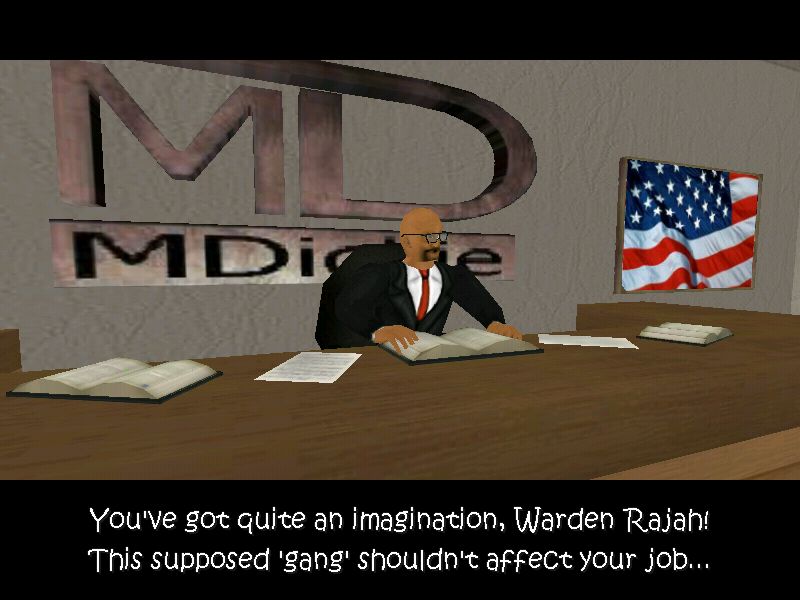 "Never mind the gang tattoos and the propensity for absurd levels of violence."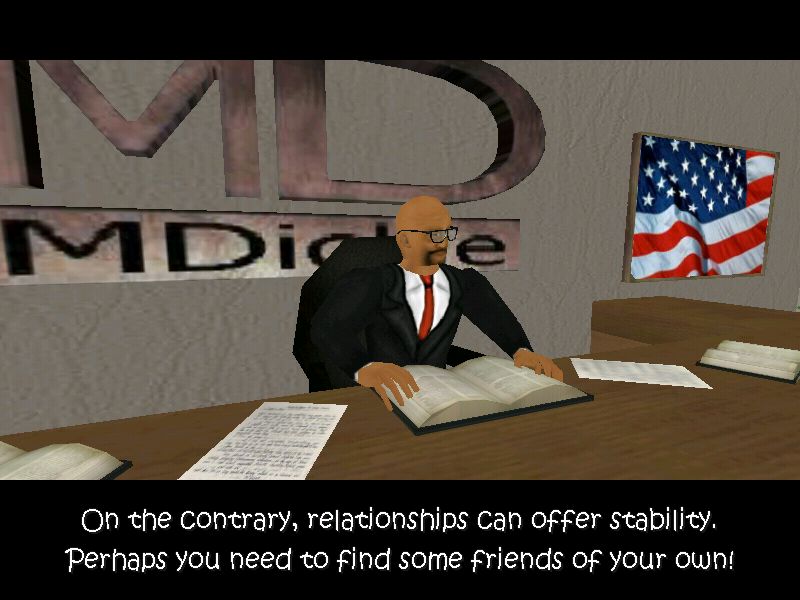 I love these judges!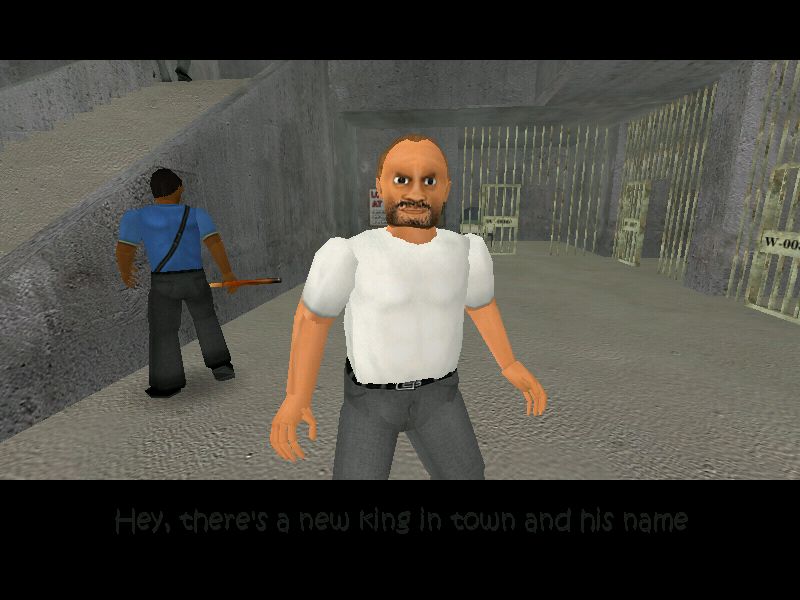 Hold on just one moment.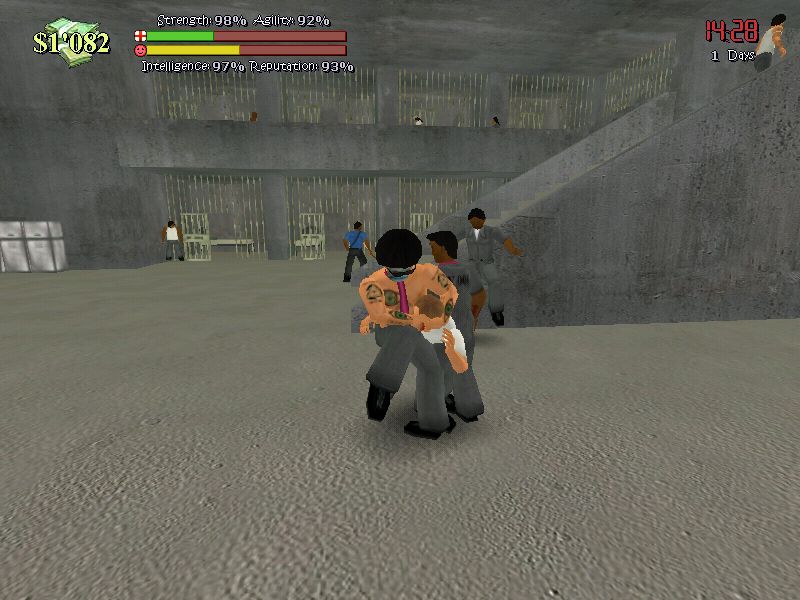 I AM THE KING AROUND HERE. GET USED TO THE TASTE OF MY FURY.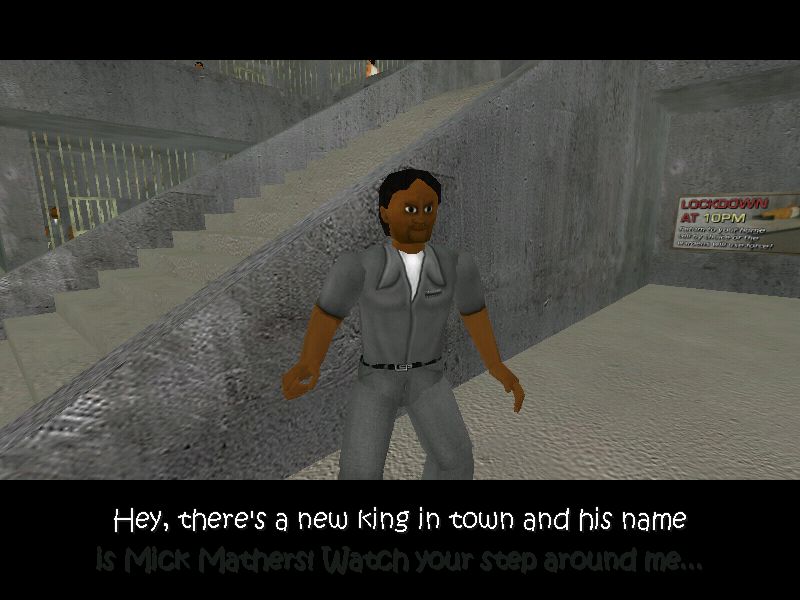 Wow. I murder the two new guys to teach them a lesson.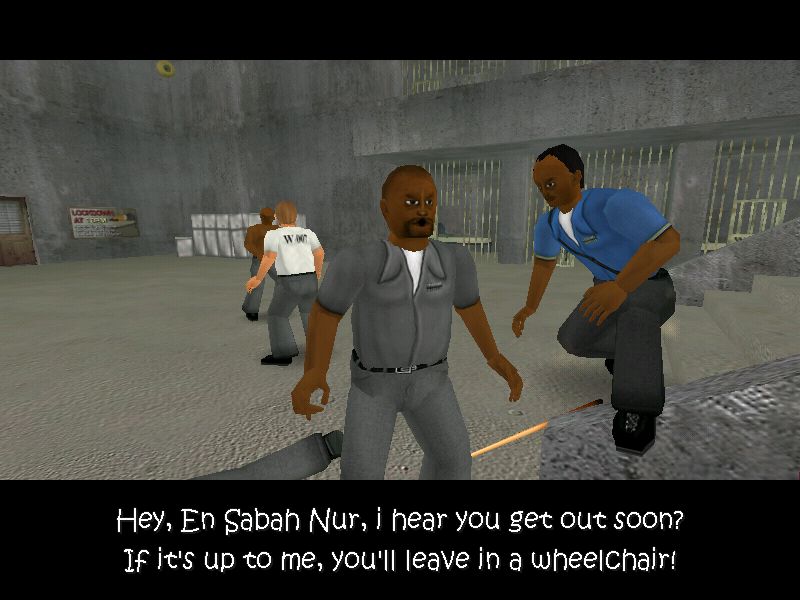 Yeah, people will attack you for
anything.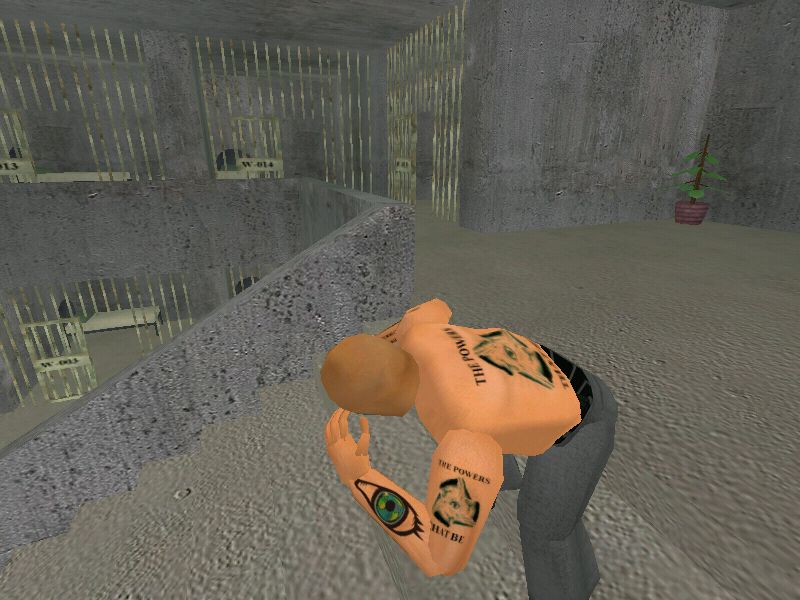 Suddenly, the spirit of the prison shaves us bald and takes us to trial for killing the two new inmates.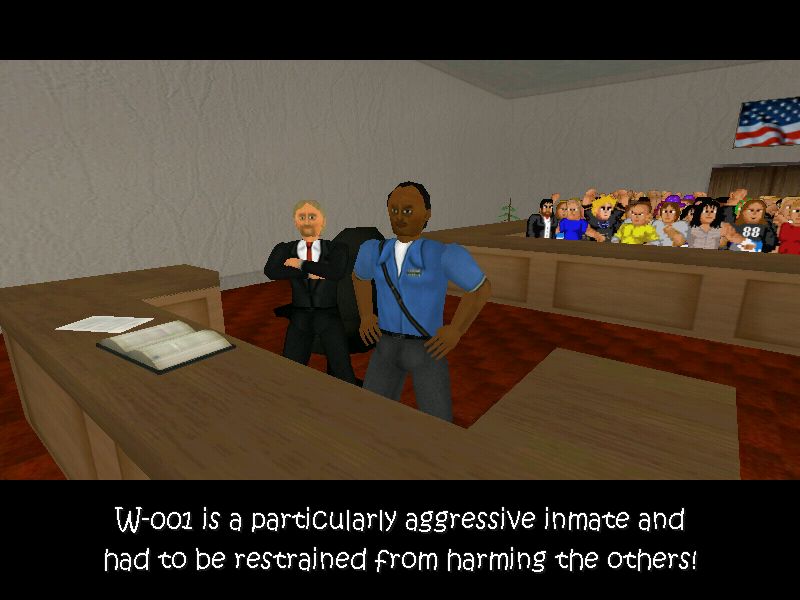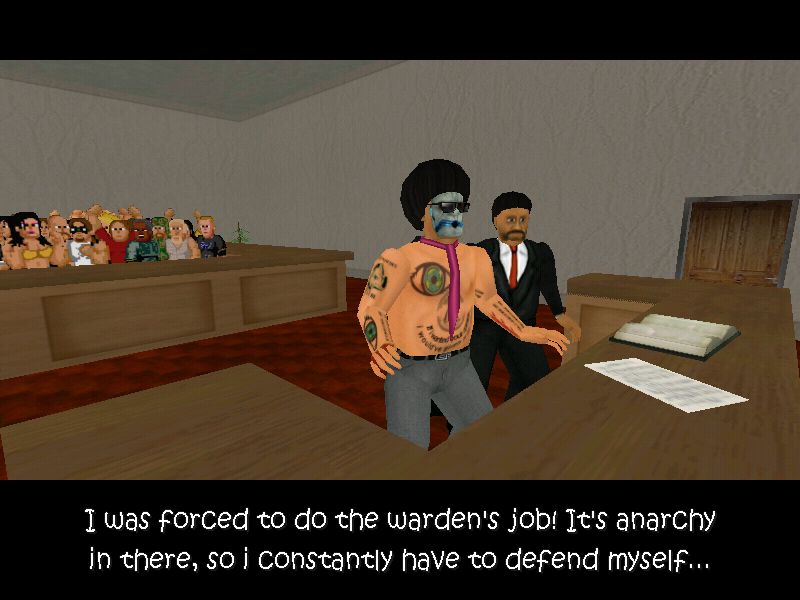 Granted, I was the one who MADE it anarchy, but still.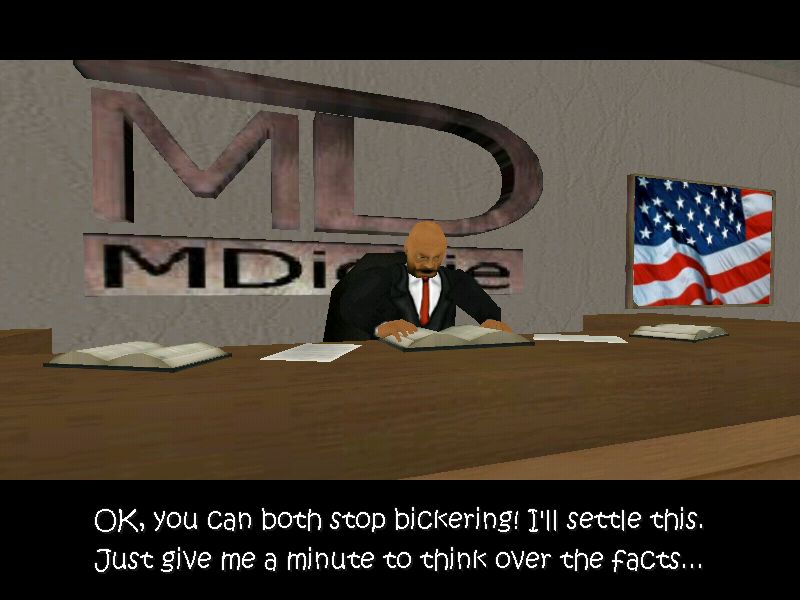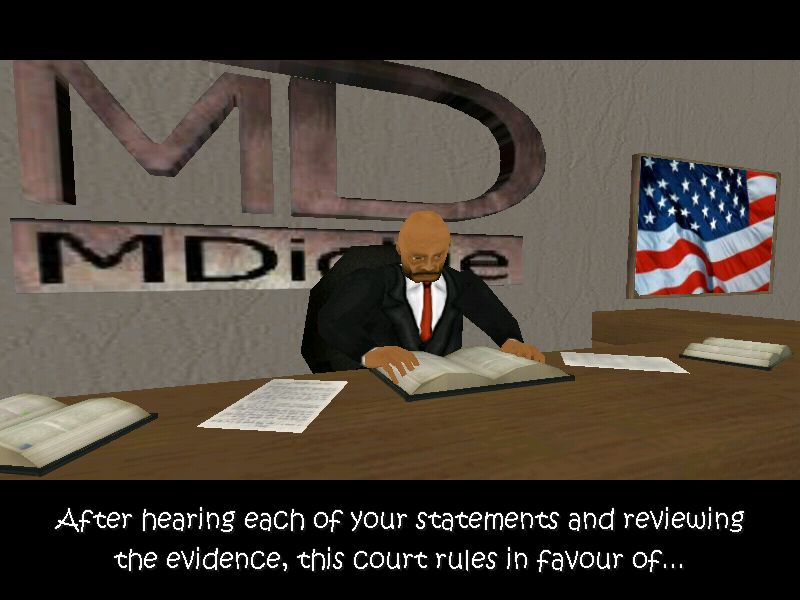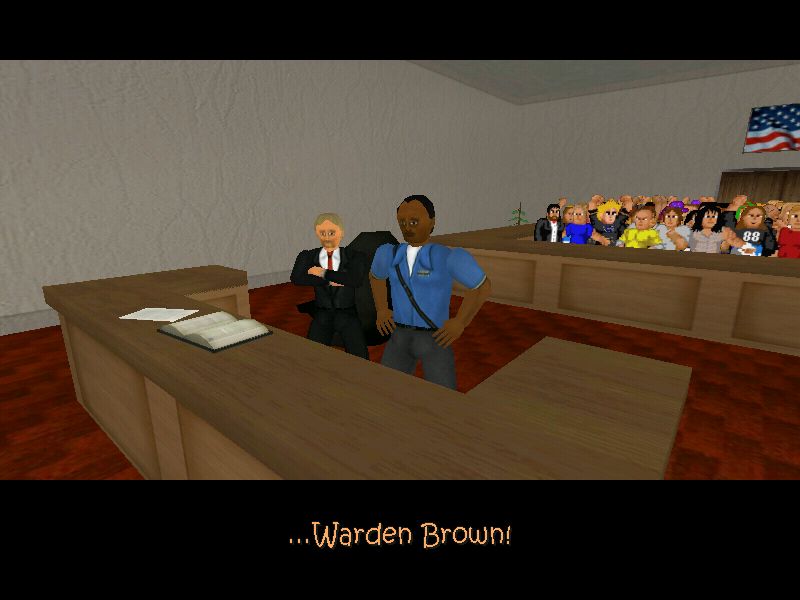 Oh what.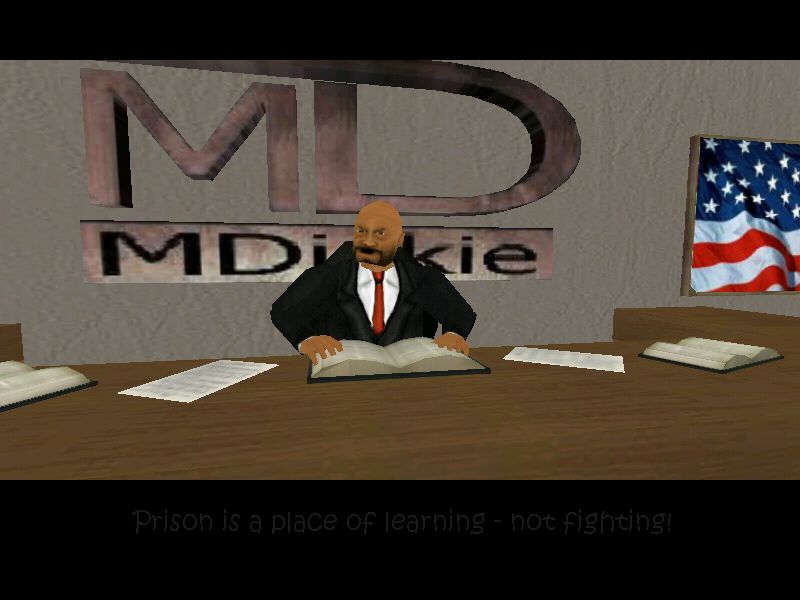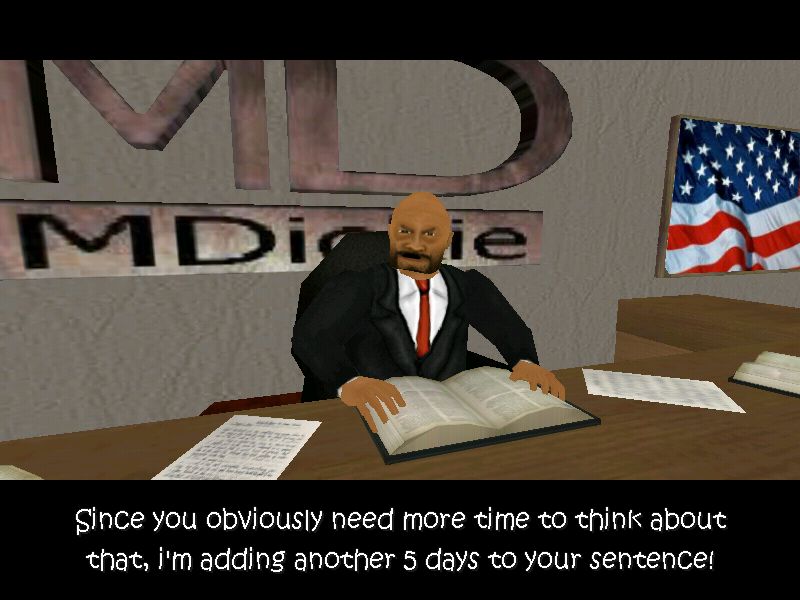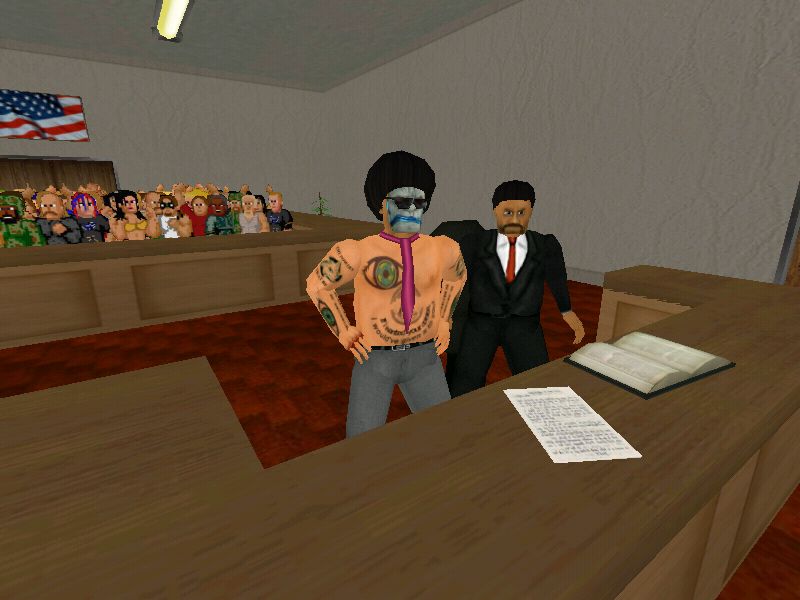 I'm sorry, did you say "You're free to leave? Also you now have diplomatic immunity to everything forever?" You're too kind, Your Honor.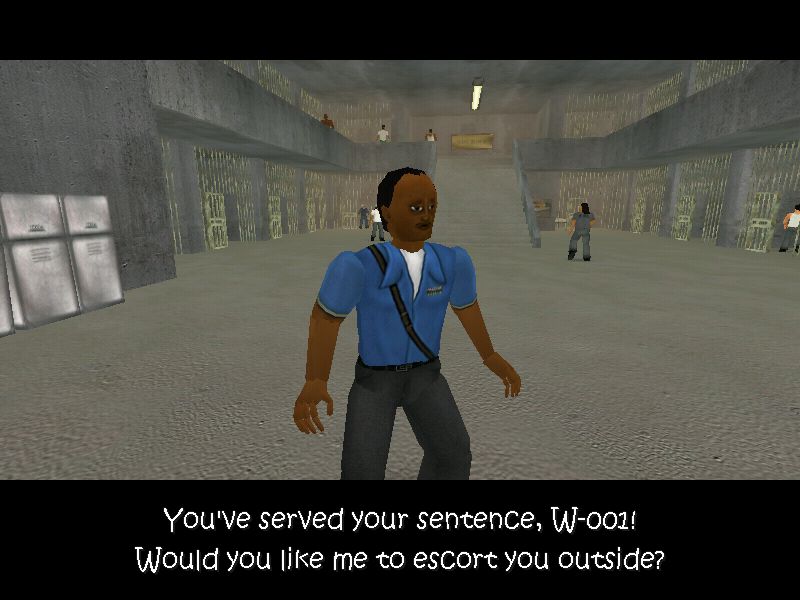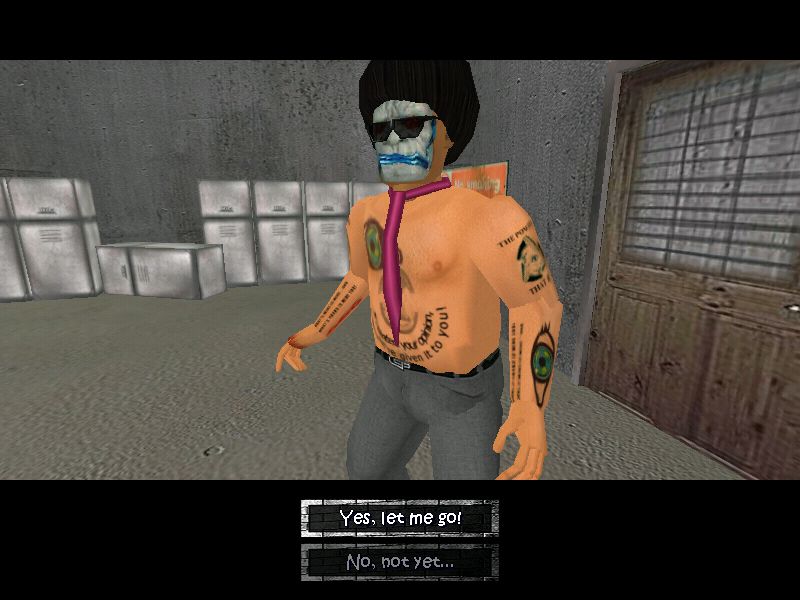 YES GET ME OUT OF THIS SHITTY GAME SO I CAN FINISH THE OTHER SHITTY GAME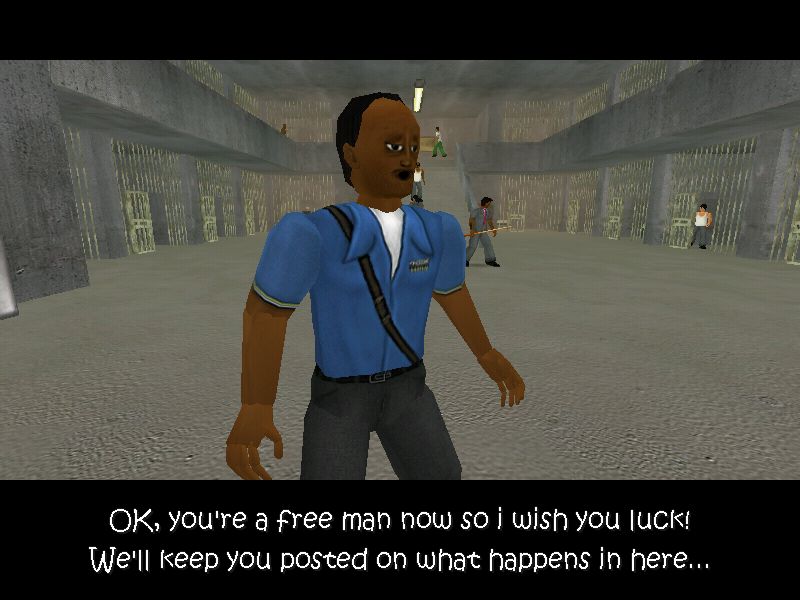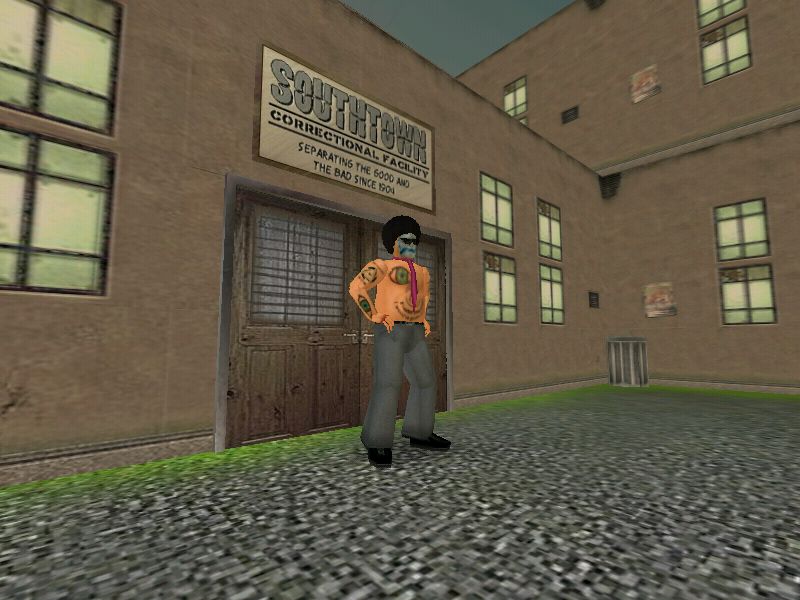 We're put outside, and the title music starts playing again. We slow-mo walk to the gate while a 'where are they now?' thing plays. It'd be more effective if I knew who half of these people were. I'm pretty sure I killed at least one.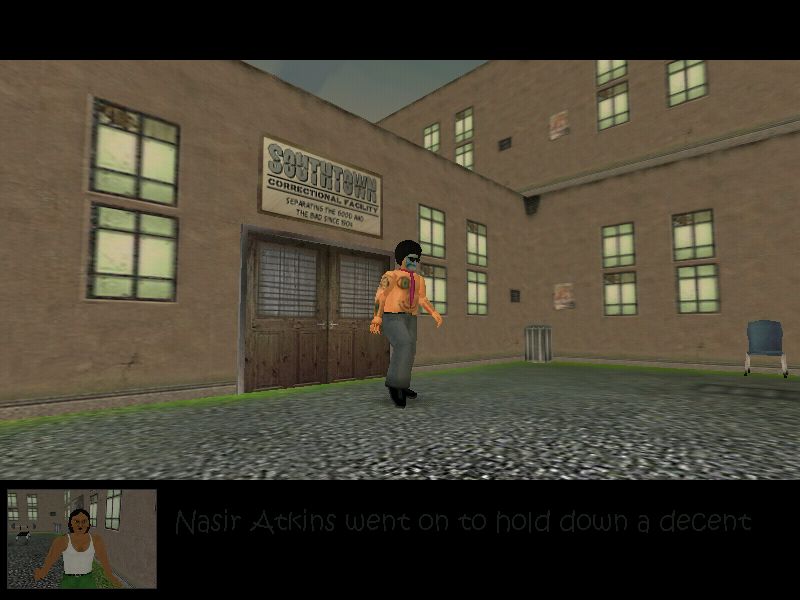 job and never committed another crime...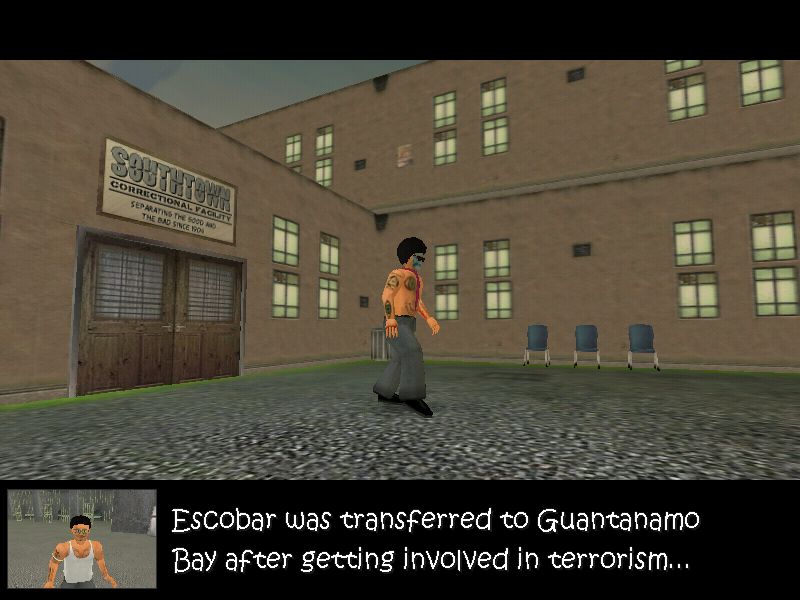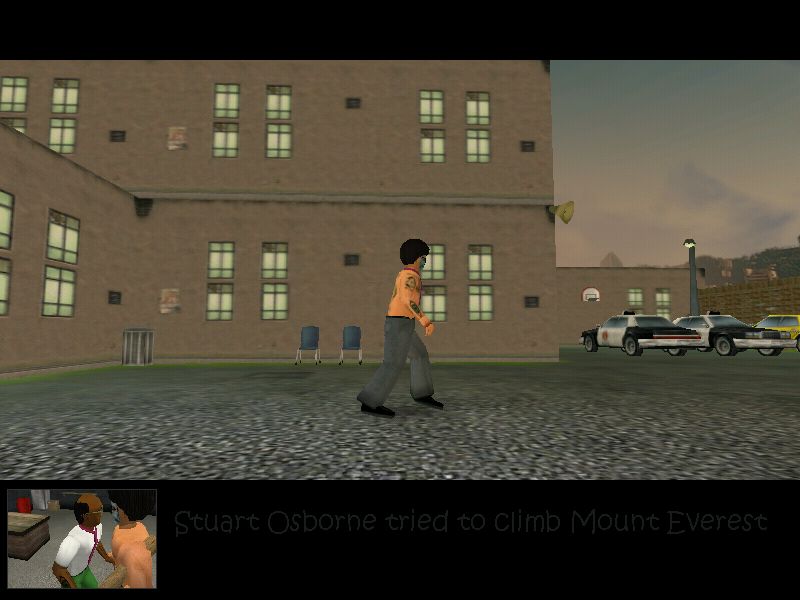 without equipment and fell to his death...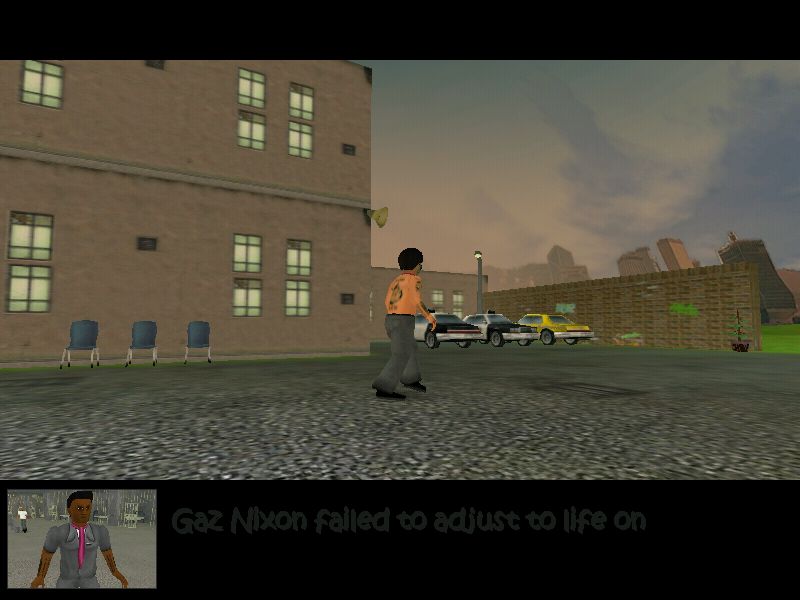 the outside and commited suicide a month after his release...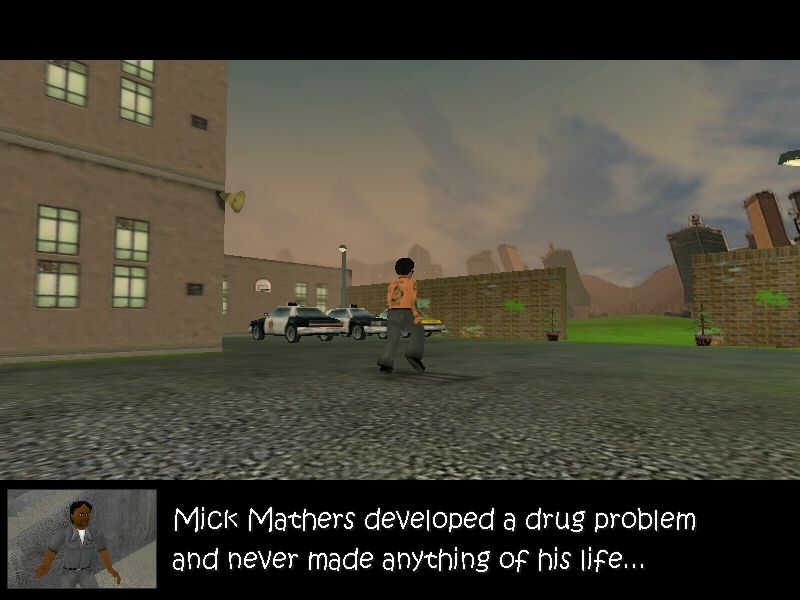 (I swear I killed this asshole)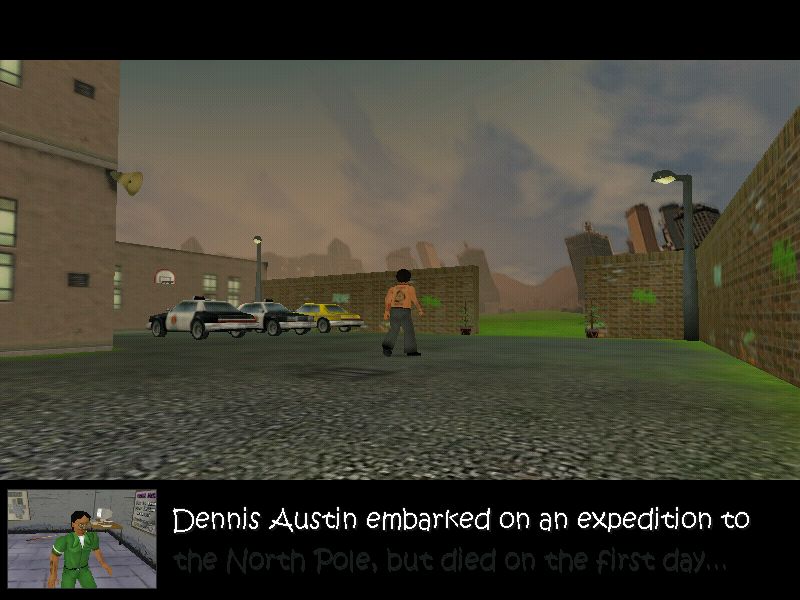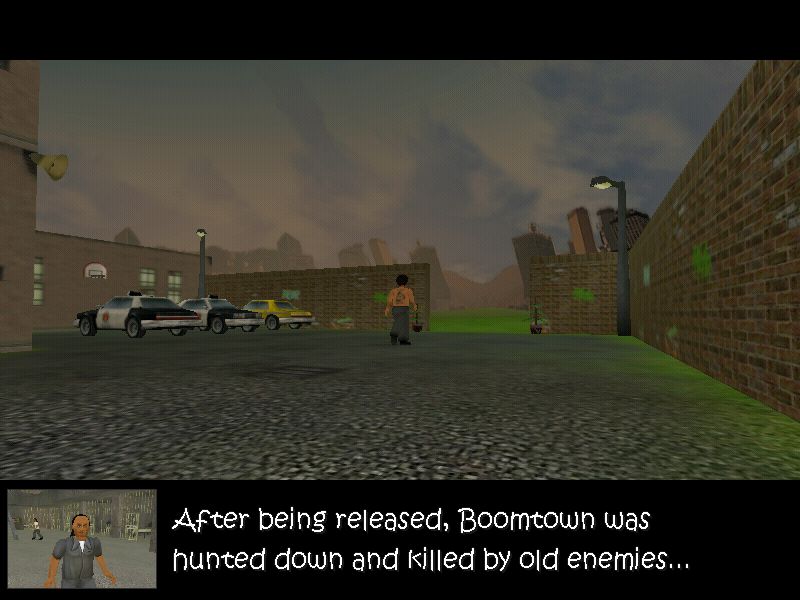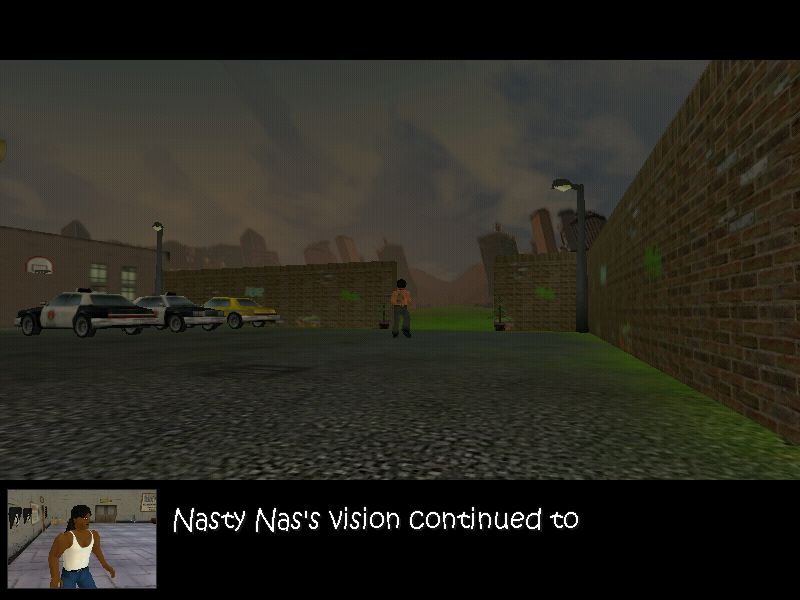 deteriorate and he went blind within a few years...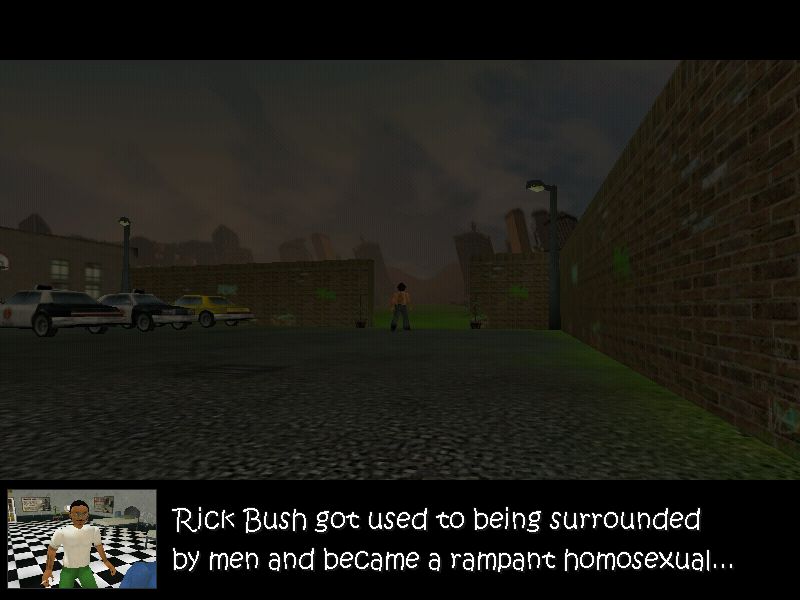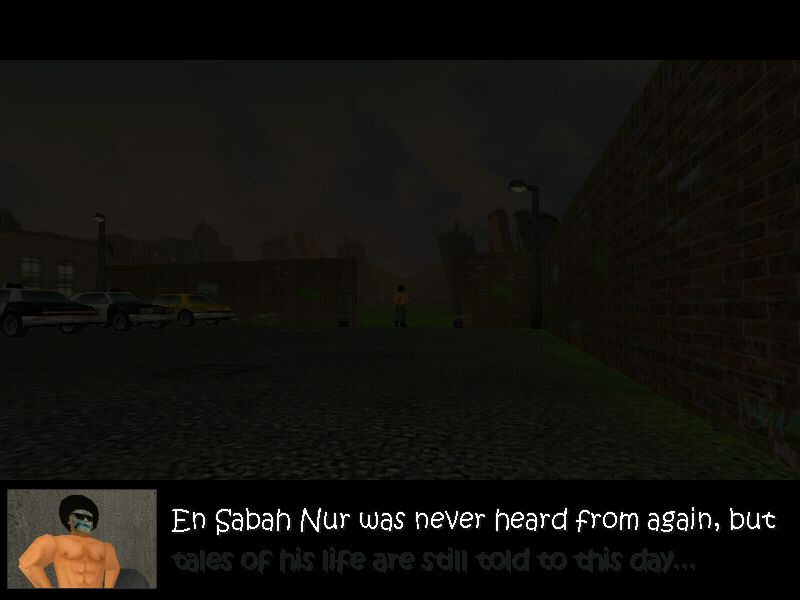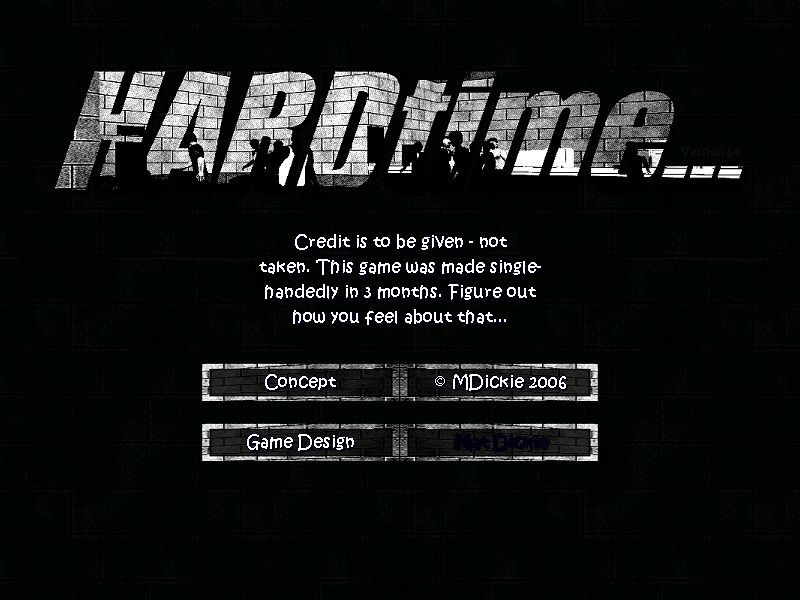 It shows. It really, really shows.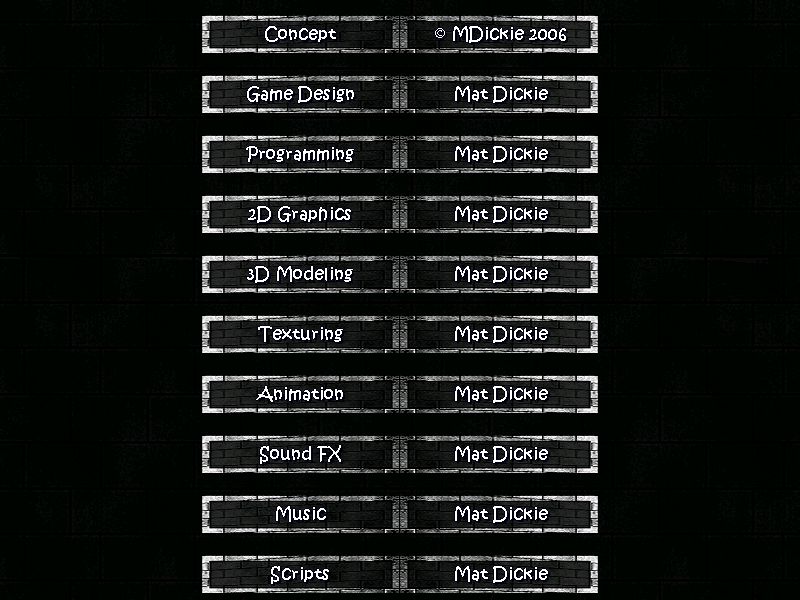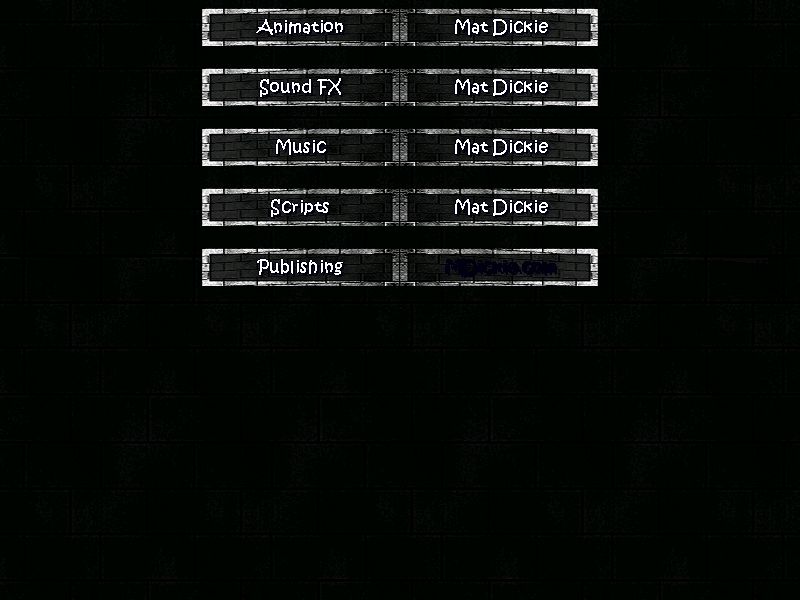 That's it. We're free. We're done with Hard Time. There may be a few things I didn't show off, but eat me. We've got some more history to rape. Catch you next time, with our regularly scheduled Let's Play.