Part 32: Right All Along
Update 32: Right All Along
Last time our genius plan to communicate with Mary failed thanks to Derek tossing away the letter.

I think it's time to invoke my lifeline: Call a Friend.


: Welcome!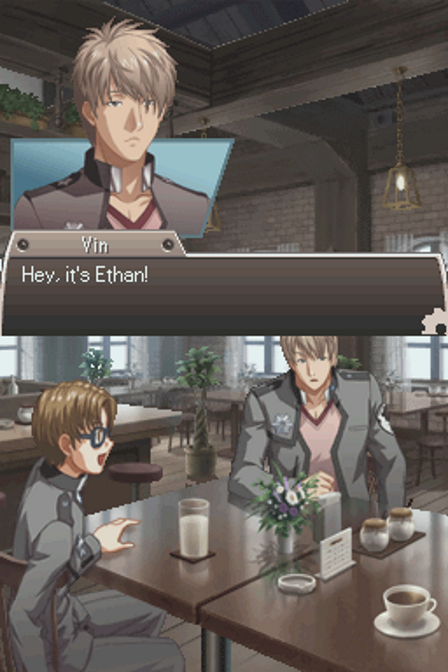 : How's that injury coming along?

: I'm just about back to normal.

: Ha! Define "normal"! Anyway, Ethan, listen--you'll back me up, won't you?

: What? Why?

: Oh, listen to this! Vin has a real heartbreaker for you. He had a love letter in his locker--and he threw it away!
Astonishingly relevant to our current scenario.

: You threw away a love letter!?

: I didn't recognize the name of the girl who sent it...

: And I didn't want to be bothered with dating someone I didn't already know.

: So you THREW IT AWAY? Man, you are as cold as they come! What I wanna know is, why do girls always go for creeps like you?

: (......... He threw away a letter from someone he didn't know, eh...?)

: What if the letter was from someone you DID know, Vin?

: Yeah, like from someone you maybe kinda liked?

: Well, obviously I'd read it on the spot--and I'd write back, too!

: I knew it! How unfair is that?!

: Wait, what's so weird about that? Wouldn't every guy do the same thing?

: (That's it...!) Yeah! He wouldn't throw away a note from someone he liked!

: See? I knew you got me, Eeth!

: You make me sick, the both of you!

: (That memo needs to be from someone he likes...)
And that's what we need to know. So let's go ask this completely mysterious person that Derek likes.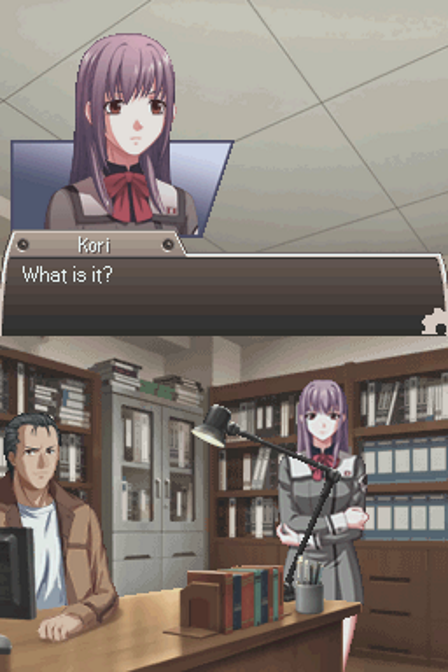 : Could you do me a favor? I need you to write something for me.

: Okay...is this what you want me to write?

: Uh-huh. And sign your name at the bottom. (The message is the same--just the handwriting's different. This way Uncle Derek is sure to respond.)

: What are you having her write, Ethan?

: A memo to you.

: To me, eh?

: I think you threw away the one I wrote...

: ? ...Oh! You mean it's for the high-school version of me! I get it now. Sure, a note from Kori would work!

: Great idea, right?

: Ha ha ha! Yeah, I'll read that one for sure!

: ...All set. How's that look?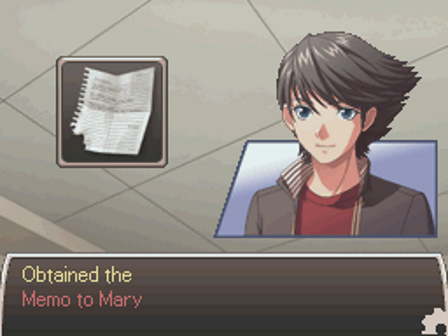 Memo to Mary posted:


: Perfect. Thanks. (This should get Uncle Derek to act, all right.)
Refilled my Pen, so let's try this again.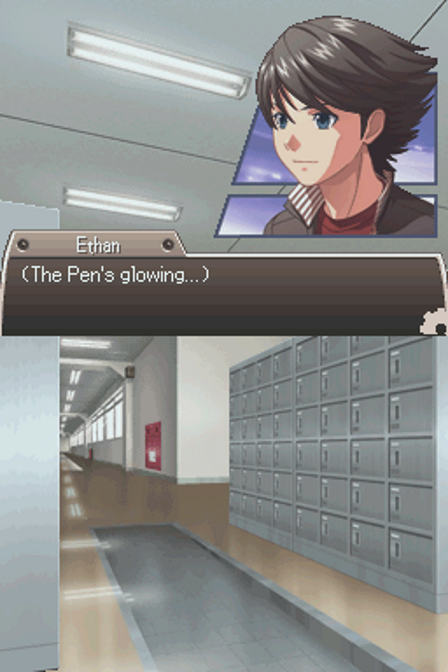 : (This memo should do the trick--since it's in Kori's handwriting and all.)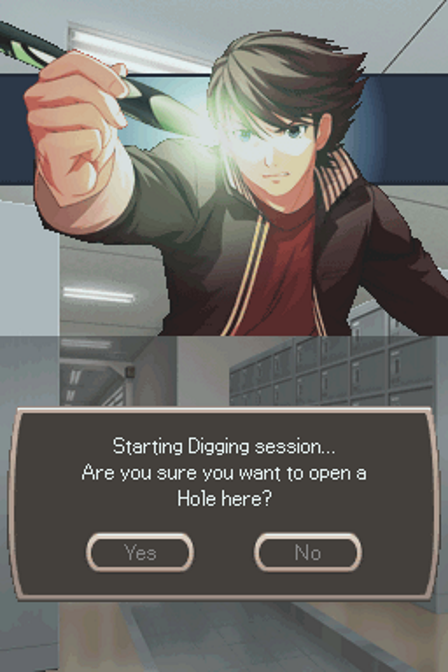 ===

You know the deal.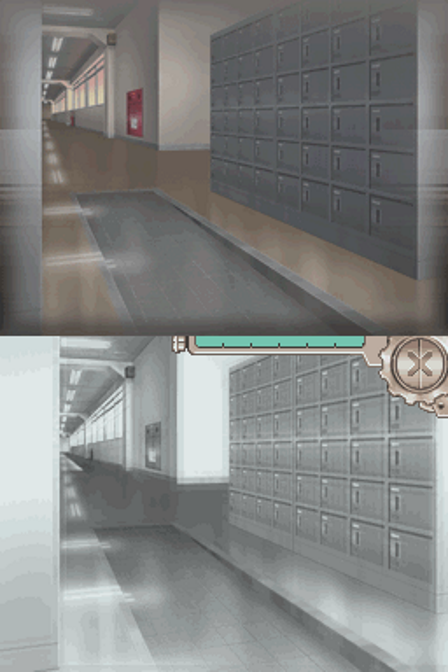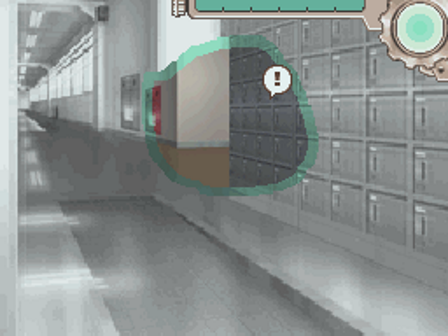 *Item: Memo to Mary*

: (Give this memo to Irving's mom... I'm counting on you, Uncle Derek!)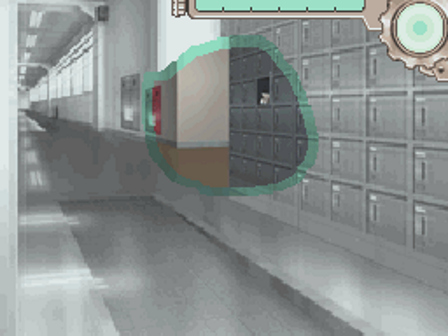 Again, the memo in the locker before we close the Hole.
===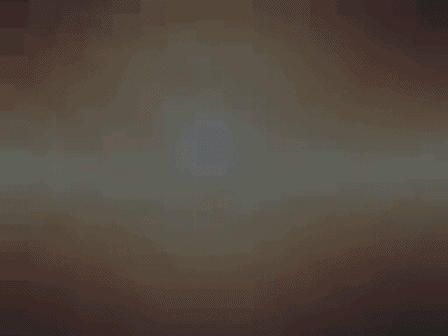 ===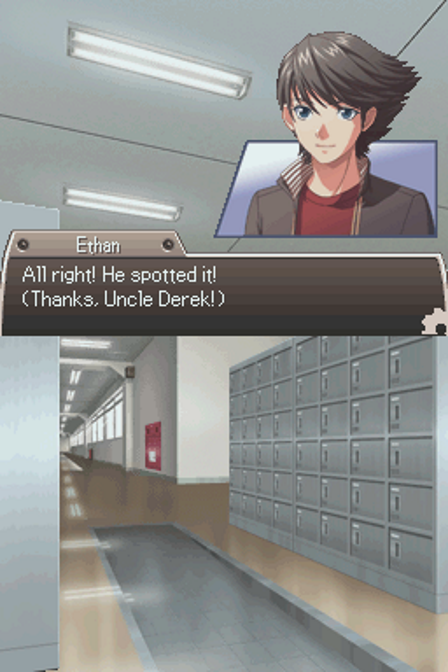 : I'm glad he saw it and all...

: But when was that flashback--and where?

: (Would Uncle Derek remember when he gave her that memo?)
So back we go to ask him.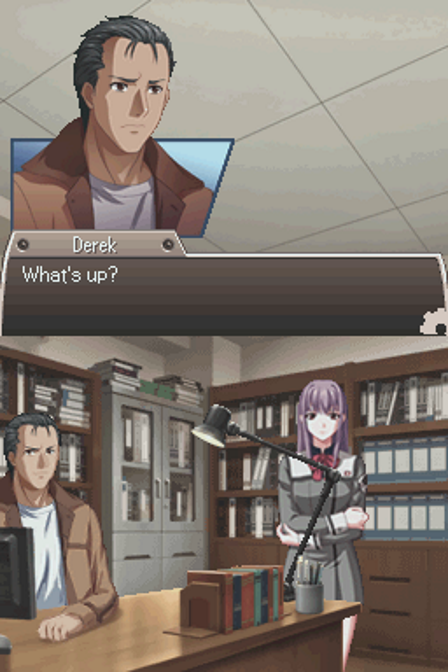 : Uncle Derek... Do you remember me sending you a memo way back when? It would have reached you three days after Kori died...

: Yeah, Tim mentioned that. I only just now remembered it myself. I remember finding a strange memo in my locker. It said, "Give this memo to Irving's mom", in Kori's handwriting.

: And you gave it to her, right?

: Of course.

: Do you remember when?

: I was curious about what it said, so I gave it to her right away--the very next day. Had to ask Irving where she was.

: (So four days after Kori fell...October 24.)

: Thanks, Uncle Derek.

: Not a problem. Ask me anytime.
Surprisingly, that's enough to get you the flashback clear. Why, you might ask? Well...
Flashback: Mary Receiving Memo posted:

Ethan: (October 24, 1989...at...hmm. Wait! I know what time it was! I can see a clock--2:30, eh? And since it's light out, I'd say it's 2:30 PM.)



Splendid deductive reasoning, Ethan. Now let's have that talk.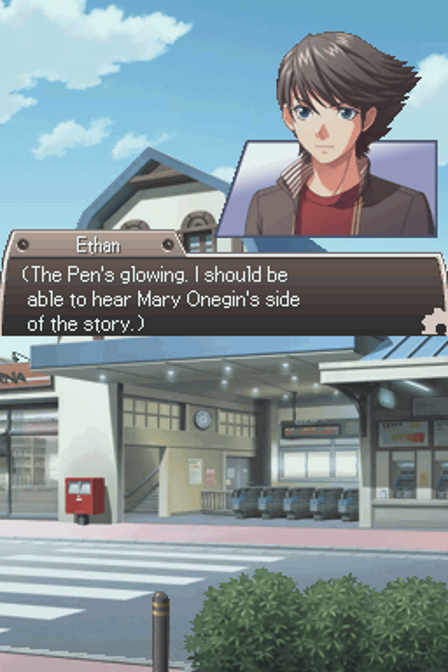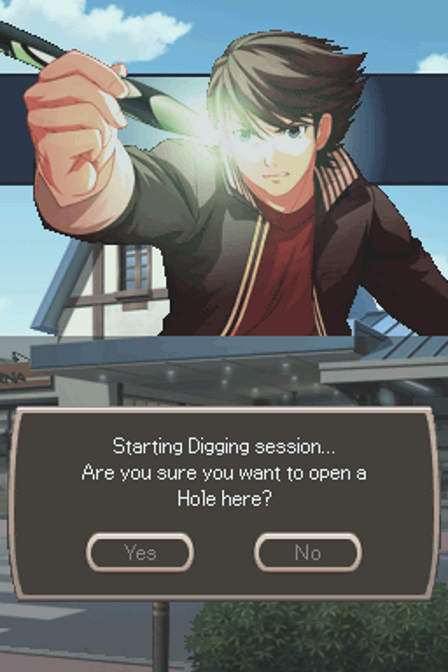 ===

Still can't figure out the difference. Maybe it's specifically changing versus investigating?

Anyways, the flashback we have is zoomed far in, so we have to work with that particular section.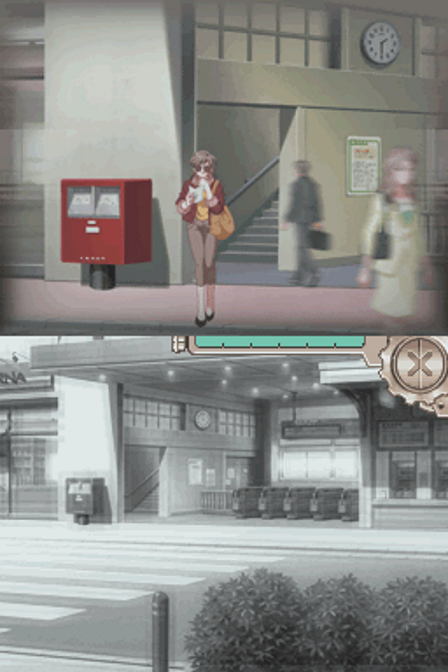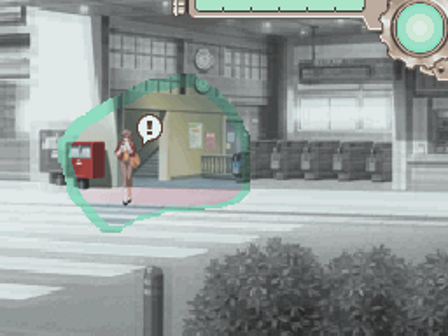 *Talk*
===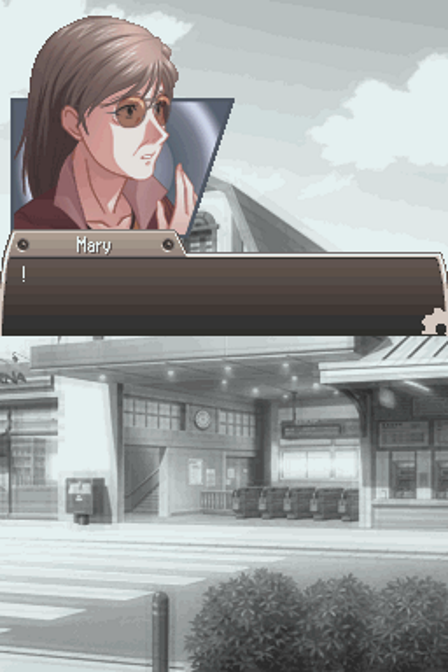 : Hello...?

: Mary...Onegin, right?

: ...Who are you...?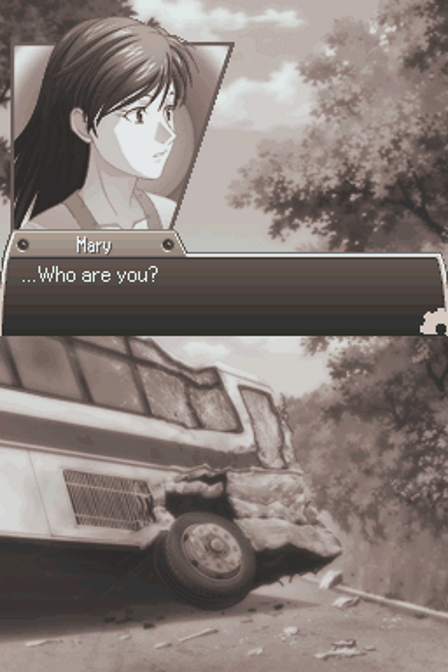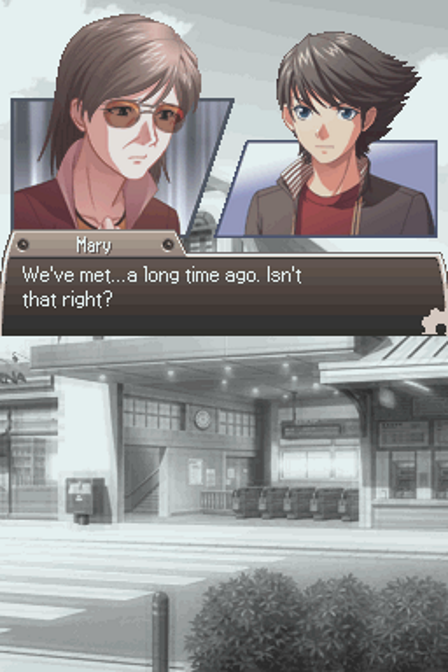 : Yes. I'm Ethan Kairos.

: Kairos...I know a Timothy Kairos. He has the same Pen as I do. You must be his...?

: His son, yes. (Irving's mom... You know, she does kinda look a little like Kori after all.)
I...really don't see it at all. Maybe I'm just bad with faces.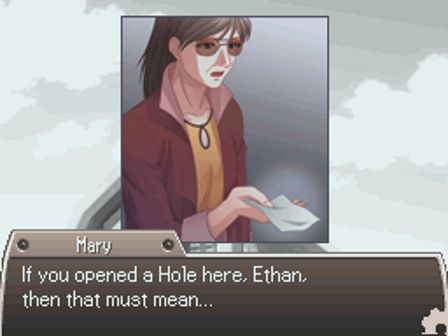 Mary:
Were you the one responsible for this memo, too?
Ethan:
Yes.
Mary:
And do you know this Kori girl?
Ethan:
......Yes. ...And your son, too.

: !!!

: (I thought as much...)

: Your son pushed Kori...

: ...Pushed her off the roof...

: ...Yes.

: ...... ......

: That's not all.

: Huh?

: When he doesn't push her off the roof, he stabs her with a kitchen knife... When I hide the knife, he hits her with a rock...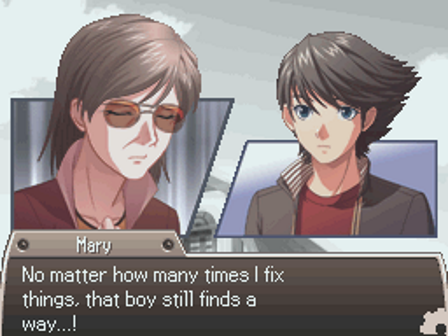 : ...!?

: (I had no idea Irving was that obsessed with Kori...)

: Where is the girl now? Did you take her away somewhere?

: Yes, we've brought her over to this side--for now, anyway.

: ...If that future comes to pass, there'll be no saving her.

: ...I'll keep her safe.

: Please, help her...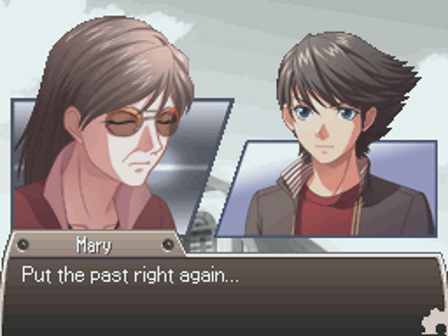 : ...

: I consider myself responsible, me and my son both...so, you see...

: (!! Impossible...! She's the one who's been fiddling in the past--because she's got a death wish!?)

: N-no! You can't!

: It's...it's the least I can do... I have to pay for all that's happened--before I give him this Pen!

: Please, Mary...think this over! Everyone can be rescued--everyone!

: I'll tell my past self to go see your father.

: Huh?

: I'm sure I'll listen to myself... Your father and I wield the same Pen...

: I'm sure my past self will realize it's important enough to get on that bus...

: Mary, no!

: ...Goodbye, Ethan.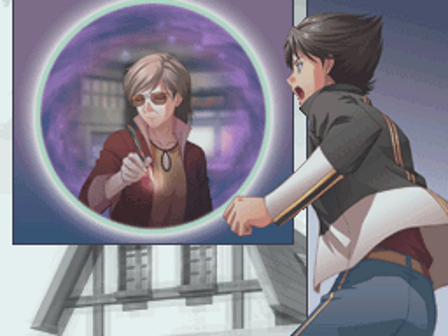 Ethan:
Mary! ...Ah!
===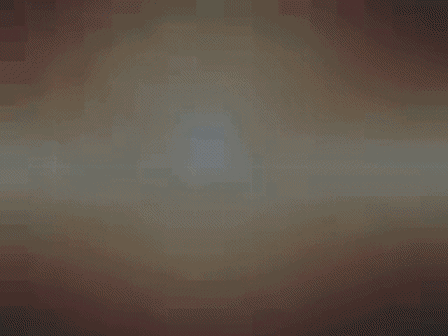 ===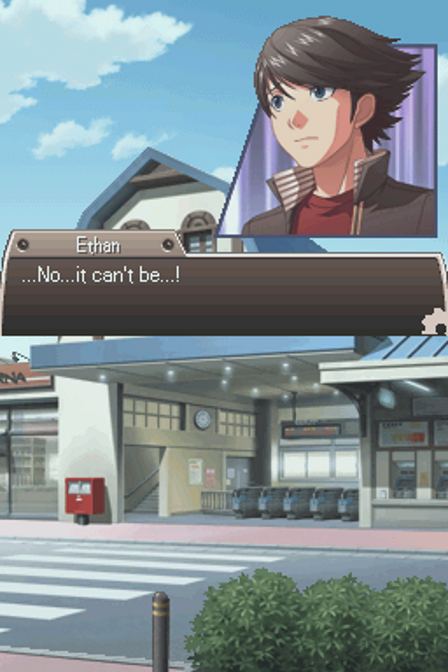 : (I see...I get it now...)

: (Irving's mother--Mary keeps getting in that bus accident...by sending that letter to her past self. It's suicide...)

: (And now that I know that, I've got to stop her.)
Flashback: Kori Falling posted:

Ethan: (But I'm sure there's a way to save Kori.)