Part 14
Music: play track 9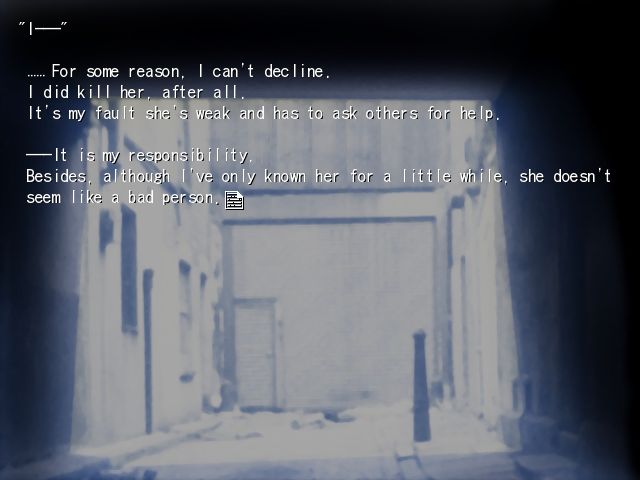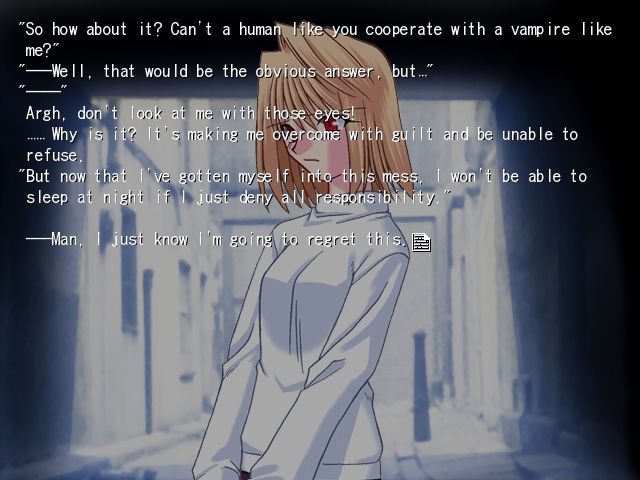 Shiki's got such a great attitude. "Oh, alright. I GUESS I did kill you and all... but this totally sucks."
"...... So, yeah. I think I could probably do it. The enemy's the serial killer, right?
As a resident of this town, I'd probably be struck with some kind of divine punishment if I refused to help you."
"Eh--? You mean---"
"I'm not going to be your shield, but if it's just being your lookout, I'll do it."
I feel disgusted at how stupid I am as soon as those words are out of my mouth.
I feel disgusted, but----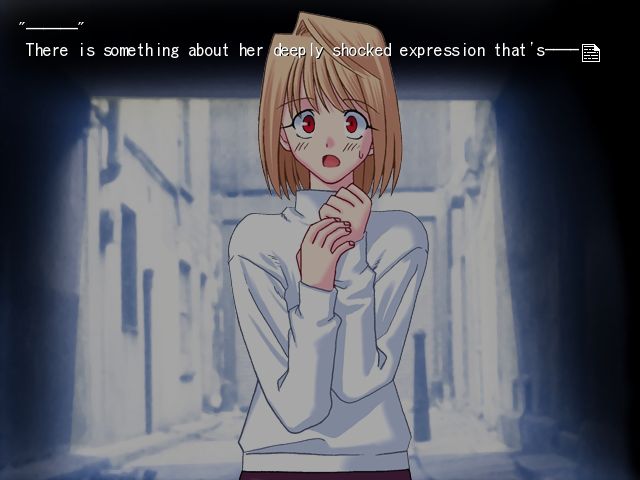 "Wow! Are you serious!? I'm really a vampire, you know!"
"...... Hey, listen. Why are you saying all this now, after you've threatened me so much?"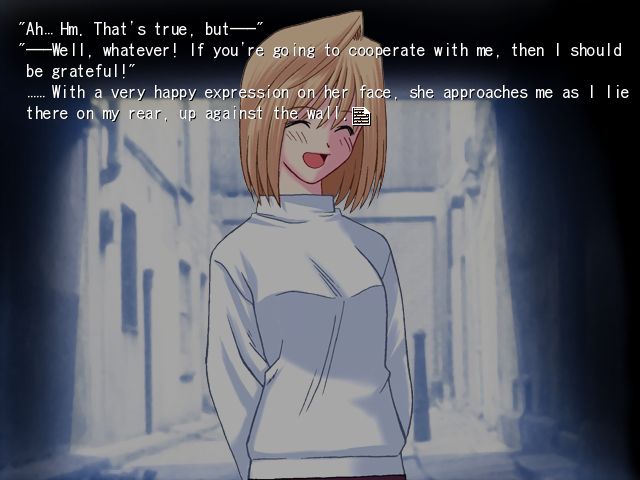 "Our contract is established."
She extends her hand towards me.
"I guess I can finally introduce myself now.
I'm Arcueid---hmm... my last name is really long, so just Arcueid is fine for now. I'm a True Ancestor type vampire. How about you?"

"Shiki. Tohno Shiki. Human." I don't really consider 'Brunestud' to be 'really long', either.
I heave a heavy sigh at her unprecedented introduction.
...... It's a sigh of resignation, evidence I've decided to accept this nonsensical situation.
"I'm Tohno Shiki. Sadly, I'm just your everyday student. ...... I've said it before, but I'm really not going to be much use."
Grasping her---Arcueid's hand, I stand up.
She takes a long hard look at me, and then offers me her hand again.
"Nice to meet you, Shiki.
I'll have you take responsibility for killing me."
Arcueid grins as she extends her left hand.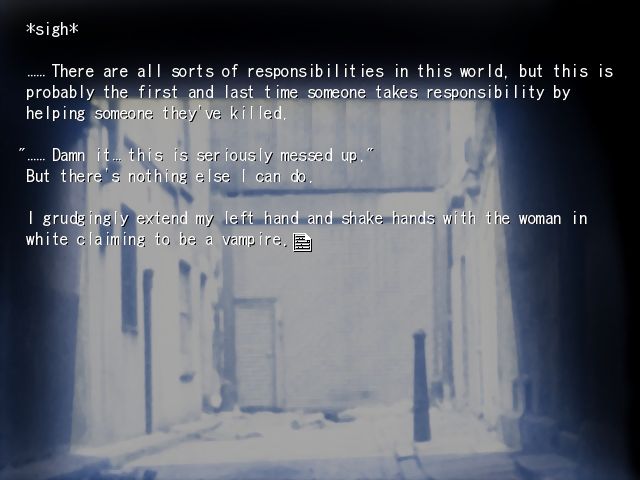 Music: stop
Music: play track 3
------------------------------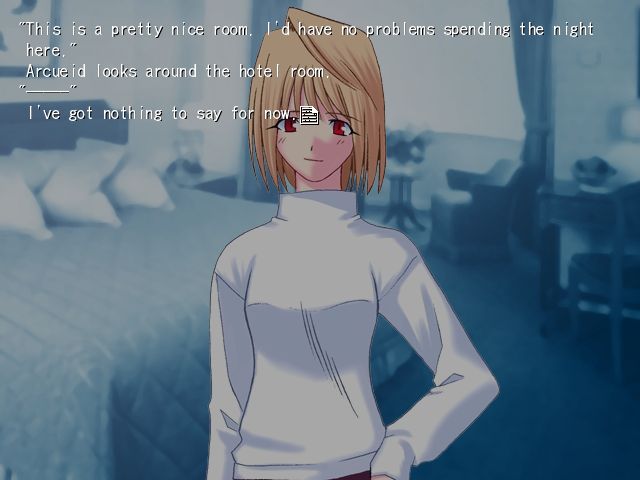 Wait, what? We're in a hotel room now? That was fast. Hold on... we're in a HOTEL room?

"My room has probably already been discovered, so let's hide out here for the night. Oh, you don't have to worry about money. I'm rich, so I'll treat you."
Speaking cheerfully, Arcueid closes the curtains.
She also turns off the lights and the room becomes as dark as night.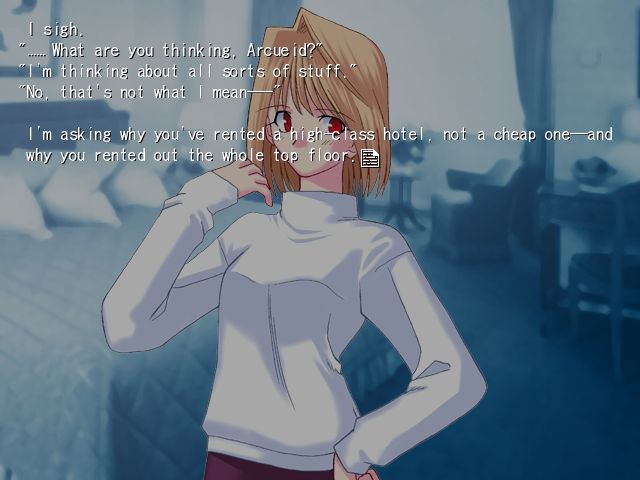 Because she doesn't want the neighboring guests to overhear! She must be a moaner.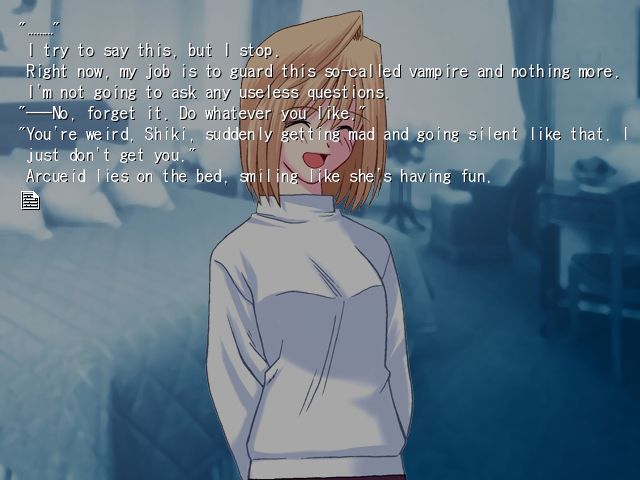 "I'm going to sleep until the sun sets. You'd better rest while you have the chance.
Vampires don't move about in the daytime, so you'll be on guard for real during the night."
"...... Do you realize you've just said something that completely contradicts your existence?"
"Oh, it's alright for me---oh, I guess it's almost my limit. Good night, Shiki. Wake me up when the sun sets."
"H--hey!"
"-------"
Like a machine whose power is cut off, Arcueid suddenly falls asleep.

Aww, why do I always have to get the narcoleptic ones?

"Ha-----"
She's so... defenseless.
"...... Right now, I could run away if I wanted to."
She did force me to come with her, after all. I could easily run away now.
...... And I don't have that impulse anymore, but...
"I even killed you once, yet..."
How is she able to suddenly fall asleep despite that?
"........."
I look at Arcueid's face as she sleeps on the bed.
...... Her plump chest rises and falls. It looks like she's breathing.
But her body isn't moving at all.
It's like the air around her has stopped. It's so tranquil even I might stop moving.
----What a peaceful slumber.
A kind of defenselessness as if she had absolute trust in me, even though we've only just met.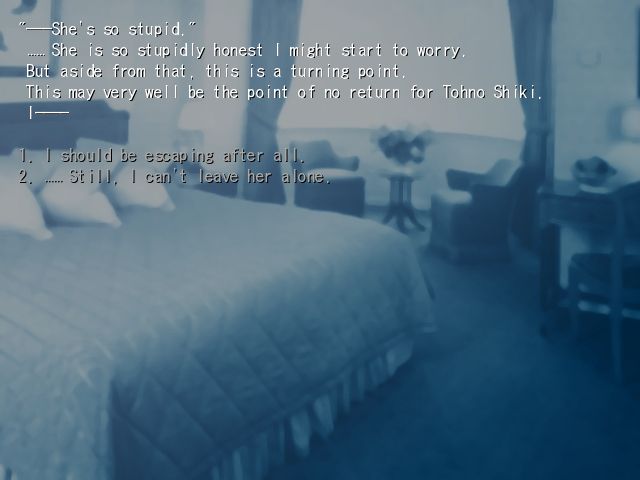 Music: stop