Part 143

A new choice appears after we've seen the True ending. I guess they wanted to save this one for after the awesomely depressing True ending to cheer people up afterwards. This takes place right after the cliffhanger post ("There's no way he would let that chance slip away.")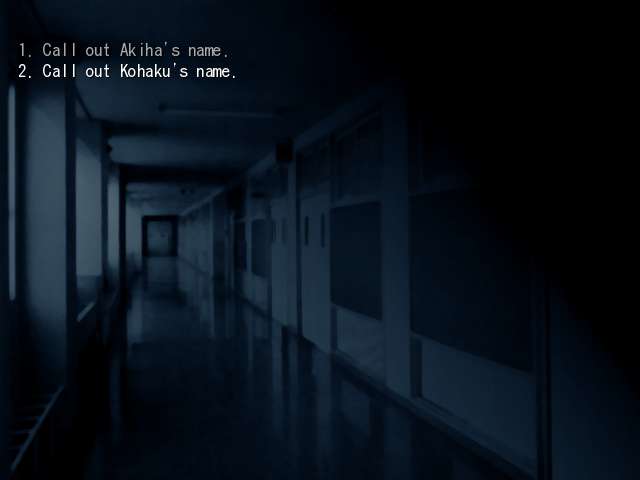 "Heee----!"
SHIKI lunges with a cry.
His black shape explodes forward like a firework.
"Ko---------"
I can't make it from here.
If there's anything that would make it, that would be----
"Dam---"
Akiha turns towards SHIKI.
Akiha instantly prepares for his attack. But the black figure isn't going towards Akiha.
SHIKI lunges not at Akiha, but at Kohaku-san who stands next to her.
"Koha---------"
---He knows.
Just like I am able to move right now because of Hisui's power...
He knows that Akiha's overwhelming power is possible from Kohaku-san's help.
"Kohaku-san, get down---------!"
I shout. Like if I knew SHIKI was going for Kohaku all along, I shout from the bottom of my lungs.

This is just more evidence in support of the Kremlinger-Gott theorem, which postulates that h-game protagonists retain small scraps of memories from alternate paths and choices.
"Kohaku.........!"
Akiha throws her body in front of Kohaku.
-----I don't believe it.
Is she sacrificing her body to protect Kohaku-san?
"Hee---eeeeeee!"
SHIKI raises his voice, and with his arm thrusting like a spear, aims for Kohaku's face.
Akiha forces herself in between them.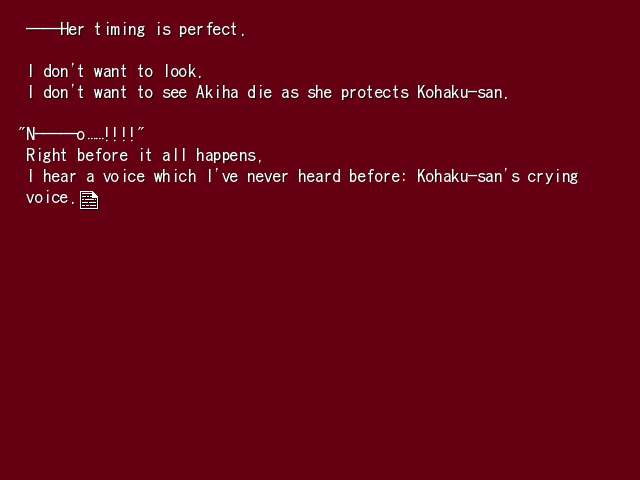 Music: play track 8
The sound of rending flesh.
Red blood drips down onto the hallway.
"Eh---------"
Kohaku-san's voice almost sounds absent-minded.
She has quickly pushed Akiha away.
She pushed Akiha trying to protect her, and threw herself in front of SHIKI's claws.
"Y-----you!"
SHIKI's voice quivers with anger.
...... Red blood continues to flow forth.
"Ah------no, no, Akiha. I, didn't mean, to hurt you----"
He shakes his head.
In front of SHIKI, Akiha lies collapsed, her arm coated with blood.
...... Thanks to Kohaku-san pushing her away, it seems only Akiha's arm was shredded by SHIKI's claws.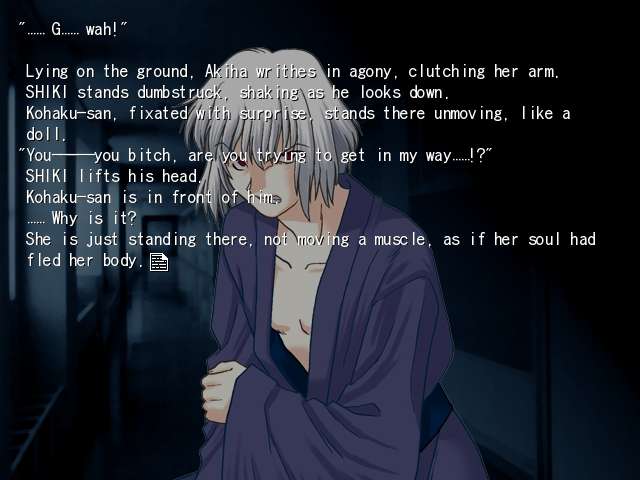 "You----you, also get in my way.........!?"
SHIKI howls.
"Shiki-sama.........!"
Hisui's pleading voice.
She doesn't even have to tell me.
Like Kohaku-san protecting Akiha, this time, I'll stop him for sure......!
"SHIKI............!"
I run, my glasses already off.
The lines I see are across his neck and from his upper left chest to his stomach.
...... Either one will do. If I work my knife through either one, it will surely kill him.
Gripping my knife firmly, I fly down the hallway with a speed that surprises even myself.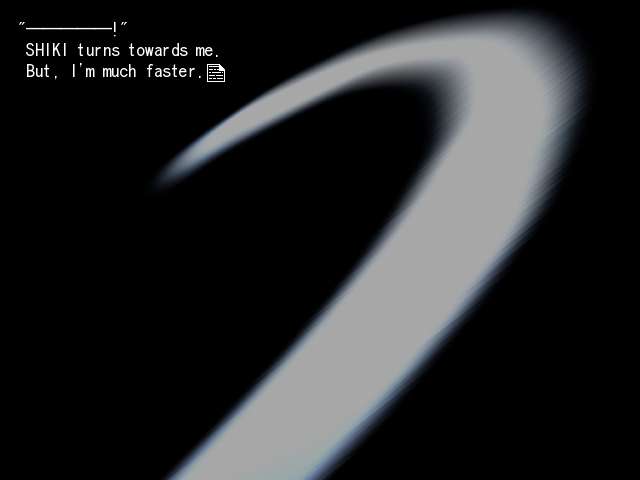 "Kuaaaaaaaaaaaaaaa!?"
His anguished cry reverberates through the hallway.
"Hii------ha, hahahahahahaha!"
An insane laugh.
----It was too shallow.
How naive. In front of Akiha---I hesitated in cutting her real brother's neck.
The line that runs through his body. I was only able to cut it halfway.
"Hiha, hahahahahahahahahaha!"
Laughing wildly, SHIKI pulls back.
Like that, he escapes towards the stairs.
...... Following him would be easy.
But there's something more important for me to do.
"----Akiha! Hang in there, Akiha......!"
Kneeling down, I look over her body.
...... This is terrible.
Her right arm is almost split in two and painted an awful crimson.
"...... Ah...... Nii-sa...... why...... are you here----"
Her eyes are hazy.
Her shallow breathing, her pale face.
...... The figure of death stretches across her body.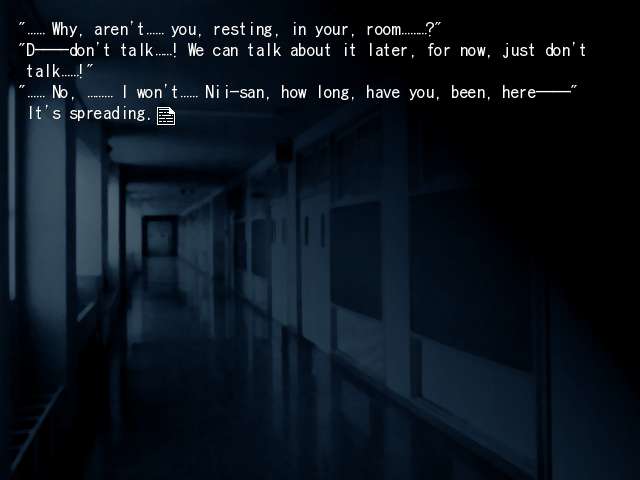 "You... fucked the maid... didn't you? I... knew it..."
With her bleeding, her lines of death spread across her body.
"It's alright, just be quiet......!
Please---I beg of you, for now, just calm down, please............!"
".............................. Okay. If you say so---then I will, be obedient, Nii-san----"
With a forced smile, Akiha closes her mouth.
...... No, that...
Simply put, she's so weak she can't even speak.
"N---no.........!!!! Wait, I'll stop the bleeding......!"
Taking off my shirt, I wrap it around her arm.
"Damn----this is useless......! Shit......! If the bleeding doesn't stop, she'll die, why doesn't.........!"
I frantically tie it around her arm.
...... I know that it will not help her at all, but I can't think of anything else to do.
I...
I know that I'm starting to go crazy, but I still cannot calm myself.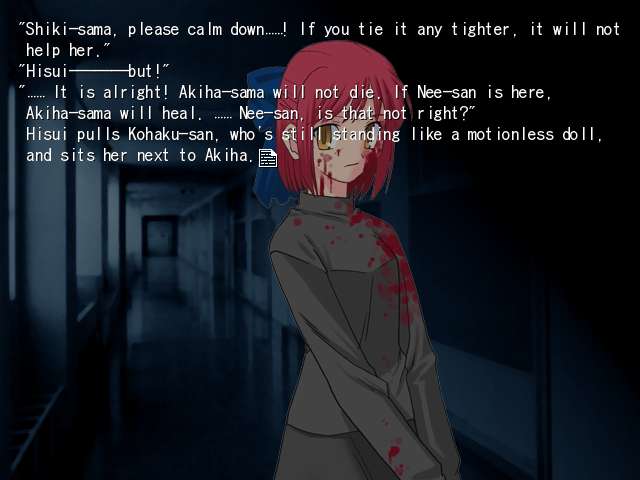 "...... Nee-san. For now, please synchronize with Akiha-sama. You destroyed everything because you wanted Akiha-sama saved, is that not right?"

The way she says this, it's like Hisui knew of Kohaku's plans all along, even though Kohaku insisted in the other ending that Hisui was totally clean.

"-------------"
Hisui wraps both of her hands around Kohaku-san's white hand.
But Kohaku-san's gaze is still empty.
But---maybe Hisui's words reach her after all. Akiha's blood stops spilling forth.
"Ha--------ah."
...... I relax.
With this---I can be assured.
The uneasiness that gripped me before. The uneasiness that Akiha would meet the worst fate starts to gradually disappear.
"--------"
Akiha will be helped by Hisui and Kohaku-san.
So.
As Tohno Shiki, I will have to end this.
"------Hisui. I leave Akiha and Kohaku-san up to you."
"...... Shiki-sama, you are still planning to go, are you not?"
"-----We are the same type, he and I. The least I can do is put him to rest."
"....................."
Hisui wordlessly stares at me.
...... Her eyes beg me not to go, but I can't listen to them.
"...... Thanks for everything up until now, Hisui. I'm so glad you were with me."
I walk away.
Feeling her watch me as I leave, I follow after SHIKI.
Music: stop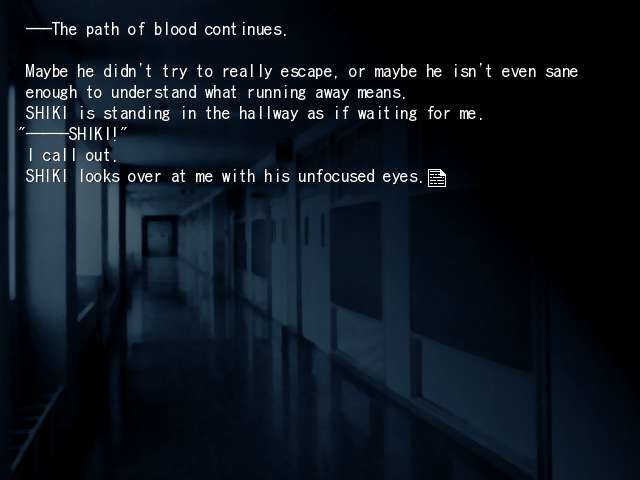 "Ha------you again?"
SHIKI doesn't move.
...... Probably because of the wounds by me and Akiha.
He doesn't have a body that can move properly.
"Shit----I failed again. It won't work out right. Why is everything getting ruined......!?
It won't work, it never works out right, I always mess up.........!!!!
That's strange, why is she getting in my way!? He, he came just like I was told, so why does he always always always always always always always always always always always always get in my way!?"

If you think about this, that means Kohaku knew Shiki would show up... which means she also knew Hisui would fuck him... and Hisui knew about Kohaku's plan... which means Hisui intentionally fucked Shiki to help her sister carry out her macabre plans!

...... SHIKI's eyes are just hollow orbs.
Maybe he didn't even see anyone from the very beginning?
He only sees me before him, holding my knife, as just another obstacle.
"SHIKI. Are you, in pain?"
"In pain? Me? Why?"
SHIKI laughs as if it is so funny, and slowly stands up.
"I'm not in any pain. This is a wonderful life. No matter what I do, no one can punish me."
SHIKI's eyes burn with the desire to kill.
...... It seems he's ready.
Underneath the moonlight.
Even though I've known him for so long, I take my first step towards the enemy I just met tonight.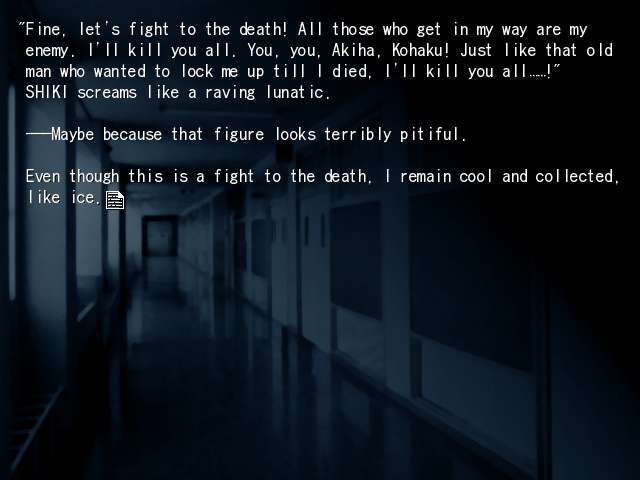 "HA, HAHA, HAHAHAHAHAHAHAHA!"
SHIKI attacks me head on.
"--------------"
It's nothing difficult.
Like I'm cutting meat on a plate, I easily slice through Tohno SHIKI.

So he held SHIKI down with a fork and then sawed back and forth over the line?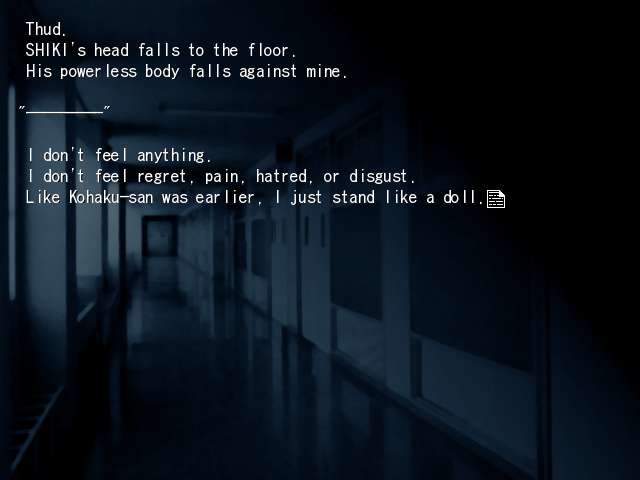 "Ku------kuku, ku."
...... An unbelievable laughing voice.
SHIKI's laughing head rolls on the ground.
"You're wonderful---this is the first time I felt this cold pain! What a---what a superb hinderer you are!"
Still laughing, his face dissolves into ash.
Gradually, it disappears into the wind.
SHIKI is disappearing.
Before he does, he looks up at me, and curiously says.
"---So who are you, anyway?"
"...... Eh?"
"Who are you?"
"...... You don't know? I'm the Tohno Shiki you were always targeting."
"Ah, I see. You're Shiki."
His disappearing face.
"What's this? ----You look nothing... like what I heard."
With that, he completely disappears.
Music: play track 9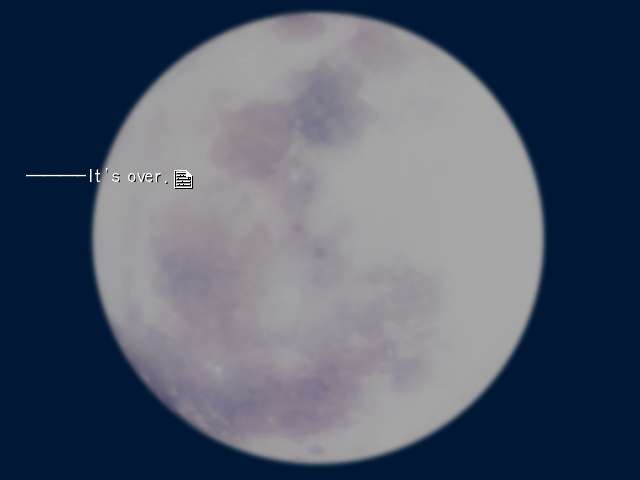 With this, it's over.
I don't feel anything.
I won't feel those splitting headaches, I can return to life as normal--but I don't feel happy.
----And? Just what ended?
"-----Why?"
I feel dizzy.
SHIKI's last words won't fade away.
Something did end.
But I don't know what ended, or in the beginning, what I was trying to end.
"--------"
I look up at the moon.
In the vague darkness, my heart is enthralled.
Until Hisui came, I just stood in dumb amazement, standing in the moonlight.
Music: stop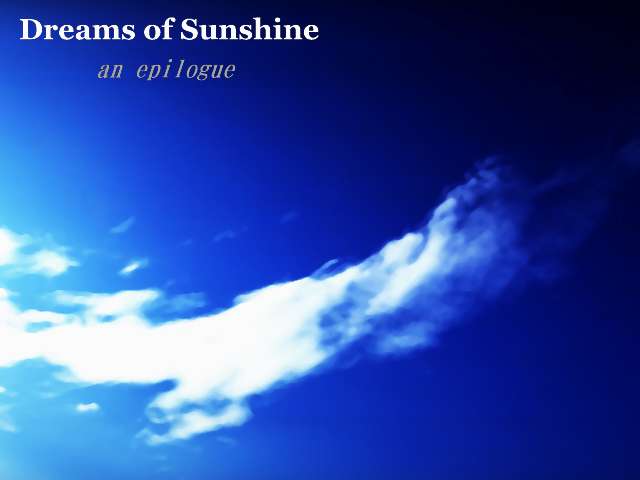 Music: play track 2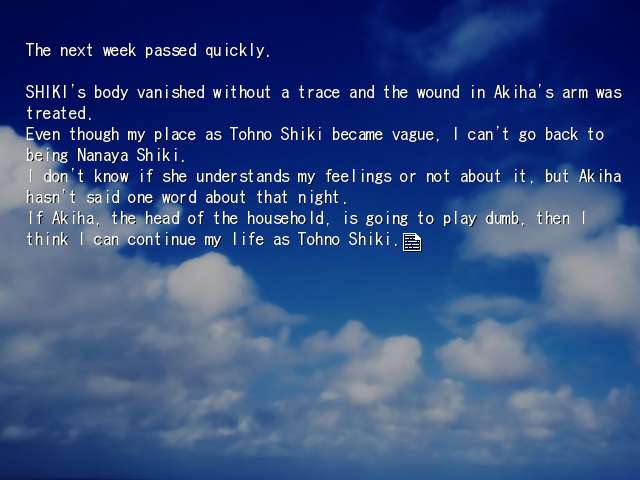 "Even still, I will do my best to keep the maid-fucking to a minimum. I wouldn't want to push my luck."
----The peaceful days have returned.
Since SHIKI disappeared, all my strength returned and Akiha is healing well, too.
Kohaku-san and Hisui go back to their regular duties at the mansion and there isn't a trace of uneasiness.
...... I want to believe that there isn't.
Music: stop
"Nii-san? It's noon already, Nii-san."
...... I hear a voice.
"Geez, even though it's so nice outside, please do not sleep in such a place. If you want to take a nap, do so in your room."
...... Fingers tap my shoulder.
"Nnn----"
With that, I wake from my dream.
Music: play track 3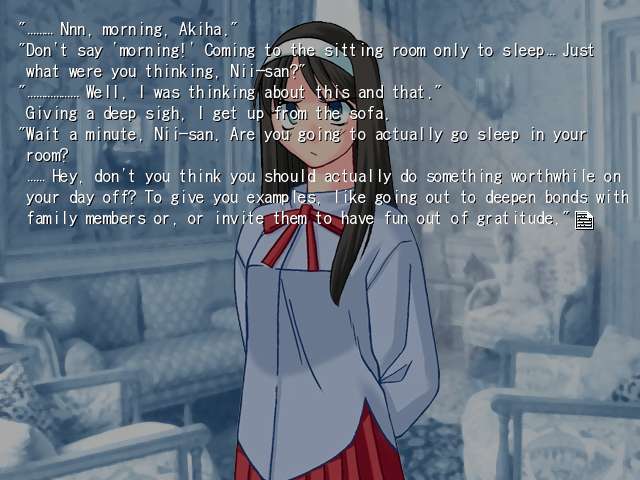 Coming from Akiha, those examples sound like "Sex up Akiha" or "make with the Akiha sexing". I don't think 'bonds' are quite what she wants 'deepened'.
"....................."
I think what Akiha says is worthwhile is very limited.

Shiki noticed it, too. Good boy, Shiki! No sister fucking!

"...... Well, I do think so. It's just that what you think is worthwhile is different from what I think is worthwhile. Sleeping twice would just be a waste.
The reason why I want to go to my room is simple. It takes a lot of effort to face you right after waking up, so I though I'd refresh my head in my own room."
"Wh, what is that supposed to mean, Nii-san!?"

"It means that I and my penis are going to stay far, far away from you. As it should be."
"Nothing, I just can't answer to your all your little scolding when my head's still dozy. So I'm just going to my territory to regroup, that's all. We can talk more during lunch."
Waving, I turn away.
Akiha watches me silently, but her face tells me she wants to complain.
...... It looks like I will have to be ready during lunchtime.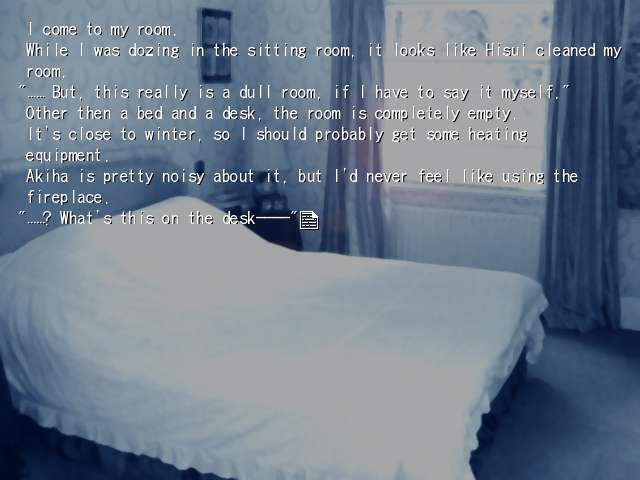 A letter I don't remember about is placed there.
I'm curious, so I open it up.
"-----------------"
Music: stop
................................................... The letter just says "I am waiting underneath that tree."
"--------Why?"
Saying that, I crumble the paper.
Opening the drawer, I put the knife with the engraving "Nanatsu Yoru" in my pocket.
"--------"
...... I can't pretend like I didn't see it.
Taking a deep breath to compose myself, I leave my room.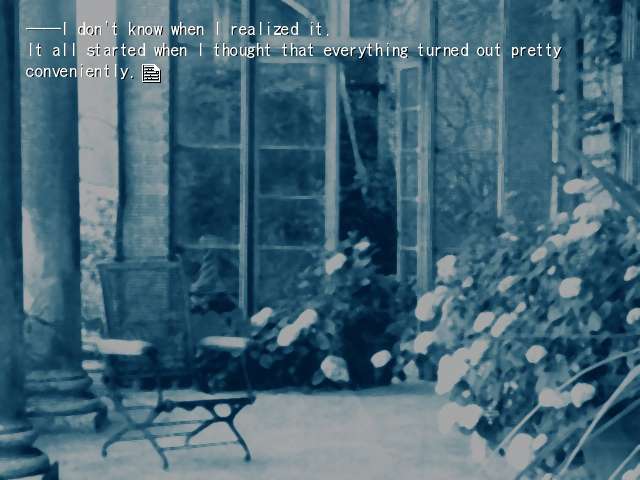 According to Holstein and Scherr's thirty seventh law of h-games, the protagonist is 62% more likely to realize important information revealed on another path when the present path can only be reached after said other path.
The happenstances and circumstances surrounding the connection between SHIKI and I were too convenient.
SHIKI had his lair at my school----but he never attacked me, his most hated enemy.
If SHIKI had ever felt like it, I probably would have been killed a long time ago.
I could only think that things ended this way because someone readied a convenient plot.
Music: play track 8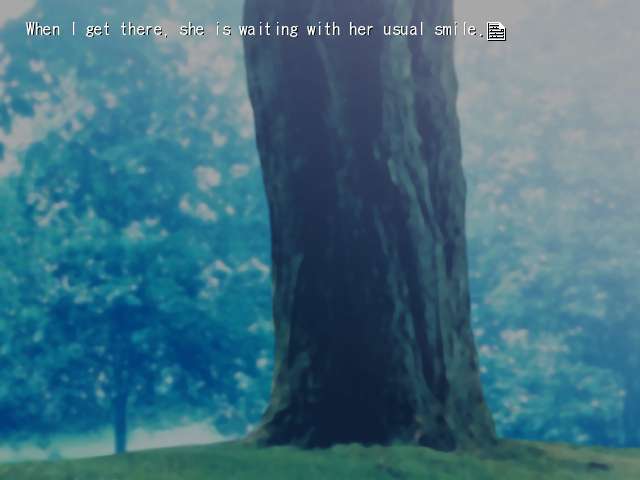 "You're late, Shiki-san. I've been waiting since morning, but it's noon already."
"Yeah, sorry. I fell asleep in the sitting room and just got back to my room."
"Ah, I see. ...... I messed up. I knew I should have told you directly."
"That may be true," I nod.
She smiles at me.
"But, it is good you came. Now we can talk, just the two of us."
"-----"
She smiles happily.
With a smile on her face, she begins to speak like it's nothing.
"You realized it, didn't you, Shiki-san?"
"....................."
I can't nod or shake my head.
"I knew it," she laughs.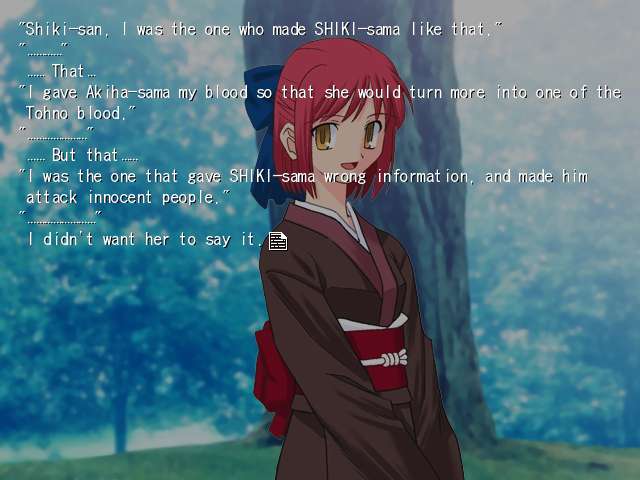 "When we were small, the one who was always watching from the distance wasn't Hisui, it was me."
".................. Kohaku-san."
"Back then, I intentionally distracted Akiha-sama so that SHIKI-sama could have an opening."
".................. Kohaku."
"But I really messed up. Akiha-sama and SHIKI-sama were both supposed to die there---"
"--------Kohakuuuuuuuu!"
Looking down,
All I could do is shout her name.
"........................ It's fine."
"Shiki-san?"
"............... It's fine. All of it is over, so I-----don't want to hear that kind of story."
Those words are truly how I feel.
Such a reality, it is better if I don't realize it.
Kohaku-san can just be Kohaku-san.
Always smiling, thinking of Hisui dearly, being such good friends with Akiha, and laughing when we talk about stupid things, I wanted Kohaku-san to stay like that.
"---I, I don't care about all that. You can just be here, and it'll be fine."
"----------"
...... She doesn't answer.
A long,
painful silence.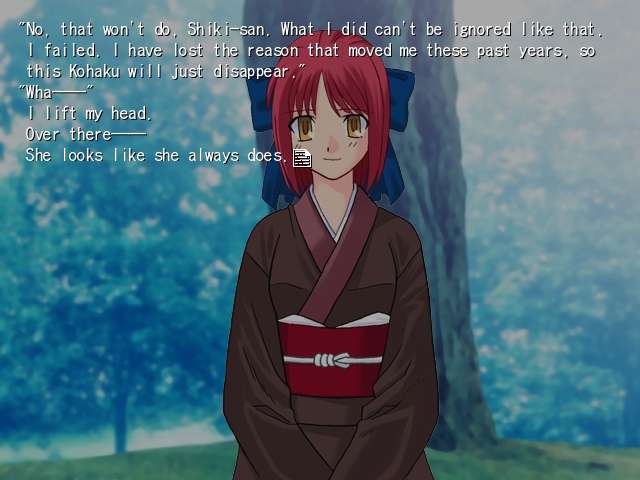 "But, I thought you had the right to blame me.
You are the only one who is not connected with the Tohno house.
I used you in my plot against Akiha-sama and SHIKI-sama. So if you wish to blame me, you can do whatever you like."
"The right----no one has the right to blame you, Kohaku-san."
...... That's right.
Ever since she was a small child and came to this mansion, she had to receive all the crimes of Tohno Makihisa.
She could not ask for help, nobody helped her, if she lived that life for years, then that's...

This is an excellent example of the Grubeck-Watters corollary, which states that h-game protagonists can draw on the reader's knowledge. In the True ending, Shiki had to be explained Kohaku's gruesome past. Now that we, the readers, are familiar with this... Shiki acts as though he has been familair with it all along. One might imagine that if this game were being played by an Astrophysicist, Shiki's school life would be wholly different.
"...... If you want to talk about rights, you had to have every right to take revenge. ...... I can only imagine what happened to you, but you only could hold nothing but a grudge against the Tohno family."
I know that I'm just sounding clever, but I say those unsatisfactory lies.
"----No, I didn't have a grudge against Makihisa-sama or Akiha-sama at all.
So what I did wasn't revenge.
I just thought that was what a human would have done.
Only for my sake, I put Makihisa-sama and SHIKI-sama in a trap, and tried to get Akiha-sama dead too.
----That was all I had.
There really weren't any feelings behind it."
Her smile does not fade.
But that's a lie.
If that's true, then I---I would have hated her from the bottom of my heart.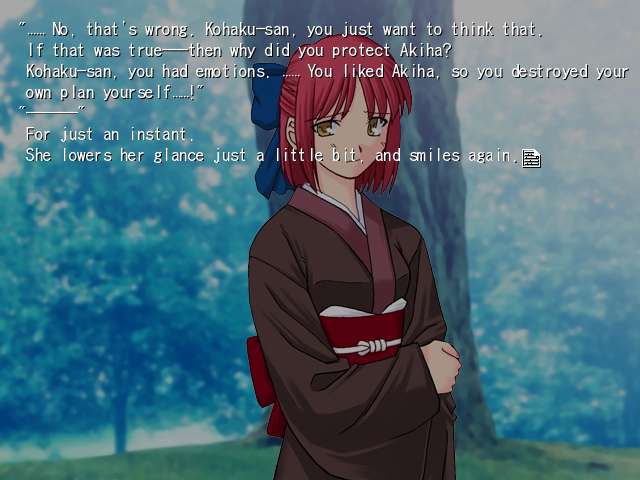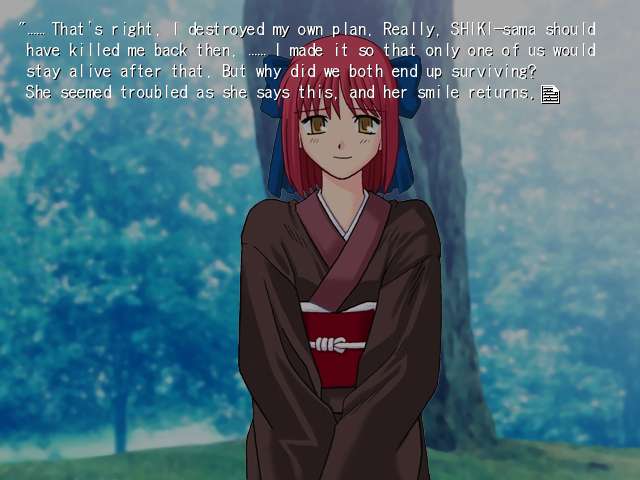 "...... That's simple. It's because you wanted Akiha to live, and you wanted to stay alive too.
Then---everything's alright. Even though you planned it all, I'm happy. Akiha's still alive, and you're still alive, that makes me really happy.
Is that----not enough for you, Kohaku-san?"
Tears come out as I say so.
...... I can't stop my feelings, which are more full of regret than pity.
----I already understand.
That this person will not return.
Since then, from the time she protected Akiha, she became broken and couldn't come back. I understand that too well-----

Shiki's obvious familiarity with Kohaku's doll-like self image heartily supports Horrowitz' proposal that all h-game protagonists have a limited ability to read the minds of any eligible members of the opposite sex, though this ability is unconscious and information gained from it is indistinguishable from their own thoughts.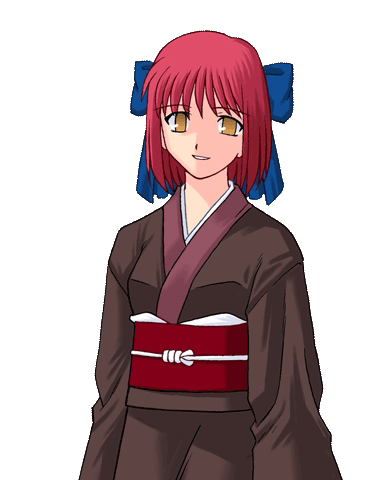 "Shiki-san, are you crying? That's stupid, crying over a doll in a play that broke.
...... Yes, it really is stupid.
Hey, Shiki-san. I said that I didn't hate anyone, but there is one person I hated.
You understand, right? I think I hated you. Because if you weren't there, I could have just stared out the window without even thinking."

In an addendum to Horrowitz' proposal, Von Leibwitz suggested that this mind reading ability provides the h-game protagonist with an irrisistably attractive charm, such that no matter what the protagonist says or does, he/she will always atract elibigle characters regardless of their personal feelings, history, or mental stability.
Smiling, she turns away.
Her sleeves flutter like butterfly wings.
My legs want to dash forward.
But I can't move.
Even one step.
I feel that if I move one step towards her---something will happen that I can't take back.
Music: stop
"You are the only one I hated. Everyone else, I neither liked nor hated.
I lost those emotions. So----saving Akiha-sama was only an accident."
Her figure starts to become hazy.
"Kohaku, san---"
I have a bad feeling about this.
I can't place it, but I have a terrible feeling.
---Then.
"Nee-san-----!"
A voice calling for her echoes through the air.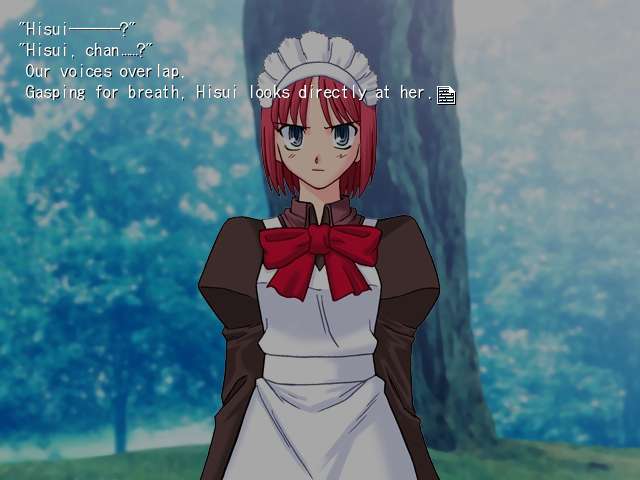 "...... Hisui-chan, why?"
Her voice is shaking.
Taking it, she looks sharply at her.
"...... Lies."
With a short, strong voice, Hisui says so.
"Everything you say are lies, Nee-san.
You saved Akiha-sama back then because you like her---and I know you can't hate Shiki-sama."

Hisui obviously believes Von Leibwitz' addendum to be accurate.
"--------"
I hear a sharp gasp.
Still turned around---she looks extremely frightened.
"Is that not right? You played my role, so you cannot hate Shiki-sama.
You played the role of Hisui from back then. So you loved Shiki-sama and tried to protect Akiha-sama......! You're not an empty human like you think you are......!"
Hisui's voice hangs in the air.
Kohaku doesn't turn back, and just answers "no".
"...... Geez. If you had never slept in the sitting room, then Hisui-chan never would have noticed us.
Shiki-san, you really do throw all my plans into disarray."
Still facing the other way, she laughs.
She holds up a finger to her mouth.
Gulp.
I hear the sound of something being swallowed.
"------------"
I run.
But, I don't make it in time.
Before I can reach her, she collapses to the ground, coughing up blood.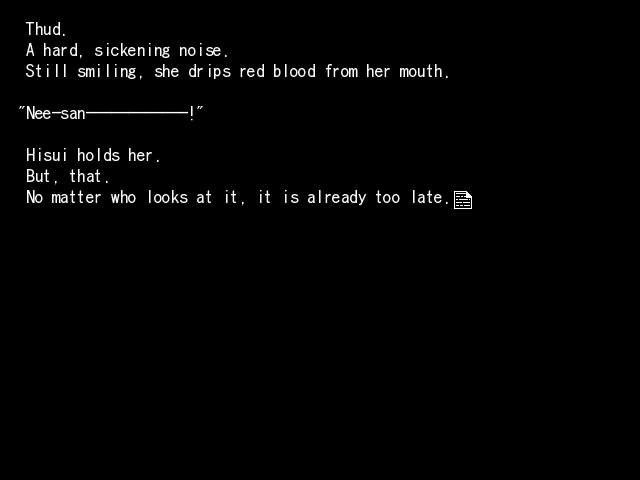 For as much as I don't like the Good ending on this path, you still have to appreciate just how depressing a path is when the "good" ending involves suicide.
Music: play track 7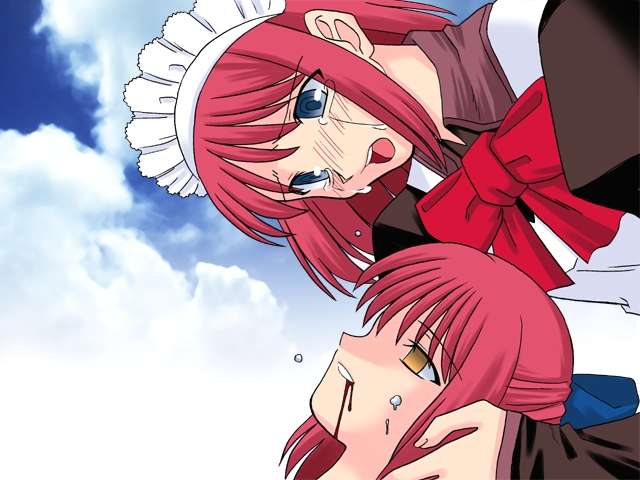 "No----Nee-san, Nee-san, Nee-san-----!!!!"
Cradling the unmoving girl's head, Hisui frantically calls out.
It seems her feelings overflow like the blood pouring from Kohaku's mouth.
Her mouth opens and closes over and over.
"Nee-san......? Nee-san, hold on......!!"
A desperate cry.
Seeing that, the girl smiles like a child.
"...... Huh? ...... Don't do that, Hisui-chan. Crying like that, it feels...... like back then."
"What---Nee-san, why----"
"...... Yeah, because if I, don't do, so, you won't be, able to return, to the way, you were."
Her words in pieces,
and with glazed eyes, she speaks to Hisui.
"---------Nee, san."
Hisui's face contorts in grief.
Her tears flood her face.
"...... Why? That's fine. I was okay with the way I was. If you were happy, then I was happy.
I---I was always protected by you, so---"
I was always happy.
Painfully, she swallows her last words.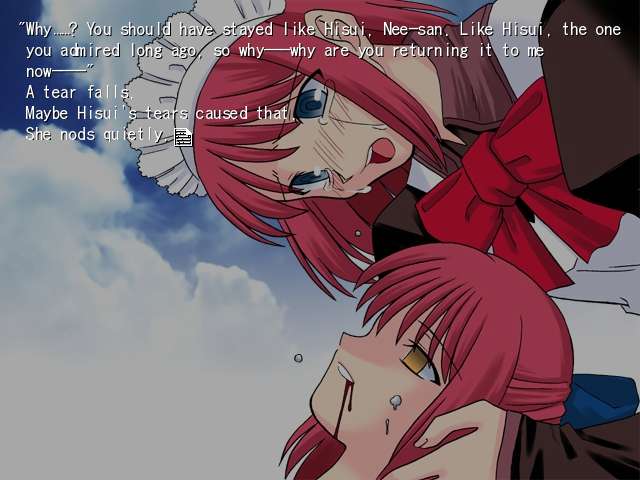 "...... That's, right.
I, really, had fun. It was all just an act, but it was really fun, Hisui-chan.
So I hoped, Hisui-chan, you were having fun, too----"
Her blood drips out.
As she speaks, blood dribbles out of her mouth.
"Ne--Nee-san, hang on, Nee-san......! This, this can't be......! Why, why do you have to die, Nee-san......!?
There is---there is no reason for you to die, Nee-san......!"
Hisui's voice can no longer reach her.
Her chest rising and falling, she just looks up at the deep, deep blue sky.
"...... It's pretty. I could never go outside, but I always remembered the color of the sky."
"Nee-san---Nee-san......?"
"...... Just those little things were my days.
Hisui-chan, Shiki-san, and Akiha-sama were there.
And there was such a pretty sky overhead."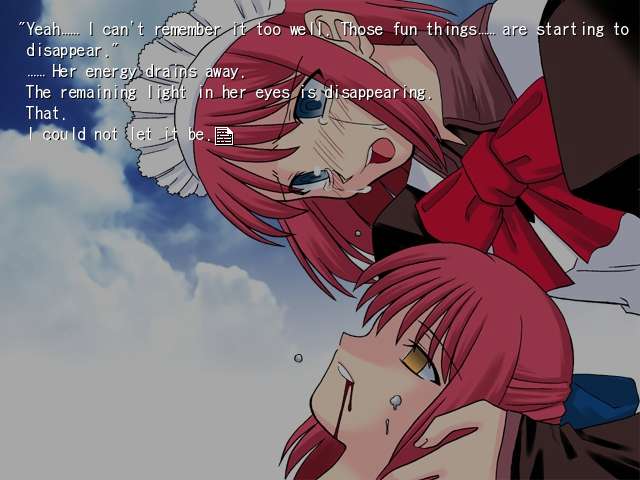 Music: stop
I take out my knife.
My glasses are already off.
All that is left---
"Shiki-sama, what are----!"
Hisui holds on to me.
"----I am going to save Kohaku-san. Please be quiet and trust me."
I pull free and look hard at her body.
...... Just like the time with Yumizuka.
That time, I found Yumizuka's polluted blood and "killed" it.
So I should be able to kill the poison she drank.
"-----------Gah."
The headache gets worse.
It feels like someone is stabbing my skull with a knife.
It's so bad I want to close my eyes.
"-----------"
...... I guess looking at something wrong in someone else's body is difficult.
The pain warns me that this is surpassing the limits of my ability.
"AH------ha, ah."
My breathing explodes into harsh gasping.
Bubbles escape from my open mouth.
My entire world is red.
As if all my bodily fluids turned into poison, my body is burning from the inside.
"Ahh----g---gaah!!"
Yeah. But, still------
"Ku-------ah, ahh-------!"
I stare at it, not caring if I go blind.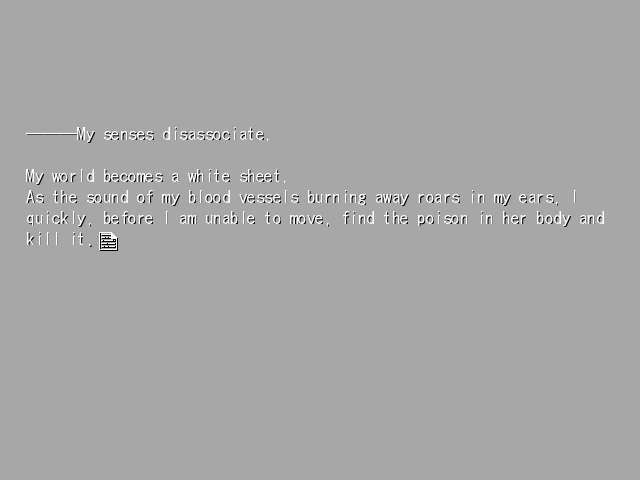 ...attempted suicide.

Music: play track 3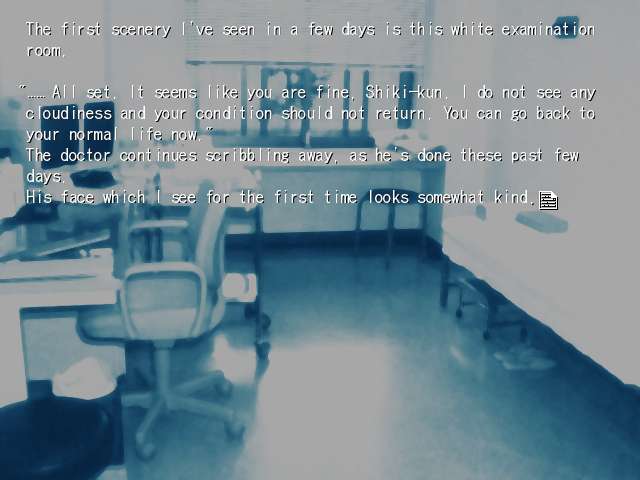 "Well then, take care. Yeah, but don't strain yourself for a while. You always seem to push yourself too hard."
"---I understand. Thank you so much for your help."
I bow with heartfelt thanks.
And, I stand up from the chair.
I go out into the hallway.
In the waiting room is Hisui.
Not having seen her face in days, I wave to her excitedly.
Hisui quickly runs to my side to support me.
"Well then, shall we go? We can meet Kohaku-san starting today, right?"
Hisui nods.
"...... Um, Shiki-sama. Is your body really okay?"
Hisui looks up at me, full of worry.

In Hausenberg's 'Analysis of Literary Improbabilities', he states that an h-game protagonist is just as likely to survive in the most unlikely of circumstances as he is to meet swift and brutal death from the most inconsequential of choices. Shiki has upheld these statistics quite consistently.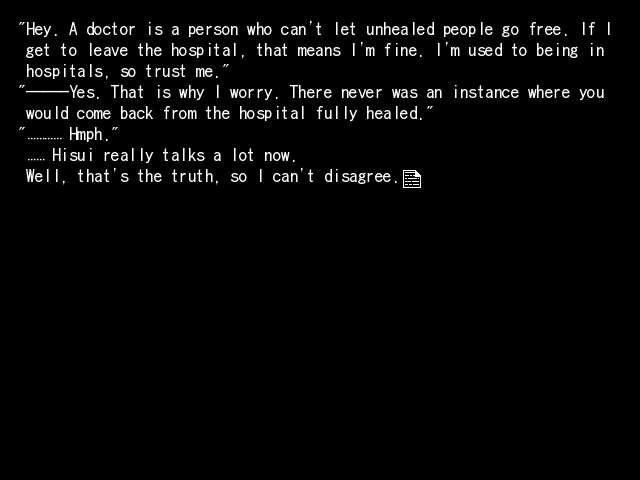 "---Anyway, I finally got those bandages off my eyes. I can see your face and my body is healed, so there's no more problems.
C'mon, let's go see Kohaku-san."
Pulling Hisui, whose still wanting to say something, I walk towards Kohaku-san's room.
Music: stop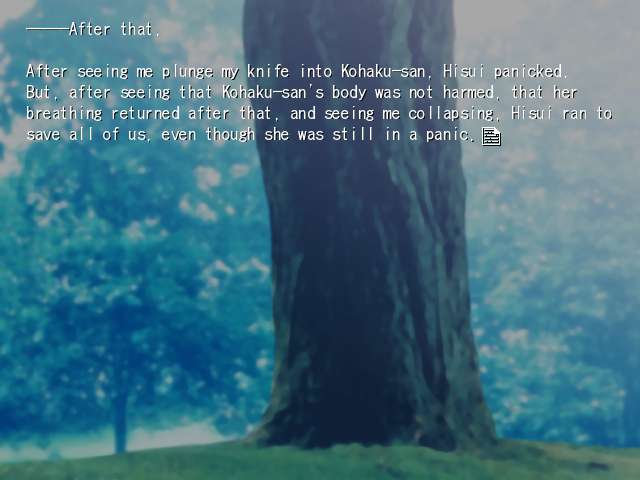 As a result, Kohaku-san was saved.
I fell into a condition where my eyes would not function in addition to the decrease in my physical body strength.
...... Well, I somehow understood that I went blind. When I stabbed my knife into her body, the only thing I was able to see were those "lines".
So when I was told I went blind, it didn't shock me that much, but then, my sight came back shortly after.
The examination revealed absolutely nothing wrong with my eyes, but only problems with my nerves. Rather than my cut nerves connecting themselves, it seems that it's more like the nerves which were numb healed up.
...... It seems like my eyes will not go blind that easily.
Or it might be that even if I do go blind, I'll still see those "lines".
...... Well, those are trivial matters.
The important fact is that Kohaku-san and I were saved.
...... But Kohaku-san wasn't fully saved.
She was able to recover.
But, in turn, she lost something.

A whole lot of blood.


"Shiki-sama."
"Eh----yeah, go ahead. I think it's probably better if you went in first."
After answering yes, she knocks on the door.
A voice tells us to come in and we enter the room.
Music: play track 9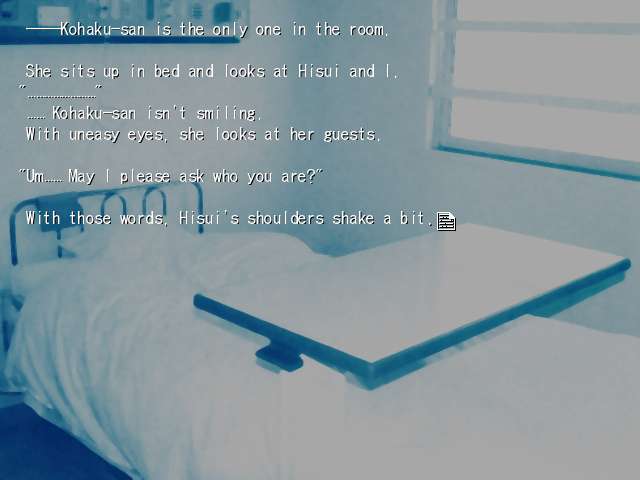 "We have come to see how you are doing. Please excuse us, Nee-san."
Kohaku-san looks at Hisui with surprised eyes after she hears the word "Nee-san".
Hisui sits down next to Kohaku-san.
I don't want to be in the way, so I sit down on a chair by the wall.
Kohaku-san looks uneasily back and forth between Hisui's face and mine.
"Um...... I am sorry. It's a bit strange. I feel that I do know both of you, but I cannot remember either of you."
Her voice sounds very apologetic.
This isn't a joke or anything as she really does mean those words.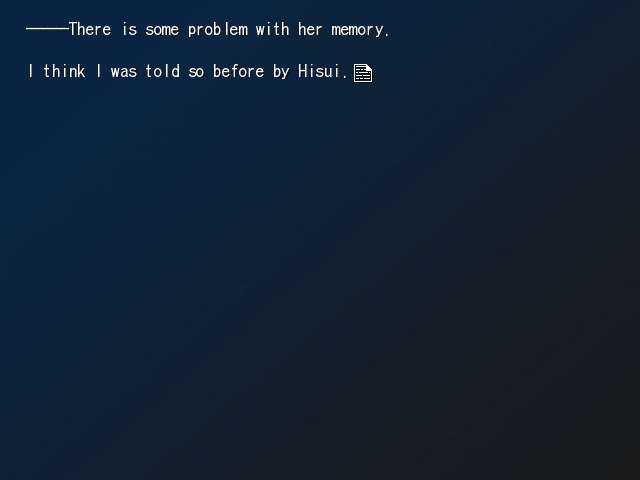 Kohaku-san was no longer the Kohaku-san from before.
...... No, that's not quite right.
The system of the brain can be divided into four functions: recording, preserving, playback, and recognition. And it seems that Kohaku-san has something wrong with her preserving function.
The doctor said that she can return to her normal lifestyle, but...... she can't remember most of her past.
...... It isn't so much that she can't remember, rather, it is more like she lost it.
The preservation of her memories up until now---all that information was lost, so there is nothing to remember.
So Kohaku-san cannot remember me or Hisui.
...... Having Kohaku-san return to the way she was before really is a hopeless dream.

Simply having Kohaku change her mind wasn't happy enough, she has to go and forget all of her pain, too. NOW it's a "good" ending

I don't know if it was the near-fatal shock from the poison or if Kohaku-san closed it off herself.
But, I know that the Kohaku-san has the body and heart she had before, but she has forgotten all about me, Hisui, and Akiha.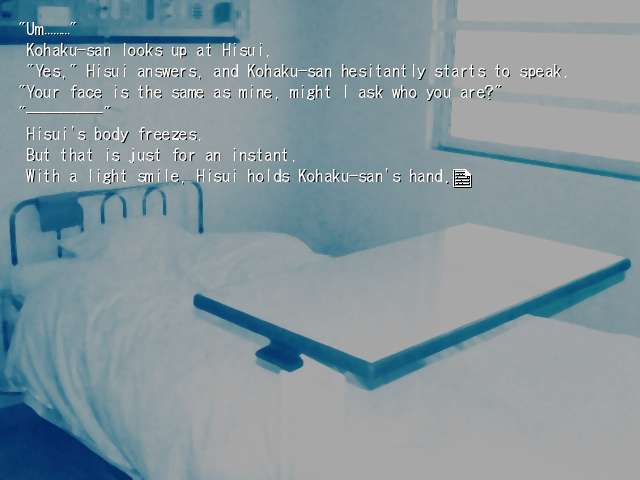 "I am your little sister, Hisui."
"Hisui...... chan?"
She manages to let this response out.
That is probably the most cruel response she could have given.
But Hisui still smiles gently, and answers "Yes."
"...... I am so sorry. I, do not remember anything about you, Hisui-chan, or that person over there.
...... Ahaha, I'm a little scared. I don't remember anything about you, Hisui-chan. Maybe there must be something wrong with me."
Downcast, Kohaku-san looks like a lost child.
Her face clouds over and her eyes are uneasy; she is not like Kohaku-san.
---But still.
Hisui grips her hand tightly.
"No, do not worry, Nee-san. No matter how uneasy you are, I will always be with you.
...... Like how you always protected me, I will always, always protect you from now on, Nee-san."
Kohaku-san's face is pure bewilderment.
After looking at Hisui in surprise, Kohaku-san thanks her.
"Eh----ah, yes."
Looking down in embarrassment, Hisui mumbles a response.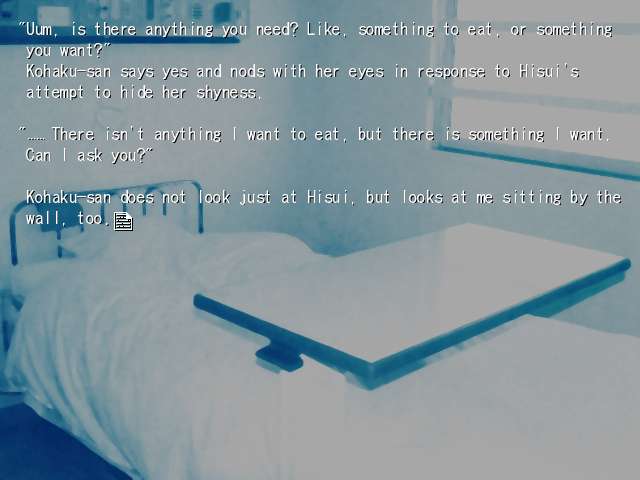 "Yes. What is it, Nee-san?"
"...... I, think I never liked the name Kohaku. So---I, want a new name."
".................. Name?"
I wonder why.
Once she says that, only one name comes to me.
That name has been discarded and only remains in memories.
".................. Shiki-sama."
Hisui turns to me.
...... Is she thinking of the same thing? She looks at me as if she wants confirmation.
".................. Mm."
I nod in response.
Hisui turns back to Kohaku-san and,
"How does Nanaya sound?"

Nanaya: 9 out of 10 red-haired older sisters prefer it over Kohaku.
tells her so.
"............... Nanaya."

Nanaya: So good you just can't keep it to yourself.
Kohaku-san murmurs it as if testing the sound.
Right after, she lifts her face up as if she remembered something.
"---Yes. I, think I like the sound of that. It seems, awfully nostalgic for some reason."

Nanaya: For no better reason than nostalgia.
Saying that, she smiles.
Her usual smile that blossoms like a rose.
---Finally.
For the first time since she's awakened, she smiles happily.
Music: play track 7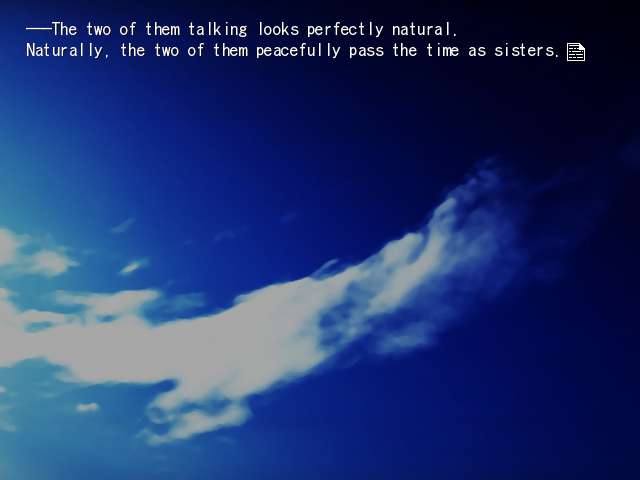 Nanaya: Don't get revenge, get Nanaya.
...... I don't know if her losing her memory was good or bad.
Since all of her memories were painful, maybe it was a good thing that it happened.
Because from now on, there will be nothing but happiness.
Forgetting all the sorrowful incidents, she can earn a normal happiness.
"----------"
But, looking at this blue sky, I just can't help but think back.
That young girl standing by the window.
I know that the past for her is something to be forgotten about.
But, still----if I could, I wanted that Kohaku-san to become happy.

Nanaya: The only solution for a troubled past.
...... But that is a wish that can no longer be granted.
So I just have to end that wish right now.
----Underneath that longed-for blue sky.
I imagine for the last time her care-free smile, like a lingering flower----
"Shiki-sama, may I please have a moment?"
After we leave the hospital,
Hisui suddenly asks me that question.
"Eh......? Sure, what is it?"
"Yes. We still have time, so there is somewhere I wish to go."
"Somewhere you wish to go......?"
Not understanding, I tilt my head.
"Come on, let's go, Shiki-sama!"
Hisui pulls my hand forcefully and starts running.

Nanaya: Bet you can't say it 247 times fast without taking a breath.
Music: play track 2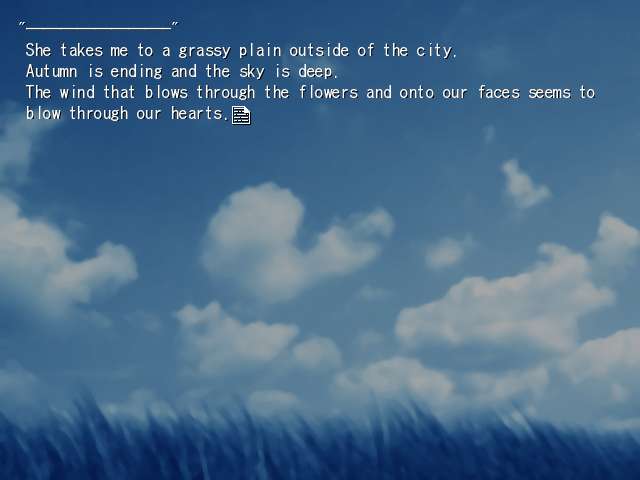 "Hisui......? Why did you want to come here?"
"Hmm, who knows? To be honest, there really isn't a reason.
It's just that when we were coming to the hospital, I saw this field from the train."
Hisui says this trivially as she stands by my side.
"...... I don't get it. This is a nice place, but it doesn't seem that special. If you wanted to play, we should go to another----"
"No. This is the right place to visit.
I wanted to come not somewhere in the city, but somewhere quiet and beautiful, and it makes me feel positive.
A place where you could return to your usual self."
With a light smile, she looks up at me.

Nanaya: Beaten into the ground and still going strong.
"My usual self----Hisui?"
"Yes. Well, when you were in the hospital room, you looked so depressed.
...... I understand how you feel, and I'm glad you feel that way.
But, that is not what Nee-san wanted."
Hisui reaches out.
She lightly places her hands on mine.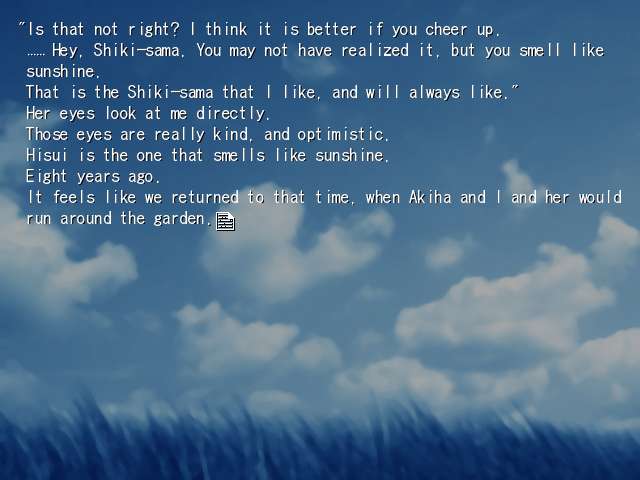 Nanaya: It smells like sunshine.
"----Really. I think I'm the gloomy one if you ask me."
"You are just someone who does not start conversation that much.
But to me--no, to us, you are like this open field."
"----------"
Her fingers move.
I feel her squeeze me tighter.
"So there, please don't make that face, Shiki-sama.
Akiha-sama was saved, and even Nee-san was saved. There is no reason for you to be sad.
Nee-san is still alive. Then I am sure she will return to the way she was someday, and even if not, I will make her many times happier.
You do not have time to be sad. Because we have to help Nee-san and Akiha-sama be happier from now on."

Nanaya: The one and only excuse for fucking your sister.
"------"
What she's saying is fairly preposterous.
So I wonder why?
After hearing those words----I feel a ray of light shining into my gloomy heart.
"-----That's, right.
I'm her big brother, so its only natural to do such a thing."
Hisui nods.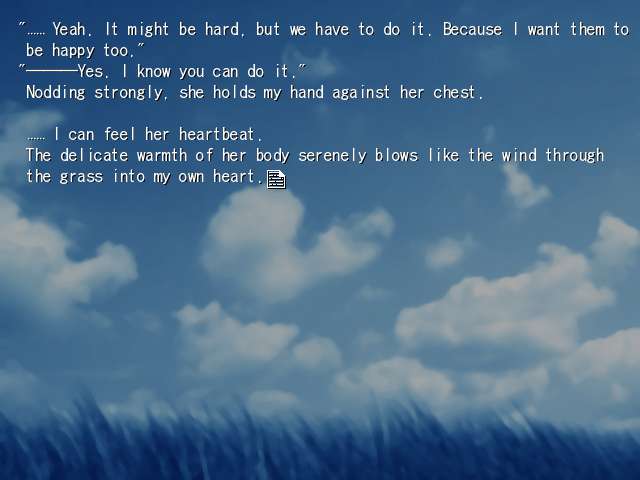 Nanaya: Don't settle for an Enchirito when you deserve a Big Buford.
"---Besides. If you do not cheer up, I would be very troubled."
"Why?" I ask.
Hisui's cheeks flush, but she still looks directly at me----
"...... You are the only one who can make me happy. I want to always be near your side, always be near your sunshine."
----She stands on her tiptoes to kiss me.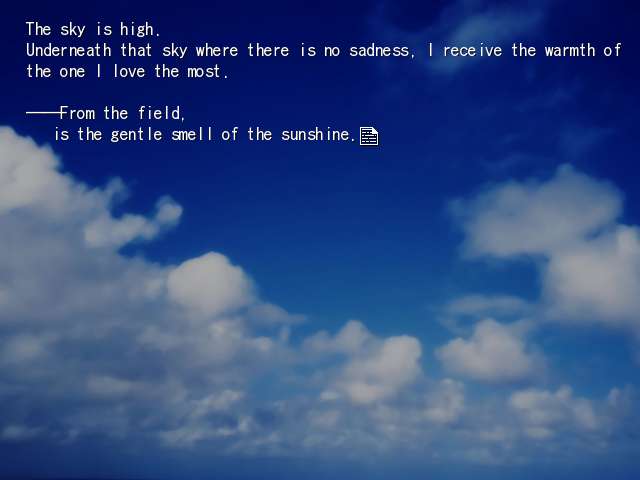 ----Yeah, Hisui's words are exactly right.
We lost a lot, but we haven't lost everything.
The days will still go on into the future.
Then, we have to go on, and try our best to make everyone live happily.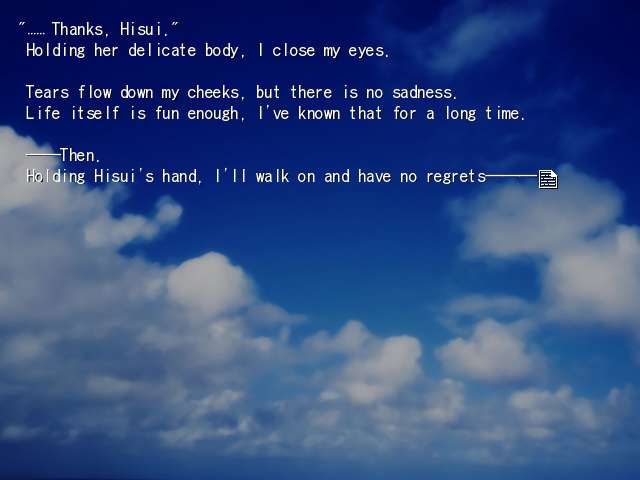 Nanaya: Life itself is fun enough.
Music: stop Music: play track 3
You have reached Hisui's Good Ending. Well done.
Each heroine (with one exception) has two different kinds of endings.
A True Ending and a Good Ending.
Since you can't reach Hisui-san's Good Ending without seeing the True Ending, you have now finished Hisui-san's route completely!
Well then, thank you very much for playing up to this point.
Let's meet again somewhere in Tsukihime.
"Ciel-san. I also have something I must impart."
Huh, Professor Roa? This is rare indeed for you to come to a place like this."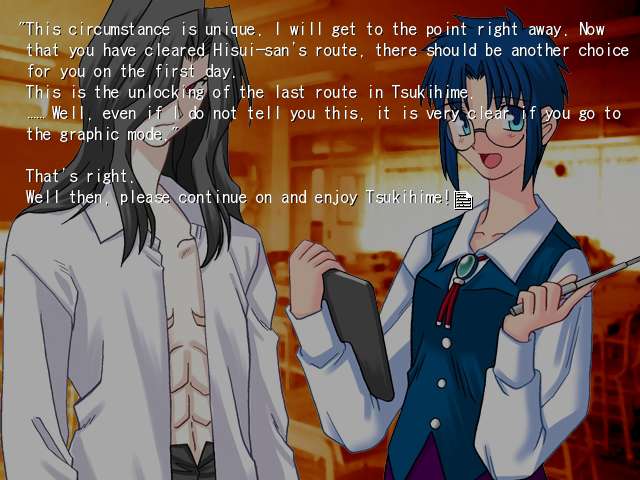 Nanaya: Oh god what have I started.
Music: stop