Part 96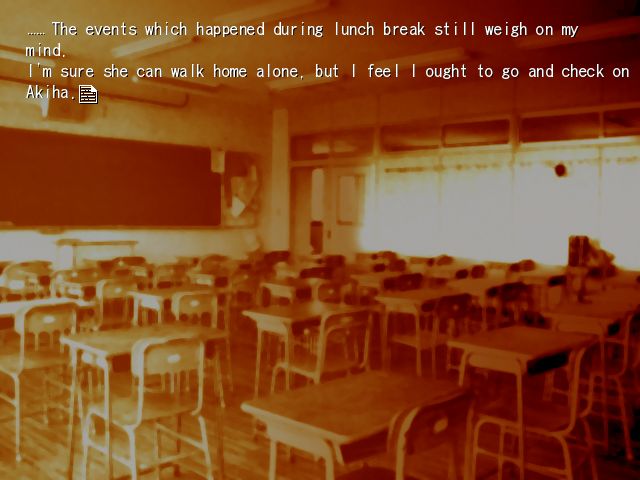 I walk along the corridor lit by the fading sun.
I think Akiha's class is first grade, class one.
The classroom is silent.
A girl stands alone in the empty, red classroom.
Music: stop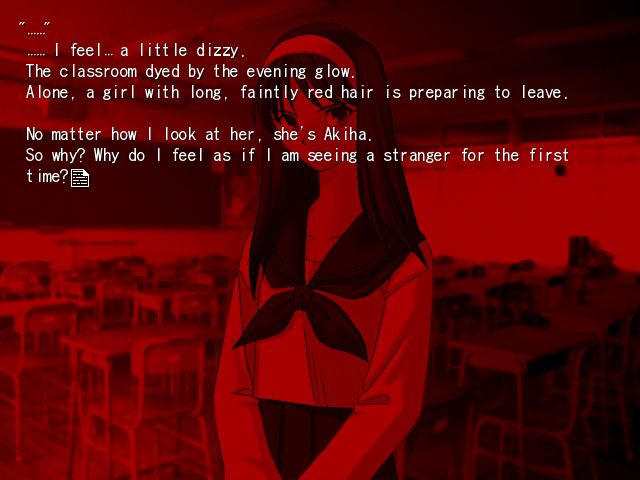 This... sister?

Music: play track 3
"Nii-san?"
"------"
As she calls out to me, the dizziness subsides.
"You're---Akiha, right?"
"...? Nii-san, are you feeling poorly again?"
Akiha addresses me in her usual tone.
...... Looking at Akiha's black hair, I feel that without a doubt, this is my own little sister, Tohno Akiha.

Oh god he's already conveniently forgetting she's his sister. It's coming and nothing can stop it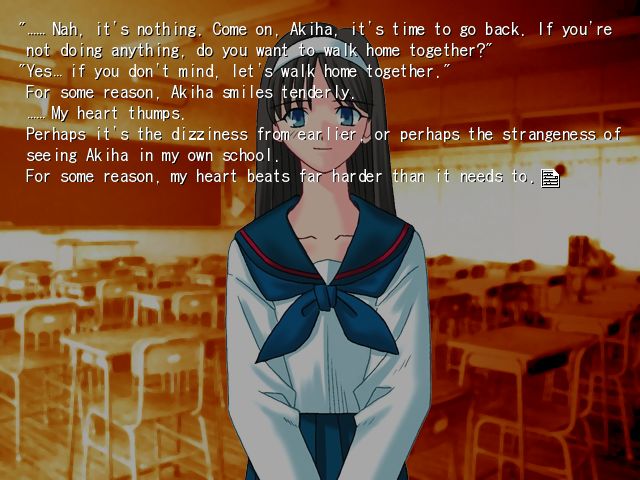 I leave the school building with Akiha.
As we reach the school gates, I catch sight of Senpai waving at me.
"Ah, you came at last, Tohno-kun."
"Huh, Senpai? What are you doing, standing here like this?"
"Geez, I wasn't just standing here, I was waiting for you, Tohno-kun, but---"
Senpai glances at Akiha next to me.
Somehow, at a glance she realizes that Akiha and I are walking home together.
"Tohno-kun, is this your little sister?"
Senpai throws a sidelong glance at Akiha.
"..........................."
Akiha says nothing.
Nothing is said, but both Senpai and Akiha tell me with their eyes to "Introduce me to this person".
----Ahh.
It seems like this is going be a really tiresome job.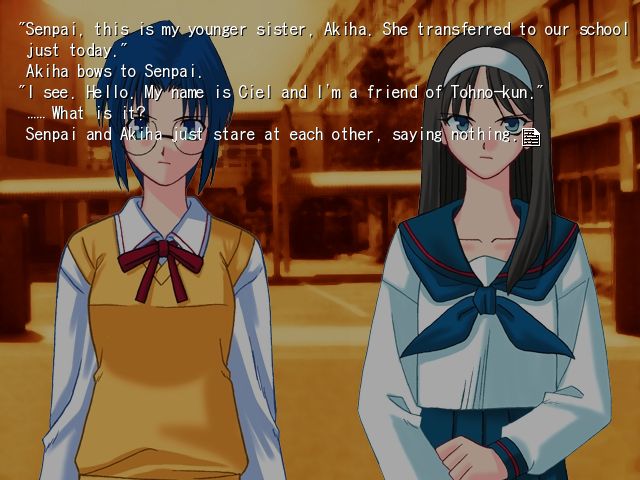 "That black-haired..." "That glasses-wearing..." ""HUSSY!""
"Senpai, you sounded like you were waiting for me... What's going on?"
"Well, it just happened that I wanted to spend a little time with you, but---
---Since it's already late today, I'll leave it for another time. Bye, Tohno-kun. See you tomorrow as well, Akiha-san."
"Bye" says Senpai, and she walks away from us.
"----Ah."
Senpai leaves without giving me a chance to stop her.
"Let's go home, Nii-san. It will get dark soon."
Akiha says this as if nothing happened.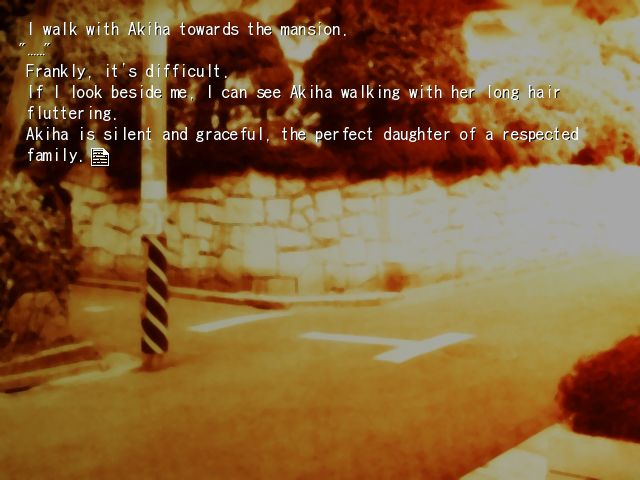 "........."
Why can't I think of anything to say?
Even though I see Akiha at home every day, I somehow feel some tension walking home toward the mansion.

...sexual tension.
Music: play track 1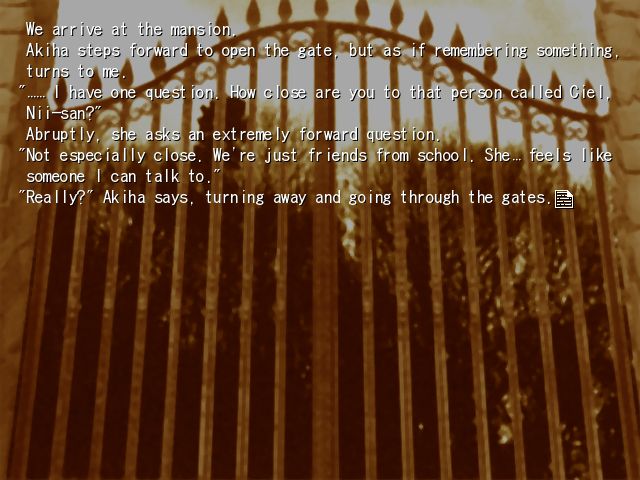 The female Familius Sisterus feels naturally threatened when encountering a female Classmatus Senpaius outside of her natural habitat.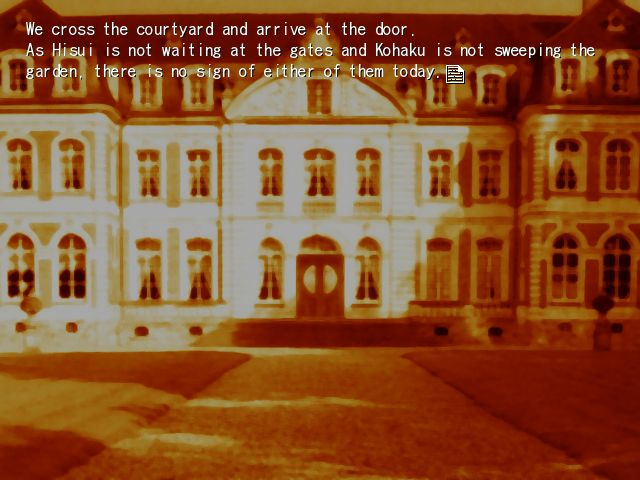 "Ah."
"Yes? Did you say something, Nii-san?"
"Well, nothing much but... I'd like to go and take a look at the Japanese-style building you were talking about, if that's okay."
"----The detached building?"
Murmuring, Akiha's brow creases with concern.
"Please, do not. It was sealed up many years ago. Nii-san, even you are not permitted to go there."
Having stated this, Akiha goes into the mansion.