Part 19: MySpace.com/Robo-Canuck
Update 17: MySpace.com/Robo-Canuck
"March fifth, Newfoundland mission report.
We have started to hit a groove here. The soldiers are doing well, R&D is constantly turning out minor advances in restoring our technological level, our air force is doing better each time against the UFOs, and even the Reticulans have stopped throwing huge surprises at us. The only thing not going well is of course the continuing expansion of the Biomass.
I now have fifteen soldiers in Phoenix Company, enough to fully load two helicopters and deploy them separately. I've decided to go ahead with this plan. It will give the teams time to work with the same people on a regular basis, and an easy way to mitigate time lost due to wounds. If one team takes injuries they just rest while the other team handles the mission load. I've put this before the soldiers to see who has strong feelings about working with one another. So far nothing is permanently set, but it looks like Booya and Hero will each lead a team. Vallhallan and Fastball will end up on opposite teams as they are both heavy weapon users. Jimmy is currently the only dedicated medic, but with most of the men going out with field kits anyway it might not be a serious concern.
R&D is continuing to research and produce what ever they can, but since hostile UFO encounters are becoming an every day occurrence over half of our bases are dedicated military facilities and can offer no help to R&D. I want more bases to help produce the weapons and technology they we will need to win this war. The only problem is that further expansion requires fighting the Biomass for land, which we are currently unable to successfully do. Any new break troughs aside we might enter a rather routine period here of shoot and recover enemy UFOs.
For the moment though we have an autopsy report in.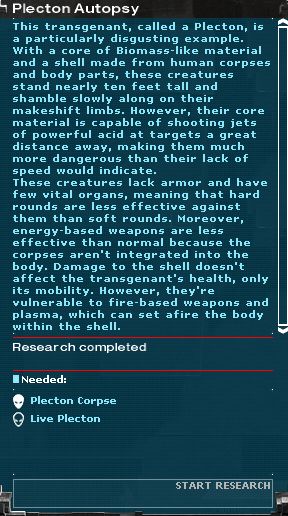 Another horrid creature spawned in The Fall, and not even the worst yet. The other day Major Hunter comes by to tell me they're transporting back two cars for an autopsy. Apparently some hermit crabs got changed in The Fall as well and are using cars for shells, as well as attacking by throwing lightning. Well, if the autopsy report clears them they might be a bit of a morale boost, some of the guys here are getting tired of Reticulan burgers.
Now for the main reason for this entry, we were able to crack some of the Reticulan data stored in their UFO. While it's all in their native language the maps proved useful. By tracing all of what we assumed were flight paths on their map we figured they had to have a base near by. We were able to locate it via satellite on the western edge of Newfoundland and sent a team there. The mission recordings are included here."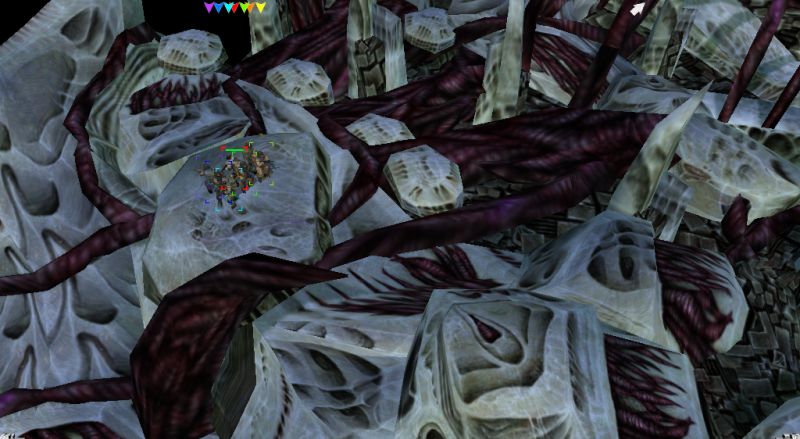 Gulping: Wow, this thing is huge.
Booya: Ah they all look the same to me Apple.
Gulping: Apple?
Booya: Yeah, that's my thing for you guys today, I'm calling you different kinds of pies.
Robo-Canuck: THE ALL LOOK THE SAME BECAUSE THEY-
Booya: Stow it 3.14. That probably means...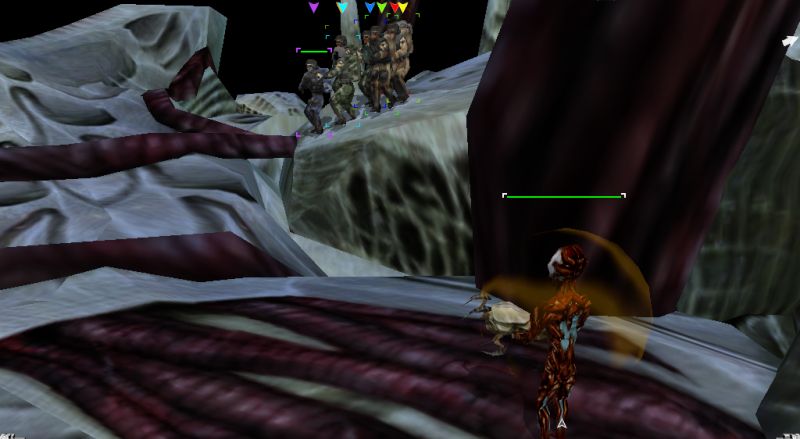 Booya: Ah ha, knew it!
Panzer: Hostile alien!
Booya: Calm down pumpkin, there's always one lurking there.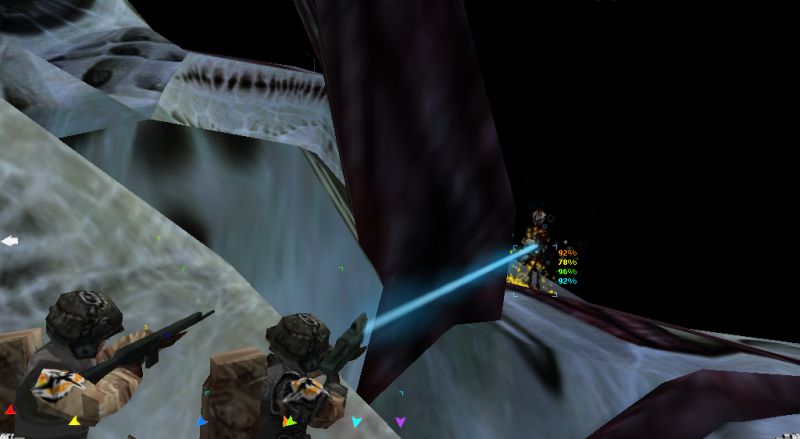 Gulping: Yeah! Direct hit!
Teppec: The new laser rifle is blue?
Gulping: Who cares, its accurate and no recoil.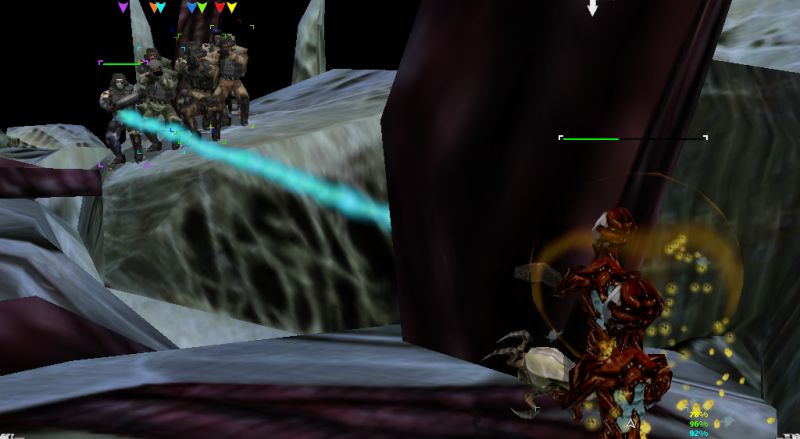 Robo-Canuck: DANGER, AN ALIEN IS ATEMPTING TO SHOOT ME IN THE CROTCH WITH A PSI BEAM. THAT WILL HAVE NO EFFECT, SCUMBAG.
Jimmy: Uh... Is that cause you're a cyborg now and immune to psionics, or because there's nothing left down there after the uh, cyborgisation.
Robo-Canuck: I HATE YOU ALL.
Fastball: Hot plasma going out!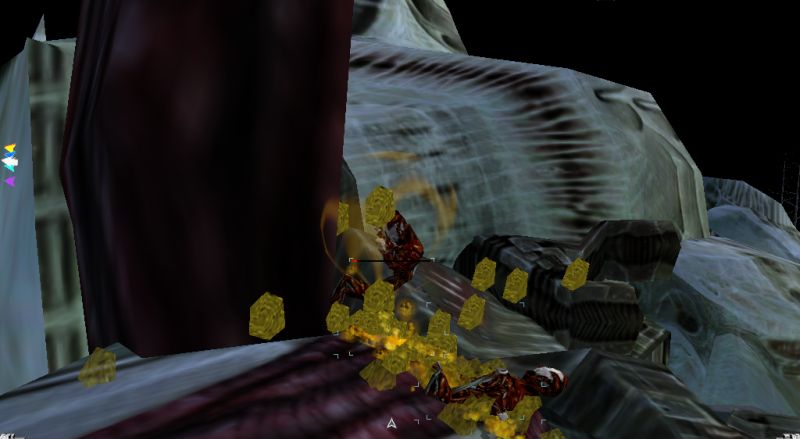 Fastball: Messyyy... just the way I like it. Uh-huh, oh yeahh... wait... there's no women on the mission?
Panzer: Good one dumb- Hurrrgurraaarickk....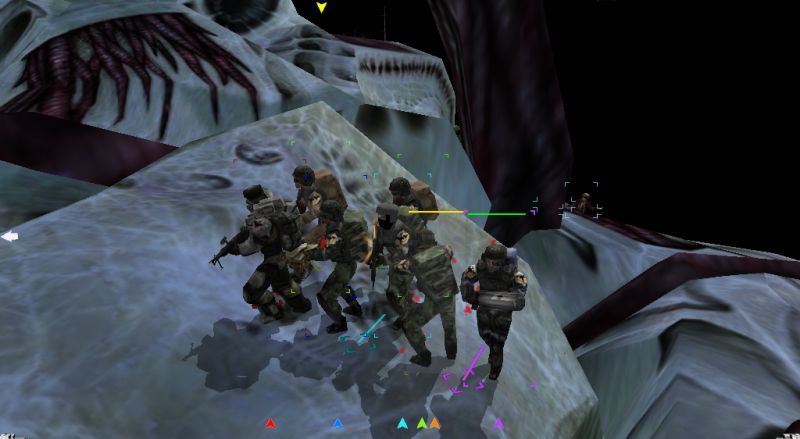 Fastball: Ow hey, fuck. You shot me. It wasn't that bad of a joke was it?
Panzer: In soviet space colony, friendlies make you shoot mind control.
Jimmy: Fuck, he's under their control!
Booya: Damn it custard... Move away from him and look for an alien with a psi amp!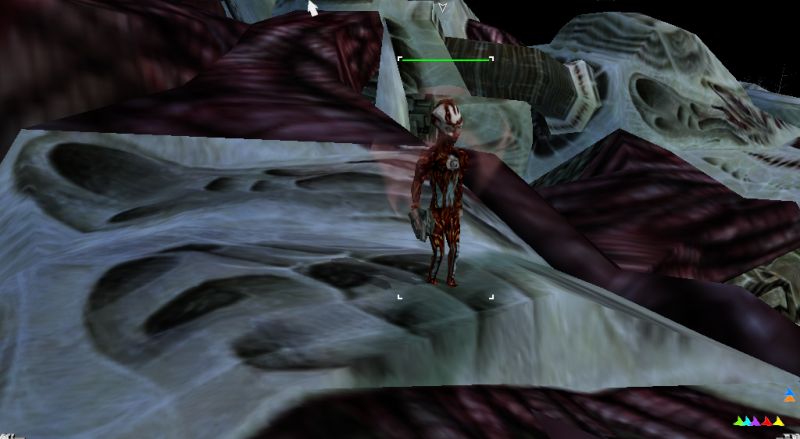 Teppec: Hostile spotted, don't think he's carrying the amp.
Booya: Well, you know what to do steak and kidney.
Teppec: Seriously Booya, how long are you going to keep that up?
Booya: I got a million of them.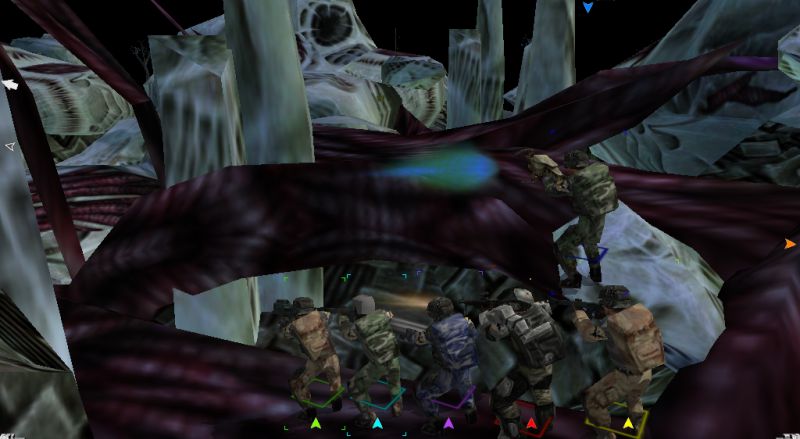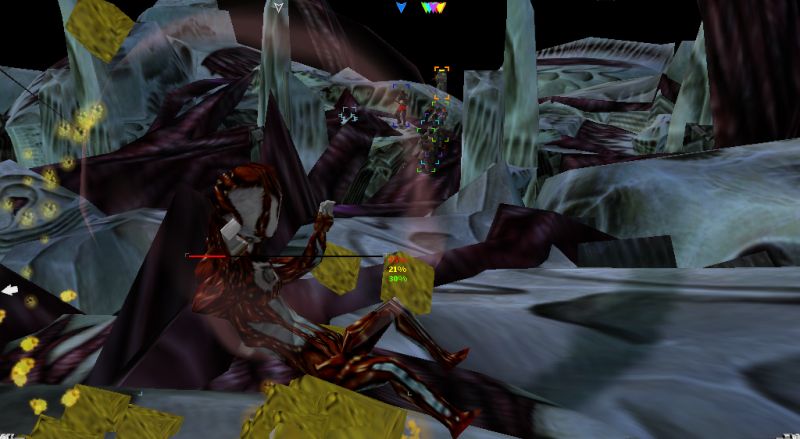 Jimmy: He's dead. How's Panzer?
Fastball: Still shooting me in the back!
Jimmy: Wait, I see one with the amp!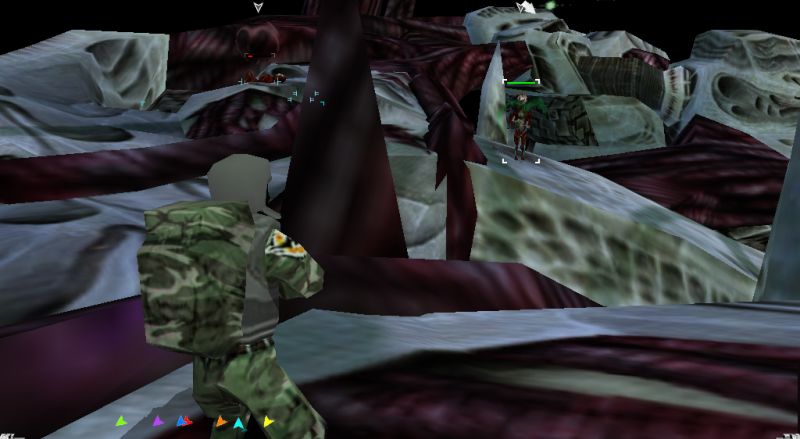 Booya: Well kill the fucker so we can get shepherd's over there back to normal.
Robo-Canuck: HOW DO YOU LIKE THIS YOU ALIEN SCUM, EH?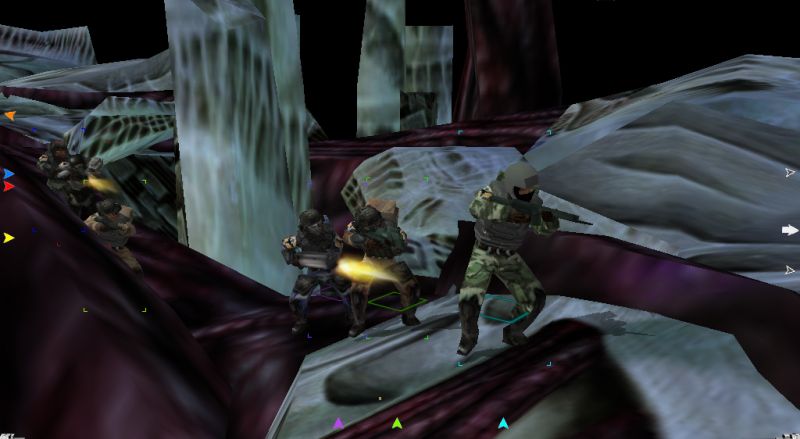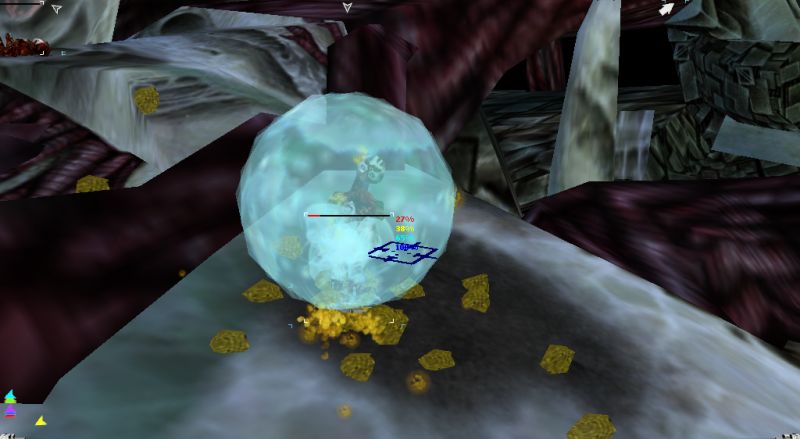 Panzer: Ohhh... fuuuuck. My head hurts like hell.
Fastball: Hey, my back hurts like hell
because you shot me there
. So shut up.
Booya: Cherry is right. Check yourself and then we're moving on.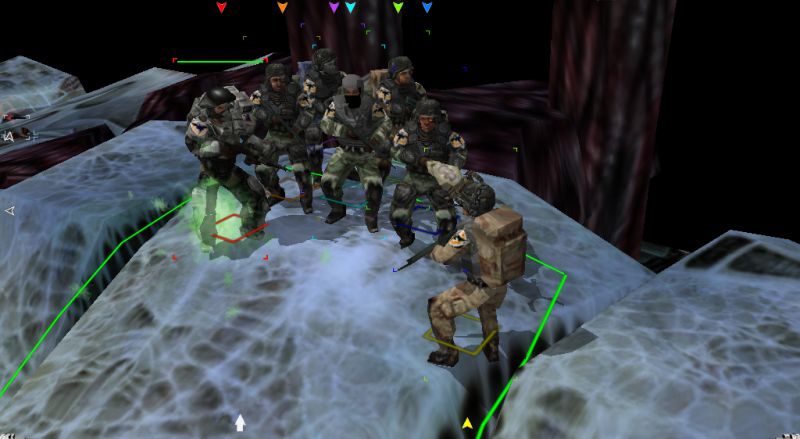 Booya: Hey, rookie. Touch the little green light.
Gulping: What? Why? No way.
Booya: Come on...
Gulping: Hell no.
Teppec: Oh just do it rookie. He's just messing with you. All it does is activate the teleport.
Gulping: Fine.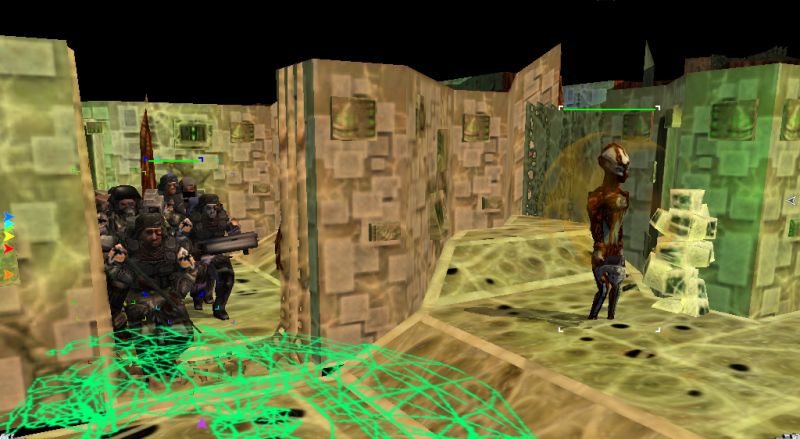 Panzer: Whoa, hostile to the left!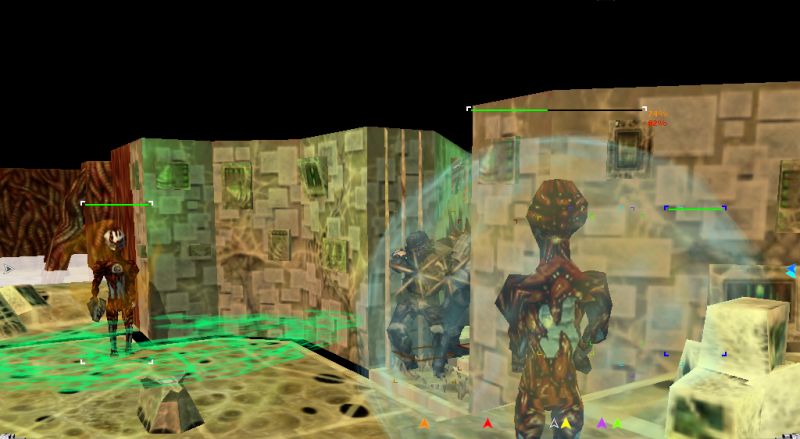 Panzer: Hostile to the right!
Booya: Make up your mind!
Robo-Canuck: INCENDIARY AMMUNITION LOADED.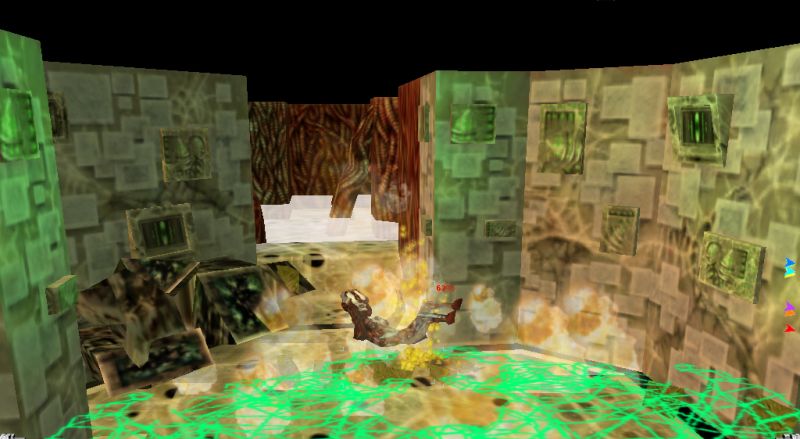 Robo-Canuck: EAT FLAMING DEATH, EH.
Jimmy: I thought he was supposed to get less Canadian.
Booya: Shut up mud. Everyone move in, go go go.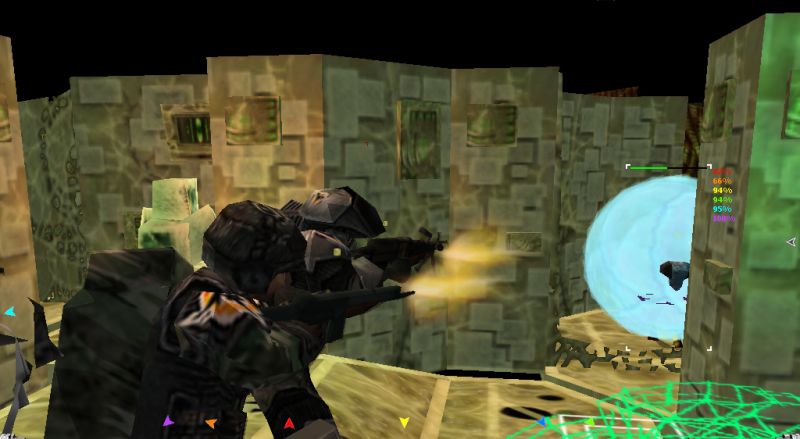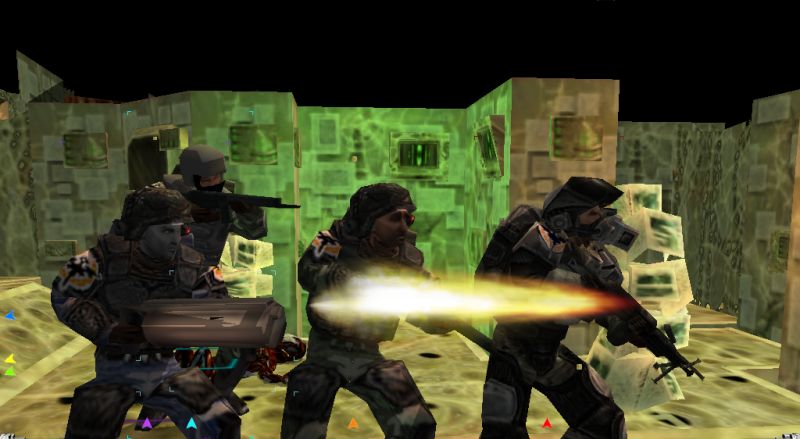 Robo-Canuck: HA HA HA. YOU CAN NOT WITHSTAND ME NOW MEAT BAGS.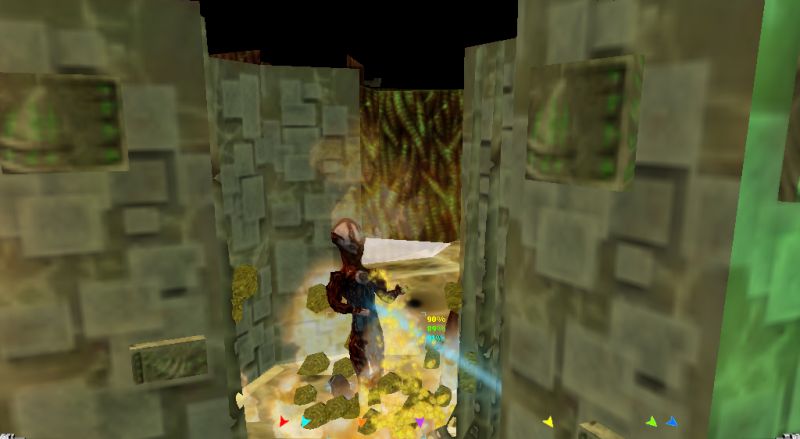 Fastball: He's all kinds of dead.
Gulping: That's the best kind!
Booya: Keep moving lemon meringue, gotta clear this whole place out.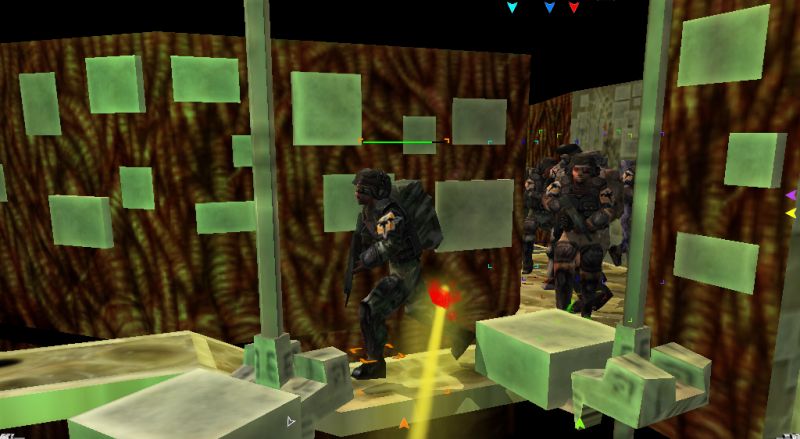 Panzer: Ow fuck my leg!
Teppec: Hostile, returning fire!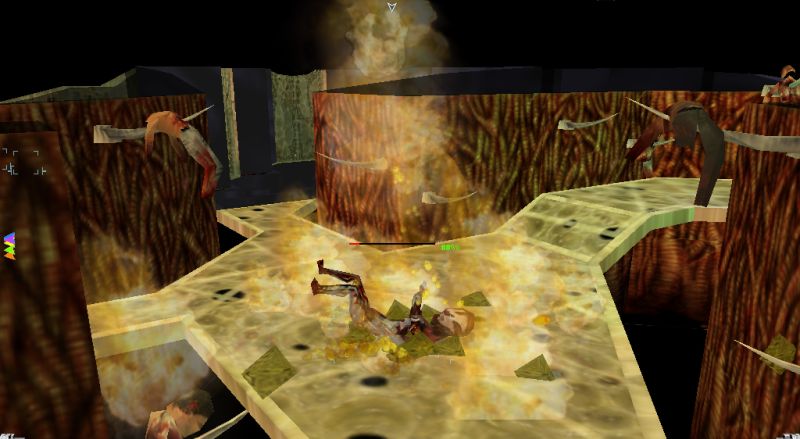 Robo-Canuck: SCORE ANOTHER VICTORY, FOR CANADA.
Booya: Well I'll be, dead man. You're doing pretty damn well with that thing.
Jimmy: Hold still Panzer... Yeah, I can patch that up. Cover us for a minute.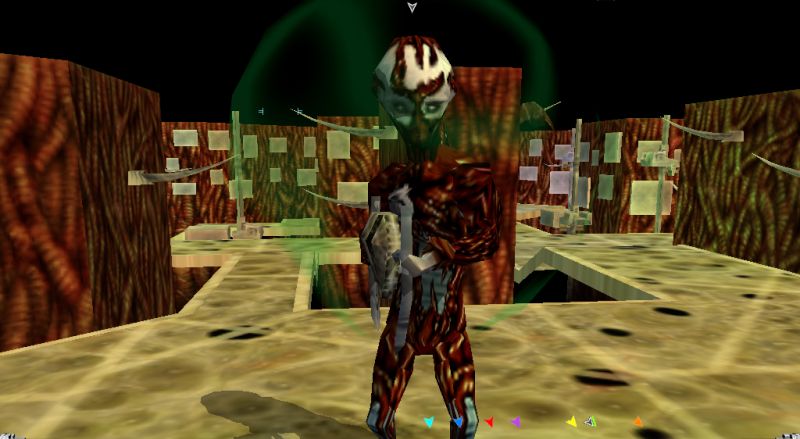 Booya: Your minute just got cut short custard.
Panzer: Look out, he's got a- huuurgurrr... not again... urrriiickkkaaahhh....
Booya: Crap, leave him. They wont hurt him while he's under their control and we cant hit him from here. There, duck around left.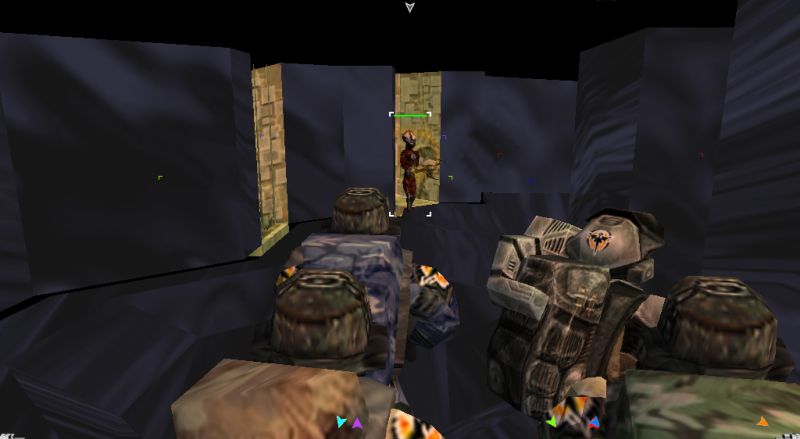 Fastball: Great call sarge, another one with a plasma launcher.
Booya: Shut up American and just shoot it.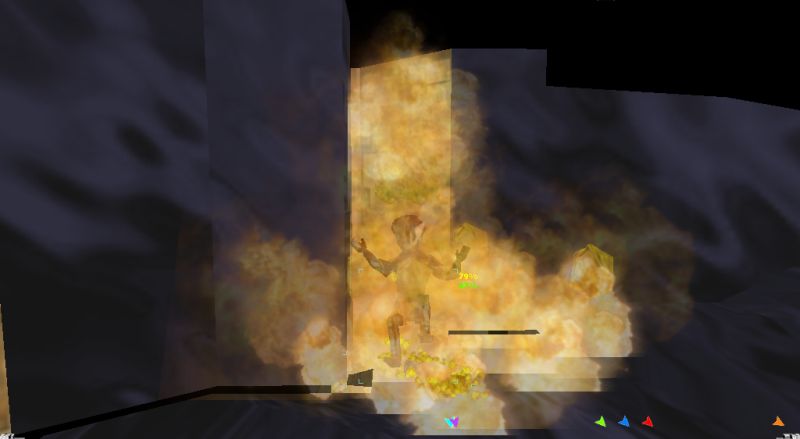 Robo-Canuck: HA HA HA. HA HA HA.
Fastball: Okay, that is kind of creepy.
Panzer: Hey guys? Guys come in, I blanked out for a minute and you're gone.
Booya: You were under mind control pork. Just look for the weird smoky no friction room, should be to your left.
Fastball: Hey wait, if the alien isn't controlling Panzer anymore...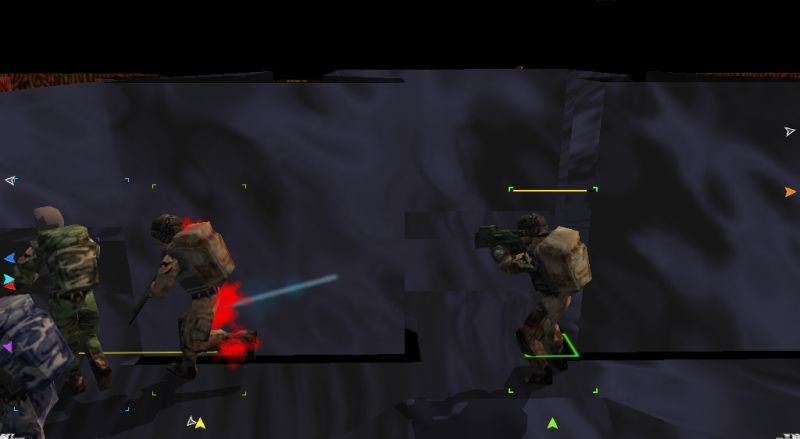 Teppec: Ow my ass! Fuck that burns!
Booya: Great, now its got four and twenty. We have to kill that alien!
Teppec: For and twenty?
Booya: Four and twenty blackbirds, baked in a pie.
Teppec: That so does not count.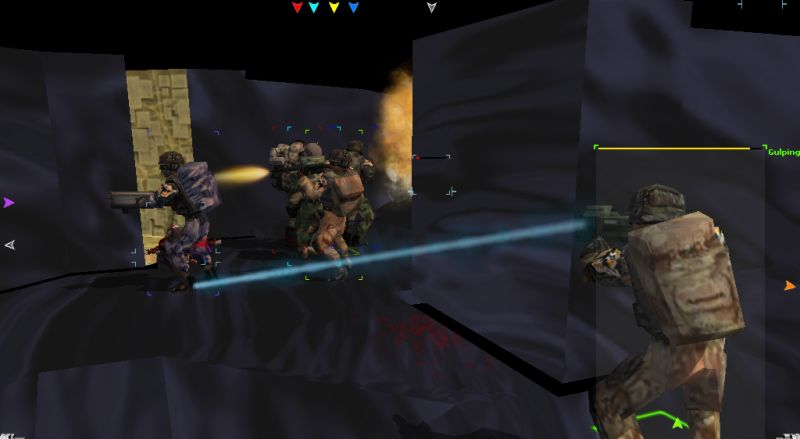 Robo-Canuck: WARNING! ERRORS DETECTED DUE TO REPEATED LASER FIRE. MOOD: ANGRY. CURRENT MUSIC: NINE INCH NAILS. DEAR DIRAY, TODAY GULPING SHOT ME WITH HIS LASER- ERRORS CORRECTED. RESUME KILLING.
Panzer: What the hell was that, the blog-o-bot?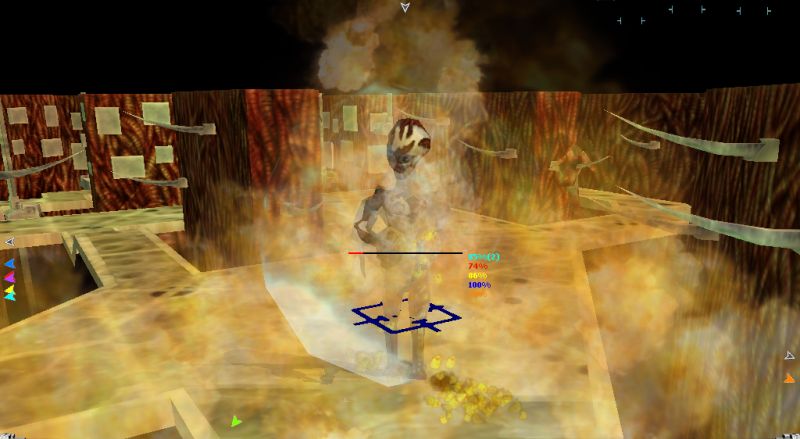 Robo-Canuck: HOW DO YOU ENJOY THE BURNING EH!
Booya: Right... you're going in for repairs when we get back. Hey chocolate cream, you okay?
Gulping: Oh man... this is the worst headache I have ever had.
Booya: Yeah, sucks don't it? Welcome to Phoenix Squad.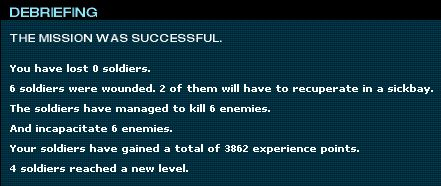 "Another successful mission with only two minor casualties. Repairs to Canuck might take some time due to the experimental nature of his condition. We did find a few new weapons in the surrounding area and the inventory has been sent to Haggis.
As I previously mentioned we are up to fifteen soldiers. The fifteenth being our newest recruit Steve Saunders.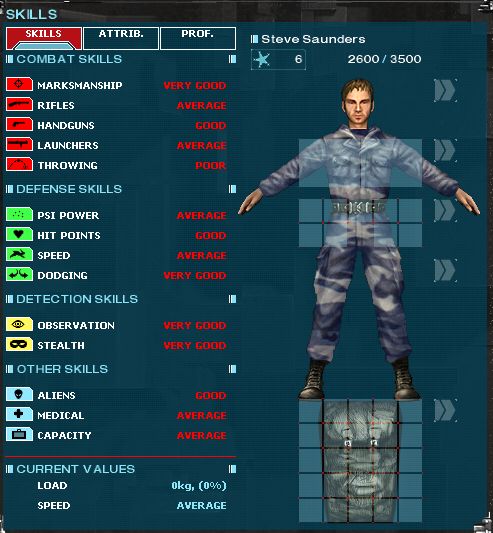 While I'm not exactly sure how he'll fit into the two squad rotation idea just yet, he is a welcomed addition to the team. He's currently tasked the next three days in training, meeting the requirements for both medical and sniper training.
That concludes todays update, I am off to see what can be done about the Biomass problem. We need a counter measure ASAP. Whatever that stuff is, it can't be good."
--Soldiers Logs-
Posted by Canuck-Errant 'Robo-Canuck'
COEOS VER. 0.9.0.1 (BETA)
LOG 03 MAR 1969
I wrote a poem.
A handsome young cyborg named Ace
Wooed women at every base
And when ladies glanced at
His special enhancement
They fell into his steel embrace
The last mission went okay, I guess. I found out I can turn off pain after getting shot in the ass with a laser - I took two laser shots, one in flesh and one in augs. I wonder if I couldn't request some sort of built-in gun so I can kill just by thought.
Fuck if I'll be a human target-practice backstop.