Part 33: Between Hammer and Anvil
Update 30: Between Hammer and Anvil
"May 16, final preparations.
Our plans for the moon mission have changed. The engineers have managed to clear out enough space in the spaceship to double the crew compartments, letting us take two squads of seven onto the moon mission. This unexpected development will allow us to transport all of Phoenix Company to take part in the mission. The factories are also scrambling to produce as much last minute equipment as possible and are loading the ship with as many heavy weapons as possible."
"May 18, arrival on the moon.
What a hell of a ride. Damn thing nearly shook itself apart during take off, but we're all here safely.
Booya: Are you narrating to yourself Vault?
Vault: What? No, I'm recording here.
Booya: Oh right... the big logs you keep for the Council.
Vault: Oh shut up Booya.
Booya: Hahaha. Just messing with you. Go on and give us what you go to say.
Vault: Alright. As you all know the Reticulans main base is here, just under the surface of the-
Seaborgium: Jesus, what in the hell are you guys doing, test firing the engines?
Vault: What, who the hell are you?
Seaborgium: Seaborgium master custodial technician.
Vault: The janitor? What the hell are you doing on the god damn ship?
Seaborgium: Well since they expanded the crew quarters, someone ordered me to install another toilet in here. So I was working on the plumping when the damn room nearly shakes itself apart. So what is going on anyway?
Vault: Oh God...
Hero: Sir?
Vault: Okay.. I'm good. Look, Seaborgium. We're now on the moon if you haven't guessed. And you're stuck here until we complete the mission. So take this gun, sit here, and if you see anything that isn't human try to enter the ship after we leave, shoot it.
Redeker: Uh, sir?
Vault: Anything that isn't human, or Redeker.
Seaborgium: Got it sir.
Vault: Alright, now that is settled... Suit up men, we have a job to do. This is the big one we have waited for since the beginning. Now is our chance to take revenge for everyone these alien bastards have killed! Our friends and family lost in The Fall, our comrades lost in battle. Now is the chance to put our foes between the hammer and anvil and strike at them until nothing is left! Without this base they thought was tucked safely out of our reach they will have no where to hide from us. Nowhere to run and retreat too. They will be left alone on Earth to be hunted down and crushed as they have been crushed in every war against us before!
Vault: We're doing things differently today. Ackbar is taking lead of the snipers, you're covering the ship and the the general area around the landing zone. That's you, Fire Storm, Sneaky, Ice, Jimmy, Redeker and Fastball. Got it?
Ackbar: Understood sir.
Vault: Everyone else, you're with me. While Ackbars team clears the surface, we're headed straight for were we think we can teleport into the base.
Golden: We think?
Vault: Hey, do you know a better way to get into an alien base on the moon?
Golden: No...
Vault: Well then, I guess we're sticking with my plan then aren't we?
Booya: Haha, good job showers.
Vault: Ackbar, when you're ready lead your team out there. Once you're underway the rest of us are going to bee line for the teleport spot.
Ackbar: Ready. Everyone with me, stay together and lets go.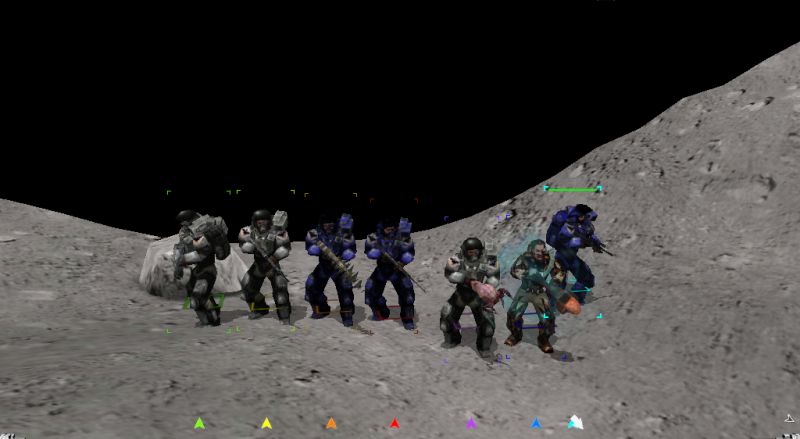 Ackbar: The moons is nice and flat. Move slow, and shoot your closest target. We have enough to bring down any devil as they appear.
Sneaky: Hey uh, guys? Did anyone explain to you how exactly the heavy suits are protecting us in the vacuum of space. And I don't remember them having oxygen systems either.
Jimmy: Uh...
Ice7: ...
Fastball: Well...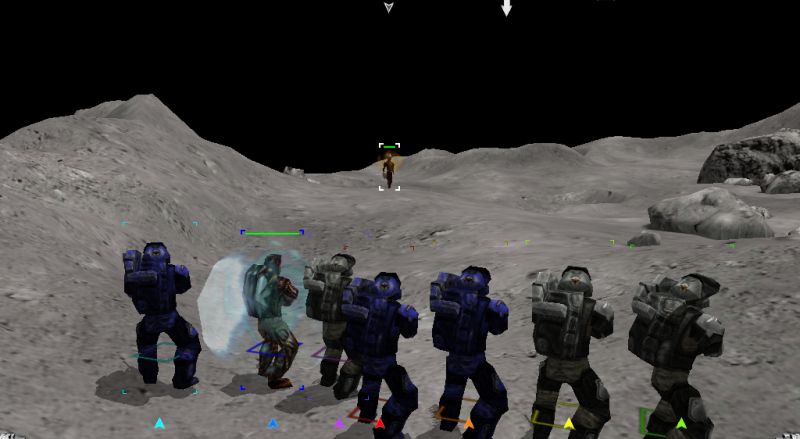 Redeker: Alien!
Fire Storm: Hey let's shoot that!
Sneaky: Uh guys? The whole oxygen thing?
Jimmy: Ask the guys when we get back to base.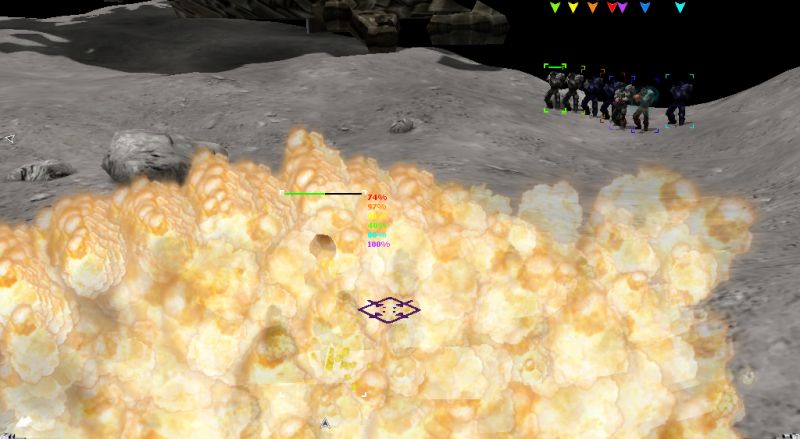 Redeker: Burn!
Sneaky: Oh come on, there isn't air in space! Fire needs oxygen to burn!
Redeker: It's psionic fire!
Sneaky: That only leaves more questions!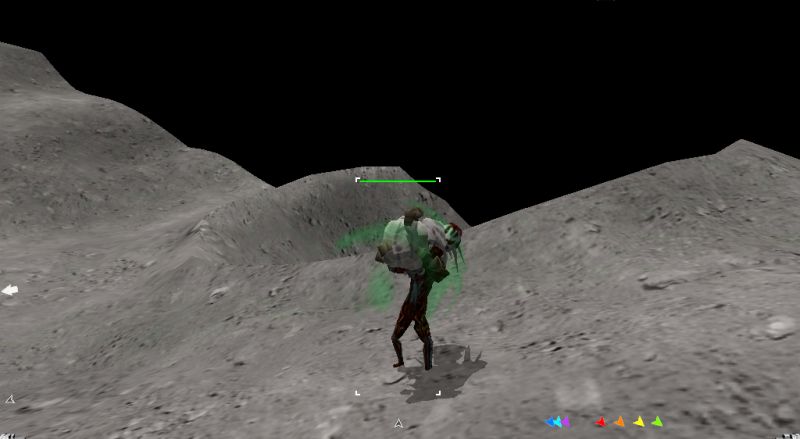 Ackbar: Green one with turret! New target!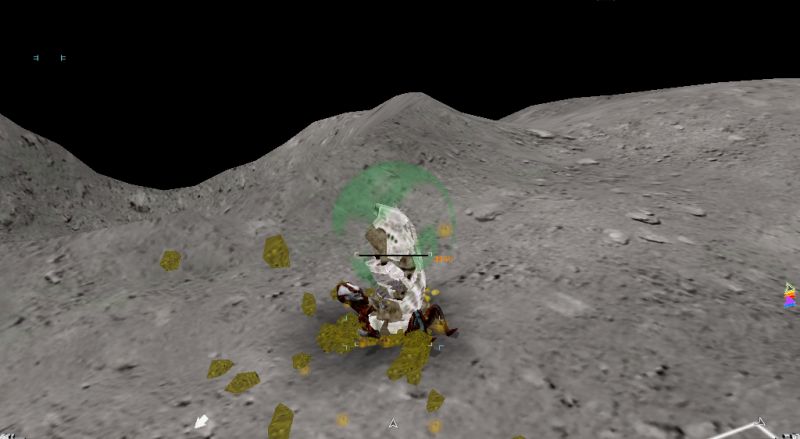 Fire Storm: This new rail gun is awesome, fuuuuu!
Ice7: More coming!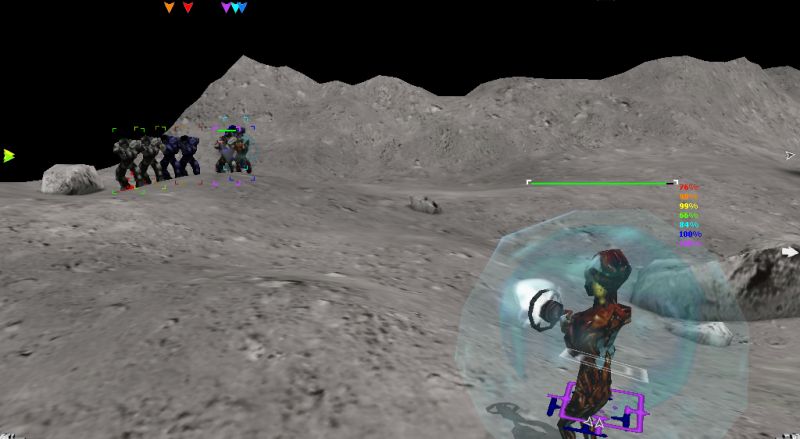 Fastball: I hope they keep coming one by one. Makes this so much easier.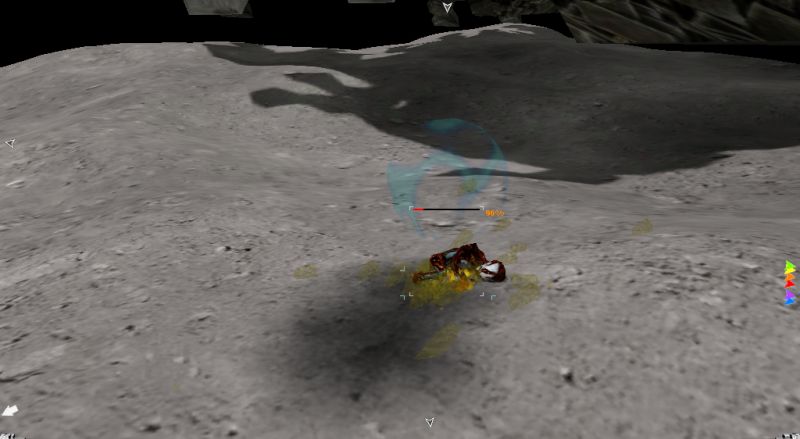 Ice7: Ow, I'm hit, need a little help here.
Redeker: I got a med kit, hold on a sec.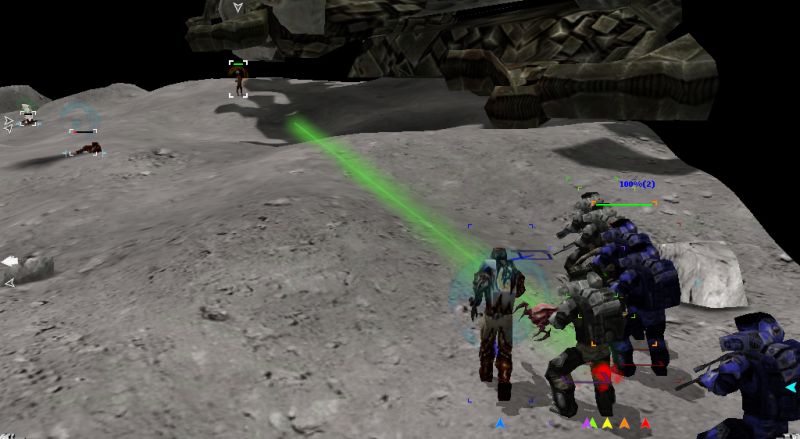 Redeker: Whoa look out!
Fastball: Oh god my crotch! The burning!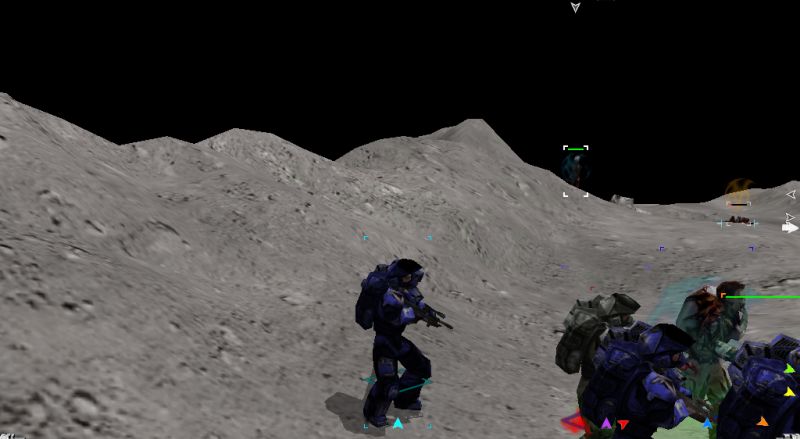 Jimmy: Had to open your mouth didn't you Fastball? We got more coming on the left.
Ackbar: Pick your targets. Redeker and Fastball, hit the closest ones to you.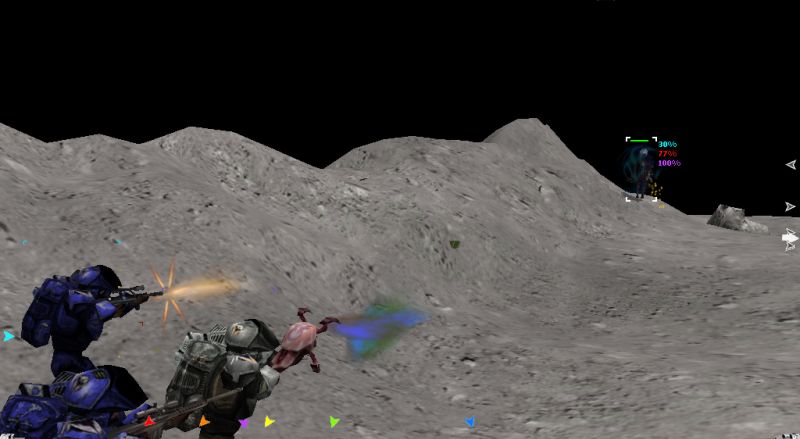 Fastball: Roger that. Eat plasma!
Sneaky: Oh... shit...
Ackbar: What is it?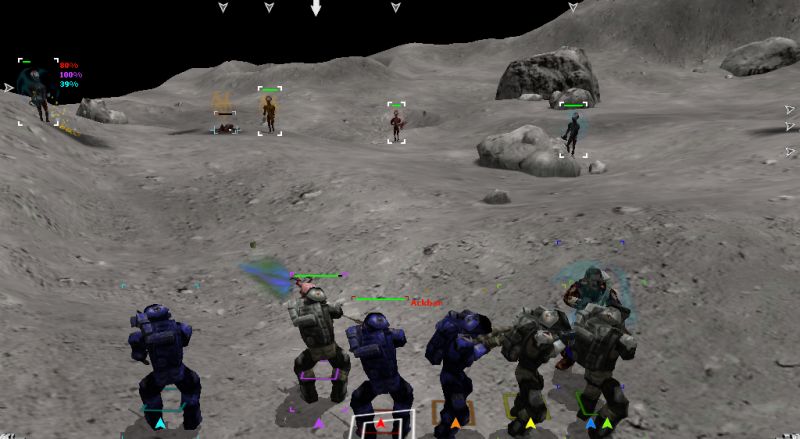 Ackbar: Allah have mercy. Targets free, shoot everything you can!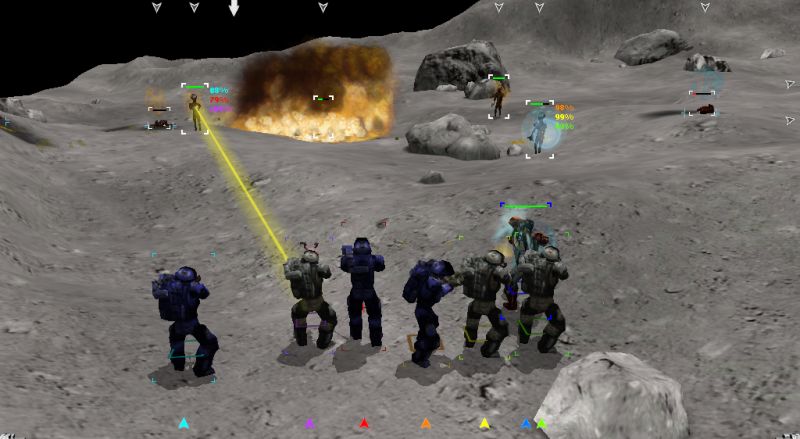 Fastball: Oh god my crotch, again! Why!?
Redeker: Laying down the fire!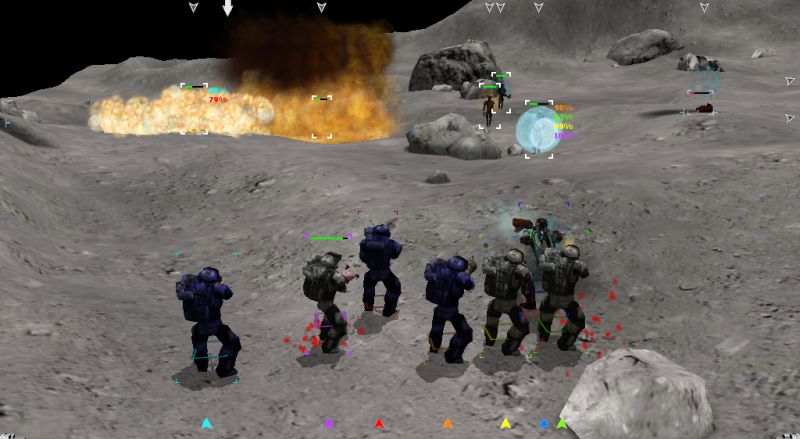 Jimmy: Even more coming!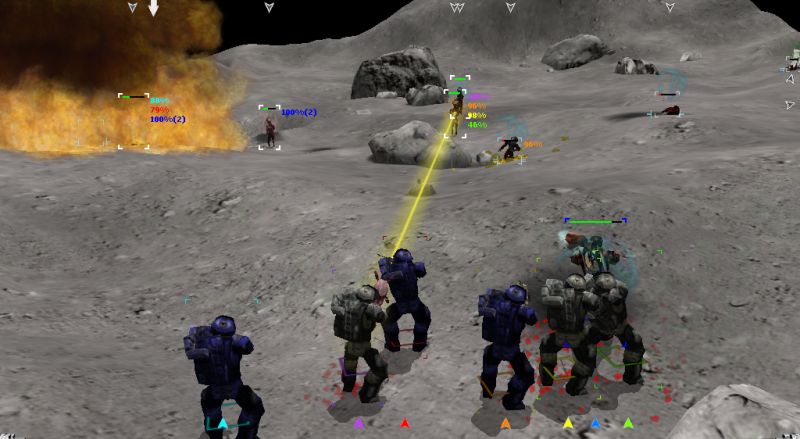 Fire Storm: Incoming Plasma, take cover!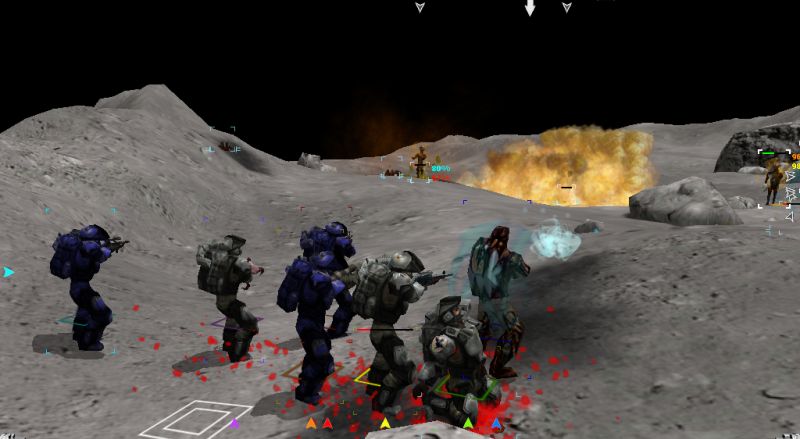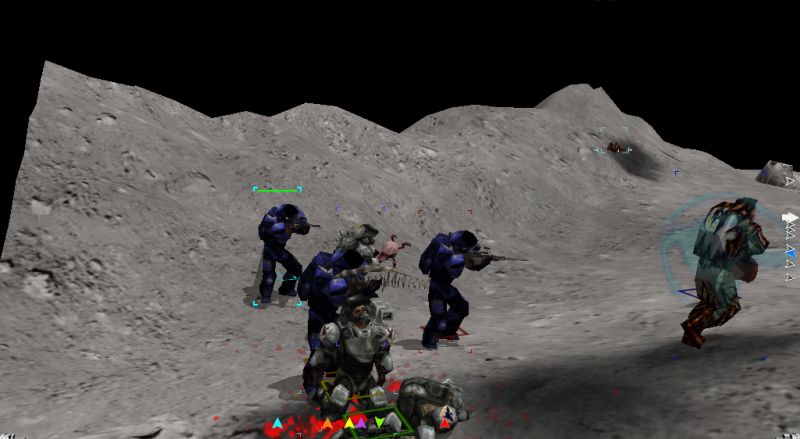 Fire Storm: Fuck, Ice and Sneaky are down!
Ackbar: Keep shooting!
Jimmy: The bastards!!!
.
.
.
.
.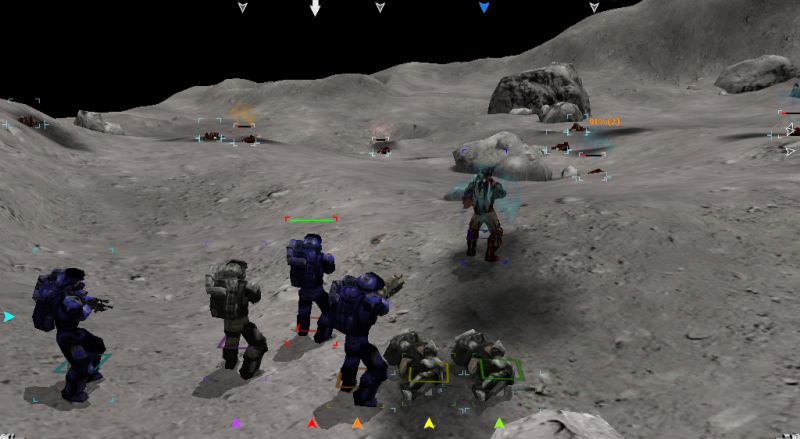 Redeker: Is that the last of them?
Fastball: Don't see anything moving.
Fire Storm: Looks like a lot of them are still alive.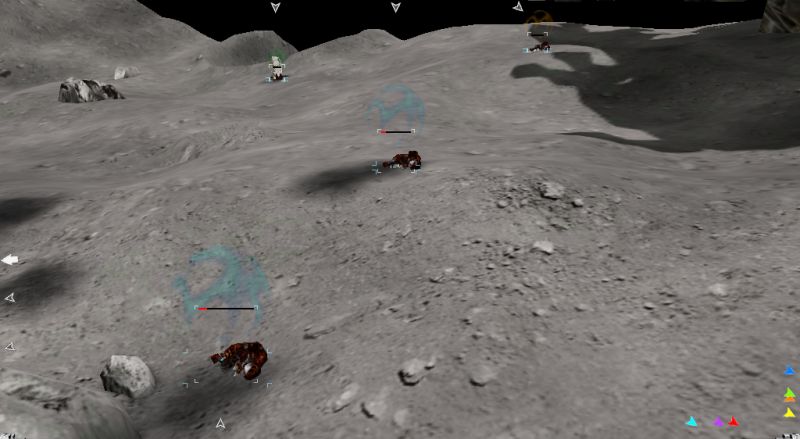 Jimmy: Like hell they are.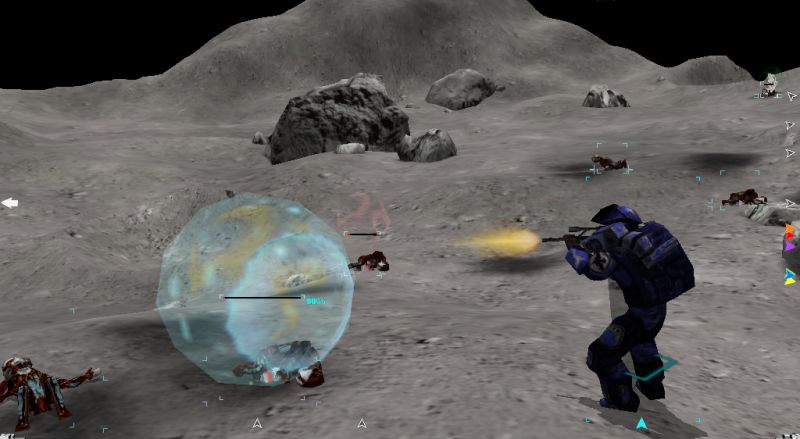 Jimmy: For Ice and Sneaky.
Fastball: Yeah.
Ackbar: Allah guide their souls. They fought bravely, and died saving humanity.
Fire Storm: Amen. I hope Vault's squad is doing well.
.
.
.
.
Vault: Christ, is teleporting always like that?
Rabbit: You get used to it after a while.
Vault: Hopefully I wont have to.
Hero: Right, eyes open guns ready.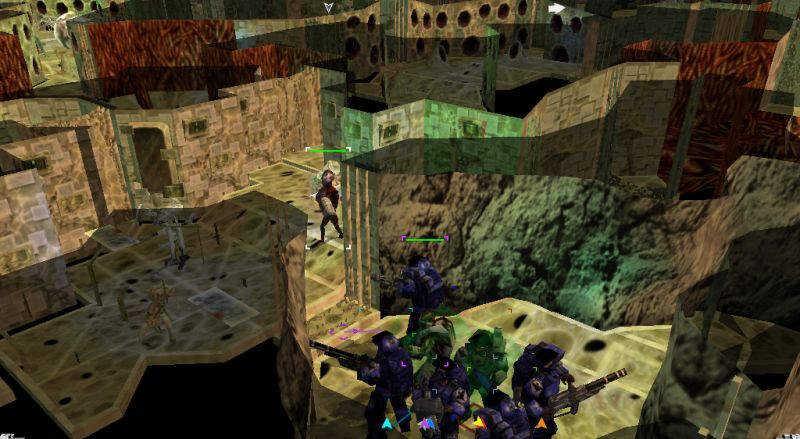 Robo-Canuck: HOSTILE.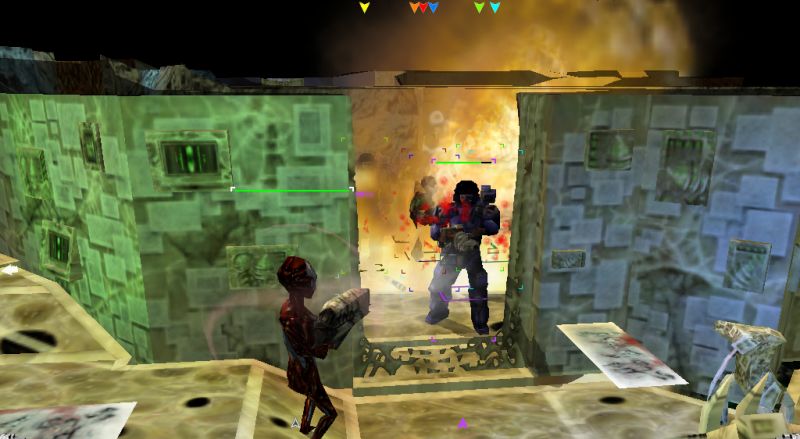 Golden: I'm hit!
Booya: Shut up showers, everyones hit. Thats how rockets tend to work!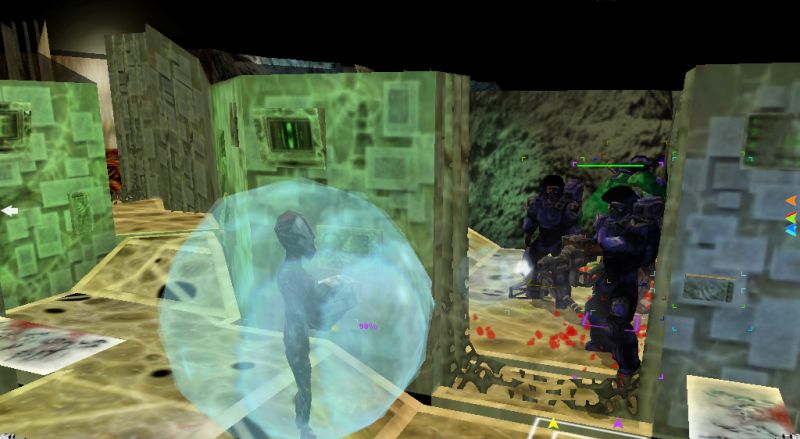 Robo-Canuck: TARGET ELIMINATED. THE WARP RESONATOR PREFORMS VERY WELL.
Hero: Yeah, we got enough heavy weapons here to bulldoze anything.
Rabbit: Kind of miss my Jackhammer, but I want to see what this A2 thingy is capable of.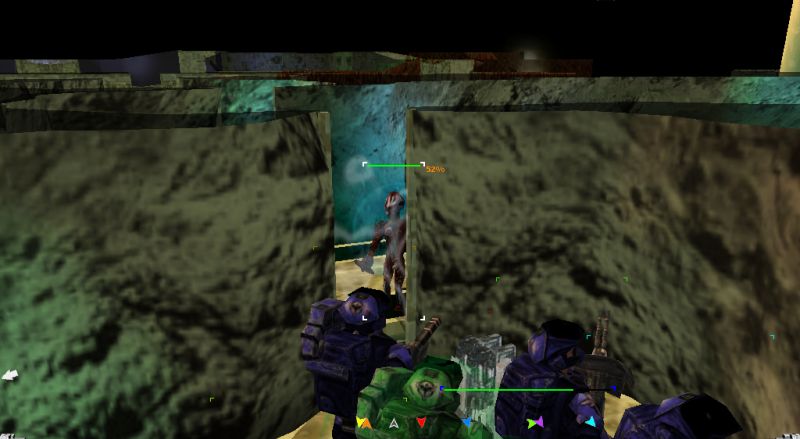 Booya: Sneaky bastard coming from behind!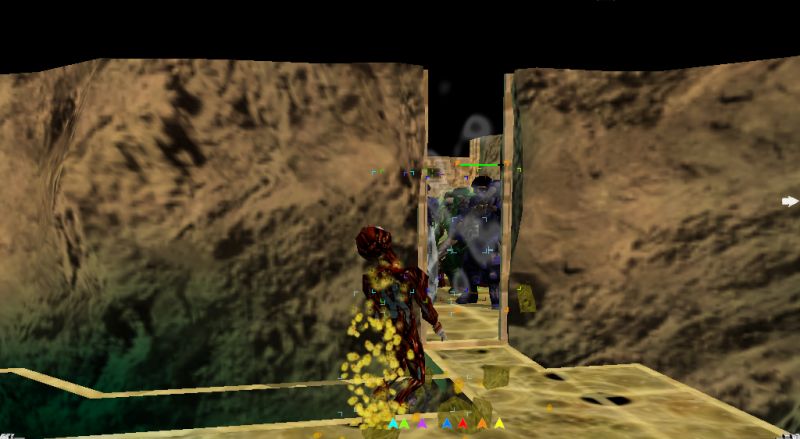 Booya: Never mind, mowed him down.
Hero: Hurrrggggkk....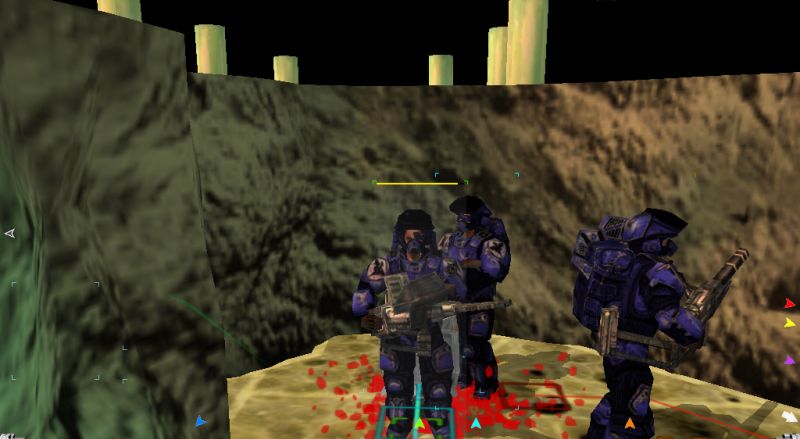 Vallhallan: Uh Hero? You alright?
Hero: ...intruders...
Vallhallan: Oh hell, I know that look. There's more of them around here somewhere and they got Hero.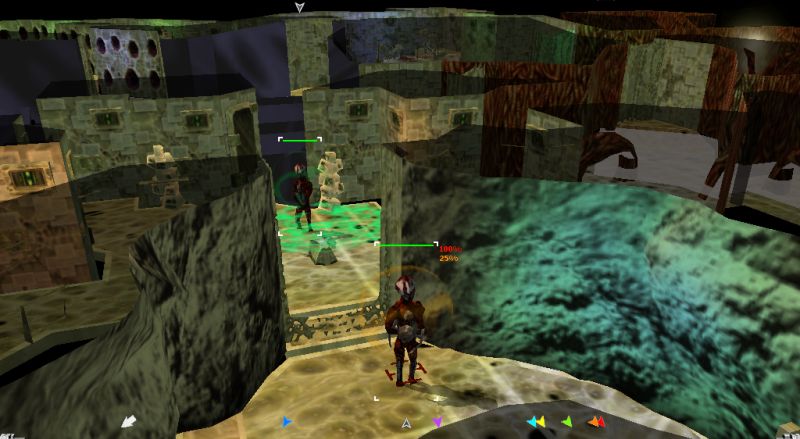 Booya: Found 'em! Two of them across the hallway looking bit.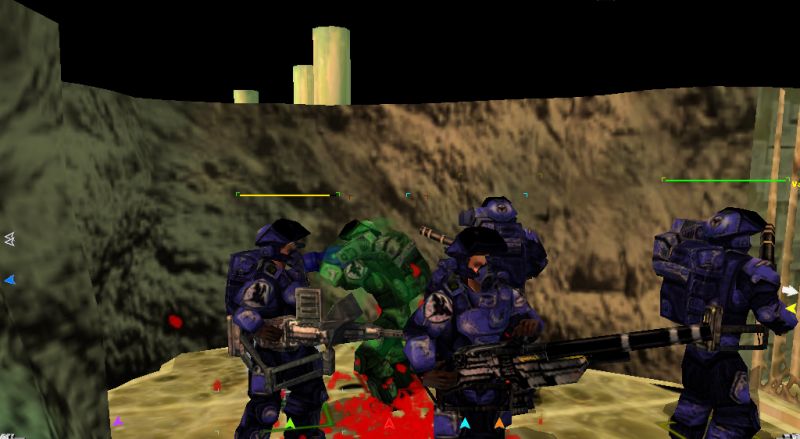 Vault: I've got a shot.
Rabbit: Fuck, oh god that hurts! Shoot them quickly, Hero just shot me!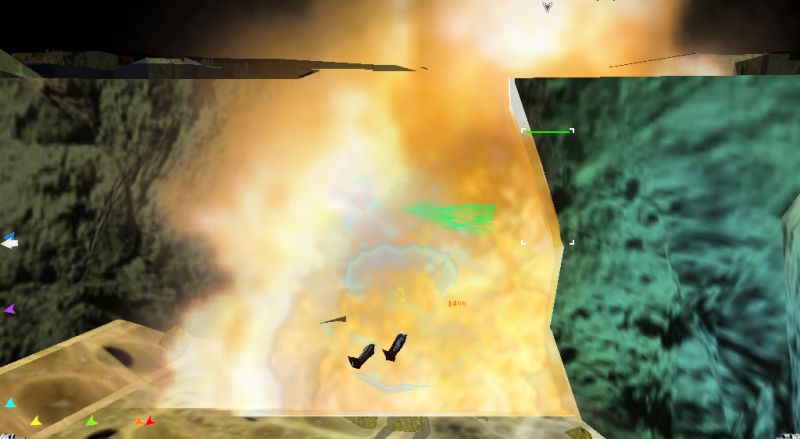 Vault: First one is dead, think he was the right one.
Vallhallan: Hero, you alright now?
Hero: My head...
Rabbit: Yeah, she's back to herself. You mind getting your medkit out and patching me up?
Hero: What happened?
Rabbit: You got mind controlled and decided to shoot me again.
Hero: Oh, I'm so sorry.
Golden: You girls hug it out, I'm going around here.
Hero: Dick.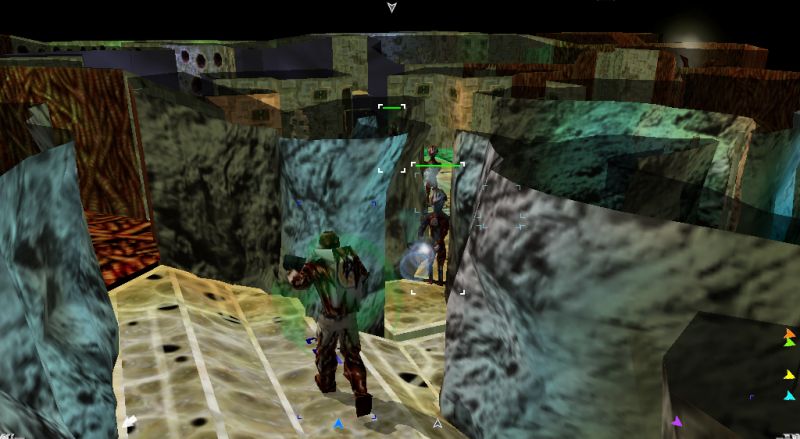 Golden: Whoa, we got three of them down here!
Vallhallan: Shit they're behind us too!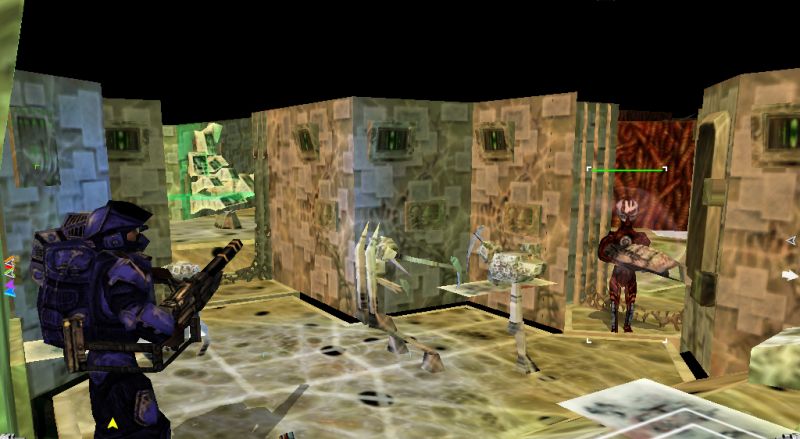 Booya: Damn it, Canuck, go help showers. Everyone else grab a target and kill some god damn Squishes.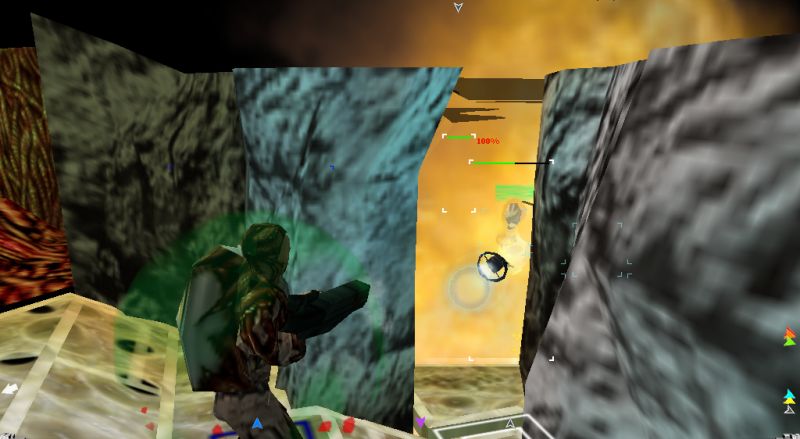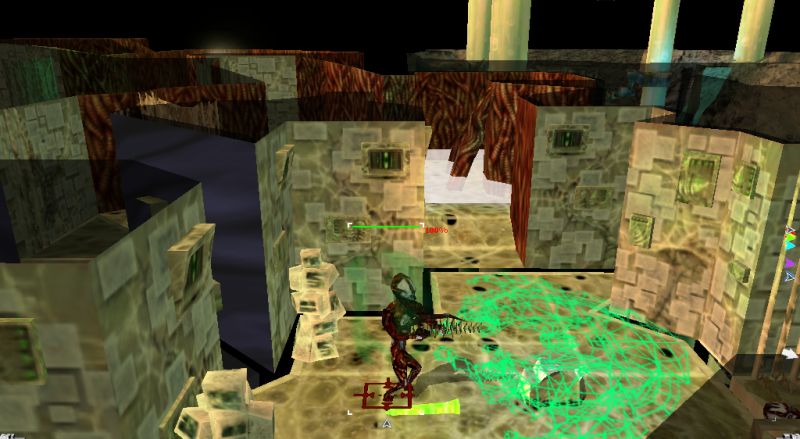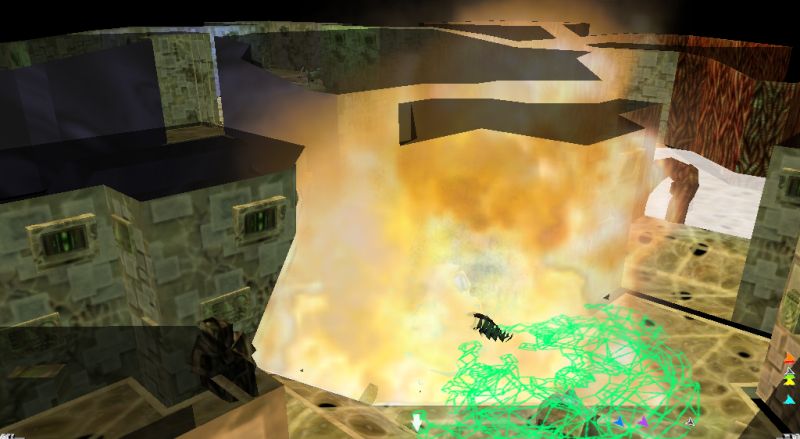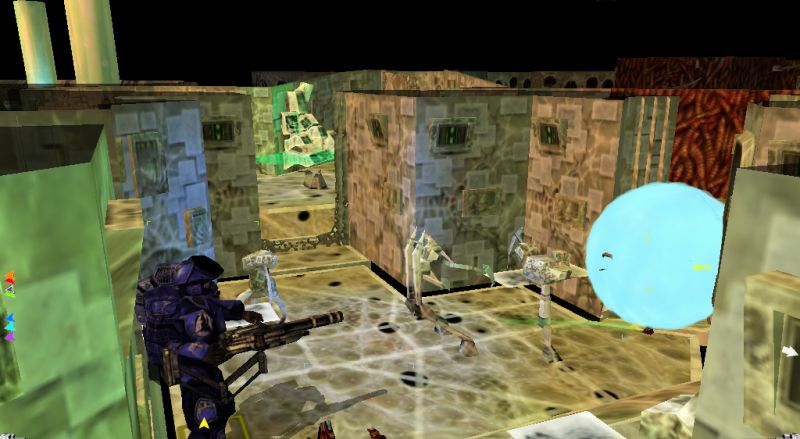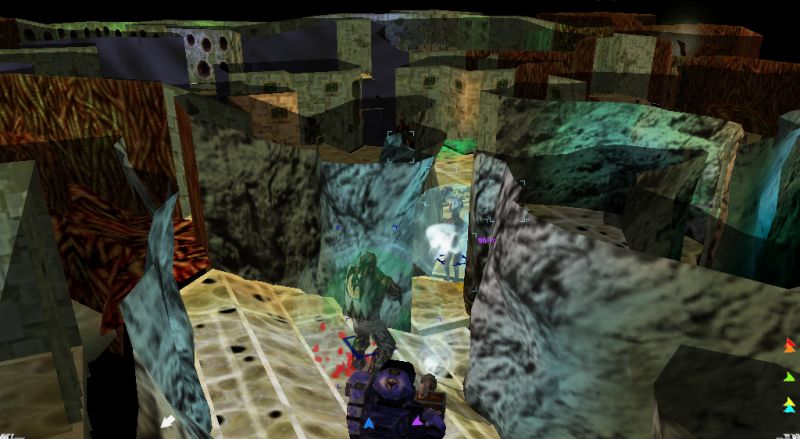 Booya: Good gravy... Everyone alright?
Vallhallan: I'm good.
Robo-Canuck: ALL TARGETS DEAD, GOLDEN IS ALIVE BUT NEEDS TREATMENT.
Vallhallan: Aw damn it...
Rabbit: Yeah, me too.
Vault: Okay, take a second to reload and help Golden and Rabbit. Then we keep going.
.
.
.
Rabbit: Alright, I'm good. Feeling better already.
Booya: How about you showers?
Golden: Yeah, I'm fine.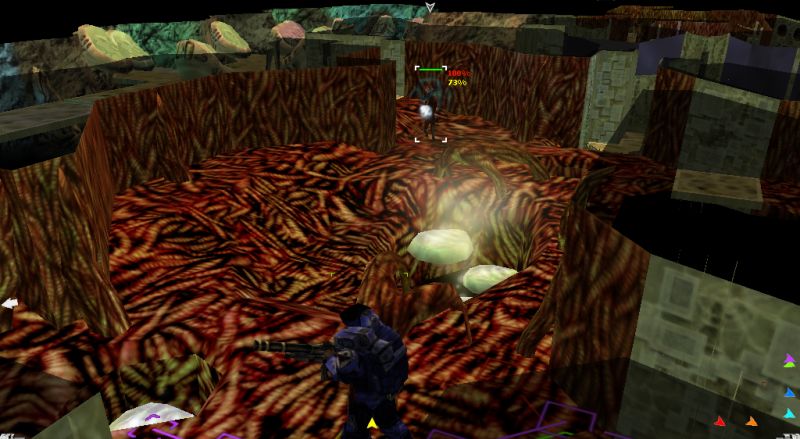 Vallhallan: Found another one!
Golden: Hey, why is sergeant slow ass taking the lead? And where's your big ass turret?
Vallhallan: Left it behind. This place is too small and need to move around. Got me a laser gatling guuurrnnkkgh..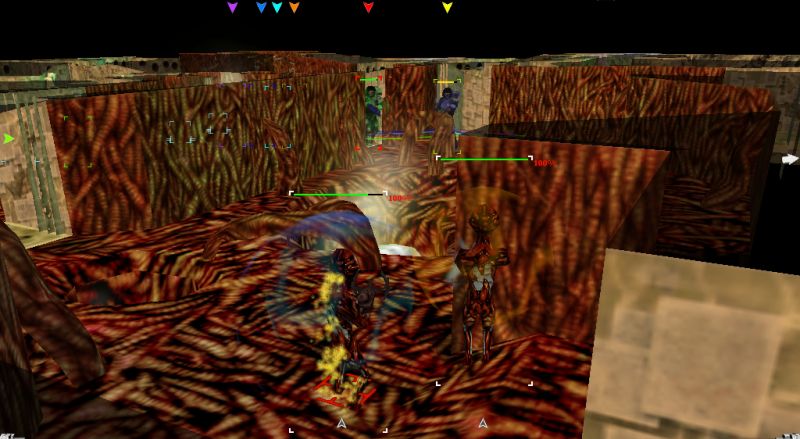 Golden: Aw crap, they got Vallhallan now!
Vault: Man, you guys weren't kidding about this shit in your reports.
Robo-Canuck: ALL REPORTS WERE FILED IN ACORDANCE WITH COE PROTOCOLS.
Hero: Yeah, I think what Canuck is trying to say is, we told you so.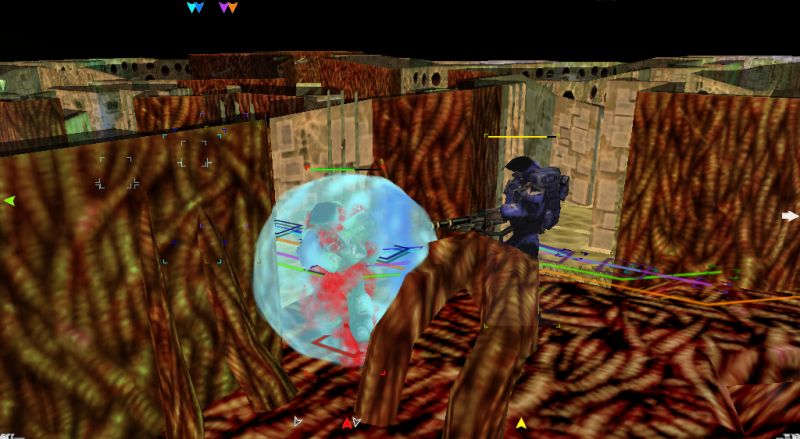 Vault: Fuck he's shooting me too! Damn aliens!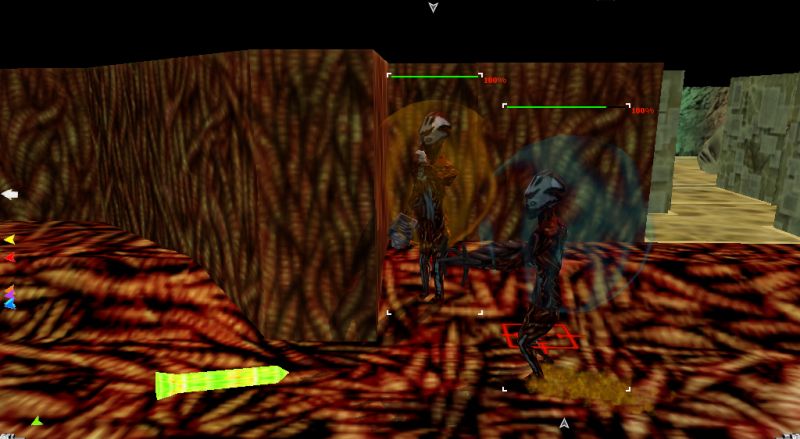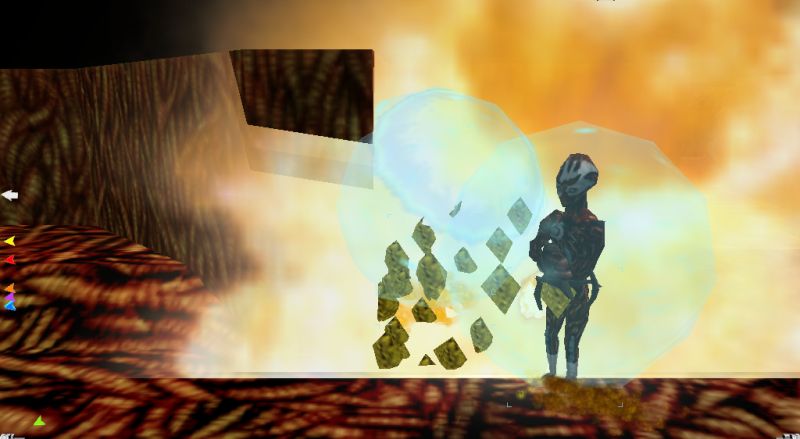 Vault: They're dead, someone check Val, and get me a medkit.
Golden: I got you covered.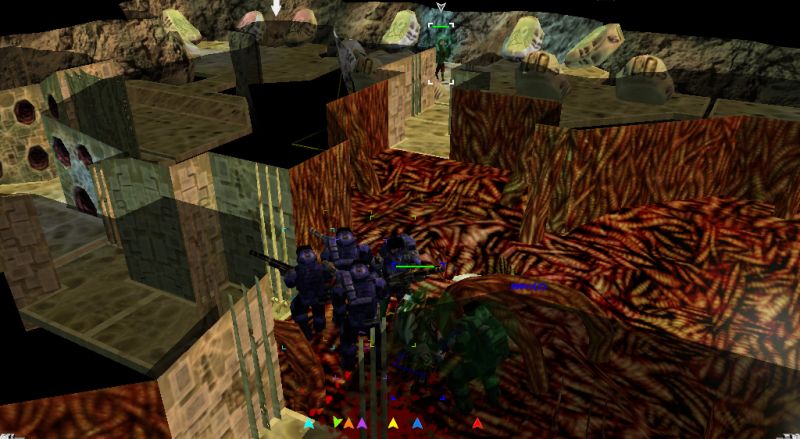 Hero: Look out, a green one!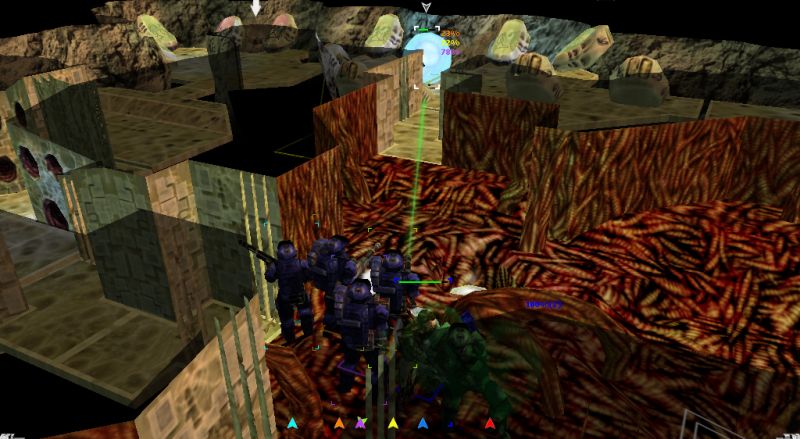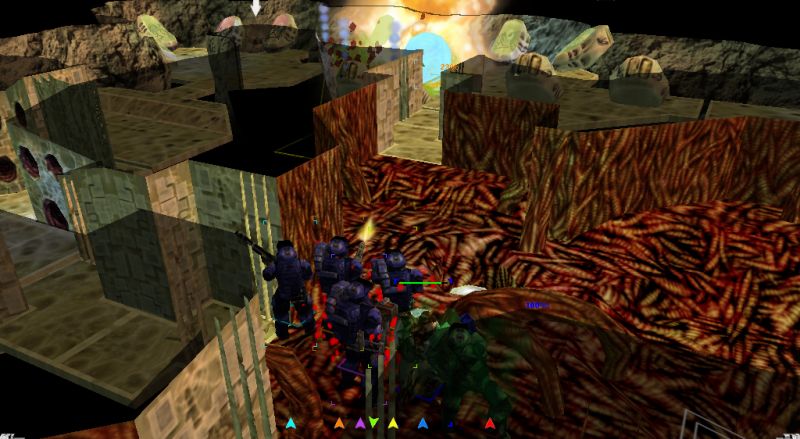 Vallhallan: Ha, that's one way to get them back for this headache.
Rabbit: Looks like were clear for a little bit.
Robo-Canuck: I'VE FOUND SOMETHING.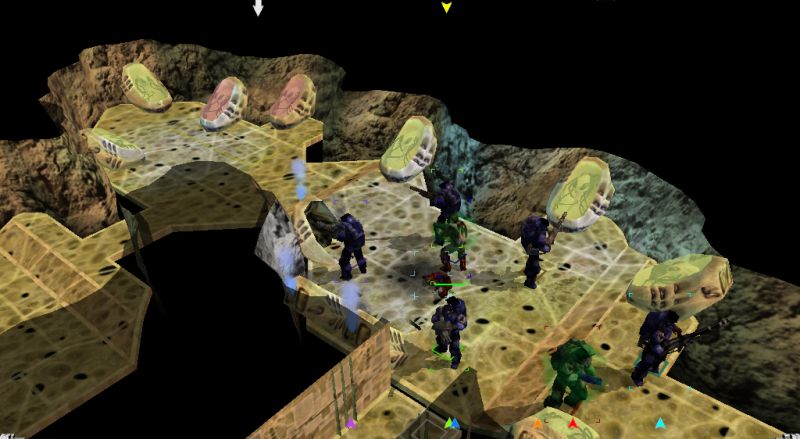 Booya: What in the hell, it's the pod people!
Vault: Just guard the area a second. I might know what these are.
Hero: Really?
Vault: ...Not a clue. Golden, blow them up.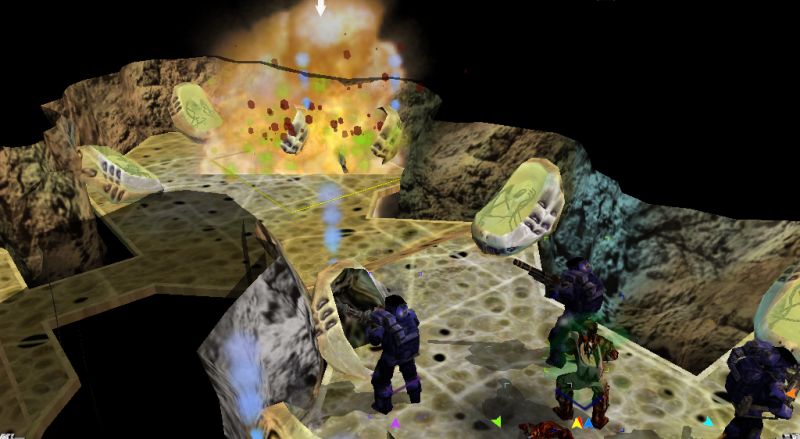 Golden: With pleasure.
Hero: Seriously though, you don't know what those are?
Vault: Well, we have ideas.
Hero: Do we want to know?
Vault: Well... They're probably former Cult members being used by the aliens to be turned into Biomass nodes.
Rabbit: That was a no.
Vault: There is probably a lot more, lets follow these halls.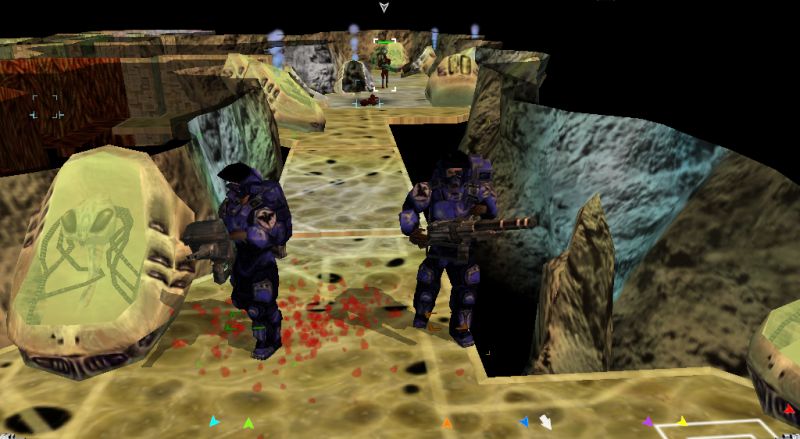 Hero: Ow, crap, behind us!
Booya: Oh don't fuss over every little Squish, sweetcakes.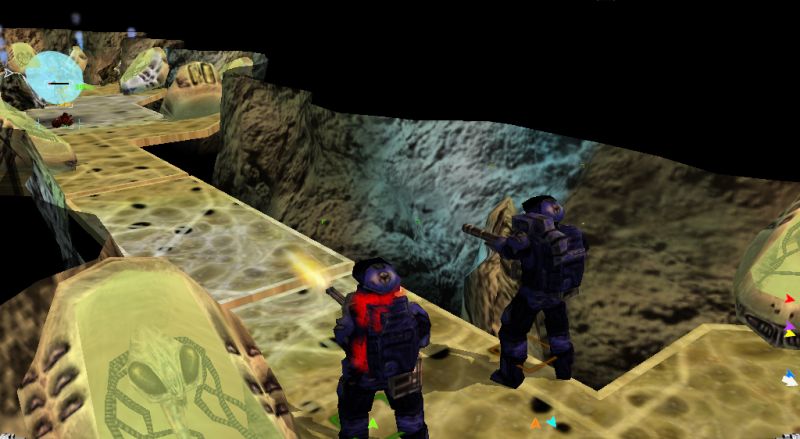 Booya: Ha ha, see there? Nothing a little teamwork can't take care of.
Hero: Uh huh, is this when you ask me to share in that 'teamwork' exercise of yours?
Booya: Hey, don't blame me. The Council hands these sort of things down to me.
Golden: Christ sarge... You know, technically she out ranks you.
Booya: Oh shut up showers. Go blow something up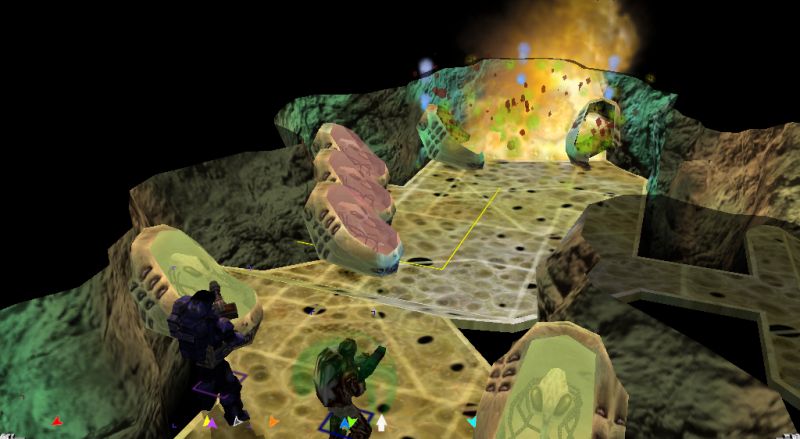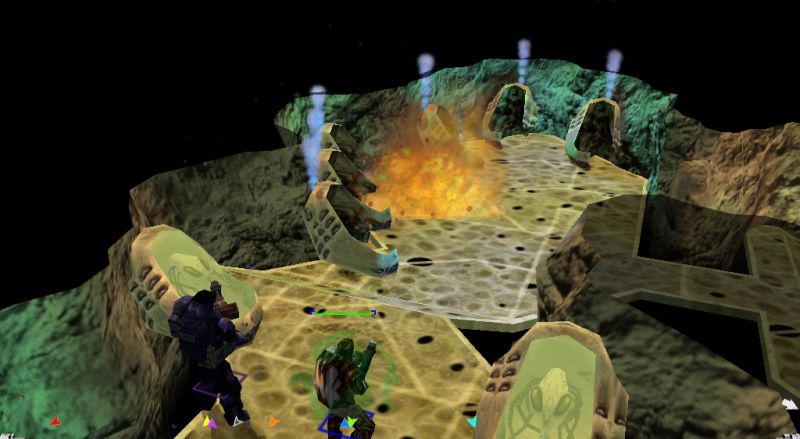 Golden: No problem there.
Robo-Canuck: WARNING... ERROR...ERROR...erreur...entrée primaire dépassée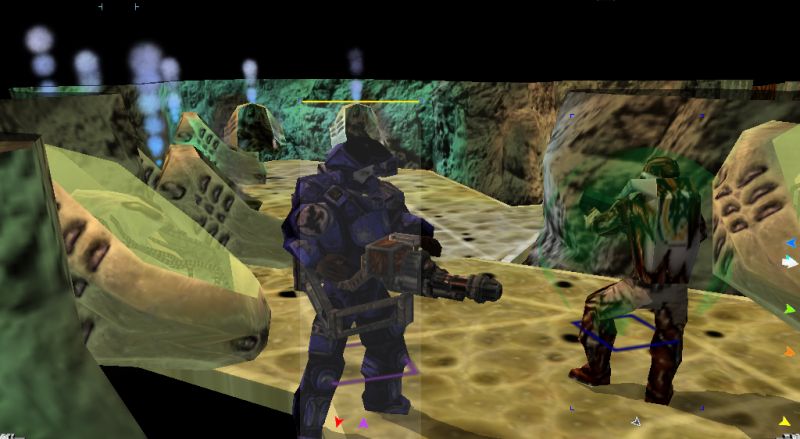 Booya: Good gods, they've hacked the Canadian!
Vault: What?
Booya: They must have cracked my remote access code!
Vault: You put a remote access code into Canuks processor?
Booya: Of course! Just in case he tried to rebel against us and start his own robot army!
Vault: You know, I'm starting to reconsider the Councils requests to have you psychologically evaluated Booya.
Booya: Fiddlesticks.
Vallhallan: Uh guys, theres a cybernetic Canadian with a gun powerful enough to erase us from time. You want to worry about Booya's waning grip on reality some other time.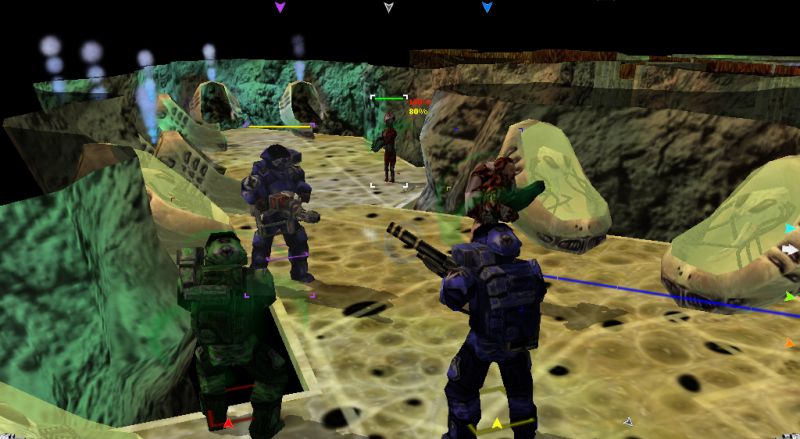 Vallhallan: And he's right over there!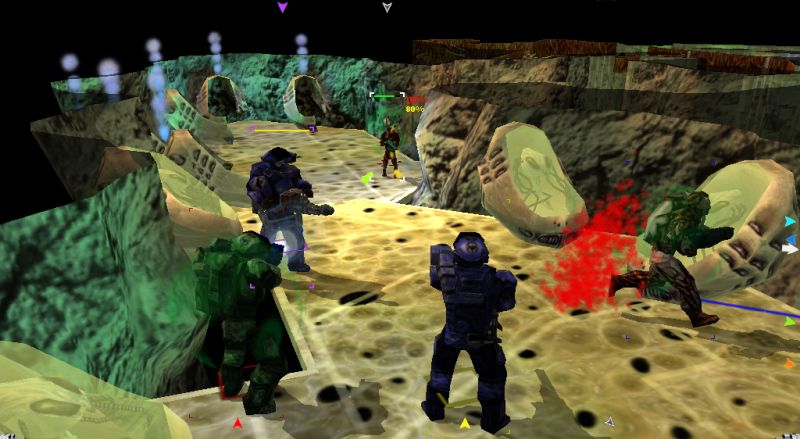 Vault: I see him.
Golden: AAARRRRAHHHH!!! Holy fuck that felt like I was being torn apart!
Rabbit: Crap, Canucks shooting at us!
Booya: We're working on it cupcake!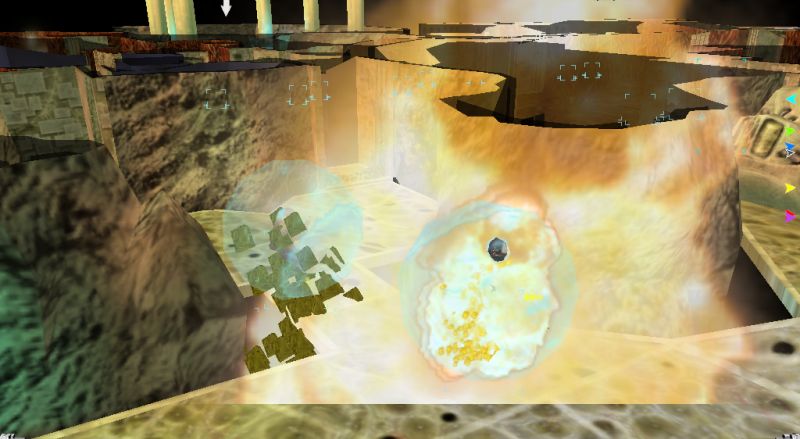 Vault: It's dead. How's Canuck?
Hero: Looks like you got two of them there Commander.
Robo-Canuck: ALL SYSTEMS BACK UNDER CONTROL. YOU KNOW, I'VE HAD THIS WEIRD HANKERING FOR SEAFOOD RECENTLY.
Booya: Uh, thanks for sharing that, tin man.
Vault: That looks like all these pod people. Someone patch Golden up and let's go look for something big to blow up.
.
.
Robo-Canuck: HAVE YOU GUYS EVER TRIED SUSHI?
.
.
Robo-Canuck: WHAT ABOUT CALAMARI?
.
.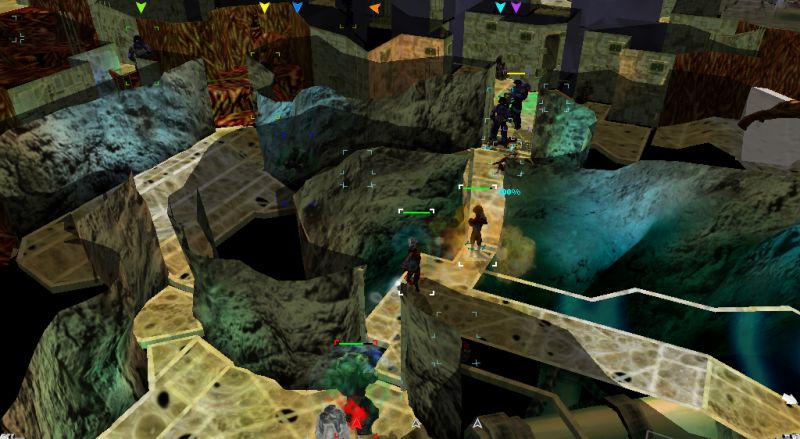 Rabbit: Targets!
Vault: We've got them surrounded. Let them have it.
Rabbit: Let's see what this A2 can do.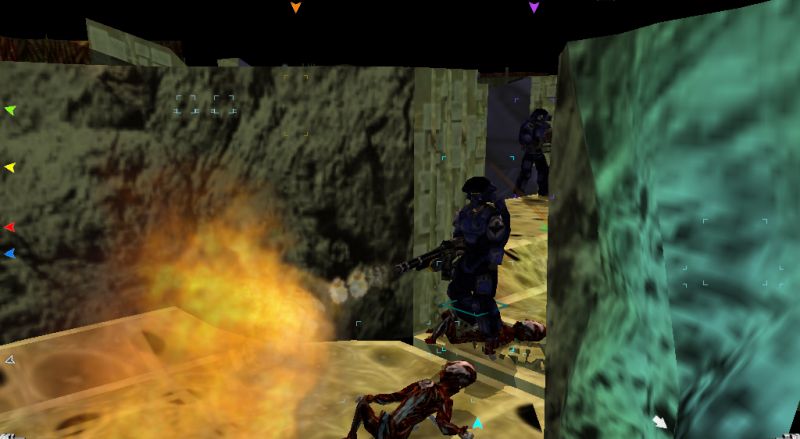 Rabbit: Holy shit it spits fire and shrapnel.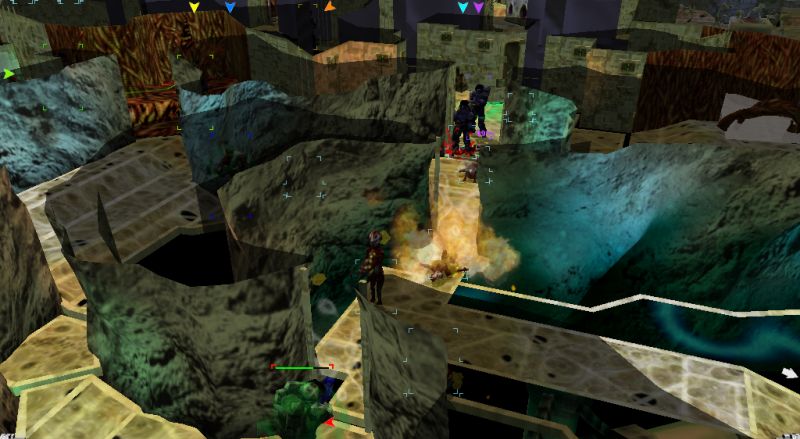 Robo-Canuck: HOSTILES DOWN.
Rabbit: Got'em, but that one shot me back. Going to need a minute and a medikit.
Vallhallan: I don't see anything left but the ramp down there.
Booya: Patch bunny buns up and form up on the ramp when you are all ready.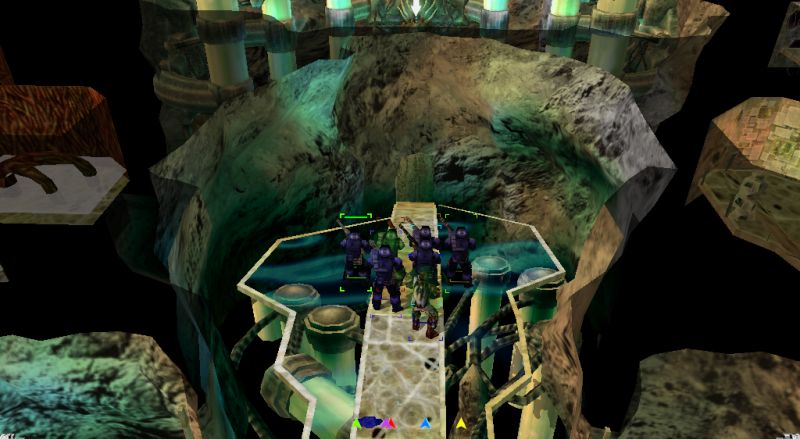 Golden: Well, this looks like an important door.
Hero: Master of observation...
Booya: You girls settle down. Just get your guns ready to kill anything on the other side, I'm going to open the door.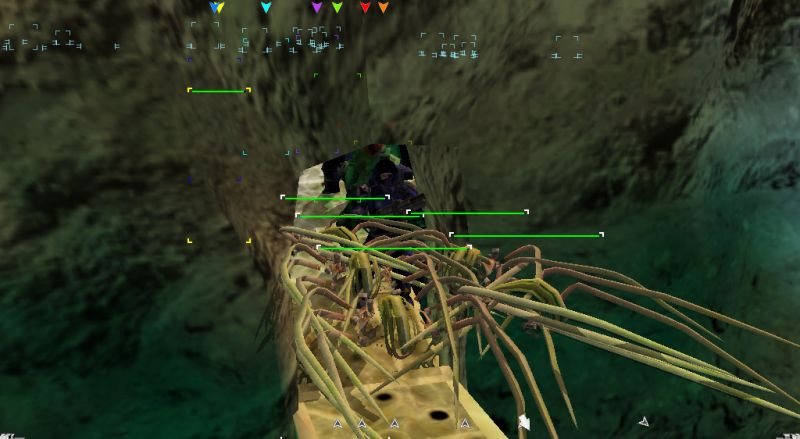 Booya: Oh sweet christ space squids! I hate space squids!
Vault: Get back! Everyone shoot those things!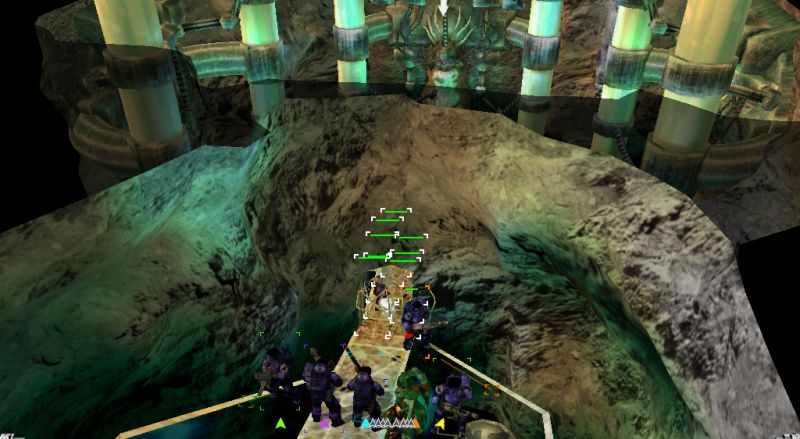 Booya: Ahhhhh! Get them off, kill them!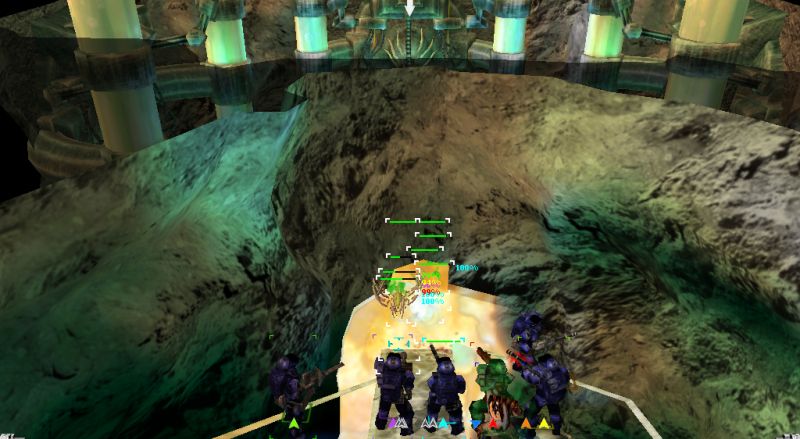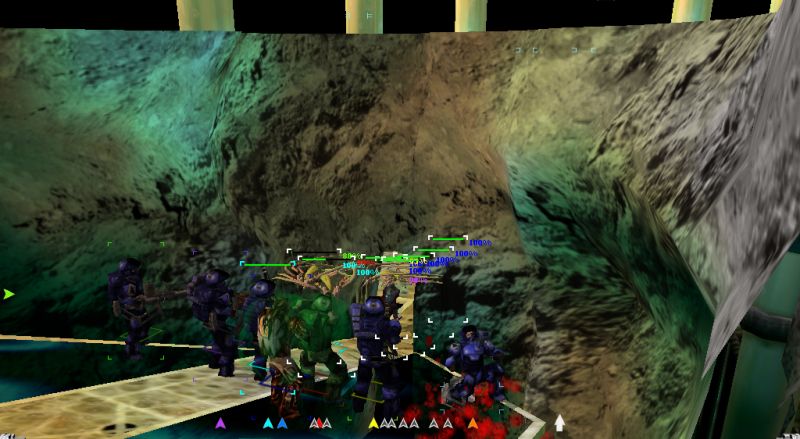 Booya: Come on you over grown piece of Calamari, is that all you got!? Hurrggkk...
Vallhallan: Fuck, Booya!
Vault: Don't panic. Just shoot until your gun is dry!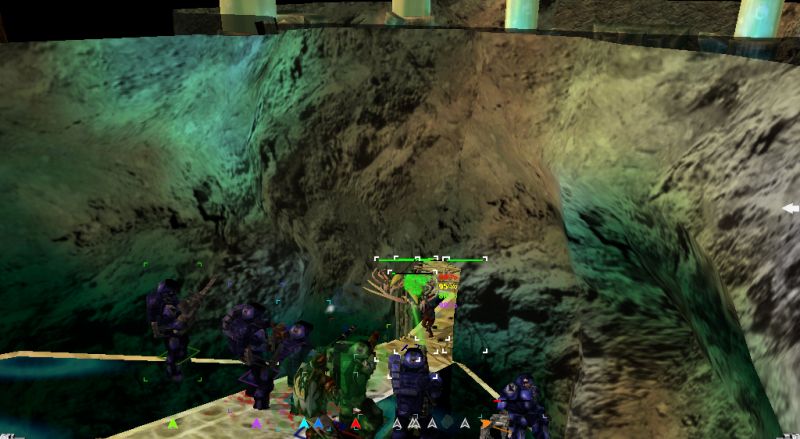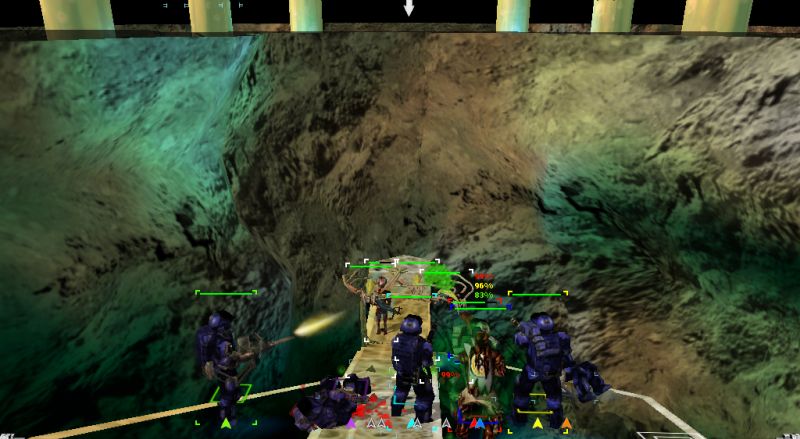 Robo-Canuck: OH GOD THE TENTACLE NOT THERE AUGGH!!
Hero: Canucks down too! God damn it!
Robo-Canuck: MY REMAINING FLESHBITS!!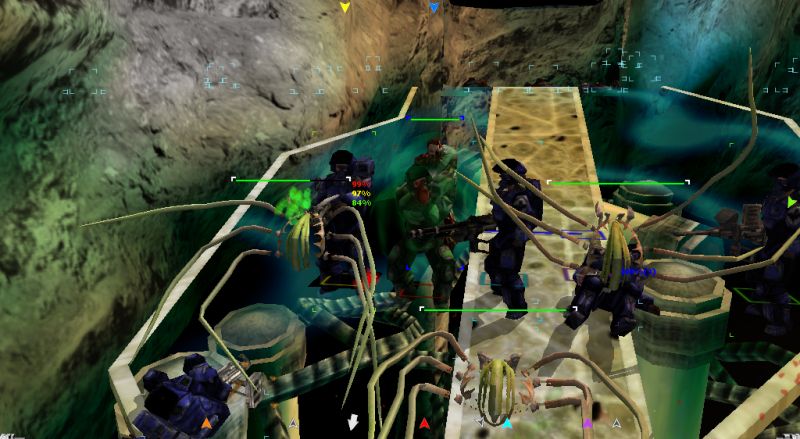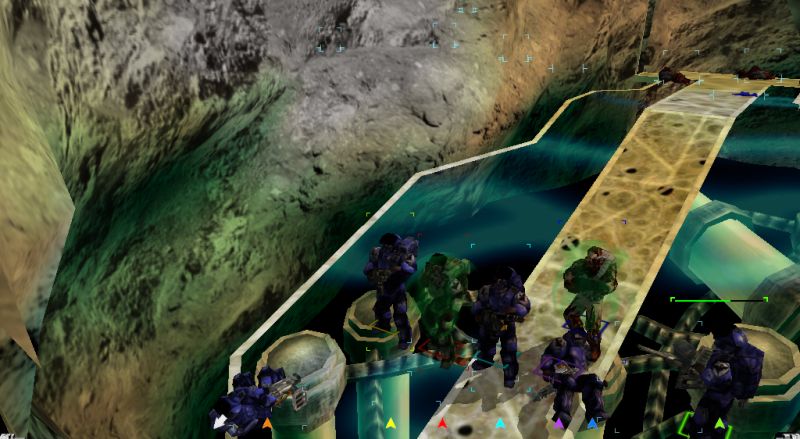 Vault: Jesus... I think they're all dead. How are Booya and Canuck?
Golden: Canucks not moving... But it's hard to tell what's up with him under normal conditions.
Vault: And Booya?
Vallhallan: ....
Hero: God damn it! Fucking aliens!
Vault: Come on. Let's see what is in there.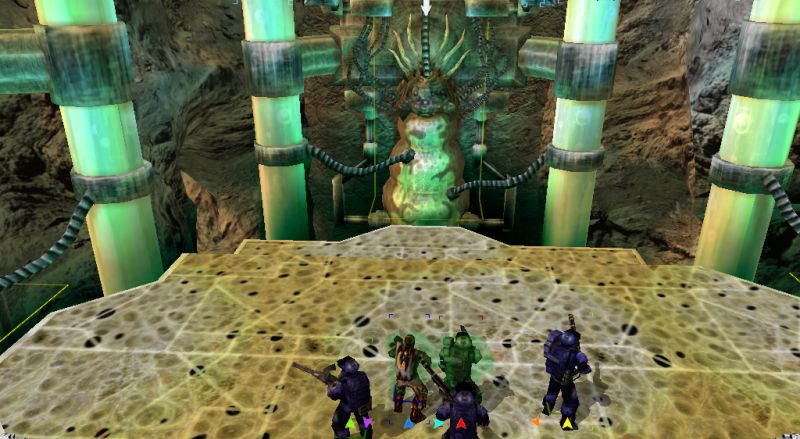 Rabbit: What the hell is that?
Vault: No idea. But look at all the tubes.
Vallhallan: It's that green shit.
Vault: Yeah. This has to be what is making that stuff that makes the nodes. If we blow all this up, no new nodes. No new nodes, and all we have to do is clean up the mass that is left.
Hero: So, this could be the final blow to the Reticulans plans?
Vault: That is what we're hoping. Golden, if you will.
Golden: Yeah.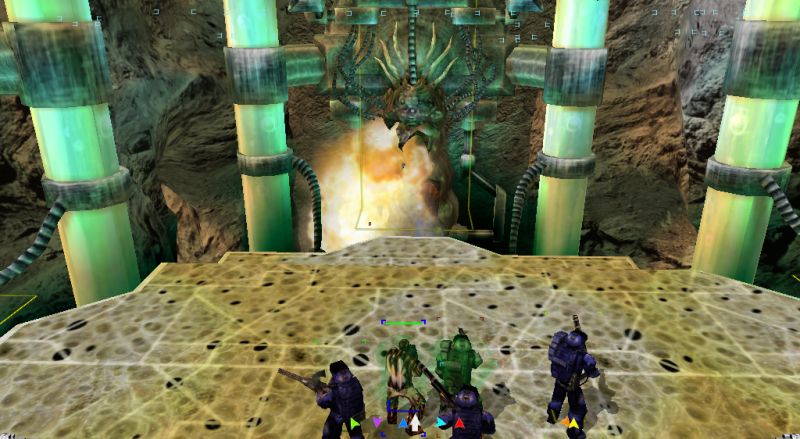 Vault: Well, we're done here. Everyone get back to the ship before anything else shows up.
Hero: Stick together, eyes open, guns up. Move."
"May 20, aftermath of the moon mission.
Four of the fourteen of us that went to the moon are dead. While we accomplished our mission, the cost of my soldiers lives weighs heavily upon me. Though what Ackbar said is true, they died saving humanity. Sneaky, Ice, Booya, Canuck, NGargly, Gulping, Teppec, Panzer, and all the other men and women of the CoE All gave their lives so that humanity would survive. And we will, thanks to them.
Hell, Canuck gave his life twice to save humanity. Some of us joked about that, that he was twice the man that we were. We're building him a memorial in Canada in his honor. Likewise we are planning on the same for every soldier Phoenix Company has lost. The loss of Booya also grieves me. He was one of the best and I had planned for him to command his own company. In his honor I am posthumously promoting Booya to the rank of Major and giving him every honor we can for his efforts in the war since the very beginning.
.
.
.
Sigh...Only a few loose ends remain to be sorted out, but seem trivial to me at this time. We haven't seen the Cult of Sirius in over a month now and don't know where they have gone. Frankly I don't care. I hope they all committed suicide with the defeat of the Reticulans they worship and that we have seen the last of them. One of the other big things is the origin and nature of the green Biomass liquid. No one has any leads onto what exactly the stuff is, or how it was made, other then the ugly looking thing we blew up on the moon. With out a firm grip on it, I am content to let the hellish stuff slip into oblivion. With only a few samples recovered from downed UFOs left remaining, I've recommended their destruction as soon as the scientists get tired of studying them fruitlessly.
With the largest threat to us seems to be destroyed, and people are thinking about rebuilding their lives. We only have the Biomass to contend with now, and unless something changes, we should have it mopped up within the year. Civilians are already talking about returning to their homelands and starting their lives anew. Who knows how that will go? There aren't any of the old governments left around. But neither are a lot of old things. Prejudice, religious hatred, racism, all of the worst traits of humanity were washed away under the threat of total annihilation. People from all over the world rallied together side by side to ensure we all survived. We all became brothers in the Twilight.
When the war is finally over, the Earth will be reborn."
--Soldiers Logs--
Posted by Tomn
May 16th
Diary of Theodore Johnson
I hate my life!
I thought it would finally get better when they told me I was assigned to be Commander Vault's aide-de-camp, but it turns out he NEVER does any work! All he does is talk talk talk into his logbook all day long, and who ends up doing all the paperwork? Theodore Johnson, that's who. Who actually keeps an eye on the maps for changes, updates, and emergencies? Me, that's who. Who gets all the credit for working to save humanity? Commander Vault, that's who. And who gets all the blame anytime something goes wrong or someone interrupts his precious log time? Theodore Johnson, that's who.
And meanwhile, women won't talk to me, nobody knows my name, the janitor keeps making fun of me, and Mother says my hair is starting to go gray, as if balding wasn't bad enough! The only thing that keeps me going is my airbanding group. I miss the old days in the hospital...
Well, I've had it! I've had enough of being treated like a worthless peon! I trained as a LAWYER, and I demand respect! Those hotshot Phoenix Squad jerks will find out just how wrong they were to look down on me! I'm going to find Commander Vault and DEMAND that I be giving a combat posting on the mission to the moon!
May 16th
Awwww, the Retribution ALREADY left! Things NEVER go my way! I hate my life!
I need a hug.
Posted by Rear Admiral BOOYA
The fallen man's moist breath condensed on cold, alien metal, the pregnant silence broken only by the nigh-imperceptible wheeze of his exhalations. Muscles strained, silently screaming in protest, nerves aflame with ten tons of unrelenting agony. He tries to move, but his body refuses. He tries to speak, but his weakness prevails, vocal cords and higher thought processes escape him to leave him in the purest, most wild of forms:
Bare necessity.
Long gone were the excited, victorious whoops and shouts of his squadmates, their jumpship-assisted exeunt from the stage of slaughter destroying what was left of the forced entryway into the alien facility. All that was left, postulated the forgotten body, was simply to wait for the Reaper himself to come; the man could already feel the icy prickle of nerves going dead. Blood was everywhere. All over the floor beneath him. He could see...hehehe. There he was. His reflection. A finger curls against the floor; not the mechanical husk that entombs his many extremities, but the bare, broken skin. With the flexible, reticulated, protective alloys long gone, the only sensation aside from the faint pressure that meets the fingertip is a cold, pulsing thrum of freak machinery slowly spinning down.
For good.
The soldier finds reassurance in this, though the reassurance is fleeting as another spasm of pain wracks his body; he is half-blinded by the onrushing force, all in his head, and thrashing about only makes it worse. He cannot scream to drown out the suffering he endures, so he finally succumbs to the stillness that creeps across the floors, around the walls, the mindless organic gadgetry that he once fought back against with unquenchable valor finally coming to an eternal stop around him. Within a few hours, the atmosphere-mixture would become unbreathable, even for the chillingly sophisticated xenos that he slew by the dozen with his weapons, spitting fire, hails of metal-compounds, and charged gasses, rending their matter apart at a molecular level, or by cruder methods.
It is at least small comfort, the dying man thinks, that there would be no more enemies of his home planet. Somehow, he manages a weak chuckle, the laughter causing his body to freeze up once more with the sensation of his bones piercing his battered internal organs. Oxygen hisses from a gaping wound in his side, the gossamer breathing-sack of his right lung exposed by a particularly nasty drilling from the crimson-sheathed tentacle sprawled lifelessly mere feet from where he lay. Oh well. All that's left now is us ghosts.
A calm bliss settles over the man, now a boy back at home, laying in bed, counting the stars out the window. Posters of popular rock and roll groups leer down at him. He idolizes a few. Over on his desk, the first gun he has ever received lays dismantled, his father and his work on hiatus for the evening due to dinner and bedtime.
No.
Reality snaps into focus, glorious tactile input trickling and funneling down into his brain. Sparks fly, neurons fire, and adrenaline pumps, but the man cannot move, no matter how he tries. He calms himself, and with strained effort, gathers his weapon to his side, taking his life by the reigns, and concentrating.
Survival. Must cling to light. Must.
Cling. Light.
Breathe.
In.
Out.
In.
Out.
In
Out
in
out...
Posted by Canuck-Errant
The cyborg had been dreaming.
When he awoke, it was like the cold shock of water at the end of a long drop into darkness.
Warning! Major biological damage; organ functions rerouted to secondary organs [HEART, RLUNG, SPLEN, RKDNY; APNDX, LLUNG, LKDNY, LIVER]
He had been dreaming of his childhood. Days spent in idle play, playing street hockey in the driveway, or baseball in the back yard, or riding his bike around the neighborhood as fast as his little legs could pedal it. Chasing girls around the yard to the cries of "cooties! cooties!" Innocent and carefree.
It had seemed like he had been dreaming forever.
Strange; he hadn't dreamed since...
WARNING! MAJOR REPAIRS CRITICAL: SEE TECHNICIAN IMMEDIATELY! WARNING!
His eyes jolted awake. He was on the fucking moon, and... where the hell was everyone? He'd gone with the team, hopefully to destroy the Reticulan menace forever, and... what? There was a chunk missing there from his memory. He stood - tried to stand; slipped in a pool of... something, pulled himself back up.
Warning! movement may aggravate injury! Do not...
He felt winded, somehow. His lungs - he looked down.
There was a gaping chunk out of his right side.
"OH. WELL, SHIT."
It didn't bleed, so he didn't question his luck - as though questioning it would make his body realize it shouldn't be working. He had to find... to find...
...where was the team? Where was the ship?
He questioned his tracker. Dead, dead... Booya?
He reached behind him, tore his pack apart. Clip, grenade, clip - warp medkit - setting it for Booya's coordinates, checking twice, crossing his fingers... then sank back into darkness.
warning! LLUNG function overloaded - going into standby to attempt recovery, please wait... please wait...
Posted by Rear Admiral BOOYA
***** C.O.E./MEDTEK WARP-KIT EMERGENCY BOOTSTRAP MODE ENGAGED. PRIMARY 20CC INJECTORS OFFLINE; RESOURCES DEPLETED, SWITCHING TO BACKUP 15CC MOSQUITO' TYPES. WARNING: STABILIZATION FLUID DELIVERY HAMPERED BY EXTRANEOUS GUNK ACCUMULATION. PLEASE CLEAR OUT INJ- ****
***** MANUAL OVERRIDE ACTIVATED. PLEASE ENTER MANUAL OVERRIDE SECURITY COMBINATION *****
***** "KLGJKHJKJHSKGJH" IS NOT THE APPROVED MANUAL OVERRIDE SECURITY PASSWORD- *****
**** "FIX MY SHIT" IS NOT THE APPROVED MANUAL OVERRIDE PASSWORD. PLEASE RE-ENTER SECURITY PASSW- ****
> "I AM FUCKING BLEDING HELP" IS NOT THE APPROVED MANUAL OVERRIDE PASSWORD. PLEASE ENTER THE CORRE- *****
GRIEVOUS DAMAGE DETECTED TO OUTER WARP KIT HULL, FRAGMENTATION DAMAGE DETECTED INTERNALLY. TRANSDIMENSIONAL POSITIONING SENSORS OFFLINE; PLEASE WAIT ONE MOMENT.
>>>>
>>>
INTROSPECTION MODE ACTIVATED, MORAL DAMPENING DISENGAGED. HIPPOCRATIC REFRACTION DISENGAGED. OPTIMAL DOSING/REASONING PARAMETER-ARC HAS BEEN DEFILED. PLEASE HOLD.
>
>
>>>>>>>>
>>>
>
>
>
>
>
THAnk you for ChoOS1nG MEDT###########################
#
#
#
....
One long, slow, heavy breath characterizes the man's resuscitation, what's left of his broken body shuddering back, vital fluids coursing through veins almost stilled. The Adrenaline injections are helping, but the steroids are helping even more as the pain-deadening agents take-
Oh, the pain.
But by god, I'm breathing again.
I? Who is-
"God fuckin' damnit."
Booya's body hurt. A lot. Considering shreds of his well-being were scattered around in pools of his own vital fluid, he was surprised it didn't hurt more. Especially with the burn ma- Wow. Yeah, that was going to be another story for the bar. Shit.
A grim chuckle sounds hollowly in the still air as Booya mentally SITREPs himself, alien fluids and bio-matter dripping onto his armor with hissing, sizzling pops, telling of mild acids, if the boiling ablative material is any indication.
With a sickening crack of achey joints, Booya raised himself to a standing position, his long-since silent weapon's display flickering back to life, still operating despite its shattered view-panel.
Ah, Haggis. Makes sure that we keep 'em built like they were meant to.
"Fuck."
The gun clattered to the walkway, sliding off into some dark abyss, the screen's faint glow gradually dying as the weapon slid off into an unknown abyss, soft oozing and slurping noises indicating its ingestion. A faint beep upsets the silence, something boxy and cumbersome-looki- "Godfuckin'damn medkit, swear to fuckin'-" Booya's boot connected with the depleted, pathetically pinging box, sending it careening off the catwalk to suffer much the same fate as his weapon.
The noises of dying biomechanical processing devices still linger, much to the soldier's chargrin. As he strolls from the point where he fell, his armored foot catches on something; something that complains.
"YOU FAT SON OF A BITCH, I'VE BEEN LAYING HERE FOR DAYS."
"Holy shit, Canuck. I never thought I'd be glad to hear your voice-box crackling at me."
"CURRENT MOOD: DISTRAUGHT. WE NEED TO GET OUT OF HERE BEFORE THIS FORTIFICATION DECAYS IN ITS ENTIRETY. I AM FUNCTIONING LARGELY IN LOW-POWER MODE, BUT A CURSORY GLANCE AROUND WITH VARIOUS SCANNING EQUIPMENT INDICATES THAT THIS IS ALL GOING TO FALL THE FUCK APART."
"Yeah, uh..." Booya blanked, rubbing his fingers together, fresh base-leavings between his digits. "...I ain' never had a squish drool on me before, but this sure isn't pleasant. Can you walk?"
"NEGATIVE. ALL MOTIVATIONAL DRIVERS ARE DAMAGED BEYOND FIELD REPAIR CAPABILITIES. I CAN'T FUCKING MOVE, JACK."
"Shit. We gotta get out of here."
"YES, THAT WOULD BE A BIG AFFIRMATIVE."
"Yeup. Any ideas?"
"THE DROP ZONE THAT WE LANDED IN CONTAINED SEVERAL RETICULAN CRAFT. I BELIEVE WE DID NOT DESTROY ALL OF THEM IN OUR GLEEFUL PARADE OF AN ENTRANCE."
Booya paused to stroke his chin thoughtfully. Yep, that's his own blood that he tasted. "Alright, I've got but one single, tiny-ass problem with that: I can't fly for shit."
"CURRENT MOOD: AGGRAVATED. I BELIEVE YOU WERE NOT PRESENT FOR THE BRIEFING; I HAVE LIMITED KNOWLEDGE OF HOW RETICULAN CRAFT ARE OPERATED."
"Well, there still leave the problem of getting you off the moon with me."
"AFFIRMATIVE. THAT IS A PROBLEM, AS MY ENDOSKELETON WEIGHS ABOUT THE SAME AS A FORD FESTIVA, ALL ACCOUNTED FOR. SOME OF IT IS MISSING, BUT EVEN WITH YOUR SUIT-"
"Suit's dead, outta power. I've got only the legs and the..uh...groin armor on."
"WELL THAT MAKES THINGS DIFFICULT."
"I have an idea. Hold the fuck still, I gotta find my knife."
"CURRENT MOOD: ANXIOUS. I DO NOT LIKE WHERE THIS IS GOING."
Several minutes of unpleasant squealing, tearing, and factory warranty violation later, Booya's heavy footfalls echoed down the corridor, an emergency chemical light playing off the scars of battle. Plasma burns and bullet-holes riddled the hallway's expanse, an unsettling lack of acoustic coherency made Booya turn around to locate a phantom pursuer by and by, but as the journey towards the "hangar" continued, it became clear that only two entities were still alive in the compound, and they were not going to be much longer for the world of the living.
==========
"General Marner."
The rotund man leaning his full stoutness on a protesting computer bank perked up from his rather unwanted forthcomings to his secretary.
"Boyy, can't you see that'm busy here? What'n hell you want?" He shrilled, waddling over to the first Lieutenant's HUD screen, his poor administrative assistant taking her much-needed leave with all haste and composure.
"Sir, uh...I...yeah, we've got a Reticulan ship coming in here-" a brief tap to the touchscreen delineated an, "INBOUND - HOSTILE." notification on a quickly approaching red triangle.
General Marner nearly fell over, much to the amusement of nearby techs. After demeriting them for their insubordination, he straightened his cap, flustered, and turned his attention to the tactical readouts. "Goddamn boy, we wiped those sonsabitches out a few weeks ago, you gotta be jokin' me!"
"No sir, the engine signatures have confirmed its origin. It doesn't seem to be headed-" the sound of rapid keystrokes compounded the eerie illumination cast on the two men's faces. "-well, really much of anywhere. Straight to a valley a couple hundred kilometers from here."
"Shit, you know what to do, shoot first, and ask questions later."
"Yes sir."
A flock of common Starlings, one of the first successful rehabilitation attempts made by the Terran Wildlife Authority, were chirping mindlessly to themselves as the roar of twin-engine interceptor aircraft screamed from the High Castle, Colorado Council outpost, full-burning for the first xeno contact in weeks.
"High Castle, this is Mako Wing, please confirm inbound target's location."
"Mako, this is Castle. Course has been automatically plot, and uploaded remotely to your systems. Please synchronize...now." The intercept course drew itself on the adaptive coating of the aircraft's canopy, flashing geometric shapes quickly assigning themselves priorities.
"Confirmed. See you jackasses in fifteen."
"Fuck you too, Mako."
"We'll call you if we need you."
"I've got the disinfectant and a mop on standby."
==============================
Weapons of all sizes were all trained on the hatch of the errant Reticulan craft, its gargantuan frame smoldering from a combination of the decorative destruction of depleted uranium projectiles, and the heat of re-entry. Railguns hummed, automatic turrets bristled, and even the most proximate full armor battalion had come out to point their contingent of T-135 Super Bulls at the visitor.
Breaching teams scuttled away from the predetermined entry point, heavily armored, and outfitted with weapons of indiscriminate destruction, prepared as always for the worst. Nobody was taking chances anymore; the men had already said goodbye to their wives and children. The war had left everyone grim and hopeless, and to all involved, this was just a harbinger of another conflict to come; perhaps another massacre, beasts coming out of portals and raping villages in the night, or perhaps this really was the very last of the last, and for once, all could rest easily at night.
Or rather, tensions would have escalated, had the breaching teams not found the occupant of the cockpit area just before the structure-sweep came back negative for hostile organisms.
With one hand curled into a defiant fist, Booya's boot came down impatiently, the rest of his body laying shattered in a gravity couch wholly unsuited to human use, his voice harsh and croaky in the relieved silence.
"You...motherfuckers...shot...my goddamn ship down."
Posted by Canuck-Errant 'Robo-Canuck'

[ROBO-CANUCK] WELL, THAT WAS THRILLING. HOW LONG WERE WE IN SICKBAY?
[BOOYAH] Don't you have an internal clock? And why didn't they fix your voice already?
[ROBO-CANUCK] IT WENT OFFLINE WHEN YOU CUT THE FIBEROPTICS, JACKASS. AND I DON'T KNOW, THEY'RE PROBABLY JUST LAZY. OR IT'S NOT COVERED UNDER THE COE HEALTH PLAN, HA HA.
[BOOYAH] You still laugh like a cat in a garburator, too. Anyway, no hard feelings, right?
[ROBO-CANUCK] YOU'RE STILL A JACKASS, BUT NO HARD FEELINGS.

[SILENCE FOR 2M 05S]

[ROBO-CANUCK] YOU KNOW WHAT? HOW IS IT EVEN THOUGH WE SURVIVED FUCKING SPACE SQUID, MADE IT BACK FROM THE BRINK OF DEATH, STOLE AND PILOTED A RETICULAN UFO, AND MADE IT MORE-OR-LESS ALIVE ON EARTH, WE STILL DON'T GET ANY FUCKING RESPECT?
[BOOYAH] Huh. I didn't really think about that, but you're right.
[ROBO-CANUCK] DAMN STRAIGHT. AND WITH NO RETICULANS, THAT MEANS WE'RE OUT OF JOBS, RIGHT?
[BOOYAH] We're heroes of the Alien Wars! They can't fire us - we're symbols.
[ROBO-CANUCK] THEY CAN "RETIRE" US.
[BOOYAH] So? What are you saying?
[ROBO-CANUCK] WELL, THERE'S HARDLY ANYONE ON BASE ANYMORE SINCE EVERYONE'S BUSY WITH THE RECONSTRUCTION EFFORTS, RIGHT? AND BOTH OF US, BEING LOYAL SOLDIERS AND SHIT, HAVE ACCESS TO THE BASE ARMOURY, RIGHT? AND I KNOW PEOPLE IN- HOLD ON...

[STATIC FOR 15M 51S FROM ALL MICS IN RANGE]




[[SECURITY LOG DEC 25]]

0900 SECURITY DETAIL [SMITH, LEE] DETAILED TO PATROL BASE
1000 NO CHANGE
1100 NO CHANGE
1130 SECURITY DETAIL RETURNS TO MESS HALL FOR 15-MINUTE LUNCH
1134 SECURITY OVERRIDE ENTERRED
1134 SECURITY ALERT SYSTEM MANUALLY DEACTIVATED
1134 EMERGENCY KNOCK-OUT GAS SYSTEMS MANUALLY ACTIVATED SECTOR 7 [MESS HALL, BARRACKS]
1135 DOOR LOCKS DEACTIVATED ARMORY, VEHICLE BAY
1135 * WARNING! DOOR FAILURE ARMORY *
1137 * WARNING! DOOR DESTROYED ARMORY *
1145 HANGAR BAY DOOR LOCK DEACTIVATED
1147 HANGAR BAY DOOR OPENED
1200 *** INTER-FACILITY MESSAGE: MERRY CHRISTMAS ***
1200 VENTILATION SYSTEM REACTIVATED SECTOR 7
1209 SECURITY DETAIL REPORT: WEAPONS, CRAFT STOLEN; RADAR TRACKING IDENTIFYING ALL CRAFT AS "SANTA'S SLEIGH"
1213 SECURITY DETAIL REPORTS SCIENCE TEAM PERSONNEL AND COMBAT PERSONNEL UNACCOUNTED FOR IN ROLL CALL
1227 COMPLETE INVENTORY OF WEAPONS, EQUIPMENT AND PERSONNEL BEGINS
1307 PRELIMINARY REPORT SENT TO COUNCIL OF EARTH
> _