Part 117: My World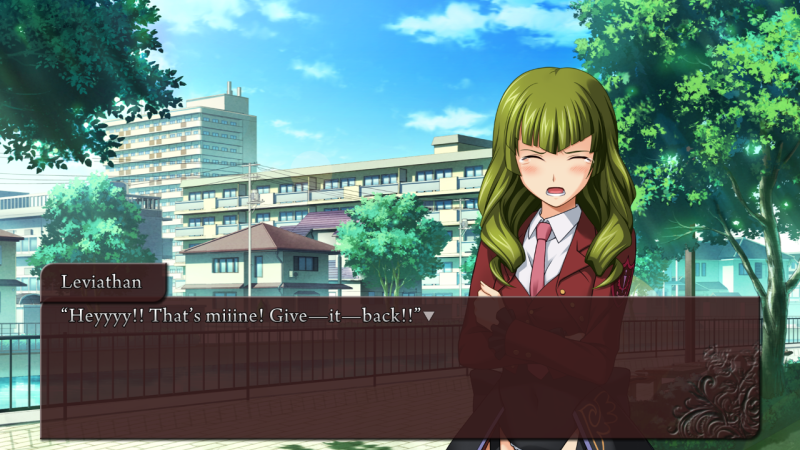 "No, no, I'll eat iiit! Asmo, Asmo, pass!"

"Kya-hahahaha! Over here, Levia onee-samaaa!"
I wonder where they swiped it from. They were fighting over a donut or something, playing around really loudly.

"HEY!! Ange-sama is reading, so can't you be a little more quiet?!"

"Yelling stuff like that makes you the loudest one, Satan! Be silent!! You foolish little sister!"

"Y-You're the loud one, Lucifer onee-sama!! I-Is there something you'd like to say to me?!"
I was already used to the oldest and the third oldest sister arguing with each other. Even though they're both so quick to anger, it's a bit funny how they're both having to hold back a little. They might be surprisingly like each other.

"*cackle*cackle* You were told to be noisy, but this is a bit too much. Should I make them lower the volume a little?"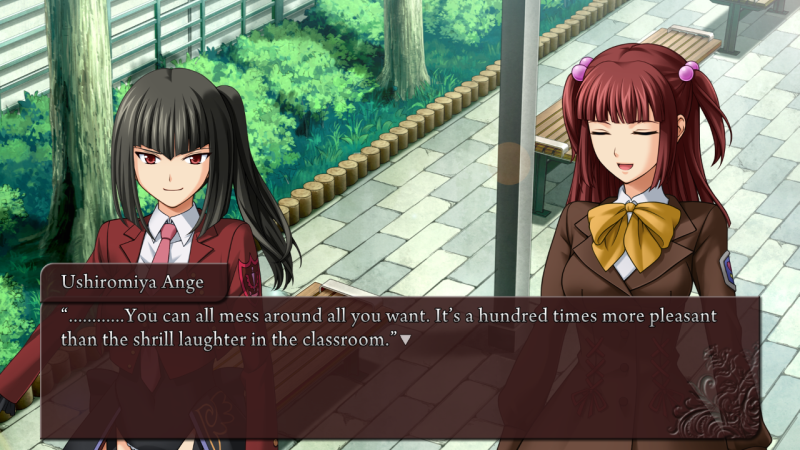 "Ange-samaa, go to the next page quickly! You read really sloow!"

"You like to read, Mammon? You looked like you'd be the worst at doing boring things."

"Mammon controls greed. That also includes a thirst for knowledge. Still, she wants to keep that knowledge all for herself, so be warned that she refuses to let people read any book you give her, and sometimes burns them after reading them."

"I like knowing things that no one else knows. I like being able to do things that no one else can do. So I like studying and practicing. Because I want to keep wisdom that no one else knows about all to myself."
As Mammon said that, her eyes sparkling, she peered down at the page that was open and read through it again. You could see the greed that made her covet that page even more thoroughly than I did.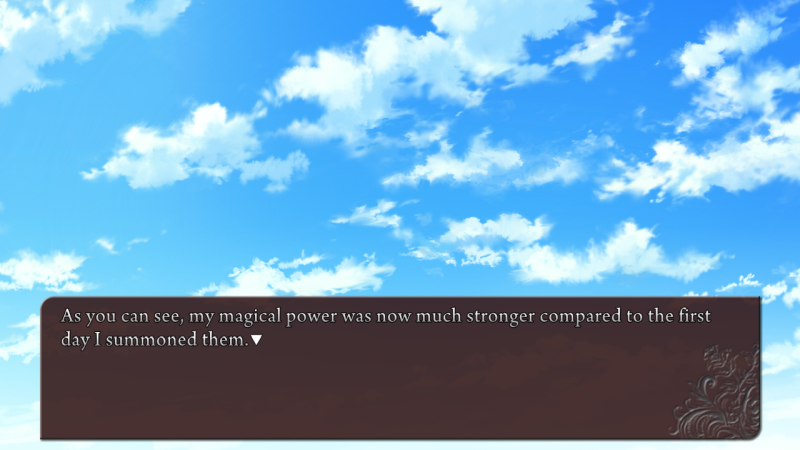 By now, I've gotten so that I can summon all of the Seven Sisters of Purgatory at once and still calmly read a book like this. This place, although I can't recall exactly where it is, is a quiet and calm street-side bench. I'd been young back then, so I don't remember the details of its location.
Still, I remember that my days walking here were a lot of fun. Together with Dad, Mom, and even Onii-chan, it was a memory of a very rare and very happy day when everyone had been together... The people who walked by every once in a while didn't notice me. They just pleasantly ignored me and passed by as though everything was normal. Even the Seven Sisters' incredible outfits weren't embarrassing or anything, because it wasn't like anyone was actually watching. Come to think of it, I'm getting pretty used to it. As long as they don't make me wear those.
I was sitting on a stylish bench, memorizing a timeline for world history. In an academy system where everything is based on collective responsibility, there's no tolerance for dunces. It seemed that I was considerably below the average grade for the class. According to those extremely intellectual girls, if I alone improved my grade, the average would rise drastically. They had been kind enough to show me with a graph drawn by colorful pens on a B4 sheet of drawing paper. Just thinking of the effort it had taken to draw that was repulsive.
But I've already spat out all those complaints. I've already voiced my constant and furious anger and sadness to these girls here. The Sisters were sometimes indignant, sometimes sympathetic, and sometimes mourned along with me. I was truly happy to be able to share emotions like that with friends.
It's said that they were originally furniture that existed to carry out Beatrice's cruel sacrifice ceremony. According to the occult message bottle I hated, it seems that several of them even attacked my family. But I don't believe that, and it's pointless to question them about it. They are furniture, so they only respond to their master's requests. Even if they really did attack my family, I can't hate them. What I really hated... was the Golden Witch, Beatrice. Or else that ringleader of the Ushiromiya Suspicion, Aunt Eva.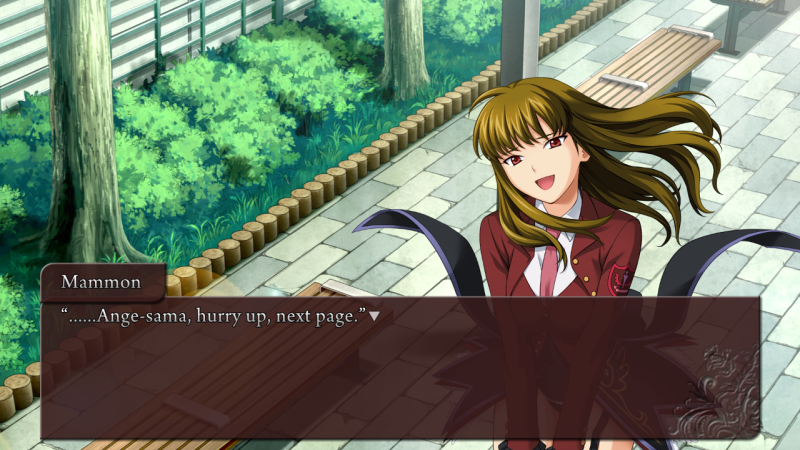 "Oh, sorry. I'm tired. Mind if I take a break?"

"Kyahaha! Ange-sama said break!"

"Let's play, let's play! Ange-sama, let's plaaay!!"
When they noticed that I had interrupted my studying, the most energetic youngest sisters gathered around me. And that wasn't all.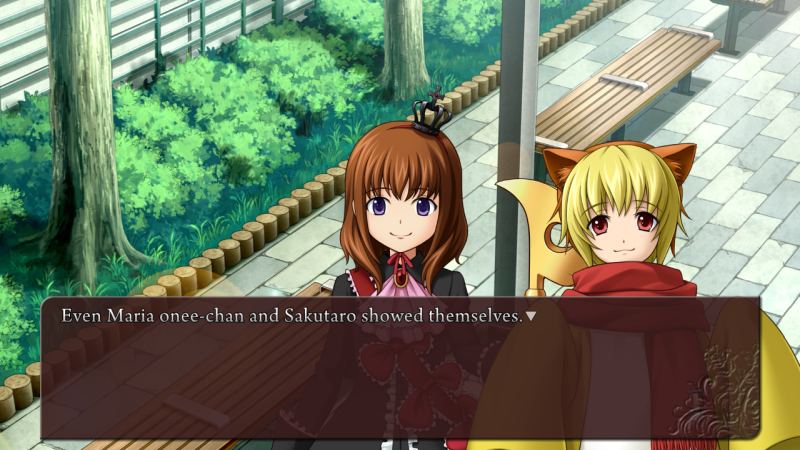 They had probably been very close by, but they must've hid themselves so that they wouldn't interrupt my studying.

'Uryu-! Ange! How's studying? How's studying?'

"Kyaaah!! Sakutaro-!! How are yooooouu?!"

"Wait a second! Let me squeeze him tooooooooooo!!"

"Don't we always say that the first one to get there wins?! Kyaa, cute, cute!"

'Ukyuu--, you're crushing meee! Uryuu--!'

"Your luck ran out when you showed up while all the Seven Sisters were gathered. Give up and let us hug you."

"Come on! It always turns out this way!! I apologize for my stupid older and younger sisters...!"

"Ahahahahaha. Sakutaro's happy to meet everyone, too. How's it going, Ange? How's the studying going?"

"Thanks. Well, not bad. They were nice enough to pass around printouts from a quiz that another class took earlier. Their beautiful sense of solidarity is enough to bring tears to my eyes. Well, at least it's probably better to put a timeline into my head."

'Uryu. You sure are good at studying, Ange. You'll be able to get a lot of points, uryu-.'

"Good work. I was terrible at studying, so I'm jealous of you for being able to get a good score when you study hard."

"You're joking. When it comes to English, Latin, and knowledge of the occult, you're much more amazing for being able to remember so much."

"I can remember anything when studying magic, but I can't remember anything boring. So that didn't help at all for tests."

"Well, it's true that occult knowledge would be like that, but your grades must've been pretty good in English, right?"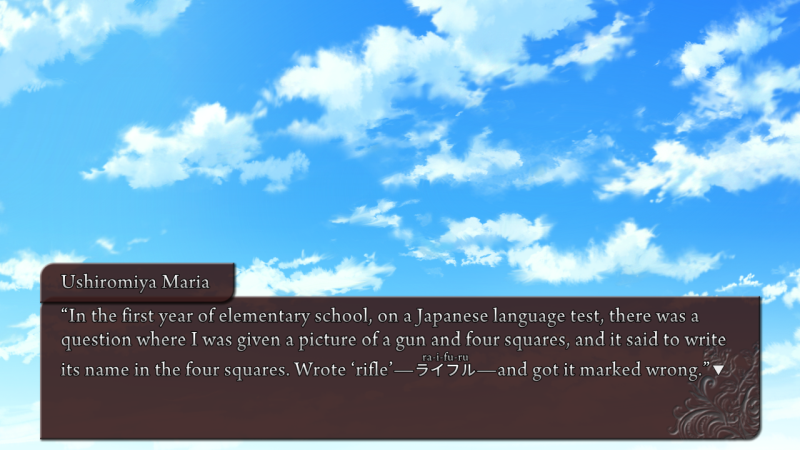 "Why? Doesn't that fit?"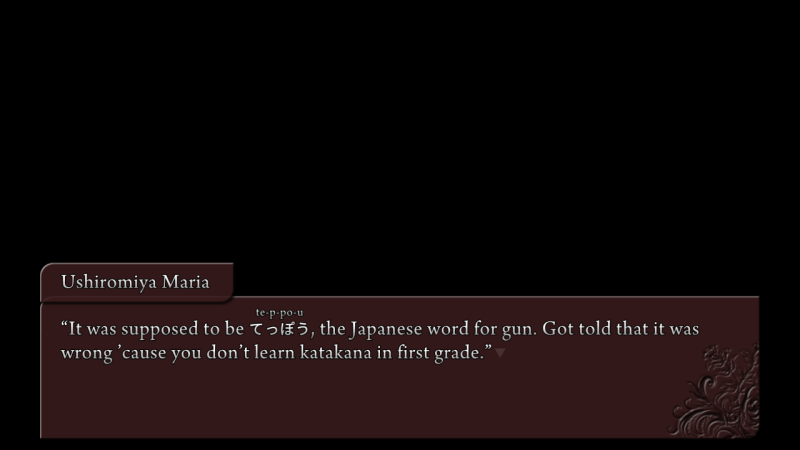 "...I didn't really get it, so from that day on, on tests, I wrote everything in hiragana. But I got in trouble with Mama for some reason. Got in trouble with the teachers too."

"...You were probably born in the wrong country, Onee-chan."

"Then I'd rather have been born in a country of witches, so I could enter a witch school. Uu-."

'If that happened, you might've had much, much more wonderful magical friends! Uryu-!'

"Uu-♪ But it's not like I mind it now. After all, I can use lots of magic, and I've got a lot of magic friends. Sakutaro is all I need."

'I'm not the only one! There's also Sakusuke and Sakukichi, the animal band, Shimoda-kun the seal, Sanae-san the rabbit, Mr Pig-kun, and plenty more!'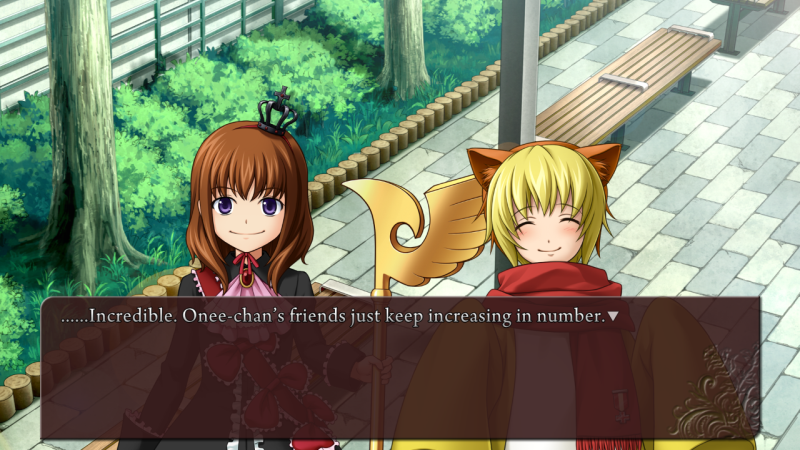 Every time I ask, the number of names for her friends grows. But there's no doubt that Sakutaro is her best friend. I'm a little jealous of all those close friends.

"...What do you think? How are the Seven Sisters? Do you get along with them?"

"Those sisters are really energetic. They sometimes say shady stuff, but they aren't bad. I'd wanted to get a cute kid like Sakutaro, but I think being with them now is more than enough."

"*giggle* If you learn more of my Magic of Origins, I'm sure you'll be able to give birth to friends you'll like, Ange. Creation is still a bit too hard for you now."

"There's a difference between creation and summoning... And, resurrection is also different."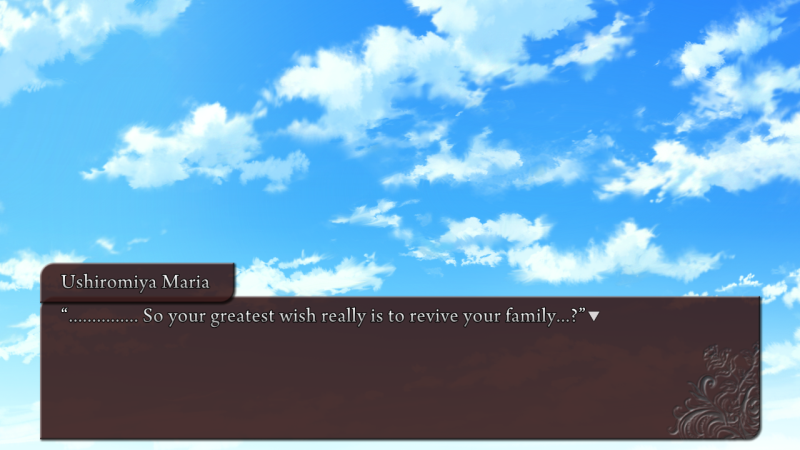 "Yes. I have a vessel for it. This."

"That's right. I'm sure that hair accessory will eventually become the key to summoning Battler. The rest is up to your training, Ange."

"Although not knowing how long it'll take is enough to make me cry."

'Uryu... Stay strong, even if it's tough... If you don't give up, Ange, it will definitely, definitely come true someday...'

"If someone gave me some proof that it'd definitely be granted, at least that would calm my heart."

'Uryu! Then I guarantee it! Without a doubt, Ange will surely have her wish granted someday!'

"...Thanks. I'm glad to hear it, even if you're just saying it to console me."

'It's not like that, uryu-.'

"Stop it, Ange. That kind of emotion will turn into the magic-resisting toxin. The feeling that your dreams will definitely come true is the best seed that buds into magic power."

"...That's right, sorry, Teacher."

"You need to be a bit greedier, Ange-sama. Go however far it takes to get the thing you desire! You're lacking the willpower to never give up until you get it!"

'Uryu-! That isn't true, Ange's doing her best...!'

"Thanks, Sakutaro, Mammon. Crying about it won't help anything. There's nothing I can do except hang in there. I'll try hard. I'll grit my teeth. I'll definitely make my dreams come true. With certainty."

'Uryu! You're awesome, Ange, do your best! Mammon and I will support you!'

"Yes, we'll support you. The greedier our master is, the more our worth will increase."

"More importantly, Ange-samaa! We've finally got 10 people gathered heeere!"

"We planned to have everyone play
shiritori
or something!"

"If you lose, there's a punishment game! Let me nibble your eeears!"

"Come on, is hunger the only thing inside that head of yours?!"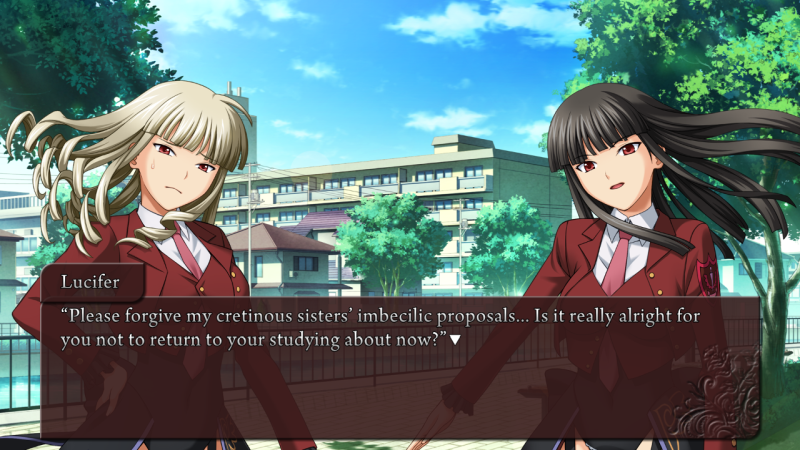 "No, no, nooooooo!! I waited so long for you to finish studying, so I can't stand it if you don't play with us!"

"I don't think it's a bad idea. Perhaps playing every once in a while is good for softening the mind."

"...You govern Sloth, right, Belpha? What you're saying sounds reasonable, but you're actually being sneaky, aren't you?"

"Hmph. My apologies. You are diligent, Ange-sama."

"If it's okay with Ange, I'd also like to play with everyone. Let's make some noise. It'll definitely be fun."

'Uryu-! Ange, Ange, let's play, let's play! Let's all do shiritori!'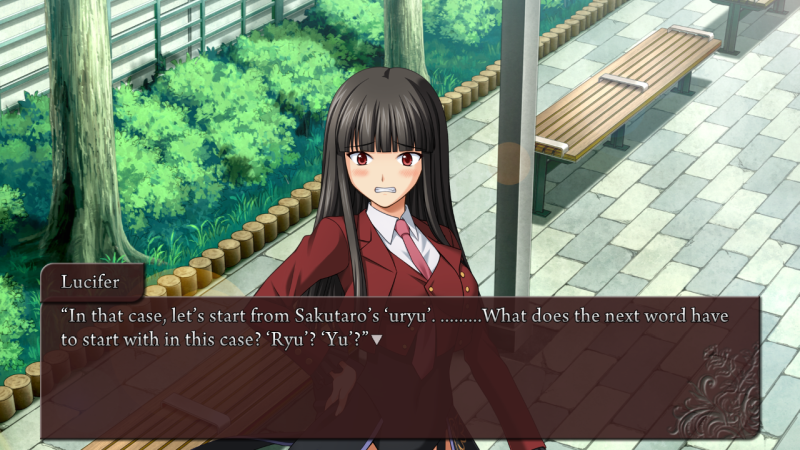 BGM: HANE

"From 'uryu-'? I wonder. Maybe it really should be 'ryu'?"

"...It's rare for a word that ends like that to come up."

"Then I'm first!! I'll do a word starting with 'ryu'! Ryuuzu (watch crown)!"
"I wanted to go first! 'Ryuuto' (lute) would've been wonderful!"

"'Zu'? Feels like we keep getting tough ones. Wait a sec, what order are we going in? Who's next?"

'Uryu. I don't think it matters who. Whoever thinks of a matching word first.'

"What's that? Sounds interesting. How about the person who can say the most wins? It's fast-talking shiritori!"

"Then I'll go! 'Zucchini'! 'Ninniku itame' (garlic stir-fry)! 'Mekabu with pasta'! All of them delicious! Kyaha, I said three of them!"

"Belz takes three points. Can you use conjunctions?"

"If you could use 'with', then anything would work!! That last one doesn't count! Minus one point!! Let's start from 'me'."

"Then I'll go. 'Meringue'-!"

''Ge'?? ...U-U-Uryu-!'

"'Gesuidou' (Drainage system), 'umetatechi' (reclaimed land), 'chikashitsu' (basement). How'd you like them apples?"

"Onee-sama, those are all pretty crummy words, *giggle*!"

"S-So what? Then why don't you try following up with something refined!! Anyway, that's three points for me. The next one's 'tsu', okay, 'tsu'!"

"I've never played such a weird shiritori before. Uu-uu-! It's fun!"

'Uryu-! I don't get it at all, but it's fun. Uryu-!'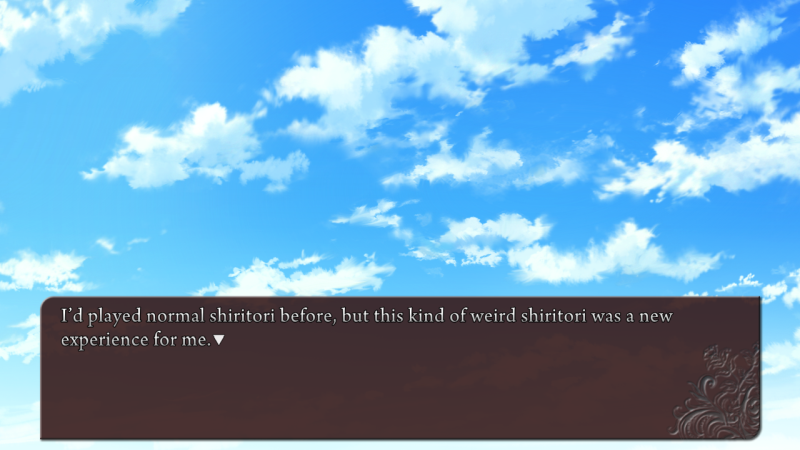 There's only the lively Seven Sisters, Maria onee-chan, Sakutaro, and me. I'm now surrounded by friends that are so fun to be with. The courage to accept a world of magic, a world of witches... That alone didn't change the fact that I was still locked up in an academy, without a single friend in my class. But despite that, I'm able to have such a fun and lively time.
...I'll also become a witch, like Maria onee-chan. And someday, I'll add my family to this fun circle. Dad, Mom. And Onii-chan. And if possible, George onii-chan and Jessica onee-chan. And the other relatives. I'll call everyone, everyone here without a single person missing, and we'll all gather together.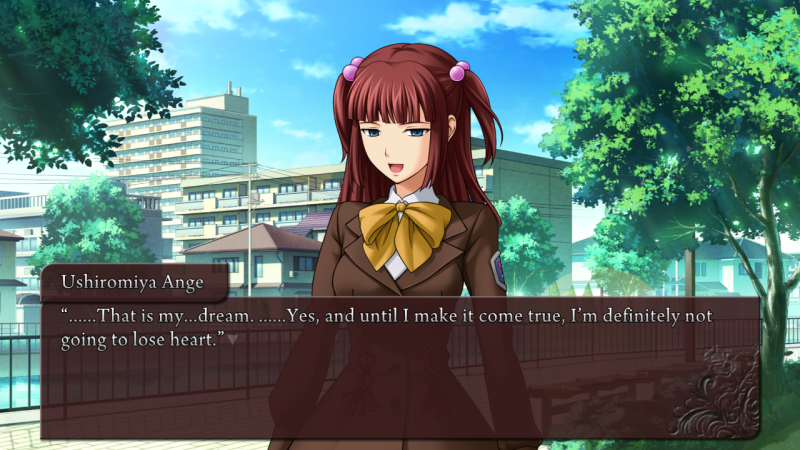 "I'm sure you'll become a Great Witch, Ange-sama. As long as you believe in that. We Seven Stakes of Purgatory will always serve by your side until that day comes."

"You'll be there for me...? No matter how long, you'll lend me your strength?"
"Of course. After all, I'm your friend. Right, Ange-sama?"

"...Yes, that's right. Let's all stick together and play together. Today, and in the future, always, always."

"Until the day your dream comes true, Ange-sama."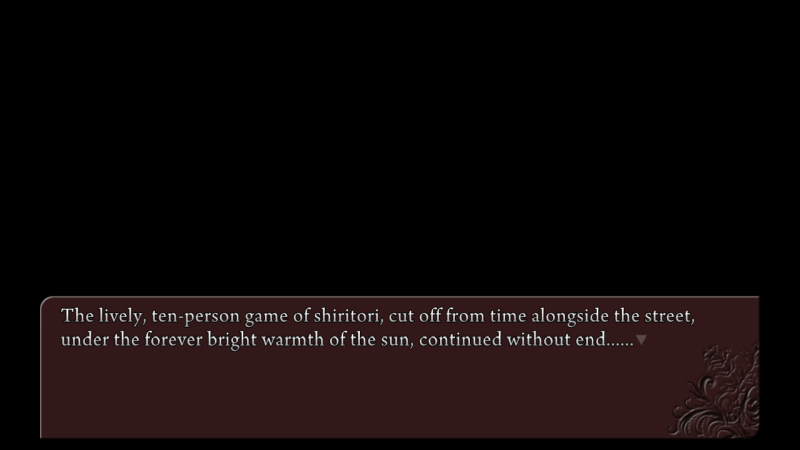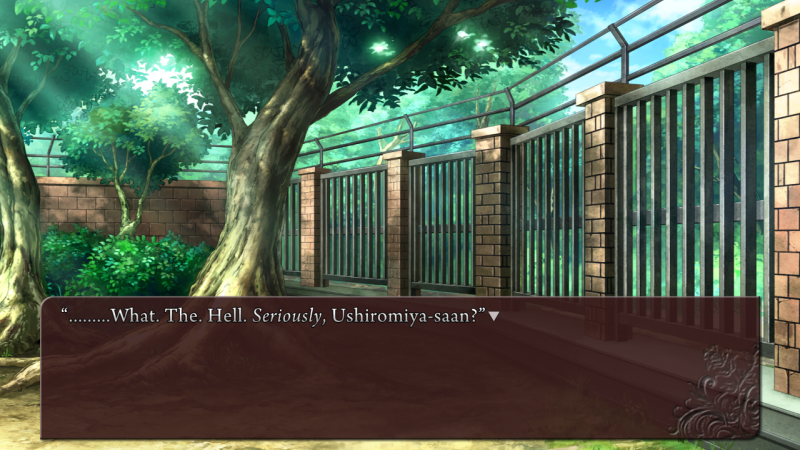 BGM: Fortitude

"..."
...In the end, I wasn't able to get a very good grade on my test. I tried memorizing things in my own way, but if you could manage anything by cramming the night before a test, no one would ever worry about tests.

"Normally, when you know the problems beforehand, you should be able to pass easily, right? Easily!"

"It's true that we didn't go so far as to write the answers into the blanks for you. We thought you'd studied at least that much."

"What the hell? Come on, are you serious? I can't believe it! They're almost all wrong, aren't they? Did you really study properly?!"

"...More or less..."

"This isn't what you call more or less, Ushiromiya-san. It's so horrible that it makes me dizzy, okay?"

"Oh, God. Please forgive her for getting a miserable grade on such an easy test... and for making the average score for the entire class plummet...!"

"*giggle*giggle*giggle*, *cackle*cackle*cackle*, ahahahahahahaha."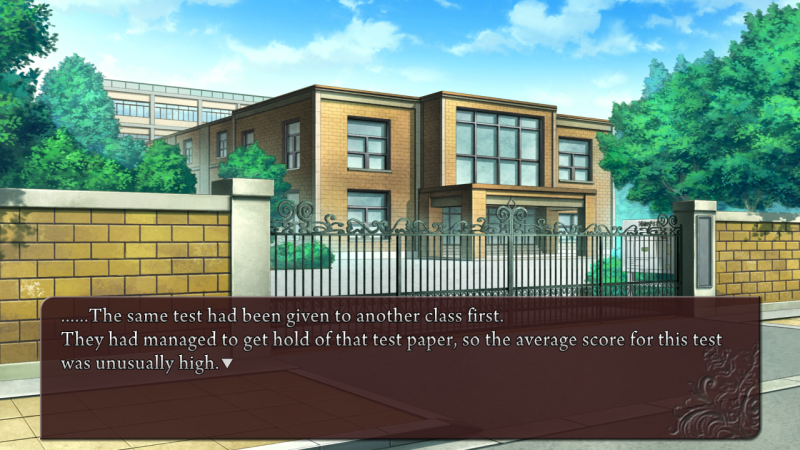 Enough to obscure my slight improvement. However, there were some things I had no excuse for. If I'd spent that entire day studying like mad, I might've been able to get a slightly higher score. But I hadn't gone that far.
After that on that day, I spent the whole time having fun playing shiritori with the Seven Sisters, Sakutaro and Onee-chan. As expected, the winner had been Maria onee-chan. She was a strong player thanks to her wide knowledge of trivia. Sakutaro had gotten the punishment game. He spent the whole time cheering for everyone else's answers, completely forgotting to think of any himself. Because of that, he'd been squished by the Seven Sisters and had his ears thoroughly nibbled, hadn't he?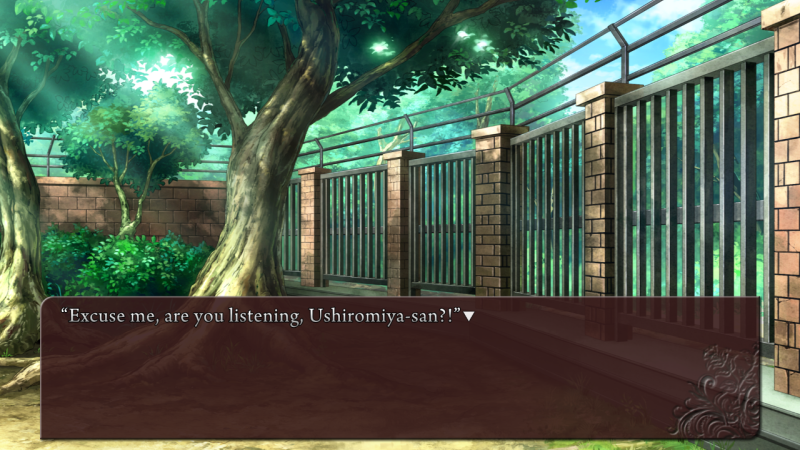 "..."
They were surrounding me, twittering like small birds. They were annoying, smelly. On the outside of that circle was Mammon, an exasperated expression on her face...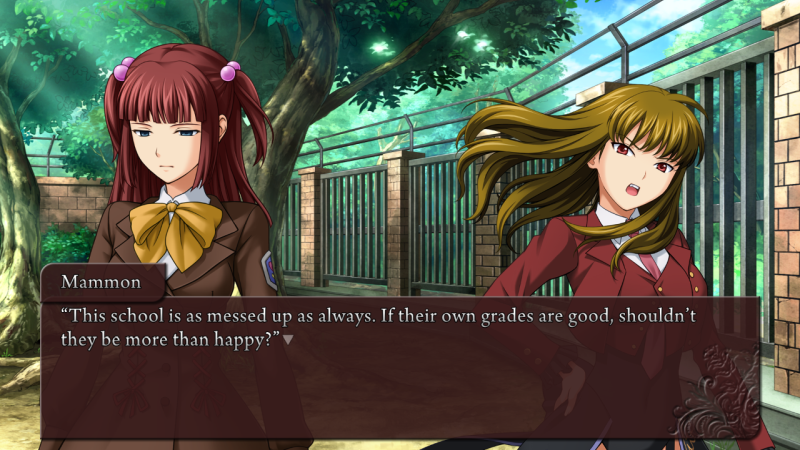 "...It's probably because of that collective responsibility thing. Instead of worrying about their own grades, they're more concerned about how embarrassing it is for the class average to be low. Or maybe it's because they really hate the volunteer work they're forced to do as punishment."

"So in other words, they aren't studying because they want their grades to be good, but because of collective responsibility and since they hate volunteer work?"

"...They're jealous and embarrassed. They don't want to be inferior to anyone, and they don't want to be humiliated. That's the only feeling that drives them to study."

"What noisy people. If they want to study, why can't they just do it themselves?"

"In the end, without collective responsibility and volunteer work, they'd have no desire to study. How foolish it is to study without knowing the meaning of studying."

"Still, these guys really are annoying and stupid! Don't you dare disturb Ange-sama's precious day for even a minute!"

"Waaah, I hate those people!! Just get lost!!"

"I'm hungryyyyyy!! Go away noooooow, waaaah!!"

"...Sorry, everyone. I wonder why Humans are so shameful."

"It's probably because, instead of working hard themselves, it's easier to make you work hard and earn them a higher class average to satisfy their greed. Humans are all greedy. And they'll burden others with their greed to make things easier for themselves."

"...We'll eventually be reunited with them on the mountain of Purgatory. When they get to the fifth terrace, they'd better watch their step..."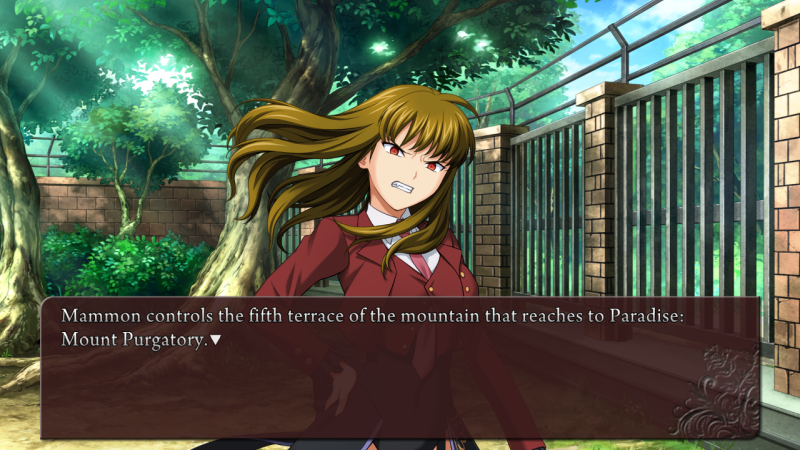 ...Since she's saying this, you can probably be sure that after those girls die, their journey to heaven won't be an easy one. No, on the contrary, let them just fall into hell.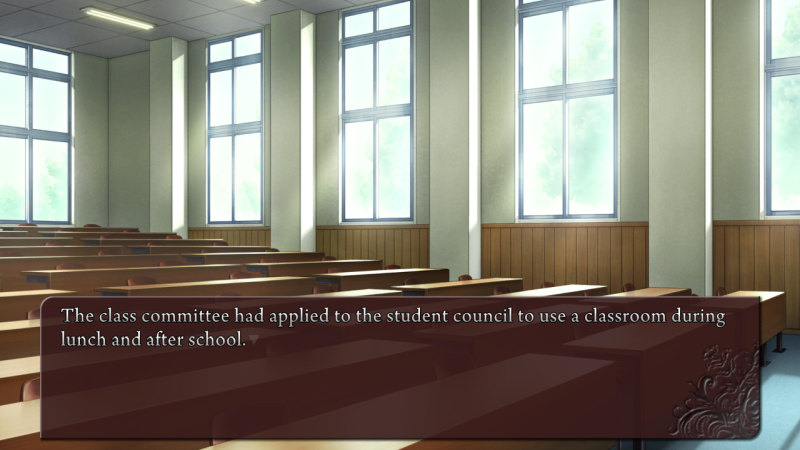 BGM: Mystic Forest
The purpose of use was for a class study group. A wonderful little gathering so that they could all surround me and make me study. I'm so grateful I could cry. Which meant that every day, all of my lunch and three hours of my afternoon would be stolen. The academy and its student council, with its theme of student self-government, instantly approved of this pleasant activity that the students were taking up of their own initiative... In other words, I was no longer able to escape after school by leaving the classroom...
After school, the first class study group meeting started right away. Would they open a textbook, then kindly and carefully explain so that even I could understand it? Of course it didn't turn out like such a naive illusion. After school in the classroom, dozens of my classmates crowded around my desk.
First, before we started studying... Why were my grades so bad? What was the reason? It was decided that we couldn't start until I could clearly answer those questions, become aware of the problem, and show regret for my actions. Of course, there's no way for me to respond when asked a question like that. They've loathed me all this time. And they've rejected me and kept me at a distance, preventing me from joining in on their community. So, I've avoided their community myself. There shouldn't have been any conflict for either of us that way. So even in this group that was enthusiastic about raising the class average, they obviously kept me at a distance. Even if I tried to join in, they would probably ignore me, like they always did in the past.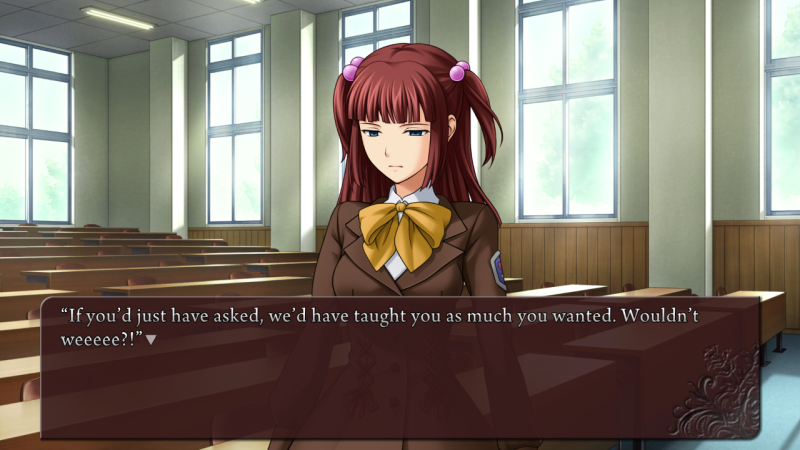 """Riiiiiiiigght!!!"""
They were getting themselves all worked up. I've already had enough of the hypocrisy of their tacked-on excuses.

"Ushiromiya-san, your problem is that you're lacking a cooperative personality. You mustn't be satisfied as long as everything's good for you alone."

"Those who gather in Saint Lucia's place of learning shall have a cooperative heart. It's written right there in the student handbook, right?"

"I think having a cooperative heart is what gives birth to the desire to study together and contribute to the entire class. I believe that itself is the thing you lack before you even start studying, Ushiromiya-san, but what do you say?!"

"Heeey, have you even been listening to us?! We went to all the trouble of staying after school to say this
for your sake
, right?!"
...I'm so grateful I could cry. Of course, they didn't like that. 'This way, it almost makes it look like we're bullying you', they reprimanded me. Fortunately, I'm normally all cried out anyway. If I'm told not to cry, I can hold it back.
First, I was made to write a letter of remorse and read it out loud. Of course, this was to be done by today. The class committee politely applied to the student council and the staff room for an extension on the use of this classroom. It seems it was accepted right away. Which means that starting now, I'll be forced into self-criticism for at least a full five hours here...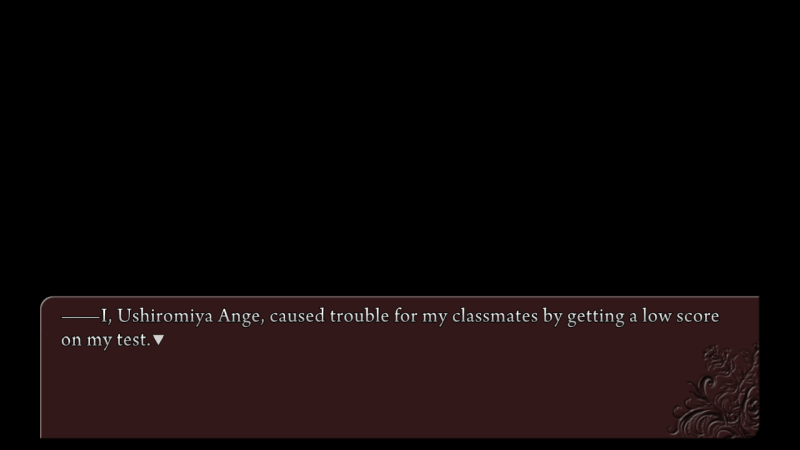 "That's not it, riiight?!?!"

"You getting low grades and causing us trouble isn't the root of the problem, is it?!"

"It's a cooperative attitude, right? A cooperative attitude!!"

"Come ooon!! Why do we even have to direct Ushiromiya-san on how to write a letter of regret?!"
Their abusive jeers flew about one after another. I followed their 'directions' and erased it.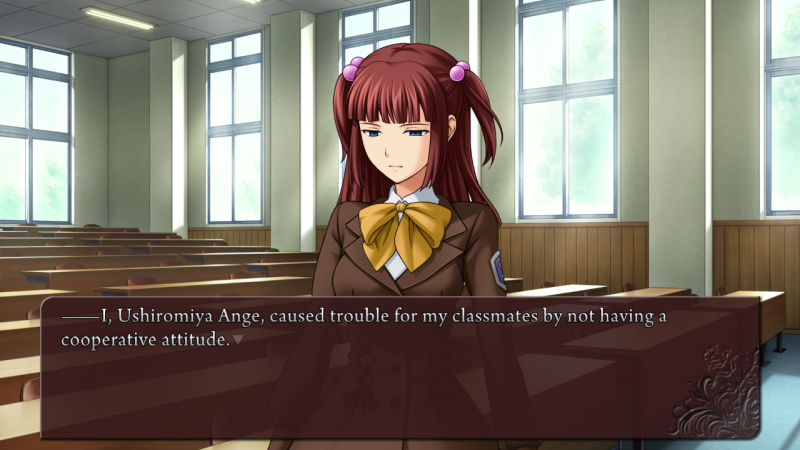 "Hey, wait a sec, it's pointless if you just write whatever we say, right?!"

"Do you really know what 'regret' means?!"

"It's pointless if you don't write it in your own words, pointless!"

"I always thought you were a bit strange, Ushiromiya-san, but you really are weird! *giggle*giggle*giggle*!"
Even following their directions didn't change the jeers much, and now it felt like they were mocking me even more... So for several more hours, without rest, without even being allowed to go to the bathroom, much less dinner, I was continuously abused... I was coerced into writing a paragraph that humiliated myself...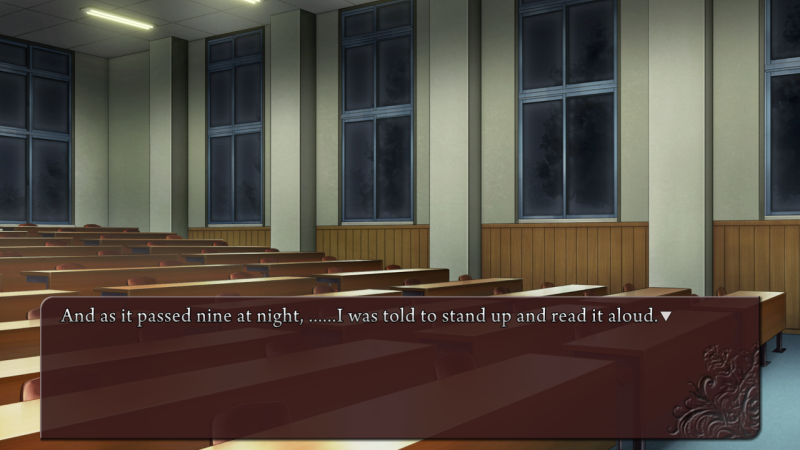 The contents... were smeared black with tears and eraser marks. It certainly was my handwriting, but it was like a list of soulless letters, whose contents I couldn't even remember. Everything had been copied down according to their orders. So while I had been the one to write the letters, they weren't my words. I'd been coerced into writing them down... and even coerced into reading them aloud.
...Even after all this time, I was surprised to learn that, beyond just ignoring people and hiding their things, there are other ways to bully people...

"Heey! Read it aloud quickly!!"

"Look how many people are staying this late just for you, Ushiromiya-san. Why not thank us a little?"

"Isn't the fact that she doesn't feel gratitude a sign that she doesn't have a scrap of a cooperative attitude?"

"It's okay, Ushiromiya-san. We'll always be with you from now on. Why not study with us and remake yourself? Okay?"