Part 134: The Next Head II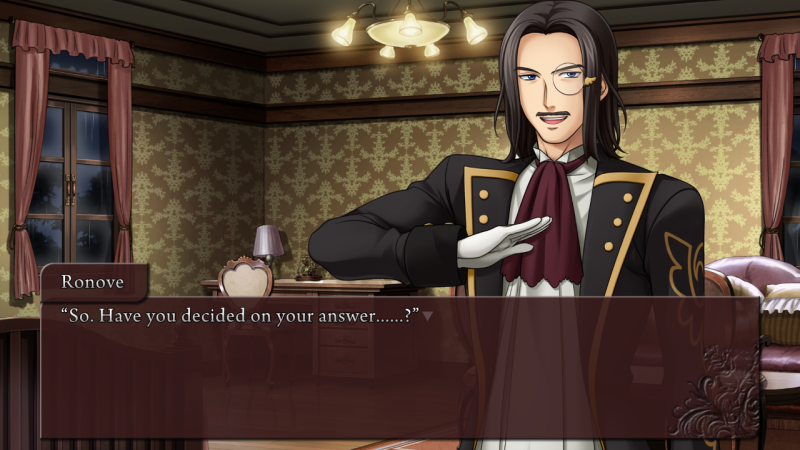 "..."
As Jessica stared at the letter that had been crushed and lay on the floor, she hung her head in constant silence. All that filled the room was the stir from wind and rain shaking the treetops. Regardless of how noisy that was, it actually made the stillness more apparent. Ronove waited for Jessica's answer.
...However, Jessica didn't answer. Whether she was lost in deep thought or had stopped thinking, Ronove couldn't tell. No, he might actually have known. But cruelly, like a demon, Ronove urged Jessica to voice it.

"...If you cannot choose any, I can at least bring you peace without pain, but..."

"...me."

"...Yes? I had trouble hearing. Could you say it again please...?"
Jessica lifted her face... and looked straight into Ronove's eyes. It seemed that she had decided on her answer.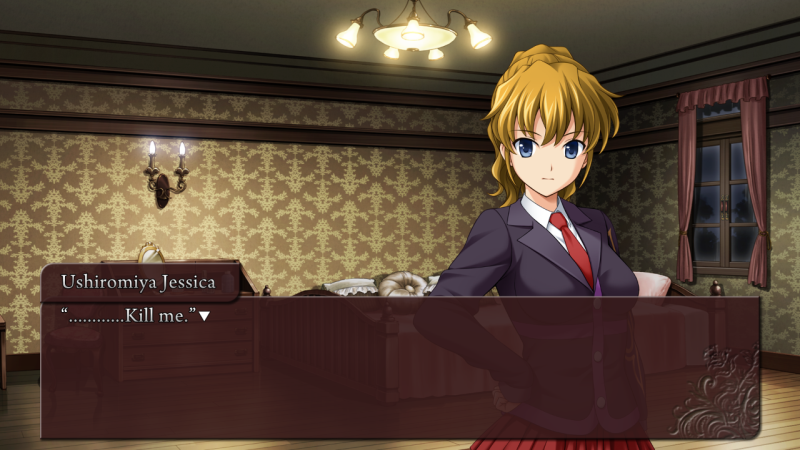 BGM: Moon
Jessica said it one more time, clearly. Perhaps Ronove had imagined that this would be her answer from the very beginning. Without any surprise, he smiled lightly and nodded.

"...I thought you would choose that answer, Jessica-sama. Well then, there is no right or wrong answer to this test. The essential part is what thoughts led you to that answer. Come now. Please answer with a fitting attitude for the Successor."

"...It's not like I chose the first one 'cause I wanna die. The second one was letting Kanon-kun die. Of course, that was out of the question. So I excluded it. The third one was everyone else's lives. Of course, that was also out of the question. So I excluded it. After that, only the first choice remained."

"Process of elimination, is it? So, it was not something you chose proactively..."
After chuckling slightly, Ronove dropped his gaze. A Human couldn't even imagine what answer a demon would have been expecting. All she could understand was that this was apparently slightly below Ronove's expectations.

"...That answer is neither bad nor good. 60 percent, I believe you could call it. I'm a little disappointed."

"You're a pretty selfish bastard, telling me to answer with self-confidence and then being disappointed when I do."

"...Apparently there was more to it than process of elimination. It's a failing grade either way, but there seems to be a little more to your thoughts. Allow me to ask."

"People don't want to die. So no one would want to choose the first option. People want to live in happiness... and struggle as much as life will let them. So normally, the first choice should be impossible from the beginning."

"...However, you took that first choice. You chose to throw away your own life. Only that choice remained for you."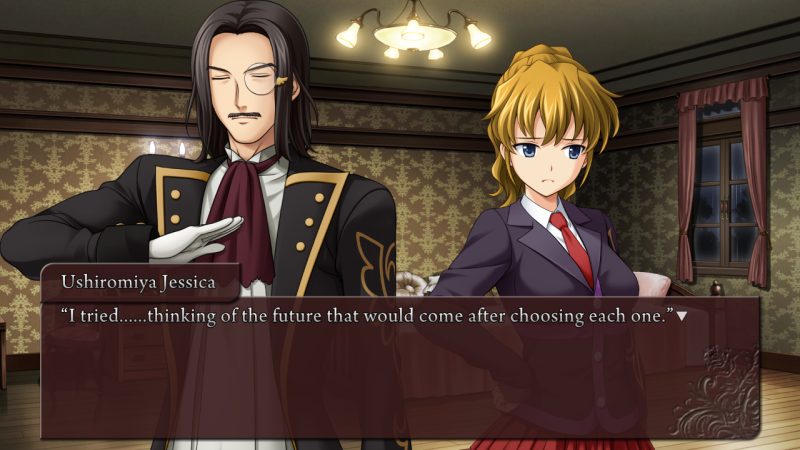 "...Hoh. And what did you see...?"

"First, I tried letting Kanon-kun die. I tried to imagine the rest of my life after having abandoned the one I love."

"What kind of life was it...?"

"It was a horrible woman, who didn't deserve to live. A shabby woman who always lamented her own decision and lived only to regret. I could never forgive a horrible woman who'd choose to live and abandon the person she loved. I put an end to her myself."

"Heheh, how brave. So, did you also consider the third option?"

"...Yeah. I tried letting everyone but me and Kanon-kun die. There's no way Kanon-kun would like me if I did that."

"So again, even with Kanon-kun, I was forced to bear the cross of abandoning so many people. And even Kanon-kun was forced to bear it."

"...I'm not gonna make a foolish choice that leaves Kanon-kun bearing that cross. I wouldn't be able to forgive a future me who did something like that. I put an end to that woman myself too."
Jessica had pictured it in her mind. The future her beyond each of the three choices. There were three Jessicas. Of the three, two had regrets. Only one could hold her head high and smile at Kanon.

"...You know, I once had the nerve to preach something to Kanon-kun. Something about trying to live life to the fullest."

"Live your life to the fullest. Meaningful words. And a surprisingly difficult thing to do."

"So yeah. I've gotta stand proud and show Kanon-kun. Show him how to live by holding your head high and looking straight at the sun, with a full smile."

"...Will Kanon be able to accept your self-sacrifice? Haven't you thought that your selfish decision might hurt him more than is necessary...?"

"That's why... I want to leave a message..."

"Hoh. I will listen, but I am after all a demon. I may not keep my promises, you see?"

"...Keep it! Your promise!"
Jessica spoke that looking quite unconcerned. She had asked the demon who was about to take her life to pass on a message, and she didn't think at all that she would be betrayed. At that extremely innocent smile, Ronove closed his eyes lightly and shrugged his shoulders.

"Hmph... I see nothing wrong with that. So? What shall I tell him...?"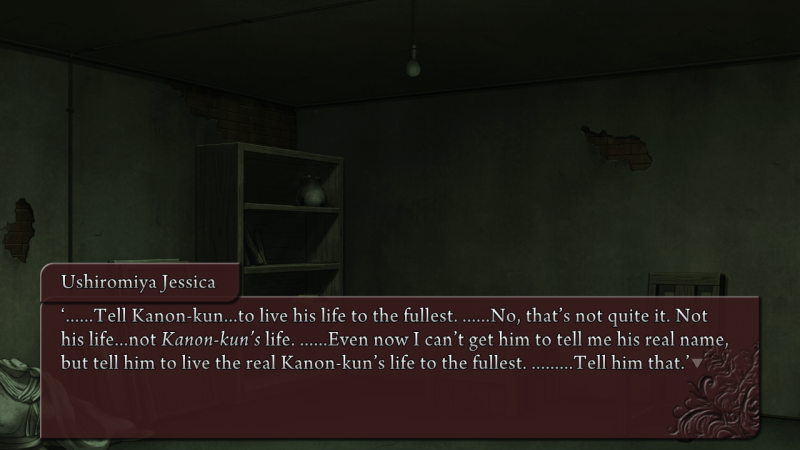 "...Mi...lady..."

"...Jessica, you really are..."

"Ronove is fickle, so he might not have passed the message on. You certainly are fortunate to have me here showing you this scene."
A musty three-sided mirror was set beyond the bars, and the scene with Jessica was reflected on it. On the next mirror, the scene with George was reflected in the same way. None of them questioned how a three-sided mirror had appeared from a group of butterflies, nor did they wonder why these scenes with Jessica and George were reflected on it. Because the reflected scenes themselves were more important.

"...Are you so prepared... to throw your life away... for his sake...?"

"...My... apologies..."
Krauss looked at Kanon with a complicated expression mixed in with a bitter smile. Kanon wouldn't meet his eyes.

"...Virgilia-sama, there is no reason for Milady to throw away her life. Please kill me. Please change it to the second choice. That way, everything should resolve itself."

"Hohhohohohohoho... I am not capable of granting that wish. After all, this is Jessica's own decision, which she herself chose."
At that time, suddenly, the air split and the Chiester Sisters appeared, flying into Virgilia's chest.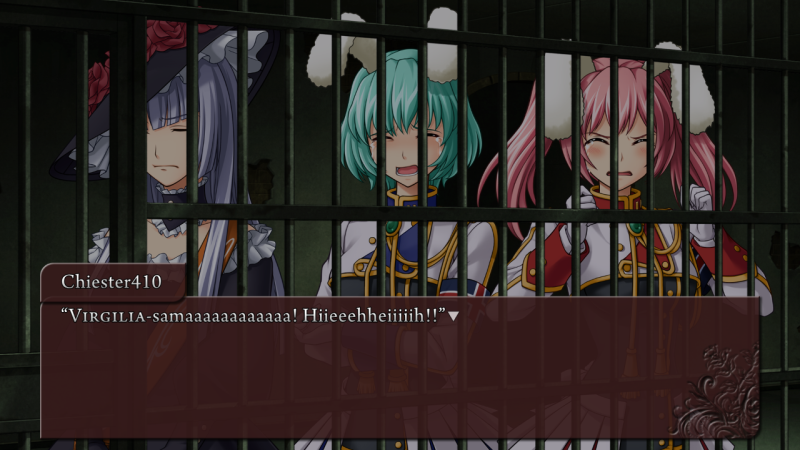 "So mean, so mean, Lord Goldsmith is so meeeeeeeeaan, waaaaaaaaahhhh!"

"I'm... doing the best I can... Crushing me for animal fodder, that's just too much. Uuuuuuuuuuuuuu!!"
Virgilia, who still didn't have a clue what was going on, was mobbed by the sobbing Chiester Sisters.

"Th-There, there. Everything's all right, don't cry... I'll make you some delicious tea..."

"...I'm leaving it up to you all to guard this place. If they do anything suspicious, inform me immediately...!"
The goat attendants all faced each other, nodding their heads. Virgilia took the Chiester Sisters and left. The sound of them going up stairs could be heard, so they had probably gone to an upper floor.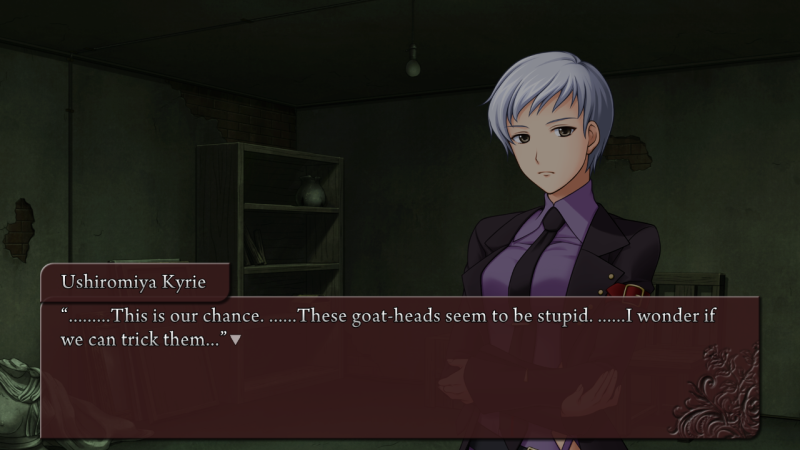 Kyrie realized that an opportunity had arrived, but even so, she hadn't thought of a way to break the metal bars...
The Jessica reflected on the three-sided mirror had her eyes closed, as though in contemplation. The way she had both hands stuck into her pockets, wanting to be defiant until the very end, might have been her own aesthetic stance.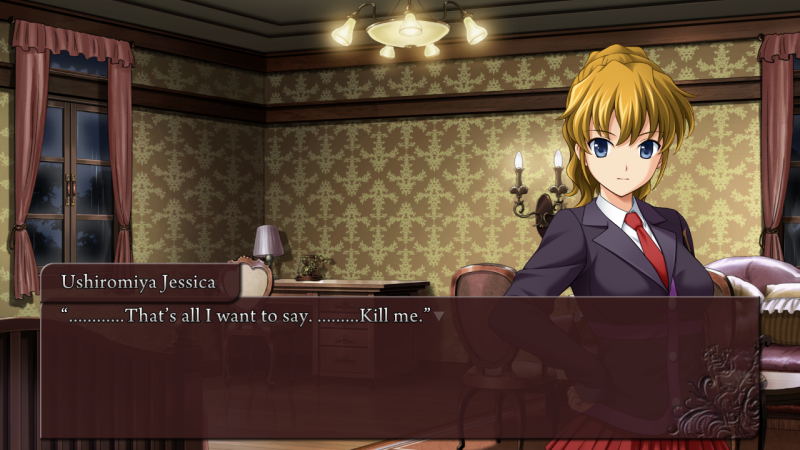 "...Understood. Well then, fear not, for I shall make your death more gentle and merciful than any sleep."
As Ronove raised his palm, he slowly approached Jessica...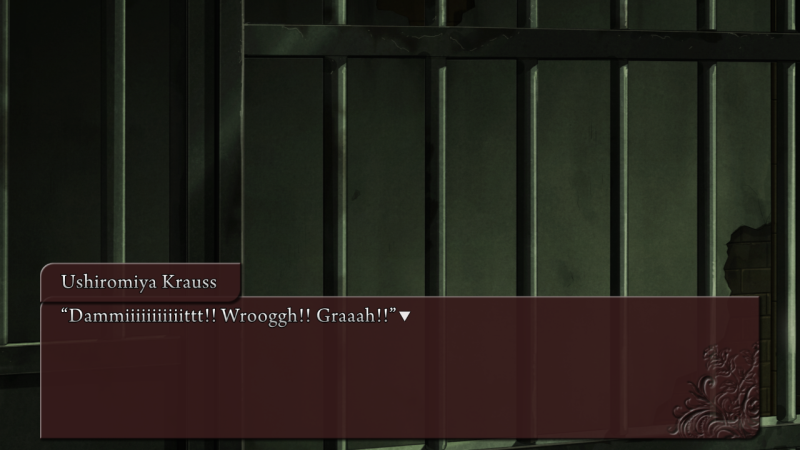 Realizing that his daughter was about to be killed, Krauss went half-mad and repeatedly body-slammed the metal bars. The goats looked like they were sneering at how a mere Human didn't stand a chance at breaking those bars. Krauss's pointless efforts certainly may have been comical. But Krauss was giving it everything he had. He was now living with all he had as Jessica's father, so that he could save her.
...Kanon made tight fists with both hands. If he used his cursed power, he might be able to cut through even metal bars. But there were a full three goats. There was no way he could defeat three of them in an instant. It would instantly be reported, and then even Virgilia and the Chiester Sisters would probably dash in. Even if he could break the bars, that would be the end of it. It was useless. Kanon already knew that the witch sneered at useless efforts like that, so he could do nothing but stare at Krauss's repeated body-slams...

"...Ah, George-sama..."
Shannon, who had been looking at the three-sided mirror, raised her voice. When they looked, they could see George, who had been silent the whole time, lift his face. It seemed that George had also decided on an answer...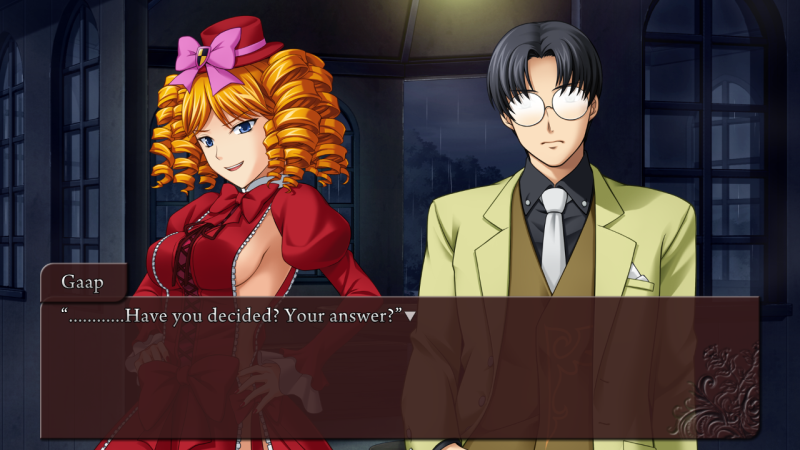 "Yeah. I've decided."

"Is it an unwavering answer...?"

"Yeah. It's unwavering."

"Then let me hear it. Oh, by the way, it seems Jessica decided to take the 'your life' option. Surely, such an indecisive person as you isn't going to choose the same answer, right...?"

"...Jessica gave her own answer. No matter which choice that was, it was Jessica's answer. It doesn't influence my answer in any way."

"I see. Then let me ask again. Among the three mentioned below, in order to gain two, sacrifice one. 1. Your life. 2. Shannon's life. 3. Everyone else's lives. Which one will you choose? Could it be the first one, like Jessica?"

"...Wrong."

"Oh...?"
Gaap looked a little surprised. Because she had thought this timid-looking man would obviously choose that option.

"...Very well then. I'm glad the most boring option for me has been removed. Then, as crazy as it sounds, could it be the second option? Can you abandon Shannon's life...?"

"...You must be joking. Why would I do that to the person I was going to give an engagement ring to tonight?"

"...How bold. Is that your answer...?"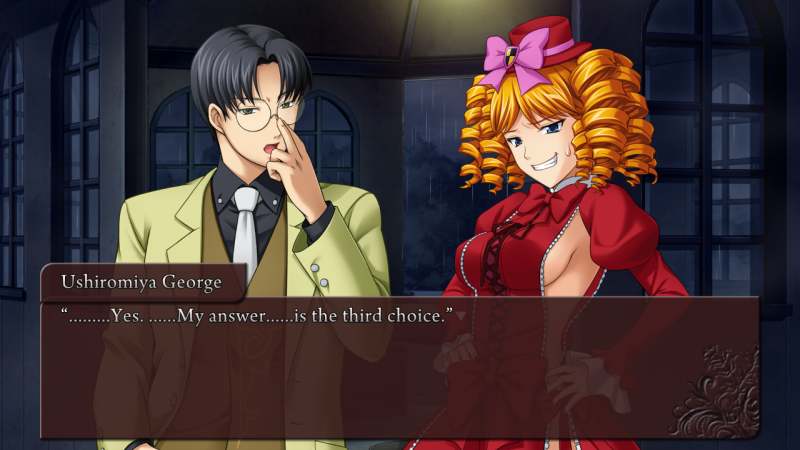 BGM: Rose
George took... the third option. 'Everyone else's... lives'.
Unsurprisingly, Gaap hadn't imagined that he'd give an answer like that. She had been sure that he'd choose the same one as Jessica... So, she was interested in how he had reached that answer. How he had reached an answer that had surpassed the imagination of the 33rd ranked of the 72 demons?

"I want you to tell me. I want you to tell me the circumstances that made it possible for you to sacrifice the lives of everyone else so that you and the fiancée you love would be safe. Did you use the process of elimination, like Jessica?"

"Wrong. I clearly have no choice except this one."

"...So, you don't care what happens, as long as it's good for you? So, you can sacrifice the world for the woman you love...?"

"What are you even talking about?"

"...What...?"
George faced the demon as he spoke, almost as though he was disgusted.

"...Tonight, I planned on calling Shannon right here and giving her this ring as proof of our engagement. There probably are quite a few people who wouldn't celebrate an engagement between me and Shannon. I was prepared to make enemies of the entire family by announcing my engagement to her."

"I have been prepared. Since the time I came to this island... no, that's not it. Since the time I confessed that I wanted to engage her."

"...So, you can sacrifice everything else as long as you can get married...?"

"Marriage means... continuing to be your wife's ally for your whole life. At that point, I was prepared to have the entire world as my enemy for her sake."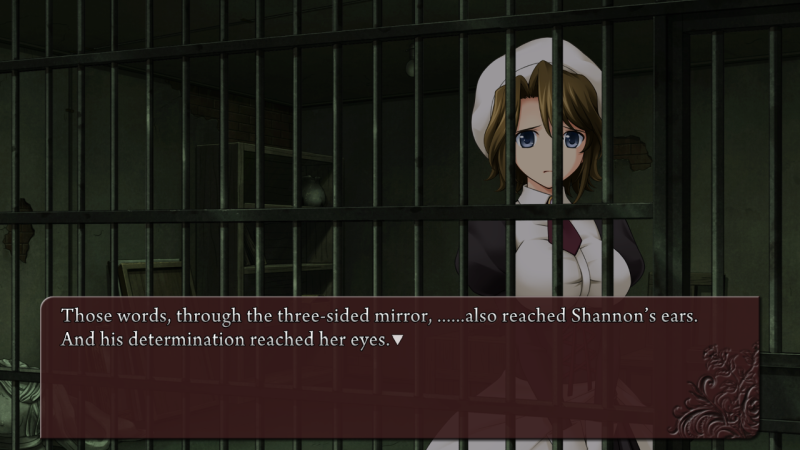 Shannon certainly had promised to be given an engagement ring tonight. Then, this incident had occurred, and she hadn't been able to receive the ring. But now...
...Even though it wasn't in the form of a ring, Shannon had received something even greater. And as proof of that, a single tear with the same sparkle as a diamond... dripped down.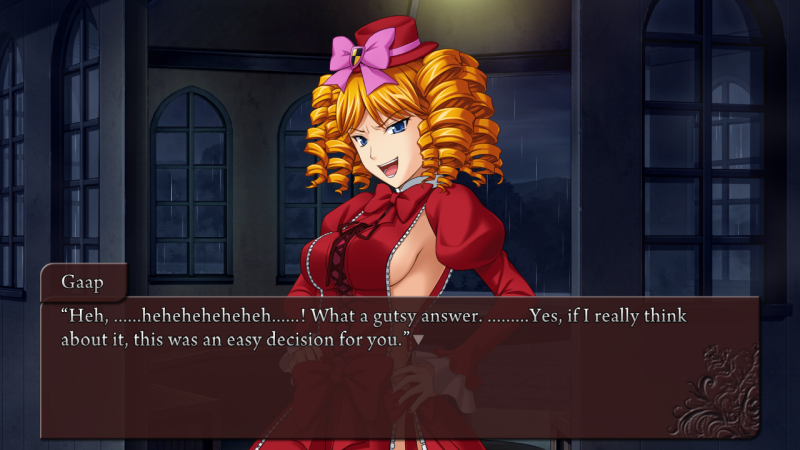 "After all, your parents were already killed on the first twilight, right? By now, there's no one whose death would trouble you. Hahhahahahahahaha, I see, truly an easy choice. Ahahahahahahahaha..."

"Say whatever you want. This determination and choice are mine, and mine as the Successor."
The sparkle in George's eyes was brilliantly sharp. For just an instant, Gaap felt the same sense of threat as Kinzo's... and was slightly overwhelmed.

"...I see. Yes, the same decision as Goldsmith... So even with your innocent face, you will also become a terrible demon in the future. What do you know, we might get along pretty well."

"You will succeed Goldsmith. Eventually, I may even be summoned and serve you. That could be surprisingly interesting. Heheh."
Gaap had needed to change her opinion of George. This man bore a determination and resolve unimaginable from his outward appearance... and not just now, but since the very beginning.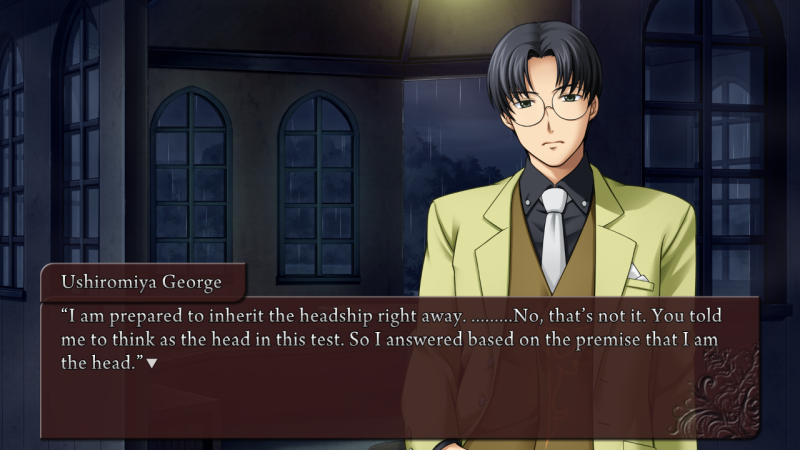 "...No, even that's not it. I thought as the Head himself. I am now... the Head of the Ushiromiya family."

"...Hehheheheheh... Splendid, to think that you'd be able to go so far. It seems you truly are one to be reckoned with. Battler's and Maria's tests remain, but I've got a good feeling that you'll pass. But only if that is your true, unexaggerated answer, you see?"

"...Do you doubt my resolve?"

"Can you carry out the option you chose? Can you, right now, with your own hands, offer all the lives that exist on this island as sacrifices...? By your own hand...?"

"I can. I've said I was prepared to do so several times."

"Ha, hahahahahaha! Then return to the guesthouse right away... and kill Battler and Maria! When that's done, I'll bring you the other hostages. Execute each of them except Shannon before her eyes! You can do it, right?!"

"
I can
. My resolve is on a whole different level from yours."

"...Nn. Then carry it out! Death for them all! Complete this bloodstained ceremony as the new Ushiromiya Family Head...!!"

"...Understood. I'll carry it out. I'm already the Ushiromiya Family Head."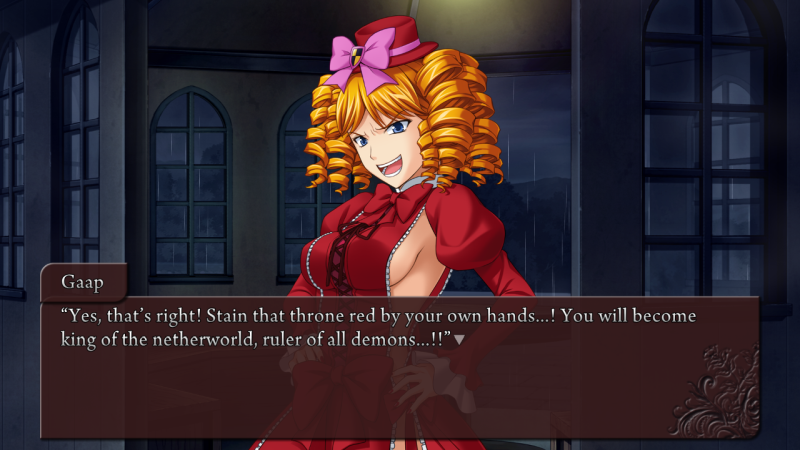 BGM: Happiness of Marionette
Gaap was convinced. This man truly was fitting to succeed Kinzo's madness...!

"Blow wind, cry thunder!! Celebrate the birth of the new demon king!! The demon island has now welcomed its new lord...!!"
In response to the demon's call, a tempest raged more and more. Then, a massive lightning bolt fell, its tearing thunder and brilliant light giving the sensation of a moment of silence...

"So, about the order of the murders. I get to choose that, right?"

"Please, as you wish, your Majesty, the new demon king of Rokkenjima. As your heart desires...!"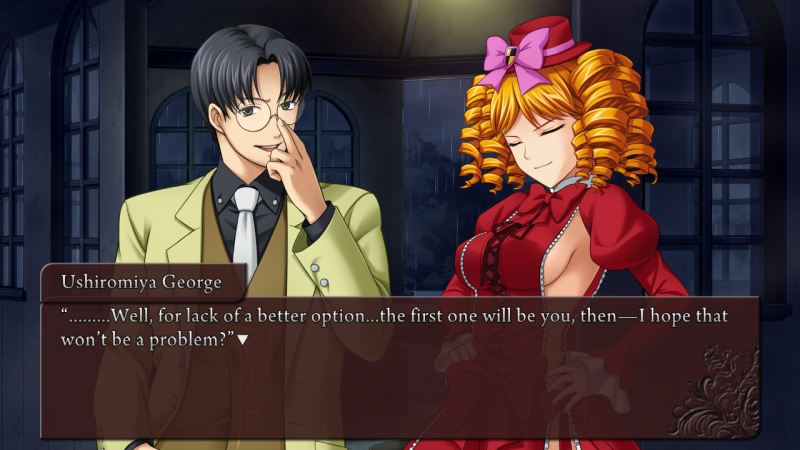 BGM: Answer

"...Huh?"
A gust of wind blew, stirring up George's jacket as if it was a cloak. It was very much like the cloak worn by the Head. It definitely carried that impression of dignity...
At that time, Gaap truly did see the storm wiped away, and the sky covered with a pure-white and vast full moon. The man who called himself the new Head... bore the full moon on his back... and sneered at the demon.

"Even the lives of the entire Ushiromiya family... are now part of my fortune. Reparations will be made for the damage that's been done. And it won't come cheap."

"...You didn't seriously think you could take my parents, Aunt Natsuhi, Uncle Rudolf, Aunt Rosa, and Genji-san's lives and expect me to overlook it, right?"

"Ho, hohoh... impertinence..."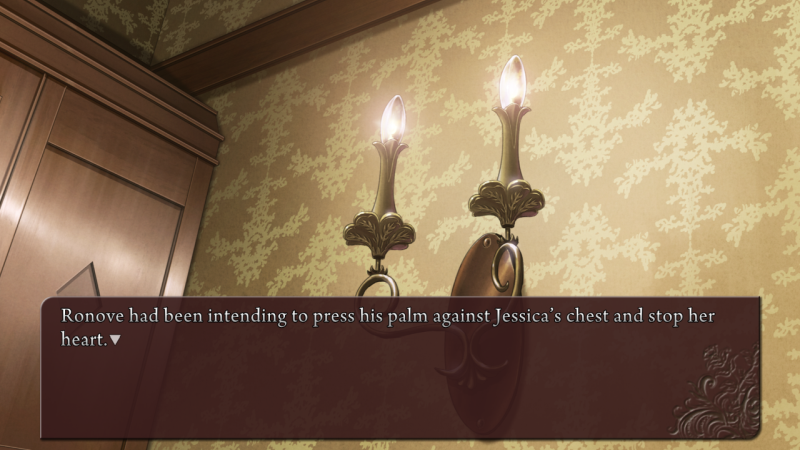 But right before he could, his hand stopped...
...On the carpet at their feet... one... two small red flowers bloomed with a *plop* *plop*.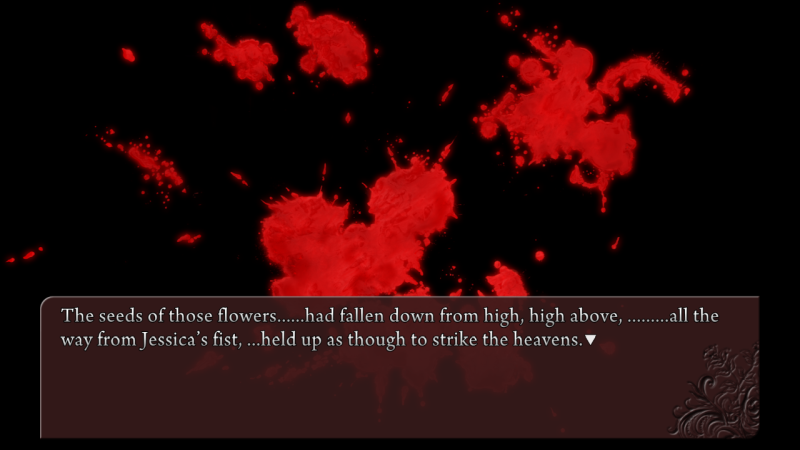 BGM: Hibuta

Ronove's nose was stained red with spewing blood... and those drops had been dripping onto the carpet.

"...By the way, that just now was my answer as a maiden. My answer as the Successor is different."

"Allow me to ask..."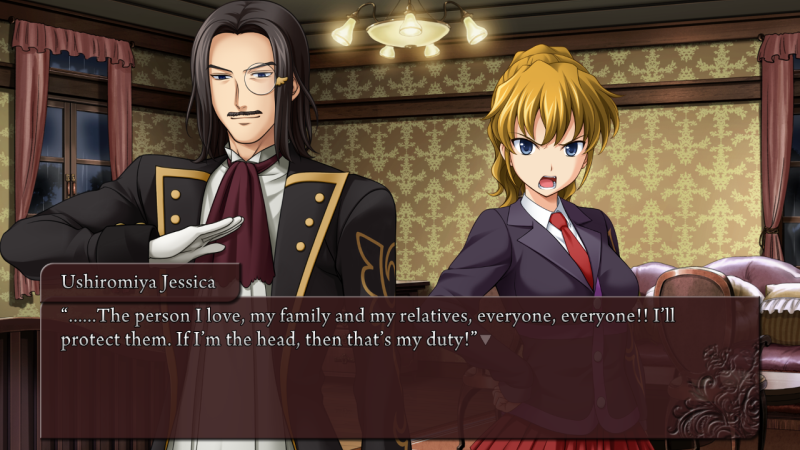 "Dad wasn't just swaggering around. He protected me and Mom!! He fought the pressure of succeeding the Ushiromiya family... for decades!! That's why I know... Being the Successor is nothing trivial. So you know what? I can give it up. Betting my own life is something I can do easily!!"
Jessica knew. She knew that in order to protect her family, her father had bluffed and fought alone continuously. Jessica understood something that his back had been telling her!
Another left straight was buried into Ronove's face. That terrifying strike wasn't due just to the brass knuckles she was using. It was a strike... of a person, a Family Head, who could throw away everything in order to protect.