Part 34: School Culture Festival II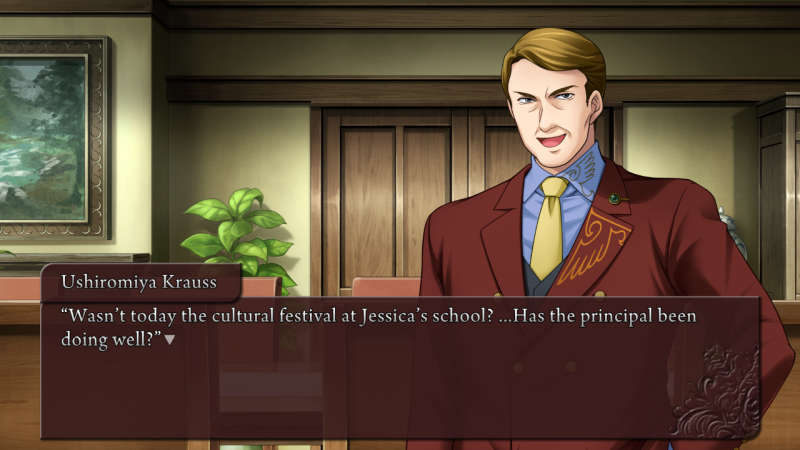 BGM: Moonlit Night

"...Yes, he seemed to be in good health. That's right, Member Takamiya also came. She said to leave it to her."

"Hmm, busy as usual?"

"It appeared so. That person is also very energetic. That's right, then, I think President Emoto also came."
Naturally, the topic of Jessica's cultural festival came up at dinner. School events often became social gatherings for local volunteers. It was the same for the Ushiromiya family, who were celebrities around here. By remembering the names of the important people at the informal gathering, Natsuhi told Krauss the news.
Jessica didn't really have any interest in that discussion, and rudely slurped her pumpkin soup.

"...Milady. Are those manners appropriate?"

"...Yeah yeah, sorry 'bout that."

"Jessica. I am always telling you watch your language."

"...Yes."
Jessica answered, discouraged. When he saw that, Krauss smiled a little and interrupted his conversation with Natsuhi.

"How was the festival for you, Jessica?"

"Huh? Ah... well, okay!"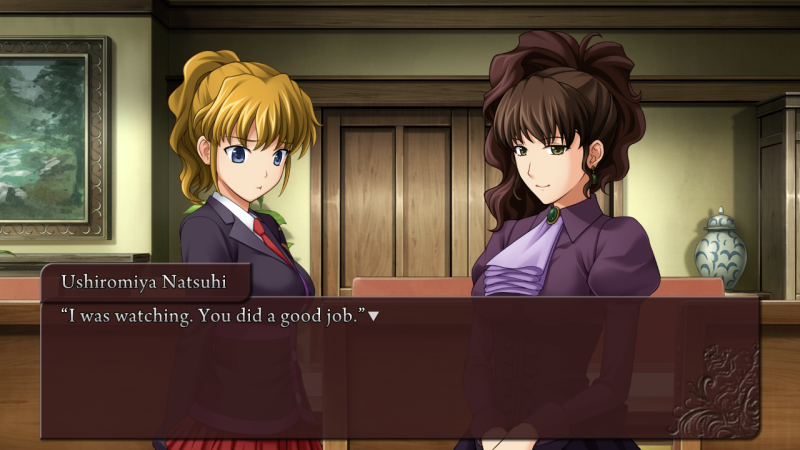 "Huh... huh?! Ah... ahahahaha, w, well!"
Jessica's face turned bright red. She probably hadn't thought that Natsuhi would actually come to see her on the stage. She felt a mix of happiness and embarrassment.
Actually, she hadn't wanted her mother to watch because she didn't want to be told that her music was inappropriate for the Ushiromiya family. But it wasn't as though it didn't make her happy to hear her parent say that she did a good job after watching her try her best...

"Jessica appeared with both composure and dignity. Fitting behavior for the students' representative."

"...ah, oh... yeah."
The smile that had been there until a second ago crumbled like sand. Jessica immediately realized that she was talking about something different. Jessica was also the school's student president. She had no interest in something so annoying, but her parents had been pushy so she had grudgingly accepted. Unfortunately, she was popular in school, so she had won the election easily. So Natsuhi was praising her for the student council sponsorship ceremony at the beginning of the cultural festival.
Actually, she had just carried that out halfheartedly. She had immediately met up with her friends, and had held a stage rehearsal for the rest of the time...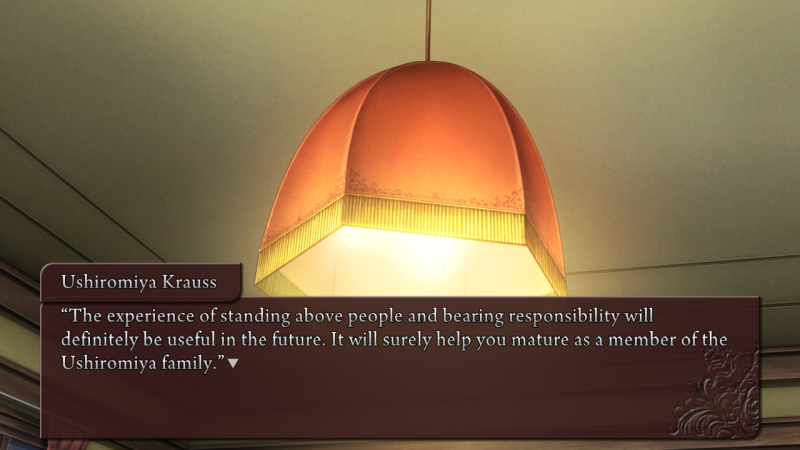 "But you spoke the greeting a little quickly. You passed on content, but your fast style of speech was lacking. It would be good if you developed a habit of taking a breath every once in a while."

"...yeah."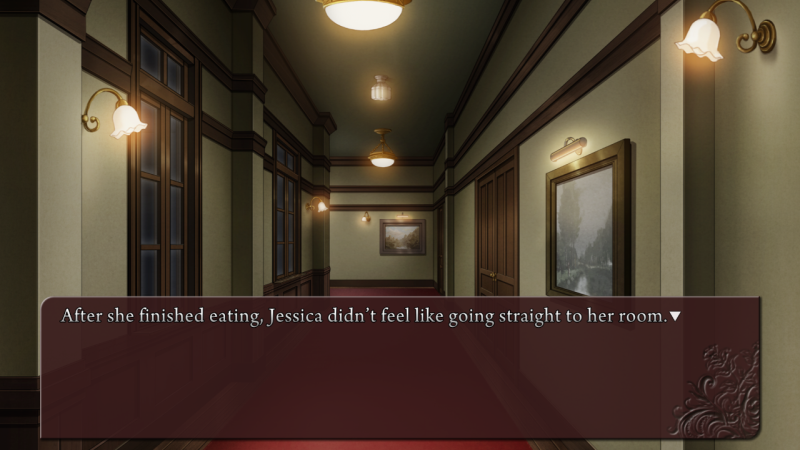 BGM: Steady Pace
You could say that her room was the place where her parents had ordered her to be. So maybe you could say that for Jessica, instead of returning to her own room, being in an unknown location in this large mansion was a meager form of resistance...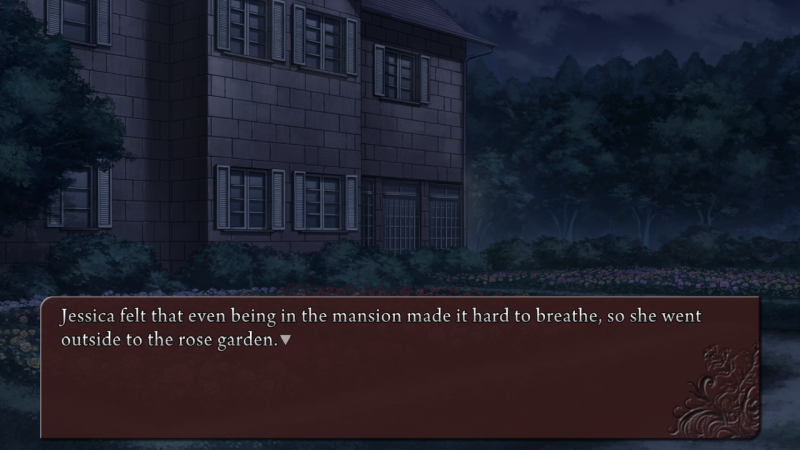 "...Well, if she had been talking about that, I'm sure she'd have said something about how it wasn't appropriate for the successor to the Ushiromiya family. So isn't it alright this way? Ahahahahahaha."
Jessica laughed at what she was sulking over. She laughed at what kind of words she would have had to receive to be satisfied.
It was ridiculous. In the end, I was just acting like a kid. I'm a little surprised, and it makes me want to laugh.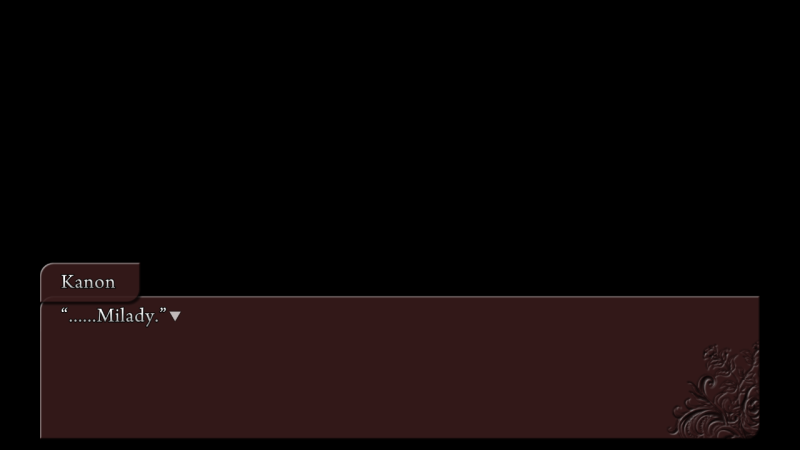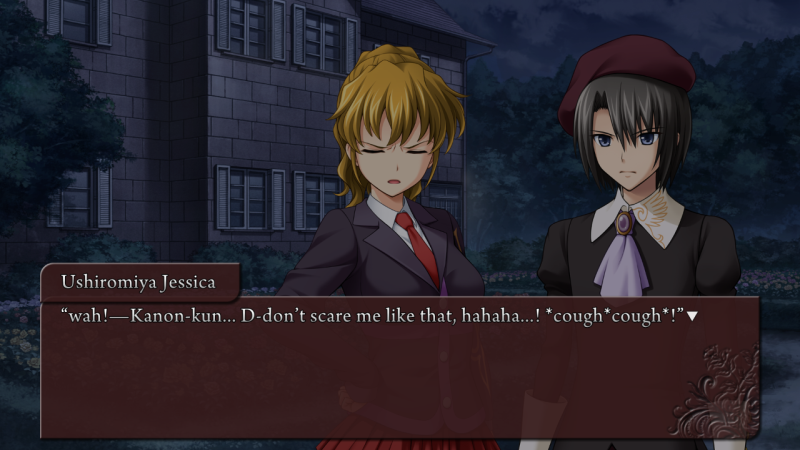 Just as she had tried to force a laugh, Kanon had suddenly started talking to her, and she choked.

"What? Something to say...?"

"...umm."

"...Yes?"
Jessica's expression became the one she always had when looking at Kanon. The listless Jessica from a second ago was gone. If he had still only known of Jessica as the successor to the Ushiromiya family, as he had until yesterday, he would have mistakenly thought that Jessica's mood had sprung back to normal.
But that was wrong. He now knew a part of her that he could not have seen until yesterday, so he understood that there was no way that, on the inside, Jessica was just as she appeared.

"Ah... about today's cultural festival... well, thanks for coming with me so I could show off. You really helped."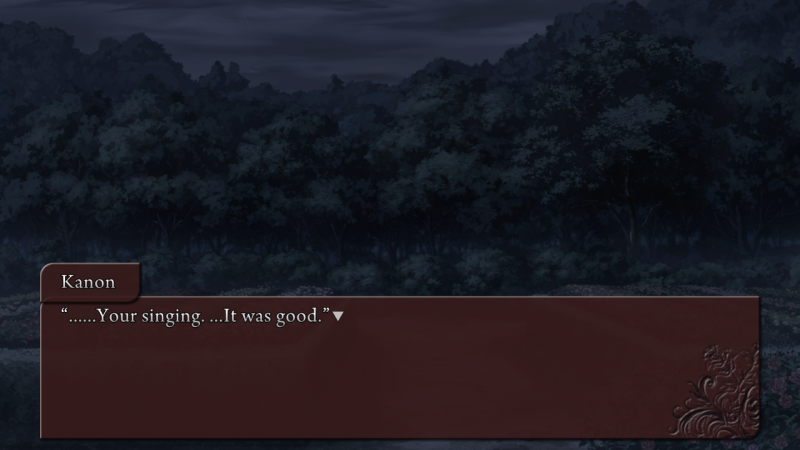 "Wha?! Ah, ahahahahahaha?! R, really, I'm embarrassed..."
Even though she had heard the words she had most wanted to hear, Jessica acted shyly, and couldn't accept them seriously.

"...I cannot sing. And I don't know how to play any instruments other than the harmonica and the recorder, which I learned in elementary school... So I had just assumed that Milady was the same."
...Kanon hadn't planned on looking down on Jessica that much. But people playing unique instruments were always on the other side of the Braun tubes in the TV. At the very least, he had been under the impression that it would be impossible for Jessica.

"...I am furniture. So I didn't believe there was any need to sing songs or play instruments."
But... I'm not sure anymore.

"...Seriously, Kanon-kun, enough with that phrase 'because I am furniture'... That's some kind of understanding amongst the servants, right...? That thing about servants being living furniture. Genji-san says it a lot."

"It isn't an understanding... Because we really are... furniture."

"I know that the kids from the Fukuin House receive assistance from Grandfather in various ways, and I realize that you feel gratitude for that. But that doesn't mean you should call yourself furniture. Aren't you a human like us?"

"..."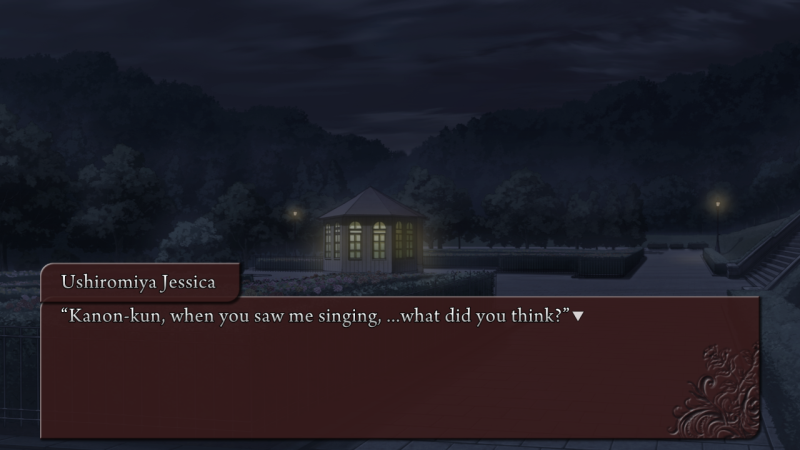 "...It looked like you were having a lot of fun."

"That's probably wrong."

"...Huh?"

"It didn't look like I was having fun... you were jealous, weren't you?"

"..., that isn't..."
Even Kanon himself probably hadn't noticed that emotion. Kanon had probably seen something he had never seen before, known about it... and been jealous. And to trick himself about that emotion, he had called himself furniture over and over...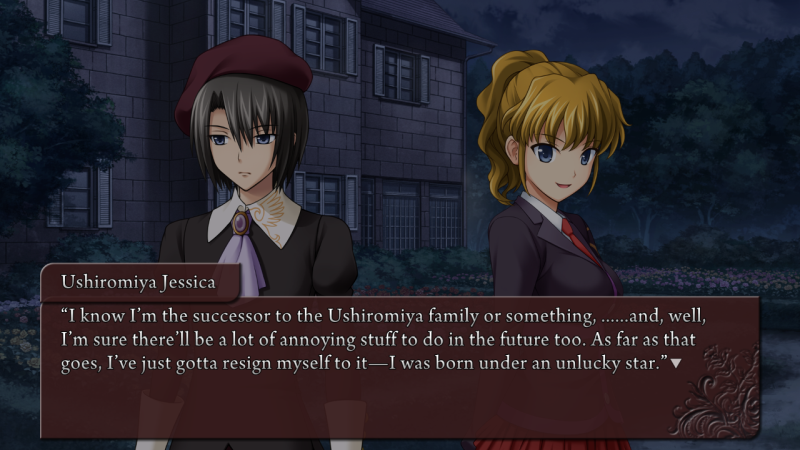 "...Probably, just like you had to live at the Fukuin House, I don't have a choice either. I couldn't choose the stars under which I was born."

"...That may be true."

"But there's one place where you and I are completely different. Know what that is?"
I am furniture, and Milady is not... He was about to say that, but stopped.

"...I do not know."

"Kanon-kun, you think that your own fate is everything and you gave up. I can't accept this kind of fate, so I do the best I can. So in addition to the constrained part of me that must act as the daughter of the Ushiromiya family, I've created another self that can do everything I like."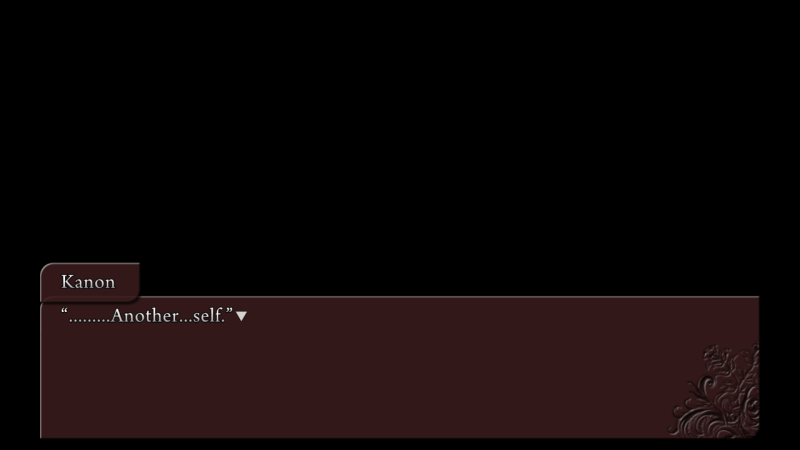 "Yeah. Kanon-kun, you've been instructed to say 'because I am furniture'. I'm sure there's been many things that have been tough just because you've been instructed that way. I think that's... really unfortunate. But the thought that your entire life will be decided by that, I think that's just sad."

"..."

"You know, people are always making another part of themselves inside themselves that they can really like. This isn't escaping from reality, okay? When I'm that other part of myself, I can really feel like I'm living a great life. So no matter how constrained and boring everyday life is, I can definitely live without suffocating."

"...To make... inside yourself, another self that you can really like..."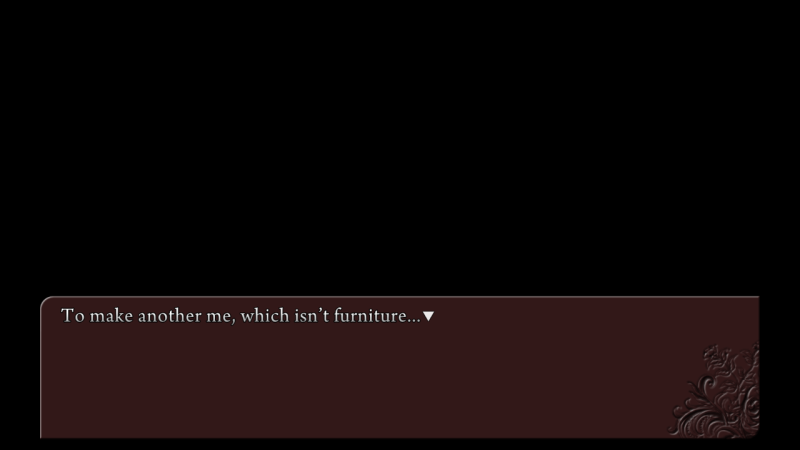 BGM: Cage
Through her relationship with George-sama, has Shannon given birth to a part of herself that isn't furniture? And did this other Shannon, see something that cannot be seen by furniture?

"Yeah... Well, I don't know anything about your private life, Kanon-kun. But, I can sorta guess. Your private life is probably, nothing at all. Bulls-eye...?"
Kanon couldn't reply, but that was answer enough. He had no concept of a private life. So Kanon would always be Kanon. So furniture would always be furniture.

"Kanon-kun, Kanon isn't your real name, right?"
In the Fukuin House, because new graduates would be given new families and a new life, they were even given a new name. In his case, that was 'Kanon'.

"...Certainly, that name of mine may be a temporary thing."
He had thought that he wasn't anyone other than Kanon. But he remembered. There definitely had been a part of himself that wasn't Kanon. But that was far, far away, on the other side of the distant fog of memory...

"So even for you, it should be alright to have times when you're Kanon-kun, and times when you aren't. Maybe the Kanon-kun you are when you act as a servant calls himself furniture and strictly limits his own will."

"...But when you aren't Kanon-kun, I think it's alright to live much, much more freely."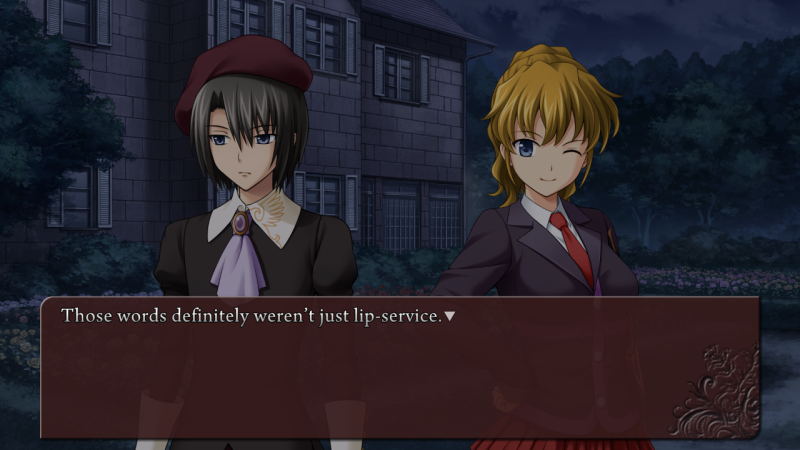 Jessica had also been like this in the past. She had cursed her own birth into an environment different from all of her friends at school. Only she had been in a heavily constricted environment. forced to learn various things, and it had even interfered with the friends she had played with. Even though that was sad, she had given up, thinking that she had just been born under that kind of star.
But one day, Jessica had stopped giving up and surrendering. Stuff like the Ushiromiya family customs and pressure, those didn't matter. She had created a real 'Jessica' inside herself, who could do what she really wanted to do.

"You know, I'm called by this nickname Jessie in school. So when I'm Jessie, I live life honestly and to the fullest. And because of that, I can do my best when I'm Jessica too."

"...I wonder if it would be alright for you too, to have times when you live as Kanon, and times when you live as, umm... your real name. When you aren't Kanon, can't you become another part of yourself that you can like?"

"...A time when, I am not Kanon."
He had thought that his real name didn't matter at all. So he had thought Kanon was all of himself. And now Jessica was saying that he should create a new existence, another part of himself that wasn't Kanon.

"...Kanon-kun. If you don't mind, tell me... What is your real name?"

"..."
He was silent for quite some time. Maybe Kanon's real name had risen to the tip of his tongue. After hesitating for a long time over whether he should say it... in the end... he swallowed it back down.

"...I forgot. My name doesn't matter anymore."
Those words contained a slight rejection.

"No matter what kind of real name I had, the only truth now is that here, I am Kanon. The past has nothing to do with anything. The materials with which furniture is made, whether it was originally the trunk of a tree or not, in the end, it's all the same."

"...I told you to stop that! You aren't furniture, you're human, right?!"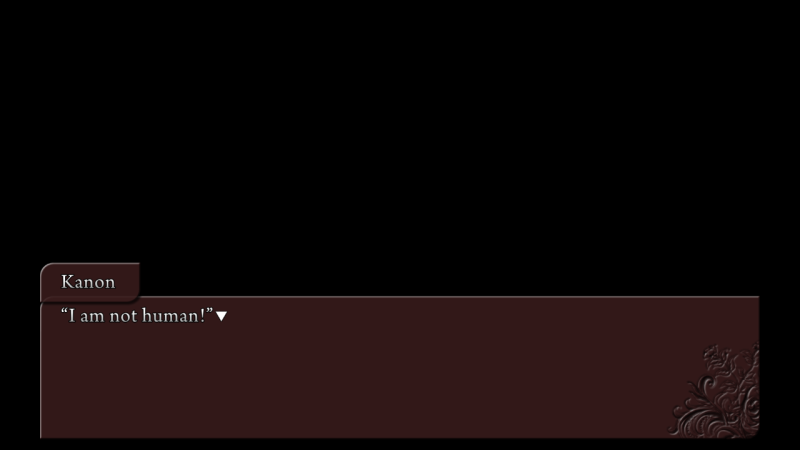 BGM: Fortitude
Kanon clearly spoke his refusal. It was with a rage that he normally didn't show. Jessica couldn't say anything back, and was struck silent...

"...You are a human, Milady. So you are free to live any way you like, and any kind of future is possible for you. It's almost like you have wings and can dance through the sky like a bird. But I am not like that. Even if I looked like a bird, I'd be nothing more than a domestic duck. Even though they have wings, they cannot fly."

"But despite that, to speak of that dream in the sky... that's just... too cruel...!"

"...Furniture and ducks!! What the hell is all this!! No..."
Jessica had unconsciously gone along with Kanon's forceful manner of speaking, but she realized that she shouldn't fire back, and swallowed her words.

"...I don't know anything about you. I don't even know your upbringing, and I don't know the hardships you've been through. So I can't even imagine why you started calling yourself furniture."

"...But know this. You aren't furniture or a duck. You're a real human."

"..."

"If you want to say that the Kanon-kun working as a servant is furniture, that's alright. But... in that case... don't you think that you can make a part of yourself for when you aren't furniture, when you're human?"

"...Only a human like Milady can embrace that possibility. I am not like that. My future and possibilities, aren't even a dream I am supposed to see. So, Milady. Please don't... say any more... cruel things..."

"Why... Why are you saying that..."

"Because it seems that you are making the mistake that I am a human, just like you are, Milady. We are different beings. I just wanted to make that clear."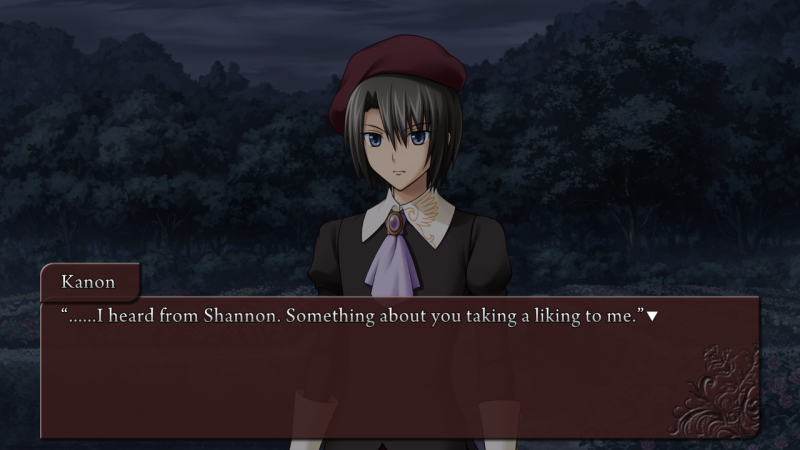 "Huh... wha?! Ah, no, wahaha..."

"...I look almost identical to a human. Therefore, like Shannon, maybe I could delude myself that I am human, and for a time, pretend to love."

"...But that would surely be fooling myself. No, it would also be fooling you, Milady. Shannon and George-sama will definitely fall apart. Even though Shannon herself probably realizes that day will come... such a stupid thing..."

"Th, there's nothing stupid about it!! And, George nii-san's a wonderful person, and he's bearing both of his parents' expectations. Yeah, when it comes to marriage, I'm sure auntie Eva will interfere in various ways, and, umm, I think their future prospects look like they'll be full of trouble, alright?! But you know, George nii-san isn't the kind of person who'll surrender to all that! Shannon isn't Juliet, he'll definitely bring her happiness!!"

"People cannot love furniture. I am trying to say that even if Milady can love furniture, I cannot love Milady."

"...nn-"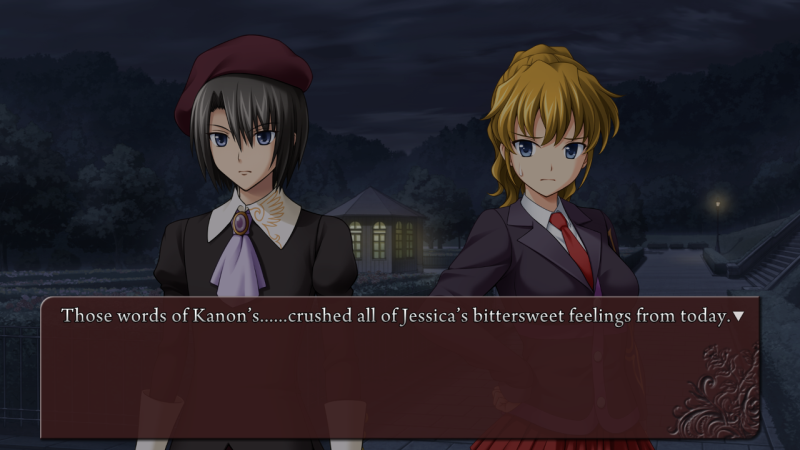 There was no way her emotions could have predicted that she would be refused so clearly... In an instant, she had lost the willpower that had caused her to try and unravel something stubborn in Kanon's heart, and before she knew it, she was just standing there in shock...

"...Milady, if your feelings for me are due to my conceit, then please forgive me."

"...N... no. Well... I won't deny it."

"...Thank you very much."

"Huh...?"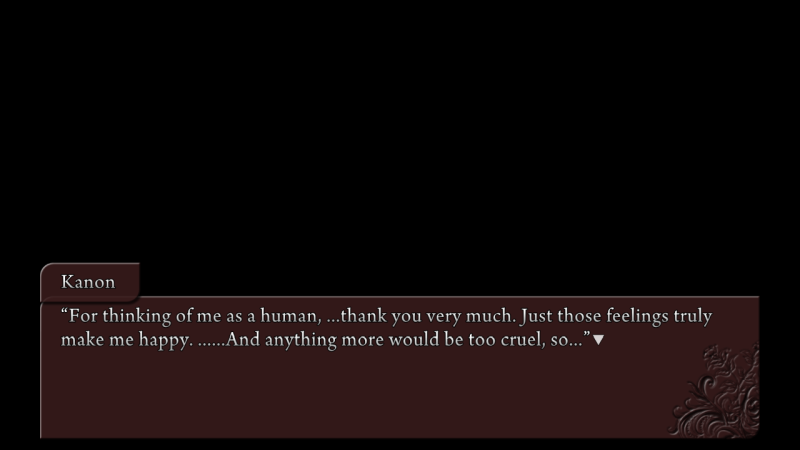 "No, th... that's enough. Umm... sorry."
Jessica recklessly scratched at her head and spoke, trying to force her voice to sound bright.

"...I just kinda... ran on ahead by myself... and was a burden on you. I'm honestly sorry. I'm really sorry... for using up your whole day off."

"No. I was also... happy that I could see Milady having fun."

"...Then, let's be done for the night. If I don't go back to my room and turn off the lights, Mom will get mad at me again. Hahaha."

"That would probably be most appropriate. I wish you a good night, Milady."

"...Yeah... Good night..."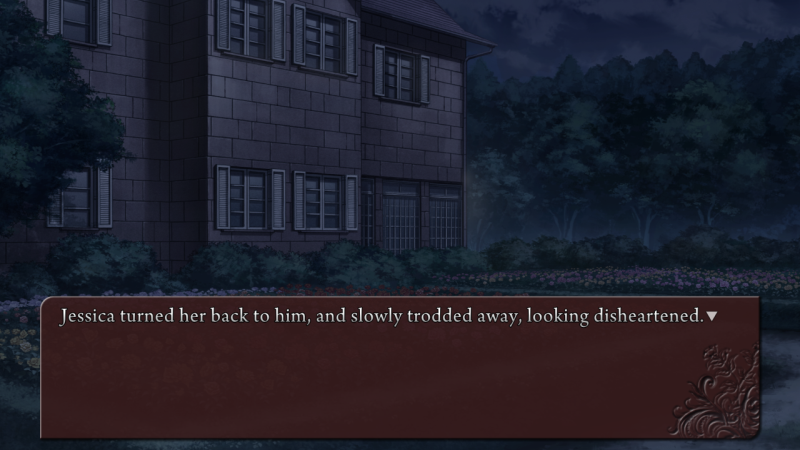 But she suddenly started dashing recklessly, and disappeared in the direction of the mansion...
As he watched her back, for just an instant, Kanon was tormented by the feeling that he had just made a huge mistake. But he hadn't made a mistake at all. Thinking of her sake, he'd been forced to refuse her now, while the pain was still at its smallest.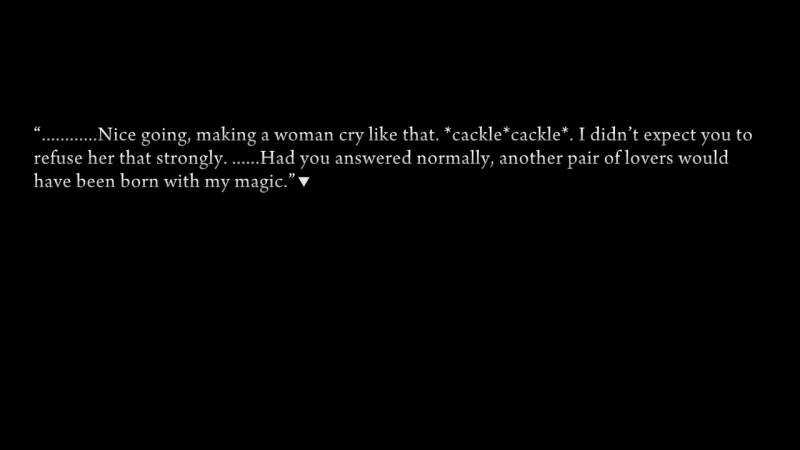 BGM: Organ Short No. 600 Million in C Minor

"How long have you been there...? You're just horrible."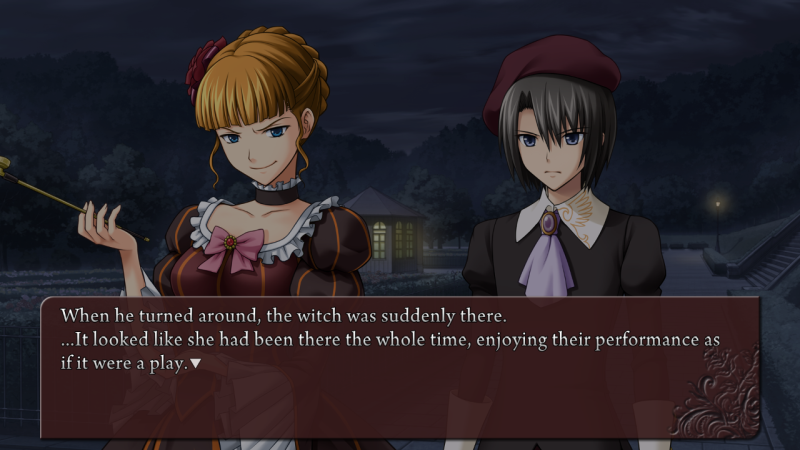 "I shall forgive your reckless words towards me just this once in deference to that pleasant show. Even after one thousand years, no more interesting show exists than complications between boys and girls. To me, it's a pleasure with a sweetness harder to resist than opium... Nn?"
Kanon pulled that butterfly brooch out of his pocket. It was the crystallization of the great magic that the witch had bestowed.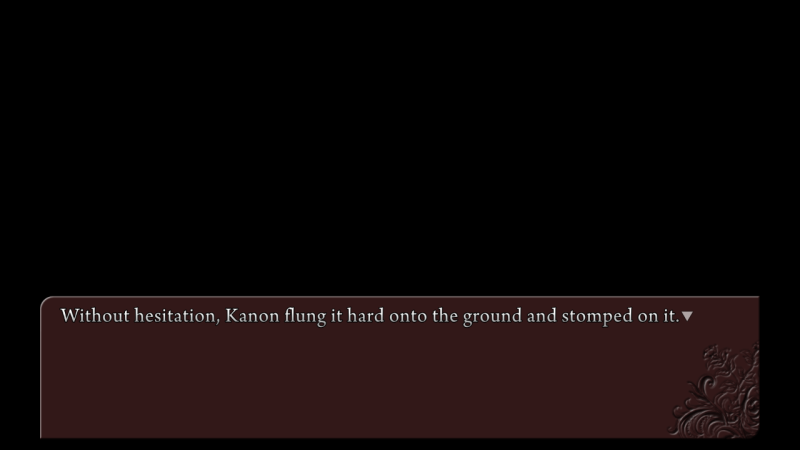 "...Hoh? What is the meaning of this, when you know that was something given by me?"

"Just now, I figured it out. What you are doing isn't as tasteful as being a cupid of love. You are just a demon who enjoys showing love to those who can never be joined, and deceiving them."

"...Hmph. You are free to think that. Most humans I have lent my power to have said the same thing."

"Don't play dumb!! You didn't lend Shannon your power because you felt sorry for her. You found a weak point in Shannon's heart as her chest burned with love, and you made her break the mirror that sealed you. And that's not all... you planned this out until the end, and you're toying with her! Am I wrong?!"

"Fuffufufufufufu, *cackle*! Furniture is a thoroughly pitiful existence. So you have no dreams, no future, and even no love? Good, good, there is nothing better than knowing your place. *cackle*cackle*!"

"...Gah..."

"Just as you've noticed, there is a faint love in Jessica's heart. I had hoped that you would punch a hole in that and harvest it... But did you know? Trees grow thicker branches if you thin out and prune them. A girl who loves furniture, interesting, truly interesting! Shannon and George will also eventually reach a stalemate with their love, which cannot be fulfilled, and ripen as the kind of large fruit I like."

"However, regretfully, it wouldn't be interesting if they didn't go too far, right? If that happens, I think you all would entertain me greatly, *cackle*cackle*!"
The witch laughed. Even though she had known that the two could not be joined, she had lent magic to join them together. However, they couldn't escape the fate that made it impossible for them to be joined. The witch knew that. Even if they were joined, the relationships of Shannon and George, Kanon and Jessica would fail, and as they wandered through the eternal desert in the hell of love, they would be tormented by eternal thirst...!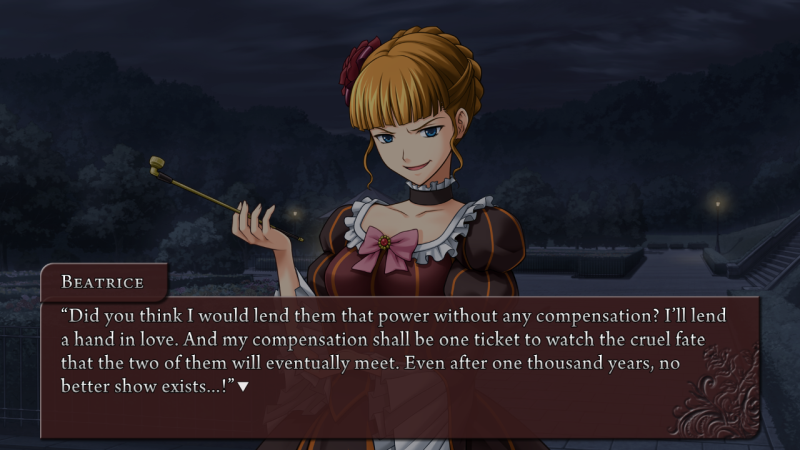 "Just look at Kinzo. See how he ended up, an old, pitiful man who knew the taste of love and was thrown out of paradise! Look at how he lives, like a dead man that can't fully die. *cackle*cackle*!!"

"You really are a witch. Disappear and get out of my sight, you demon...!!"

"...I shall disappear without being asked. My power still hasn't returned. It is still tiring to continue showing myself. I overdid it when I gave you lovers my power. As I am now, it will not be easy to maintain that power without that brooch as a catalyst."
Kanon ground his foot even more into the stomped brooch. He felt it break under his foot. Then, it evaporated like water, and changed into butterflies that sparkled gold, which fluttered away from beneath Kanon's foot...

"I also find it painful when I tend to preserve this form. But as you ask, I will erase this form for a brief period. Just like a low tide without the moon, my magical power will surely rise. And I will surely visit, at a time that is appropriate for my revival."

"...I cannot imagine whether that will be tomorrow, next year, or even one hundred or one thousand years in the future. But as long as there are those that entertain me, I will surely gain power and revive. I will erase this form for a short while, until that time comes. The bruise on the palm of your hand is already gone, so if you wish, tomorrow morning, you can let my existence disappear like an illusion or a dream. I won't be saddened just by you forgetting about me."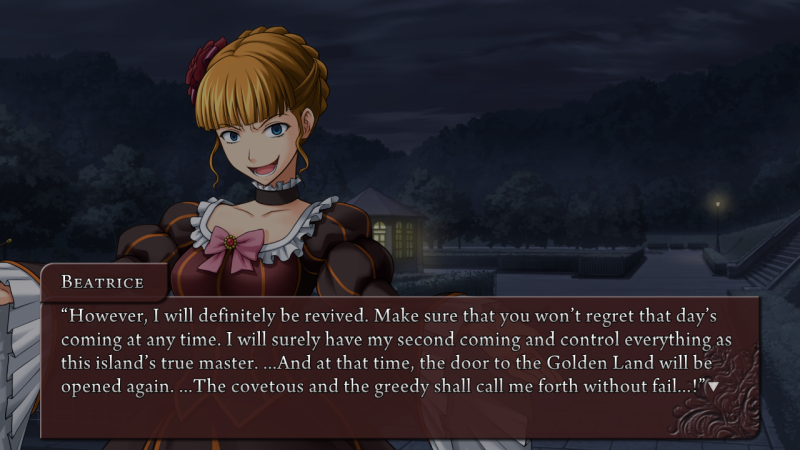 "...You talk too much!! Disappear, now, Golden Witch...!!"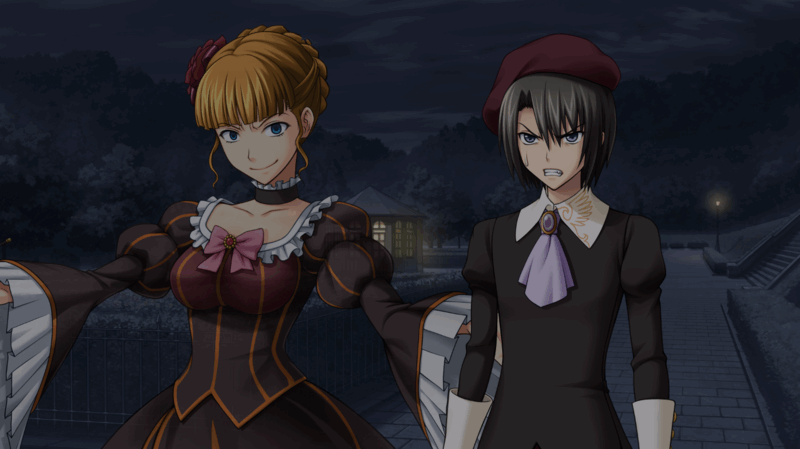 The witch left with a scorn-filled laugh, became a group of gold butterflies and scattered away. The whole area sparkled like a gold blizzard in a snow globe. It was a fleeting fantastical scene that disappeared in a heartbeat...
The witch could no longer be seen. However, Kanon felt like he could still hear that shrill, unpleasant laugh...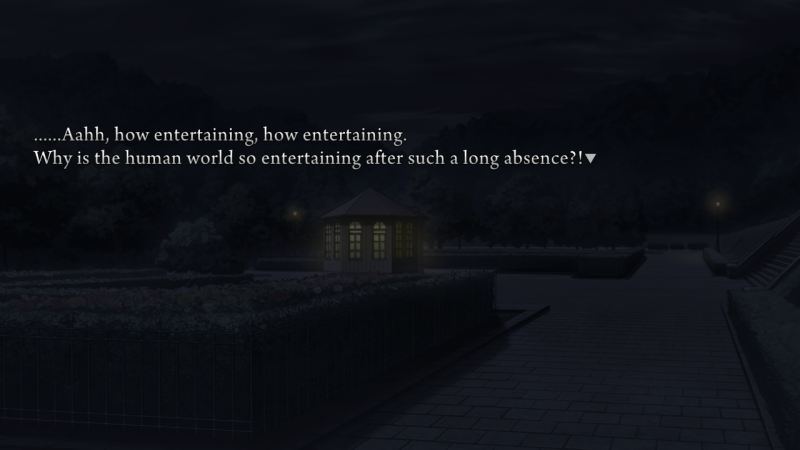 BGM: Scorpion Entrails
Go insane with love. Go insane with gold. Those that don't go insane from those are not human! I see, so that's why the word furniture is fitting, *cackle*cackle*!
Furniture is created to serve humans. And I cruelly treat humans as playthings during my thousand years of boredom. What a truly pleasant three-way deadlock, that I cannot control furniture!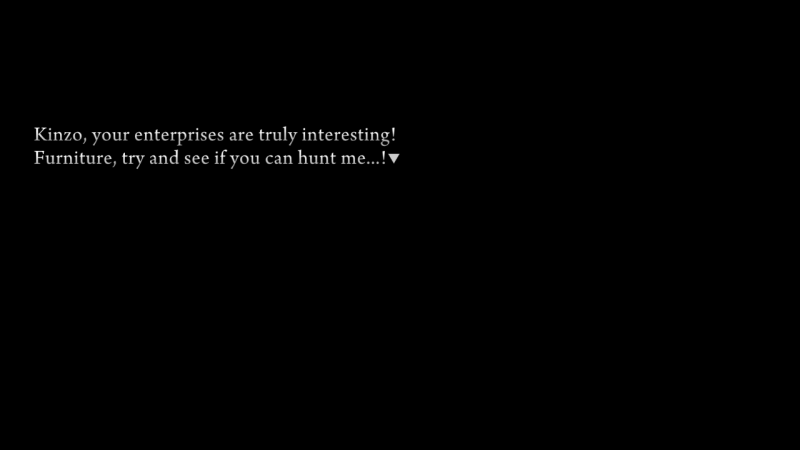 Tonight, two seeds of love have been sown. Including the one already sown, that makes three!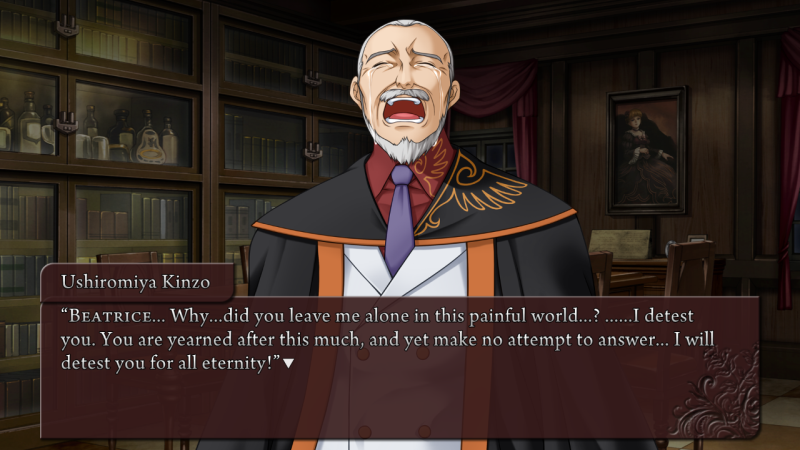 "Master, drinking any more will be damaging to your health. Haven't you also been warned by Doctor Nanjo?"

"Be silent, Genji!! You do not understand, you do not understand my grief and sadness! Even though I believed that as my oldest friend, at least you would understand my pain!! Why can't you understand?! Oooooohhh, Beatriiiiiice, why did you leave me alooooone...?!!"

"..."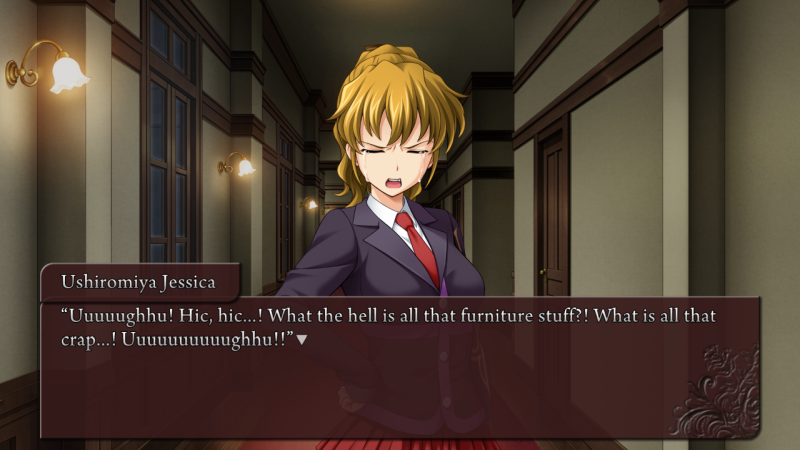 "...Oooh, how heart-rending, Jessica-sama. Even though her crying voice that I can hear from her room tells me of the situation, there is nothing I can do... This is all a tragedy due to people who are too young getting too close, when the positions of their birth are too distant... I can do nothing but understand Milady's feelings, hide my footsteps, and quietly walk away..."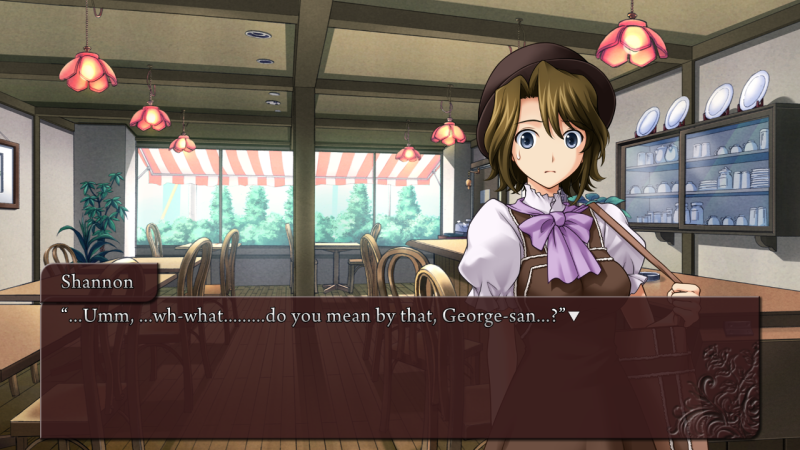 "I mean what I said. I still haven't built up my castle. Once I can do that, for the first time, I will be able to think of myself as an adult. When that happens, I want to marry you."

"...Th... that's, umm, err..."

"But, my heart won't let me do that anymore. ...So I want to give you an engagement ring."

"E... engagement, you say... But, umm, I... am... furniture..."

"Maybe that's true. And furniture has to listen to what people say. Now, I will have a ring made that's appropriate to give to you. I think I'll probably bring it to the family conference coming up soon. I'll give it to you then, so please, I want you to let me hear your answer."

"...If you accept my engagement proposal, I will proclaim right there, to all of the relatives, including Grandfather, my engagement to you."

"G, ...George-san..."

"I'm sure some people won't approve of our relationship. But, there's no need to look at their faces. Because you only have to fill your eyes with me."

"I will definitely make you happy. That, I promise you, definitely."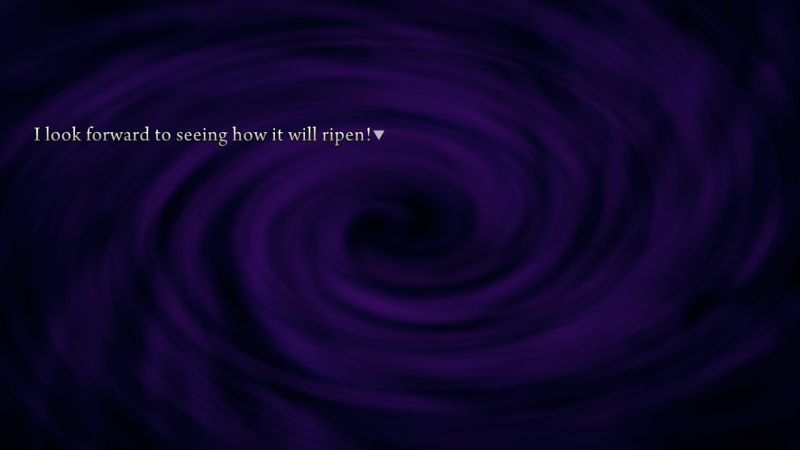 BGM: Life's End

The gold butterflies do not swoop upon the juice of overripe and rotting fruit.