Part 87: Announcement of Sacrifices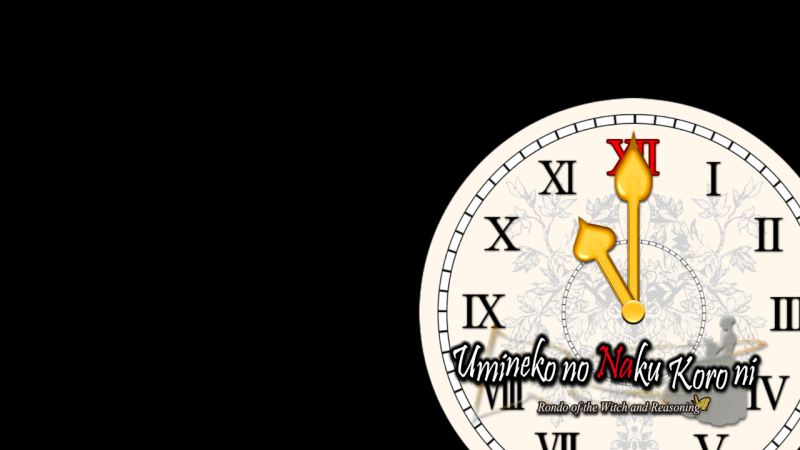 October 5th, 1986, 11:00 AM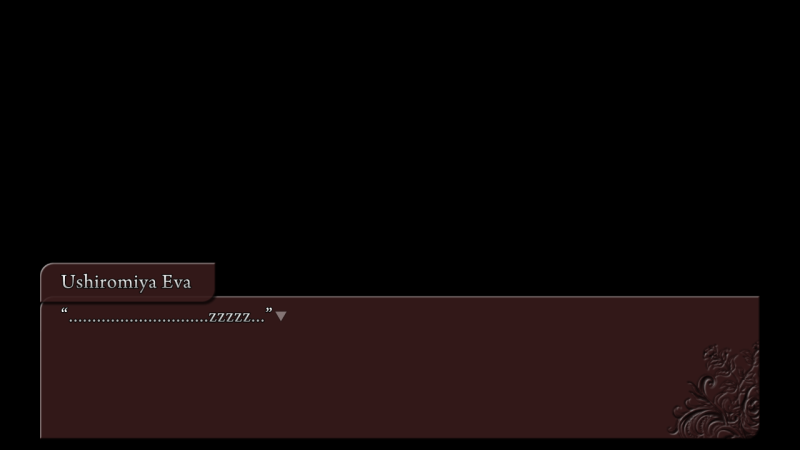 "...Whew. Looks like she's finally calmed down..."
Hideyoshi wiped his own forehead. For a time, Eva had seemed to be having a very painful nightmare, but it appeared she'd finally fallen asleep. As promised, he still gripped Eva's hand. He'd thought it might be time to let go pretty soon, but he faithfully continued to hold on. Every once in a while, his hand would get tired, and he would switch between his right and his left, but even so, as promised, he didn't let go of her hand...
At that time, there was a heavy knock. Eva had finally been able to fall asleep, so Hideyoshi grimaced for just an instant.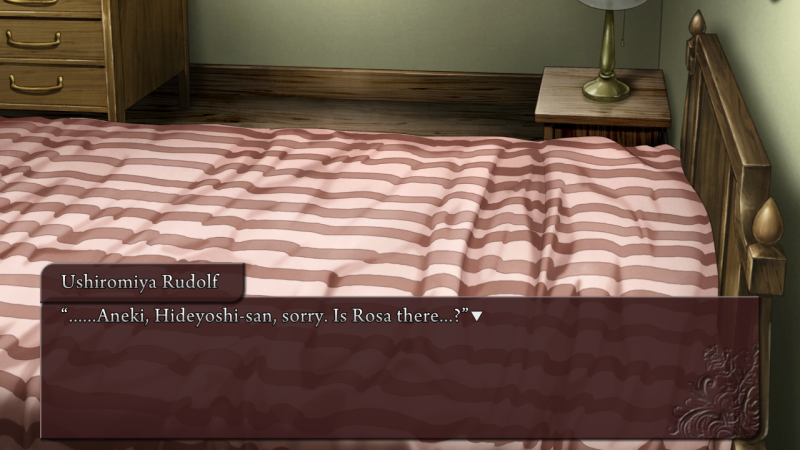 It was Rudolf's voice. What could it be?
Hideyoshi headed for the door, hiding his footsteps so that he wouldn't wake Eva. It was definitely Rudolf's voice, but just in case, he opened the door without removing the chain.

"What is it? Somethin' happen to Rosa-san?"

"We can't find Rosa or Maria-chan. I thought they might be with you."

"...I heard her scolding Maria-chan in the corridor. They got quiet after that, so I thought they'd gone back to the lobby, but did they...?"

"...That idiot..."
Rudolf clicked his tongue.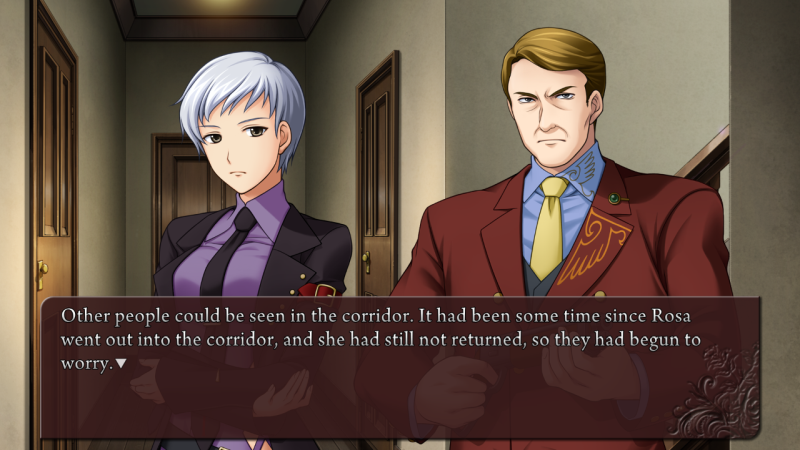 BGM: Mind
Near the front door, Natsuhi pointed at the unset chain.

"...The chain isn't set. They must have gone outside to see that rose after all."

"How extraordinarily careless, to go out and leave the door unlocked. What a troublesome person."

"...I'm more worried about Rosa-san and Maria-chan themselves."

"Right. Hey, brats. Where was this rose of Maria's?!"

"I'm pretty sure... it was in the flower bed right in the middle of the rose garden..."

"If that's where they are, we should be able to spot them pretty quickly if we go."

"...Dad, shouldn't we bring them back here as soon as we can...?"

"Of course. We'll bring them back and give 'em a good spanking. I'll dash out there and come back. Lock the door as soon as I go out."

"...Dad, I'll go with you."

"Don't be stupid. It's obviously a brat's job to watch over the house with Mama."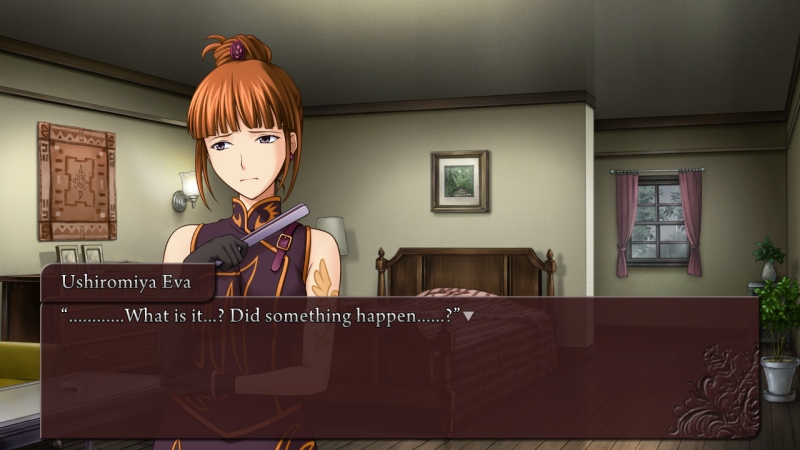 "Sorry, did I wake you up...? It seems Rosa-san took Maria-chan outside. How reckless of her."

"Rosa and Maria-chan are... outside...? In the rose garden...?!"

"That's right. Oh, did you hear? Maria-chan was causin' a ruckus because she wanted to see this rose."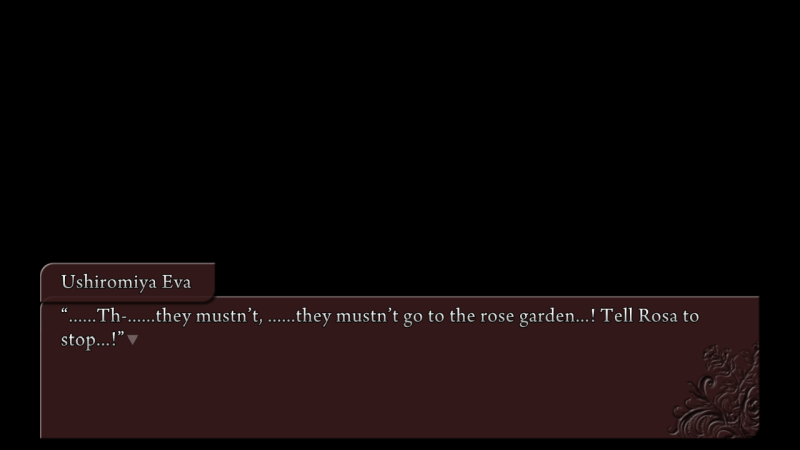 "Th-There's no tellin' her to stop now, it looks like they left a while ago. Seriously, how reckless of them."

"...That's not it... Not the rose garden... There's a witch there, and she's waiting for a sacrifice...! Rosa, you mustn't go... ooooooooooohhh..."
...Eva cowered again, holding her head. Her complexion looked very bad.

"What is it? Did the fever make you dream somethin' bad?"

"...It's a dream, yes... In the rose garden, the witch, doing that to Rosa and Maria-chan... That's right. It's a dream... It must be..."

"Calm down. I'm here in this room. And the chain is set. The shutter's closed on the window, and we've even got a gun. This room is just like a fort. There's nothin' to be afraid of."
Hideyoshi beat his chest, trying to calm her, but Eva's insecure expression didn't change. Under the covers, Eva kept praying that the grotesque nightmare she'd just had was only a dream...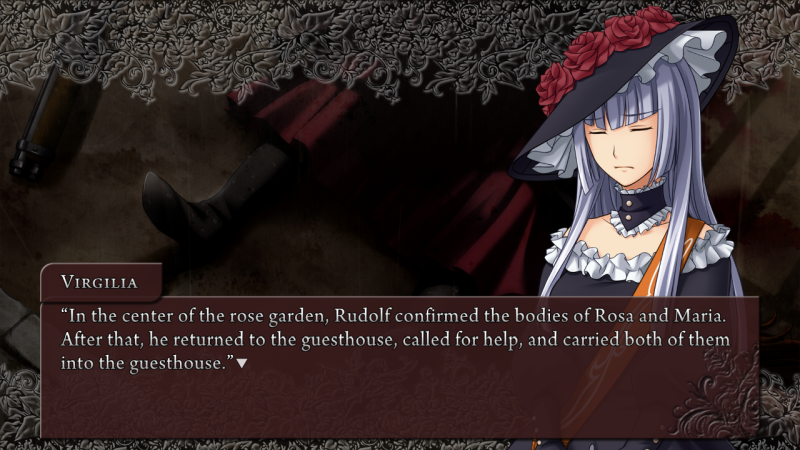 BGM: Voiceless

"If we can trust Nanjo's examination, the cause of Rosa's death was a stab to the medulla oblongata with the pointed gate of the fence. It is thought that Maria's death was due to strangling with bare hands. However, due to the 'Devil's Proof', we cannot discount a misdiagnosis."

"...I will say it in red.
Rosa and Maria died. The causes of death were as Nanjo diagnosed
. She wasn't eaten by a spider, nor was she crushed by a mountain of cake. Don't worry."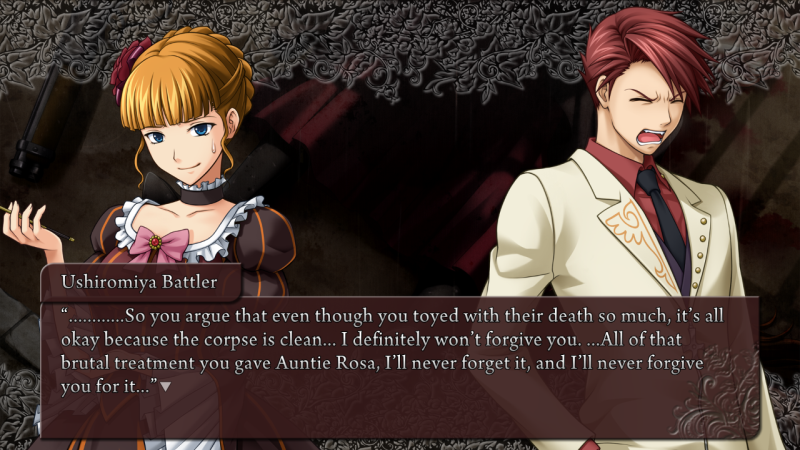 "...L-Like I said, that wasn't me... I believe I gave them a much more peaceful death than the way she treated them..."

"Shut the hell up. I'm not talking to you."

"...It was stated that there are no more than 18 people on this island, and now that eight people are already dead, we can narrow the field of suspects down to ten. One of them probably killed those two."

"...Or could it also be an accidental death? Like Maria was having a tantrum, and when Aunt Rosa tried to stop her crying, she misjudged how much power she was using and accidentally killed her. Then she was so upset that she slipped and fell, landed on the fence, and unluckily, died. How's that? That way there's no need for a witch or magic."

"...Well, that's not quite true. Actually, Rosa and Maria..."

"Shut up. Didn't I say I wasn't talking to you? You're an eyesore, so disappear. You monster."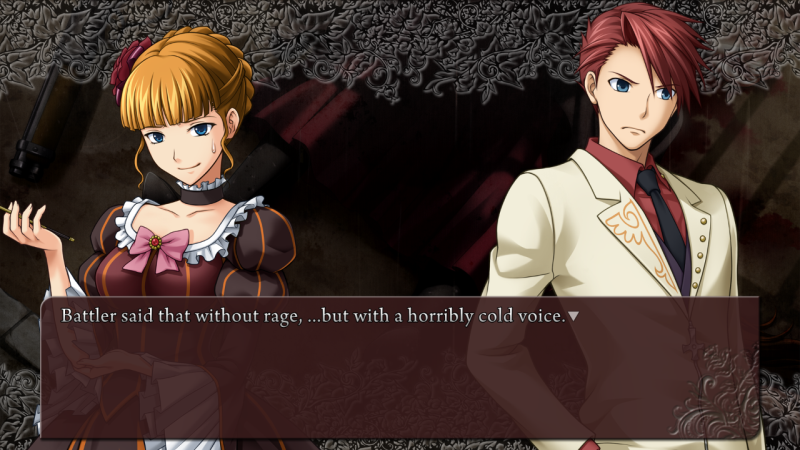 ...That strange behavior was something Beato had noticed right off the bat. In a fight, both of them could go at each other without restraint. However, he wouldn't even step into the ring. She could feel that coldness.
Beato didn't find that amusing. She thought about flaring up, but she held back. Maybe even though she was innocent and childish, she had enough sense to realize that she shouldn't pick fights.

"...Is that so? Then I'll vanish. Ronove, continue for me."

"Certainly. Will that be satisfactory, Battler-sama?"

"...There are no problems with her proposal. If Battler-kun doesn't want to see Beato's face, perhaps that will do."

"Do what you like. If I can live without seeing that monstrous face, I don't care about anything else."

"...Hey, wait a second. You keep saying monster, monster, but isn't that a cruel way to speak of me? Why do you instinctively hate me so much, Battler? Even though none of that was me, even though it was all the work of my disciple..."

"...It's not like I'm only mad about what happened just now. It's been like that from the very beginning."

"Hey, Battleer. Don't misunderstand, okay...? Aren't we just a pair of players confronting each other through a game? We look for moves to make things painful for each other, but..."

"Don't get the wrong idea. I don't hate you because you're my rival in this strange game about whether I accept you as a witch or not. I just can't forgive how senselessly cruel you are."

"Well, serial murders are a part of this game... It's probably impossible to avoid a little cruelty..."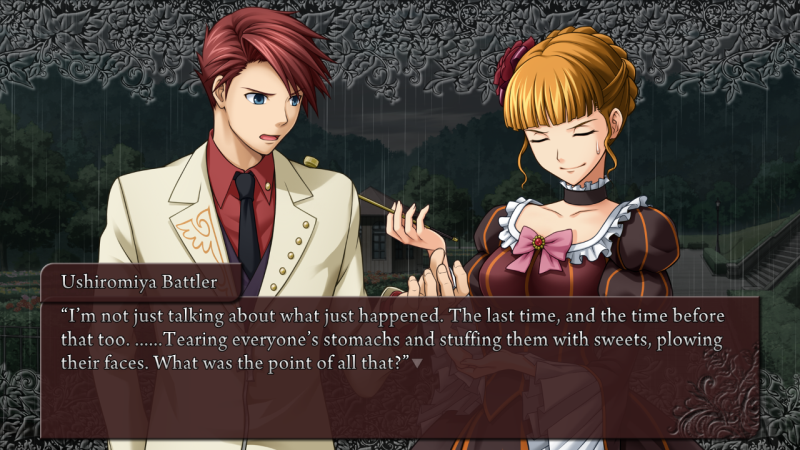 "...That's... well..."

"When it comes to closed room murders and tricks and alibis, I'm willing to give you a pass. You want to claim that this is a murder done by magic, so I'll grudgingly accept that those complicated crimes need to occur. But what exactly is the point of all those grotesque murders?"

"...Well, umm, nothing much..."

"That's right. They don't mean anything. You're just fooling around by mangling the corpses for fun. That has nothing to do with whether you're a witch, or whether it could or couldn't be done with magic. You're just exploring the depths of cruelty for fun. This isn't about whether you're a witch, or anything like that. There are just some things I can't forgive as a human."

"...Wh-What do you mean, as a human...?"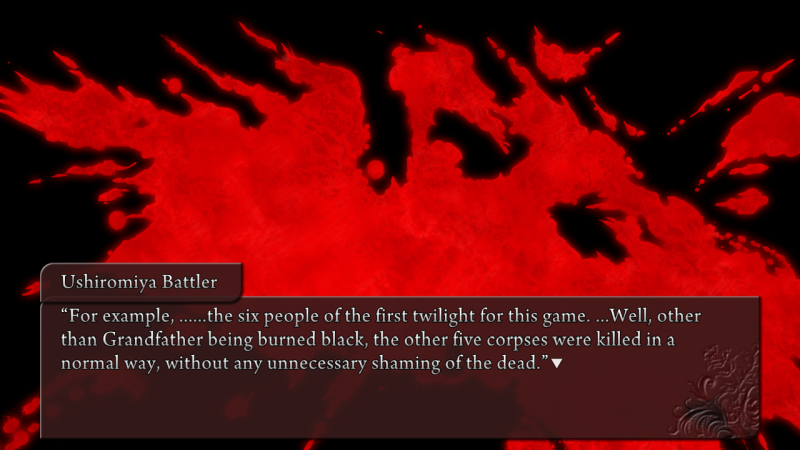 "...It wasn't clear whether the weapon was a spear or a gun, but anyway, as far as killing goes, that was acceptable. It was much better than the nonsensical grotesqueness and cruelty from the first twilight last time, or the time before that."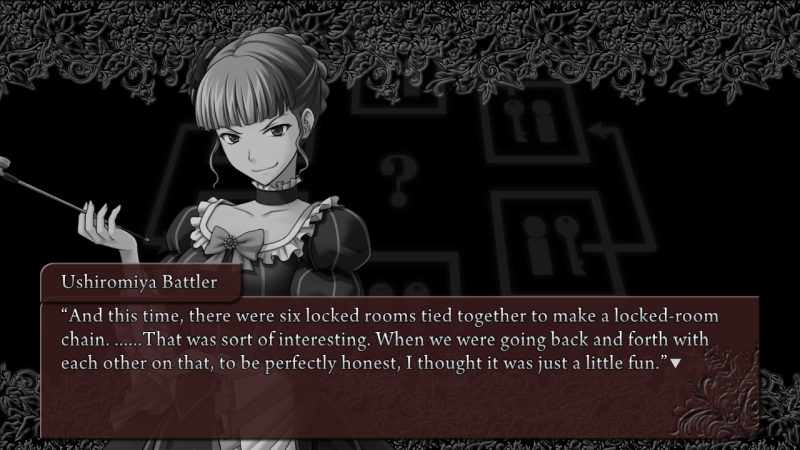 "...You were frantic to make me accept your existence, and I was frantic trying to deny it. We were both frantically doing all we could."

"This may sound weird, but I've felt a faint sense of sportsmanship between the two of us. We exist in conflict, but I faintly thought that we might not be completely unable to understand each other's existence."

"...But just now, that feeling was blown away without a trace."

"Th-That's what you're misunderstanding...! That wasn't me-"

"That's not it. That's not what I'm talking about! You watched Aunt Rosa being killed horribly over and over, and you sneered at it like it was an interesting show."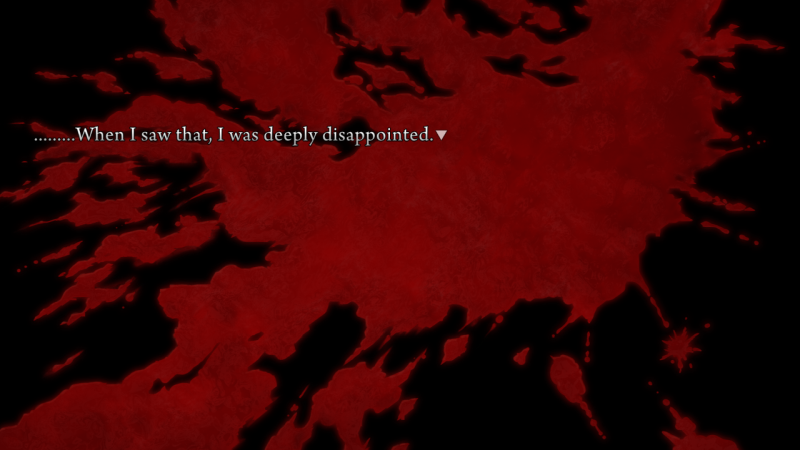 When I realized that your decision to kill them in a slightly better way this time was nothing more than a faint whim, and that nothing had changed in your cruel character, I was deeply disappointed. On the contrary, you were even genuinely enjoying those brutal deaths. You weren't just acting as cruel as you could to bully me. You truly, genuinely enjoy cruelty. Your character lets you enjoy it.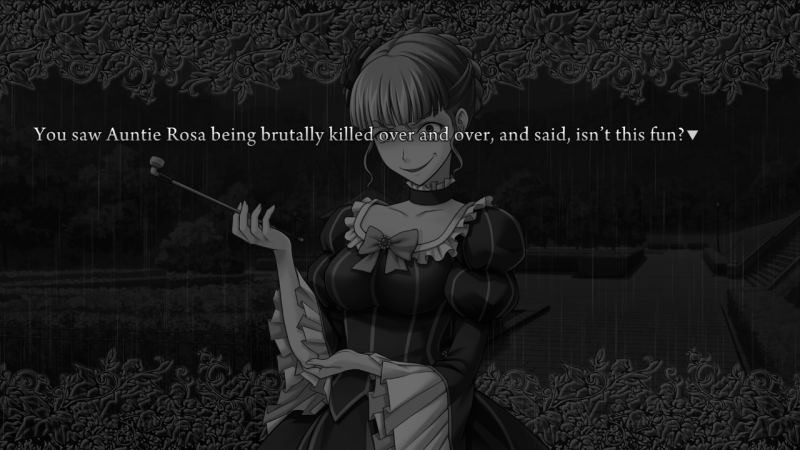 You weren't joking. You enjoyed it from the bottom of your heart, wanted me to sympathize, and said that I'd probably think it was fun. In that instant, I lost respect for you and realized the truth.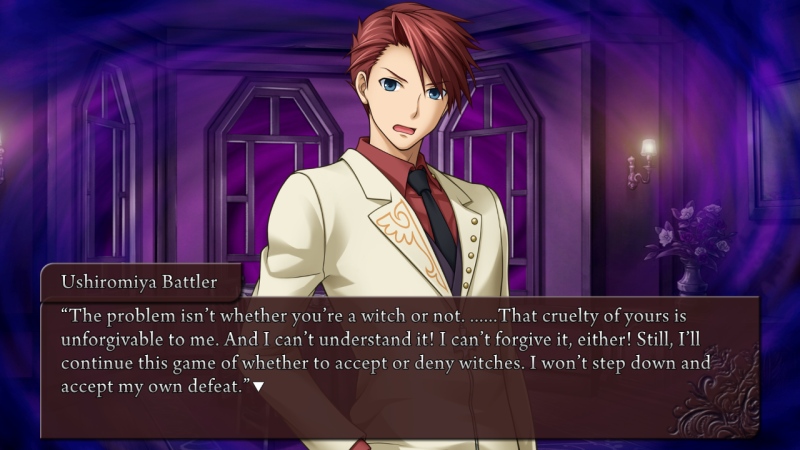 "However, your pointless cruelty is absolutely unnecessary for that game. So I've decided that I won't accept you as my opponent. Ronove is a hundred times better. He doesn't have the same cruel hobby you do. Even if he does, he doesn't have the awful taste to show it off in front of me."

"...That's right, you have awful taste. You're heartless and cruel, so you can't understand. That's unpleasant in an opponent. So I don't want to see your face again."
As Battler went on and on by himself, Beato was shocked into silence for a long time. Maybe she couldn't understand what she was being told, and this was a sign that she was doing all she could in an effort to understand. For a while, she kept switching between angry expressions, frustrated expressions, bold expressions, as though even she herself didn't know what attitude she should take.
In the end, she made her face into a candid expression, as though she had come to her senses, and shrugged her shoulders as though she was tired.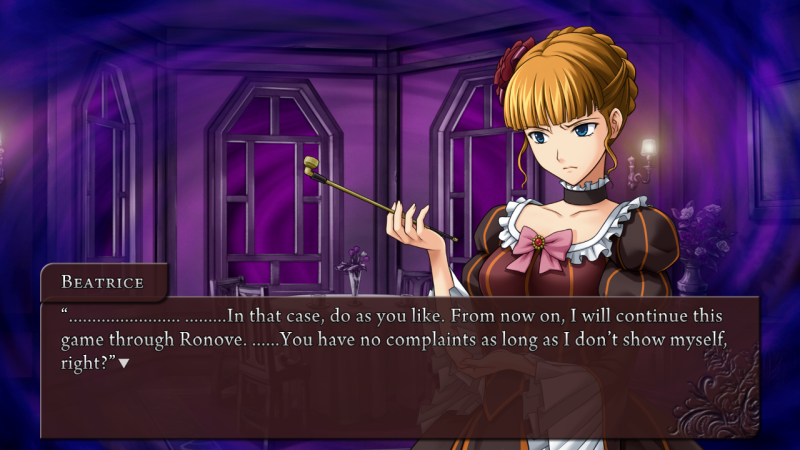 "...For the time being. But I definitely won't forgive all of your cruel actions up until now. And I definitely won't accept you. For that reason as well, I won't back down from this fight you've picked. And I definitely won't lose. That's all there is to it."

"...Beato, no matter how many more excuses you give, his impression will not waver. I have something to talk about later. Until then, stay back."

"...I-Indeed... Understood. Then I'll vanish until you call..."
Looking lonely, Beato turned her back to them and vanished. Battler watched, a slightly displeased expression on his face. He thought his argument had been valid, but for some reason, his mood didn't clear up.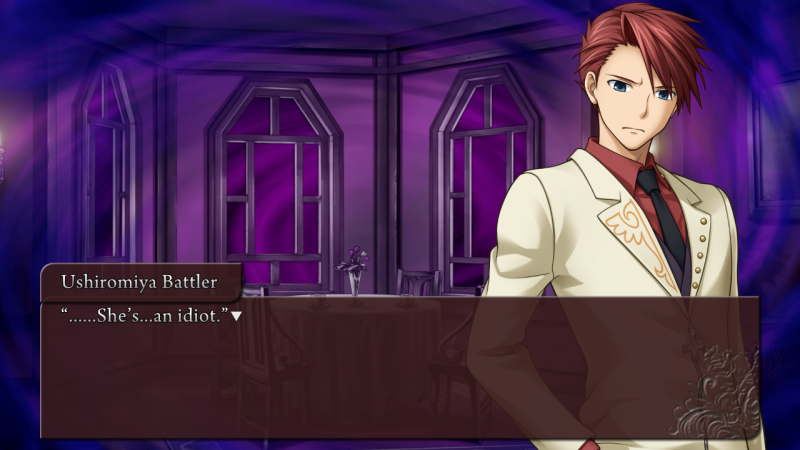 "...That's true. An idiot, and a straightforward one."

"That idiot watched Aunt Rosa get killed horribly with me, then turned around with a huge smile on her face. She really believed that she could laugh with me at that cruel show. She really believed that I could sympathize with that emotion..."

"Looking at that innocent smile, I felt just horrible. It would've been much better if she'd said it with her normal bullying face... Damn it..."

"Milady has never had the experience of having a friend. In addition, she has probably never had something spoken to her that strongly."

"Madam and I are her attendants. No matter what we say, it will not reach her ears. For Milady, this is also-"

"Don't screw with me. I don't remember ever becoming her friend."

"...That's true enough. My apologies."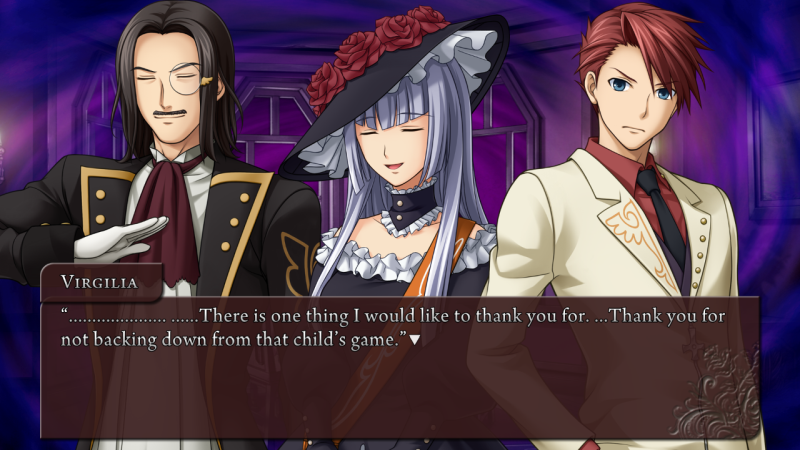 She spoke words of gratitude, but for some reason, Battler made a displeased face. Then as though in self-derision, he chuckled.

"Now that I've even got witches and demons thanking me, I'm screwed. Let's resume the game. Of course, I don't intend to go easy on you."

"I wouldn't have it any other way. Unlike Milady, I do not get agitated."

"...I've already made my move. If we suppose that Aunt Rosa is the culprit and died in an accident, I can deny the witch. I don't want to suspect Aunt Rosa, but I think I can bear to accept that premise if it'll beat the hell out of Beato."

"I will deny it with red.
Rosa's and Maria's deaths were homicides
."

"Okay. Let's start from there... Damn, I'm just not getting fired up."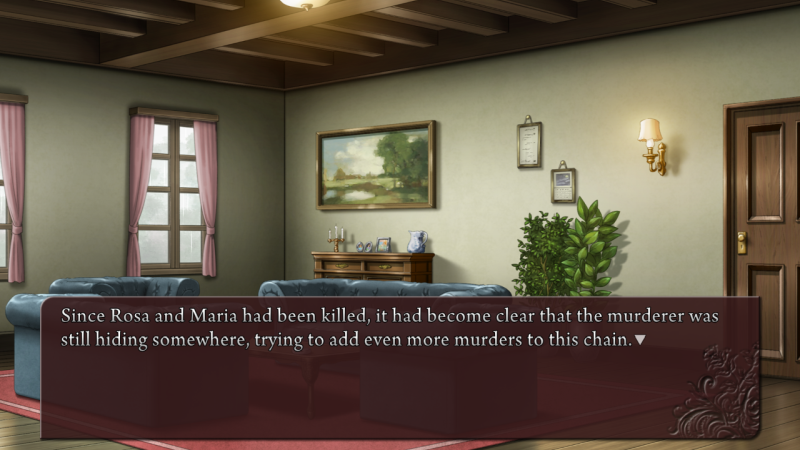 As he shed tears, Rudolf scolded Rosa's corpse for being reckless several times, but Rosa would never respond to that again. They decided to place the two corpses in one of the guest rooms... and to seal it until the police arrived...
The second murder... no, the murder of the second twilight had delivered a heavy blow to everyone. It had blown away the optimism that some of them had held, the thought that 'a crime didn't actually occur, and it was all a game or a farce by Kinzo and the servants'. Trying to distract themselves from the loss of the people they liked, George and Jessica had spent the whole time since morning talking about every possibility. And, they had distracted their hearts by supposing that these murders might actually have all been an act, and that Shannon and Kanon were only pretending to be dead. When the next murder occurred, it destroyed that thought, and they were once again struck by the fact that the person they liked had most definitely been killed... The tears that they'd thought had died away began to drip down once more, and Battler couldn't think of anything to say to them...
After that, all of the adults checked that all of the rooms were safe and locked, just in case. They made certain that the shutters on all of the windows were down and locked, and they confirmed that no one suspicious was hiding anywhere. On top of that, they checked their weapons once again... and checked with each other to make sure they were mentally prepared, so that they wouldn't hesitate to fire off a preemptive shot if they saw the shadow of a mysterious person.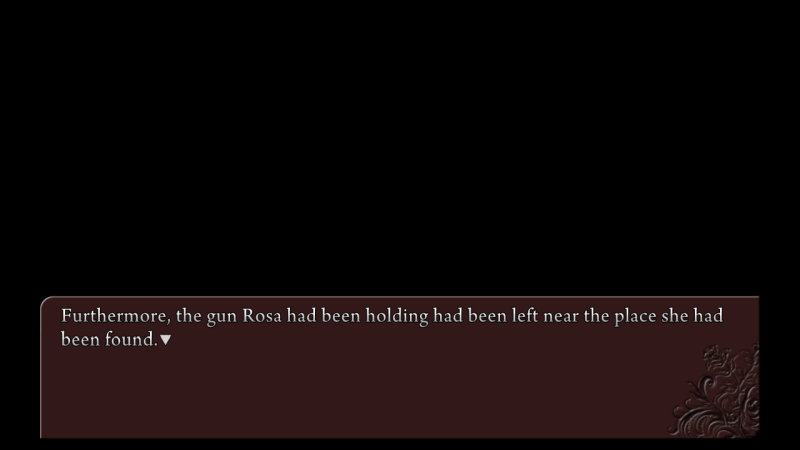 BGM: Dead Angle
Someone had gone out of their way to leave it there, so everyone suspected that it was some kind of trap, but when Hideyoshi delicately used a fire iron to fire off test shots, it was able to discharge without incident. So, since the five shots loaded into it had discharged without any problems, they reloaded it with bullets and handed it over to the only adult male who wasn't armed, Hideyoshi.
However, the fact that it had been able to fire off five shots gave rise to a certain paranoia. This short barrel Winchester could hold only five shots. In other words, Rosa hadn't fired even once. And yet, the two had probably been killed by someone with their bare hands. This meant there was a possibility that the crime had been committed by someone whose face they knew...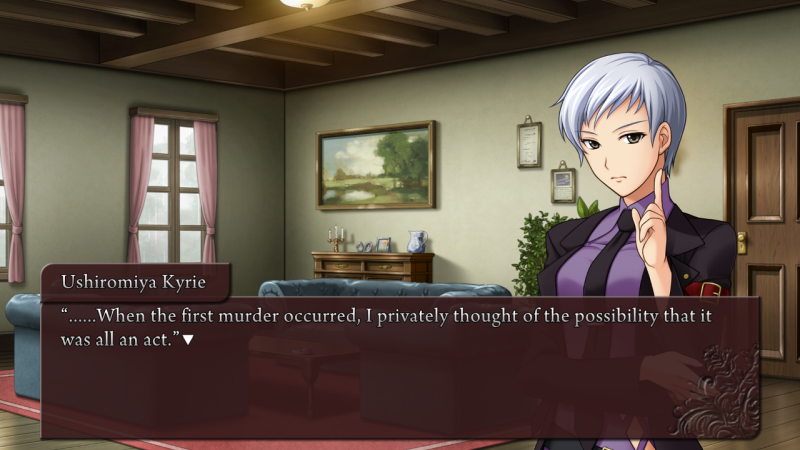 "...My apologies to Doctor Nanjo, but if he had actually been an accomplice, I thought the deaths of all the servants might possibly have been a massive, elaborate act by Father."

"...After all, the closed room situation they were in couldn't have been created unless we suppose that it was all an act."

"...We also... suspected that. No, I still want to believe that's the case."

"...My apologies, but that is not so. I am quite old. I might possibly make a misdiagnosis. However, I would never mistake whether they were alive or dead..."

"I get it! Don't go out of your way to say it out loud, Doctor Nanjo...!"

"...My apologies..."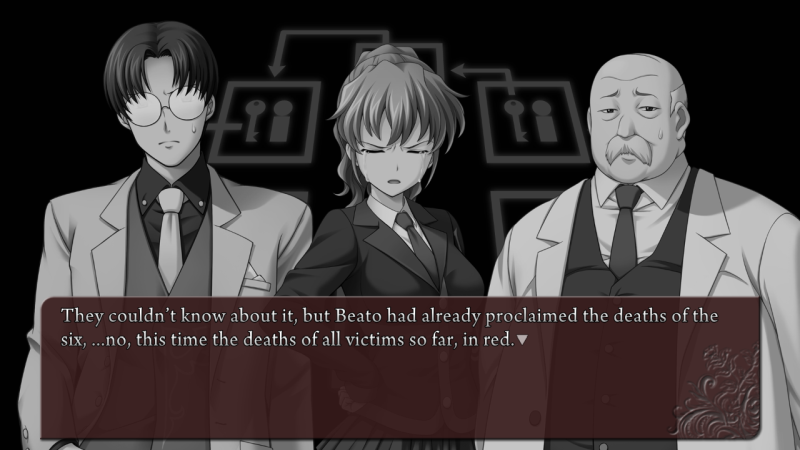 That faint dream that it was all a farce, that the victims were actually alive... I'm sorry to say it, but that's impossible...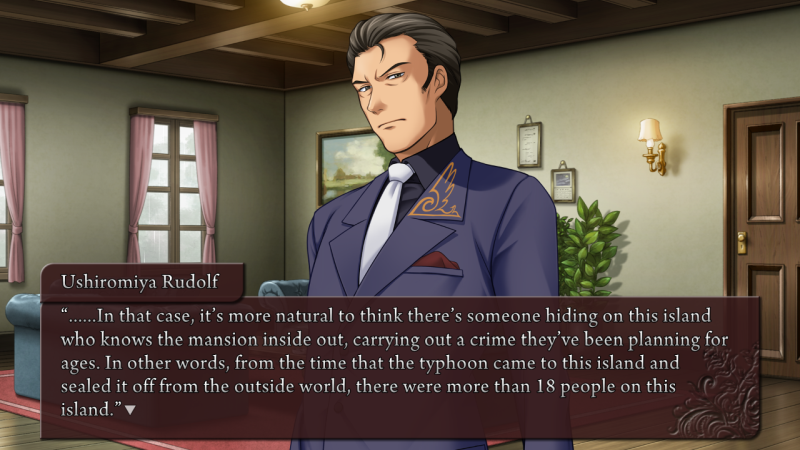 Of course, there was no way for them to know about that either. That claim of Rudolf's has also been denied in red. There are no more than 18 humans on this island...

"I might have a way to look at it that keeps things consistent, at least a little. Simply put, this person in hiding is someone who shouldn't really be on this island right now. And yet, there's a likelihood that they were someone Rosa-san knew, someone she'd let her guard down around."

"...S-So, for example, could it be... a servant who wasn't on this two-day shift...?"

"Hmm... It's hard to be certain about that one. When our servants finish their work and leave the island, it isn't as though we punch their ticket or something to make sure. If we're supposing that a servant on a shift from a few days ago only pretended to leave the island and actually stayed here, that would be hard to deny..."

"...I don't think Rosa-san is such a fool. If a servant who wasn't supposed to be here popped up in front of you, who wouldn't be on their guards...?"

"...I'm not even sure we should be assuming that it was someone she recognized. Maybe they suddenly attacked Rosa from the darkness and were about to steal her gun. Then Rosa fell, hit her head against the fence, and stopped moving. The guesthouse was nearby and they wanted to avoid the sound of gunfire, so they killed Maria-chan with their bare hands..."

"...There's also that possibility. Still, even if that is the case, would they really intentionally leave Rosa's gun at the scene of the crime? We don't know what the culprit's armed with, but they've got to feel insecure about our guns. Wasn't that a perfect chance for them to thin out our supply? Why would they intentionally leave it at the scene of the crime?"

"At first, I thought that gun was a trap. That's what chessboard thinking says it should be. By purposefully leaving it, they wanted to make one of us touch it. And they must have wanted to make us pull the trigger. I was sure that something dangerous had been done to it... to make it explode and cause massive injuries."

"But, it was actually okay. The culprit probably panicked. I'll bet that right now, they're regrettin' that they missed their chance to steal a gun...!"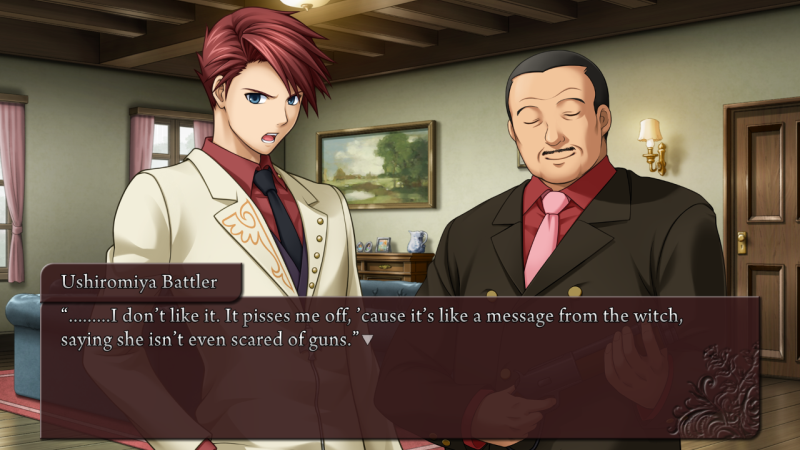 "...However, in any event, this is truly a fearsome opponent. Even at a glance, they should have been able to tell that Rosa had a gun. To think that they attacked her despite that. The fact that they are unafraid of guns should not be taken lightly."

"Indeed... It's as Natsuhi says. We should probably be even more cautious than we have been."

"This is just for peace of mind, but... at the time we think Rosa-san was attacked outside, where was everyone...?"

"Natsuhi and I were here, along with Rudolf and Kyrie-san. I can guarantee their alibis."

"Eva and I were together. I can guarantee that."

"George-aniki, Jessica, and I were together. When Aunt Rosa yelled at us to return to the second floor, we retraced our steps back to the cousins' room, all dejected."

"...Back then, if we hadn't let Maria go..."

"Saying that isn't going to change anything..."

"...Doctor Nanjo?"

"I-I was reading a book in a room on the second floor. I was by myself, so no one can verify my alibi, but I believe everyone saw me return to the second floor with the children."

"...Once I say this, it'll never end, but what if you jumped out the window, attacked Rosa, then climbed back up using a rain gutter or something...?"

"D-D-Don't be absurd... How could I perform a feat such as jumping down from the second story or climbing up with this old body...?"

"...Let us stop suspecting each other... It's more important that we trust each other and, for the children's sakes as well, defend this place until the very end."

"You're right... It's like Natsuhi-san says. For now, let's stop suspecting each other."

"That's right. We may be useless as far as searching for the culprit is concerned. We can only stay alive until tomorrow, inform the police, and follow their instructions. Because the police will definitely expose who the culprit is."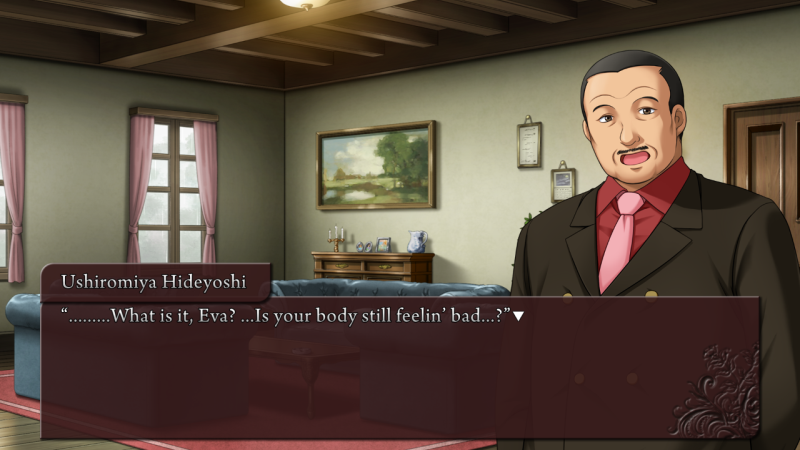 "M-Mother, what's wrong? Are you okay...?"

"...Sorry. It looks like my fever is still strong. I'll be fine, so leave me alone..."
When they looked, they saw Eva staring at the floor, her breathing harsh again. She had been able to act firm for a time, due to the urgency of their situation, but it seemed her body wasn't at its best after all...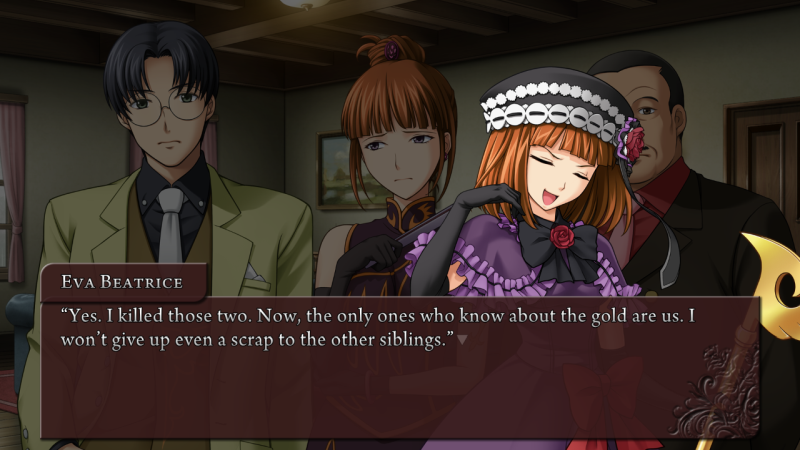 BGM: Black Lilliana

"...What have you done...?! There was so much of that gold, right?! Giving Rosa and the others their share wouldn't have been a problem at all, right...?!"

"It would. That gold is to be passed on only to the Head of the Ushiromiya family. That's because it, as a whole, represents no more or less than the honor of the Head. To wound that even a tiny bit... is definitely not something that I, the new Golden Witch, Beatrice, will permit. *giggle*giggle*giggle*giggle*giggle*!"

"...Do you plan to continue these murders according to the witch's epitaph...? Do you actually plan to become a murderer five more times...?"

"Yeah. If I don't finish that annoying ceremony, it seems my power as a witch won't become complete."

"Hey, 'me'. The power of the witch is really awesome. It really can make all the crazy things we imagine become reality. The power to make dreams more than just dreams...! Now that I've learned of this power, I can no longer stop being a witch. If I can finish the ceremony and make my power complete, I'm sure I'll be able to teach you that feeling too. *giggle*giggle*giggle*, *cackle*cackle*cackle*cackle*cackle*!"

"Stop acting like an fool...! Haven't you played at being a witch enough? We found the gold. And we've even been promised the position of the Successor. We'll probably need to tightrope walk just a bit, but by now, that's a dream that will definitely come true. Beyond that, what more could you wish for...?!"

"I wanted to become a witch."

"I don't give a damn about that dream...!"

"That's right. Because I kept holding onto that dream, I've lived at this age forever. When you became an adult, you threw that dream away."

"...No matter how long you wait, the rabbit holding a clock won't visit you, and you won't be able to meet Humpty Dumpty. Of course, you definitely won't be invited to the land of cards. Because you gave up and accepted all that, you became an adult."

"So you don't want to become a witch or anything like that anymore. You've even forgotten that it truly was your own dream at one point."

"...Anyway, stop it! I've already gotten my hands on two dreams! The gold and the position of Head. That's more than enough! So please, your dream has nothing to do with me! Stand down...!!"

"...No waaay. Magic's too interesting. Also, those two dreams of yours both came true because of my magic. It wouldn't be fair if my dream didn't come true too."

"I'm grateful for your magic, and I acknowledge that you're a real witch. So just stand down and return to the inside of my heart! And never appear again!!"

"No wa-y. We're both misunderstanding each other, aren't we? That's right, I am not you anymore. You are Ushiromiya Eva. I am the Golden Witch, Beatrice. So it's not my responsibility to go back inside your heart. I guess I feel like a butterfly who's broken out of her cocoon, meaning you."

"...Haah, haah... urg, the fever... is making my mind cloudy..."

"My inexperience with magical power is forcing me support it with your vitality. Until I finish the ceremony and become a full witch, you might have to bear the burden. I'll take that as payment for making two of your dreams come true. It's fine, don't worry, okay? For the remaining five sacrifices, I'll avoid your family."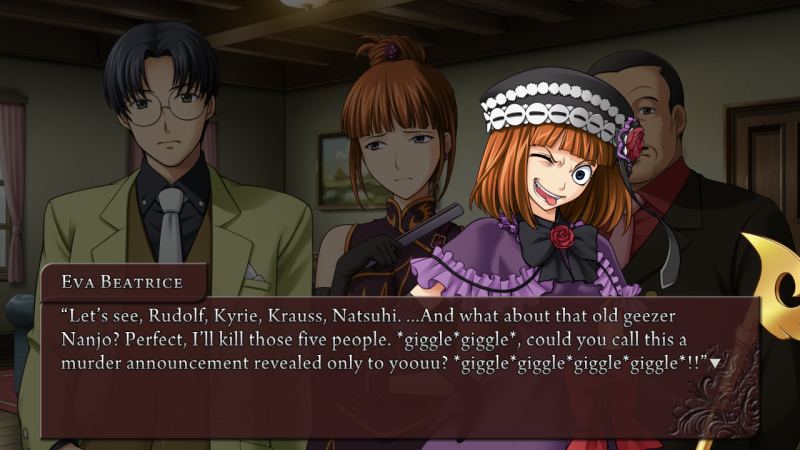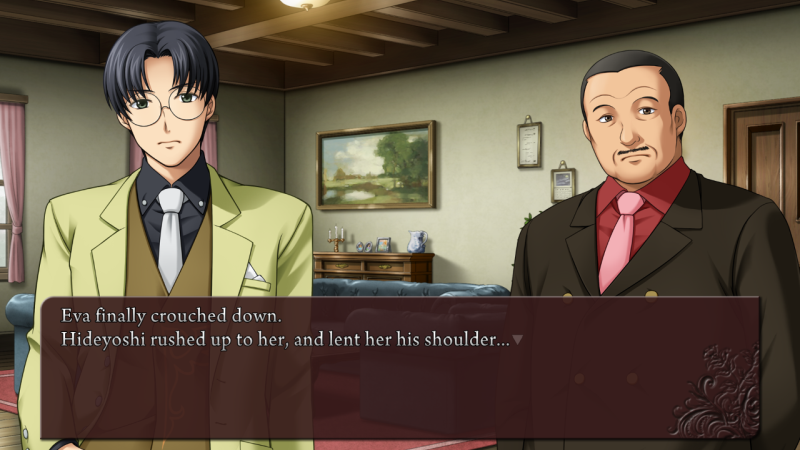 "...Are you okay? Let's take it easy and rest!"

"Are you all right...? Doctor Nanjo, take a look at Eva...!"
When Nanjo and George tried to approach, Eva made a gesture to stop them.

"...Thank you. I'm fine, Doctor Nanjo. I'm taking medicine. I apologize for saying this during such an extreme situation, but let me rest a little longer..."

"Mom, I'll lend a hand too..."

"Thank you, but I'll be fine as long as your father watches over me. Go back to the second story cousins' room and don't come out no matter what. Understood...? No matter what happens, you must not leave the guesthouse... Outside, that... witch will... uuuu..."

"Don't talk anymore...! Sorry, everyone, but I'll be watching over Eva in our room. Tell us if something happens."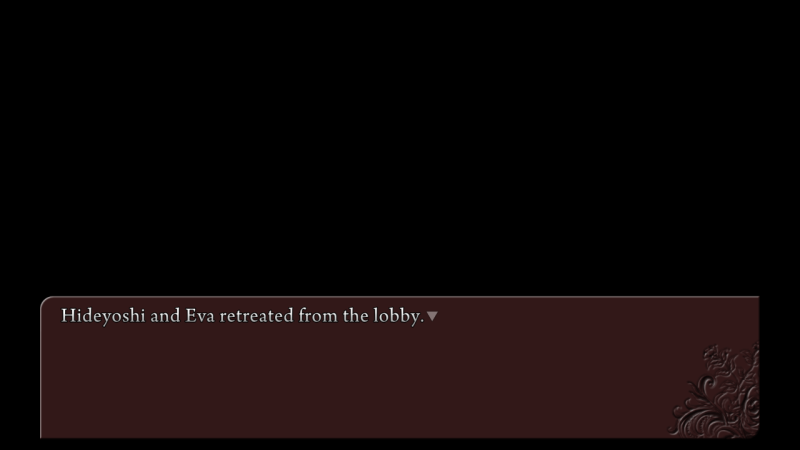 However, Eva wasn't the only one who wasn't feeling good. They hadn't gotten a wink of sleep since the previous night...and had been pressed by tension since that morning. They were mustering their energy to protect their families, but if they relaxed even a little, surely everyone would be down and out...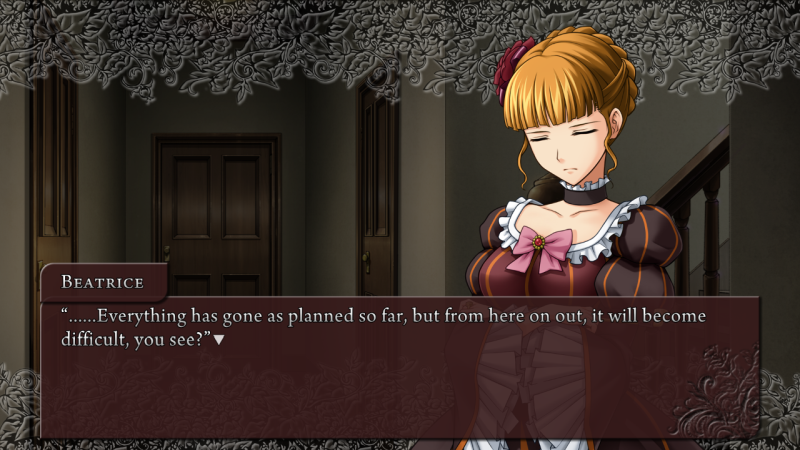 BGM: Golden Sneer

"Difficult, meaning...?"

"Mm. Normally, as the ceremony progresses and the victims increase in number, they begin to tighten their guard, and in most cases, they hole up in one place and stop moving. That is extremely inconvenient for us."

"...Are you saying that we witches are inferior to a bunch of Humans in a group...?"

"Witches are never inferior to Humans... However, perhaps you could say that times change, and that Humans have gotten their hands on a poison..."

"...This wasn't a problem long ago, when people believed in witches, but just like that annoyance Battler, people in the current era deny magic on a fundamental level."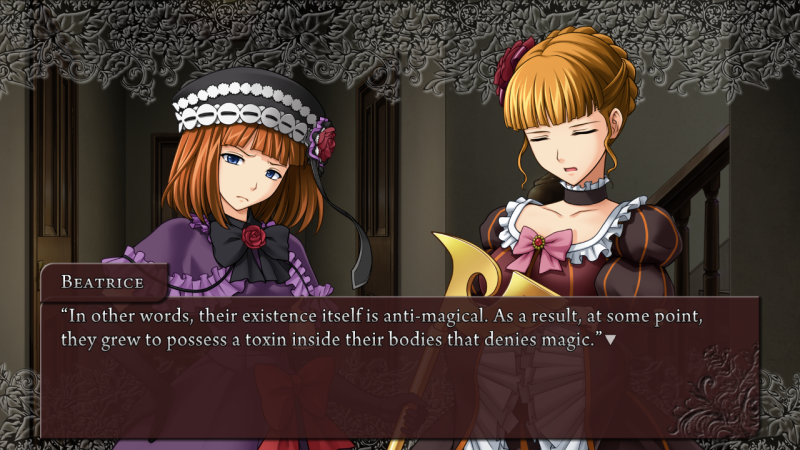 "In other words, you're saying that the more Humans there are, the stronger that magic-resisting toxin gets, and the greater the disadvantage is for us witches?"

"...The combined amount of power in their hearts that denies magic... in other words, their magic resistance power, becomes the denominator in the equation of your magic's power... Understand? Is that a bit too difficult for you...?"
"You're joking. Actually, I understand it easily. In other words, you're saying that the more people there are who don't believe in magic, and the stronger their will is, the more the effects of our magic are divided. Yeah, if it's so formulaic, I'll have to rethink my method of attack."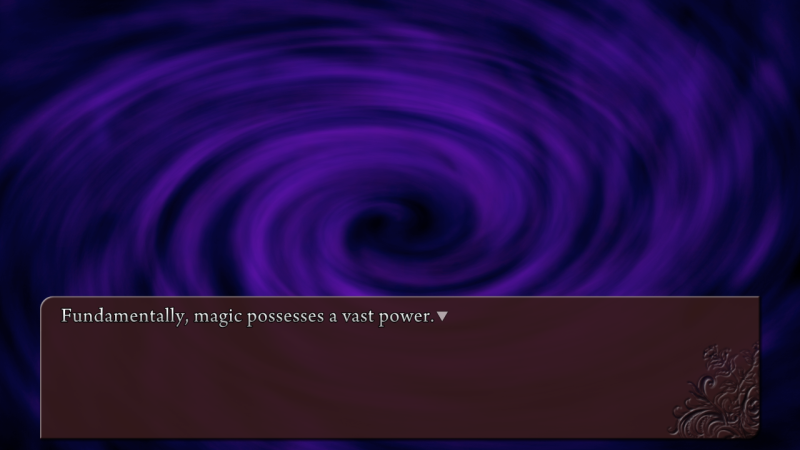 It can even make a rain of fire fall from the heavens or divide a sea, and reviving a lost life isn't impossible either. However, that power is extremely weak against the toxin that rejects it. And that toxin started piling up in Humans since the time they forgot to respect things sacred, until finally, this earth was covered with enough toxin that the miracles of magic could not be displayed. Thus, witches from across the world were chased from their dwellings. They had been forced to choose to throw away their magic and live as Humans, or else live in hiding in remote areas where the toxin of Humans didn't reach.
In that sense, Rokkenjima, with its population of only a few dozen humans, was extremely favorable for witches. And even more favorable was the existence of the ghost story about the witch who lived in the Rokkenjima forest. In other words, by permeating the island with the fear that a witch might exist, the magic-resisting toxin from the Humans was weakened.
A small population... and room for them to acknowledge magical beings. In other words, minds that were only weakly anti-magical. Only by existing in the valley where those two converged... could a witch live in modern times...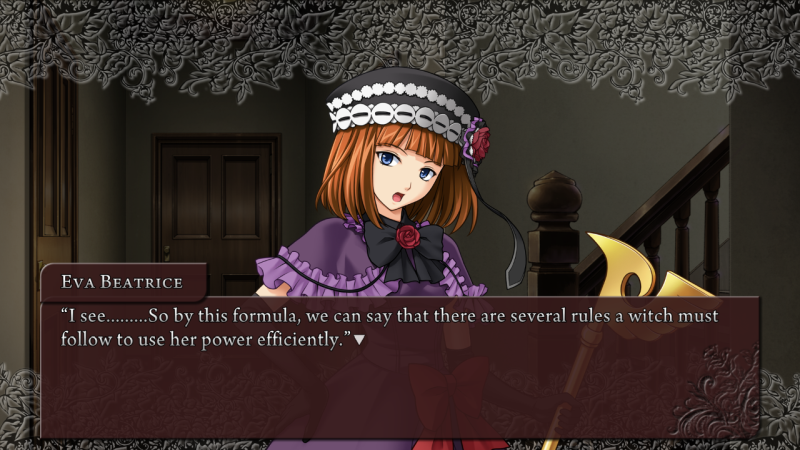 "The first is presentation. Create a murder scene that couldn't conceivably have been done by Humans, decorate it in an occult way, make it look very much like a witch exists, and permeate people with fear to make them believe that witches exist. As a result, the anti-magic power and the denominator for our magical power will be decreased. I see, so this is why the creepy magic circles of the first twilight were created?"

"Th-That's right, exactly...! The gaudy scenes for the first twilight in each game are all for that reason. It's definitely not as though I like being cruel or am doing it for fun..."

"...In that case, Predecessor-sama, you failed this time around. You killed them in a very plain way. It doesn't look like anything more than a simple mystery."

"...I heard about last time and the time before that from Ronove. You should've damaged the corpses more grotesquely, like you did then, making it look more like fantasy and instilling fear in those people."

"...W-Well, about that. I thought it wouldn't be artful to do that every time, you see...? Don't think too deeply on it, it's just a whim...!"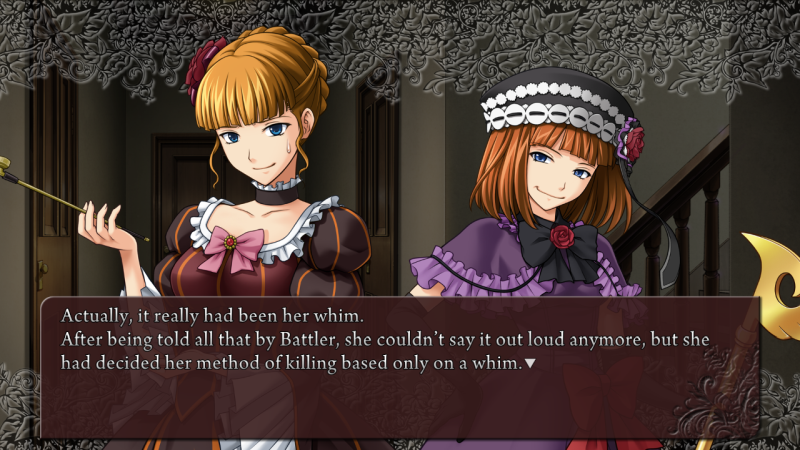 No, would it be better to say that she had halfheartedly let Ronove decide? After all, she left the closed rooms of this game's first twilight to him. But if she'd had a cruel idea, then she would surely have explored the limits of atrocity even worse than in the previous game...

"...You told me to show some restraint when deciding Rosa's and Maria's deaths too, but that wasn't a course of action beneficial to us witches either, was it? In actuality, by now, none of them believe one bit that a witch actually exists. They're totally sure that it's a mystery, not a fantasy. This turn of events is a failure from a witch perspective. For some reason, you keep doing things in a kinda lukewarm way, Predecessor-sama."

"Aah, l-like they say, things you learn when you're young will definitely help you out in the future...! This is a test passed on from my predecessor to you. Take it on with respect. Wahahaha...!"
Beato tried to laugh heartily, but it was obviously the fake laugh of someone trying to cover something up, and the new witch shrugged with a sigh.

"...At this stage, it's probably too late to create a scene and reduce the anti-magic power. In that case, there's another move. Getting the Humans to split up should work."

"Indeed, that is probably the most effective way. The smaller the number of Humans, the more the denominator shrinks. As a result, the magical power functions instantaneously. In other words, it all begins from one point: how to destroy this barricade situation and have them split up into small groups."

"However, they are already very cautious. The barricade won't be destroyed easily, right...? Both the barricade in Kinzo's study two games ago and the barricade in the parlor last time were very stubborn. Furthermore, most of the cunning adults still remain this time."

"The situation is more difficult than all the ones before it, understand? If you wish, I could give you some special advice..."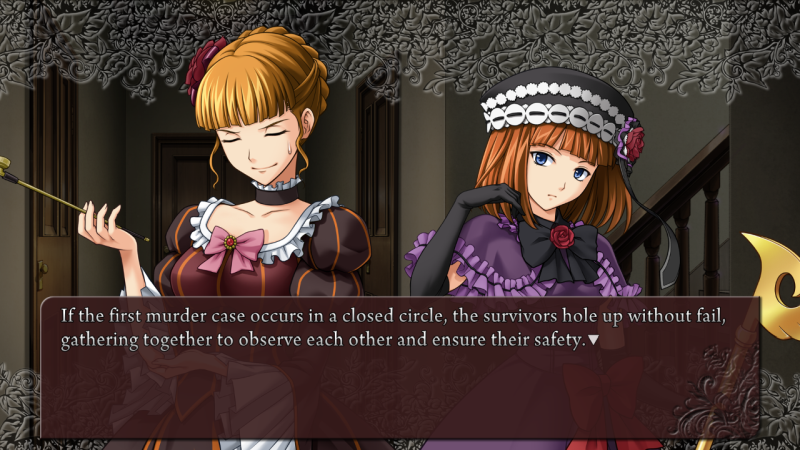 ...Funnily enough, not only do mystery authors and murder culprits worry about how to break that situation apart, but so do witches, who supposedly exist at the other end of the spectrum. For a while, the new witch poked her cheek with her pointer finger, and after acting as though she was planning something, she spoke.

"...No, I'm fine. After all, it is a test. I won't borrow your moves."

"Nn, really...? Still, it will be rather difficult to defeat this barricade, right...?"

"I've already made my move. I'm pretty sure it'll work. And it'll definitely work on someone smart."

"I-Is that so...? You really are excellent... I'm pleased to see that my disciple won't be causing me much trouble."

"My motto is to study things myself before asking other people. Then, if you would excuse me. I have to wait for my prey to get lured out."

"Indeed. Well then, handle it with care."
As the new witch lowered her head, her face blank, she turned into gold butterflies and vanished.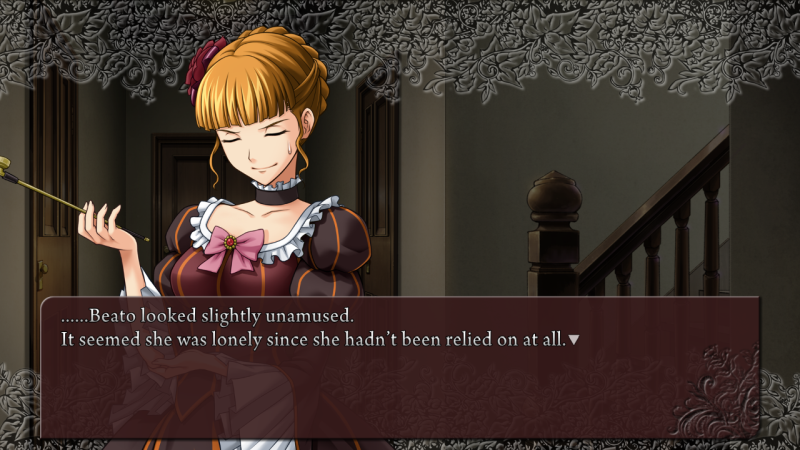 "...Not one of them gives a fig for me... Hmm. You witch apprentice, acting so smart... I'll bet she makes some painful mistake and starts crying."

"Then, without a doubt, she'll finally realize my greatness and beg me to teach her! *cackle* Until then, I shall watch from on high."
She laughed loudly on the outside, but a laugh no one can hear is completely pointless. Beato gave up and quickly stopped laughing. Ronove chose that time to show himself.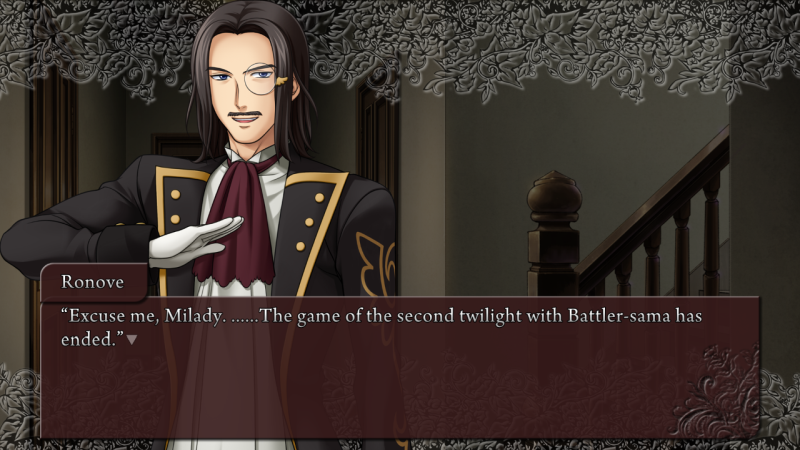 BGM: Organ Short #200 Million in C Minor

"...Nn, I see. Good work. What was the result?"

"My sincere apologies. I was forced to resign. By saying in red that 'both deaths were homicides', I made Battler-sama revise his claim of 'Rosa strangled Maria to death, then died in an accident', but I could not repel his chain of moves placing Eva as the principal offender."

"Wasn't Eva sleeping in her room the whole time as Hideyoshi cared for her?"

"...He put forth the possibility that Hideyoshi was an accomplice, and that the two worked together to create an alibi."

"He even suspects Hideyoshi...?! Couldn't you have struck back by saying in red that he was in the guest room at the time of the murder?"

"...I also thought of that, but multiple important pieces might have been taken several moves later. And, because this move might be connected to the new Beatrice-sama's strategy, I acted out of respect to her. My apologies."

"Strategy, you say? Her mind does seem to be sharp. Hmph, we can let her do as she pleases. It will be quite a show to see how far she can go."

"Pukukukuku. I thought you would say that. I see that the un-cuteness of your disciple has left you in a bad mood."

"That's none of your business. I wonder how that one plans to destroy this barricade going forward. I shall keep a close eye on her. Oh, and... h-how was Battler's mood?"

"It appeared as though he had calmed himself down. He did say that he couldn't get fired up after all, without you as his opponent."

"R-Really, well that's no surprise, no surprise at all! If I don't return for the fourth twilight and after, Battler will probably be lonely himself...!"

"Pu ku ku ku... And with that, if you would excuse me. I need to go bake some delicious cookies. I must at least enliven the discussion between you and Battler-sama, Milady."

"Indeed! That guy really was munching your cookies, wasn't he? It's no surprise that a boy can eat so much. Make a lot of them...!"

"Certainly. I shall make enough cookies to bury the table."

"That sounds great...!"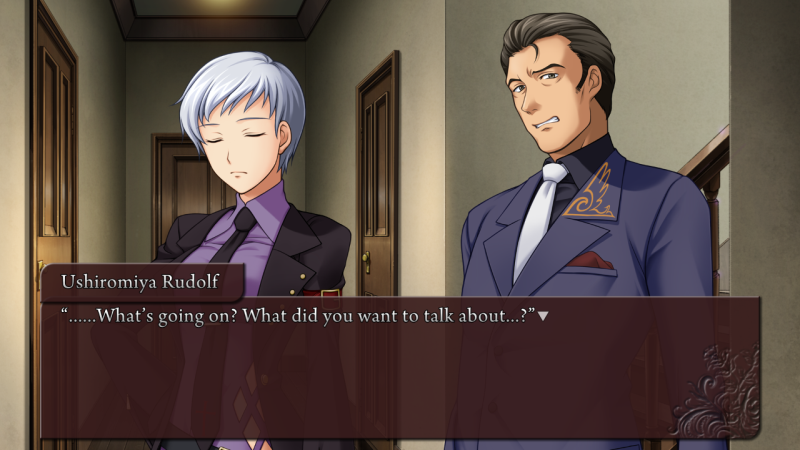 It was obvious that she wanted to talk about something that she didn't want the others to hear.

"Umm, I..."

"Yeah?"