Part 6: sans.
From here on, please keep in mind that I'm going to be doing at least three playthroughs. If I miss something, odds are high that I'll not miss it on another playthrough. If I don't, well, I said it wasn't a 100% run when it started. Hey, maybe at the end I'll open the thread to other people posting scenes I missed.
Have patience, and please don't spoil anything.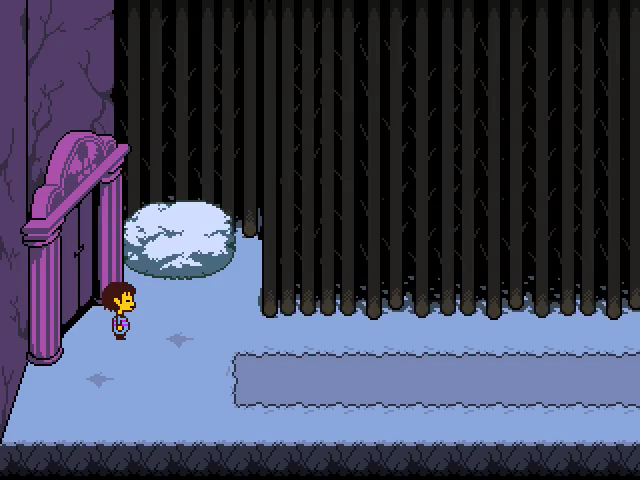 So, here we are. The underground world.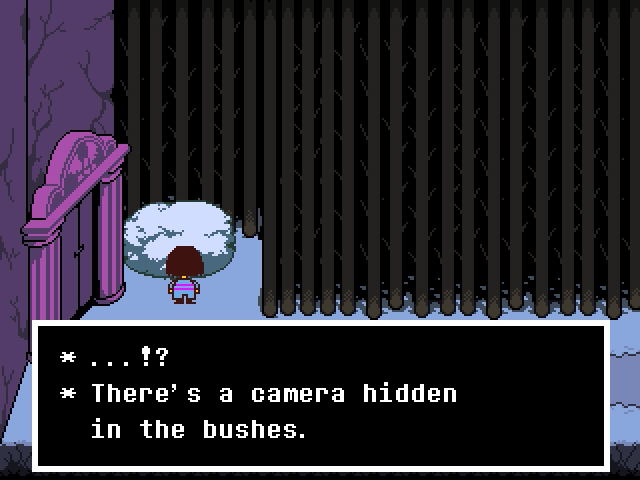 We're off to a good start.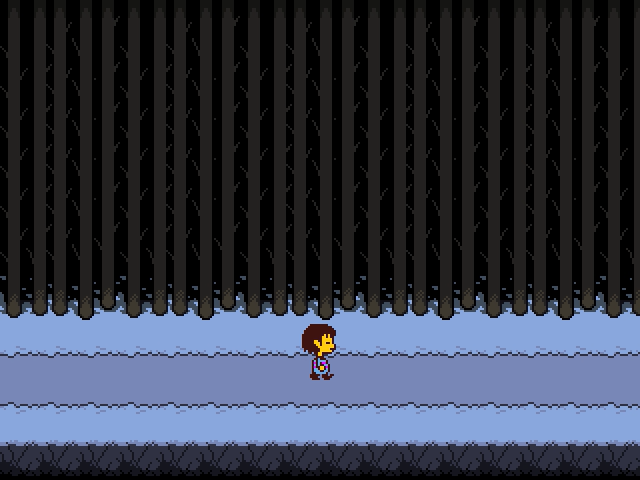 It's cold, and I feel like I'm being watched.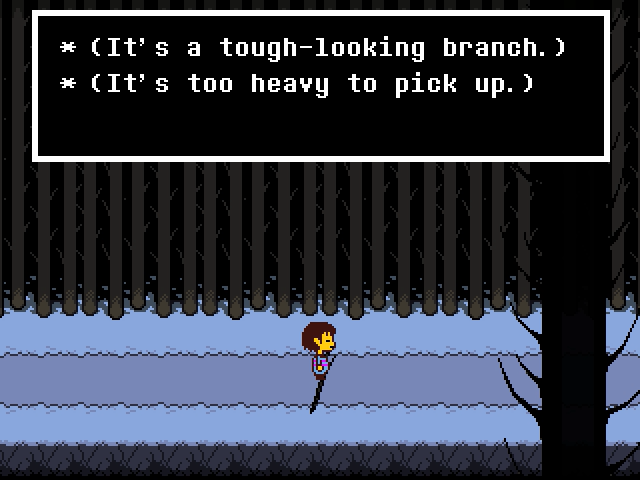 Just a stick.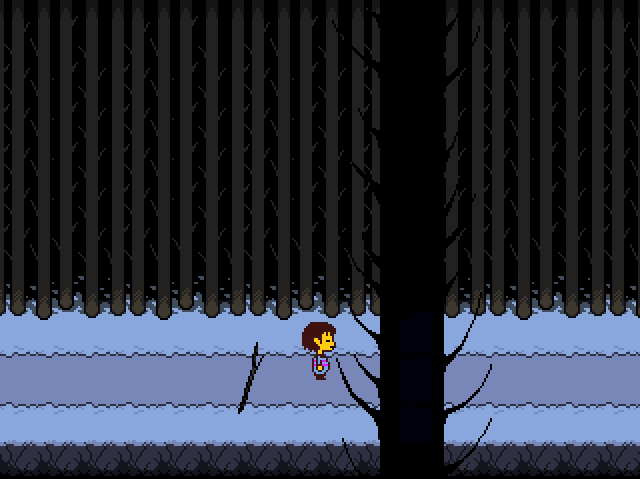 Wait.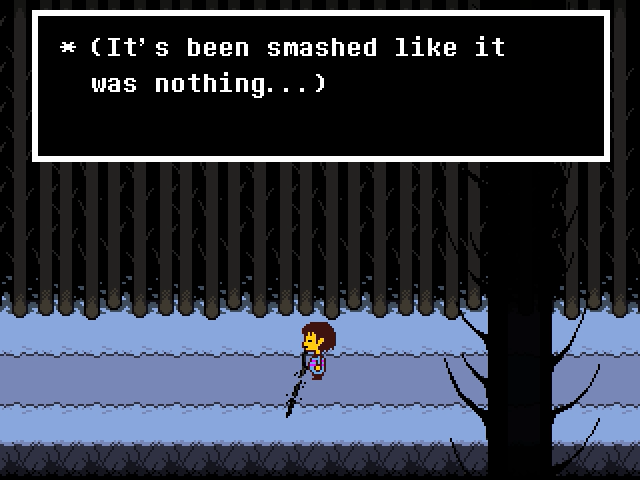 I'm starting to feel unsafe.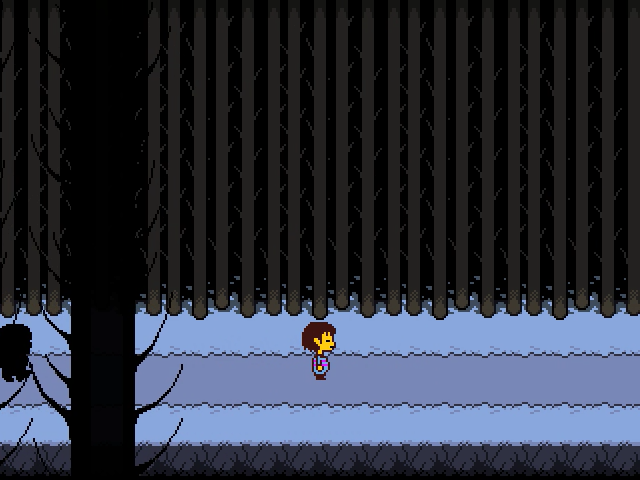 I briefly glimpse something following me between two trees, but when I turn back, it's gone.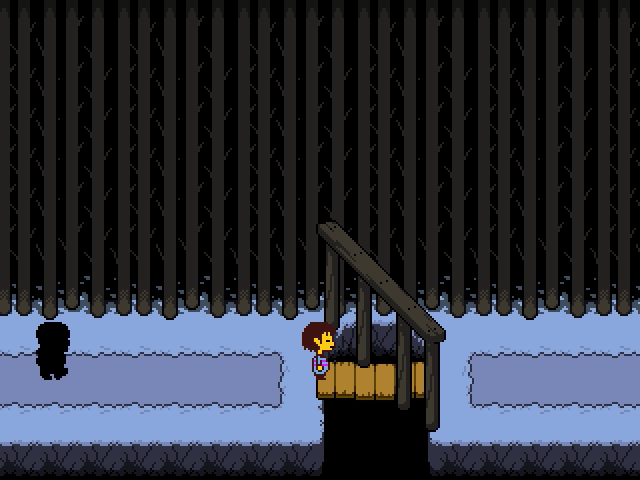 It's coming.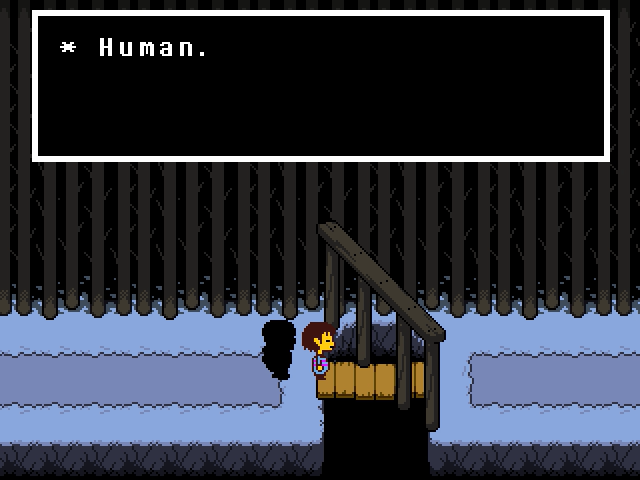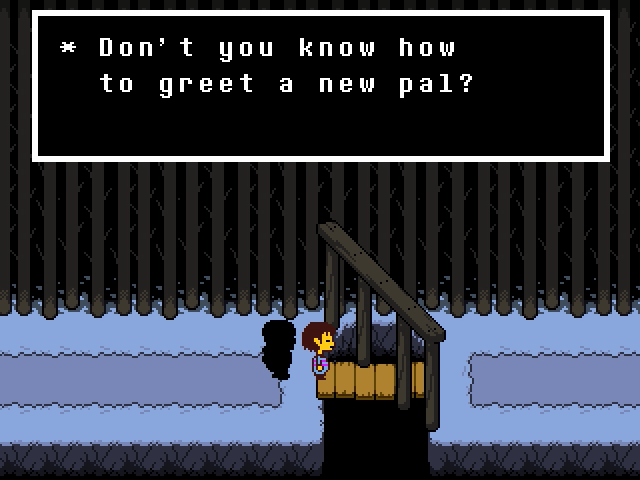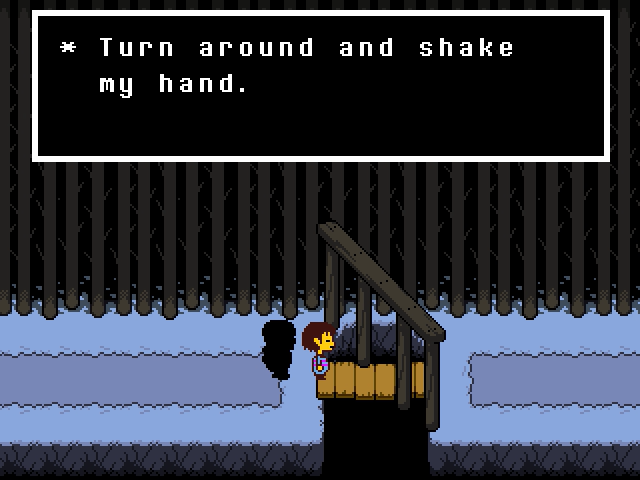 Slowly, nervously, I turn and extend my hand.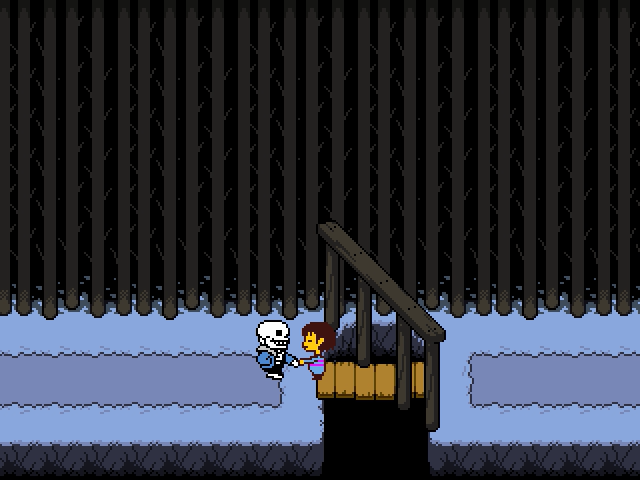 A deafening fart noise echoes through the woods.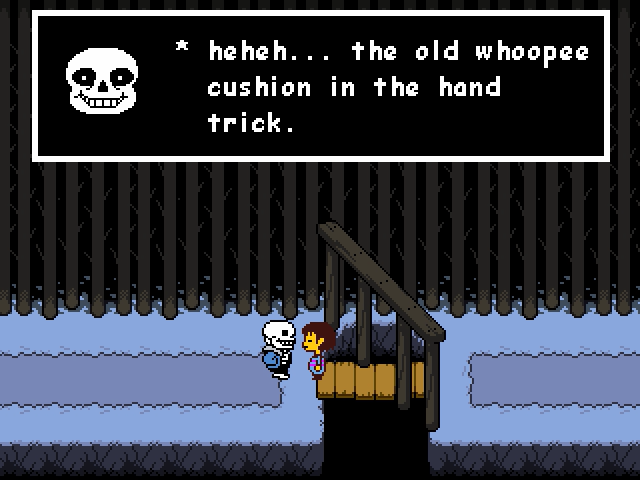 BGM: sans.

it's ALWAYS funny.

anyways, you're a human, right?

that's hilarious.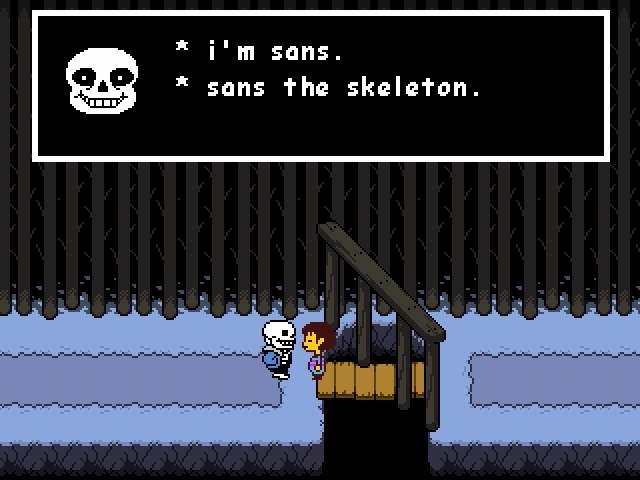 im actually supposed to be on watch for humans right now.

but... y'know...

i dont really care about capturing anybody.

now my brother, papyrus...

he's a human-hunting FANATIC.

hey, actually, I think that's him over there.

i have an idea. go through this gate thingy.

yeah, go right through. my bro made the bars too wide to stop anyone.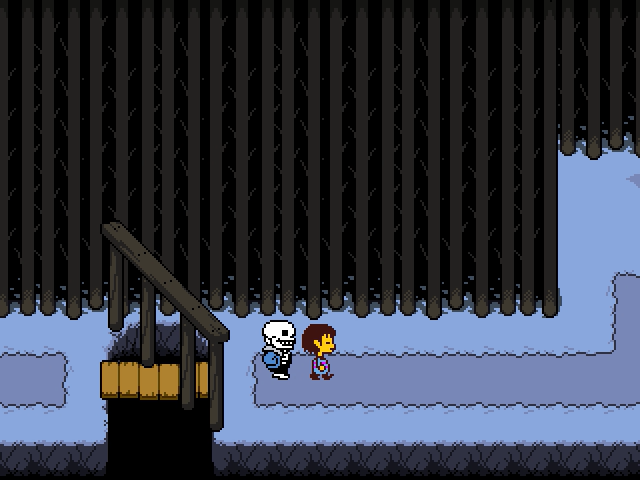 Indeed he did. I head out to meet Sans's brother.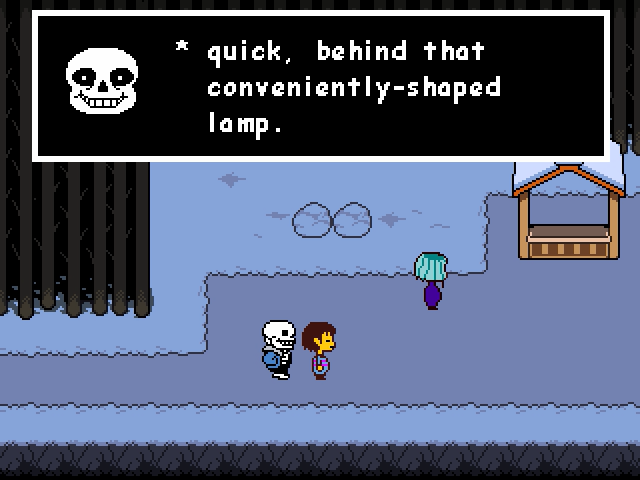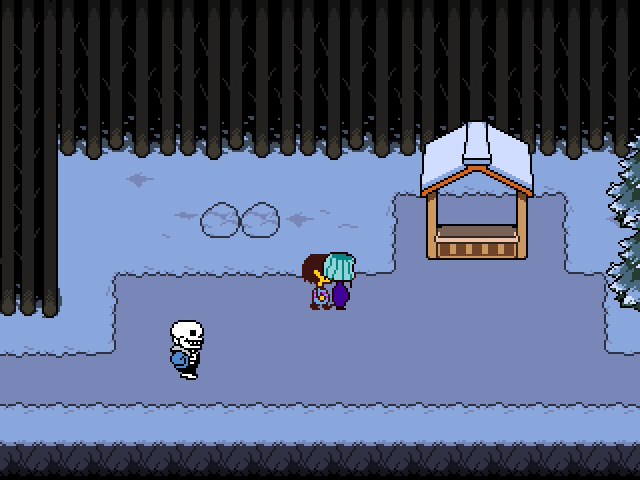 Wow, that really is a conveniently-shaped lamp.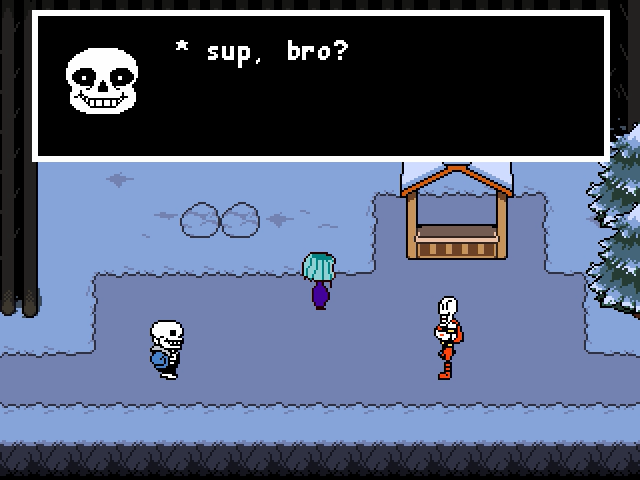 BGM: Nyeh Heh Heh!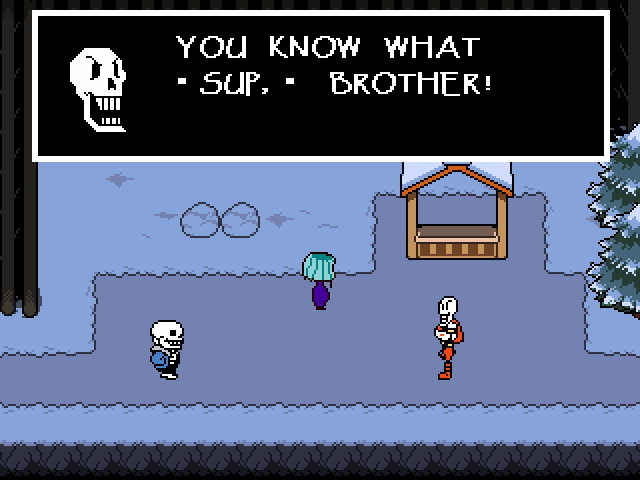 IT'S BEEN EIGHT DAYS AND YOU STILL HAVEN'T...

RECALIBRATED. YOUR. PUZZLES!

YOU JUST HANG AROUND OUTSIDE YOUR STATION!

WHAT ARE YOU EVEN DOING?!?

staring at this lamp. it's really cool. do you wanna look?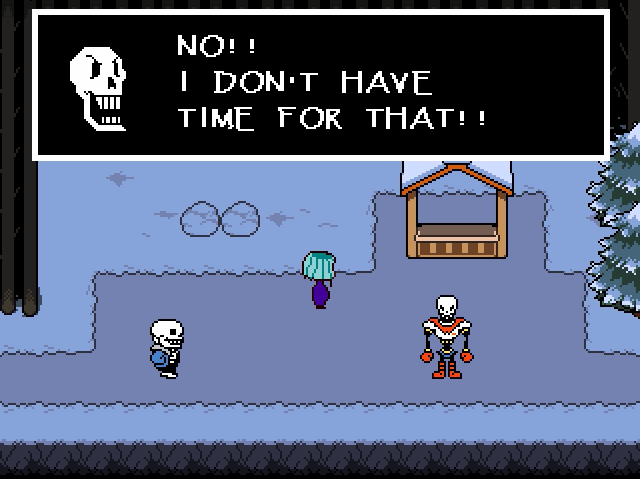 WHAT IF A HUMAN COMES THROUGH HERE!?!

I WANT TO BE READY!!!

I WILL BE THE ONE! I MUST BE THE ONE!

I WILL CAPTURE A HUMAN!

THEN I, THE GREAT PAPYRUS...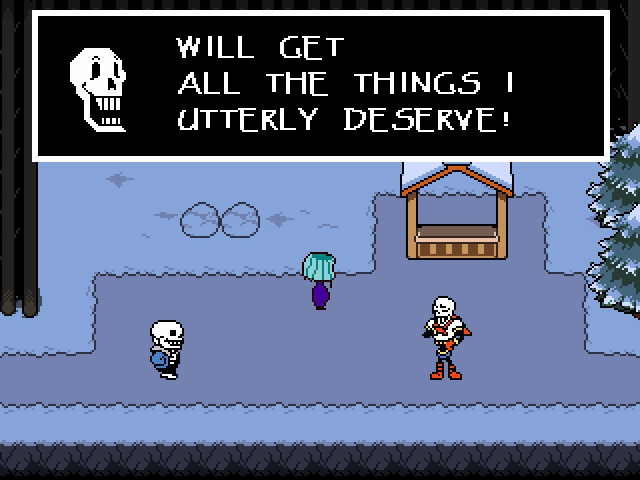 RESPECT... RECOGNITION...

I WILL FINALLY BE ABLE TO JOIN THE ROYAL GUARD!

PEOPLE WILL ASK TO, BE MY, "FRIEND?"

I WILL BATHE IN A SHOWER OF KISSES EVERY MORNING.

hmm...

maybe this lamp will help you.

SANS!! YOU ARE NOT HELPING!! YOU LAZYBONES!!

ALL YOU DO IS SIT AND BOONDOGGLE!

YOU GET LAZIER AND LAZIER EVERY DAY!!!

hey, take it easy. i've gotten a
ton
of work done today.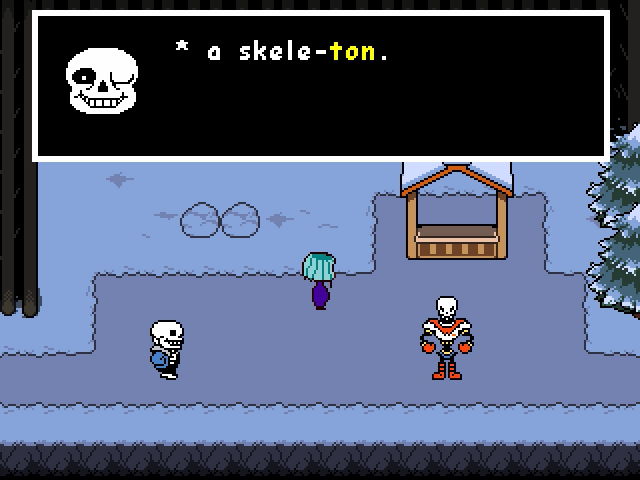 Rimshot.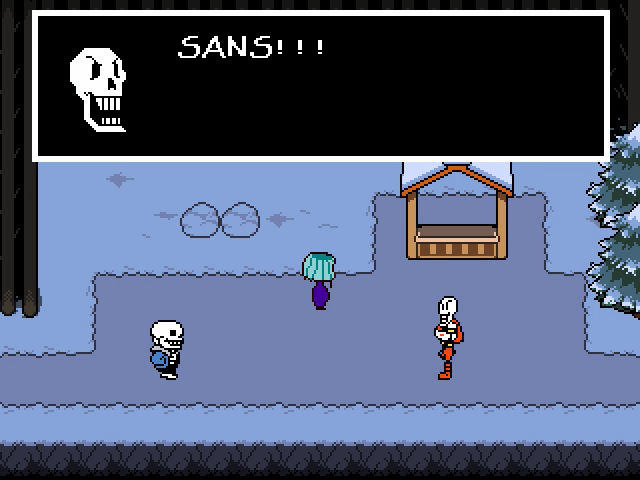 come on. you're smiling.

I AM AND I HATE IT!

SIGH...

WHY DOES SOMEONE AS GREAT AS ME...

HAVE TO DO SO MUCH JUST TO GET SOME RECOGNITION...

wow, sounds like you're really working yourself...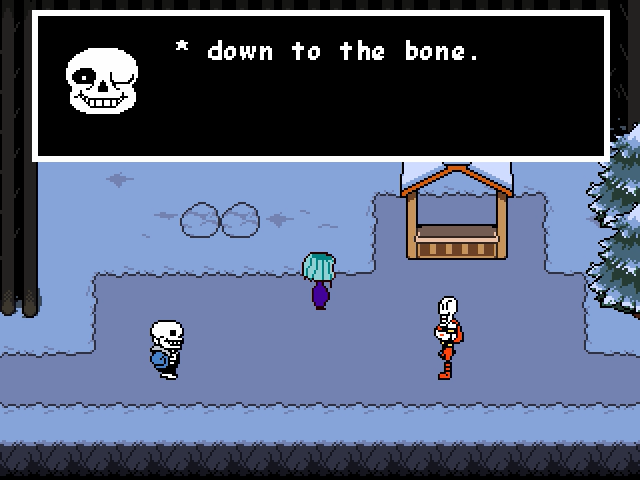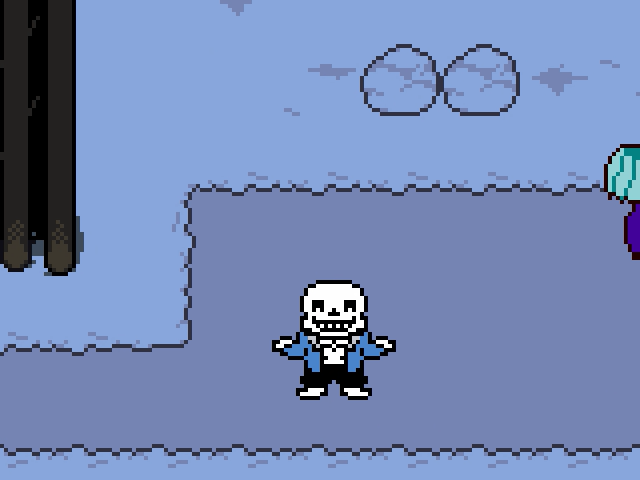 Rimshot.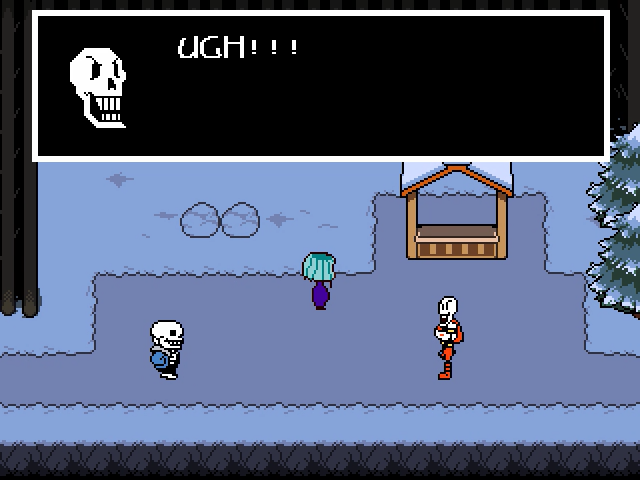 I WILL ATTEND TO MY PUZZLES...

AS FOR YOUR WORK?

PUT A LITTLE MORE,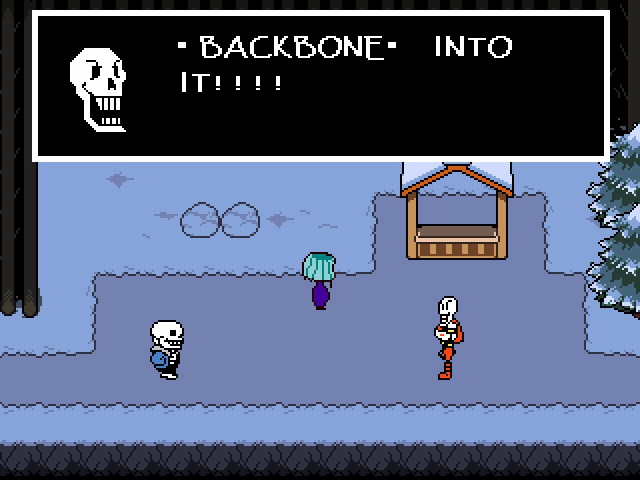 NYEHEHEHEHEHEHEHEHEHEHEHEHEHE!!!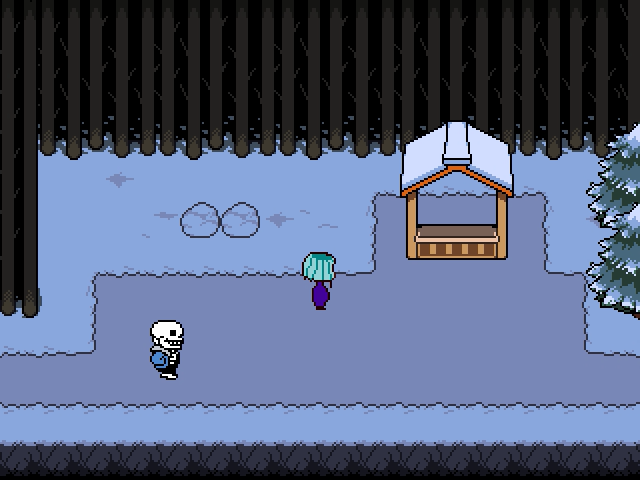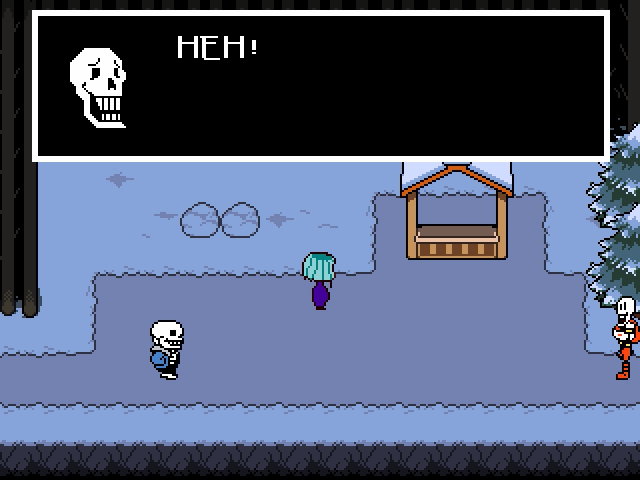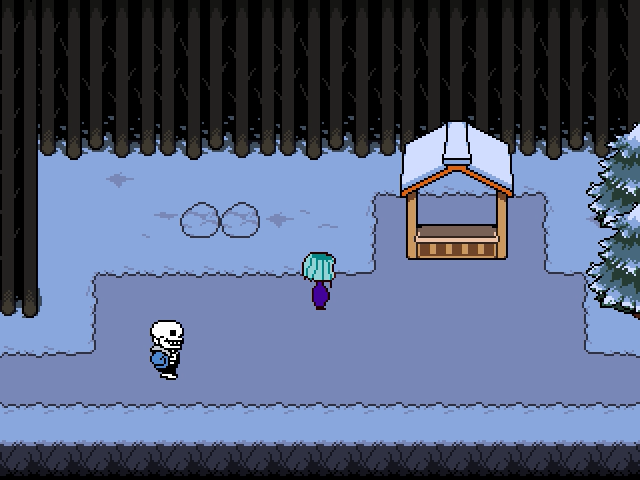 ok, you can come out now.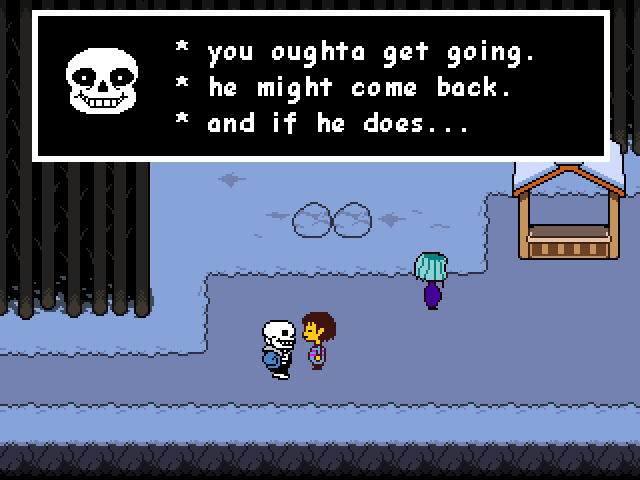 ...you'll have to sit through more of my hilarious jokes.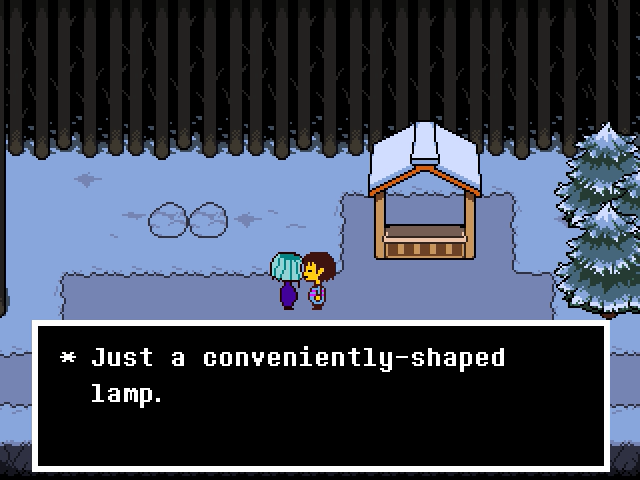 I don't know what I would have done if there wasn't a conveniently-shaped lamp here.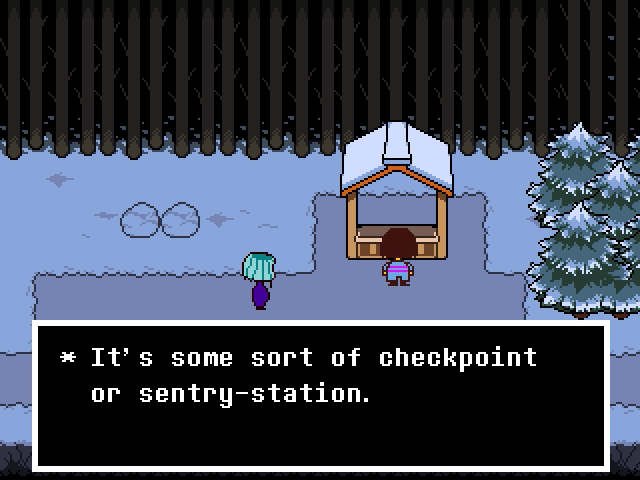 But there are bottles of ketchup, mustard, and relish sitting inside...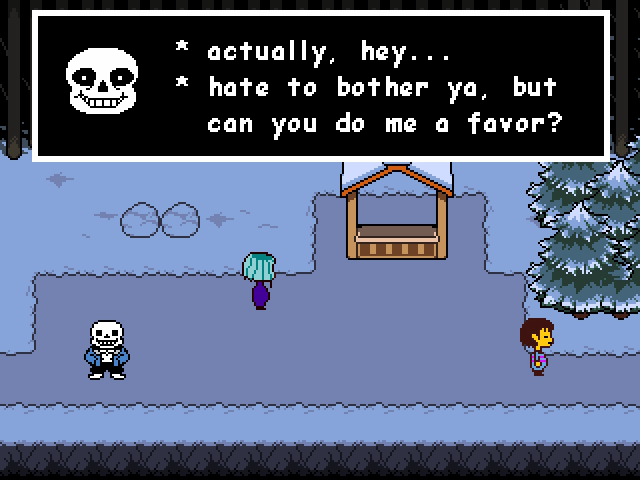 i was thinking... my brother's been kind of down lately...

he's never seen a human before. and seeing you might just make his day.

don't worry, he's not dangerous.

even if he tries to be.

thanks a million. i'll be up ahead.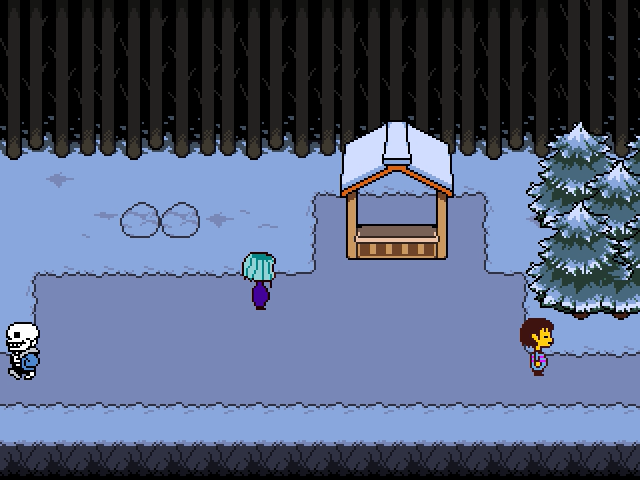 Promising to meet us up ahead, Sans heads back.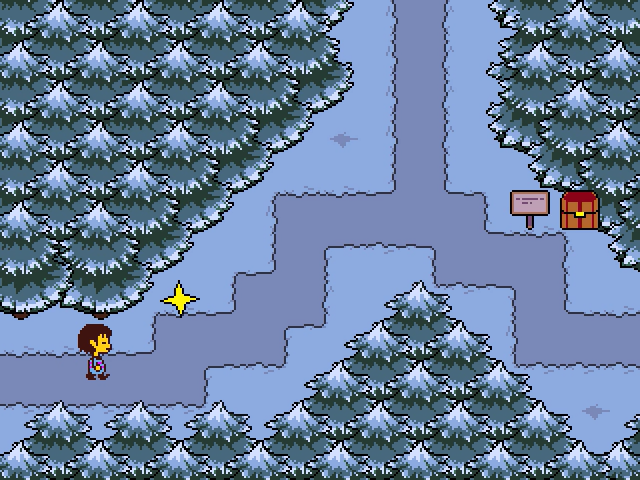 BGM: Snowy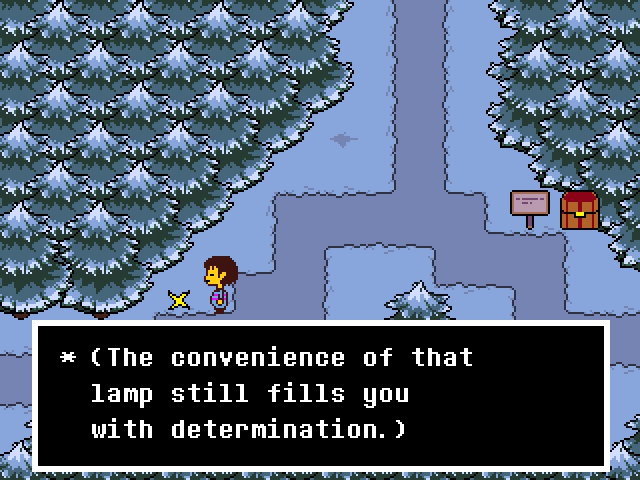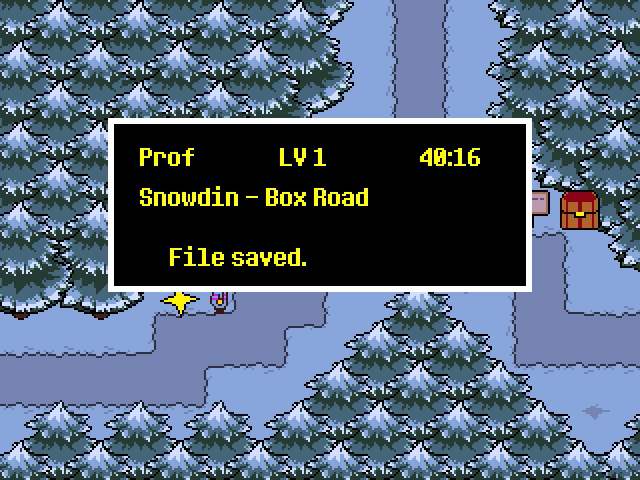 I save my game.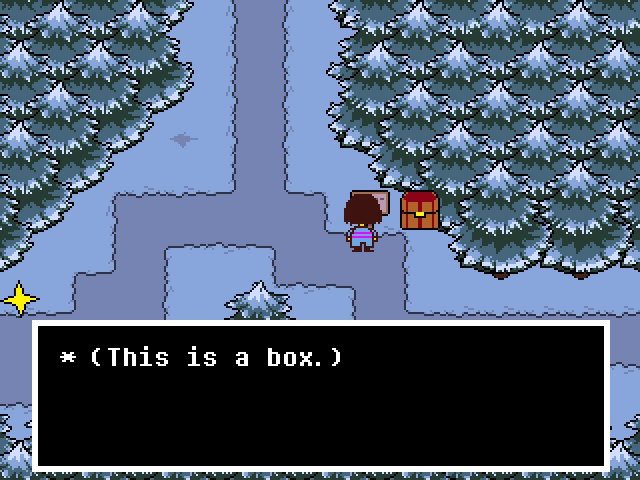 (You can put an item inside or take an item out.)
(The same box will appear later, so don't worry about coming back.)
(Sincerely, a box lover.)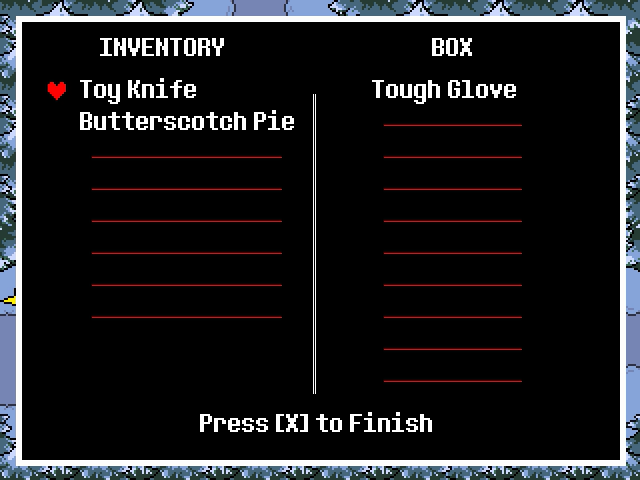 Hey, I never equipped the Toy Knife, did I?
I swap it out for Tough Glove, which was waiting for me in the box.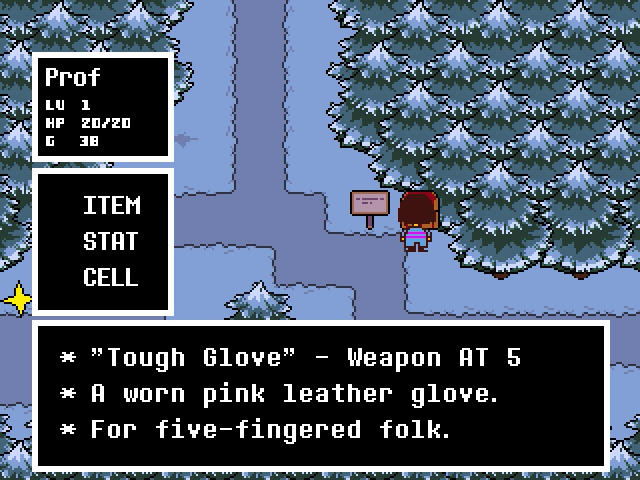 I equip Tough Glove.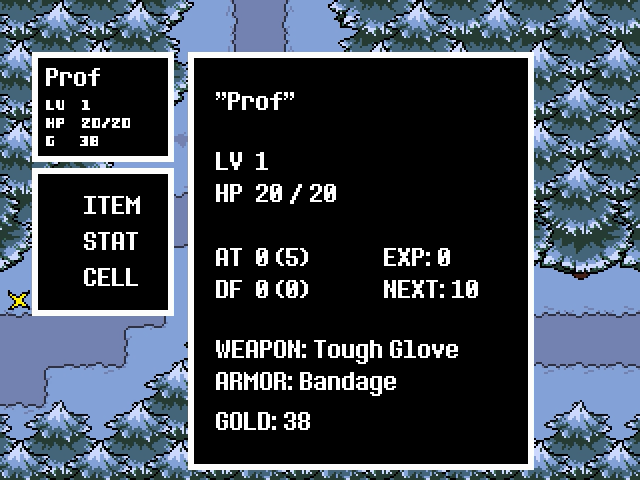 Now my ATK is above zero! That will come in handy if I ever have to hurt someone.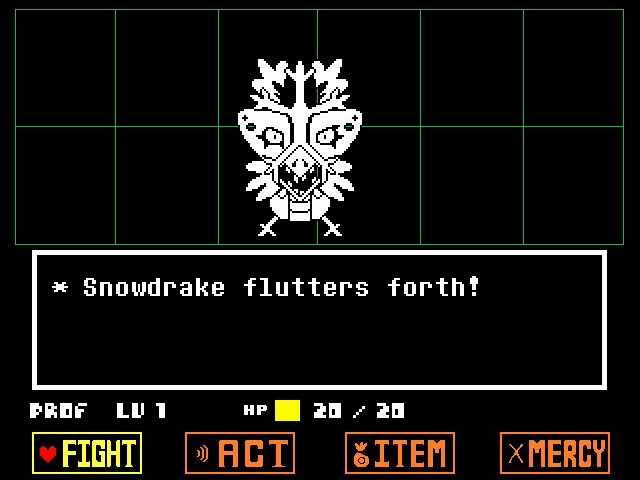 On my way north, I have my first random encounter in Snowdin!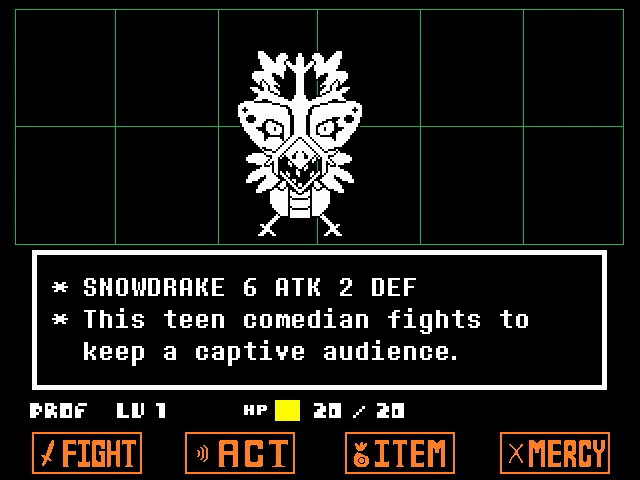 The arctic wasteland is overrun by problem teens.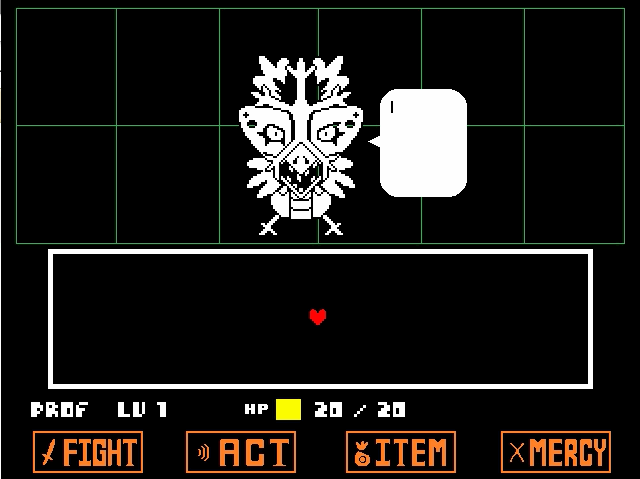 Snowdrake's attacks are pretty fierce! I get nicked by an ice blade for 4 damage.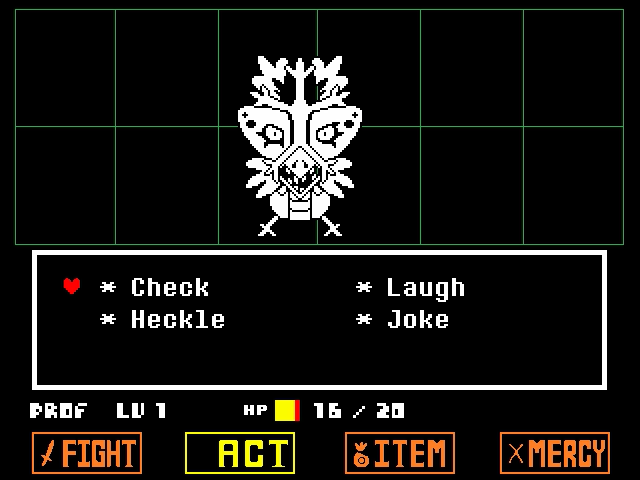 Well, how can I put this troubled youth on the right path?
Obviously by giving it a good
Heckle
.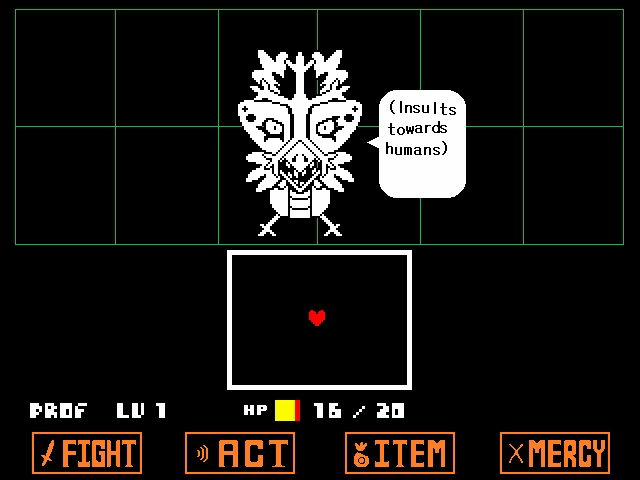 Snowdrake repeats the same attack, hitting me again.
What if I
Laugh
instead?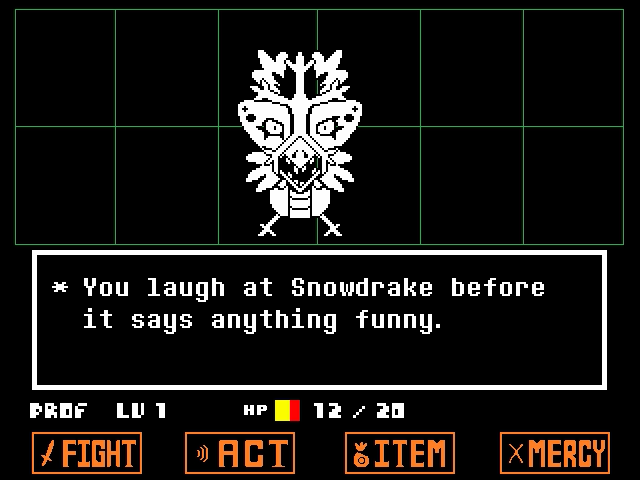 Oops.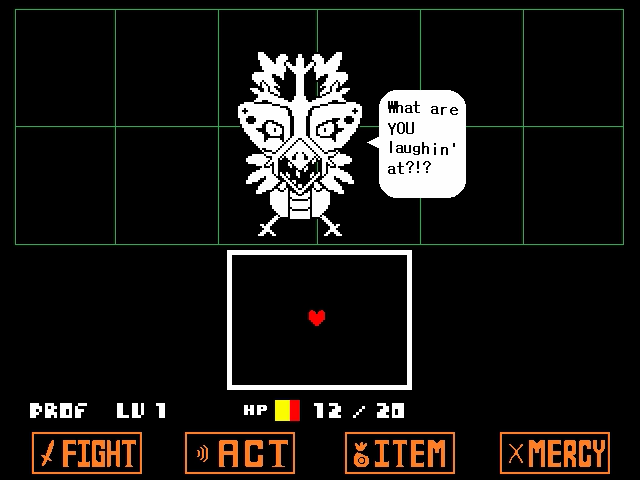 Same attack again. I manage to dodge it this time.
I try telling a
Joke
of my own.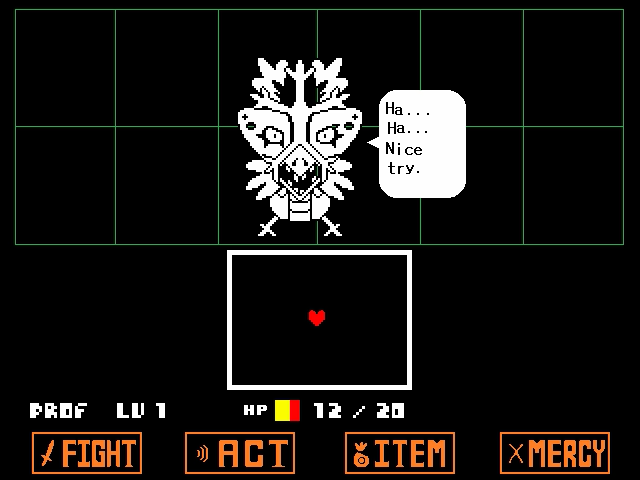 Snowdrake doesn't seem to appreciate my bad ice puns.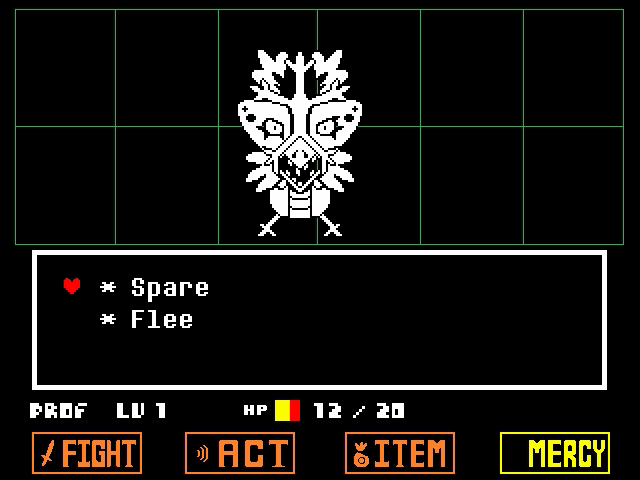 When a monster is ready to leave peacefully, the Spare command - and its name - will appear in yellow.
I've tried all three commands, and Snowdrake still isn't appeased. What's the trick?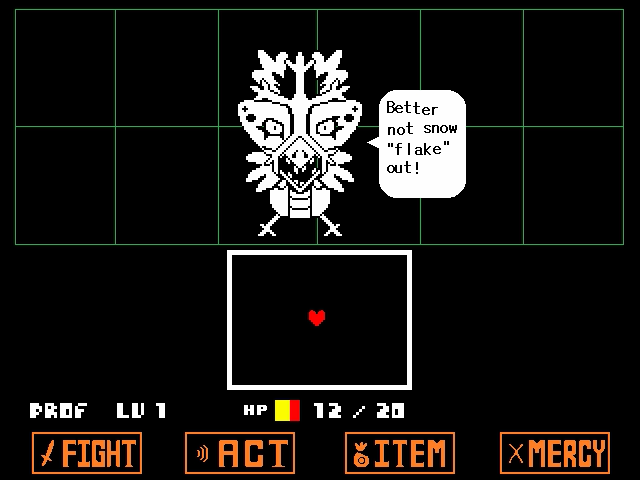 The trick is in the timing! I need to wait for Snowdrake to crack a pun, then
Laugh
at it.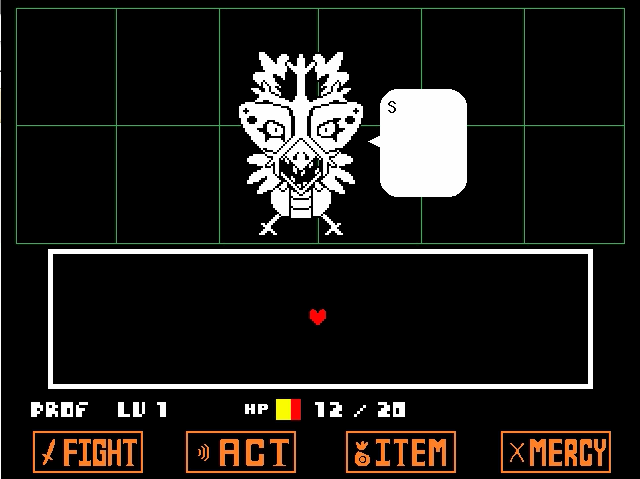 Doing so reveals Snowdrake's second attack, but also makes it a little happier.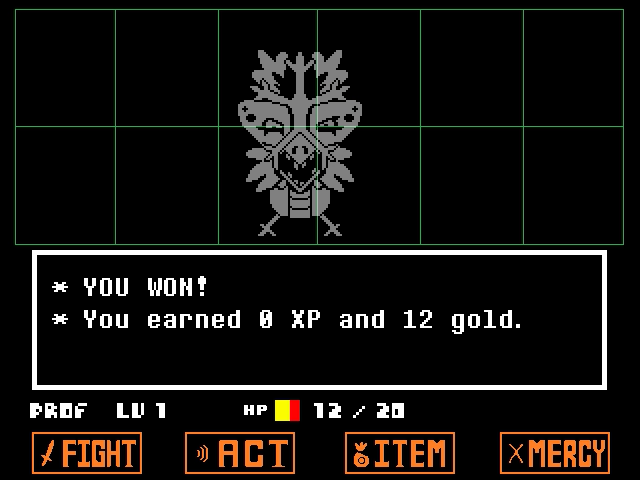 Nobody has to get hurt here.
I head to the north.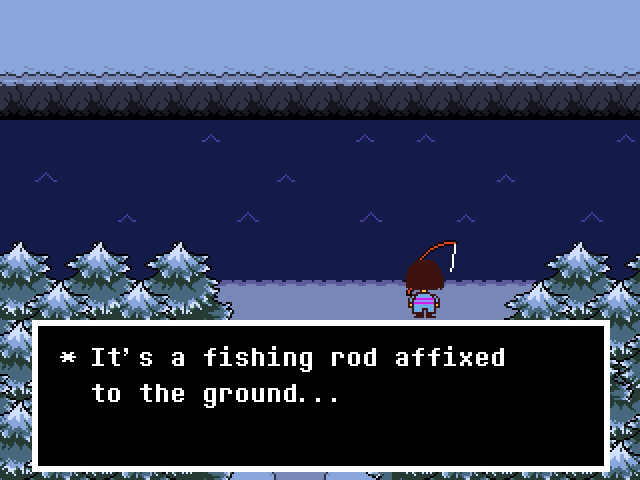 I reel the fishing pole in. Maybe it caught something!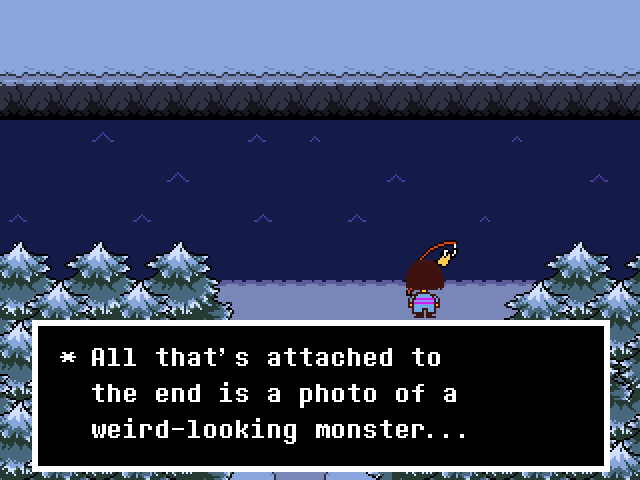 All that's attached to the end is a photo of a weird-looking monster...
(Call Me! Here's my number!)
You decide not to call.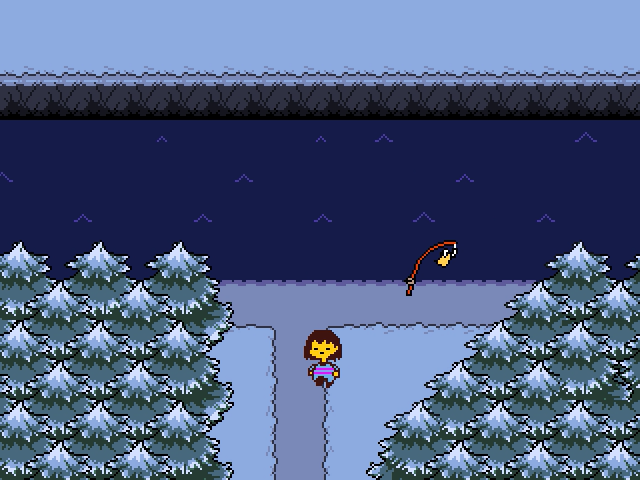 Sometimes it's better not to ask.
I head back, save my game to restore my HP, and go east.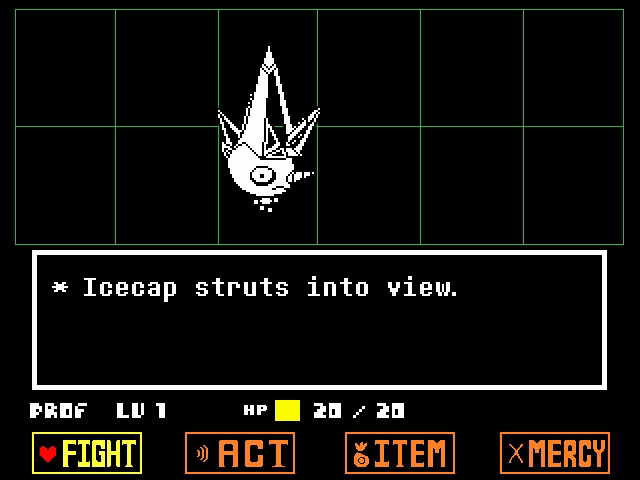 Another new monster appears!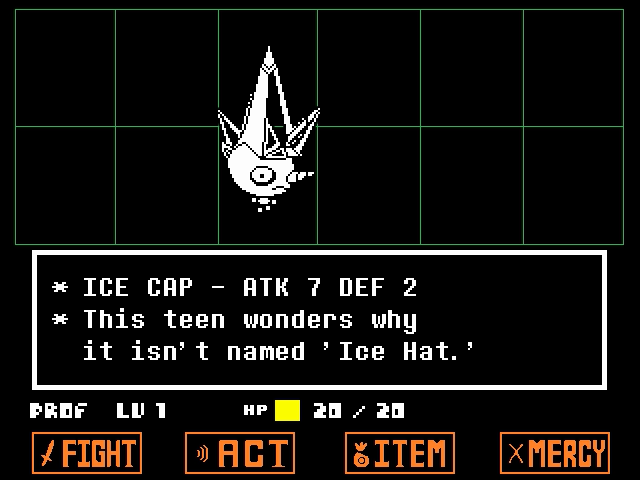 Another problem teen, this one with a very fancy hat.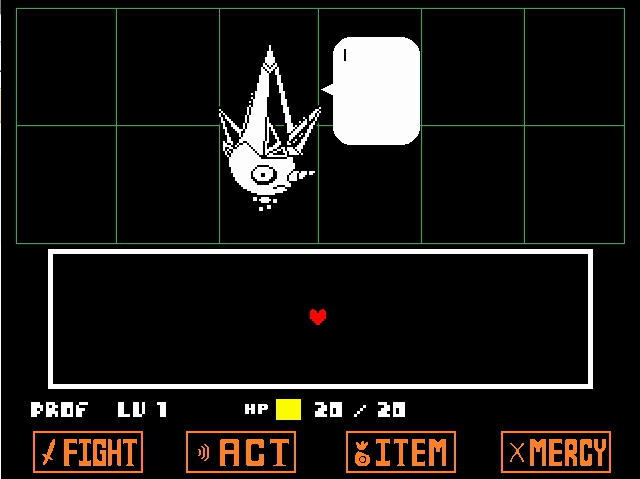 Icecap shoots icy missiles from below. Not too hard to avoid.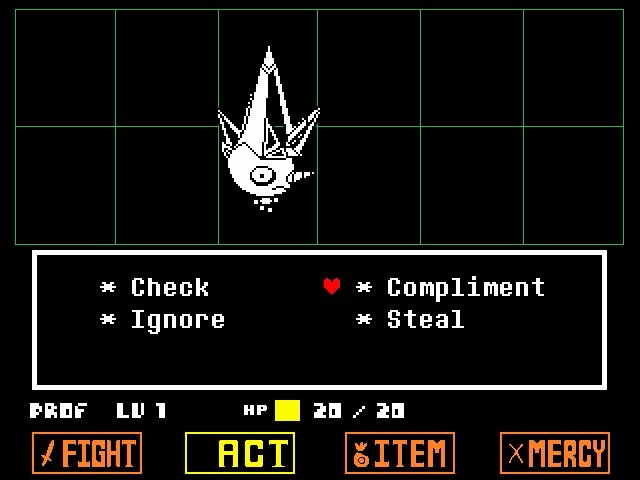 I inform Icecap that it has a great hat.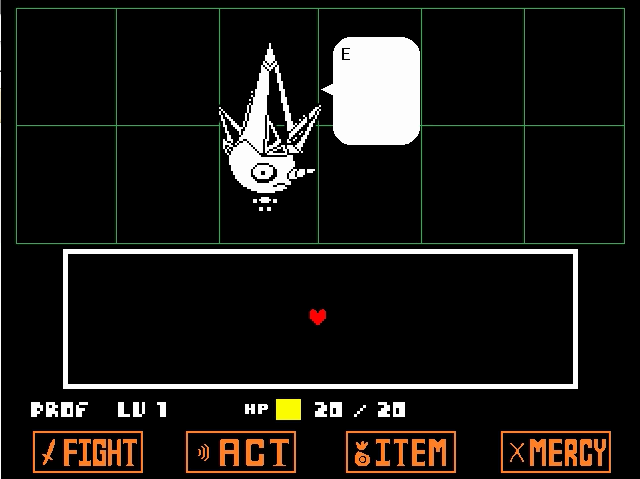 Icecap has two attacks, as usual. Neither is very dangerous.
What if I
Steal
his hat, crushing his will to fight?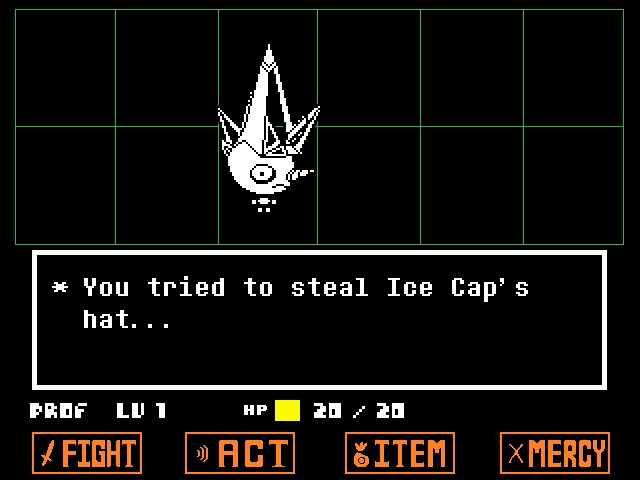 ...but it's not weakened enough!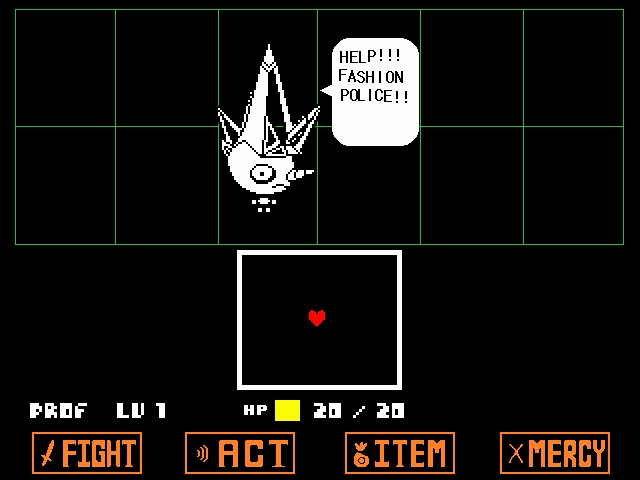 Look, if I'm going to resort to violence at this point, it's not going to be for the purposes of hat theft.
I'll try something else, and
Ignore
Icecap's great hat.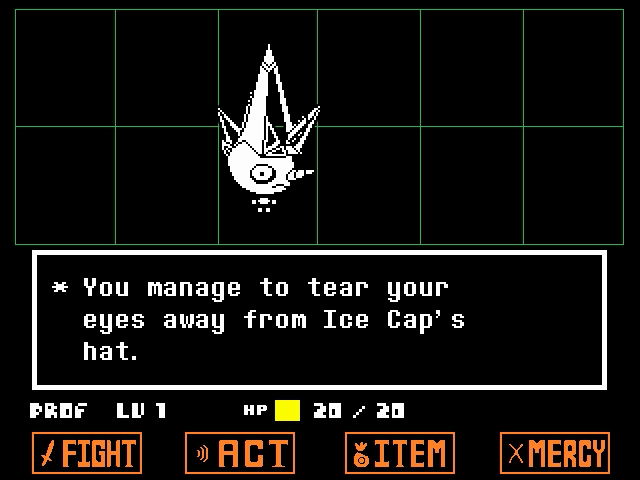 It looks annoyed...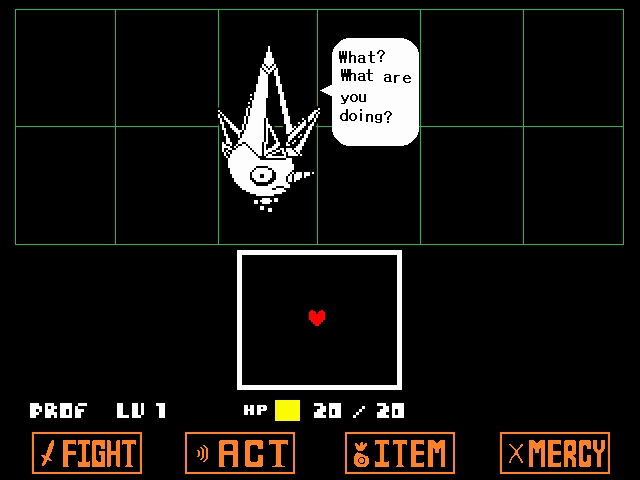 That seems to have touched a nerve. I
Ignore
again.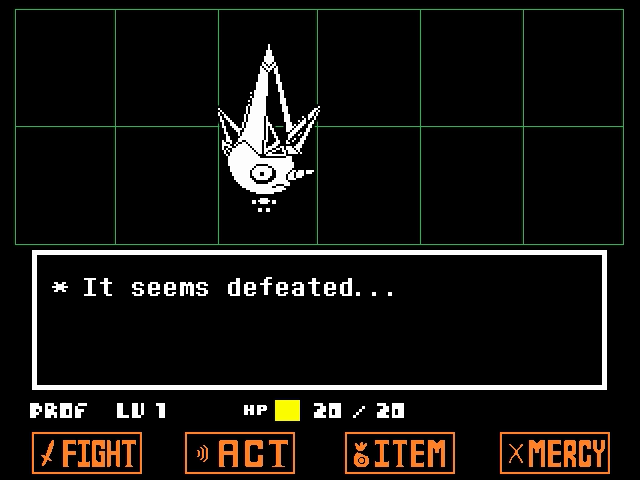 I have demoralized Icecap to the point that it no longer cares about fighting me.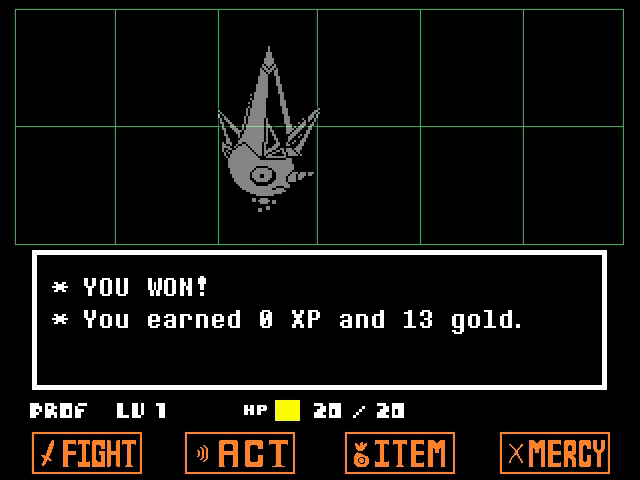 Now, where was I?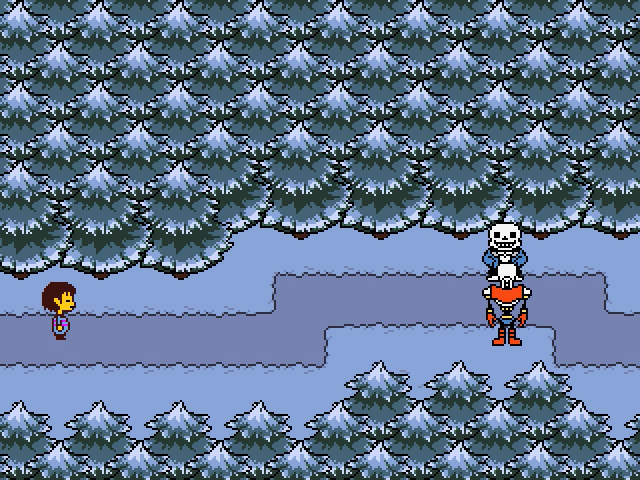 BGM: Nyeh Heh Heh!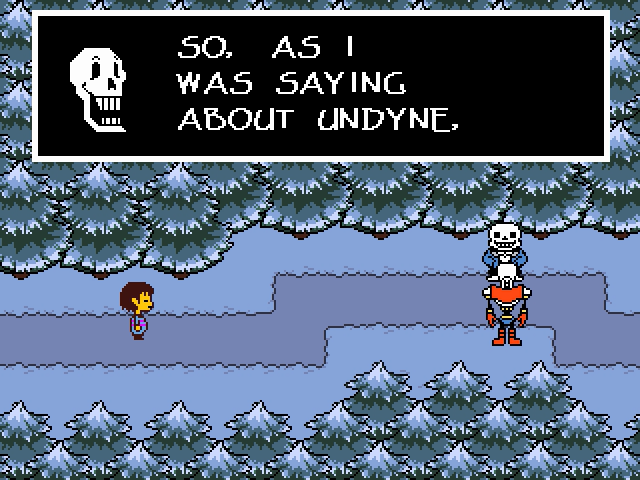 Uh oh, it's these two again.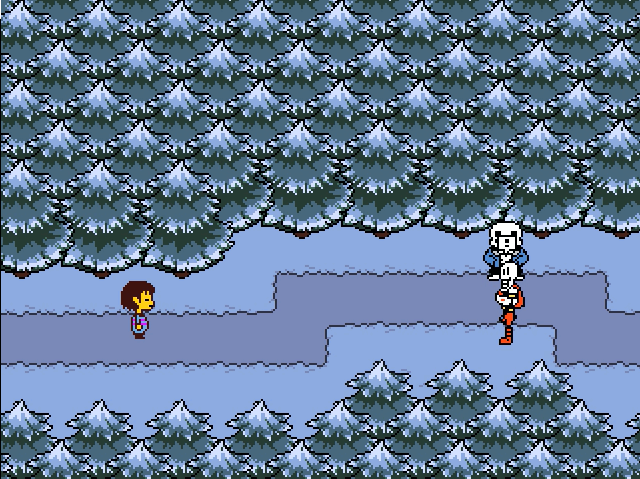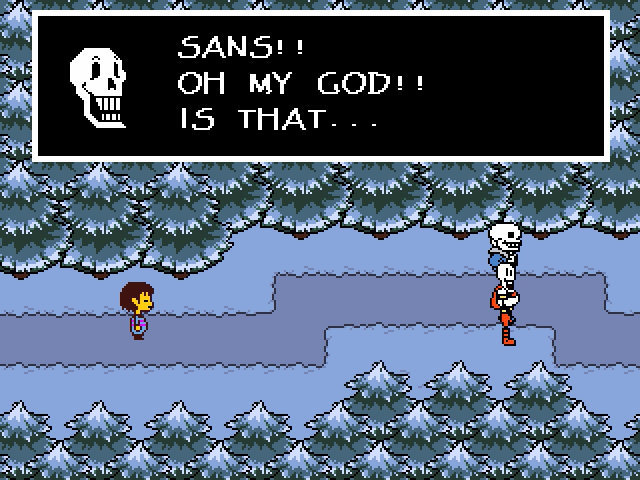 A HUMAN!?!?!??!?!

uhhhh...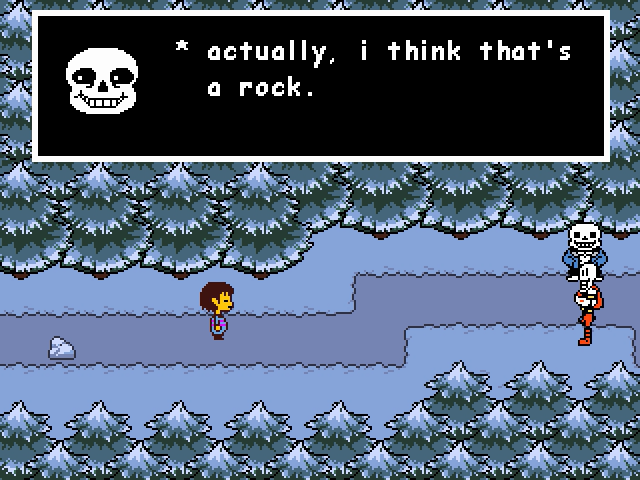 OH.

hey, what's that in front of the rock?

OH MY GOD!!!

(IS... IS THAT A HUMAN)

(yes)

OH MY GOD!!!

SANS! I FINALLY DID IT!!

UNDYNE WILL...

I'M GONNA...

I'LL BE SO...

POPULAR!!! POPULAR!!! POPULAR!!!

...*AHEM*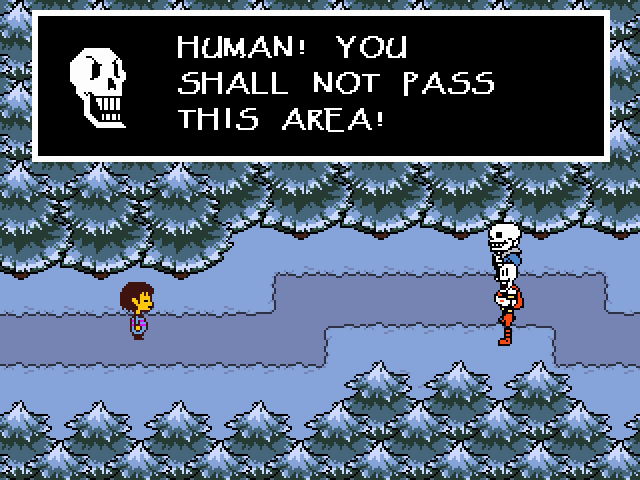 I, THE GREAT PAPYRUS, WILL STOP YOU!!!

I WILL THEN CAPTURE YOU!

YOU WILL BE DELIVERED TO THE CAPITAL!

THEN... THEN!!!

I'M NOT SURE WHAT'S NEXT.

IN ANY CASE!

CONTINUE... ONLY IF YOU DARE!

NYEH HEH HEH HEH HEH HEH HEH HEH!!!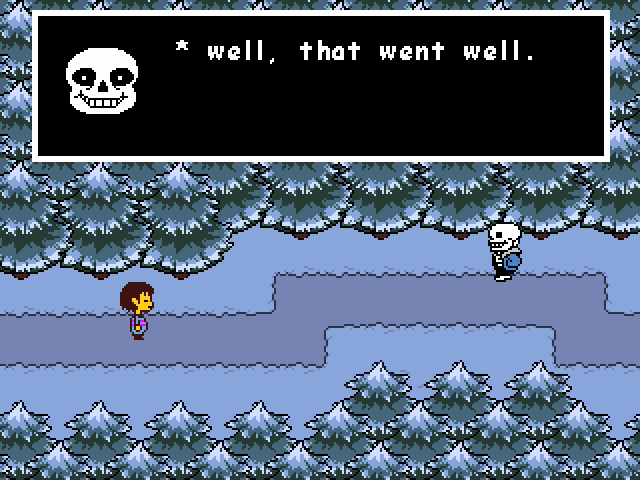 don't sweat it, kid.

i'll keep an eyesocket out for ya.