Part 7: Nyeh Heh Heh!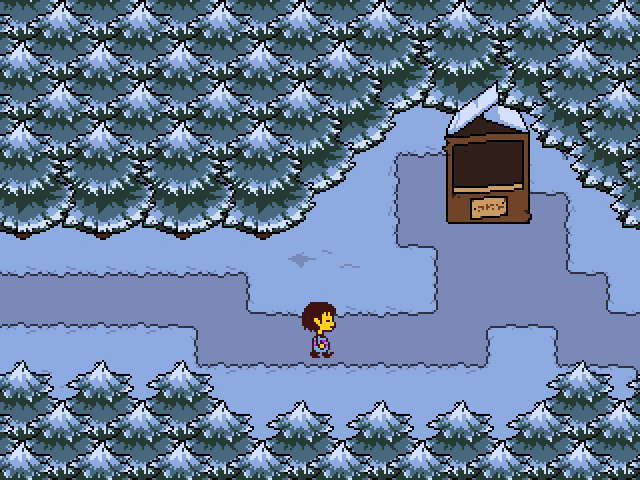 BGM: Snowy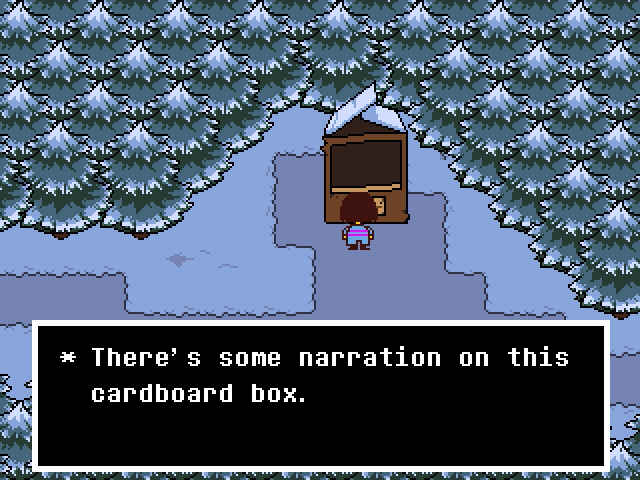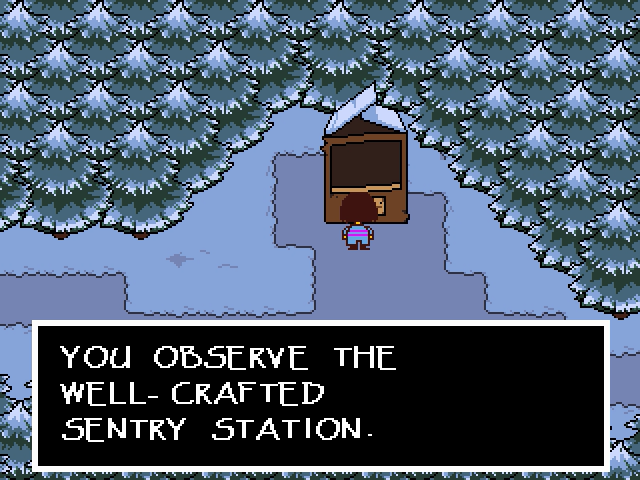 WHO COULD HAVE BUILT THIS, YOU PONDER...
I BET IT WAS THAT VERY FAMOUS ROYAL GUARDSMAN!
(NOTE: NOT YET A VERY FAMOUS ROYAL GUARDSMAN.)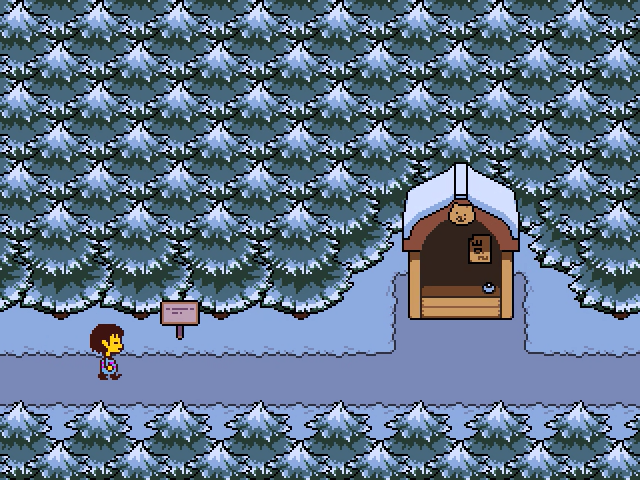 After that fake checkpoint, I spot a real checkpoint.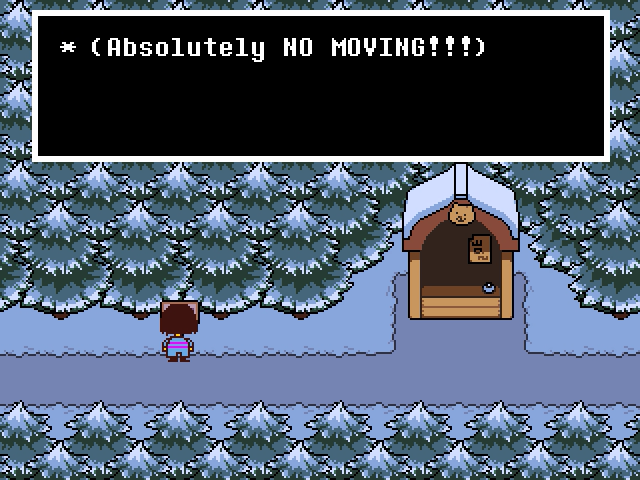 I'm going to keep moving. If I didn't, I'd have to spend the rest of my adventure reading this sign.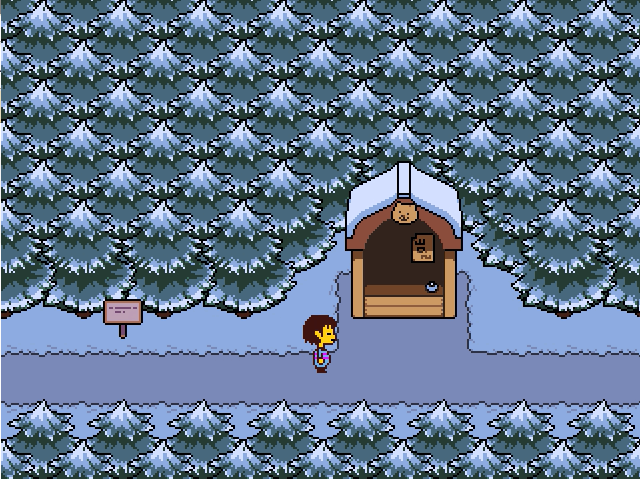 I was spotted!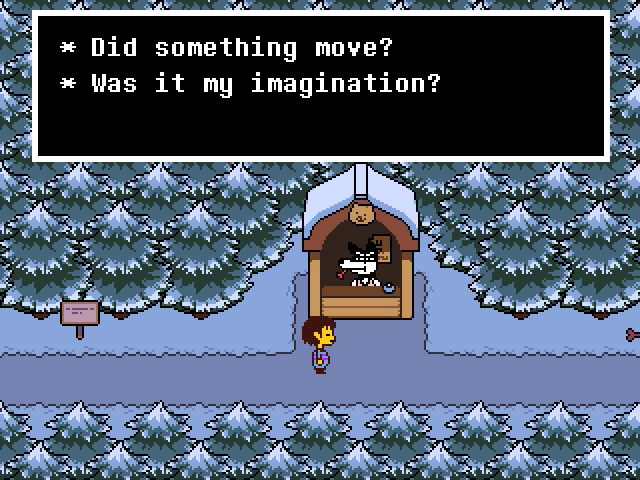 I can only see moving things.

If something WAS moving... For example, a human...

I'll make sure it NEVER moves again!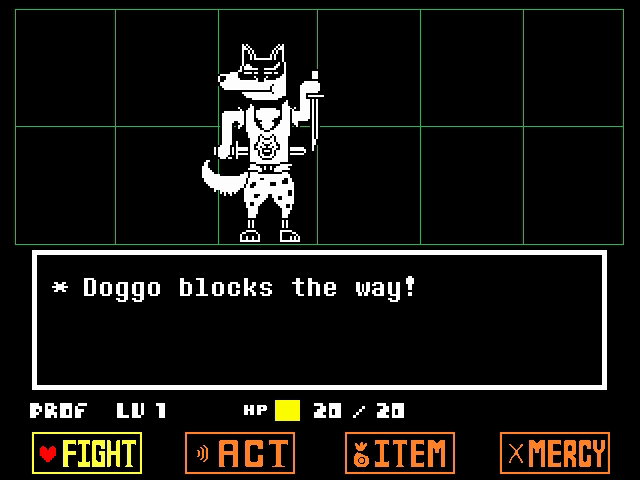 BGM: Enemy Approaching
Dogs encountered: 1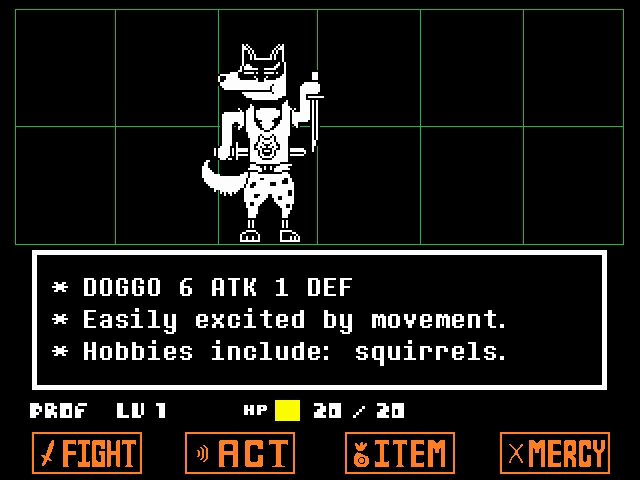 Time for a tutorial fight!
All this talk of movement is a big clue about the new mechanic that Doggo is about to introduce: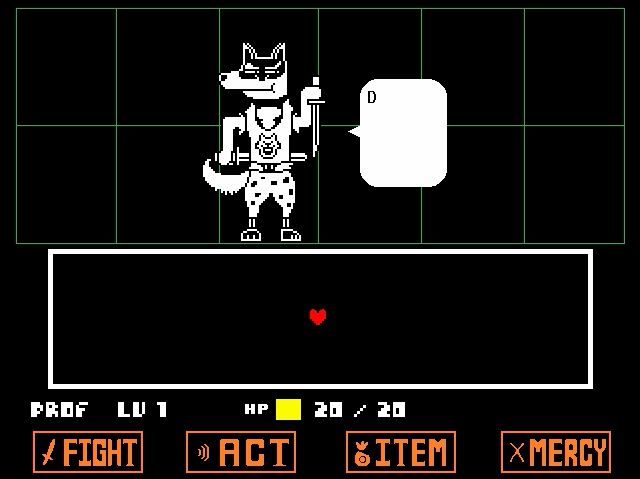 Blue attacks!
Like white projectiles, blue ones are dangerous, doing damage if they hit you. However, you can also avoid them by standing perfectly still!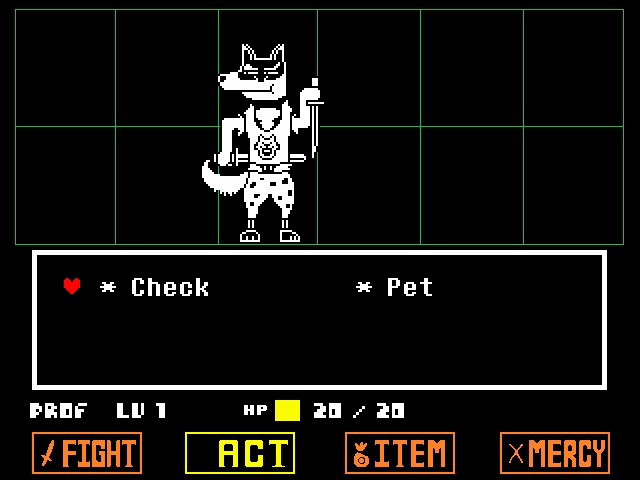 Doggo only has the one attack, so I'm perfectly safe as long as I don't move.
There's a dog before me, so my only option is to
Pet.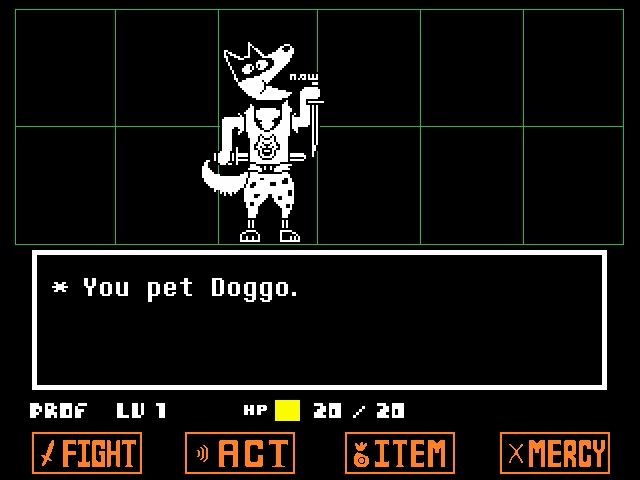 I think he liked it.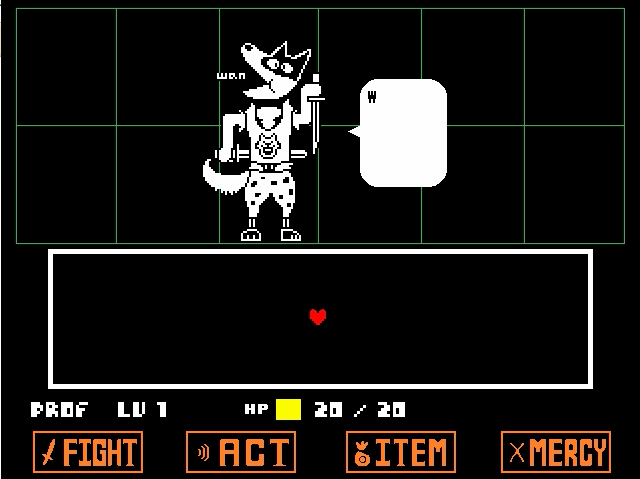 Doggo has been pet.
And, Doggo is about to be
Pet
again.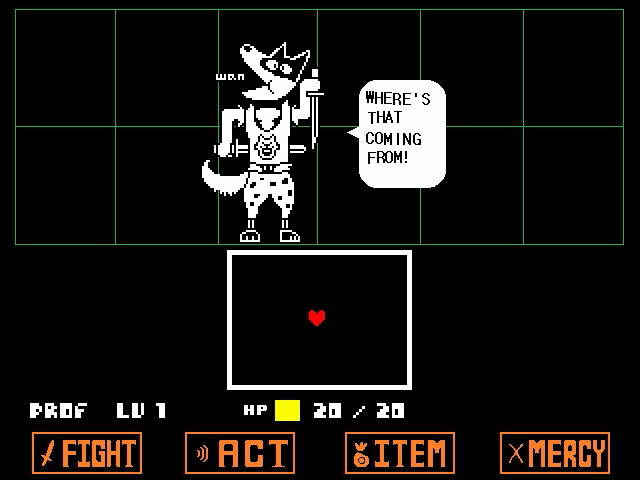 And again!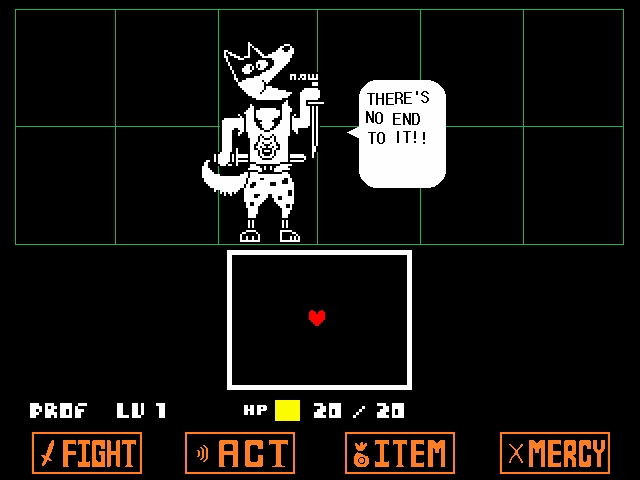 OK, I think that's enough.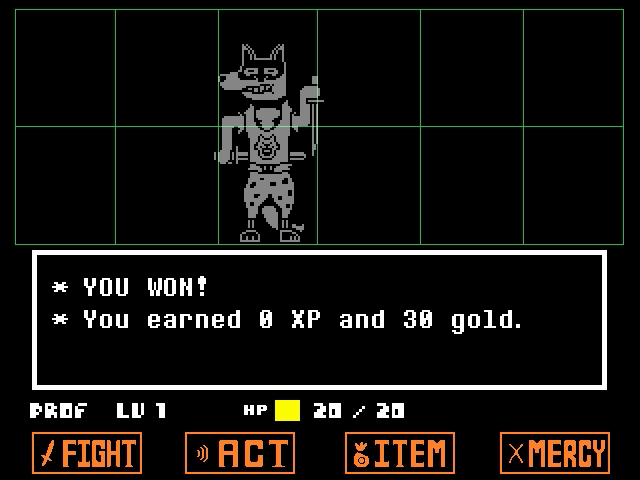 BGM: Snowy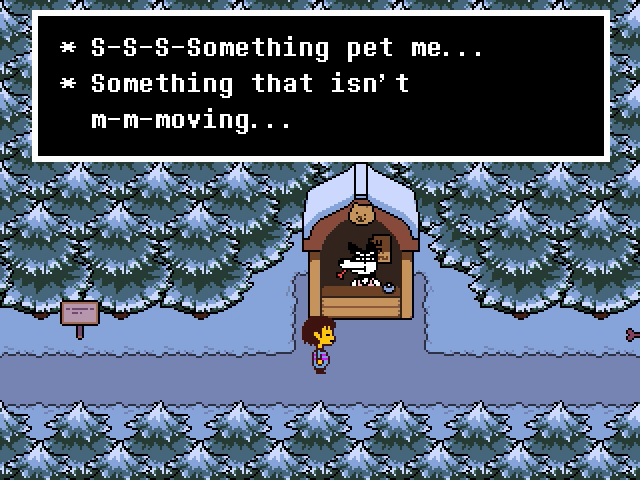 I'm gonna need some dog treats for this!!!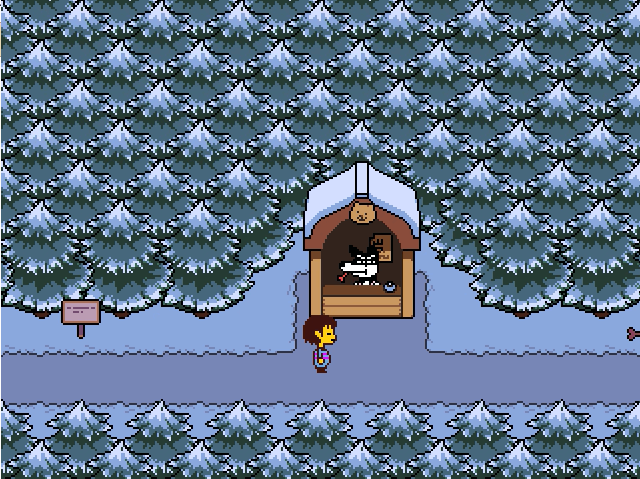 Doggo returns to his post.
I immediately go and check on him.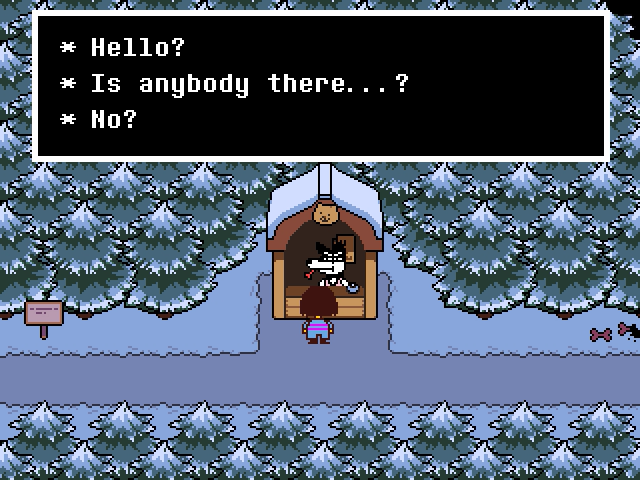 Not a very good guard, is he?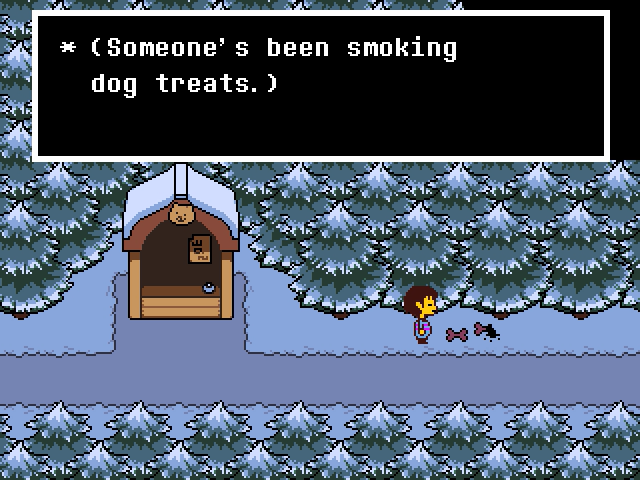 I move on towards the puzzles that no doubt await.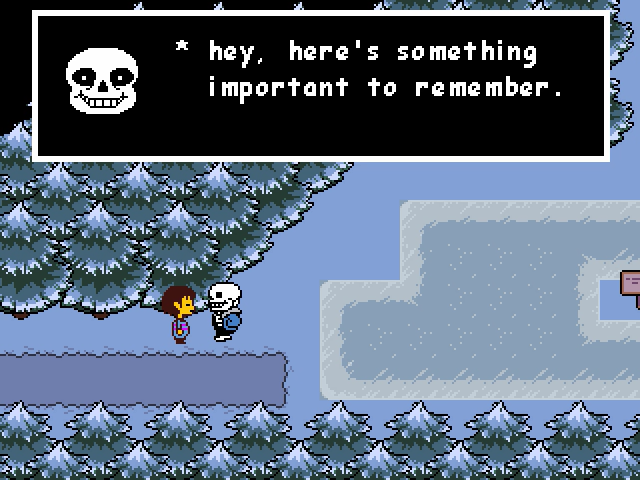 my brother has a very
special attack
.

if you see a
blue attack
, don't move and it won't hurt you.

here's an easy way to keep it in mind.

imagine a stop sign. when you see a stop sign, you
stop
, right?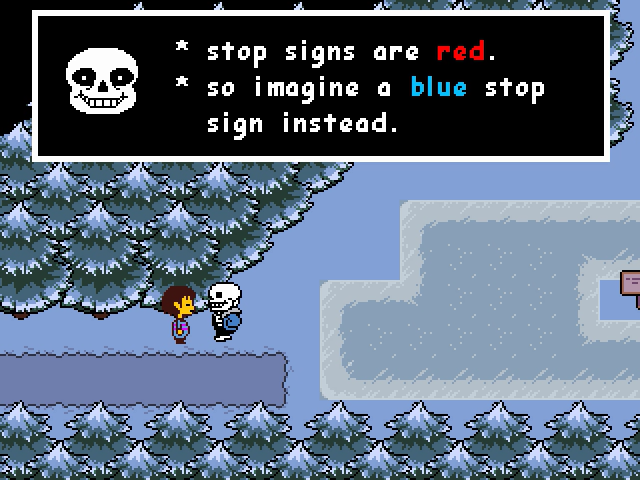 simple, right? when fighting, think about
blue stop signs
.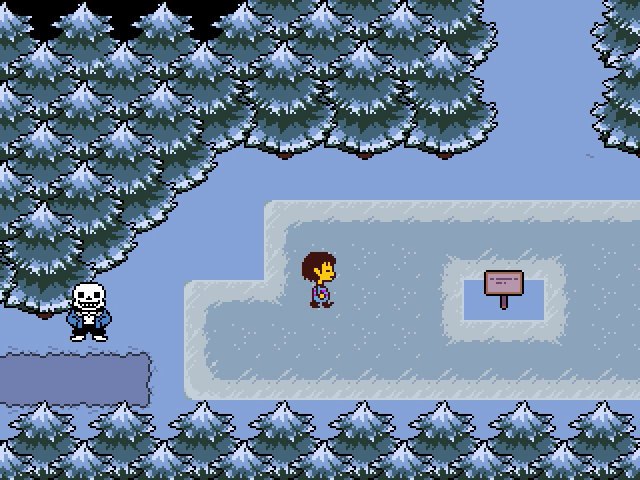 I figured that out already, bro.
The ice works like in most video games. Step on it, and you keep sliding until you reach non-ice or a wall.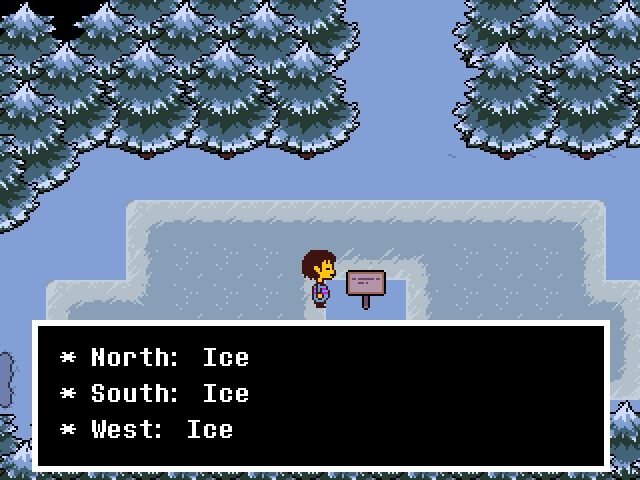 East: Snowdin Town
(... and ice)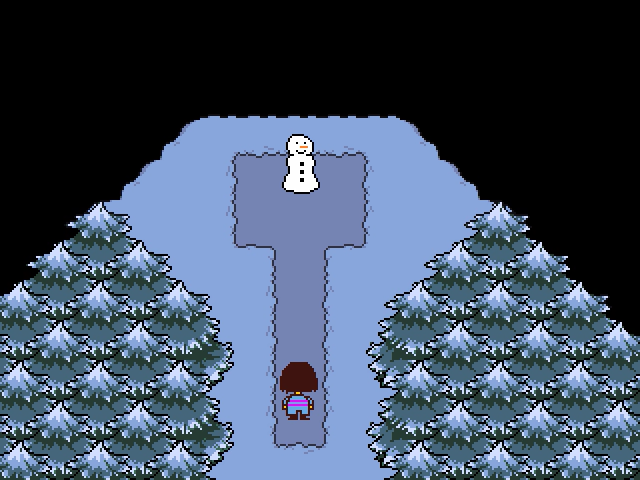 To the north, I find a snowman.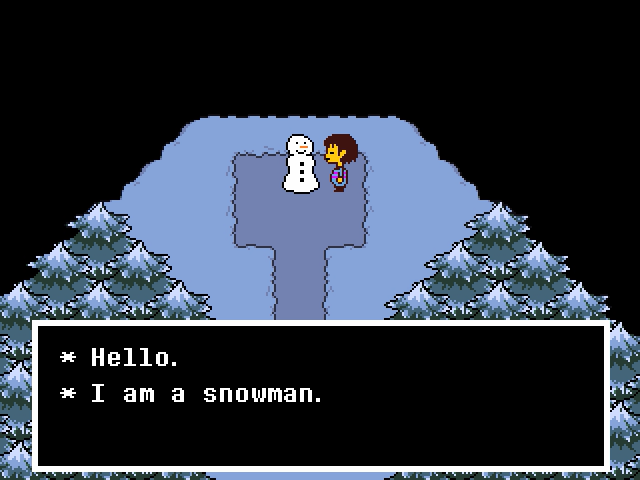 I want to see the world... But I cannot move.

If you would be so kind, traveller, please...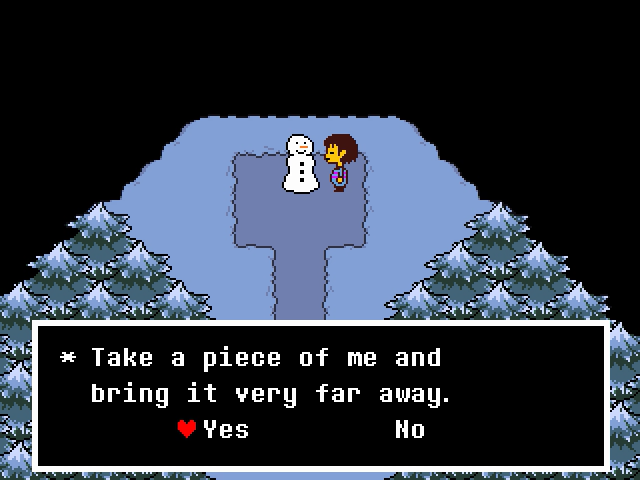 Thank you... good luck!
(You got the Snowman Piece.)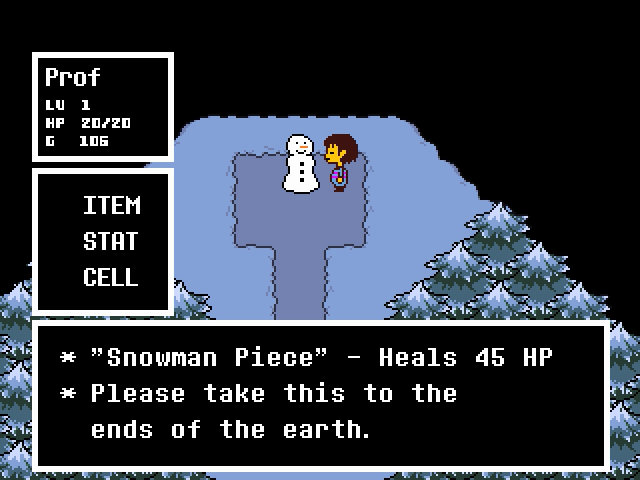 It's a very potent healing item. If you want to eat a snowman's hopes and dreams, I mean.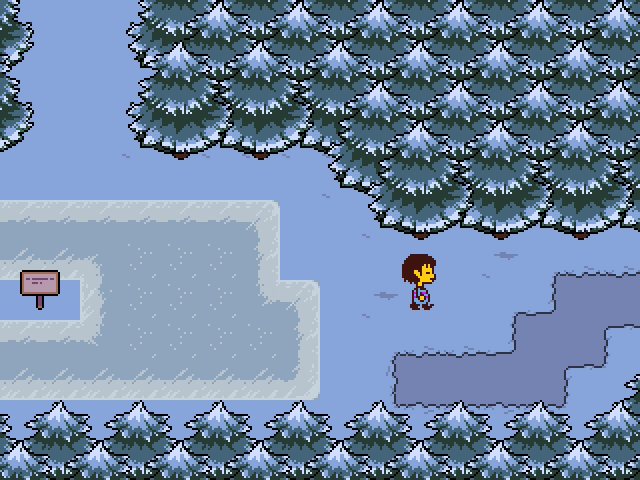 Off to the east, towards Snowdin Town.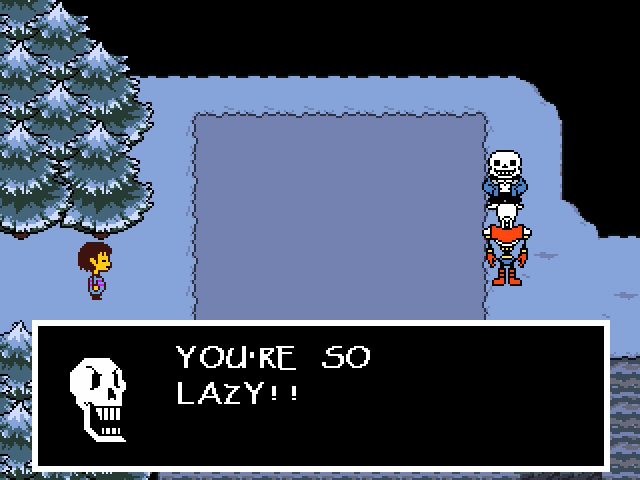 BGM: Nyeh Heh Heh!

YOU WERE NAPPING ALL NIGHT!!

i think that's called...

sleeping.

EXCUSES, EXCUSES!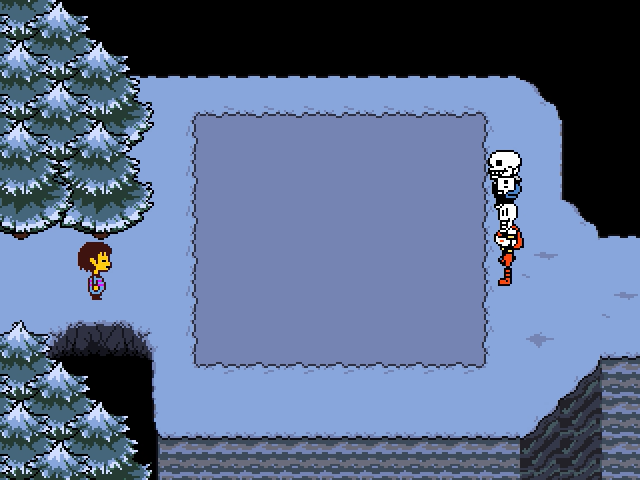 OH-HO! THE HUMAN ARRIVES!

IN ORDER TO STOP YOU...

MY BROTHER AND I HAVE CREATED SOME PUZZLES!

I THINK YOU WILL FIND THIS ONE...

QUITE SHOCKING!

FOR YOU SEE, THIS IS THE INVISIBLE...

ELECTRICITY MAZE

WHEN YOU TOUCH THE WALLS OF THIS MAZE,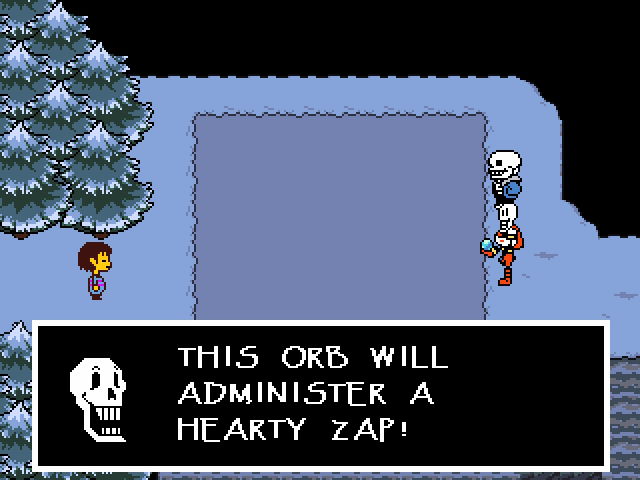 SOUND LIKE FUN???

BECAUSE!

THE AMOUNT OF FUN YOU WILL PROBABLY HAVE,

IS ACTUALLY RATHER SMALL I THINK.

OK, YOU CAN GO AHEAD NOW.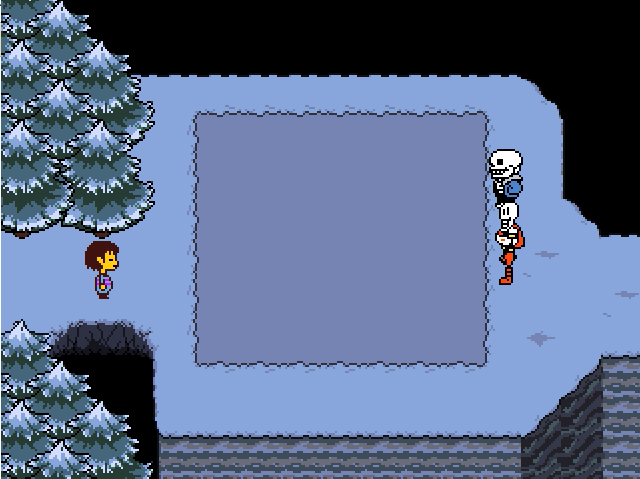 SANS!!! WHAT DID YOU DO?!?!

i think the human has to hold the orb.

OH, OKAY.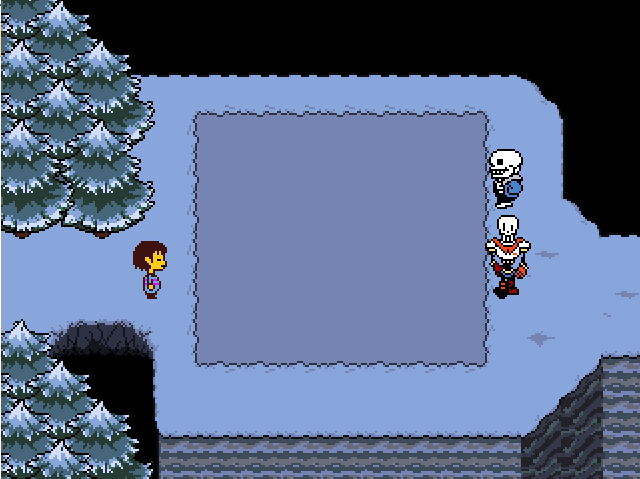 HOLD THIS PLEASE!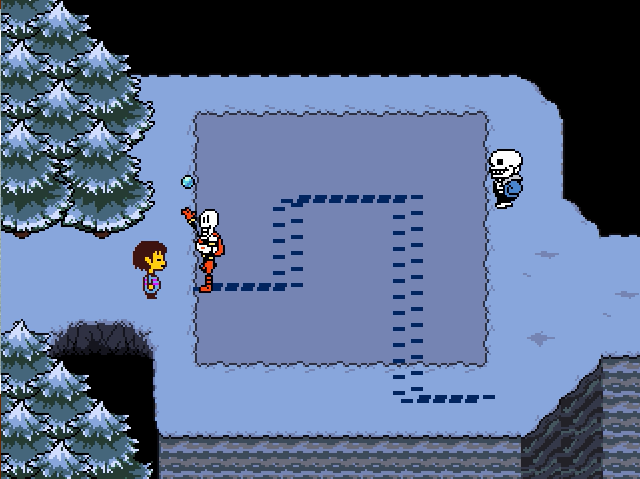 OKAY, TRY NOW!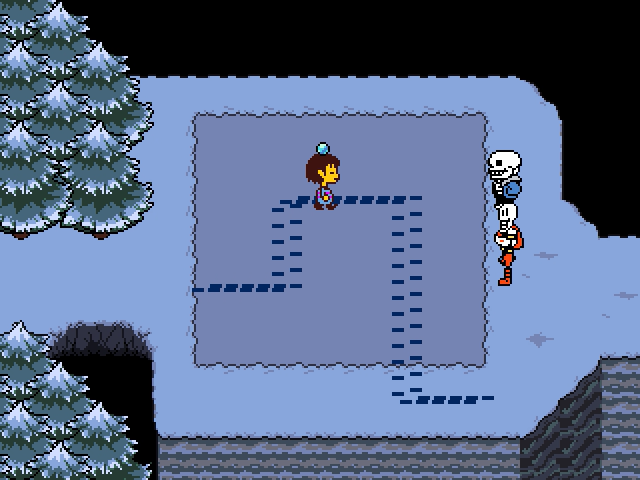 I think I found a loophole in your plan, Papyrus.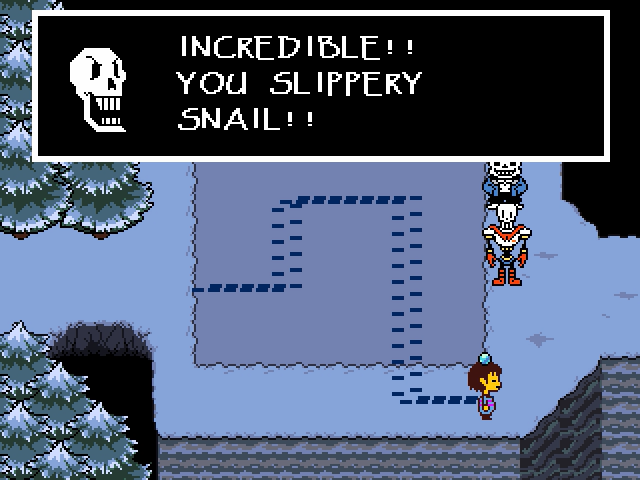 YOU SOLVED IT SO EASILY... TOO EASILY!

HOWEVER!

THE NEXT PUZZLE WILL NOT BE EASY!

IT IS DESIGNED BY MY BROTHER, SANS!

YOU WILL SURELY BE CONFOUNDED!

I KNOW I AM!

NYEH HEH HEH HEH!!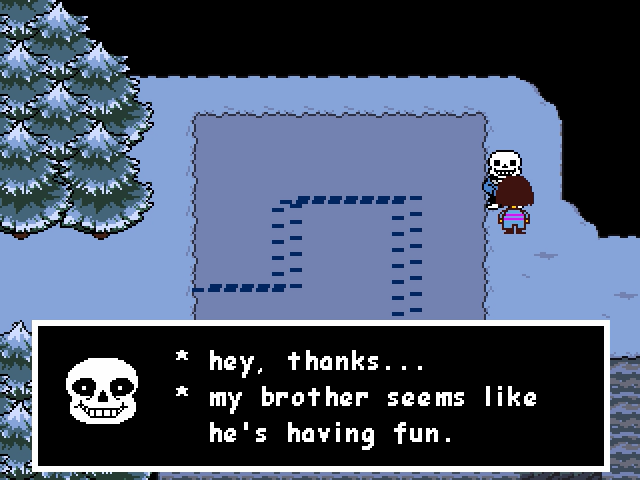 BGM: Snowy

by the way, did you see that weird outfit he's wearing?

we made that a few weeks ago for a costume party.

he hasn't worn anything else since...

keeps kalling it his "battle body."

man...

isn't my brother cool?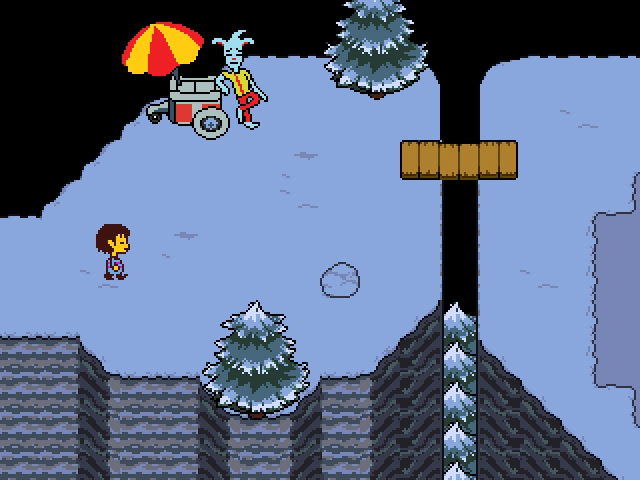 Waiting ahead is some kind of food stand.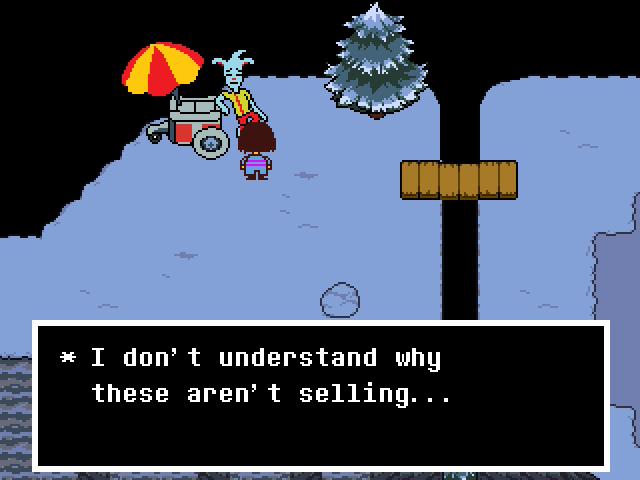 It's the perfect weather for something cold...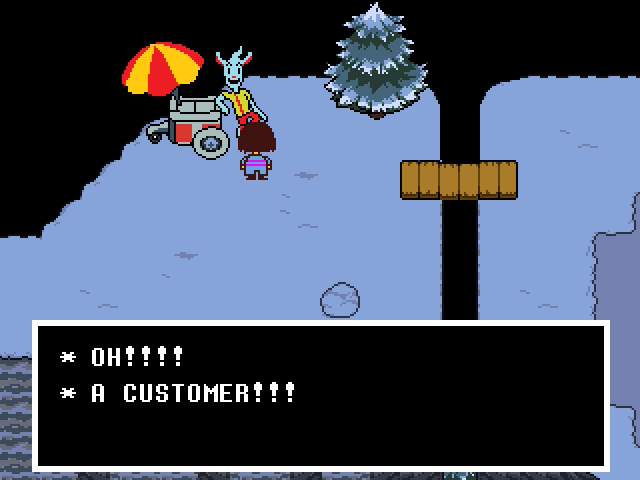 Hello! Would you like some Nice Cream?

It's the frozen treat that warms your heart!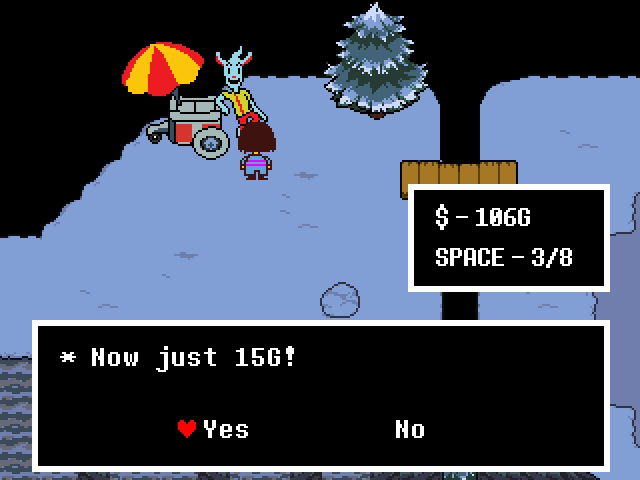 I bought some Nice Cream.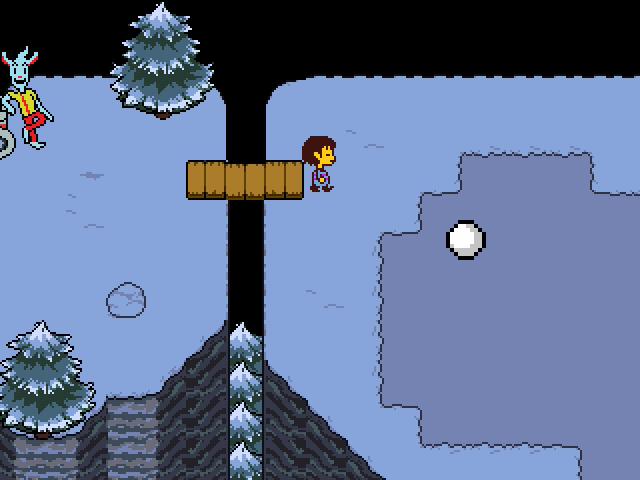 A huge snowball is ahead.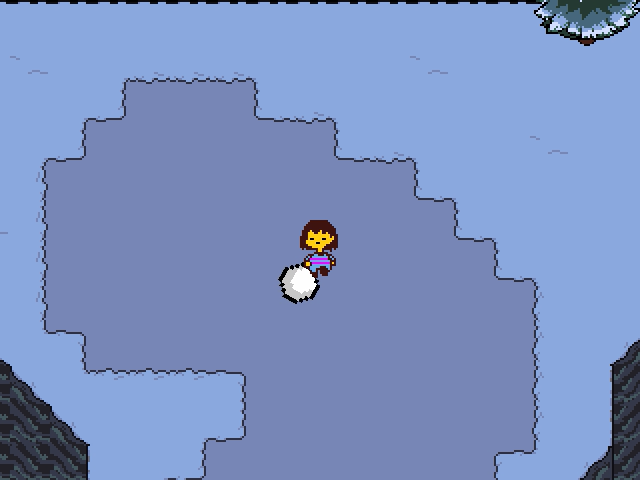 I can kick it around. It bounces off the edge of the dark area.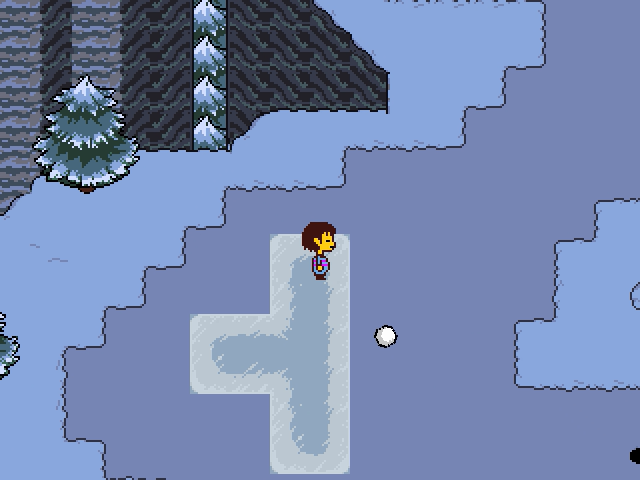 The ice sheet makes this trickier. Also, the snowball is getting smaller.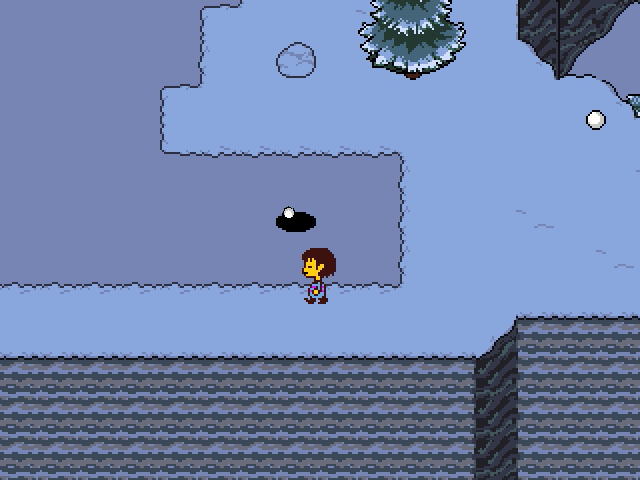 I get it into the hole, and a flag pops up.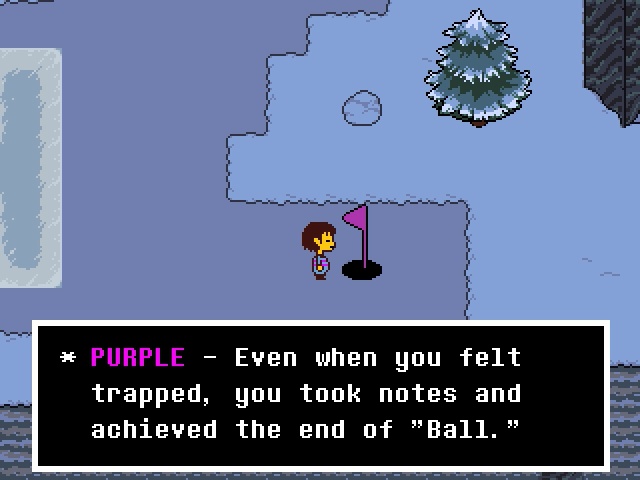 (You are awarded 2G.)
There are several outcomes to this minigame, resulting in differing flag colors and gold amounts.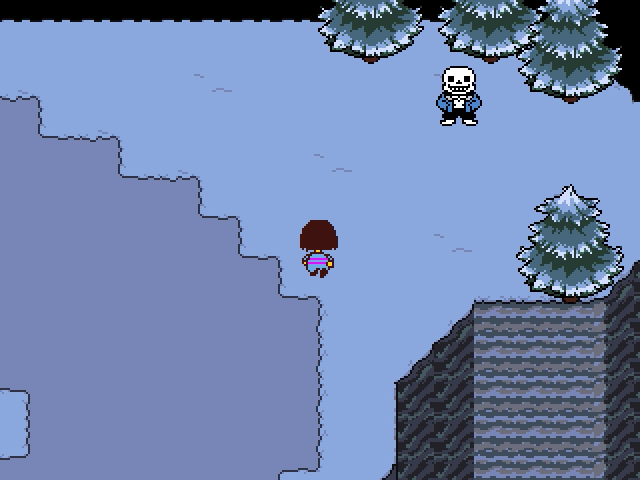 Back up to the north, I see a familiar face.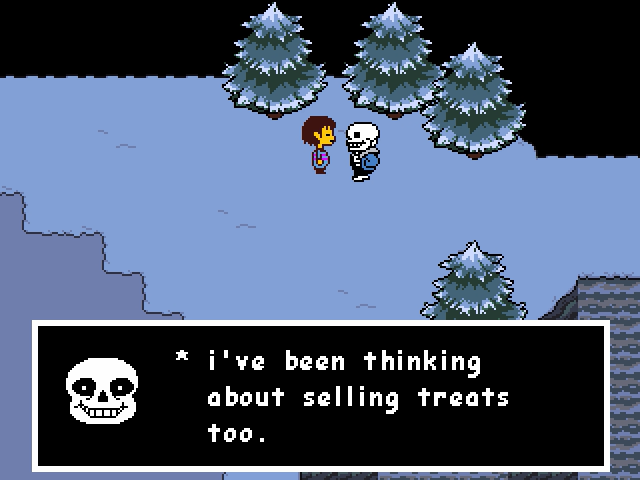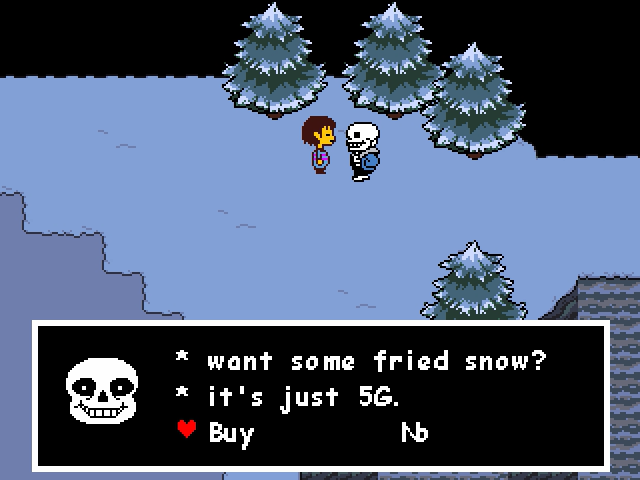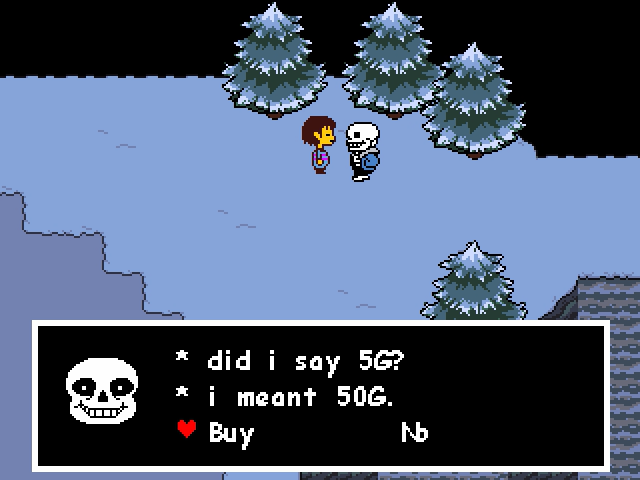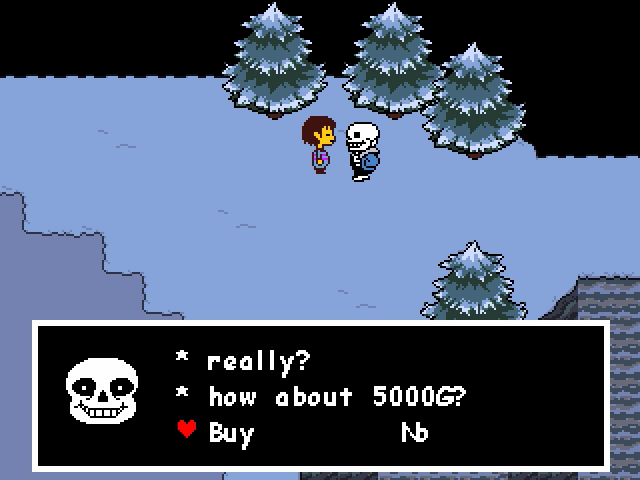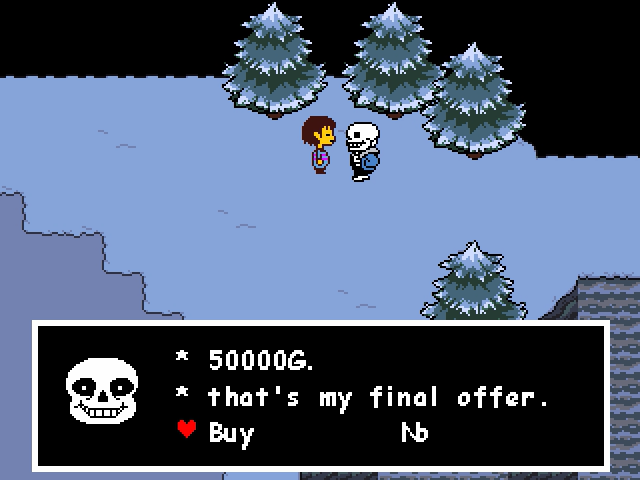 what? you don't have the money?

hey, that's okay.

i don't have any snow.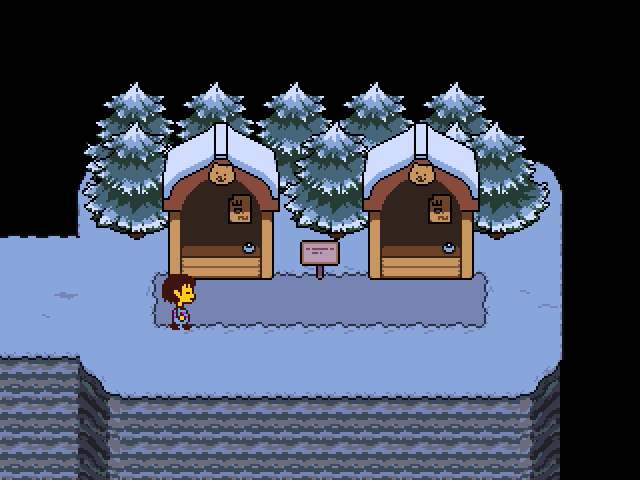 East of Sans is a small area.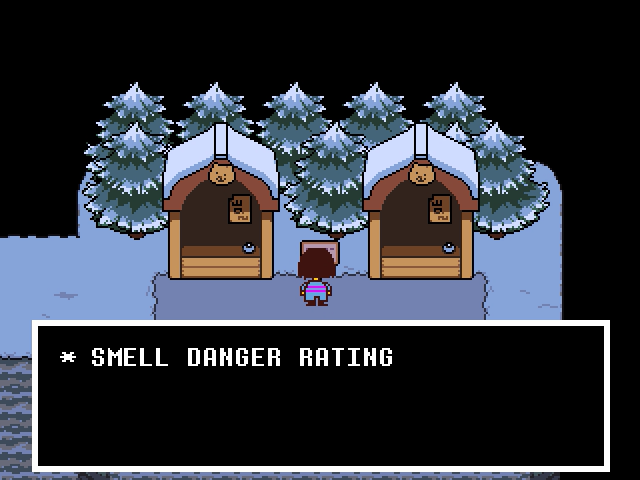 Snow Smell - Snowman
WHITE Rating
Can become YELLOW Rating
Unsuspicious Smell - Puppy
BLUE Rating
Smell of rolling around.
Weird Smell - Humans
GREEN Rating
Destroy at all costs!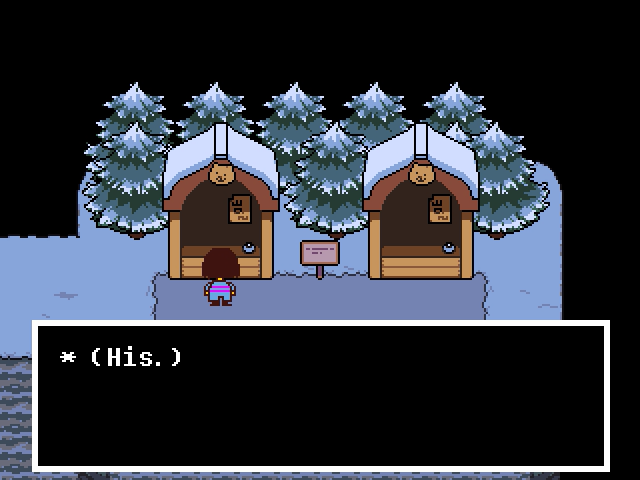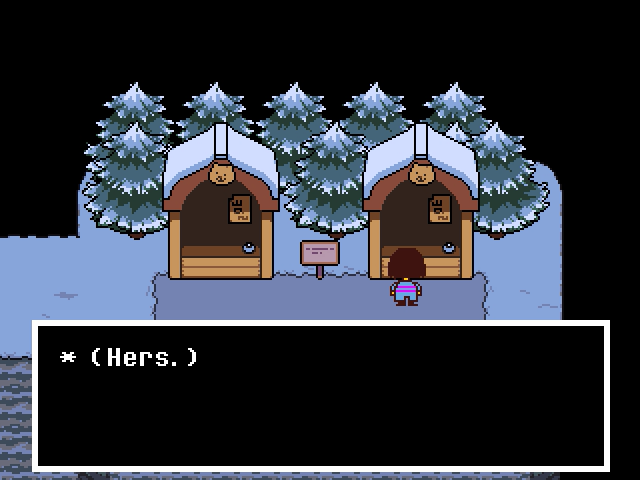 That's all there is here. I go back, then head southeast instead.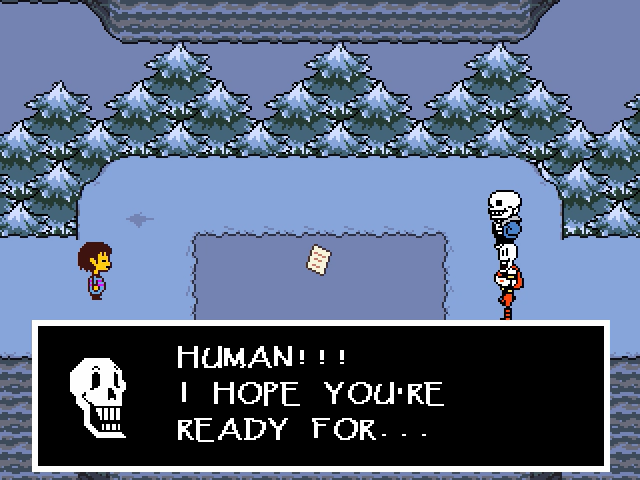 BGM: Nyeh Heh Heh!

SANS!! WHERE'S THE PUZZLE!!!

it's right there. on the ground.

trust me. there's no way they can get past this one.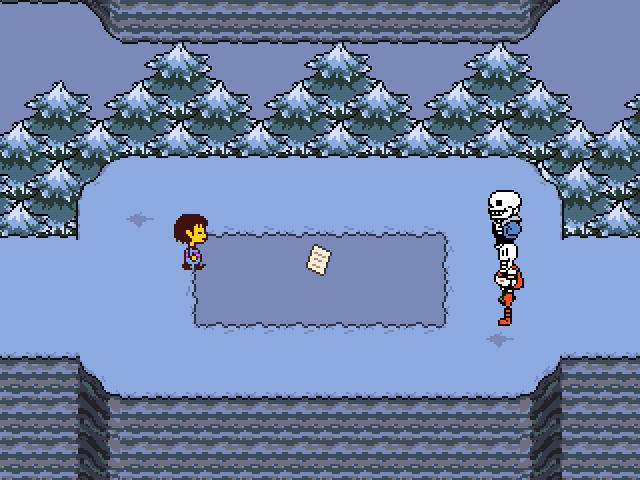 Let's see what sort of unbearable fate awaits in Sans's puzzle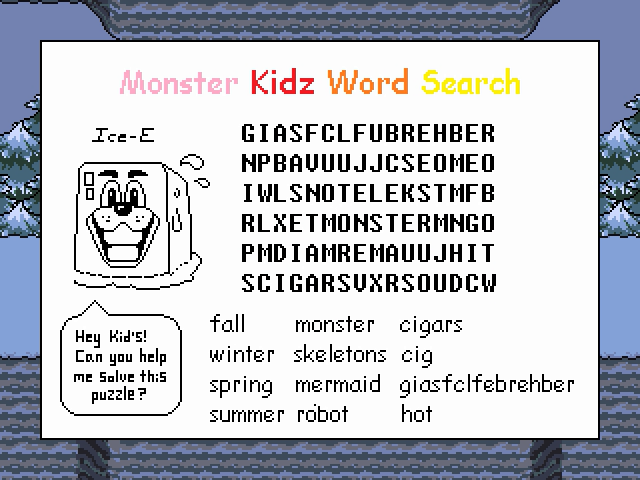 Ladies and gentlemen of the audience!
One of the words listed cannot be found anywhere in the puzzle. Can you tell which one?
The first one to give the correct answer will get a priceless reward.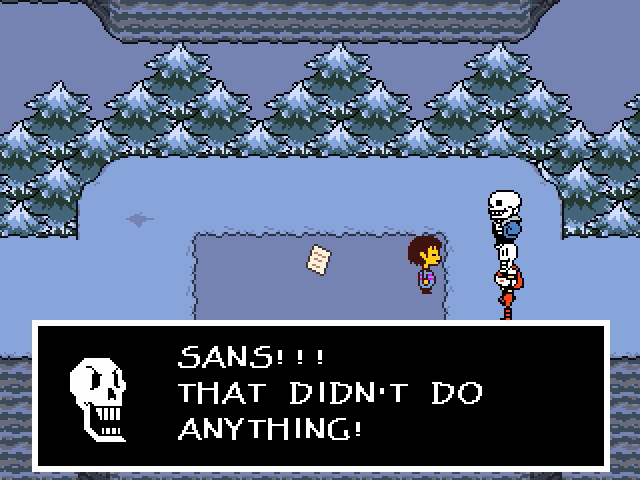 whoops.

i knew i should have used today's crossword instead.

WHAT!? CROSSWORD!?

I CAN'T BELIEVE YOU SAID THAT!!

IN MY OPINION...

JUNIOR JUMBLE IS EASILY THE HARDEST.

what? really, dude? that easy-peasy word scramble?

that's for baby bones.

UN. BELIEVABLE.

HUMAN!!! SOLVE THIS DISPUTE!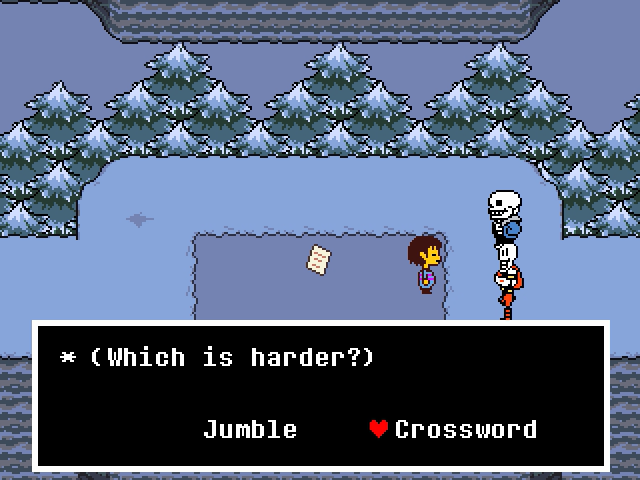 YOU TWO ARE WEIRD!

CROSSWORDS ARE SO EASY.

IT'S THE SAME SOLUTION EVERY TIME.

I JUST FILL ALL THE BOXES IN WITH THE LETTER "Z"...

BECAUSE EVERY TIME I LOOK AT A CROSSWORD...

ALL I CAN DO IS SNORE!!!

NYEH HEH HEH!!!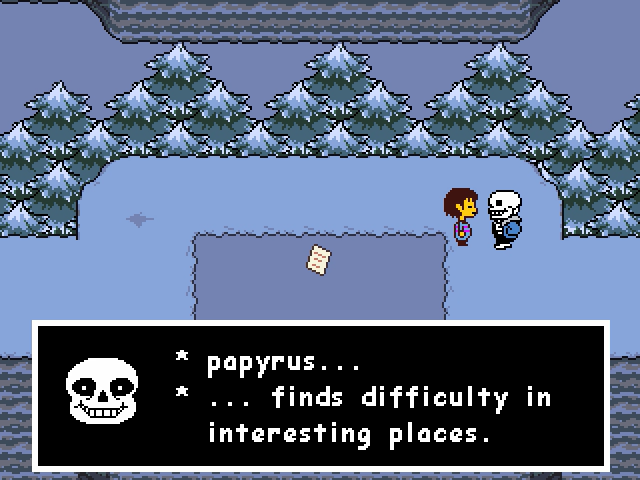 yesterday he got stumped trying to "solve" the horoscope.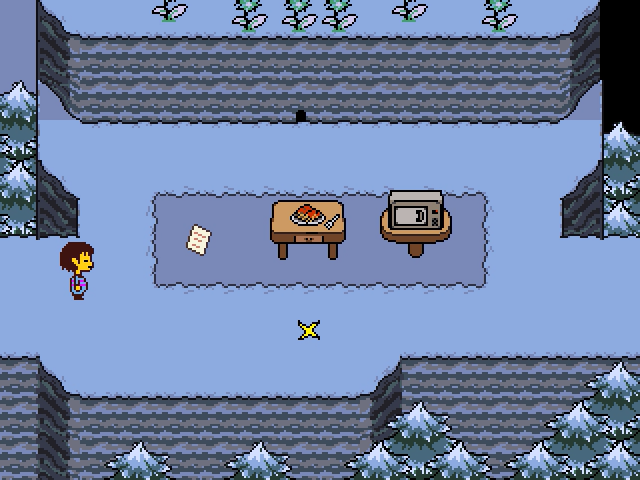 The next area has several things in it.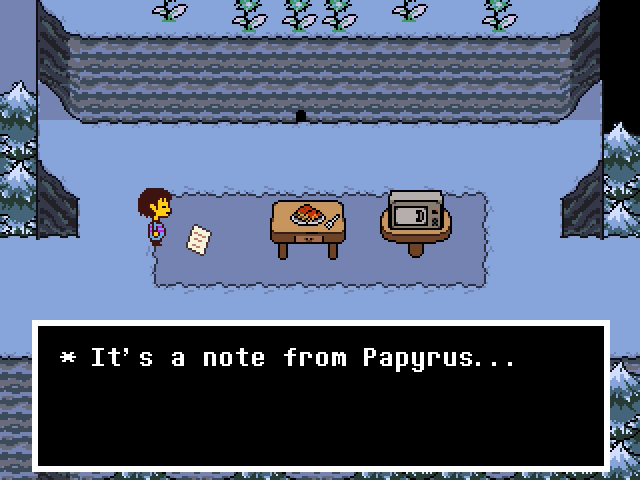 HUMAN!! PLEASE ENJOY THIS SPAGHETTI.
(LITTLE DO YOU KNOW, THIS SPAGHETTI IS A TRAP...)
(DESIGNED TO ENTICE YOU!!!)
(YOU'LL BE SO BUSY EATING IT...)
(THAT YOU WON'T REALIZE THAT YOU AREN'T PROGRESSING!!)
(THOROUGHLY JAPED AGAIN BY THE GREAT PAPYRUS!!!)
NYEH-HEH-HEH,
PAPYRUS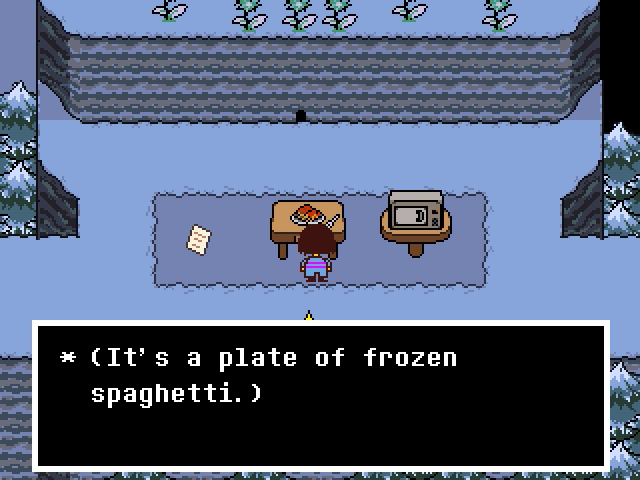 (It's so cold, it's stuck to the table...)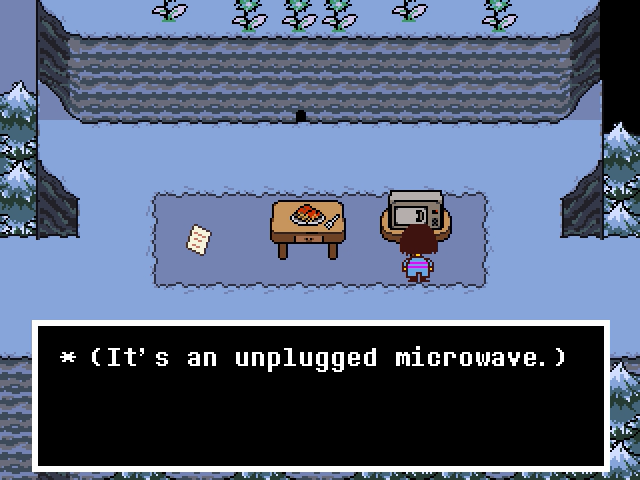 (All of the settings say "spaghetti.")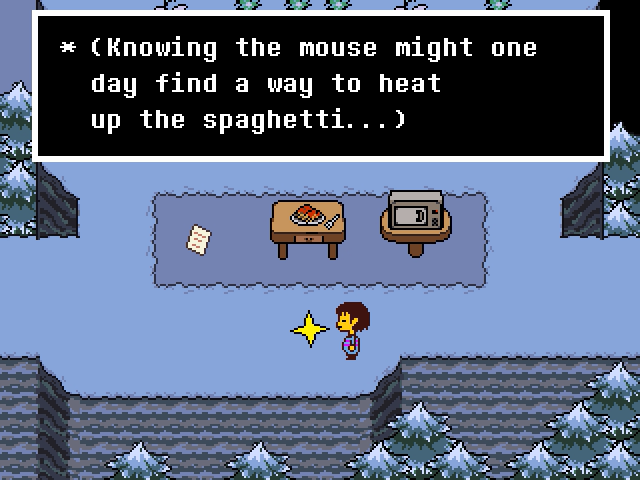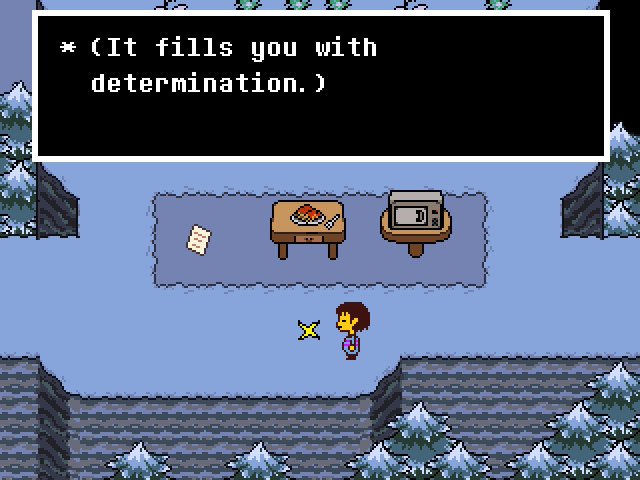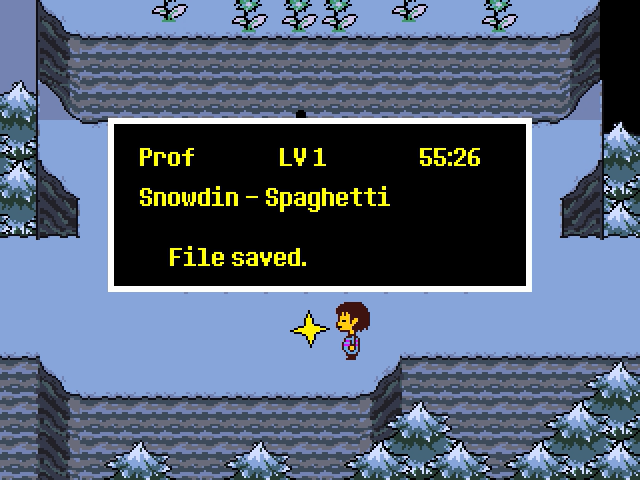 I save my game.