Part 9: Dogsong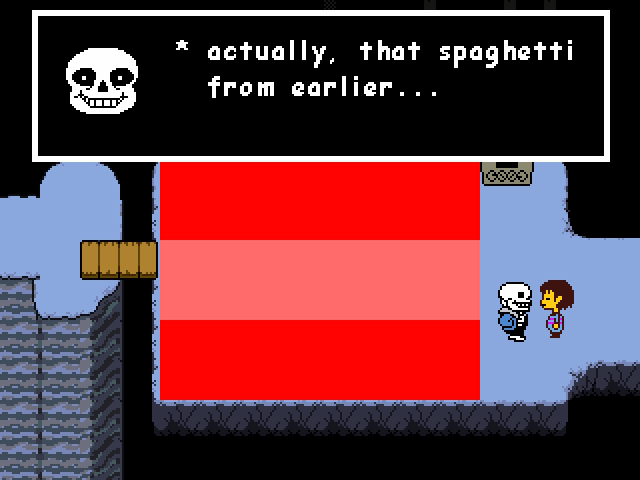 it wasn't too bad for my brother.

since he started cooking lessons, he's been improving a lot.

i bet if he keeps it up, next year he'll even make something edible.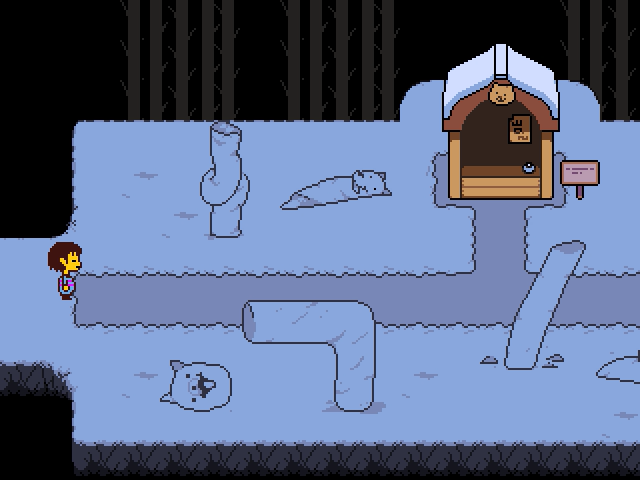 I'm not sure what to make of this.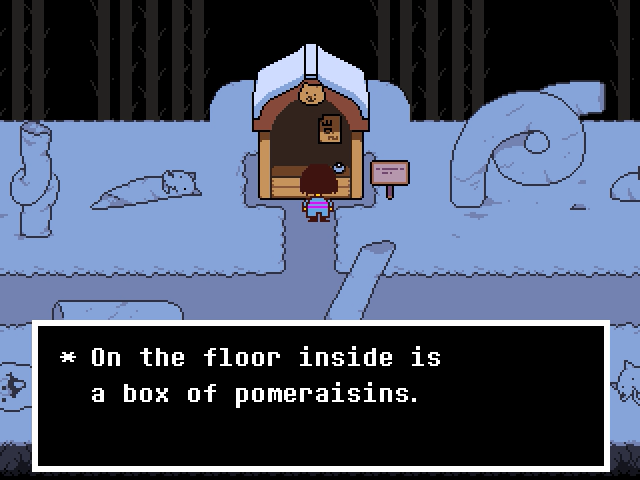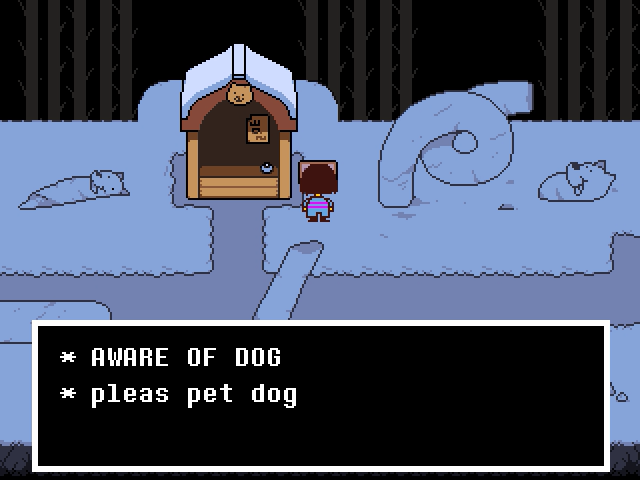 I suspect Lesser Dog is responsible, though.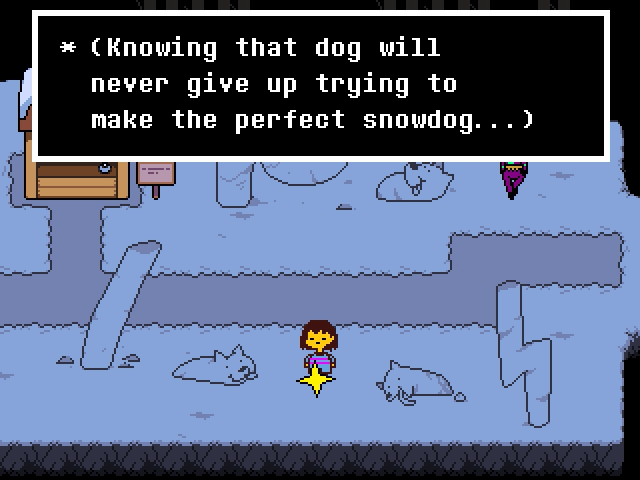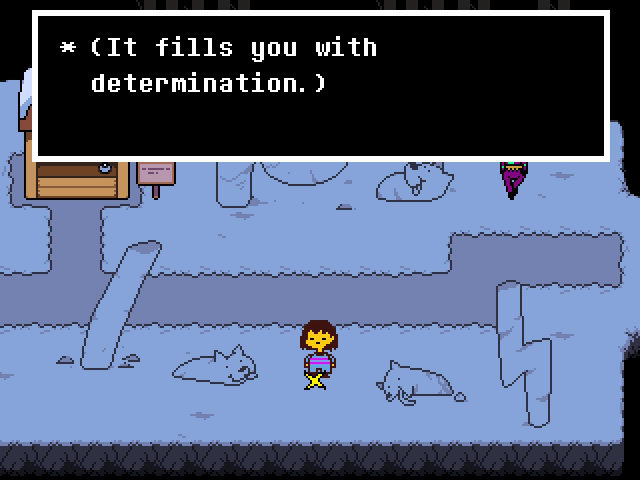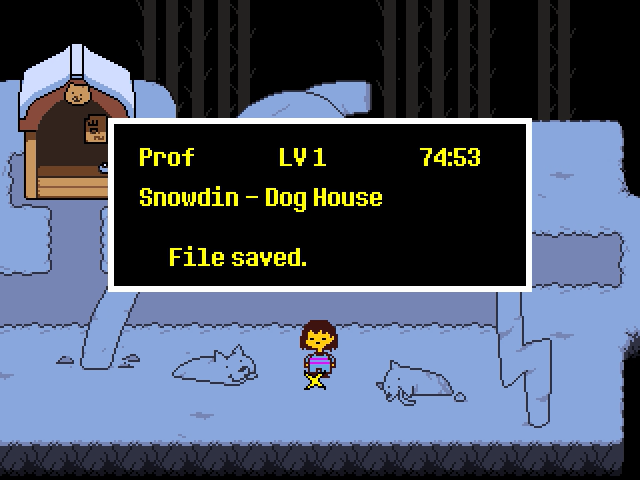 I save my game.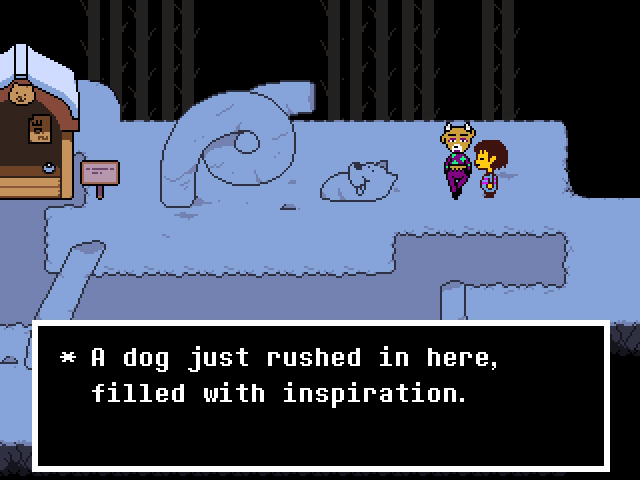 It kept trying to build a snowdog that expressed its own emotions...

But, as it built, it kept getting more excited about the sculpture...

Its neck got longer and longer, and it added more and more snow, until...

It was rather sad tow atch, but I couldn't turn away.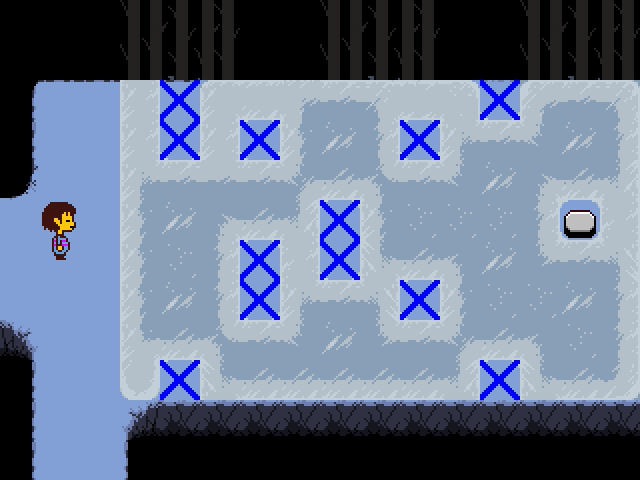 In the next area, there's a new version of the XO puzzle. In addition to the symbols, there's ice, and...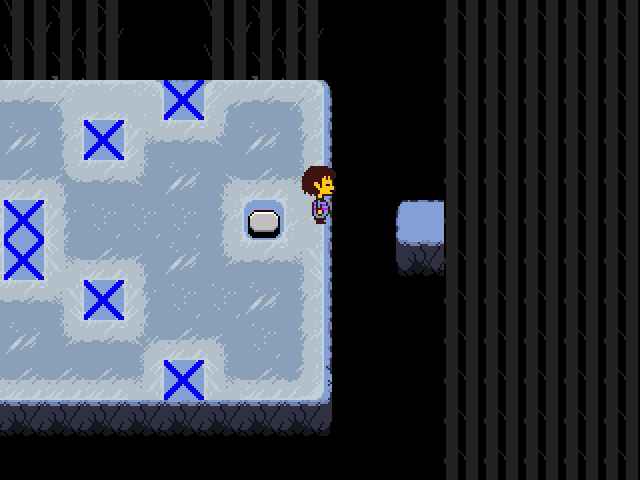 I can fall off the edge!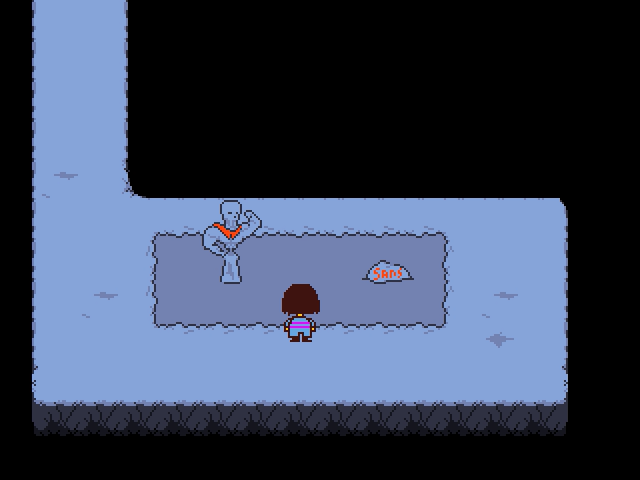 Doing so puts me down here.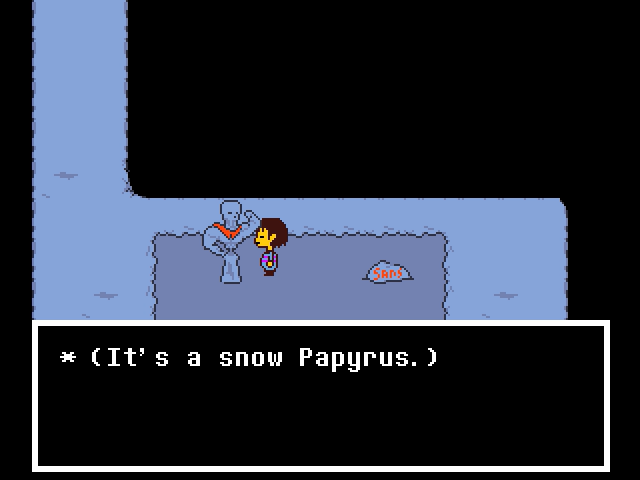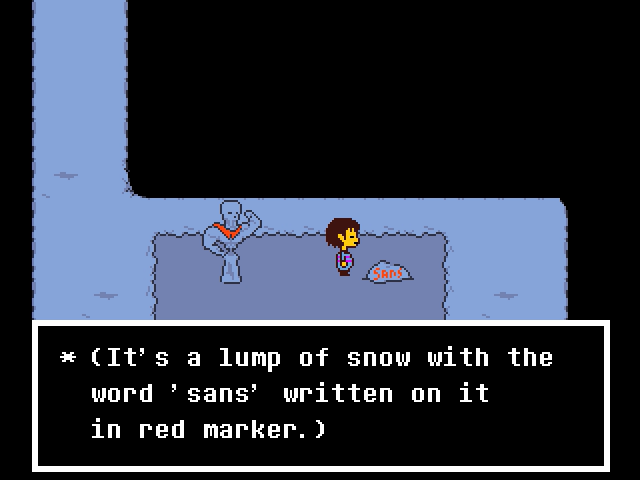 I go back up to do the puzzle properly.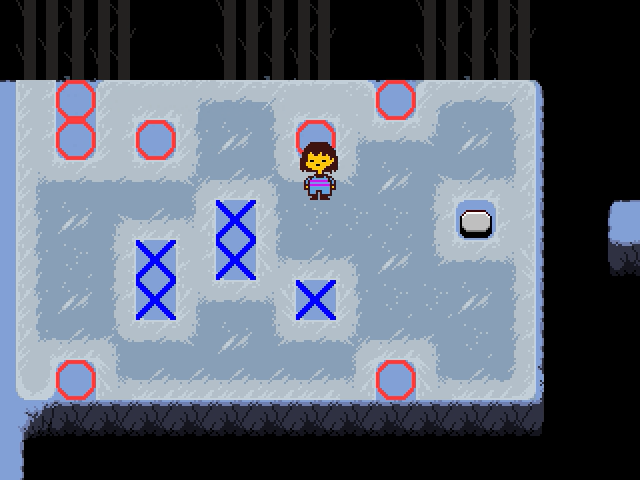 Really, this is way easier than the last one. It just goes in a spiral.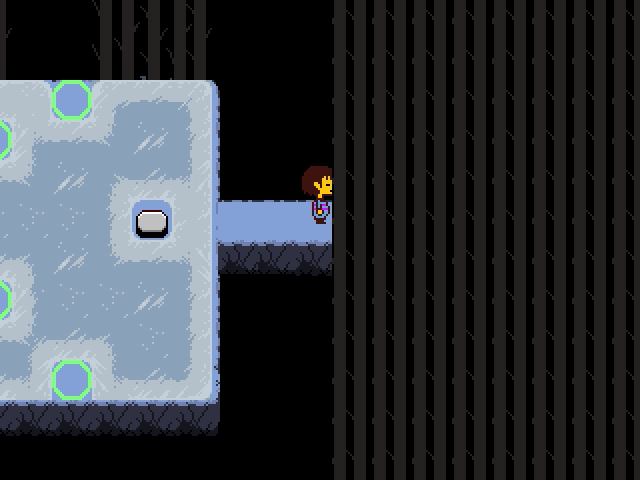 I proceed down a long path, obscured by trees.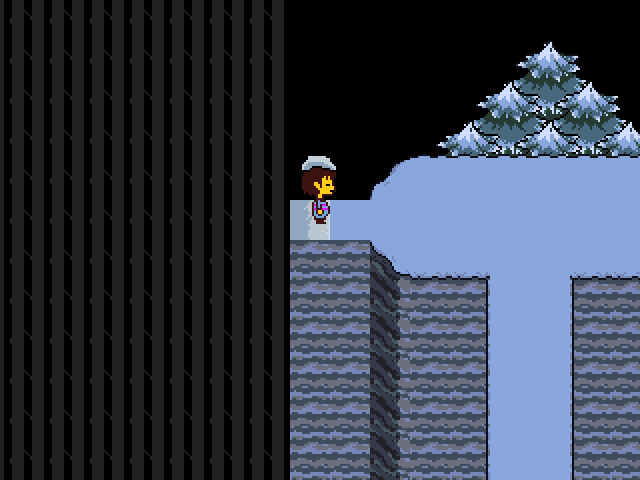 It's rare, but sometimes there's a tiny dog made of snow instead of just a lump.
I head south.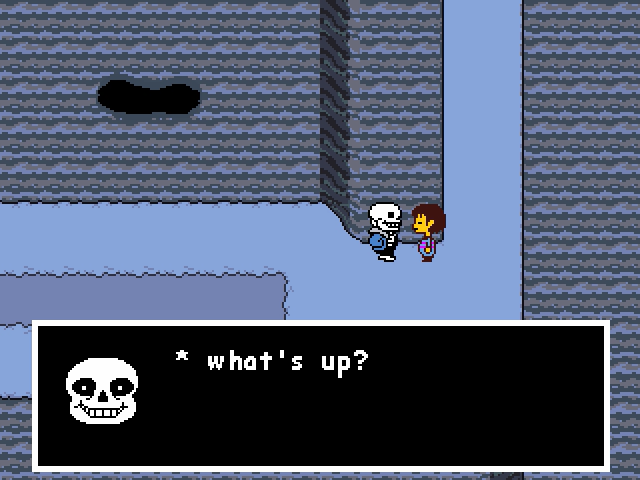 I continue west.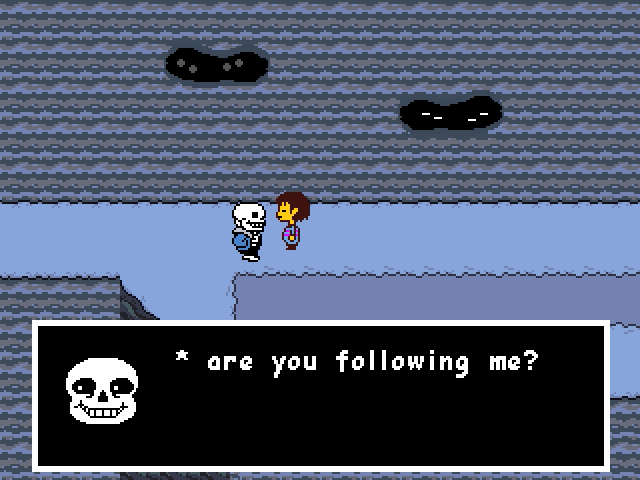 How do you keep getting past me so quickly?
Also, what are those things watching me from the wall?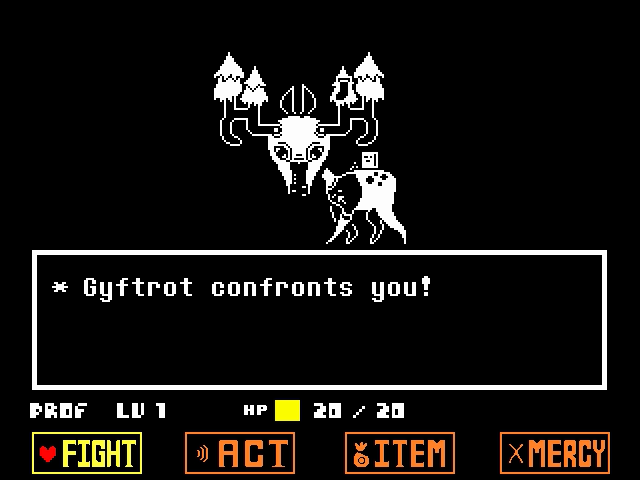 The final monster type for this area!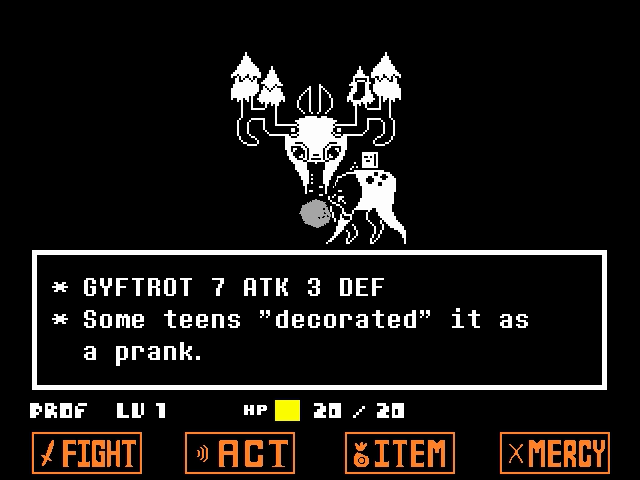 It's covered in strange accessories, but it's basically some sort of weird reindeer with tree antlers.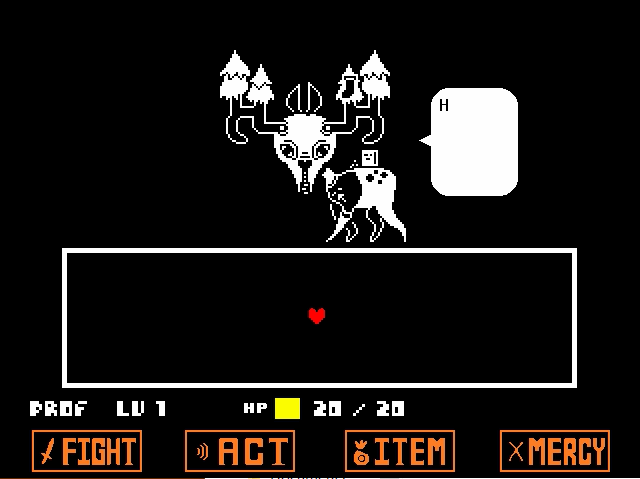 Gryftrot's main form of attack is playing a shell game with presents. Find the blue one, stand still as it passes over you.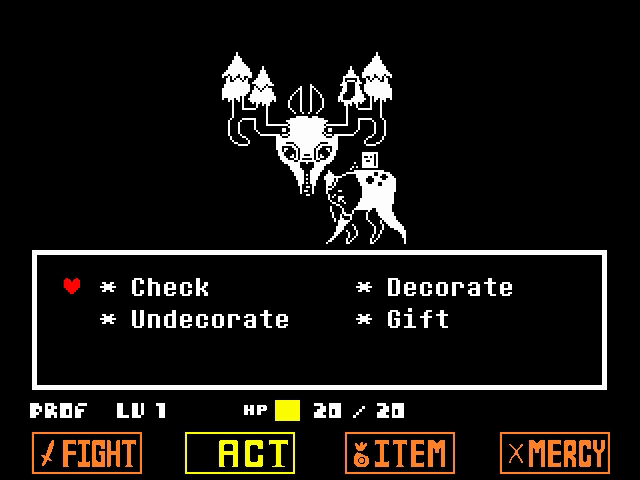 How about a
Gift
?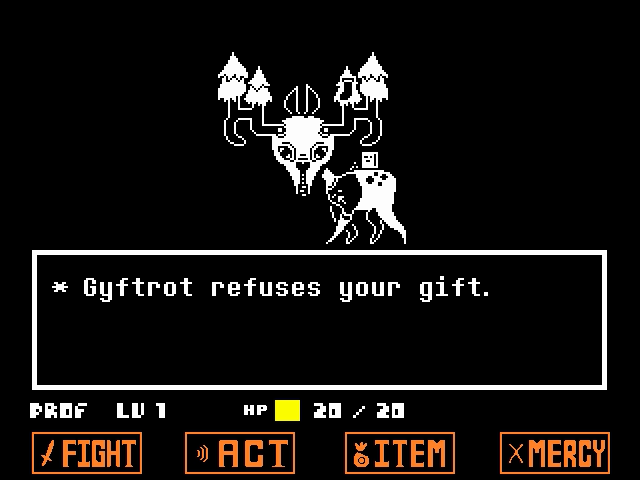 It does the same attack again.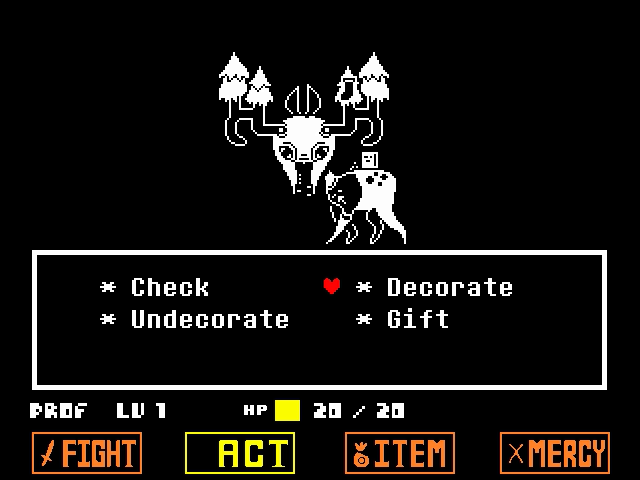 I'll
Decorate
to spice up the aesthetic it has going!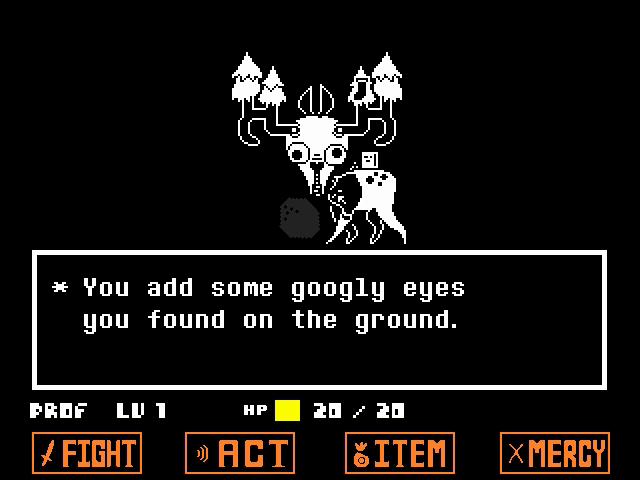 I don't think it liked my idea.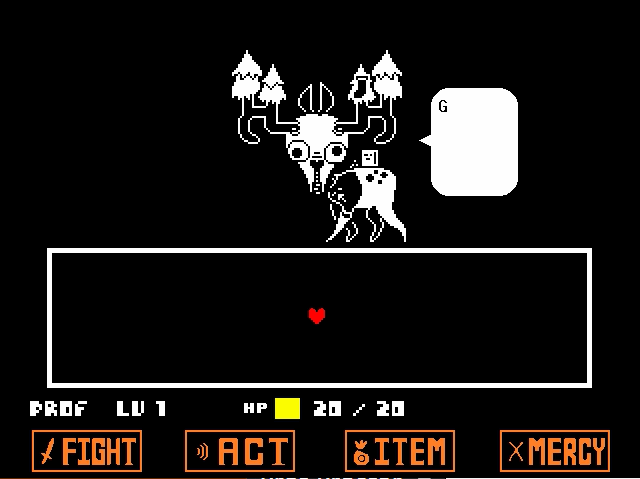 Gryftrot's second attack is a pretty straightforward bullet rain, although it's pretty fast. It's not hard to mess up.
Anyway, it's pretty obvious what I have to do, so it's time to
Undecorate
.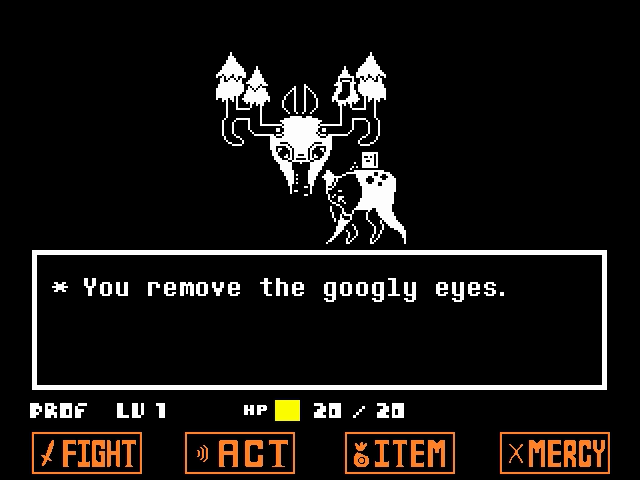 One item at a time, though.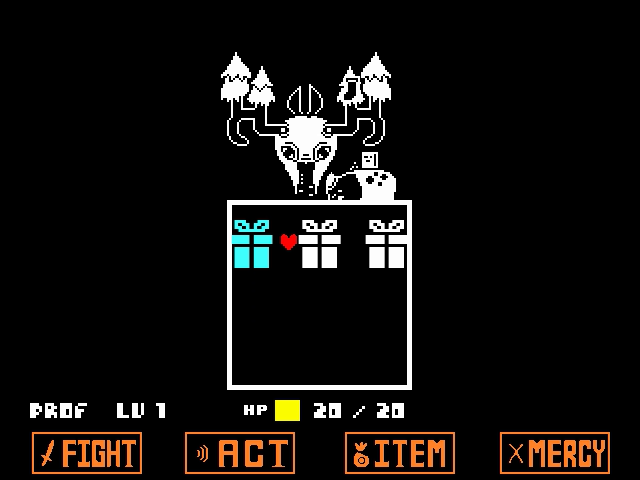 If I don't want to guess which one it's going to be, I can always just pick the gaps between the presents.
Actually, I think it's always the one on the left.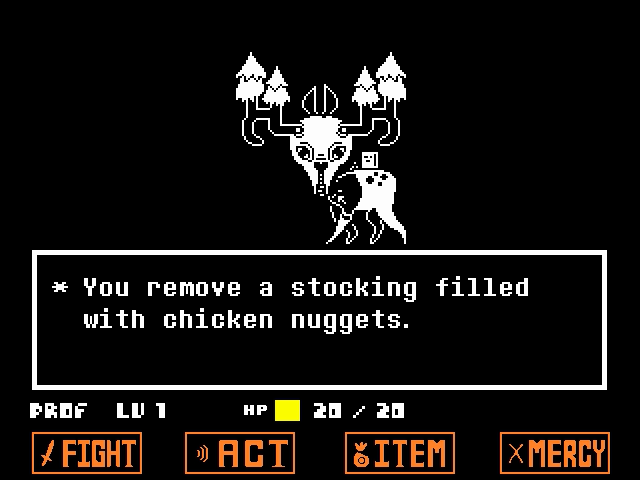 There's a lot of items to remove, so beating Gryftrot without hurting it is pretty time-consuming.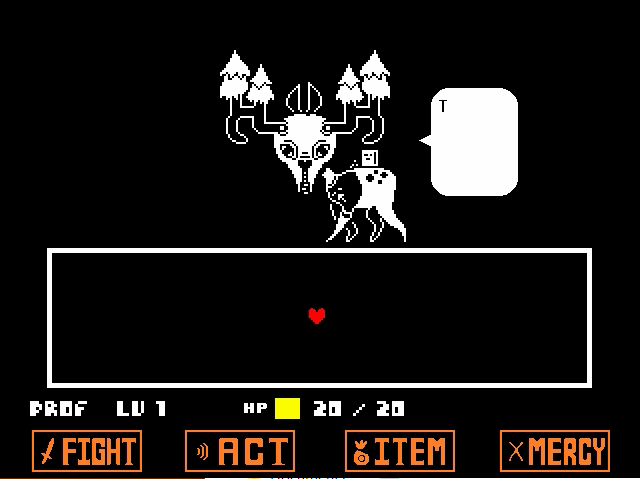 It has a variation on its main attack, where the presents keep rotating as they fall. It's tough to read the movement.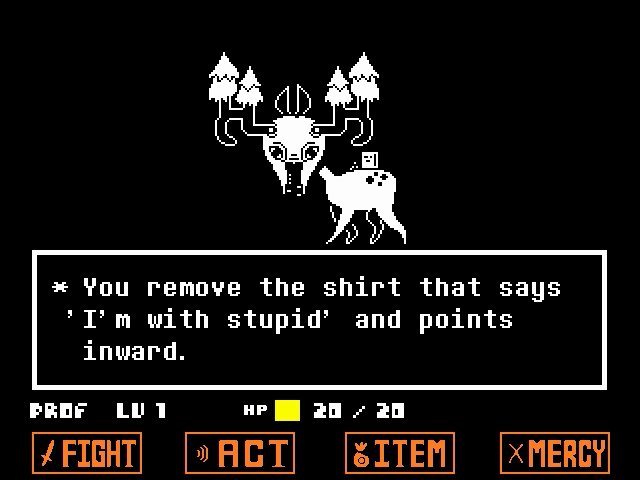 A little better...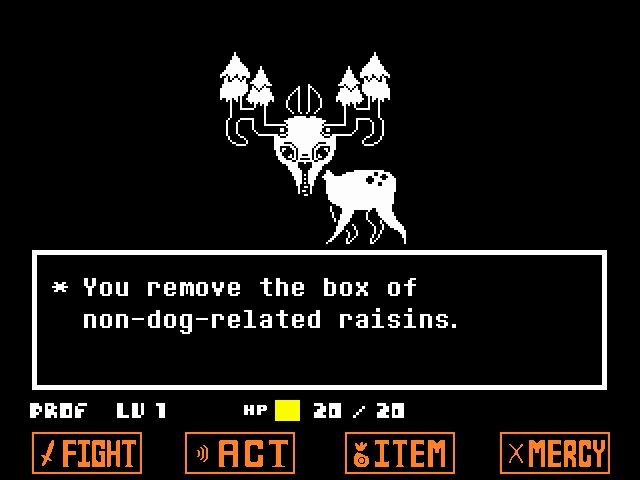 And done.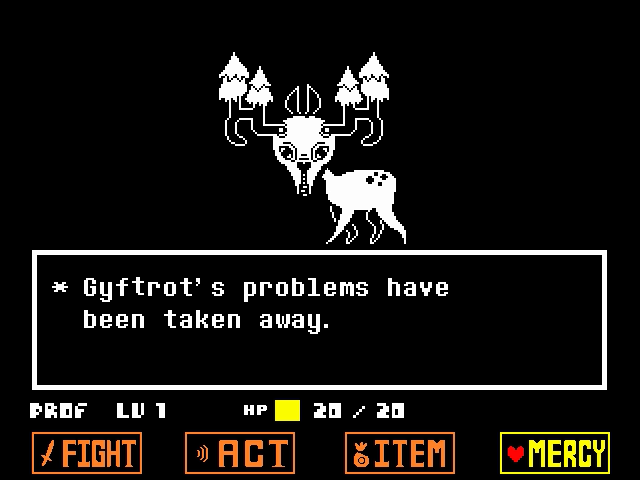 We have no quarrel, good monster.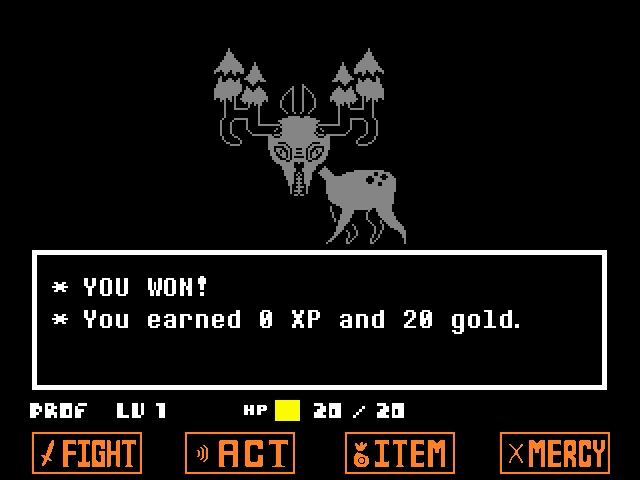 Onward!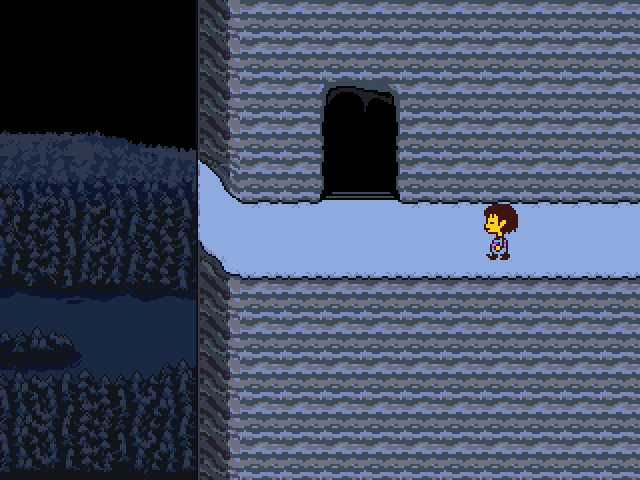 This path ends in a slightly foreboding cave.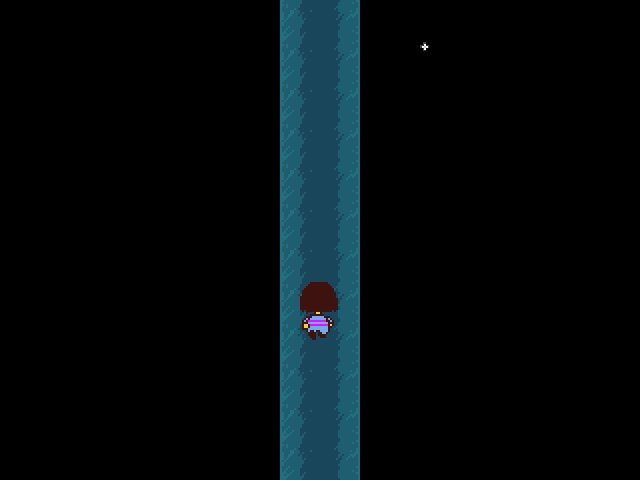 BGM: Silence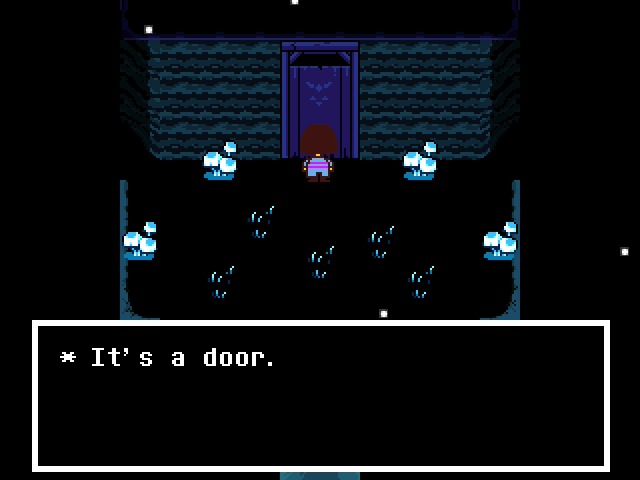 I can't open this door.
In fact, I may never open this door.
Opening this door is one of the most difficult things to do in all of Undertale.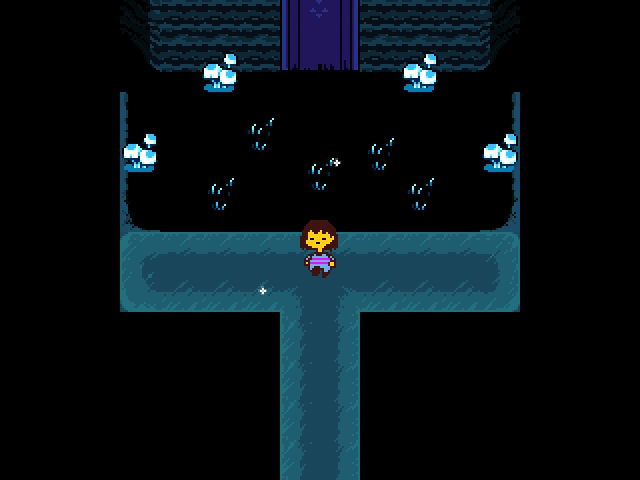 I'm not sure why I felt like showing this off, but maybe I'll get lucky and you'll get to see it. Eventually.
I head back a few screens, and go east.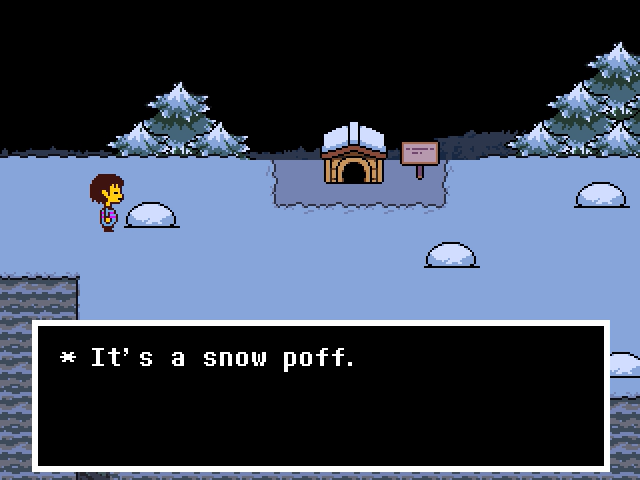 Just to be sure, I should make sure I check every one of these things.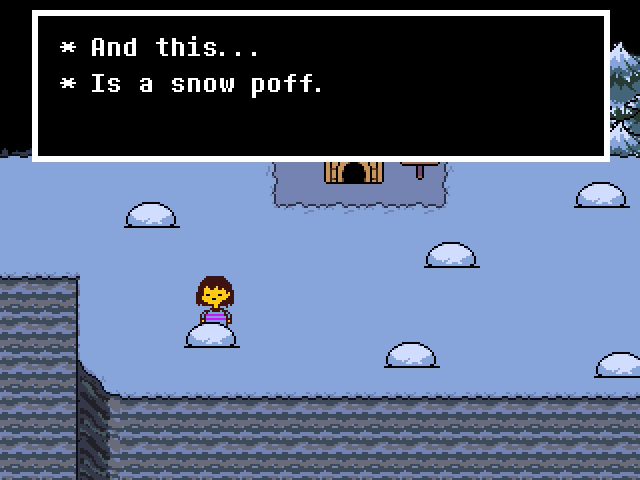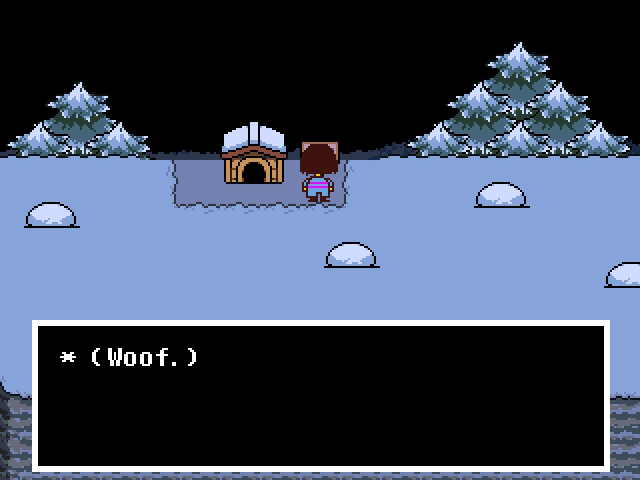 This seems to just be a tiny doghouse.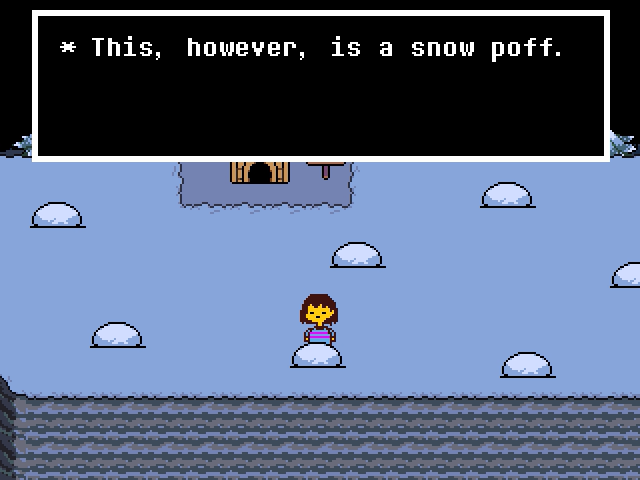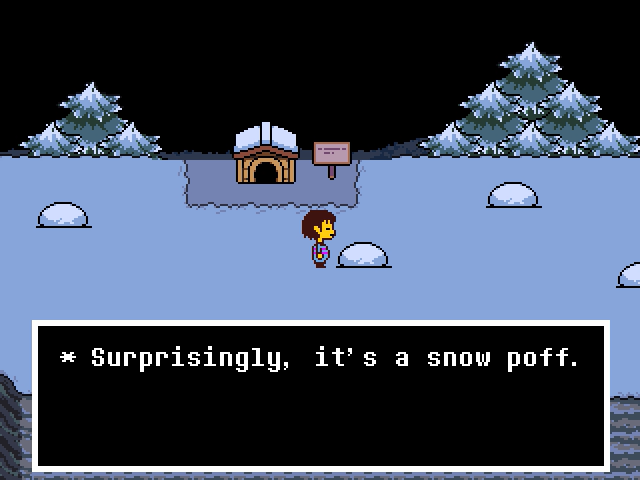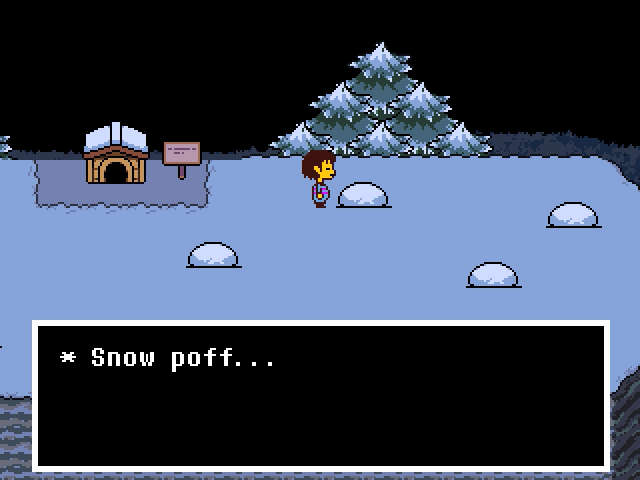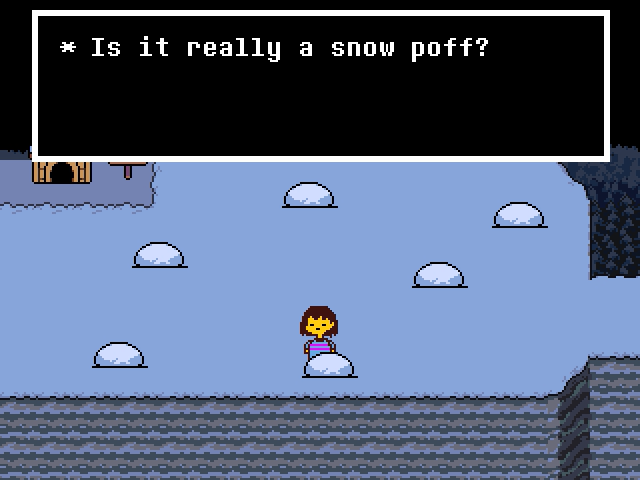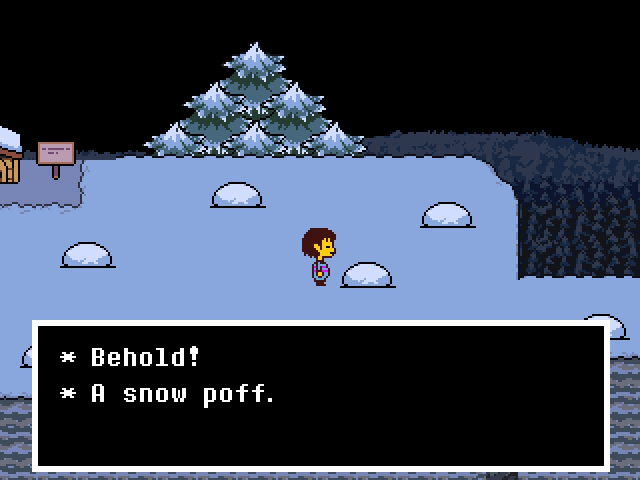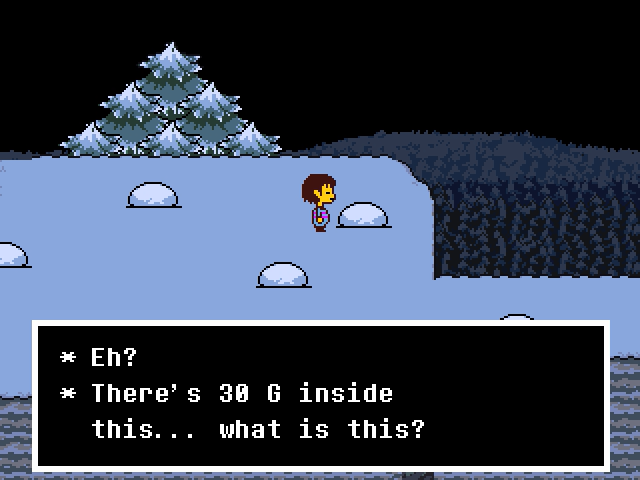 I think it's a snow poff.
That just leaves one on the end, which I assume to be a snow poff.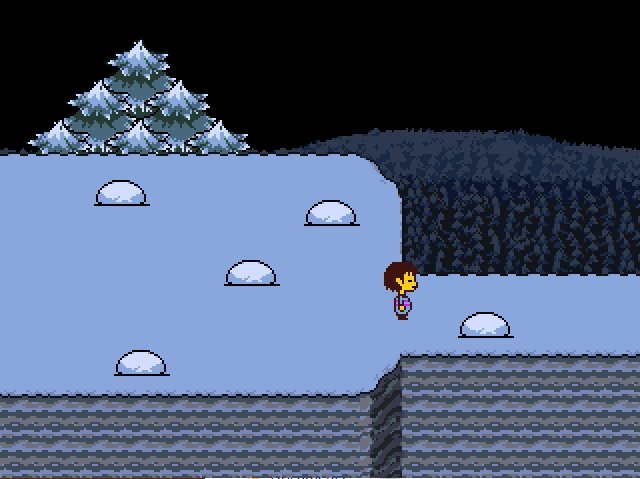 Is... Is this normal snow poff behavior?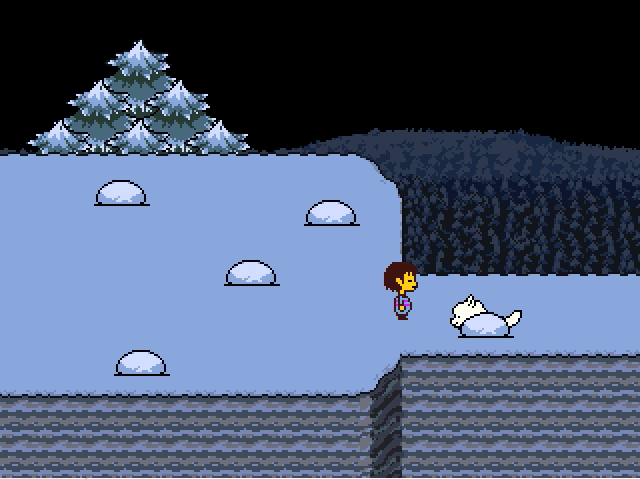 Maybe it's not a snow poff.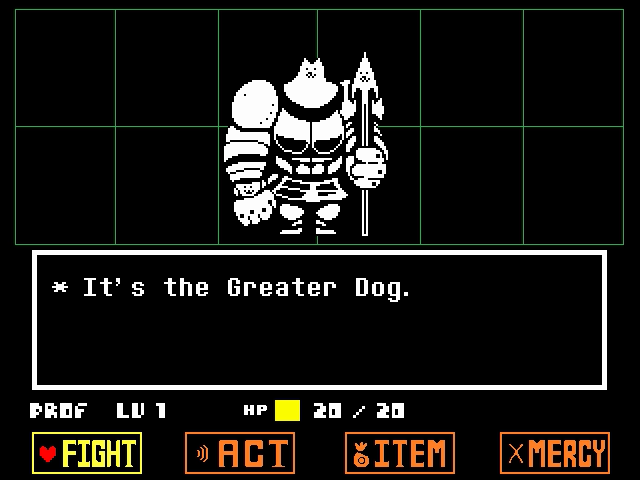 BGM: Dogsong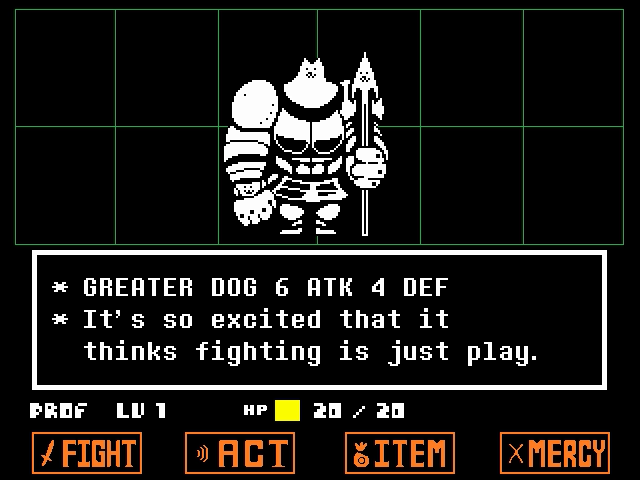 Dogs encountered: 5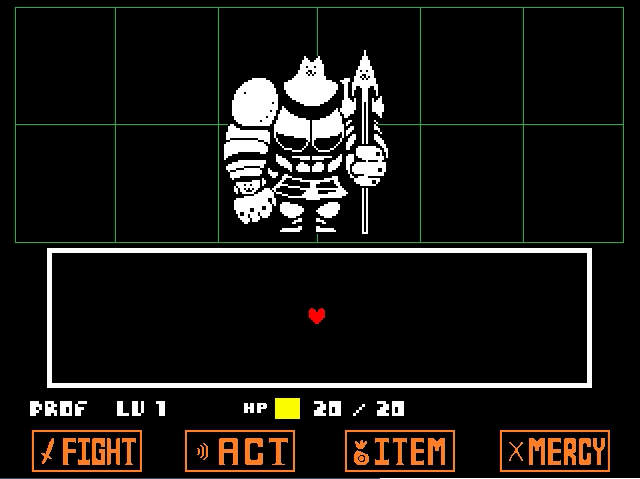 Greater Dog's spear changes between blue and white, so it's a matter of waiting for it to turn blue before letting it pass over me.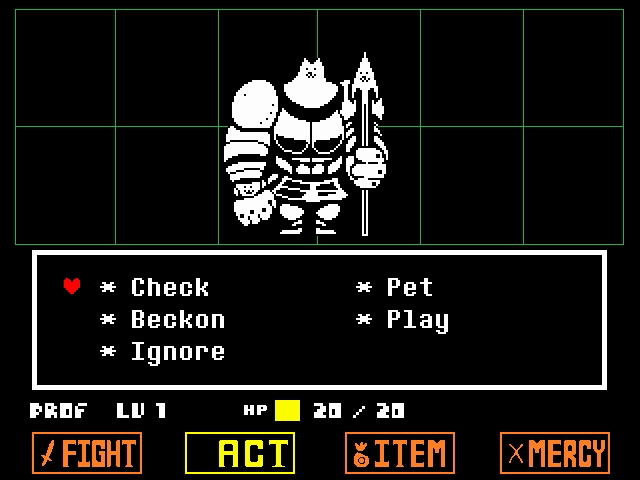 What if I
Ignore it?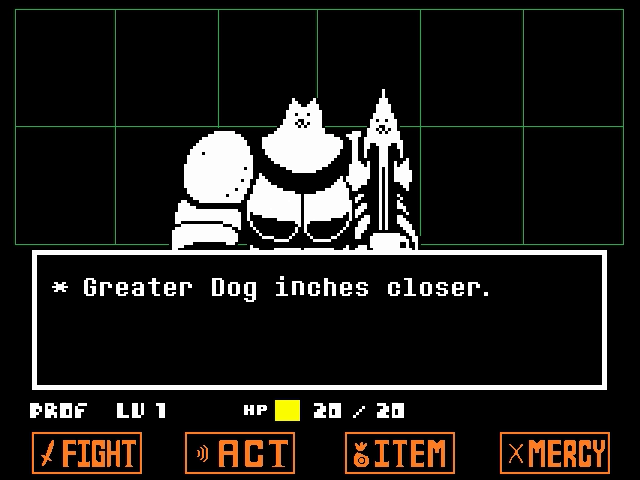 TOO CLOSE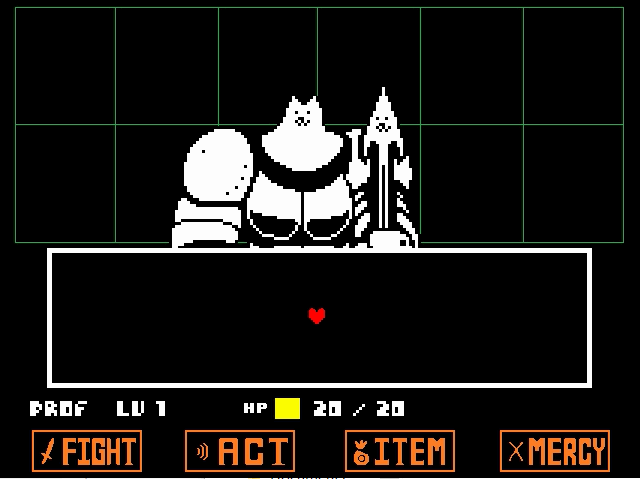 Bark bark.
As long as it's this close, I might as well
Pet
.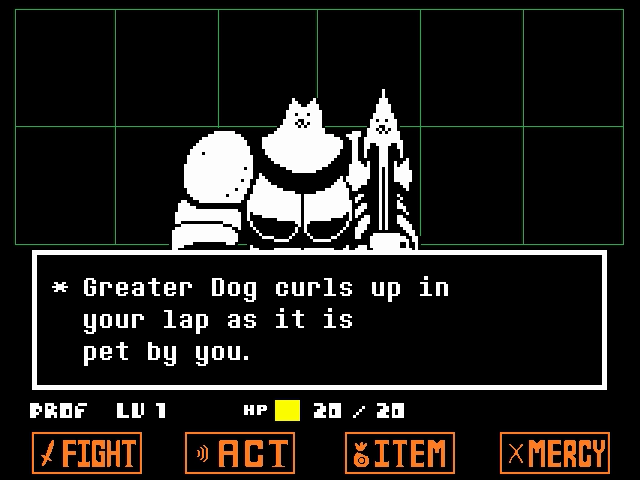 It gets so comfortable it falls asleep...
Zzzzz...
...
Then it wakes up! It's so excited!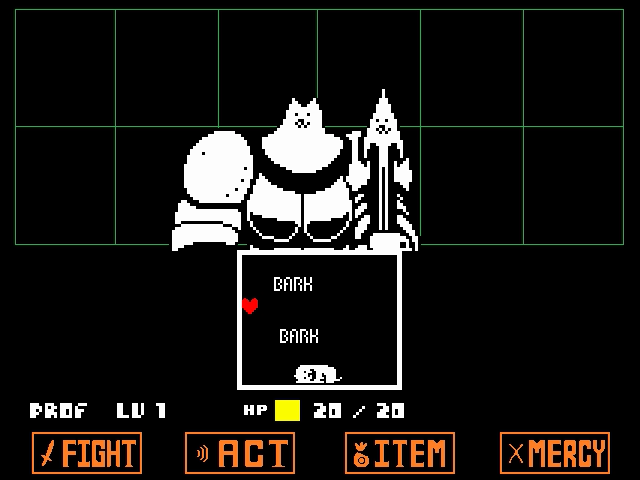 Looks like we need to calm it down, first.
Time to
Play
!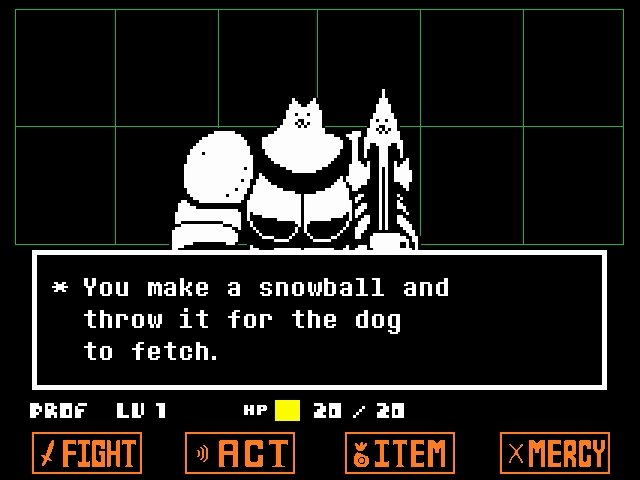 It splats on the ground.
Greater Dog picks up all the snow in the area and brings it to you.
Now dog is very tired... It rests its head on you...
Now, again,
Pet
.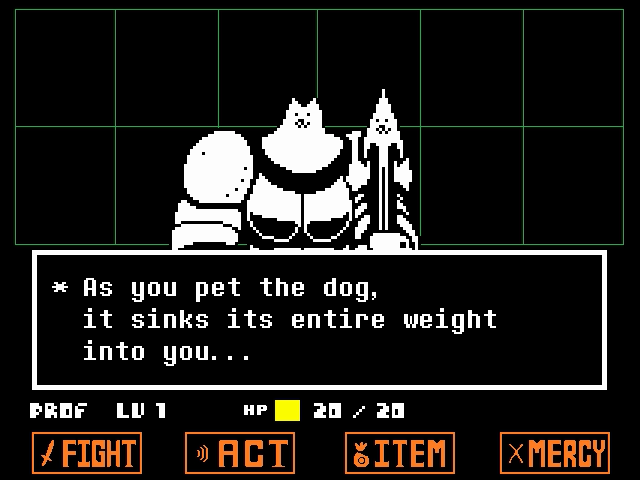 Your movements slow.
But, you still haven't pet enough...!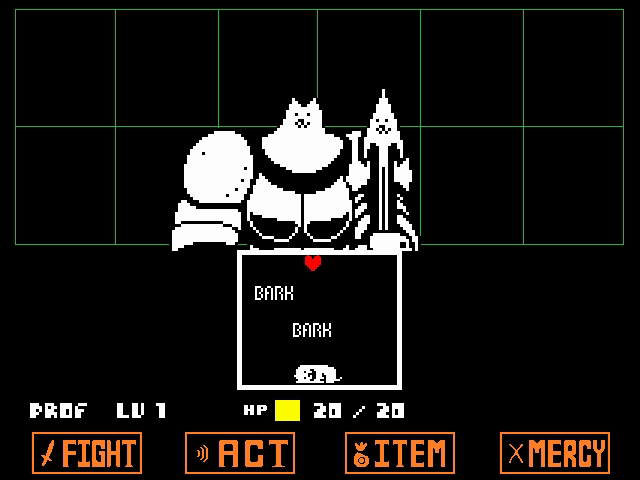 It's subtle, but I think that my soul's movement speed is slower now.
PET.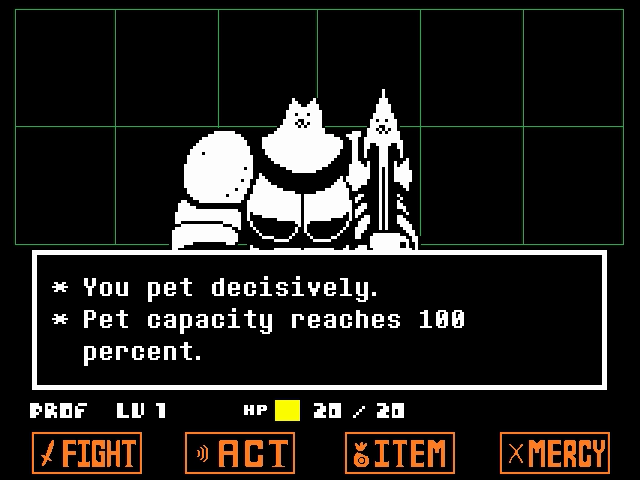 The dog flops over with its legs hanging in the air.
Pet?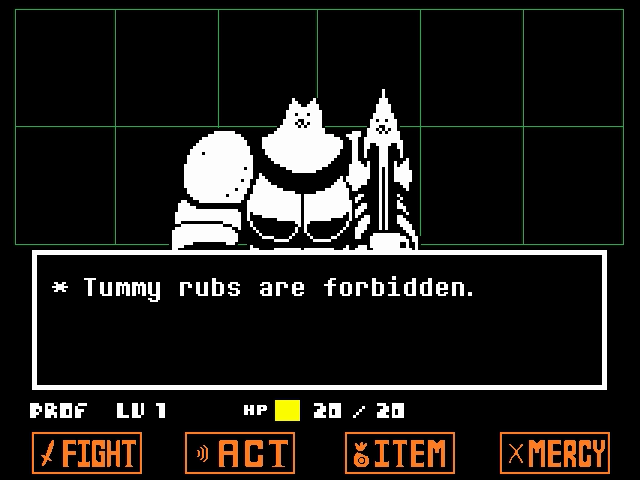 Okay, I think we're done here.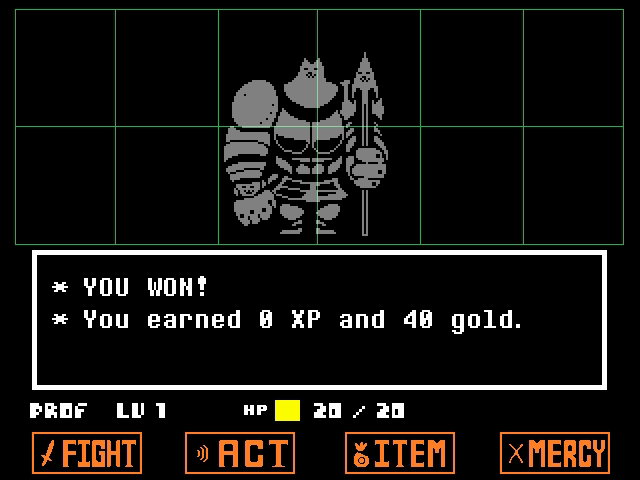 Dog successfully befriended.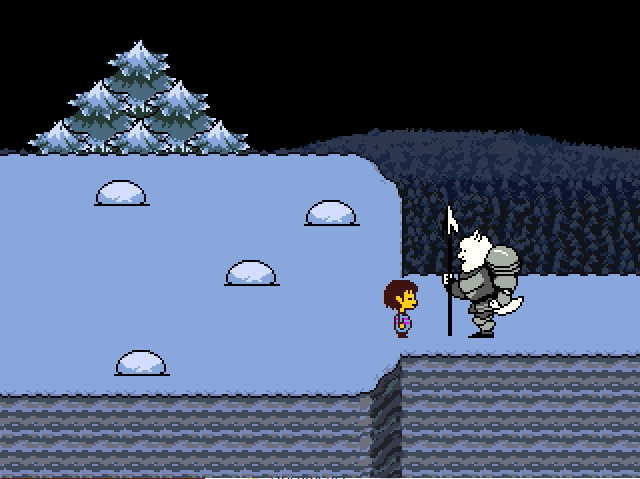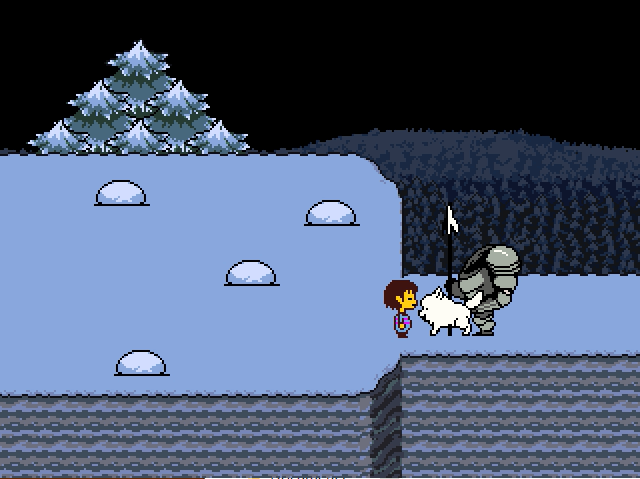 The way is clear.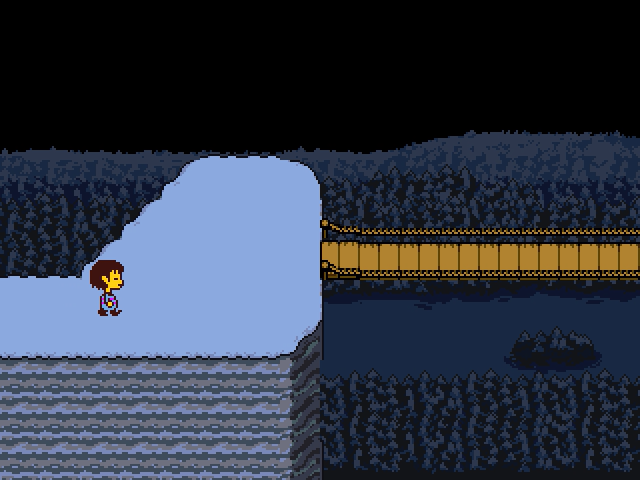 I cross a very long bridge.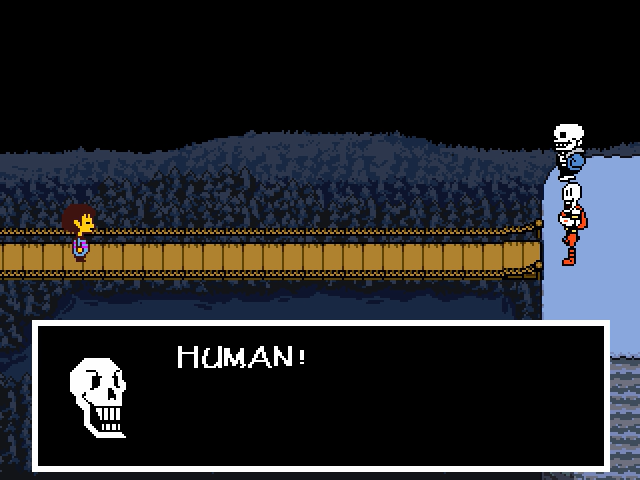 BGM: Nyeh Heh Heh!

THIS IS YOUR FINAL AND MOST DANGEROUS CHALLENGE!

BEHOLD! THE GAUNTLET OF DEADLY TERROR!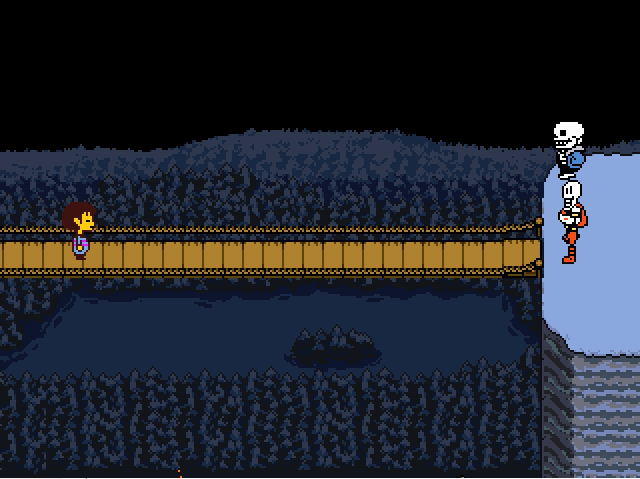 Dogs Encountered: 6

WHEN I SAY THE WORD, IT WILL FULLY ACTIVATE!

CANNONS WILL FIRE! SPIKES WILL SWING! BLADES WILL SLICE!

EACH PART WILL SWING VIOLENTLY UP AND DOWN!

ONLY THE TINIEST CHANCE OF VICTORY WILL REMAIN!

ARE YOU READY?

BECAUSE!

I!

AM!

ABOUT!

TO DO IT!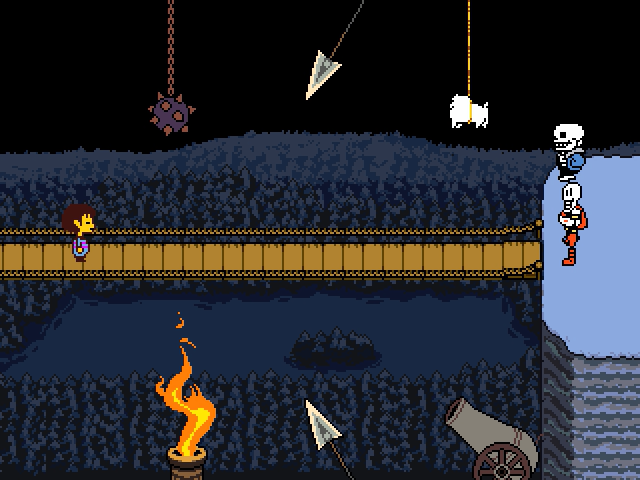 well? what's the holdup?

HOLDUP!? WHAT HOLDUP!?

I'M... I'M ABOUT TO ACTIVATE IT NOW!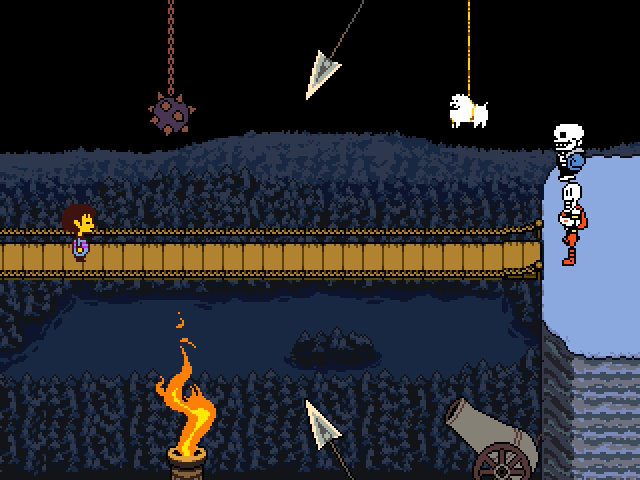 that, uh, doesn't look very activated.

WELL!!!

THIS CHALLENGE!!!

IT SEEMS...

MAYBE... TOO EASY TO DEFEAT THE HUMAN WITH.

YEAH! WE CAN'T USE THIS ONE!!!

I AM A SKELETON WITH STANDARDS!!!

MY PUZZLES ARE VERY FAIR!

AND MY TRAPS ARE EXPERTLY COOKED!

BUT THIS METHOD IS TOO DIRECT! NO CLASS AT ALL!

AWAY IT GOES!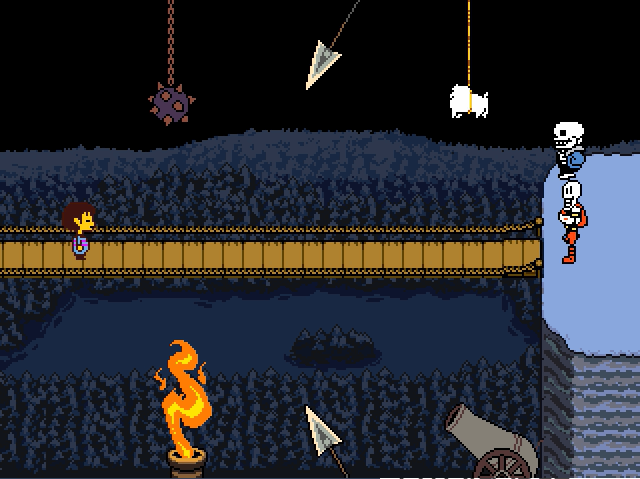 PHEW!

WHAT ARE YOU LOOKING AT?

THIS WAS ANOTHER DECISIVE VICTORY FOR PAPYRUS!!

NYEH!!

HEH!!

...HEH???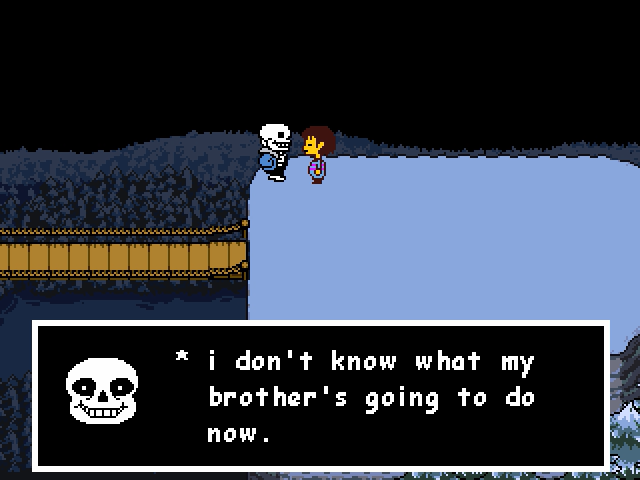 if i were you, i would make sure i understand
blue attacks
.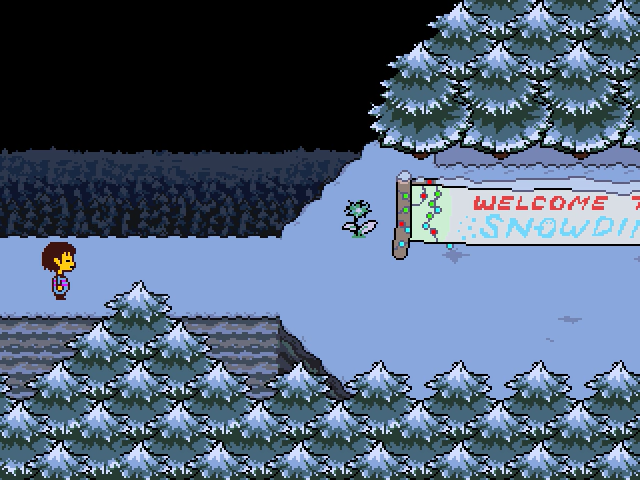 Hey, look! Something other than trees and snow!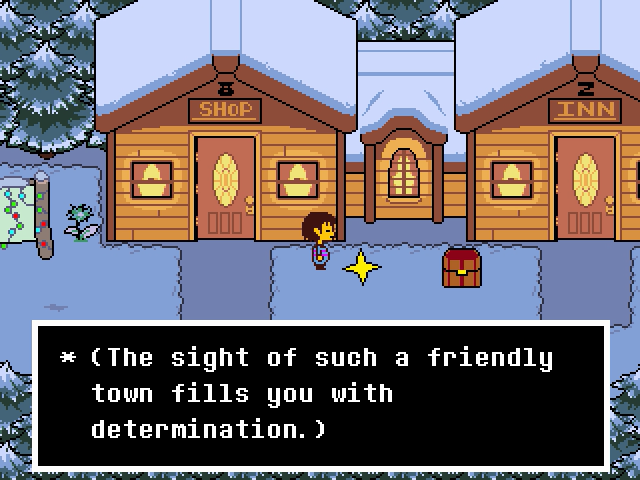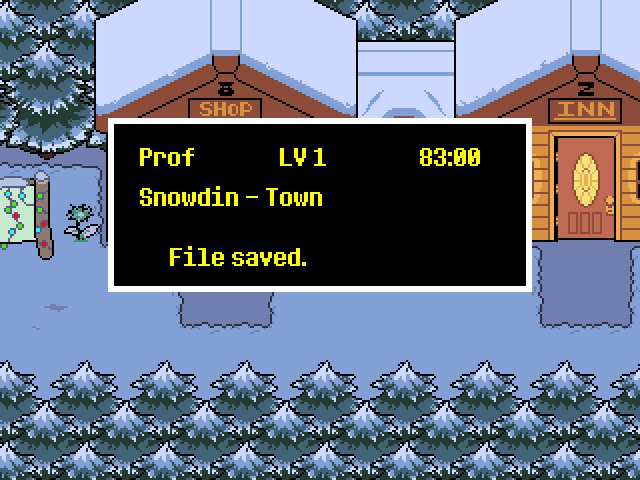 Now that I've made it to civilization, I save my game.