Part 12: Dating Start!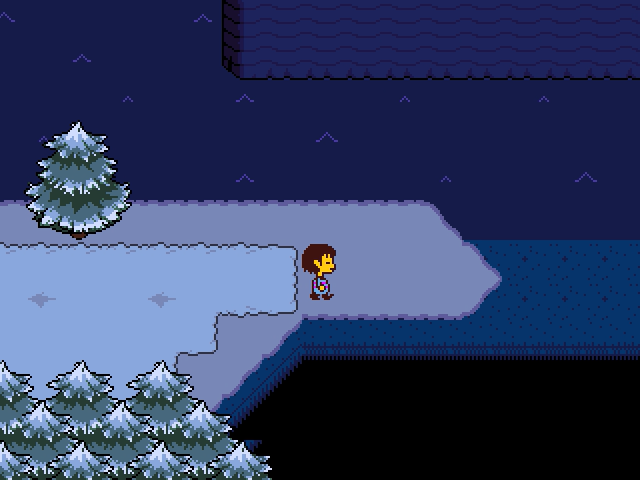 I continue on past Snowdin, into a new area.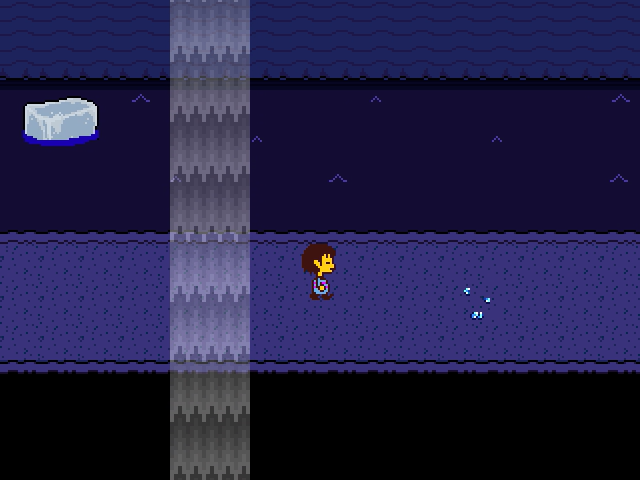 The werewolf's ice is still floating down the river.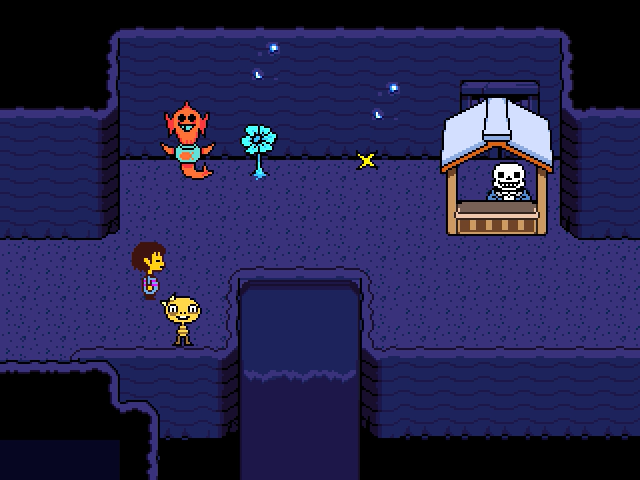 BGM: sans.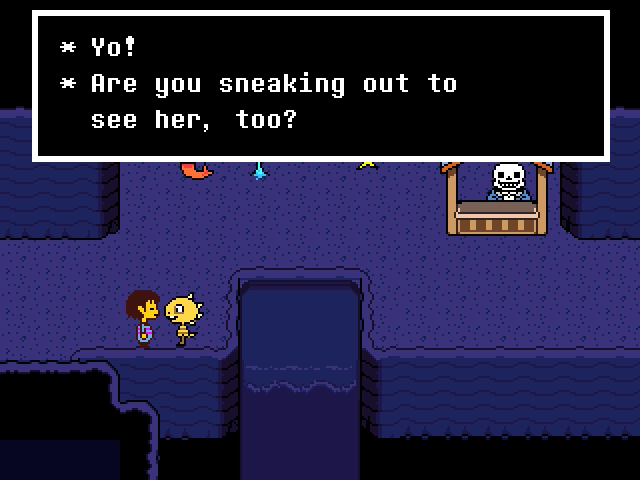 Awesome... She's the coolest, right!?

I wanna be just like her when I grow up...

Hey, don't tell my parents I'm here. Ha ha.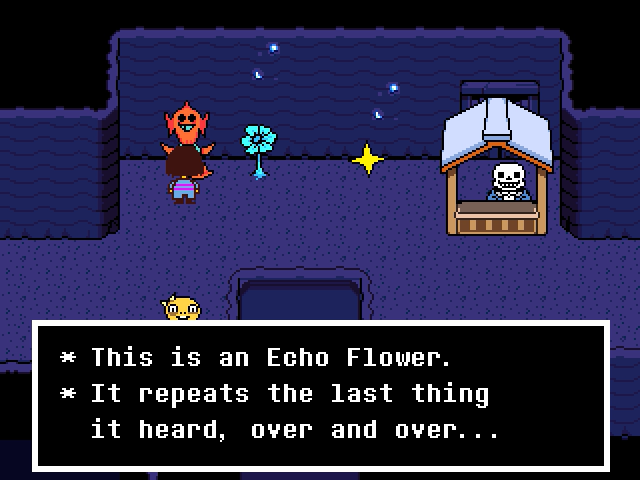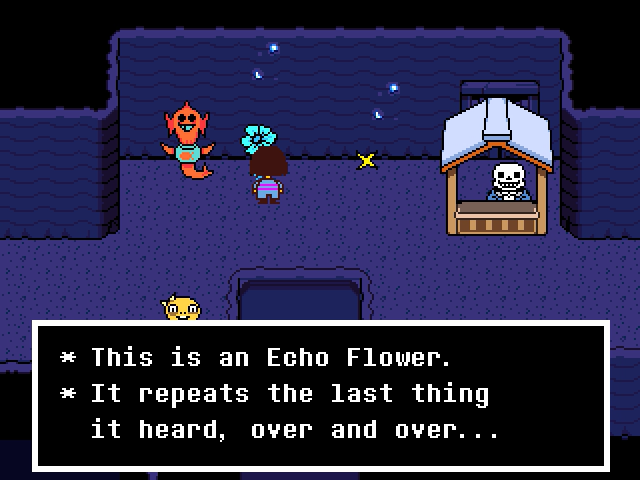 I wonder what I would have heard if I had talked to the flower first.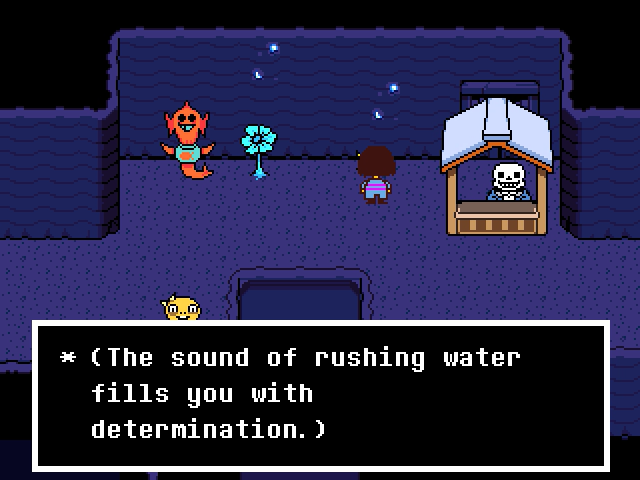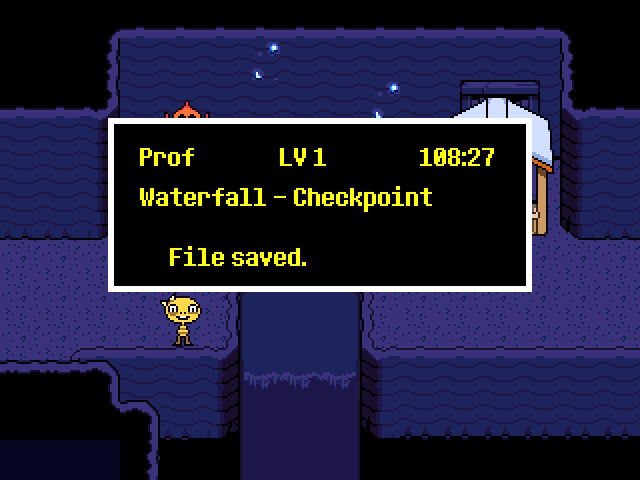 I save my game.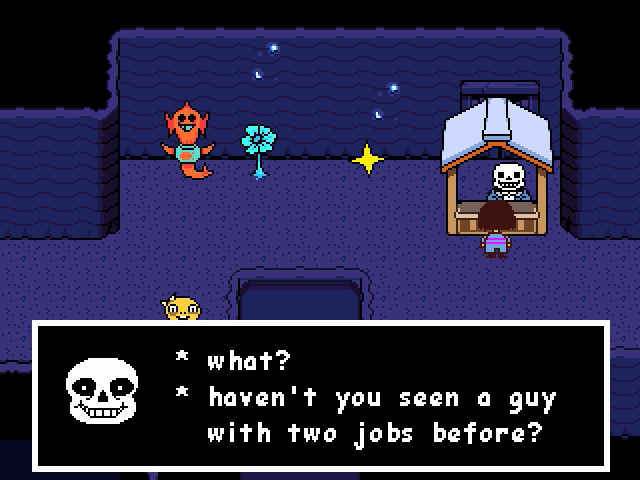 fortunately, two jobs means twice as many legally-required breaks.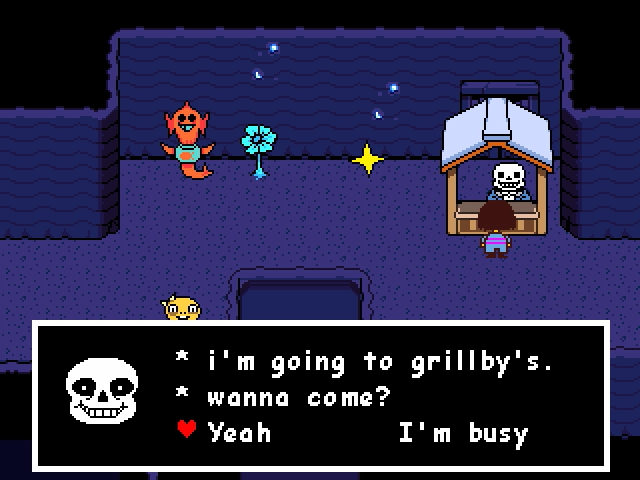 well, if you insist... i'll pry myself away from my work...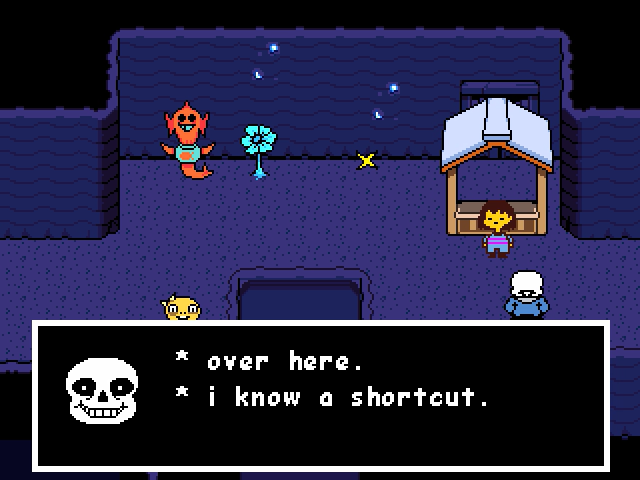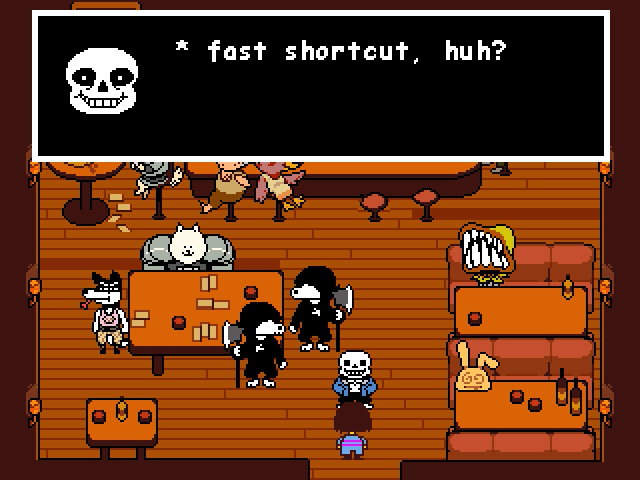 hey, everyone.

Hey, Sans.

(Hi, Sans.)

Greetings, Sans.

Hiya, Sansy~

Hey Sans, weren't you just here for breakfast a few minutes ago?

nah, i haven't had breakfast in at least half an hour.

you must be thinking of brunch.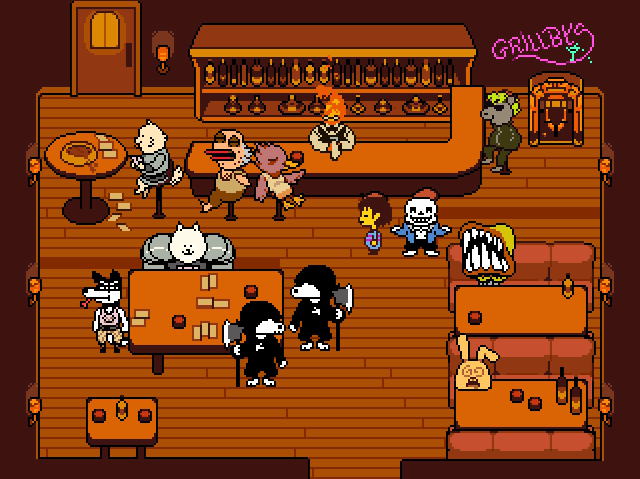 here, get comfy.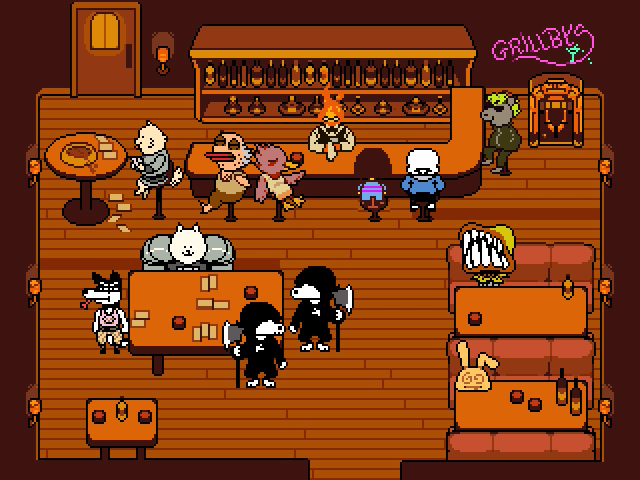 A fart noise thunders across the room.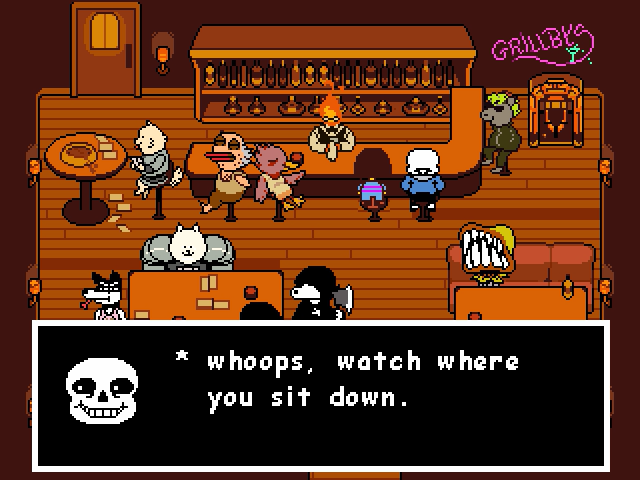 sometimes weirdos put whoopee cushions on the seats.

anyway, let's order.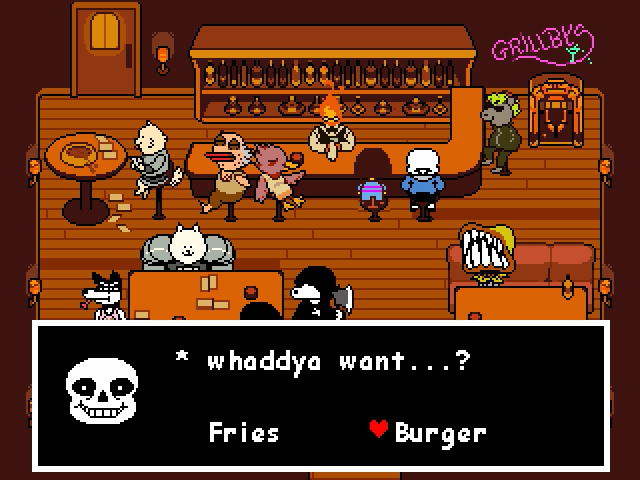 hey, that sounds pretty good.

grillby, we'll have a double order of burg.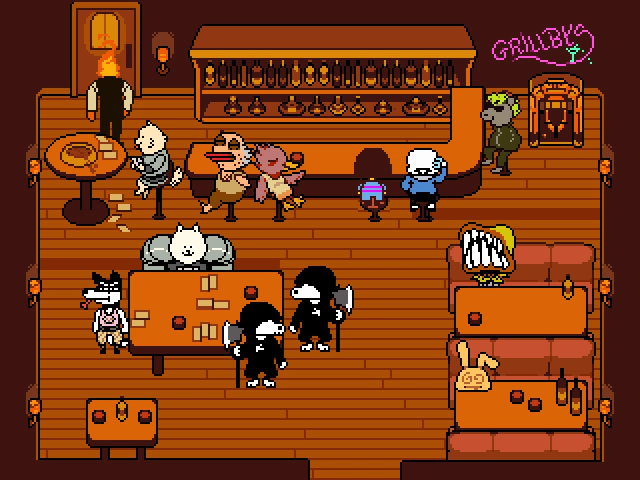 so, what do you think...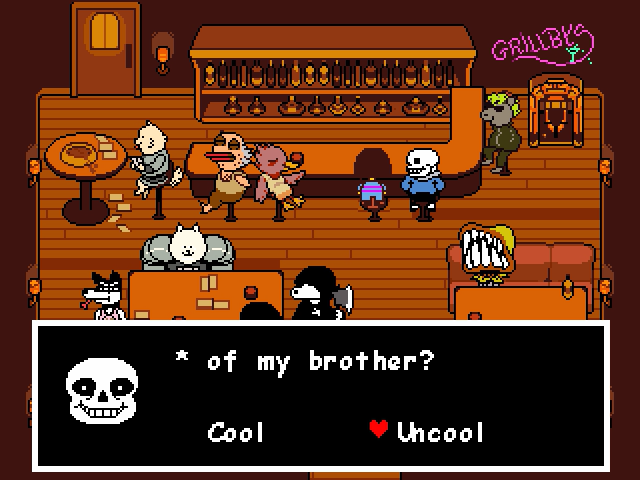 hey, pal.

sarcasm isn't funny, okay?

my brother's a real star.

he's the person who pushed me to get this sentry job.

maybe it's a little strange, but sometimes...

...it's nice to have someone call you out on being lazy.

even though nothing could be further from the truth.

here comes the grub.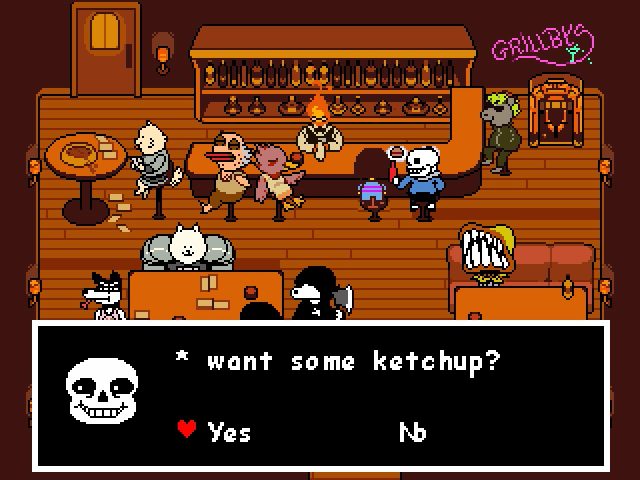 bone appetit.
(You tip the ketchup...)
(The cap falls off and all the ketchup in the bottle pours onto your food.)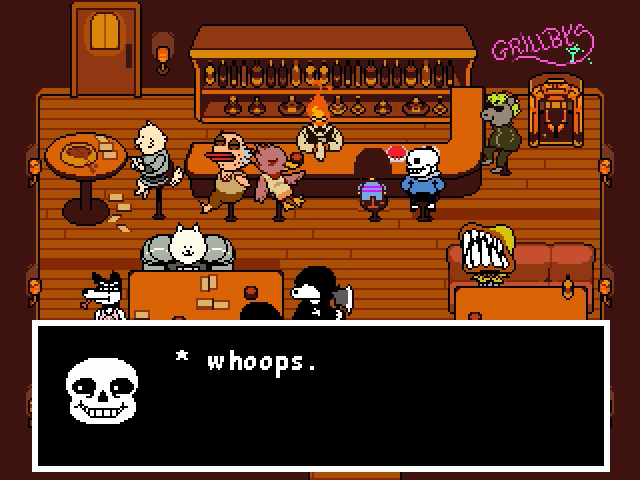 eh, forgetddaboudit. you can have mine.

i'm not hungry anyway.

anyway, cool or not, you have to agree papyrus tries real hard.

like how he keeps trying to be part of the royal guard.

one day, he went to the house of the head of the royal guard...

and begged her to let him be in it.

of course, she shut the door on him because it was midnight.

but the next day, she woke up and saw him still waiting there.

seeing his dedication, she decided to give him warrior training.

it's, uh, still a work in progress.

...

oh yeah, I wanted to ask you something.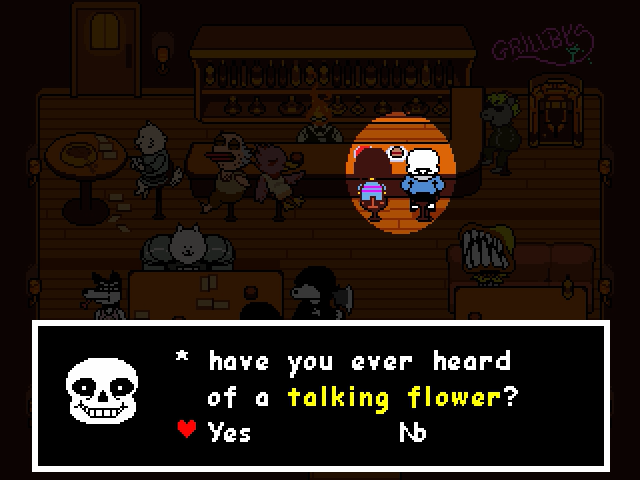 so you knonw all about it.

the
echo flower
.

they're all over the marsh.

say something to them, and they'll repeat it over and over...

what about it?

well, papyrus told me something interesting the other day.

sometimes, when no one else is around...

a flower appears and whispers things to him.

flattery... advice... encouragement...

...predictions.

weird, huh?

someone must be using an echo flower to play a trick on him.

keep an eye out, ok?

thanks.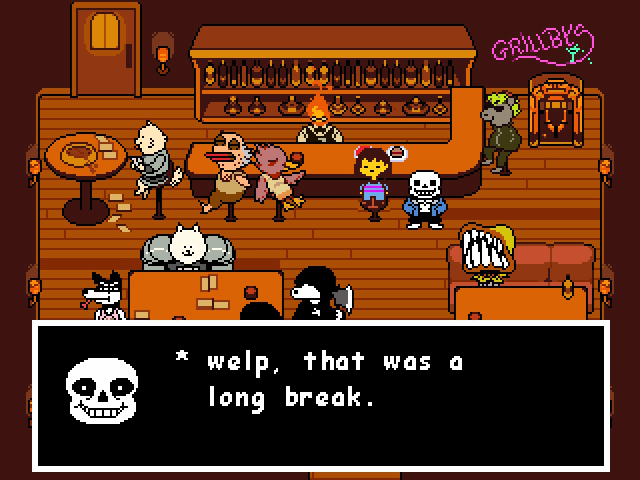 i can't believe i let ya pull me away from work for that long.

oh, by the way...

i'm flat broke. can you foot the bill?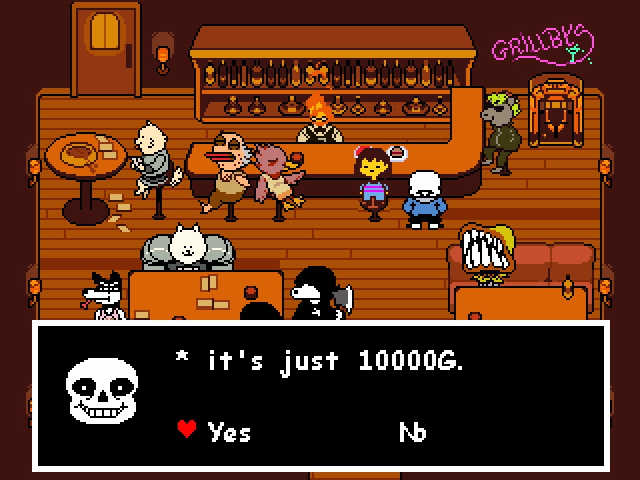 just kidding.

grilby, put it on my tab.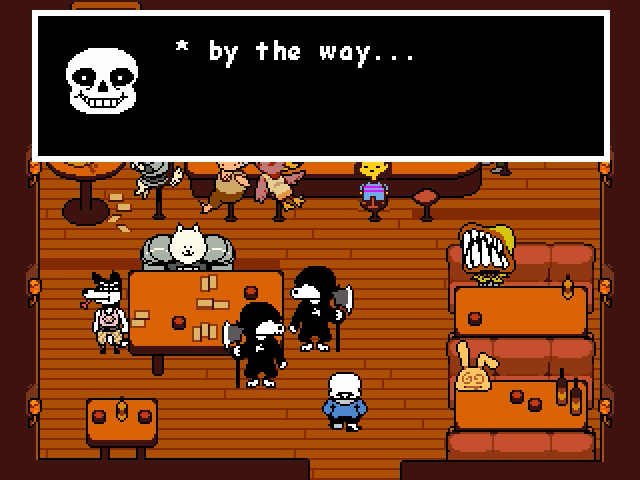 ...i was going to say something, but i forgot.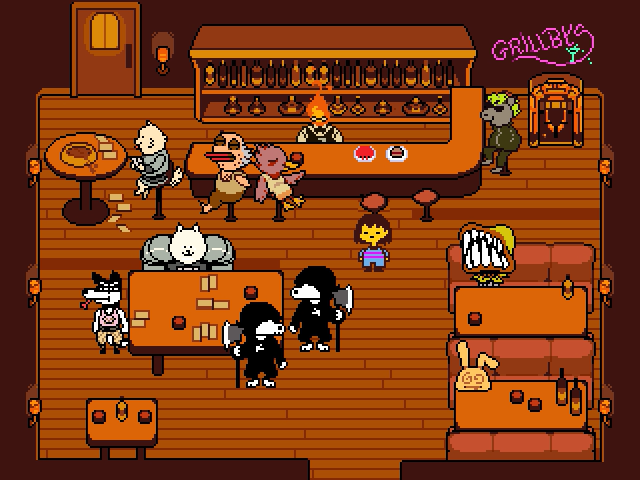 It's easy to miss, but a lot of people have new dialogue after that scene.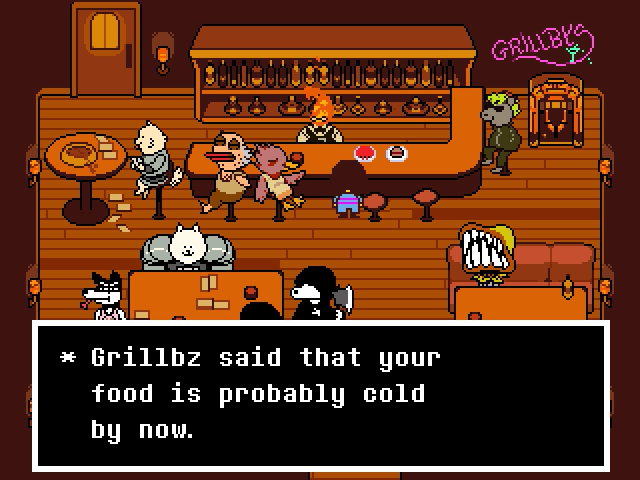 Sans is a sentry. But don't let his title make you think he does anything.

Everyone knows he sits around in the forest reading car magazines.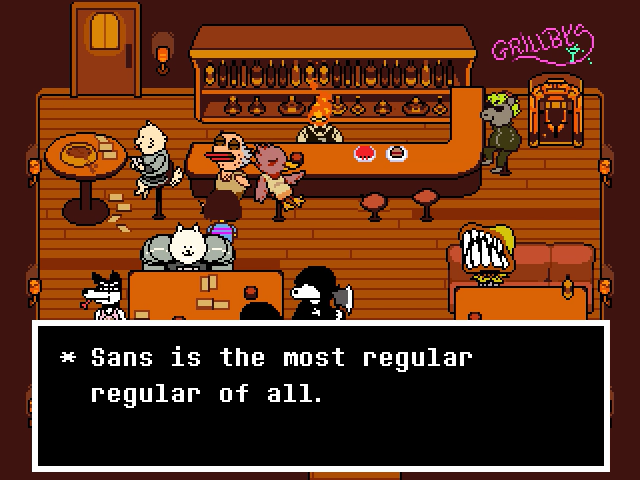 He hasn't been showing up as much recently, though.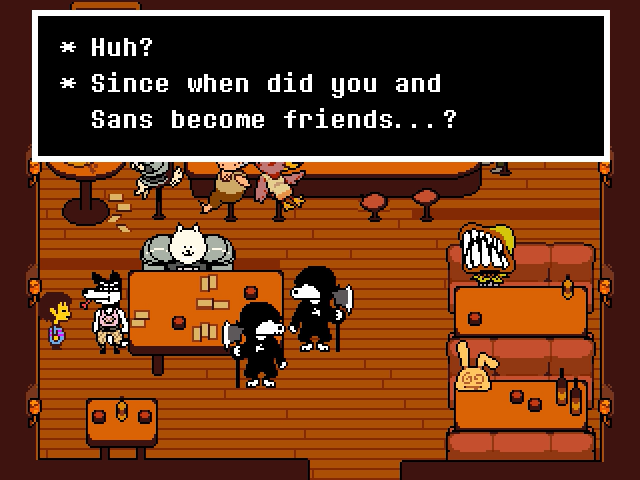 I don't like him... He loves to appear without moving.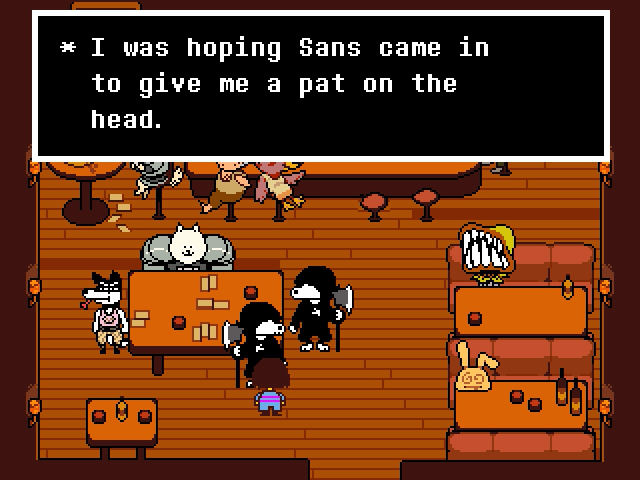 Interloper...!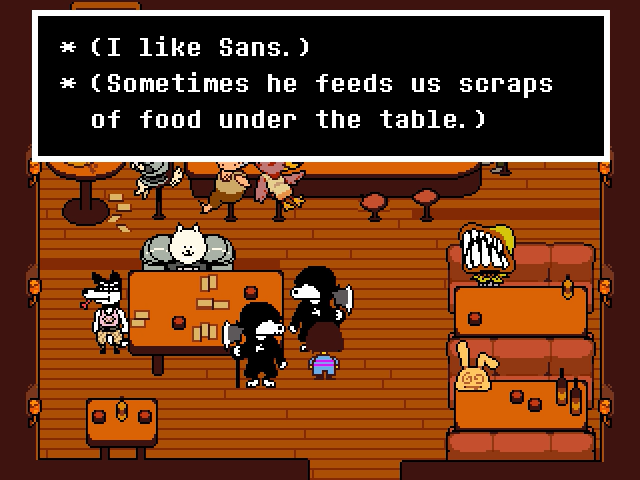 (Then his brother gets mad... But why!? We're adults! We can handle it!)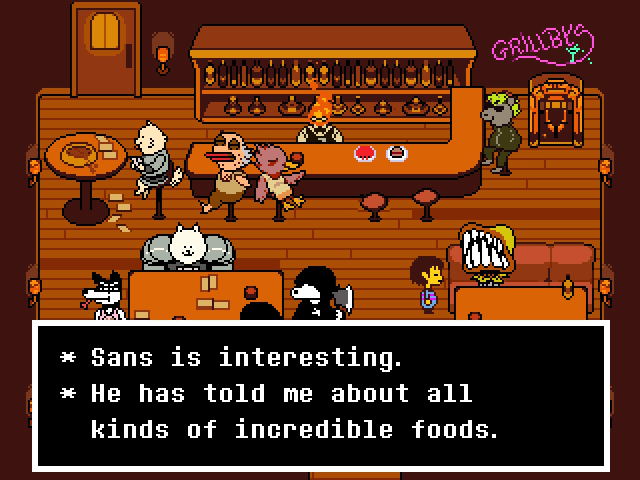 But, despite his knowledge, he always orders the worst burger off the menu.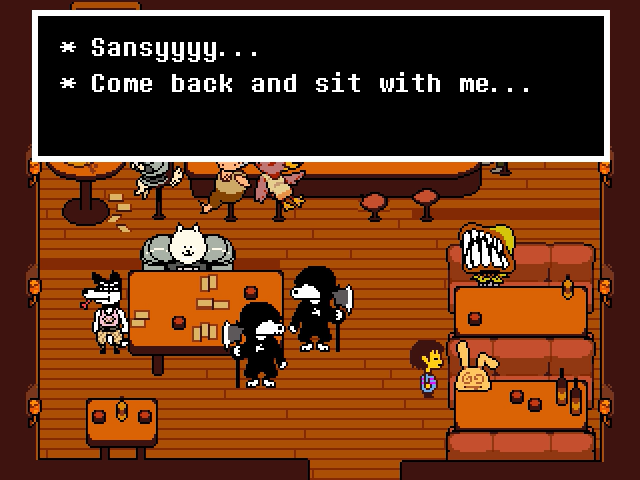 Everything's so fun when you're around!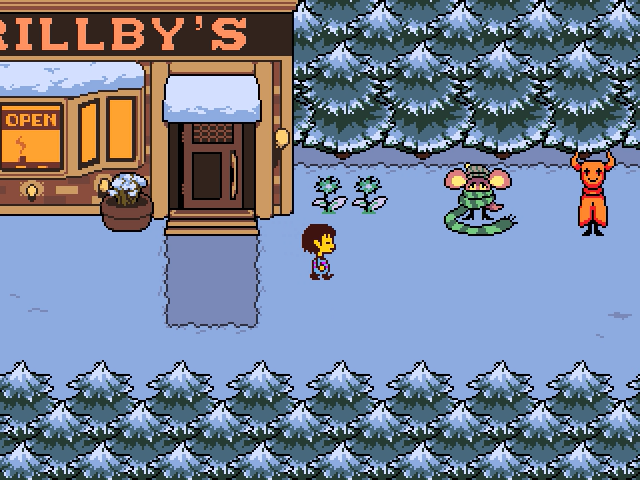 I leave Grillby's, and head over to the brothers' home.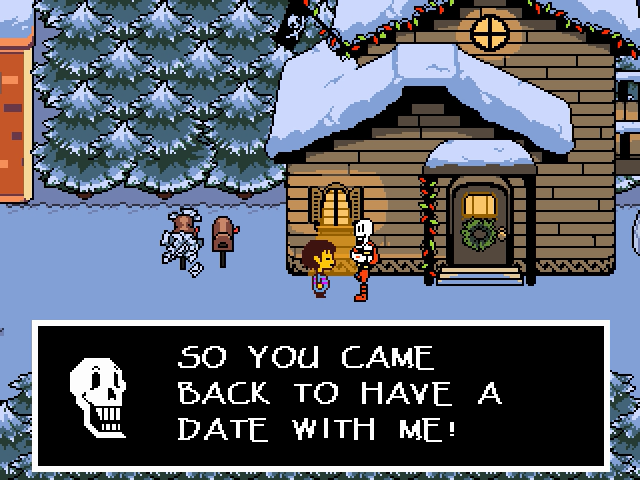 YOU MUST BE REALLY SERIOUS ABOUT THIS...

I'LL HAVE TO TAKE YOU SOMEPLACE REALLY SPECIAL...

A PLACE I LIKE TO SPEND A LOT OF TIME!!!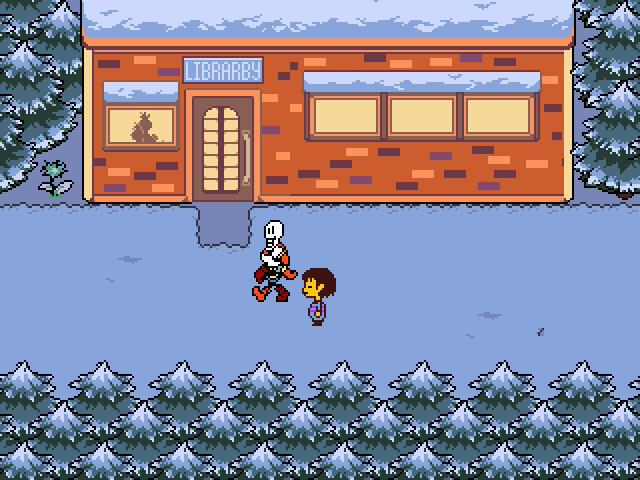 Papyrus heads out past the Librarby...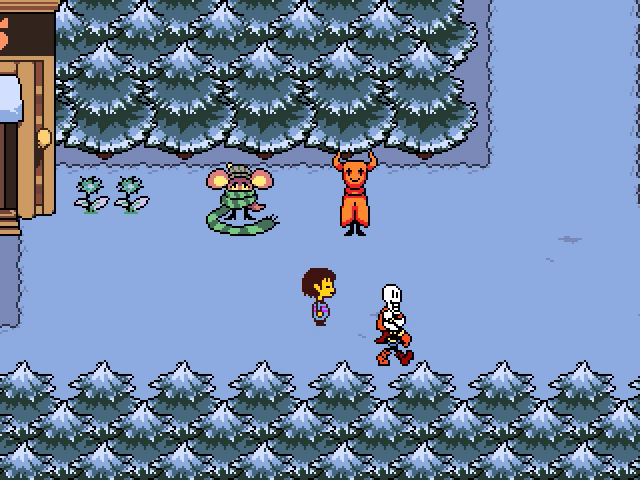 ...and does a U-turn.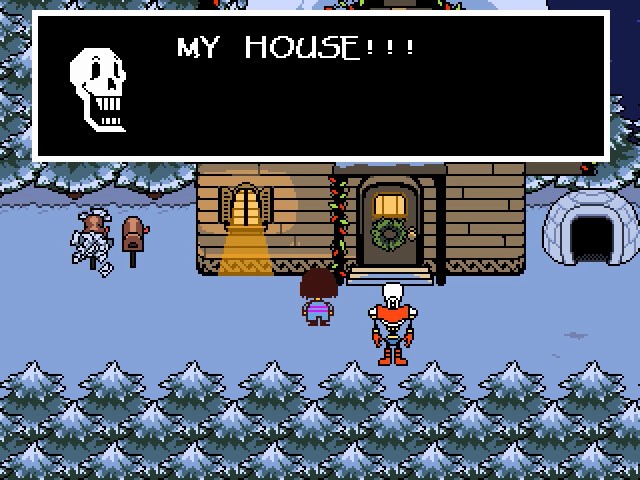 I follow Papyrus into the house.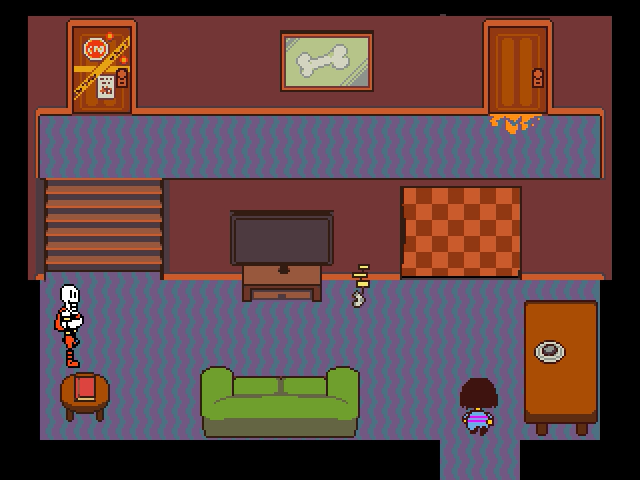 Nice place.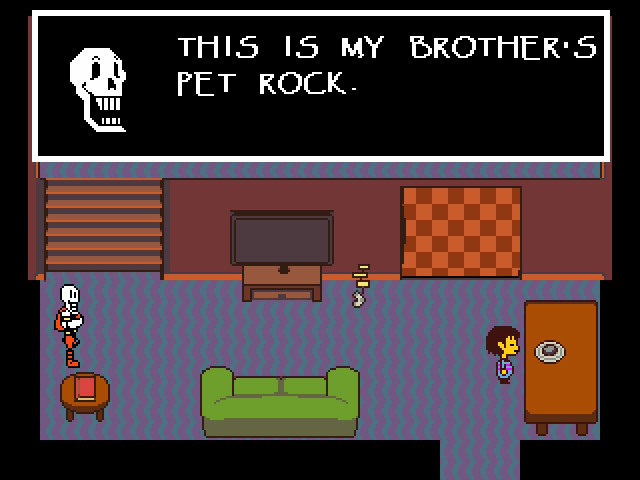 HE ALWAYS FORGETS TO FEED IT.

AS USUAL, I HAVE TO TAKE RESPONSIBILITY.
(The rock is covered in sprinkles.)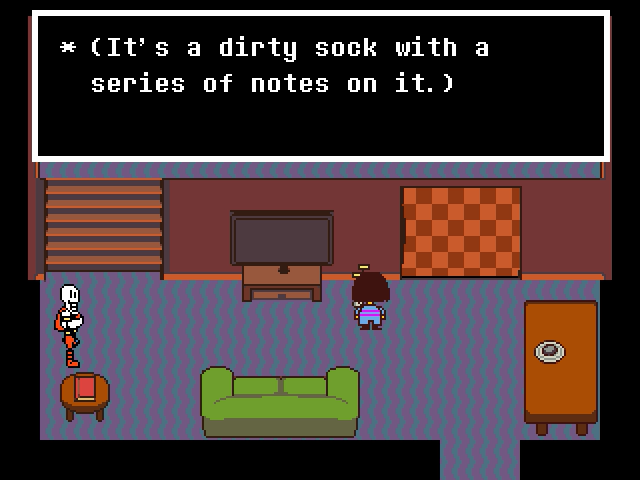 SANS! PICK UP YOUR SOCK!

ok.

DON'T PUT IT BACK DOWN! MOVE IT!

ok.

YOU MOVED IT TWO INCHES! MOVE IT TO YOUR ROOM!

ok.

AND DON'T BRING IT BACK!

ok.

IT'S STILL HERE!

didn't you just say not to bring it back to my room?

FORGET IT!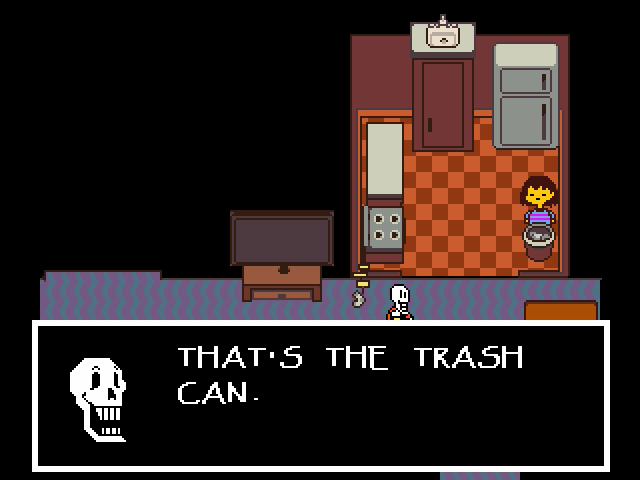 FEEL FREE TO VISIT IT ANY TIME.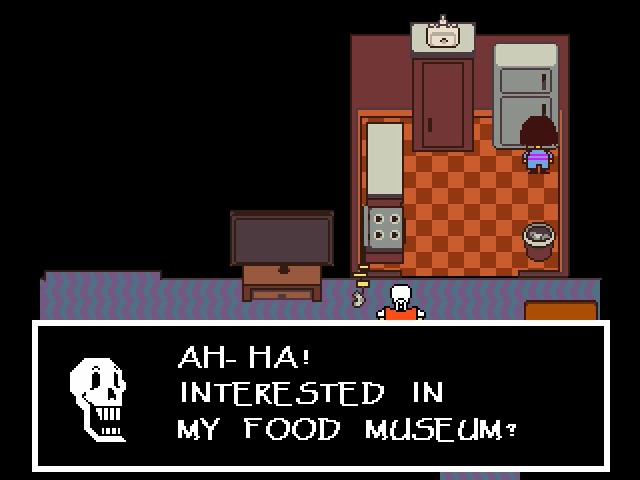 PLEASE. PERUSE MY CULINARY ARTSHOW.
(Half of the fridge is filled with containers all labelled "spaghetti.")
(The other half contains nothing but an empty bag of chips.)

GREAT FRIDGE, ISN'T IT?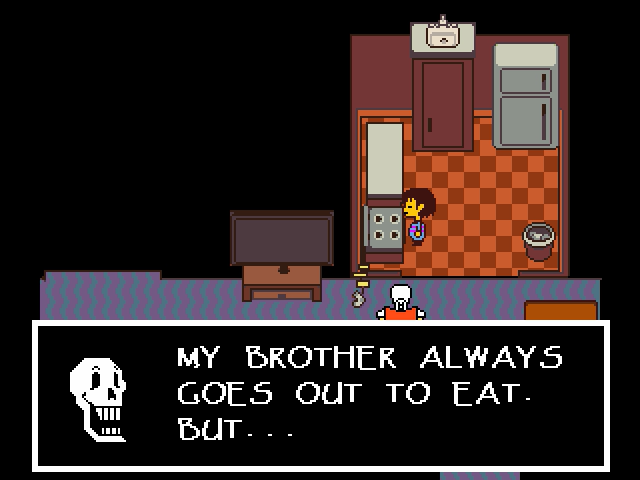 RECENTLY, HE TRIED "BAKING" SOMETHING.

IT WAS LIKE... A QUICHE.

BUT FILLED WITH A SUGARY, NON-EGG SUBSTANCE.

HOW ABSURD!
(There's an empty pie tin inside the stove.)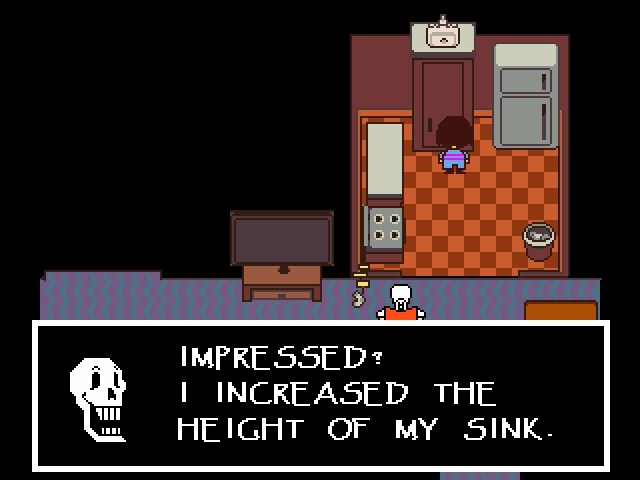 NOW I CAN FIT MORE BONES UNDER IT! TAKE A LOOKSY!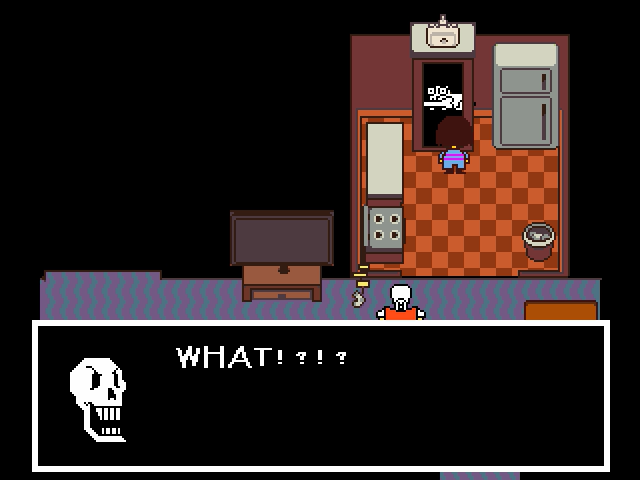 CATCH THAT MEDDLING CANINE!

CURSES!!!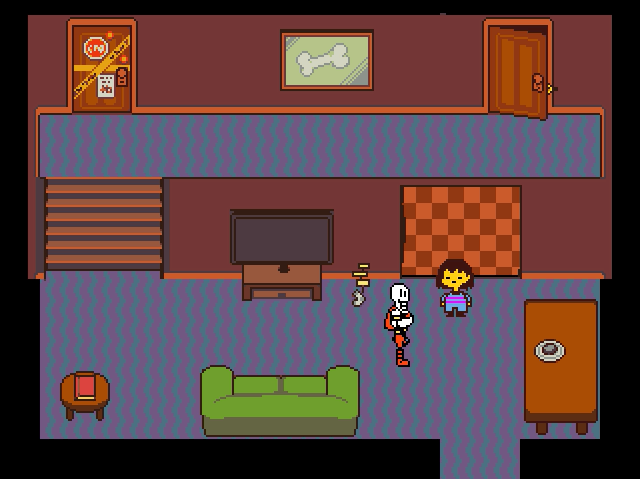 SANS!

STOP PLAGUING MY LIFE WITH INCIDENTAL MUSIC!!!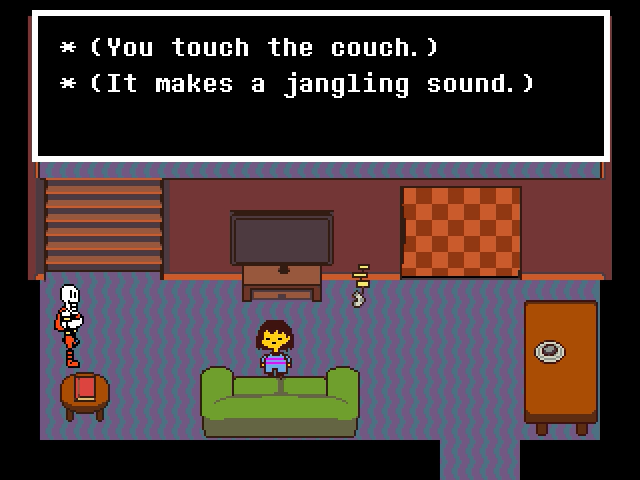 (You find a bunch of loose coins inside the couch...)
(You got 20G.)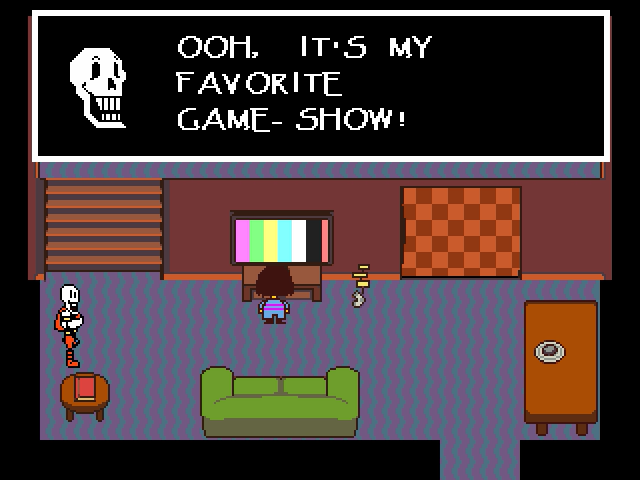 (It says "STAY TUNED FOR A NEW PROGRAM - MTT.")

WHAT!!! IT'S USUALLY BETTER THAN THIS!

THIS IS JUST A BAD EPISODE!!! DON'T JUDGE ME!!!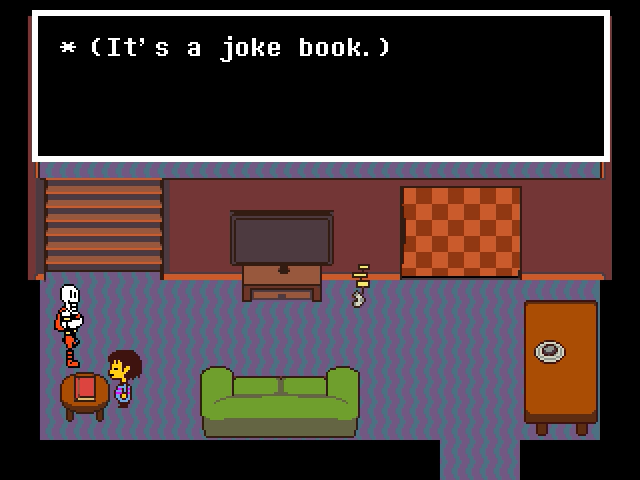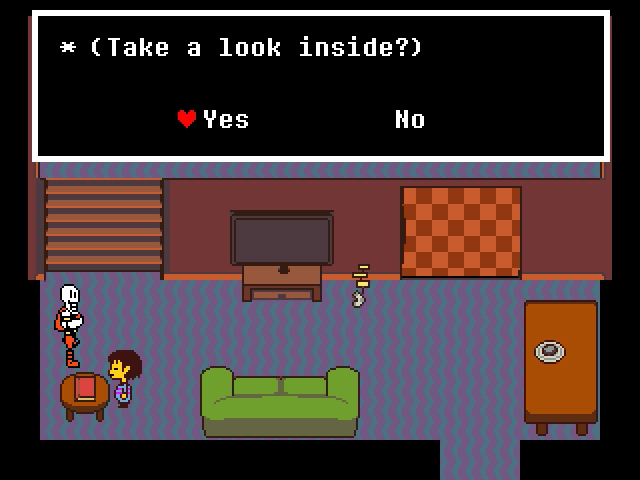 (Inside the joke book was a quantum physics book.)
(You look inside...)
(Inside the quantum physics book was another jook book.)
(You look inside...)
(There's another quantum physics book...)
(You decide to stop.)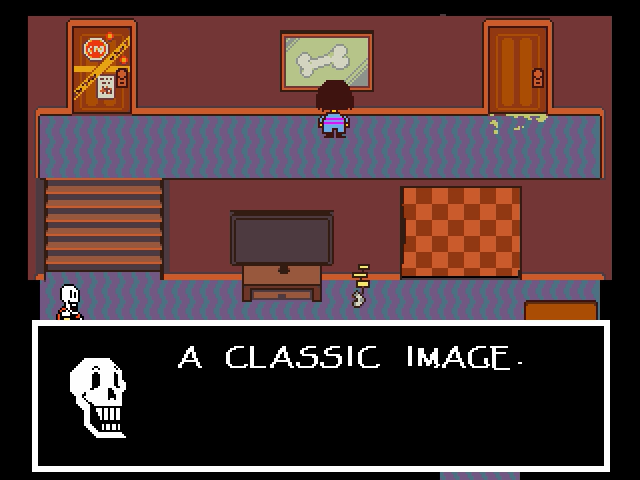 IT ALWAYS REMINDS ME OF WHAT'S IMPORTANT IN LIFE.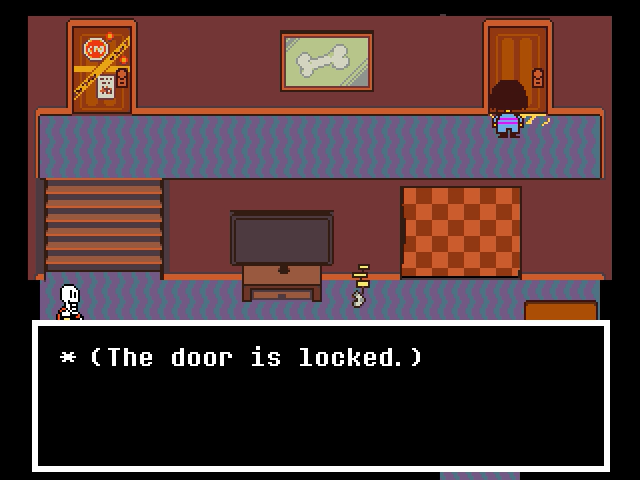 OK, enough poking around.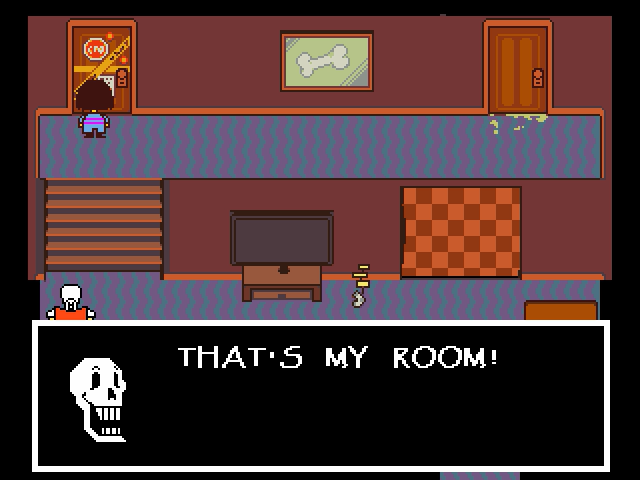 IF YOU'VE FINISHED LOOKING AROUND...

WE COULD GO IN AND...

DO WHATEVER PEOPLE DO WHEN THEY DATE???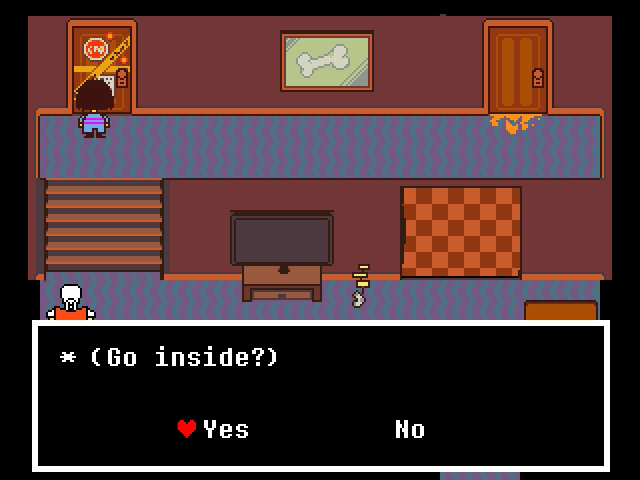 BGM: Silence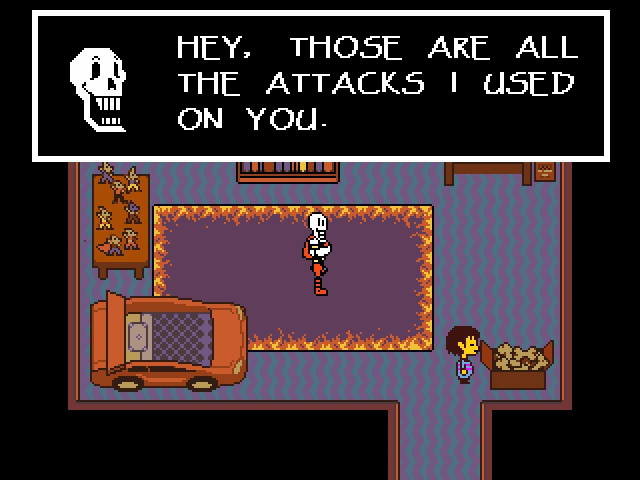 GREAT MEMORIES, HUH?

SEEMS LIKE IT WAS ONLY YESTERDAY...

EVENT THOUGH IT BASICALLY JUST HAPPENED.
(It's a box of bones.)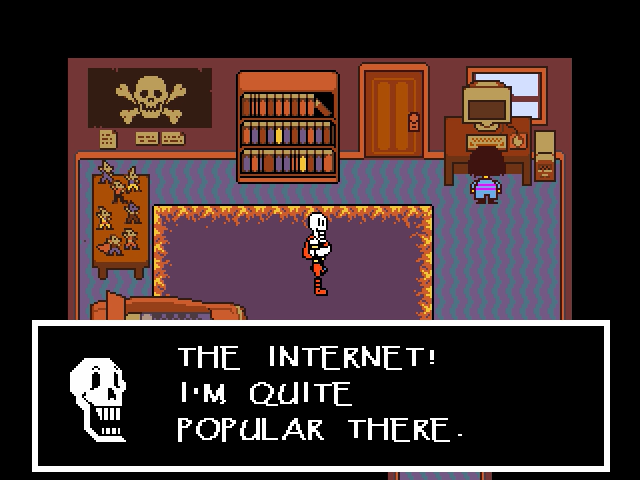 I'M JUST A DOZEN AWAY...

FROM A DOUBLE DIGIT FOLLOWER COUNT!

OF COURSE, FAME HAS A STEEP PRICE.

A JEALOUS TROLL HAS BESEIGED MY ONLINE PERSONA.

ALWAYS SENDING ME BAD PUNS IN A GOOFY FONT...
(The computer's internet browser is opened to a social media site.)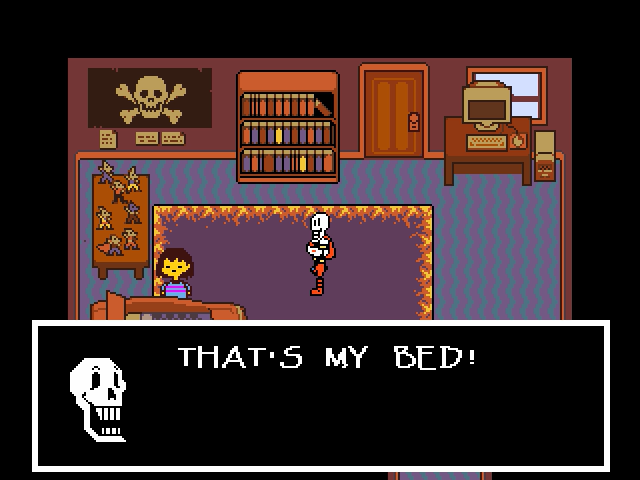 IF I EVER GET TO THE SURFACE...

I'D LIKE TO DRIVE DOWN A LONE HIGHWAY.

WIND IN MY HAIR...

SUN ON MY SKIN...

OF COURSE, THAT'S JUST A DREAM.

SO INSTEAD I CRUISE WHILE I SNOOZE.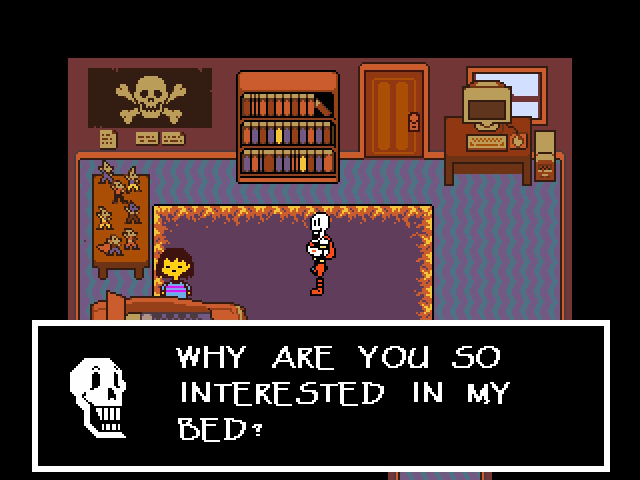 ARE YOU TIRED?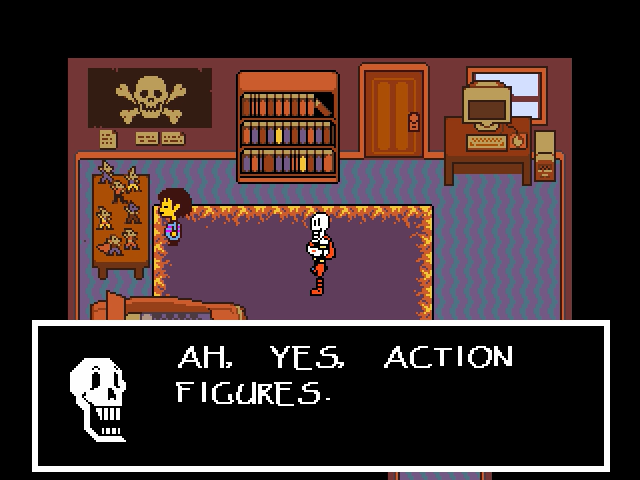 A GREAT REFERENCE FOR THEORETICAL BATTLE SCENARIOS.

HOW DO I HAVE SO MANY?

WELL, LET'S JUST SAY THEY'RE FROM...

A CHUBBY, SMILING MAN WHO LOVES TO SURPRISE PEOPLE.

YEAH! THAT'S RIGHT!

SANTA!!!!

UNDYNE FOUND IT AT THE BAY...

I THINK IT'S FROM THE HUMAN WORLD?

NOW, I KNOW WHAT YOU'RE THINKING.

WHY WOULD A HUMAN FLAG...

HAVE A COOL SKELETON ON IT?

WELL... I HAVE A THEORY.

I THINK HUMANS...

MUST HAVE DESCENDED FROM SKELETONS!!!

NYEH HEH HEH!!!
(It's a beat-up pirate flag.)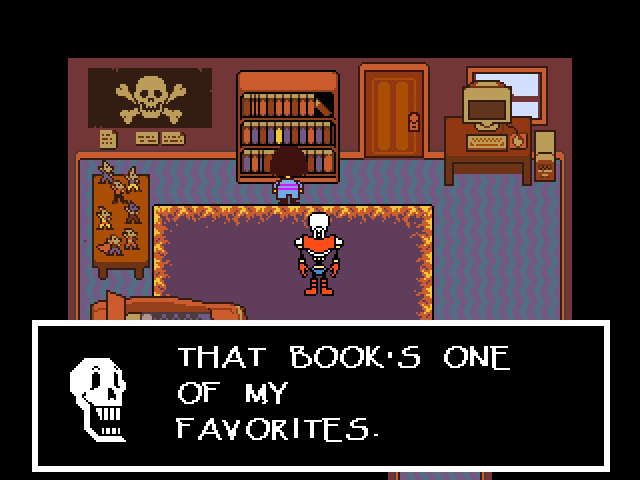 "ADVANCED PUZZLE CONSTRUCTION FOR CRITICAL MINDS."

THAT NEXT BOOK'S ANOTHER ONE OF MY FAVORITES.

"PEEK-A-BOO WITH FLUFFY BUNNY."

THE ENDING ALWAYS GETS ME.
(Complex manuals and children's books.)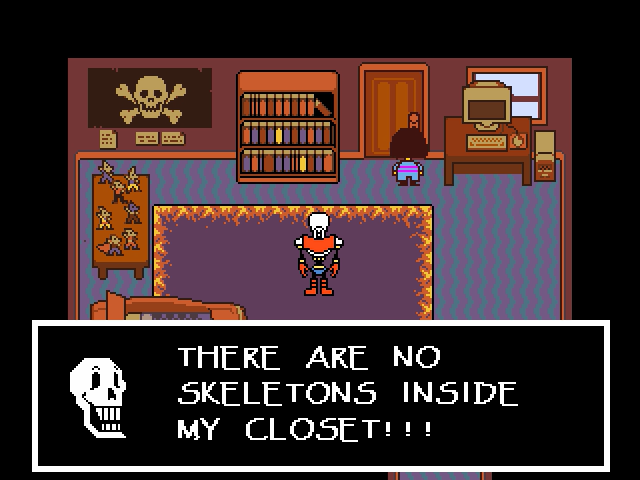 EXCEPT ME SOMETIMES.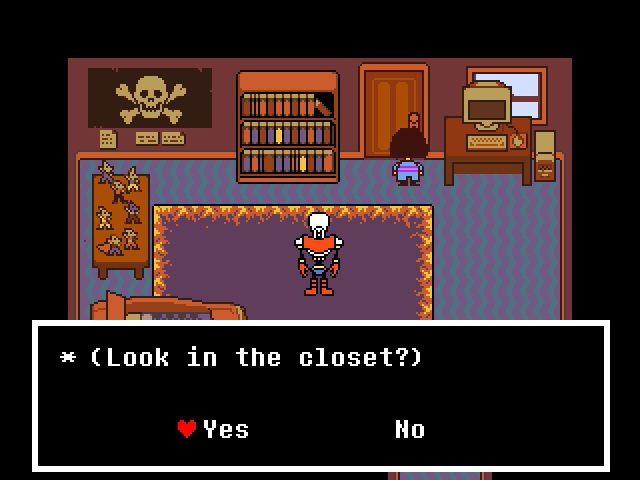 (Clothes are hung up neatly inside.)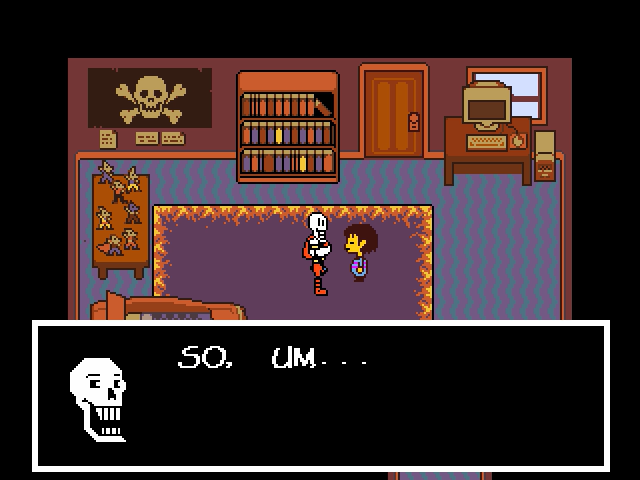 IF YOU'VE SEEN EVERYTHING...

DO YOU WANT TO START THE DATE?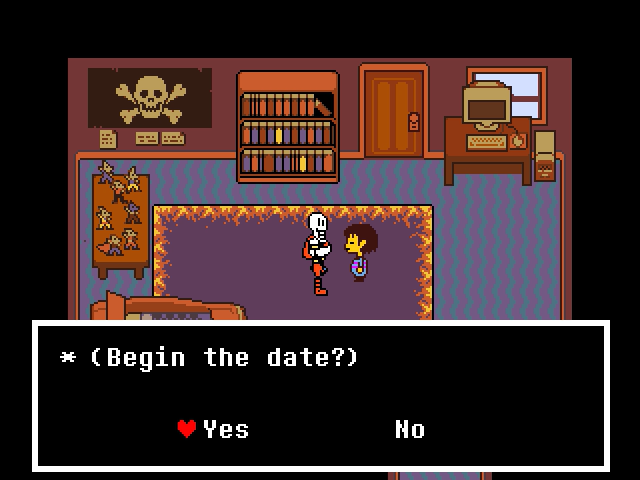 OKAY!!! DATING START!!!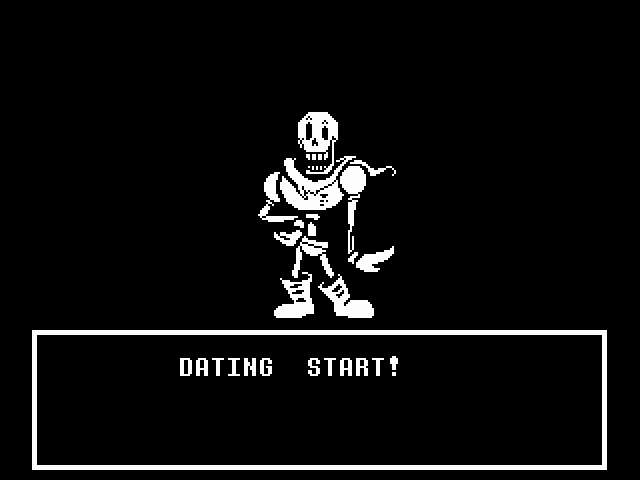 BGM: Dating Start!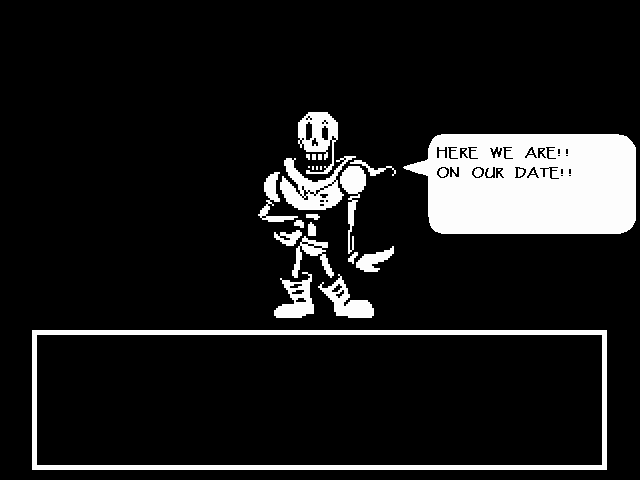 I'VE ACTUALLY NEVER DONE THIS BEFORE.

BUT DON'T WORRY!!!

YOU CAN'T SPELL "PREPARED" WITHOUT SEVERAL LETTERS FROM MY NAME!!!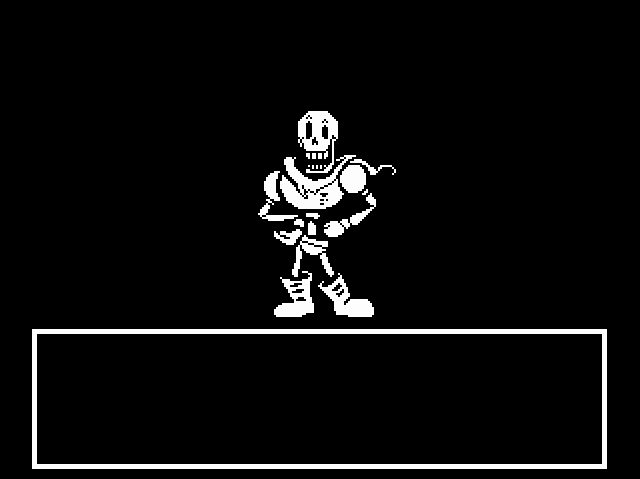 I SNAGGED AN OFFICIAL DATING RULEBOOK FROM THE LIBRARY!

WE'RE READY TO HAVE A GREAT TIME!

LET'S SEE...

STEP ONE... PRESS THE [C] KEY ON YOUR KEYBOARD FOR "DATING HUD."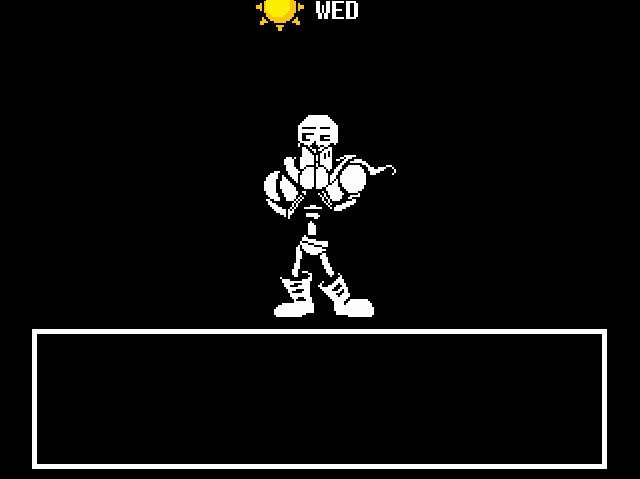 Fun fact: The "WED" there actually is accurate to when you play the scene.

WOWIE!!! I FEEL SO INFORMED!

I THINK WE'RE READY FOR STEP TWO!!!

"STEP TWO... ASK THEM ON A DATE."

AHEM!

HUMAN! I, THE GREAT PAPYRUS..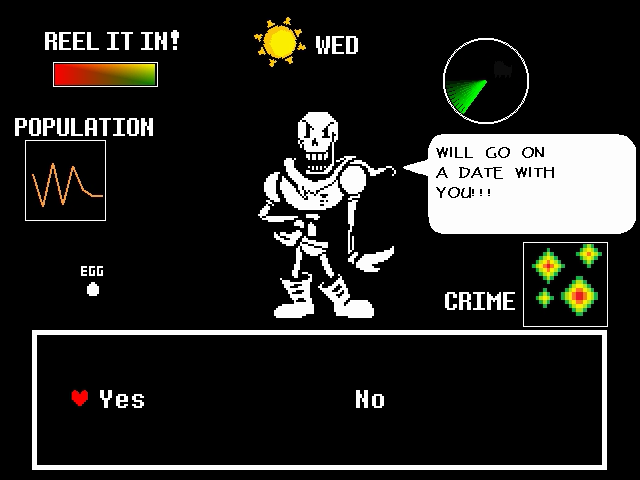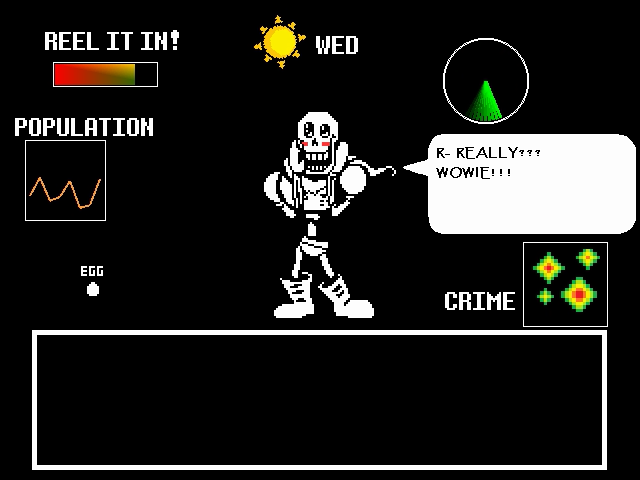 I GUESS THAT MEANS IT'S TIME FOR PART THREE!!!

"STEP THREE... PUT ON NICE CLOTHES TO SHOW YOU CARE!"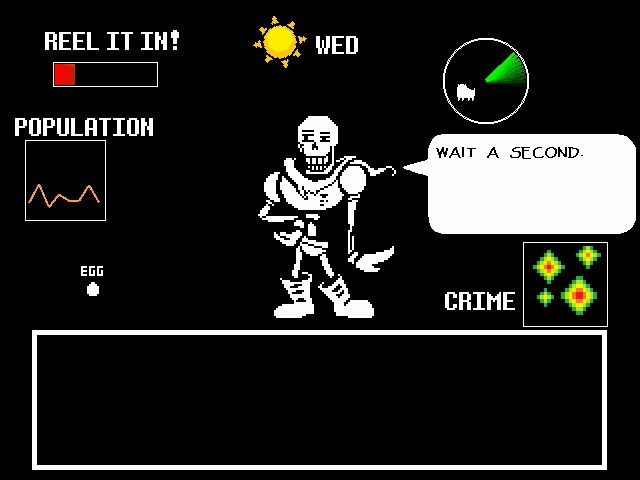 BGM: Dating Tense!

"WEAR CLOTHING..."

THAT BANDANA AROUND YOUR HEAD...

YOU'RE WEARING CLOTHING RIGHT NOW!!!

NOT ONLY THAT...

EARLIER TODAY, YOU WERE ALSO WEARING CLOTHING!

NO... COULD IT BE???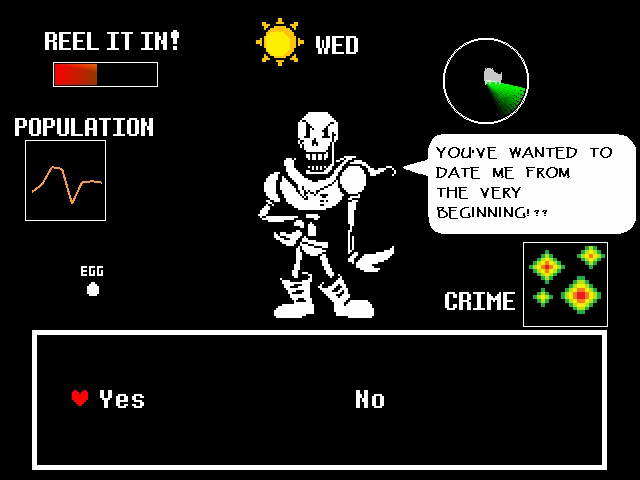 NO!!

YOU PLANNED IT ALL!!!

YOU'RE WAY BETTER AT DATING THAN I AM!!!

N-NOOOO!!! YOUR DATING POWER...!!!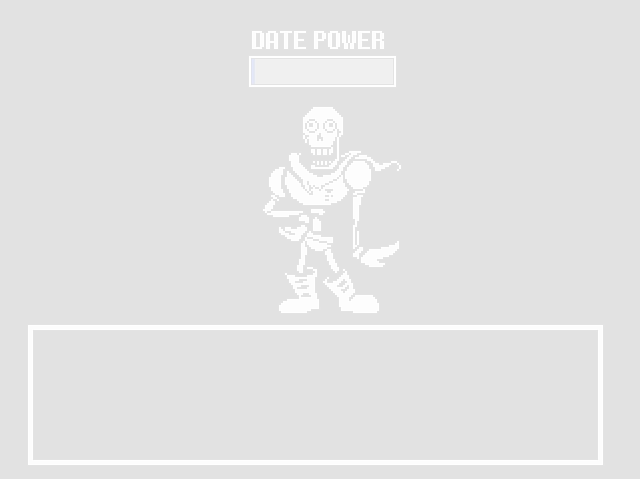 NYEH!

NEYH HEH HEH!!!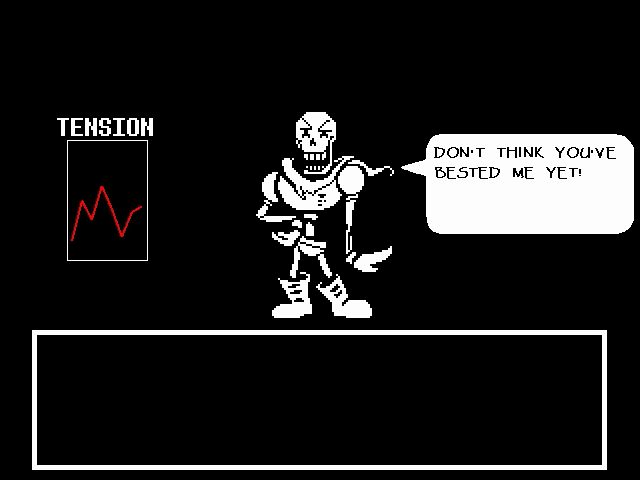 BGM: Dating Fight!

I, THE GREAT PAPYRUS...

HAVE NEVER BEEN BEATEN AT DATING, AND I NEVER WILL!

I CAN EASILY KEEP UP WITH YOU!!!

YOU SEE, I, TOO, CAN WEAR CLOTHING!!!

IN FACT...

I ALWAYS WEAR MY "SPECIAL" CLOTHES UNDERNEATH MY REGULAR CLOTHES!!

JUST IN CASE SOMEBODY HAPPENS TO ASK ME ON A DATE!!!

BEHOLD!!!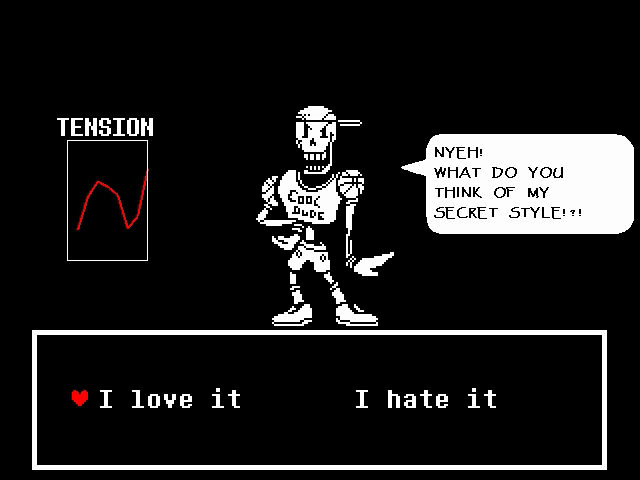 NO!!!

A GENUINE COMPLIMENT...!!!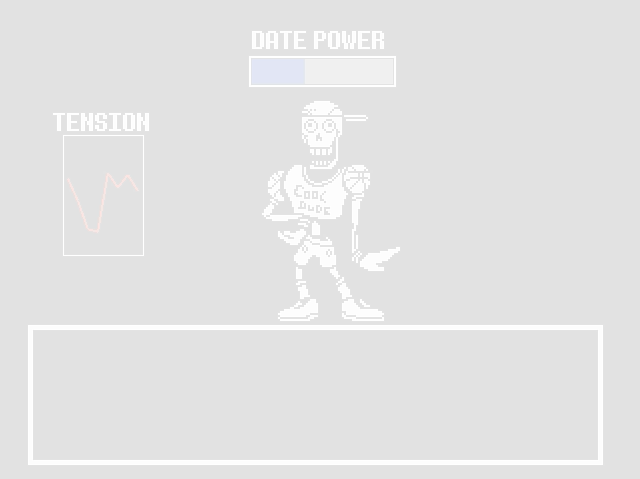 HOWEVER...

YOU DON'T TRULY UNDERSTAND THE
HIDDEN POWER
OF THIS OUTFIT!!!

THEREFORE...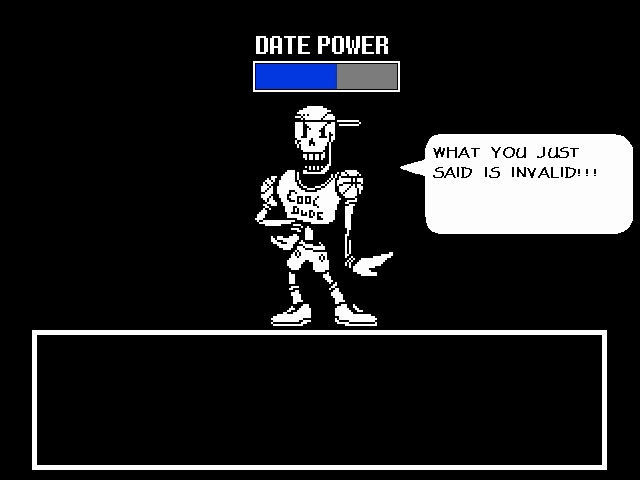 BGM: Dating Tense!

THIS DATE WON'T ESCALATE ANY FURTHER!!!

...UNLESS YOU FIND
MY SECRET
!!

BUT THAT WON'T HAPPEN!!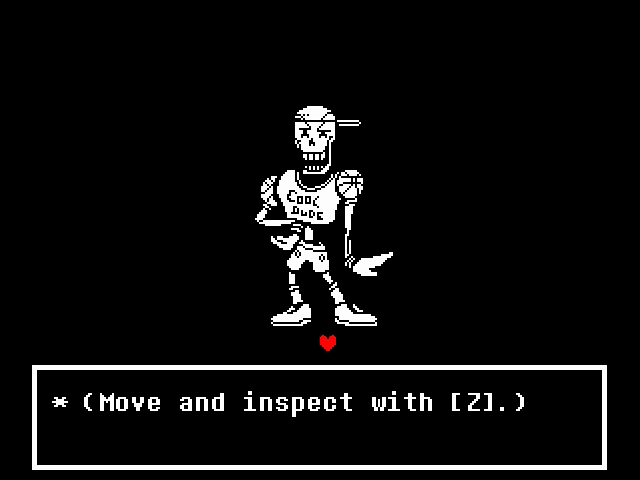 Time to inspect Papyrus's outfit for a hidden secret.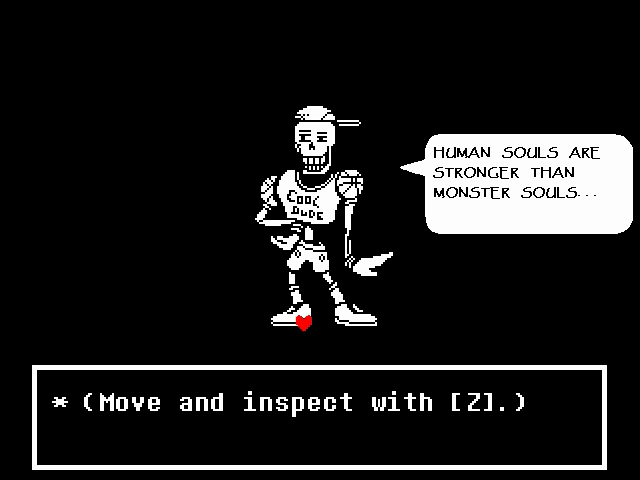 BUT THE SOLES OF OUR SHOES ON THE OTHER HAND...!

...ARE ABOUT THE SAME.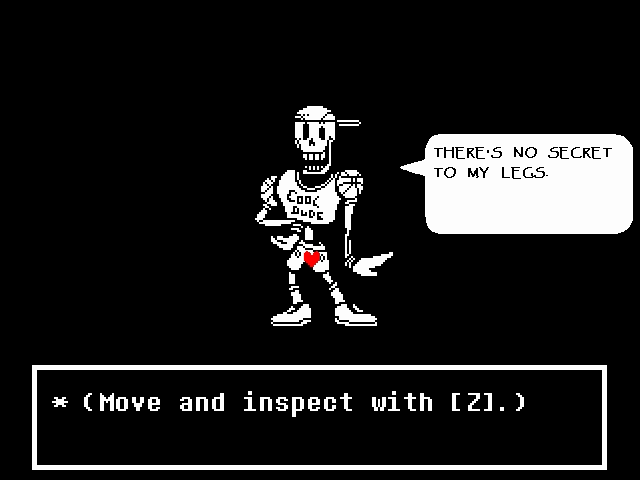 JUST HARD WORK AND PERSEVERANCE...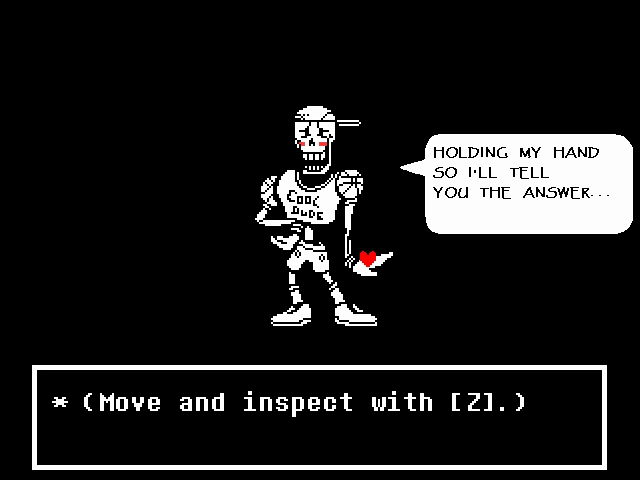 NO!!! I MUST RESIST!!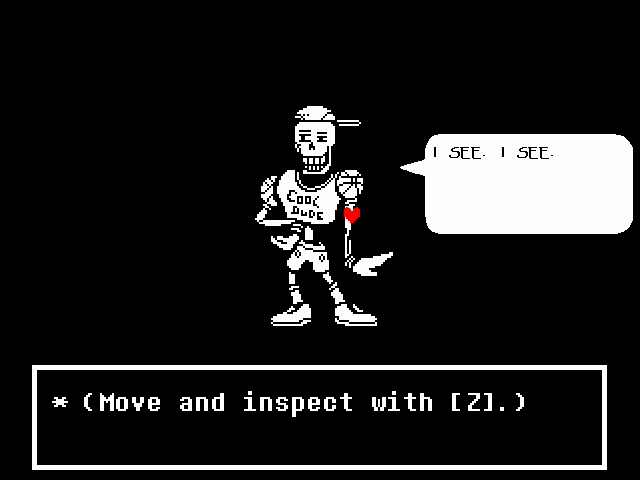 YOU LIKE CARESSING MY BICEPS WITH A FLOATING HEART.

BUT WHO DOESN'T!?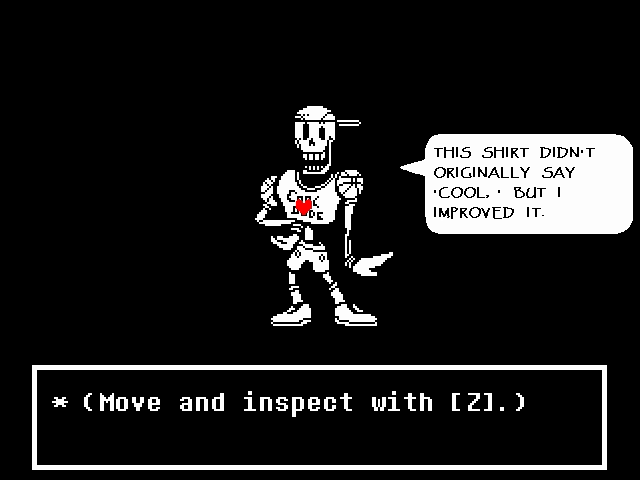 EXPERT TIP: ALL CLOTHING ARTICLES CAN BE IMPROVED THIS WAY.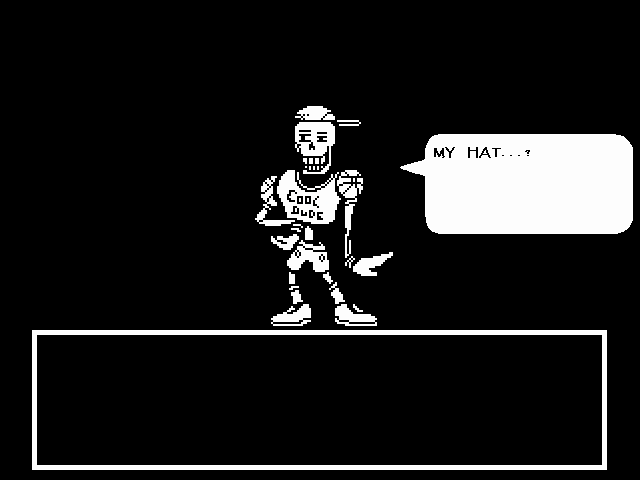 MY HAT.

MY HAT!

NYEH HEH HEH!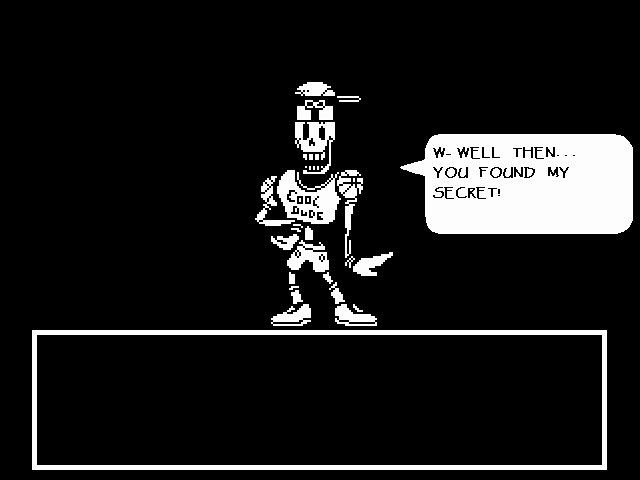 I SUPPOSE I HAVE NO CHOICE!

IT'S A PRESENT...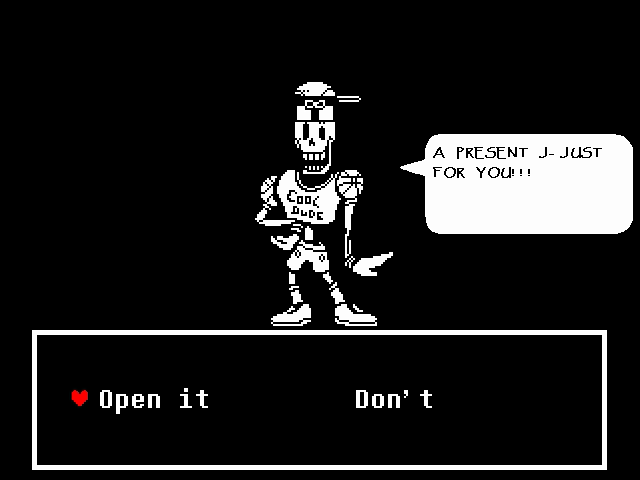 BGM: Silence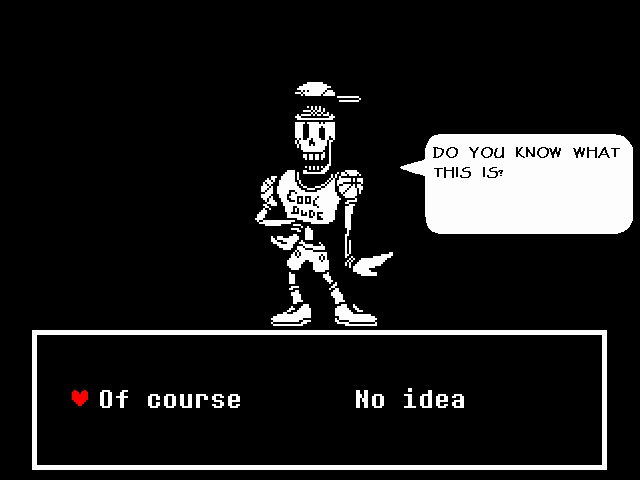 "SPAGHETTI."

THAT'S WHAT YOU'RE THINKING, ISN'T IT?

RIGHT!

BUT OH-SO WRONG!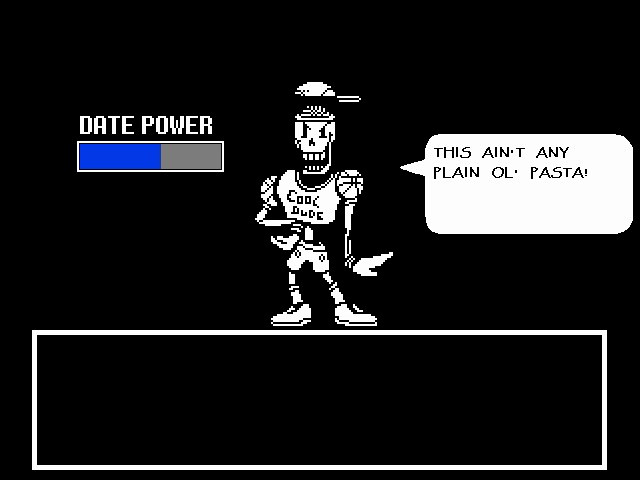 BGM: Dating Fight!

THIS IS AN ARTISAN'S WORK!

SILKEN SPAGHETTI, FINELY AGED IN AN OAKEN CASK...

THEN COOKED By ME, MASTER CHEF PAPYRUS!

HUMAN!!! IT'S TIME TO END THIS!!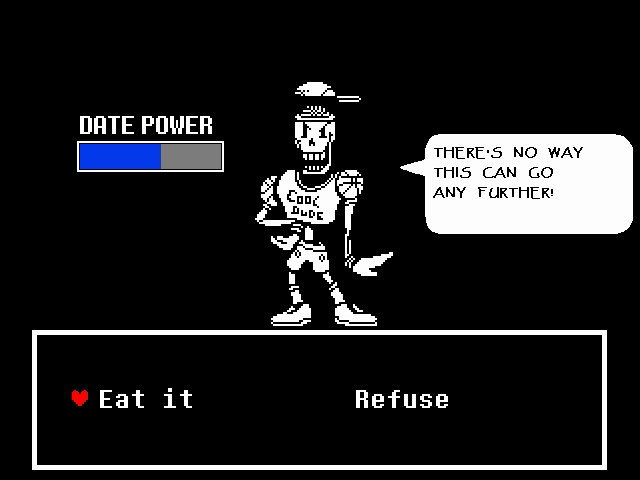 (You take a small bite.)
(Your face reflexively scrunches up.)
(The taste is indescribable...)

WHAT A PASSIONATE EXPRESSION!!!

YOU MUST REALLY LOVE MY COOKING!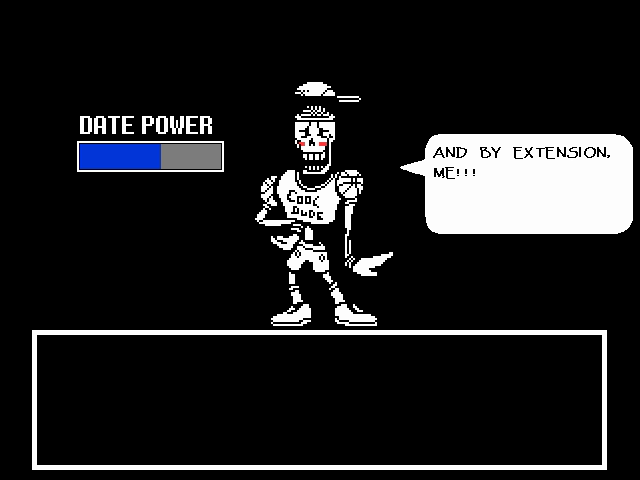 MAYBE EVEN MORE THAN I DO!!!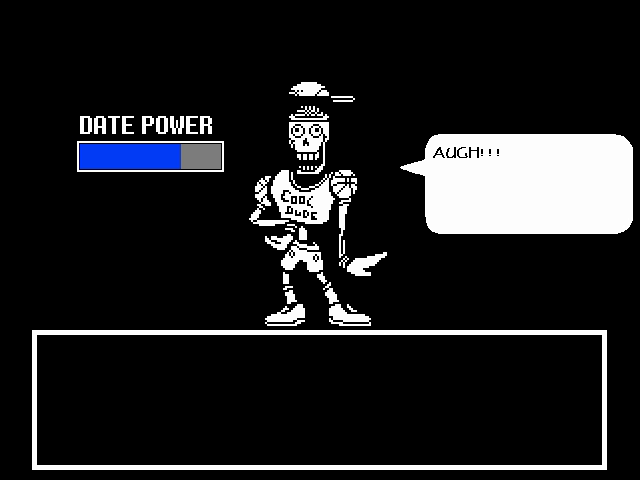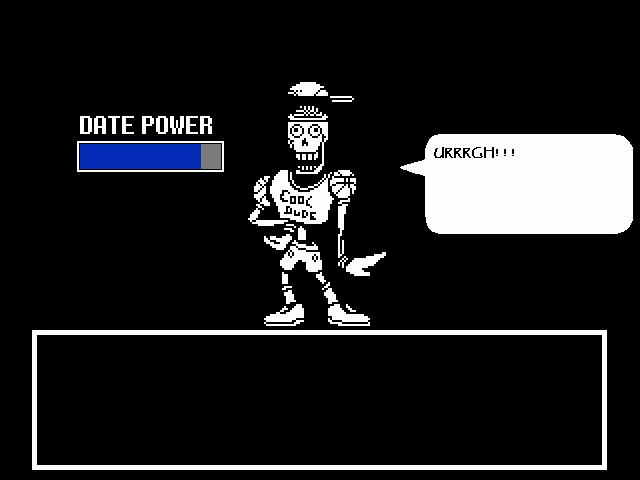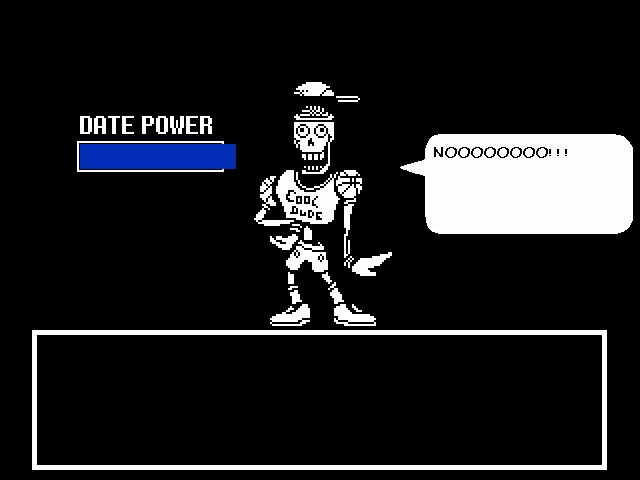 BGM: Silence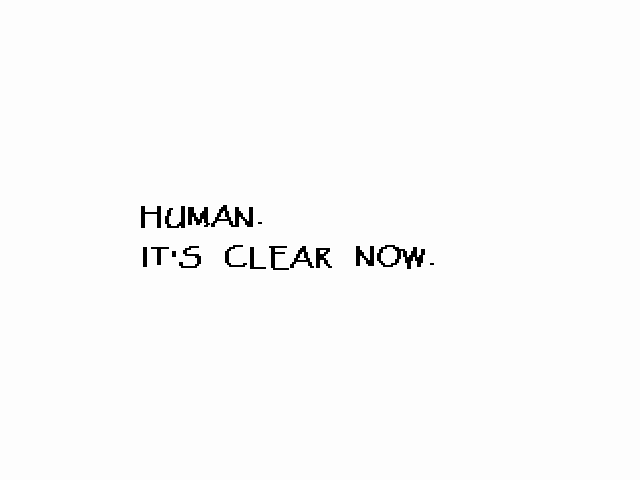 YOU'RE MADLY IN LOVE WITH ME.
EVERYTHING YOU DO. EVERYTHING YOU SAY.
IT'S ALL BEEN FOR MY SAKE.
HUMAN. I WANT YOU TO BE HAPPY, TOO.
IT'S TIME FOR ME TO EXPRESS MY FEELINGS.
IT'S TIME THAT I TOLD YOU.
I, PAPYRUS...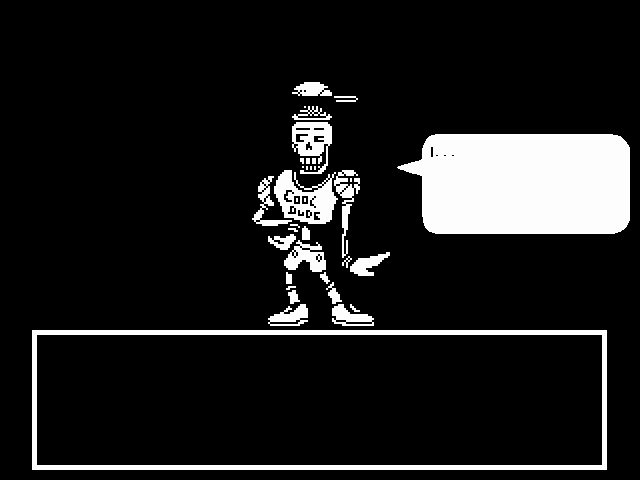 UM...

BOY, IS IT HOT IN HERE, OR IS IT JUST ME??

...

OH, SHOOT.

HUMAN, I...

I'M SORRY.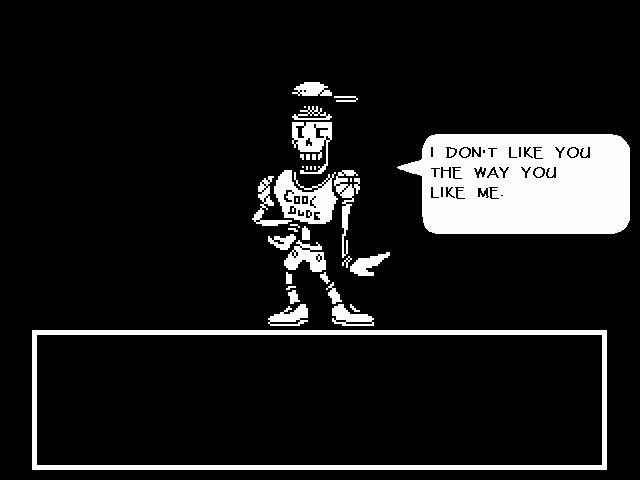 ROMANTICALLY, I MEAN.

I MEAN, I TRIED VERY HARD TO!

I THOUGHT THAT BECAUSE YOU FLIRTED WITH ME...

THAT I WAS SUPPOSED TO GO ON A DATE WITH YOU.

THEN, ON THE DATE, FEELINGS WOULD BLOSSOM FORTH!

I WOULD BE ABLE TO MATCH YOUR PASSION FOR ME!

BUT ALAS... I, THE GREAT PAPYRUS...

HAVE FAILED.

I FEEL JUST THE SAME AS BEFORE.

AND INSTEAD, BY DATING YOU...

I HAVE ONLY DRAWN YOU DEEPER...

INTO YOUR INTENSE LOVE FOR ME!

A DARK PRISON OF PASSION, WITH NO ESCAPE.

HOW COULD I HAVE DONE THIS TO MY DEAR FRIEND...?

...NO! WAIT! THAT'S WRONG!

I CAN'T FAIL AT ANYTHING!!!

HUMAN!!! I'LL HELP YOU THROUGH THESE TRYING TIMES!!!

I'LL KEEP BEING YOUR COOL FRIEND...

AND ACT LIKE ALL THIS NEVER HAPPENED.

AFTER ALL, YOU ARE VERY GREAT.

IT WOULD BE TRAGIC TO LOSE YOUR FRIENDSHIP.

SO PLEASE...

DON'T CRY BECAUSE I WON'T KISS YOU.

BECAUSE, I DON'T EVEN HAVE LIPS.

AND HEY, SOMEDAY, YOU'LL FIND SOMEONE AS GREAT AS ME.

WELL, NO. THAT'S NOT TRUE.

BUT I'LL HELP YOU SETTLE FOR SECOND BEST!!!!

NEYH HEH HEH HEH HEH!!!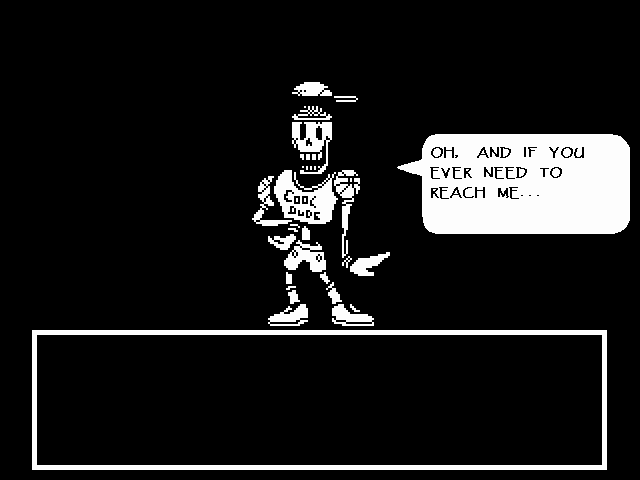 HERE'S MY
PHONE NUMBER
.

YOU CAN CALL ME ANY TIME!

PLATONICALLY.

WELL, GOTTA GO! NYEH HEH HEH!