Part 13: Danger Mystery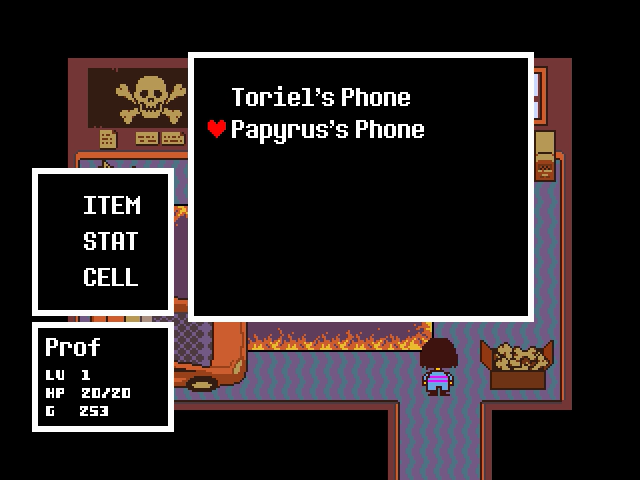 So, I have Papyrus's phone number now.
I'll call straight away!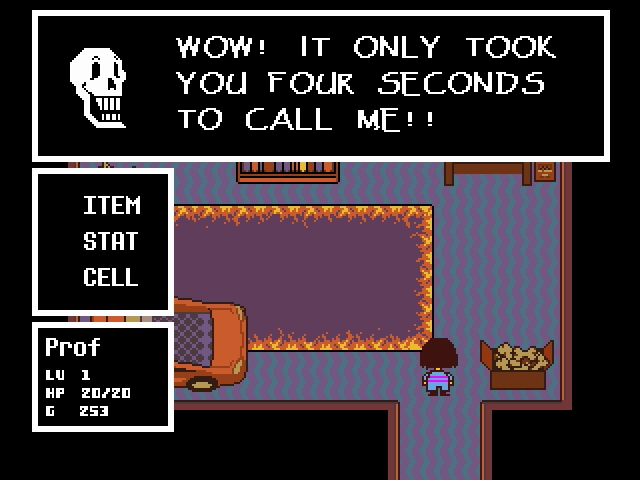 YOU MUST BE VERY DESPERATE FOR MY HELP!!!

WELL! DO NOT FEAR! THIS IS PAPYRUS'S HOTFUL HELPLINE!

JUST DESCRIBE YOUR LOCATION, AND...!

I WILL DESCRIBE SOME HOT TIPS!

SO, WHERE ARE YOU?

...

...YOU'RE STILL IN MY ROOM??

...

HAVE YOU HEARD OF SOMETHING CALLED A... DOOR?

WAIT! DON'T WORRY! I'LL DRAW A DIAGRAM FOR YOU!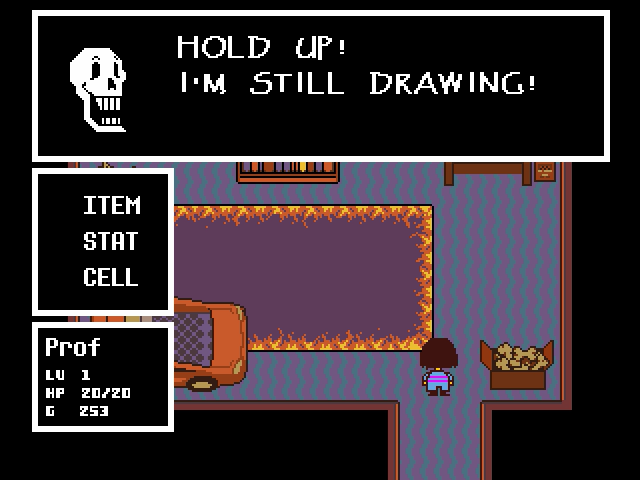 Papyrus's phone-number is a game-changer. He has unique dialogue for almost every area in the entire game. Sometimes even multiple calls' worth.
In other words... it's time for some backtracking.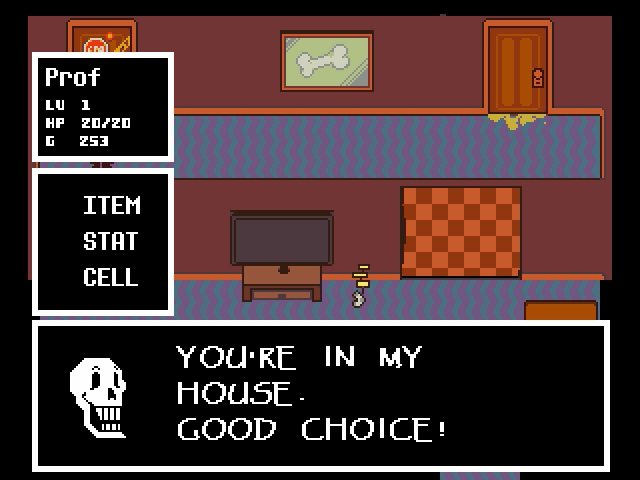 THOUGH I GUESS IT'S TECHNICALLY SANS'S HOSUE TOO.

BUT I PREFER NOT TO DISCUSS HIS PART OF IT.

HIS ROOM IS... IT'S LIKE ANOTHER WORLD!

A WORLD WHERE THEY DON'T KNOW HOW TO VACUUM.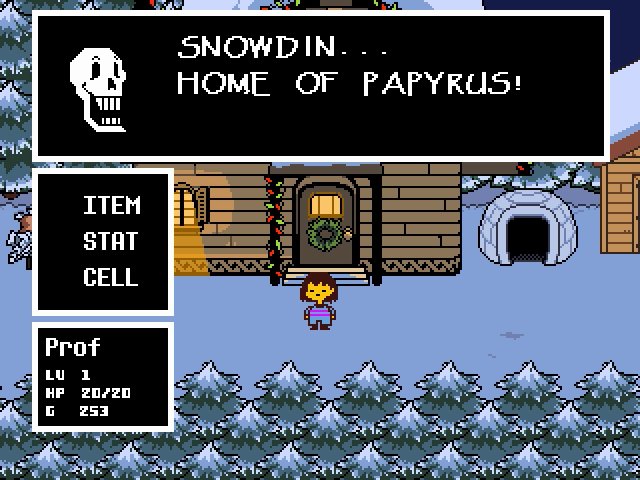 THAT'S THE SLOGAN, RIGHT???

I'M PETITIONING TO CHANGE THE SLOGAN.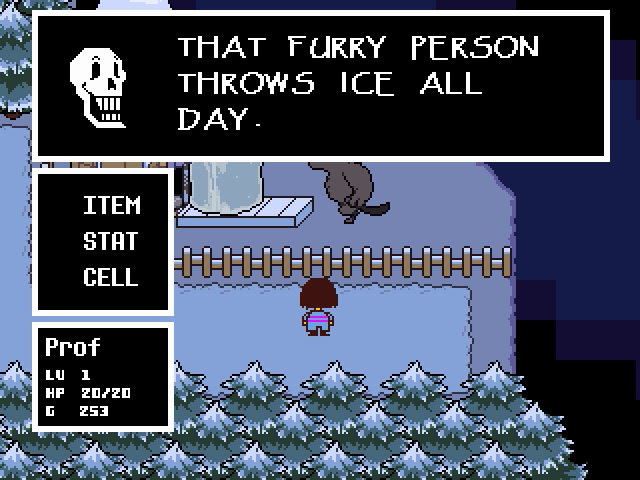 NOBODY KNOWS WHERE IT GOES.

HYPNOTIZING, ISN'T IT???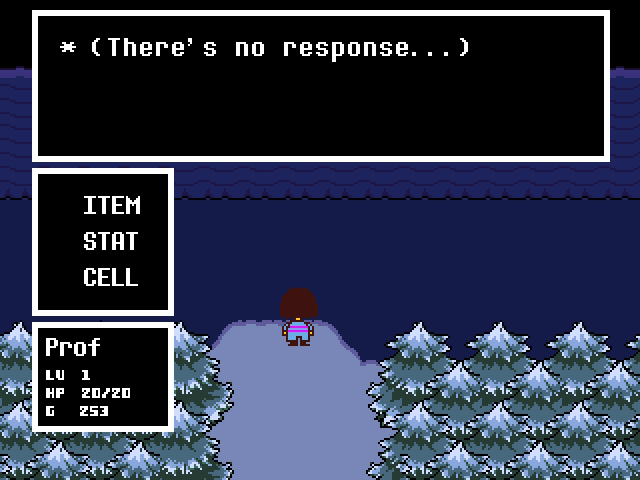 In some areas, Papyrus won't answer.
Usually strange areas.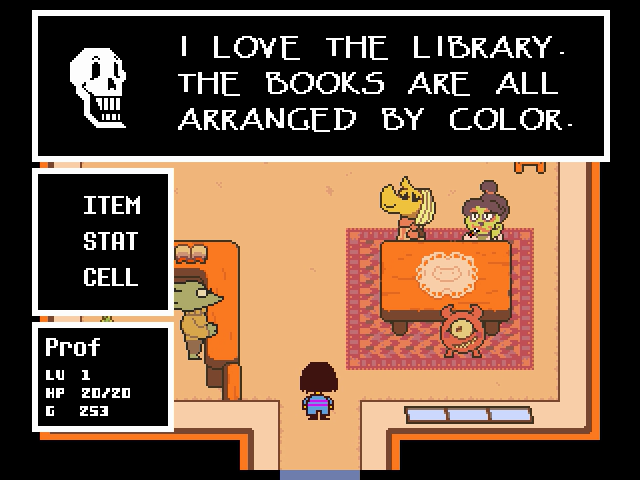 THIS SENSE OF ORDER!!! IT FILLS ME WITH POWER!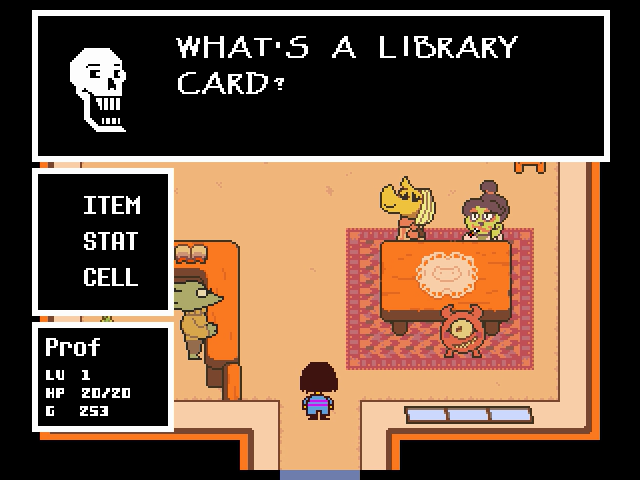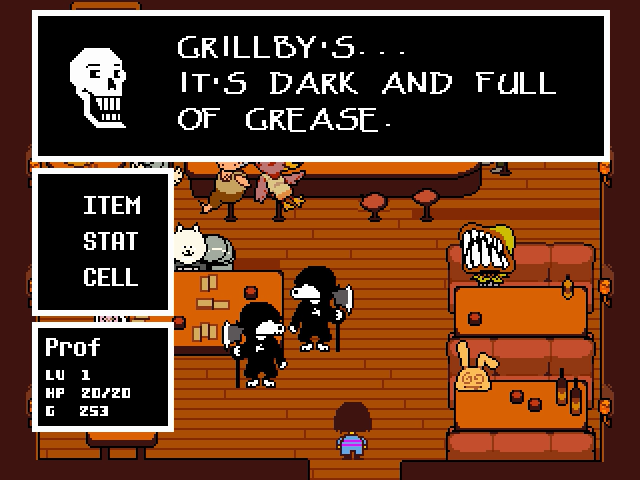 PURGATORY OF FRIES... HAMBURGER ABYSS...

ANYWAY, MY BROTHER PRACTICALLY LIVES HERE.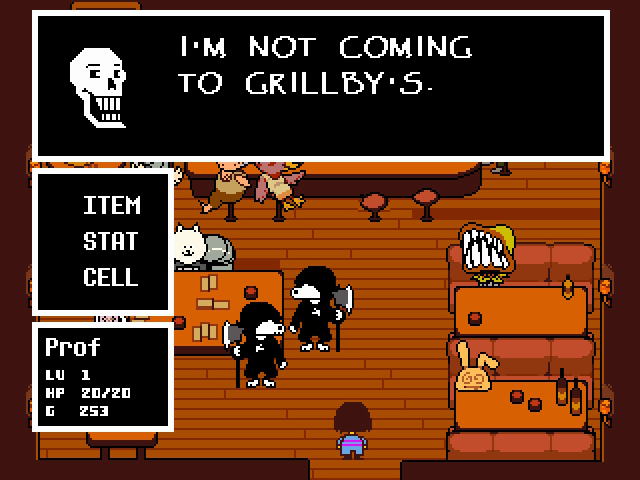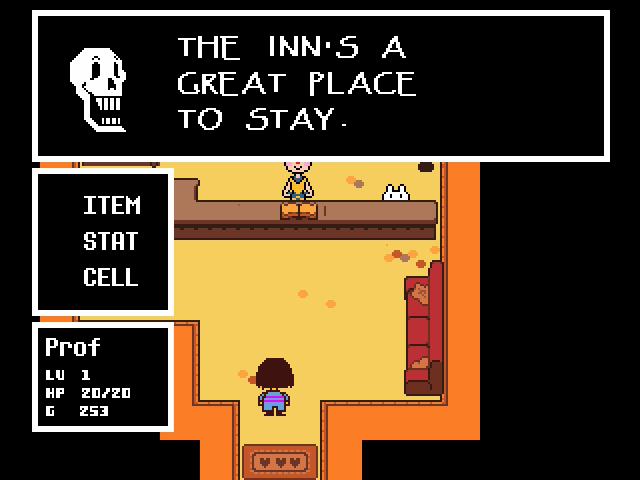 THE LADY WHO RUNS IT IS REALLY NICE.

SHE ALWAYS GIVES ME A LOLLIPOP AND A PAT ON THE HEAD.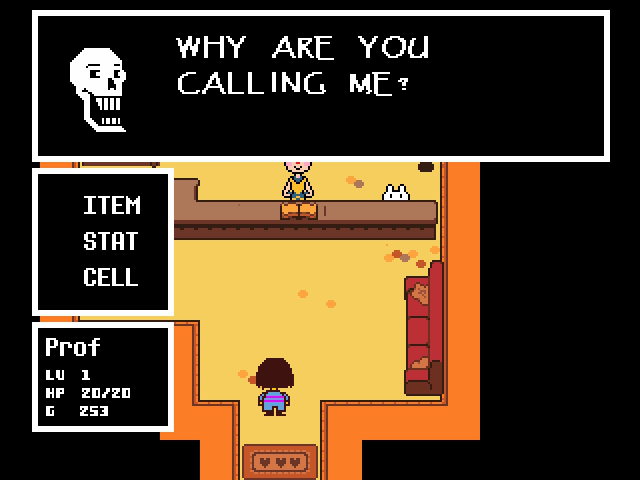 ARE YOU TRYING TO MAKE A RESERVATION???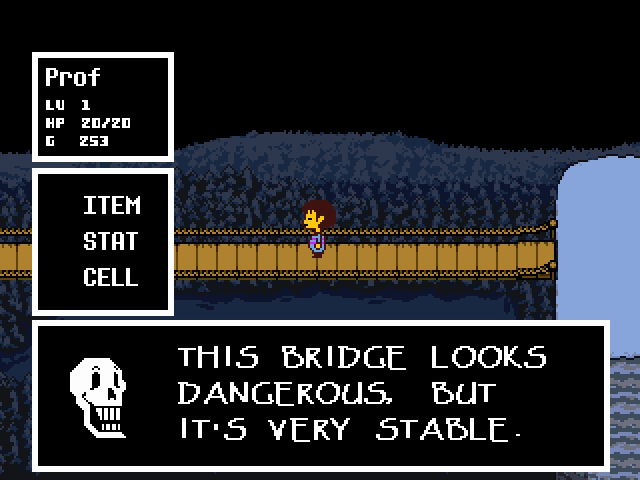 IN FACT, IT'S JUST A ROCK FORMATION I PAINTED OVER.

I THINK IT LOOKS MORE DRAMATIC THAT WAY.

I ADDED THE ROPE, TOO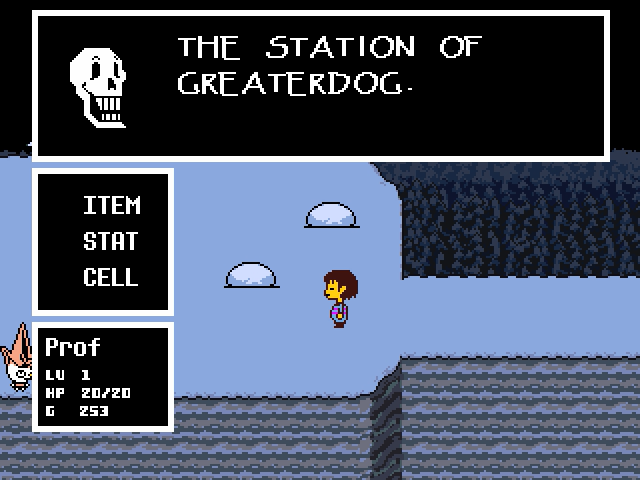 HE LOOKS A BIT LIKE A CERTAIN DOG I DON'T LIKE.

BUG GREATERDOG DOESN'T COLLECT ANYTHING.

HE'S ONLY A KLEPTOMANIAC FOR AFFECTION!

HE'S AMASSED A LARGE COLLECTION OF HUGS AND PETS.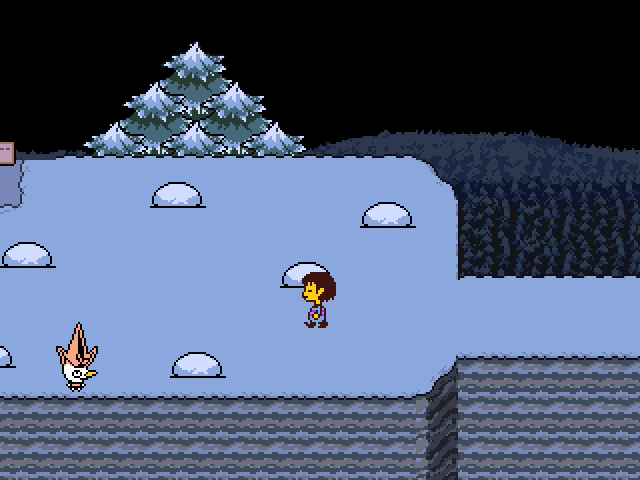 This whole region is peaceful now. In fact, the monsters I fought before are just hanging out where I can talk to them.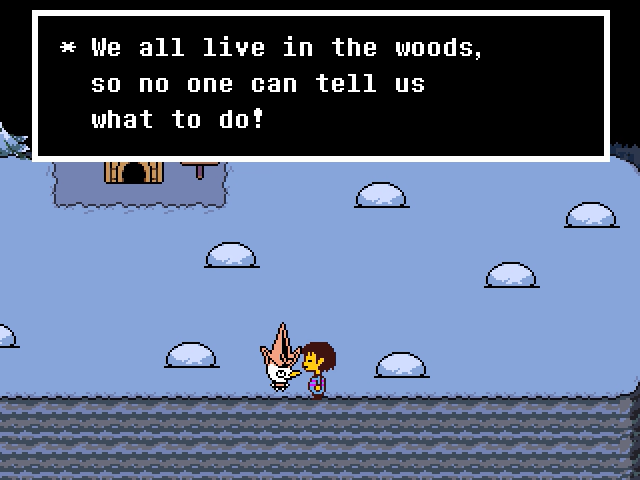 But now everyone ignores us...

I don't want freedom if it means no one's gonna pay attention to me.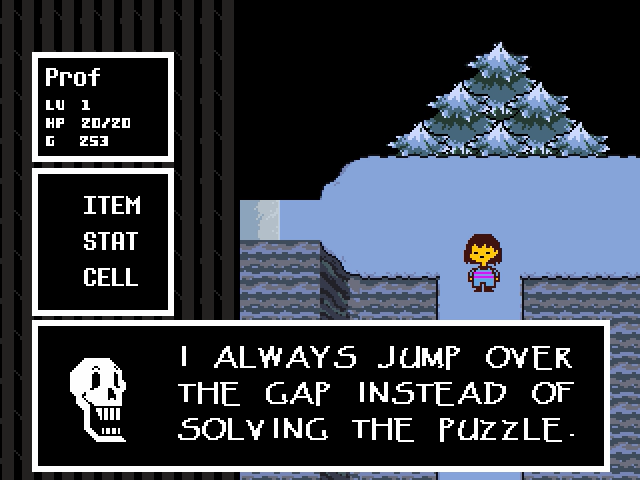 SANS NEVER SOLVES IT EITHER.

HE ALWAYS JUST... UM...

GETS ACROSS.

I THINK HE HAS A SHORTCUT OR SOMETHING.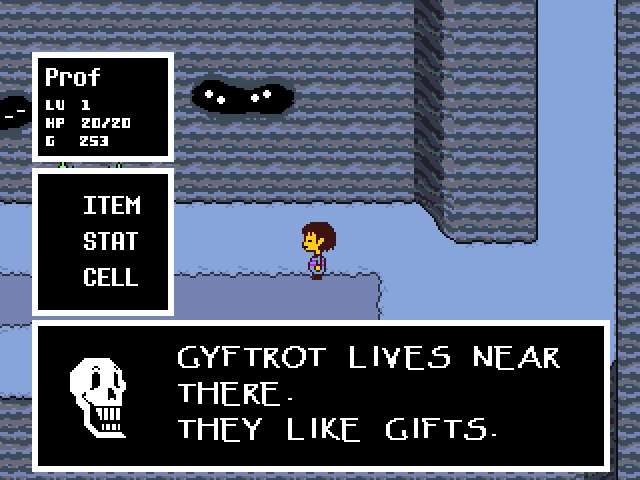 DON'T WORRY IF YOU CAN'T AFFORD SOMETHING NICE.

IT'S THE THOUGHT THAT COUNTS.

SO IMAGINE YOU HAVE A LOT OF MONEY...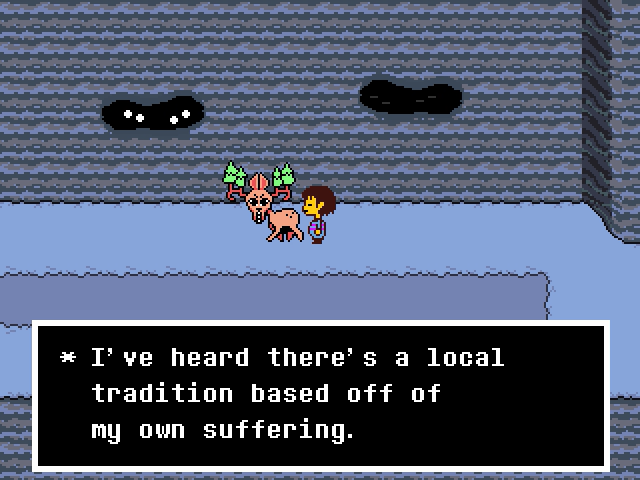 I'm not always gonna record the second comments from Papyrus. Sometimes they're kind of boring.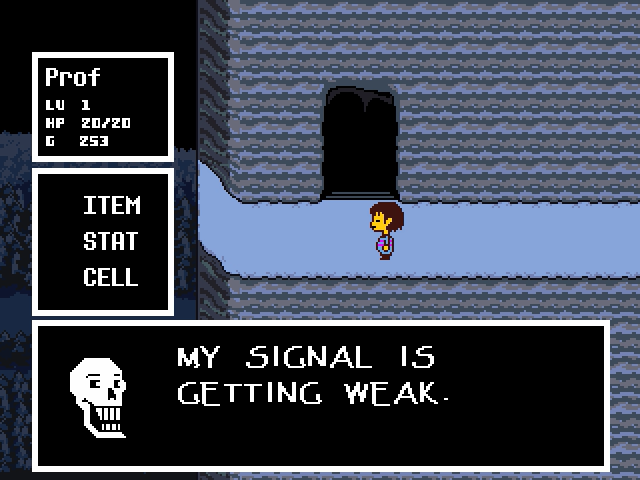 LOOKS LIKE THE PHONE WON'T WORK PAST HERE.

SO THERE'S NO REASON TO GO FURTHER.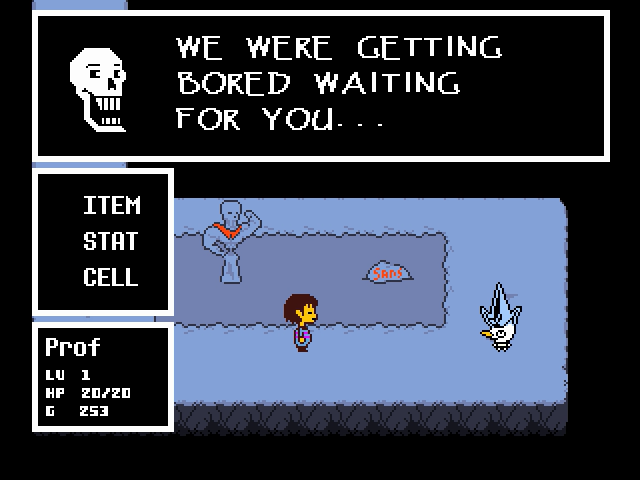 SO I BUILT A SNOW-PAPYRUS!

AND SANS... DID HIS THING.

ACTUALLY, IT'S ONE OF HIS BETTER LUMPS.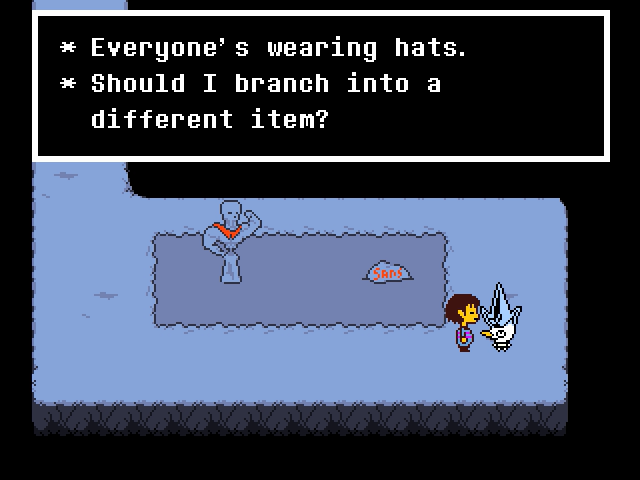 Ice jorts.

...doesn't have the same ring to it.

Ice socks and sandals.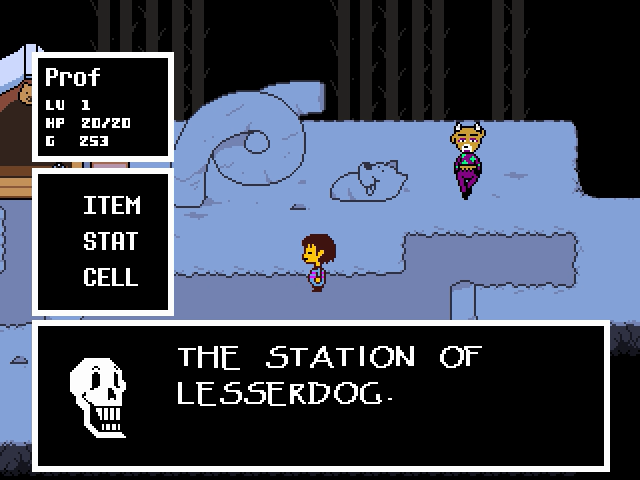 THIS DOG LOVES TO BE PET.

THAT'S ITS DEFINING PERSONALITY TRAIT.

WAIT, WHY ARE THEY A ROYAL GUARD AND NOT ME!?

I LOVE TO BE PET TOO!!!

SIGH... IT'S ALL JUST A PUPULARITY CONTEST.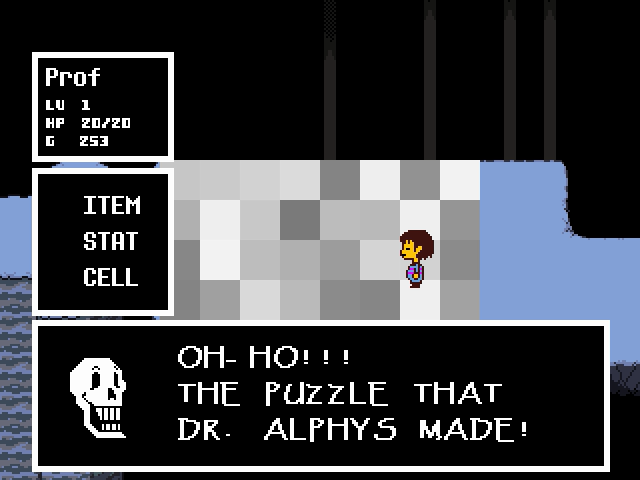 I HAD TO ASK UNDYNE TO ASK HER TO MAKE ONE.

I ONLY FOLLOW HER ONLINE...

I'M NOT REALLY FRIENDS WITH HER...

YET!!!!

SOMEDAY I'LL IMPRESS HER WITH MY HUGE BICEPS...

THAT'S A GOOD WAY TO MAKE FRIENDS!!!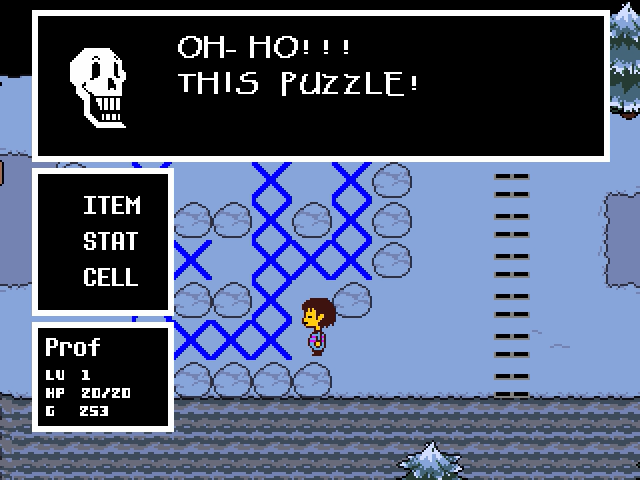 YOU FIGURED IT OUT SO EASILY!!

THAT WAS VERY PAPYRUS OF YOU.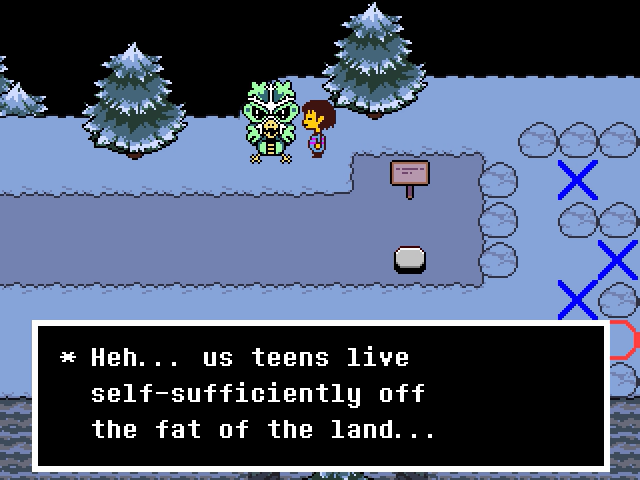 Oh, and the box lunches my parents bring us every day.

Besides Snowy. We have to share ours with him.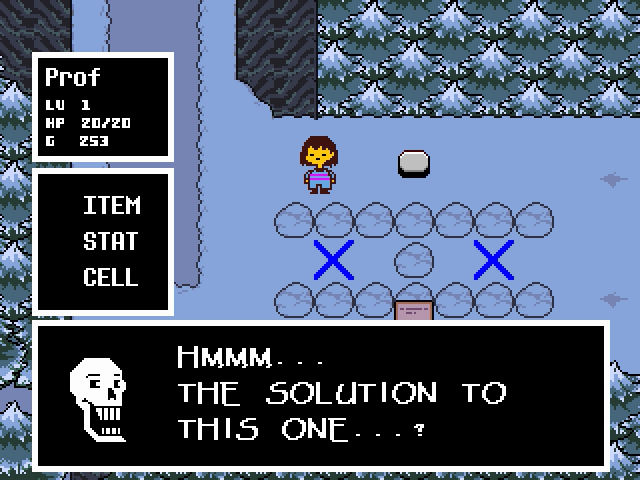 I ACTUALLY JUST STEPPED OVER THE SPIKES.

SO THE SOLUTION IS TO BE VERY TALL AND HANDSOME.

I'M SOLVING IT AS WE SPEAK...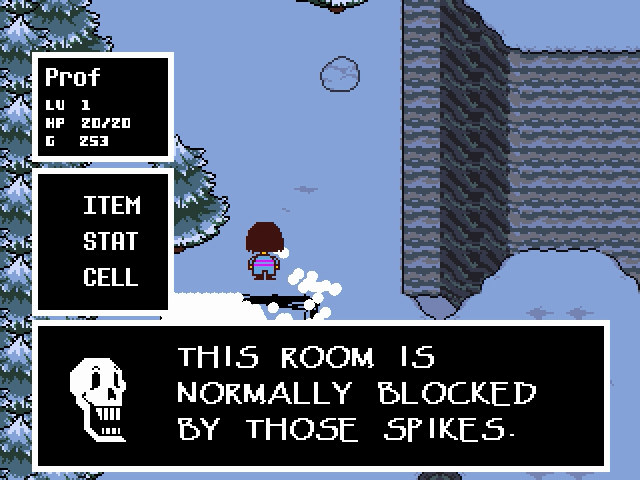 BUT WE'RE THINKING OF GETTING RID OF THEM...

THE KING RELEASED A MANDATE ON PUZZLES RECENTLY.

HE THINKS SPIKES ARE INEFFECTIVE AND HAZARDOUS TO KIDS.

BUT I THINK HE'S WRONG!!!

KIDS LOVE DEADLY SPIKES!!!

IF YOU KNOW AN KIDS, YOU SHOULD ASK THEM!!!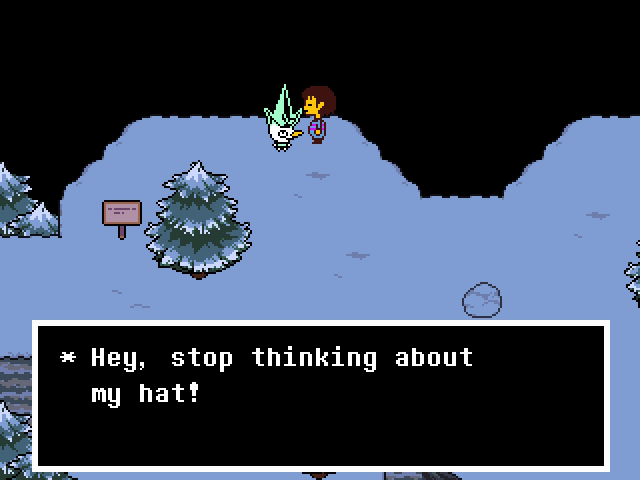 ...you aren't thinking about my hat?

...can you, please?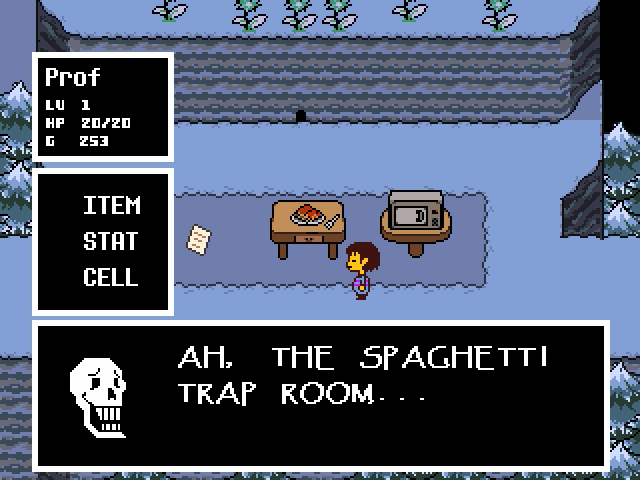 WELL, I GUESS IT'S NOT MUCH OF A TRAP ANYMORE...

SINCE YOU ATE THE WHOLE THING, RIGHT!?

NOTHING LIKE A HOT BUCKET OF SPAGH...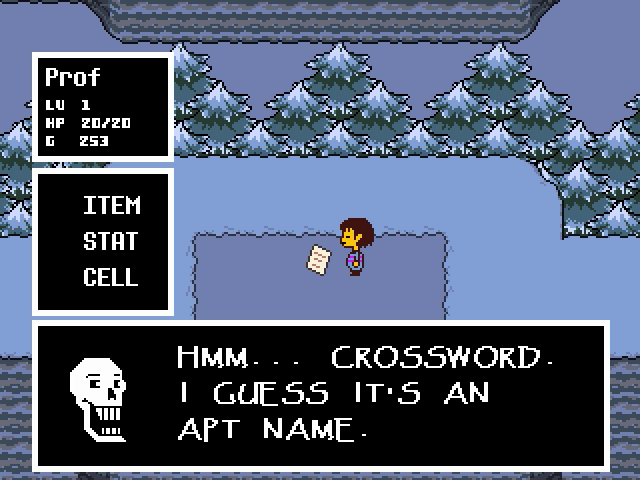 THOSE WORDS MAKE ME CROSS!!!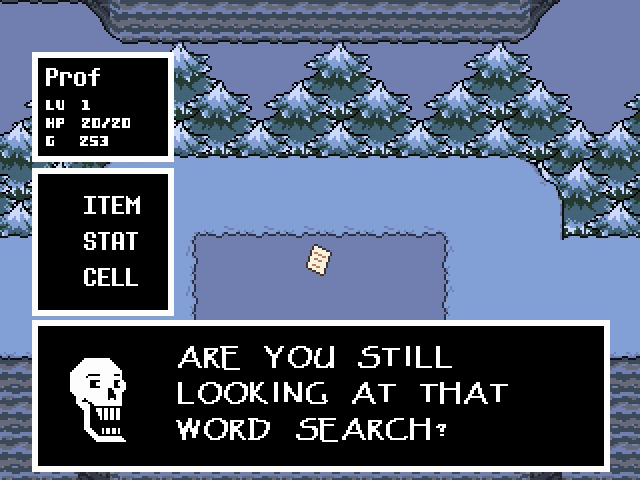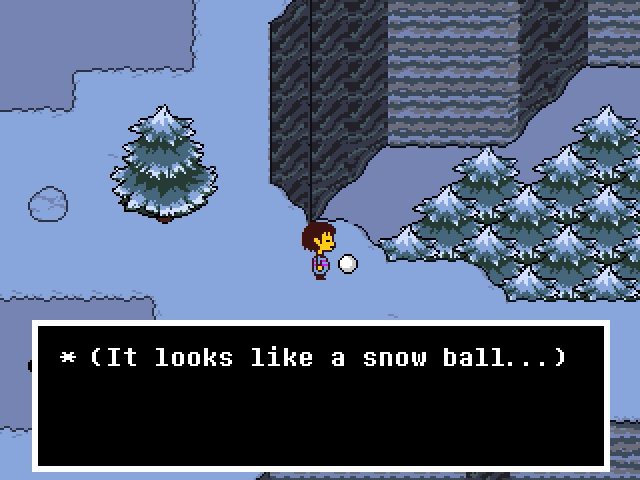 (Actually, it's a snowdecahedron.)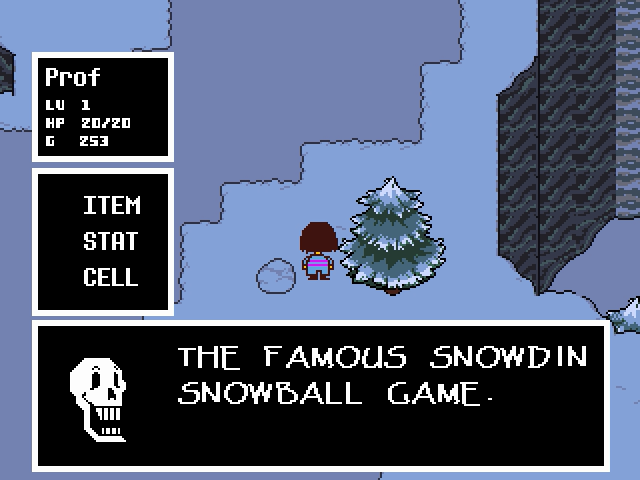 FASTER COMPLETION GIVES DIFFERENT PRIZES.

WHERE DOES THE MONEY COME FROM?

THE SNOWBALL TAX, OF COURSE!!

WHAT? YOU'VE NEVER HEARD OF A SNOWBALL TAX?

THE SURFACE WORLD MUST BE PARADISE...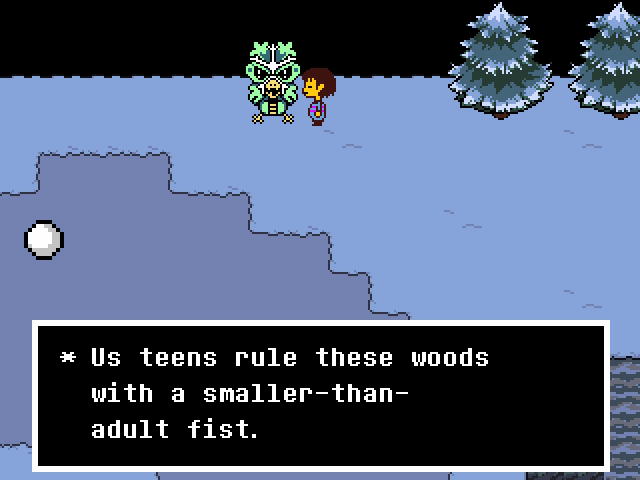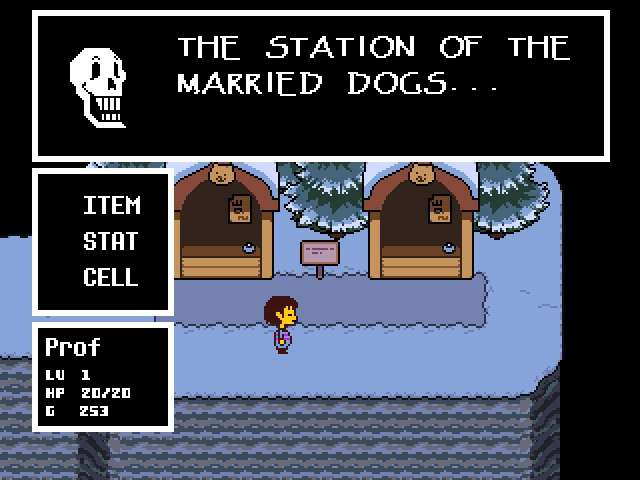 HMMM. DO YOU EVER THINK ABOUT DOING THAT SOMEDAY?

MARRYING A DOG?

NAH... THAT'S WEIRD.

THERE ARE WAY BETTER ANIMALS TO MARRY.

LIKE SKELETONS!!!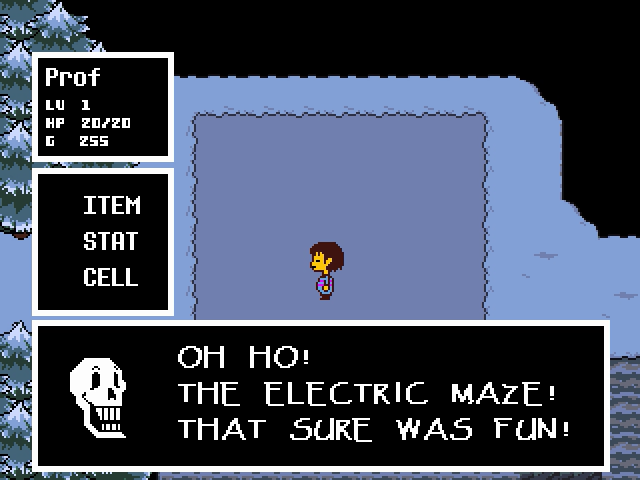 EXCEPT FOR WHEN I GOT SHOCKED.

DISAPPOINTING, BUT I TURNED OFF THE ELECTRICITY.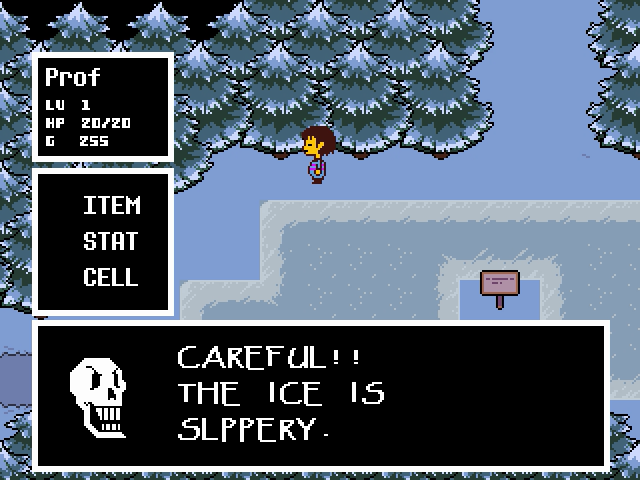 BUT IF YOU SLIDE ON THE ICE, NO ONE WILL ATTACK YOU.

NO ONE WANTS TO PRATFALL DURING A COOL TECHNIQUE.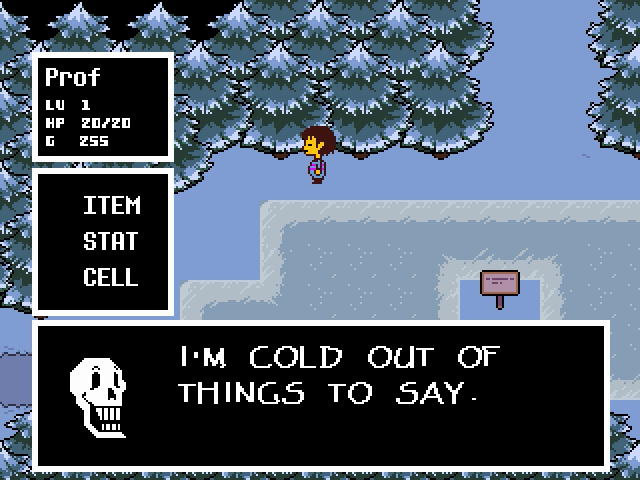 Why do you get mad about Sans making puns, Papyrus?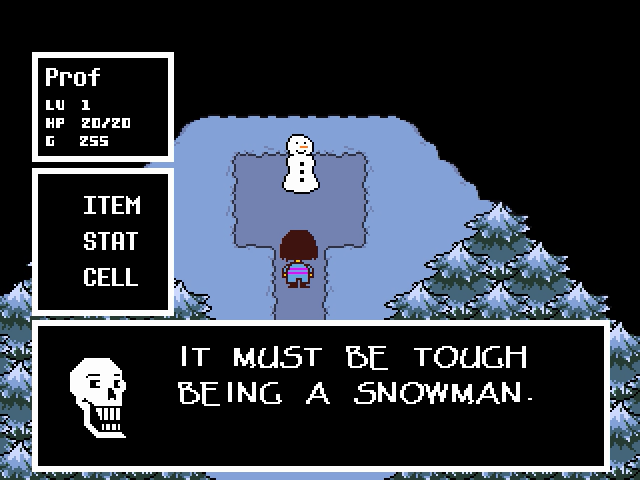 TRY TO BE NICE TO PEOPLE MADE OF STRANGE MATERIALS.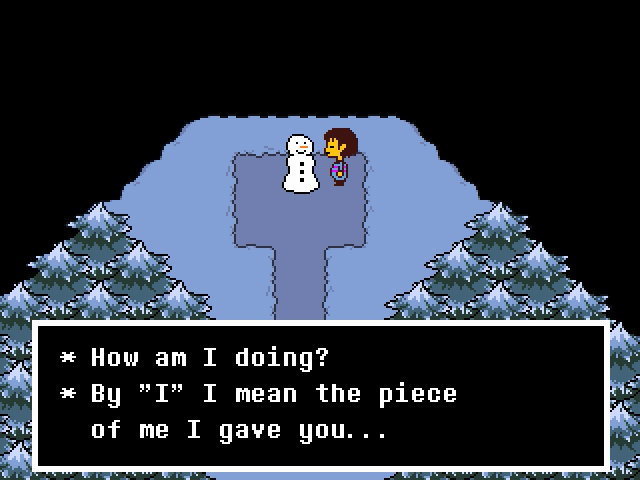 Still hasn't melted, amazingly.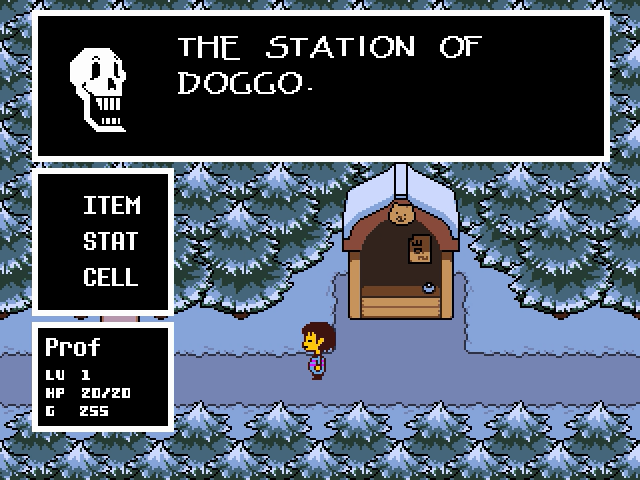 HE HAS THE AMAZING POWER TO SEE THINGS WHEN THEY MOVE.

OKAY, MAYBE IT'S NOT AN AMAZING POWER.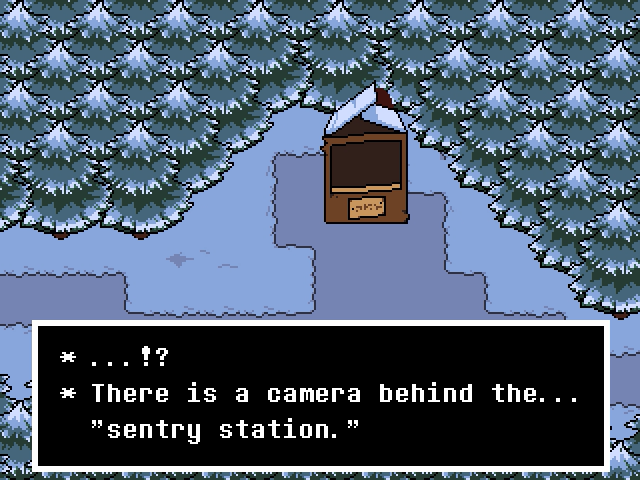 I found another hidden camera.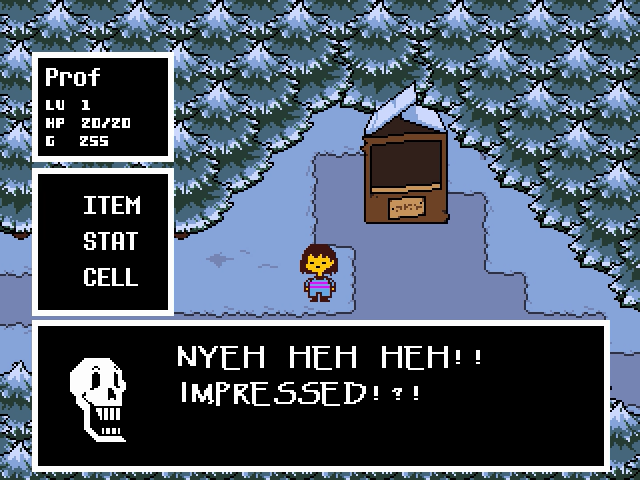 NOT ONLY AM I GREAT AT PUZZLES...

BUT I'M ALSO AN ESTEEMED ARCHITECT!!!

MY BROTHER HELPED ME FIND THE BOX!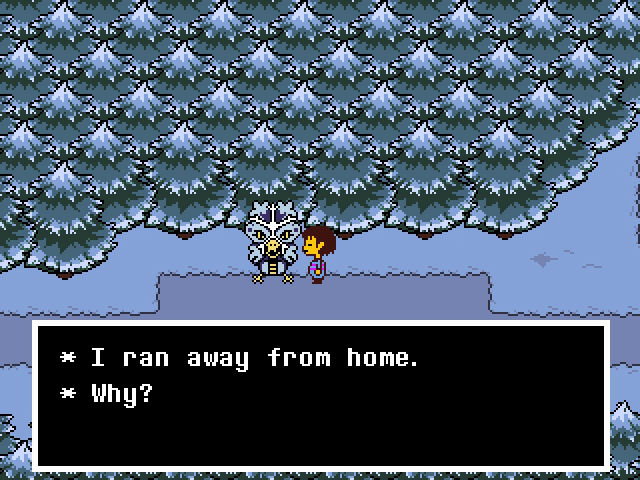 'Cause my father was so "cold" to me...

WHAT!? It's a JOKE!! LAUGH at it!!

I really don't! I don't care if he doesn't like my jokes!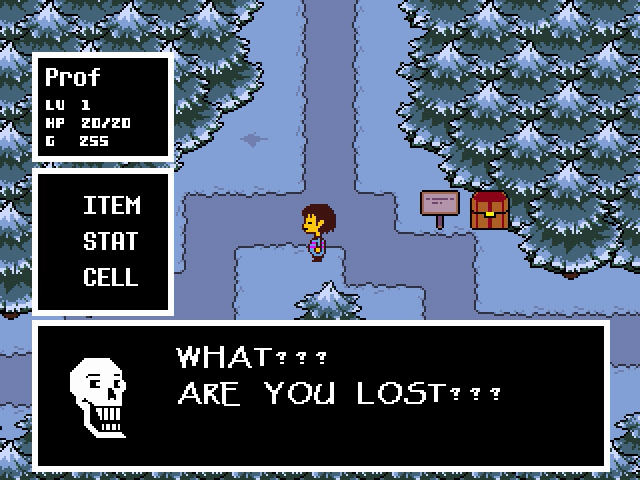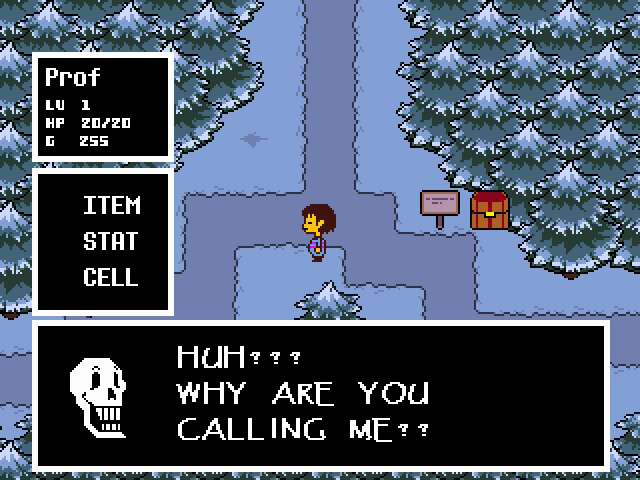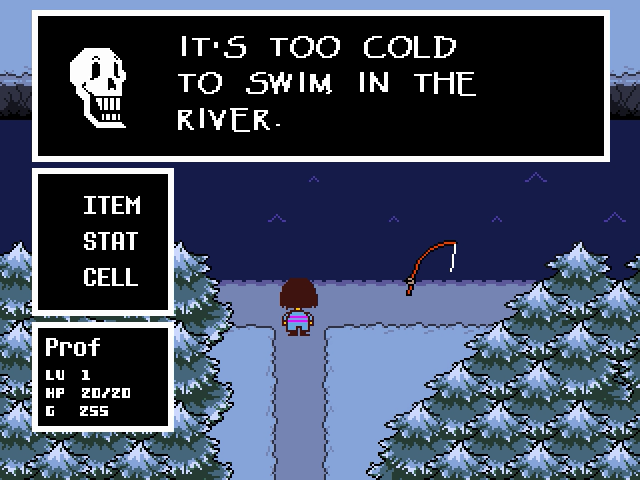 UNLESS YOU HAVE A WATERPROOF SWEATER!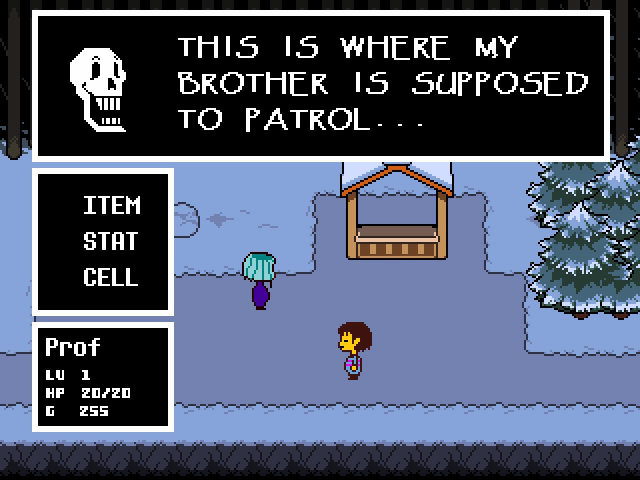 BUT, EVERY TIME I SHOW UP, HE'S SLACKING OFF.

IT'S A GOOD THING I SPOTTED YOU FIRST!

I'M SURE HE WOULD HAVE MADE A WEIRD FIRST IMPRESSION.

IF HE'S NOT AROUND, HE WON'T COME BACK...

THAT'S JUST THE WAY HE FUNCTIONS.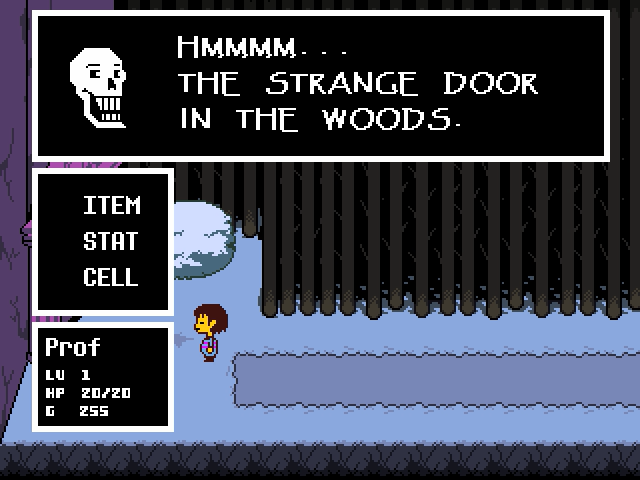 ACTUALLY, MY BROTHER SPENDS A LOT OF TIME HERE.

WHAT'S HE DOING...?

I'VE GOT TO KEEP HIM ON THE STRAIGHT AND NARROW!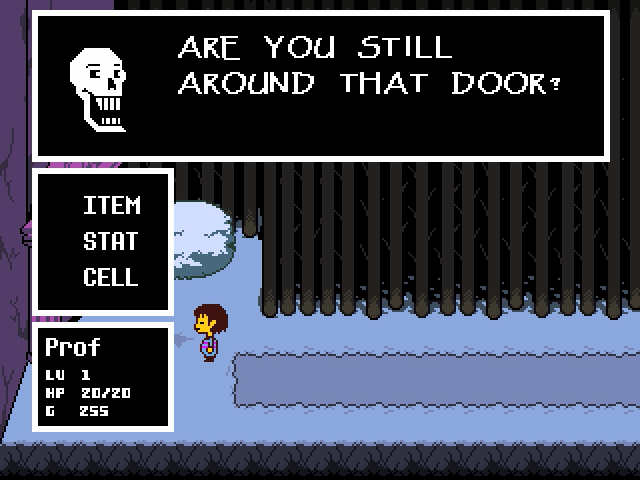 OH NO!!! MY BROTHER'S A BAD INFLUENCE!!!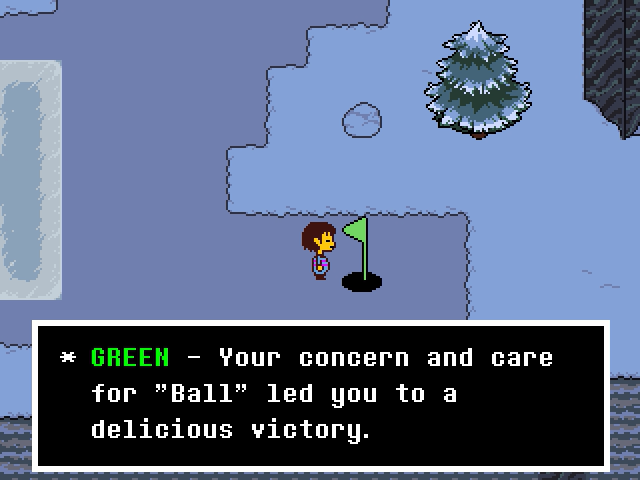 On the way back, I get a much better time at the snowball game.
My reward is even less money.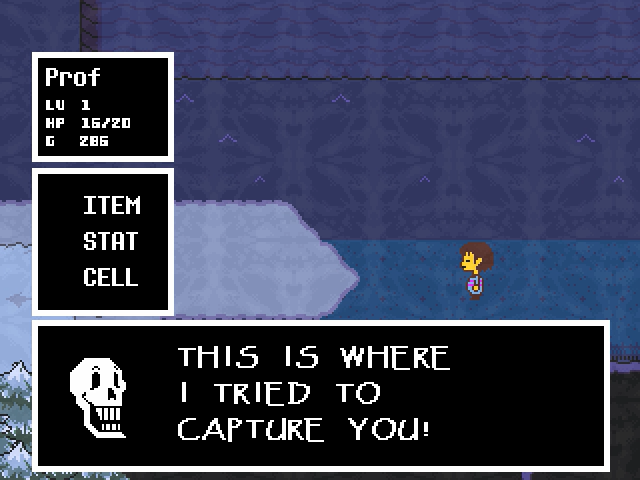 WHAT A TERRIBLE MEMORY!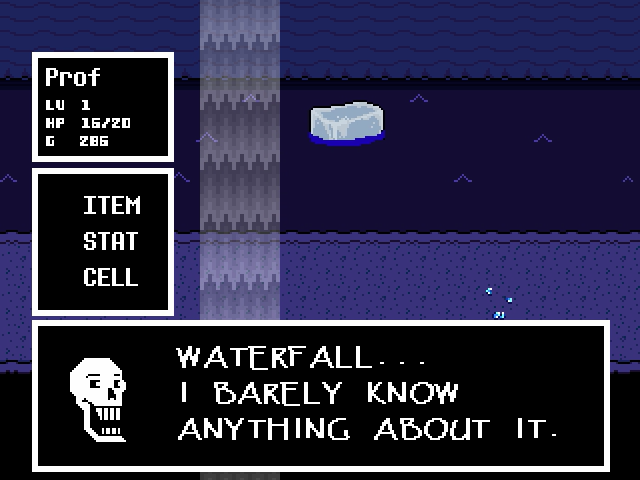 BUT I'LL DO MY BEST TO INFORM YOU!!!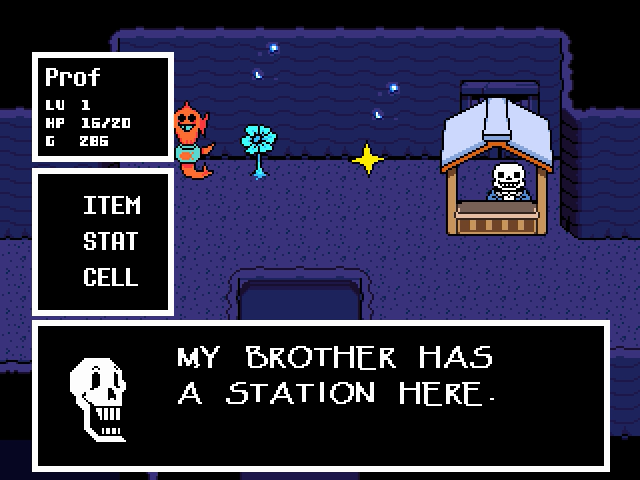 YES, HE MANS TWO STATIONS AT ONCE.

AMAZING, ISN'T HE?

HE SLACKS OFF TWICE AS MUCH AS NORMAL!!

NORMAL FOLKS CAN ONLY DREAM OF SUCH SLOTH...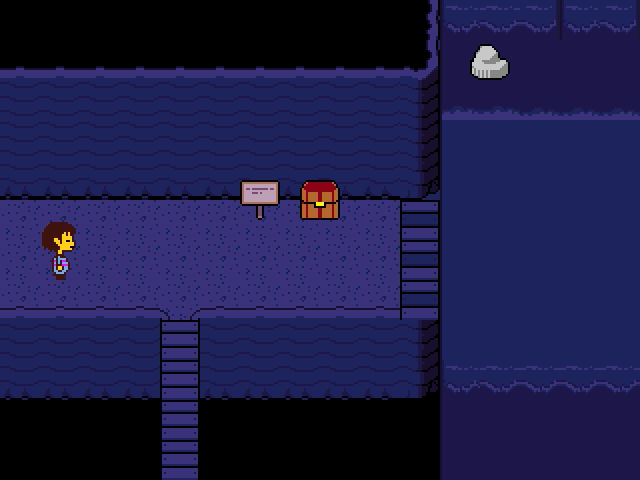 BGM: Silence
Finally, a new area. So long, Snowdin!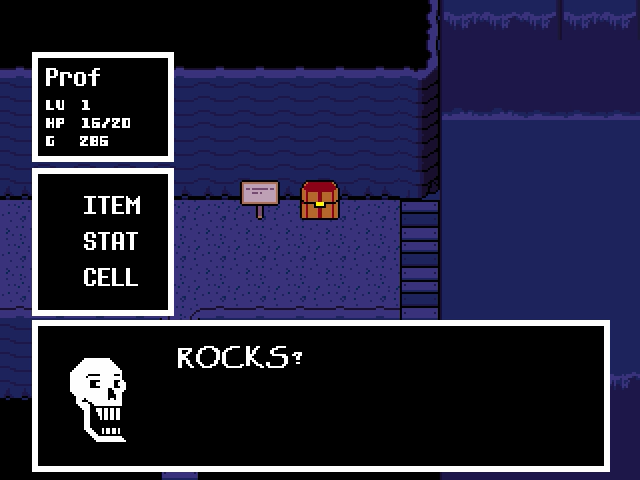 IT MUST BE ONE OF UNDYNE'S INGENIOUS PUZZLES.

YOU'D BETTER BE CAREFUL!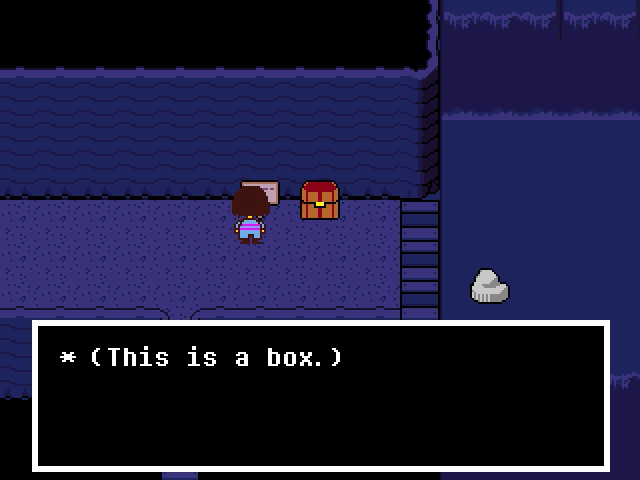 (you can put an item in or take an item out.)
(Why would you, though??? You can't use items when they're in the box!)
(Sincerely, a box hater.)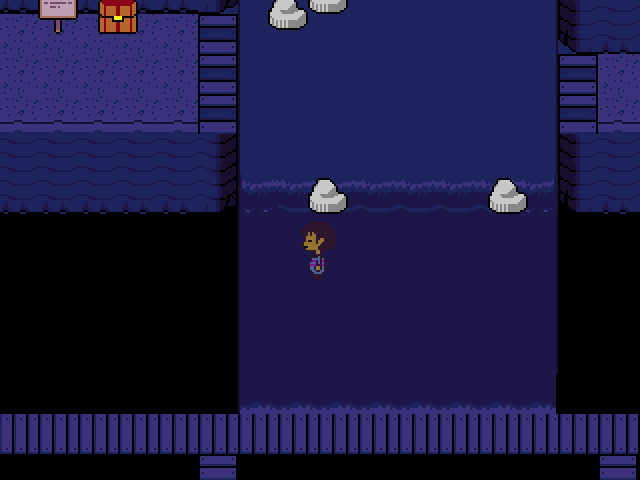 Rocks constantly roll down this waterfall. If you're not careful, they'll push you off the edge.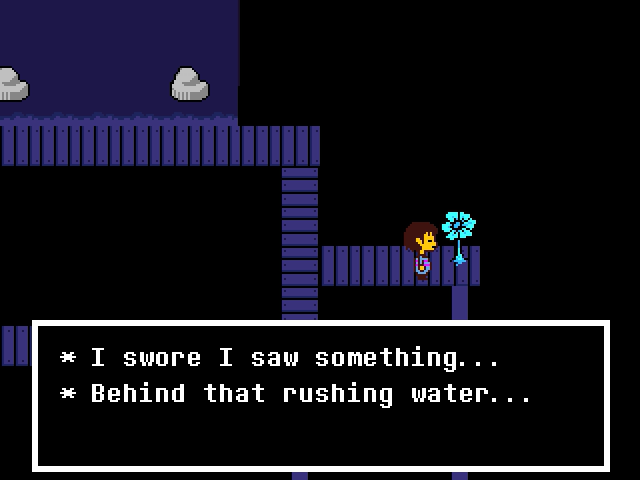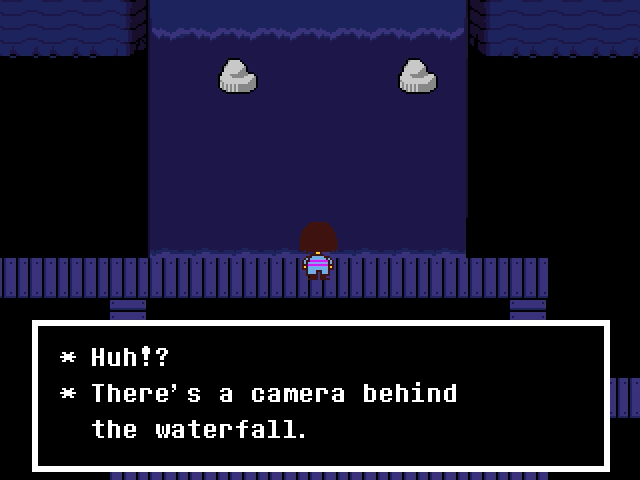 Another hidden camera.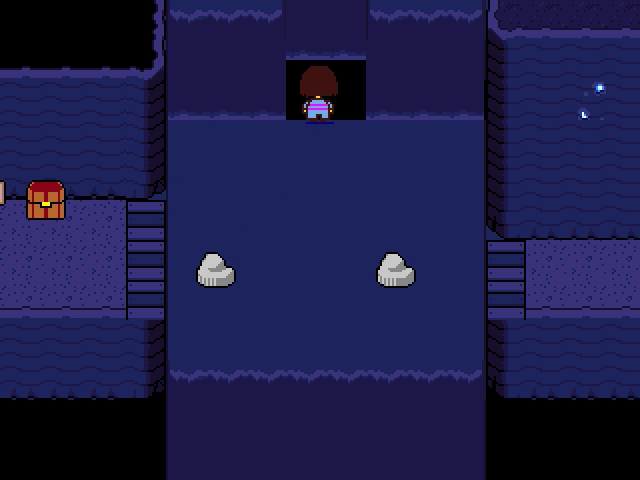 Also, a hidden door in the waterfall!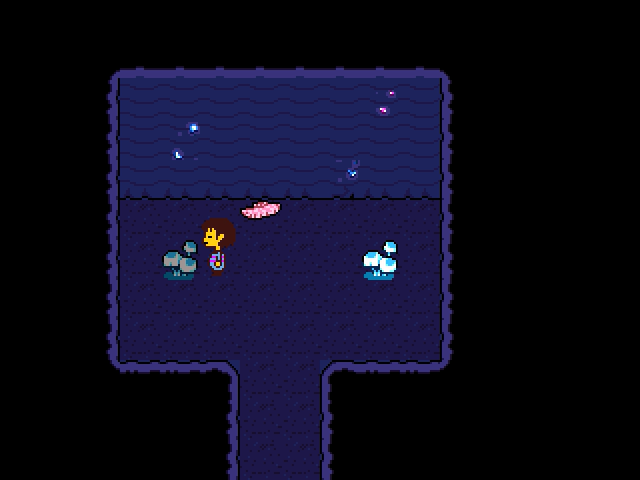 I can turn these glowing mushrooms on and off like lamps. It doesn't seem to do anything.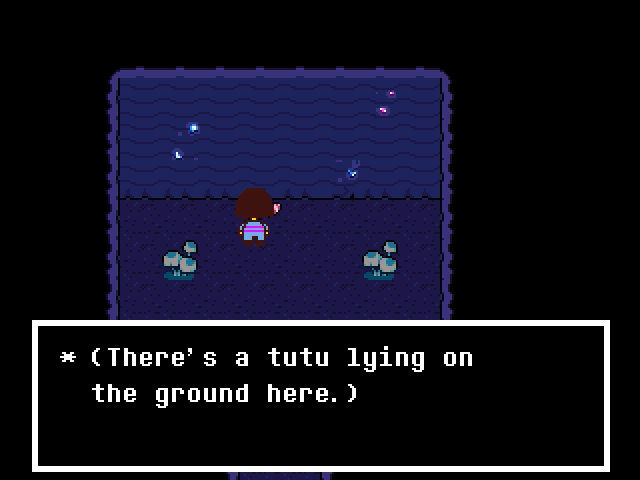 I pick up a dusty old tutu, and continue on my way.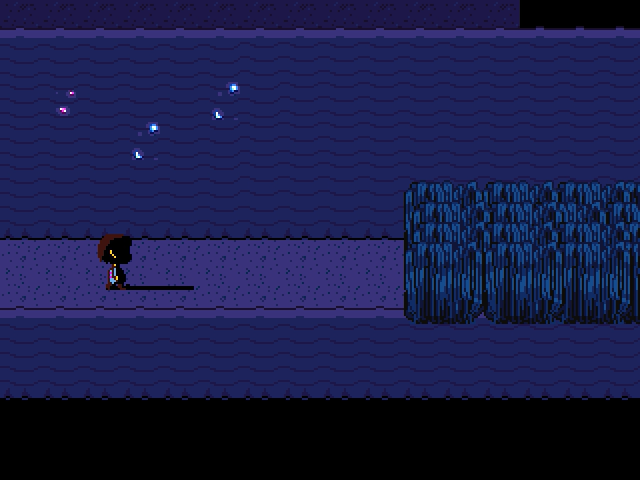 I have a bad feeling as I step into the tall grass.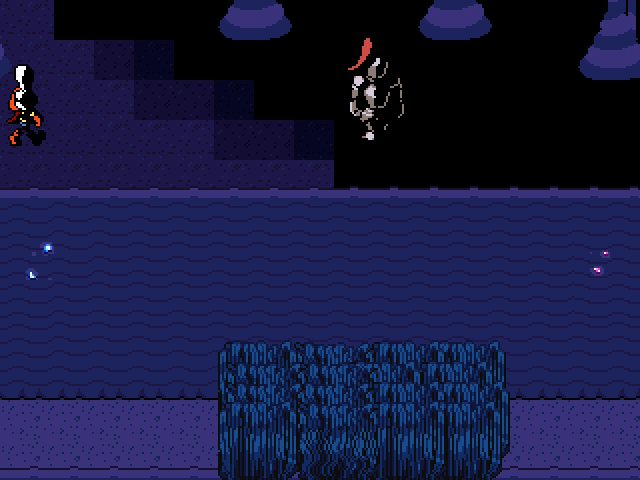 When I do, I see Papyrus... and someone else.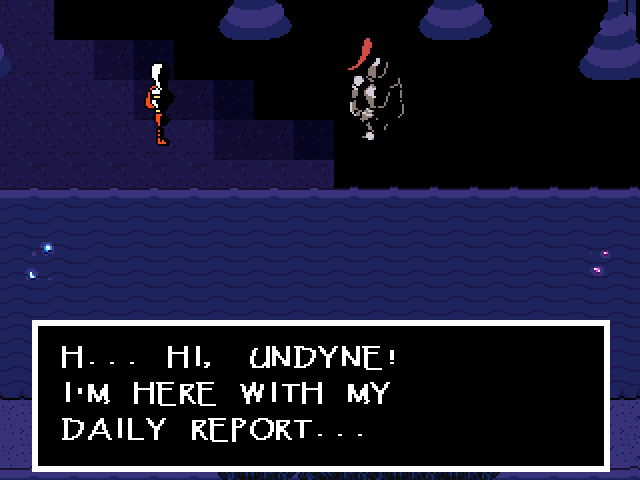 BGM: Danger Mystery

UHHH... REGARDING THAT HUMAN I CALLED YOU ABOUT EARLIER...

...HUH? DID I FIGHT THEM?

Y-YES! OF COURSE I DID!

I FOUGHT THEM VALIANTLY!

...WHAT? DID I CAPTURE THEM?

W-W-WELL...

NO.

I TRIED VERY HARD, UNDYNE, BUT IN THE END...

I FAILED.

...W-WHAT?

YOU'RE GOING TO TAKE THE HUMAN'S SOUL YOURSELF...

BUT UNDYNE, YOU DON"T H-HAVE TO DESTROY THEM! YOU SEE...

YOU SEE...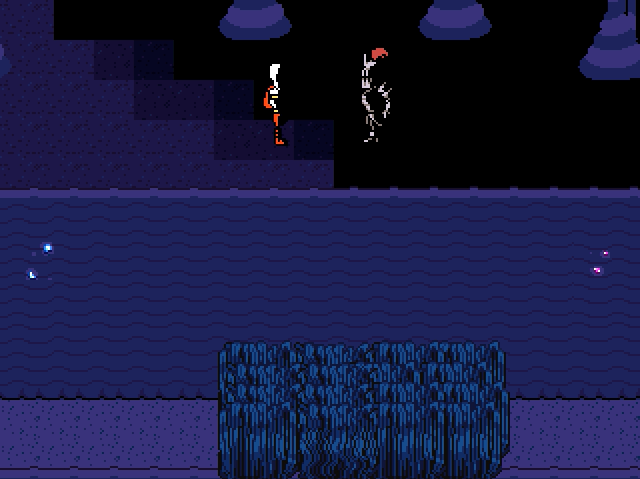 ...I UNDERSTAND.

I'LL HELP YOU IN ANY WAY I CAN.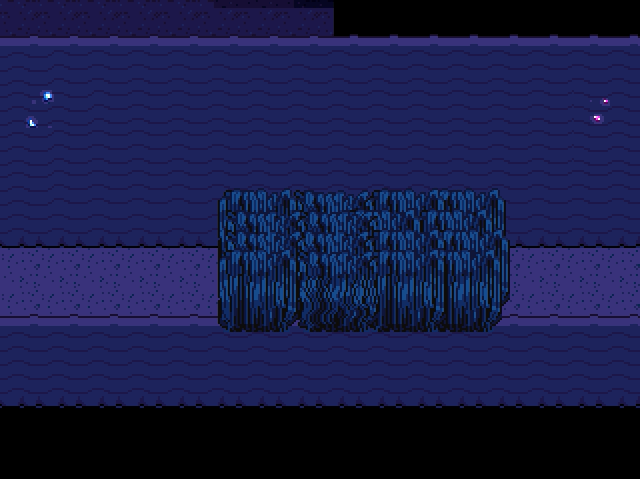 BGM: Undyne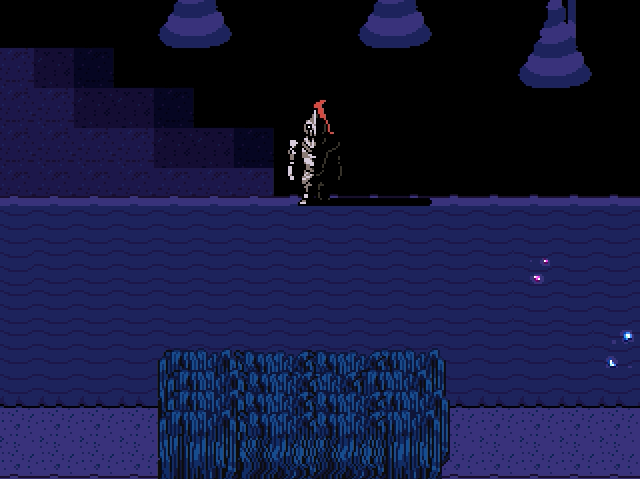 Did she see me?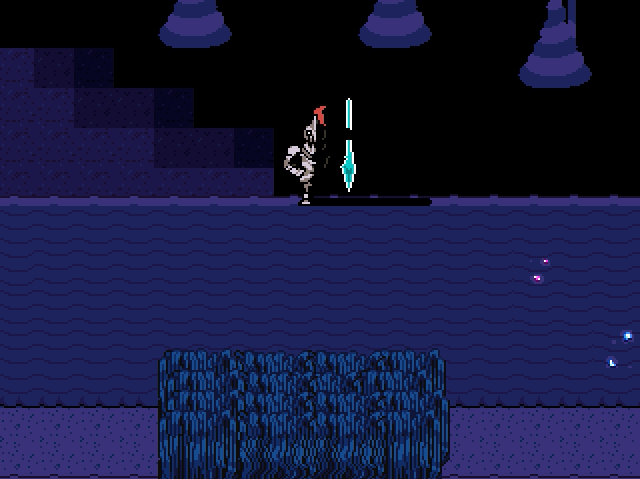 BGM: Silence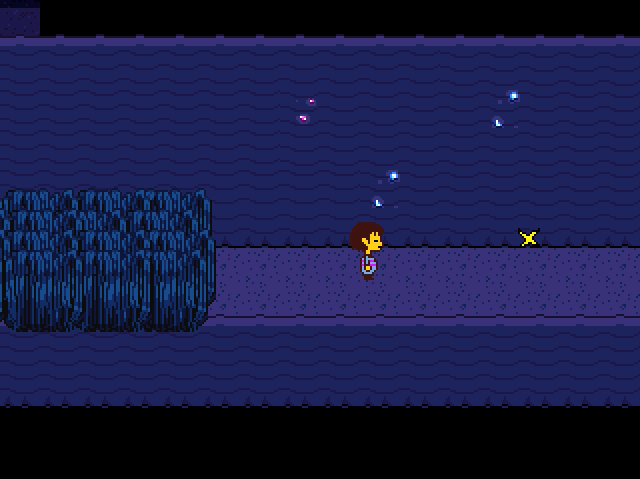 Yo... did you see the way she was staring at you...?

That...

...was AWESOME!

I'm SOOOO jealous!

What'd you do to get her attention...? Ha ha.

C'mon! Let's go watch her beat up some bad guys!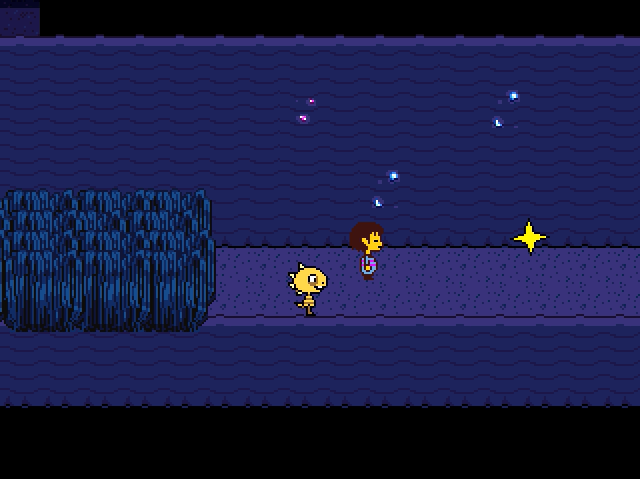 The kid scurries off.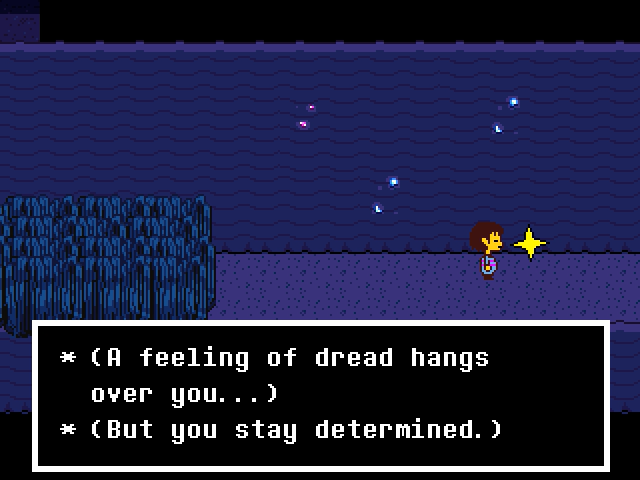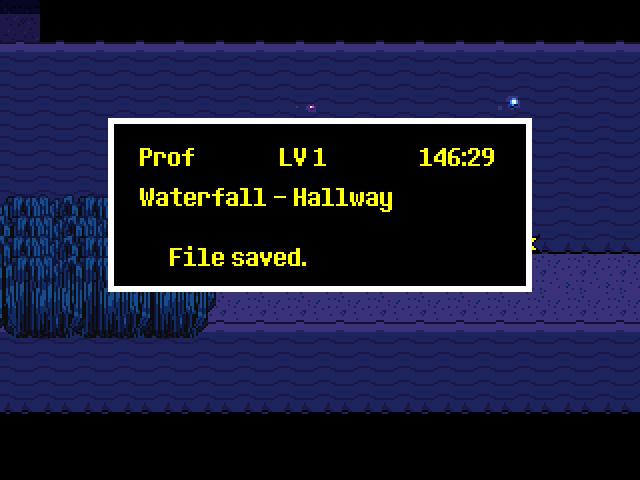 I save my game.