Part 14: Waterfall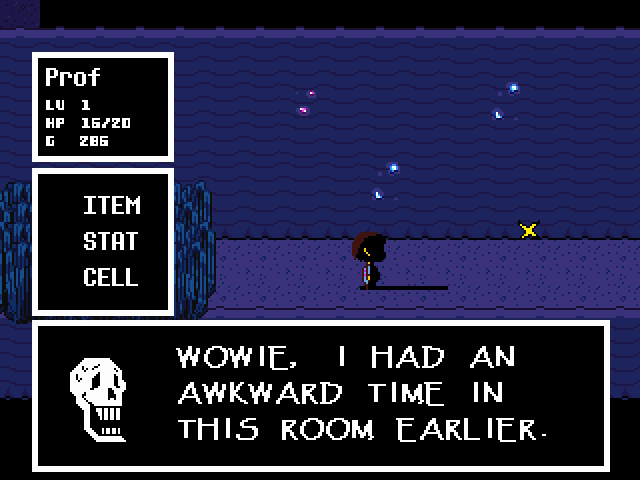 GOOD HEAVENS YOU WEREN'T AROUND TO SEE IT!!

YOU REALLY DIDN'T SEE IT!

I LOVE THAT FACT, AND REPEATING IT!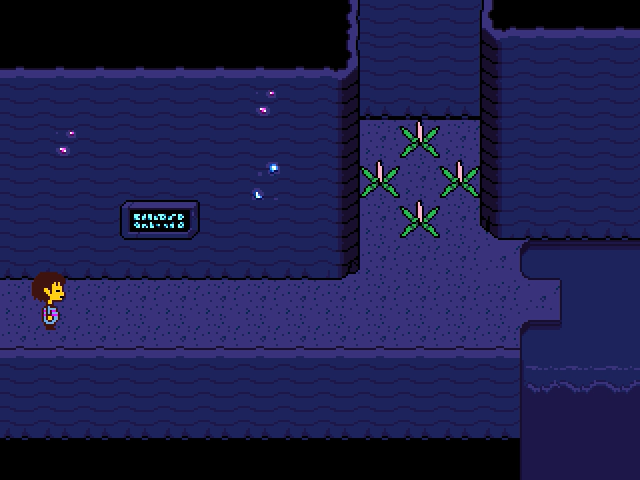 BGM: Waterfall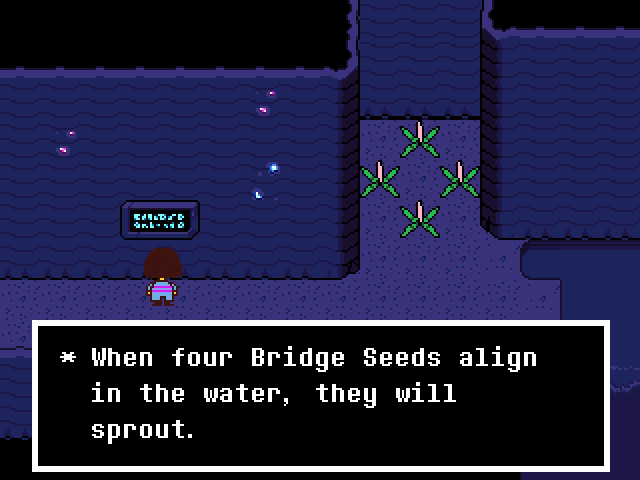 This sounds suspiciously like a puzzle.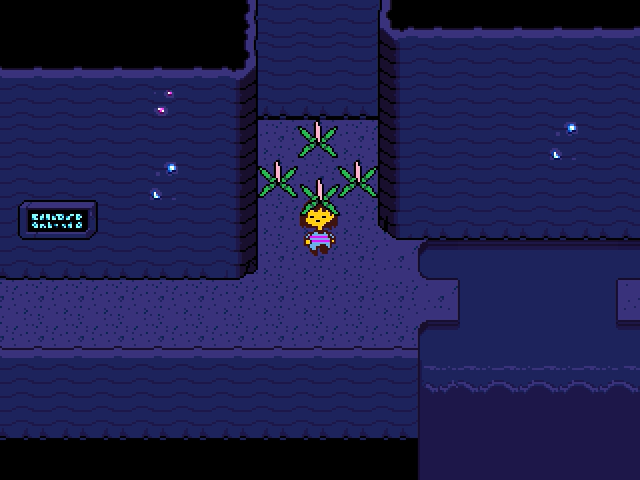 I can pick the flowers up, and then drop them into the water.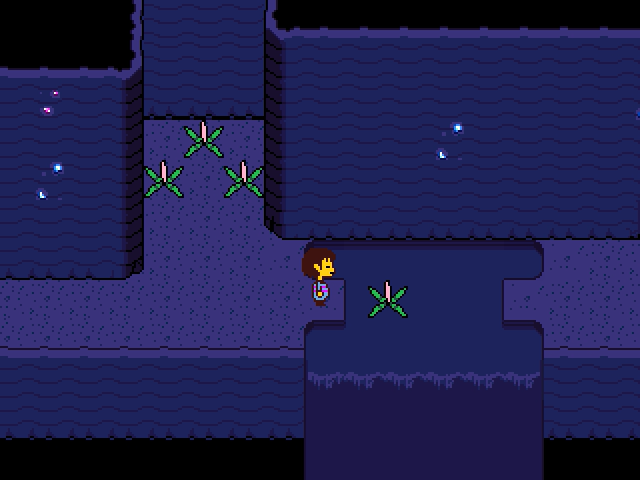 When I do, they float in a straight line, until they hit dry land or another flower.
When I line four up...
They form a bridge!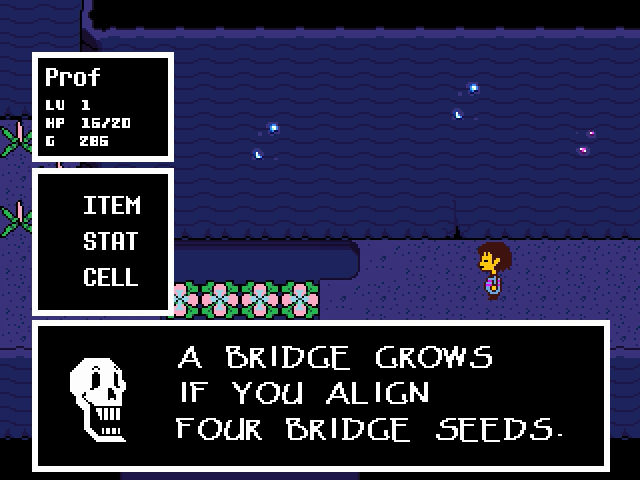 BUT THAT'S SORT OF LIMITED IN USEFULNESS.

WHY DON"T WE HAVE AIRPLANE SEEDS???

OR, PHONES THAT CAN TURN INTO JETPACKS???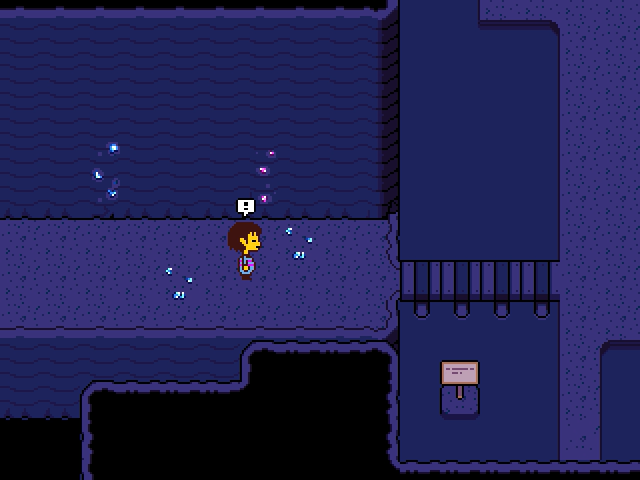 I enter the next room, only to be attacked by a monster.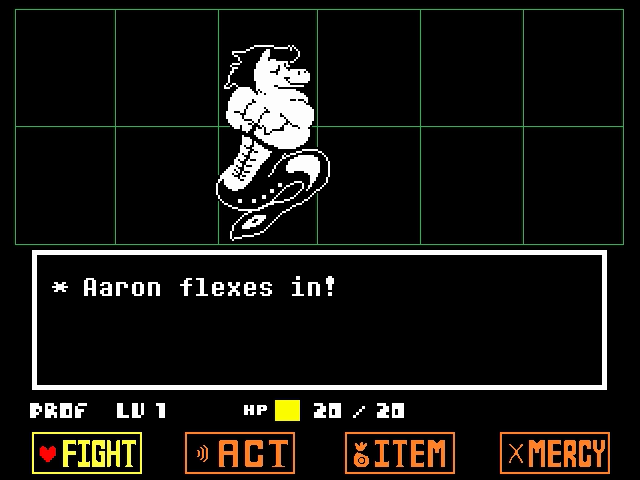 New region, new monsters.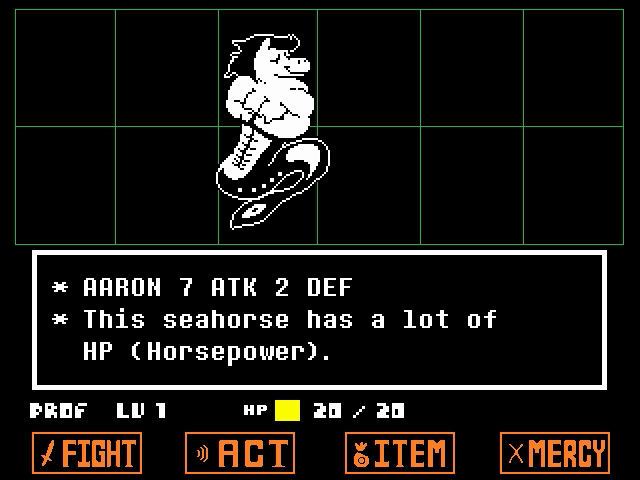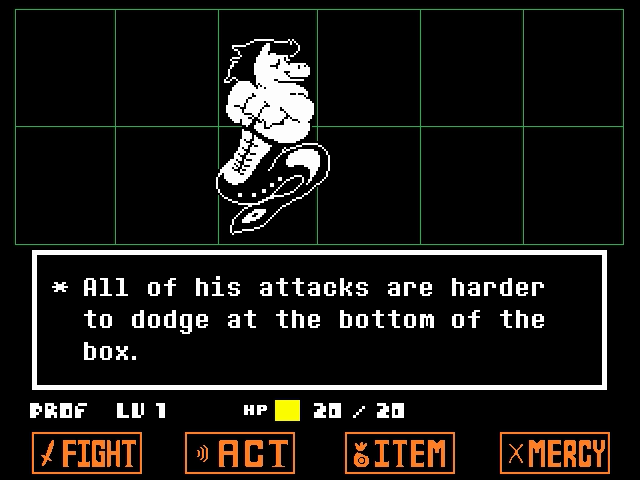 New monsters, new puns.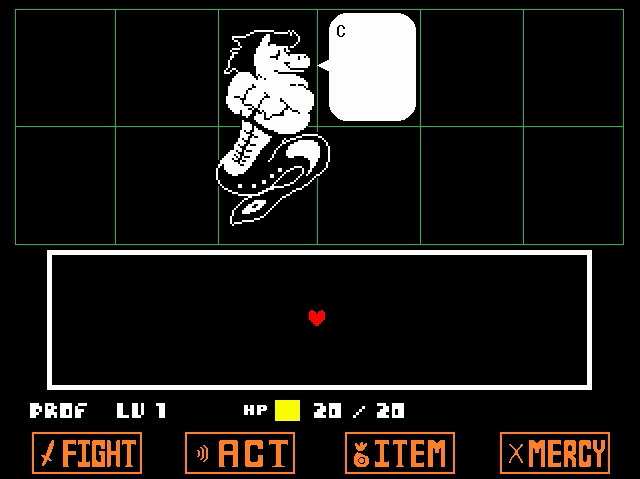 Aaron attacks by flexing, obviously.
First, I'll try to
Shoo
him away.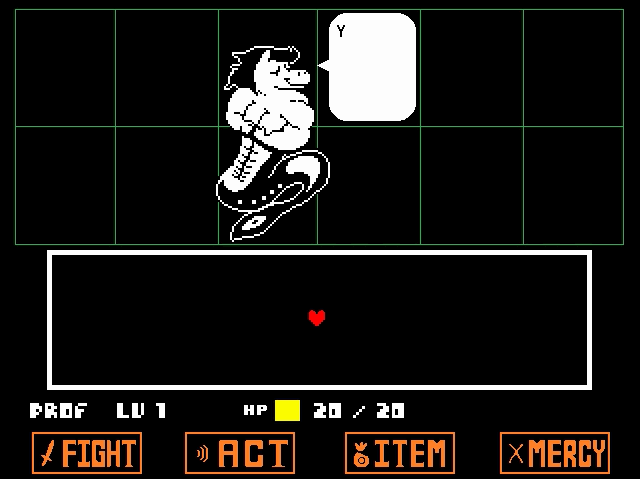 Aaron's ego is too big to be deterred. So, I'll play to that.
I
Flex
.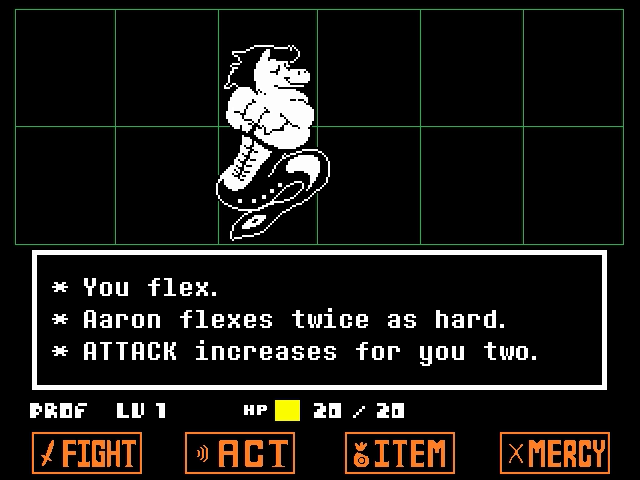 Aaron does another flex attack.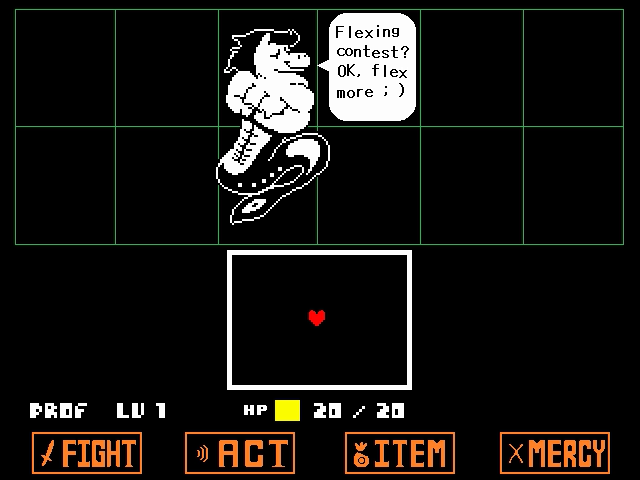 I
Flex
again!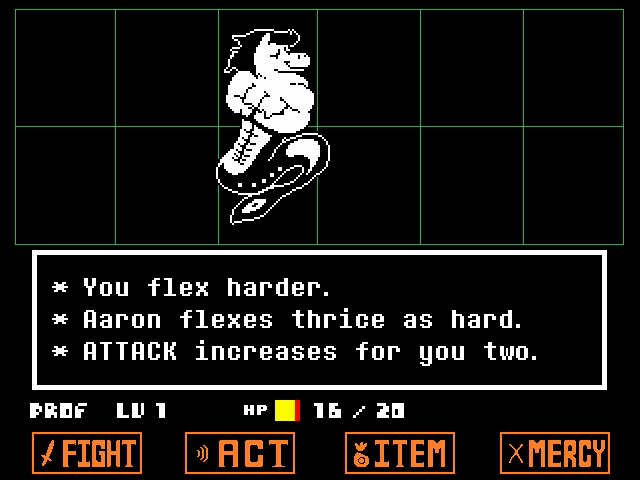 I'm honestly not sure if the enemy's ATK stat actually meaningfully affects how much damage they do.
I
Flex
one more time.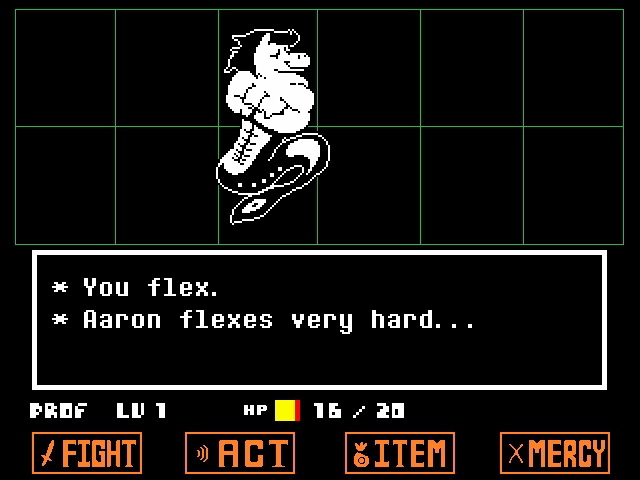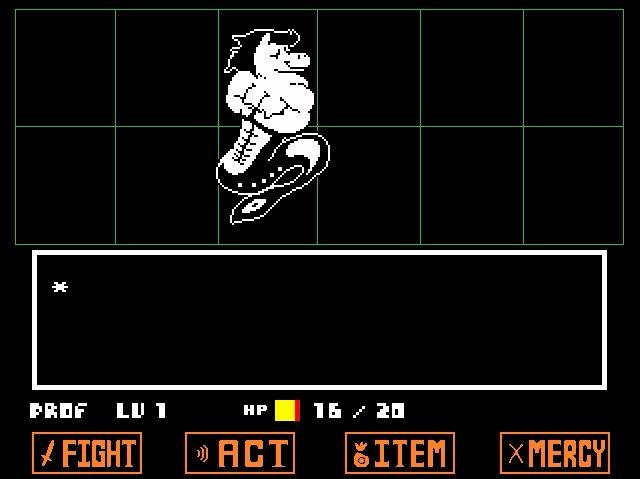 Battle over!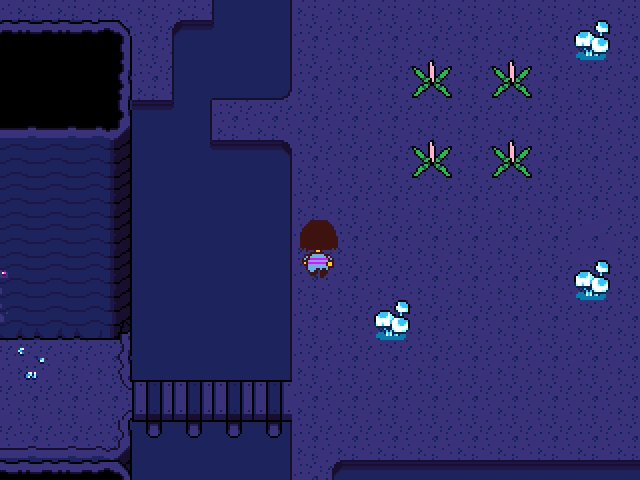 It's another flower puzzle!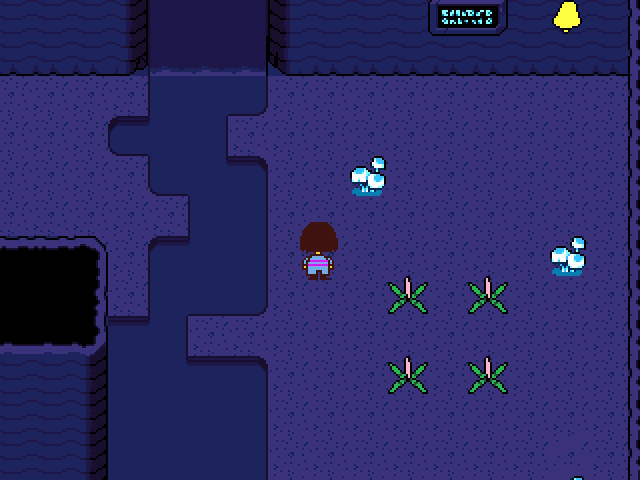 This one looks a little harder... none of the obvious paths are long enough to line up four bridge blossoms.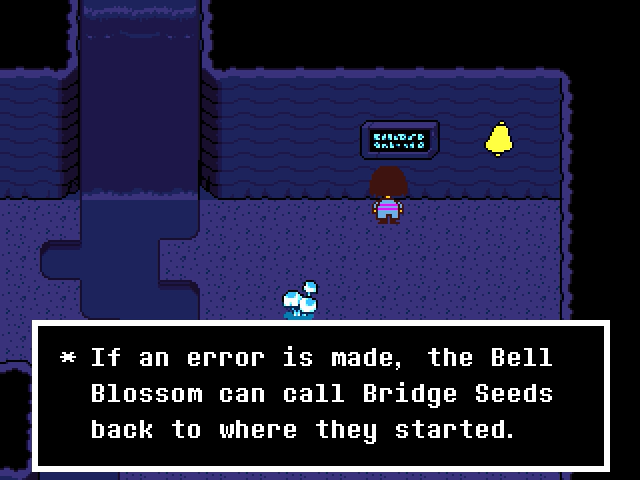 I can reset if I make a mistake, at least.
Before I try to actually solve the puzzle...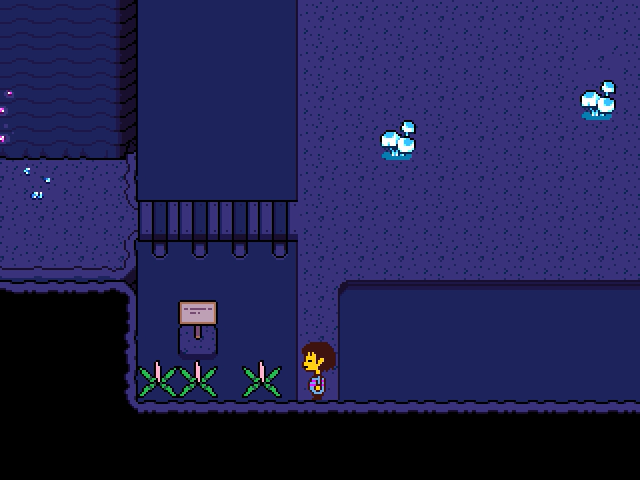 I want to see what this sign says!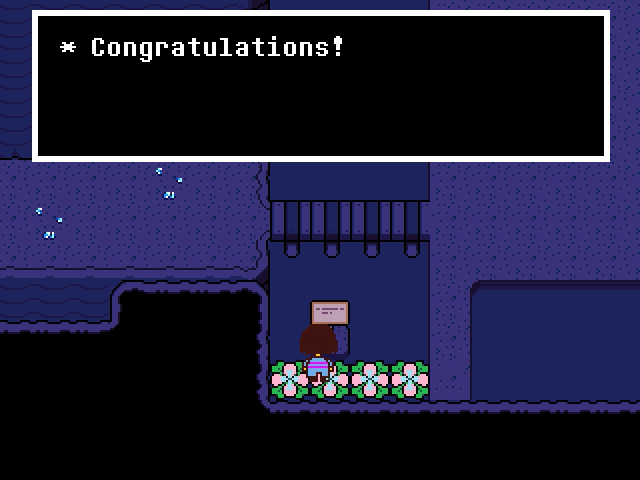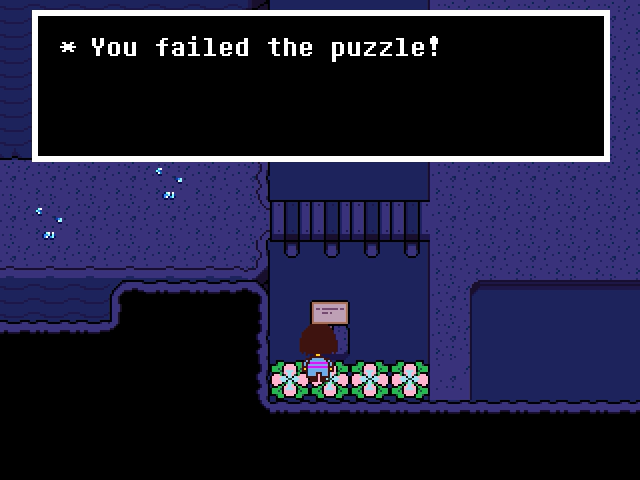 WOW.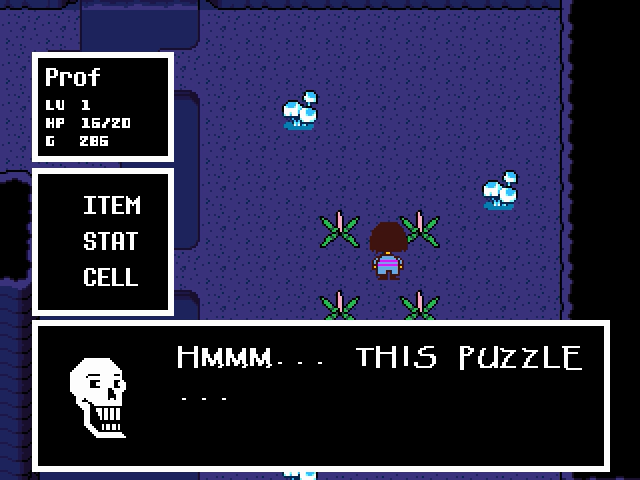 I'VE GOT IT!

TRY TO BUILD A BRIDGE WITH THE BRIDGE SEEDS!

I'M HELPING.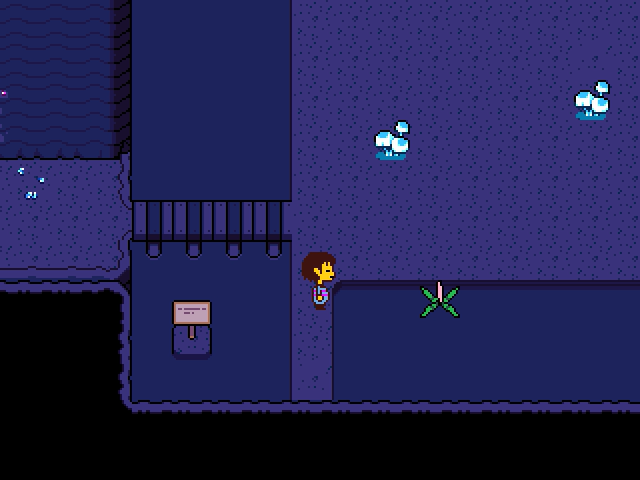 I can also launch some seeds to the right from here...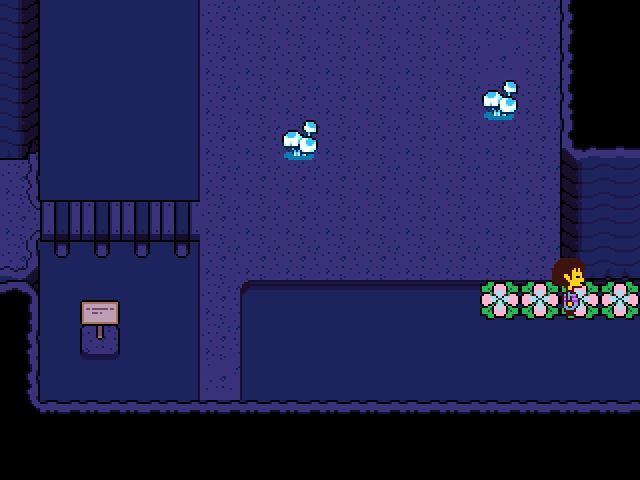 ...and create a bridge here!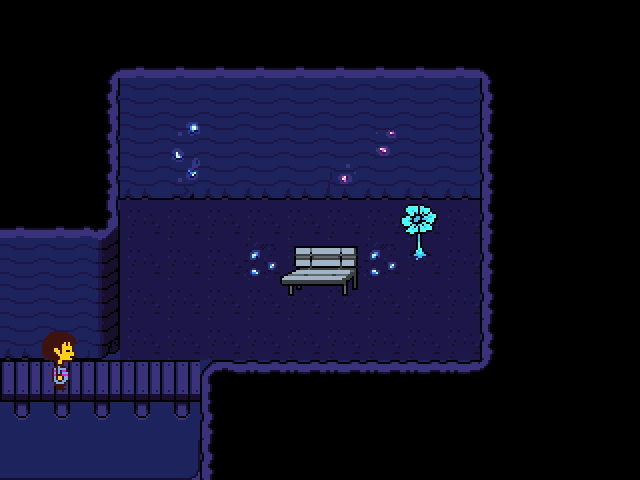 Beyond appears to be a bench.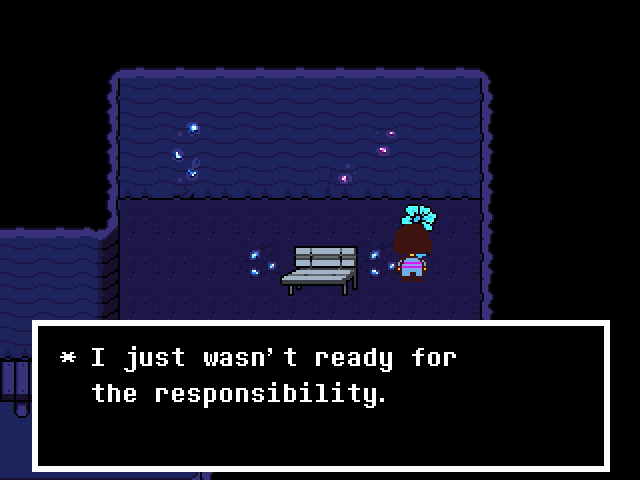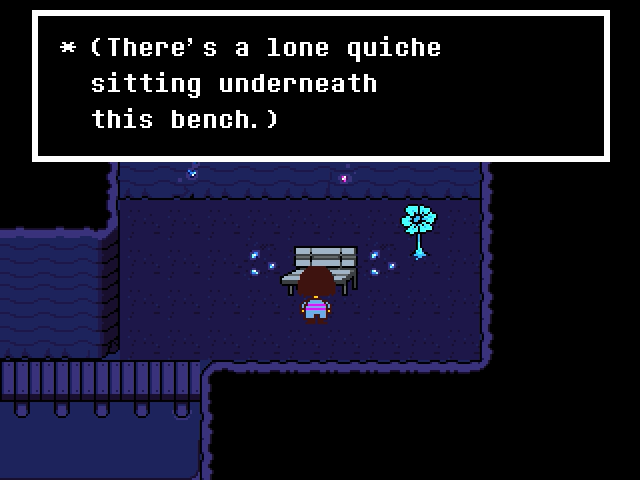 I adopt the abandoned quiche.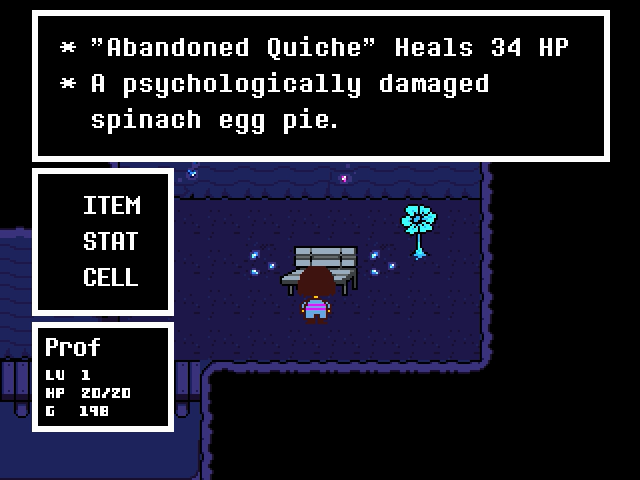 Nothing else here, so it's time to solve the puzzle for real.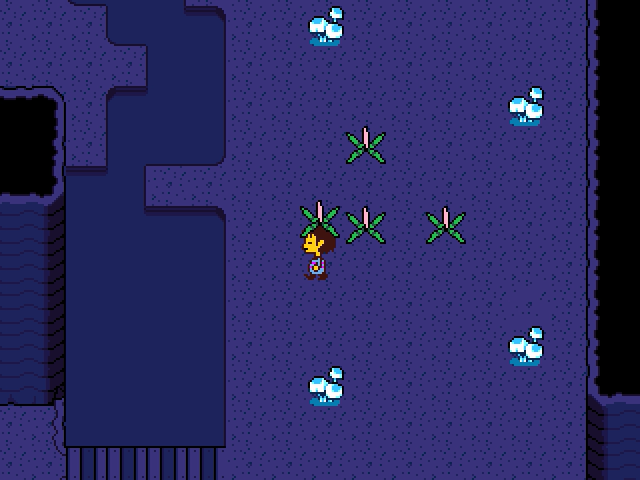 Figure out the solution yet? Here it is.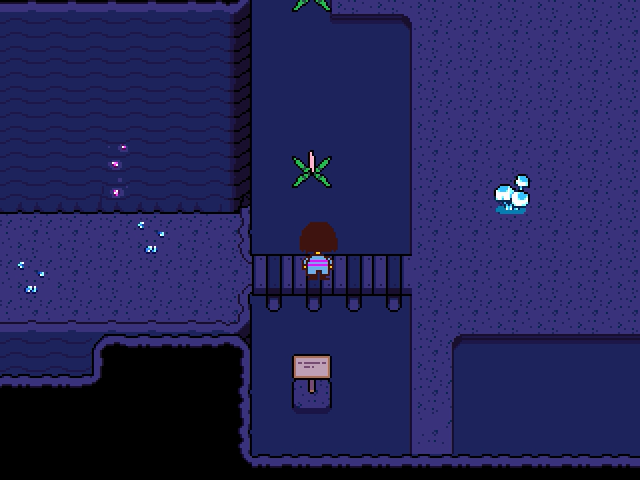 Send four seeds north from the bridge.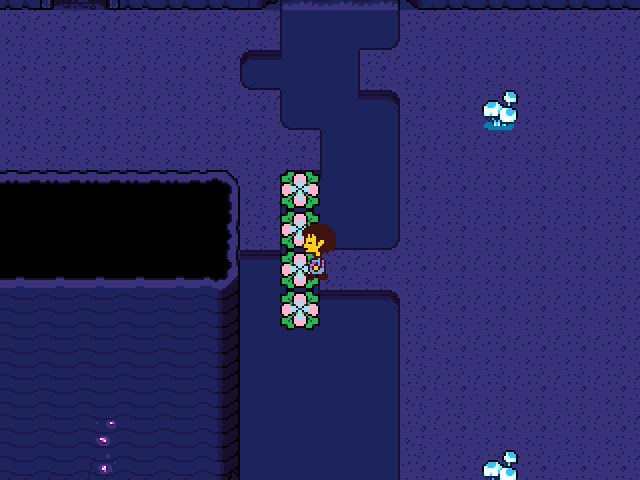 That gives me a bridge right here!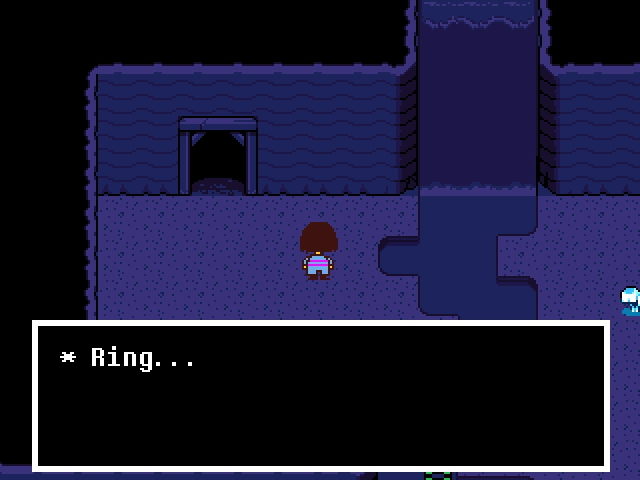 HELLO! THIS IS PAPYRUS!!!

HOW DID I GET THIS NUMBER...?

IT WAS EASY!!!

I JUST DIALED EVERY NUMBER SEQUENTIALLY UNTIL I GOT YOURS!!!

NYEH HEH HEH HEH!

SO... WHAT ARE YOU WEARING...?

I'M... ASKING FOR A FRIEND.

SHE THOUGHT SHE SAW YOU WEARING A BANDANNA.

IS THAT TRUE? ARE YOU WEARING A BANDANNA?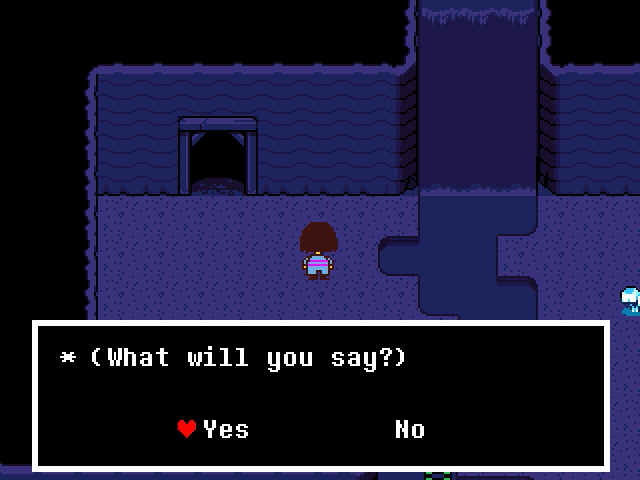 SO YOU ARE WEARING A BANDANNA...

GOT IT!!! WINK WINK!!!

HAVE A NICE DAY!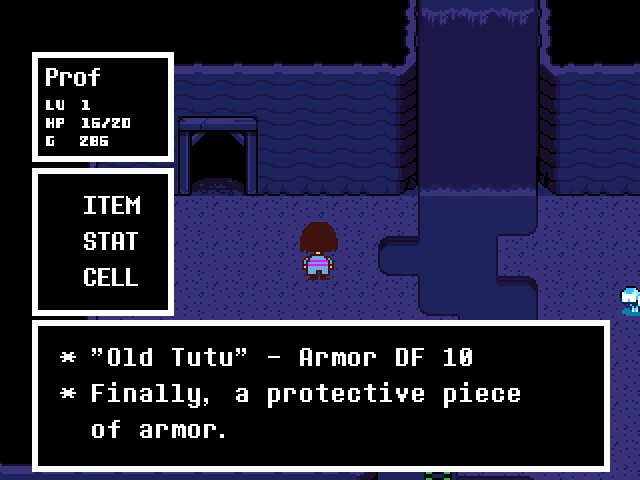 Papyrus's friend is probably Undyne. In which case, now would be a good time to change!
I equip the tutu, stashing the bandanna.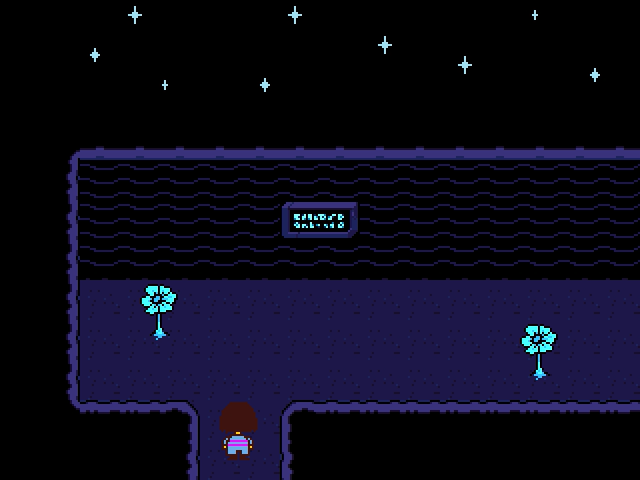 In the next room, lights sparkle on the ceiling.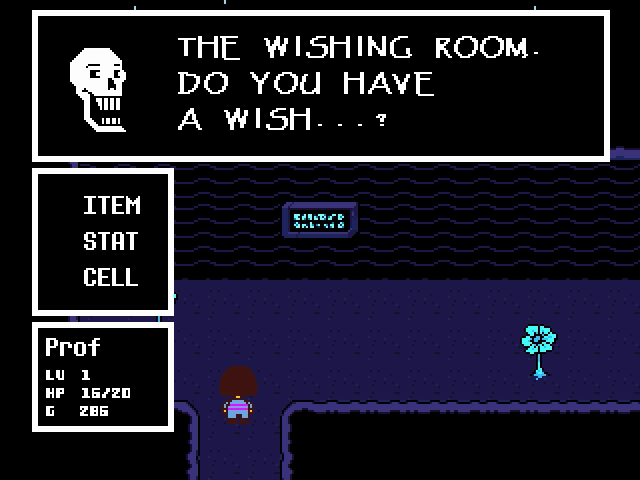 NYEH HEH HEH!! I HAVE ONE!!!

I WISH I WAS TALKING TO MY COOL FRIEND!!!

LOOK! IT'S COMING TRUE!

WHAT WILL YOU WISH FOR?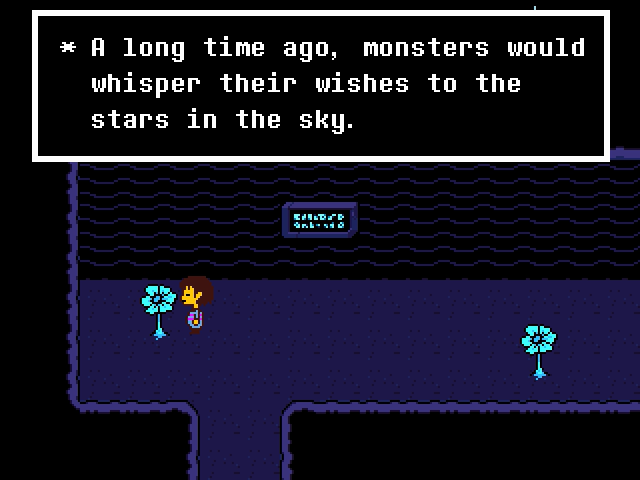 If you hoped with all your heart, your wish would come true.

Now, all we have are these sparkling stones on the ceiling...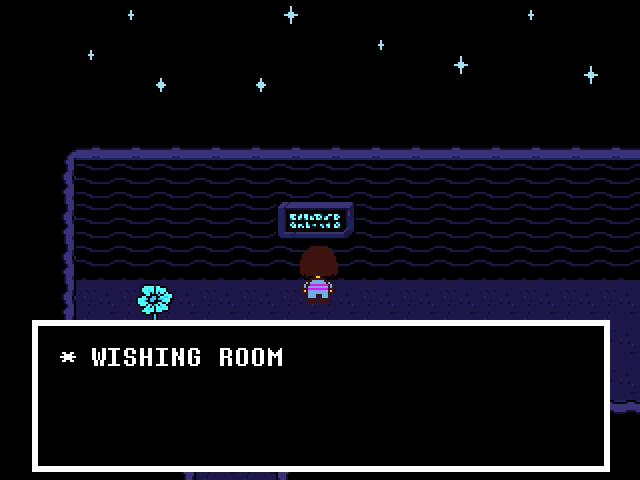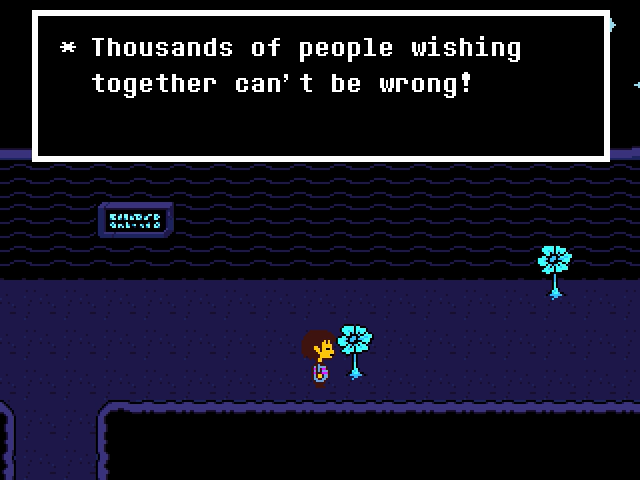 The king will prove that.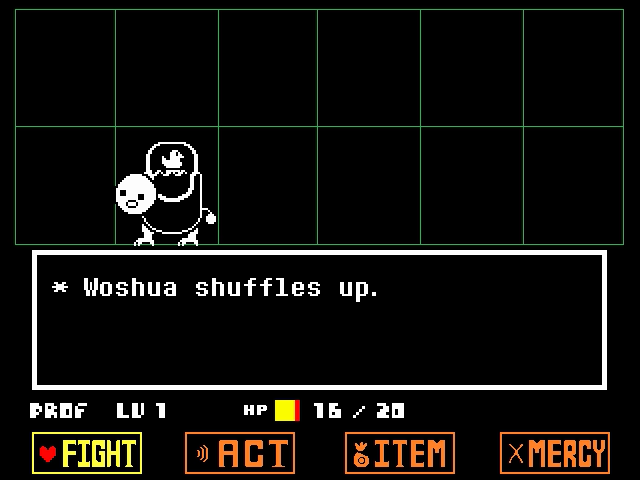 I'm attacked by a new monster in the wishing room.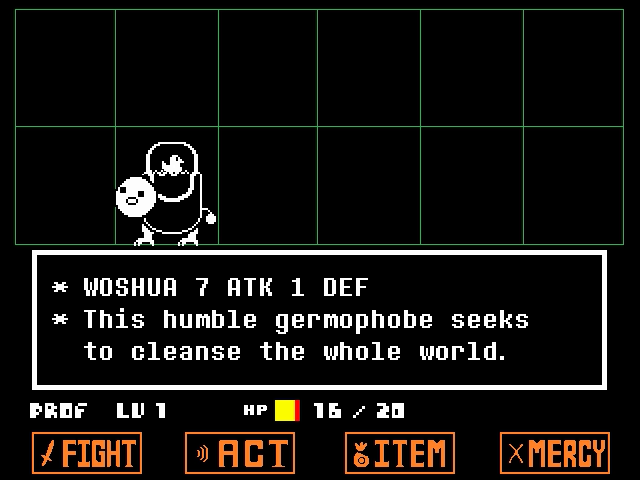 Is that a tiny bird inside his torso?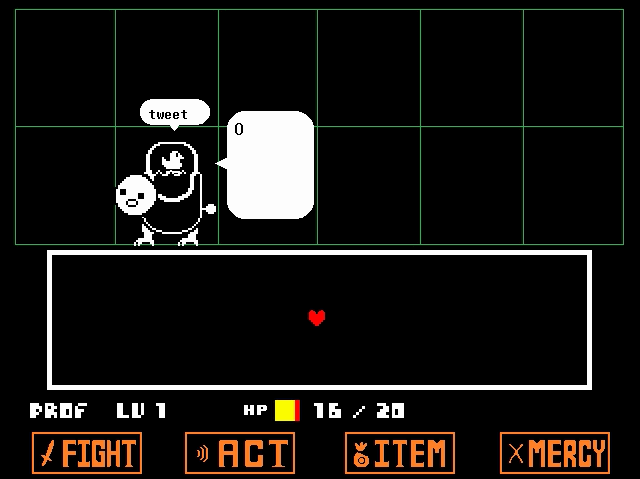 This attack is trickier than it seems - the sparkles it leaves behind can hurt you, too.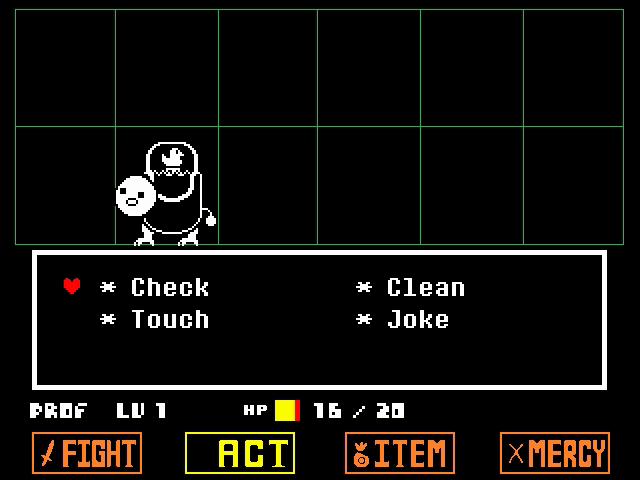 I start off by
Touch
ing Woshua.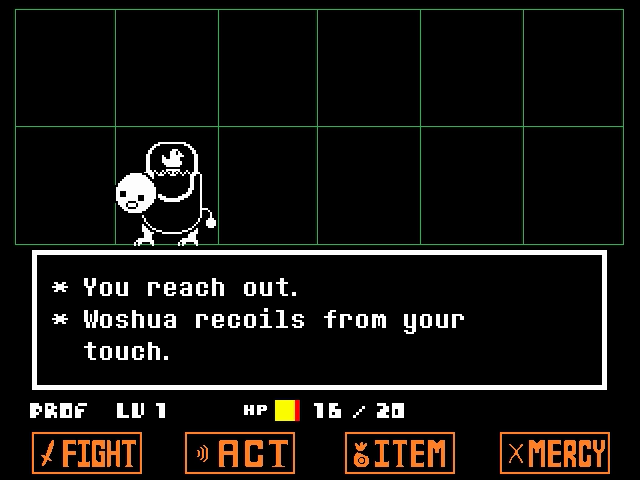 No dice! Same attack again.
Maybe if I tell a
Joke
...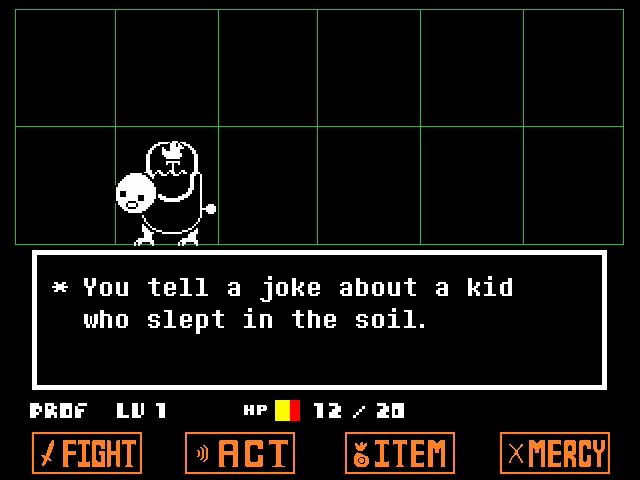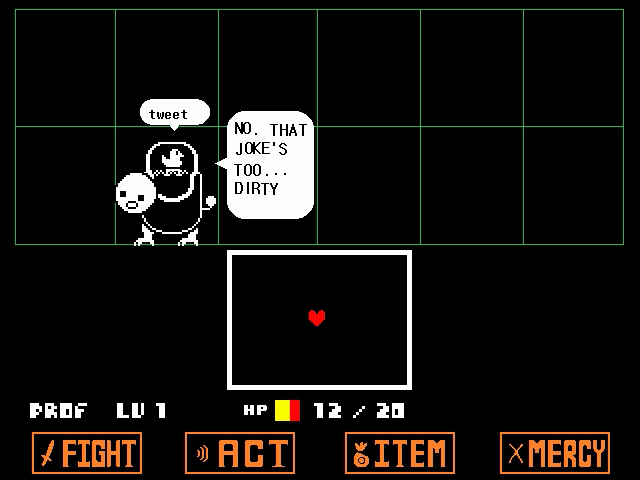 Same attack. His "powers are neutralized," too... whatever that means.
OK, OK, I'll ask him to
Clean
me.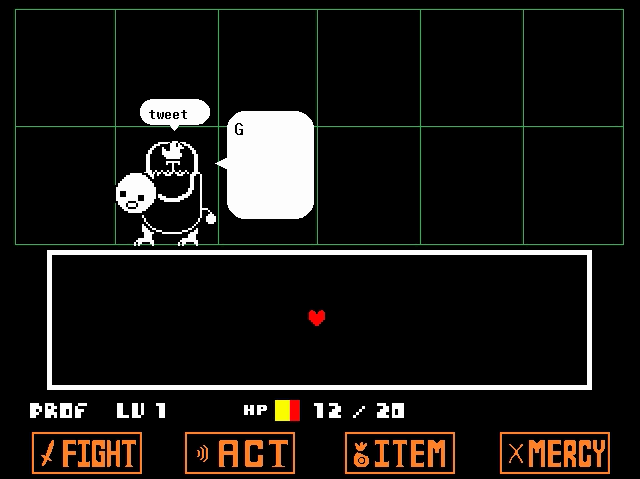 This is just like the Vegetoid - touch the green drops, pacify the monster.
I missed it this time, but I just barely manage it on my second try.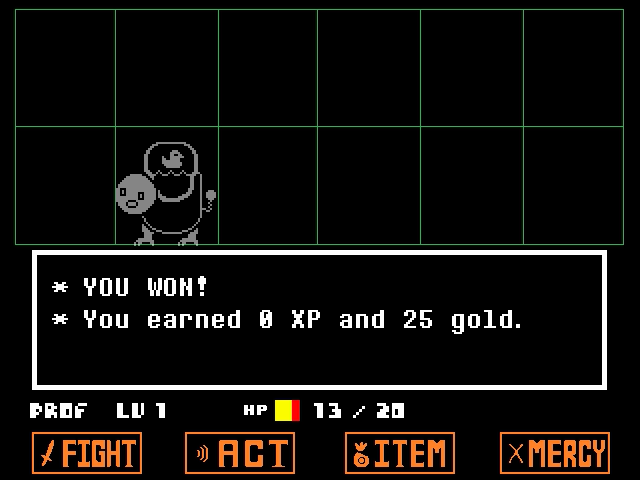 Another waterfall denizen peacefully defeated!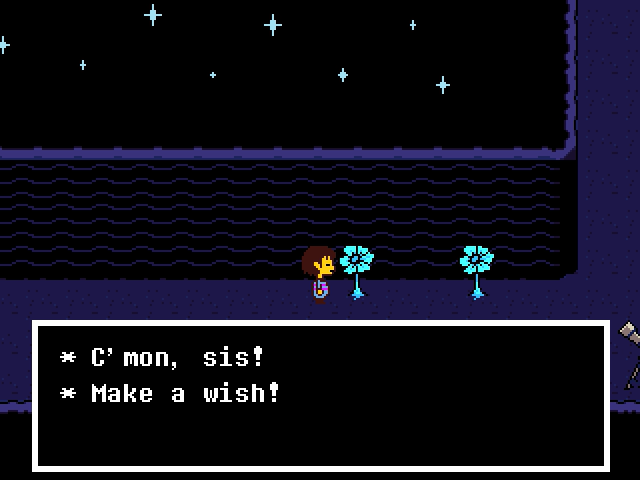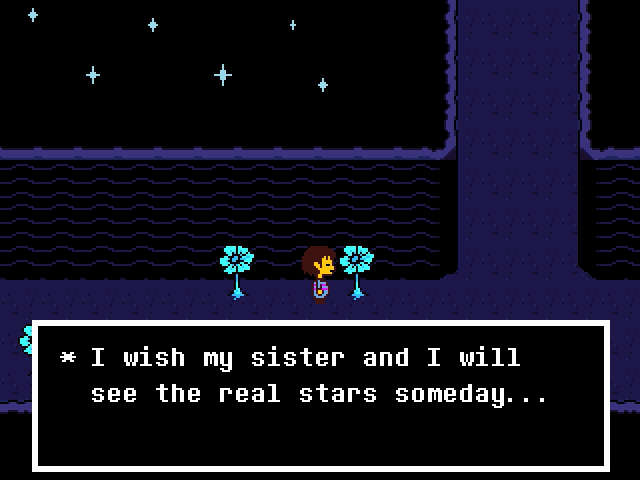 The hopes and dreams of the monsters are recorded in these flowers.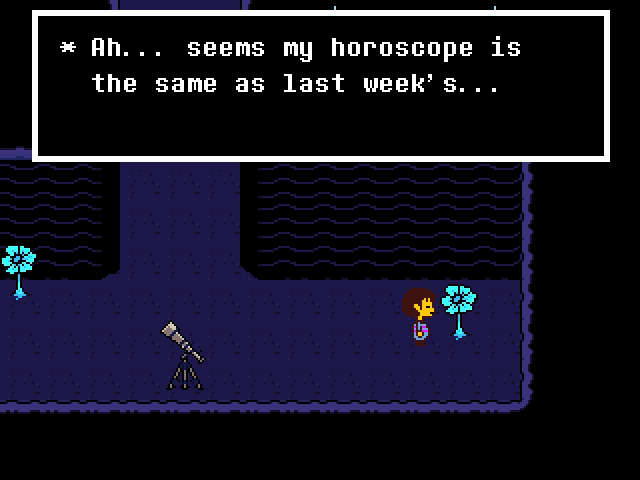 What's that telescope doing there?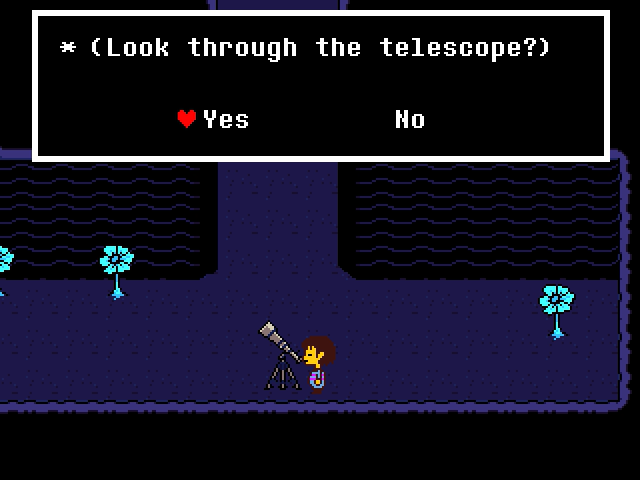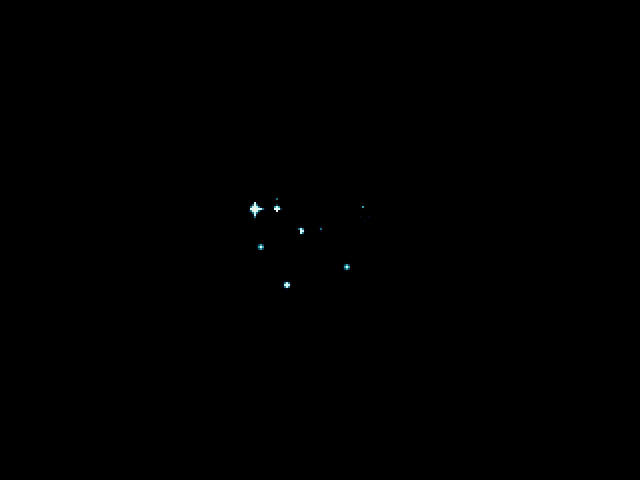 I can move the telescope to see other parts of the screen. Wait a minute...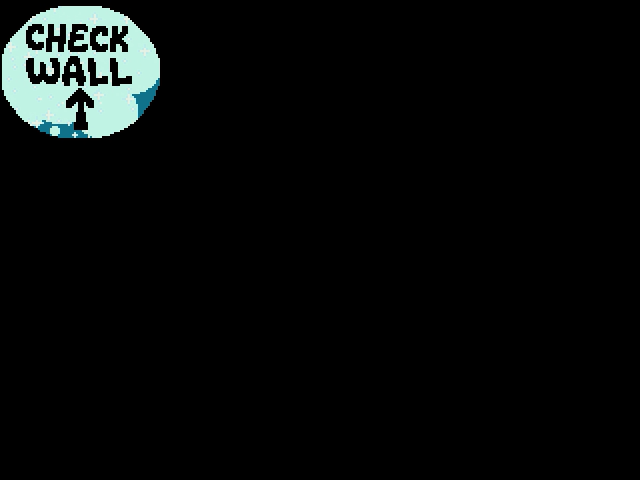 Aha!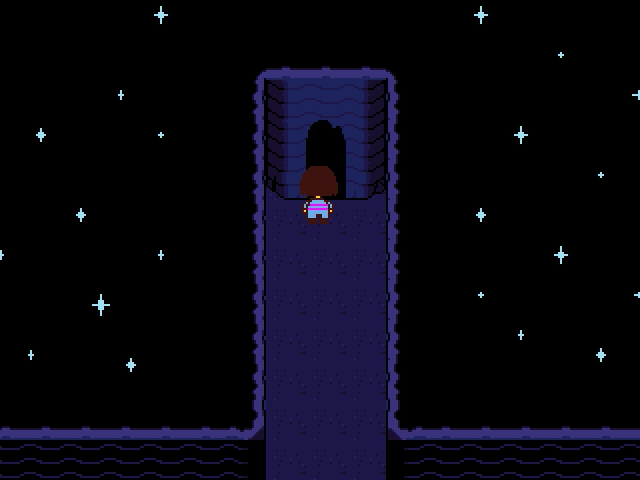 I check the wall, and a hidden door opens up.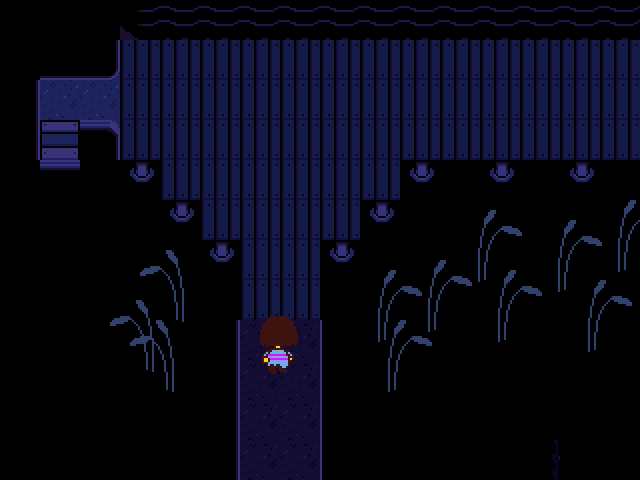 Papyrus isn't answering the phone.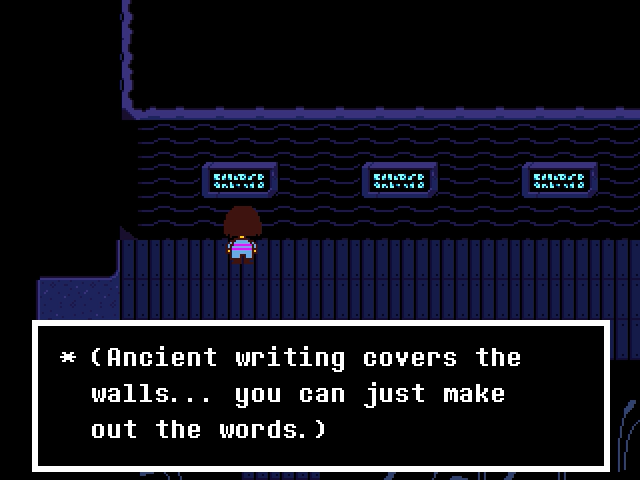 "The War of Humans and Monsters."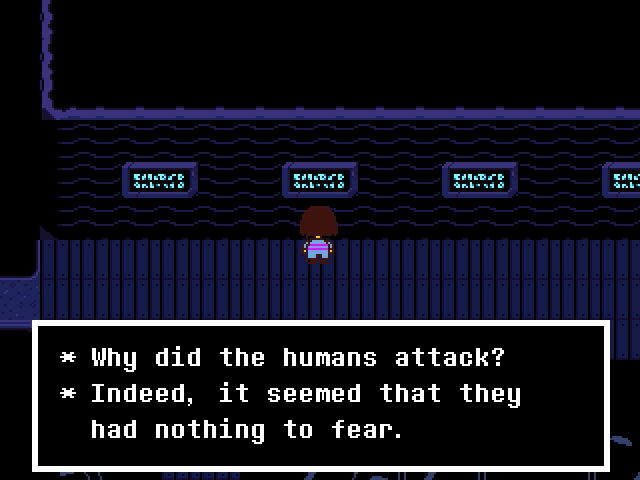 Humans are unbelievably strong. It would take the SOUL of nearly every monster...
...just to equal the power of a single human SOUL.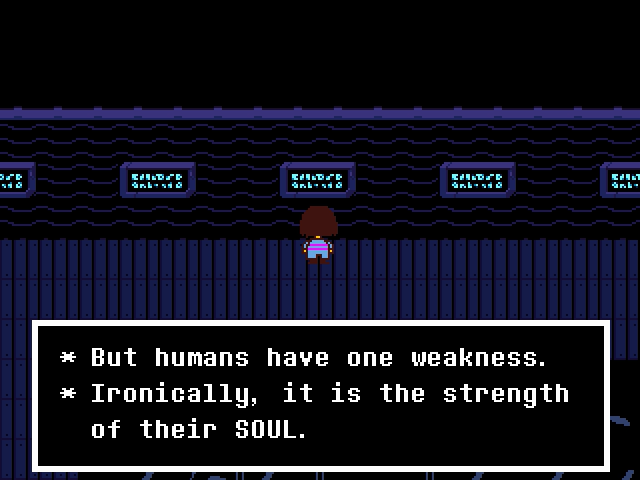 Its power allowed it to persist outside the human body, even after death.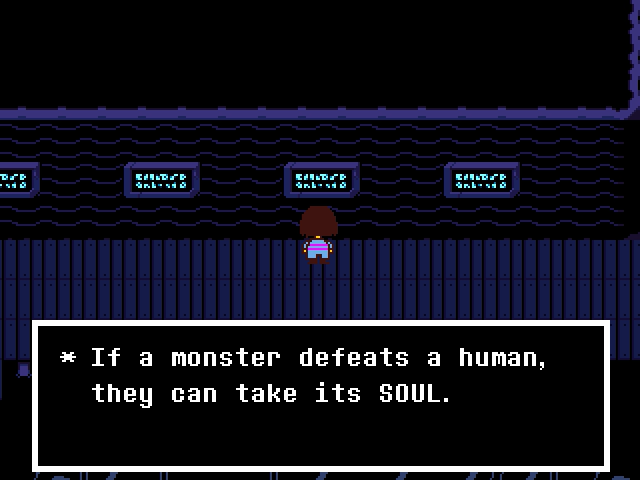 A monster with a human soul... A horrible beast with unfathomable power.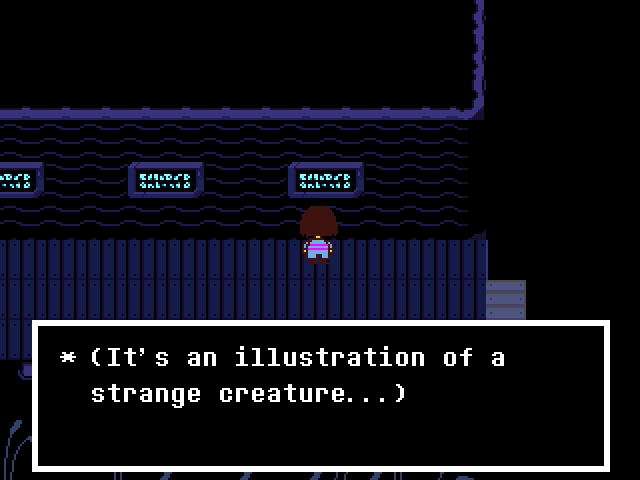 (There's something very unsettling about this drawing.)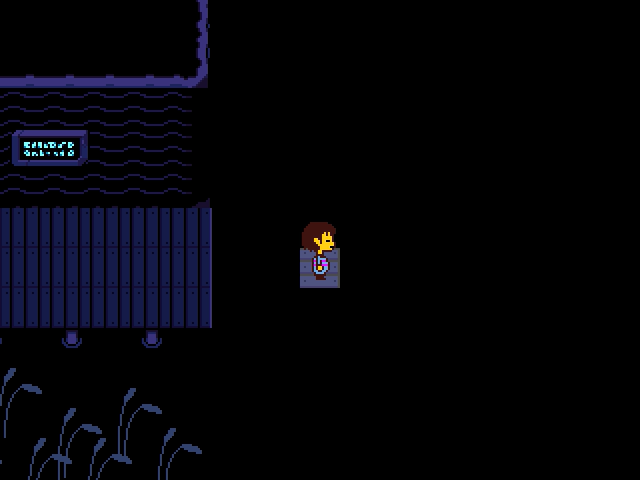 The tiny raft floats off when I step on it, carrying me across a wide, dark gap.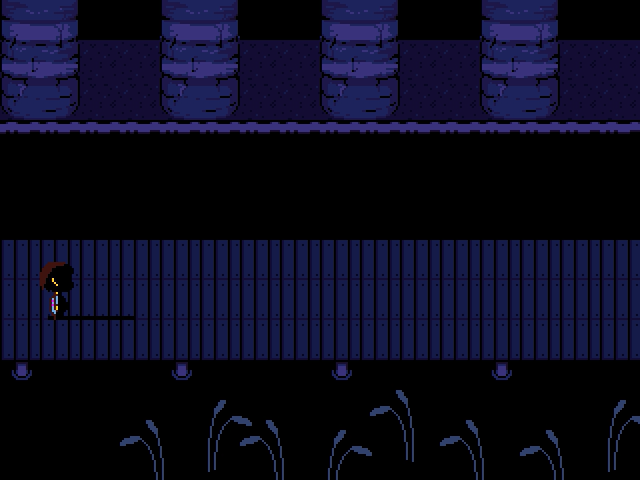 I have a bad feeling...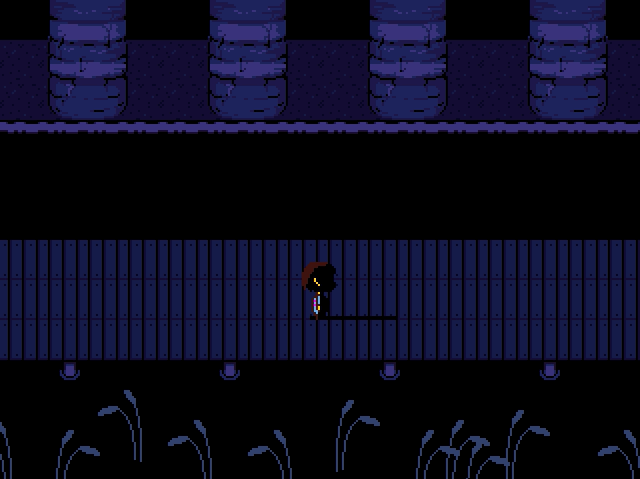 She's back!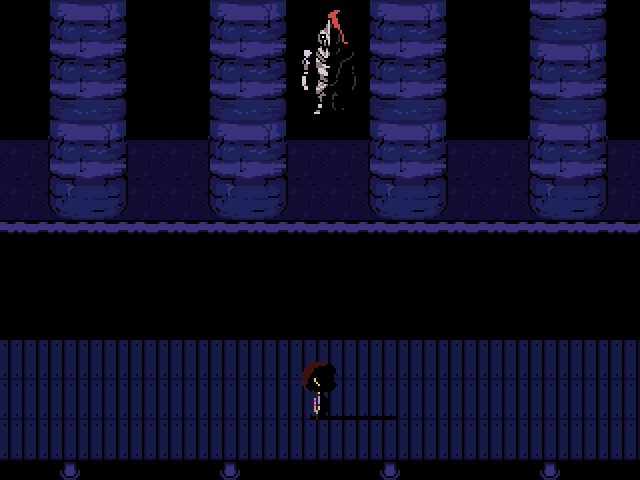 BGM: Run!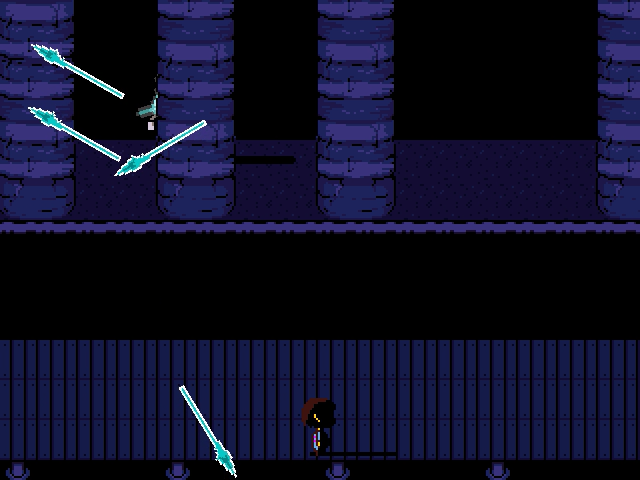 As I run, Undyne generates spears out of thin air, hurling them at me three at a time.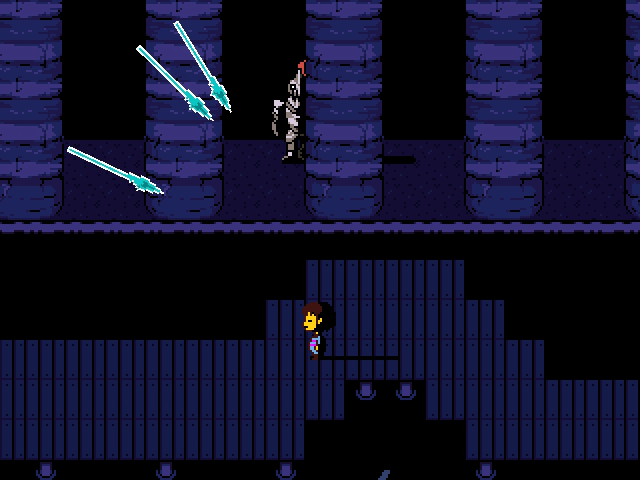 All of them are aimed right at me, so I need to guess where they're going to fly and then dodge.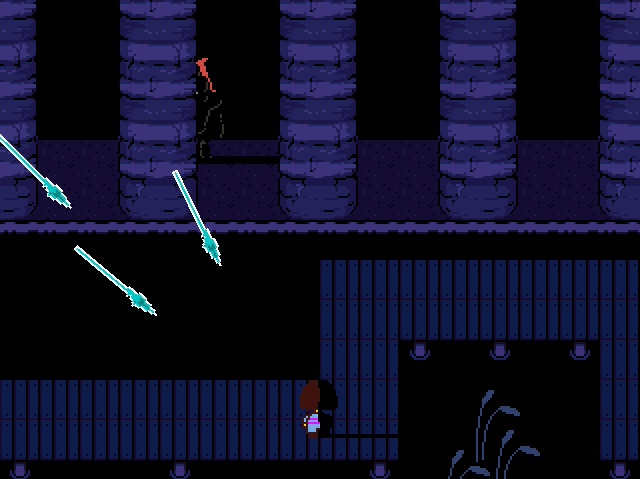 Every time a spear hits me, I'm pulled into a one-second-long fight where I have to avoid taking damage. Run out of HP, and it's game over!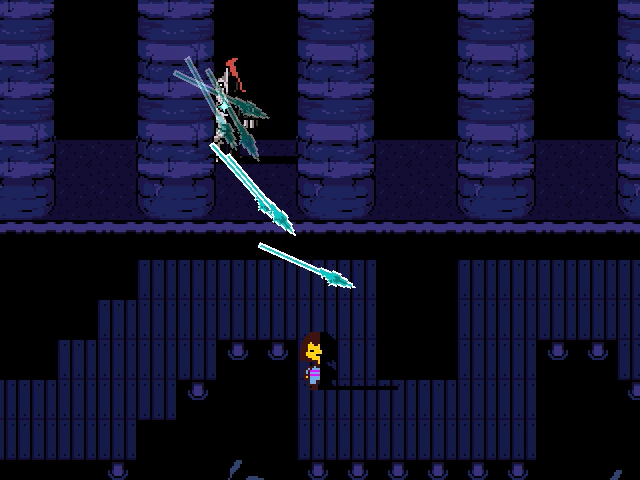 I can't open my menu right now, too, so no items.
The curves in the path force me to dodge in various directions to stay safe.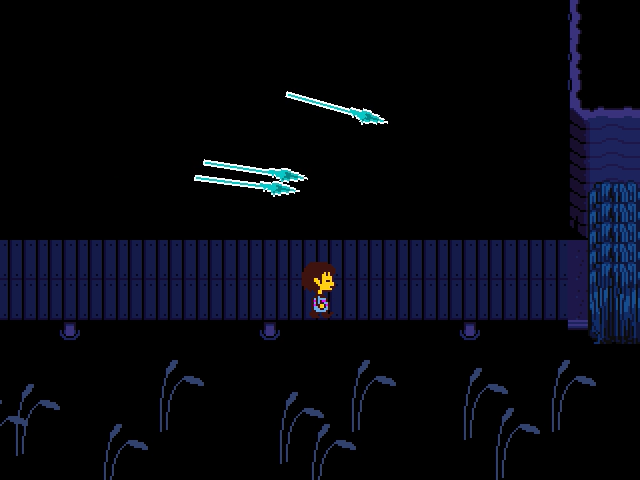 Eventually I reach a new area, and she's just throwing spears at me from the distance.
Am I safe?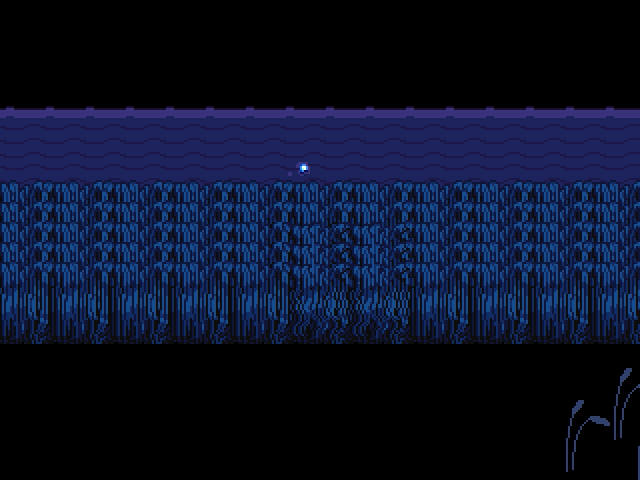 Maybe she'll lose me in here.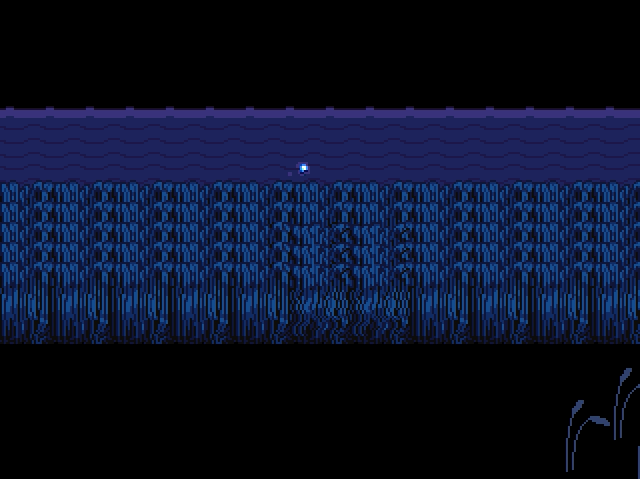 Here she comes...!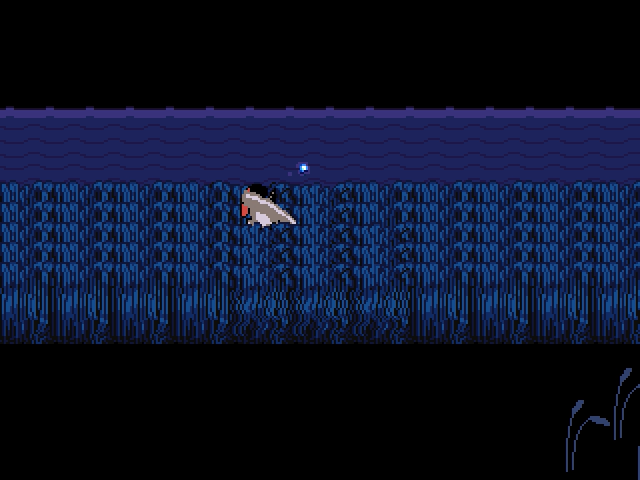 Undyne swings her arm down into the grass, and pulls out...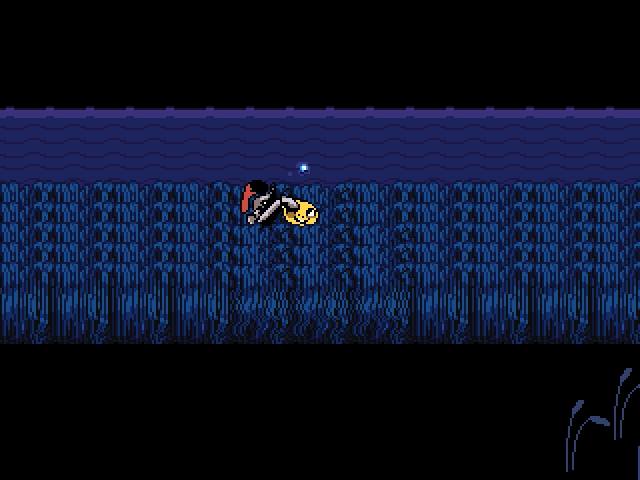 ...this kid?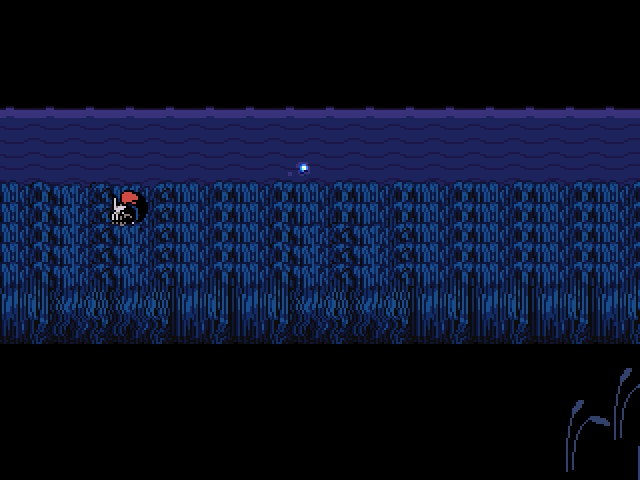 Undyne gives up the chase for now.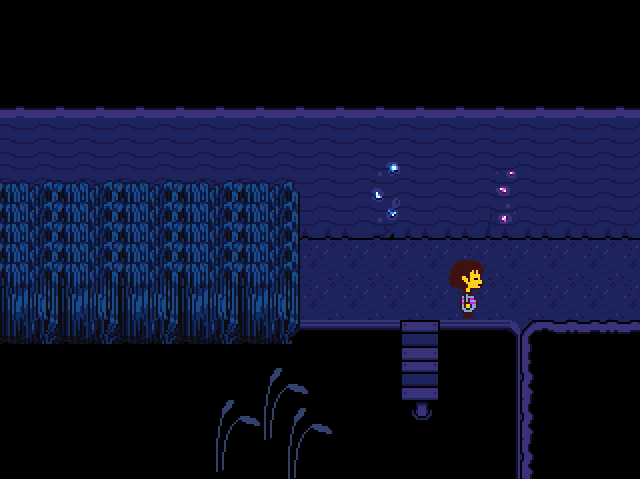 Yo... did you see that!?

Undyne just...

...TOUCHED ME!

I'm never washing my face ever again...!

Man, are you unlucky.

If you were standing just a LITTLE bit to the left...!

Yo, don't worry! I'm sure we'll see her again!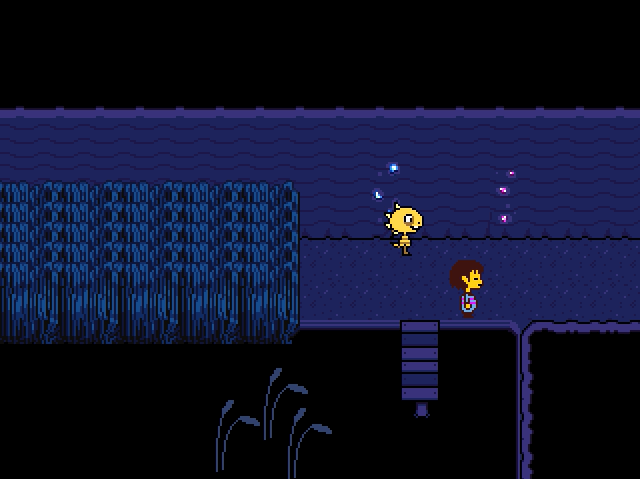 The kid scurries off again.
Backtracking for phone calls: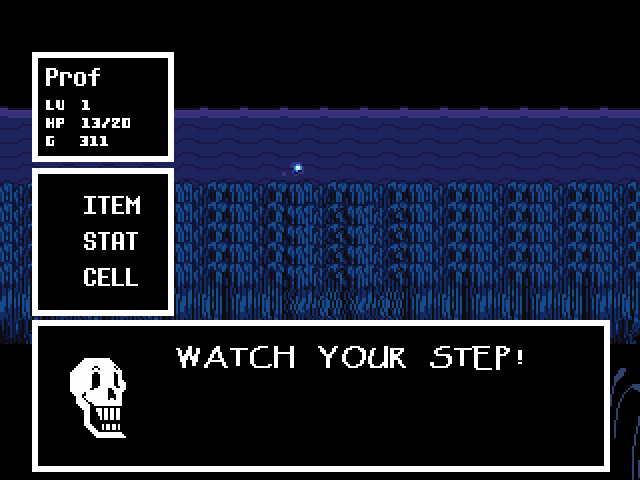 UNDYNE REALLY CARES ABOUT THIS GRASS FOR SOME REASON.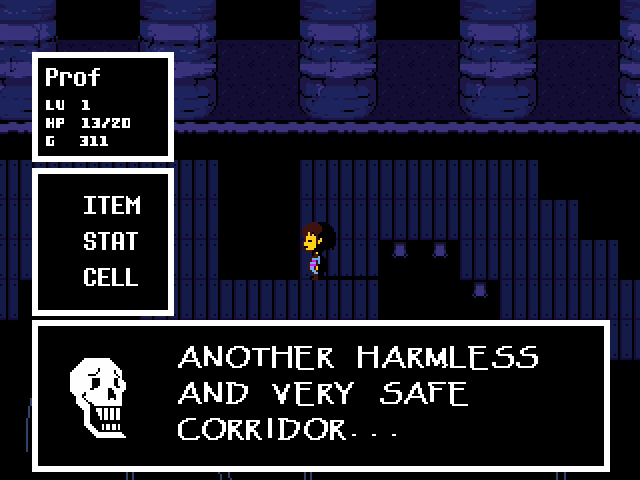 ALL THANKS TO ME!!! NEYH HEH HEH!!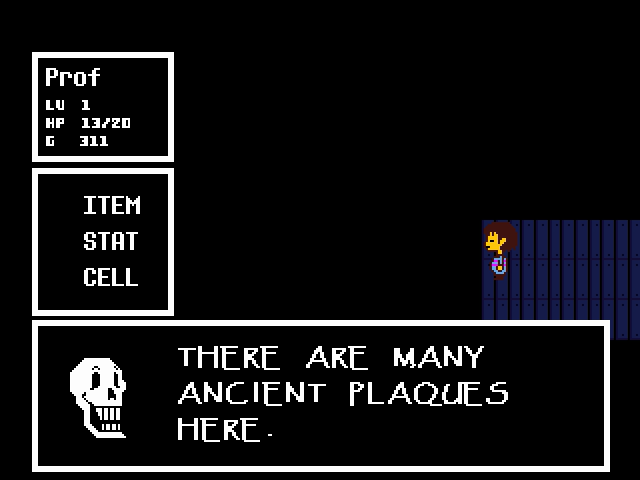 WATERFALL IS PRACTICALLY A HISTORY MUSEUM.

EXCEPT WITH MUSCULAR SEAHORSES.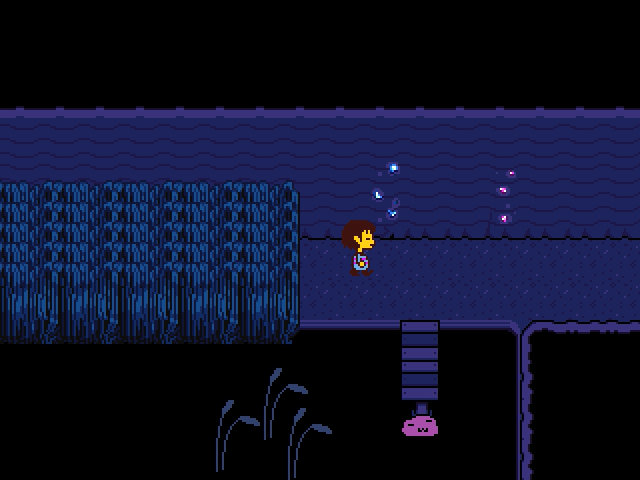 Now that I'm done backtracking, I notice something here that wasn't here before.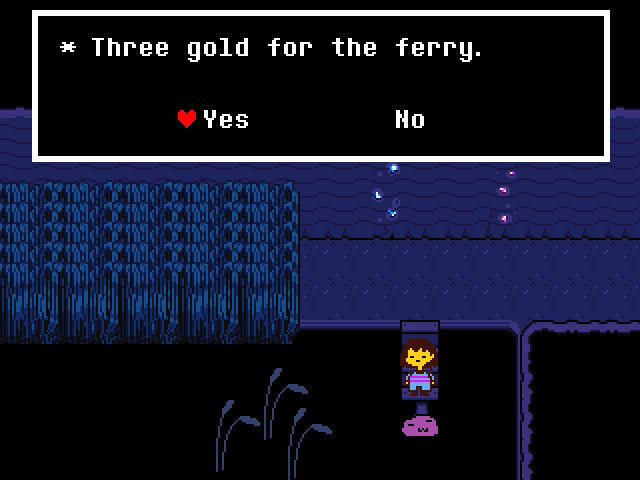 Hop on!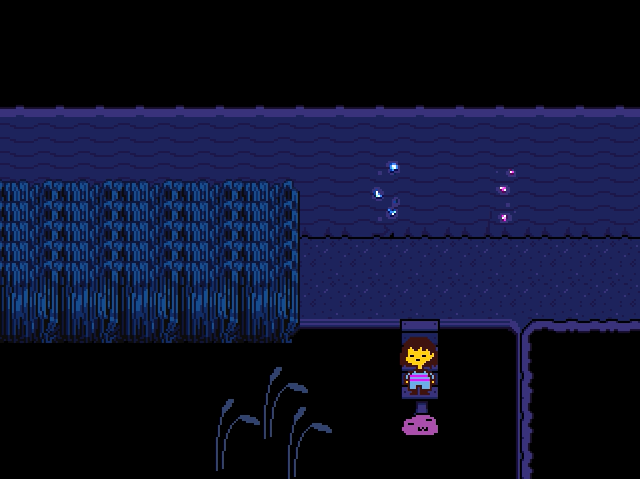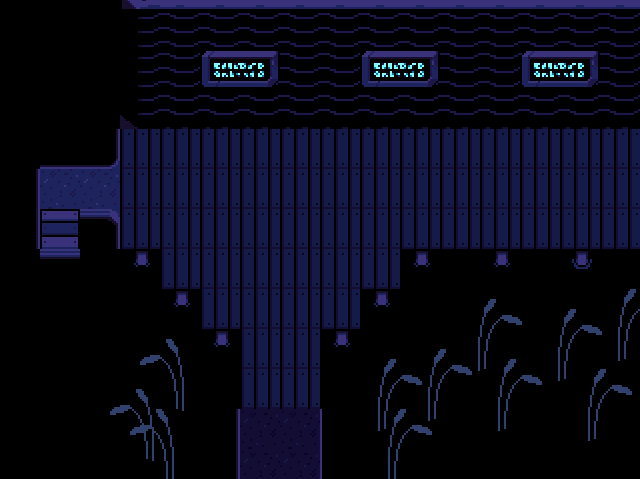 Thanks for stepping on my face. Here's the 3 gold.
(You got 3 gold.)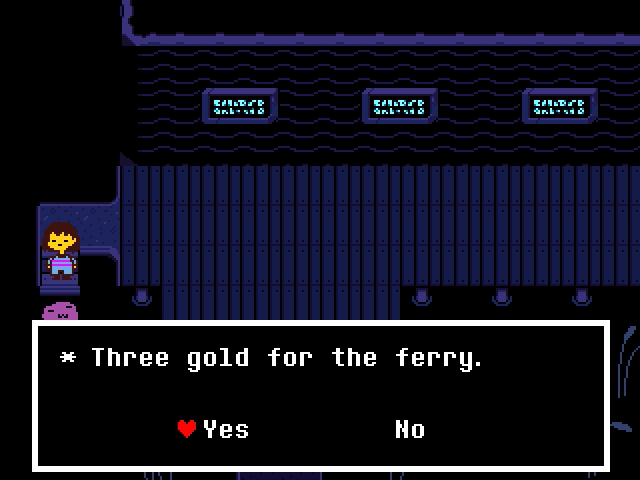 Between the ferry ride here and back, I wind up 6 gold richer.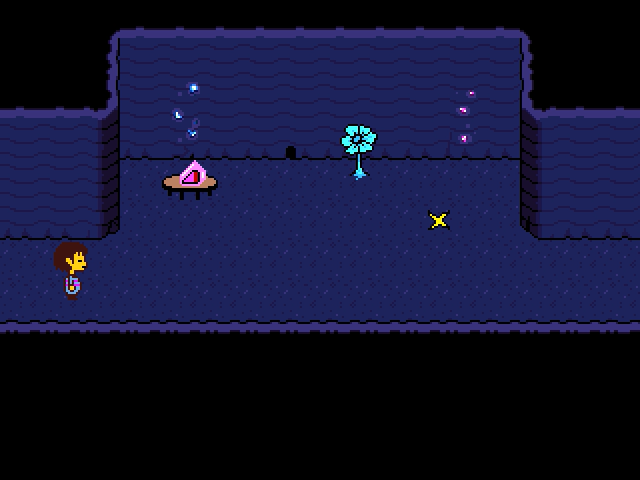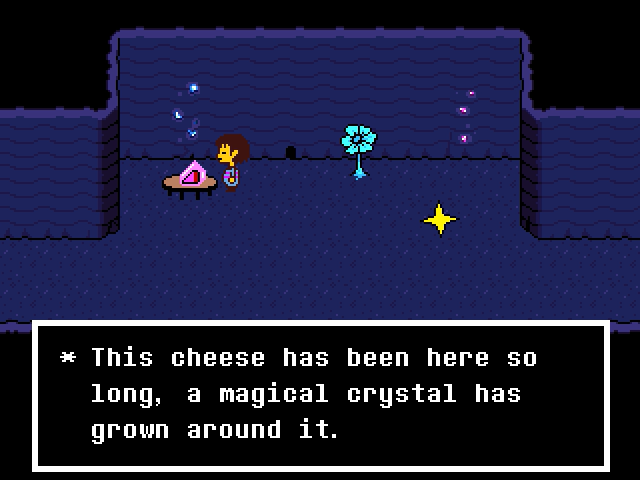 It's stuck to the table...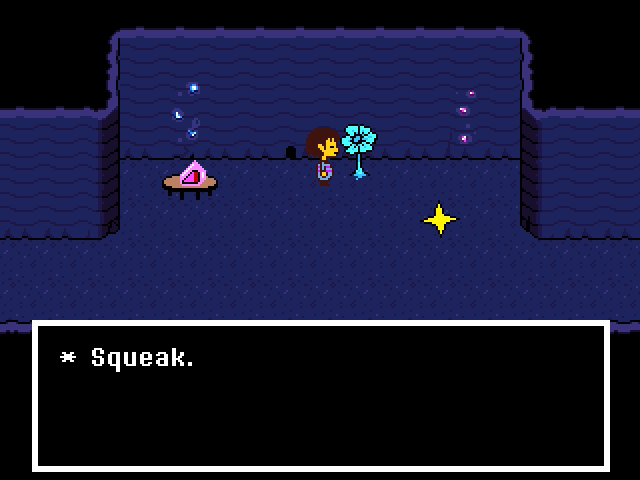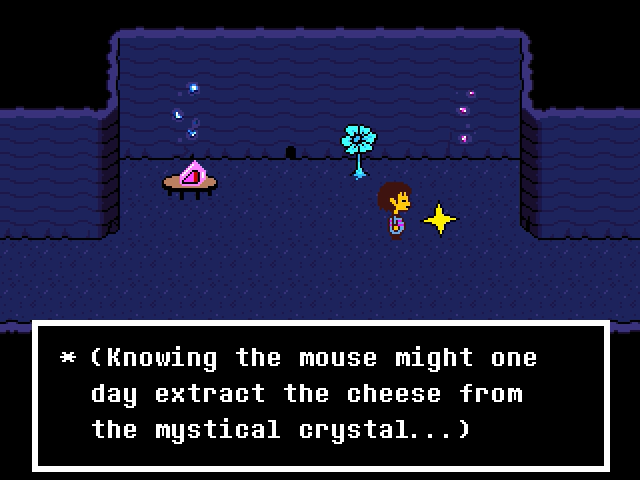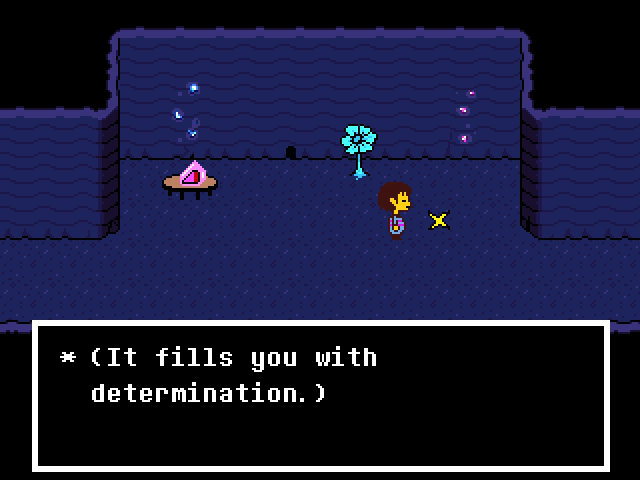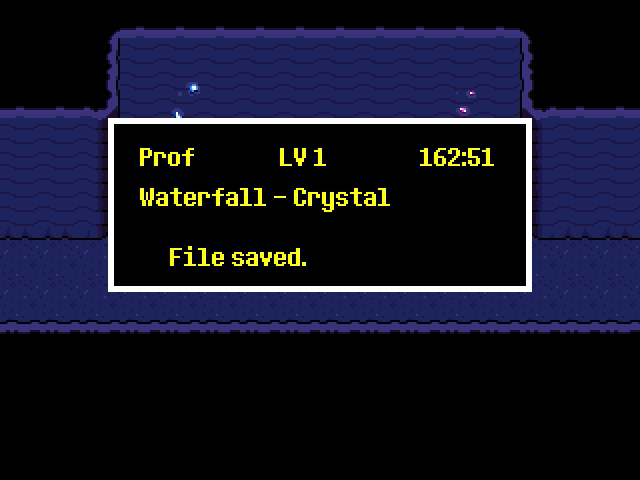 I save my game.