Part 16: Dummy!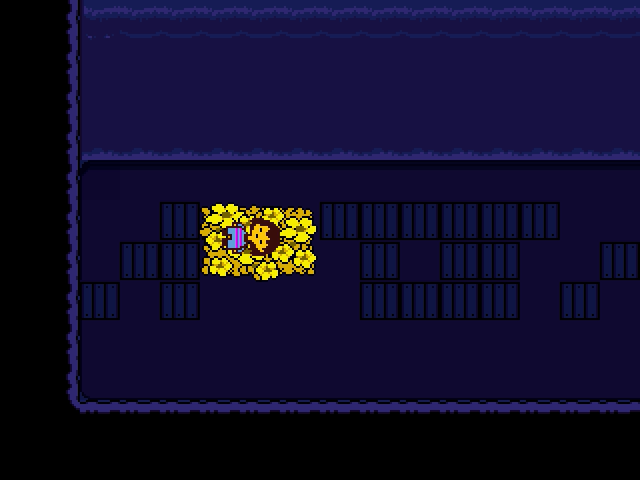 Some flowers broke my fall.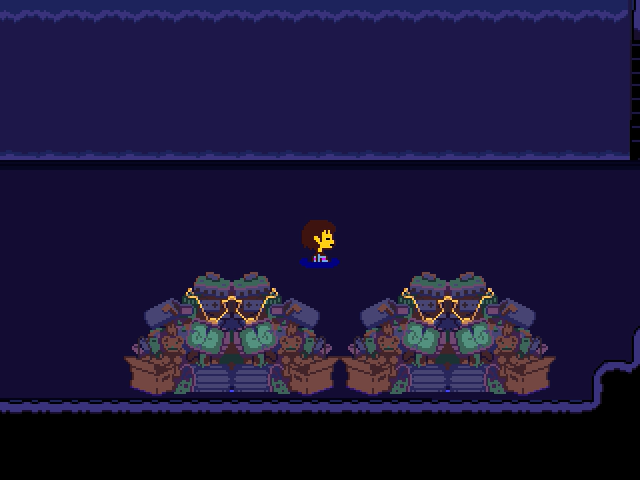 Wherever I am, I'm surrounded by garbage.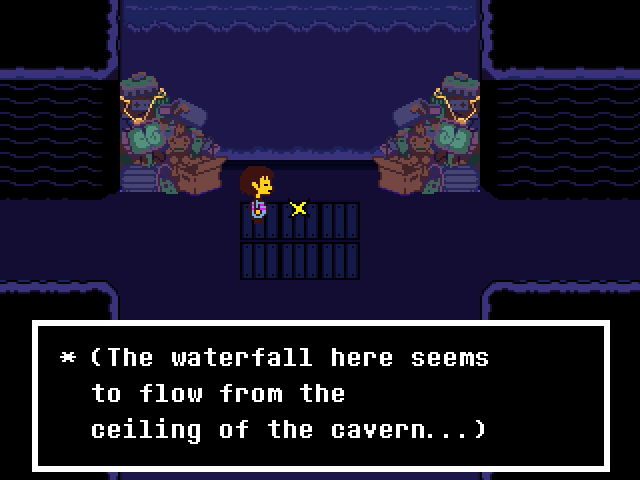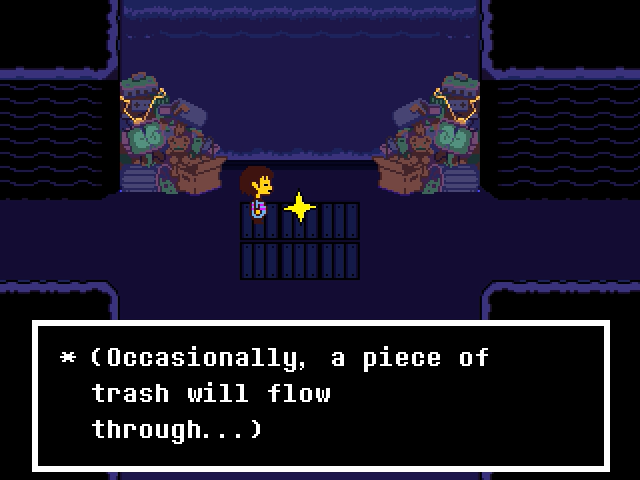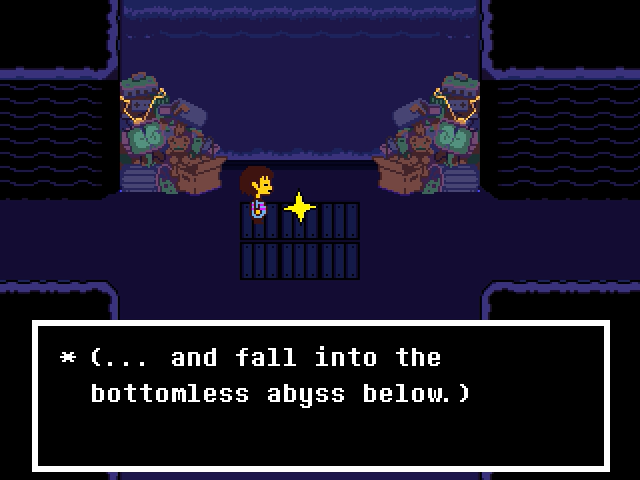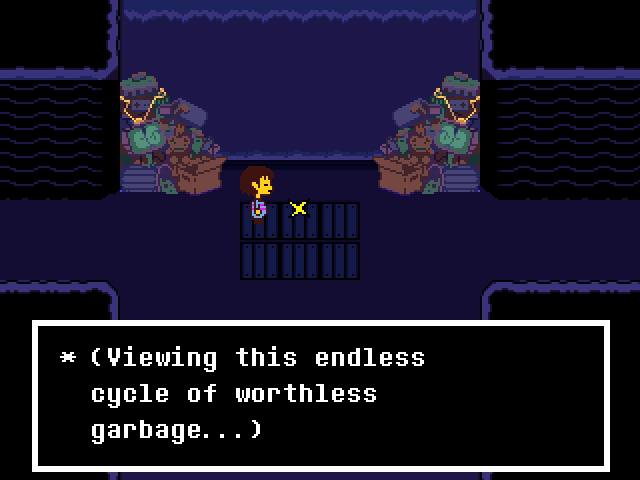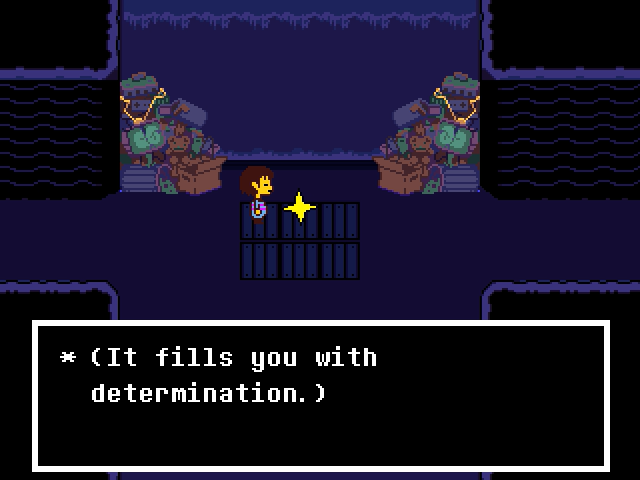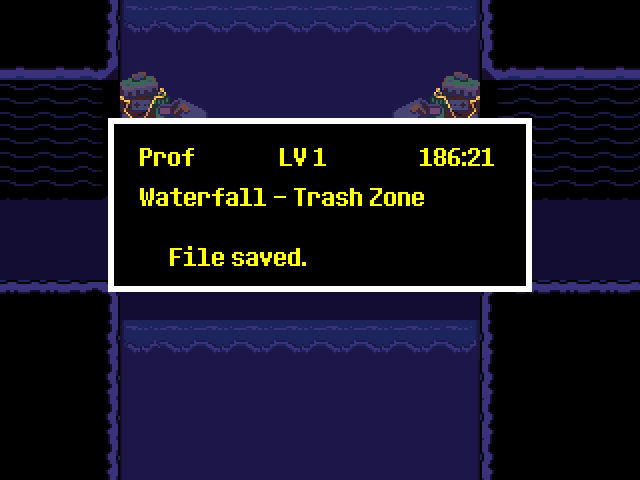 I save my game.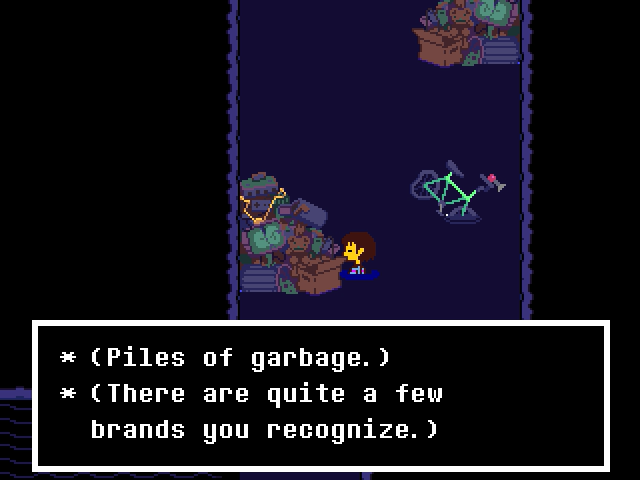 I look through some garbage.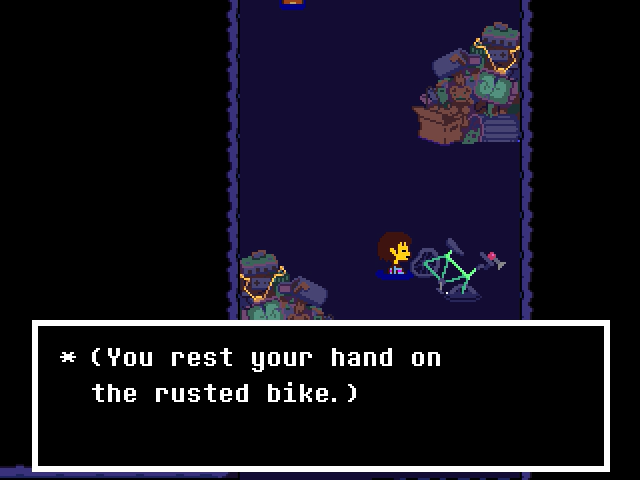 (Its horn wheezes a honk of despair.)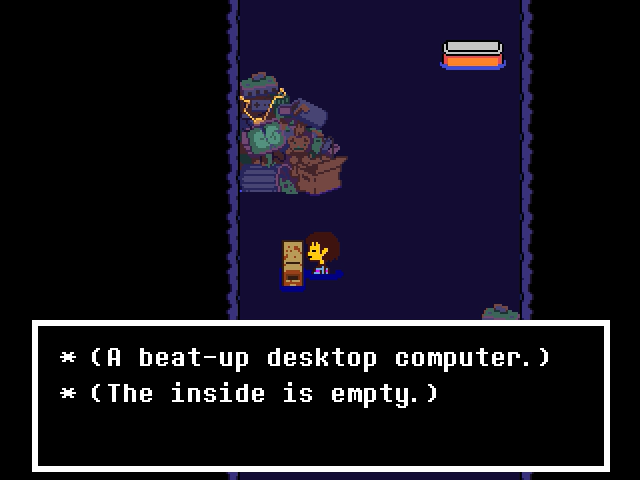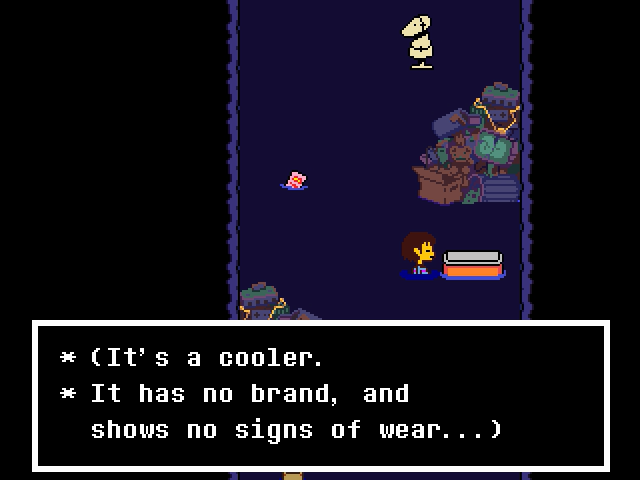 (Inside are a couple of freeze-dried space food bars.)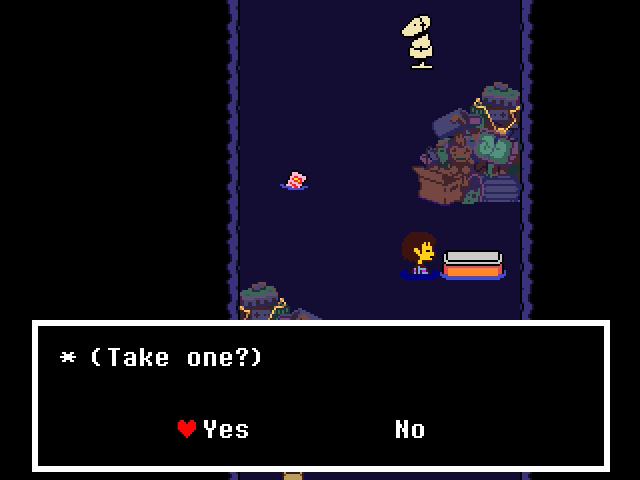 Hey, free food is free food.
I have to drop some dog residue to pick one up.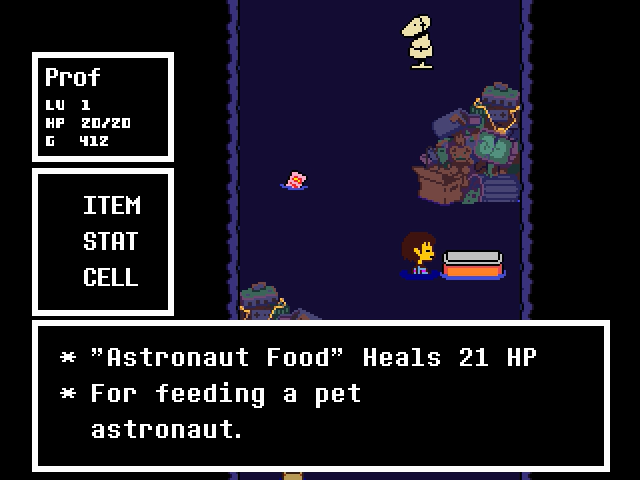 It's an average healing item, but at my LOVE that's enough to get healed back to full health.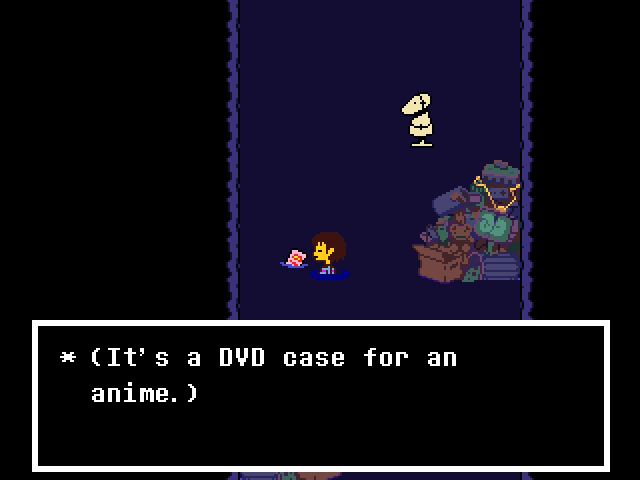 (Desparate claw marks cover the edges.)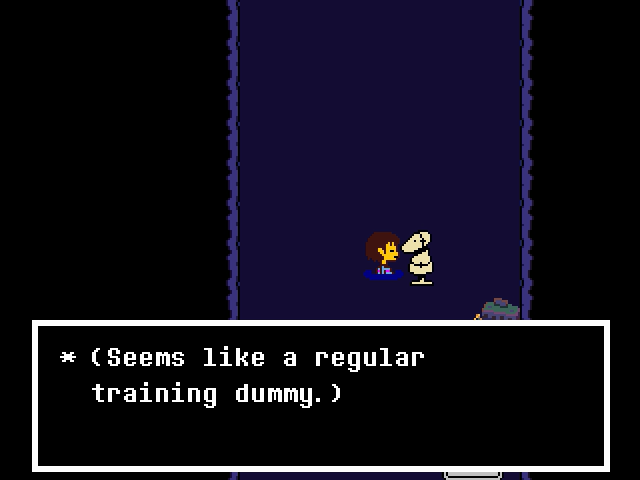 I consider punching it a bit, but decide against it.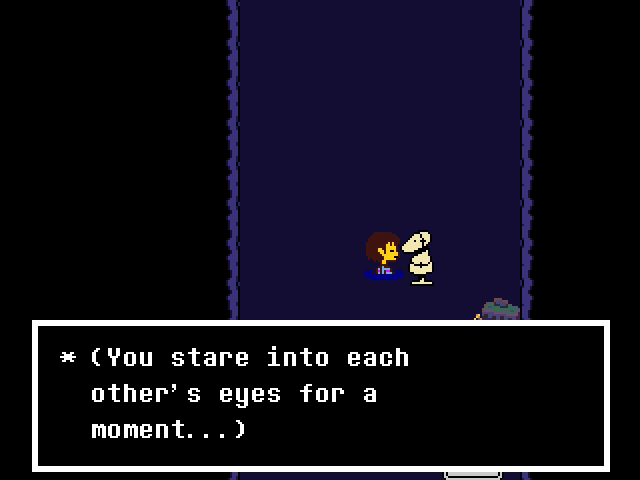 I continue on to the north.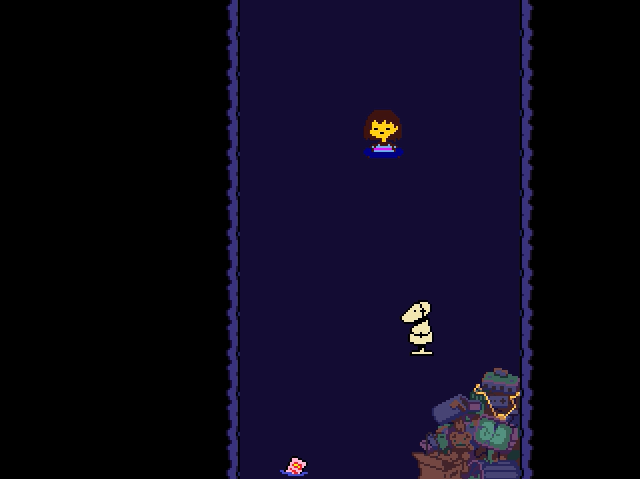 PLOT TWIST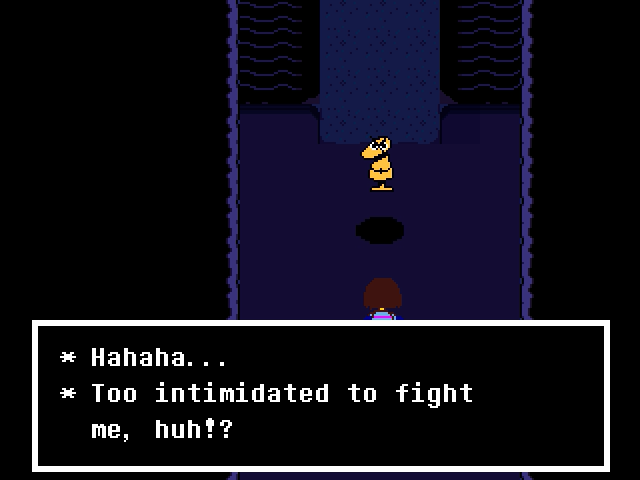 I ama ghost that lives inside a dummy.

My cousin used to live inside a dummy, too. Until...

YOU CAME ALONG!

When you talked to them, they thought they were in for a nice chat...

But the things you SAID...!

Horrible. Shocking! UNBELIEVABLE!

It spooked them right out of their dummy!

HUMAN! I'll scare your soul out of your body!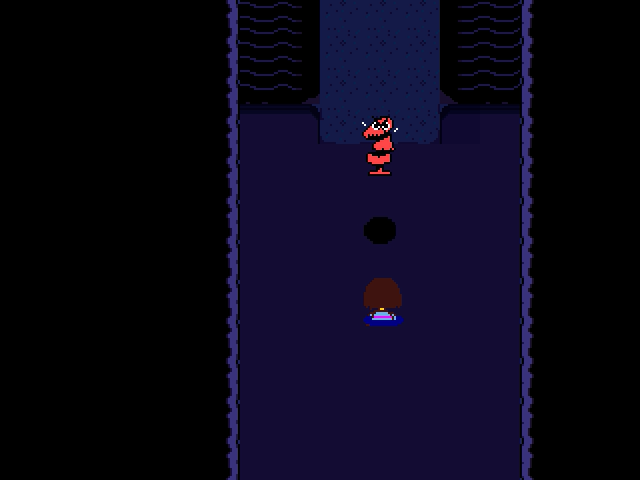 Video: Mad Dummy Fight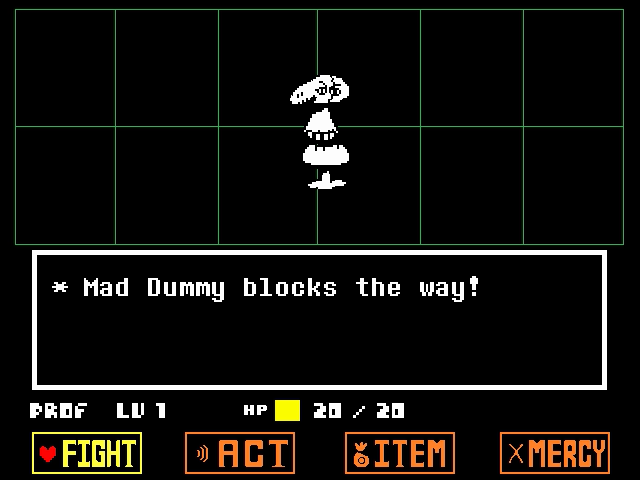 BGM: Dummy!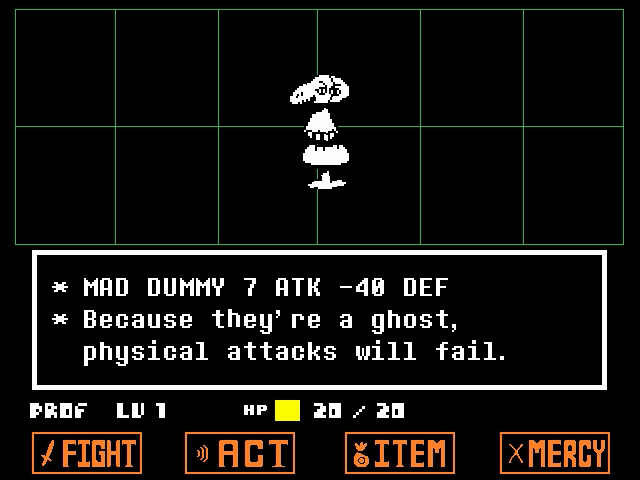 It's a good thing I wasn't planning on making any physical attacks.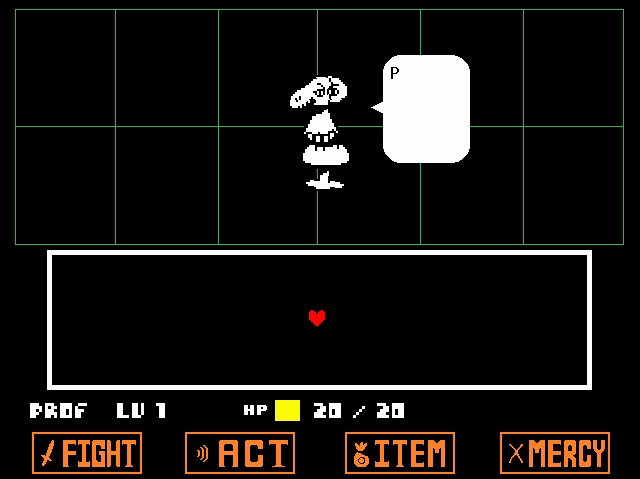 OWWW, you DUMMIES!!

Watch where you're aiming your
MAGIC
attacks!

Hey! You! Forget I said anything about
MAGIC
!!!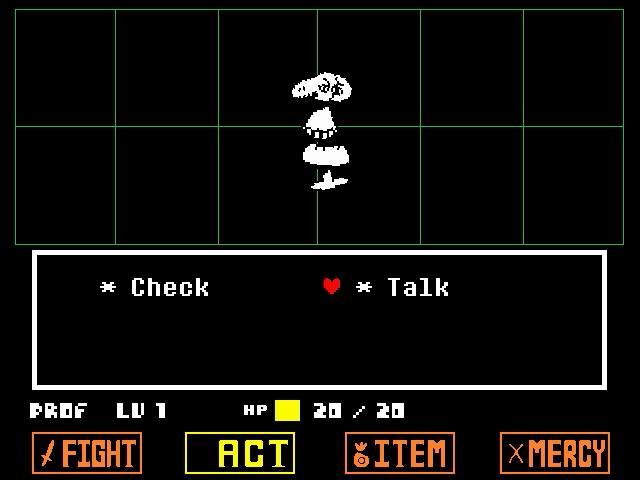 You talk to the DUMMY...
It doesn't seem much for conversation.
No one is happy with this.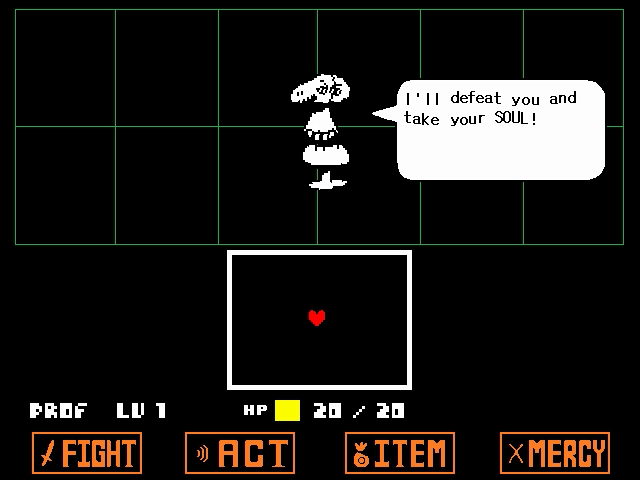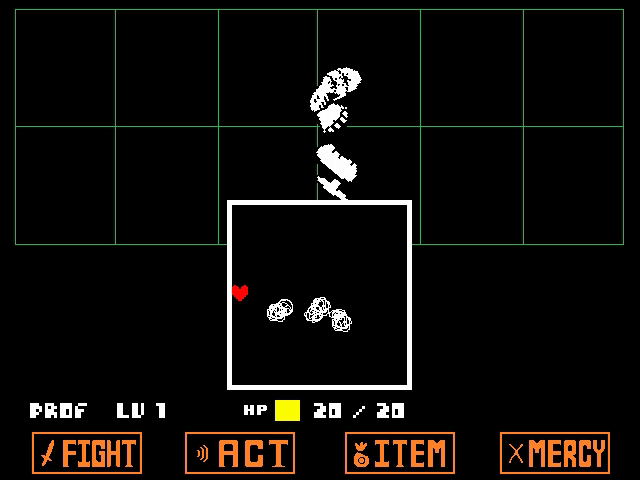 The basic flow of this battle is dodging the Dummy's attacks, and it accidentally shooting itself in the face.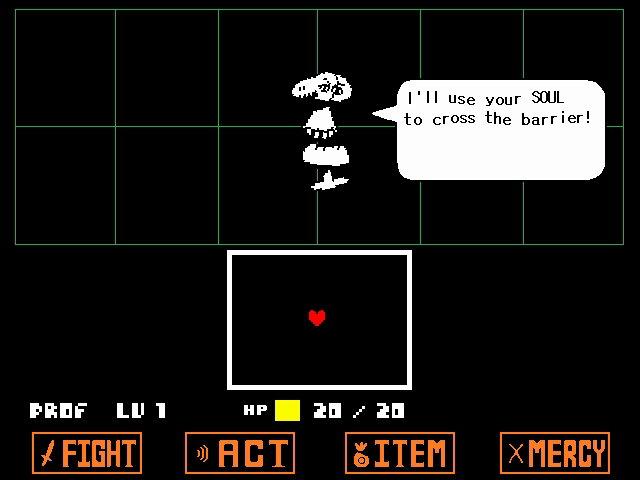 I don't need to worry about attacking it, because I literally can't.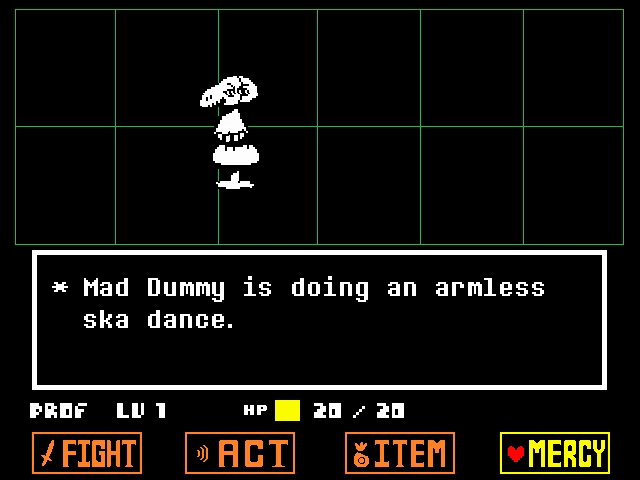 I don't need to worry about killing it, because it's a ghost.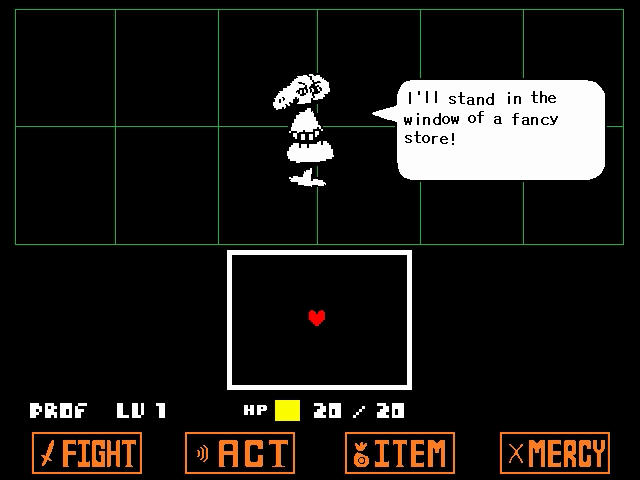 It's starting to move around the screen to try and avoid its own attacks.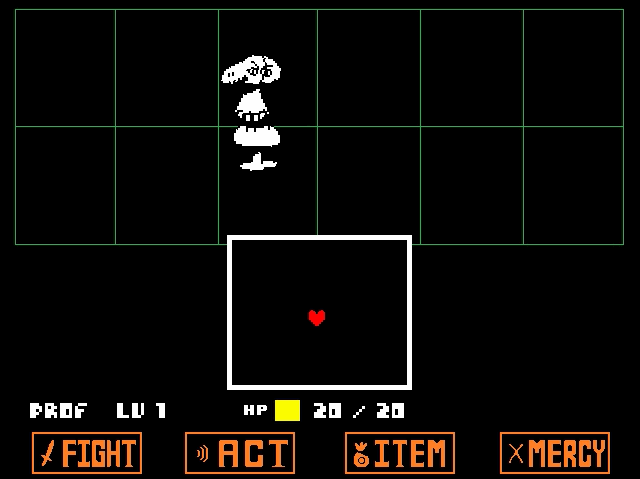 The success of this strategy is limited. I got hurt a bit, though.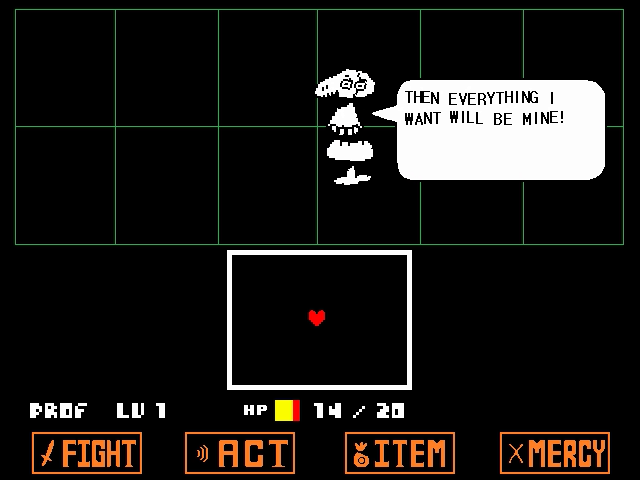 Meanwhile, it keeps rambling about its master plan to steal my soul and have a fun time.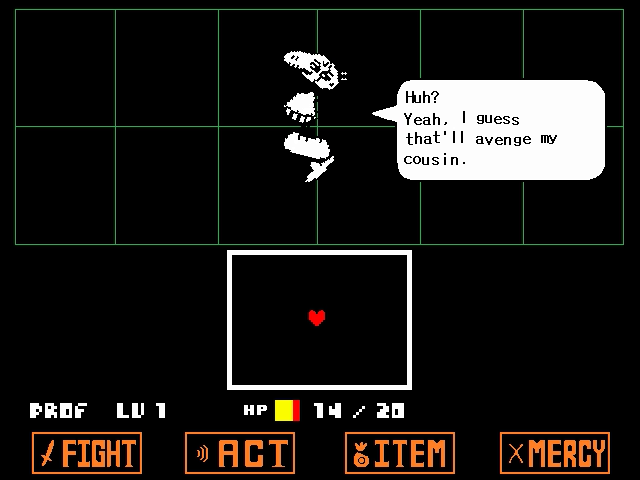 It's getting cotton all over the dialogue box.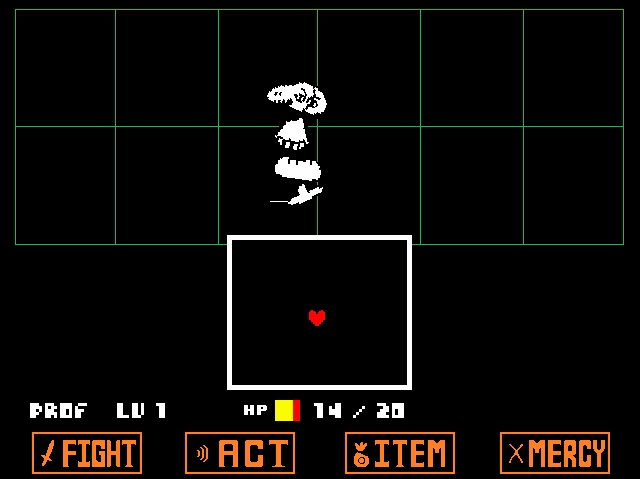 After a while, it starts launching waves of dummies at me, too.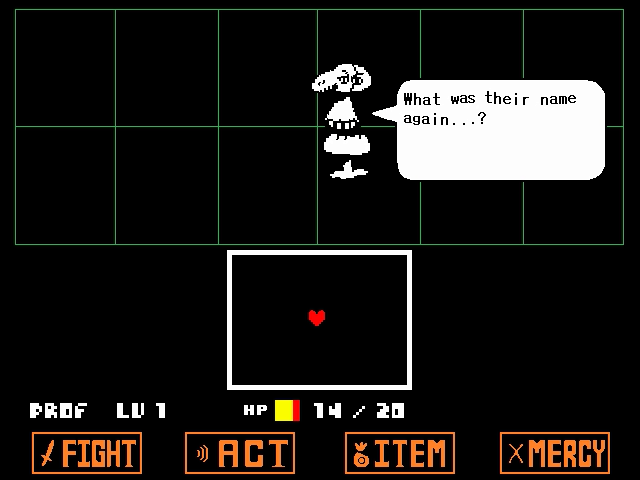 I dodge for a while as it continues to shoot itself in the face by mistake.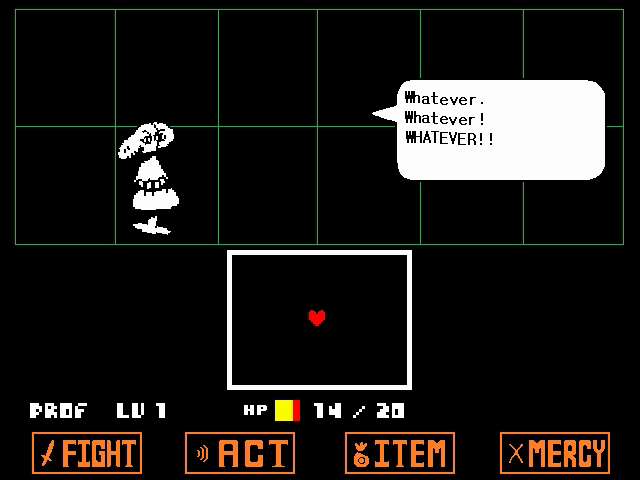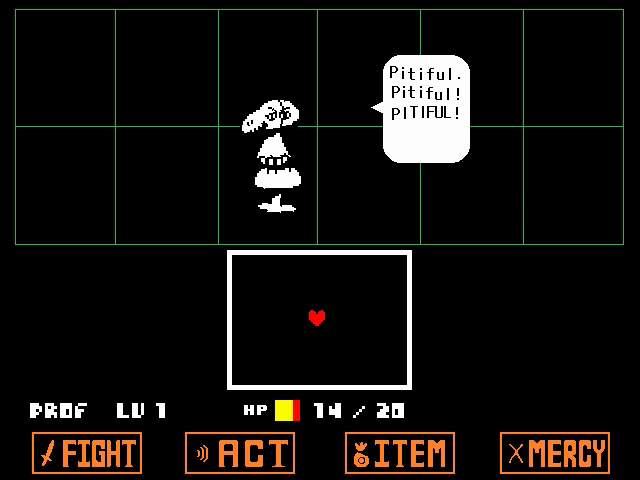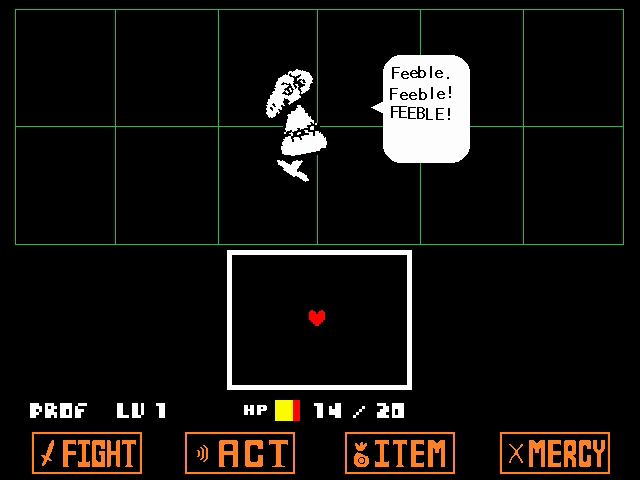 HEY GUYS!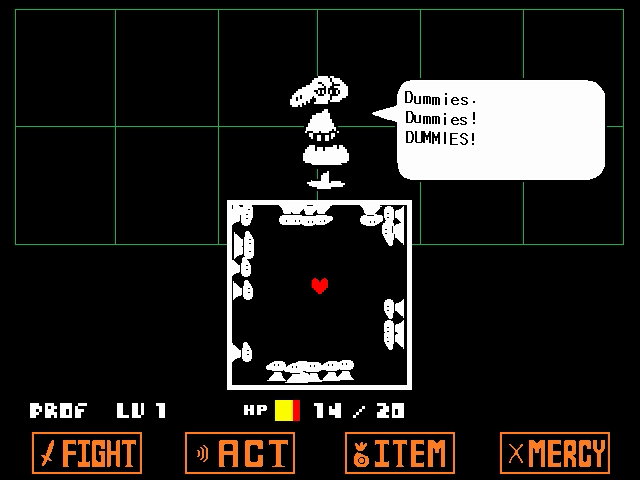 Remember how I said NOT to shoot at me?

Well...

FAILURES! YOU'RE FIRED! YOU'RE ALL BEING REPLACED!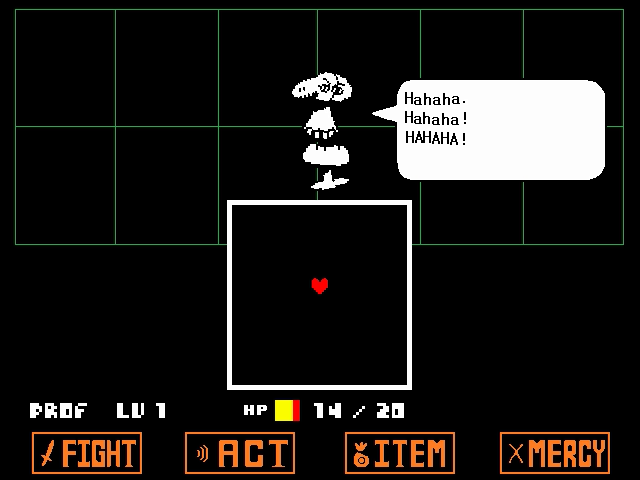 Now you'll see my true power:

Relying on people that aren't garbage!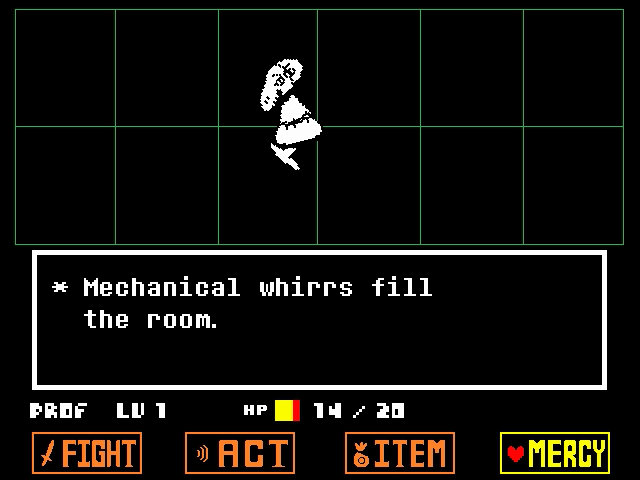 DUMMY BOTS! MAGIC MISSILE!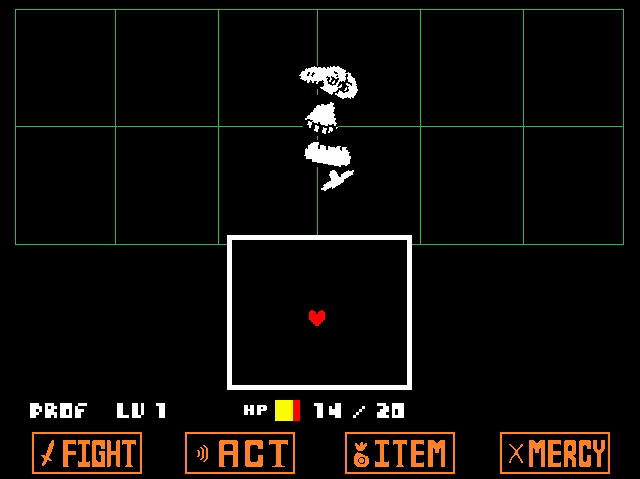 DUMMY BOTS! TRY AGAIN!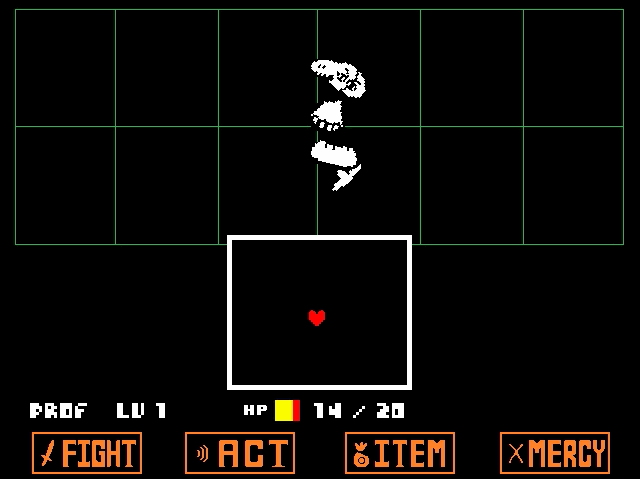 DUMMY BOTS! You're awful???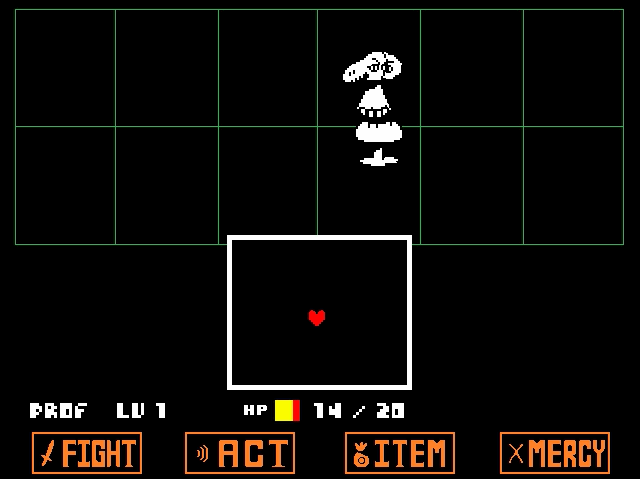 DUMMY BOTS! FINAL ATTACK!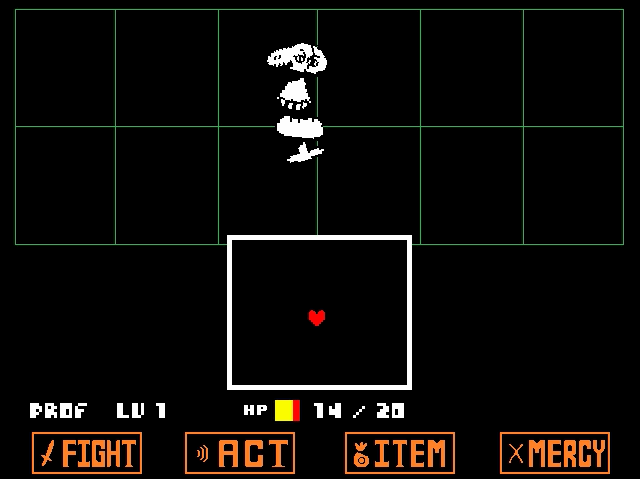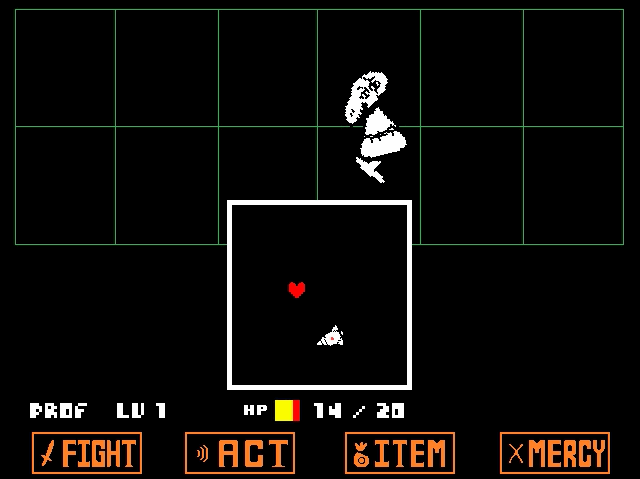 (N... no way!)

(These guys are even WORSE than the other guys!)

Who cares. Who cares! WHO CARES!!

I DON'T NEED FRIENDS!!!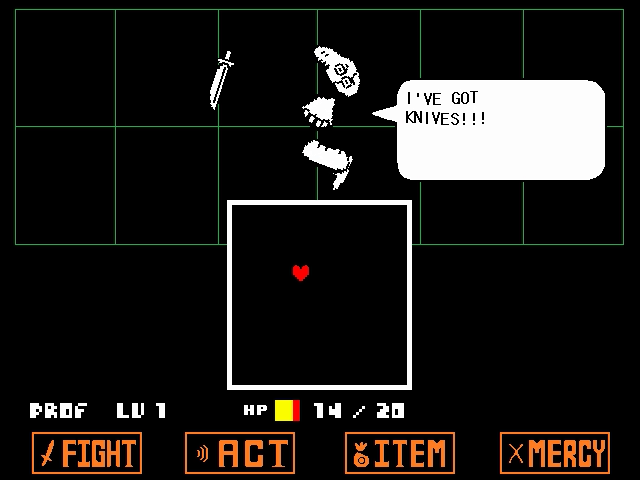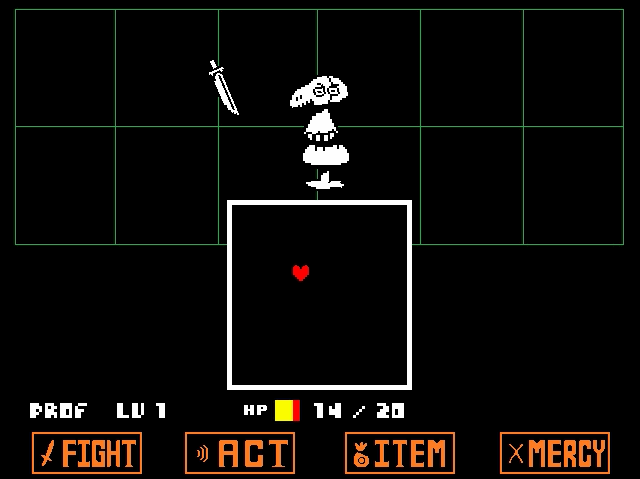 I'm...

Out of knives.

BUT IT DOESN'T MATTER!!!

YOU CAN'T HURT ME AND I CAN'T HURT YOU!

YOU'LL BE STUCK FIGHTING ME...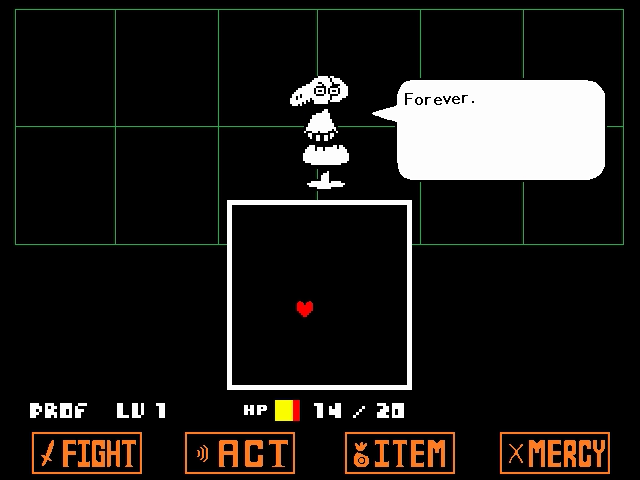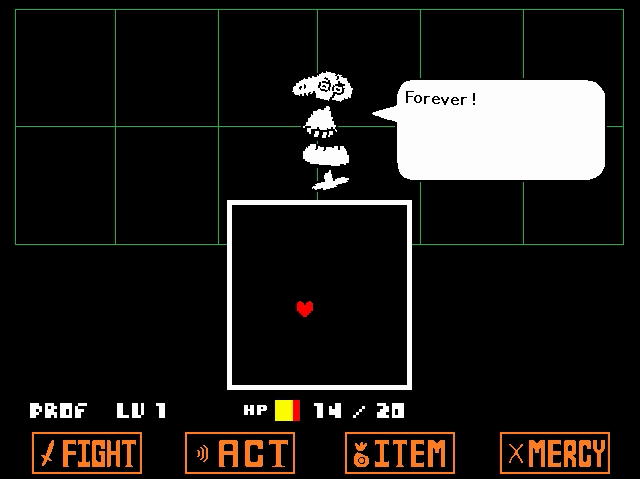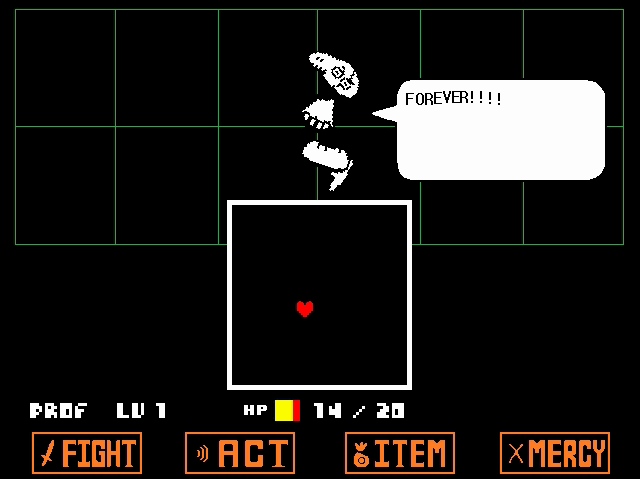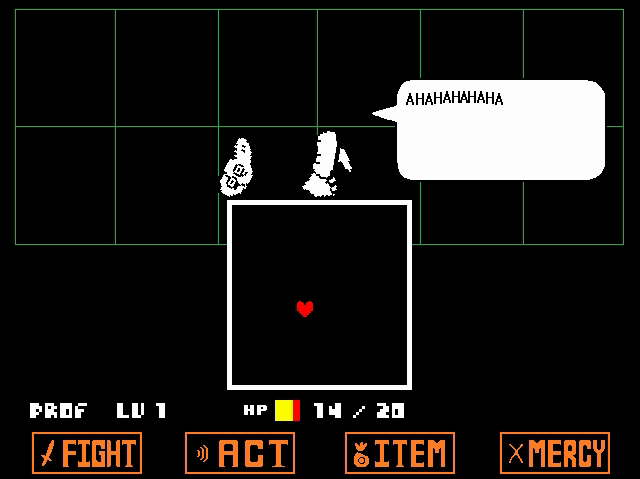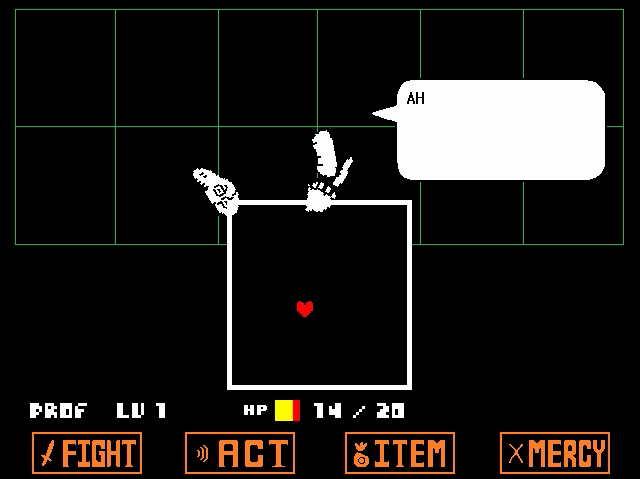 BGM: Silence

Wh... What the heck is this!?

Ergh! Acid rain!?!

Oh, FORGET IT! I'm outta here!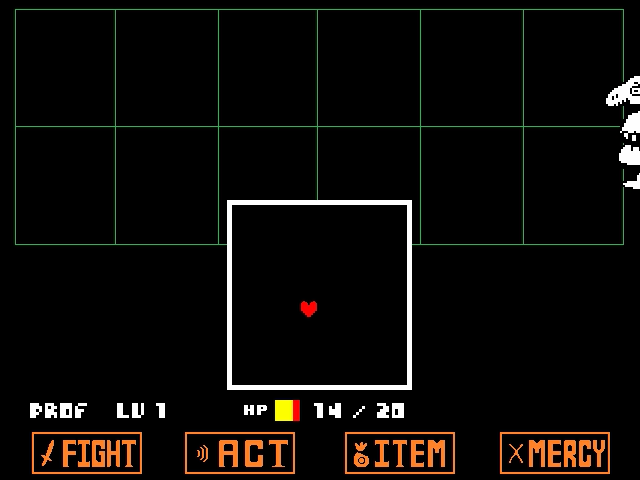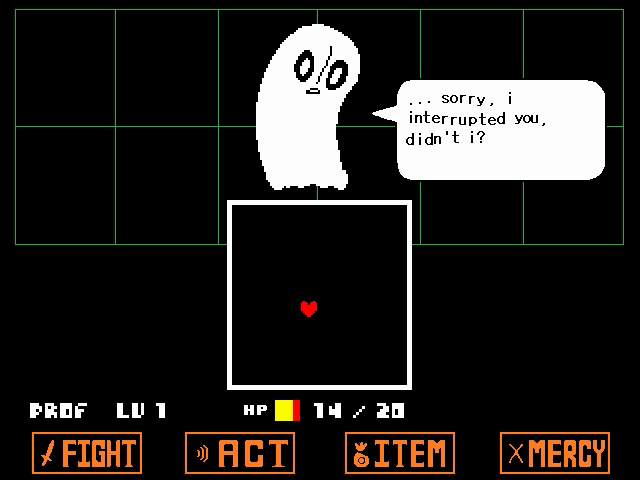 ...sorry, i interrupted you, didn't i?

as soon as i came over, your friend immediately left...

oh no... you guys looked like you were having fun...

oh no... i just wanted to say hi...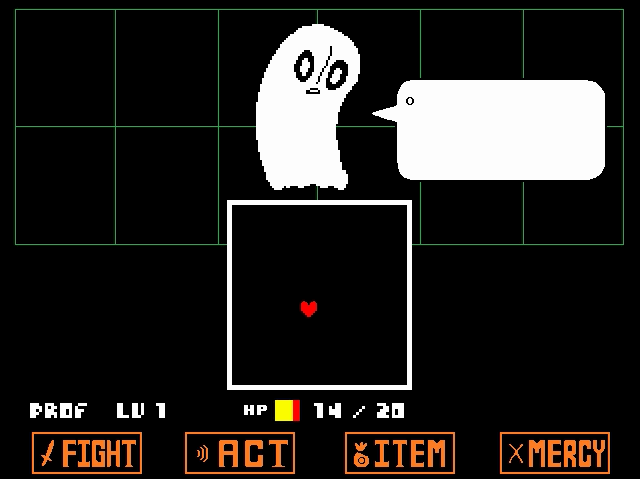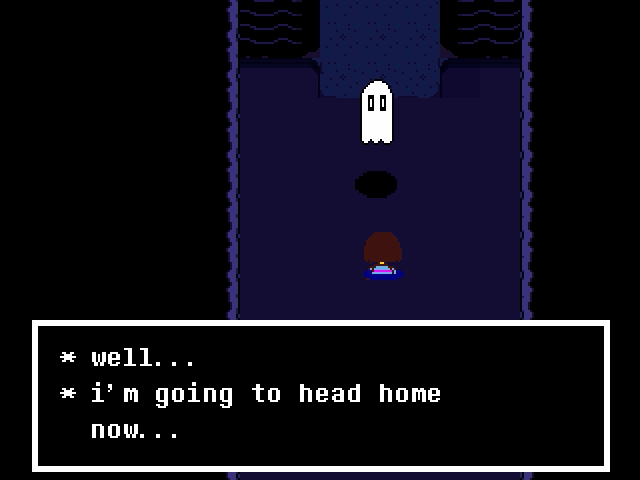 oh... umm... feel free to "come with" if you want...

but no pressure...

i understand if you're busy...

it's fine...

no worries...

just thought i'd offer...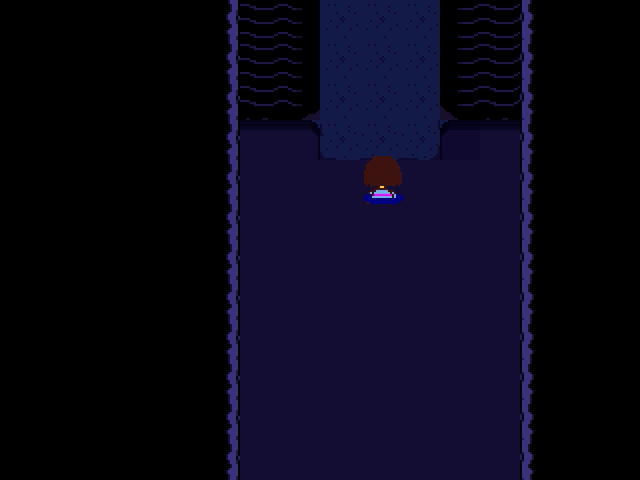 Napstablook disappears again. The way forward is clear.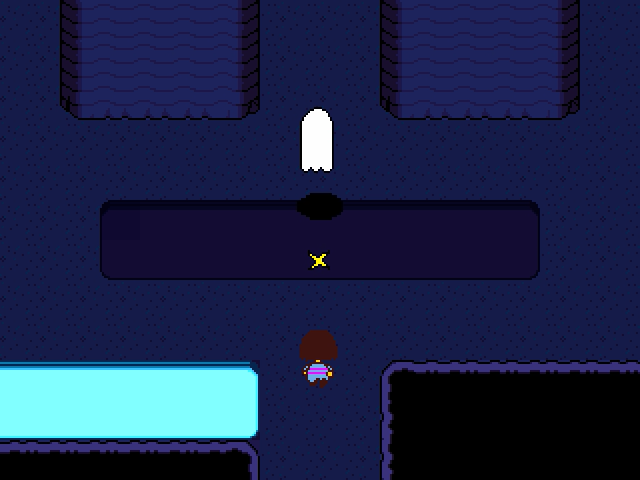 hey... my house is up here...

in case you want to see...

or in case...

you don't...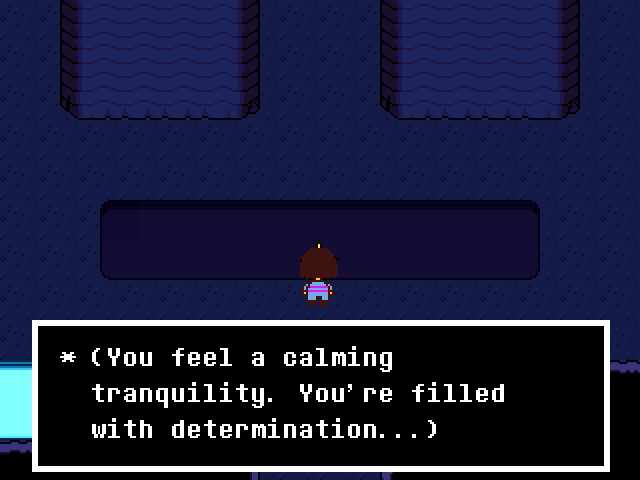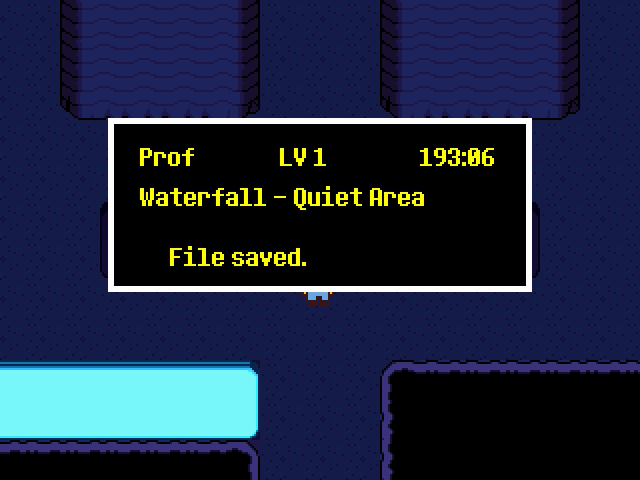 I save my game.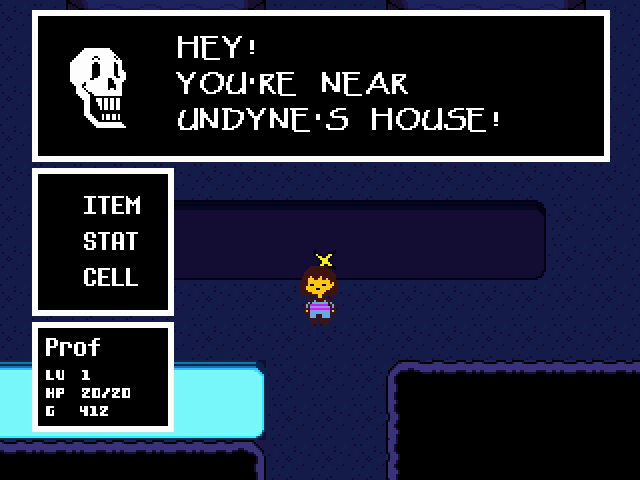 THAT'S TO THE LEFT-UPWARDS. LUPWARDS.

ALL THE OTHER DIRECTIONS GO TO THE WRONG HOUSE.

NORTH: GHOST HOUSE.

EAST: TURTLE HOUSE.

SOUTH: TRASH HOUSE.

WEST: BIRD HOUSE.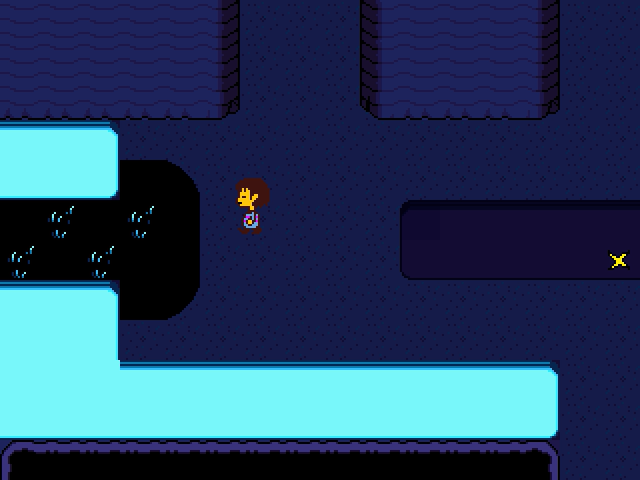 I've got some exploring left to do before I go visit Napstablook. To bird house!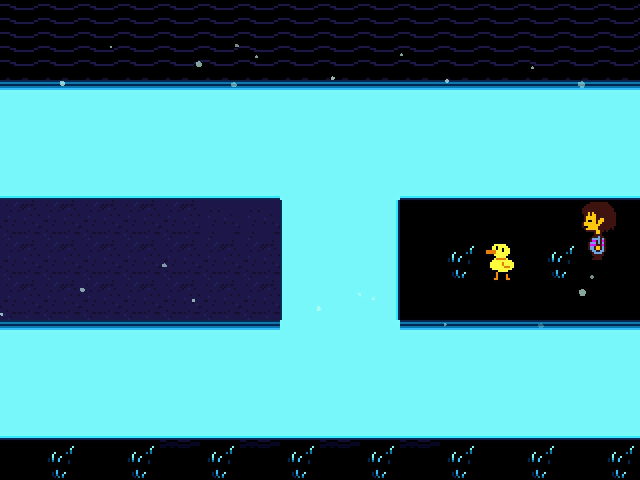 I made it to the bird!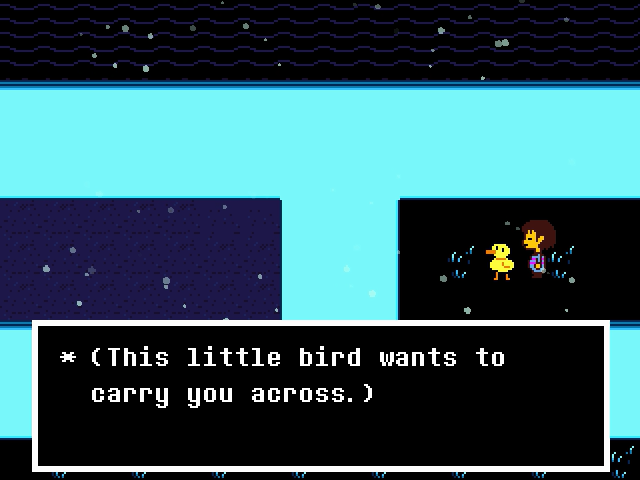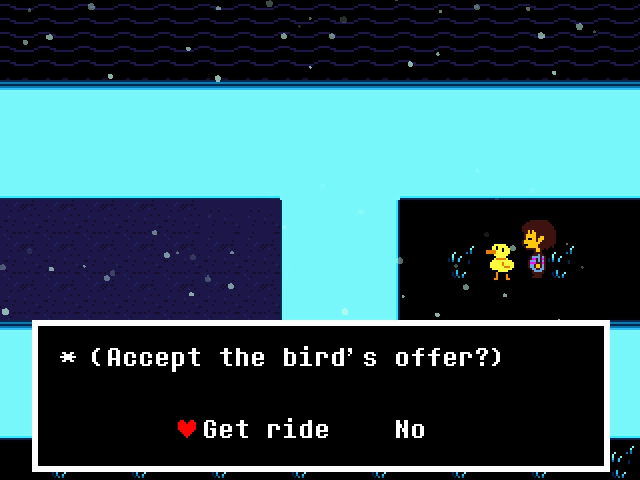 BGM: Bird That Carries You Over A Disproportionately Small Gap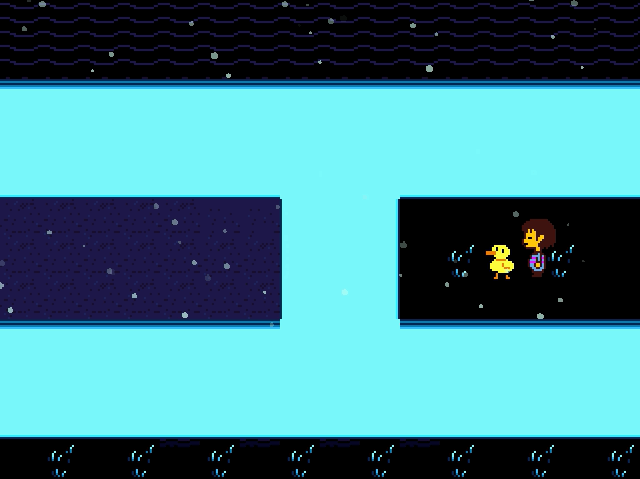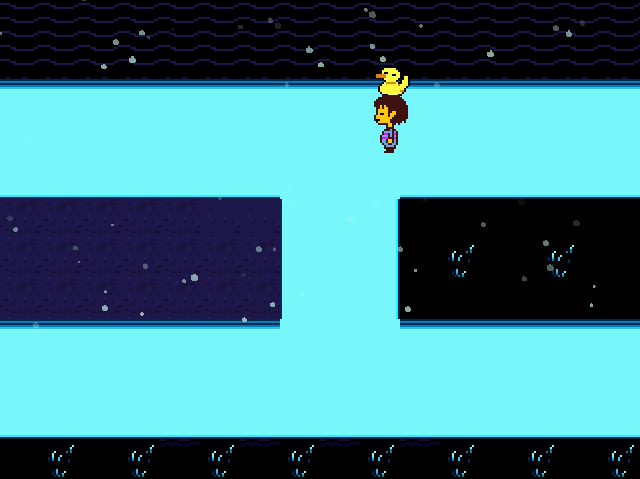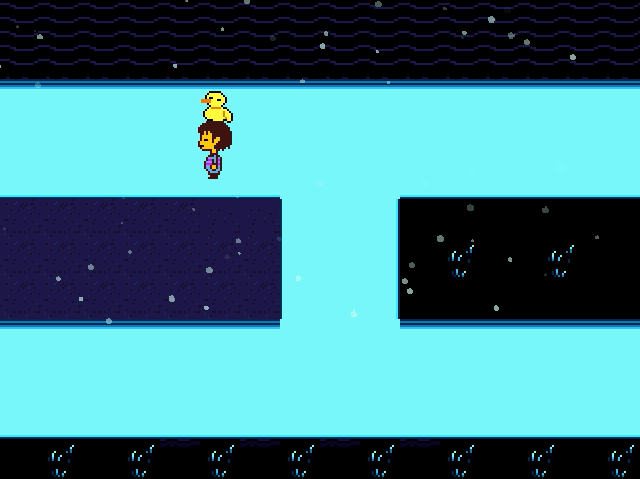 That was majestic.
However, I have no reason to be over here at all.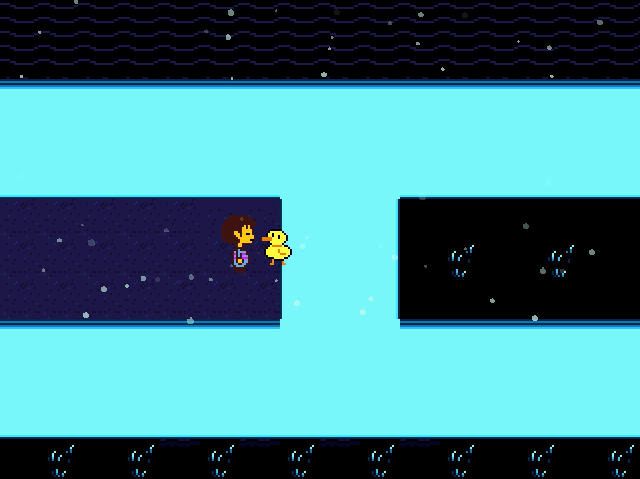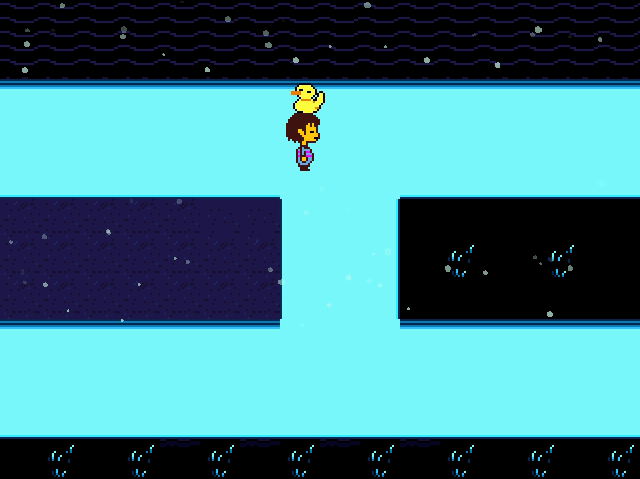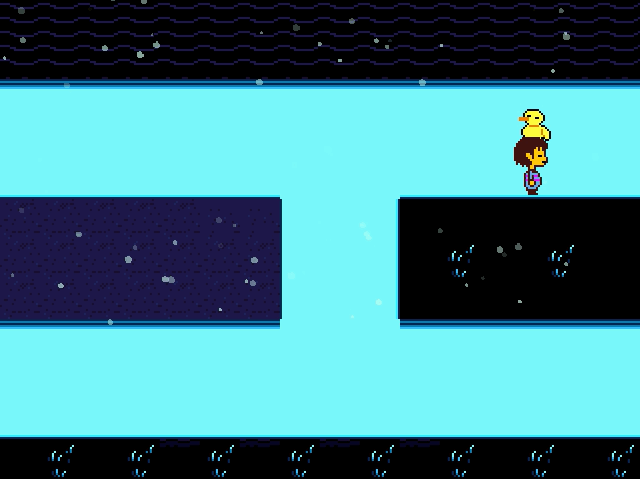 BGM: Quiet Water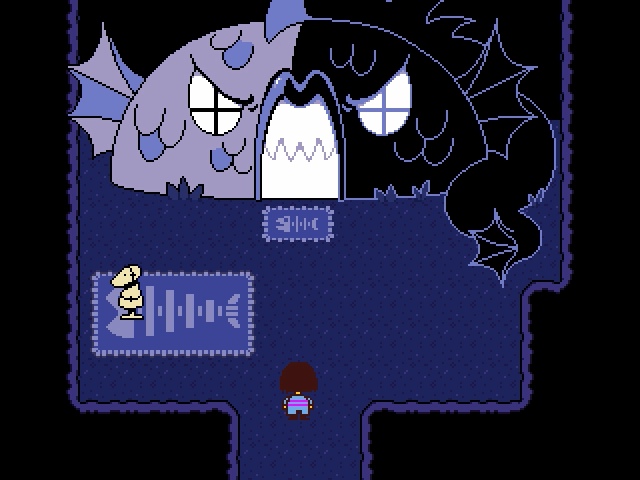 To the lupwards I find what I can only assume is Undyne's house.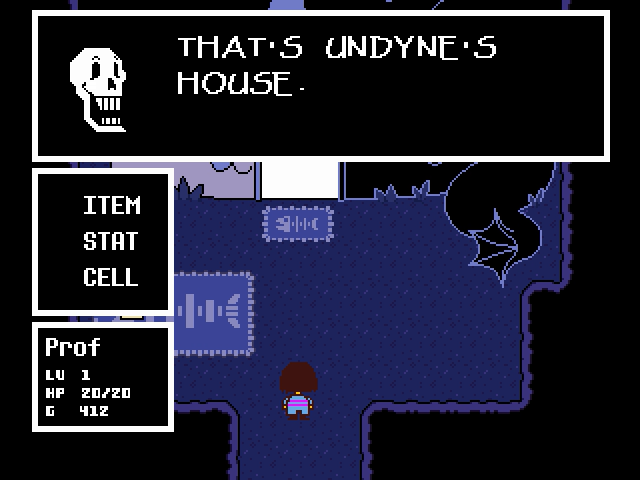 LET'S GO THERE AND HANG OUT SOME DAY!!!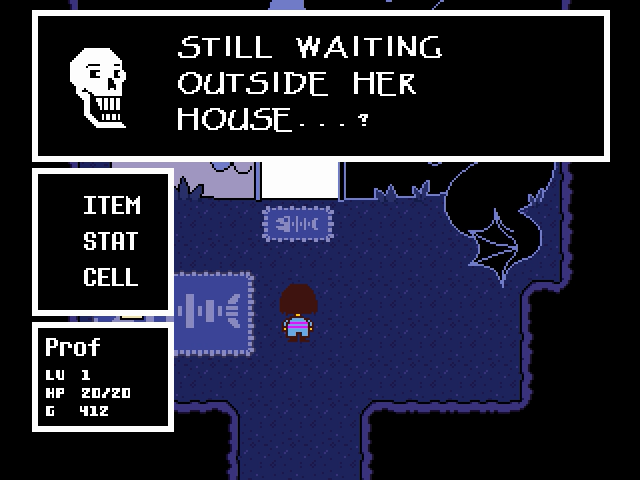 YEAH, I DO THAT SOMETIMES, TOO!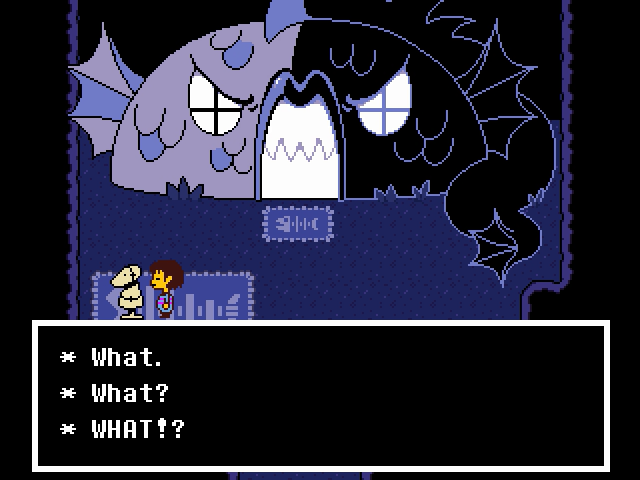 It's a living.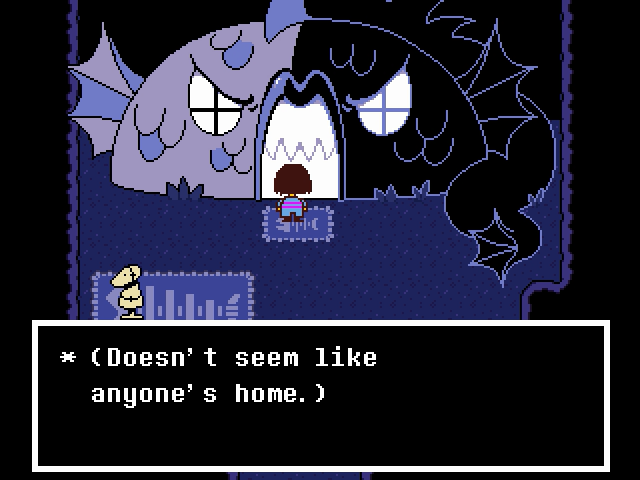 That's probably for the best.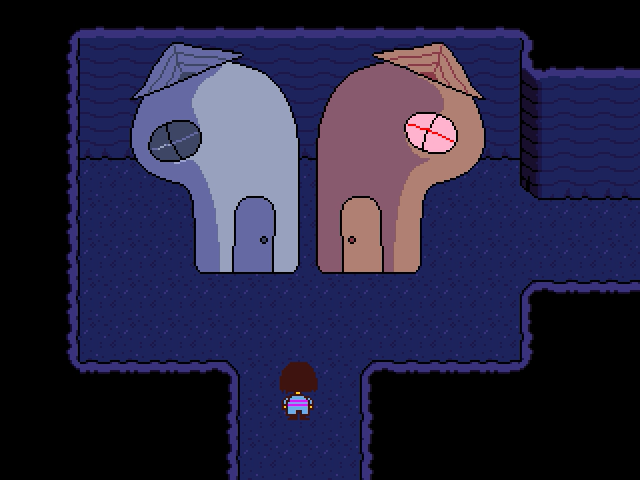 One room over to the right, I find a pair of houses.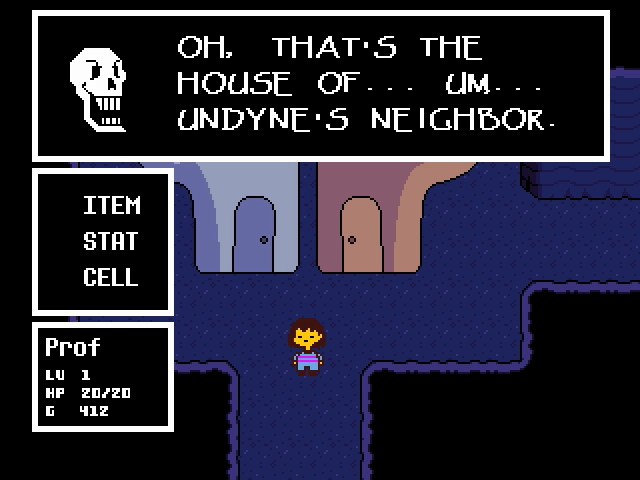 WHAT WAS THEIR NAME AGAIN?

SPOOKY BLOO BLOO?

NAPPER HOG...?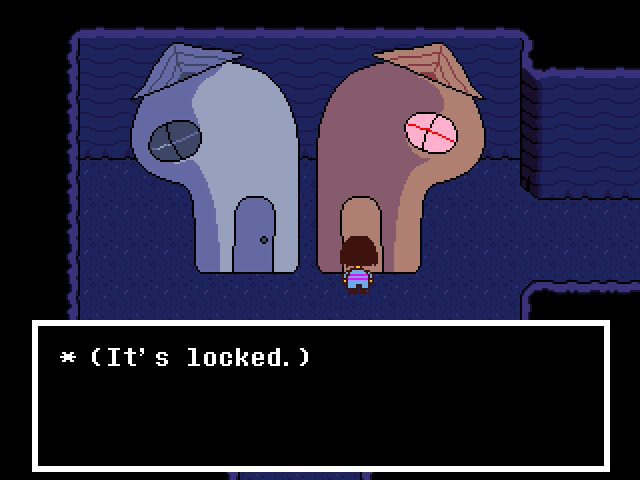 Can't get in this one.
The other one...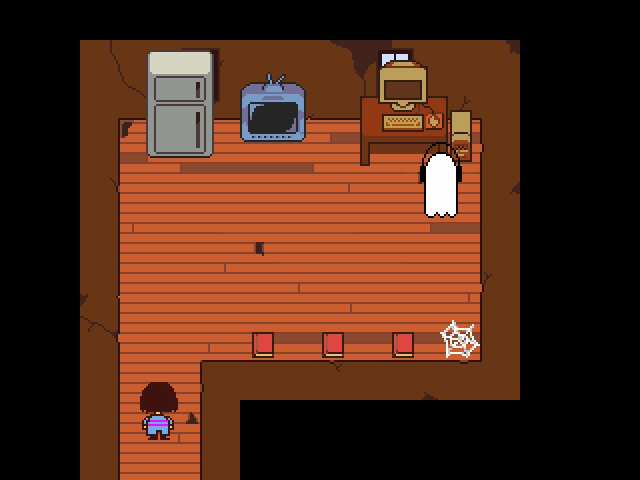 BGM: Pathetic House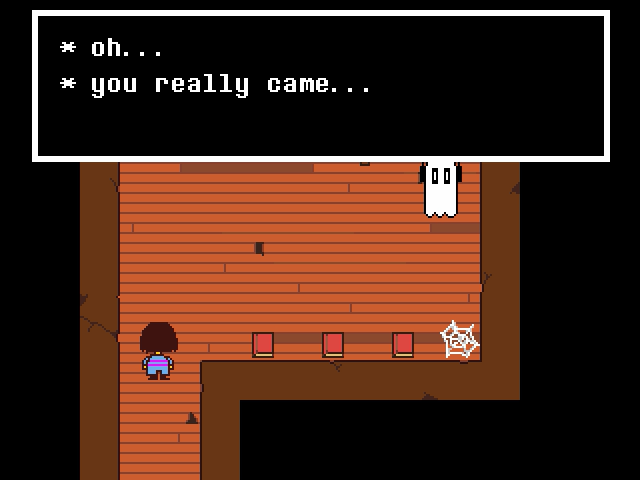 sorry, i... wasn't expecting that.

it's not much, but make yourself at home.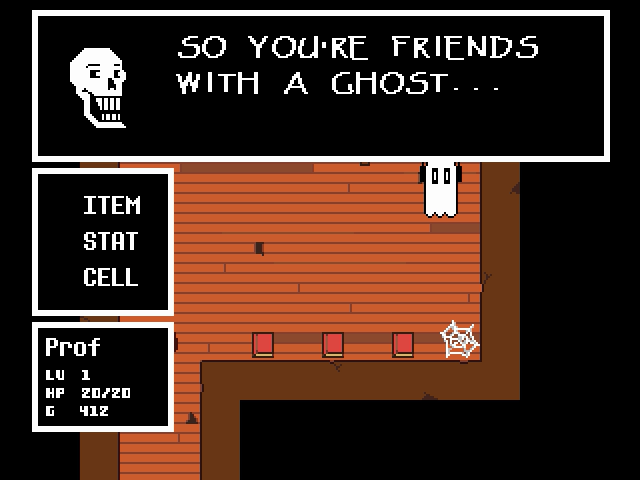 ISN'T THAT KIND OF SPOOKY?

I'D THINK YOU'D LIKE YOUR FRIENDS WARM AND CUDDLY...

LIKE SKELETONS!!!

VERY SOFT, AND FULL OF CALCIUM.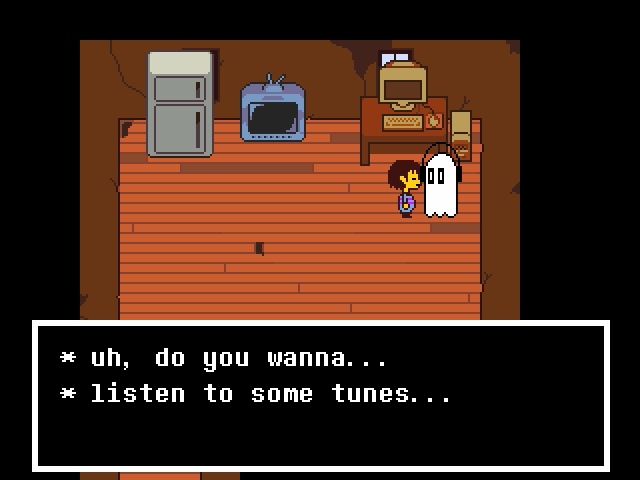 or something...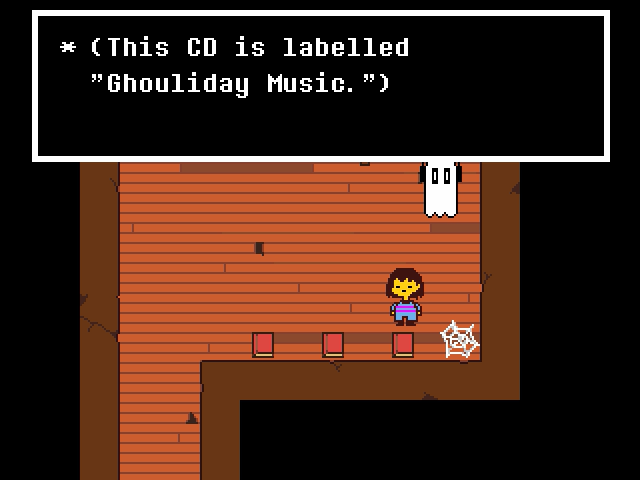 BGM: Ghouliday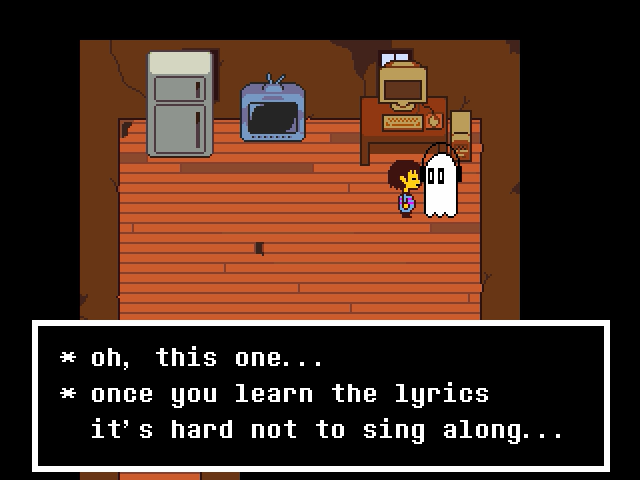 ooo ooo oooo

ooo ooo oooo

oo oo ooo oo ooo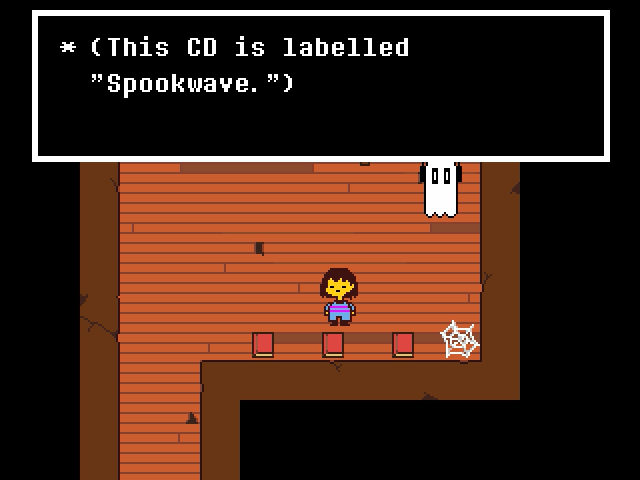 BGM: Spookwave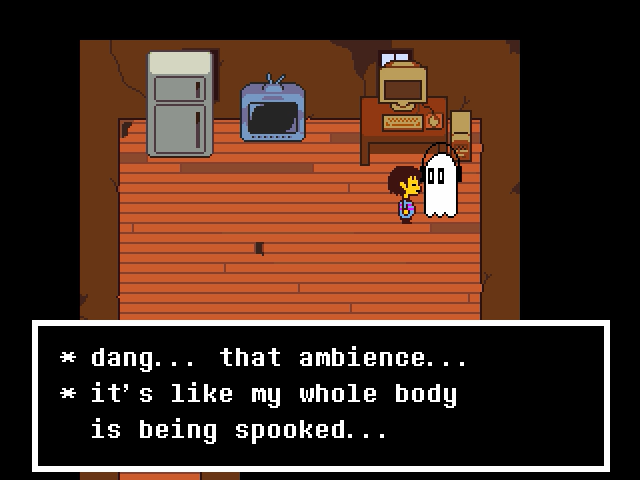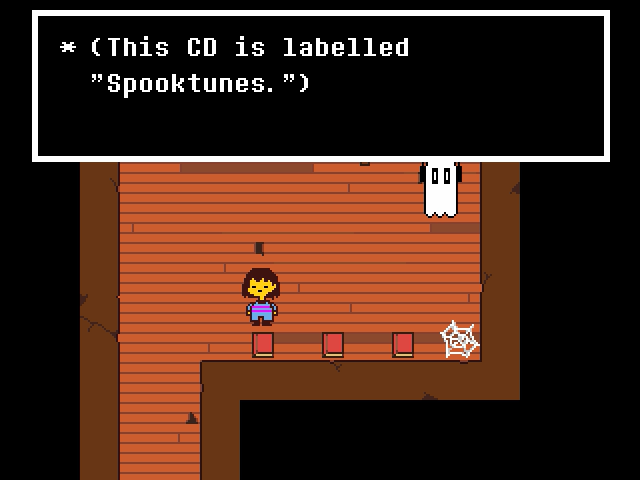 BGM: Spooktunes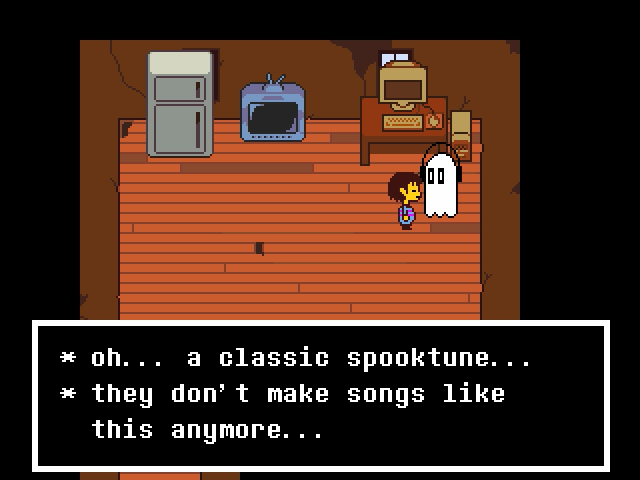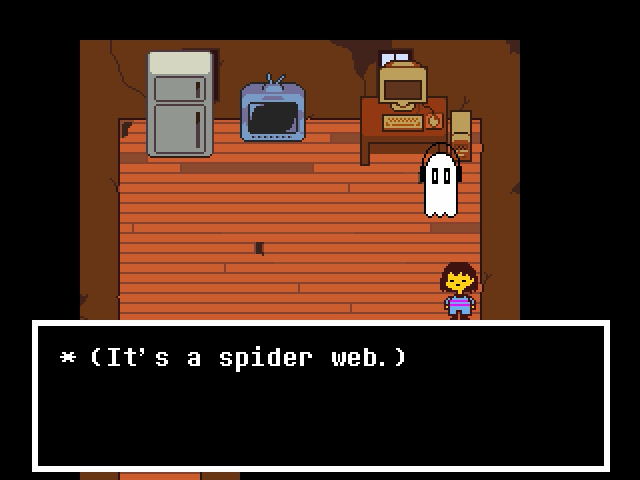 (There's a flyer for a bake sale on it.)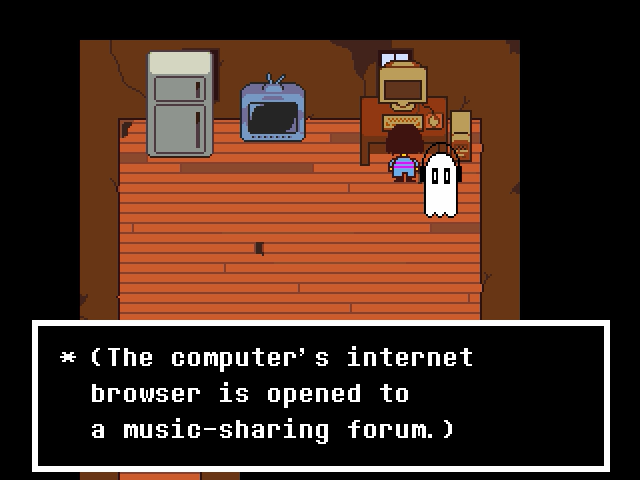 It's not too hard to put together where Napstablook's name comes from.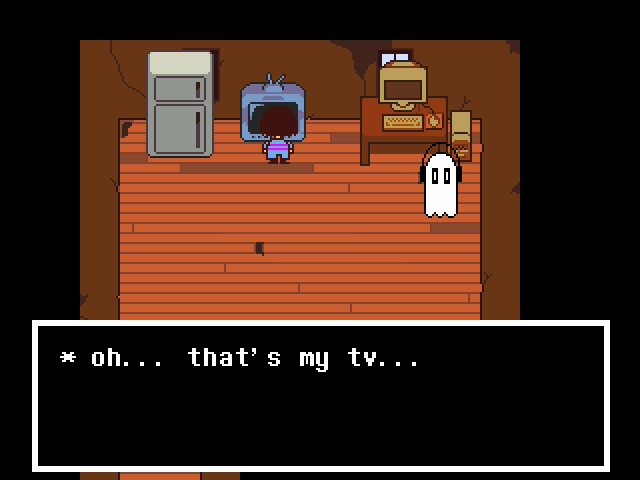 there's a show i like to watch on it... sometimes...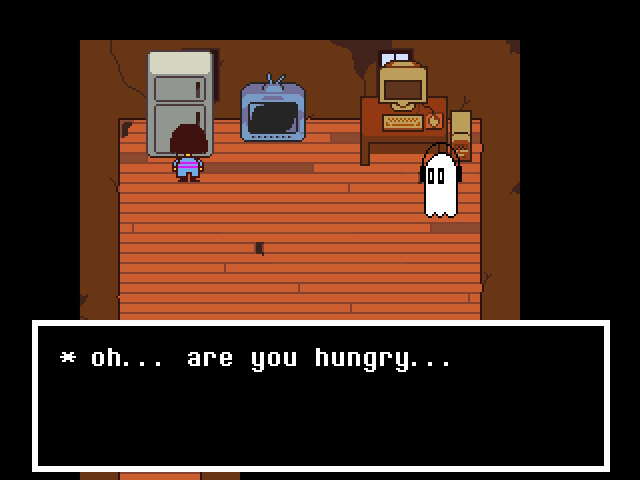 i can get you something to eat...

...this is a ghost sandwich...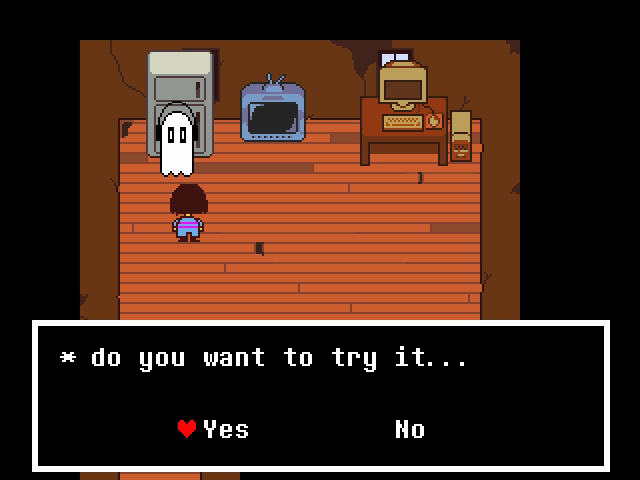 (You attempt to bite into the ghost sandwich.)
(You phase right through it...)

oh...

nevermind...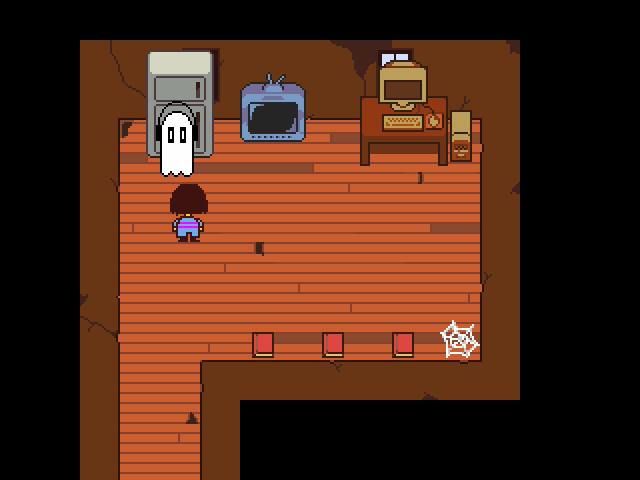 Awkward silence.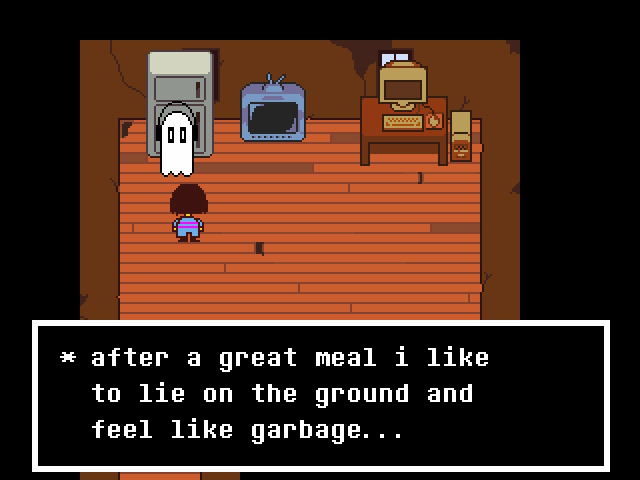 it's a family tradition...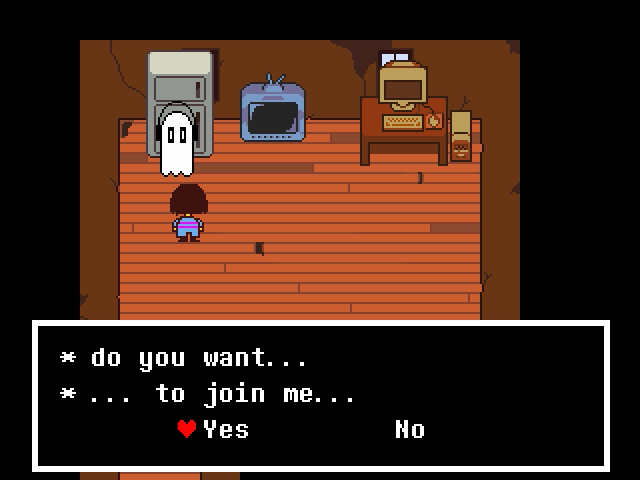 okay... follow my lead...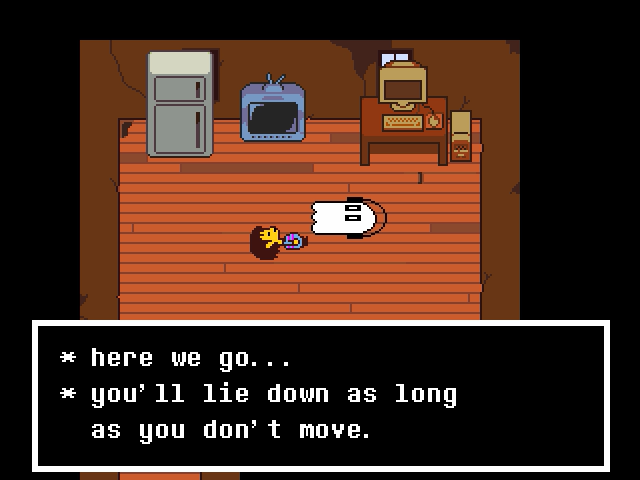 so... only move around when you want to get up, i guess.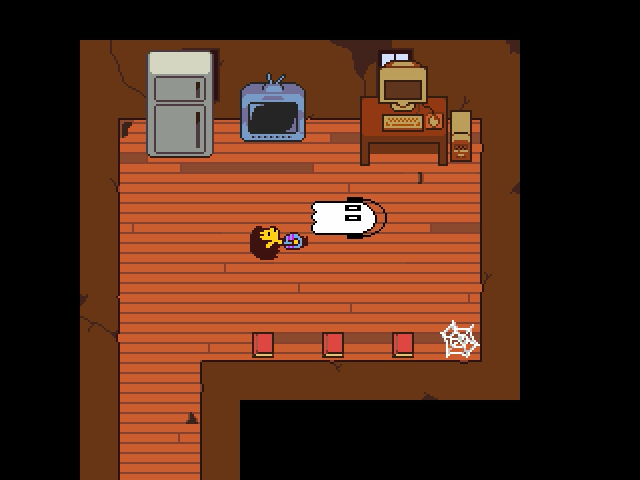 BGM: Chill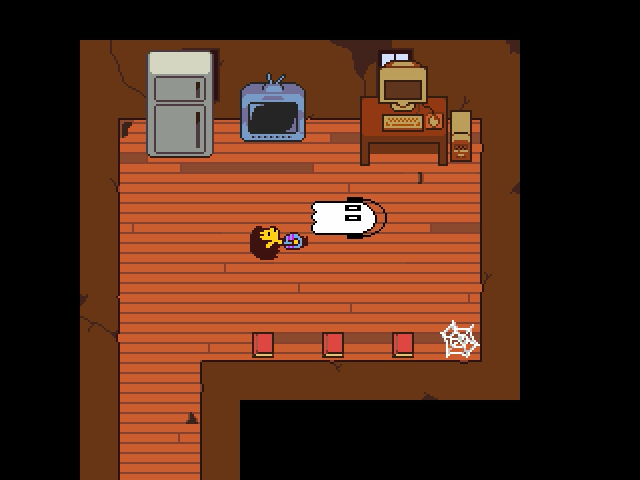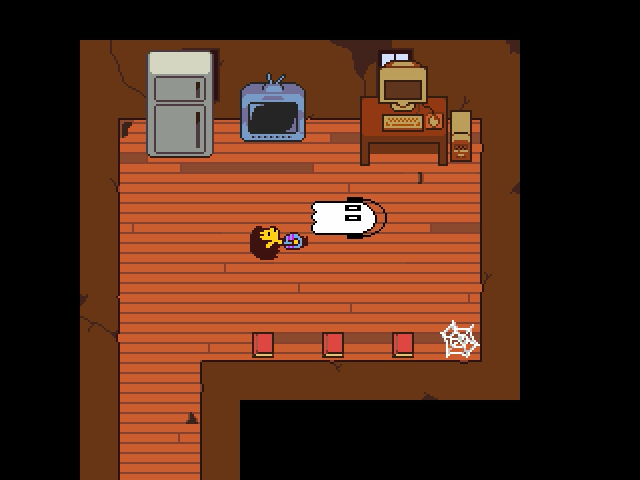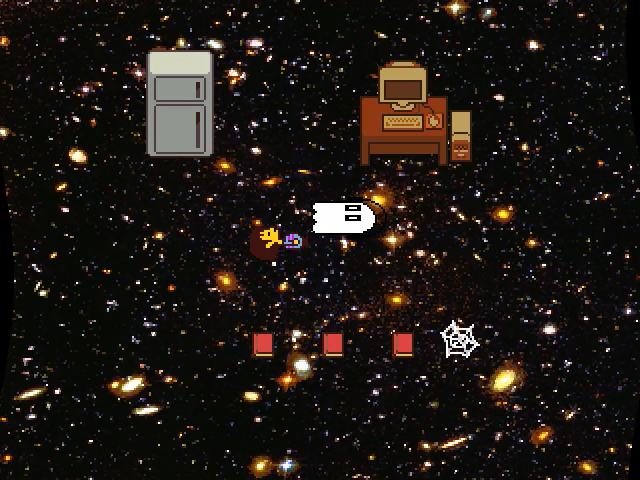 I feel it.
I feel the cosmos.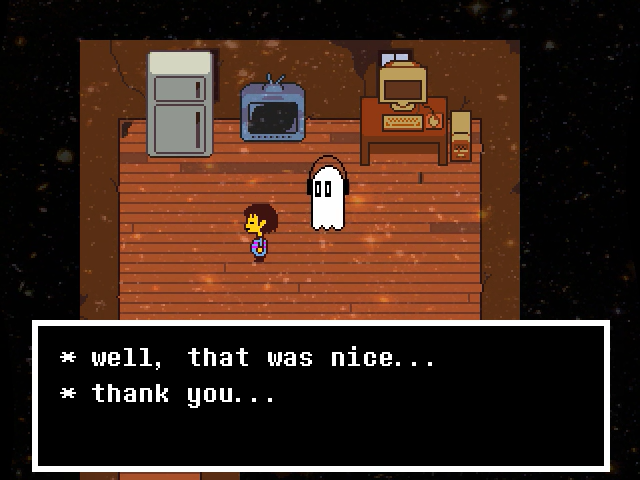 Well, it's been fun.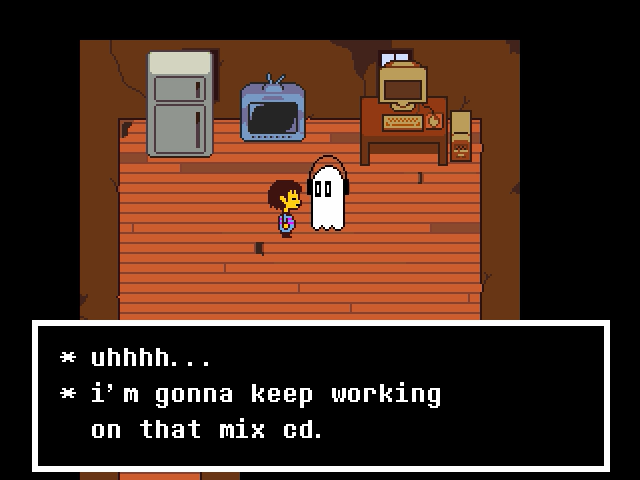 Adventure calls.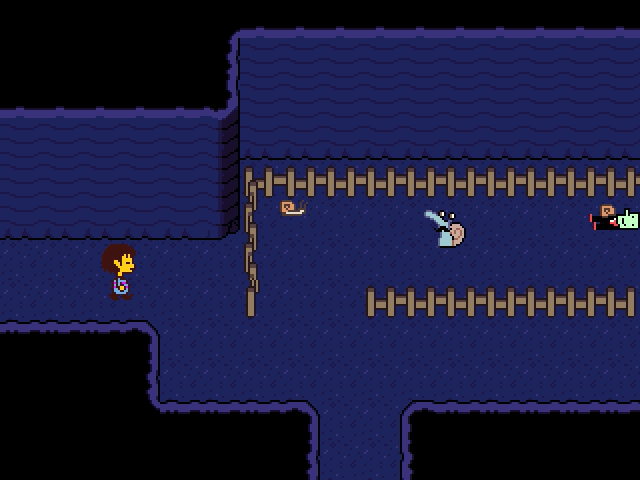 BGM: sans.
I find some snails to the east of Napstablook's house.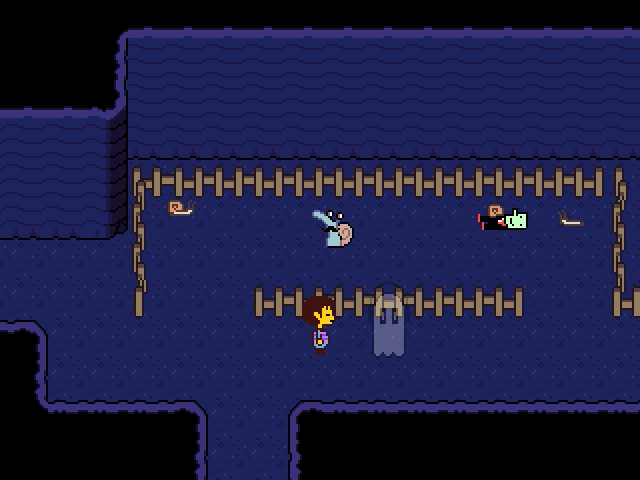 Oh, hey.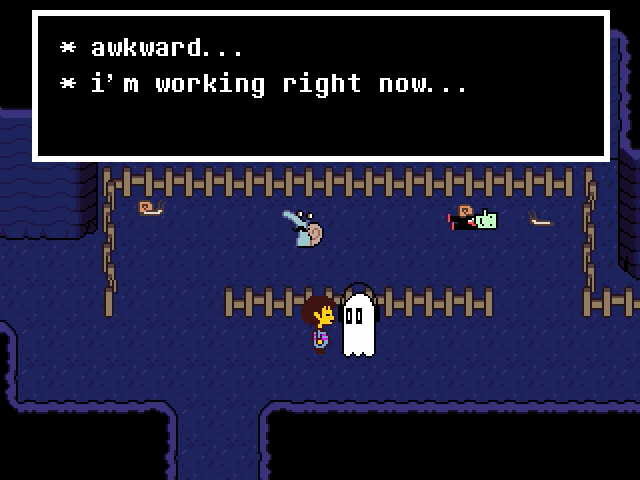 welcome to blook family snail farm...

...yeah. i'm the only employee.

this place used to get a lot of business...

but our main customer disappeared one day...

now it's just some hairy guy that shows up once a month...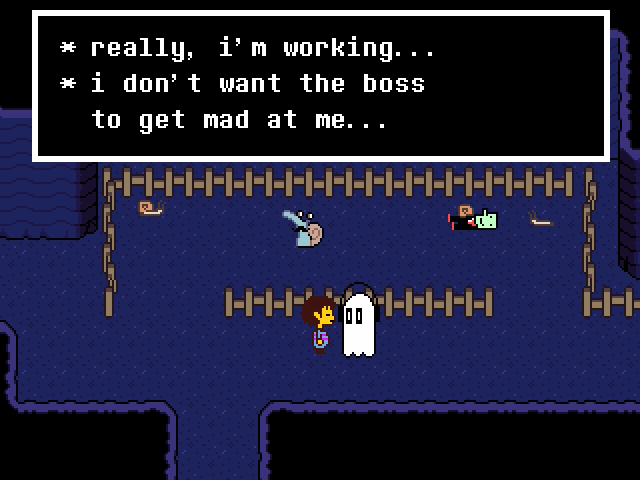 especially since i'm my own boss...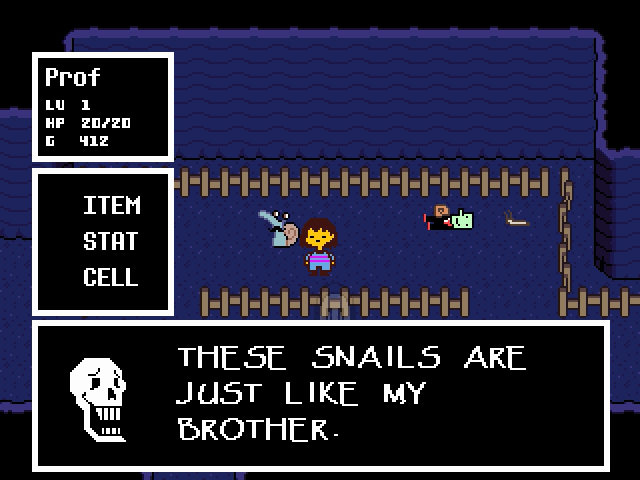 ROUND, SLOW...

AND CONSTANTLY EMITTING SLIME???

EMITTING SLIME... THAT'S JUST WHAT BROTHERS DO.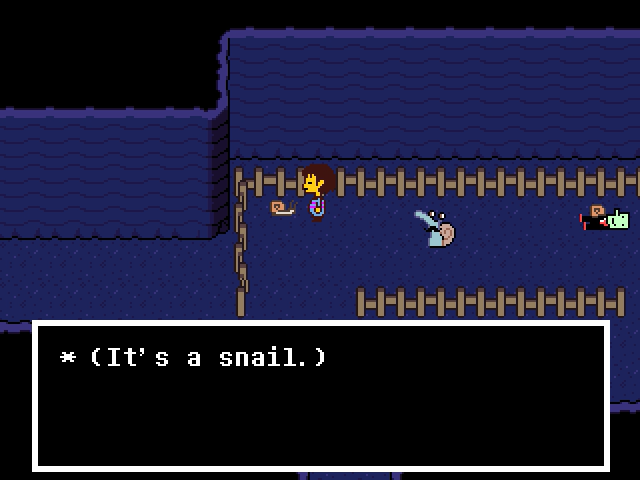 (For some reason, you can't help but wonder what it tastes like...)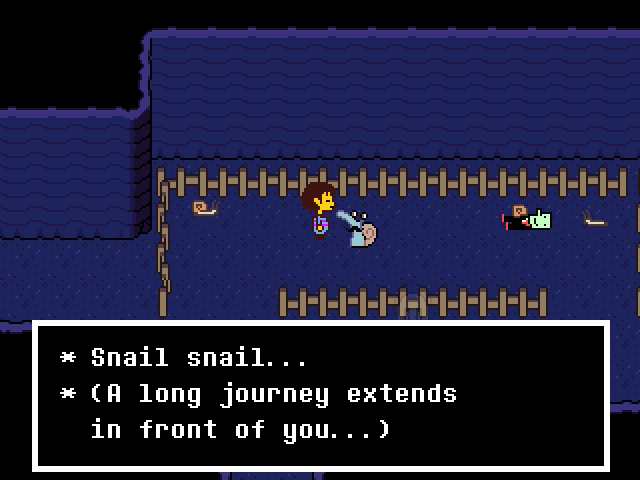 Snail snail... (Reach far and stretch beyond the horizons.)

Snail snail. (So snaileth Sam Byool.)

Snail snail. (Good gosh, don't I look like a perfectly normal snail?)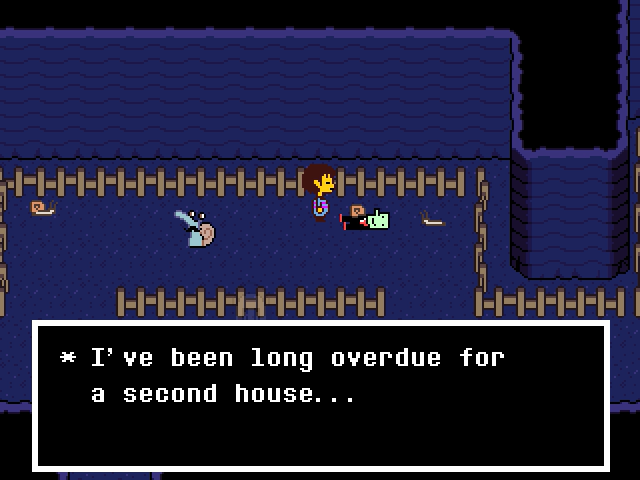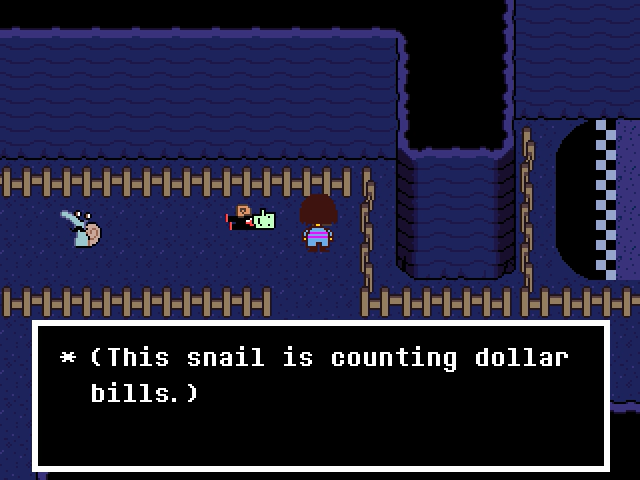 Looks like there's more over to the right.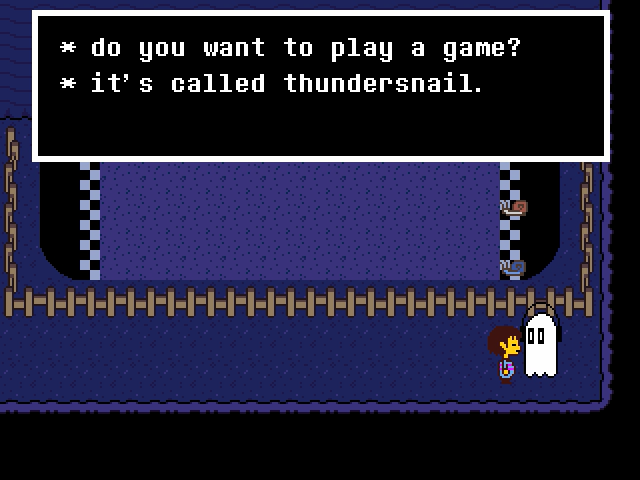 the snails will race, and if the yellow snail wins, you win.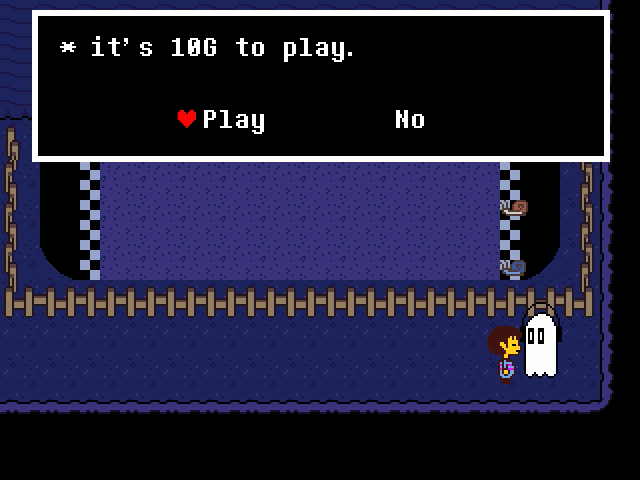 okay... press [Z] repeatedly to encourage your snail.

ready?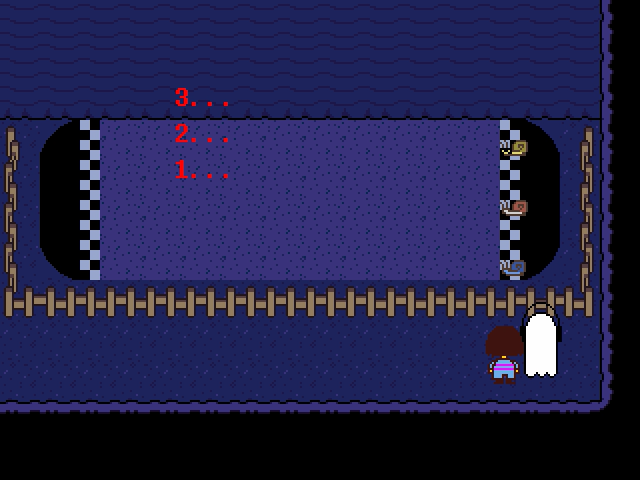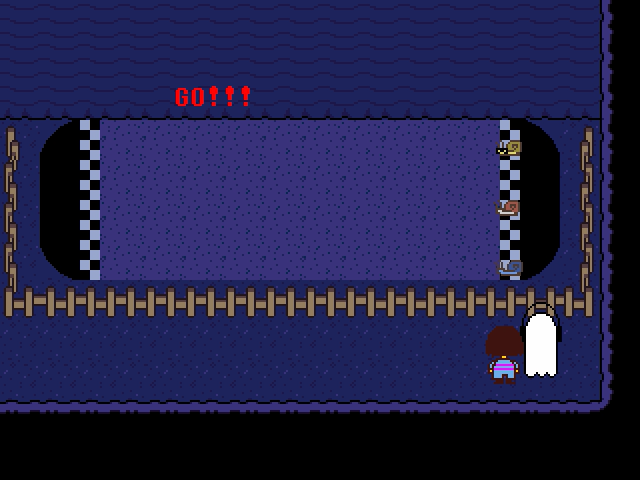 BGM: Thundersnail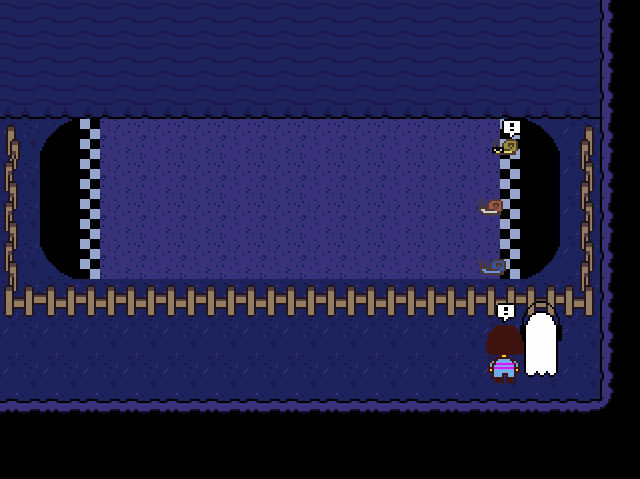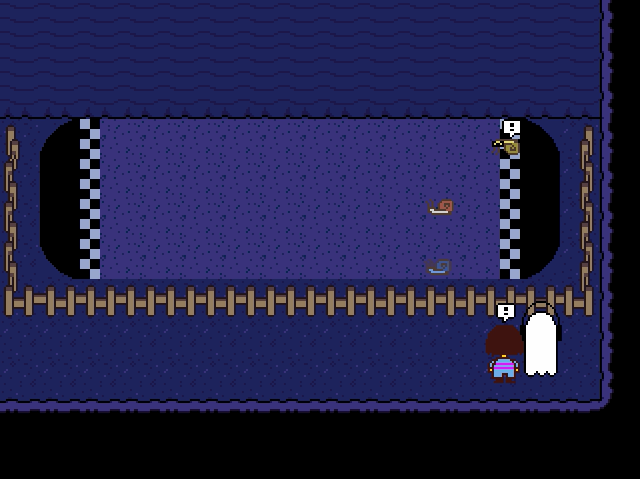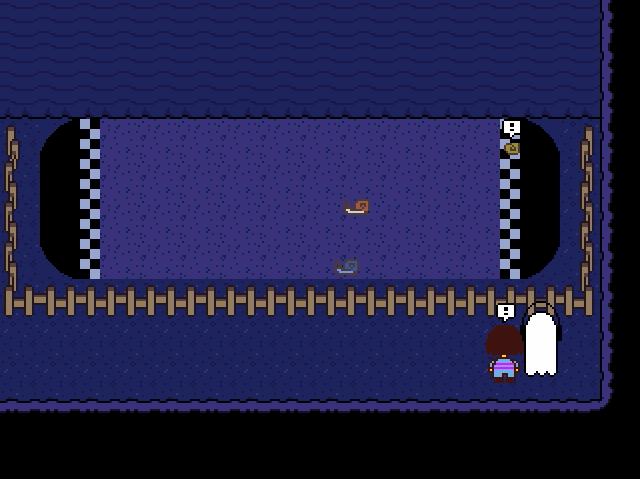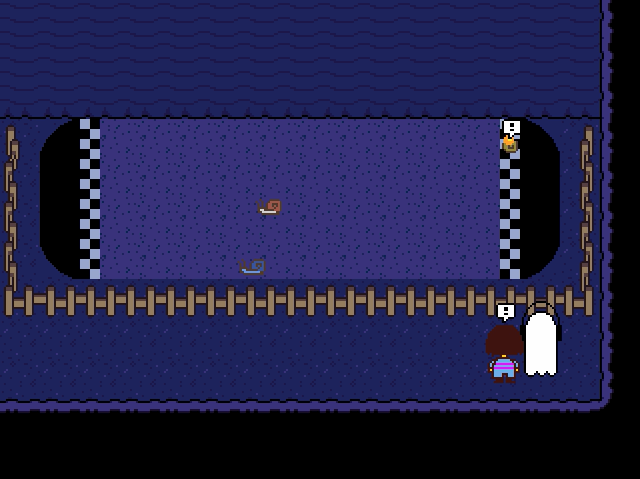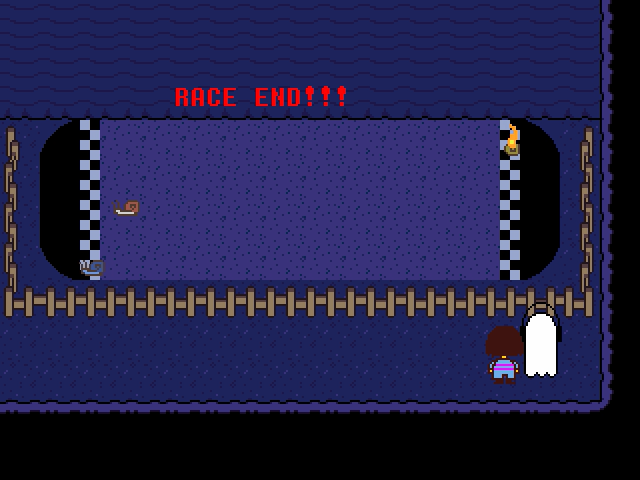 BGM: sans.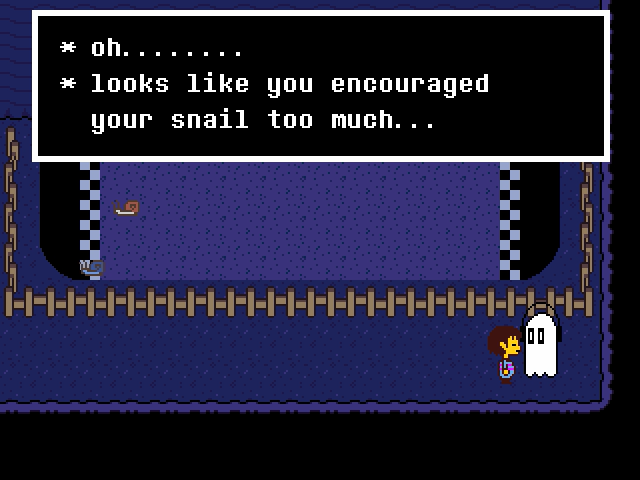 all that pressure to succeed... really got to her...

oh........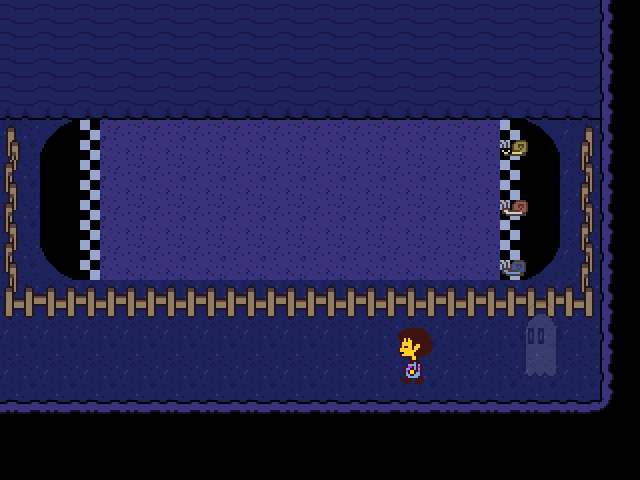 I've tried all sorts of strategies, and never even come close to winning at Thundersnail. I'm not convinced it can be done.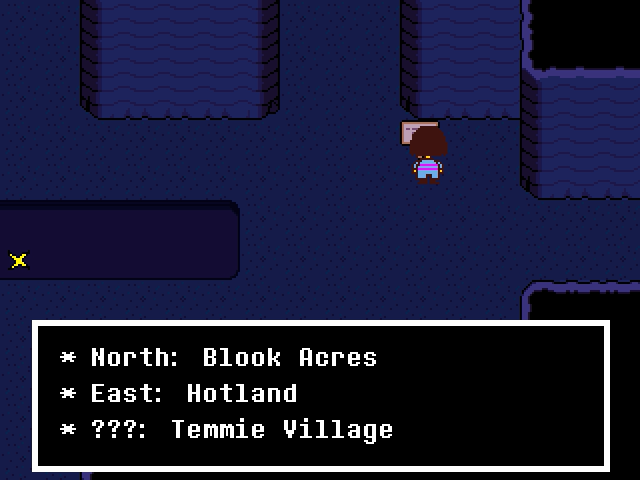 I continue heading east.