Part 18: Spear of Justice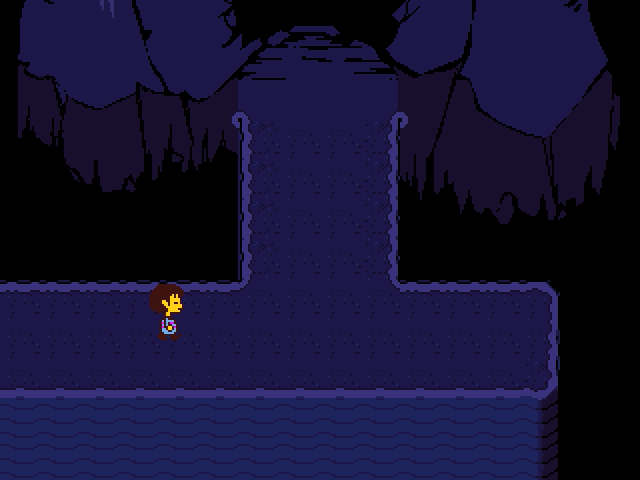 The exit to this area is just ahead.
However, someone is atop the archway.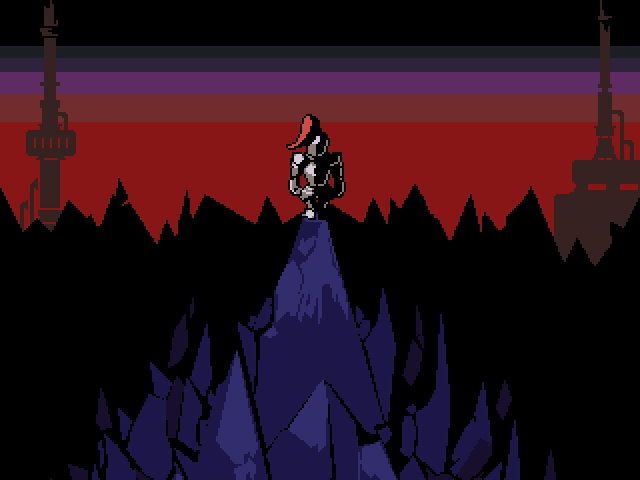 Seven.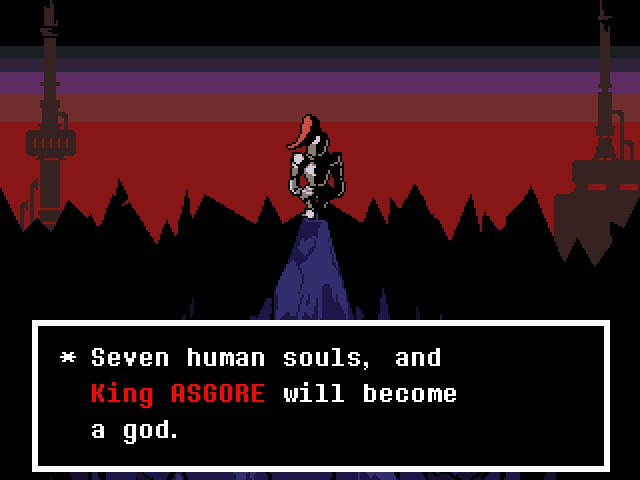 Six.

That's how many we have collected thus far.

Understand?

Through your seventh and final soul, this world will be transformed.

First, however, as is customary for those who make it this far...

I shall tell you the tragic tale of our people.

It all started, long ago...

...

No, you know what?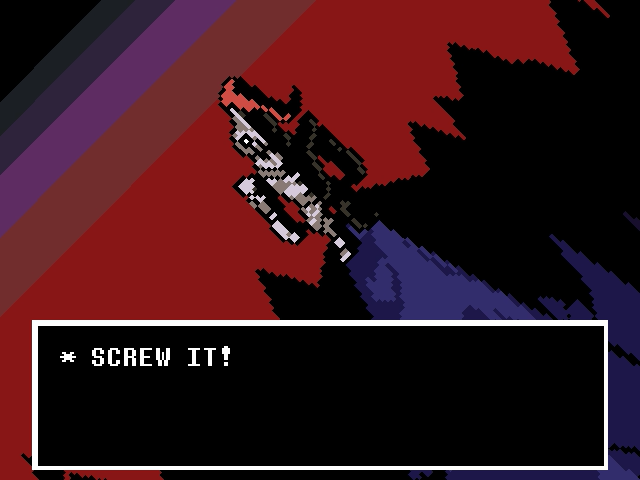 BGM: NGAHHHH!!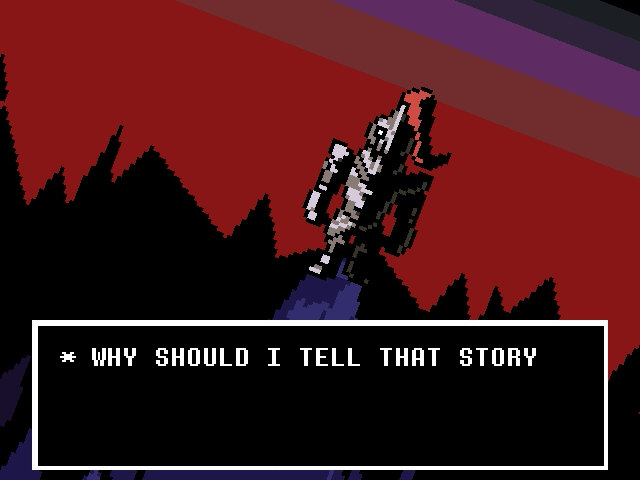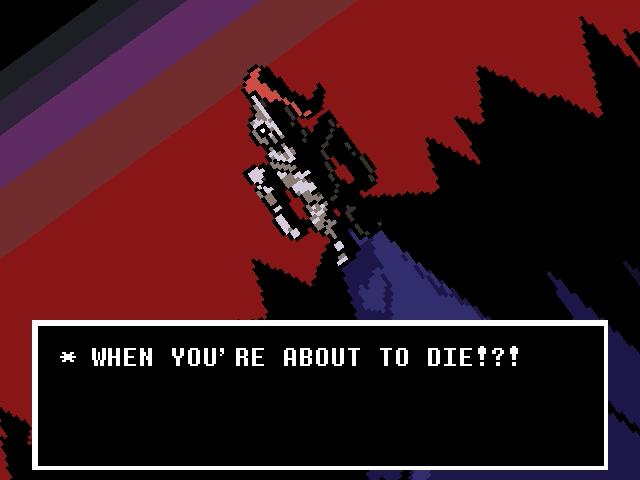 NGAAAAAHHHHHHHHHHHHHHHHH!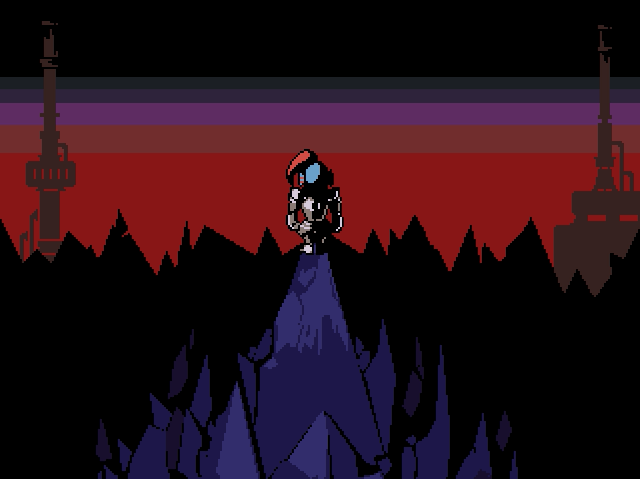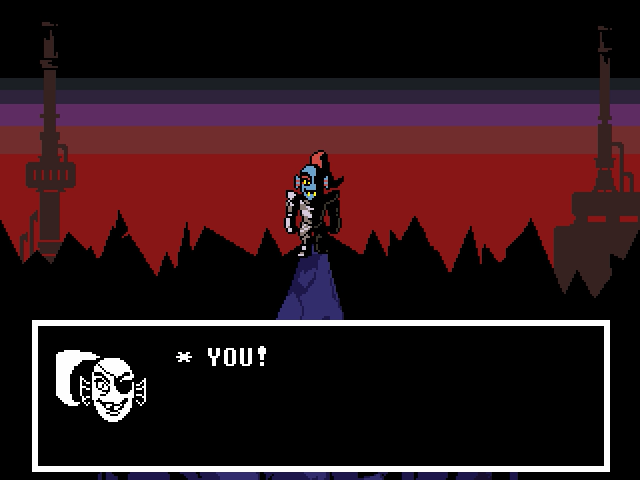 You're standing in the way of everybody's hopes and dreams!

Alphys's history books made me think humans were cool...

...with their giant robots and flowery swordswomen.

BUT YOU?

You're just a coward!

Hiding behind that kid so you could run away from me again!

And let's not forget your wimpy goody-two-shoes-schtick!

Oooh! I'm making such a difference by hugging random strangers!

You know what would be more valuable to everyone?

IF YOU WERE DEAD!!!

That's right, human! Your continued existence is a crime!

Your life is all that stands between us and our freedom!

Right now, I can feel everyone's hearts pounding together!

Everyone's been waiting their whole lives for this moment!

But we're not nervous at all.

When everyone puts their hearts together, they can't lose!

Now, human! Let's end this, right here, right now.

I'll show you how determined monsters can be!

Step forward when you're ready! Fuhuhuhu!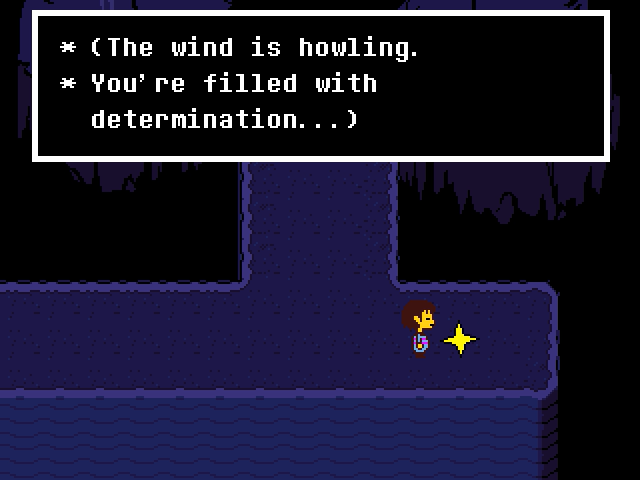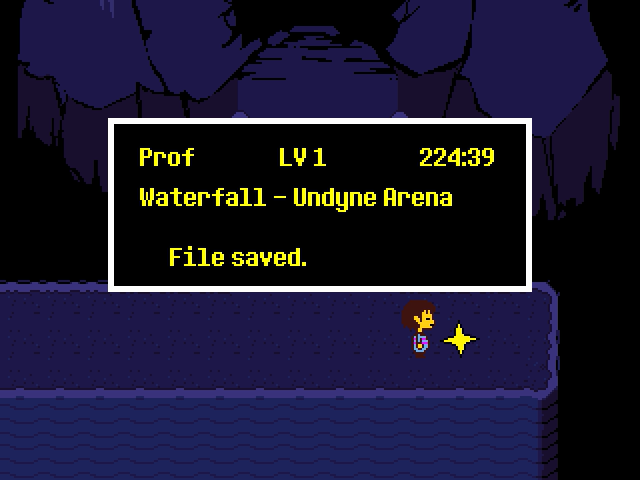 I save my game.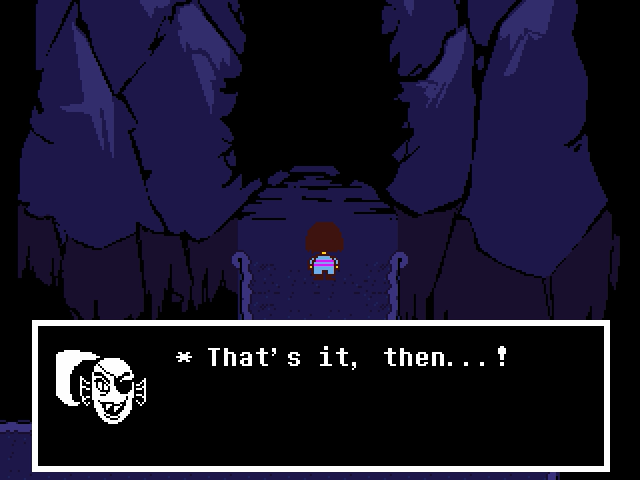 No more running away!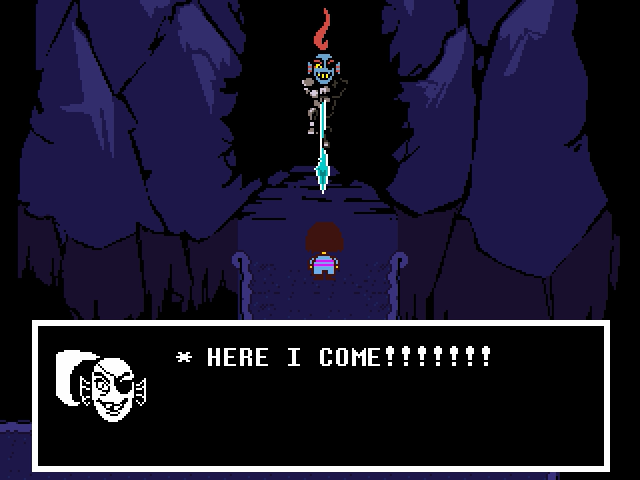 Video: The Wind is Howling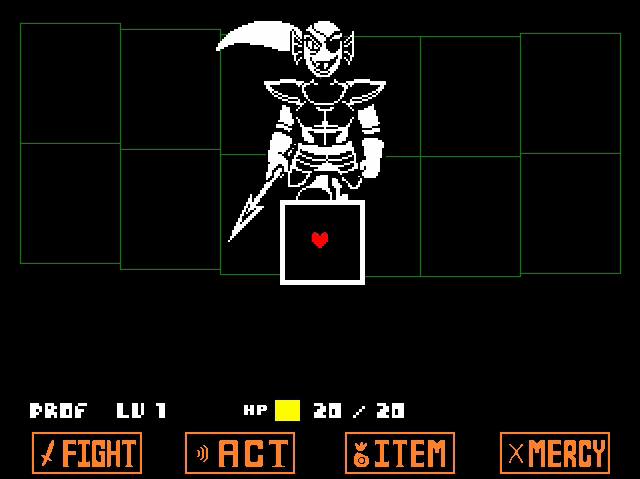 En guarde!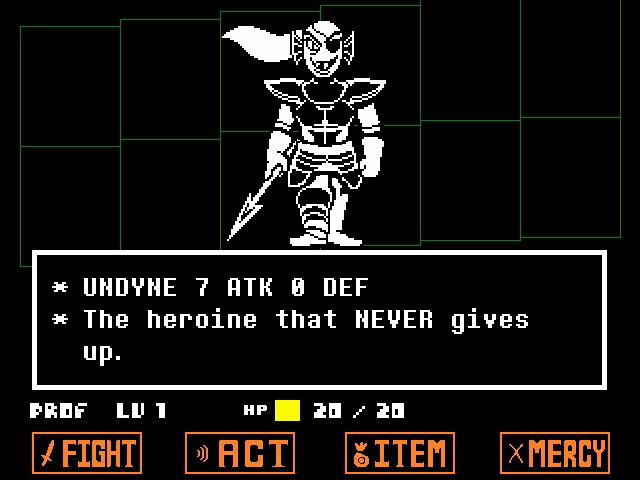 BGM: Spear of Justice

My soul has turned green. Time for a new game mechanic!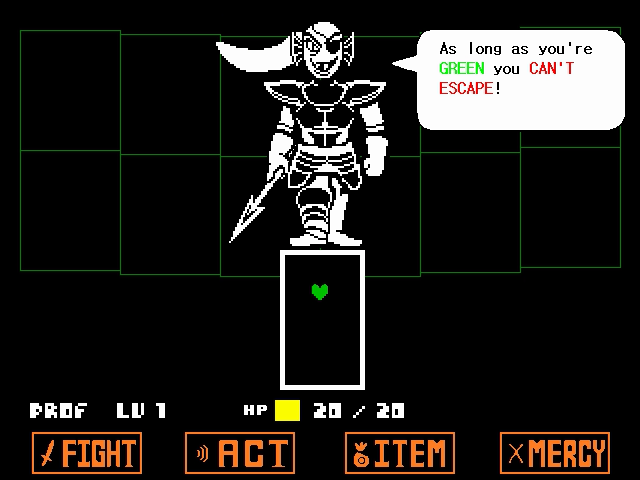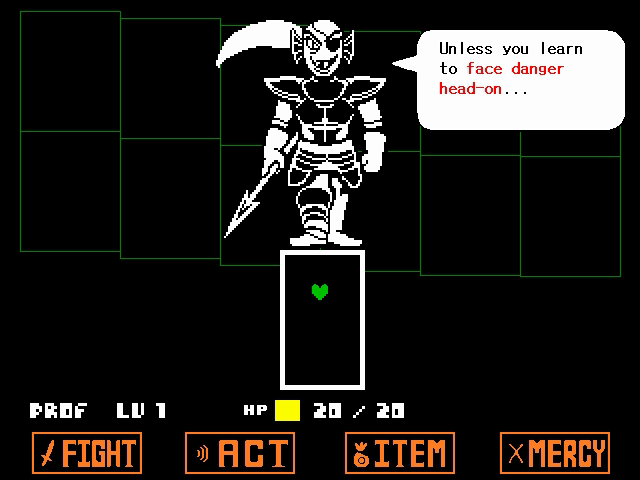 You won't last a SECOND against me!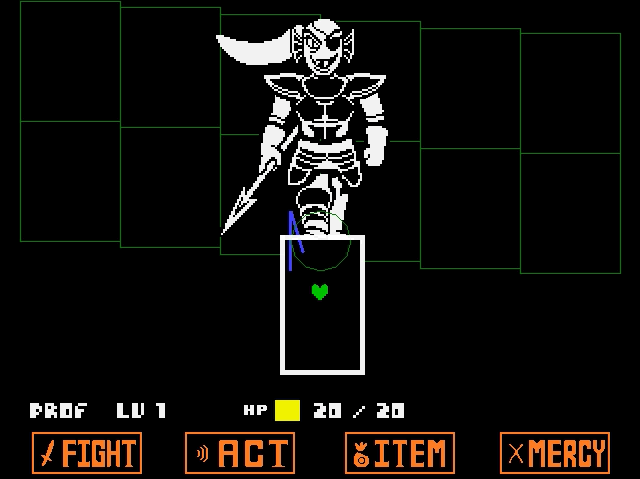 While my soul is green, I can't move at all. However, I have a shield that blocks incoming bullets!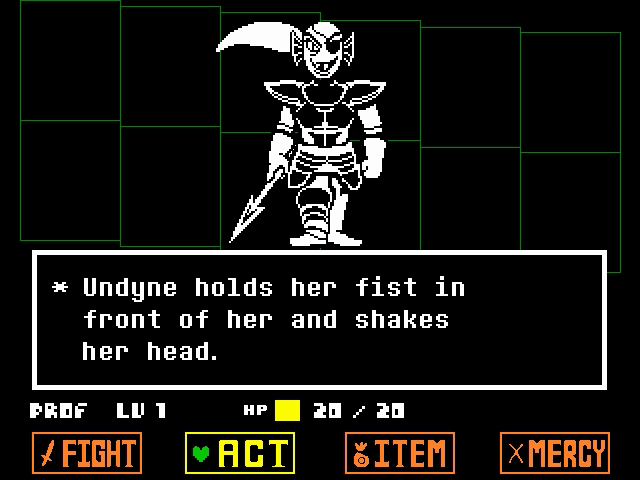 My ACT options are Plead and Challenge. First, I
Plead
.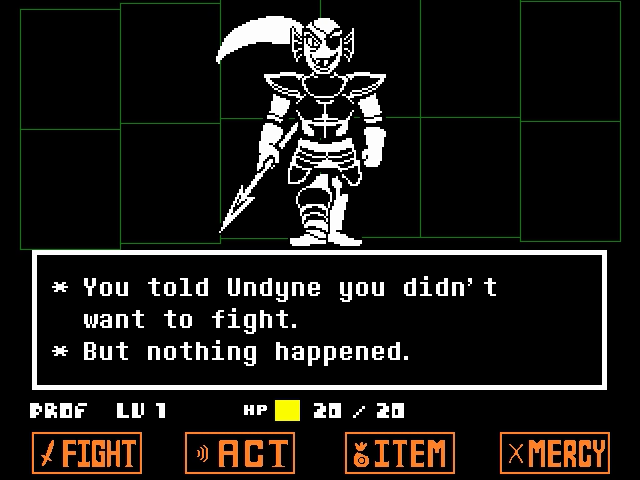 It's not going to be that easy.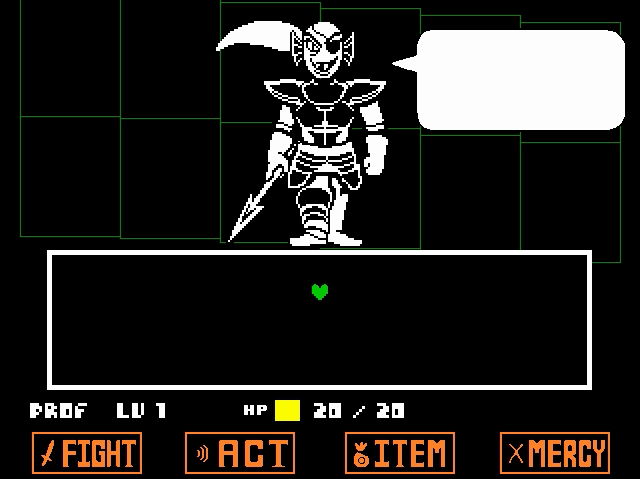 I can use the arrow keys to change the direction of the shield. I'm having flashbacks to Gitaroo Man.
That didn't work, so I
Challenge
her instead!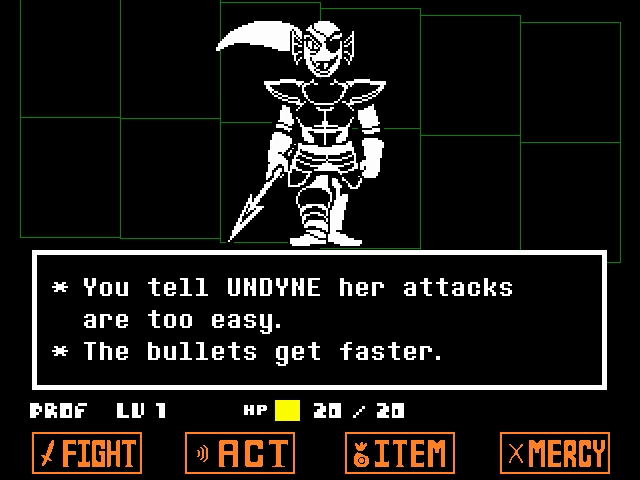 For yeares, we've dreamed of a happy ending...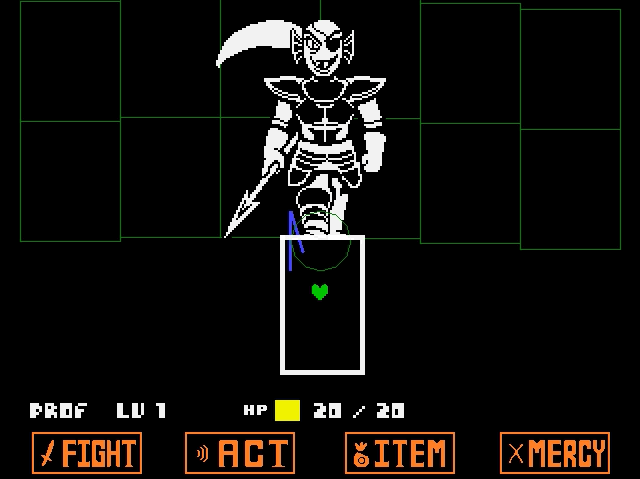 Neither of those options will do me any good here. For now, I'll stick to the tried-and-true strategy of picking
Spare
over and over.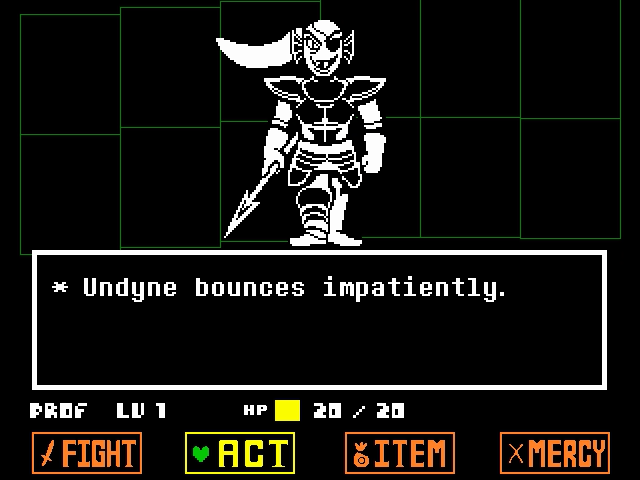 And now, sunlight is just within our reach!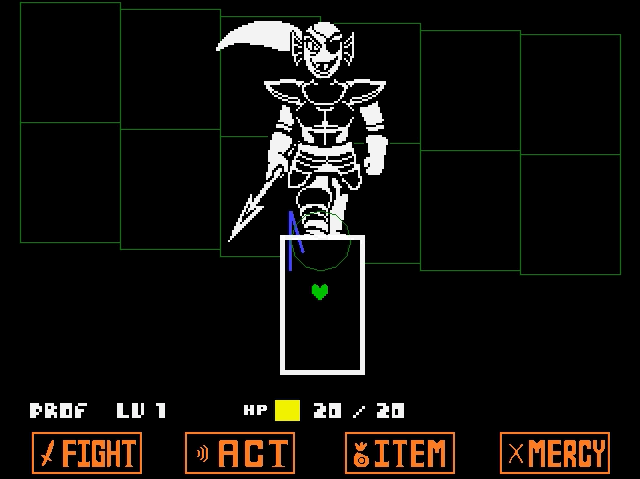 It's a boss fight, so obviously the attacks get harder and harder the longer I stall.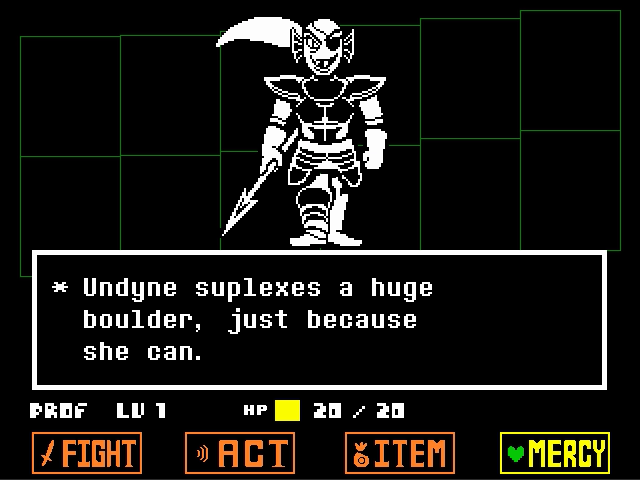 I won't let you snatch it away from us!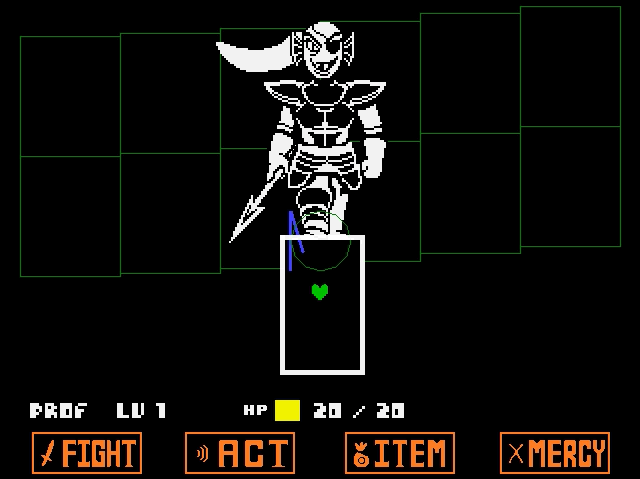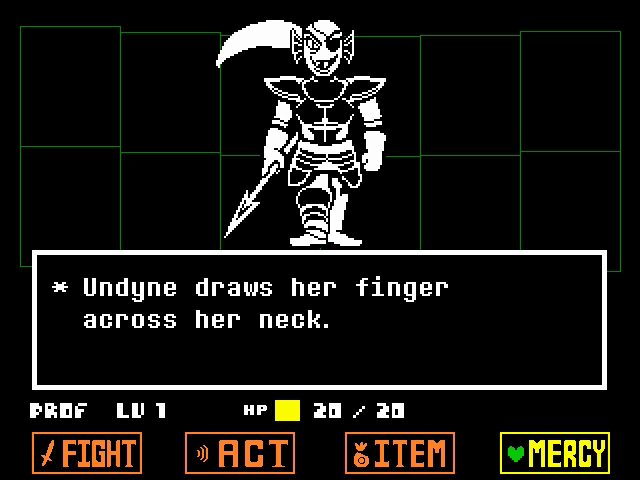 NGAHHH! Enough warming up!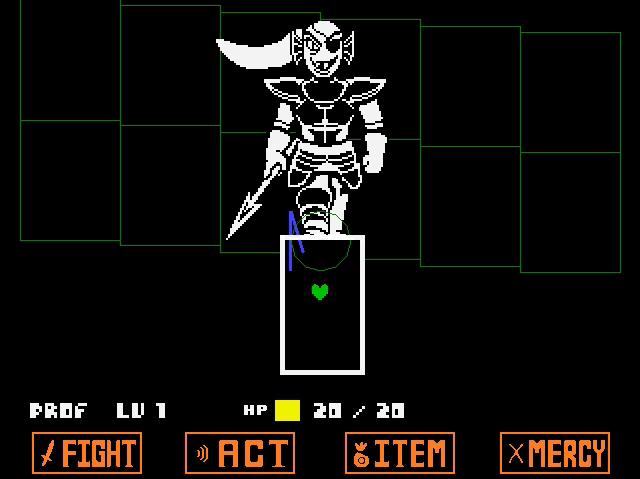 That last spear is a tricky one, since you have to switch between green and red controls in mid-attack.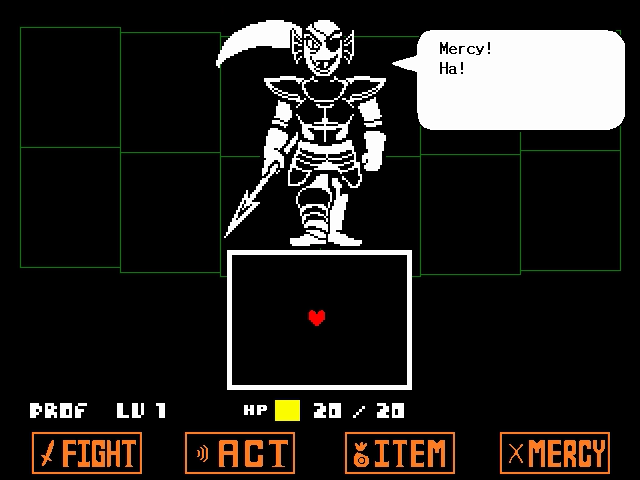 I stll can't believe YOU want to spare ME!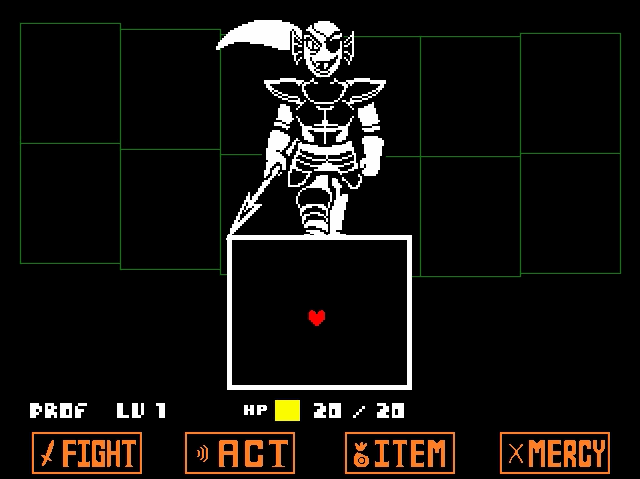 Undyne has totally different attacks for when my soul is red.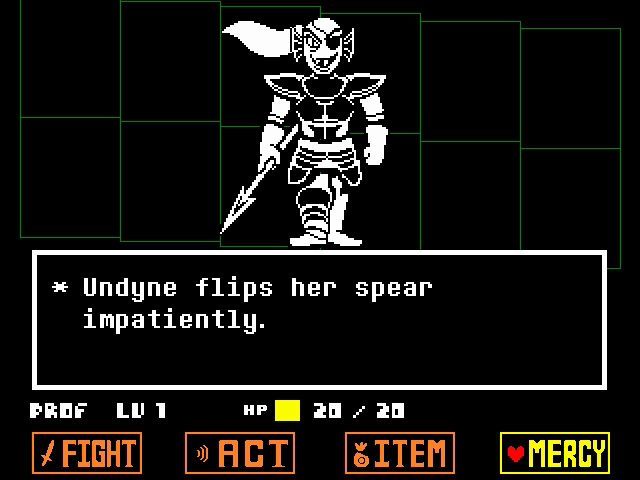 But even if I spared YOU...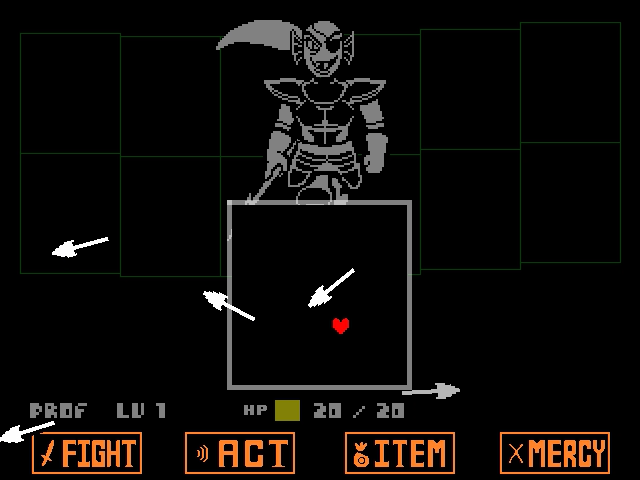 At the end of the avalanche of spears, Undyne slashes me back to green.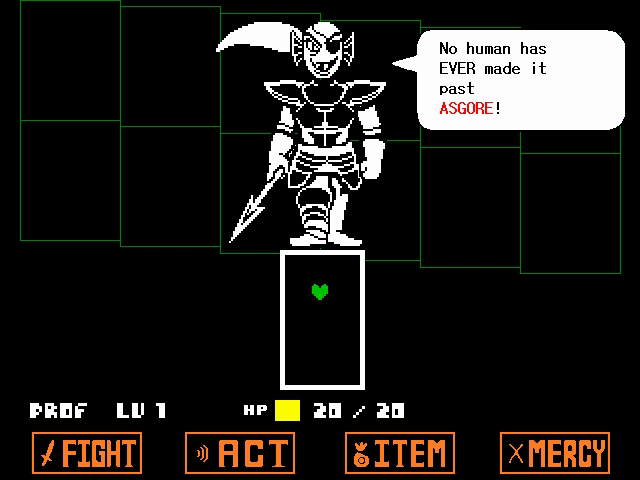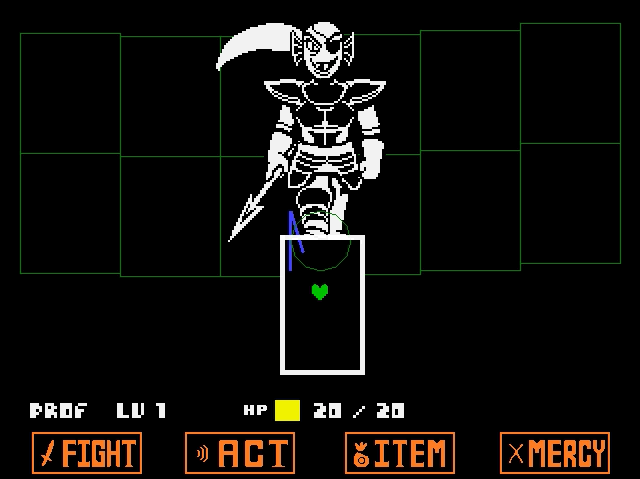 I slip up for the first time since the fight started.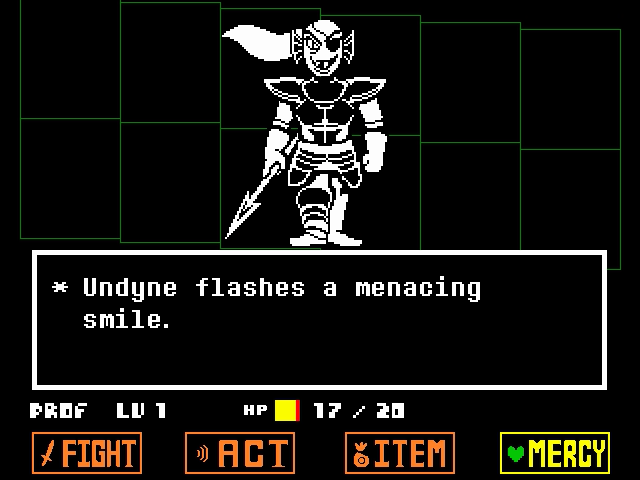 Honestly, killing you now is an act of mercy...!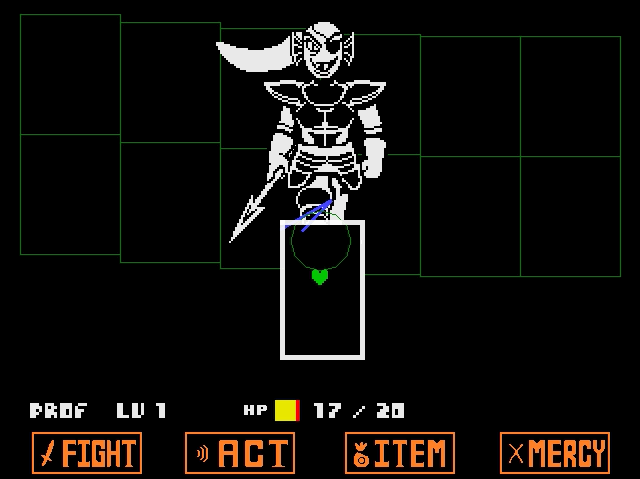 ...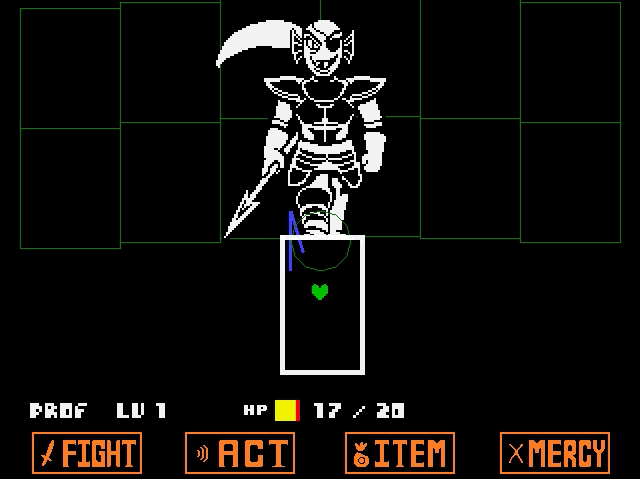 So STOP being so damn resilient!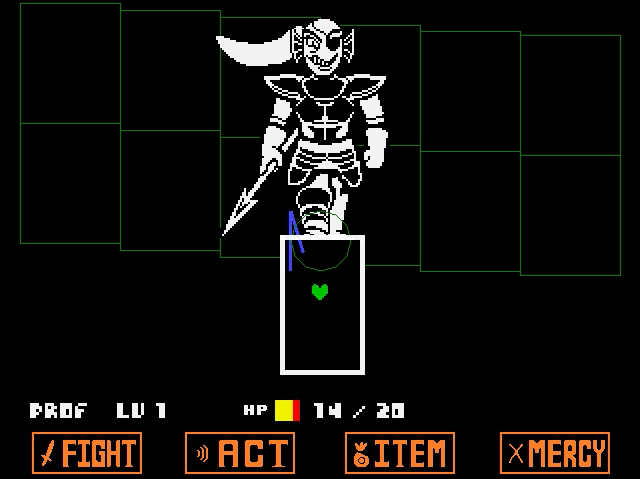 Red again.
I
Plead.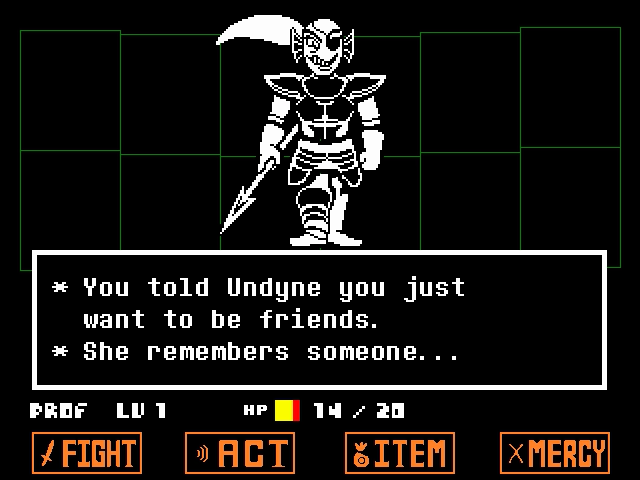 Her attacks became a little less extreme.

What the hell are humans made out of!?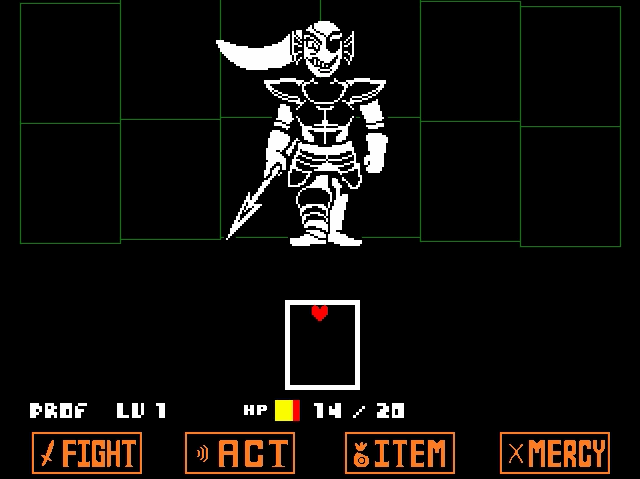 Anyone else would be DEAD by now!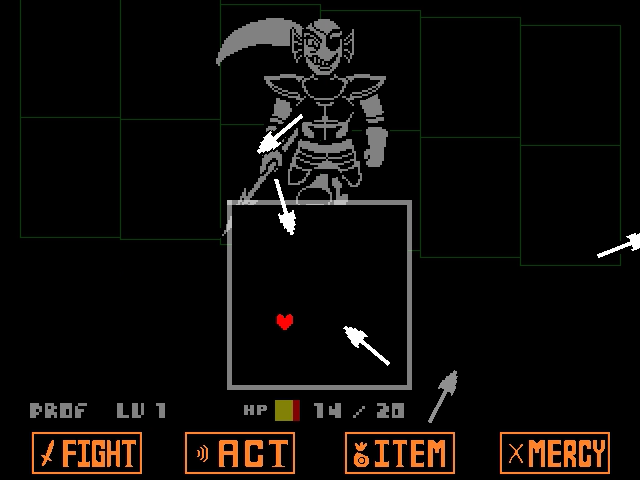 Undyne only has two attacks in red mode, and they don't get much harder or easier.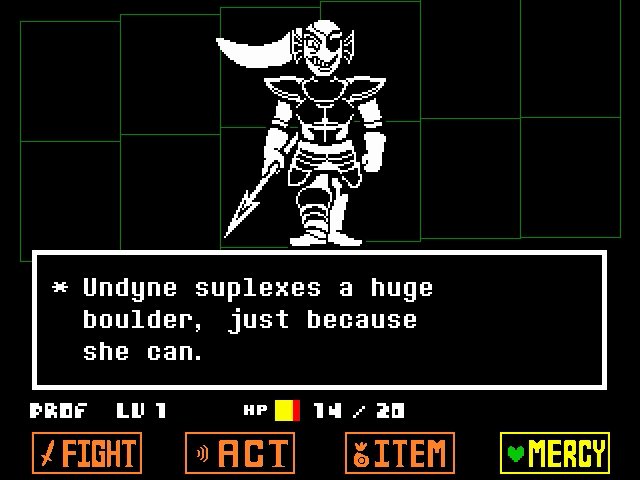 Alphys told me humans were determined...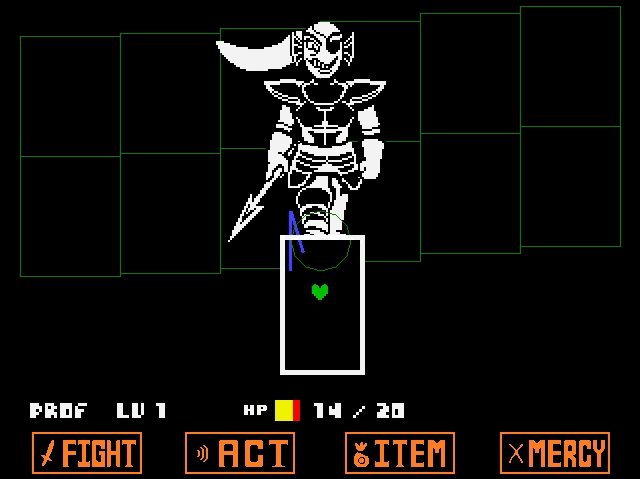 Orange arrows are tricky, coming from the opposite direction and reversing at the last second.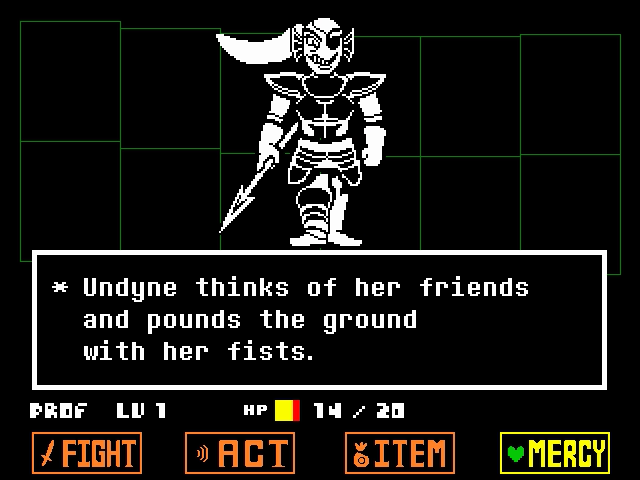 I see now what she meant by that!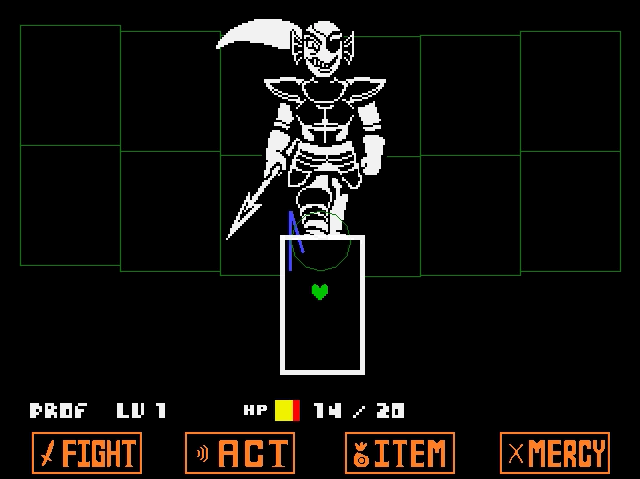 But I'm determined, too!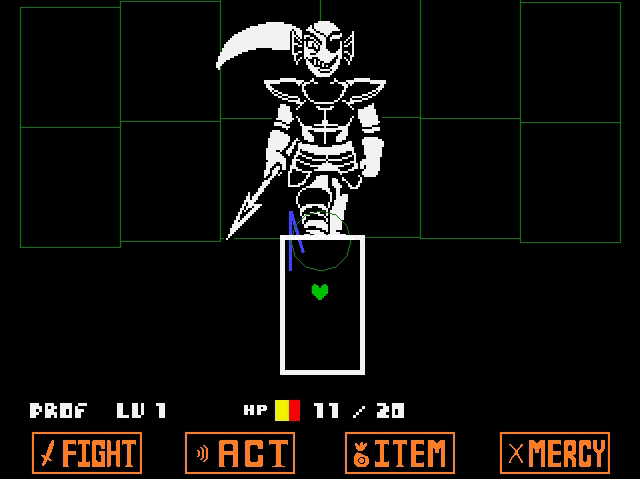 I swear I know how to work this thing. I eat a Nice Cream bar.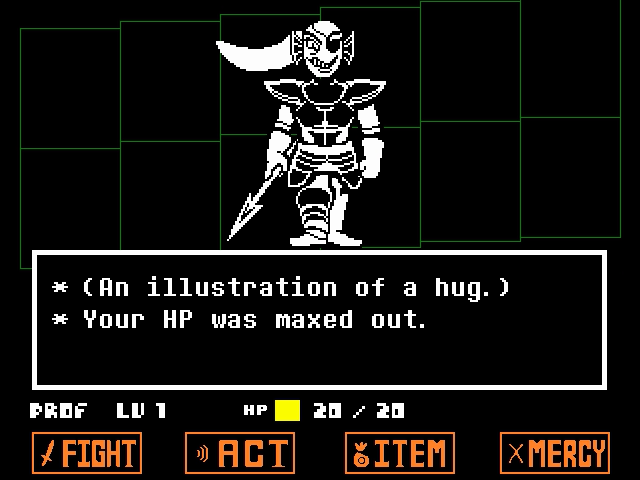 Determined to end this RIGHT NOW!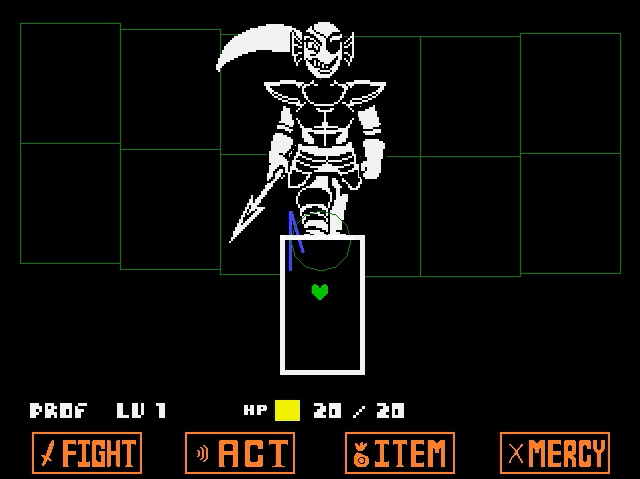 ...RIGHT NOW!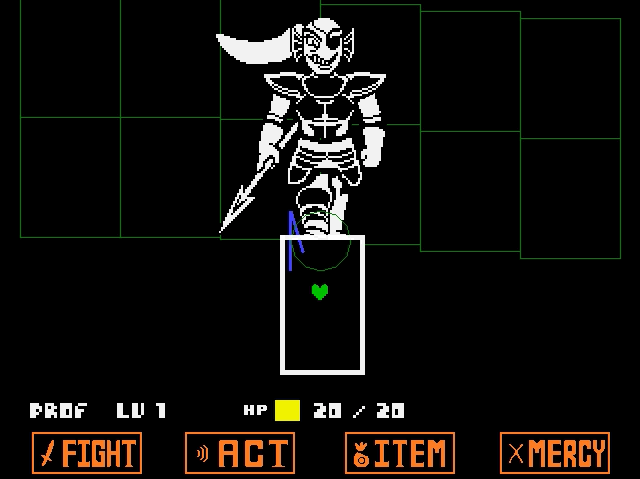 ...RIGHT...... NOW!!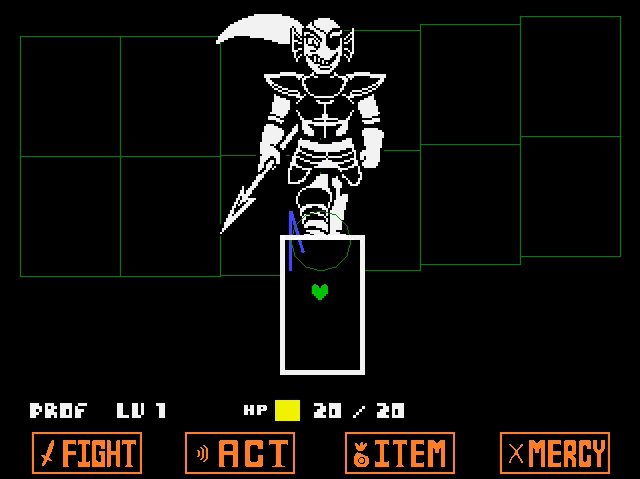 Just a little longer...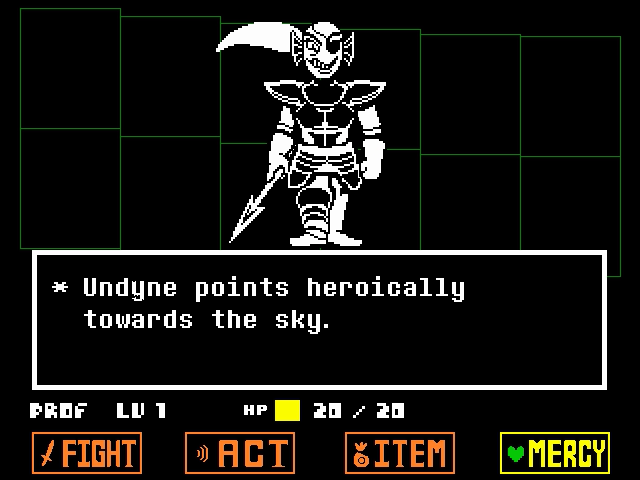 Ha... Ha...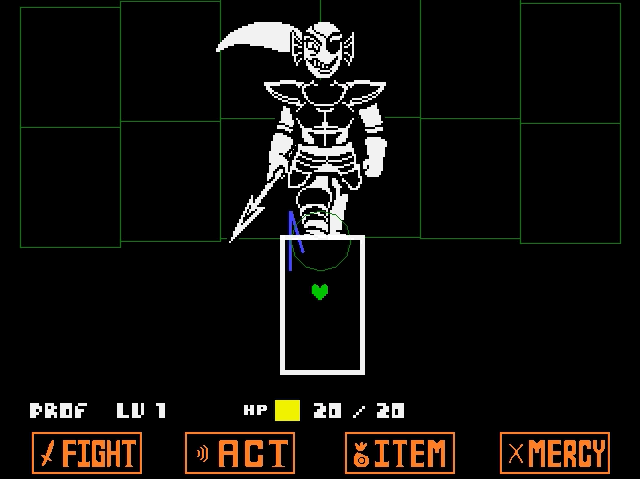 NGAHHH!!! DIE ALREADY, YOU LITTLE BRAT!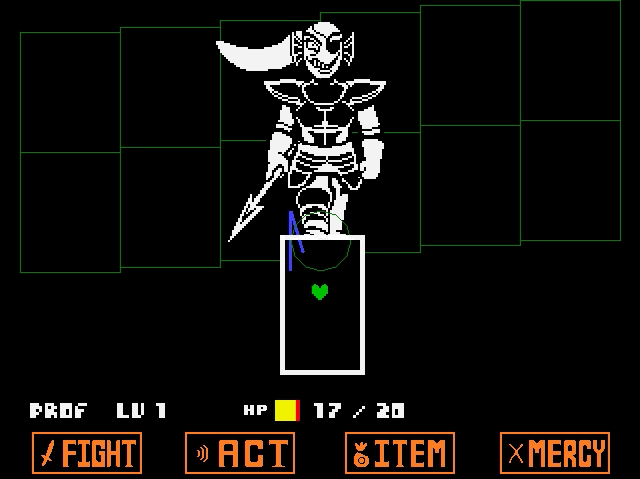 I WILL NEVER TAKE MERCY FROM THE LIKES OF YOU!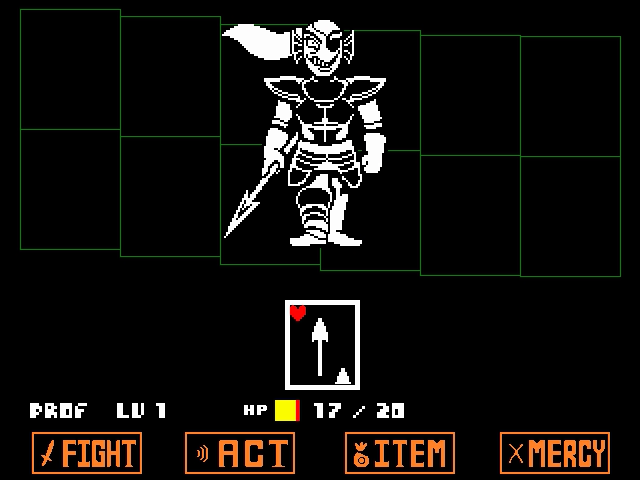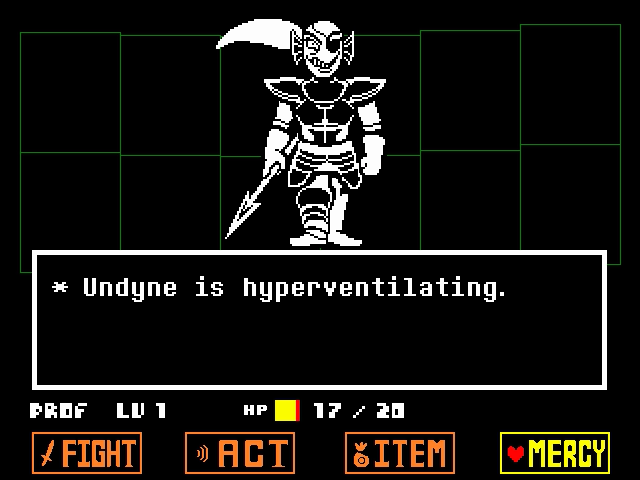 From here, Undyne stops talking.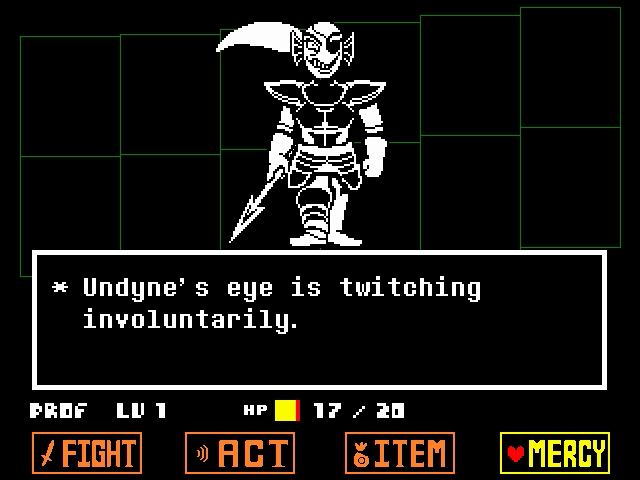 Neither Challenge nor Plead does anything.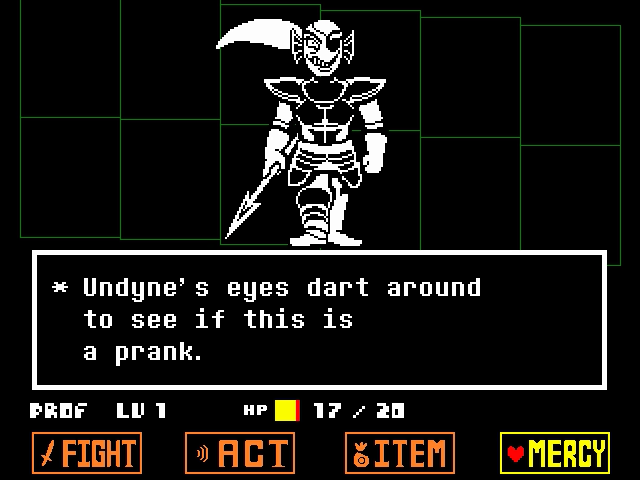 Just the same two red attacks over and over.
If I can't spare, and I don't want to fight... what else can I do?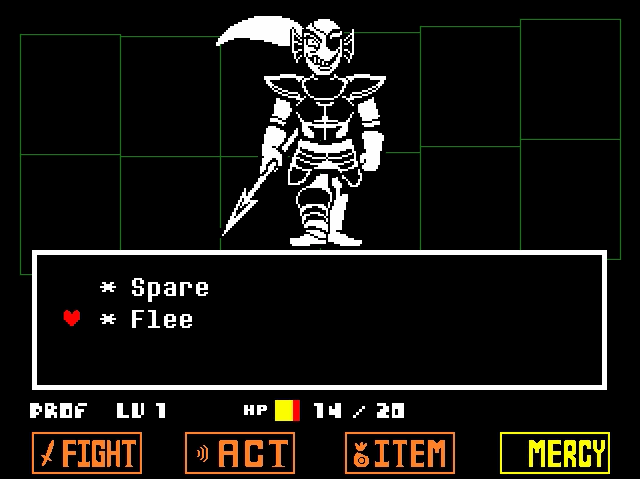 I can run!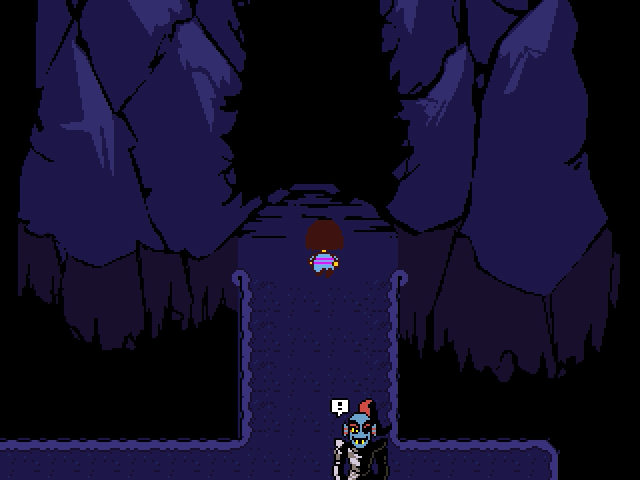 I actually could have run away at any point when my soul wasn't green.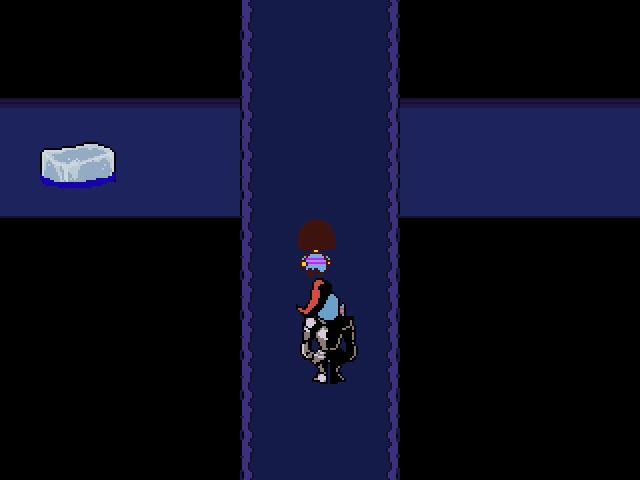 Hey, there's that ice again.
More importantly, Undyne is chasing me!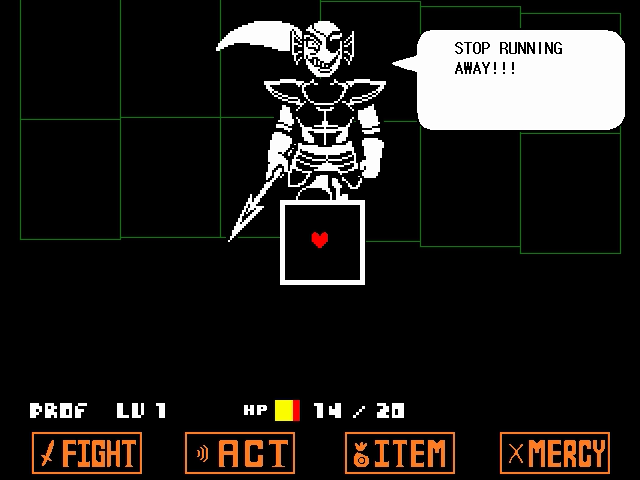 Normally, Undyne would turn me green again right now.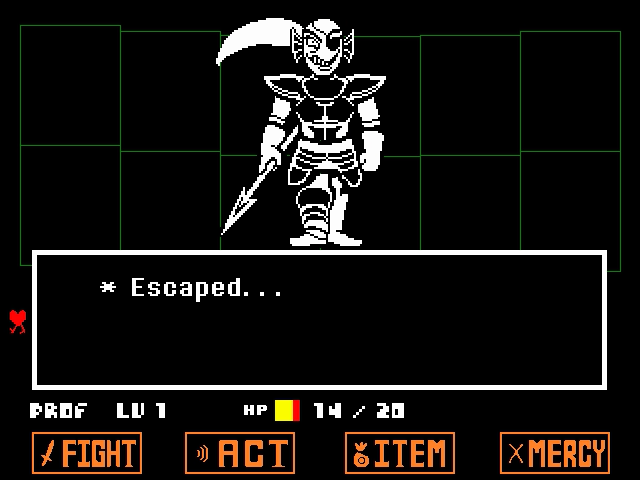 But she's too exhausted to do that. Away again!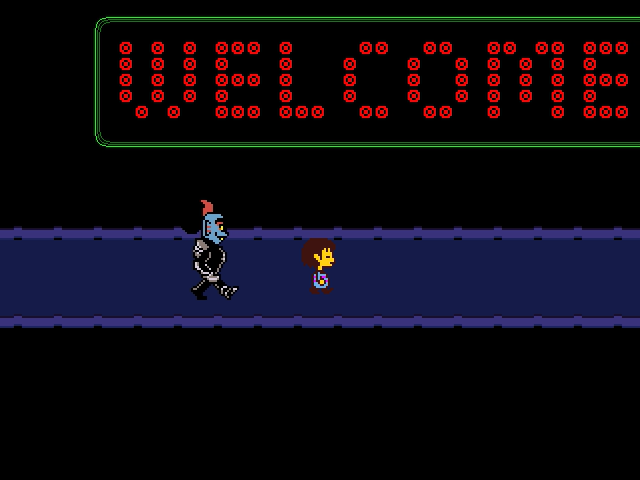 Ever-persistently, the heroic Undyne chases me down for a third battle.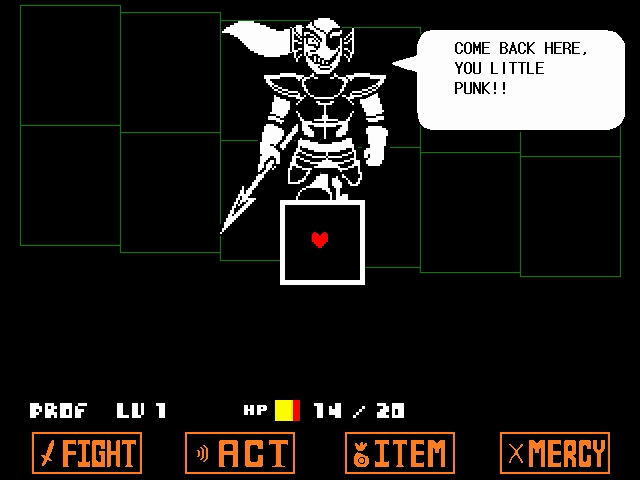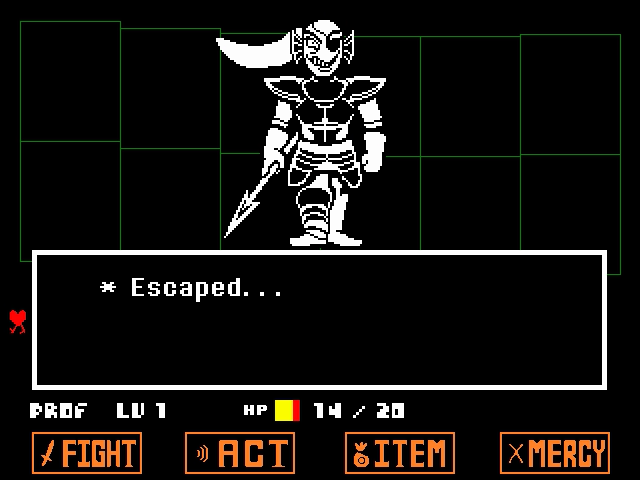 I run away again.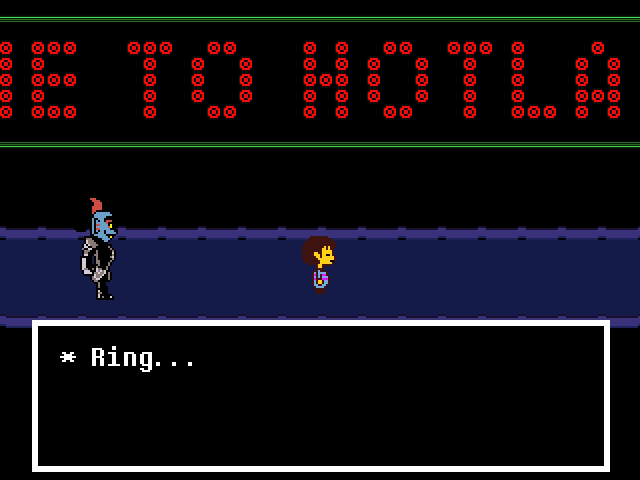 I'M A LITTLE BUSY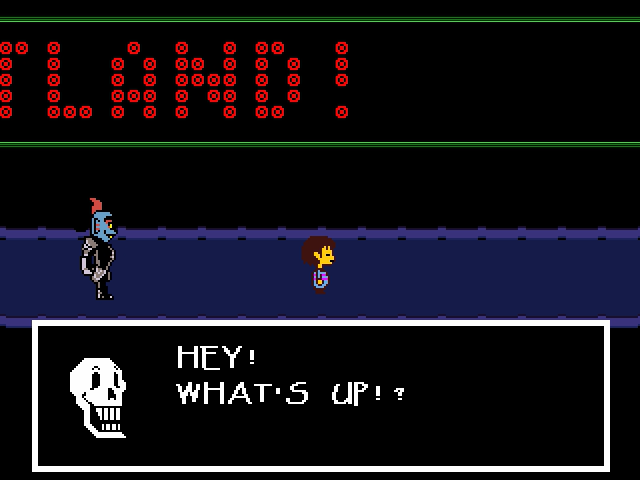 I WAS JUST THINKING...

YOU, ME, AND UNDYNE SHOULD ALL HANG OUT SOMETIME!

I THINK YOU SOULD MAKE GREAT PALS!

LET'S MEET UP AT HER HOUSE LATER!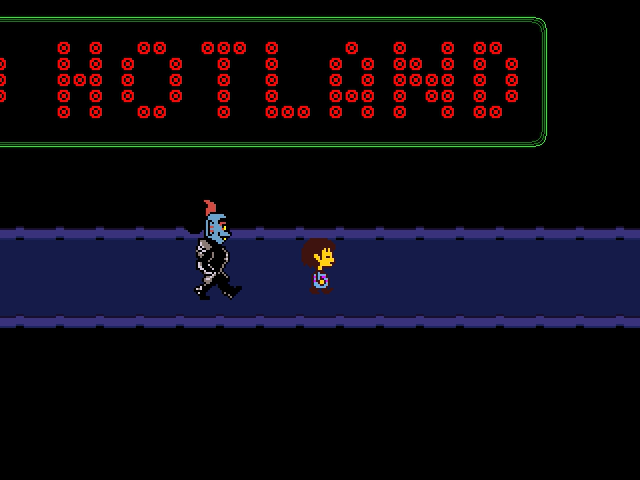 Undyne chases me down again.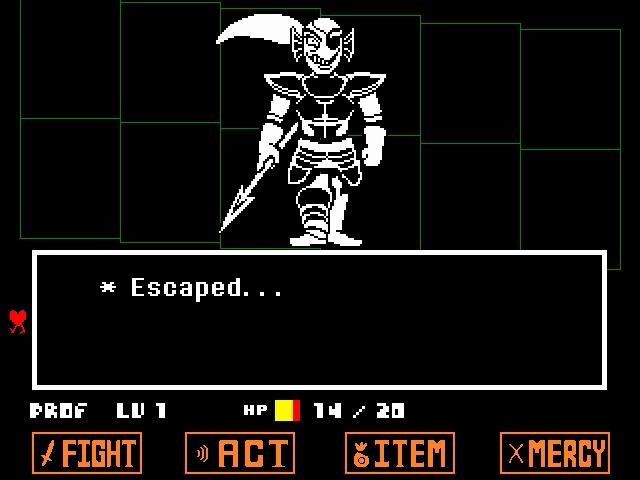 It ends in the usual way.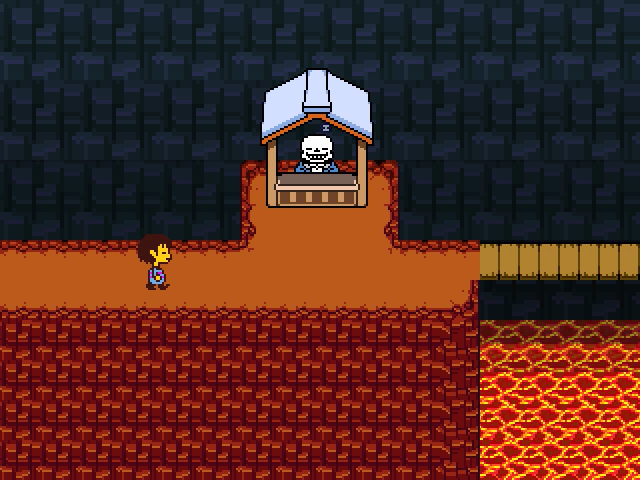 Hey, Sans.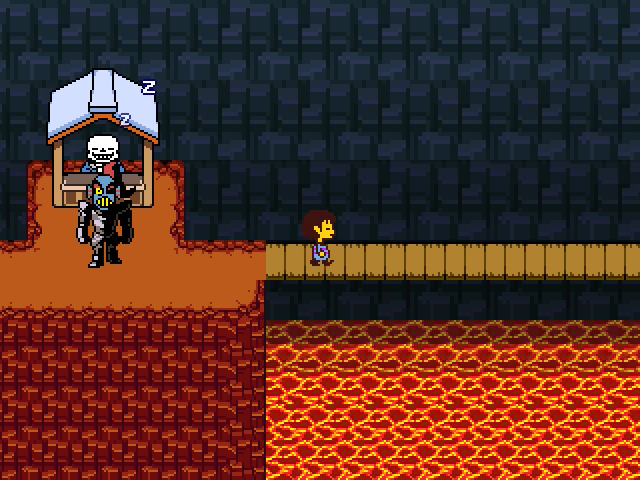 Undyne is none too pleased to see him slacking on the job.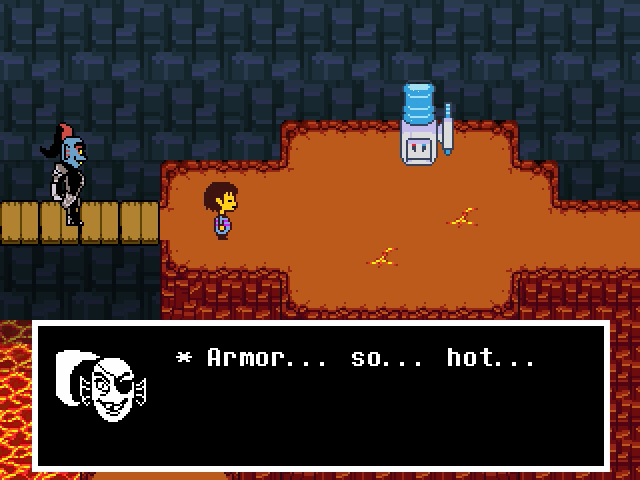 BGM: Silence

But I can't... Give up...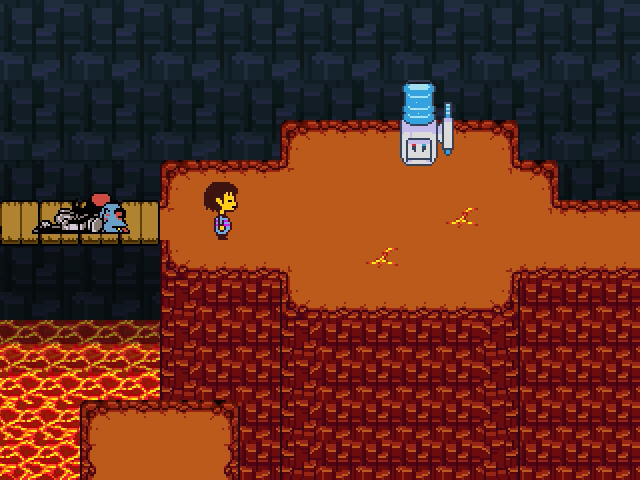 Undyne collapses.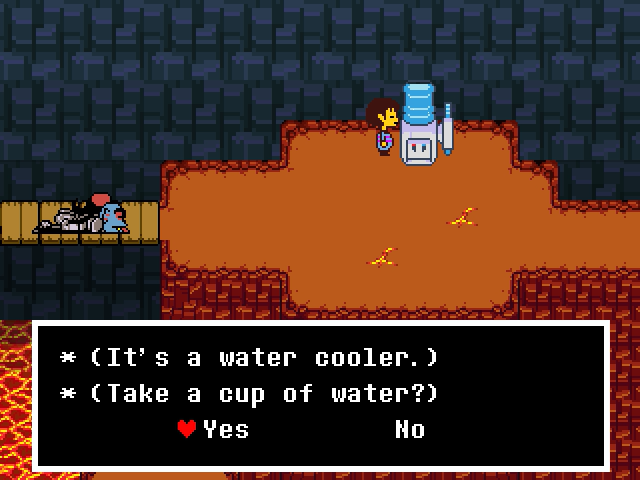 She must be overheated.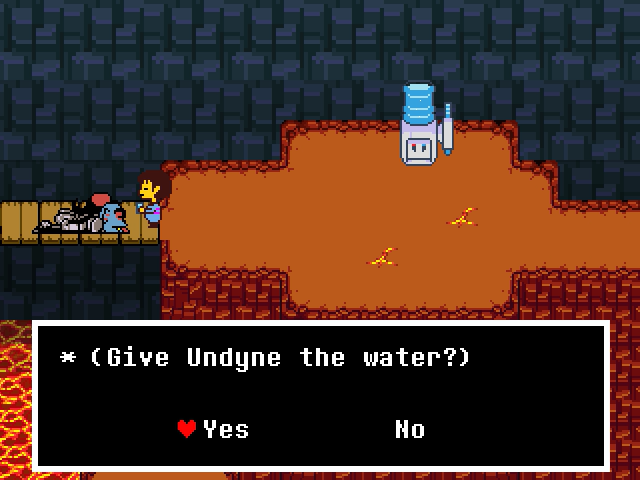 I splash the water on Undyne's face.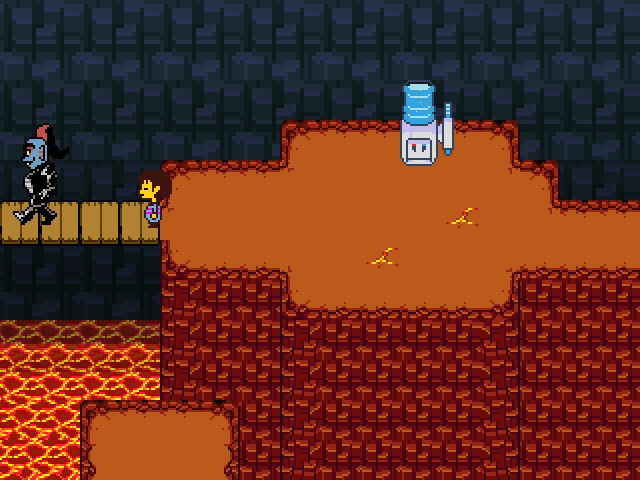 Revitalized, she leaves without another word.
I continue on.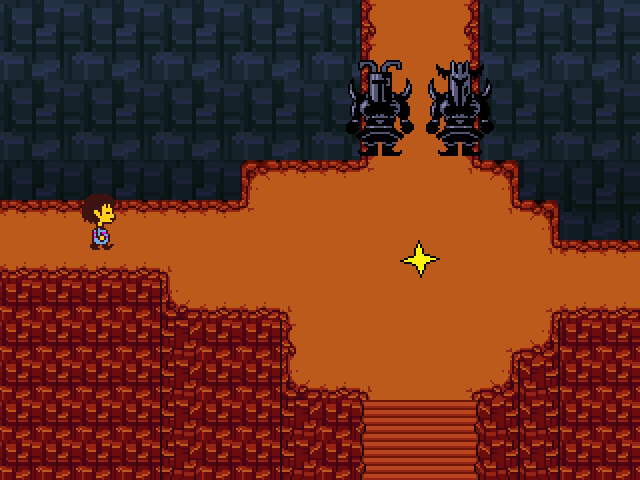 Welcome to Hotland.
Ahead, some kind of laboratory.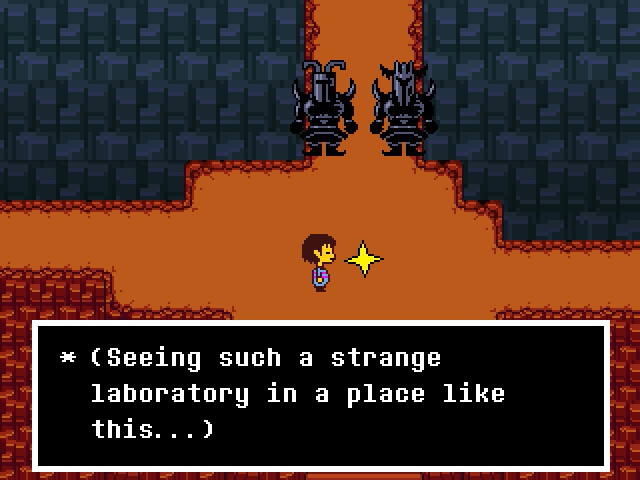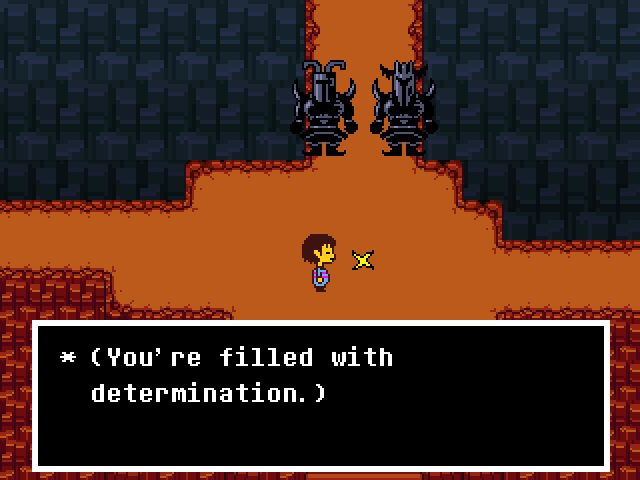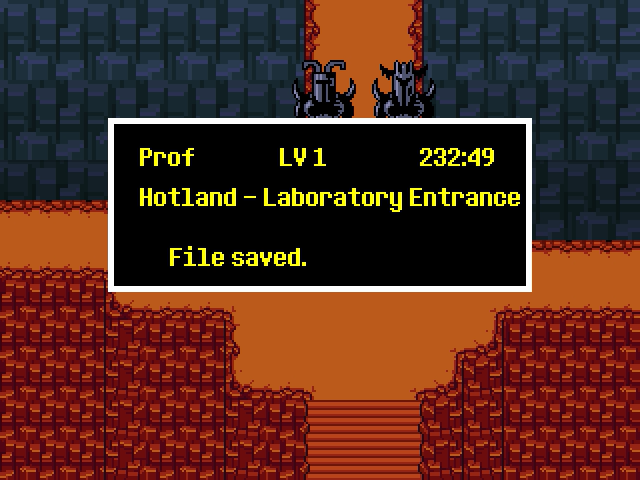 I save my game.