Part 19: NGAHHH!!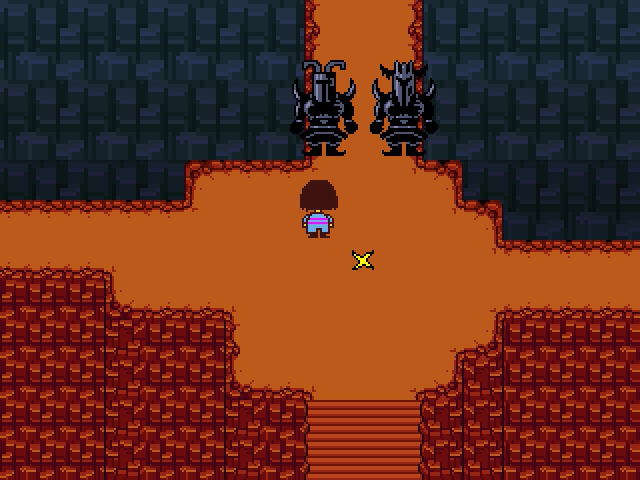 BGM: Ooo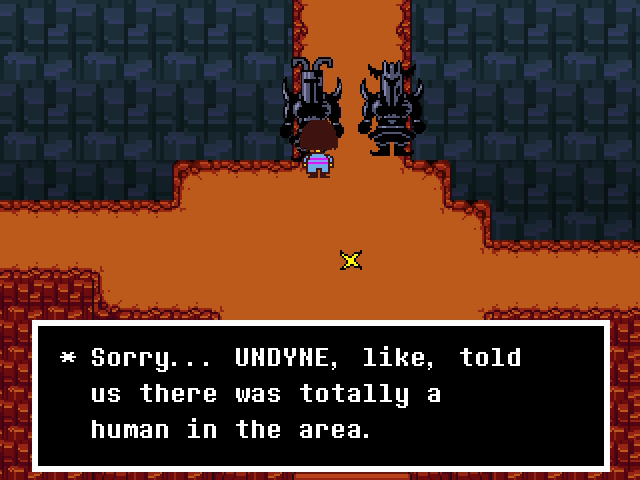 So, like, us Royal Guards are blocking off the elevators for now.

Ngah! Even if the elevators aren't working anyway, we'll do our best, Ms. Undyne!

Like, NO WAY you're getting by us.

But, between you and me... I think you could go through that creepy lab over there.

Between you, me, and my bro here, I mean.

I tell him ALL my secrets.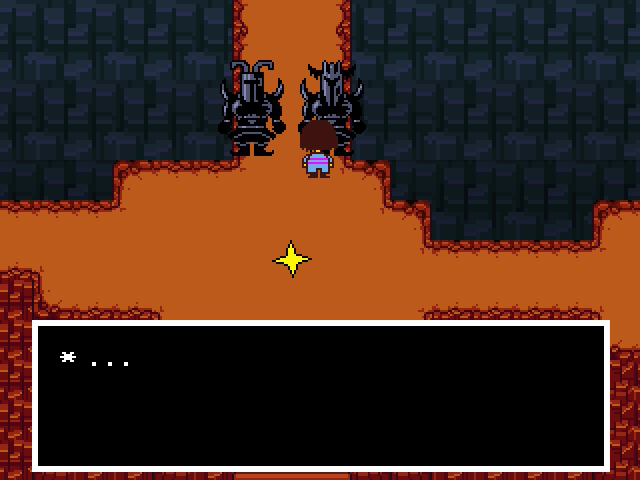 Before I advance, I have to backtrack a bit.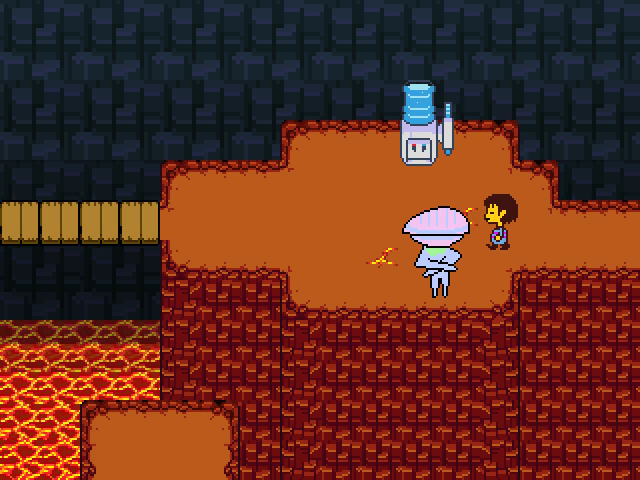 Some weird monster showed up here now that Undyne is gone.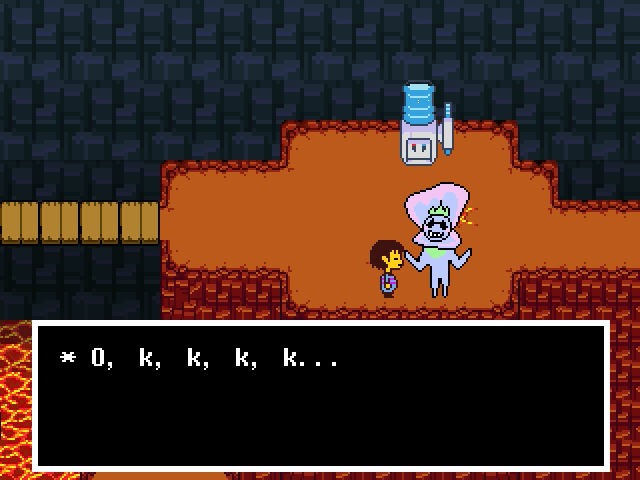 I was thirsty, so I came over from Waterfall to get a drink!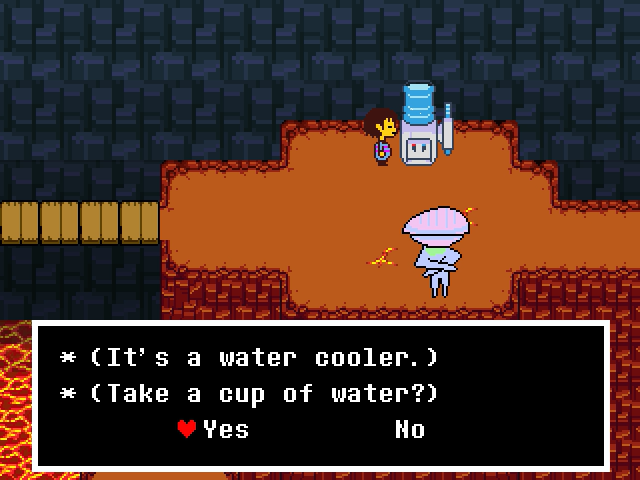 I go and talk to him again with water.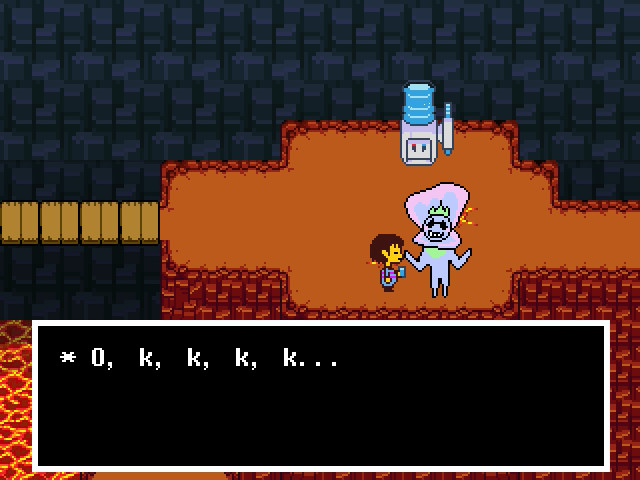 Are you just carrying that around to look sophisticated?

Cause it's not working.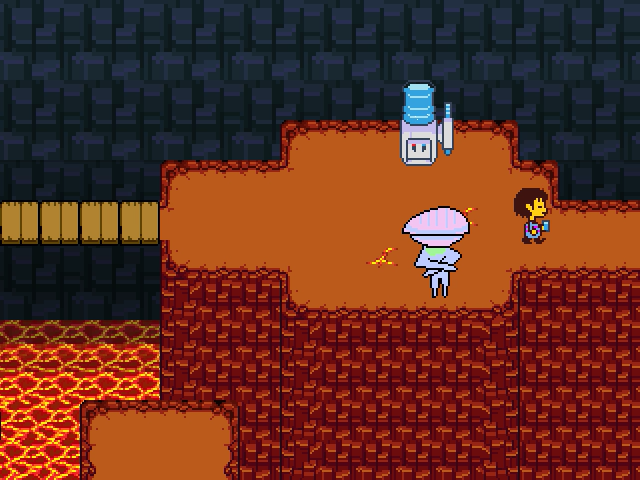 I think I'll go for the rest of the game with a cup of water in my hand.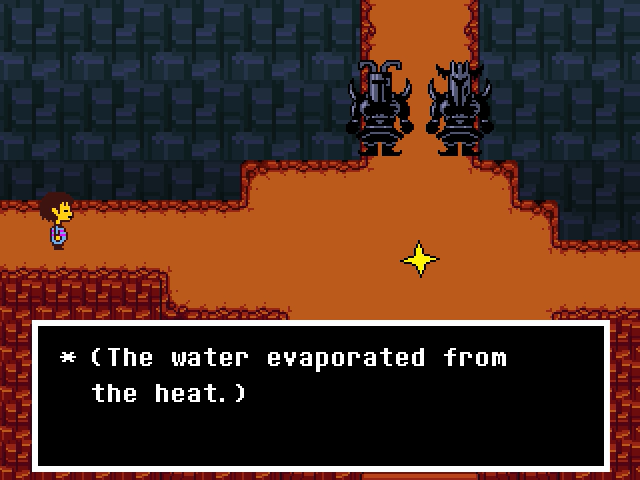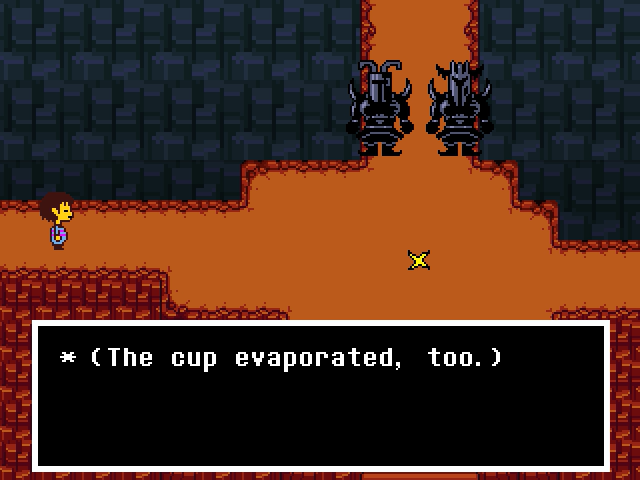 Oh.
I head back to where I fought Undyne.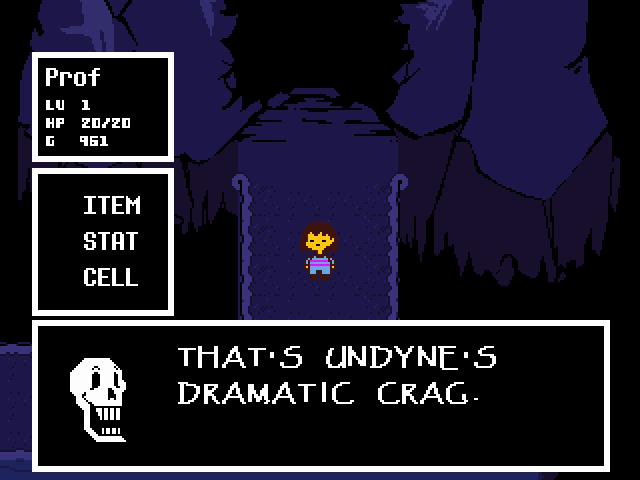 SHE'S ALWAYS POSING ATOP IT.

MUMBLING SOMETHING TO HERSELF...

I THINK IT'S SOMETHING SHE HAS TO MEMORIZE.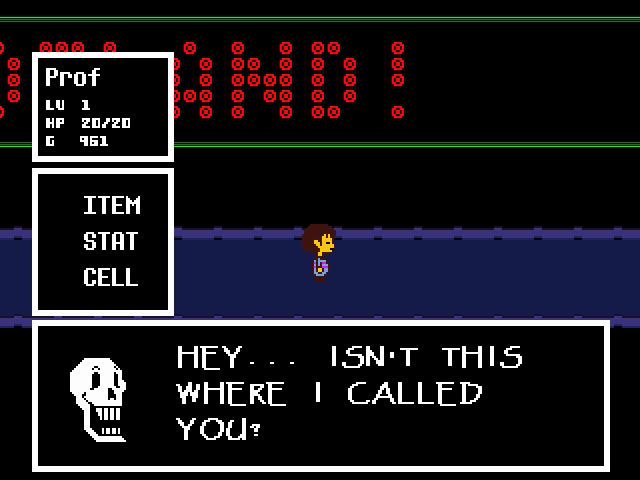 I HAVE A PHOTOGRAPHIC MEMORY FOR PHONE CALLS.

...

HEY, WHEN ARE WE GONNA HANG WITH UNDYNE?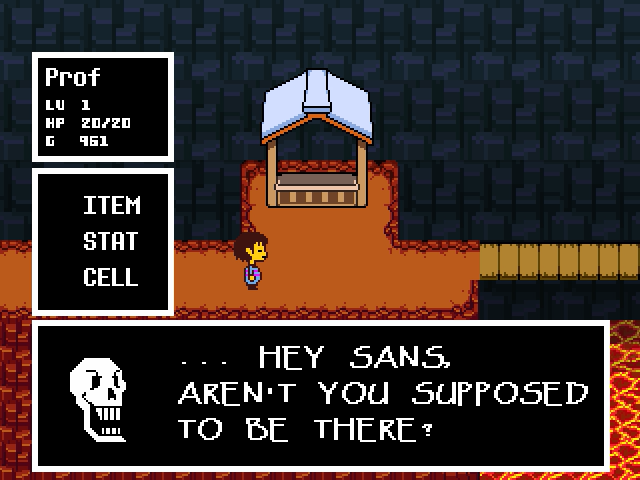 don't worry. i am.

PHEW!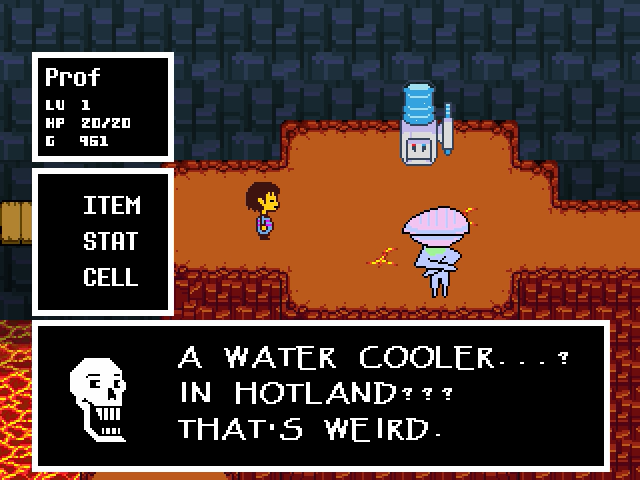 SHOULDN'T IT BE A FIRE COOLER INSTEAD?

WHAT'S A WATER COOLER DO, ANYWAY?

MAKE WATER... COOLER?

SO IT GIVES IT SPIKES AND MAKES IT GLOW?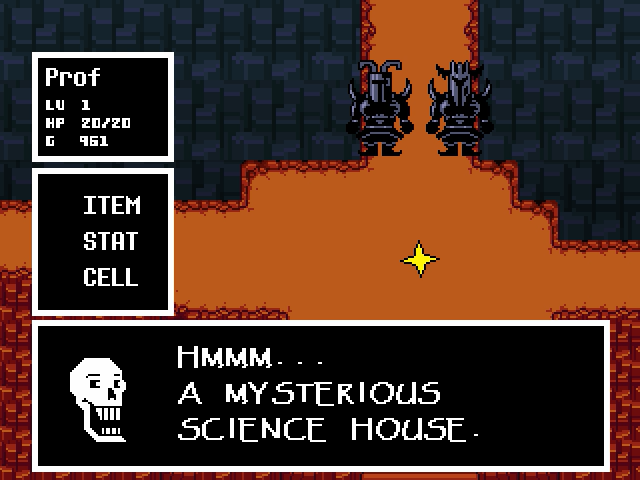 the sign outside says "lab".

LAB?

like... laboratory.

LABRADOR... Y?

DOES THAT MEAN THERE ARE DOGS INSIDE?

i mean.

i wouldn't rule it out.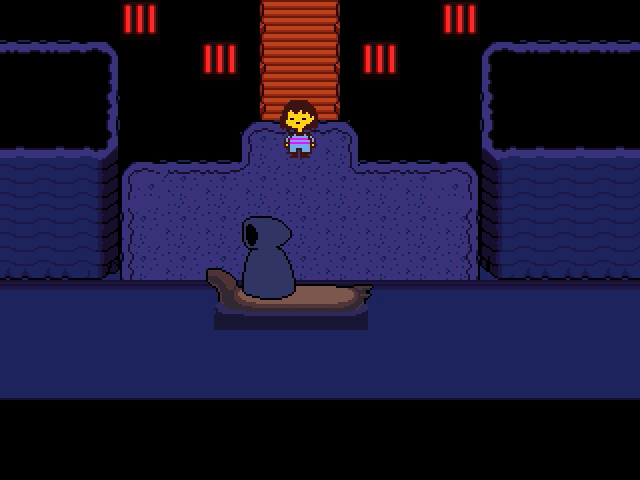 To the south, I find a boat.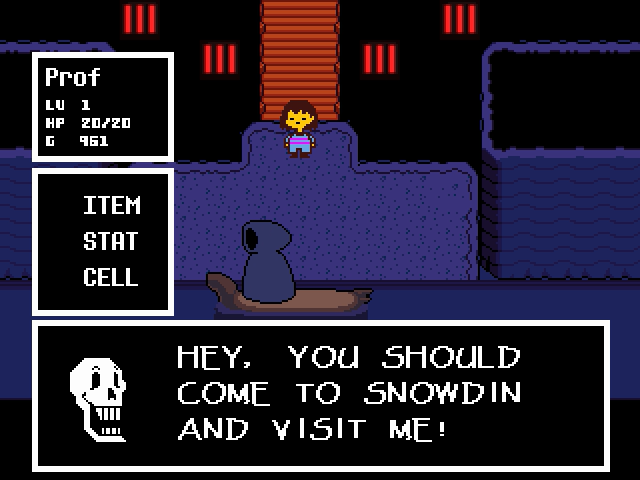 I'VE BEEN WORKING ON A FEW THINGS.

A FEW SENTENCES TO STAND AROUND AND REPEAT.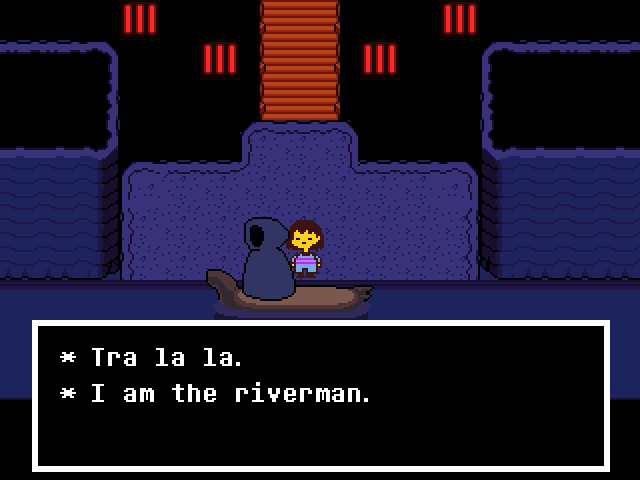 Or am I the riverwoman...? It doesn't really matter.

I love to ride in my boat. Would you care to join me?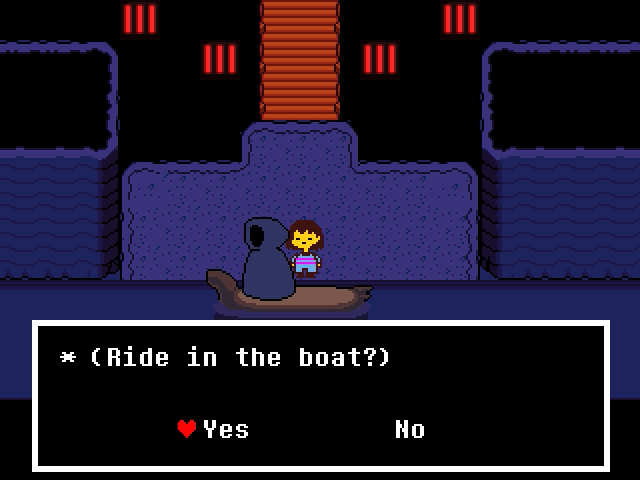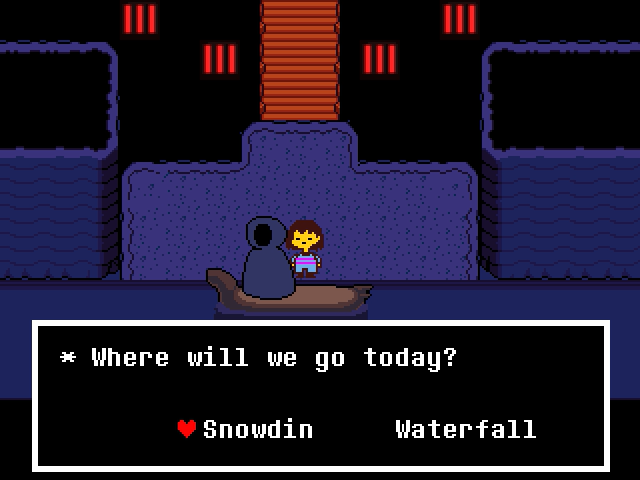 Then we're off...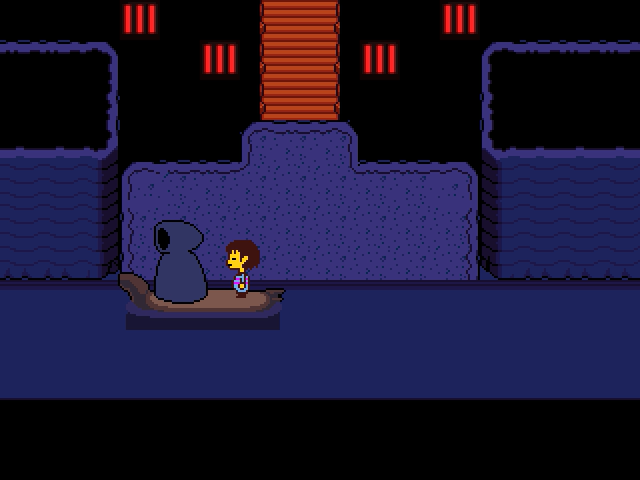 I can use the boat to fast-travel to old areas. Handy!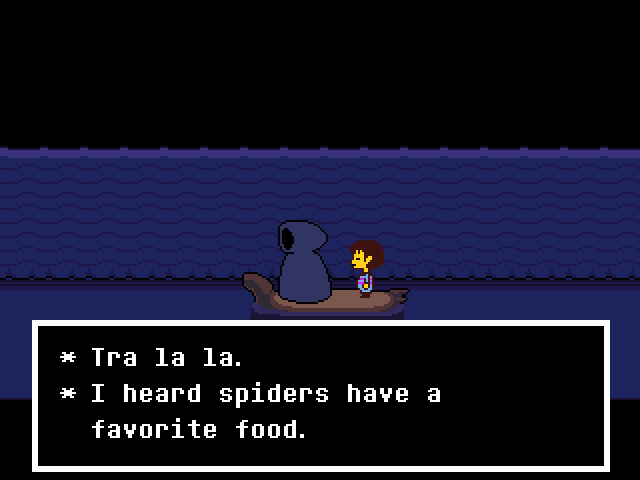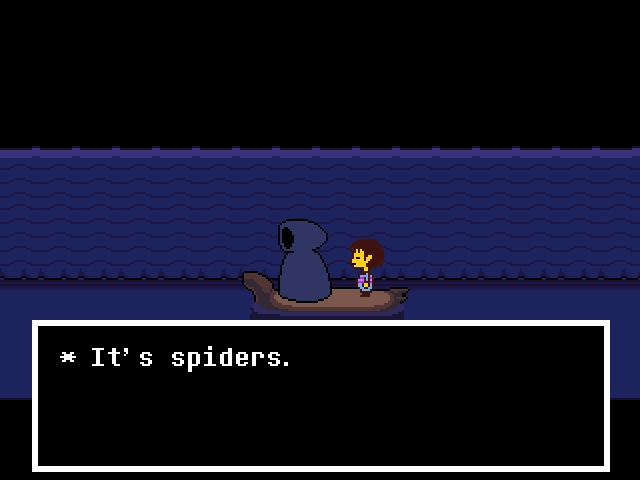 The boatperson usually has something interesting to say when you take a trip.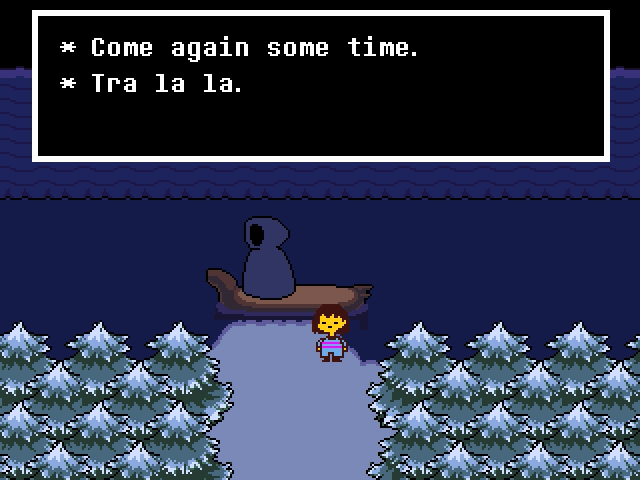 Oh, that's what this screen was for.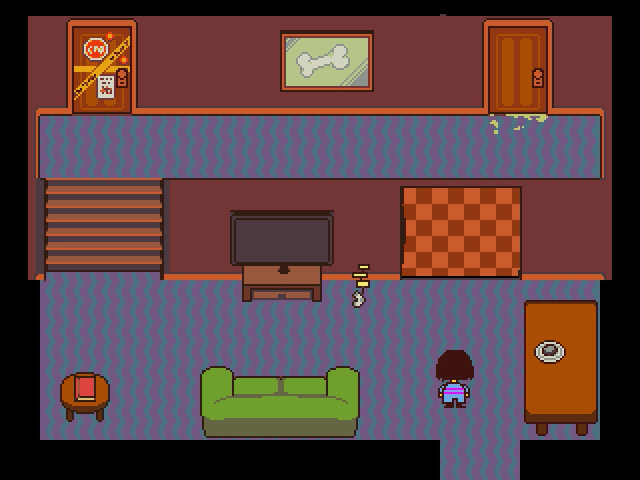 Despite his invitation, Papyrus does not appear to be in Snowdin at all.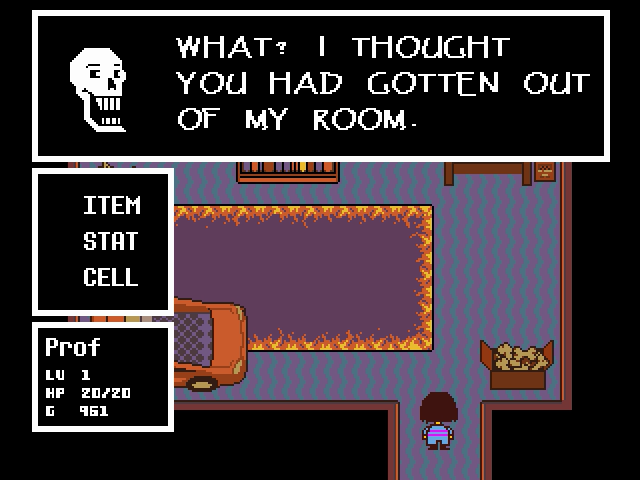 WE'RE GOING TO HAVE TO START OVER FROM SQUARE ONE!

FIRST: DO YOU KNOW WHO PAPYRUS IS!?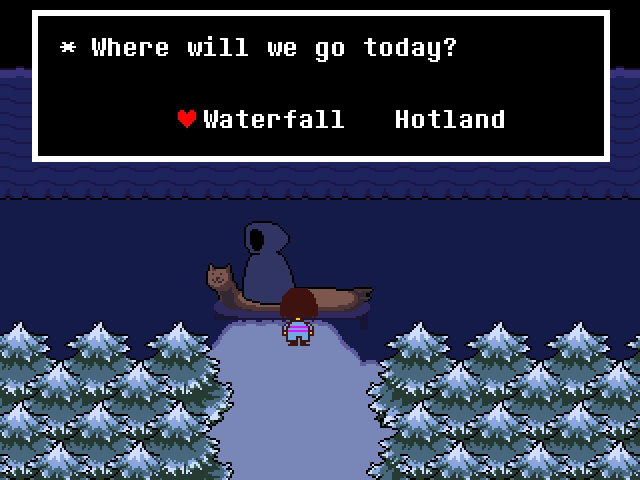 Time to pay Undyne a visit.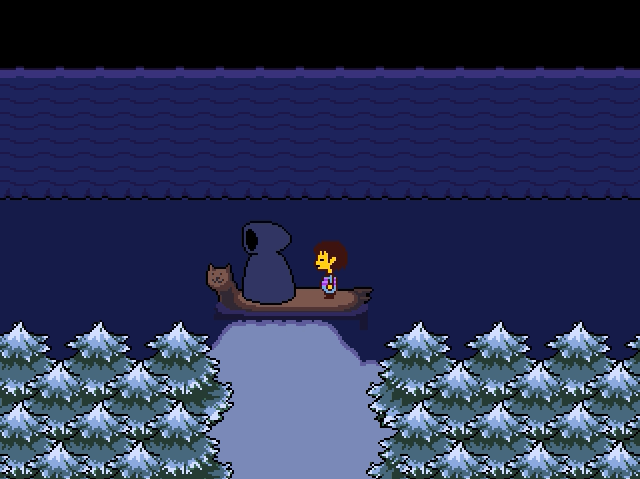 Maybe "boat" is the wrong word.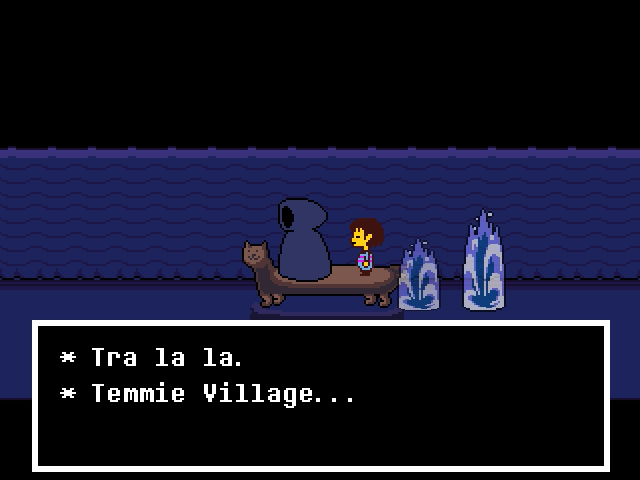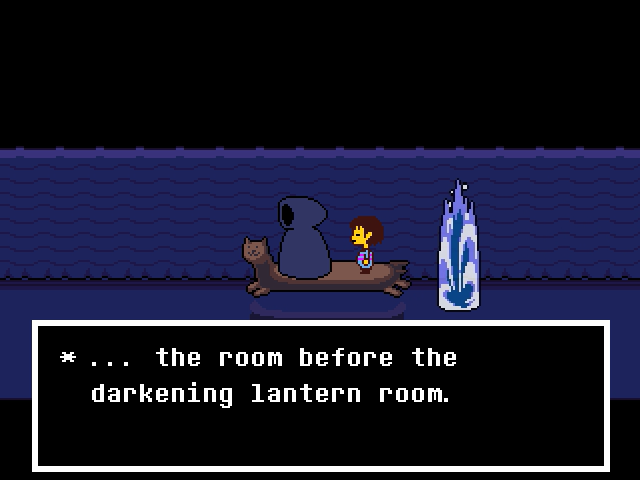 Yeah, I figured that out.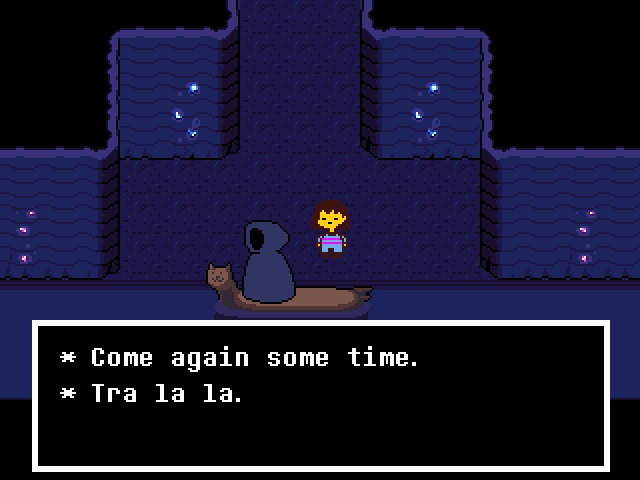 North, west, lupwards, Undyne.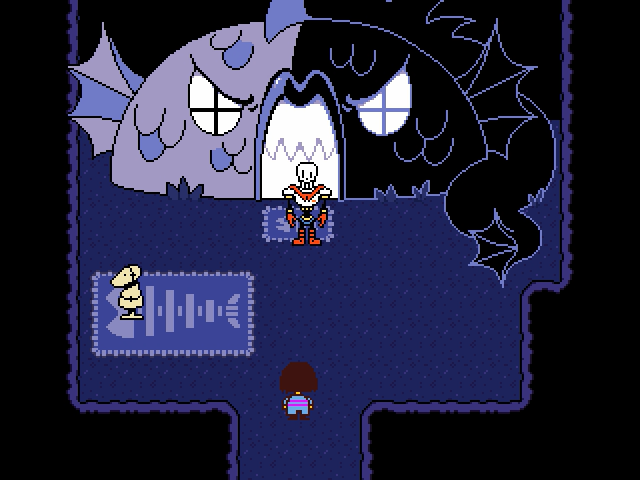 I call Papyrus.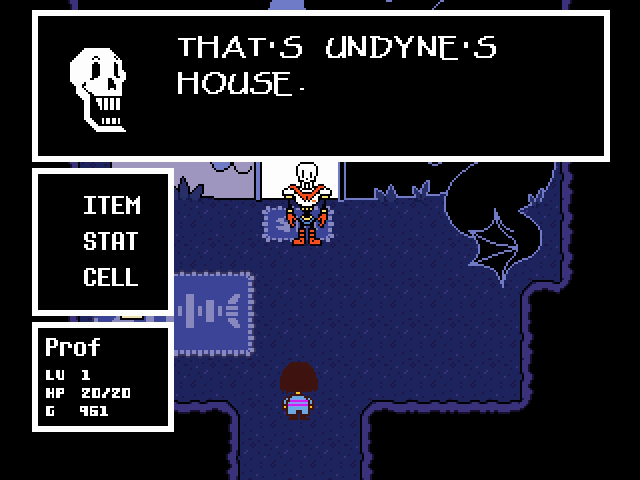 YOU KNOW, THE ONE WITH THE SKELETON IN FRONT.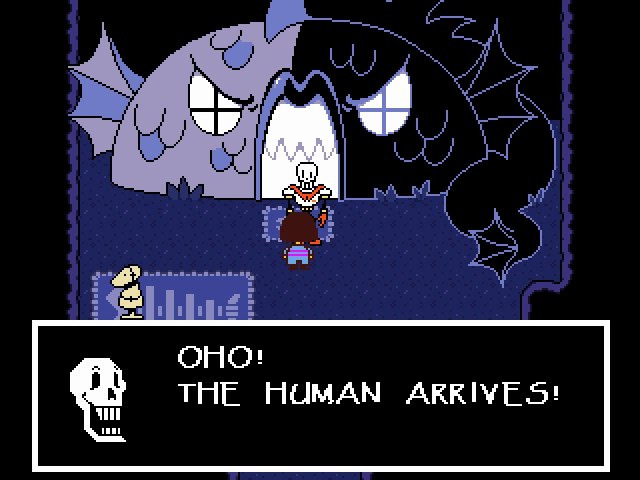 ARE YOU READY TO HANG OUT WITH UNDYNE?

I HAVE A PLAN TO MAKE YOU TWO GREAT FRIENDS!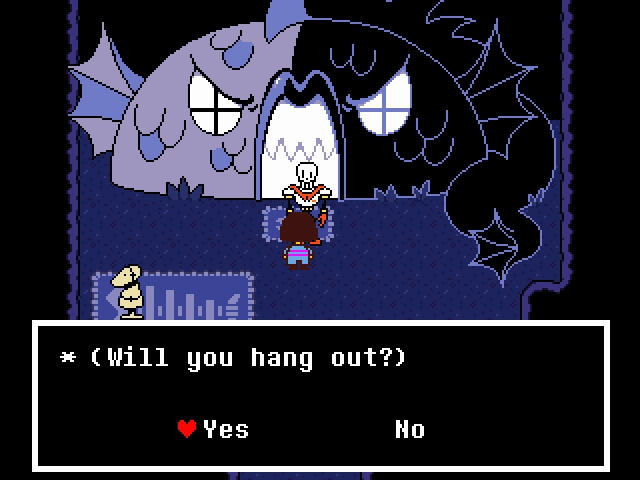 OKAY! STAND BEHIND ME!

PSST.

MAKE SURE TO GIVE HER THIS!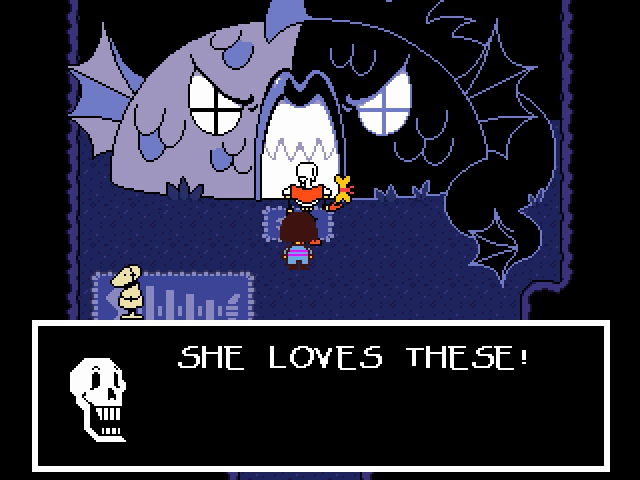 Papyrus knocks on the door.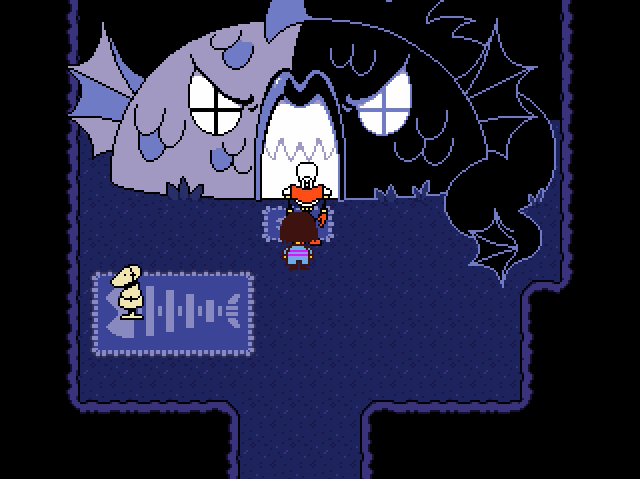 Ready for your extra-private, one-on-one training?

YOU BET I AM!

AND I BROUGHT A FRIEND!

Hi, I don't think we've...

...

...

...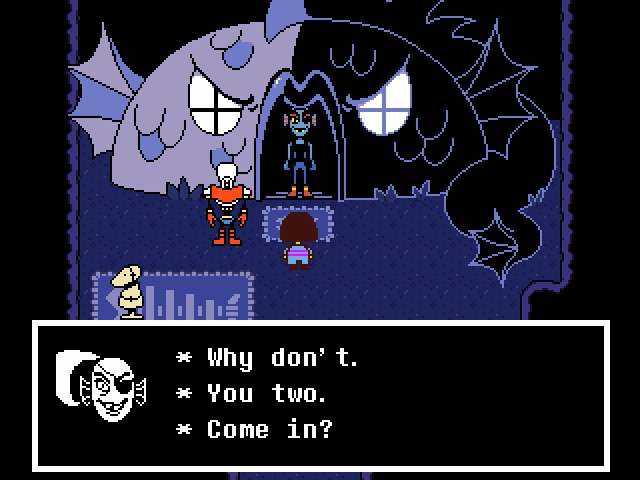 Papyrus heads in. I follow.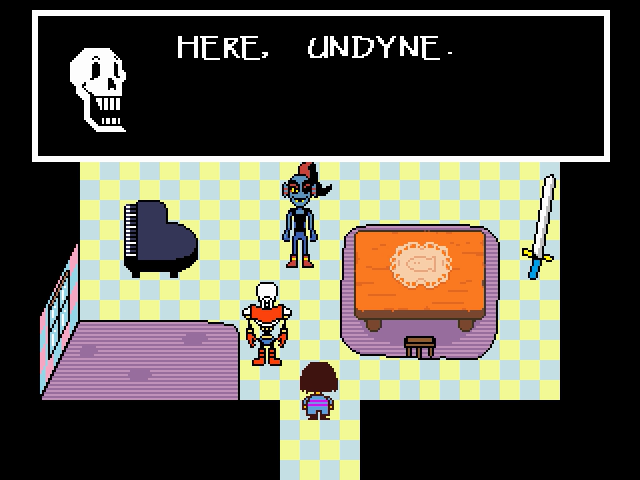 MY FRIEND BROUGHT A GIFT FOR YOU, ON THEIR OWN!

Uhhh... thanks.

I'll, uh, put it with the others.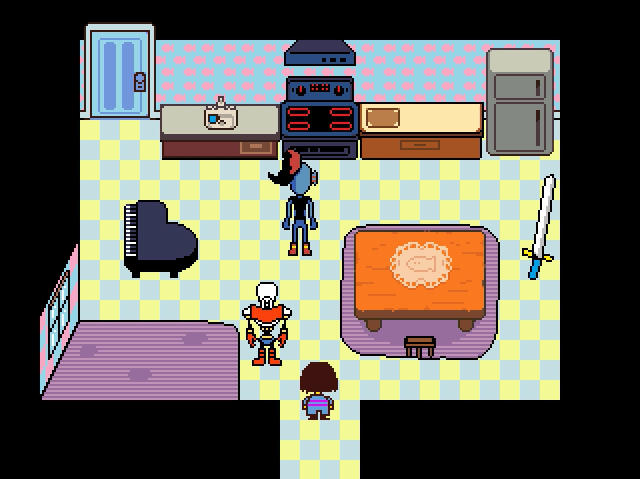 So are we ready to start?

WHOOPSY DOOPSY! I JUST REMEMBERED!

I HAVE TO GO TO THE BATHROOM!!

YOU TWO HAVE FUN!!!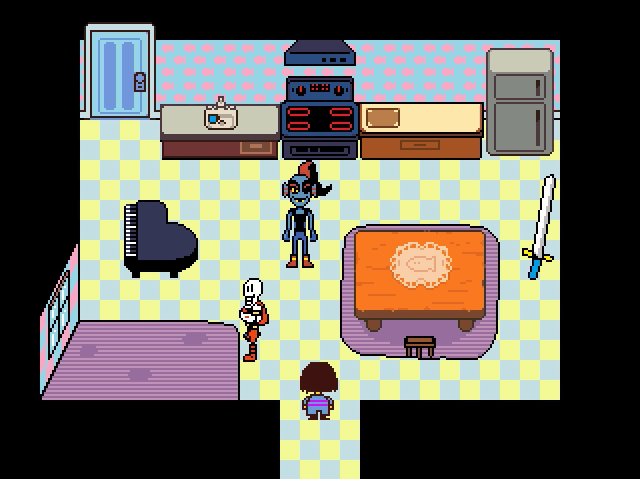 Awkward silence.

To rub your victory in my face?

To humiliate me even further?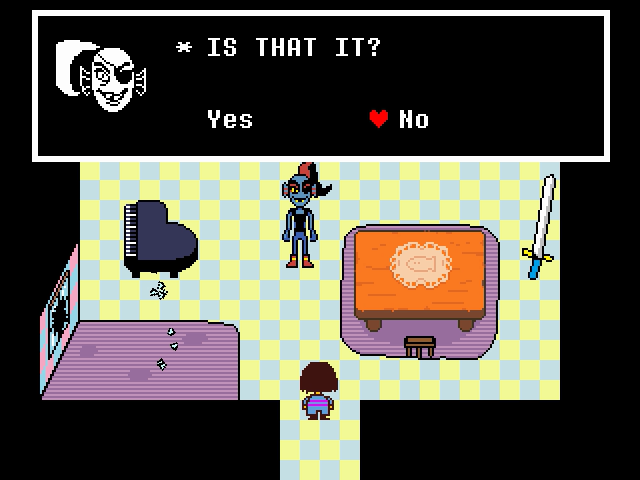 Then why are you here?

...!

Wait, I get it.

You think that I'm gonna be friends with you, huh?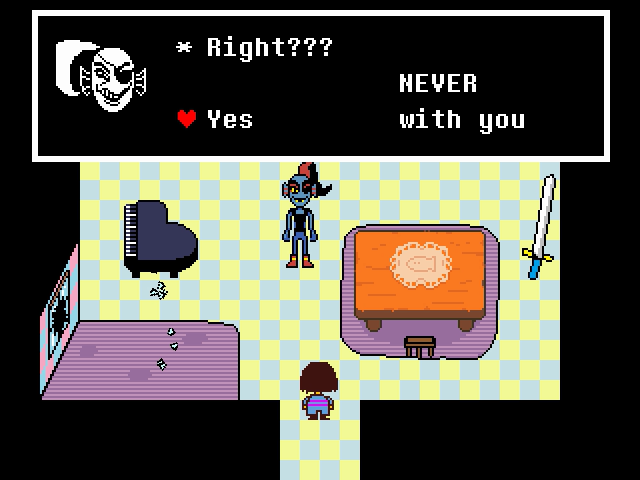 Really? How delightful!! I accept!

Let's all frolick in the fields of friendship!

...NOT!

Why would I EVER be friends with YOU!?

If you weren't my houseguest, I'd beat you up right now!

You're the enemy of everone's hopes and dreams!

I WILL NEVER BE YOUR FRIEND.

Now get out of my house!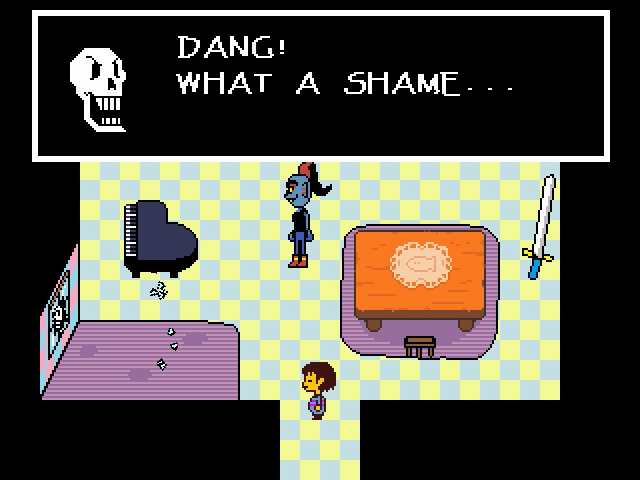 I THOUGHT UNDYNE COULD BE FRIENDS WITH YOU.

BUT I GUESS...

I OVERESTIMATED HER.

SHE'S JUST NOT UP TO THE CHALLENGE.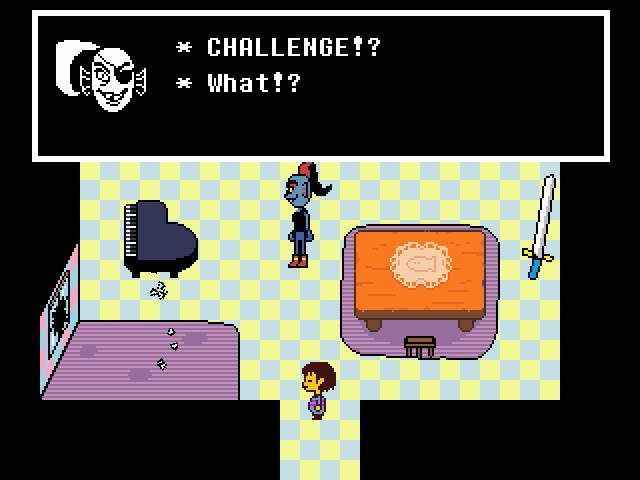 Papyrus! Wait a second...!

Darnit!

He thinks I can't be friends with YOU!?

Fuhuhu! What a joke!

I could make friends with a wimpy loser like you any day!

I'll show him!

Listen up, human.

We're not just going to be friends.

We're going to be...

BESTIES.

I'll make you like me so much...

You won't be able to think of anyone else!!!

Fuhuhuhuhu! It's the PERFECT REVENGE!!

...

Why don't you have a seat?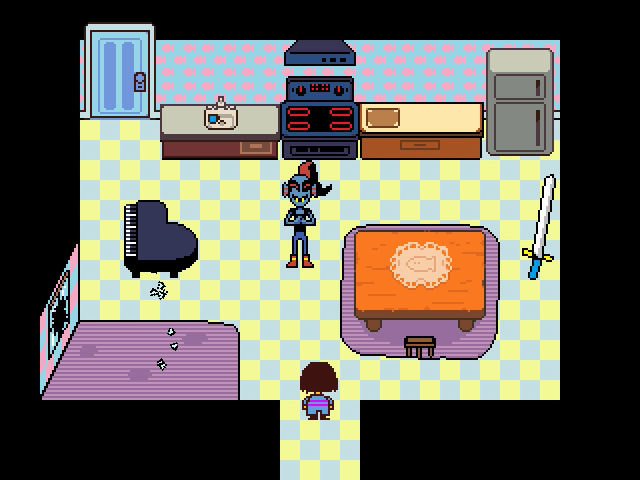 BGM: Dating Start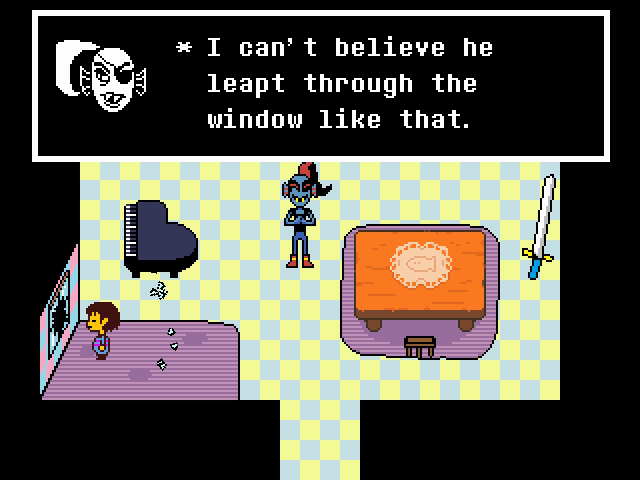 Normally he NAILS the landing.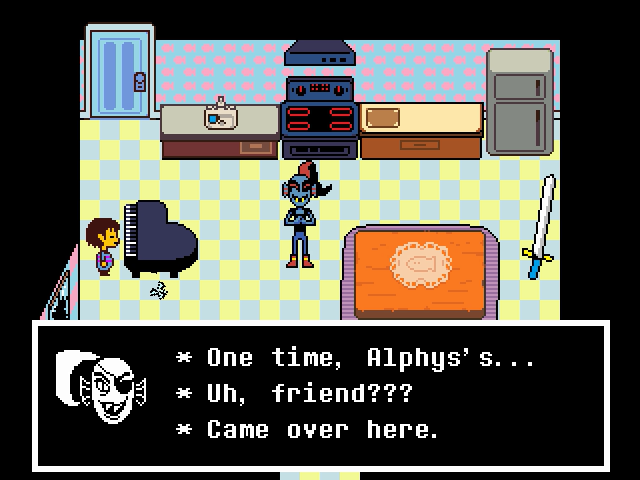 All he did was lie seductively on the piano...

And fed himself grapes.

I don't really like that guy.

But I admire his lifestyle.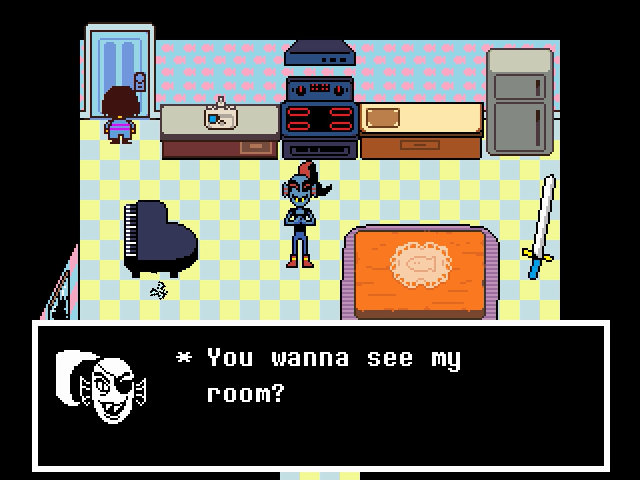 TOO BAD! No nerds allowed!

...well, maybe some nerds...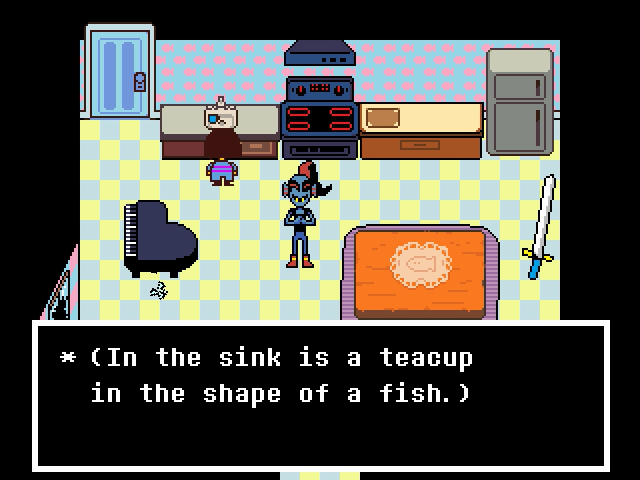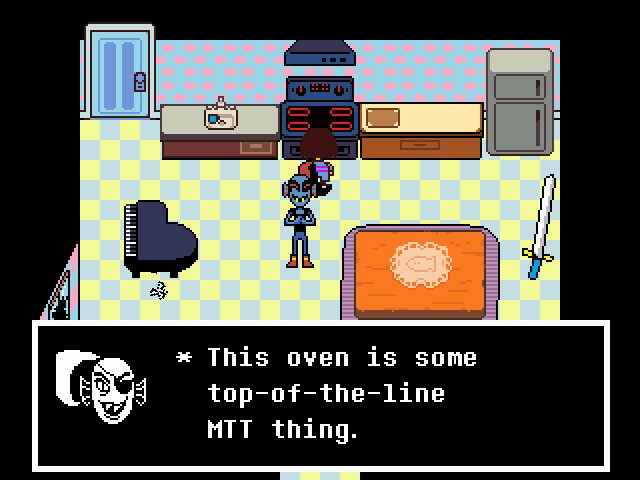 But, y'know, as much as technology advances...

Nothing beats food home-cooked with fire magic.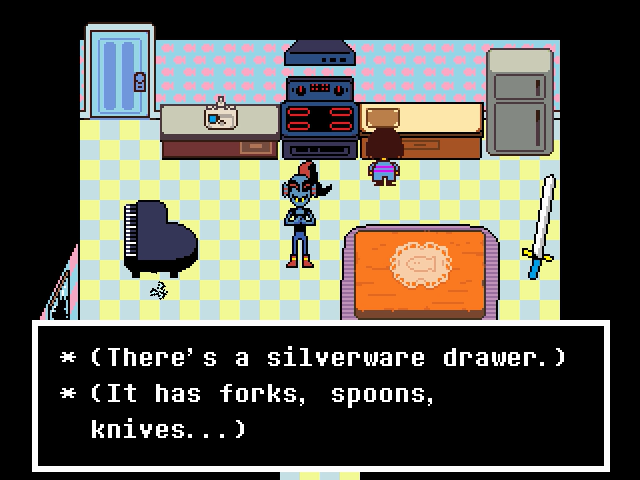 (...tiny swords, axes, spears, nunchucks...)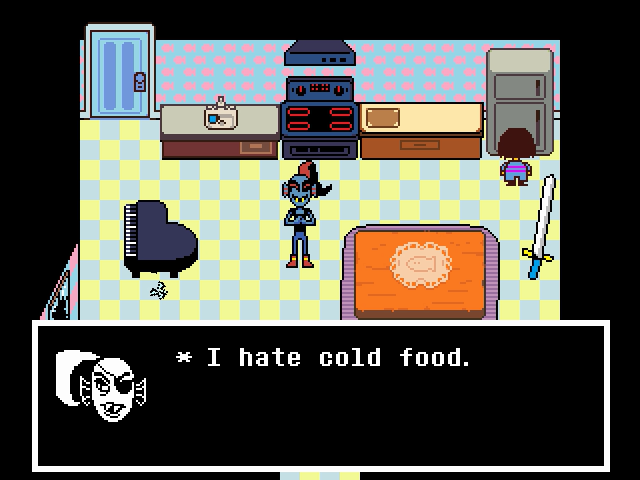 So Alphys fixed up my friedge so it heats up food instead!

Hot Fridge... The world's greatest invention!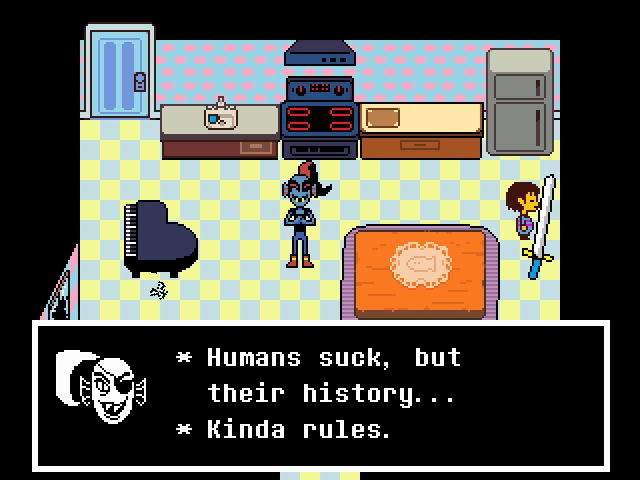 Case in point: This giant sword!

Historically, humans wielded swords up to 10x their size.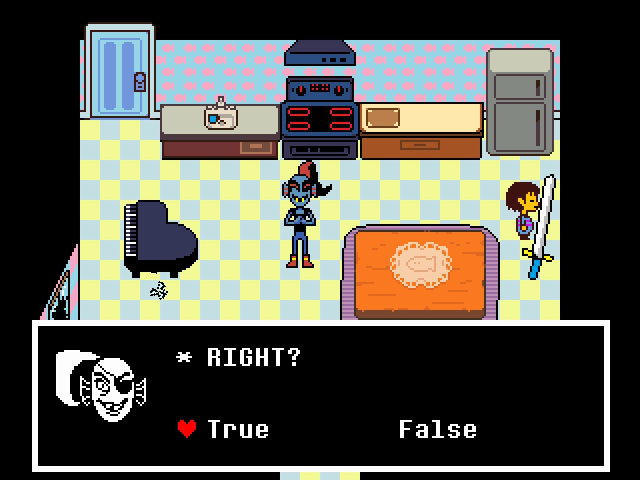 Heh, I knew it!

When I first heard that, I immediately wanted one!

So me and Alphys built a giant sword together.

She figured out all the specs herself...

She's smart, huh!?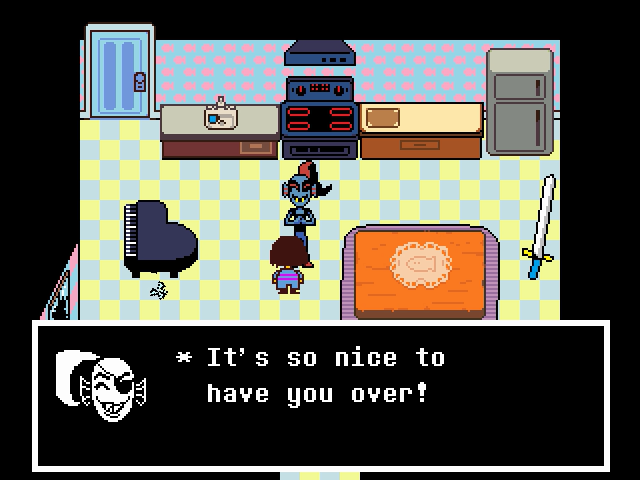 Why not take a seat at the table?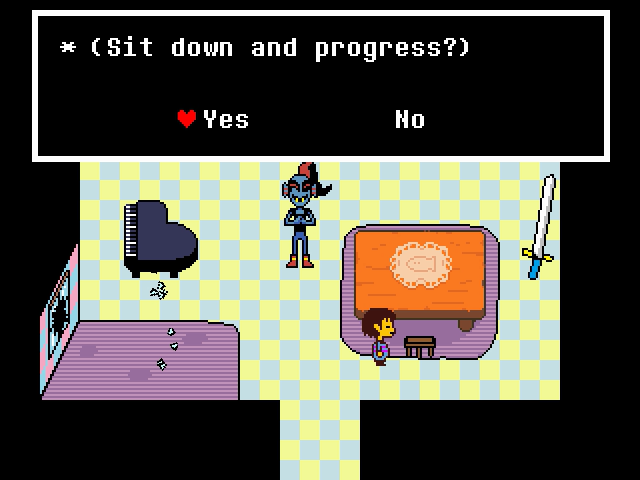 Comfortable?

I'll get you something to drink.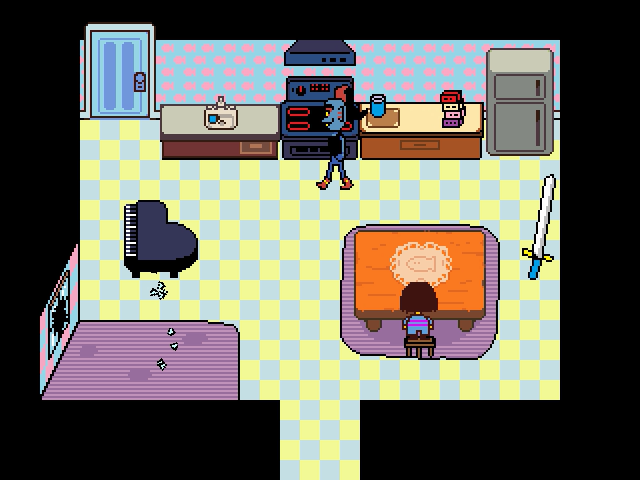 Undyne lays out several drink options.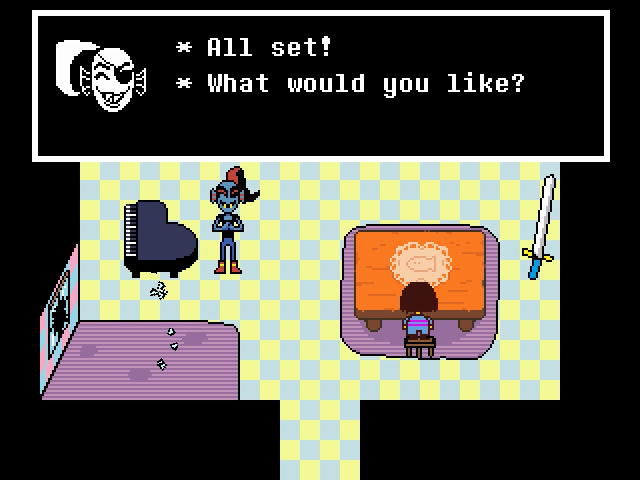 Well, I guess I'll just stand up and--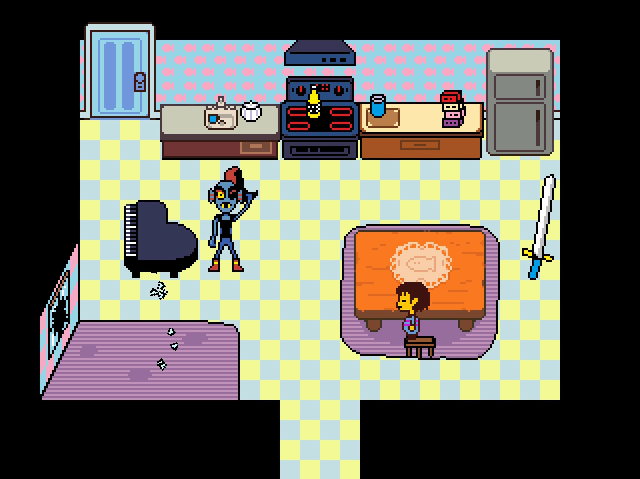 HEY!!! DON'T GET UP!!!

YOU'RE THE GUEST!! SIT DOWN AND ENJOY YOURSELF!!!

...

Um, why not just point to what you want?

You can use the spear!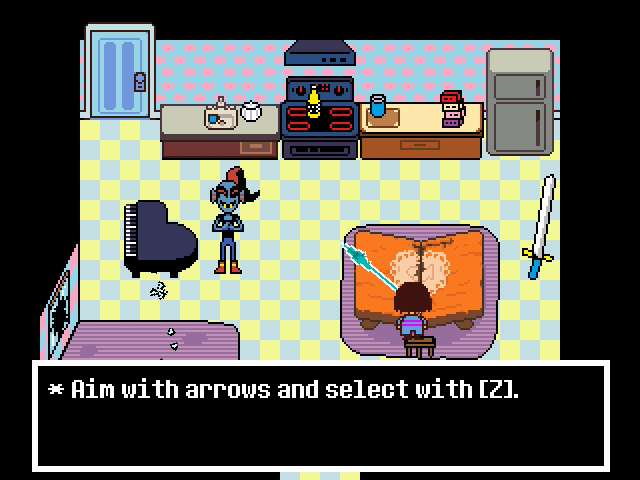 I need to point the spear at what I want. My options: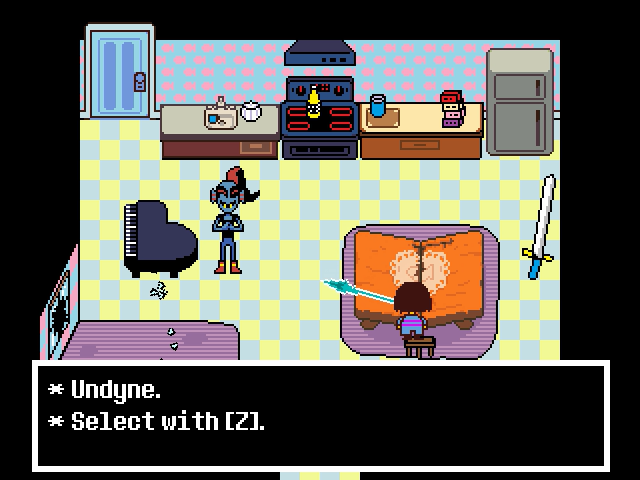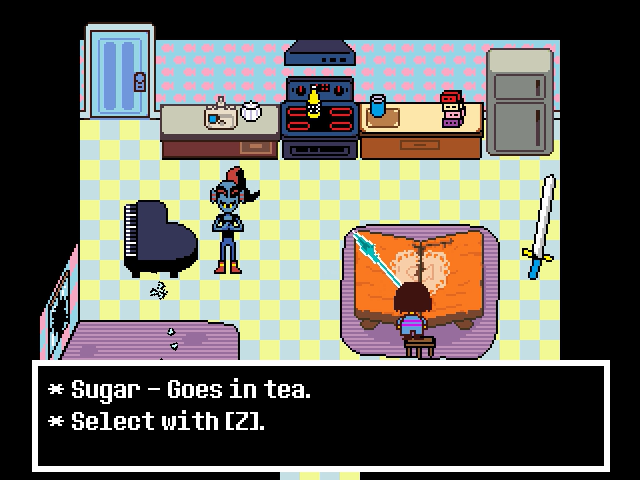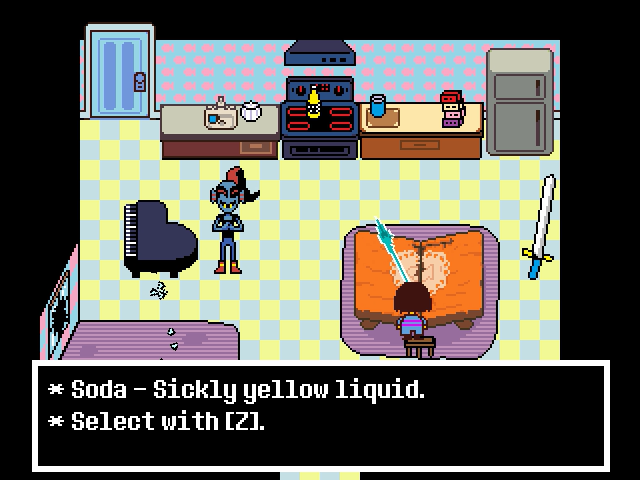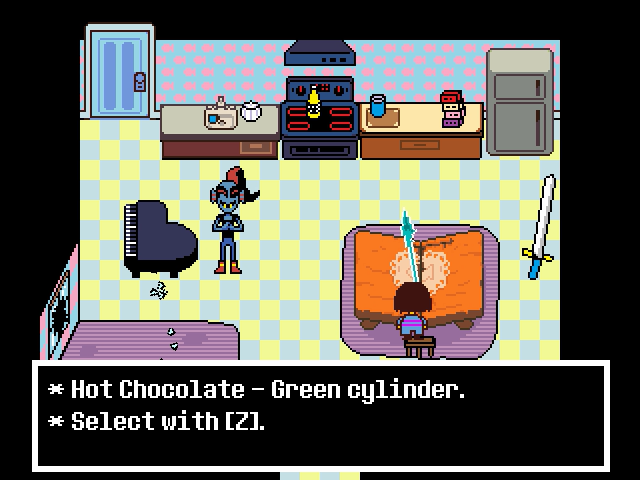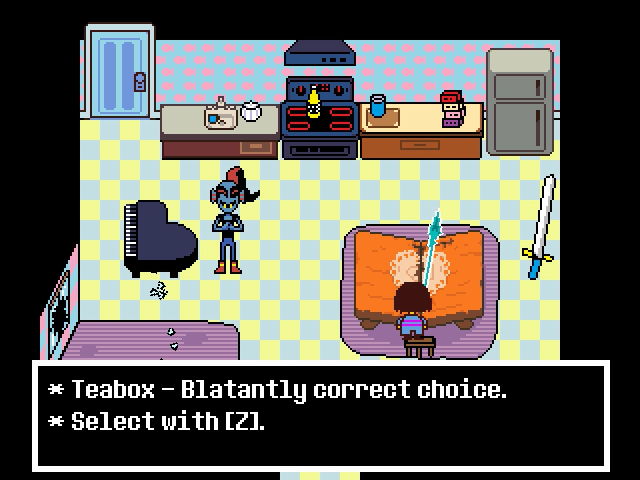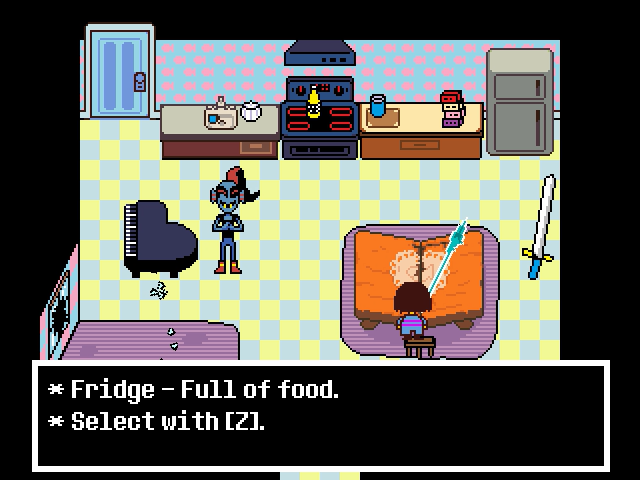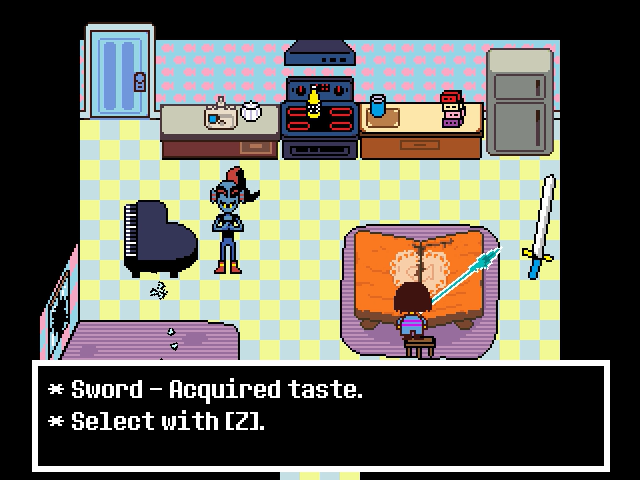 I think I'm in the mood for some
Sword
.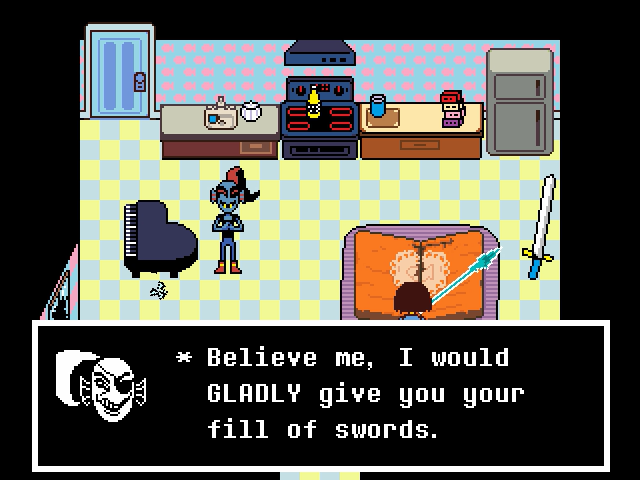 If you weren't my beloved houseguest!
Sugar?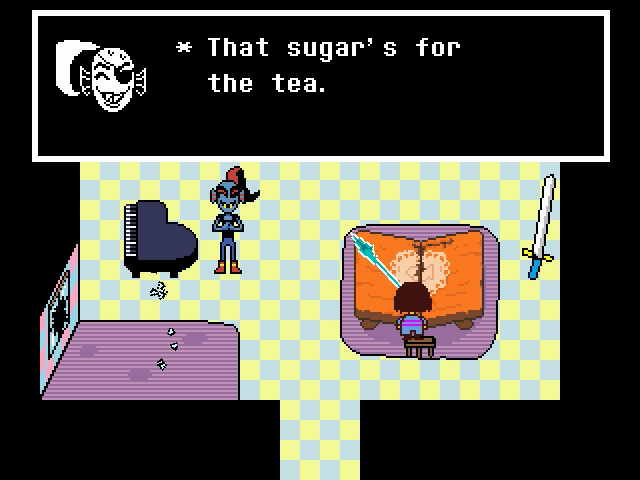 I'm not gonna give you a cup of sugar!

What do I look like, the ice-cream woman?

Do human ice-cream women TERRORIZE HUMANITY with ENERGY SPEARS?

Are their ice-cream songs a PRELUDE TO DESTRUCTION?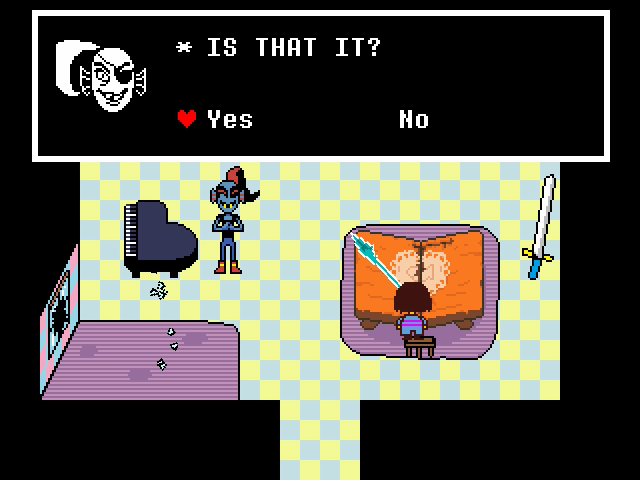 ...what? REALLY?

That rules!!!
Undyne?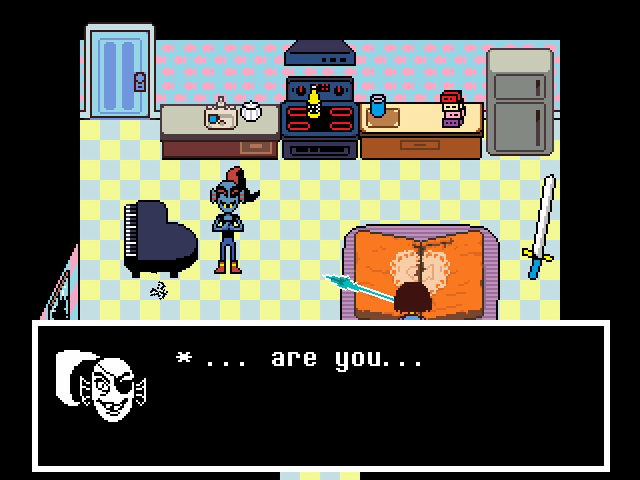 ...hitting on me?
Hot Chocolate?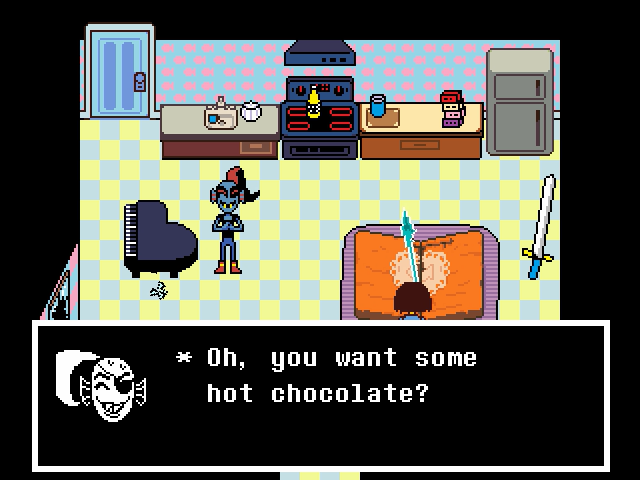 Wait, wait, I just remembered... That container's empty.

I stopped getting it because it was always a hassle...

Asgore kept getting mashmallows stuck in his beard.
Soda?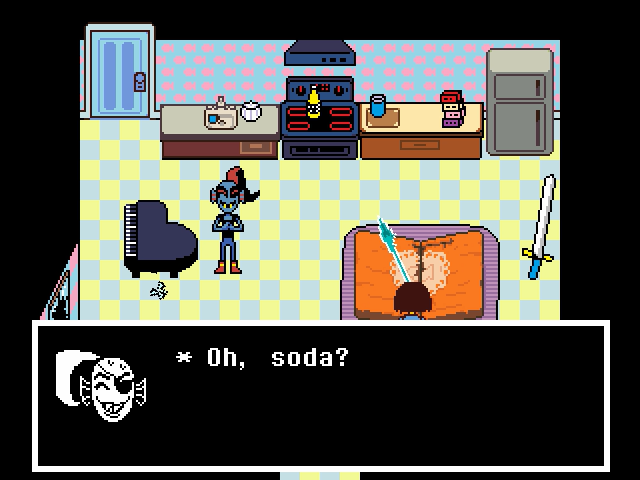 Actually, even though you pointed to it, you don't look happy.

Heh, that's fine! I think soda's gross, too!

It rots your teeth... It rots your mind...

IT ROTS YOUR FIGHTING SPIRIT!

...huh? Why do I have it?

...
Fridge?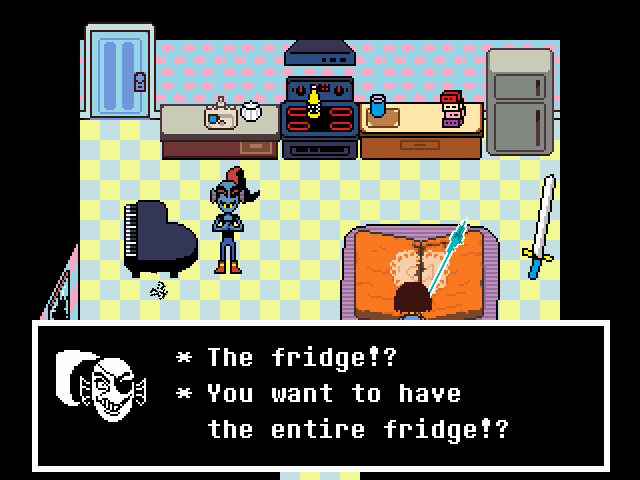 No!
Tea?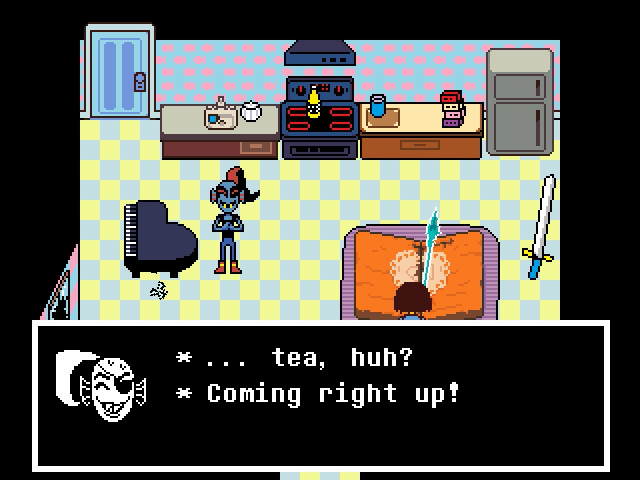 BGM: Silence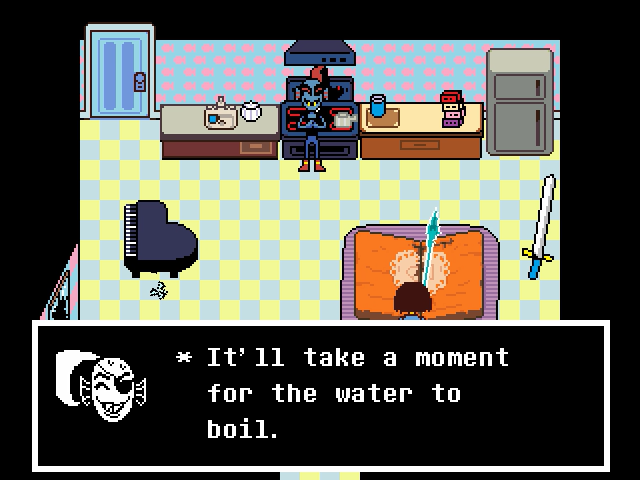 One moment later...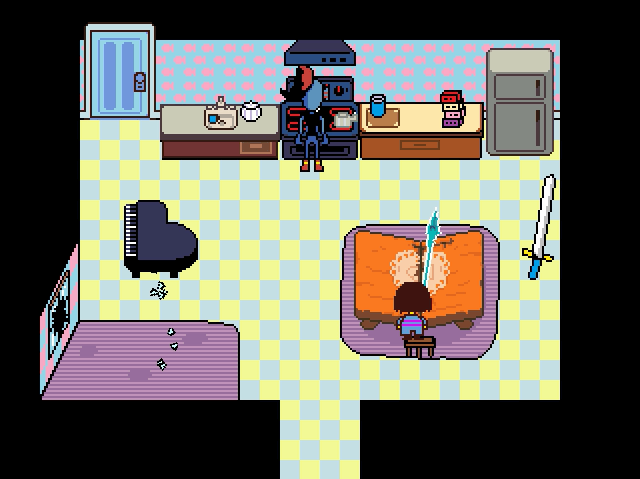 Okay, it's all done!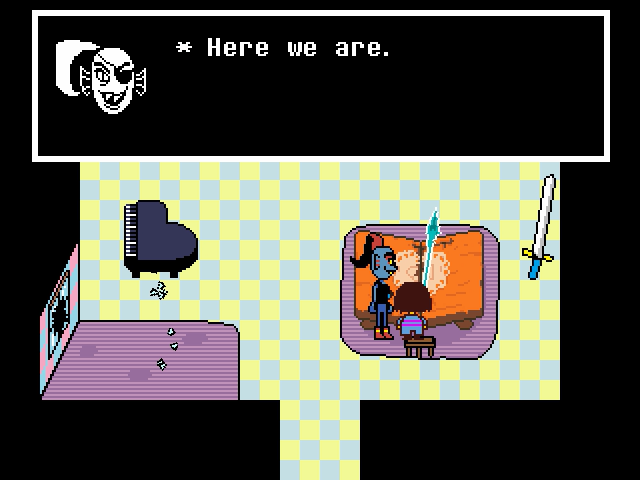 Undyne sits across from me, and awkward silence ensues.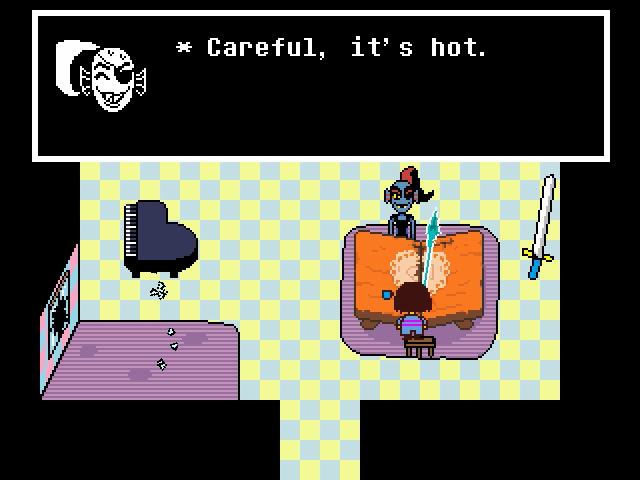 ...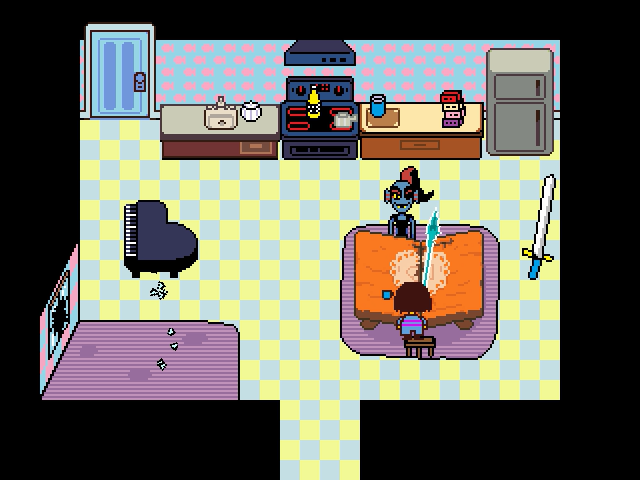 ...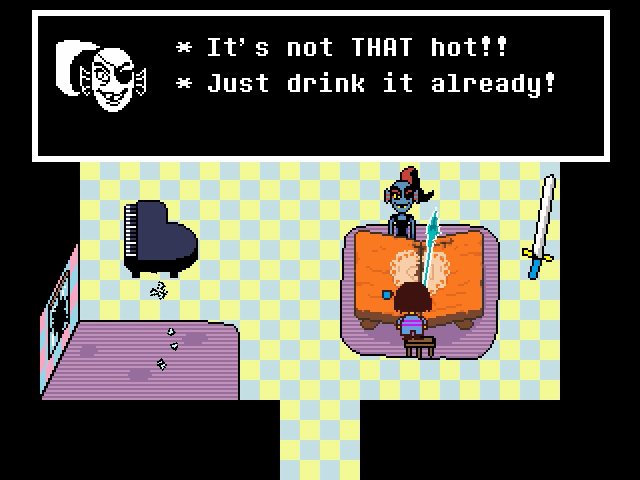 (You take a sip of the tea.)
(It's burning...)
(But other than that, it's pretty good.)

It's pretty good, right?

Nothing but the best for my ABSOLUTELY PRECIOUS FRIEND!!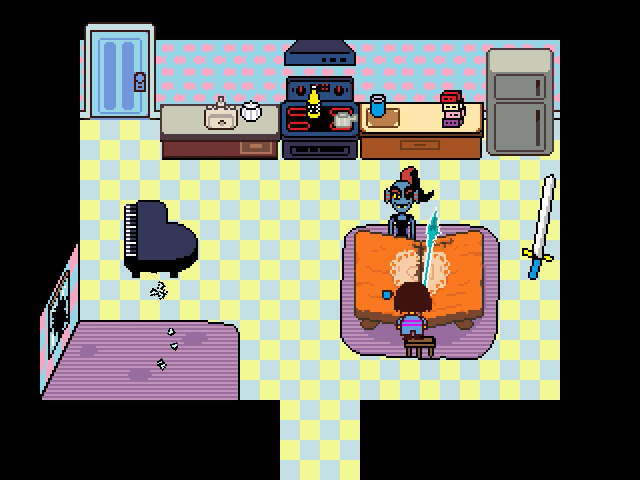 ...Hey...

You know... It's kind of strange you chose THAT tea.

Golden flower tea...

That's Asgore's favorite kind.

Actually, now that I think about it...

You kind of remind me of him.

You're both TOTAL weenies!!!

...sort of.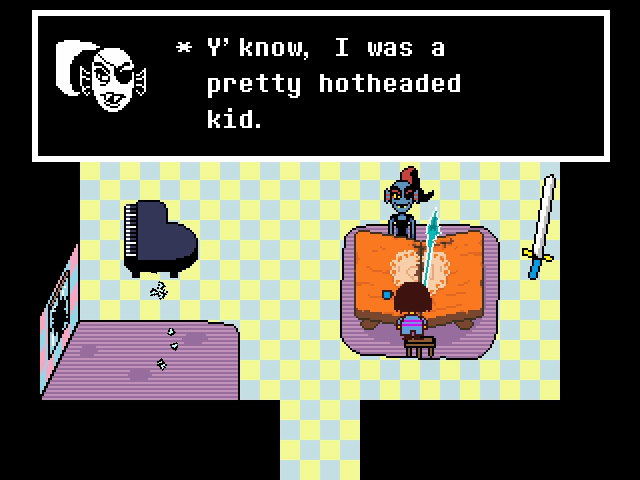 BGM: Memory

Once, to prove I was the strongest, I tried to fight Asgore.

Emphasis on TRIED.

I couldn't land a single blow on him!

And worse, the whole time, he refused to fight back!

I was so humiliated...

Afterwards, he apologized and said something goofy...

"Excuse me, do you want to know how to beat me?"

I said yes, and from then on, he trained me.

One day, during practice, I finally knocked him down.

I felt... bad.

But he was beaming...

I had never seen someone more proud to get their butt kicked.

Anyway, long story short, he kept training me...

And now I'm the head of the Royal Guard!

So I'm the one who gets to train dorks how to fight!

...like, uh, Papyrus.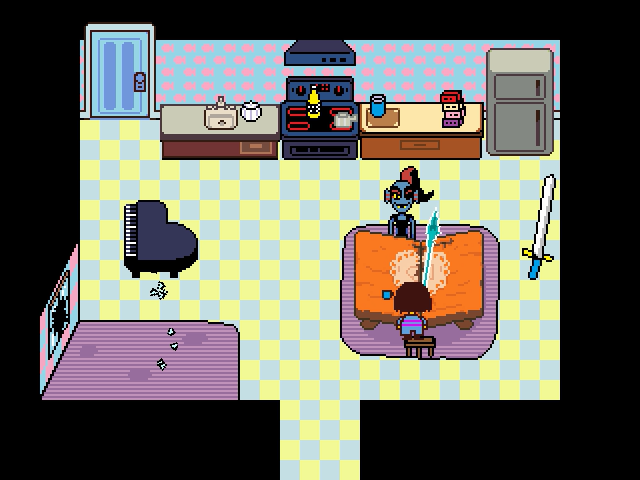 But, um, to be honest...

...I don't know if...

I can ever let Papyrus into the Royal Guard.

Don't tell him I said that!

He's just... Well...

I mean, it's not that he's weak.

He's actually pretty freaking tough!

It's just that... He's...

He's too innocent and nice!!!

I mean, look, he was SUPPOSED to capture you...

And he ended up being FRIENDS with you instead!

I could NEVER send him into battle!

He'd get ripped into little smiling shreds.

That's part of why...

I started teaching him how to cook, you know?

So, um, maybe he can do something else with his life.

Oh, sorry, I was talking for so long...

You're out of tea, aren't you?

I'll get you some more.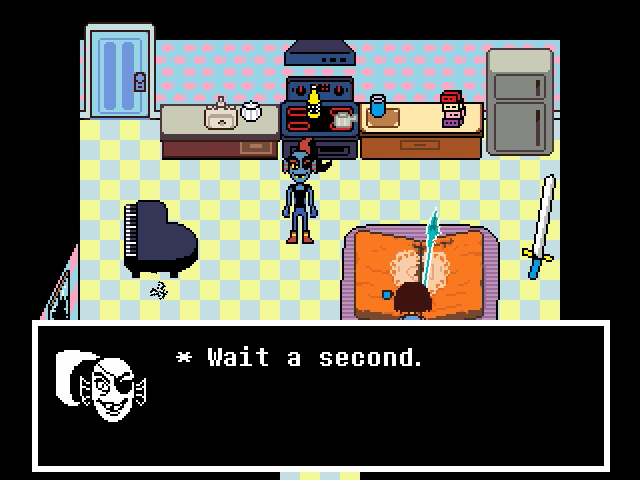 Papyrus... His cooking lesson...

HE WAS SUPPOSED TO HAVE THAT RIGHT NOW!!!

And if HE's not here to have it...

YOU'LL HAVE TO HAVE IT FOR HIM!!!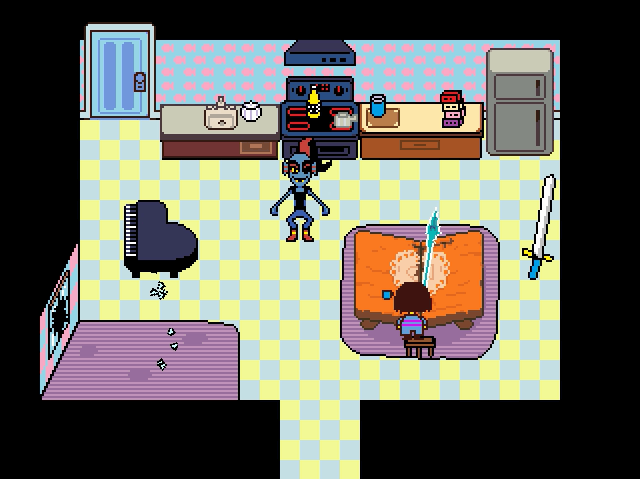 BGM: NGAHHH!!

That's right!!!

NOTHING has brought Papyrus and I closer than cooking!

Which means that if I give you his lesson...

WE'LL BECOME CLOSER THAN YOU CAN EVER IMAGINE!!!

Fuhuhu!!! Afraid!? We're gonna be best friends!!!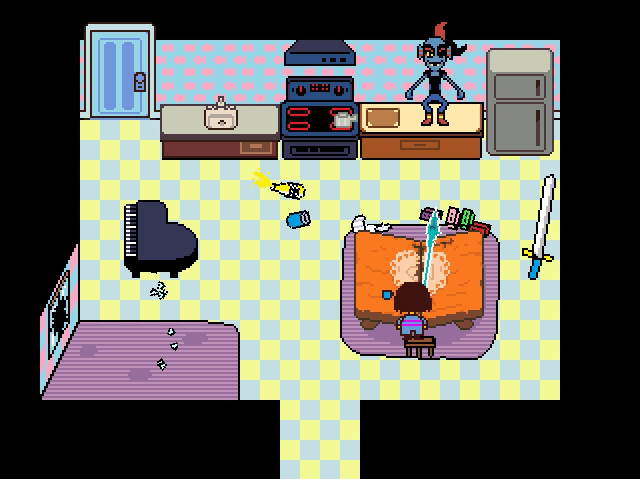 Let's start with the sauce!!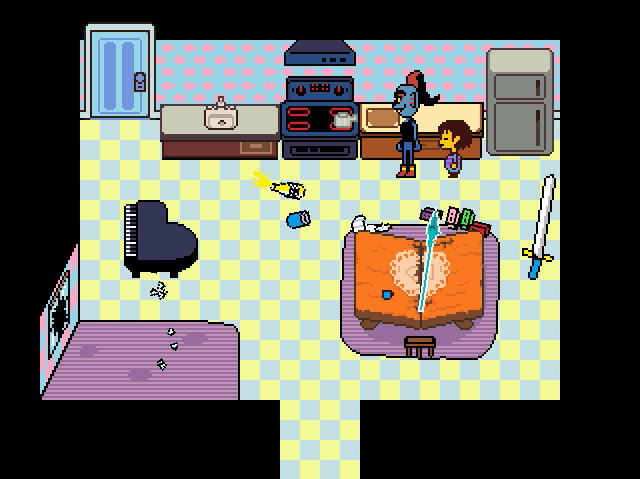 Envision these vegetables as your greatest enemy!

Now!! Pound them to dust with your fists!!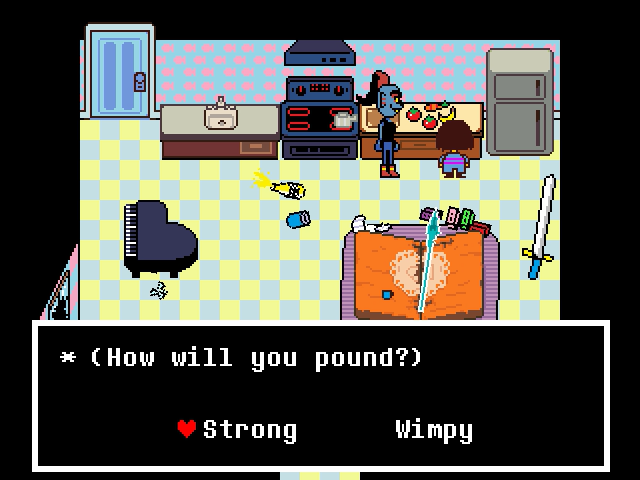 (You punch the vegetables at full force. You knock over a tomato.)

YEAH! YEAH!

Our hearts are uniting against these healthy ingredients!

NOW IT'S MY TURN!!!

NGAHHH!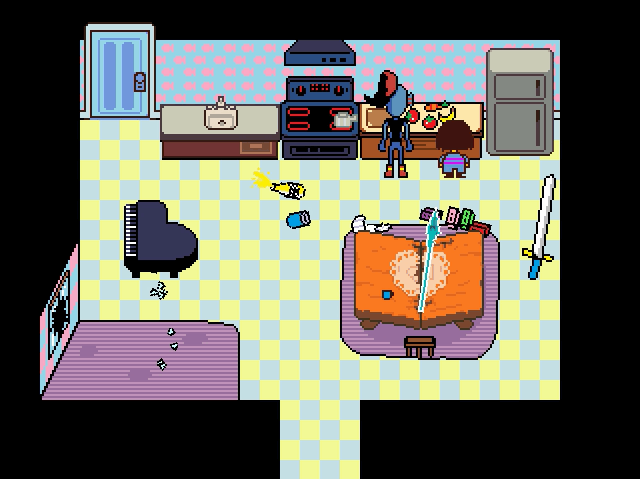 Uhh, we'll just scrape this into a bowl later.

But for NOW!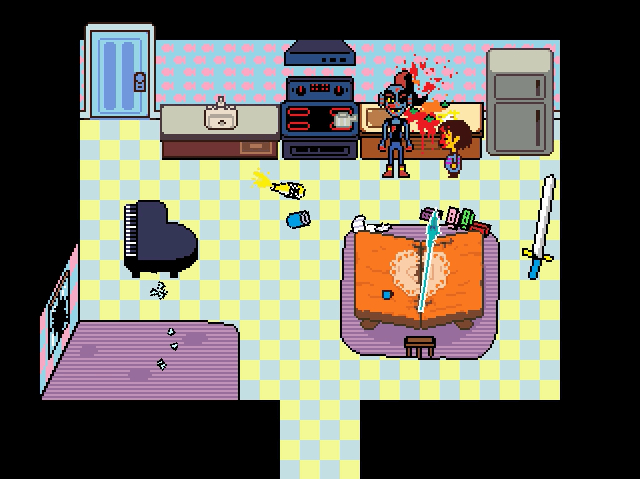 ...we add the noodles!

Homemade noodles are the best!

BUT I JUST BUY STORE-BRAND!

THEY'RE THE CHEAPEST!!!

NGAHHHHHHHHHHHHHHHHHH!!!

Uhh, just put them in the pot.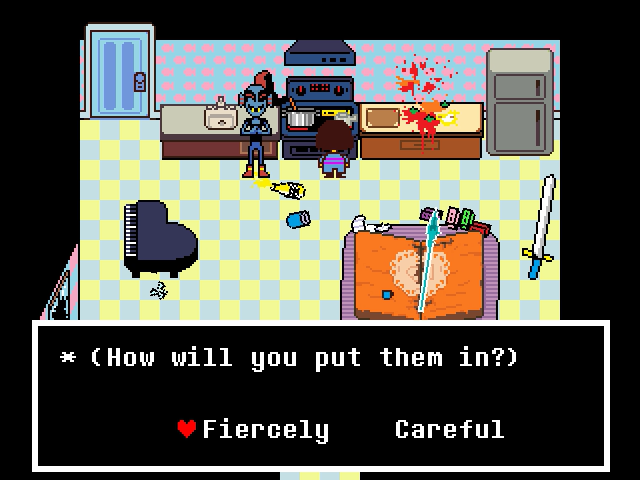 (You throw everything into the pot as hard as you can, including the box.)
(It clanks against the empty bottom.)

YEAH!!! I'M INTO IT!!!

Alright! Now it's time to stir the pasta!

As a general rule of thumb, the more you stir...

THE BETTER IT IS!

Ready? Let's do it!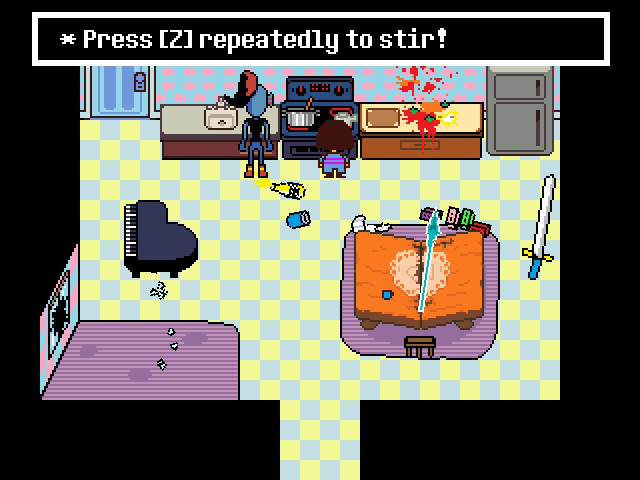 Stir harder!

HARDER!

HARDER!!!!

Ugh, let me do it!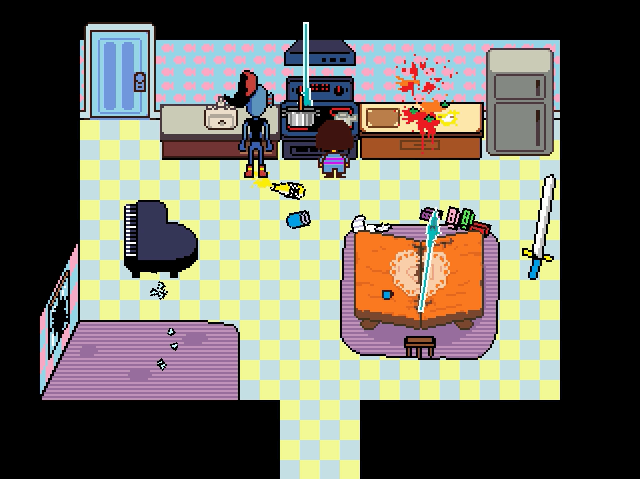 Fuhuhuhuhu! That's the stuff!

Alright, now for the final step:

TURN UP THE HEAT!

Let the stovetop symbolize your passion!

Let your hopes and dreams turn into burning fire!

READY? Don't hold anything back!!!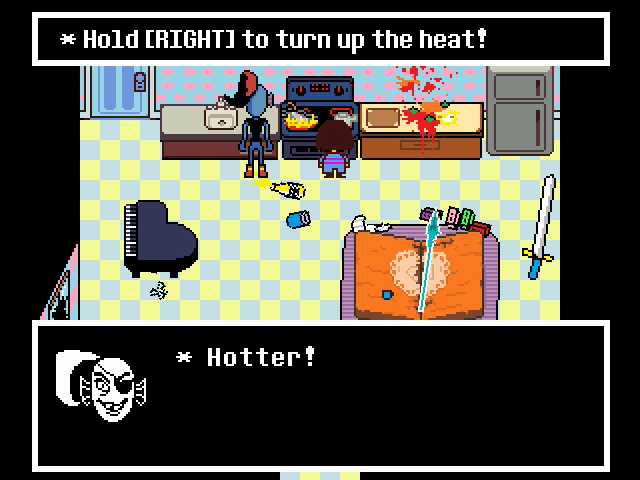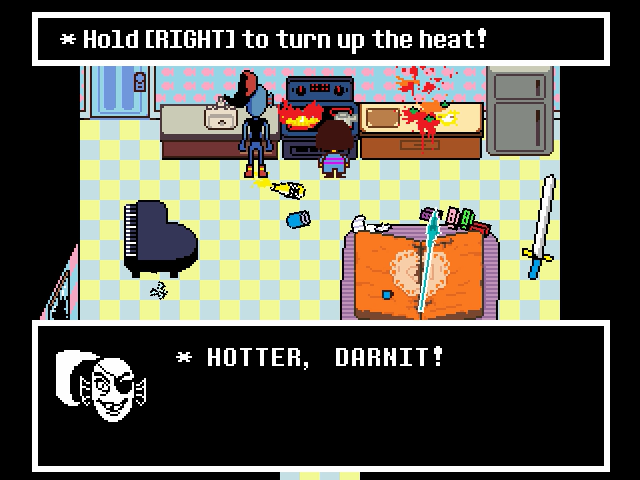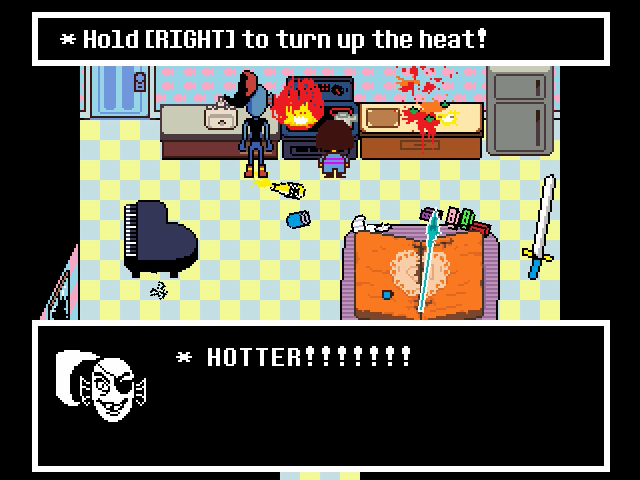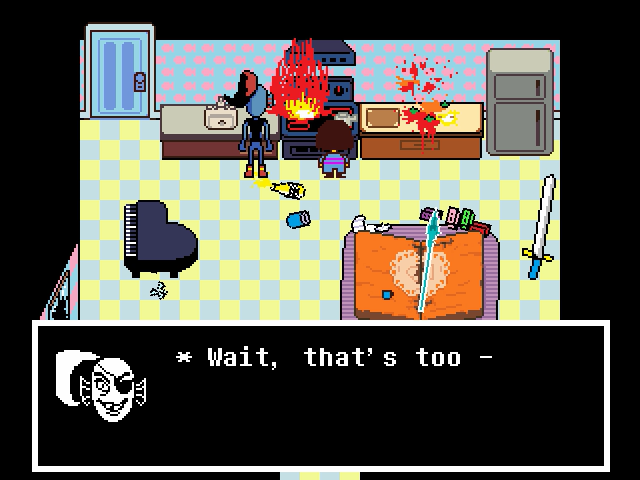 BGM: Silence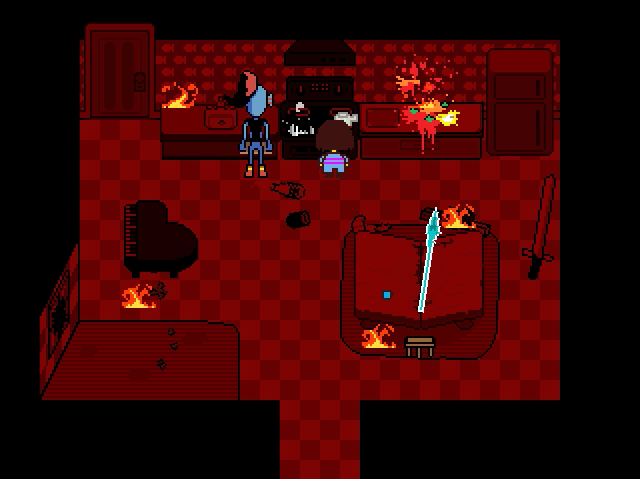 Ah.

Man, no wonder Papyrus sucks at cooking.

So what's next? Scrapbooking? Friendship bracelets?

...

...oh, who am I kidding.

I really screwed this up, didn't I?

I can't force you to like me, human.

Some people just don't get along with each other.

I understand if you feel that way about me

And if we can't be friends...

That's okay.

Because... If we're not friends...

IT MEANS I CAN DESTROY YOU WITHOUT REGRET!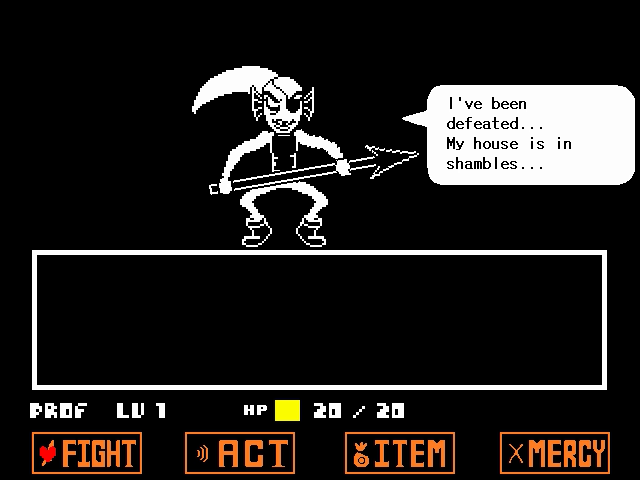 BGM: Spear of Justice
(At double speed)

I even failed to befriend you.

That's it.

I don't care if you're my guest anymore.

One final rematch! All out on both sides!

IT'S THE ONLY WAY I CAN REGAIN MY LOST PRIDE!!!

NOW COME ON! HIT ME WITH ALL YOU'VE GOT! NGAHHHH!!!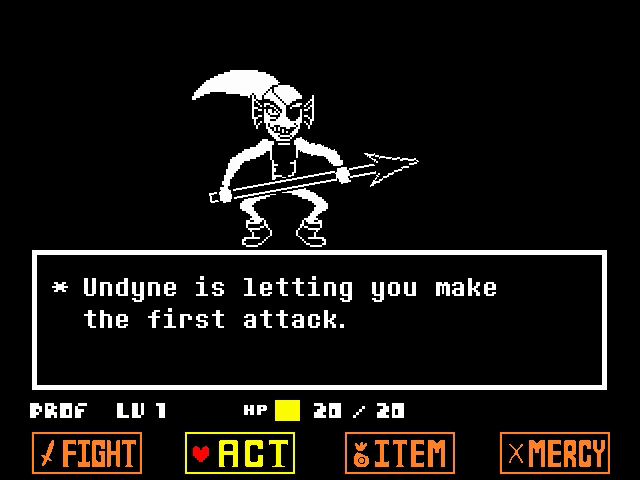 My options are Check, and Fake Attack. First, I
Check!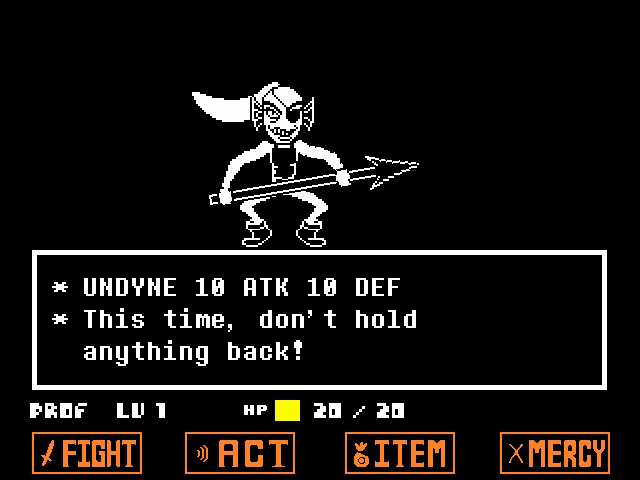 Undyne won't make a move until I hit first.
So, I'll hit with a
Fake Attack.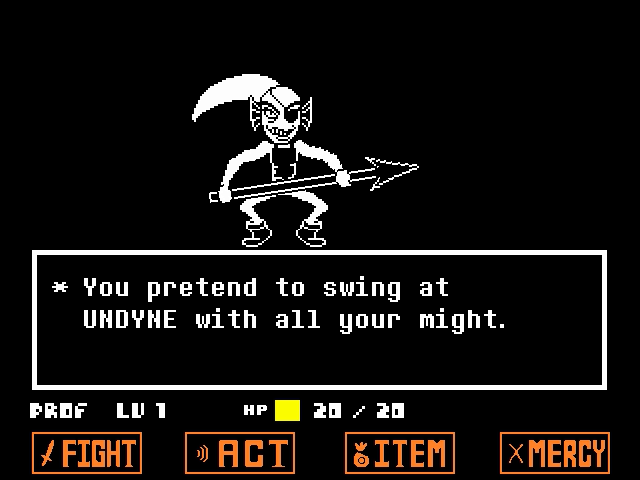 BGM: Silence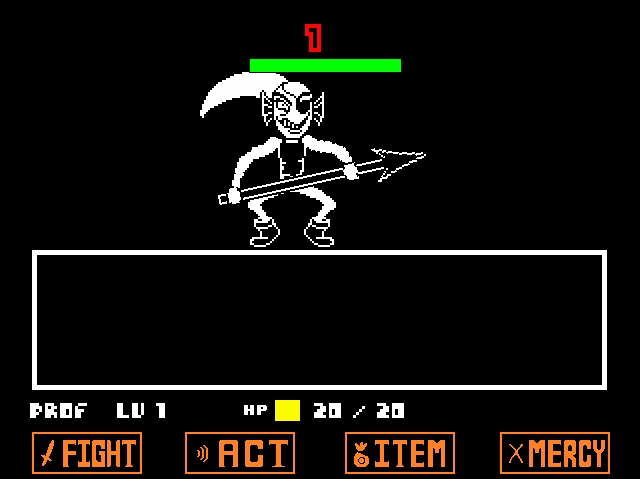 What.

That's the best you can manage?

Even attacking at full force...

You just can't muster any intent to hurt me, huh?

...

Heh, you know what?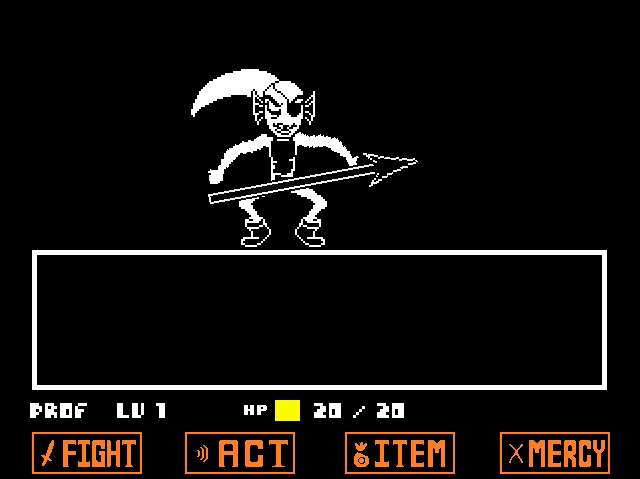 I don't actually want to hurt you either.

At first, I hated your stupid saccharine schtick, but...

The way you hit me right now, it...

Reminded me of someone I used to train with.

Now I know you aren't just some wimpy loser.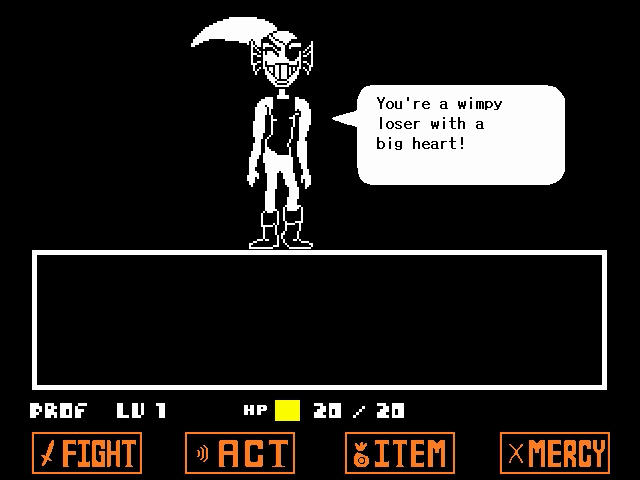 Just like him...

...

Listen, human.

It seems that you and Asgore are fated to fight.

But knowing him...

He probably doesn't want to.

Talk to him.

I'm sure you can persuade him to let you go home.

Eventually, some mean human will fall down here...

And I'll take THEIR soul instead.

That makes sense, right? Fuhuhu.

Oh, and if you DO hurt Asgore...

I'll take the human souls... Cross the barrier...

And beat the hell out of you!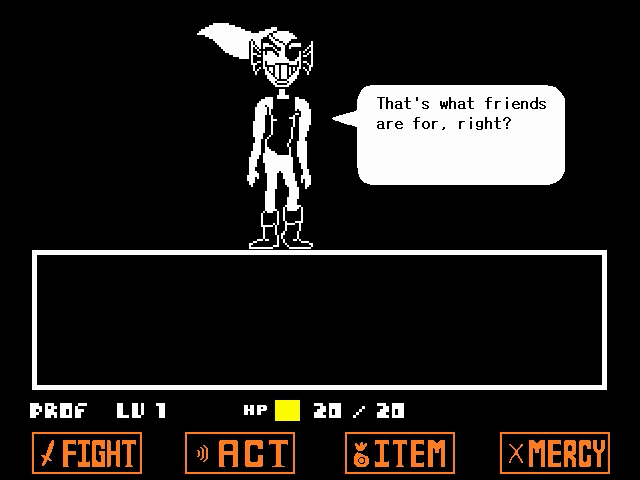 Now let's get the hell out of this flaming house!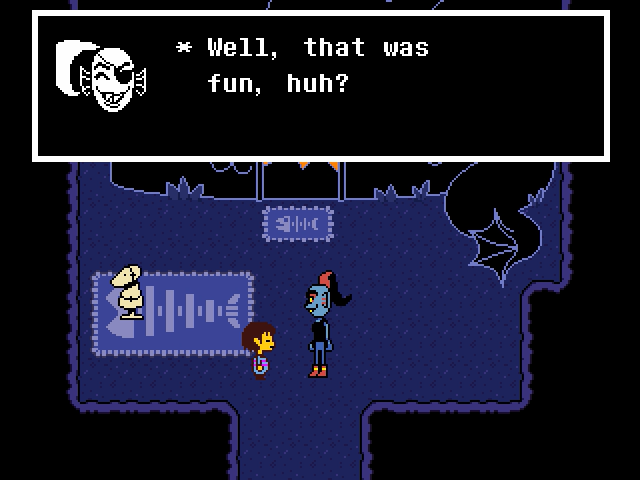 We'll have to hang out another time...!

But, uh, somewhere else, I guess.

In the meantime, I guess I'll go hang with papyrus.

So if you need me, drop by Snowdin, OK!?

OH! And if you ever need help...

Just give Papyrus a ring, ok?

Since we're in the same spot, I'll be able to talk too!

Well, see ya later, punk!!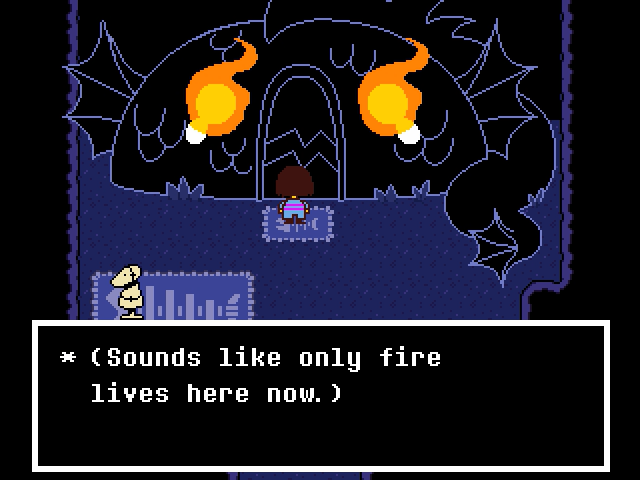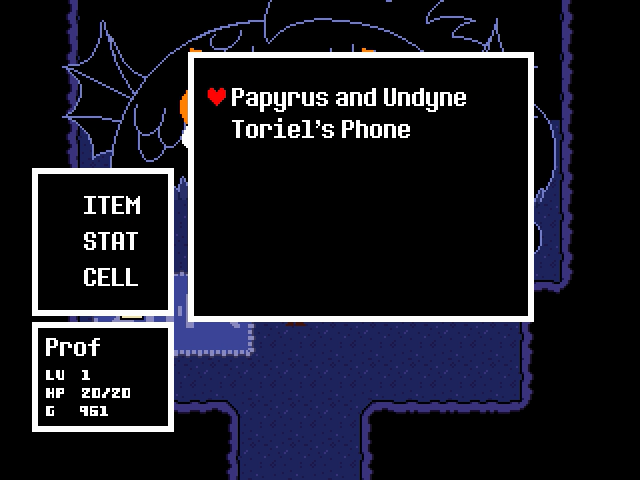 I can now call Papyrus
and
Undyne, instead of just Papyrus by himself.
You know what this means, right?