Part 20: It's Showtime!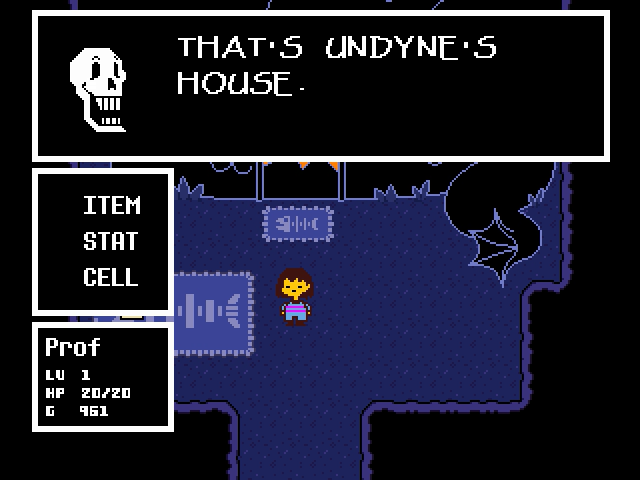 IT'S A GREAT PLACE TO...

UHHH?

Huff... puff...!

YEAH!!! That's MY HOUSE!!!

HI UNDYNE! HOW'D YOU GET HERE SO FAST?

I ran.

WOWIE!!! UNDYNE!!!

SOMEDAY I WANT TO BE AS STRONG AND SWEATY AS YOU.

SO YOU RAN HERE JUST TO BE ON THE PHONE???

Yep!

THEN YOU MUST HAVE SOMETHING...

EXTREMELY COOL TO SAY ABOUT YOUR HOUSE!!!

Nope!!!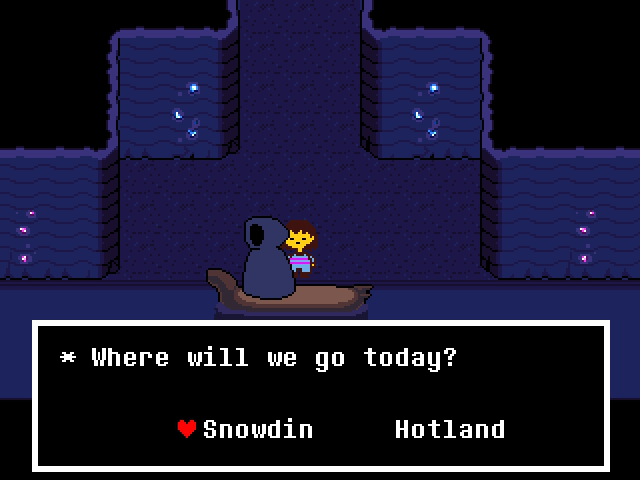 Let's start from the beginning.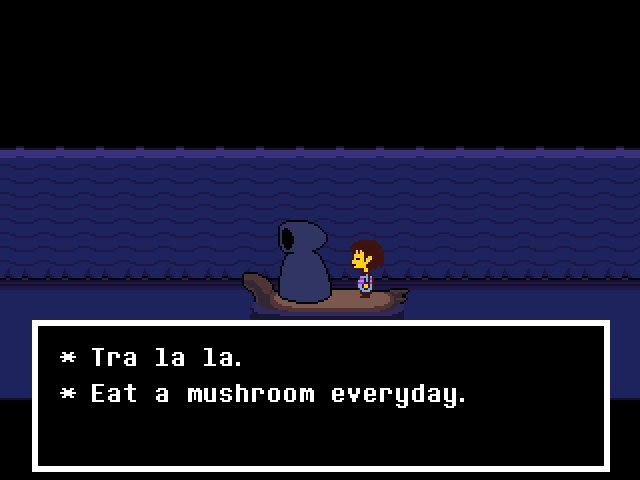 Why? Then I know you're listening to me...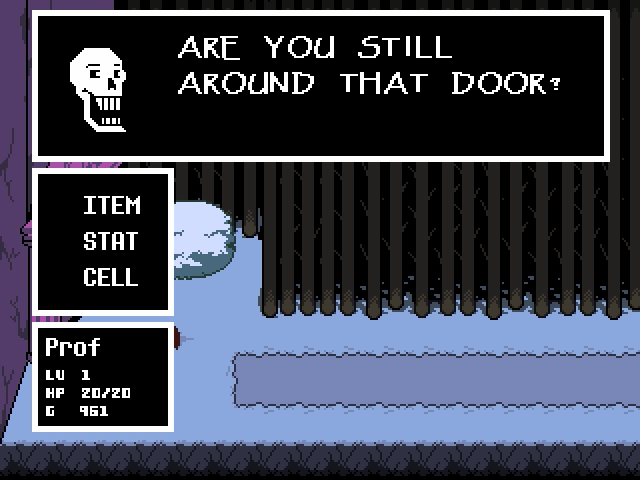 Anything west of Snowdin, Undyne has nothing to say for. That cuts back on the bulk of the talking we're about to do.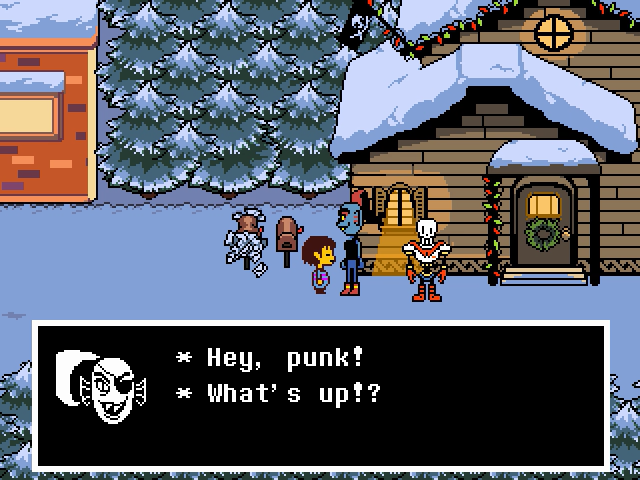 A-ACHOO!

Papyrus, how can you stand this cold?

I HAVE NO SKIN.

So why don't we stand in Grillby's instead?

BECAUSE I HATE GREASE.

But you don't have a stomach!!

NO, BUT I HAVE STANDARDS!!!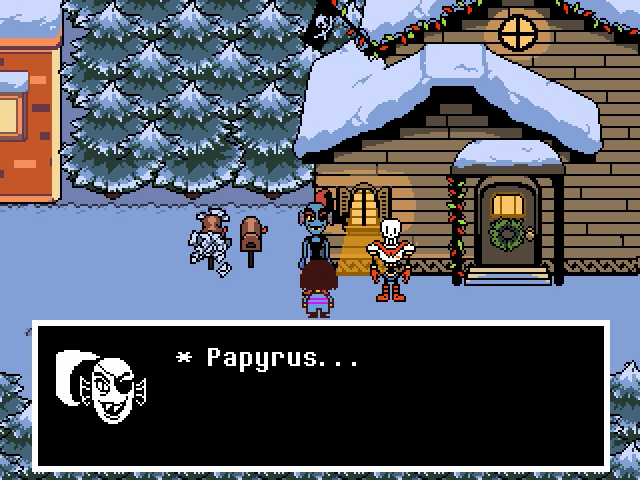 Why do you live in an icy wasteland?

THE RENT'S CHEAP.

Really? Don't you live in a huge house?

YEAH, BUT MY BROTHER PAYS FOR IT.

Where's your brother get the money to pay for it...?

OH, THAT'S SIMPLE.

IT'S A MYSTERY.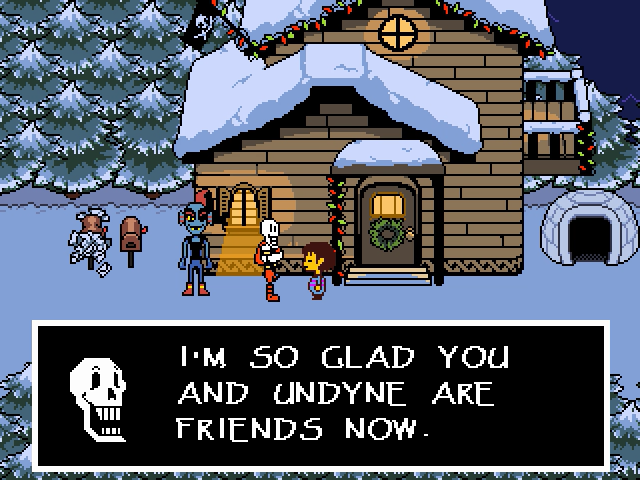 YOU TWO GO TOGETHER LIKE PASTA AND BURNING!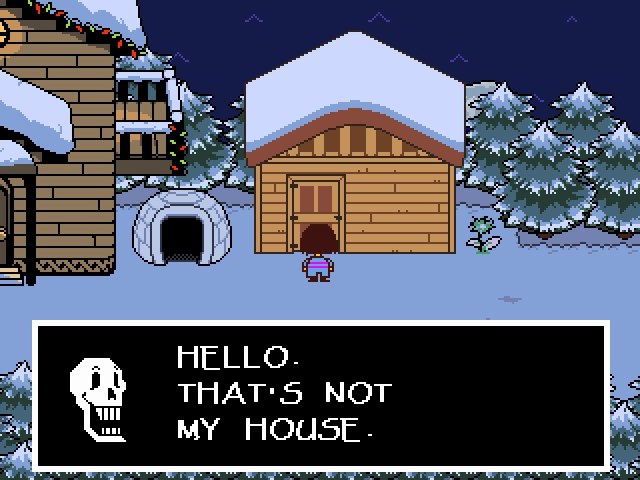 THAT'S JUST MY COOL TOOLSHED.

Do you call it your COOLSHED!?

NO!!! I'VE NEVER THOUGHT OF THAT!!!

THAT'S WHY WE'RE FRIENDS, UNDYNE.

YOU ENRICH MY LIFE WITH SHED-BASED PUNS.

That's the only one I've ever made, dude.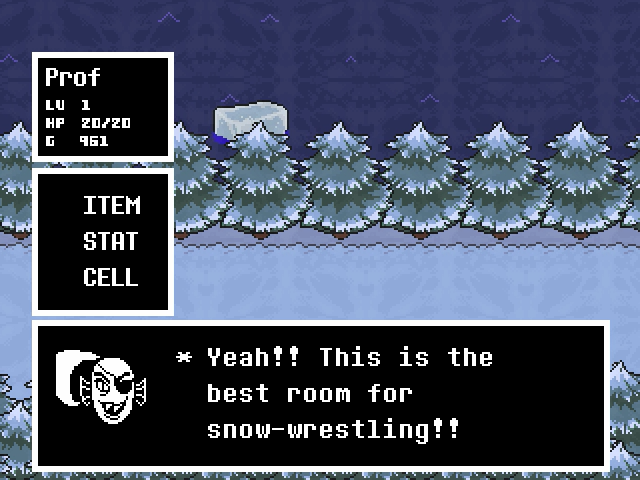 SNOW WRESTLING IS WHEN SHE SNEAKS UP ON YOU FROM BEHIND,

THEN TACKLES YOU AND YELLS "SNOW-WRESTLING!"

IT'S... NOT THE BEST GAME.

Well, you know what I think?

WHAT?

Snow-wrestling!!

NOOOOOOOOOOOOOOOOOO!!!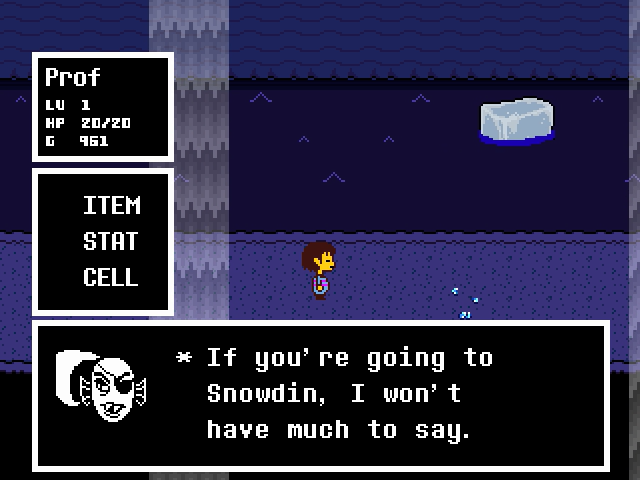 BUT I WILL!

There's the rub, right?

WHAT!? THERE'S A RUB? WHERE!?!?

In Snowdin, duh!!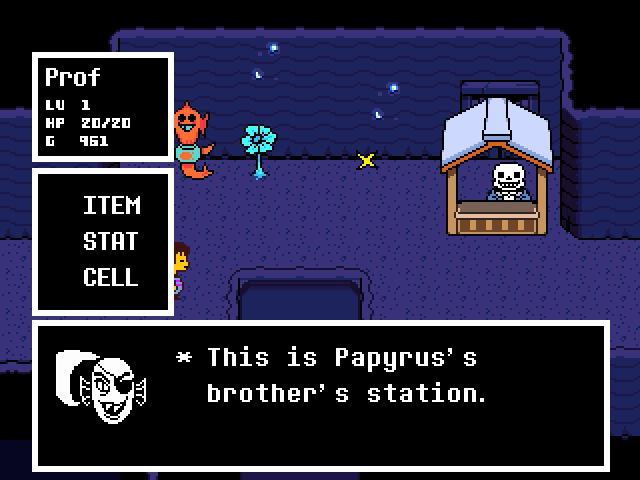 I'm always catching him slacking off, or sleeping...

But his results are JUST good enough to not fire him.

Well, except today.

He didn't tell me ANYTHING about you.

JUST scraping by the bare minimum every time...

I guess it's kind of impressive...?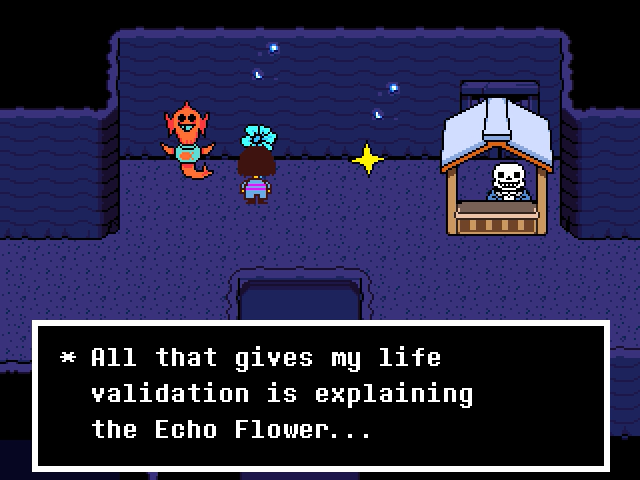 No one can know...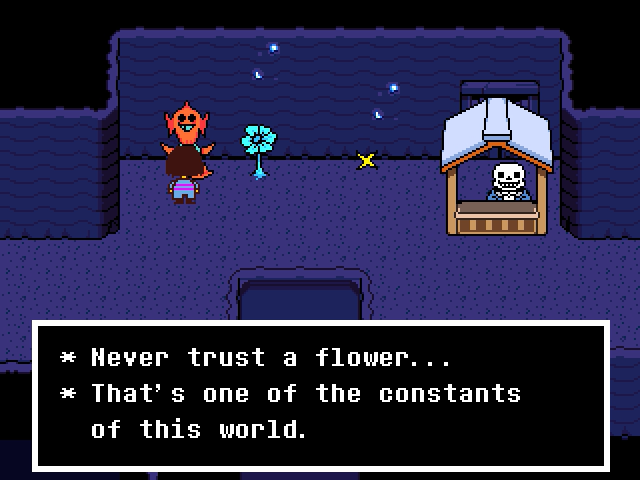 Be careful where you whisper your secrets.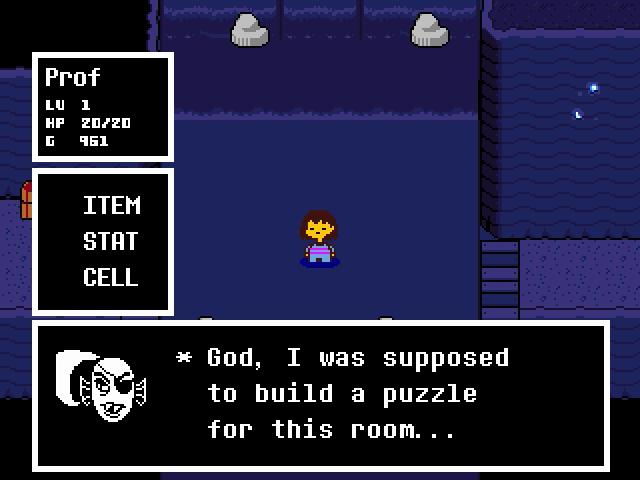 But I HATE puzzles.

So I just put a huge pile of rocks upstream.

What??? Don't judge me!!!

My lack of creativity's making your life easier!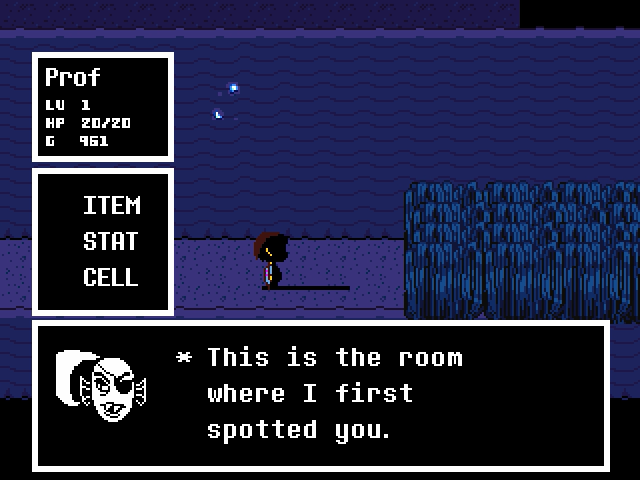 You have NO idea how many spears I wanted to throw!

But, um, that sea-grass is under scientific protection.

What!!!!! That's a real thing!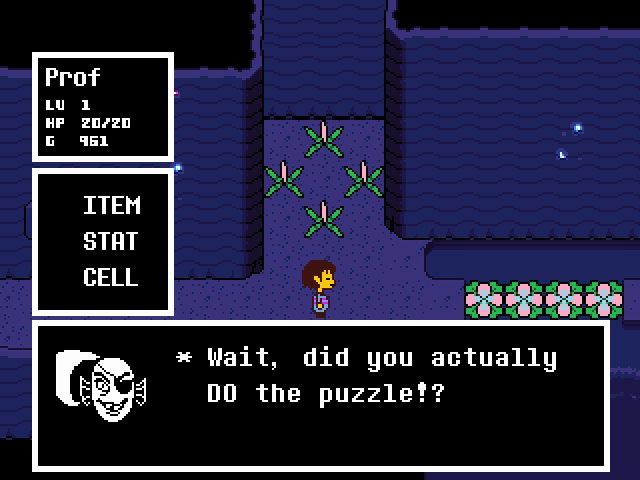 You can't just jump across!?

You can't do the jimpity jumpity joodle!?

The limpity loppity leap!?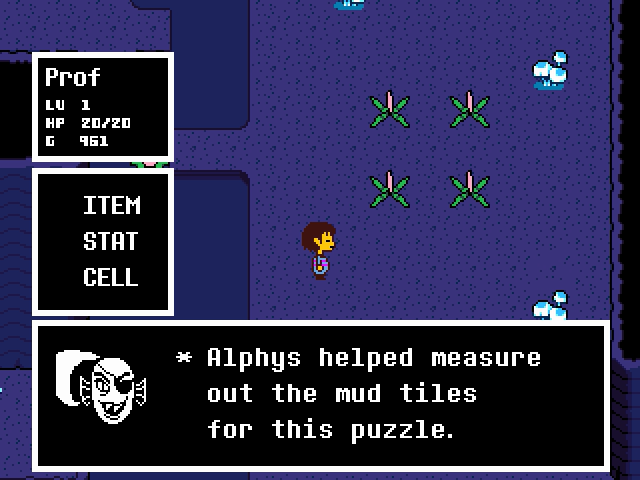 It was a lot of work, but we got to make sand castles after.

We're a good team. She's great at building them...

And I'm great at wrecking them!!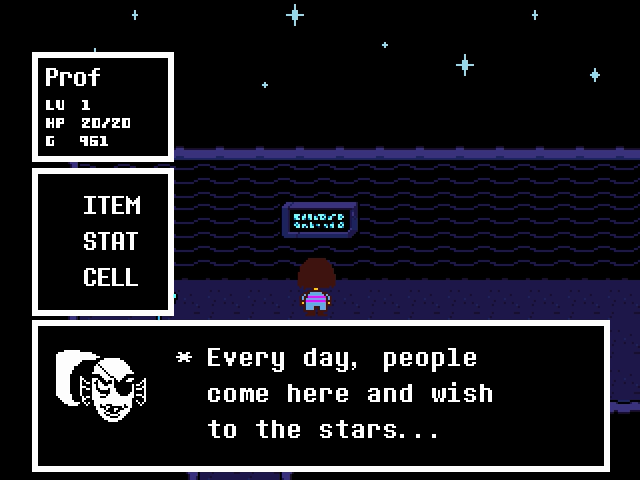 I won't let them down!!!

I'll make everyone's wishes come true!!

I WISH I HAD EIGHT LEGS...

SO I COULD WEAR FOUR PAIRS OF HOTPANTS.

I'll make most people's wishes come true!!!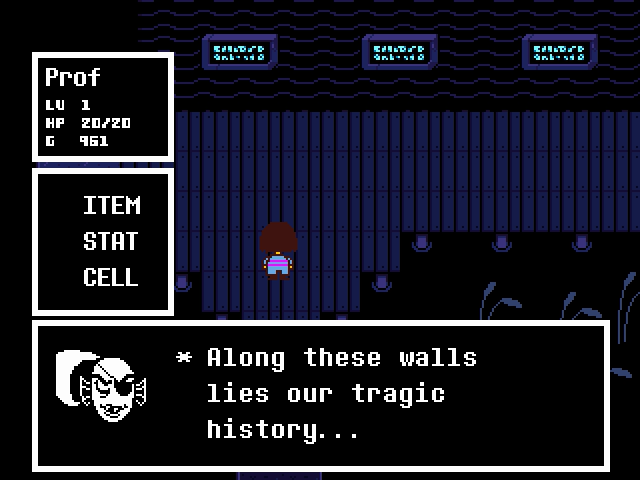 Tragically BORING!

Why can't our history be COOL ANIMATIONS like the humans'!?

Someone at LEAST engrave a plaque with swords and kissing!!!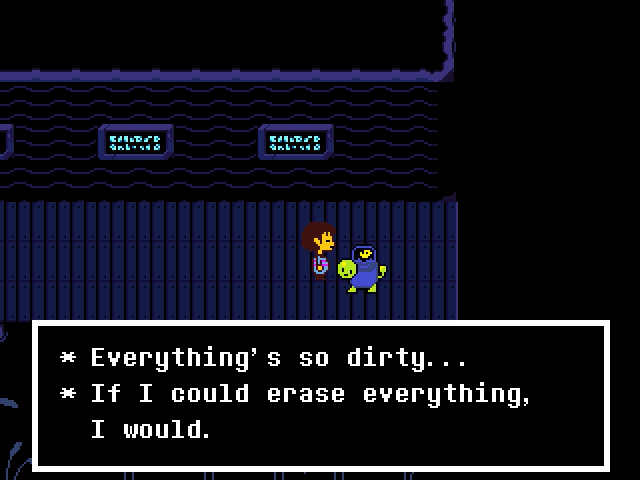 Ohhhh. Don't get the wrong idea. I don't want anyone to die.

People turn to dust when they die, and that's hard to clean up...

Don't turn to dust.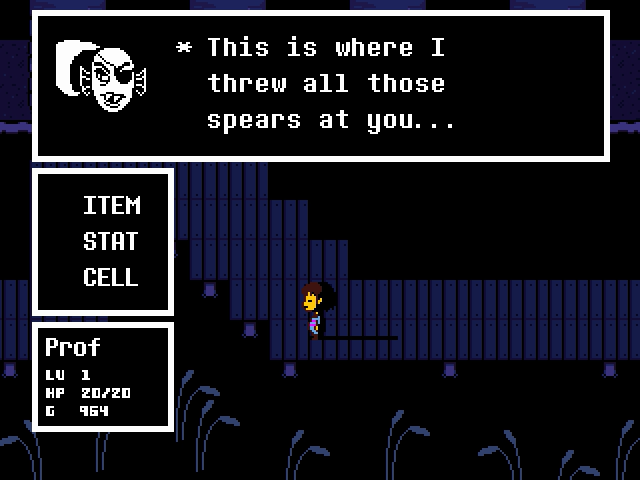 That was fun!!! Let's do that again sometime!!

Come on! Don't fear the spear!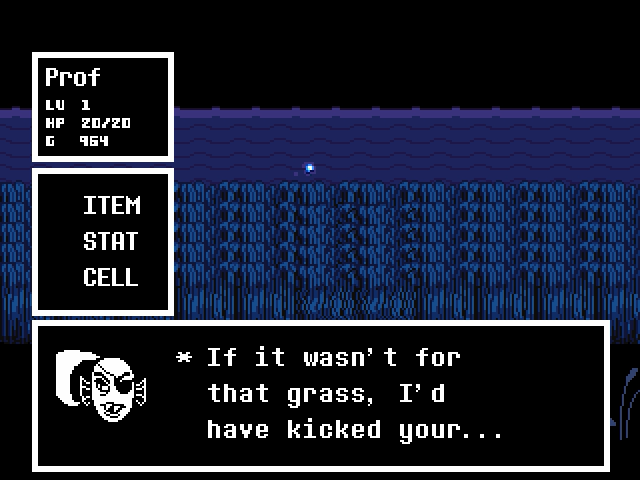 Uh, if not for that grooty, I'd have kicked your booty.

Don't ask me what a grooty is!!!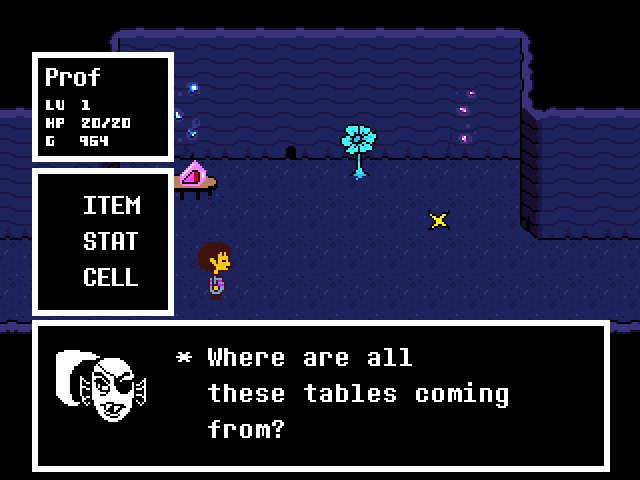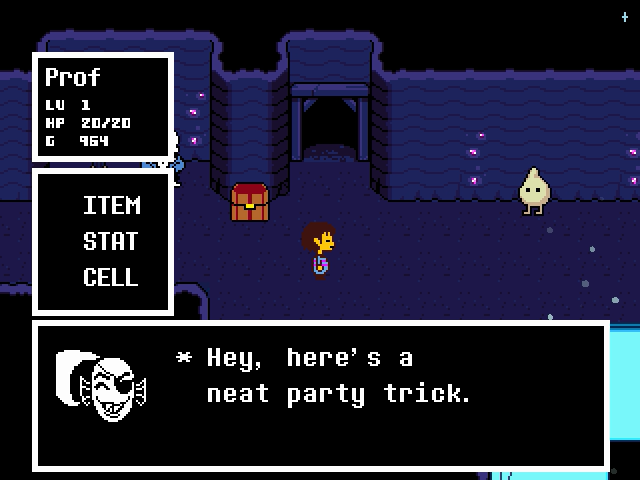 Try talking to the southern wall!

First you have to throw a party, though...

Hey, you should make it a costume party!

Then Papyrus can have someplace he seems normal!!!

Oh! I should invite Alphys, too!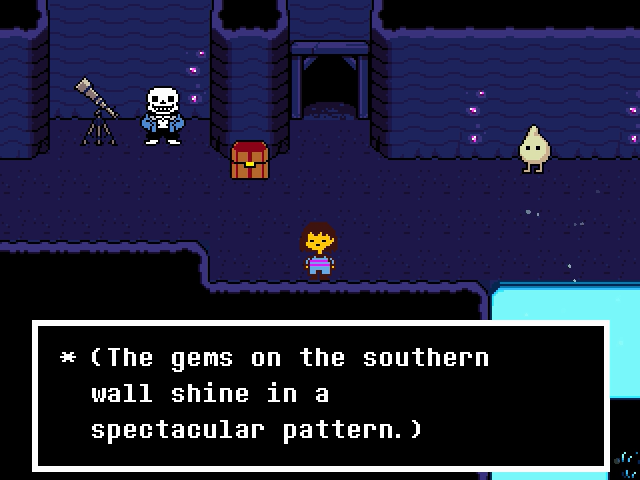 (It's a nice thing you can see the southern wall from this angle.)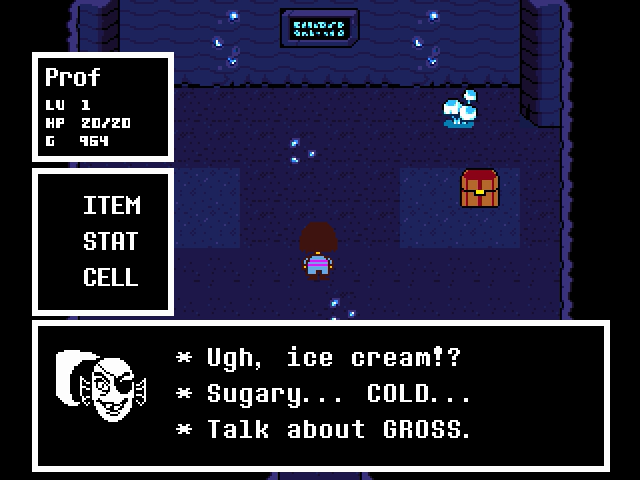 Now this chilly pink stuff that Alphys makes me...

THAT rules!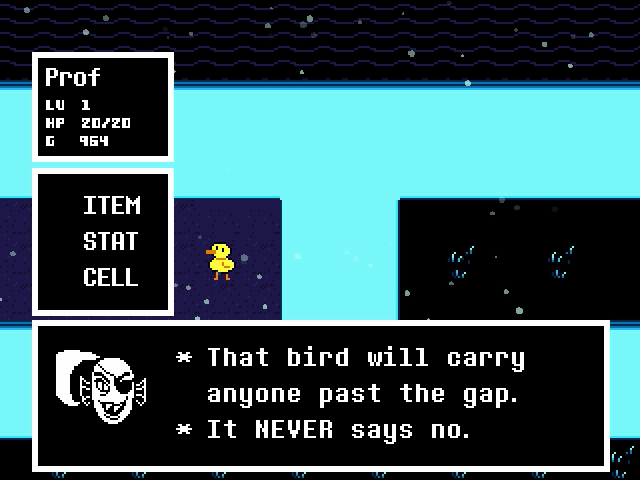 When I was younger, it gave me a lift. It took an hour...

But this bird NEVER once thought of giving up!!!

Cherish this bird.

Well??? Are you CHERISHING???

CHERISH HARDER!!!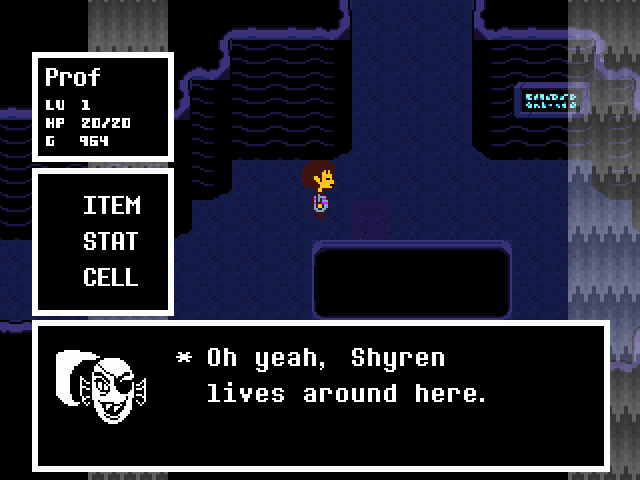 I used to give her piano lessons.

She was really talented... for someone with no fingers.

One day, she stopped coming to her lessons, though...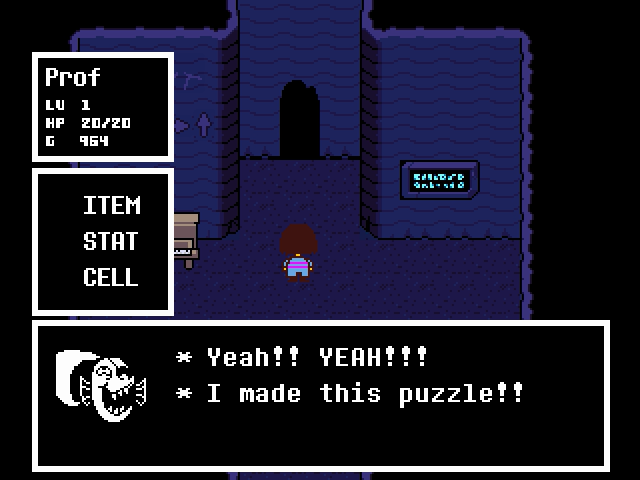 Really, it was just an excuse to put a piano here.

I love FIGHTING THE IVORIES!!!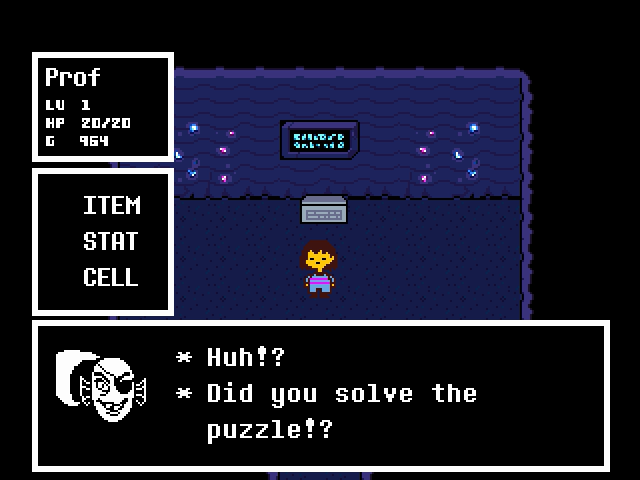 No one has ever... I've been waiting so long for someone to...

I mean, uhhh, big deal! Whatever!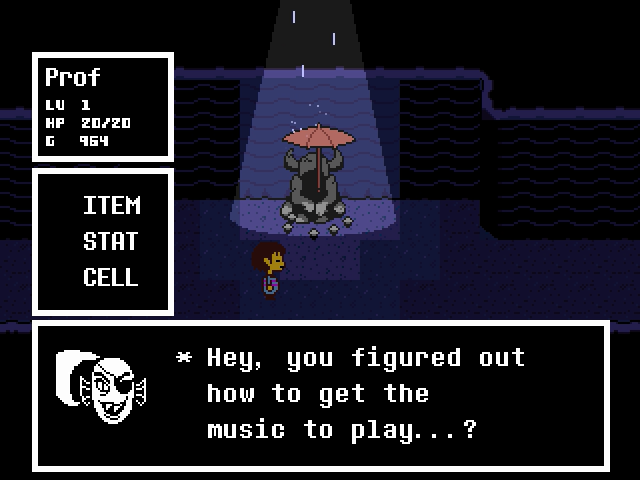 Nice, isn't it?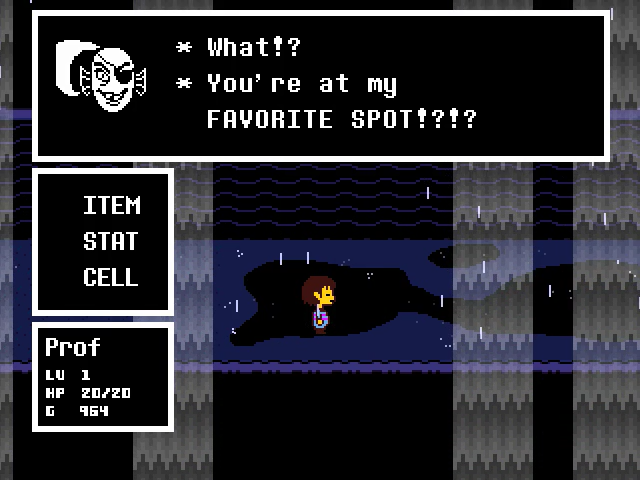 You'd better jump in at least 1000 puddles for me!!!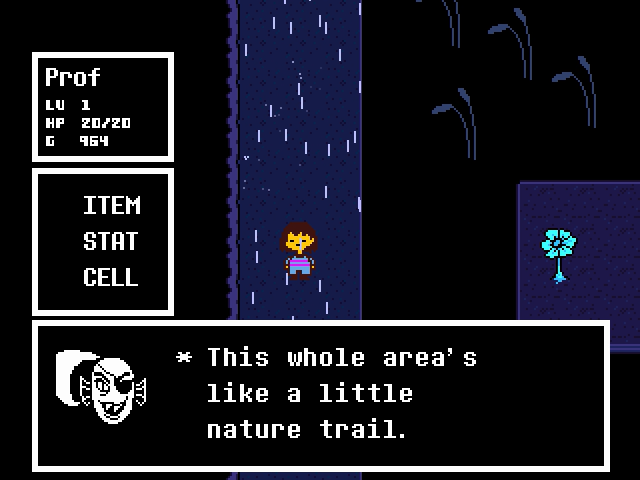 It's nice to have a rainy spot away from civilization...

Though, with the city filling up, who knows how long that'll last.

Well?! Are you enjoying nature!?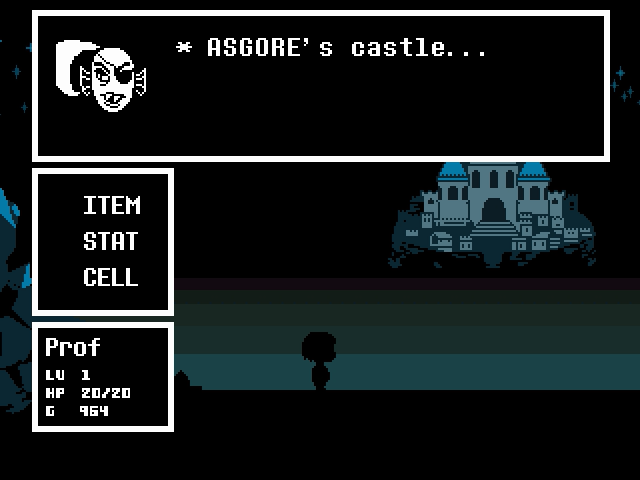 Guess there's no stopping you, huh?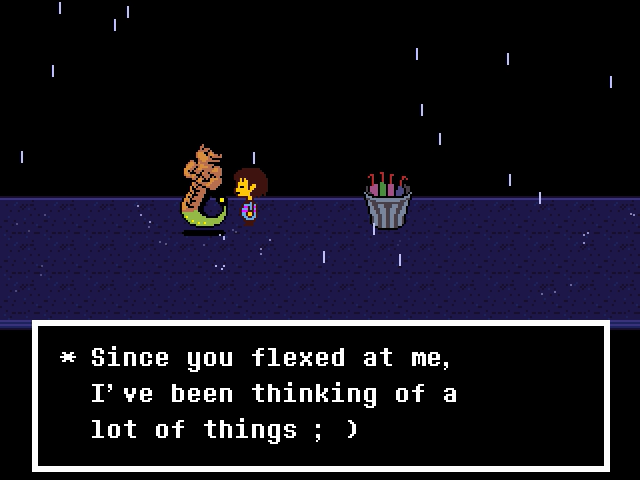 Like... Flexing ; )

And flexing ; )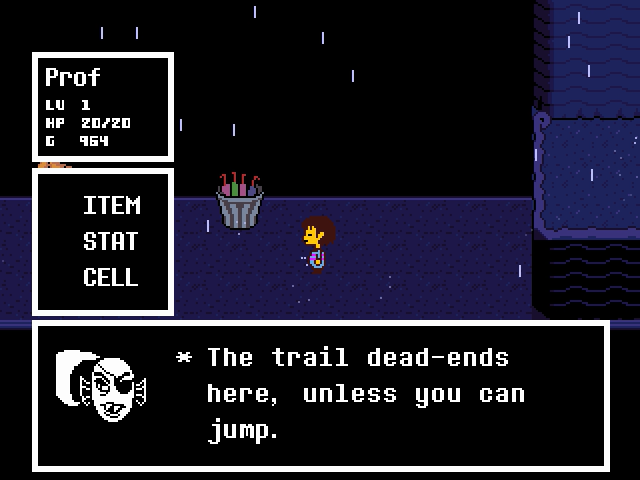 Honestly, I can't believe I expected you to go this way.

What was I thinking???

...and how was I right???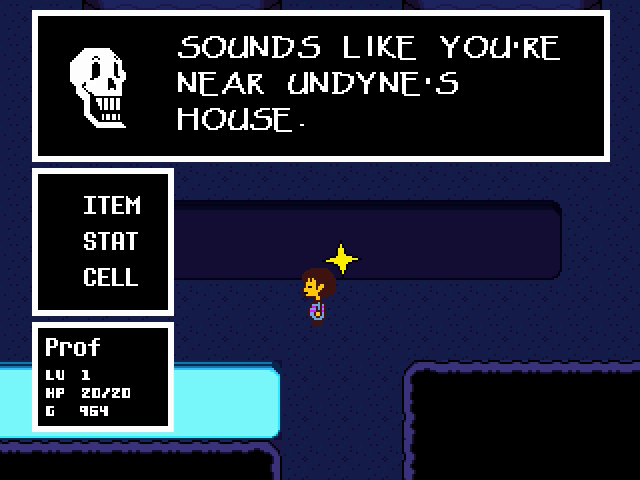 HEY! WE SHOULD GO VISIT UNDYNE!

I'm right here!

I LOVE WHEN A PLAN COMES TOGETHER! NYEH HEH HEH!!!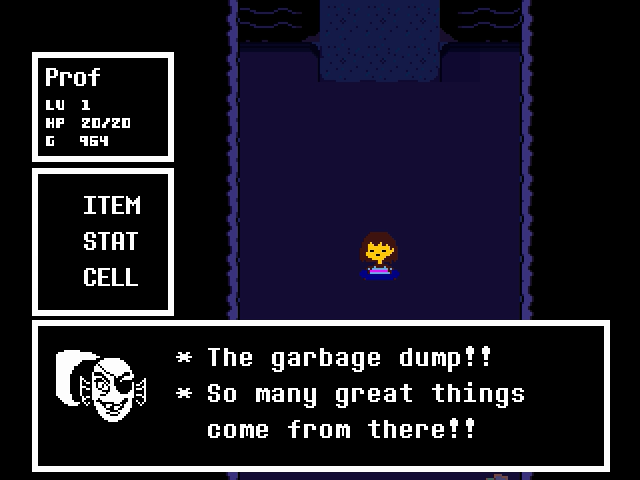 The only reason we have modern technology...

Is 'cause of all the human junk that flows from the surface!

Plus, it's a GREAT place to meet girls.

Wait! Don't quote me on that one!!!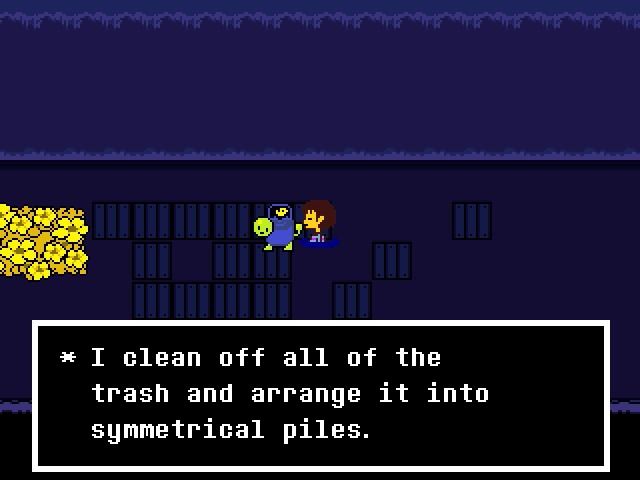 It's hard work, but somebody has to do it.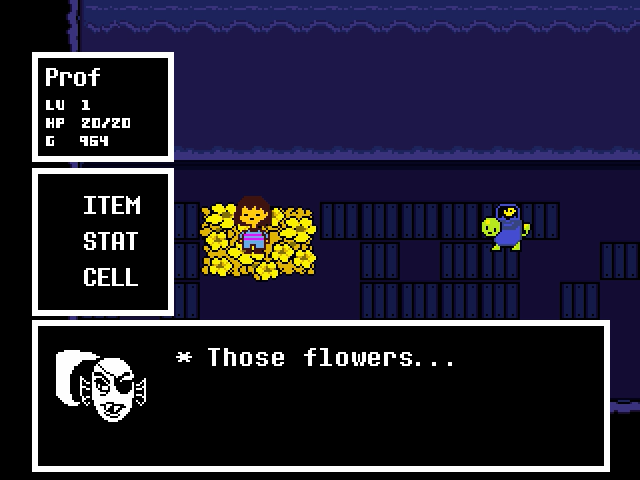 One day, they just started to grow there.

I swear, it's like they have a mind of their own.

That's ridiculous though!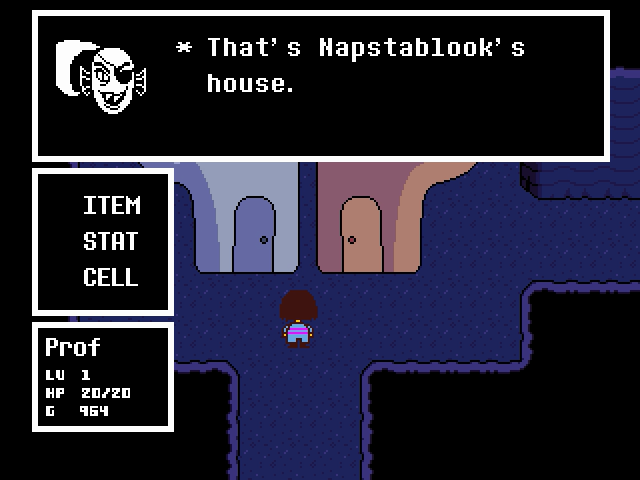 They kind of keep to theirself, but... That's a good ghost.

I try to be a good neighbor, but I think they're scared of me.

C'mon, what's scary about a good-natured invite to wrestle!!?

They're incorporeal anyway!!!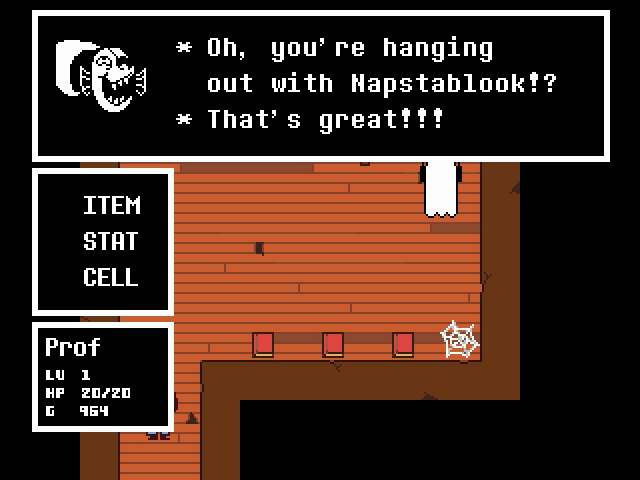 I haven't seen them hanging out with anyone since...

Well, their cousin.

They would both watch TV at all hours of the day...

Then they would practice these weird performances.

Where'd they go...?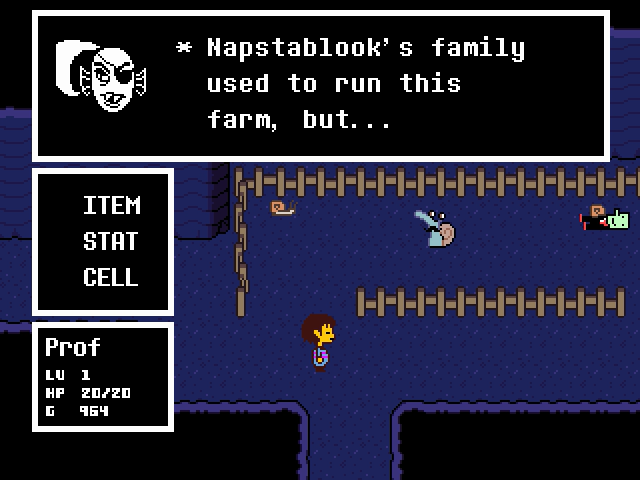 They've all... Passed on...

...to different jobs, since there's not much business here.

Them and their cousin stayed behind to run the family farm.

But no one's seen their cousin for a long time.

Now Napstablook's all alone...

Be nice to them, okay!?

Cherish this ghost!!!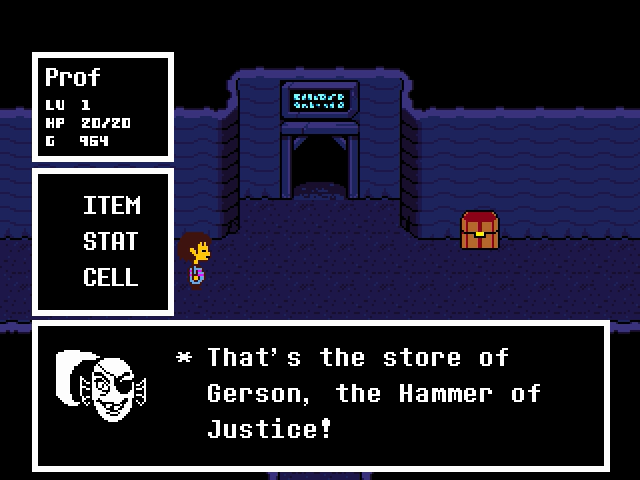 The toughest monster that ever lived...!

He fought in the war between humans and monsters...

And he survived! He's a real hero!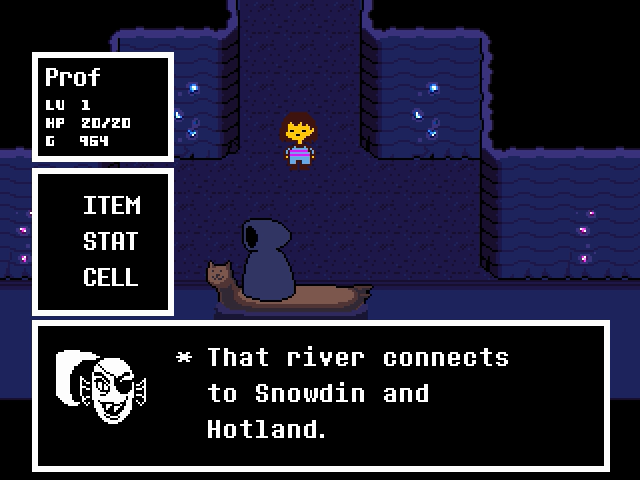 If you need to get from one place to another, jump in!

Look, that's all we got for public transport, OK!?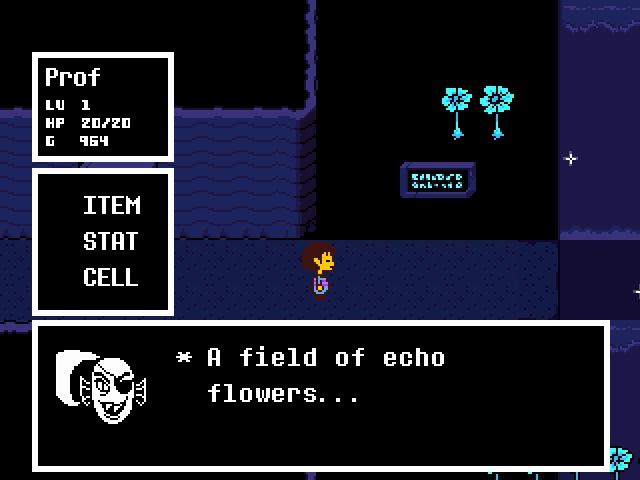 They babble back and forth to each other...

...until their words become meaningless noise.

Creepy, huh?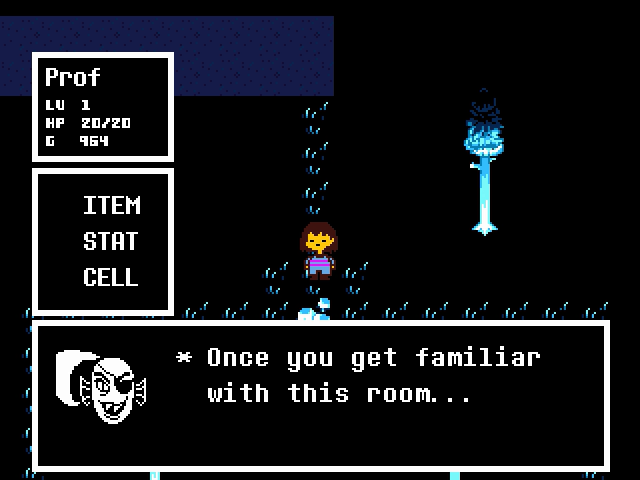 Once you get familiar with this room...

You don't even need to light up the mushrooms!

I mean, the path to Temmie Village is never lit up here.

But why would you wanna go there!?

It's down south if you want to avoid it.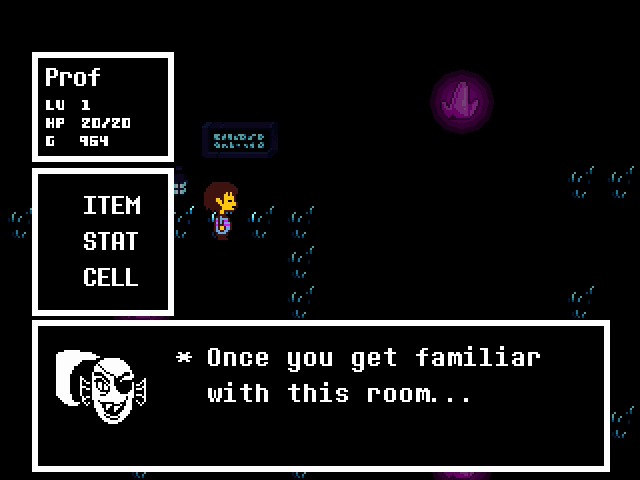 You don't even need to light up the lanterns!

...yeah.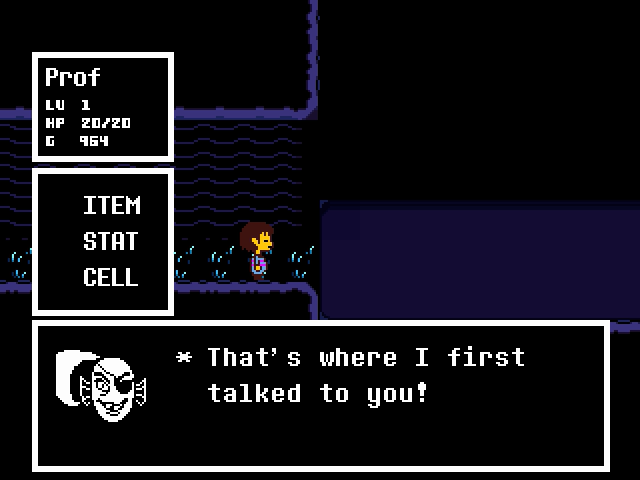 Weren't you SUPER terrified?

I practice that monologue ALL the time in the mirror!

UNDYNE???

I mean!!! Uh!!! No I don't!!!

OH. I WAS JUST GOING TO ASK.

DO YOU WANT TO PRACTICE MONOLOGUES TOGETHER...?!!

UH!!! NO!!! I DON'T!!!!

ATTENTION EVERYONE! I AM GOING TO OPEN THE FRIDGE!

Do you have a monologue for EVERYTHING?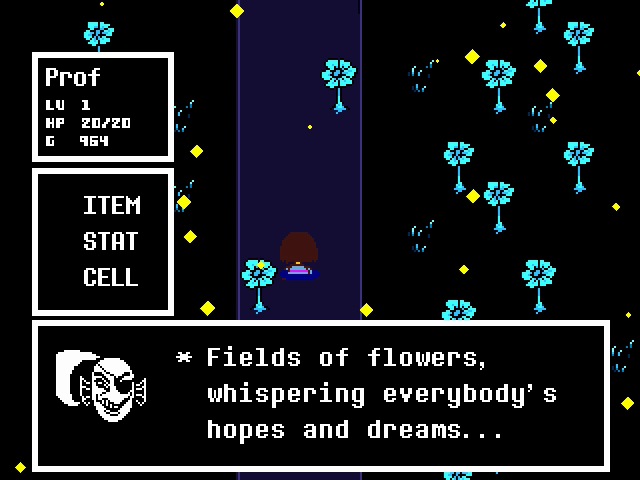 NGAHHHH!!! IT FILLS ME WITH POWER!!!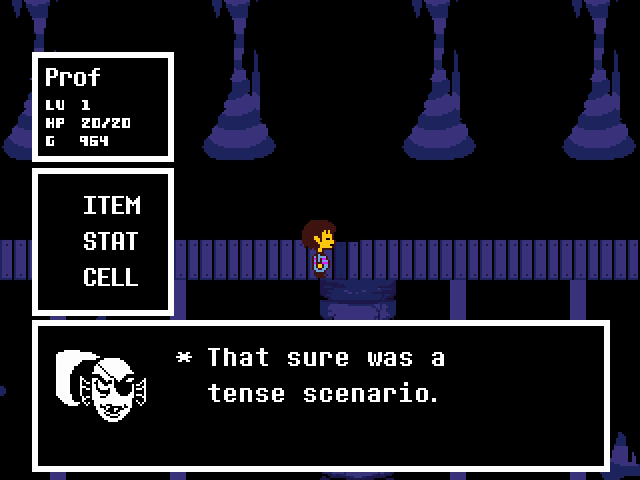 I just wanted to help that poor kid, but...

I thought if I tried, you'd attack me!

Thankfully, you ended up saving them.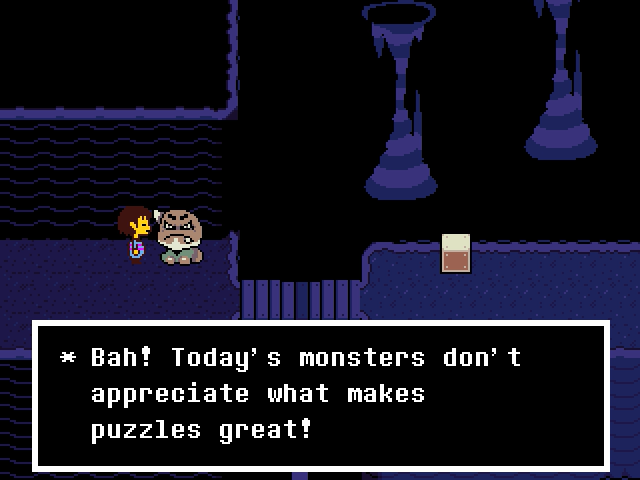 Nowadays "puzzles" are nothing but lasers and moving rocks...

Bahh!!!

There's no ART in that actiony, mindless schlock! It's just timing-based drivel!

Give me something that challenges the deepest reaches of my mind...

You! You're young! You've still got hope!

Geh heh heh...! Here... try solving this block-pushing puzzle!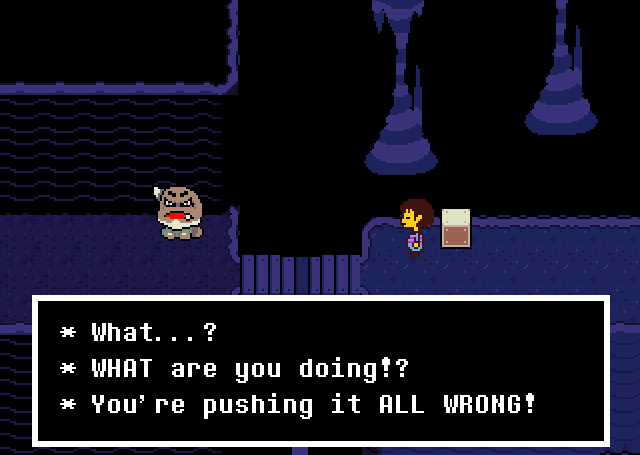 Bah, forget it! This generation is REALLY hopeless!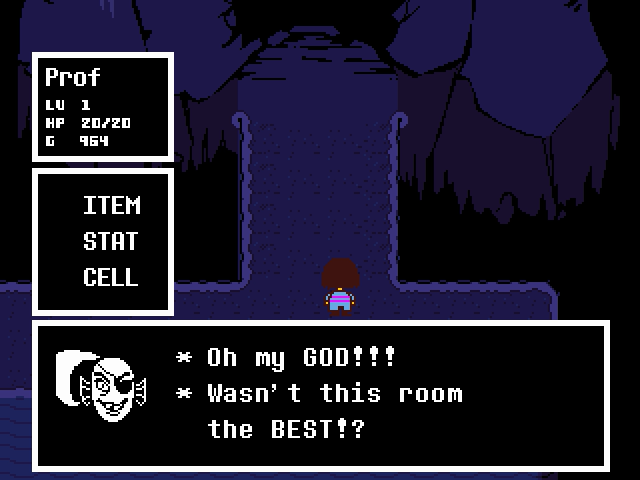 Like when I decided NOT to do that BORING monologue...

And then went TOTALLY off-the-cuff!?

Or when I almost killed you with spears???

Or when I almost killed you with MORE spears???

Aw man. I should have taken photos.

Think about how cute a little scrapbook would be...

NOW I WANT A SCRAPBOOK OF MY FIGHT TOO!!!

Let's start a photo company for boss fights!

ONE WEEK LATER, SAMPLE GLOSSIES IN THE MAIL.

Relive the memories...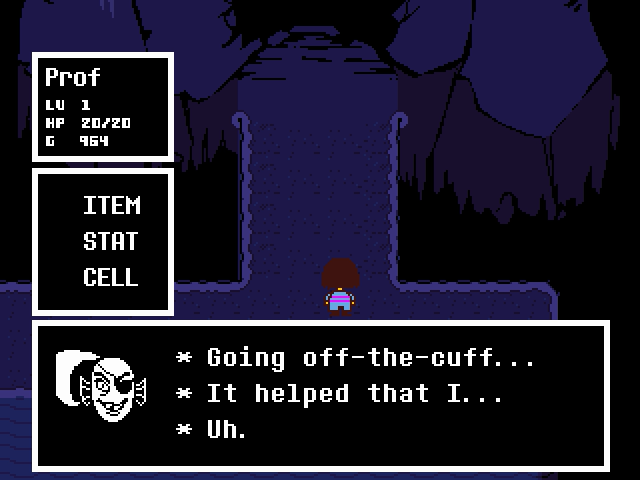 Completely forgot the words to my monologue, anyway...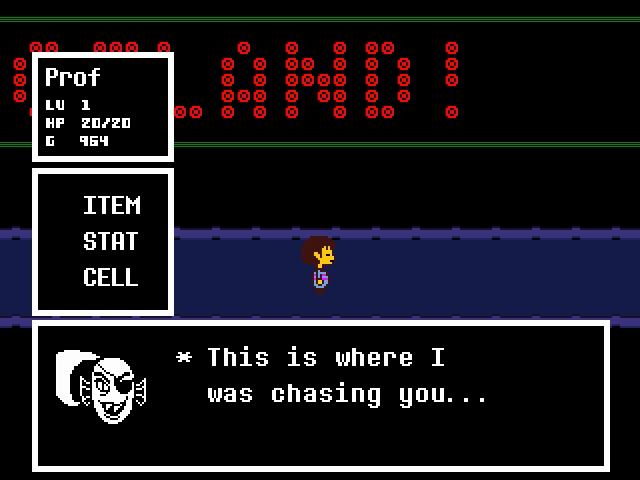 But you got a phone call, so I had to wait.

OH! THAT WAS ME!

What!? What were you even calling about!?

I WAS JUST SAYING WE SHOULD ALL HANG OUT.

As I was trying to kill them!?

WELL!! NOBODY STARTS AS GREAT FRIENDS!

Well, you're gonna END as my great friend!!

N... NO!!! NOT THE FLATTERY SUPLEX!!!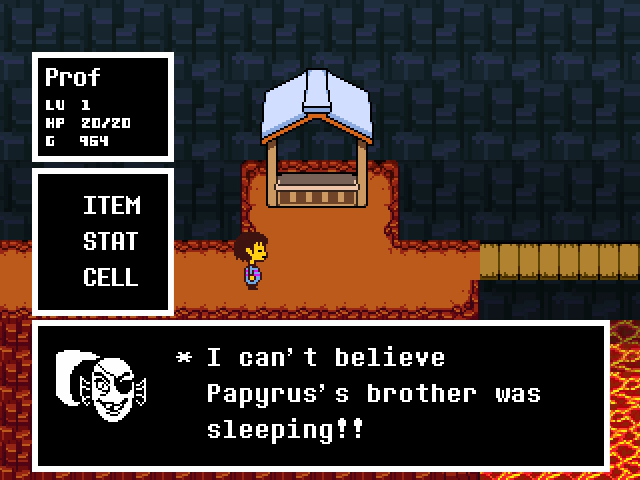 I was counting on him to stop you!! UrrrrgHHHH!!!

HE'S GOTTEN REALLY OUT OF SHAPE. HE TIRES EASILY.

LATELY HE'S BEEN NAPPING OVER 7 HOURS A NIGHT...

HE'S NAPPING HIMSELF INTO AN EARLY GRAVE!!

I agree!! Your brother needs to...!

...wait, isn't that just called sleeping?

UNDYNE!! NO!!! NOT YOU TOO!!!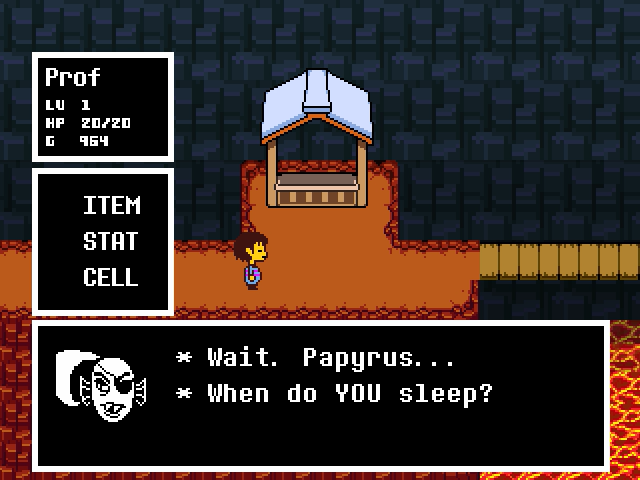 I'M USUALLY TOO BUSY TO SLEEP. WHY???

Well, I was just thinking...

If you're not using that cool car bed, can I have it!?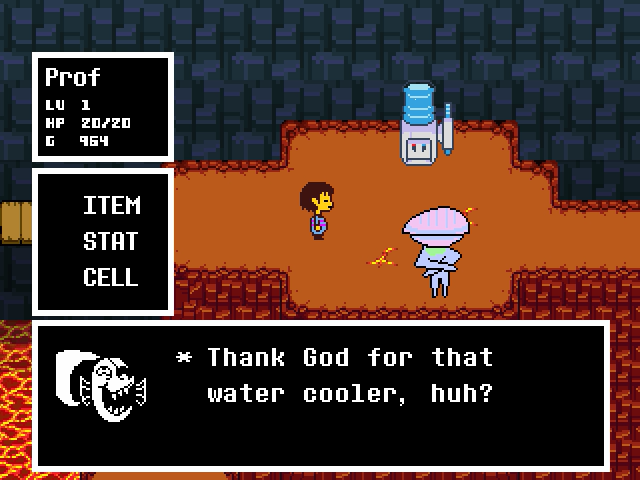 Actually, you can thank Alphys...

She put it there just for me.

Now I can take a drink on the way to her lab.

Though, usually I'm not wearing 100 pounds of armor...!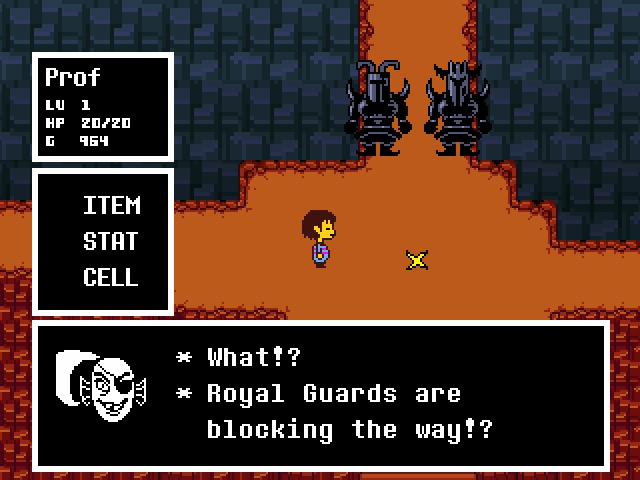 Then I'll tell them to...!

Well, nothing, I guess.

I already told them to seek out and destroy you!

And I can't just tell them I've changed my mind.

You see, Alphys showed me these animations about...

Uhh, humans? So I can learn their weaknesses?

And one of them is about this human that, uh...

Well, suffice to say, they can control people's minds!!!

Surprised? I know your kind's hidden power!

Anyway, I told my crew that if I ever defended a human...

I must be under some kind of mind control!

And to disregard EVERYTHING that i tell them!

So, sorry... But my hands are tied.

By the way, that animation is really good!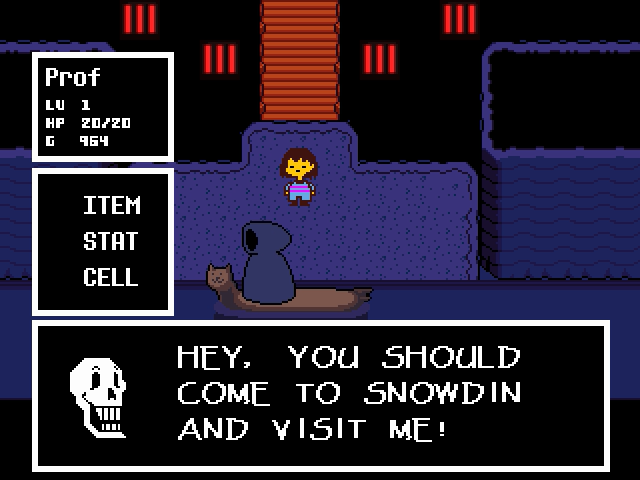 No WAY!!! Come to Snowdin and visit ME!!!

WHAT??? WE'RE IN THE SAME LOCATION!!

Wrong! I'm standing slightly to the right!!

Come on!!! Make your choice!!!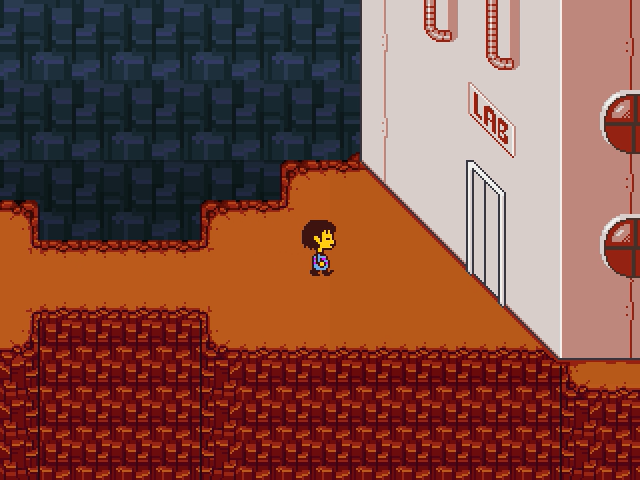 I missed a few rooms, but I'll be back later.
Now, it's about time we checked out this super ominous lab.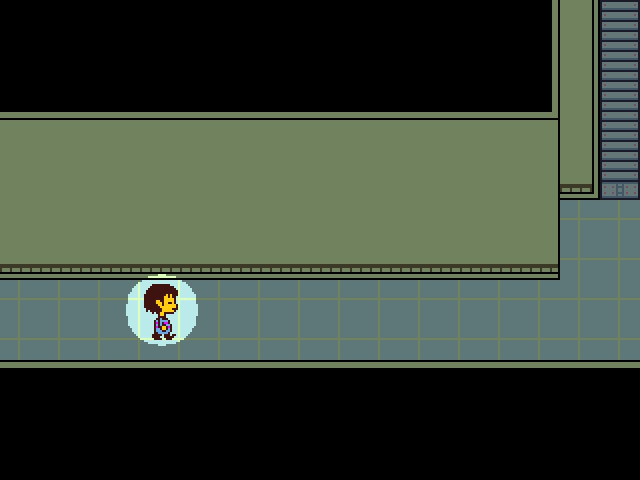 It's dark.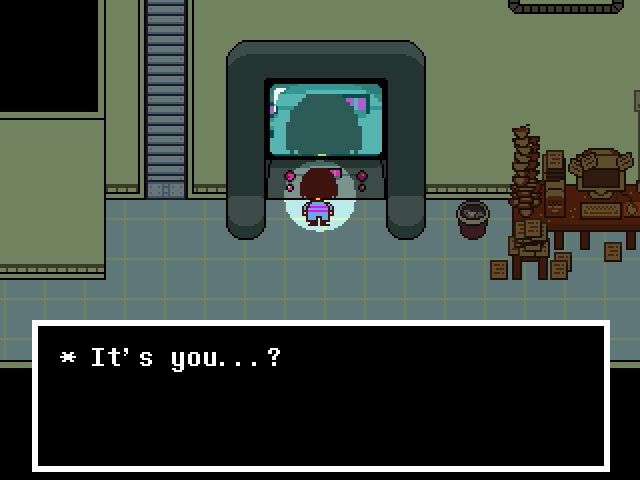 It's dark, and I'm being watched.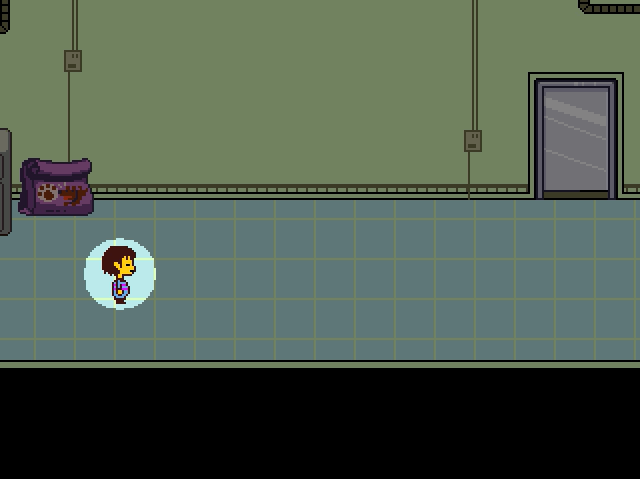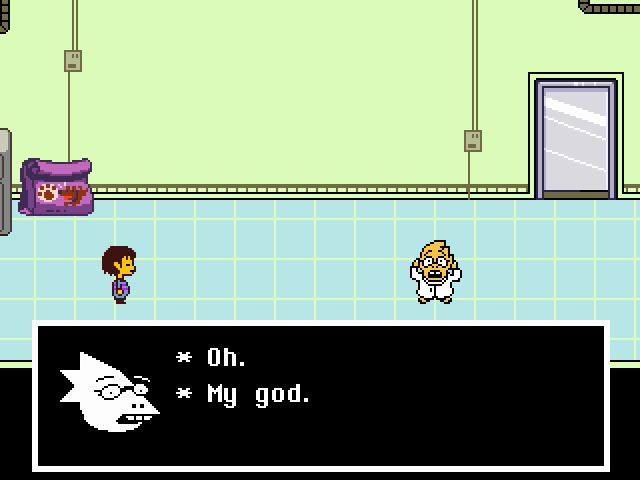 I didn't expect you to show up so soon!

I haven't showered, I'm barely dressed, it's all messy, and...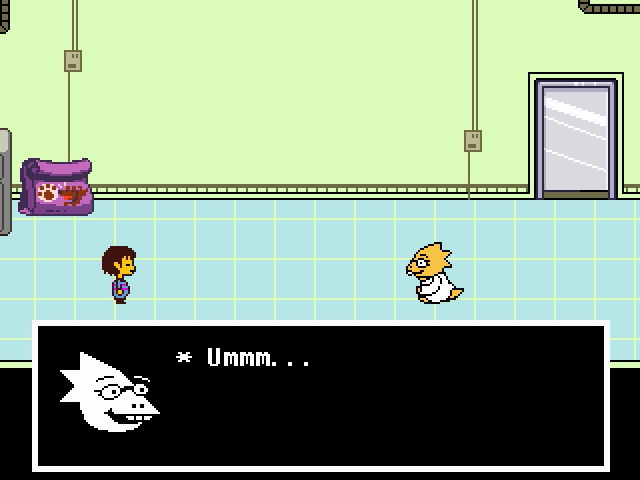 BGM: Alphys

H-h-hiya!

I'm Dr. Alphys. I'm Asgore's royal scientist!

B-b-but, ahhhh, I'm not one of the "bad guys"!

Actually, since you stepped out of the ruins, I've, um...

...been "observing" your journey through my console.

Your fights... Your friendships... Everything!

I was originally going to stop you, but...

Watching someone on a screen really makes you root for them.

S-so, ahhh, now I want to help you!

Using my knowledge, I can easily guide you through Hotland!

I know a way right to Asgore's castle, no problem!

...

Well, actually, umm, there's just a tiny issue.

A long time ago, I made a robot named Mettaton.

Originally, I built him to be an entertainment robot.

Uh, you know, like a robotic TV star or something.

Anyway, recently I decided to make him more useful.

You know, just some small practical adjustments.

Like, um...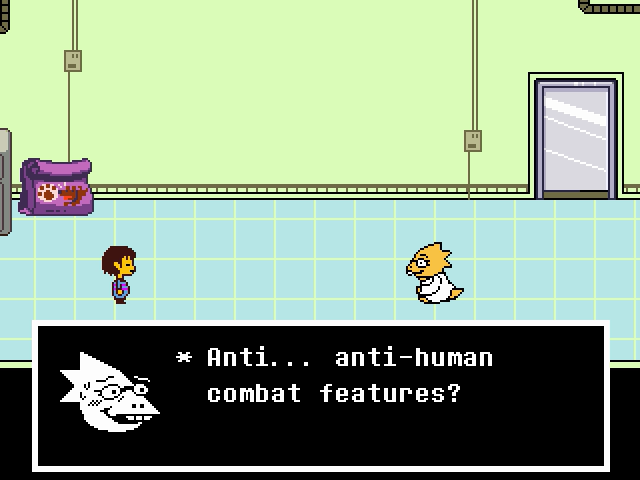 Of c-course, when I saw you coming, I immediately decided...

I have to remove those features!

Unfortunately, I may have made a teensy mistake while doing so.

And, um...

Now he's an unstoppable killing machine with a thirst for human blood?

Ehehehehe...

Heh.

But, ummm, hopefully we won't run into him!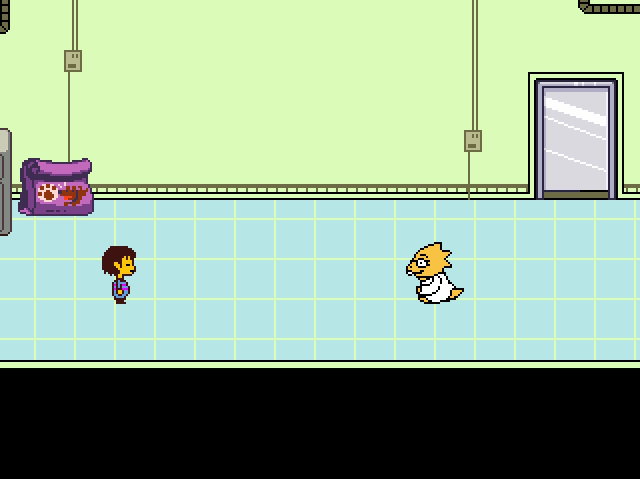 BGM: Silence

...?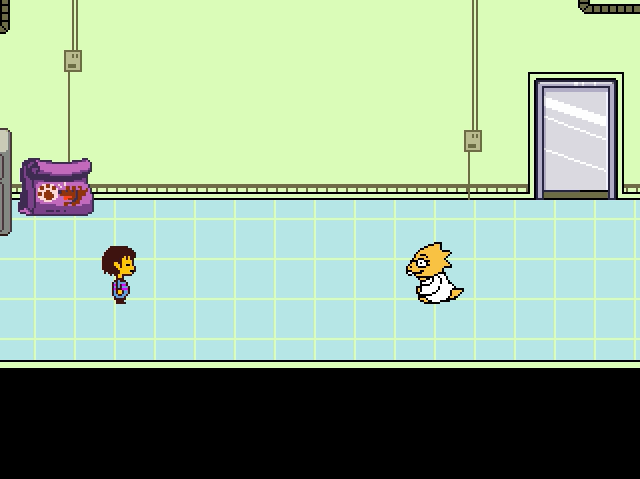 Did you hear something?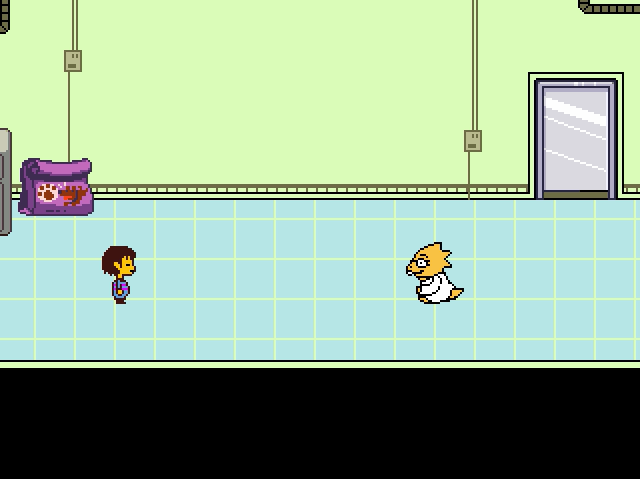 Oh no.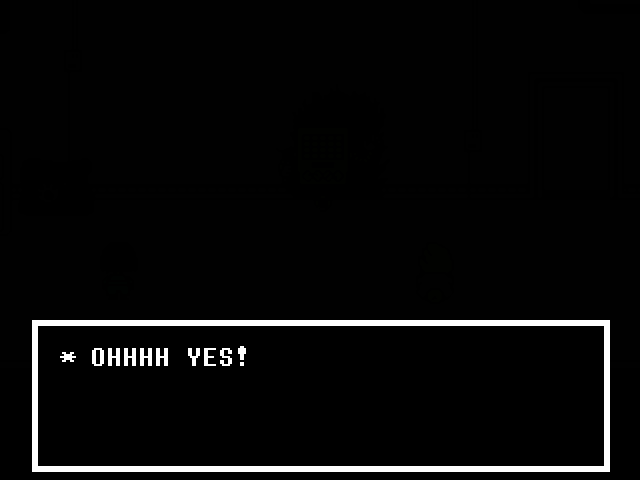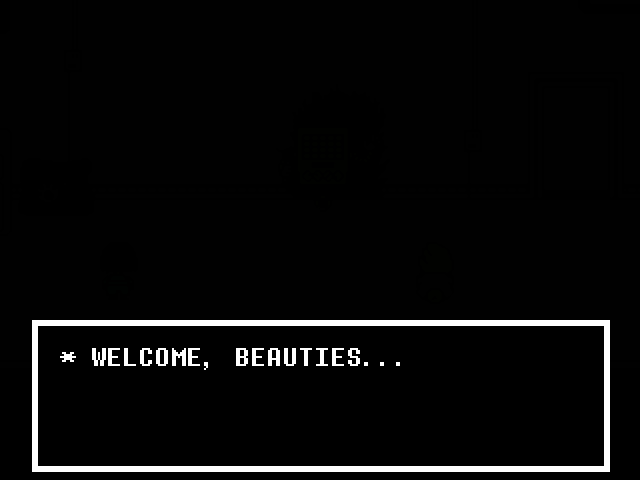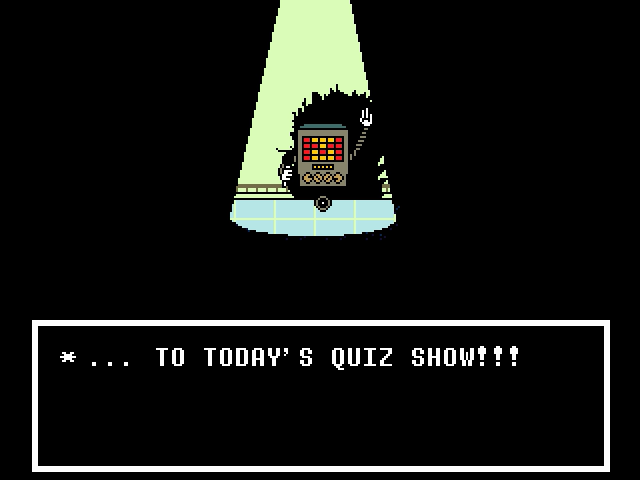 BGM: It's Showtime!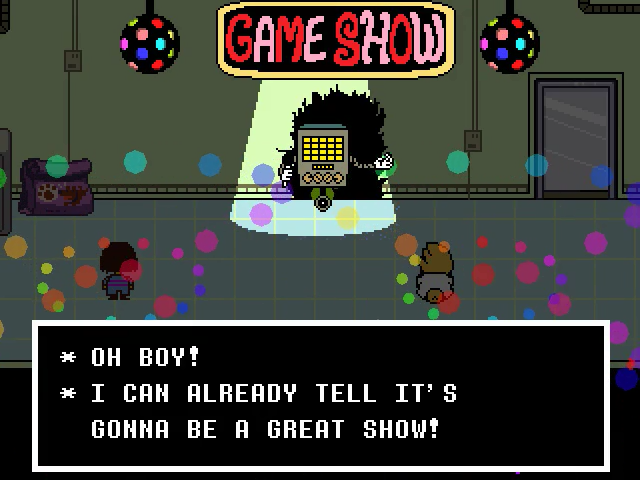 EVERYONE GIVE A BIG HAND FOR OUR WONDERFUL CONTESTANT!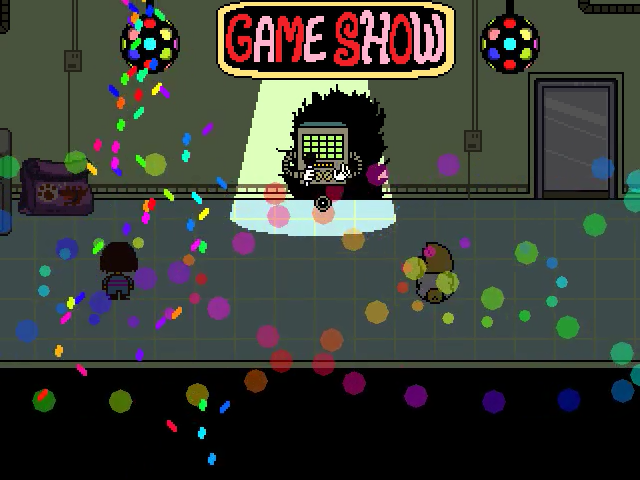 Canned applause.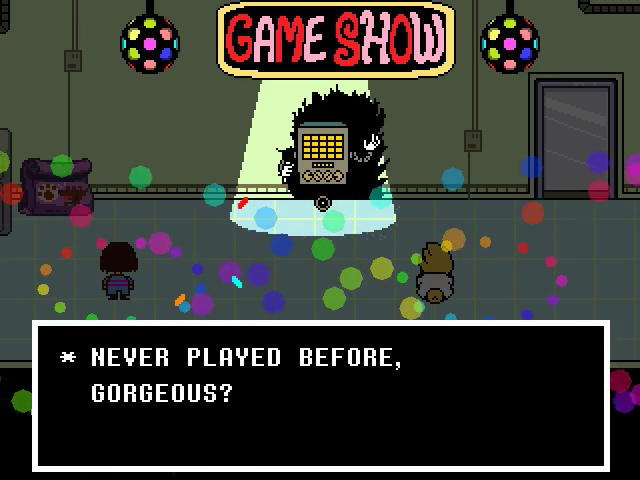 NO PROBLEM! IT'S SIMPLE!


THERE'S ONLY ONE RULE.


ANSWER CORRECTLY...