Part 21: Metal Crusher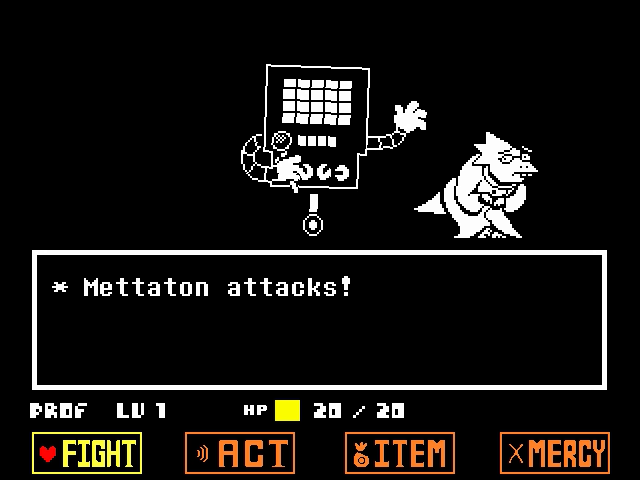 Video: Quiz Show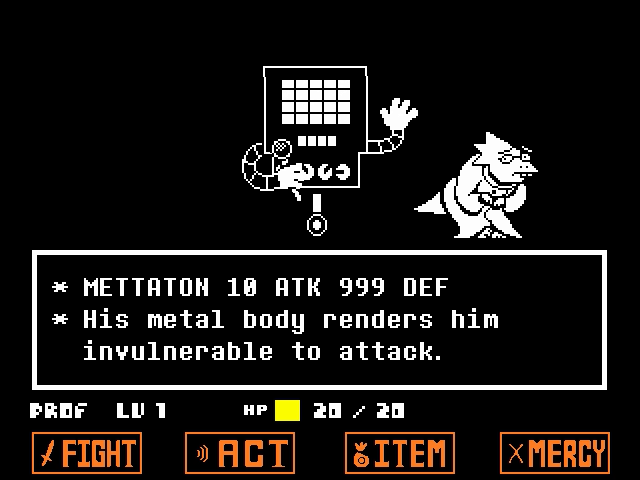 BGM: Metal Crusher

This boss fight is going to be a little different from the ones I've done so far.

LET'S START WITH AN EASY ONE!!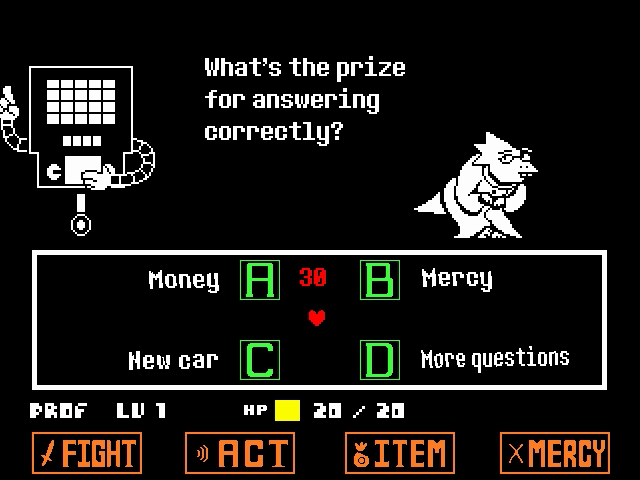 That's right: IT'S QUIZ TIME.
Do you think you know the answer to this one?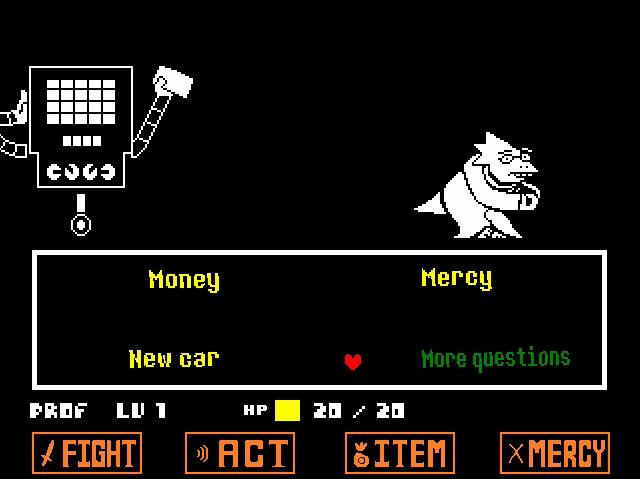 Of course it isn't mercy! Mettaton knows not the meaning of the word.
My only action option other than Check is
Cry
.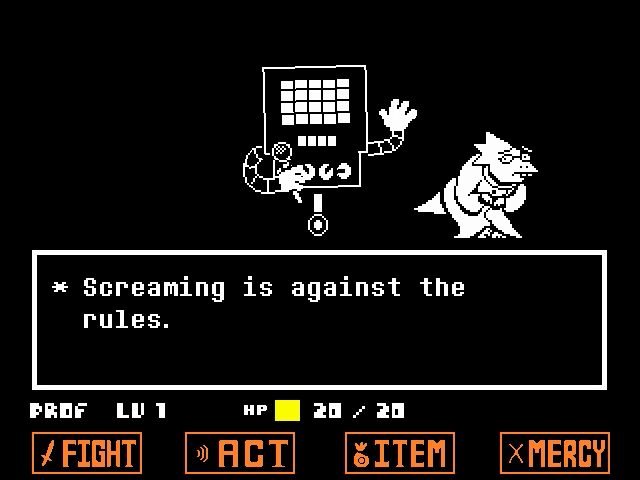 HERE'S YOUR TERRIFIC PRIZE!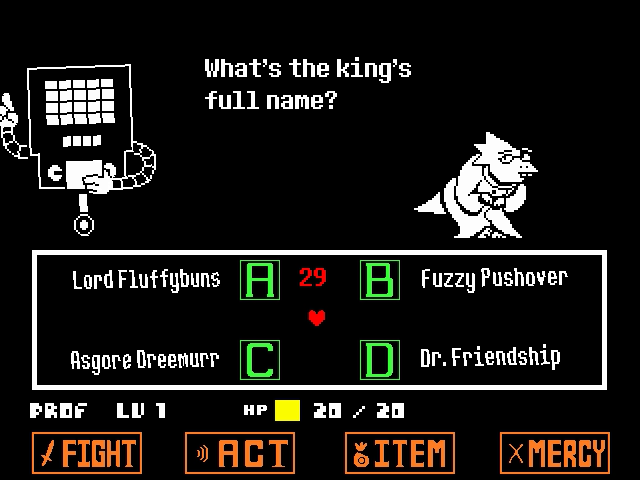 Use the powers of reading comprehension to survive!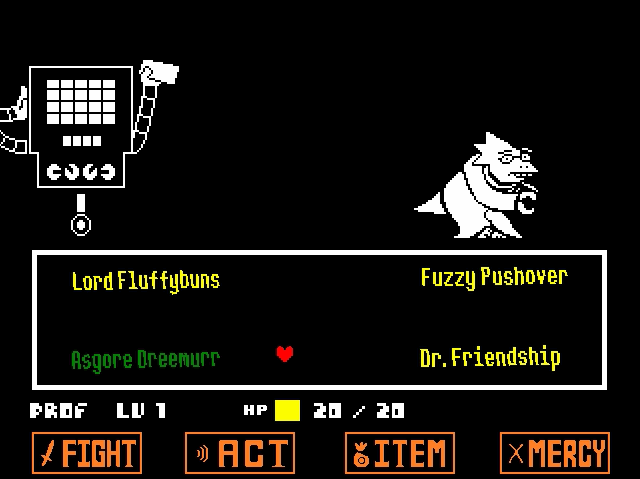 ENOUGH ABOUT YOU. LET'S TALK ABOUT ME!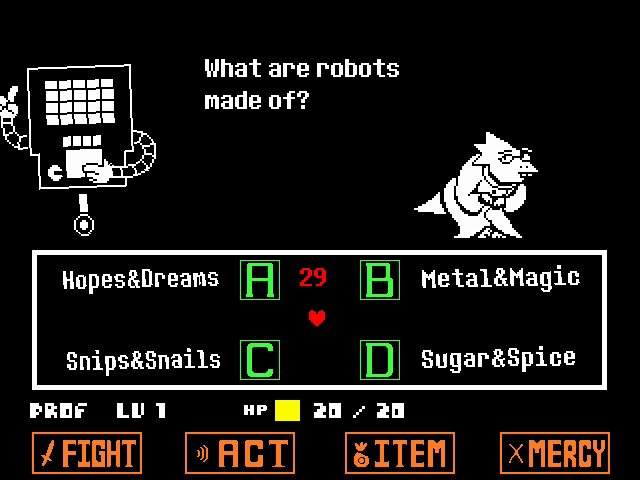 I think I can at least
guess
at this one...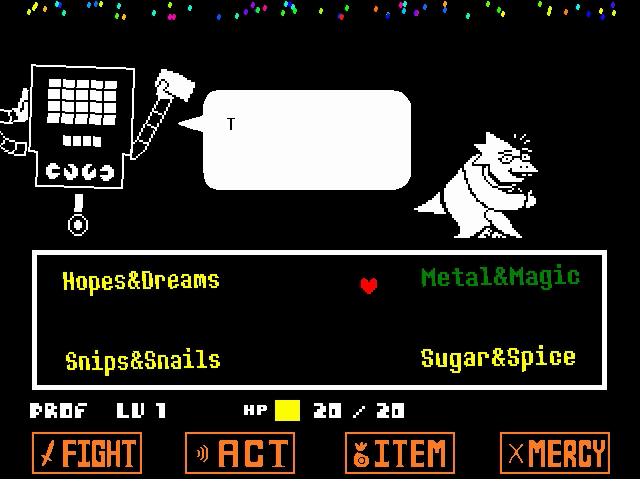 HERE'S ANOTHER EASY ONE FOR YOU!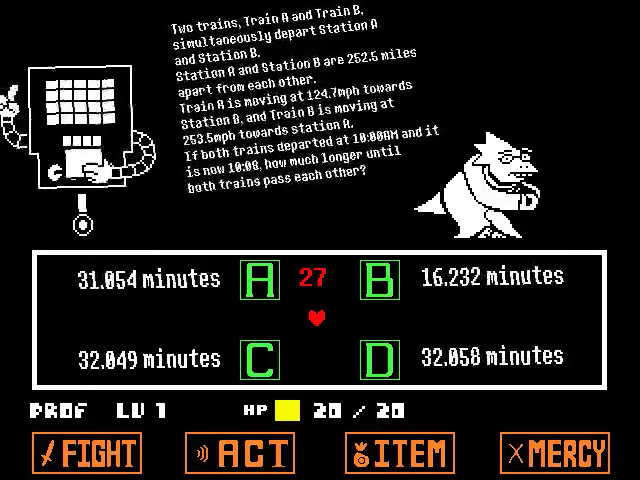 Around now, it becomes necessary to start taking advantage of the trick to this battle.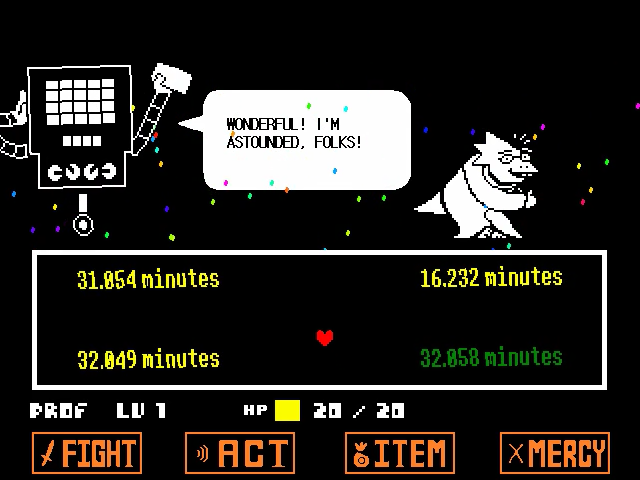 DON'T COUNT ON YOUR VICTORY...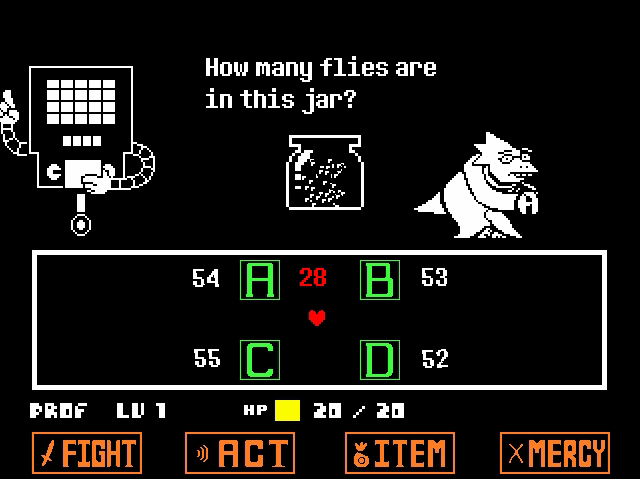 The trick is Alphys! After a couple seconds of reading a question, she signs the answer from behind Mettaton.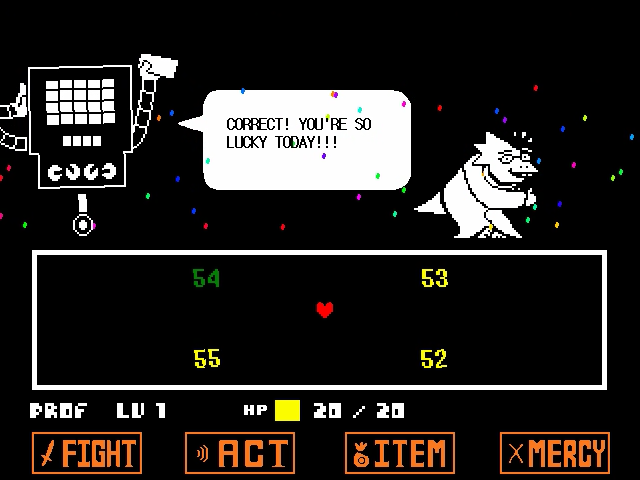 LET'S PLAY A MEMORY GAME!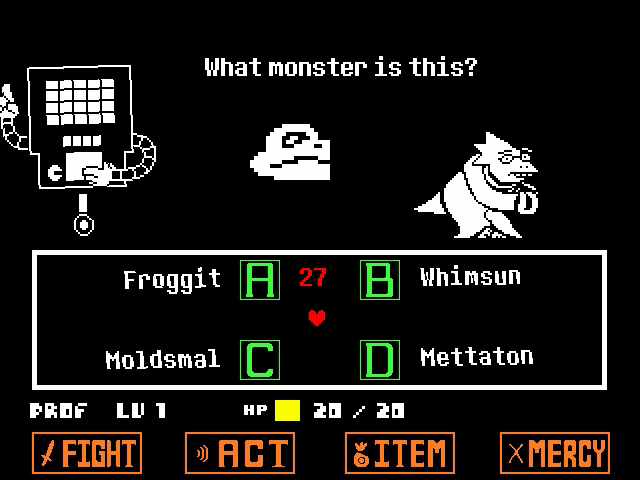 Except, okay, Alphys is clearly wrong on this one. That's blatantly Froggit!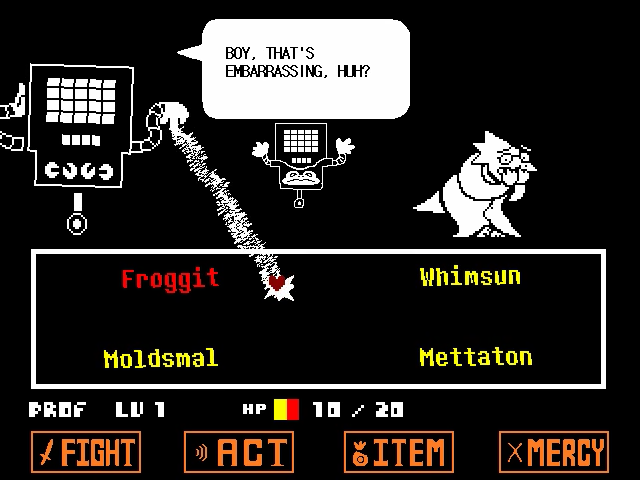 WHAT

BUT CAN YOU GET THIS ONE?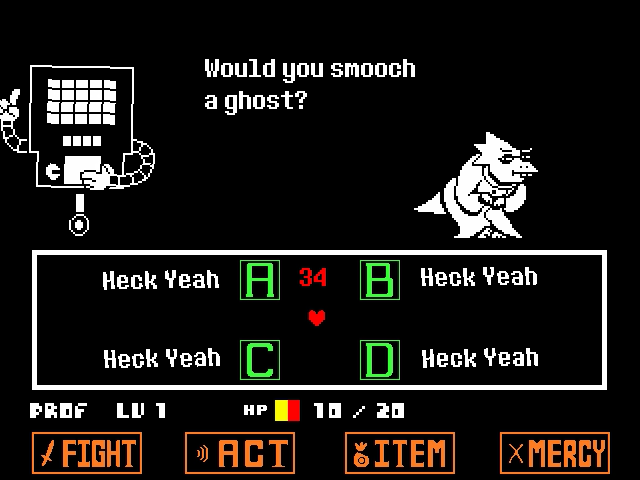 I'm not sure this counts as a quiz question. I mean, the timer is even going up instead of down.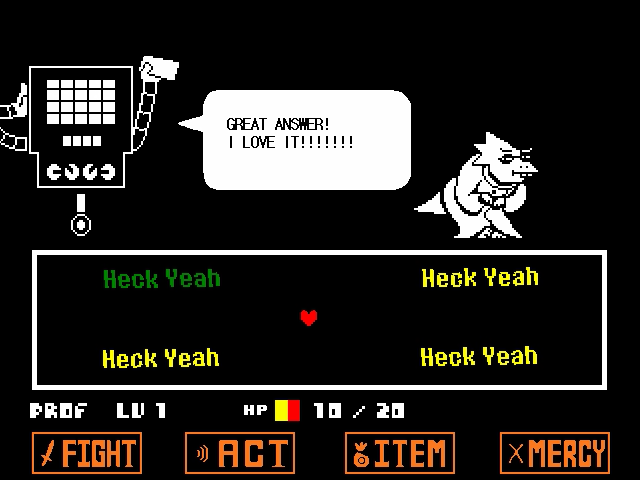 HERE'S A SIMPLE ONE.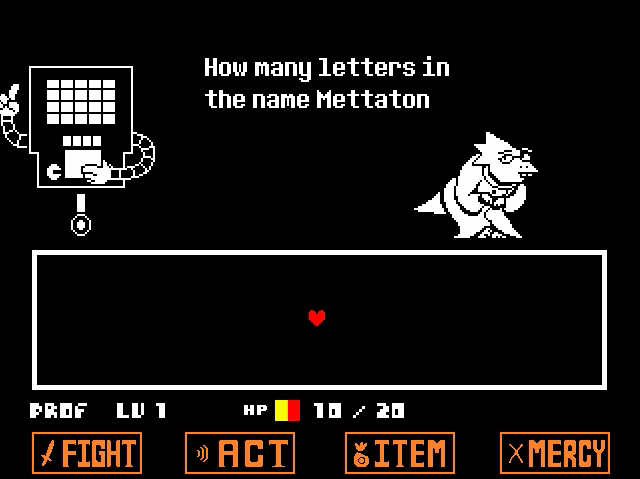 This would be so unfair if I didn't have Alphys helping me.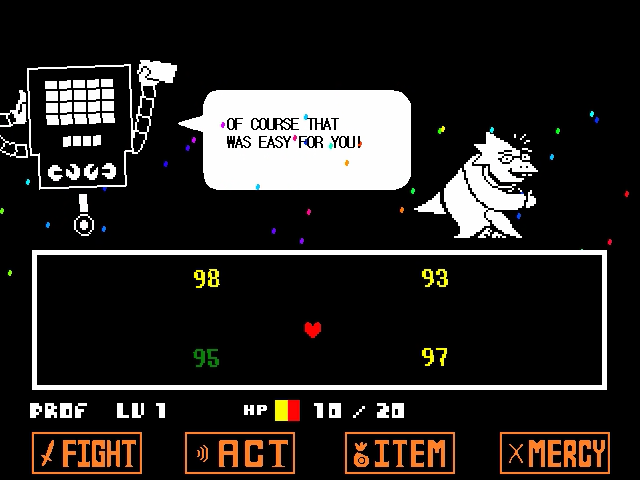 TIME TO BREAK OUT THE BIG GUNS!!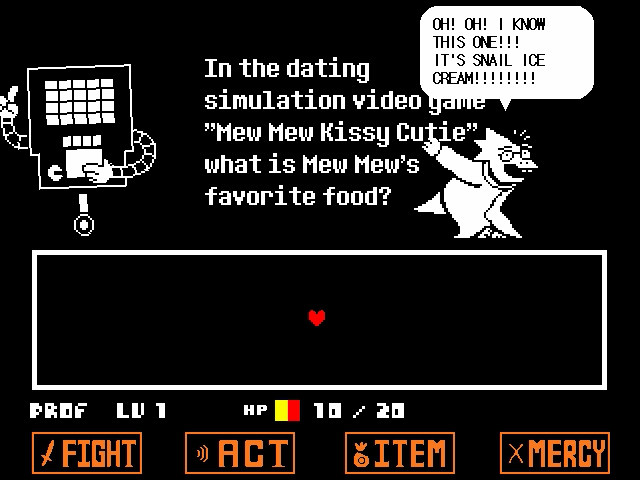 IN THE FOURTH CHAPTER EVERYONE GOES TO THE BEACH!!!!

AND SHE BUYS ICE CREAM FOR ALL OF HER FRIENDS!!!!

BUT IT'S SNAIL FLAVOR AND SHE'S THE ONLY ONE WHO WANTS IT!!!!!!

IT'S ONE OF MY FAVORITE PARTS OF THE GAME BECAUSE

IT'S ACTUALLY A VERY POWERFUL message about friendship and...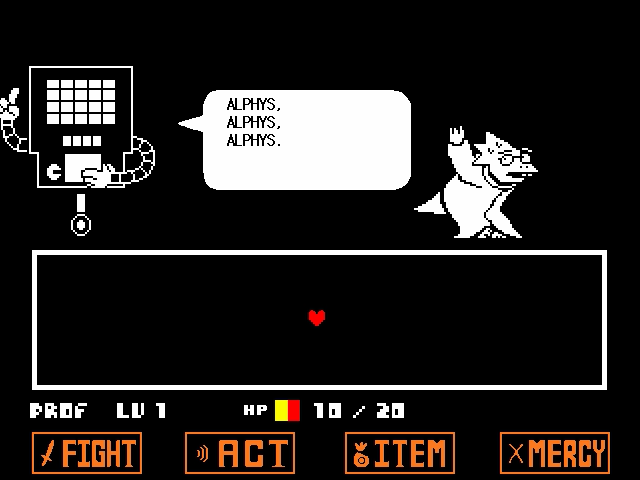 YOU AREN'T HELPING OUR CONTESTANT, ARE YOU?


OOOOOH!!! YOU SHOULD HAVE TOLD ME.


I'LL ASK A QUESTION...


YOU'LL BE SURE TO KNOW THE ANSWER TO!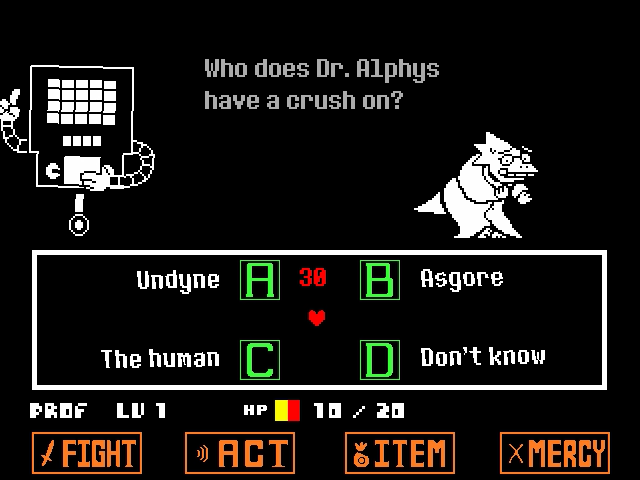 I'm going with my hunch on this one.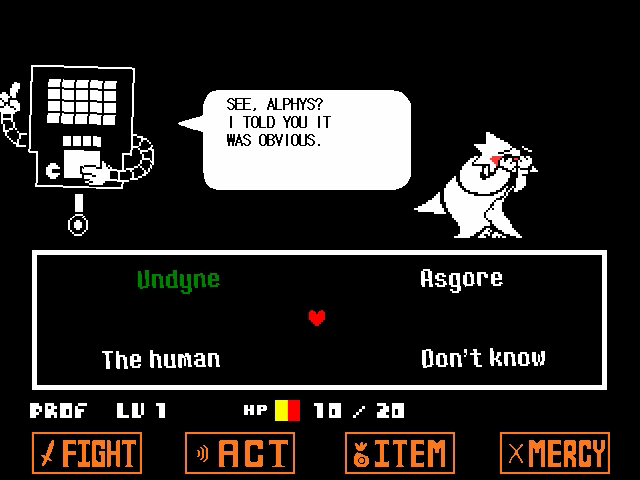 EVEN THE HUMAN FIGURED IT OUT.


YES, SHE SCRAWLS HER NAME IN THE MARGINS OF HER NOTES.


SHE NAMES PROGRAMMING VARIABLES AFTER HER.


SHE EVEN WRITES STORIES OF THEM TOGETHER...


SHARING A DOMESTIC LIFE.


PROBABILITY OF CRUSH: 101 PERCENT.


MARGIN OF ERROR, ONE PERCENT.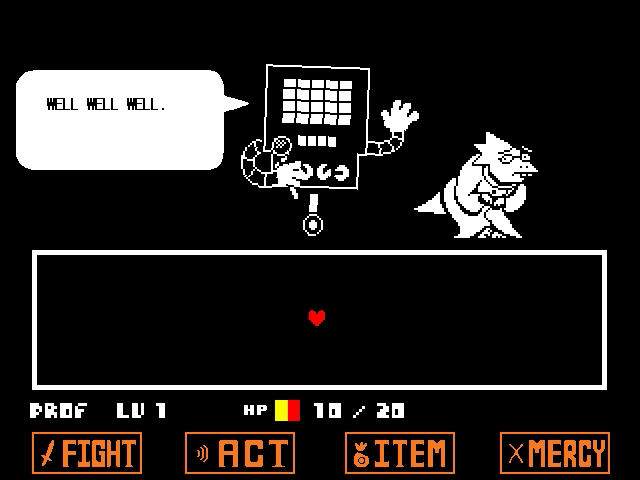 WITH DR. ALPHYS HELPING YOU...


THIS SHOW HAS NO DRAMATIC TENSION!


WE CAN'T GO ON LIKE THIS!!


BUT.


BUT!!!


THIS WAS JUST THE PILOT EPISODE!!


NEXT UP, MORE DRAMA!


MORE ROMANCE!!!


MORE BLOODSHED!!!


UNTIL NEXT TIME, DARLINGS...!!!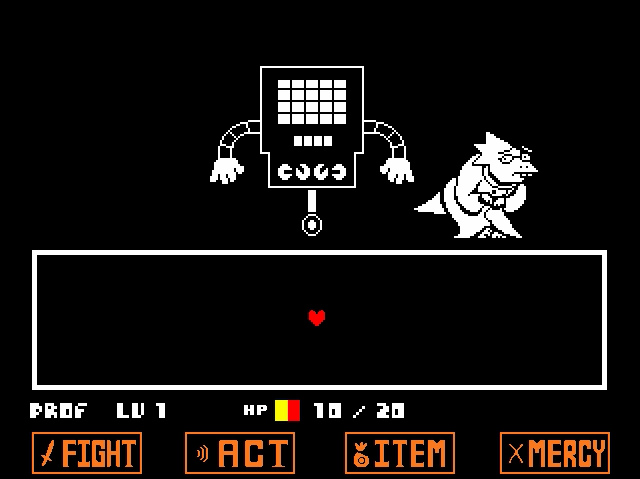 BGM: Silence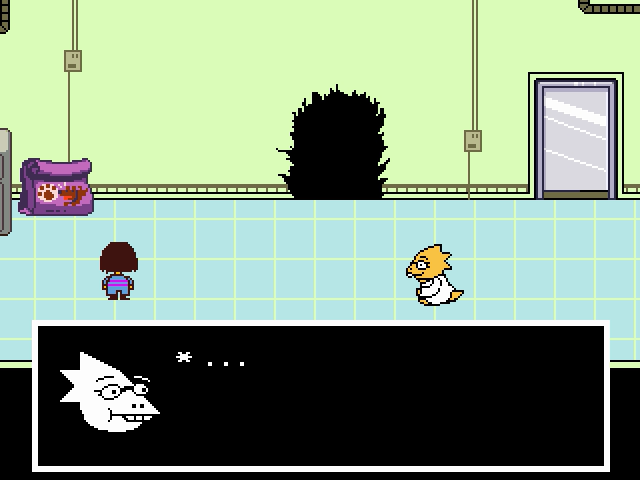 Well that was certainly something.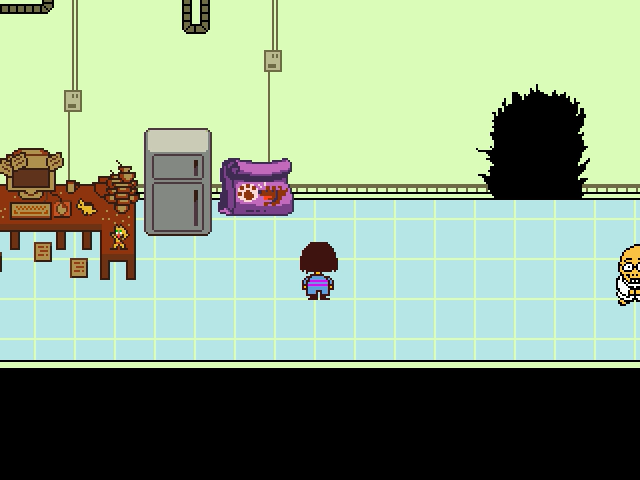 BGM: Alphys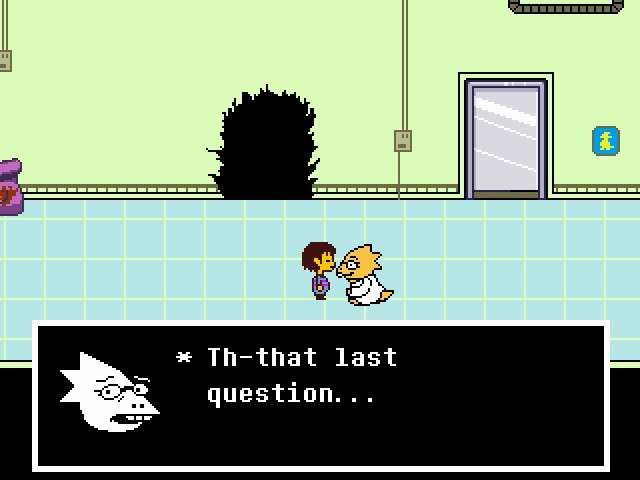 He wasn't s-supposed to ask that one...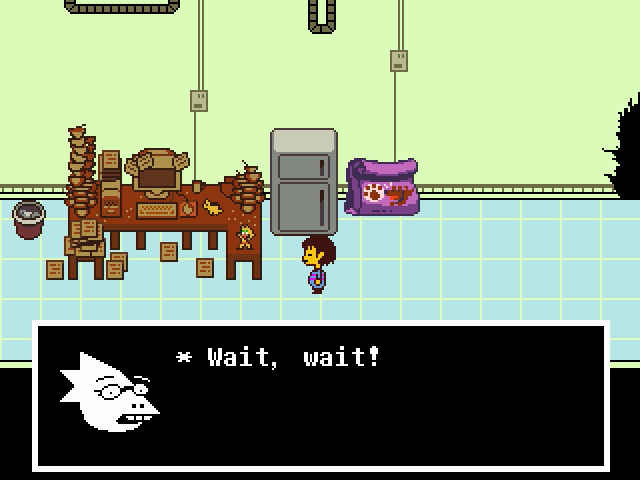 Let me give you my ph-phone number!

Th-then... m-maybe... If you need help, I could...

Wh... where'd you get that phone!? It's ANCIENT!

It doesn't even have texting.

W-wait a second, please!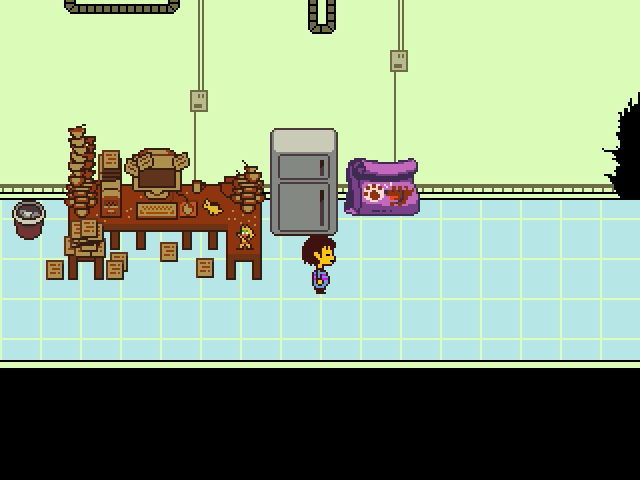 Various unnerving sounds come from off screen.
I swear I heard a cat in there.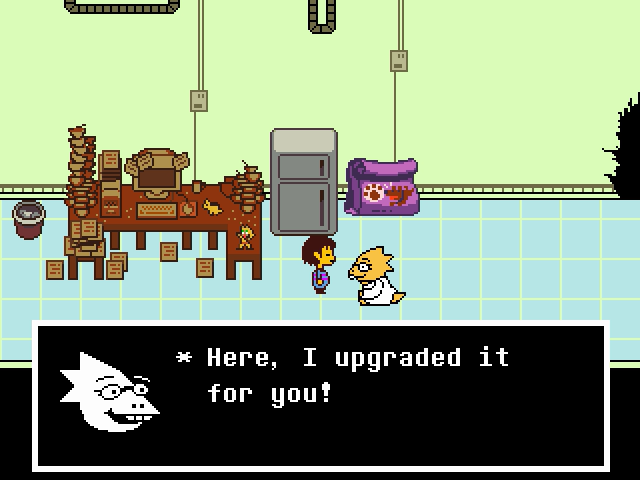 It can do texting, items, it's got a key chain...

I even signed you up for the underground's No. 1 social network!

Now we're officially friends! Ehehehe!

Heheh...

Heh...

...

...

...

...

...

I'm going to the bathroom.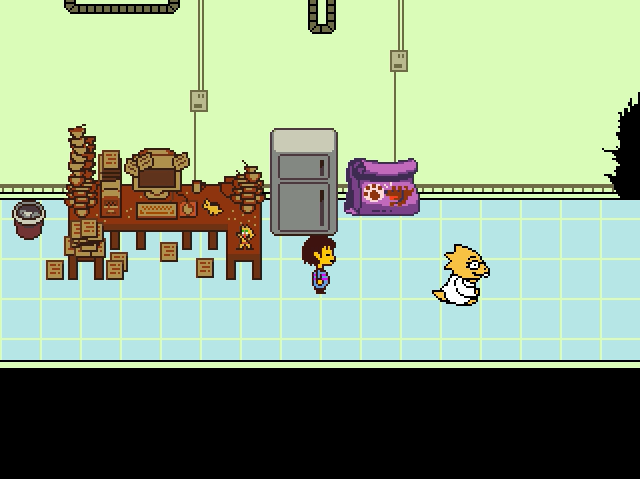 There she goes.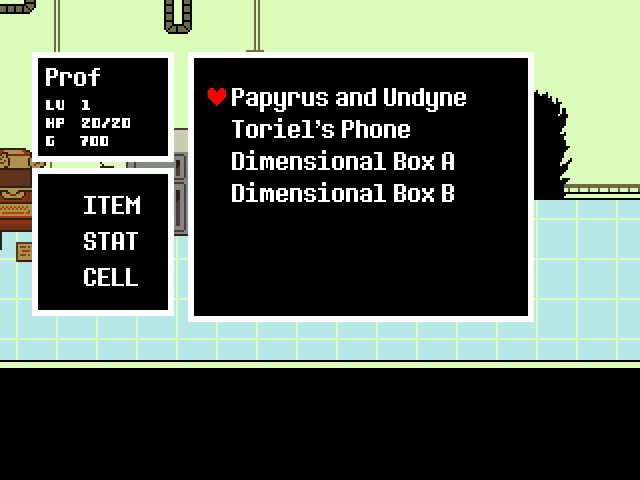 My phone's a lot cooler now.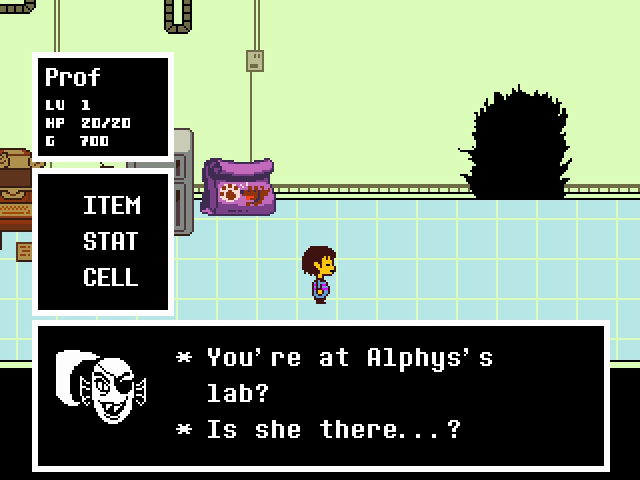 Hey, tell her I said hi, okay!?

And, tell me how she's doing!

And tell me if she needs anything, and...

Wait! No! Don't ask any of that!!!

But she's fine, right!?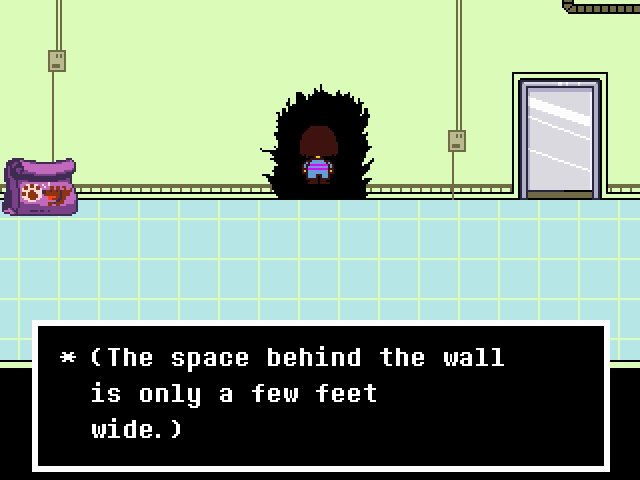 I guess it's just there for show.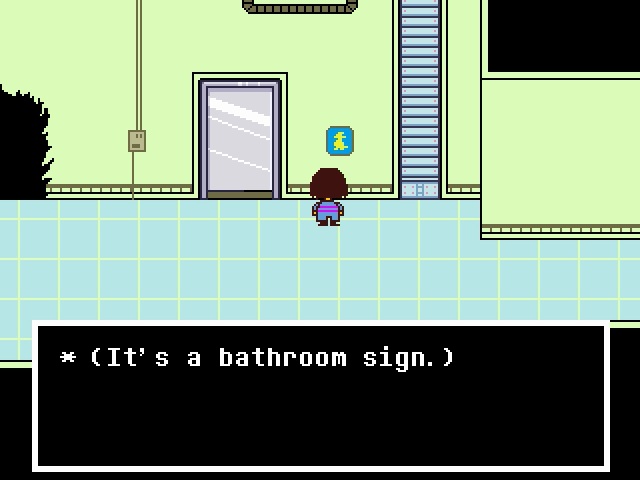 I head either north or upstairs, it's not clear.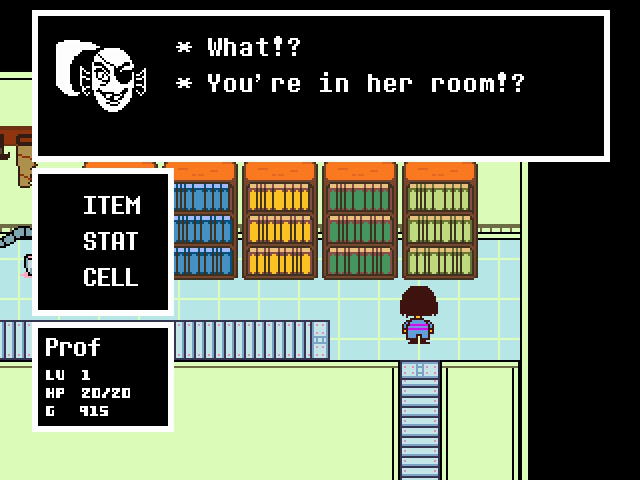 Get out of there!

Unless, um, she invited you...

No wayyyy!!! That did NOT happen!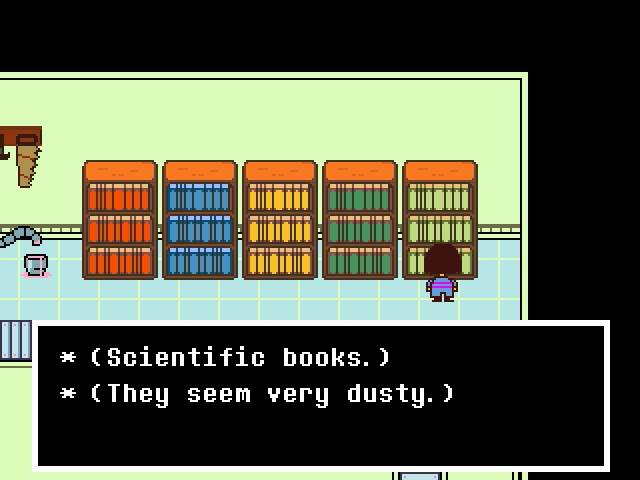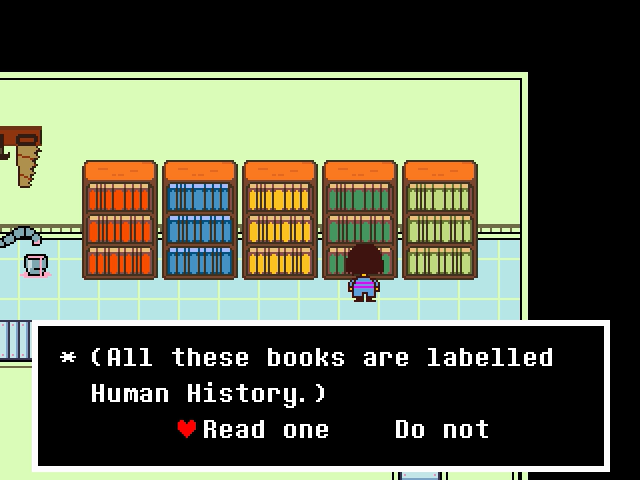 (You look inside a book.)
(It's a comic of a giant robot fighting a beautiful alien princess.)
(This doesn't strike you as very accurate...)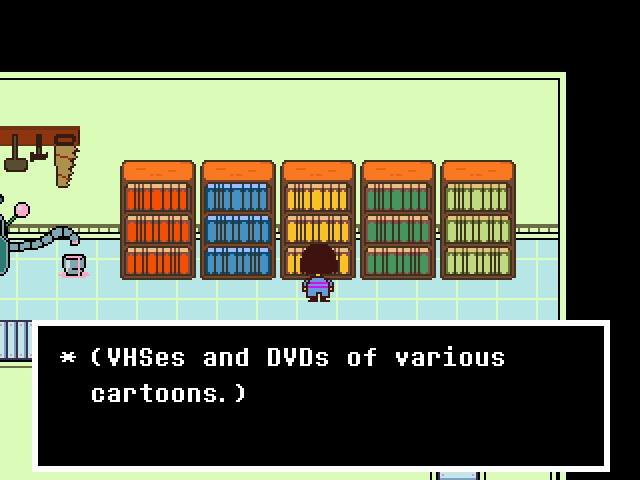 (They are all labelled "Human History".)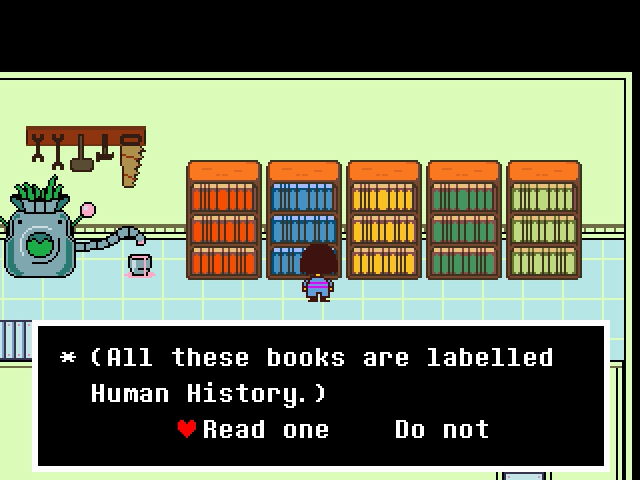 (You look inside a book. It's a comic book.)
(Two scantily-clad chefs are flinging energy pancakes at each other.)
(This doesn't strike you as very accurate...)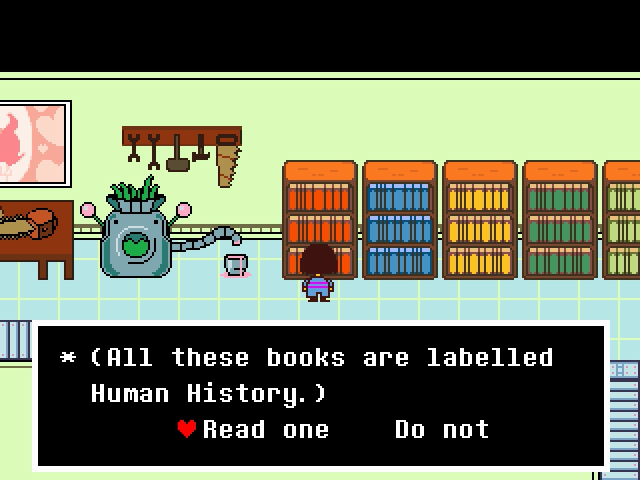 (You look inside a book. It's a comic book.)
(A hideous android is running to school with toast in its mouth.)
(Seems like it's late.)
(This doesn't strike you as very accurate...)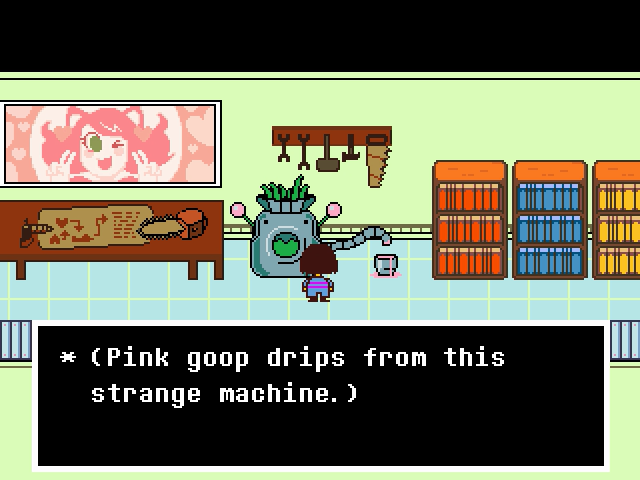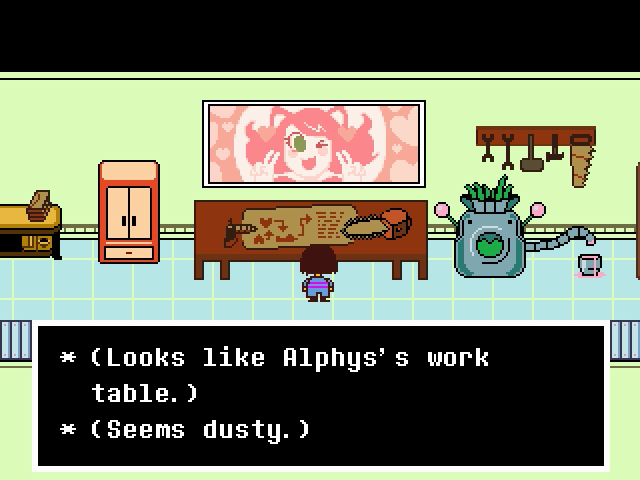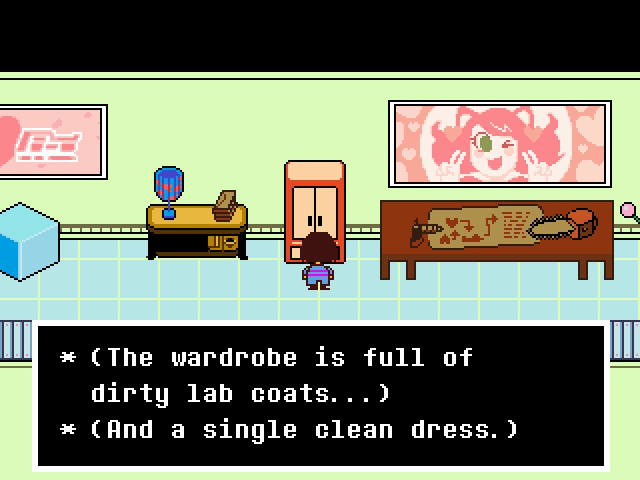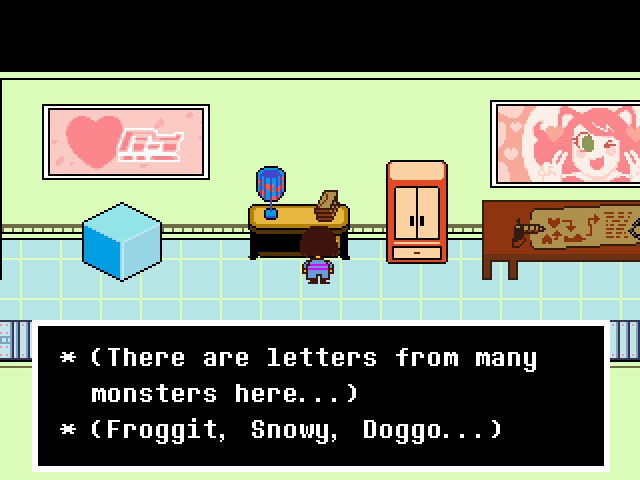 (They're all unopened.)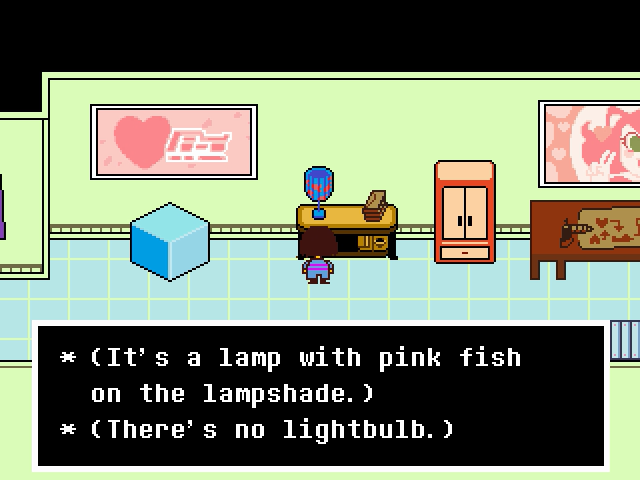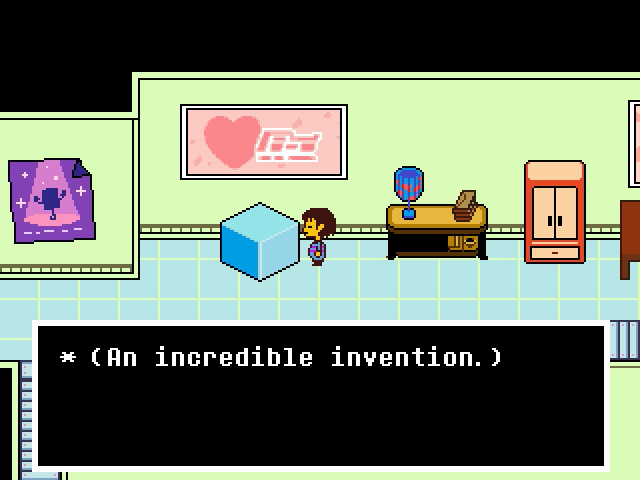 (When not in use, this bed folds into an extremely-easy-to-draw box.)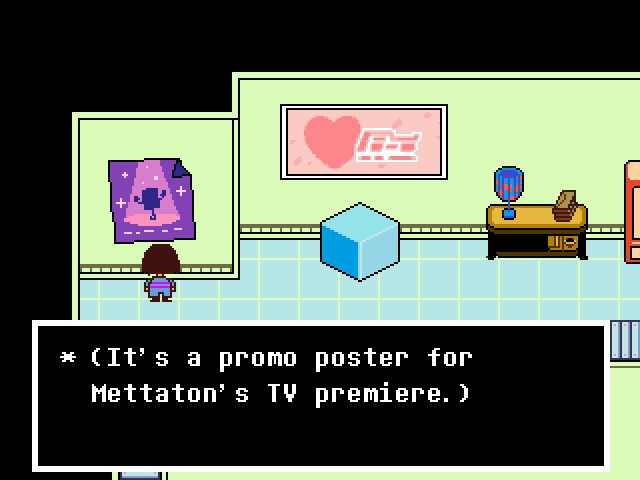 (On the flap it says "Thank you for making my dreams come true".)
I head back south/down.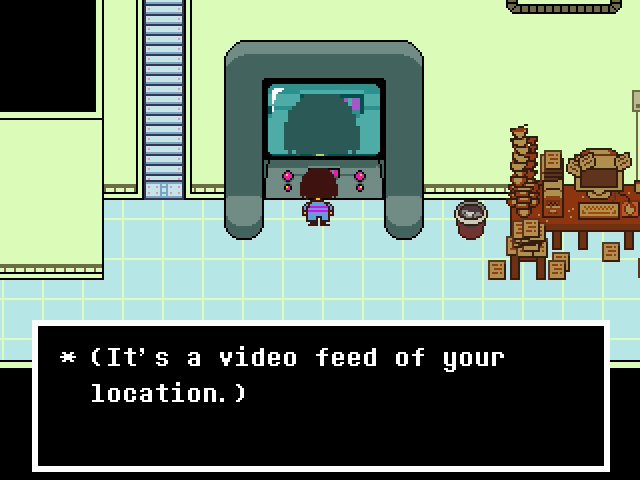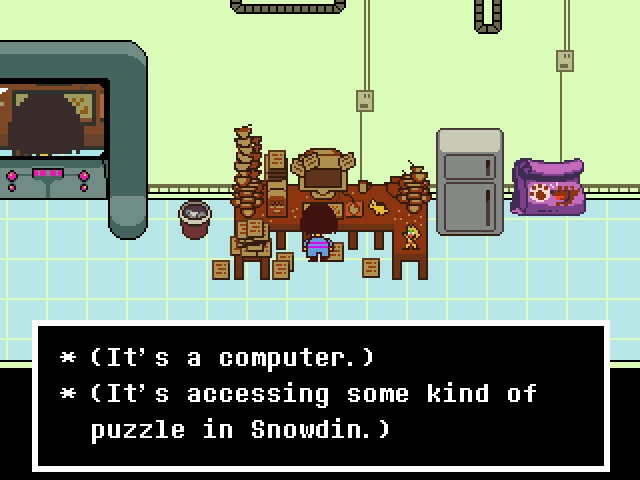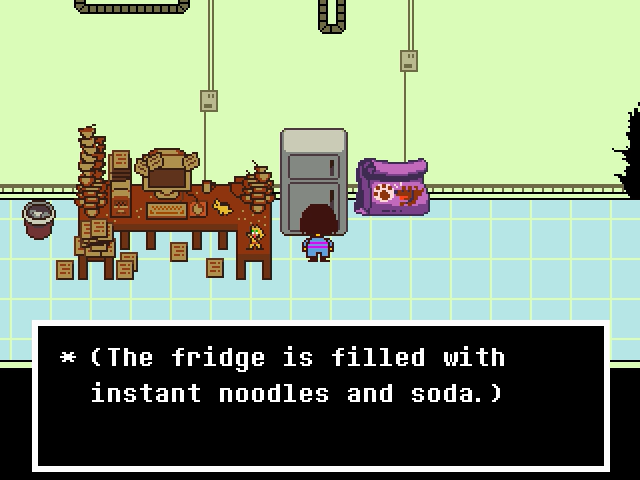 I snag a packet of noodles.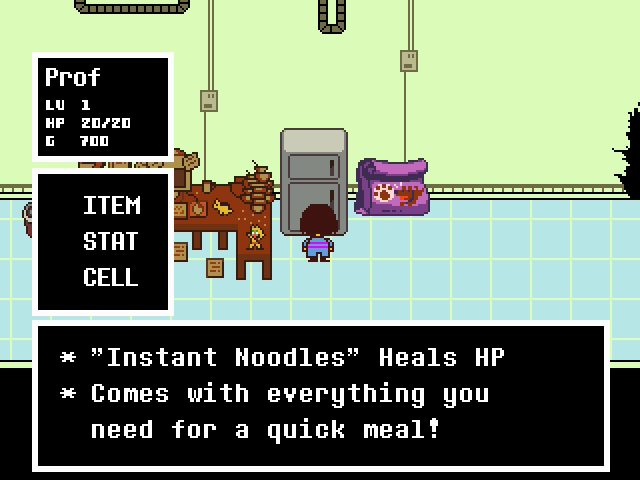 How much HP, though?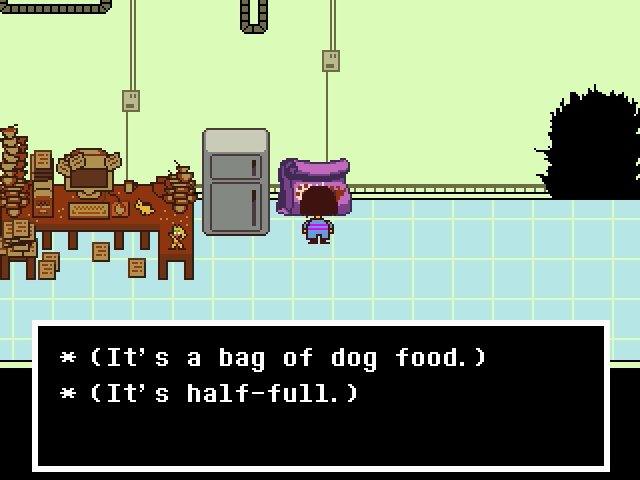 That about does it for the lab. I continue to the east.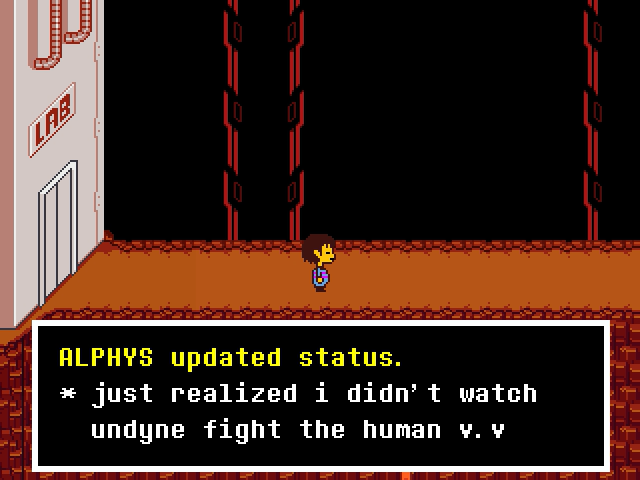 My new phone lets me see Alphys's status updates.
Of which there are a lot.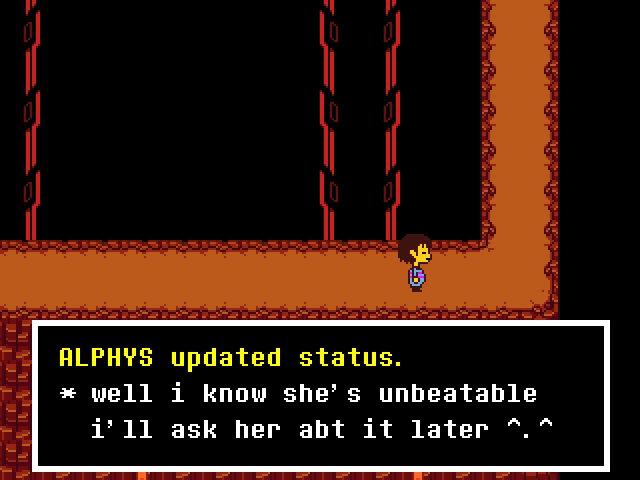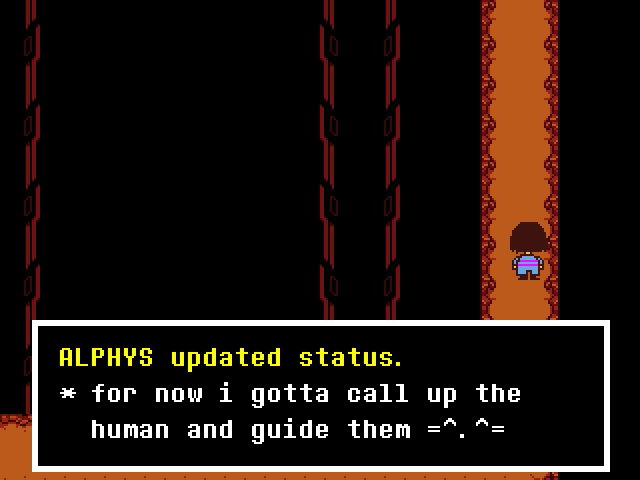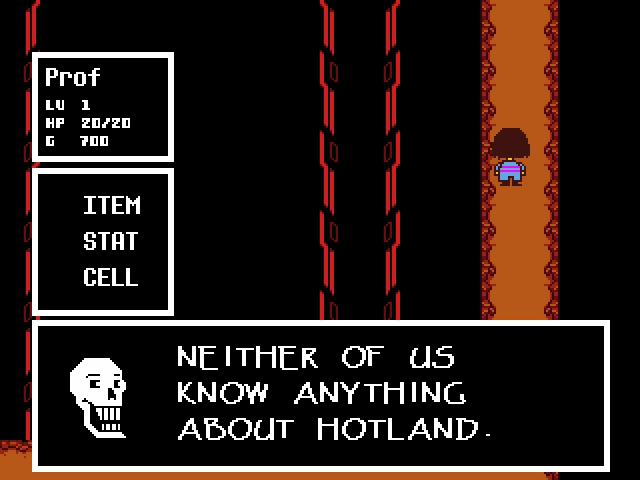 So we'll just have to COMBINE OUR POWER!!!

ZERO PLUS ZERO IS STILL ZERO.

Yeah, but it's a BIG zero!!!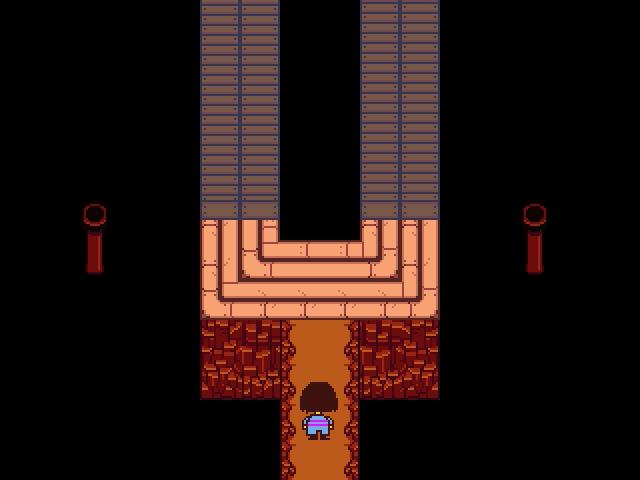 BGM: Another Medium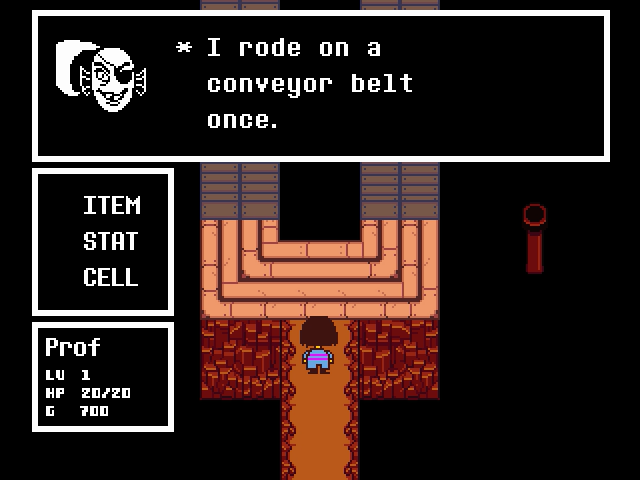 I learned pretty fast that they make me sick.

DID YOU HURL??

Yeah, like 9000 times!! It was awesome!!

STOP CALLING AND MAKING HER SAY GROSS THINGS.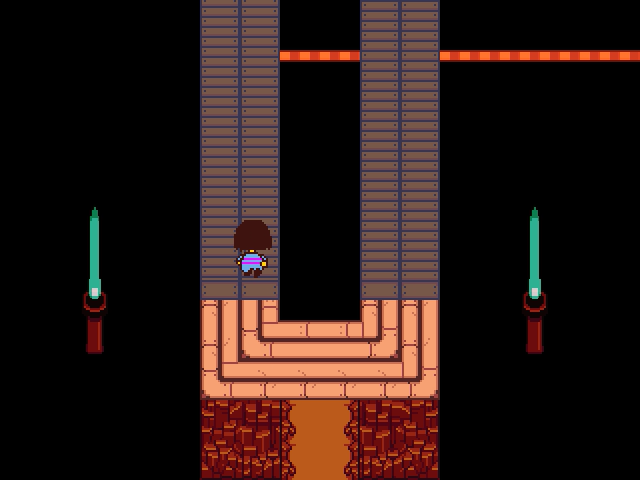 Conveyors work about as one might expect. They make me go twice as fast, but walking against them just makes me stand still.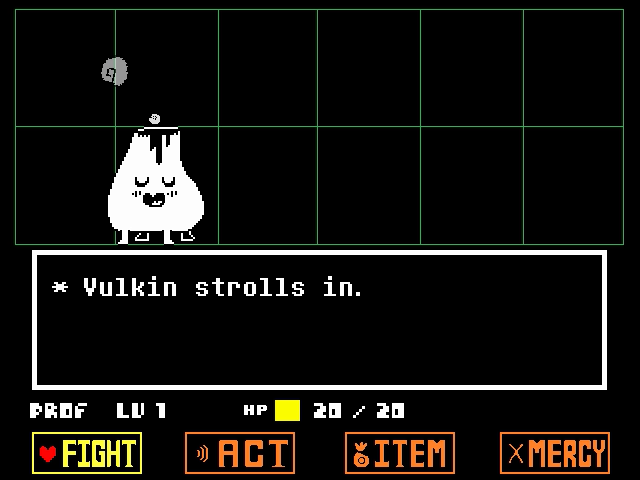 Lots of new monsters in Hotland.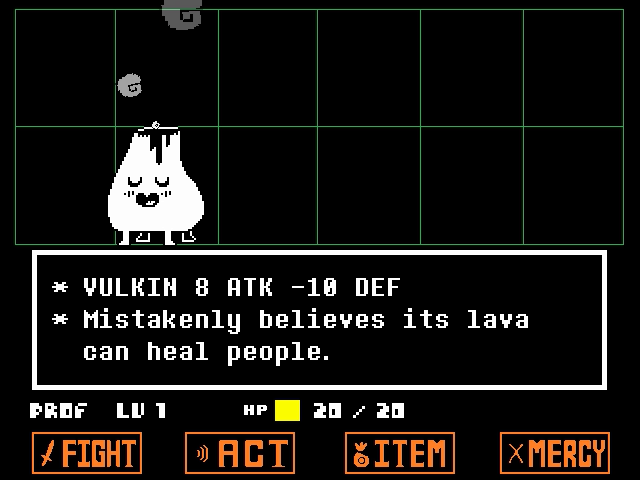 The difficulty is going to go up a bit from here on.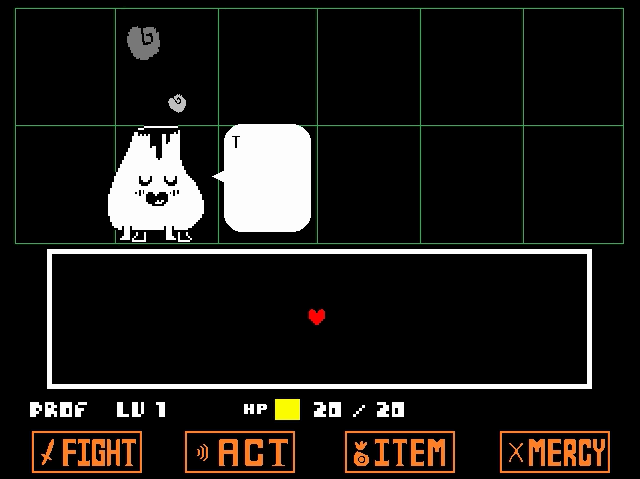 Options are Criticize, Encourage, and
Hug.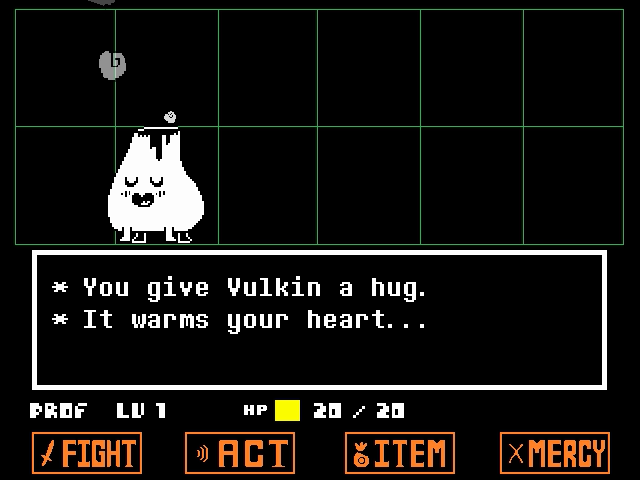 And your whole body! Ouch! Your DEFENSE dropped!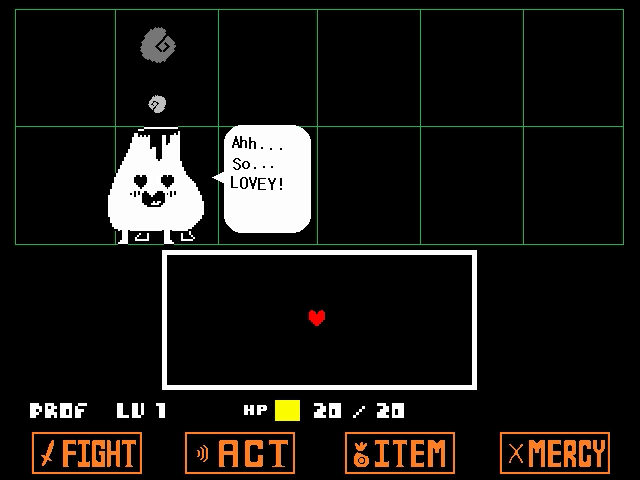 Same attack again. I can Spare Vulkin now, but for the sake of completeness, I'll keep going and
Criticize
.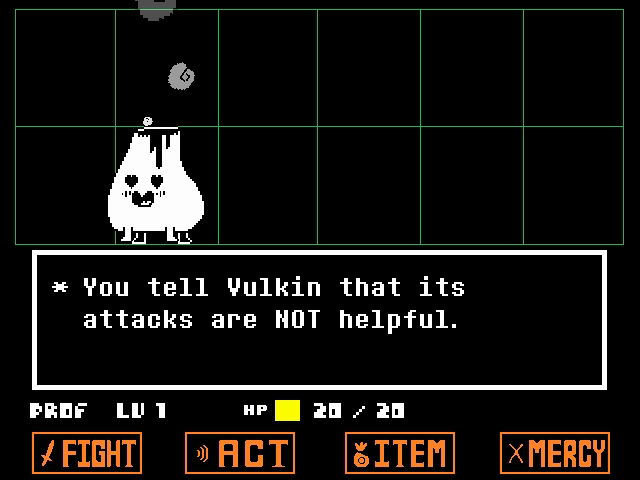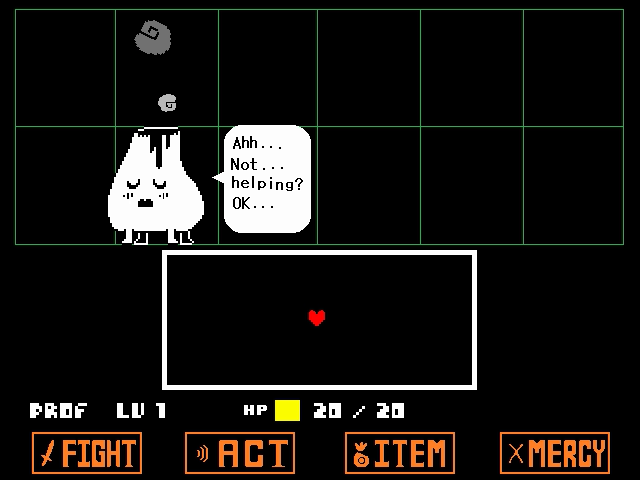 Vulkin doesn't attack at all. One more to go - I
Encourage
.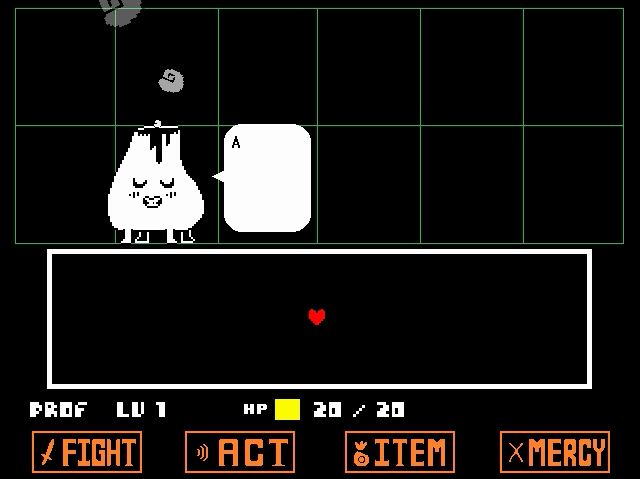 I take my gold and move on peacefully.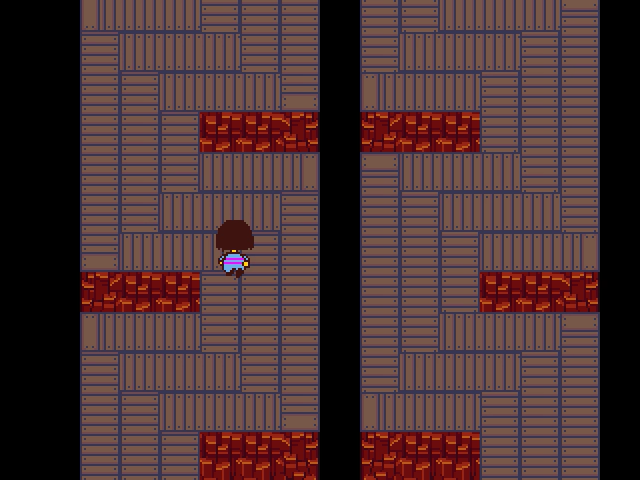 The path continues to the north.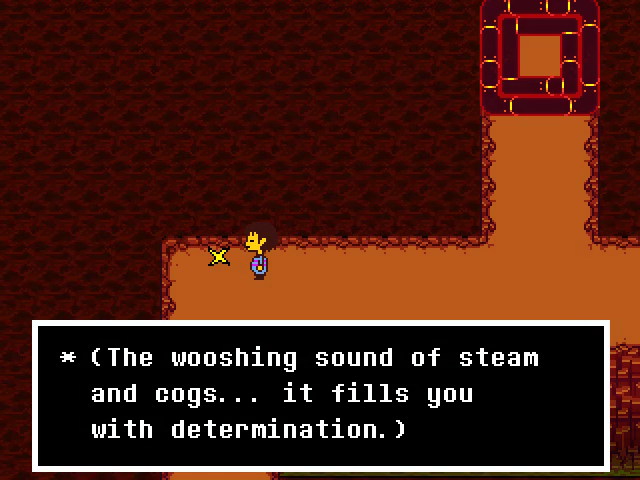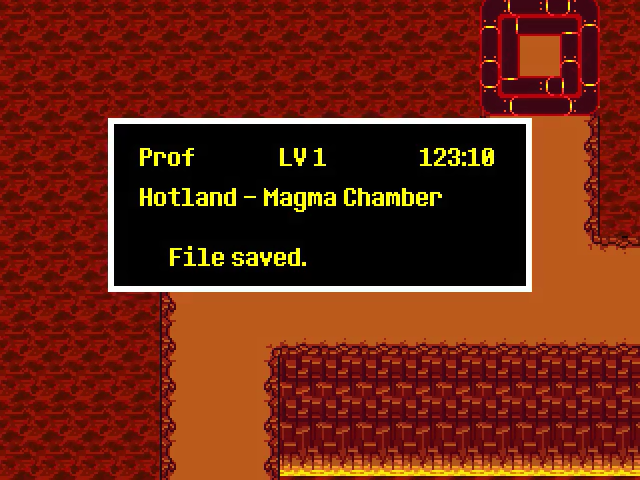 I save my game.