Part 22: Another Medium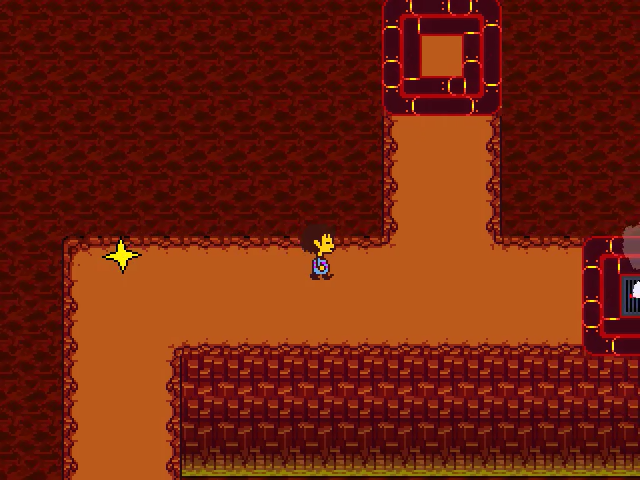 BGM: Another Medium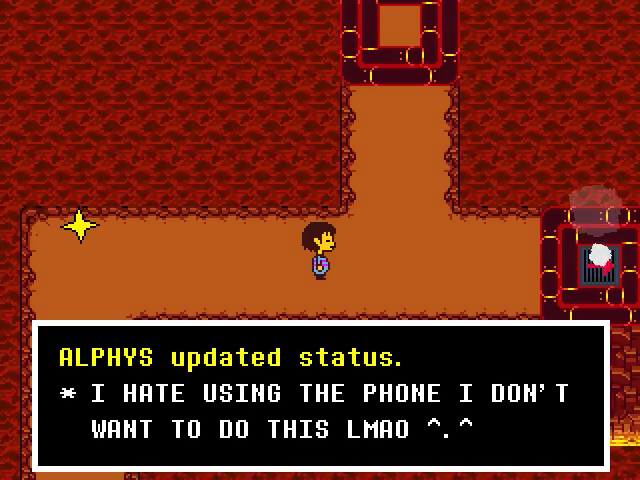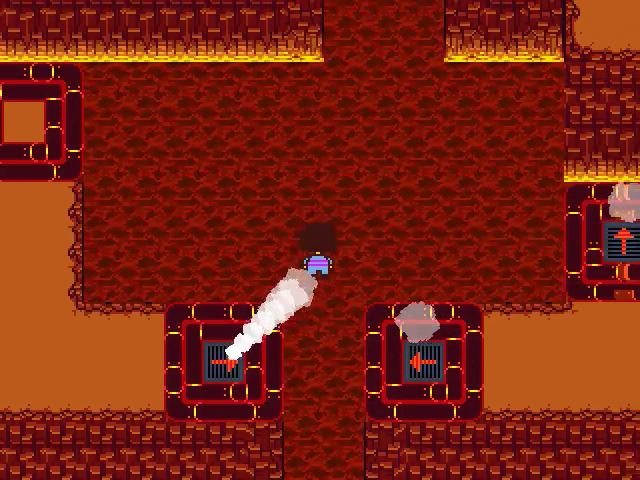 Stepping on these panels propels me in the direction of the arrow, in a way that's impossible to capture a gif of without it breaking 3 MB thanks to the glowing background.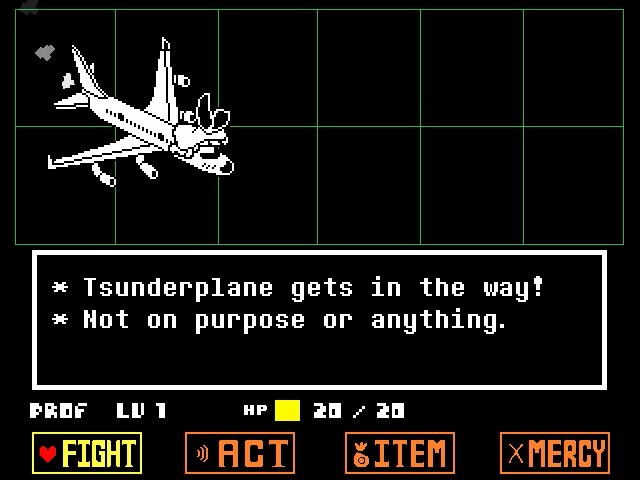 I'm waylaid by a flying anime trope as I advance!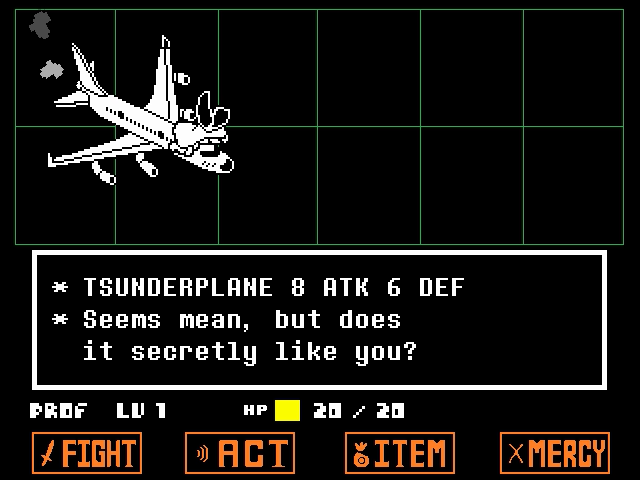 If it says "baka," I'm leaving.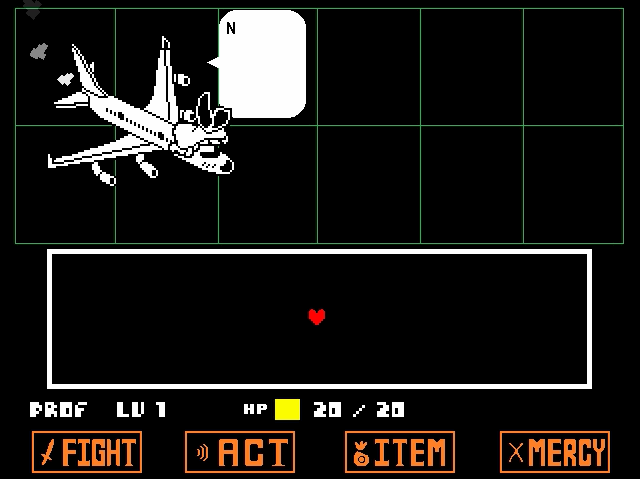 Despite her ridiculous concept, the attacks are pretty fierce.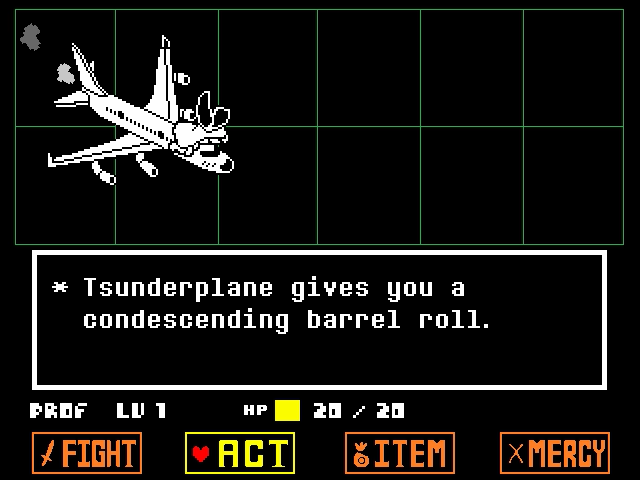 Actions are Check, Flirt, and Approach. Obviously I should
Flirt.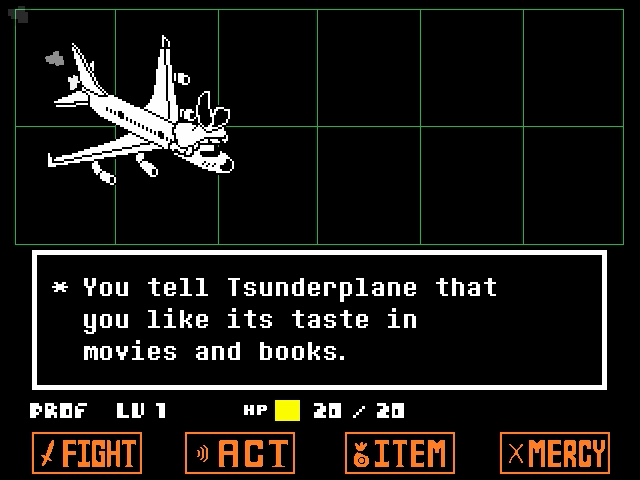 There's at least three possible compliments that can roll here, including "Impressive wingspan" and "Powerful rudder."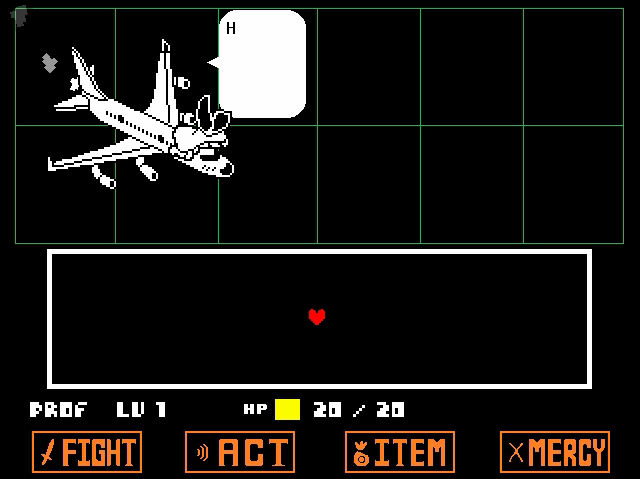 That was a bit too forward of me. I
Approach
instead, coming close (but not too close).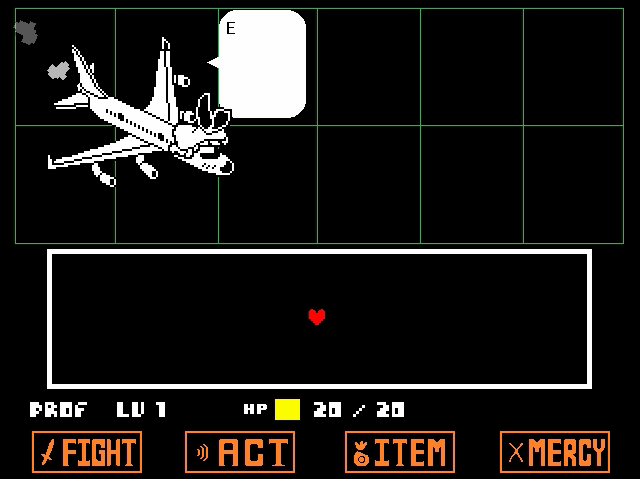 Touching the green area makes Tsunderplane blush. Four touches maxes it out.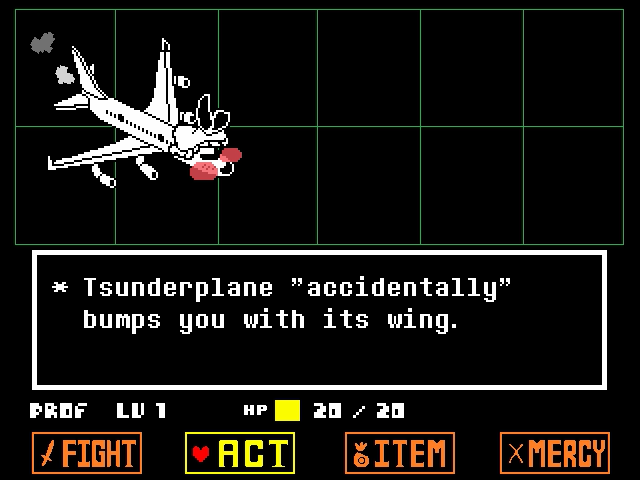 I think she's done now.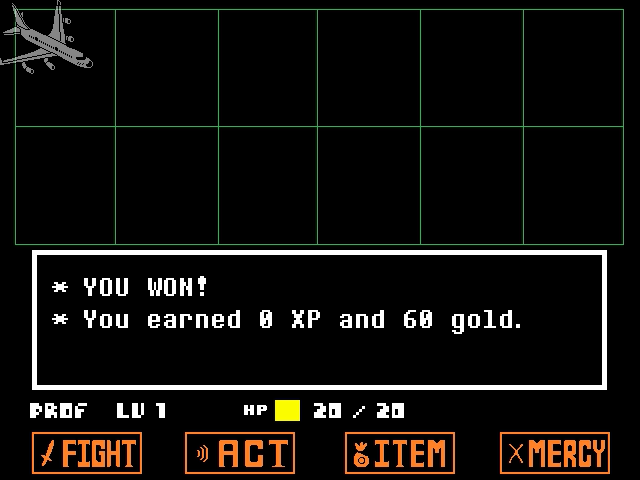 Maybe Tsunderplane will eventually be more honest about her feelings.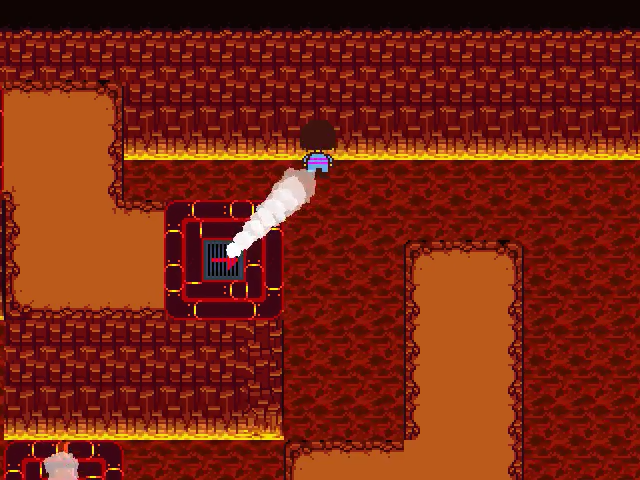 This area is kind of a maze of steam vents.
Eventually, I head south.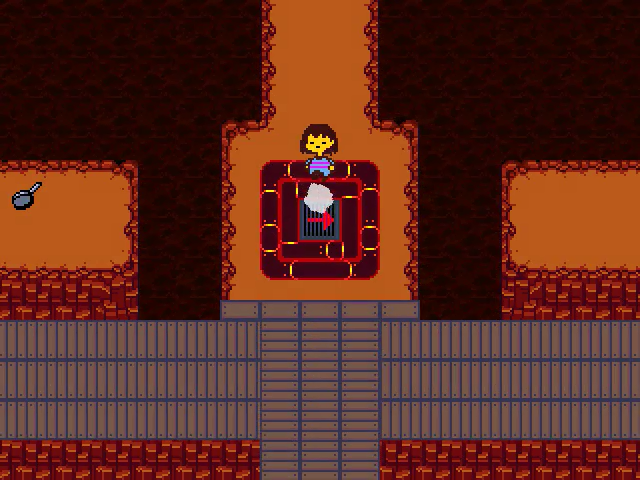 This steam vent alternates regularly between facing left and right.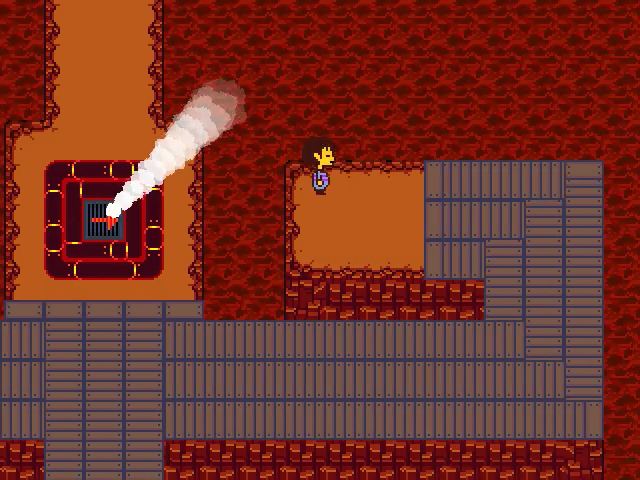 I take it right first... but there's nothing here.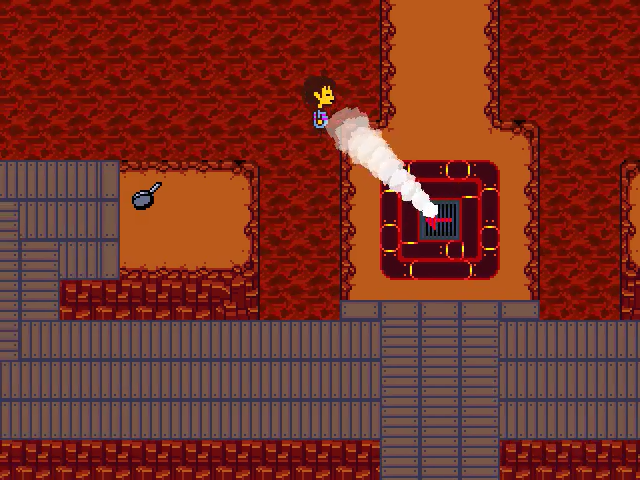 To the left, there's an item!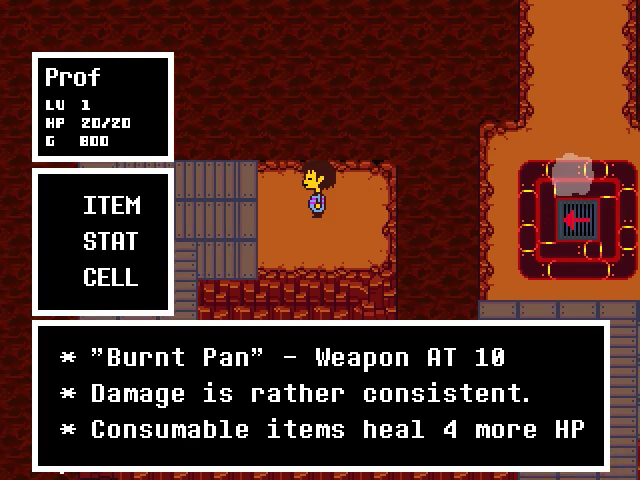 I'd be equipping this even if it reduced my AT. The consumable boost is a buff that's useful even if I never attack.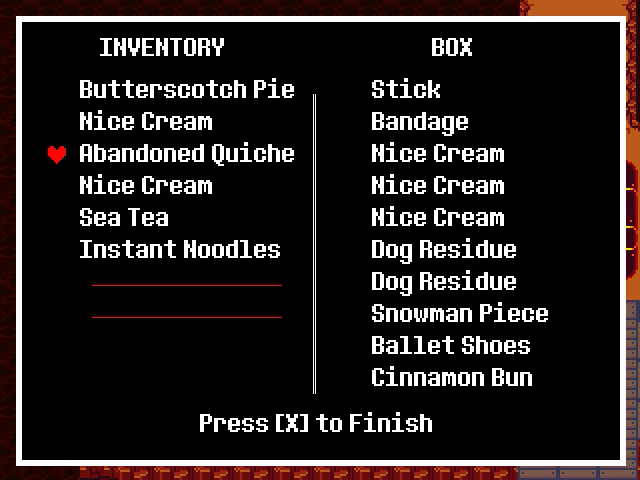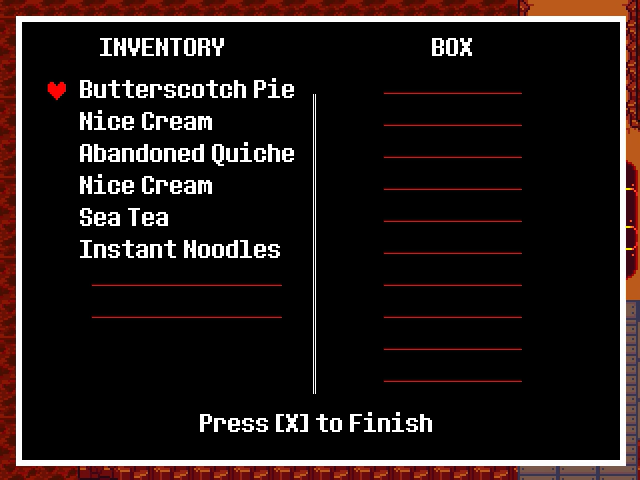 My new phone lets me open the box from anywhere, AND has a second box attached. I have a huge amount of space now.
I return to the north.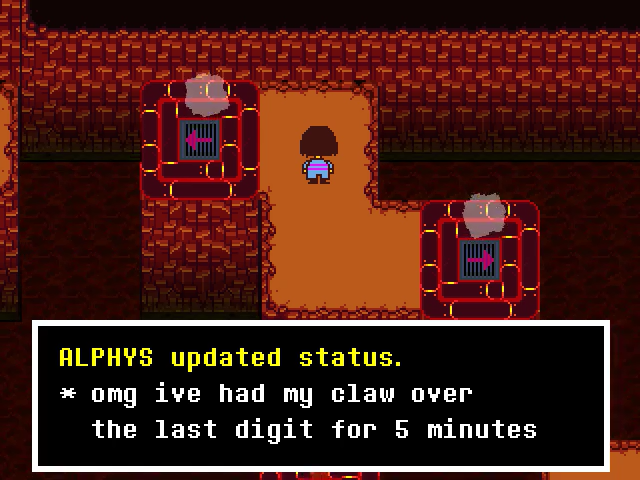 omg i'm just gonna do it
i'm just gonna call!!!!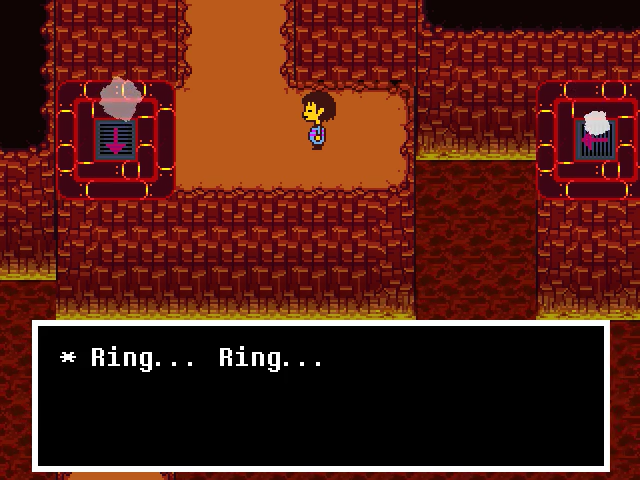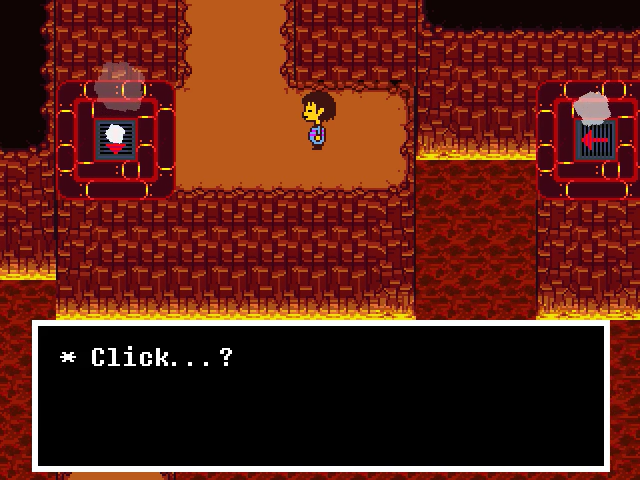 Someone called me, then immediately hung up.
I head north.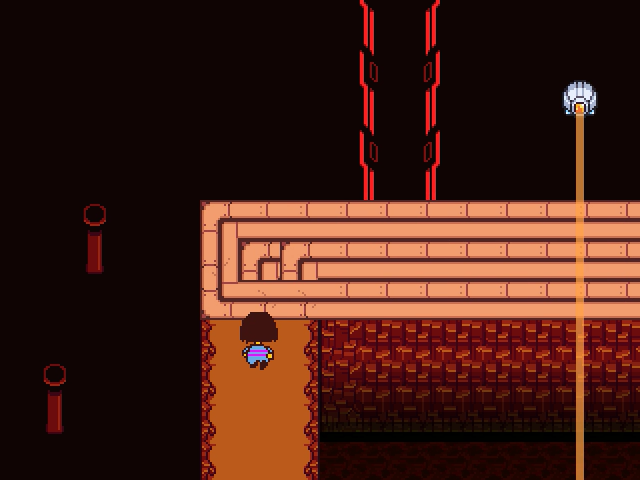 It's some kind of laser...?
I get another phone call.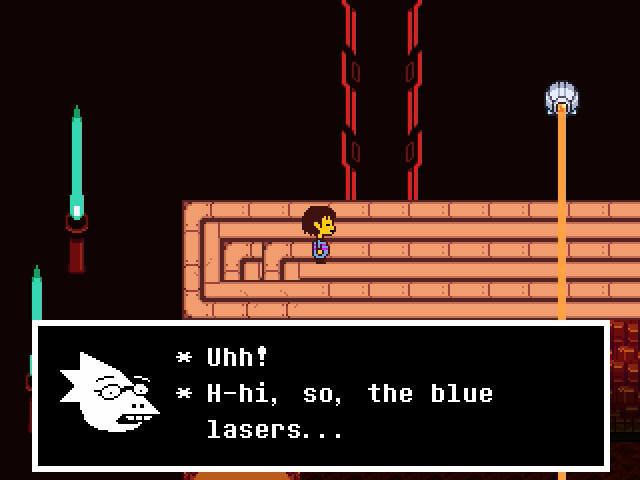 Uhh! I mean, Alphys here! Hi!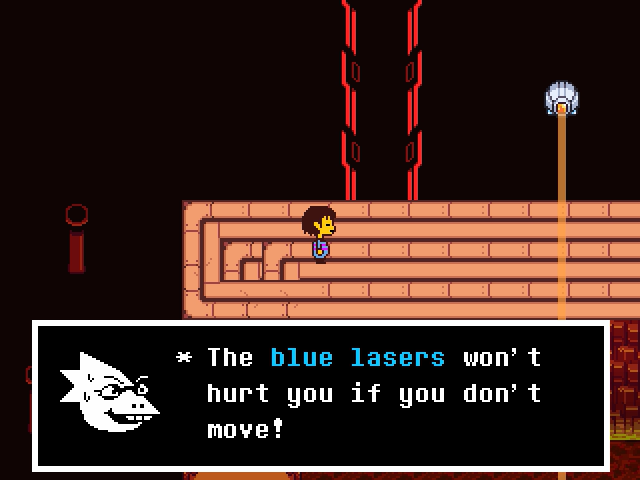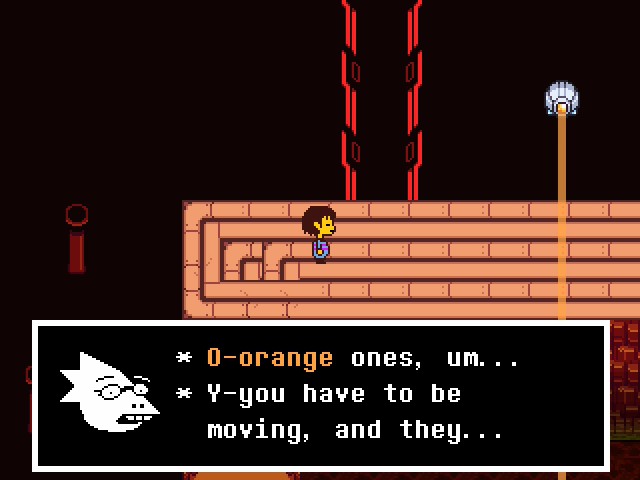 Um, they won't, um...

Move through those ones!

...

Uhh, bye!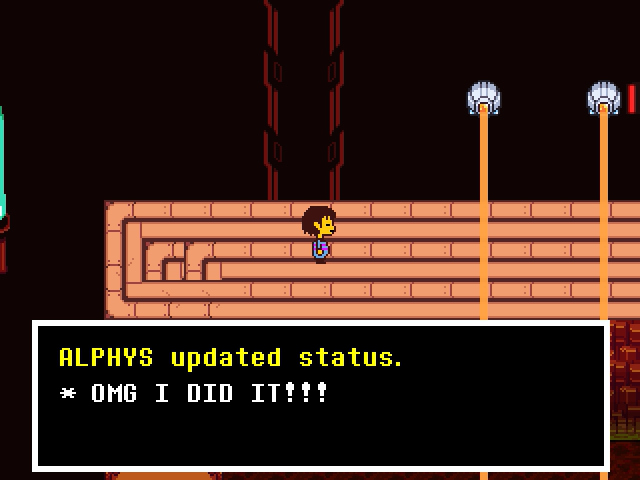 claws haven't shook like that since undyne called me to ask about the weather... v.v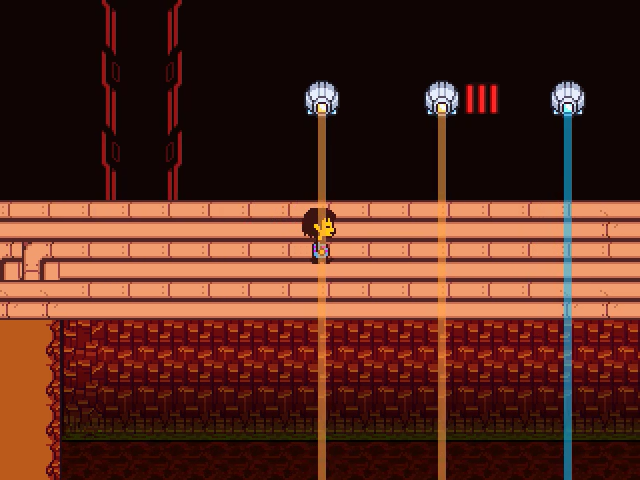 Orange lasers are like the opposite of blue attacks - they'll only hurt if you DON'T move.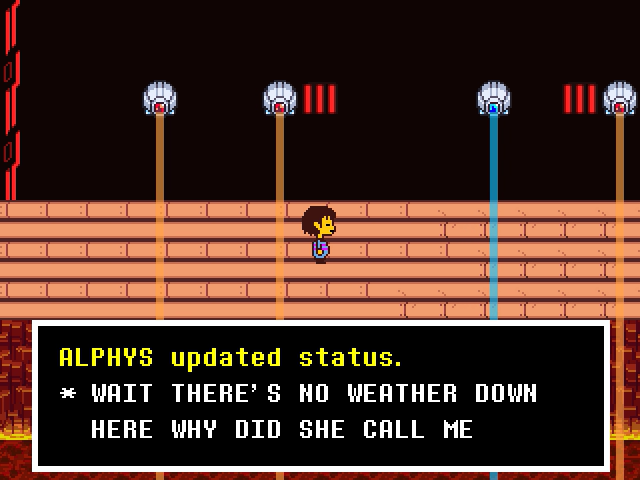 Well, let's find out!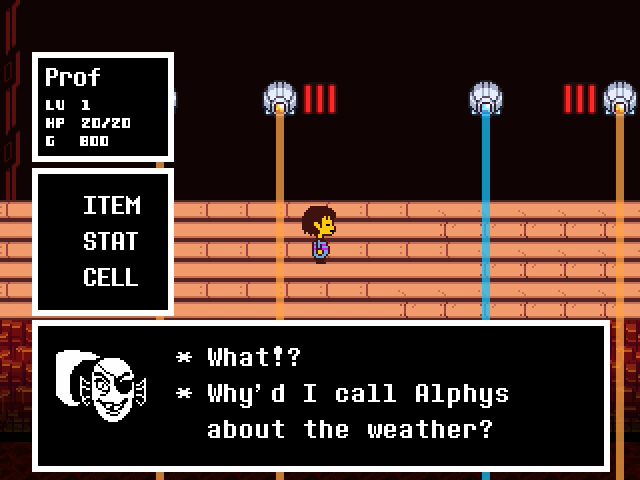 Who CARES!?!? Isn't it natural to love meteorology!?

ZOINKS!!!

I THOUGHT THAT WAS JUST AN EXCUSE TO TALK TO HER.

I DIDN'T KNOW THERE WAS WEATHER DOWN HERE!!!

YEAH!?!! THERE IS?!!?!

And I'm forecasting an incoming front of SHUT UP!!!

WOWIE!!! WILL I NEED AN UMBRELLA?

Oh, Papyrus. I can't stay mad at you.

IT'S OKAY, I FORGIVE YOU!

(PSST, WHEN WAS SHE MAD AT ME?)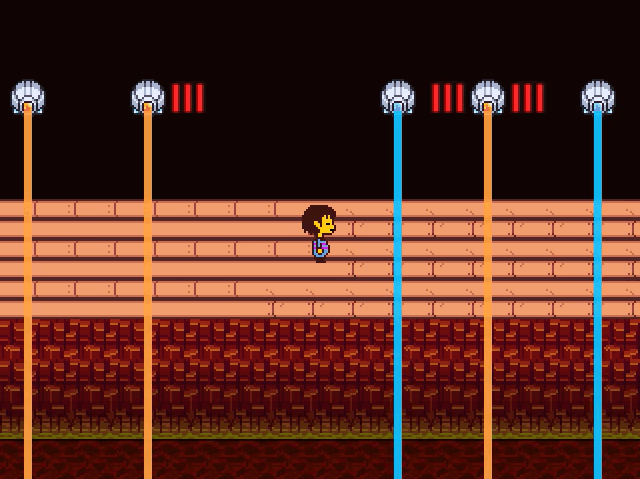 The blue lasers move back and forth, so I can wait for them to pass safely over me, then keep walking.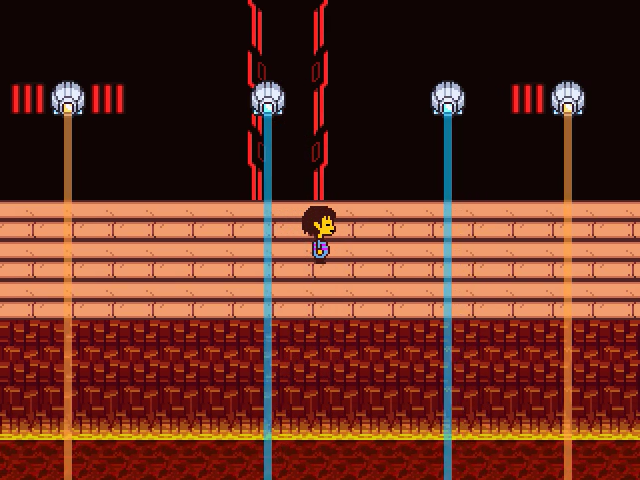 There's a lot of walking and waiting, but eventually I make it past all the lasers.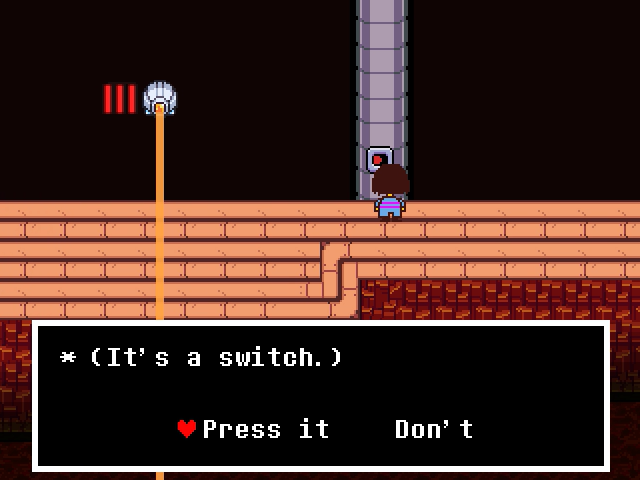 A switch on the far side disables the lasers, letting me go back easily.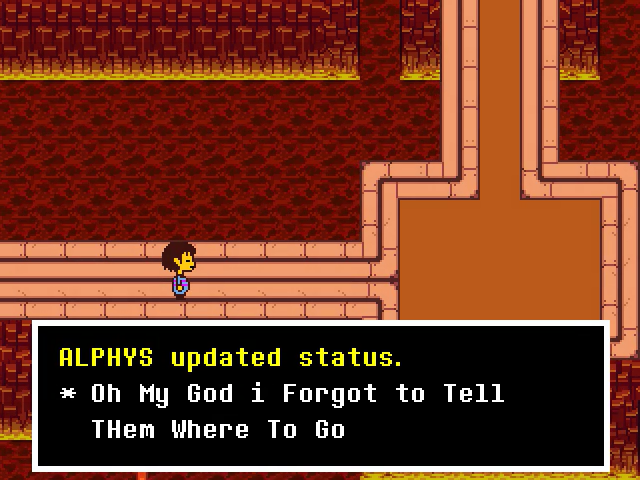 There was pretty much only one way TO go, Alphys.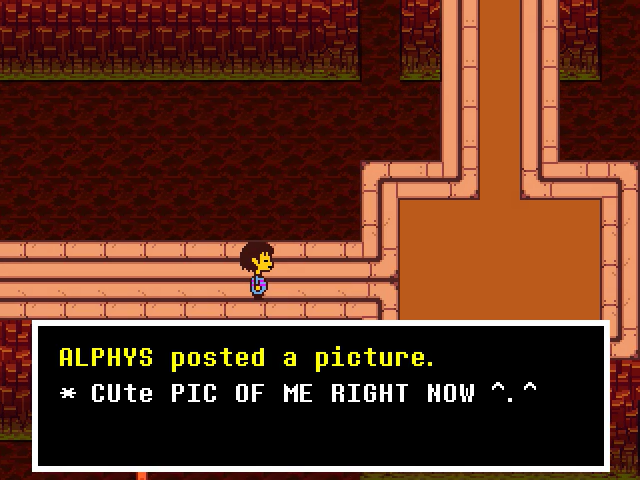 (It's a photo of a garbage can with several pink, glittery filters over it.)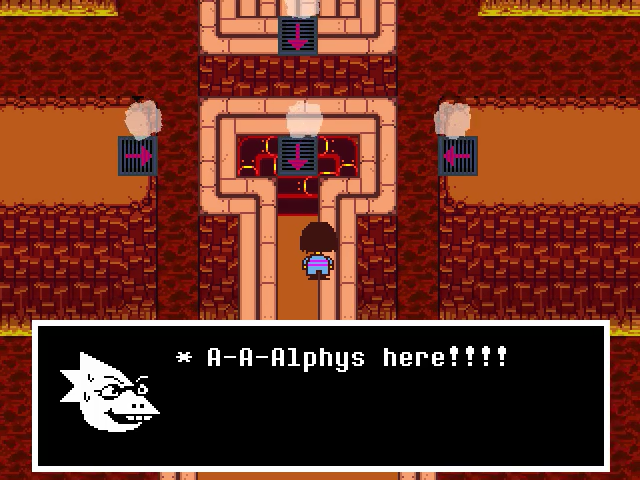 Th... the northern door will stay locked until you...

S-solve the puzzle on the right and left!

I... I think you sh-should g-g-go to the right first!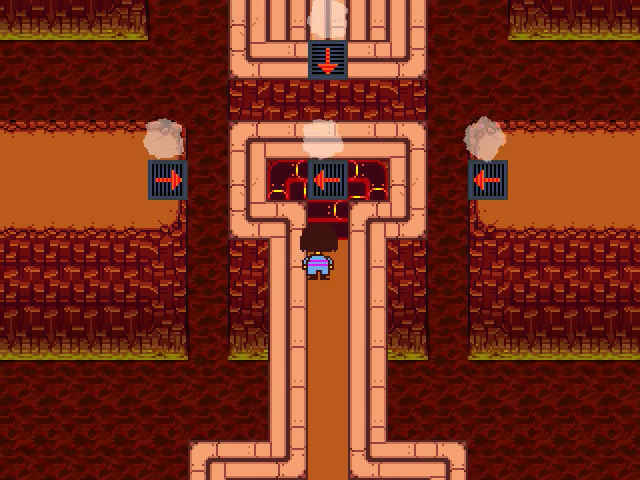 The middle steam vent is constantly rotating. I wait for it to point right, then blast across.

The special effects were amazing today! That human almost looked REAL!

Of course, an experienced viewer like me knows CGI when they see it...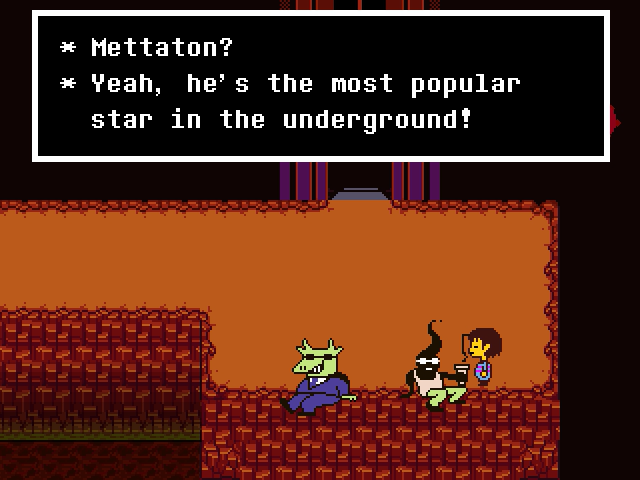 His fan club probably has at least two... no, THREE dozen members!

And that's not even counting me!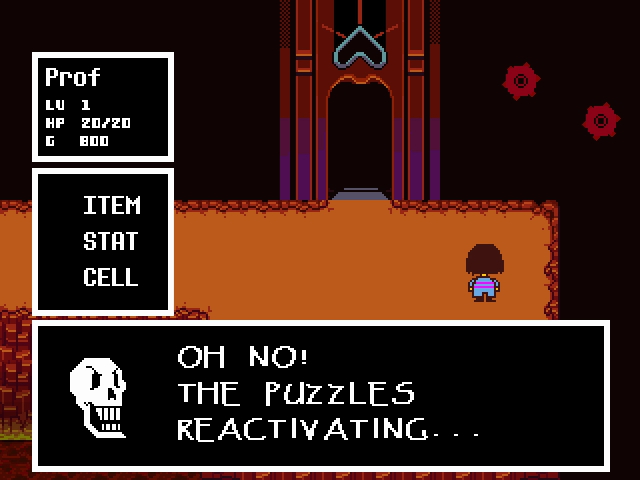 CAUSED THOSE PEOPLE TO MISS THEIR WORK!?

yep.

that's why i'm missing work, too.

OH MY GOD!!! SANS, GO DO YOUR JOB(S)!!!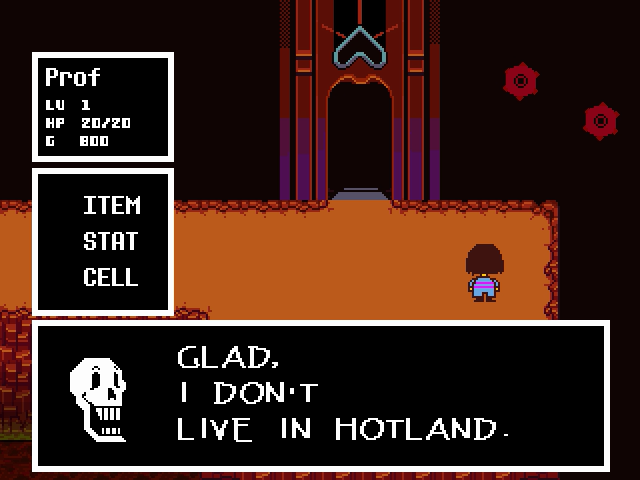 me too.

THEN WHY ARE YOU SKIPPING WORK!?!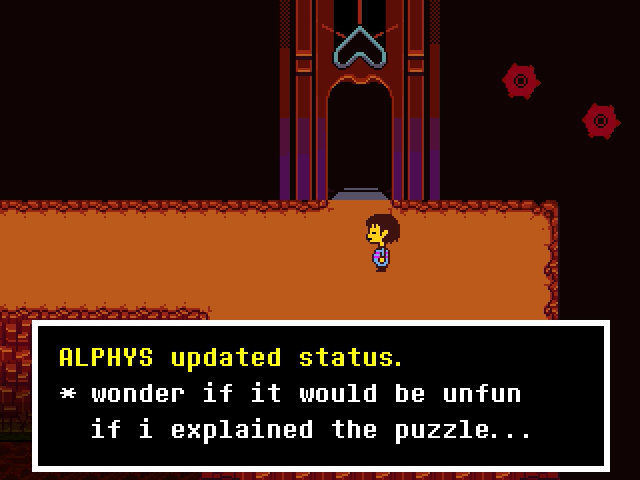 Into the puzzle chamber.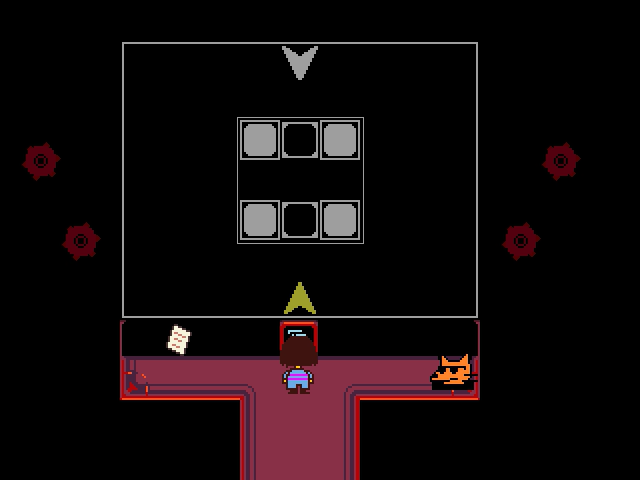 That's a puzzle all right.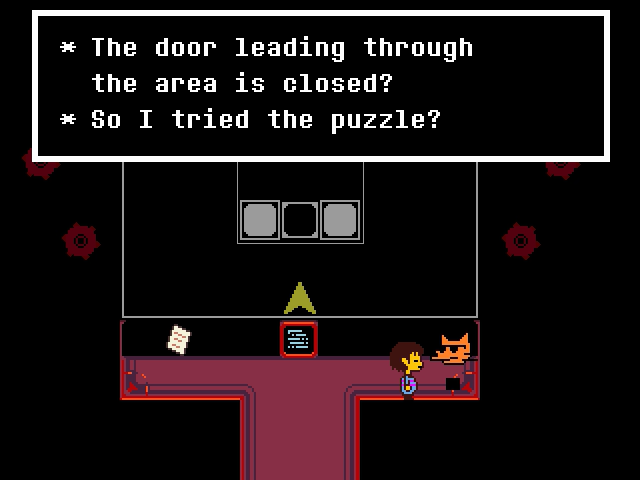 But I kept running out of ammo, and it kept restarting?

And my two co-workers won't help? It's like they don't even wanna go to work?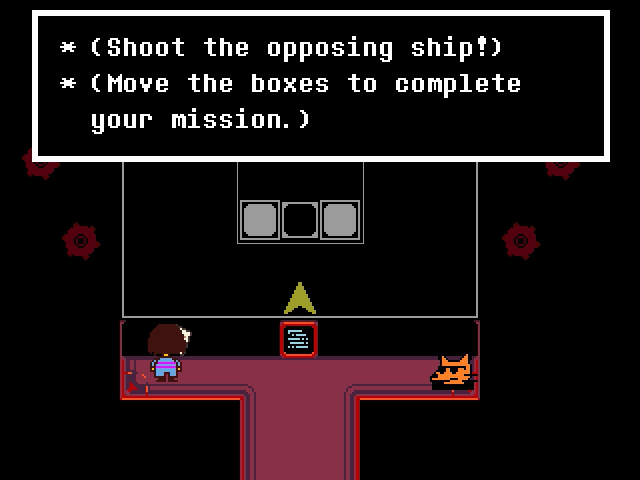 OK, I'll give it a try.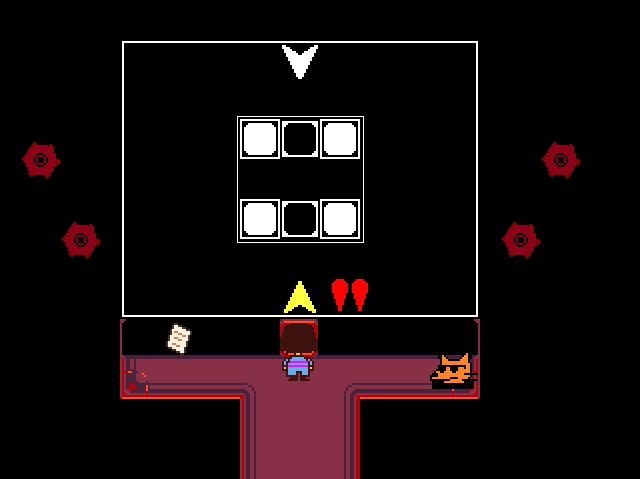 If I press a direction, any box that has room to move will move one tile in that direction.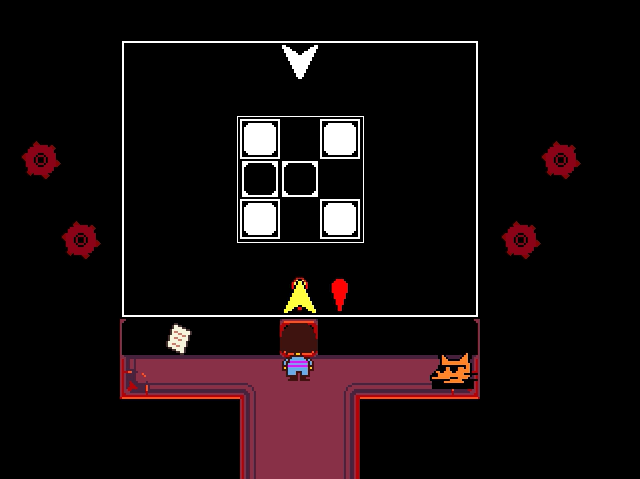 The red marks next to the ship are ammo. Puzzle solved!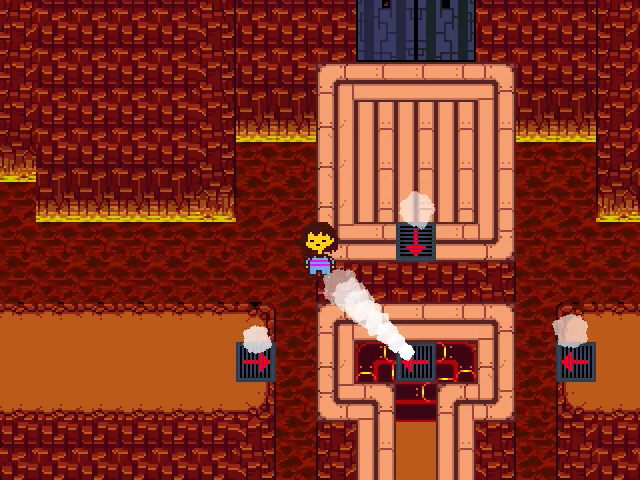 I head back to the crossroads, going west this time.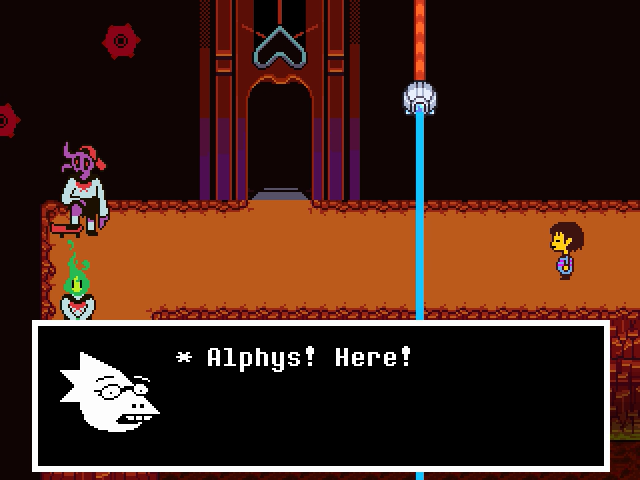 Th-that blue laser seems totally impassable!

B-b-but!

As the Royal Scientist, I h-have some tricks up my sleeve!

I'll h-hack into th-the Hotland laser database and take it out!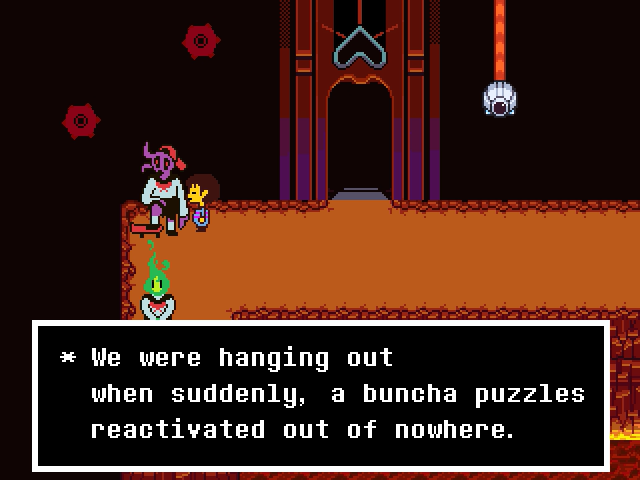 This is a huge problem... It rules! They've GOTTA cancel school over this!

Wait a second... Auuuugh, it's summer vacation!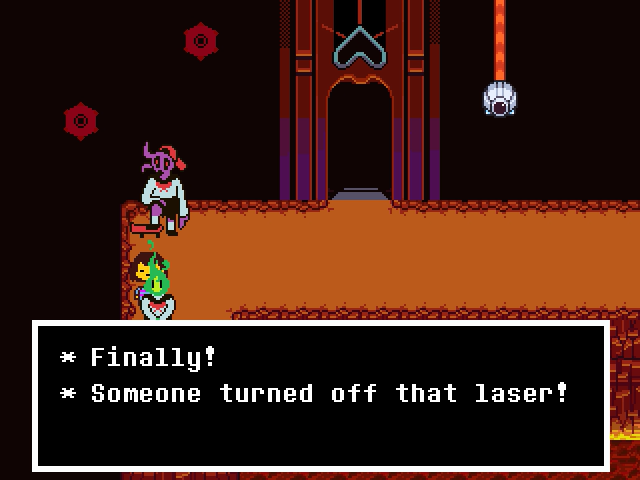 Now that we're free we can... well, I guess we'll just keep standing here.

Hm? Nice try, but your loitering technique still needs work.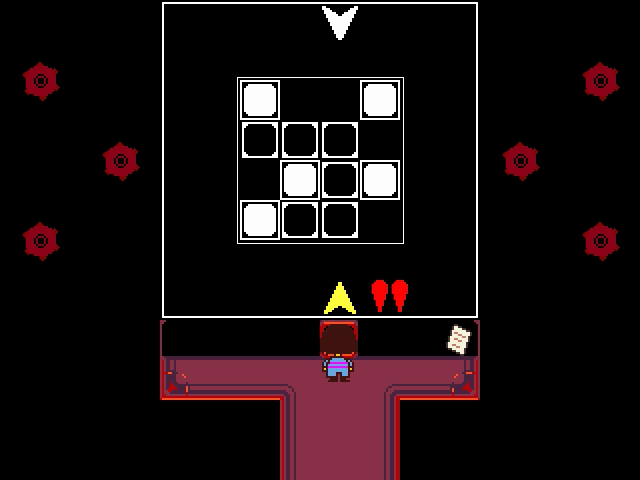 Can you open the path to the enemy ship in four moves?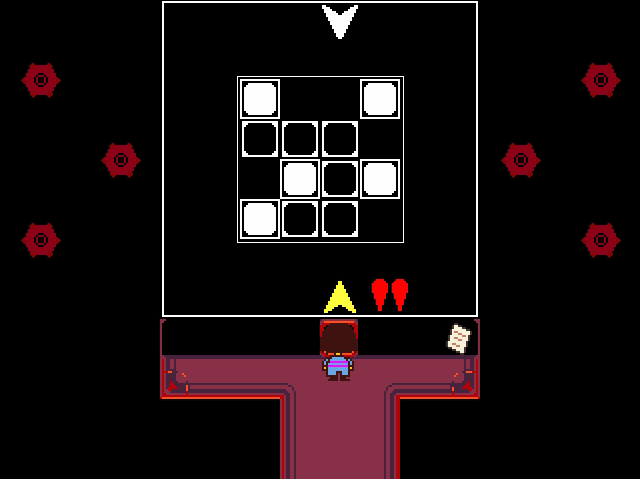 There you go.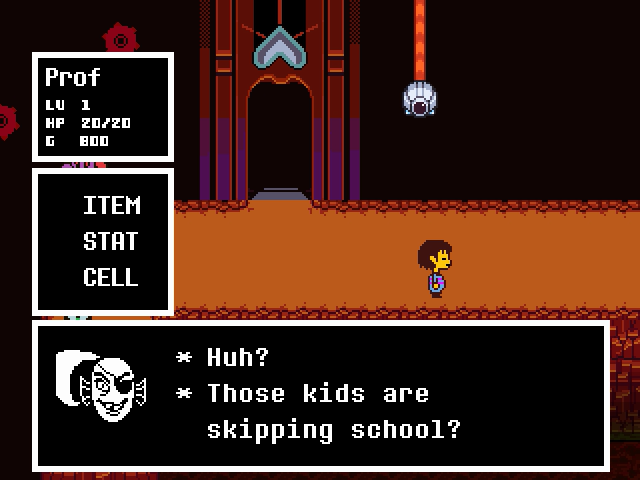 ...

...well, I can't blame them, school sucks!

We need to find some way to make it cooler...

Hey, what if I visited their school!?

Then I could beat up ALL the teachers!

Okay, maybe I wouldn't beat up a teacher...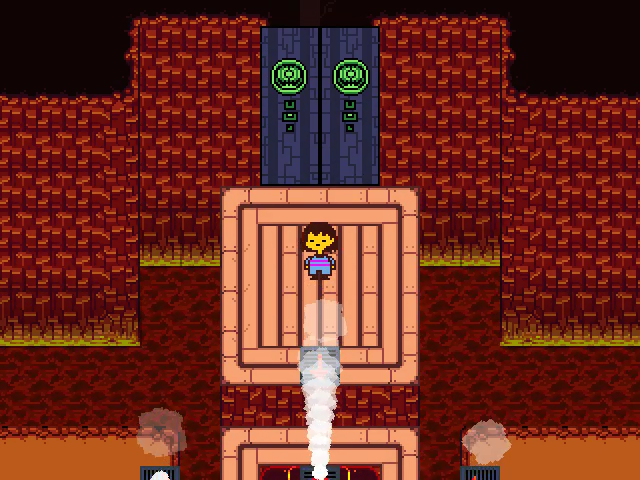 Both puzzles completed. The door opens, and I can advance.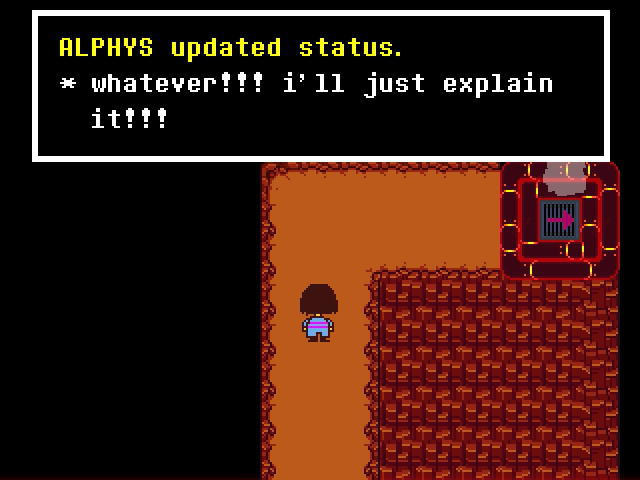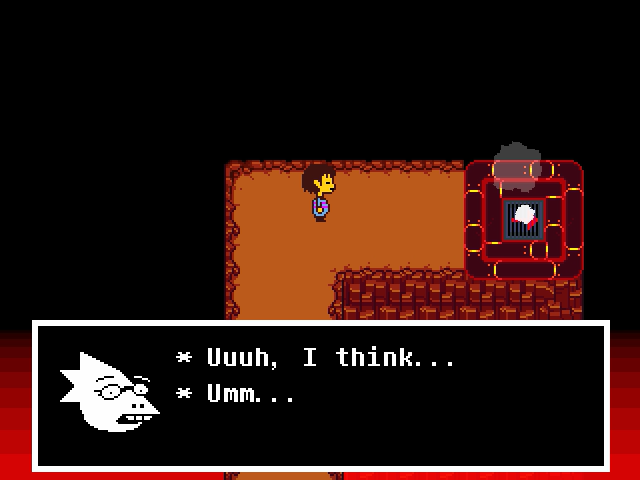 Hey! About the puzzles on the left and right...!

They're a bit difficult to explain, but...

...uhhh, you already s-solved them?

Awesome!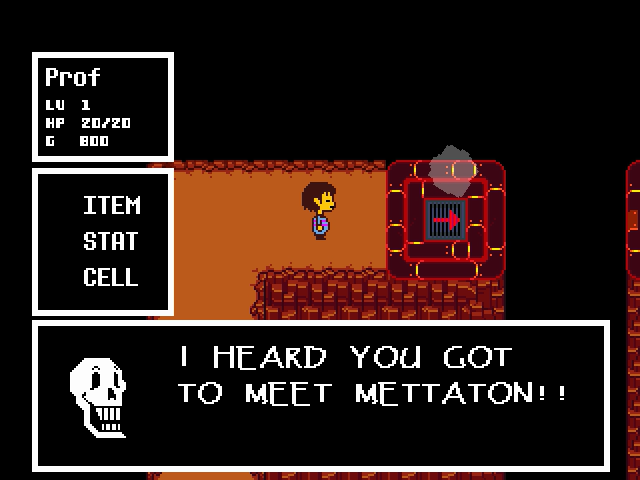 Really? Careful, that dude gives me bad vibes.

WH-WHAT? BUT HE'S SO POPULAR...

I don't care about people just because they're popular.

WELL, YOU CAN SAY THAT BECAUSE YOU'RE POPULAR.

Pssshhht, what!? Popular with WHO?

YOU'RE POPULAR WITH ME!!!

Awww... Papyrus, you're popular with me, too.

AWW, WOWIE!! WAIT...

DOES THAT MEAN YOU DON'T CARE ABOUT ME...?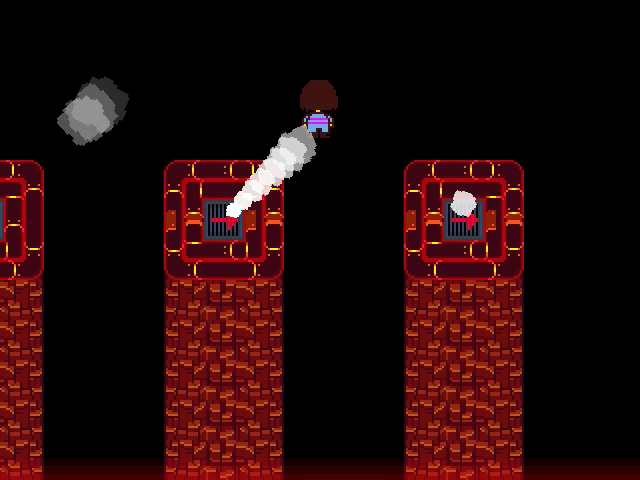 Several steam vents in a row blast me onwards.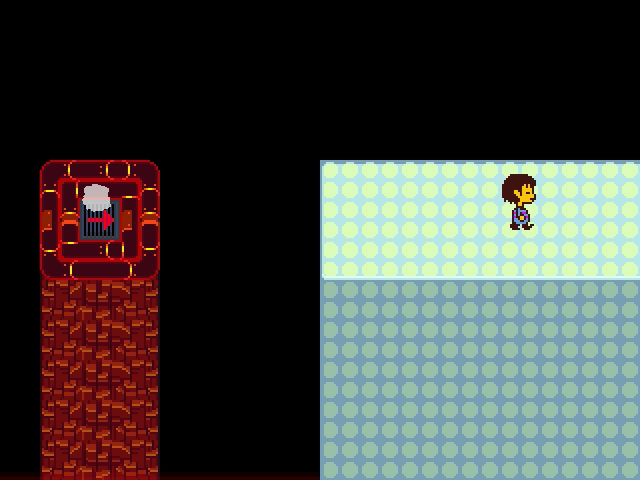 Looks like there's something else ahead.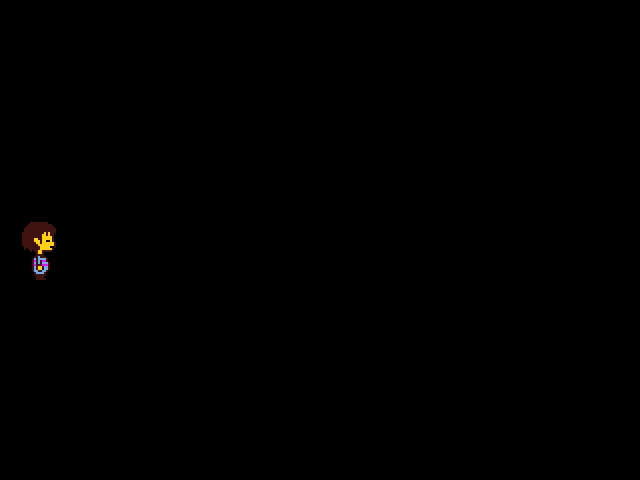 BGM: Silence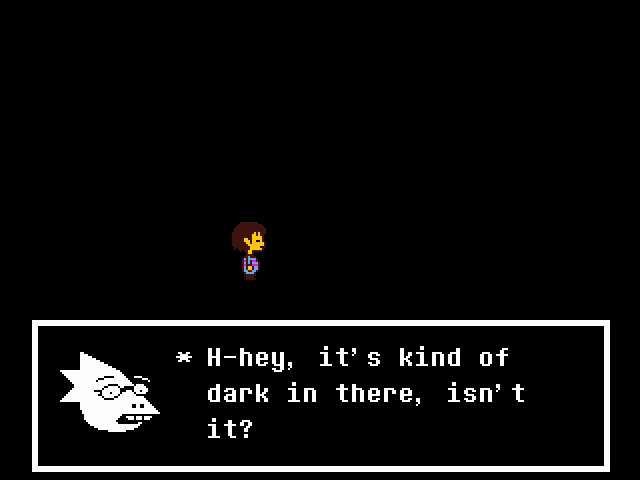 Don't worry!

I'll hack into the light system and brighten it up!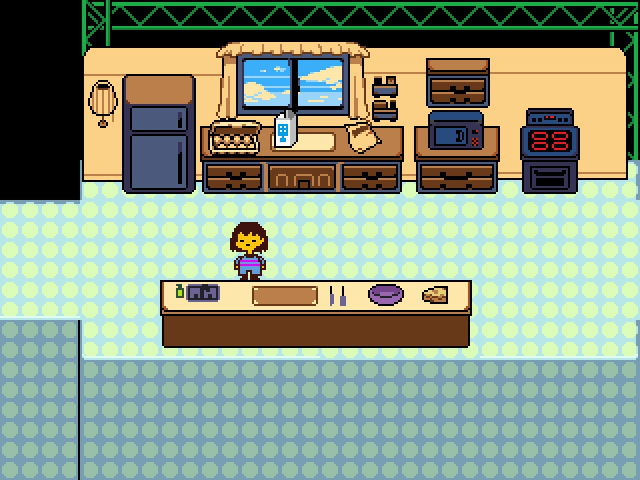 Oh no.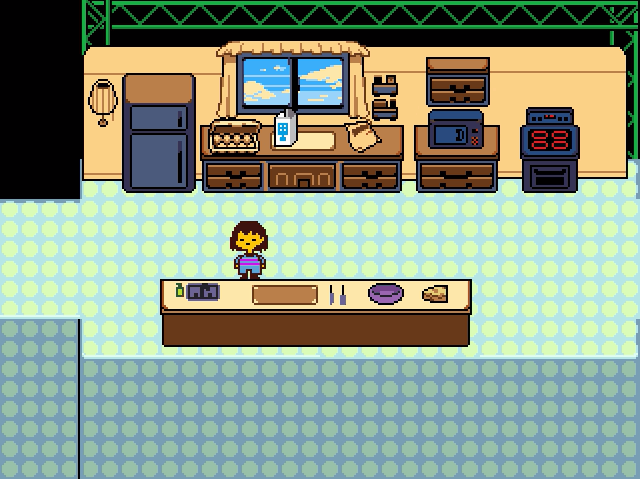 BGM: Hotel

WELCOME, BEAUTIES, TO THE UNDERGROUND'S PREMIER COOKING SHOW!!!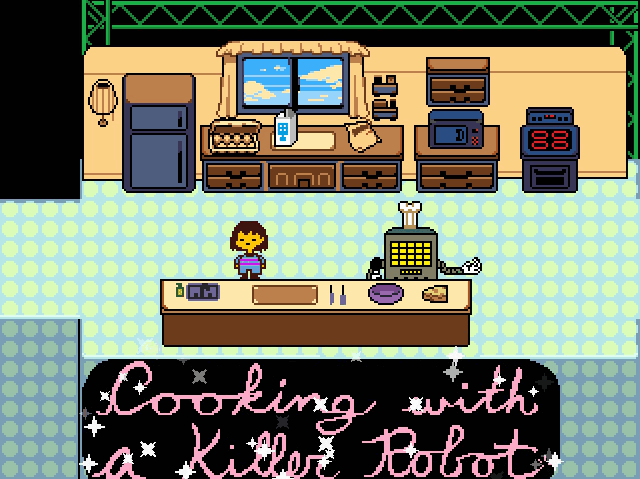 PRE-HEAT YOUR OVENS, BECAUSE WE'VE GOT A VERY SPECIAL RECIPE FOR YOU TODAY!


WE'RE GOING TO BE MAKING...


A CAKE!


MY LOVELY ASSISTANT HERE WILL GATHER THE INGREDIENTS.


EVERYONE GIVE THEM A BIG HAND!!!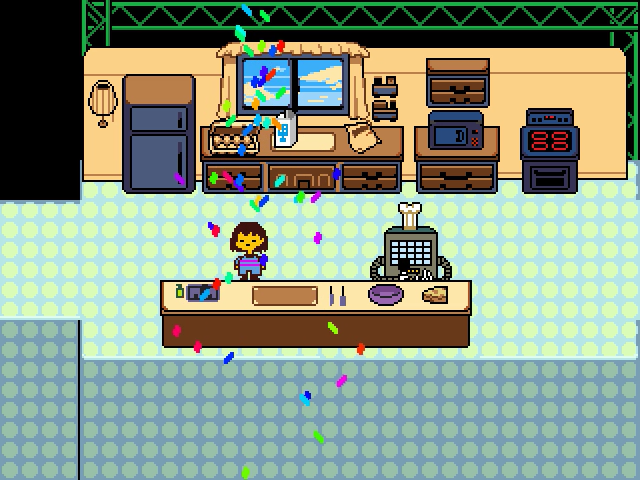 Canned applause.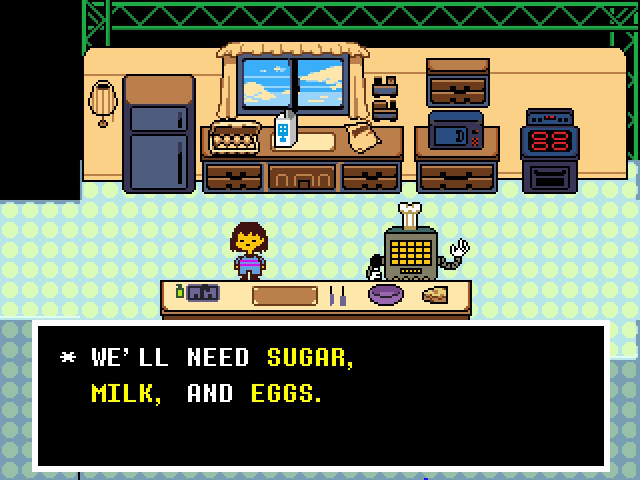 GO FOR IT, SWEETHEART!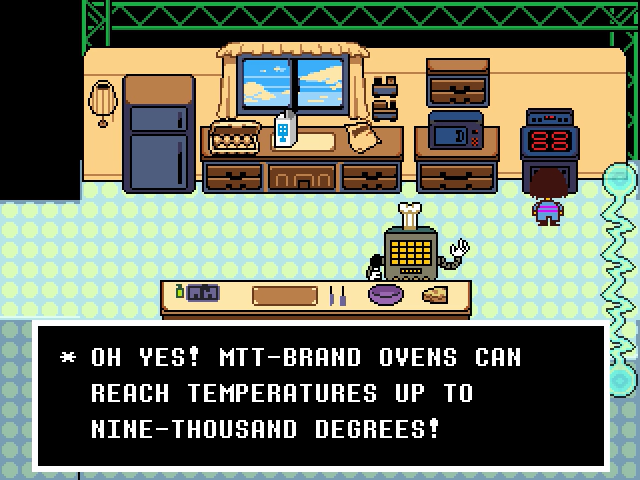 ROASTING! TOASTING! BURNING! CHARRING! YOU'RE EXCITED, AREN'T YOU, DARLING? (TM)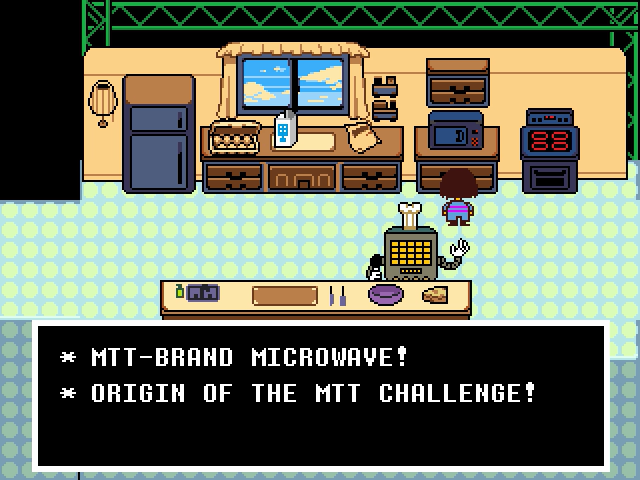 PUT YOUR FOOD IN AND SET THE MICROWAVE ON HIGH FOR FIVE MINUTES...


IF YOU CAN STILL RECOGNIZE YOUR MEAL, WE'LL DOUBLE YOUR MONEY BACK!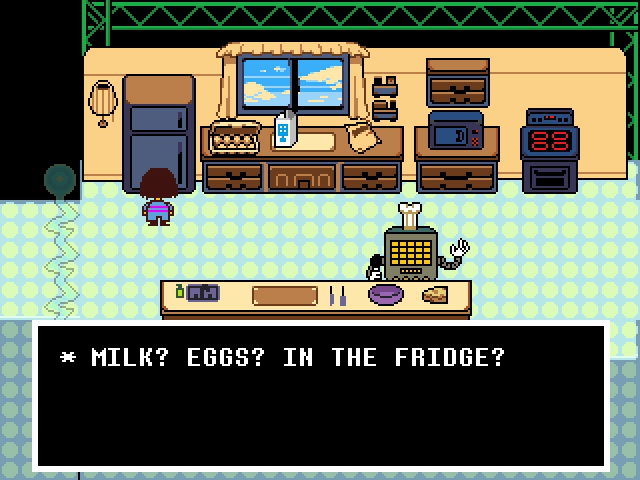 NO WAY, DARLING! THEY'D GET COLD!!!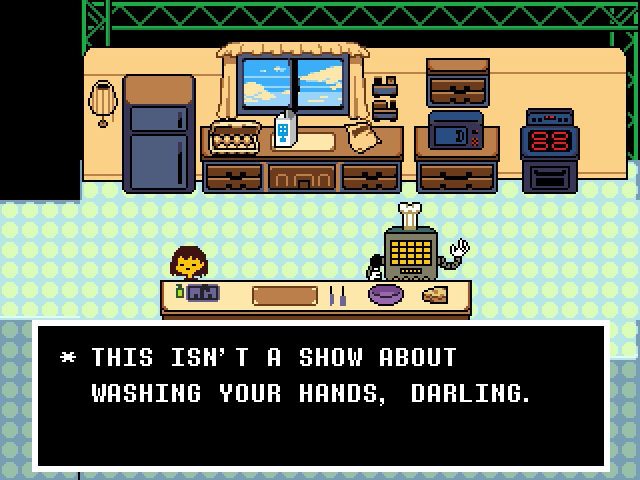 THAT'S ON WEDNESDAYS!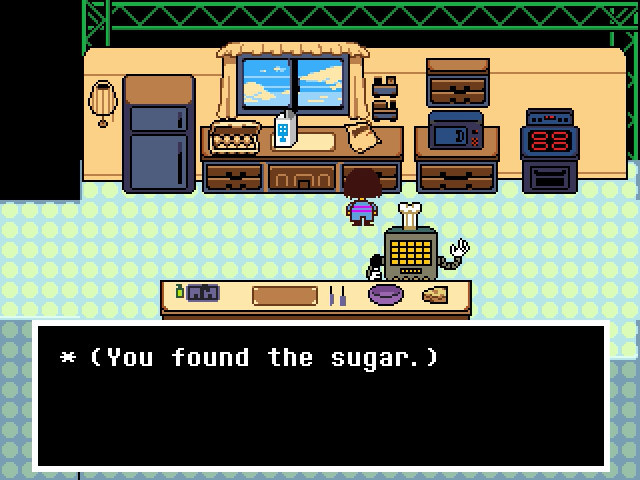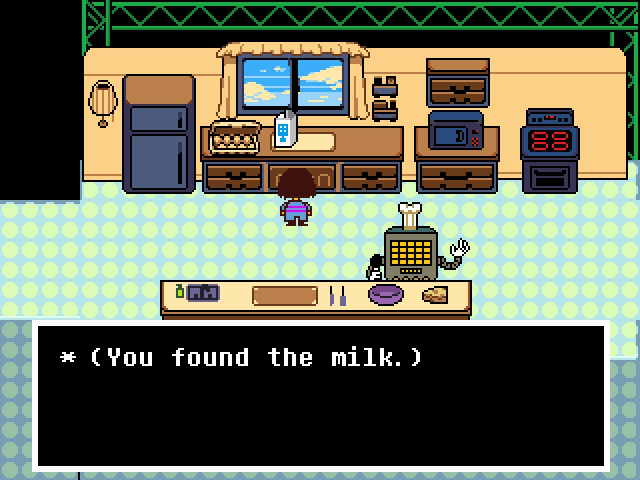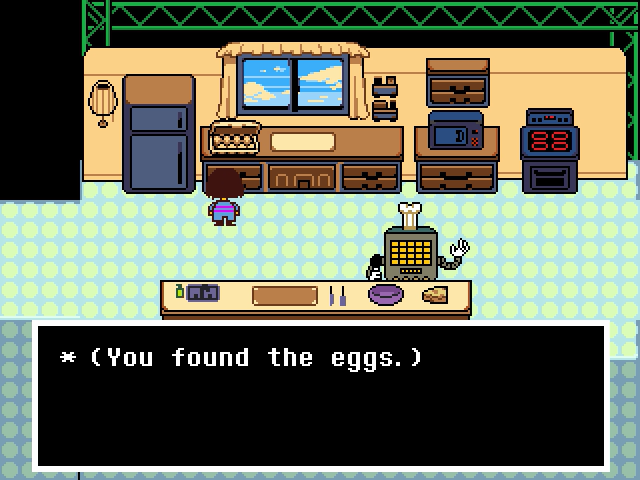 GREAT JOB! JUST PUT THEM IN THE MIDDLE OF THIS COUNTER!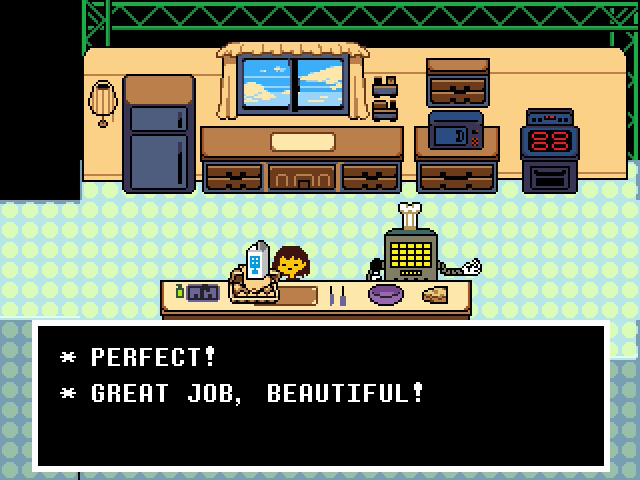 WE'VE GOT ALL OF THE INGREDIENTS WE NEED TO BAKE THE CAKE!


MILK... SUGAR... EGGS...


...OH MY! WAIT A MAGNIFICENT MOMENT! HOW COULD I FORGET!!!


WE'RE MISSING THE MOST IMPORTANT INGREDIENT!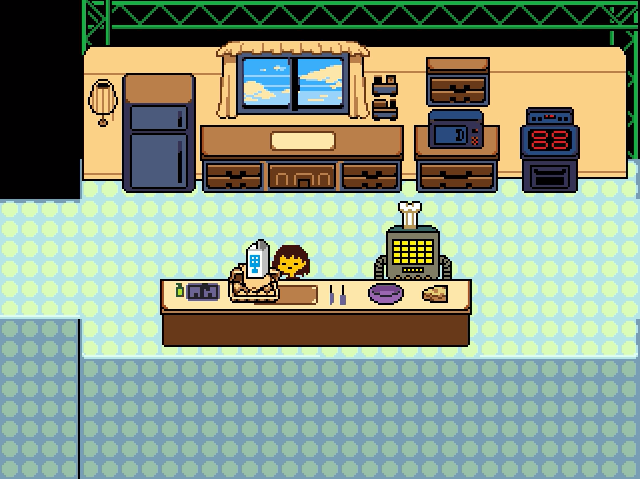 This was pretty predictable.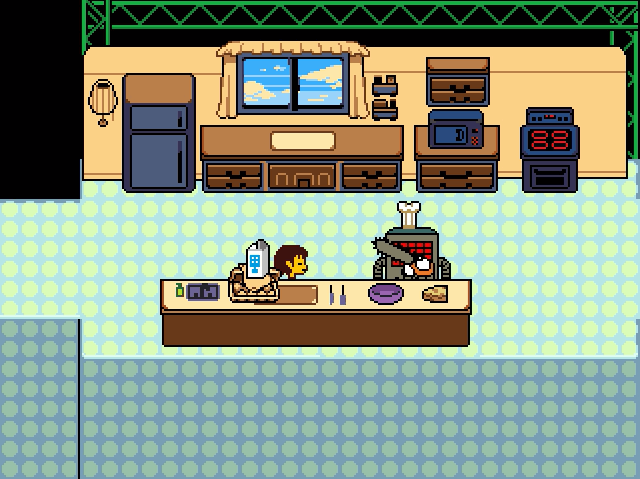 MTT's steely advance is halted by a phone call!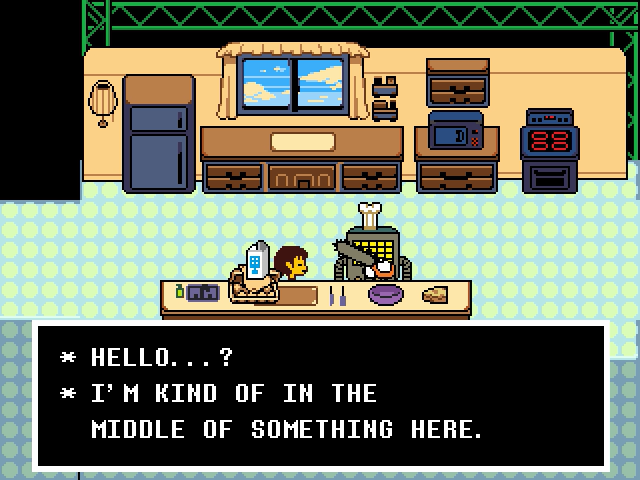 W-wait a second!!!

Couldn't you make a...

Couldn't you use a...

Couldn't you make a substitution in the recipe?!

...A SUBSTITUTION? YOU MEAN, USE A DIFFERENT, NON-HUMAN INGREDIENT?


...WHY?

Uhh, what if someone's...

...

Vegan?

...VEGAN.

Uh well I mean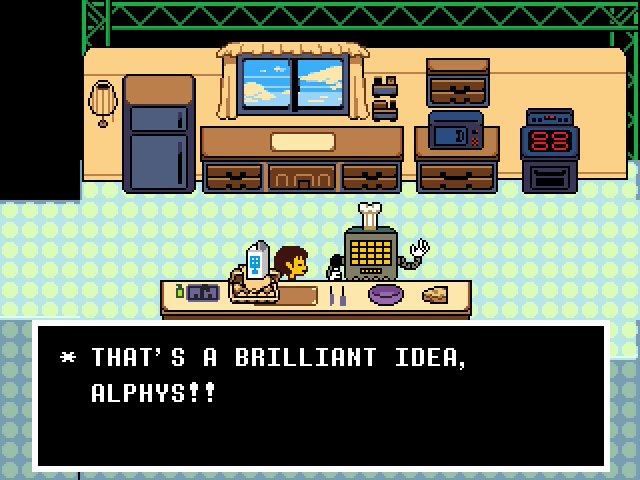 BGM: It's Showtime!

ACTUALLY, I HAPPEN TO HAVE AN OPTION RIGHT HERE!!!


MTT-BRAND ALWAYS-CONVENIENT HUMAN-SOUL-FLAVOR-SUBSTITUTE!


A CAN OF WHICH... IS JUST OVER THERE ON THAT COUNTER!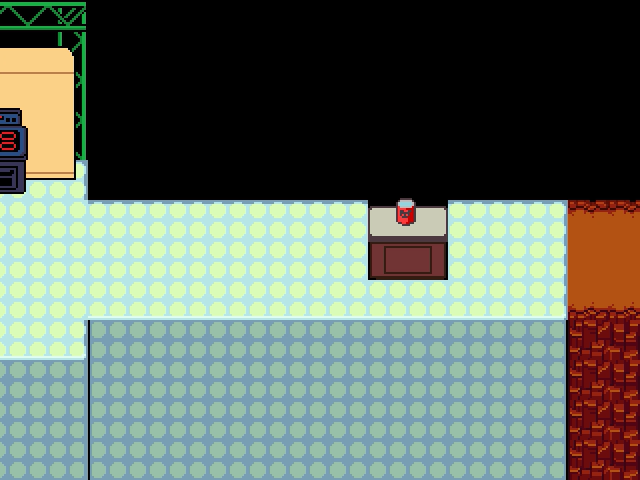 WELL, DARLING? WHY DON'T YOU GO GET IT?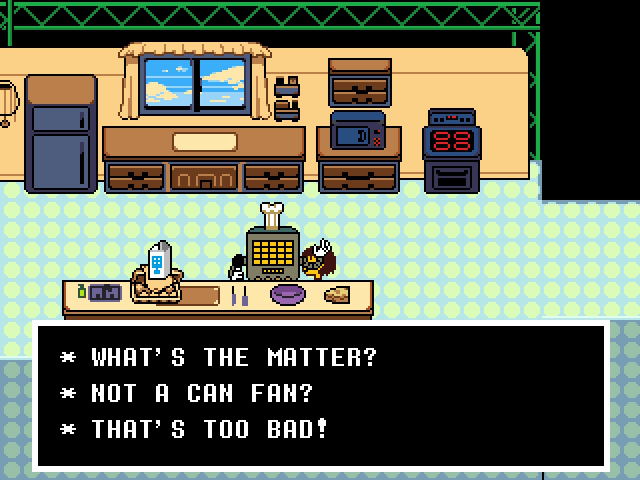 MTT-BAND USES ONLY THE FRESHEST ARTIFICIAL INGREDIENTS AND CHEMICALS!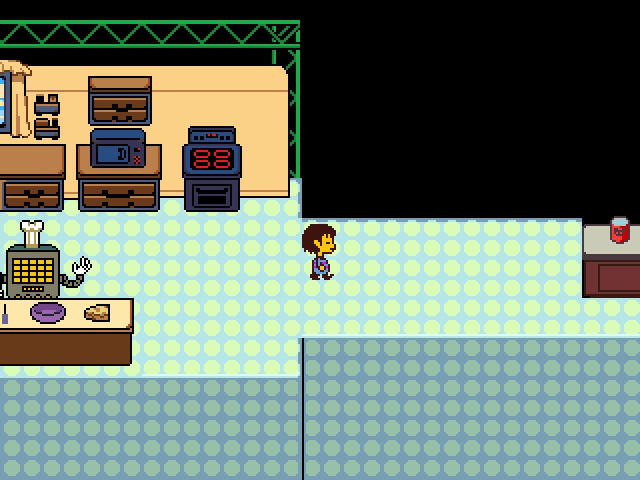 Well, at least I'm not being eaten.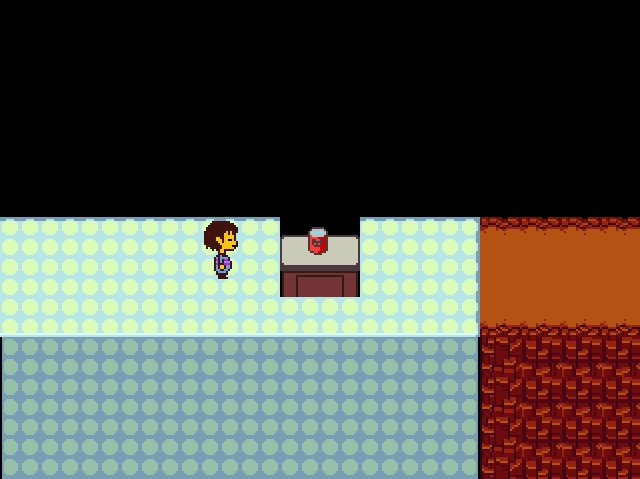 What has my life become.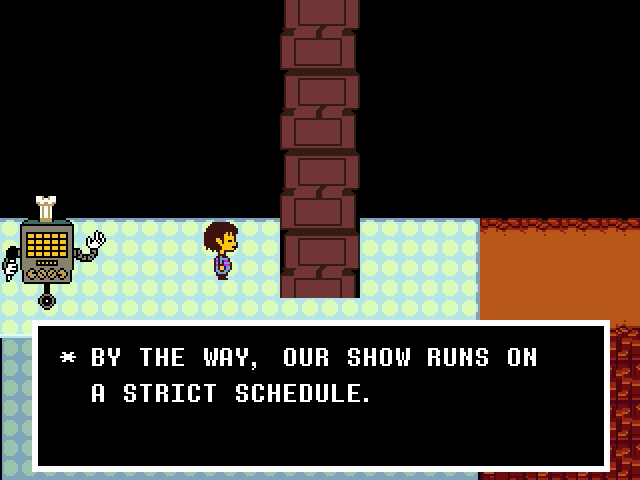 IF YOU CAN'T GE THE CAN IN THE NEXT ONE MINUTE...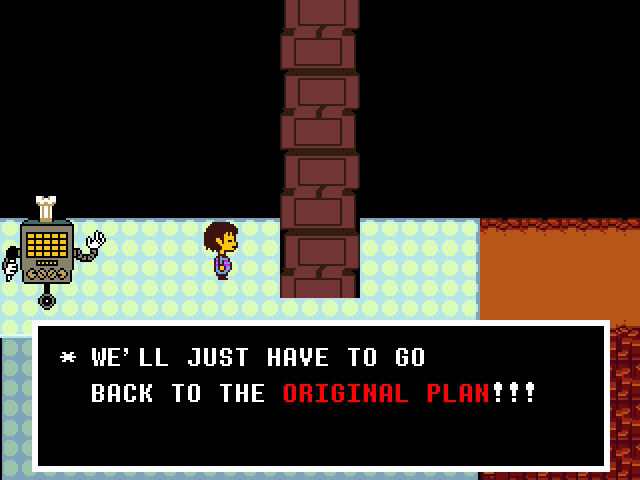 SO... BETTER START CLIMBING, BEAUTIFUL!!!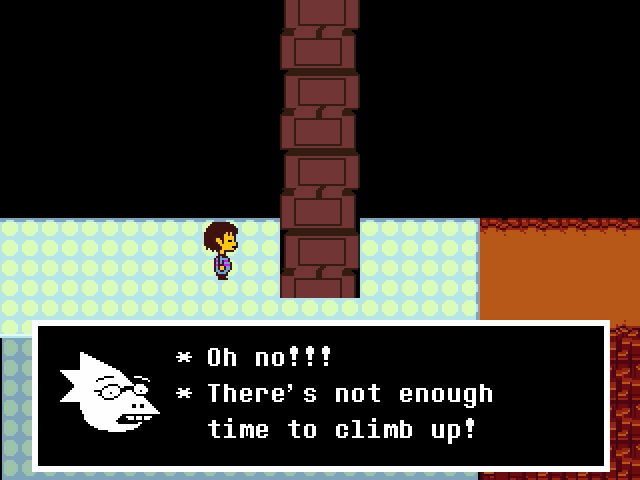 ...

F-f-fortunately, I might have a plan!

When I was upgrading your phone, I added a few... features.

You see that huge button that says... "JETPACK"?

Watch this!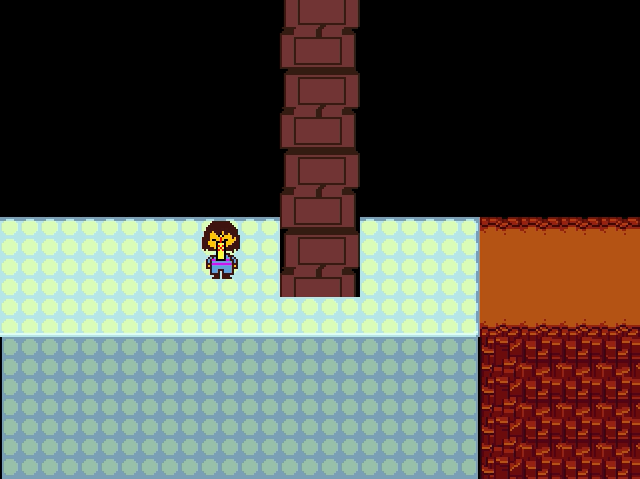 There!

You should have just enough fuel to reach the top!

Now, get up there!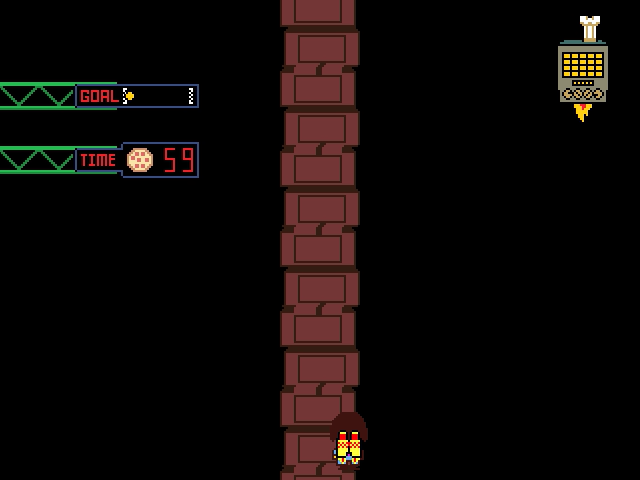 Video: Flight of the Cellphone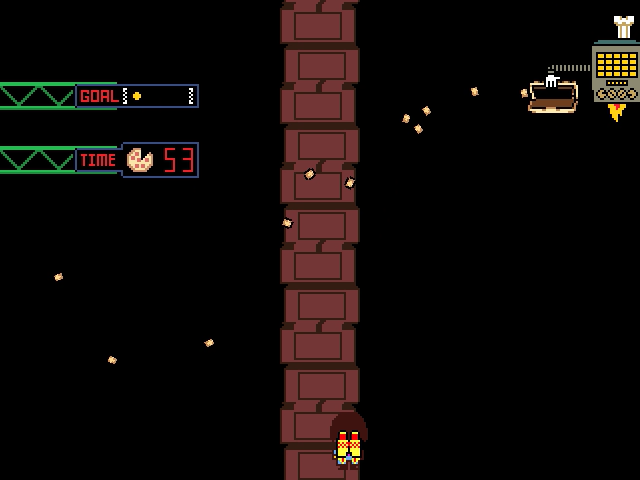 BGM: Can You Really Call This A Hotel, I Didn't Receive A Mint On My Pillow Or Anything
So, we've got a whole minigame for this segment. Objective: Reach the goal before time runs out!
Mettaton's first attack is using those eggs I brought him. They shower down, and I have to move left or right to avoid them.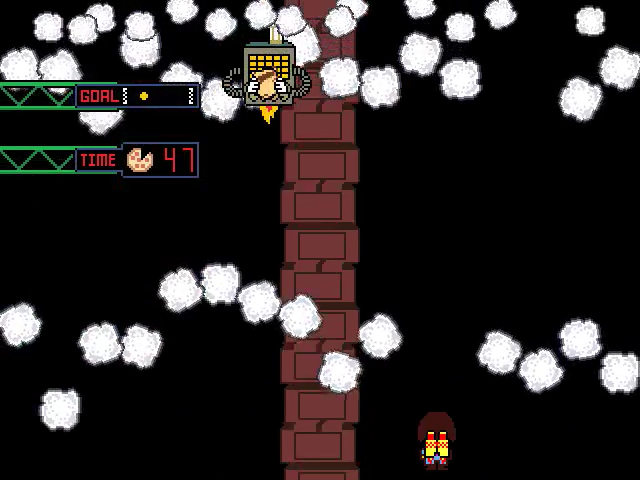 Next attack is using the sugar - Mettaton throws up walls of it, each one with a narrow gap to fly through.
Then, the milk! The waves of milk randomly angle left or right, making this one potentially the hardest attack to avoid.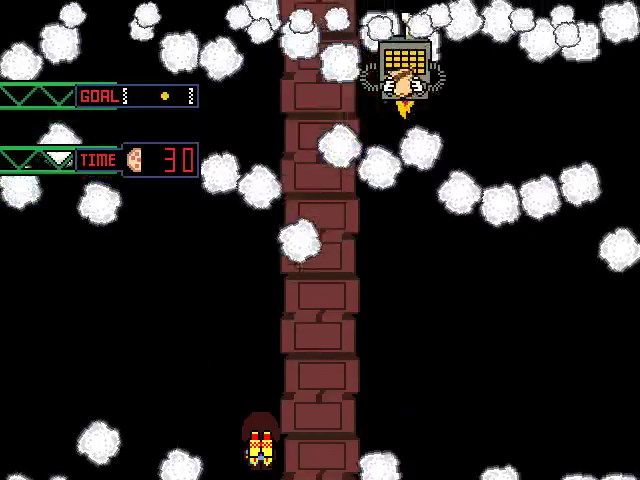 And so on, until I reach the top.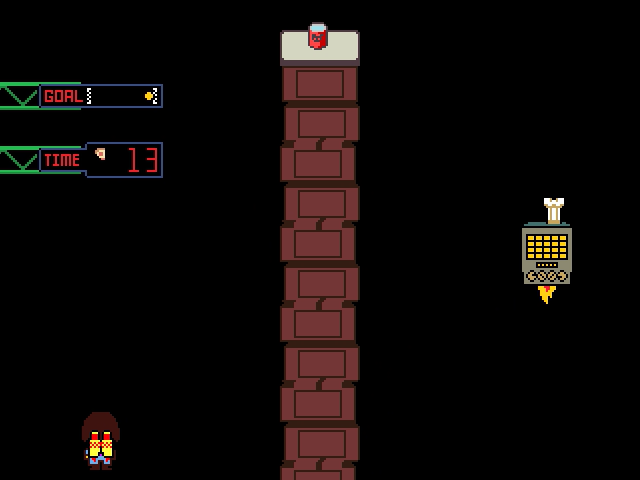 Despite getting cornered by some milk at the end, I make it to the can with 13 seconds to spare.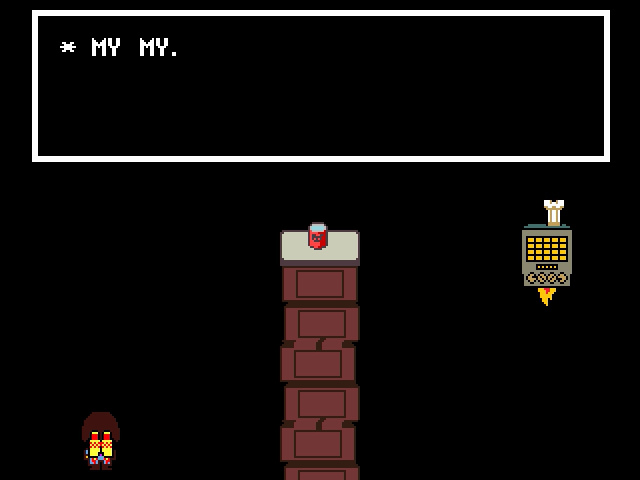 BGM: Silence

IT SEEMS YOU'VE BESTED ME.


BUT ONLY BECAUSE YOU HAD THE HELP OF THE BRILLIANT DOCTOR ALPHYS!


OH, I LOATHE TO THINK OF WHAT WOULD HAVE HAPPENED TO YOU WITHOUT HER!!!


WELL, TOODLES!!!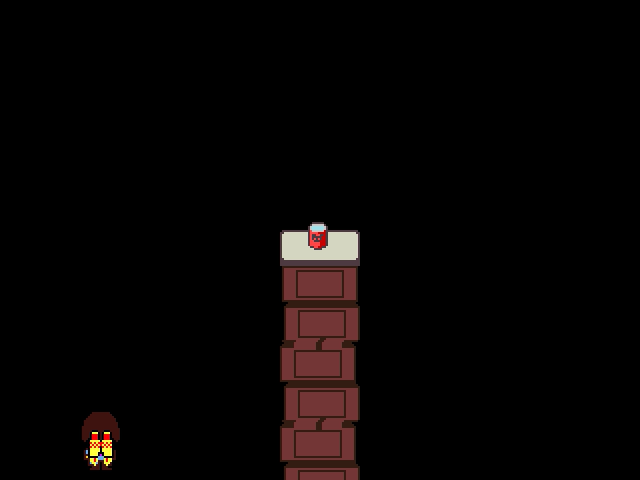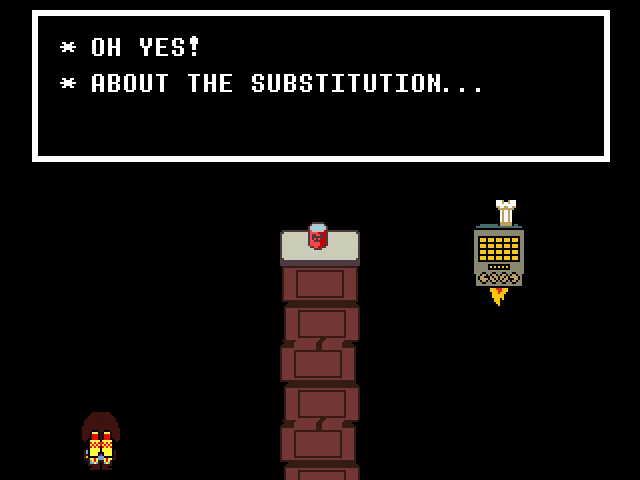 HAVEN'T YOU EVER SEEN A COOKING SHOW BEFORE?


I ALREADY BAKED THE CAKE AHEAD OF TIME!!!!! SO FORGET IT!!!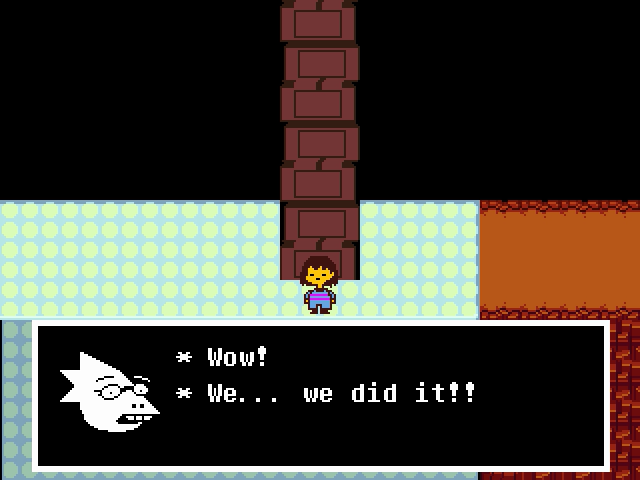 We... we really did it!!!

Great job out there, team!

W-well, uh, anyway, let's keep heading forward!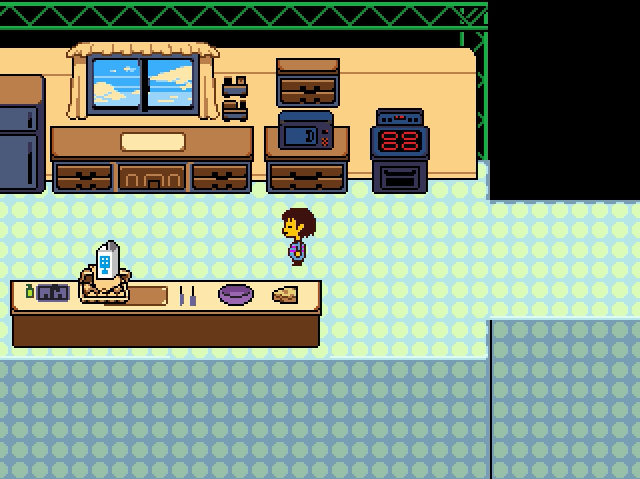 I go back to check out the kitchen, now that Mettaton isn't in it.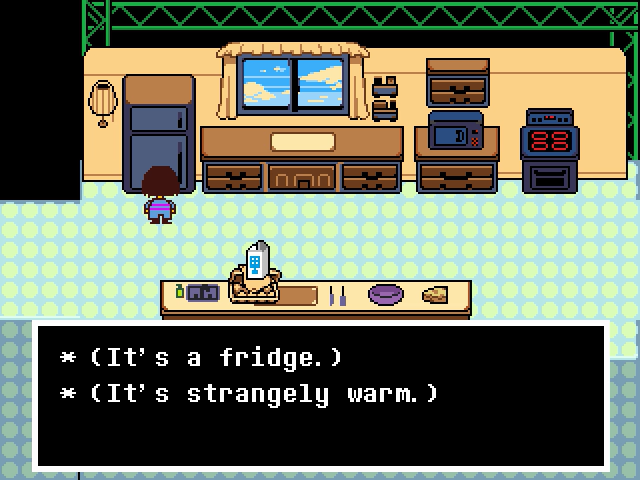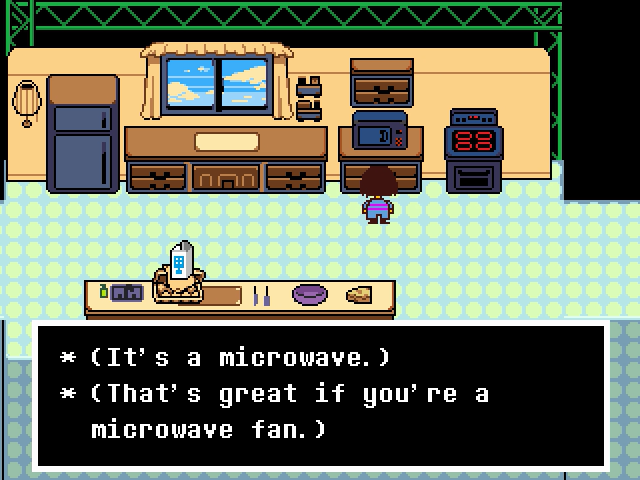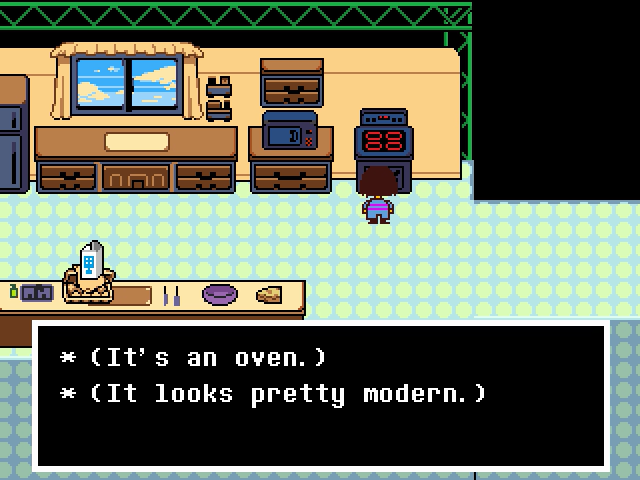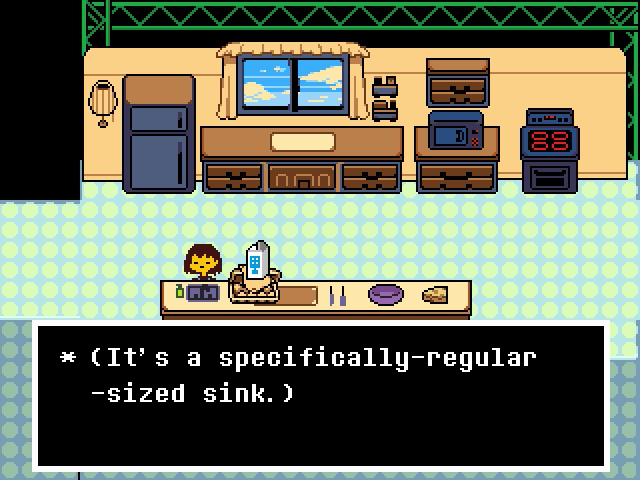 Nothing seems out of place. I continue on.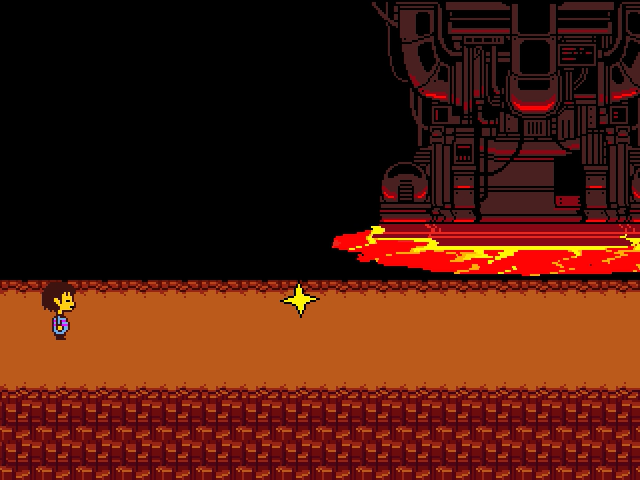 Whoa.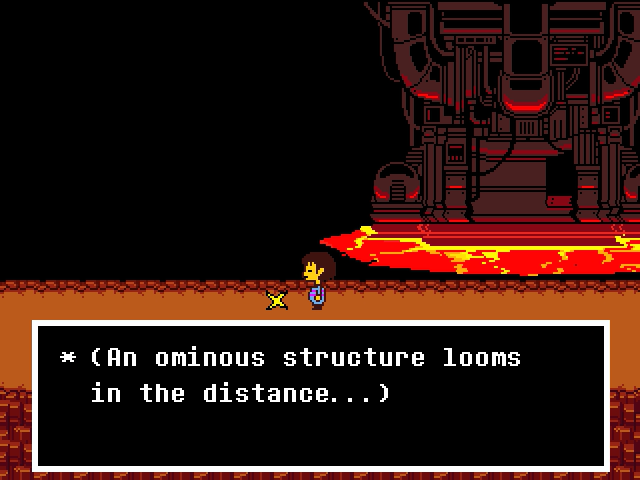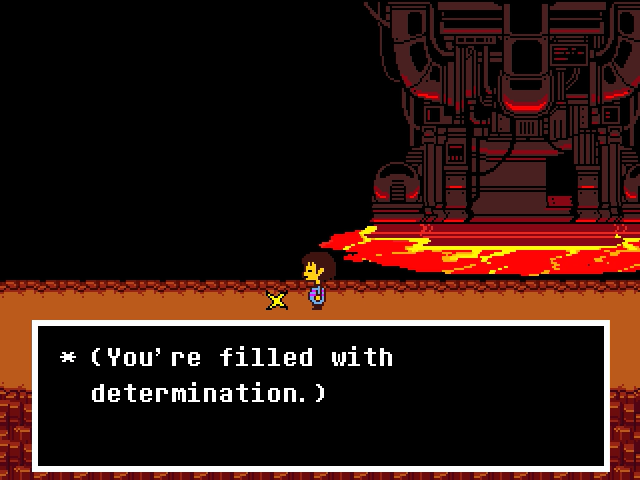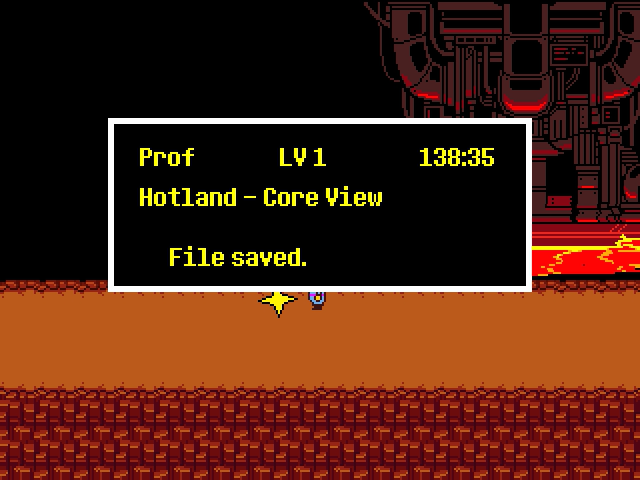 I save my game.