Part 23: Live Report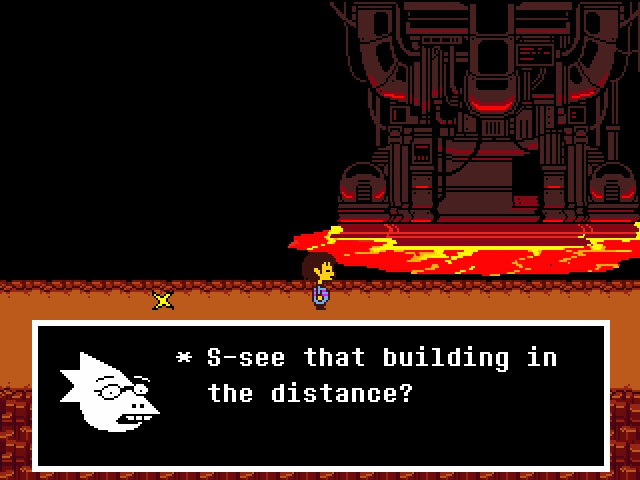 That's the Core. The source of all power for the underground.

In converts geothermal energy into magical electricity, by...

Uhh, anyway, that's where we're going to go.

In the Core is an elevator directly to Asgore's castle.

And from there... You can go home.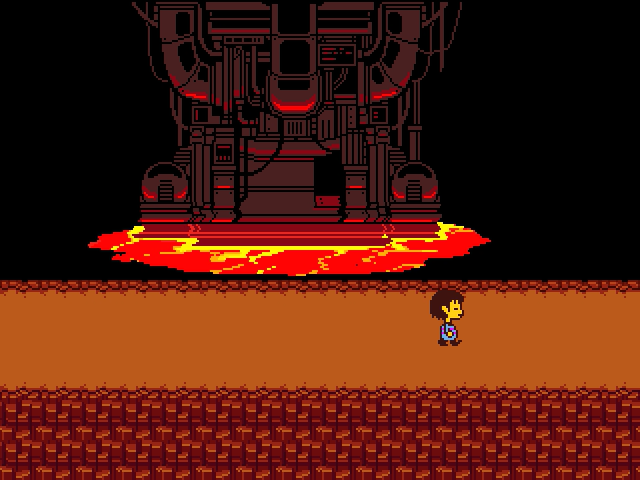 I continue onwards.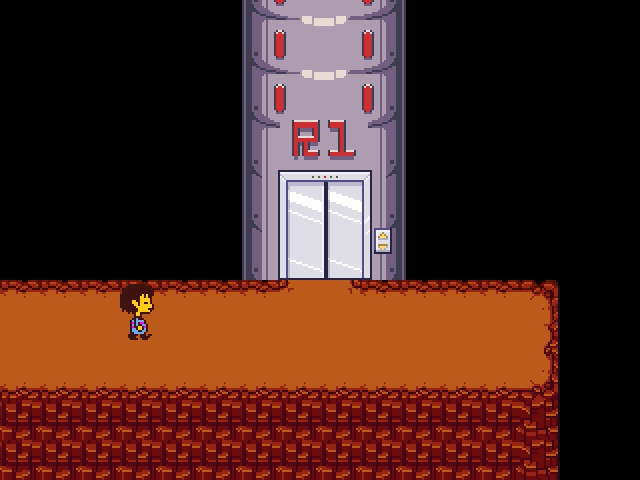 Looks like some sort of elevator.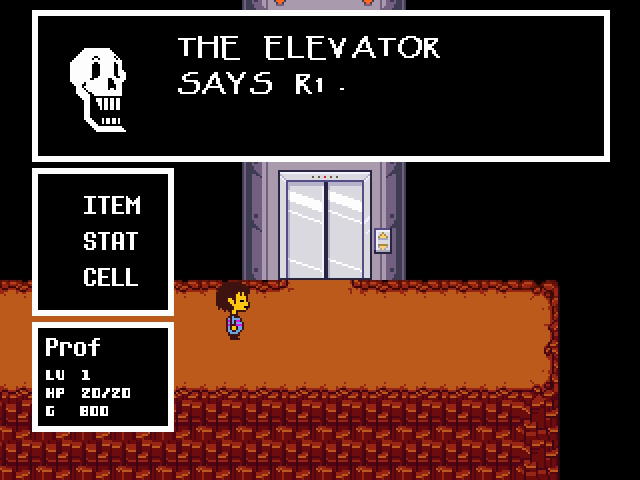 BUT WHAT DOES THE R STAND FOR?

C'mon, Papyrus. Think about it.

HMMM...

It stands for RED, 'cause that's the color of the lights!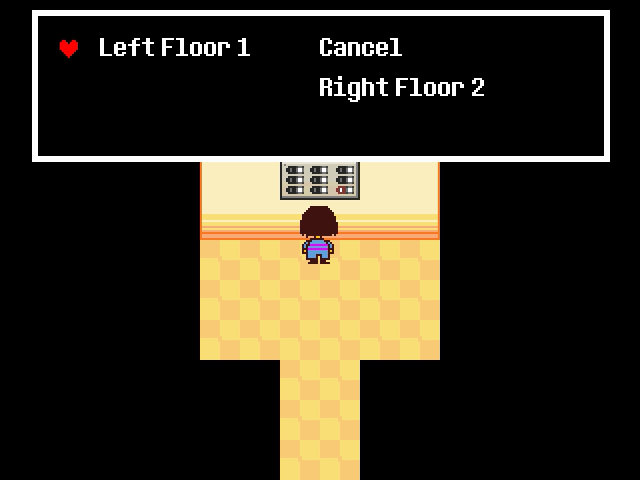 Well, that's odd. I start with Left Floor 1.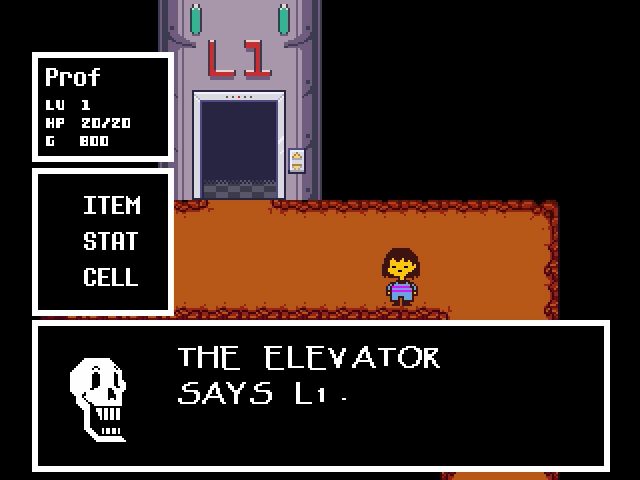 BUT WHAT DOES THE L STAND FOR?

C'mon, Papyrus. Think about it.

HMMM...

It stands for L-evator, duh!!!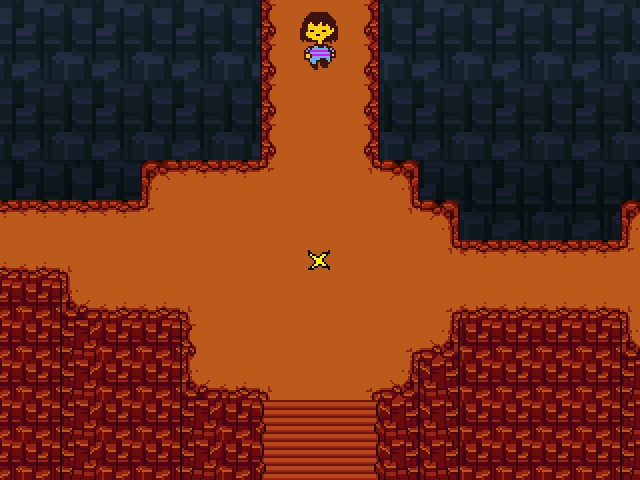 Looks like Left Floor 1 takes me back to the previous save point.
I ride the elevator again, this time going to Right Floor 2.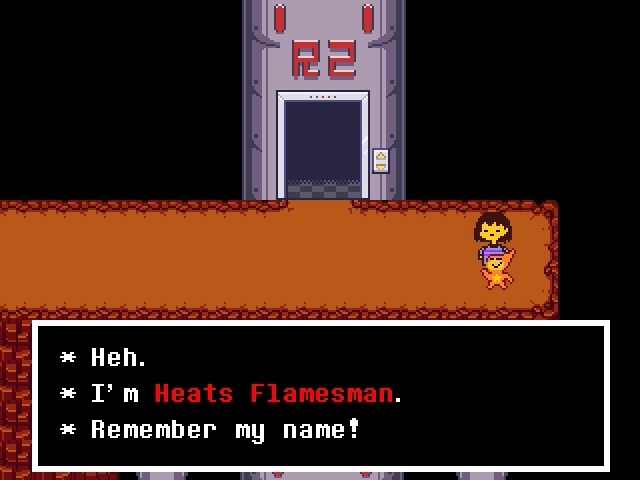 I'll remember it with all my might.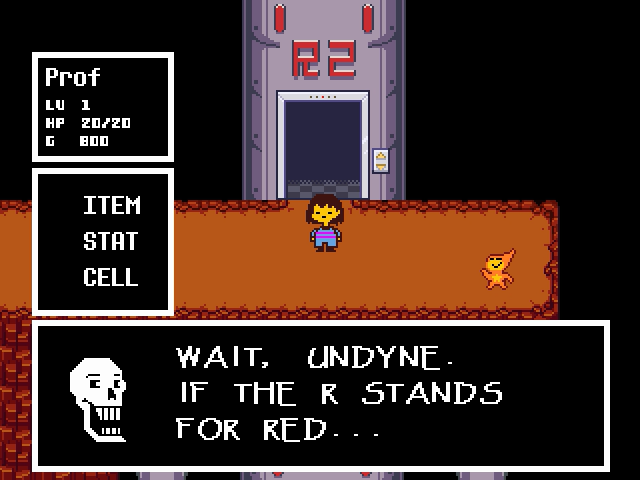 WHAT COLOR DOES THE L STAND FOR?

Uhhhh...

Light green.

OH! OF COURSE!

WAIT. ISN'T THAT TWO WORDS?

light sea green.

THREE DOESN'T FIX THE ISSUE!

light sea foam green.

AREN'T YOU WORKING IN THE VERY NEXT ROOM!?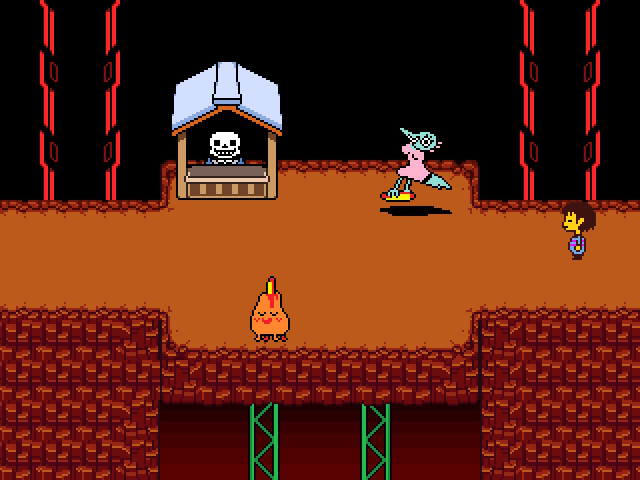 BGM: sans.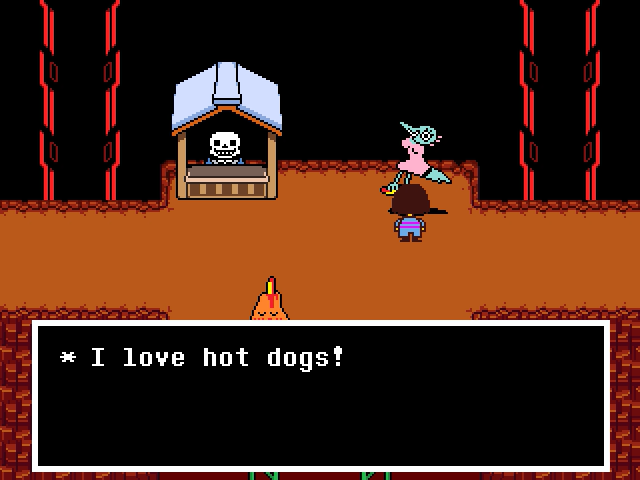 Hey... Isn't it weird there's SNOW on that guy's roof?

...guess he's just too lazy to clean it off.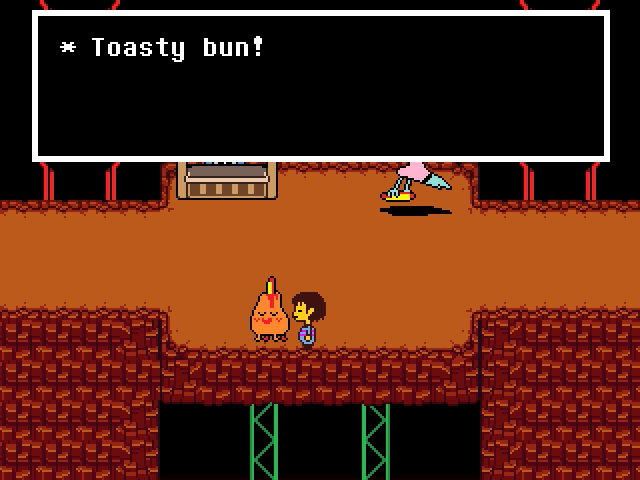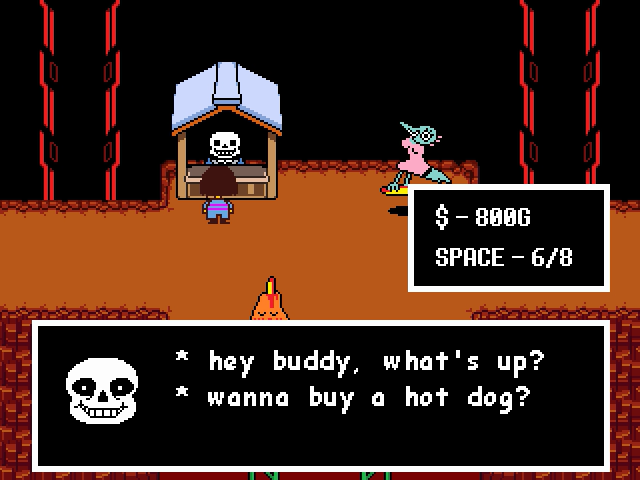 I buy a hot dog for 30G.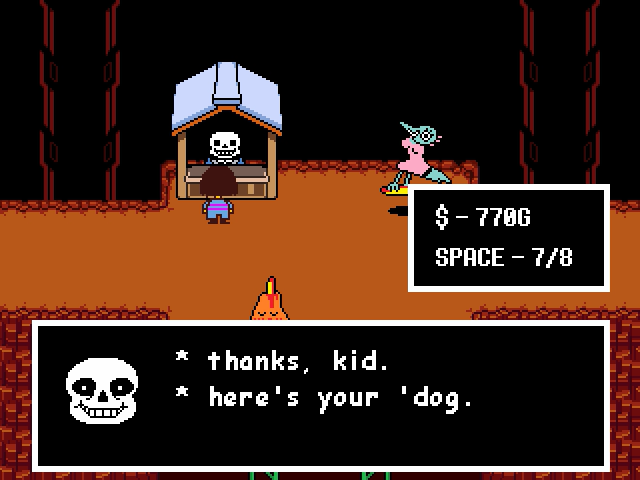 yeah. 'dog. apostrophe-dog. it's short for hot-dog.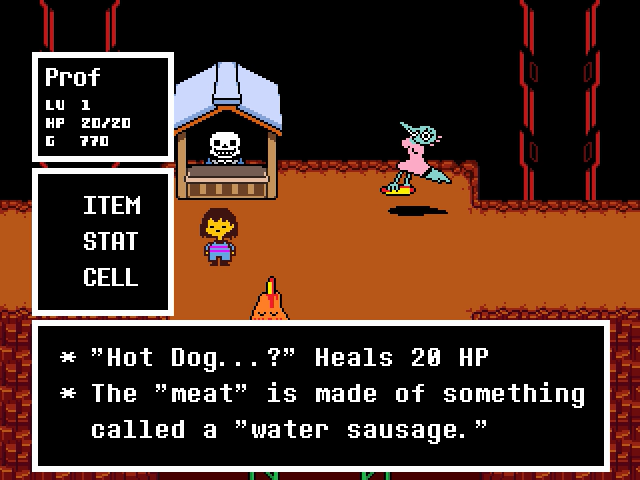 Are those even edible?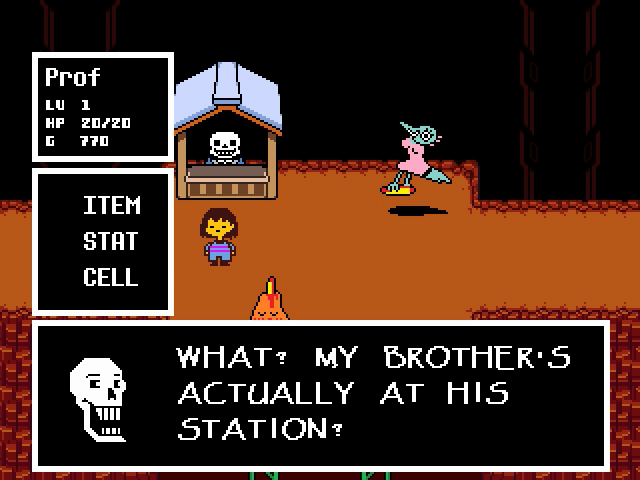 What? I thought he only had three stations.

NO, HE HAS... AT LEAST FOUR?

Who the heck keeps hiring this guy!?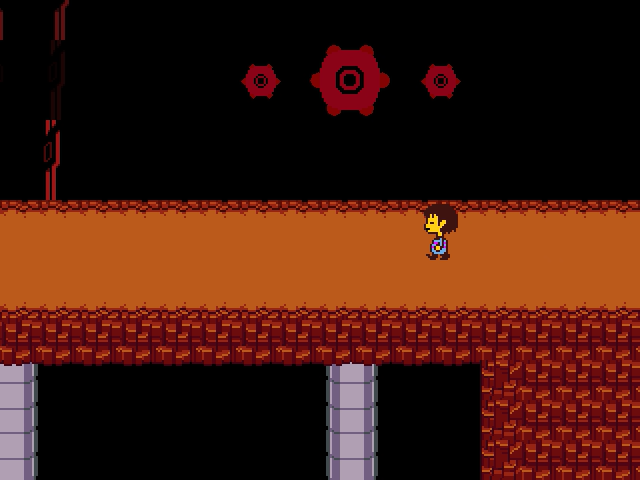 BGM: Another Medium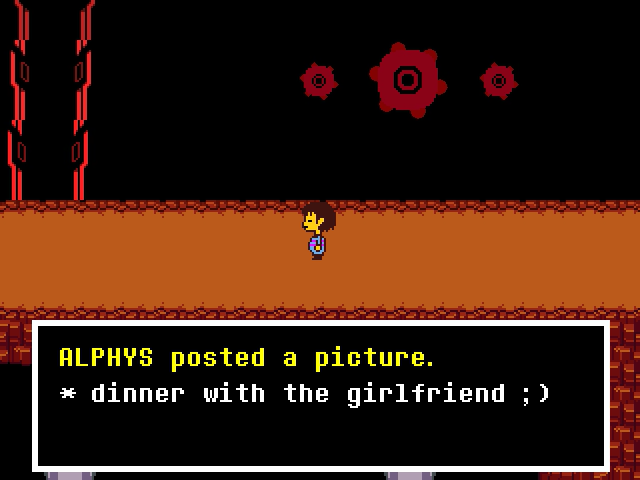 (It's a picture of a catgirl figurine next to a bowl of instant noodles.)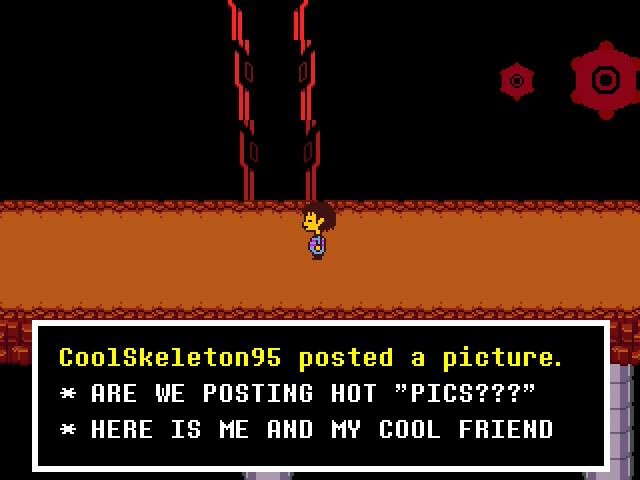 (It's a picture of Papyrus flexing in front of a mirror. He is wearing sunglasses.)
(Giant muscular biceps are pasted onto his arms.
(The biceps are also wearing sunglasses.)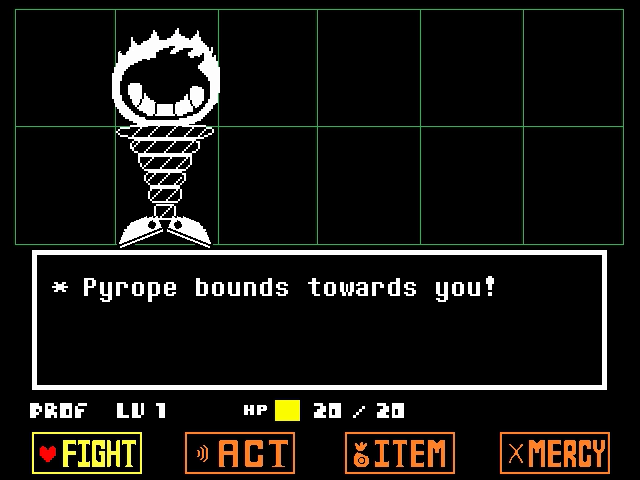 I'm attacked by a leaping Homestuck reference!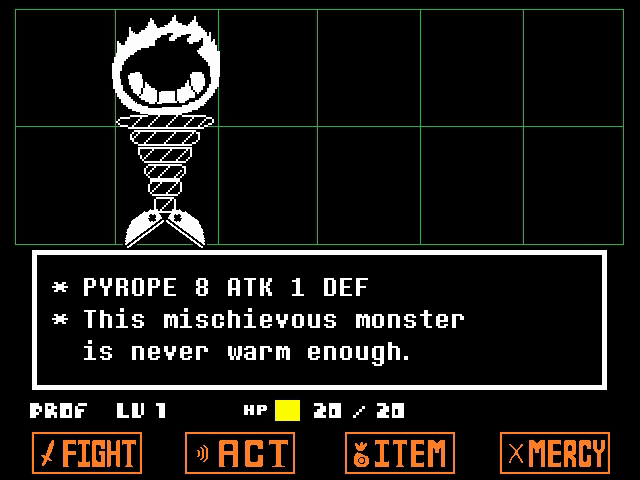 Pyropes can be pretty darn nasty.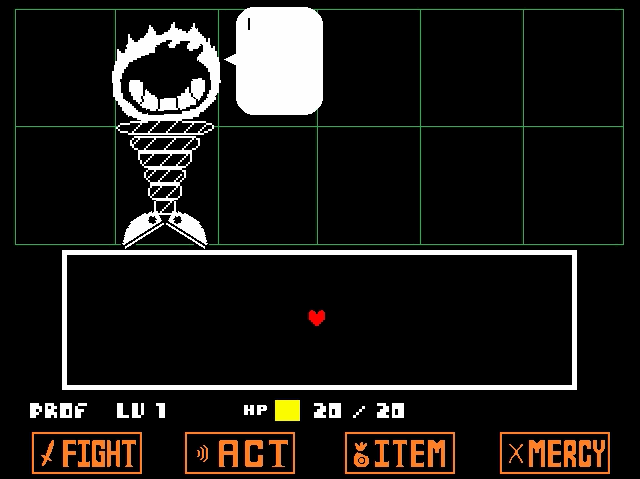 This is their most common attack, and it's not too dangerous once you know what to expect.
Actions are Cool Down, Heat Up, and
Invite
, which I'll try first.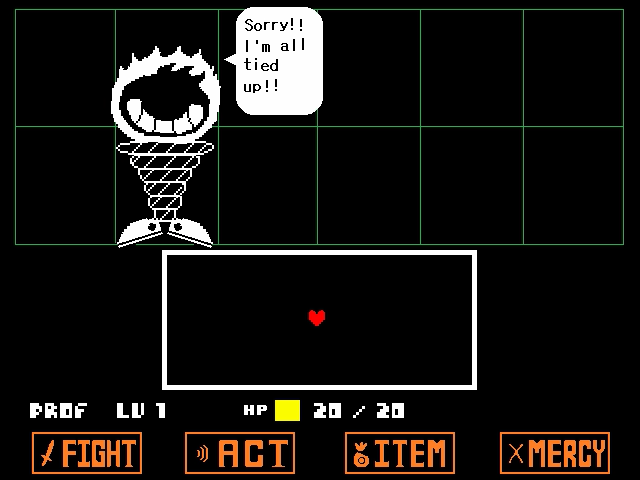 Har har.
What if I
Cool Down
?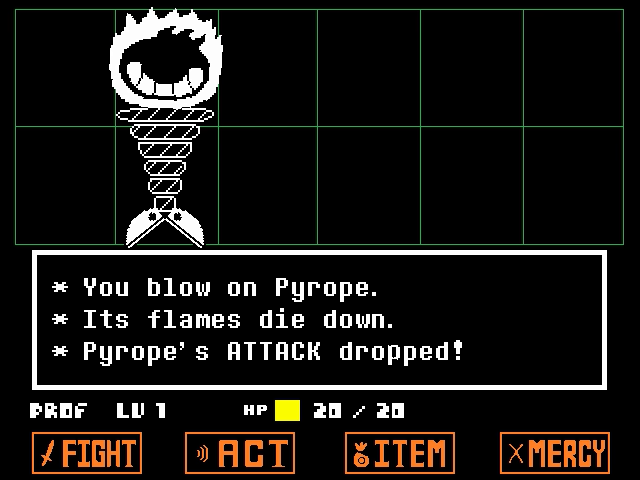 Pyrope gets mad, but doesn't give up.
Instead, I'll
Heat Up
.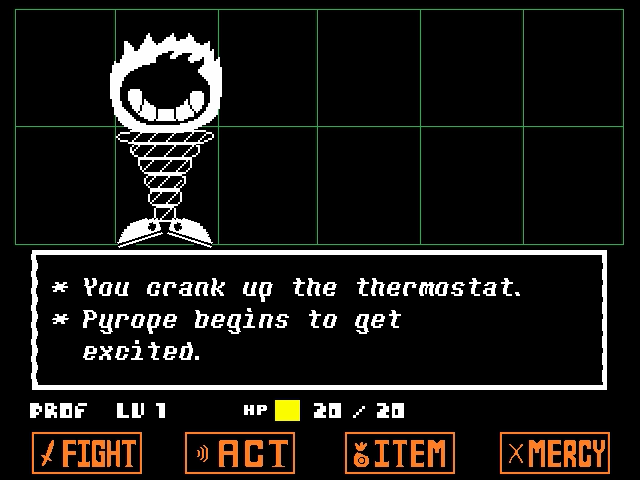 I can see the heat in the air.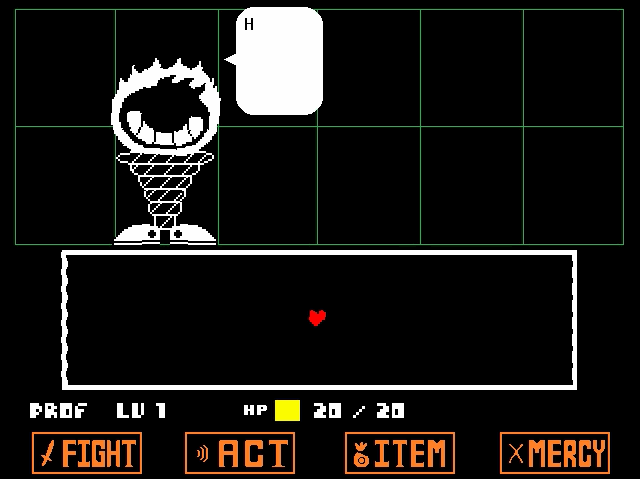 Remember those orange lasers? Now there's orange attacks in battle!
I can't let them pass over me - I need to be moving while I cross the orange bullets, or they'll burn me.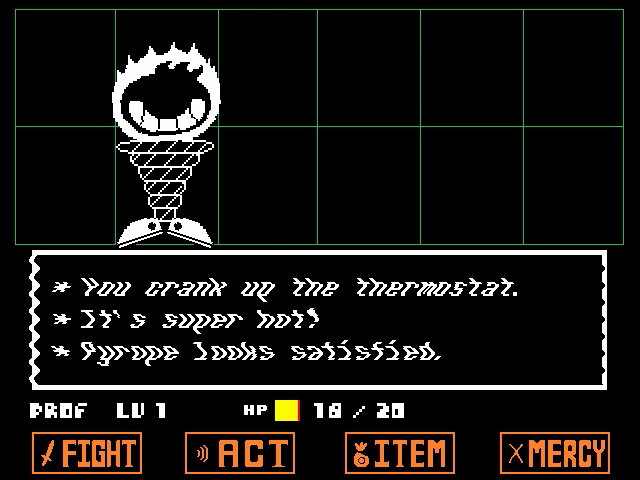 After two heat ups, the heat is ridiculous...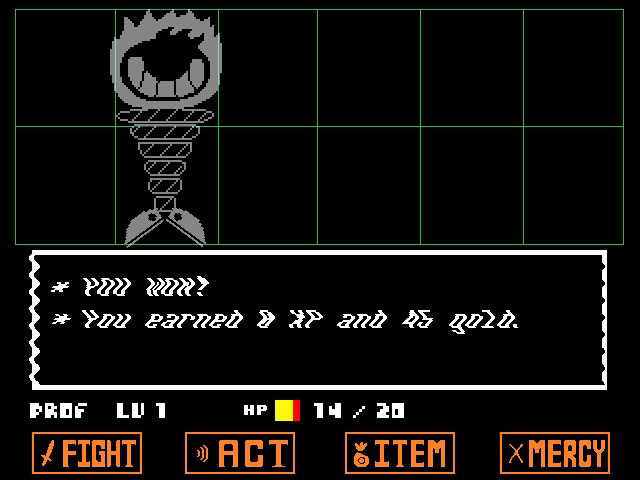 ...but I can also end the fight!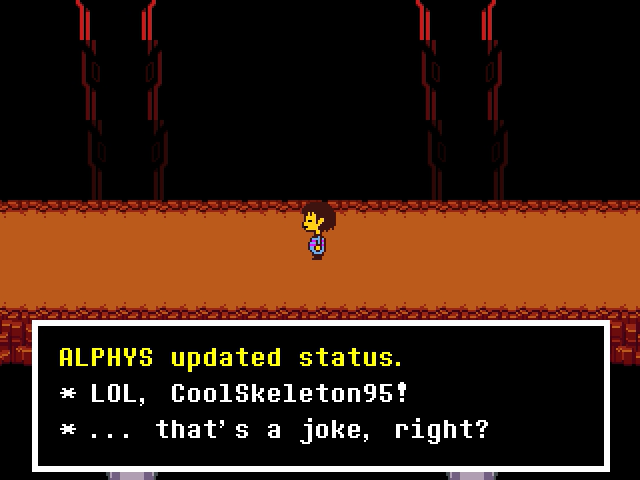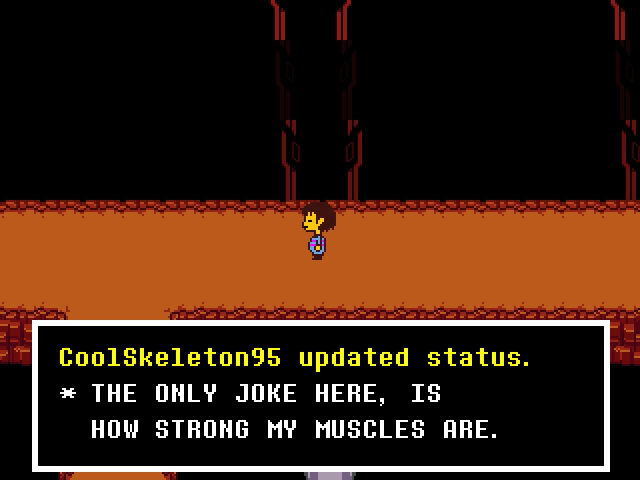 I can't wait to hear what he has to say about this.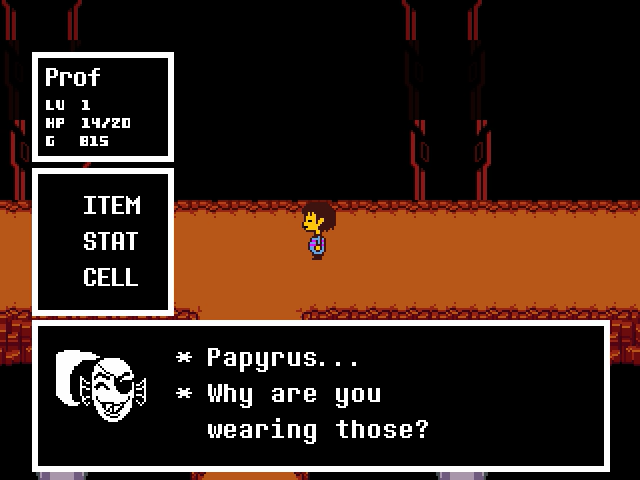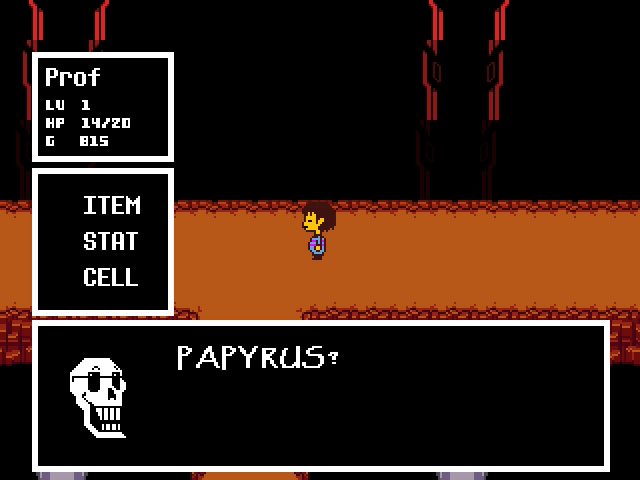 EXCUSE ME? I AM THE VERY COOL ONLINE GUY,

COOLSKELETON95.

What? No! You're Papyrus!

(UNDYNE!!! SHHH!!!)

(YOU'RE GOING TO REVEAL MY SECRET ONLINE PERSONA!)

FINE then! I'm not Undyne!

The name's... StrongFish91!

WHAT!? REALLY!? OH NO!!!

STRONGFISH!! PLEASE BRING BACK MY FRIEND UNDYNE!

Uh, OK.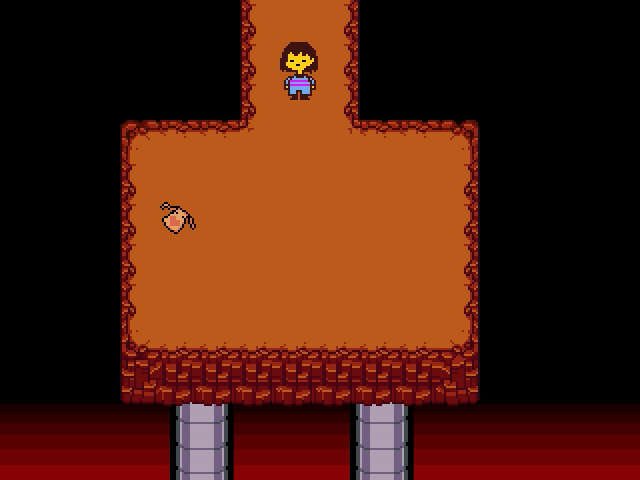 To the south, an item!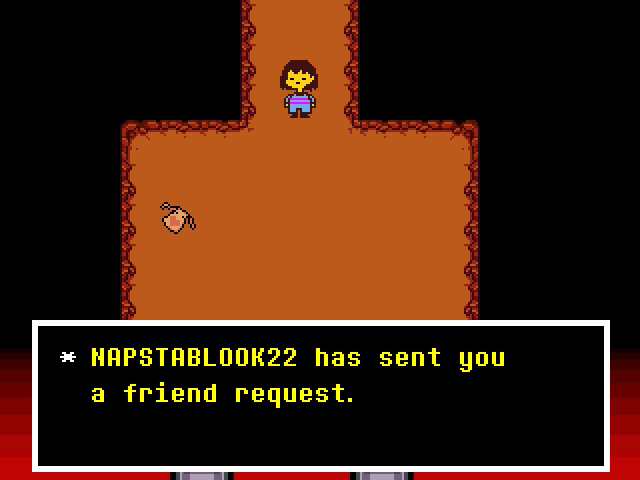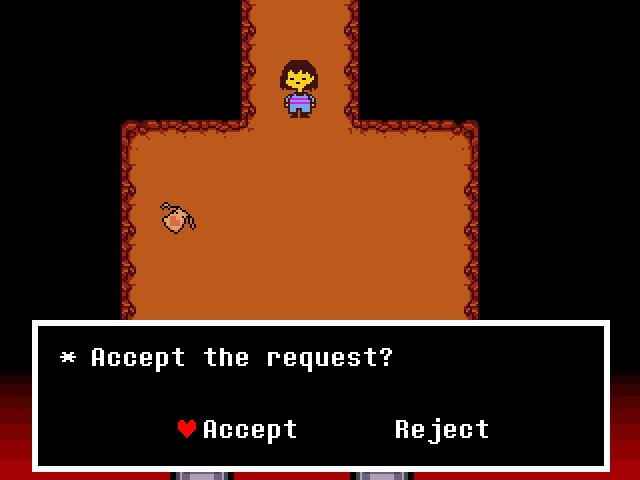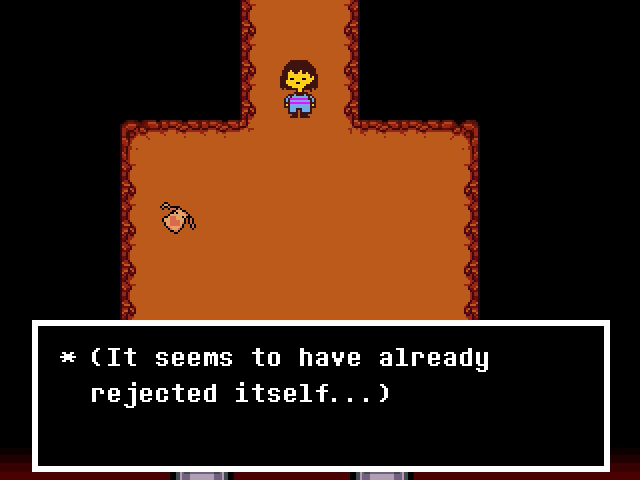 It's gonna be OK, Napstablook.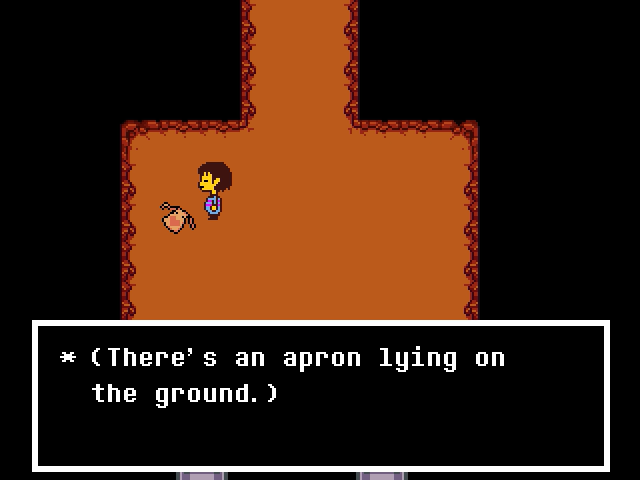 I pick up a Stained Apron.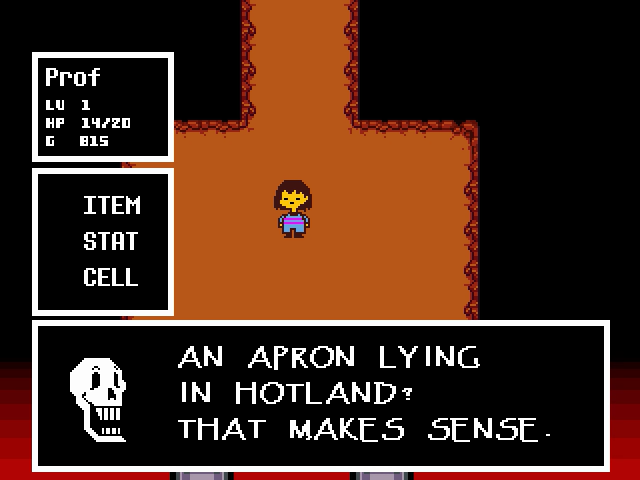 Yeah, cooking is definitely fire-elemental!

UNLESS YOU COOK A POPSICLE.

Would you really call it "cooking" a popsicle...?

THAT'S WHAT YOU CALLED IT LAST TIME WE, UH...

Oh MAN, I almost forgot about that! What a mess!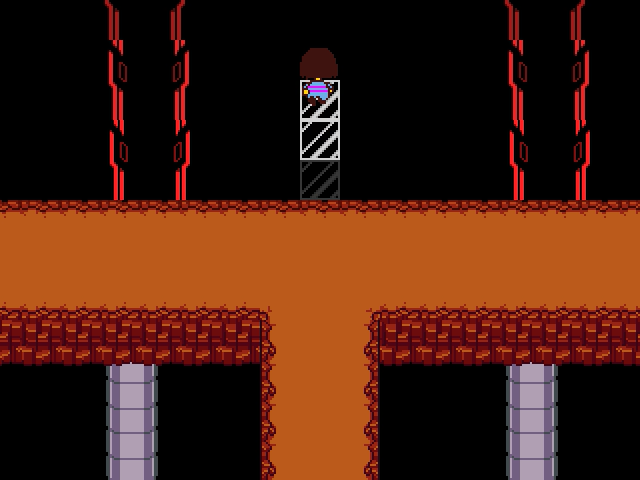 There's also a path... to the north?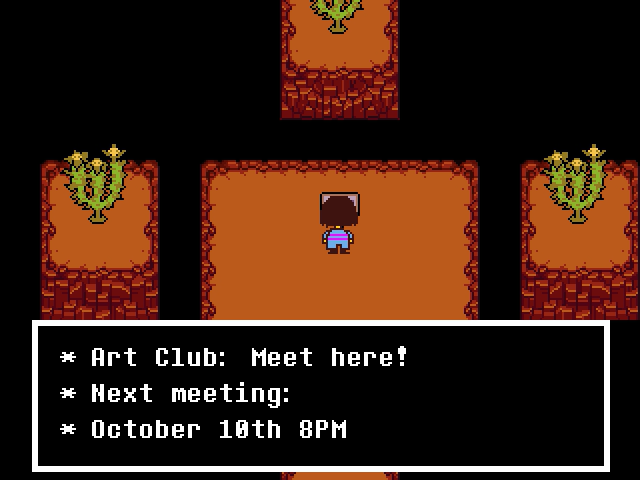 Looks like I'll have to come back later. It's not time for the meeting yet.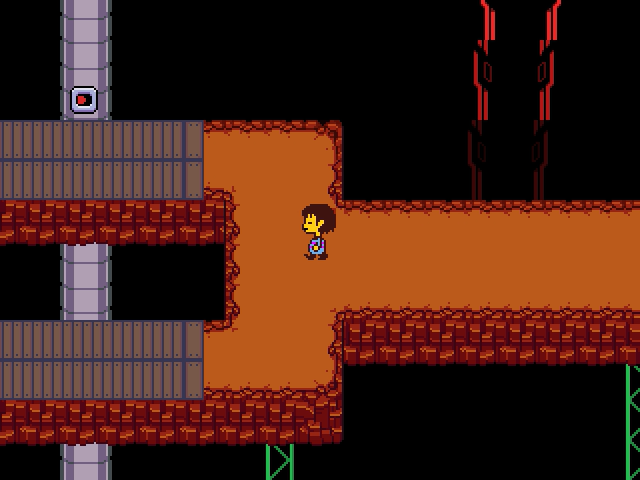 Looks like it's time for another puzzle.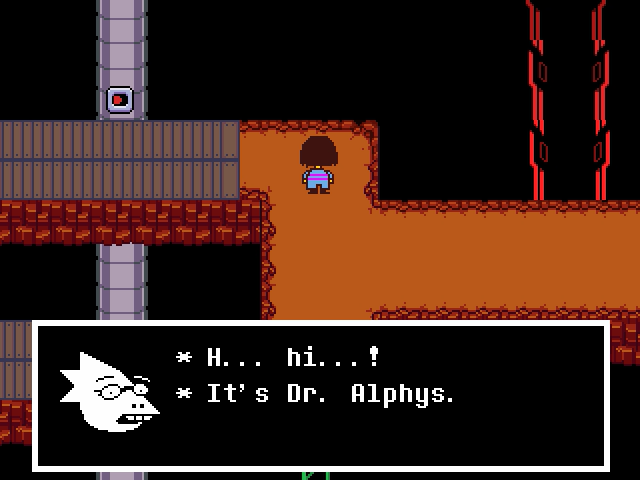 This p-puzzle is kinda... um... timing-based.

Y-you see those switches over there?

Y-you'll have to press all three of them within 3 seconds.

I'll t-try to help you with the rhythm!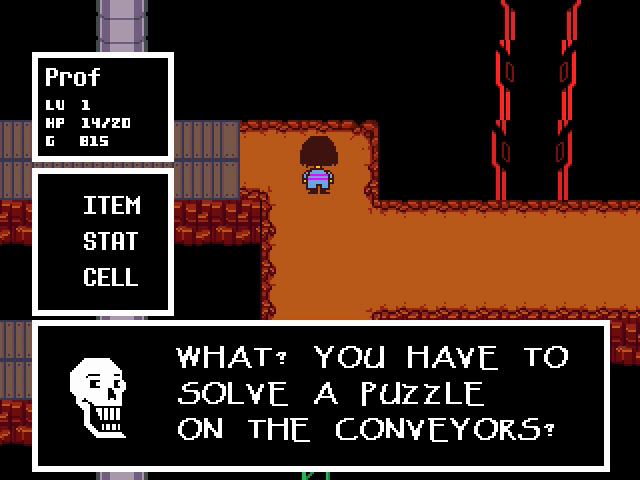 Oh MAN, did I ever tell you MY conveyor puzzle idea?

WHAT... IS IT?

Imagine four basketball hoops on the sides of a conveyor loop.

The convey keeps speeding up, until you get sick...

Then you have to puke in all four hoops in a row!!!

I HATE THIS.

You have to time the pukes!!!

Oh man!!! You wanna hear more of my great idea!?

I'M GONNA HANG UP NOW!!!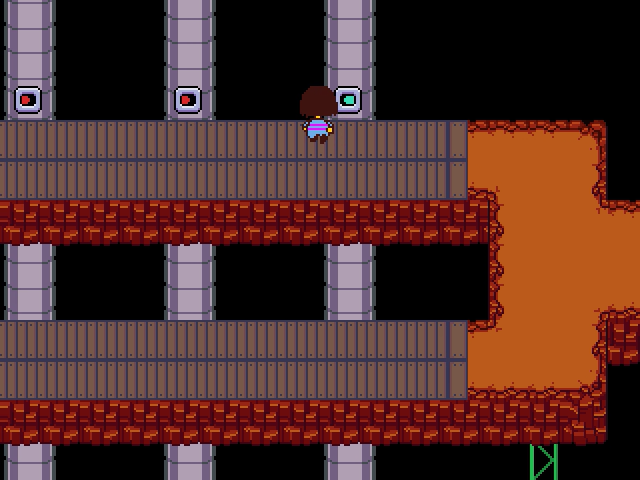 One!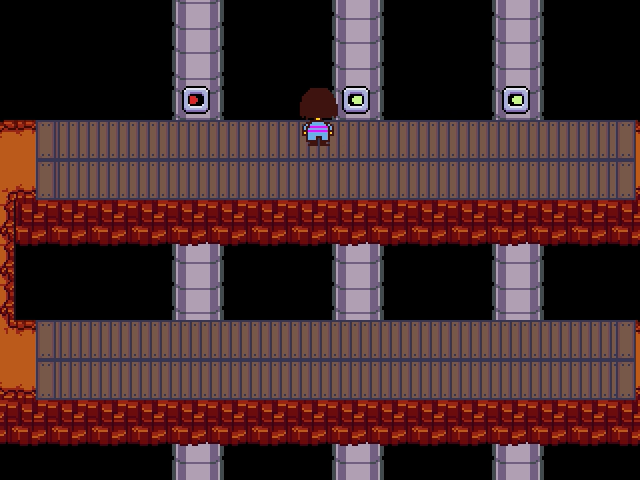 Two!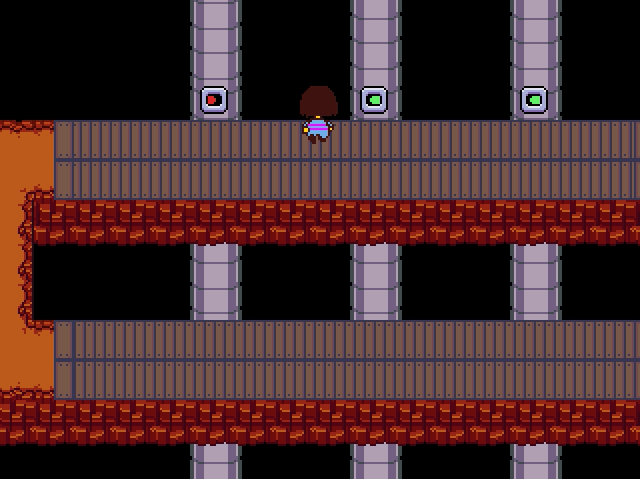 OK! Now press the third one!!!

.....................

.....................

H-h-hey!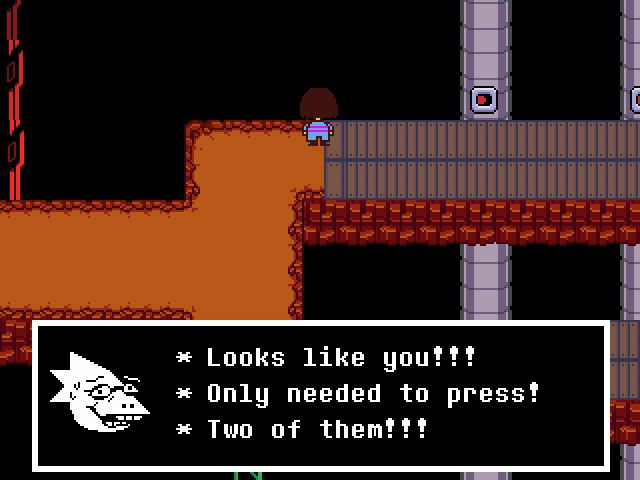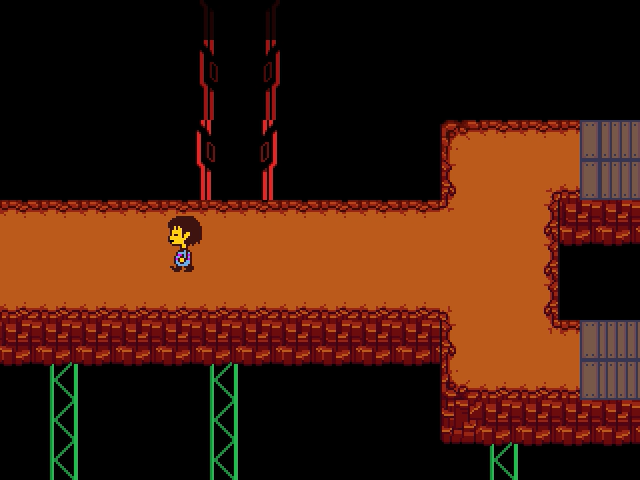 Whatever that was about, I head onwards.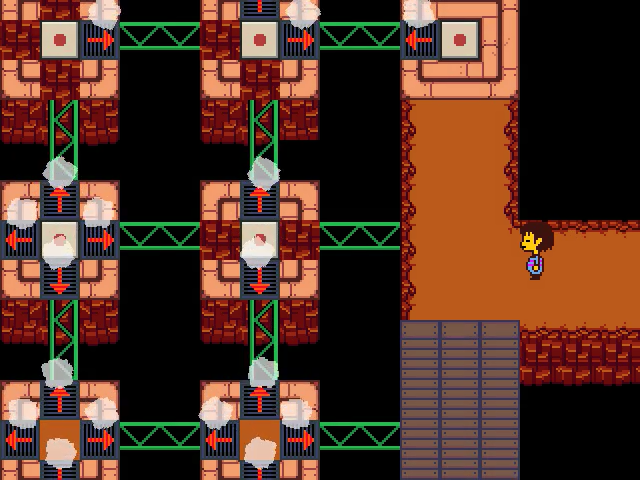 It's looking extremely Puzzle in here.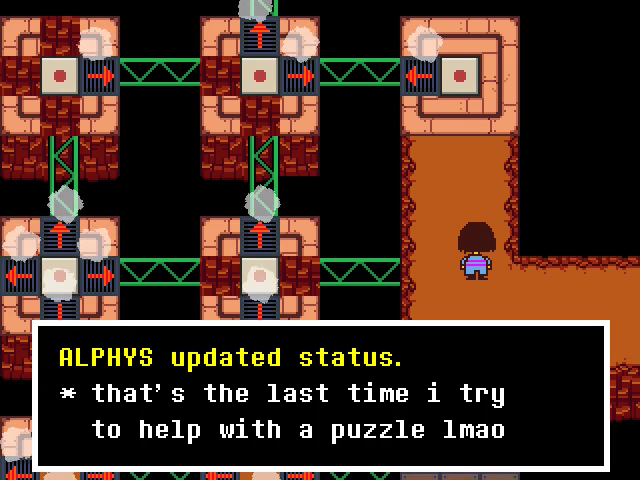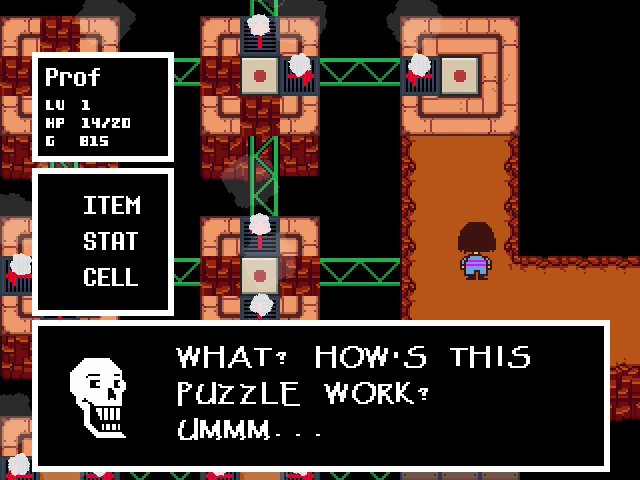 WHOOPS, I THINK IT'S UNDYNE'S TURN TO TALK!!!

What!? No, I HATE puzzles! Papyrus, YOU do it!

WELL, ALPHYS MADE THIS PUZZLE, RIGHT?

YOU SHOULD JUST CALL HER UP...

AND SAY IN A HOT VOICE...

ALPHYS... I NEED HELP WITH A...

(AUDIBLE WINK)

PUZZLE...

Oh my GOD! NO! Shut up!!!

FINE!!! GIVE ME HER NUMBER!!!

I'LL DO THE HOT VOICE!!!

NO!!!! THAT'S EVEN WORSE!!!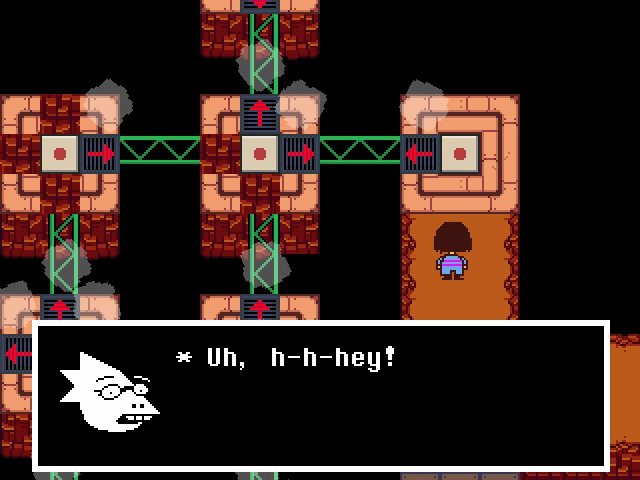 I'm going to the bathroom, so I'll be MIA for a bit.

I'm... I'm sure you can handle this puzzle yourself!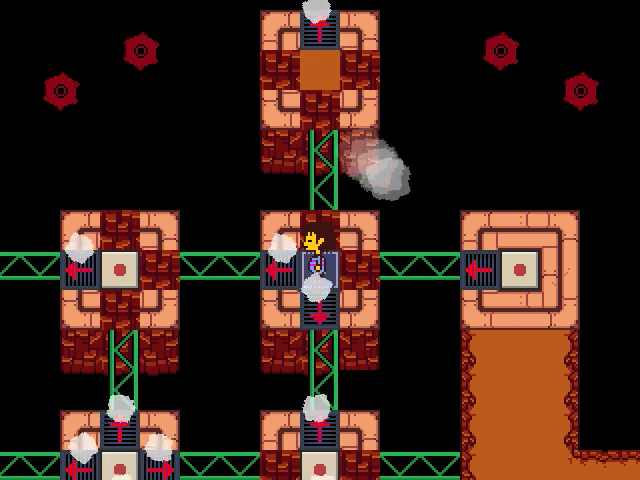 The trick of this puzzle is that every time I move to a new island, I land on the button and reverse the directions I can jump from there. So, right now it looks like I can just head left to the exit...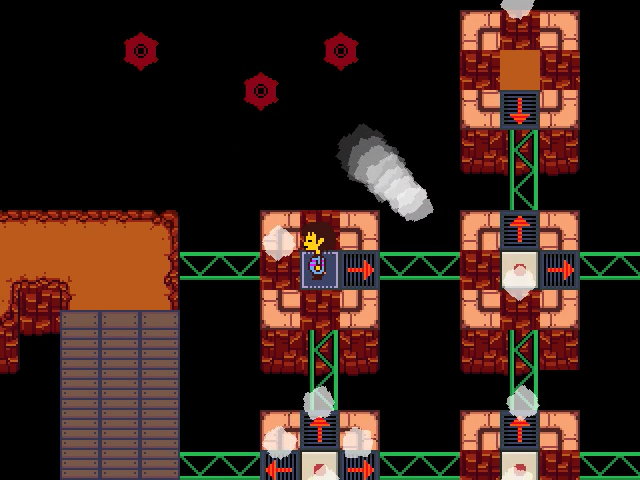 ...But when I do, the path left disappears, and I can only go right from there.
I head back, then go: Down, down, left, up.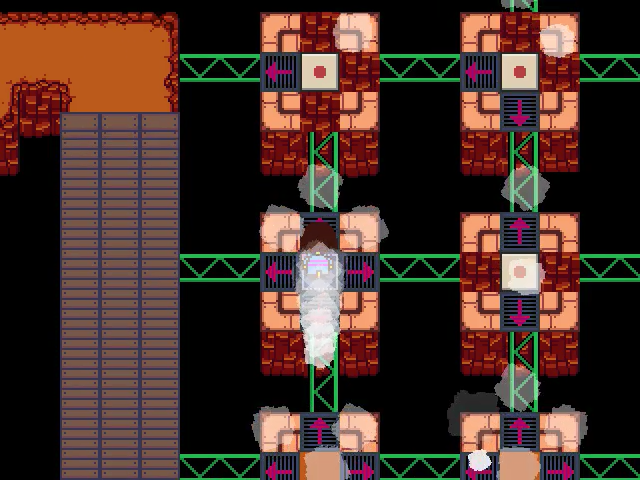 This is the tricky part! If I head up, then the arrows will switch again, and I'll be sent back to the start.
The trick: The islands on the third row don't have switches on them. So, if I go down, up, up, then the arrows will be in the opposite positions when I arrive.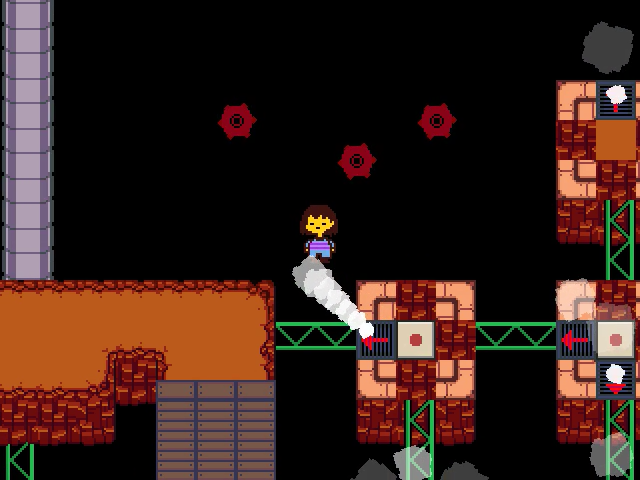 And so I get across.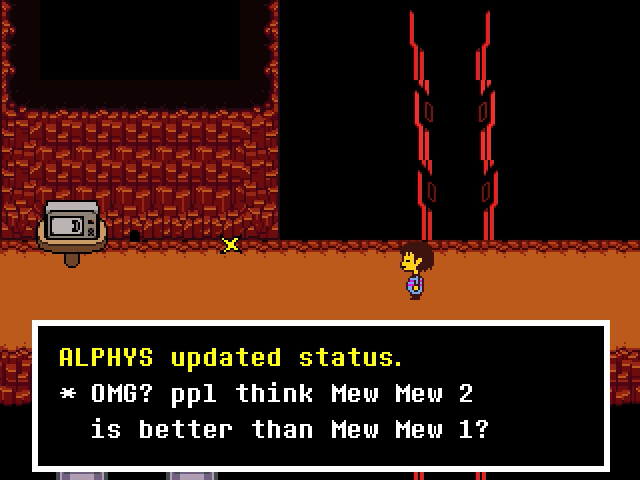 LOLLLLL that's a joke right...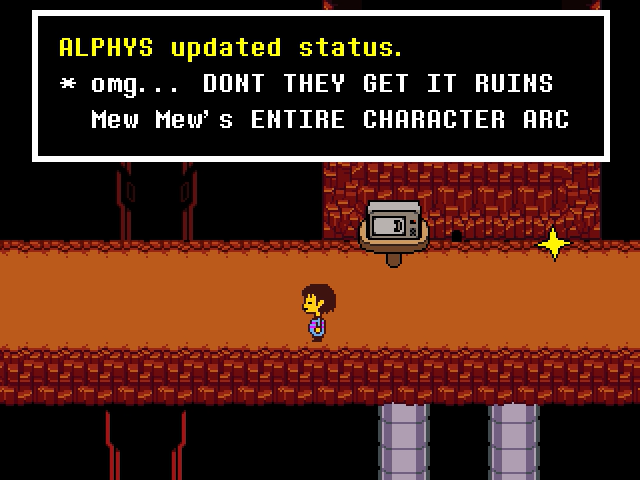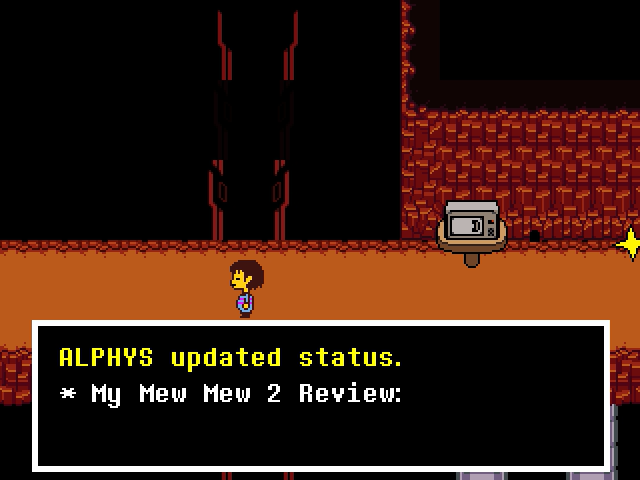 Mew Mew Kissy Cutie 2 Is Neither Kissy Nor Cutie.
Its Trash. 0 stars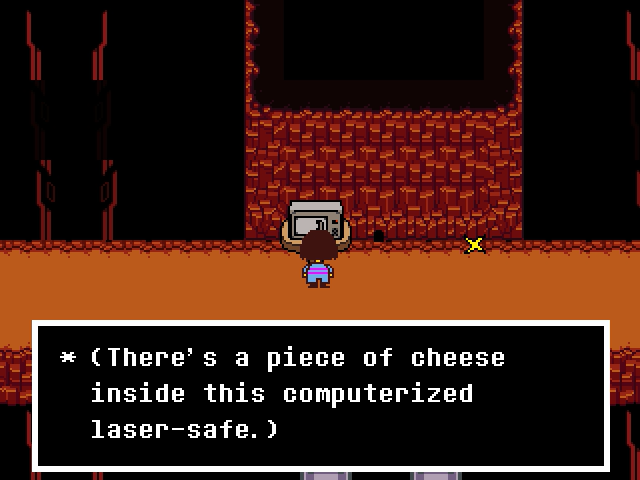 (The lasers have melted the edges of the cheese... It's stuck to the table.)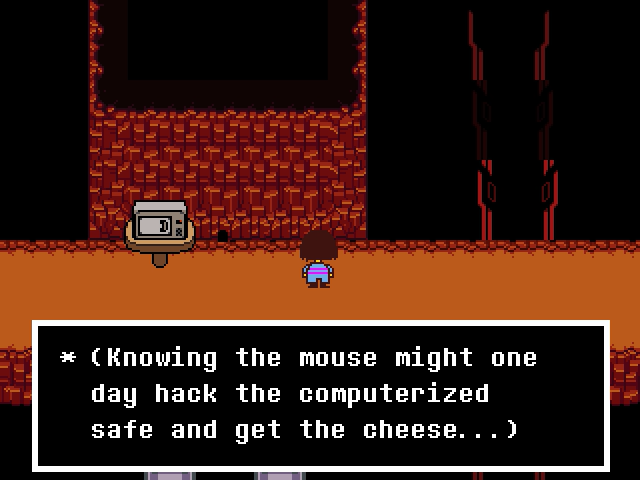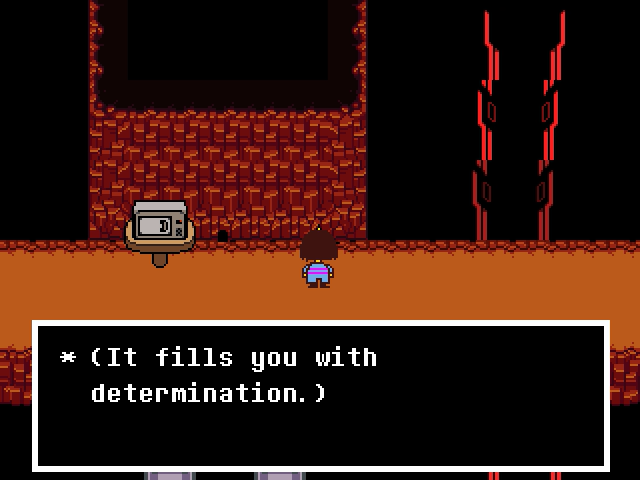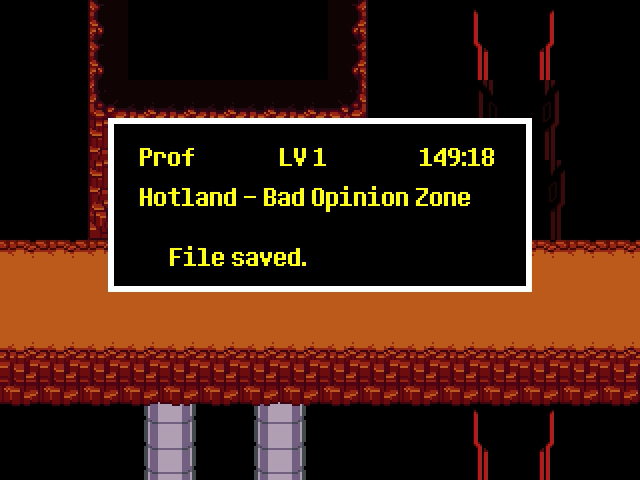 I save my game.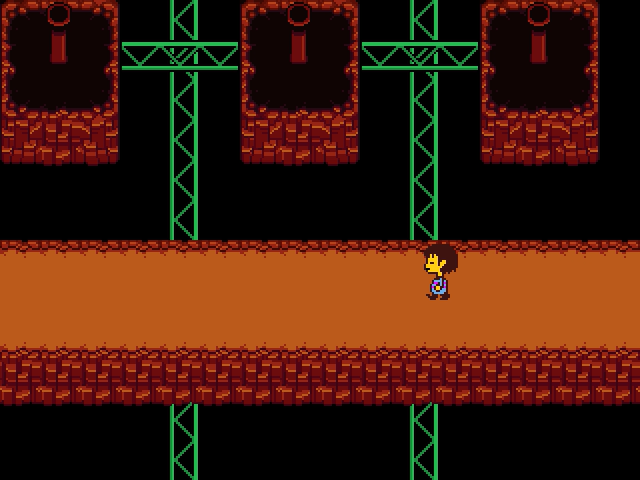 I continue onwards.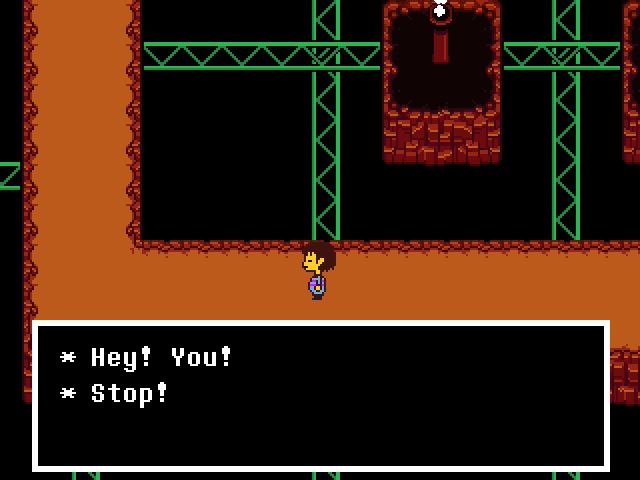 BGM: Silence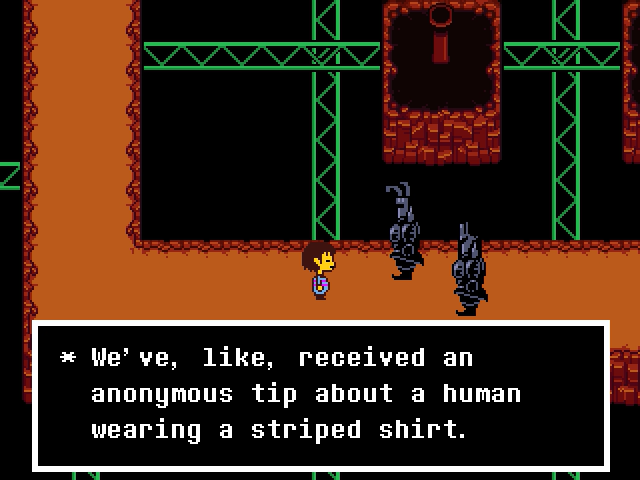 They told us they were wandering around Hotland right now...

I know, sounds scary, huh?

Well, just stay chill. We'll bring you someplace safe, OK?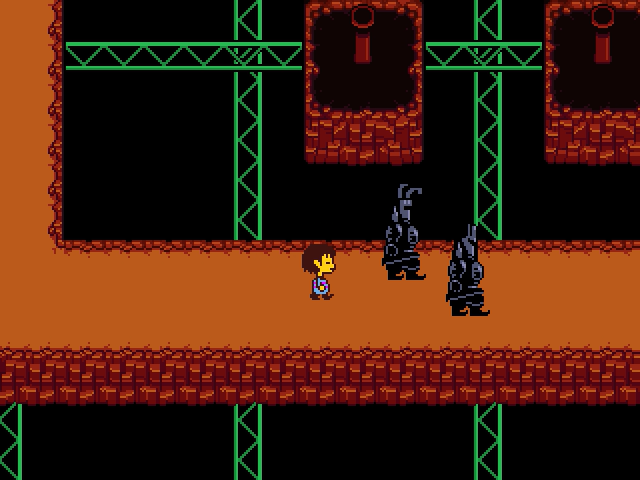 The guards lead me back a bit, then stop.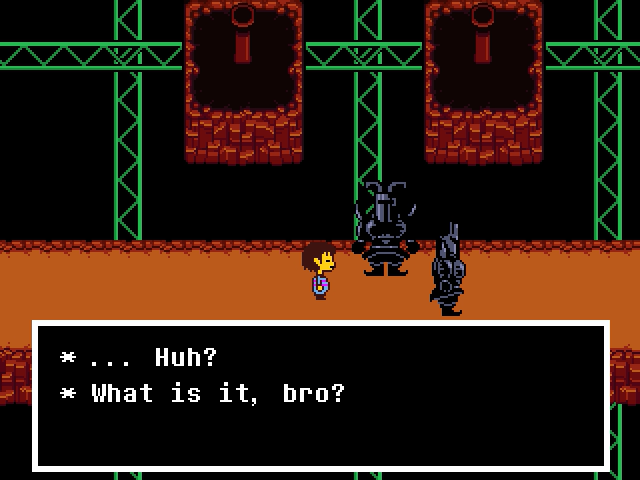 The shirt they're wearing?

...like, what about it?

...Bro...

Are you thinkin... What I'm thinkin?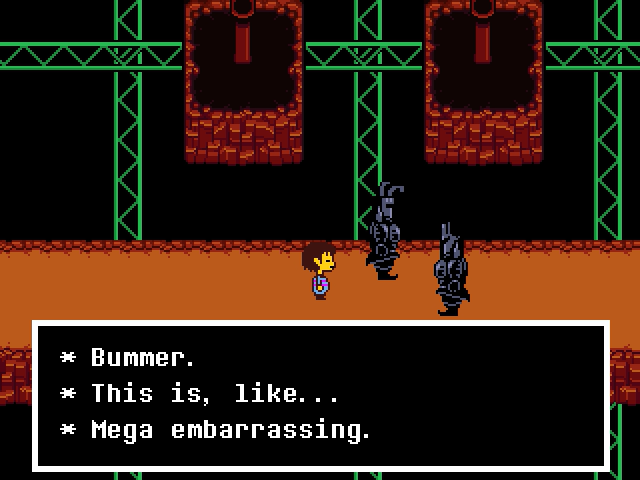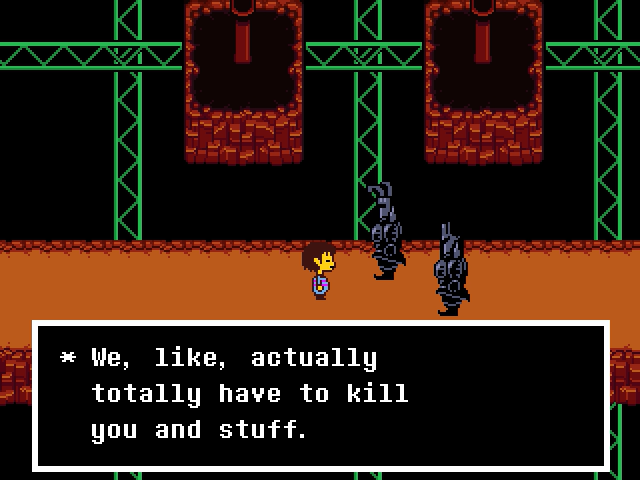 BGM: Enemy Approaching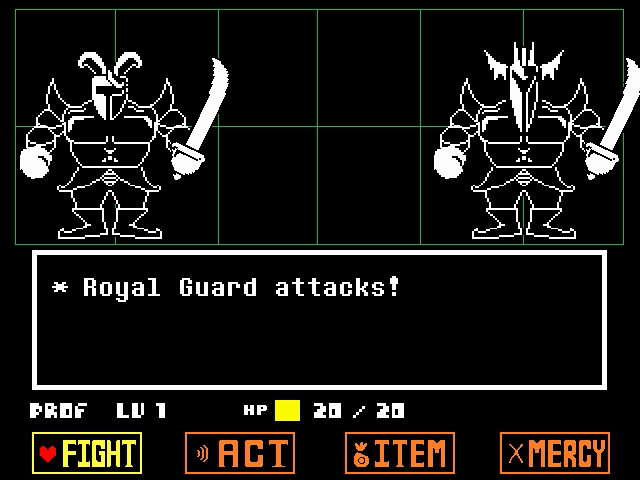 Time for a miniboss battle!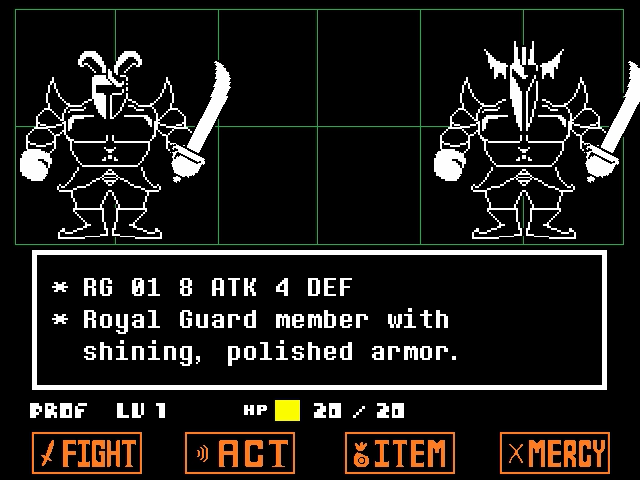 All right, what can they do?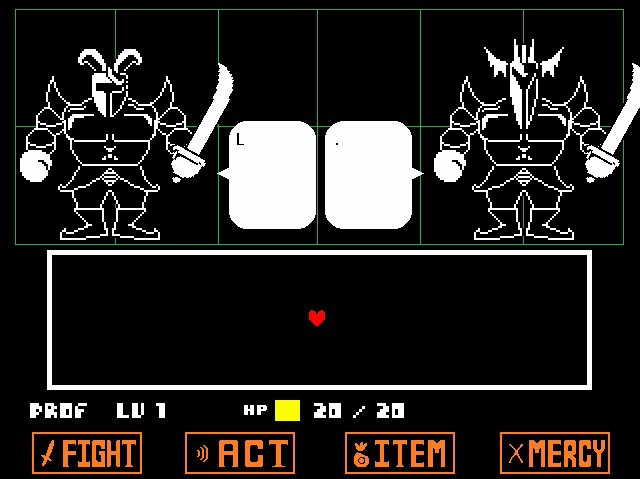 01 and 02 attack exclusively using team attacks - 01 hits from below, 02 hits from above. This attack, at least, isn't all that tough to dodge.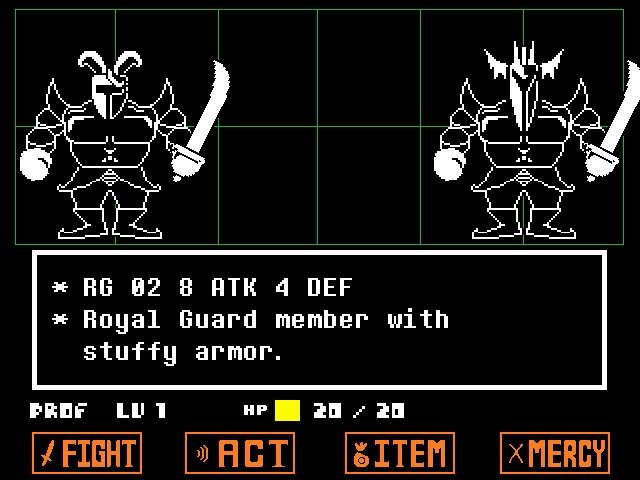 Thei seem to have different kinds of armor. Maybe this is a clue?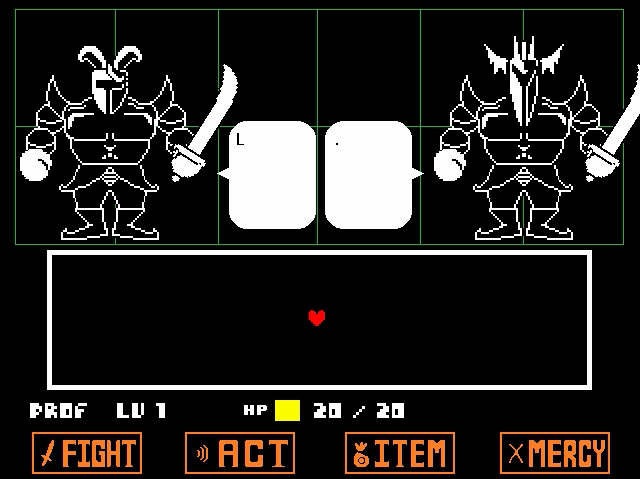 This attack is much more dangerous than the first one.
Options for both are Whisper and Clean Armor. First, I
Whisper
to 01.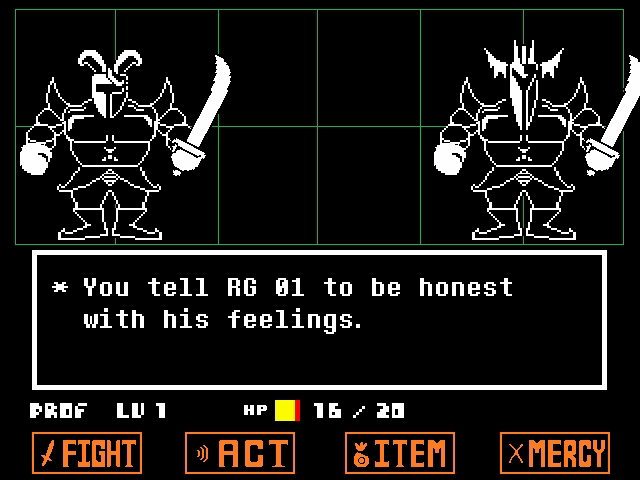 He doesn't seem to know what I'm talking about. More team attacks ensue.
OK, what if I
Polish
01?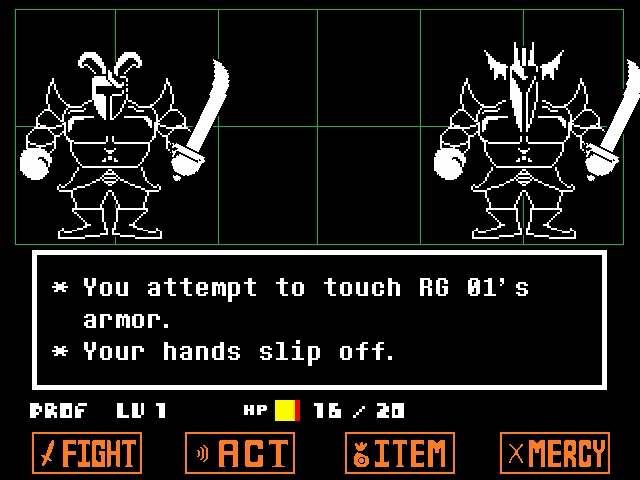 His armor is too shiny to polish! I accomplish nothing.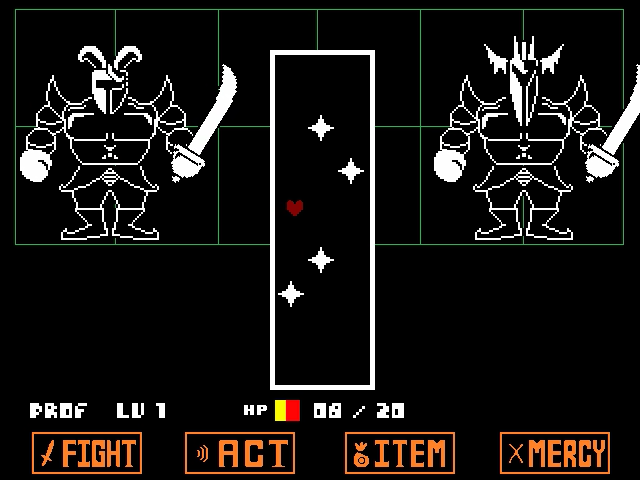 I badly mess up the next team attack, stopping to eat a Nice Cream.
With that taken care of, I
Whisper
to 02.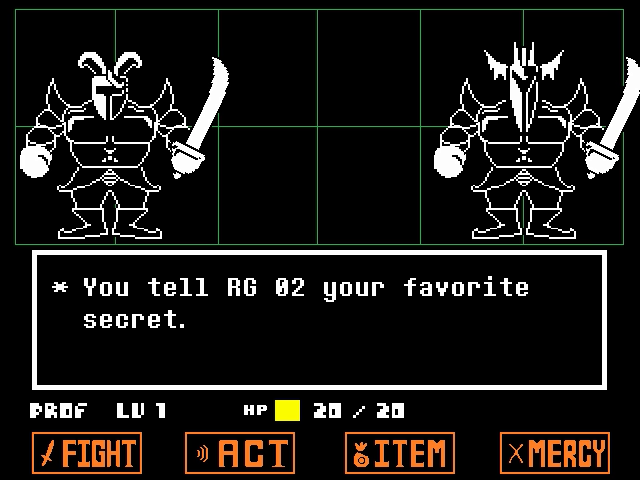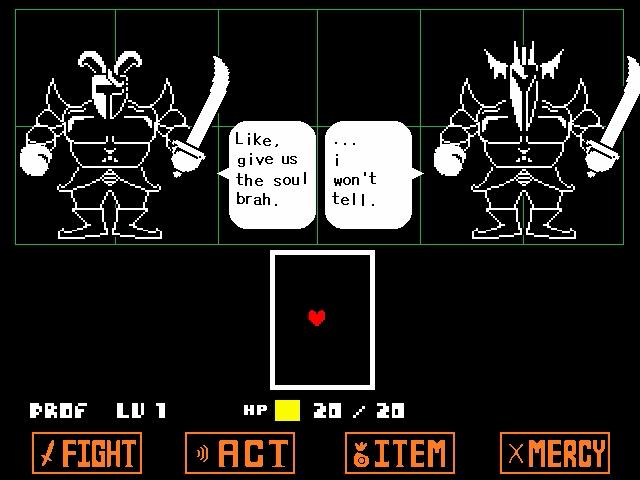 He's a good sport about it, but it doesn't help.
One thing left to do - I
Polish
02.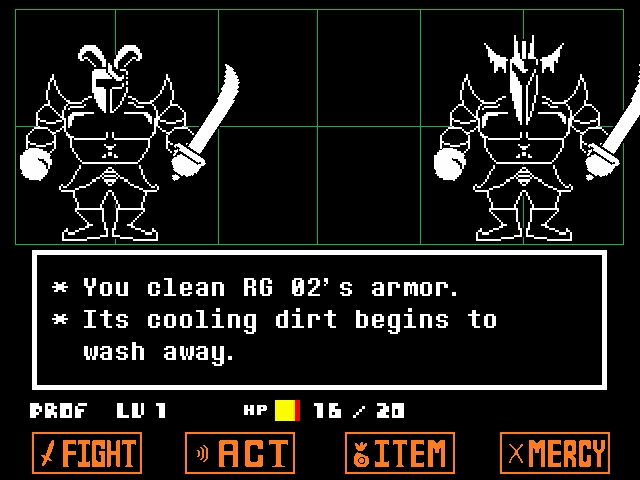 It's starting to get warm in there.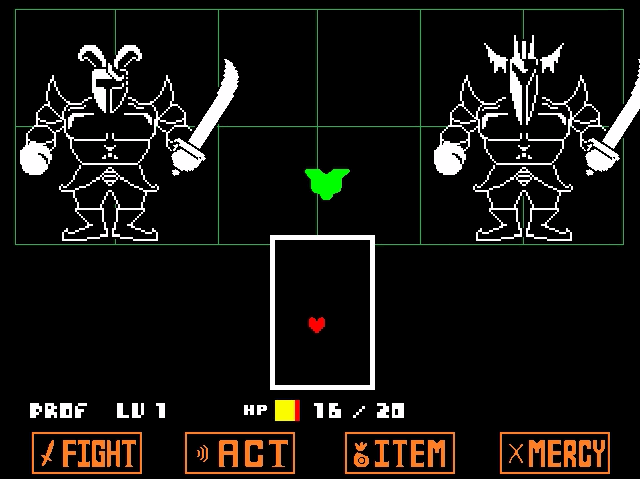 In a once-only unique mechanic, an armor icon floats around the battle field - the more I touch it, the redder it turns.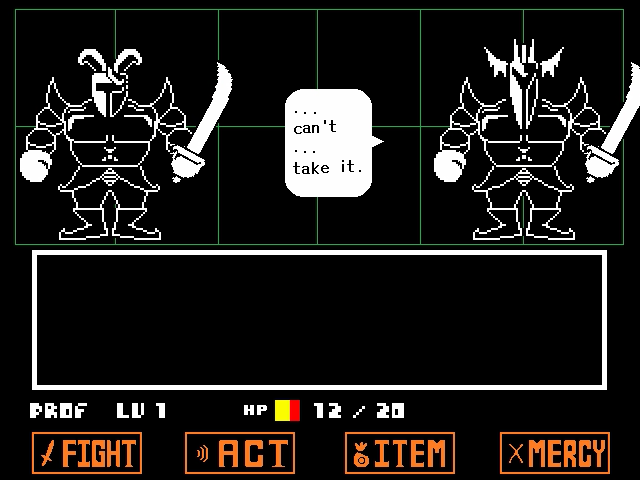 ...armor... too... HOT!!!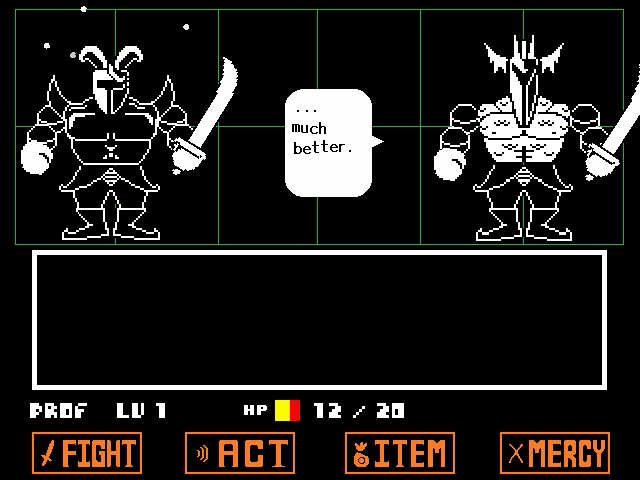 01 looks bothered by something.
Just to be thorough, I
Polish
02 again.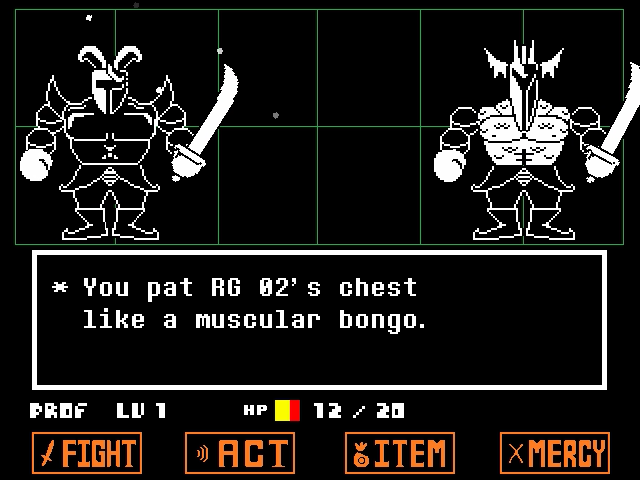 It accomplishes nothing.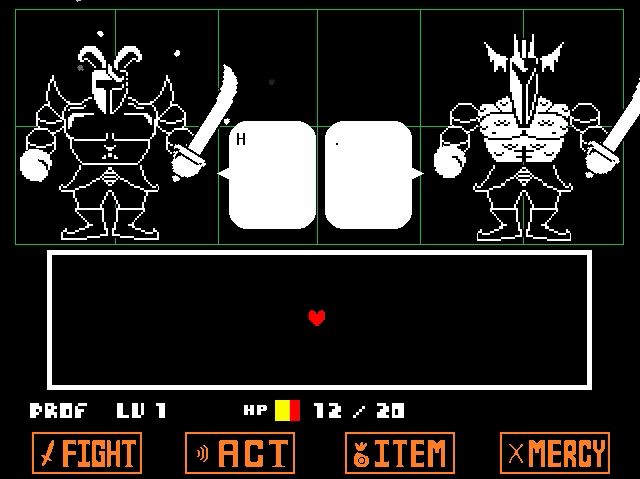 01's attacks seem to be a little out of sync.
It's pretty clear what's going on. I
Whisper
to 01 to be honest with his feelings.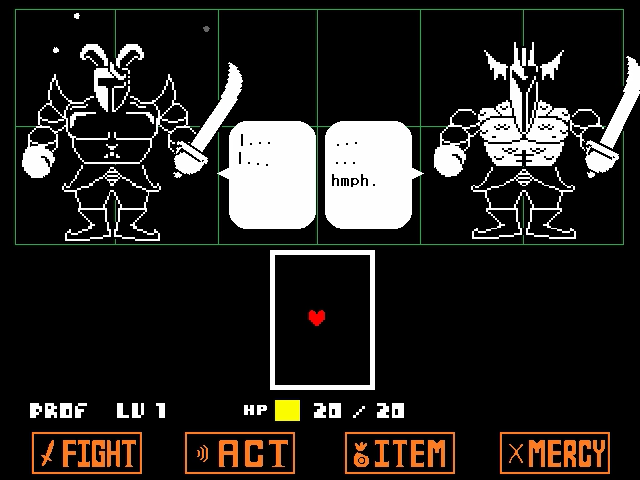 One more sloppy team attack later...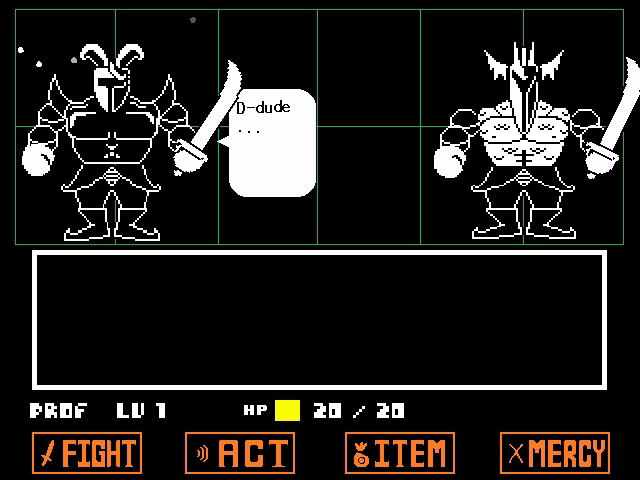 I can't...

I can't take this anymore!

Not like this!!

Like, 02! I like...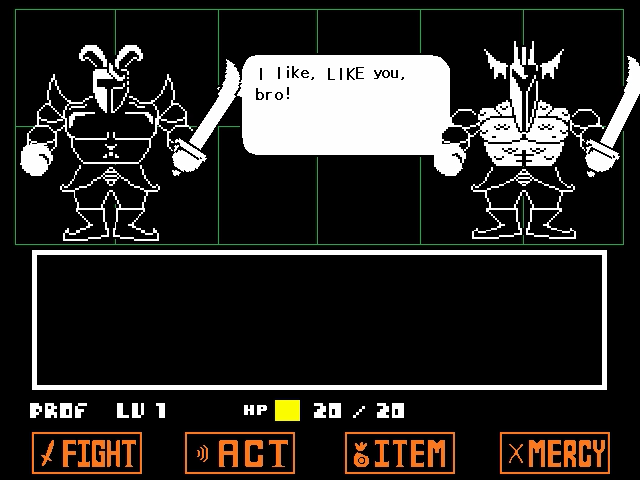 BGM: Confession

The way you fight... The way you talk...

I love doing team attacks with you.

I love standing here iwth you, bouncing and waving our weapons in sync...

02... I, like, want to stay like this forever...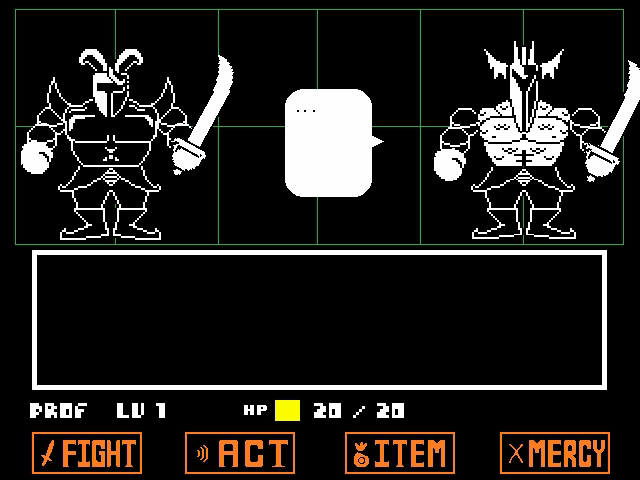 BGM: Silence

....

Uh...

I mean, uh...

Psyche! Gotcha, bro!!! Haha!

...01.

Y-yeah, bro??

...

...do you want to...

...get some ice cream...

...after this?

Sure, dude! Haha!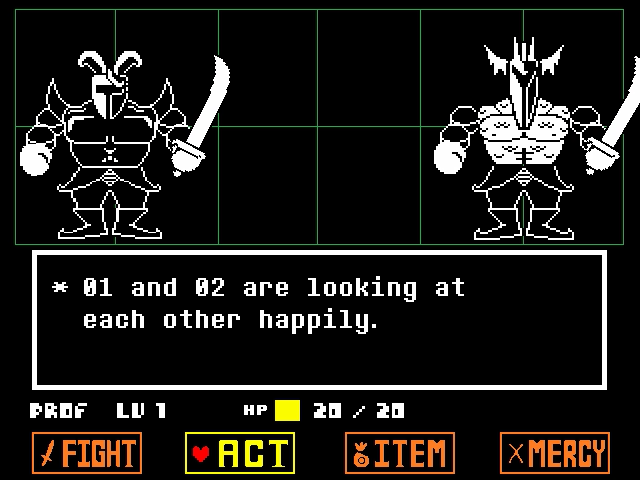 I am no longer needed here.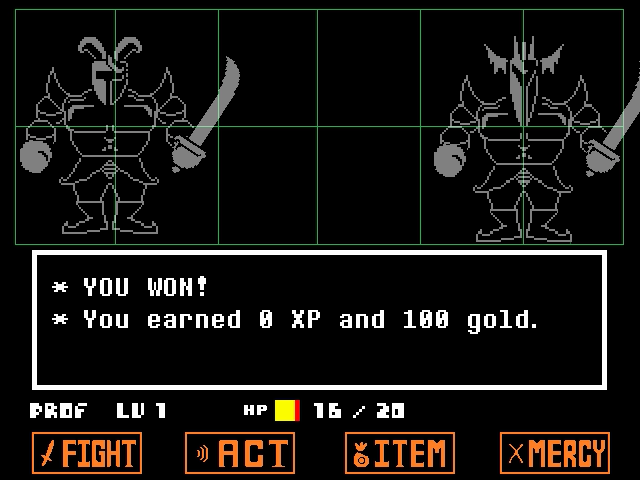 That was an adventure.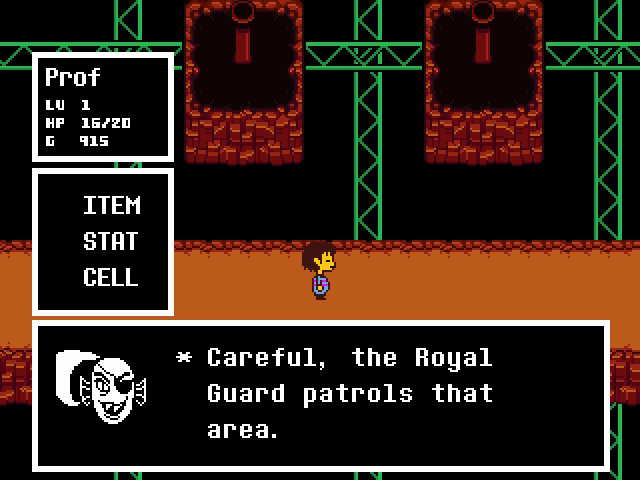 I think it's RG01 and RG02 today...

It's funny, the bunny actually requested to be with the dragon guy.

It's nice when people are platonic friends like that!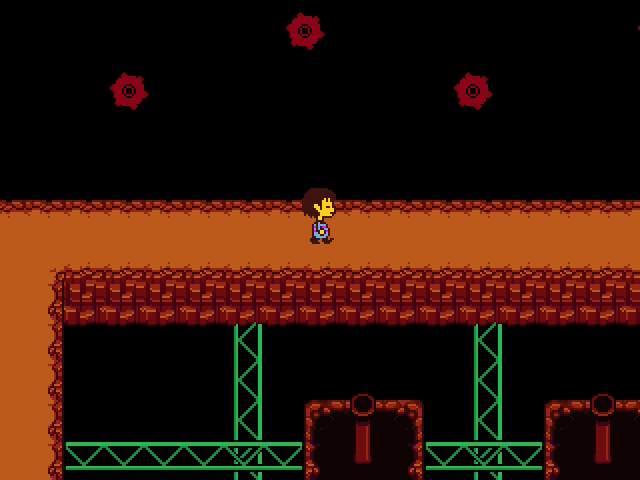 I continue on.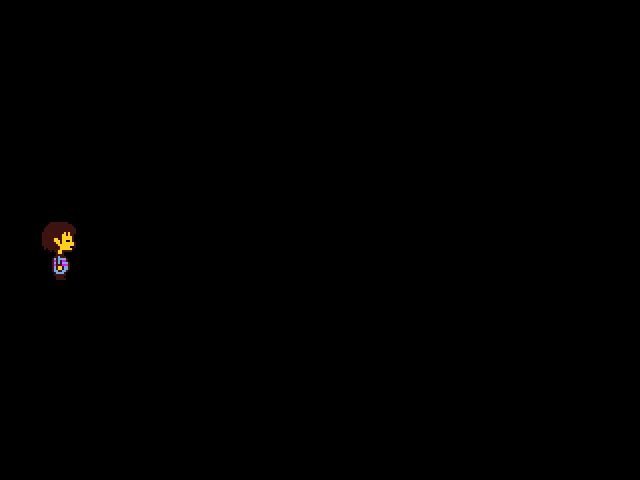 It's dark again.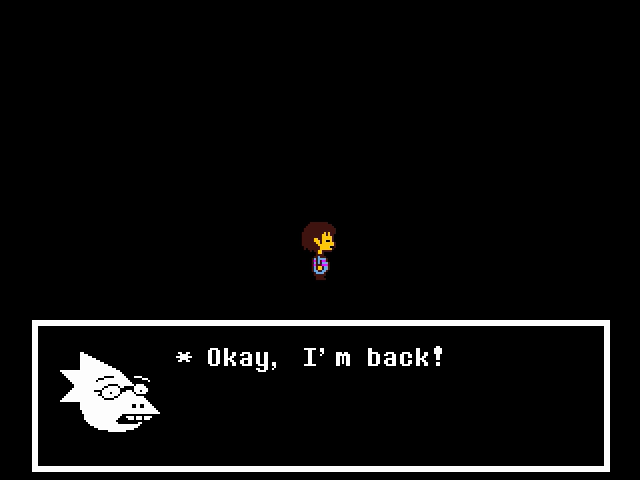 A-another dark room, huh?

Don't worry!

M-my hacking skills have got things covered!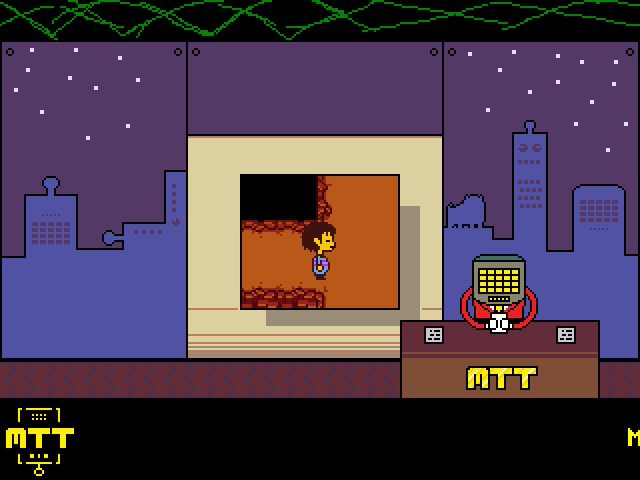 BGM: Live Report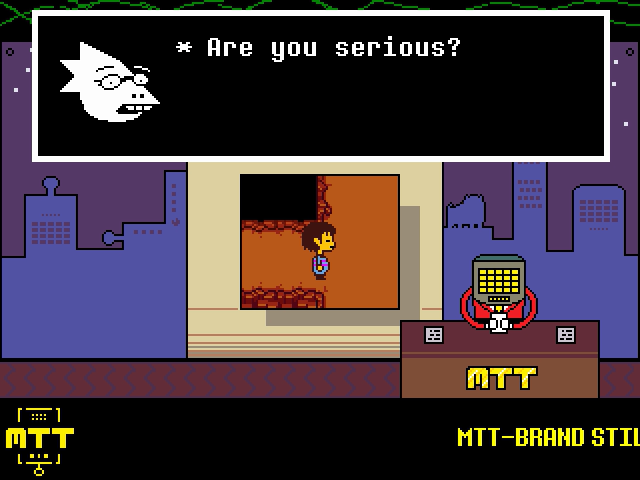 OHHHHHH YESSS!!!


GOOD EVENING, BEAUTIES AND GENTLEBEAUTIES!


THIS IS METTATON, REPORTING LIVE FROM MTT NEWS!


AN INTERESTING SITUATION HAS ARISEN IN EASTERN HOTLAND!


FORTUNATELY, OUR CORRESPONDENT IS OUT THERE, REPORTING LIVE!


BRAVE CORRESPONDENT! PLEASE FIND SOMETHING NEWSWORTHY TO REPORT!


OUR TEN WONDERFUL VIEWERS ARE WAITING FOR YOU!!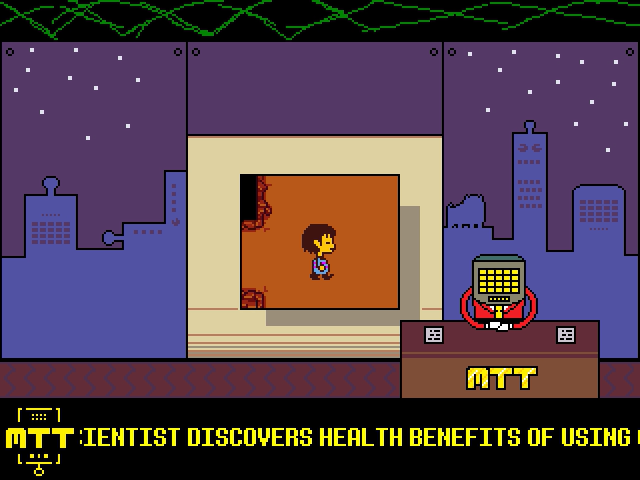 I actually can keep controlling, inside that tiny sub-window.
I'd better find something to report on.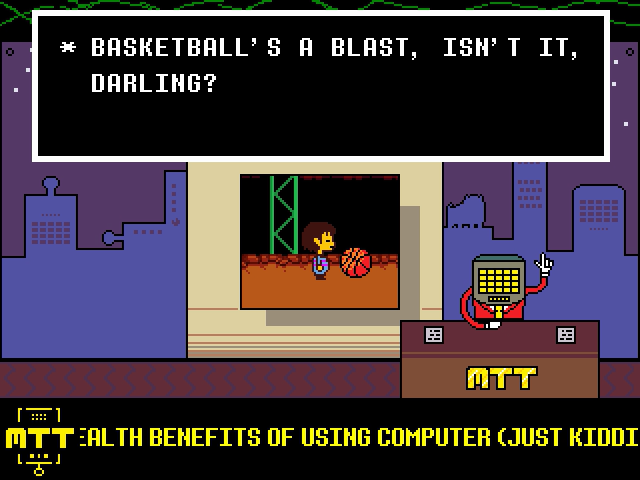 TOO BAD YOU CAN'T PLAY WITH THESE BALLS.


THEY'RE MTT-BRAND FASHION BASKETBALLS. FOR WEARING, NOT PLAYING.


YOU CAN'T GET RICH AND FAMOUS LIKE MOI WITHOUT BEAUTIFYING A FEW ORBS.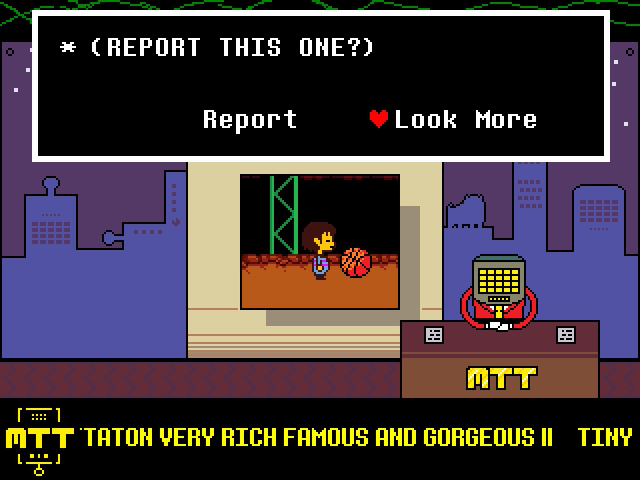 I can do better.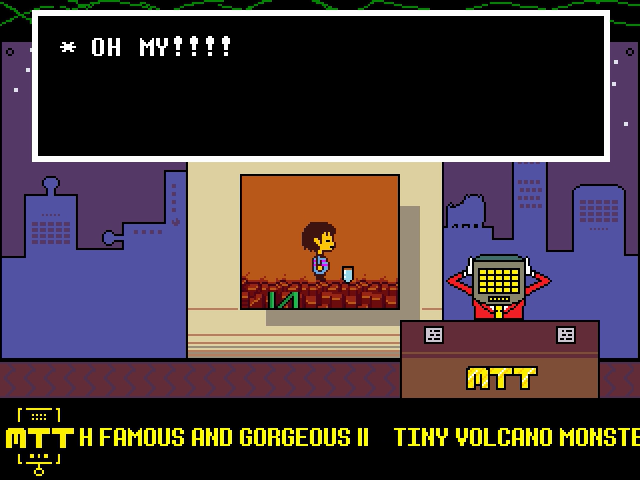 ...IT'S A COMPLETELY NONDESCRIPT GLASS OF WATER.


BUT ANYTHING CAN MAKE A GREAT STORY WITH ENOUGH SPIN!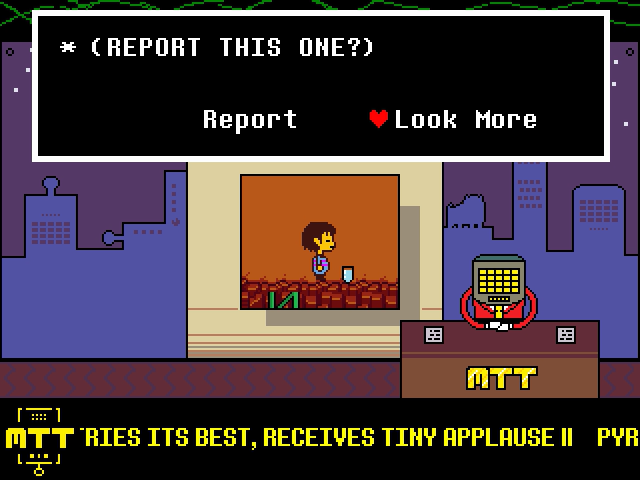 I can do better.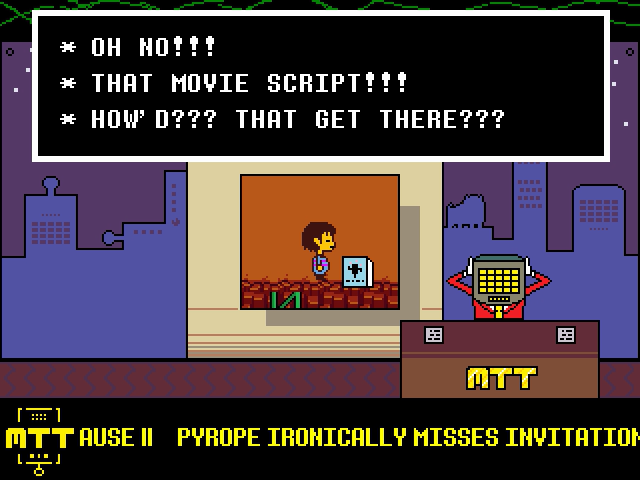 IT'S A SUPER-JUICY SNEAK PREVIEW OF MY LATEST GUARANTEED-NOT-TO-BOMB FILM:


METTATON THE MOVIE XXVIII... STARRING METTATON!


I'VE HEARD THAT LIKE THE OTHER FILMS...


IT CONSISTS MOSTLY OF A SINGLE FOUR-HOUR SHOT OF ROSE PETALS SHOWERING ON MY RECLINING BODY.


OOH!!! BUT THAT'S!!! NOT CONFIRMED!!


YOU WOULDN'T (COUGH) SPOIL MY MOVIE FOR EVERYONE WITH A PROMOTIONAL STORY, WOULD YOU?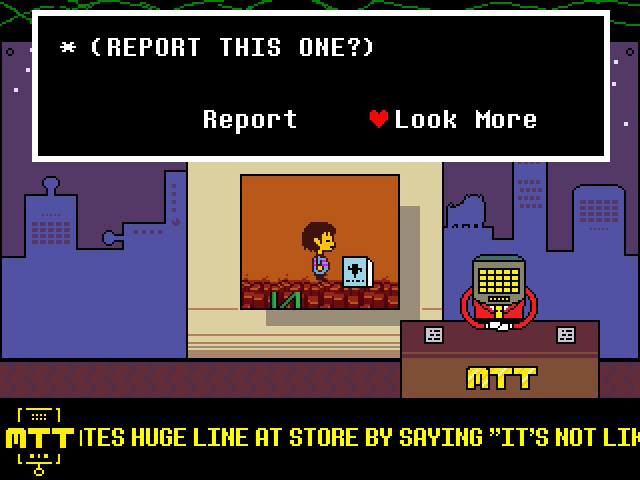 I can do better.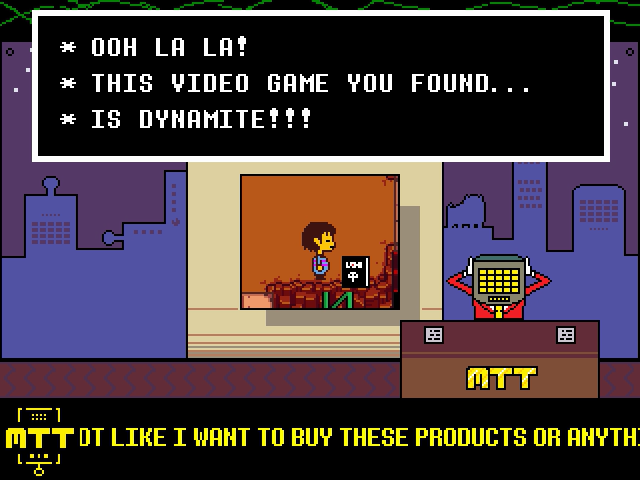 THOUGH I DON'T MAKE AN APPEARANCE IN IT UNTIL THREE-FOURTHS IN.


BUT I LIKE THAT.


APPEARING FROM THE HEAVENS LIKE MANNA, SLAKING THE AUDIENCE'S HUNGER FOR GORGEOUS ROBOTS...


OOH! THAT'S METTATON!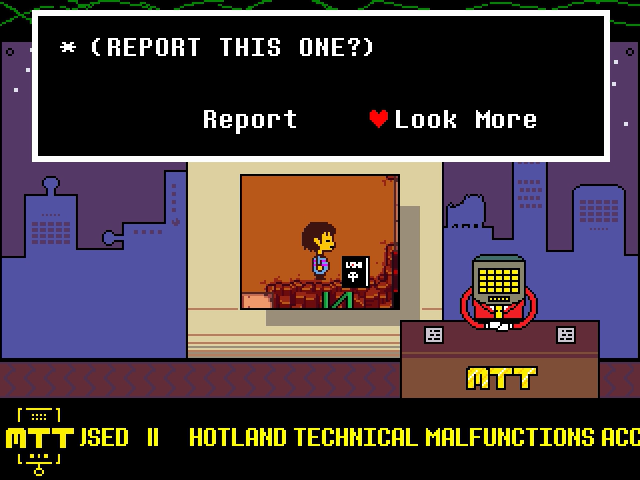 I can do better.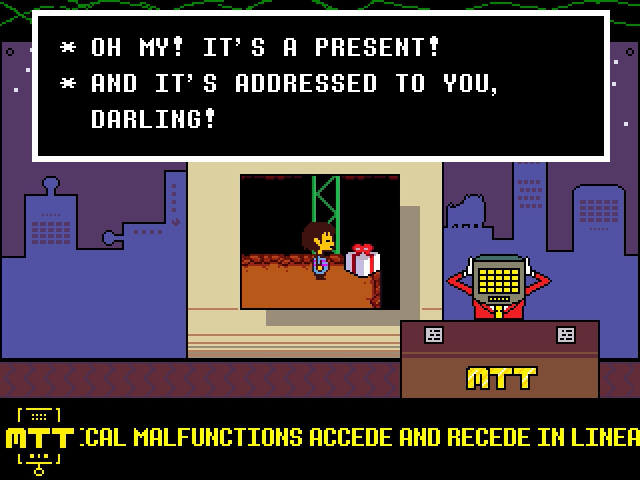 AREN'T YOU JUST BURSTING WITH EXCITEMENT?


WHAT COULD BE INSIDE? WELL, NO TIME LIKE THE "PRESENT" TO FIND OUT!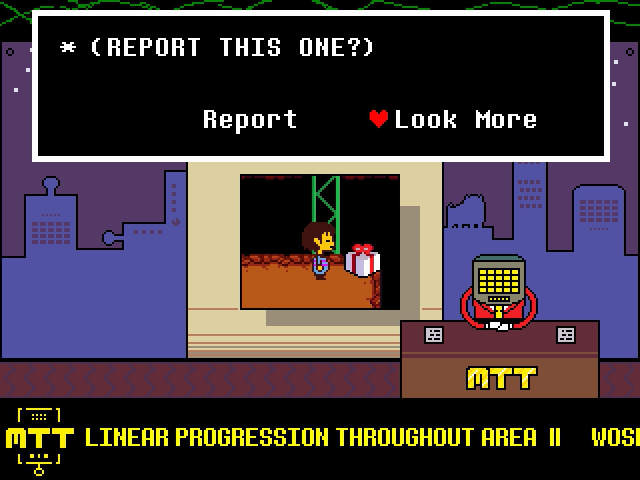 I can do better.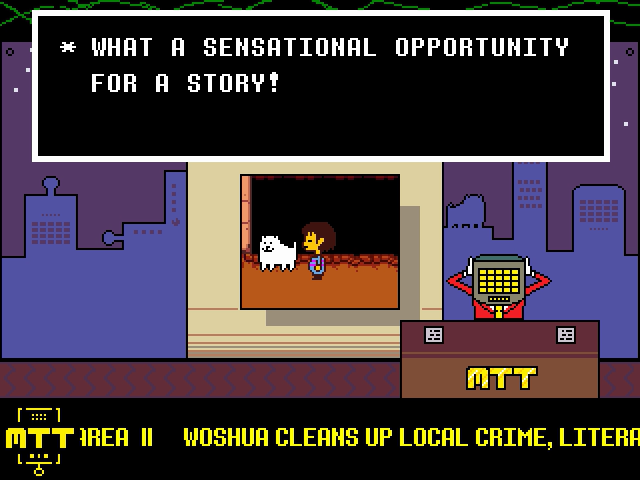 I CAN SEE THE HEADLINE NOW:


"A DOG EXISTS SOMEWHERE."


FRANKLY, I'M BLOWN AWAY.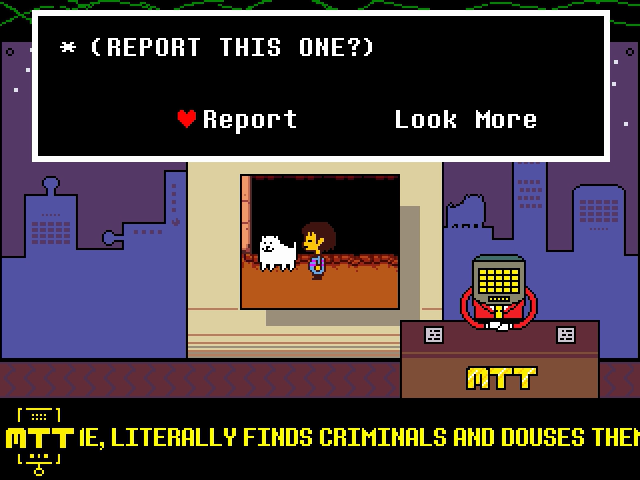 Obviously I'll report this one.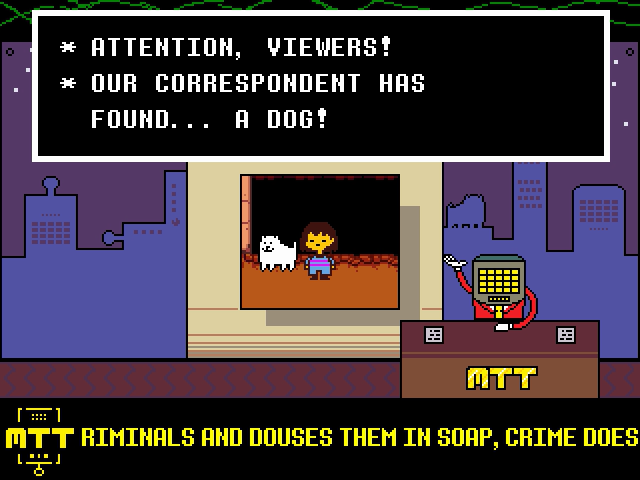 (If you're trying to parse everything it says in the news ticker, I compiled the headlines here.)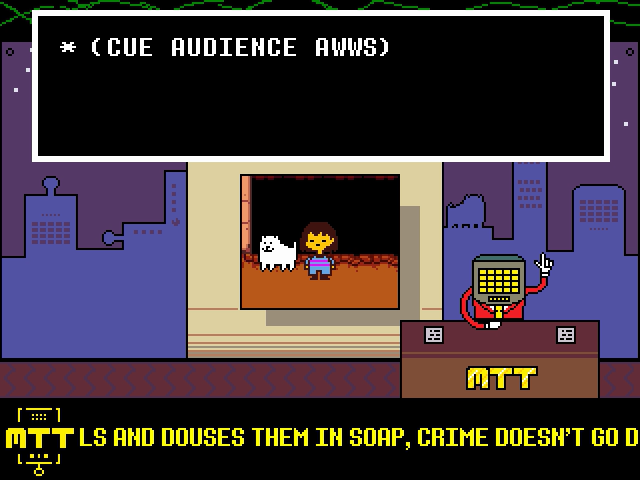 THAT'S RIGHT, FOLKS! IT'S THE FEEL-GOOD STORY OF THE YEAR!


LOOK AT ITS LITTLE EARS, TINY PAWS, FLUFFY TAIL...


...


WAIT A SECOND.


THAT'S NOT A TAIL!


THAT'S...


A FUSE!!!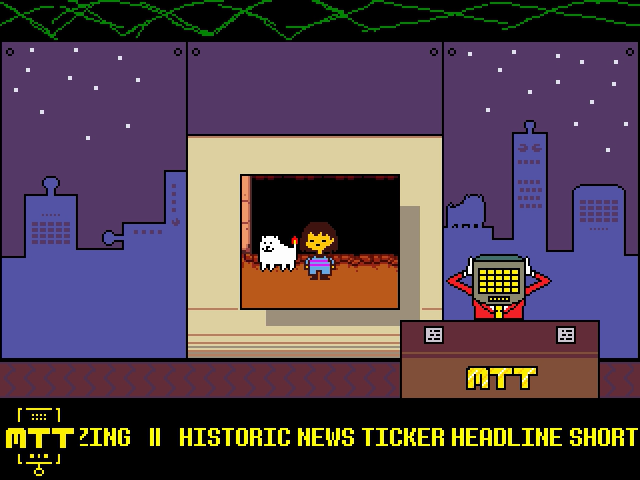 THAT'S RIGHT... THAT DOG...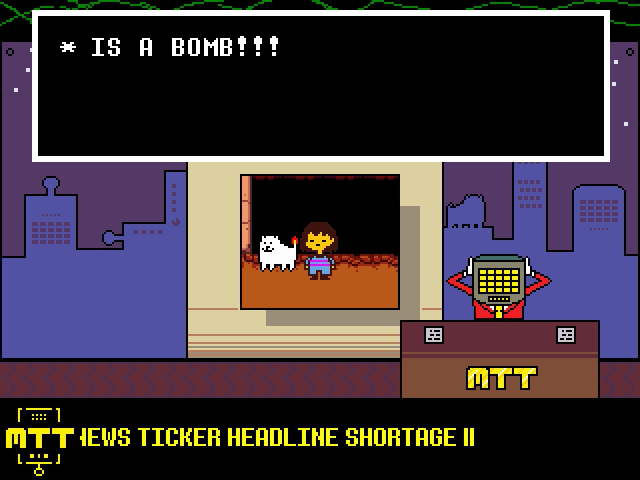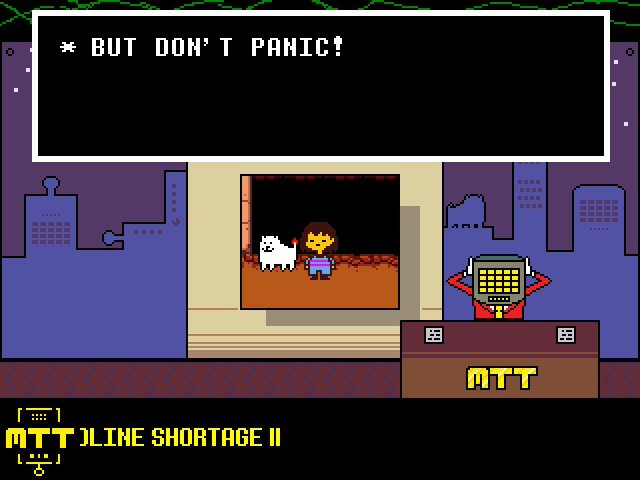 YOU HAVEN'T EVEN SEEN THE REST OF THE ROOM YET!!!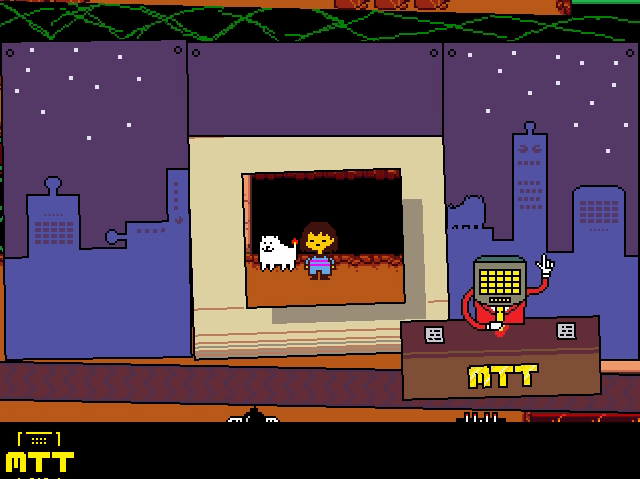 OH MY!


IT SEEMS EVERYTHING IN THIS AREA IS ACTUALLY A BOMB!


THAT PRESENT'S A BOMB!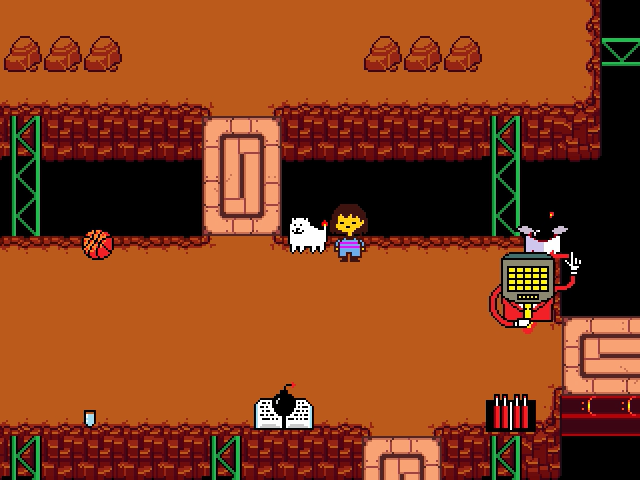 THAT BASKETBALL'S A BOMB!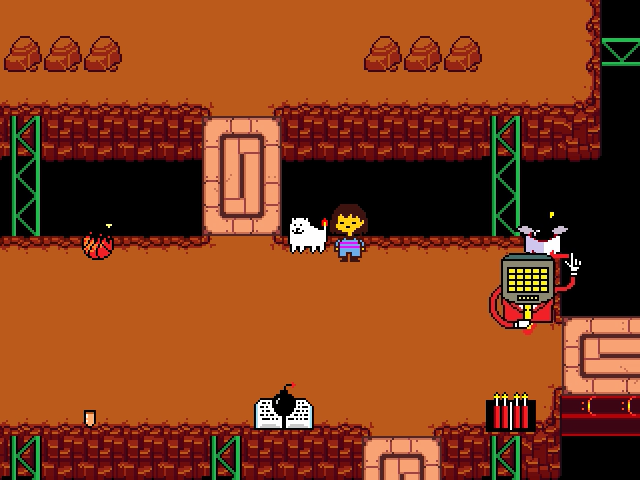 EVEN MY WORDS ARE...!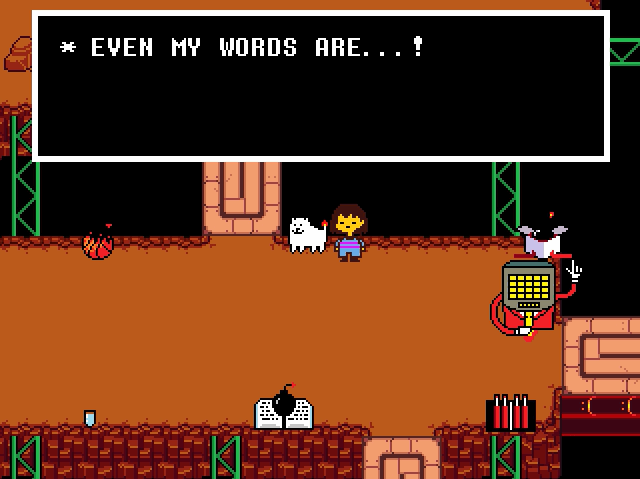 BRAVE CORRESPONDENT... IF YOU DON'T DEFUSE ALL OF THE BOMBS...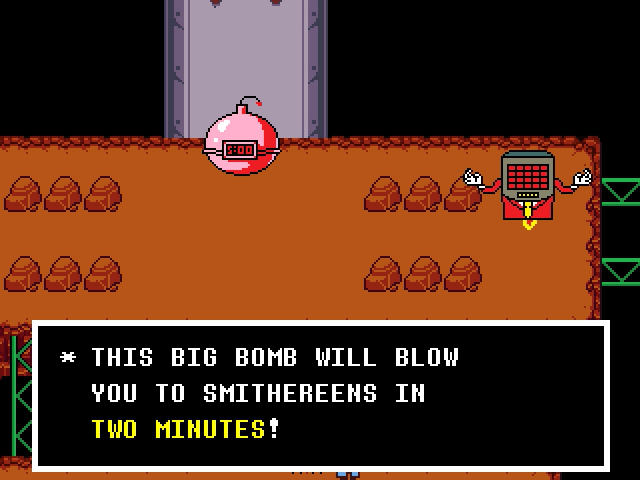 THEN YOU WON'T BE REPORTING "LIVE" ANY LONGER!


HOW TERRIBLE! HOW DISTURBING!


OUR NINE VIEWERS ARE GOING TO LOVE WATCHING THIS!


GOOD LUCK, DARLING!!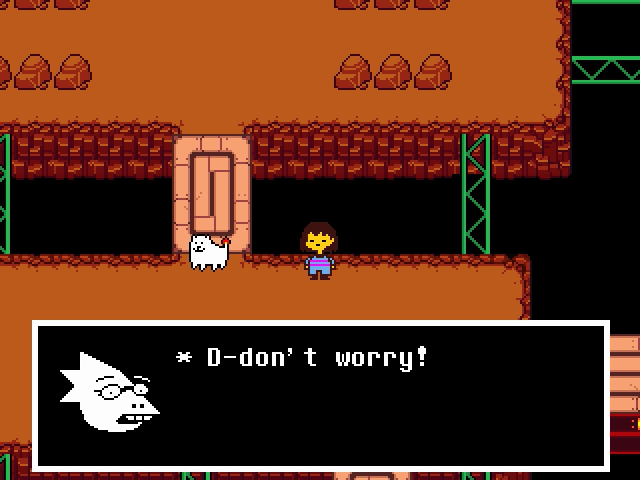 I installed a bomb-defusing program on your phone!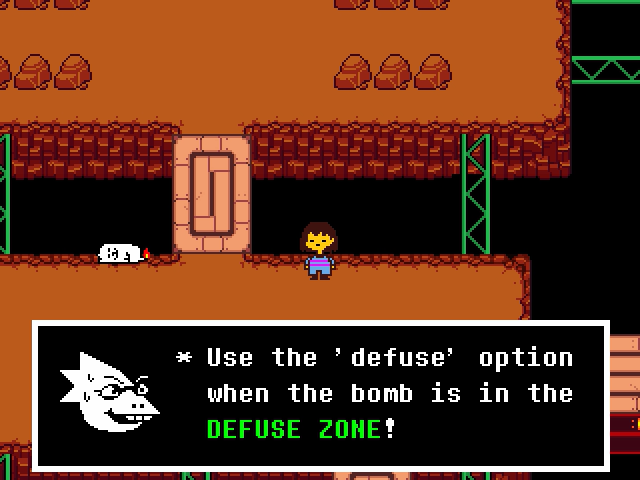 N-now, go get 'em!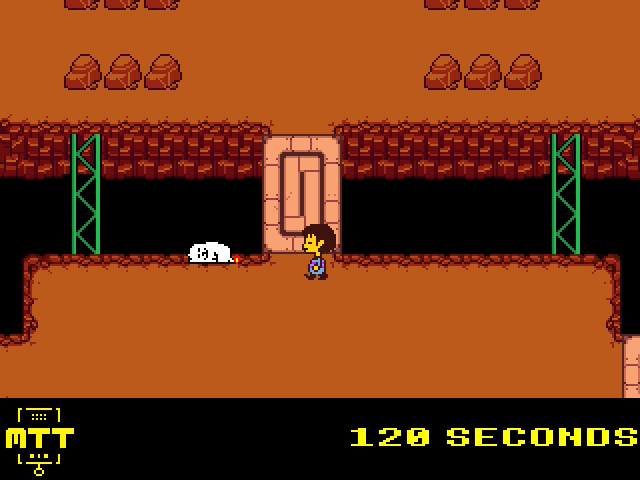 BGM: Death Report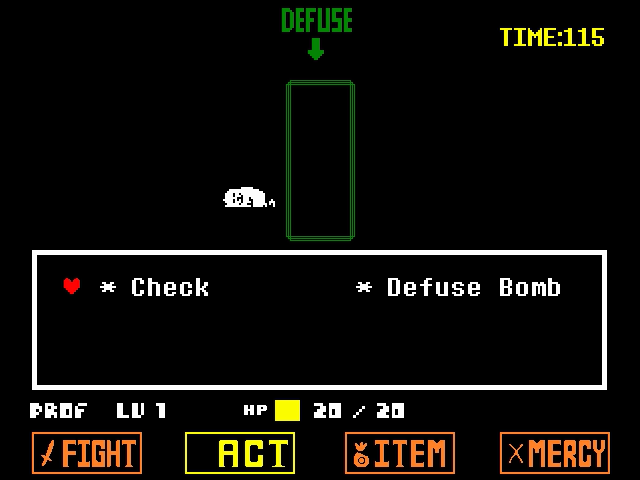 I have six bombs to defuse. Each one is a mini battle - I need to wait for the animal to land in the green Defuse Zone, then select Defuse Bomb.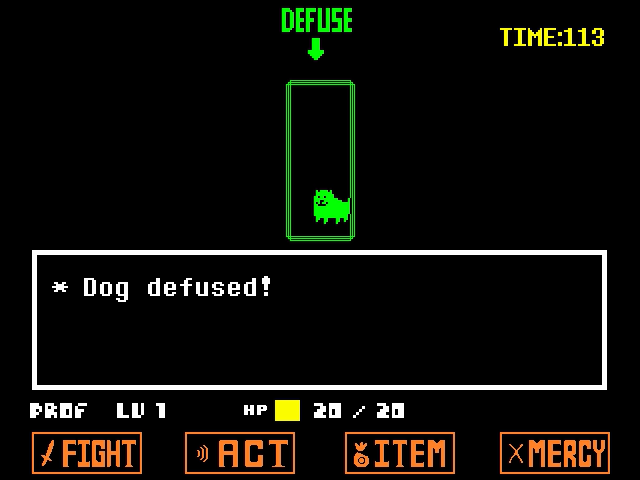 Five to go!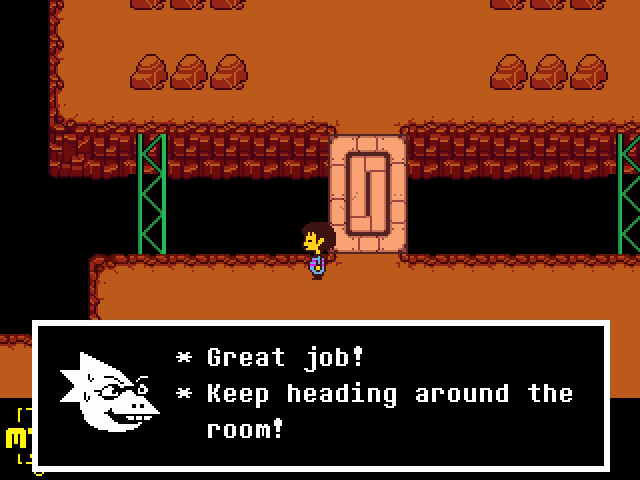 Try to go for the one in the bottom-left next!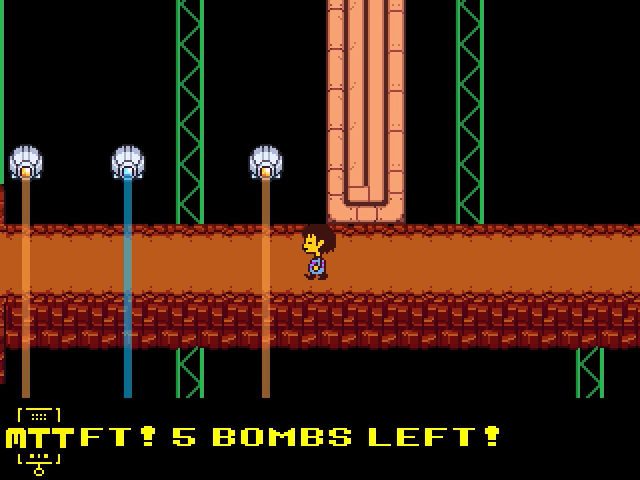 Between me and the second bomb is a series of lasers!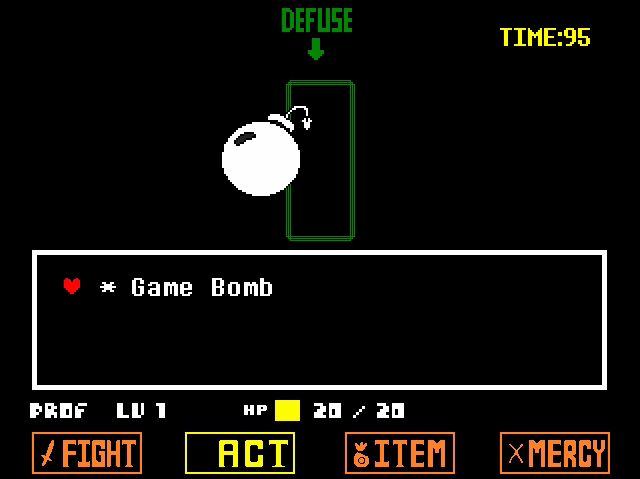 The game bounces left and right. I embarrassingly mess up twice, wasting valuable time.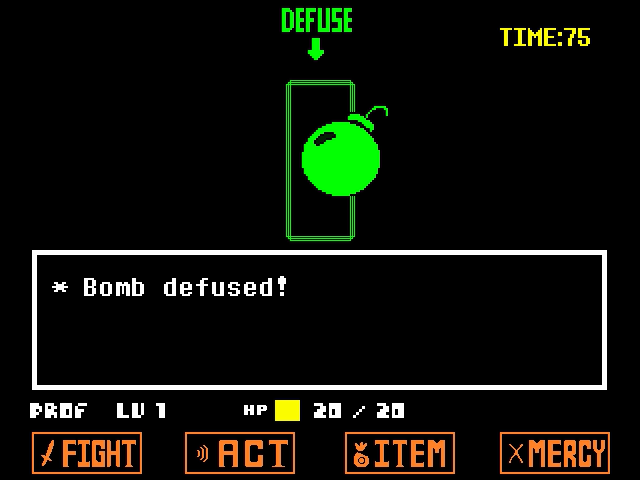 75 seconds left!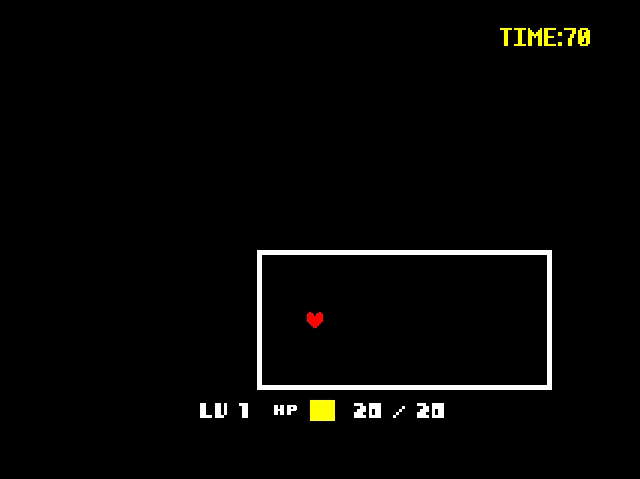 If I mess up one of the lasers on the field, I jump into a brief battle to avoid taking damage from them, just like Undyne's spears before.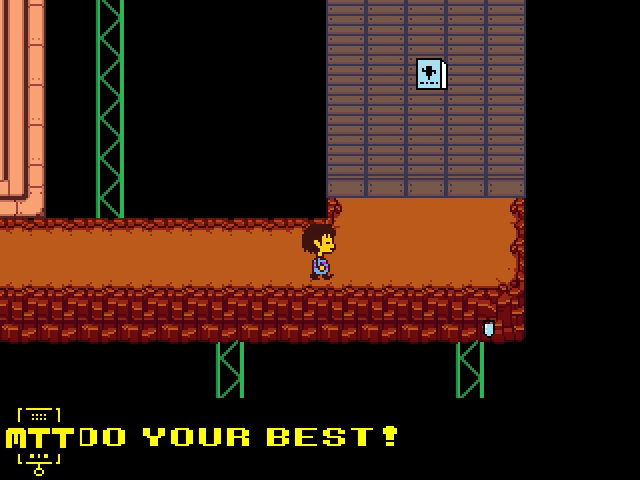 As I approach the game script, the glass of water goes flying around the area at random.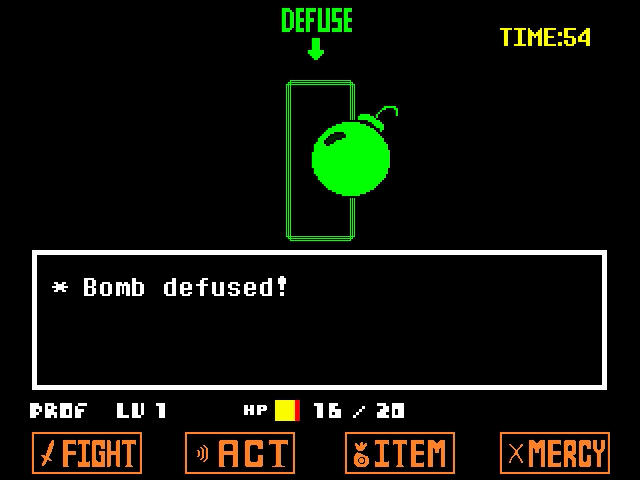 Three bombs left!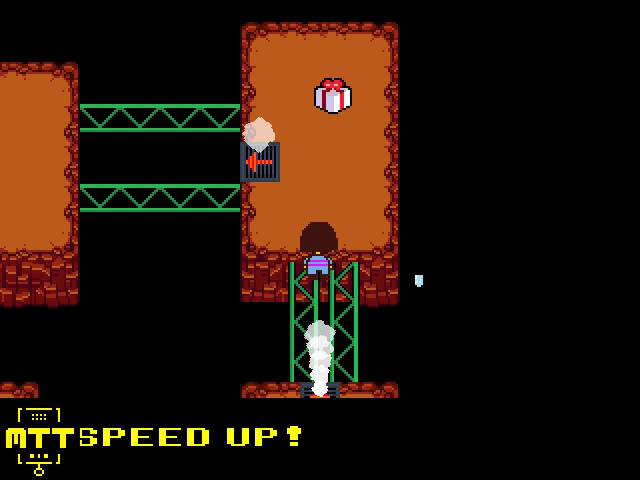 Continuing around the room...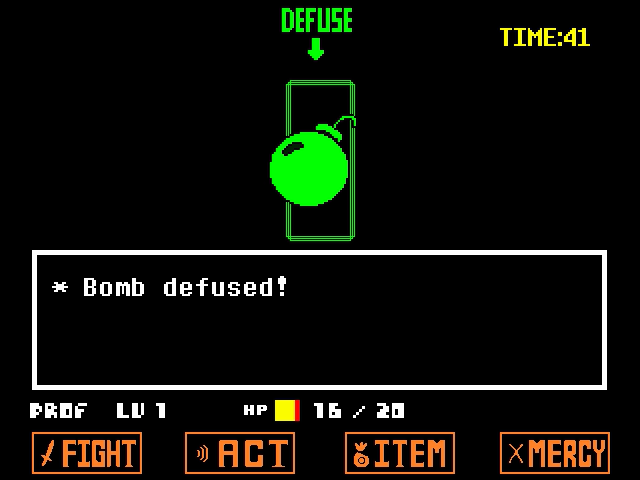 Two bombs left!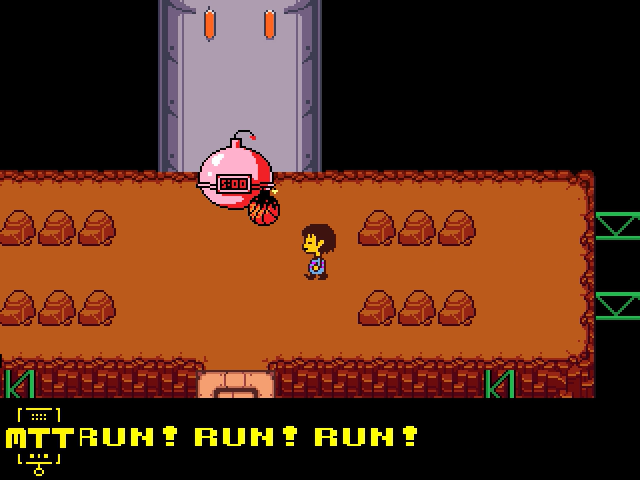 The basketball bomb is flying around its island for unclear reasons.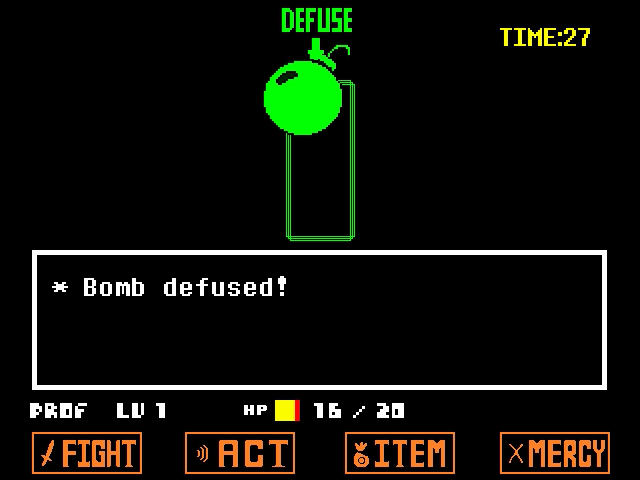 One bomb left!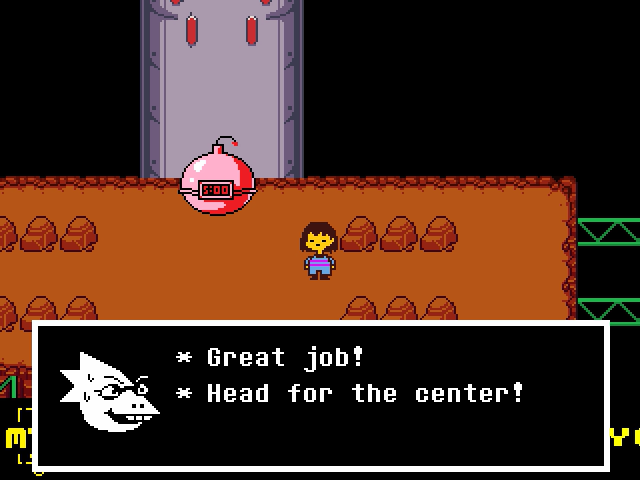 I'm using, uh, EM fields to trap the glass of water there!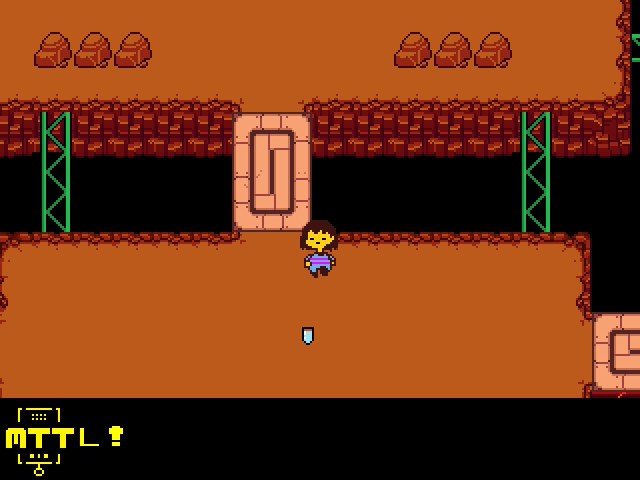 The water glass is no longer flying around!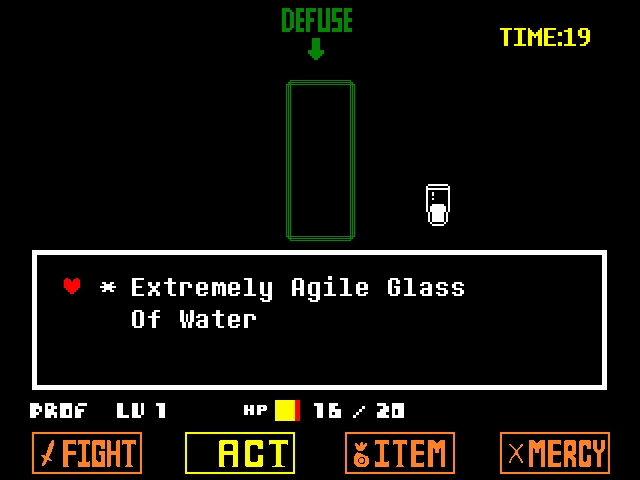 19 seconds to go...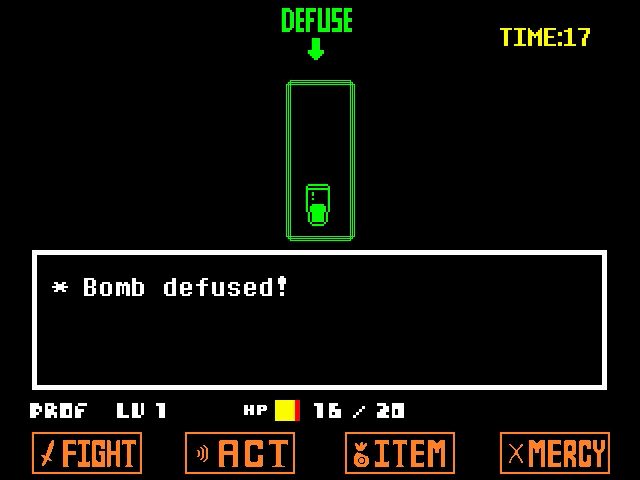 I win!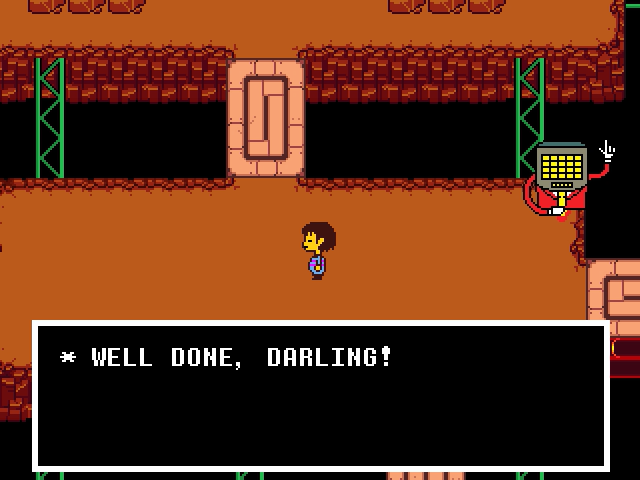 BGM: Silence

YOU'VE DEACTIVATED ALL OF THE BOMBS!


IF YOU DIDN'T DEACTIVATE THEM, THE BIG BOMB WOULD HAVE EXPLODED IN TWO MINUTES.


NOW IT WON'T EXPLODE IN TWO MINUTES!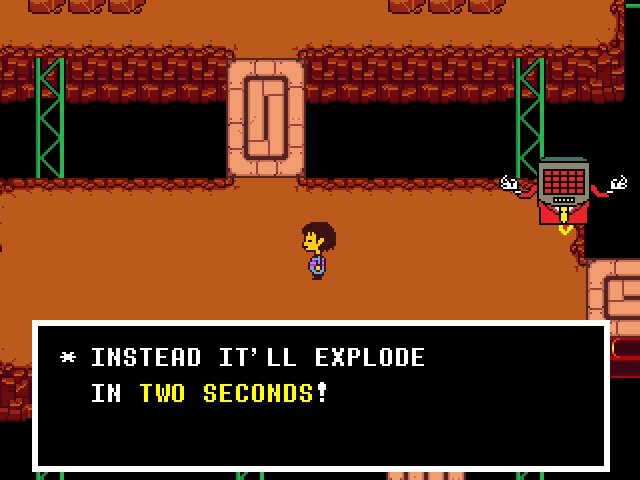 GOODBYE, DARLING!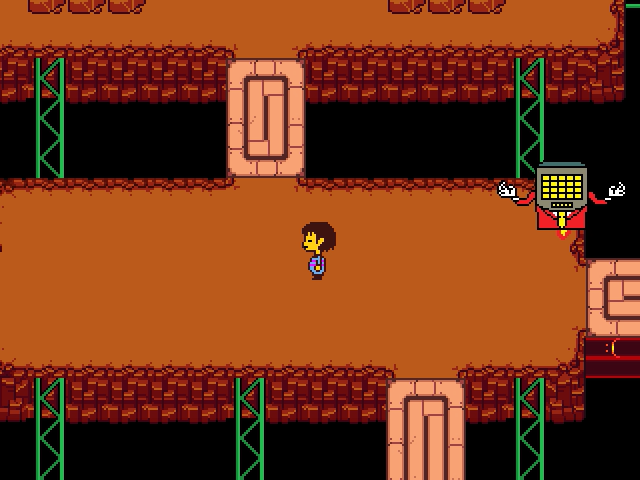 AH.


IT SEEMS THE BOMB ISN'T GOING OFF.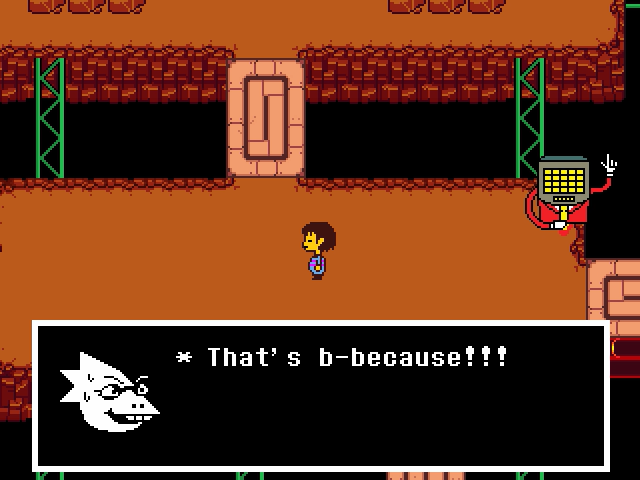 While you were monologuing... I...!!!

I f... fix... Um... I ch-change...

OH NO. YOU DEACTIVATED THE BOMB WITH YOUR HACKING SKILLS.

Yeah! That's what I did!

CURSE YOU, HUMAN! CURSE YOU, DR. ALPHYS, FOR HELPING SO MUCH!


BUT I DON'T CURSE MY EIGHT WONDERFUL VIEWERS FOR TUNING IN!!!


UNTIL NEXT TIME, DARLING!