Part 24: Spider Dance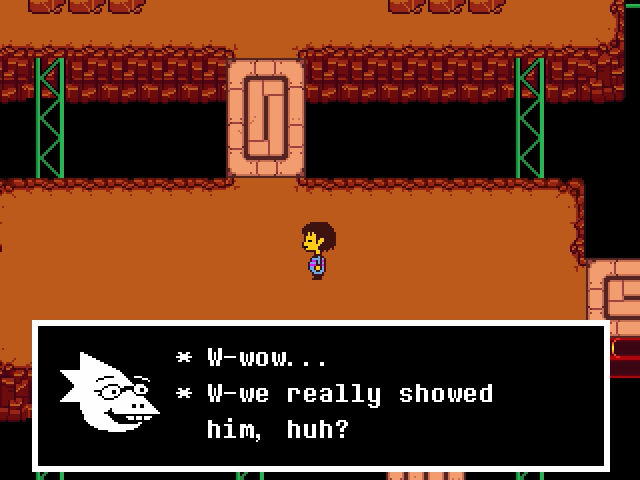 ...

H-hey, I know I was kind of weird at first...

But I really think I'm getting more...

Uh, more...

M-more confident about guiding you!

S-so don't worry about that b-big d-dumb robot...

I-I'll protect you from him!

A-and if it really c-came down to it, we could just t-turn...

Um, nevermind.

Later!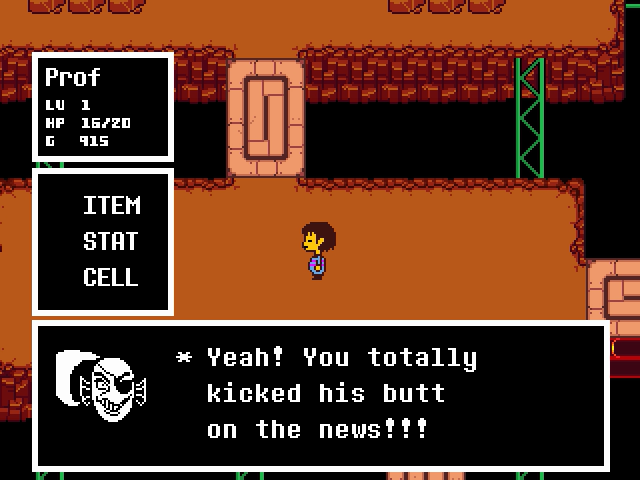 And I bet Alphys was helping you, wasn't she?

Oh my god!!! You guys becoming friends...

It's kinda cute...

I mean, uh...

I'm tough!!! I love to eat rocks!!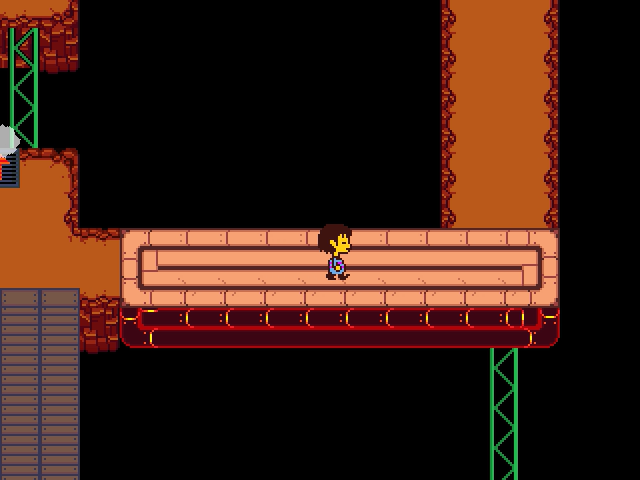 I continue on.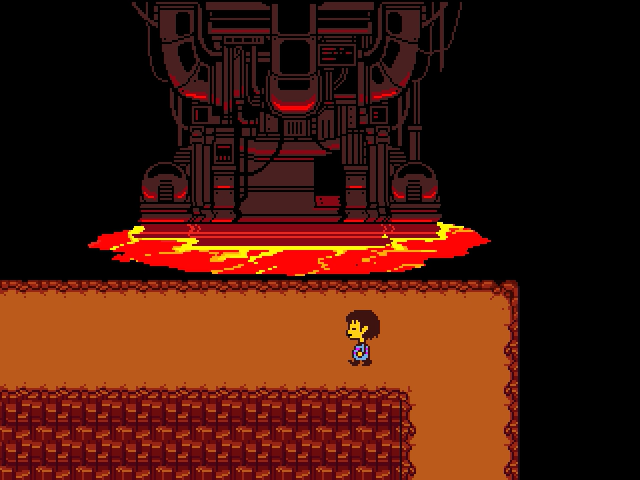 The Core is drawing closer.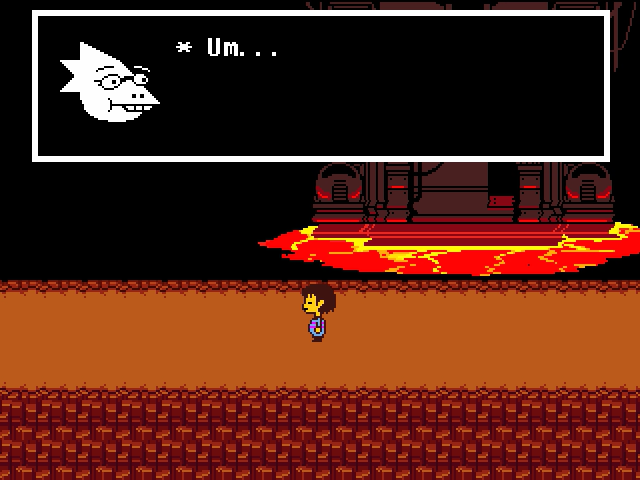 I noticed you've been kind of quiet...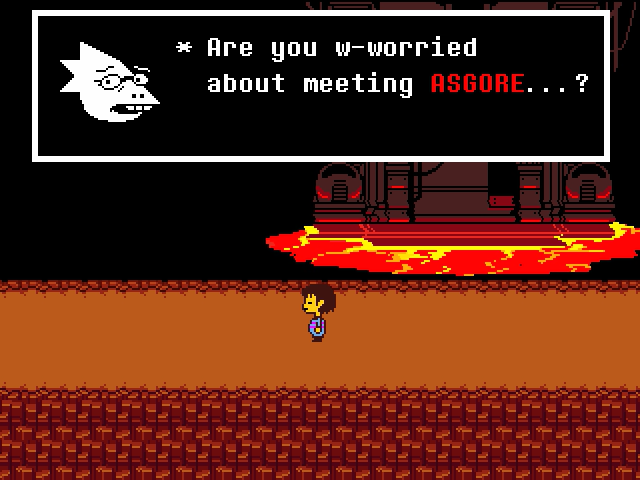 ...

W-well, don't worry, okay?

Th-the king is a really nice guy...

I'm sure you can talk to him, and...

W-with your human soul, you can pass through the barrier!

S-so no worrying, OK? J-just forget about it and smile.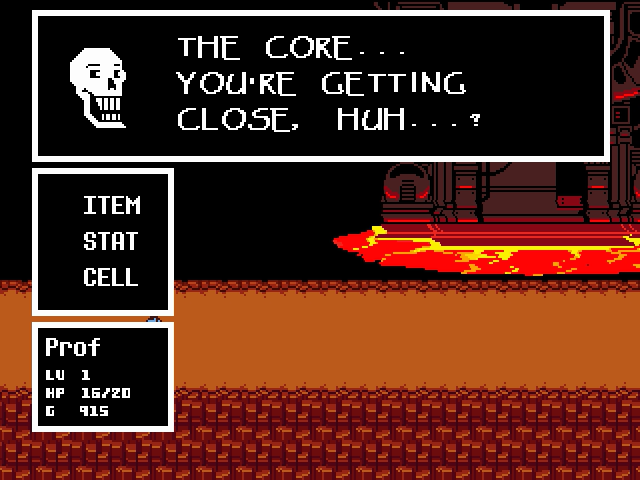 What!? No, we just became friends!!

You can't already be that close...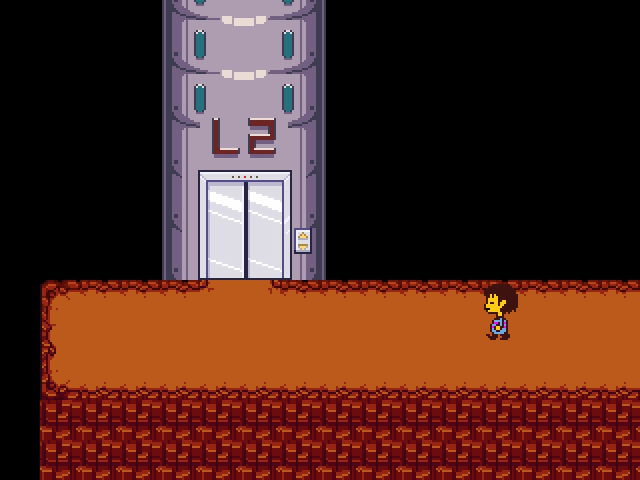 I found another elevator.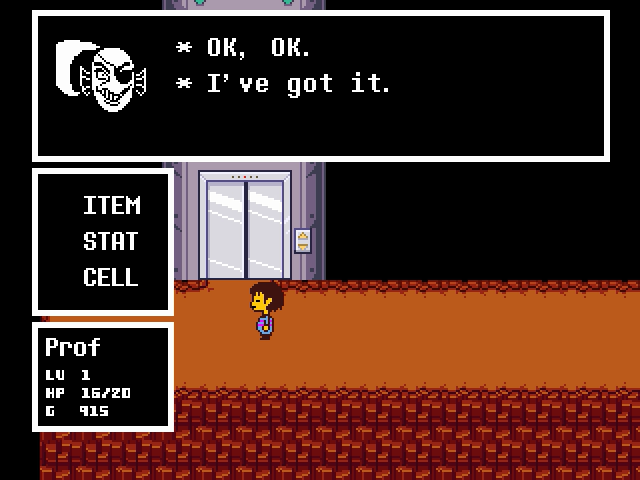 The L stands for the color "Lime".

REALLY!?

I HATE LIMES.

What!? Limes rule!! I eat them whole all the time!!

WELL, ONE TIME I WAS GIVING MYSELF THE SPA TREATMENT.

I PUT THE LIME SLICES IN MY EYES, LIKE ON TV.

BUT IT STINGS!! HOW DO THEY DO IT!?

Oh my god! Those aren't LIMES! Those are CUCUMBERS!

I THOUGHT IT WAS SUPPOSED TO BE REJUVENATING.

BUT IT WASN'T WORKING!
SO I JUST STUCK MORE LIMES INTO MY EYES.

Gross!! Why did you even do that!?

I JUST WANT TO HAVE HANDSOME, BISHONEN EYES.

LIKE METTATON... SIGH...

(He doesn't even HAVE eyes!!!)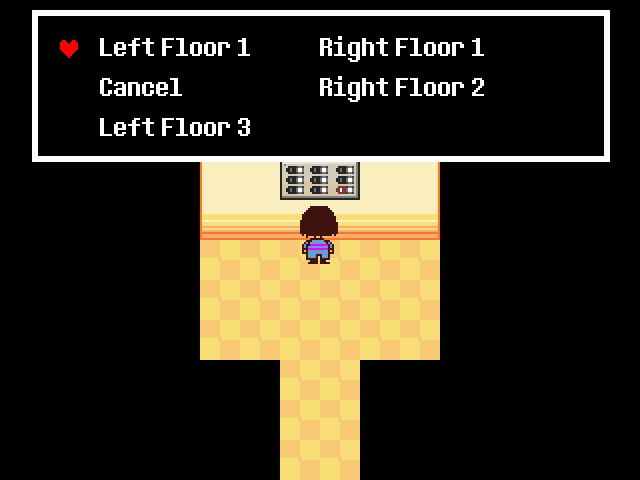 In addition to the other locations, I can now access L3!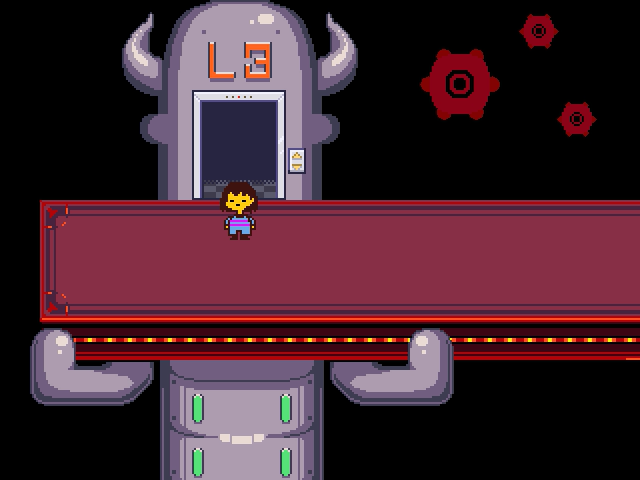 Looks like this is the top level.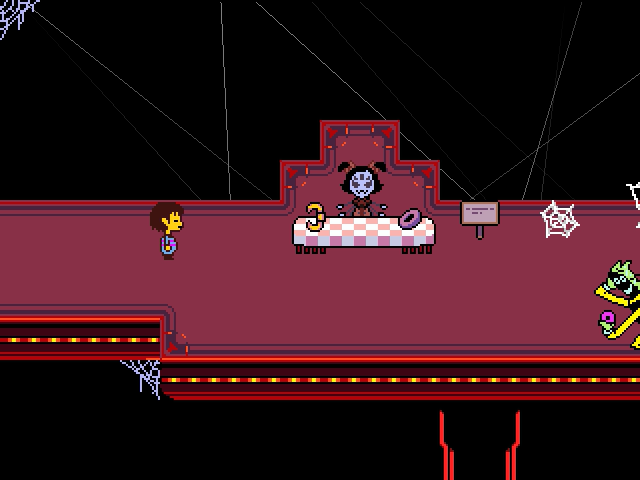 BGM: Quiet Water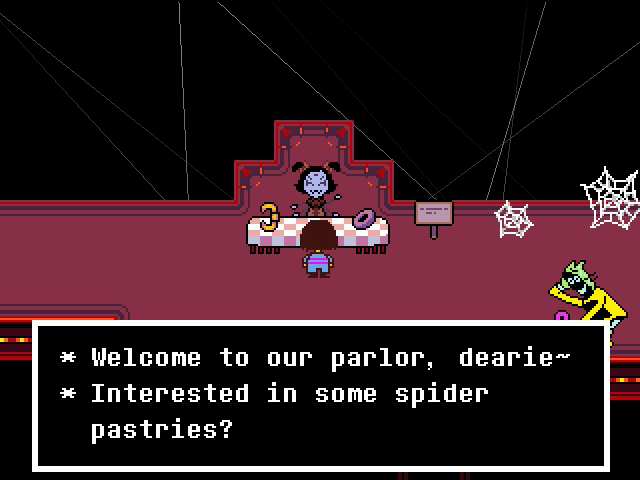 All proceeds go to real spiders~

Check out the webs to make a purchase~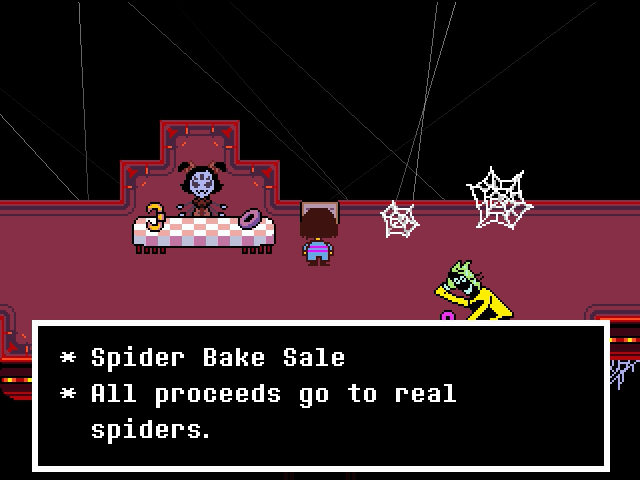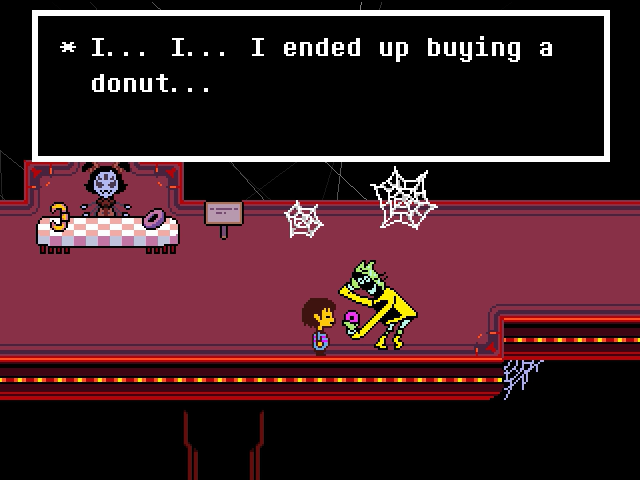 I... I... I didn't want to, but that girl... even though I told her no, she...

...kept staring at me in this creepy way and licking her lips.

N... now I'm outta cash.

Maybe I can sell it online and double my money back...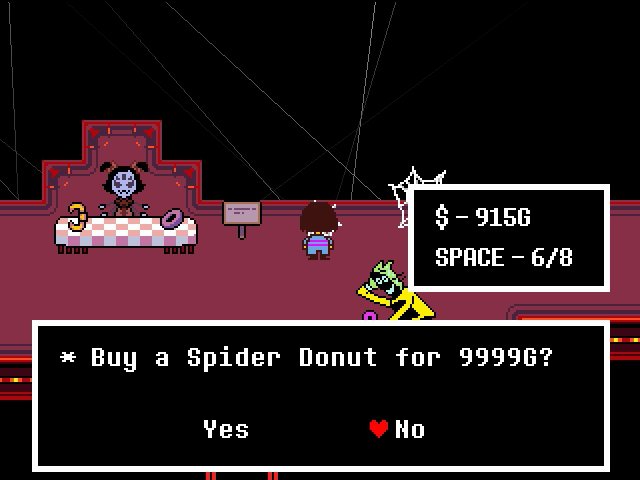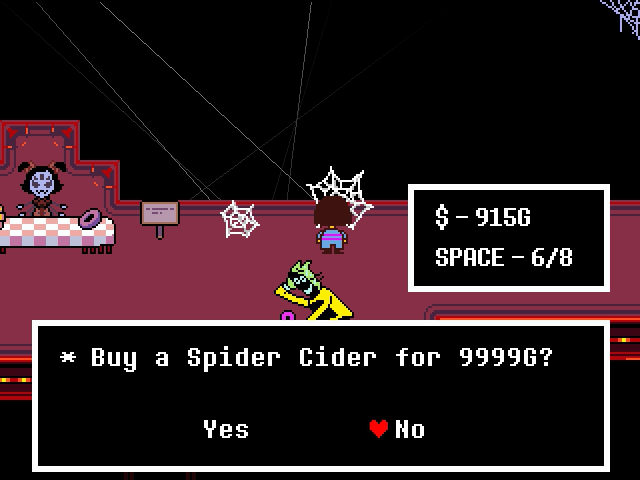 I can't even afford a tenth of a donut at these prices.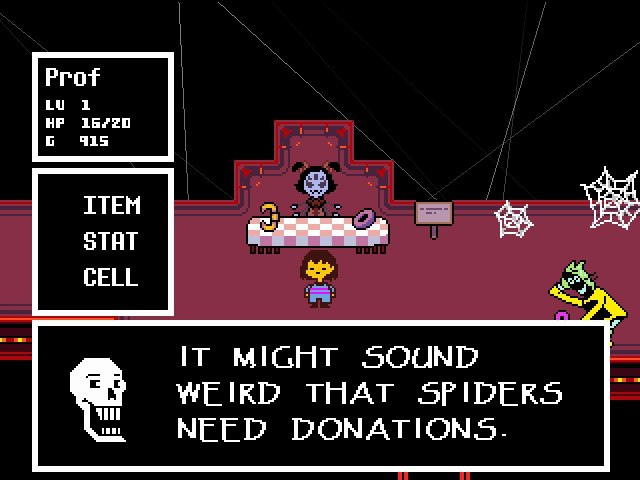 BUT THINK ABOUT IT, THEY HAVE EIGHT FEET.

THAT'S FOUR PAIRS OF SHOES.

A SPIDER WEARING FOUR PAIRS OF PINK BOOTIES.

MEDITATE ON THIS IMAGE.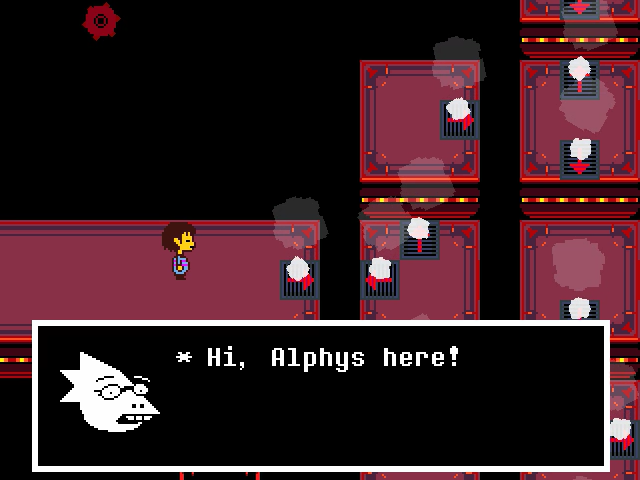 This room is like the room we saw before.

There are two puzzles to the north and south...

You'll have to solve them both to proceed!

...

A-allso... I'd like to say!

I don't really... like giving away puzzle solutions.

But if you need help, just call me, ok?

Actually, wait, I have an idea!

Let's be friends on UnderNet!

Then you can just ping me when you need help!

...

Wait, we're already friends, aren't we?

I signed you up, didn't I?

You've been reading my posts the whole time...

Well! I Hope! You agree with me! About Mew Mew 2!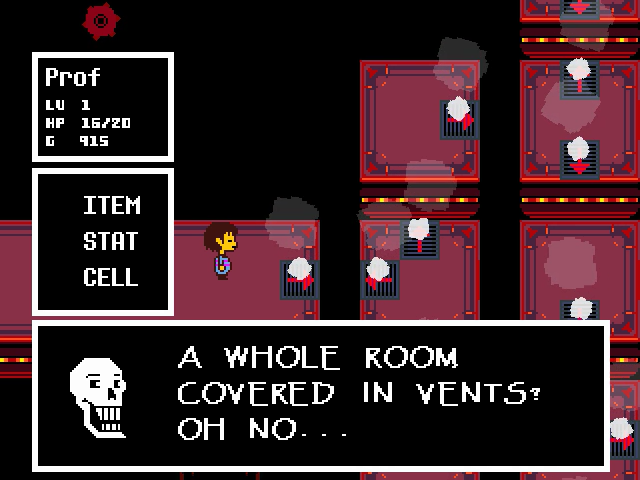 Hey, did I ever tell you about my puzzle idea?

It's a maze full of steam vents...

But the steam vents are on conveyor belts, and...
OH MY GOD!!! I HATE THIS!?!?
IT'S BEST IF YOU DON'T ENCOURAGE HER.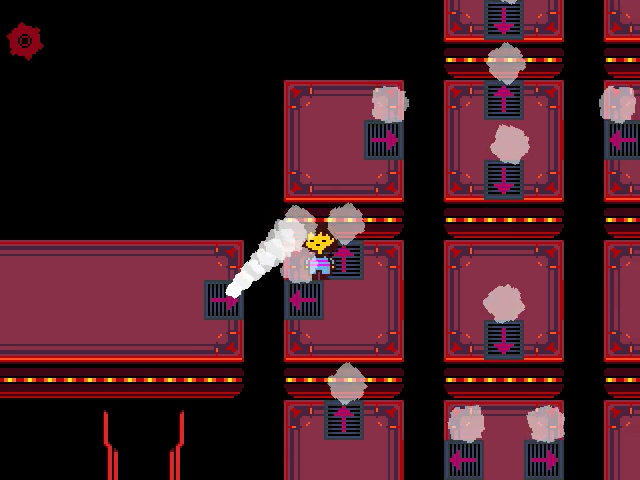 Nothing fancy about this room. There's puzzles to the north and south, and an exit to the east.
I head north first.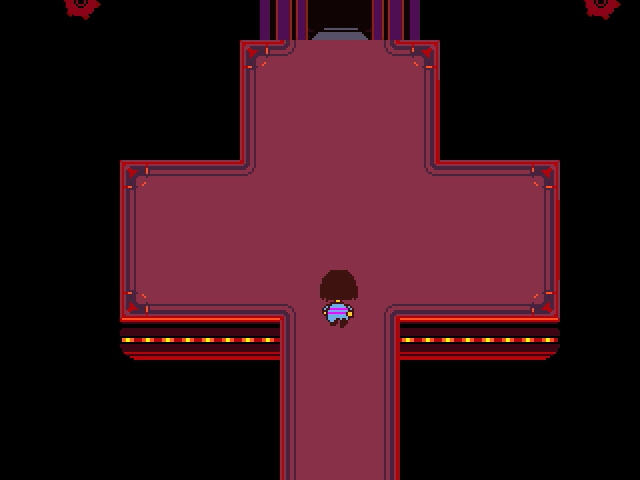 Looks like nobody's here... but I do get in a random encounter.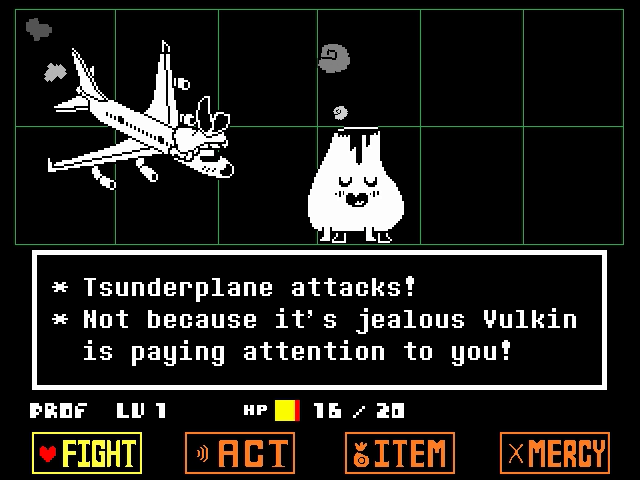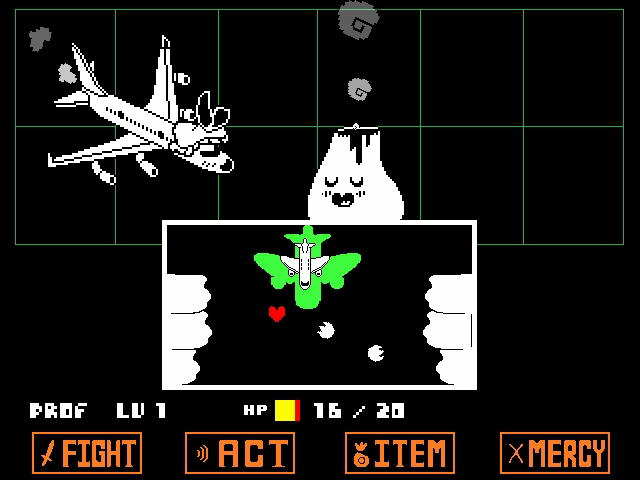 I start with Tsunderplane. Their attacks are both weakened enough to be pretty easy to deal with, even together.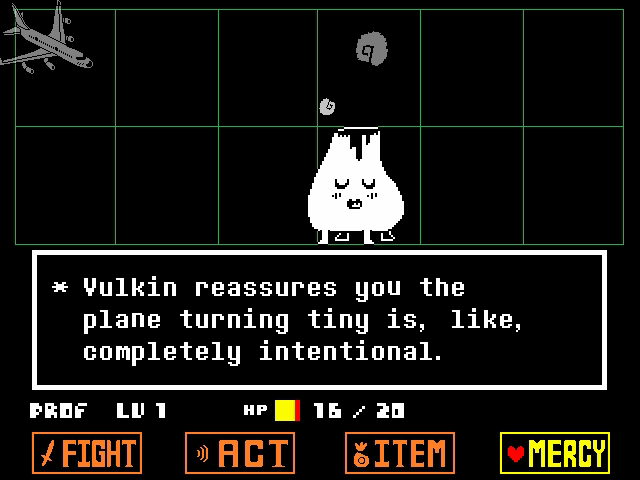 From there, I appease Vulkin same as before.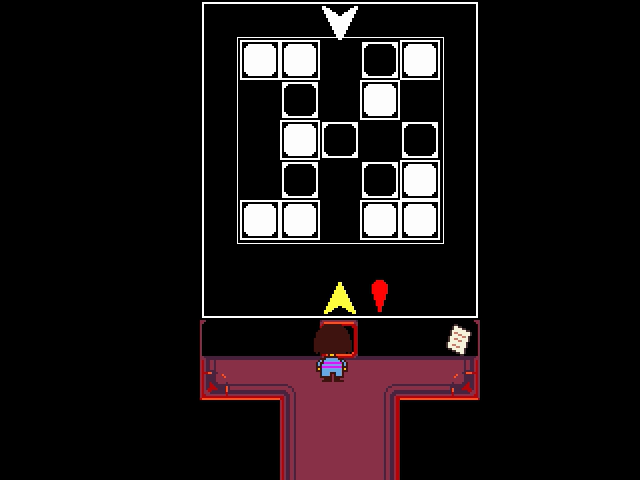 Only one shot this time. This one took me way too many moves to figure out...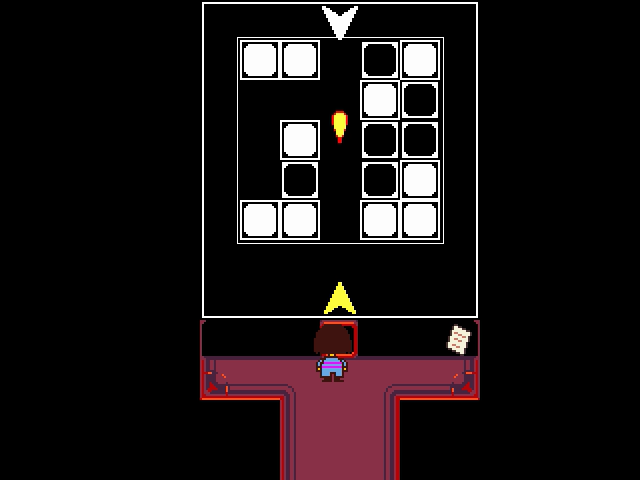 But eventually I manage this.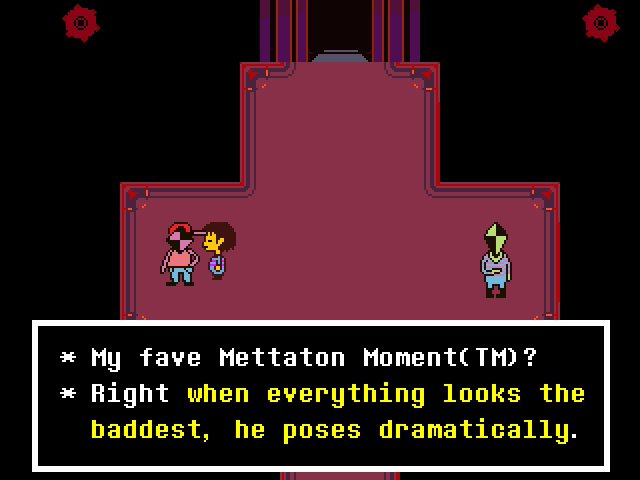 Like when he's on a cooking show and the eggs don't turn out right.

But! Then he says!

Even if you suck at cooking you can always
buy an MTT-brand Glamburger!

Then he
eats one!
Everyone loves it!

...How does he eat it without a mouth?

Uhh... well... Watch the show!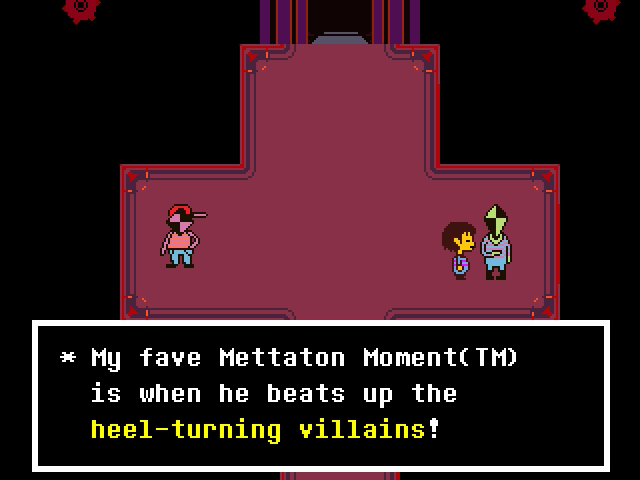 Even if it's during what's supposed to be a quiz show.

Oh! And I like when he tries on all kinds of different fashionable outfits!

Even if it's during what's supposed to be a newscast.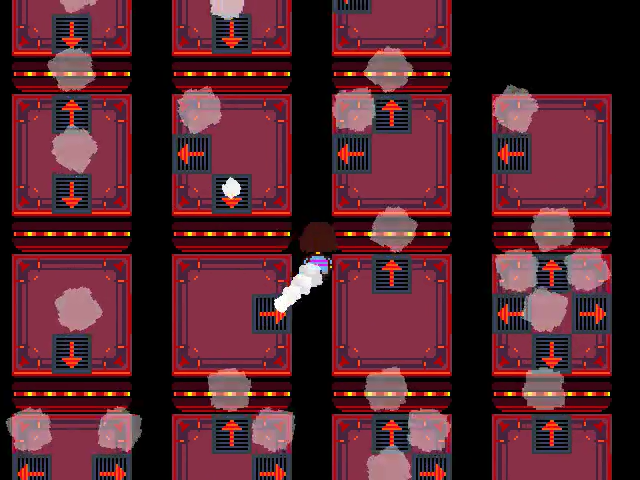 Back through the maze, down to the south.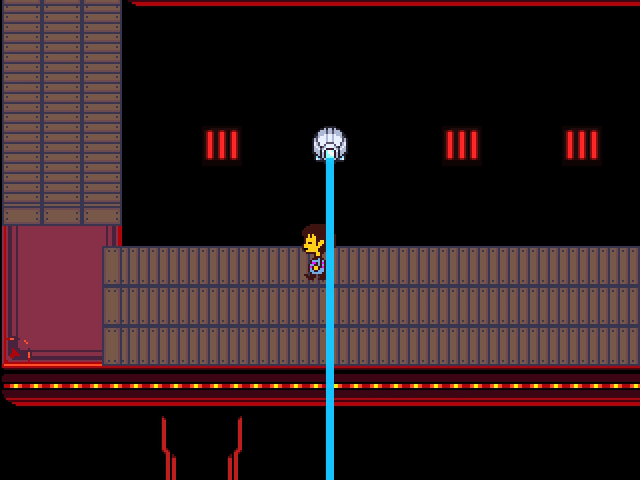 Blue lasers and conveyors are a mean combination. In order to slip past, I need to run against the conveyor belt, making me stand perfectly still.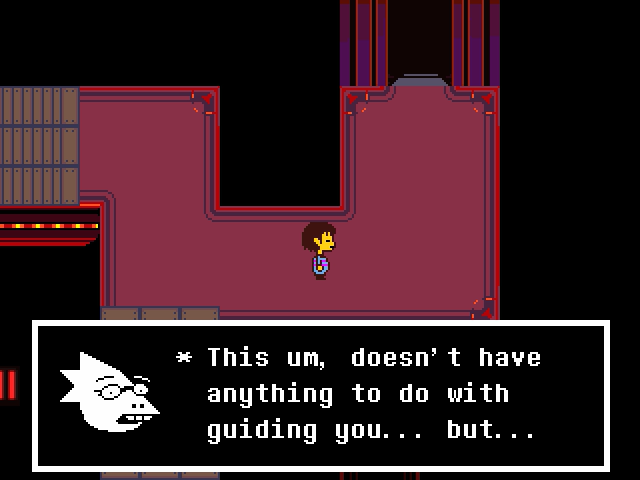 ...

Uhh, hey, would you want to watch a human TV show together???

Sometime???

It's called, um, M... Mew Mew Kissy Cutie...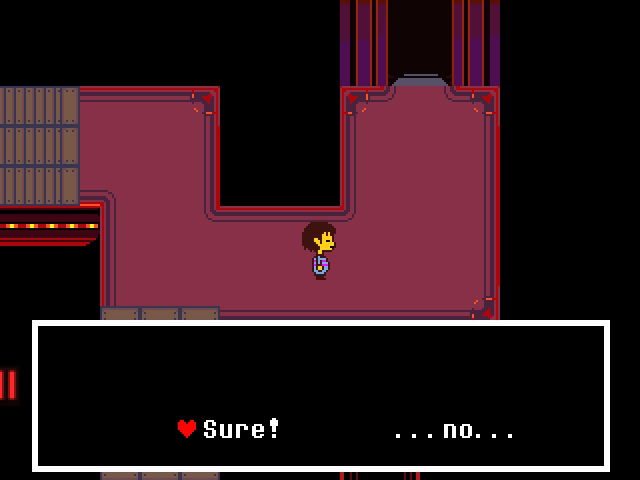 R-really!?

It's so good! It's, um, my favorite show!

It's all about this human girl named Mew Mew who has cat ears! Which humans don't have! S-so she's all sensitive about them! But like... eventually! She realizes that her ears don't matter! That her friends like her despite the ears! It's really moving! Whoops spoilers

Also, this sounds weird, but she has the power! To control the minds of anyone she kisses! She kisses people and controls them to fix her problems!! They don't remember anything after the kiss I mean! BUT IF SHE MISSES THE KISS!!! THEN!! Then, uh, and, uh, also I mean, of course

Eventually, she realizes that controlling people

OKAY WELL I almost spoiled the whole show but

Uhhh, I think you'd really like it!!!

We should watch it! After you get through all this!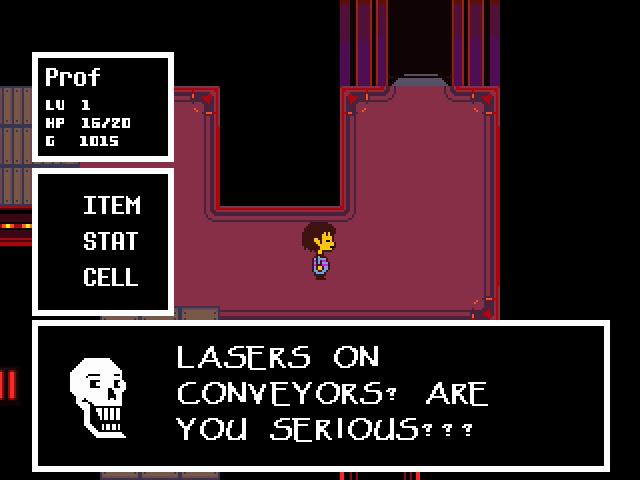 Hey, this reminds me of a puzzle idea.
OH MY GOD??? NO??? WHY????
I THOUGHT YOU HATED MAKING UP PUZZLES!!

Yeah, but I love driving you crazy!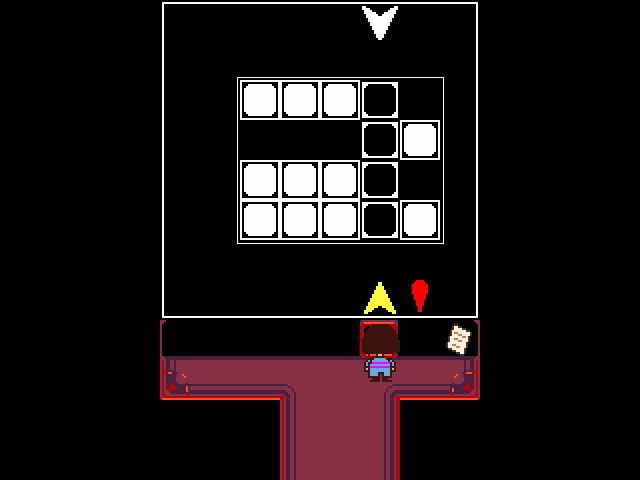 Another one-shotter.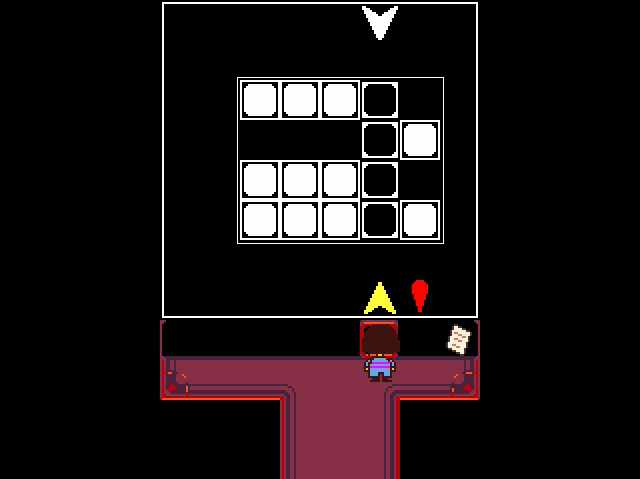 Much easier than the last one!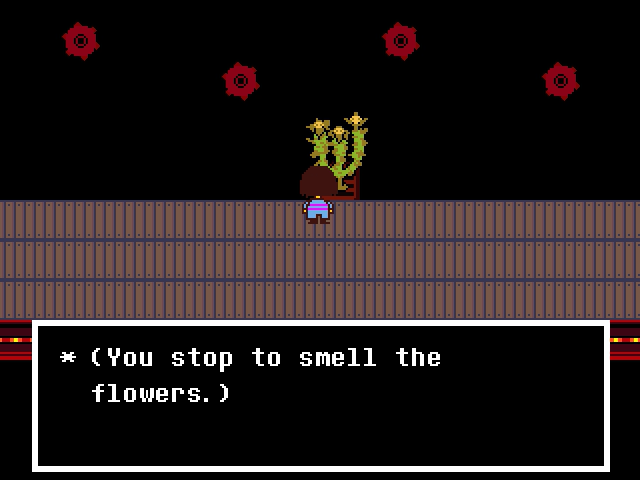 I head back, and go east through the vent maze.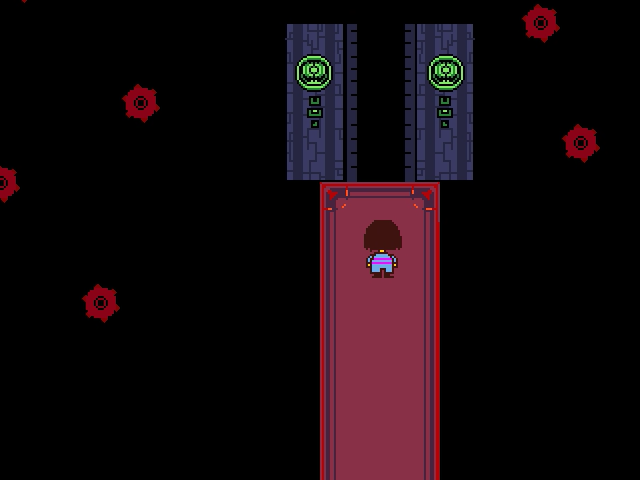 The door grinds open, appeased by my puzzle-solving skills.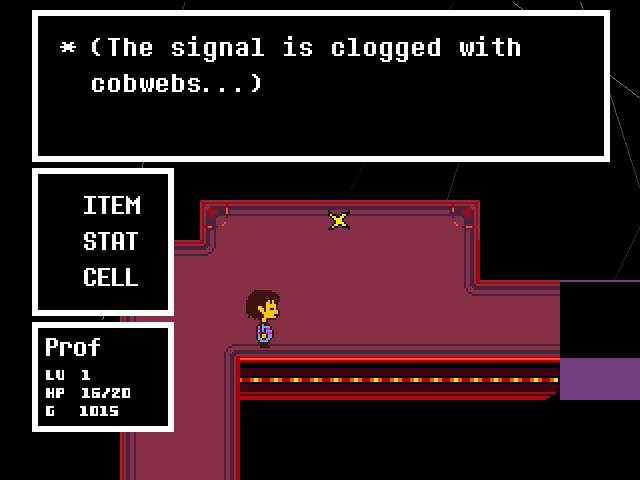 Well, that's ominous.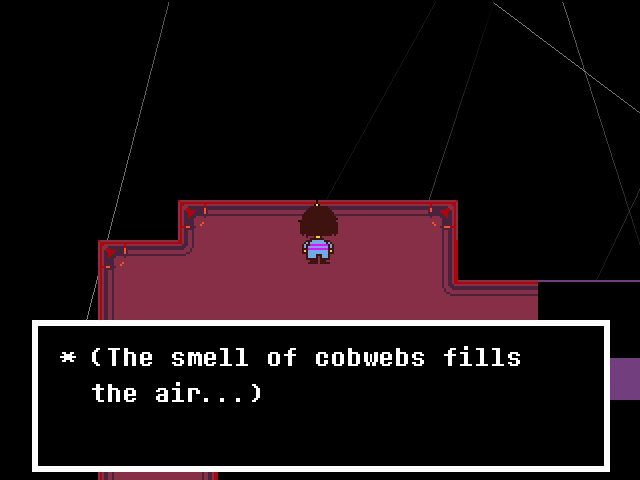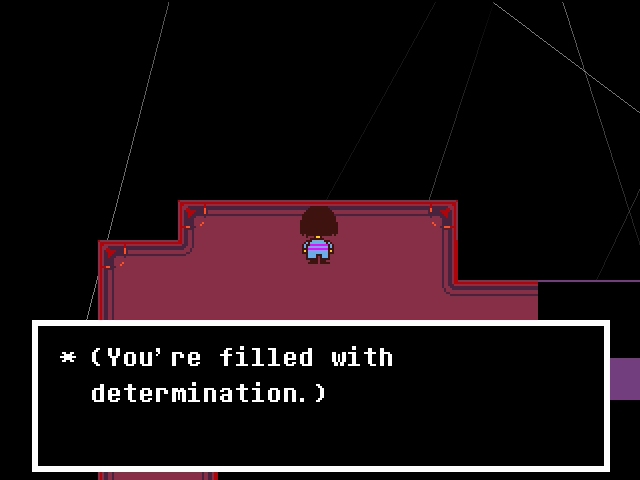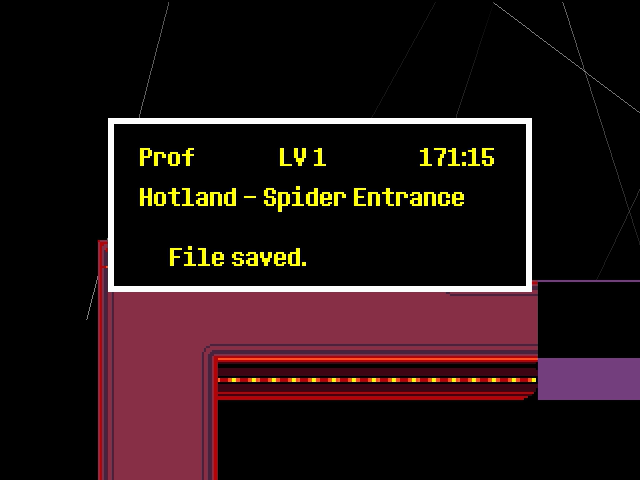 I save my game, and continue into a foreboding passage.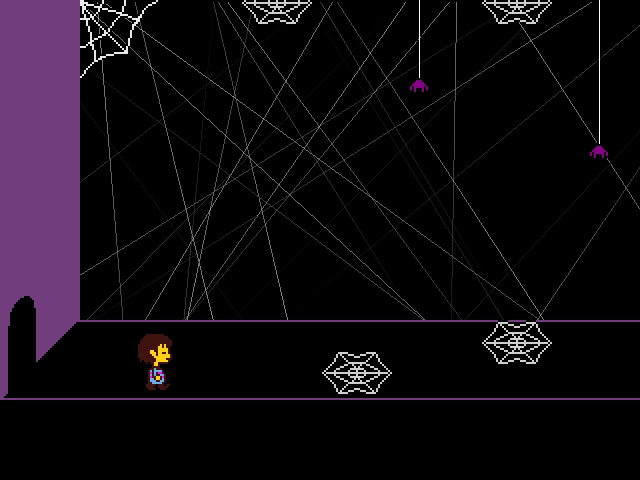 Ahuhuhuhu...

Did you hear what they just said?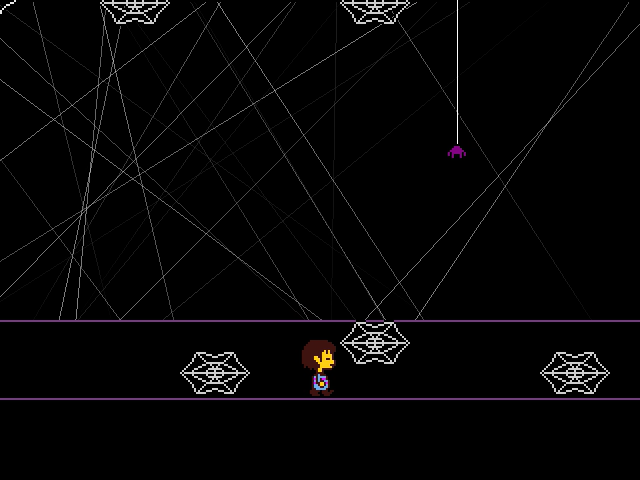 They said a human wearing a striped shirt will come through.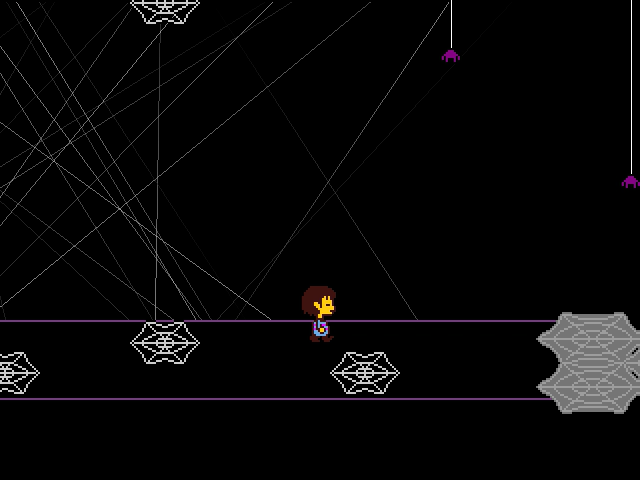 I heard that they hate spiders.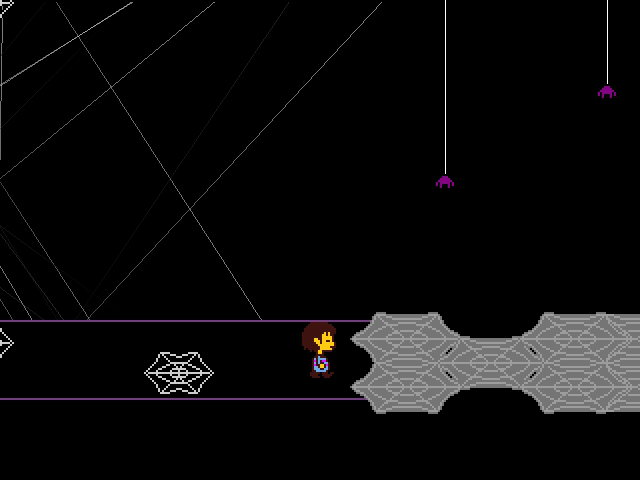 I heard that they love to stomp on them.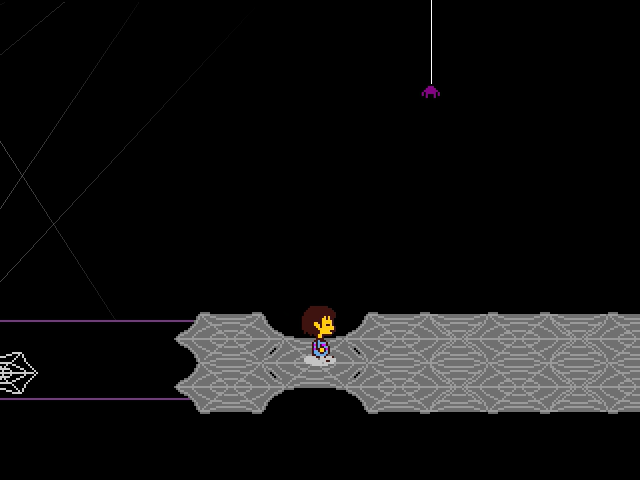 I heard that they like to tear their legs off.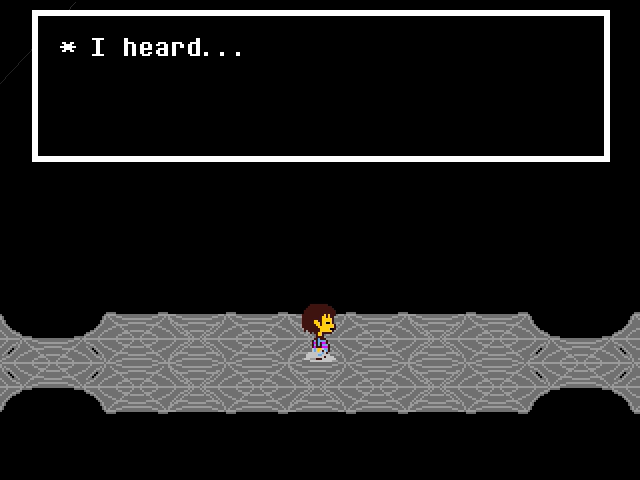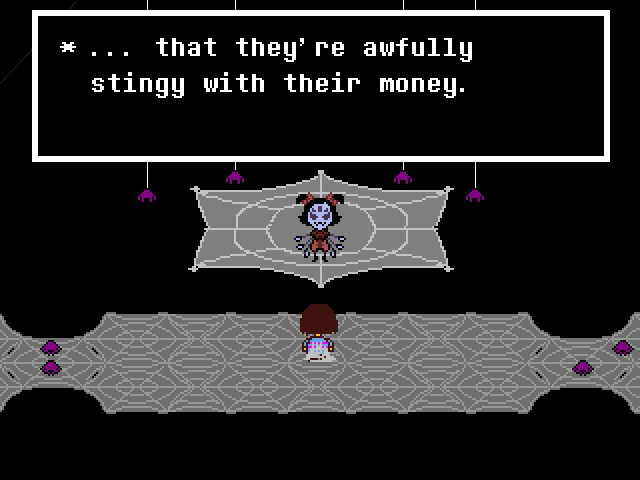 Ahuhuhuhu...

You think your taste is too refined for our pastries, don't you, deary?

Ahuhuhu... I disagree with that notion.

I think your taste...

Is exactly what this next batch needs!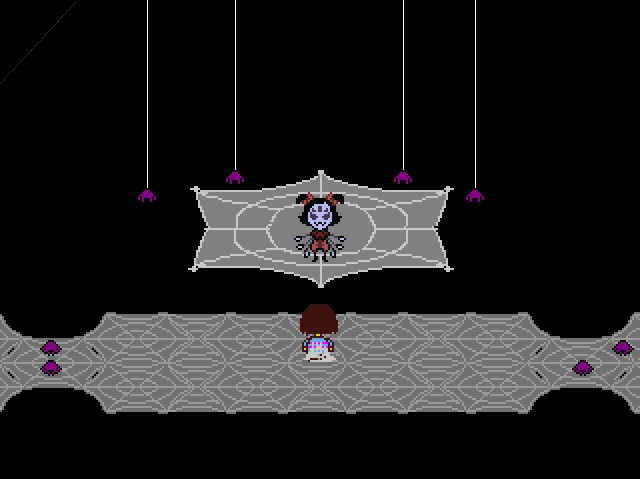 Video: Human Bake Sale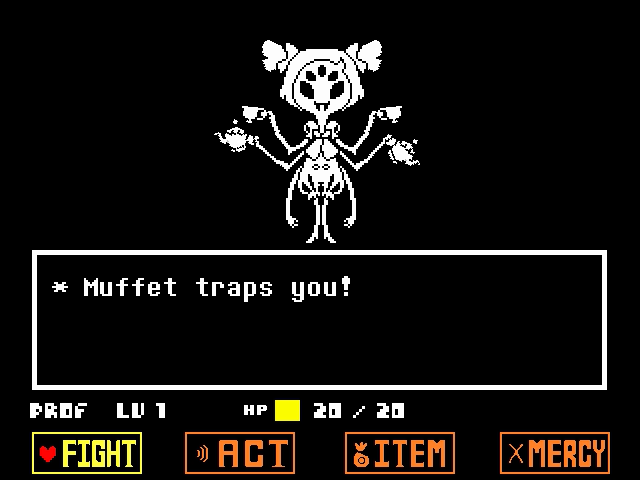 BGM: Spider Dance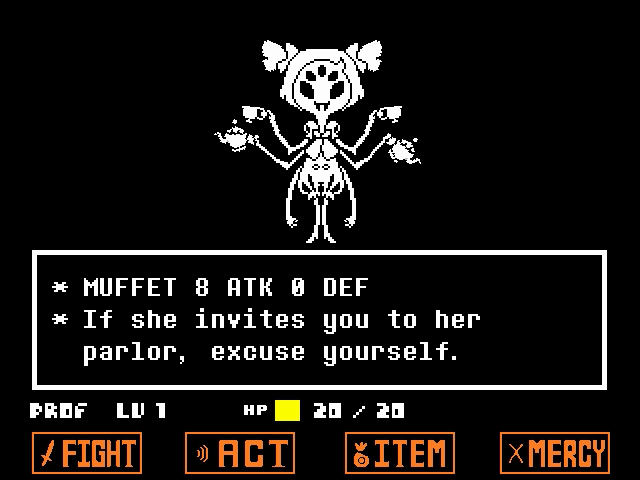 With the right preparation, it's possible to end this battle peacefully on the first turn.
Unfortunately, I'm not prepared.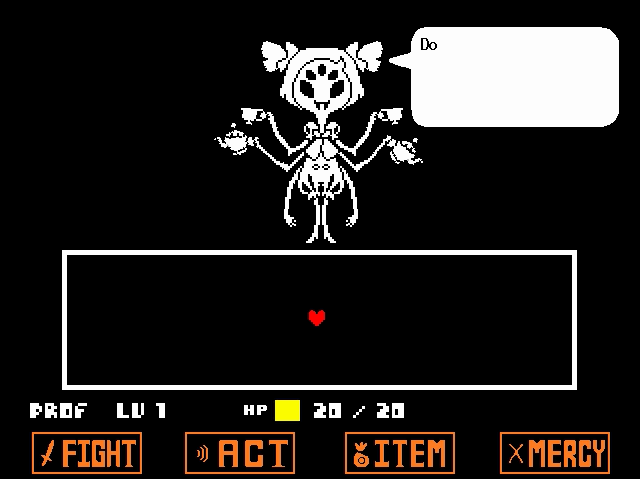 Wait, what?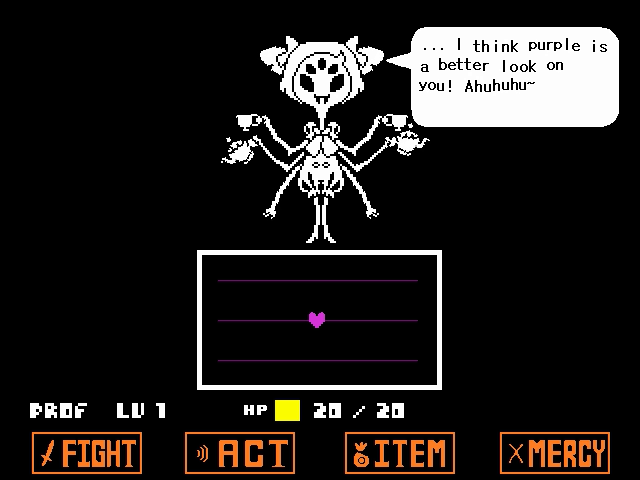 Time for another new set of movement mechanics!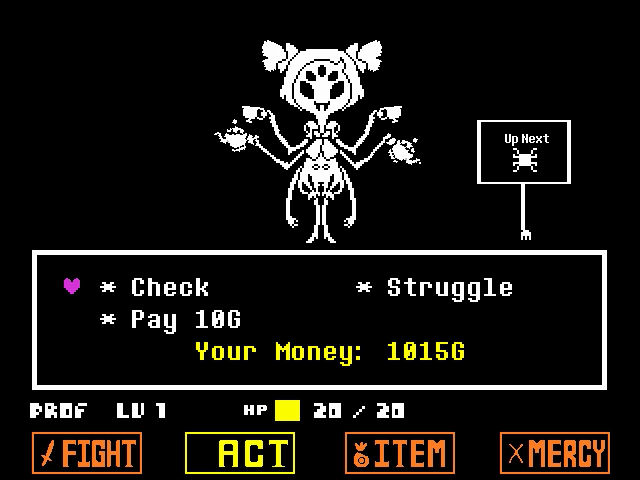 Throughout the fight, Muffet's spider associates warn me about what the next incoming attack is.
Options are Check, Struggle, and Pay. If I pay her, then it reduces the power of her next attack, but the price goes up.
So, instead I
Struggle.
I'm going to need that money.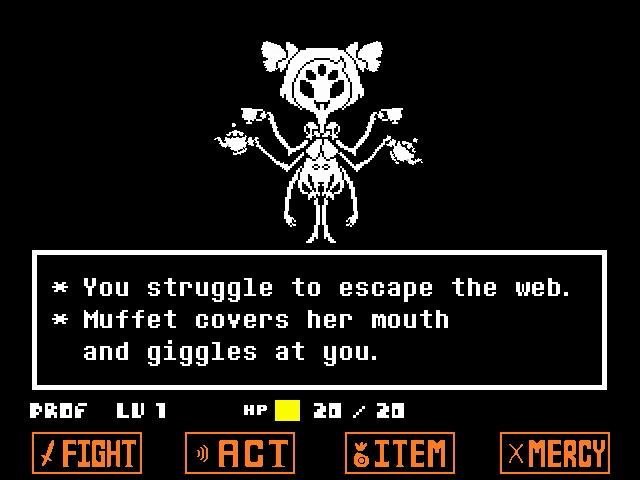 That was productive.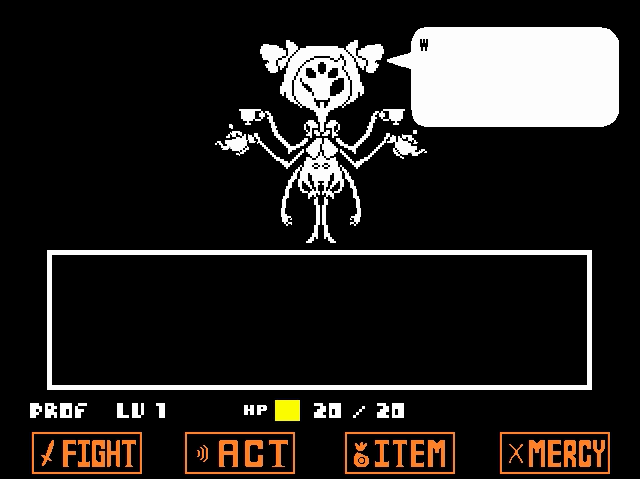 While my soul is purple, my vertical movement is limited - I can freely move left and right, but pressing up/down just jumps between the three strands of web.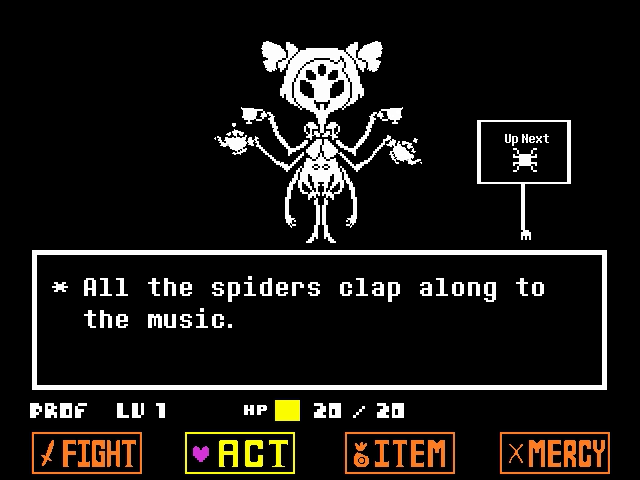 I struggle again. Muffet laughs again.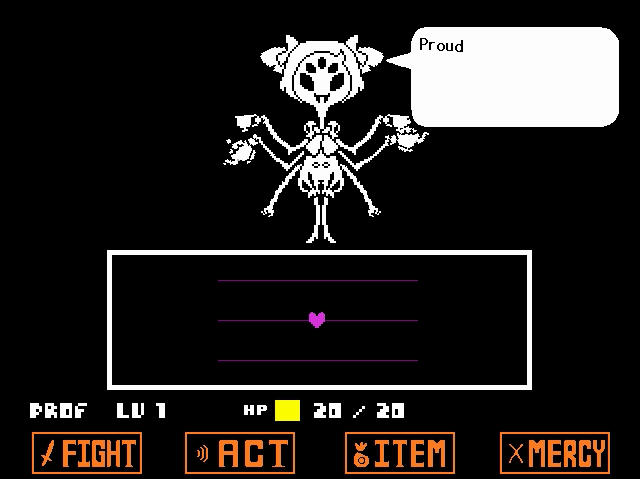 This is already getting pretty intense.
I
Struggle
for a third time.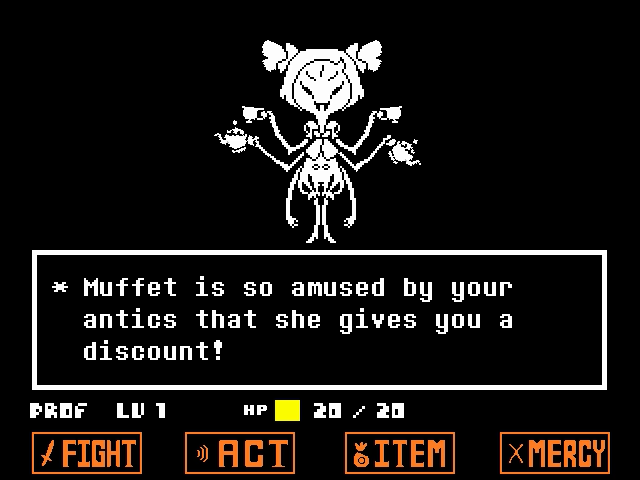 That's all I'm getting out of this struggle. From here, I'll be Sparing as usual.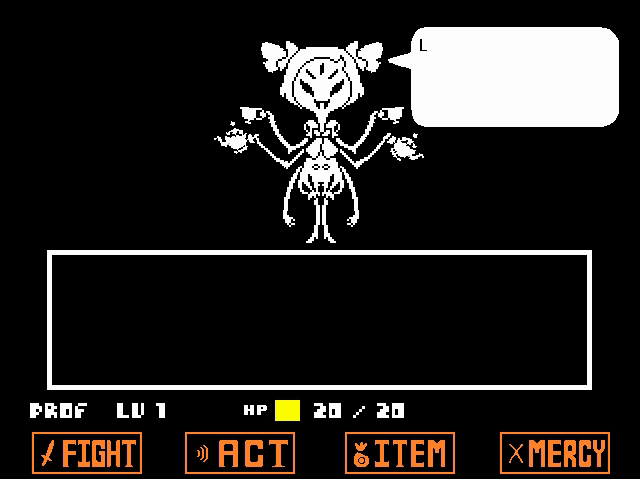 Your soul is going to make every spider very happy~~~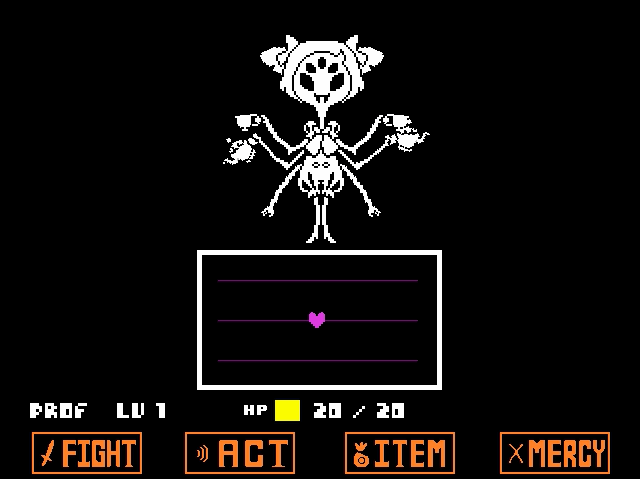 When the regular bullets don't do the trick, Muffet starts bouncing things off the edges of the web to spice it up.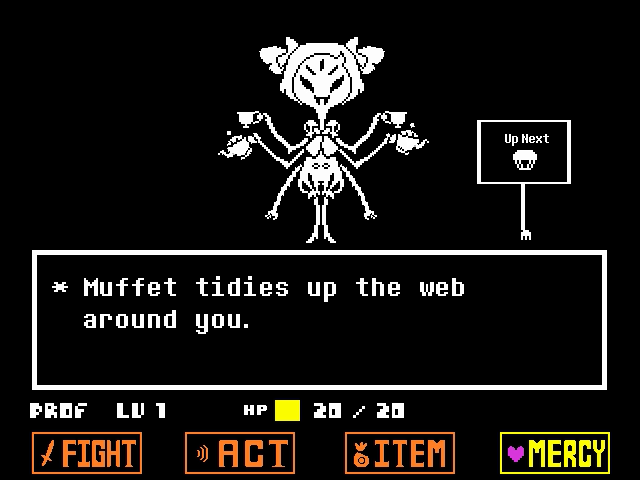 Next is... a cupcake?

Oh, how rude of me! I almost forgot to introduce you to my pet~

It's breakfast time, isn't it? Have fun, you two~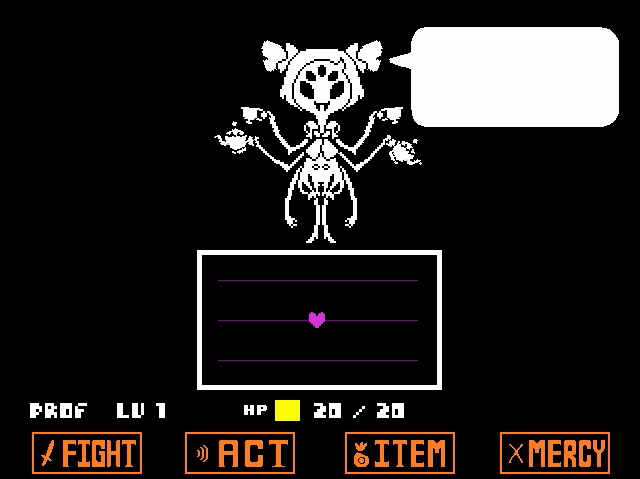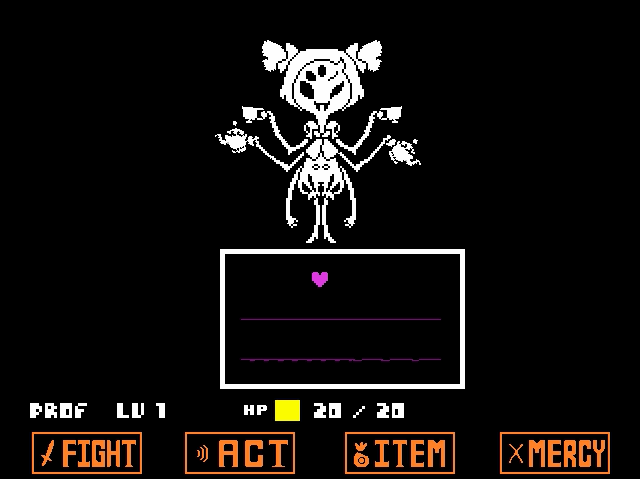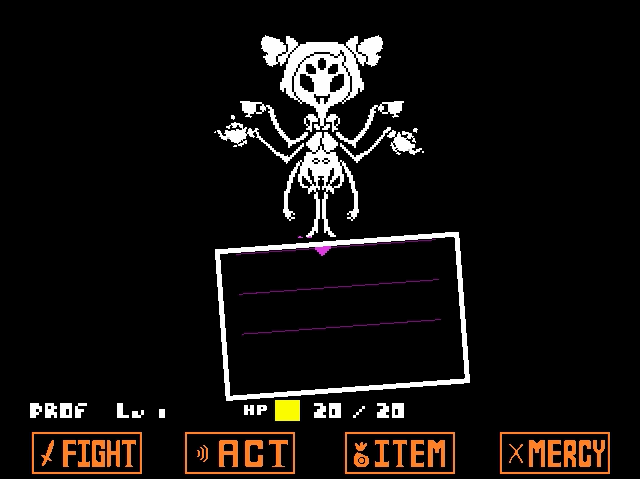 I don't know what to say, beyond saying that this fight is awesome.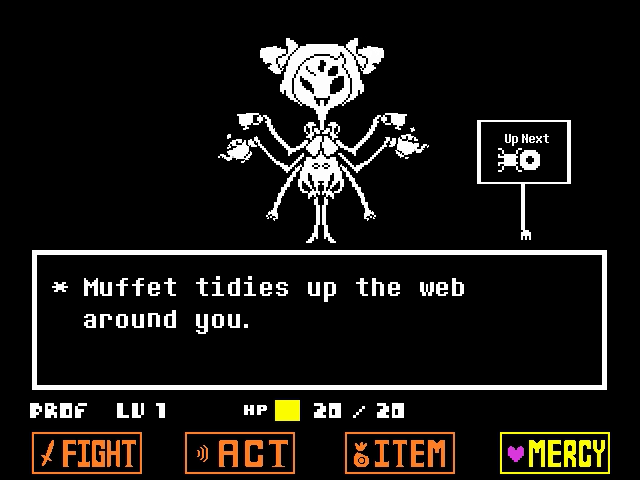 The "Up Next" sign shows which kinds of projectiles will be involved in the next attack.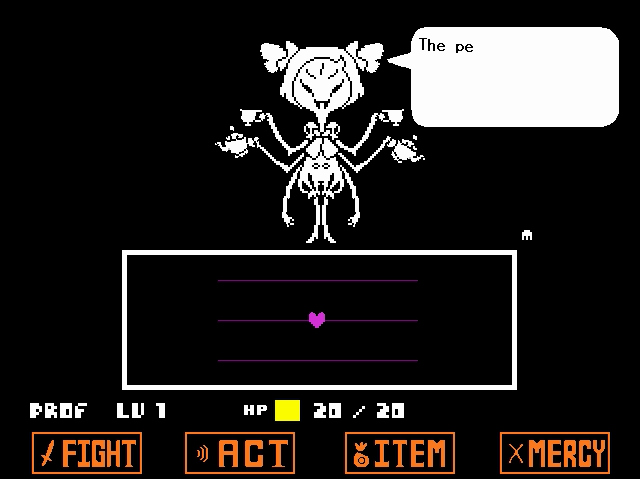 Offered us a LOT of money for your soul.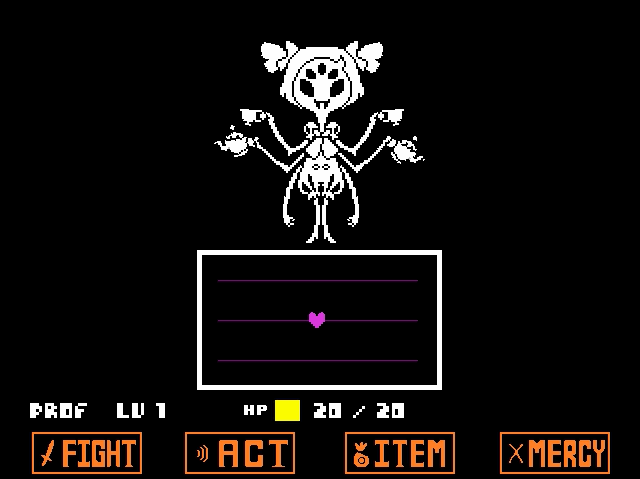 They had such a sweet smile~ and... ahuhu~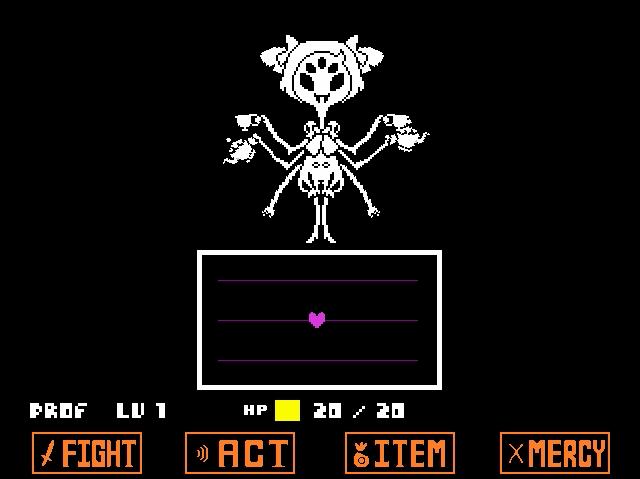 A new kind of bullet - these ones boomerang back across the web.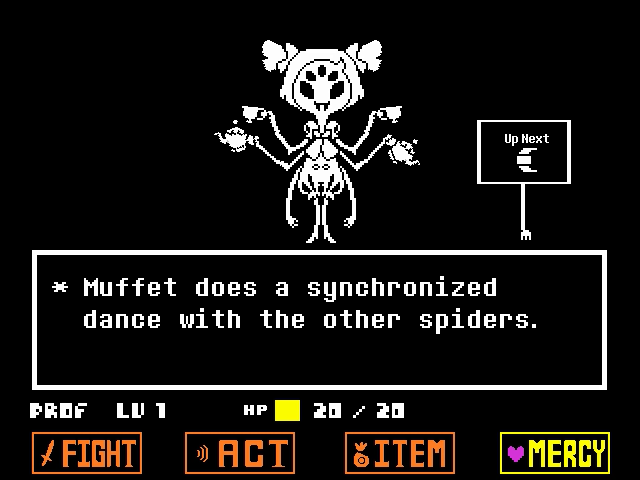 It's strange, but I swore I saw them in the shadows... Changing shape...?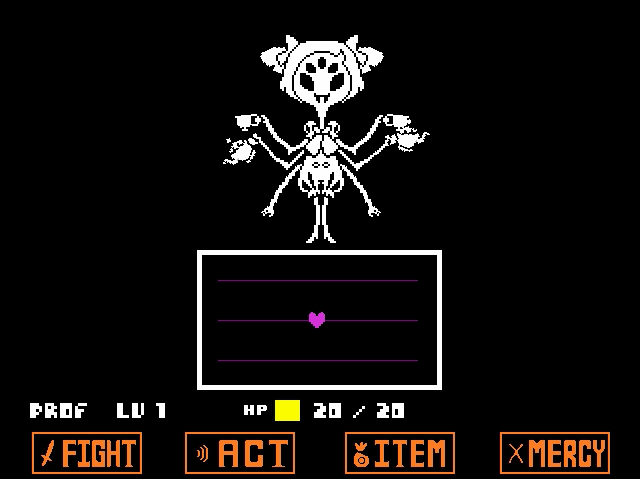 Oh, it's lunch time, isn't it? And I forgot to feed my pet~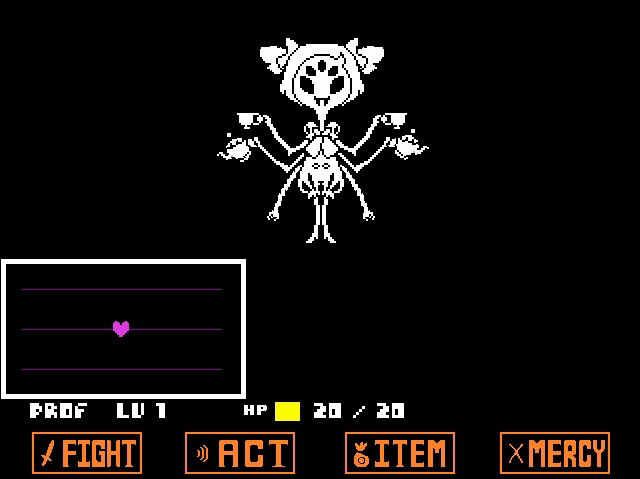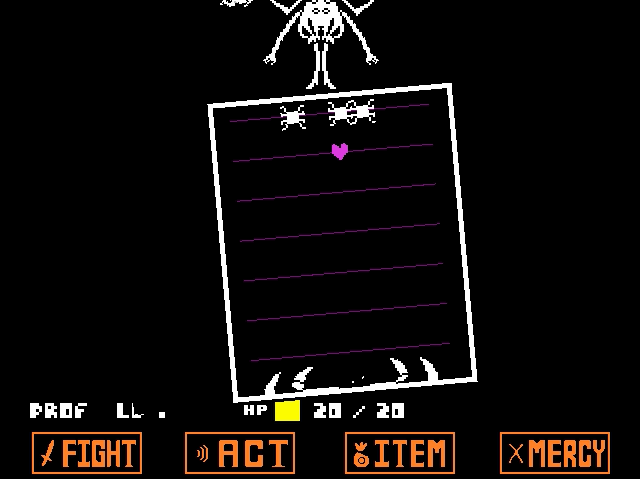 With that money, the spider clans can finally be reunited~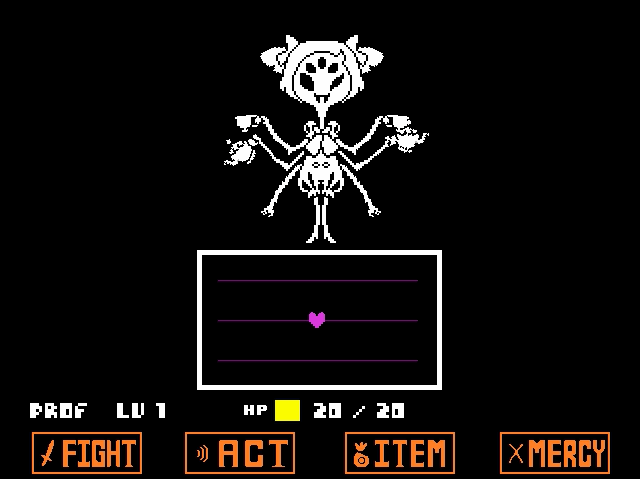 You haven't heard? Spiders have been trapped in the Ruins for generations!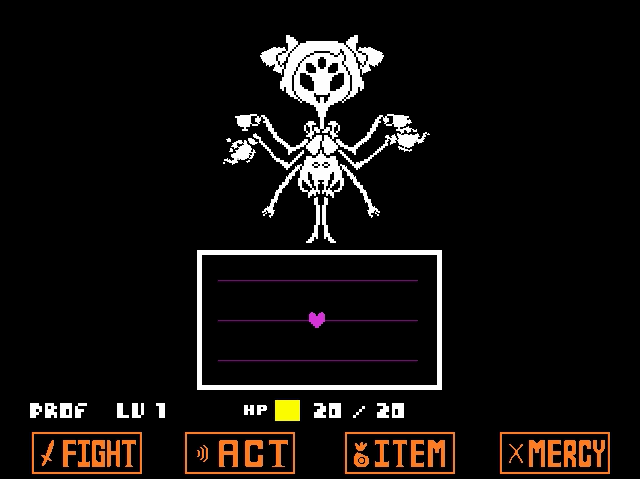 Even if they go under the door, Snowdin's fatal cold is impassable alone.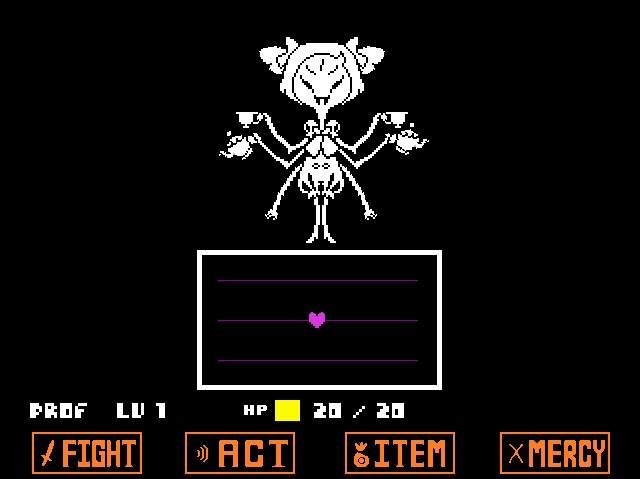 But with the money from your soul, we'll be able to rent them a heated limo~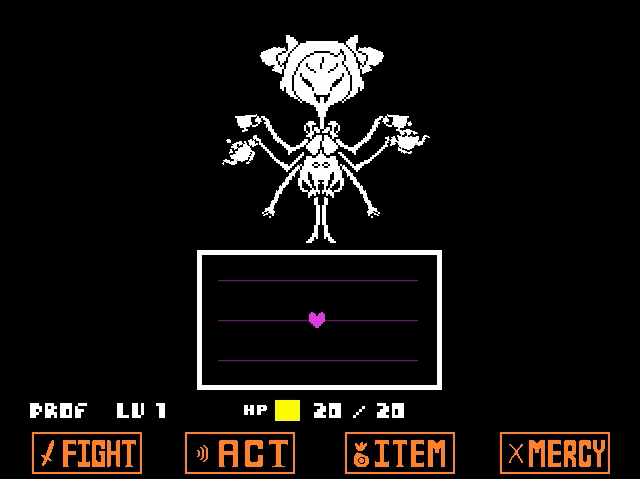 And with all the leftovers...? We could have a nice vacation~

Or even build a spider baseball field~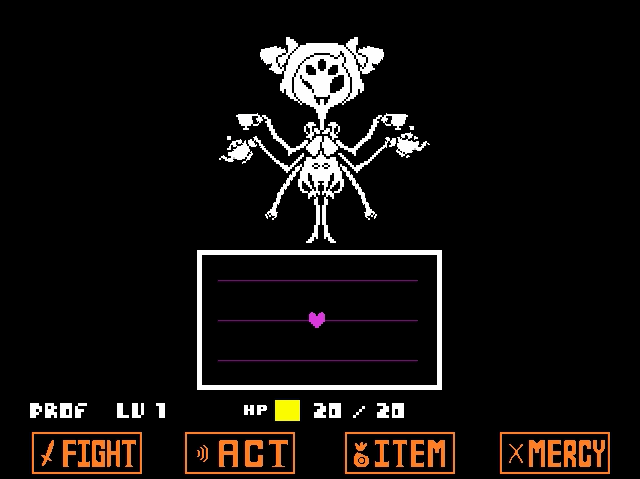 Man, I was SO close to a perfect run of this fight.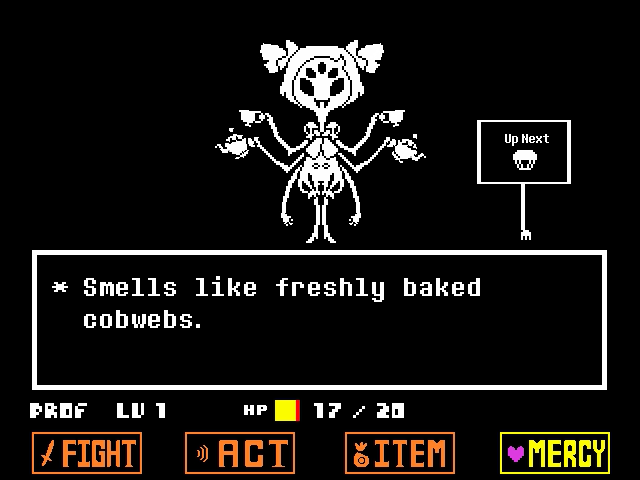 But enough of that... It's time for dinner, isn't it? Ahuhuhu~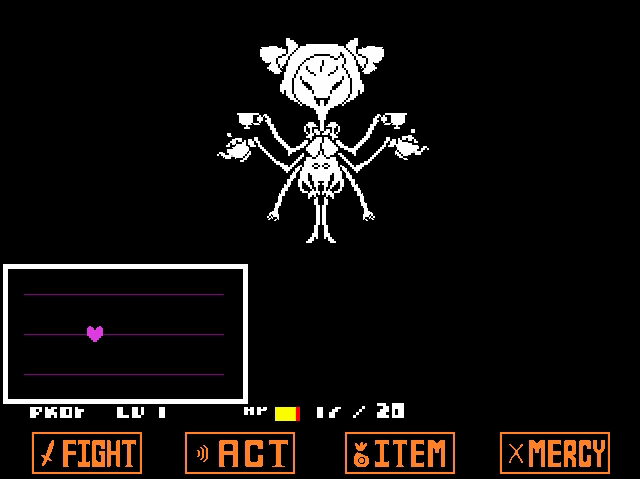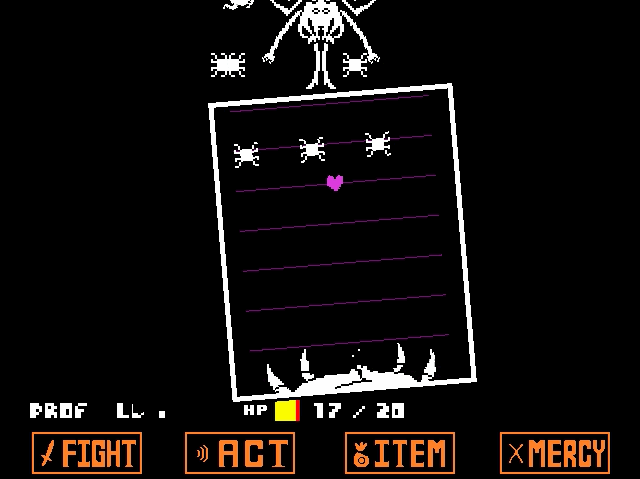 One of us has to get tired eventually.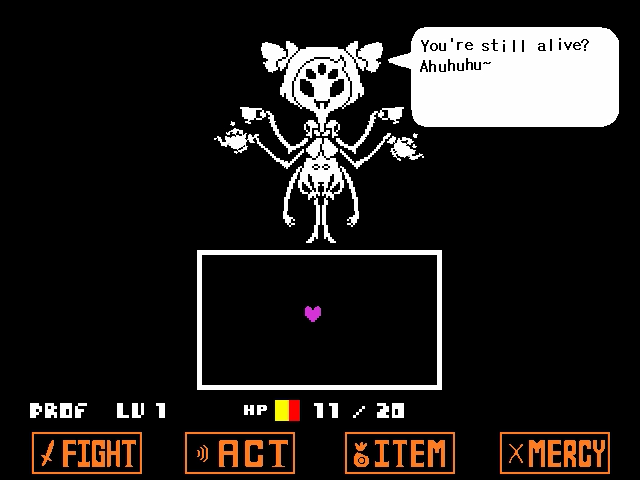 Oh, my pet~ Looks like it's time for dessert~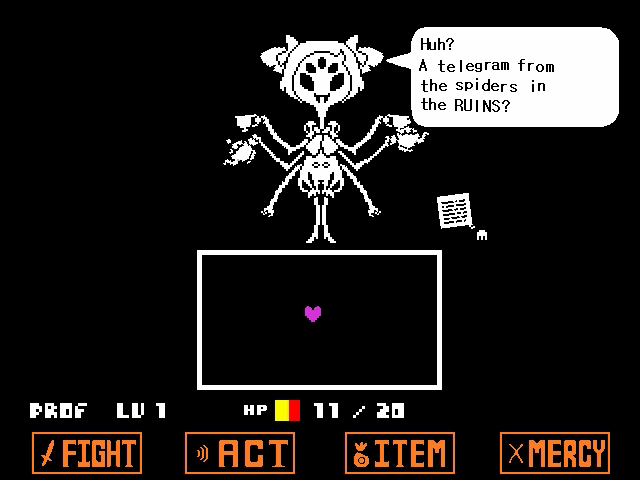 What? They're saying that they saw you, and...

...you helped donate to their cause!

Oh my, this has all been a big misunderstanding~

I thought you were someone that hated spiders~

The person who asked for that soul...

They must have meant a DIFFERENT human in a striped shirt~

Sorry for all the trouble~ Ahuhuhu~

I'll make it up to you~

You can come back here any time... And, for no charge at all...

I'll wrap you up and let you play with my pet again!

Ahuhuhuhuhuhuhuhu~ Just kidding~

I'll SPARE you now~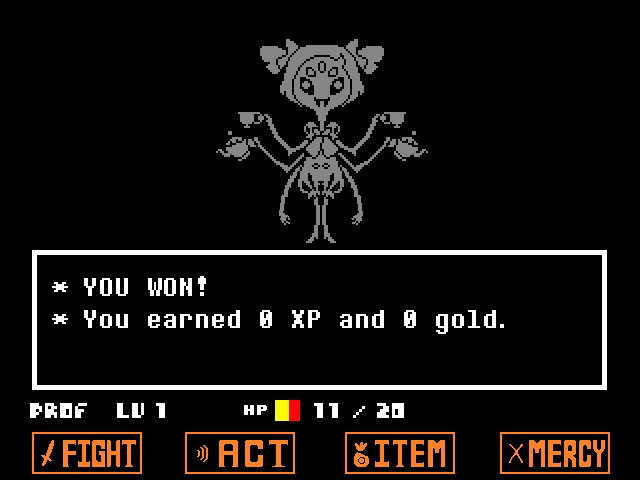 The feeling's mutual, lady.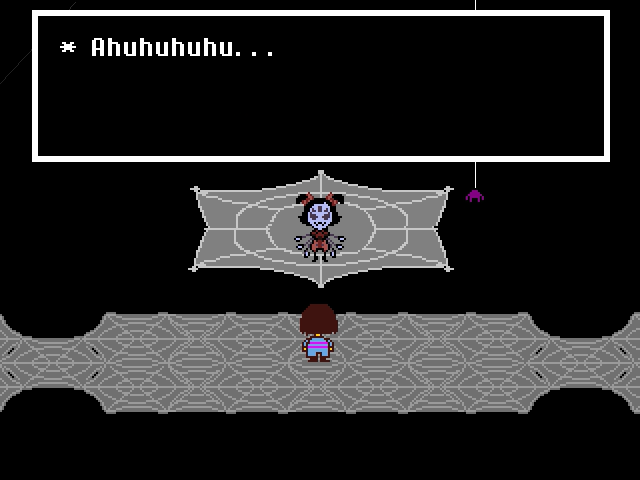 That was fun! See you again, dearie!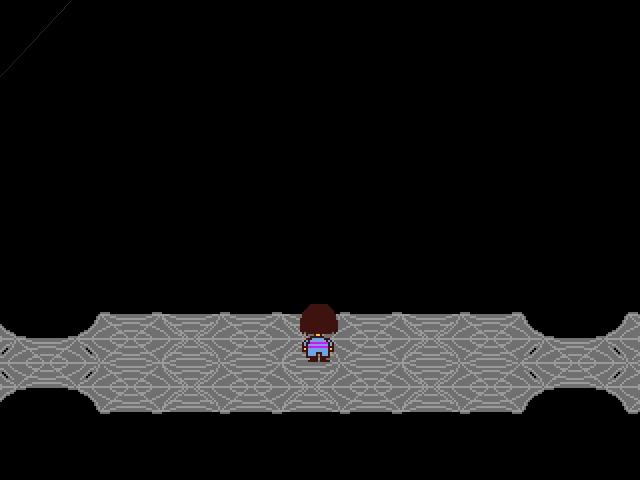 I'm free to go.