Part 25: It's Raining Somewhere Else
(Disclaimer: The videos in this and one future update were lost, and had to be reconstructed from a different save file. There may be a few inconsistencies between their contents and the regular flow of the game..)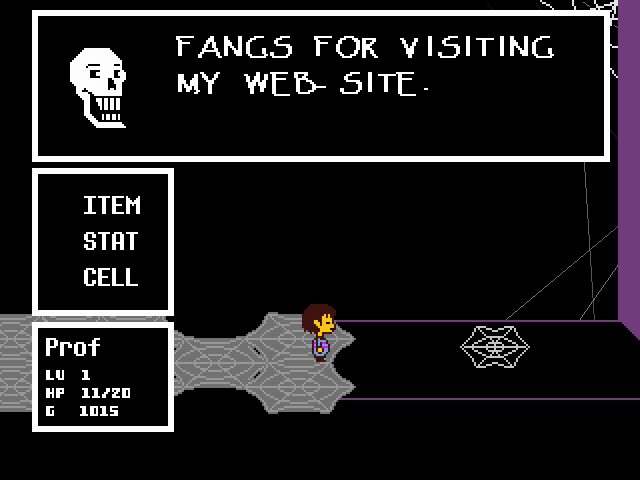 THAT'S WHAT SPIDERS LIKE TO POST.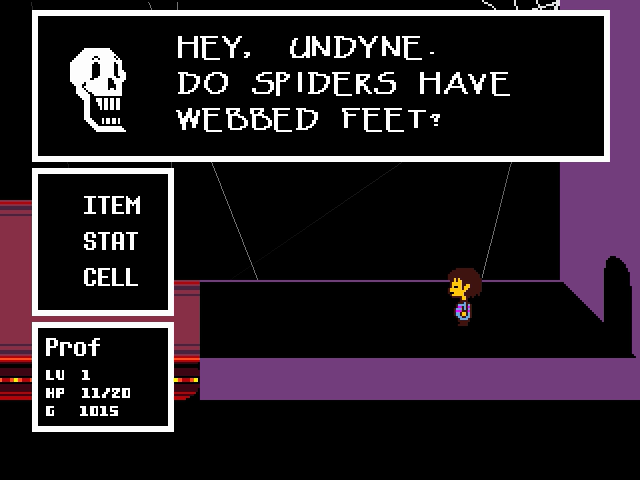 No, ducks have webbed feet.

DUCKS CAN SPIN WEBS!?

Yeah, haven't you seen a duck wrap up a loaf of bread?

Then suck all of its guts out with its fangs?

BREAD HAS GUTS?

Yeah. They just take 'em all out before they sell it.

WOW!! YOU'RE REALLY SMART, UNDYNE!

(I thought he knew I was joking...)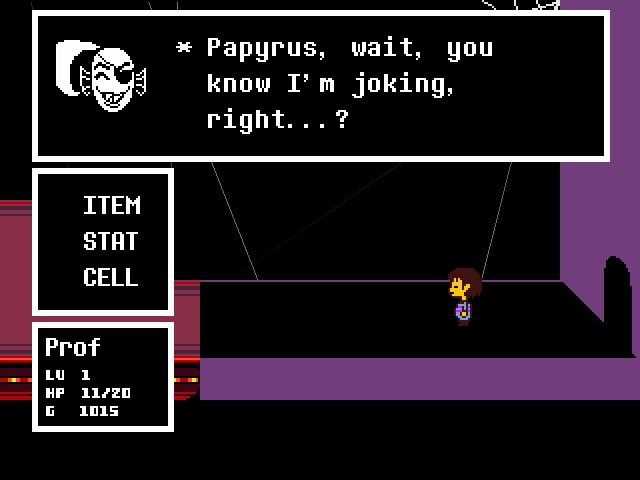 OF COURSE!

EVERYONE KNOWS SPIDERS HAVE WEBBED FEET.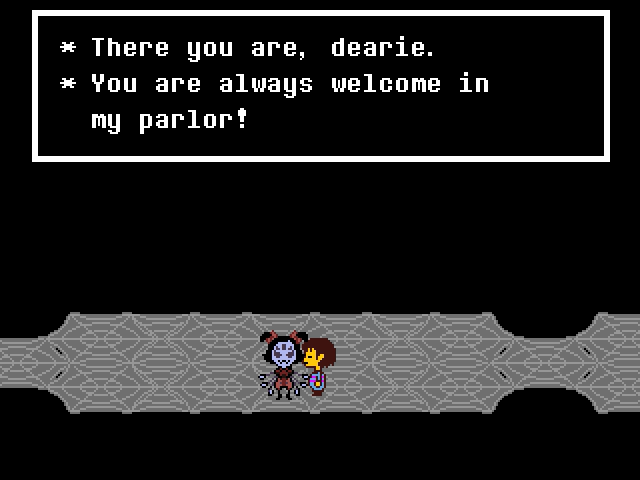 Just stay on your best behavior~ Ueee hee hee hee~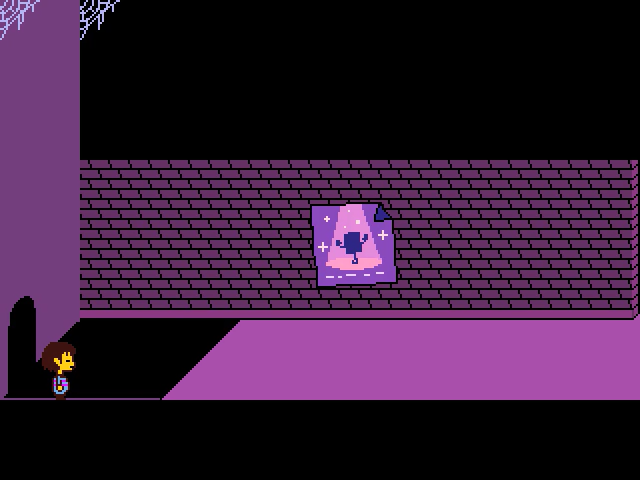 Onwards.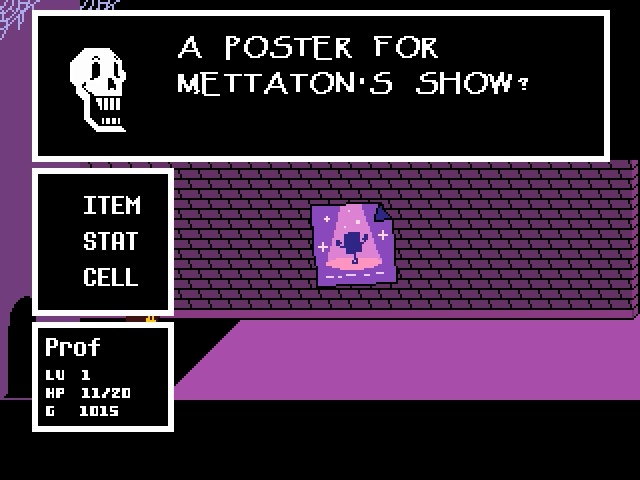 THAT'S NEATO. I WANT A POSTER FOR MY PUZZLES!

Oh! And I want a poster for all of my big fights!

A REAL EVENT! WE COULD HAVE A LIVE BAND!

And a barbeque!

AND FIREWORKS!

And a second barbeque!

WON'T YOU JUST EAT BBQ INSTEAD OF FIGHTING?

Let's do it!

We could use the spears as kabob skewers!

AND BONES AS KABONE SKEWERS!

What's a kabone?

LIKE A KABOB BUT WITH ONLY BONES.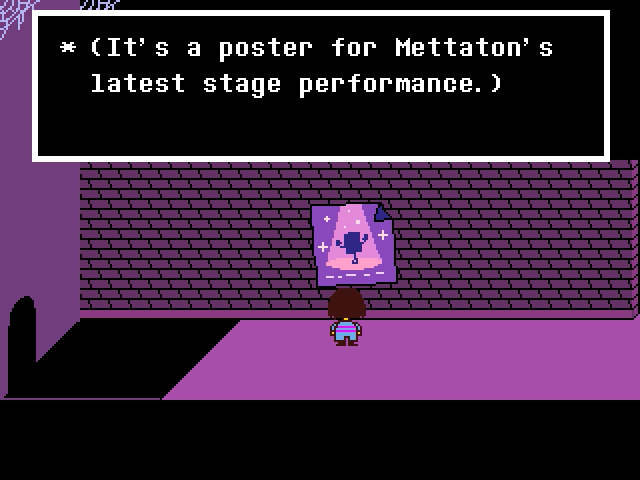 (A tragic tale of two star-crossed lovers, kept apart by the tides of fate...)
(Looks like it's almost time for the performance.)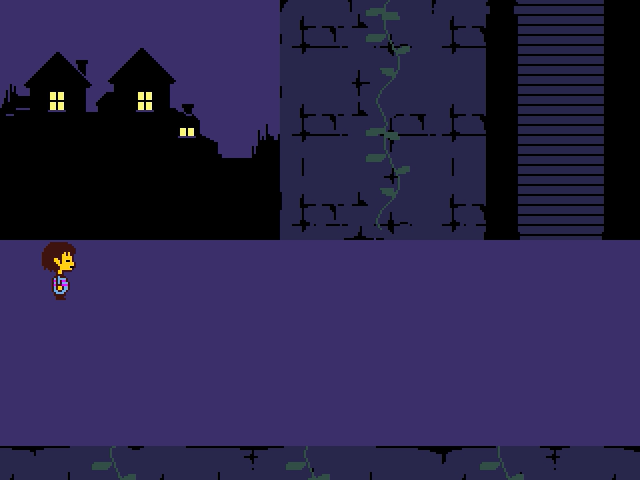 I have a bad feeling about this.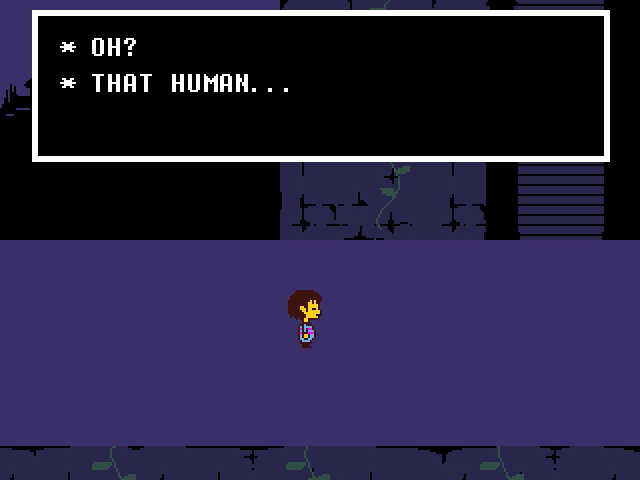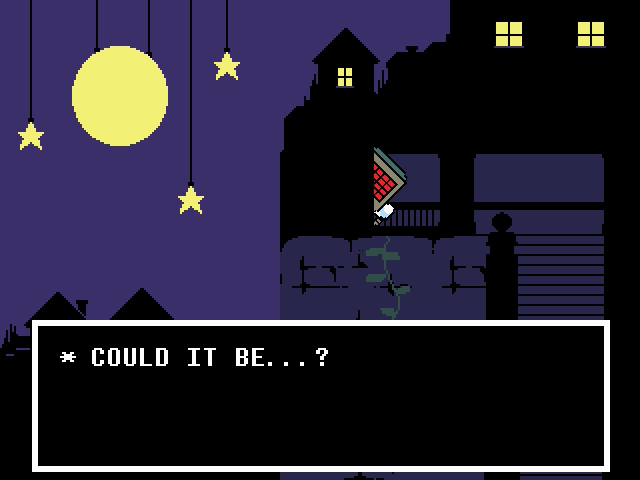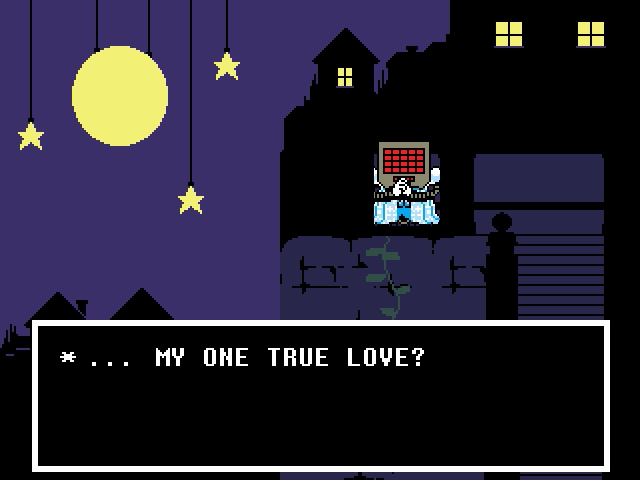 Video: Star-Crossed Lovers

(If you're only going to watch one video in this LP, let it be this one. It isn't something that can be communicated in screenshots alone.

(Music is Oh! One True Love. During this sequence, the Undertale window looks a little different.)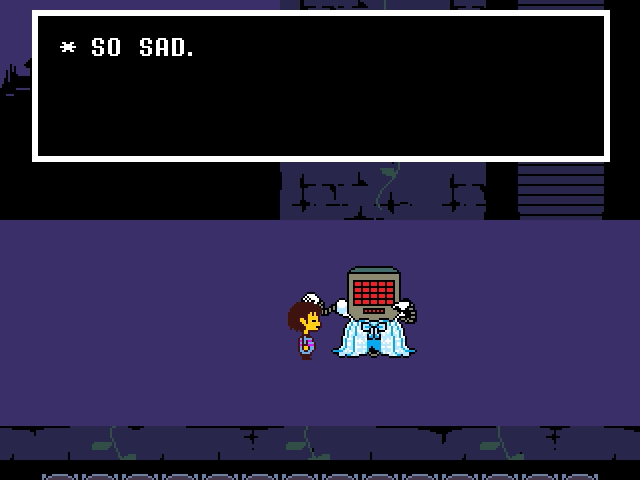 SO SAD THAT YOU ARE GOING TO THE DUNGEON.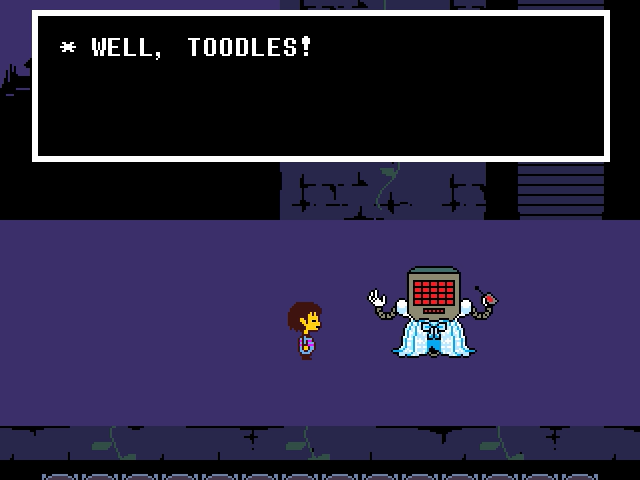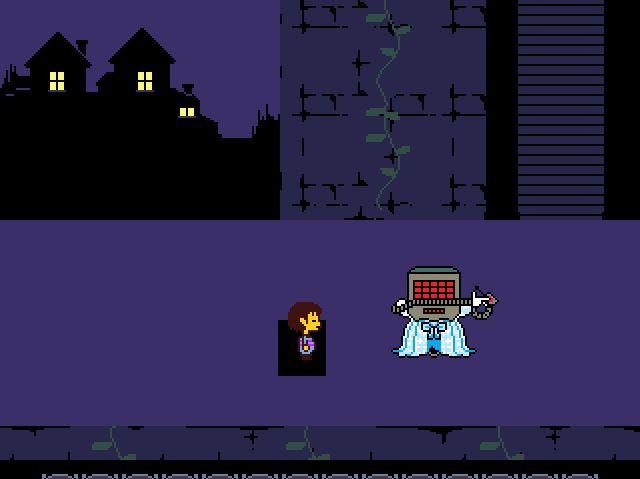 Into the dungeon I go.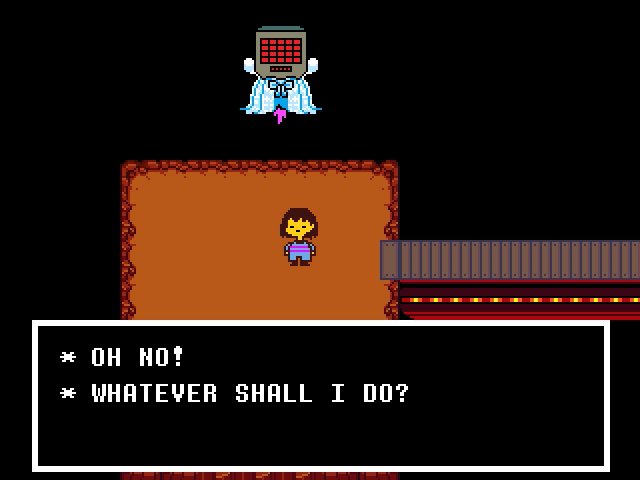 MY LOVE HAS BEEN CAST AWAY INTO THE DUNGEON.


A DUNGEON WITH A PUZZLE SO DASTARDLY, MY PARAMOUR WILL SURELY PERISH!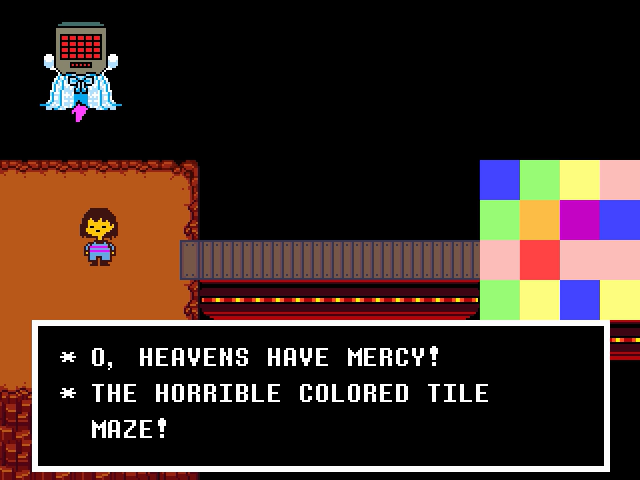 EACH COLORED TILE HAS ITS OWN SADISTIC FUNCTION.


FOR EXAMPLE, A GREEN TILE SOUNDS A NOISE, AND THEN YOU MUST FIGHT A MONSTER.


RED TILES WILL... ACTUALLY, WAIT A SECOND.


DIDN'T WE SEE THIS PUZZLE ABOUT A HUNDRED ROOMS AGO?


THAT'S RIGHT. YOU REMEMBER ALL THE RULES, DON'T YOU?


GREAT... THEN I WON'T WASTE YOUR TIME REPEATING THEM!!


OH, AND YOU'D BETTER HURRY.


BECAUSE IF YOU DON'T GET THROUGH IN 30 SECONDS...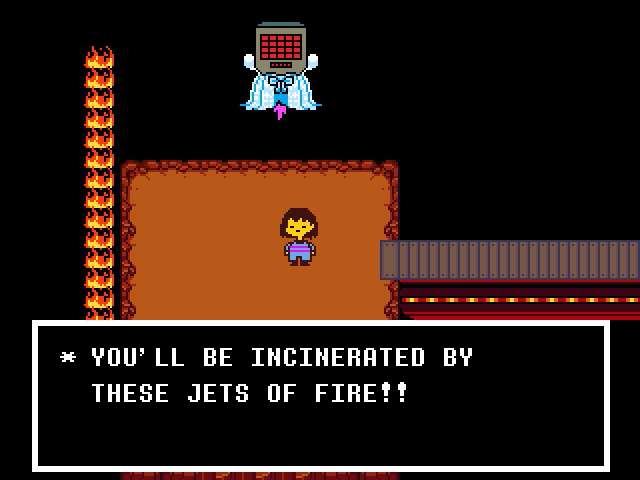 AHAHAHAHAHAHAHAHA! AHAHA... HA... HA!


MY POOR LOVE! I'M SO FILLED WITH GRIEF, I CAN'T STOP LAUGHING!


GOOD LUCK, DARLING!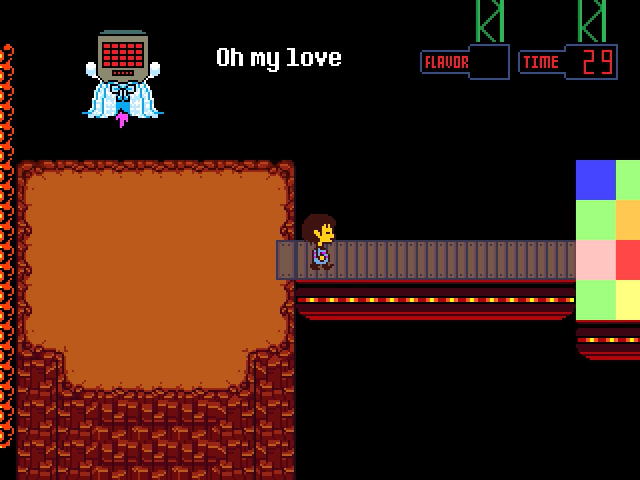 Video: Star-crossed Dungeon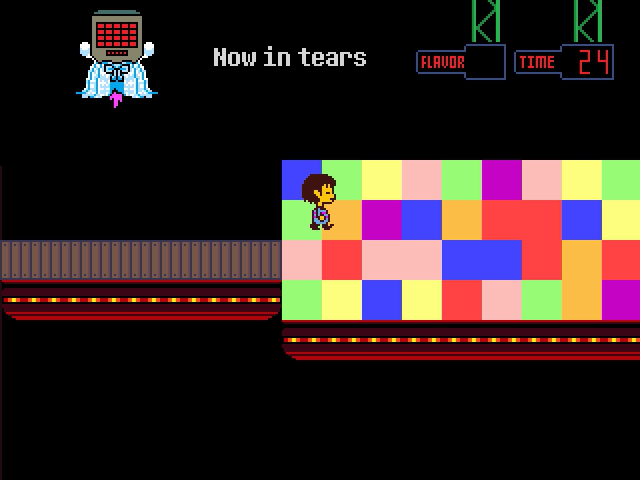 BGM: Oh! Dungeon
So, pink = safe, red = impassable, green = alarm...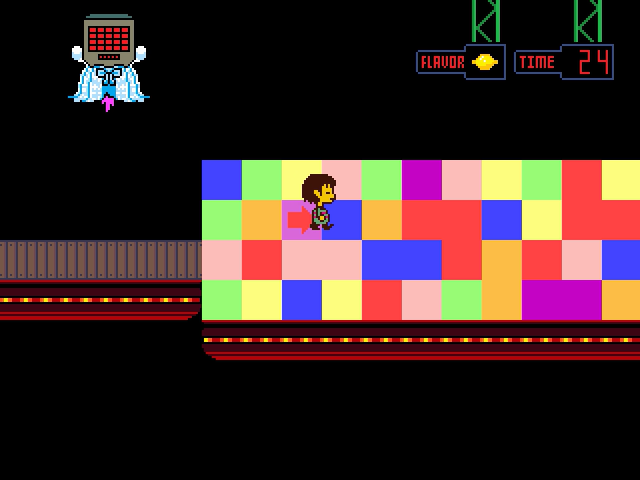 Orange makes you susceptible to pirahnas, purple slides and erases the orange effect. Blue is only safe if you don't smell like oranges and it's not next to a yellow tile.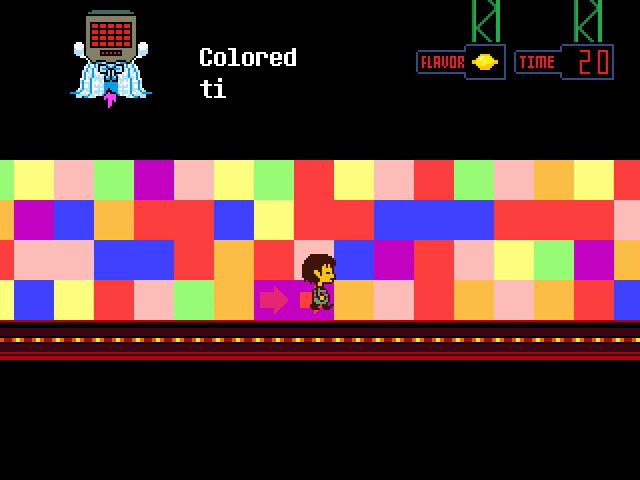 The indicator in the top right shows time remaining and current flavor (orange bad, lemon good).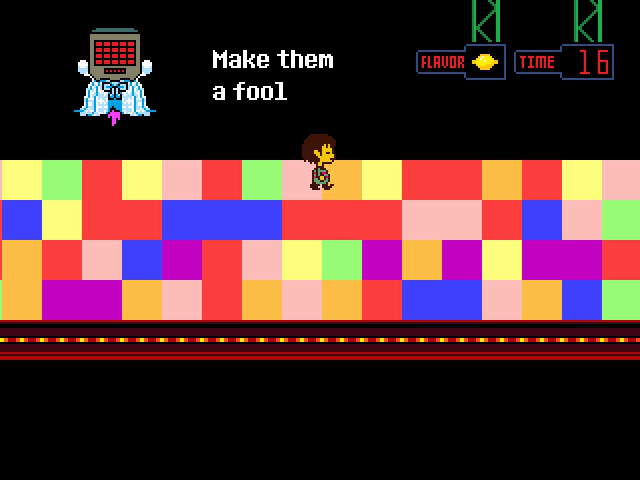 At the halfway mark, I make a fatal mistake!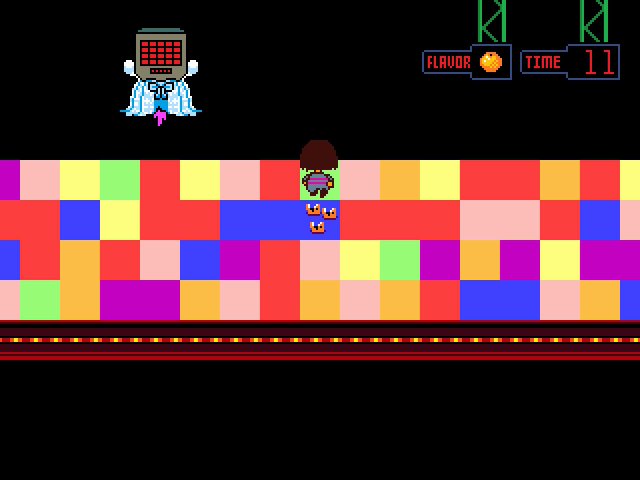 I can't escape to the right or left, because of the red tiles. I can't go back down, because I smell like oranges. There's no purple tiles in here to change me back to lemon.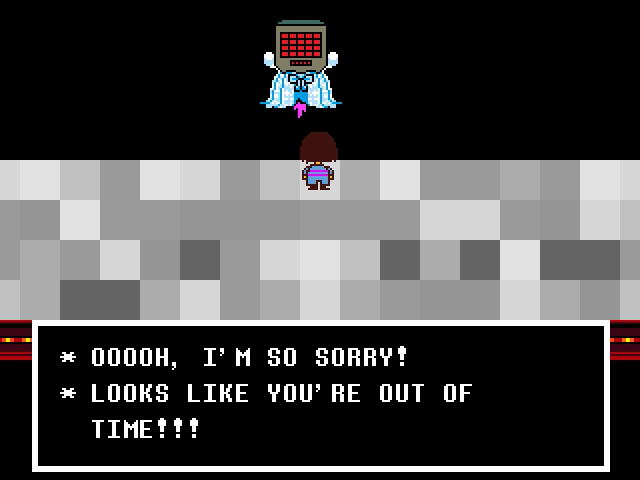 HERE COME THE FLAMES, DARLING!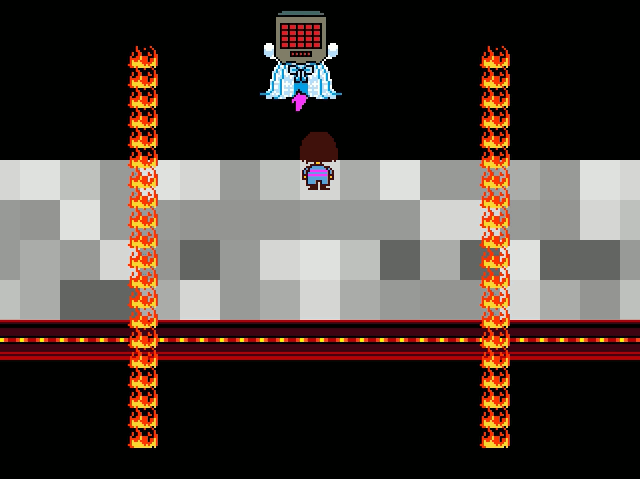 THEY'RE CLOSING IN!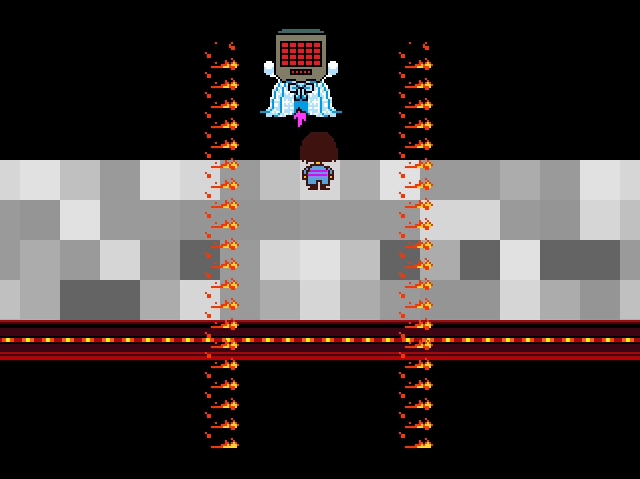 GETTING! CLOSER! OH MY!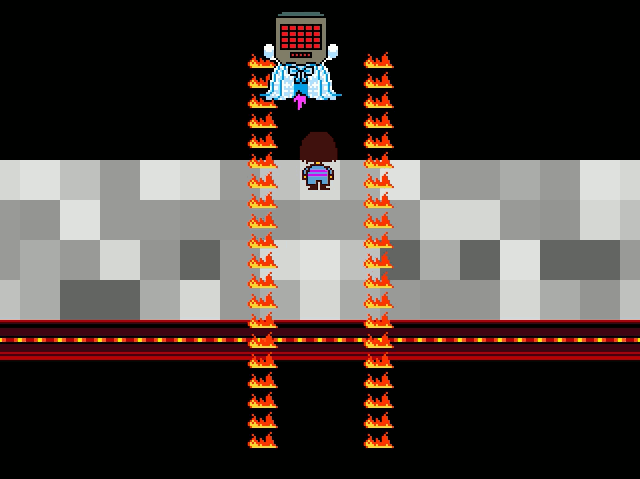 ANY MINUTE NOW!!!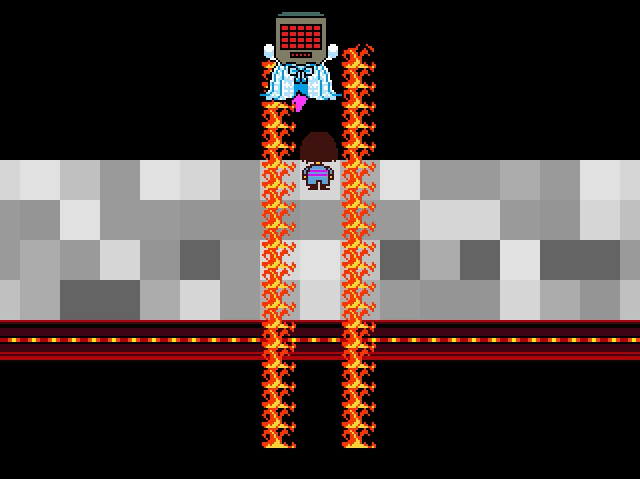 ...... (ROBOTIC COUGH)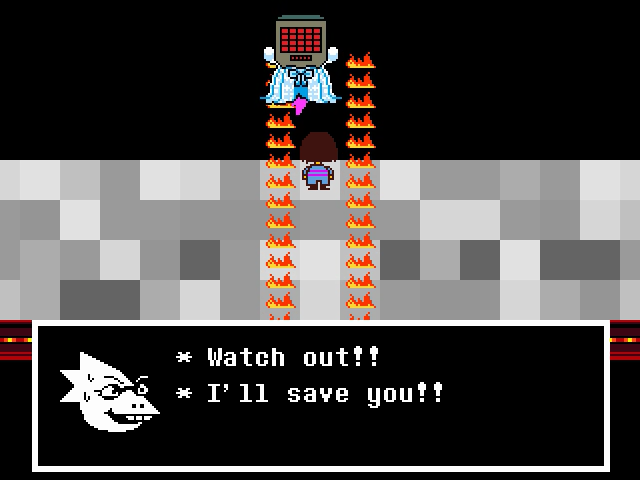 I'm hacking into the firewall right now!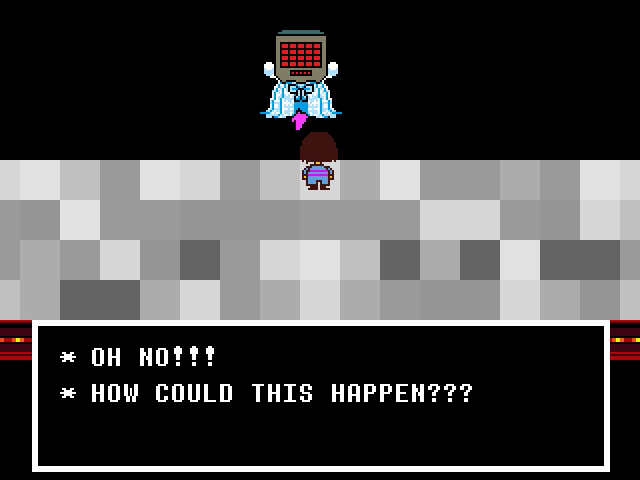 FOILED AGAIN BY THE BRILLIANT DOCTOR ALPHYS!!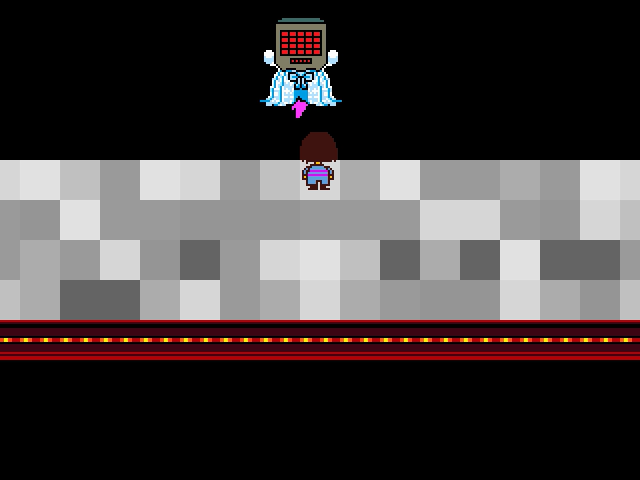 THA--

That's right!

Come on, Mettaton, give up already!

You'll never be able to defeat us...

Not as long as we work together!

Your puzzle's over... Now go home and leave us alone!

PUZZLE? OVER?


ALPHYS, DARLING, WHAT ARE YOU TALKING ABOUT...?


DID YOU FORGET WHAT THE GREEN TILES DO?


THEY MAKE A SOUND, THEN YOU HAVE TO FIGHT A MONSTER.


WELL, DARLING... THAT MONSTER...


IS ME!!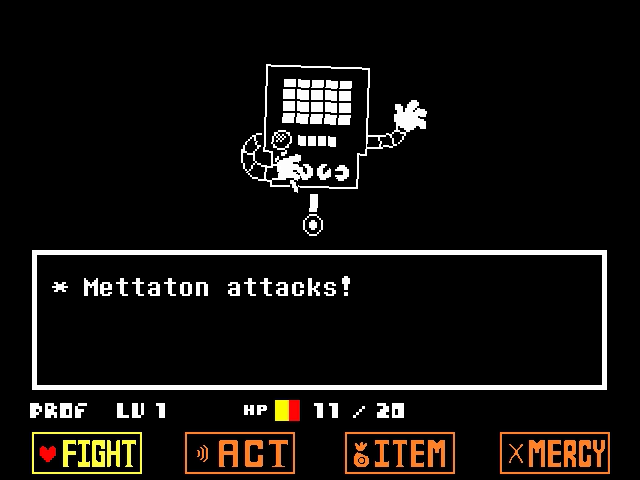 BGM: Metal Crusher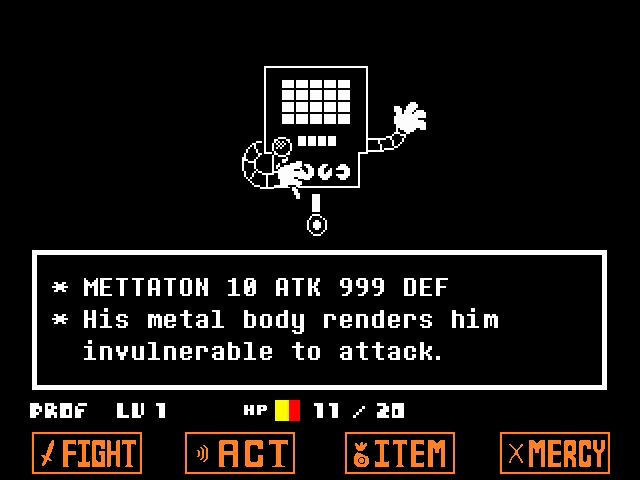 THIS IS IT, DARLING! SAY GOODBYE!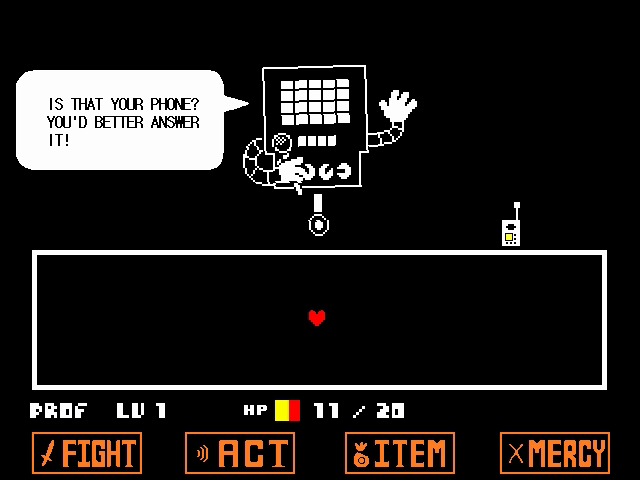 H-hey!! Th-this seems bad, but don't worry!!

Th-there's one last thing I installed on your phone...!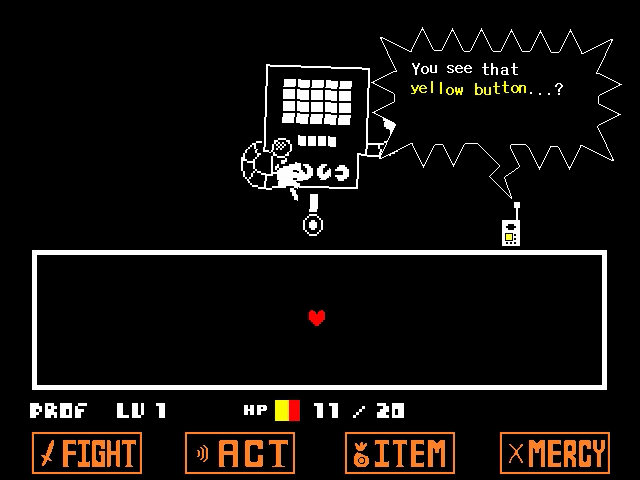 Go to this phone's [[ACT]] menu and press it!!!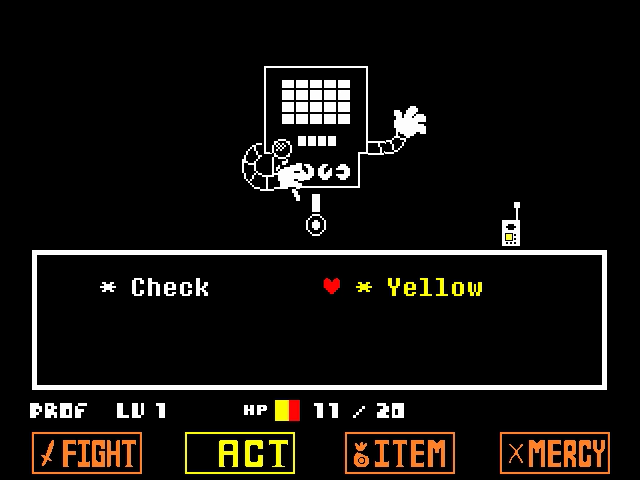 BGM: Silence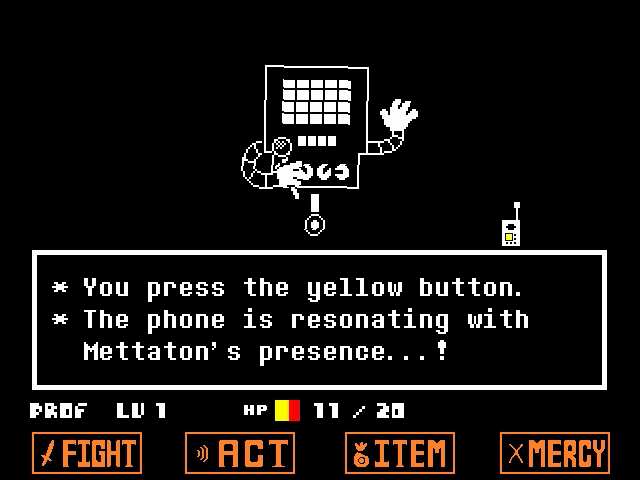 THIS IS IT, DARLING! SAY GOODBYE!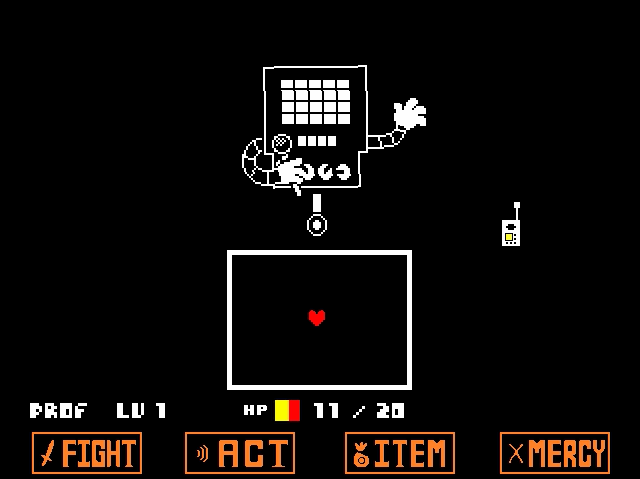 Now press [Z]!!!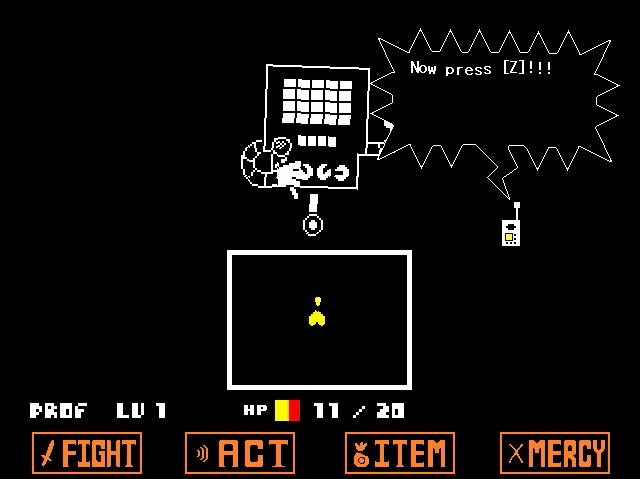 OOOH!


OOOOOOOOH!


YOU'VE DEFEATED ME!!


HOW CAN THIS BE, YOU WERE STRONGER THAN I THOUGHT, ETC.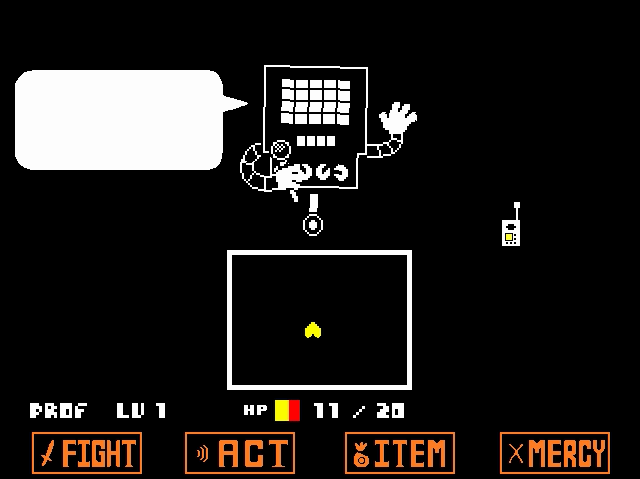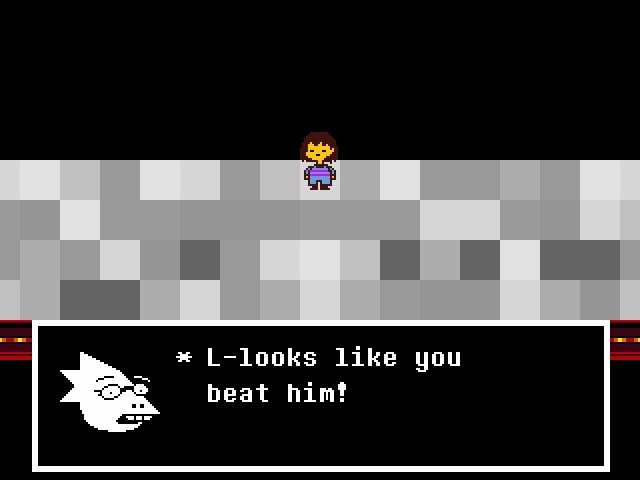 Y-you did a really great job out there.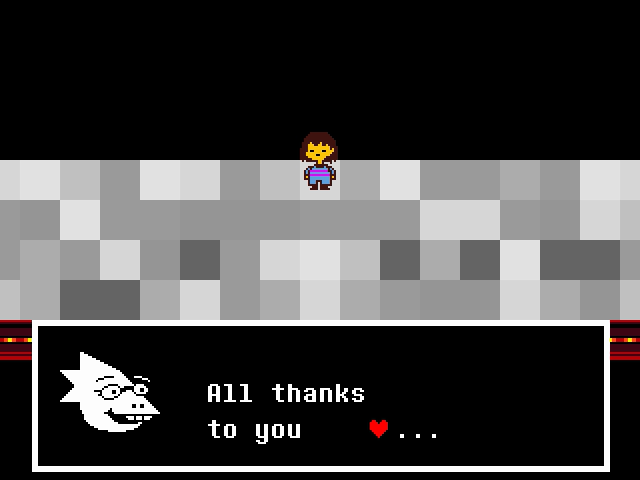 ...

...

...

...

...umm, h-hey, this might sound strange, but...

...c-can I tell you something?

...

B-before I met you, I d-didn't really...

I didn't really like myself very much.

For a long time, I f-felt like a total screw-up.

L-like I couldn't do a-anything w-without...

W-without ending up letting everyone down.

B-but...!

Guiding you has made me feel...

A lot better about myself.

So... thanks for letting me help you.

...

Uhhh, anyway, we're almost to the Core.

It's just past MTT Resort.

Come on! Let's finish this!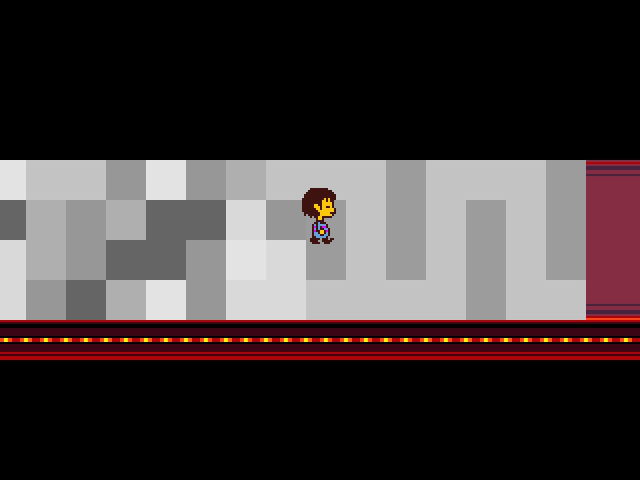 BGM: Another Medium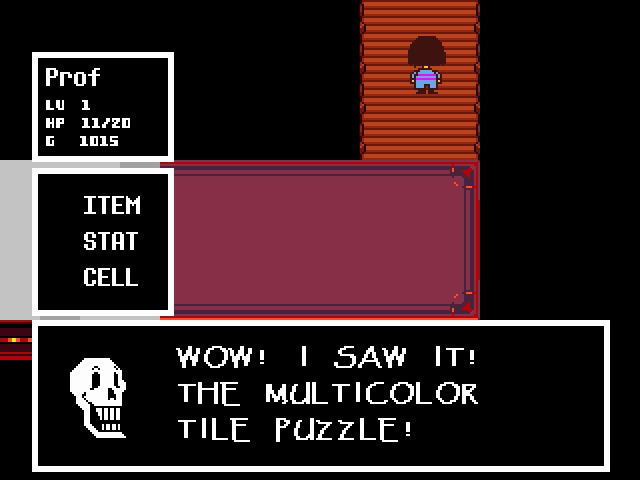 SEEMS LIKE YOU WEREN'T ABLE TO COMPLETE IT.

YOU'VE GOT TO BE PREPARED NEXT TIME!

I'LL HAVE TO EXPLAIN IT ALL AGAIN!

YOU SEE, RED TILES ARE IMPASSIBLE.

PINK TILES DON'T DO ANYTHING.

GREEN TILES ARE...

PLAID TILES ARE...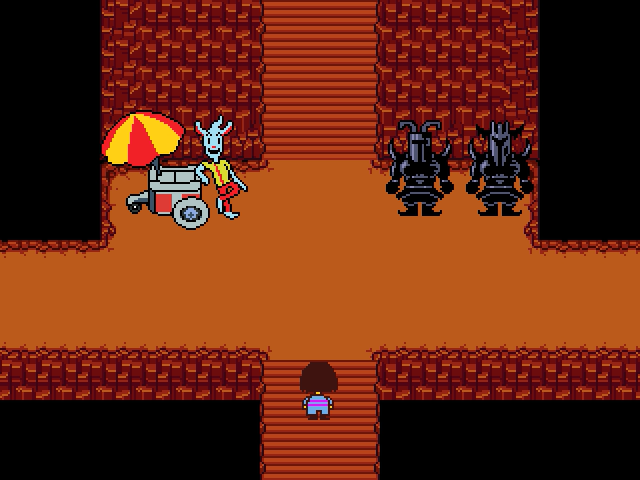 Oh hey, these guys again.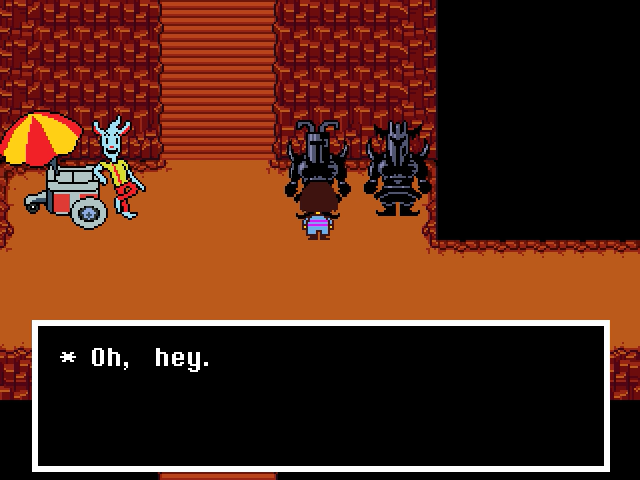 We're, like, taking a rain check on that killing-you thing.

Like, don't tell Undyne about this, OK?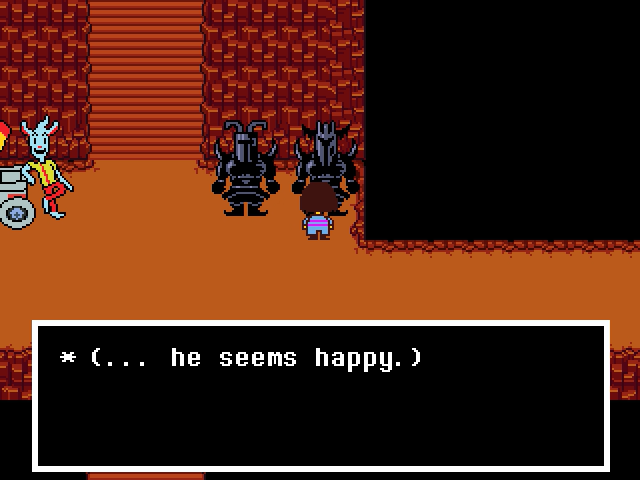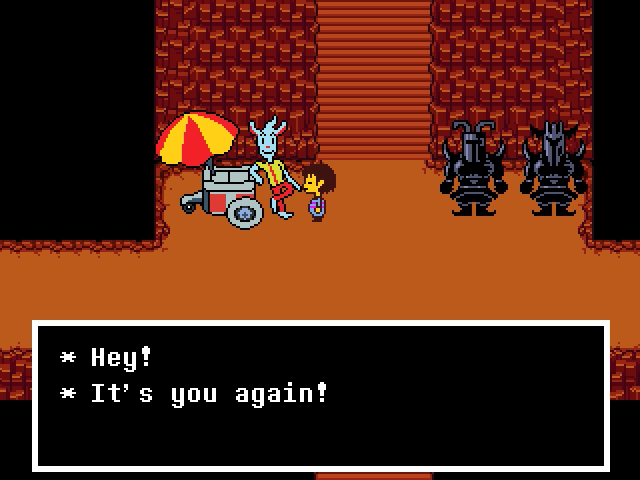 Business is excellent here! These two fellas bought ALL my ice cream!

I've actually sold out of everything!!!

...sorry.

Wait! I've still got something for you!

...a big smile! How about that!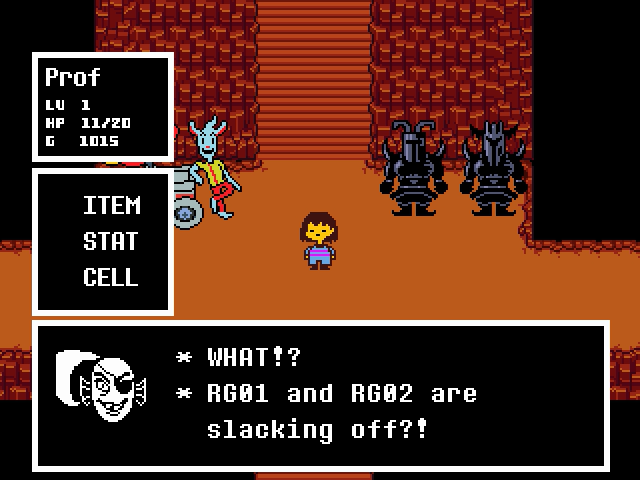 Come ON! They should be KILLING you right now!

Not that I want them to, I mean.

But they could at least TRY, y'know!?

I ALMOST CAPTURED YOU...

WHERE'S MY ICE CREAM.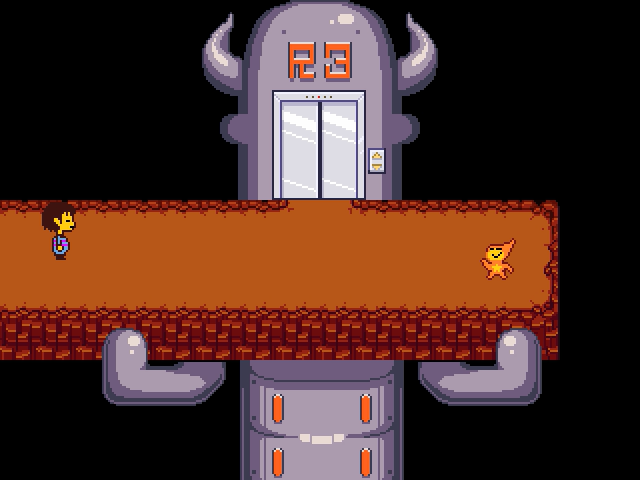 West just goes back to the stage. To the east, I find the top of the other elevator.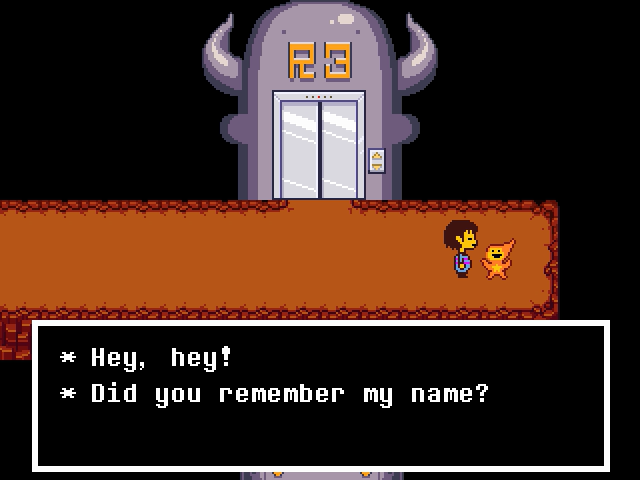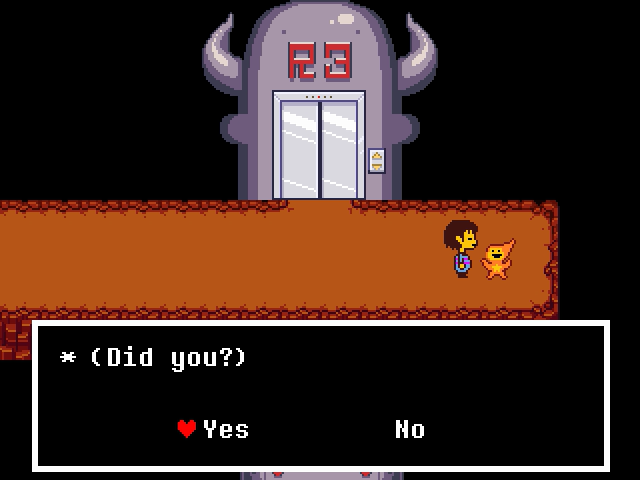 Wh-WHAT! You REMEMBER!?

How could I be so easily defeateeeeeeeeeeeeed!?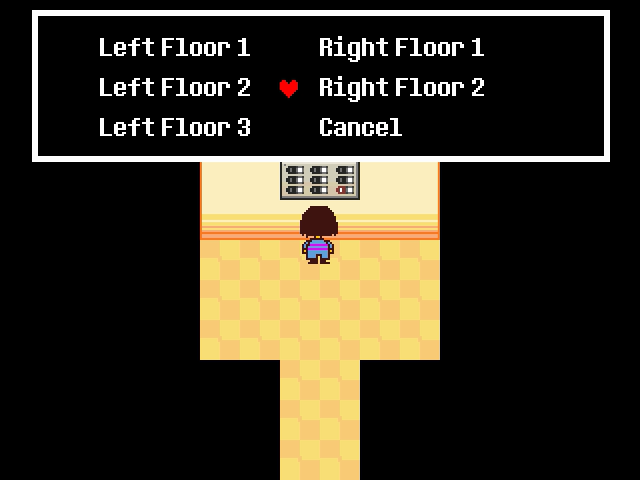 Before I continue, there's something I have to do on the second floor. Just for fun.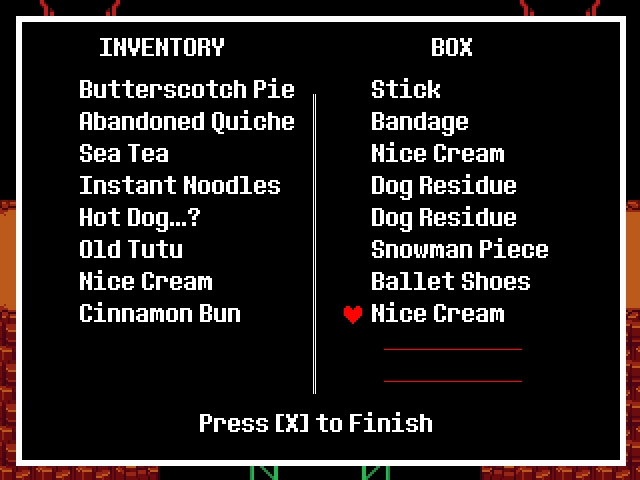 I pull some items out of storage, filling up my inventory.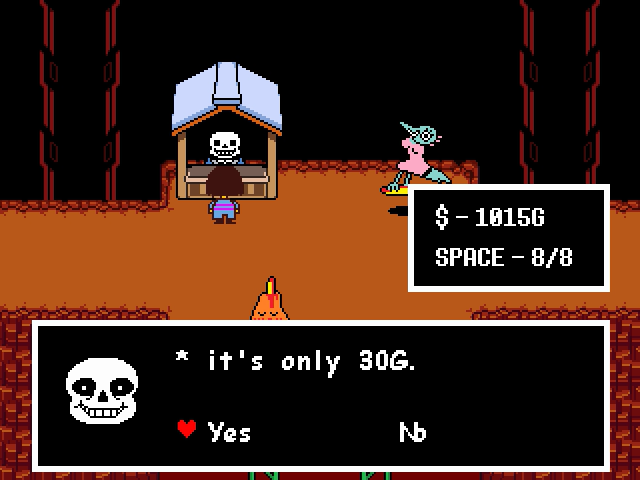 Then, I buy a 'dog.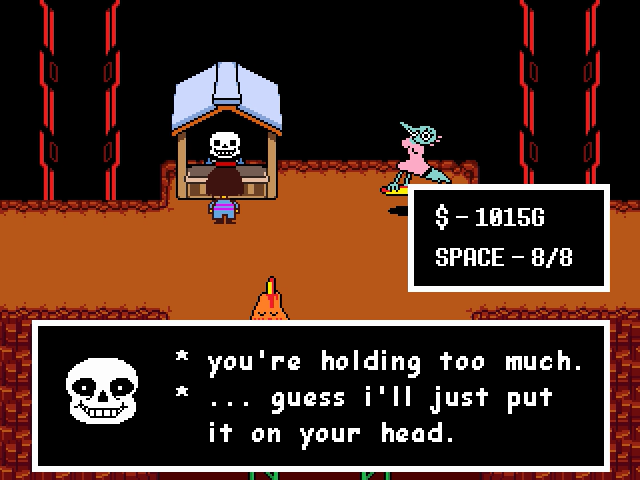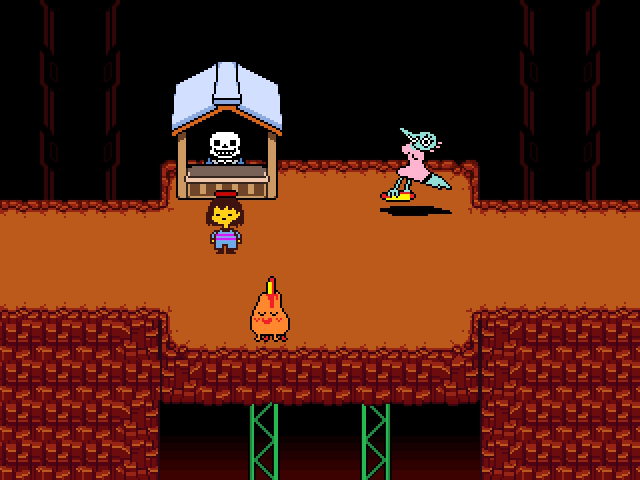 Yeah.
Let's get another one.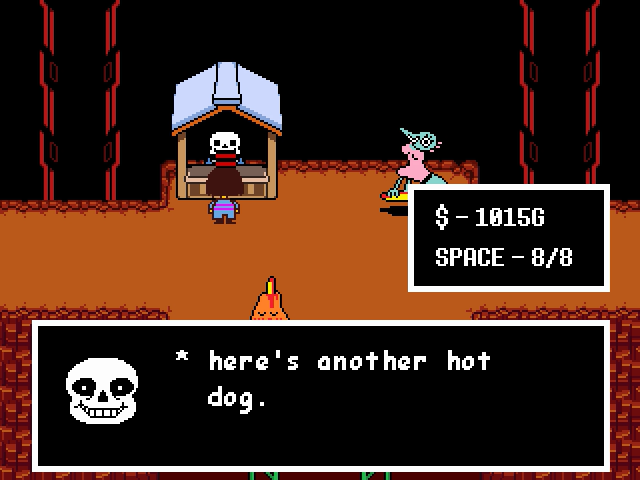 it's on the house. well, no. it's on you.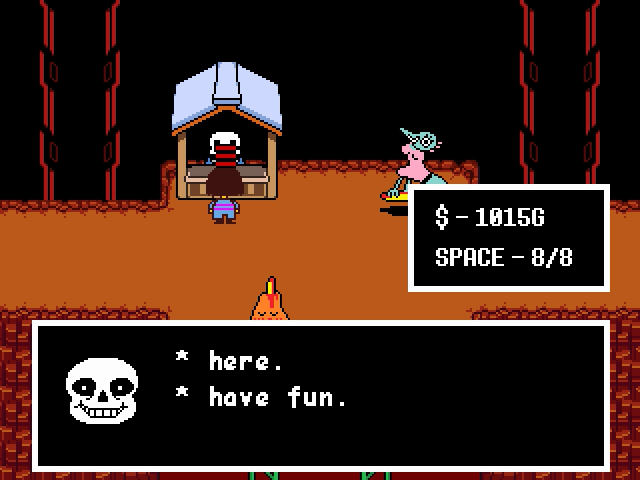 This continues for quite some time.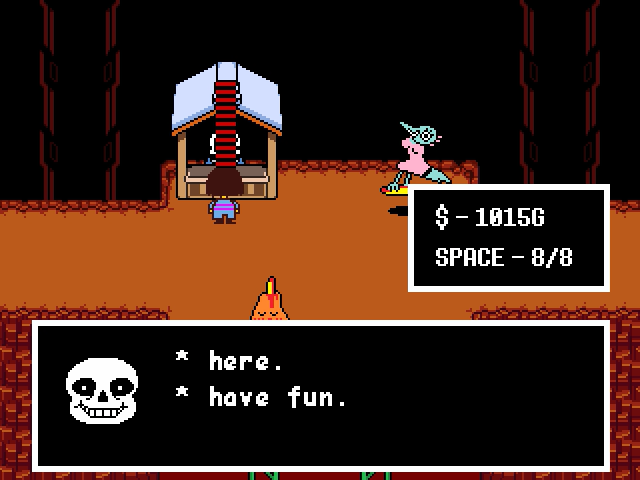 Quite some time indeed.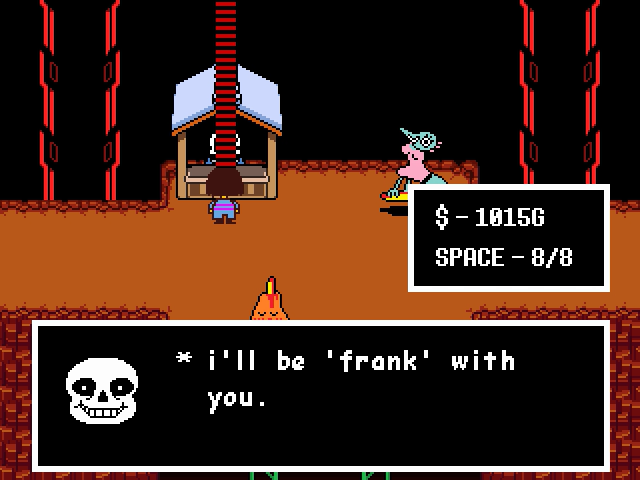 as much as i like putting hot dogs on your head...

thirty is just an excessive number.

twenty-nine, now that's fine, but thirty...

does it look like my arms can reach that high?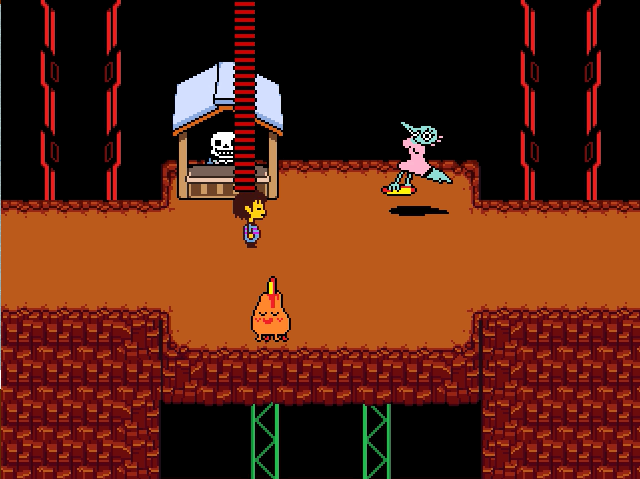 I wanted to take them with me, but that may prove impractical.
I head back.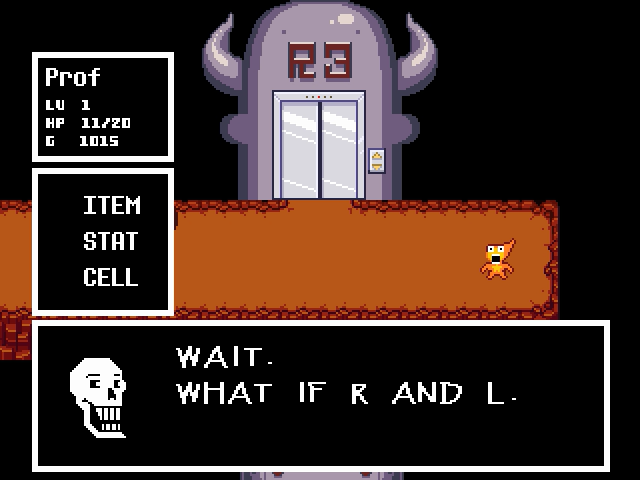 STAND FOR RIGHT AND LEFT???

No WAY! That makes NO sense.

Cause if you face the opposite way, they'd be wrong!

BUT IF YOU FACE THE OTHER WAY...

HOW CAN YOU KNOW THEY ARE REALLY STILL WRONG?

Let's not get philosophical over the alphabet.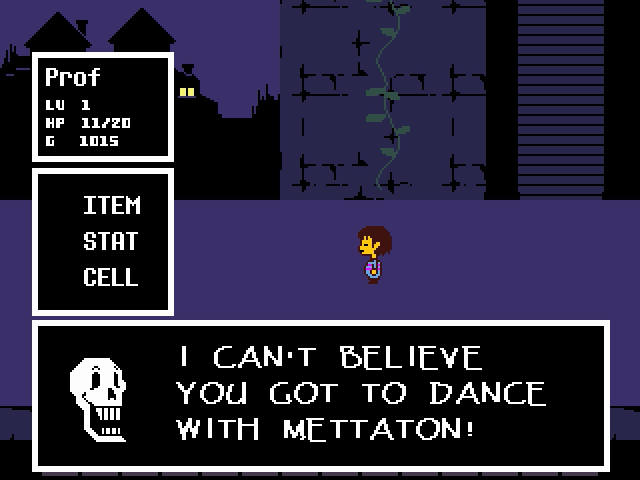 Big deal...

Earlier, the human and I danced with DEATH!!!

WOW!!!

IS DEATH COOL?

Yeah, she's like super hot.

I WANT TO MEET DEATH...
I head back, and north.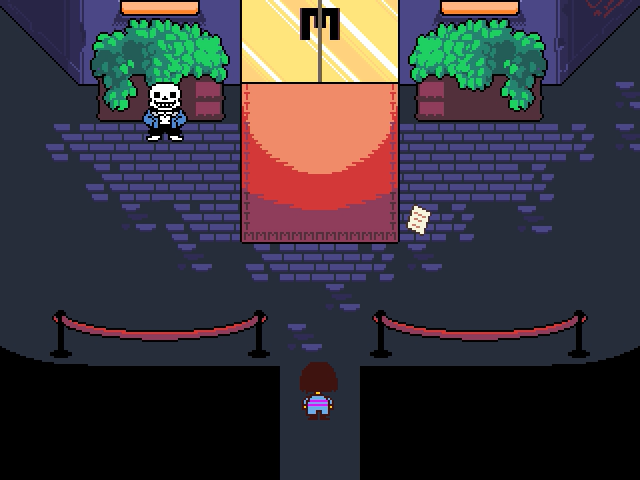 BGM: Silence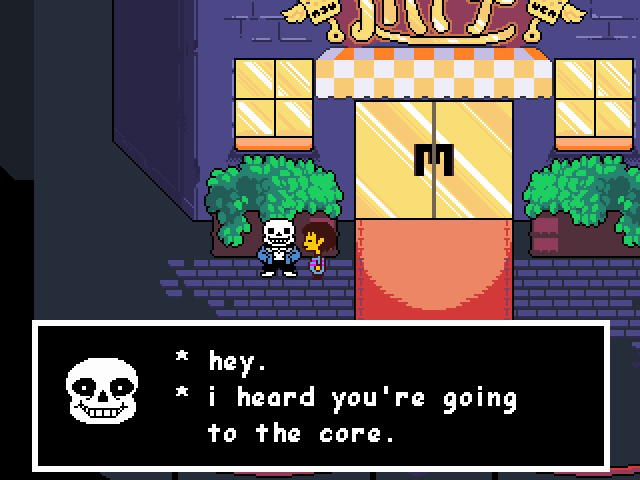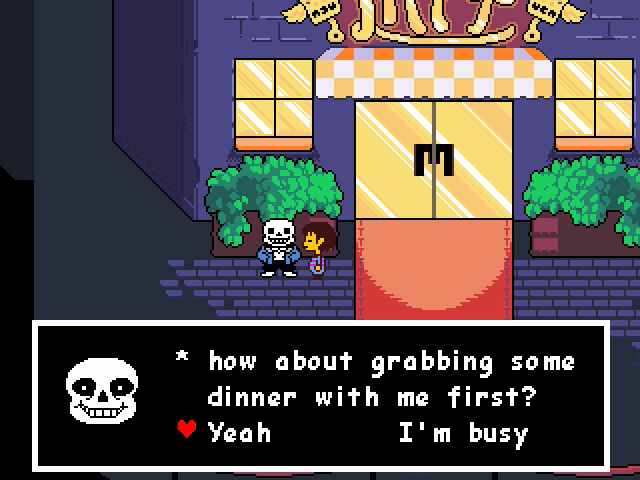 great, thanks for treating me.

over here. i know a shortcut.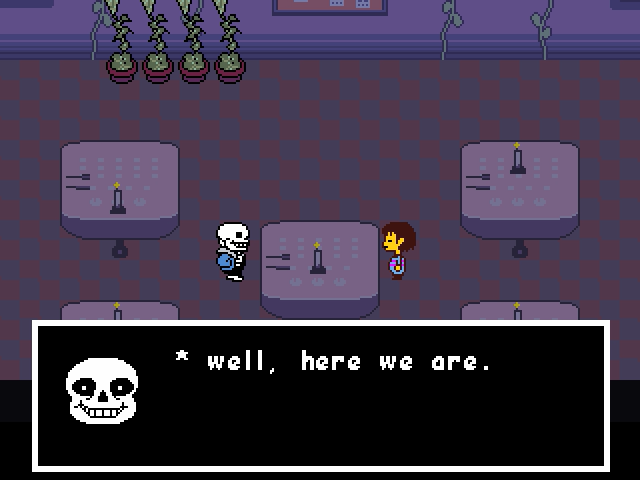 BGM: It's Raining Somewhere Else

well, here we are.

so.

your journey's almost over, huh?

you must really wanna go home.

hey. i know the feeling, buddo.

though...

maybe sometimes it's better to take what's given to you.

down here you've already got food, drink, friends...

is what you have to do...

really worth it?

...

ah, forget it.

i'm rootin' for ya, kid.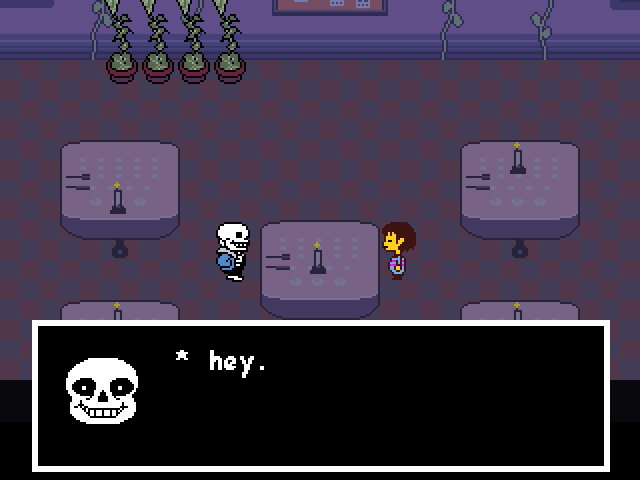 let me tell you a story.

so i'm a sentry in snowdin forest, right?

i sit out there and watch for humans. it's kind of boring.

fortunately, deep in the forest...

there's this HUGE locked door.

and it's perfect for practicing knock knock jokes.

so one day, i'm knocking 'em out, like usual.

i knock on the door and say "knock knock."

and suddenly, from the other side...

i hear a woman's voice.

"who is there?"

so naturally, I respond:

"dishes."

"dishes who?"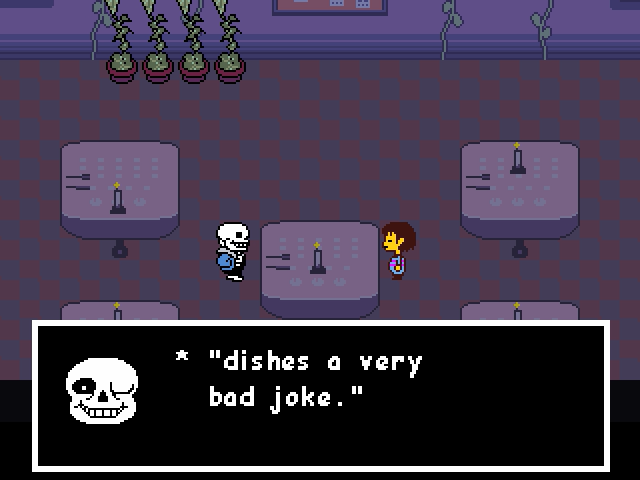 then she just howls with laughter.

like it's the best joke she's heard in a hundred years.

so I keep 'em coming, and she keeps laughing.

she's the best audience i've ever had.

then, after a dozen of 'em, SHE knocks and says...

"Knock knock!"

i say "whos there?"

"old lady!"

"old lady who?"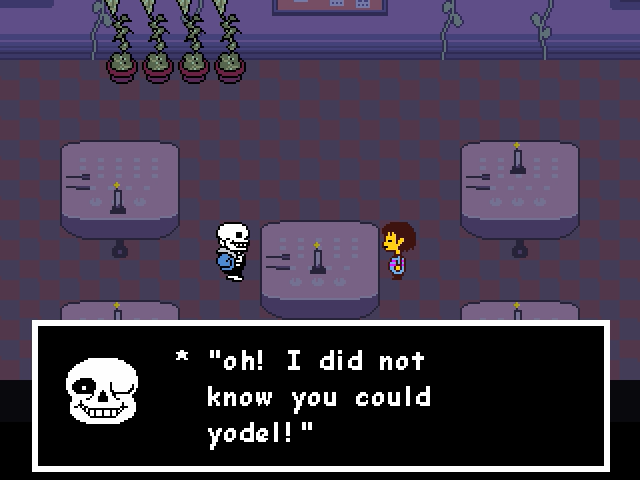 wow.

needless to say, this woman was extremely good.

we kept telling each other jokes for hours.

eventually, i had to leave.

papyrus gets kind of cranky without his bedtime story.

but she told me to come by again, and so i did.

then i did again. and again. it's a thing now.

telling bad jokes through the door.

it rules.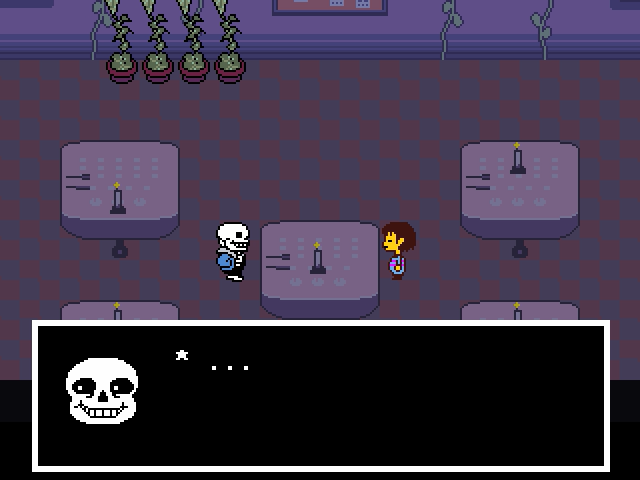 one day, though, i noticed she wasn't laughing very much.

i asked her what was up.

then she told me something strange.

"if a human ever comes through this door..."

"could you please, please promise something?"

"watch over them, and protect them, will you not?"

now, i hate making promises.

and this woman, i don't even know her name.

but...

someone who sincerely likes bad jokes...

has an integrity you can't say "no" to.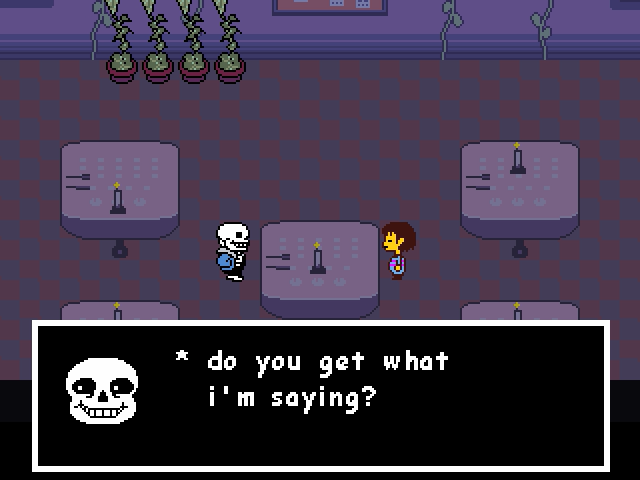 BGM: Silence

that promise i made to her...

you know what would have happened if she hadn't said anything?

...buddy.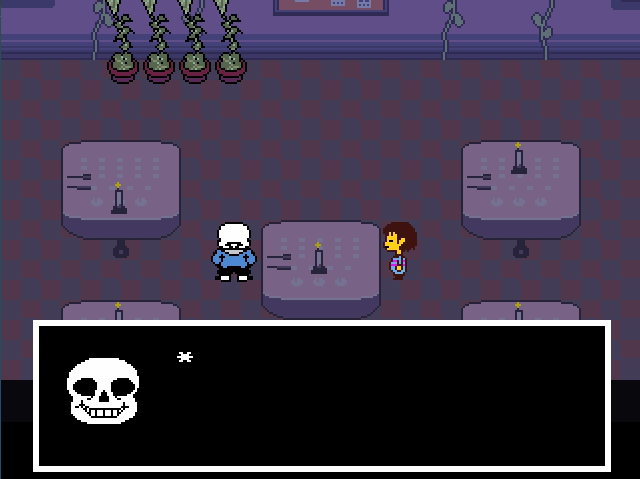 ...

hey, lighten up, bucko!

i'm just joking with you.

besides...

haven't i done a great job protecting you?

i mean, look at yourself.

you haven't died a single time.

that's right, isn't it?

well, chalk it up to my great skills.

heh.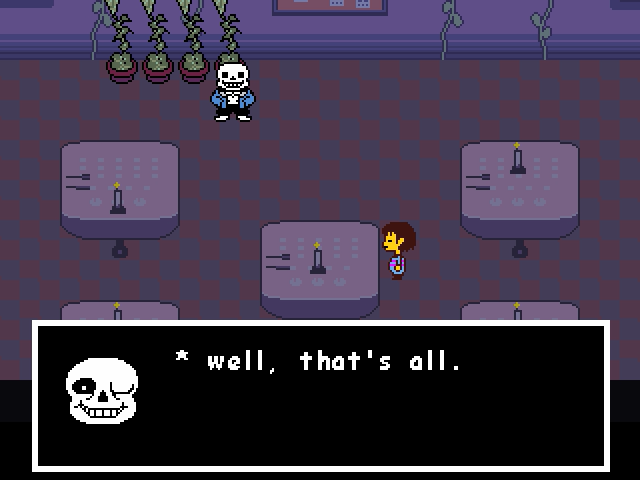 take care of yourself, kid.

'cause someone really cares about you.