Part 27: CORE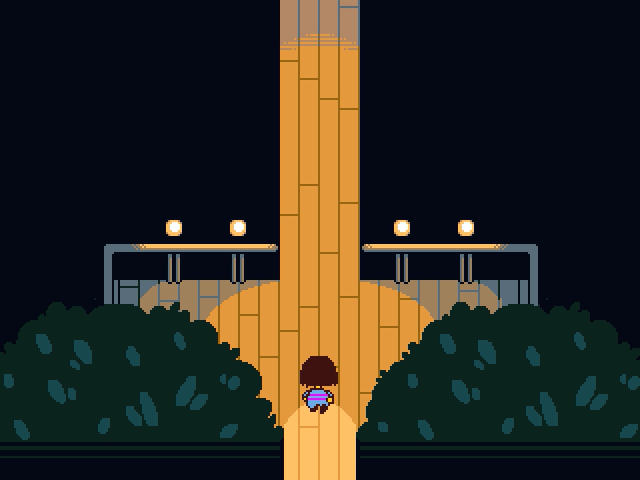 BGM: CORE Approach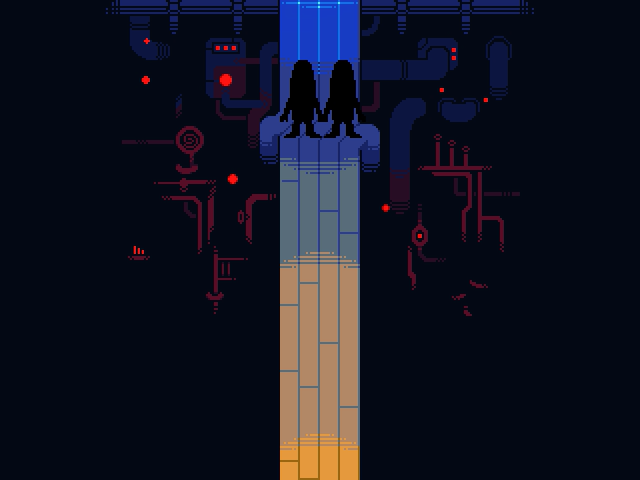 N-nobody else is s-supposed to be here...

Oh well! We can't worry about that now!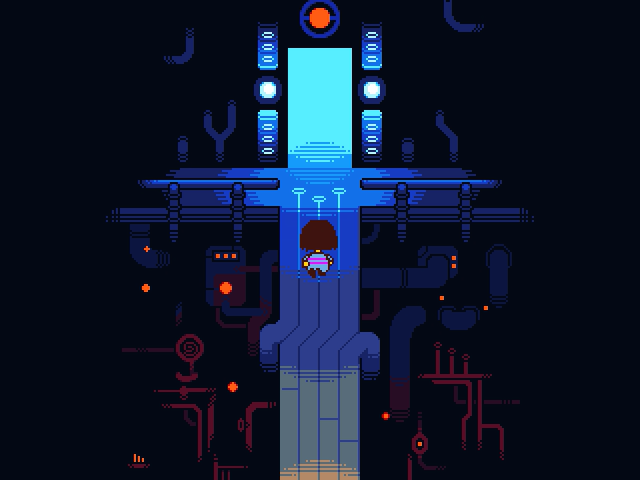 I enter the Core.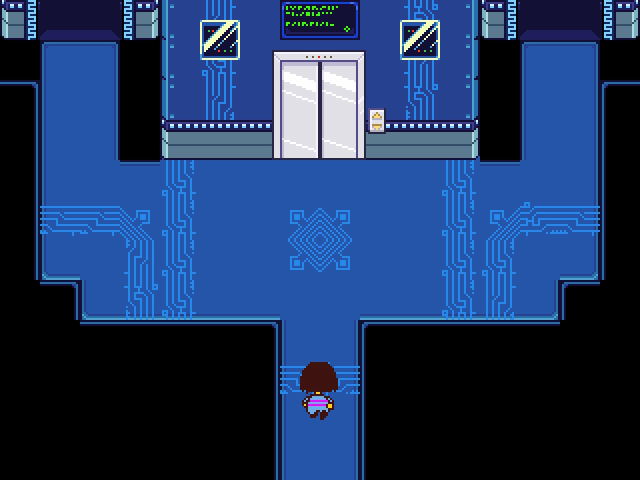 BGM: CORE
2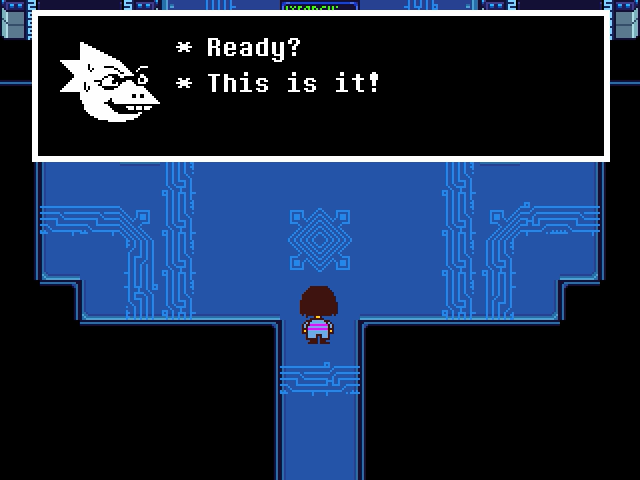 332

Take the elevator up to the top of the Core!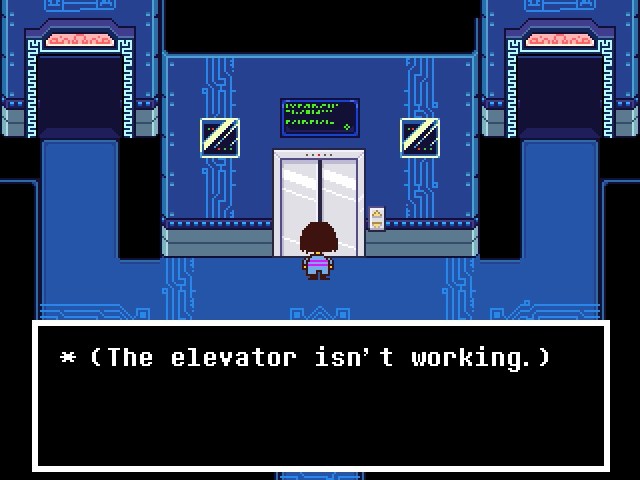 What? The elevator should be working...

...

W-well then! Go to the right and keep heading up!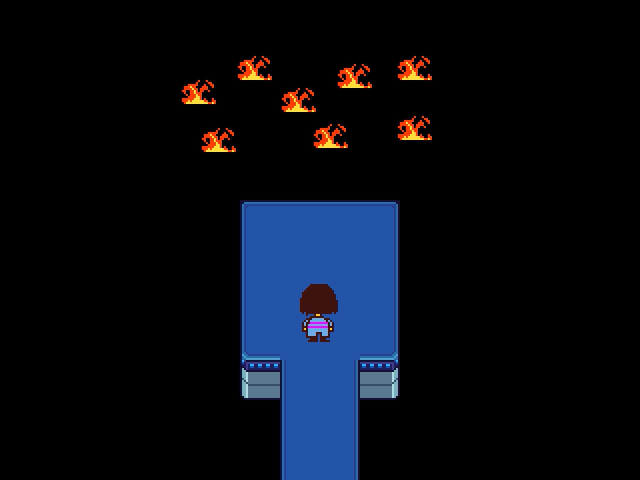 Alright, now just keep heading up!

...

...That pit... isn't on my map.

Forget it! Let's try the left side!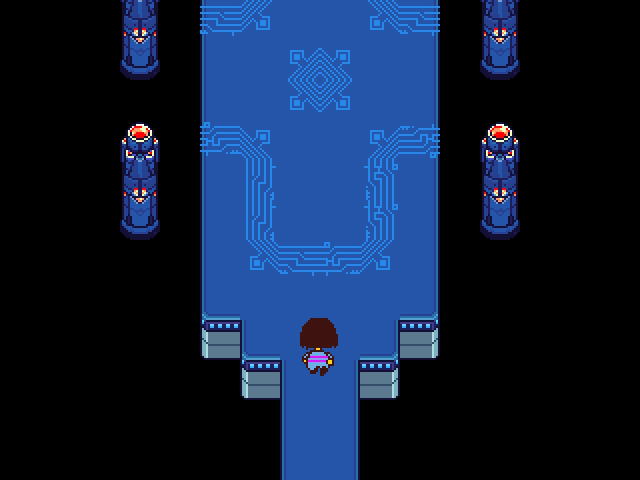 Okay, you should be able to make it through here...

...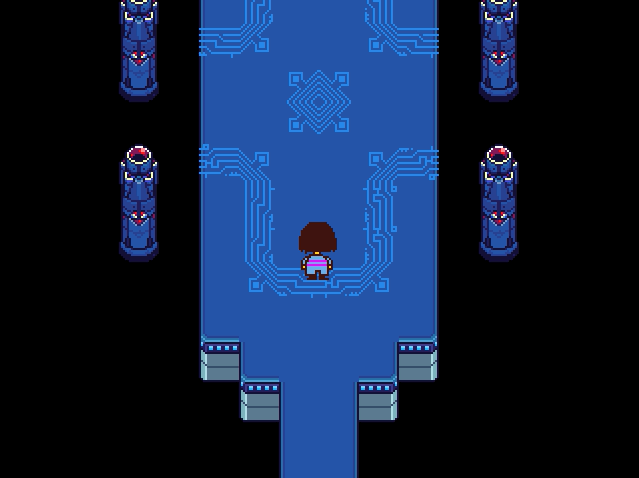 W-watch out!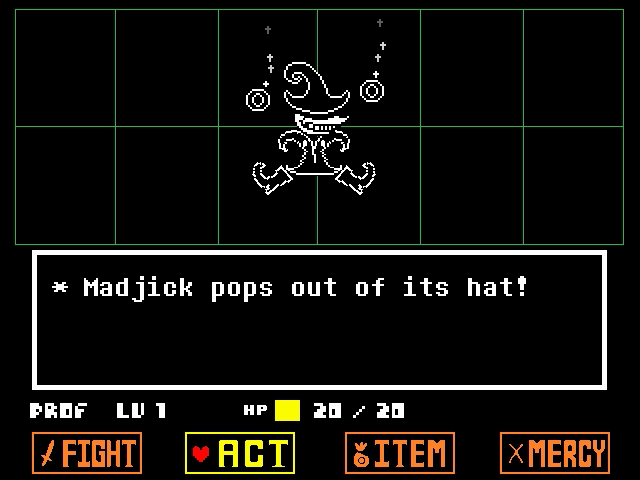 This is a new zone, so it's only natural to encounter new, stronger monsters.
Unlike previous areas, the music doesn't change during battles.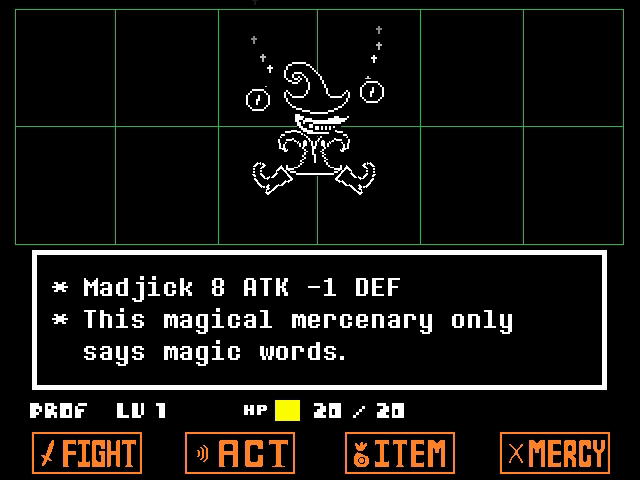 First of the Core monsters - some kind of wizard.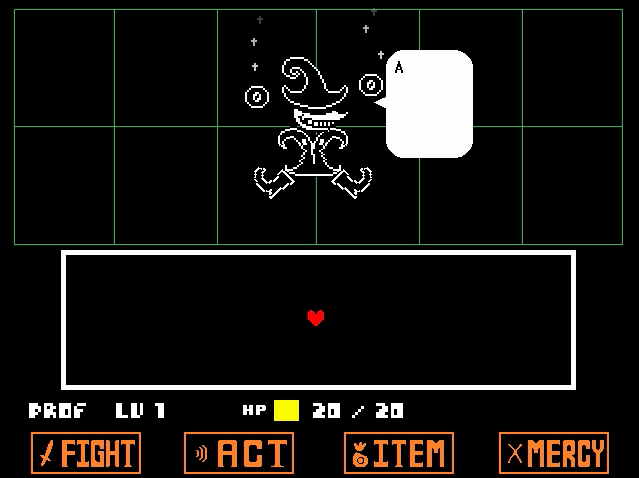 Every time I press an arrow key, the attacking orb jumps to that side of the field.
Options are Check, Talk, Stare, and Clear Mind. I start with
Talk
.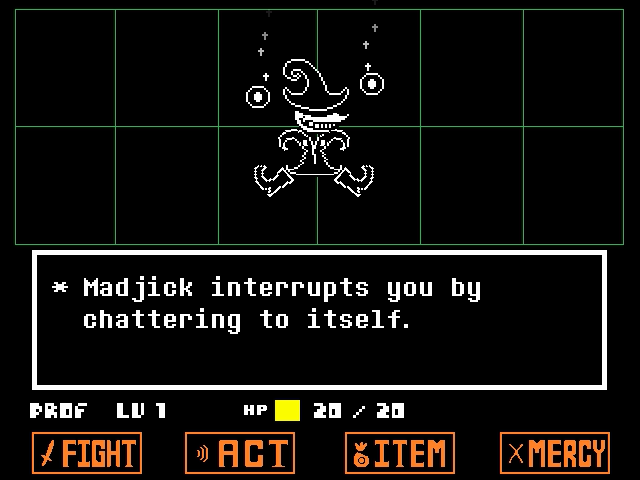 Its gibberish dizzies you... Your DEFENSE drops by 1.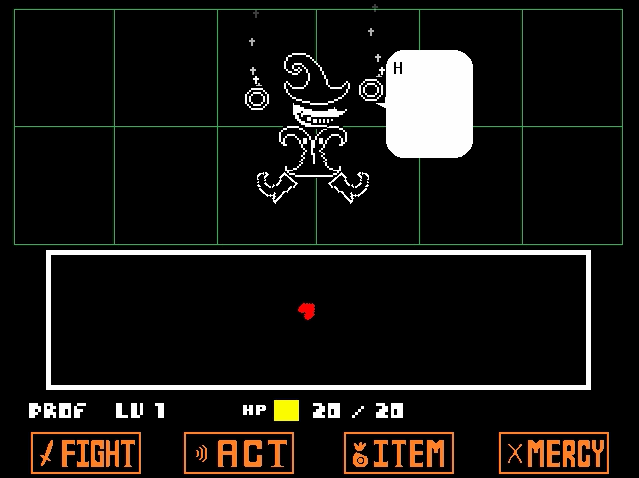 In addition to the defense drop, I have been subjected to that most dreadful of conditions: Reversed controls!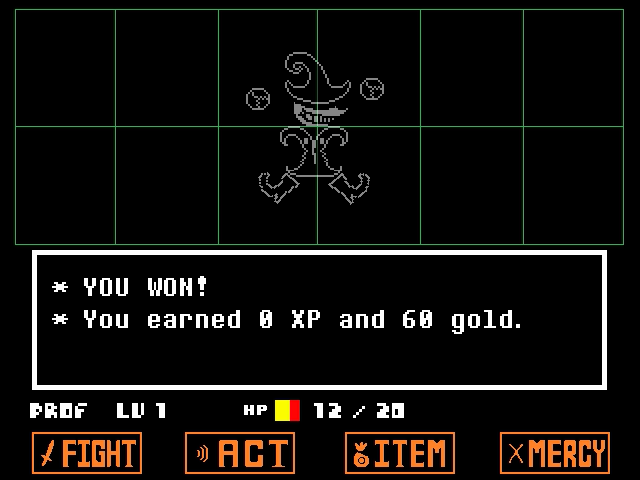 However, casting the spell seems to have erased Madjick's will to fight.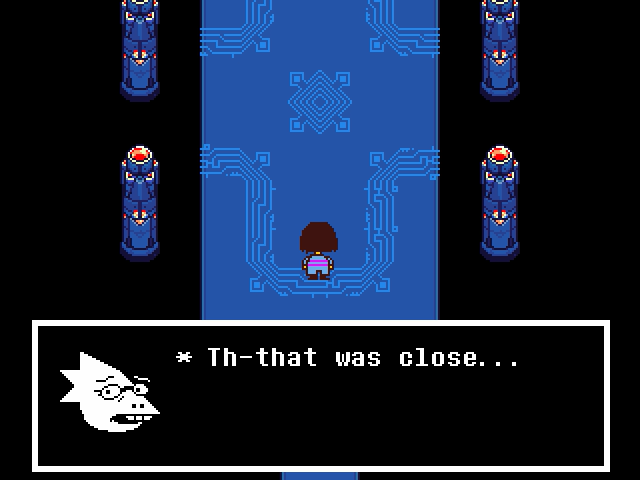 Wh... why are there so many monsters here?

I mean... It's no problem, r-r-right?

W-w-we've just got to keep heading forward!

...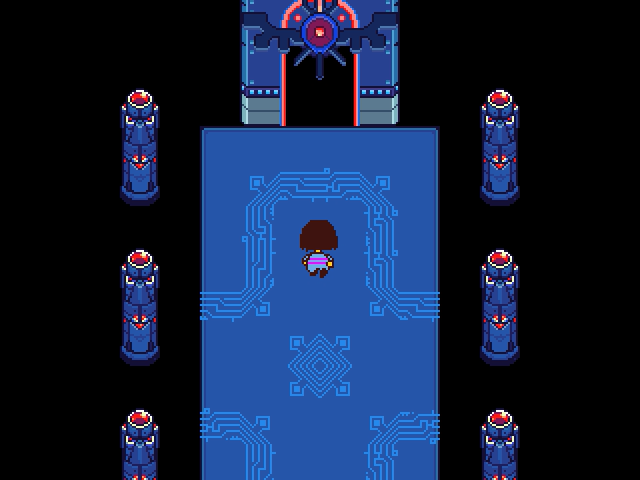 As she said, I need to keep heading forward.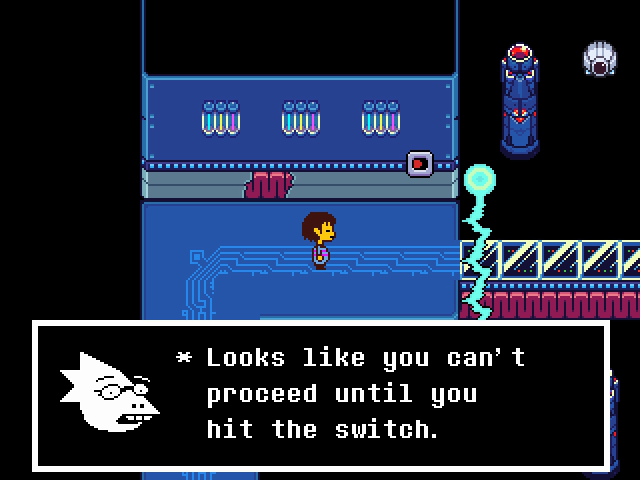 B-but, those lasers will activate when you do.

Ummm... Looks like they'll come in this order: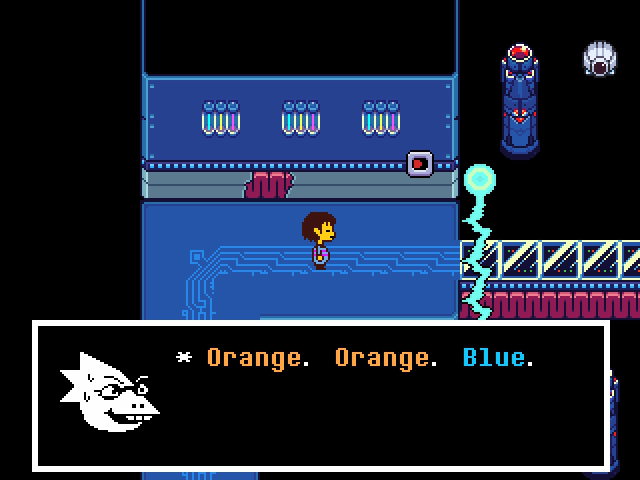 G-got it? Move until the third one!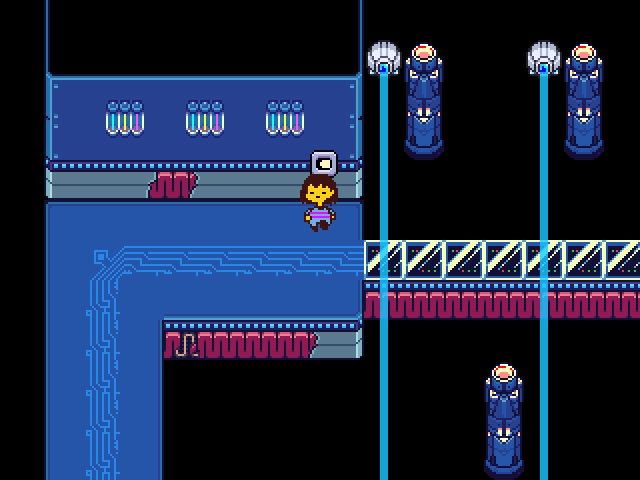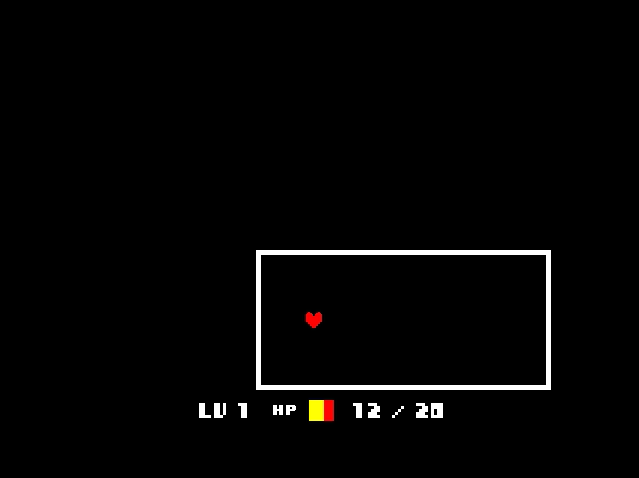 ALPHYYYYYS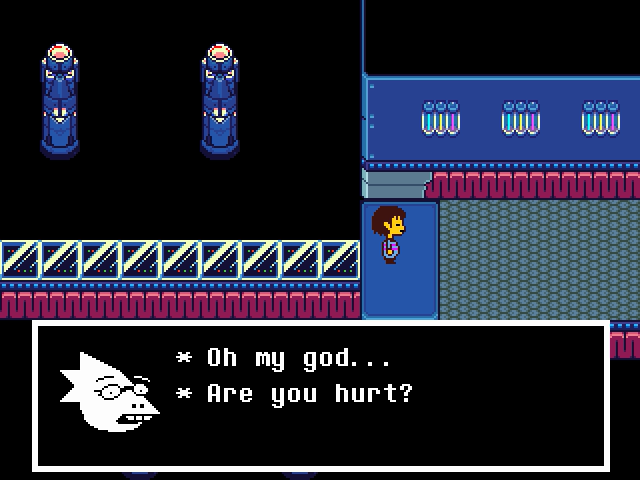 I... I'm so sorry, I... I gave you the wrong order.

...

E-everything's going to be fine, okay?

L-let's just keep heading to the right.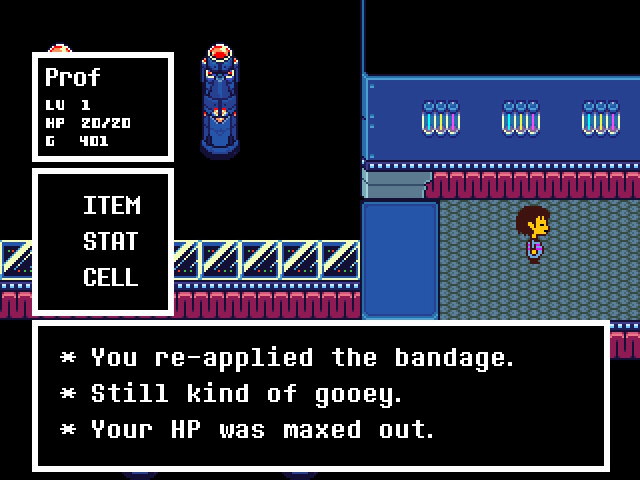 The bandage you start the game wearing can double as a healing item. Multi-purpose!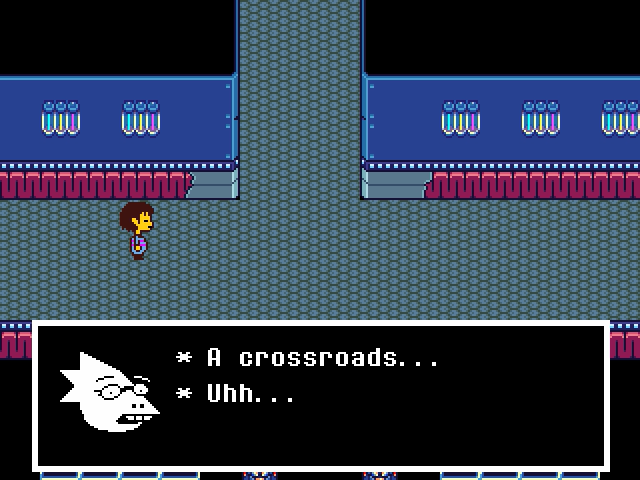 Uhhh...

Tr... Try heading to the right!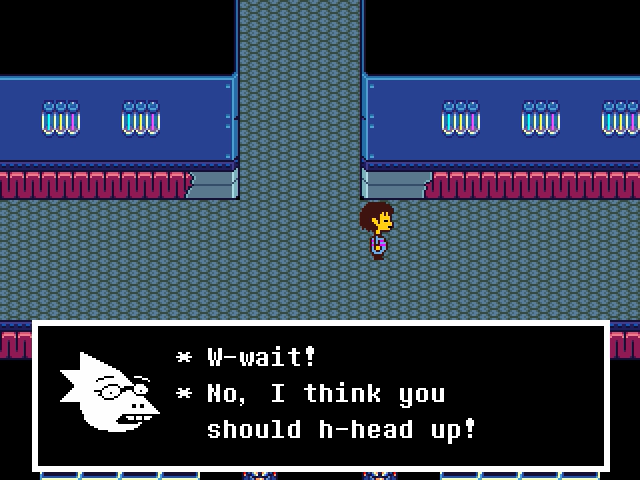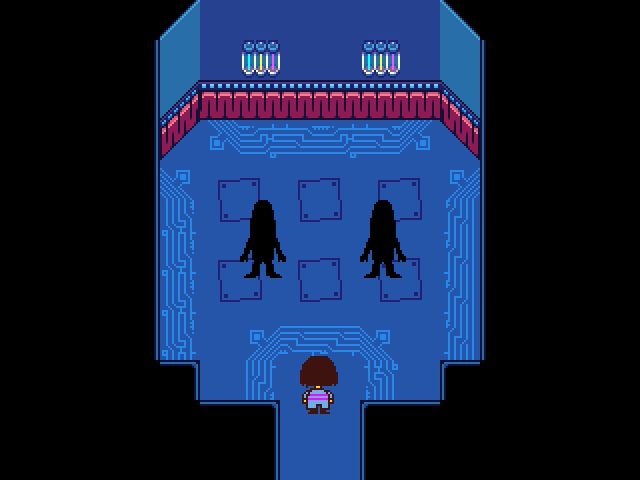 Alphys.
Please stop.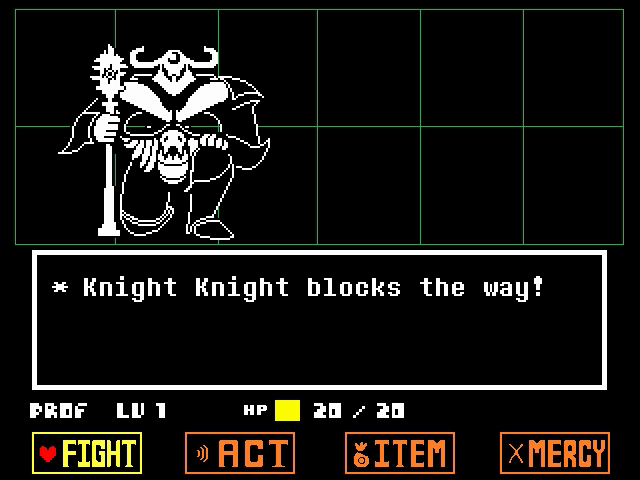 New monster!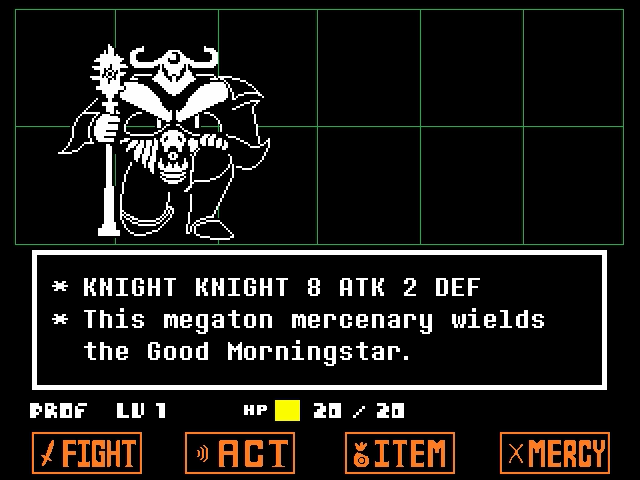 Here at the heart of the underground, opposition is fierce.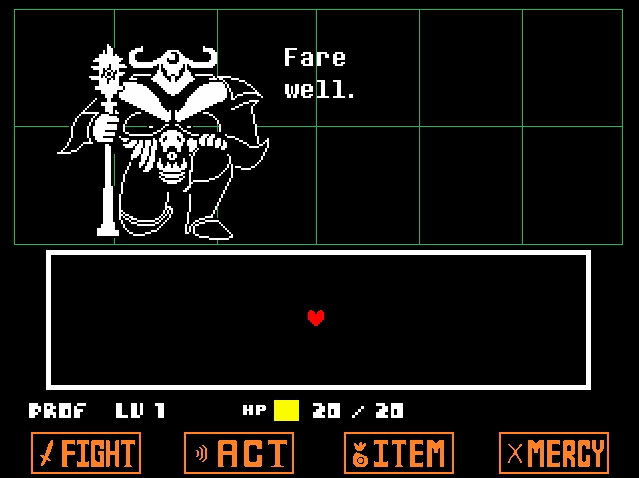 Unlike most random encounter foes, Knight Knight has three distinct attacks. This is one of the harder ones.
I can sing, or I can
Talk
.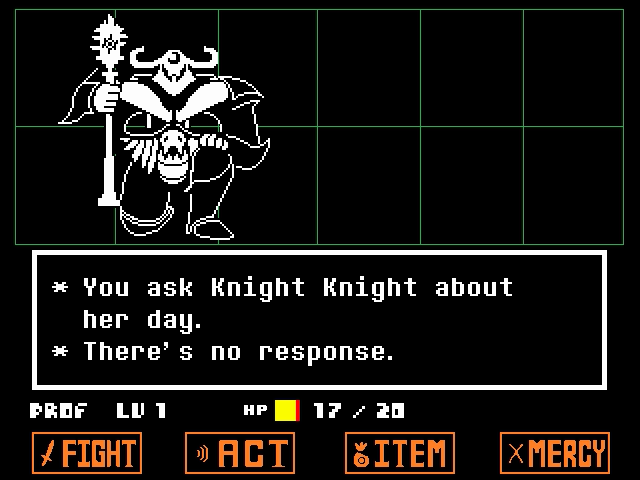 It is not effective.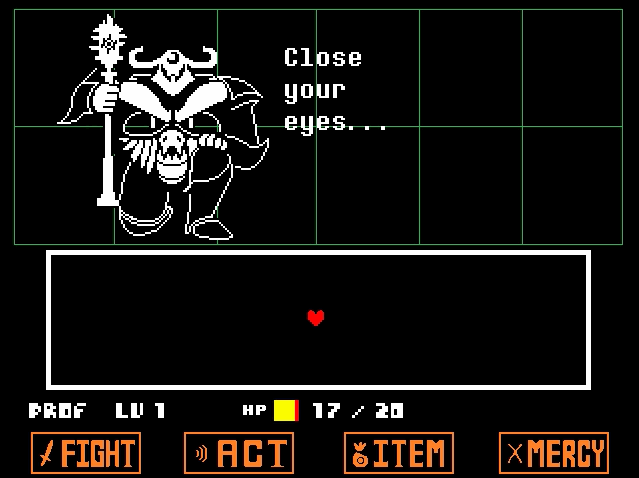 Probably its weakest attack - I easily avoid the wrath of the Good Morningstar.
What if I
Sing?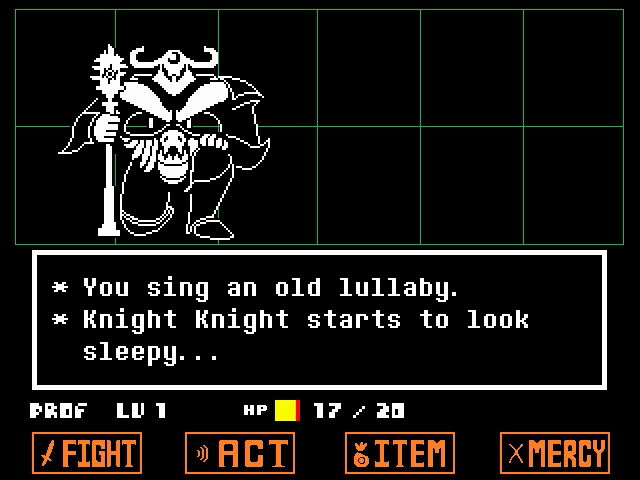 Knight Knight attacks with the sun again. I
Sing
for another round.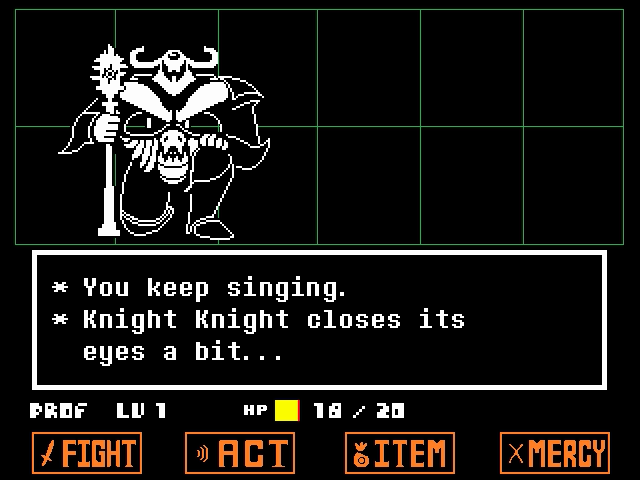 Morningstar attack again.
Sing
again!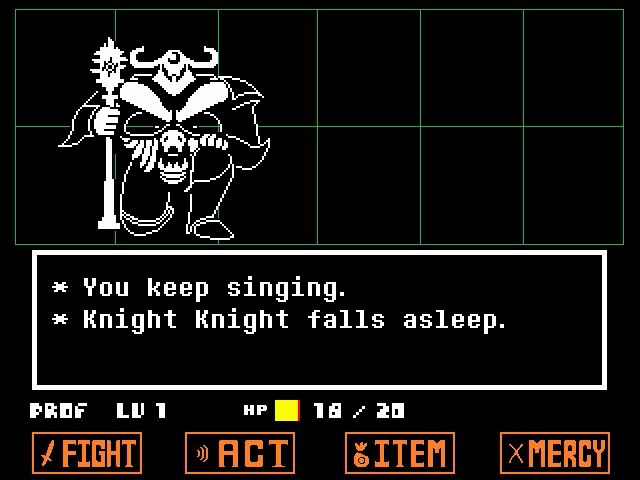 I continue on my merry way.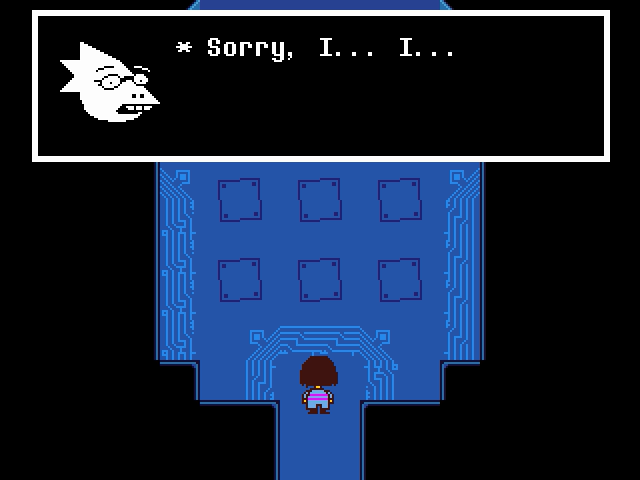 I thought that...

Let's try the right path instead.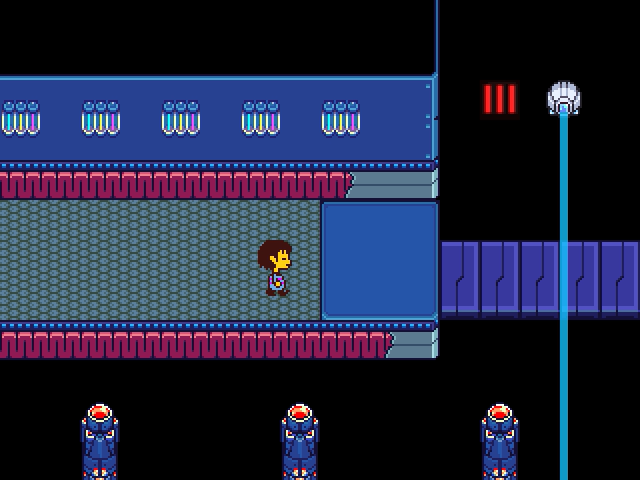 I try the right path instead.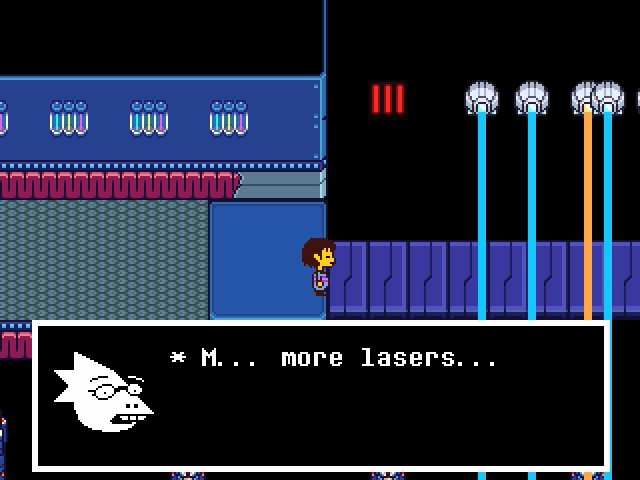 Okay, I... I won't mess around this time.

I'll just deactivate the lasers and let you through.

They're... They're not turning off...

I can't turn them off, I...

I-i-it's okay! I have this under control!

I'm going to turn off the p-power for that whole node.

Then you can walk across.

...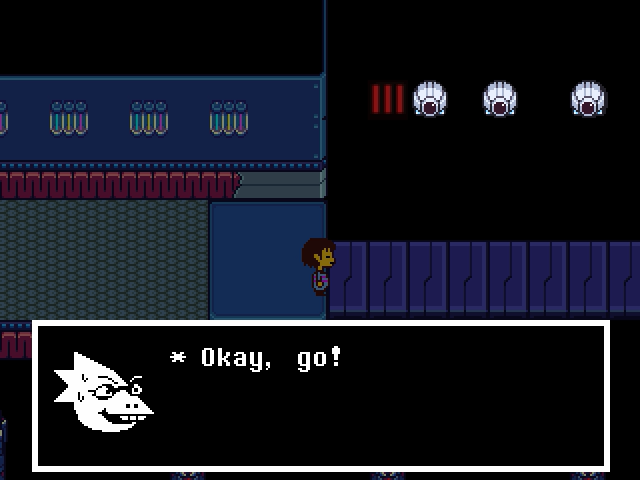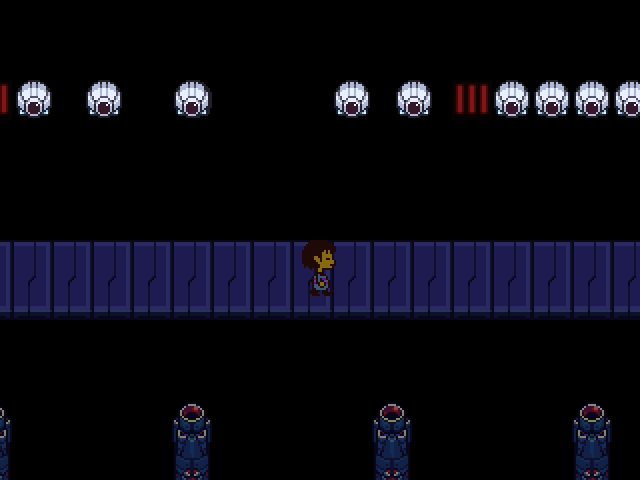 So far, so good.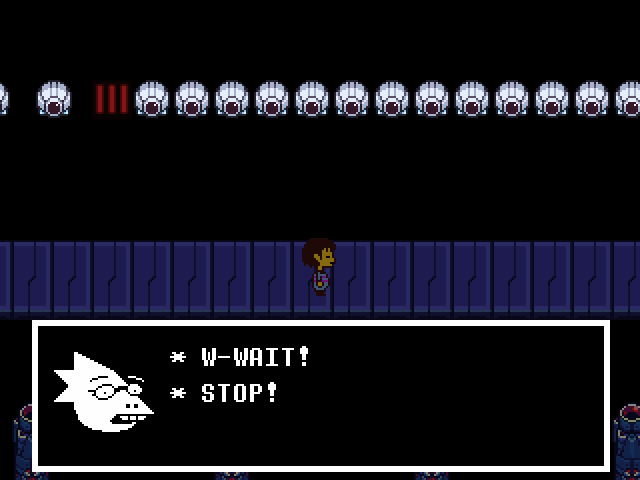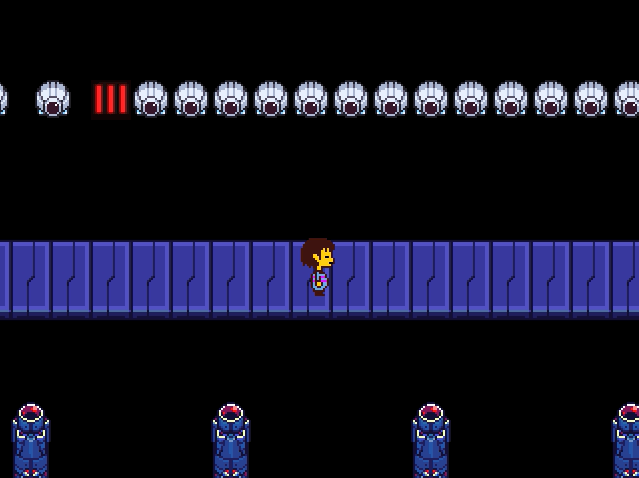 Th-the power... It's turning itself back on.

D-damn it... Th-this isn't supposed to...

I...

I'm gonna turn it off again.

When it turns off, move a little, and then STOP.

OK? Y-you won't get h-h-hurt.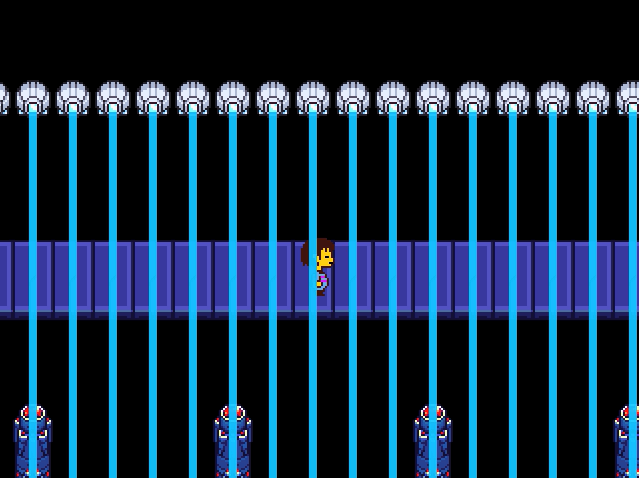 Move when the lasers are down, stand still when they come back. I'm able to make it across like this.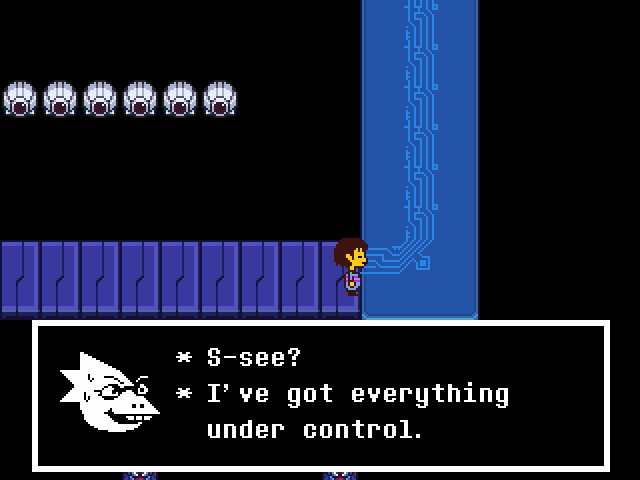 Everything's under control!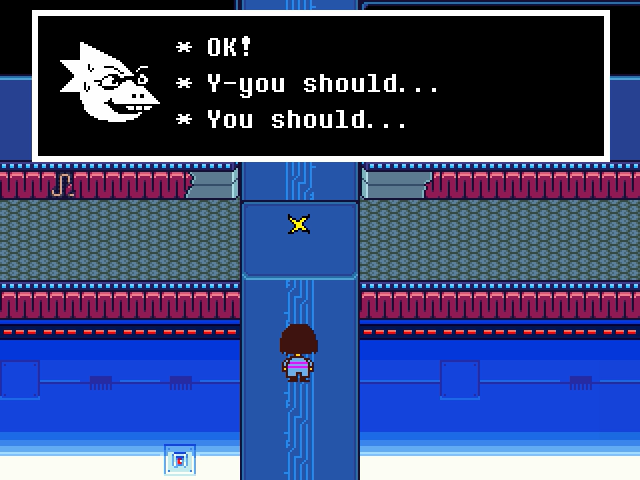 I don't know?

This doesn't look like my map at all...

I'm sorry... I... I...

I have to go.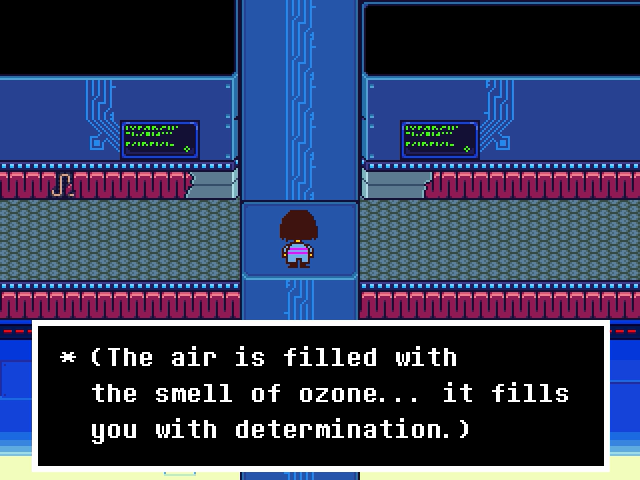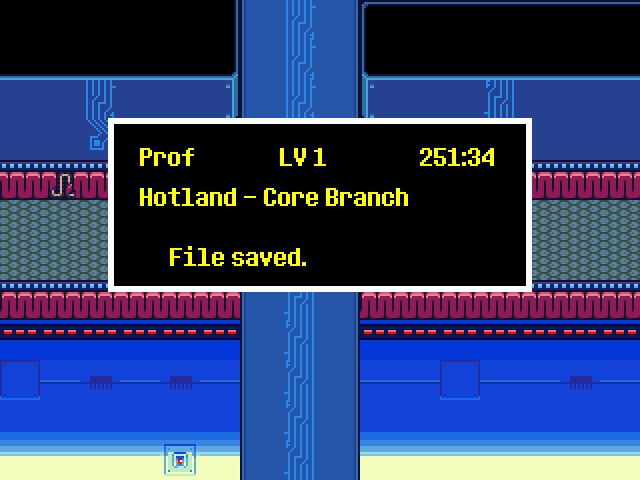 I save my game.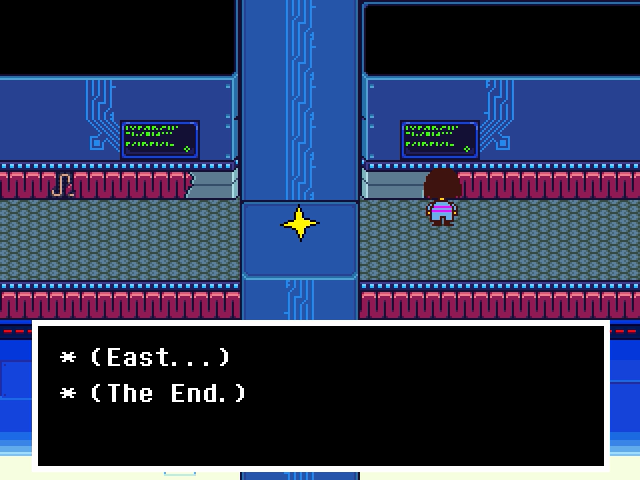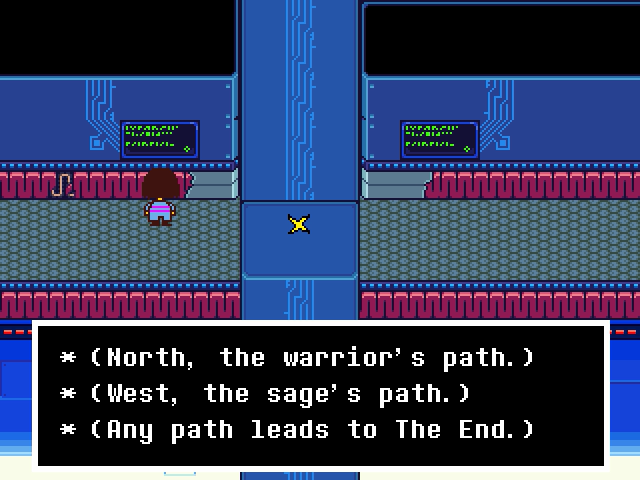 There are two puzzles in this area. If I solve either one, The End will open.
I'm gonna solve both!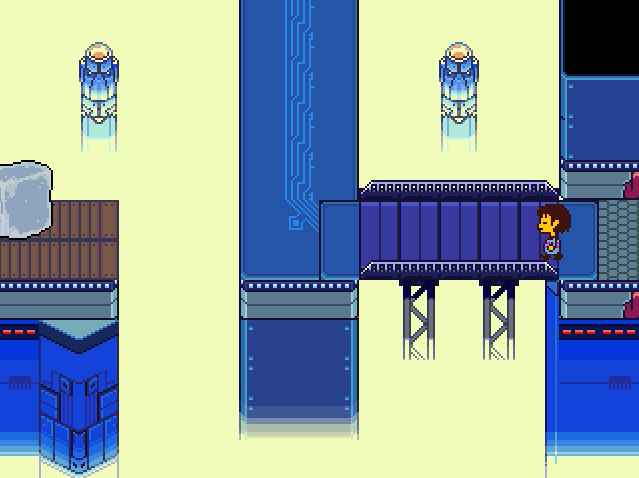 Oh, so that's where the ice was heading.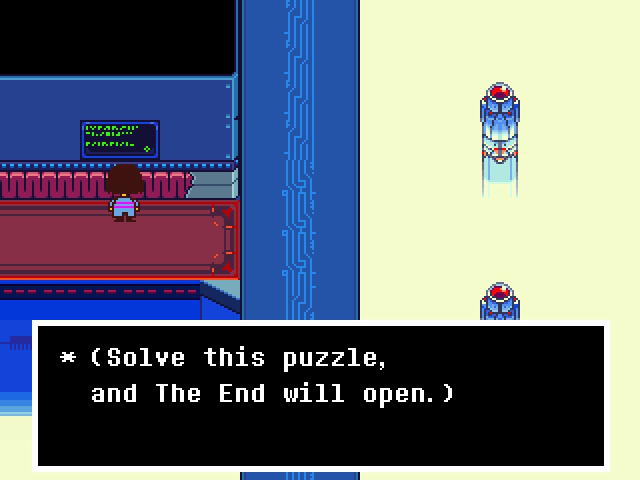 The sage's path!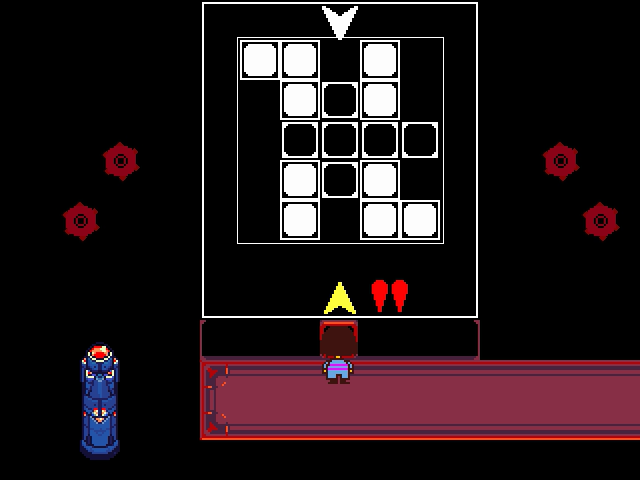 It's another one of these!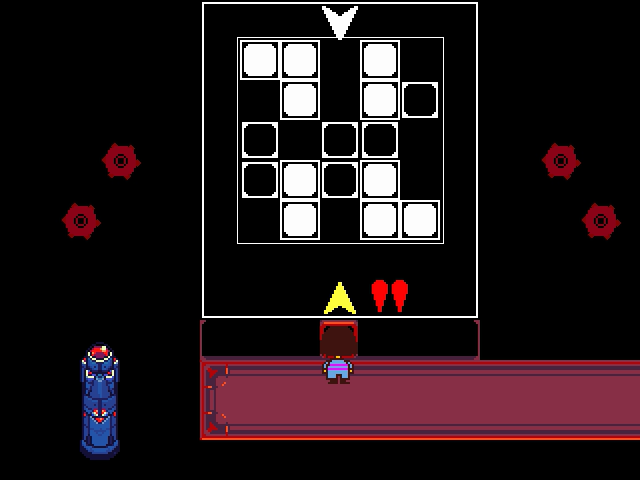 This one takes me a long time, too. I'm honestly not great at these.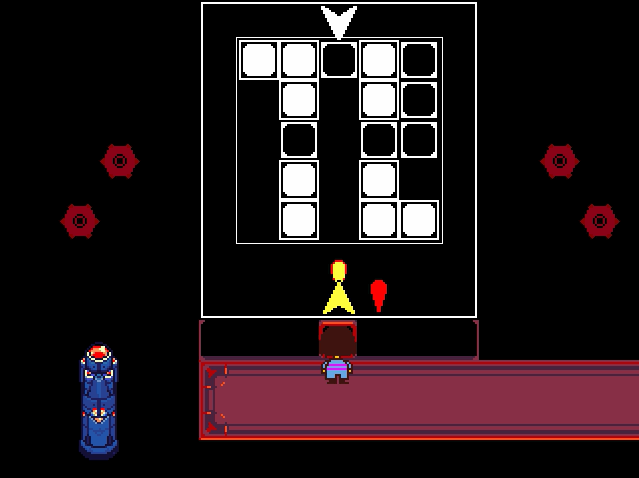 Eventually, I get it. The End should be open now.
But let's keep exploring. I head back and go north.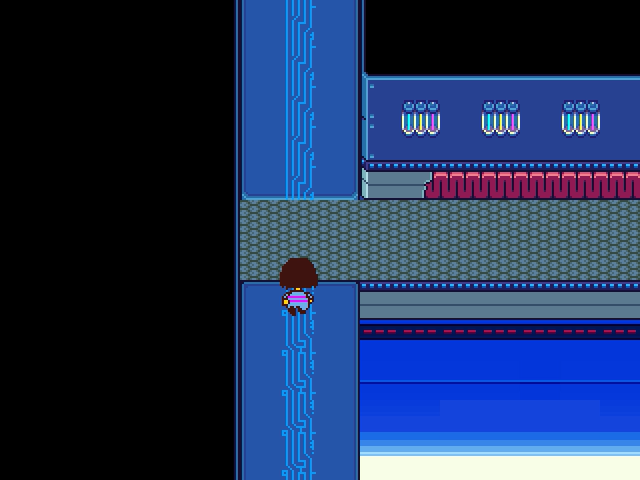 North again!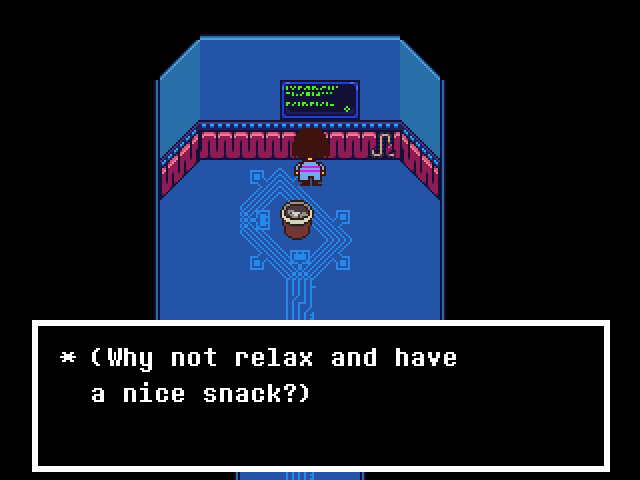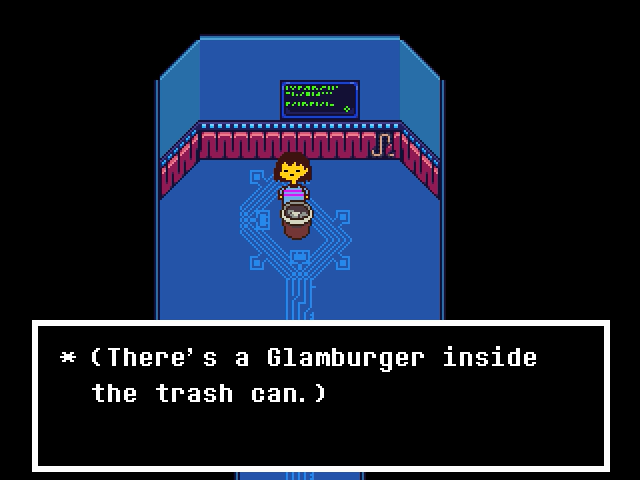 Free food!
I head back, then east.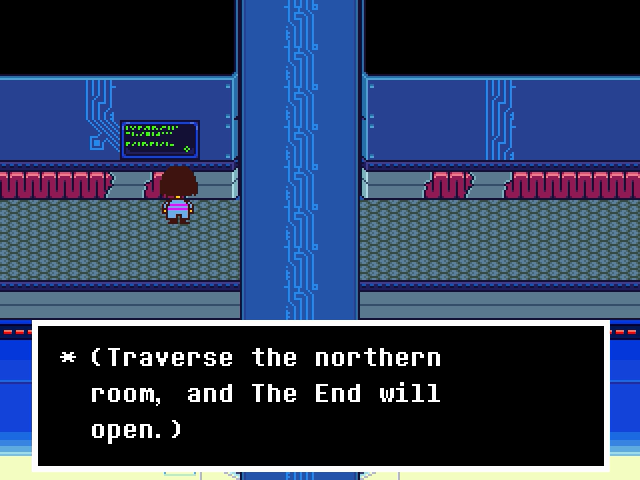 The warrior's path!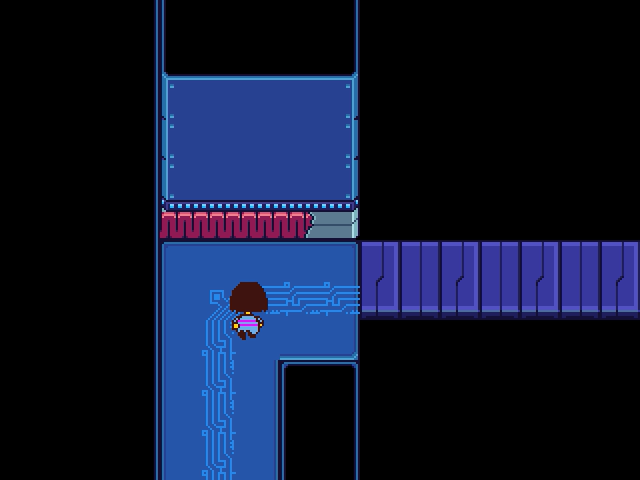 Just gotta cross the bridge, right?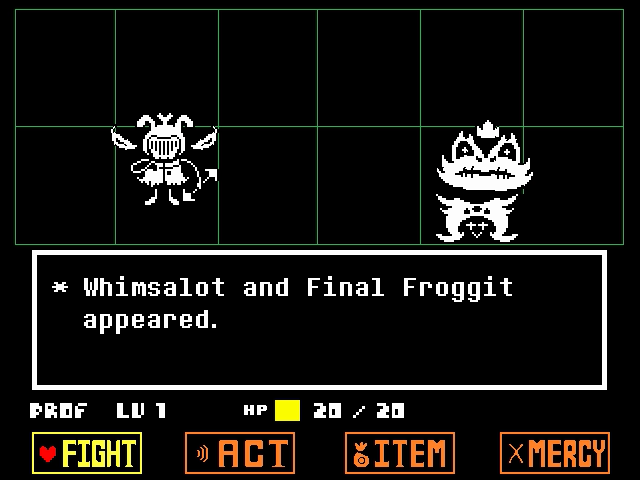 Lots of new enemies here.
(Gifs are gonna be slightly sprase for the rest of this update, because my framerate was acting up.)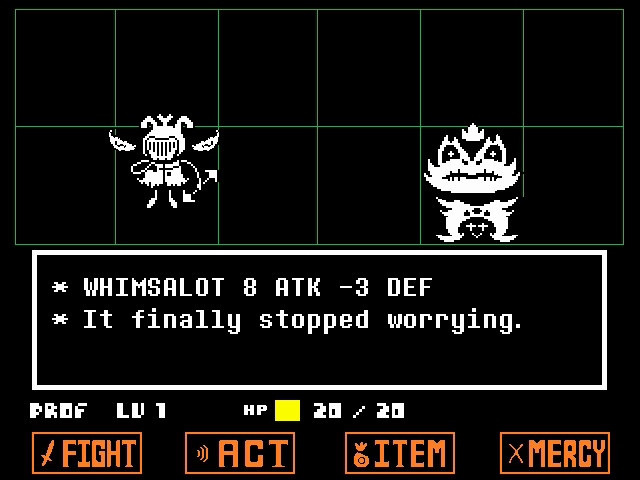 Whimsalot is the extreme version of Whimsun, who we met in the Ruins.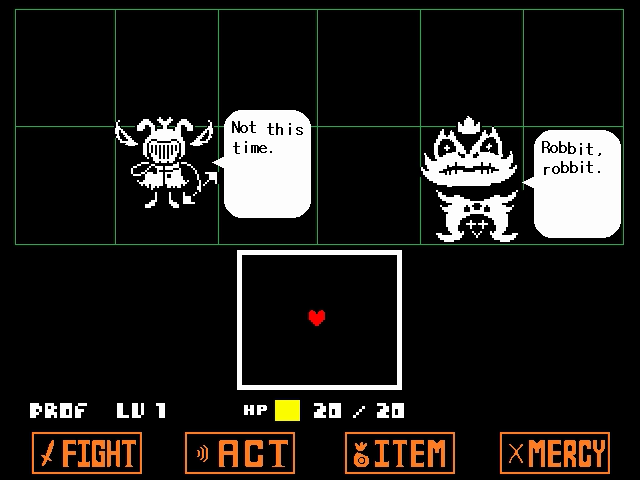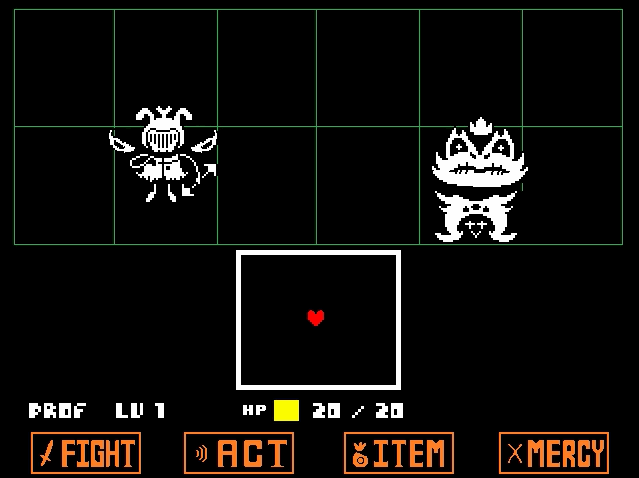 They've come so far since I first met them!
Options for Whimsalot are
Console
, Terrorize and Pray.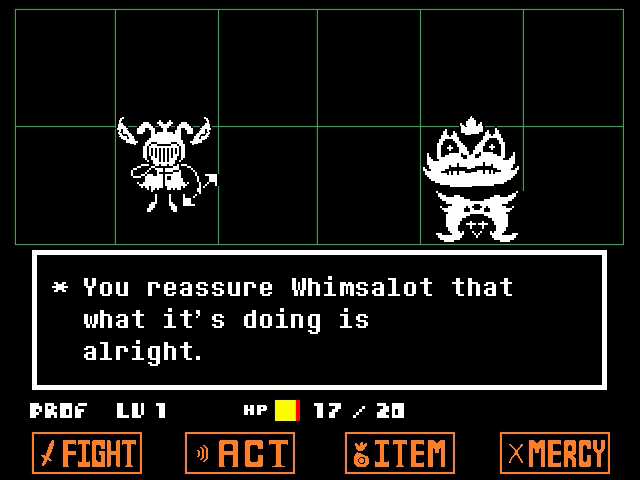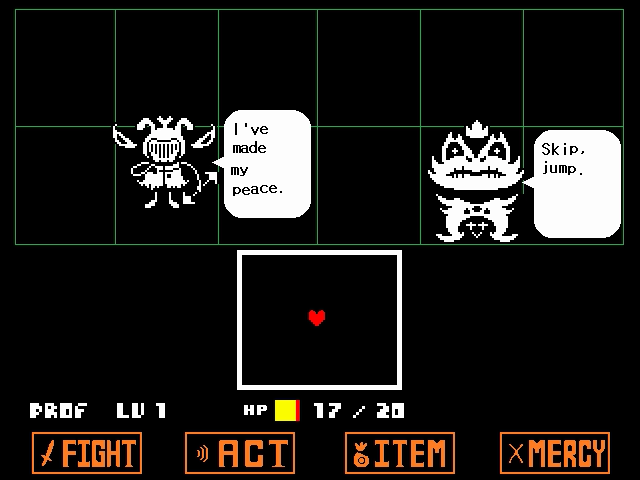 The same attack repeats. I
Terrorize
instead.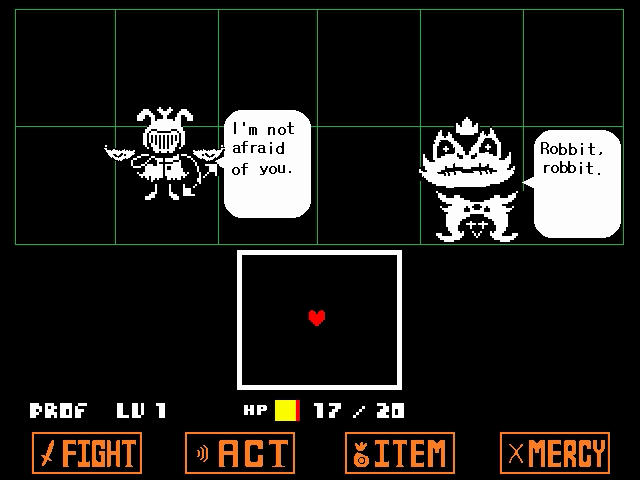 Whimsalot has all sorts of strength of character now.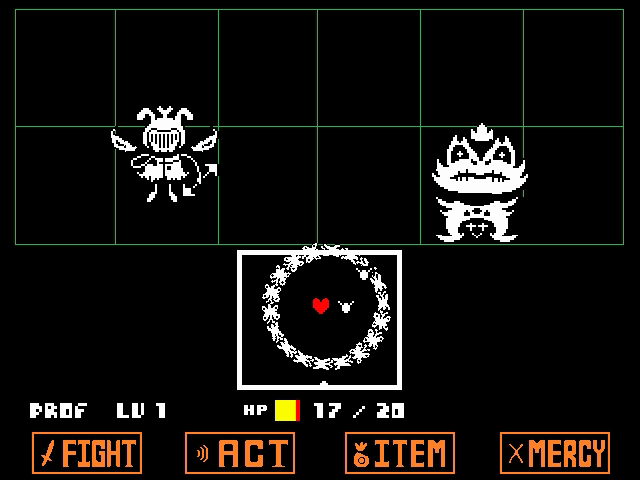 Butterflies move in a ring that moves around the field as flies attack me.
What if I
Pray
?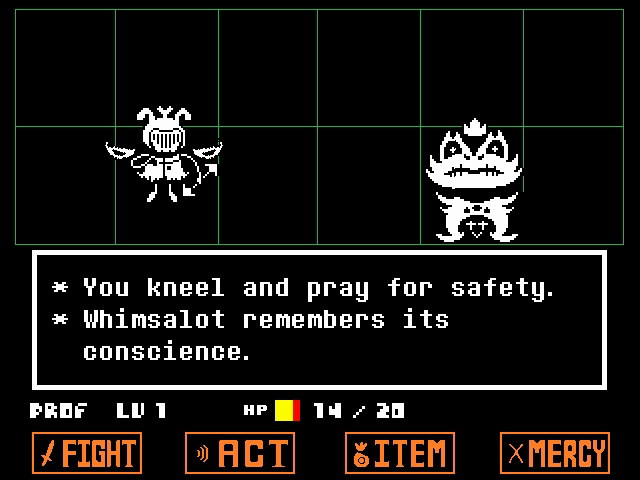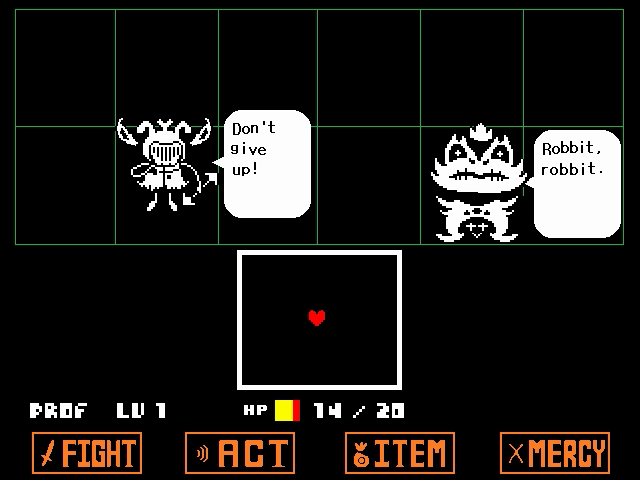 Effective!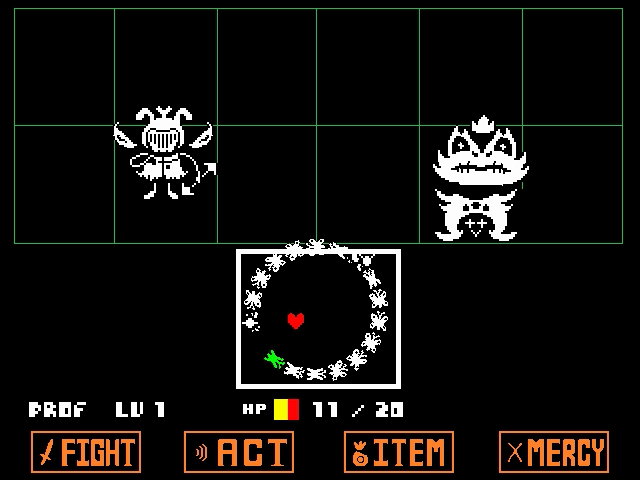 The attack repeats, but the ring is larger, and part of it is made of healing butterflies.
After this, I'm able to Spare Whimsalot, but I have to eat my Dog Salad first due to damage taken.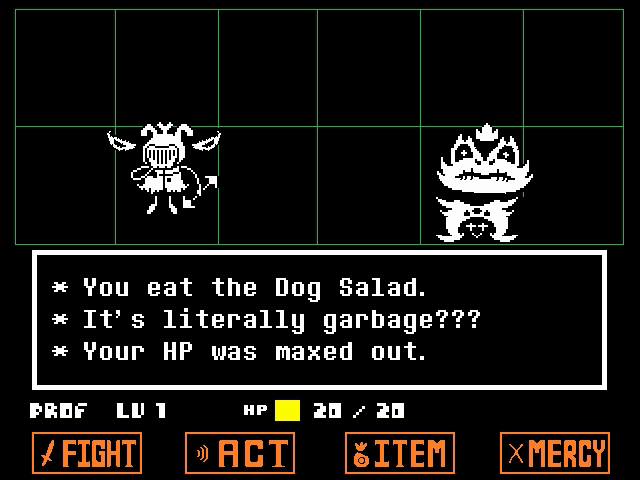 Yum!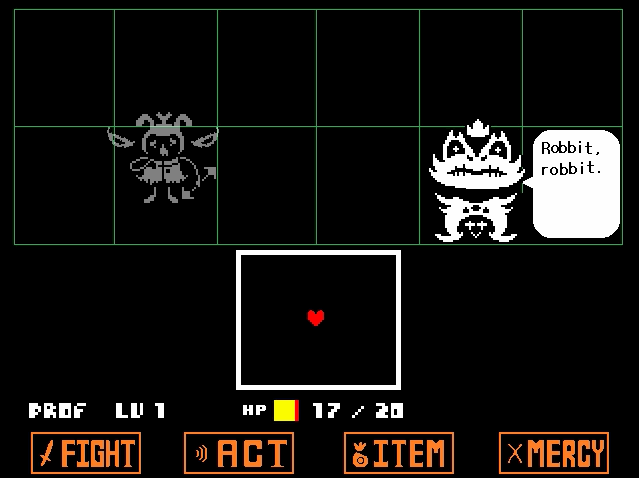 Final Froggit's flies go into overdrive once Whimsalot is down!
Options are
Compliment
...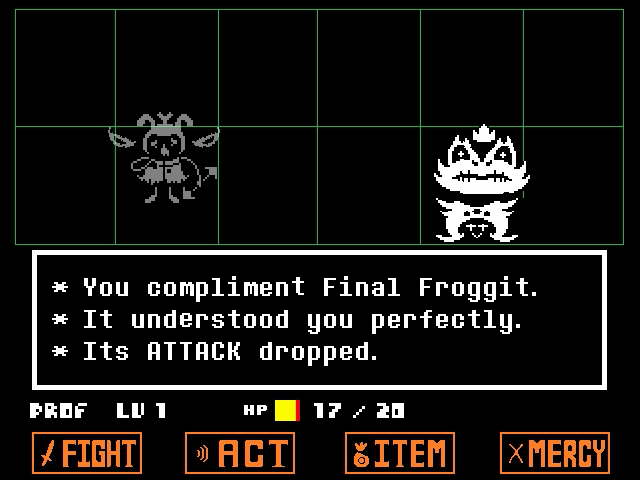 Threaten
...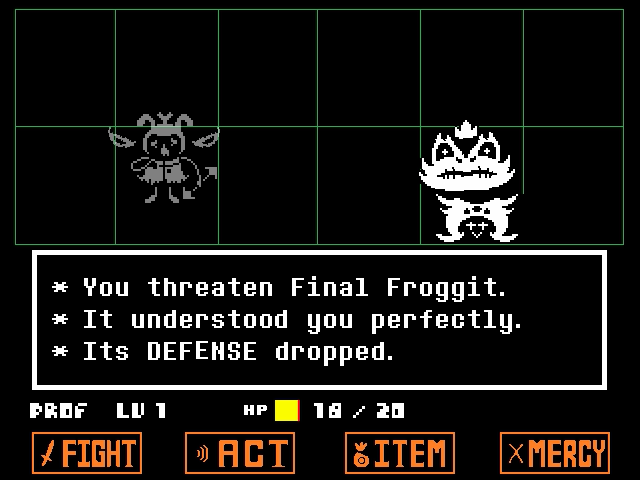 ...And
Mystify.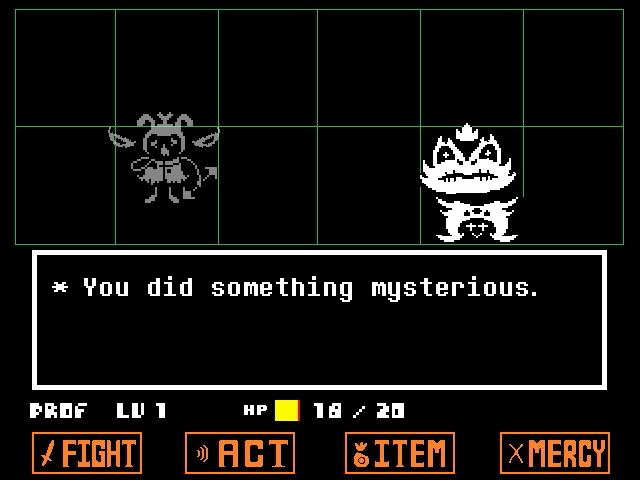 Final Froggit recognizes it has more to learn from this world.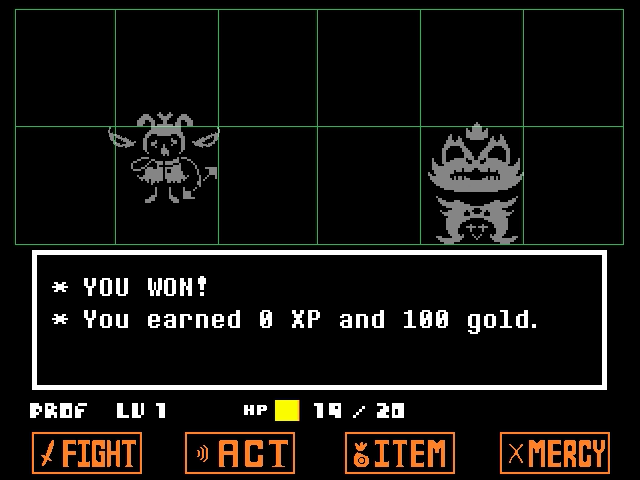 Battle over.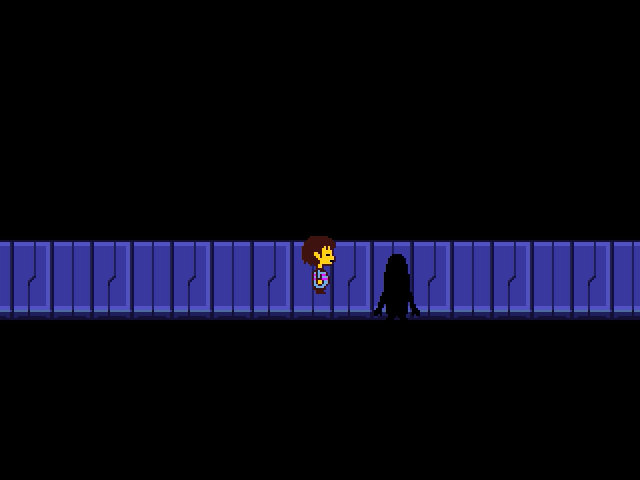 But this bridge is far from over!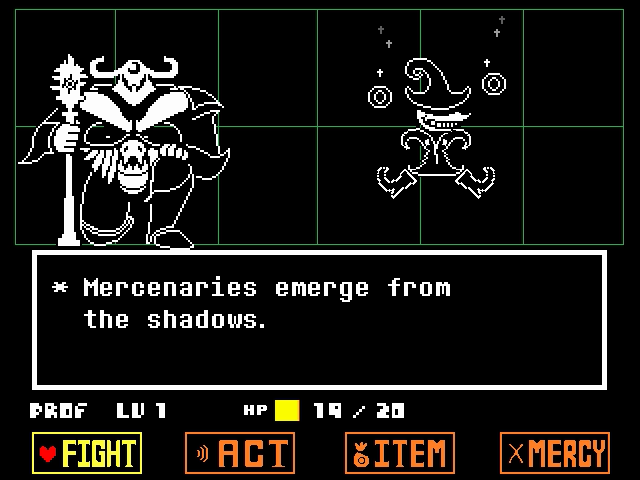 Two enemies! First, I'll defeat Knight Knight the same way as before.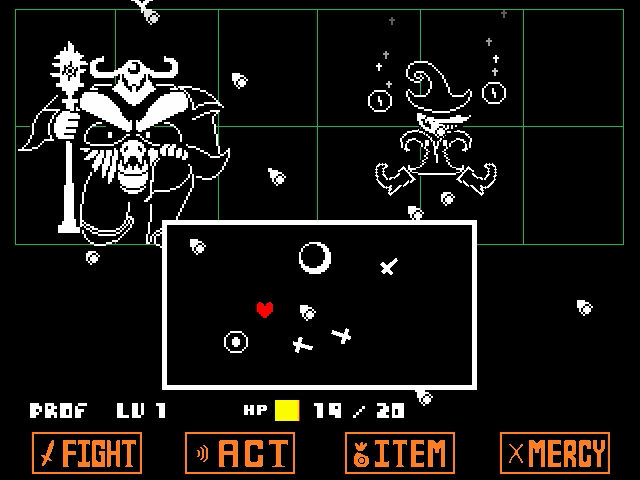 Knight Knight's third attack is a moon-based attack where meteors rain down from the sky.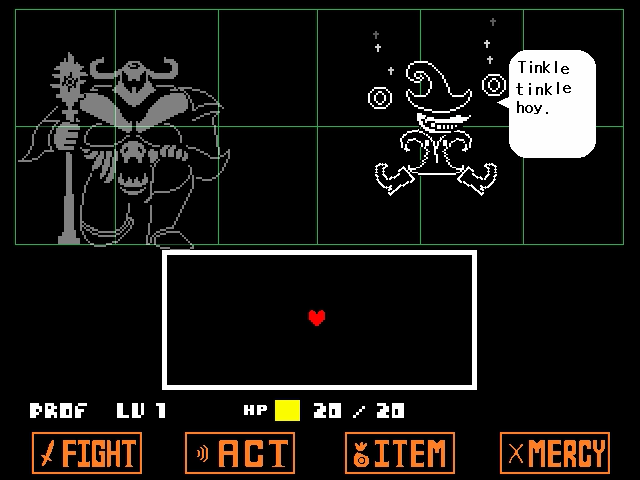 Now, I'll show the
other
way to defeat Madjick!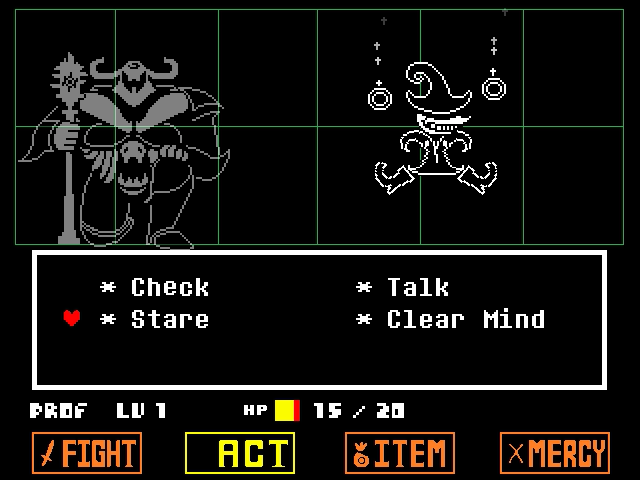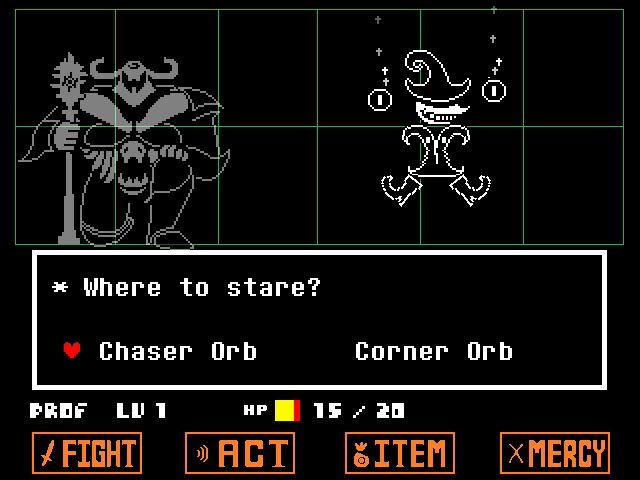 The unrelenting "Chase Orb" was weakened by your glare.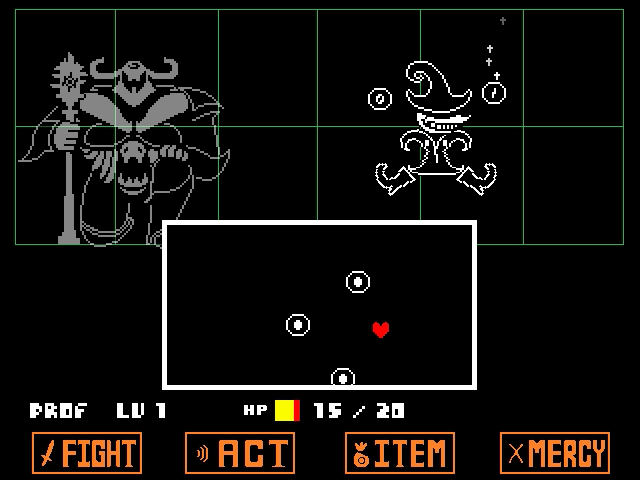 Despite being weakened, the Chaser Orb deploys an advanced version of the attack where I have to dodge three orbs at once.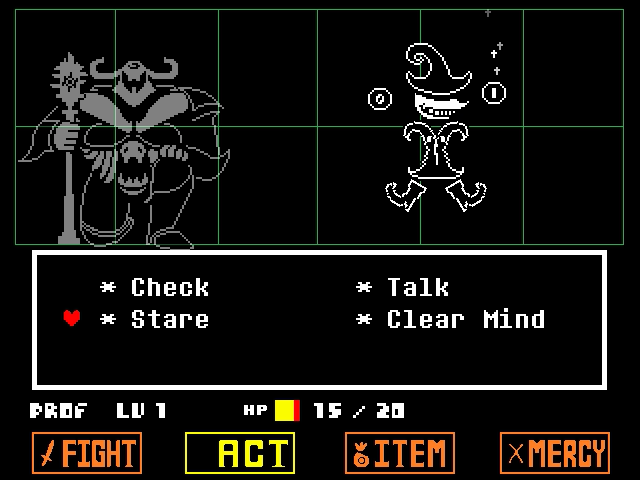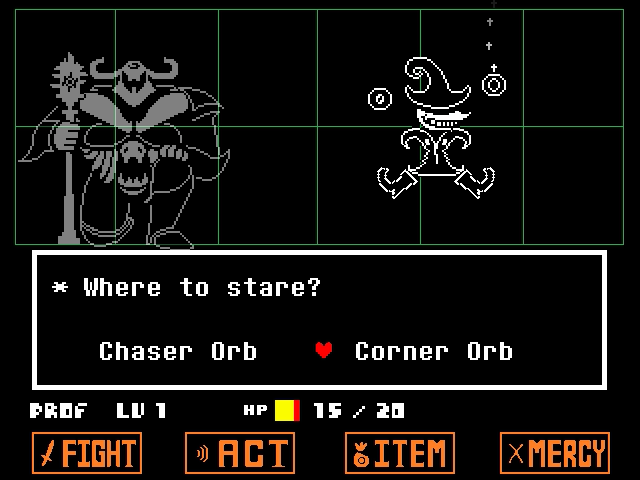 The intimidating "Corner Orb" was weakened by your glare.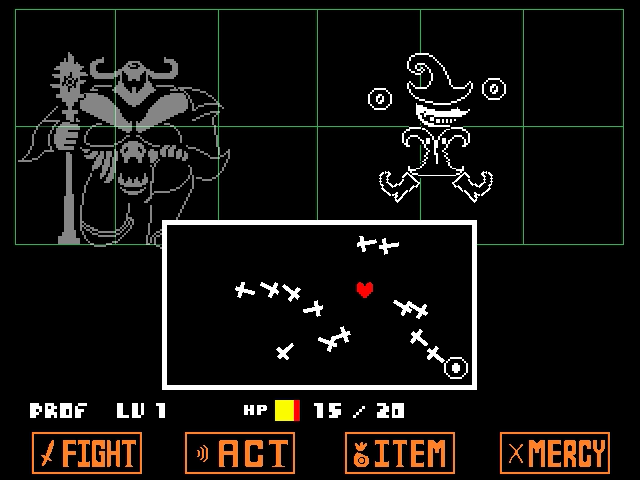 After this attack, Madjick can be Spared now that both of its orbs have been weakened.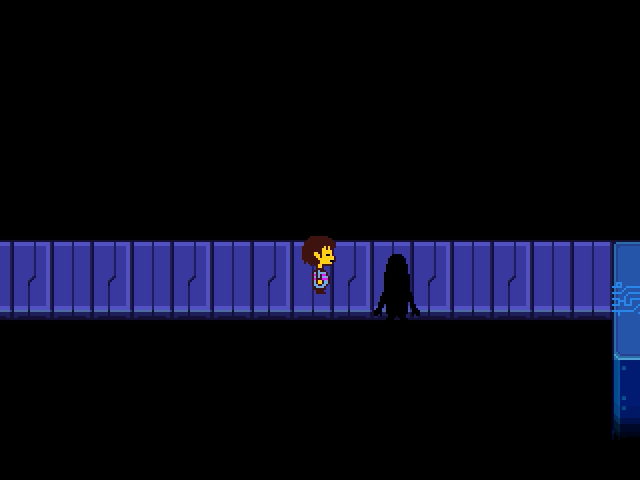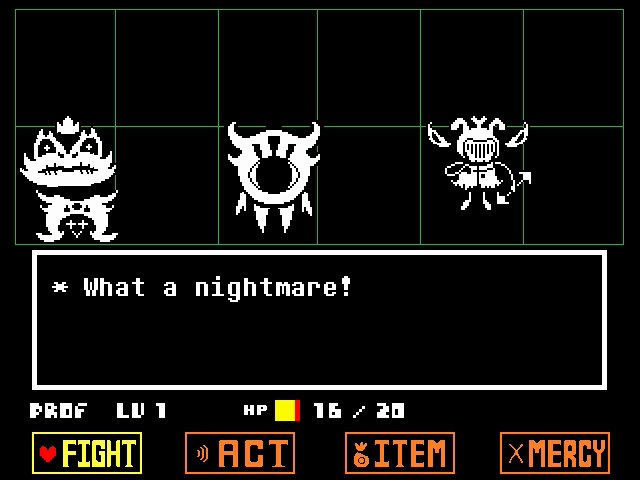 This is getting ridiculous!
A whole lot of one-sided violence ensues.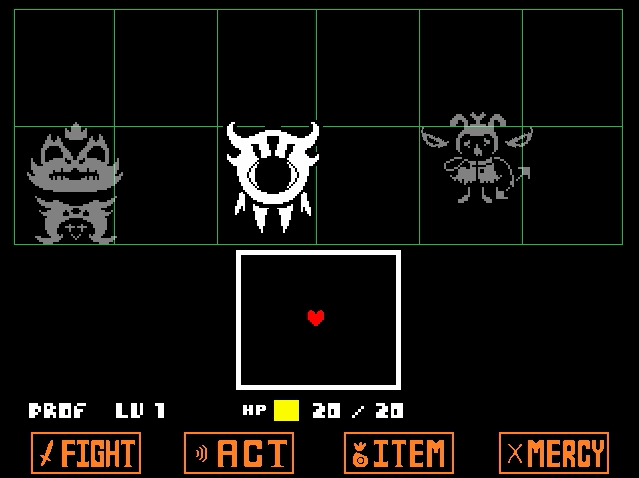 That just leaves Astigmatism.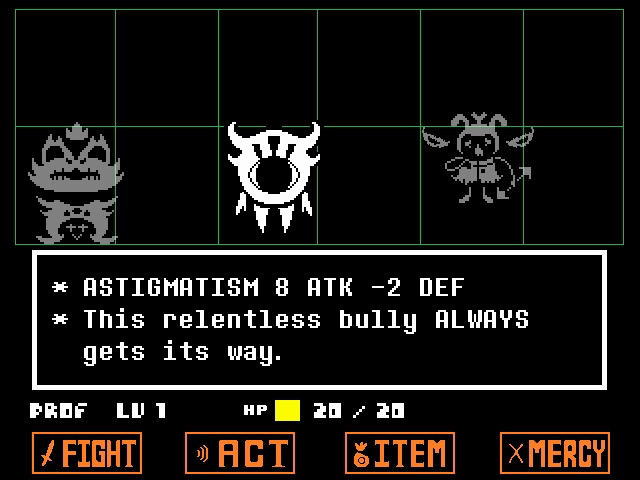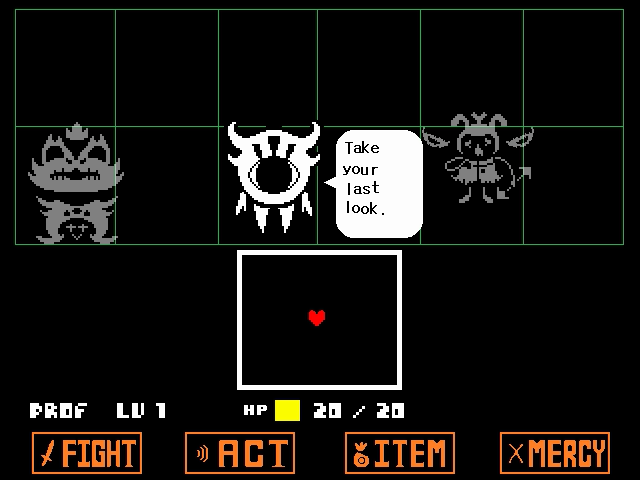 Like Whimsalot and Final Froggit, Astigmatism is an upgraded version of a Ruins monster.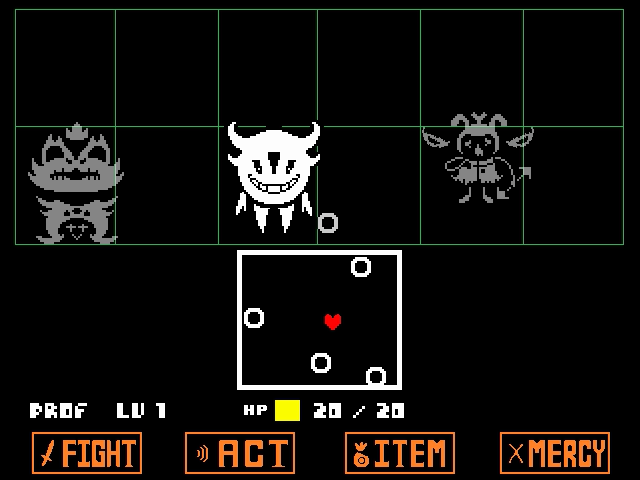 Its attacks are all upgraded versions of Loox's attacks.
Options are Pick On, Don't Pick On, and
Challenge.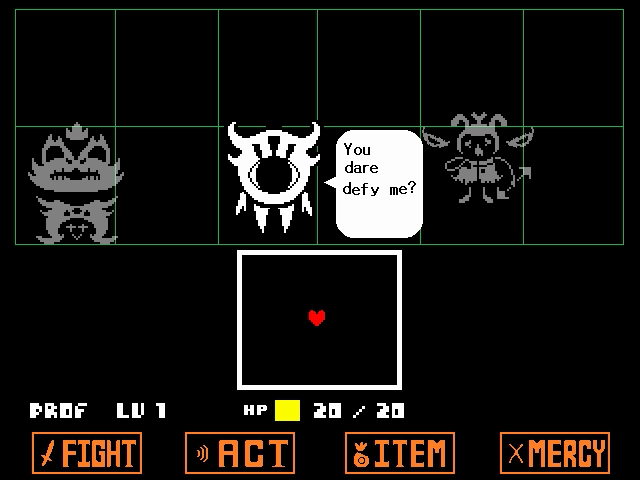 Ineffective.
If it's like Loox, then what if I
Don't Pick On?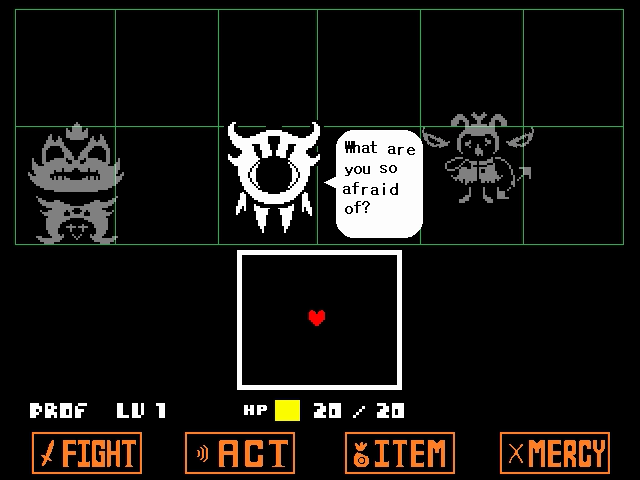 Ineffective. A bully only knows one language, so I
Pick On
it.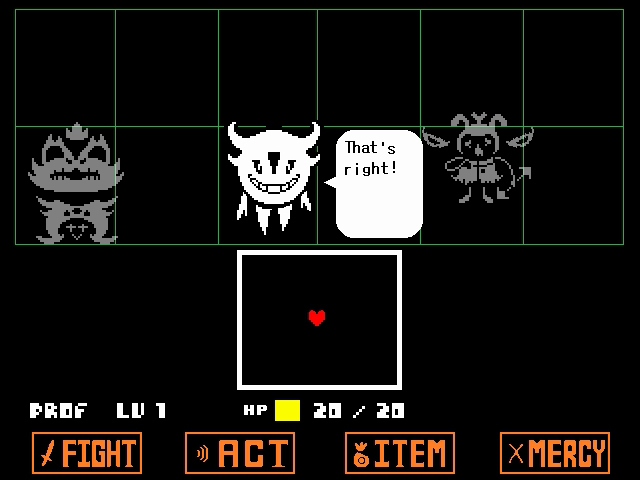 Battle resolved!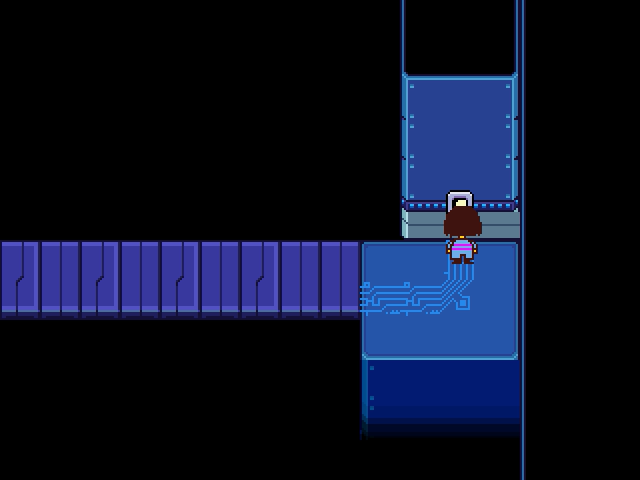 This was completely pointless!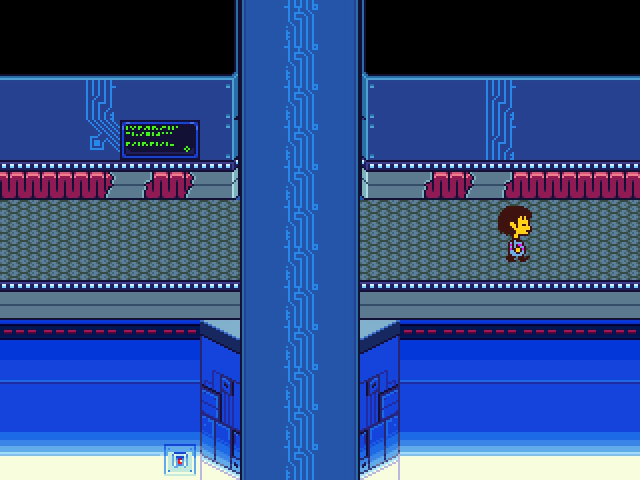 Nobody attacks me in the way back across the bridge. I head east.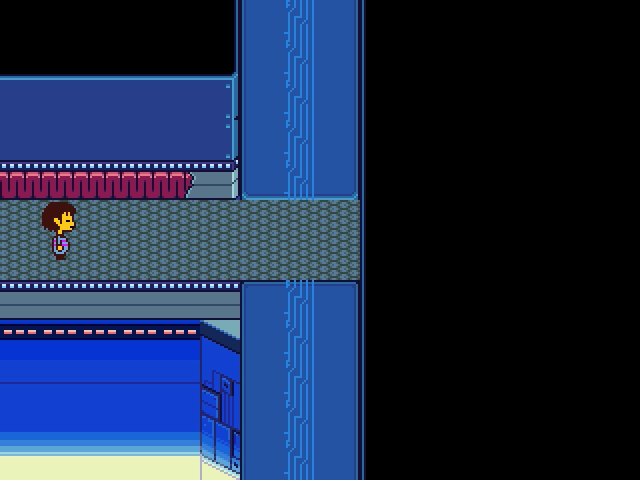 North?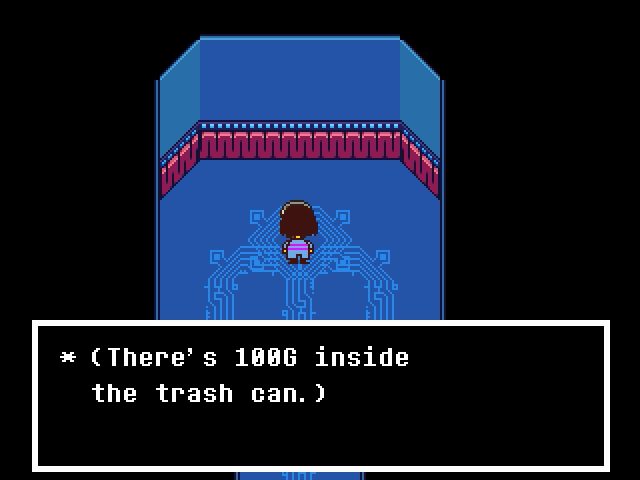 Money is not very useful to me at this point!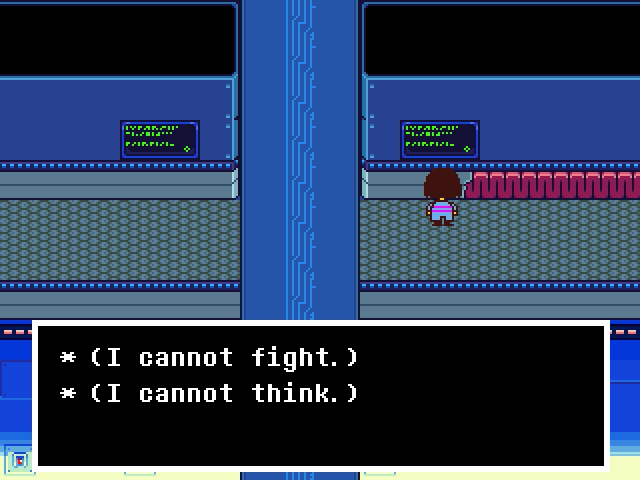 (But, with patience, I will make my way through.)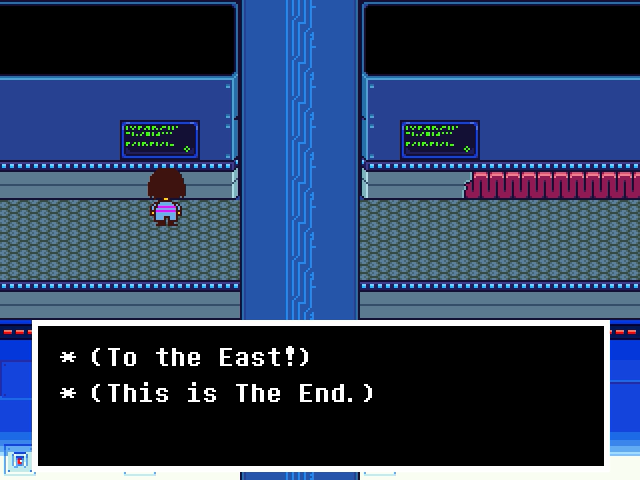 I head east.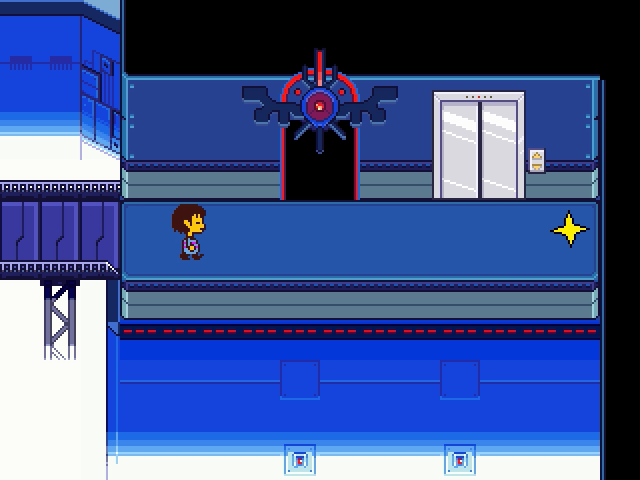 The End is open.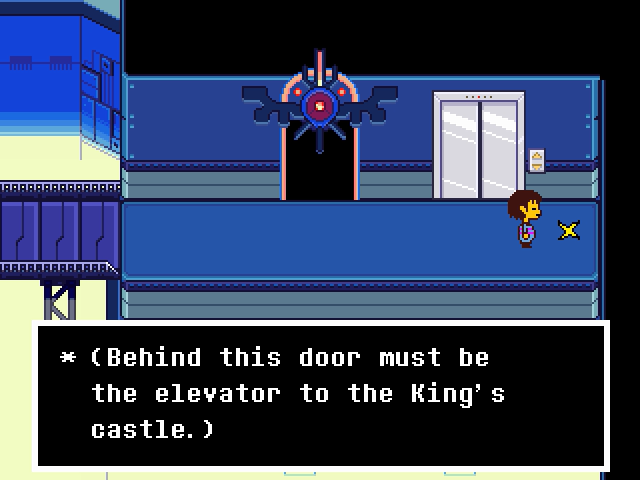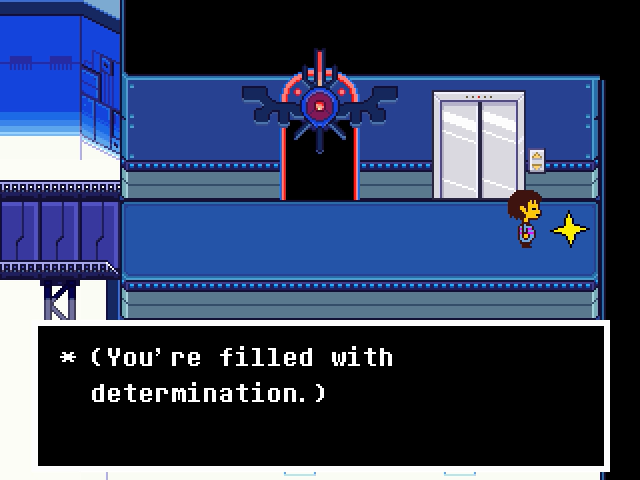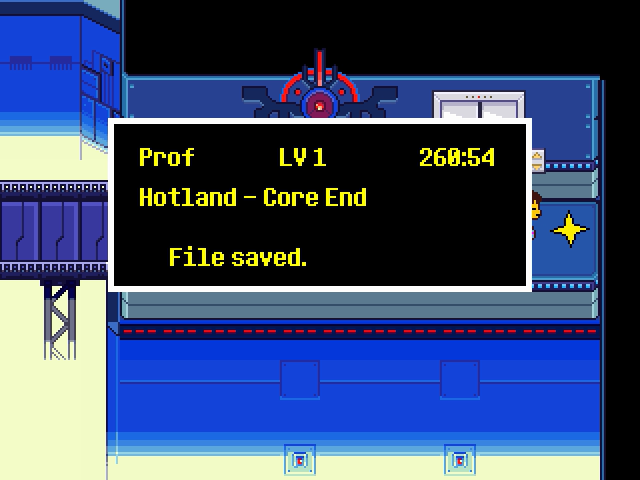 BGM: Silence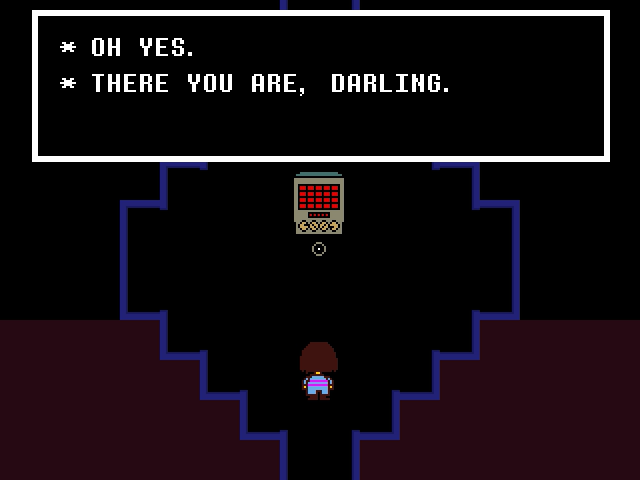 IT'S TIME TO HAVE OUR LITTLE SHOWDOWN.


IT'S TIME TO FINALLY STOP THE "MALFUNCTIONING" ROBOT.


...NOT!!!


MALFUNCTION? REPROGRAMMING? GET REAL.


THIS WAS ALL JUST A BIG SHOW.


AN ACT.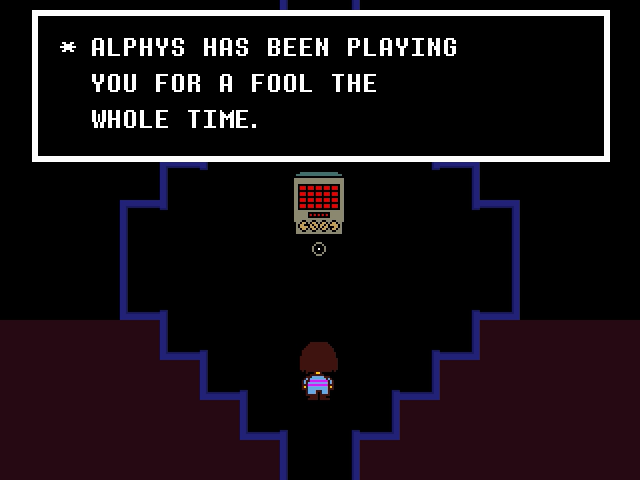 AS SHE WATCHED YOU ON THE SCREEN, SHE GREW ATTACHED TO YOUR ADVENTURE.


SHE DESPERATELY WANTED TO BE A PART OF IT.


SO SHE DECIDED TO INSERT HERSELF INTO YOUR STORY.


SHE REACTIVATED PUZZLES. SHE DISABLED ELEVATORS. SHE ENLISTED ME TO TORMENT YOU.


ALL SO SHE COULD SAVE YOU FROM DANGERS THAT DIDN'T EXIST.


ALL SO YOU WOULD THINK SHE'S THE GREAT PERSON...


THAT SHE'S NOT.


AND NOW, IT'S TIME FOR HER FINEST HOUR.


AT THIS VERY MOMENT, ALPHYS IS WAITING OUTSIDE THE ROOM.


DURING OUR "BATTLE", SHE WILL INTERRUPT.


SHE WILL PRETEND TO "DEACTIVATE" ME, "SAVING" YOU ONE FINAL TIME.


FINALLY. SHE'LL BE THE HEROINE OF YOUR ADVENTURE.


YOU'LL REGARD HER SO HIGHLY SHE'LL EVEN BE ABLE TO CONVINCE YOU NOT TO LEAVE.


...OR NOT.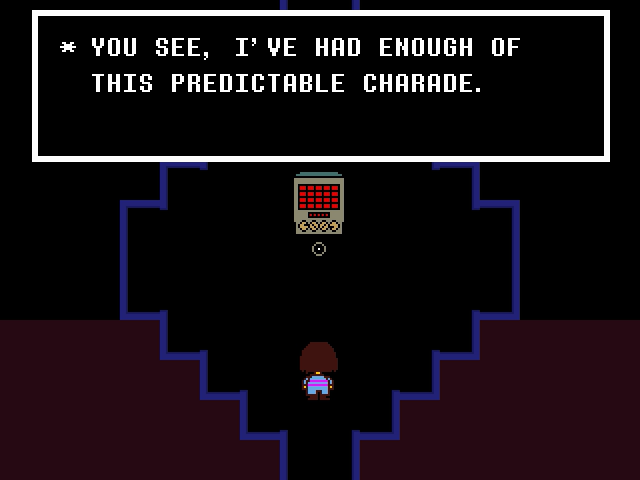 I HAVE NO DESIRE TO HARM HUMANS. FAR FROM IT, ACTUALLY.


MY ONLY DESIRE IS TO ENTERTAIN.


AFTER ALL, THE AUDIENCE DESERVES A GOOD SHOW, DON'T THEY?


AND WHAT'S A GOOD SHOW...


WITHOUT A PLOT TWIST?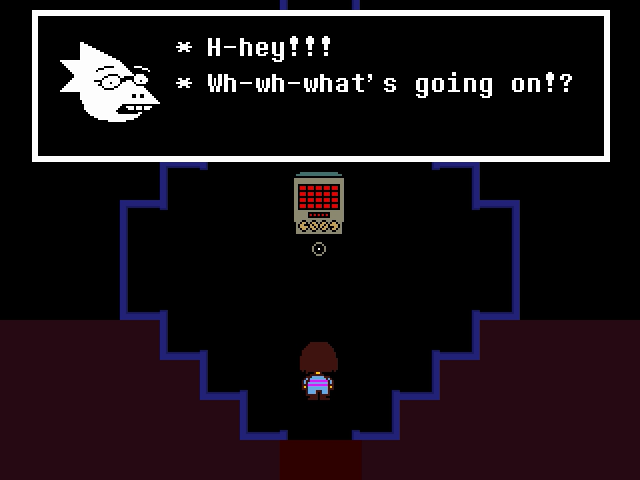 Th-th-the door just locked itself!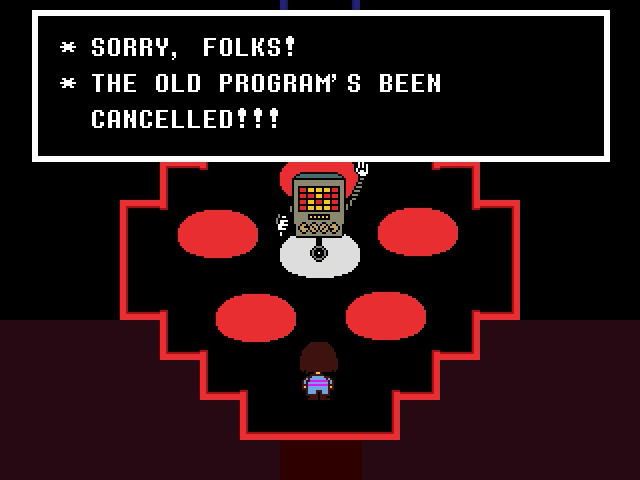 BGM: Last Episode!

BUT WE'VE GOT A FINALE THAT WILL DRIVE YOU WILD!!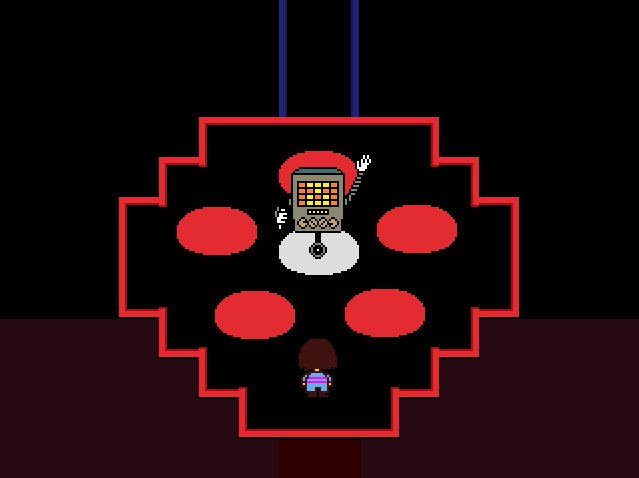 ON OUR NEW SHOW...