Part 28: Death by Glamour
(This is the other update with reconstructed videos. I did my best to keep it faithful to the original run. Everything after this is definitely correct.)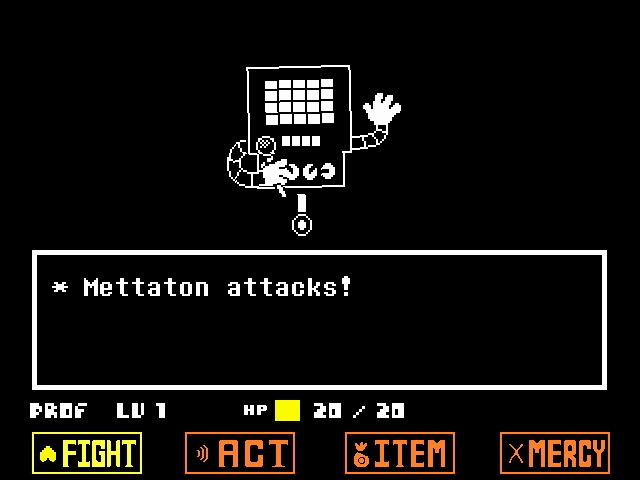 Video: Attack of the Killer Robot

BGM: Metal Crusher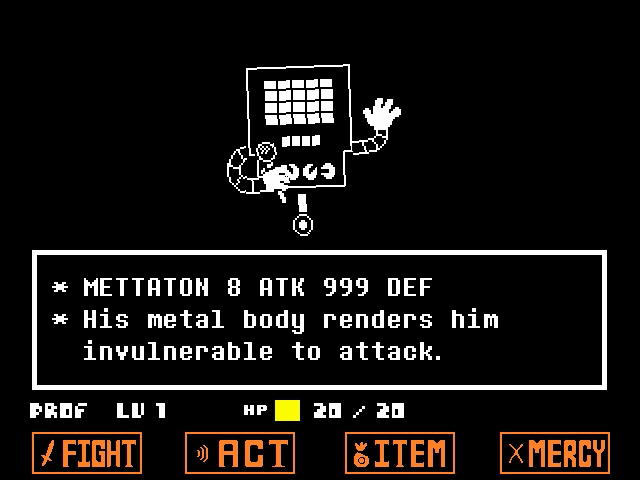 YES, I WAS THE ONE THAT RE-ARRANGED THE CORE!


I WAS THE ONE THAT HIRED EVERYBODY TO KILL YOU!


THAT, HOWEVER, WAS A SHORT-SIGHTED PLAN.


YOU KNOW WHAT WOULD BE A HUNDRED TIMES BETTER?


KILLING YOU MYSELF!!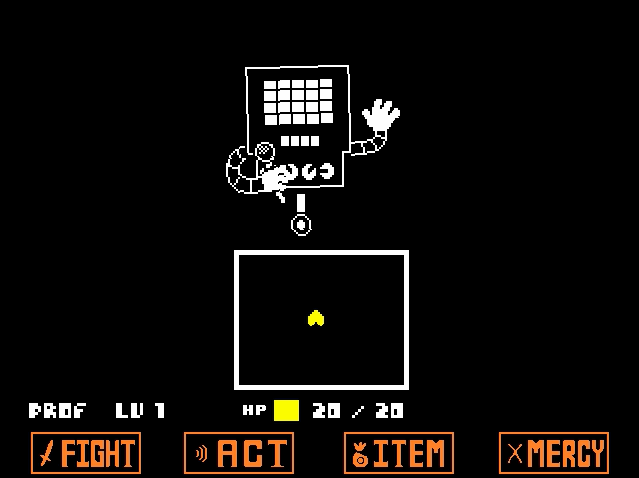 DON'T YOU UNDERSTAND WHAT ACTING IS!?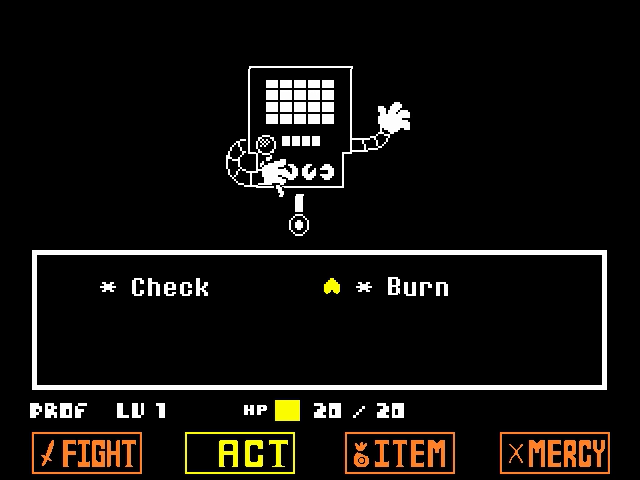 This is probably what you'll do if things continue in this manner.



LISTEN, DARLING. I'VE SEEN YOU FIGHT.


YOU'RE WEAK.


IF YOU CONTINUE FORWARD, ASGORE WILL TAKE YOUR SOUL.


AND WITH YOUR SOUL, ASGORE WILL DESTROY HUMANITY.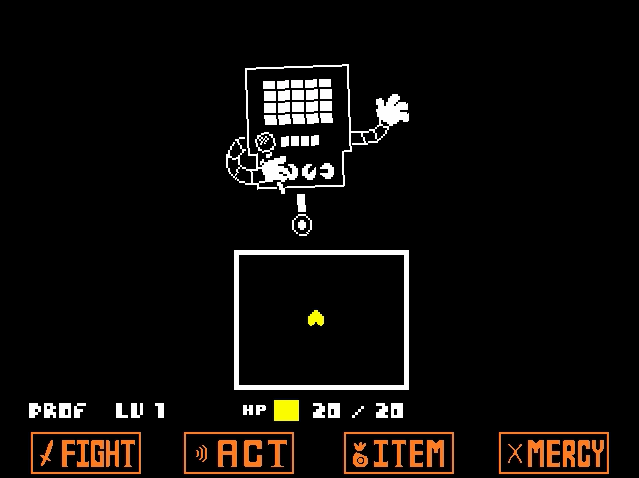 While my yellow beam can't hurt Mettaton, it can defend against his attacks!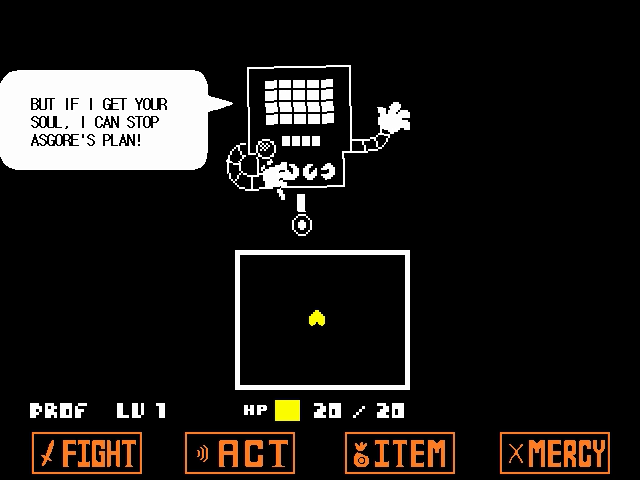 I CAN SAVE HUMANITY FROM DESTRUCTION!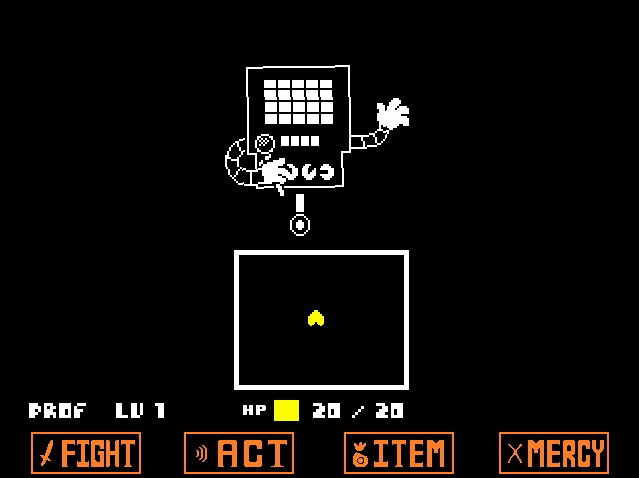 Shooting the yellow blocks on the arms causes them to react. I was too slow, though, so I still took damage.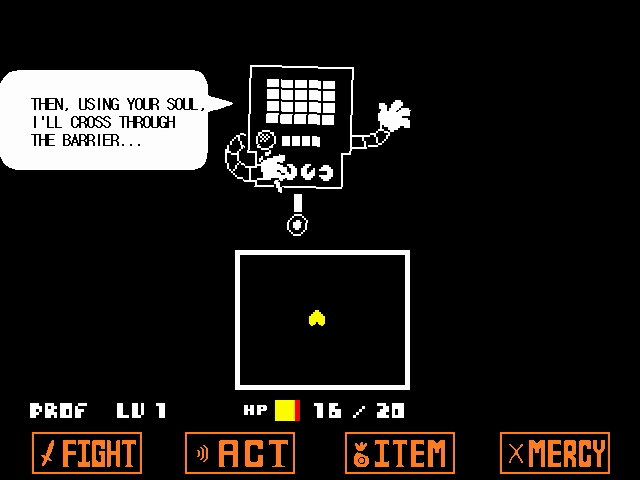 AND BECOME THE STAR I'VE ALWAYS DREAMED OF BEING!


HUNDREDS, THOUSANDS...


NO! MILLIONS OF HUMANS WILL WATCH ME!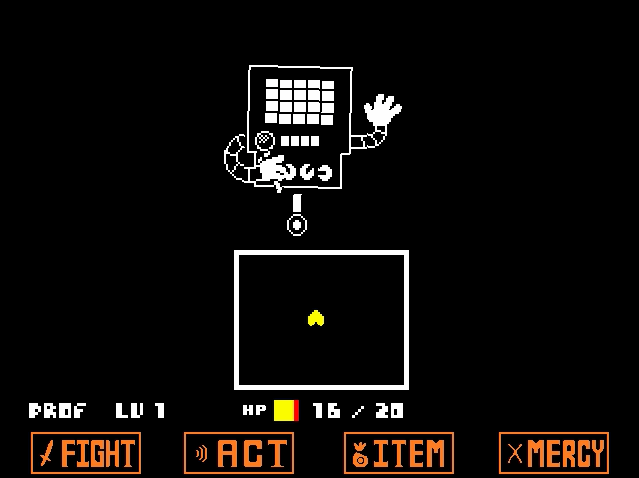 Shooting the bombs causes them to explode in a cross, hiting at any range.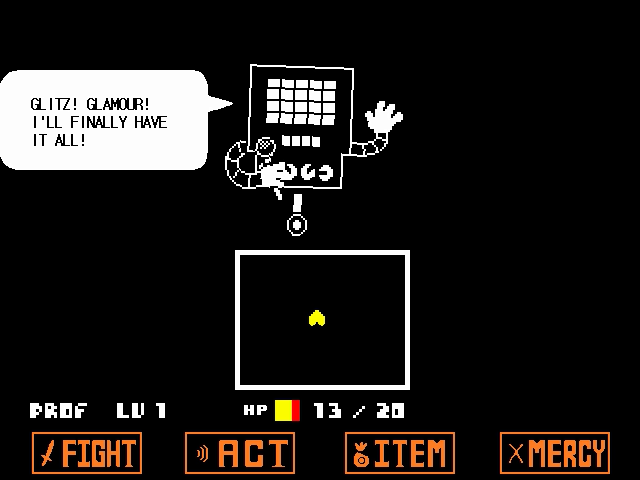 SO WHAT IF A FEW PEOPLE HAVE TO DIE?


THAT'S SHOW BUSINESS, BABY!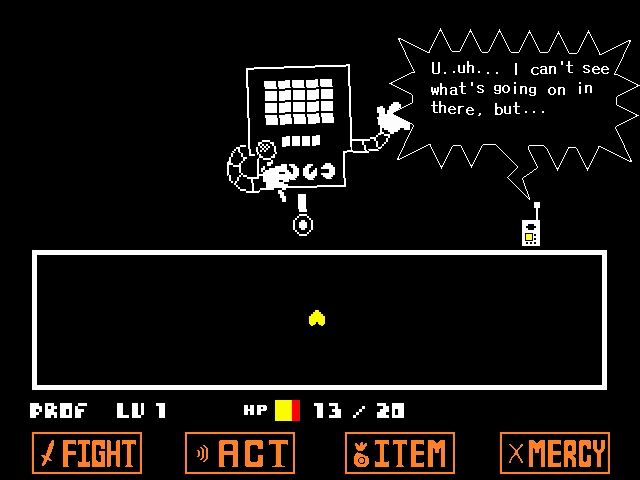 D-d-don't give up, okay!?

Th... there's o-one l-l-last way to beat Mettaton...

It's... um... it's...

This is a work in-progress, so don't judge it too hard...

But, you know how Mettaton always faces f-f-forward?

That's because there's a switch on his backside.

S-s-so if y-y-you c-c-can turn him around... um...

And, umm... press th-th-th-the switch...

He'll be... up... He'll be...

Vulnerable.

Well, g-g-gotta go!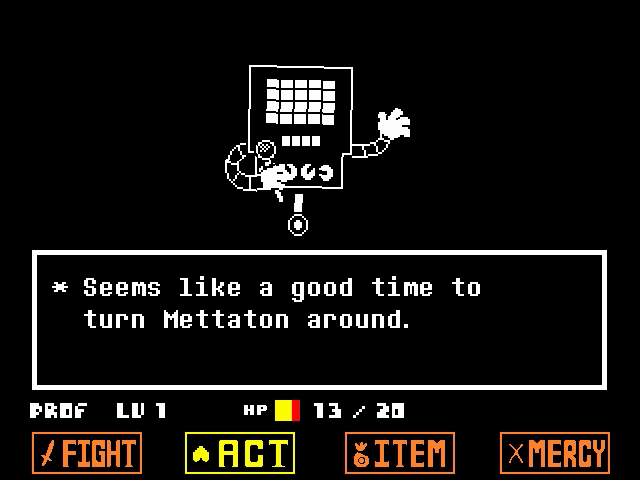 I use the newly-activated ACT command,
Turn!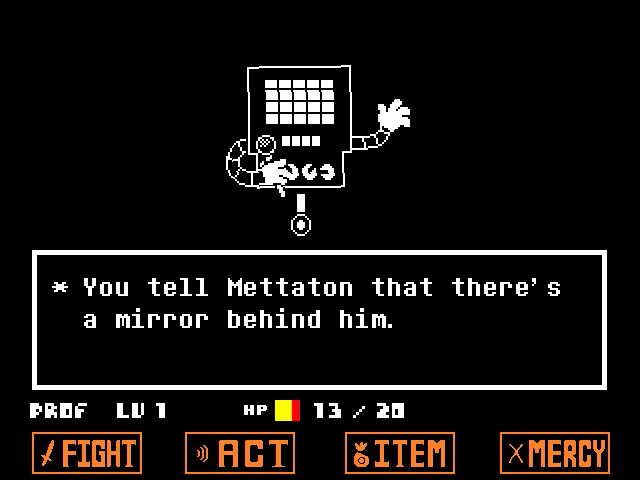 OH??? A MIRROR???


RIGHT, I HAVE TO LOOK PERFECT FOR OUR GRAND FINALE!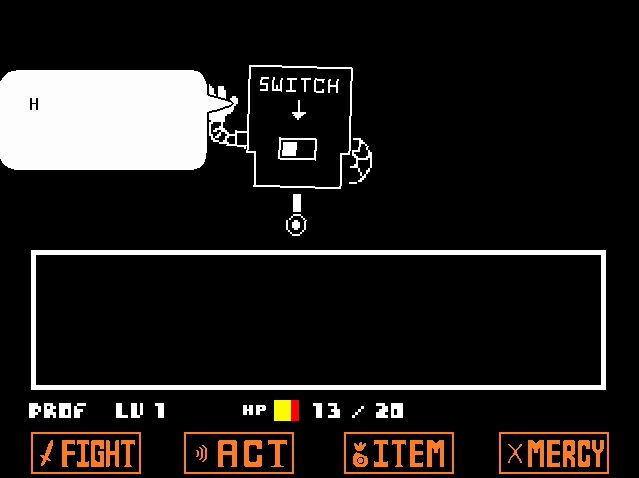 BGM: Silence

DID YOU.


JUST FLIP.


MY SWITCH?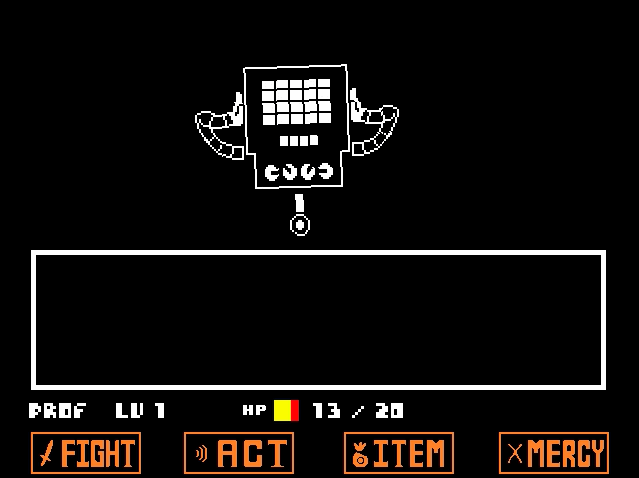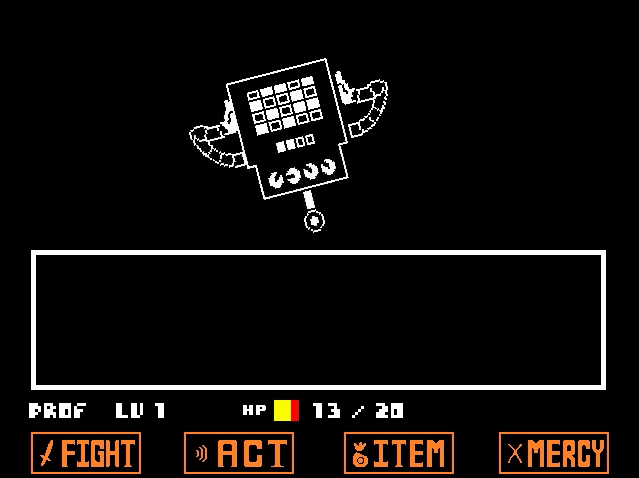 OH YES~

BGM: Oh My...

Ohhhh my.

If you flipped my switch, that can only mean one thing.

You're desperate for the premiere of my new body.

How rude...

Lucky for you, I've been aching to show this off for a long time.

So... as thanks, I'll give you a handsome reward.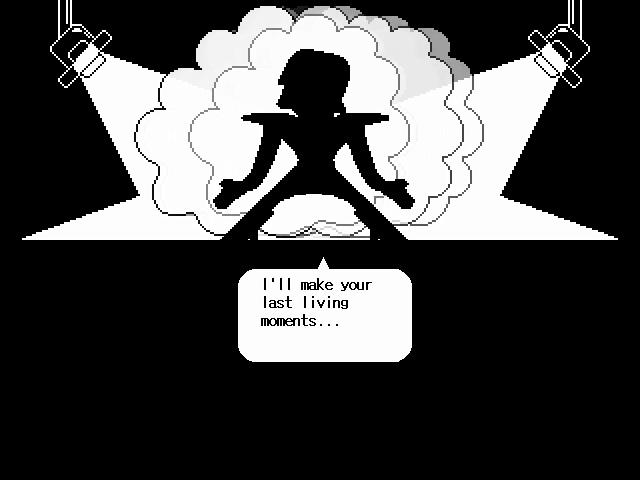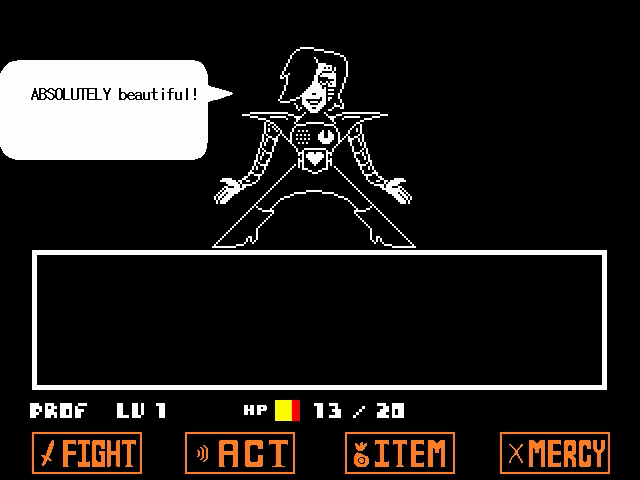 BGM: Death By Glamour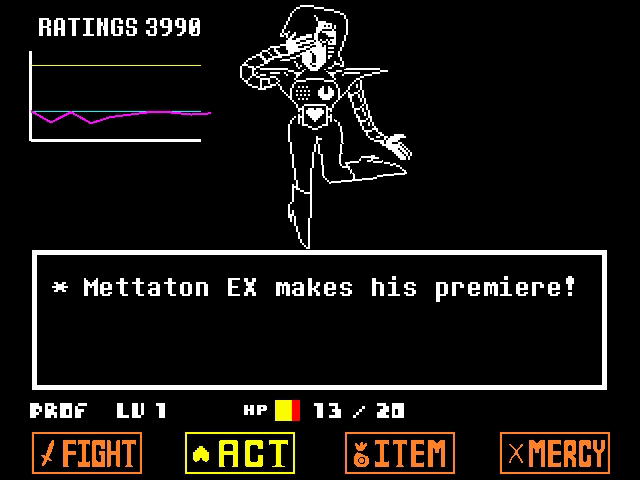 Presenting the REAL Mettaton.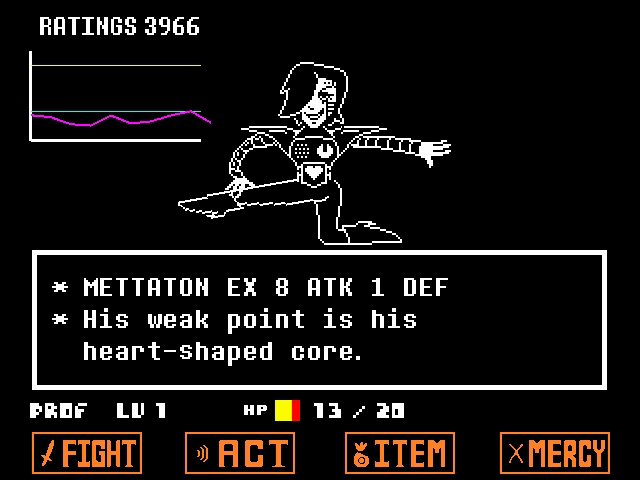 Lights! Camera! Action!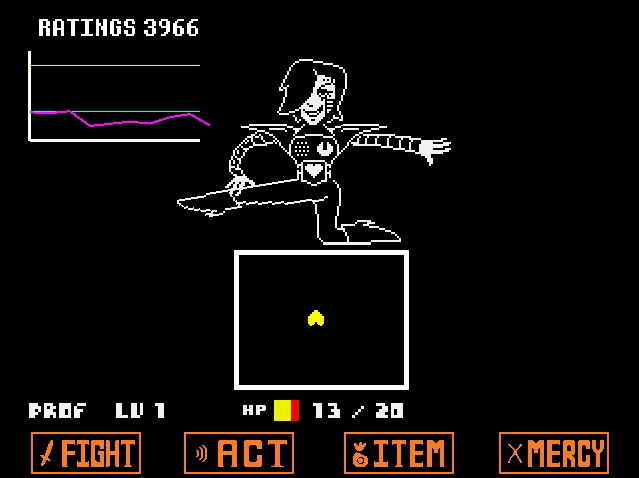 Shooting the white legs makes them start moving, and shooting the yellow legs makes them stop again. I have to be more careful with my bullets.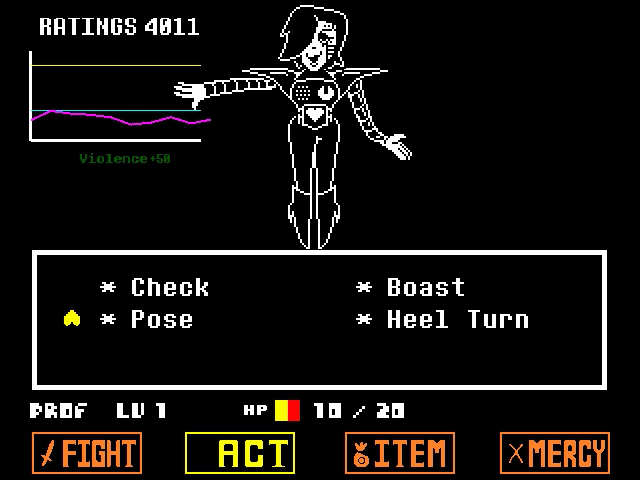 This is sort of a complex fight. There's something in the corner about the ratings? I guess we're on TV, after all.
For starters, I
Pose.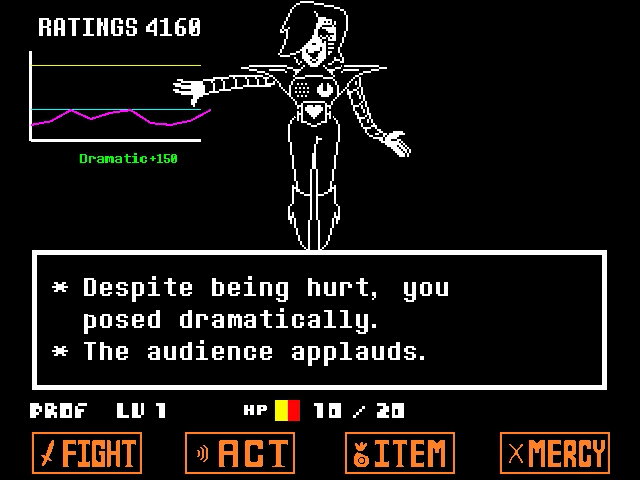 Drama! Romance! Bloodshed!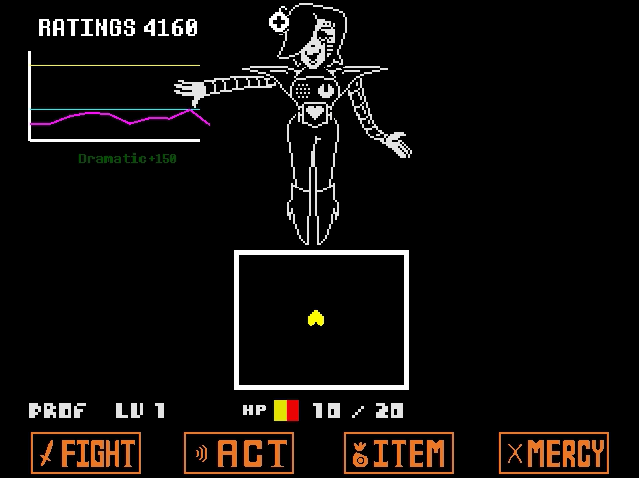 Mettaton EX deploys miniature Mettatons to throw hearts at me.
I'm not in good shape. I'd better stop posing and eat some instant noodles.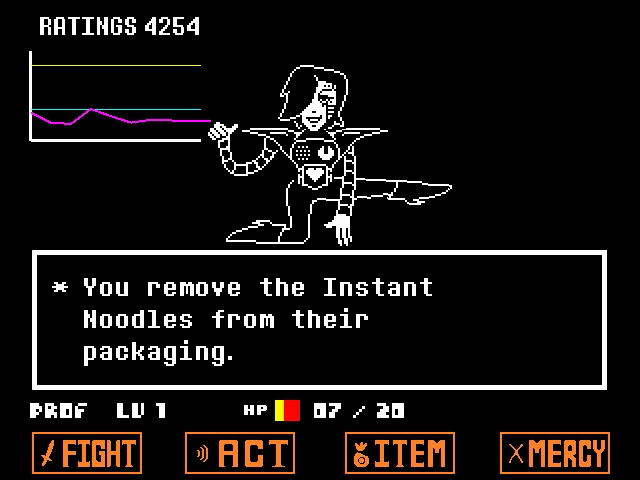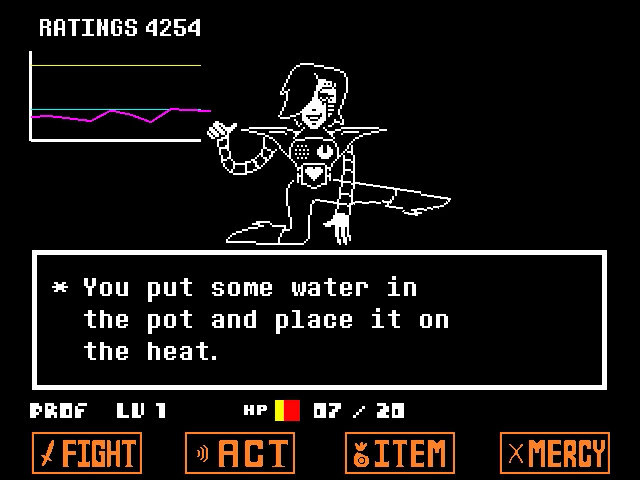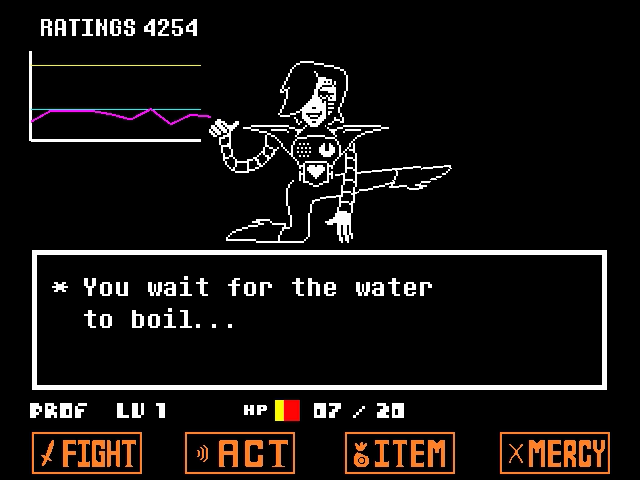 BGM: Silence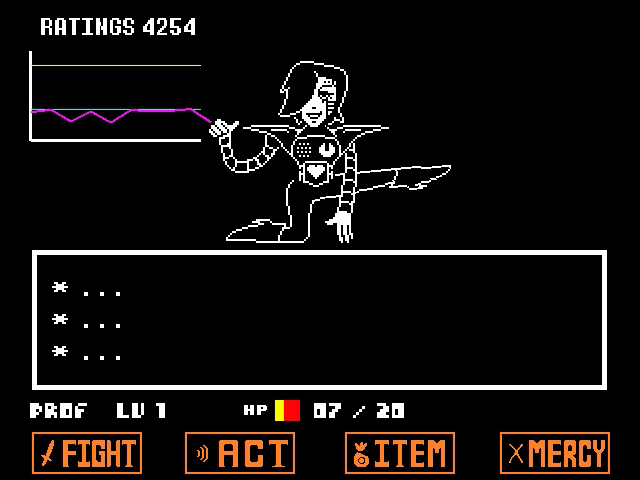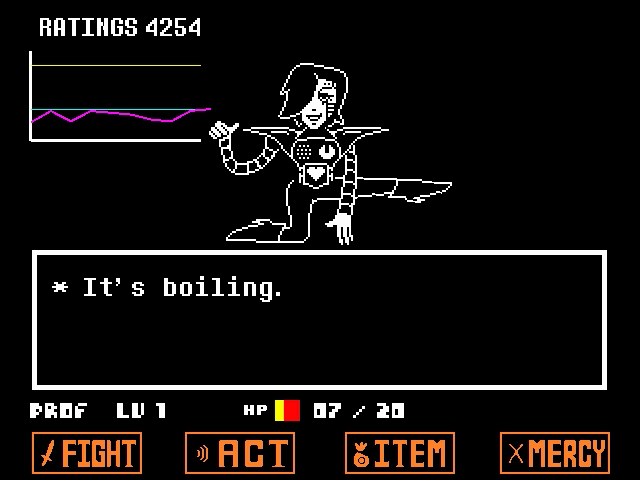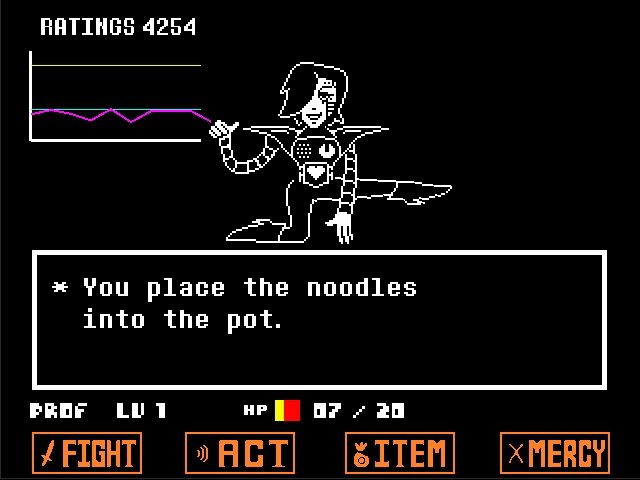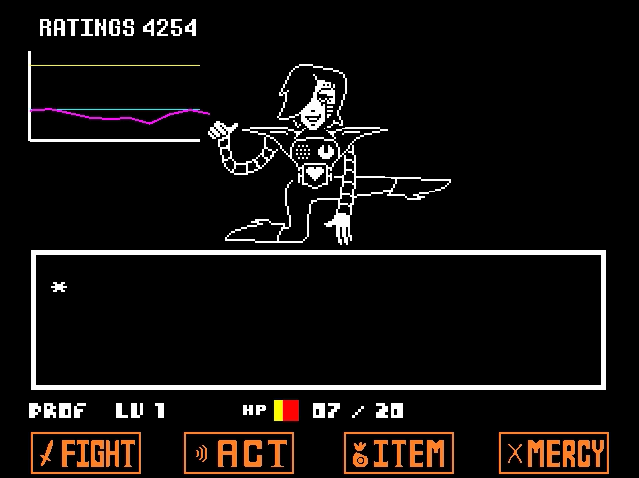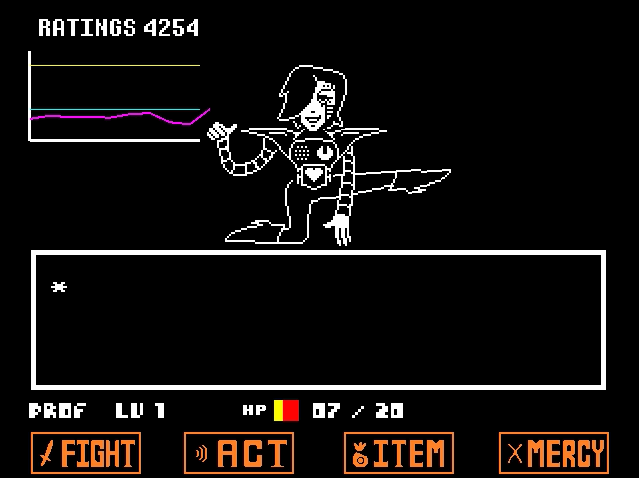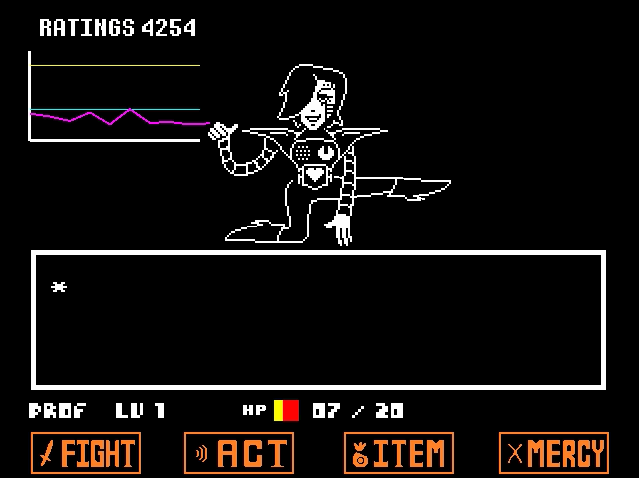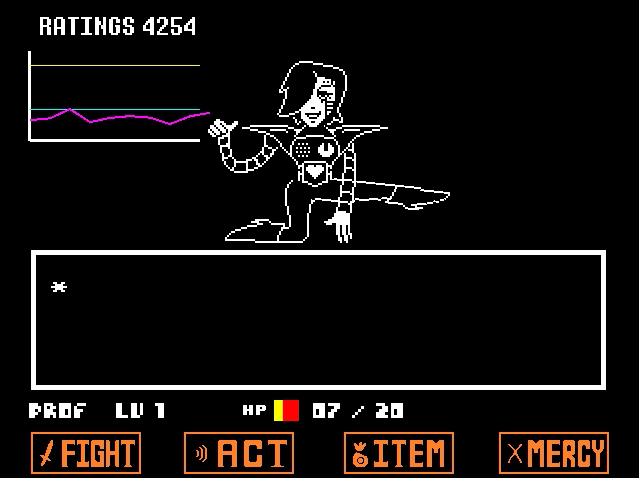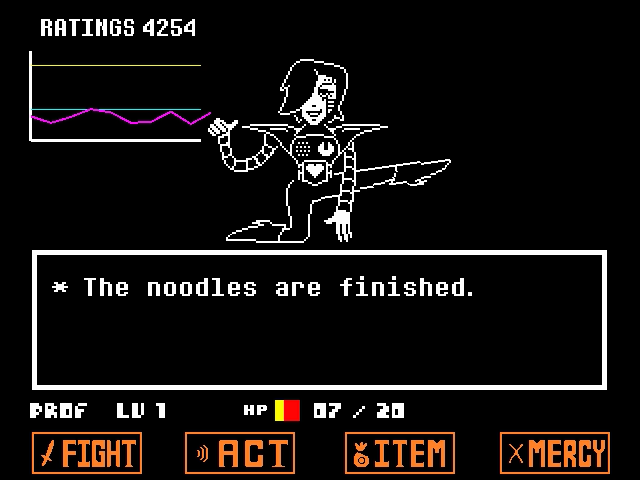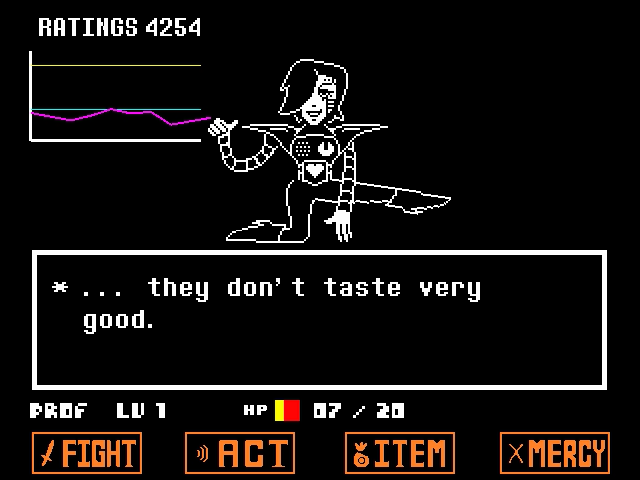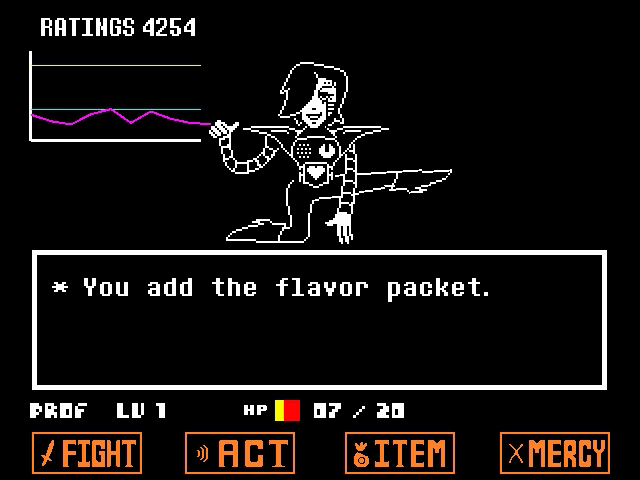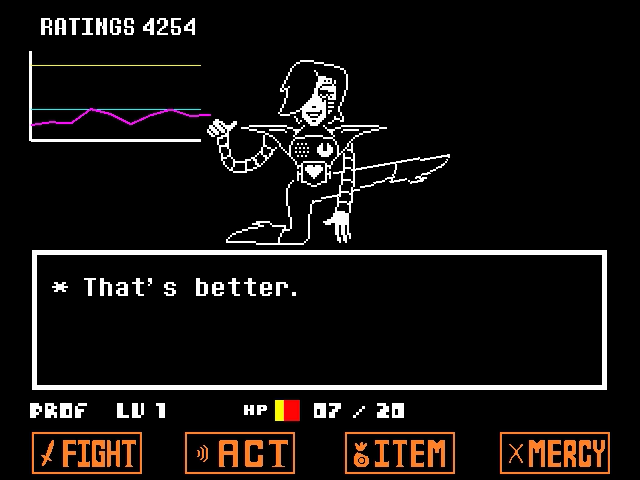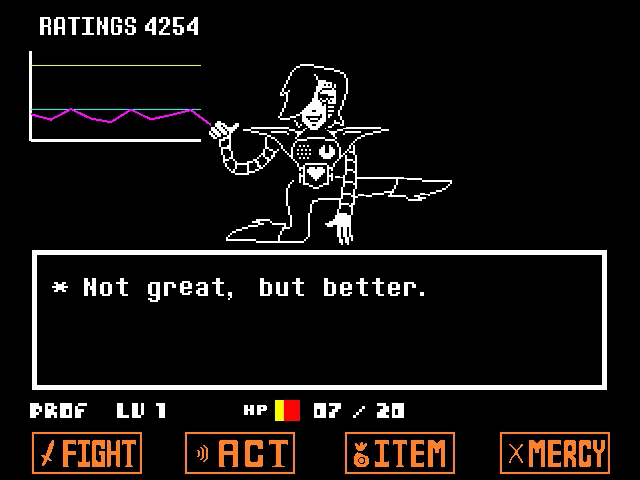 BGM: Death By Glamour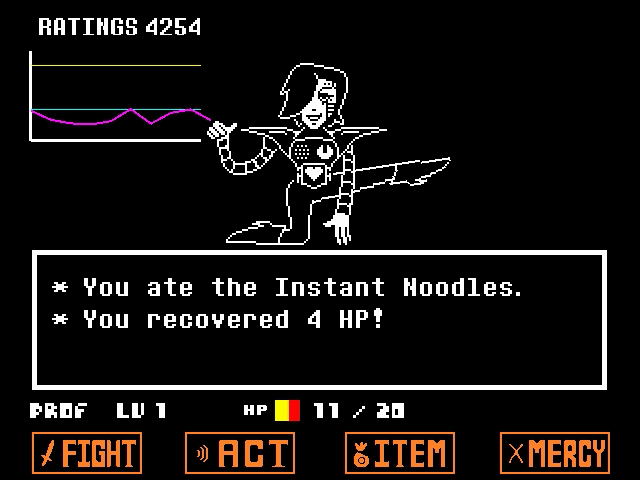 I'm the idol everyone craves!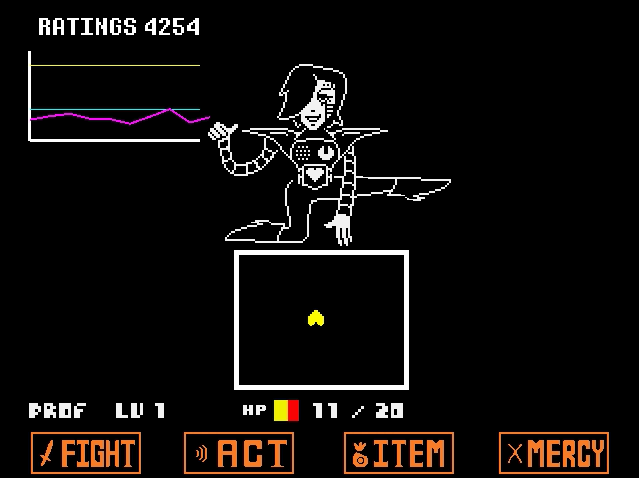 Smile for the camera!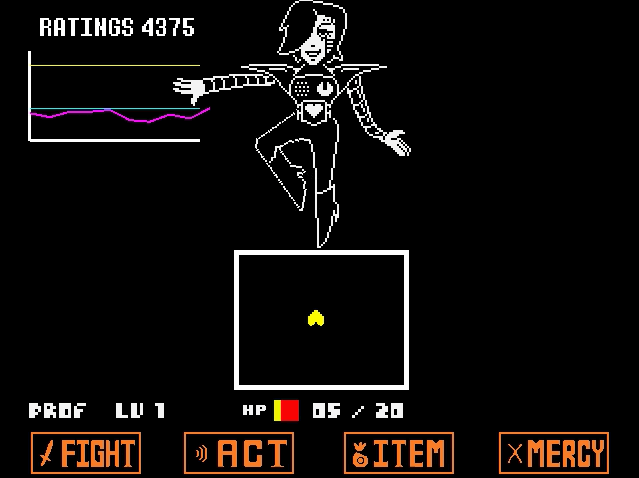 I
Pose
.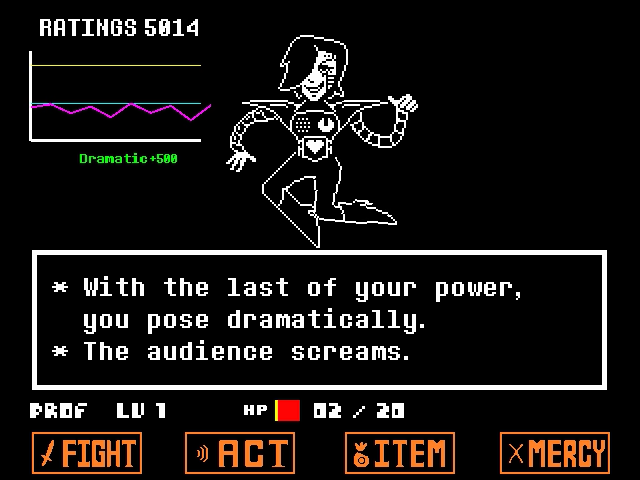 Oooh, it's time for a pop quiz!

I hope you brought a keyboard...

This one's an essay question!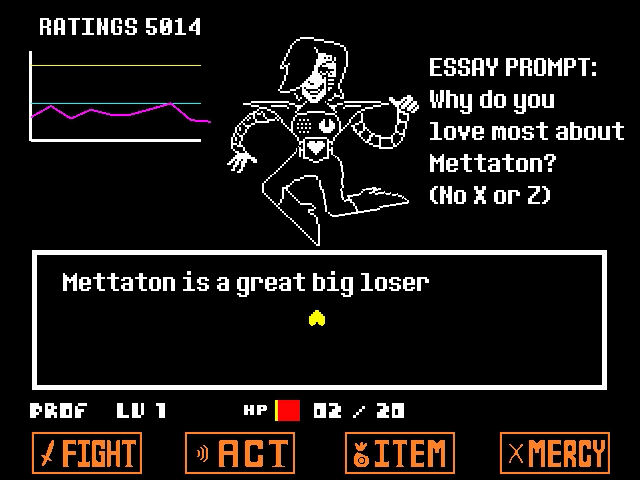 Huh? This essay is supposed to be about me, not you...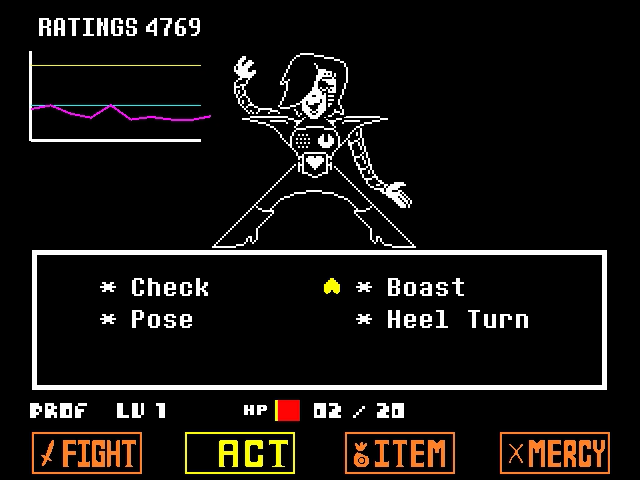 You say you won't get hit at ALL.
Ratings gradually increase during Mettaton's turn.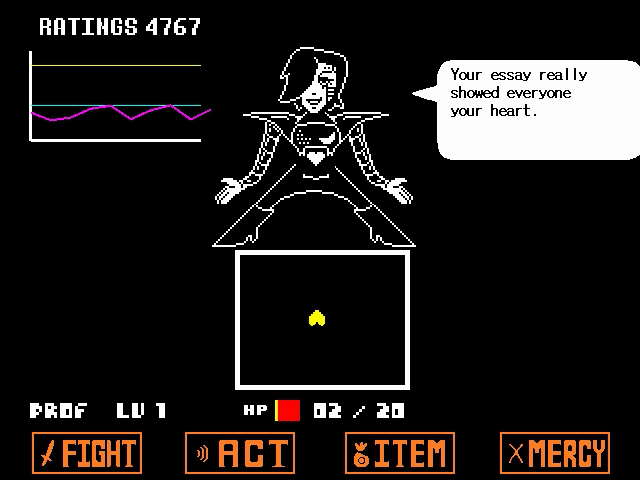 Why don't I show you mine?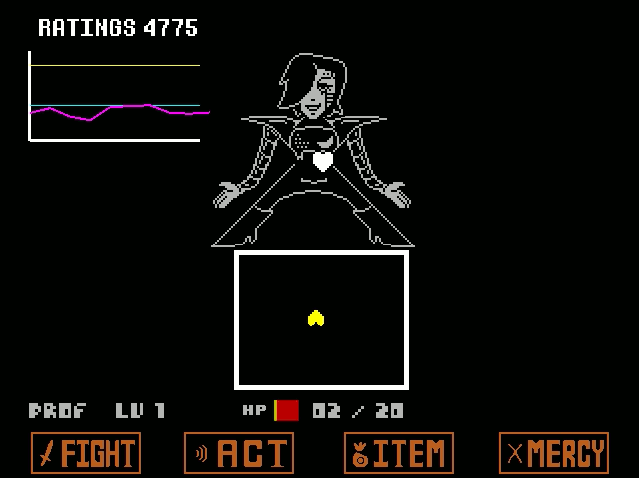 Oops.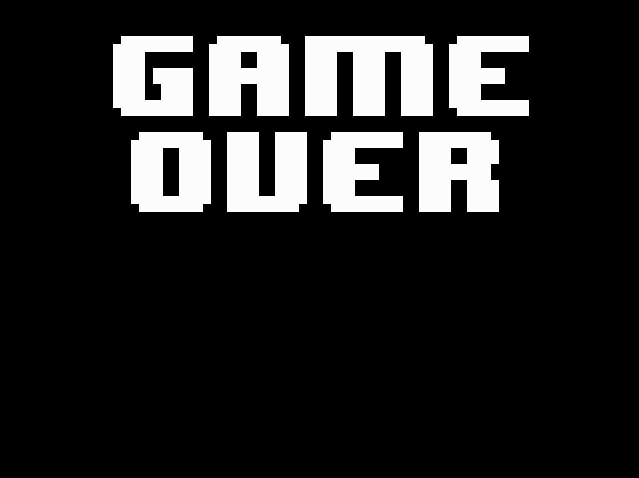 BGM: Determination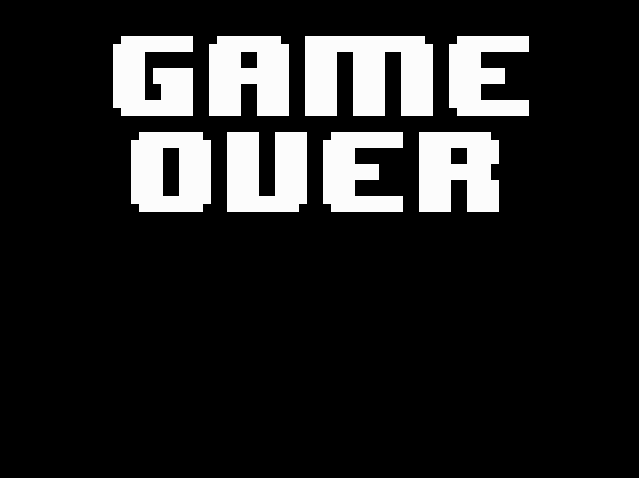 All right, I confess. I have a few ulterior motives in dying here.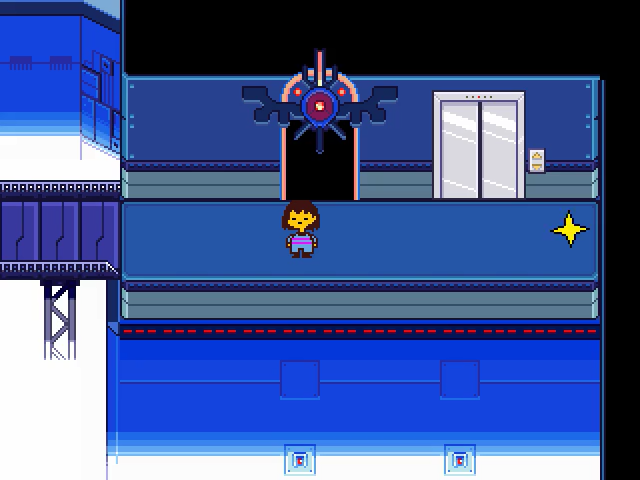 I load my game.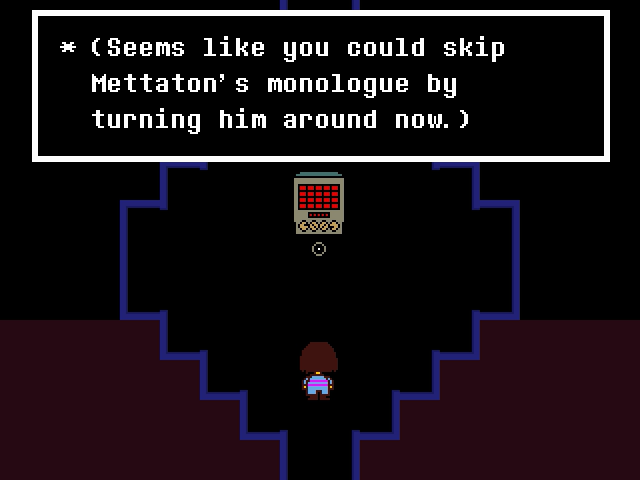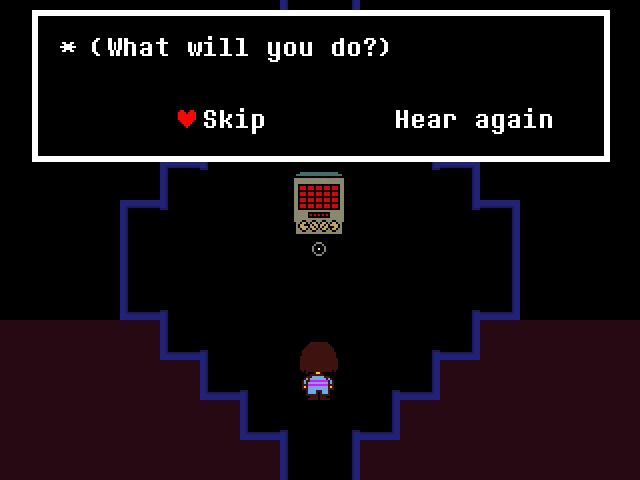 (You told Mettaton there was something cool behind him.)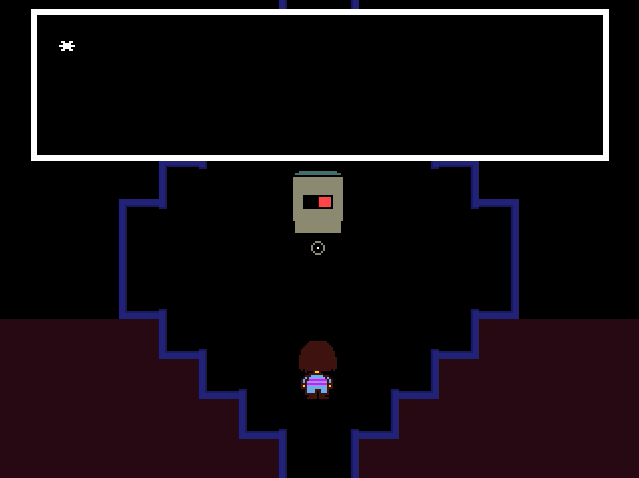 CLEVER... VERY CLEVER.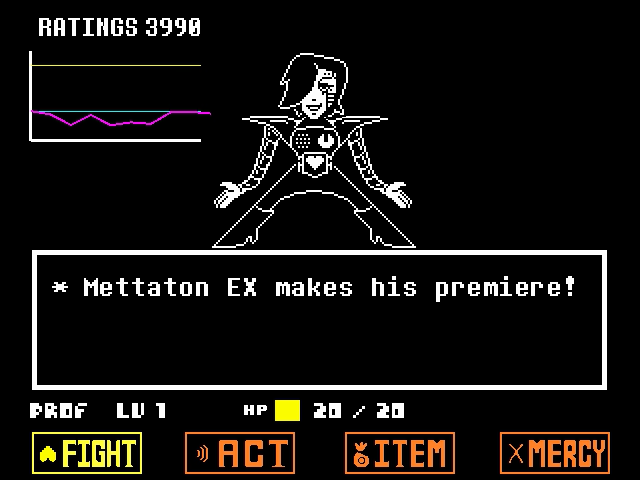 Video: Mettaton EX, Round 2!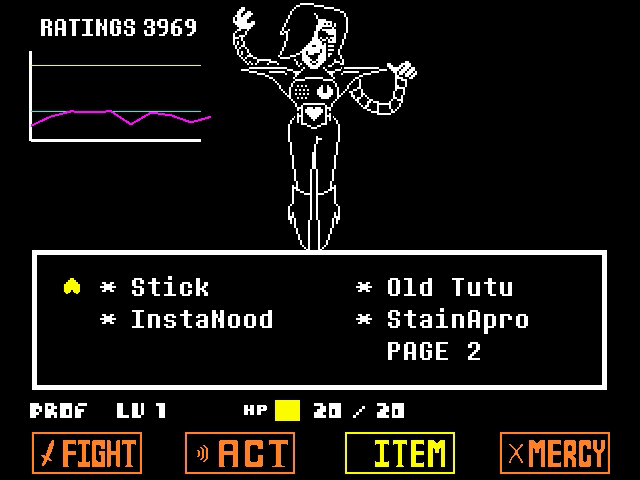 Okay, let's talk about how this fight
actually
works.
My goals here are twofold: Survive through three rounds of combat with Mettaton's heart, and boost Ratings over 10,000.
I start by throwing the
Stick
that I started the game equipped with.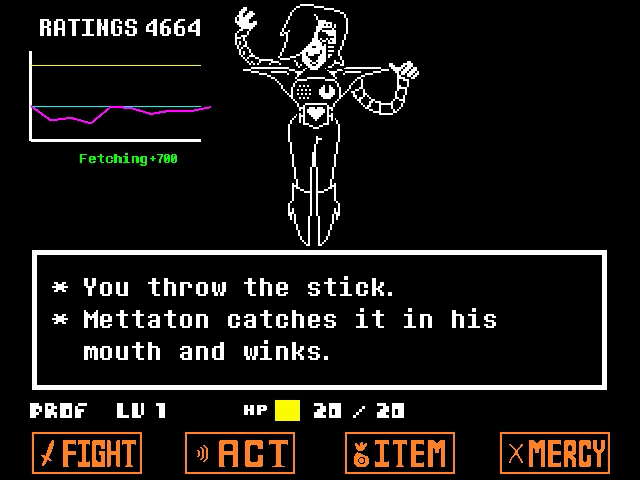 There are a lot of ways to boost ratings. Some of them are downright obscure.
When I'm on the menu deciding what to do, ratings gradually tick back down.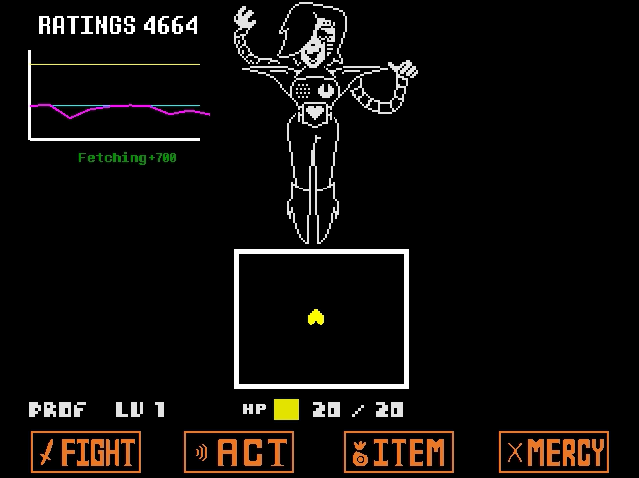 Shooting things and taking damage both boost ratings. The audience loves violence.
I change things up again by equipping the
Old Tutu
.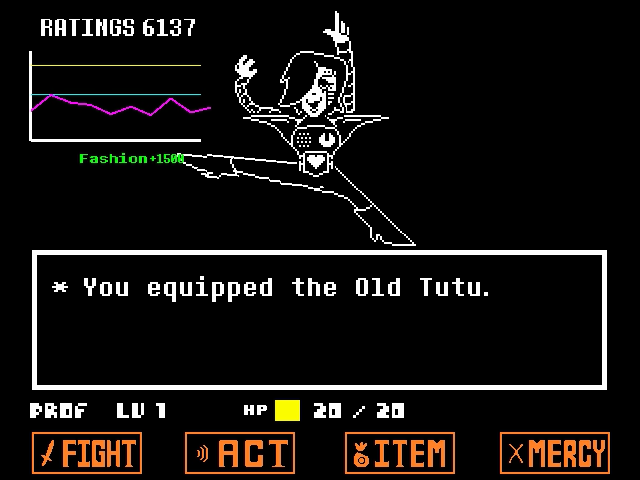 You may recall two gem-headed kids in Hotland talking about their favorite Mettaton Moments. Everything they say is a hint to this battle.
Fashion is easily the most powerful ratings boost available. I get +1500 for each outfit I put on for the first time.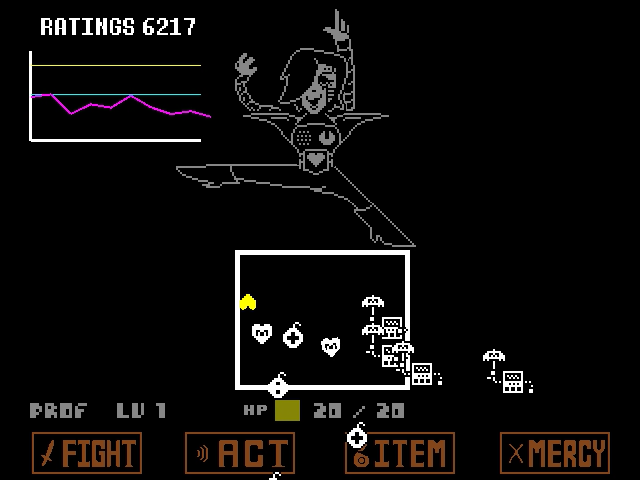 So, let's talk about those actions! Boast, Pose, Heel Turn.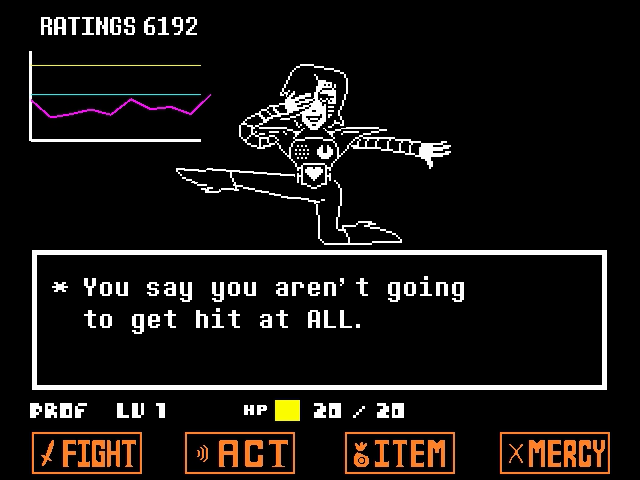 If I
Boast
, ratings tick up gradually during Mettaton's attack, but if I get hit, it stops and I lose 100.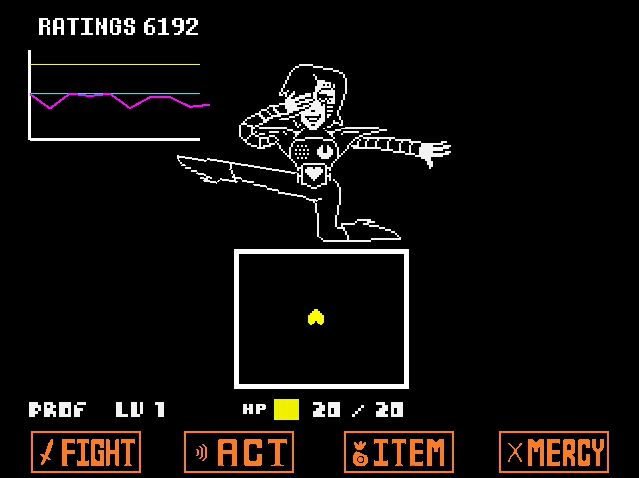 As long as I can avoid taking damage consistently, Boasting is always the best option.
Pose gives more ratings the lower my health is, and Heel Turn gives more ratings as I take damage. I won't be using either of them.
Dealing with the mini-Mettatons is a combination of shooting them down before they attack and dodging the attacks of the others. With a bit of planning, they're seldom a problem.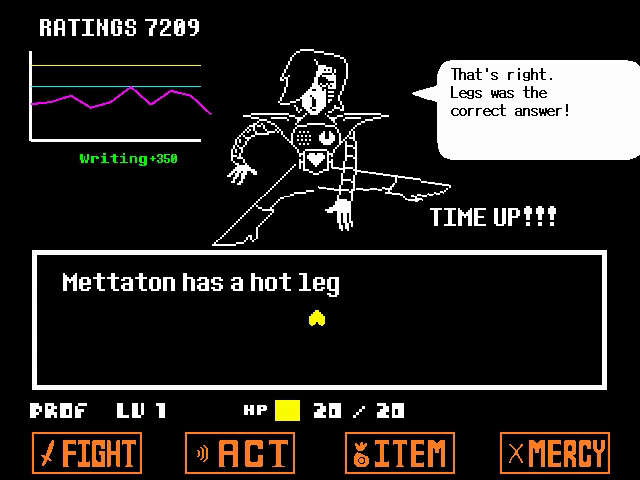 The essay question has a lot of factors. Insulting Mettaton or using swear words will decrease ratings, compliments will increase them.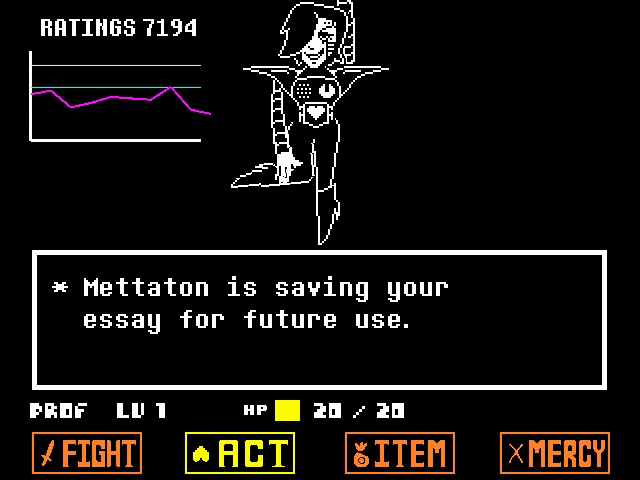 Your essay really showed everyone your heart.

Why don't I show you mine?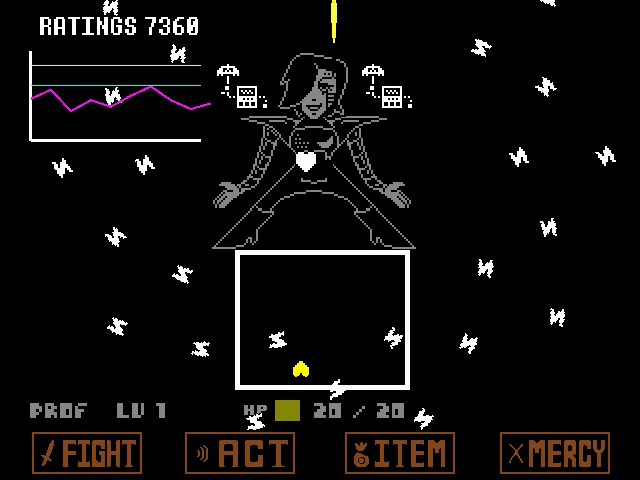 Mettaton is tough enough that I can fight back without worrying about killing him. Whenever the heart is exposed, I go crazy.
About ten shots later, the first round with Mettaton's heart ends.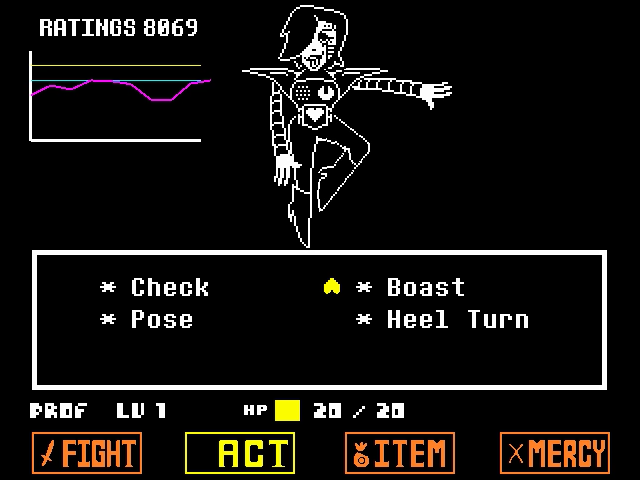 Ooooh, I'm just warming up!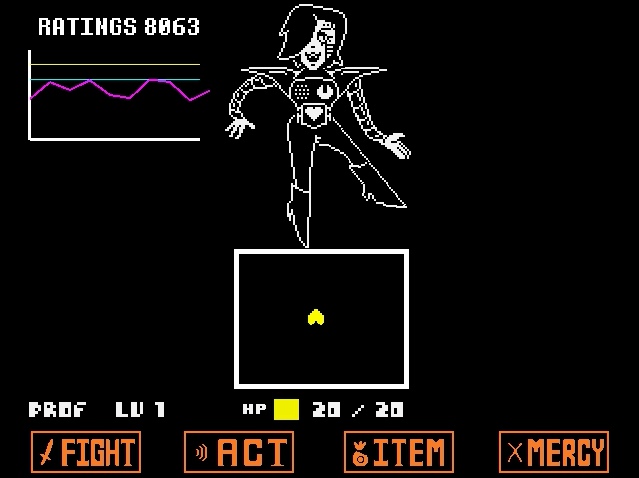 But how are you on the dance floor!?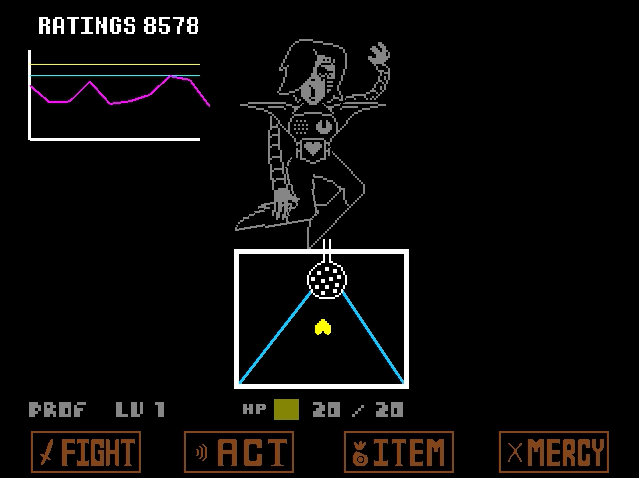 Shooting the disco ball switches white and blue lasers. I need to have fast reflexes and make sure they're all blue by the time they hit me.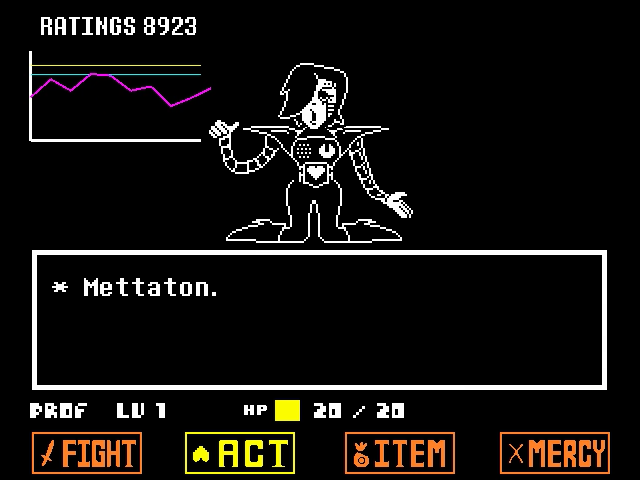 Can you keep up the pace!?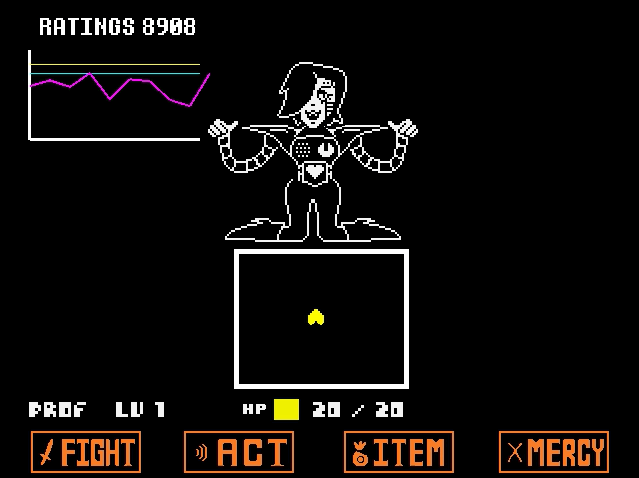 Lights! Camera! Bombs!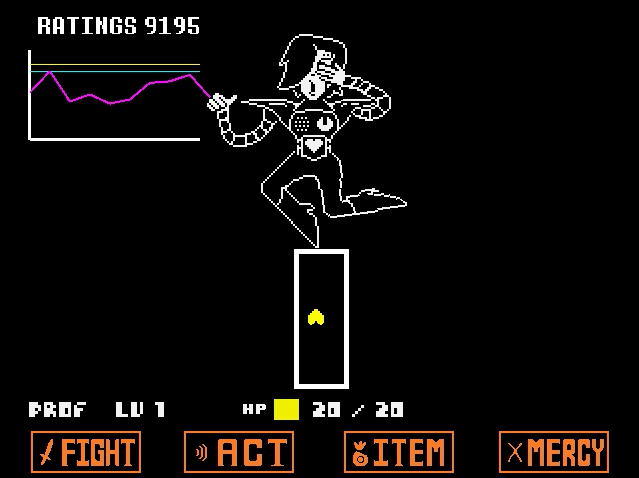 Things are blowing up!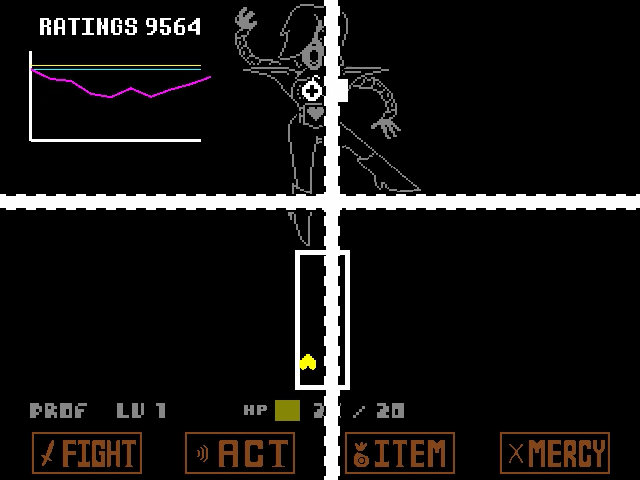 Same attack, but faster.
The white blocks can be destroyed by bombs, but not by my blaster.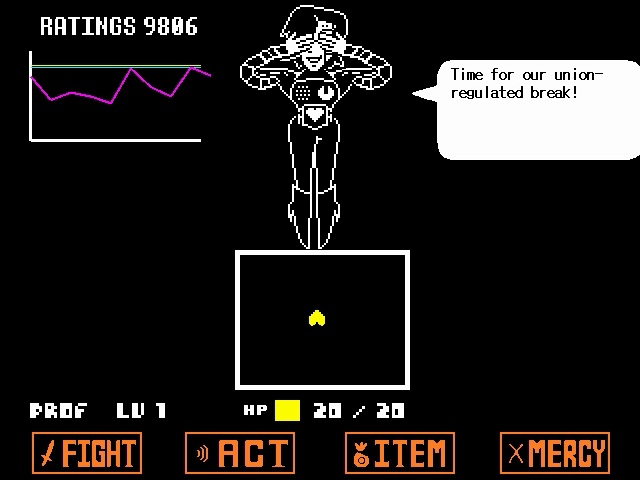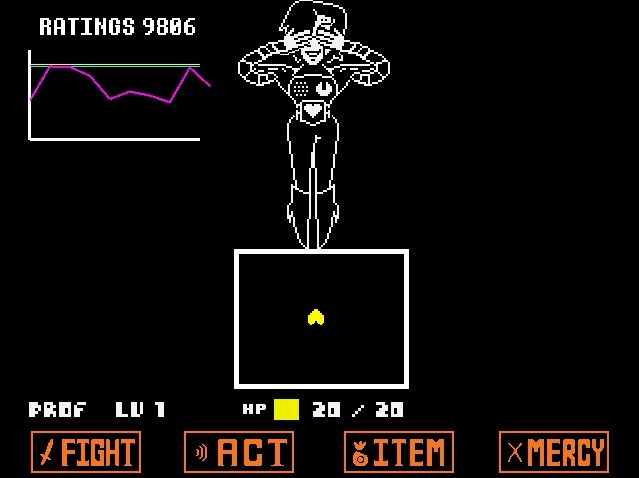 It's a good idea to memorize when this comes so I can Boast for big free ratings.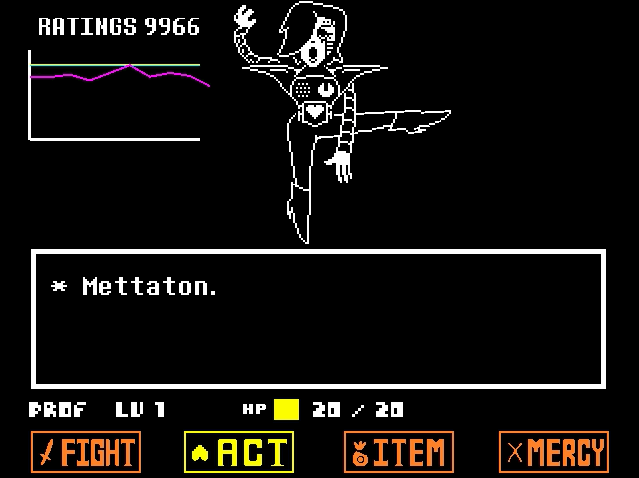 All this fighting has made me hungry! I stop to eat a Glamburger.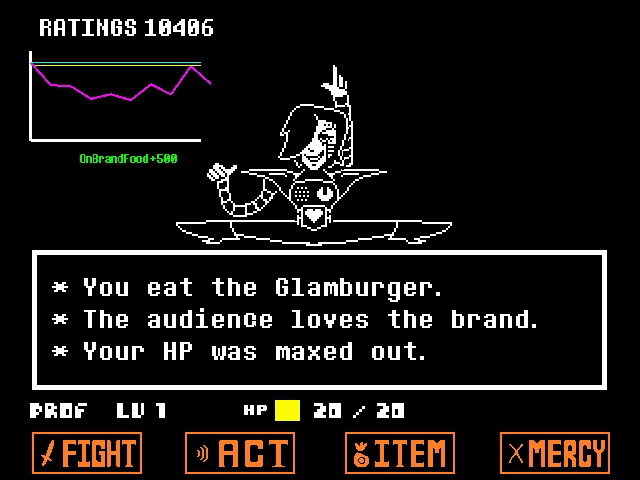 Eating on-brand food from the MTT Burger Emporium gives big rating boosts. Some food, like the junk food sold by Bratty and Catty, penalizes ratings.
Hey, look. I made it to 10k!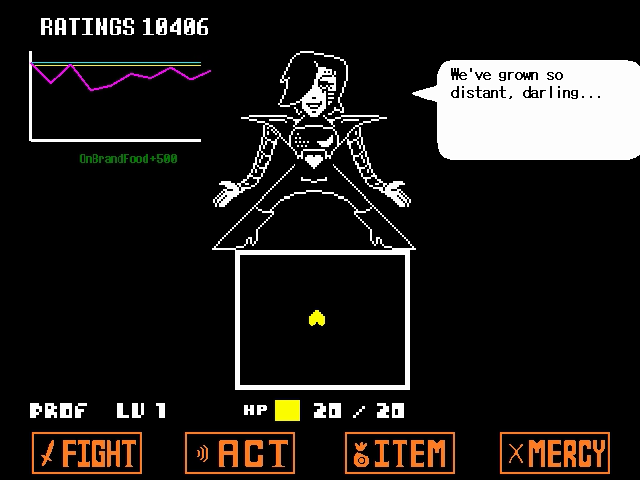 How about another heart-to-heart?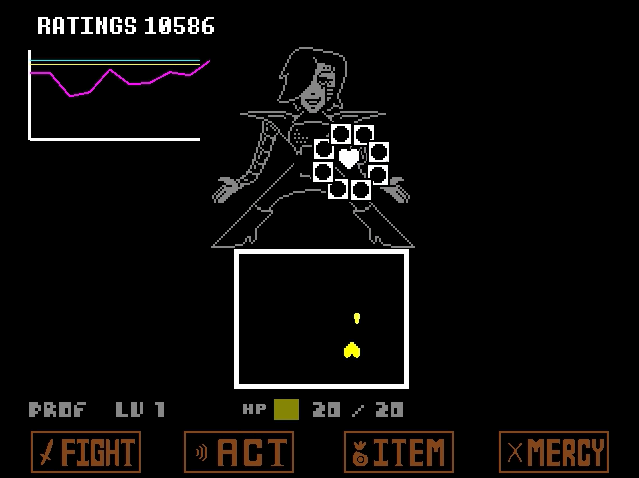 My perfect run finally ends. Curses!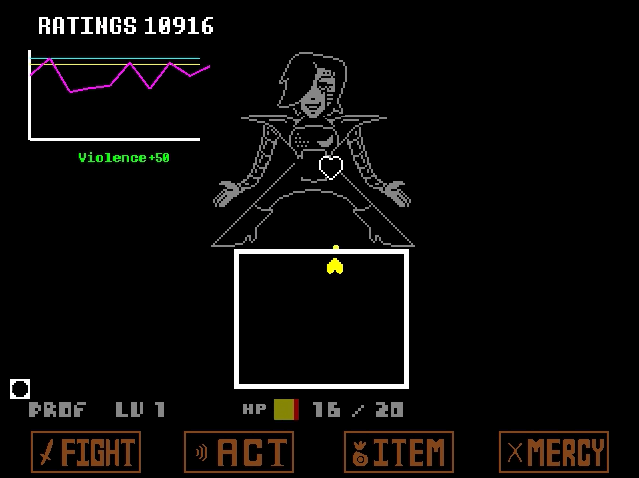 A... arms? Wh... who needs arms with leges like these?

I'm still going to win!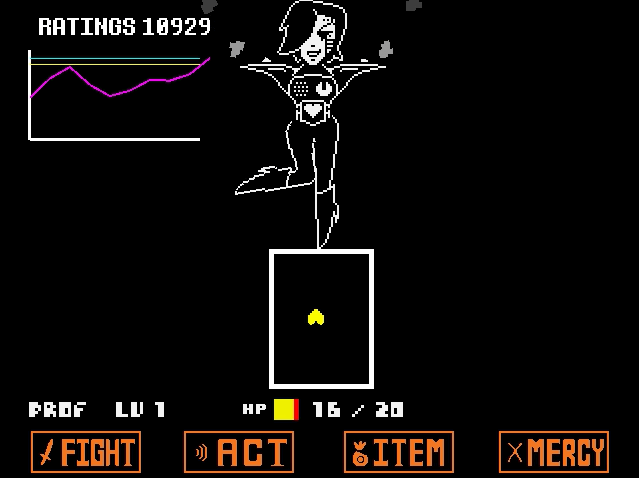 This attack is not just about carving open a path, but remembering where you left it for the rewind.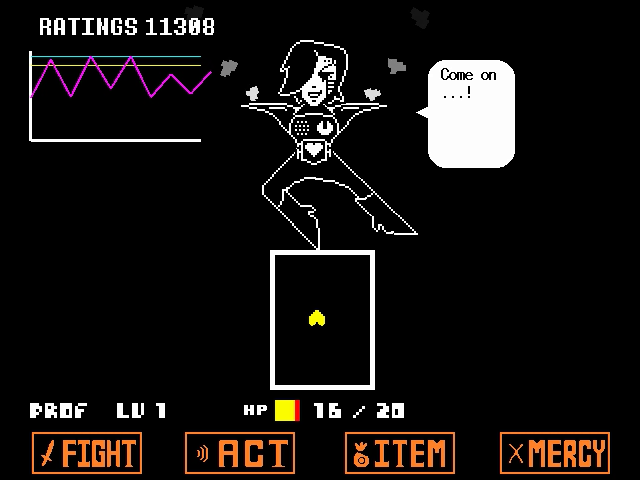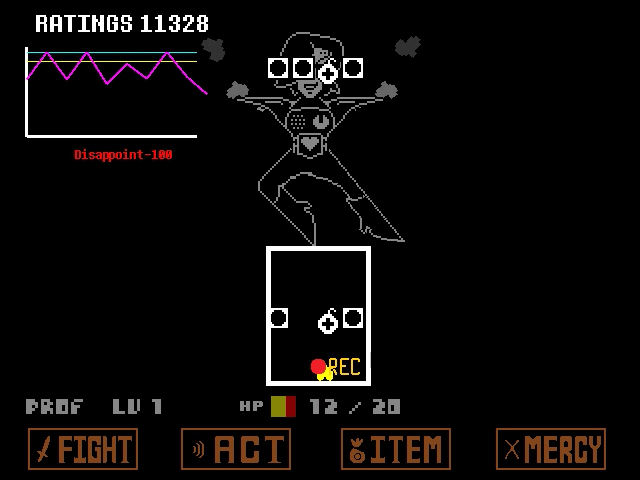 Mettaton does the same attack again, but faster. I can't quite keep up!

The show... must go on!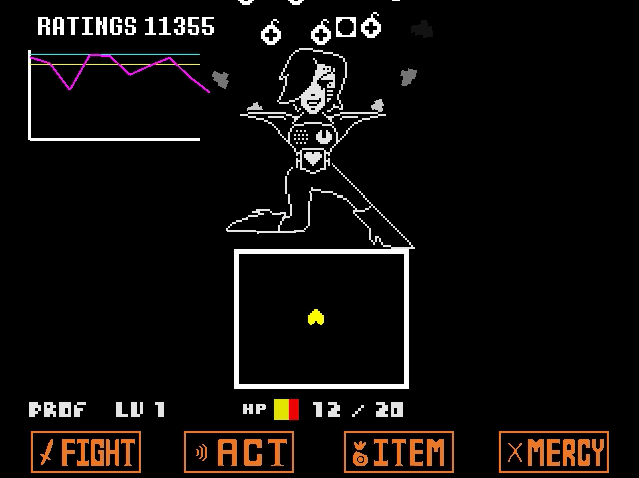 Dr... Drama! A... Action!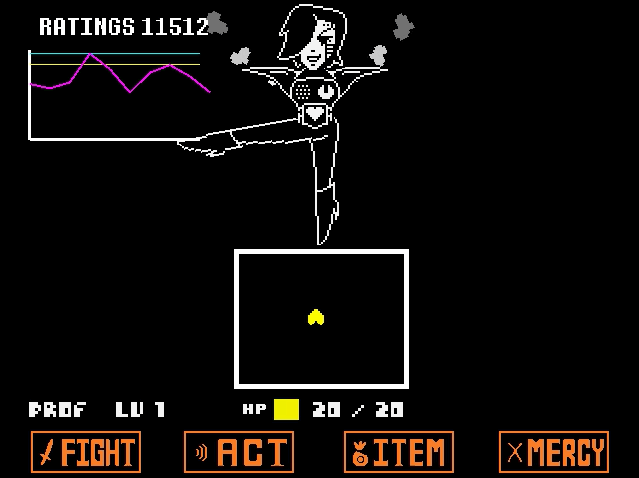 L... lights... C... camera...

Enough of this! Do you really want humanity to perish!?

...or do you just believe in yourself that much?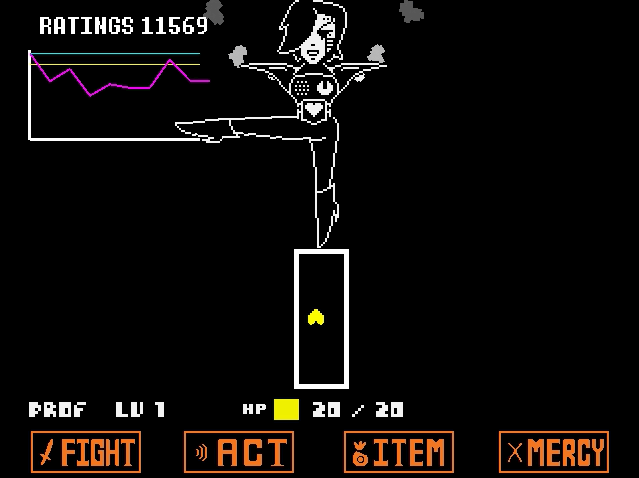 Haha, how inspiring!

Well, darling! It's either me or you!

But I think we both already know who's going to win.

Witness the true power of humanity's star!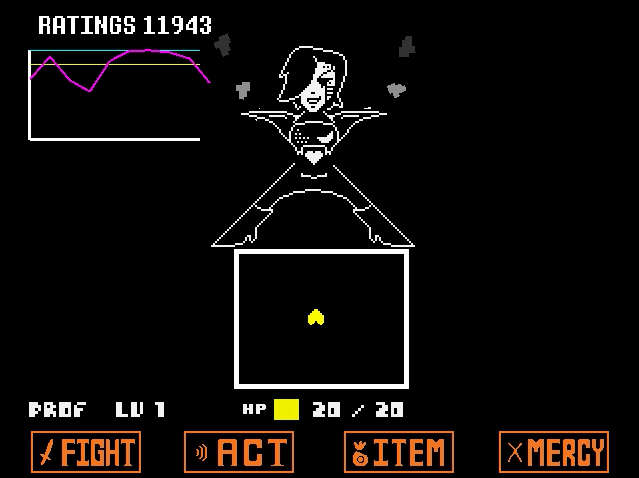 Mettaton EX pulls out all the stops!
But it's not enough.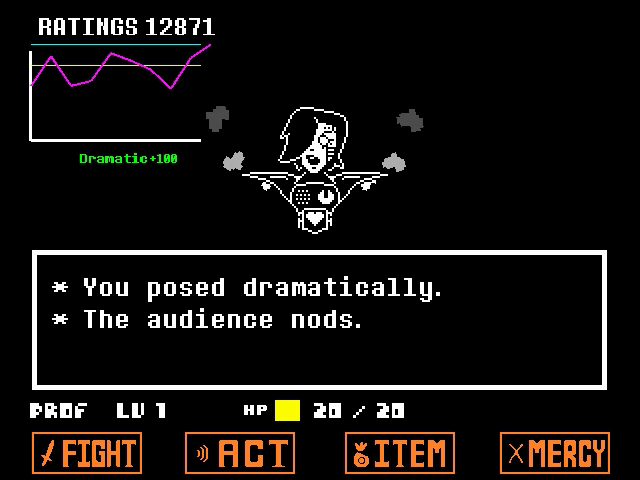 BGM: Silence

OOH, LOOK AT THESE RATINGS!!!

THIS IS THE MOST VIEWERS I'VE EVER HAD!!!

WE'VE REACHED THE VIEWER CALL-IN MILESTONE!

ONE LUCKY VIEWER WILL HAVE THE CHANCE TO TALK TO ME...

BEFORE I LEAVE THE UNDERGROUND FOREVER!!

LET'S SEE WHO CALLS IN FIRST!

HI, YOU'RE ON TV!

WHAT DO YOU HAVE TO SAY ON THIS, OUR LAST SHOW???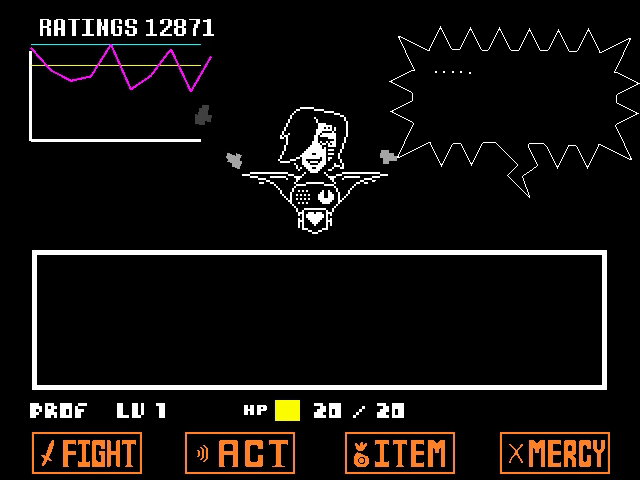 BGM: For the Fans

oh...........

hi... mettaton...

i really liked watching your show...

my life is pretty boring... but...

seeing you on the screen... brought excitement to my life... vicariously

i can't tell, but... i guess this is the last episode...?

i'll miss you... mettaton......

...oh.... i didn't mean to talk so long...

oh............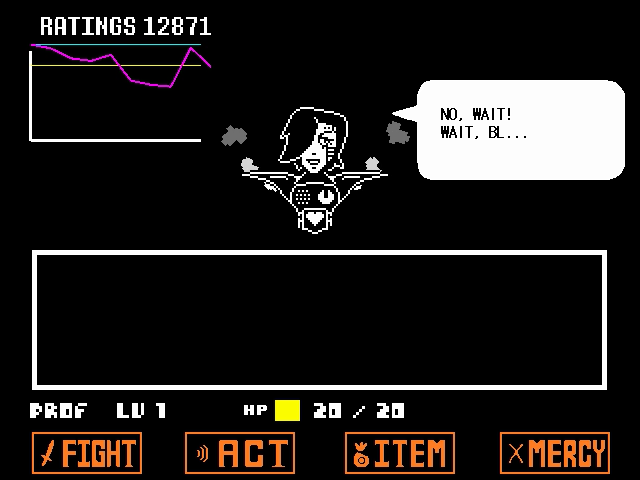 H... THEY ALREADY HUNG UP.

...

I'LL TAKE ANOTHER CALLER!!!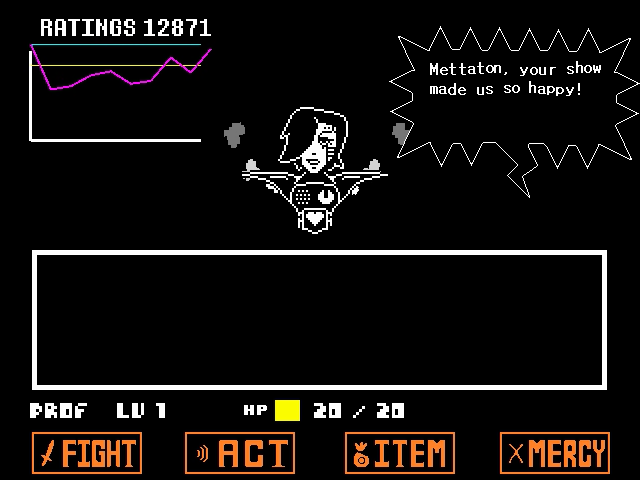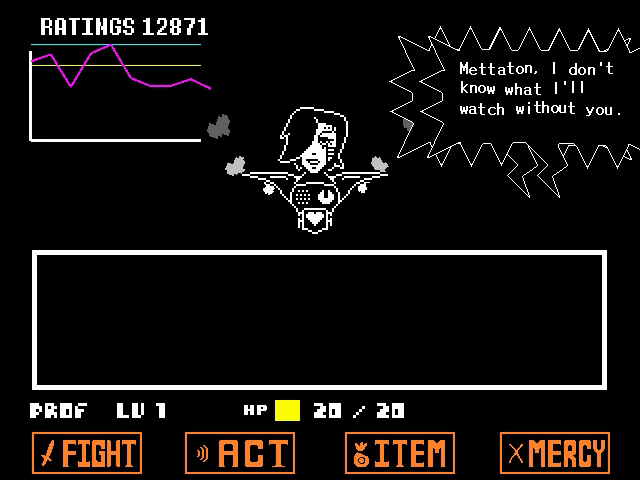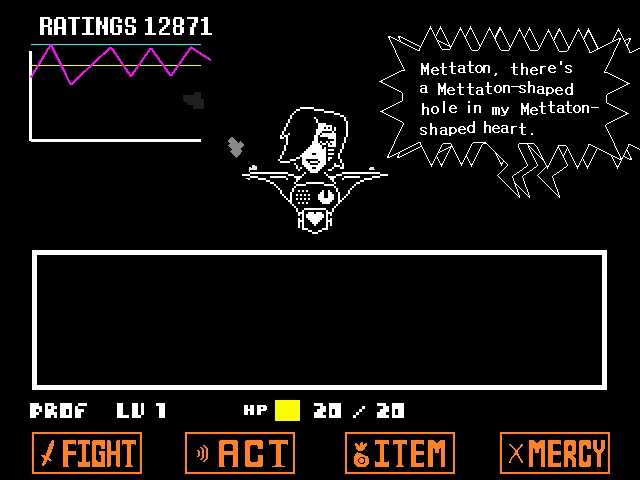 AH... I...

I SEE...

...

EVERYONE... THANK YOU SO MUCH.

...

DARLING.

PERHAPS... IT MIGHT BE BETTER IF I STAY HERE FOR A WHILE.

HUMANS ALREADY HAVE STARS AND IDOLS, BUT MONSTERS...

THEY ONLY HAVE ME.

IF I LEFT... THE UNDERGROUND WOULD LOSE ITS SPARK.

I'D LEAVE AN ACHING VOID THAT CAN NEVER BE FILLED.

SO... I'LL HAVE TO DELAY MY BIG DEBUT.

BESIDES.

YOU'VE PROVEN TO BE VERY STRONG.

PERHAPS... EVEN STRONG ENOUGH TO GET PAST ASGORE.

I'M SURE YOU'LL BE ABLE TO PROTECT HUMANITY.

HA, HA...

IT'S ALL FOR THE BEST, ANYWAY.

THE TRUTH IS, THIS FORM'S ENERGY CONSUMPTION IS...

INEFFICIENT.

IN A FEW MOMENTS, I'LL RUN OUT OF BATTERY POWER, AND...

WELL.

I'LL BE ALRIGHT.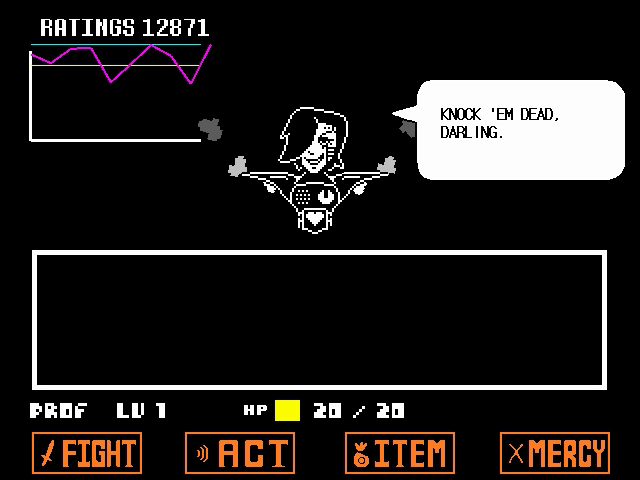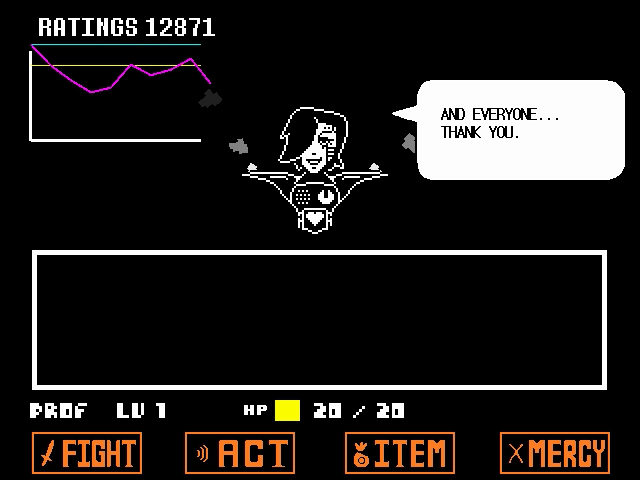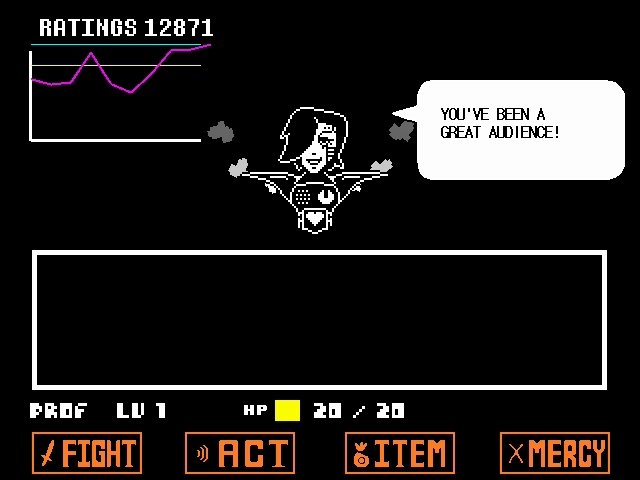 BGM: Silence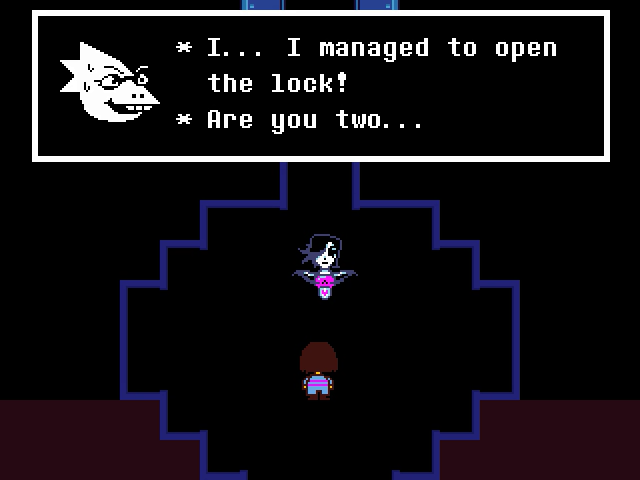 Oh my god.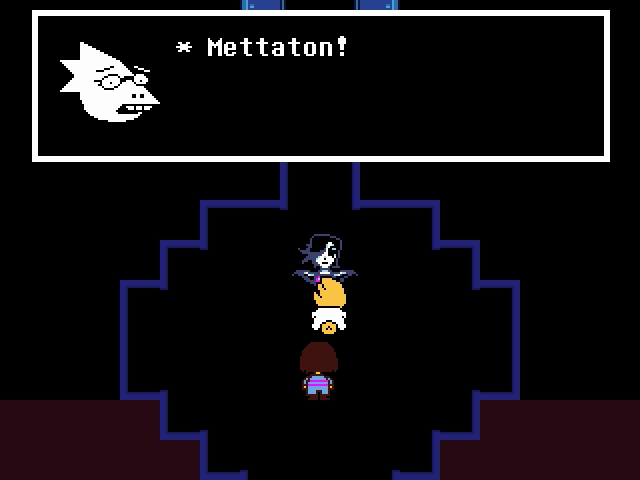 Mettaton, are you...

...thank GOD, it's just the batteries.

Mettaton, if you were gone, I would have... I would have...

...

I m-mean, h-hey, it's n-no problem, you know?

He's just a arobot, if you messed it up, I c-could always...

J-just build another.

...

Why don't you go on ahead?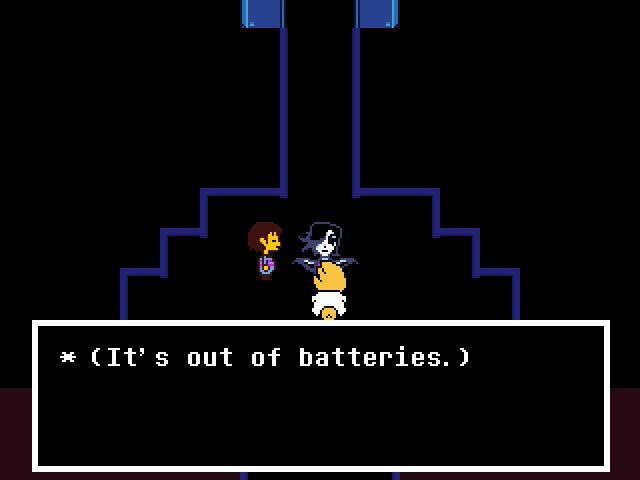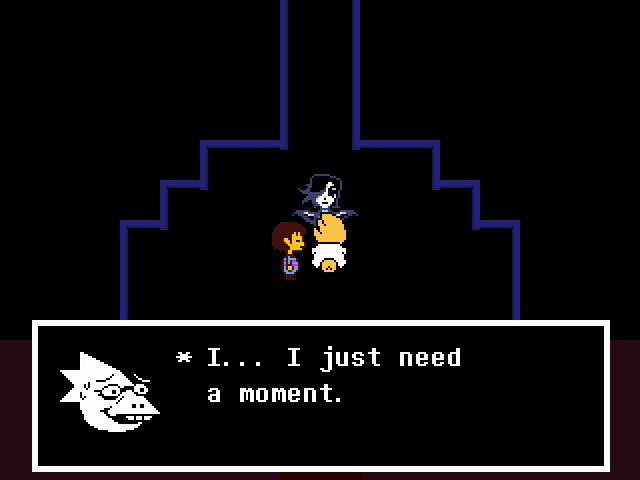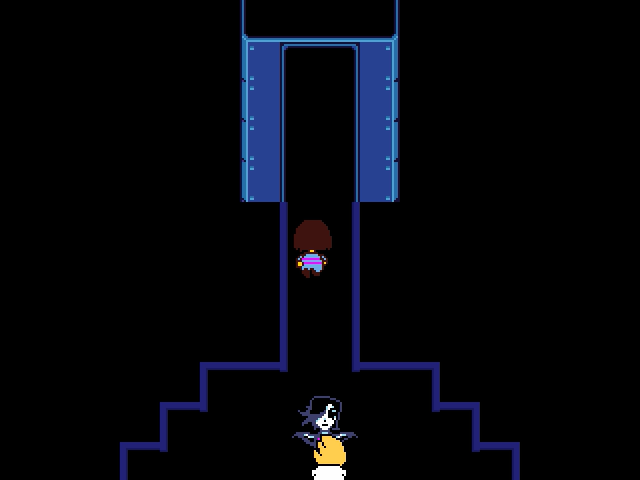 I continue onwards.
Shortly, Alphys follows.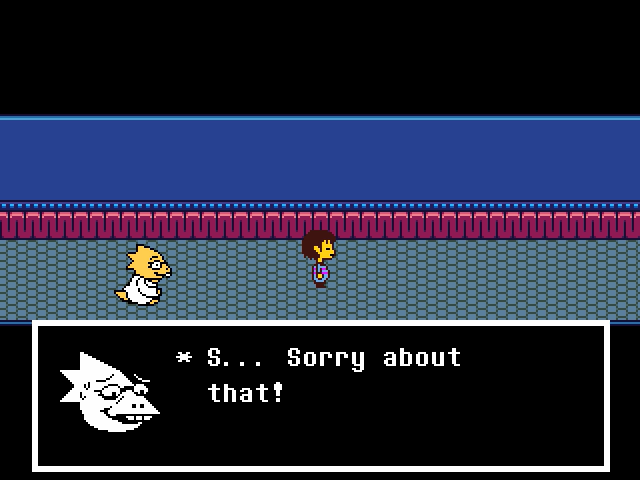 L-let's k-keep going!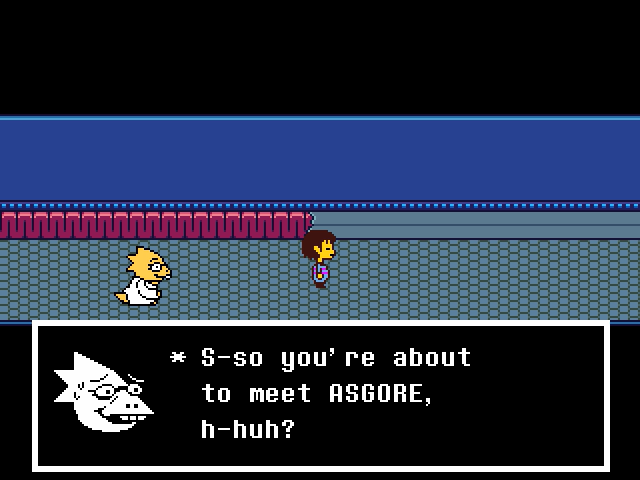 You must be... Y-you must be...

Pr... pretty excited about all that, huh?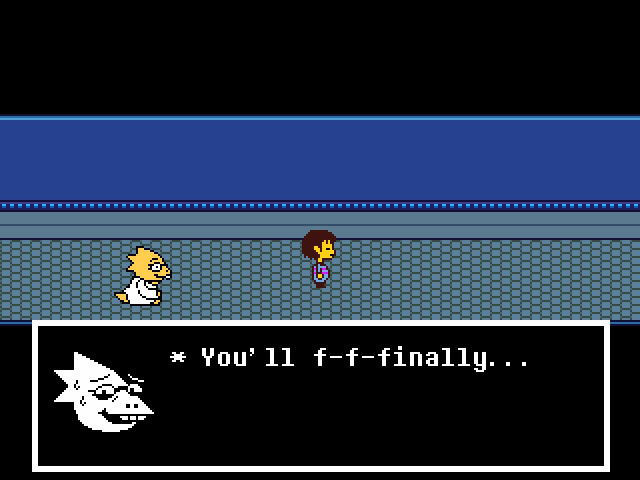 You'll finally get to go home!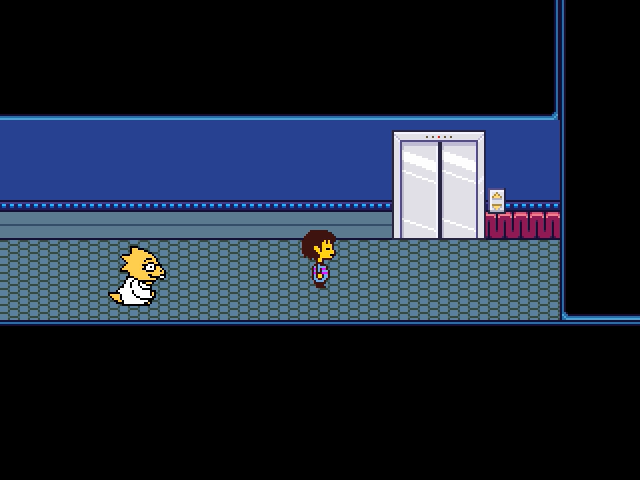 This must be the way up.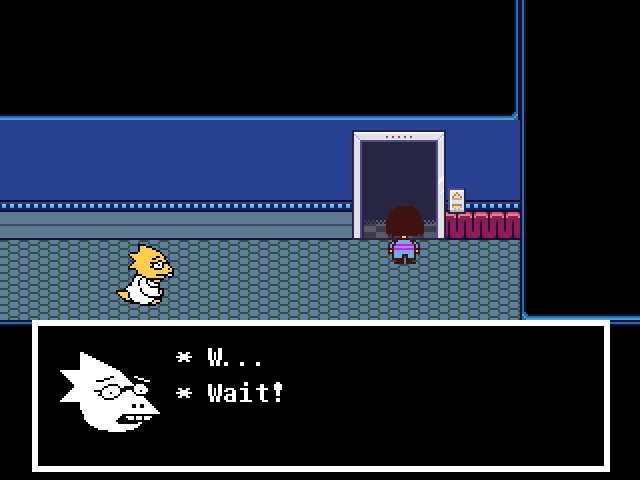 I mean, um... I...

I was just going to... um...

Say goodbye, and...

...

...

...

I can't take this anymore.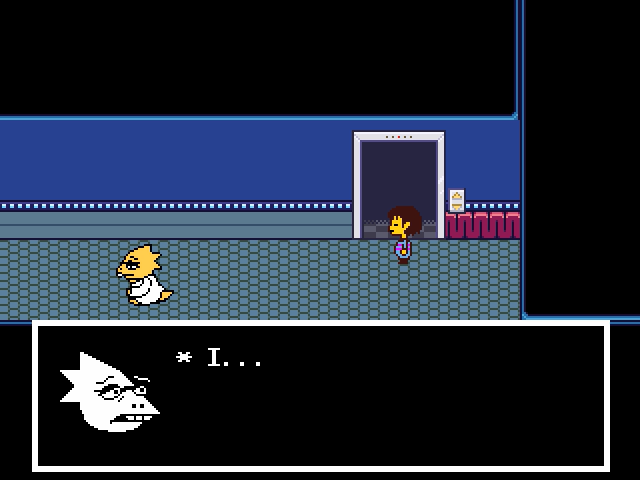 I lied to you.

A human soul isn't strong enough to cross the barrier alone.

It takes at least a human soul...

And a monster soul.

...

If you want to go home...

You'll have to take his soul.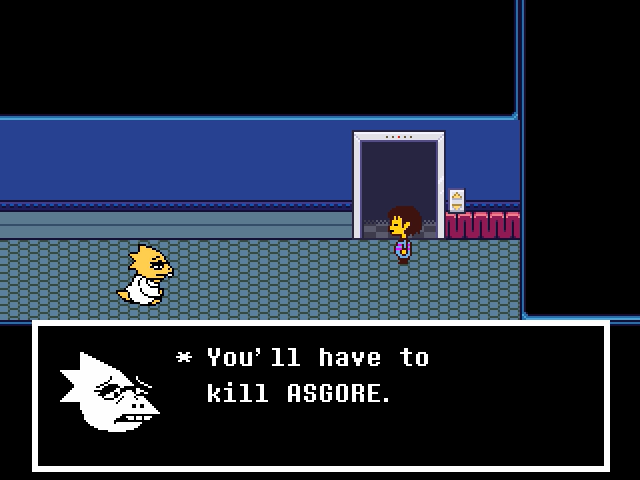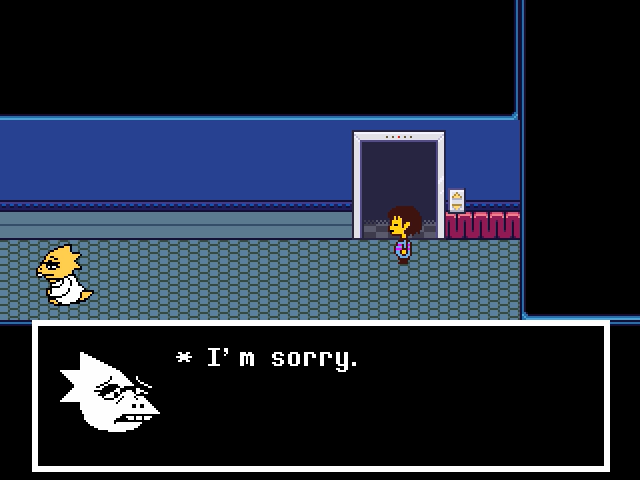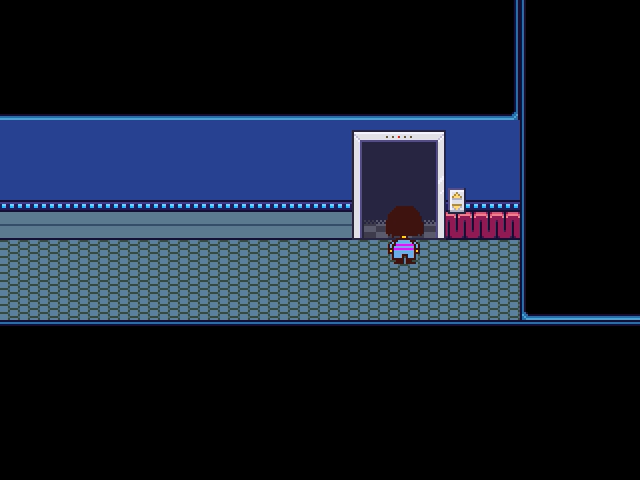 Asgore's castle awaits.