Part 31: Start Menu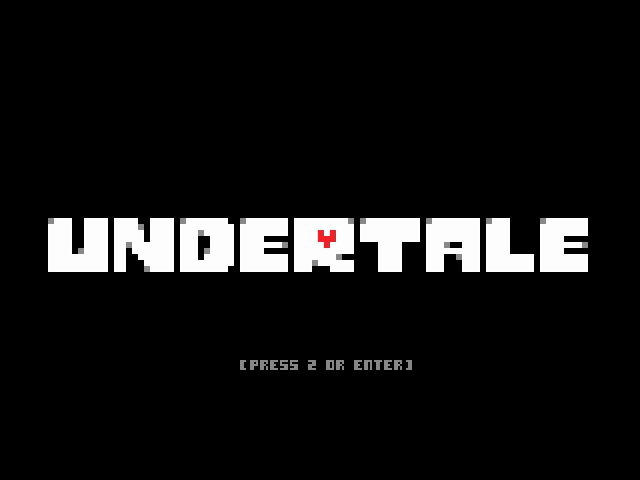 Undertale
is a very recent RPG, created by Toby Fox. It almost immediately became my favorite RPG of all time, so I want to share it with as many people as possible. The game's demo is available
here
, and the full game is on Steam.
I'm jumping into this pretty damn quickly after release, but I'm going to do everything I can to make this as well-crafted of an LP as I can manage. I am confident that I'm not starting this under-prepared.
The ground rules:
This is a screenshot LP. There will be music links, and video links for important scenes - if one is particularly important or awesome, it will be marked with sirens.

I will try to keep updates fast and steady. The exact pace will vary with the size of the updates, but I'm going to hard promise at least two updates per week, from start to finish. (In reality, it's closer to daily updates, because I have no self control.)

While I will be trying to be very thorough, this won't be a 100% run. The nature of Undertale makes that virtually impossible. I'll be doing two main playthroughs, which will be very different.

Don't spoil any future events, under any circumstances, even with little coy hints. Undertale should be experienced as blindly as possible.

Don't spoil any past events, either. At least not until my second playthrough.

Increase LOVE as much as possible.

"Hey, it's not really a spoiler but you just missed this thing you can do so let me tell you about it"
Don't post about it. I will be doing a total of three playthroughs, then after the end of the third one I will be opening the LP to posts about other things I didn't cover by other people.
"but"
Look, if you're
really
worried that I missed something because I didn't know about it, throw me a PM or something.
Table of Contents
Part 1: LOAD FAILED
Part 2: LOAD FAILED
Part 3: LOAD FAILED
Part 4: LOAD FAILED
Part 5: LOAD FAILED
Part 6: LOAD FAILED
Part 7: LOAD FAILED
Part 8: LOAD FAILED
Part 9: LOAD FAILED
Part 10: LOAD FAILED
Part 11: LOAD FAILED
Part 12: LOAD FAILED
Part 13: LOAD FAILED
Part 14: LOAD FAILED
Part 15: LOAD FAILED
Part 16: LOAD FAILED
Part 17: LOAD FAILED
Part 18: LOAD FAILED
Part 19: LOAD FAILED
Part 20: LOAD FAILED
Part 21: LOAD FAILED
Part 22: LOAD FAILED
Part 23: LOAD FAILED
Part 24: LOAD FAILED
Part 25: LOAD FAILED
Part 26: LOAD FAILED
Part 27: LOAD FAILED
Part 28: LOAD FAILED
Part 29: LOAD FAILED
Part 30: LOAD FAILED
Part 31: LOAD FAILED
Part 32: Your Best Nightmare